You may be wondering about the best shoulder tattoo ideas and designs. If that is the case, then you've come to the right place. We have done extensive research in order to provide you with a complete list of the best shoulder tattoo ideas, everything from elegant floral shoulder tattoos to intricate sleeve tattoos and even dragon tattoos. Whichever design you land on, you are sure to have a new conversation piece and a shoulder tattoo that you love.
The Best Shoulder Tattoos That Just Work
If you are considering getting shoulder tattoos, you will be pleased to know that the area is a common choice for tattoo placement. However, when it comes to where exactly to place your tattoo on the shoulder, there are many different options. For instance, you can place a bow tattoo on the back area and have the tattoo wrap around your shoulder. Or, you could even have the tattoo start at the top of your shoulder and drape down your arm. Shoulder tattoos are versatile, which makes them a great choice for someone who has not yet gotten a tattoo before or looking for their first tattoo artist. We have provided this list of unique shoulder tattoos so you can have many different options to choose from and show to your tattoo artist. One of the listed shoulder tattoos below is sure to pique your interest and can be a great inspiration for your next shoulder tattoos.
1. Black and White Warrior Woman Goddess Shoulder Tattoo Ideas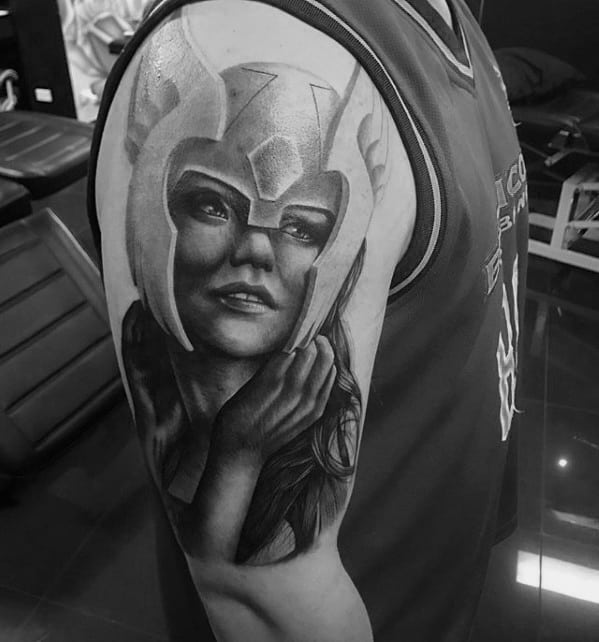 This tattoo features a beautifully shaded woman posing with her hand resting on her mask. Her mask covers the top part of her head and has winglike shapes intricately designed on the sides, giving her a goddess appearance. This is a great sleeve tattoo for both men and women alike who want to show how powerful a woman is.
2. Brightly Colored Geometric Scene Shoulder Tattoo Ideas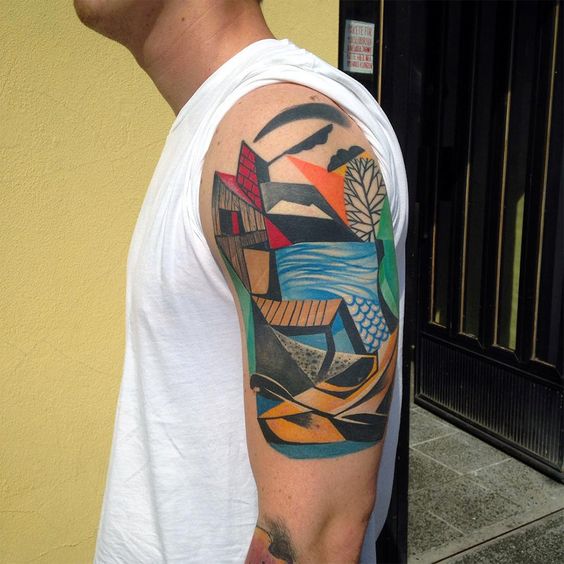 Abstract art can make a gorgeous, as well as interesting, sleeve tattoo idea. This abstract shoulder tattoo idea has shapes carefully planned out to form a beautiful water scene that is eye-catching. It appears as if a painting was taken from a museum and placed on the skin.
3. Secretive Half Robotic Woman Shoulder Tattoo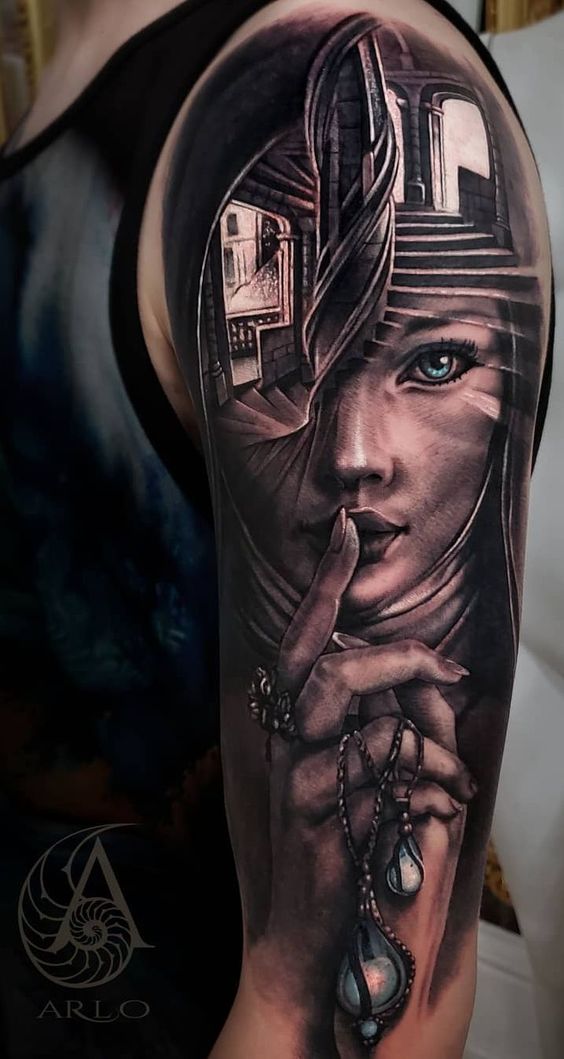 If you are a fan of steampunk and want to incorporate that into a sleeve tattoo, but subtly, then this tattoo idea might be right up your alley. The tattoo of this half robotic woman shows that she has some secrets up her sleeve. The interesting tattoo is completed with perfect shading and the woman holding her hand up to her face to form a hush signal. This will be a fun project to work on for any tattoo artist out there, as it is one of the cute tattoos.
4. Woman Galaxy Planetary Conjurer Shoulder Tattoo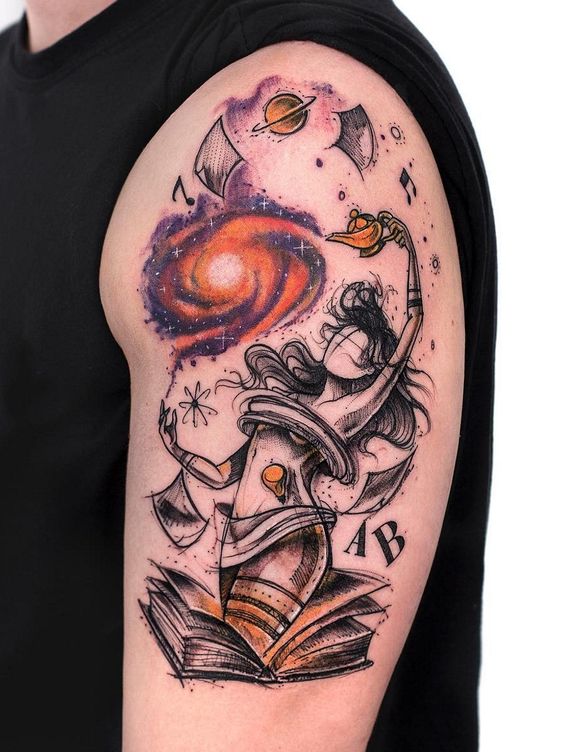 Are you into astronomy? If you catch yourself looking up at the night sky and wondering what else could be out there, this shoulder tattoo might be just the perfect choice for you. The sleeve tattoo is complete with a delicate outline of a woman, holding her hands up and outright. The planets and the solar system are between her hands in bright colors.
5. Screaming Bald Eagle Deeply Colored Shoulder Tattoo Ideas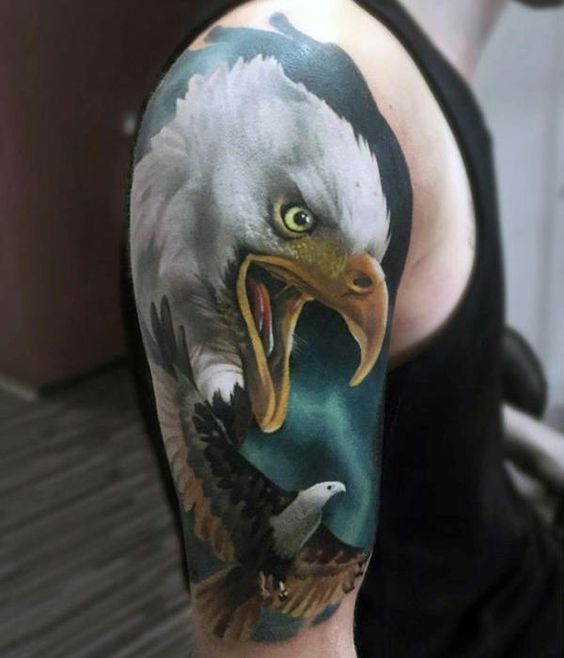 Bald eagles are more than just symbols of patriotism, they can also symbolize many other things as well, such as honesty. Eagles are beautiful shoulder tattoos to have, as their head shape fits perfectly onto a person's shoulder area. This is one of the particular sleeve tattoos that are deeply colored to help show the depth of the feathers.
6. Night Wolf Moon Scene Shoulder Tattoo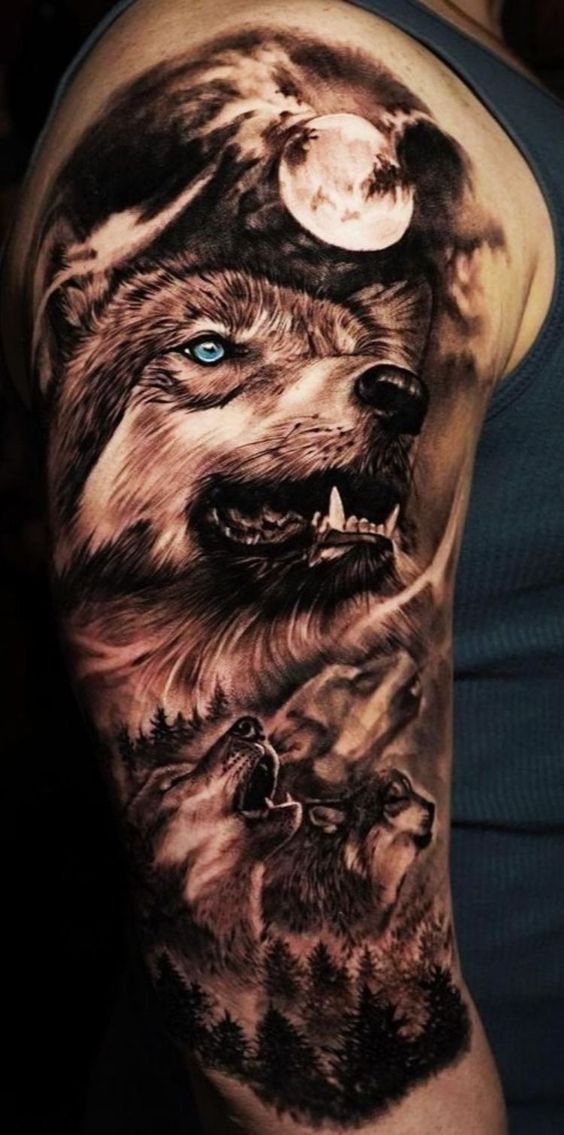 Bring out your inner rough and tough side with this fierce wolf shoulder tattoo that sits perfectly onto the shoulder. The scene features dark shading with the only pop of color being the wolf's piercing blue eyes. Whether you are a fan of wolves or dark scenes, this is one of the sleeve tattoos that is sure to start a conversation.
7. Soaring Eagle on The Attack Shoulder Tattoo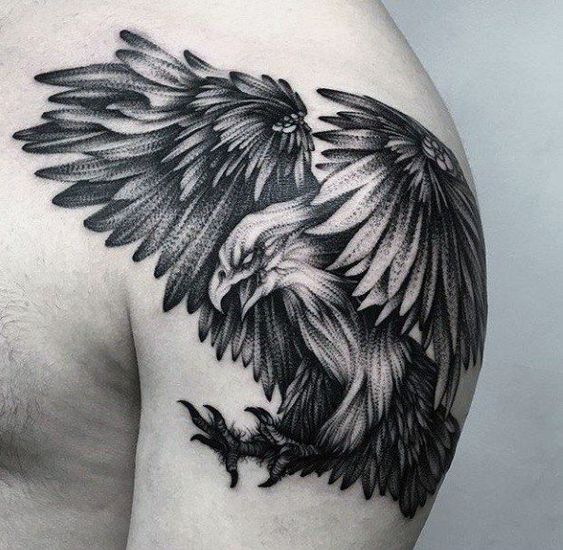 This bald eagle is in a pretty unique formation that many other eagle shoulder tattoos you may have seen. The eagle appears to be landing in for a kill, making this action shot the perfect addition to a person's shoulder who wants to add an intriguing tattoo.
8. Spooky Dark Clock Hourglass Shoulder Tattoo Ideas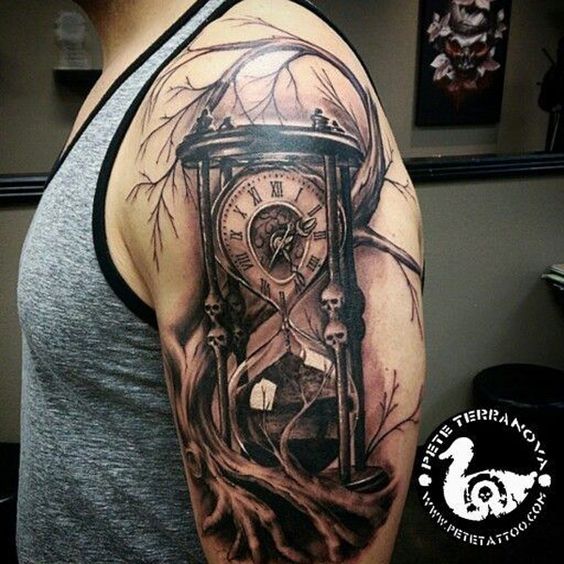 Time is running out, so it's time to make the best of it by getting a new shoulder tattoo. This metaphorical tattoo is darkly shaded but holds a deeper meaning than most shoulder tattoos that can be easily conveyed. The hourglass shape allows this tattoo to fit well onto the shoulder area, as well.
9. Howling Wolf Girl Hybrid Shoulder Tattoo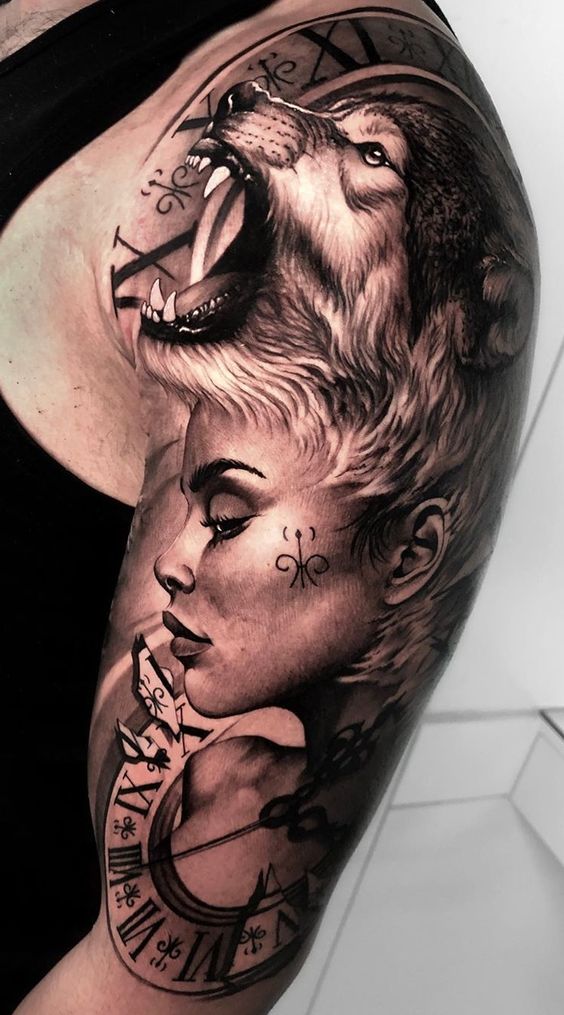 Spark your inner wolf with these daunting shoulder tattoos. This tattoo features a woman's side profile looking casually downward. However, up above the woman the scene changes drastically. The top of the sleeve tattoo fades into a howling wolf, showing that looks can often be deceiving.
10. Bright Geometric Watercolor Ocean Shoulder Tattoo Ideas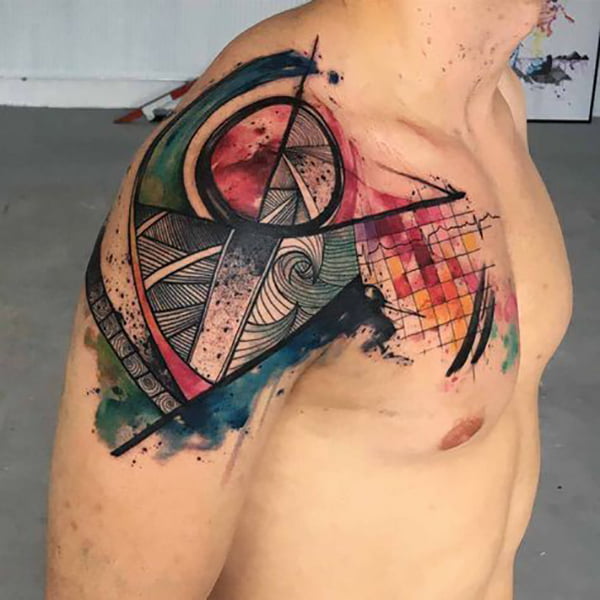 Watercolor shoulder tattoos offer a softer side than what dark shading can offer to a shoulder tattoo. Although, this tattoo still contains black and white elements, which makes the watercolor geometric patterns pop even more. The scene created by the shapes is reminiscent of the ocean.
11. Black Ink Geometric Honeycomb Pattern Shoulder Tattoo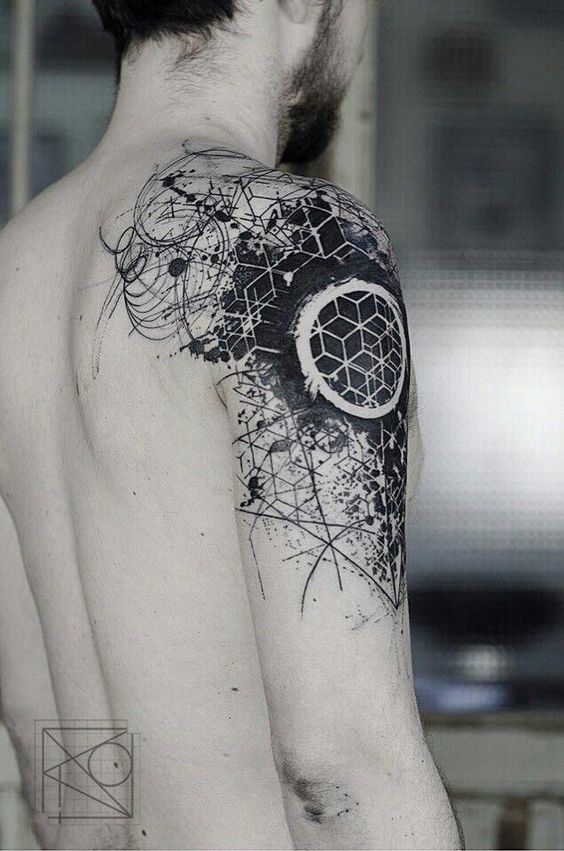 This beautiful tattoo wraps on top of the shoulder, creating an interesting 3-D effect as it contains primarily cube shapes. While there are multiple interesting elements that make up this tattoo, the overall design is similar to that of a honeycomb. The different lines and shapes help to illuminate the depth within this piece.
12. Watercolor Sailboat Scene Ocean Shoulder Tattoo Ideas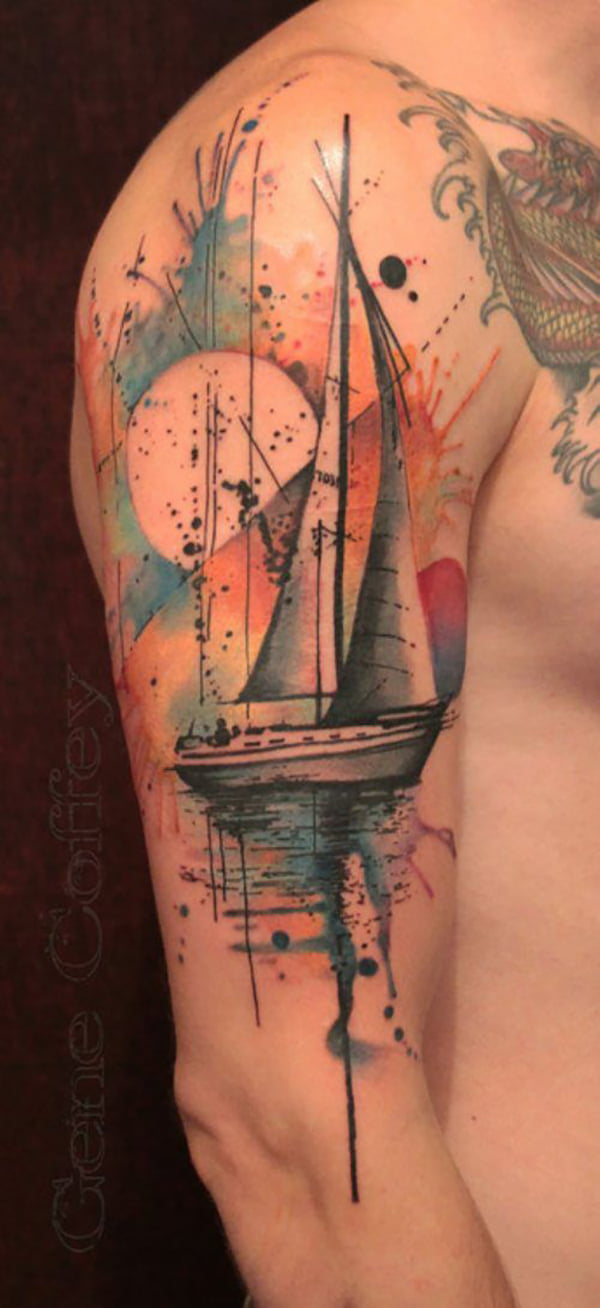 This tattoo is perfect for someone who loves sailing or the sea, as it features an intricately designed sailboat on the water. Although the sailboat has light shading, bright watercolors surround the boat and add depth to the scene.
13. Black and White Roman Girl Warrior Shoulder Tattoo Ideas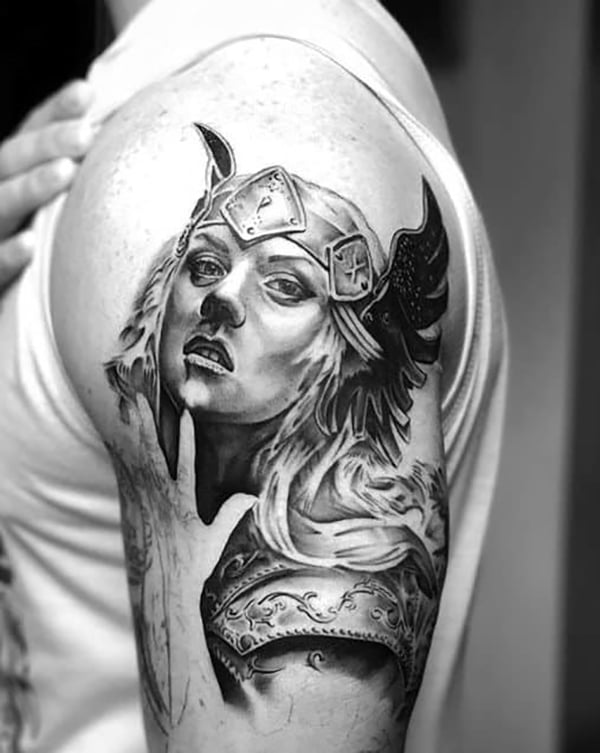 This shoulder tattoo may be black and white, but the scene itself can speak volumes. This warrior woman is a symbol of strength and perseverance, making it the perfect tattoo for both men and women alike. The delicate shading becomes more pronounced as it reaches the woman's headpiece.
14. Aztec Inspired Winding Serpent Tribal Shoulder Tattoo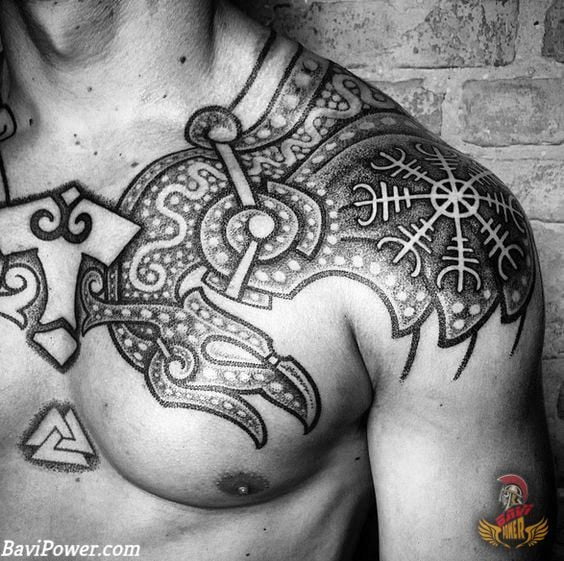 If you want a shoulder tattoo that more so wraps around your shoulder and chest area, then this tribal shoulder tattoo might be just what you are looking for. The lines of this tattoo connect to create a serpent, which symbolizes strength. This serpent features bold lines and a standout presentation, meaning that it is sure to draw in the eye.
15. Watercolor Headdress Wearing Skull Shoulder Tattoo Ideas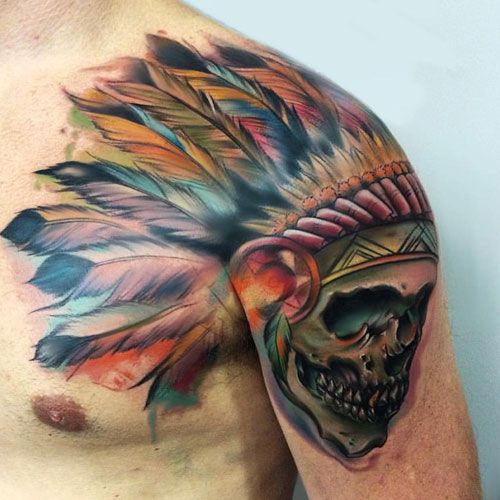 This headdress watercolor tattoo features a beautiful array of drawn feathers, as well as beading, completing the spiritual aspect of this unique shoulder tattoo. Although the features reach up towards the collarbone, the skull tattoo sits perfectly on the shoulder. The skull adds a certain haunting aspect to this tribal tattoo.
16. Roped Star Western Design Shoulder Tattoo Ideas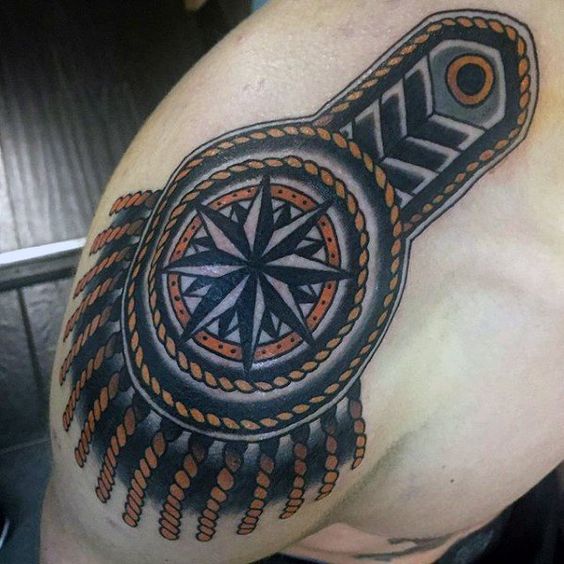 This western style shoulder tattoo features a shaded star design in the center. Surrounding the star are different layers of rope. Although the tattoo contains color, the tattoo is quite versatile and still would look visually appealing as just a strictly black and white tattoo. If you are looking shoulder tattoos with many different elements that draw the eye, then this tattoo might be just what you are looking for.
17. Aztec Inspired Wrapped Line Tribal Shoulder Tattoo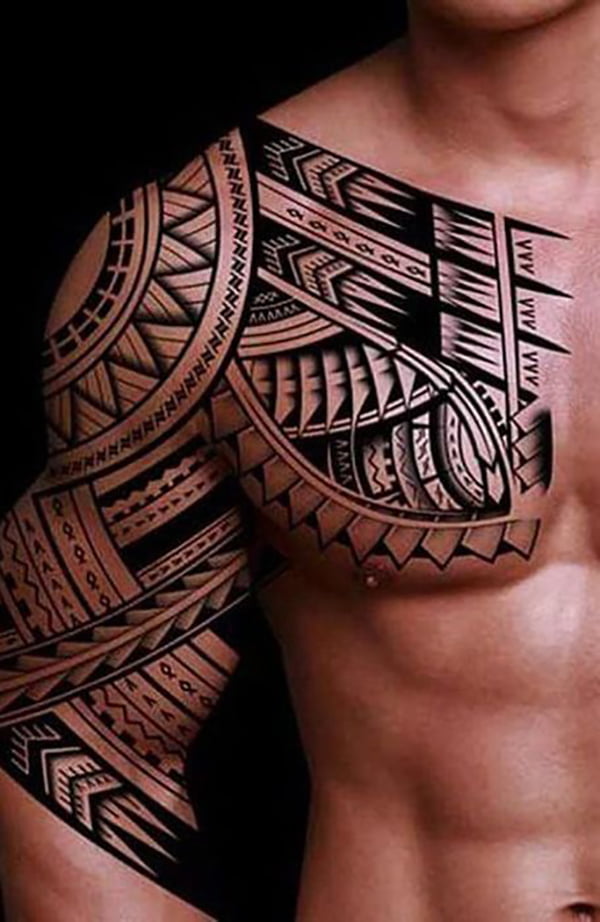 Bold lines going in different directions primarily make up this shoulder tattoo, coupled with Aztec inspired elements that gracefully wrap around the shoulder. Linework for this tattoo consists of smaller shapes inside the lines, thick lines, and black filled in elements to complete the overall look.
18. Woman Warrior Blended Lion Tattoo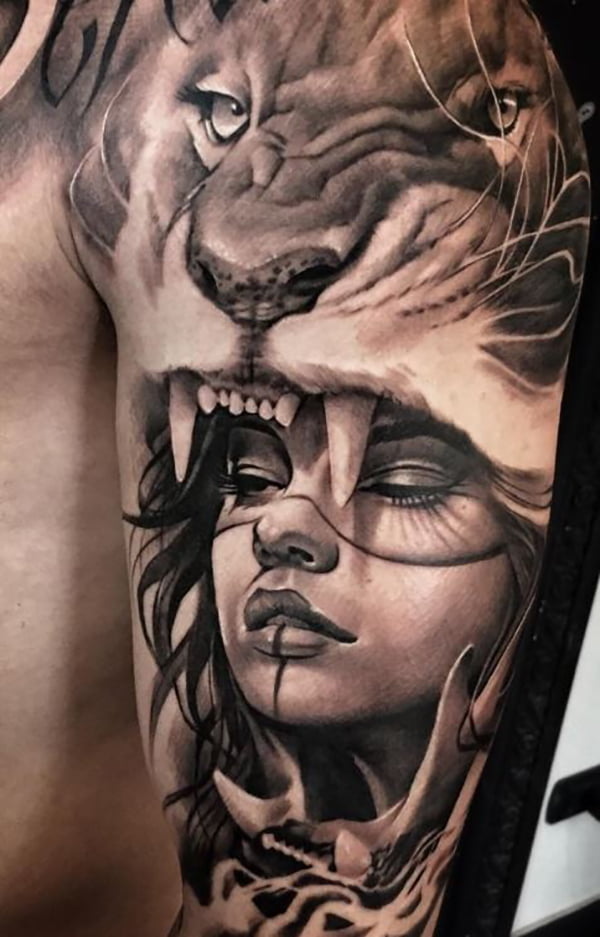 A lion signifies power and honesty. This black ink tattoo features a lion roaring, but blended into the lion is a woman. The woman has war paint on her face, proving that she is a powerful warrior. The delicate shading makes this tattoo subtly beautiful.
19. Winged World Map Explorer Shoulder Tattoo Ideas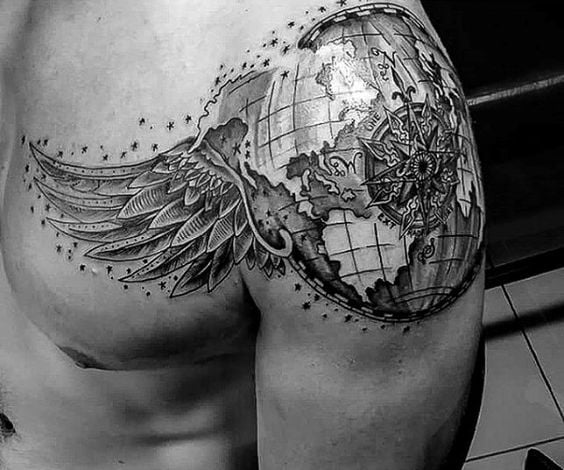 If you are after adventure in your daily life, you may want to decide on this tattoo for your shoulder tattoo. It features the world map with a compass directly in the center. On each side of the shoulder tattoo is an outstretched wing, showing that you are a free spirit.
20. Robed Greek Inspired Woman Shoulder Tattoo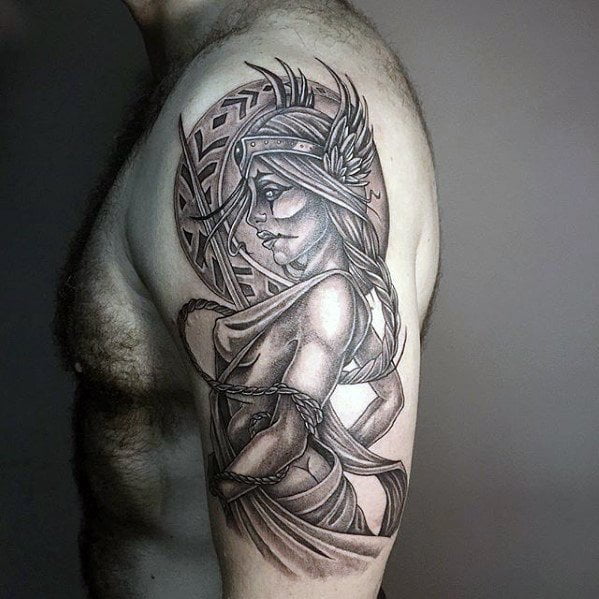 This beautiful side profile of a woman makes a perfect shoulder tattoo. The woman has a stern expression on her face and is coupled with a unique headpiece. The overall style of the tattoo is reminiscent of Greek influence.
21. Casual Palm Tree Beach Scene Shoulder Tattoo Ideas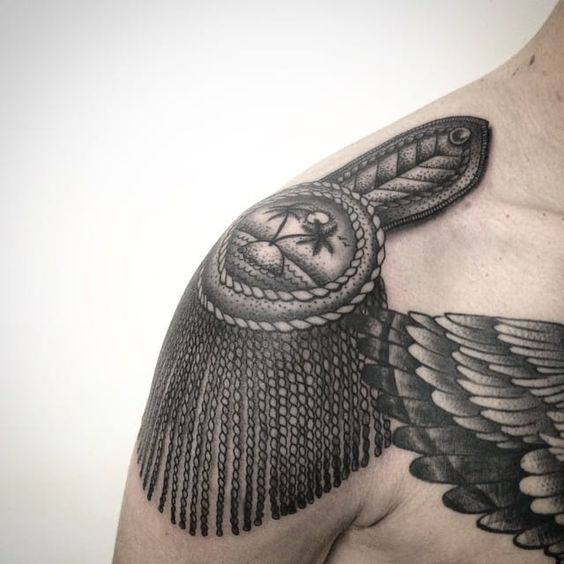 The beach reminds us of a more peaceful and serene place. So, why not put this scene on your shoulder? This tattoo features two palm trees sitting on a sandy beach. The fringe on this tattoo would cover your shoulder and draw the eye downward. Making it the perfect design to start sleeve tattoos.
22. Pop Art Style Woman Face Shoulder Tattoo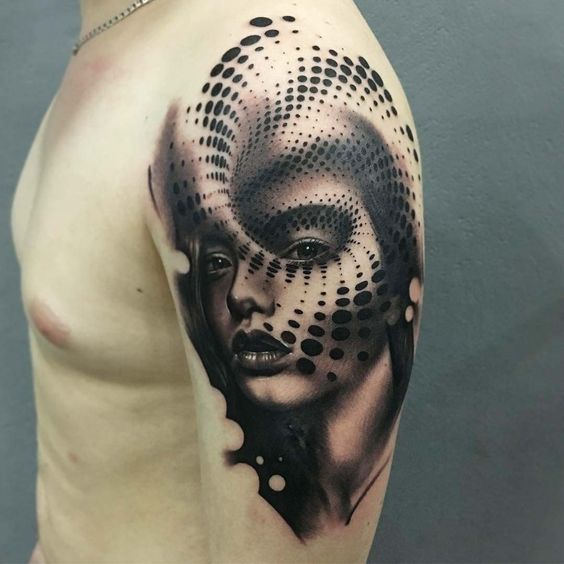 If you enjoy pop art, then you will appreciate the visual elements in this black ink tattoo. A beautiful woman's face is the focal point. However, dots in a specific funnel pattern help to draw your eye downward and into the woman's voice. This creates a very unique element in this tattoo.
23. Colorful Majestic Koi Swimming Shoulder Tattoo Ideas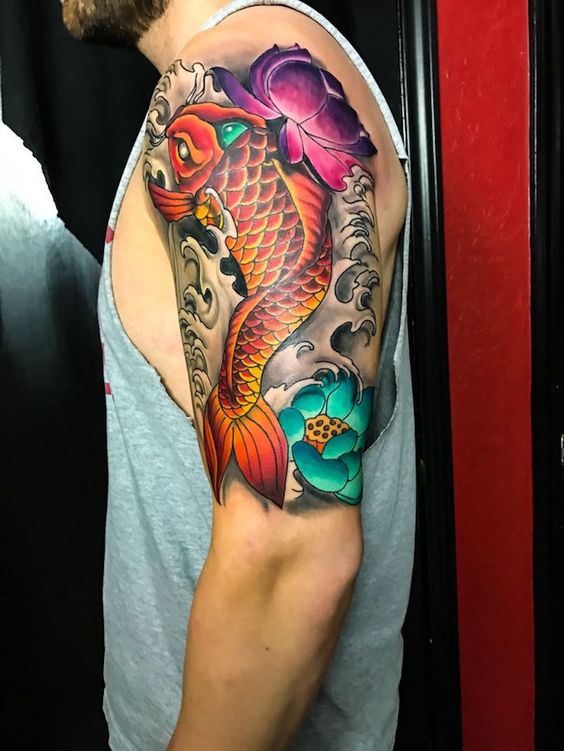 Ditch the black and white shoulder tattoos and instead go for something that will stand out. This colorful koi design features a beautiful brightly colored orange koi swimming through the water. Bright flowers are also part of the scene. Of course, you could add more or fewer flowers to your liking.
24. Spooky Smoky Raven Landing Front Shoulder Tattoo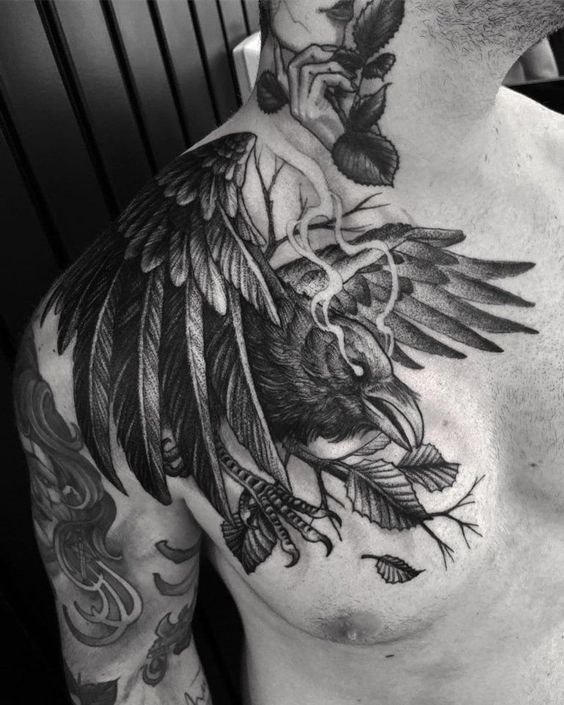 If you want a darker inspired tattoo, this raven has many different elements that make it a little spooky. Smoke is rising from the raven's eyes, as it appears to be landing on your shoulders. The bony talons sticking out in front add to the scene, as leaves from a branch it is landing on fall away. The perfect action scene.
25. Warrior Goddess Unique Headpiece Shoulder Tattoo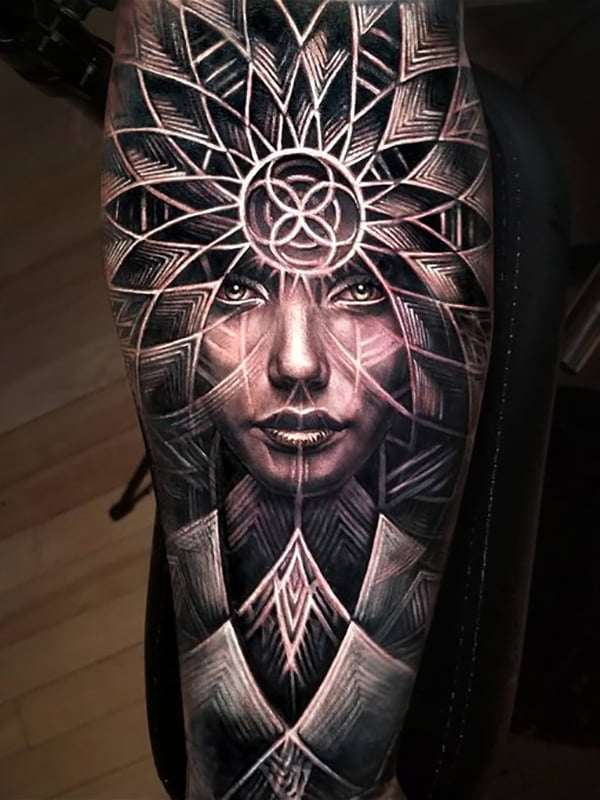 The typical warrior woman shoulder tattoos can sometimes all start to look the same. You may feel like it is hard to find something that is unique when it comes to headpieces that will stand out. Look no further, as the unique geometric lines and shading of this headpiece will have you turning heads.
26. Crouching Growling Bengal Tiger Front Shoulder Tattoo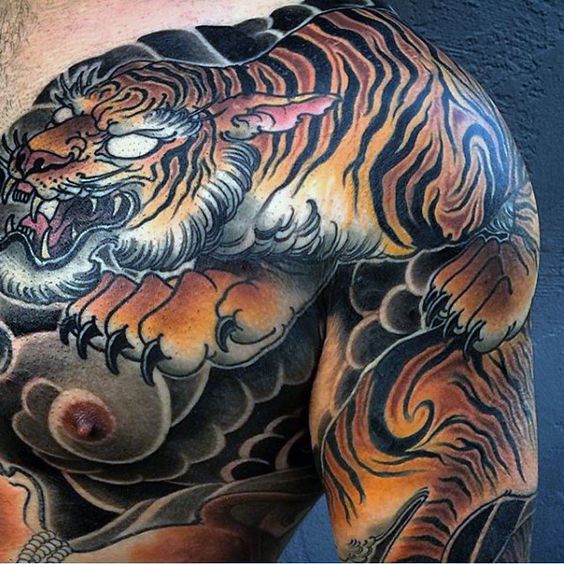 The bright colors of this Bengal tiger tattoo make it a standout piece. If you want to show off your inner strength, this tiger will prove that you still have the fight in you. The tiger wraps around the top of your shoulder, creating the illusion that the tiger is jumping off of your skin.
27. Simple Aztec Line Design Tribal Tattoos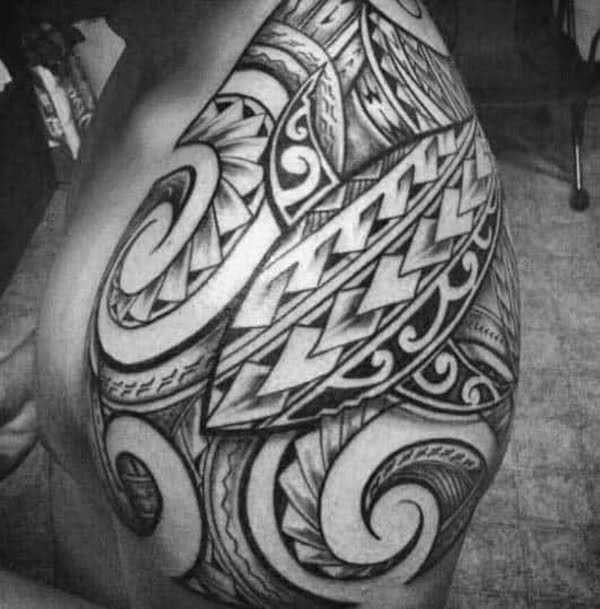 Tribal shoulder tattoo styles can sometimes be over the top and that style might not be more for everyone. Thankfully, there are much simpler options that you can put on your shoulder that is still Aztec inspired. These thick lines and simple shading provide you with a simple, yet stunning tattoo.
28. Cloudy Inspiring Heavenly Religious Front Shoulder Tattoo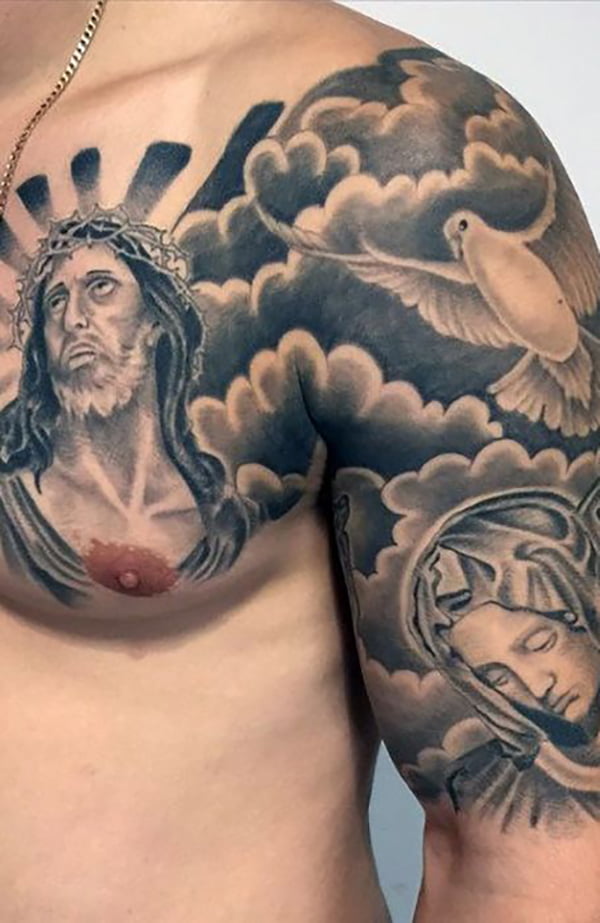 If you are strong in your faith, you may be considering getting a religion-inspired tattoo. This tattoo features a beautiful dove, signifying peace. Jesus is also on the side of this tattoo, along with a cloud scene, making this a very peaceful shoulder tattoo ideas.
29. Faux Wing Delicate Feather Tattoo on Shoulder Blade
Of course, we are not born with real wings. However, that does mean that we cannot get a tattoo of them. This unique tattoo covers the entire upper back section, as it is intended to appear as if the person has a set of wings coming from their back. This means that the delicately shaded feathers of the wings run down the shoulder.
30. Thick Serpent Mayan Inspired Shoulder Tattoo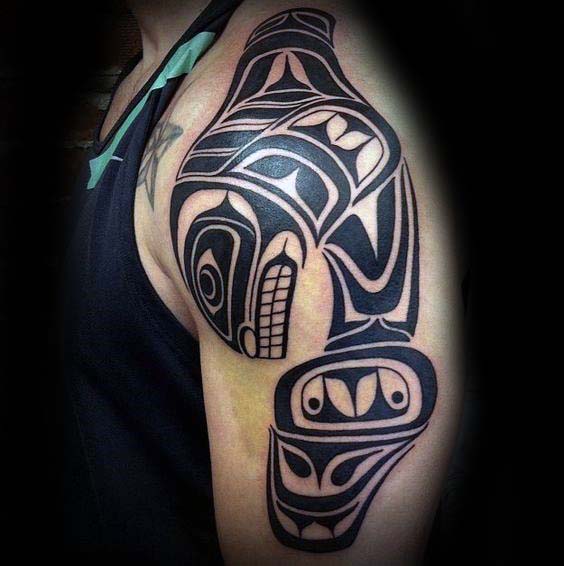 If you want a standout piece with Mayan inspiration, then look no further. This uniquely shaped serpent fits perfectly on the shoulder and the boldness of the lines make this a unique tattoo. While this tattoo can be interpreted as a serpent, the unique shapes and lines can make this stunning tattoo seemingly shapeshift into your interpretation.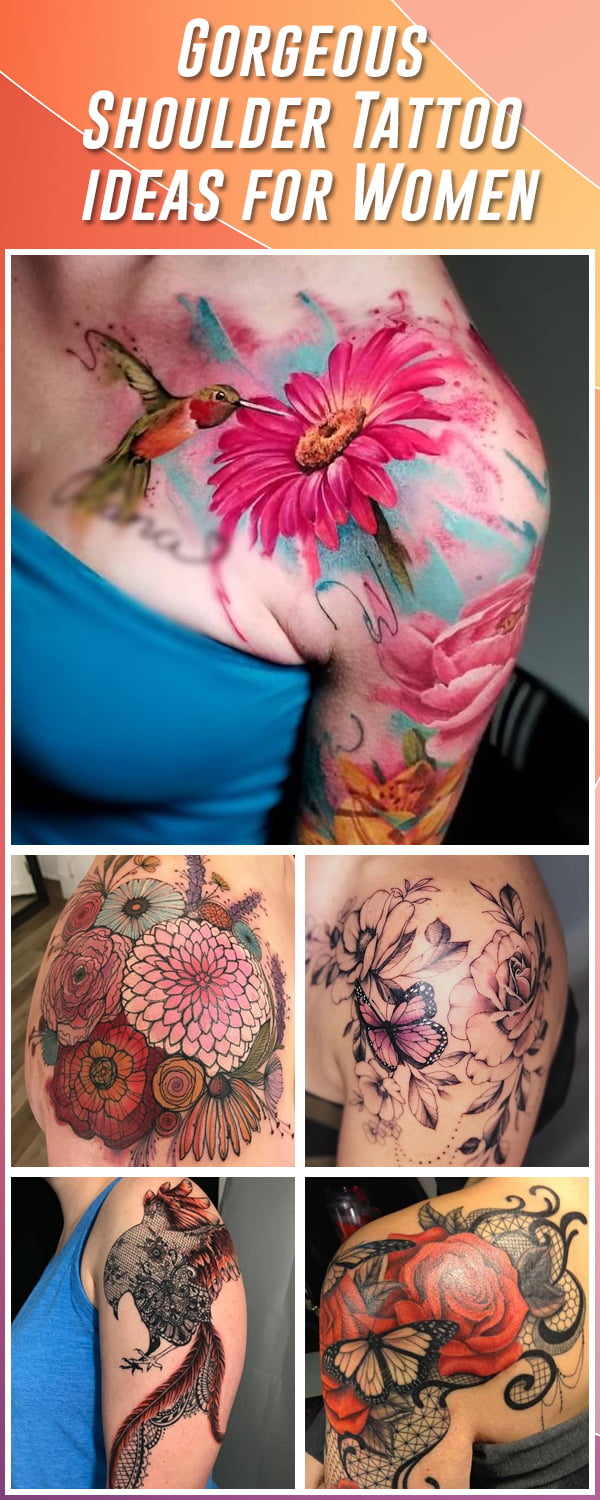 31. Watercolor Hummingbird Feeding Front Shoulder Tattoo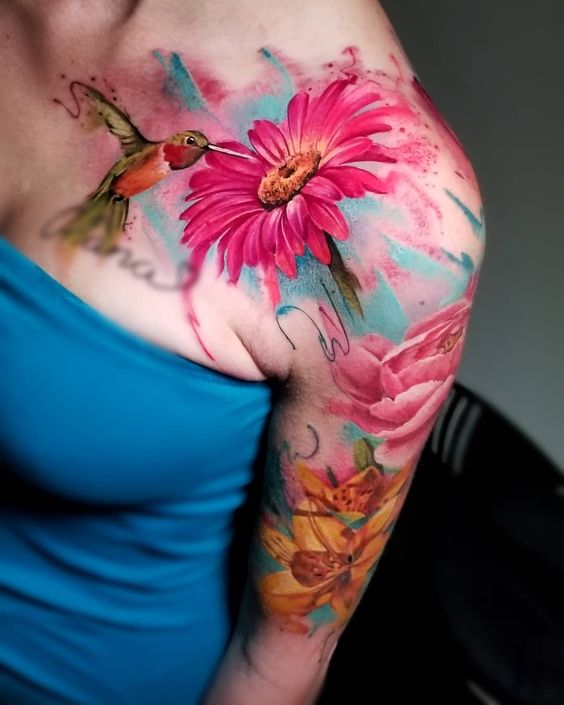 This delicate watercolor tattoo is the perfect bright addition to your shoulder, featuring a stunningly realistic hummingbird. Flowers that dot this tattoo are also brightly colored. The scene is completed with the hummingbird feeding from one of the flowers.
32. Butterfly On a Red Rose Tattoo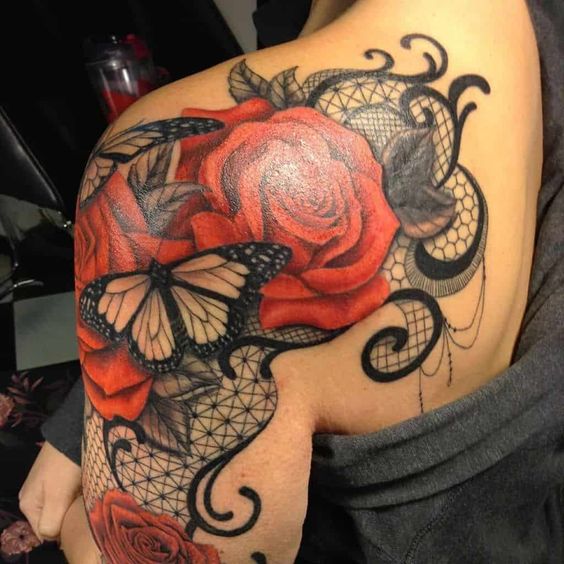 The unique line work with this tattoo leads to the background of this tattoo appearing to be lace material laid against the skin. On top of that are a few bright red roses. Perched on the rose petals are two butterflies.
33. Delicate Peonies Black and White Tattoo on Shoulder Blade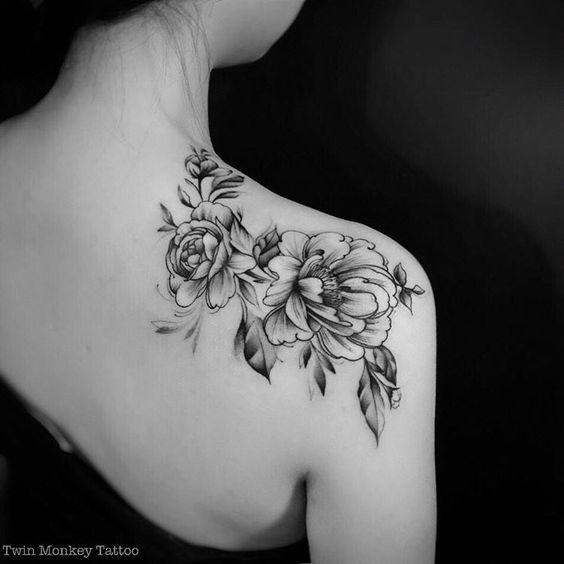 Floral shoulder tattoos allow the shoulder to look more delicate and this tattoo adds a beautiful simplicity. One of the peonies is blossoming, which could signal new growth for the person who decides on this tattoo to add to their shoulder.
34. Crescent Moon Floral Dripping Shoulder Tattoo Ideas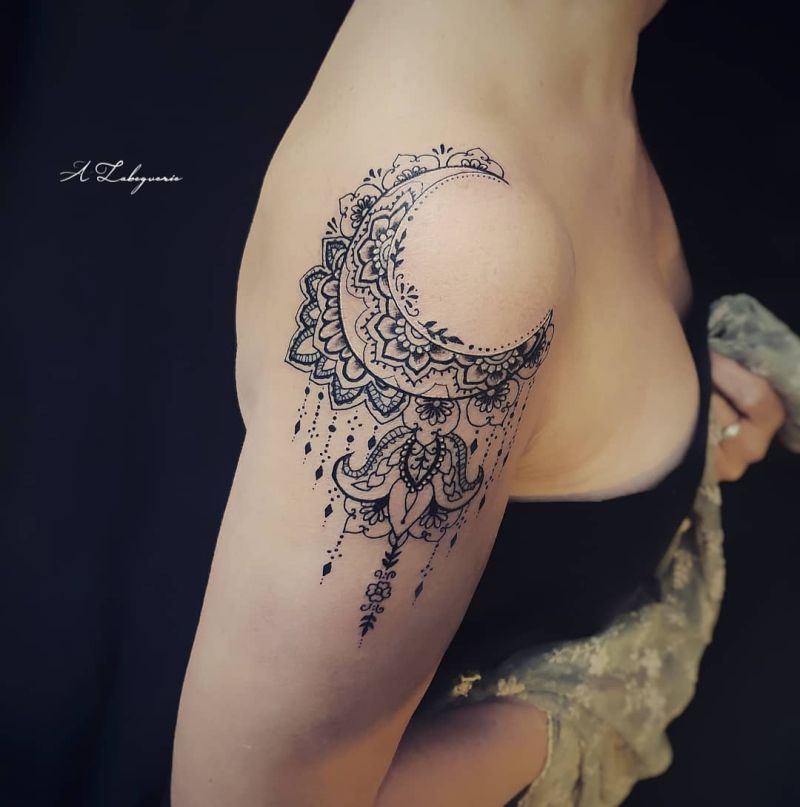 For those that are inspired by the moon or just love the shape of a crescent moon, this may be one of the best shoulder tattoos for you. There are many elements that make up this tattoo, including lots of dots and line work. However, the floral aspects that are incorporated help to soften the look.
35. Starry Sparrows in Flight Shoulder Tattoo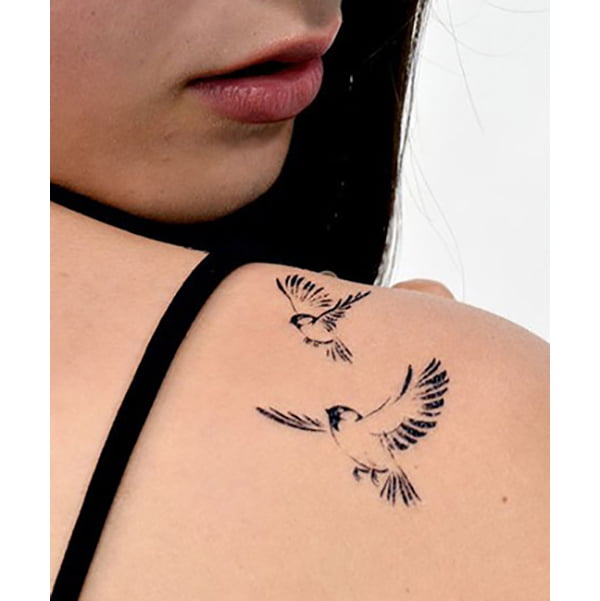 Two little sparrows make up these cute shoulder tattoos. Sometimes shoulder tattoos hurt more than going for other body parts, so this is a perfect choice for those looking for easier choices. Their wings are spread and they are in mid-flight. However, this is not a typical bird tattoo, as these tiny sparrows actually have stars designed in their wings. This adds an additional element and an aspect of depth to the tattoo.
36. Large Mandala Floral Patterned Shoulder Tattoo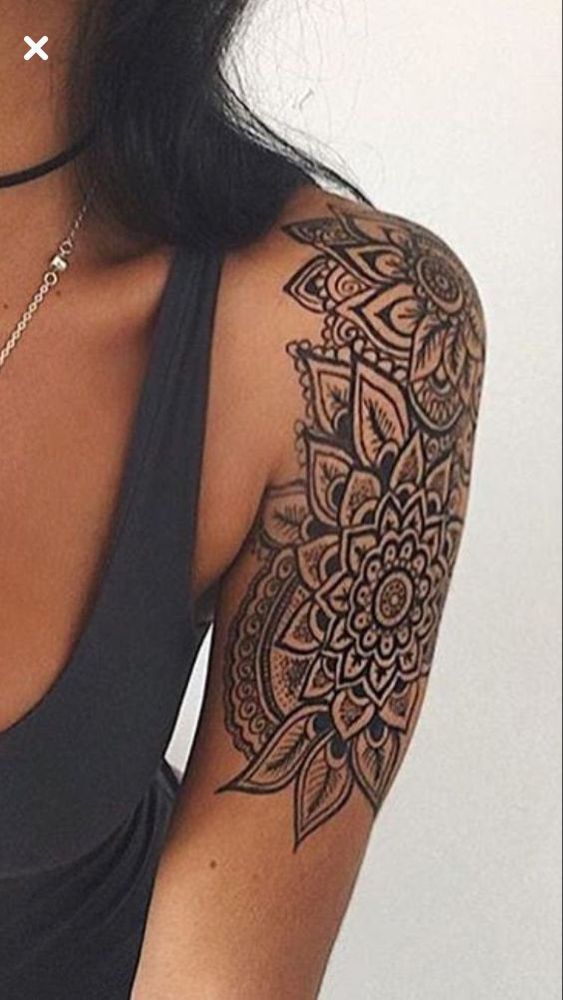 This large shoulder tattoo covers a large portion of the skin, featuring an elegant mandala pattern with two larger tattoo pieces that connect. The linework gives this tattoo an almost geometric element. The leaves of the floral pieces spread further and further out to complete the look.
37. Delicate Floral Vine Wreath Shoulder Tattoo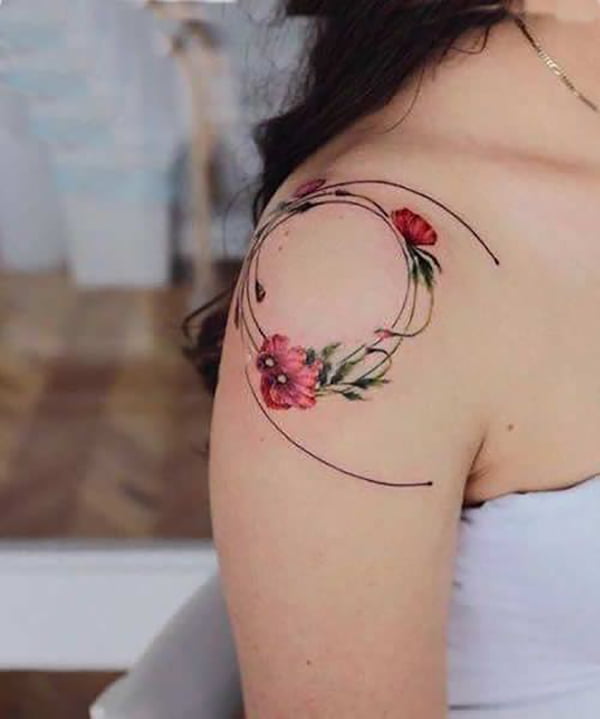 Shoulder tattoo cost is an important factor for many of us, and this is one of the shoulder tattoos that are great if you are on a budget. This wreath shaped tattoo is perfectly placed on the top of the shoulder. The stems of the flowers wrap around with delicate red flowers placed on top. If you are interested in getting a floral tattoo, but you do not want something too bold then this might be just the choice for you.
38. Soft Floral Berry Stem Shoulder Tattoo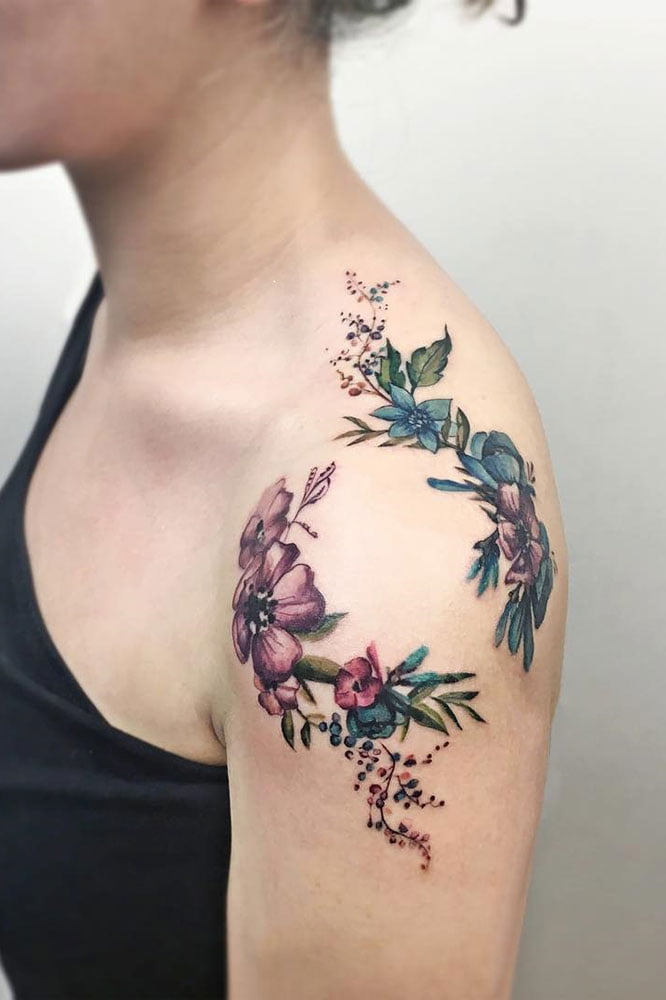 This tattoo has the primary element of soft colors that gently encapsulate the shoulder, creating a beautiful effect. Although there are many floral shoulder tattoos that a person can choose from, this one is particularly unique as it also includes tiny little berries on each side of the tattoo.
39. Peonies and Ferns Mixture Sleeve Tattoo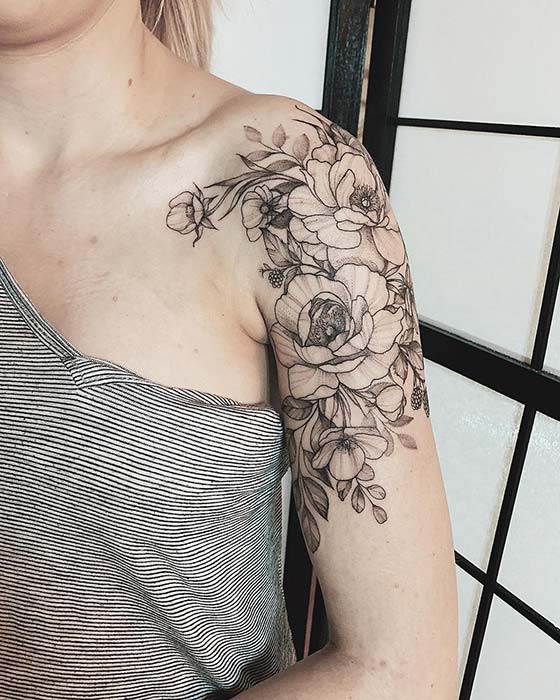 This lightly lined tattoo gracefully wraps around the shoulder and is a great starter for a floral sleeve tattoos. The coupling of two larger flowers gives way to much smaller flowers, as well as clumps of berries. The scene is completed with different ferns set in the background to complete this graceful tattoo.
40. Dripping Starry Bold Lined Shoulder Tattoo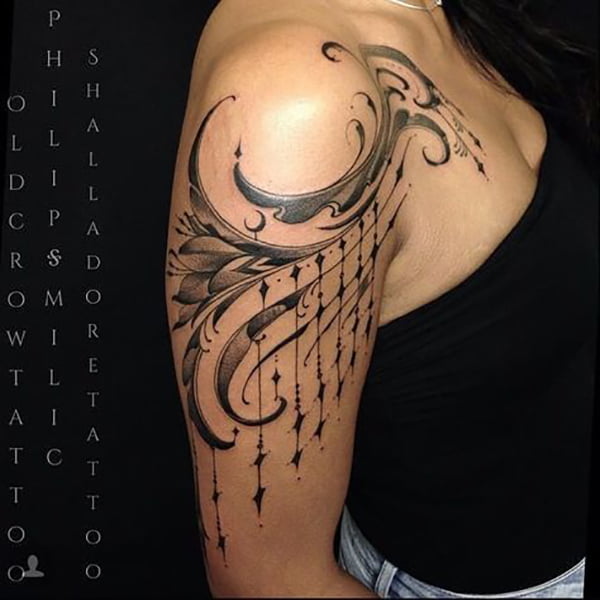 The unique shading of this tattoo helps to draw the eye towards the outward portion of the shoulder and wraps around the top. Underneath the swirls, diamond stars drip down in a straight line. This gives the tattoo a unique dimension.
41. Neon Colored Flower Shoulder Tattoo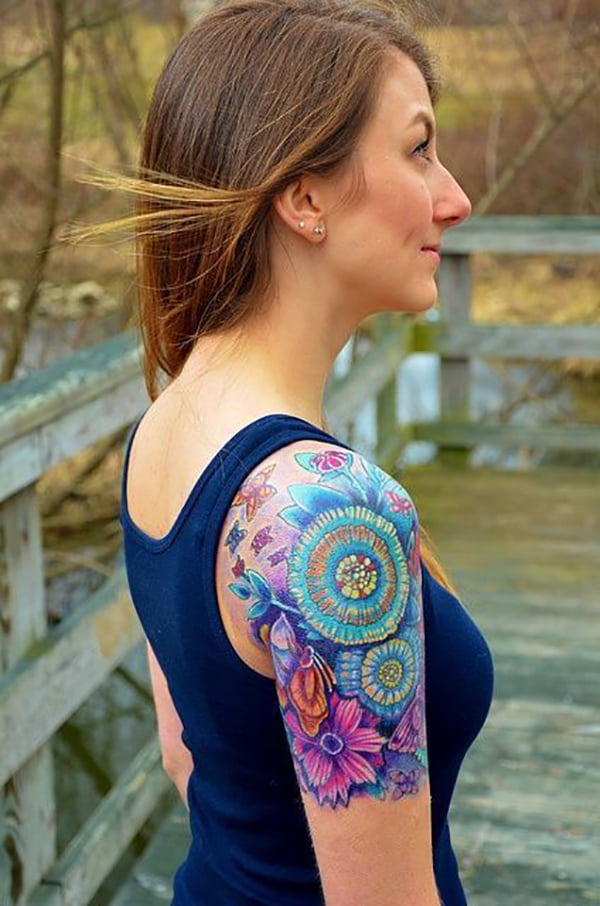 If you want a pop of color on your shoulder, you should consider this eye-catching neon-colored tattoo. This tattoo features a beautiful array of different kinds of flowers, as well as an effect that looks like flower petals, are flying away.
42. Hummingbird in Flight Feeding Shoulder Tattoo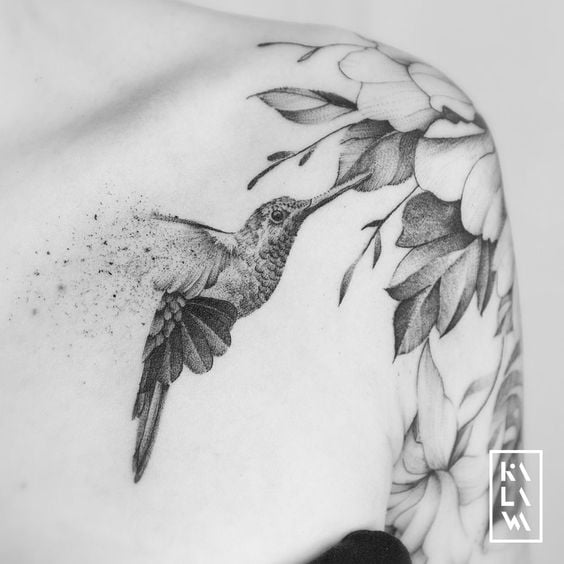 Although in black and white, this stunning shoulder tattoo has many characters. Romantic flowers encapsulate the top of the shoulder, while a small hummingbird feeds from one of the flowers. To capture how fast his wings are moving, the design fades away at the top of his wings. A perfect tattoo for a hummingbird lover.
43. Lacey Red Accented Phoenix Shoulder Tattoo Ideas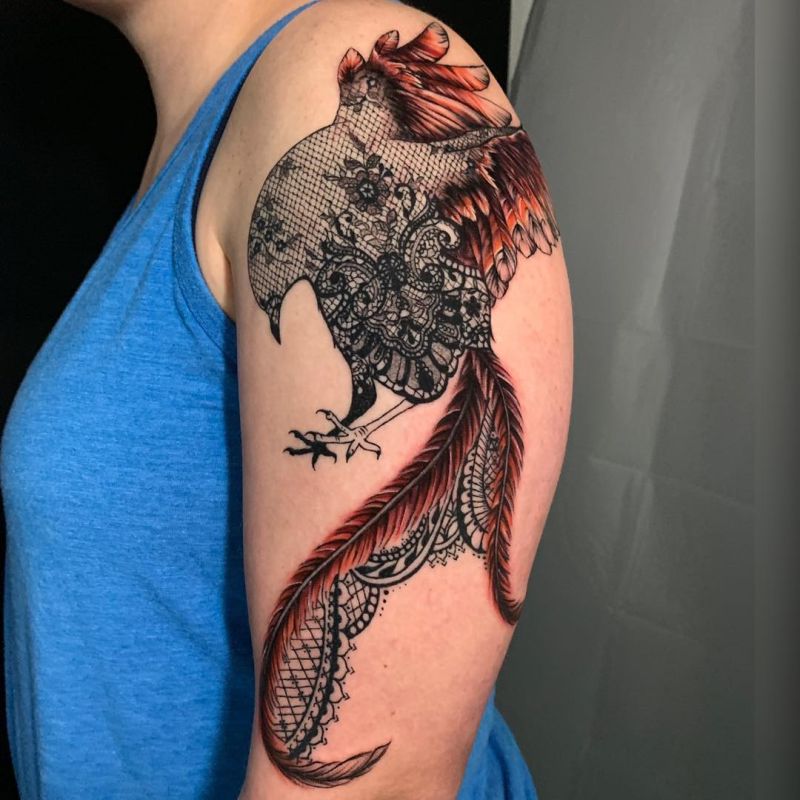 A phoenix is a bird that is a symbol of power and beauty. Although phoenix shoulder tattoos can sometimes be very bold and harsh, this tattoo is different as it has softer accents. The inside of the phoenix is lined to appear to be lacey, while the highlights are a bright fiery red.
44. Black Bold Fern Outlined Tattoo on Shoulder Blade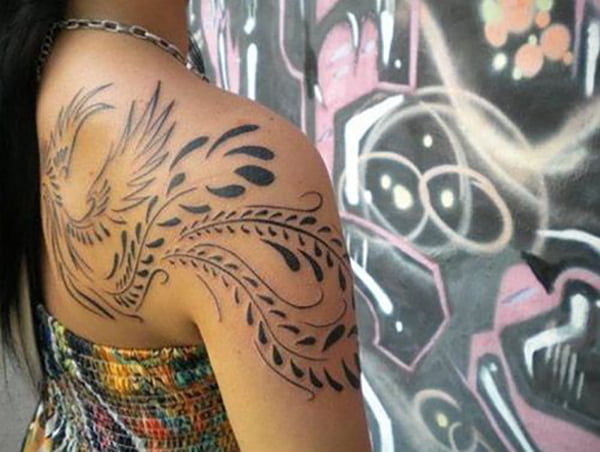 Multiple dark black teardrop shapes make up the primary element in this tattoo. The bottoms of the ferns wrap around the side of the shoulder. If you are a plant lover and want a minimalistic styled tattoo, then this could be the option for you.
45. Minimalist Light Lined Rose Shoulder Tattoo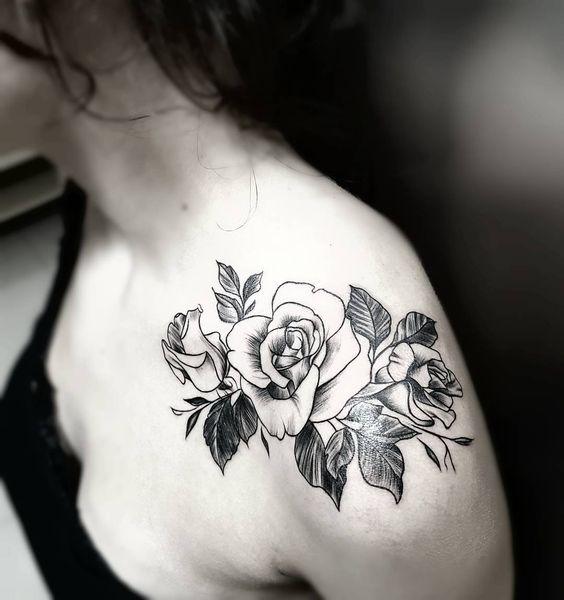 This minimalist rose shoulder tattoo is perfect for someone who wants a flower tattoo but does not want something too bold. The roses here are bunched together and the leaves branch out from the sides. The light lines make this shoulder tattoo look cute and dainty.
46. Small Dandelion with Birds Small Shoulder Tattoo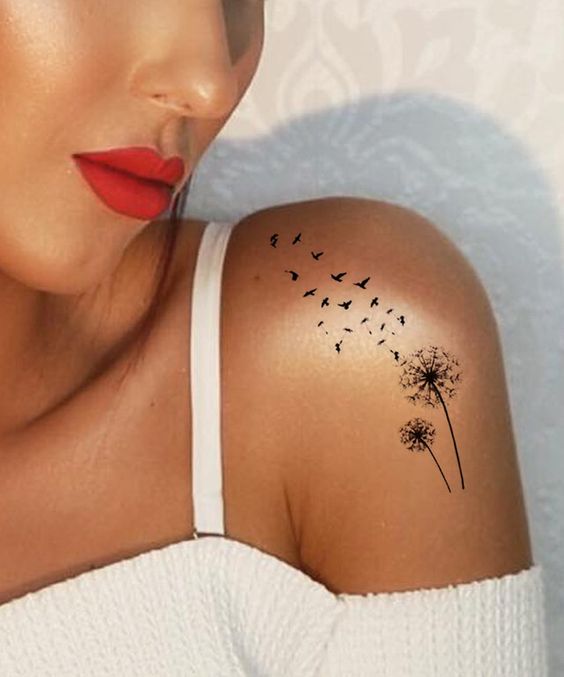 If you want a dainty tattoo, you might want to consider this shoulder tattoo that features a flock of birds blended into a dandelion. Two dandelions will be perched on your shoulder and the way the birds are drawn allows them to look like they are blowing in the wind.
47. Pink Watercolor Peony Flower Small Shoulder Tattoo Ideas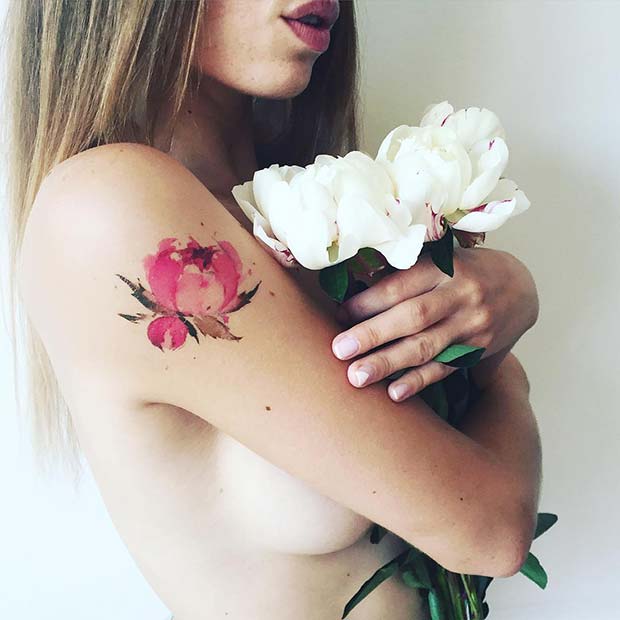 Simple and small shoulder tattoos are sometimes all that is needed to make a statement. This brightly pink colored peony flower is the perfect addition to your shoulder to add a pop of color. Although delicate, the bold colors will be sure to draw in the eye.
48. Soft Watercolor Bushel of Flowers Shoulder Tattoo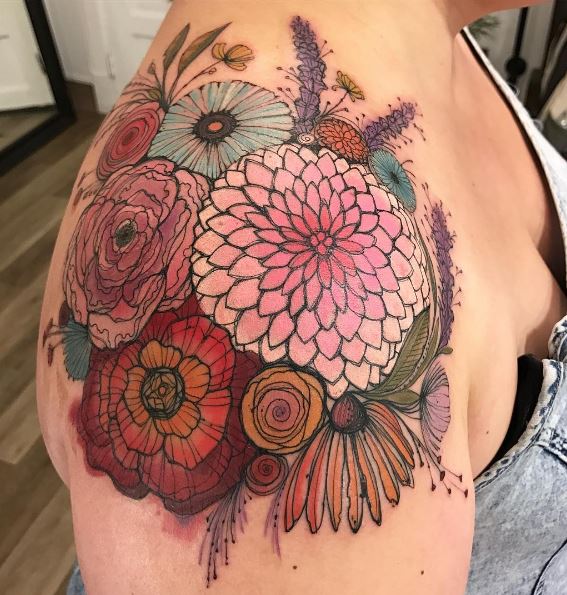 If you want to make a statement with a floral shoulder tattoo, then this tattoo might be more up your alley. If you are a fan of flowers and plants, then you might also like this tattoo as it features a variety of different flowers.
49. Black and White Hiding Tiger Shoulder Tattoo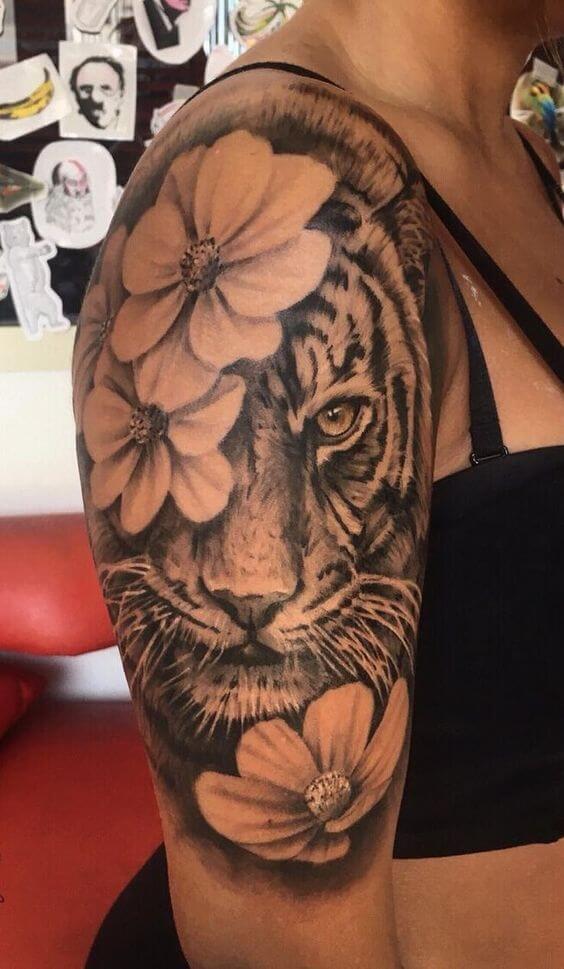 Tigers are a symbol of strength. While tigers are typically drawn more masculine, this tiger is drawn to be more feminine and shows feminine strength. The tiger is shaded beautifully and is hiding between a few different white flowers.
50. Lacey Butterfly Layered Floral Shoulder Tattoo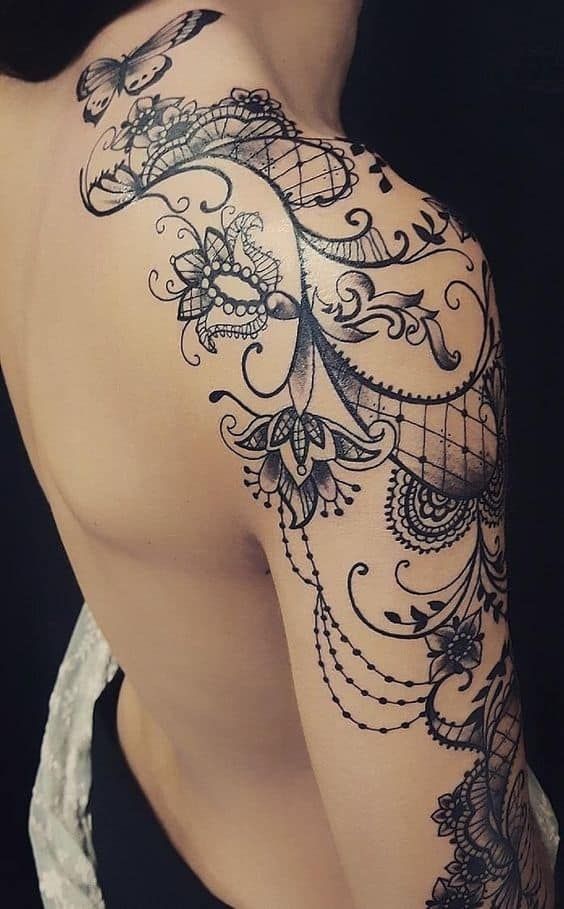 This beautifully layered shoulder tattoo features black and white elements. The dark shading in certain areas helps to add depth and allows the eye to perceive an almost lacey fabric to the skin. There are also additional flower tattoo elements that help to complement the look, as well as a butterfly adorned at the top.
51. Floral Flying Beautiful Phoenix Shoulder Blade Tattoo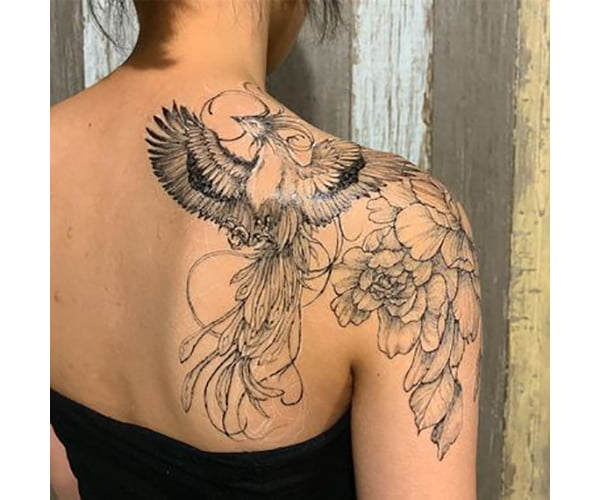 This tattoo features a beautiful phoenix front-facing flying up onto the back, while a floral arrangement blends into the scene and travels down the shoulder. This tattoo symbolizes beauty and strength by representing both a powerful statement and lovely flowers.
52. Mandala Inspired Bold Small Shoulder Tattoo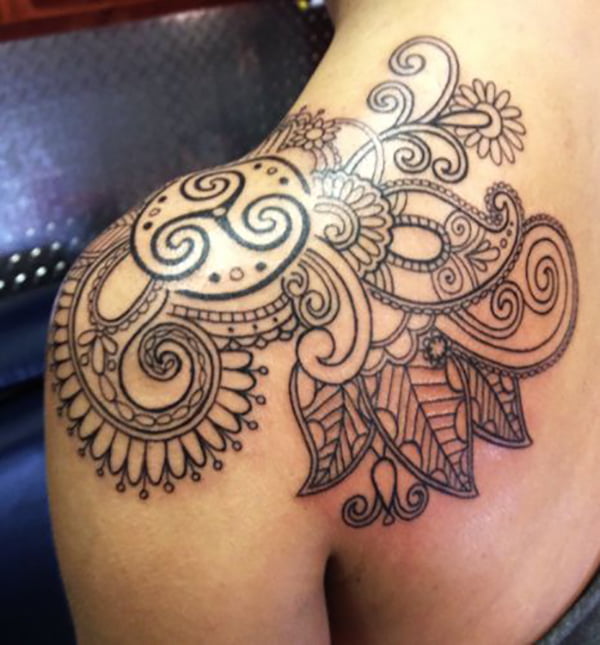 This mandala-inspired shoulder tattoo features light floral work, created by geometric patterns and a combination of bold and thin lines. This combination allows the shoulder tattoo to have a unique element of depth. It fits perfectly on top of the shoulder.
53. Lightly Shaded Berries and Flowers Shoulder Tattoo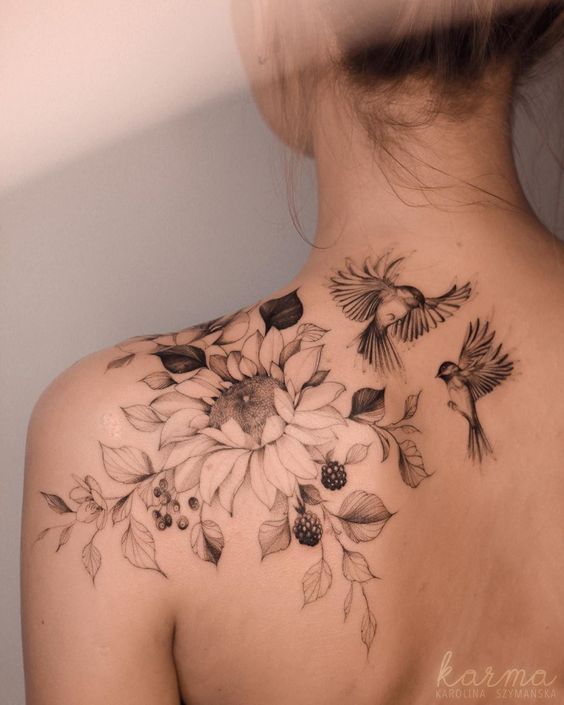 This flower tattoo features light shading that helps to illuminate the delicacy of this piece. Two little sparrows are flying above the scene, as well as berries underneath the flowers. This is perfect for a person who wants to show off how much they love nature.
54. Tiny Bird Script with Flying Birds Shoulder Tattoo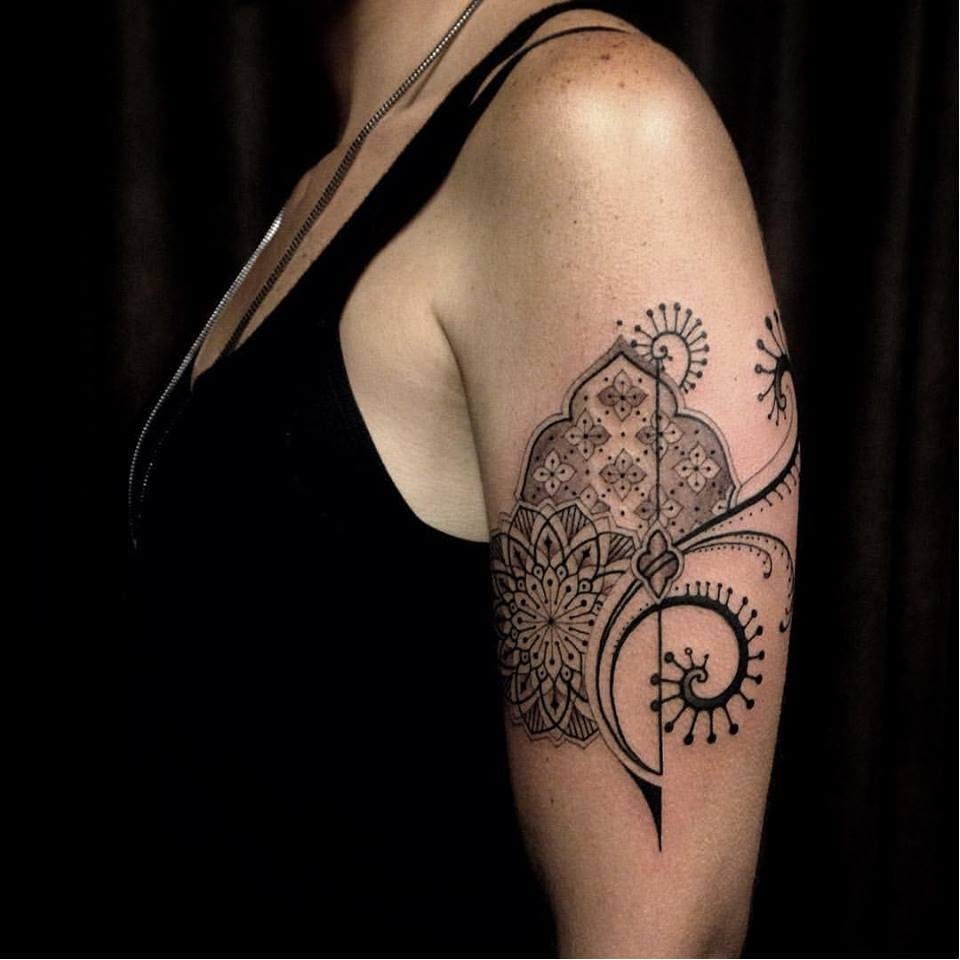 Sleeve tattoos don't have to be complicatedThree birds that are delicately drawn and very tiny are flying away and one is holding the tail end of a beautiful script. The script says, "little bird", which could be interpreted however a person wanted to interpret it. The script is written in just one line, giving the shoulder tattoo an elegant look.
55. Floral Mandala Designed Bold Simple Shoulder Tattoo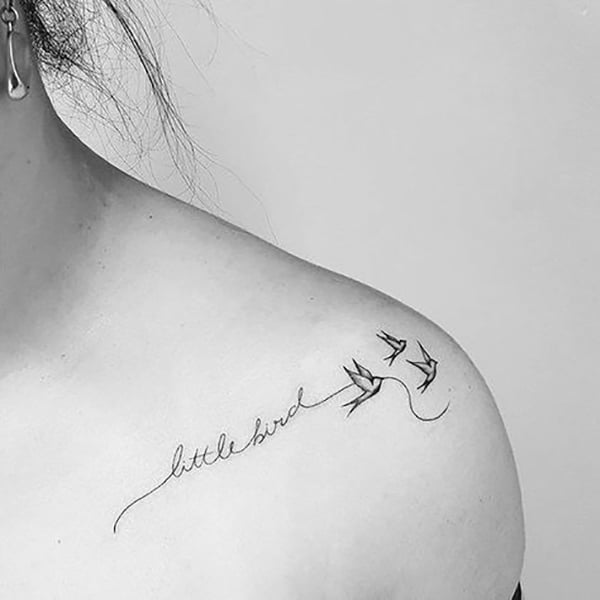 If you want a standout shoulder tattoo that is both elegant, yet a statement piece, then look no further. This piece is a combination of excellent line work, bold shading, and delicate smaller pieces combined to create a truly one of a kind piece, along with floral accents.
56. Dark Shaded Floral Arrangement Shoulder Tattoo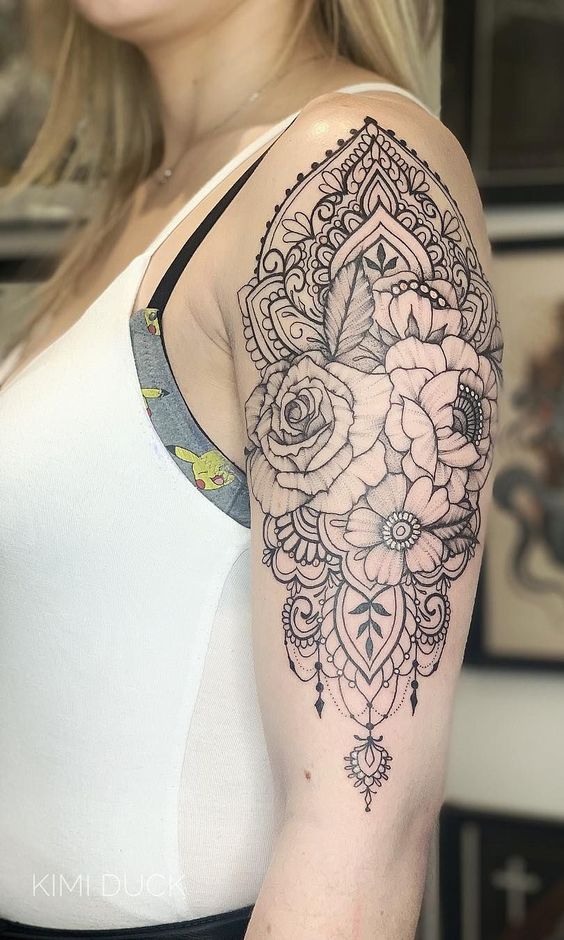 This clump of flowers is unlike all the others. This delicate, yet dark shading, proves that this floral shoulder arrangement is quite romantic. Although the shading is in black and white, adding subtle colors to this arrangement would truly make it pop.
57. Butterfly Perched on Flowers Shoulder Tattoo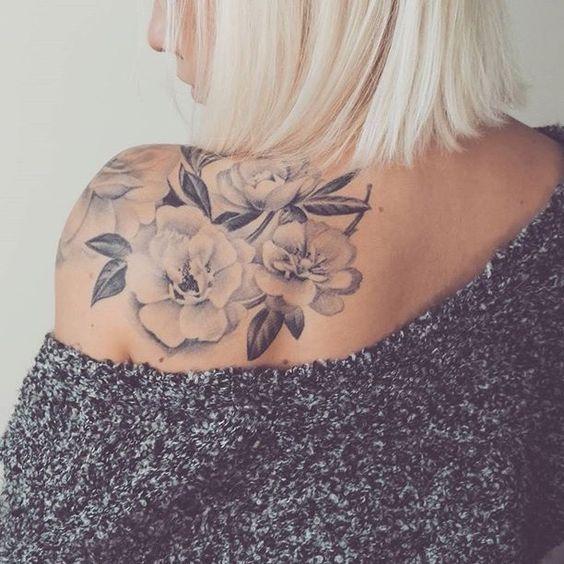 Although this shoulder tattoo includes softly lined flowers on top of the shoulder, there is actually a unique element that makes this shoulder tattoo stand out. The only color in this tattoo is that of the butterfly, which is perched up on top of one of the flowers.
58. Earth Toned Large Floral Shoulder Tattoo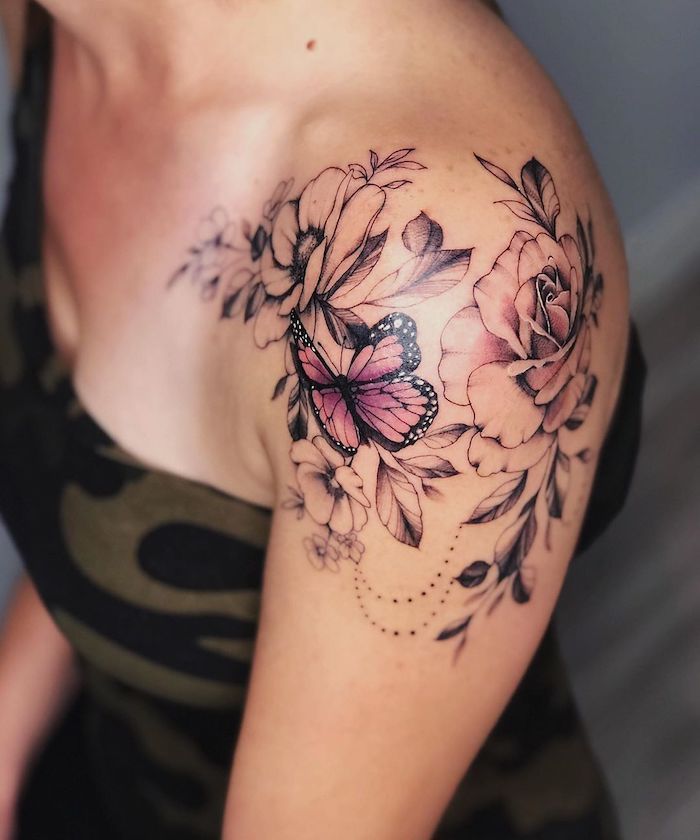 Earth tones as part of shoulder tattoos are actually not commonly done, but when they are done well like in this shoulder tattoo they end up being a show stopper. This large flower takes up a large portion of the upper back and the shoulder area.
59. Floral Bold Lined Geometric Shoulder Tattoos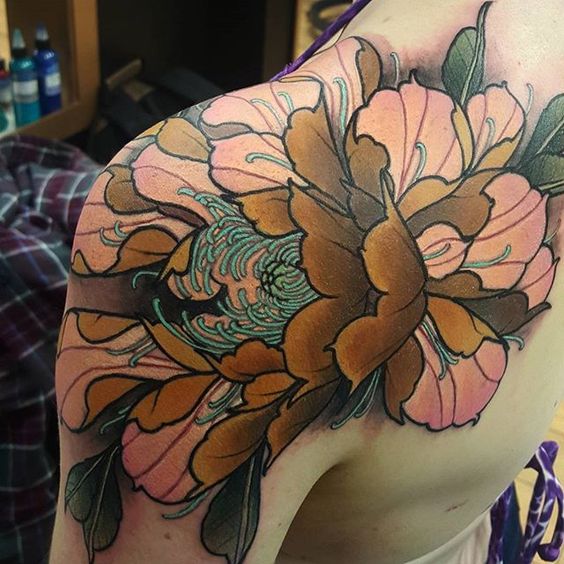 This beautiful tattoo features a combination of both thick and skinny lines, which only adds to the dimension of the piece. The entire piece wraps around the shoulder and travels down the arm. It is a beautiful choice for someone who wants a fuller shoulder piece.
60. Geometric Black and White Creative Shoulder Tattoos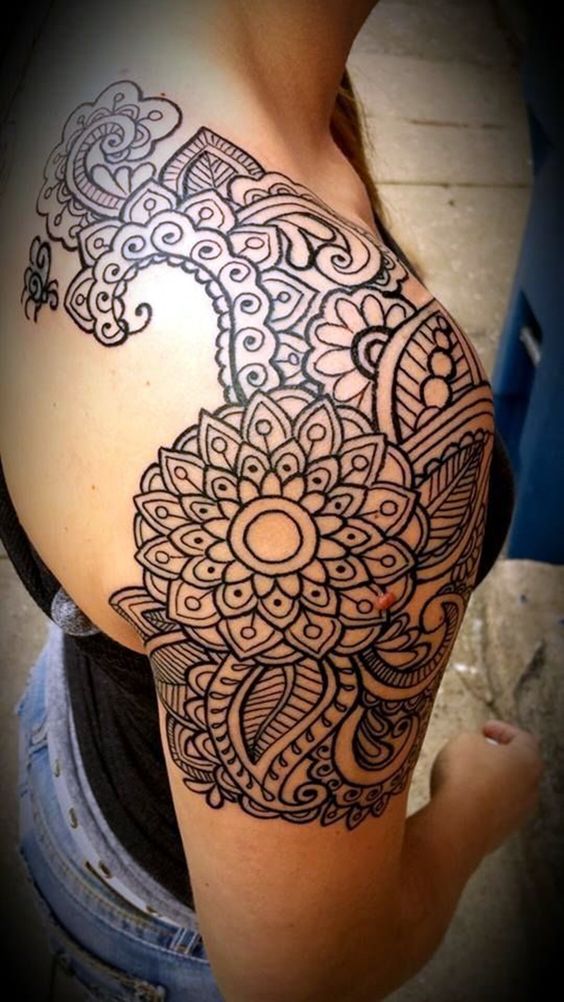 The spirals of this shoulder tattoo had to the unique shape and depth of the piece. You will find yourself entranced by the various shapes and lines that make up this shoulder tattoo. The beautiful lines gracefully wrap around the shoulder to complete the design.
The Best Tattoo Design Ideas for Your Shoulder
Shoulder tattoos can be great conversation pieces and since they stick with you for life, you will want to make sure that you choose one that you are going to love for a long time. Even more so than that, you will want to make sure that the placement of your tattoo compliments the style of your shoulder tattoo. Utilizing this list, you can decide on not only a design for your new shoulder tattoo but also the placement of the tattoo. Regardless of what design you choose to place on your shoulder, we are confident that you will choose the best match for you.