Searching for a good idea for your tattoo isn't always easy, particularly when you're looking for the best star tattoo designs. While stars are very simple, you can take this basic idea in many directions to make a stunning tattoo that is unique to you. Have fun and consider what has meaning to you as you peruse this list of curated star tattoo designs. Don't be afraid to use these star tattoo ideas as a base or combine them to make the best possible tattoo for you. Talk to your artist and work with them to make a tattoo you'll love for the rest of your life. The small star tattoo cost is relatively low, so those might be good for starting out.
60 Striking Star Tattoos to Delight and Inspire You
Stars have many meanings when used in star tattoos. Similarly to flower tattoos, they can mean reaching beyond your limits or just showing love for astronomy and the little lights that have shown humanity a glimpse of the rest of our universe. Stars have meant protection for centuries, as well as a connection with the divine. The exact form can determine the specific meaning, so don't be afraid to look around to find a star that already has your intended meaning. Stars are overwhelmingly a positive symbol, so if you're looking for an uplifting tattoo, these are perfect as a base for your design.
1. Sleeve with Star Tattoo, Bird Tattoo, and a Tree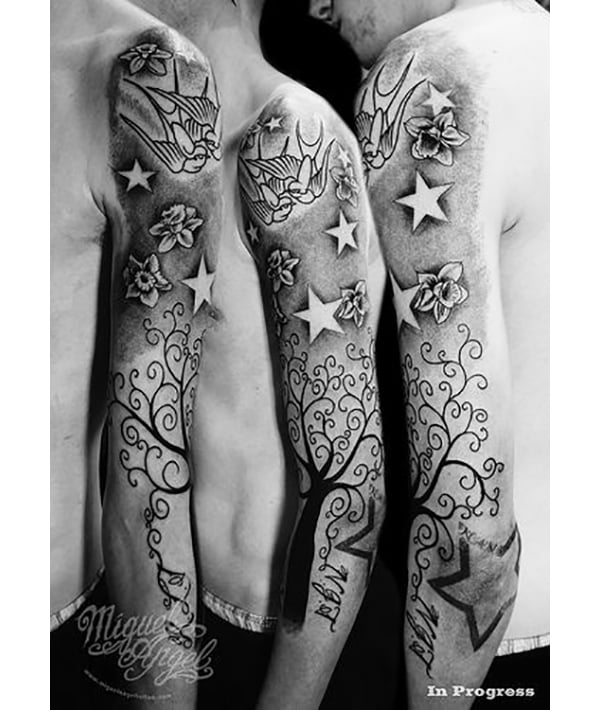 This beautiful star tattoo is perfect for a full sleeve design. The tree is rooted near the wrist, and the stars are above the branches, with two birds flying on the shoulder. This layout is beautiful and can help merge together several different star tattoo designs into a single cohesive piece.
2. Simple Star Tattoo on a Hand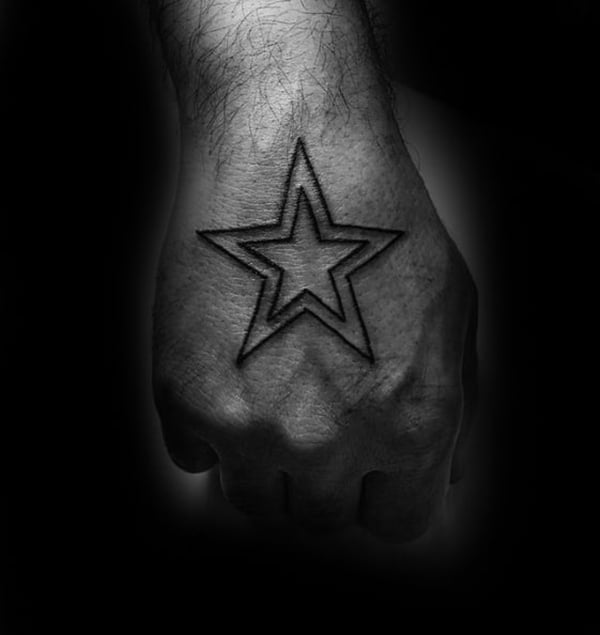 This is a simple, yet striking star tattoo. The bold and simple linework helps give a clean look. This is a relatively simple five-pointed star with another smaller star inside of it. However, it still has a clean look and could easily be given color or other details to help make it more distinctive and customized for you.
3. Star Tattoo Designs Under Black Curved Lines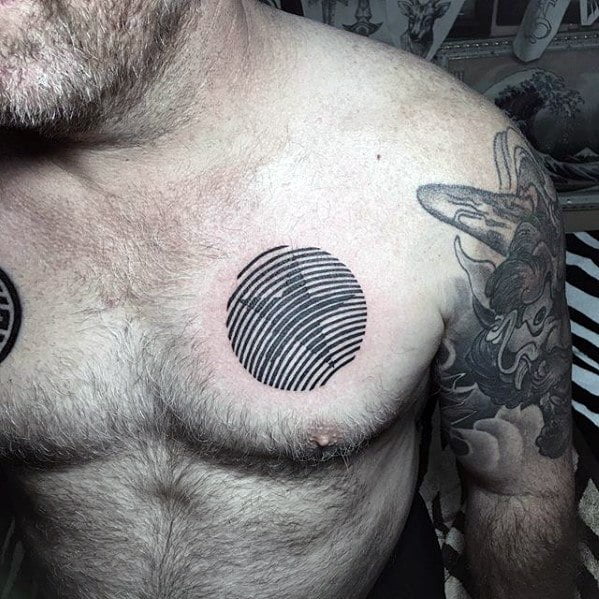 This star is hidden beneath lines reminiscent of a fingerprint. This unique design could be used to help hide errors in an older tattoo that hasn't aged well without covering it up completely. It could also have a symbolic meaning, such as a star hidden beneath your skin.
4. Colorful Outer Space Themed Sleeve Star Tattoo Designs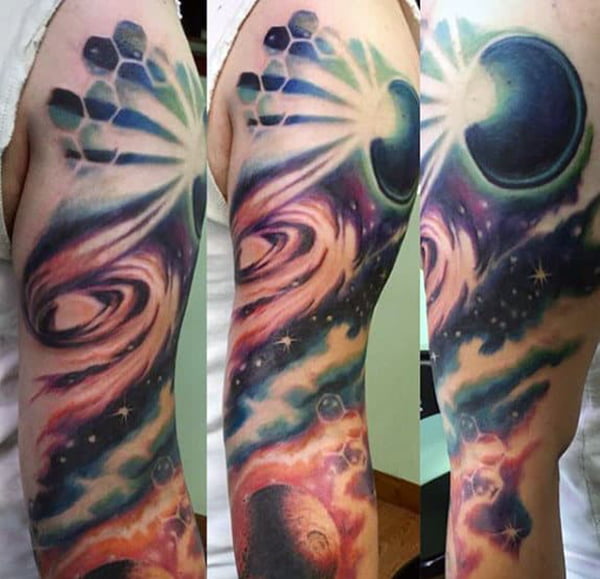 This beautiful half sleeve tattoo takes star designs from celestial bodies such a forming stars and planets. This design is wonderful for anyone with a passion for astronomy or science fiction. The hexagons in the sleeve tattoos design help give it a futuristic feel.
5. Four Pointed Black Star Tattoo on Sleeve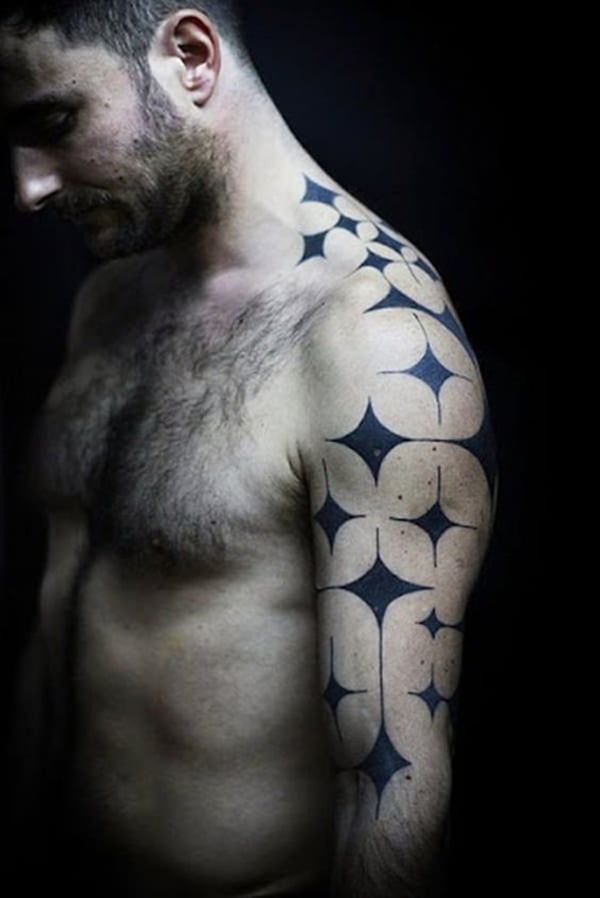 This elbow tattoo design has four-pointed stars of varying sizes that go from the elbow all the way up the shoulder and neck. This bold design is perfect for anyone who wants a striking design that blends into each other in a consistent pattern.
6. Nautical Star Tattoo on the Neck
This star tattoo is part of a colorful nautical star tattoo design on the neck. You could easily place this wherever you like. The nautical star tattoo means that you will always find your way home. This neck tattoo is great for sailors, members of the Navy or Marines, as well as anyone who needs help finding a safe harbor.
7. Black and White Tattoo of American Flag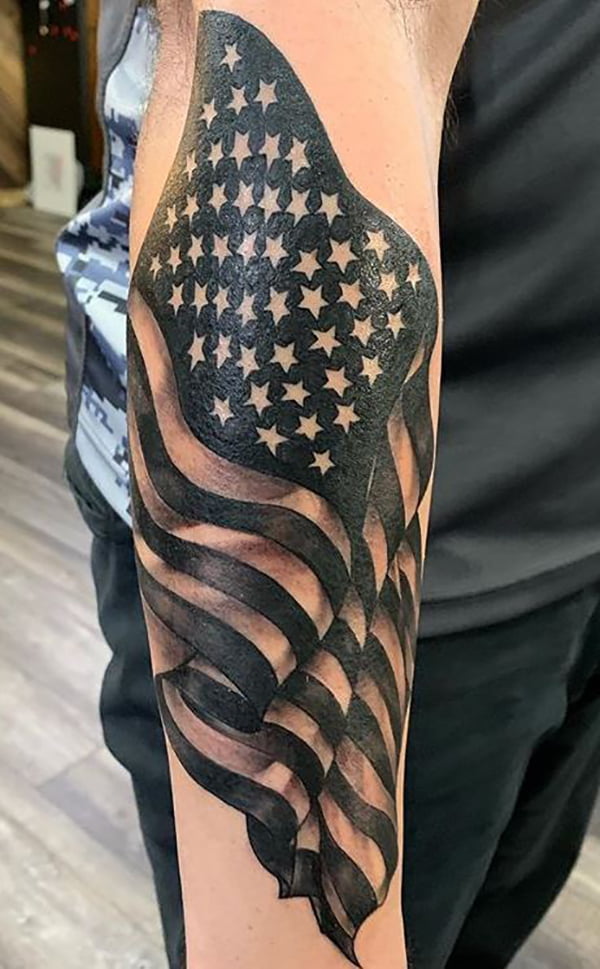 The stars in this design are the stars in the American flag. This design is great for any veteran of the United States or anyone who wants to declare where they are from. Having the flag look like it is waving in the wind gives the design more visual interest.
8. Six Pointed Star Tattoo with Fuzzy Outline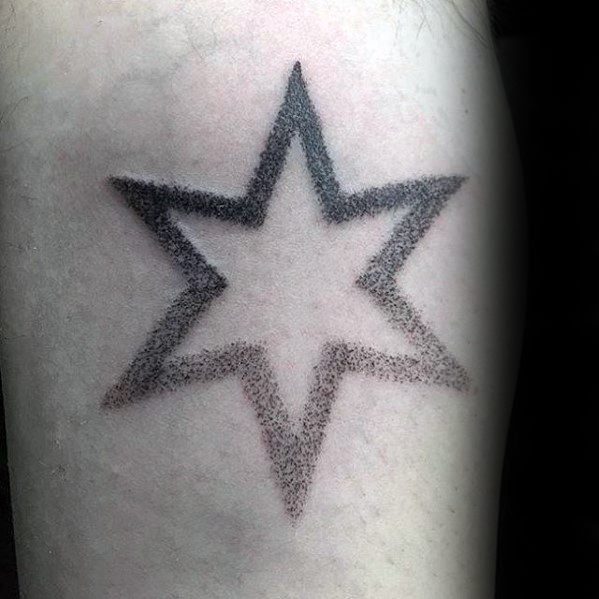 This six-sided star has an outline made up entirely of dots with these dots being more densely placed on the upper portion. This gives it a unique appeal that a solid line wouldn't give. You could use this with any star design you like.
9. Star Tattoo Surrounded by Star Outlines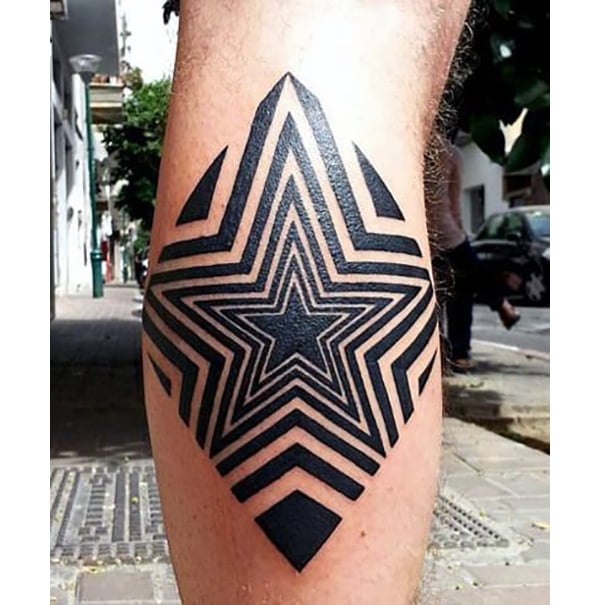 This fun tribal tattoos design looks like a line of stars that almost seems to form a tunnel. The central star is in solid black and is surrounded by outlines of alternating black and white. The outer form is a diamond, this gives the design more visual interest. This lovely star tattoo is bold and will look good for years to come.
10. American Flag Sleeve Star Tattoo Design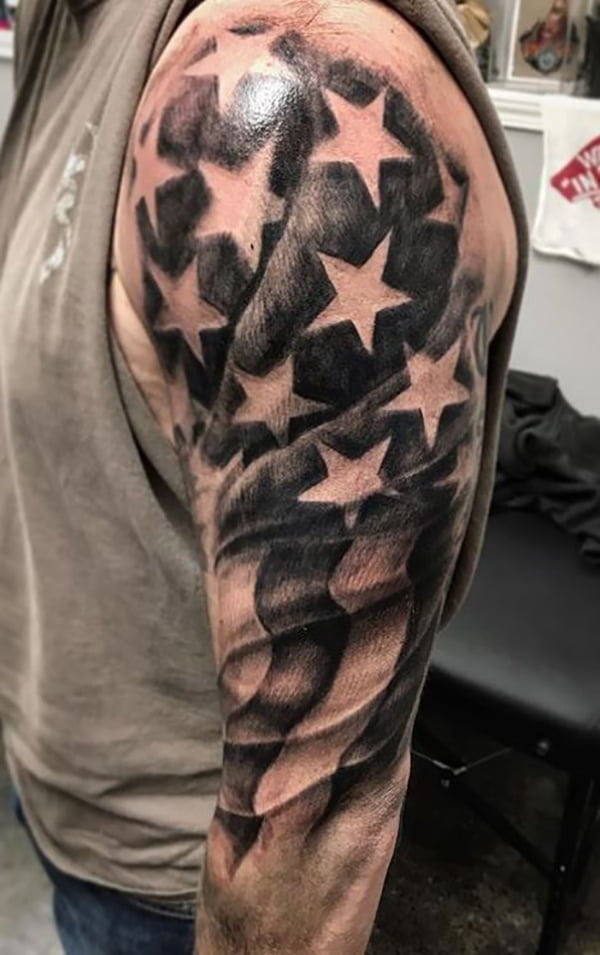 This design is an upper arm star tattoo that has a portion of the American flag. This design is focused on the starfield that makes up the upper left portion of the flag. This is a great star tattoo for a veteran or someone currently serving in the military.
11. Negative Space Star Tattoo and Swirls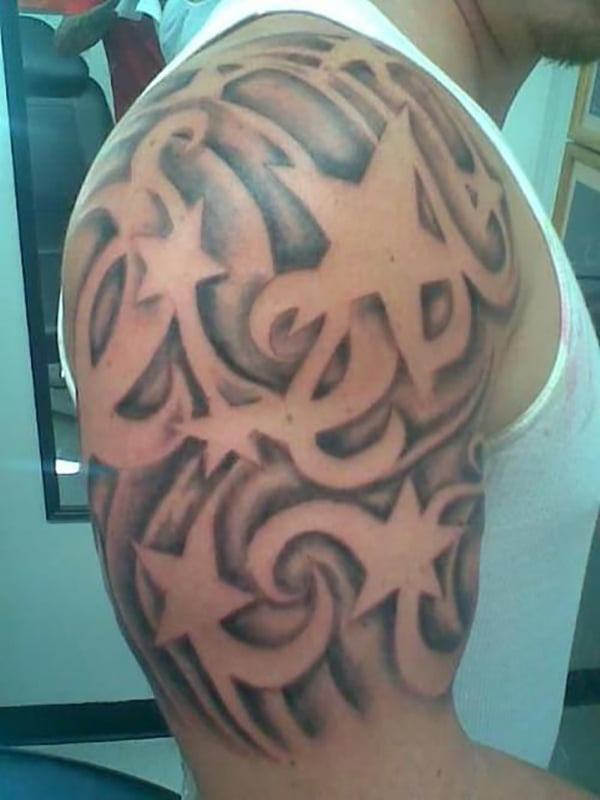 This striking tattoo uses negative space to form the stars that make up the majority of this design. The shading is used to make a background while the skin becomes the color of the stars. This is a great design and could be altered to make it customized, such as using color.
12. Star Tattoo with Scenes Inside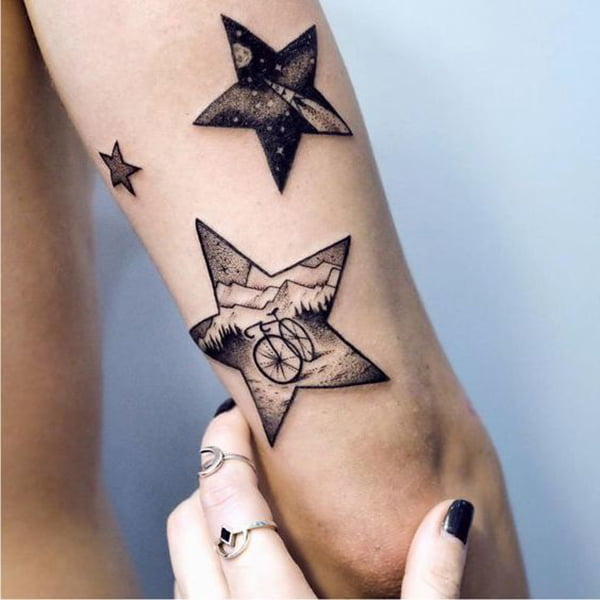 This great star tattoo uses a star shape as a frame for other star tattoo ideas. One is a rocket blasting off, and another is a simple image of a bicycle on a tree-lined path. This tree tattoo idea can be easily made your own by selecting your own important images to include. For instance, you could have the artist immortalize a favorite picture or place it on your skin.
13. Unique Star Tattoo with Multiple Stars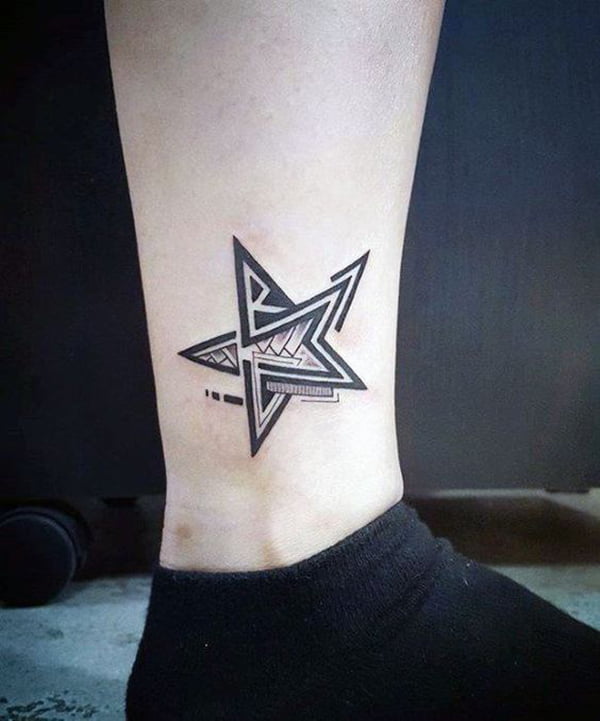 This great star tattoo design is another that you can easily make your own by changing up some elements. The arms of the star have different designs inside them, and you could easily pick a different design to make this your own. This version uses sharp lines to give a distinctive, abstract look. If you want a similar effect, stick with abstract star designs.
14. Star Tattoo Outline Reveals Words Beneath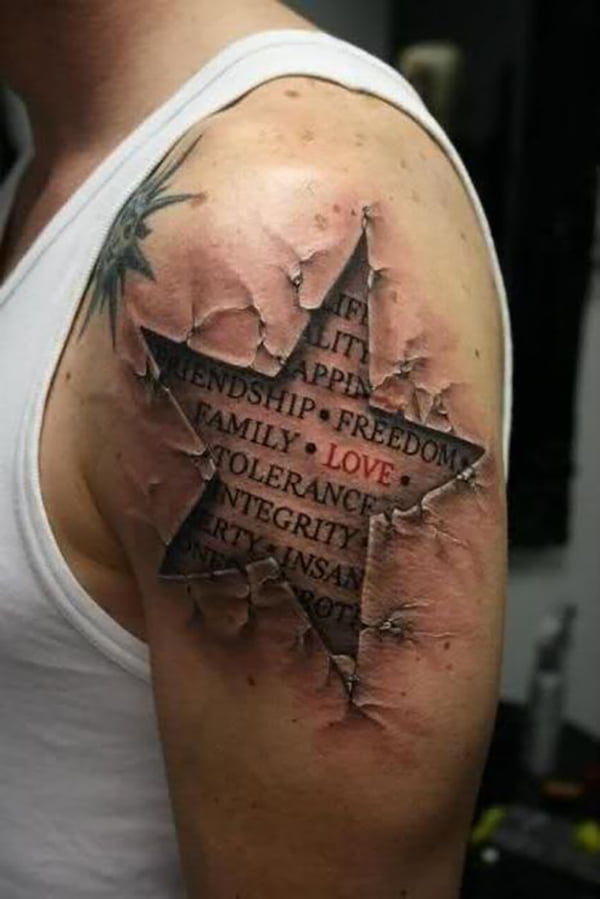 An interesting category of star tattoos is one where you seem to see within the skin something important to the wearer. This example uses a star outline surrounded by cracks to show words that this person finds meaningful. This amazing tattoo style can be used with any words or even images that are important to you.
15. Red and Blue Layered Star Tattoo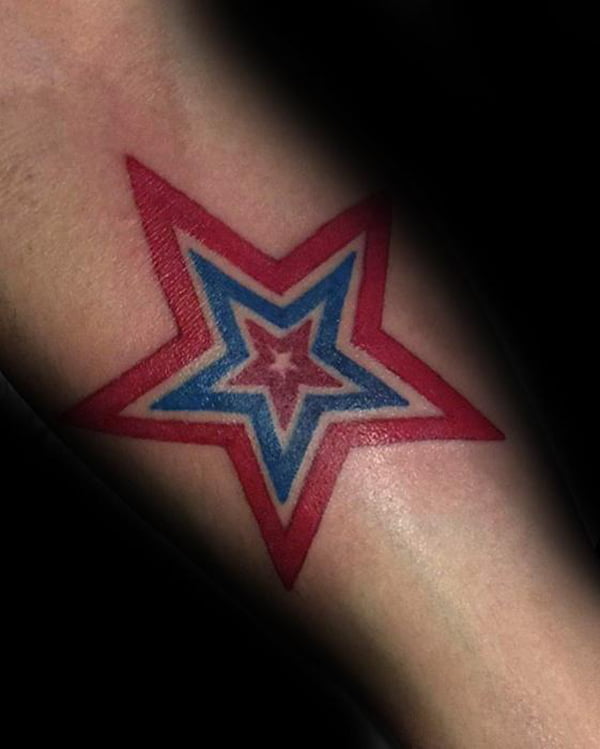 This beautiful star tattoo design uses red and blue stars to create a layered effect. This is a great option for a subtle patriotic tattoo or it can be customized with different colors. The uneven lengths of the points give this star design more visual interest as well.
16. Star Tattoos on Forearm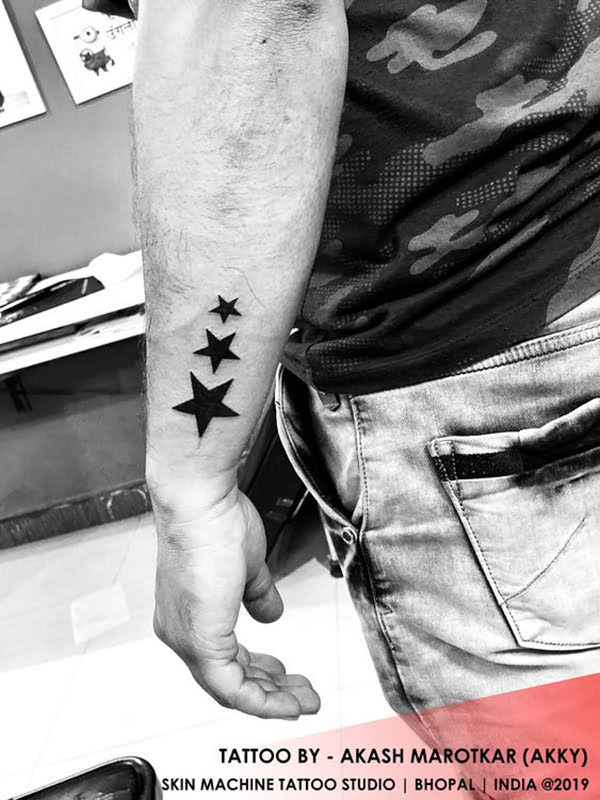 This simple star tattoo uses three stars that get smaller as they rise away from the wrist. While the location would make it harder to hide, it's a classy simple star design that many would find appealing. You could make each a different color if you aren't a huge fan of monochrome arm tattoos.
17. Clean Outline Star Tattoo and Smudged Star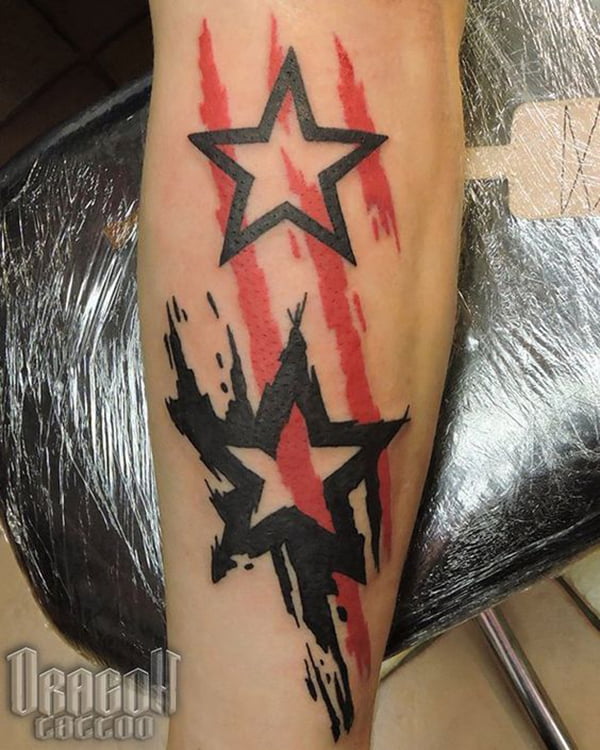 This interesting star tattoo uses two stars that have different styles of the outline to give more visual interest. The star with the straight outline contrasts with the smeared look of the other star. This second star recalls the red stripes in the background.
18. Eight Pointed Star Tattoo and Moon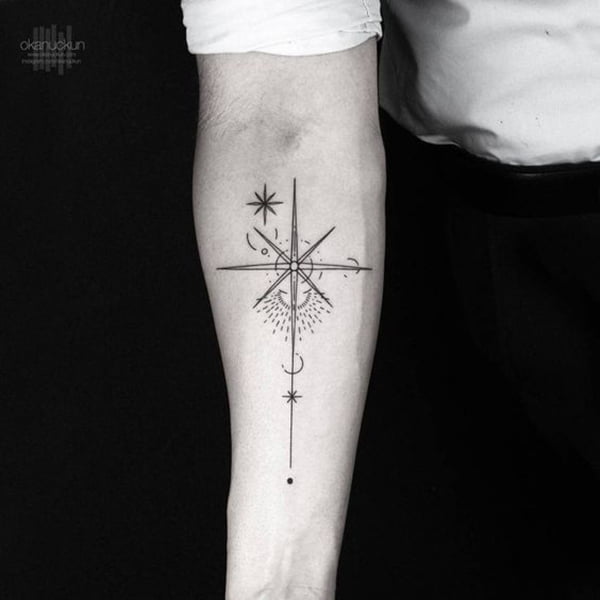 This beautiful star tattoo design recalls a compass rose with the longest four points being the cardinal directions. This makes it a great tattoo for anyone who loves travel or wants to always find their way home. The additional details like the second star and the moon give more visual interest to a simple concept.
19. Star Tattoo on Shoulder and Pectoral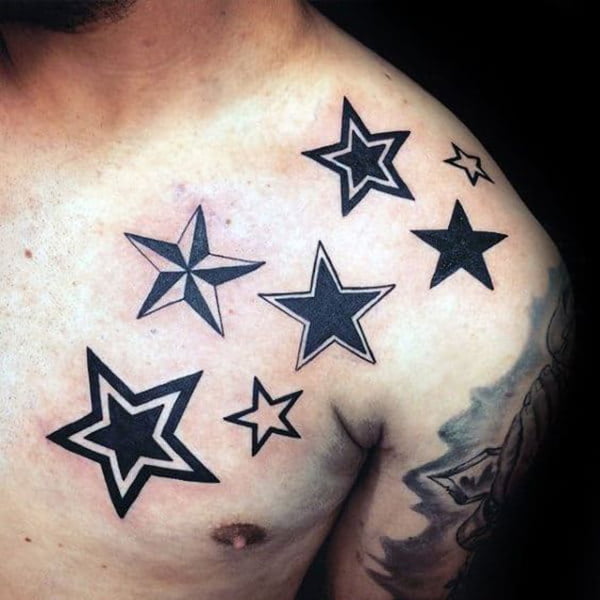 This star tattoo design takes multiple styles of stars to make a single tattoo. You could easily combine multiple styles of stars that you like to create a unique star tattoo. It might be best to stick with the same number of points so it looks visually consistent.
20. Large Star Tattoo Outline Wrist Tattoo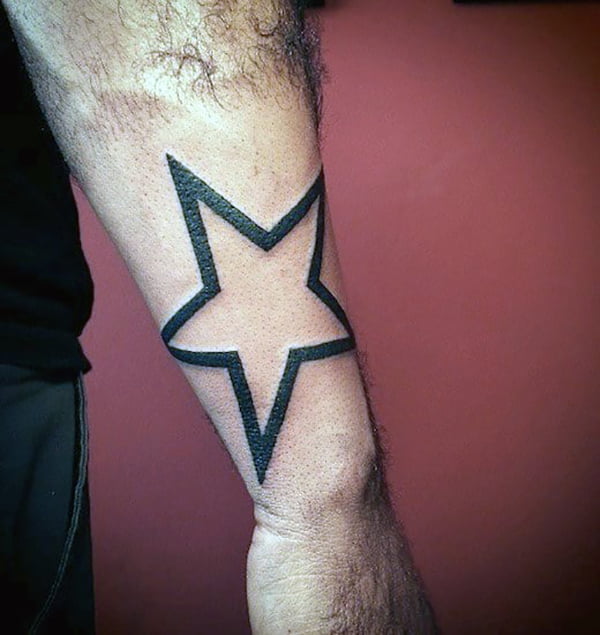 This simple star uses a bold outline and large size to give visual appeal. This style could be placed anywhere you like that has enough space. You could also use a star like this to be a frame for any image you like. This gives you more options to create a unique tattoo.
21. Colorful Patterned Star Tattoos Sleeve and Chest Tattoos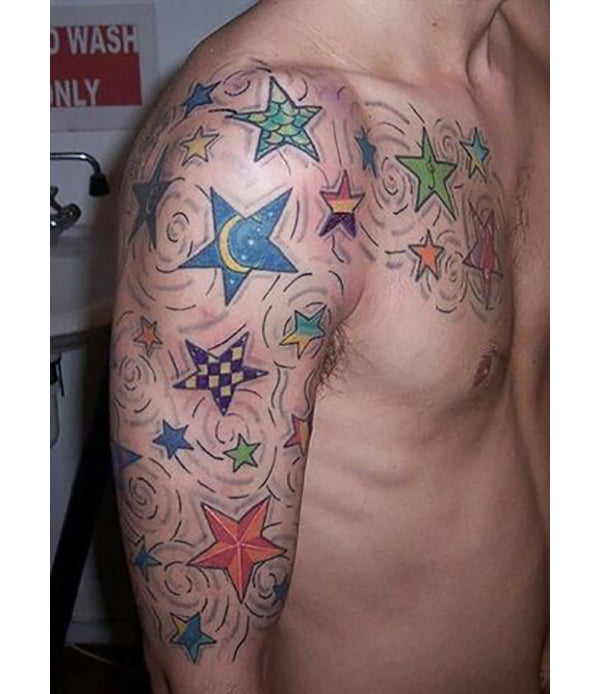 This star tattoo design is filled with colorful stars that each have their own pattern or set of colors to give a unique look. This is a highly customizable star tattoo since you can easily opt for different patterns and colors to make your tattoo unique. The line work helps connect the stars and makes the piece a single piece.
22. Nautical Star Tattoos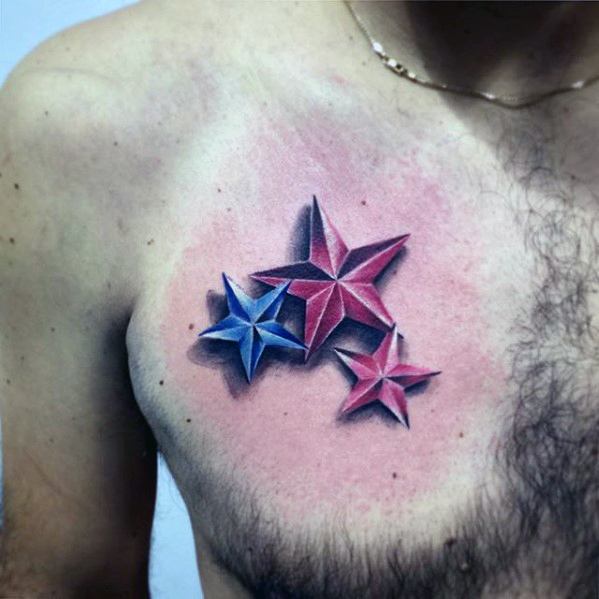 These three nautical star tattoo designs have a variety of colors and sizes to give this grouping a more interesting look. The nautical star designs have also been shaded so they seem to pop off the skin. This shows that even a simple idea can be elevated by a talented tattoo artist and a bit more time in the chair.
23. Star Tattoos on a Chest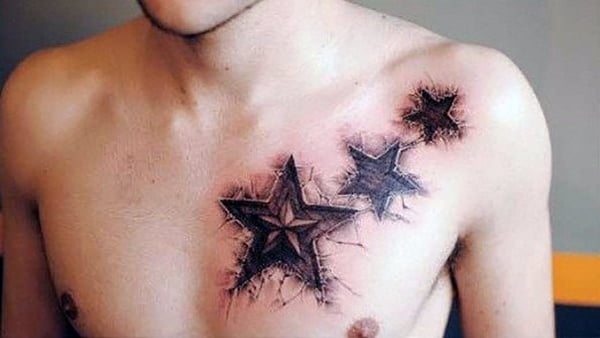 This unique look is another option where the star tattoo seems to be coming out of the skin. The additional depth gives these tattoos a great look. These stars go along the pectoral muscle and up to the shoulder with the size getting smaller as it goes. This helps the piece fit the location better.
24. Star Tattoo Designs on Forearm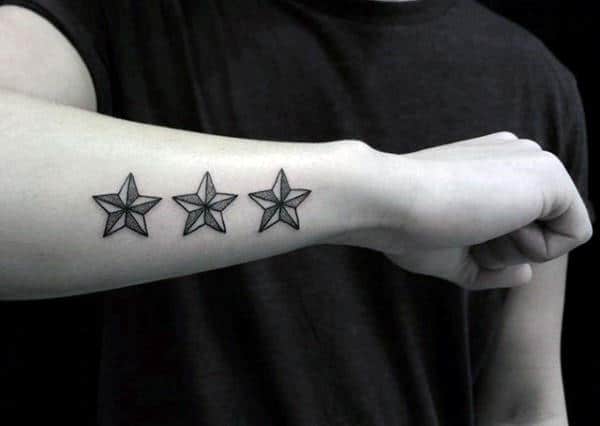 These three nautical star tattoo designs are all the same size and style. This is a great option if you want something simple for your next tattoo. You could easily add color or change the location if you want to be able to cover it more easily.
25. Intricate Star Tattoos Pattern on Forearm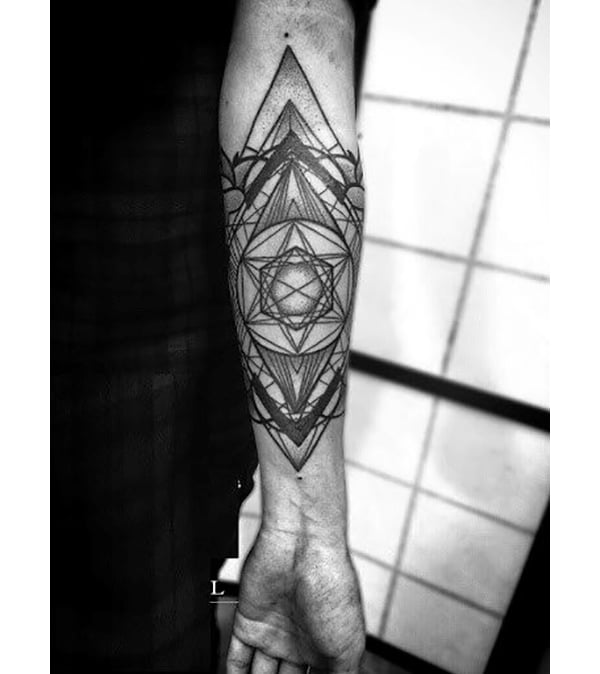 This star tattoo design is great if you love lots of detail. The intricate pattern could be stared at for hours without getting bored since there are so many small details. This cool tattoo could work with colors, but that does run the risk of ruining some of the detailed line work.
26. Eye Inside Star Tattoos on Nape of Neck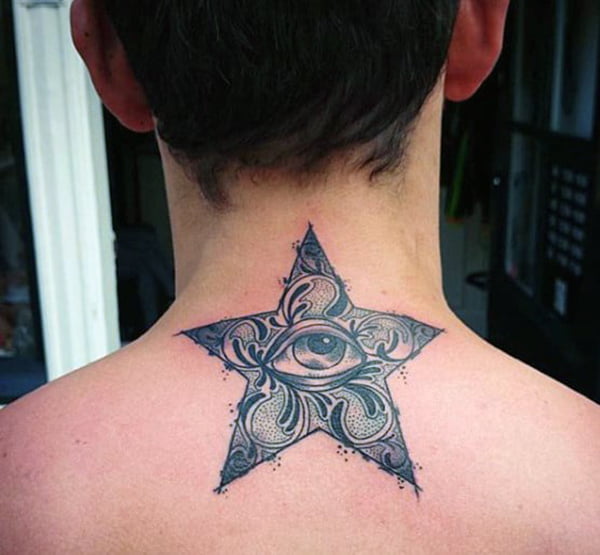 This unique star tattoo features an eye inside of a star. The star is filled with flourishes to fill the space without distracting the eye. This great tattoo could be switched up by using different ideas to fill the space of the star.
27. Three Star Tattoo Outlines on Forearm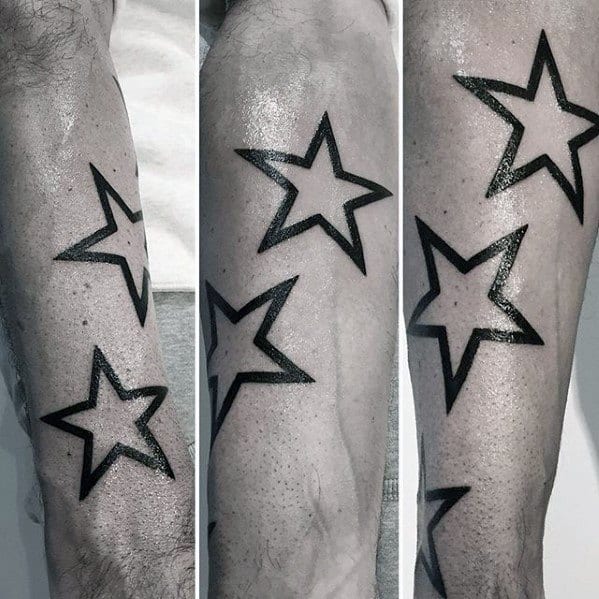 This star tattoo design scatters three-star outlines on the wearer's forearm. This design is striking without being too busy. You could change it up by adding color or using the outlines as a frame for other images. Don't be afraid to customize simple ideas like this to your liking.
28. Torn Skin Reveals American Flag Star Tattoo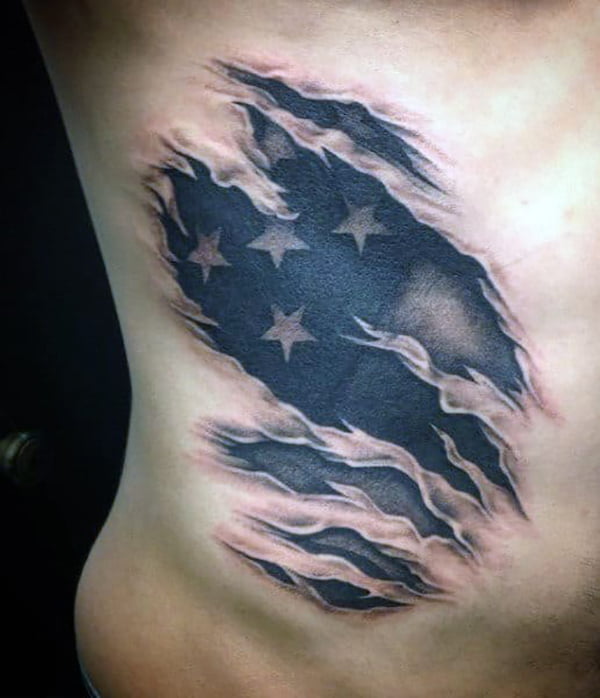 This star tattoo uses the idea of torn skin to reveal the star field of the American flag as well as a few of the stripes. This is a great option for any veteran who wants an idea to commemorate their service. Those who feel that being American is an integral part of their identity would also like this design.
29. Star Tattoo of David on Bicep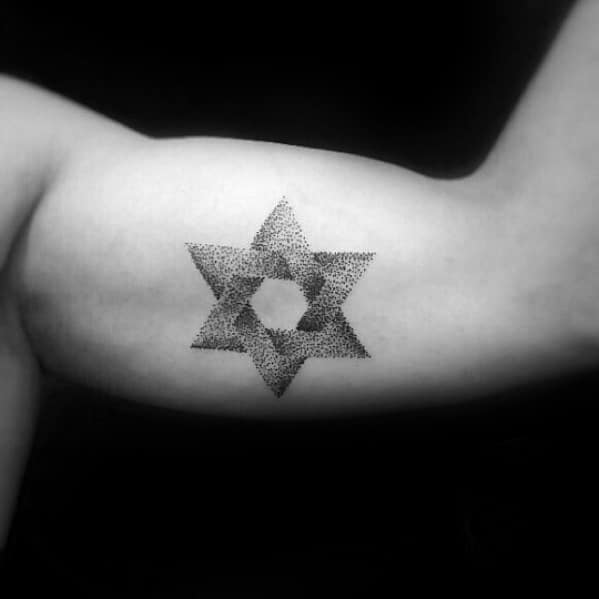 This beautiful, yet simple star tattoo is perfect for any followers of Judaism. The linework is actually made up of small dots that give the outline. It also has triangles that interlock to create the shape overlap os a very pleasing way that shows how much care and craftsmanship went into a very simple design.
30. Galaxy, Star Tattoos, and a Planet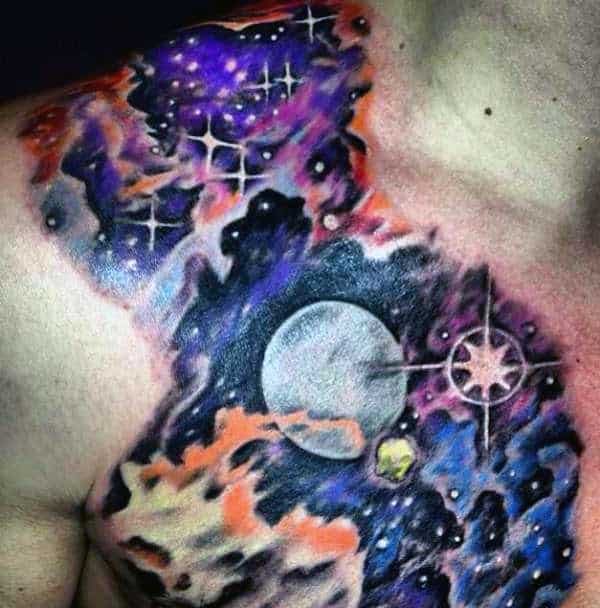 This is another great idea for anyone looking for an astronomical shooting star tattoo inspired by the beauty of our universe. The rich colors recall the images that NASA and similar scientific institutions release to show what our universe looks like. This is also a great tattoo for anyone who loves science fiction.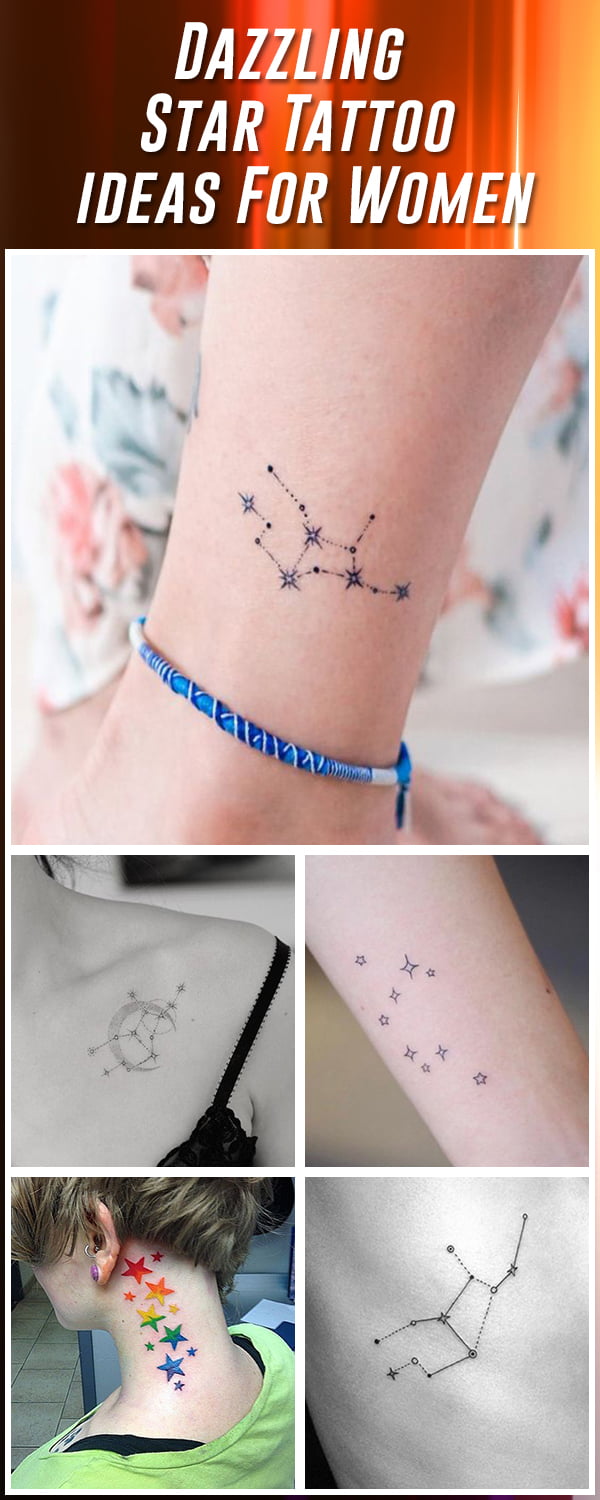 31. Colorful Sleeve with Negative Space Star Tattoos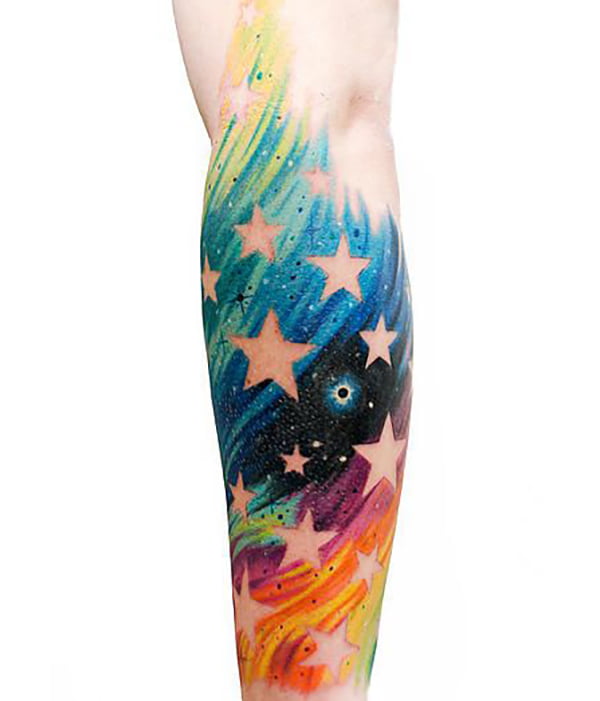 This beautiful shooting star tattoo uses a colorful background that recalls outer space. The main stars are created from negative space made by leaving sections of skin blank. This is a wonderful idea for anyone who loves galaxy print items.
32. Constellation North Star Tattoo on a Bicep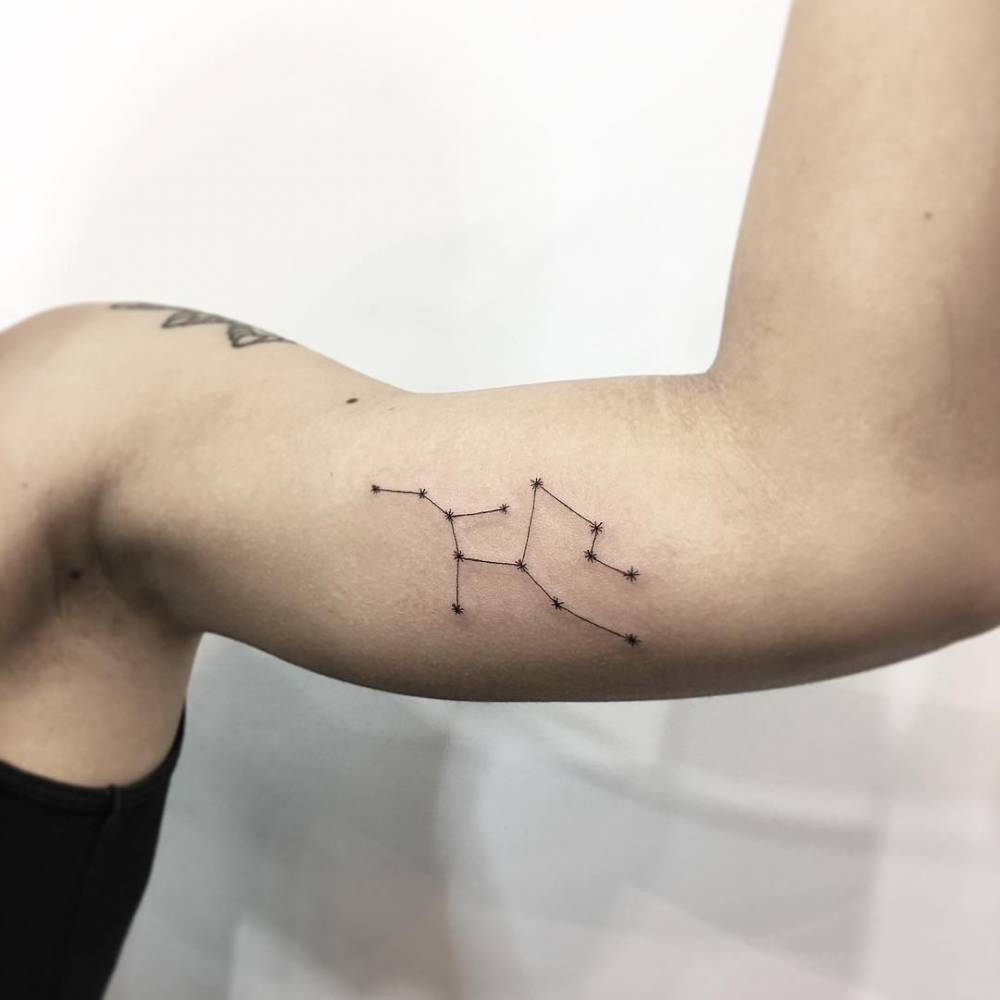 This star tattoo design is meant more for those who love astrology rather than astronomy. You could use a simple design like this to show off your star sign. This is also a good option for those who enjoy stargazing. You could get your favorite constellation that you have seen. This design could also work great as a couple tattoo or love tattoo.
33. Simple Constellation Star Tattoo on a Shoulder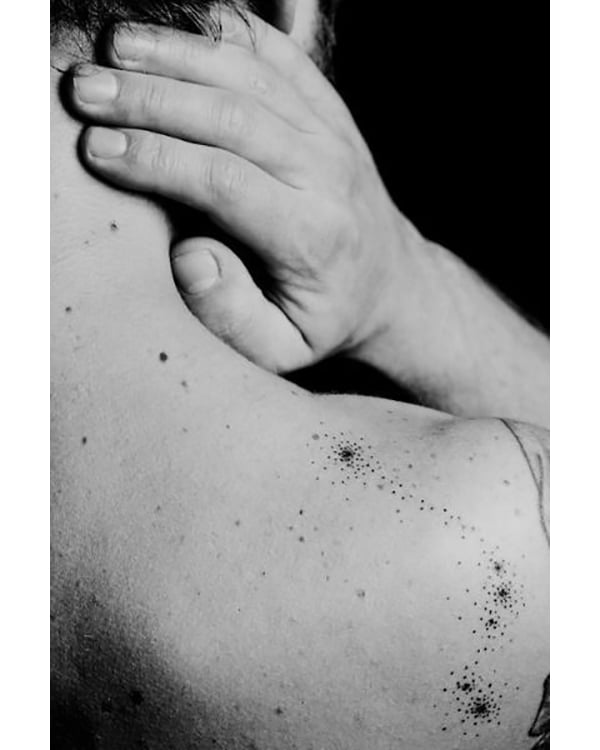 This is a star tattoos design that might not even be very obvious as a tattoo. It uses simple dots in varying sizes that are grouped to create a constellation. This is a wonderful option for people who like simple tattoos. You could get your favorite constellation or come up with your own.
34. Watercolor Galaxy Star Tattoos on a Wrist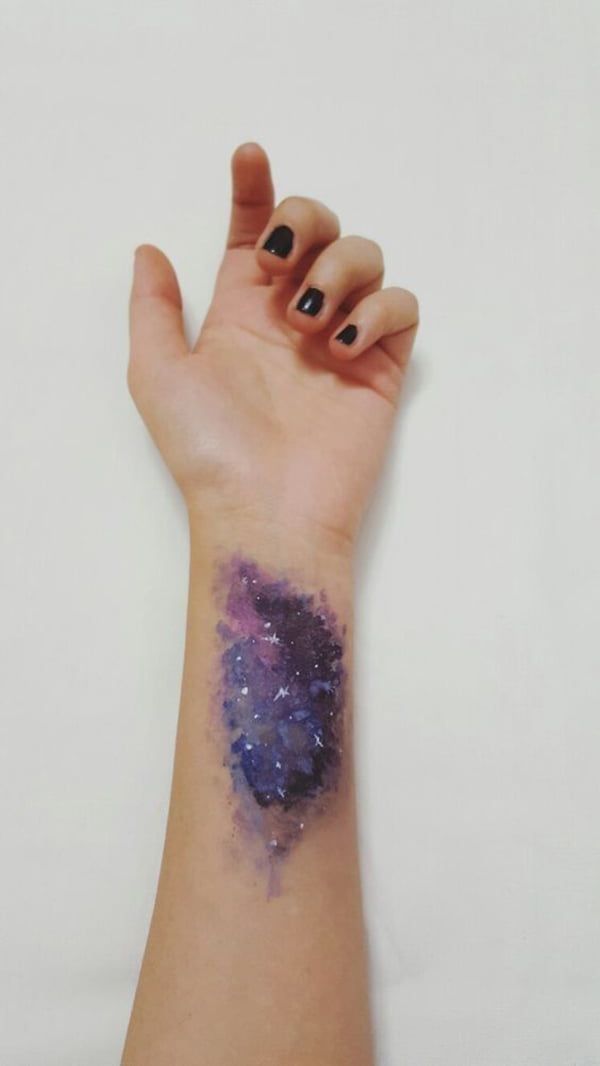 This is the star tattoos design for anyone who loves things with a galaxy print. This simple tattoo look like a watercolor painting, complete with white stars tattoo design added after the painting is finished. It's a beautiful design that you could make with your favorite color with ease.
35. Star Tattoo, Planet, and Astrological Sign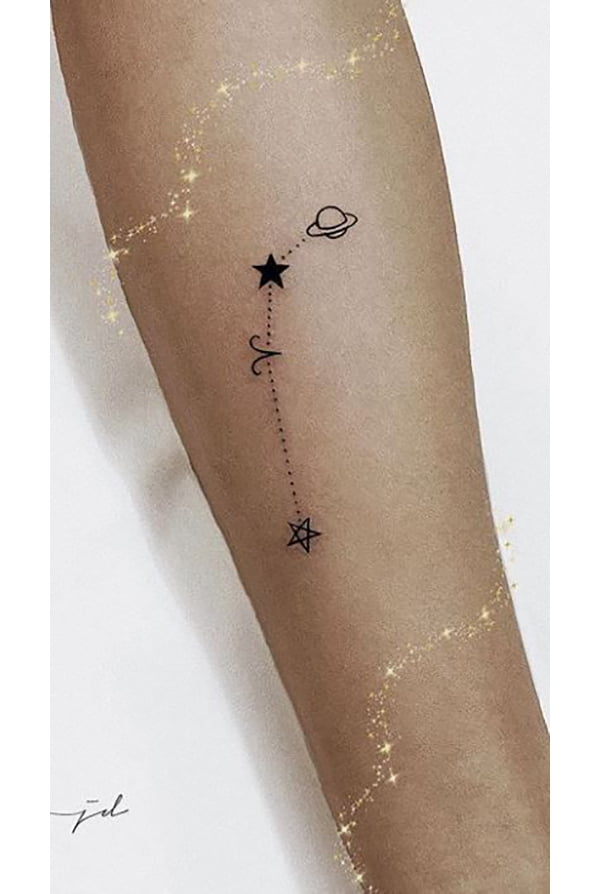 This is another star tattoos idea for anyone who loves astrology. A dotted line links a pentagram to an astrological sign, a solid star, and a small planet. This simple design is perfect for a first tattoo. You can use your own sign and any symbols you like.
36. Simple Small Star Tattoo on Back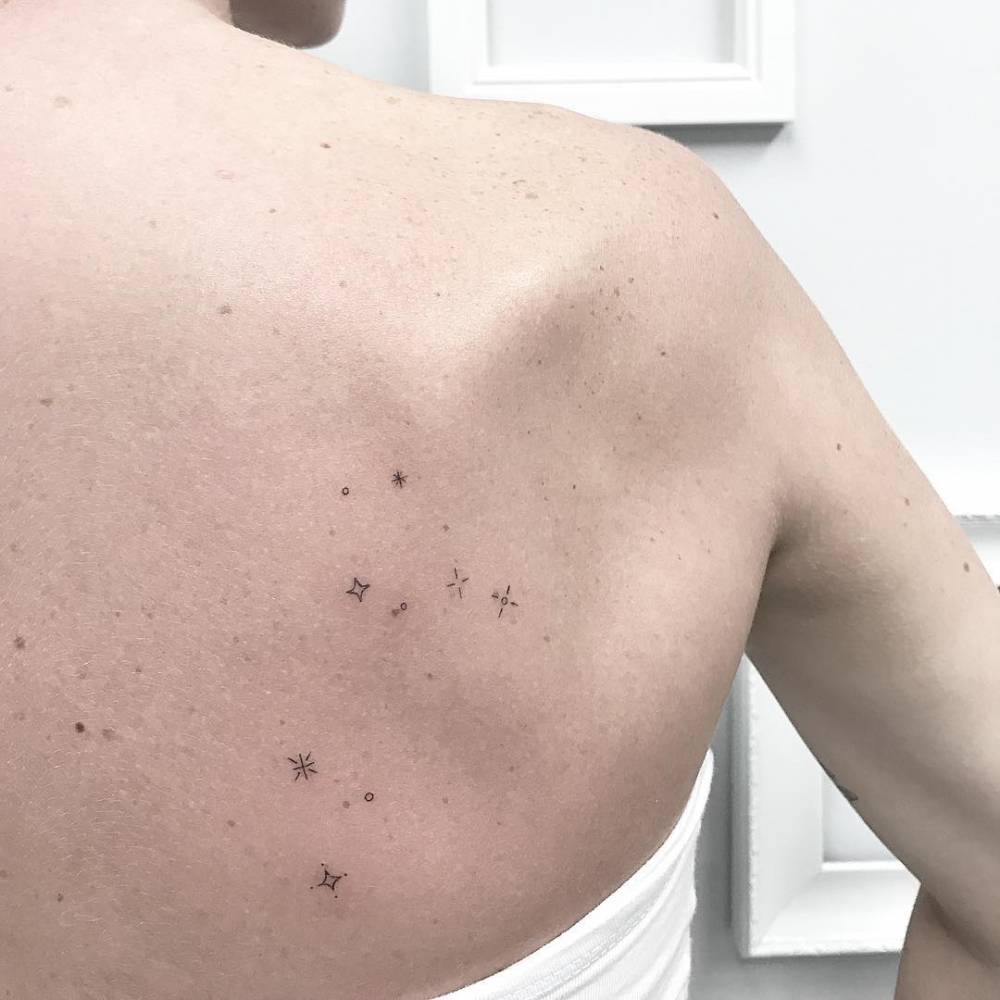 This star tattoos design is one that's good for anyone who wants a simple and small tattoo that is easy to cover. The varied designs of the stars tattoo give more visual appeal. This can be used to make a tattoo you would like by changing up the designs or creating a constellation.
37. Constellation Star Tattoo Forms Hair for Woman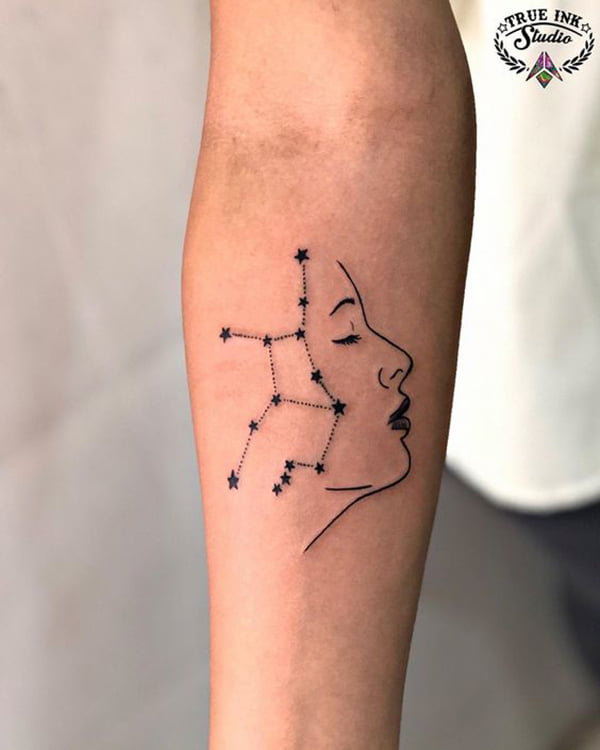 This beautiful tattoo uses a constellation as the hair of a woman. This is a great idea for anyone since you can make it using your own star sign. You could also make the face based on someone you know.
38. Simple Constellation Star Tattoo on a Forearm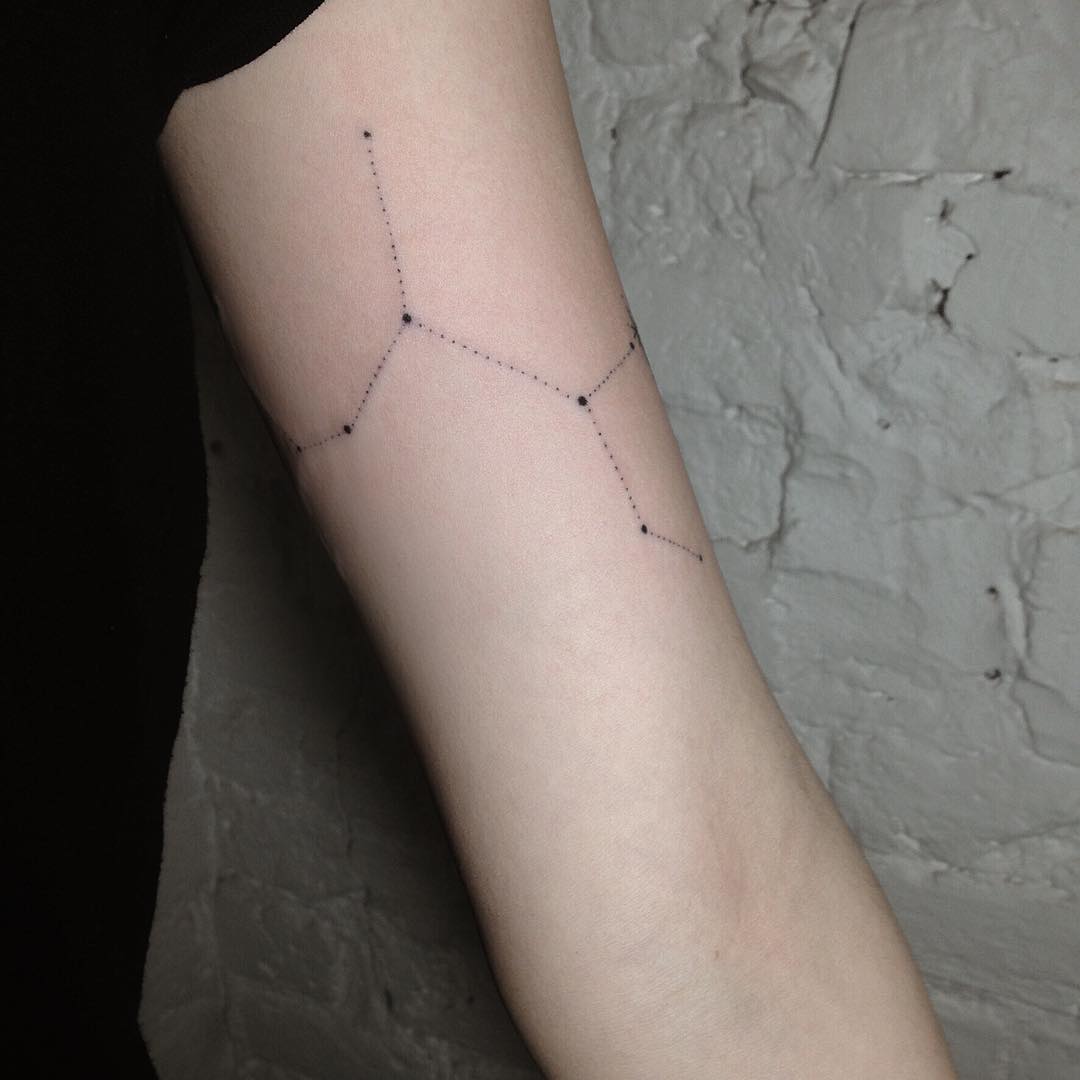 This is another nice forearm tattoos option for anyone who loves stargazing or astrology. You can use your own birth sign or your favorite constellation. The design is very simple and allows you to create variations on the theme.
39. Simple Shooting Star Tattoo on Arm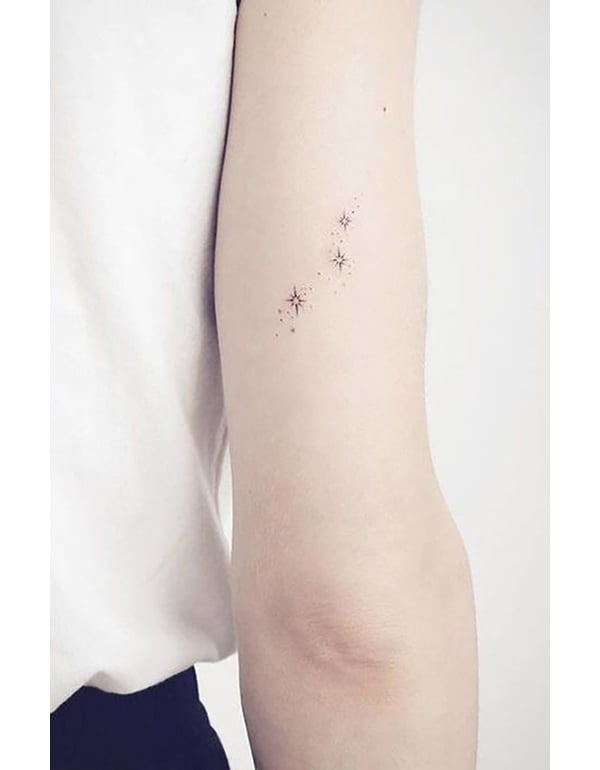 This lovely star tattoos design has a trail of stars surrounding larger stars tattoo designs as the centerpieces. This is a great simple design is perfect for anyone who wants a tattoo that isn't too complex or difficult to get. Feel free to add a colored background if you want more of a pop.
40. Constellation with Multiple Star Tattoo Designs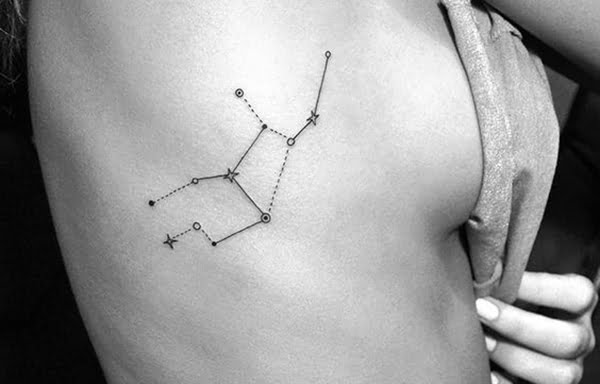 This is a great way to make a simple constellation tattoo more unique. By making each star have a different design, it adds more visual interest to the piece. Feel free to get your favorite constellation or star sign. You can also pick your own star tattoo designs for the stars tattoo.
41. Shooting Star Tattoo and Line Work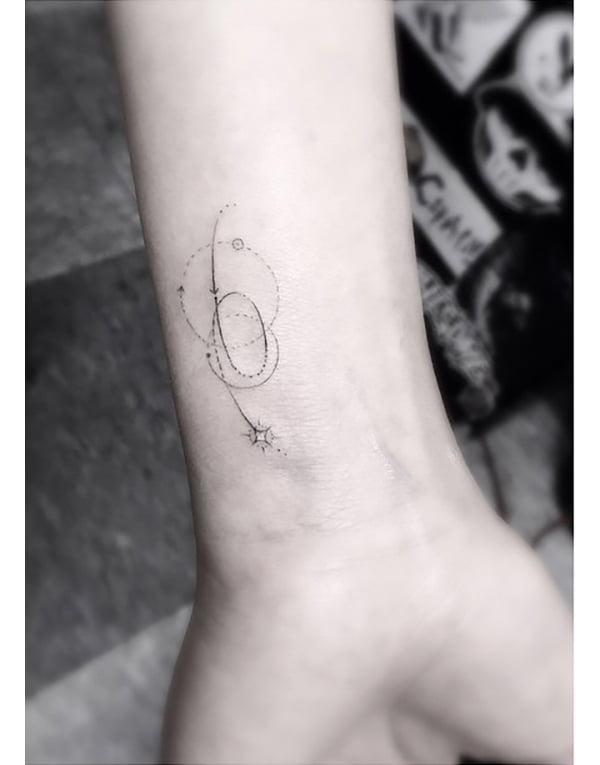 This is a great design for a simple tattoo that still has visual appeal. It has a line connecting a four-pointed star that seems to show motion. Two circles in the background help keep the design from getting lost. It is a great option for a small tattoo.
42. Outline of a Woman and Constellation Shooting Star Tattoo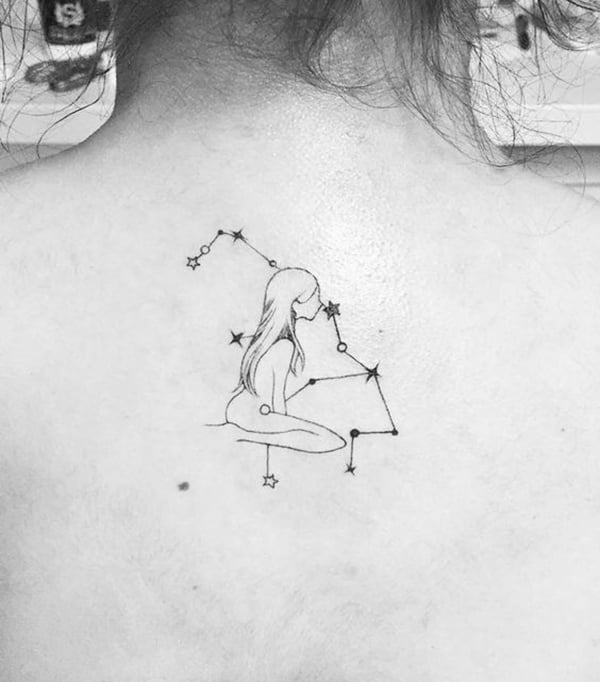 This constellation design is given more interest with a simple image of a seated woman. This is good if you want to change up a basic tattoo. You could also use a similar idea to help show off your star sign by combining the constellation with an image of what it represents.
43. Cluster of Pointed Star Tattoo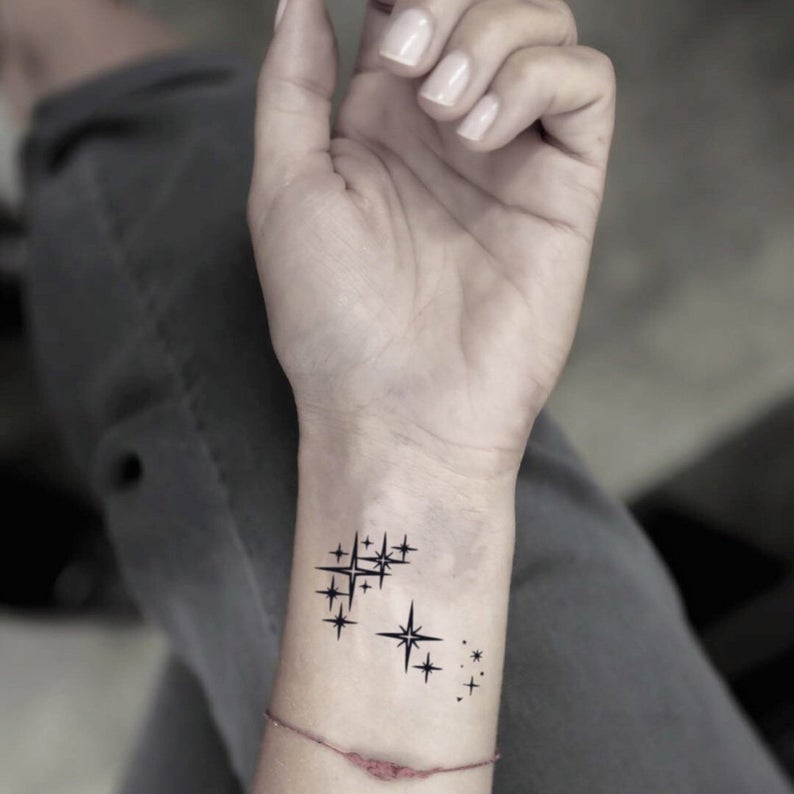 This art uses clusters of four-pointed stars tattoo design that covers the inside of the wrist. There are small additions to make each star tattoos look unique so the design doesn't look bland or too uniform. You could easily add a splash of color to help link the two sides.
44. Constellation with Two Star Tattoo Designs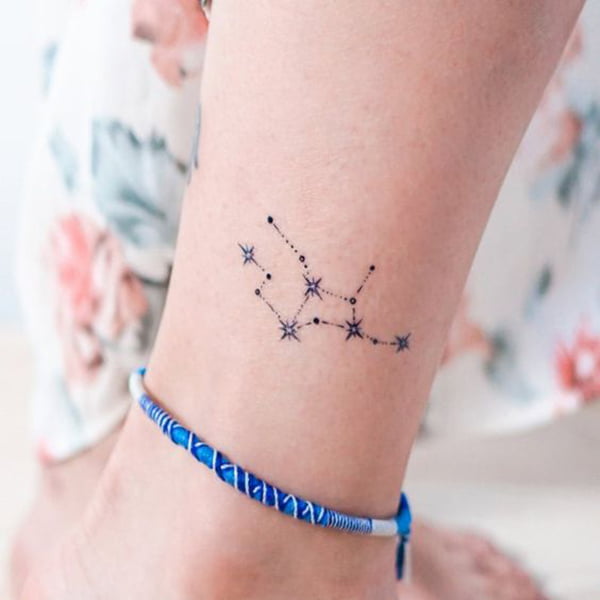 This is another great way to spice up a basic constellation design. The two styles of a star help it look more unique. Feel free to pick your own constellation or change the look of the stars that you use. You could also add color to this easily.
45. Tiny Ankle Star Tattoos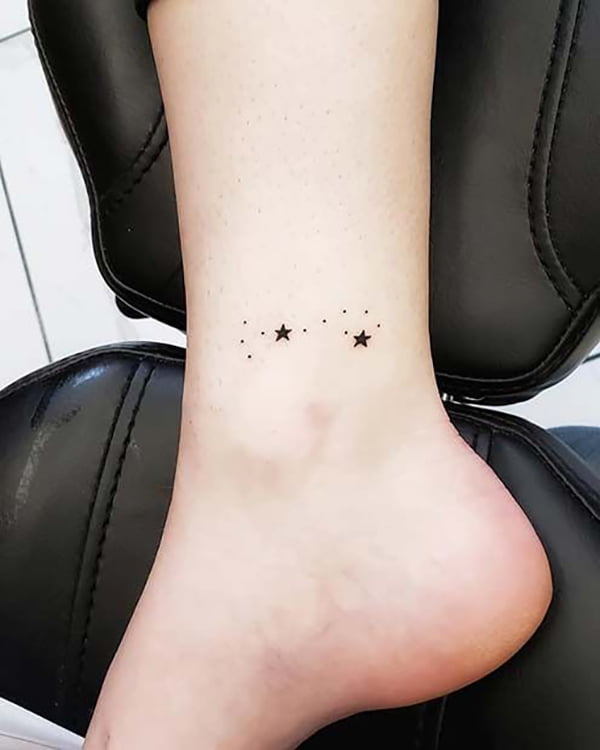 There are two types of star tattoos here, with simple dots and two five-pointed stars. This ankle tattoos design almost looks like an infinity loop. This is a good design for a first tattoo. The location also makes this is an easy one to hide if you are at an occasion that isn't appropriate for a tattoo like a work function.
46. Constellation Over a Crescent Moon North Star Tattoo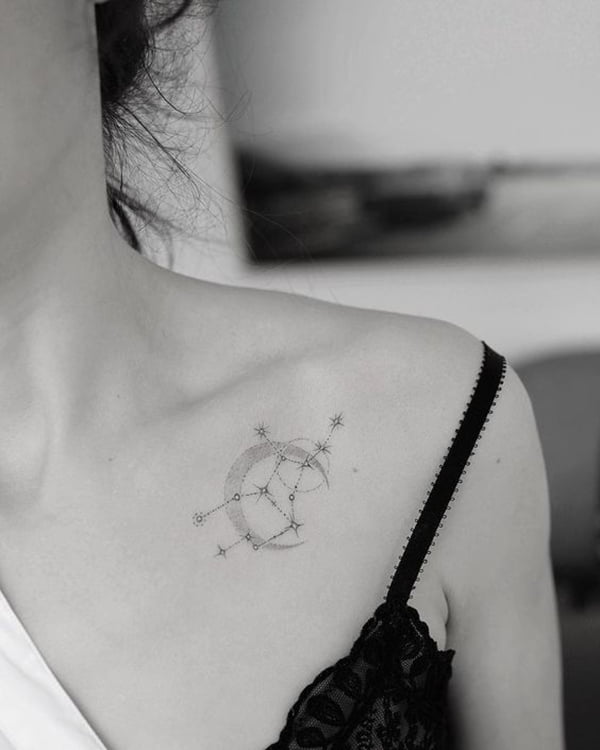 This constellation design is livened up with a crescent moon and a small circle. You can change up the background elements or change the constellation to customize the design. You can also use color to change it up. A simple design like this can also be easily expanded later on if you want a larger piece.
47. Big Dipper Constellation Star Tattoo on Collarbone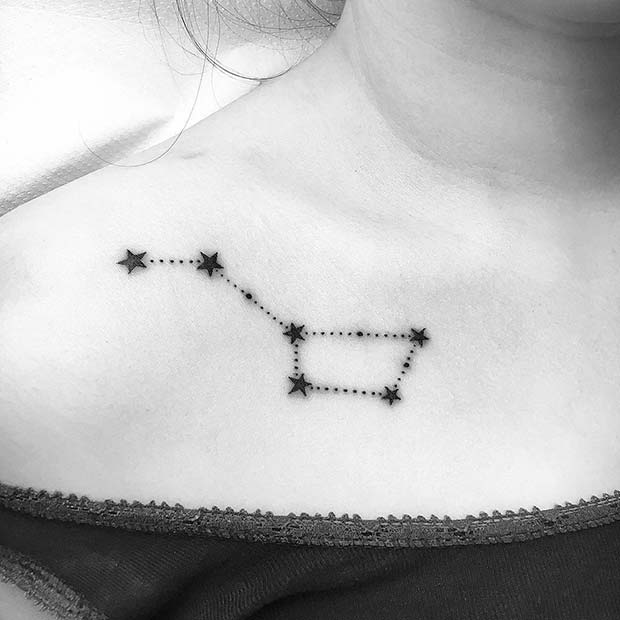 This is a great tattoo for anyone who loves stargazing. This tattoo is of the big dipper, which is part of the Ursa Major constellation. You can easily make this your favorite constellation or vary the star tattoo designs. You could also add an outline to show what the constellation was in mythology.
48. Trail of Four and Five-Pointed Star Tattoo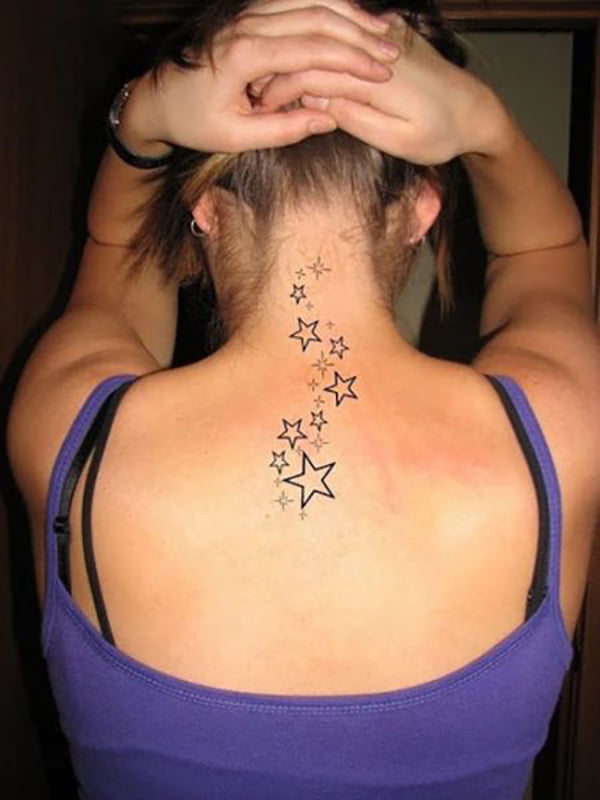 This lovely tattoo is located on the nape of the neck, making it fairly easy to hide with long hair. The varied number of points, color, and size help add visual interest to this piece. Don't be afraid to mix the number of points to get your ideal star tattoo design.
49. Moon and Constellation with Eight Pointed Star Tattoo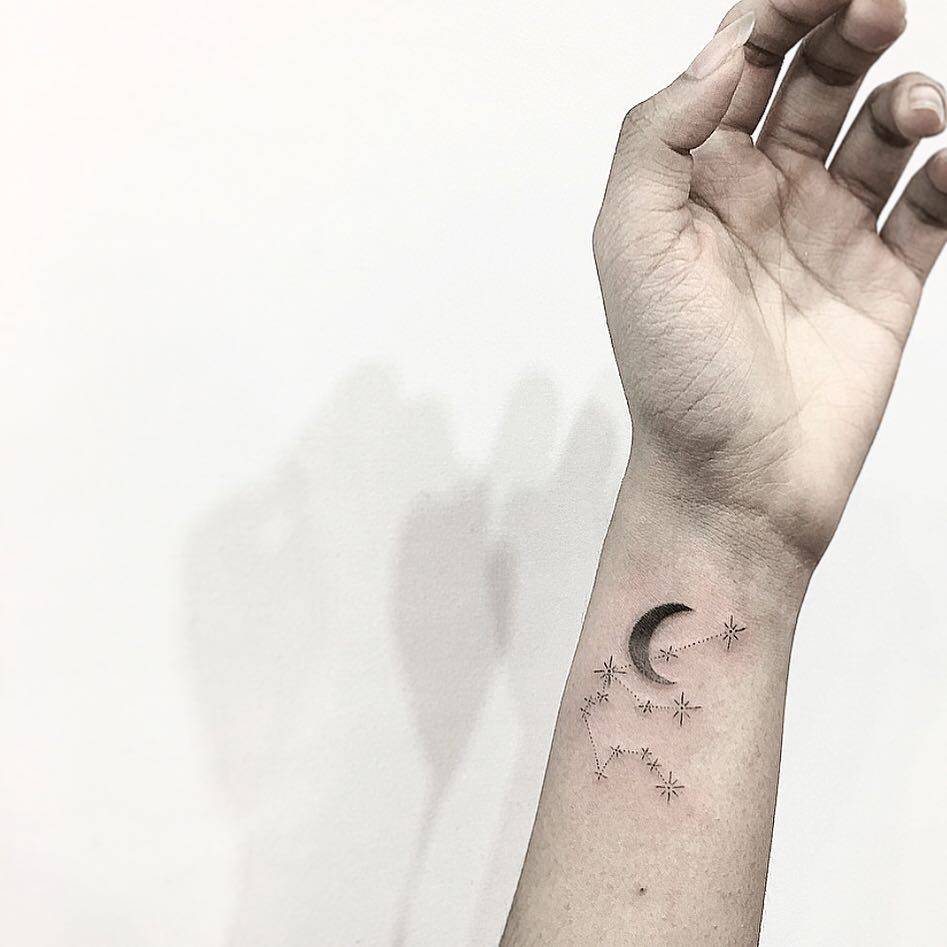 This is a variation of a constellation tattoo. The dark shading of the moon contrasts with the fine linework of the stars and the lines connecting them. This is a great way to add visual interest. Mixing the number of points can show which stars are brighter in the actual constellation.
50. Rainbow of Stars Behind the Ear Gold Star Tattoo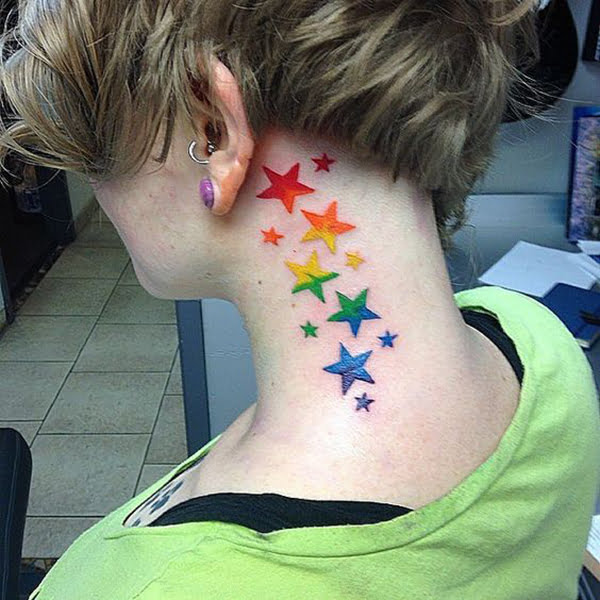 This colorful design uses the colors of the rainbow to add a pop to an otherwise basic design. The smaller stars are a solid color, while the larger stars are used to blend the colors together and make the design more seamless.
51. Constellation Surrounding a Crescent Moon Star Tattoo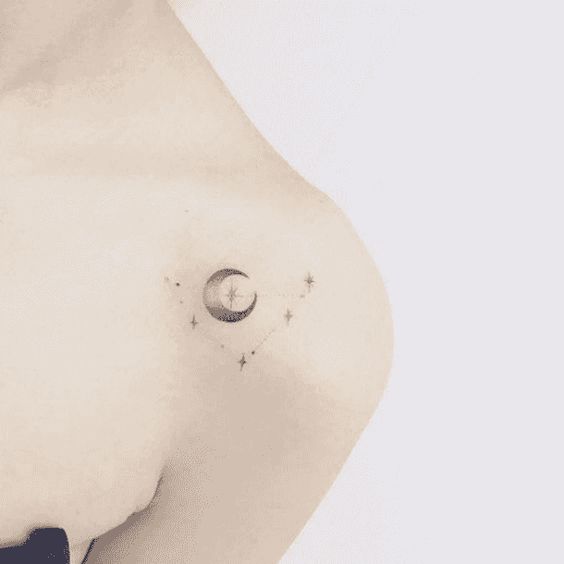 This tattoo uses gray to give the tattoo a softer feel than a bold black. It will need to be touched up more often if you want it to last, but this is a great design if you want something subtle.
52. Three Four Pointed Star Tattoos on the Wrist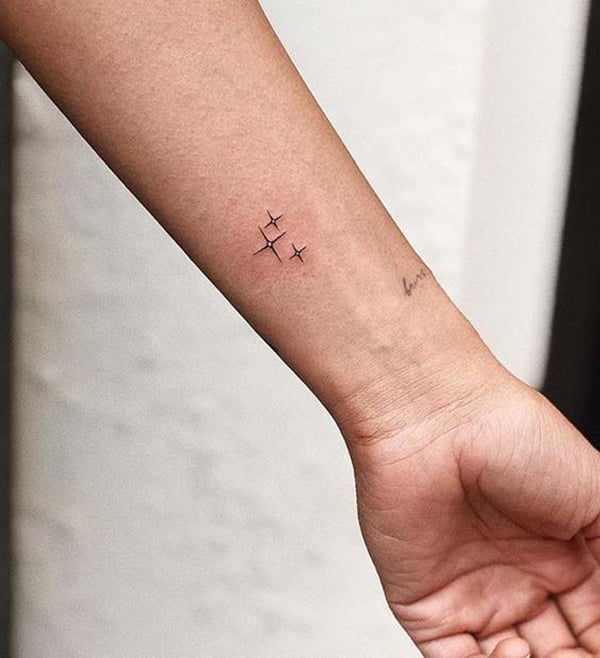 This lovely tattoo uses a small group of four-pointed stars with white centers to make them seem to twinkle as real stars do. This subtle design is perfect for those who want something that isn't too large or flashy. If you want more later, this design could easily be added to a larger piece.
53. Tiny Star Tattoo Outline on a Finger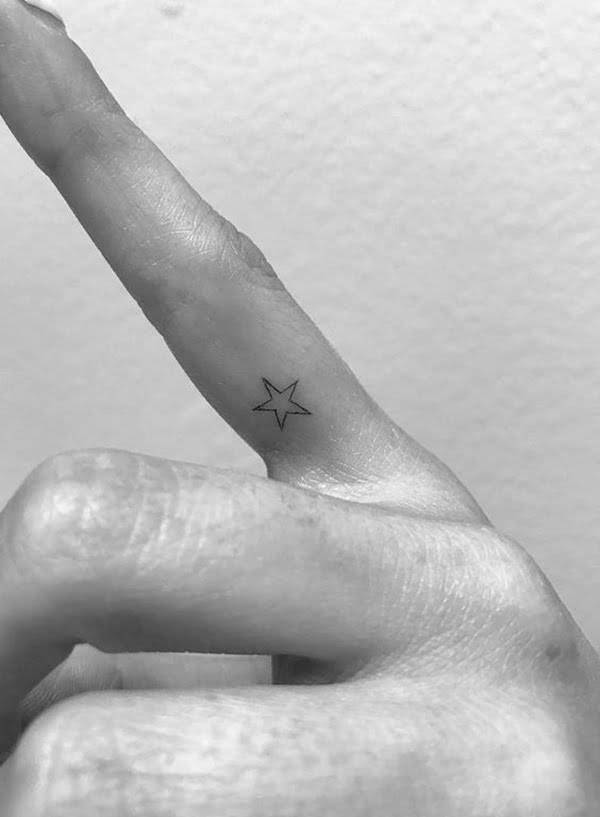 This is a great finger tattoos design for someone who wants something subtle. The tiny size and fine lines make it hard to notice unless it is pointed out. You could add color if you wanted it noticed more, or just shade it in with gray.
54. Cluster of Four and Five-Pointed Star Tattoos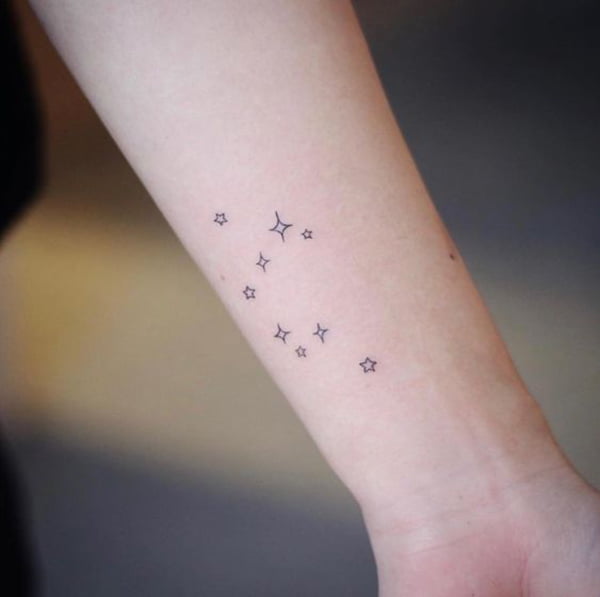 This is a great minimalist design that still gives the feeling of the night sky. The small four and five-pointed stars give a bit of visual interest without being too distracting. If you don't want your tattoo to be very noticeable, go with star tattoo designs like this.
55. Crescent Moon with Night Sky and Woman Star Tattoo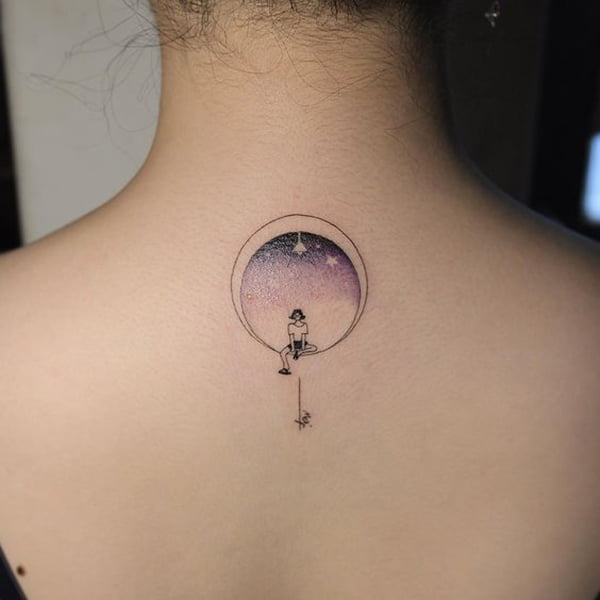 This is a very cute design. The crescent moon is used to frame a small room that a woman is sitting in, with her legs hanging off the bottom. The sky is purple and filled with stars, making it feel like looking through a portal to a miniature world. Foot tattoos with this design would also look fantastic.
56. Trail of Star Tattoos Across Bicep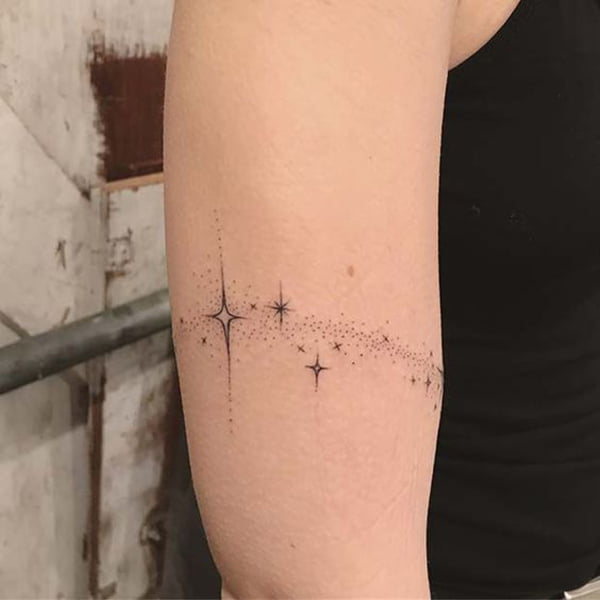 This is a wonderful design for those who want a band across their bicep. The majority of stars are only dots, but some are more detailed to make you feel like you're looking at a small piece of the night sky. This is a great design even in black and white. A dragonfly tattoo could also work well in this style.
57. Colorful Bunch of Varied Star Tattoos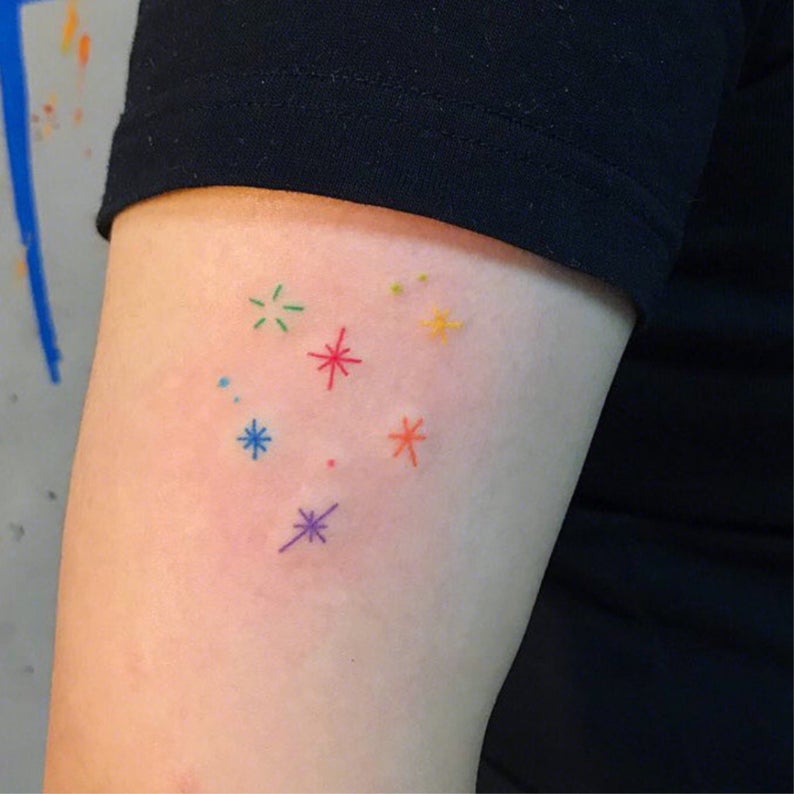 This fun tattoo uses different colors and styles of stars to add visual pop. If you love color, this is a great example of how it can be used to spice up even a basic tattoo idea. Don't be afraid of using color in your tattoo.
58. Constellation with Moon and Planets Star Tattoo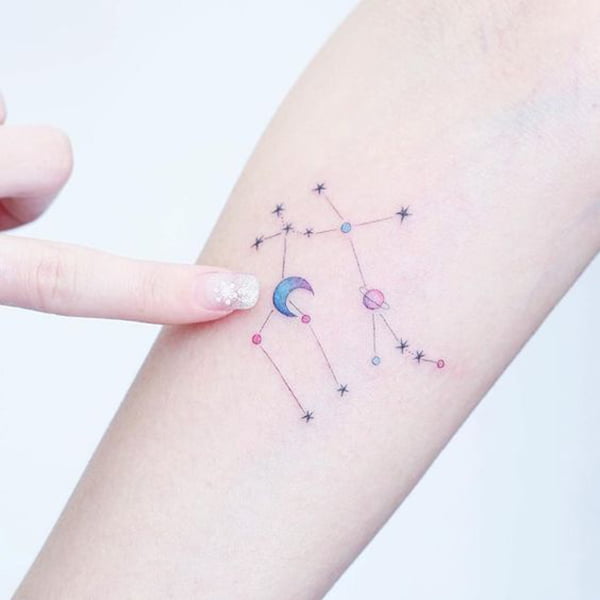 This lovely little star tattoos idea is a basic constellation tattoo with a twist. It adds a moon and planets that use soft colors to make it have more visual pop. Color can be a great way to spice up simple tattoos.
59. Simple Constellation with Moon on Thigh Star Tattoo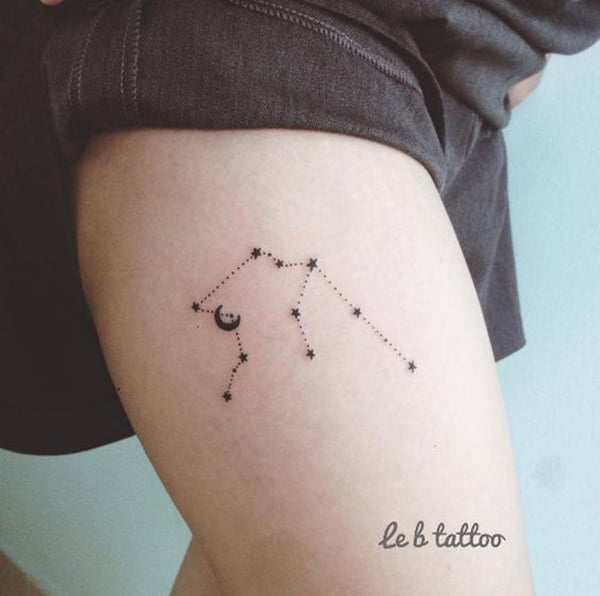 This is a great spot to place star tattoos if you want to hide it easily. The tattoo itself is a typical constellation with a small moon added to make it more unique. If you love stargazing, this is a great option.
60. Simple Five-Pointed Star Tattoo on Wrist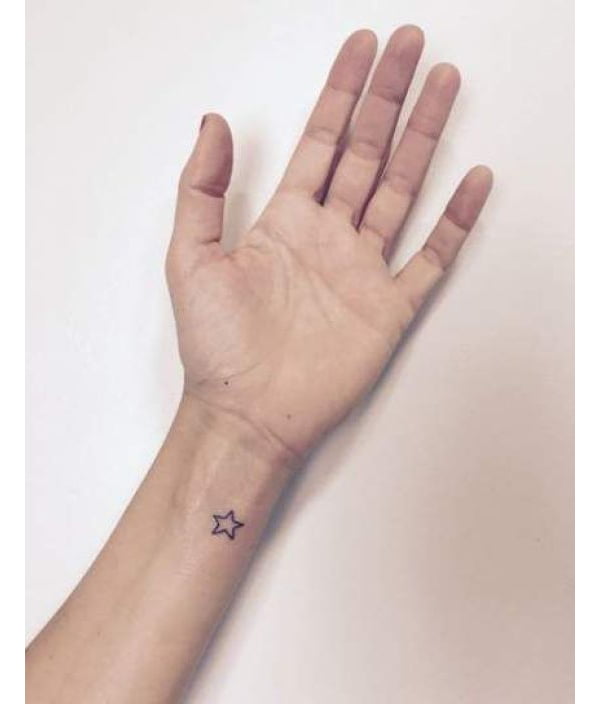 This is a simple take that can be spun into a unique design or kept basic as you wish. A simple outline like this could be filled with colors or patterns. However, if you want something simple, don't be afraid to keep it as is.
60 Beautiful Star Tattoo Designs for that will Impress Everyone
As you can see, star tattoos can be spun to create a number of unique ideas that will be uniquely yours. Be sure to talk with your tattoo artist and create a piece you will love for the rest of your life. Remember that color or choosing to use light lines will give you a wildly different feel even for star tattoo designs you've seen before.