Getting a tattoo is personal, and the first step is finding the best wolf tattoo ideas and designs. Just like tattoos, wolves can mean different things to different people. For some, a wolf tattoo is a visual personification of a protective guardian (star tattoos also work great for this concept). For others, a wolf tattoo may document a battle fought or an ongoing journey. Similarly to hummingbird tattoos, wolves also represent adventure. Whichever way you resonate with the fierce wolf spirit, tattooing a wolf on your canvas is one way to honor that part of yourself, even it's only a small wrist tattoo.
60 Traditional Wolf Tattoos and Designs that are Perfect for Anyone
Wolf tattoos can represent many things, depending on the artistic style used and other elements in the tattoo. Besides being tenacious hunters, wolves are affectionate and protective of those in their pack. Short, aggressive lines highlight wolves as fierce fighters. Soft colors and curvy lines focus on the wolf's tender of love. Accents like flowers or shapes can emphasize and customize these love tattoo ideas.
The designs below are an excellent starting point but do not be afraid to modify them to help tell your story. As humans are storytelling creatures, wolf tattoos are another way for us to tell a story. Using these designs as a starting point, I am sure you will find a way to help make these tattoos tell your story.
1. Black & White Realistic Wolf Hand Tattoo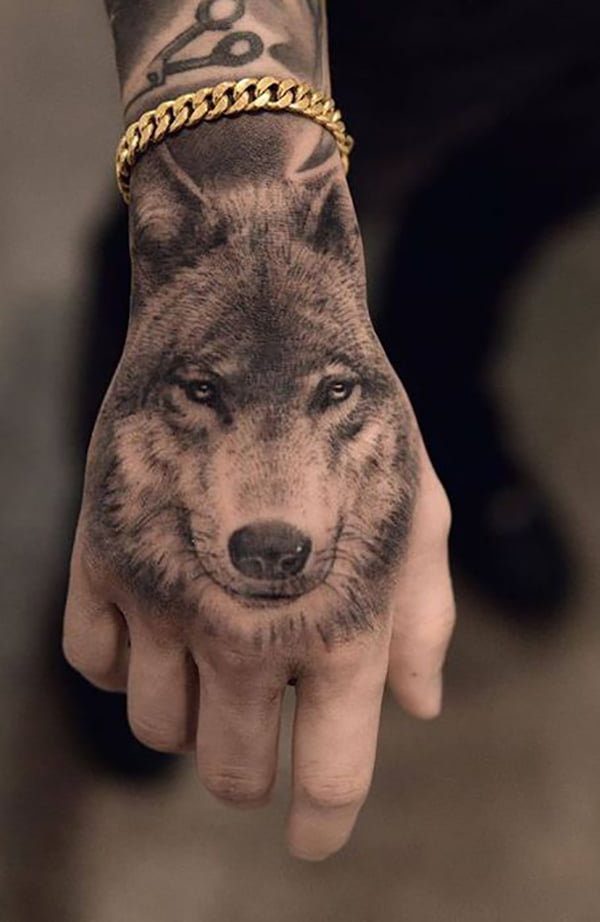 Rendered with photographic quality, this tattoo showcases the wild elegance of being untamed. Because of this tattoo's visible placement, everyone will be able to see that the wild wolf runs rampant in this tattoo's bearer. The hand's natural shape lends itself to nicely frame the wolf's head.
2. Crossed Tomahawks & Wolf Skull Tattoo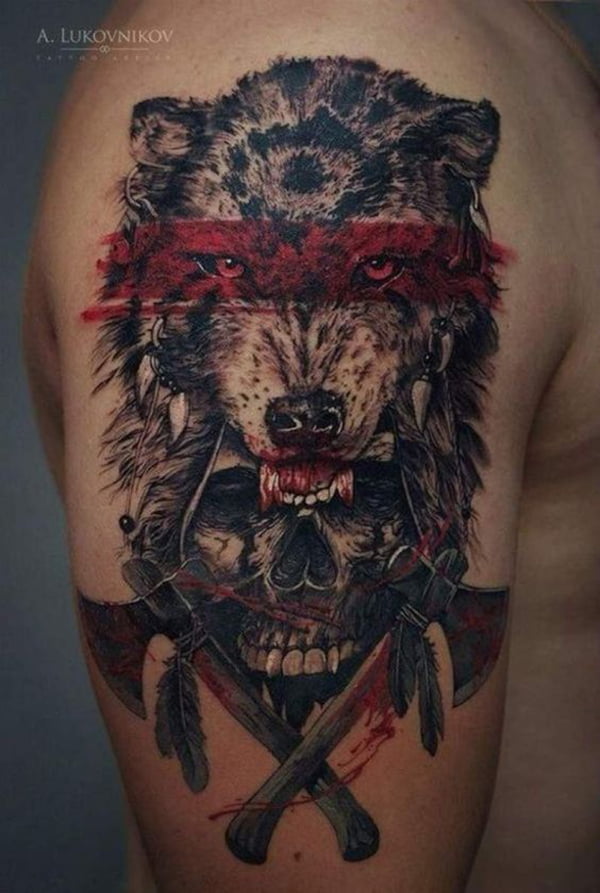 Primarily picked out in black and white with surprising splashes of red for emphasis, this wolf tattoo highlights the wolf's savage brutality on a half sleeve tattoo design. Paired with blood-smeared tomahawks and a human skull, this wolf tattoo says that its bearer is ready to face all challenges with ruthless tenacity.
3. Artistic Wolf Black & White Tattoo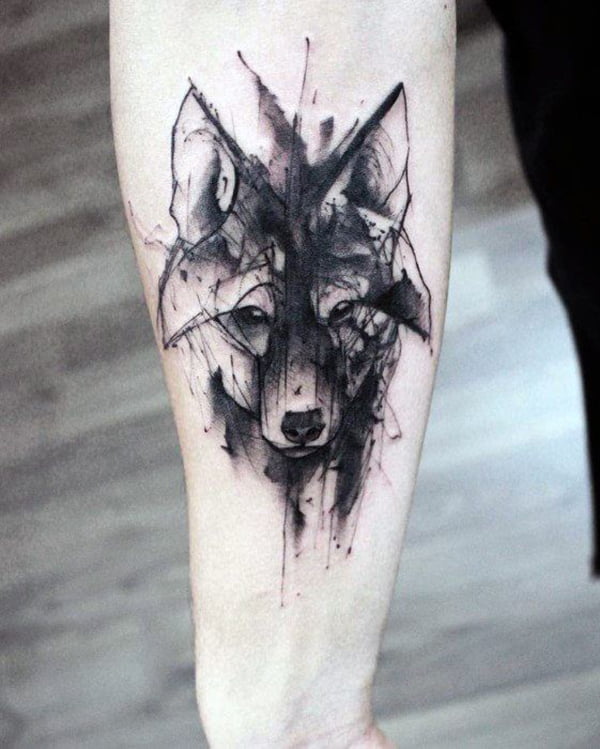 Geometric lines and watercolor-style shading lend this wolf tattoo a mysterious, shadowy personality. While this tattoo is black and white, imagine using splashes of color to emphasize the eyes or fur color. As a more abstract wolf depiction, this wolf tattoo exudes unearthly mystique.
4. Simple Outline Wolf Pack Tattoo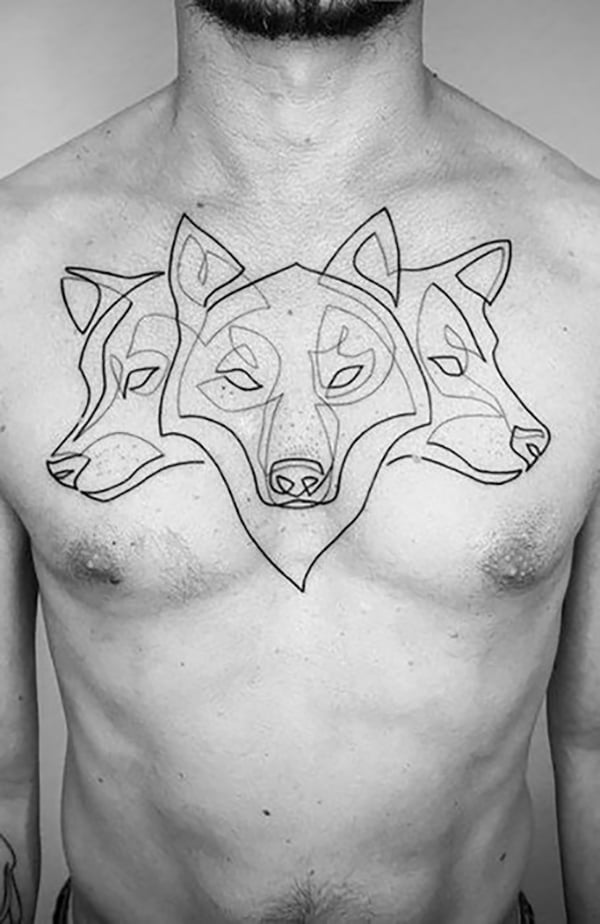 Because wolves usually hunt in packs, this simple wolf tattoo shows that no wolf can be successful without his or her companions. Drawing the eye, simple lines accentuate the wolves. Spread across the chest, this tattoo fittingly shows one wolf above the heart.
5. Wolf Spirit Warrior Maiden Tattoo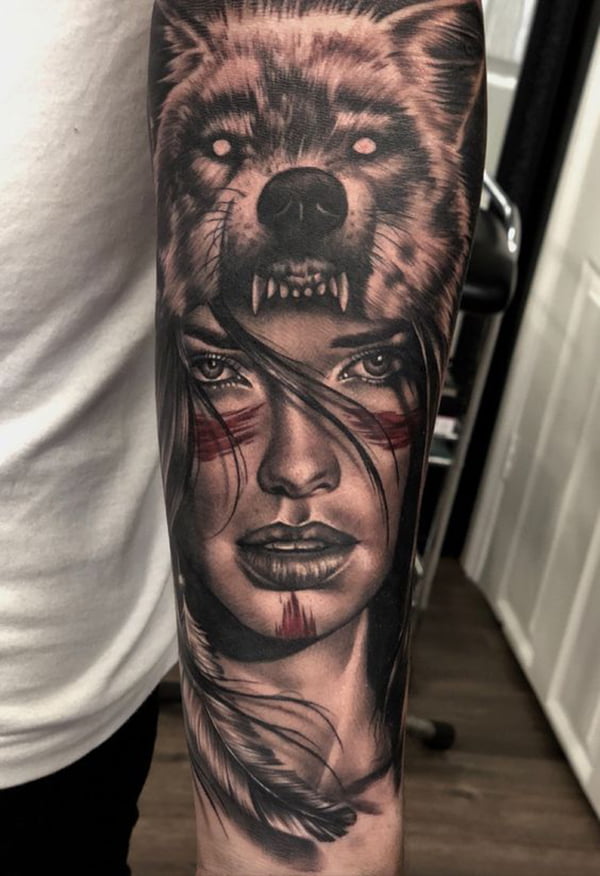 A rugged appeal is achieved with this feminine warrior's resolute expression when paired with the wolf's snarl. Applied expertly, the shading gives this cool tattoo a realistic feel. Using a restricted color palette, the red streaks are emphasized. Is it war paint or blood? That is for you to decide.
6. Textured Geometric Wolf with Mountains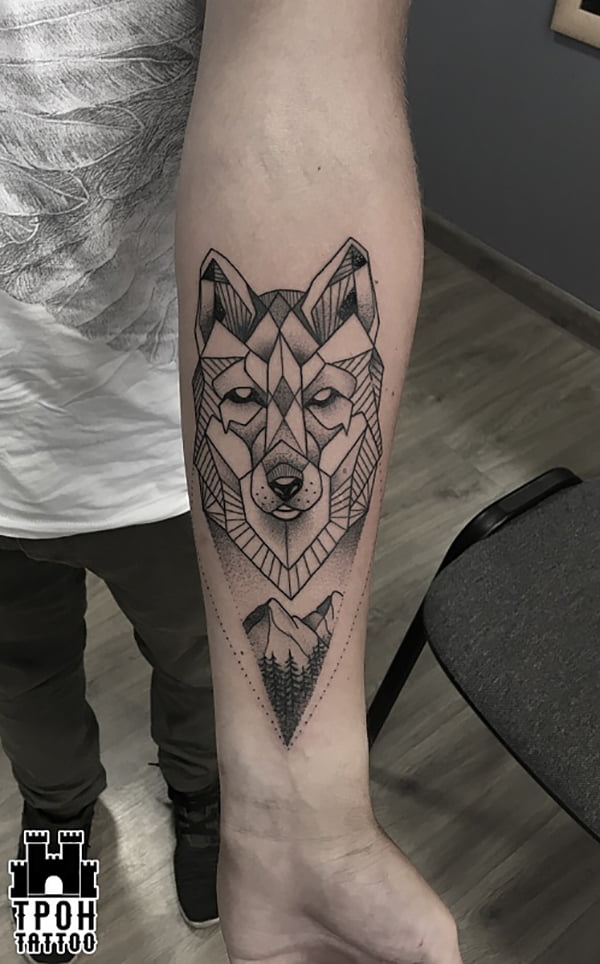 A variety of lines and shadings give this wolf tattoo design a great deal of dimension. This is emphasized with the mountains, as it makes the viewer wonder what the wolf's story is. This tattoo design is perfect for anyone who feels a kinship with wolves and hears adventure calling.
7. Black & White Unearthly Howling Wolf Tattoo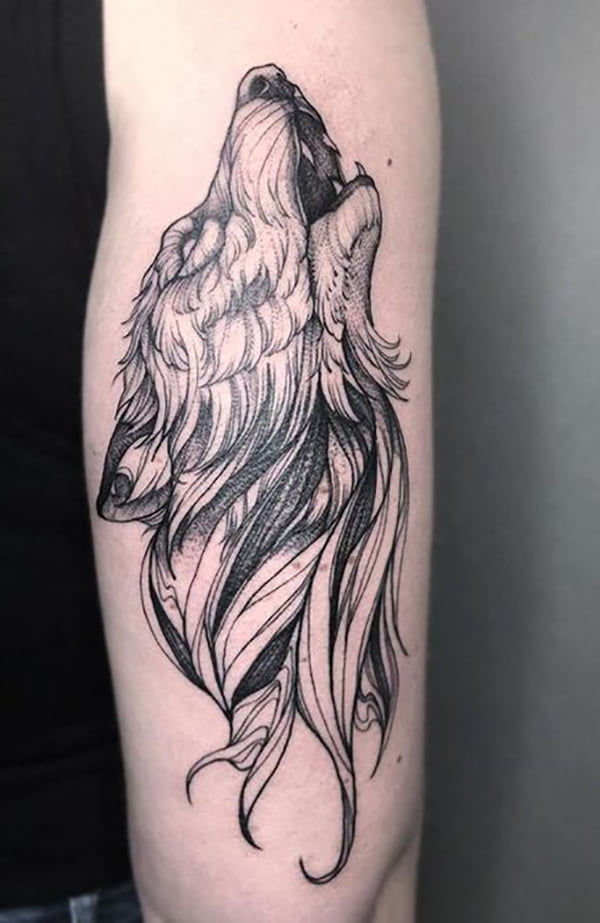 Unkempt fur conveys so much emotion in this howling wolf tattoo design. Is this wolf howling in sorrow or singing in joy? Whichever emotion this tattoo documents, its wild sincerity adds to its beauty. Imagine adding a background to this tattoo design and letting it tell your story.
8. Artistic Demon Wolf Window Tattoo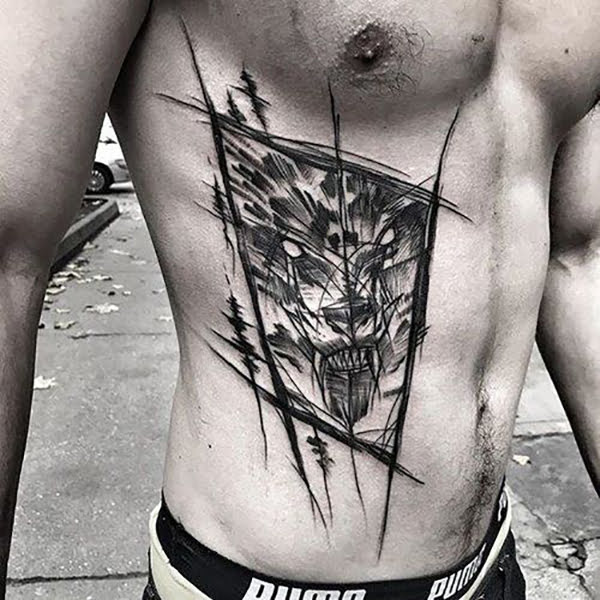 This demon wolf tattoo offers a glimpse of the fierce spirit that lies within. Aggressive, straight lines add to this wolf's intimidating appearance. Whether this wolf represents a battle like a drug addiction that is fought but never forgotten or displays a violent temper, I will leave it to you to determine.
9. 3/4-View Stylized Watchful Wolf Crest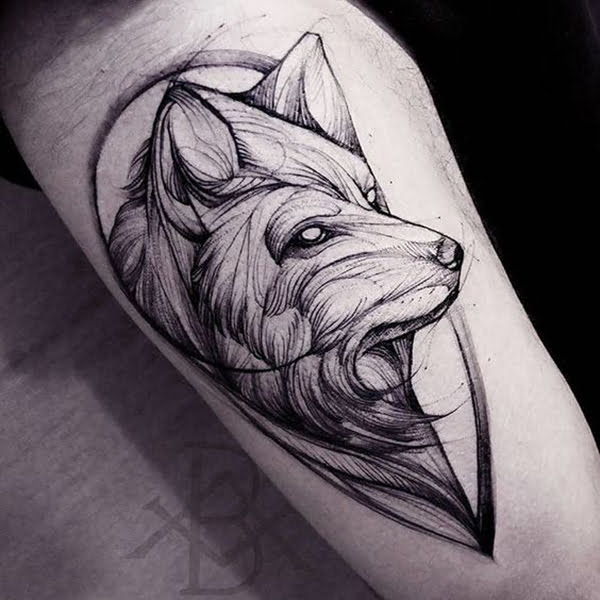 Ever vigilant, this wolf stands guard from its crest. Fine, thinly curved lines convey a sense of motion as well as showing how luxurious this wolf's fur is. Each section of fur certainly has its own personality. The wolf's expression is the perfect mix of stern caution and uncompromising readiness.
10. Artistic Pen-Drawn Wolf with Moon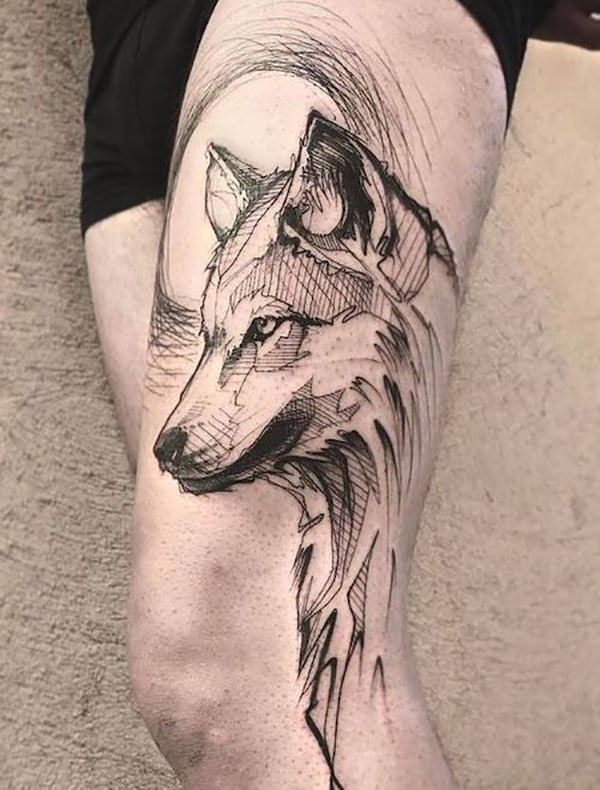 Positioned to gaze into the future, this wolf is nothing short of a work of art. Each line serves a purpose to add more wolfishness to this tattoo and the moon backdrop. If you need someone to watch your back, consider placing it on the opposite side of your body.
11. Realistic Black & White Wolf Finger Tattoo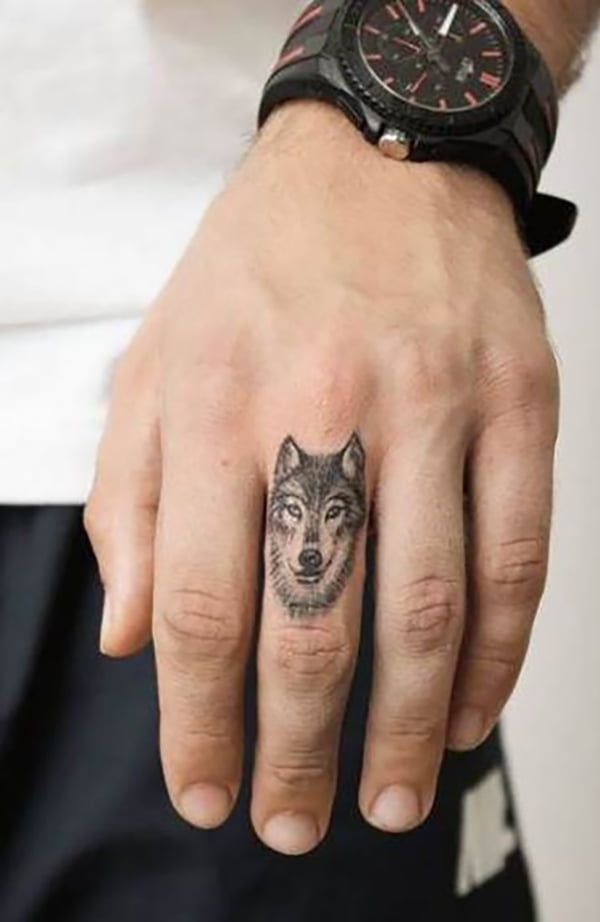 Because this wolf's face is symmetrical, it appears balanced. Perfectly placed between knuckles, this miniature realistic wolf is on display for everyone to admire. Finger tattoos are an excellent choice to replace wedding rings, and matching wolf tattoos would show that you and your spouse hunt together as a pack. A cloud tattoo design could elevate the look even further!
12. Fiery Running Wolf Paw Tattoo
A fierce smile and powerful paws give this wolf tattoo design a dynamic appeal. Black strokes only suggest the shape of fur, adding to this wolf's ghost-like charisma. As it fades of the shoulder, is it fur or is it fire? The never-ending howl can tell a lot of stories.
13. Wolf Warrior with Turquoise Accents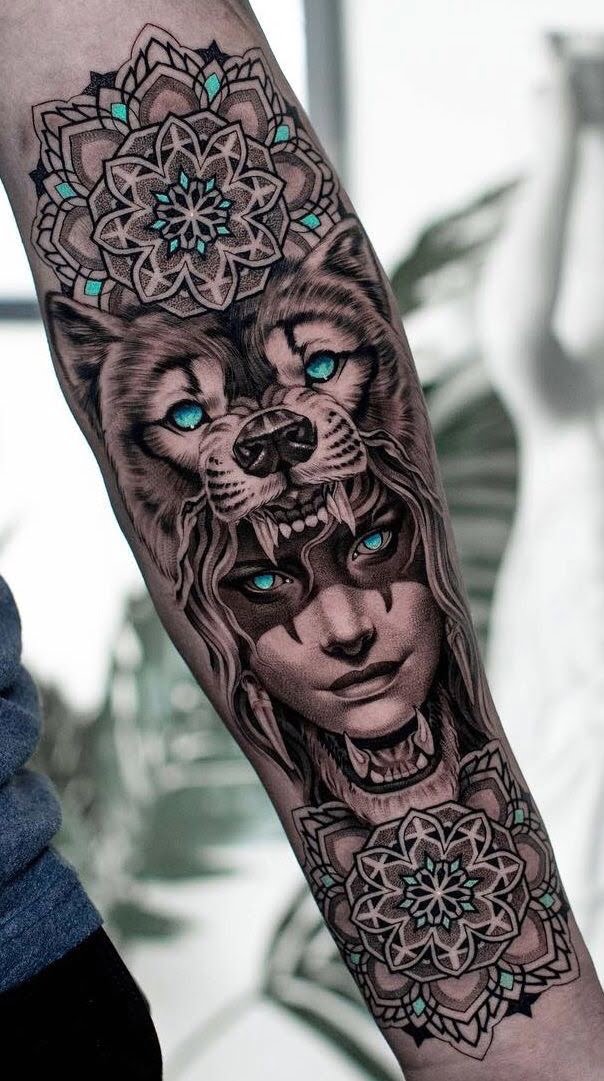 This wolf maiden's confidant smile and striking turquoise eyes paired with geometric flowers emanate elegant confidence. At first appearing as war paint, the wolf's toothed shadow falling across the warrior maiden's face gives her an untamed appearance. Even at times when you lack confidence, she is confident.
14. Colorful Snarling Wolf Hand Tattoo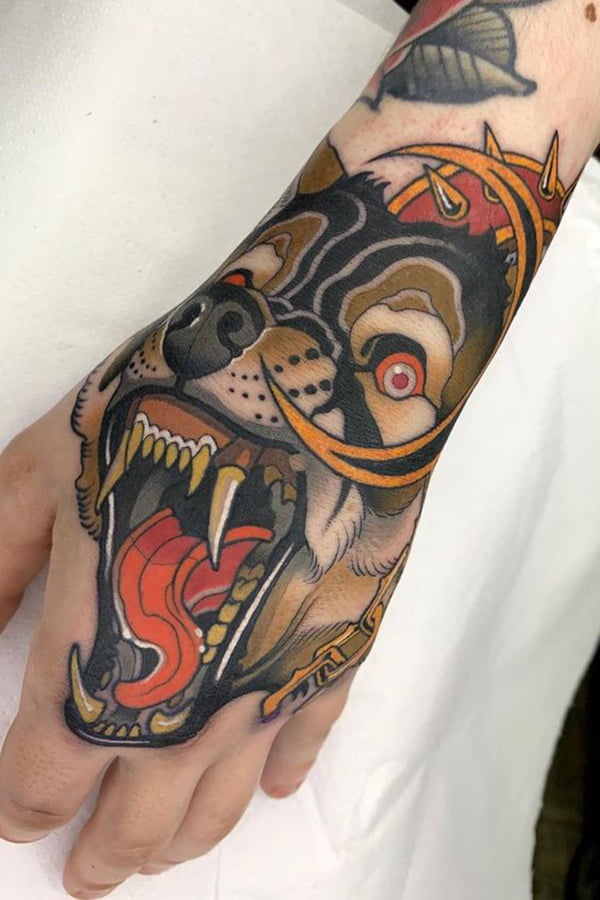 Perfectly shaped to emphasize the hand's contours, this snarling wolf embodies defiance. This tattoo puts the wolf's wicked teeth on display as a warning. The muted color palette gives this wolf some mystery while defining the bunched muscles. No line is wasted in this tattoo.
15. Exploding Wolf Face Optical Illusion Tattoo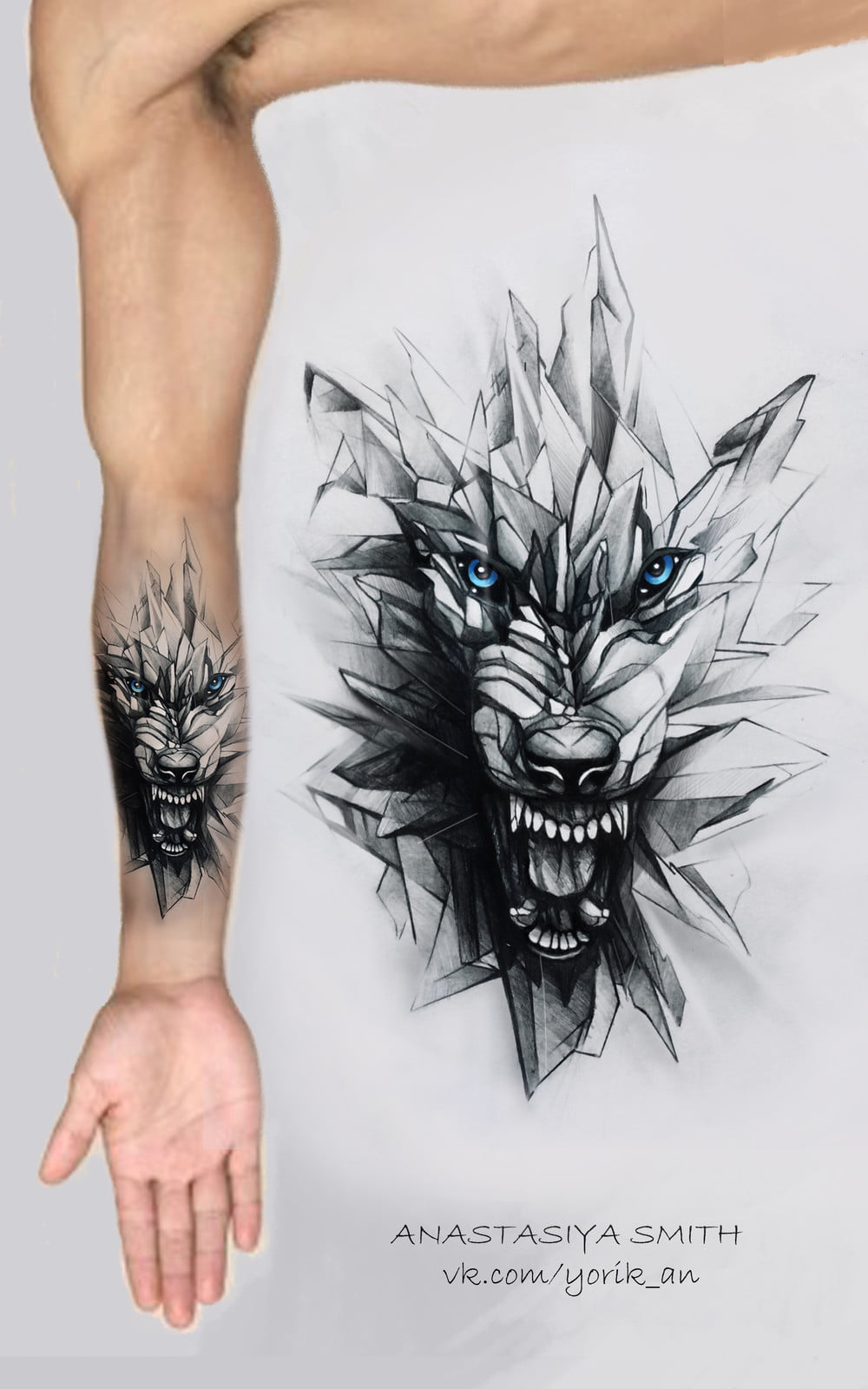 Appearing to explode out of the skin, this wolf is ready to charge down any obstacle. As the only point of color, the wolf's eyes stand out, contributing an eerie effect. Straight lines and an aggressive smile make this wolf tattoo something to be reckoned with.
16. Simple Wolf Tattoo Idea: Single Line Wolf Howling at the Moon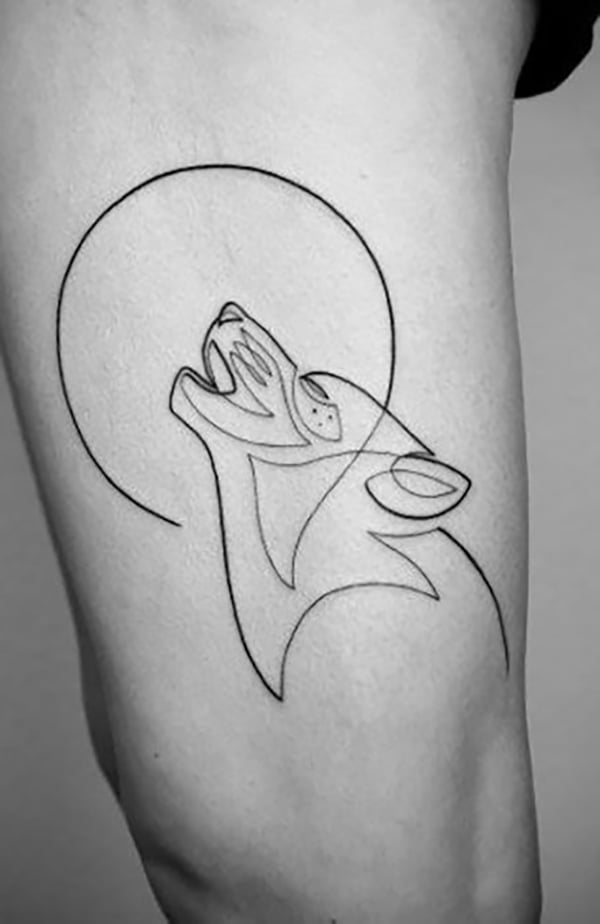 Constructed from a single line, this simple wolf tattoo is minimalist perfection. Because of its simplicity, this tattoo would be recognizable as a wolf even if this tattoo was placed anywhere on the body. The true excellence in this tattoo design is the darker outlining line with the lighter details.
17. Realistic Howling Wolf Tattoos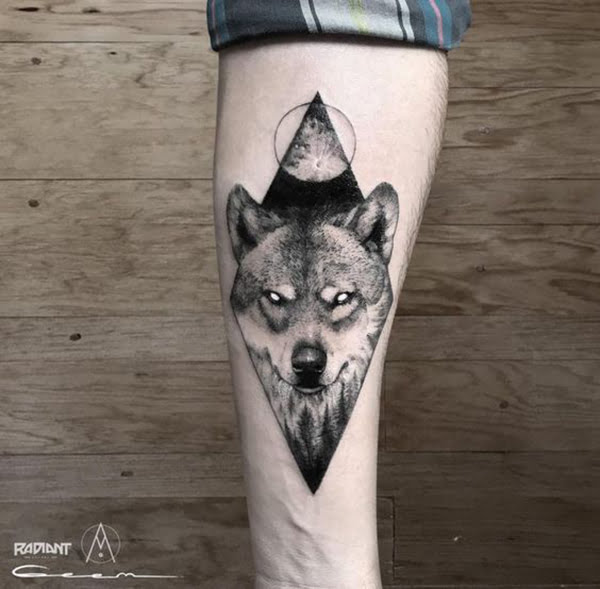 The more you look at this tattoo, the more you see. A tree line and realistic moon balance the top and bottom of the black diamond, adding some timberland ambiance. Because the wolf's ears extend beyond the diamond outline, the wolf seems to jump out of this tattoo.
18. Geometric Small Wolf Tattoo with Mountains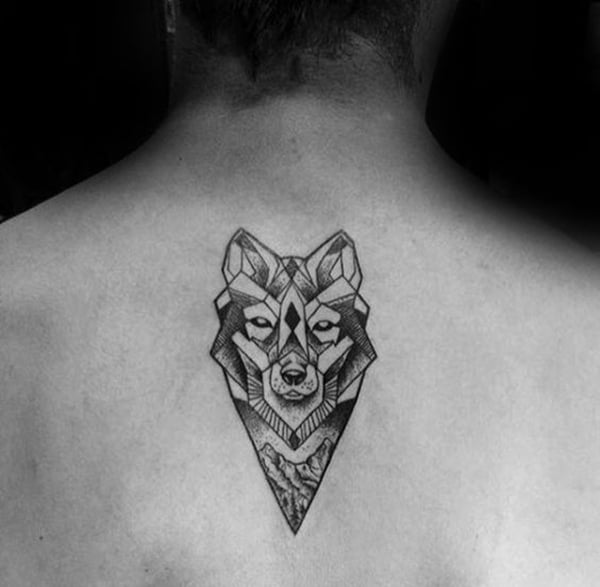 Composed of expertly shaded geometric shapes, this wolf is more of a spiritual guide. This shape would look good anywhere on the body, but sizing it much smaller would result in some of the finer details being lost. Angular lines on the small tattoo show that this wolf is ready to defend.
19. Snarling Wolf with Roses & Pearls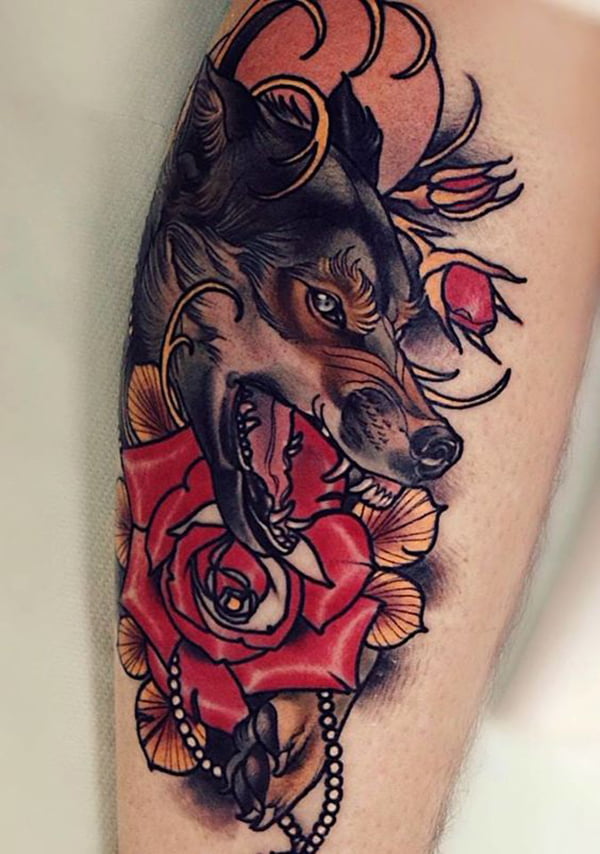 Fierce and wild, this wolf is ready for battle. A paw encircles the pearls and roses, showing that this wolf is defending what it loves. A subtle gradient gives these roses a glossy look that appears soft enough to touch.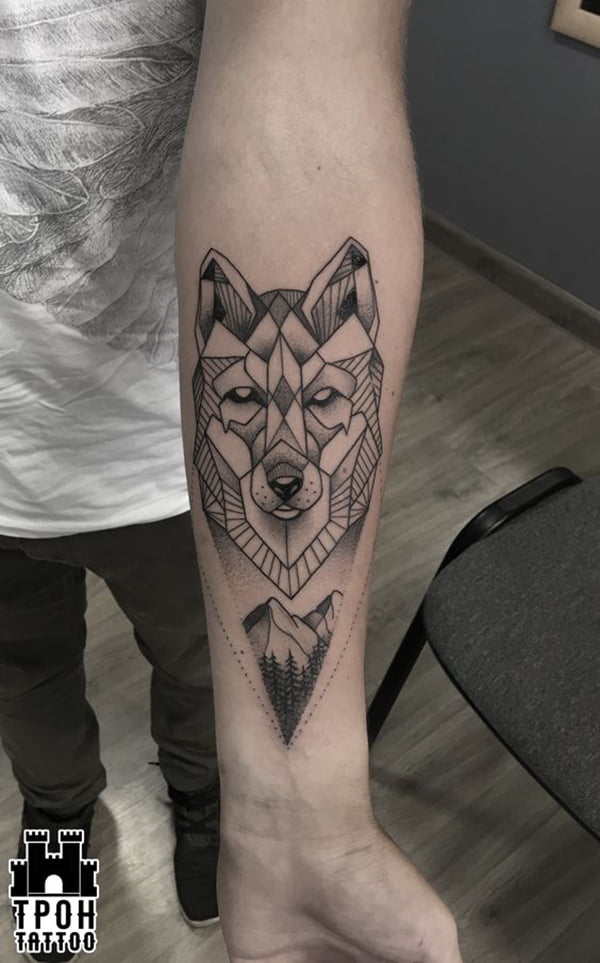 A variety of lines define this wolf's face, making this wolf appear as if it is not of this world. Set on the inside forearm, this wolf spirit and mountain range are visible to remind the tattoo bearer of his or her own inner wolf.
21. Orange-Eyed Snarling Wolf with Bells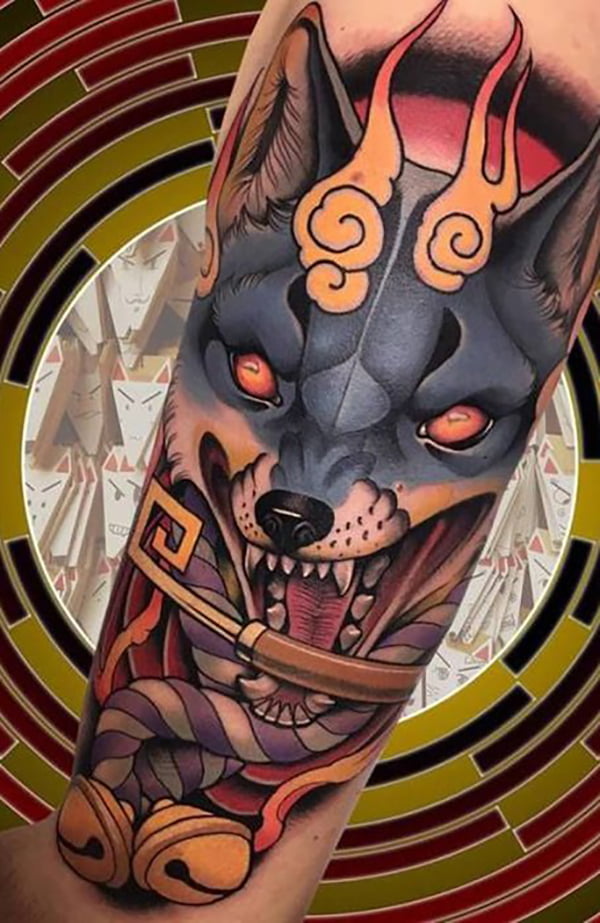 A merciless snarl, demonic orange eyes, and otherworldly smoke hint that this wolf is ferocious. Switching out the gray and purple rope and bells with something meaningful to you can transform this tattoo into a unique piece of art that tells your story.
22. Artistic Scribbled & Watercolor Wolf Tattoo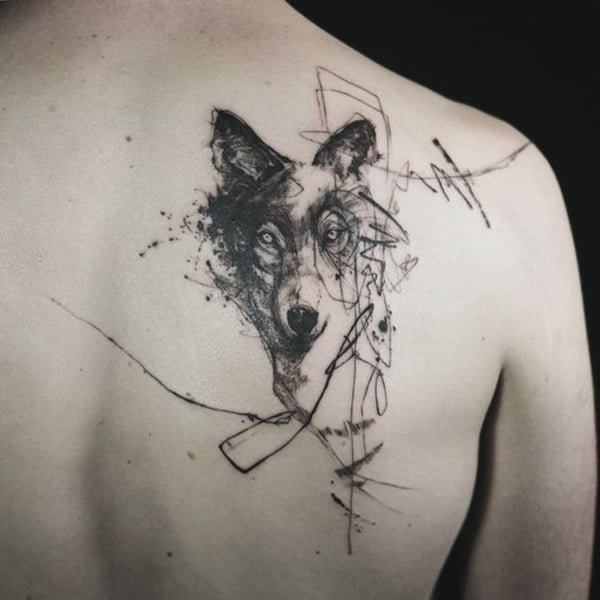 The watercolor effect softens this wolf, while the scribbling furnishes some harsh lines to show just how untamed this wolf is. Making this tattoo smaller would be possible, but would lose some of the photorealistic detail. Wherever you decide to put it, this wolf tattoo highlights everyone's duality.
23. Majestic Wolf Head Bicep Tattoo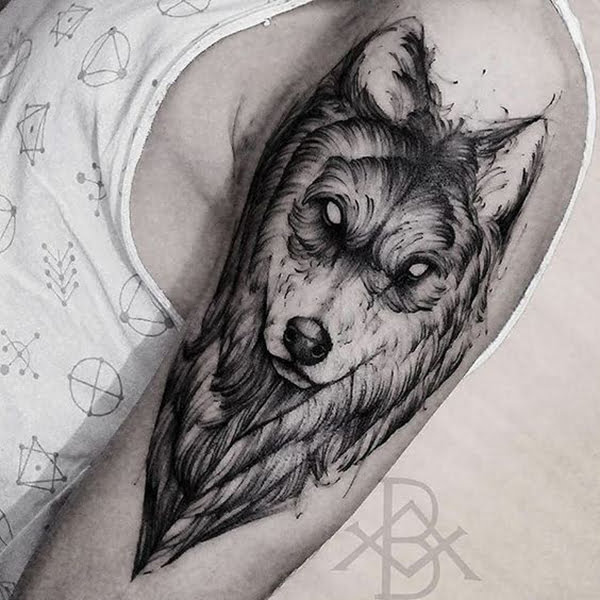 Perfectly symmetrical, this wolf exudes majesty with its solemn expression. These eyes imply this imposing wolf is really a wolf spirit, present to guide and protect. Because this tribal tattoo is located on the bicep and upper arm, this wolf's luxurious fur will appear to move.
24. Comic Book Snarling Wolf Tattoo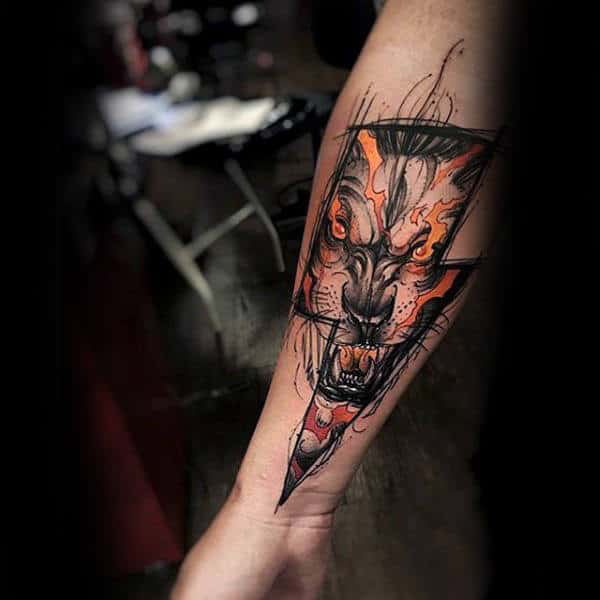 This fiendish lone wolf peers out at the world through a comic-book-style window, ready to leap out. Placed on the ribcage, this wolf-filled window is an illustration of what lies within the tattoo bearer. The straight lines magnify this wolf's dangerous appearance.
25. Compass Rose & Untamed Forest Adventure Wolf Tattoo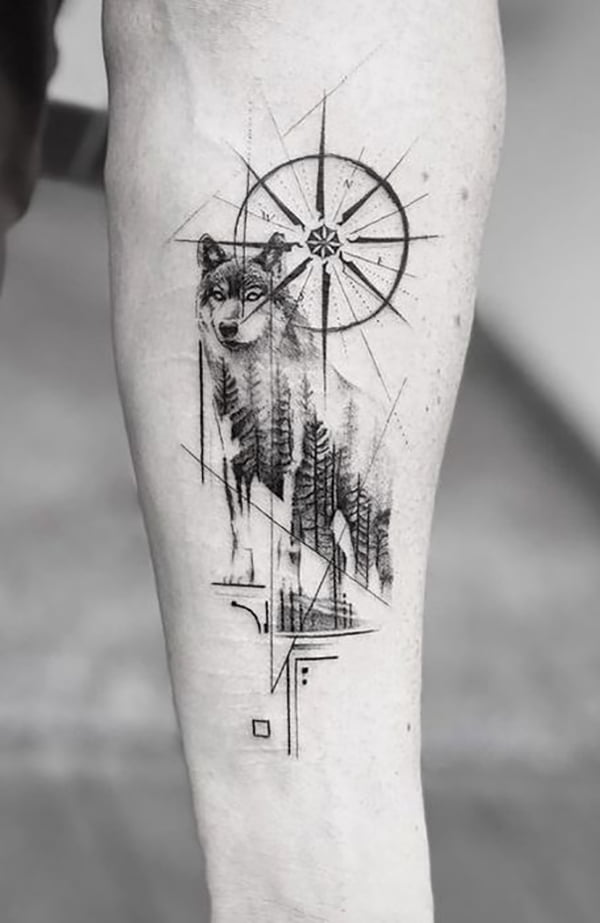 Primed for adventure, this tattoo superimposes a compass rose over a lone wolf that fades into a coniferous tree line. To tweak this tattoo to tell your story, imagine encircling it in a state's outline. This wolf tattoo looks designed for those who feel that "not all who wander are lost."
26. Blue-Eyed, Snarling Wolf Hand Tattoo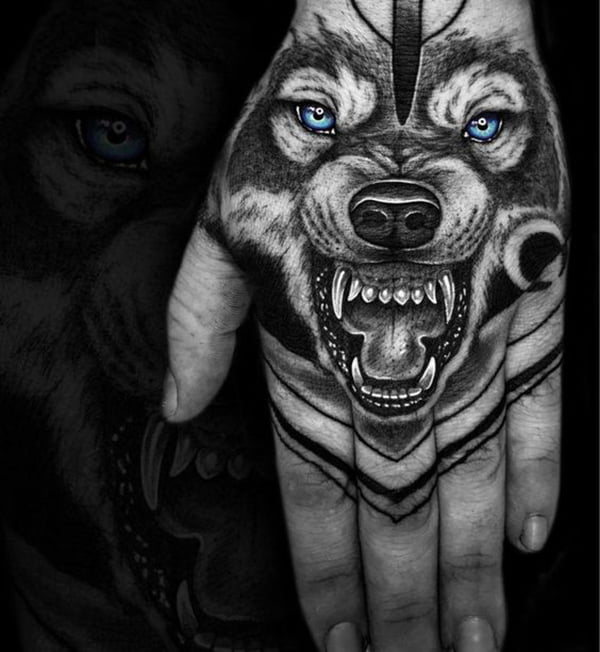 To remember to conduct all dealings with the same fierce integrity as a lone wolf, this tattoo is visible to everyone. Highly realistic teeth and sapphire eyes draw attention to this wolf's fury. A hidden moon icon could be swapped with something that is meaningful to you.
27. Simple Wolf Silhouette Shoulder Tattoo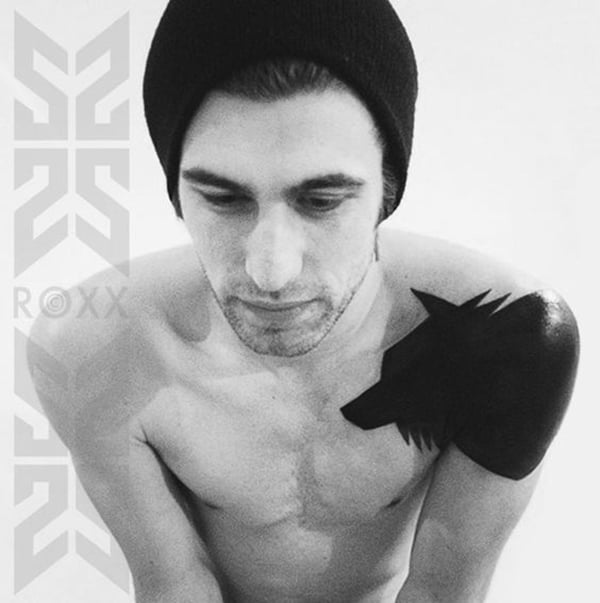 Solid black, this lone wolf is a testament to the bearer's resolute fortitude. With the wolf's muzzle pointing toward the heart, this tattoo is a potent reminder of what really matters. The shoulder does a great job framing this tattoo. Because of its simplicity, this tattoo design would work smaller.
28. Realistic Wolf Face with Amber Eyes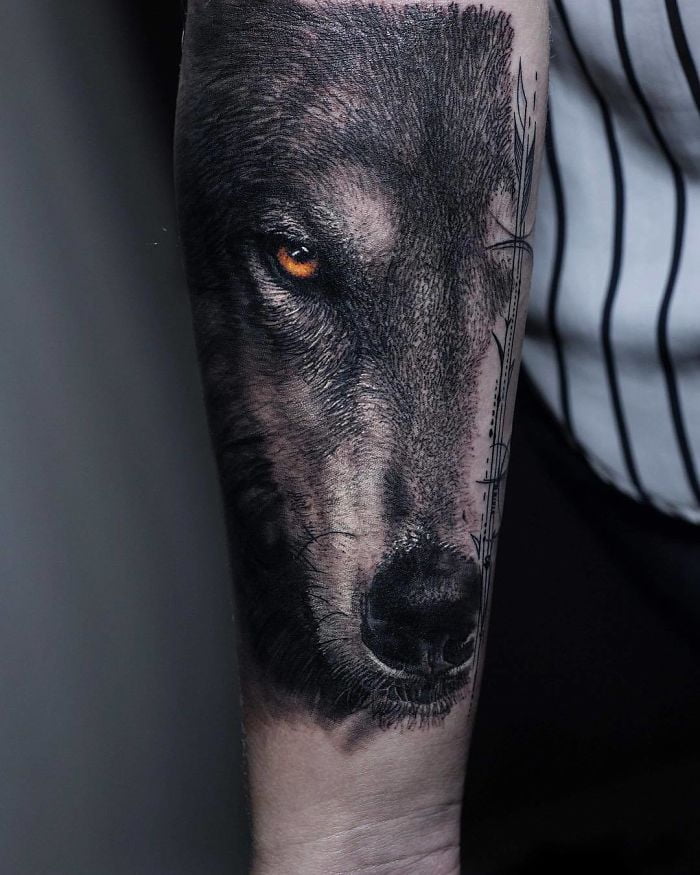 Depicted in painstaking detail, this wolf's face is photorealistic, almost causing an optical illusion. Because the amber eyes are the only points of color, the eye is immediately drawn there. This tattoo would work anywhere on the body but would be difficult to scale down and retain all the detail.
29. Mystical Geometric Lines Wolf Tattoo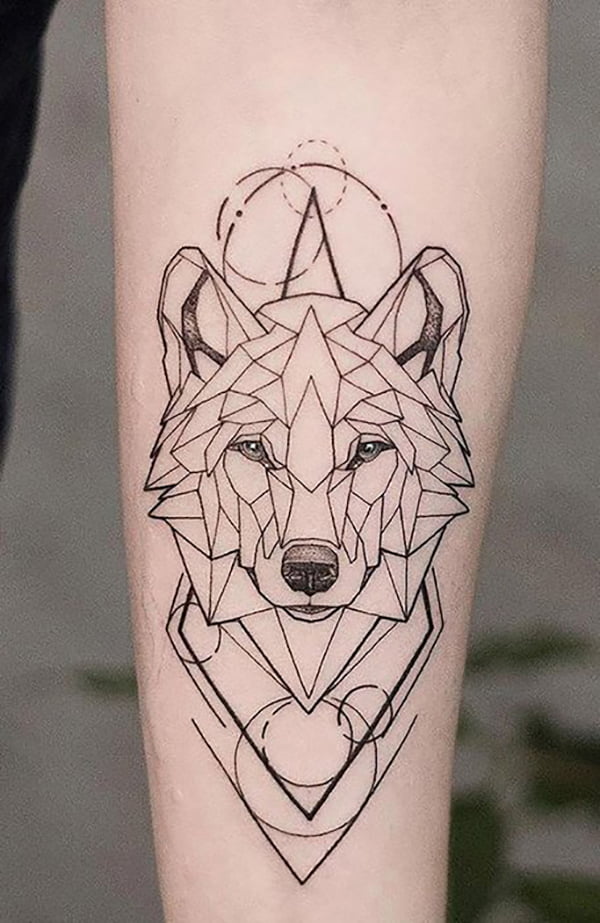 Interlocking circles and diamonds highlight the wolf's mystique in this wolf tattoo design. Because only the wolf's eyes and ears are shaded, the importance of observing and listening are emphasized. As a long, narrow tattoo, it fits impeccably on the arm.
30. Realistic Wolf in Interlocking Triangles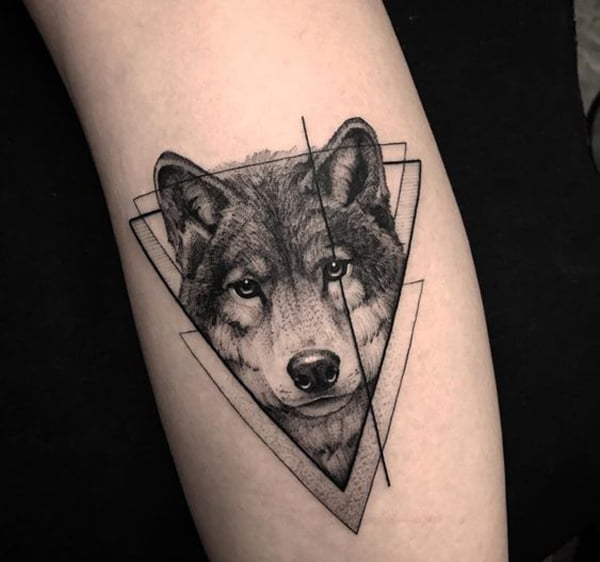 Each strand of fur is picked out in this tattoo, giving this wolf a photorealistic appearance. Interlocking triangles with some slight shading frame the wolf and give it some dimension. A single thick line breaks up the wolf's symmetry and adds some visual interest.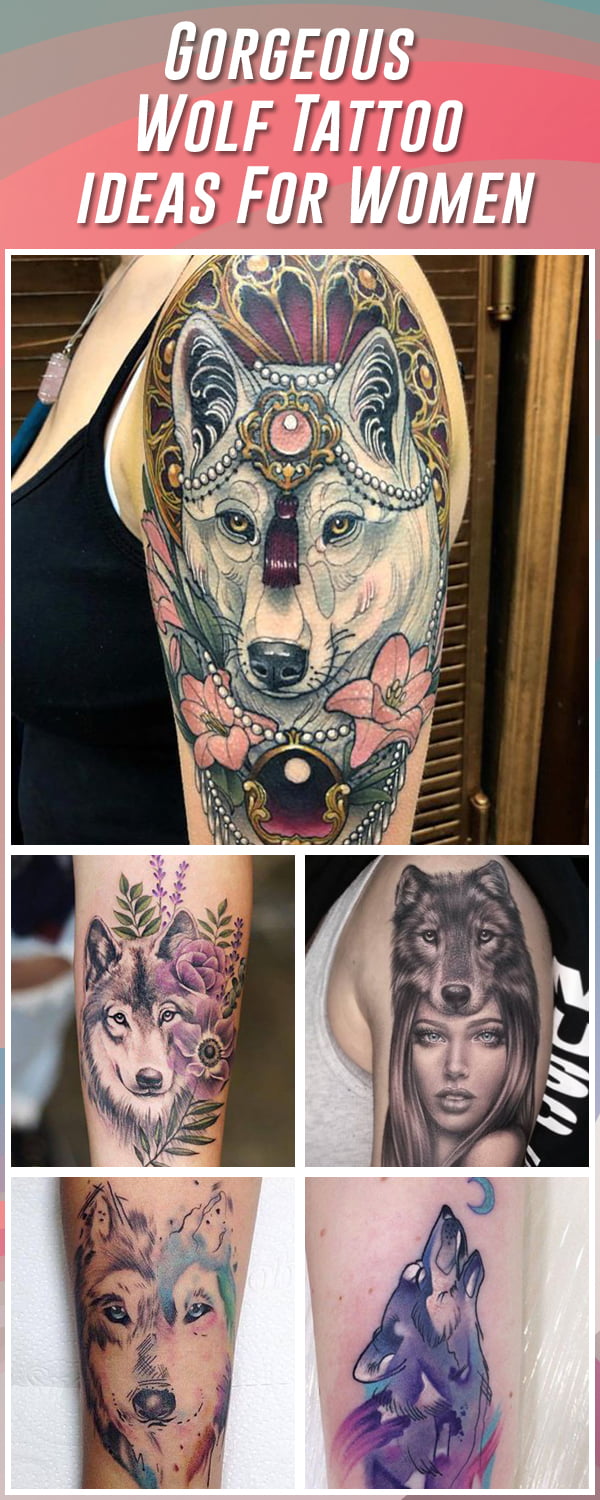 31. Wolf with Yellow Rose & Skull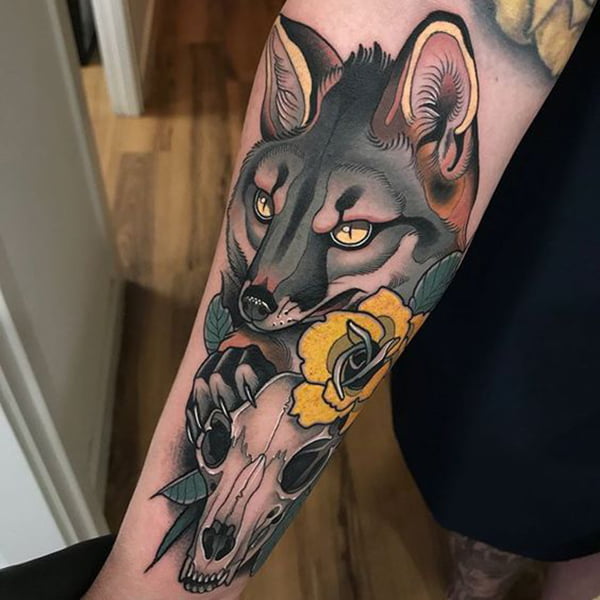 The lone wolf in this tattoo is attentive and protective, with one clawed paw holding onto the skull. A yellow rose emphasizes the wolf's yellow eyes. To make this design more meaningful for you, you could switch out the skull for something important in your story.
32. Snarling Silver Wolf against an Orange Sunset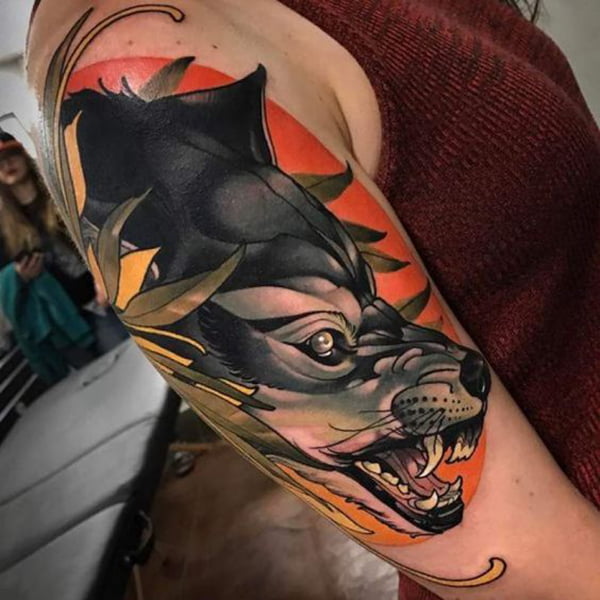 Silver eyes and a tropical color palette give this wolf tattoo an exotic feel. With teeth bared, this wolf is ready for battle. Framing this tattoo with the shoulder is a wise move, but it would probably work in other locations.
33. Mountain Range Small Wolf Tattoo in Silhouette
Shaggy fur outlines this wolf silhouette, providing a windswept ambiance. Stylized coniferous trees and a mountain range show a love of adventure. As the focal point of this tattoo, the moon shines above the mountains. While this design is small, it is detailed and could not be effectively scaled down.
34. Tiny Realistic Wolf Face Tattoo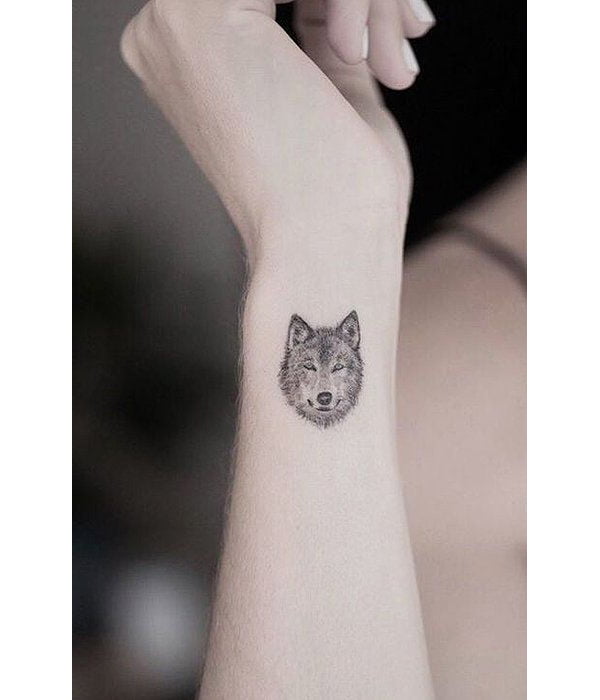 Approximately the size of a quarter, this tattoo will fit anywhere and is the perfect reminder of one's inner wolf spirit. Because it is very detailed, it will probably not shrink any further. However, it could be scaled up a little.
35. Art Nouveau Wolf with a Pink Gem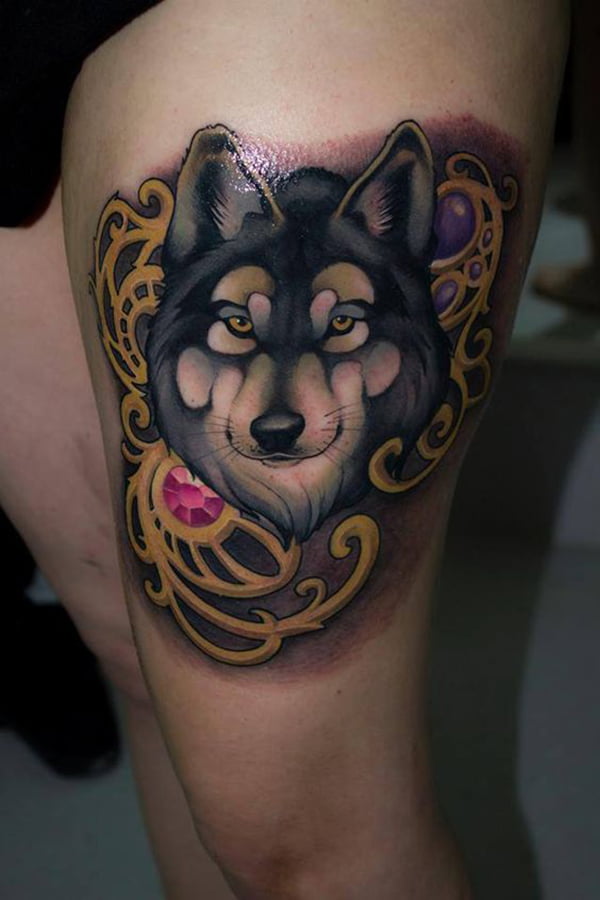 Swatches of color define the wolf's face in this tattoo, giving it a stylized feel. Delicate gold filigree is the perfect way to install the opulent pink gem. For contrast, a purple airbrush effect provides a subtle finishing touch for this tattoo.
36. Artistic Howling Wolf Goddess Tattoo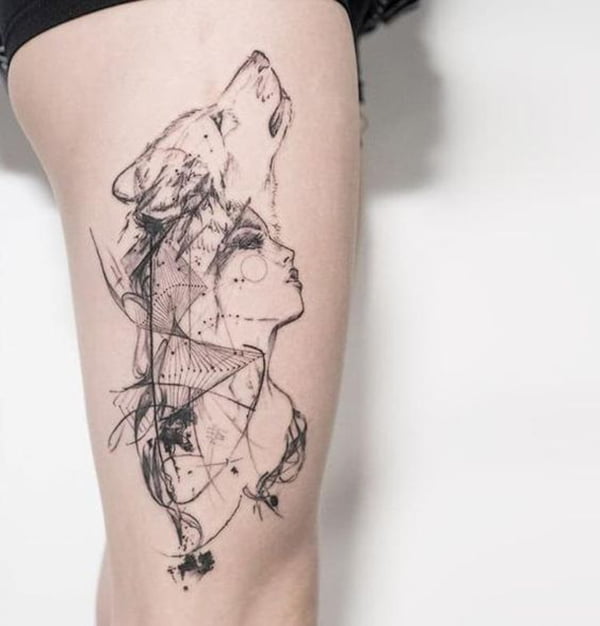 A beautiful blend of wolf and woman, this tattoo shows how it can feel when your animal totem is a wolf. Geometric elements overlay the wolf goddess, giving this tattoo an elegant, artistic quality. Imagine this design paired with some splashy watercolor-style coloring!
37. Female Wolf with Flower Tattoo and Gems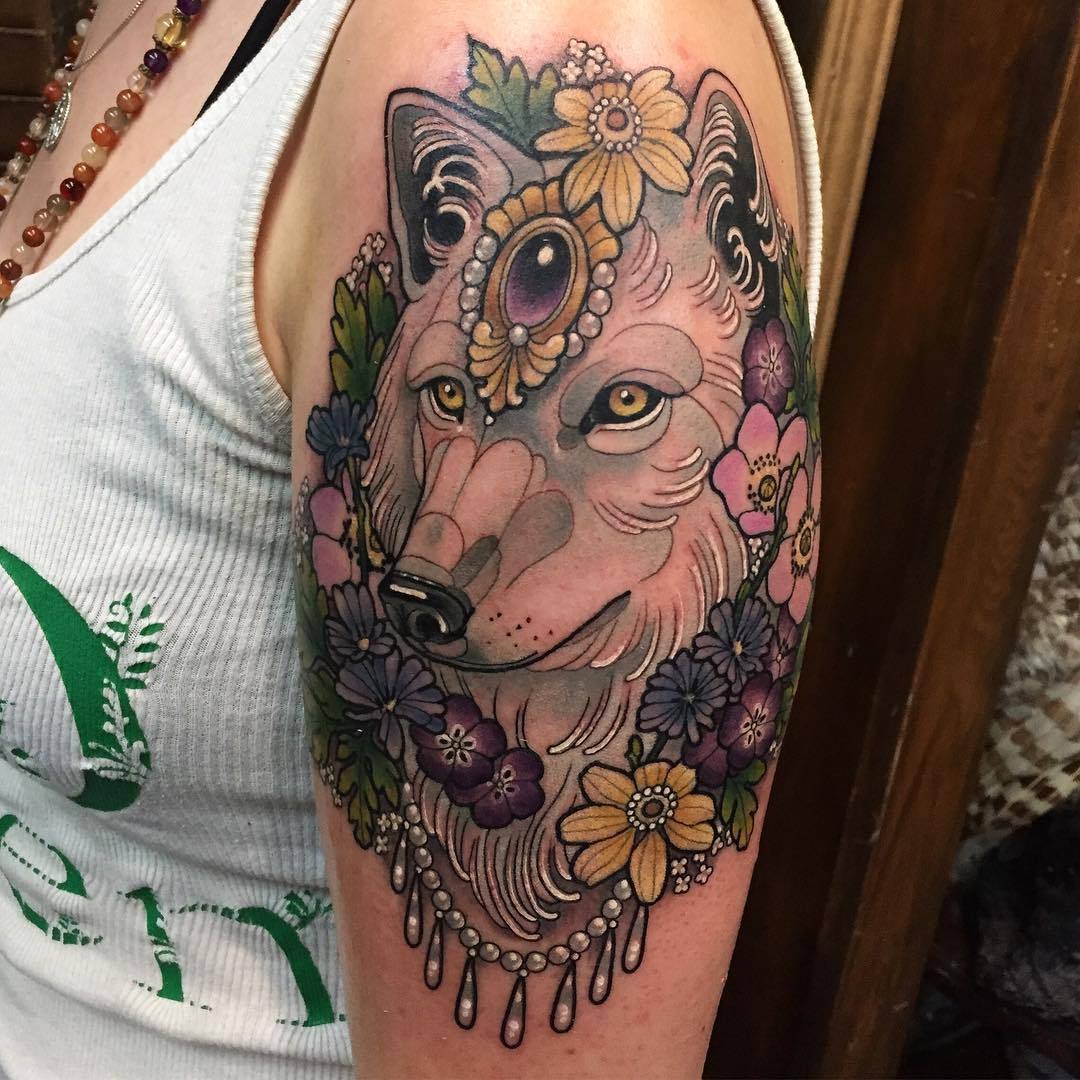 The beauty of this tattoo design is in the intricate details. A variety of flowers and pearl accents give the wolf a distinct feminine allure. A large, realistic purple gemstone serves as the focal point. To customize this design for you, consider using your birthstone instead of the purple gemstone.
38. Realistic Furry Wolf Collarbone Tattoo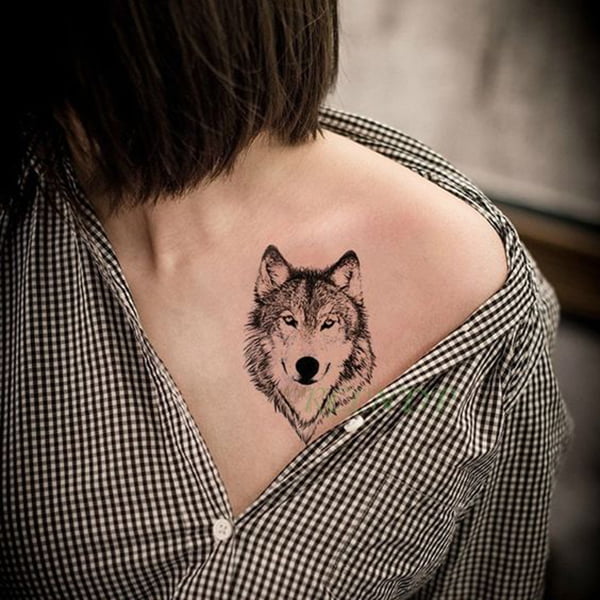 When considering wolf tattoo ideas, a realistic wolf is never a bad idea because it will always be recognizable as a wolf. Luxuriously thick, textured fur makes this realistic wolf collarbone tattoo a fantastic idea. What an enchanting smile this wolf has!
39. Large, Two-Tone Wolf Back Tattoo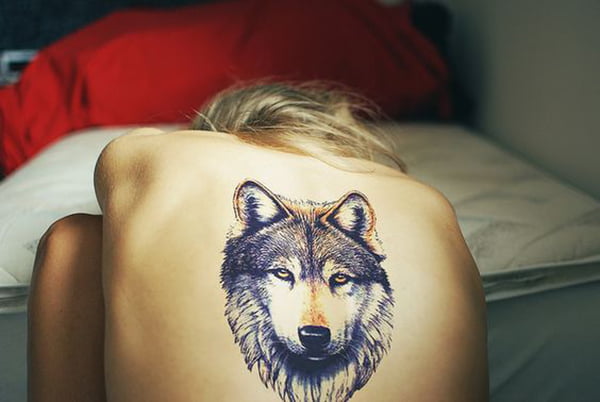 With a large wolf back tattoo for girls, you will never have to worry about someone having your back. This realistic design uses two contrasting colors to hook your attention and to showcase this wolf's solemn personality. The use of two colors also lends some dimension to this design.
40. Howling Wolf with Pine Trees Silhouette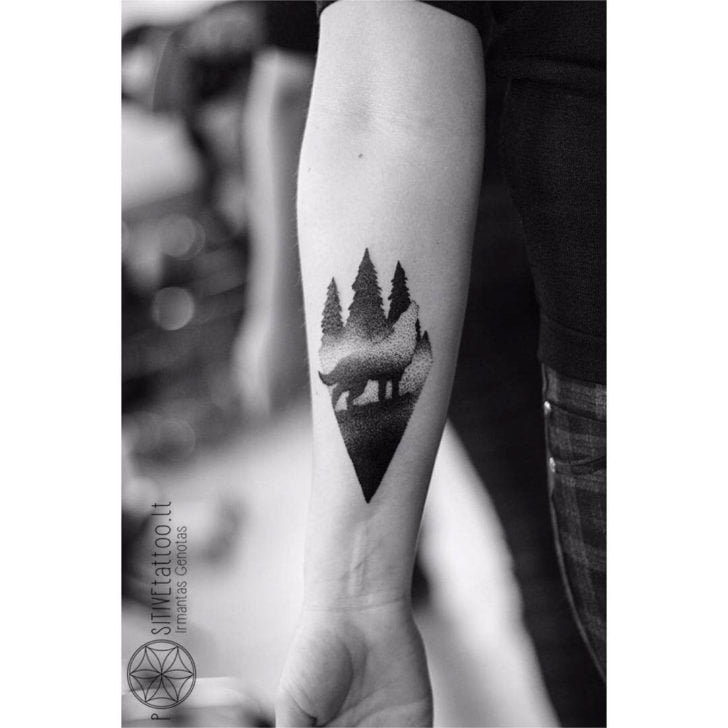 The brilliance of this tree tattoo lies in the shading. The wolf, trees, and grass all have some degree of shading such that they each stand out, yet they all fit together in the same shape. Balance is achieved through the black pine treetops and the black diamond bottom.
41. Royal Wolf Princess with Gems & Lilies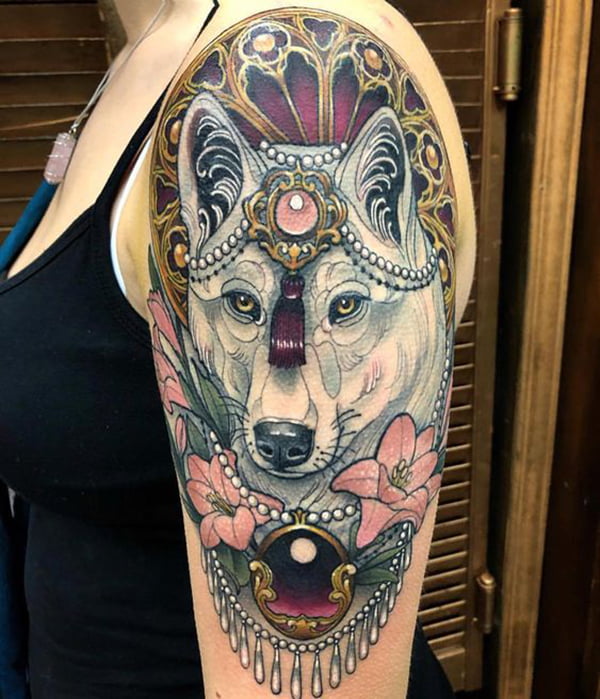 Pale pinks, rich purples, and delicate pearls give this wolf a decidedly feminine glamour. Large gemstones and a solemn expression lend this wolf tattoo majesty. To customize this tattoo to suit you better, consider selecting your favorite flower instead of the lily.
42. Split-Faced Geometric Wolf Tattoo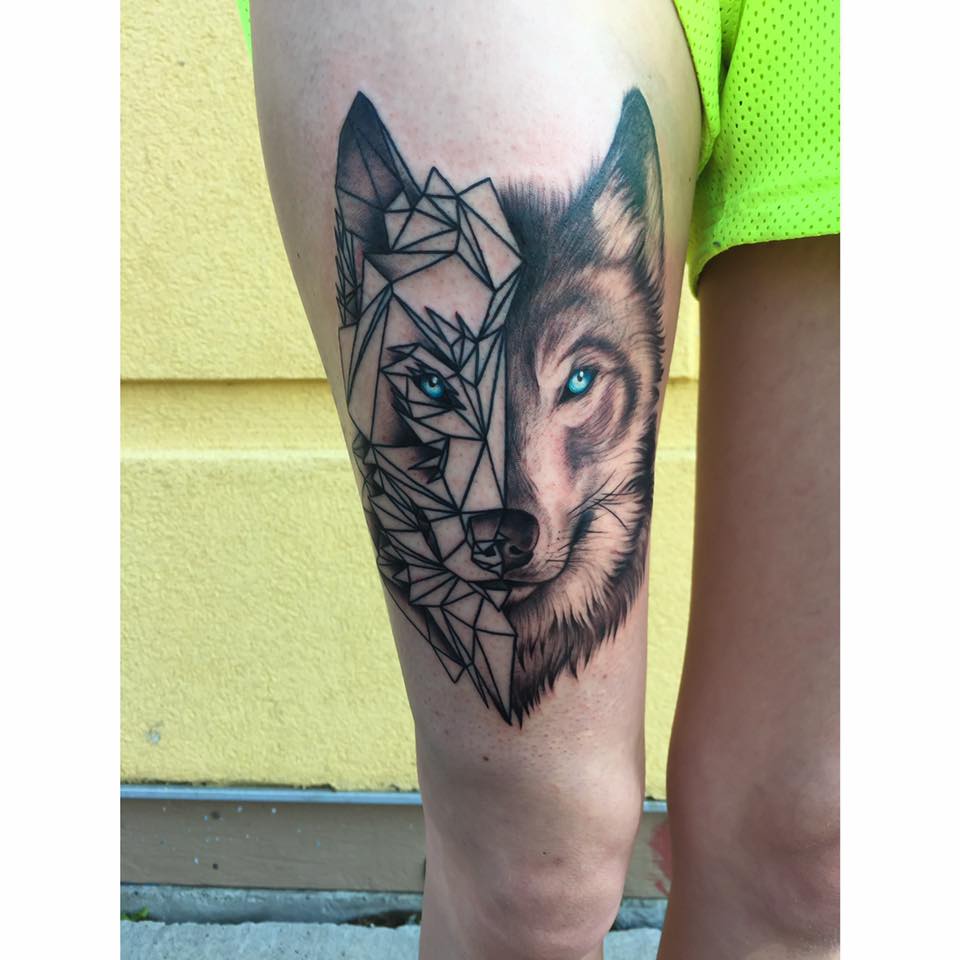 Aggressive geometric lines on one side and soft fur on the other illustrate the wolf's dual nature, as both untamed creature and protective spirit totem. Turquoise eyes tie the two halves together and make this tattoo one that you will never forget.
43. Twin Wolves with Flowers & Gems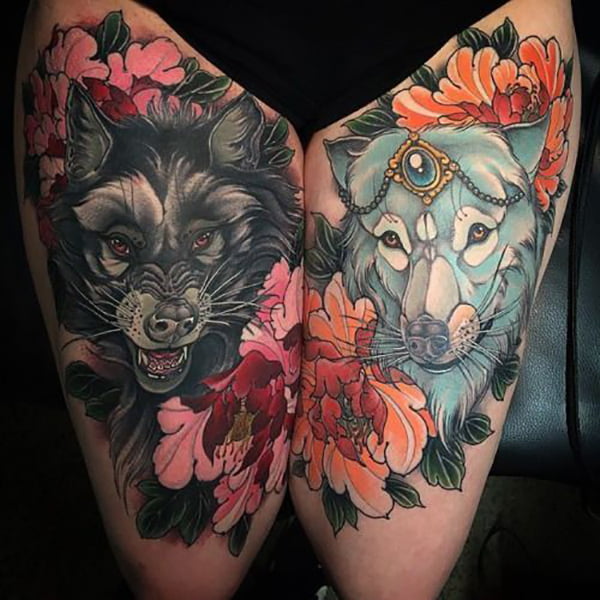 One wolf snarls fiercely and one wolf smiles demurely, showing two sides of the same magnificent creature. Flowers and a realistic gemstone adorn these wolves, adding some feminine flair. Looking for sister tattoos? This design would work well for sisters or friends looking for matching wolf tattoos.
44. Howling White Wolf Silhouette Tattoo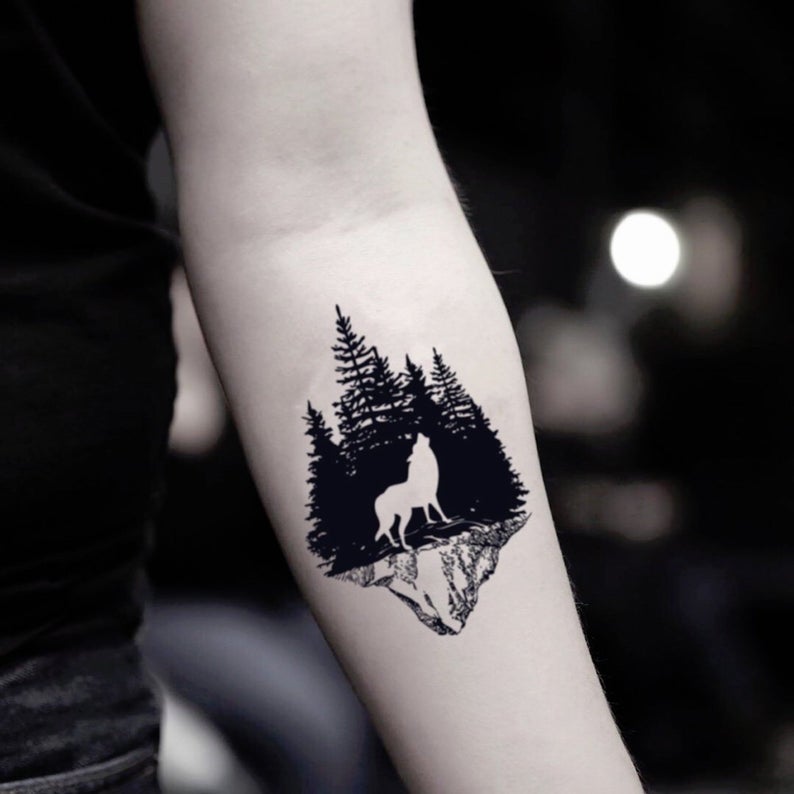 The wolf's free spirit is highlighted in this classy tattoo. Dark coniferous trees provide a stark contrast for the white wolf while an upside-down mountain adds balance to this design. The trees are too small to make this design any smaller, but it would look good in almost any location.
45. Realistic Wolf with Lavender Botanicals
Two-toned leaves and the wolf's shaggy fur give this tattoo some dimension. If you have a favorite flower or use botanical healing methods, this wolf tattoo design might be right for you. Imagine pairing the realistic wolf with your favorite healing plants to make this tattoo tell your story.
46. Wild Wolf Warrior Goddess Bicep Tattoo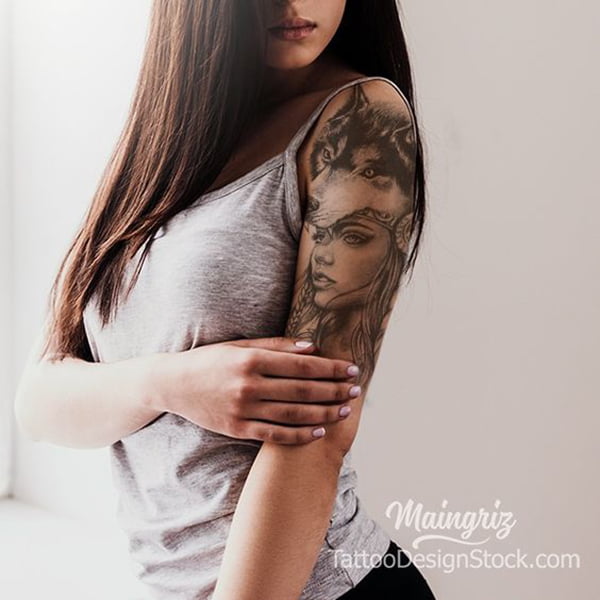 A wolf headdress and small braid illustrate this warrior goddess's untamed spirit. Delicate shading adds life and personality to this design. Unleash your inner wolf-goddess with this bicep tattoo. Of course, if bicep tattoos are not your style, this tattoo design would look good anywhere on your skin's canvas.
47. Blue-Eyed Wolf Face Tattoo Watercolor Style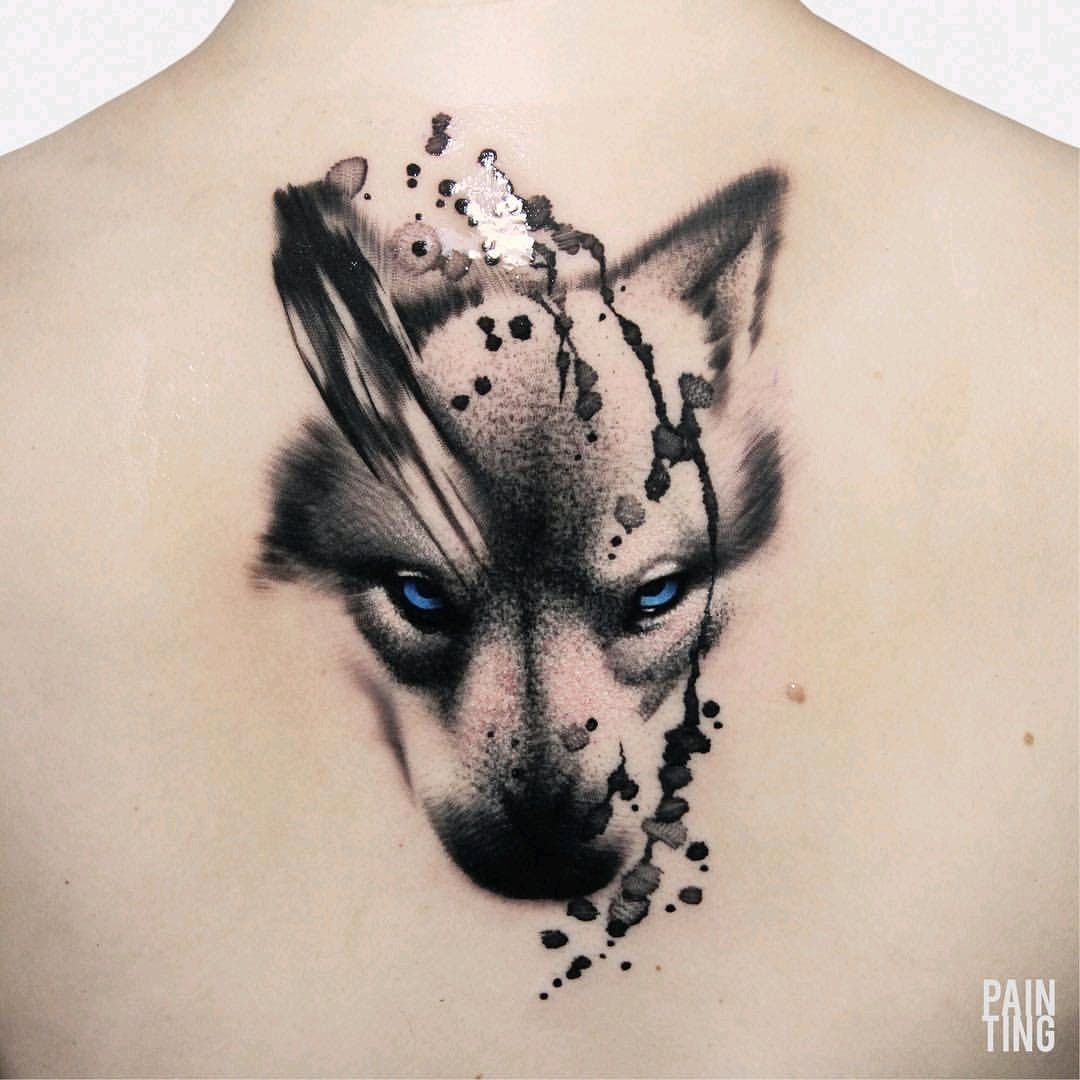 Giving the appearance of soft fur, short strokes define the wolf's face. Fiery blue eyes contradict the soft fur, showing that this wolf is still wild. A splatter of watercolor and a smeared ear bestow an artistic quality on this tattoo design.
48. Wolf Portrait with 3D Lilies & Mountains Tattoo Ideas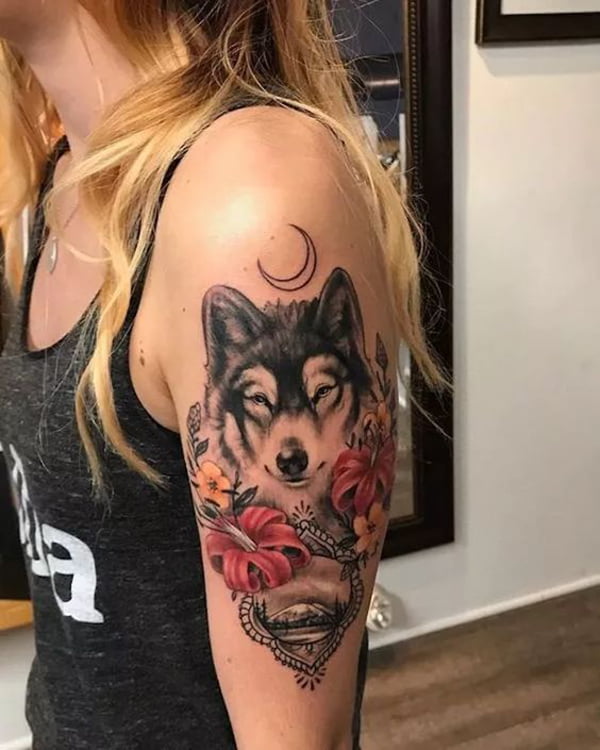 Several styles come together in this tattoo design for a beautiful piece of art. Painted like an old-fashioned portrait, this elegant wolf face is placed above a vintage mountain photograph. Three-dimensional lilies and a detailed frame around the mountain almost turns this tattoo into an optical illusion.
49. Gray-Scale Woodland Geometric Wolf Tattoo Ideas with Reflection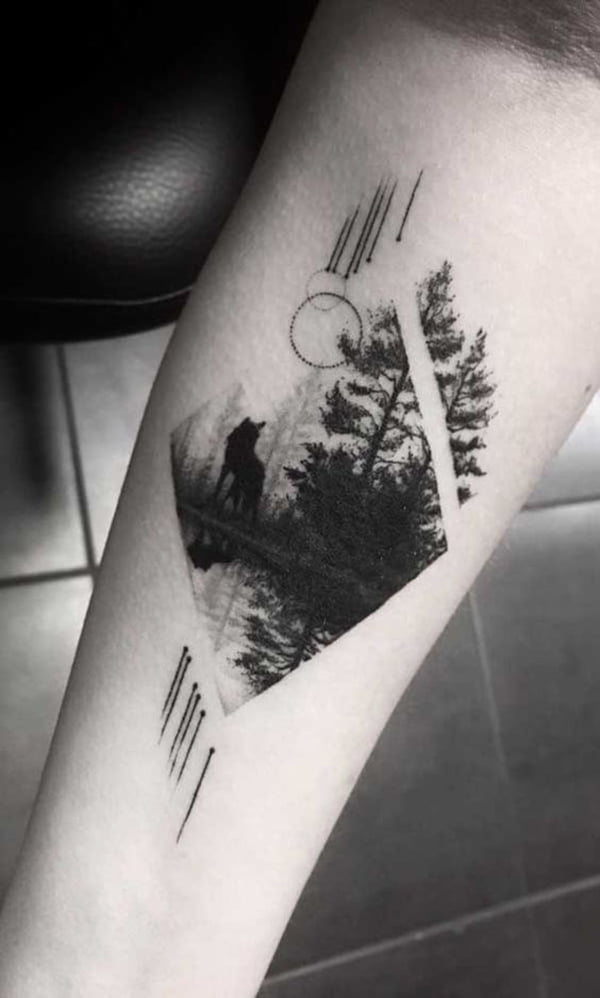 Balance and tranquility are achieved with this tattoo. Geometric lines and circles offer lots of visual interest that makes this design truly noteworthy. Gray trees in this tattoo give the illusion of depth, almost making this tattoo appear as a portal to this serene scene.
50. Blue Watercolor Wolf Spirit Tattoo Ideas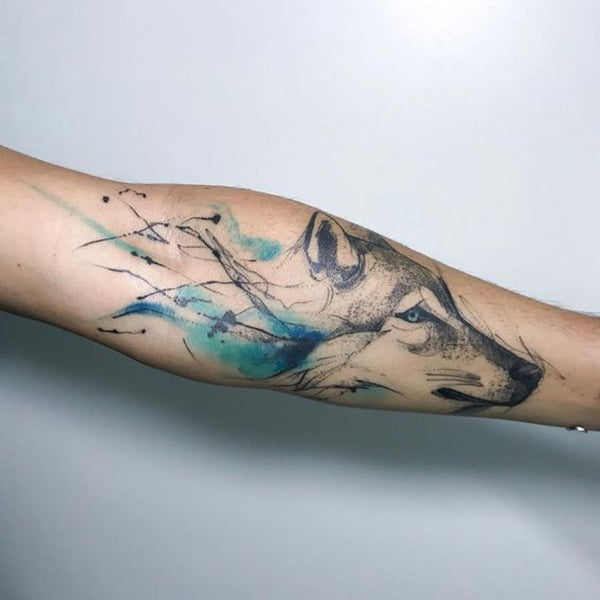 This wolf's long, elegant snout and soft gray fur blend effortlessly into blue streaks of energy and black sparks. Is the energy sorrow, determination or peace? If your aura is a different color, the blue can be switched for another color. This tattoo design offers a beautiful artistic style.
51. Symmetrical Wolf Face Neck Tattoo
For anyone with long hair, the back of the neck is a hidden place where you can decide who gets to see your tattoo. Placing a wolf's face here can mean that you have a wolf spirit, or that you need someone reliable to watch your back.
52. Wolf Tattoo Ideas with Geometric Triangles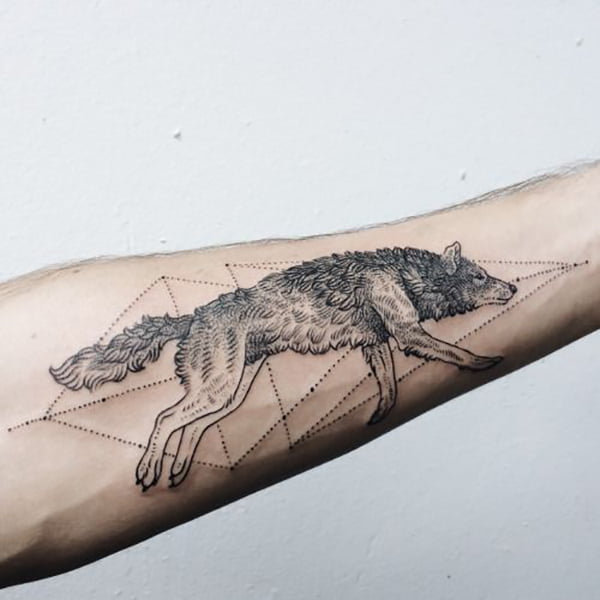 Detailed, shaggy fur gives this wolf tattoo lots of character. The geometric triangles point both to this wolf's destination, as well as to his past. This tattoo design resonates with anyone who is on a journey and feels a special kinship with the wolf spirit.
53. Seductive Wolf Maiden Bicep Tattoo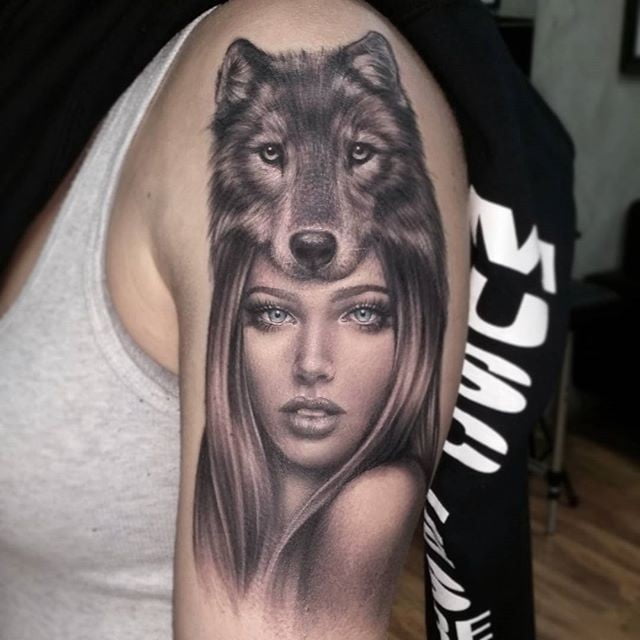 Piercing eyes gaze from this tattoo design and the wolf's fur blends into the maiden's hair. Expert shading gives this tattoo the illusion of depth as well as a hyper-realistic appearance. The bicep is the perfect frame for this design, but it could be moved elsewhere.
54. Angular Sketched Wolf Face Tattoo Ideas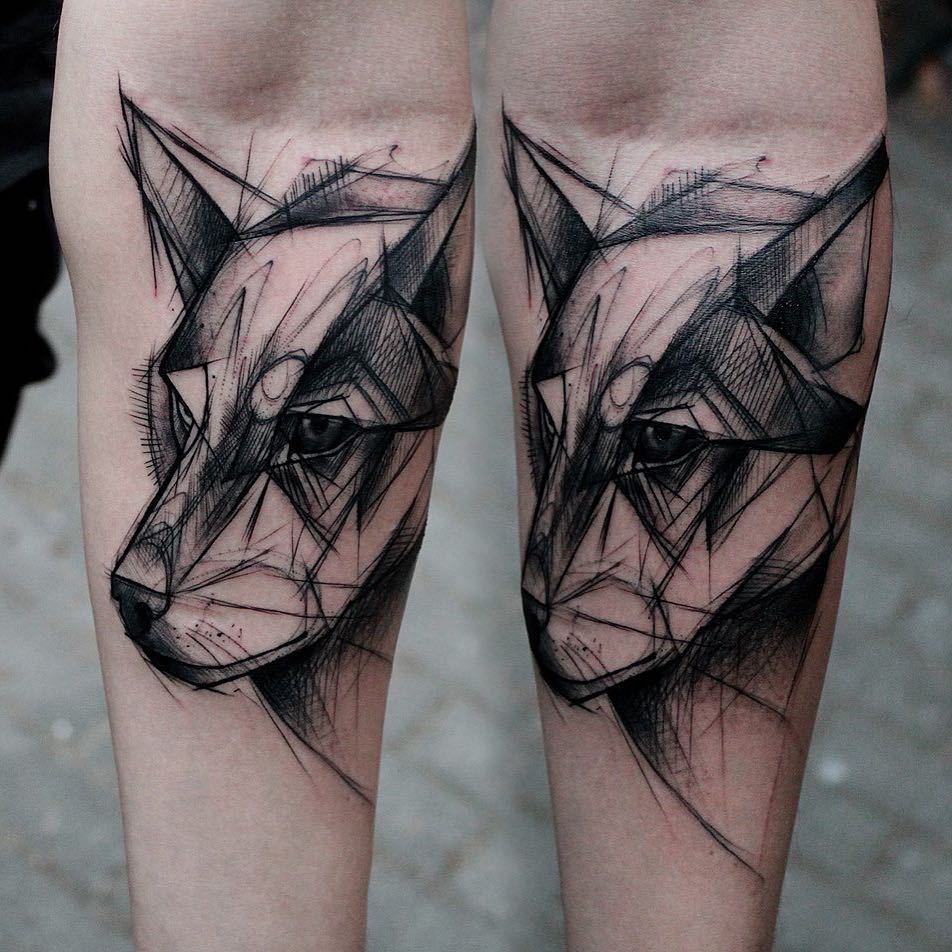 Feeling like concept art, this tattoo feels like structured chaos. An outline is presented and angular lines provide shading. The discordant lines give a feeling of turmoil. As we all have experienced some turmoil in our lives, this tattoo is an artistic opportunity to express that experience visually.
55. Watercolor Aurora Borealis Wolf Tattoo Ideas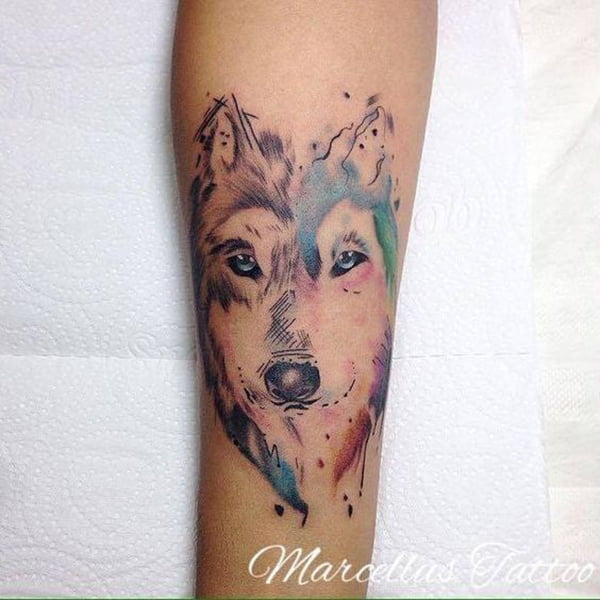 Soft daubs of color, cross-hatching and realistic eyes depict this wolf tattoo idea. Half of this wolf's face incorporates the rainbow colors seen in the northern lights. Do the two halves mean that this tattoo represents both the physical and spiritual nature of wolves? I will leave that to you.
56. Neon Howling Wolf Tattoo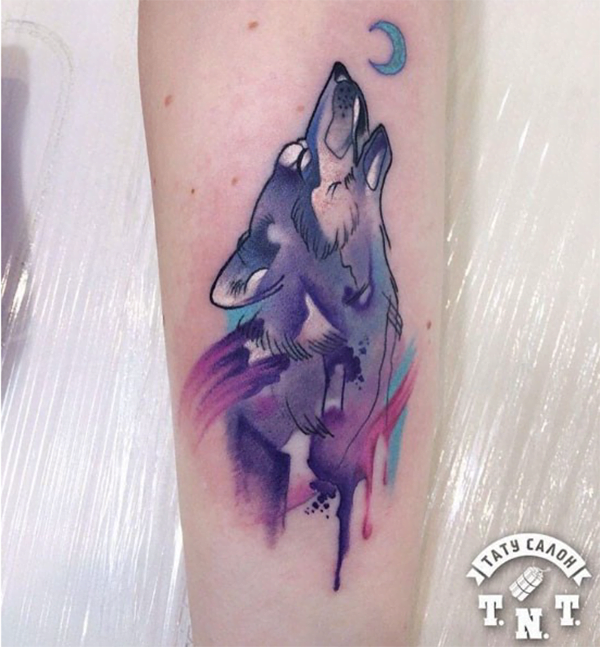 Cotton-candy neon tones color this wolf singing to the moon. Some of the color drips, making this tattoo almost feel like graffiti. White smudges add dimension and texture. To customize this tattoo, you could swap the moon icon for something meaningful to you or perhaps even change the color palette.
57. Gritty Wolf Face Tattoo Ideas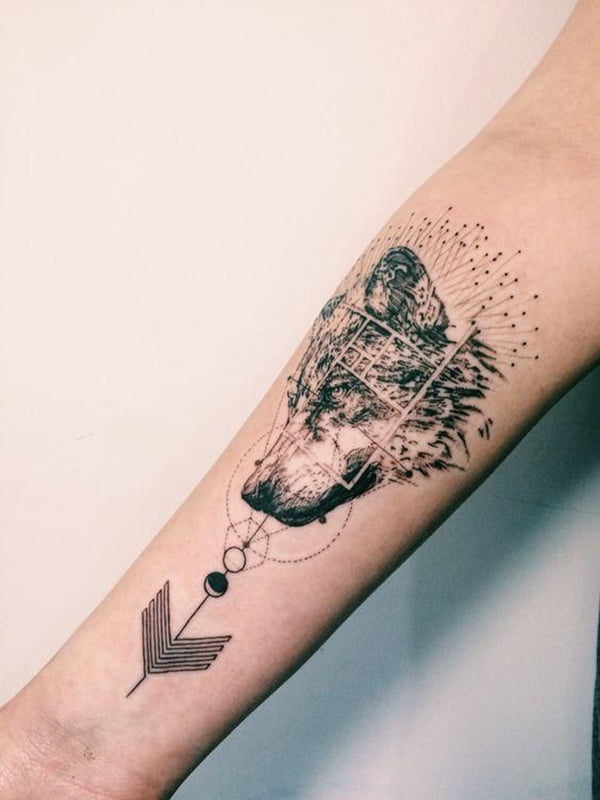 Arrows, circles, and the golden ratio make appearances in this forearm tattoo design, giving it added visual appeal. Lines with small, solid circles give the appearance of energy generated by this wolf's head. Because this tattoo is so long, it is framed perfectly on the inside forearm.
58. Wolf Spirit Tattoo Bursting with Raw Power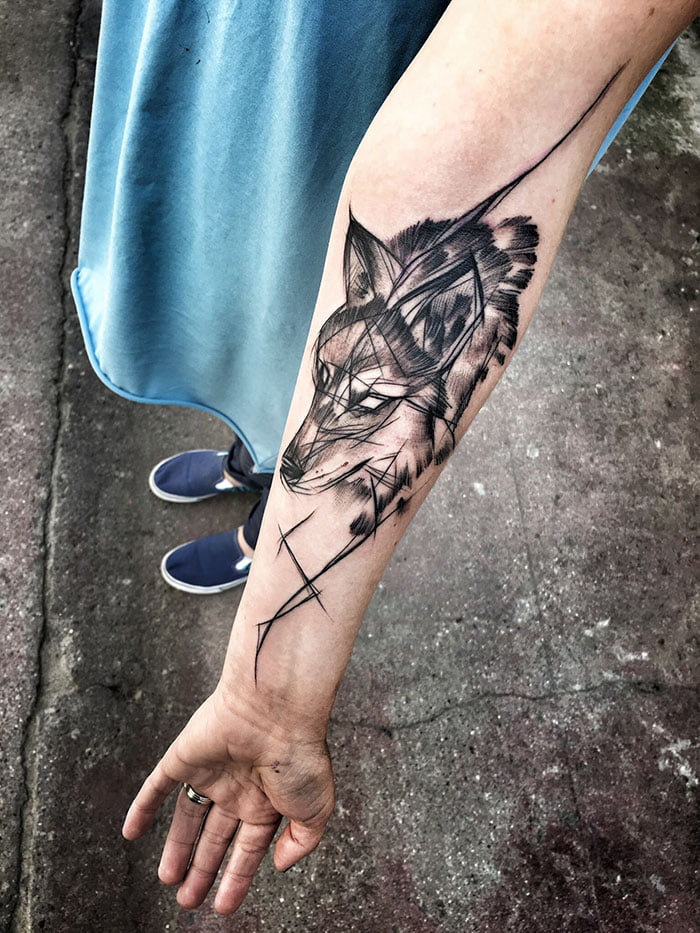 Jagged lines furnish a feeling of jarring dissonance. White eyes indicate this wolf is a spirit, rather than a physical creature. Short, straight strokes give the fur motion, as well as emphasizing the energy in this tattoo. This tattoo design features a fierce guardian who is ready to fight.
59. Realistic Wolf with Stylized Peonies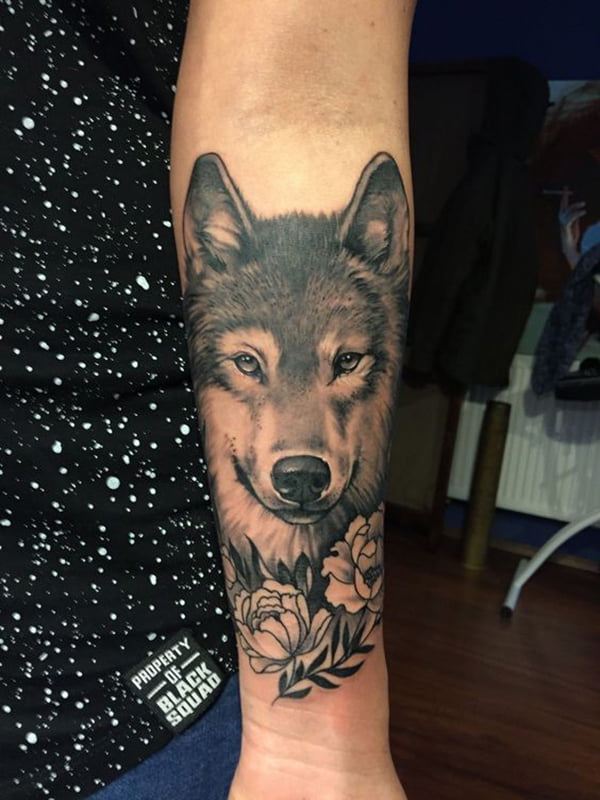 The asymmetrical appearance of this ladylike wolf's face gives this tattoo extra photorealistic credibility. Melding the realistic wolf and stylized flowers in this design bring some visual interest. To make this tattoo tell your story, consider swapping the peonies for your favorite plant.
60. Geometric She-Wolf with Turquoise Eyes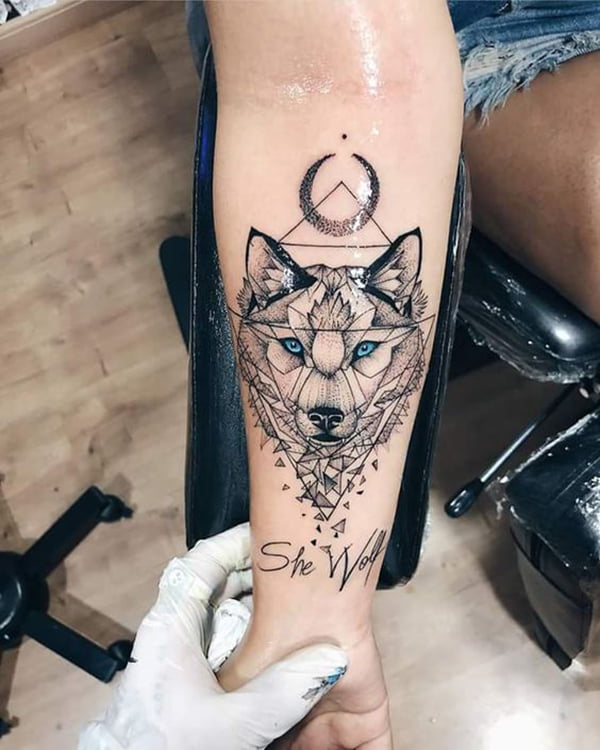 Composed of crumbling triangles, all attention is drawn to this she-wolf's startling turquoise eyes. Triangles point both above and below, revealing that this wolf is connected both to the spiritual world above and to the physical world below. A crescent moon above emphasizes this wolf's spiritual nature.
60 Traditional Wolf Tattoos and Designs that are Charged with Energy
However you connect with wolves, these designs are great tattoo ideas to get you started in planning your own wolf tattoo. As artwork on the body, determining what style you are drawn to is often the first step to designing your perfect wolf tattoo. Do you resonate more with the aggressive, hunter wolf or the protective wolf spirit? Finding ways to help the wolf tattoo tell your story is the next step. Do you have a favorite plant or a place that is meaningful to you? Perhaps a healing color or a symbol that can help tell your story can be added.