Once you've decided you want a forearm tattoo, you need to come up with the best forearm tattoo ideas and designs. You do want to make sure something so permanent is something you will love. Getting an idea of what will look nice and style and design options can really help narrow down your choices. This list will give you a great starting point to work with your artist to create a beautiful piece of art you will wear proudly for the rest of your life. Always remember to go over your ideas with your artist so you know they can deliver what you want.
60 Gorgeous Forearm Tattoo Designs To Give You A Great Starting Point To Find Your Own
Every artist has their own portfolio of work that shows off what they do best, so once you know what you want, be sure to find an artist with a similar style so you know they can pull it off. Coming in prepared for your first consultation will help you and your artist. Read on to see all the gorgeous forearm tattoo designs we've curated for you.
1. Watercolor Minimalist Lion Tattoo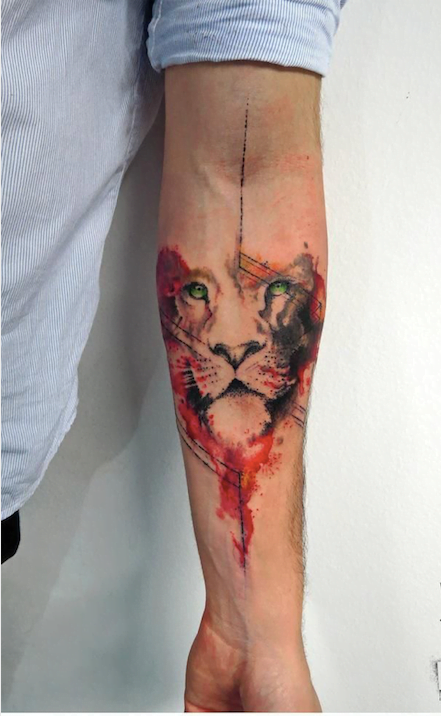 This tattoo has a simple, watercolor feel with a big impact. Pops of color in the eye contrast with the fields of color around the face to draw your eyes. The vertical lines help merge it into your body and give it an otherworldly feel.
2. Bold Profile of a Woman and Birds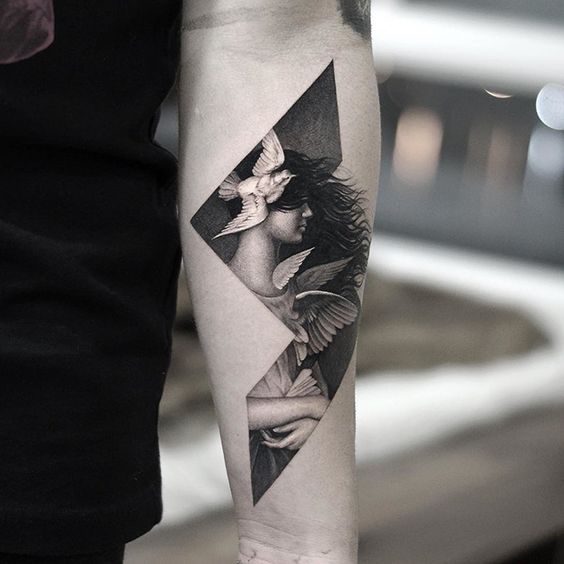 This is a black and white tattoo with gorgeous details. The strong geometric outline contrasts beautifully with the woman and birds and frames them. The hair blowing over the outline helps it feel more dynamic.
3. Lines That Form a Kiss Cool Forearm Tattoos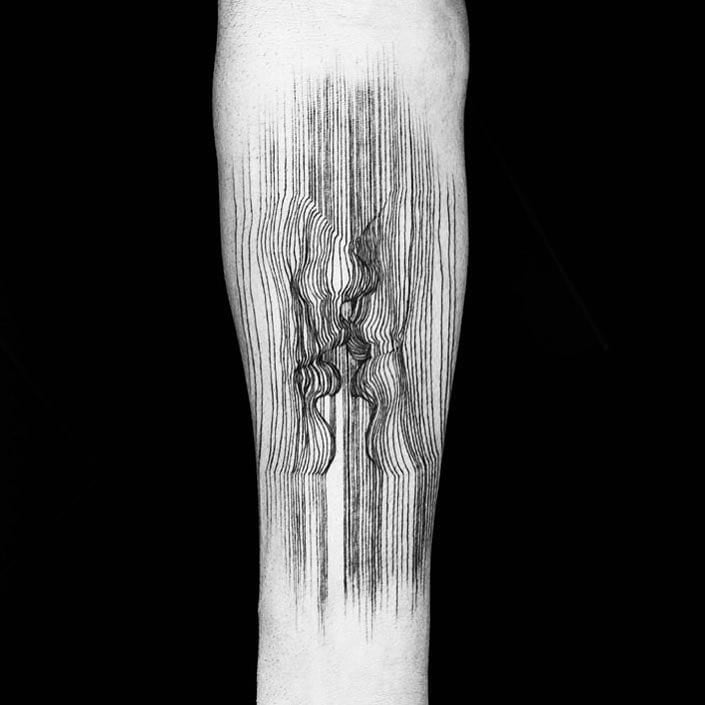 This tattoo is made entirely of fine lines that fill out to show mouths about to kiss. A simple tattoo idea like this can be made with anything you like to give you a unique piece.
4. Portrait of a Woman and Bird Cool Forearm Tattoos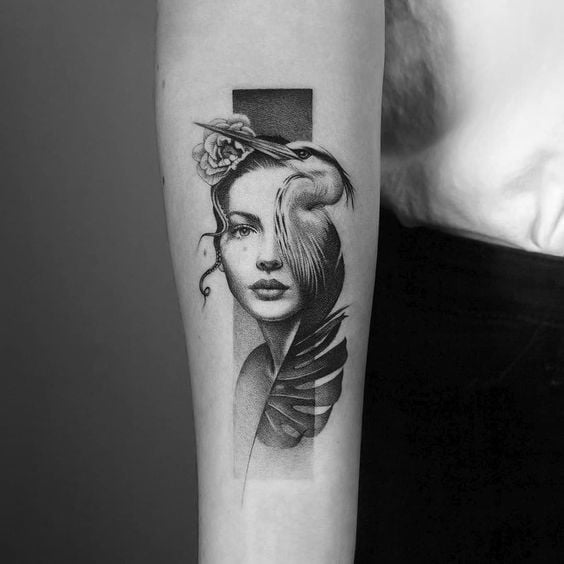 This striking portrait gives you a new look at a basic tattoo style. The background helps set off the woman and the bird blending together. A tropical plant gives it the feel of a humid island in the South Pacific.
5. Landscape of a Lake and Mountain Cool Forearm Tattoos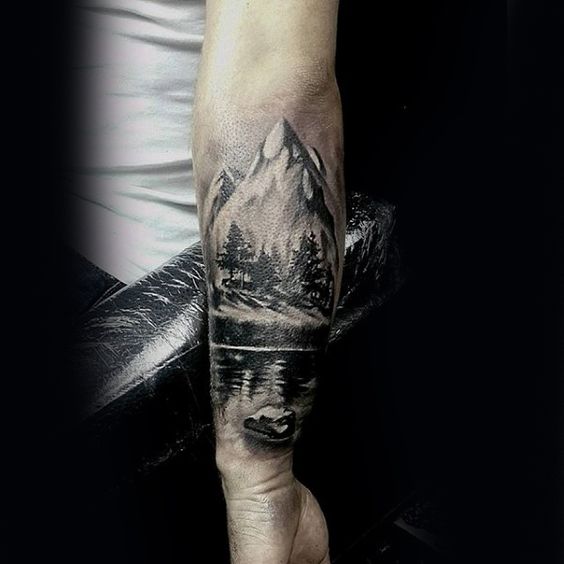 Landscapes are a classic tattoo idea. By setting off the mountain with the reflections of a lake, you get more depth. This is an art piece on human skin.
6. Religious forearm tattoo with a Modern Style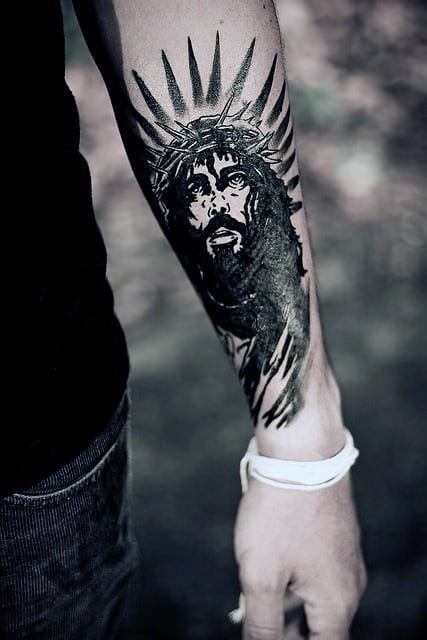 Religious tattoos are another classic style. The art gives this the feel of a comic book, particularly with the rays in the background. Religious art doesn't need to be stuffy or stuck in the Renaissance.
7. The Last Supper in Miniature forearm tattoo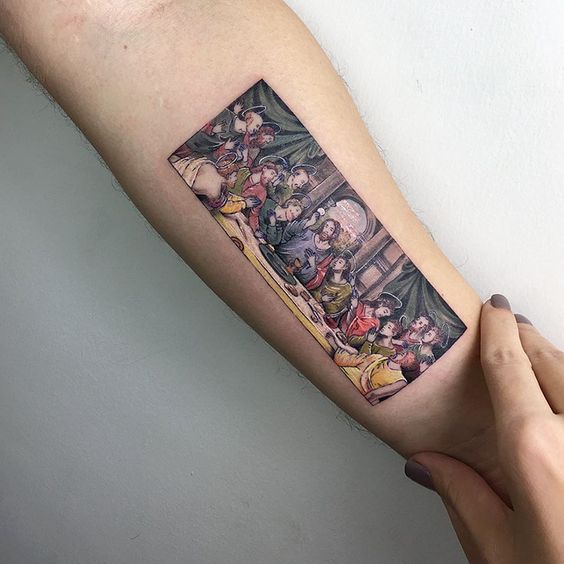 Getting an artwork you love tattooed onto your skin is another great idea. This version of the Last Supper has a composition that screams Renaissance painting.
8. Dramatic Buck Silhouette in the Woods forearm tattoo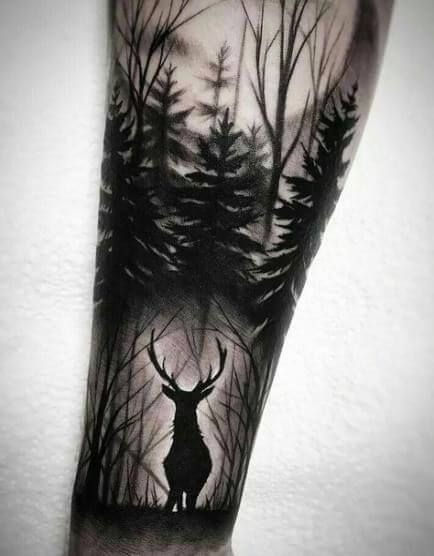 The black and white wilderness forearm tattoo is a striking one. The deer seems to challenge you. He is the king of this forest and you are just a visitor. This is a great idea for any nature or animal lover. Silhouettes give you a dramatic look that may age better than a more detailed design.
9. Tutankamun's Burial Mask Over the All-Seeing Eye forearm tattoo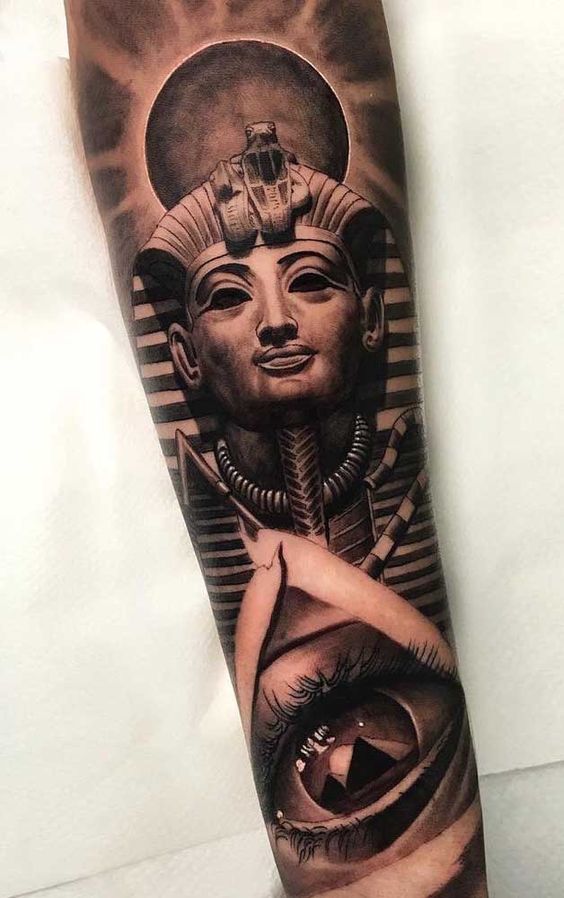 This gorgeous forearm tattoo is filled with details. From the gorgeous reproduction of an ancient example of gold-work and sculpture to the pyramids reflected in the eye. This tattoo is one you will find new details to admire every time you look at it. Don't be afraid to get a more detailed tattoo.
10. Geometric Cow Skull and Compass forearm tattoo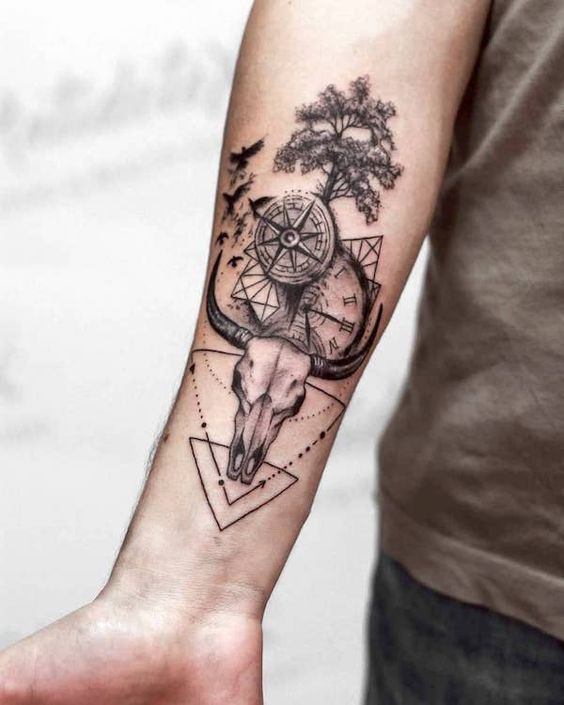 This forearm tattoo featuring a cow skull, clock, and compass feels like a meditation on the passage of time and the journey of life. A deep meaning isn't necessary for a good tattoo, but it doesn't hurt. Don't be afraid to work symbology into your tattoo.
11. Snarling Leopard Over a Jungle forearm tattoo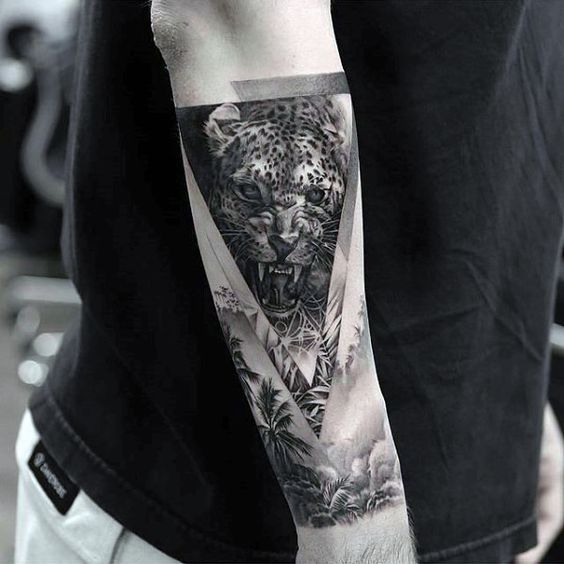 Nature tattoos and animal portraits are always a good choice. This forearm tattoo shows the big cat's habitat as well as the cat in a unique triangle framing. This gives it a more interesting composition than many nature tattoos.
12. An Astronaut's Helmet is Also an Eye forearm tattoo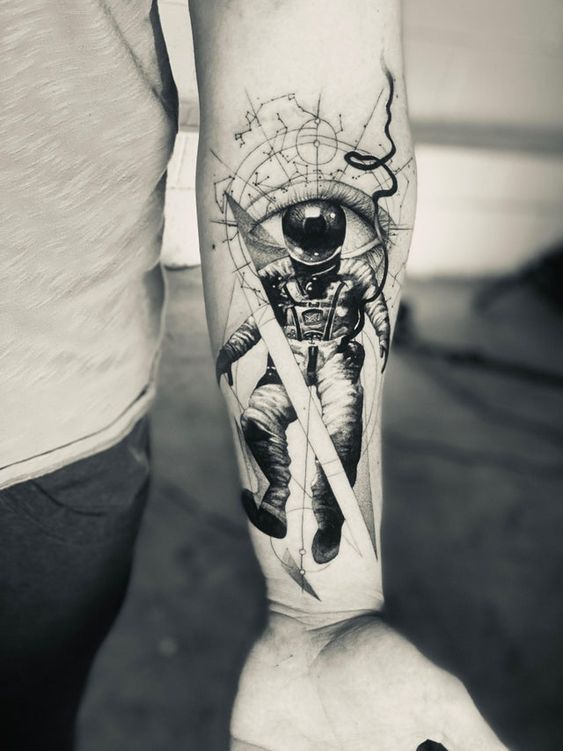 This tattoo has many details to draw you in. The eye forming the helmet of an astronaut encourages you to consider its meaning. The geometric lines give a nice background, and the blank band over the astronaut makes it feel like an image buried in the skin. Using negative space like this gives your tattoo a deeper feeling.
13. Sketchy Arrow with Soft Fletching forearm tattoo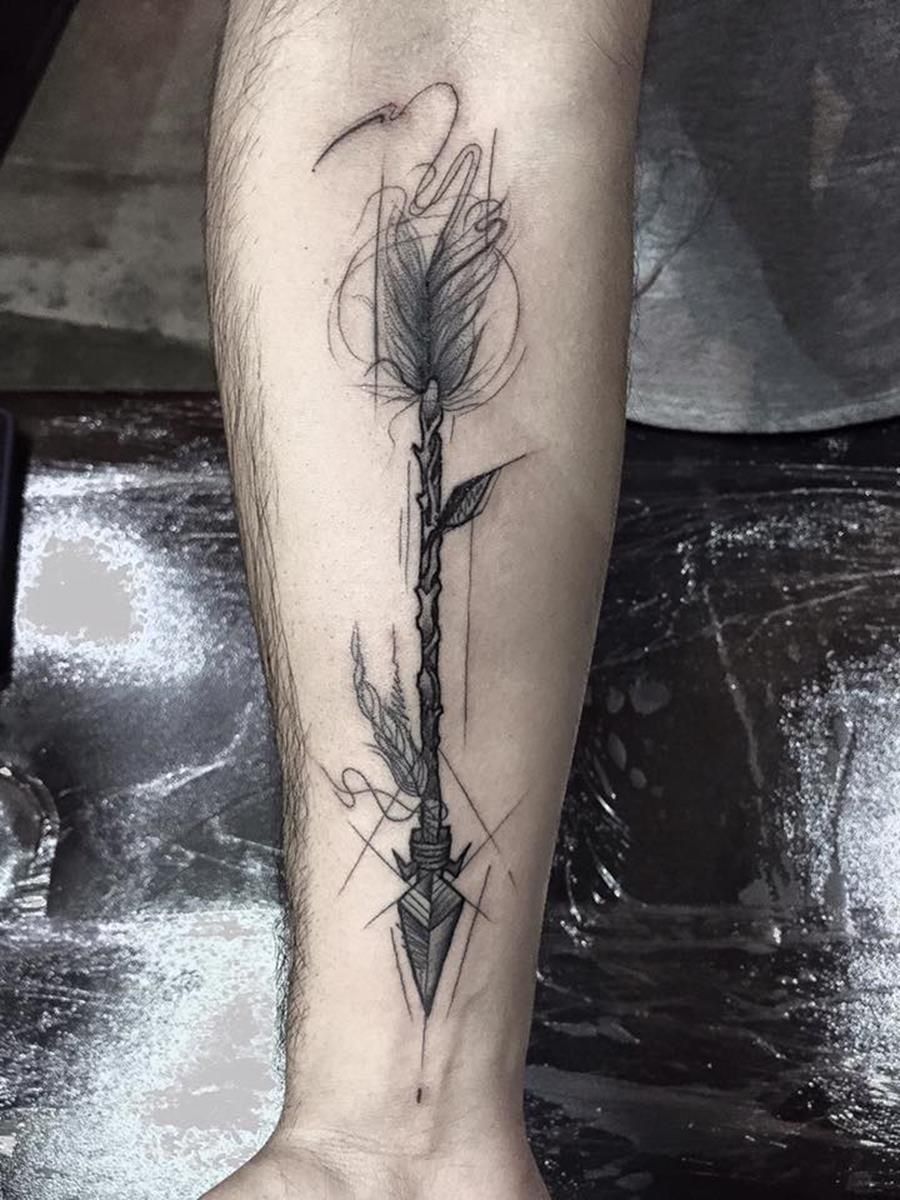 The bold, dark details of the shaft of the arrow contrast with the fine lines making up the feathered fletching of the arrow. The lines that follow the shape of the arrow help it blend into the skin. This is a nice, simple forearm tattoo with beautiful details. Tattoos don't need to be complicated to be gorgeous.
14. The Death of Socrates and Quote forearm tattoo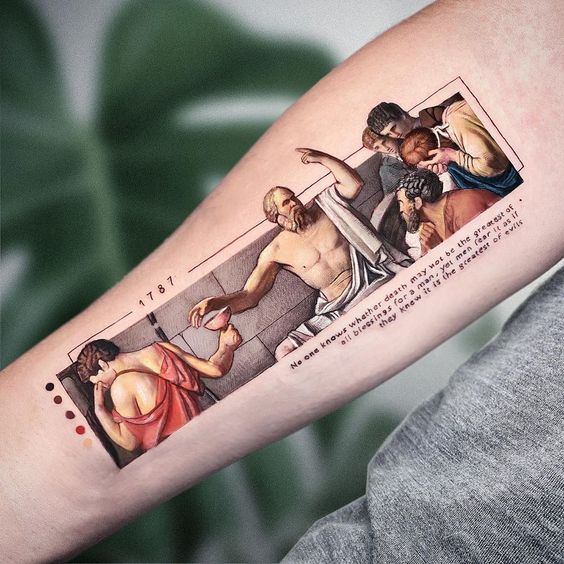 Combining a section of a famous painting with a quote from the subject of the painting gives you a new appreciation of the artwork. The year lets you know exactly which painting is referenced. By raising the heads out of the background, it feels less like just a box pasted onto a body and more its own piece of art.
15. Profile of a Woman and Flowers forearm tattoo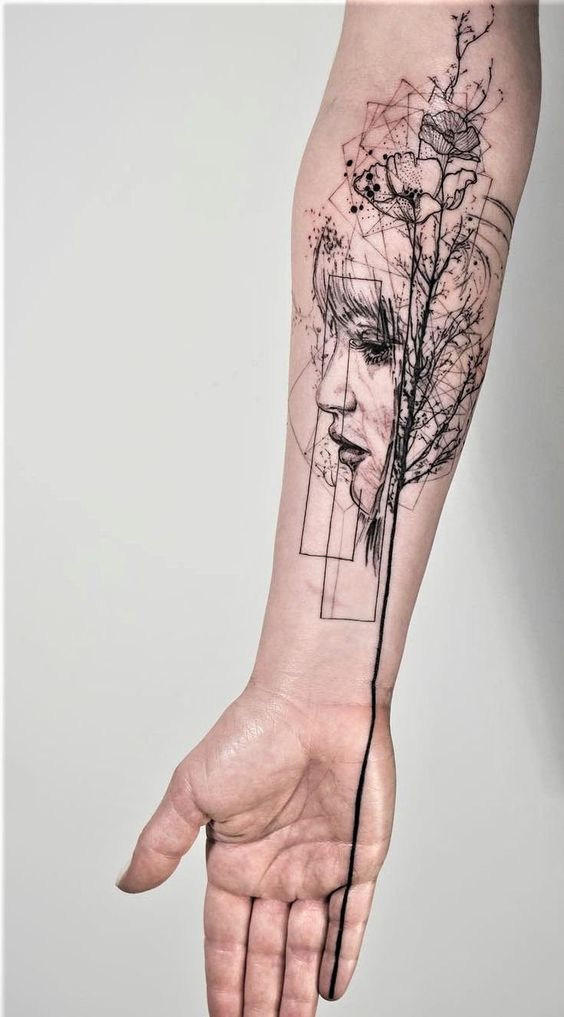 This striking forearm tattoo uses bold lines to draw in the line. The line going down the hand isn't for everyone, but it gives it a bold look that ties it into the body more. The fine lines that make up the woman's face and the flowers give this love tattoo a delicate look. The geometric background gives some contrast with the organic curves.
16. Ancient Statue on a Diamond Background forearm tattoo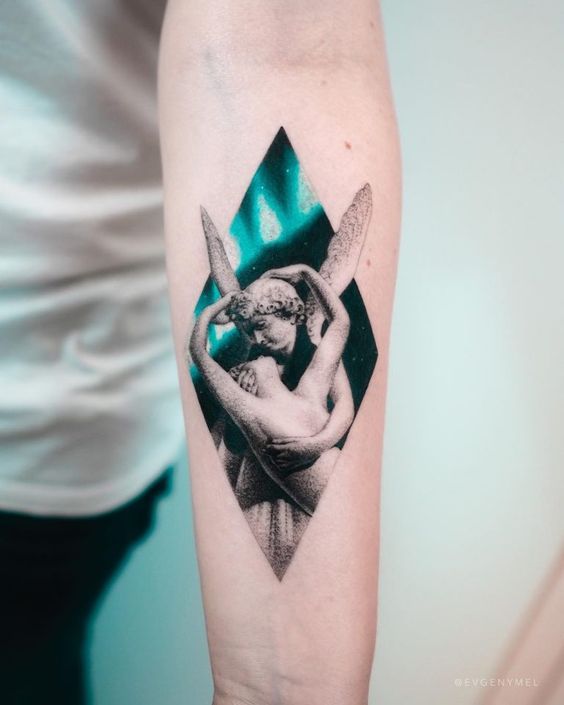 Contrasting the black and white image of the statue with a bold diamond with a pop of color helps set off the subjects of the forearm tattoo. If you have a statue you love, doing an interesting background can help set it off against your skin without distracting from the subject of the tattoo.
17. The Eye of Providence and Filigree forearm tattoo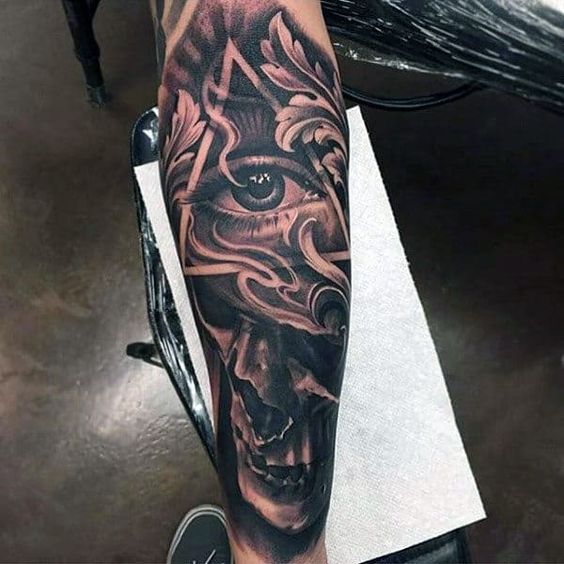 The Eye of Providence is an old symbol with a lot of meaning. Setting it off with a detailed framing in dark colors help draw you into the radiance of God this symbol is meant to show.
18. Old Lighthouse with Chain and Compass forearm tattoo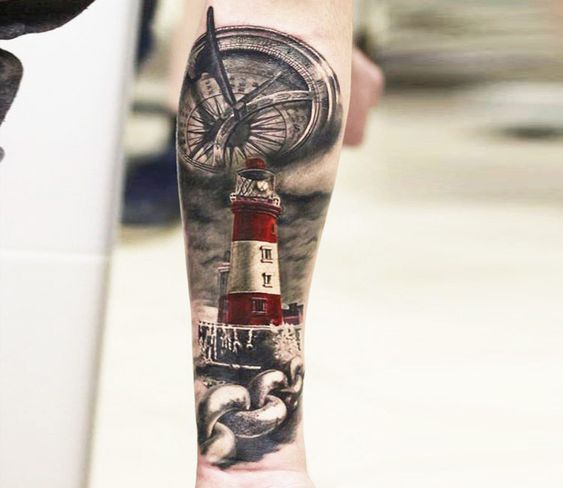 This nautical-themed forearm tattoo brings up feelings of lonely lighthouse keepers saving many sailors from stormy seas. The chain draws your eye to the lighthouse, which directs you to the compass above. A composition like this takes tattoos to a new level.
19. Portion of a Face in Cyberspace forearm tattoo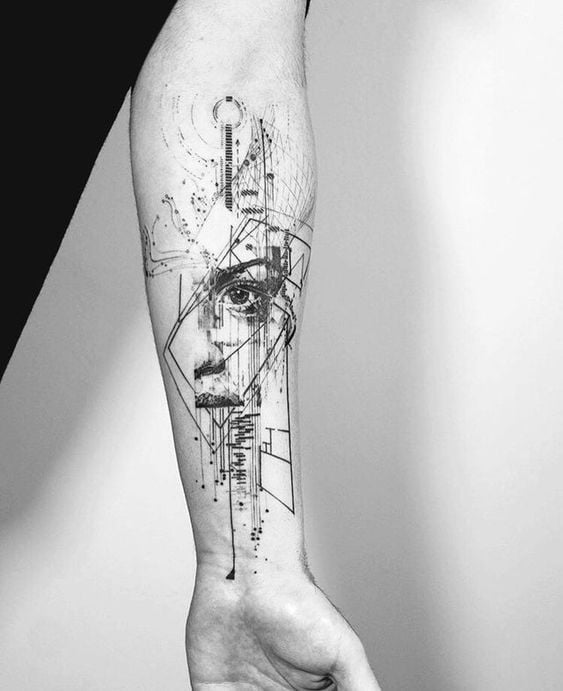 The curved lines and almost scanned-in appearance of the face in this heavily reminds of old sci-fi from when the internet was still a new concept. Looking at concept art from movies is a great way to find ideas for beautiful tattoos.
20. Northern Lights over a Polar Forest forearm tattoo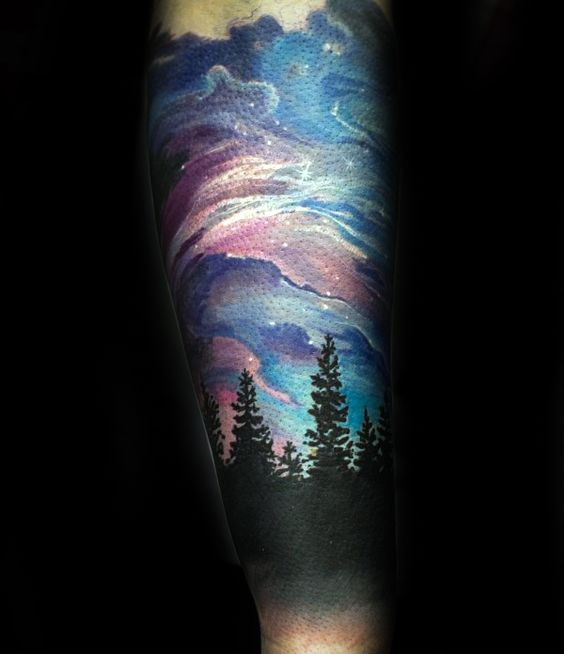 This beautiful forearm tattoo with soft colors reminds one of staring at the night sky when you're out camping. The soft, swirling lights look much like the Northern Lights seen through pine trees. This tree tattoo makes you feel the chill in the air.
21. Astronaut Lost in the Void forearm tattoo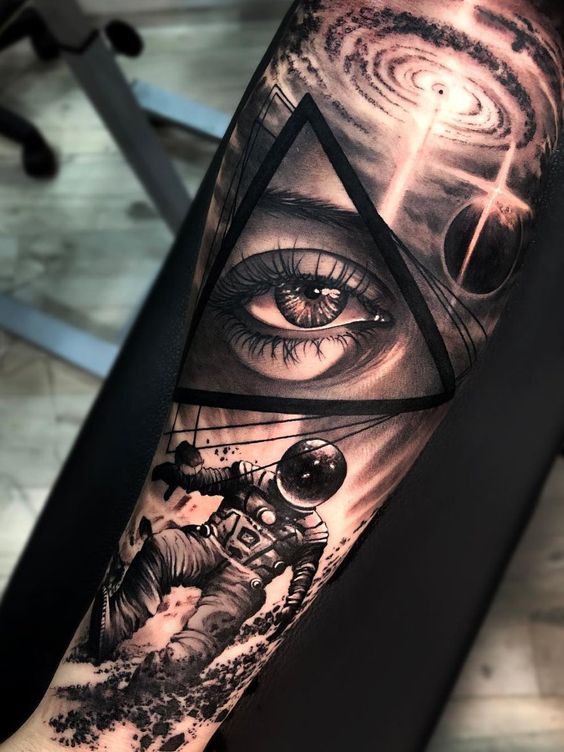 This forearm tattoo brings up the feel of an astronaut falling through space without a tether. This feels like something you'd see in a Kubrick film. The eye of providence is positioned to draw your eye to key details like the swirling dust cloud and planet as well as the drifting astronaut.
22. Compass Over an Antique Map forearm tattoo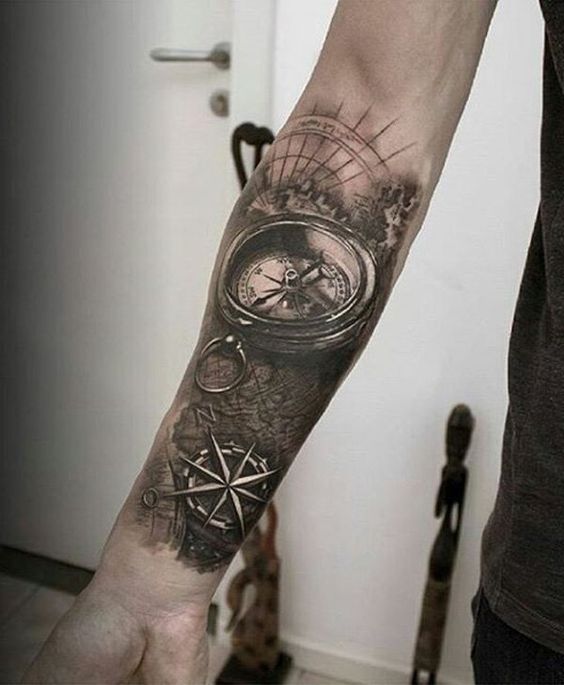 This feels like an adventure waiting to happen. The compass sitting on a map brings to mind planning your next adventure. If you love to travel, this forearm tattoo should be right up your alley. Making it grayscale gives it a classic feel.
23. Primitive Black and White Arrow forearm tattoo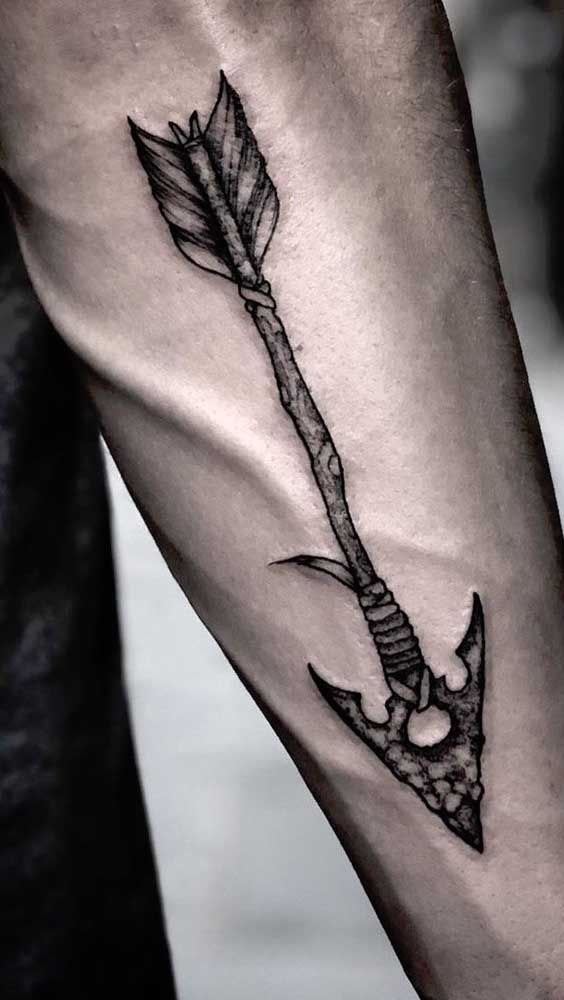 Another option for an arrow forearm tattoo design, this particular arrowhead looks like the ancient examples you may have been lucky enough to find as a child. The slight pattern from the branch used to make the shaft and the stone appearance of the arrowhead give it a look that calls back our ancient ancestors.
24. Woman in a Motorcycle Helmet forearm tattoo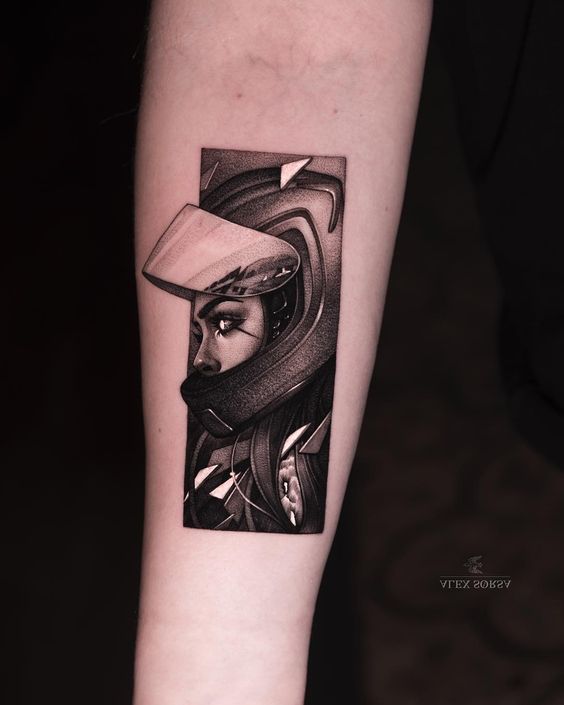 While it seems simple at first, little details can tell a story. Shards of what seems to be broken glass gives this a feel like a still from an action movie. The bright white of the eyes makes you wonder if the woman is human. Portions of the helmet peeking beyond the background make the tattoo pop.
25. Astronaut Chimpanzee with Earth and Space forearm tattoo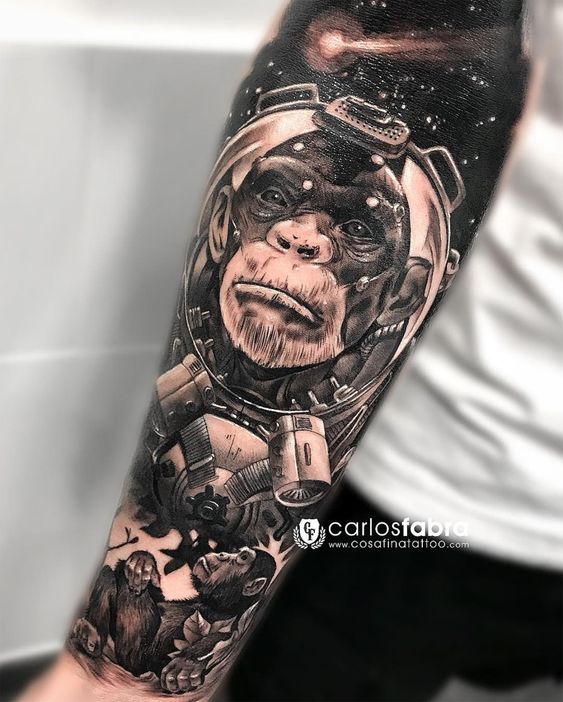 The large portrait recalls all the chimps that were used to test our space vehicles before humans went to space. A chimp on Earth contrasts with the stars above the portrait. This is a great composition to tell a narrative.
26. Half Lion Head in a Comic Book Style forearm tattoo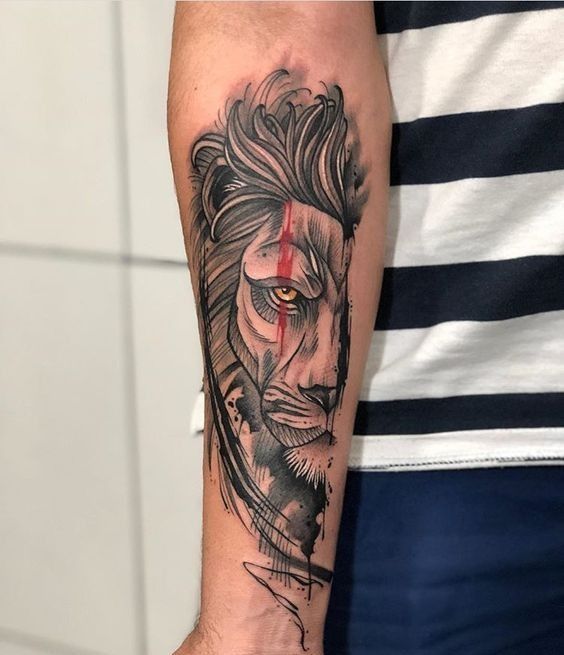 This portrait of a lion tattoo has a great, stylized look. You don't need to go with realism for an animal. The red streak over the eye gives it the feel of a warrior. Combined with the style, it feels like this was lifted from a comic book panel.
27. Profile of Woman with Sword Earring forearm tattoo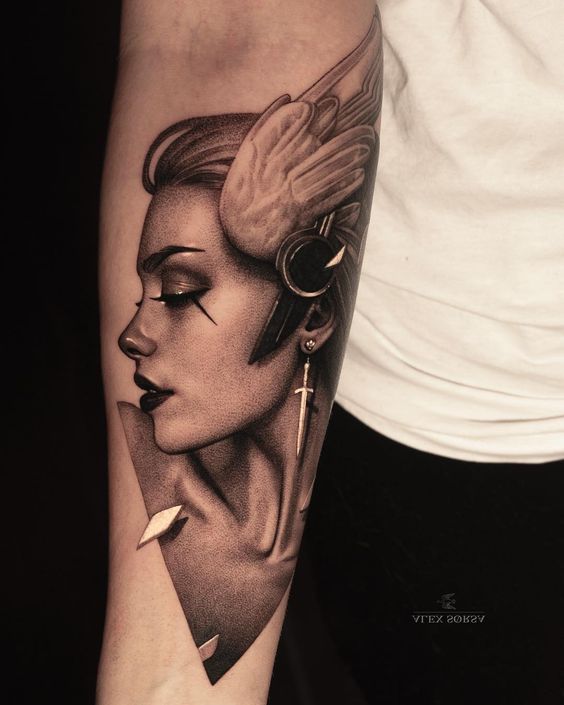 This simple forearm tattoo profile feels like the image of a goddess. The almost art deco headpiece combined with a sword earring makes this look like a modern depiction of an ancient deity.
28. Simple Tree in a Forest forearm tattoo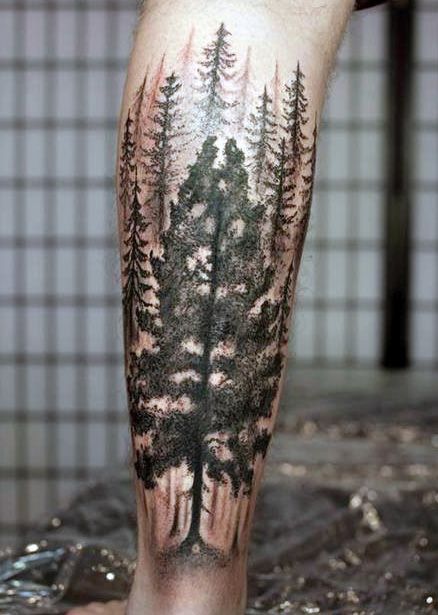 This moody tattoo looks like a tree amongst a foggy woodland. Simple tattoos with a vertical shape work well on forearms. Having trees fade into the distance makes the art feel like there's real depth to it.
29. Owl and Wolf Under the Moon Forearm Tattoo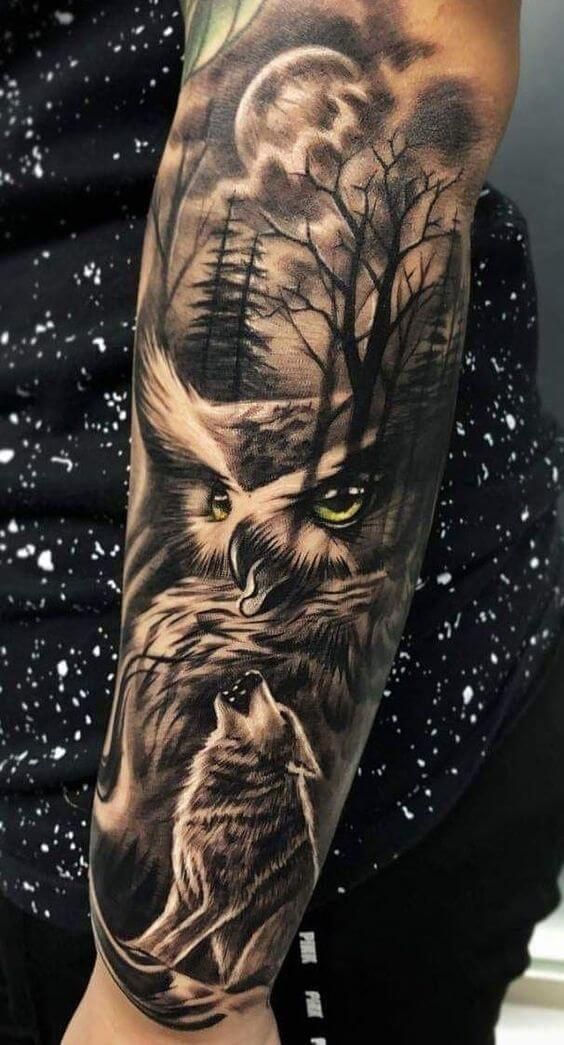 This tattoo gives the feel of the woods at night. The moon hangs high while a wolf howls to it. A large owl seems to be born from the woods. Evoking a mood is a great way to make a beautiful tattoo design.
30. A Half-Modeled Lion Head Forearm Tattoo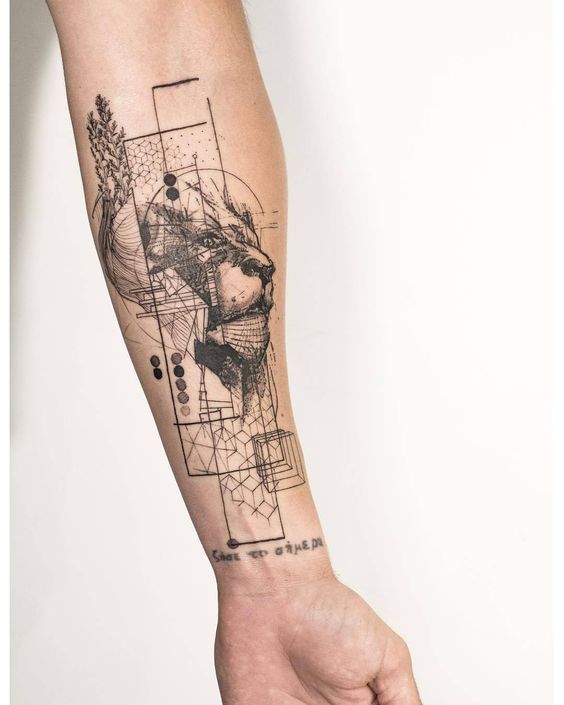 This forearm tattoo gives the feel of a computer model being generated. The lines and geometric shapes becoming a lion's head makes it feel like virtual reality. The geometric shapes that make up the background and foreground really drive home the computer-generated image.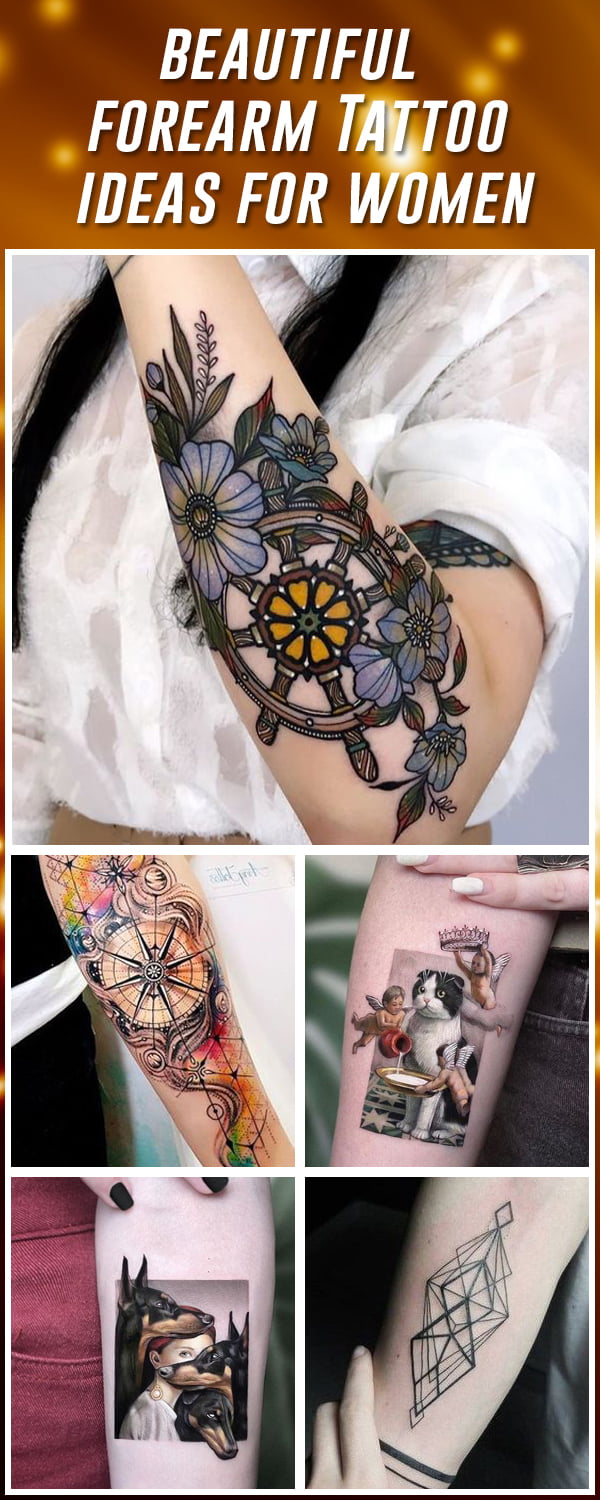 31. Mystical Woman with Covered Eyes Forearm Tattoo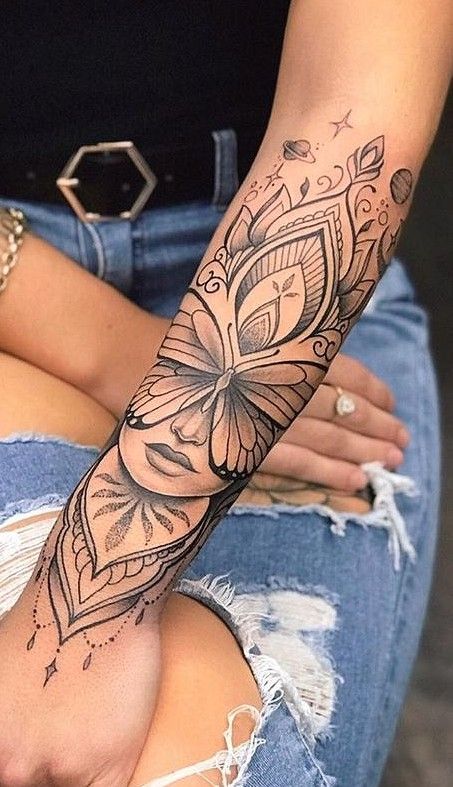 This forearm tattoo features a woman with her eyes hidden by a butterfly. Combining planets and stars with lotus patterns give this a mystical feel. You'd get lots of comments about the meaning of this one.
32. Cherubs Serving the Cat King Forearm Tattoos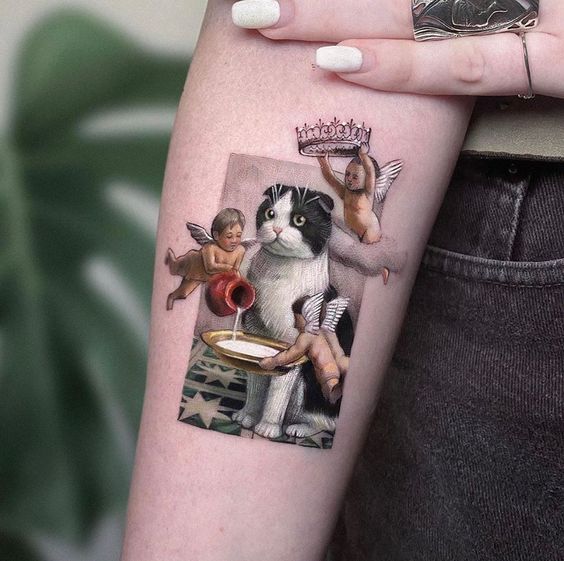 This forearm tattoo feels like an old painting. Fun details like the cherub trying to crown the cat make you wonder what the story behind this tattoo is. Portions of the cherubs extending beyond the background make it feel like they're not quite part of the cat's world.
33. Woman with a Butterfly Mask Meaningful Tattoo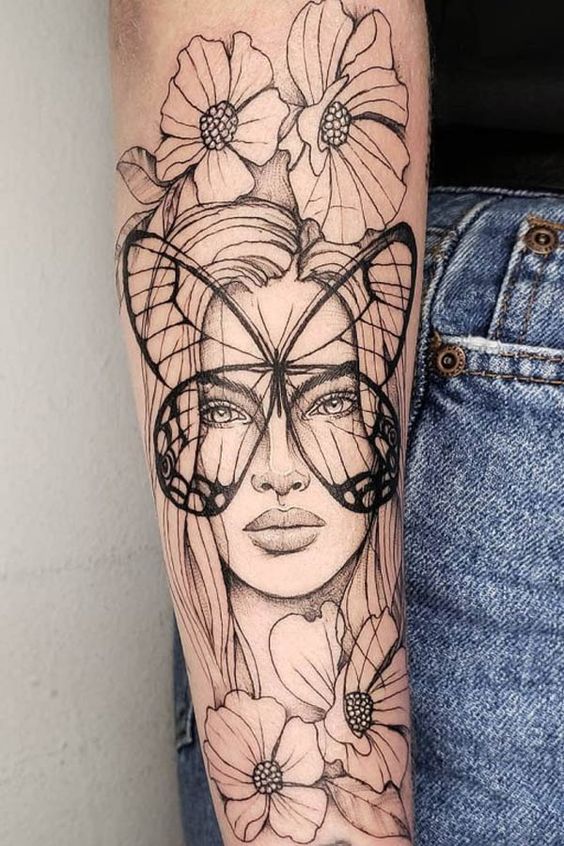 Another tattoo with a butterfly over the eyes, but this one is transparent. The lack of color draws attention to her eyes. The flowers make a nice frame for the tattoo.
34. Watercolor Compass Rose with Planets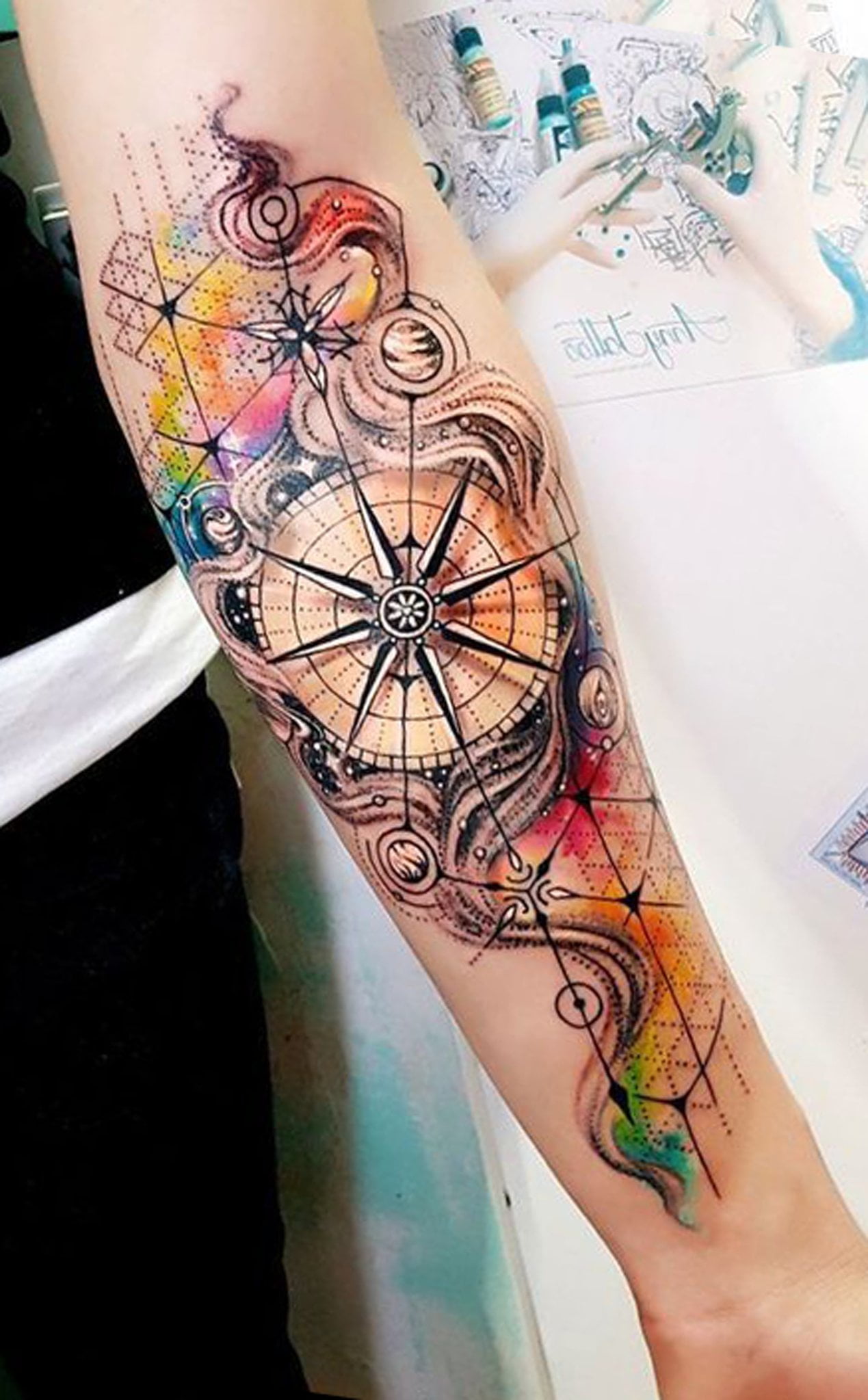 The beautiful swirls of color surround a compass rose. Fabric curls around the compass. There are planets around the rose, and mice geometric patterns in the background. It feels like navigating the galaxy.
35. Portrait with Three Nosy Dogs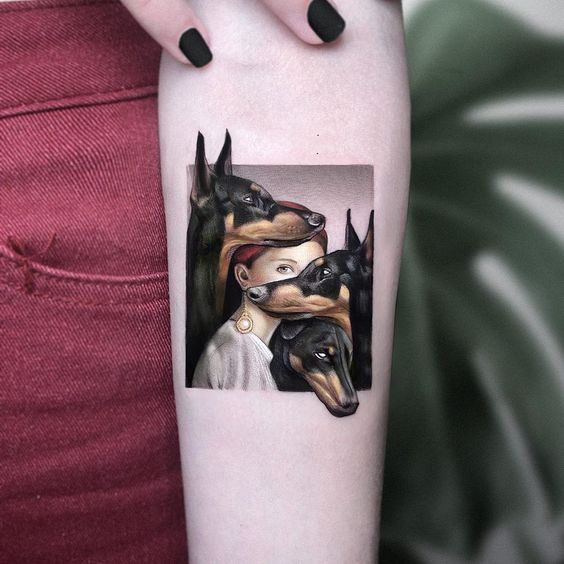 A young woman wearing a large earring is partially hidden by three dogs. Anyone who has a needy pet knows that they will work themselves into anything.
36. Landscape with Bench and Lake Forearm Tattoo Ideas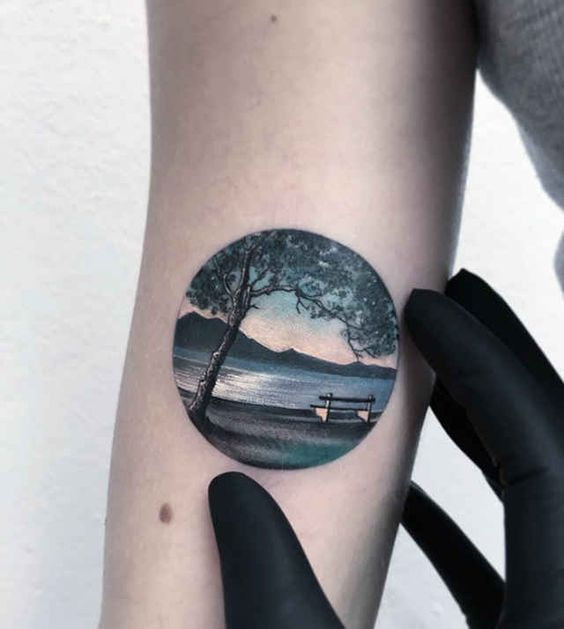 This lovely circular small tattoos design shows a peaceful scene at the waterside. A bench looks over the water at twilight. It feels like a little window into a memory. A small forearm tattoo design like this can be a great first tattoo.
37. Geometric Sleeve Made of Triangles Forearm Tattoos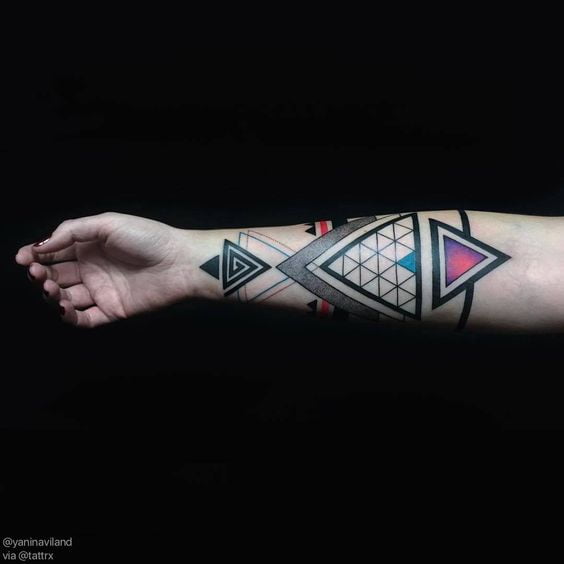 If you prefer abstract designs, this is a great forearm half sleeve tattoo option. Multiple sizes and colors in the piece give it a more interesting look. You could easily use your favorite colors for a similar design.
38. Flower Forearm Sleeve Tattoo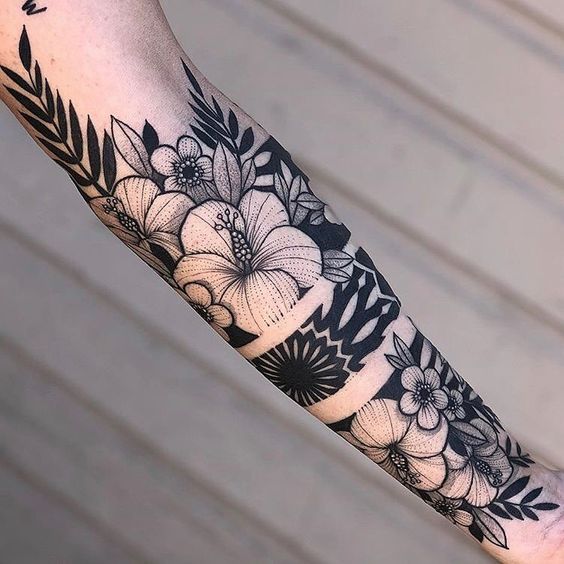 This is another great forearm sleeve tattoo design. Three distinct sections help break up the design and let it breathe. Saturated blacks and silhouettes contrast with the delicate lines of the flowers. Having variety really helps set off a tattoo.
39. Intricate Patterns with Florals and Leaves Forearm Tattoos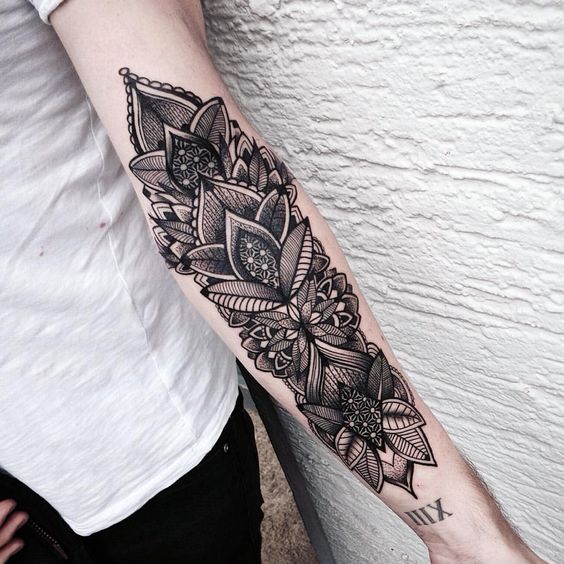 This intricate design gives plenty to look at. The organic lines of the leaves contrast with the crosshatch pattern used to shade. You will likely notice new details about this regularly.
40. Girl with a Pearl Earring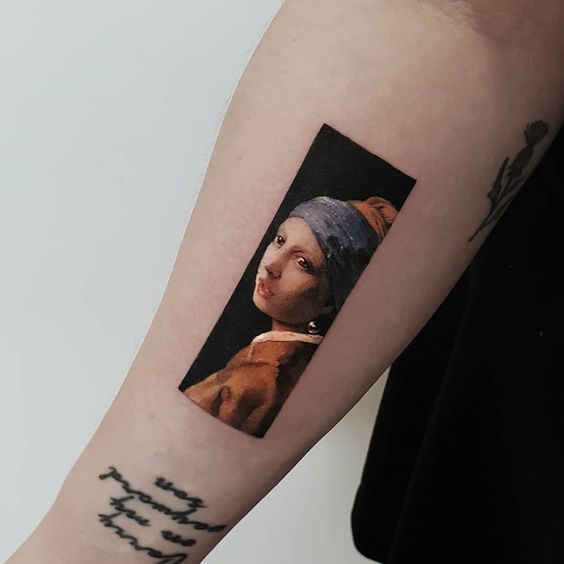 This miniature version of a piece by Vermeer is a great tattoo idea. Once again, classic art is a great choice for a tasteful tattoo. The small forearm tattoo size makes this an easier tattoo to handle for a first tattoo.
41. Minimalist Triangle with Broken Lines Forearm Tattoos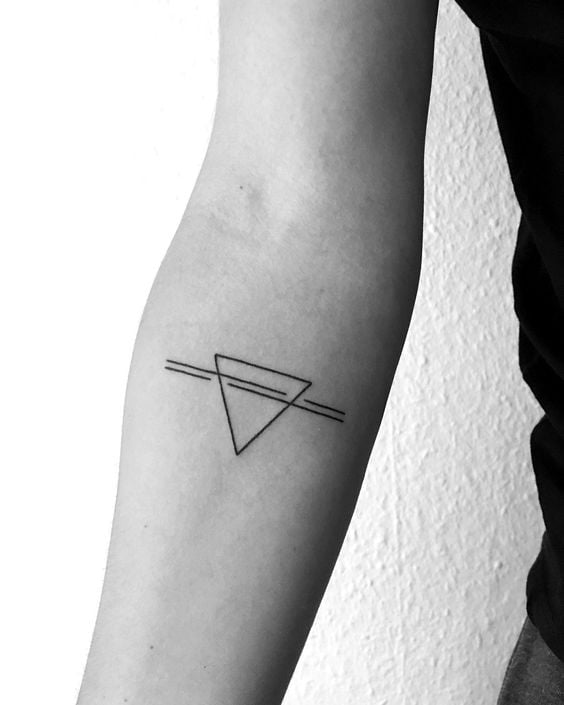 This is a good tattoo for anyone who likes a minimalist look. Very simple linework can be difficult to pull off since any mistakes would be more visible.
42. Simple Roses with Leaves and Flowers Forearm Tattoos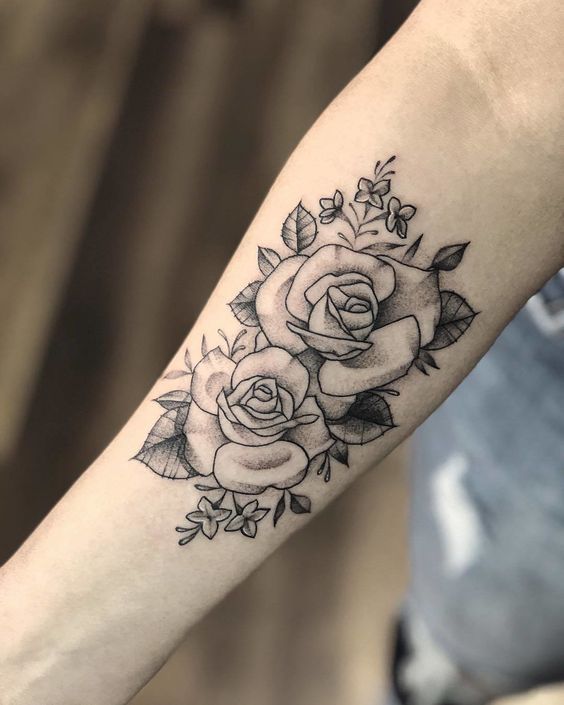 This is a classic tattoo look. Roses surrounded by greenery and tiny flowers gives a soft, feminine feel. The simple forearm tattoo shading gives depth without distracting from the artwork.
43. Woman with Butterfly and Flowers Forearm Tattoos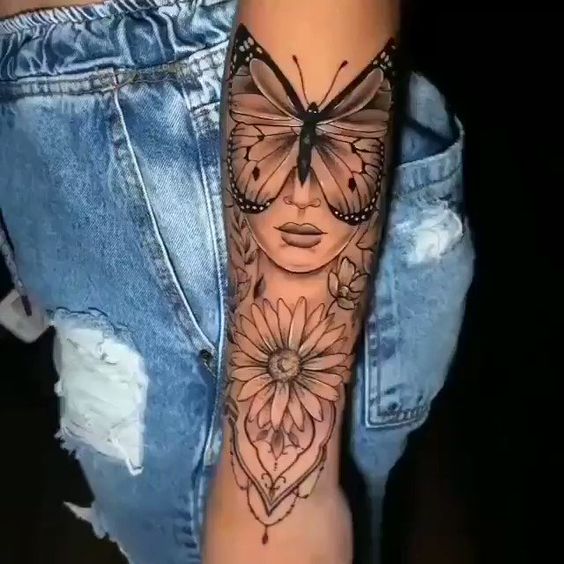 This is another option where a woman has her eyes hidden by a butterfly. The flowers surrounding her give this a feel like you're meeting a goddess in a meadow.
44. Blue Lineless Watercolor Flowers Cool Forearm Tattoos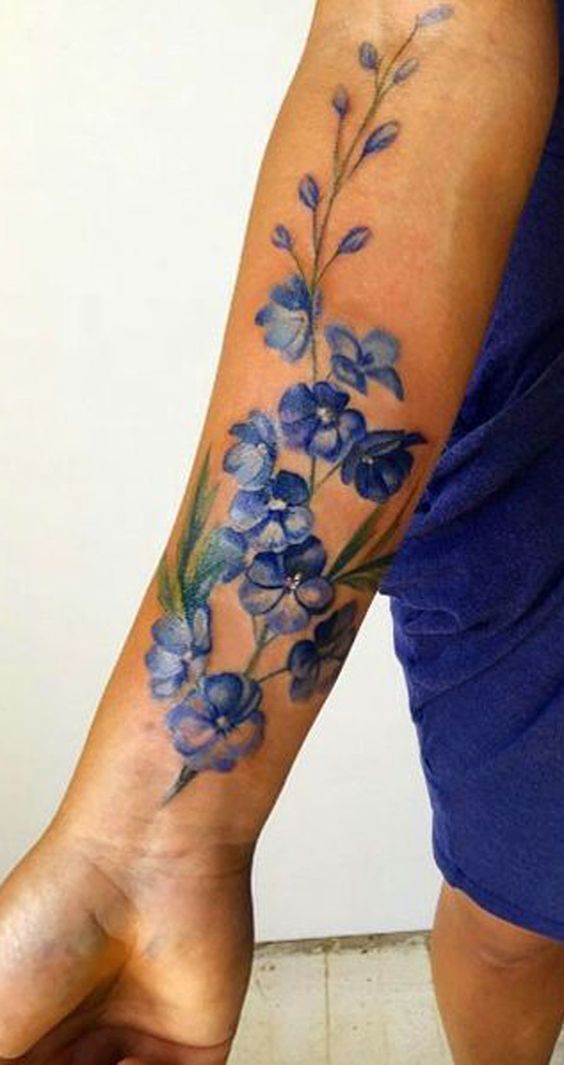 Having minimal lines like this tattoo gives a softer feel. The colors and shading make it feel like watercolor on your skin.
45. Skull and Flowers with Snake Forearm Tattoos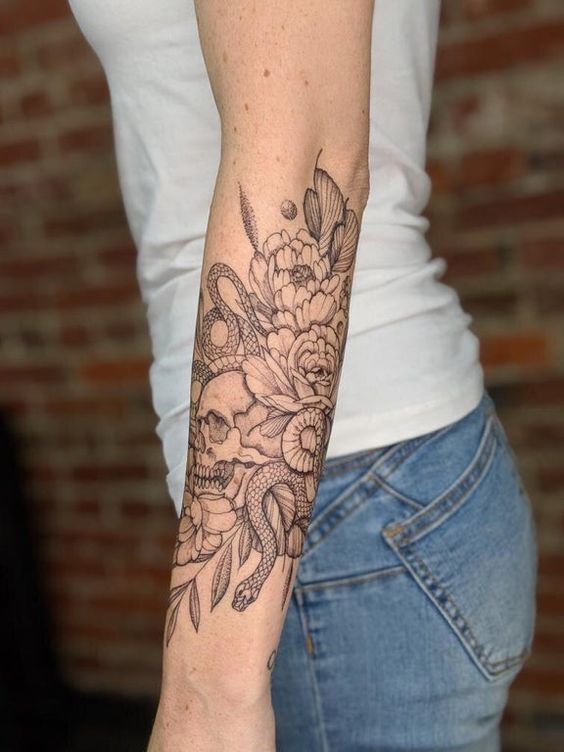 This is a classic combo of tattoo designs. Skulls and snakes are traditional tattoos, and the addition of flowers gives it a softer feeling. The simple forearm tattoo linework without shading puts the focus on the art.
46. Cabbage Rose Forearm Sleeve Tattoo with Leaves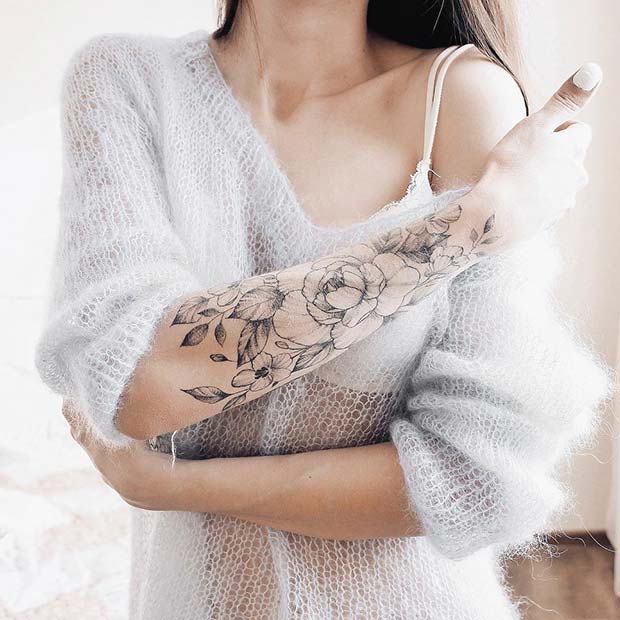 This is another classic forearm sleeve tattoo design. A large rose draws your focus and the greenery helps frame the main flower. Smaller flowers contrast with the large, complicated rose design.
47. Minimalist Geometric Design with Diamonds Forearm Tattoos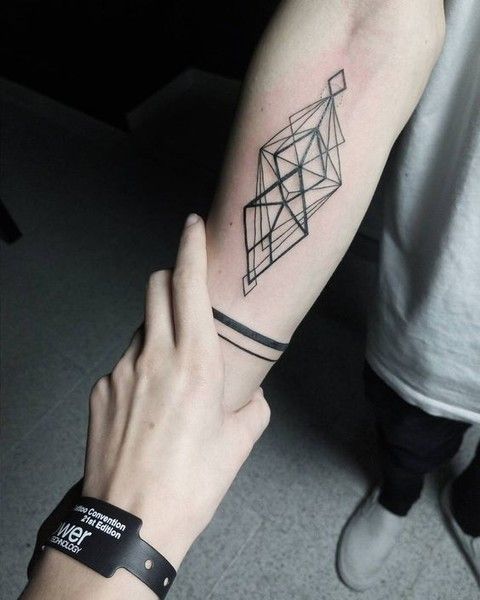 If you love minimalism and geometric designs, intricate designs like this can be perfect. Interlocking diamonds give structure while different line thicknesses make sure it doesn't look generic. Only a great tattoo artist can pull off a design like this.
48. Roses and Mandala Style Pattern Forearm Tattoos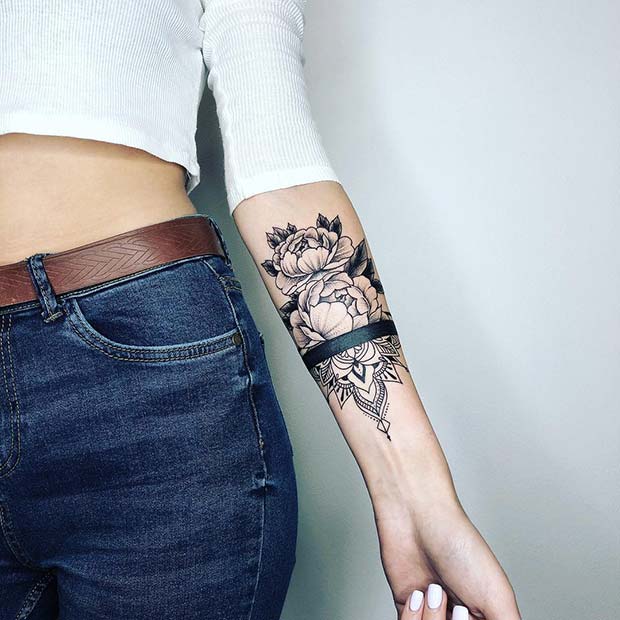 This unique tattoo design has roses separated from a mandala design with a thick black band. This helps the two styles meld without looking awkward. If you can't decide on just one design, a combination like this is a great idea. Using a floral pattern with flowers helps it look more cohesive, so use similar guidelines if you want this style yourself.
49. Face and Drama Mask in One Line Forearm Tattoos
This tattoo is in the style of a common drawing exercise. You create a whole picture using a single continuous line. This gives a cool look to what might be a somewhat generic design. If you love theater, this is a great tattoo idea for you.
50. Two Landscapes in an Hourglass Forearm Tattoos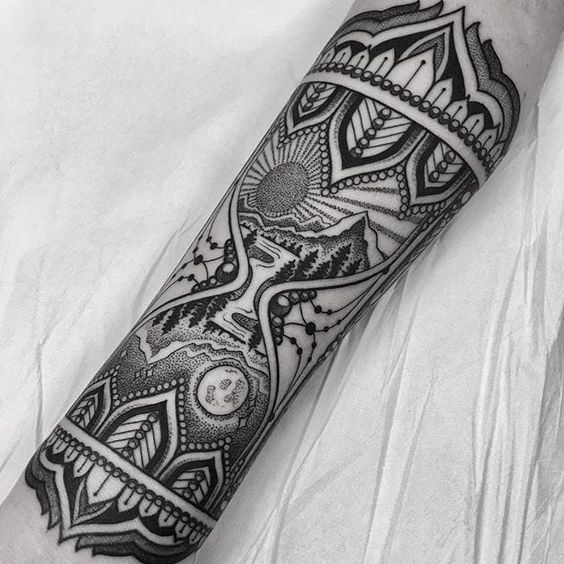 This design has a landscape in the day and night in an hourglass shape. Patterning and a bead design help fill up the space on the forearm. The river helps draw the eye through the design si you can appreciate it.
51. Planets, Moons, and Stars with a UFO Forearm Tattoos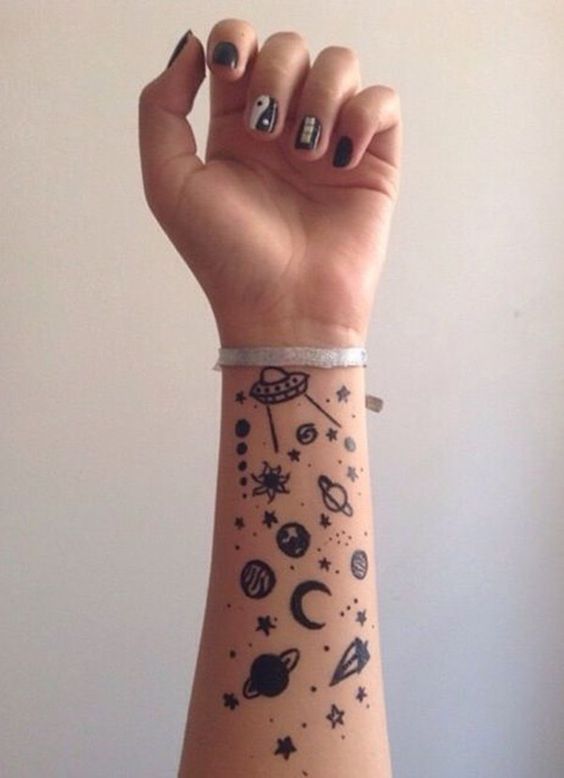 This cute design looks like something you may have doodled in a notebook as a teenager. It gives it a unique charm. The little UFO is a fun addition to the space pattern. Don't be afraid thi have a simpler art style if you enjoy it. Your tattoo should be something that makes you happy.
52. Rose with Foliage and Other Flowers Forearm Tattoos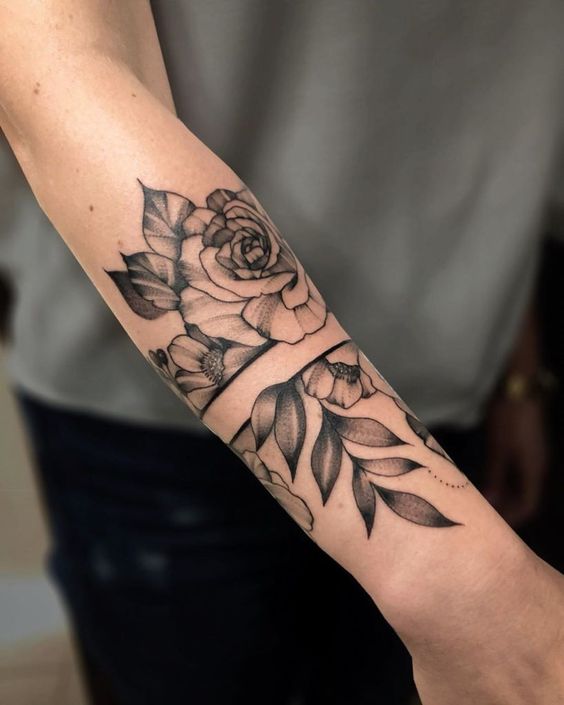 This is another good idea for a floral tattoo. The band that seems to hold the flowers on the arm is a nice touch. You can easily use any flowers you like for a tattoo like this. The diamond and band fit the shape of the forearm nicely as well.
53. Four Small Hummingbirds in Flight Forearm Tattoos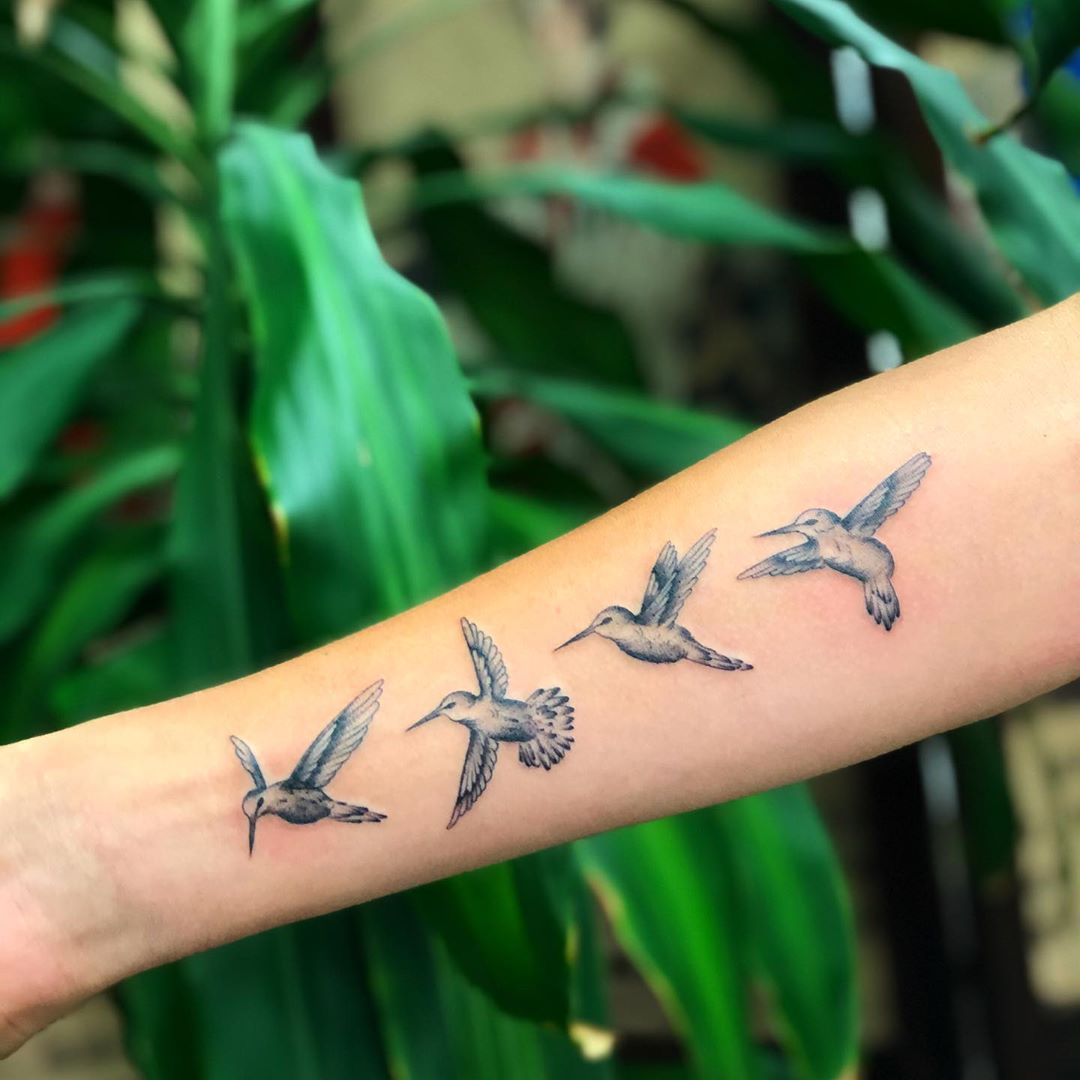 This small forearm tattoo could either be four hummingbirds flying together or a sequence of one bird in flight. The soft blue makes it a nice single color tattoo option. If you like hummingbirds but don't want to sit for a full-color tattoo, using a single color like this is a good option over a black and white tattoo.
54. Monochrome Architectural Pattern Forearm Sleeve Tattoo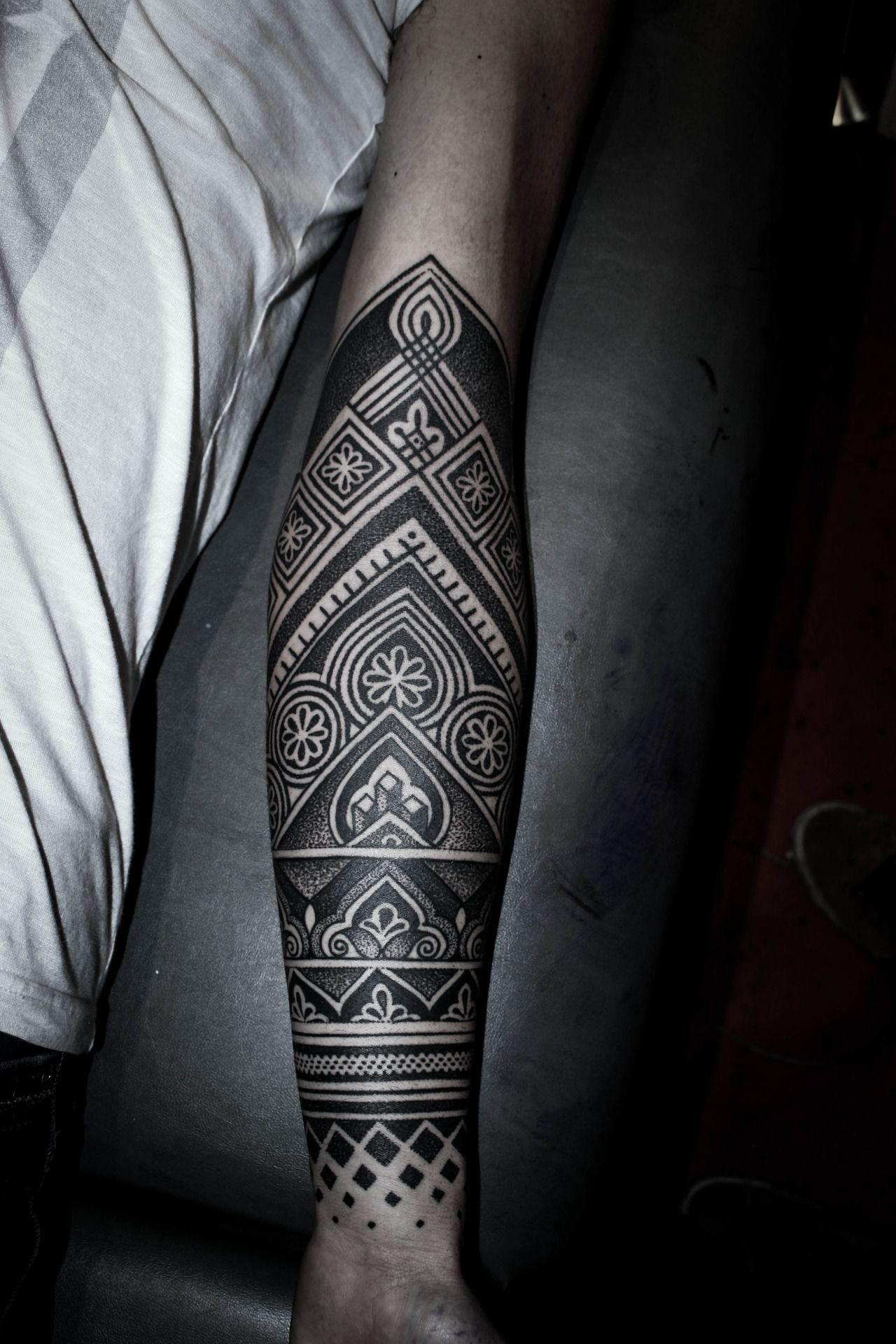 This tattoo looks much like detailing on old buildings like churches. The different layers of patterns give it more visual interest. The points direct the eye upward through each layer. If you want a tattoo with heavy black, this can be a good option.
55. Minimalist Landscape Framed in a Diamond Forearm Tattoos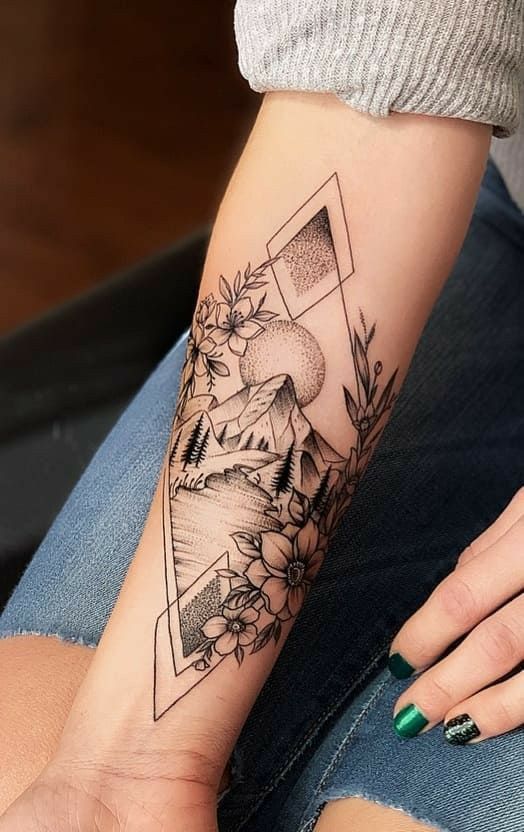 A simple forearm tattoo like a landscape can be brought to another level with an interesting frame. This one uses a simple layered diamond and flowers to give it a more unique look. Multiple shading styles add texture and keep the tattoo from looking flat.
56. Simple Roses with a Limited Palette Forearm Tattoos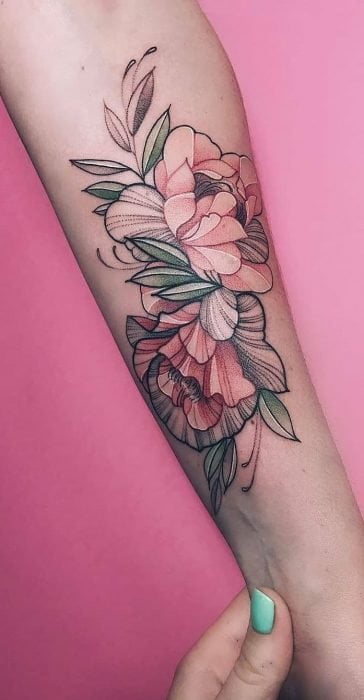 This simple tattoo is given more interest by adding color. Limiting the colors used give it a visual pop without looking busy. A good tattoo has plenty of negative space so it doesn't look crowded, and this tattoo has plenty without being boring.
57. Simple Daisy with Paint-Splatter Lines Forearm Tattoos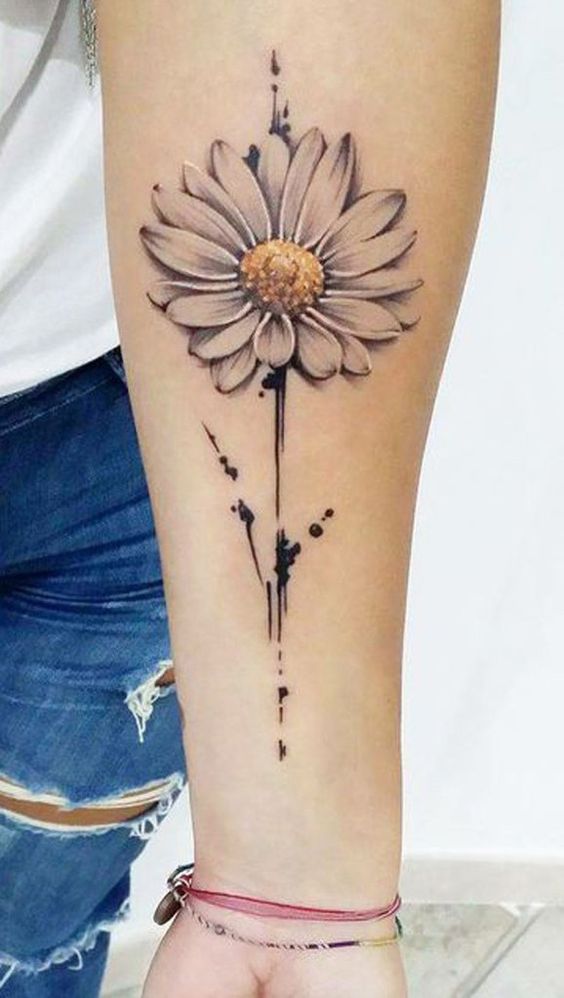 This simple daisy is cute, and the lines add a bit more interest than a basic tattoo design. The uneven lines make it look like paint splatter or like pen ink that isn't perfectly smooth. The shape evokes a stem without adding basic foliage to the tattoo.
58. Flowers, Leaves, and a Ship's Wheel Forearm Tattoos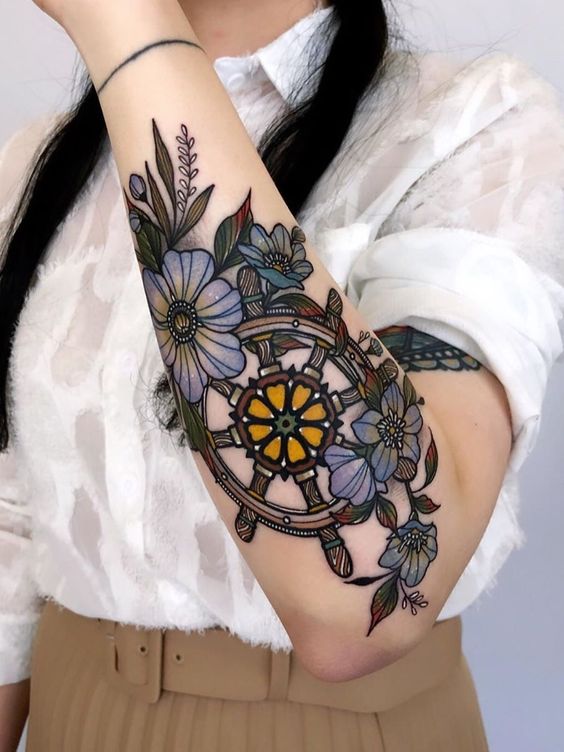 This is a nice idea for a classic nautical tattoo with a feminine twist. The center of the wheel looks a bit like a flower, so it blends in with the flowers surrounding it. Making it full color gives it visual impact over being left as just line work.
59. Black and White Gingko Leaves Forearm Tattoos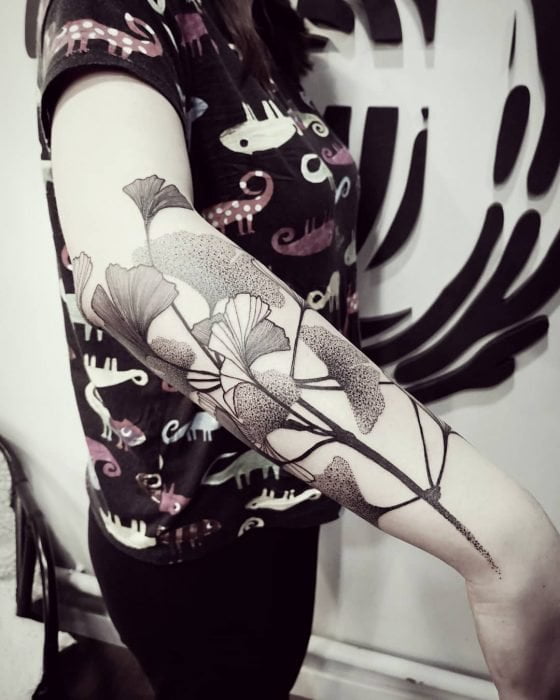 Distinctive leaves like ginkgo leaves can be a great tattoo idea. By making it monochrome and having some leaves look less detailed, it gives the tattoo design depth and visual interest. Long designs like this are great for forearms since they follow the shape of the body.
60. Simple Line Art Butterfly and Wolf Forearm Tattoo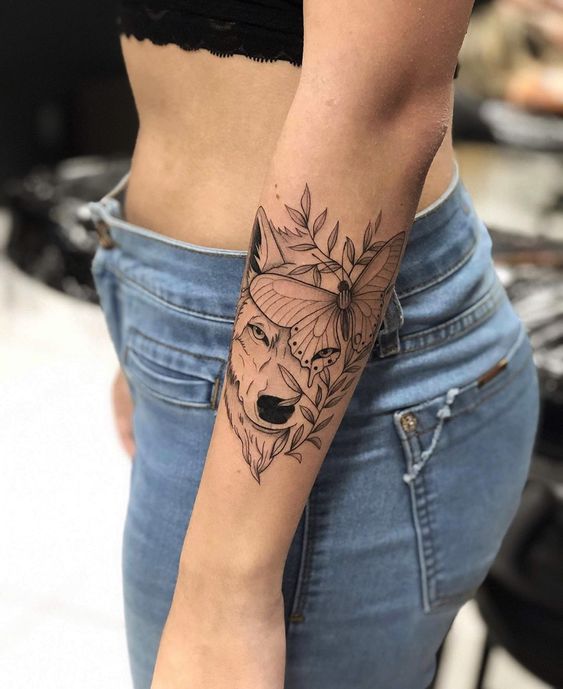 Wolves are a classic arm tattoo design. The addition of the butterfly on the wolf's face gives it a unique, feminine twist. By keeping it mostly linework with simple shading, it keeps the focus on the subjects instead of the color or detail work. Don't be afraid to go with a simple wolf forearm tattoo, particularly for a first tattoo.
60 Unique Designs for Forearm Tattoos that will be Super Trendy this Year
As you can see, there are many great ideas out there for forearm tattoos. By using long lines, you can fit the shape of the forearm and draw the eye along the tattoo. Using a good composition can be the difference between a good tattoo and a great one. Work with your artist and bring plenty of examples so they understand your vision.