From color and configuration to placement and style, there are many things to consider when looking for the best sunflower tattoo ideas and designs. Some are bright, fun, and colorful while others are simple and refined using only black and grey tones. Even without its sunny yellow hues, the distinct form of the beautiful blossom ensures that the sunflower representation is unmistakable. Both men and women enjoy the positive symbolism of strength, happiness, and loyalty that the sunflower represents. With so many incredible options, people with all tastes and styles can find an inspirational sunflower tattoo just right for them.
60 Best Sunflower Tattoo Ideas and Designs for the Romantic
Sunflowers symbolize different things from different cultures, but one thing remains true. They are a stunning and regal flower with indistinguishable golden yellow petals and a large dark face filled with seeds. The natural beauty of the sunflower, in addition to its meaningful symbolism, makes it an excellent choice for a tattoo. All across the world, the sunflower has significance and importance. In Chinese culture, sunflowers are said to provide good luck and lasting happiness. Ancient Greek lore tells a story of a nymph named Clytie whose adoration for Apollo, the God of Sun, is the reason for the blossom always turning its face towards the sun.
A true embodiment of summer, the faces of young sunflowers look east at dawn to greet the morning sun and slowly turn west as the sun moves across the sky. With its vibrant yellow petals leaping out from its wide circular face, the sunflower is visually very similar to a brilliant sunburst. Often seen as a symbol of happiness and optimism, this wonderful flower serves as an inspiration for many styles of sunflower tattoos.
1. Pair of Intricate Black and Grey Sunflowers Tattoo Ideas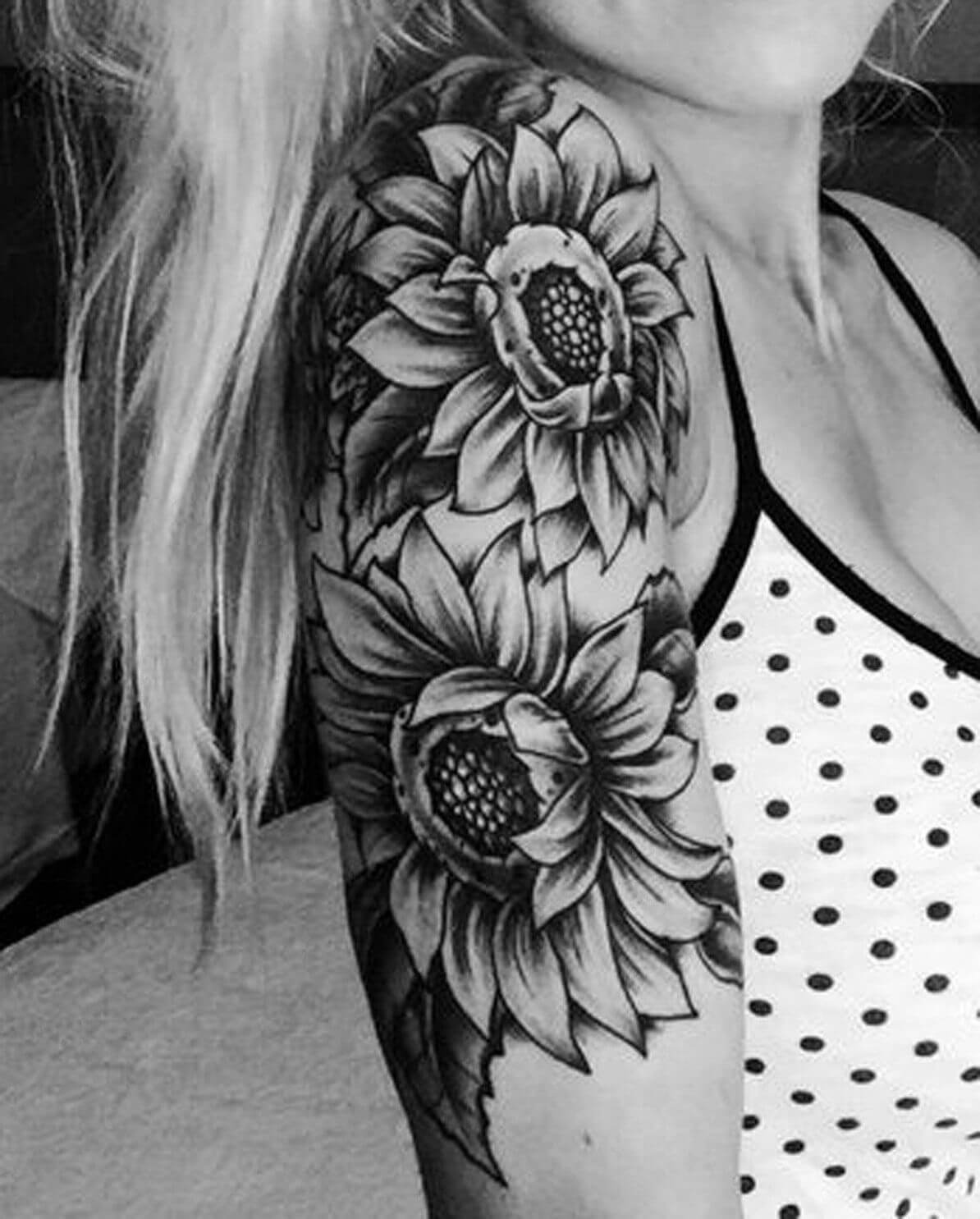 An incredibly detailed duo of sunflowers merge gracefully with one another in this beautiful black and white tattoo. Two matching sunflowers are large enough to appreciate the unique artistry of the awesome flora. Smooth shading and flawless linework give this grayscale tattoo effortless elegance and grace.
2. Multi Colored Abstract Art Sunflower Tattoo Ideas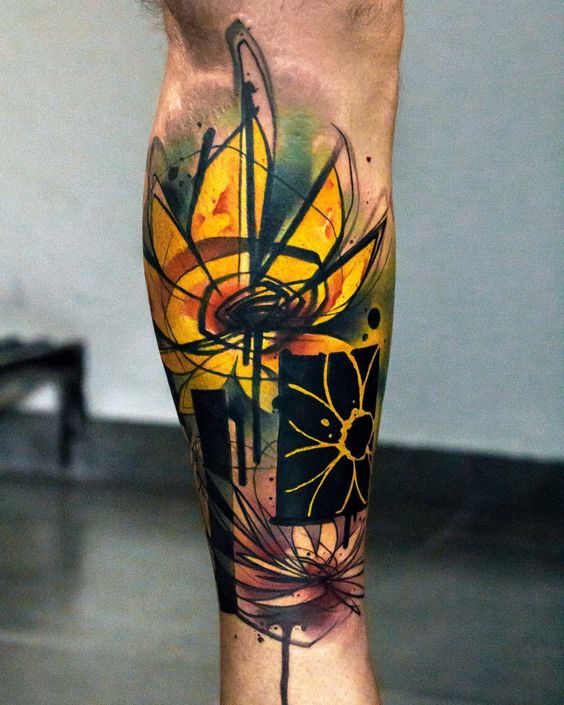 A burst of color and fusion of abstract designs make this sunflower tattoo so enticing and pleasing to the eye. Suitable for both men and women, this unisex sunflower ink highlights the blossom in multiple artistic styles. For the true artist at heart, this engaging tattoo is an excellent choice.
3. Delicate Colored Sunflower Tattoo Ideas with Floating Petals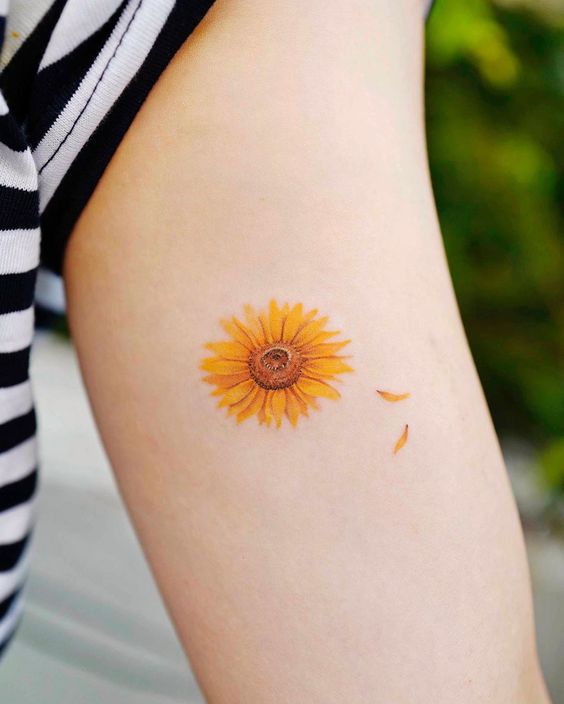 With a straight-on view of the gorgeous golden face of a sunflower, this delicate tattoo is a captivating blend of illustration and realism. For an extra special touch, two pretty petals gently float away from the charming sunflower. This subtly sophisticated tattoo is ideal for sensitive and spirited women.
4. Giant Sunflower Shoulder Tattoo in Grayscale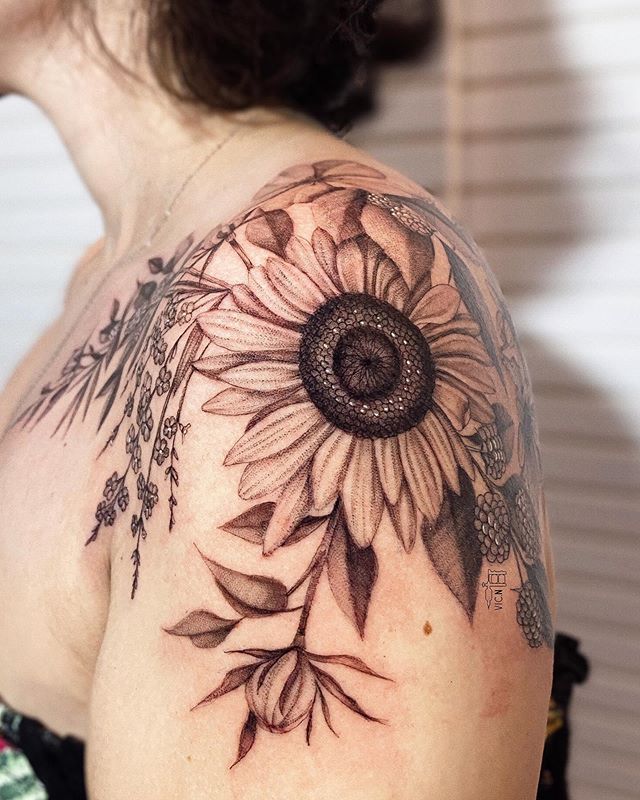 Stunningly real, this gorgeous giant sunflower shoulder tattoo has its face looking up towards the sun. In shades of black and grey, the focal flower is enhanced by dangling leaves and an unopened blossom. Fine linework and expert shading give this exquisite sunflower tattoo a truly authentic feel.
5. Realistically Colored and Textured Single Sunflower Tattoo Ideas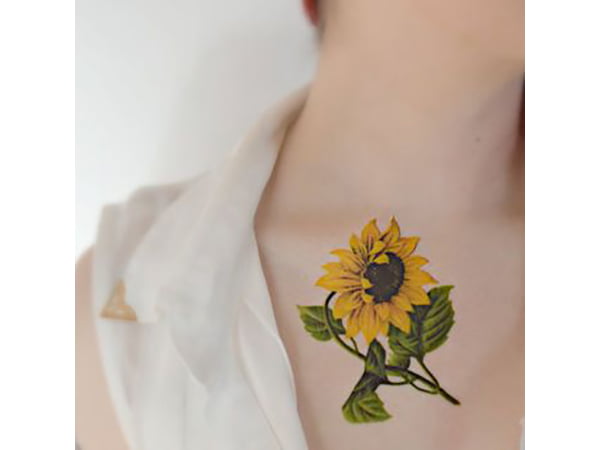 You can practically feel the wind blowing against this remarkably realistic sunflower tattoo. The colors and textures of the flower are just as they appear in nature. This amazing sunflower tattoo depicts the entire plant from the dark head and bright yellow petals to the deep green stem and leaves.
6. Trio of Sunflowers in Color and Grayscale Sunflower Tattoo Ideas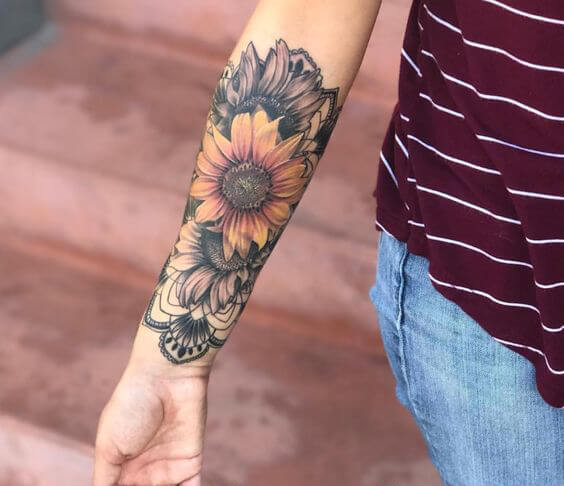 A single colorful sunflower sets against a grayscale background featuring two more of the beautiful blossoms. Additional antique lace details surround the trio of sunflowers for a modern yet classic appearance. A slightly larger piece, this exceptional and elaborate tattoo looks great on shoulders, forearms, legs, and thighs.
7. Ethereal Sunflower Tattoo Ideas with Soft Blue Background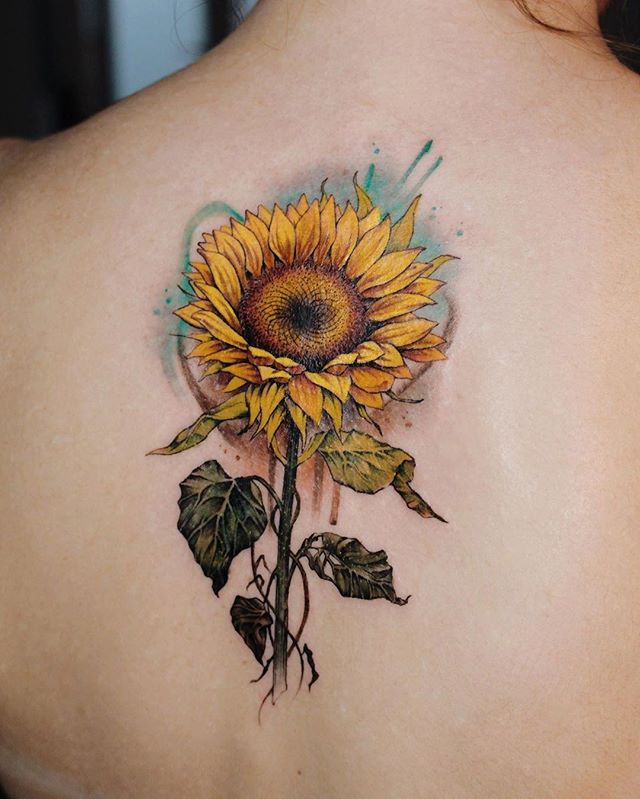 Like a well-composed painting, this ethereal sunflower tattoo exudes an enchanting beauty that is hard to look away from. In full color, the sunflower is shown in realistic shades of bright yellows and varying greens. A gentle, soft blue background adds a halo effect to this fiercely angelic sunflower tattoo.
8. Ornate Sunflowers Painted on Elephant Tattoo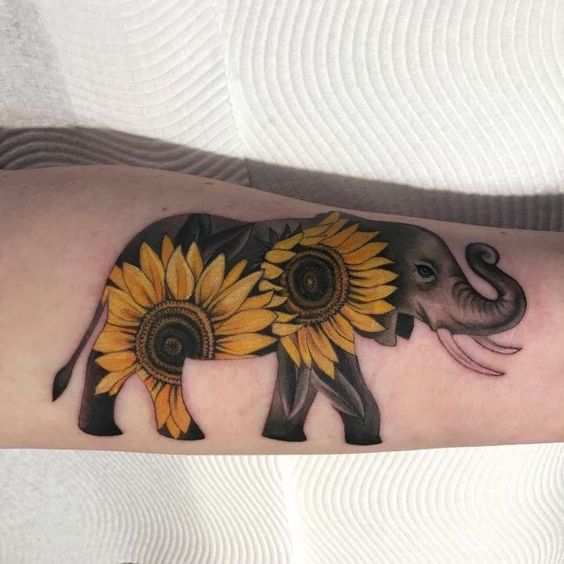 A pair of yellow sunflowers on a black and grey elephant is the highlight of this exotic two-toned tattoo.
From tusks to tail, the lifelike elephant is ornately detailed including its tantalizing golden body paint. Symbolic of power and strength, the elegant elephant is a fitting companion to the graceful sunflower.
9. Natural Sunflower Tattoo with Incredible Detail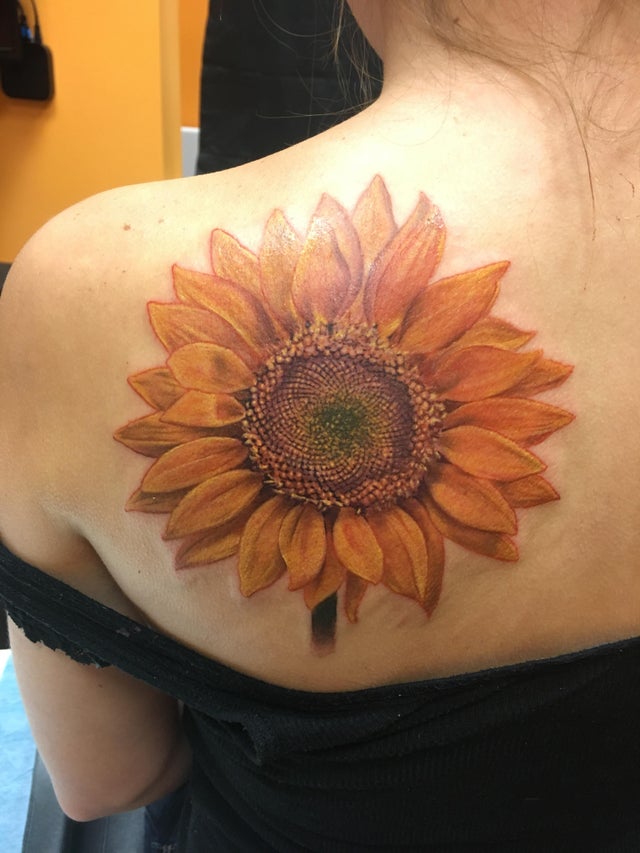 Stunning with its complex and brilliant details, the sunflower's inherent beauty is unmistakable in this awe-inspiring tattoo. Shades of yellows and gold are perfectly complemented by natural browns. Choose an area with plenty of skin space so you can really see the intricate elements of the mesmerizing sunflower.
10. Organically Hued Sunflower Illustration Tattoo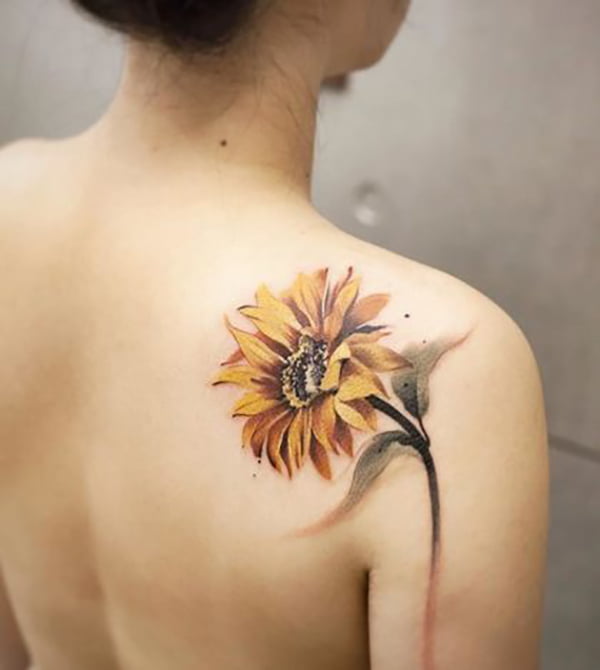 Graceful and inviting, this lovely tattoo features the flower in a subtly hued illustrative style. An accurate depiction of the magnificent sunflower, the tasteful tattoo has a pretty paintbrush effect. The delicately textured petals and feathered leaves appear to be practically dancing on the skin.
11. Whimsical Sunflower and Light Bulb Sketch Tattoo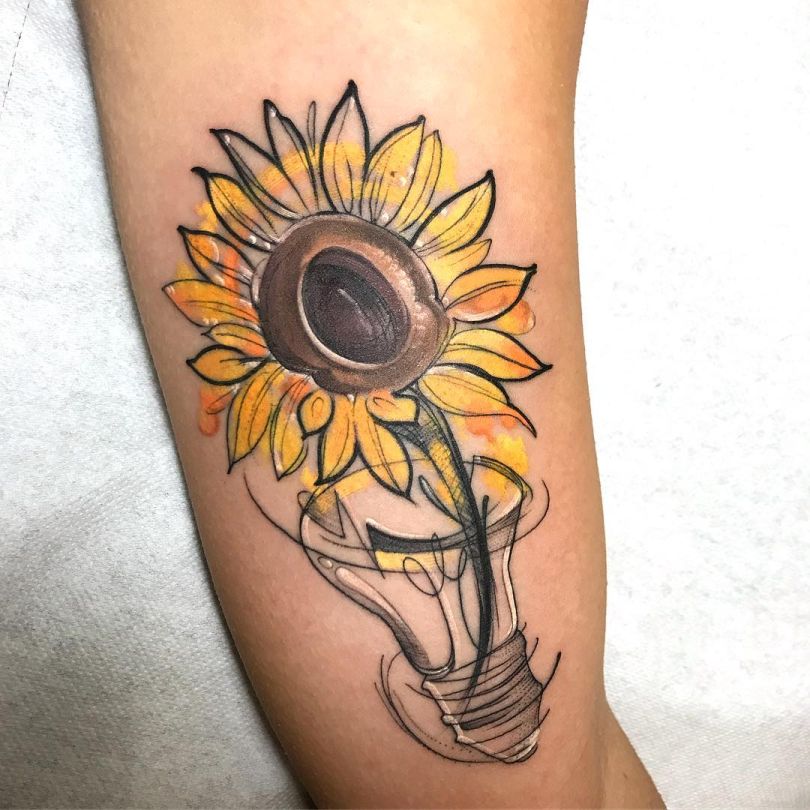 A pop of color and cerebral concept make this sunflower sketch tattoo highly attractive. The whimsical design features a transcendent sunflower bursting through the top of a light bulb like a great idea. Show the world you have both an intellectual and artistic side with this unique tattoo.
12. Simple Line Drawing Sunflower Finger Tattoo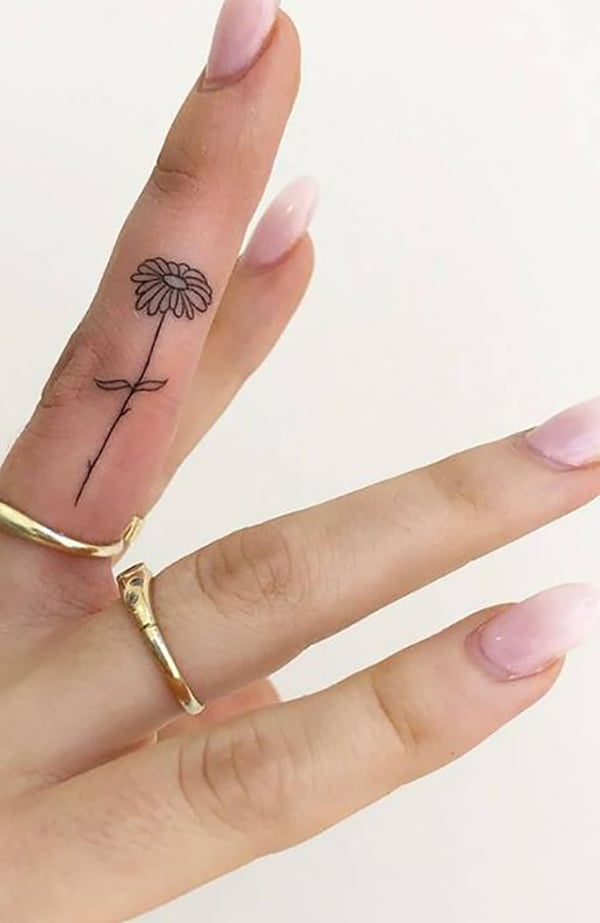 Sometimes the most simple tattoo designs speak the loudest. Using only traditional black ink, this single line sunflower finger tattoo is straightforward and clearly delightful. Modest yet powerful, the black line drawing of a sunflower is a refined and uncomplicated statement of fun and innocence.
13. Bright Watercolor Sunflower Tattoo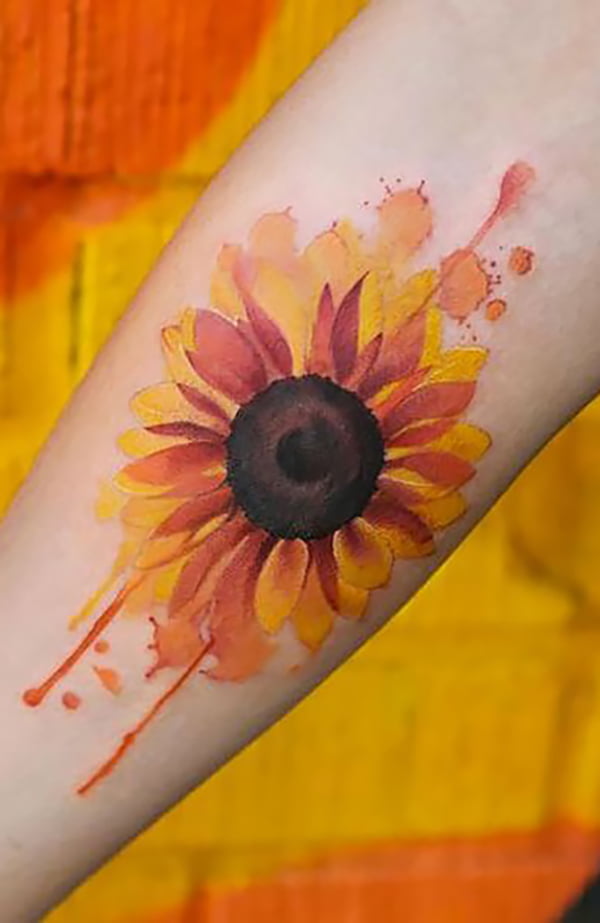 Bursting with color, this captivating tattoo looks like it is splashed on the skin using watercolor paints. Brilliant yellow and orange petals explode from the rich brown face of the cheery sunflower. Without any frills and full of energy, the tattoo is a bold statement for all sexes.
14. Feminine Duo of Delicate Sunflowers Tattoo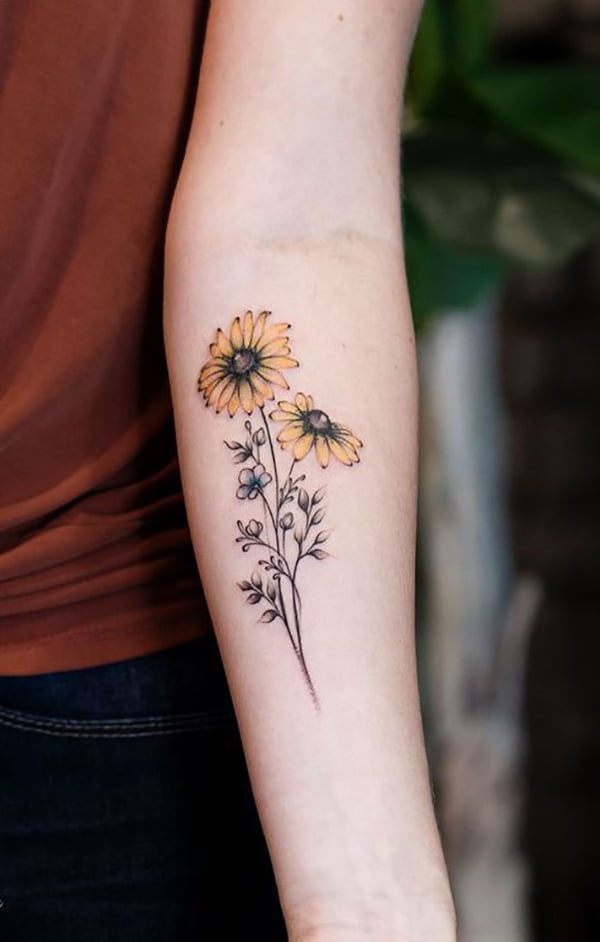 A little bit of color goes a long way in this feminine tattoo highlighting two delicately intertwined sunflowers. Soft, subtle hues weave around this tattoo and along with the wispy sunflower stem's pretty little blooms and leaves. Similar to an ink drawing, this lovely sunflower tattoo has its own unique charm.
15. Set of Traditional Sunflowers with Leaves Tattoo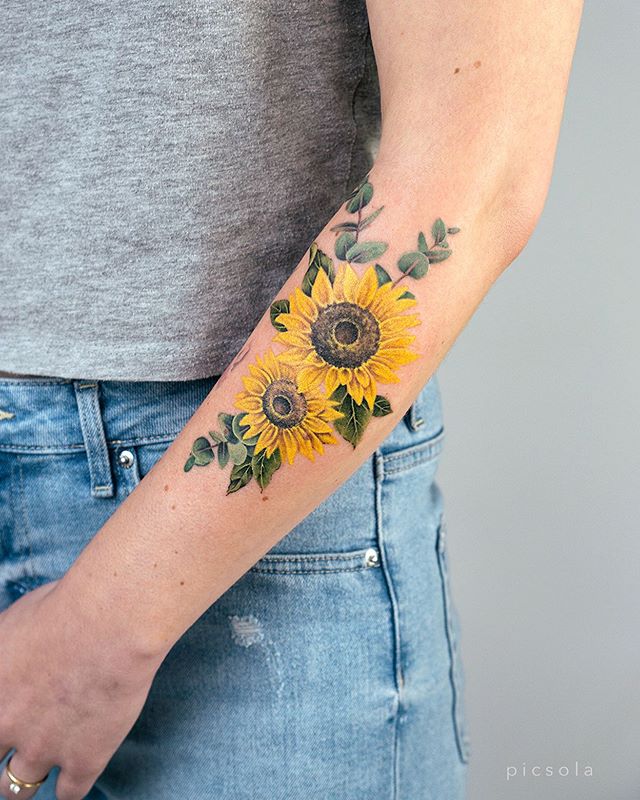 A duet of classic golden sunflowers lay in a bed of luscious greenery to create a truly inspiring floral image. Varying shades of greens and yellows give depth and complexity to the elements of this amazing tattoo. There are exquisite details in the flower's face, petals, stems, and leaves.
16. Vibrant Bouquet of Daisies and Sunflower Tattoo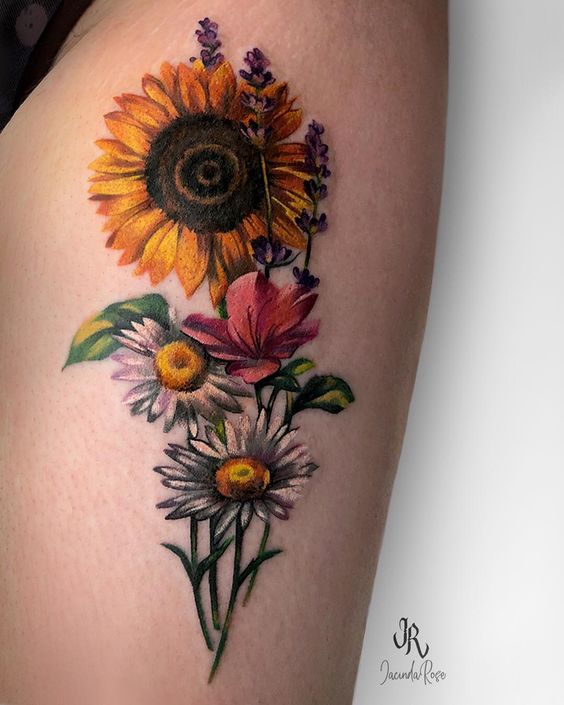 Striking and vivid, this tattoo features a ravishing bouquet of gorgeous flowers with an array of colorful blooms. A bold, radiant sunflower acts as the centerpiece among a picturesque arrangement of daisies, lilies, lavender, and greenery. Absolutely exquisite, this multi-colored sunflower bouquet tattoo looks amazing anywhere on the body.
17. Fresh Sunflower Tattoo with Foliage Background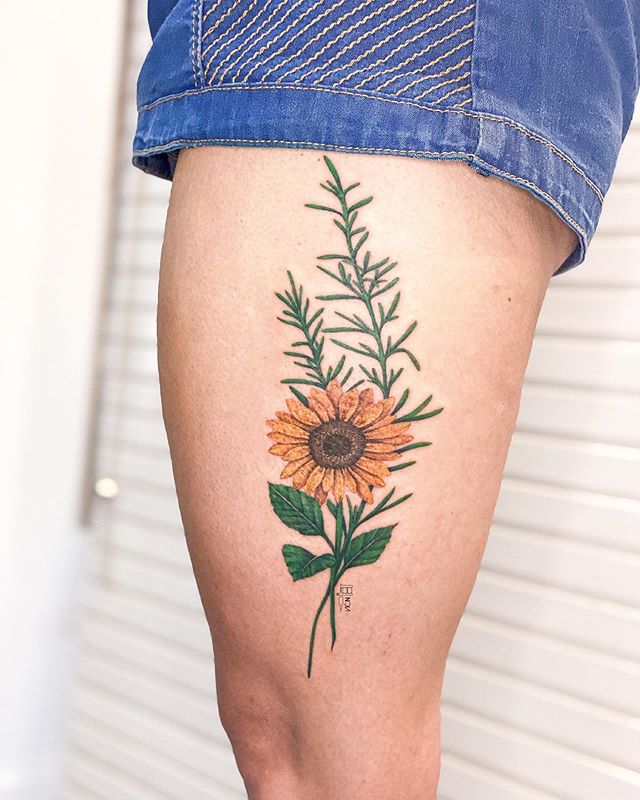 Fresh from the field, this bright and cheerful tattoo reflects happiness and freedom. Standing behind the naturally hued sunflower are tall grass reeds adding to the movement of this spirited tattoo. Dynamic and attractive, this classically designed tattoo with a foliage background looks great on anyone, anywhere.
18. Golden Sunflower Tattoo with Script Signature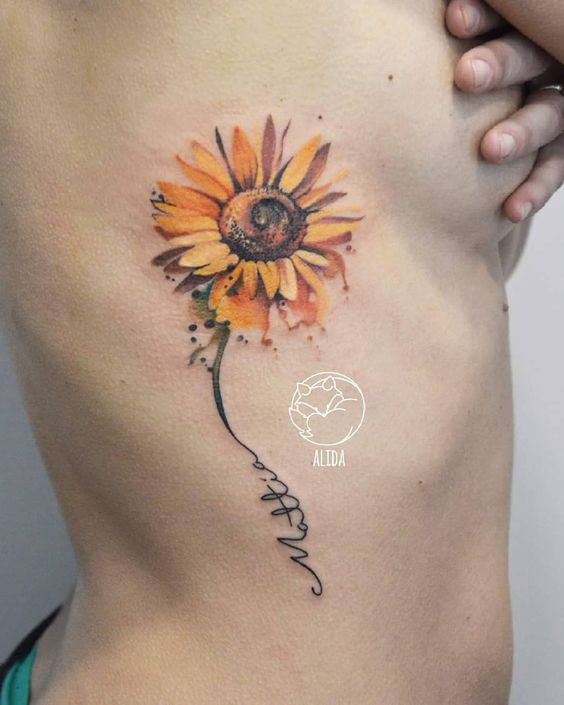 Colors swirl and blend together within this realistically illustrated sunflower love tattoo. The stem of the sunflower gracefully drifts off into a signature script. Choose the name of someone you love or an inspirational word such as belief, hope, or happiness to add to this fabulous sunflower tattoo.
19. Exotic Floral Cluster with Sunflower Tattoo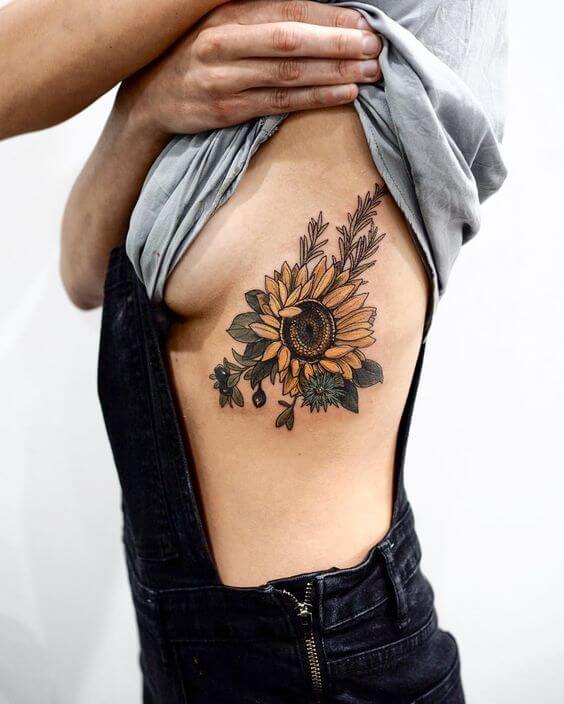 Surrounded by a gorgeous blend of exquisite flora, the regal sunflower is front and center in this eye-catching tattoo. The fabulous coloring is intense yet muted and includes shades of yellow, green, and blue. Not for the shy at heart, this bold and beautiful tattoo is dramatic and memorable.
20. Black and Grey Sunflower Tattoo with Circles of Color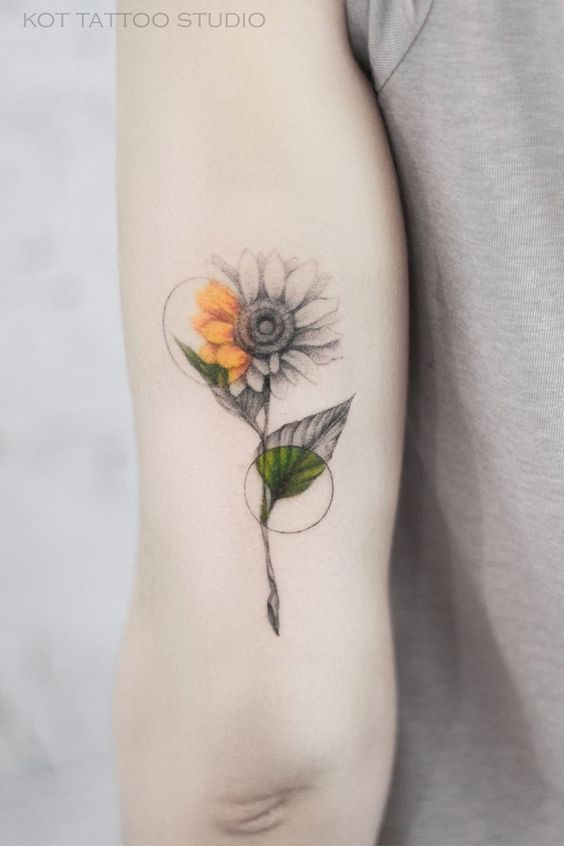 If you tend to see things from a unique perspective, this conceptual and captivating sunflower tattoo is the one for you. Depicting a magnificent grayscale sunflower standing proudly, there are two distinct circles where the true color of the bloom shines through. This modern sunflower tattoo is splendidly unconventional.
21. Extra Large Detailed Sunflower Back Tattoo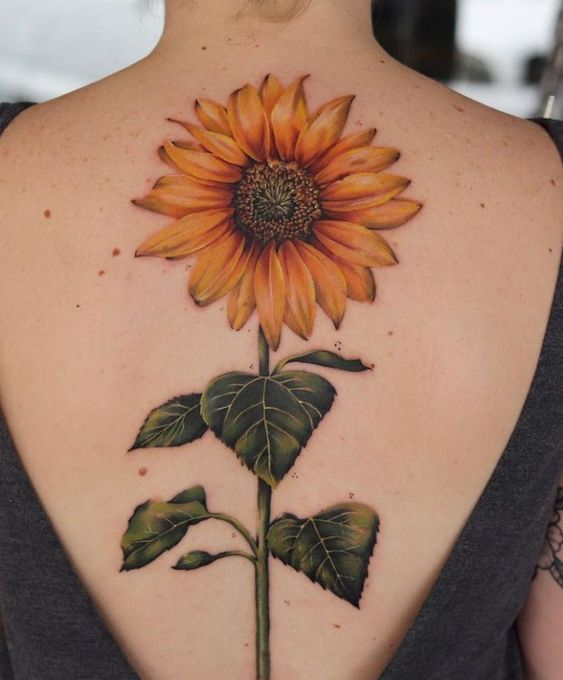 Go big or go home is the idea behind this extra-large, highly detailed sunflower back tattoo. Each seed in the flower's face, a vein in its leaves, and a crease in its petals are visible in this elaborate sunflower tattoo. Realistic colors and organic textures make this the ultimate sunflower tattoo.
22. Simply Classic Sunflower Ankle Tattoo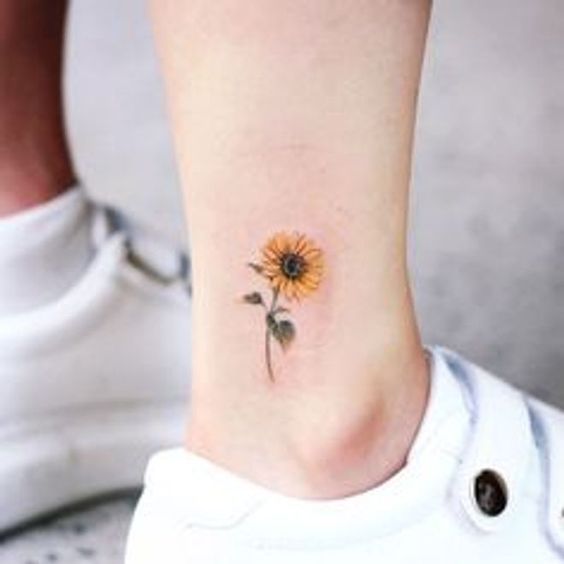 Show your loyalty and love of the golden flora with this classically beautiful sunflower ankle tattoo. A light outline and soothing colors allow the natural loveliness of the sunflower to radiate. Pretty and petite, this dainty tattoo is the perfect accessory for sporty and stylish women.
23. Charming Sunflower Tattoo with Bold Cursive Writing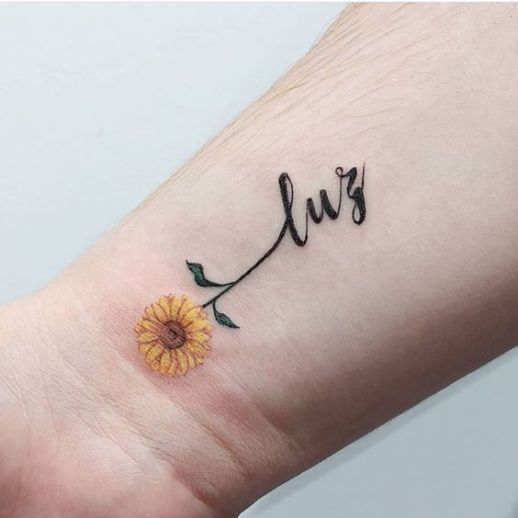 Ideal for the inner wrist, this sweet sunflower tattoo is multicolored and features a special sentiment of love at the end of the stem. Express yourself by personalizing the bold cursive script with your favorite word or name. A representative of loyalty, longevity, and admiration, the sunflower emotes positivity and happiness.
24. Sunflower Petals Floating in the Wind Tattoo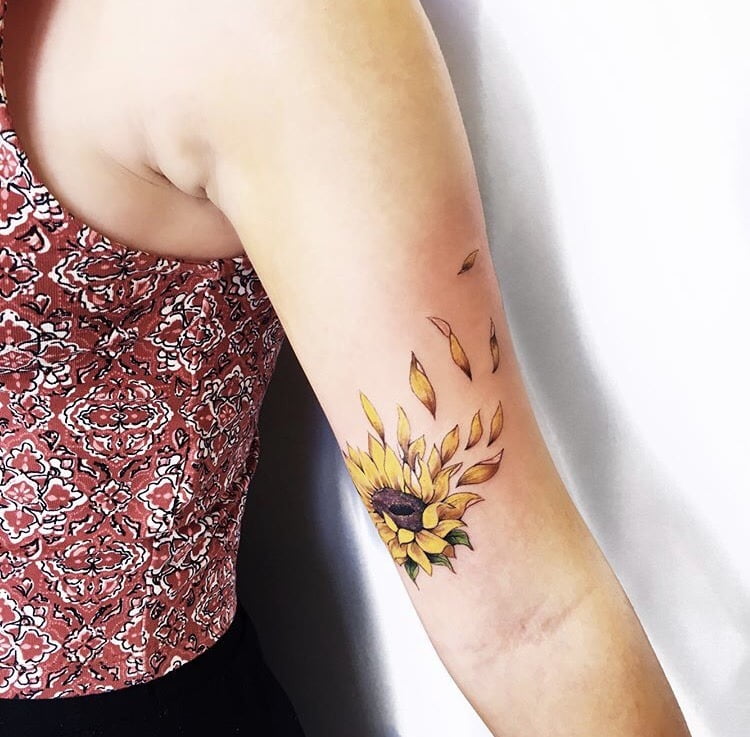 Flawless movement and motion are seen in this alluring sunflower tattoo as the delicate petals float away in the blowing wind. Effortless beauty and realistic detail combine to give the breathtaking tattoo an enchanting quality. This versatile and impressive sunflower tattoo looks beautiful inked anywhere on a woman's body.
25. Timeless Beauty Sunflower Tattoo in Full Color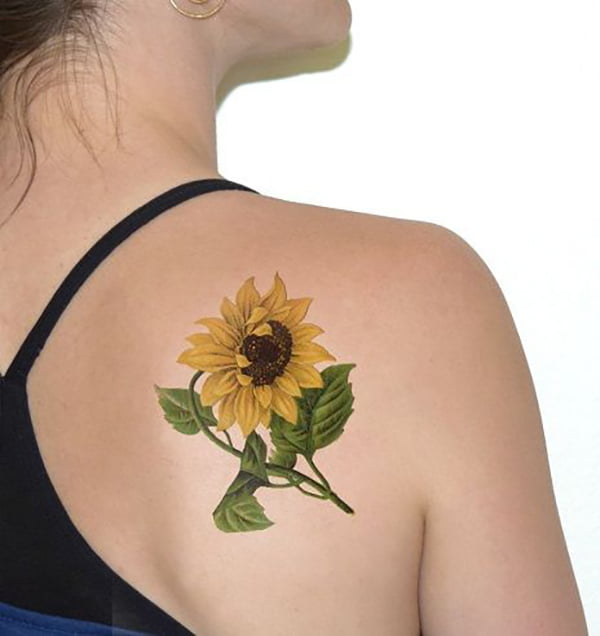 For those individuals who sincerely love the genuine beauty of the sunflower, this timeless tattoo is an optimal selection. The dark face of the gold sunflower is tilted slightly away giving a shy, sensitive vibe. Precisely colored with natural hues, this high-quality sunflower tattoo signifies loyalty and love.
26. Classic Sunflower Tattoo with Phrase of Love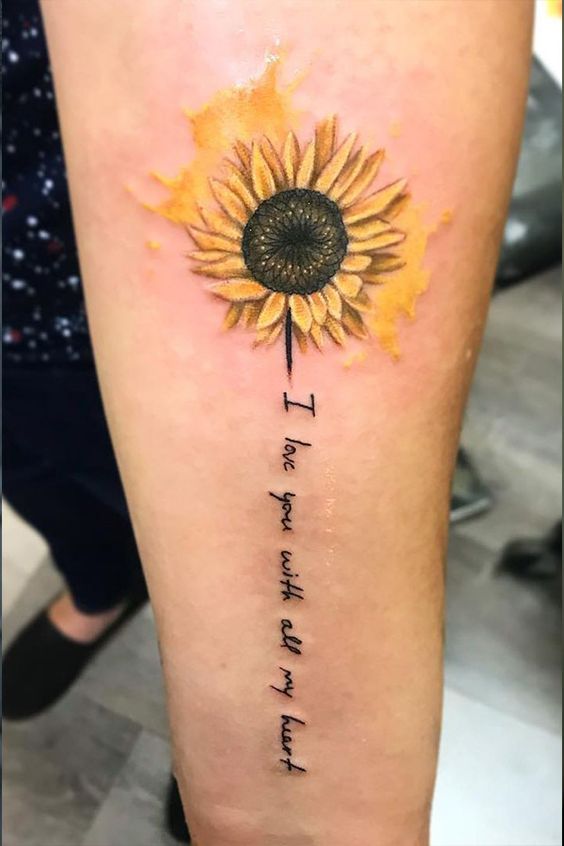 Express your admiration and devotion wearing this sunflower tattoo with a phrase of love. The flower's golden petals seem like rays of sunshine surrounding its deep dark face. This tattoo contains the words, "I love you with all my heart," but you can customize it with your own special saying.
27. Gorgeous Black and Grey Sunflower Tattoo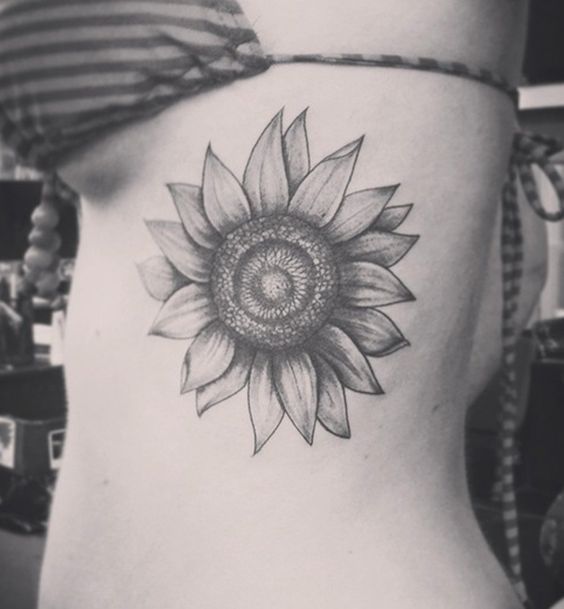 This exquisite grayscale tattoo looks deep into the soul of the sunflower. Fine linework and detail make this fabulous tattoo look real even without any of its natural color. With a bold design and overall round shape, this unisex sunflower tattoo works on backs, legs, shoulders, and thighs.
28. Realistically Colored Sunflower Wrist Tattoo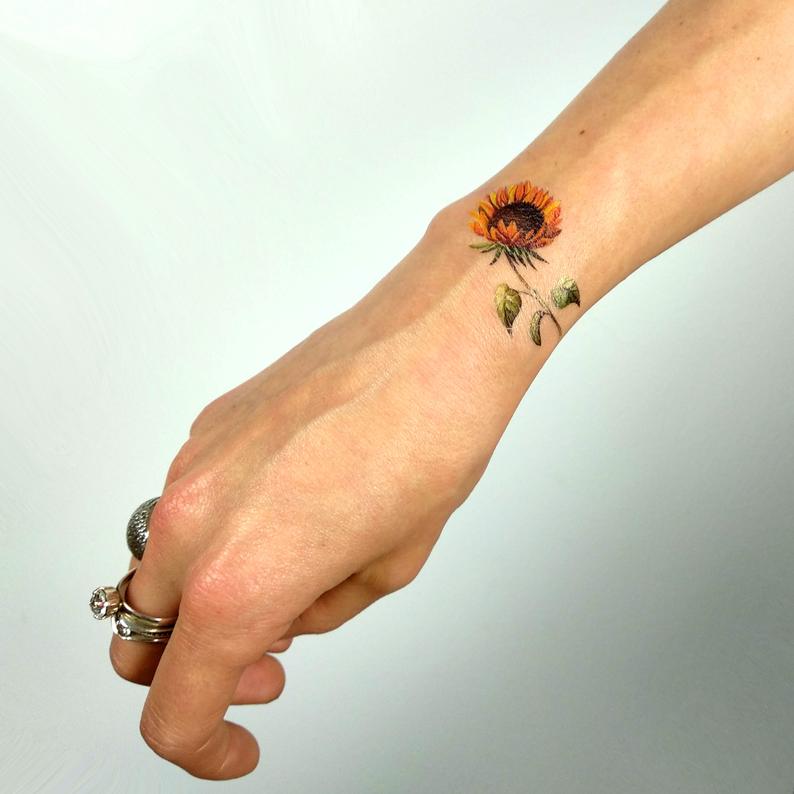 With its face looking up towards the sun, this darling sunflower wrist tattoo is the perfect accessory for a modest yet adventurous woman. Allow your inner feelings of love, tenderness, and devotion to reflect on your skin. Realistically colored, this dainty tattoo is a highly pleasing image.
29. Sunflower and Airplane Sketch Tattoo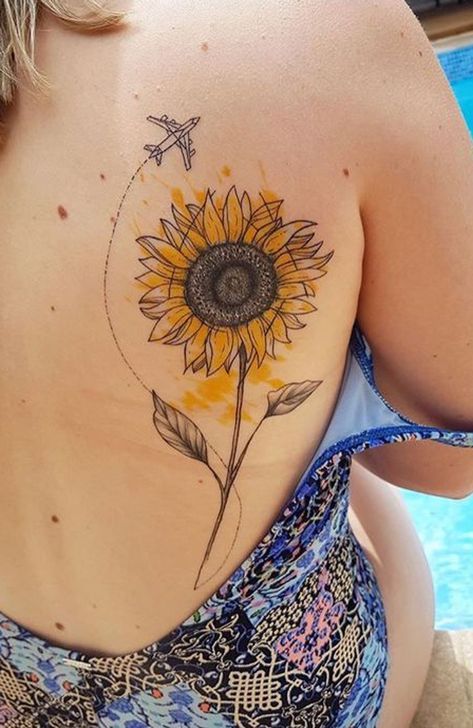 A high-flying airplane is shown taking off from its base at the bottom of a noble sunflower in this unique tattoo. As the sunflower represents good luck and happiness, it is the perfect co-pilot for an airplane. This fun sunflower and airplane tattoo is sure to lift your spirits.
30. Finely Detailed Sunflower Tattoo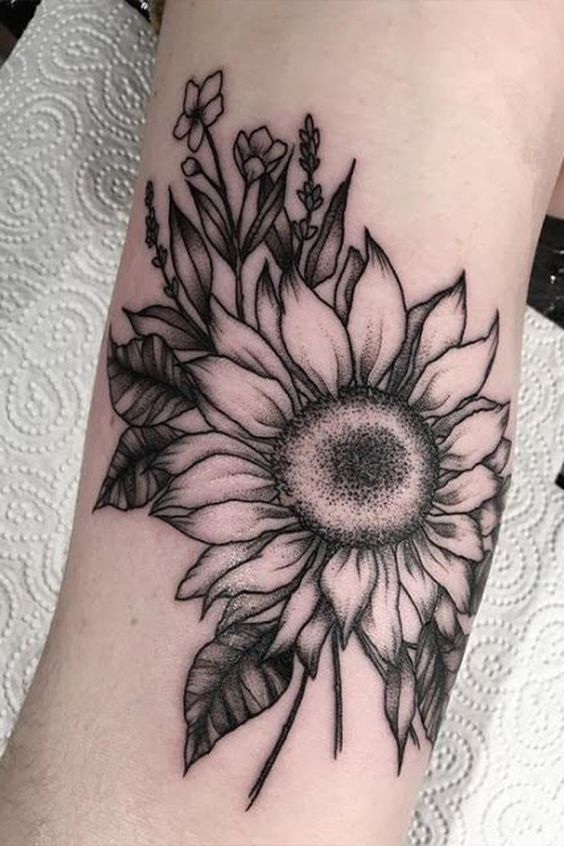 Perfect shading and remaining whitespace make the depiction of a regal sunflower unmistakable in this finely detailed black and white tattoo. Tiny accent blossoms and variegated leaves peek out from behind the glorious sunflower. This striking tattoo is practical for nearly any location on the body.
31. Brightly Colored Sunflower Threesome Tattoo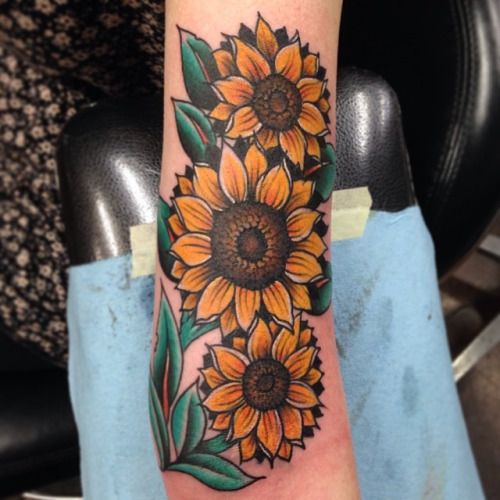 Three spectacular sunflowers represent luck, love, and loyalty in this illustrious and colorful and hip sunflower tattoo. Bright and bold, the trio of eye-catching sunflowers is distinguishable from a mile away. Extra shading, distinguished hues, and heavy lines give this intriguing tattoo its beautiful individuality.
32. Illustrated and Brightly Hued Sunflower Tattoo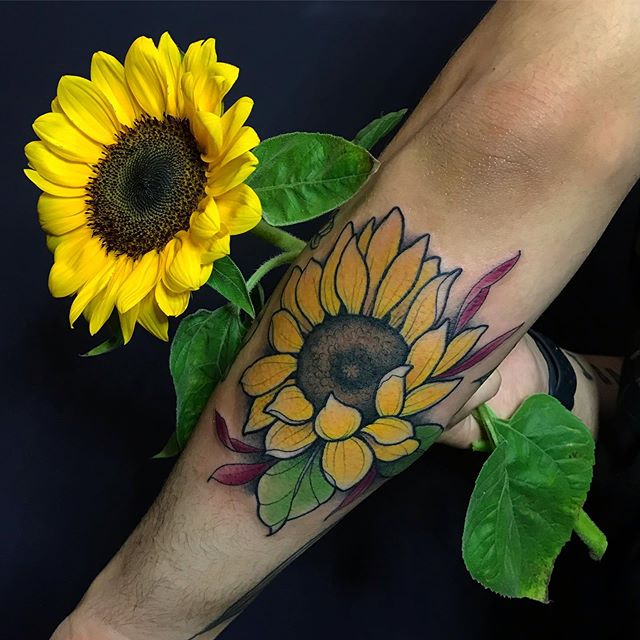 This brightly colored illustration tattoo looks as though the marvelous sunflower is painted directly onto the skin. Vibrant yellow flower petals and earthy green leaves are enhanced by purple stalks and drop shadows. Men and women alike can rock this trendy sunflower tattoo.
33. Color Sunflower with Pair of Grayscale Sunflowers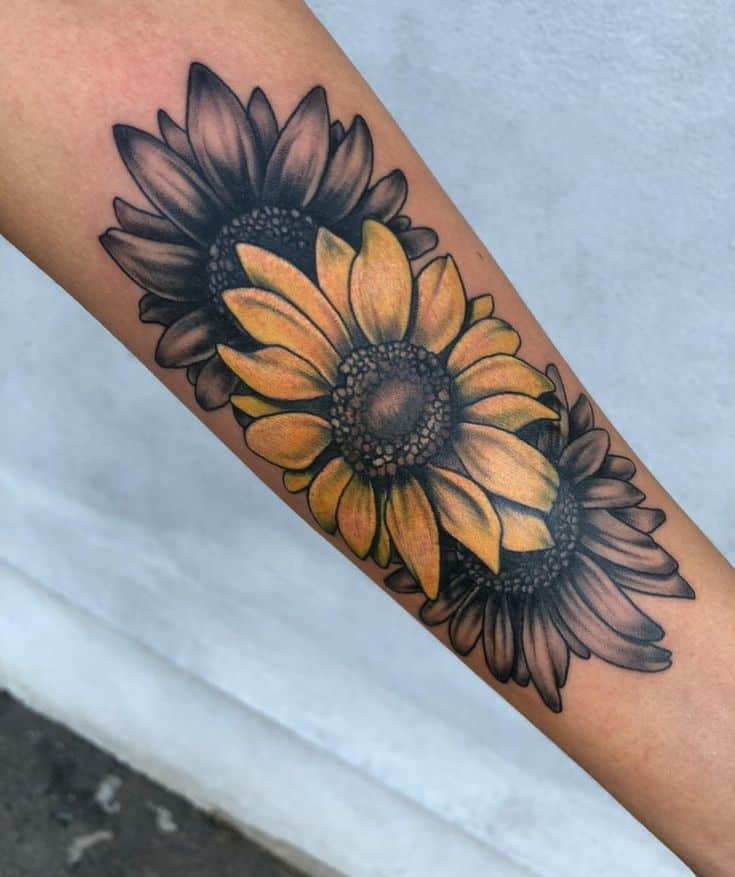 A yellow-tinted sunflower pops out in front of two matching blossoms in grayscale to create this incredible unisex matching tattoo. Subtle, smooth, and sophisticated, this stylish sunflower tattoo has excellent shading to enhance its natural details. The mesmerizing tattoo has length making it look wonderful on arms and legs.
34. Gently Placed Black and Grey Sunflower Tattoo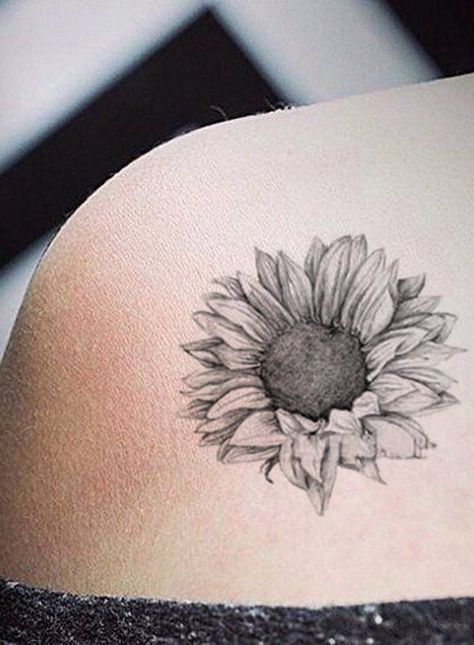 Soft in appearance and strong insignificance, this ethereal sunflower tattoo looks beautiful placed gently on a woman's shoulder. It may seem a simple image at first but precisely fine lines are visible upon closer inspection. This humble yet powerful sunflower tattoo is amazing in black and white.
35. Romantic Pair of Sunflowers Shoulder Tattoo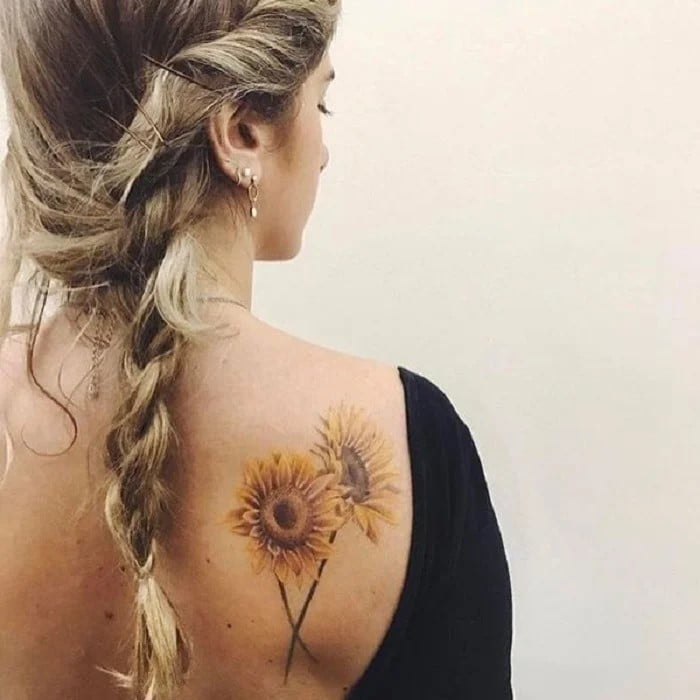 With stems gently crisscrossing one another, this pair of breathtaking sunflowers tattoo invokes a soft, romantic feeling. Beautiful as a shoulder piece, the feminine duo of sunflowers have faces that are looking up and out. Realistic earthy colors give this amorous tattoo a genuine authenticity.
36. Regal Sunflower Standing Alone in Full Color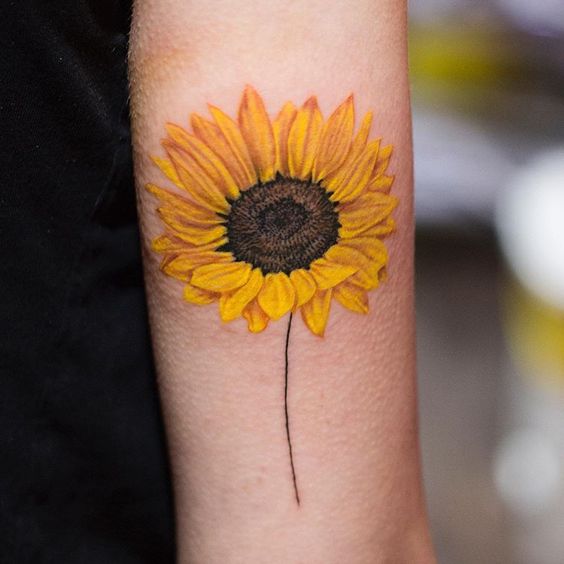 Stand proud like the majestic sunflower wearing this amazingly lifelike full-color tattoo. Intense details in the yellow petals and dark seeds of the face make this classy sunflower tattoo so impressive. A strong single line acts as a stem to finish off this powerfully drawn sunflower ink.
37. Deeply Saturated Intimate Sunflower Tattoo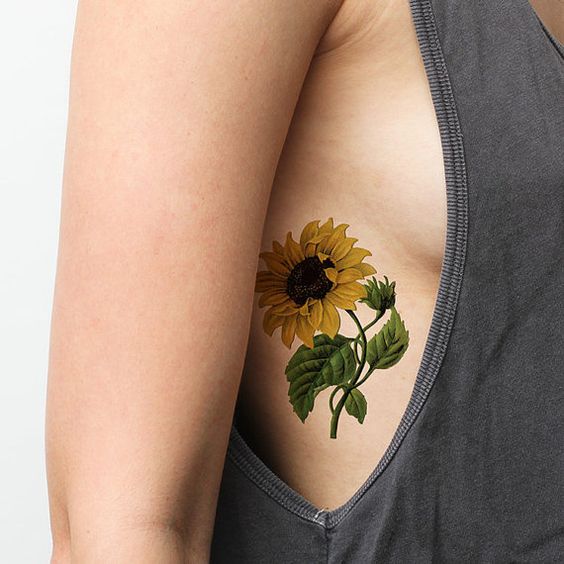 The luxurious golden and green hues are compelling in this deeply saturated intimate sunflower tattoo. Dancing gracefully against the skin, this amazingly precise sunflower tattoo stands strong on its own. Nearly identical to its wild nature, the realistic sunflower tattoo is excellent for the purist and perfectionist.
38. Flower Collection Tattoo with Sunflower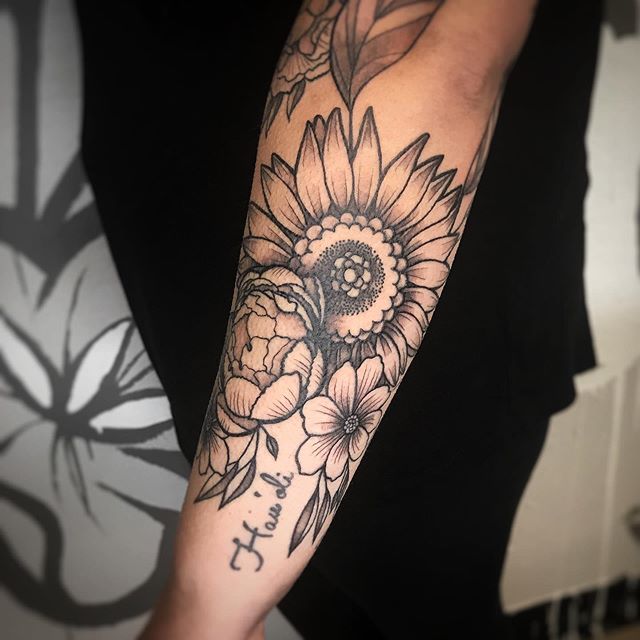 A diverse grouping of exquisite blossoms featuring the honorable sunflower is outlined in this stunning black and white outline tattoo. This splendid sunflower tattoo includes precise dot work and intricate lines that really bring the bouquet to life. This spiritual sunflower tattoo is great for both men and women.
39. Vibrant Golden Field Sunflower Tattoo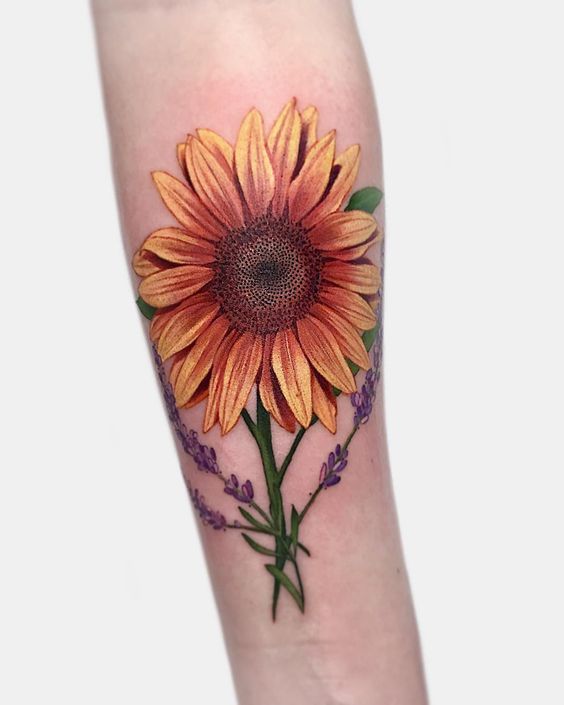 Golden and glorious, this gallant sunflower looks as though it has been freshly-picked from the field. Petals that radiate sunshine, tiny seed details and little lavender blooms give this sunflower tattoo an extra special touch. It will always feel like summertime when sporting this brilliant colorful sunflower tattoo.
40. Watercolor Art Sunflower Tattoo with Blue Splash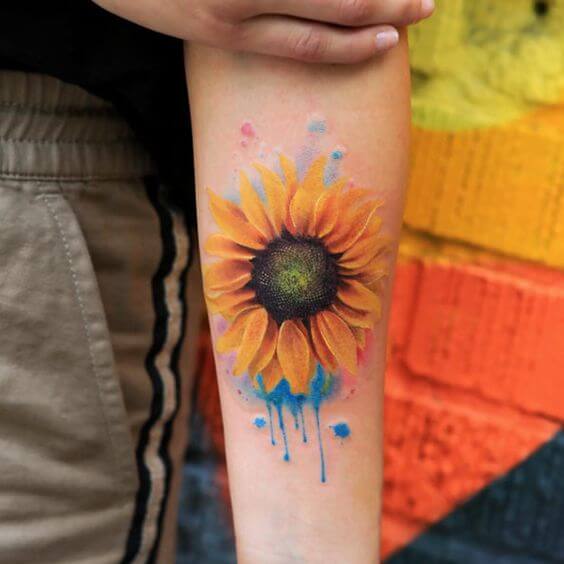 Creative and imaginative men and women appreciate the artistic quality of this striking watercolor-style sunflower tattoo. Behind the vibrant yellow sunflower are playful splashes of royal blue paint dripping down. With so much color and style, this brilliant sunflower tattoo is a definite showstopper.
41. Pretty and Pictorial Sunflower Ankle Tattoo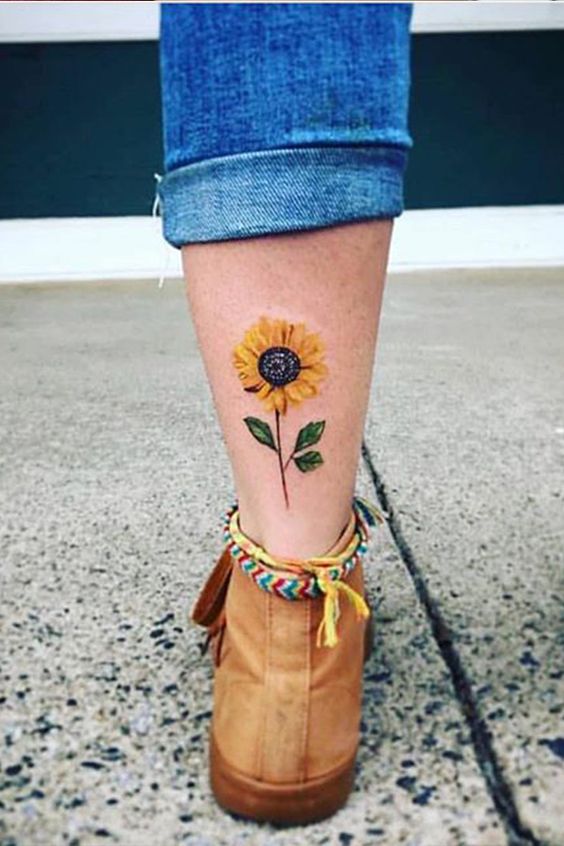 Like sprouting from the earth, this colorfully illustrated sunflower ankle tattoo is pretty and pictorial. Golden petals burst from the dark seeded face of the sunflower-like rays of sunshine. Three emerald green leaves tenderly extend out from the sunflower's stem in this simple, classy ankle tattoo.
42. Pop Art Sunflower Tattoo with Elaborate Backdrop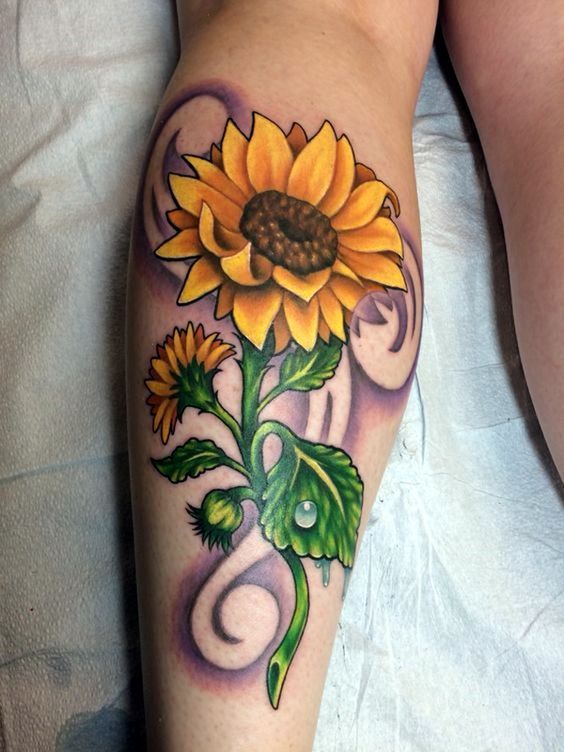 Naturally vibrant in the wild, dazzling yellow sunflowers are a great fit for pop art-styled tattoos. Depicting the beguiling sunflower are various stages of the blooming process from closed to fully open. An elaborate yet delicate shaded background really makes this hypnotizing sunflower tattoo really pop.
43. Floral Blend Outline Tattoo with Sunflower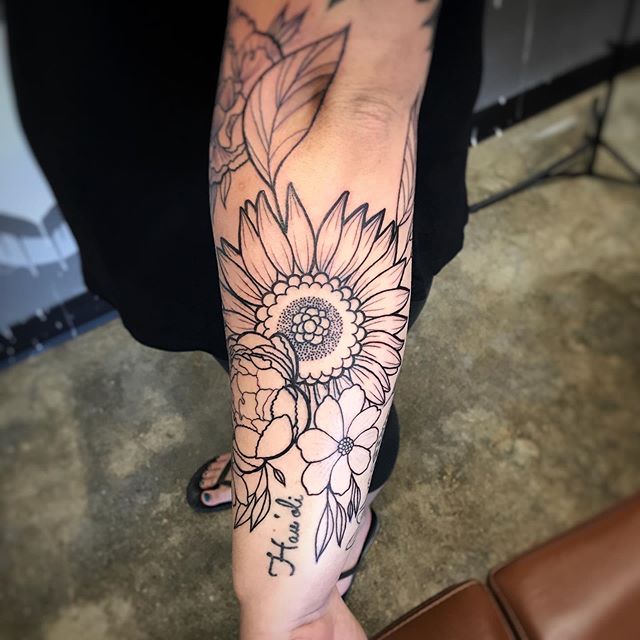 A striking sunflower is the focal point of this elaborate black and white floral blend tattoo. Featuring bold outlines and intricate dot work, the sensational sunflower, and its botanical friends blend awesome together. The striking unisex sunflower tattoo can be placed anywhere on the body and look fantastic.
44. Sunflower Hip Tattoo with Layered Petals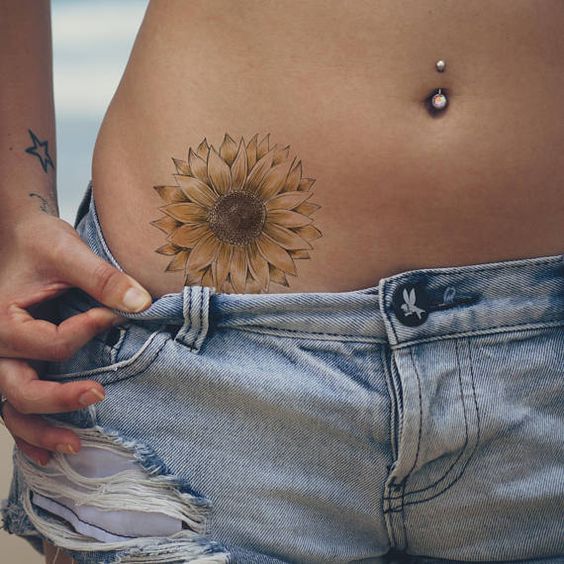 Intricate shading and dot work with just a hint of color blend seamlessly to produce this incredible, feminine sunflower hip tattoo. The sunflower's richly detailed face sets inside layers of beautifully textured petals for extra depth. This lightly colored alluring sunflower tattoo has charisma, romance, and sophistication.
45. Strong Sunflower Tattoo in Black and White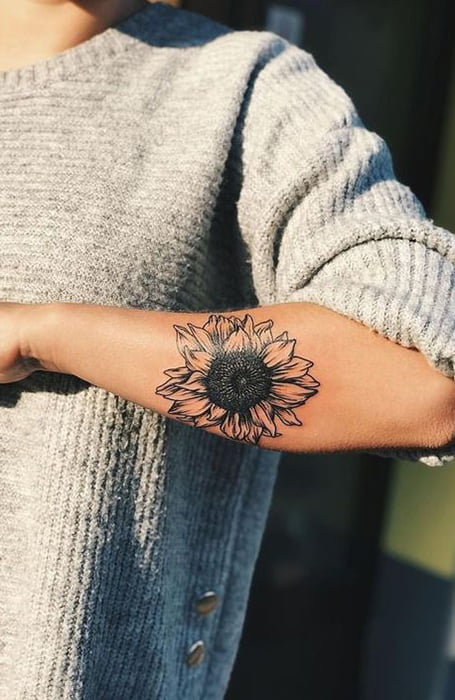 Just like the regal sunflower itself, this powerful tattoo is strong, distinguished, and unmistakable. Prominently displayed on the forearm, this black and grey sunflower tattoo signify strength, loyalty, and longevity. A mix of heavy and thin black lines, this is an admirable sunflower tattoo for both men and women.
46. Lively Colorful Sunflower Tattoo with Two Birds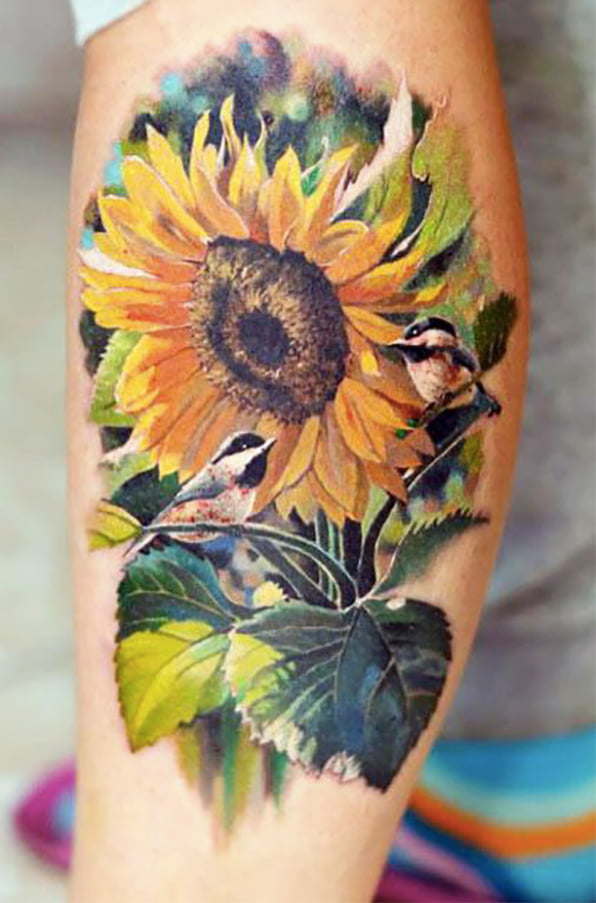 Vibrant yellows, glowing greens, and intense blues smoothly fuse with one another in this absolutely hypnotizing sunflower tattoo. Amongst the vivid colors are two lifelike birds perched proudly by the summery sunflower. Eye-catching and extraordinary, this lively sunflower tattoo with two birds is a serious showstopper.
47. Golden Sunflower Tattoo Encircled by Script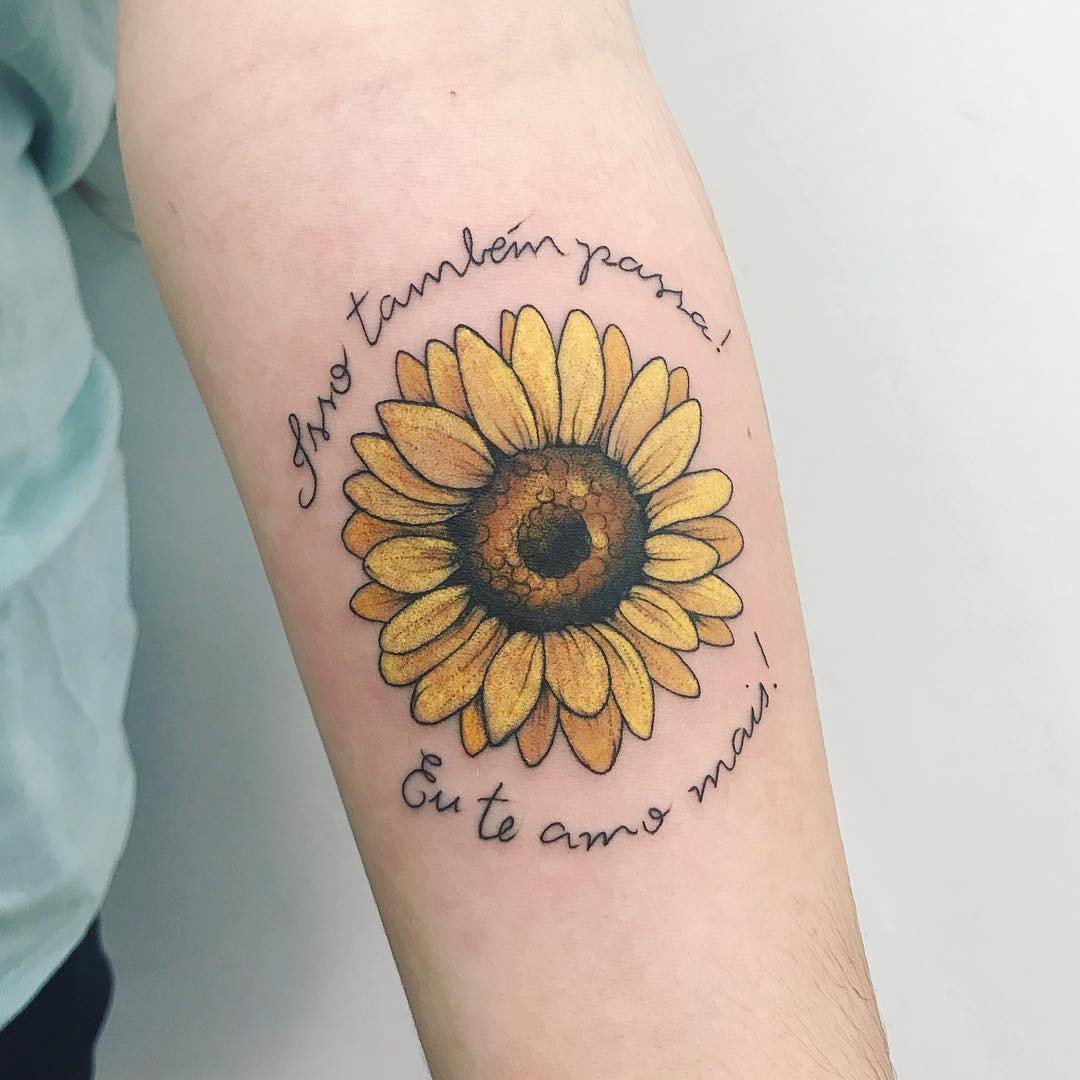 Sunny and happy, this glorious golden sunflower tattoo is encircled by a darling cursive script. Representing optimism and positivity, this bright and fun sunflower tattoo expresses love and creativity. Choose your favorite phrase to surround your favorite yellow flower to create your new favorite tattoo.
48. Circle of Sunshine Sunflowers in Field Tattoo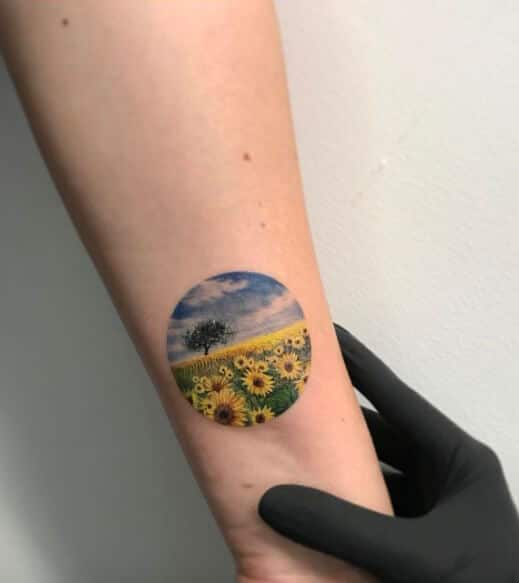 Like looking through a telescope lens, this beautiful sunflower tattoo presents an entire scene straight from nature. A field of golden sunflowers is in the forefront with a gorgeous skyline and majestic tree in the background. Fluffy white clouds in a pristine blue sky add to this artistic sunflower tattoo.
49. Duet of Delicate Natural Black and Grey Sunflowers Tattoo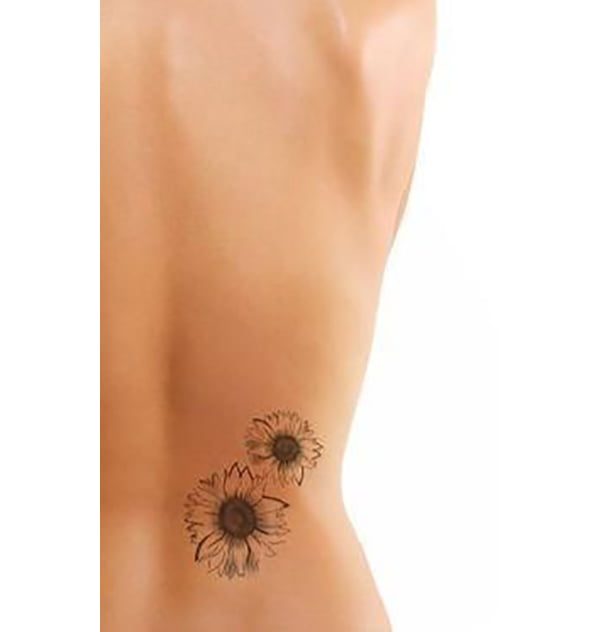 On the small of a woman's back, this charming duet of natural sunflowers tattoo delicately sets. Strategically placed drop shadows and accurate shading make the grayscale sunflowers stand out against the skin. Soft and sweet, this ethereal sunflower tattoo is best for daydreamers and romantics.
50. Small Tattoos Idea: Realistic Sunflower Ankle Tattoo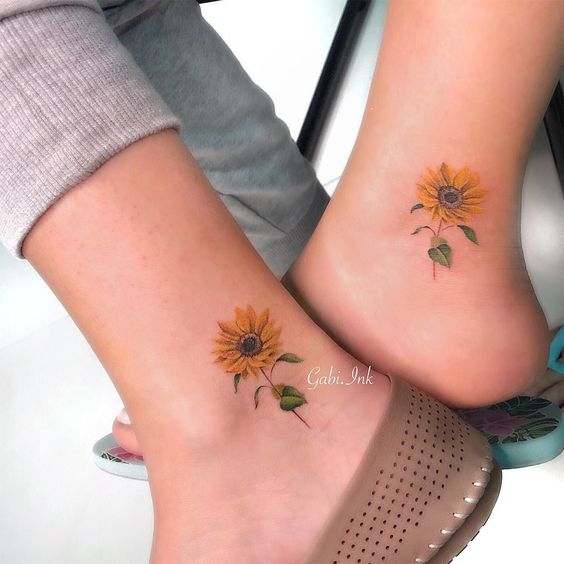 These dainty sunflower ankle tattoos are so realistic they look like they are growing right out of the skin. With heads held high towards the sky, these pretty blossoms showcase the sunflower's golden petals and deep green leaves. Detailed and delicate, this ladylike sunflower tattoo has grace and docility.
51. Illustrated Sunflower Design with Face Towards the Sun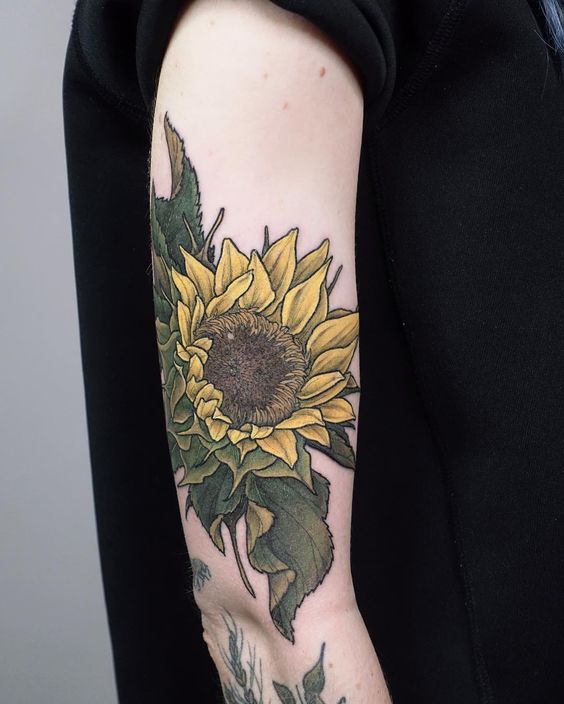 Looking up, the richly intricate face of the glorious sunflower proudly faces the rising sun. With a unisex sunflower tattoo, the image shows the flower in its genuine state. Having an enlightening quality, naturalists, philosophers, and intellectuals tend to enjoy this earthly colored sunflower tattoo.
52. Conceptual Art Sunflower Triangle Tattoo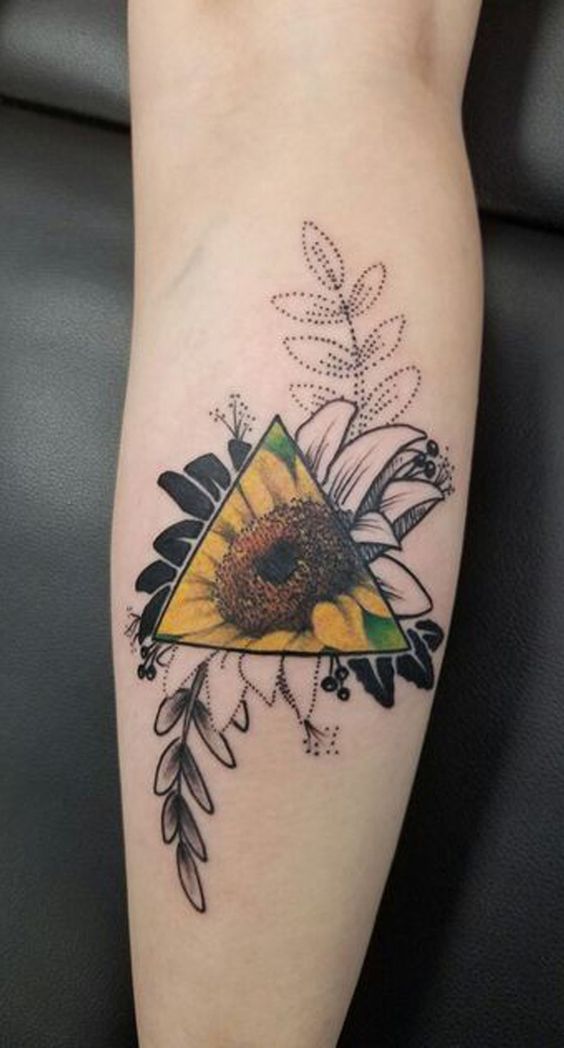 Creative and conceptual, this distinct sunflower tattoo has many diverse elements that interactive fluidly with one another. Within a distinct triangular outline, the spectacular natural colors of the brilliant sunflower are illuminated. Outside of the triangle are black and white sunflower petals and leaves in various artistic styles.
53. Intricately Detailed Black and White Sunflower Tattoo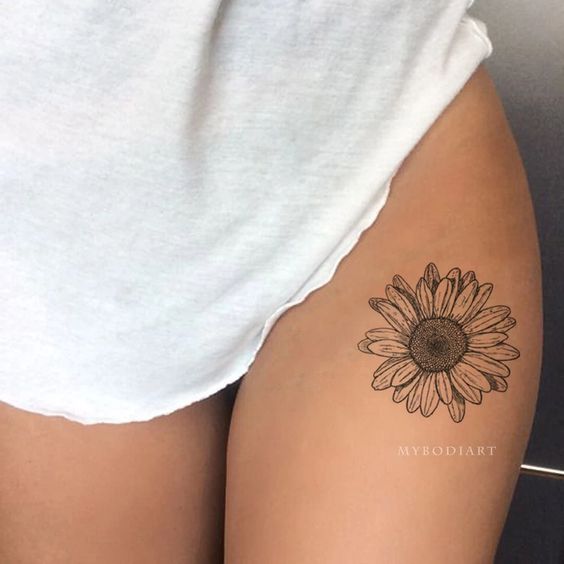 Even without its traditional yellow hues, the well-defined sunflower is unmistakable in this black and white tattoo. Fine linework brings out the intricate details in the sunflower's petals and seeds in its face. This remarkable sunflower tattoo looks nearly three-dimensional on the skin.
54. Bold, Vibrant and Colorful Sunflower Leg Tattoo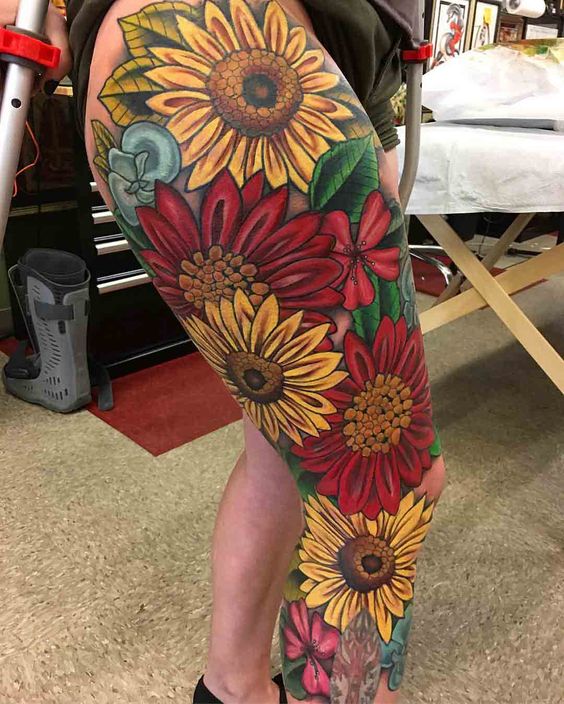 Crimson, gold, yellow, blue, green, and more! This breathtakingly dynamic full-leg tattoo includes all the amazingly vibrant colors of sunflowers. From the hip to the ankle, this multi-colored sunflower tattoo is a constant flow of artistry. It takes a fearless and passionate woman to rock this extraordinary sunflower tattoo.
55. Black and White Sunflower Pair Shoulder Tattoo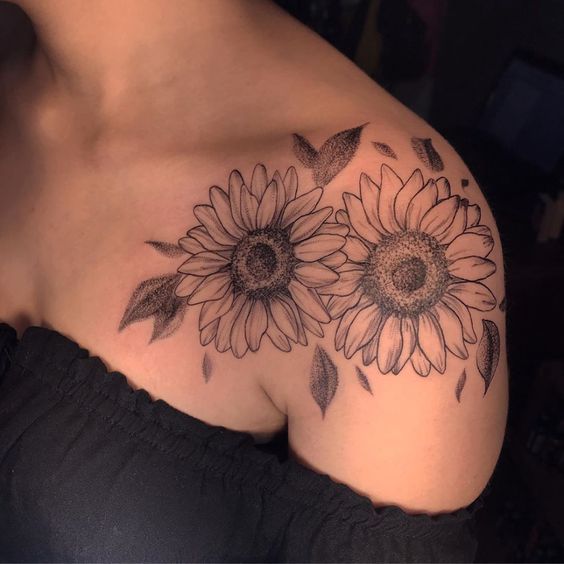 Two noble sunflowers stand strongly side by side in this spectacular black and white sunflower shoulder tattoo. Leaves blow lightly in the wind around the pair of hypnotically beautiful sunflowers. Like the regal blooms themselves, this striking black and grey sunflower tattoo signifies endurance, strength, and loyalty.
56. Decorative Elephant Tattoo with Three Sunflowers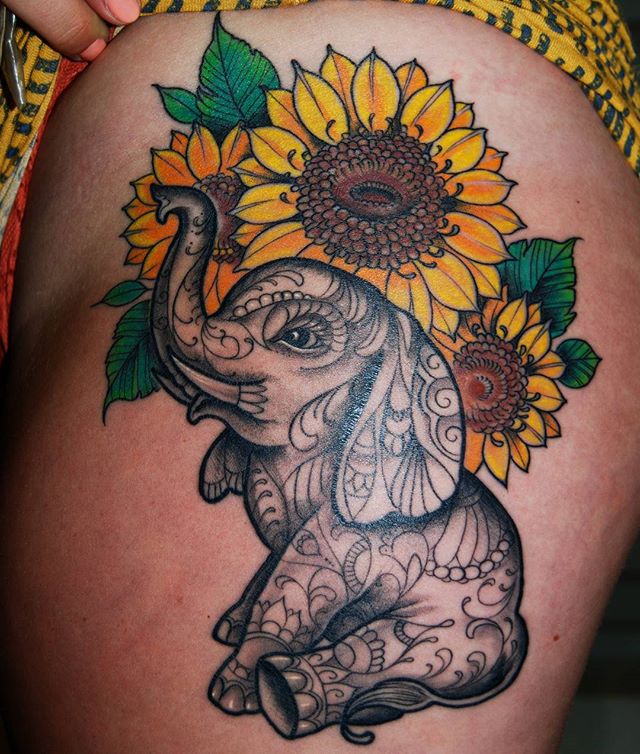 Sunflowers and elephants represent fertility and growth in this enchantingly decorative tattoo. Adorable, elegant with a hint of the divine, this sunflower tattoo is a mix of grayscale and color. From the subtle grays of the elephant to the golds and greens in the flower, this tattoo is truly breathtaking.
57. Black and White Outline Sunflower Trio Tattoo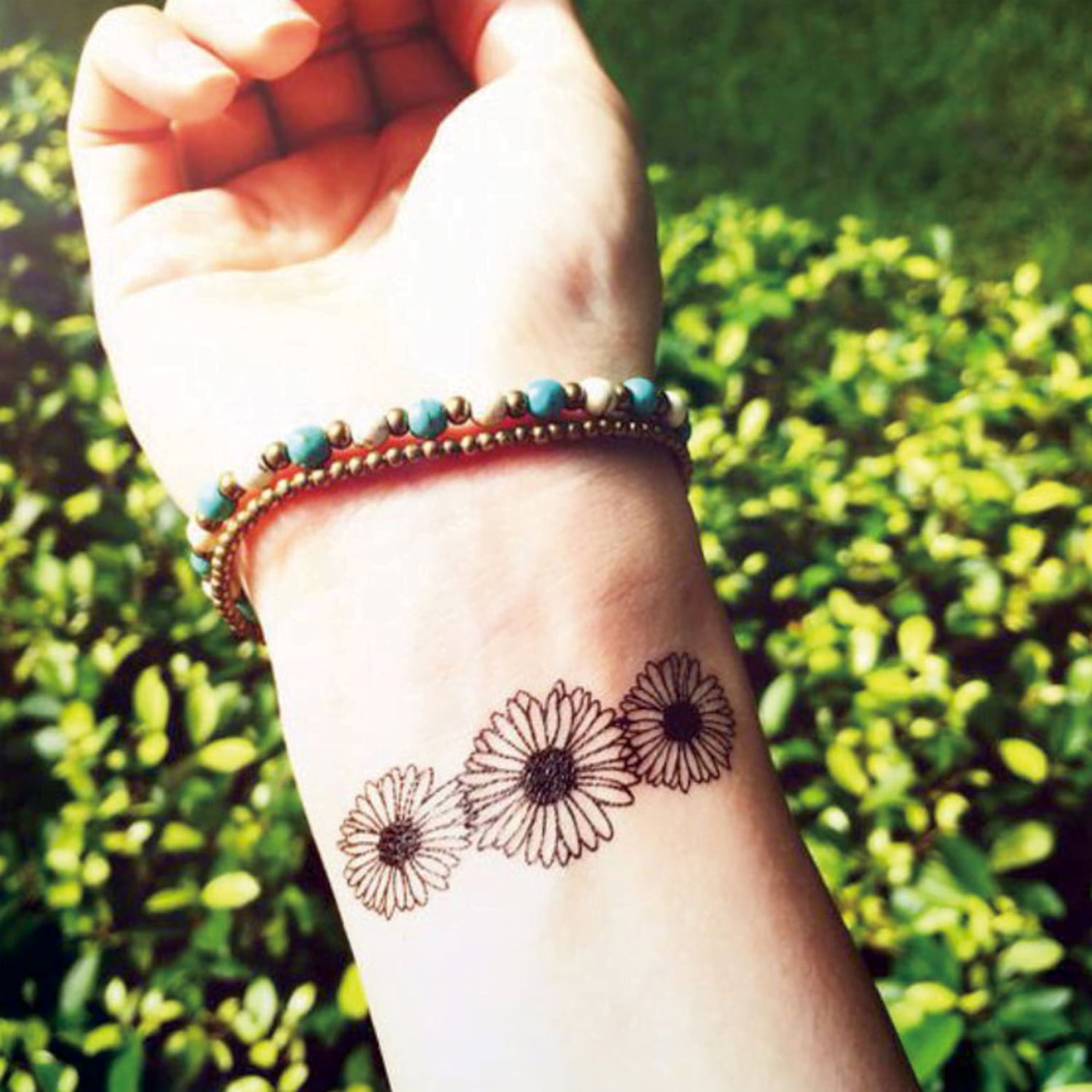 Happiness, hope, and optimism are represented in this appealing black and white sunflower trio tattoo. Designed to wrap along the inner wrist, the three elegant sunflowers lay in a row of love. Wear this delightful sunflower tattoo with pride as you represent the inner and outer beauty of the sunflower.
58. Black and Grey Sunflower Tattoo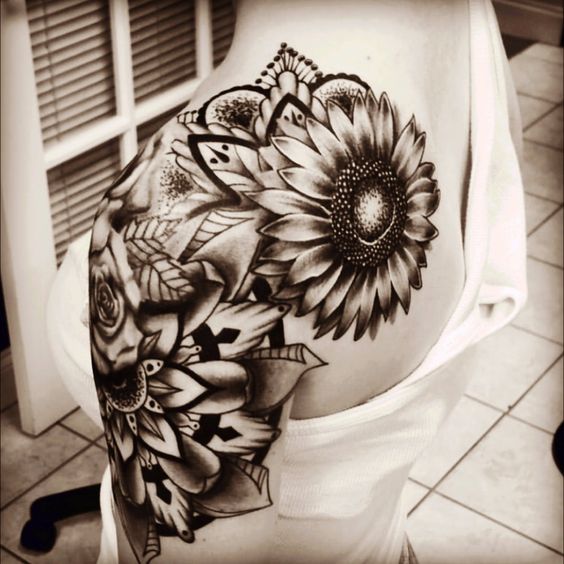 Dark lines, deep shadowing, and feathered texture give this striking black and grey sunflower tattoo its intense drawing power. This finely detailed sunflower tattoo is stunning on its own or with accompanying floral. Men and women can both appreciate the bold outlines and fierce strength of this sunflower tattoo.
59. Mixed Media Triangle and Sunflower Tattoo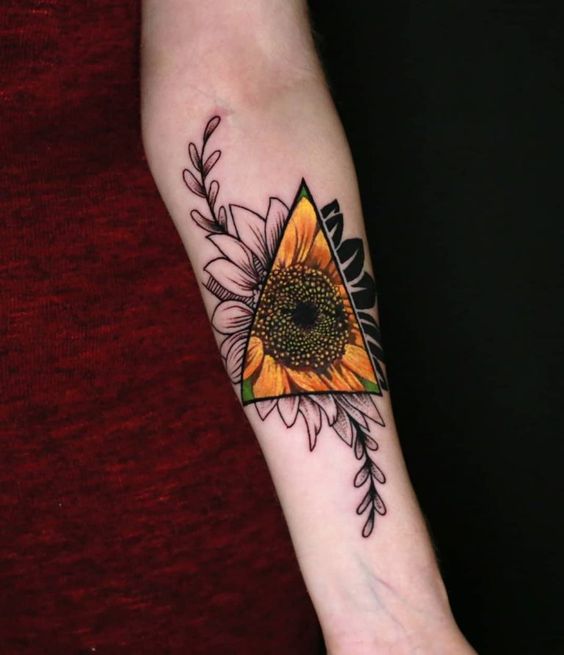 One singular sunflower is sectioned into distinct artistic design styles in this remarkable mixed media triangle and sunflower tattoo. Black and white leaves and petals are clearly visible outside a distinct triangular shape. Yellow petals and dark seeds burst brightly from inside the triangle in this cerebral sunflower tattoo.
60. Soft and Sensitive Lifelike Sunflower Tattoo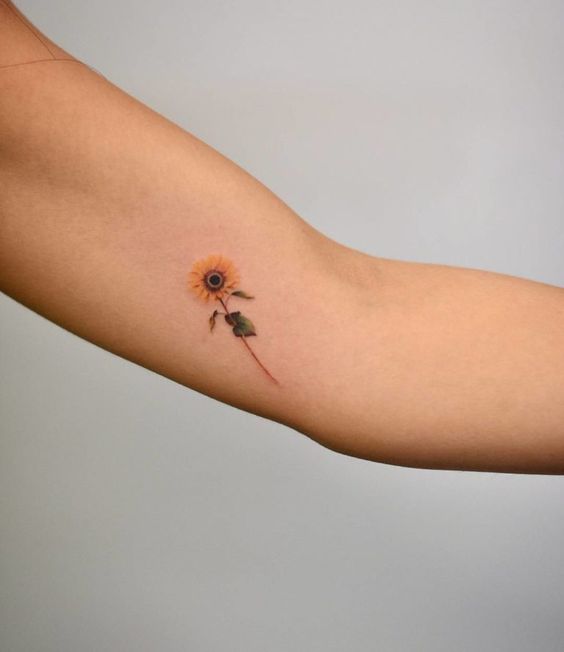 This timeless depiction of a golden sunflower standing tall on a single green stem emits an inviting and graceful feeling. Light and airy, this pretty yet realistic sunflower tattoo is a nice option for sensitive and compassionate individuals. Natural colors are the key to bringing this sunflower tattoo to life.
60 Best Sunflower Tattoo Ideas and Designs
As seen in these 60 stunning images, each tattoo is unique and special just like the sunflower itself. Whatever your reason for choosing the sunflower for a tattoo, this comprehensive collection should serve as an inspiration. Sunflowers are a classic bloom that remains highly recognized as a timeless symbol of happiness and strength. They are admired for their delightful disposition and sunny charm. With so many positive characteristics and symbolism, it is no wonder why so many people select the glorious sunflower for their tattoos.