Have you ever noticed the big number of people with angel tattoos and wondered to yourself why they are so popular? Or maybe you are looking to get yourself an angel tattoo, and you want to know more about them? Well, this article is going to help you understand these amazing tattoos better. We shall give you the reason they are so popular, and then we will go further to explain the various meaning behind them.
So why are Angel Tattoos Popular?
First of all, it is important to note that these tattoos originated from a religious perspective. In all holy books of the various religions found in the world, you will always find the spiritual creatures which are the angels. In these holy books majority of the angels have been portrayed as good caring creatures except for one or two. The angels have been shown as religious figures which help to connect the earth with heaven. This is what has contributed to the popularity of these tattoos. When men or women get these tattoos, they usually tend to have a feeling of calmness and protection because they relate the tattoos to the religious stories that they have read. That is why you will always find tattoo enthusiasts with these tattoos or sometimes a symbol of the angel wings. While relatively rare, an ear tattoo can work great with angel designs.
Meaning of these angel tattoos
Just like star tattoos, these tattoos can be interpreted to come with a lot of different meanings as we are going to see. Some of them even make for great couple tattoos.
Some of these tattoos tend to mean hope, faith and protection. This is especially the case when the tattoo is of an archangel. Tattoos of archangels usually have an angel with a light behind them, with open angel wings and with armor or sword on their hands. Many individuals get these faith tattoos to have the peace of mind as they see the angel as their protecting figure.
Some of these tattoos are made to mean innocence, renewal or/and rebirth. This particular kind of tattoos is mostly common among women. With the tattoo, women will be showing that they believe they are renewed and have been reborn to become innocent once again. This symbol also indicates that they believe in the innocence of the soul and sometimes in Christ.
A tattoo of an angel can also be taken to mean that someone has suffered a loss. In some cases, an individual may lose his or her loved one and might decide to get this cool tattoo to continue feeling close to the deceased.
Some of these tattoos could also be taken to mean rebellion, defiance, fear and death. This is commonly traced back from rebellious angels such as Lucifer etc. Therefore, some people may just get these tattoos to show people their defiance. Angels also work great on finger tattoos.
Another meaning that could come out from these tattoos is perseverance and resilience. The people having these tattoos will be showing that they are capable of persevering hard or challenging situations.
What do angel tattoos represent?
These tattoos typically give two simple representation which are meant to show different aspects of life.
First, the tattoos could be used to represent love. The description of love is very common especially in the archangel whose job is believed to be looking after the humans. The Cupid, who shoots his bow through people's hearts, is also the other angel figure which shows people falling in love. Therefore Cupid is a very common choice for love tattoos.
The tattoos then represent the linkage of earth and heaven which is meant to show spiritual and religious beliefs. In this sense, they are somewhat similar to flower tattoos. All the biggest religions are known to make reference to angels, and that is why the tattoos are taken to represent religious beliefs. When it comes to best angel tattoo designs, any body part works, including ear tattoo or elbow tattoo.
1. Elegant Angel Tattoo Designs On Girl's Neck
Folded angel wings underneath a halo offer an elegant angel themed black and white tattoo design without identifying with a specific male or female personification. The folded angel wings represent a resting state communicating a sense of calm and tranquility for the tattoo wearer. This is an unforgettable neck tattoos idea.
2. Angel Tattoo Designs With Diamond Chain
A beautiful female angel floating up towards heaven with her wings spread open wide and with a trail of diamonds draped beneath her. The use of diamonds both below the angel wings as well as immediately above the face give a visual representation of the energy and power that the figure holds.
3. Full Angel Wings Tattooed on Back
These sorts of angel tattoos turn the wearer into the angel with detailed angel wings that take up the entirety of the back. The curved shape of the wings especially accentuate the female form and the gradient that's used at the roots reinforce the illusion that they're actually a part of the person's body. Sun and moon tattoos could elevate this design even further.
4. Cute Baby Small Angel Tattoo on Lower Back
This small tattoos design puts a spin on the traditional angel tattoo idea by using a cherub like, baby angels design for the body of the angel. The pose of the figure and the fact that she's facing away from us also creates a nice visual echo with body of the girl wearing the tattoo.
5. Emo Angel Lower Back Tattoo
This falls into a category of angel tattoos that convey two messages at once. While the crouching figure of the girl is looking down conveying her frustration and despair the large angel wings sprouting out of her back give hope that she will one day fly again.
6. Beautiful Crouching Angel Tattoos
The wings on this angel tattoo follow the natural curves of this girl's side as they climb up the body and just barely wrap around her back. Likewise, the curled up body of the angel creates a beautiful echo of the girl's waist directly below the tattoo.
7. Cute And Simple Angel Tattoos in Logo Style On Ankle
A perfect example of simple tattoos ideas that can be work on parts of the body that are easily covered but just as easily uncovered when you want to show them off. This angel tattoo takes the iconographic shape and design of an angel and adds a heart for good measure. Ankle tattoos like these never go out of style.
8. Dark Medieval Style Angel Madame
This tattoo sits perfectly on the upper arm of the wearer and stares out at the viewer with a face that seems to hold a dark secret. The way she holds the bottom of her robe makes it seems like she's just about to turn around and walk off into the distance.
9. Powerful Looking Cross With Angel Wings Tattoo
Anchored with a strong looking cross tattoo with textures, shading and cracks that add to its authenticity and make it seem like it's actually made out of stone. If this weren't enough, the large wings convey the power of the cross itself and everything associated with.
10. Intricateley Shaded Crying Angel Tattoo Designs on Back
This weeping angel aligns perfectly on the back as the body of the figure falls all along the spine and the two wings spread out along the shoulder blades. The shading of the wings, the hair and the body add an additional sense of depth and power to the tattoo.
11. Angel Tattoo Designs To A Lost Loved One
This angel tattoo features a comforting angel embracing a child that was taken from this Earth too early. Above the tattoo is the date of the child's death as well as a touching tribute in the form of the text below that reads "Forever Lost" in an elegant text that matches the rest of the tattoo's design.
12. Incredible Full Color Angel Tattoo Designs on Sleeve
Angel tattoo ideas like this full color sleeve standout with their bright and vivid colors that include a beautiful use of shading, gradients and details. On top of this the design of the angels wings and the smokey background make for the perfect shape for a full upper arm sleeve.
13. Angel Of Justice Back Tattoo
This angel tattoo play with the natural lines of the back by lining up the figure all along the man's spine creating a perfect symmetry with which to balance the scales of justice. It's also a creative mixture of two iconic symbols: a holy angel with lady justice.
14. Photo Realistic Praying Baby Angels Tattoo
Using photo references make for great tattoo ideas such as when taking a child or a loved one and transposing their face on to a benevolent angel body. The praying hands position of the angel and the look in its eyes insure the man always has a loved one looking out.
15. Art Deco Style Forearm Angel Tattoos
The soft features of this female angel's face as well as the stained glass style window that forms a halo behind her head owe credit to the art deco style popular during of the first half of the 20th century while the billowy fabrics accentuate the female figure.
16. Incredible Detail In Crouching Angel Back Tattoo
The amount of detail in this angel tattoo idea boggles the mind. One can only imagine how long it took to get the perfect amount of shading on this long and slender figure. The play of shadow and light make the angel almost seem 3D on the model's back.
17. Super Detailed Full Sleeve Angel Tattoos
Just as the eye at the top of this sleeve pops out at you, ones own eyes can't help but follow the intricate images down the entire length of the man's arm. Mixing iconic images of life, death and the ephemeral state of time the angel at the center of this piece is the perfect compliment.
18. Angel Wings Tattoo on the Back
The wings of the angel in this tattoo perfectly follow the natural line of the man's back and shoulders and taper down in an organic triangle type shape. The subtle use of red ink lends the perfect amount of detail to the flames at the bottom of the tattoo.
19. Sexy Praying Angel Tattoos
There are lots of tattoo ideas that mix up the idea of holy and sexy and this one does it perfectly with a praying angel with not only wings but a rosary in her hand, both of which juxtapose her naked but tastefully covered torso and come hither eyes.
20. Grim Reaper Style Guardian Angel Tattoos
Death has never looked more peaceful than this grim reaper like avenging angel back tattoo. With a resigned physical expression and a massive wing span that emerges out of a smoky background it's a powerful reminder that death is right behind all of us.
21. Cute and Simple Angel Tattoos Inked On Woman's Upper Back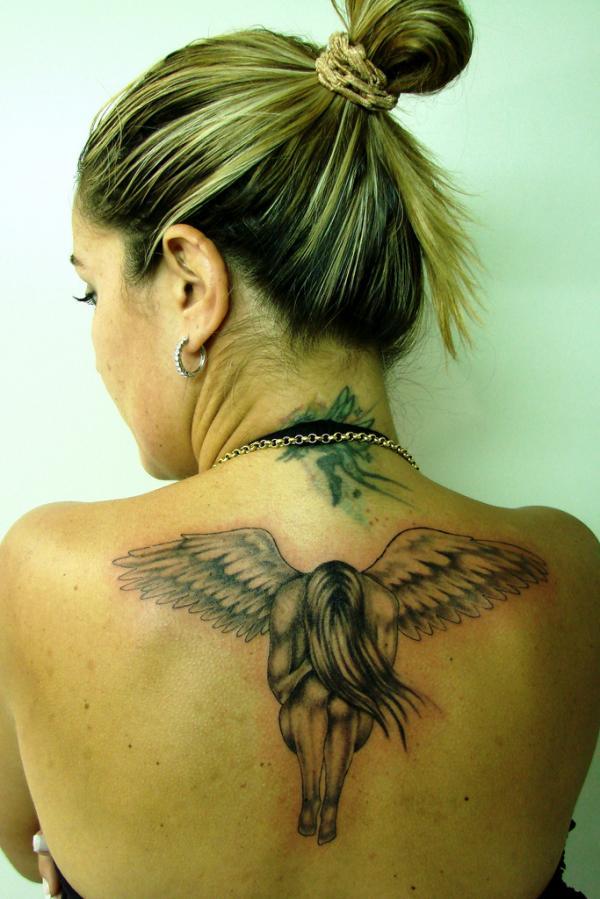 Inset is a tattoo of a fallen angel with its head tucked between its knees in a sitting position- a pose that intimates shame. Why shame? Well, fallen angels are believed to have been banished from heaven or never made it in.
22. A Highly Detailed Fallen Angel Tattoo on Man's Back
The fallen angel tattoo design symbolizes the fact that both good and bad reside in every human being. Notice how the angel's pose- head tucked between knees- brings out an element of dismay or shame. A dark ink is used to bring out the details more clearly.
23. A 3-D Guardian Angel tattoo For Men
This is a beautifully composed 2-dimensional tattoo that gives you a 3-dimensional optical illusion. The angel is drawn falling through the ground, perhaps a representation of banishment. Notice that the angel is also looking upwards for a chance of redemption.
24. A Compelling Fallen Angel Tattoo For Men
Representing loss, pain or a troubled past, this impressive tattoo shows the fallen angel on one knee with its head down. However, it is important to mention that fallen angel tattoos do not always represent something negative. As a matter of fact, angel tattoos change meaning depending on the wearer.
25. Awesome Holy Guardian Angel Tattoo
Often worn for protection against danger and difficulties, the holy angel tattoo is drawn with a halo over its head and a skull on each hand. The tattoo clearly depicts the Holy angel conquering evil. Needless to say, this is a great angel tattoo idea.
26. An Exquisitely Detailed Guardian Angel Tattoo
Beautiful yet symbolic, this guardian angel tattoo is a marvelous work of art that can be worn by both men and women. This tattoo design is often worn by persons who have a strong spiritual connection. Note that the angel can either be male or female depending on your preference.
27. Stunning Pin Up Angel Tattoos On the Side Of The Stomach For Women
Featuring a subtle combination of naughty and nice, this tattoo shows an angel peeping down its knickers. It symbolizes temptation and desire and sends quite a powerful message. If you are looking for something unconventional, then this is it.
28. A Dashing Gothic Angel Tattoo Design Covering The Entire Back
Far from the immaculate angel tattoos, this gothic angel tattoo presents an element of rebellion and defiance. Unlike Fallen angel tattoos that always evoke emotions of sadness and shame, this gothic angel tattoo seems to encourage rebellion and non-conformity.
29. Half Sleeve Praying Angel Tattoos For Men
This highly detailed half sleeve tattoo shows a praying angel complete with wings and a halo. These types of angel tattoos is used to symbolize the need to connect with God since prayer is considered the ultimate mode of communication between human beings and God.
30. Cute Fairy Angel Tattoo Design Placed Between Shoulder Blades For Women
Clearly different but all the same exquisite, this tattoo shows a mash-up of an angel and a fairy. The angel-fairy can be seen holding a sword which represents protection. Since fairies are considered a symbol of youthfulness, this tattoo could relate to the wearer preserving his/her youth.
31. Impressive Angel Tattoo Design Tatted On Shoulder Back for Women
This is a tattoo of a winged-angel sitting on a rock staring thoughtfully into space. Such types of angel tattoos are used to represent serenity and calm when tatted on women and wholeness when tatted on men. However, they can also be used to represent protection from difficulties.
32. A Highly Detailed Fallen Angel Tattoo Design on Drawn on The Back for Men
This tattoo for women shows a fallen angel in a beautiful design. The artist has used black outlines and realistic shading to depict the fallen angel. Please note that the fallen angel tattoo is not always used to represent pain or loss, one can wear it to represent their victory over a struggle.
33. Simple Fallen Angel Tattoo
This is a tattoo of a fallen angel. It is used in most cases to symbolize pain or loss. Notice how the artist goes through great lengths to bring out the angel's arm over its head further bringing out a demeanour of loss or sadness.
34. Impressive Virgin Mary Guardian Angel Tattoo Design On Forearm for Men
This forearm tattoo shows the Virgin Mary, as an angel, looking immaculate as ever. Such a splendid tattoo would be worn by persons who have a strong spiritual connection and wish to carry their own guardian angel wherever they go.
35. A Sexy Pin Up Angel Tattoo Design Between Shoulder Blades
This tattoo shows a sexy pin up angel with the naughtiest look on her face. The tattoo combines religion with a touch of temptation to create a powerful message; that both good and bad resides in us. If you have ever wondered why Victoria Secret's Angels collection is so successful, the secret might be in this angel tattoo.
36. Impressive Arch Guardian Angel Tattoo Design Placed on The Back For Men
This is a splendid tattoo of an arch angel holding the scales of justice. Arch angel tattoo designs are often linked with warrior angel tattoos and guardian angel tattoos. This type of angel tattoo is usually worn by persons who wish to express strength in the face of fear and injustice.
37. Spectacular Fallen Angel Tattoo Placed on the Back for Men
This is a tattoo that depicts the loss of paradise. Notice how the fallen angel poses in shame and loss. However, this tattoo can also be worn by persons who have overcome great obstacles in their lives. The artist uses a dark and bold outline to enhance the symmetry of the wearer's body.
38. Stunning Guardian Angel Sleeve Tattoo For Men
Inset is an angel tattoo that depicts two guardian angels. Notice the glow or shine near their heads and their protective demeanor. The tattooist places the heads of the angels strategically on the length of the wearer's shoulders to enhance muscularity.
39. A Gothic Angel Tattoo Design Tatted On The Side of Torso For Women
How about a Gothic angel tattoo on the side of your torso? The gothic angel tattoos are a great tattoo idea for anyone who celebrates non-conformance and defiance. Unlike the fallen angel who is often depicted in sadness and loss, the gothic angel wears a rebellious look.
40. Amazingly Cool 3-D Guardian Angel Tattoo on Forearm
Check out this stunning 3-dimensional arm tattoo of a guardian angel. The artist blends special ink and shades with spectacular detail to attention creating a masterpiece. Candles are added in the background further enhancing the beauty of the tattoo.
This is by far one of the most complex angel tattoo ideas. It doesn't only cover the whole chest and ab area, but it includes various themes and designs within it. All of them feature various gradient shades that give it a rather gothic look.
42. Fallen From Grace Angel Tattoo Design
Fallen angel tattoos are usually related to spirituality or religion. This angel tattoo design is very different. It is very bold and it addresses the theme in a way that feels downright surprising for most people. If you want to shock, this is the one to go for.
An angel woman brings along a powerful message ('Where your treasure is there your heart will be also'). This is a reminder that one should value truly important things in life instead of shallow ones. Whether you want to stick to your essence or to resist temptation, get this one.
44. Guardian Angel Tattoos From Heaven
An arm tattoo that focuses on an angel tattoo idea and various shading options to emphasize the arm. It can hold a motivational meaning for the owner and empower him or her through tough times as it is a classic representation of an angel.
45. Iconic Representation of a Guardian Angel
It might look like one of the usual tattoos ideas including an angel, but the shading gives it an interesting touch. It forgets about the regular grey one and it uses warmer dark red shades to create dimension of the pristine angel.
46. Fighting Guardian Angel Tattoos With A Sword
This is definitely not a peaceful angel. On the contrary, this angel tattoo is an empowering one that motivates one to fight for his life despite the odds. The big wings and the sword are the key elements here, highlighting the duality between the angelic nature and the warrior one.
47. Baby Angel and Adult Tattoo on Chest
Everyone thinks of angels in a different way. This example presents at least two images of angels: the baby angel and the adult. The naked arms of the adult and the facial expressions of the children give it an intriguing twist. It covers the whole chest nicely.
48. Angelic Woman
Here the angel is portrayed as a beautiful woman. This can either refers to the beauty of these heavenly beings or to their closeness to human nature. The angel is covered in mist as she descends from the heaven above and brings bliss.
49. This Angel Is Here For Justice
This is by far one of the most unusual angel tattoos, particularly if you think of them as being pure beings that can't do evil. This angel manages to overcome evil by himself. The surrounding cloud tattoos and the rays frame the design beautifully and soften it a bit.
50. Angel Girl Flying Away
This angel seems ready to fly away. Whether that refers to flying away in the sky or plunging into nothingness as she fell into decadence, it is an angel tattoo design that you don't forget easily. It is almost as cute as butterfly tattoos. The fallen feather supports the second hypothesis and gives it a gloomy touch.
51. Take Me Away
Unlike most other angel tattoos that stick mostly to black and grey shades, this one introduces a shade of blue, which reminds us of the clear sky where angels dwell. The angel is searching for something, which can signify owner's own quest in life.
52. Blindfolded Dark Angel
This is a rather gothic representation of an angel, where the girl weeps bloody tears while being blindfolded. The angel tattoo idea also features a young girl staying alone. It is a tattoo with a powerful personal meaning, which can relate to traumatic experiences or negative feelings that will heal.
53. Complex Angel Versus Heaven and Hell Tattoo
A tattoo that covers the whole back always attracts attention. When it is one as complex as this Angel Versus Heaven and Hell Tattoo, it is obviously one to remember. Though the angel is the key element, everything blends in like a whole to create a masterpiece.
54. Blood Stained Fallen Angel Tattoos
This angel is pictured as being dreary, alone and quite beaten-up as it most likely fell from grace. The red stains give it a gloomy appearance. It can be used during a healing process or to remember where someone started from.
55. Mystery and Decadence
This angel brings along more darkness than light and it definitely doesn't belong to any classic category. It is rather a mysterious winged woman resembling an angel. She is touched by darkness and is drifting away from anything holy. Her wings mark her decadence.
56. Angel Hiding His Face
Is it shame or is it playfulness? This angel is hiding his face. There are few shades here, as the main focus is the angel itself not the art behind the tattoo. It could strike a chord for some individuals so it is not a bad option.
57. Unusual Angel Wing Tattoo
This angel has man humanly attributes. It is pictured as an undressed boy who is running away. It is designed to look more like a sketch, yet the lines emphasize his rapid movement. This being is neither holy angel, nor sinful human.
58. Pray For Your Soul
This is one of the tattoos ideas that reflects pure art. The tattoo artist truly created a masterpiece here. The praying angel is so beautiful that it nearly looks alive. It looks like a classic painting and it will never fail to impress. This is why tattoos are forms of art.
59. Majestic Warrior Angel
If you are looking for a majestic angel tattoo, you shouldn't look any further. Here is a warrior angel that looks absolutely wonderful. It gives you the chance to get to cover your back with a real work of art that everyone will love. The details are spectacular here.
60. Colorful Arm Angel
This is one of the liveliest angel tattoo ideas. It looks as it was painted on the skin by a master painter. Though it surprises with the intensity of the colors, the details are remarkable too. With a sword in his hand, this angel solider is ready to defend evil. Now that you've gone through these angel tattoos, don't forget to also take a look at the cute koi fish tattoos ideas! Want something different? Try semicolon tattoos or crown tattoos For more ideas check out our mosaic tattoos and bird tattoos!!