Thinking about the best small tattoo ideas and designs is a fairly common thing for people who love getting inked. Small-size tattoos are more common and favorable among people because not everyone likes huge tattoos on their bodies. Plus, small tattoos are usually ridiculously cute and come in different shapes and patterns – mostly with deep meanings.
60 Best Small Tattoo Ideas And Designs To Choose From
Small tattoos range from meaningful phrases to cute miniature cartoons: small tattoos are extremely adorable to have and to look at. You could also have small symbols that mean a lot to you or some words that make sense to you and help you sail through life. Small tattoos don't have to be elaborate creations that cover most of your bodies.
They could very well settle into a small corner space like the middle of two fingers or the edge of your navel – from head to toe – anywhere you like! They do not take much space and are favorites for people who want secret' and 'away from the sight of the world' tattoos.
Do you ever find yourself stuck between two tattoo ideas, trying to figure out what it is that you actually want? Well, you are surely not alone. It often takes people time to decide on what it is that they want to permanently etch to their bodies.
If you are meaning to get a tattoo for the first time, small tattoos could probably be a bright idea so that you know if you like the feel of a tattoo on your body or not. And if you don't you wouldn't have to see a big part of your skin under the ink. Win-win! Here are a few best small tattoo ideas that you could choose from:
1. Racing Heartbeat Best Small Tattoo Idea for the Hardcore Romantics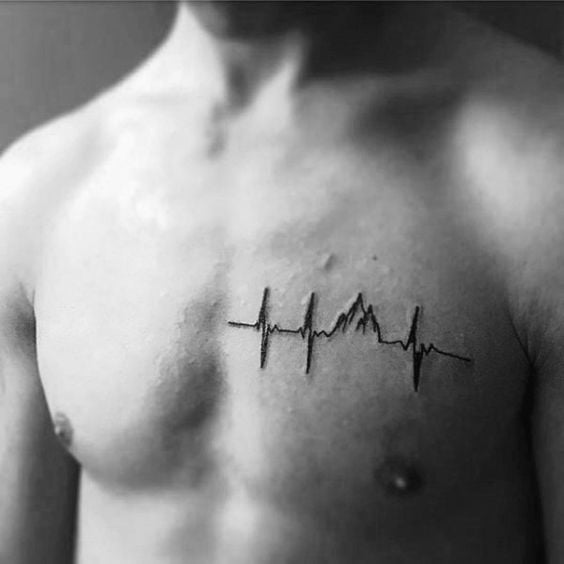 If you are a hardcore romantic, this tattoo could be a nice choice. Alternatively, it could also signify life as it is a symbol of the beating heart. This tattoo is a must-have for anyone who wants to celebrate life.
2. Taming Dragon Tattoo Idea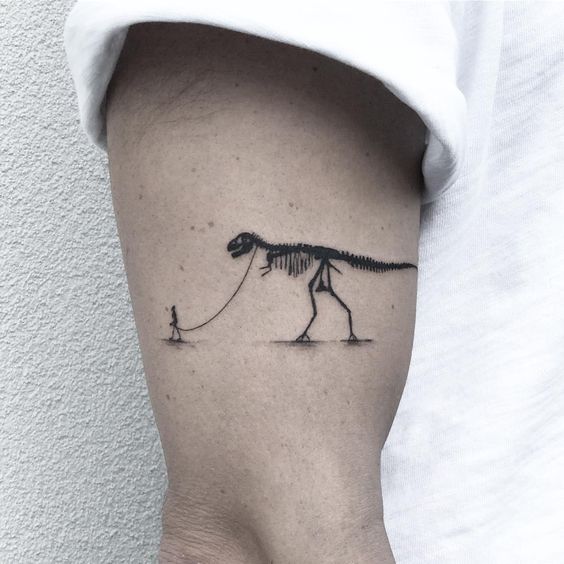 This tattoo idea shows a peculiar design where a human is seen dragging the skeleton of a dragon or a dinosaur. The detailing of the skeleton bones is exceptional and attracts a lot of eyes. If you want something instead of lion tattoos, this is a great option
3. Adventure Tattoo Design for the Wanderlust Smitten Souls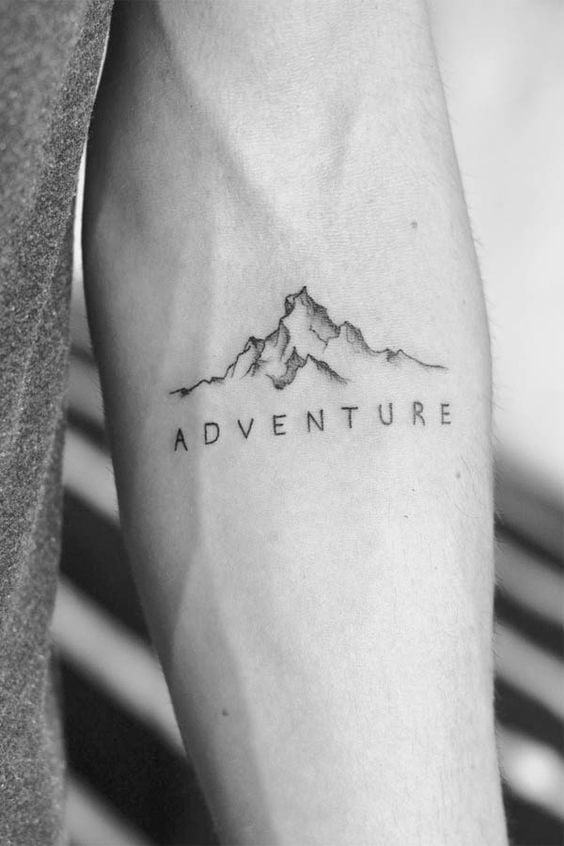 If you are someone who absolutely loves to travel around the globe, more so when there are mountains and adventure involved, this tattoo is for you. It is exceptional and talks about what it is on the face – ADVENTURE!
4. Beautiful Landscape Tattoo Idea for the Nature Lovers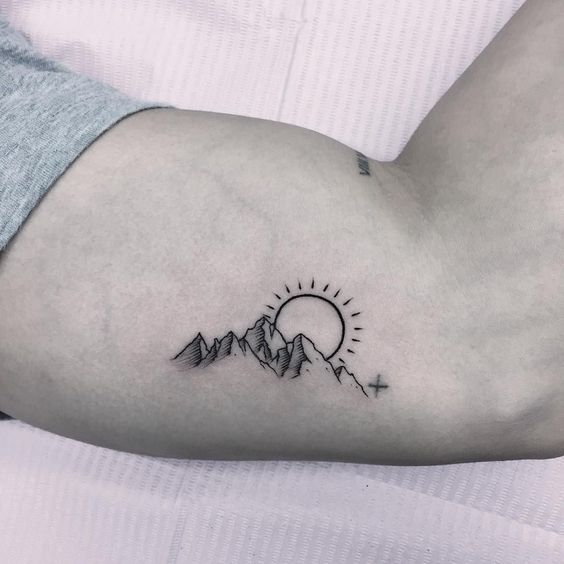 Do you love mountains? Well, chances are that if you do, you would love it as a tattoo on your body too. With the beautiful landscape, it is easy to get lost in the elegance of the setting sun among the hills.
5. Half Face Curve Best Small Tattoo Idea to Add A Little Mystery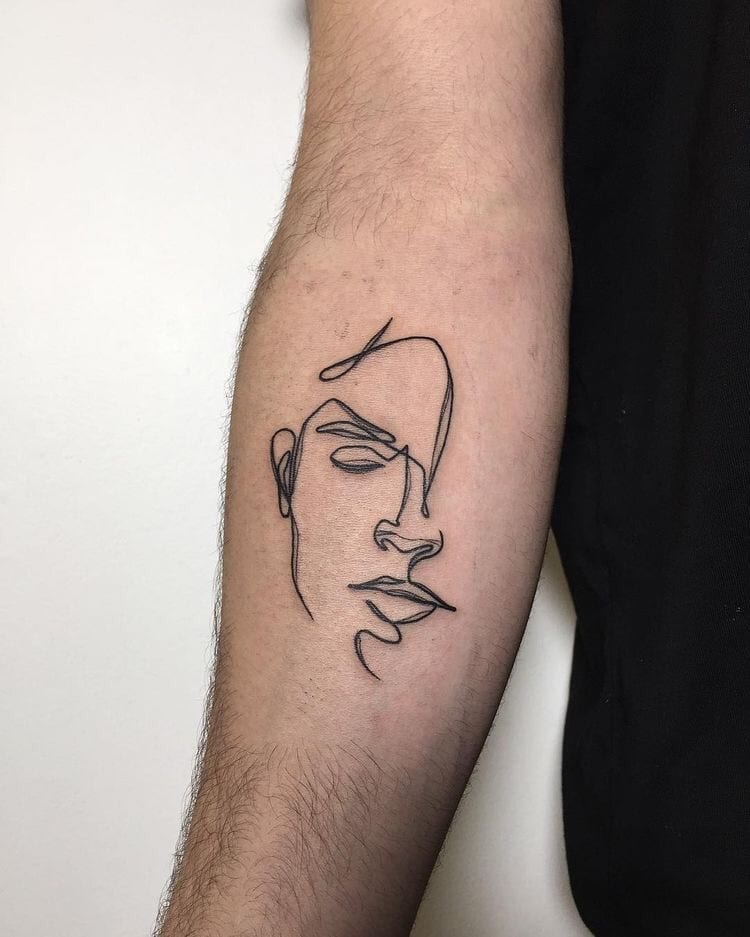 This tattoo design is made up of asymmetrical curves and lines constructed in a way to form a beautiful half-face structure that gives the tattoo a very appealing look.
6. "IM-Possible" Tattoo Design for a Dose of Motivation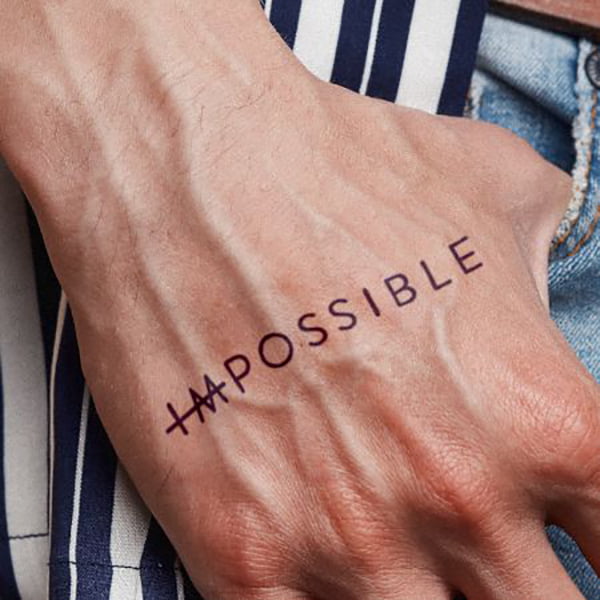 If you are or are on a journey to become a positive soul, you could very well get this tattoo as it says "Impossible" where the letters I and M are struck out to revamp it as "Possible." It clearly gives out the message that says that nothing is impossible and that if you want and like, you can make anything possible.
7. Solar Waves Tattoo Design for the Radiating Energy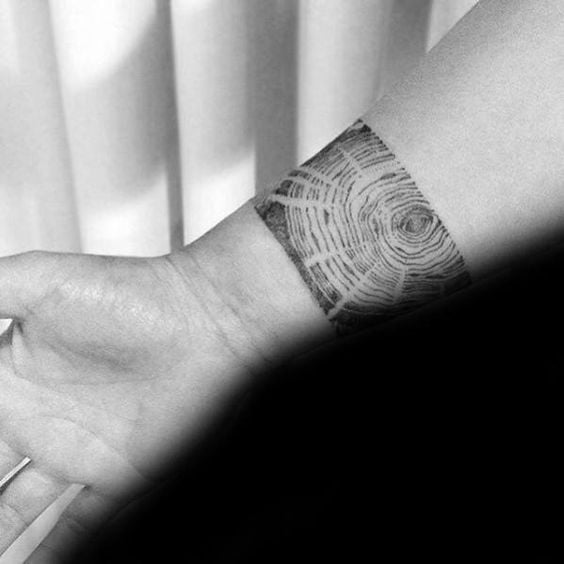 This tattoo settles on your wrist and looks like circular waves that radiate positive energy all over. It is known to be one of the most loved tattoos and has a lot of takers.
8. Reindeer Spaceship Best Small Tattoo Design for the Supernatural Lovers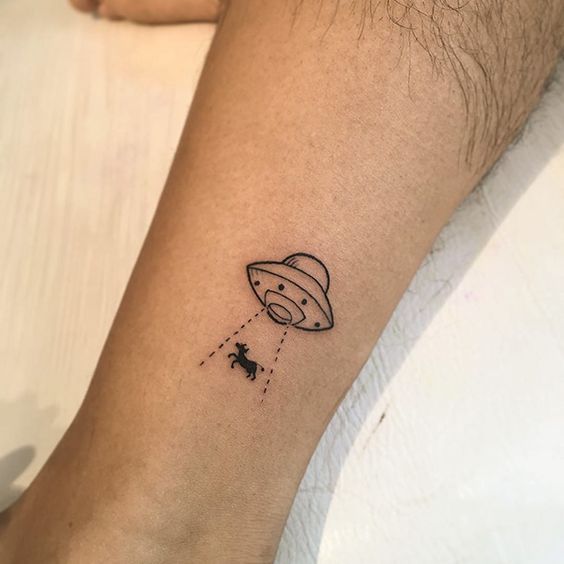 Are you someone who believes in the other world? Well, this might be your go-to tattoo then. This one has a design of a small spaceship throwing light on a miniature reindeer. It is extremely cute to look at and grabs a lot of eye-balls.
9. Dark Hills Simple Tattoo Design for the Nature Enthusiasts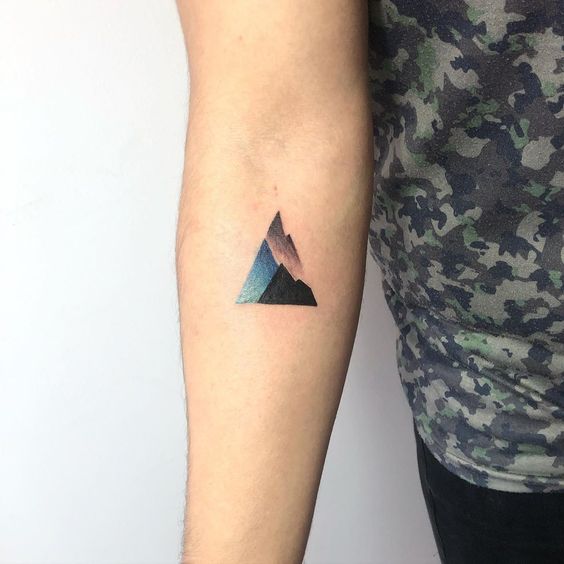 This one is for nature lovers too. This design is made up of mountains – one black and the other one blue – with a sprinkle of white dust in the background. If you are looking for something simple and cute, this could be an excellent choice.
10. Three Interlocking Triangles Tattoo Design for the Interconnecting Worlds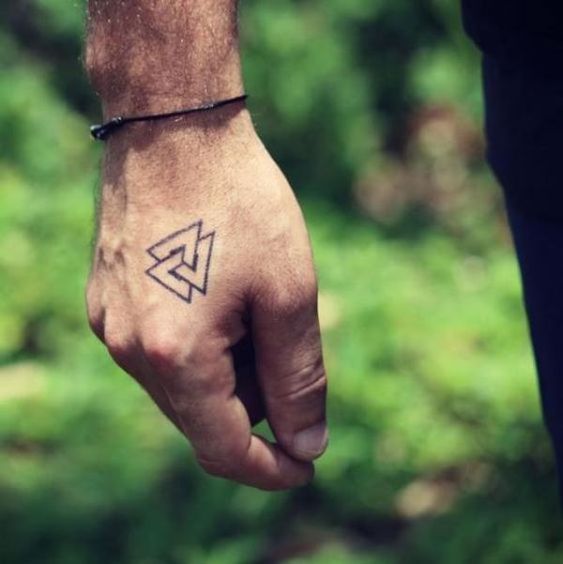 It is often said that the interlocking parts of the three triangles signify the oneness of the earth, sea, and sky which comes as an idea of nature's elements being well-connected. This is a very thoughtful tattoo to get.
11. Criss-Cross Line Tattoo Design for the Paths that Often Cross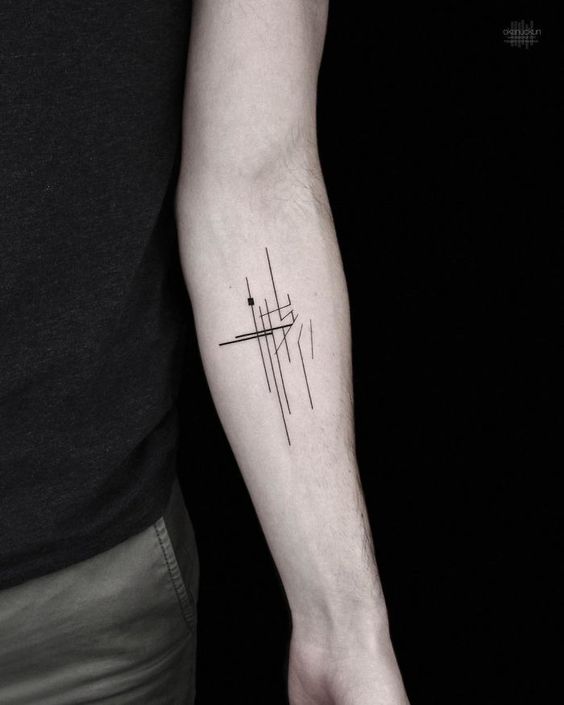 If you are a firm believer of destinies crossing paths, this tattoo is the one for you. It is symmetrical lines that cross each other, making a sort of junction. The detailing of this tattoo is beautiful, and it is definitely a must-have.
12. Triangle Tattoo Design for Higher Wisdom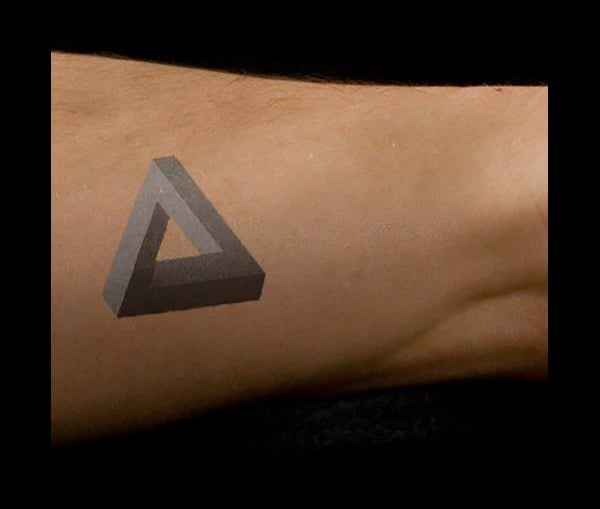 Some say that this triangle symbol is a sacred one to have and it connects you to your higher wisdom. It is especially loved for its detailing and shading properties.
13. Triple Triangle with Dots Tattoo Design for a Higher Life State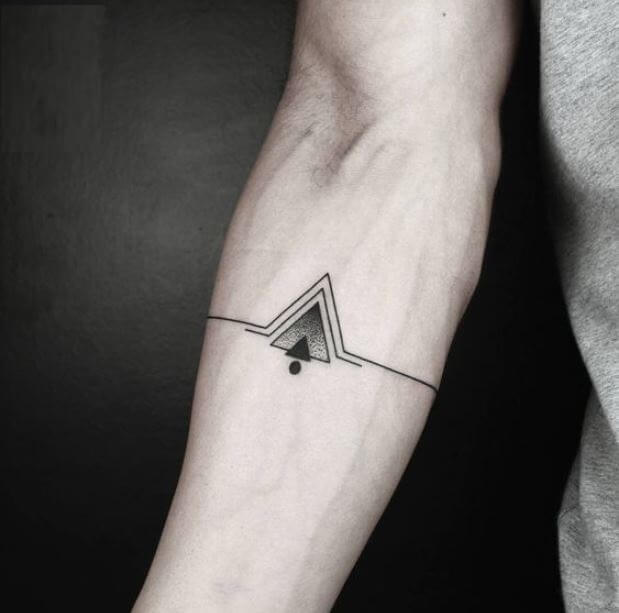 It is said that this tattoo symbolizes a crazy and high-state life. It is therefore a suitable tattoo for those with a positive mindset or even those who want to adopt such a mindset. The design is handy and soothing to look at.
14. Dark-Eyed Pug Tattoo Design for the Dog Lovers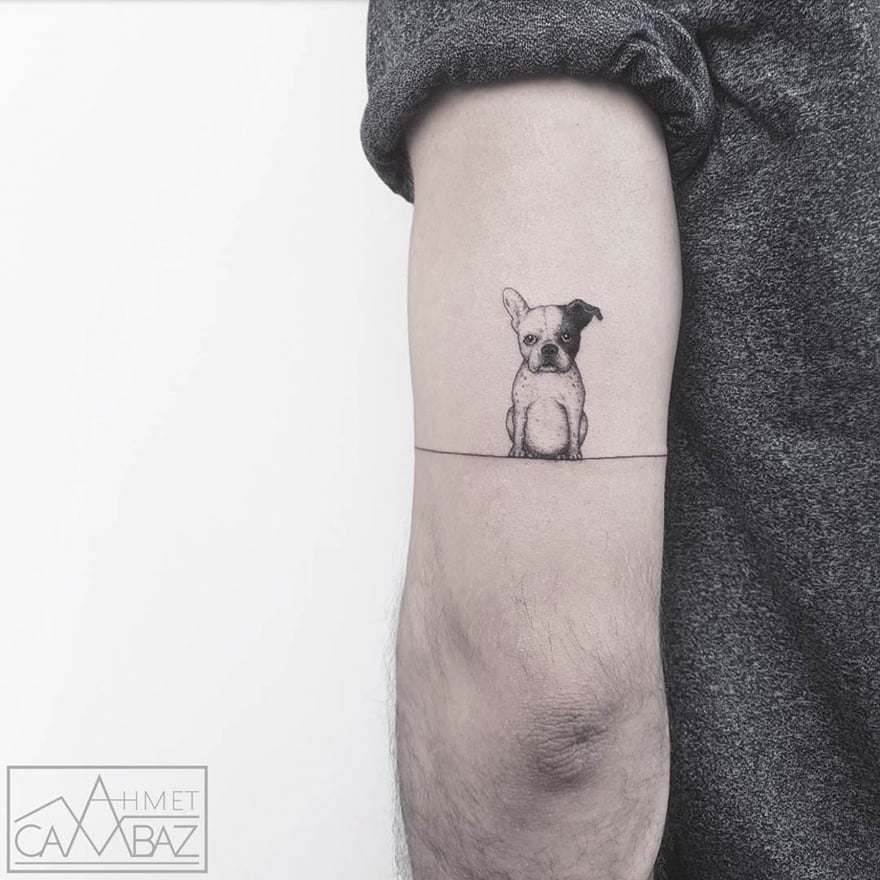 If you love dogs, this one is for you. This is an unbelievably cute dog miniature design that would absolutely make you fall in love. You could also choose to get a picture of your own dog.
15. Wheel Best Small Tattoo Idea for the Continuity of Life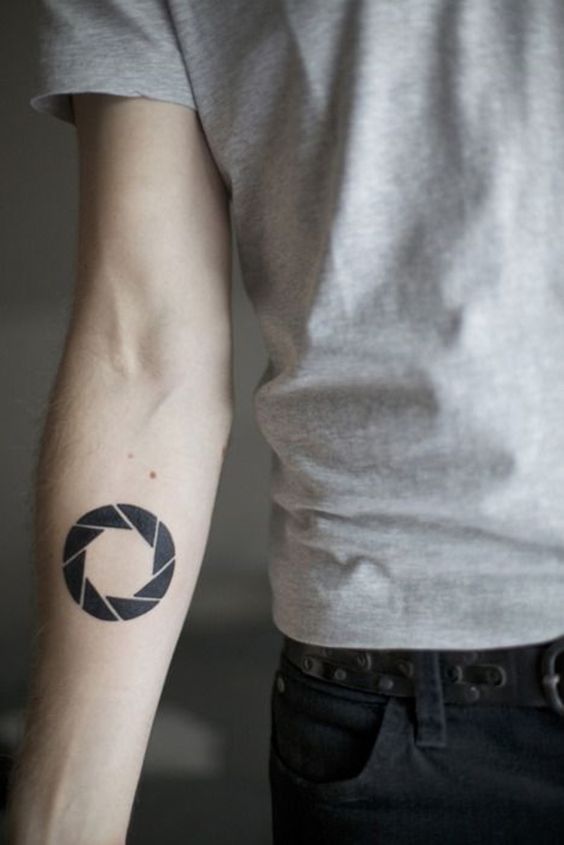 The wheel design is a very thoughtful idea since it depicts the wheel and continuity of life. This design has a unique place in the hearts of bibliophiles and this tattoo is in high demand.
16. Chemical Pattern Tattoo Design for the Chemistry Lovers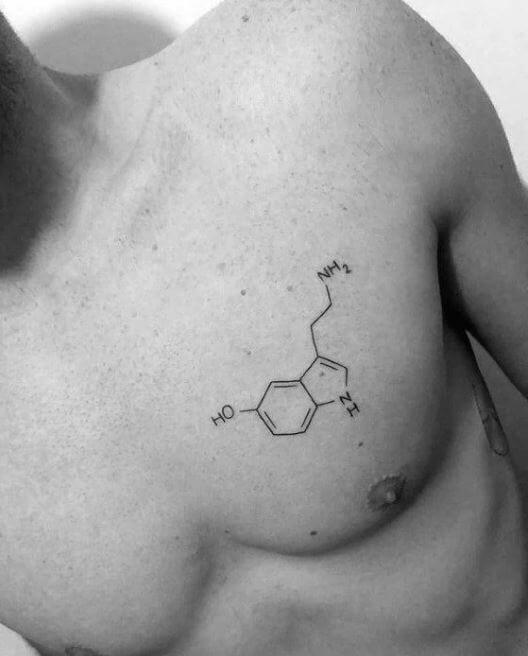 This tattoo design is for all the Chemistry lovers who hold the subject close to their hearts – literally! This design is quite simple and if you want to flaunt your love for protons, electrons, and neutrons, you should go for it.
17. Fence-Paint Tattoo Design Idea for a Nice Wrist Design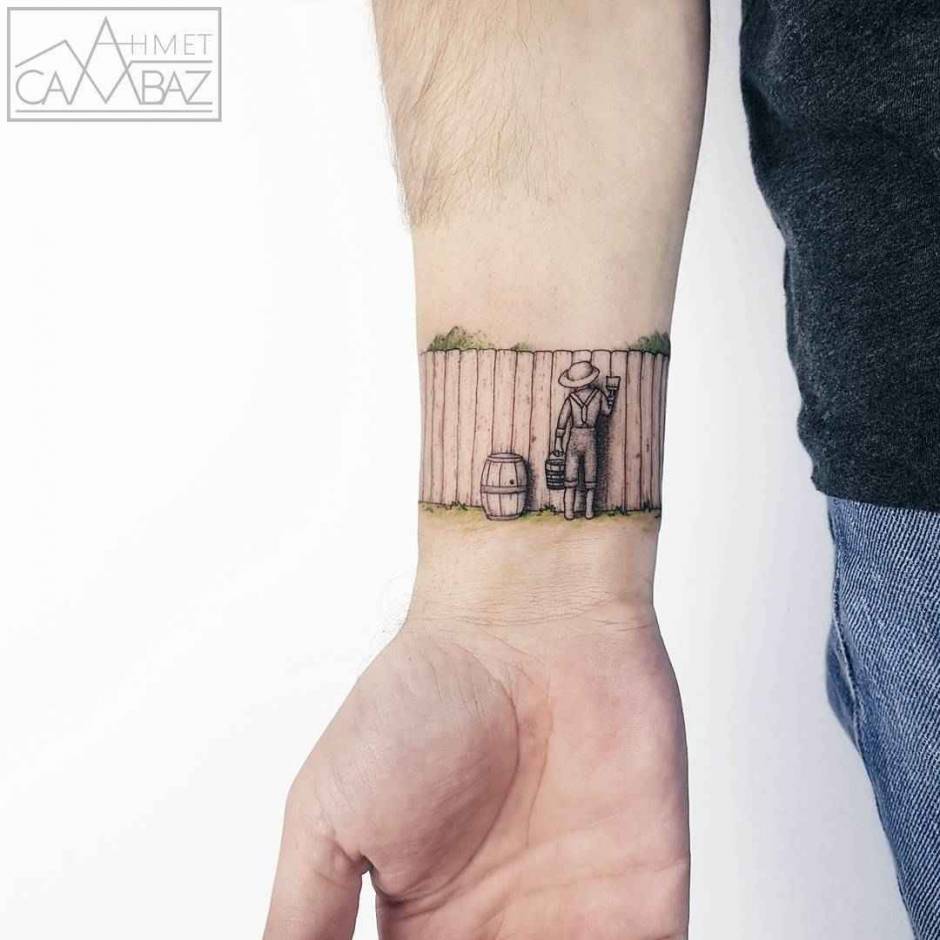 This design looks extremely pretty around the wrist as it pans out as a fence in the form of a bracelet. It shows a man painting the fence. The detailing of this tattoo offers a unique delivery of 2-D texture, and it is just too cute to not have.
18. Hair-Strand Curved Circle Tattoo Design Idea for the Shallow Depth Lovers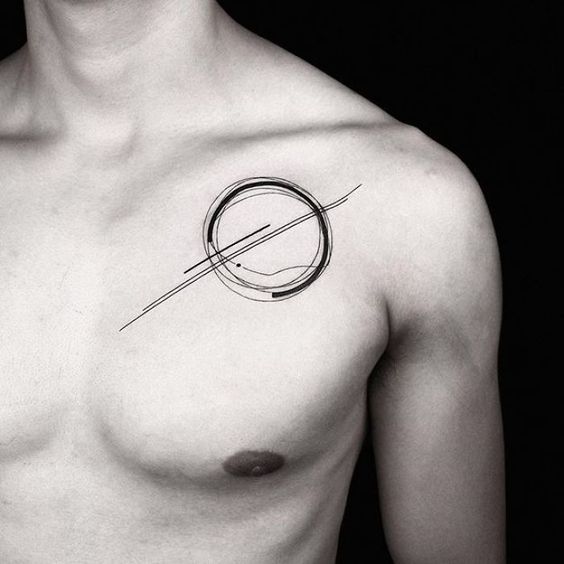 This design looks like a hair strand that has been informally folded to form a circle, with a few asymmetrical straight lines piercing right through it. It is beautiful and simple.
19. Simple Straight Lines Best Small Tattoo Design for the Straight Thinkers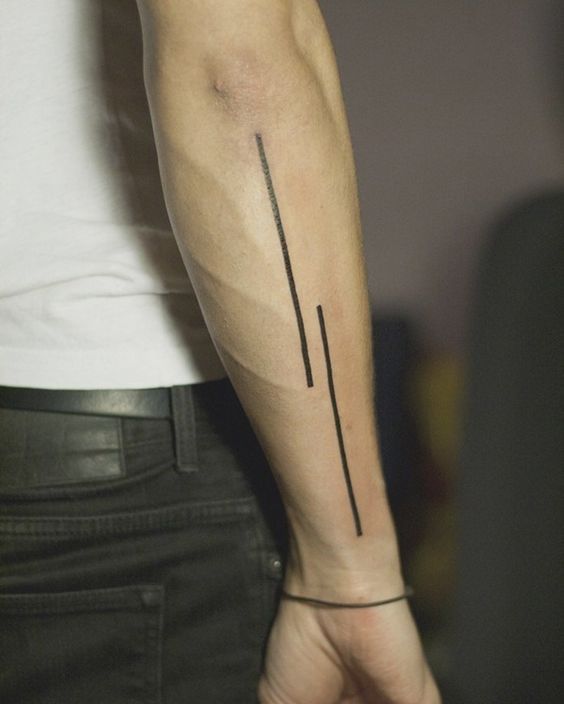 This one is too simple and yet so beautiful. It is for the people who are usually noticeably clear about what they want and think in a straight line. It is an exemplary example of how pretty and simple can very well go hand in hand.
20. Memorable Year' Tattoo Design for the Ones Who Treasuring Time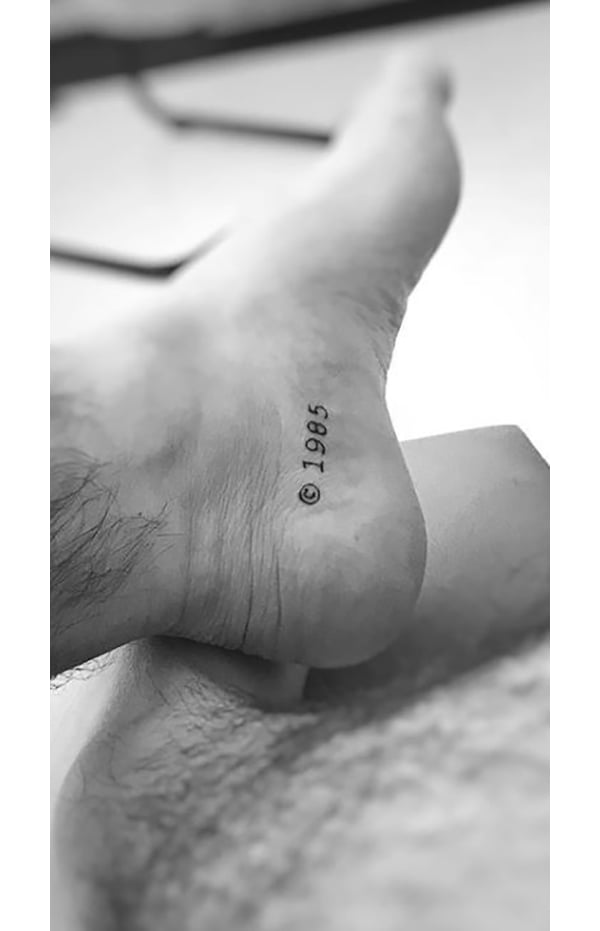 If you want memorable years etched for life, this love tattoo could the right choice. You could very well have a year or a particular date so that it is inked with you forever. Think about the moment you became a parent, fell in love, or finally achieve a longtime goal – any of these events could be worth memorializing on your body.
21. Serene Boat View for the Lake Lovers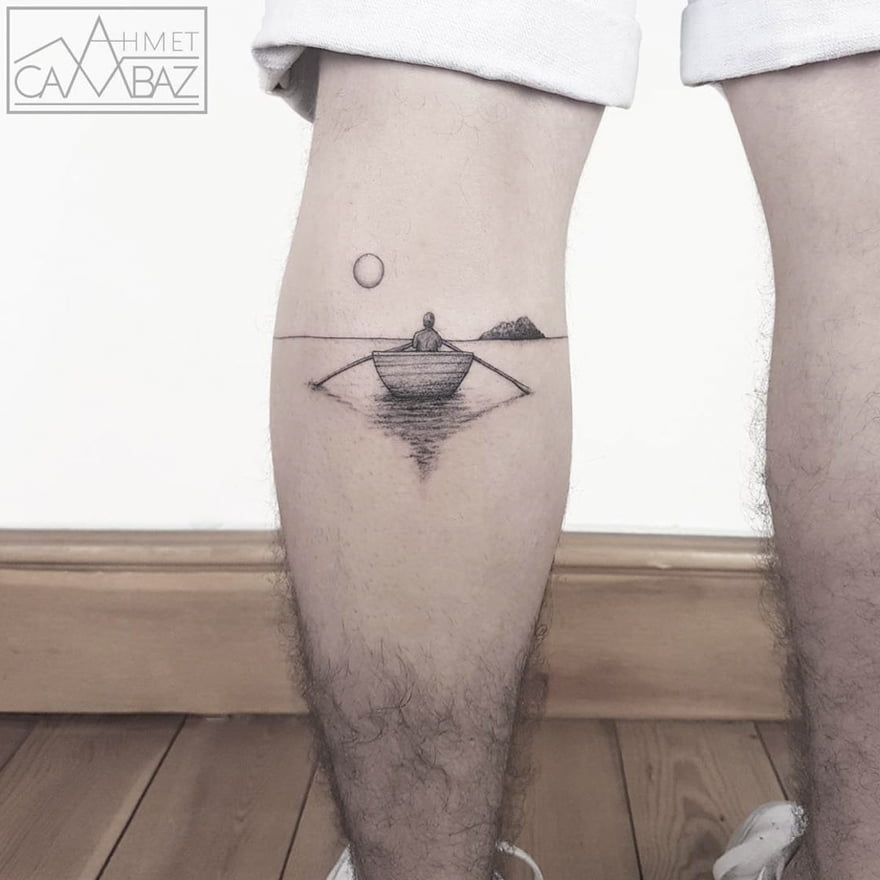 This tattoo design is for people who love water views. It shows a scenic beauty with a person who is boating away towards the sun. Who wouldn't want this view?!
22. Astronaut Best Small Tattoo Design for the Space Lovers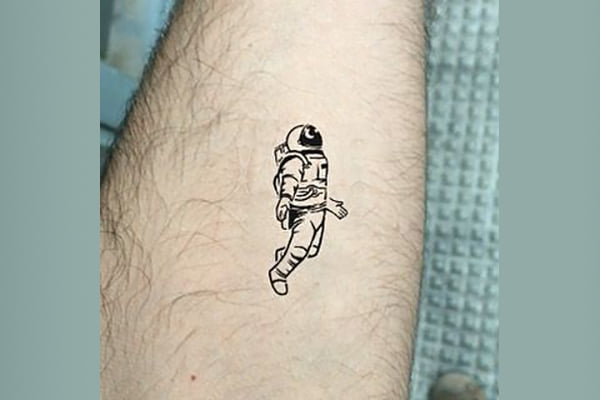 This tattoo will depict your love for outer space. It is a small miniature astronaut on your arm or leg, expressing your desire for travel that goes beyond this world. It's an absolute delight to look at.
23. Ferns and Petals Small Tattoo Design for the People Who Love Plants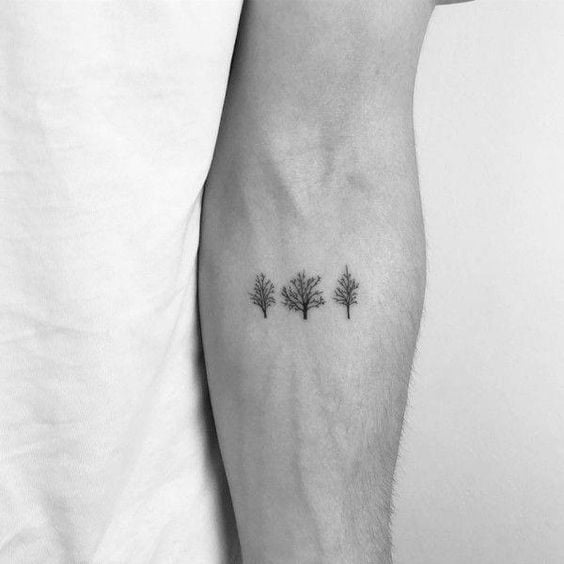 This tattoo is for the people who love plants – leaves in particular. This design has small fern-like leaves that are incredibly beautiful to have and look extremely cute.
24. Bunny-Kitten Fishing Tattoo Design for the Fishing Enthusiasts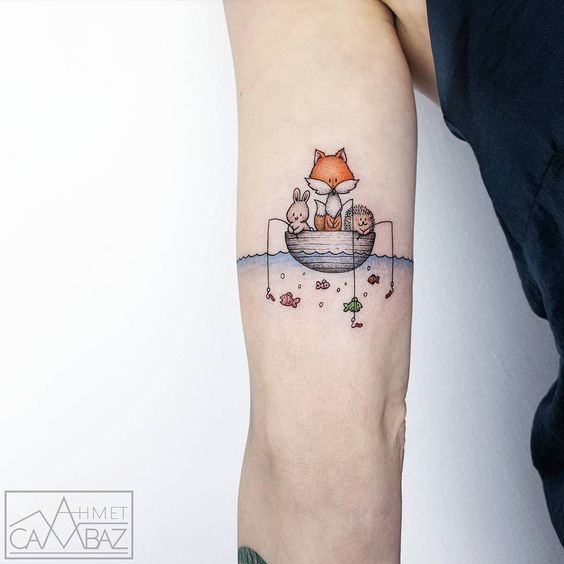 If you are cute and like fishing, this tattoo might appeal to you a little too much. It is a delicate and sweet design with a kitten and bunnies peeping out of the basket – all of them trying to catch fish. It is positively adorable!
25. Saturn Best Small Tattoo Design for the Planet Lovers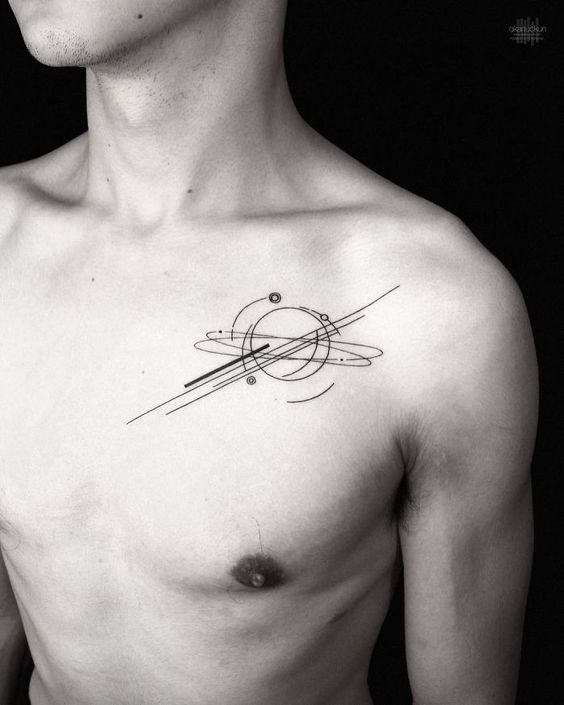 This tattoo design is a Saturn with its outer rings clearly visible. Saturn is the perfect tattoo for people who are intrigued by the solar system. It is detailed and beautiful and has a lot of takers.
26. Lizard Tattoo Design for Reptile Lovers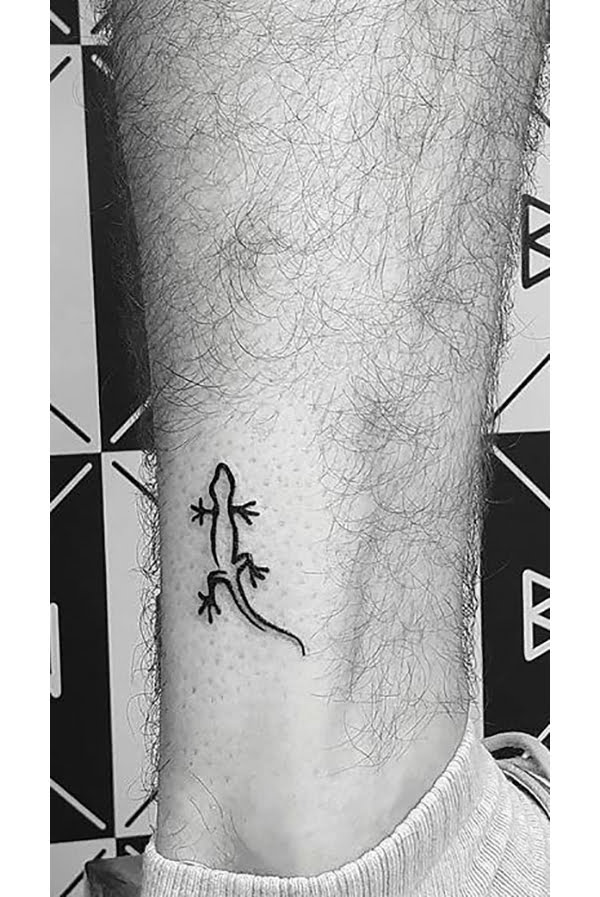 If you are one of the few people who love reptiles, this could be your go-to tattoo. This is a lizard that looks like it is creeping up your leg. It is just an outline of the lizard body and is perfectly shaped up.
27. World Map and Tally Marks Tattoo Design for the Traveler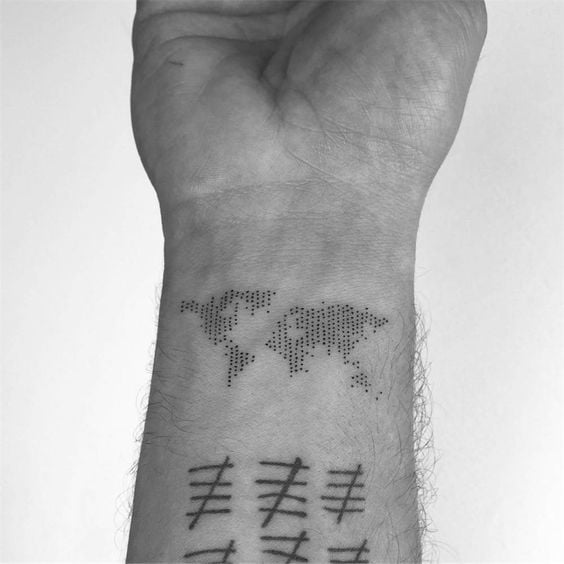 This one is for the ones who love travel and dream of traveling around the world. The world map we made up of small dots like structures while the tally marks are prominent dark lines that have a whole new meaning to them.
28. Wings of Freedom Tattoo Design for the Free Spirits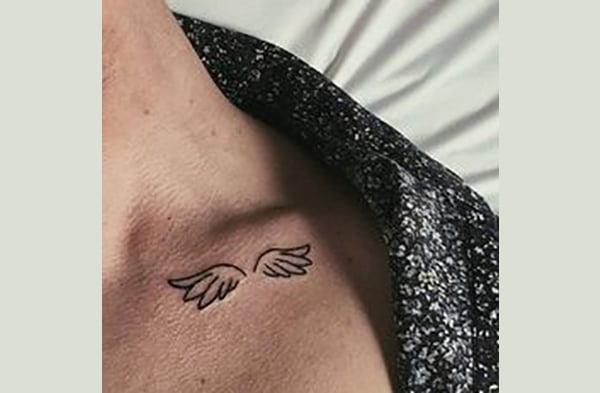 Are you one of those who want to be free always? Are you a free spirit? Well, then this tattoo is for you. These are tiny wings that you can get made at the nape of your neck or wherever you like. These could be the perfect choice for free-spirited people.
29. Double-Face Curved Tattoo Design for people with Multiple Personalities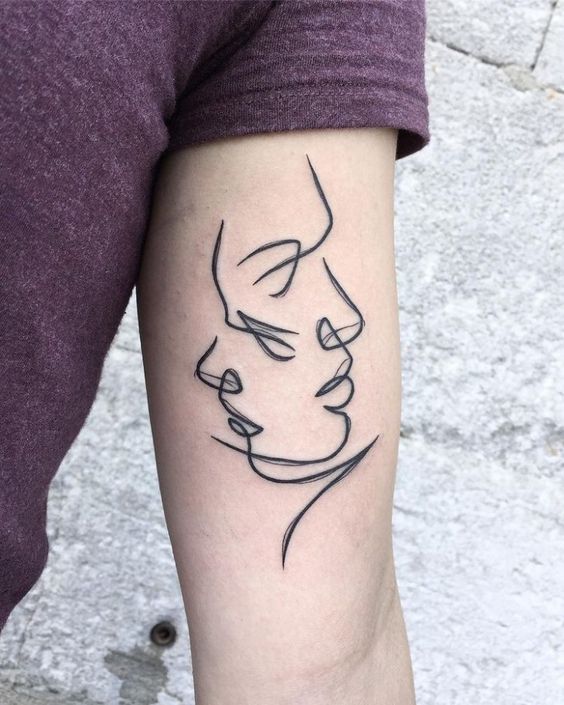 This tattoo uses curves to make perfect halves of two faces, making a complete face with two face sides. It resonates with a person's multi-faceted personality and is very pretty to look at.
30. Music Note Tattoo Design for the Music Lovers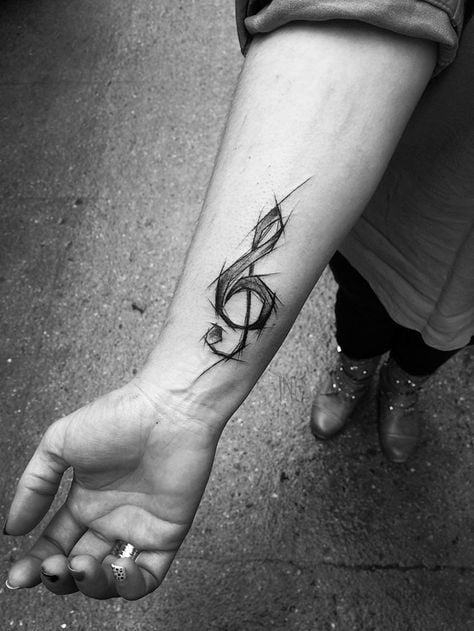 This tattoo is for music lovers. It is a key music note and will always highlight your love for the art. You could also get any other note of your choice and that would also symbolize the absolute same.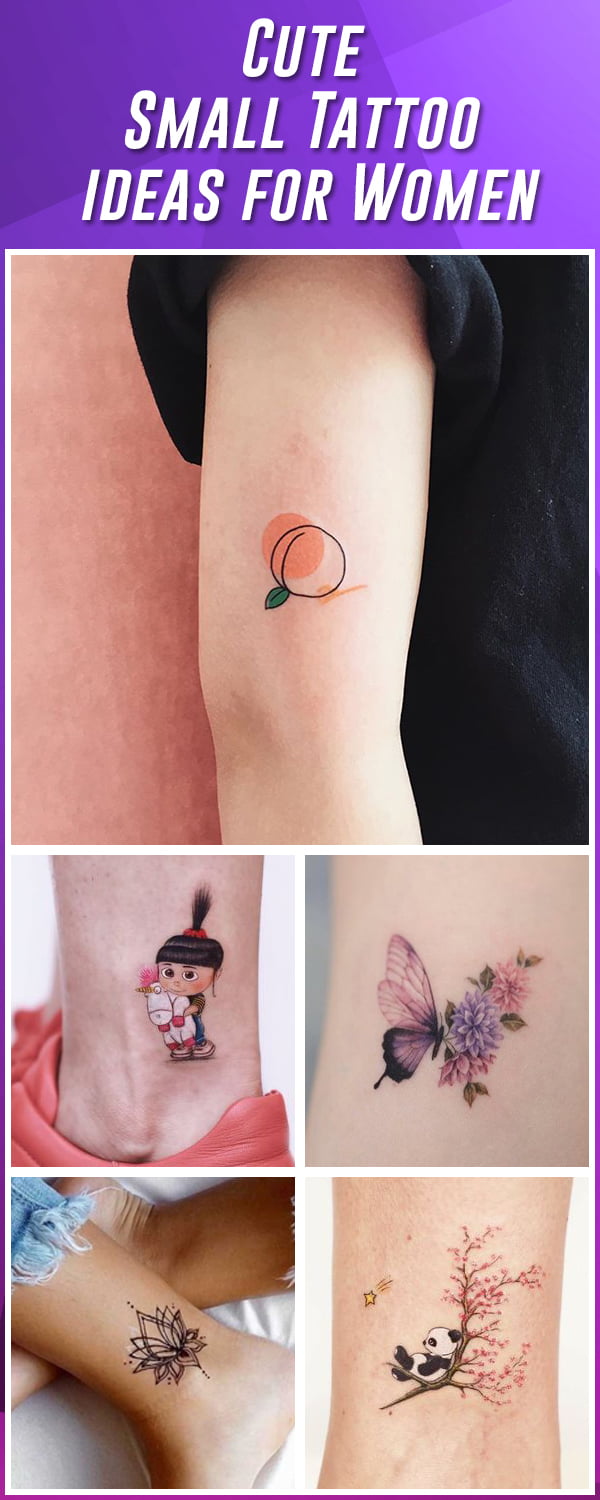 31. Curved Lotus Petals Best Small Tattoo Design for the Strong souls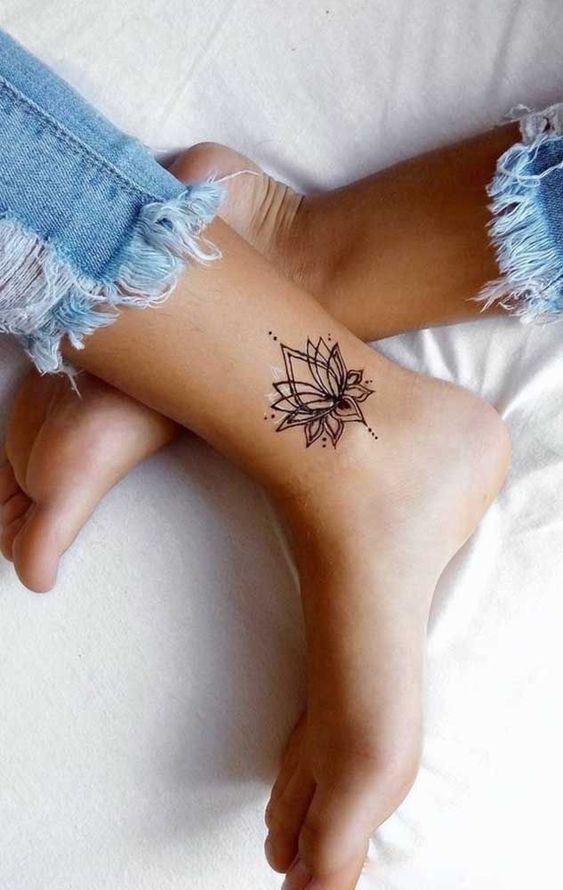 This is not only a pretty tattoo design but also symbolizes that you can come out of any problem just like the lotus flower can push through the mud to bloom as brightly as it can. It is beautiful and resonates with a lot of people.
32. Crescent Moon Tattoo Design for the Night Lovers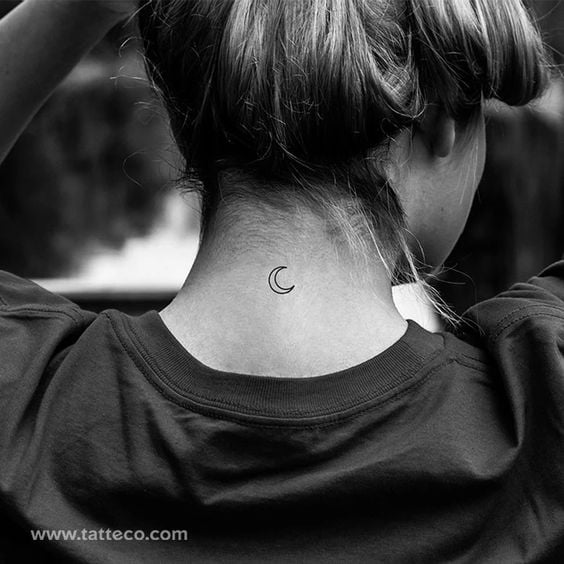 This is a fairly common tattoo to have and people usually get at the back of their necks. It is a simple outline of the moon and is famous among people who love nights. It is small and cute and makes a lot of sense!
33. Leaf Ring Tattoo Design for the New Life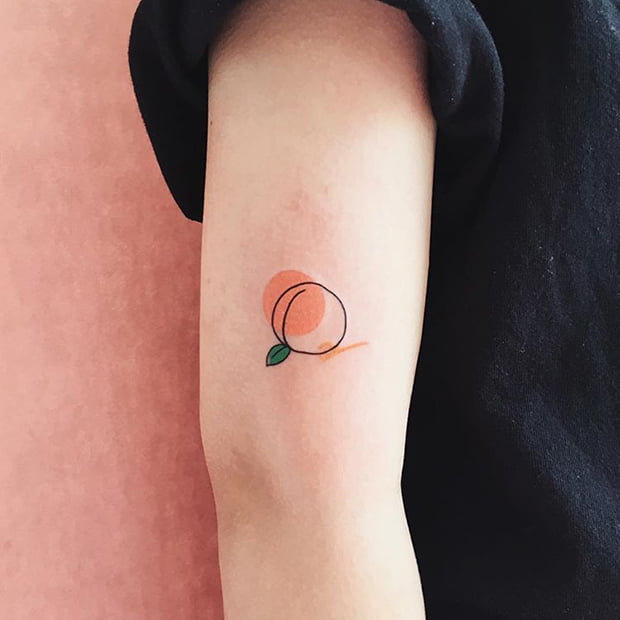 Like a leave blooms from the scratch, a new life blooms out pushing through a lot of adversities. This tattoo is beautiful and gives a lot of hope to people.
34. Miniature Unicorn Tattoo Design for the Magic Believer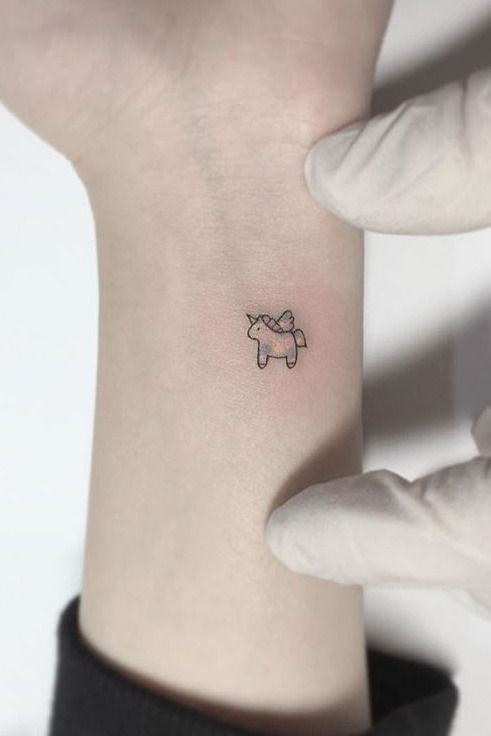 If you believe in magic, rainbows, and unicorns, this miniature unicorn tattoo is for you. With mystical lining and beautiful colors, this design will elicit constant compliments. With the right tattoo artist, your tattoo can be as rich and vibrant as your personality!
35. Partial Dog Tattoo Design for the Dog Lovers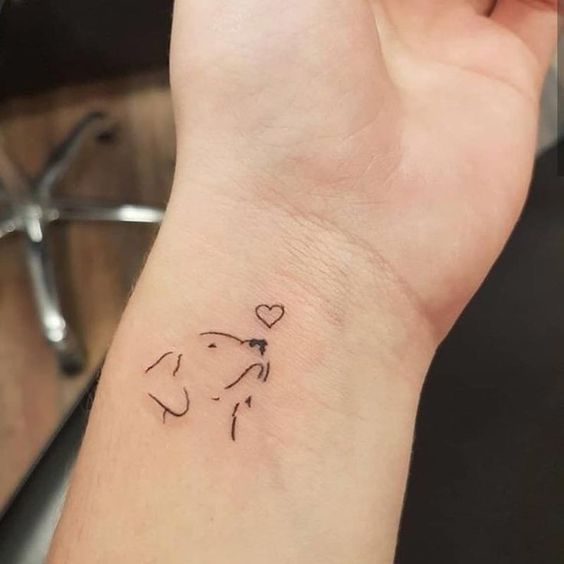 This is another tattoo design for dog lovers. It shows a partial outline of a dog's face that is sniffing out a heart. It is extremely cute and touches the heart of a lot of people.
36. Leaf bunch Tattoo Design for the Strong Spirit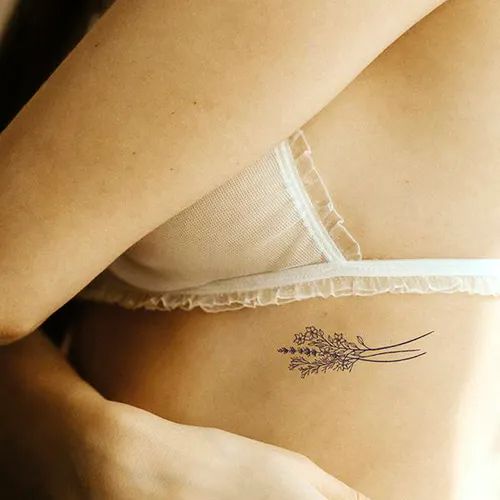 This tattoo design is simple yet elegant. It shows a bunch of branches with ferns, petals, and leaves. It is beautiful and can often signify oneness and strength.
37. Colorful Butterfly Tattoo Design for the beautiful souls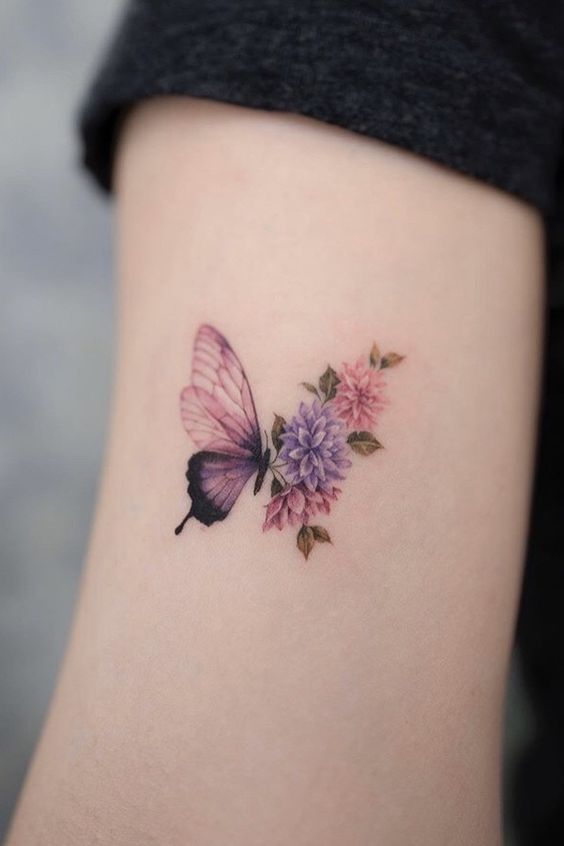 If you love nature and animals and if butterflies are your absolute favorites, this one is for you. This is a butterfly with one of its wings that are made up of multiple flowers.
38. Pouring rain Tattoo Design for the Rian Lovers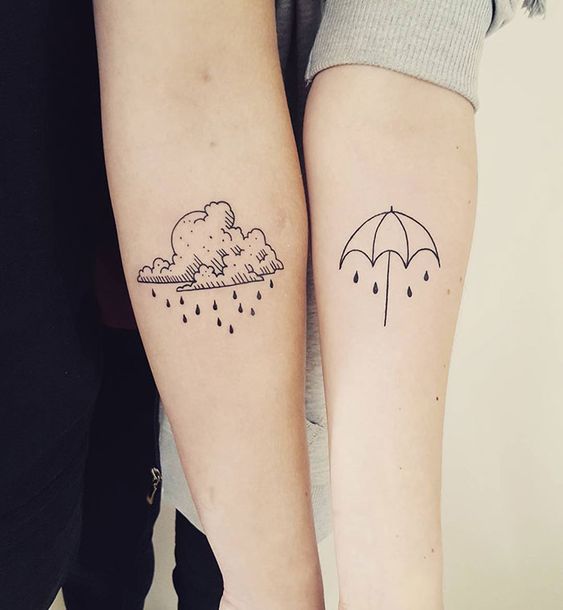 If you love rainfall, you will most likely love this tattoo too. There are two of them – one for each arm. One of these tattoos s a cloud that is pouring down rains and the other one is an umbrella is protecting you from rain. Both of these tattoos look extremely beautiful!
39. Rose Bud Best Small Tattoo Design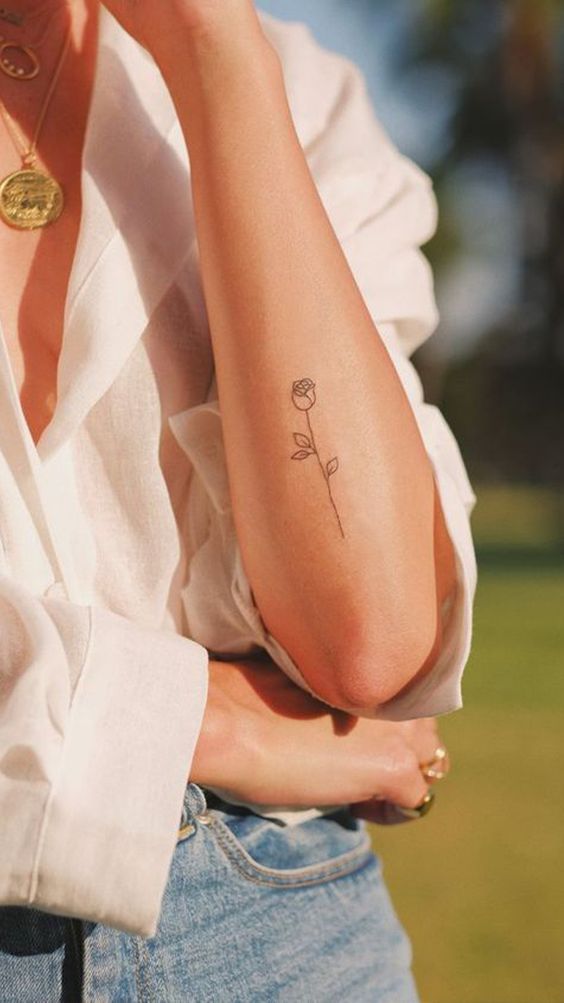 This tattoo design is an elegant rose stick that is standing strong and alone. It is very graceful, and you could also have colors filled in this outline to get a more structured tattoo. Either way – it would look absolutely beautiful.
40. Lazy Panda Tattoo Design for the People Who Love to Relax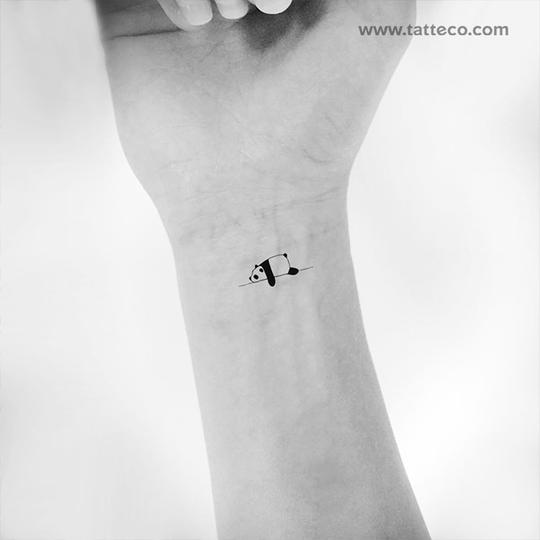 For anyone that likes to take it easy in their daily life, this design might be right up their alley. It shows a panda lying lazily on a surface. It is very adorable and people who consider pandas as their spirit animals would absolutely adore the look of this tattoo.
41. Moon and Planets Finger Tattoos Design for the Ones Who Keep the Universe in Their Hands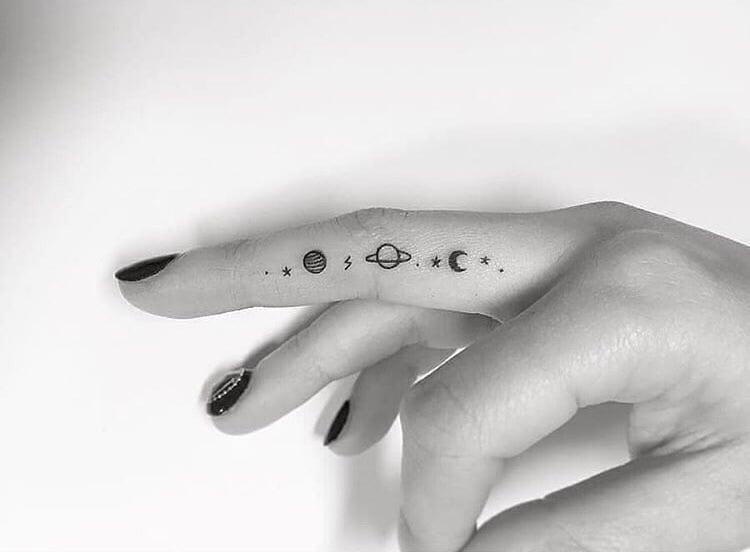 This finger tattoos idea is for those who like to keep up with the universe in a unique way. This one settles comfortably between your two fingers and looks beautiful. It is the sun, a planet, and the crescent moon – all of which look very elegant with a couple of stars.
42. Solitary Companion Tattoo Design for People with Animal Friends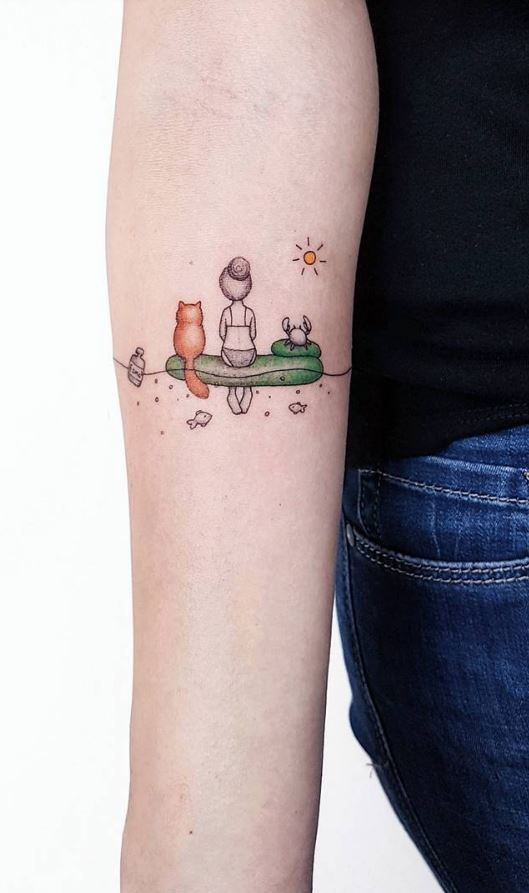 If you are a solitary person who also gets along with animals a lot and considers them as your friend, this tattoo would please you greatly. This is an amazing tattoo that expresses solitude and friendship beautifully.
43. Blooming Rose Tattoo Design for the Flower Lovers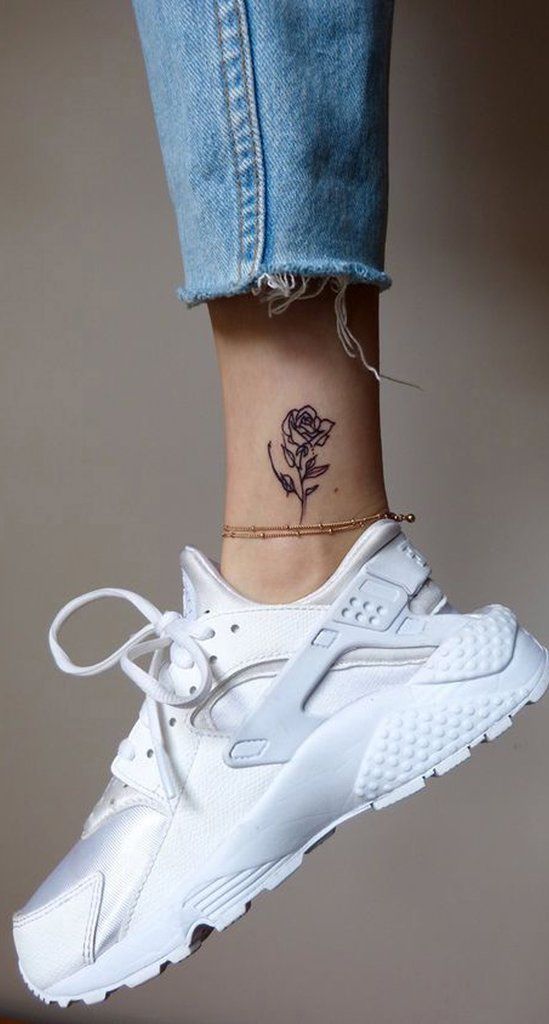 Do you love flowers? Well then, it is a remarkably high chance that you love roses, right? This tattoo is for you. It is a blooming, full-grown rose that looks very graceful, opening to the world as an invitation to come closer. It will also look beautiful if you decide to pour in some colors, though the monochromatic look makes a statement.
44. Winnie The Pooh Tattoo Design for the Happy Souls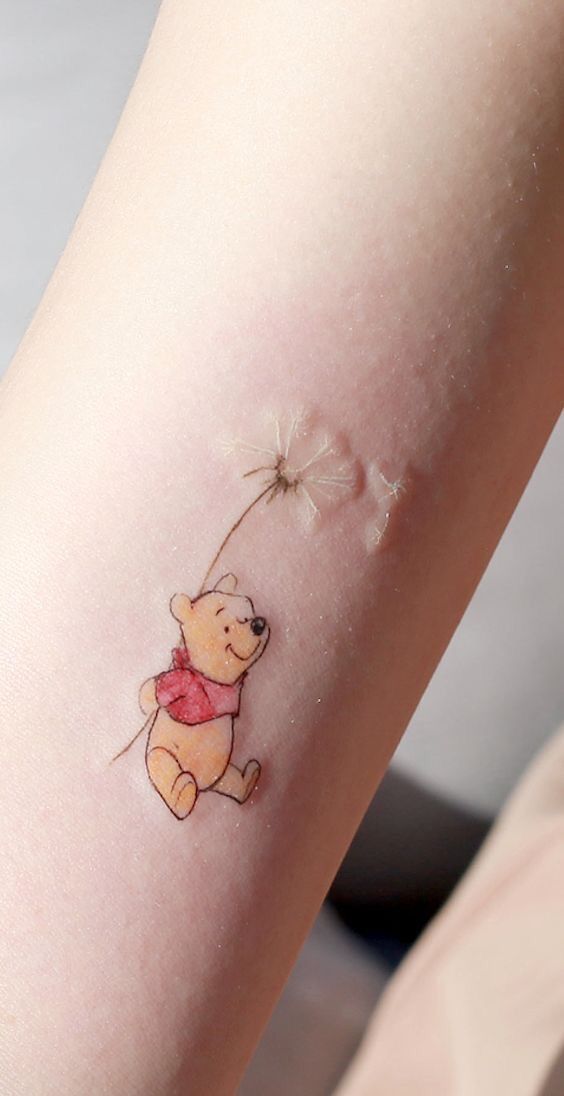 It is only natural that if you grew up watching Winnie The Pooh and if you love the character, you will love this tattoo design. Besides that, this tattoo design radiates happiness so looking at it will instantly cheer you up!
45. Kitties Tattoo Design for the Cat Lovers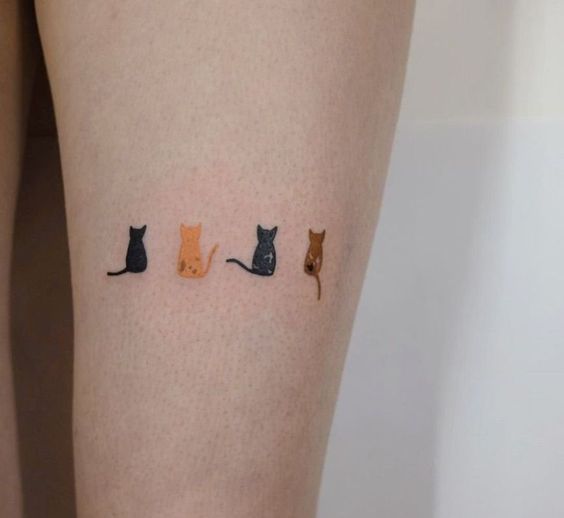 Are you a cat lover? If so, there is no doubt that you would love this tattoo. It is a group of four cats sitting with their backs towards you. With assorted colors and sizes, these cats are bound to take your heart away.
46. Avocado Tattoo Design for Heath Conscious People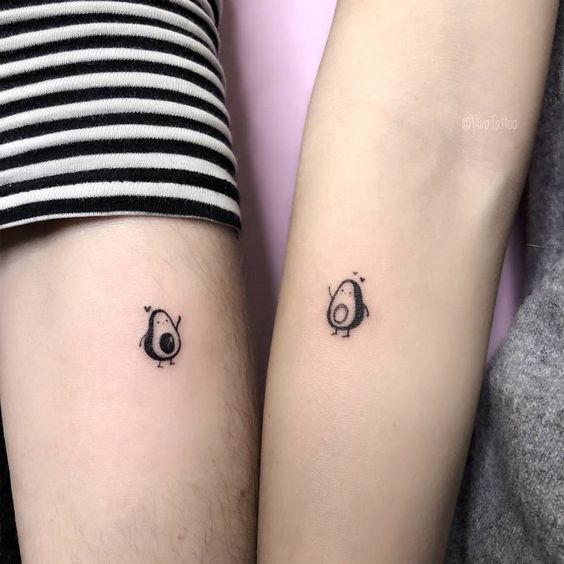 Are you a health freak and want it to show in your tattoos too? This is a tattoo that will become your absolute favorite. This is a very cute tattoo with two halves of an avocado. These miniatures are very, very adorable!
47. Single Stem Rose Tattoo Design for the Romantic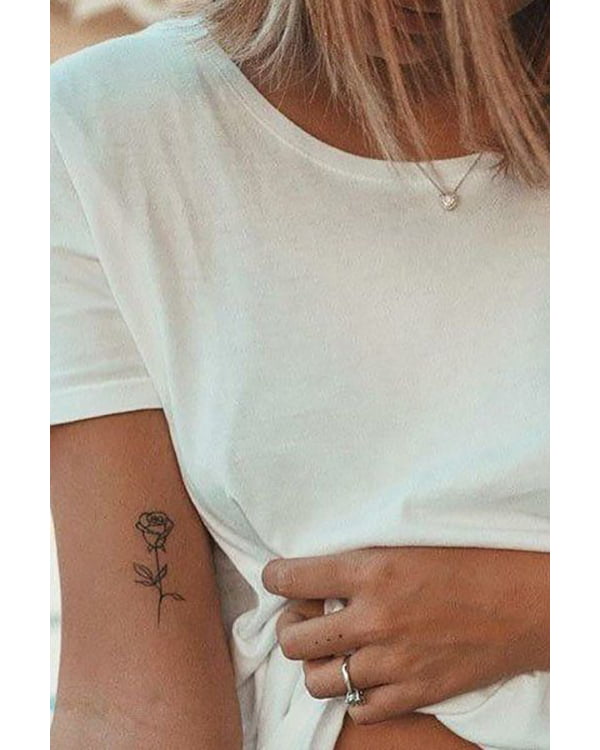 This is very similar to the earlier rose tattoos. This is also a single stem of a fully grown rose flower and would look stunning if you decide to fill in some colors in the already created outline. Some people find the lack of color to be part of what makes the rose stunning, though it could also inspire other looks.
48. Partial Cat Tattoo Design for Cat Lovers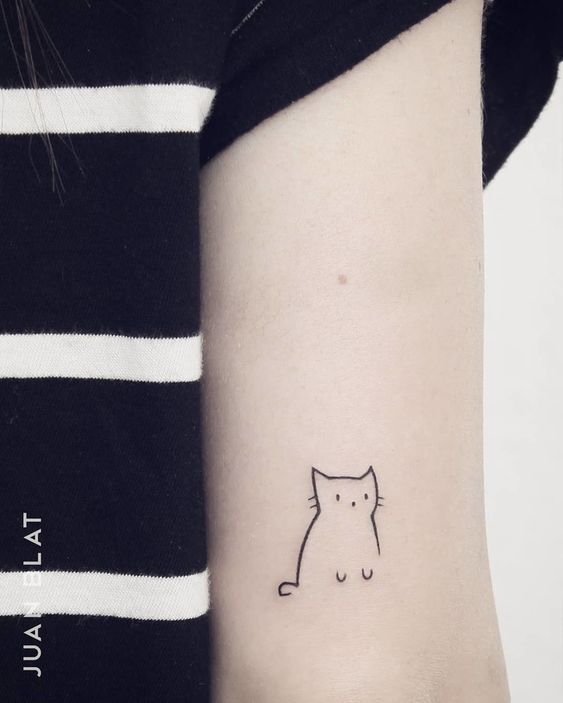 The partial cat tattoo provides a peek of a sweet cat, forcing others to lean in closer. Cat lovers will love it, expressing the adoration that they feel for their feline friends and their feisty heart. It is a partial creation of a cat's face with a bold, black outline and adds to the beauty of the already pretty tattoo.
49. Resting Panda Tiny Tat for the Solitude Lovers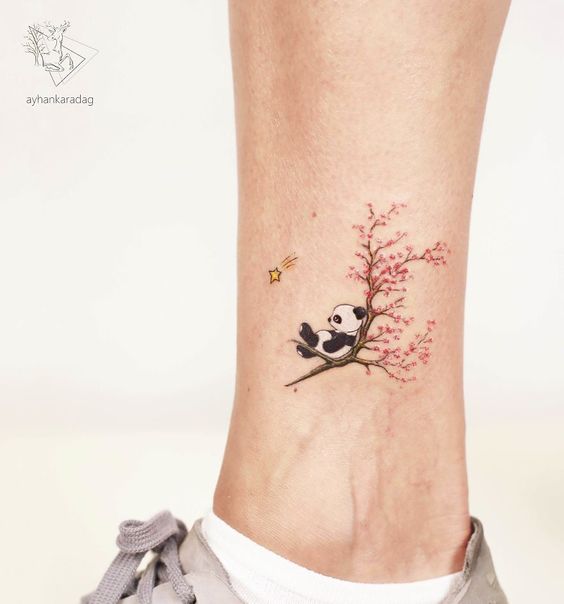 This adorable panda brings a whimsical tone to any area of the body, as it rests beneath a tree and watches a shooting star passes by at a distance. It is cute and will make a lot of people happy. If you resonate with the resting panda, this tattoo would be perfect for you.
50. Koala-Panda Tattoo Design for the Notorious Ones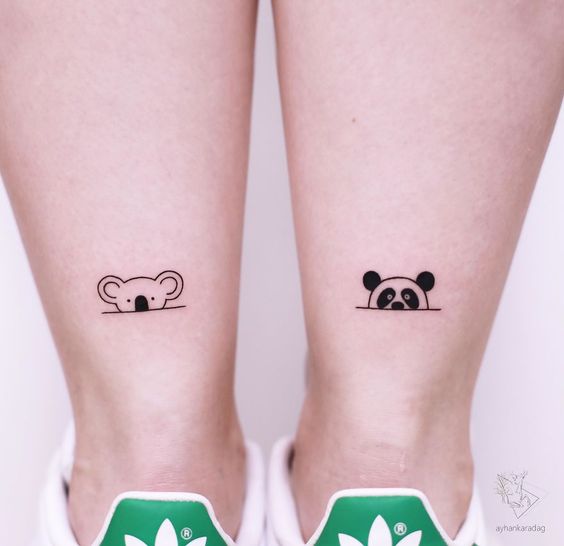 This tattoo shows the Koala and the Panda hiding behind a surface as if escaping and hiding after some mischief. If you have the same aura about you, perhaps this tattoo will let others know what they are in for when they hang around you. How notorious might you be?
51. Flying Penguin Best Small Tattoo Design for Penguin Lovers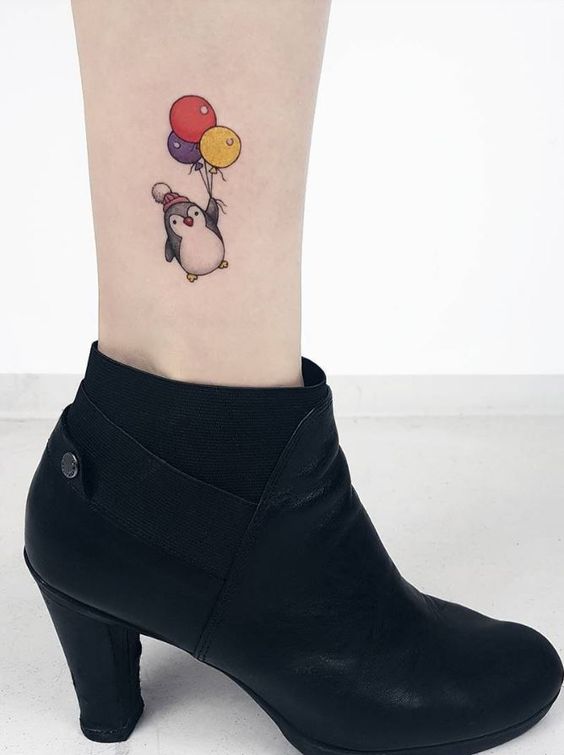 This is such a cute tattoo design in which a baby penguin can be seen flying away with the help of colorful balloons. If you are already a penguin lover, this tattoo is definitely for you.
52. Little Hut Tattoo Design for Cute Home Lovers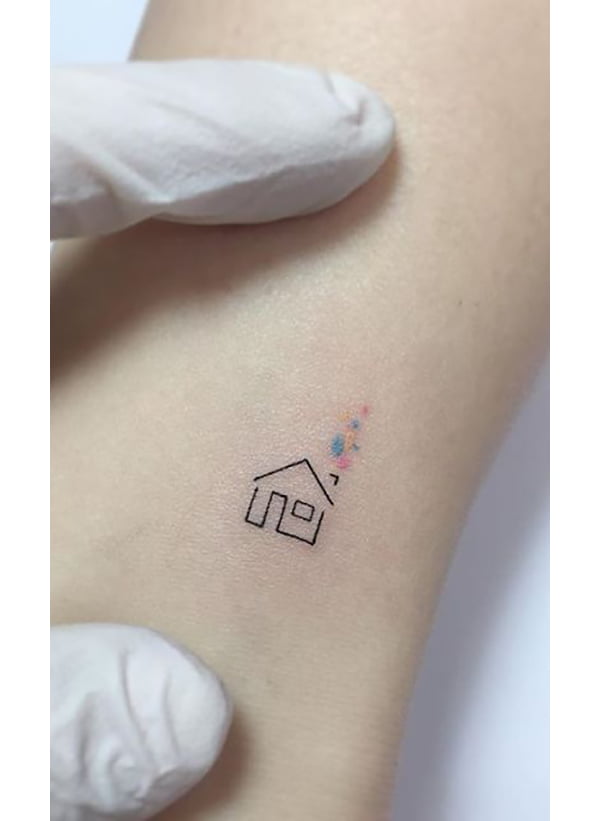 Do you love cozy homes and small spaces? Well, then this tattoo will definitely impress you. It is a beautiful tiny hut with colorful smoke coming out of its chimney. It looks beautiful and is a quite simple yet elegant design to have.
53. Monochromatic Butterfly Neck Tattoo Designs for the Butterfly lovers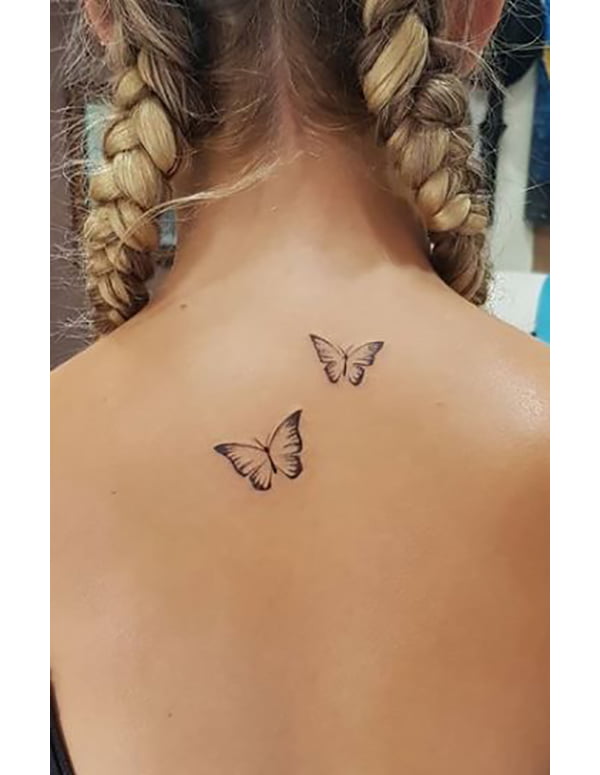 This is a pair of two butterflies – one small and the other large. They are black and white in color and would look beautiful at the back of your neck.
54. Baby Girl Unicorn Tattoo Design for the Little Girl in You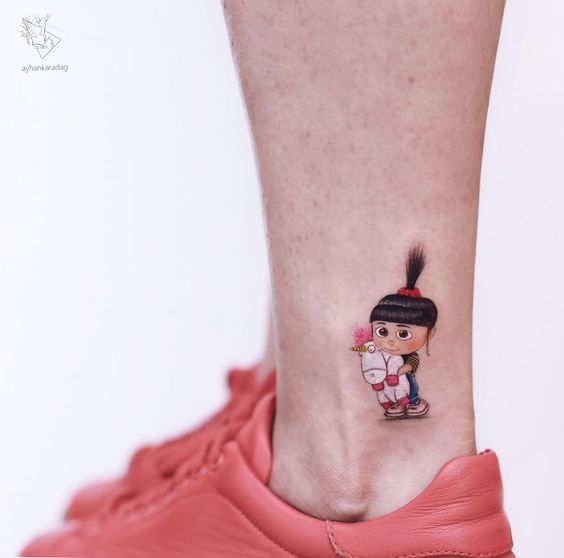 This tattoo is also a famous animated character. It shows a little girl with big bright eyes hugging a unicorn toy, expressing your inner child through your ink. The design is whimsical, wholesome, and gentle for the quiet soul.
55. Small Mickey Mouse Outline Tattoo Design for the Disney Lovers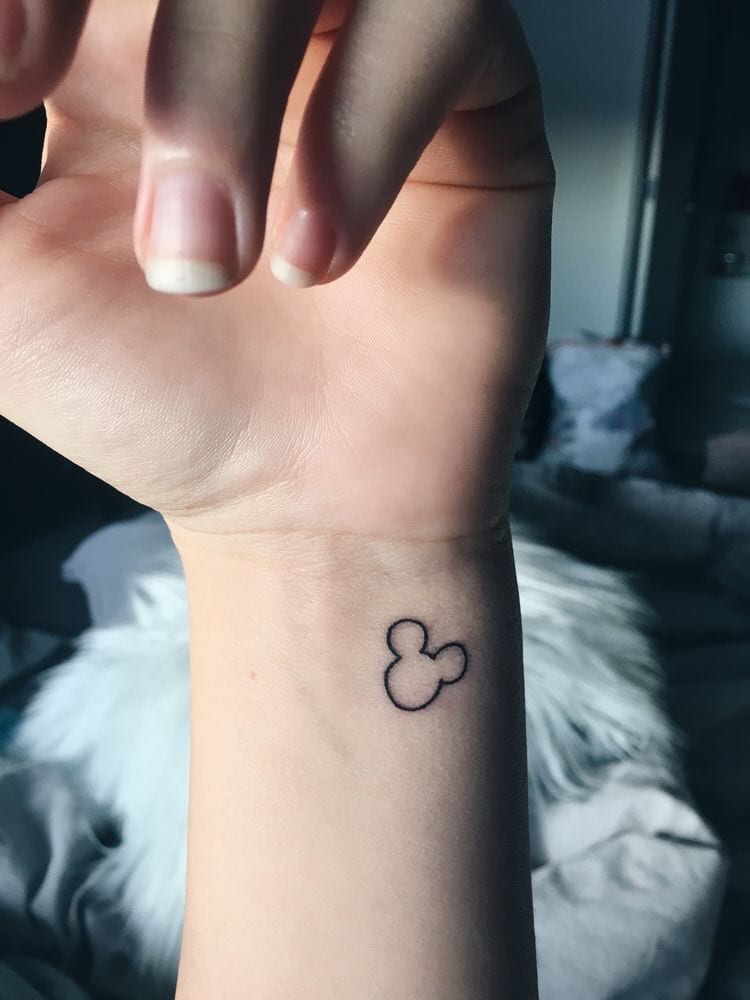 If you are someone who has grown up watching every Disney movie to ever come out, then this tribute would suit you greatly. The magic of this company has lasted for decades, making an imprint on any person that watches their films and television shows. Wear the Mickey Mouse ears as a badge of adoration!
56. Astronaut Kitty Tattoo Design for Cat Lovers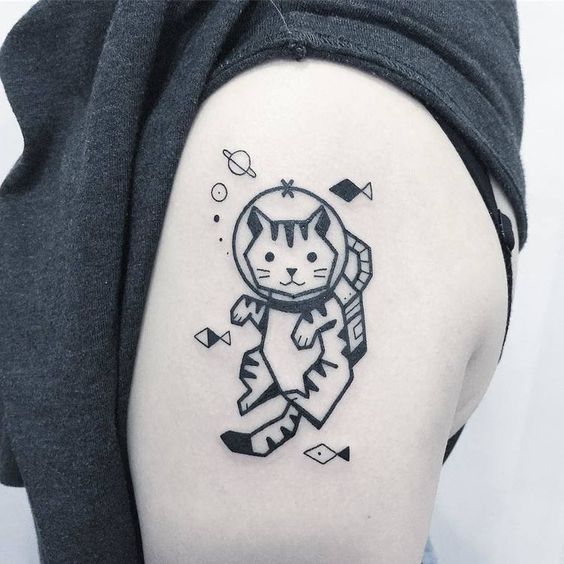 Most simply, it shows a kitten in a spacesuit, combining the love of cats with the inquisitive and silly juxtaposition of space. If you like a quirky vibe, then this design will likely suit you.
57. Outline of World Map Tattoo Design for Wanderlust Enthusiasts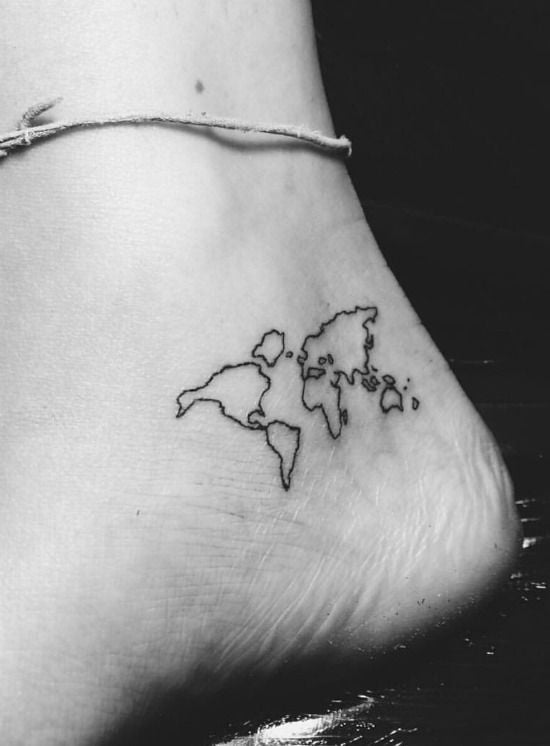 If you are bitten by wanderlust and love the idea of traveling around the globe, this tattoo would become your absolute favorite. It is a bold, black outline of the world map and you'd feel like you carry the world around!
58. Simple Rose Tattoo Design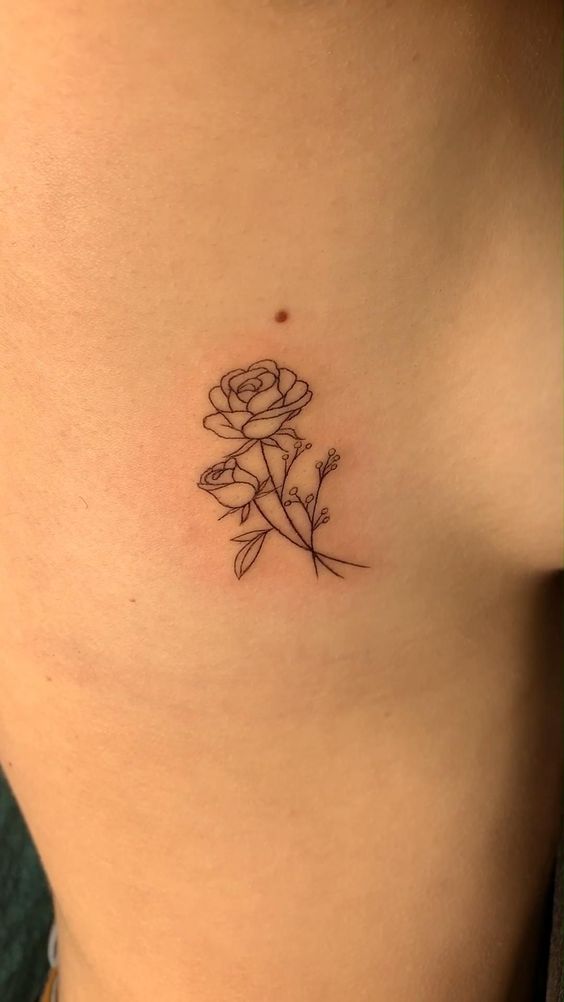 This one is a tattoo design for short sized roses and would impress a flower lover a lot. Individuals that want the benefit of self-expression without the addition of bold graphics will appreciate the demure look, allowing them to add color later on.
59. Peeping Panda Tattoo Design for the Kind-Hearted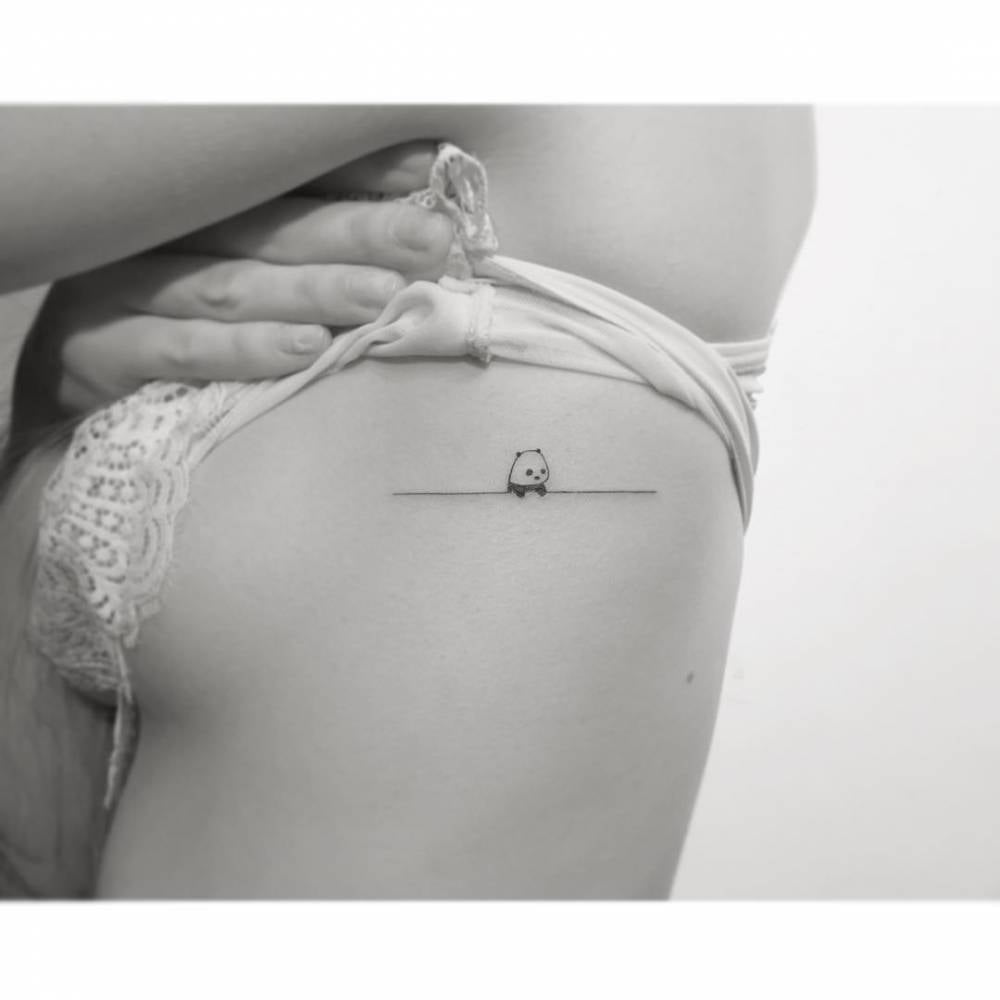 This is a cutesy tattoo design that shows a panda peeping from behind a surface. It is very adorable, allowing you to show off the cuddlier side of your personality. Perhaps it will function as a visual representation of your shy character.
60. Flowing Muffler Fox Tattoo Design for Winter Lovers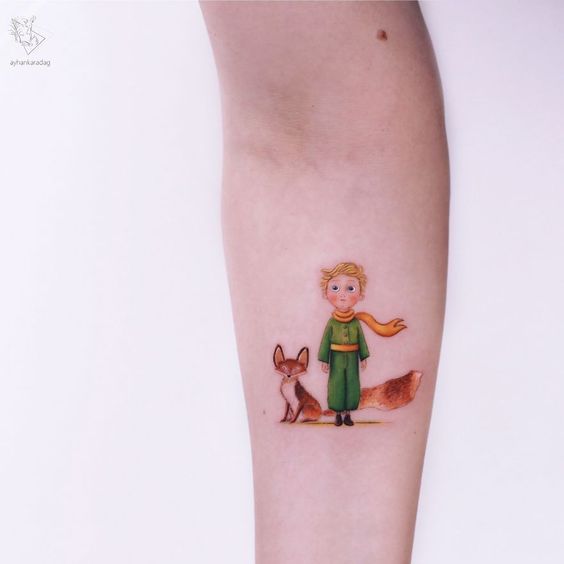 If you are a winter lover and love to be tucked away in winter clothes, especially mufflers and scarves, this tattoo is perfect for you. It beautifully depicts the winter season where a boy is seen standing with a fox and his muffler is flowing with the wind. The lovely design gives an artistic approach to the cold season, allowing you to keep it on your mind year-round.
60 Best Small Tattoo Ideas And Designs That Will Melt Your Heart Away
As it is, therefore, clear that there are so many different options that you can choose your small tattoo from. Be it your favorite cartoon character or a cute little symbol that you think resonates with and resembles your personality – you can get anything! So, what are you waiting for? Get going, get your hands on what you want, and get it on your body!