Thundering clouds with lightning and rain, fluffy clouds with colorful rainbows, and intricate Japanese cloud full-arm sleeves are just a few of the best cloud tattoo ideas. When looking up towards the sky, it is difficult not to become enthralled by the wondrous shapes and movement of clouds. One of the most appealing qualities of cloud tattoos is the endless design possibilities. A cloud can hold personal meaning and significance that is unique to each individual. Variations of cloud tattoos can be modified to alter the symbolism to fit your specific interpretation. Men and women alike love cloud tattoos as they are just as attractive in bright colors as they are in monochromatic tones.
60 Best Cloud Tattoo Ideas that Symbolize Personal Growth and Faith
As one of the most beautiful creations in nature, clouds make wonderful tattoos. Just like flower tattoos, they can represent numerous meanings while using many variations in style and creativity. Most people associate clouds with the sky or heavens. Clouds could be mysterious and hiding secrets or they can be cheery and hopeful. One person could get a cloud tattoo to signify a revelation or transformation and someone else could get a similar tattoo for an entirely different reason. Japanese cloud tattoos often stand for courage, success, power, and determination. Depending on the meaning you would like to convey, cloud tattoos come in many different sizes, styles, colors, and shapes to help get your message across.
1. Cloud Tattoo Design: Clouds and Landscape Line Drawing Cloud Tattoo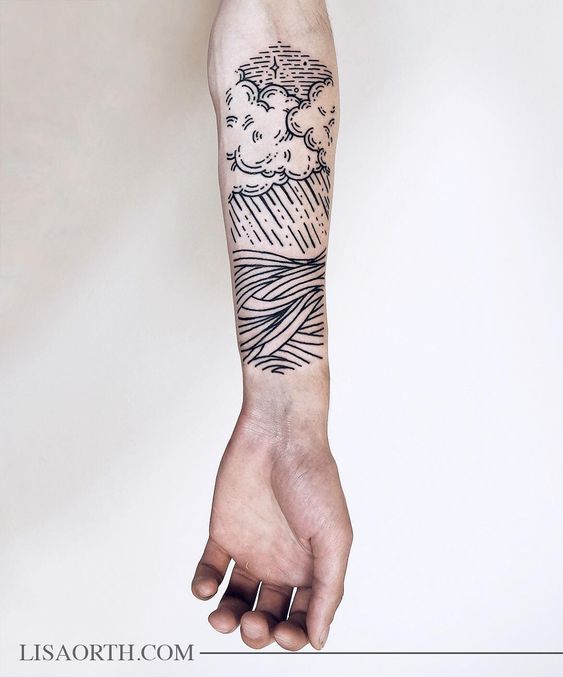 From the shining star in the sky to the fields below, the captivating cloud tattoos design represents a spiritual connection to the world. The pure simplicity of this cloud tattoos design conveys its inspirational message. This unisex cloud tattoo looks bold on arms and legs.
2. Cloud Tattoo Design: Clouds, Lightning, and Waves with Hand Tattoo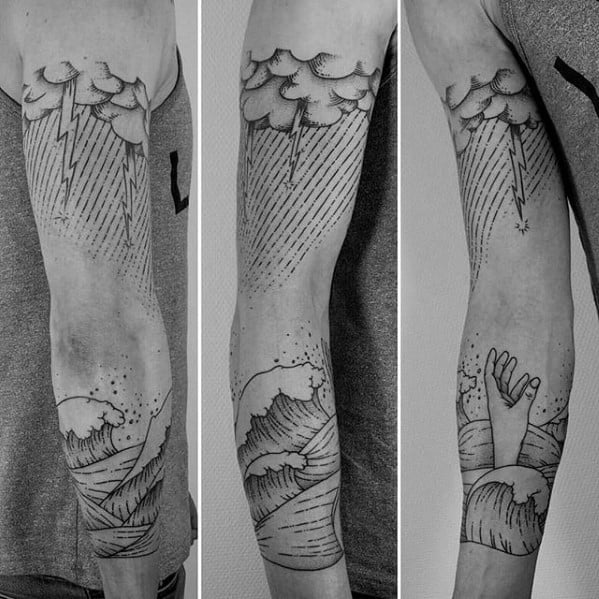 There is so much energy and story entailed in this impressive black and white wrap-around cloud tattoo designs idea. Lightning bolts are striking down from the clouds as a solitary hand reaches out from roaring waves, fingers towards the sky. No color is necessary to appreciate this amazingly visionary cloud tattoo. Finger tattoos like this never go out of style!
3. Blue Billow of Cloud Tattoos on Arm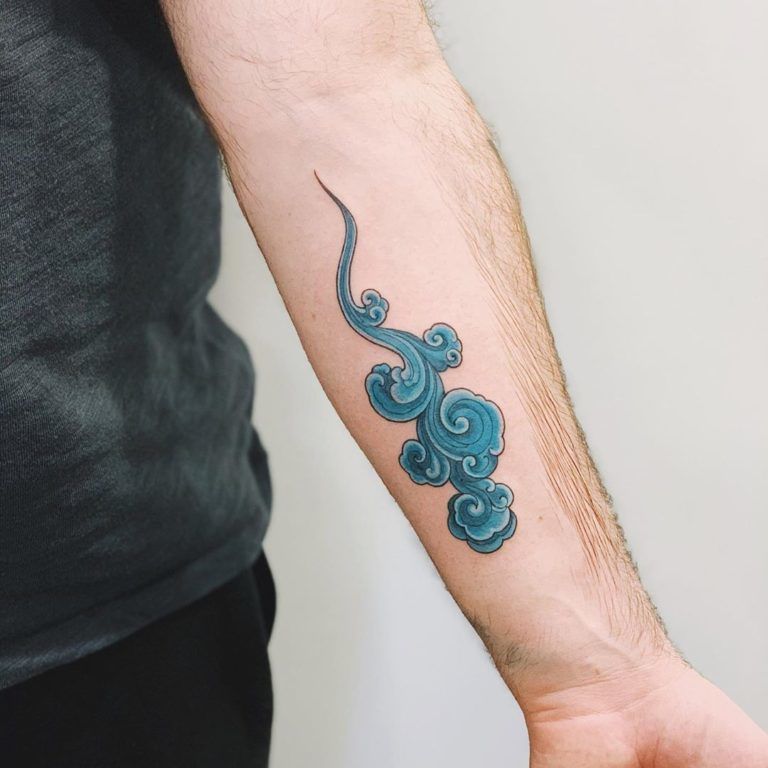 Light and airy, this charming cloud tattoo designs idea is an illustration of blue billowing clouds. The soft, subtle blue coloring brings out the natural shape and movement of the clouds. Universally attractive, this intriguing unisex cloud tattoos idea can be representative of a variety of meanings such as personal growth or hope.
4. Monochrome Cloud Tattoos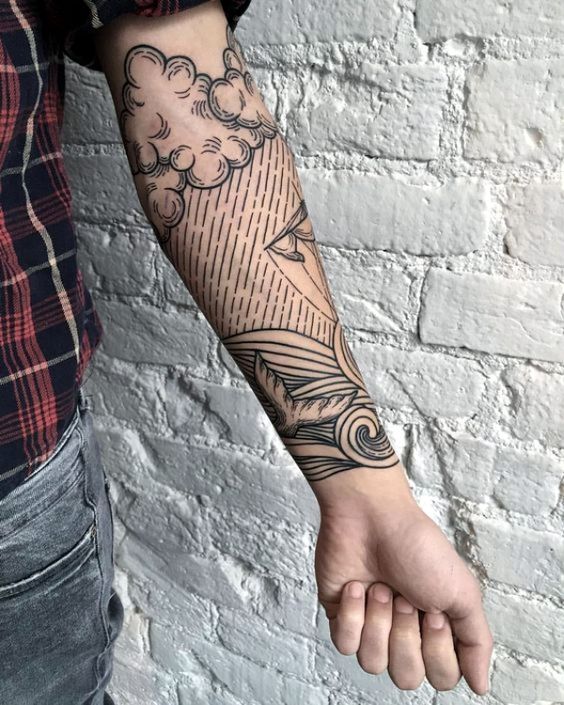 Elements of air and water are clearly represented in this impeccable monochrome cloud and water tattoo. Puffy bulbous clouds contrast with the straight lines of the rain that lead into the swirling waves of the ocean. This picturesque landscape scene wraps around the forearm as a half sleeve tattoo. For this style, a dragonfly tattoo could also work well.
5. Solid Black Asian Inspired Cloud Tattoos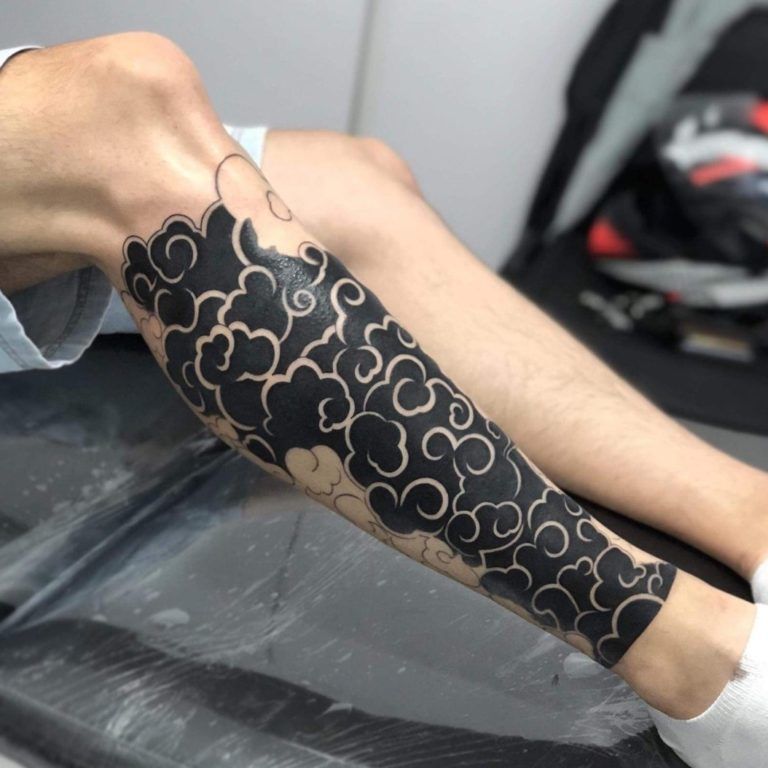 Inspired by the Asian cloud tattoos designs, this bold black cloud tattoo designs idea uses negative space to represent the spiritual sky elements. Black ink covers the skin with the outline of the clouds remaining. Signifying the transient nature of the cloud, this timeless cloud tattoos design emotes a message of hope and transformation.
6. Cloud Tattoo Design: Thundering Clouds and Lightning in Forest Cloud Tattoos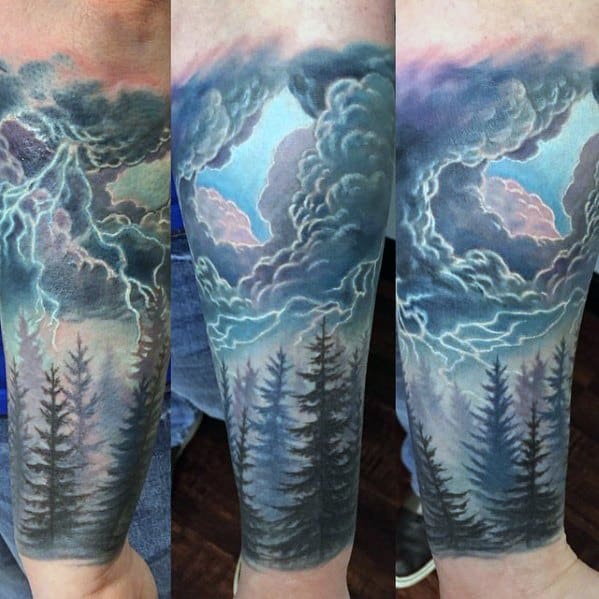 Powerful and mysterious, this hypnotic cloud tattoo or tree tattoo realistically depicts an incredible scene in nature. Mighty thundering clouds strike lightning bolts down from a stormy sky towards a dark forest of majestic trees below. In deep shades of blues, the overall effect of this amazing cloud tattoo is sincere and compelling.
7. Cloud Tattoo Design: Whale in the Sky Tattoo with Cloud Tattoos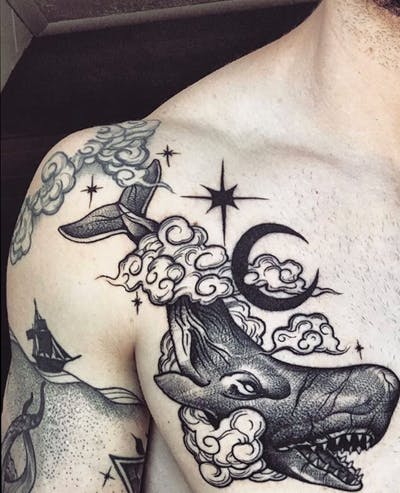 Symbolic of creativity and intuition, this majestic whale in the sky with a clouds tattoo is a breathtaking piece of skin art. The graceful ocean giant is floating freely amongst puffy clouds, radiant stars, and a luminous crescent moon. Detailed shading and intricate line work is used to create this remarkable cloud tattoo designs idea.
8. Cloud Tattoo Design: Eye in Cloud with Lightning Bolts Cloud Tattoos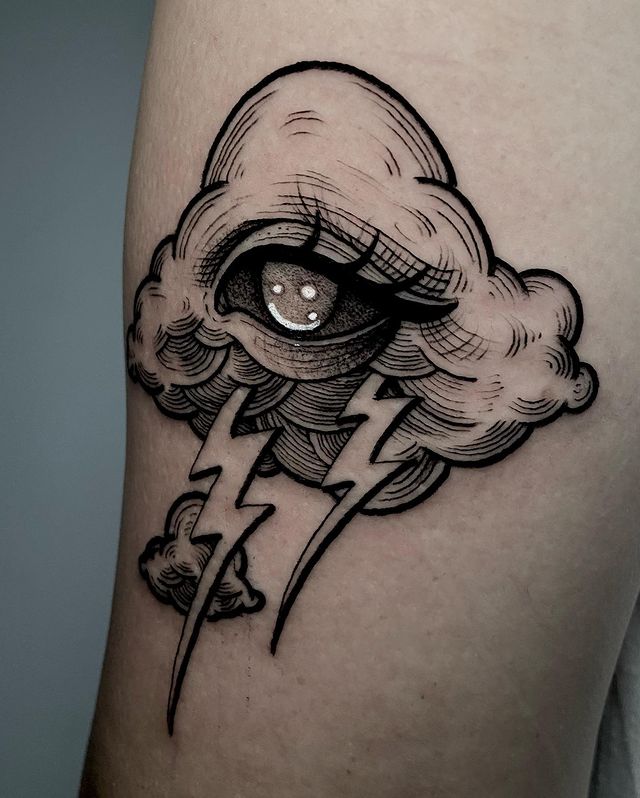 An all-knowing eye peers out from the clouds while magnificent lightning bolts strike down in this awesome cloud tattoo designs idea. Reminiscent of the Eye of God symbol, this interesting monochrome cloud tattoos designs idea has religious and spiritual connotations. This eye in the clouds tattoo features a mix of realism with an illustration.
9. Single Black Cloud Tattoos in Abstract Style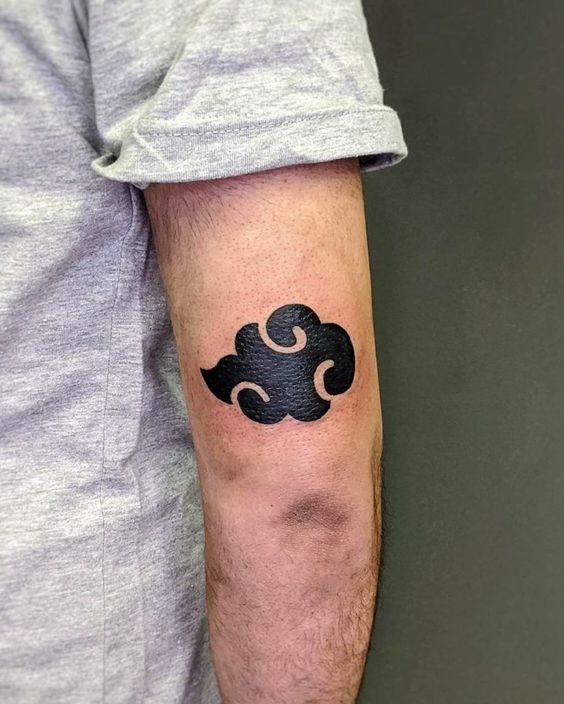 Like a puff of smoke, the natural curves and contours of the cloud stand out in this strong solitaire black cloud tattoos idea. There is definite Japanese influence with a modern touch. Its shape and size make this versatile cloud tattoos idea suitable for nearly any location on the body.
10. Galaxy Moon and Clouds Grayscale Cloud Tattoos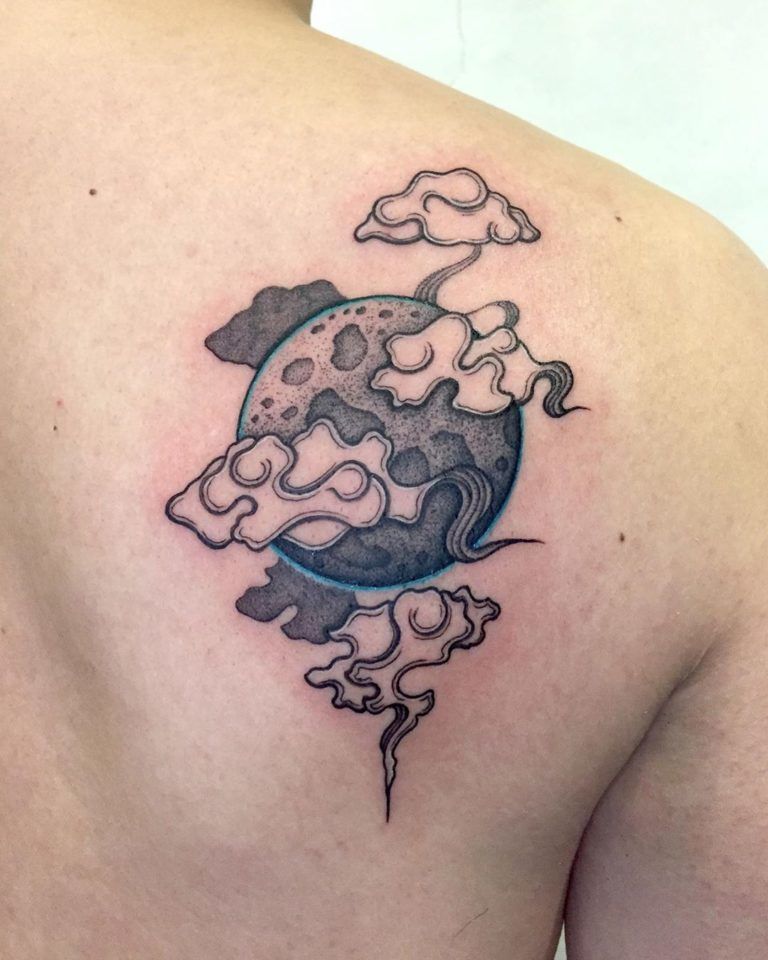 Placed prominently on the back shoulder, this otherworldly galaxy moon and cloud tattoo designs idea is perfect for those seeking something unique and different. Mostly grayscale ink, this planetary cloud tattoo incorporates subtle blue shades to add a mysterious and mystical feel. Creativity is strong in this artistic cloud tattoos idea.
11. Cloud Tattoo Design: Tattoo Picture of Thundering Clouds Tattoo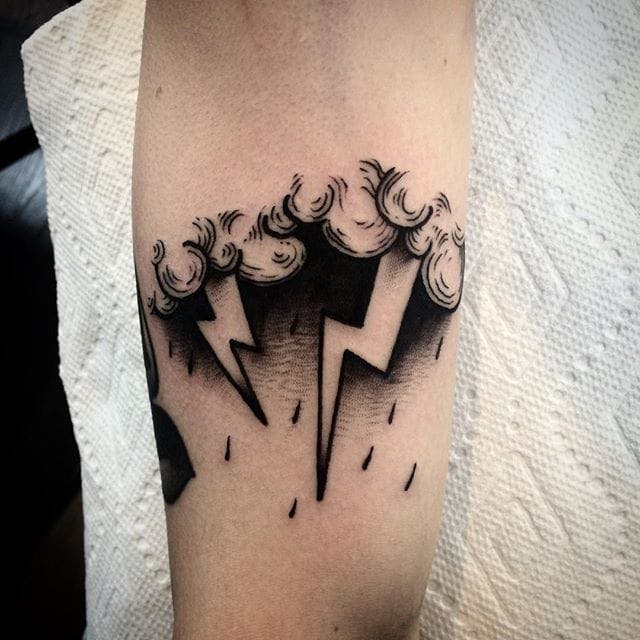 You can almost hear the clap of thunder when looking at this melodramatic stormy cloud tattoo designs idea. Bold black outlines and realistic shading give this grayscale cloud tattoo energy and dynamism. Thundering clouds have different personal meanings for each individual such as making through a rough experience.
12. Japanese Clouds and Waves Arm Sleeve Tattoo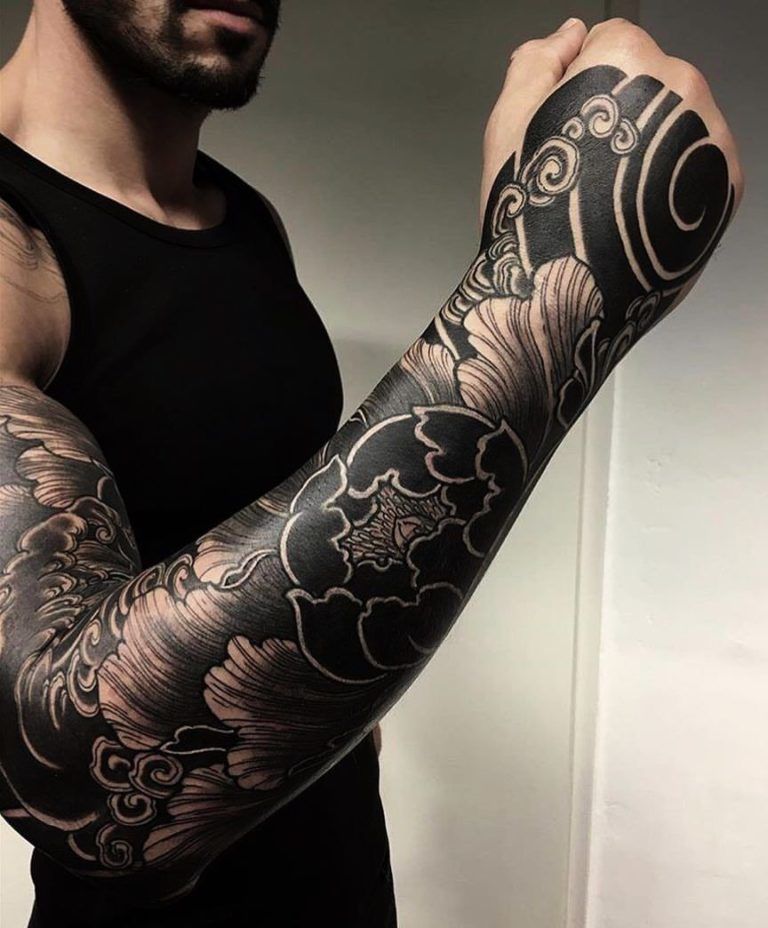 If you are someone looking for a dramatic full sleeve design, look no further than this amazing Japanese clouds and waves faith tattoo. Black ink saturates the skin leaving the outlines and details of the abstract elements to show through. This compelling cloud tattoos design represents strength, faith, and positive vibes.
13. A Great Friendship Tattoo: Black and White Swirling Clouds Chest Tattoo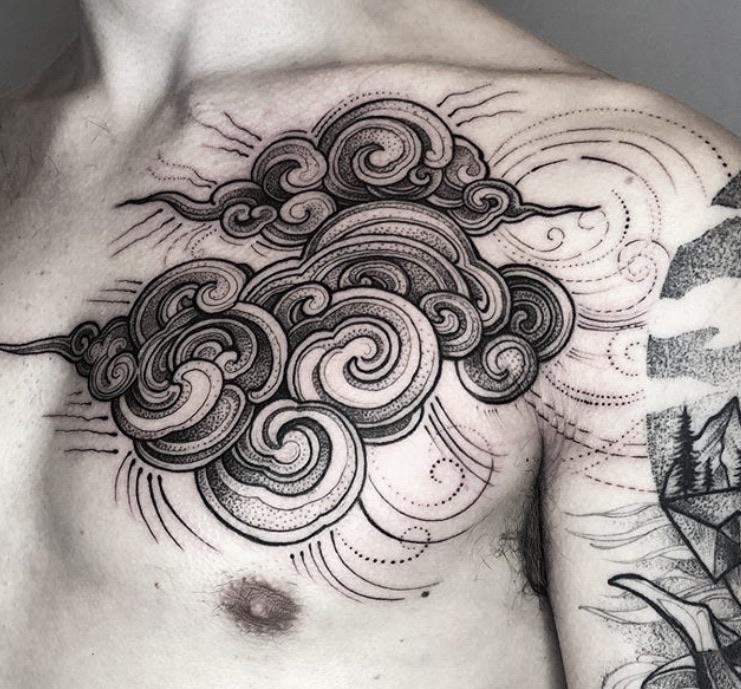 Charismatic and engaging, this black and white swirling cloud tattoos design is proudly inked on the left side of the chest. Symbolizing closeness and friendship, the collection of clouds huddle together appearing to become one in this friend tattoos design. Although shown on a man, this mesmerizing cloud tattoos design looks just as good on women.
14. Cloud Tattoo Design: Abstract Cloud Tattoo on Shoulder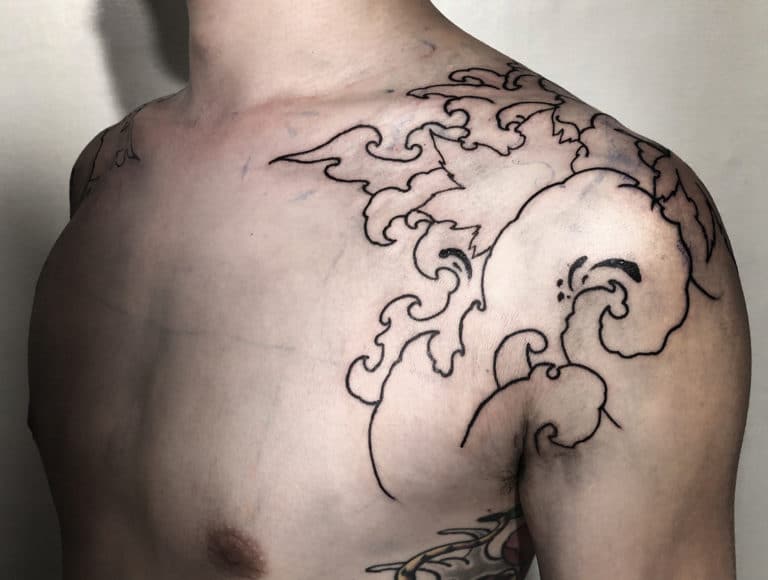 This large abstract cloud tattoos design looks mystical and asymmetrical when placed on top of the left shoulder. In nature, billows of clouds organically move in all directions as this monochrome cloud modestly depicts. Subtly sophisticated, this conceptual cloud tattoo is about personal strength and growth.
15. Diamond Shaped Sun and cloud tattoos design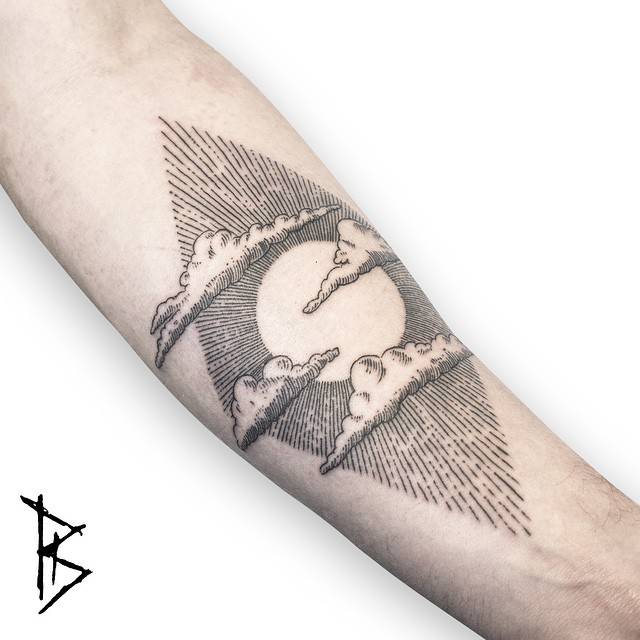 Positivity and hope shine through in this black and white sun and clouds arm tattoo. Negative space is cleverly used in the design so realistic clouds appear to be floating past a full sun. Straight lines in various lengths act as rays of sunshine to create an overall diamond shape.
16. Cloud Tattoo Design: Whale Floating in Clouds Arm Tattoo
Charming and enchanting, this ethereal whale and cloud tattoos design exudes a feeling of relaxation and contentment. With grayscale shading, circular puffs of clouds surround the whale as it happily floats in the sky. If the majestic whale is your spirit animal, this memorable cloud tattoos design is the ink for you.
17. Cloud Tattoos Idea: Umbrella with Clouds, Lightning, and Rain Tattoo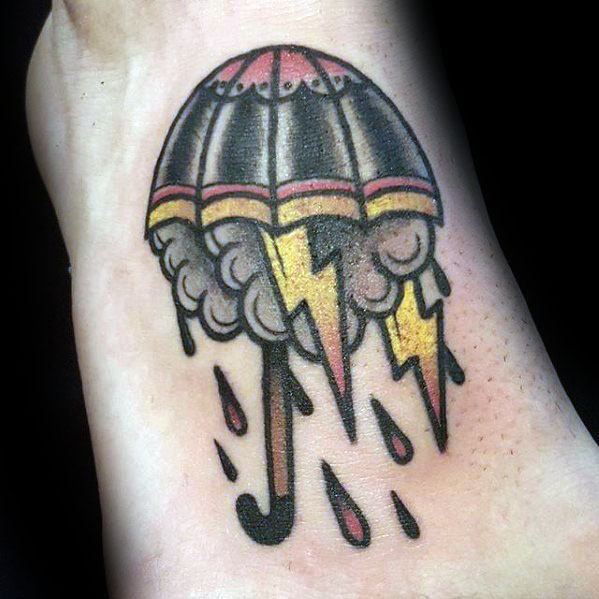 A tattoo showcasing an umbrella with clouds, lightning, and raindrops often symbolizes protection from the storm. Bright red, orange, and yellow colors catch the eye among the dark shades in this striking cloud tattoos design. The cartoon-like style of the cloud tattoos design gives it a fun, yet serious quality.
18. Cloud Tattoo Design: Grayscale Tornado Cloud with Cow Tattoo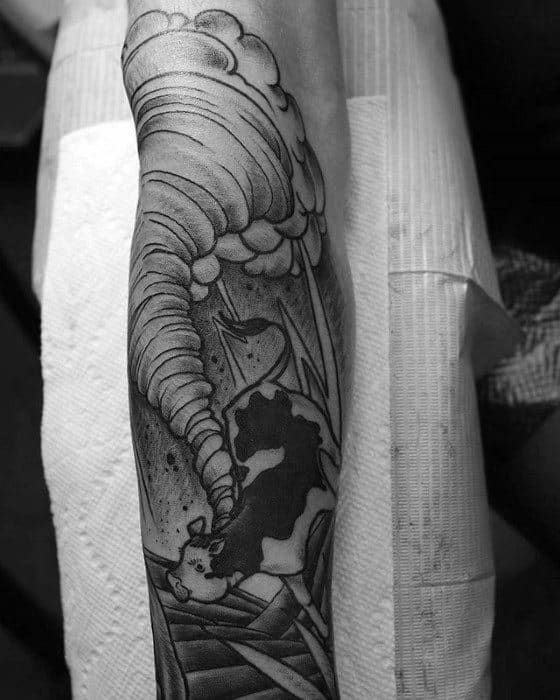 Comical and creative, there is an entire scene playing out in this grayscale tornado cloud tattoo. A realistic illustration shows a cow and fence being picked up by a whirl of wind in the sky. This whimsical cloud tattoos design is perfect for a playful individual with a sense of humor.
19. Tattoo Picture of Sun, Moon, and Clouds Tribal Tattoo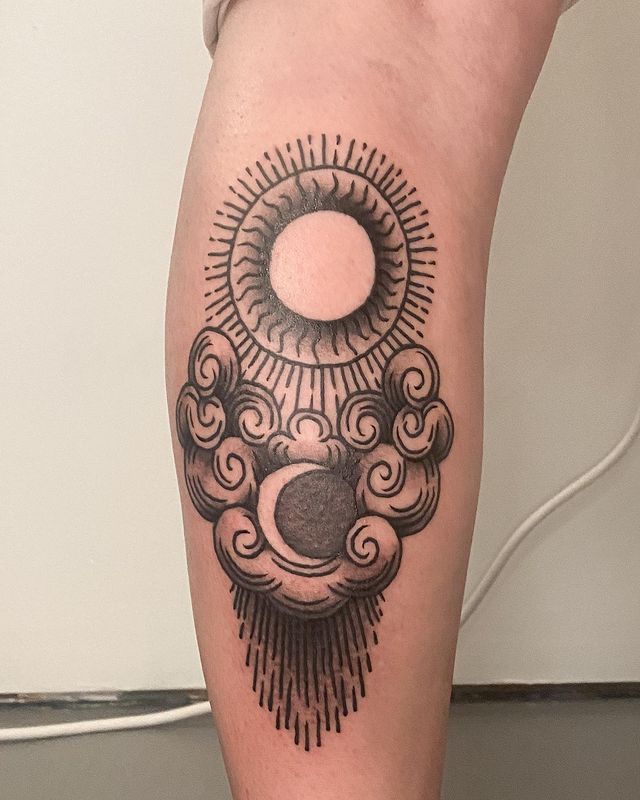 Beautiful natural and celestial elements are seamlessly incorporated into this amazing monochrome cloud tattoos design. As the full round sunbeams out extending rays of light, a cosmic crescent moon sits among heavenly billowing clouds. The sincere tribal aura of this breathtaking cloud tattoos design makes it feel culturally significant.
20. Cloud Tattoos Idea: Black Cloud with Orange Lightning Tattoo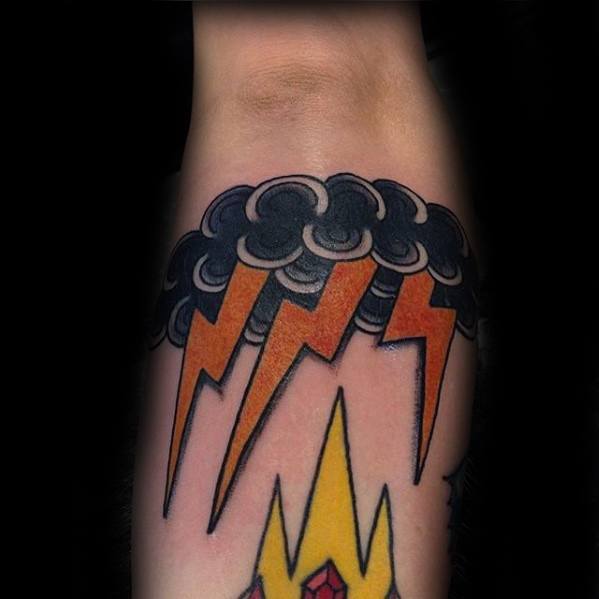 Similar to a comic book style of art, this graphic cloud tattoo represents power, strength and courage through tough times. Beneath a dark black cloud of thunder are three fiery orange lightning bolts. Versatile and radiant, this awesome cloud tattoos design looks great inked on arms, legs, and shoulders.
21. Cloud Tattoo Design: Cumulus Cloud with Line Tattoo in Grayscale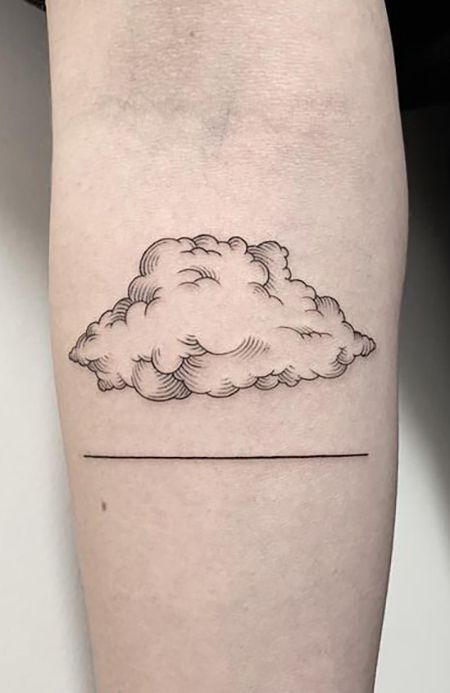 Grace and strength can be found in this beautiful black and white cumulus cloud tattoo with a solid horizontal line. Cloud tattoos often represent personal growth, emotional intelligence, transformation or memory of a loved one. Simple and stylish, this grayscale cloud tattoo is an excellent choice for men and women.
22. Cloud Tattoos Idea: Pair of Black Japanese cloud tattoos design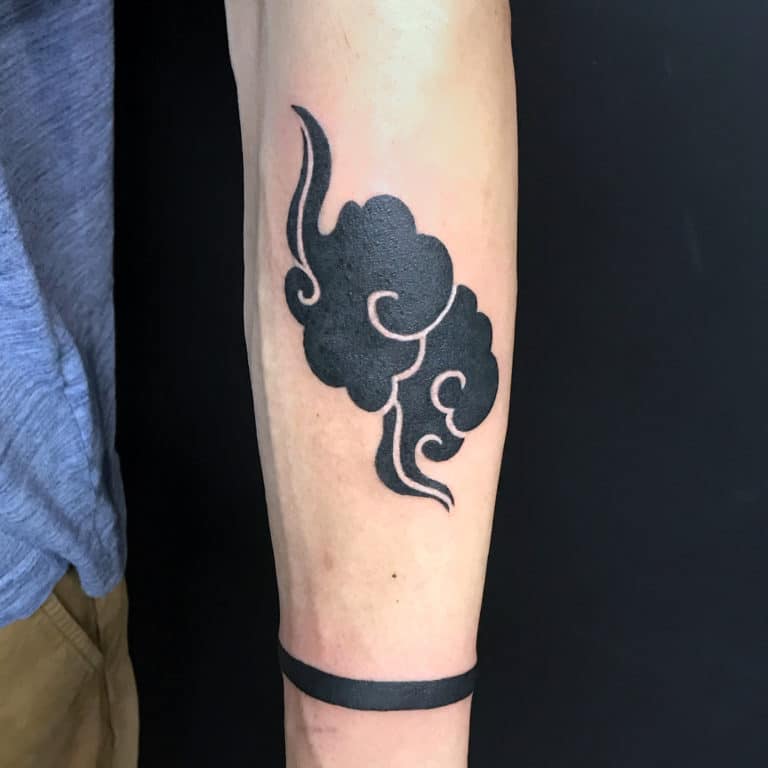 Two black Japanese-inspired clouds intertwine with one another in this visionary arm tattoo. As the two clouds unite, there is a perception of harmony, integrity, and togetherness. Men and women of all ages and cultures respect the simple power of this appealing black cloud tattoo.
23. Cloud Tattoo Design: Black and White Tribal Clouds Chest Tattoo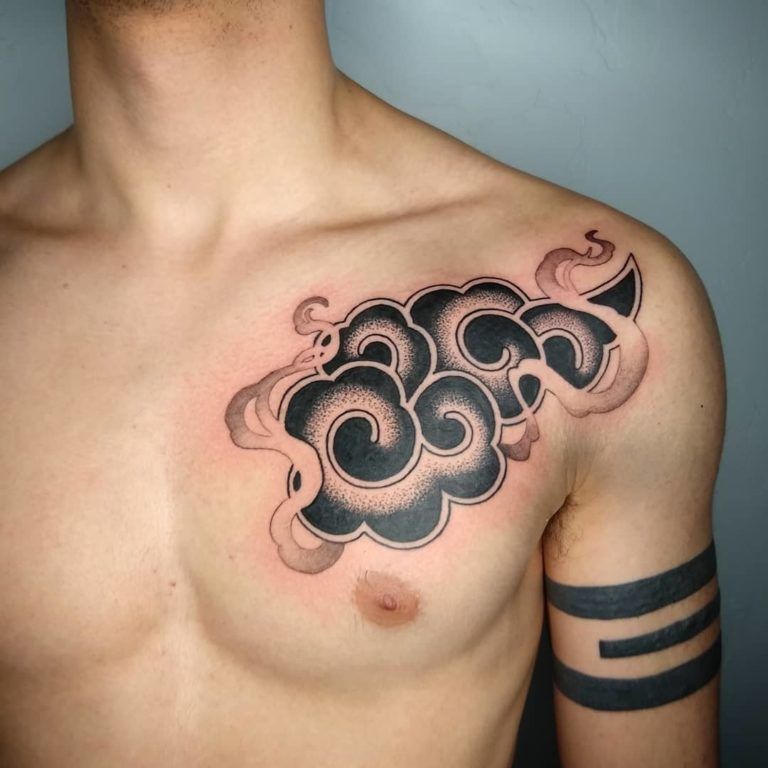 Big enough to be noticeable but not overpowering, this attractive black and white tribal cloud tattoo is smartly placed across the left chest and shoulder. Soft curves and outlines merge with strong black ink and shadowing for a distinct design. This is a handsome cloud tattoo to be worn proudly.
24. Cloud Tattoos Idea: Sun, Clouds and Rays in Rectangle Tattoo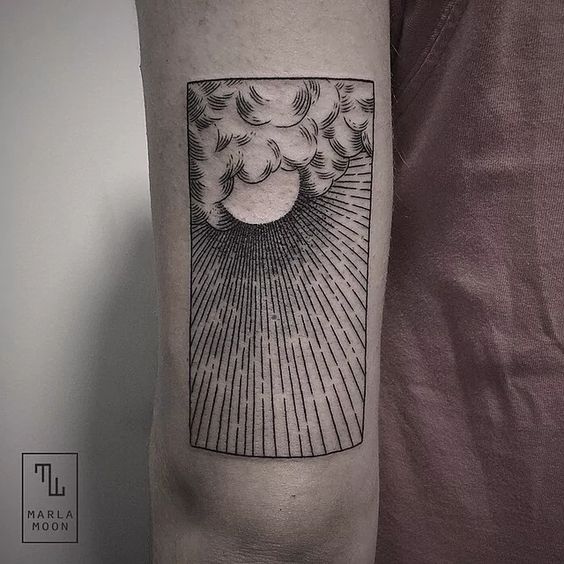 Within a vertically placed rectangle frame, a round sun peeks out from the clouds shining down rays of sunshine. This inspirational and artistic cloud tattoos design has a religious vibe with a modern touch. Using meticulous linework and verisimilitude, this encouraging cloud tattoo is meant to bring joy and hope.
25. Clouds and Ocean Scene Linework Tattoo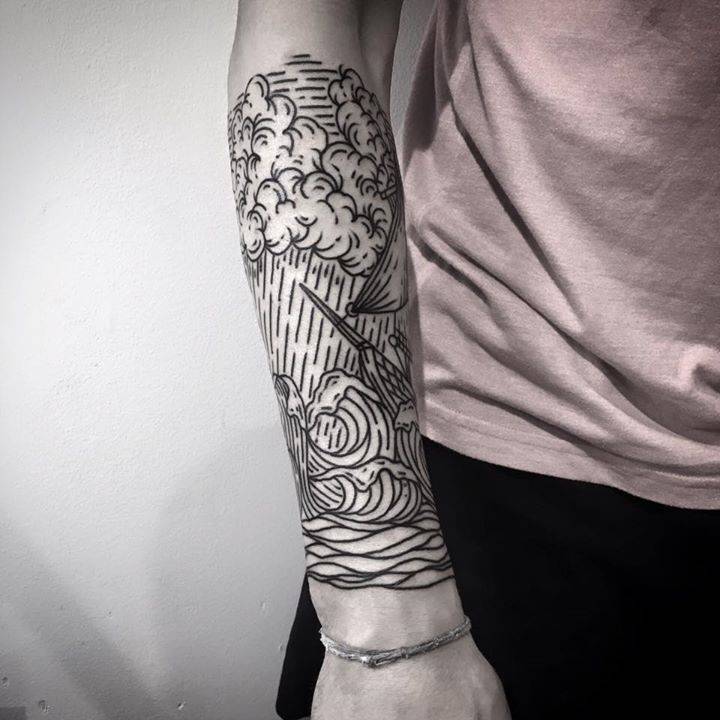 When clouds are shown in an ocean scene tattoo, it often represents the Four Winds or a similar nautical theme. In this black and white artwork type cloud tattoos design, lines move in every direction to give the clouds and waves movement. This wraparound cloud tattoo is great for arms and legs.
26. Cloud Tattoo Design: Large Sun with Clouds OutlineTattoo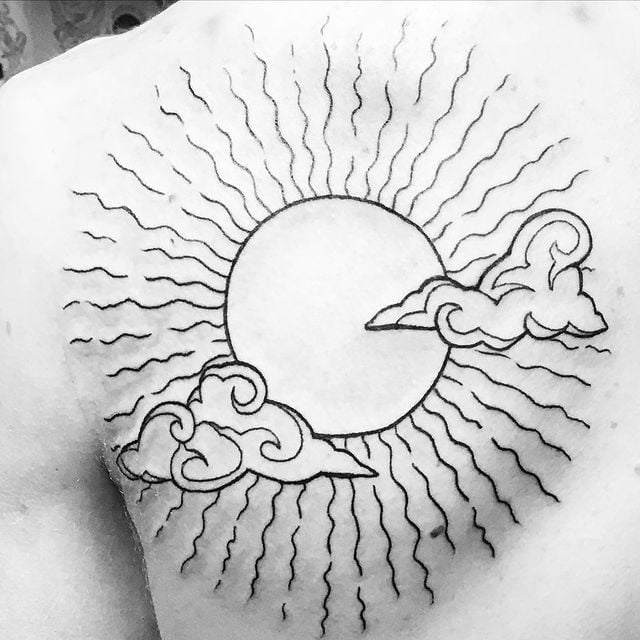 Bold and powerful, this stunning sun and clouds outline tattoo is a straightforward expression of prosperity, positivity, and success. Even without any color, the brilliant black and white design still appears to shine brightly. This large, amazing sun and cloud tattoos design is ideally inked on the chest or back.
27. Cloud Tattoos Idea: Black Japanese Cloud Tattoos on Forearm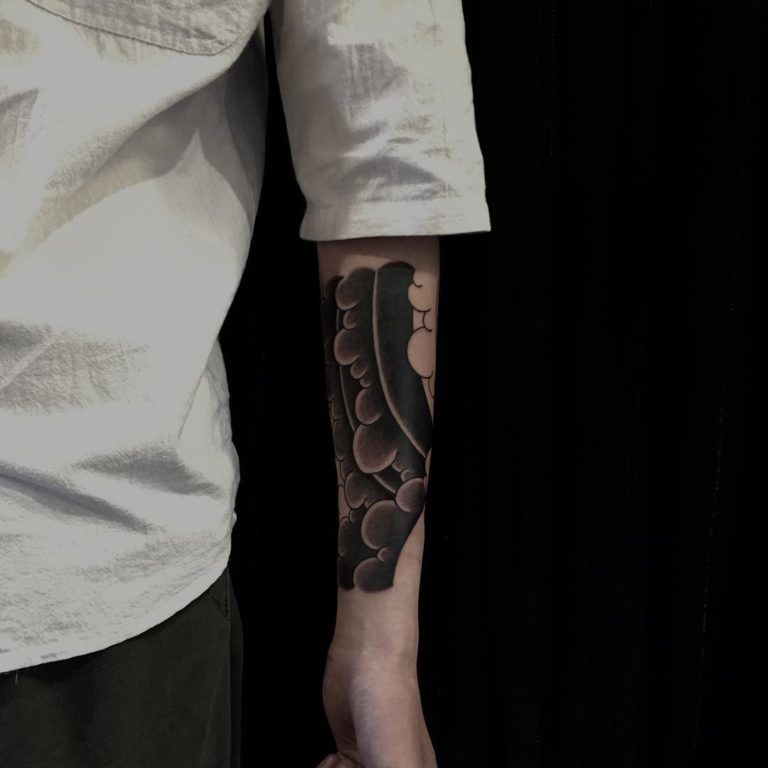 Wrapping around the forearm, this meaningful Japanese cloud tattoo represents strength, peace, and harmony. Japan has a deeply spiritual culture that embodies the esoteric elements of mankind. No color, black ink only, effective negative space, and smooth shadowing create spectacular depth in this incredible Japanese cloud tattoo.
28. Asian Inspired Cloud Tattoo on Chest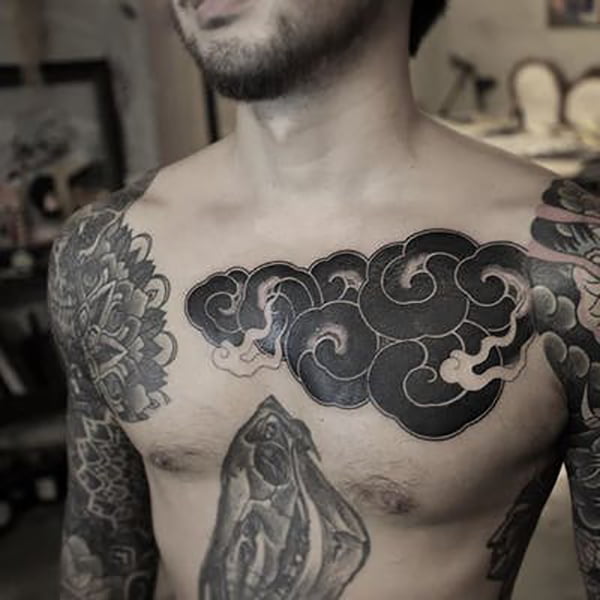 Inspired by the swirling circles of Asian cloud tattoos, this powerful cloud tattoos design is an excellent choice for a confident person. Using negative space to create the outlines of the clouds gives this compelling cloud tattoos design a three-dimensional effect. Inked proudly on the chest, the bold cloud tattoo signifies vitality and hope.
29. Cloud Tattoo Design: Raining Cloud Tattoos with Bold Outline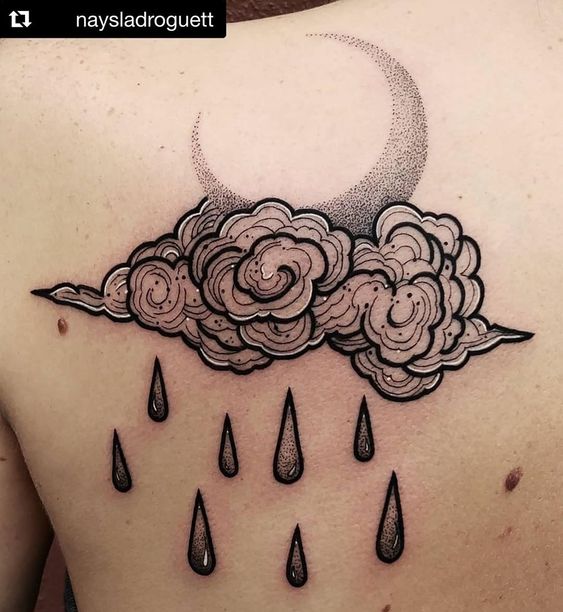 We all face dark times and difficult situations in our lives and making it through them is a significant achievement. As a survivor of a storm, this symbolic raining cloud tattoo may represent your accomplishment and success. Bold outlines surround thinner interior lines giving this cloud tattoo character and dimension.
30. Cloud Tattoos Idea: Whimsical, Colorful Rainbow and Cloud Tattoos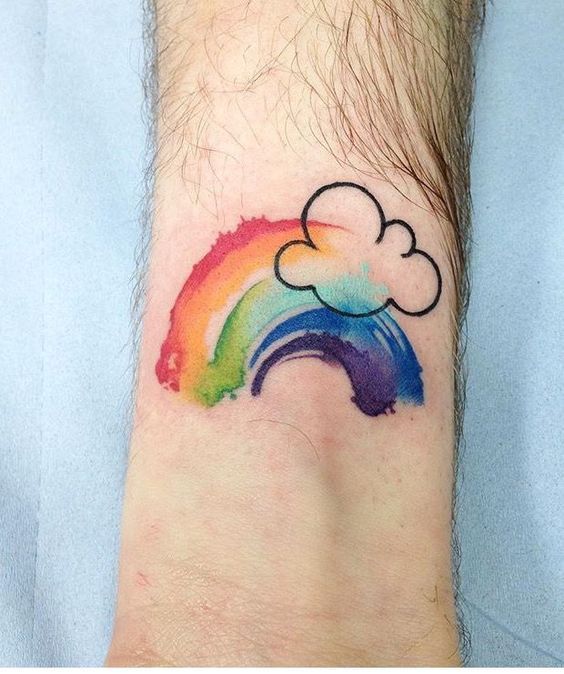 Art teachers and parents find this whimsical, colorful rainbow cloud tattoo particularly exciting. It appears as though it has been drawn on with markers, paints, and a paintbrush to invoke a childlike delight. Playful and amusing, this fun rainbow and cloud tattoo symbolizes happiness and joy.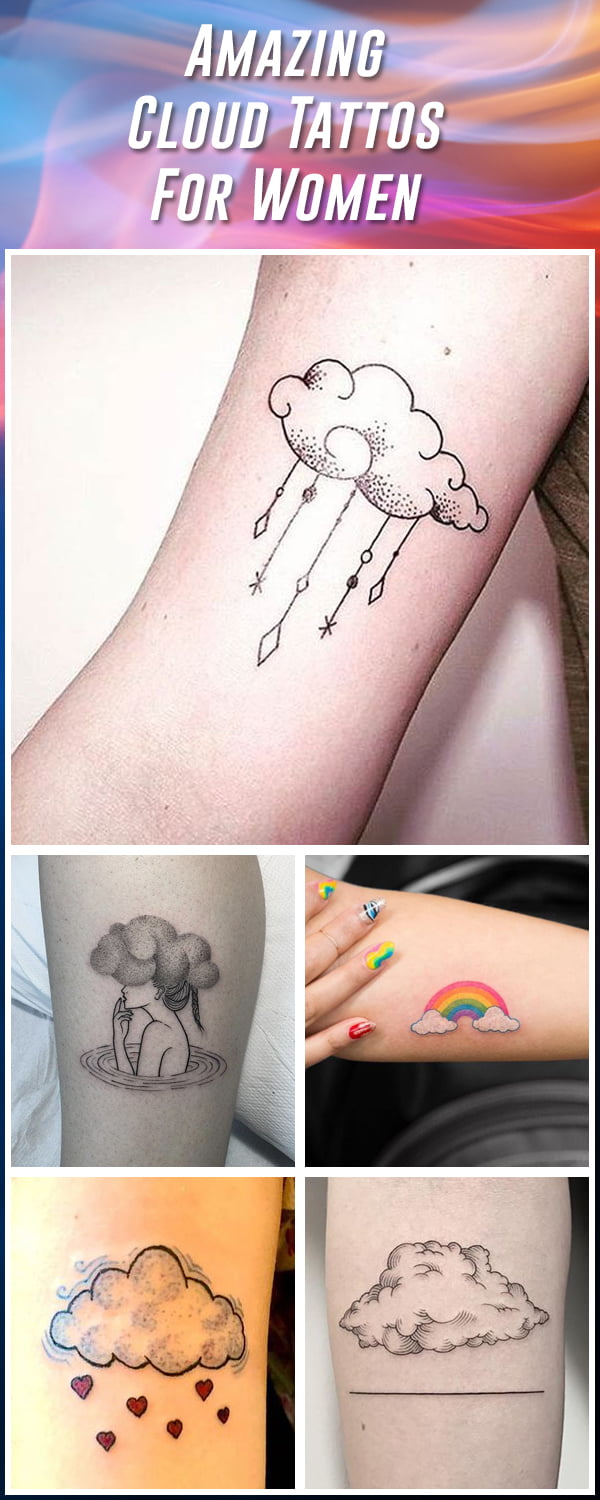 31. Cloud Tattoo Design: Tiny Rainbow and Cloud Tattoos on Shoulder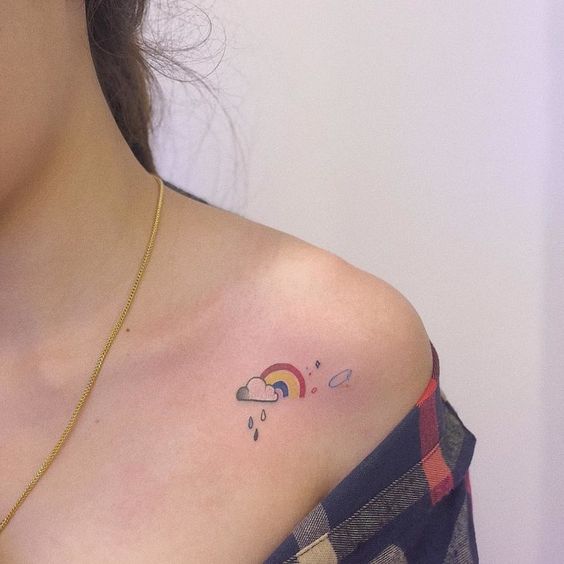 Colorful rainbows emerge after a storm has passed. In this dainty shoulder cloud tattoos design, a beautiful rainbow sits behind a cloud releasing its last drops of rain. Show the world your pride in overcoming adversity and achieving success by rocking this inspiring rainbow cloud tattoo.
32. Cloud Tattoos Idea: Floating Cumulus Cloud Tattoos with Blue Highlights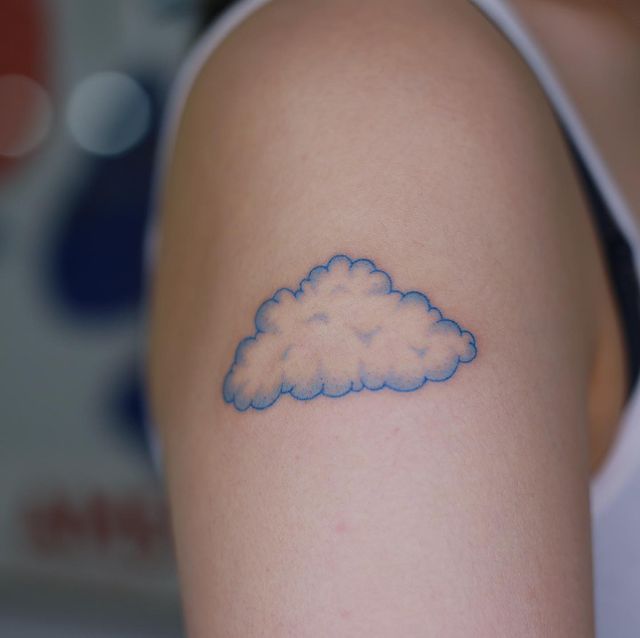 Within the black outline of this fabulous floating cloud tattoo are delicate blue highlights representing the natural puffs and billows of the sky vapor. A single cloud can signify many different things to each individual person. This realistic-looking cumulus cloud tattoos design evokes proud, feminine strength.
33. Crescent Moon Sitting Among Cloud Tattoos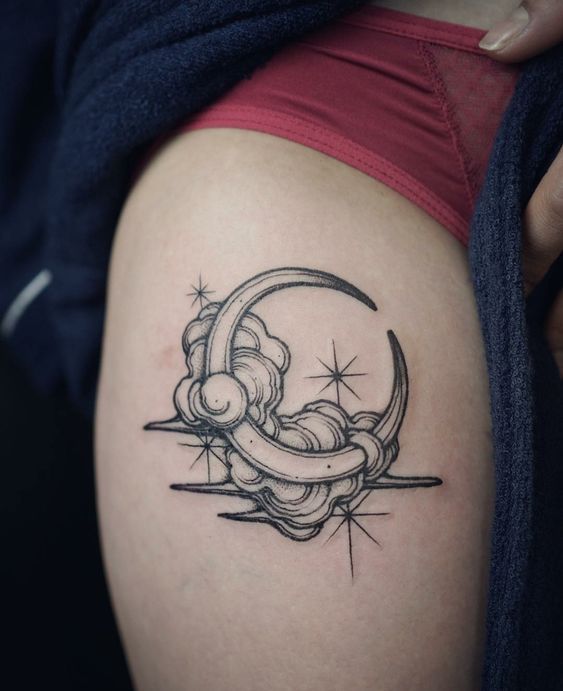 Ethereal and mystical, this beautiful shoulder cloud tattoos design shows a crescent moon resting comfortably among the clouds and stars. The grayscale moon and cloud tattoo is enhanced with a double outline and dimensional shading. Any creative and spiritual person will enjoy this heavenly cloud tattoos design inked on her body.
34. Cloud Tattoos Idea: Ornamental Cloud and Raindrops Tattoo in Grayscale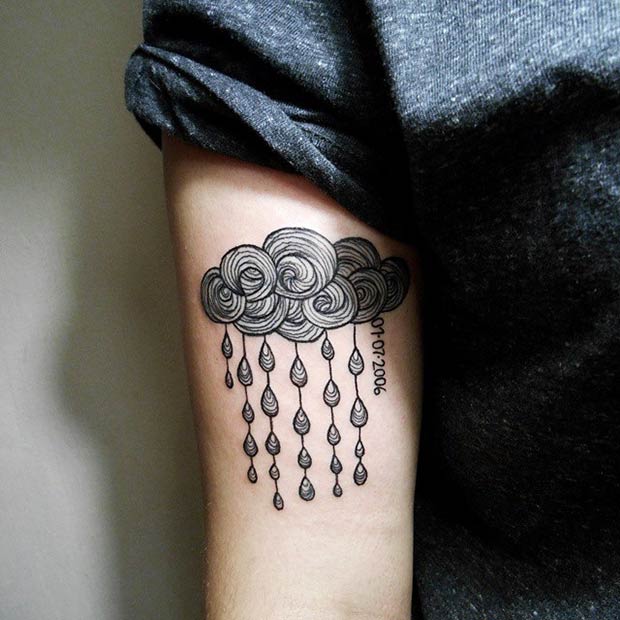 Sophisticated and elegant, this grayscale rain cloud tattoo is both fanciful and meaningful. Circular swirls combine with one another to produce an exquisitely detailed cloud with drops of rain dangling below like ornaments. Any location on the body is suitable for this contemporary cloud tattoo.
35. Cloud Tattoo Design: Black Outline with Blue Linework Cloud Tattoos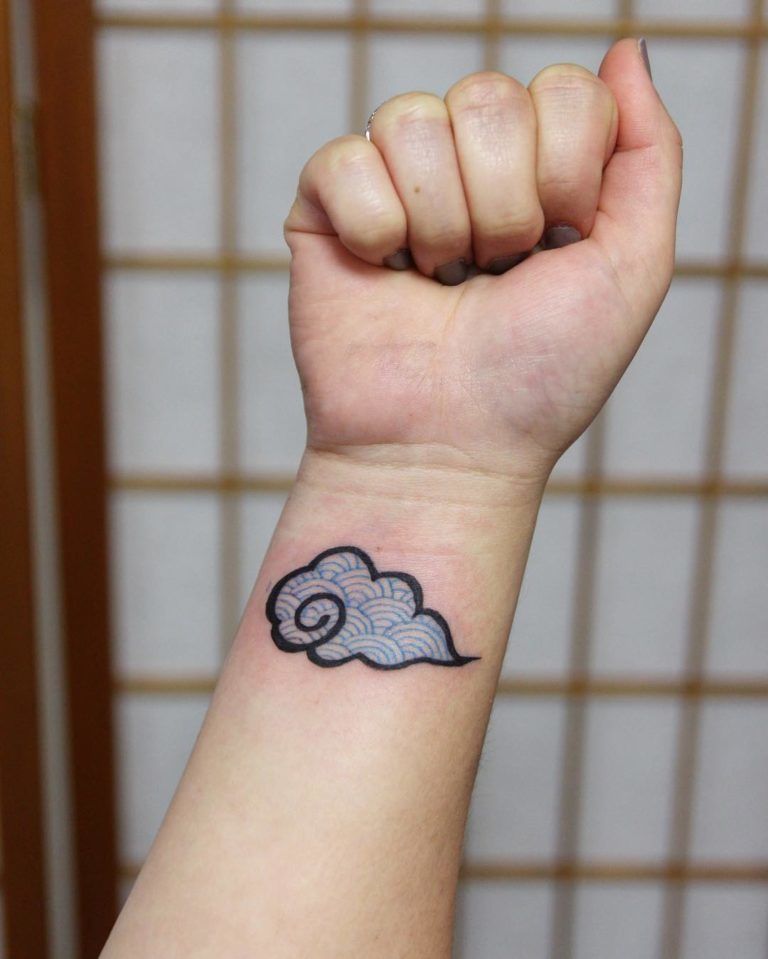 Minimalistic and modern, this Asian-inspired cloud tattoo features blue line work inside a thick black outline. The petite size, serene shape, and attractive design make this charming cloud tattoo perfect for the wrist. A practical and versatile cloud tattoo such as this may represent faith, resilience, or freedom.
36. Cloud Tattoos Idea: Black and White Raining Cumulus Cloud Tattoos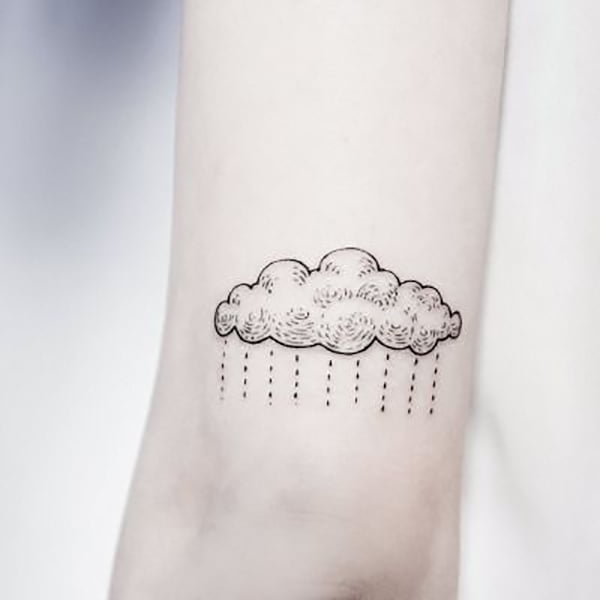 Although a rain cloud may seem dark or negative to some, it can also be a symbol of perseverance, accomplishment, and prosperity. In this emblematic black and white tattoo, symmetrical raindrops descend from a floating cumulus cloud. Give this classic cloud tattoos design your own personal meaning.
37. Colorful Rainbow with Cloud Tattoos on Arm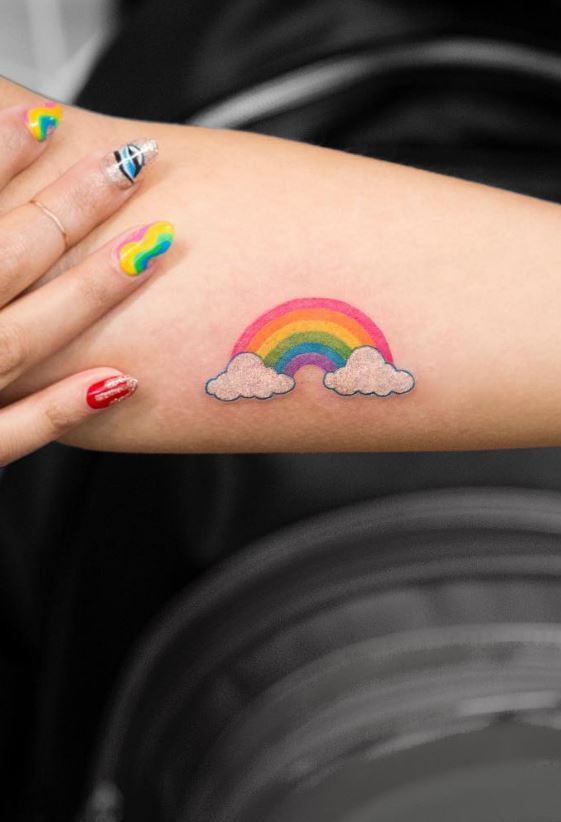 Cheerful and colorful, this delightful rainbow and cloud tattoo is beautifully displayed on the inside of the forearm. Rainbow and cloud tattoos such as this one are an excellent choice for a fun-loving person full of life. This forearm tattoos design may represent peace, friendship, joy, and happiness.
38. Cloud Tattoo Design: Thundering Cloud with Rain and Lightning Cloud Tattoos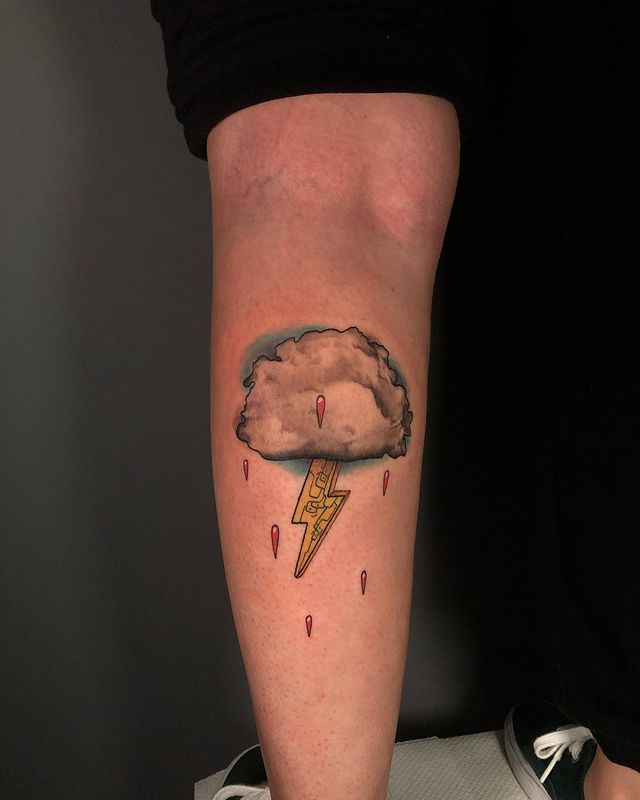 This captivating thunder cloud with rain and lightning tattoo evokes mysterious secrecy. It could be significant of remembering a darker time in life or a representation of transition and transformation. In addition to the gray shades in the cloud, this powerful cloud tattoos design also showcases yellow, red, and blue colors.
39. Cloud Tattoos Idea: Circular Sunrise and Clouds in Sky Tattoo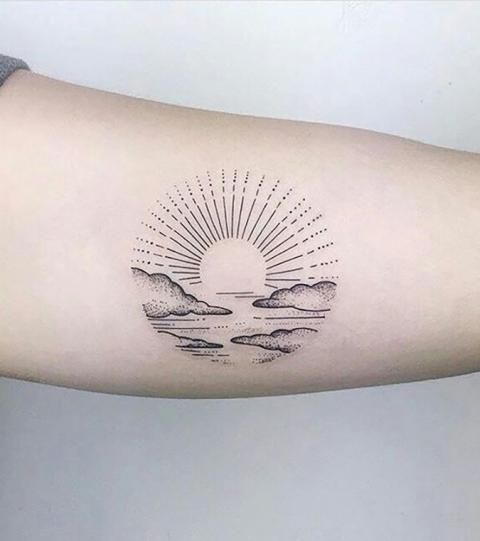 A serene sunrise with beaming rays of light and softly floating clouds is inked within an invisible circle frame. This alluring grayscale tattoo is a messenger of hope equating worries to the transient nature of the cloud. Simple and striking, this cloud tattoo is great for men and women.
40. Cloud Tattoos Idea: Purple and Blue Cloud Raining Hearts Cloud Tattoos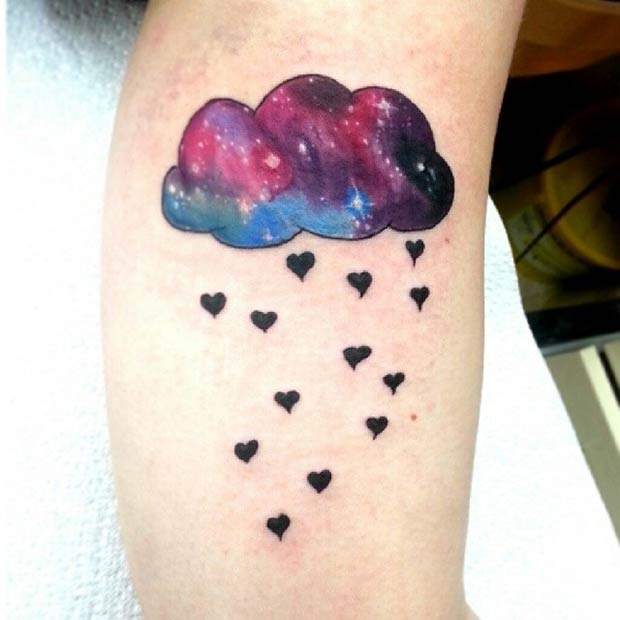 Instead of white or gray, this magical cloud tattoo is colored in gorgeous shades of purple and blue. There is no rain falling from this cloud, only adorable hearts of love. The amazing ink effects and whimsical design of this enchanting cloud tattoo make it fun and intriguing to view.
41. Cloud Tattoo Design: Woman Walking with Head in Cloud Tattoos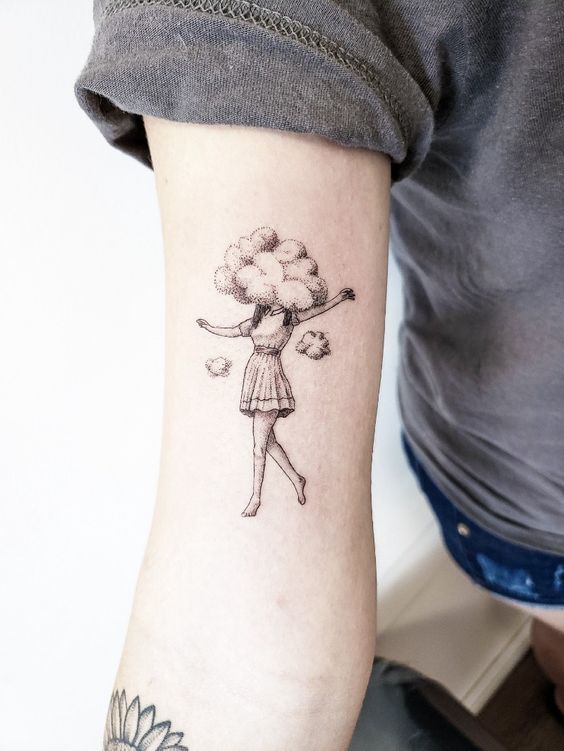 In this interesting and conceptual monochrome cloud tattoo, a young woman happily walks about with her head in the clouds and arms outspread. Sophisticated shading and realistic details give this fascinating tattoo an airy lightness. For the creative and lively woman, this is an ideal cloud tattoo.
42. Cloud Tattoos Idea: Cloud Tattoos on Center Back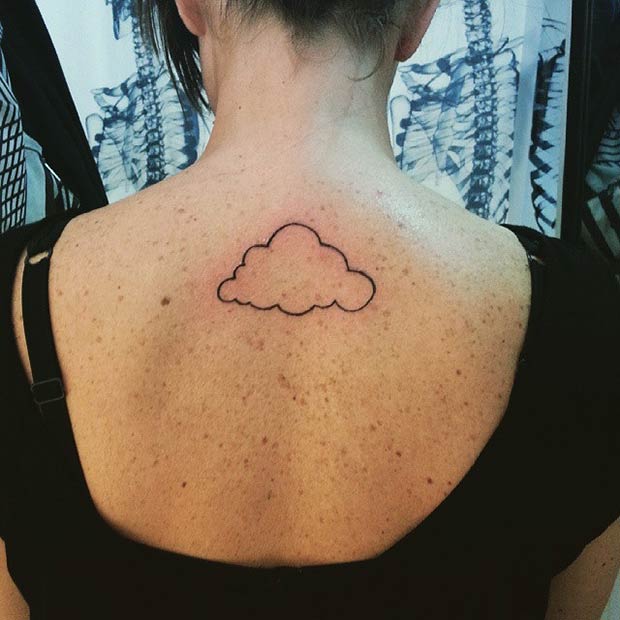 Minimalistic and easy to ink, the elegant cloud outline tattoo is placed prominently on the center of the back between the shoulder blades. Clouds are naturally connected with the sky and often seen as a symbol of peace and tranquility. Add your own unique touch to this simple cloud tattoo.
43. Cloud Tattoos Idea: Naked Woman Laying in Cloud Tattoos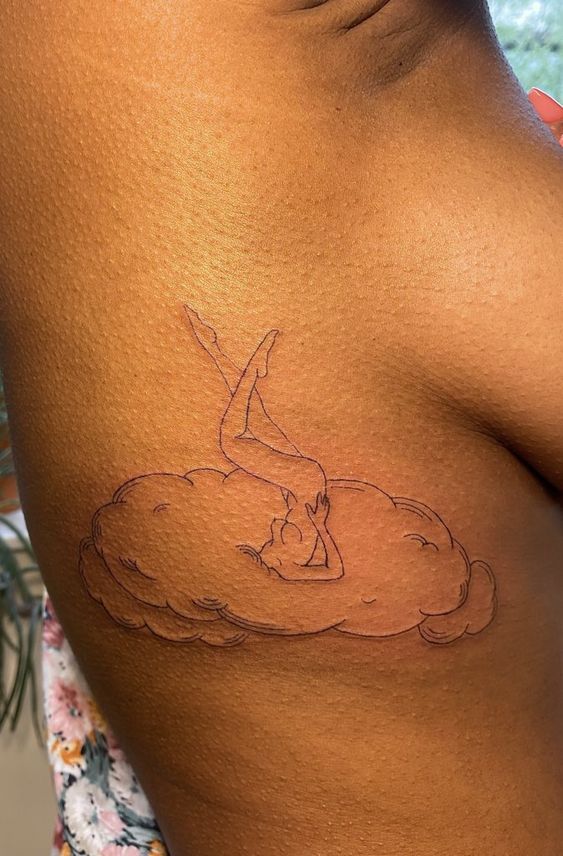 An image of absolute freedom, a naked woman kicks up her heels as her head lays buried in the fluffy clouds. This beautiful body art portrays a love of adventure and open-minded joy. With its delicate linework, this intriguing cloud tattoo inspires you to reach new heights in your goals.
44. Cloud Tattoo Design: Realistic Cloud Tattoos on Back Shoulder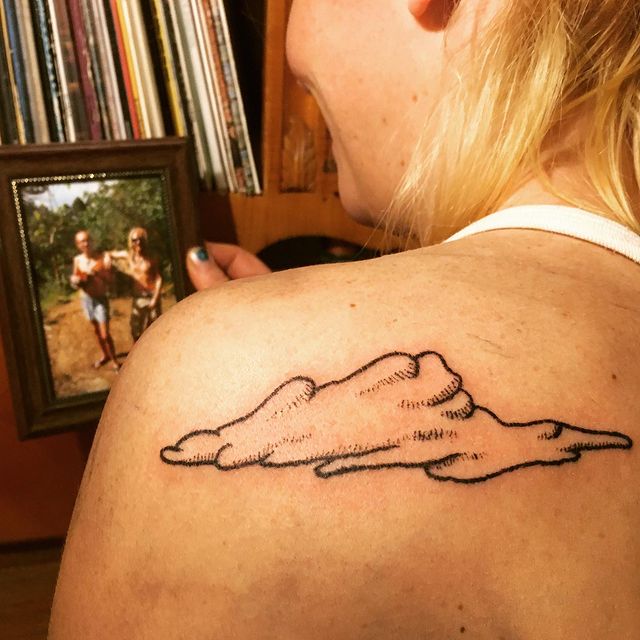 With its unfolding ripples, this realistic cloud tattoo gently floats across the back of a shoulder. Clouds are an abstract view of the heavens and are often inked in memory of a loved one. The permanent cloud tattoos design artwork on your body is a sign of your devotion and remembrance.
45. Woman with Head in the Sky Cloud Tattoos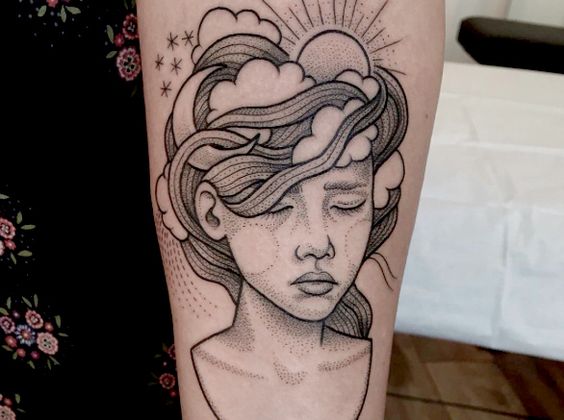 A woman deep in thought with her head in the clouds is featured in this profound monochrome cloud tattoo designs idea. Surrounding her head are clouds, the sun and stars as though her mind is in the sky. This thought-provoking cloud tattoos design may represent personal growth, resilience, and deep understanding. Sun and moon tattoos could also work in this design.
46. Coordinating Sunshine and Thundercloud Leg Cloud Tattoos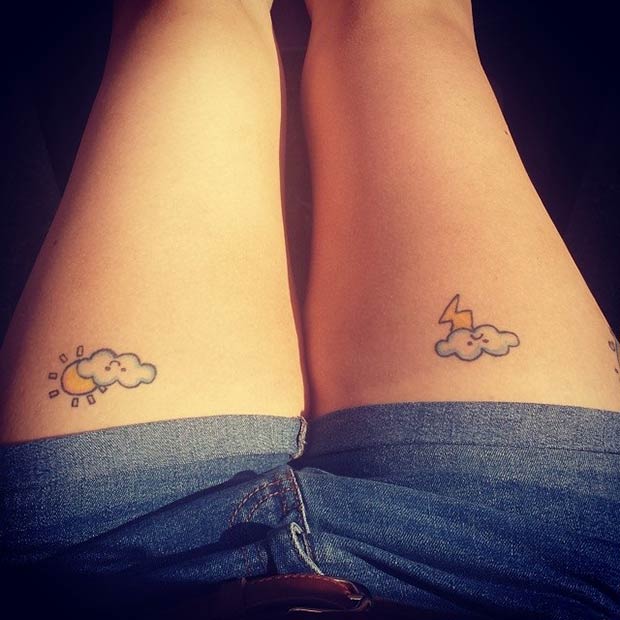 Comparing weather with emotions, the coordinating sunshine and thundercloud tattoos show both happiness and gloominess. On one leg is a smiley-faced cloud with a yellow sun peeking out while on the other leg is a sad-faced cloud with a lightning bolt. These two cloud tattoos are fun, flirty, and amusing.
47. Cloud Tattoo Design: Celestial Scene with Clouds Back Tattoo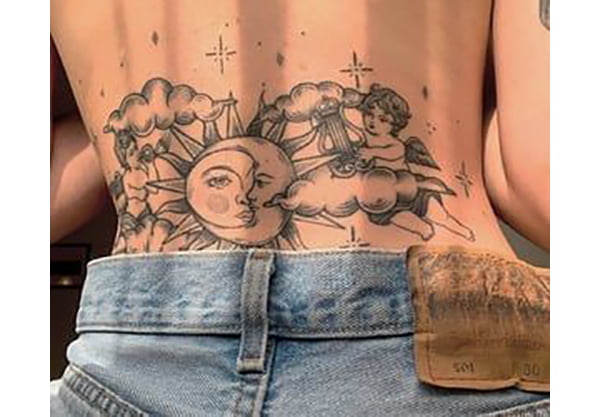 Exquisitely inked across the lower back, this mystic grayscale cloud tattoo designs idea contains an entire celestial scene. A merged sun and moon along with a cherubic angel are nestled among the blissful clouds. The angel may symbolize a guardian or loved one who has passed on but is always with you.
48. Billowy Cloud Tattoos with Ornamental Rain Drops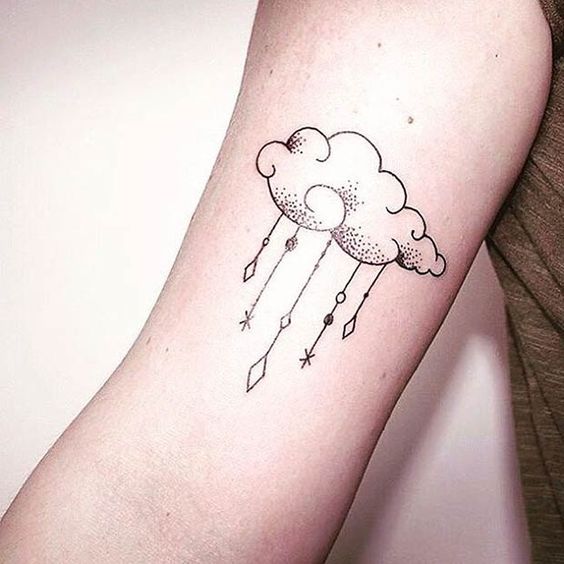 This unique grayscale billowy cloud tattoo showcases the water vapor with ornamental rain dangling below. Geometric raindrops, shown as stars and diamonds, are a compelling contrast to the soft curvy shape of the cloud. Elegant with a bit of whimsy, this is a pleasantly genuine cloud tattoo.
49. Realistic Monochrome Cloud Tattoos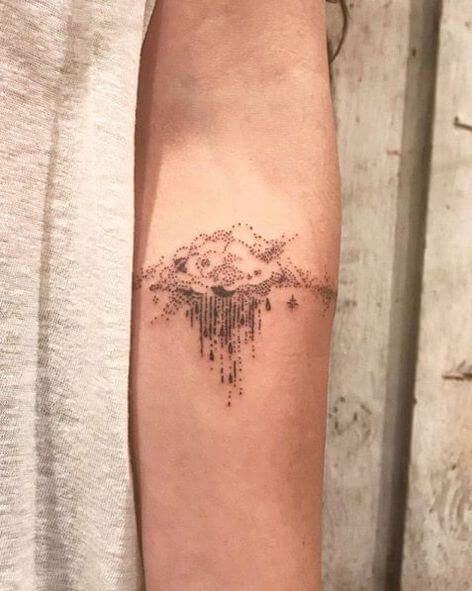 Fierce and ferocious, this grayscale raining cloud tattoo designs idea represents how life is a collection of good and bad experiences. Realistic shading and intricate lines give this compelling cloud tattoo a powerful and dramatic appearance. Both men and women appreciate the natural beauty of this amazingly detailed cloud tattoo.
50. Matching Sun and Rain Cloud Tattoos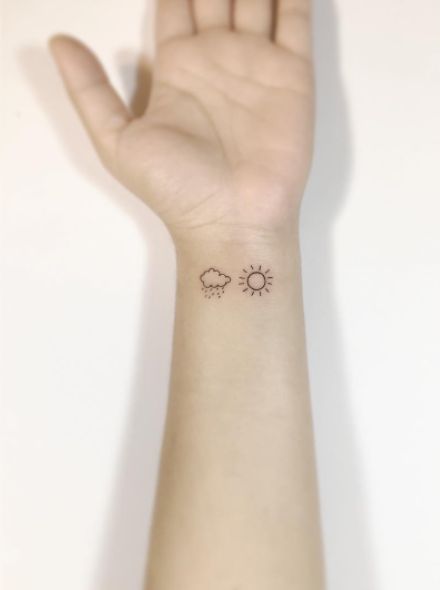 Tiny cloud tattoos such as this straightforward matching sun and rain cloud tattoo are perfect for small areas like the wrist. Not only are they appealing, but they are also great for someone new to tattooing and unsure about a larger cloud tattoos design. These minimalistic sun and cloud tattoos are delicate and meaningful.
51. Cloud Tattoo Design: Shining Sun and Clouds in Sky Cloud Tattoos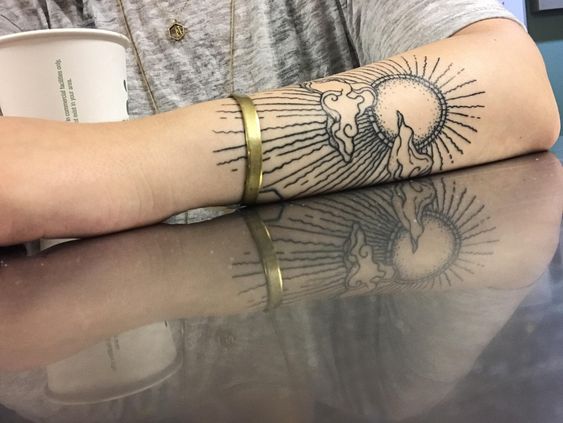 Using lines to form a picturesque cloud tattoos design, this is a truly inspiring and beautiful cloud tattoos idea. The serene scene depicted in this attractive tattoo has religious and spiritual vibes, reminiscent of having connected with faith. Strong men and women enjoy the divine feeling of this stunning cloud tattoos design.
52. Matching Tattoo Idea: Rain Cloud and Umbrella Cloud Tattoos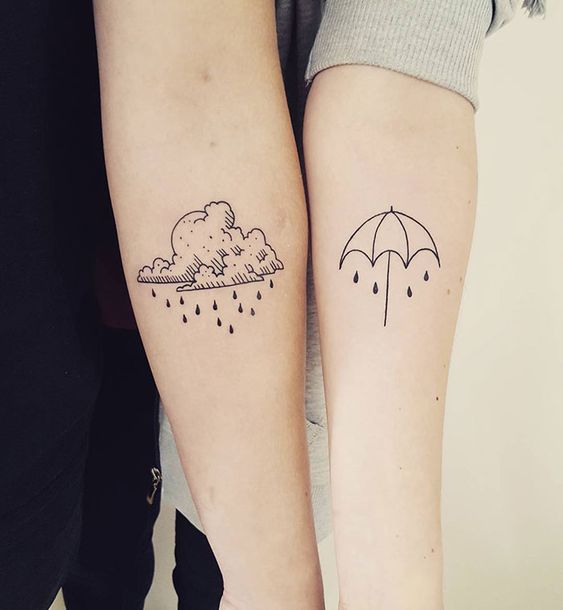 Although rain cloud tattoos may represent darkness in a person's life, they can also be symbolic of moving forward from the past into lighter days. This refreshing set of two black and white tattoos shows both the rain cloud and an umbrella for protection. The combination evokes strength and endurance in this cloud tattoo designs idea.
53. Cute Cloud Raining Love Tattoo on Arm Cloud Tattoos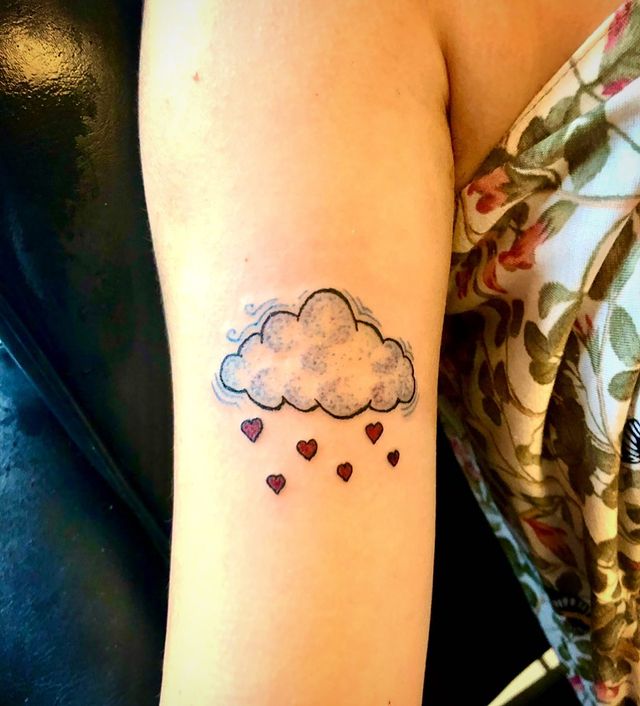 Instead of raindrops, this adorable fluffy white cloud tattoo is raining cute little red hearts filled with love. One of the happiest clouds you will find, the pleasant puff is a reflection of spreading love, light, and positivity. Drizzling love, this lovely cloud tattoo is nice anywhere on the body.
54. Cloud Tattoo Design: Woman with Head in Cloud Tattoos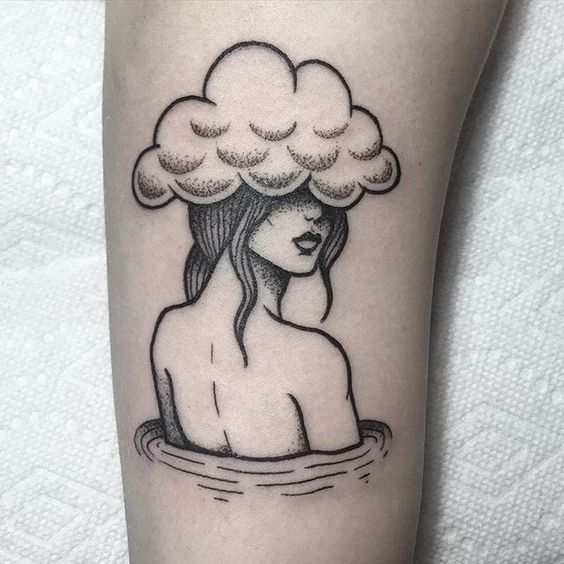 Witty and creative, this conceptual cloud tattoo features a woman with her head in the clouds. A representative of someone with her head in the sky, the ingenious black and white cloud tattoos design depicts this literally and metaphorically. As the woman looks over her shoulder, it makes you wonder what she's thinking.
55. Tattoo Design of Tiny Raining Cloud and Rainbow Tattoo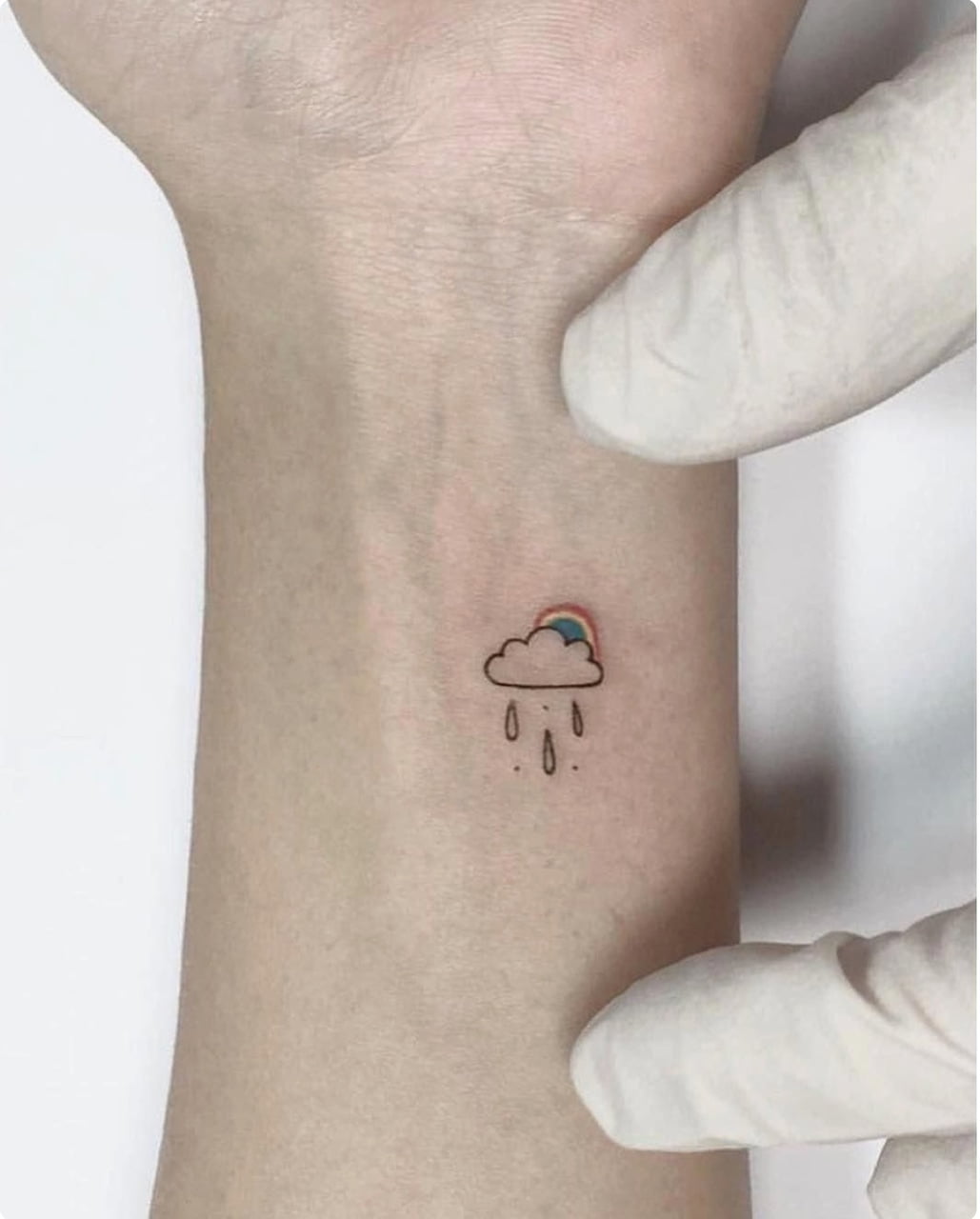 There is so much emotion and meaning packed into this tiny raining cloud and rainbow tattoo. Combining the symbolism of water and air is representative of the balance between intellect and emotion. The bit of color from the rainbow popping out behind the cloud gives the cloud tattoos design joy and delight.
56. Tattoo Design of Simple Cloud Outline Ankle Tattoo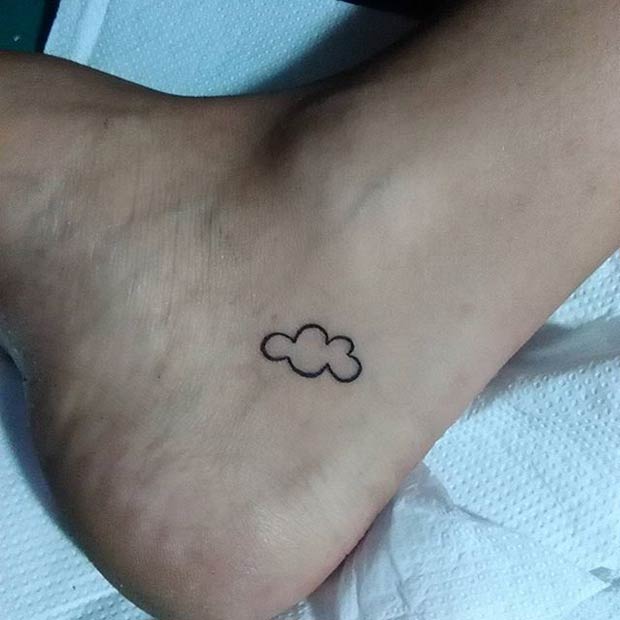 Delicately inked on the ankle, this simple cloud outline tattoo invokes an image of walking on air. There is no color or details to take away from the noticeable shape of the cloud. Inspiring hope and freedom, this small cloud tattoo may have a variety of personal meanings.
57. Tattoo Design of Mystical Woman with Cloud Tattoos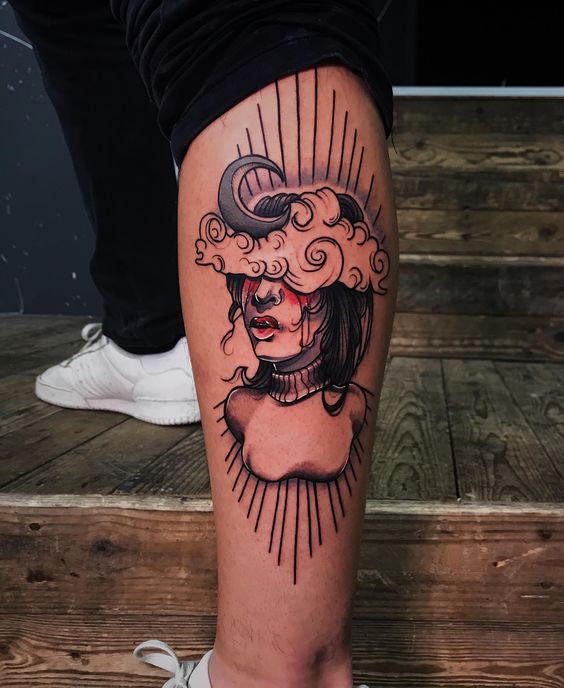 Sacred elements such as a crescent moon and swelling clouds surround a mystical woman in this exquisite black and white cloud tattoos design. Soft, subtle shading and thought-provoking details make the woman's facial features come to life. An ideal cloud tattoo for a spiritual individual, this is a divine cloud tattoos design.
58. Cloud Tattoos Idea: Clouds in Sky with Castle Leg Tattoo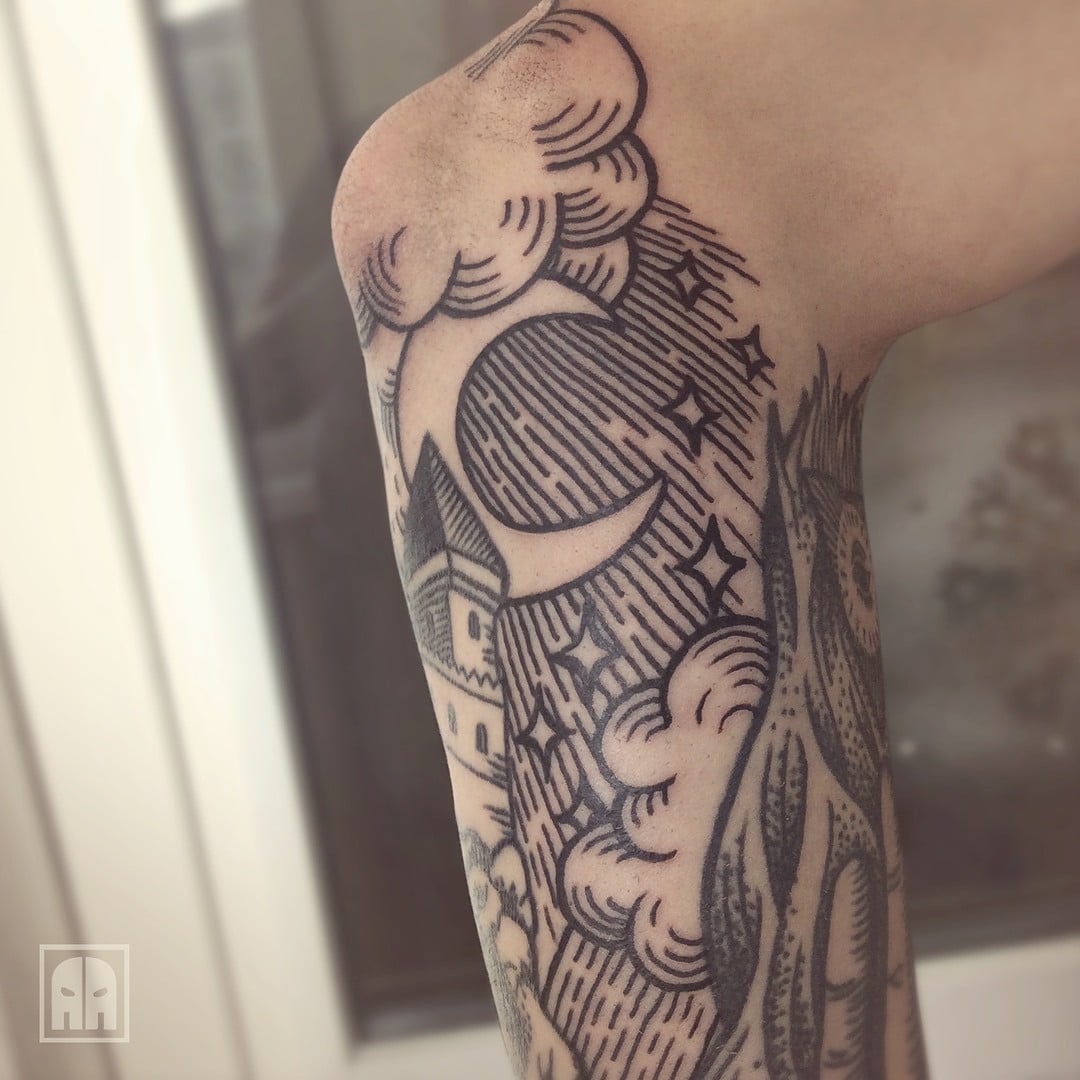 Like an illustration in a storybook, this spectacular black and white cloud tattoos design depicts a scene of a castle against a night sky. Clouds, stars, and moon hang around in the background with a magical castle and mountain set in the forefront. This whimsical cloud tattoo is fun and meaningful and one of our favorite foot tattoos.
59. Small Tattoo Idea: Cloud Raining Celestial Stars and Moons Cloud Tattoos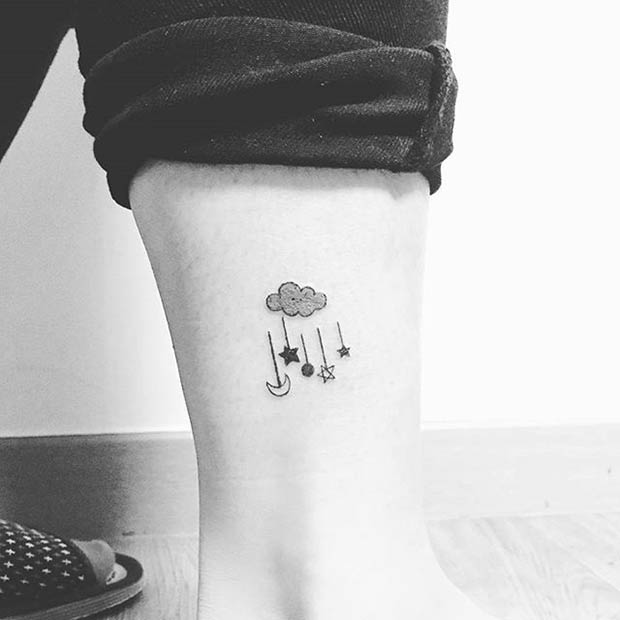 In this black and white cosmic cloud tattoo, celestial stars and moons rain down from the puffy billow. A sign of hope and spirituality, the elements in this creative cloud tattoo exude positivity. Small in size with an adaptable design, this cloud tattoo can be inked anywhere on the body.
60. Swimming Woman with Head in Cloud Tattoos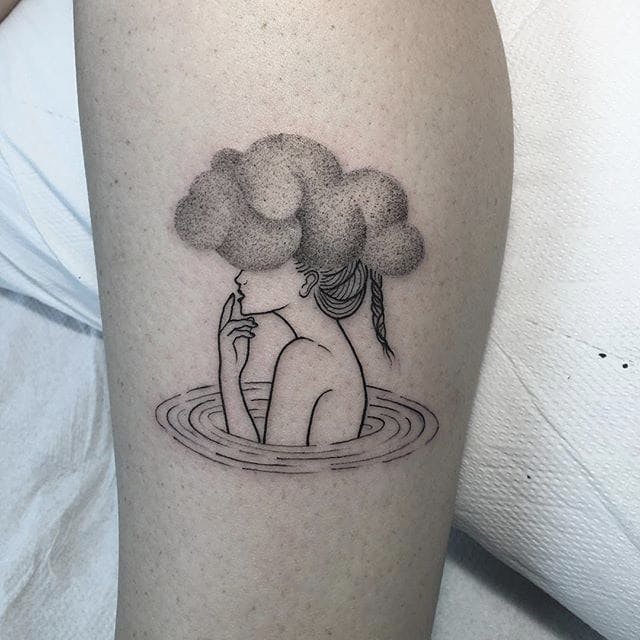 Merging water with air in a cloud tattoo is symbolic of harmonizing your intellect with your emotions. Delicate dot work is used to give the soft, fluffy cloud texture while meticulous lines bring an artistic feel. This swimming woman with her head in the clouds is a highly conceptual cloud tattoos design.
60 Best Cloud Tattoo Ideas for Spirited, Intelligent Men and Women
As you can see from these 60 incredible and diverse cloud tattoo ideas, the sky's the limit in your ultimate decision. The personal meaning and symbolism of your cloud tattoo is entirely up to you. Choose to keep it traditional with the sun and stars or add unique colors or elements to make your cloud tattoo truly special. Opt for a distinct, solo cloud outline for a minimalistic design or select a more intricate, detailed sky scene filled with floating clouds. Whether it is a memorial cloud tattoos design in honor of a deceased loved one or honoring a successful life transition, a cloud tattoo is a great choice for a personalized, meaningful design.