Coming up with the best semicolon tattoos isn't the easiest thing. You want something meaningful that still looks nice. You might want something that is more of a literary reference that you enjoy like star wars tattoos, or you might want something that uses the meaning of the semicolon as a longer pause or a way to connect two independent clauses. Either way, you should consider carefully what you want in your design and if you want color or a solely black and white piece. You should also decide if you want only a semicolon or if you'd like other design elements or even a meaningful quote
60 Stunning Best Semicolon Tattoos Out There
Tattoos are generally picked for their meaning to the person wearing them. You don't have to put a lot of meaning into your tattoo, but making it personal will mean you will likely still enjoy how it looks even after having it on your skin for decades, even if it's just a tiny wrist tattoo or a complex tribal tattoo. Using punctuation like periods, commas, and semicolons can symbolize transitions in your life our mark a new era when combined with elements that reference these events. You can also use them with quotes to help show a philosophy you believe in or either highlight an important moment in your life. No matter what you decide to do, consult with your tattoo artist to make a tattoo you will love for years to come. Your artist is the expert and will know best how to make a design that will work for you. Just remember not to ask for a direct copy of a design since many artists consider that plagiarism. Now that you have an idea of what you should be paying attention to, we'll move on to going over our tattoo designs to help inspire your unique future tattoo and to get a semicolon tattoo.
1. A Meaningful Quote Over a Semicolon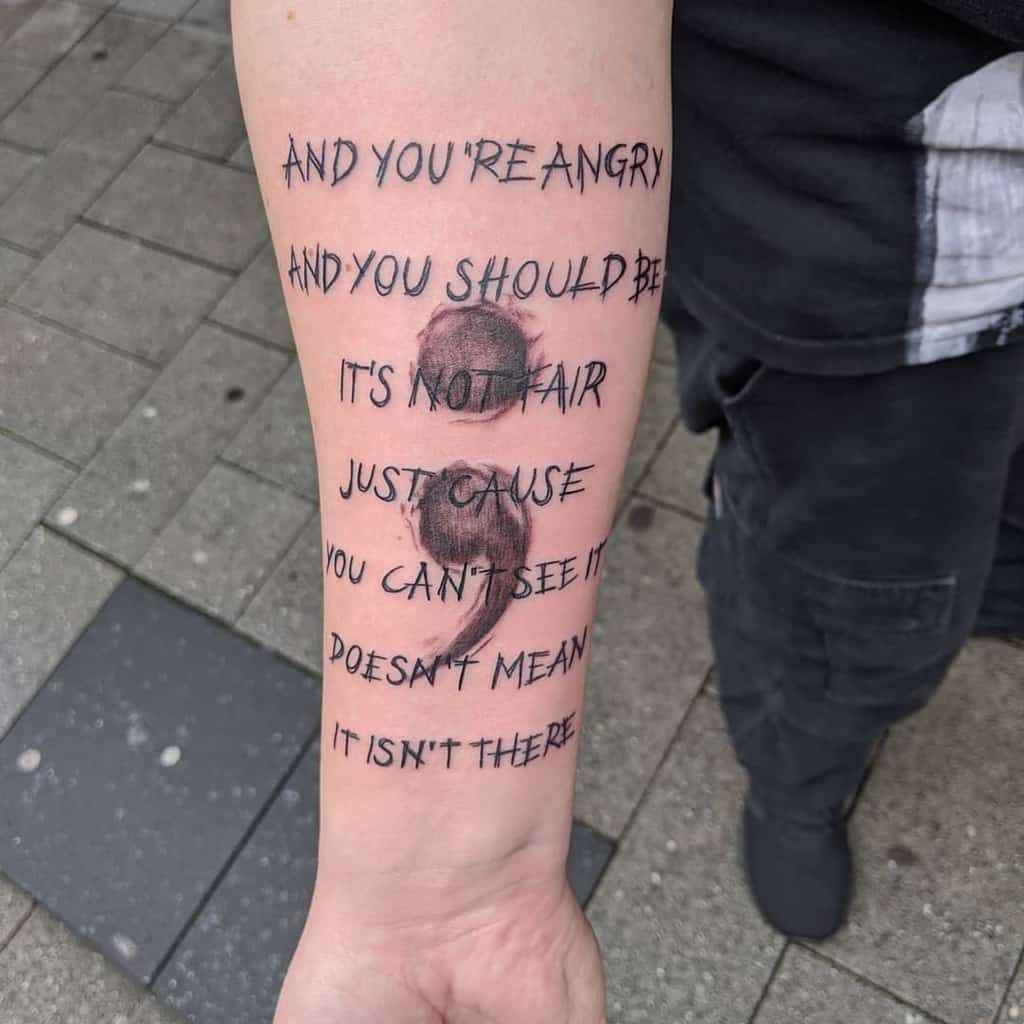 This is a great way to do a semicolon tattoo. The semicolon was created first in a sketchy style, and then the quote put over top. The sketchy look of the semicolon matches the righteous anger that the words evoke
2. A Semicolon Inside of Geometric Shapes Semicolon Tattoo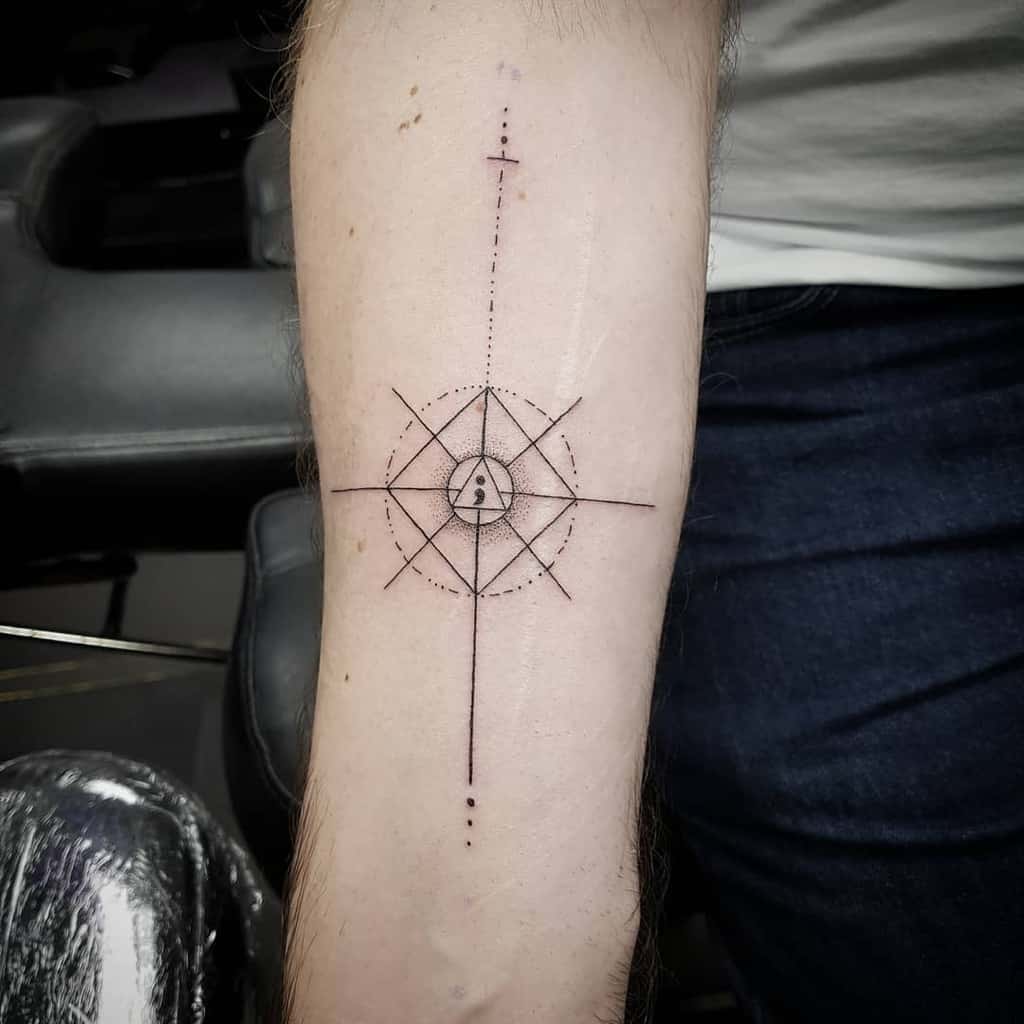 This is a great geometric design for those who love minimalism. The semicolon is inside a triangle that is contained within a diamond. The light lines are sketchy and help anchor the design into the skin. The design is a great choice for anyone wanting a striking tattoo
3. Small Semicolon on the Wrist Semicolon Tattoo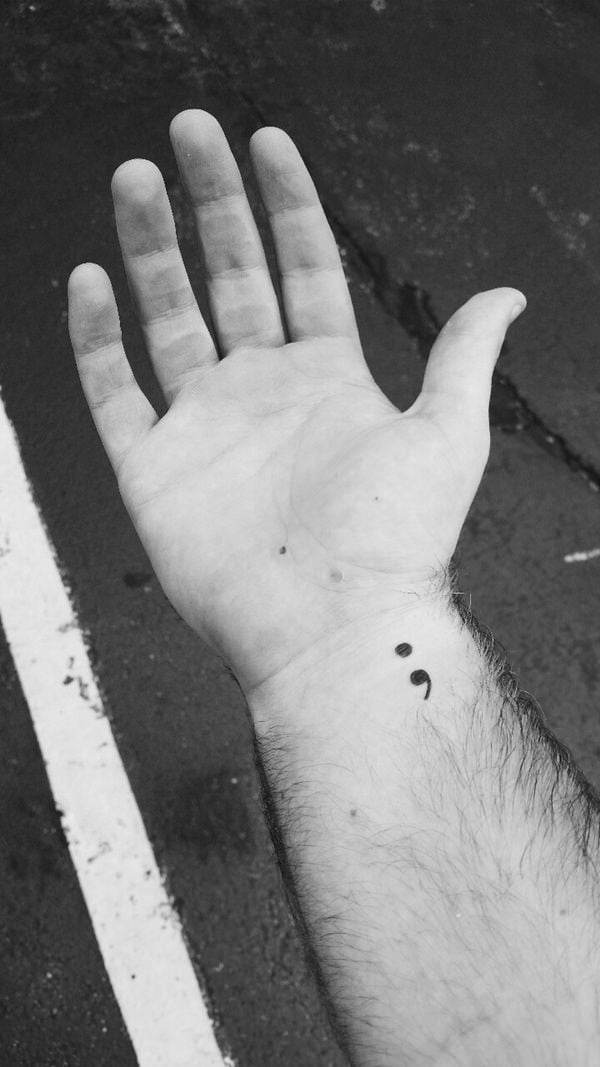 Small tattoos on the wrist are becoming more popular. These tattoos are great for anyone who wants something for a first tattoo. The small size and simple design of the semicolon wrist tattoo mean that it would be less painful to get than a larger or more complicated tattoo. Cloud tattoos can complement this design really well!
4. A Semicolon in an Inkblot Style Semicolon Tattoo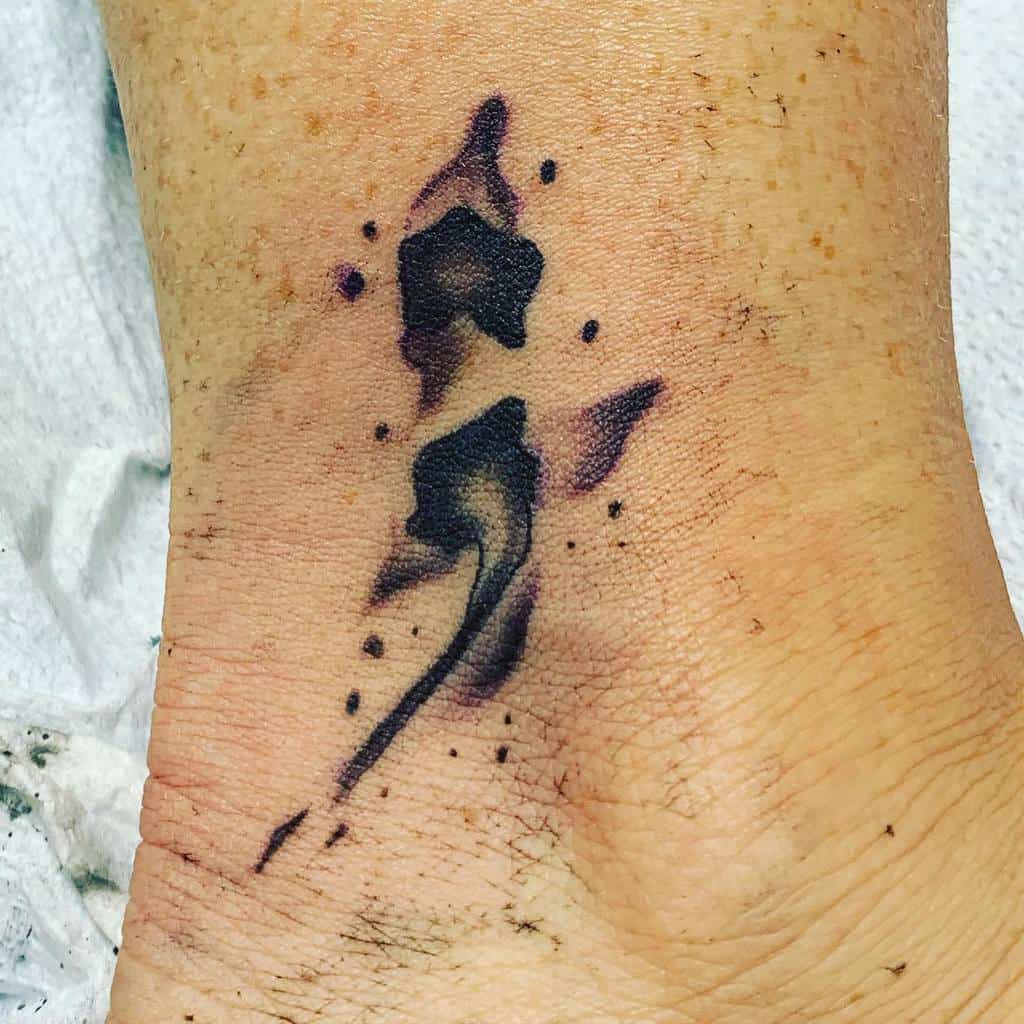 This cool tattoo looks like an inkblot splattered against the skin. The droplets of ink around it contribute to this feeling of a happy accident. The shading makes it look like fresh, wet ink. This should be a great idea for a writer or editor
5. Semicolon and Lines on an Ankle Semicolon Tattoo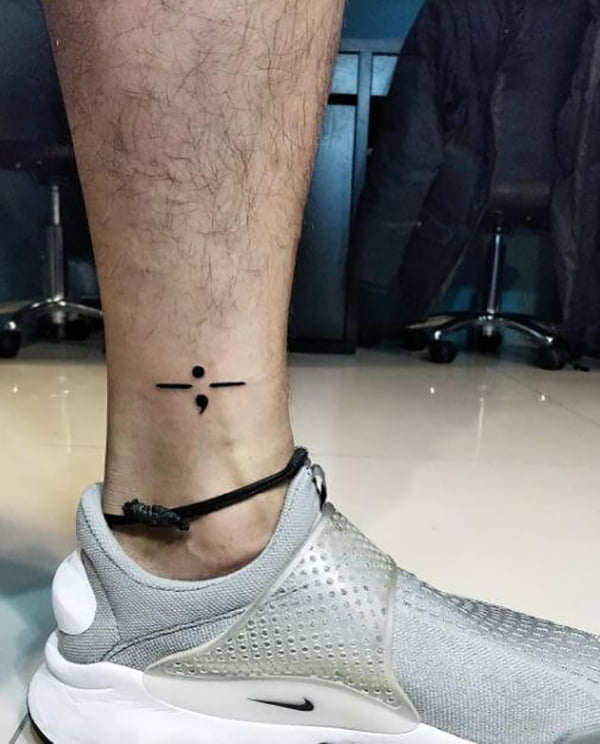 This is another great tattoo idea for those looking for something small and simple for a first tattoo. The minimalist design makes it less painful to get although ankles can be more sensitive. If you're worried about pain, be sure to discuss placement with your tattoo artist
6. Semicolon Over Heart, Quote, and Flowers Semicolon Tattoo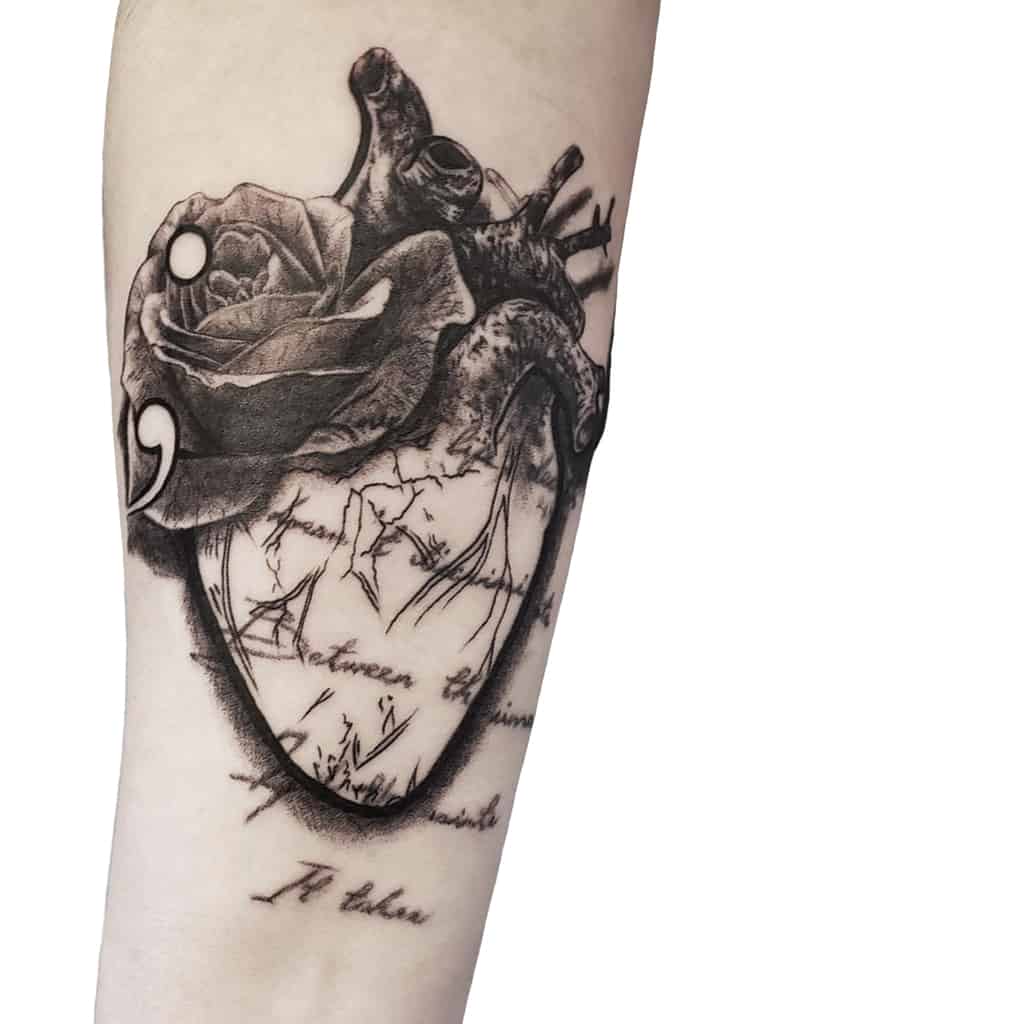 This is another great idea for a writer or anyone who loves literature. Rose and heart tattoos can symbolize love. A meaningful quote can help reinforce the meaning you intend. The negative space semicolon helps make the design less heavy and makes it visible
7. Simple Semicolon with a Disney Twist Semicolon Tattoos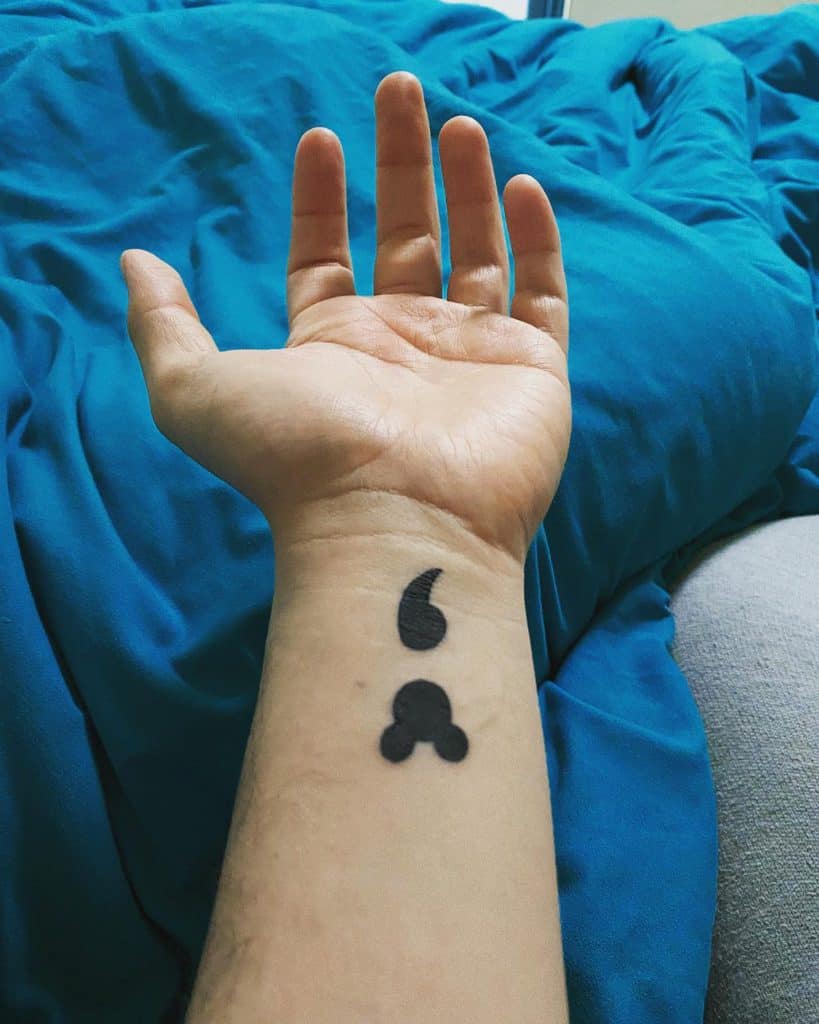 This tattoo is great for any fan of Disney. The dot of the semicolon has been turned into a Mickey Mouse head. This brings to mind the many hidden Mickeys found all over the Disney parks. Anyone who loves seeking these out would love these kind of disney tattoos.
8. Sketchy Semicolon with a Fingerprint Semicolon Tattoos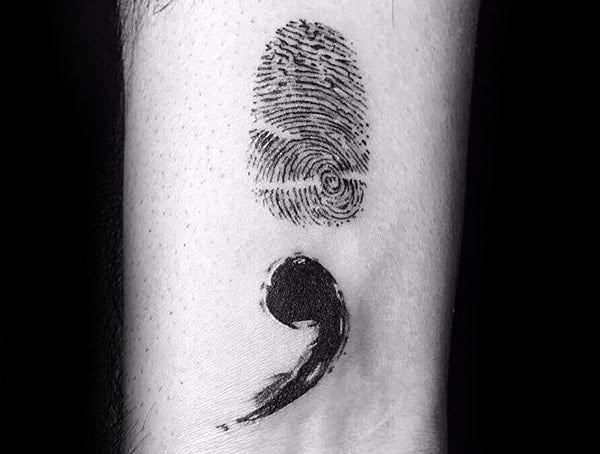 This cool tattoo has a fingerprint for the upper dot with the lower half of the semicolon in a sketchy style to match. You could easily ask to use a real fingerprint that belongs to someone you love to make the tattoo even more meaningful. This would be a great memorial tattoo or one to mark a long separation like when you or a loved one move to another country
9. Matching Tiny Semicolons on a Wrist Semicolon Tattoos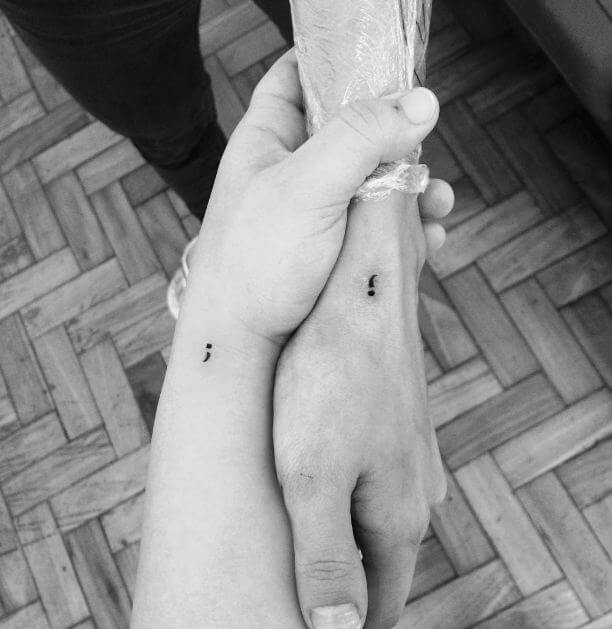 Matching tattoos are great for showing a bond. A simple one like this means even if you have a falling out in later years you won't have to deal with an obvious matching tattoo. The small size makes it good for a first tattoo as well
10. Semicolon in a Electrocardiogram Line Semicolon Tattoos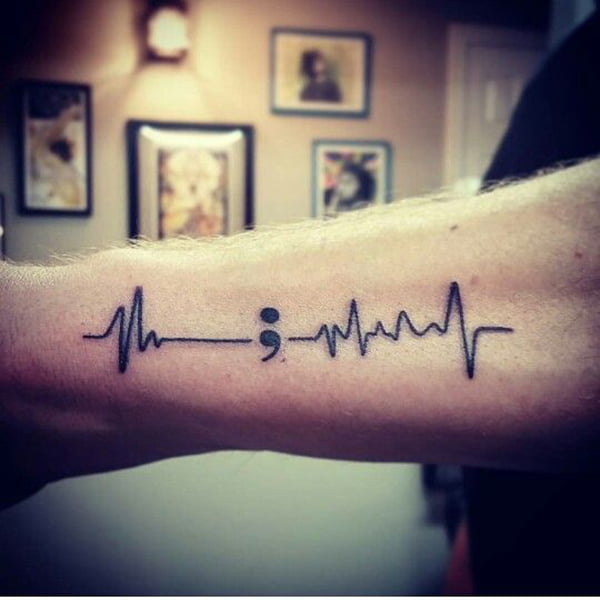 This interesting tattoo is a semicolon in an electrocardiogram that shows the heart briefly stopping. This would be a great way to celebrate survival after a near-death experience. The semicolon shows that while there we a pause, life continues. It could also mean life continuing on after any major event
11. Arrow with a Semicolon and Words Semicolon Tattoos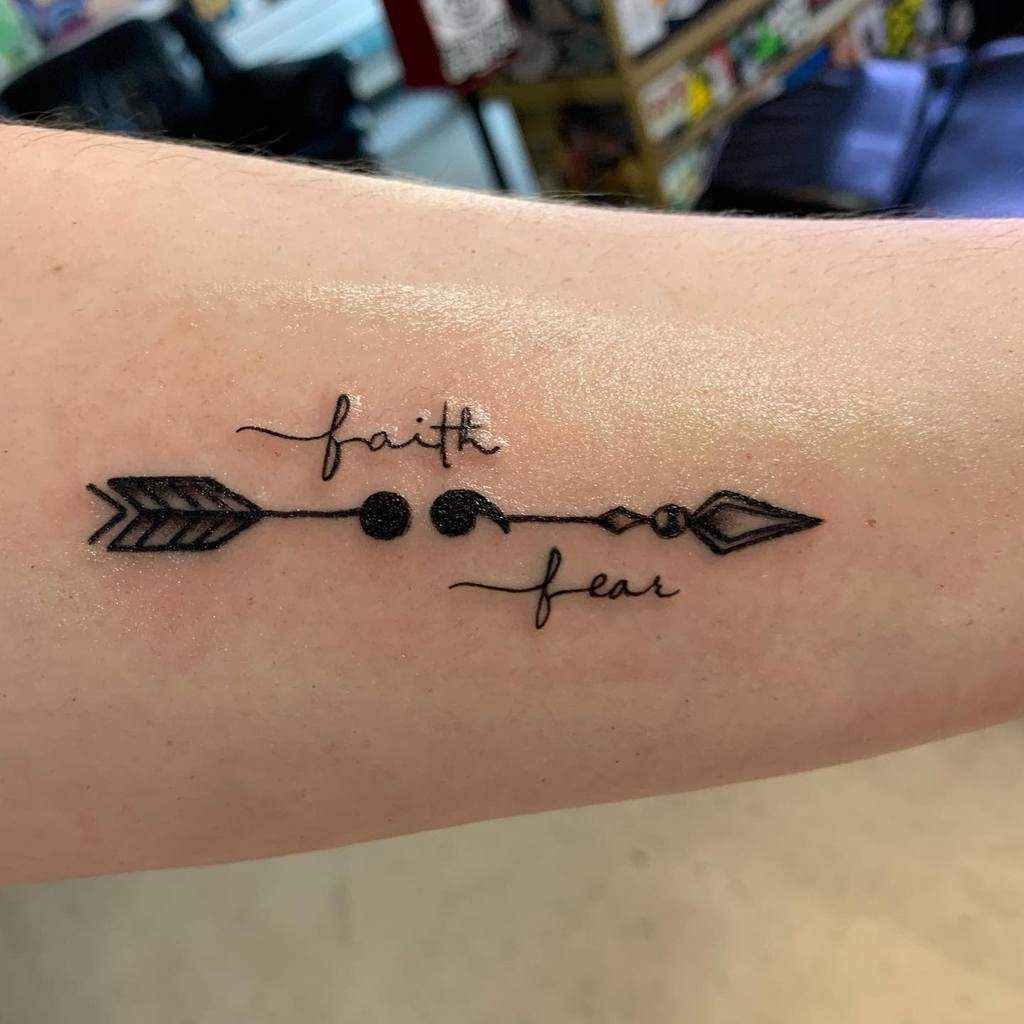 This is a very symbolic tattoo idea. The semicolon separating fear and faith can mean that fear has stopped and faith has taken over. This would be very meaningful for any religious person. The arrow could mean an event that separated these or could be relaxed with something else that is meaningful to you. This can work as a mental health tattoo too.
12. Warrior Tattoo with Phases of the Moon Semicolon Tattoos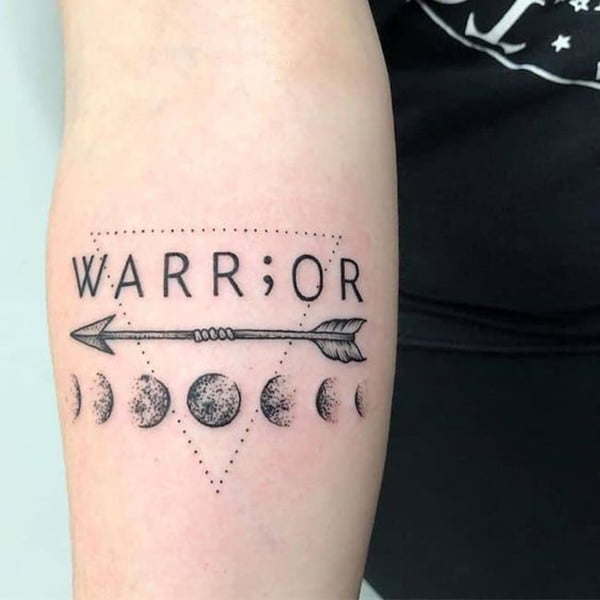 This tattoo is another symbolic one that could be customized for you. The word warrior has a semicolon, such could mean having to pause in a fight before continuing. This might be a great idea for someone who survived cancer or another disease
13. Resilient with a Semicolon and a 3 Semicolon Quote Tattoo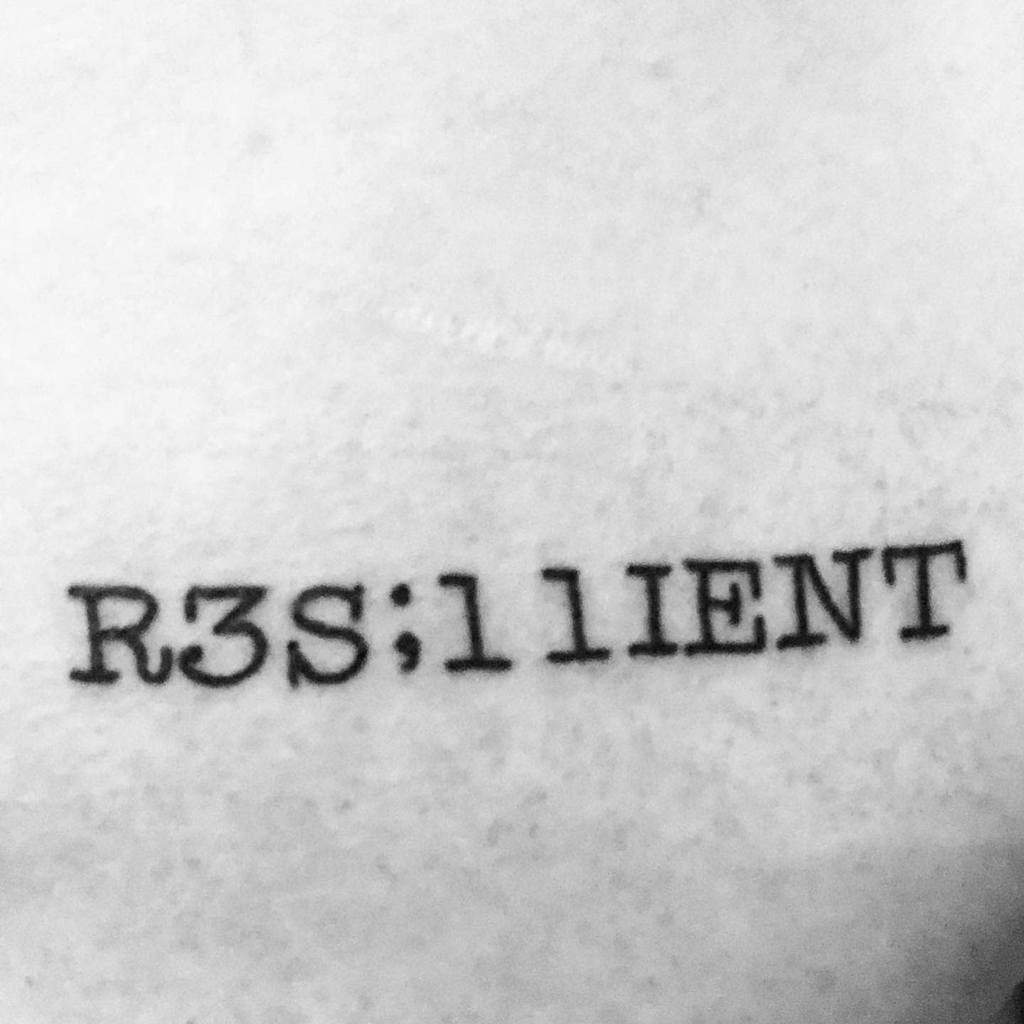 This is another tattoo that could symbolize survival. Resilient is a word that refers to being able to recover. The semicolon could mean a difficult fight and a number might be significant to the person who is wearing this tattoo. This can work as a mental health tattoo too.
14. Simple Tree Tattoos Design with a Semicolon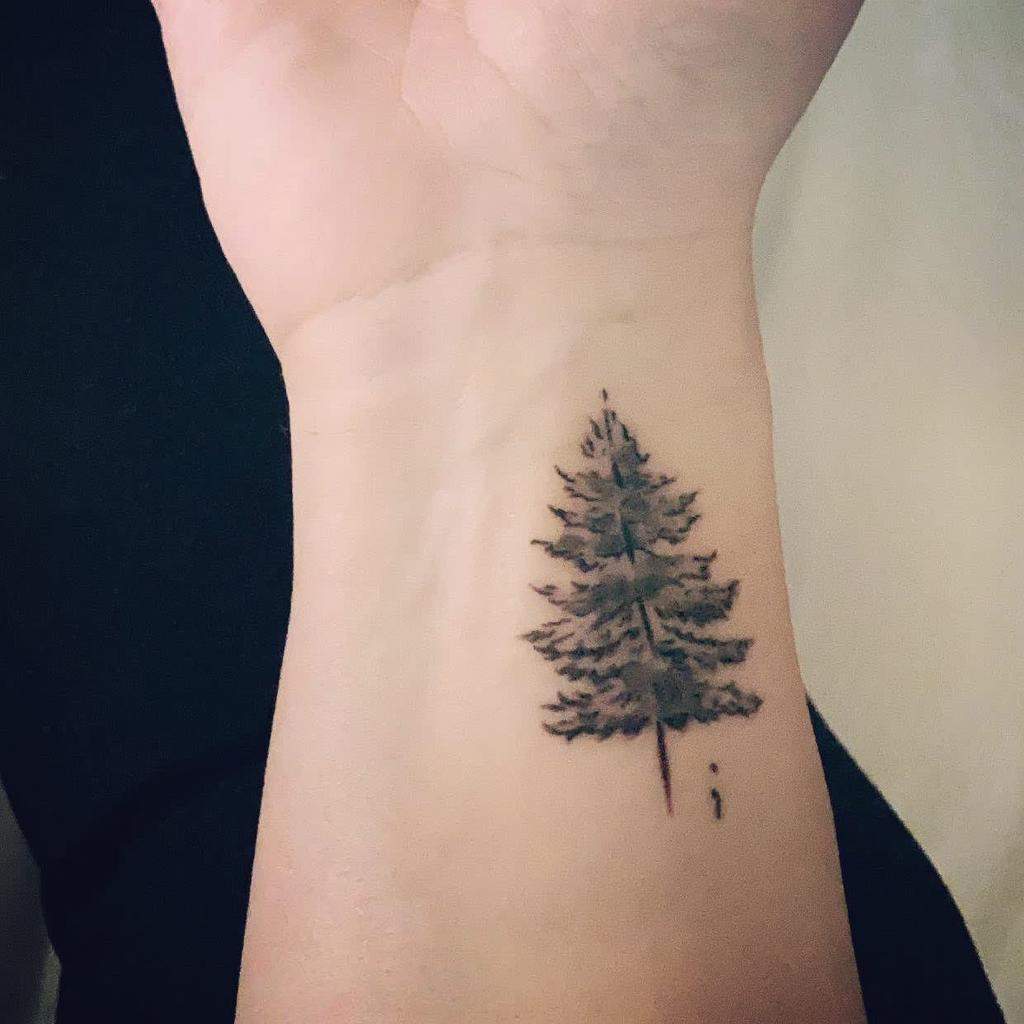 This is a great tattoo with a simplistic design. The tree has an almost watercolor style despite being grayscale and the semicolon looks like a person. The meaning could easily be about having to take a pause in nature. This makes it great for any outdoor enthusiast. This can work as a mental health tattoo too.
15. Gothic Death with a Semicolon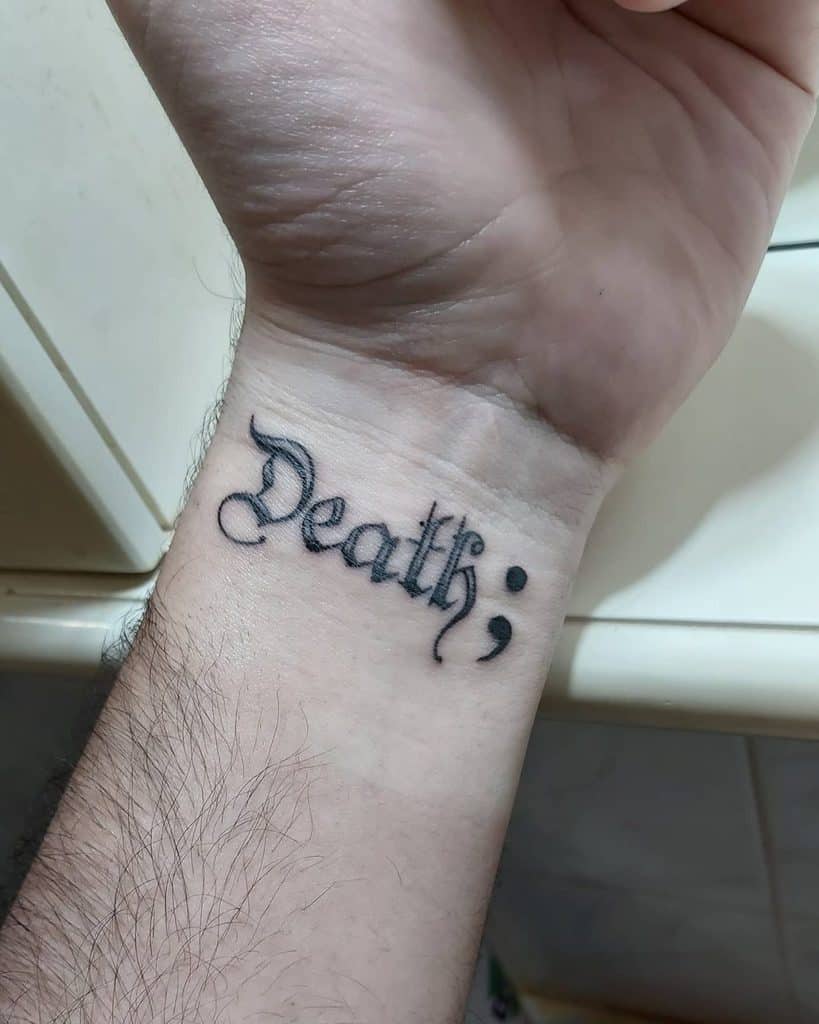 The word death is in a gothic font and has a dark black semicolon at the end. A tattoo like this can have a lot of symbolic meaning. This can include the idea that death is only a brief pause rather than a final end
16. Cursive Quote with a Semicolon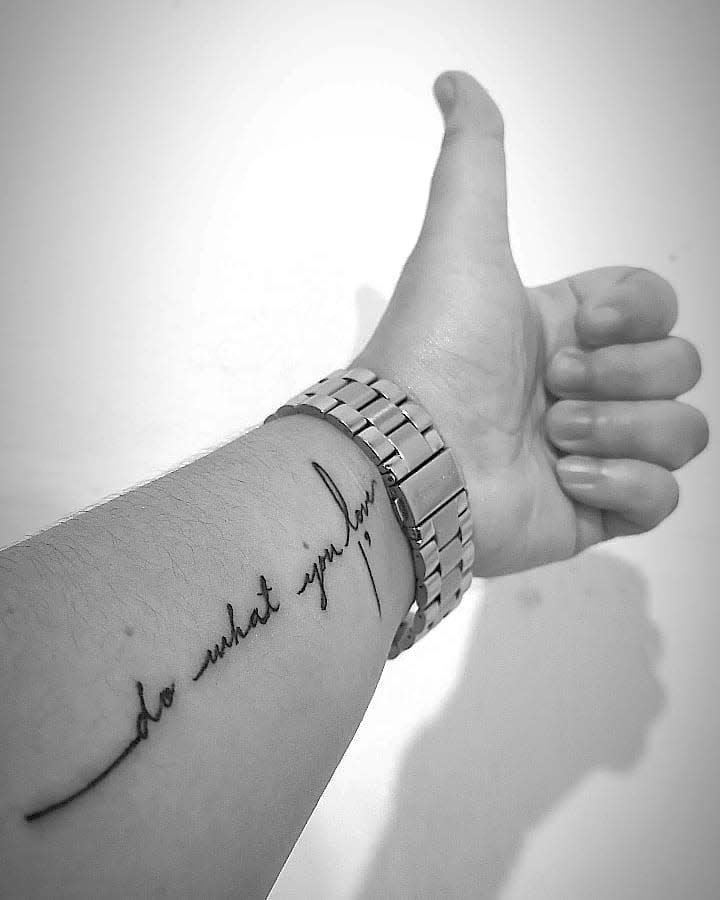 This quote in a nice cursive font has the semicolon worked into the word love. An inspiring quote makes a great tattoo and adding a semicolon can bring additional meaning. The long lines give it an elegant look that merges with the line of your arm. This is a lovely arm tattoos idea that also works great as a forearm tattoo.
17. Semicolon Inside a Painted Circle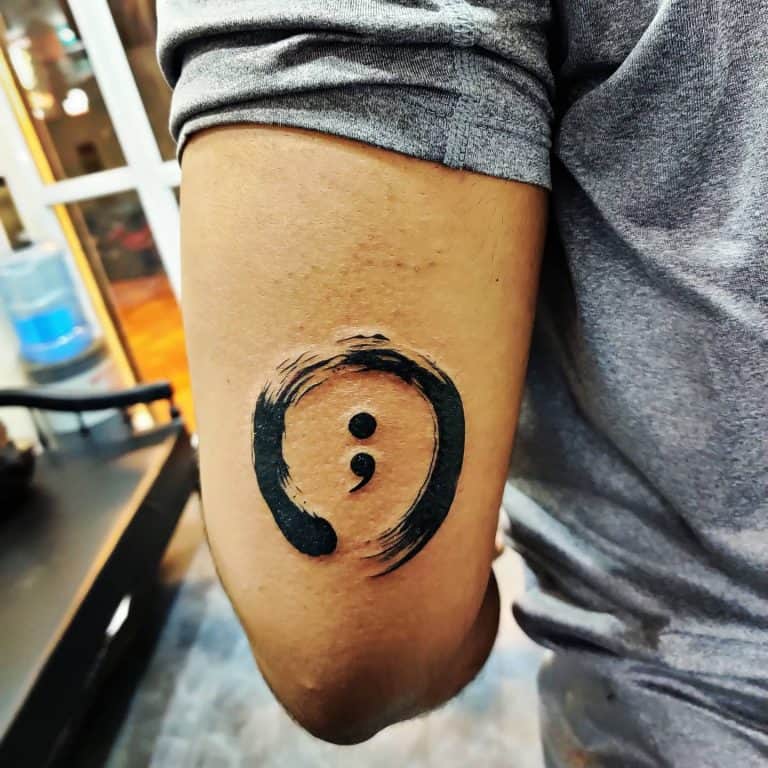 This is a bold semicolon inside a circle that looks as if it was painted. The bold, simplistic look would mesh well with other tattoos in a painted style. If you love bold tattoos with a strong visual impact, this is a style you should consider
18. Semicolon that Looks like Carved Wood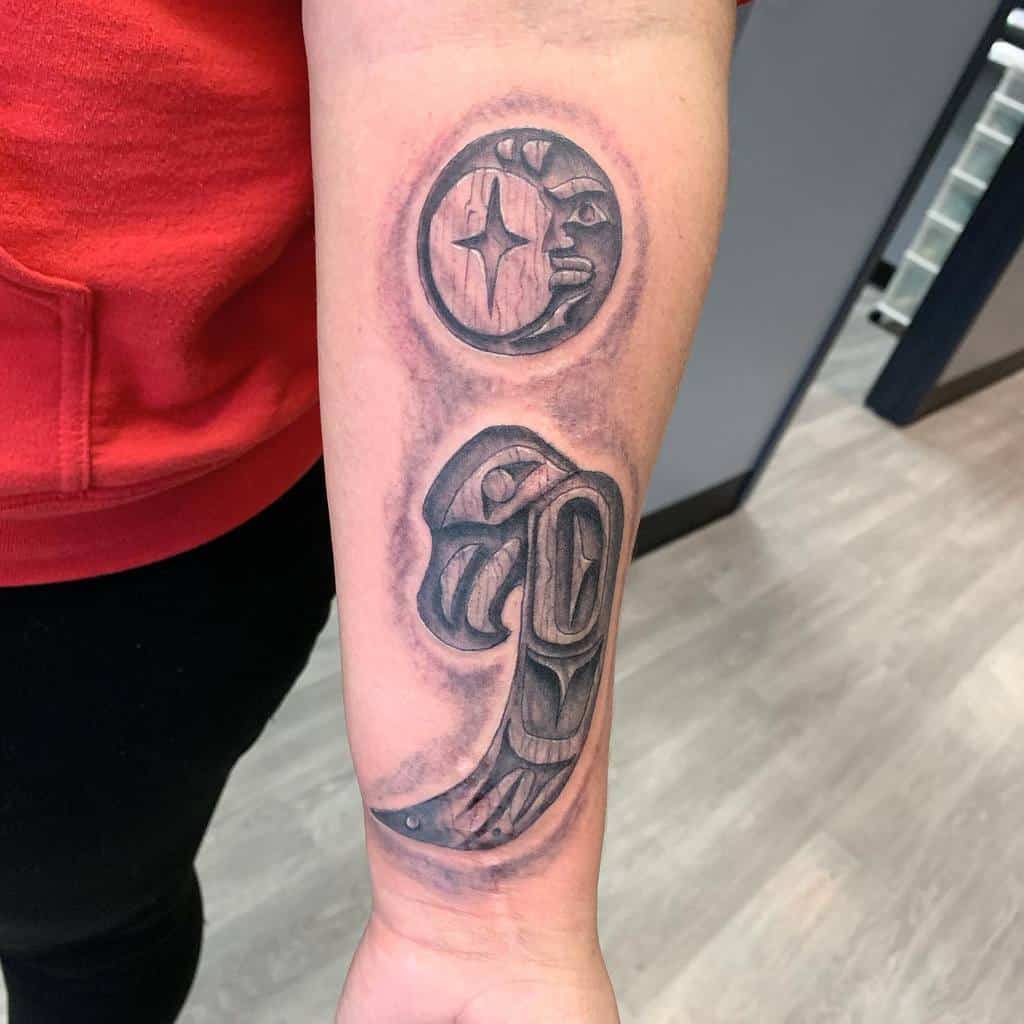 This semicolon is made up of carved wood textures that call to mind traditional wood carving from the native peoples of the Pacific Northwest of North America. This bold look would be great for those who are from the area
19. Geometric Pattern and Warrior with Semicolon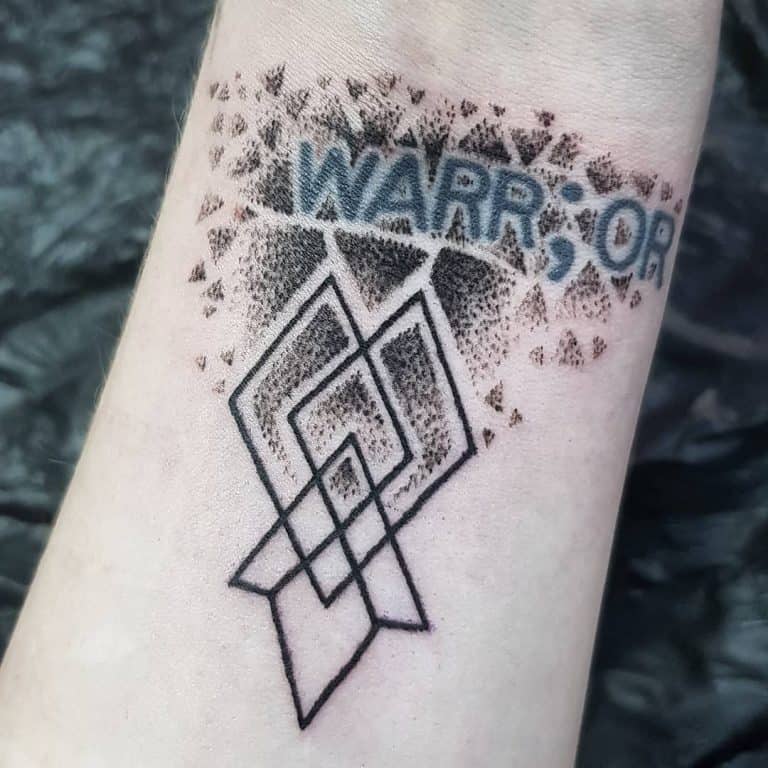 This is another great idea if you want a tattoo with the word warrior and a semicolon. The geometric pattern gives some interesting texture and helps the word and the pattern look cohesive. The semicolon is integrated nicely and the texture fight overwhelm the text
20. Semicolon Made of Gears and Chain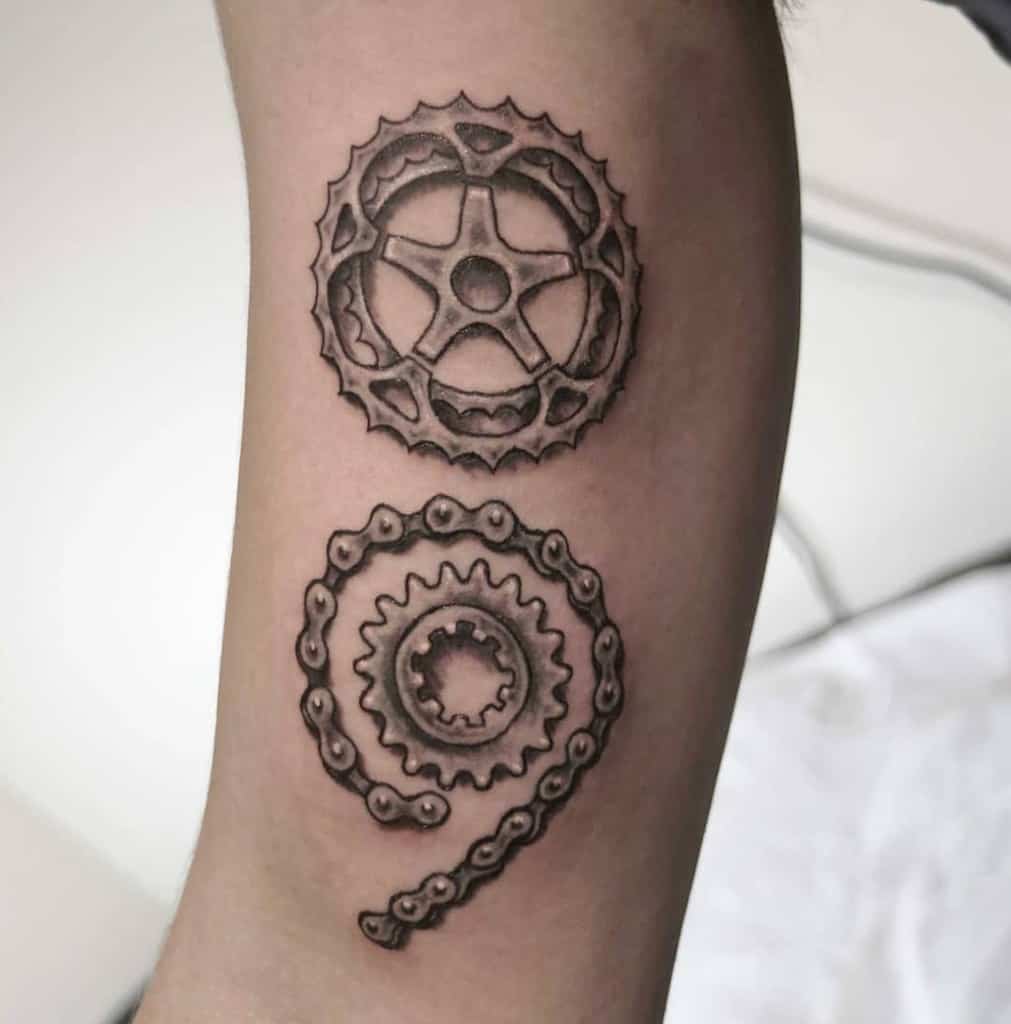 This is a design that creates a semicolon out of other objects. In this case, it is made of gear and a bike chain. This would make a great tattoo for any biking enthusiast. You could easily make this design with car parts for any car lover
21. Bullet with a Semicolon Engraved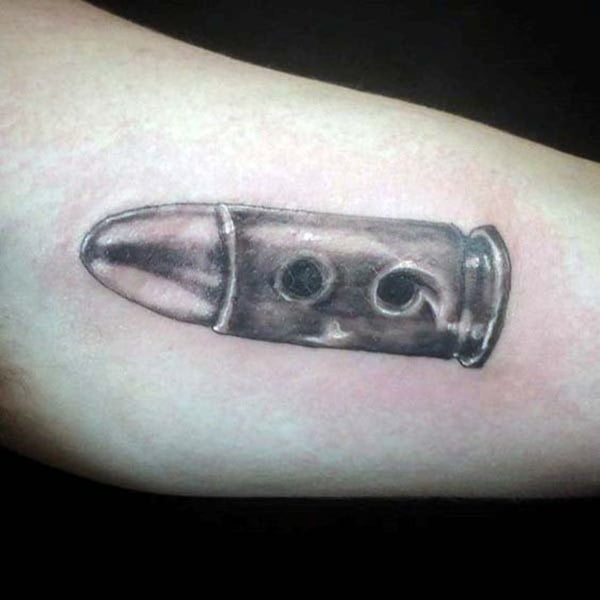 This is a bullet with a semicolon on it. This tattoo would make a lot of sense for a soldier or hunter. It would also be great for anyone whose ego has survived a bullet wound to show that they continued living
22. Grayscale Semicolon in an Inkblot Style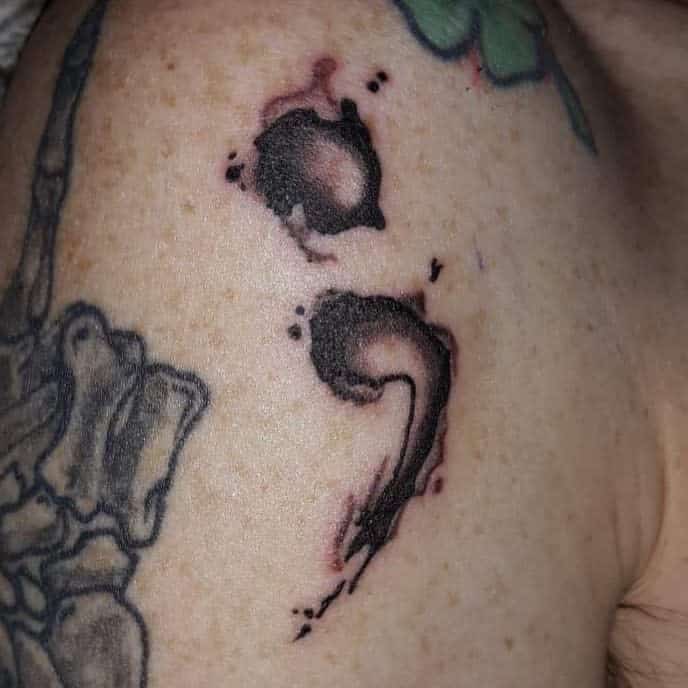 This semicolon is in an inkblot style complete with a few ink spots around it. This example looks less wet than the previous example. It would blend well with tattoos in a similar style. This is a small tattoo that would work well as a first tattoo
23. Matching Wrist Semicolons in Different Sizes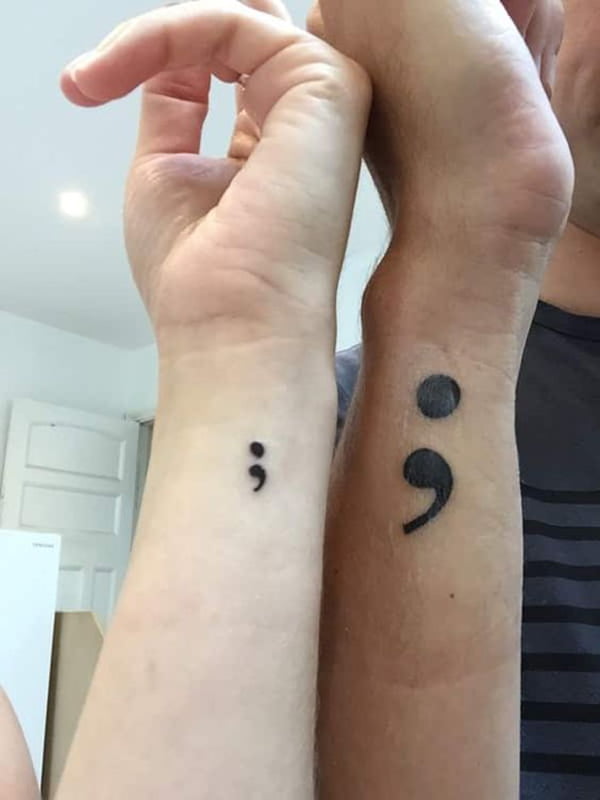 These best friend tattoos make a great first tattoo idea for couples or friends. The small size makes them easy to handle and it isn't an obvious matching tattoo. Making them different sizes helps them fit better given the difference in wrist sizes. If you are looking for a couple tattoo, this is a perfect choice.
24. Semicolon on a Page Under Skin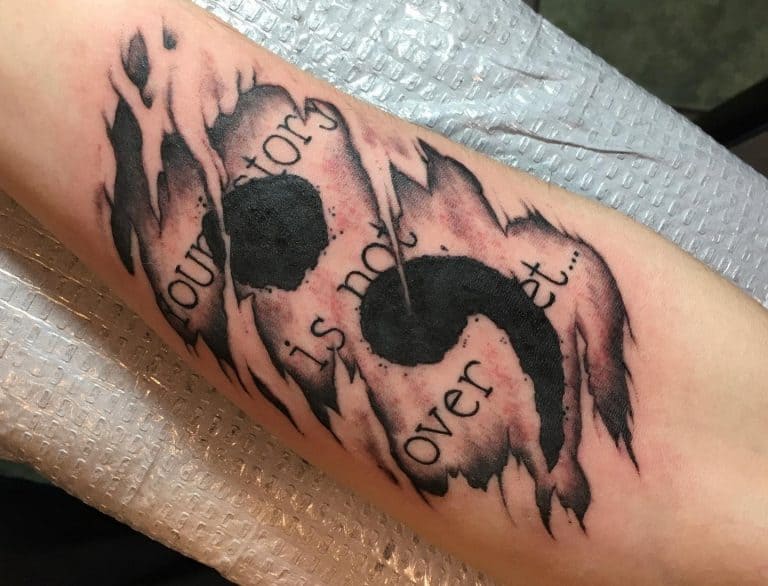 The effect of skin being torn to reveal something true to the individual underneath is an excellent idea for a tattoo. The quote about their story not being over yet matched with the semicolon tells a powerful story of continuation in a simple design
25. Cursive Unbreakable with a Semicolon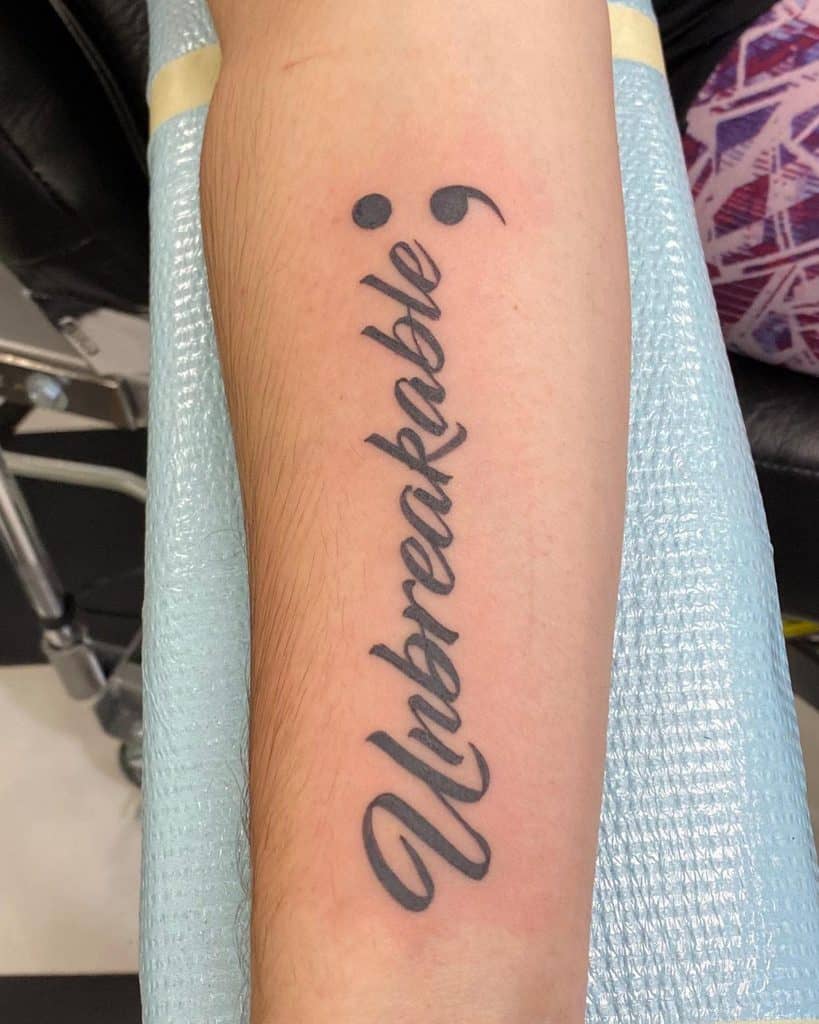 This is another simple tattoo that has a powerful message behind it. Unbreakable is in an elegant cursive font and is matched with the semicolon. This shows the wearer has overcome challenges. That chapter may be closed, but the story continues on
26. Semicolon Under a Jagged Line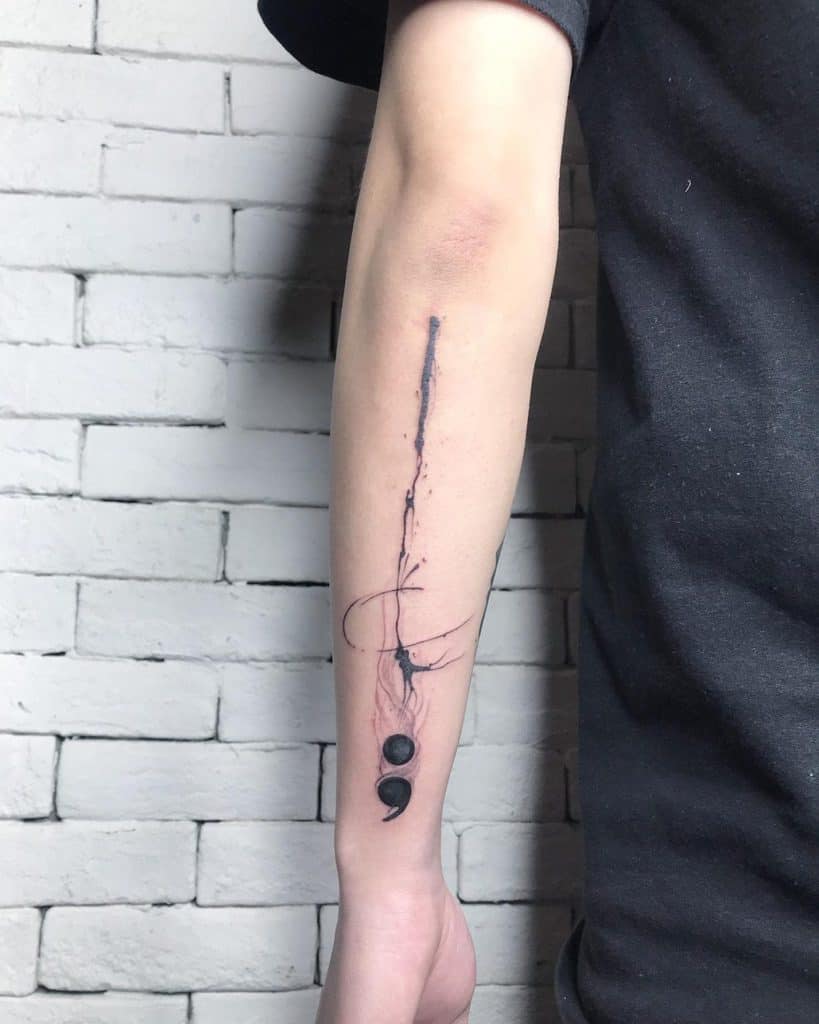 This is another symbolic tattoo idea that should be matched to the wearer. This example has a line leading down that is stopped by a semicolon. It could mean overcoming an addiction or many other messages. A tattoo like this is also a great cover-up for scars
27. Black Quill with Crows over a Semicolon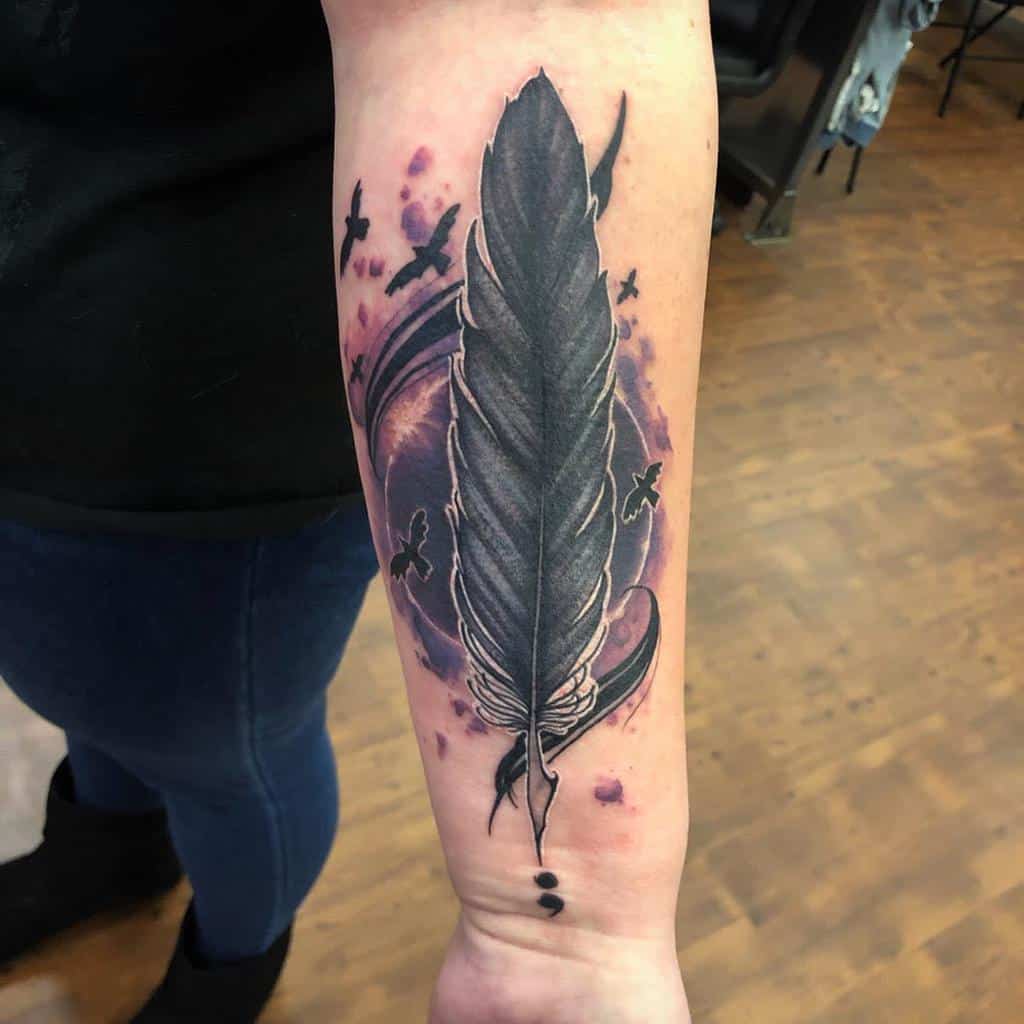 This beautiful tattoo has a black quill made of a crow feather over a semicolon. The background shows crows circling during an eclipse. The design is well-balanced and could easily work for an author. The purple color sets off the black feather well
28. Cut Noose Around a Semicolon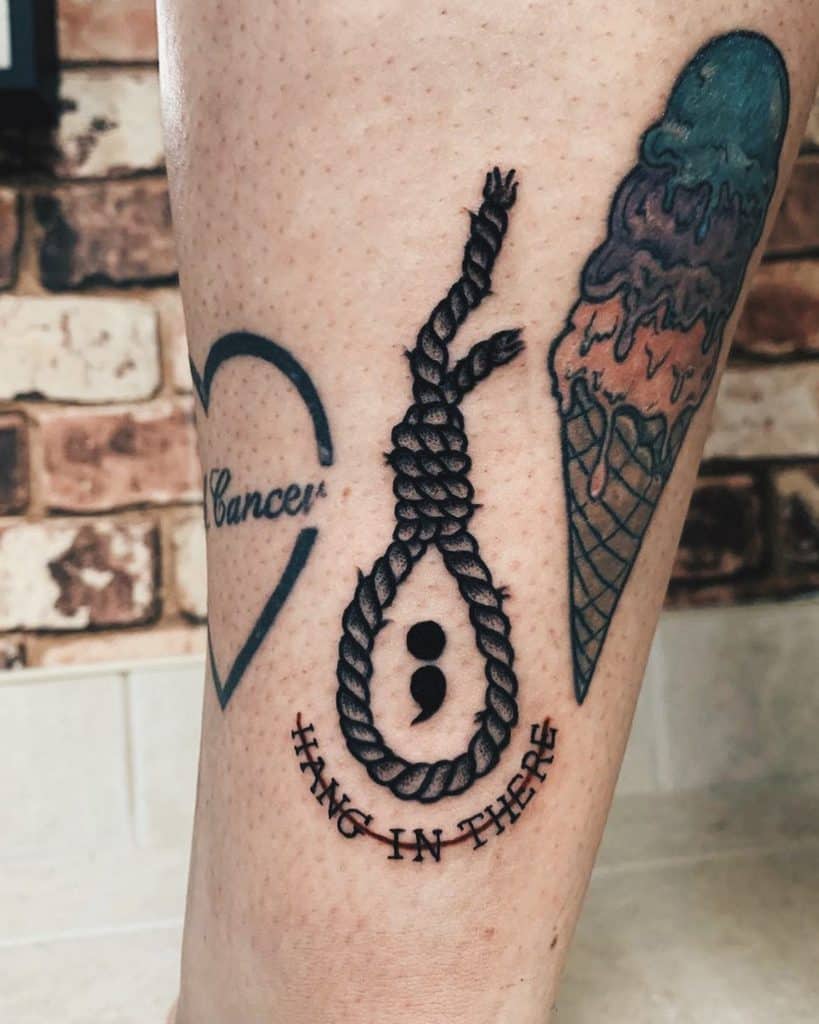 This tattoo seems to suggest a heavy subject. A cut noose is around a semicolon, and the phrase "hang in there" is crossed out below it. This could be a good tattoo for those who have overcome suicidal impulses or similar struggles. While it is morbid, it can be a message of survival
29. Musical Note as Top of Semicolon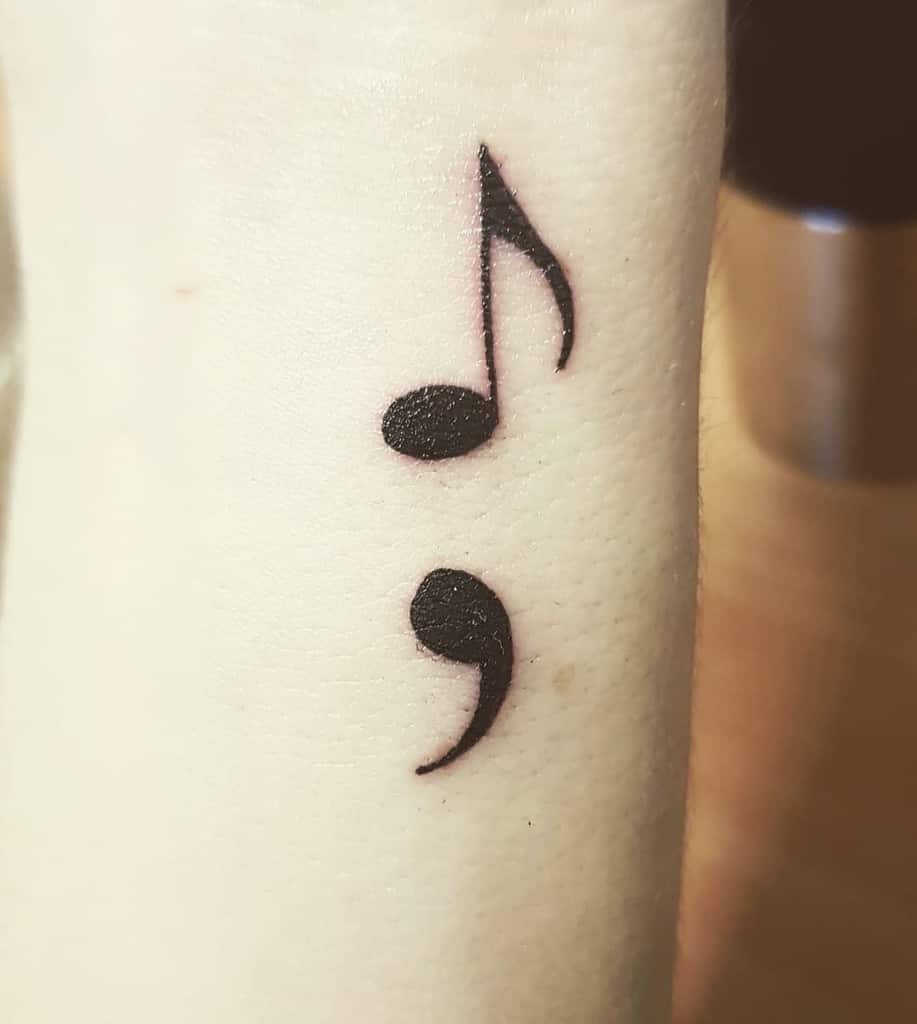 This is a great tattoo for any musician out there. The top dot of the semicolon is made of an eighth note. You should feel free to be creative with the parts of the semicolon to make a message you love or show a passion of yours
30. Fighter with a Semicolon as a Letter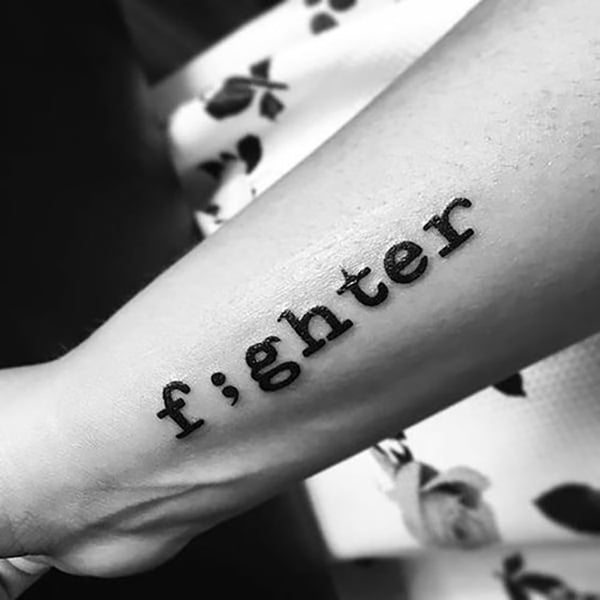 This is another tattoo that can indicate overcoming a disease such as cancer or another struggle. The semicolon can mean the chapter is closed, such as having cancer go into remission. Using a semicolon in meaningful words to indicate a struggle is a great idea to commemorate surviving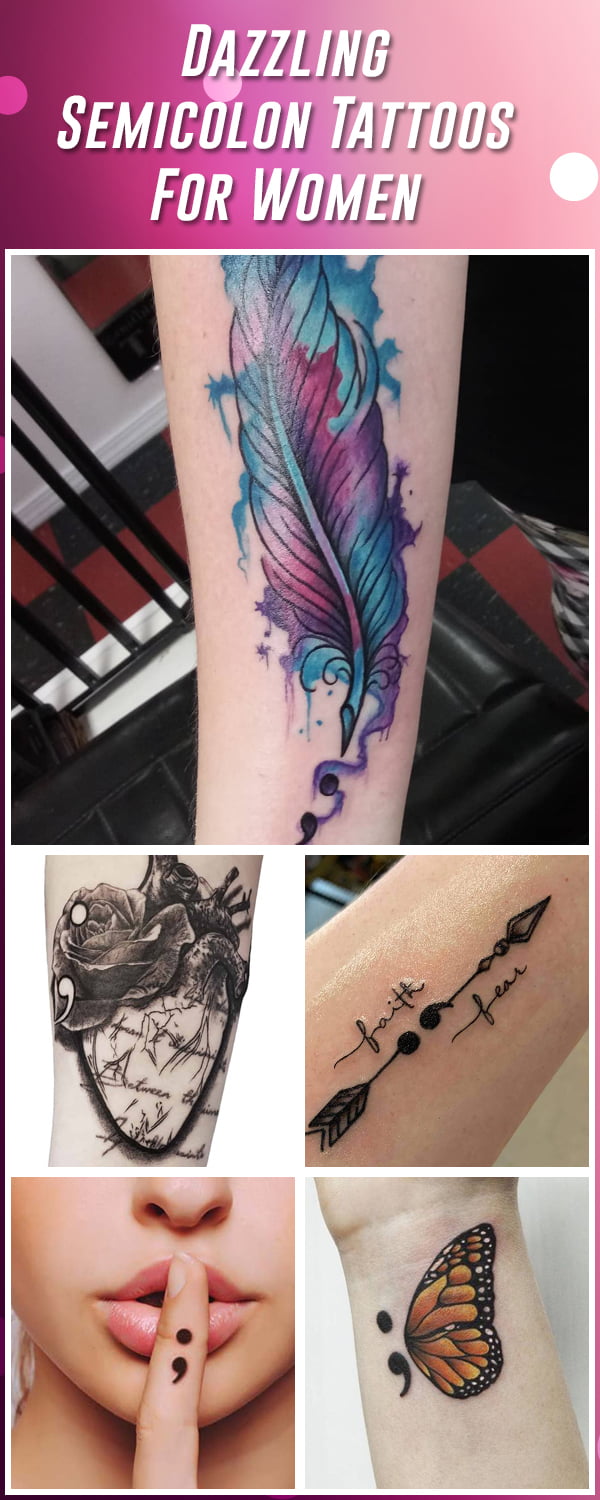 31. Semicolon on an Index Finger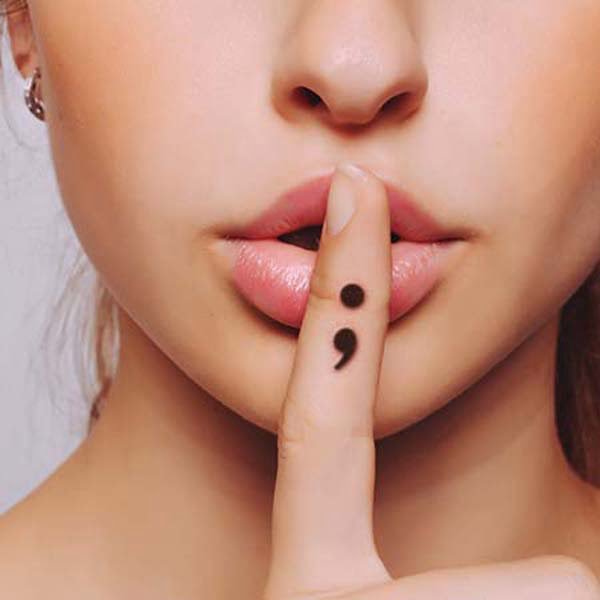 This idea for a finger tattoo can be a good option if you're looking for a funny tattoo idea. Every time you shush someone, you're basically asking for a pause. If you find yourself being interrupted often, this would be a fun idea
32. Semicolon in a Blocky Font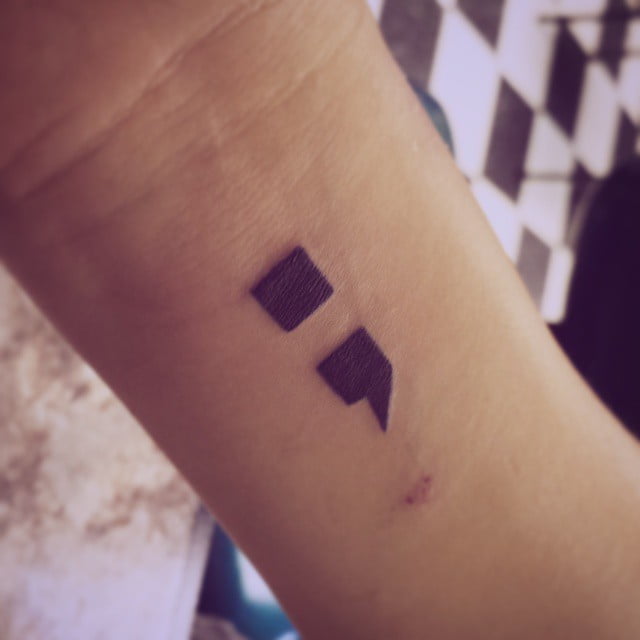 If you love semicolon tattoos, you should note that you can play with the font to get a more unique tattoo. By using a square font, this tattoo has a stronger impact than many semicolon tattoos. Don't be afraid to play around to find a style you like. Many text editors have options for fonts that you can check
33. Semicolon with a Simple Cat Head Cat Semicolon Tattoo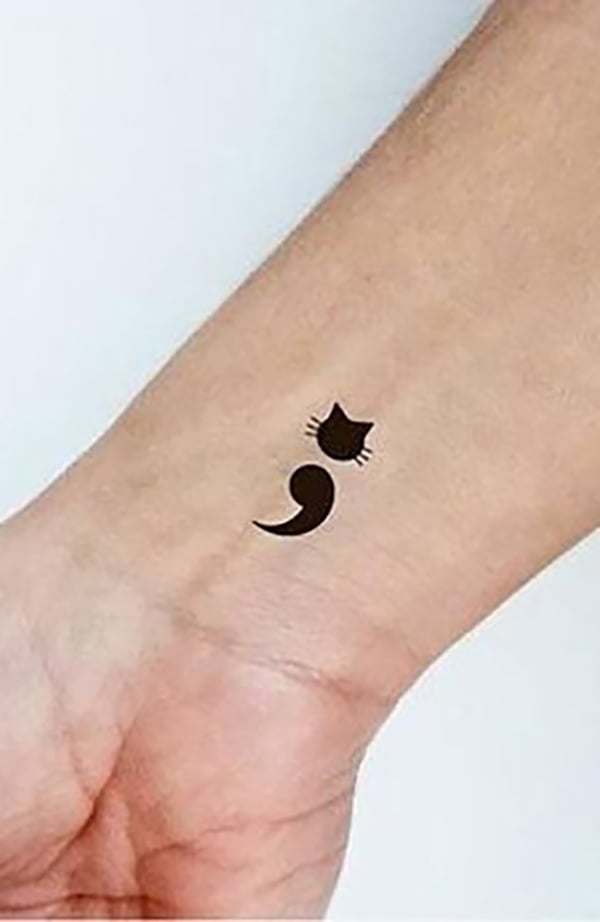 This cute tattoo is a wonderful idea for any cat lover out there. The top of the semicolon has been replaced with a simple cat head complete with whiskers. The cute design is sure to please any cat owner and could work as a memorial tattoo for a lost pet as well
34. Echocardiogram Semicolon Over a Quote
This is another wonderful tattoo design idea for anyone who has survived by the skin of their teeth. The tattoo implies a stopped heart while the quote confirms that life goes on. You could easily use your favorite quote instead or change the font
35. Semicolon in a Colorful Paint Splatter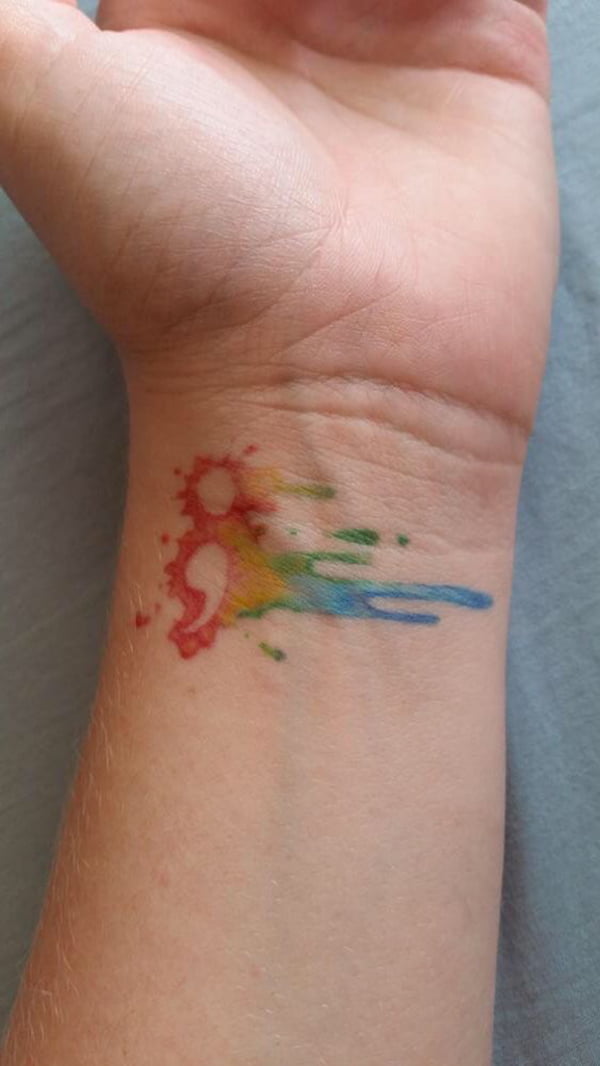 This beautiful tattoo uses negative space to form the semicolon while still having a beautiful watercolor look. This idea is great for someone who wants more color in their tattoo along with some visual interest. You could easily use your favorite colors
36. Semicolon with Simple Butterfly Wings Semicolon Butterfly Tattoo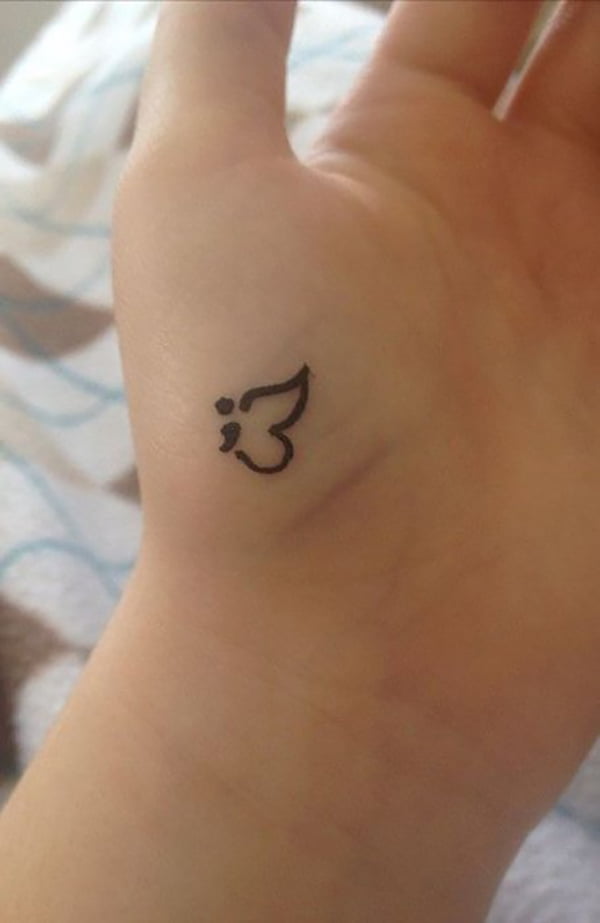 This semicolon has butterfly wongs to make it look like a fairy. It's a cute idea that works well for a first tattoo since it's simple and small. The area is a bit unusual and wouldn't be easy to cover in situations like at work
37. Quote Over Color and a Semicolon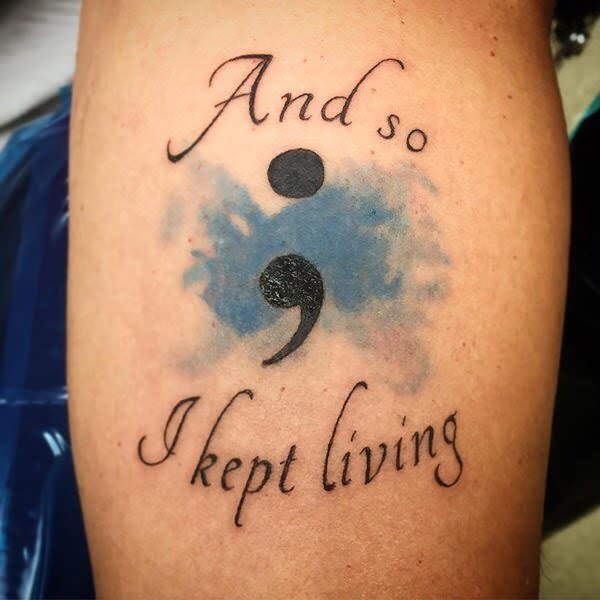 This is another beautiful idea to show survival. The semicolon is over a soft blue color and is surrounded by a meaningful quote. This is another one that can be customized easily by changing the color and quote
38. A Semicolon Made of Roses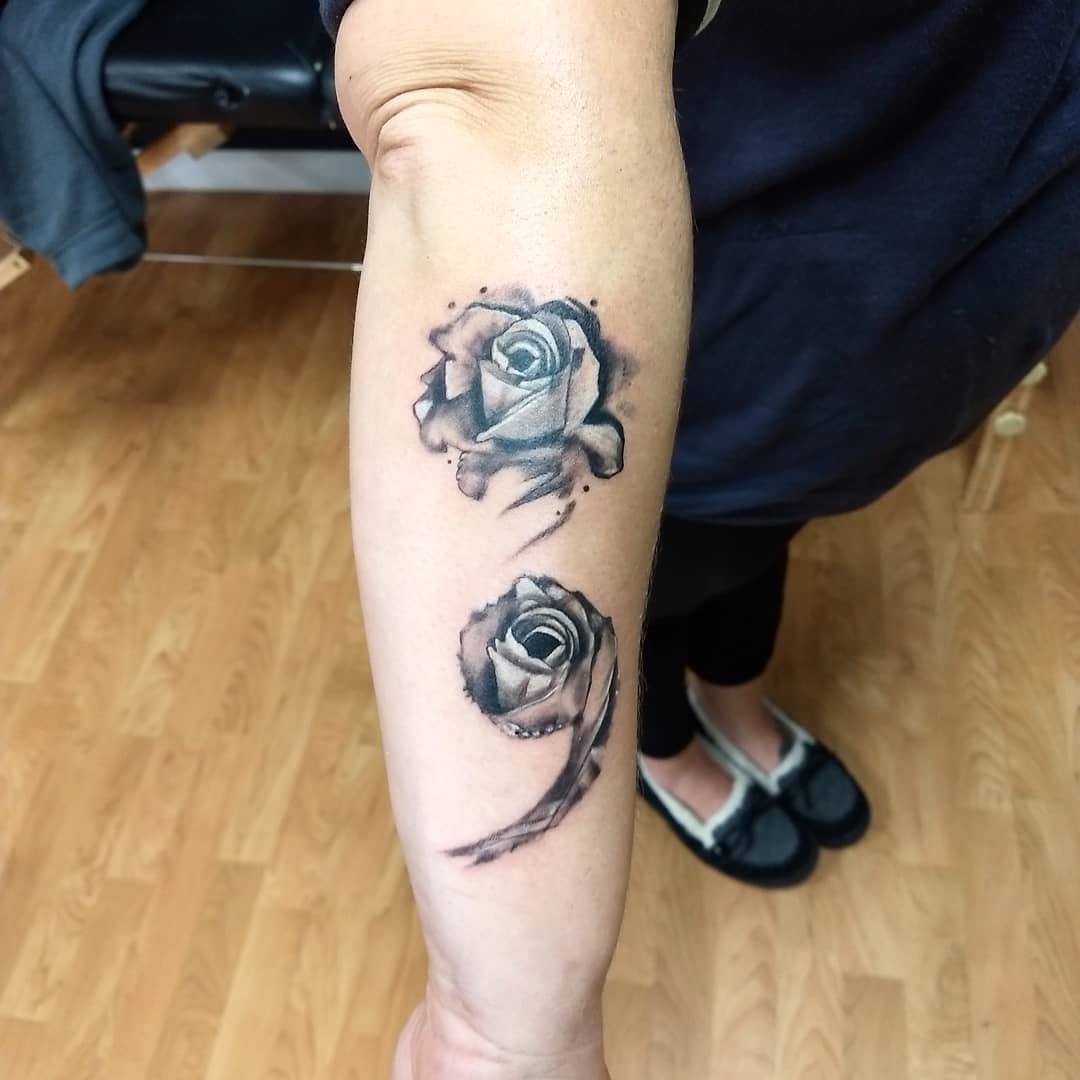 This semicolon is made of well-shaded roses shaped into a semicolon. This piece would need to be larger to show off the details and age well. Remember that more detailed pieces need to be larger or the details will blur over time
39. A Semicolon with Dragonfly Wing Semicolon Dragonfly Tattoo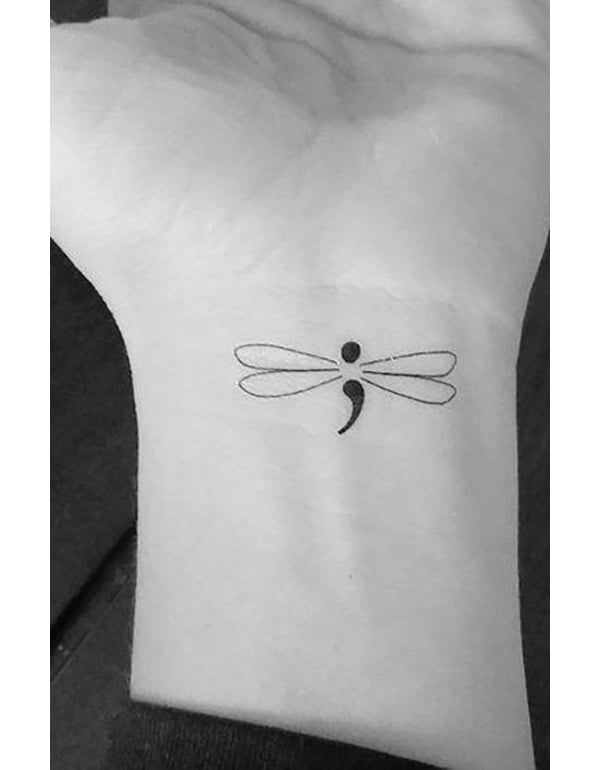 This cute simple wrist tattoo adds dragonfly wings to a semicolon to make a cute design, it is a semicolon dragonfly tattoo. A simple tattoo like this is a good first tattoo. You could easily add more detail or color to make it unique to you
40. Semicolon with Wings on Wrist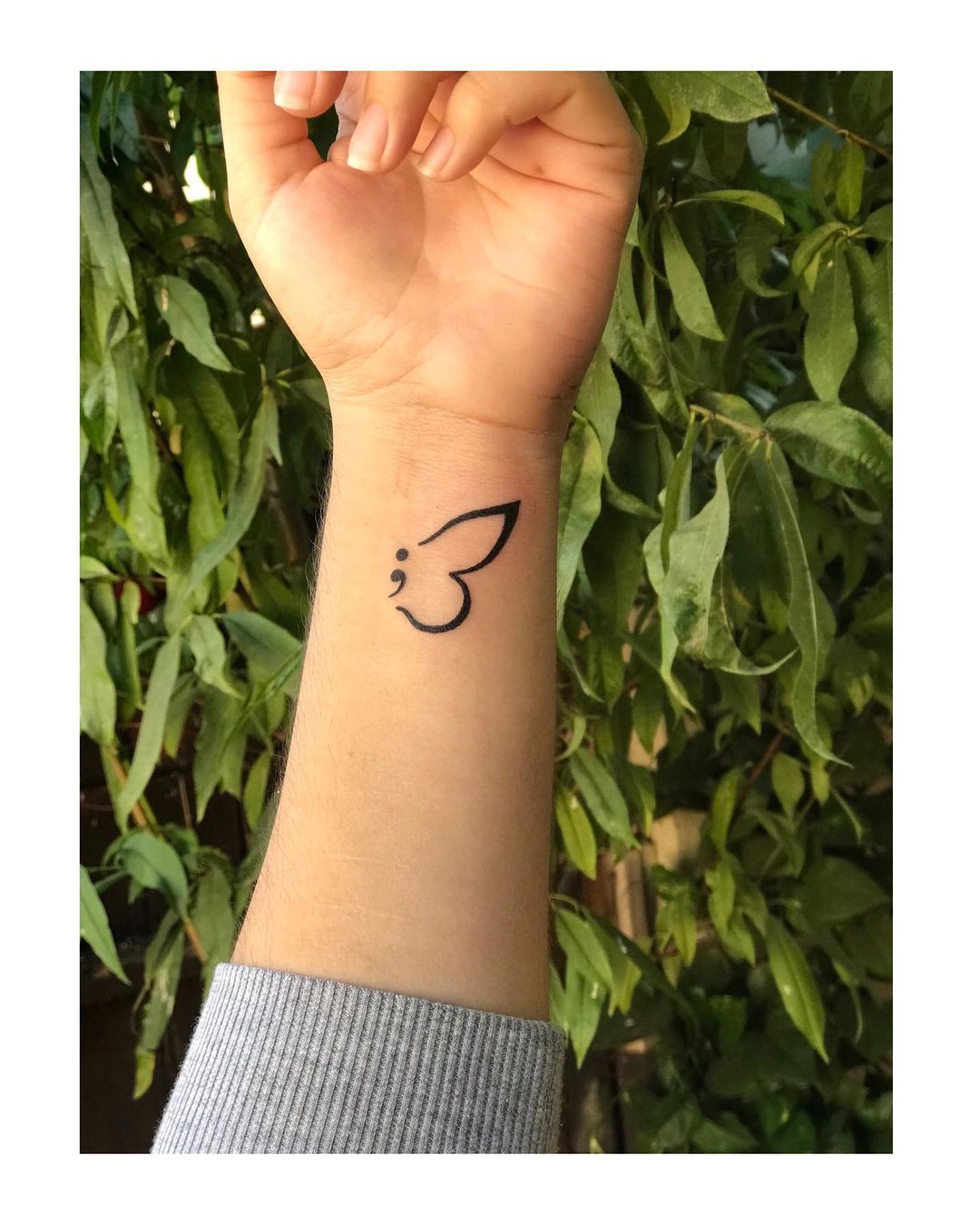 This is similar to the other tattoo but located on the wrist. The cute fairy design still works well and the bold design will keep looking good even years from when you first get it. Feel free to position a tattoo like this wherever you like
41. Cross Tatto and Semicolon on Fingers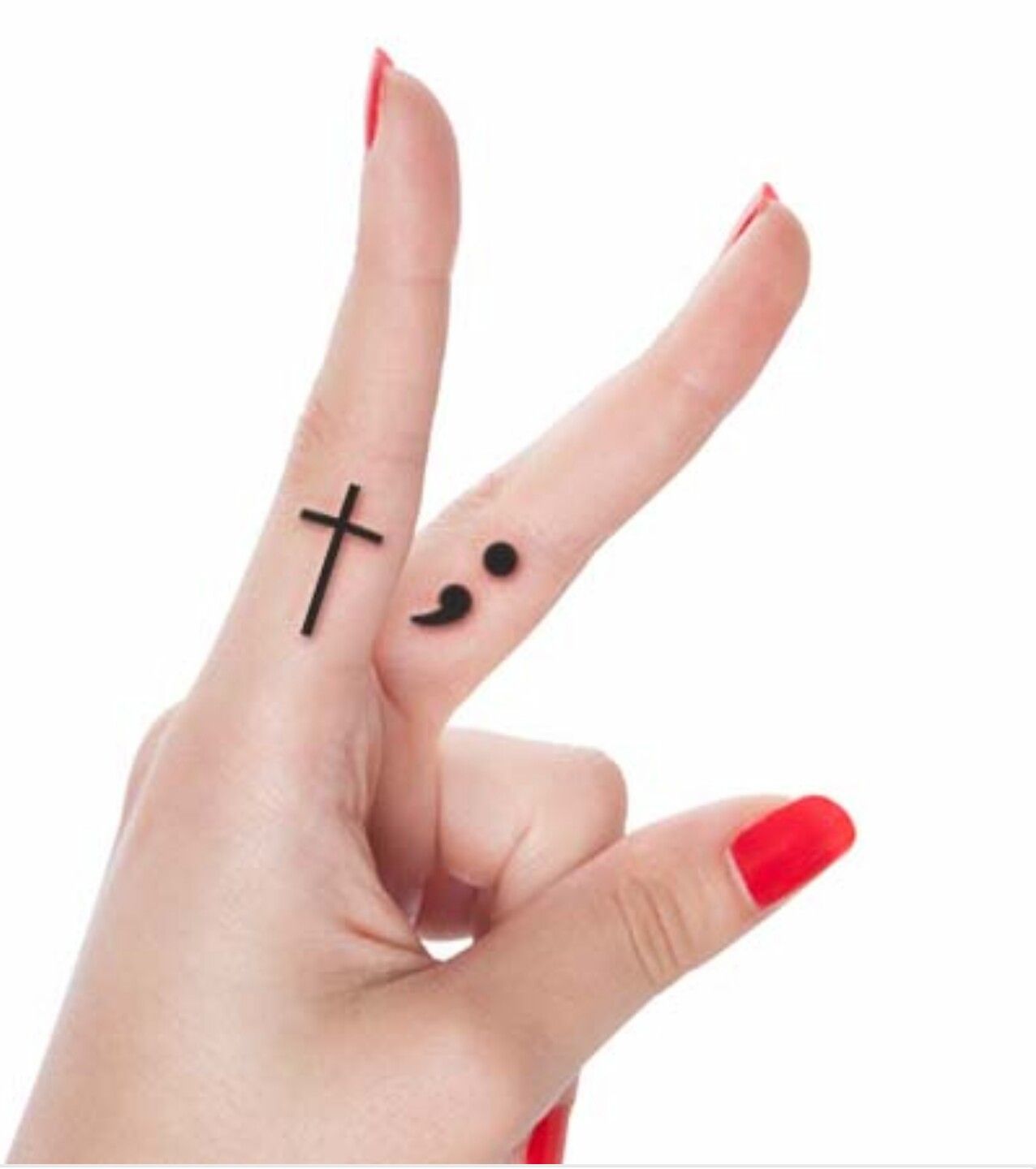 These finger tattoos have a religious meaning that is sure to please anyone of the Christian faith who loves tattoos. Putting it on your fingers gives a fun way to show it off and lets you see it every day
42. Semicolon with a Quote Next to It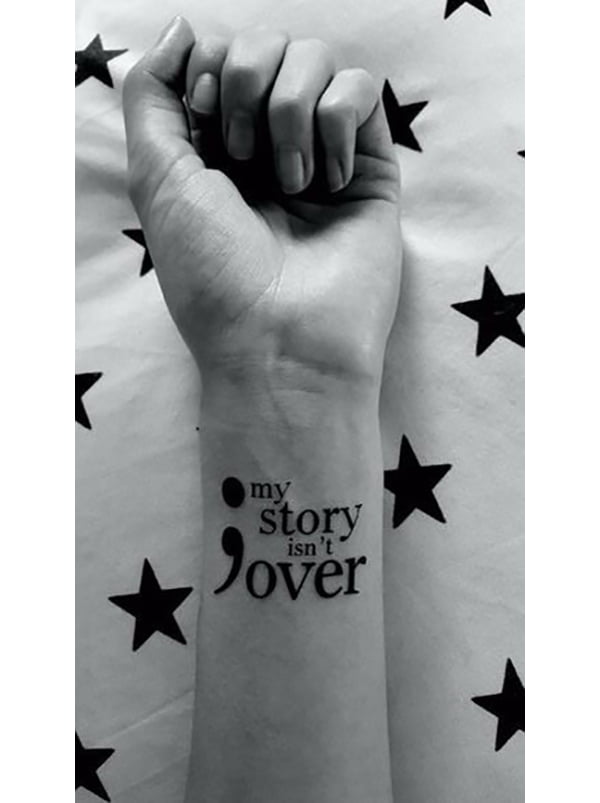 This semicolon tattoo idea is another message of survival great for anyone who has survived hardships. The large semicolon is the size of the quote to keep the design consistent. You could easily use any quote that is meaningful to you
43. Fight On with a Semicolon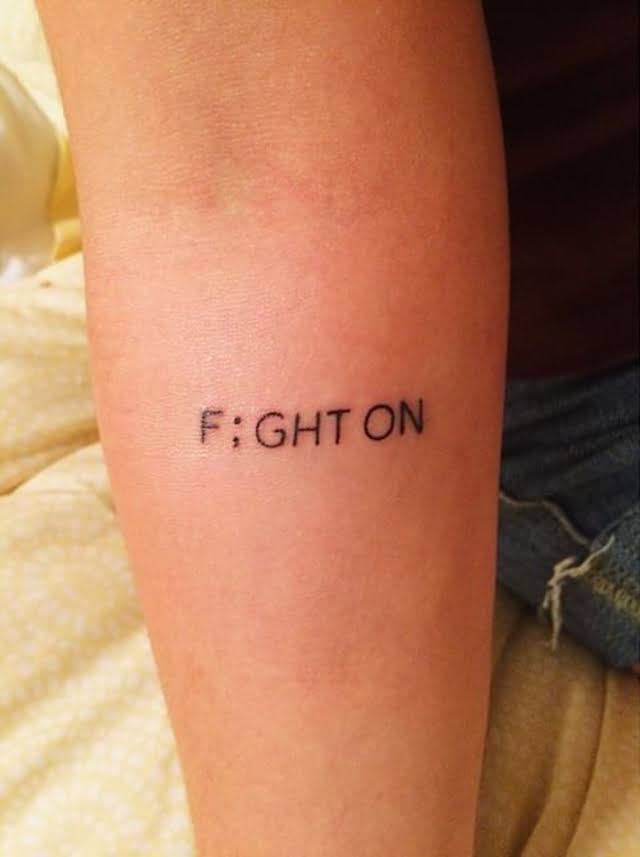 This is another great tattoo for any survivor. The word fight on has a semicolon instead of the letter 'i'. You can easily change up the font or quote to customize it. You could also add a splash of color as a background to add more visual interest
44. Tiny Semicolon on an Ankle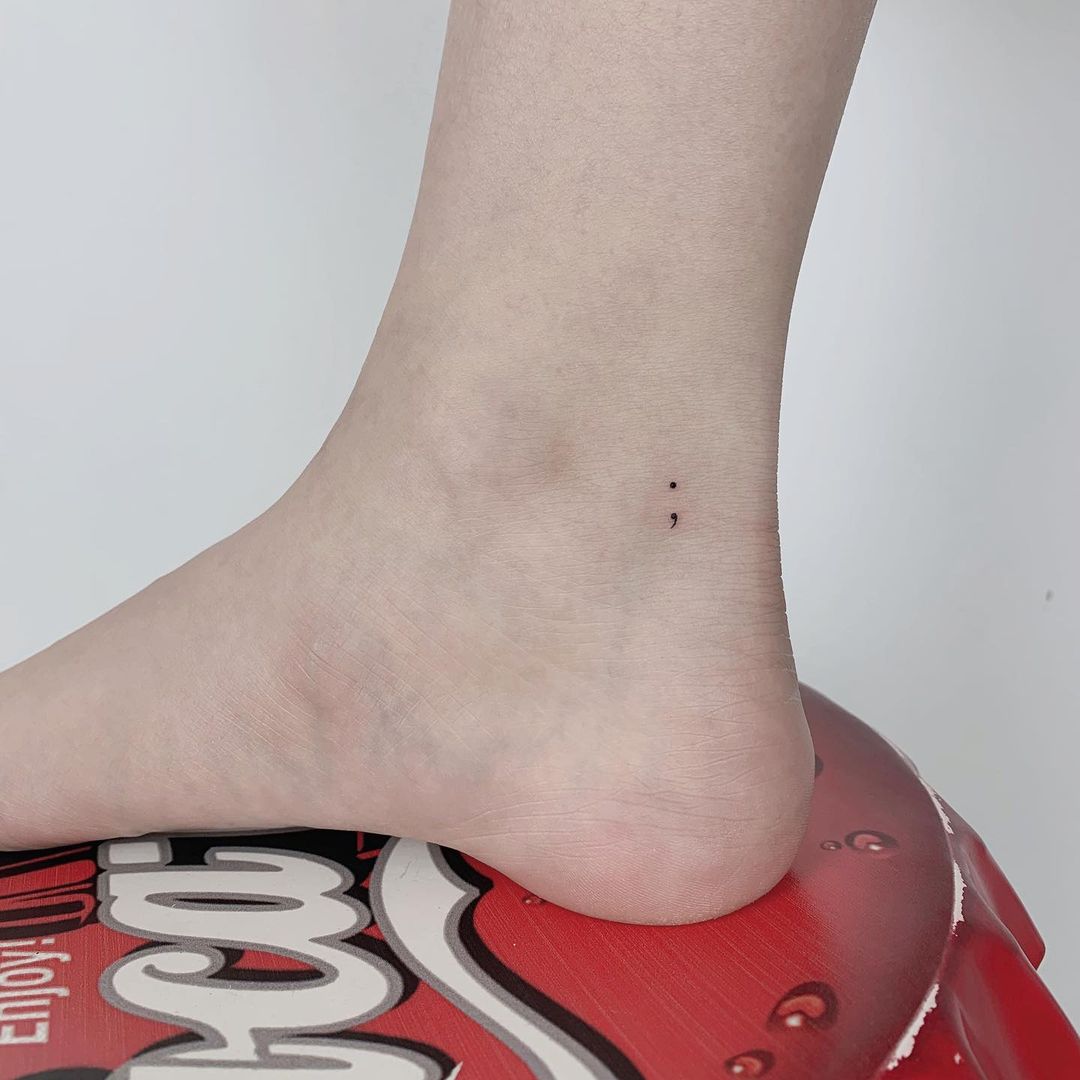 This tiny ankle tattoo is great for anyone who wants a subtle tattoo. The small size and placement mean most people wouldn't notice it. If your workplace doesn't approve of tattoos, this would be a good option since it wouldn't be very visible in average work clothing
45. Semicolon Made of Swirls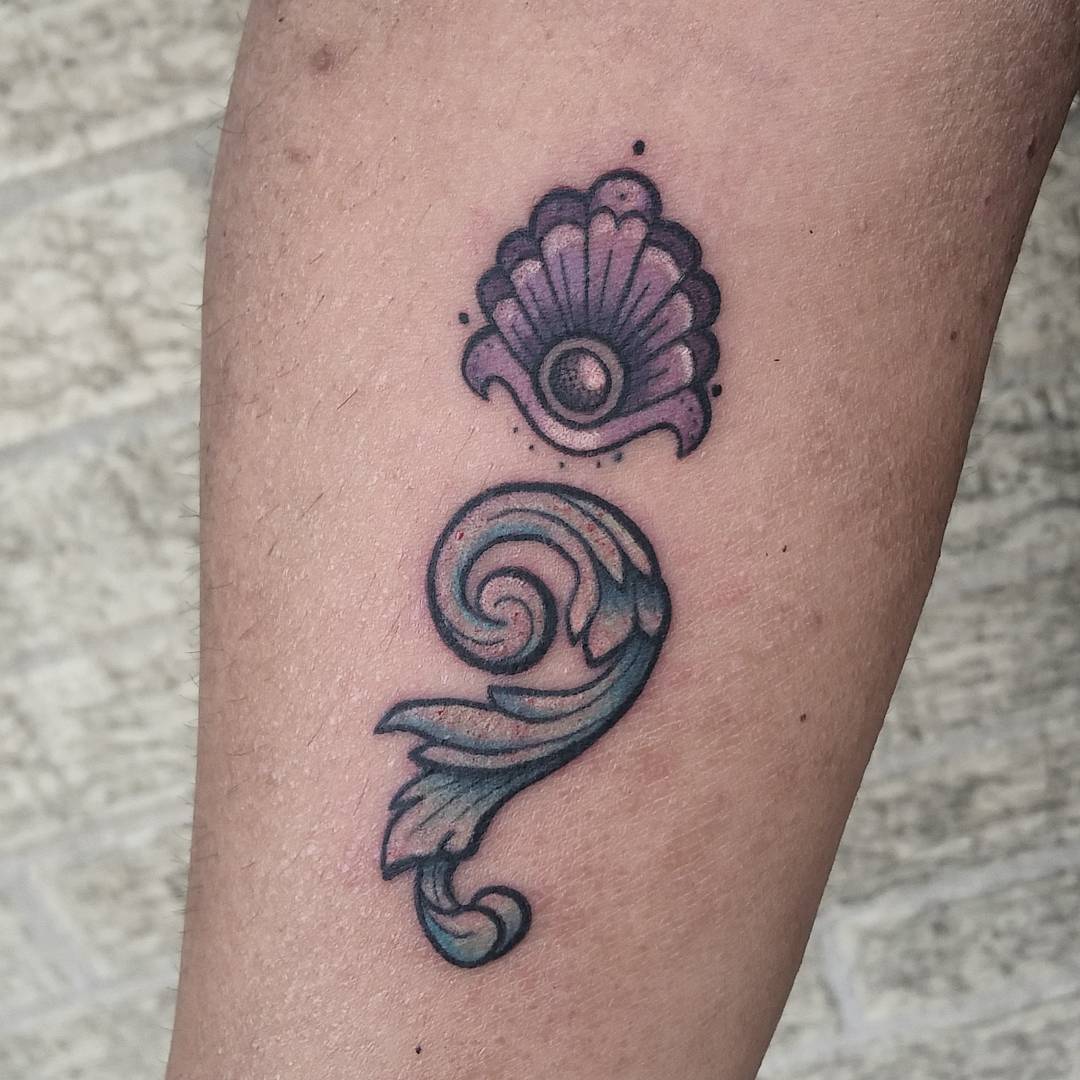 This semicolon is made of design elements you commonly see in wood carving. This is a great idea and you can use any ornamentation you like. The colors make it more interesting than a black and white tattoo. Feel free to customize to the liking that will give you a unique tattoo
46. Semicolon with Echocardiogram and Heart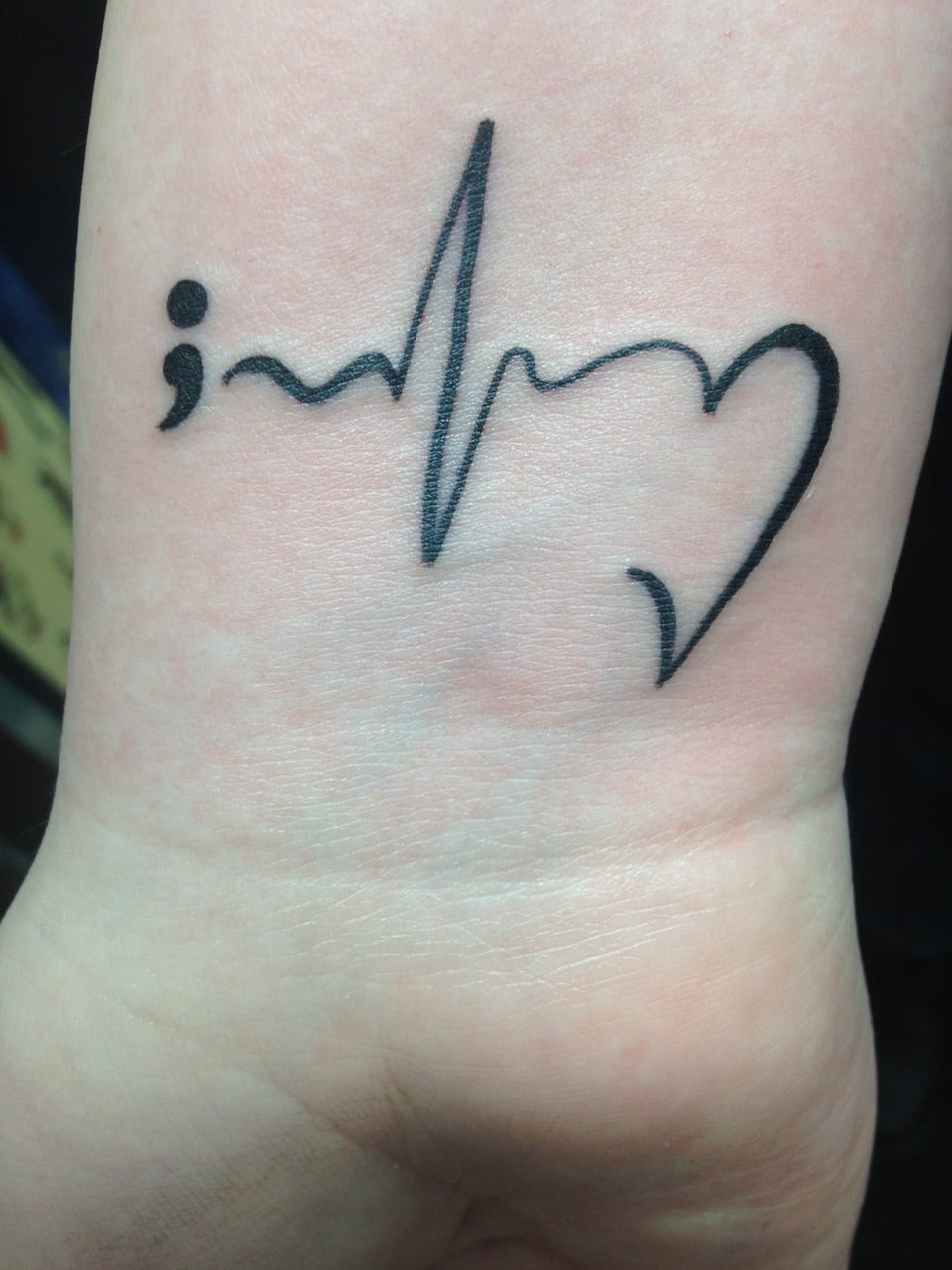 This design has a semicolon that precedes an echocardiogram line that turns into a heart shape. This can refer to survival or continuing on even after a serious accident or illness. Many people love getting tattoos to commemorate life events and this is a great option
47. Watercolor Feather Quill Over a Semicolon, Semicolon Bird Tattoo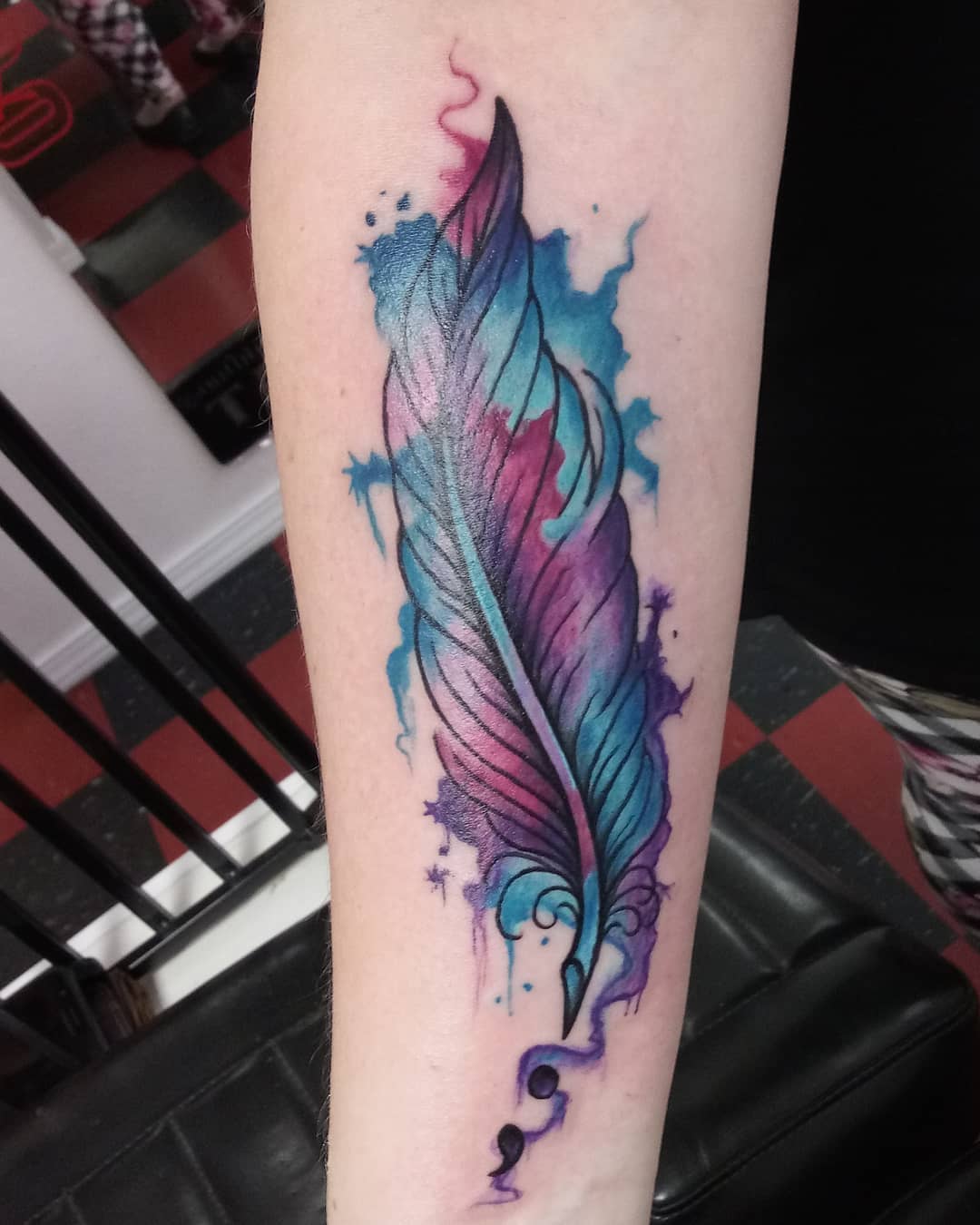 This beautiful tattoo consists of another quill pen over a semicolon. This is a great tattoo idea for an editor or author. You can easily change the colors to your favorites. Remember, these are ideas and you should use them as inspiration for your tattoo. You shouldn't get a direct copy, but if you want something similar, hummingbird tattoos could be a great alternative.
48. Semicolon With Monarch Butterfly Wings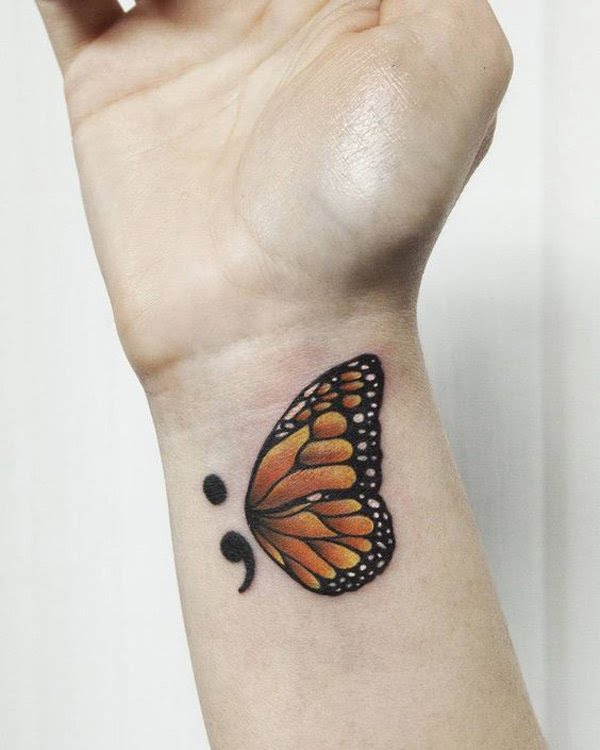 This is a variation of the semicolon with butterfly wings that uses a detailed butterfly wing instead of a simplistic one. You could easily use your favorite butterfly wing for this or come up with your own unique idea. Be sure to look up really butterflies and bring a good reference to your artist
49. Cross, Semicolon, and Heart With Quote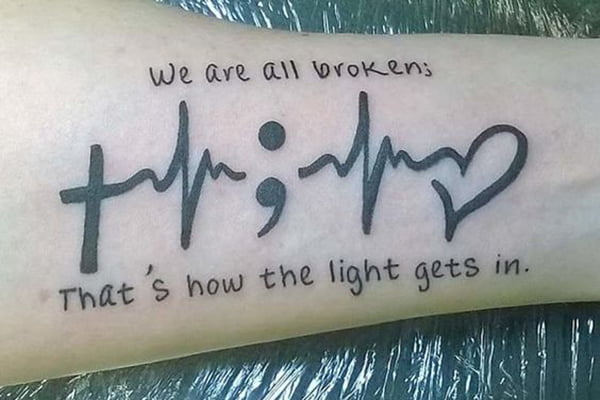 This religious faith tattoo uses an echocardiogram to tie the elements together. It is sandwiched by a meaningful quote. This is another survival tattoo idea that would work well for anyone who felt their faith helped them survive. Feel free to use your own quote for the one, such as one that helped you keep positive during hard times
50. Semicolon on a Colorful Paint Blob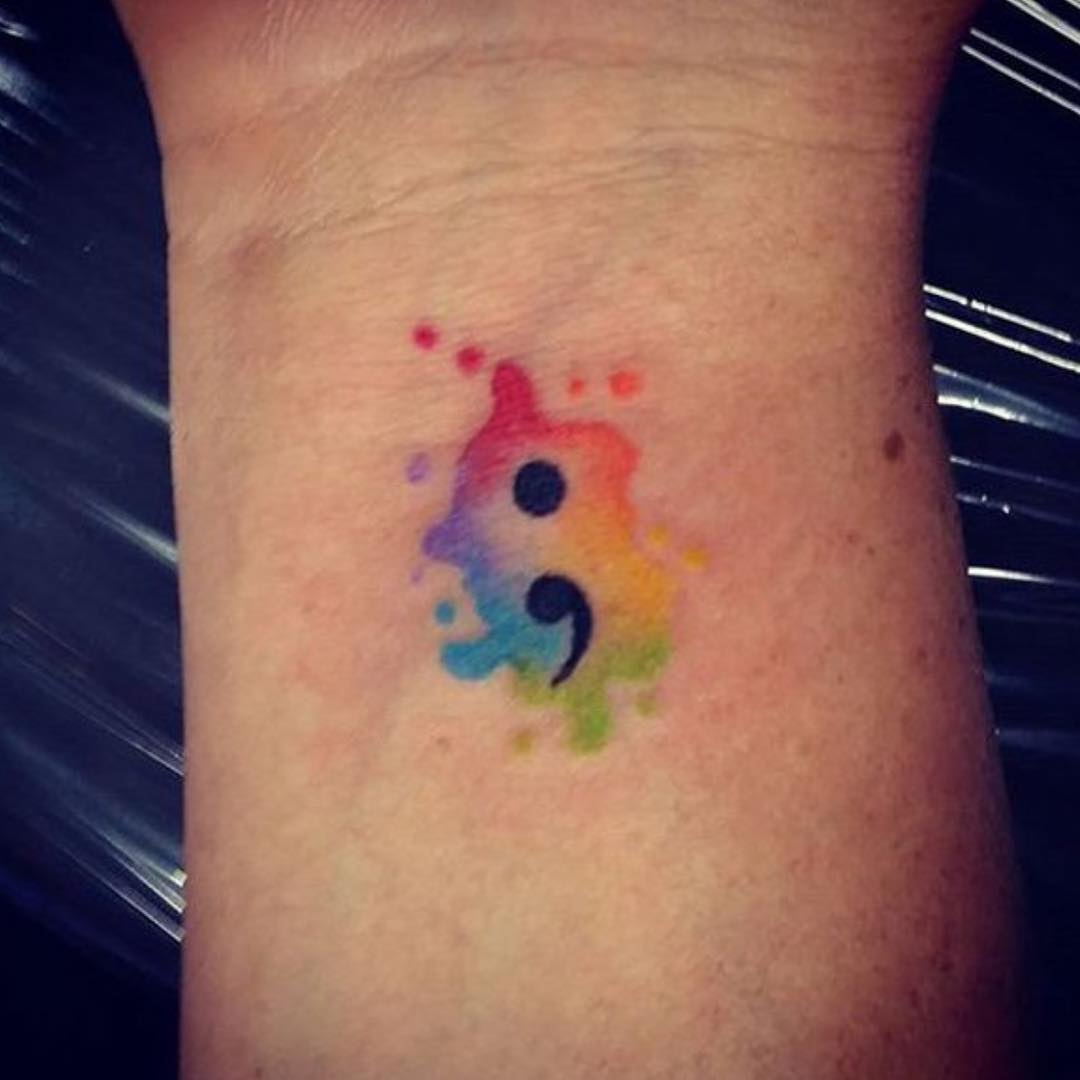 This is a great way to make a simple semicolon tattoo more visually interesting. This uses rainbow colors, however, you could use your favorites with ease. Remember that you can choose a different font for your semicolon to make your tattoo unique to you
51. Semicolon Surrounded by a Flower Tattoo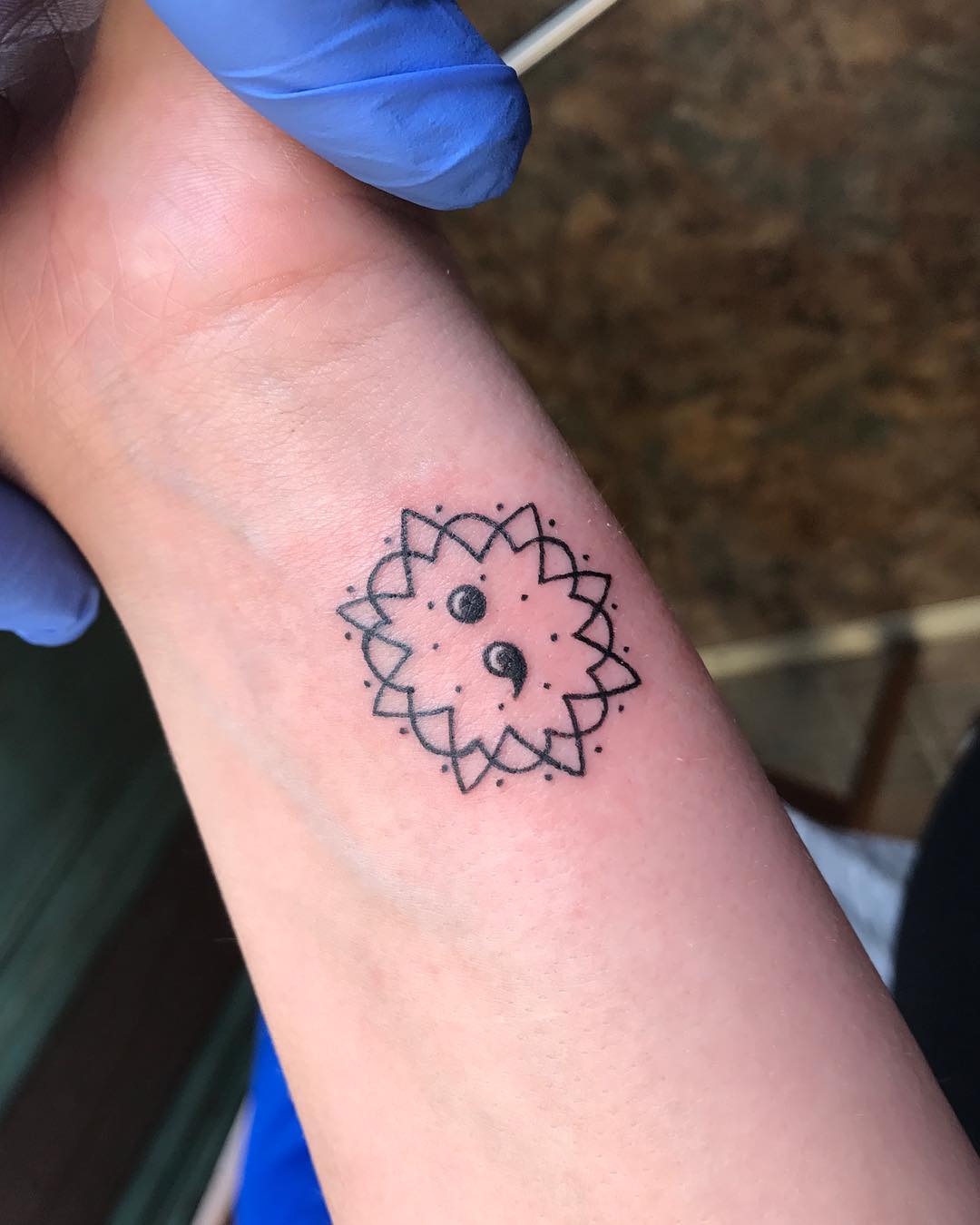 This is another idea for how to make a simple semicolon tattoo more visually interesting. The pattern around it gives it a unique look. You could easily pick your own pattern to use or add color to make this your own. Talk with your tattoo artist and come up with something special
52. Cursive 'Live' With Heart and Semicolon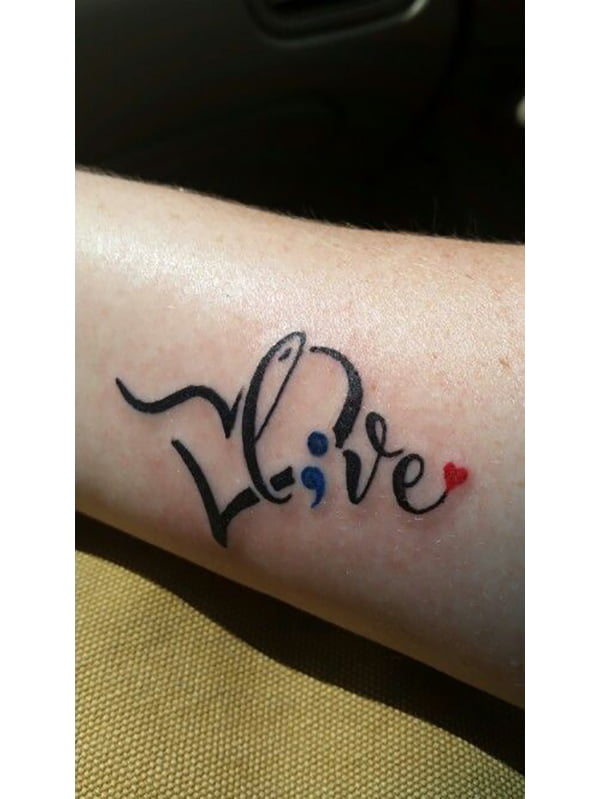 This is another simple, but powerful tattoo idea. The word is in a cursive font with a semicolon replacing a letter. The heart made of similar line work complements the red heart art at the end of the word. Don't be afraid to pick something simple
53. Arrow With a Semicolon on the Shaft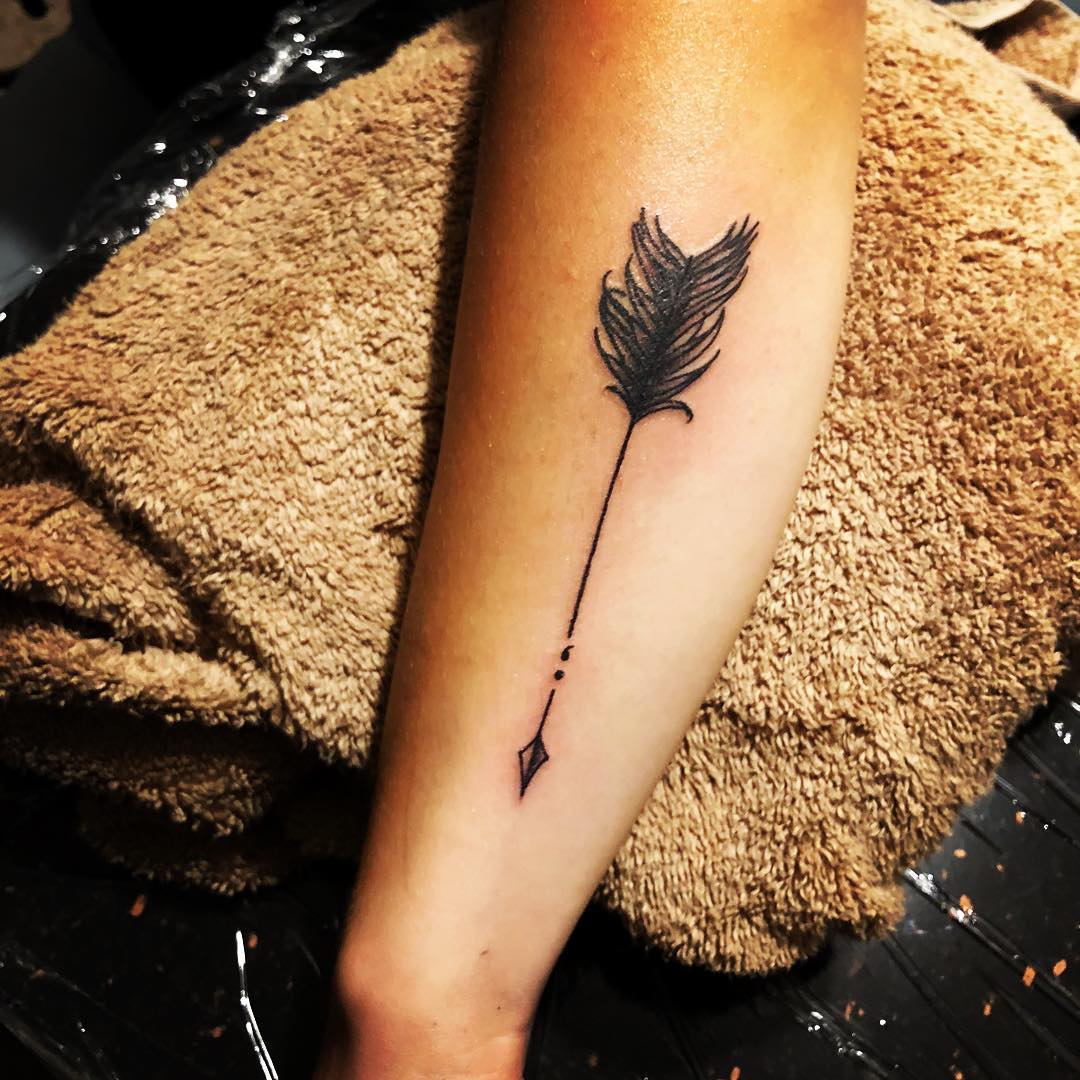 This is a great way to spice up a simple tattoo by merging two popular tattoo ideas into one. The arrow has the moist detailing put into the feathered fletching on the end while the simple design of the shaft merges well with the semicolon. This is a good way to compromise if you're torn between two tattoo ideas
54. Wrist Echocardiogram with Semicolon and Heart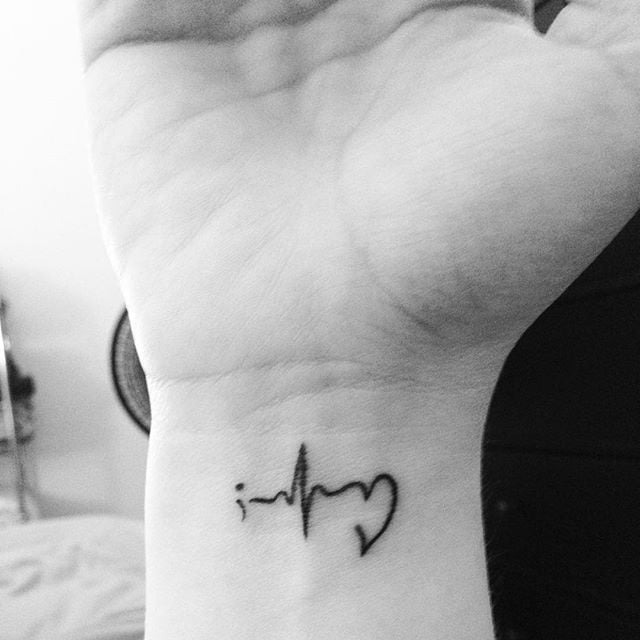 As you can see from this list, there are lots of ways to use an echocardiogram line with other symbols to make a unique memorial to survival and overcoming the odds. A bold and simple idea like this will look good for decades to come
55. Simple Heart With a Semicolon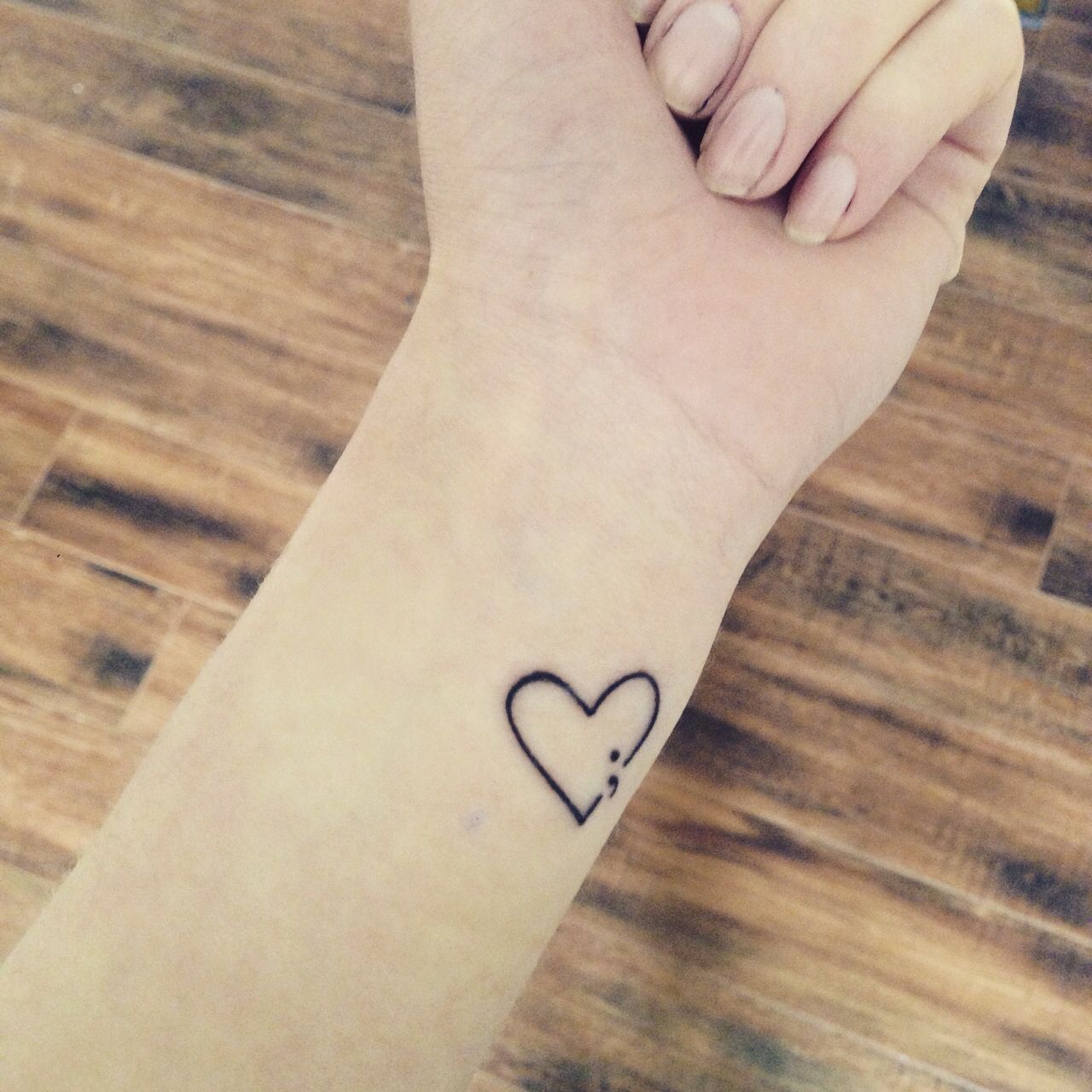 This simple library of a heart has a semicolon integrated into the design. This is another great way to merge two tattoo ideas or show an important event or meaning to you. Consider this as a template for your future tattoo
56. Echocardiogram Interrupted by Semicolon on Ankle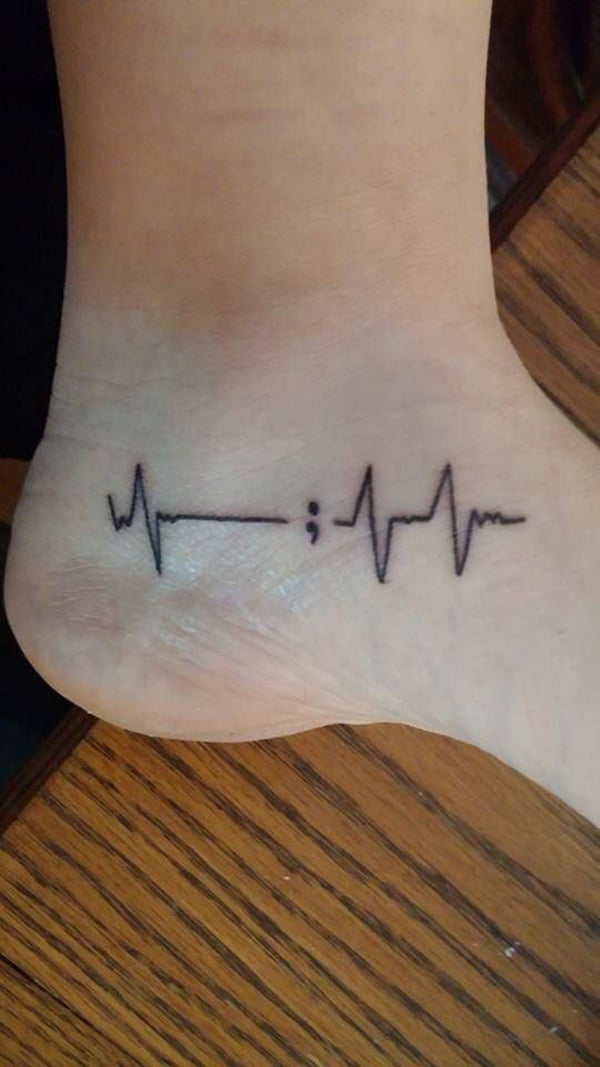 This tattoo is another great way to celebrate survival. The location means it won't be very visible in situations like work where a tattoo may be considered inappropriate. Don't be afraid to play with placement to create your perfect tattoo
57. Semicolon With an Echocardiogram Following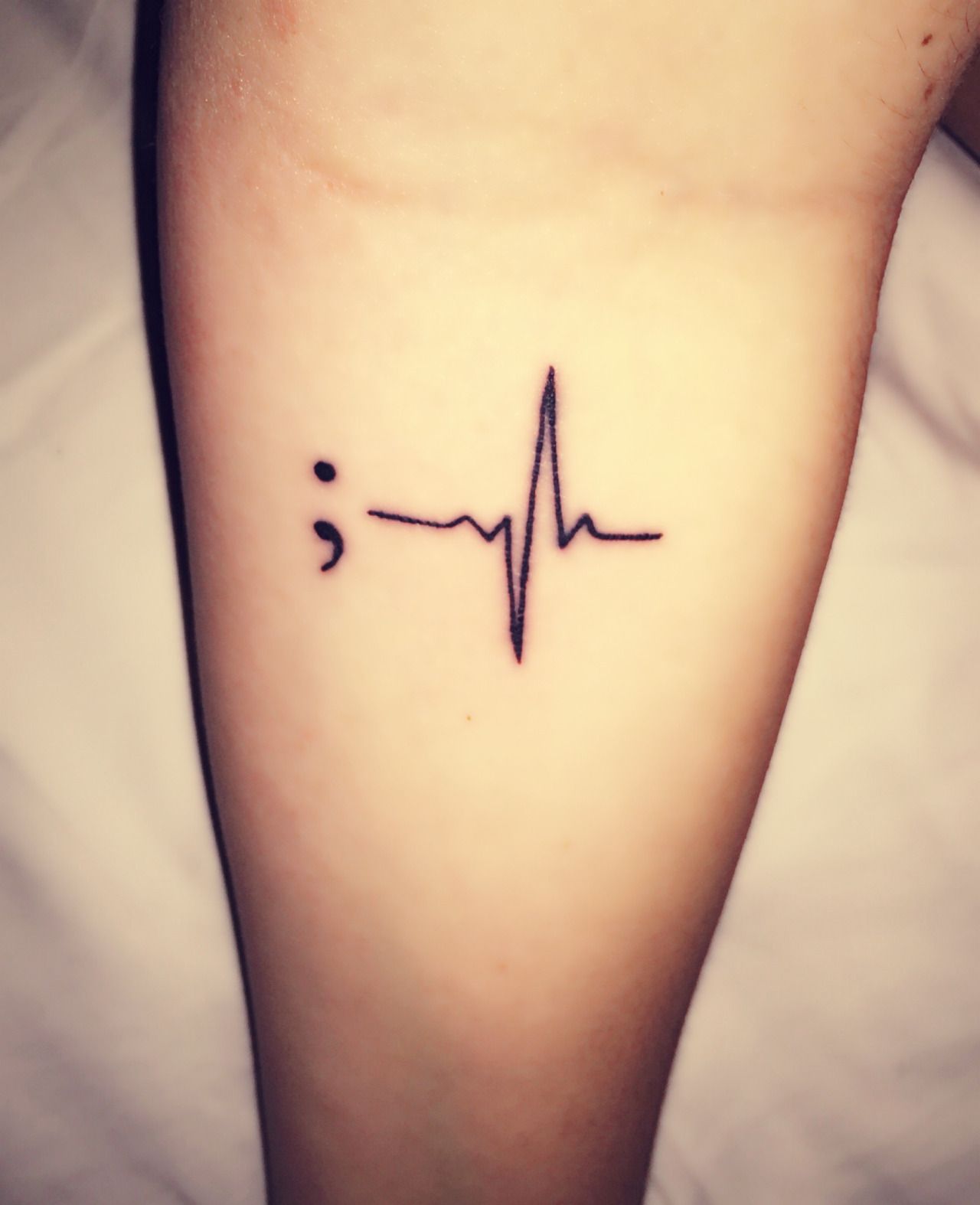 This is another great way to show survival. A shorter line can be good for those who worry about pain during their tattoo. A simple option like this can make a great first tattoo or a good option for placing in a more sensitive area like the ribs
58. Just Breathe With Semicolon Replacing 'J'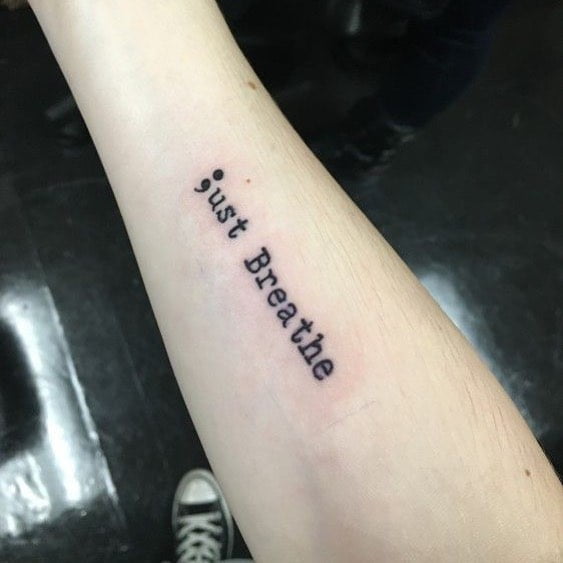 Replacing characters like 'i' or 'j' with a semicolon can add additional meaning to an otherwise simple phrase tattoo. Feel free to get creative to make your perfect tattoo idea
59. Simple Anchor With a Semicolon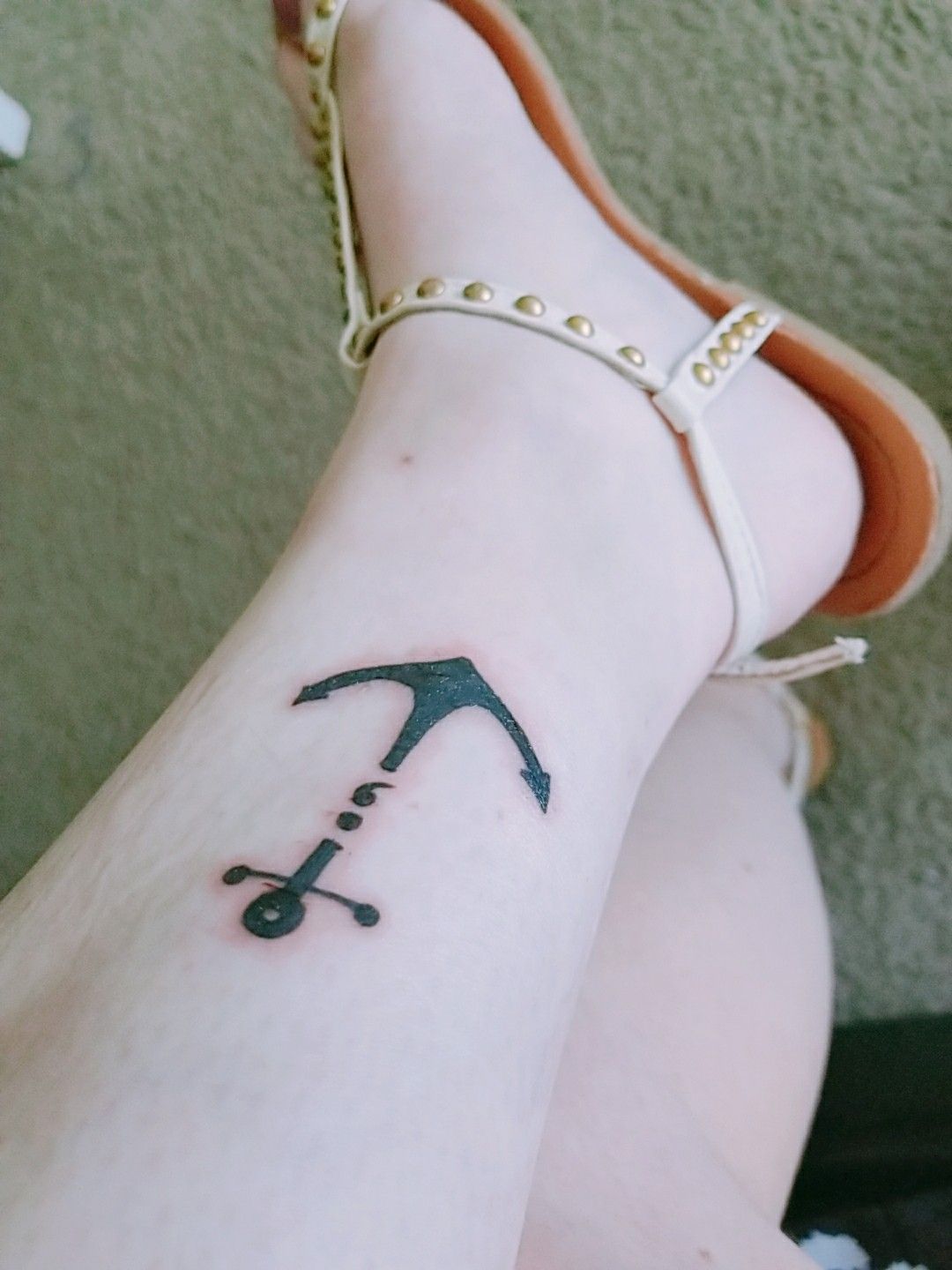 This nautical tattoo of an anchor has been made more unique with the addition of a semicolon. You can easily keep this idea with any object with a straight section
60. Matching Semicolon Tattoos on Pinkies
This is a great matching tattoo idea for any two or more people looking for a simple, easy tattoo to get. The location isn't that visible but is still easy to show together to demonstrate your bond. Tiny, simple ideas like this are also the best ones to be used for finger tattoos
60 Amazing Ideas for the Best Semicolon Tattoos
As you can see, there are plenty of ways you can use a semicolon in a tattoo, whether you're looking for a star tattoo design or something completely different. Don't be afraid to customize and combine your favorite ideas. Talk with your tattoo artist to decide on your final design. They can give you an idea of what will work out well for you with placement, size, and how it will wear and change over time. Be sure you find an experienced artist who has tattoos in a style you like. By picking an artist with a style similar to what you want, you'll get a better result than by picking whoever you find first. By doing your research, you'll have better results that you will be happy with for the years this tattoo will be on your body. And now go, get a semicolon tattoo! (Want something different? Try the crown tattoos or chest tattoos too!)