To immortalize a moment in your relationship, consider checking out the best friendship tattoo ideas and designs. You could use tattoos to commemorate a big event or to strengthen your bond in the present. Getting friend tattoos can show the bonds of your friendship will last forever. Whether you have been friends for many decades or only a short amount of time, coordinating tattoos solidify and eternalize a friendship.
60 Imaginative Ideas for the Best Friendship Tattoos Perfect for Innovators
While identical tattoos are considered traditional friendship tattoos, there are lots of other options. You can choose to get tattoos that are mirrors of each other, use the same design elements, or even tattoos that are in the same location (these work on half sleeve tattoos too. Finding a style that everyone agrees on can be a challenge. If you and your friend(s) have completely different styles, it may be a good idea to embrace the diversity.
Another genre of friendship tattoos is that designs that go together. Some examples are peanut butter and jelly, yin and yang, and the sun and the moon. While these friendship tattoos are able to stand alone, they look complete when together. Similar to these kinds of tattoos are designs that only make sense only when seen together. This journey is about balancing everyone's tastes to find the right tattoo that will illustrate how everlasting your friendship is.
1. Matching Atomic Model Arm Tattoos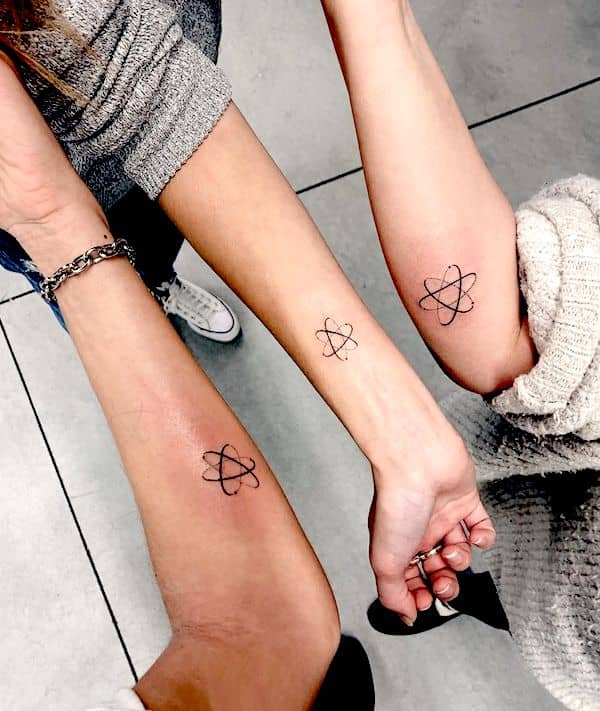 Showcase your intellectual side with these matching tattoos that illustrate the atomic structure. They could represent a fun memory, an unbreakable friendship, or demonstrate the idea that the three of you are the smallest unit of matter. While this design is able to stand alone, it shines when with its friends. Dragonfly tattoos also work well in this style.
2. American Sign Language Word for Friend Tattoo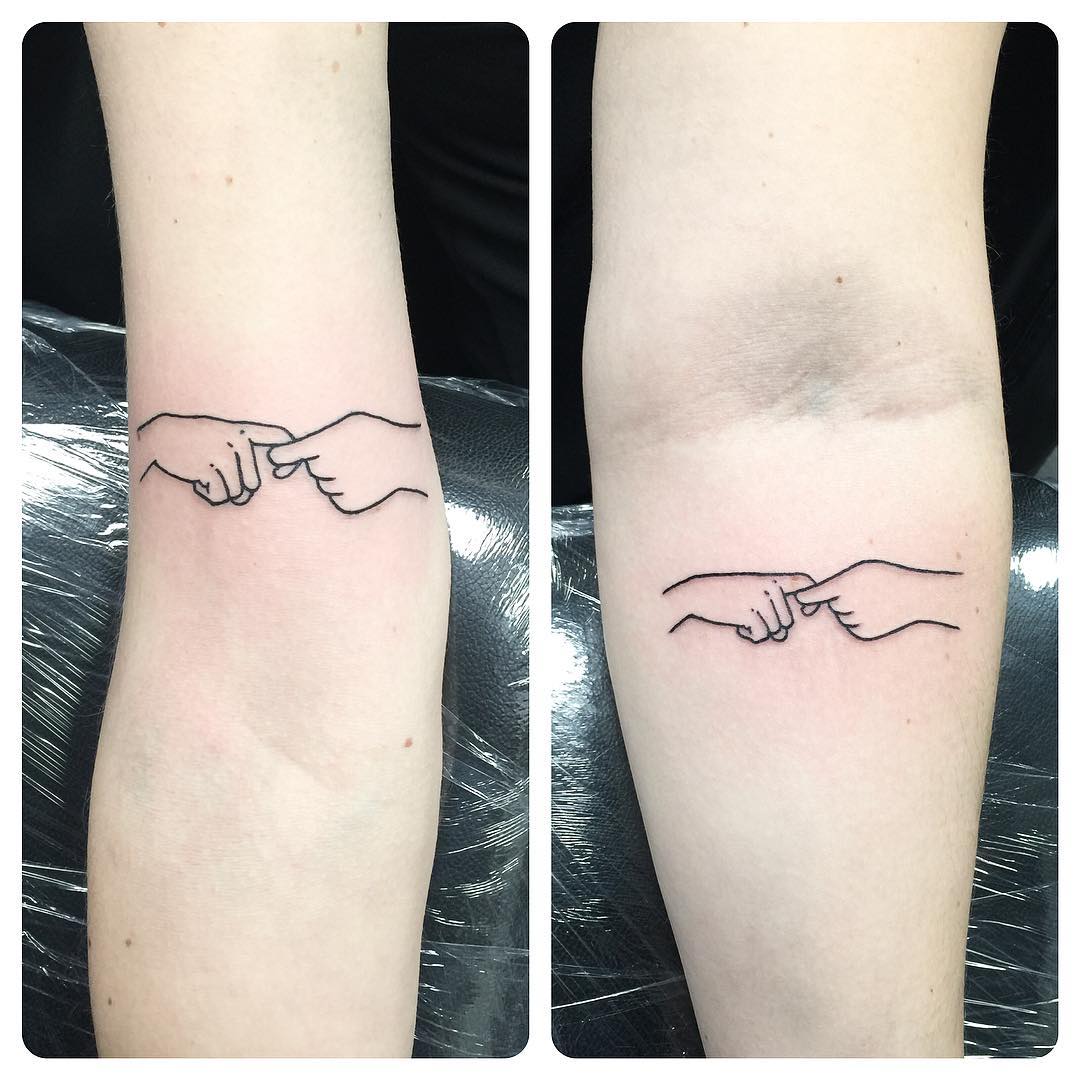 Because of this design's simple style, it busts with visual appeal. This idea shows the sign for "friend" in a beautiful and unique way. If you get this best friend tattoo in a highly visible place like an arm, it is a great opportunity to raise awareness for American Sign Language.
3. Complementing Super Mario Characters Pixel Art Best Friend Tattoos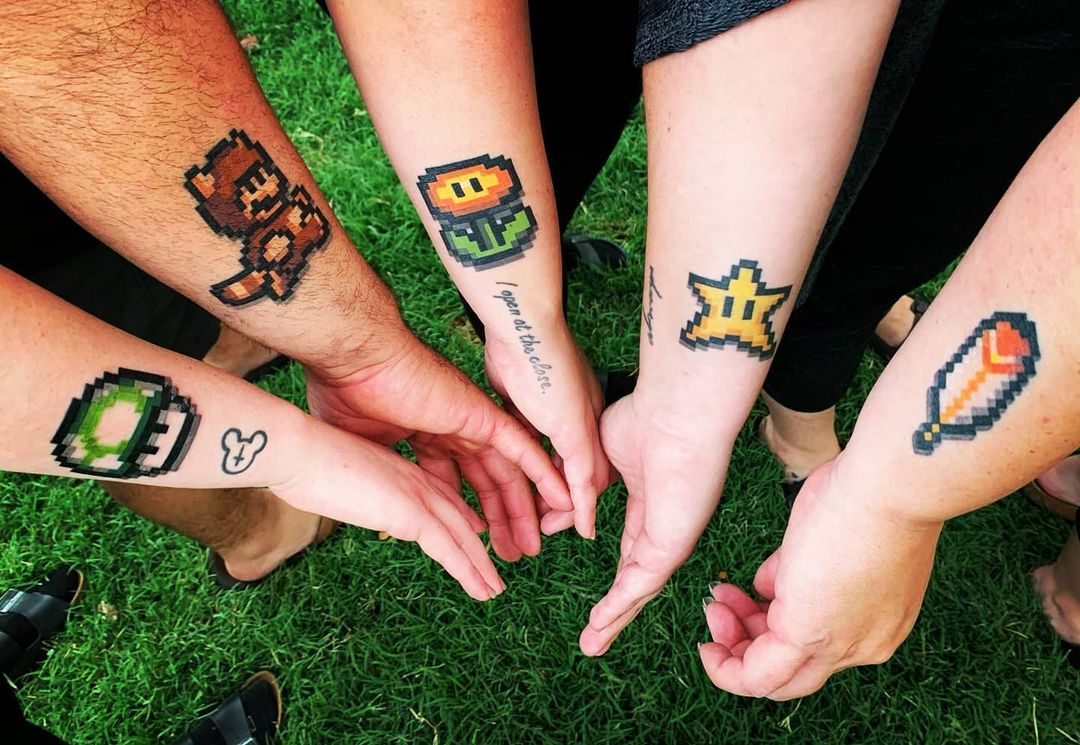 This best friend tattoo shows that super Mario is forever — just like this friendship. By using the pixel-style characters directly from the video game, you achieve the classic video-game vibe. To make this right for you and your friends, you can start by picking your favorite video game.
4. Harmonizing Botanical-Style Floral Forearm Best Friend Tattoos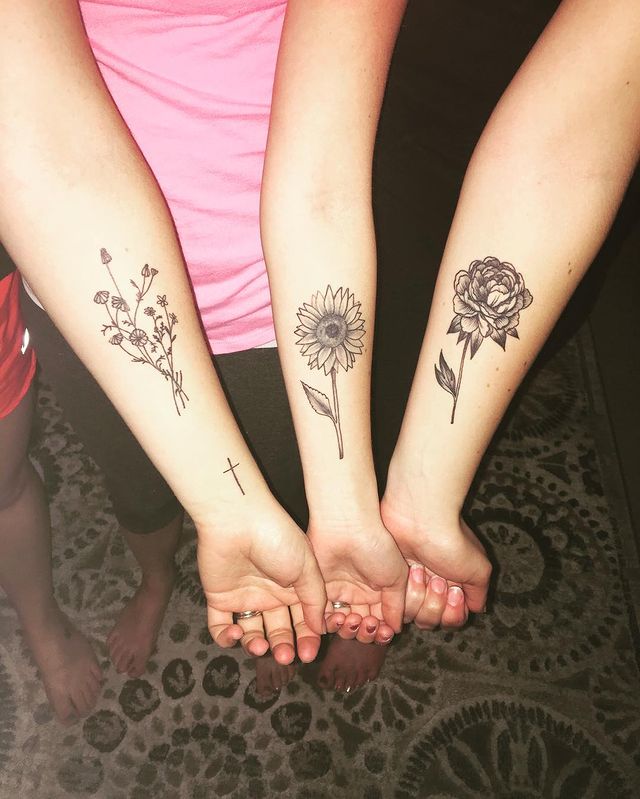 Instead of matching exactly, these floral tattoos for best friends are drawn in the same style to complement each other. These are done in a black-and-white botanical style, but you and your friends could use whichever style you like best! When seen together, these tattoos clearly belong to each other.
5. Initials and Crossed Arrows Matching Best Friend Tattoos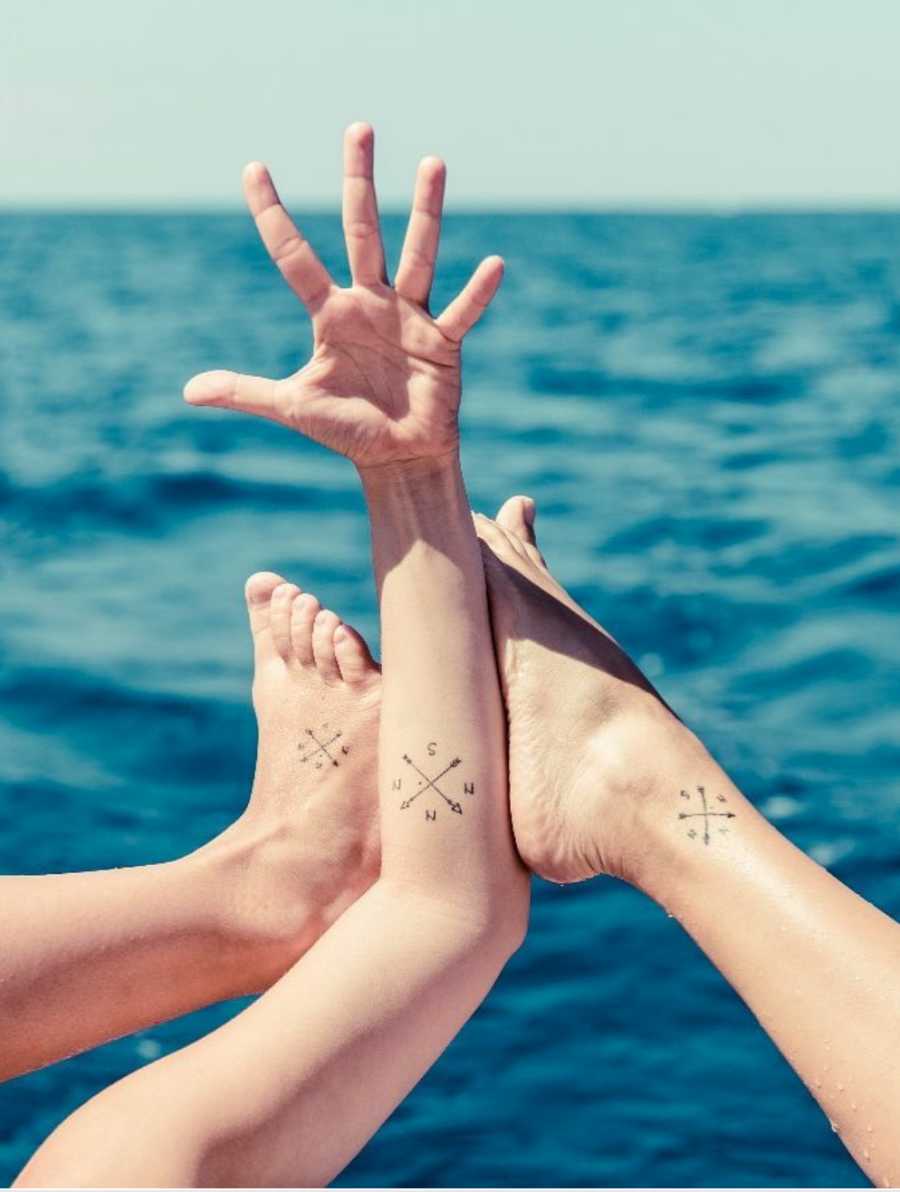 If you love adventure, consider using this crossed-arrow matching best friend tattoos design. The letters surrounding the crossed arrows can represent initials, your friend group's favorite saying, or anything that has meaning among you and your friends. If you want something more graphic, consider using emojis, flowers, or animals instead of letters.
6. Cursive "Always" Matching Wrist Best Friend Tattoos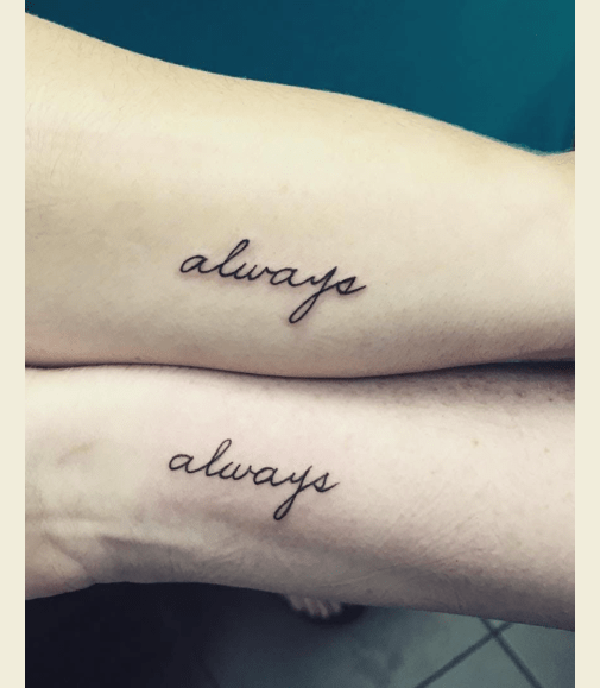 Is this best friend tattoo a reference to the Harry Potter character Severus Snape's undying love? That depends on what you and your friend want it to mean. To make this best friend tattoo unique to your friendship, use your friend's handwriting. If "always" is not right, you can always choose a different word.
7. Matching "Look Alive" Foot Best Friend Tattoos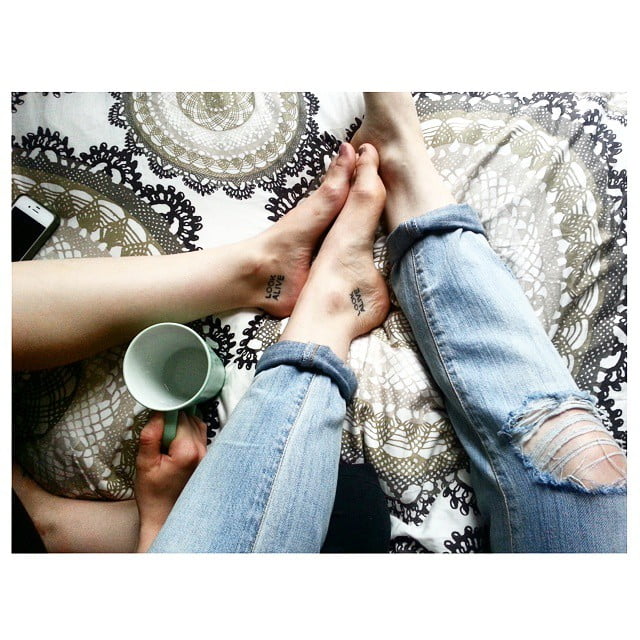 Simple sans serif font helps these foot tattoos stay legible while being extremely small. Also, notice that the two words are equal in size and width. Even if your matching tattoos say something else with special meaning, you can always use this style for best friends.
8. Mysterious Dot & Circles Friendship Tattoo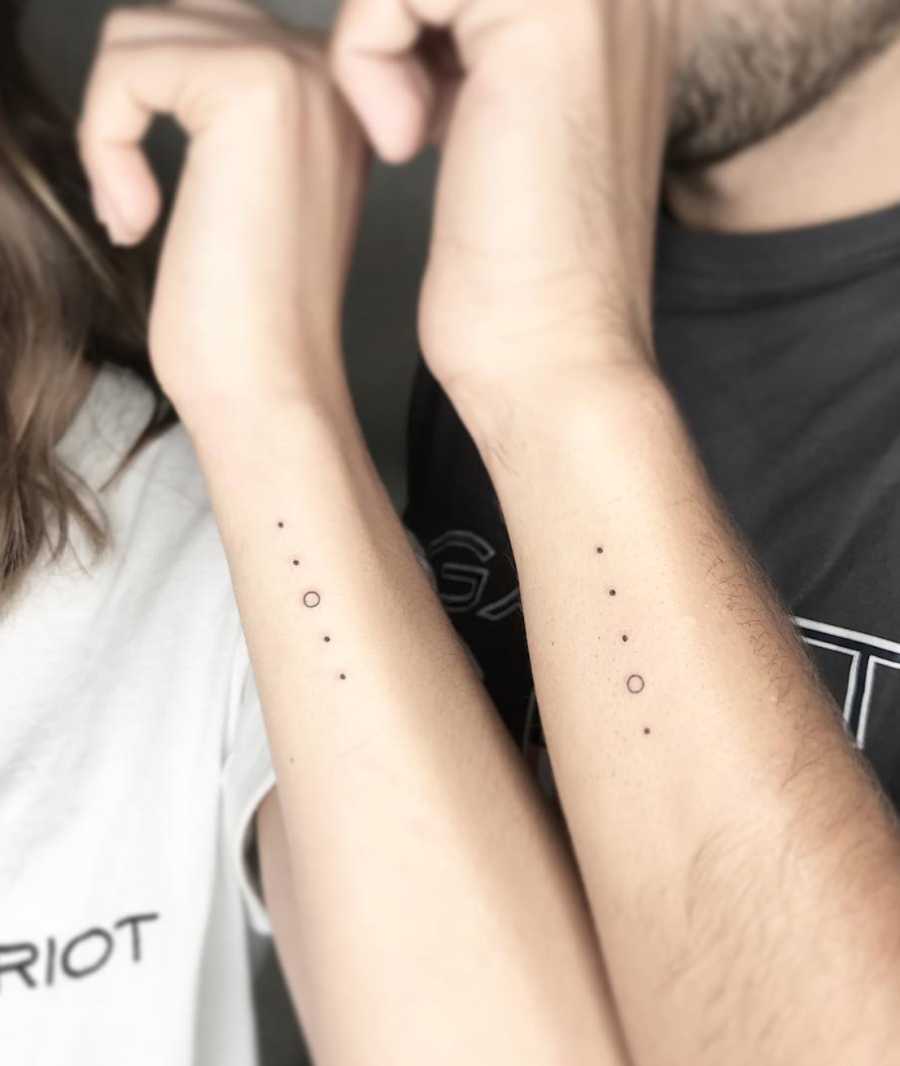 While some tattoos need no explanation, sometimes the best friendship tattoos are the ones whose meaning is only understood by the friend group. Use this dot and circle idea as a springboard for something meaningful just for you and your friends.
9. Sun, Moon, and Stars Wrist Best Friend Tattoos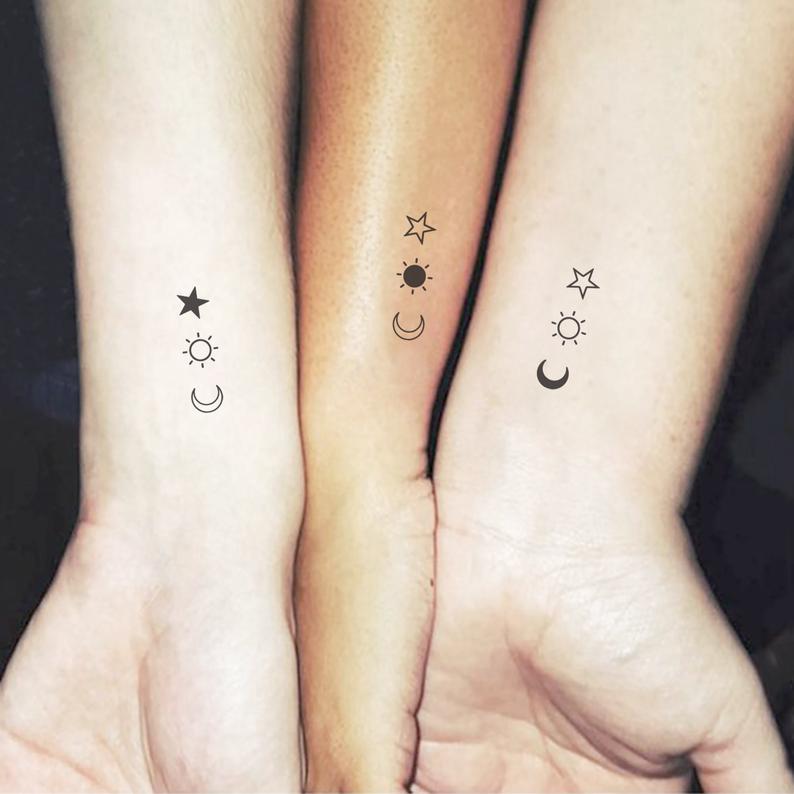 This beautiful tattoo idea for best friends illustrates the never-ending bond of friendship. While the outlined icons show this trio is incomplete when not everyone is present, the filled-in icon shows who fills each role. The most difficult part of this best friend tattoo choice is figuring which icon represents which person.
10. Powerful Accent Arrows Forearm Best Friend Tattoos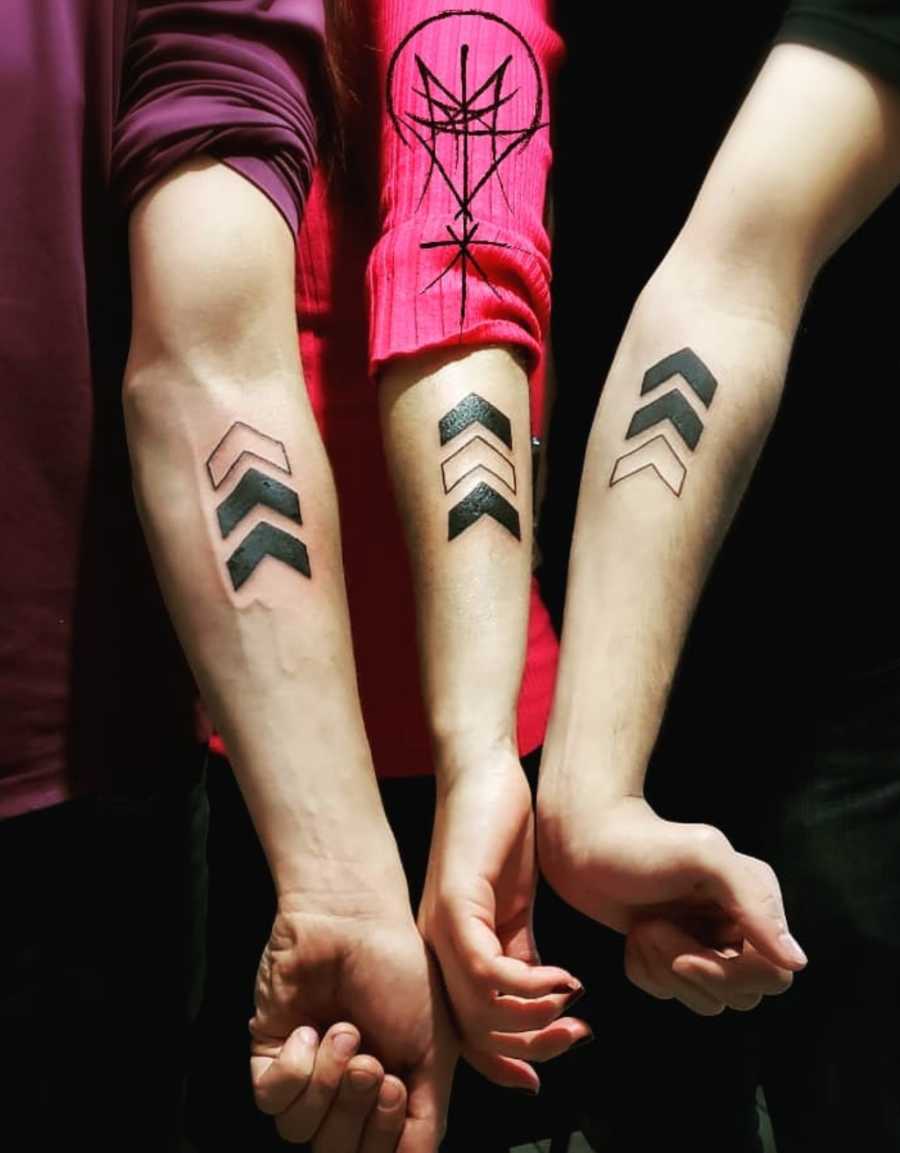 Strong, angular lines echo how strong your friend group is. Instead of the filled-in arrow representing the person, the outlined arrow represents the person. To make this best friend tattoo design match your personalities better, consider using your favorite colors or incorporating a letter into the arrows.
11. Dancing Cupcakes Matching Friendship Tattoos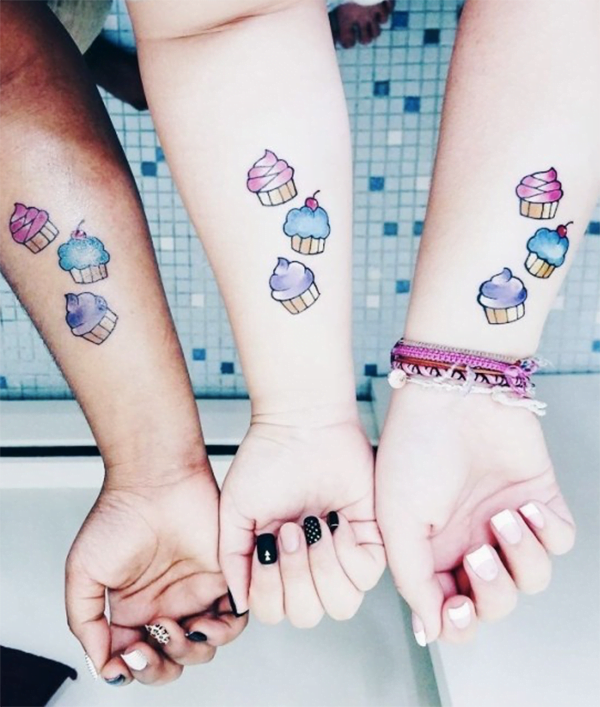 Cartoon-style cupcakes dance up the forearm to show how sweet this friend group is. To make this more your style, each person could design his or her own cupcake complete with favorite toppings. Depending on how detailed this design ends up; you could shrink this best friend tattoo down.
12. Harry Potter Deathly Hallows Matching Best Friend Tattoos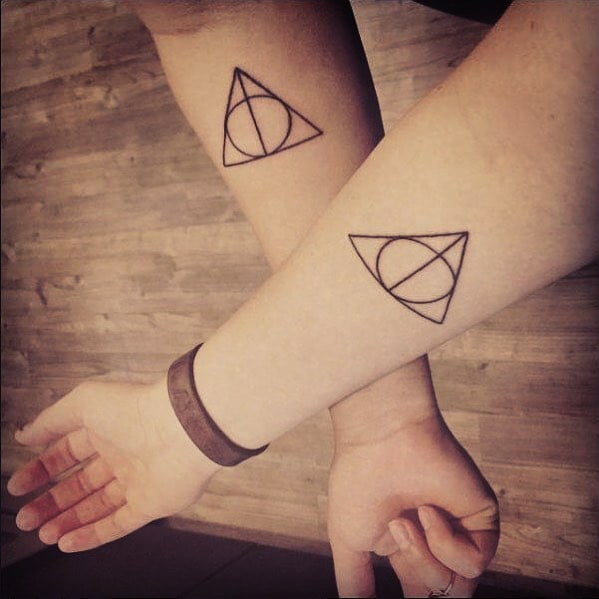 Not only does this best friend tattoo show how strong your friendship is, it also shows the world that you are part of the Harry Potter fan family. To make this best friend tattoo more personal, consider adding initials or incorporating a splash of color.
13. Anchors in Two Styles Friendship Tattoos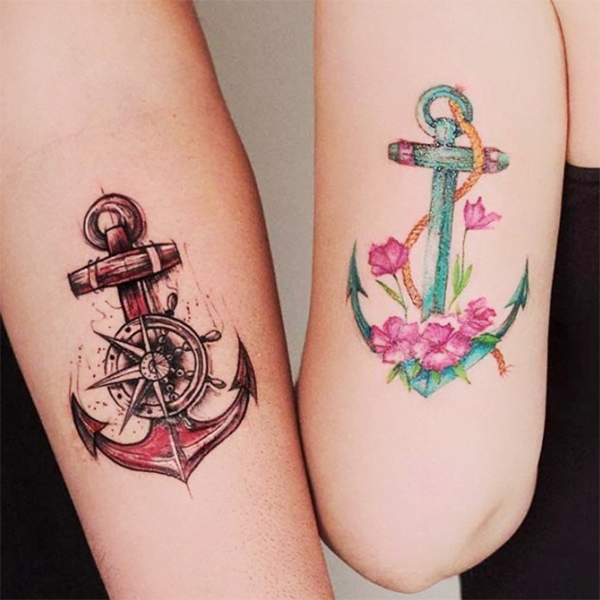 Friends can sometimes have very different styles. This best friend tattoo takes that into account — one tattoo is illustrated in a sharp, sketchy style. The other is depicted in soft pastels and incorporates flowers. The level of friendship is not diminished by different tattoos because this design shows open communication.
14. Harry Potter Golden Snitch Matching Best Friend Tattoos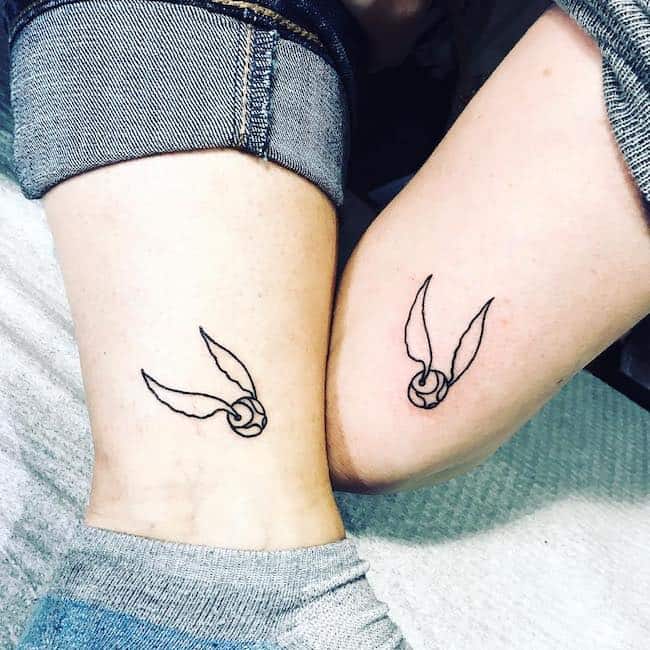 Sometimes, finding a good friend can feel like catching the Golden Snitch. This matching tattoo uses a simple outline to express that emotion. If you want to make this best friend tattoo idea less generic, you could add a significant date or initials.
15. "Sisters" Birds of a Feather Matching Tattoos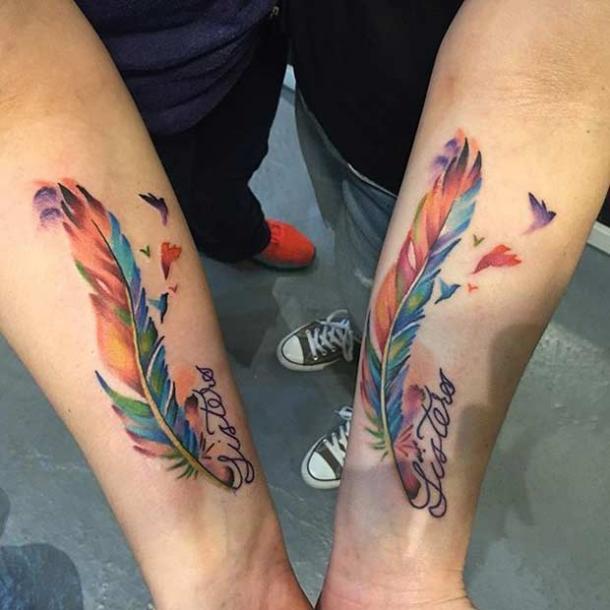 This simple, sweeping feather is a beautiful reminder that sisters are not always biologically related. The watercolor-style feathers show that these two people have been together through the saddest blues and the happiest times. Use each other's handwriting to personalize this best friend tattoo or sister tattoo.
16. Matching Tattoos: Mystical Unicorns in Magical Colors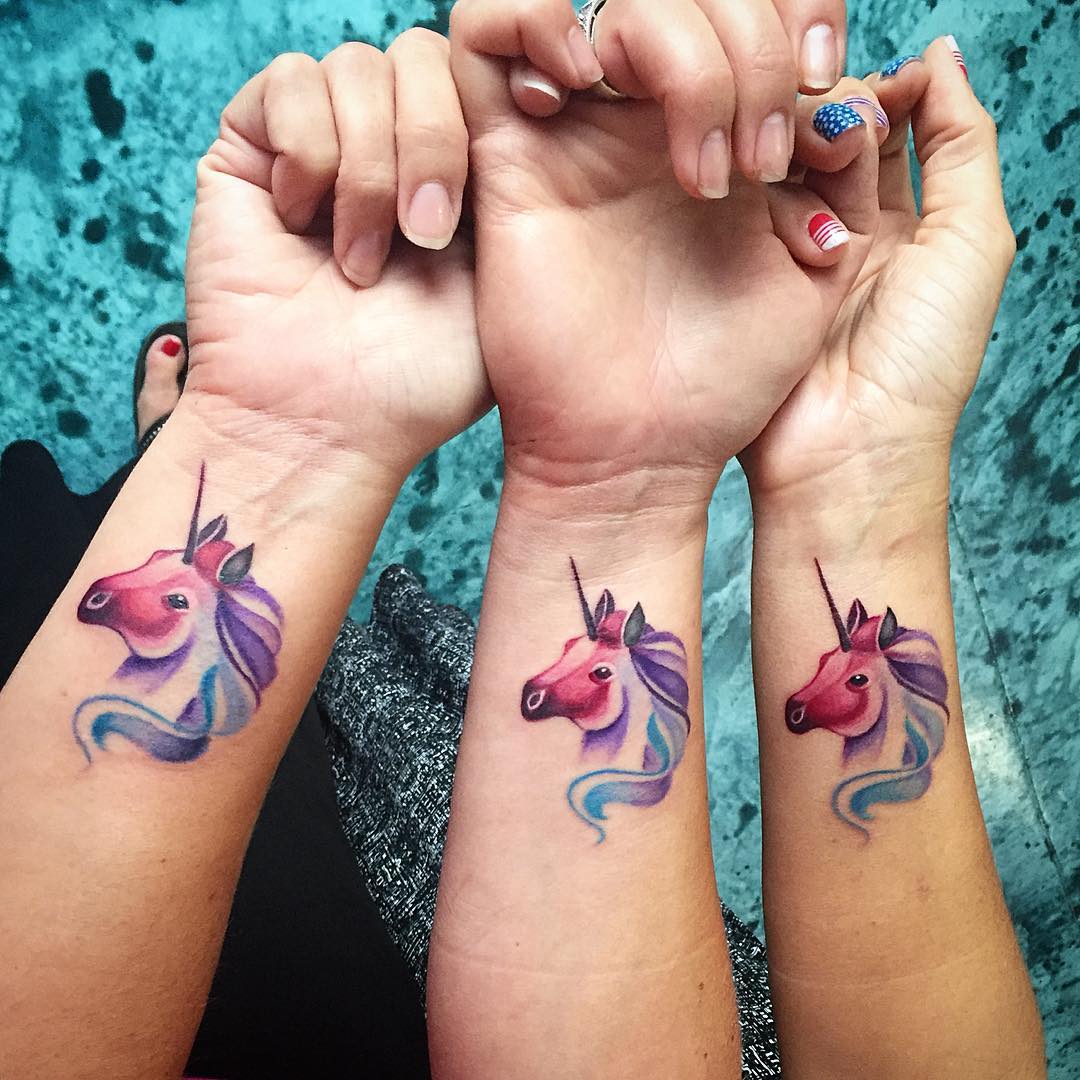 An enchanting color palette of pink, purple, and blue illustrates these unicorns to show everlasting friendship. Soft swirls help the mane feel as if it is blowing in the wind. Variations in shading give each unicorn dimension and help each tattoo stand as a work of art.
17. Lucky Four-Leaf Clover and Heart Friendship Tattoos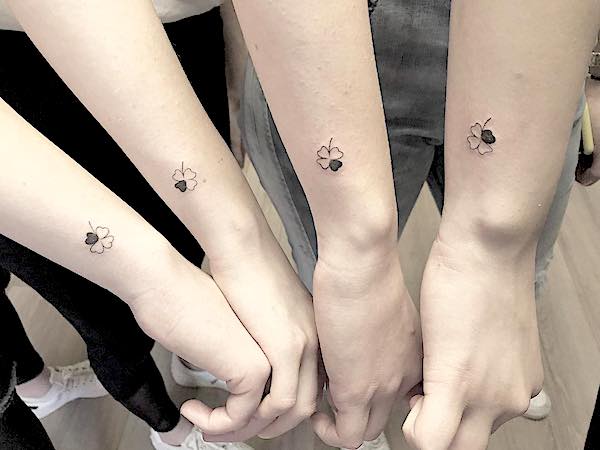 To celebrate the luck it took to bring your friend group together, consider this four-leaf clover tattoo idea. Each person receives a filled-in leaf that resembles a heart. Because this best friend tattoo has a simple style, you could get it smaller in a different location if desired.
18. Simple Solid and Outlined Stacked Hearts Best Friend Tattoos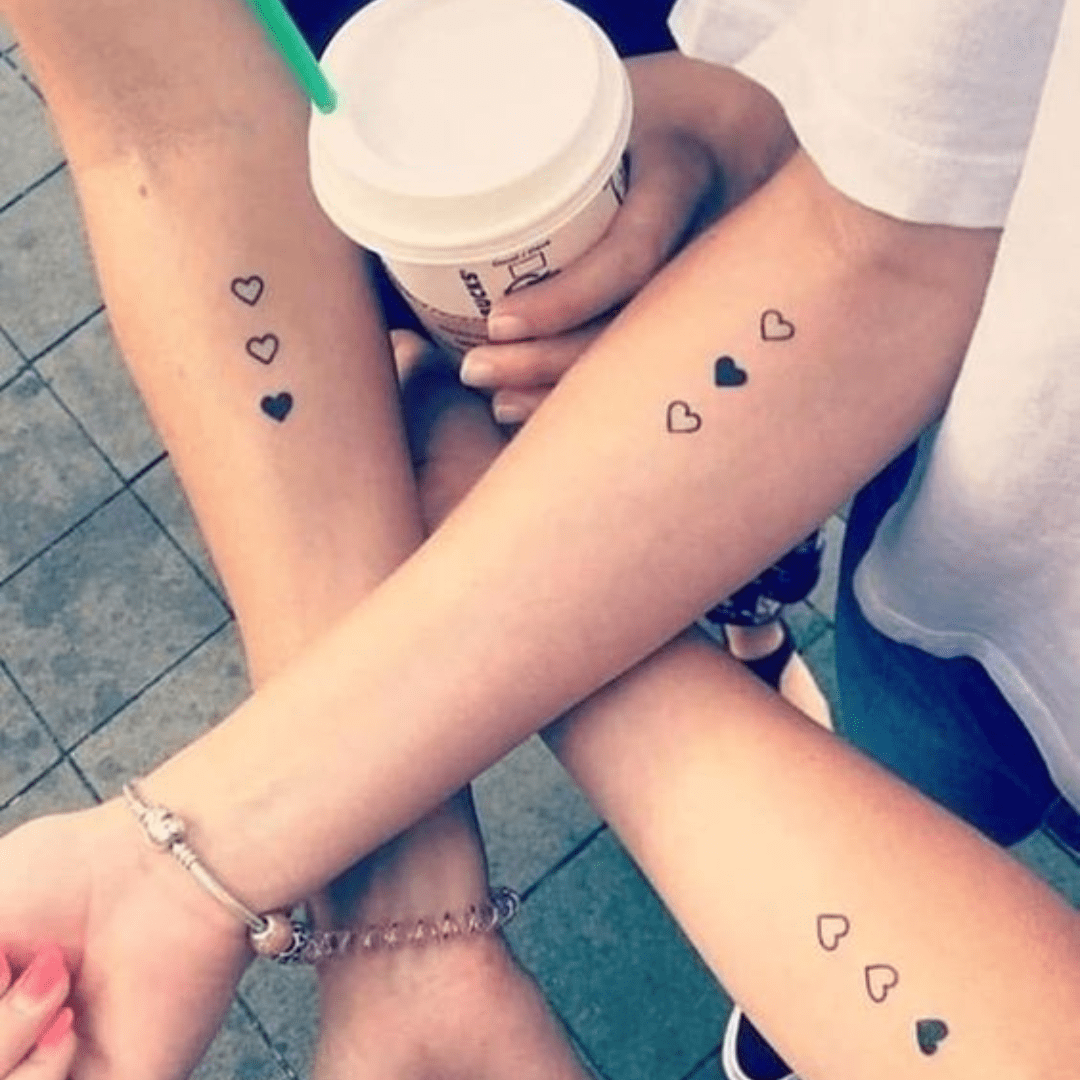 If your friendship feels like three hearts that beat together, this stacked heart best friends tattoo might be exactly right for you. While it is succinct in its simplicity as it is, consider adding a letter or using your favorite colors to make it more personal.
19. Matching Paper Airplane Wrist Best Friend Tattoos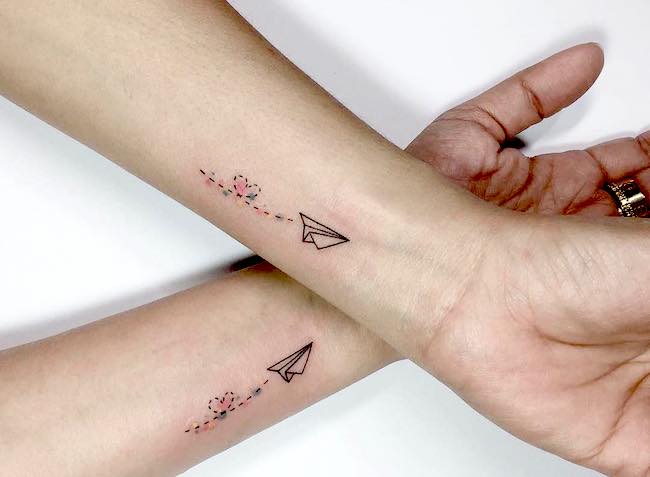 While this best friends tattoo commemorates what has happened in the past, it also looks to the future. If a heart is not your style, consider changing the dotted line to something else. This best friend tattoo design is beautiful because it looks good on its own but has so much deeper meaning.
20. Ethereal 10-Point Buck Matching Tattoos for Best Friends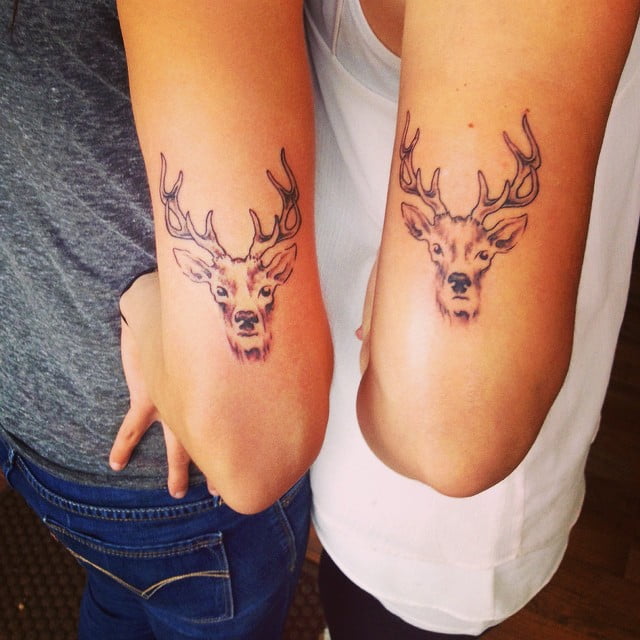 Depicted through subtle shading, these two stags appear more like spirits than animals. Because the antlers are outlined, the emphasis is put on the 10 points. If you have been best friends for 10 years or the number 10 is significant in your friendship, this is a fantastic tattoo idea.
21. Black and White Powerpuff Girls Friendship Tattoos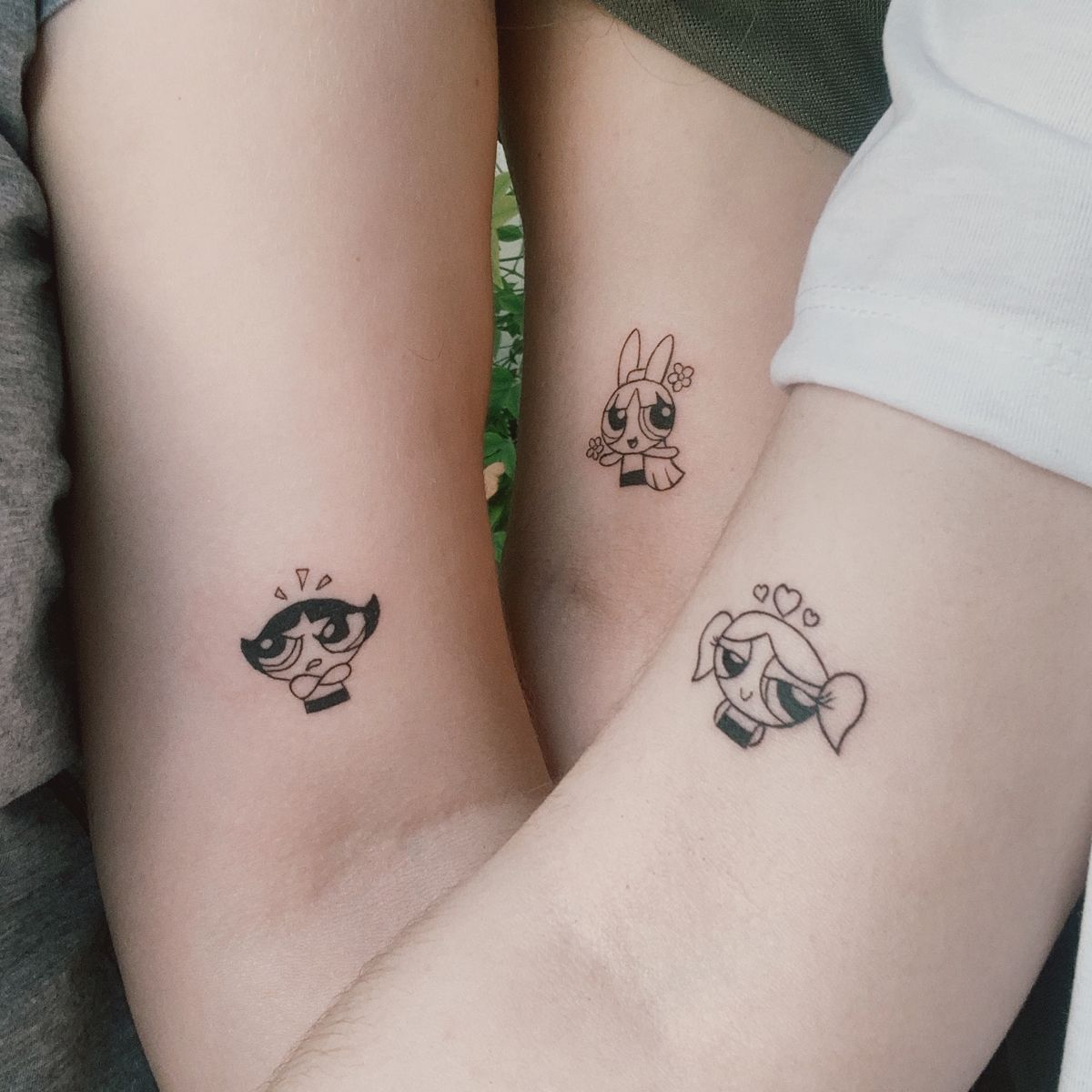 For friendships with plenty of sugar, spice, and everything nice, this best friend tattoo might be exactly right. Even in plain black and white, Blossom, Bubbles, and Buttercup are absolutely bursting with sassy character. In your trio, who will choose which character?
22. Cute Tattoos: Adorable Backwards Pandas Holding Bamboo Friend Tattoo Ideas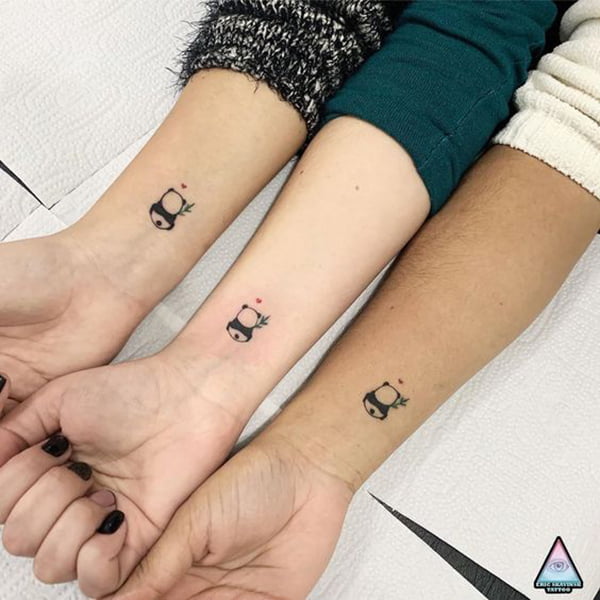 What is cuter than a black and white panda bottom? A dash of color adds emphasis to the green bamboo and the tiny red hearts. This design is relatively small and could be located anywhere. To make it fit your friend group, the pandas could hold lollipops, balloons, or flowers.
23. Bart and Lisa Simpson Dance Party Friend Tattoo Ideas for for Best Friends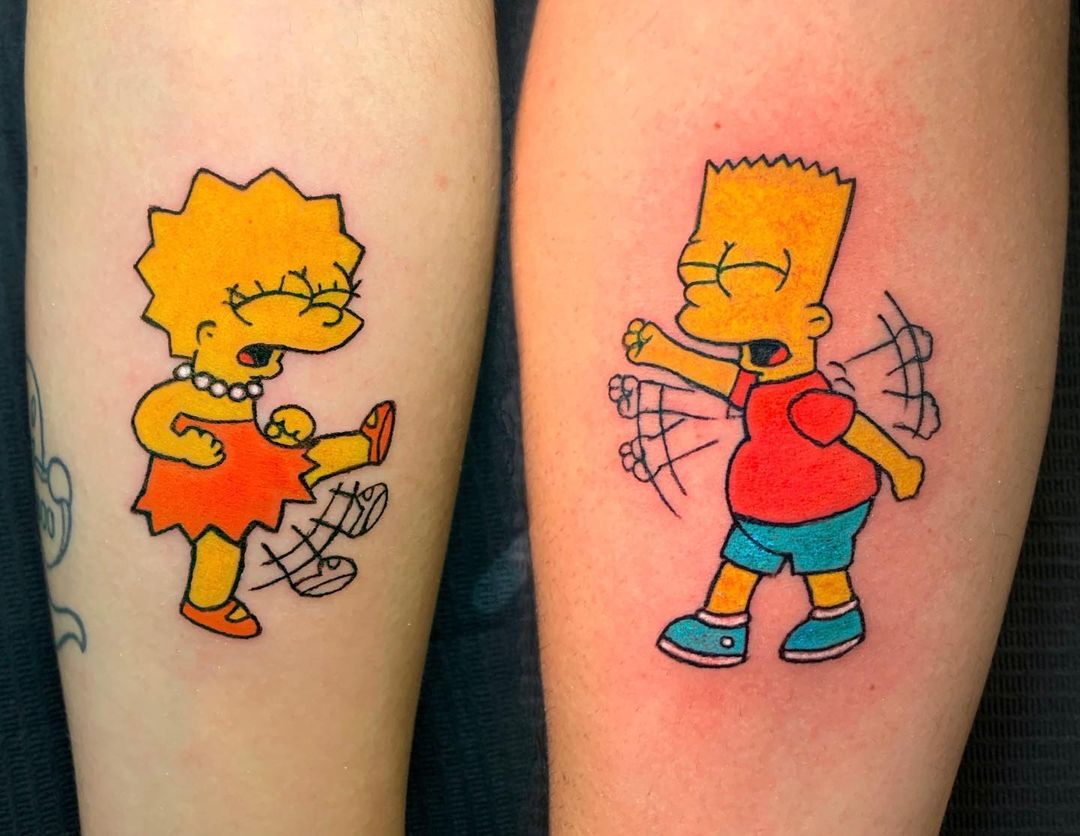 For still pictures, these love tattoos design convey a lot of motion. This best friend tattoo design is perfect for best friends who share a love of the long-running television show. Only one question remains: what music is playing to cause such wild dancing?
24. "L-O-V-E" Heel Friend Tattoo Ideas for Four Best Friends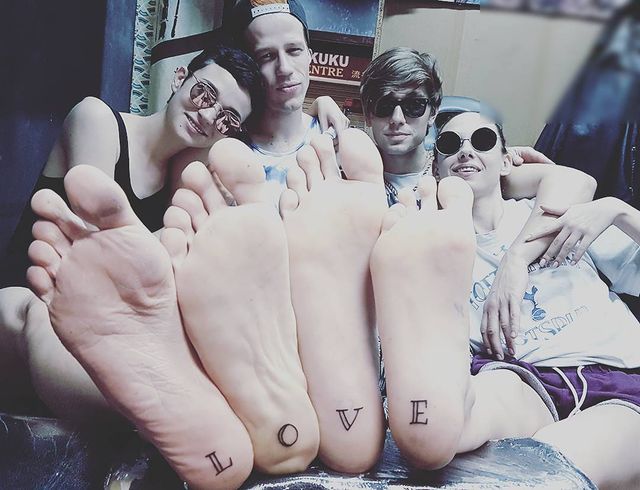 Spell "love" out on your feet with this creative tattoo idea! A serif font gives this best friend tattoo some sophistication, but you could pick a font that matches your friend group's personality. If you have more than four friends, try picking a different word.
25. Red and Rosé Matching Wine Glass Hip Friend Tattoo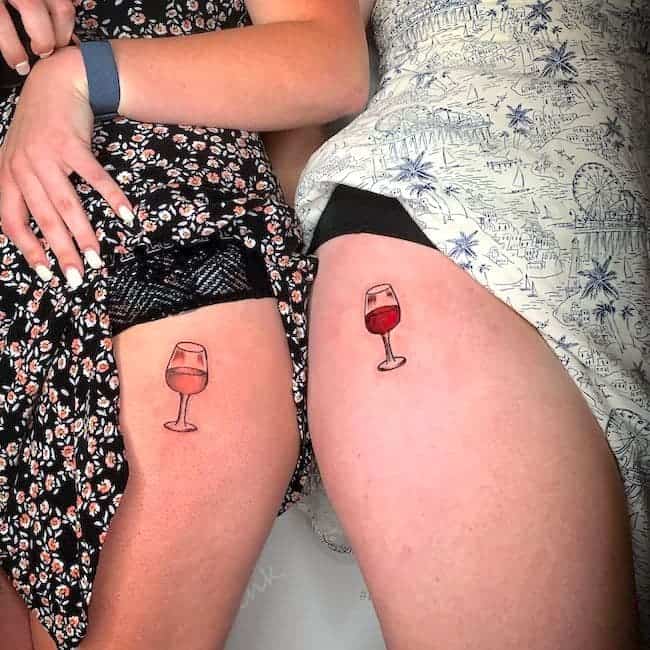 Nothing says friendship like a good glass of wine and a long chat. Cartoon-style wine glasses show that, with friendship, life is half full. Choose your favorite wine — or other adult beverage — to personalize this design. Of course, you could locate this best friend tattoo anywhere you desire.
26. Four Seasons Wrist Tattoos in Four Styles Friend Tattoo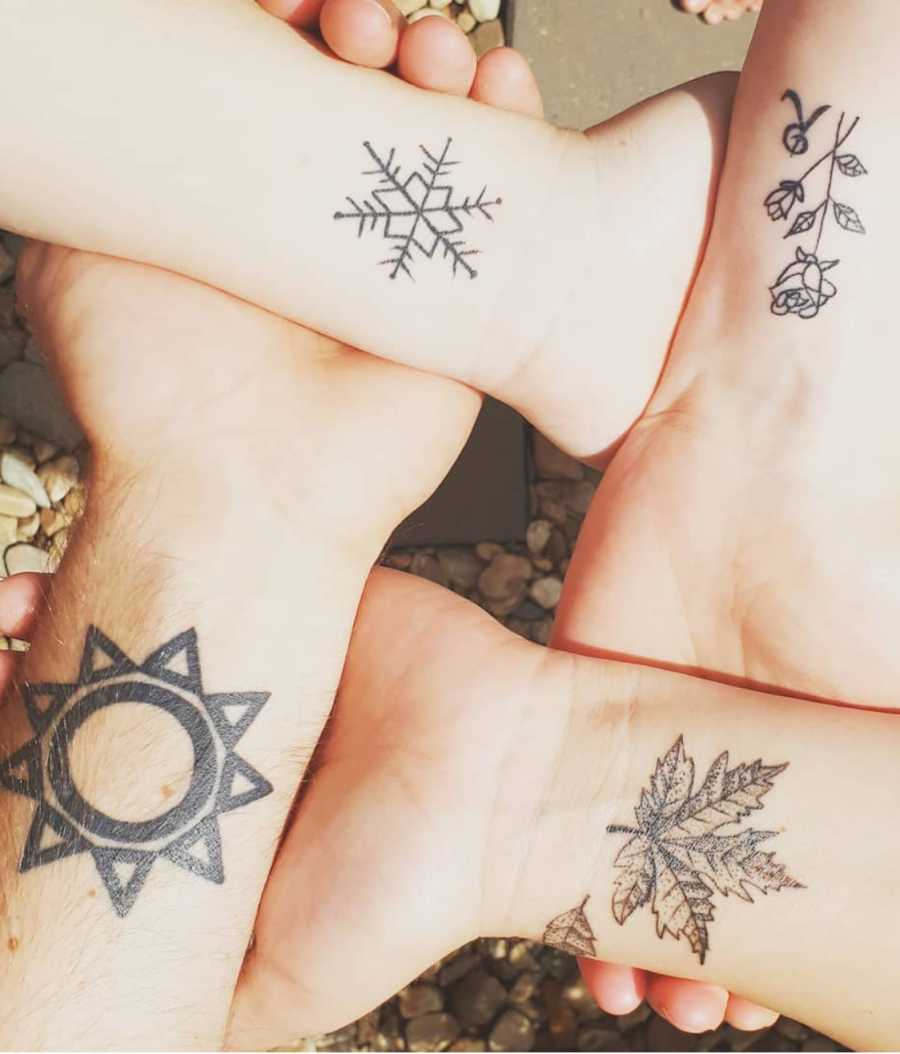 To represent one of the four seasons, each friend expresses his or her personality in a different style. Realistic, bold, icon, and cartoon styles combine to highlight each friend as a unique individual that is part of a larger, cohesive group.
27. Pinkie Promise Matching Arm Friend Tattoo for Best Friends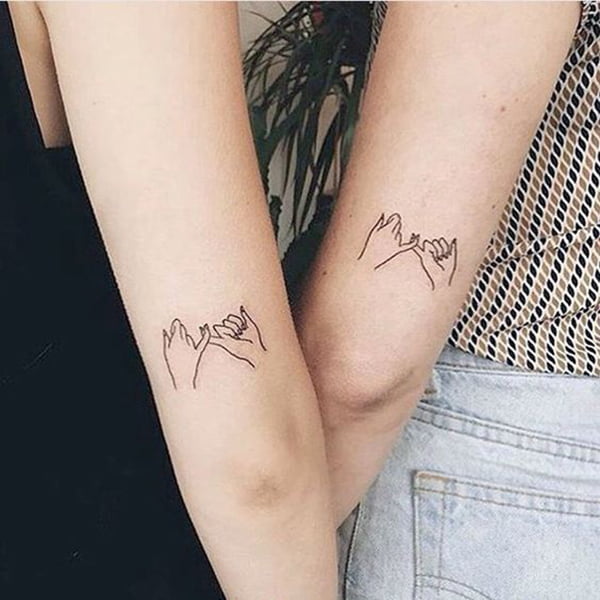 A pinkie promise is the most unbreakable of promises. The outline style used is simple and does not distract from the most important part: the pinkie promise. If it is too simple for your style, you can always add a fun, floral wreath or a handwritten word.
28. Recreated Cartoon-Style Childhood Photo Matching Tattoos for Best Friends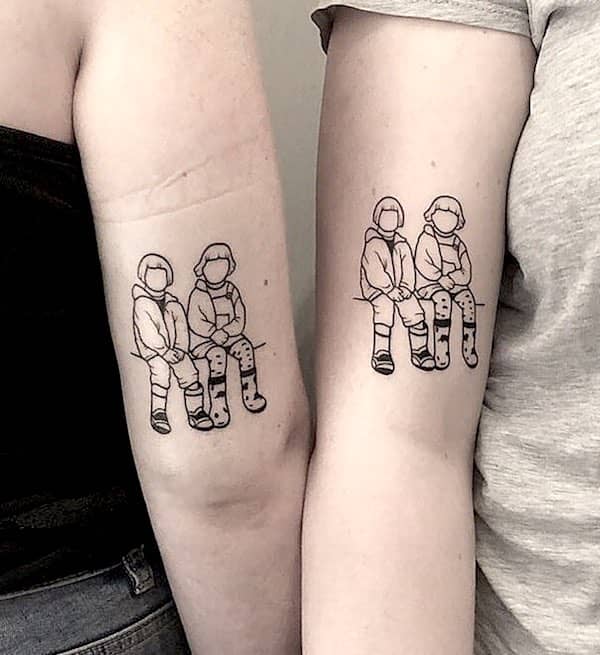 Using a recreated childhood photograph illustrates a friendship that has lasted a lifetime already. The picture chosen for your tattoos does not have to depict a childhood memory, although that does add a level of childhood innocence and illustrates your friendship's history.
29. Matching Graduation Gown Arm Friend Tattoo for Best Friends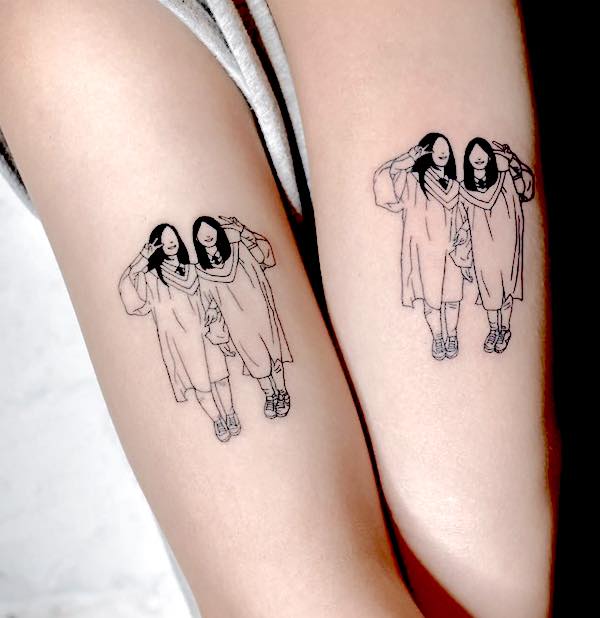 Relive the exuberance of graduation day by immortalizing your friendship in this best friend tattoo design. The black and white outlined style captures the energy and excitement from that special day. Find your favorite picture with your friend to make this idea happen!
30. Skulls in a Bottle Coordinating Friend Tattoo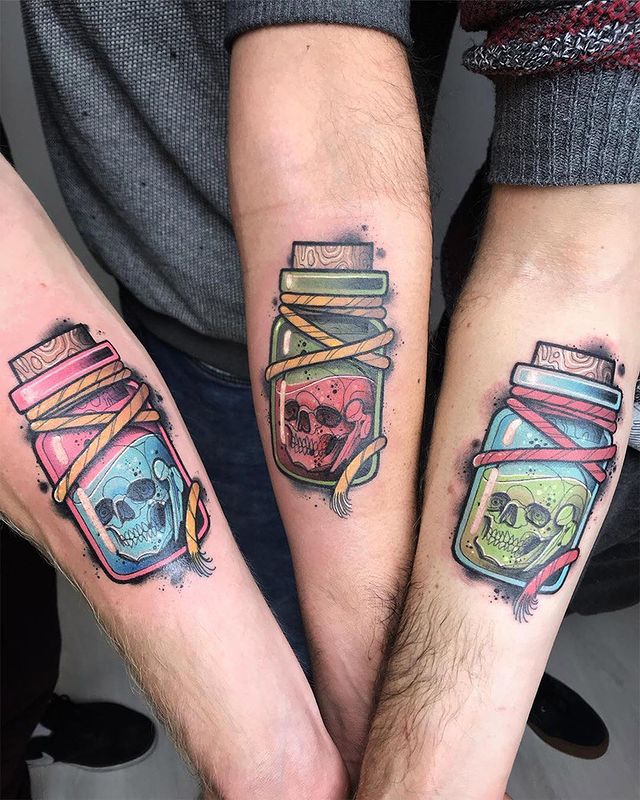 Ink-spotted skulls display ferocity and brotherhood. Bursting with texture, the gritty shadow, cork texture, and glass highlights give these tattoos plenty of dimensions. Although these tattoos use identical designs, the alternating colors make each tattoo unique. If skulls are not your style, you can use something different inside the jar.
31. Whimsical High-Fiving Cartoon Cat Hand Friend Tattoo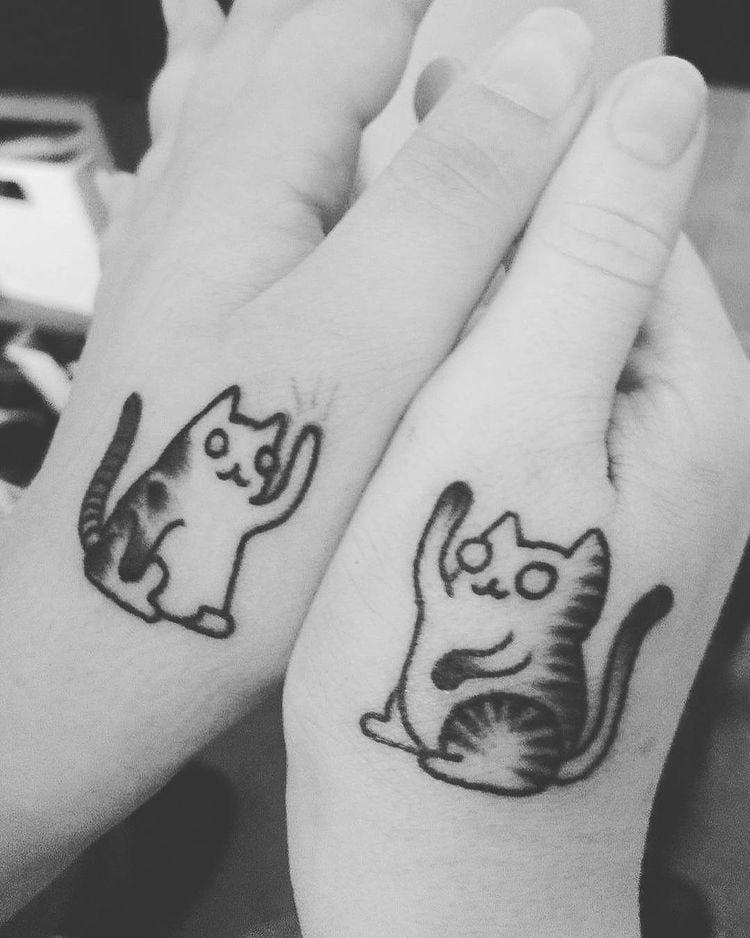 Every time you and your friend high-five, your cat tattoos will high-five at the same time! Subtle lines give the illusion of sound to the high-five while a subtle shadow gives the illusion of dimension. Design your own feline pattern for a more personalized hand tattoo.
32. Artistic Sun and Moon Tattoo on Ribcage for Best Friends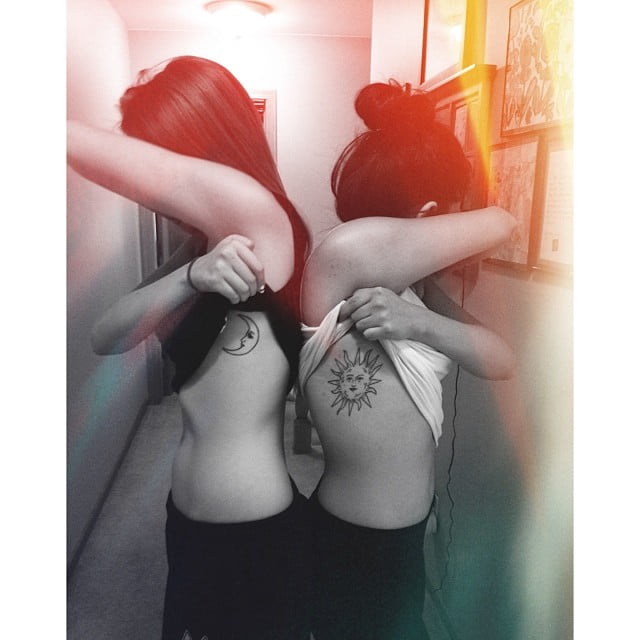 This friend tattoo shows that your friendship is as everlasting as the sun and moon. To add a third friend to this best friend tattoo idea, you could include a star in the same style. While the black and white outline is classic, you could spice it up with watercolor-style splashes of color.
33. Cute Coordinating Dinosaur Outline Tattoos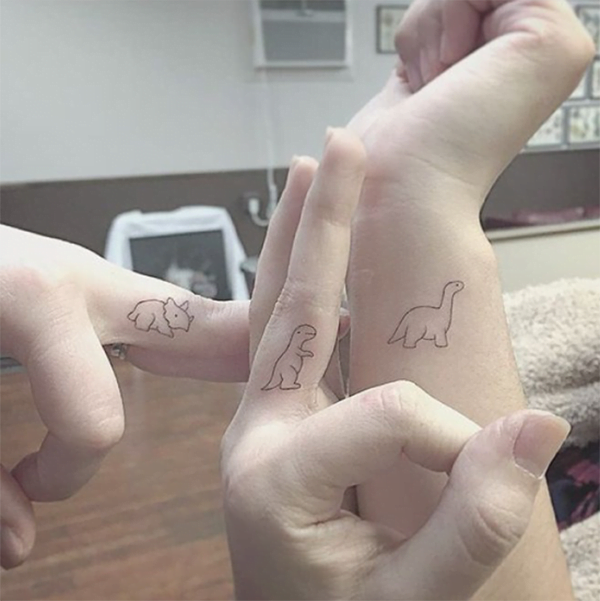 Everyone has a favorite dinosaur. Pick yours and figure out where on your body it will look good! This best friend tattoo idea does a fantastic job of using the body's natural shape to flatter the design's shape. Because each tattoo is so simple, these matching tattoos can be very small.
34. Identical Realistic Red Roses Friendship Tattoos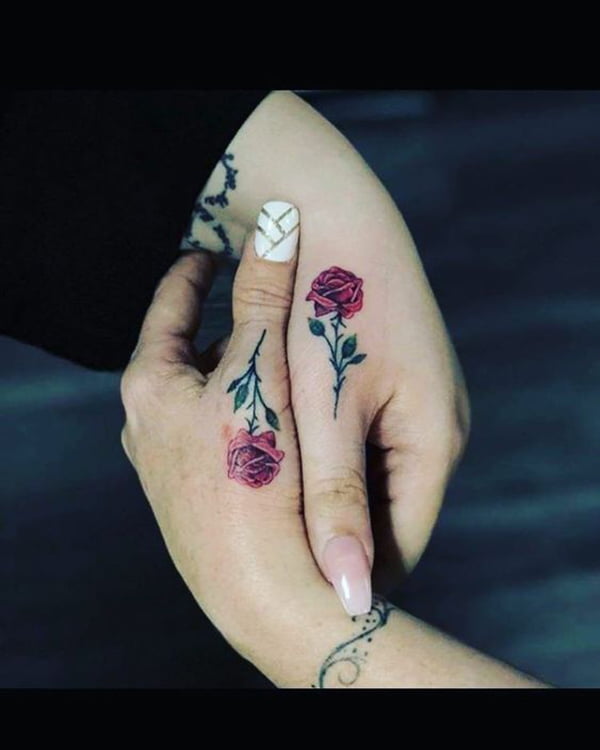 Realistic colors and shading breathe life into these matching rose tattoos. Locating a friendship tattoo in a highly visible place like a hand is a great way to think about someone often. Make it more personal by adding a special date in your friendship or perhaps initials.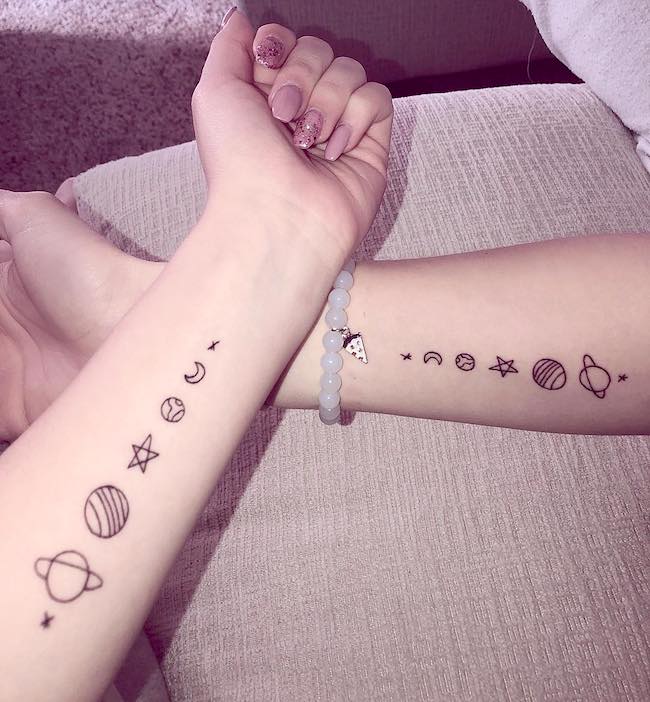 If your friendship can only be measured in billions of miles, this solar system tattoo might be right. The hand drawn, doodled style gives this best friend tattoo an endearingly cute effect. To make this best friend tattoo extra special, ask your friend to try doodling the planets him- or herself.
36. Extra Cheesy Pepperoni Pizza Wrist Tattoos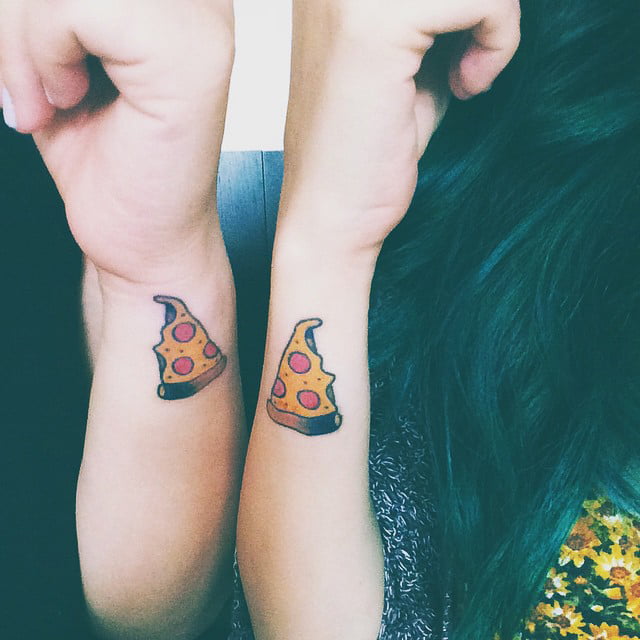 If you were to visualize love in food form, it would be pizza. Delicious gobs of extra cheese in this cartoon-style tattoo make it look good enough to eat. Of course, you can personalize this best friend tattoo by using your favorite pizza toppings or by using your favorite food.
37. Coordinating Stylized Flamingo Friendship Tattoos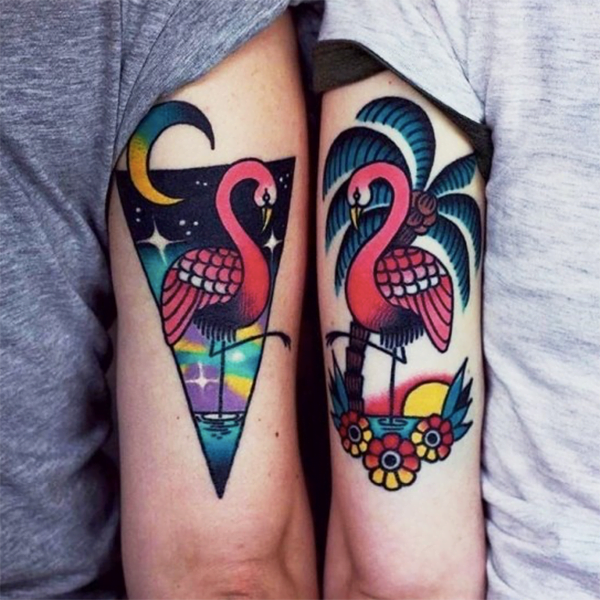 This best friend tattoo idea is perfect for best friends who have different styles. Whether you prefer a sunset beach or a cosmic triangle, this design has it all. The flamingo's shading gives the tattoo dimension while vivid colors draw the eye. Which do you prefer – a beach sunrise or a nighttime scene?
38. Artistic Ocean Sunset and Heart Tattoos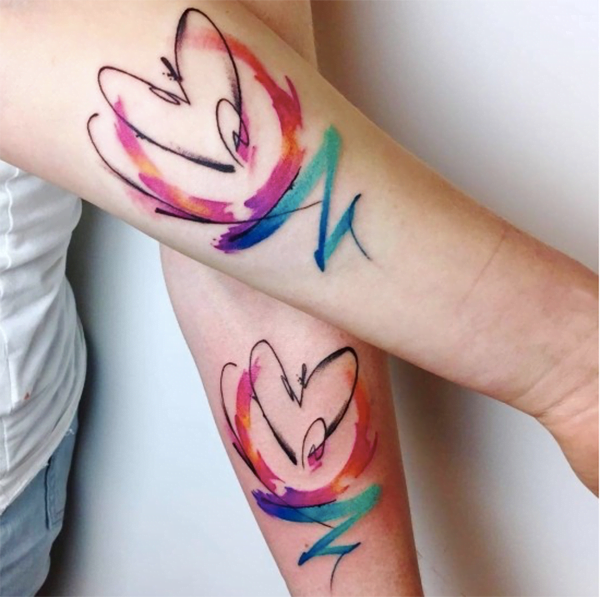 Sketched lines and paint swatches make these matching tattoos a work of art. Strong lines and bold colors show how strong your friendship is. If you wanted to find a way to personalize this best friend tattoo, you could add names, initials, dates, or something special to your friendship inside the heart.
39. Cat and Raccoon Coordinating Friendship Tattoos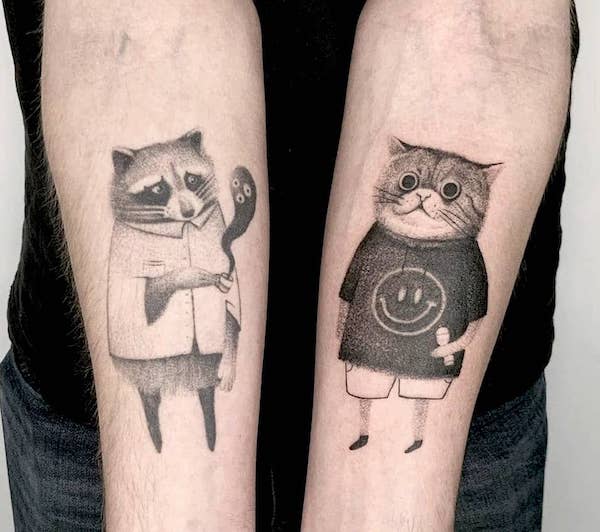 While not obviously matching tattoos, this cat and raccoon rendered in the same style go together. To make this best friend tattoo reflect your personality, use your favorite animal and clothes. Then, switch out the science-fiction-inspired teacup or microphone with something that you enjoy.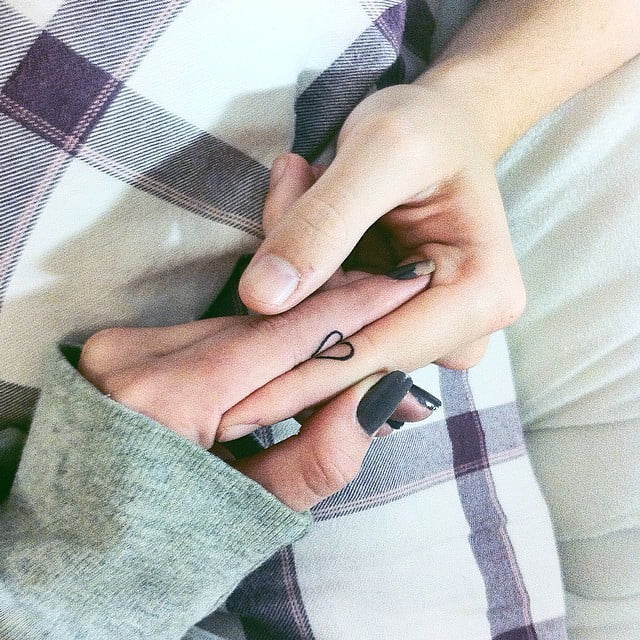 To show that you only feel complete with your friend, use an idea like this one that needs both friends together. On its own, this best friend tattoo adds mystery in a highly visible place. Only when you are together can the tattoo be unbroken.
41. Mirrored Half-Carambola Friendship Tattoo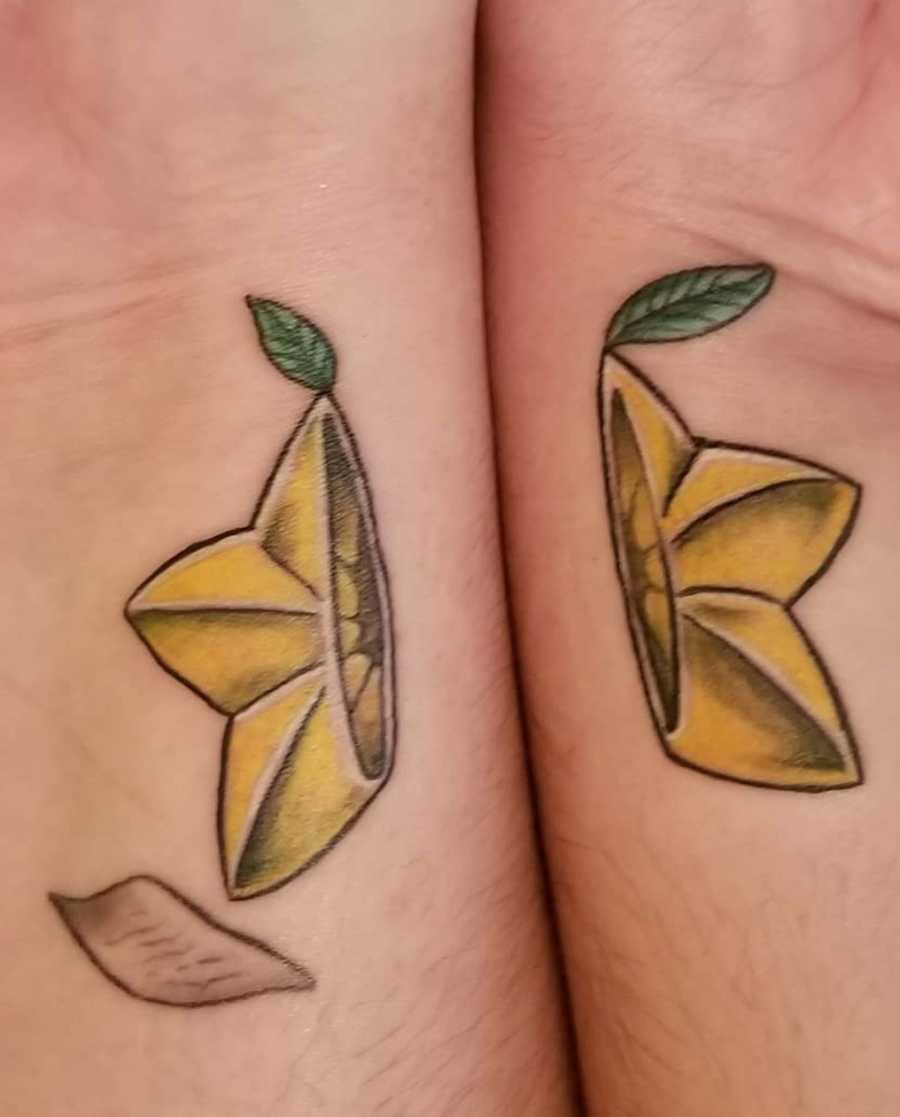 While shading gives this cartoon-style star fruit dimension, a unique perspective makes it clear that this fruit was cut in half. One friend bears each half to show that each person is half of a whole. Use this best friend tattoo idea as a springboard to find your own friendship tattoo.
42. Matching Wishbone Silhouettes Wrist Tattoos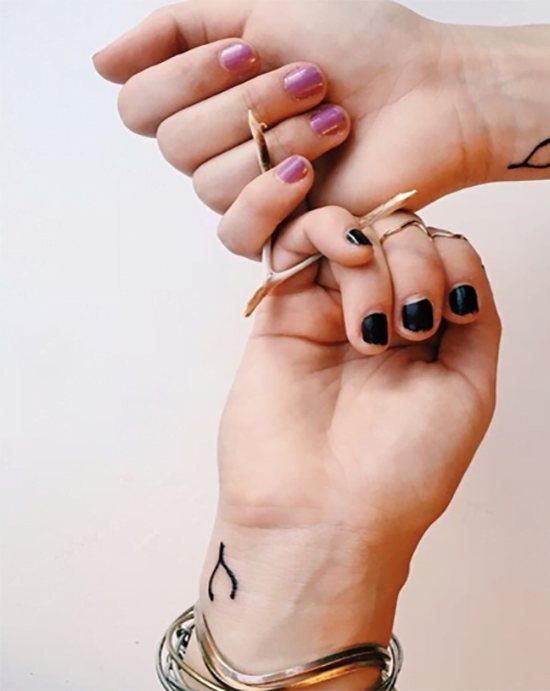 Immortalize a fun tradition in your friendship with this simple silhouette small tattoo. Because of its small size, this best friend tattoo could be located anywhere. Even if wishbones are not one of your friendship traditions, you can use this idea to find a friendship tattoo that does celebrate your friendship.
43. Birds in Flight with Feather Ankle Tattoos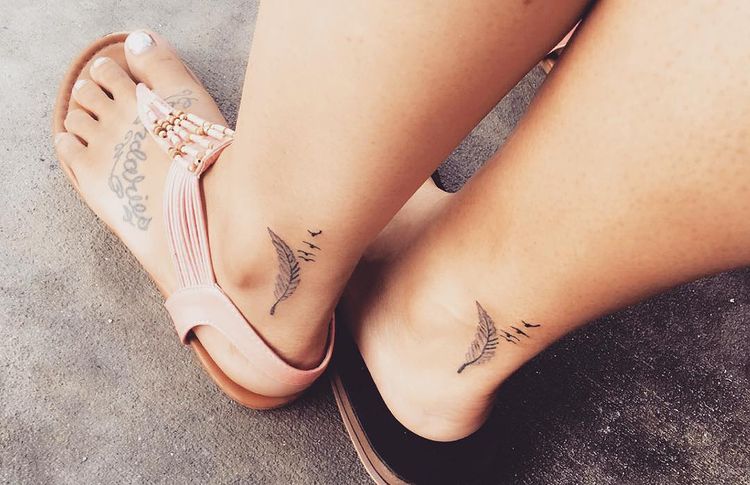 Delicate strokes depict a feather and flock of flying birds in this friendship tattoo. In this design, the feather is almost shaped like a tree. Using the human canvas to its fullest potential, this idea wraps the feather (or tree tattoo) around the ankle bone.
44. Halved Avocado Friendship Tattoo Idea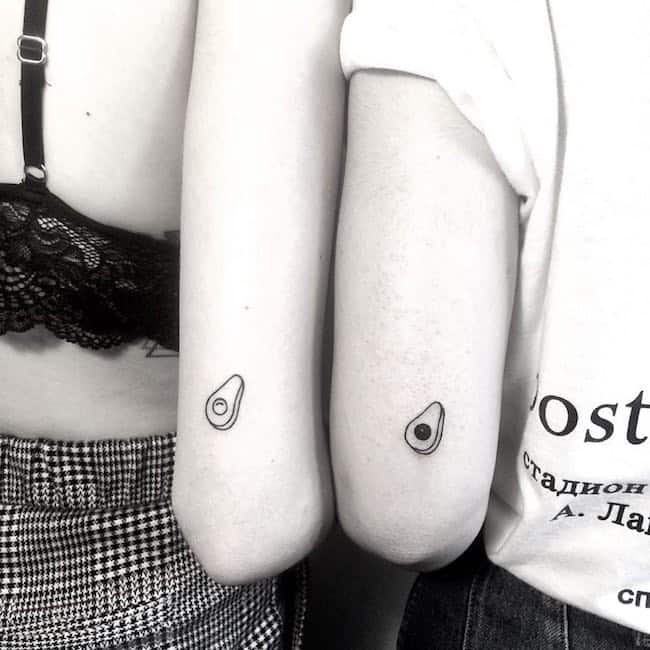 With only a few lines, this best friend tattoo tells a story perfect for any friends who have bonded over avocados. An avocado pit in one half of the fruit makes this best friend tattoo idea unique. While this best friend tattoo can go anywhere, choosing the same location on each friend helps tell your story.
45. Matching Coffee Mug Outline Tattoos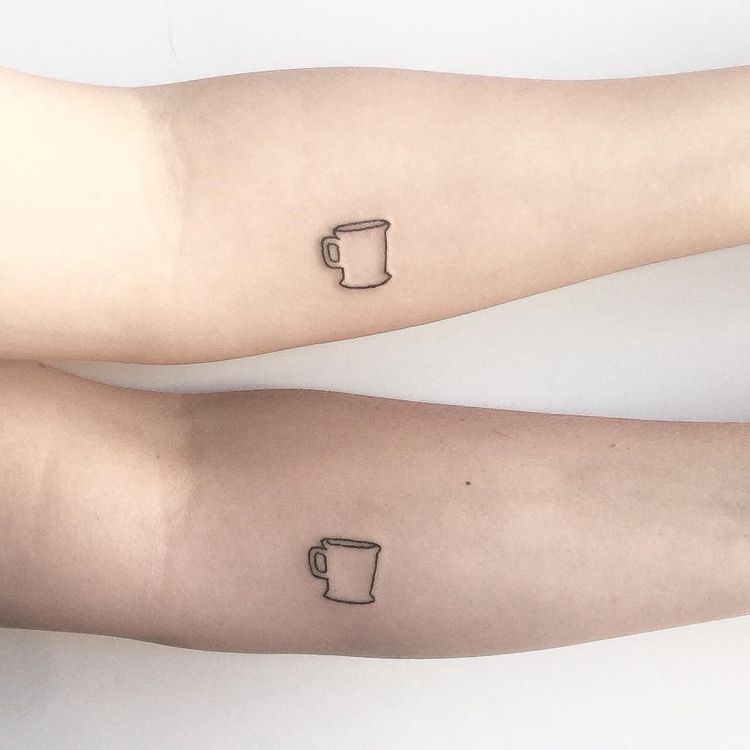 This best friend tattoo idea is the definition of simplicity and will probably draw some questions from curious observers. Because it is not self-explanatory, it exudes a mysterious energy. You could add some details to help tell your story or use this idea as-is for maximum impact.
46. Artistic Yarn & Knitting Needles Coordinating Tattoos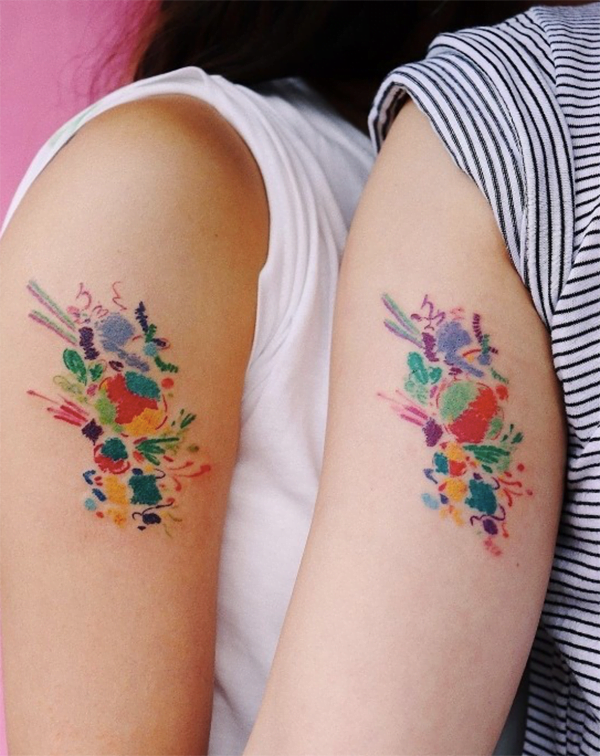 Do you have fun knitting with your friend? This explosion of color is a great idea for knitters and anyone who enjoys getting together to work with some yarn. Start by selecting colors for a palette that looks good with both of your skin tones.
47. Circle and Dot Sequence Tattoos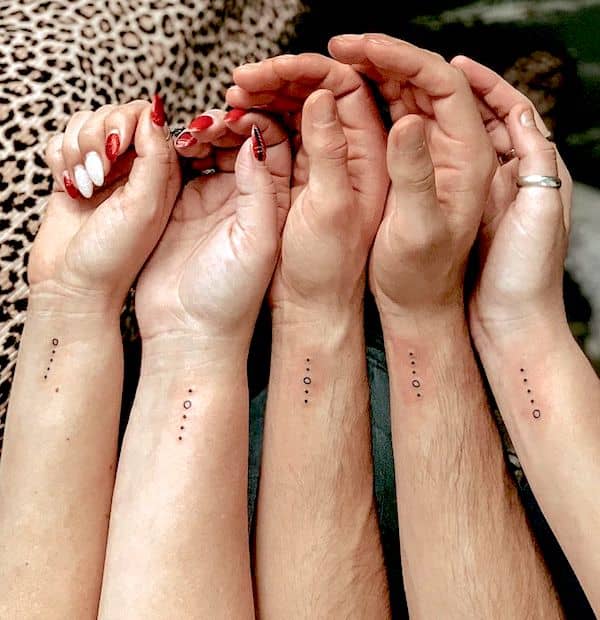 For large groups of friends, this circle-and-dot idea offers a great deal of personalization options. While circles and dots are visually appealing on their own, you can switch out open circles for star, heart, or even flower tattoo outlines. Maybe each person can even choose his or her own symbol!
48. Harmonizing Watercolor Koi Shoulder Tattoos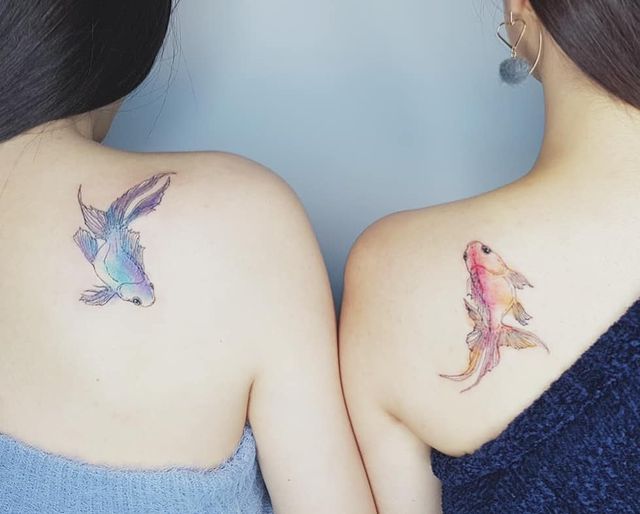 While each koi tattoo is stunning on its own, they are truly complete only when they come together. In the same way that these koi are swimming in a never-ending circle, this tattoo could represent a friendship that will never come to an end.
49. Sassy Peach and Plum Hip Tattoos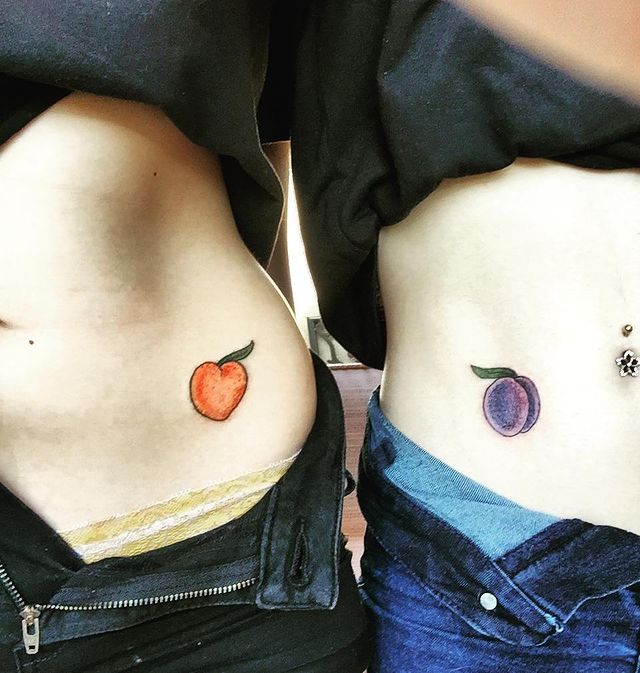 With leaves that point to each other, this best friend tattoo design says what is sometimes left unsaid. A gradient gives this best friend tattoo dimension while the colors catch the eye. If you cannot decide who gets the peach and who gets the plum, you can always pick one and get mirrored tattoos.
50. Peas in a Pod Matching Tattoos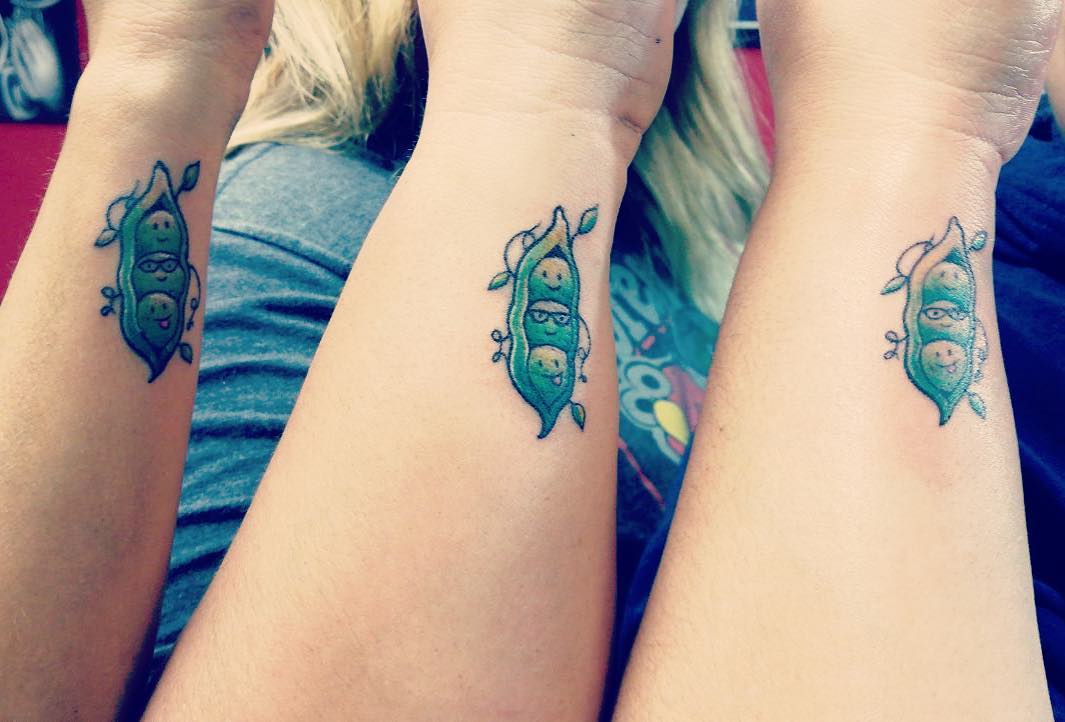 Each pea in this best friend tattoo design has a lot of individual personality. When you get this best friend tattoo with your friends, remember to include your personalities in the peas! If your friend group is larger than a trio, this design can stretch to accommodate a few more peas.
51. Mandala-Style Yin and Yang Tattoos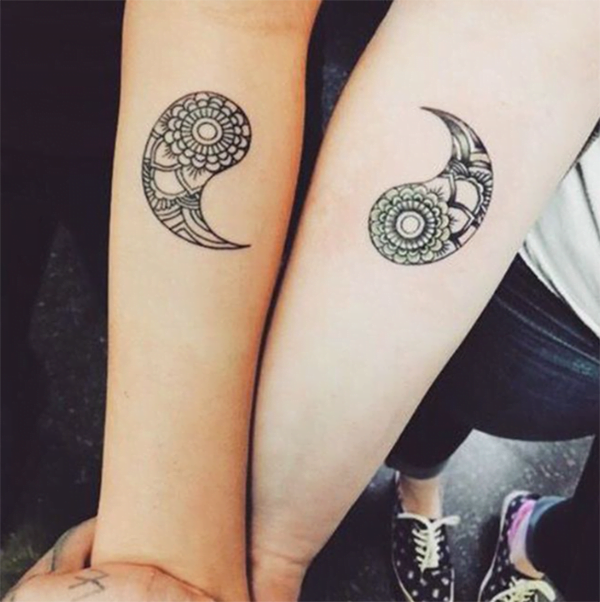 Imagining yourself and your friend each as half of a yin and yang symbol can illustrate a great deal about your relationship. A mandala-inspired pattern adds detail and visual interest. While you could add color, this design works well in black and white.
52. Tiny Matching Surname Finger Tattoos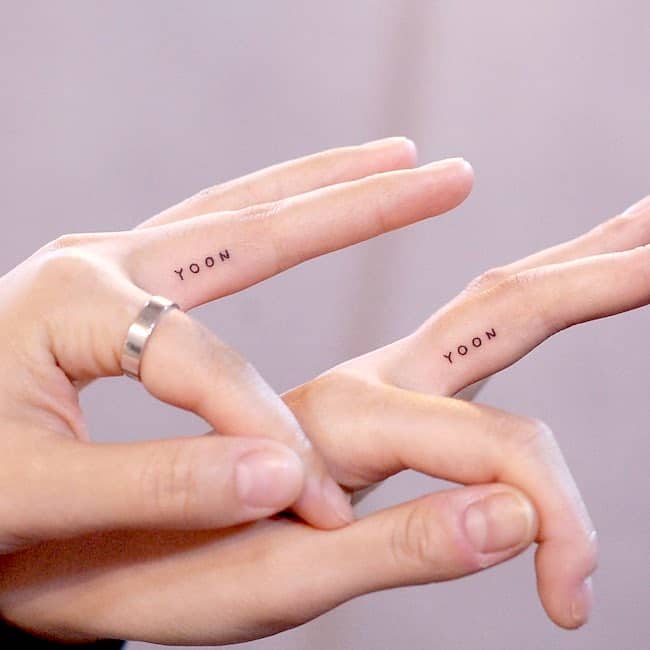 If your sibling, spouse, or family member is your best friend, this best friend tattoo consisting of tiny letters is the perfect way to show how everlasting your relationship is. All capitals lend this best friend tattoo some weight. Do not be afraid to use initials or anagrams to make this best friend tattoo more personal.
53. Heart and Swallow Silhouette Wrist Tattoos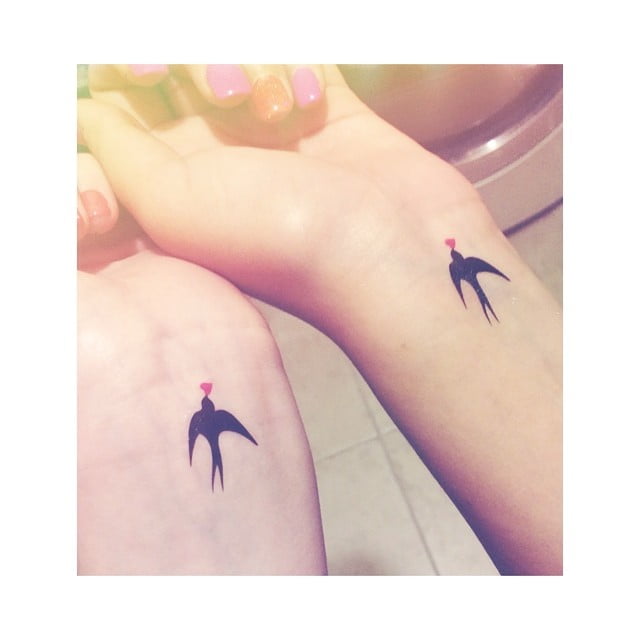 As this swallow flies away from you, know that it is on a journey to find its mate. The heart in its beak shows what you are sharing because of your friendship. While this design has the most impact on the wrist, it can be located anywhere.
54. Realistic Black and White Koi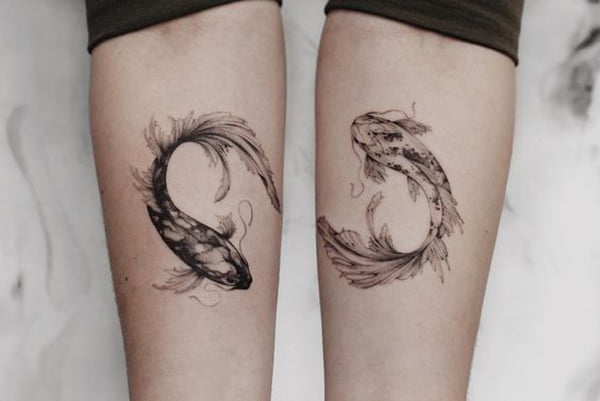 In a style reminiscent of the yin and yang symbol, the koi in this best friend tattoo swim in an everlasting circle. If you wanted to emphasize the yin and yang concept, you could include contrasting dots on the koi or offset these tattoos slightly.
55. Star and Moon Collar Bone Tattoos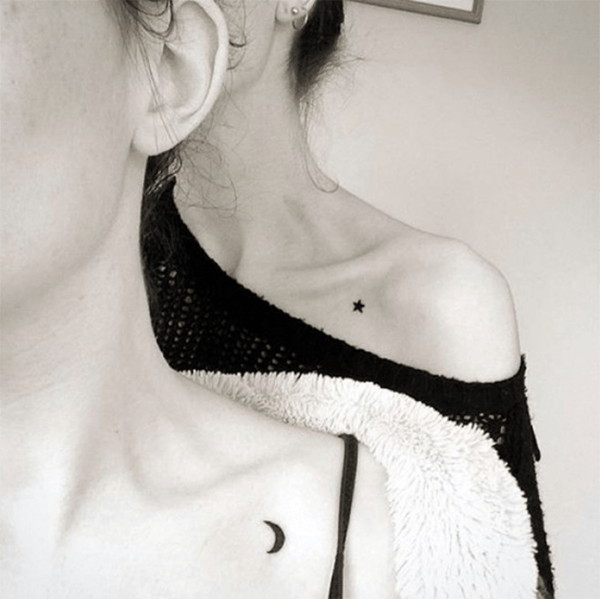 Tiny icons nestled under the collarbone show how far your love goes for your friend. Of course, you could change the color or symbol to one that resonates more to you. If you choose your left side, know that your friend will always be riding near your heart.
56. Simple Tattoos Idea: Matching Fist-Bump Friendship Arm Tattoos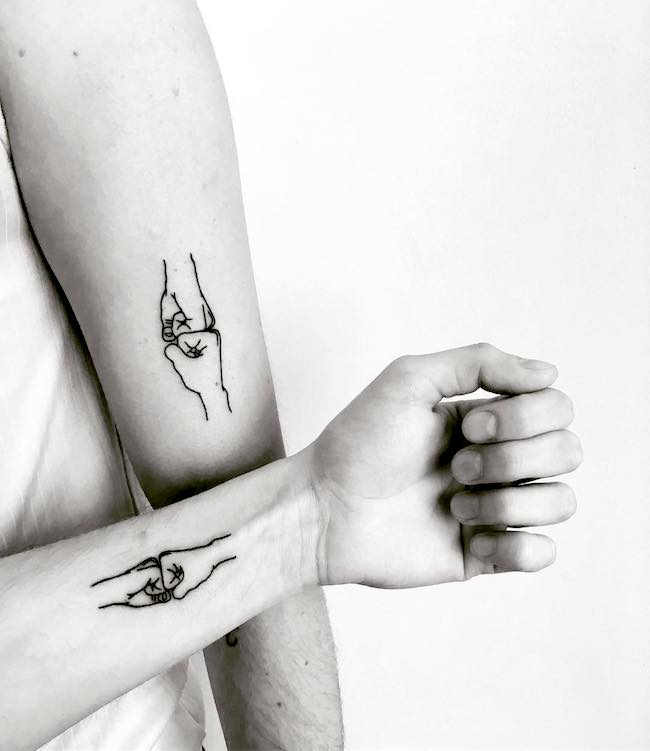 Immortalize this greeting and sign of cooperation on your body to remember that you are part of an undying brotherhood. Depicted in a simple style, this tattoo is quickly understood and wastes no detail. Pair this design with a tribal tattoo frame for maximum effect.
57. Peanut Butter and Jelly Sandwich Tattoo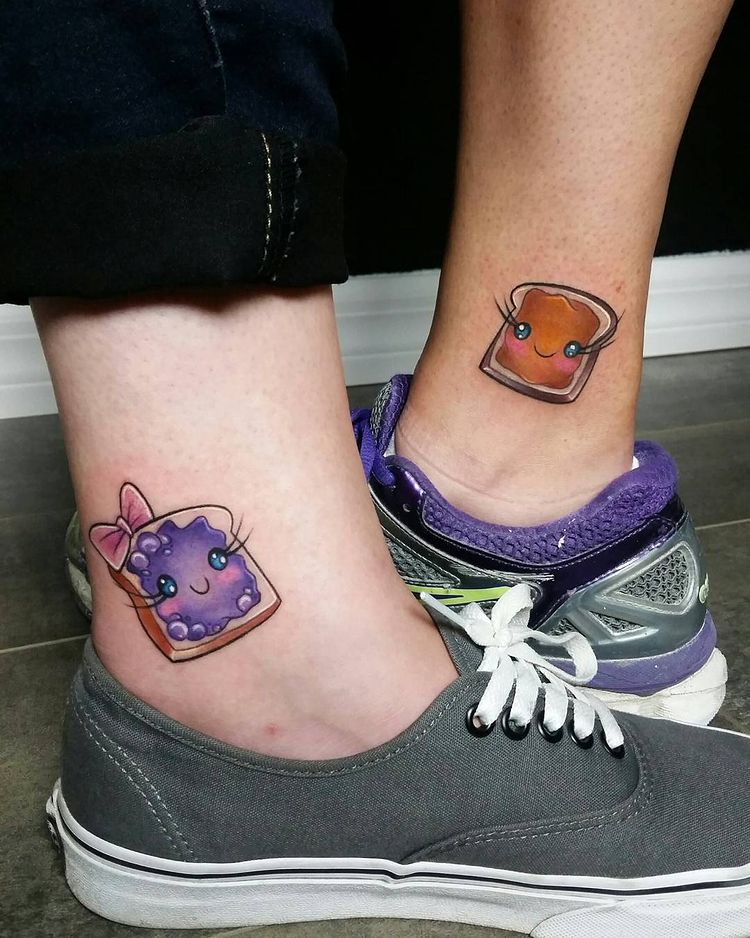 What duo is more iconic than peanut butter and jelly? If your friendship is a classic, consider getting this quirky tattoo with your best friend. Long eyelashes, sparkling eyes, and adorable blushes characterize these tattoos as feminine, but a few tweaks could make it manly.
58. Matching Looped Bracelet Friendship Tattoos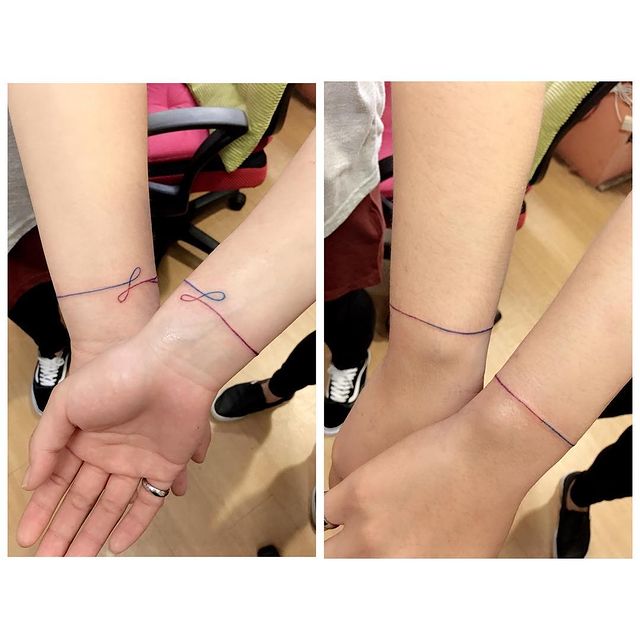 While the top of the wrist shows a looped string bracelet, the underside shows the cursive letter "L." Of course, you would be able to customize the letter to anything that has significance in your friendship. Every time you see this tattoo, your thoughts will turn to your friend.
59. Coordinating Black and White Pokémon Tattoo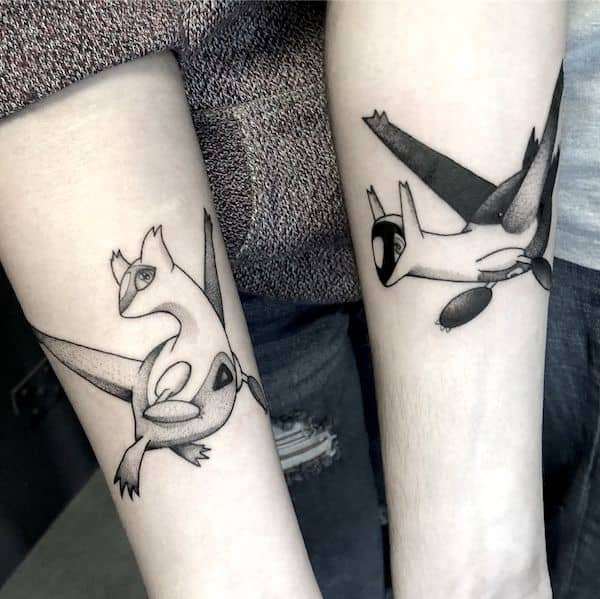 If you spent hours playing Pokémon together, this tattoo design is perfect for your friendship. Consider picking your own favorite Pokémon and tattooing them in the same location for a similar effect. While these matching tattoos use a limited black and white palette, this design imbues a great amount of personality.
60. Blue and Pink Parrots on a Wrench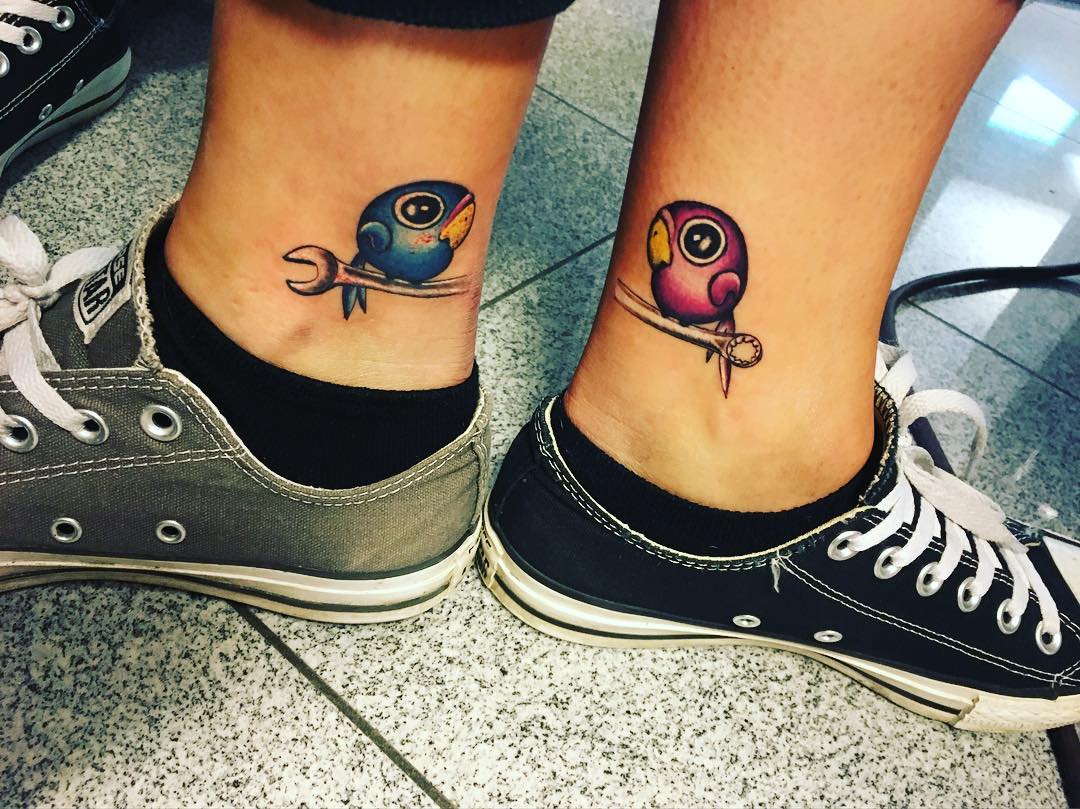 This friendship tattoo is the perfect blend of two hobbies: a wrench and a parrot. Get creative with your own hobbies to create a fun amalgam-style tattoo. This design uses cartoonish parrots with giant eyes and a more realistically rendered wrench.
60 Jazzy Designs for the Best Friendship Tattoos to Show that Friendship is Forever
Picking a friendship tattoo with the most important people in your life can be a lot of fun. Instead of focusing on finding the "perfect" matching tattoo, find a tattoo that works for everyone's styles. These 60 ideas are a great place to get started to find the right tattoo for you and your friend group.
Once you have settled on a design idea, find a way to personalize the tattoo. That can be as simple as choosing the colors or adding the date you got the tattoo with your friends. As you start on this adventure, remember to enjoy this experience together!