The best hummingbird tattoos are the ones that tell your story. They will resonate not only with who you are right now but also with who you are becoming. As elegantly exquisite creatures, hummingbirds are an artistic way to illustrate many feelings. The artistic style, color, and extras around your hummingbird tattoo can help reveal your story. Your hummingbird tattoo depends on your style and personality: hopefully, this list of 60 tattoo ideas can help give you ideas to design the best hummingbird tattoo for you.
Jump to section:
Hummingbird tattoo ideas for men
Hummingbird tattoo ideas for women
Hummingbird tattoo ideas for men
1. Single Line Hummingbird in Flight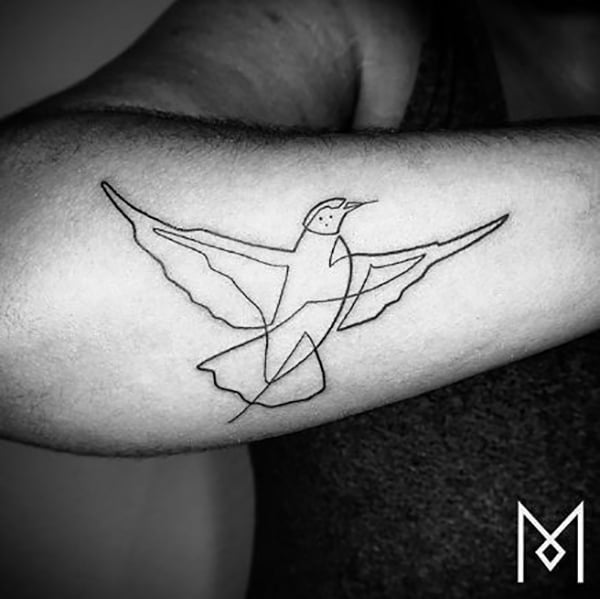 In a display of simplicity, this hummingbird outline has a modern, geometric feel. Three dots in the hummingbird's face could be changed to a different number that has meaning to you. Another way to personalize this hummingbird would be to incorporate a cursive letter or phrase.
2. Hummingbird Chakra with Symmetrical Flower Tattoo on Shoulder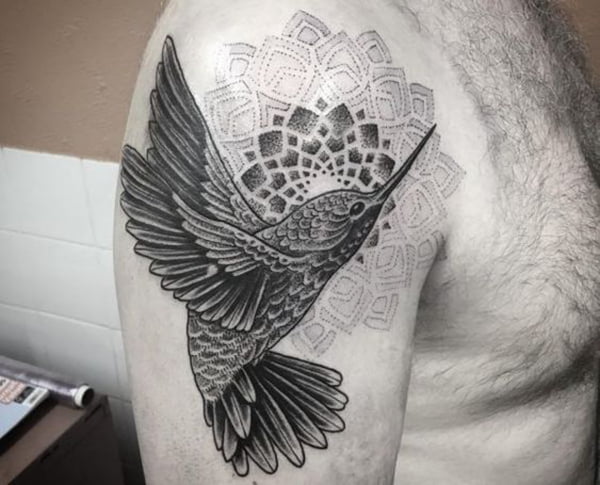 Because the hummingbird is colored in, it captivates the eye first. A subtle, flower-patterned mandala harnesses the relaxing power of sacred geometry to show that this hummingbird resonates with your energy. Consider giving the flower a hint of color to give this cool tattoo some vibrant character.
3. Watercolor Hummingbird Tattoo with a Woodland Scene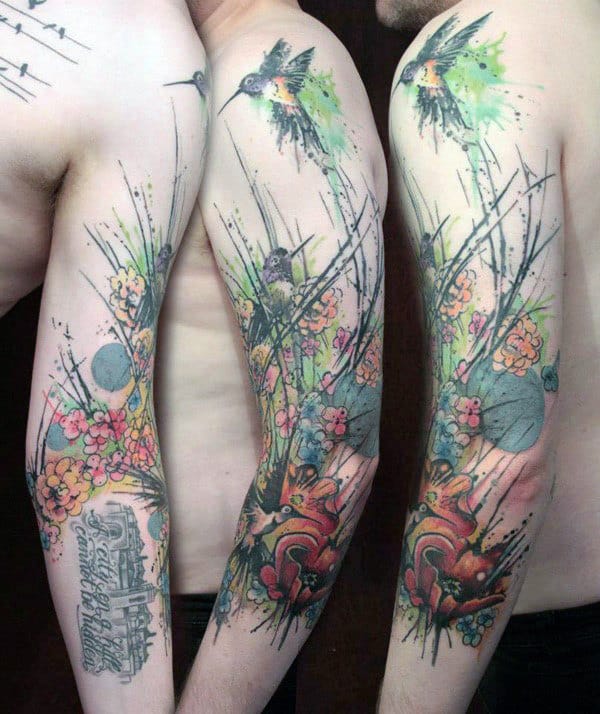 To capture frolicking fun, pastel colors soften this watercolor hummingbird tattoo. Straight branches energize these matching tattoos while the artistically-rendered hummingbirds elevate them to works of art. To personalize, pick which hummingbird represents which person and allow each friend to choose their hummingbird's colors. This makes for a great design as a couple tattoo or love tattoo.
4. Photorealistic Black & White Hummingbird Pair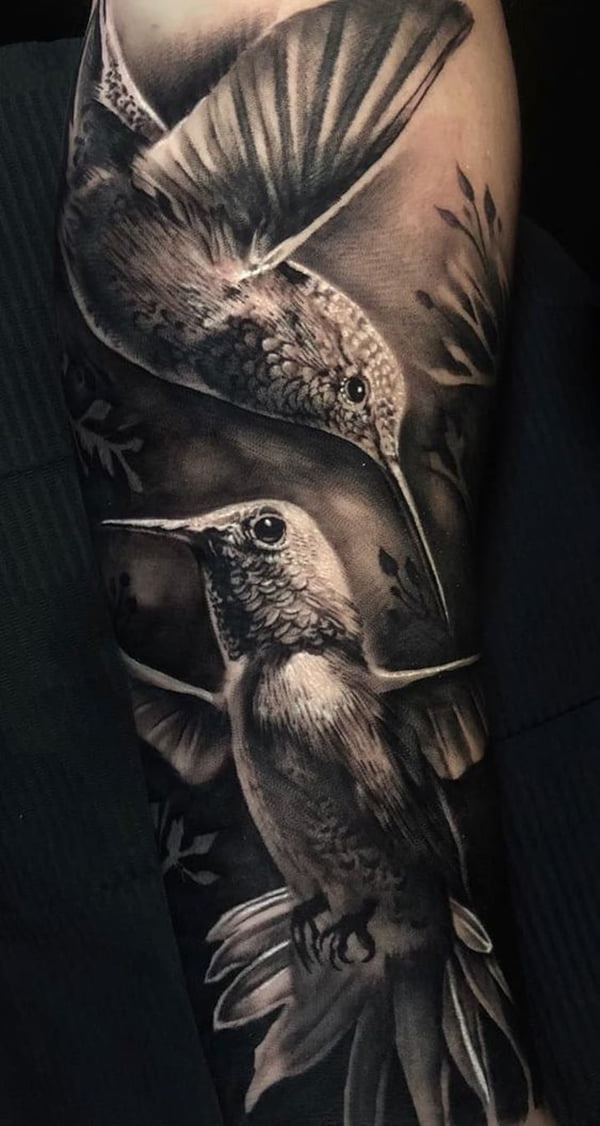 Every delicate detail is executed with perfect precision to give these intricate hummingbirds a lifelike aura. Because of the number of details, this tattoo design is best used for a large area. While black and white are classic, consider tinting the feathers with your favorite color to add some animation.
5. Cartoon-Style Hummingbird Clutching a Scroll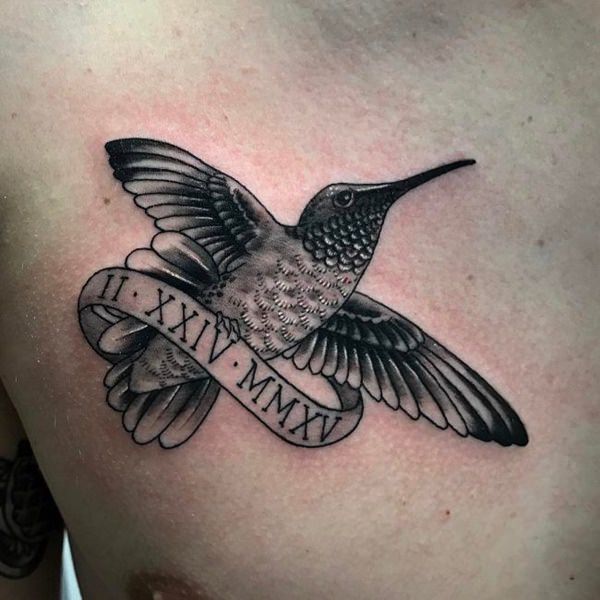 Roman numerals are an easy way to add sophistication to a tattoo design. In this tattoo, they represent a date, but they could easily be changed to something that is important to you. Tiny white highlights on the hummingbird's plumage give this cartoonish bird some dimension.
6. Intricately Detailed Fluttering Hummingbird Tattoo on Arm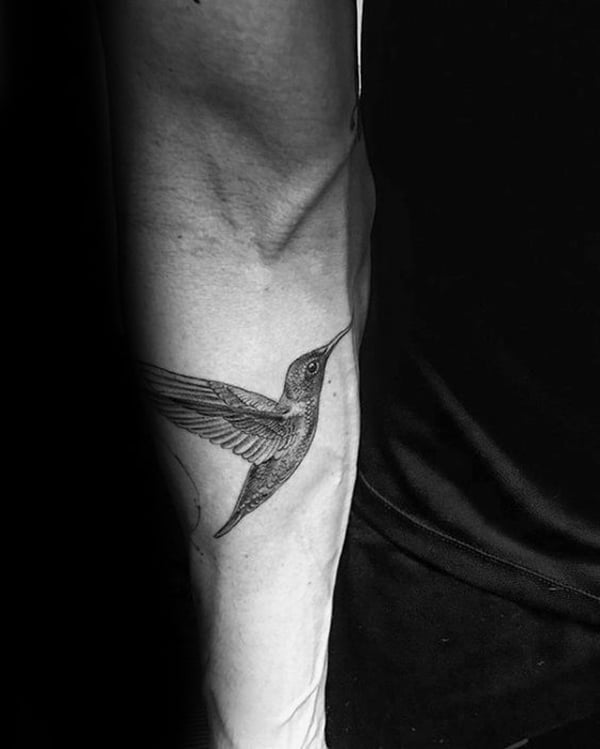 Depicted in pain-staking detail, you can see every single feather on this hummingbird tattoo. Masterful highlights and shadows give the feathers a glossy texture. Because there is so much detail in this arm tattoo, shrinking this design would result in the loss of the detail that makes it so unique.
7. Colorful Conversing Hummingbird Tattoo Design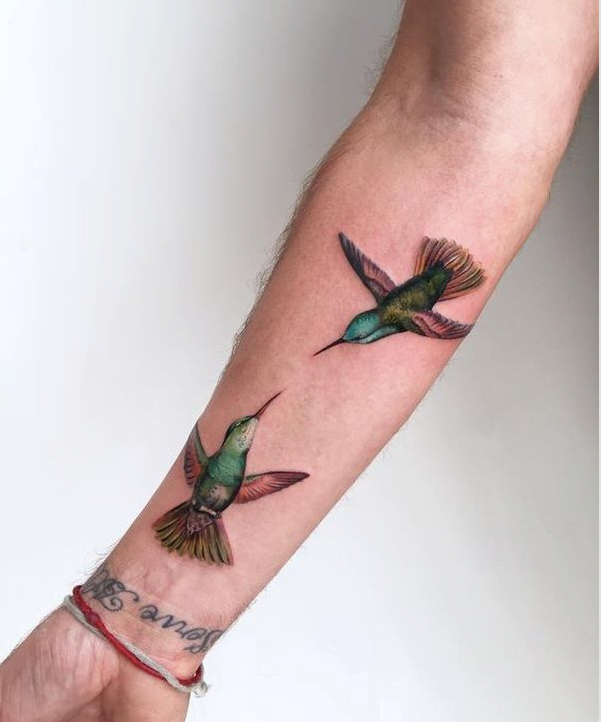 Graceful lines exude tranquility and freedom in this tattoo design. If you think these colors are too subtle, you could use bolder colors. This tattoo is easy to personalize — add music notes to show a passion for music or add flowers to illustrate a passion for the outdoors.
8. Art Deco Geometric Hummingbird Tattoo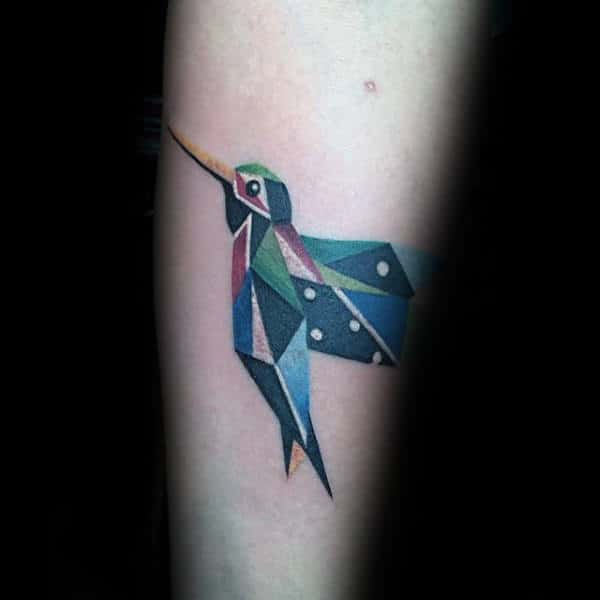 Shades of blue, green, red, and yellow depict a hummingbird. Because this design uses simple geometry, it is timeless. To tie this hummingbird's round eyes into the design, small circles also appear on the wings. While this tattoo looks good in color, it would also work on grayscale.
9. Chrome Hummingbird Holding an Ankh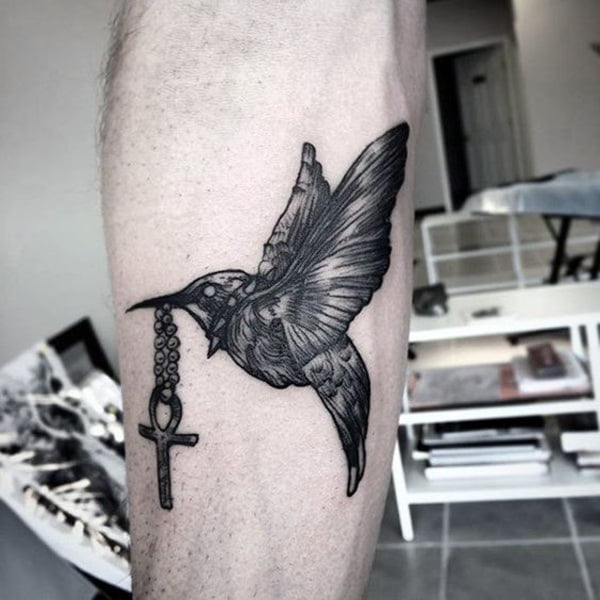 A spiked collar and metallic texture give this hummingbird some feisty attitude. If ankhs are not your style, you could choose an alternate totem. This design would look good with almost anything from electric guitars to dog tags. For extra pop, add flames, a chrome-style flower, or barbed wire.
10. Galaxy in Green Hummingbird Tattoo Design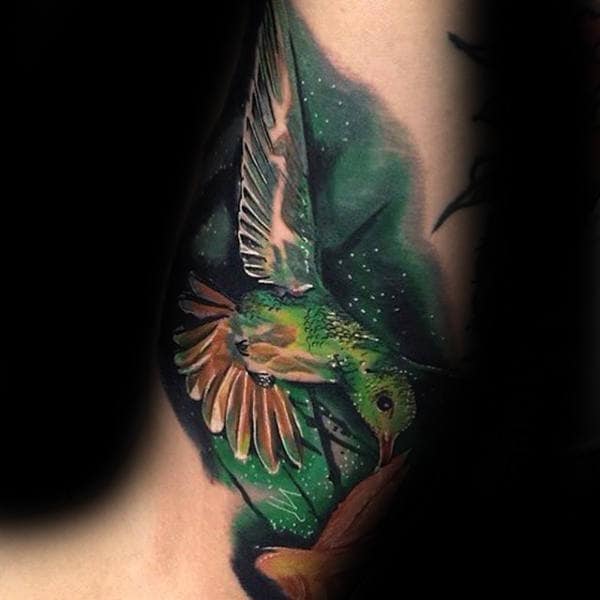 Cool blues and greens are a tranquil backdrop to this artistic hummingbird tattoo. This tattoo design is perfect for anyone who feels like a wanderer in the vast universe. To make it fit your galactic style, ask your tattoo artist to add purples, pinks, and blues for a more cosmic aura.
11. Unique Flying Hummingbird Forearm Tattoo
Eye-catching and creative, this tattoo design harnesses the hummingbird's spirit to illustrate it as your guardian. Shapes that imitate feathers add intricate details while soft gradients indicate dimension. Add your favorite hummingbird colors to the "feathers" to make it more personal.
12. Three Black & White Hummingbirds in Flight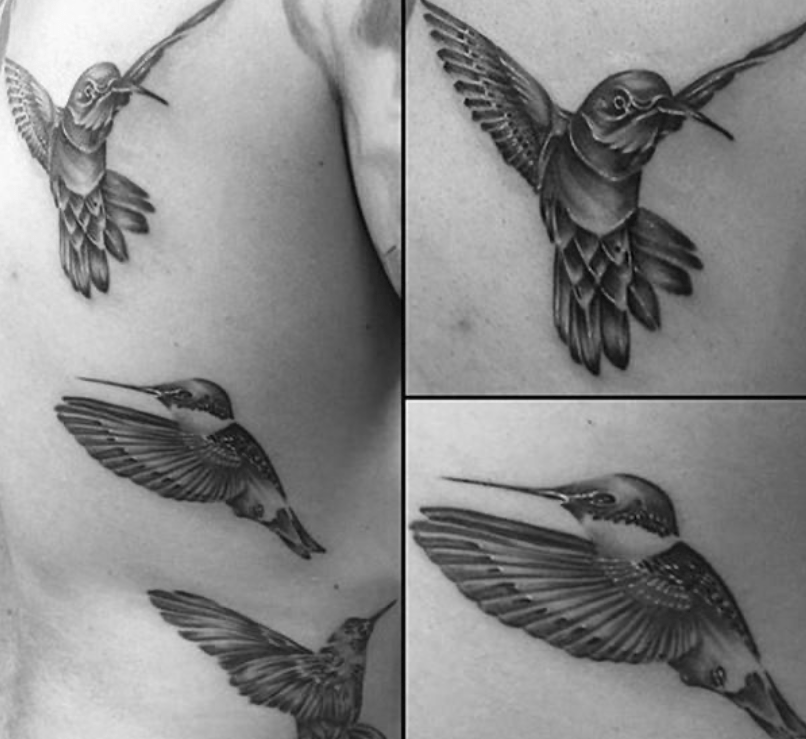 Glittery white highlights and gentle shading help these three hummingbirds seem alive. This would be a great friendship tattoo or even a tattoo to document three important events in your life. Adding a flower with significance could help explain your story.
13. Ephemeral Mirrored Hummingbird Guardian Tattoos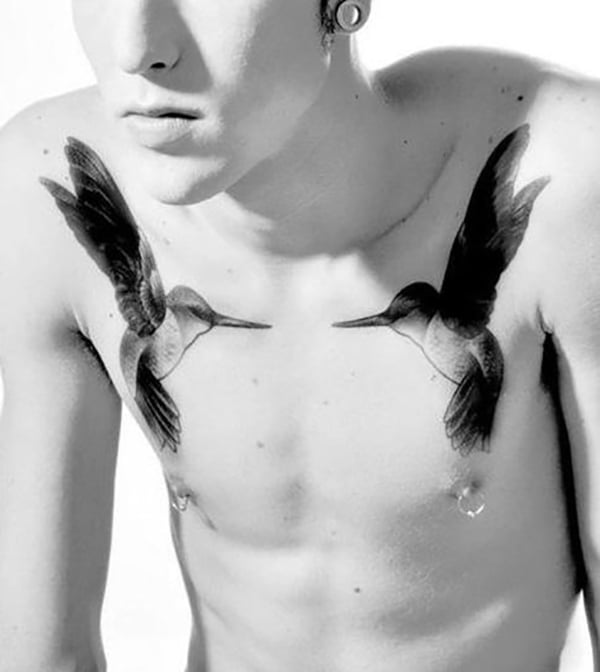 Do you feel that you have hummingbird guardians or hummingbird guides? If so, this mirrored tattoo is an excellent way to illustrate this feeling. In this location, these hummingbirds are framed perfectly. Making them smaller would sacrifice some detail, but would allow them to go on ankles, wrists, or biceps.
14. Watercolor Hummingbird Tattoo on Collarbone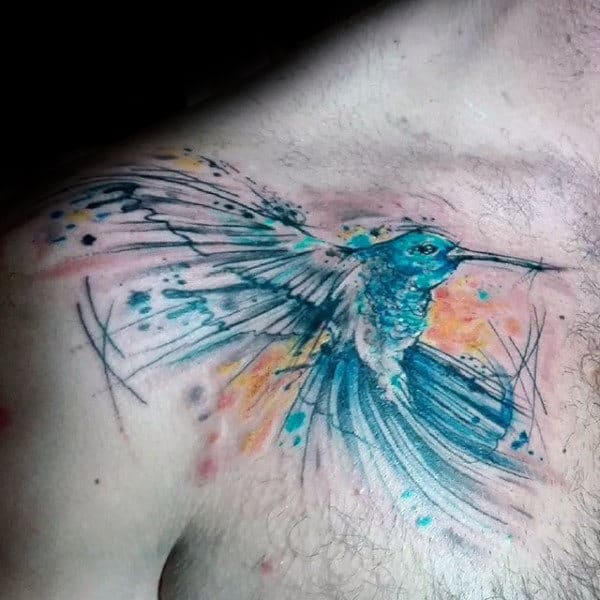 Sweeping lines and bursts of color energize this watercolor hummingbird tattoo to elevate it to a piece of fine art. Is the yellow-orange glow beneath the hummingbird fire, a flower, or the hummingbird's aura? Small splotches of color give the illusion that this tattoo is splattered paint.
15. Hummingbird from Below Throat Tattoo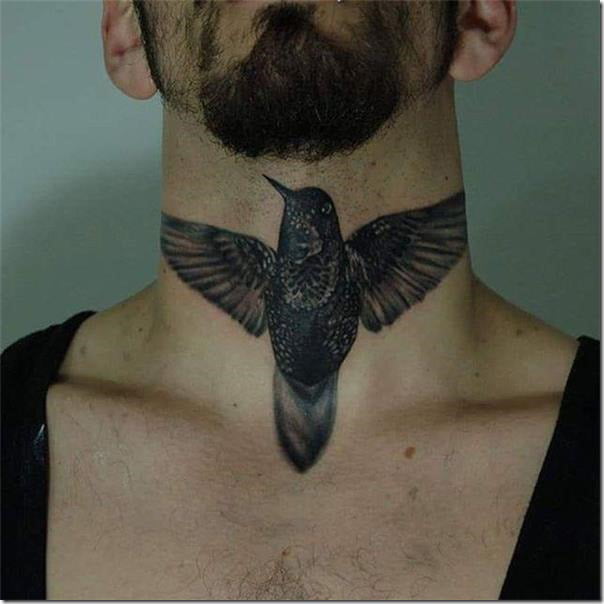 Perfectly placed details give this hummingbird a creative optical illusion: it appears to be flying overhead. Appearing blurry, the wings and tail give the impression of lifelike movement and dimension. By refraining from including the hummingbird's feet, the focus remains on the bird and its plumage.
16. Heart-Shaped Hummingbird Tattoo Featuring a Floral Wreath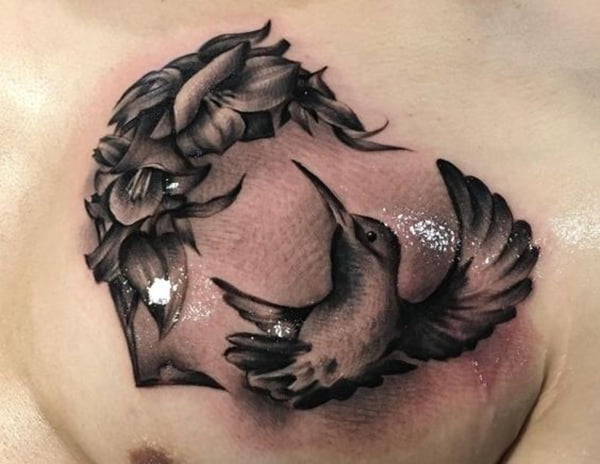 A lightly textured background helps this hummingbird tattoo resemble a heart. While this design uses lilies, you could choose any flower or greenery that resonates with you. Depending on what story this hummingbird tattoo tells, you could even use musical notation or realistic gems to form the other half of the heart.
17. Artistic Fluttering Hummingbird Arm Tattoo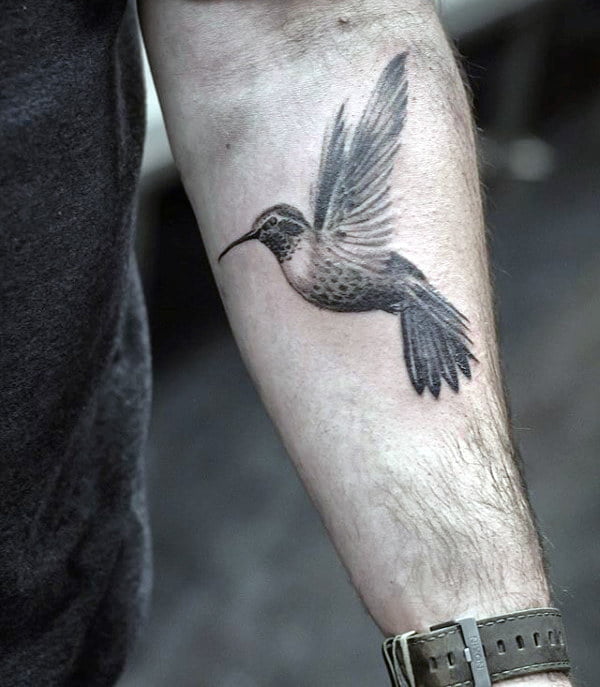 Mimicking a charcoal drawing, this hummingbird arm tattoo exudes a soft serenity. Impeccably placed, this tattoo directs the eye in three directions: upwards, inwards, and towards the hand. Gentle shading and understated edges give this design a uniquely lovable character. This design would also work great as a foot tattoo.
18. Stylized Blue and White Hummingbird Bicep Tattoo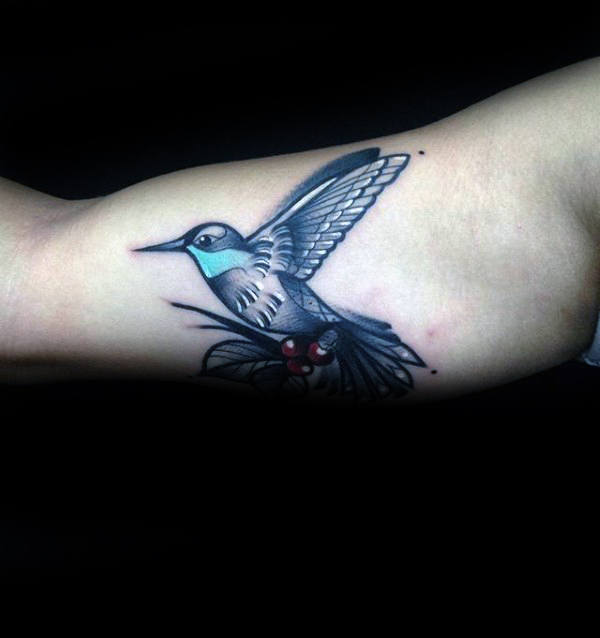 Although subtle, white highlights give this hummingbird a brisk vibe. Complementing shades of blue offer an attractive counterpoint. This hummingbird points outwards towards the world. As you decide where your hummingbird tattoo will go, make sure to consider where the hummingbird's beak is pointing and what that means to you.
19. Traditional Hummingbird Tattoo with Realistic Rosebush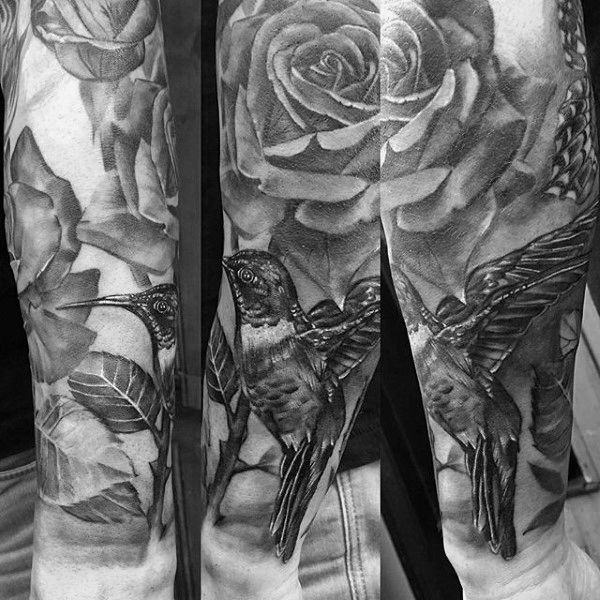 Adding a hummingbird to an already-existing sleeve tribal tattoo can help continue your story or cover up an element that no longer resonates. This hummingbird tattoo creates dimension by layering the rose petal above the hummingbird's wing. Because the hummingbird is darker than its surroundings, it draws the eye first.
20. Uplifting Black & White Hummingbird with a Banner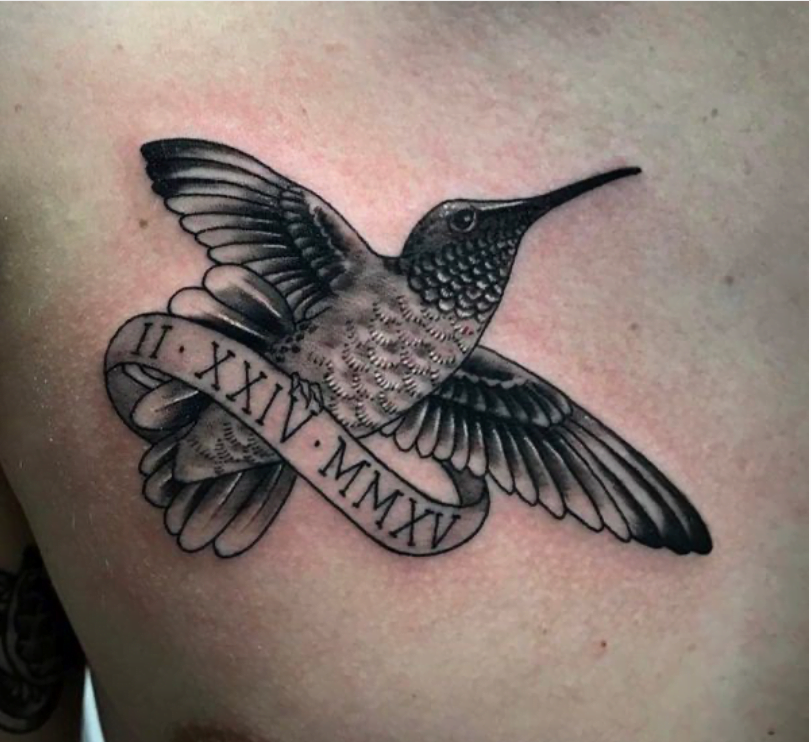 This traditional hummingbird tattoo would pair beautifully with a compass rose to add an energetic sense of adventure. You could also layer this design over a beach sunset or a rainbow. This design features a soft gradient between black and white that really gives this bird's plumage texture.
21. Incredibly Detailed Small Hummingbird Tattoo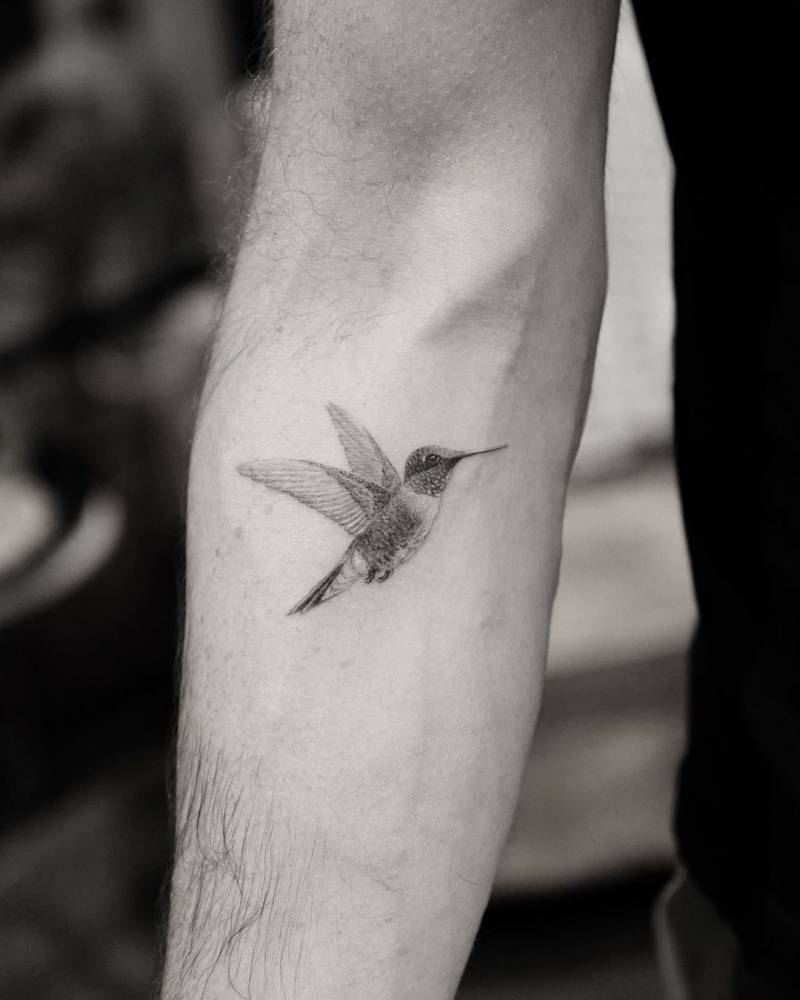 For its diminutive size, this hummingbird tattoo includes a tremendous amount of detail. Similar to a naturalist's illustrations, this design is a great way to display a passion for the outdoors. Because of the small size, you would be able to locate this hummingbird tattoo wherever you like.
22. Sunset and Infinity Symbol Hummingbird Illustration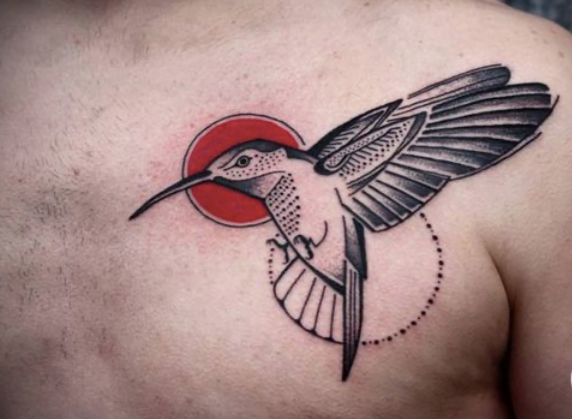 Aggressive straight lines and a solid red circle give this design a retro flair. If you wanted to emphasize the infinity symbol around the sun and the hummingbird, you could use a bolder outline. Add some palm fronds for a tropical vibe or the planet Saturn for a galactic feel.
23. Hummingbird Paired with Map and Sound Wave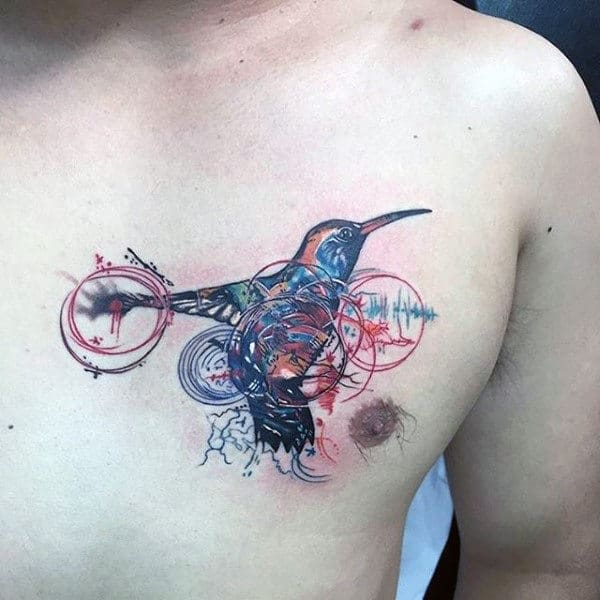 Placed in the most precious location, this design over the heart shows how important these elements are. Maps, sound waves, landscapes, and chaotic circles come together to create a traditional hummingbird tattoo steeped in meaning. Use maps, landscapes, and sound waves with special meaning for a unique tattoo filled with encouragement.
24. Colorful Hummingbird Framed by Bible Verse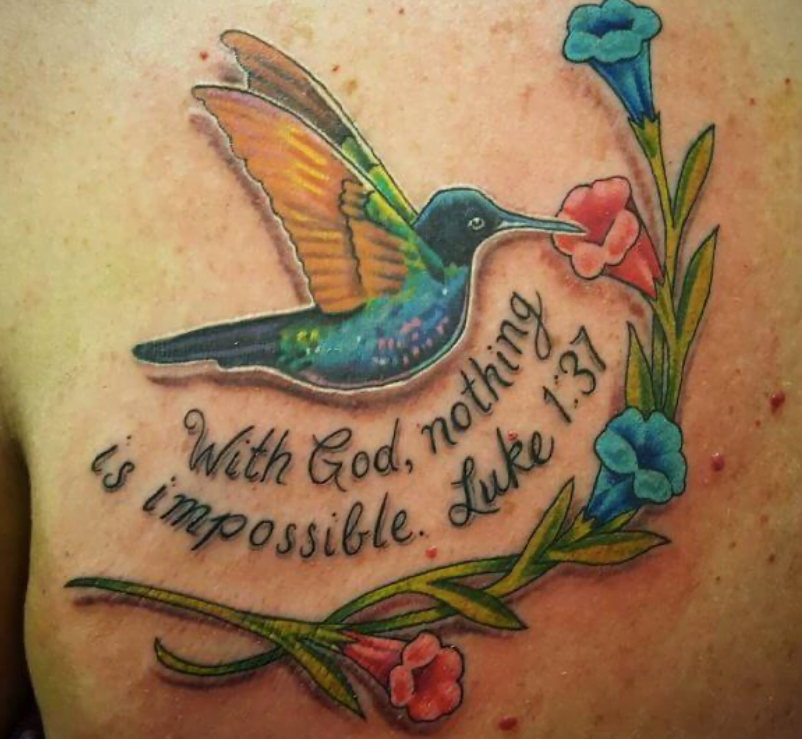 While this design uses a verse from the Gospels, you could use your favorite quote from any source. A drop-shadow and white glow adds emphasis to this hummingbird and gives this design a nostalgic clip-art feel. The shadows give this tattoo the appearance of floating above the skin.
25. Realistic Hummingbird Tattoo with Artistic Flair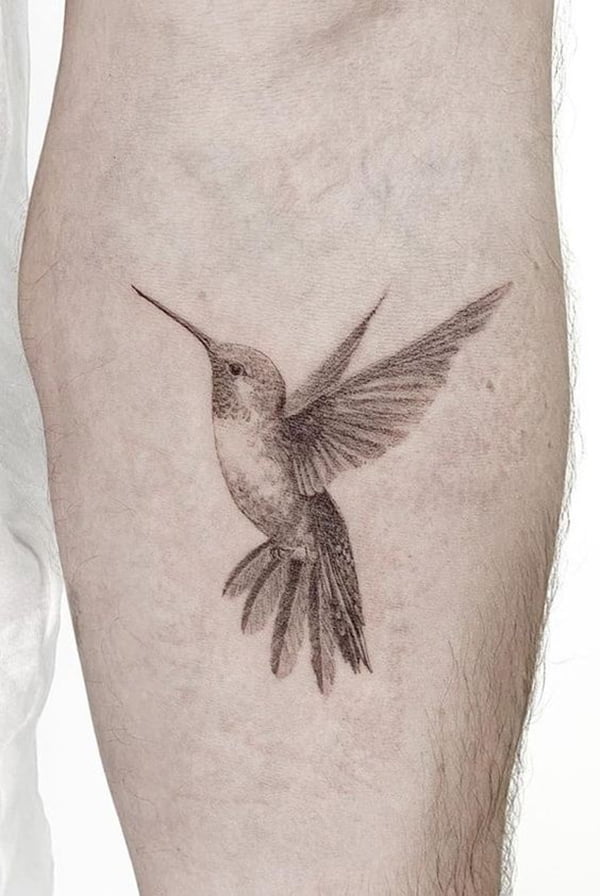 Clever shading on this hummingbird's tail feathers adds a great deal of dimension. An inquisitive angle to this hummingbird's head contributes a considerably playful character. Orient this hummingbird tattoo with its beak pointing either inwards or outwards depending on what you want it to represent.
26. Hummingbird Tattoo with Dancing Wings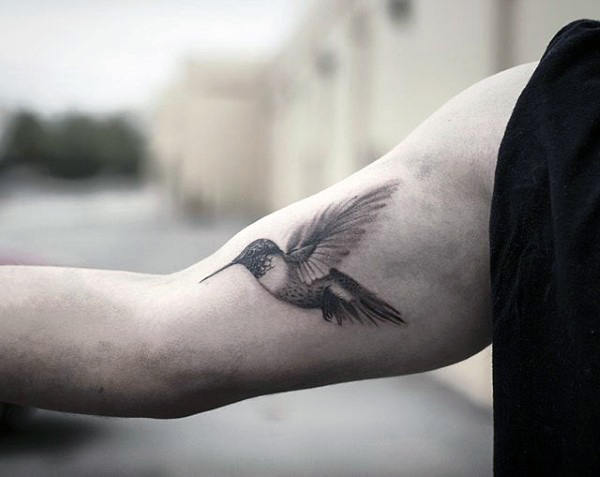 Placing your hummingbird tattoo on one of your biceps offers the illusion of fluttering flight. To intensify the effect of motion, this tattoo design even uses blurry wings. Personalize this tattoo with your favorite flower, favorite quote, or special date. Of course, this design looks fantastic all on its own.
27. Peacock Palette Hummingbird Tattoo Design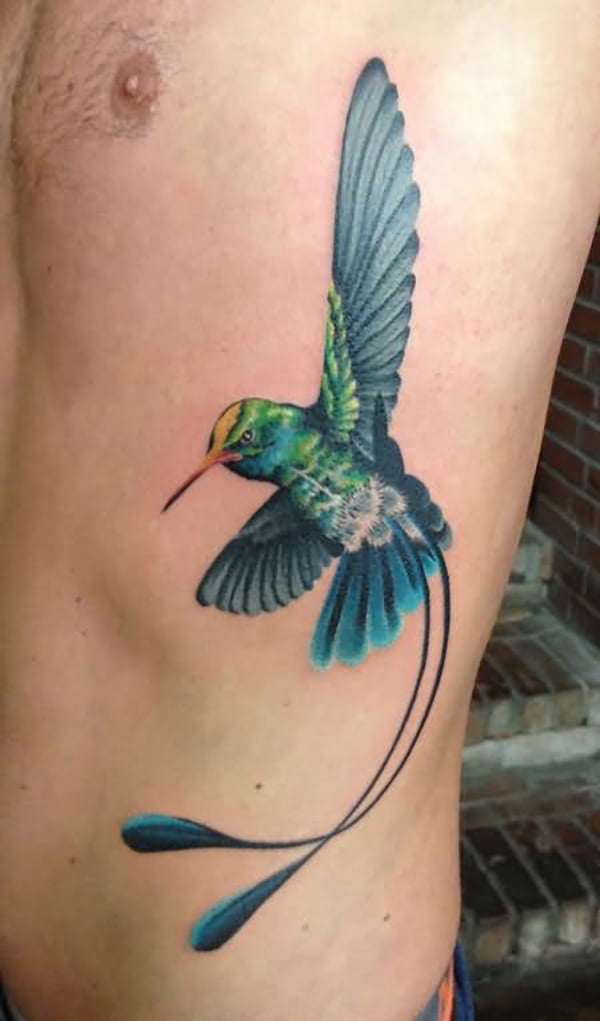 Bright blue and green hues supply vibrant life. For anyone who appreciates peacock colors, the colors in this design can be used as inspiration. The forced perspective is well framed on the rib cage, but could also look good in other locations.
28. An Avian Menagerie Hummingbird Tattoo Designs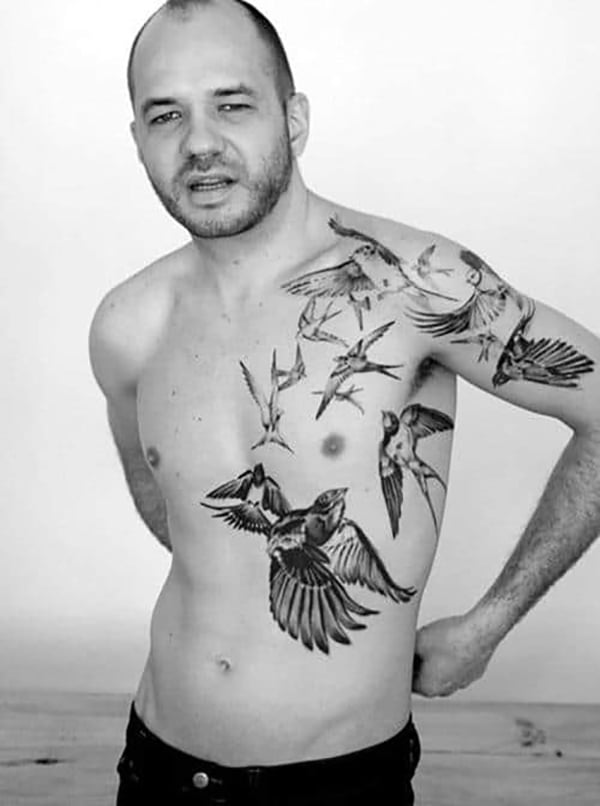 If you have difficulties picking a single favorite bird for a new tattoo, this design might be exactly right. This design uses 14 species of birds in various positions to mimic nature's unorganized beauty. Position your menagerie anywhere on your canvas.
29. Oversized Angel Wings Hummingbird Tattoo Ideas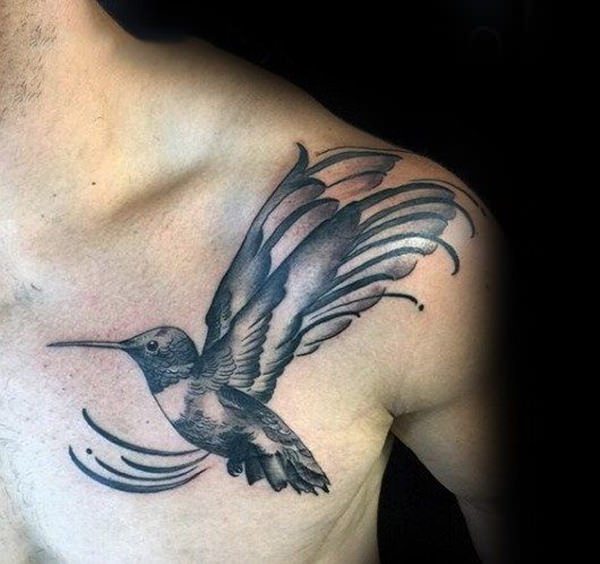 To illustrate this hummingbird's adventurous spirit, the wings are depicted as extra-large. Stark contrasts of dark and light give this design an artistic spin. To counterbalance the large wings, a gust of wind flows beneath the hummingbird. If your soul yearns for the ocean, change the wind to a wave.
30. Tropical Garden Featuring Two Hummingbirds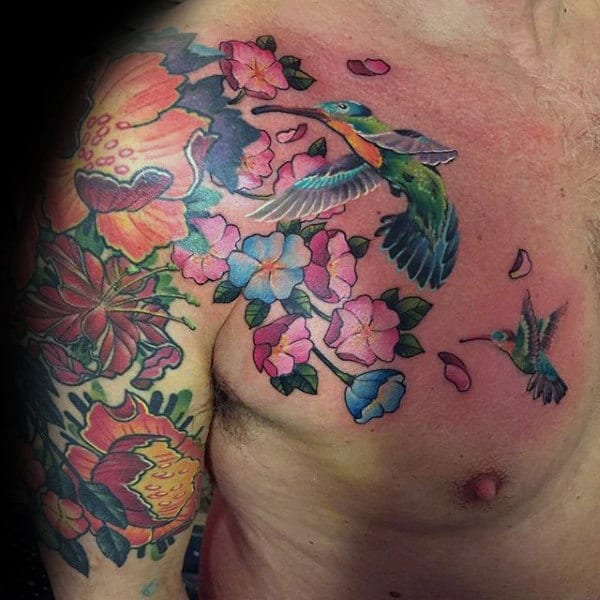 As they cascade over the shoulder and onto the chest, flowers colored in dazzlingly bright hues draw the eye to this chest tattoo. Like exotic jewels, two hummingbirds flit about the flowers. To add some whimsy, a few petals seem to be blowing in the breeze. Choose your favorite flowers for your floral garden.
Hummingbird tattoo ideas for women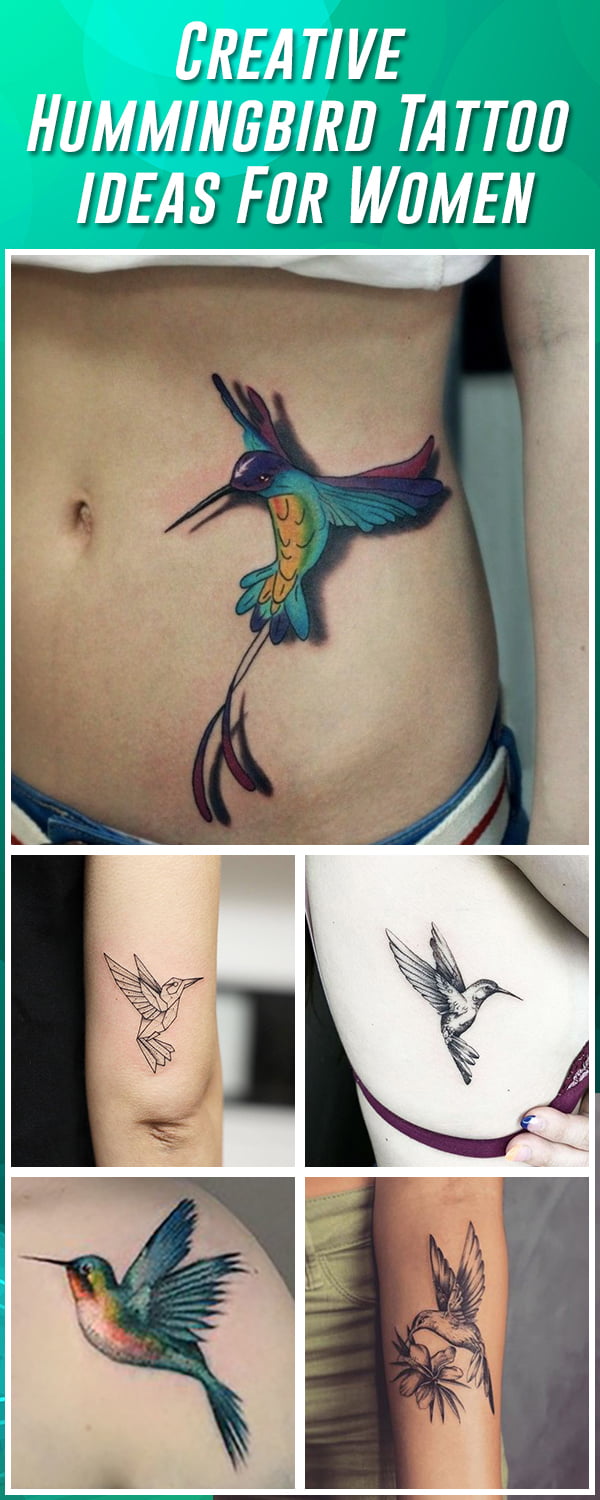 31. Small Hummingbird Tattoo Ideas on the Back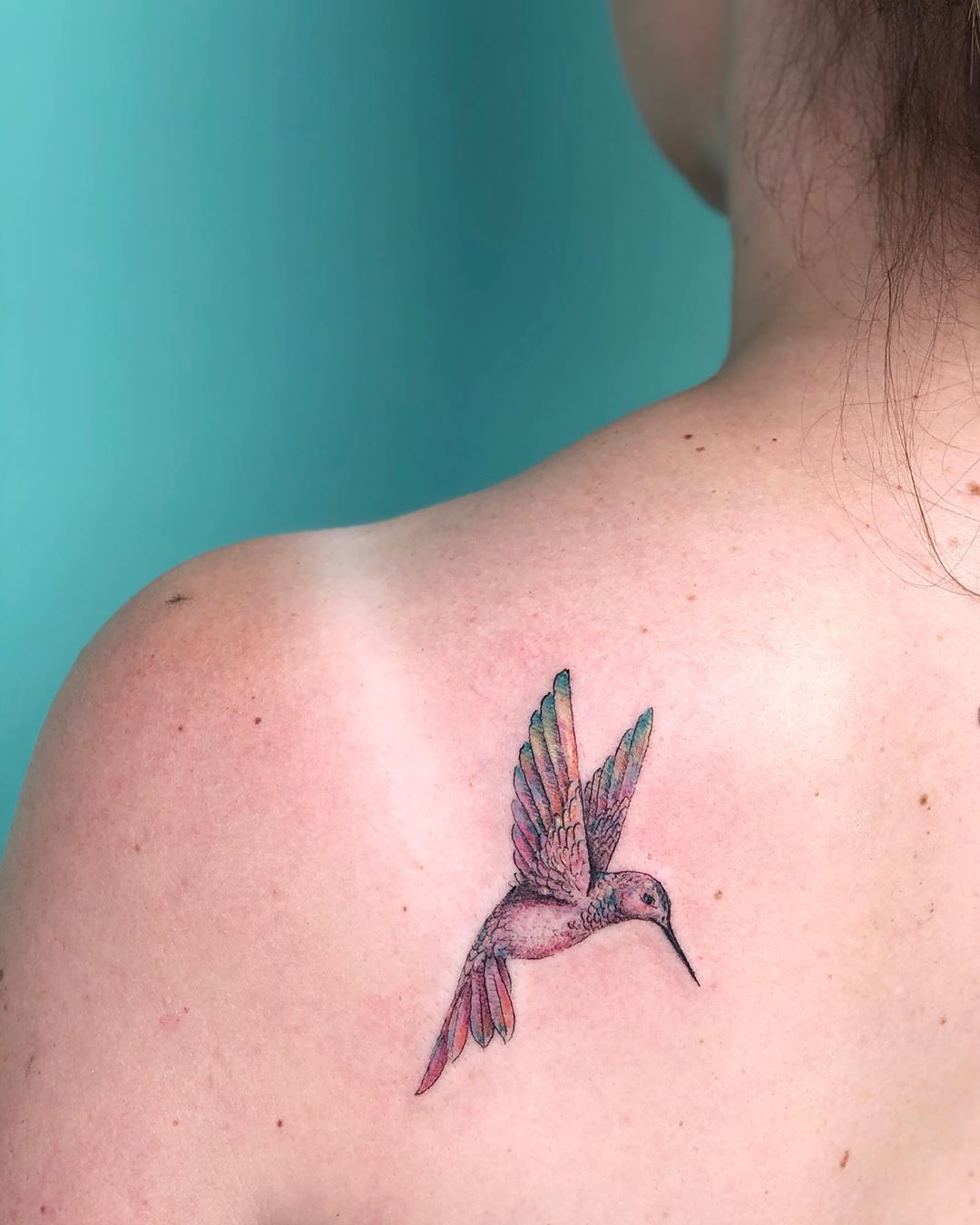 This hummingbirds tattoo captures the iridescent magic of a hummingbird's plumage. Pink is the primary hue, but that could be changed to your favorite color. If you like this coloring technique, it could be applied to many of the other small tattoo designs as well.
32. Black & White Daffodils and Hummingbird Tattoo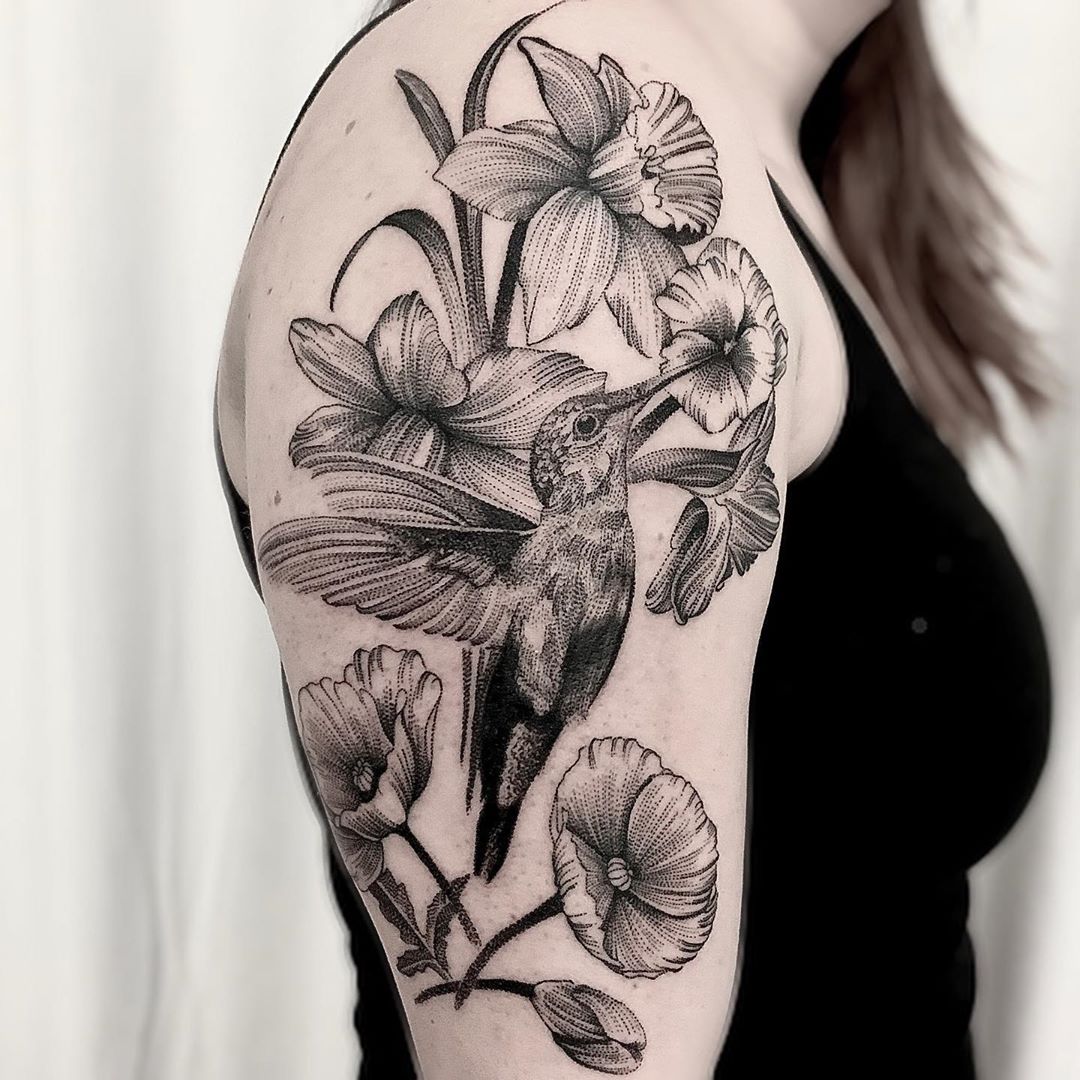 With a tattoo style similar to pen-and-ink drawings, this floral hummingbird tattoo is a work of art. Because its beak is pointed firmly forwards, this hummingbird encourages you to move onwards and upwards. Add a splash of color, a quote, or a date to personalize this tattoo.
33. Hummingbird Tattoo Design with to Species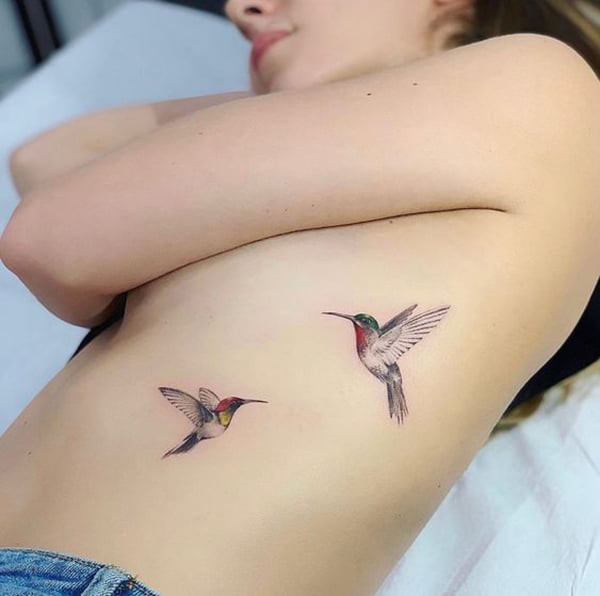 Tattooing two hummingbirds is a way to showcase these birds without picking a favorite species. With a minimalist approach, this design only uses enough color in the hummingbirds' heads to distinguish between the two species. The rest of each hummingbird is defined succinctly in black and white.
34. Softly Shaded Gray Hummingbird Tattoo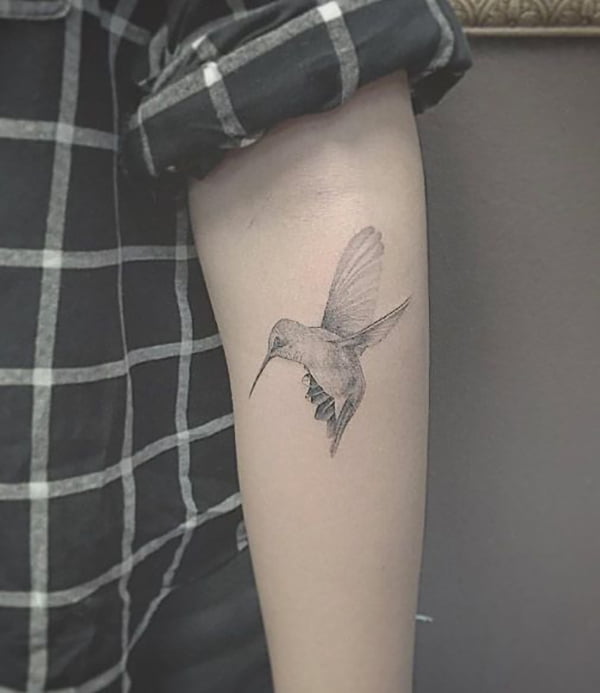 By playing only with gently varying shades of gray, this hummingbird appears as a guiding spirit. Slightly blurred wings give this hummingbird the illusion of flight while the sharply contrasting beak and tail draw the eye. This design could fit anywhere on your body.
35. Cartoon-Style Rainbow Hummingbird Tattoo Thrumming with Motion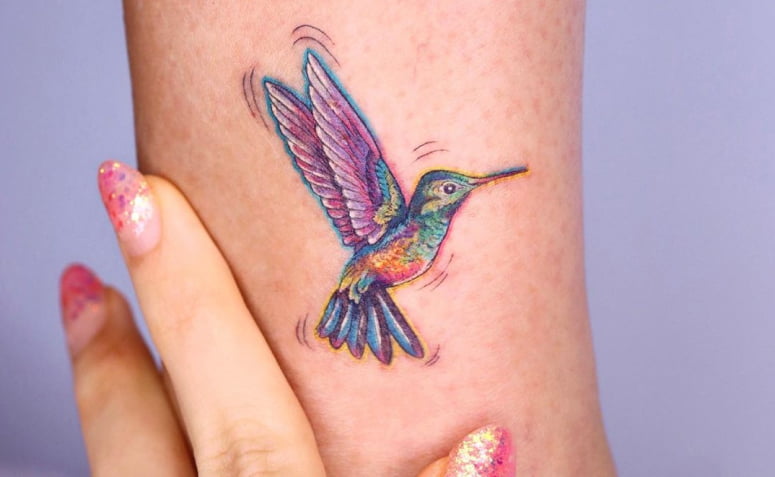 A soft rainbow glow and lines indicating motion give this little hummingbird lots of personalities. Because it seems like an explosion of color, this hummingbird tattoo is a great way to highlight the hummingbird's magnificent plumage. This design would make a fantastic friend tattoo because it would look good almost anywhere.
36. Realistic Hummingbird Tattoo with Dark Speckles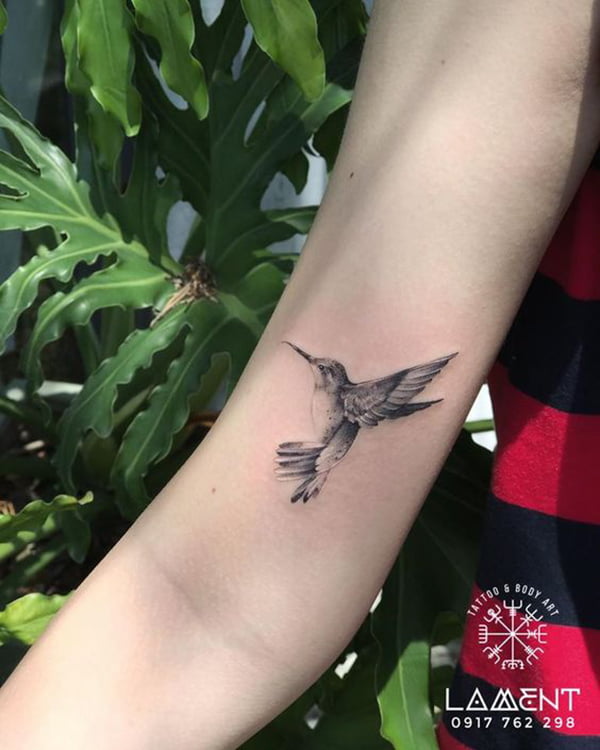 Feathers that almost seem too soft to touch are masterfully formed from blue-gray color. If you have freckles, you could modify the speckles in this design to a formation that matches yours. While this is a stunning tattoo in gray, you could use your favorite color for your sweetly serene hummingbird.
37. Three Dimensional Hummingbird Tattoo in a Cartoon Style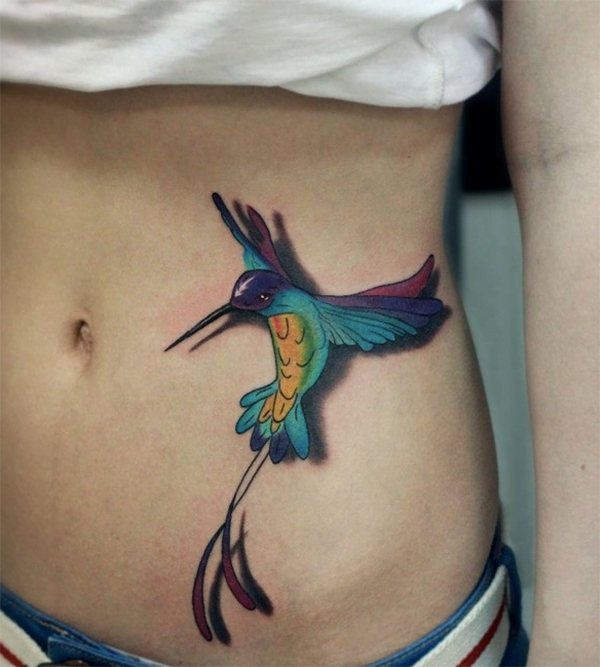 To give this hummingbirds tattoo a playful appearance, this design features simple, cartoonish lines and intense color which makes it look like disney tattoos. Curved lines add a feathery texture while a bold drop-shadow makes it pop. If rainbow tattoos are not your tattoo style, choose your own palette of seven colors for a tattoo unique to you.
38. Minimalist, Single-Line, Colorful Hummingbird Tattoo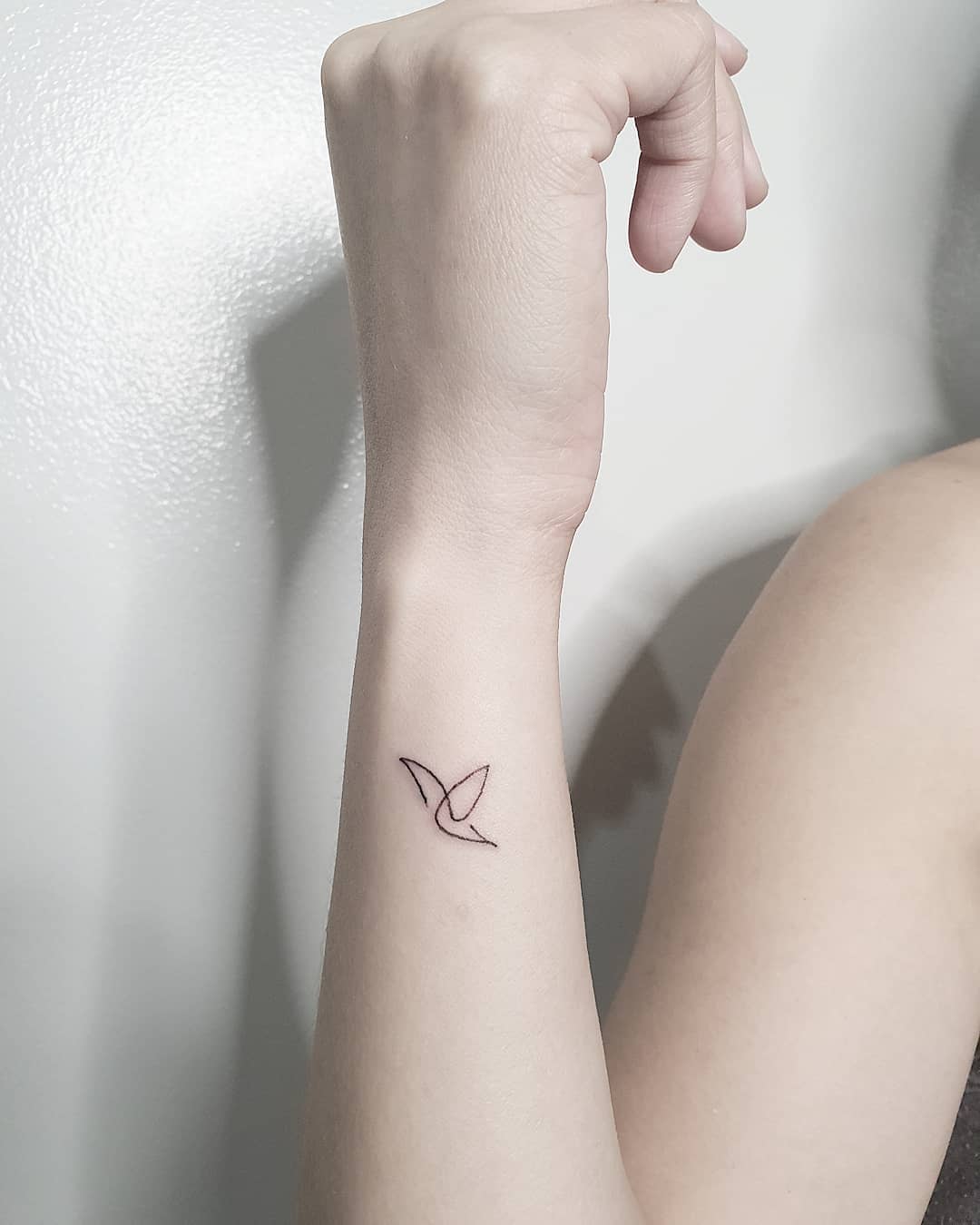 Because this design is not obviously a hummingbird, it can give you an air of mystery. It only becomes clear when explained, giving you a secret. If you would like to make it even more mysterious, add colorful flowers in the same single-line tattoo style.
39. Delicately Detailed Hummingbird Tattoos Pointing to the Heart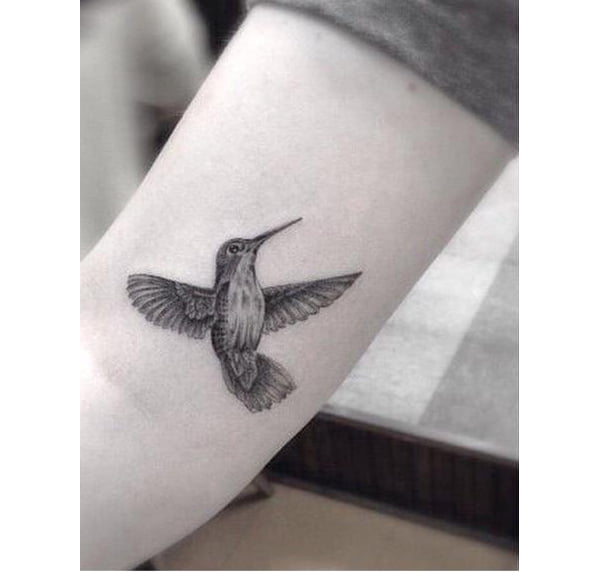 While it may not be wearing your heart on your sleeve, this hummingbird is pointing to the heart. This half sleeve tattoos design is an inconspicuous way to remind yourself to listen to your heart. To highlight that idea, consider adding a small heart icon on the hummingbird's chest.
40. Artistic Blue, Green, Purple and Yellow Hummingbird Tattoos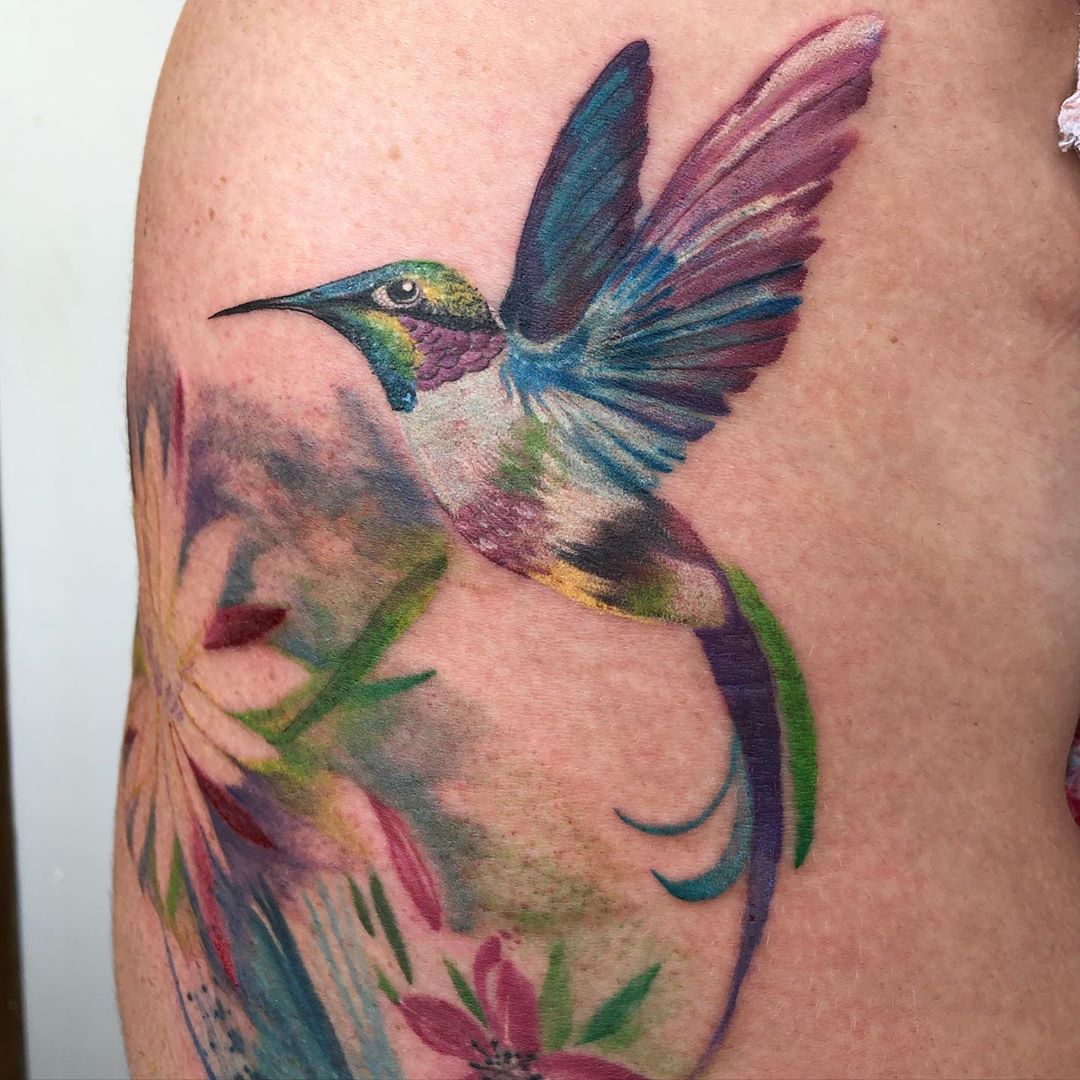 With an abundance of rich colors, this hummingbird blends seamlessly with the flourishing flower garden that makes up the rest of this tattoo. This hummingbird is a little stylized as there are no feet, but that puts more emphasis on the colors and textures of the hummingbird's plumage.
41. Hummingbird Tattoos with Sun Moon Background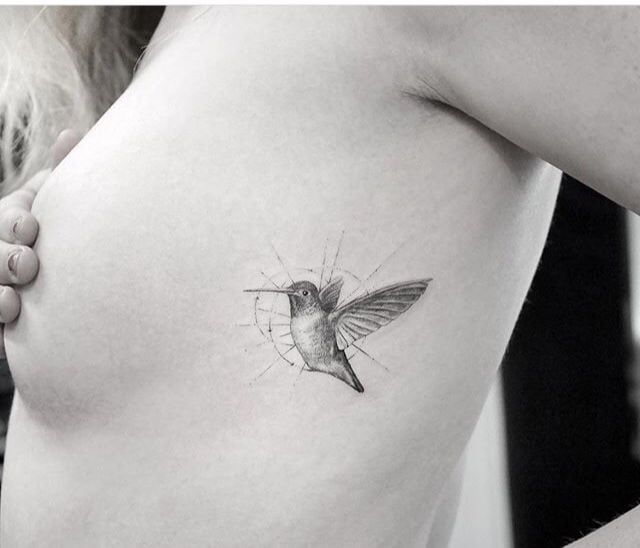 This hummingbird's incredible detail helps it stand as the focal point for this sun and moon tattoo. A sketch, artistic background gives hints of sun and moon. You could change these to be a compass rose or another totem that has significance if you desired.
42. Tiny Black, Orange, and Red Hummingbird Tattoos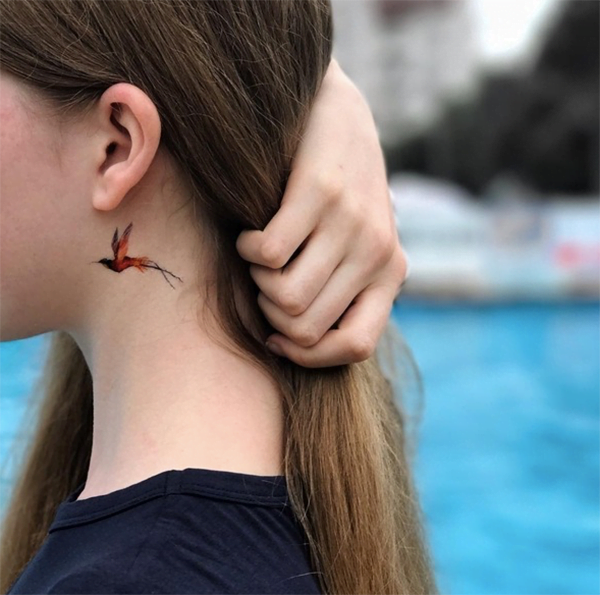 A sunset-inspired palette gives this hummingbird an air of romanticism. These colors can symbolize a struggle or simply be an attractive combination of colors. Because there are no extra details to indicate textured plumage, this design is able to look fantastic even though it is very small.
43. Pastel Hummingbird Tattoos Framed by a Lavender Sprig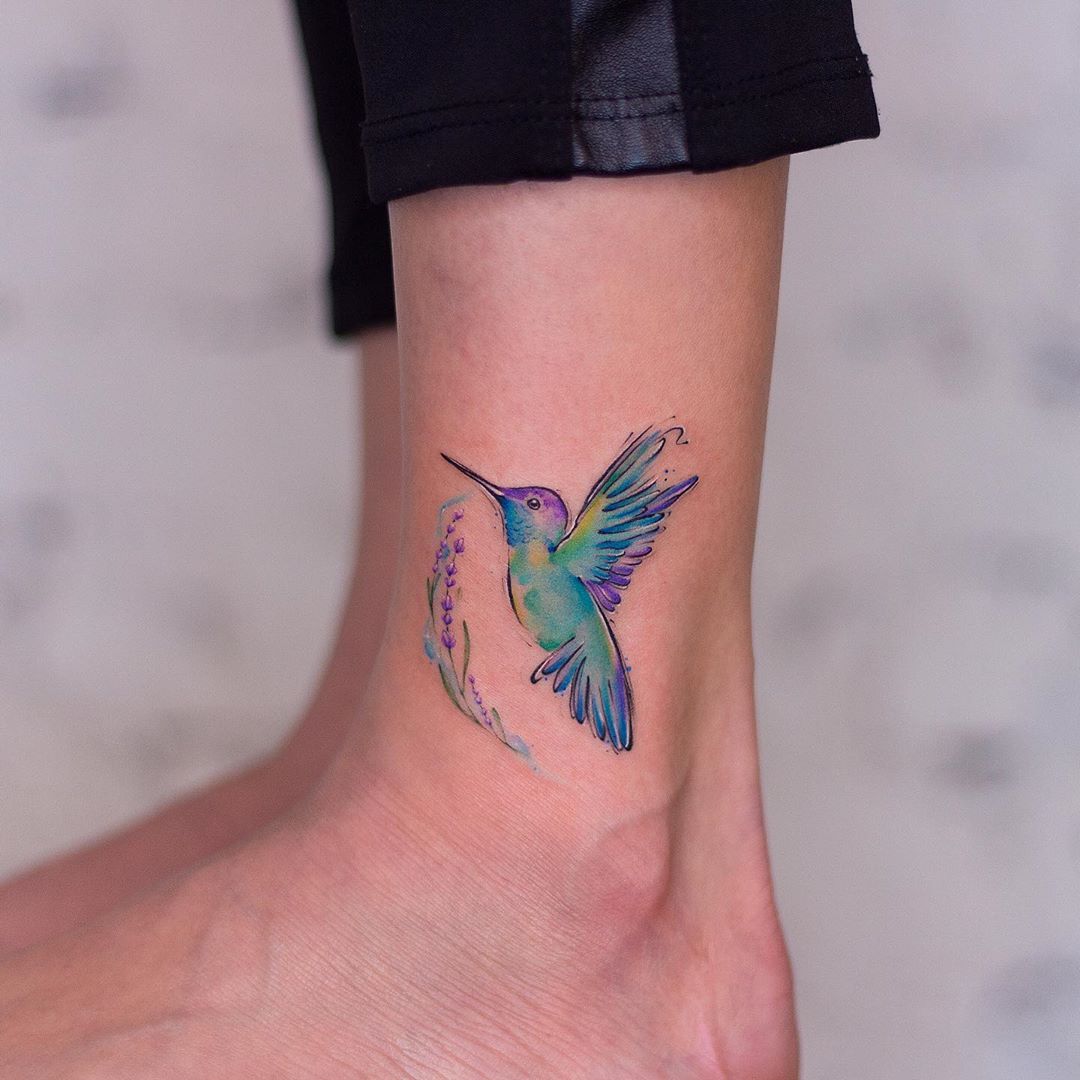 Expertly crafted, this hummingbird is depicted with a loose playfulness emphasized by the soft pastels. The sprig of lavender works to balance this design and creates an aesthetically pleasing sense of stability. True equilibrium is achieved because each color in the lavender is repeated in the hummingbird.
44. Behind the Ear Hidden Hummingbird Tattoos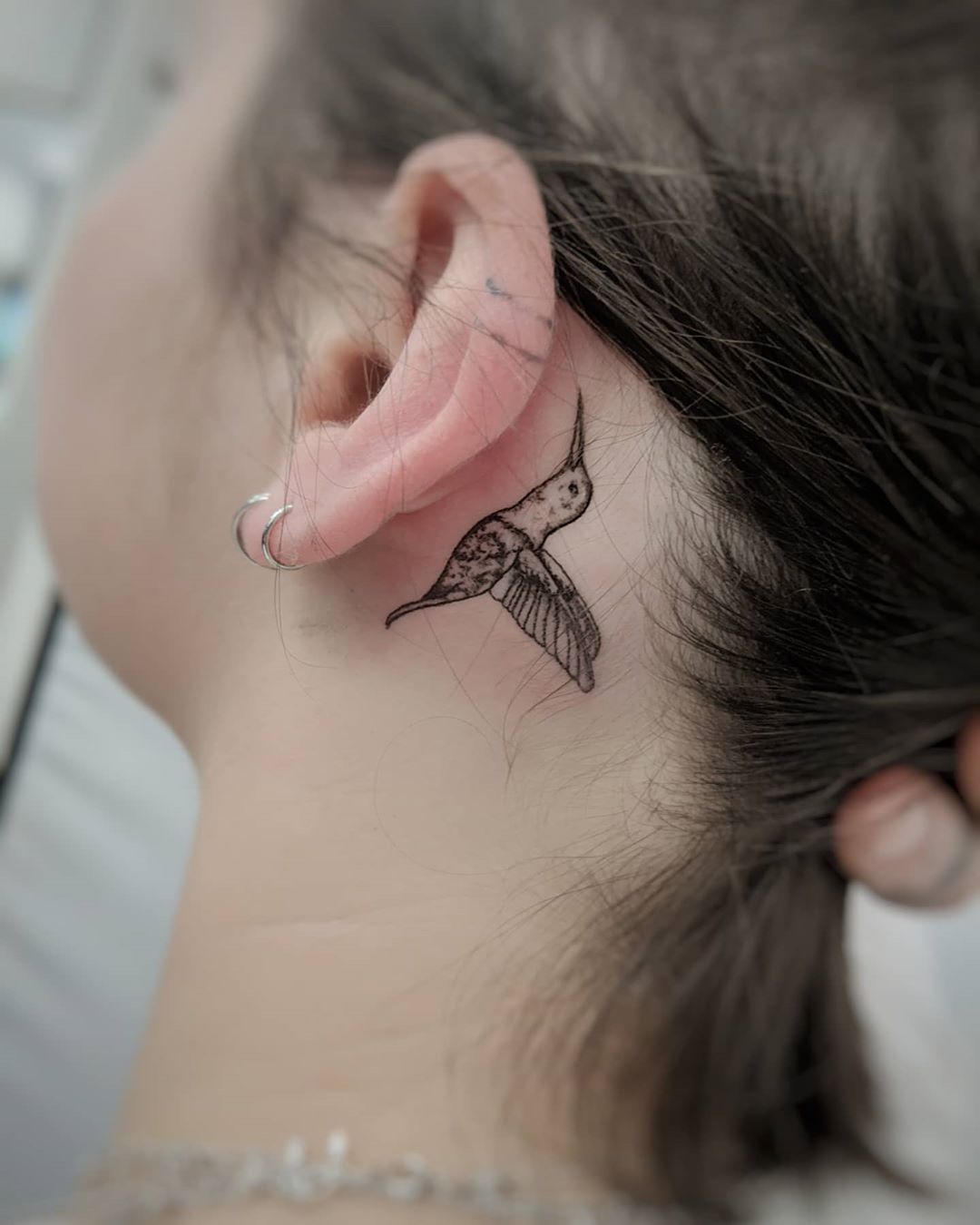 Depending on your hairstyle, this hummingbirds tattoo can be a secret. The hummingbird is rotated to mimic the ear's natural shape. Adding visual interest, black daubs texture the plumage. Pair this hummingbird tattoo idea with a flower, and you will have your own secret garden.
45. Determined Small Hummingbird Tattoo Design on Ribcage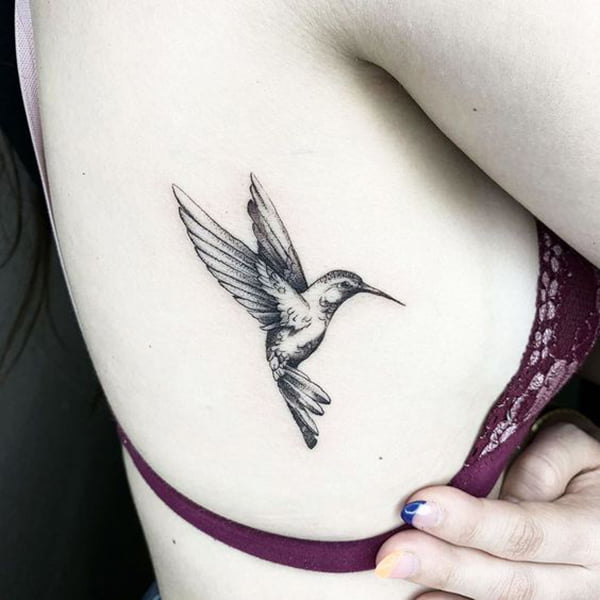 As an artistic rendering, this hummingbird captures the virtues of perseverance and courage. The startling contrast between black and white makes this hummingbird eye-catching. Small details hint at feathers meaning that this hummingbirds tattoo would look good if you wanted to shrink it.
46. Abstract Hummingbird Tattoo Spirit with Dots and Lines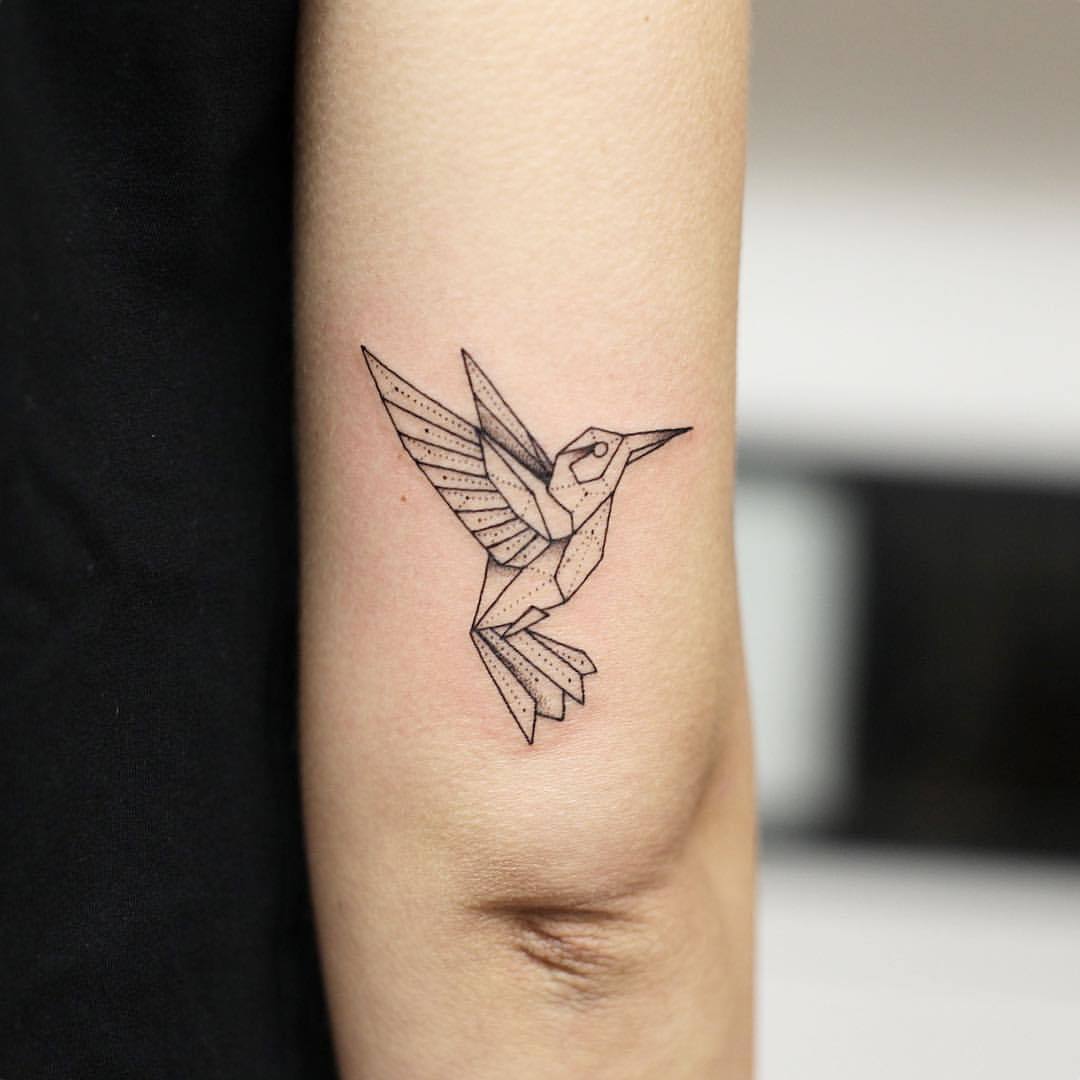 Highlighting the relationships between shapes, this tattoo's black and white color palette is classic. Of course, you could add colors, but this hummingbird looks marvelous in the abstract. Because there are no curved lines, this hummingbird feels aggressive and almost mechanical.
47. Pastel Small Hummingbird Tattoo Holding an Olive Branch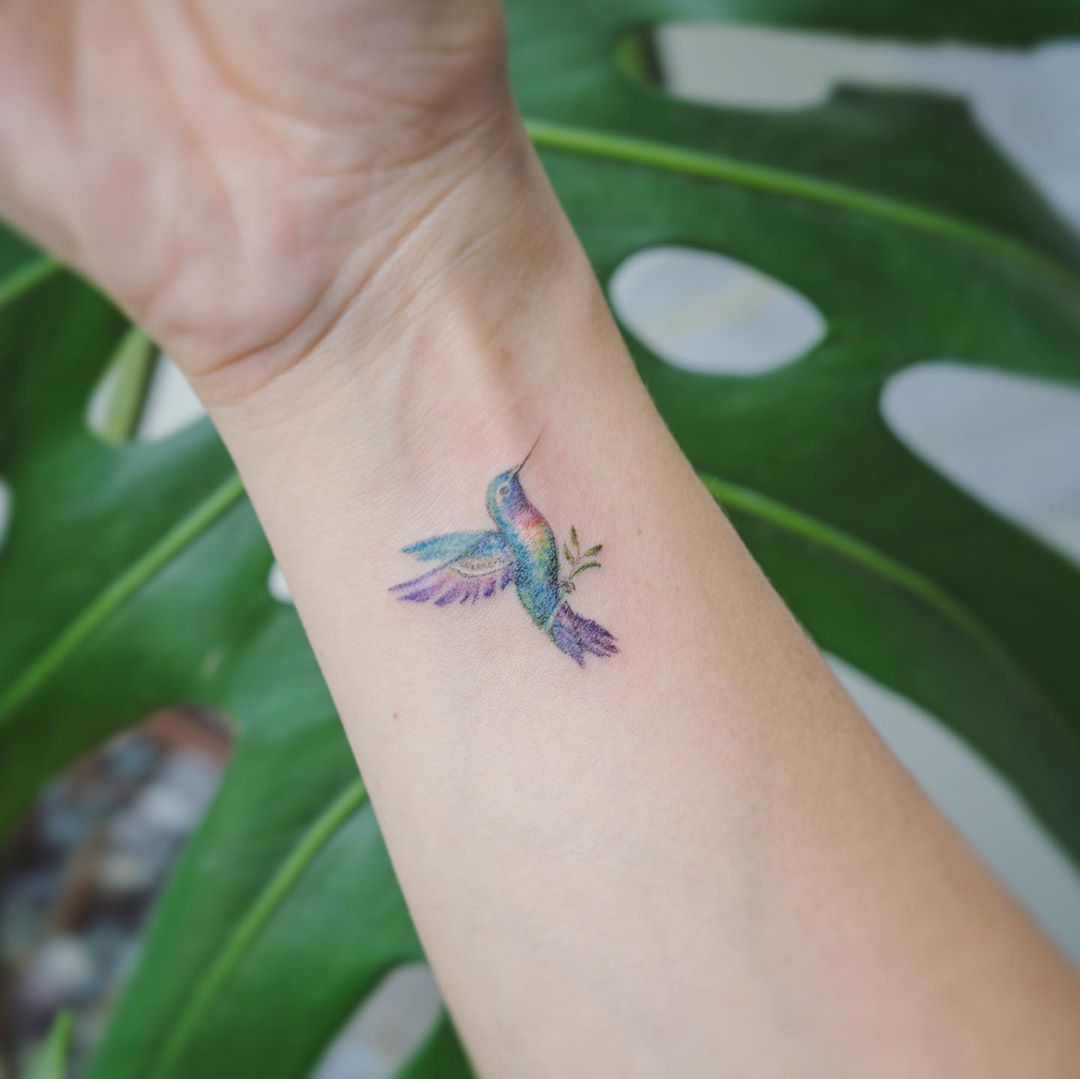 Radiant colors and an olive branch reveal the wish behind this hummingbird tattoo. This is a fantastic matching tattoo idea for friends who do not get along or relationships that have been strained. While this example shows a small tattoo, it could be made larger.
48. Black & White Cherubic Hummingbird Tattoos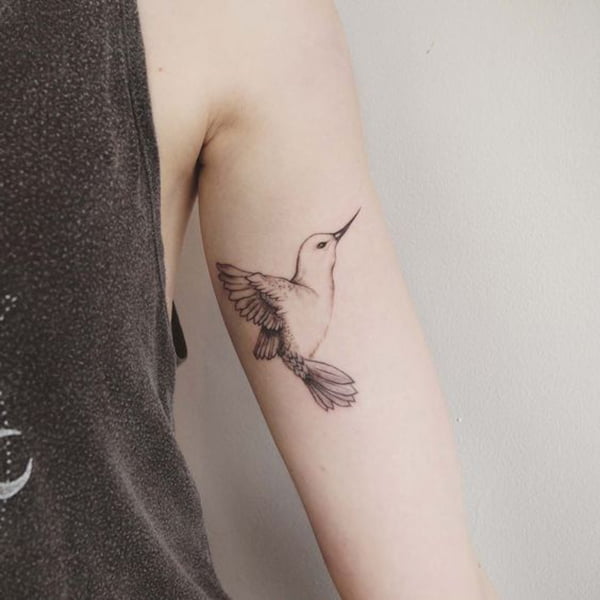 Unlike slim and willowy hummingbirds, this tattoo features a well-proportioned hummingbird. Soft details and petite wings give this tattoo a childlike innocence. Add some pastel cloud tattoos to emphasize the innocence or use deep blues and purples to give this design some maturity.
49. Hummingbird Tattoo Designs with a Body Made of Flowers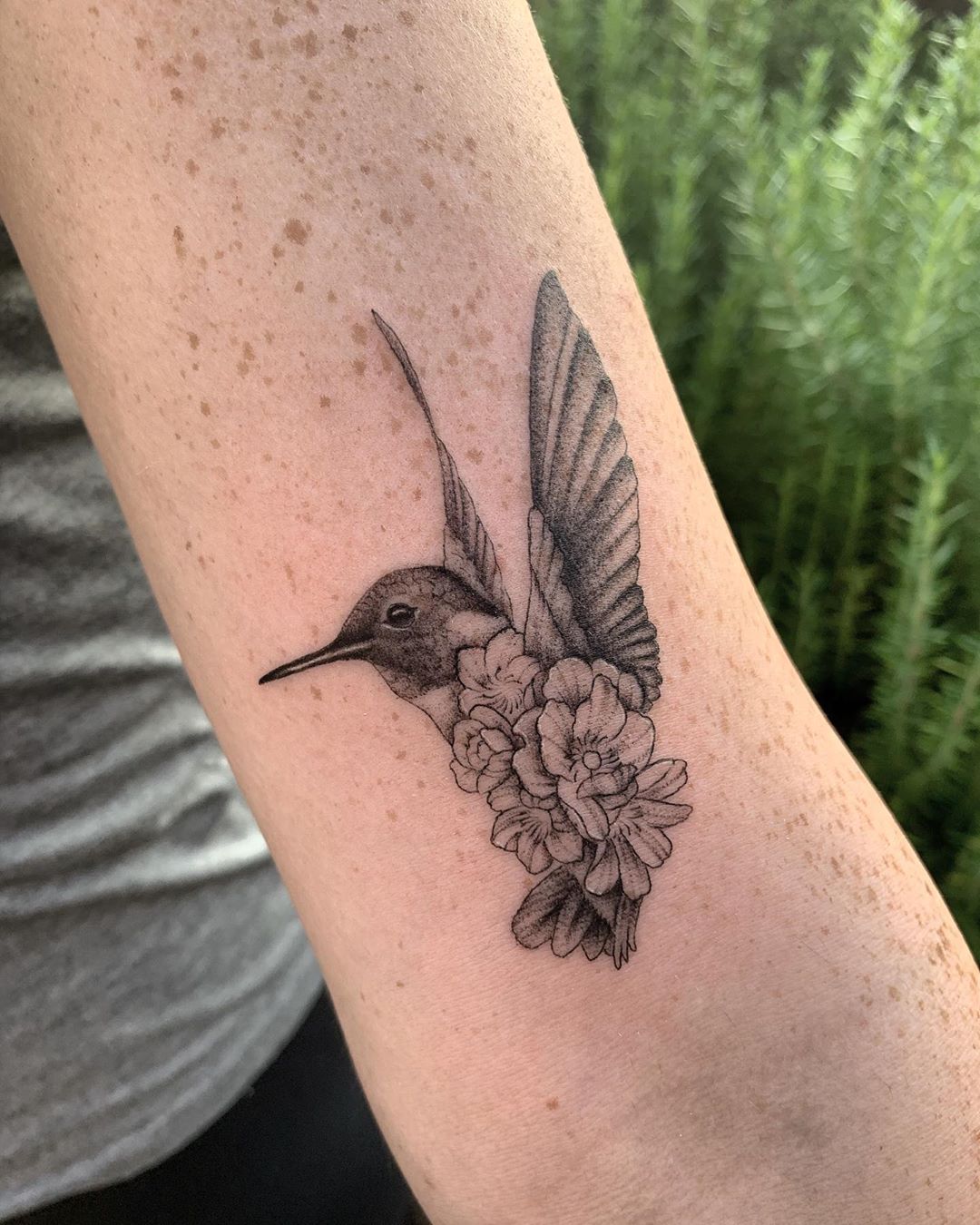 A unique way to incorporate flowers and a hummingbird, this design allows both design elements to shine. If a cluster of flowers is not your style, you could use a different design element. As long as your item is roughly the same shape as the hummingbird's body, this idea will work.
50. Abstract Hummingbird Tattoo Design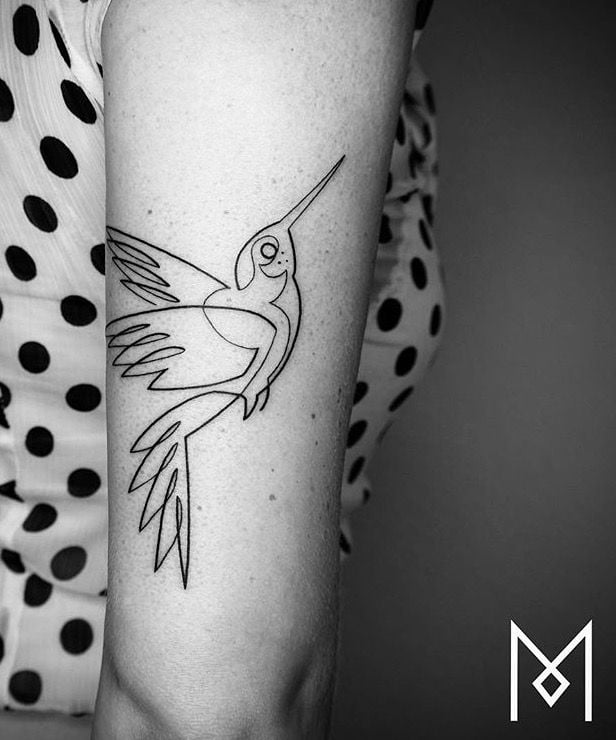 A single line and generous white space give this hummingbird a lot of spunky character. Sharp points and curvy loops provide contrast and communicate a love for the casual doodle. Unlike a doodle, each shape is rendered intentionally to expertly portray a delightful hummingbird.
51. Iridescent Origami Hummingbird Tattoo on Ankle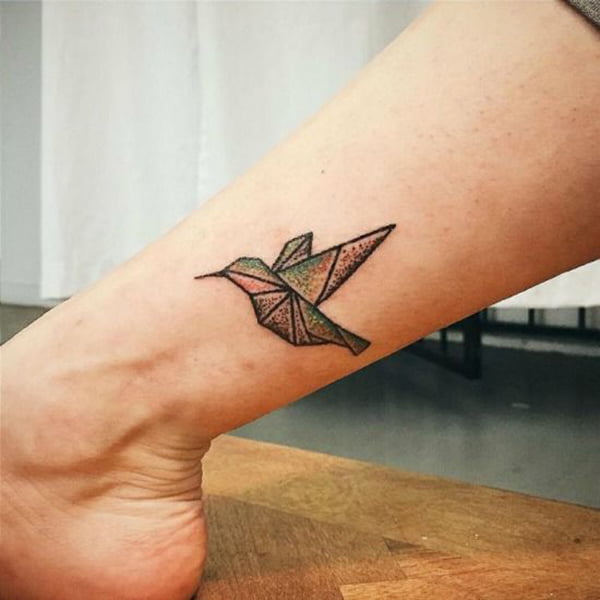 Bold black borders define the paper's folds and make this ankle tattoo an utterly unique design. Capturing a hummingbird's magic iridescence, prismatic coloring hints at a rainbow without quite reaching it. For a more cartoonish tattoo, choose a color for each paper fold.
52. Pencil-Drawn Hummingbird Tattoo Design with Flowers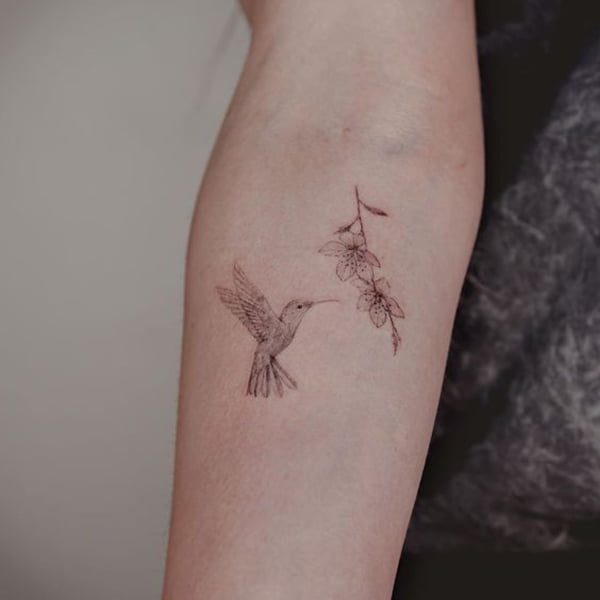 Intricate details and small scale combine in this design to create an incredibly delicate effect. If you would like to make this tattoo larger, the details will shine. However, if this design is made any smaller, some of the precious details will be lost.
53. Butterfly and Hummingbird Tattoo Perching on Green Leaves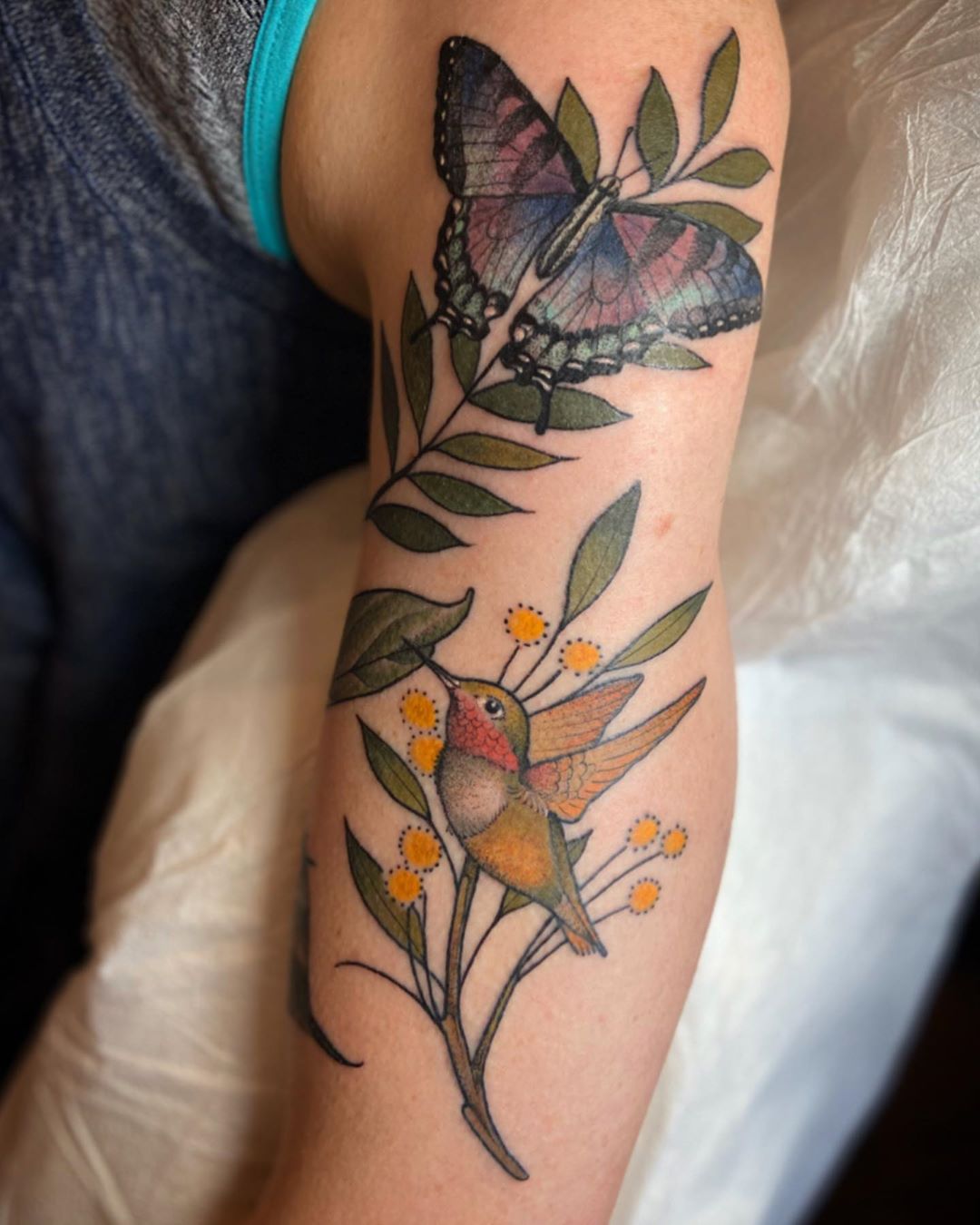 Stylized yellow flowers and shaded yellow feathers coordinate in this creative tattoo design. While this hummingbird is depicted in a harvest palette, you could choose your favorite colors and substitute them. To give some variety, the butterfly and hummingbird perch on different greenery. Oval-shaped leaves blend the two tattoos.
54. Abstractly Artistic Hummingbird Tattoo with Single-Line Design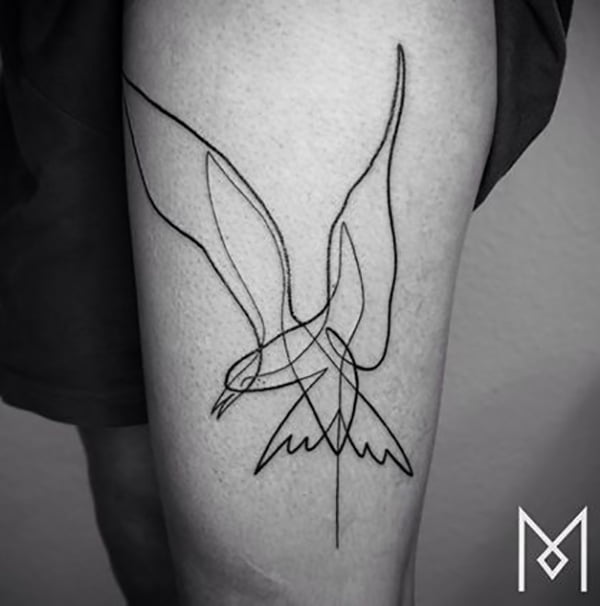 A powerful pose provides some presence for this hummingbird. Uneven, organic lines define the shape and give this design the same ephemeral feel as smoke in the wind. With a little modification, you could include a cursive word, name, or date in this design.
55. Blue and Pink Hummingbird Tattoo Bursting with Energy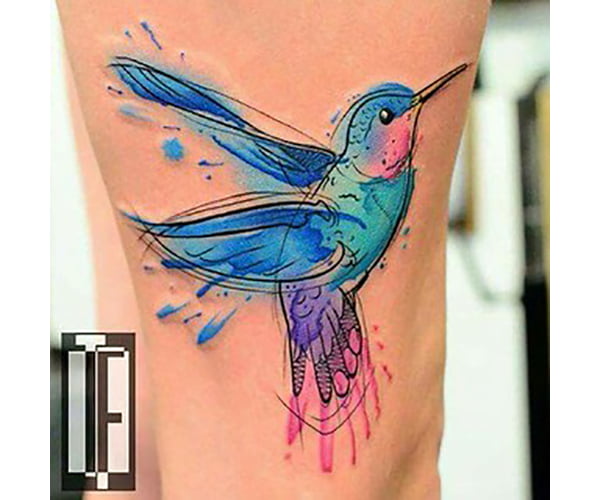 An attractively chaotic splattering of paint and swooping black lines give this hummingbird creatively contagious energy. Zigzag lines in the tail feathers only add to the energy. Splatters surrounding the hummingbird show that it is sometimes okay to color outside the lines.
56. Cheerfully Colored Hummingbird Tattoo on Shoulder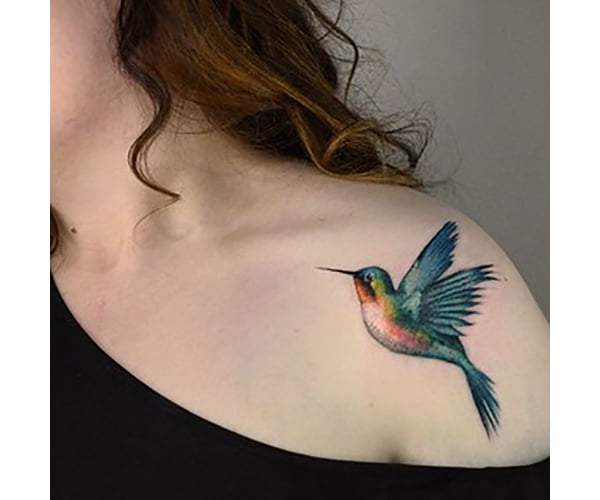 Bright blues are tempered with soft reds to make this adorable hummingbird seem almost alive. The shoulder and collarbone provide an excellent frame for this inward-facing hummingbird. As the arm moves, the hummingbird's tail will move and this bird will come to life.
57. Minimalist Geometric Hummingbird Tattoo Design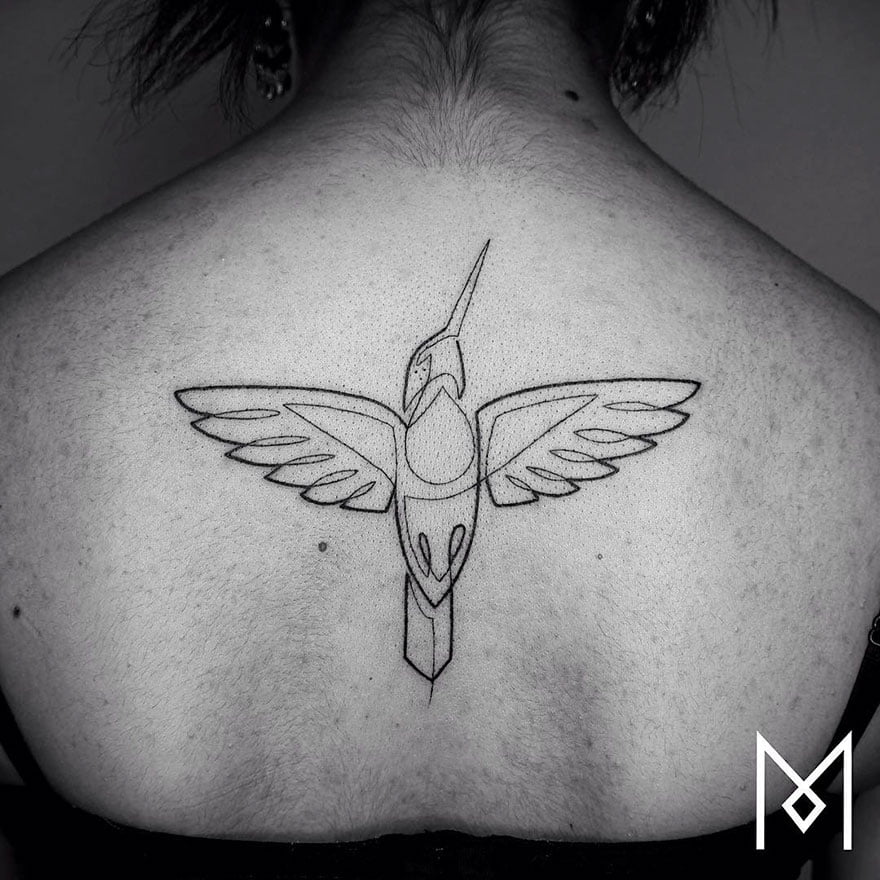 Consisting of a single line, this tattoo design offers a great deal of visual interest. Although the wings and body are balanced, the off-center beak and uneven feet give this hummingbird exactly the right amount of je ne se quoi. Add colors or a quote to make this tattoo special.
58. Floral Mountain-scape Framed in Hummingbird Tattoo Silhouette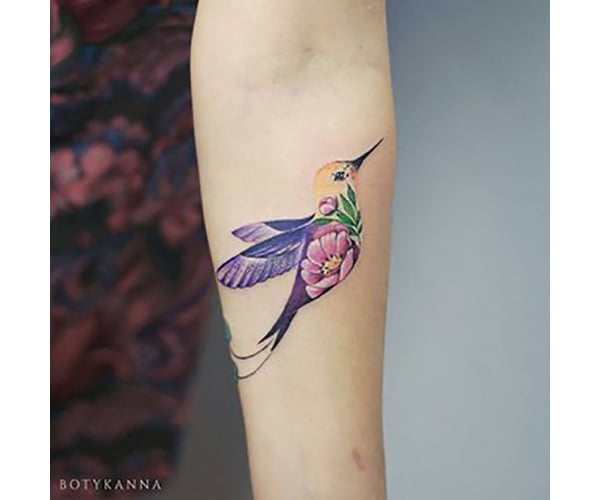 This hummingbird tattoo idea can be used for this sunset or for your favorite scene. Choose an image that resonates with you and use the hummingbird's graceful silhouette as a frame. This design uses white tattoo highlights in the hummingbird's wings that double as plumage and a snowy mountain peak.
59. Adorable Single-Line Hummingbird Tattoo Design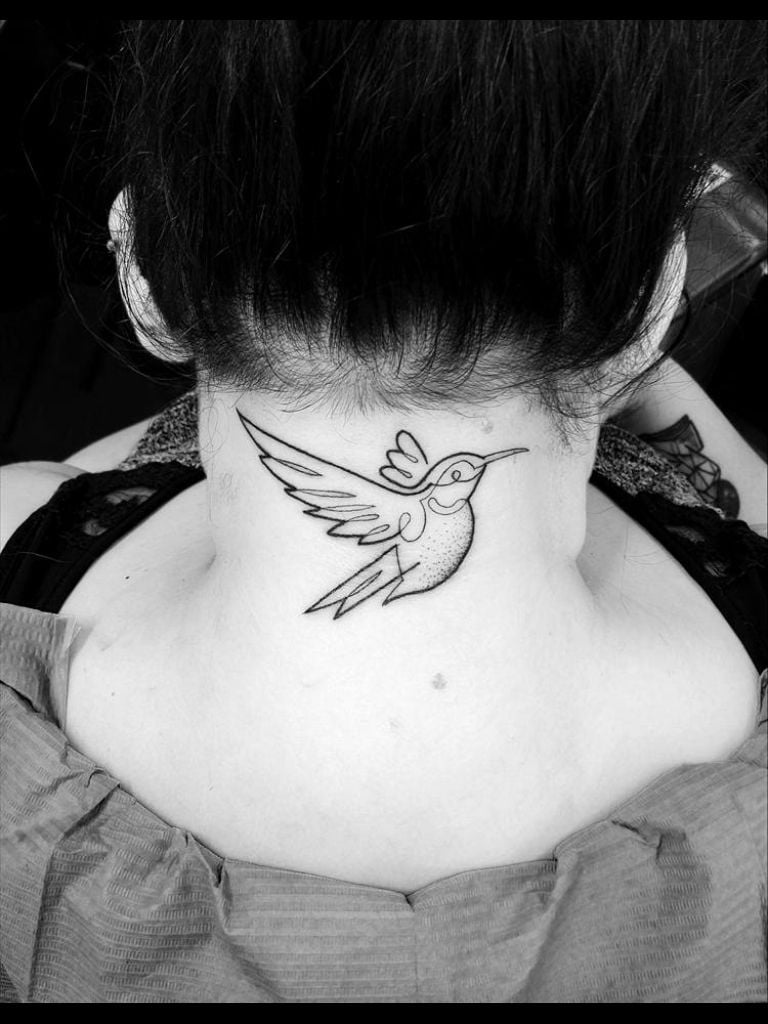 This hummingbird's Rubenesque shape gives it a jovial feel. While bold black lines define this hummingbird, small dots give it dimension. Because this design is simple, it can be made smaller and would look good nearly anywhere on the body.
60. Graceful Hummingbird Tattoo with Tropical Flower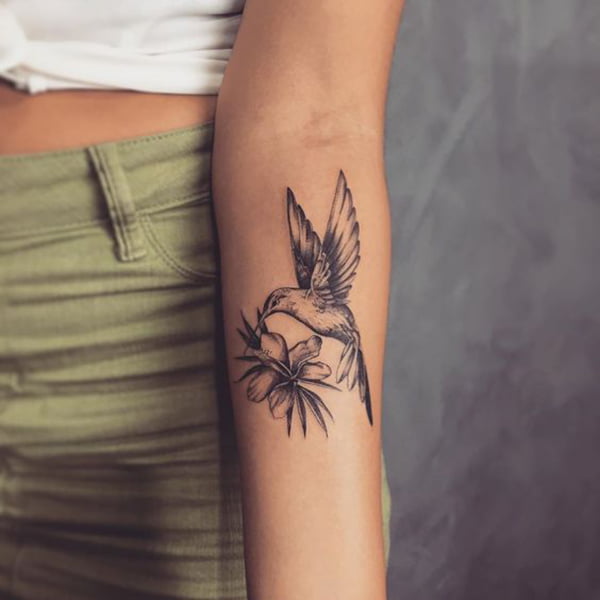 Balanced by tropical fronds, extended wings give this tattoo a centered composition. Although this tattoo is black and white, tropically bright colors are easy to imagine. The tail pointed sharply down is framed perfectly by the arm's contour.
60 Transcendent Tattoo Ideas to Create the Perfect Hummingbird Tattoo for You
Because tattoos are so personal, these designs are some ideas to get you started. As you plot your hummingbird tattoo, think about why hummingbirds are special to you. If it feels right, combine any of these ideas to create your own best hummingbird tattoo.
As you can see, artistic style and color can change how a hummingbird tattoo feels. Tranquil blues and serene greens can make your tattoo represent peace. A photorealistic style emphasizes a fascination with the actual bird while an abstract style illustrates a devotion to the hummingbird spirit. However you design your hummingbird tattoo, it will be the best one for you.
60 Creative Designs that Reveal How Dazzling Hummingbird Tattoos Can Be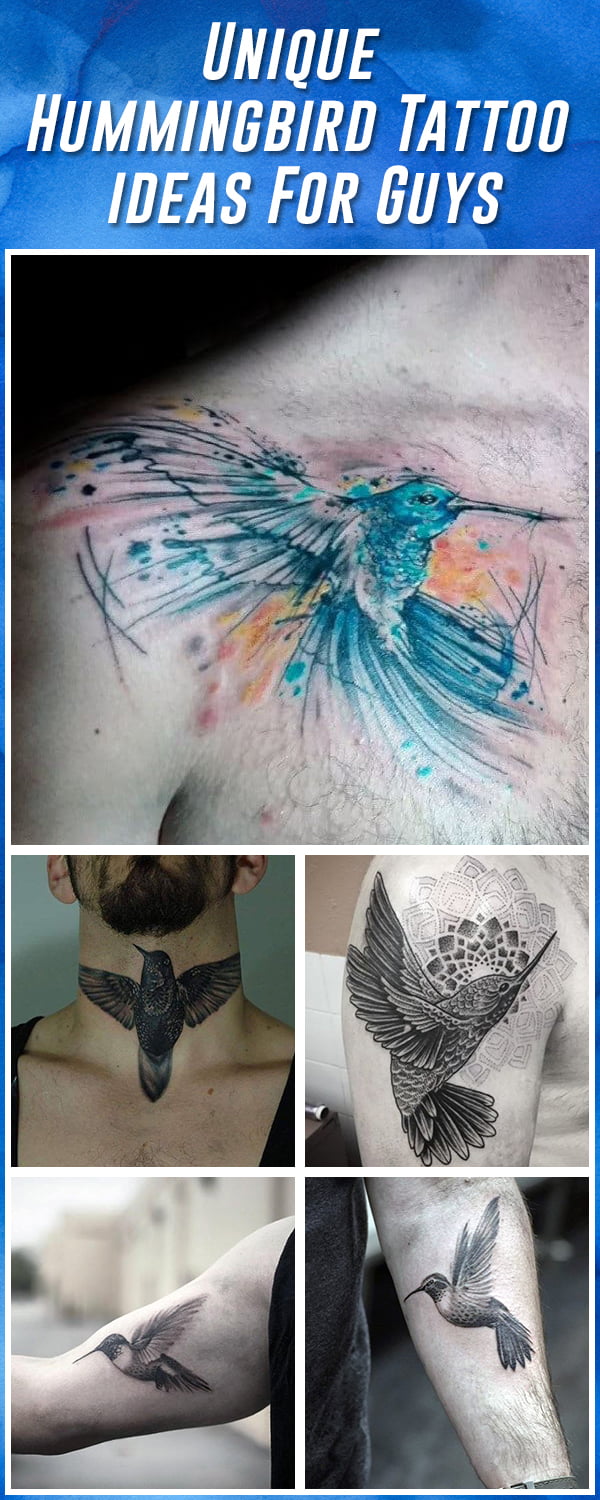 Hummingbirds are harbingers of peace. Choosing a hummingbird tattoo can mean either that you value peace or that you are pursuing peace. However, hummingbirds can also represent freedom, hard work, or abundance (just like wolf tattoos). Anyone — man, woman, or nonbinary individual — can appreciate the endeavor to seek these ideals.
Cool colors like blues and greens can help your hummingbird tattoo exude serenity. Bright colors like scarlet and yellow can energize the tattoo or depict the battles you have fought. Of course, if you have a favorite hummingbird species, you can use any of these designs with that species' coloring. Because hummingbirds possess iridescent plumage, hummingbird tattoos and bird tattoos look especially good with a rainbow palette. Due to their usually small size, the hummingbird tattoo cost usually isn't too high. They can work wonderfully as faith tattoos as well.
Artistic style is another way to personalize your tattoo. Photorealistic tattoos are a beautiful way to showcase affection for the actual bird. To reveal a devotion to the hummingbird spirit, you can use a more abstract approach for a stylized hummingbird tattoo. However, your style is unique to you, and the best part of choosing a tattoo design is that you can tailor it to best match your tastes.
What details you put around your hummingbird tattoo are important parts of telling your story. Will there be floral wreaths, tropical sunsets, a name, or a date? Mix some of the ideas below to bring the perfect hummingbird tattoo for you into existence. Will your hummingbird be playful and realistic or starkly abstract?