Tattoos are now seen as an artwork and a form of personal expression. The flower tattoo is becoming increasingly popular these days. The color, design, locations and size are being chosen to reflect a variety of personal meanings, depending on where they are being inked. This tattoo is being innovatively designed to reflect the meaning or location on the body. Flowers have been used historically in several ways to visually express love, friendship, gratitude and remembrance. Flowers usually have a feminine taste of representation, possibly one of the major reasons why they are being chosen for inking. However, it should also be noted that a lot of men go with flower designs (like sunflower tattoos) as well with rose and cherry blossoms as being one of their top choices. From finger tattoos to chest tattoos, they work in any size.
Flower Tattoo Symbolism
Various flowers and colors will symbolize different things. Red flower symbolize a burning passion, while white flower design symbolizes purity. Yellow flower can stand for jealousy while violet rose can mean someone who is shy and timid. There are several different colors and design available, giving plenty of meaning to those who desires flowers tattoos.
Here are some of the most common floral tattoos designs:
Rose Tattoo Ideas
Roses are the most common flower design for friend tattoos and have been tagged as symbols of love and passion. Roses are known for the endless beauty and love that they represent. A red rose shows true love, a pink rose represent elegance and grace. A peach rose represent friendship, and a coral rose reflects desires. A yellow rose is used as a symbol of friendship and devotion. A purple rose represents love at first sight, while an orange rose shows fascination and excitement. A white rose represents innocence and purity and a blue rose tattoo is a symbol of fascination and impossibility. Roses make for great friendship tattoos. and foot tattoos.
Lotus Tattoo Designs
The Lotus flower is another common flower design for tattoos especially with women and it stands for absolute truth and purity. They are also known to symbolize beauty, peace, fortune and goodness. In Hinduism and Buddhism, the lotus flower is considered to be a symbol of the awakening of the spiritual reality of life.
Lily Flower Tattoos
Lily flower tattoos are a symbol of partnership and they also work as love tattoos. The lily usually represents a long lasting relationship. It's also a symbolic of mothers. The ancient Greece believed that the lily flower sprang from the milk of Hera (Hera is the Queen of the Gods). For that reasons the lily flower was believed to symbolize the Divine Feminine.
Hibiscus Flower Tattoo
The hibiscus which is the state flower of Hawaii is another flower design for tattoos. The hibiscus is a symbol of beauty and it's believed that a gift of hibiscus might mean "seize the opportunity". In Japanese culture the hibiscus flower tattoo means gentle. This is a perfect sister tattoo as well.
Cherry Blossoms Tattoos
Cherry blossoms is one of the most fragile flowers and is thought of as a symbol of feminine strength and love. It can also represent a fleeting moment in one's life with its petals blossoming only for a few days. The Japanese people see this flower as a metaphor for life which represents their own mortality.
Flowers with their natural beauty will always be an interesting tattoo designs. They can be inked small or large and as bold as you wish them to be.
1. Flower Tattoos: Gather All The Flowers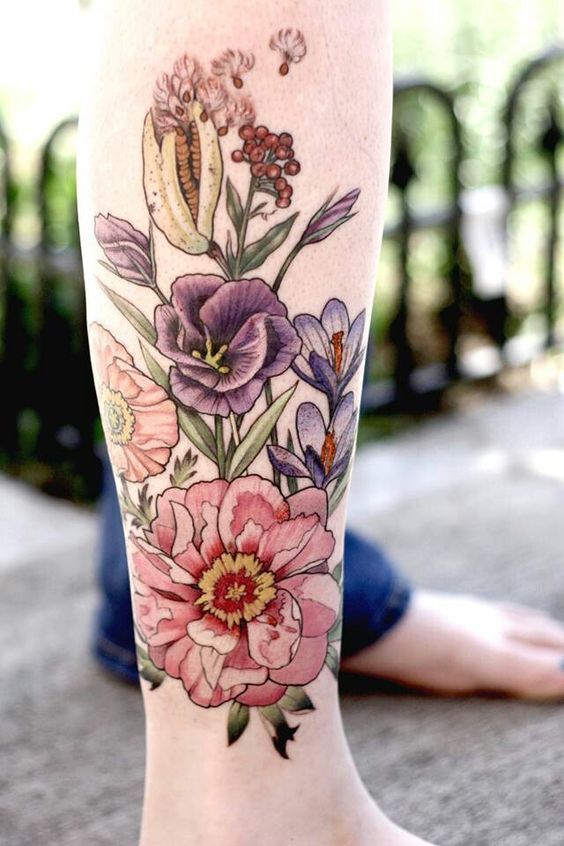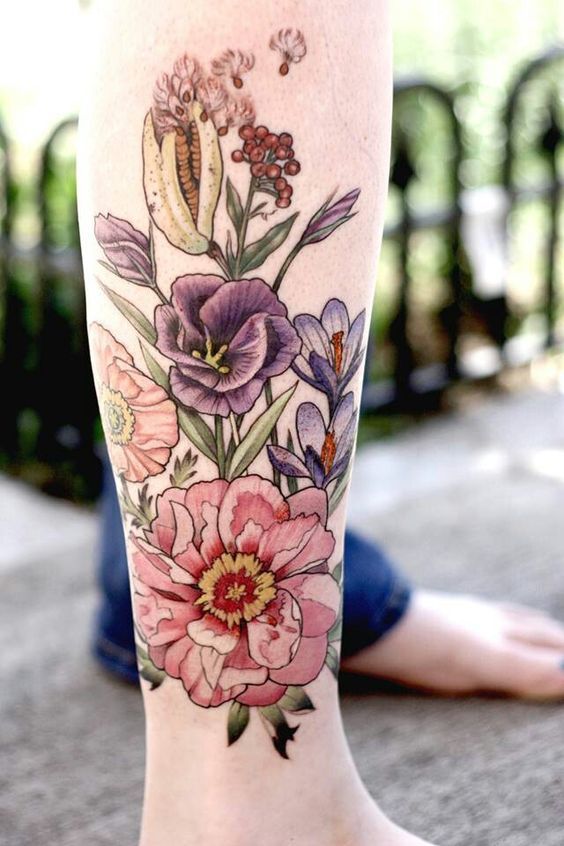 Here we have a flower tattoo that features a generous bouquet of various flowers. They have different shades and sizes, just perfect to create an unique arrangement that looks great not only in a vase, but also on one's skin.
2. Violet Rules The Game Flower Tattoos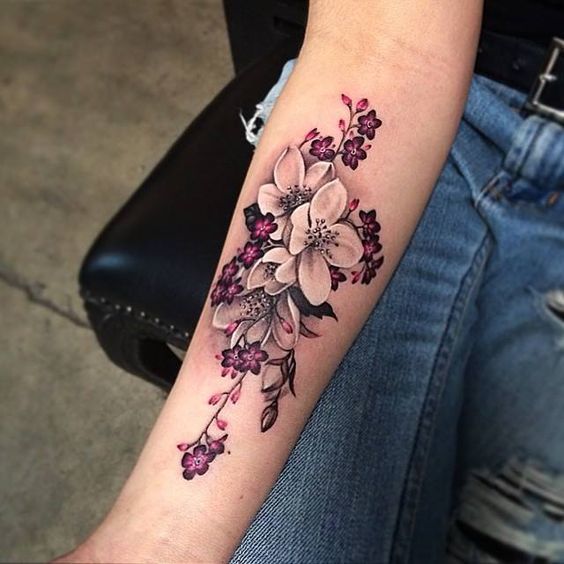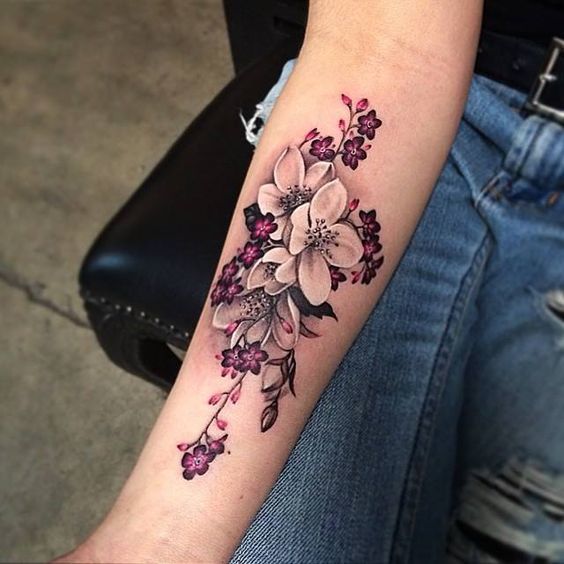 Despite the fact that the bigger flowers have a lighter color, the violet ones are the key attraction of this flower tattoo idea. The dark violet of the small flowers along with the pinkish buds steal the show and frame the big ones nicely.
3. A Simple One For Me Flower Tattoos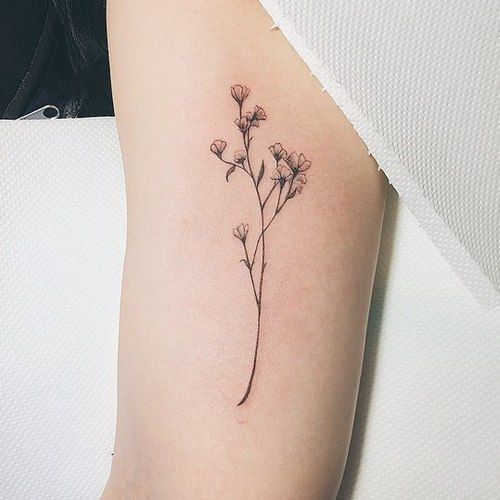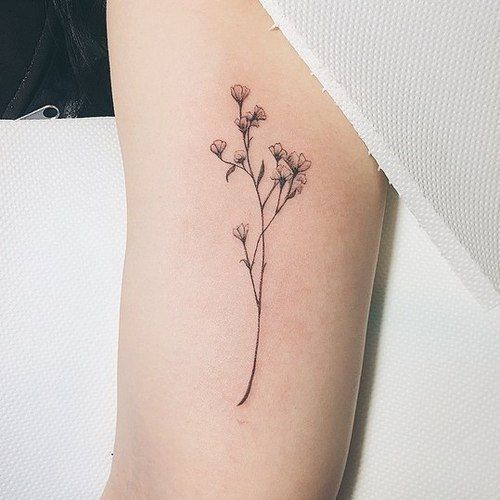 There is no need to brainstorm for highly sophisticated flower tattoo ideas if what you really want is a simple and delicate one. This piece is easy to draw and to tattoo, so it is a wise choice if you are a rookie when it comes to tattoos.
4. Plain and Simple Flower Tattoos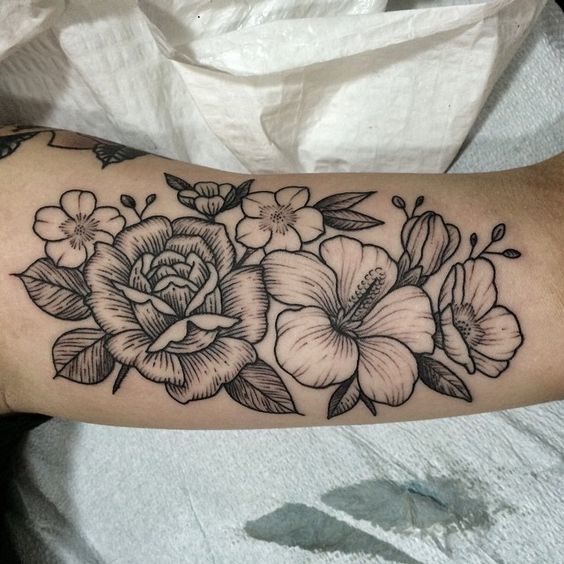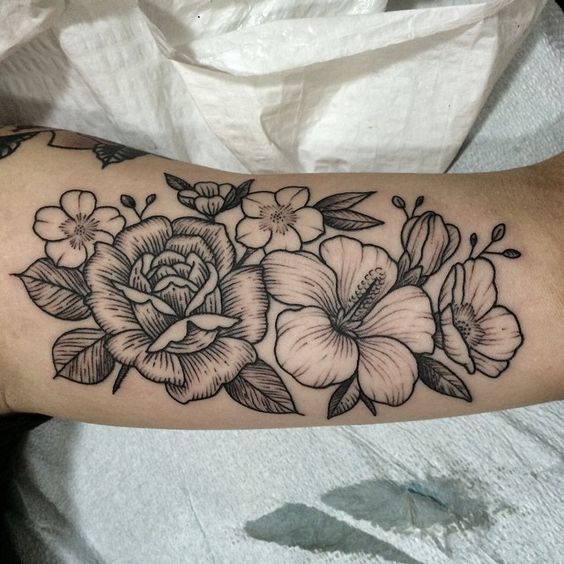 Unlike most other tattoos of this kind, these flowers are colorless. Still, thanks to the talent of the artist they look beautiful on the skin. The details are smoothly captured, while keeping in mind the original shapes and sizes. It is a good choice if you like all flowers.
5. An Unusual Bouquet Flower Tattoos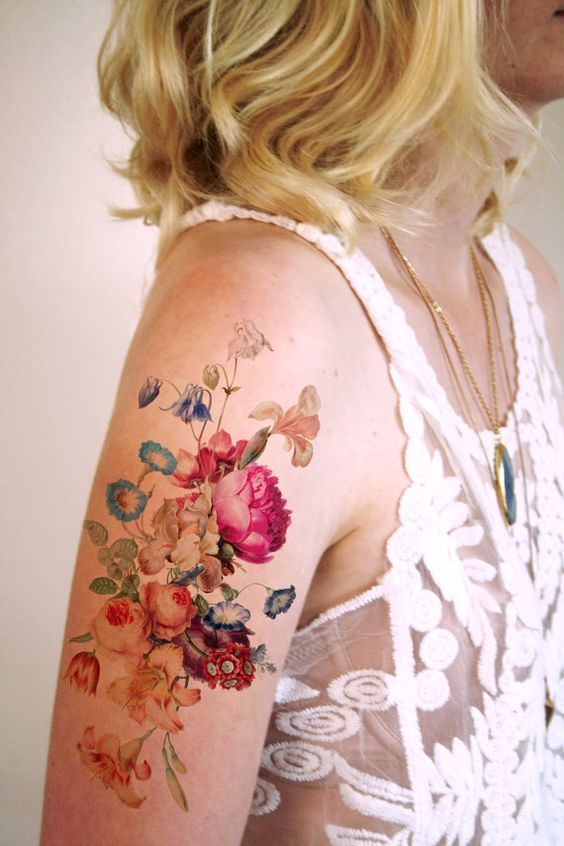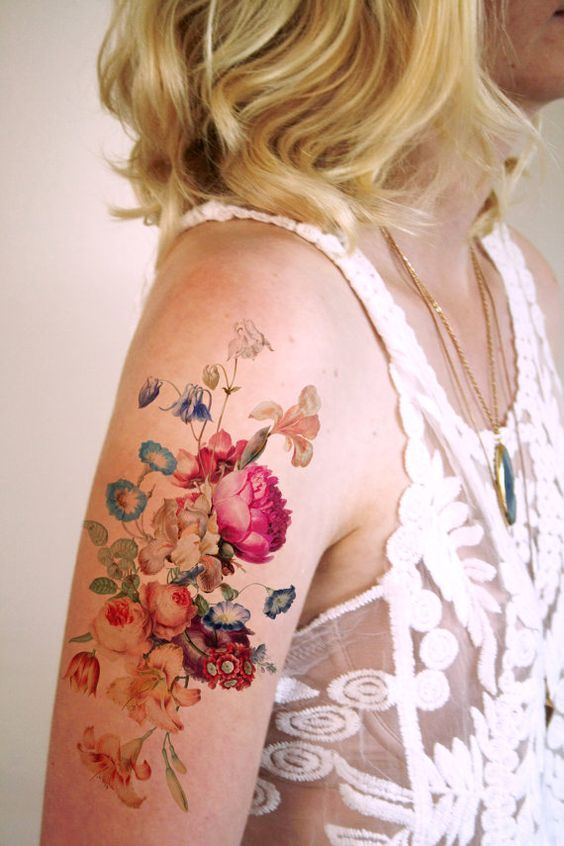 This bouquet looks spectacular and will impress any lady, irrespective of her preferences in terms of flowers. It is so flawlessly created that you can't help admiring it. If you want to combine natural beauty with art, this is a great pick that will astonish anyone who looks at it.
6. Flowers in Bloom Flower Tattoos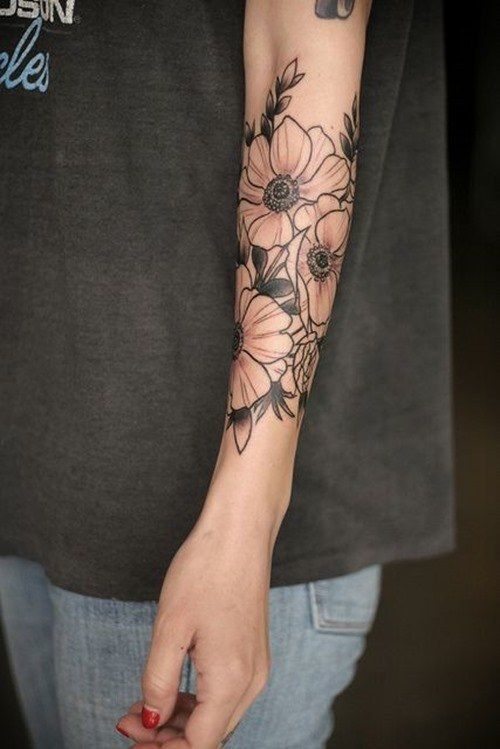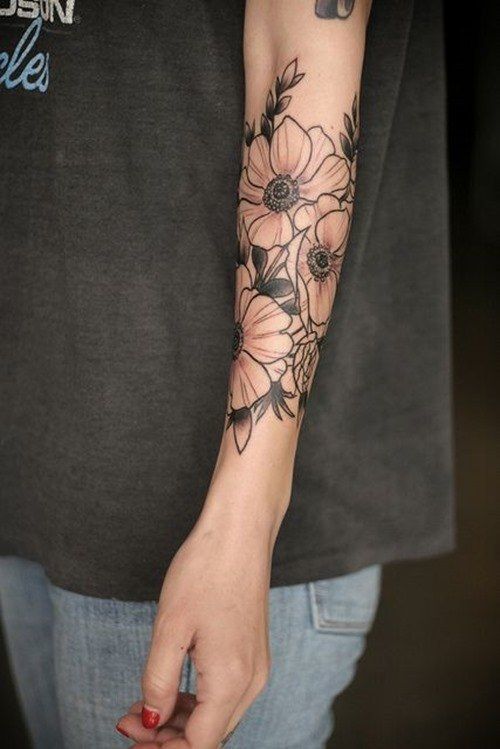 Tattoos ideas featuring flowers don't necessarily have to be very girly and colorful. This one is adequate for a bad girl who enjoys having lots of tattoos and go for feminine designs without looking too girly. The sharp edges are smoothly softened by the warm shades.
7. Lavender's Perfume Flower Tattoos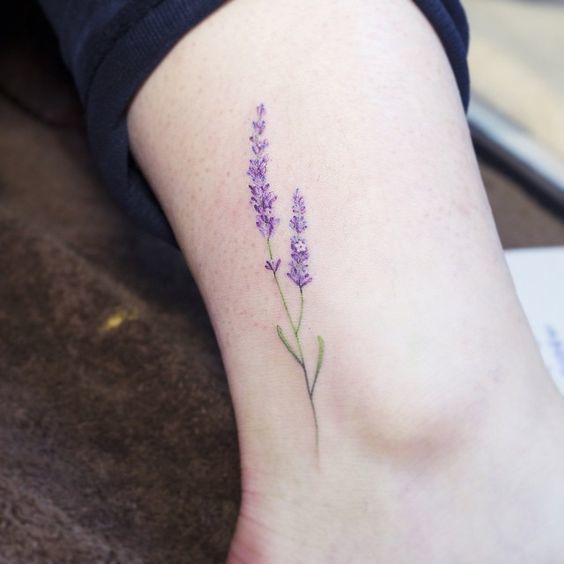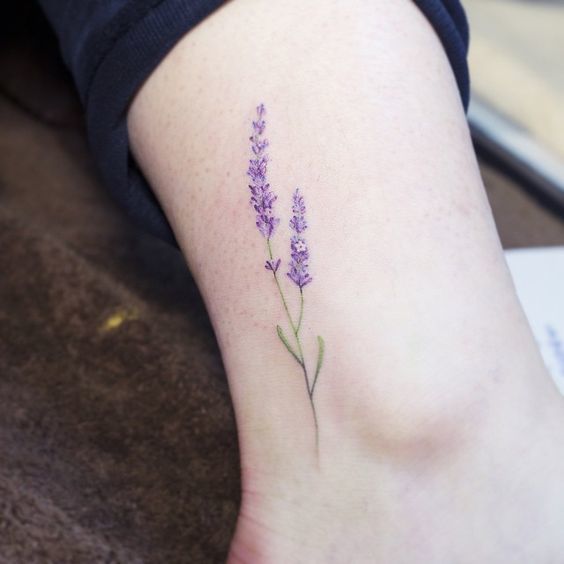 When you want to get a flower tattoo that is discreet and includes natural colors, you can't go wrong with this one. It is ideal for women who like tattoos but don't want to get anything flamboyant. The lavender suits well a delicate soul with a bit of a rebellious attitude.
8. The Bird and The Flowers Flower Tattoos


This is a tattoo that involves quite many hours, but it will all be worth it when you will see the final result. It extends over half of the back and nearly half of your arm. The shades are pale and soften it gently.
9. Flowers Aren't Always What They Seem To Be Flower Tattoos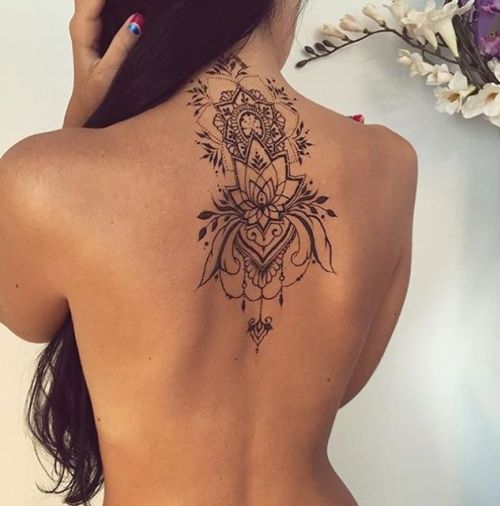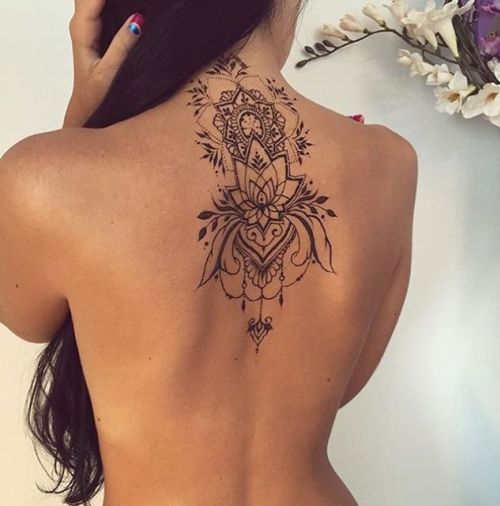 Some tattoos ideas totally depend on imagination. This is a great example as only an artist could have thought about this combination of fine lines that elongates the back and makes it look classy. It is suitable for women who aim to be interesting for the ones around them.
10. Flower Tattoos: Intense Blue Flowers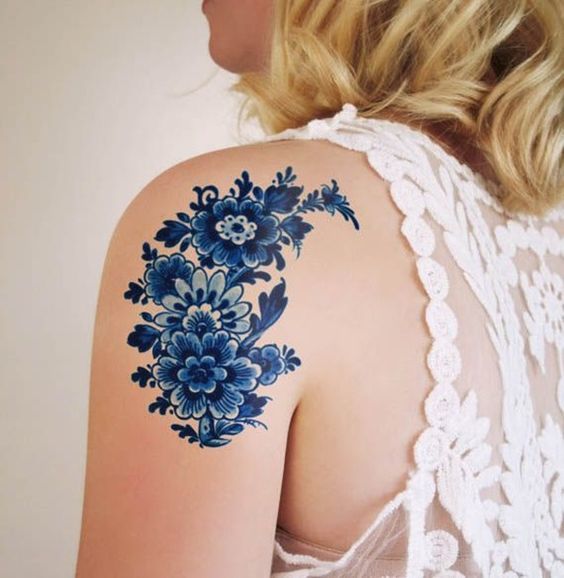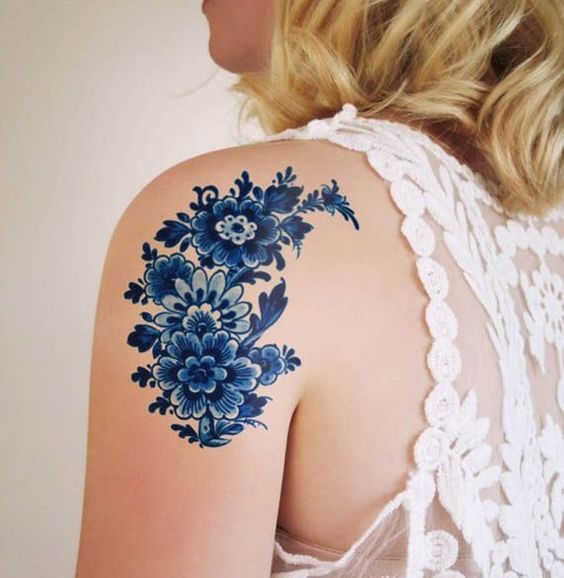 If blue is your favorite color and you like flowers, this is one of the best floral tattoos you could get. The various shades of electrifying blue that blend with one another are a real delight for fans of this color. You can combine two of your interests.
11. Lots Of Petals Flower Tattoos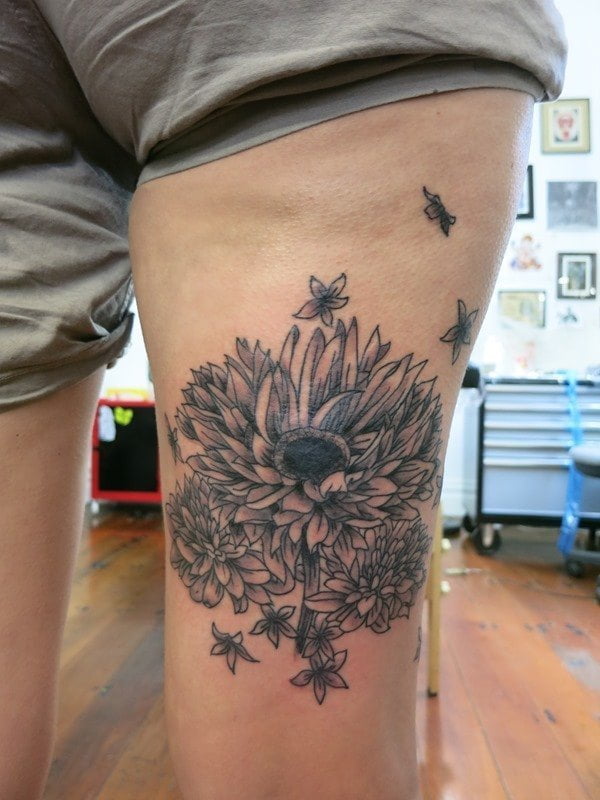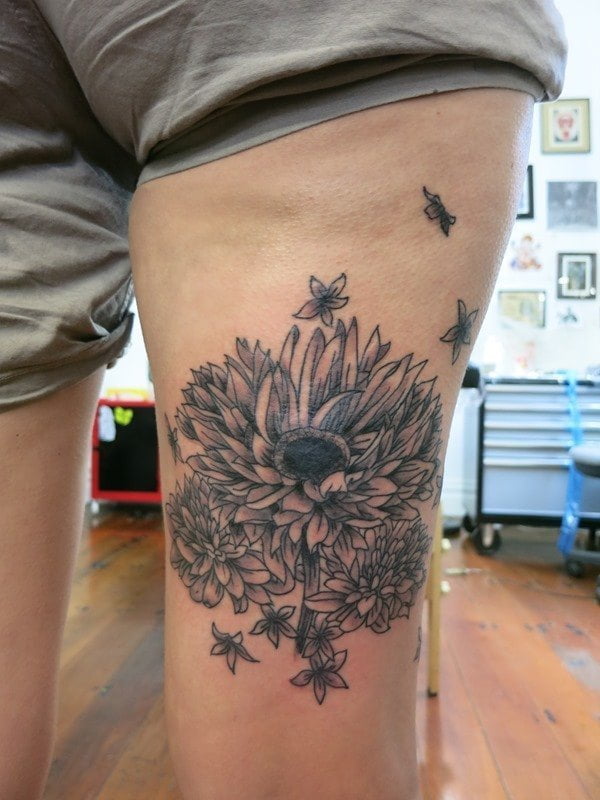 This flower tattoo design is all about petals. The flowers are abundant in thick petals and the whole tattoo looks rich in details. It lacks colors and it has an appearance as it belongs to a black and white movie, but this doesn't mean that it lacks charm.
12. Small Flower Tattoo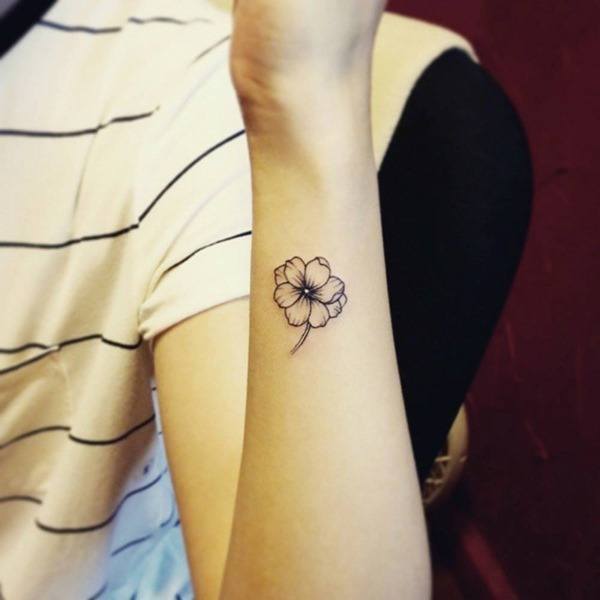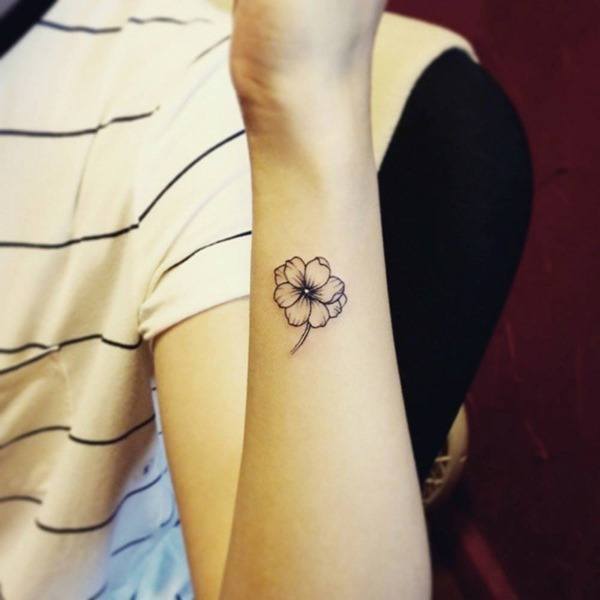 If you want to get a nice and small tattoo, you can always go for something simple, especially if you are not very familiar with the tattooing experience yet. This small flower tattoo is a good start. It won't be inconvenient in any circumstance either so you don't have to worry about that. Ankle tattoos are also a good choice for these designs.
13. Flower Tattoos: Flowers and Shapes Flower Tattoo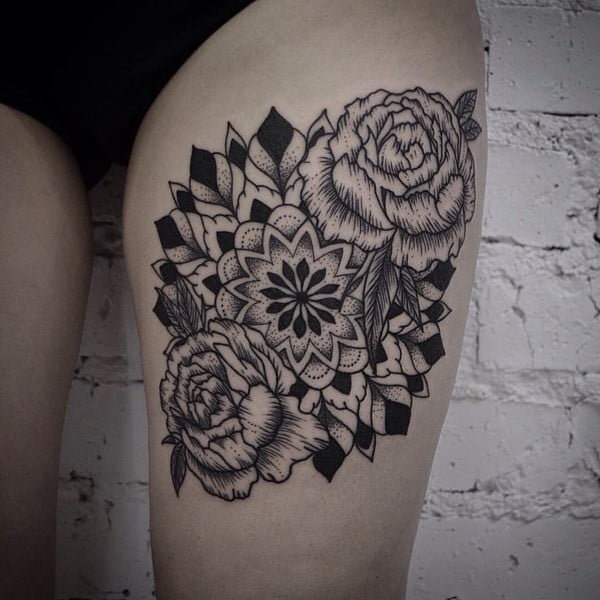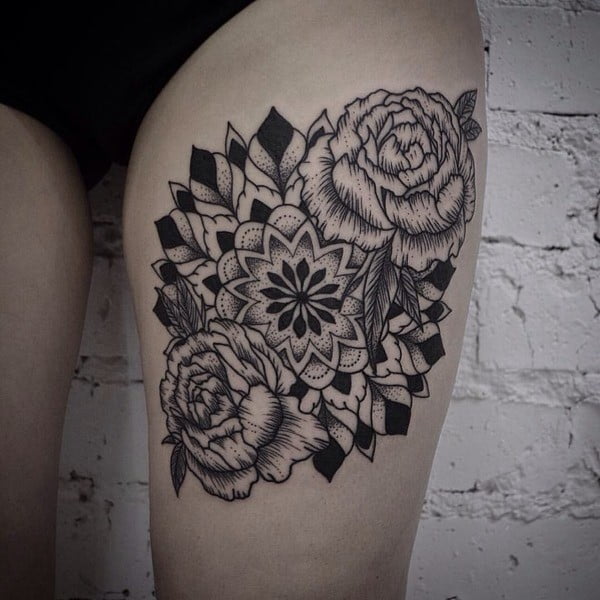 Not all tattoos for women have to be very lady-like. Some of them can push the limits a bit and be creative. This one has an interesting twist due to the bold black petals and the multitude of grey details. It is a perfect one for bad girls.
14. Flower Tattoos: Half Of Arm Full Of Flower Tattoos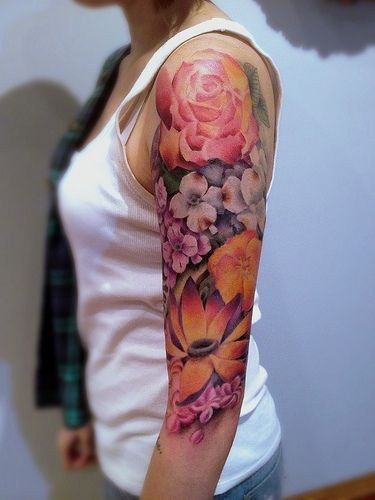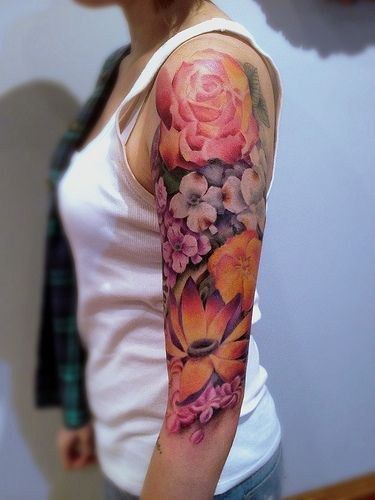 Sometimes floral tattoos can look as if they were directly painted on your skin using watercolors instead of ink. Many women appreciate that soft and smooth look. This forearm tattoos example illustrates this concept really well. The beauty of the colors is only matched by the great design.
15. Rose Tattoo In A Girly Frame Flower Tattoos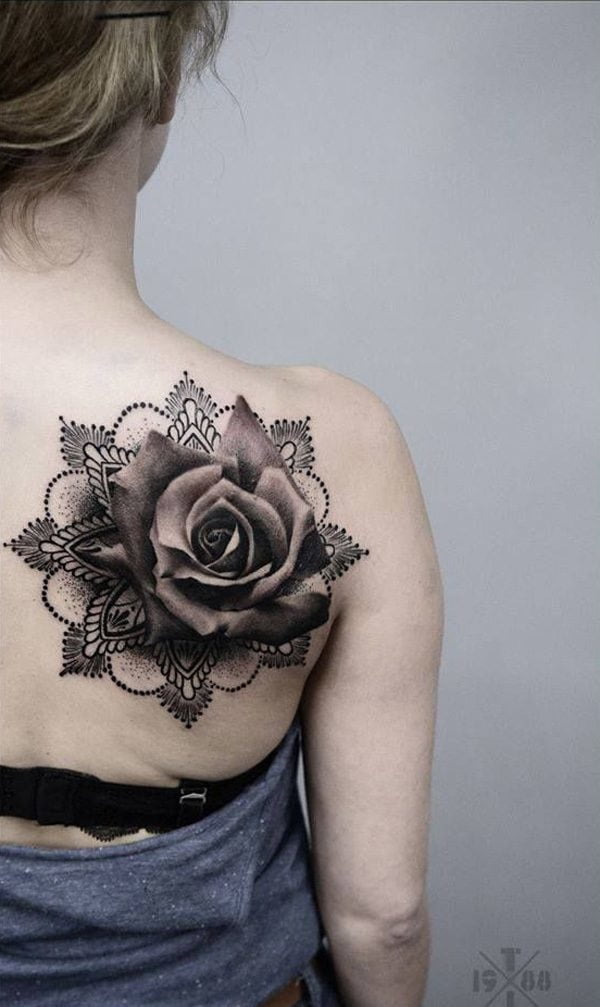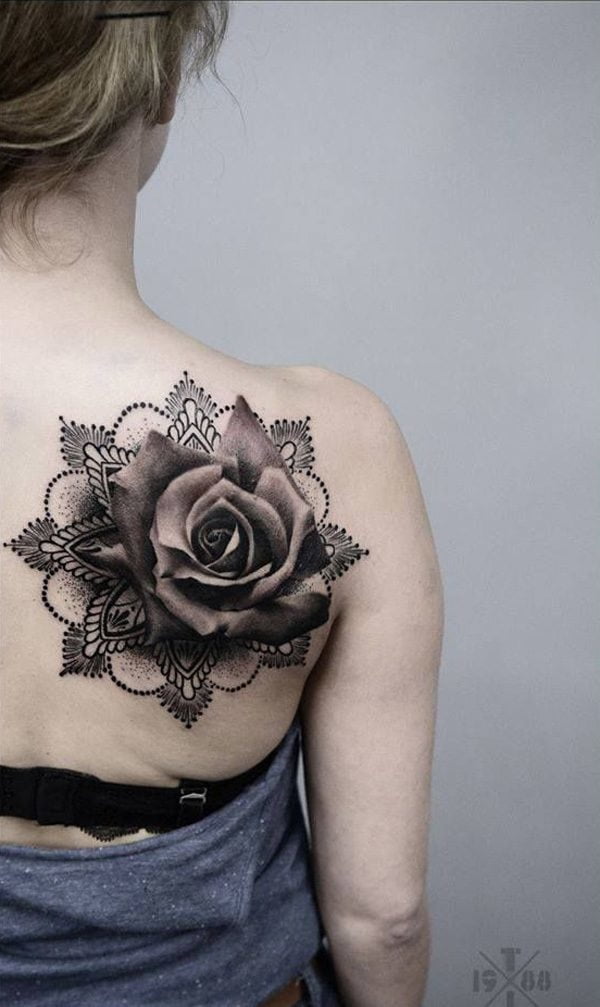 Colorful tattoos tend to look more vivid and realistic. So it is incredible how a rose tattoo created only out of grey shades can be so beautiful. The asymmetrical detailed frame only enhances its glamour so the artist couldn't have picked better the addition.
16. Dew Drops On My Rose Tattoos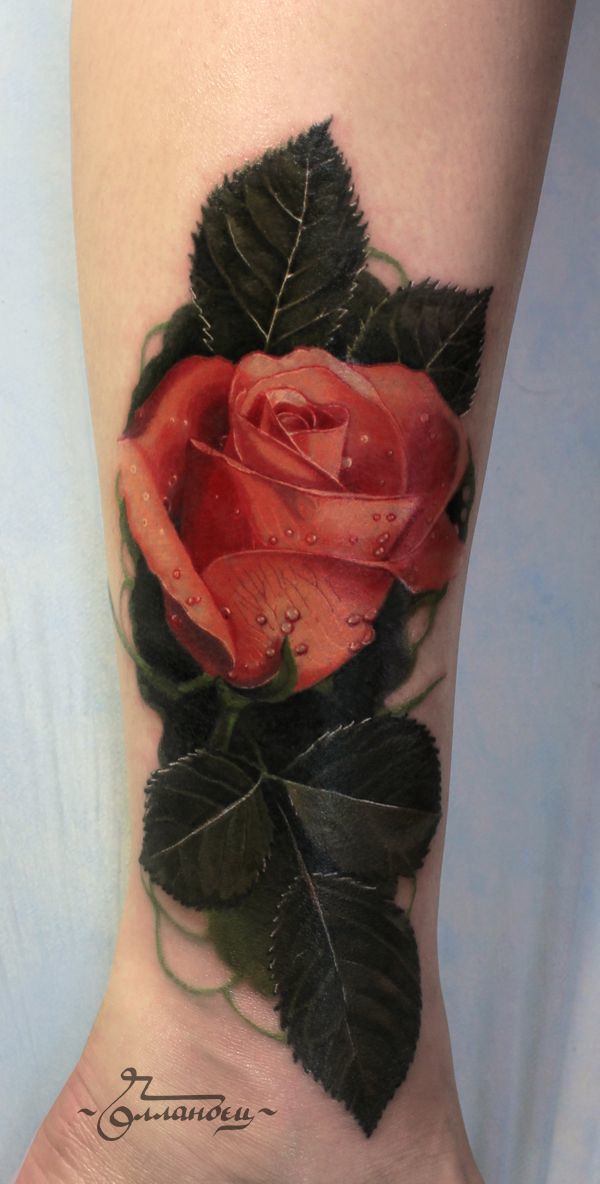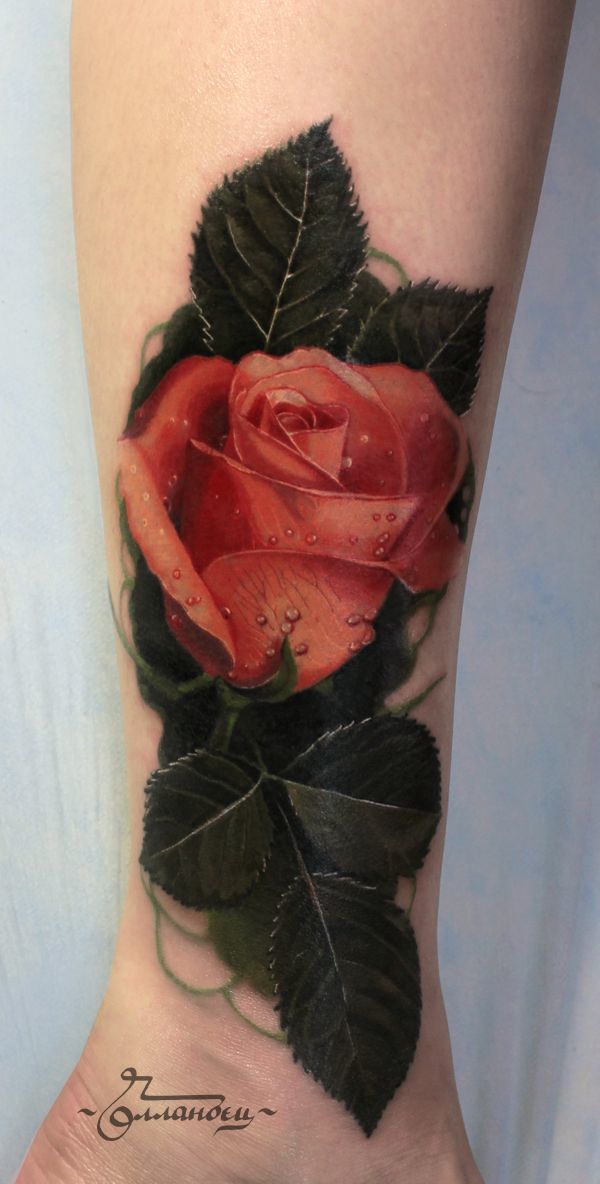 Here is a floral tattoos idea that makes you think of love, relaxing mornings and nature. The tiny dew drops that were gently added to this stunning rose improve its appeal so much as if they were real drops on your skin. This design is a keeper.
17. A Rose Tattoo Across My Back Flower Tattoos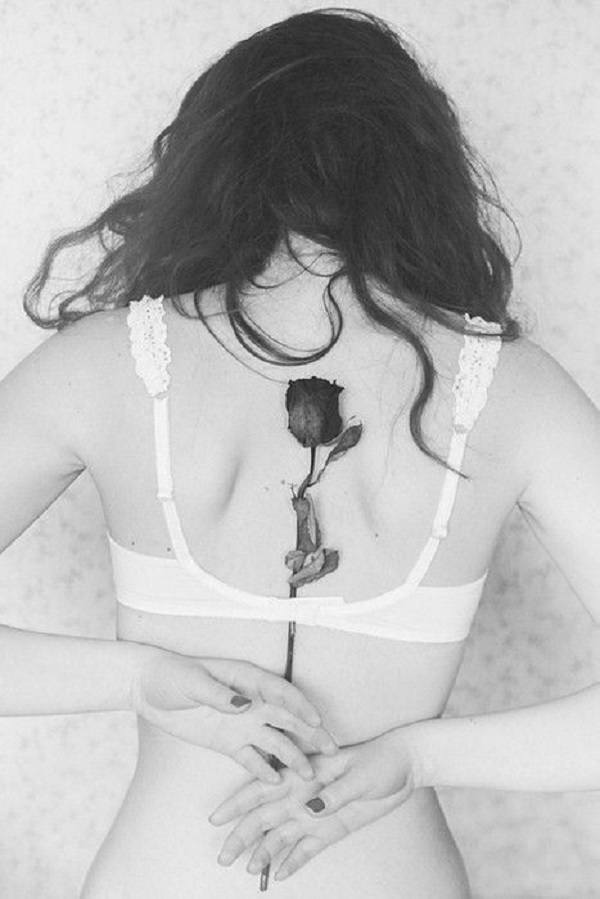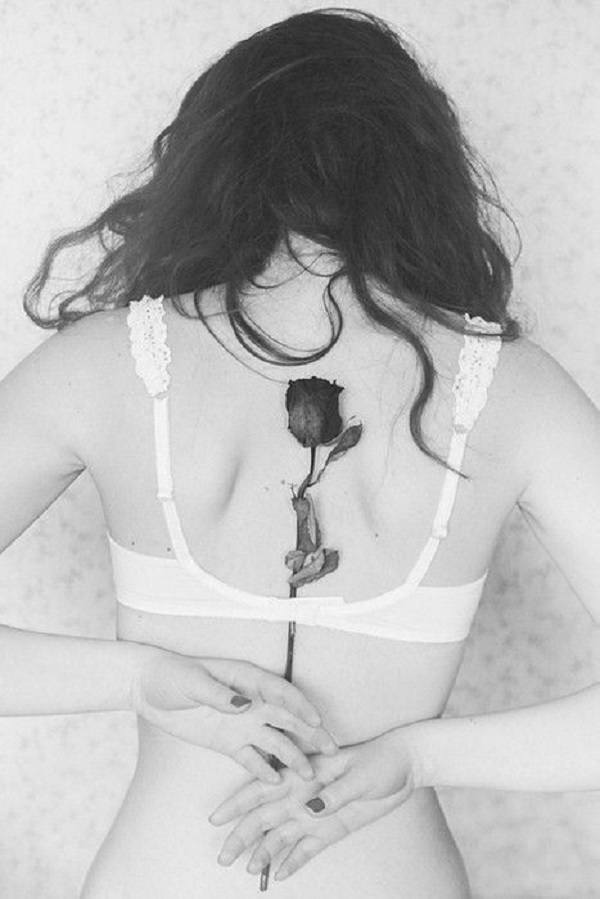 When women pick a flower tattoo design, they would usually rather go for a larger one than for a longer design. But this girl chose to have a rose across nearly her whole spine. The lack of thorns makes it a delicate flower like any other.
18. Big Yellow Rose Tattoo Flower Tattoos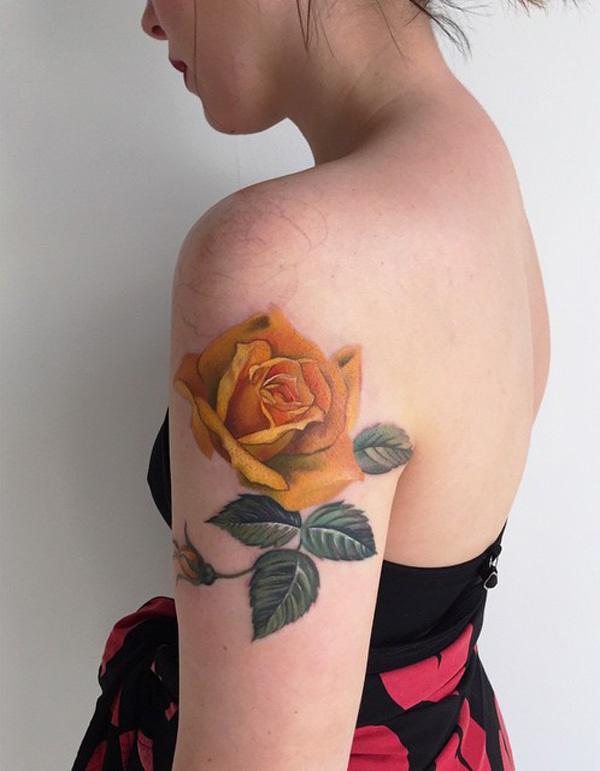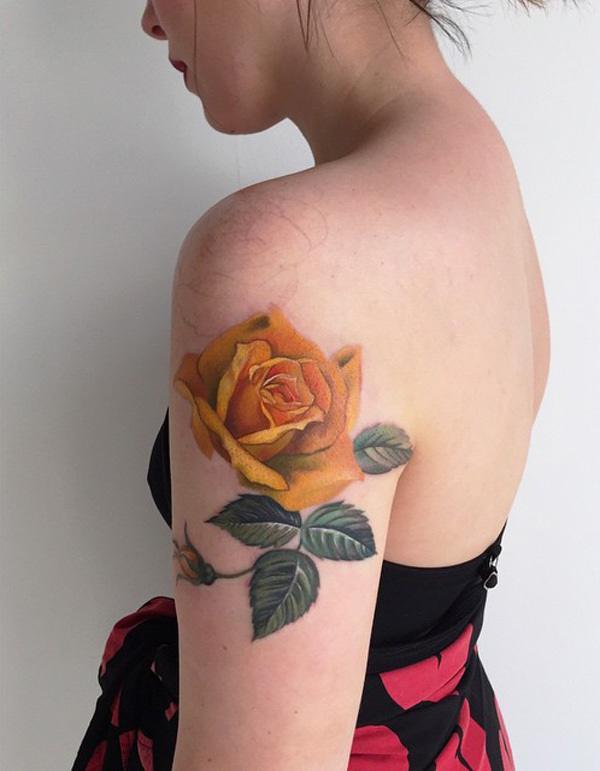 This floral tattoos idea symbolizes the endless cycle of life. One rose is in full bloom, while the other is just a bud. The leaves are green, so they will sustain the new rose when it will be ready to blossom. Apart from that, it looks gorgeous on the arm.
19. The Roses and The Cup Flower Tattoos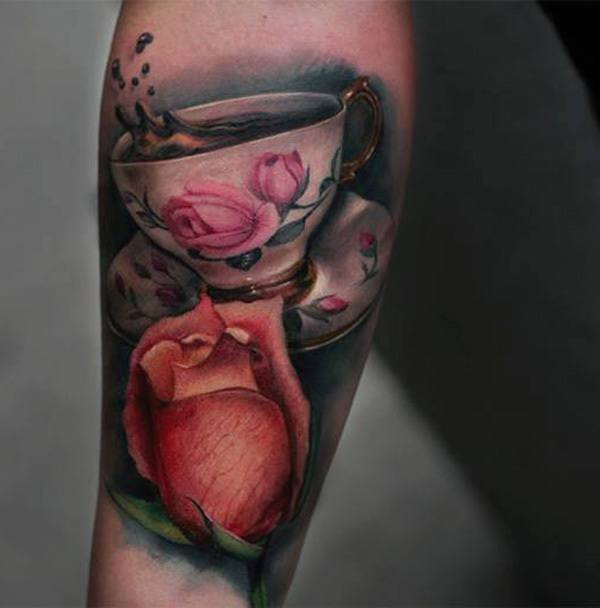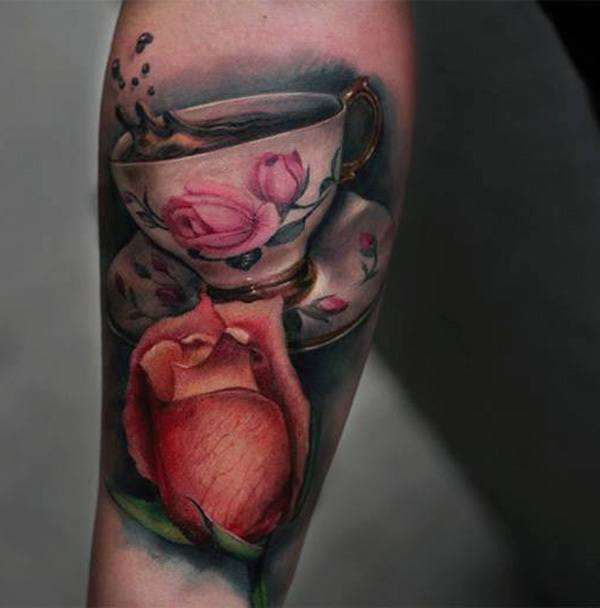 Such an artistic type of body art takes you to an elegant English house owned by noblemen, where tea is served in exquisite cups and fresh roses fill the room. It is a good option for women who prefer vintage or retro fashion.
20. Four Black Roses and A Skull Flower Tattoos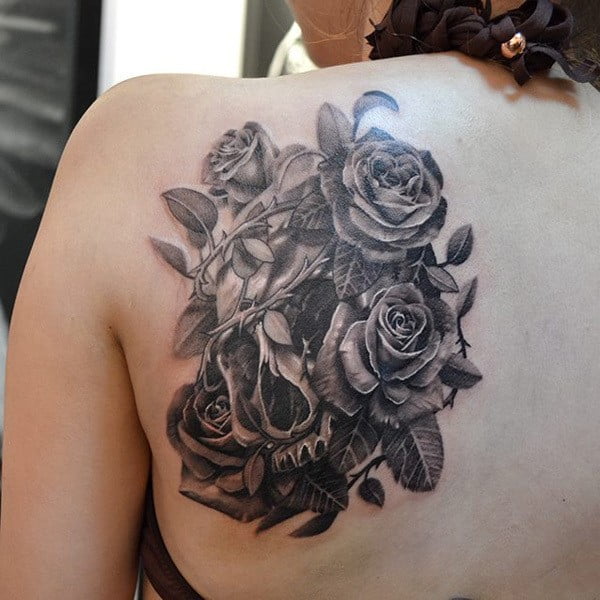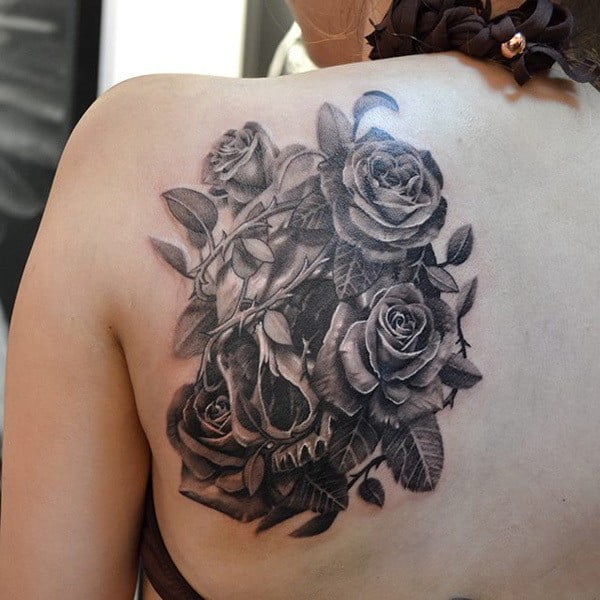 This is one of the flower tattoo ideas for women with attitude. It suits a woman who isn't afraid to speak her mind and doesn't shy away from a challenge. She is delicate, yet she can have a bad side that you don't want to mess with.
21. Monochrome Flower Trail Flower Tattoos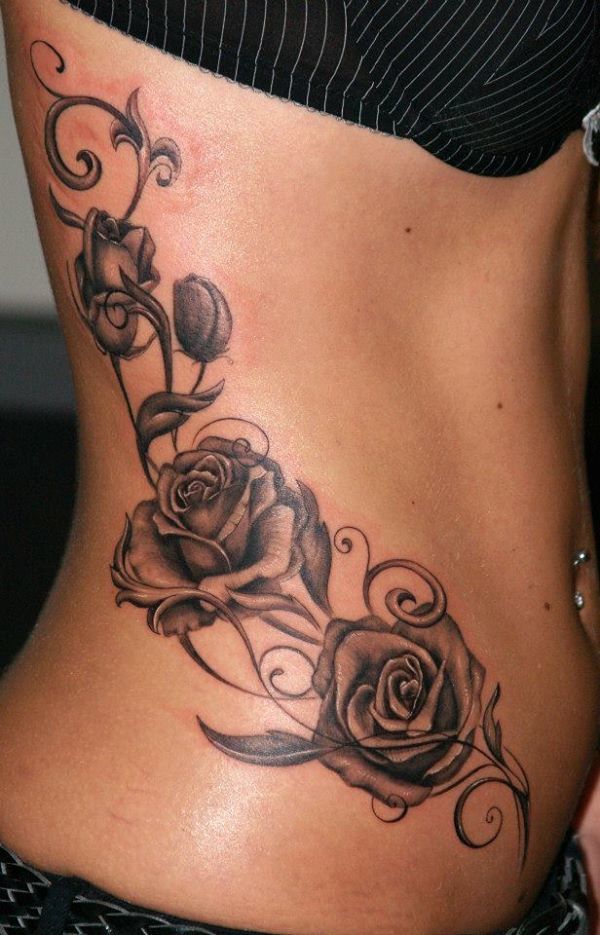 A flower tattoo can look equally as impressive in colour or black and white ink, as this design shows. Adding in floral stem swirls to link multiple flowers makes this an elegant twist on the normal floral tattoo. It is also incredibly detailed given its large size.
22. Rose on Blue with Thorn Detail Flower Tattoos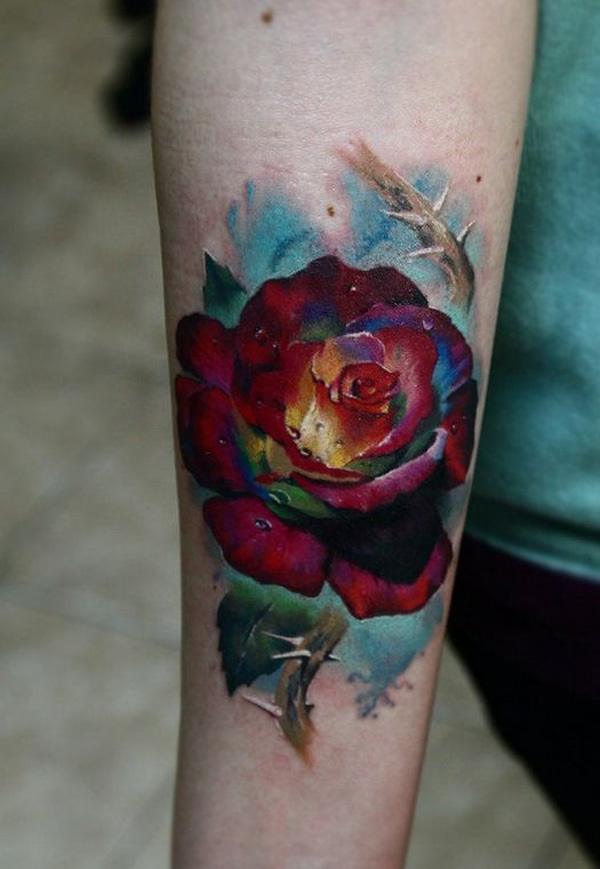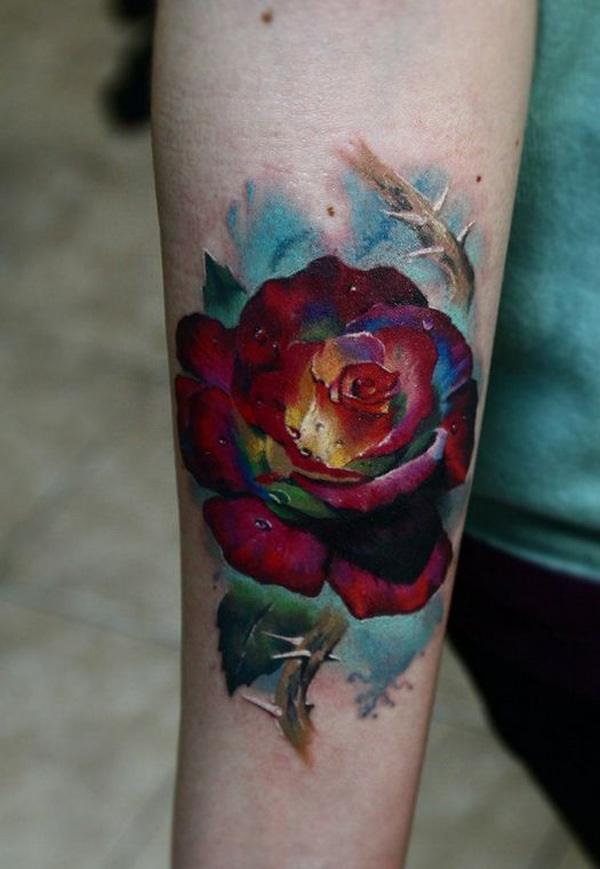 With so many rose floral tattoos around, it is important when you select yours to stand out from the crowd. In this example, opting for a distinctive blue background gives the perfect contrast to the red of the rose. The focus on the thorn detail also separates it from those tattoos that purely focus on the flower head.
23. 3D Effect Rose Flower Tattoos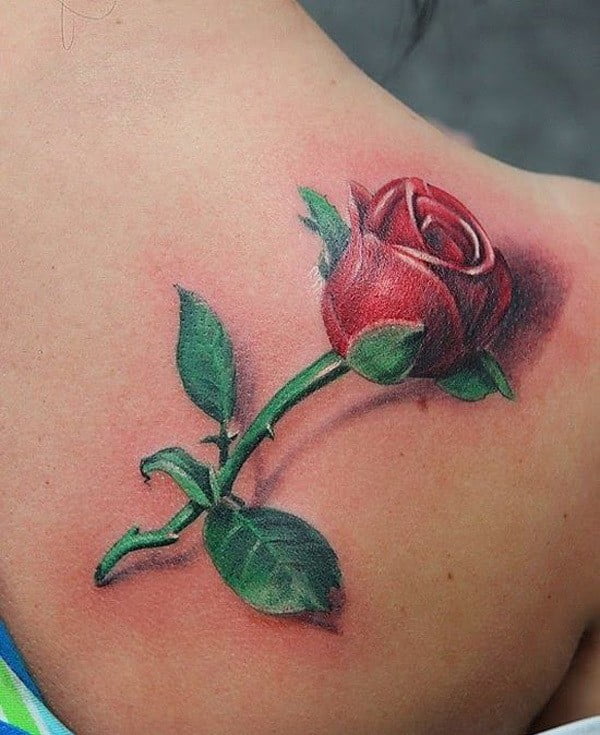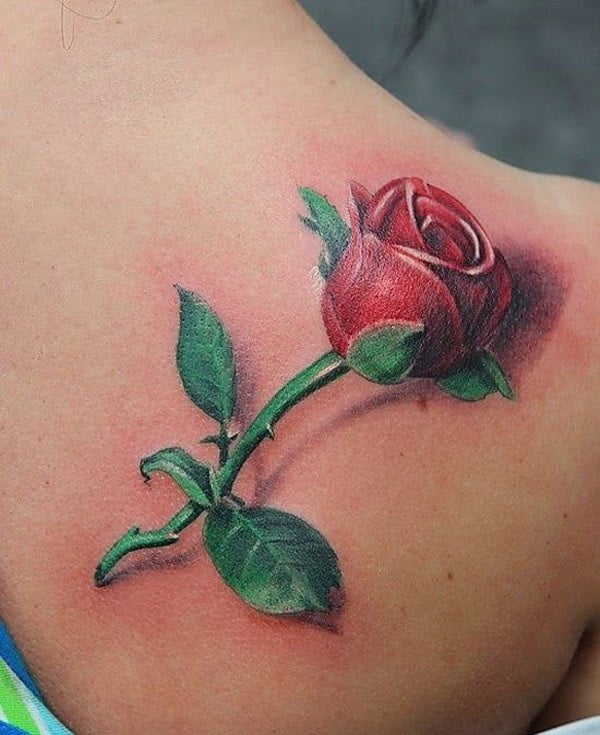 A great flower tattoo idea is to try and give the impression of a 3D flower on your skin. Careful shading, shadowing and light effects can be used to create this illusion as demonstrated in this tattoo. The focus on the stem as well as the flower head helps with this distinction.
24. Sentimental Flower Tattoo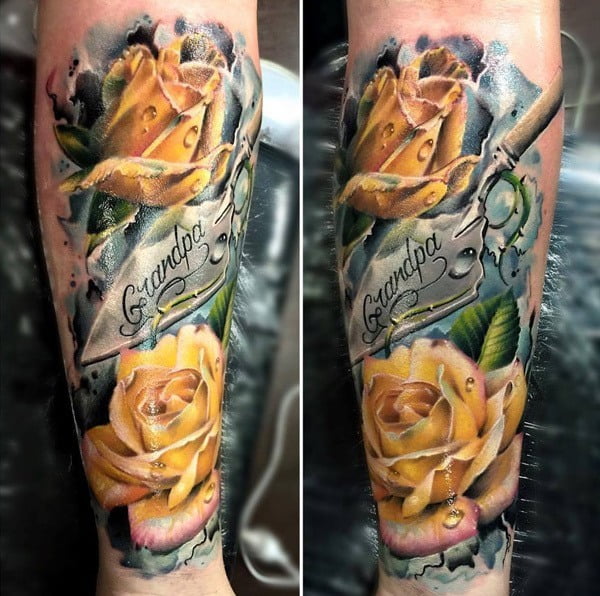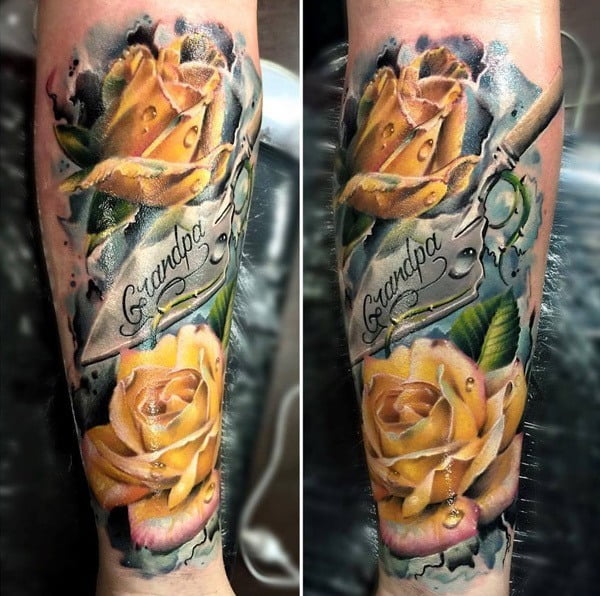 Some people get flowers as tattoo because they look pretty and impactful, but for other it's a much more personal reason. Commemorating a loved one, living or dead like this tattoo is a great example of this, and the use of a trowel in the middle further symbolises the loved ones' love for gardening.
25. Yellow Shoulder Rose Flower Tattoos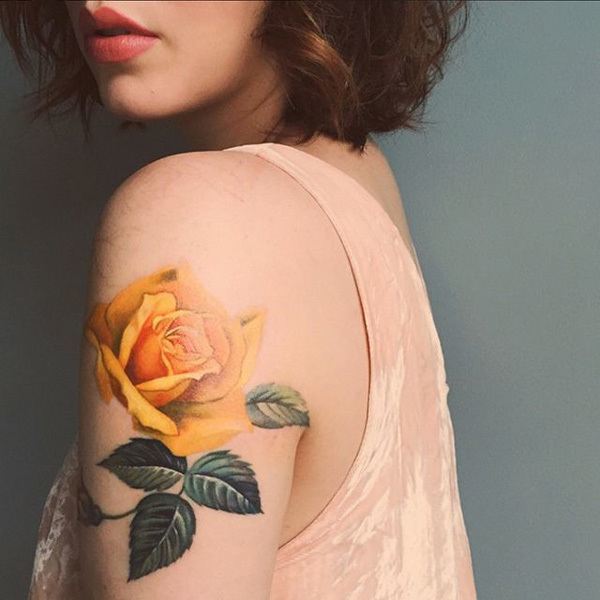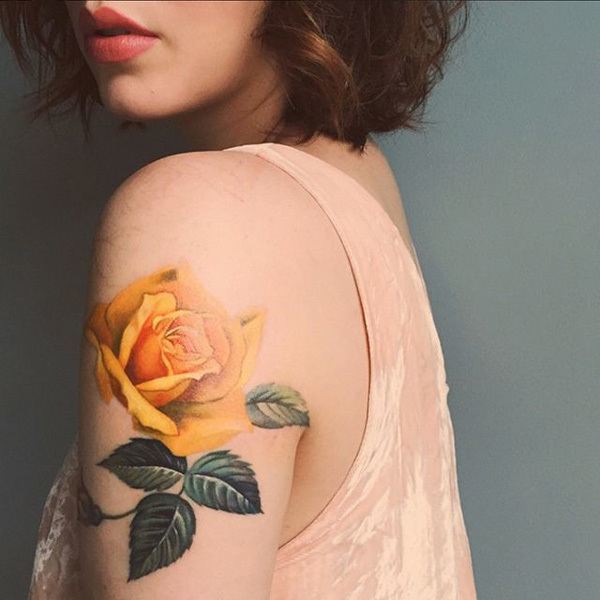 Roses aren't always red, and so if you're looking for a bit of originality, a great flower tattoo idea is to opt for a different colour like this yellow design. It's instantly eye-catching as it is unexpected, and can look equally as beautiful as its red counterpart. Try and go for a colour that works well with the green of the leaves like this example.
26. White Ink Shoulder Flower Tattoos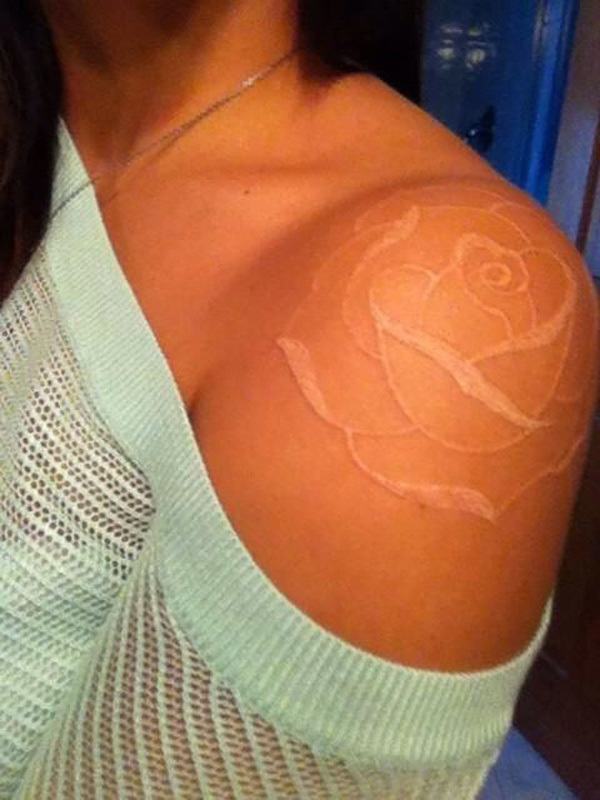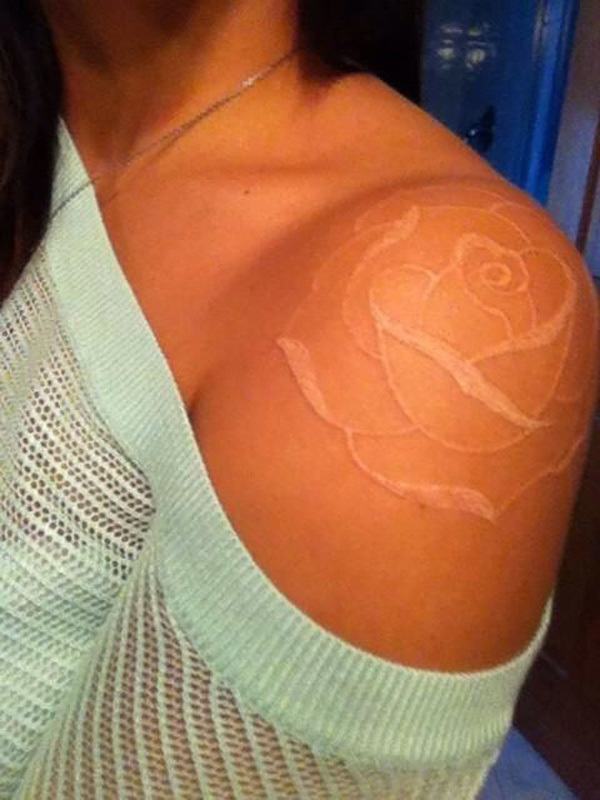 Most tattoos are based around black ink – if even just for outlines. White ink however if used correctly can form an excellent flower tattoo design as demonstrated by this example. It's a softer tattoo that emanates the softness of the flower it is detailing unlike bolder traditional tattoos.
27. Double Pink Rose Flower Tattoos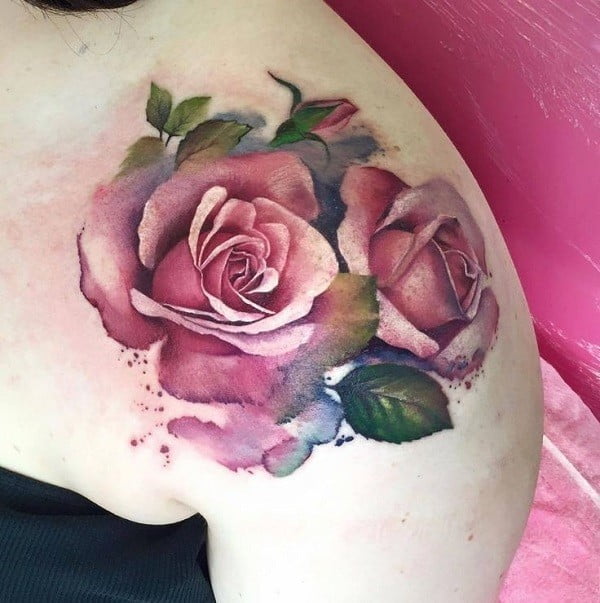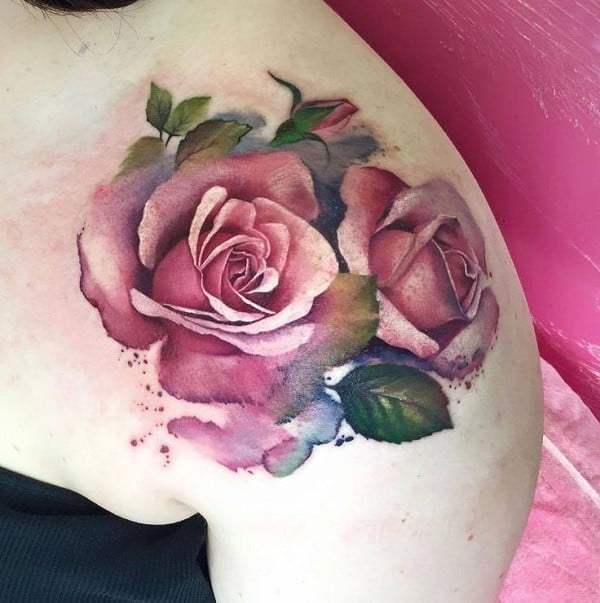 Pink is another great colour choice as it remains feminine and also contrasts well with the bold green leaves colour. The fine details around the smaller stamen of other flowers at the base of the tattoo also keep the eyes wandering across the whole of the design.
28. Rigid Rose Design Flower Tattoo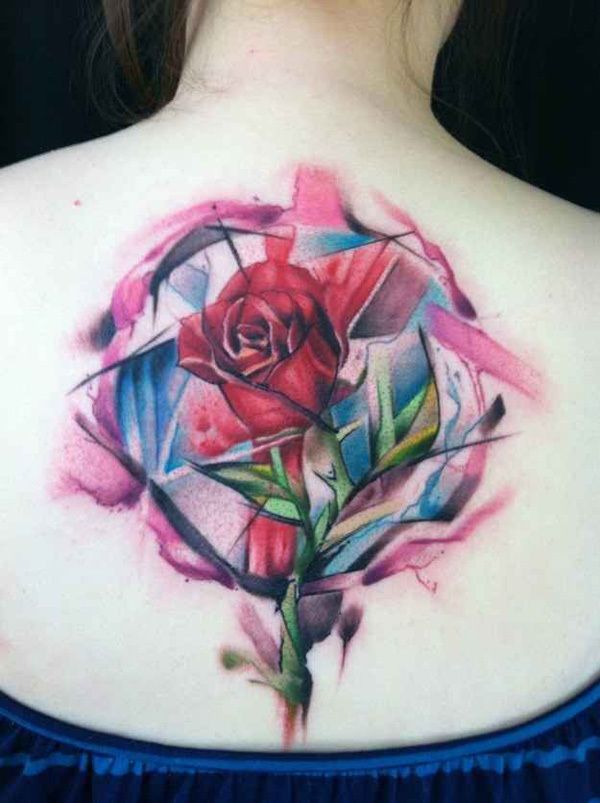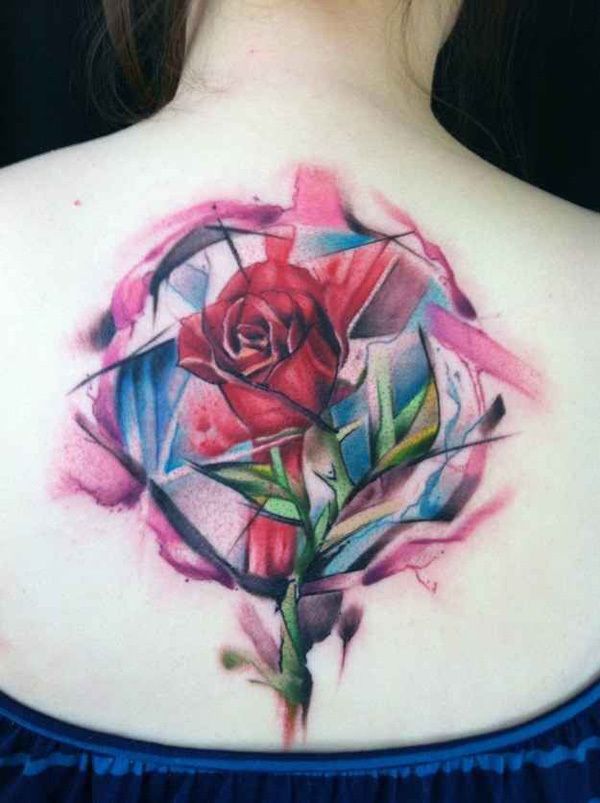 This tattoo looks very different from normal floral tattoos as its background is full of sharp lines that contrast the smooth lines of the flower. It emphasises the softness of the flower, and the decision to surround the design with the pink design perfectly complements and completes the picture.
29. Tempus Fugit Flower Tattoo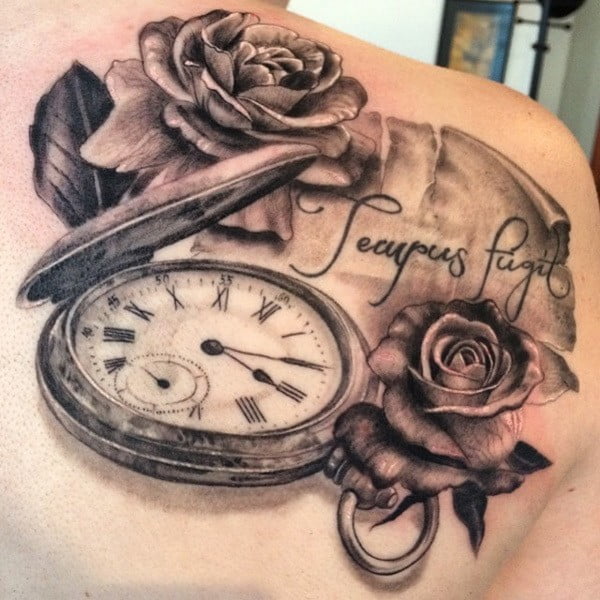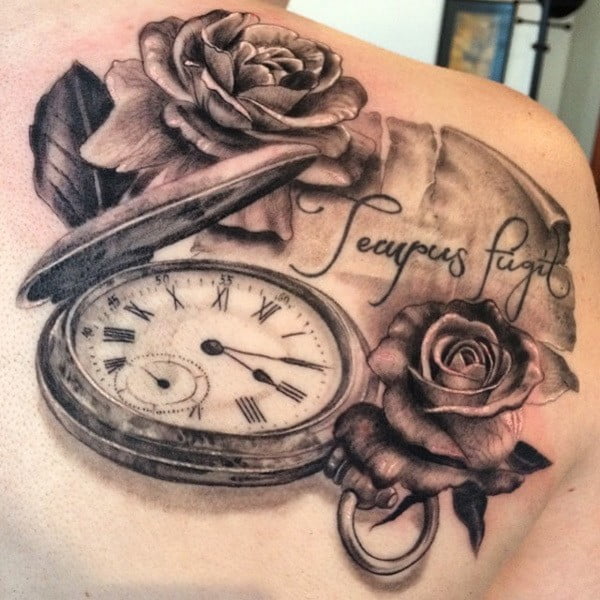 Tempus Fugit – literally translated from Latin means "Time Flies", and so it's unsurprising to see a timepiece within the flowers of this tattoo. It's an incredibly elegant tattoo packed full of meaning and purpose. It's also another great example of detailed black and white flowers.
30. Rose with Eye Flower Tattoos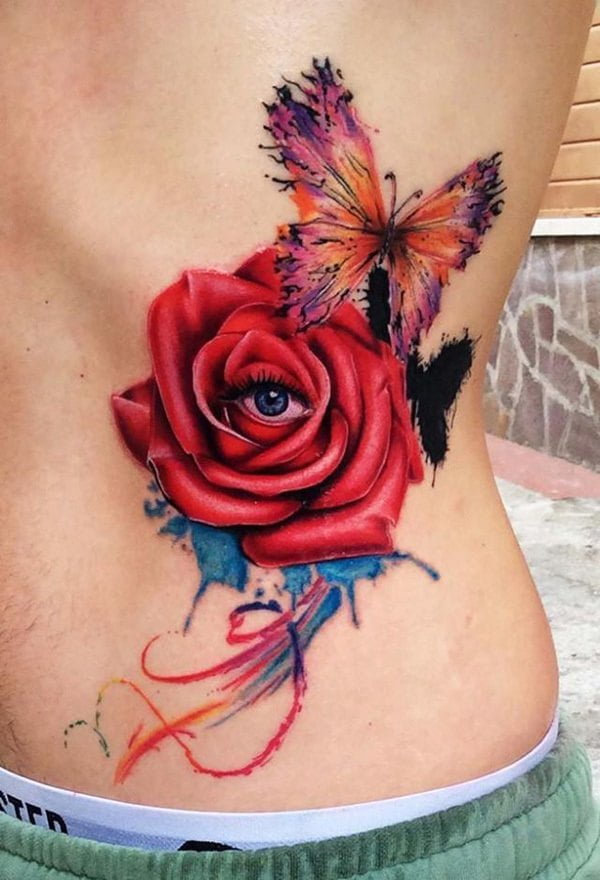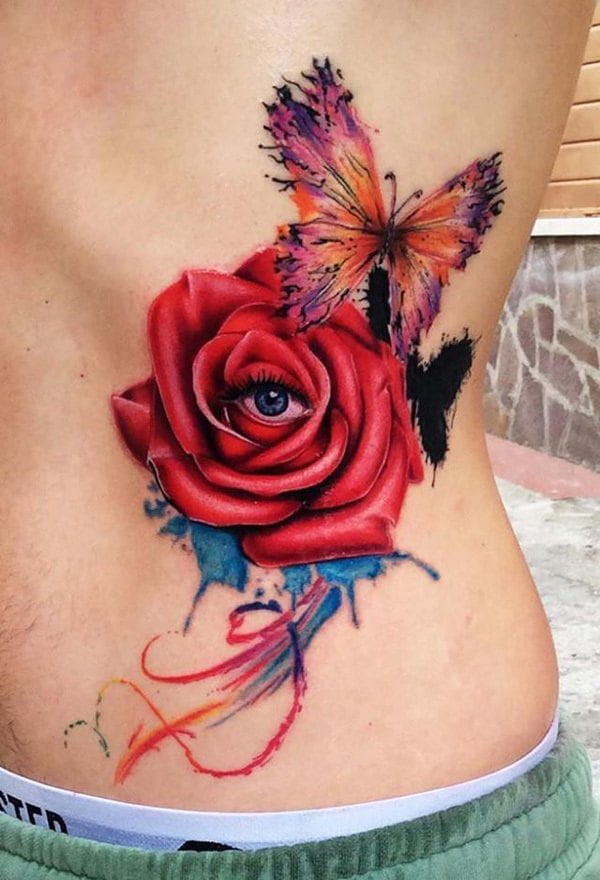 Adding additional elements to your tattoo is a sure-fire way of making it unique. The use of an eye in the centre of the flower draws the attention and the inclusion of a butterfly and its shadow makes the eye appreciate the entire design. The swirls at the bottom are also a nice finishing touch.
31. Rose, Butterflies & Swirls Flower Tattoos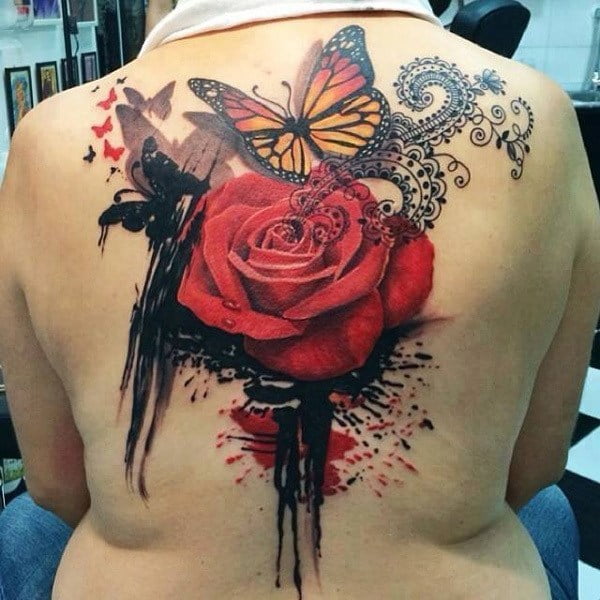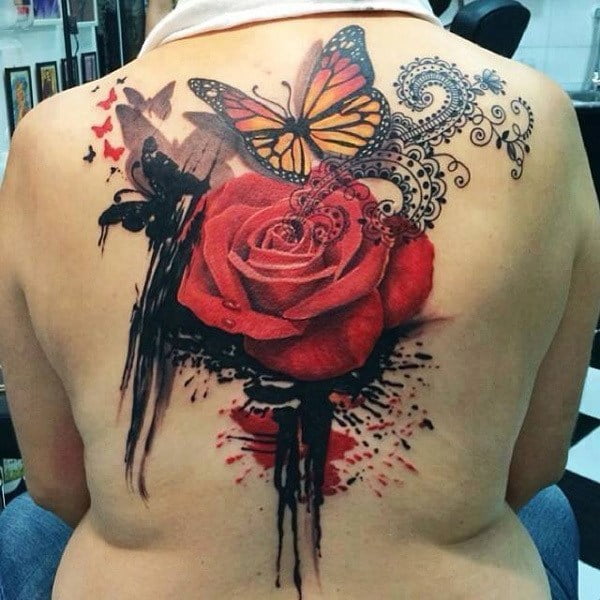 A large back tattoo needs a lot of content and detail and this flower tattoo is no exception. Combining a large central flower with paisley-type swirls to the left and lines underneath give the tattoo an unusual element. This is nicely finished off with the use of butterflies in the top left.
32. Flower with Water Detail Flower Tattoos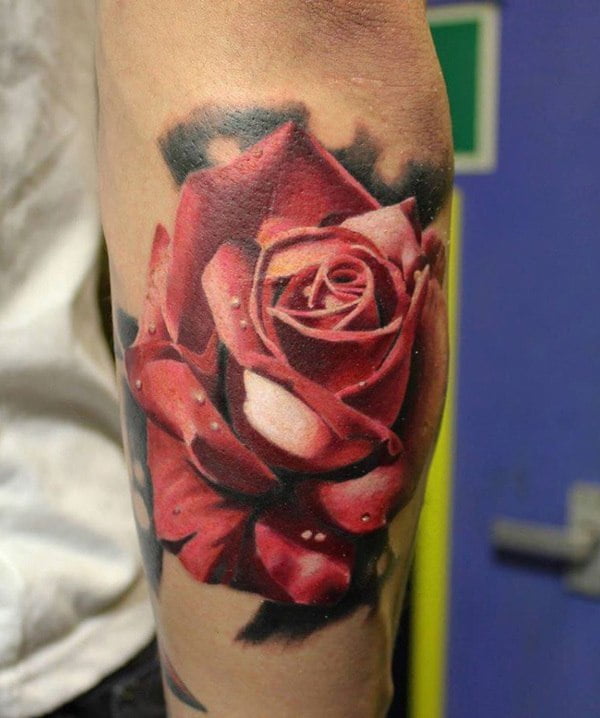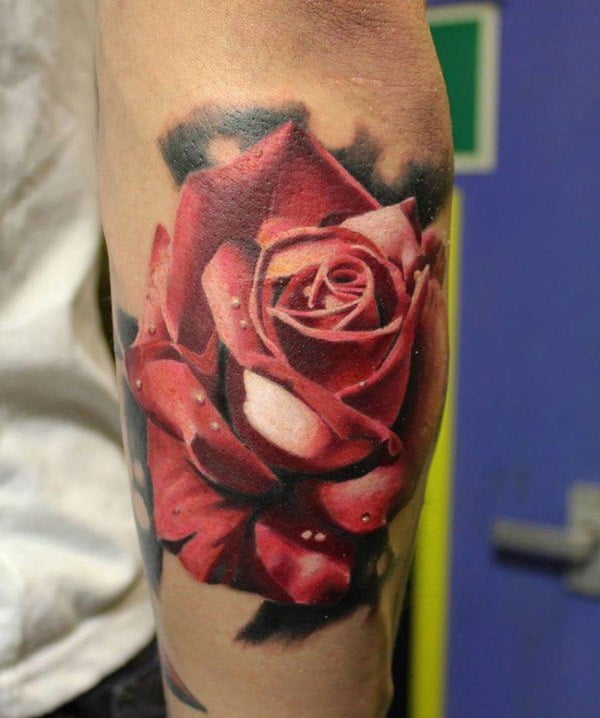 Another nice flower tattoo idea is to not only accurately depict the flower itself but also add additional detail to make your tattoo unique. What this design does is uses water droplets expertly drawn onto the flower to make you notice the tattoo and appreciate it more.
33. Red Rose, Black Leaves Flower Tattoos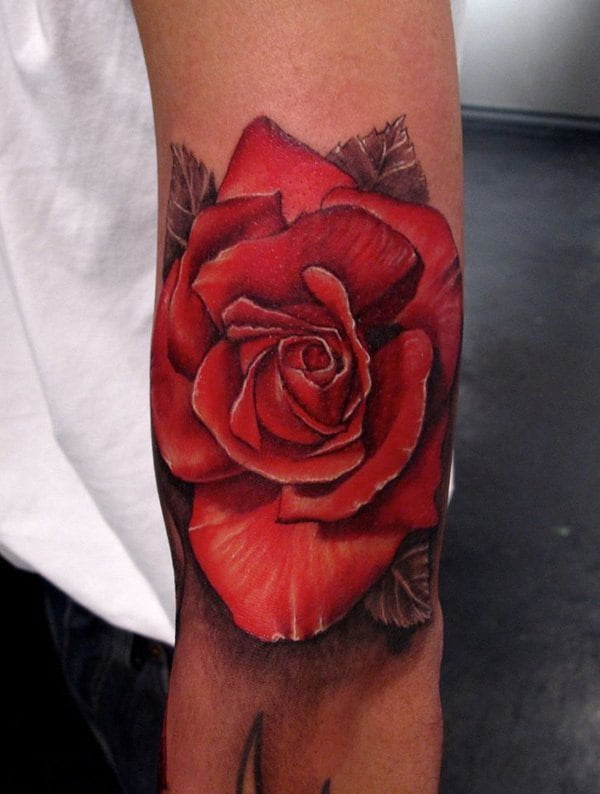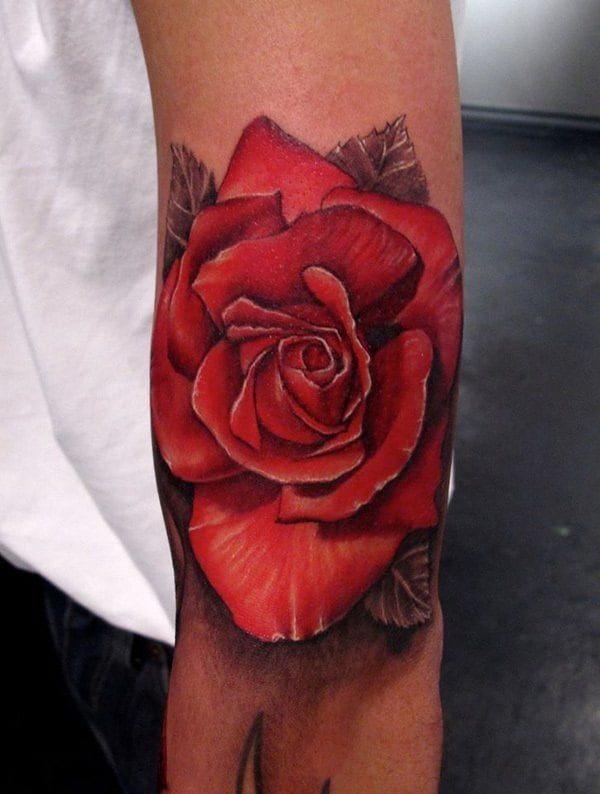 To make your tattoo have the most impact you could opt for a flower tattoo design similar to this. The rose as expected is coloured red, but then the surrounding foliage is kept monochrome. What this achieves is pure focus on the flower head itself, drawing maximum attention.
34. Yellow Rose on Blue Flower Tattoos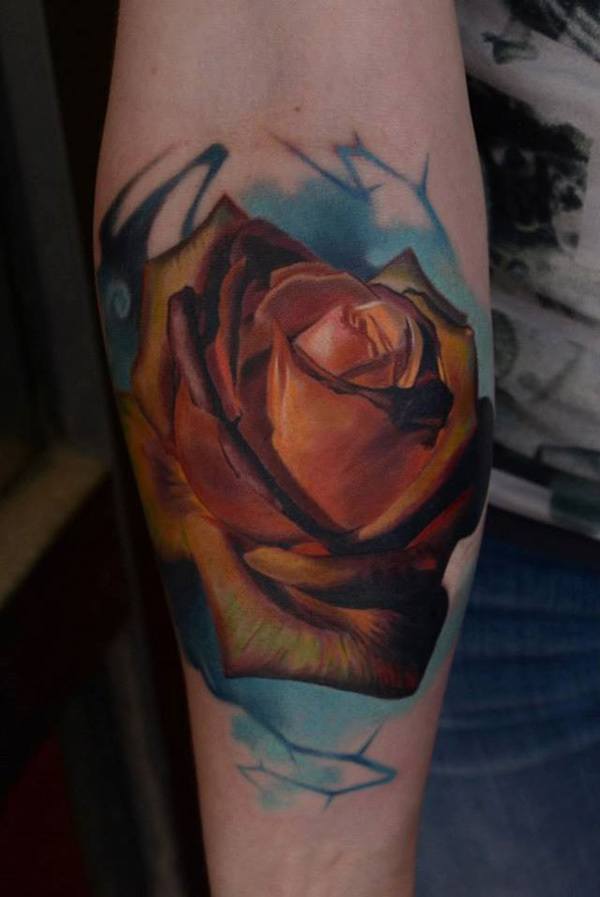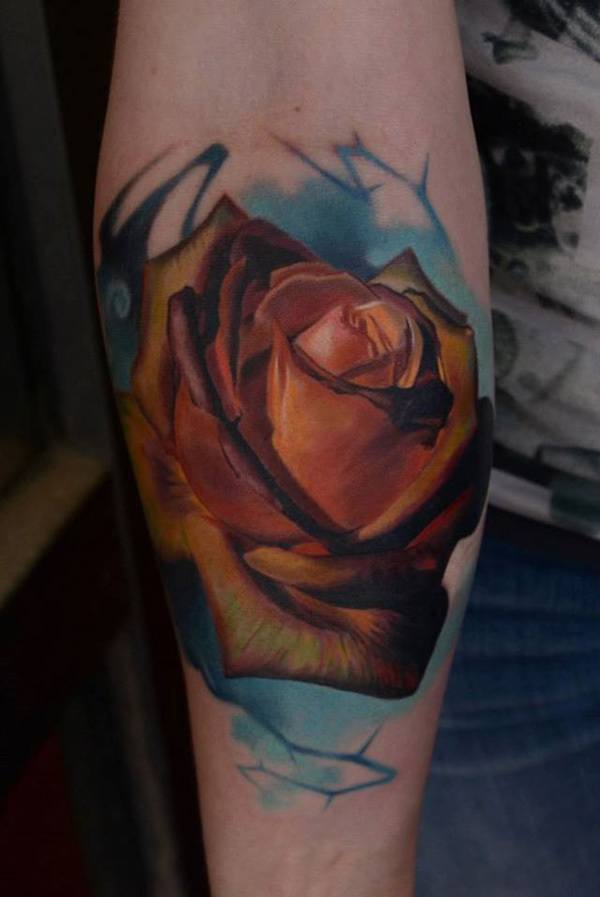 Another rose design opting for a blue background for contrast. However the style adopted in this one is a yellower flower, with darker contrast, making for a subtler result. It means the tattoo is less likely to jump out at you, but the detail on here still leaves an exceptional outcome.
35. Flower with Metal Flower Tattoos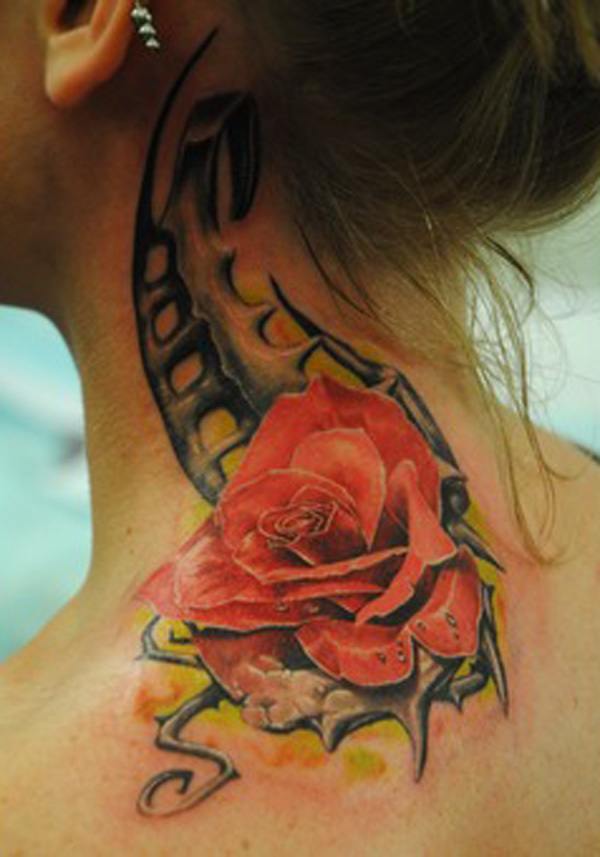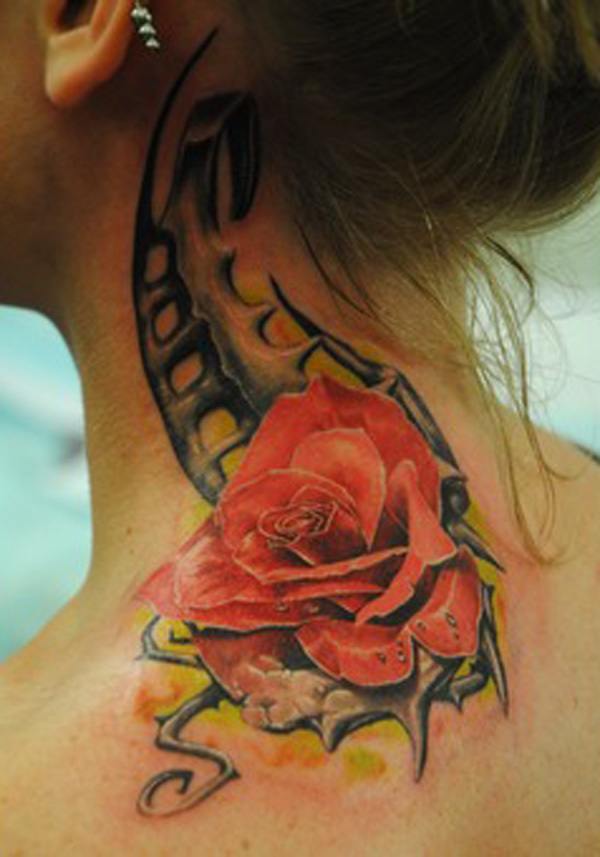 Most of the time flowers are used to describe softness or vulnerability. So when placed within a design that incorporates something at the opposite end of the scale to this – like metal – it creates a powerful image. And the monochrome palette of the metal makes the colour in the flower greater.
36. Key & Flower Flower Tattoos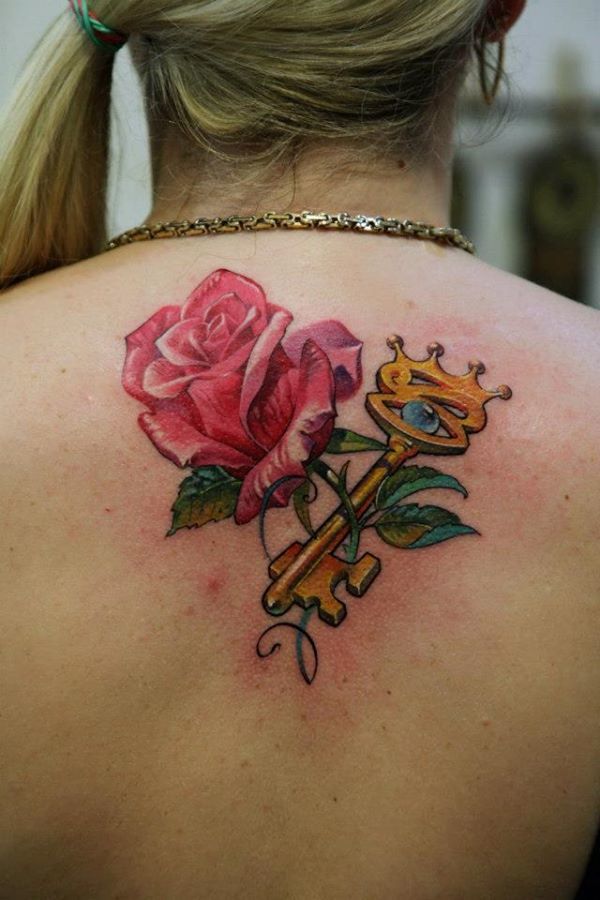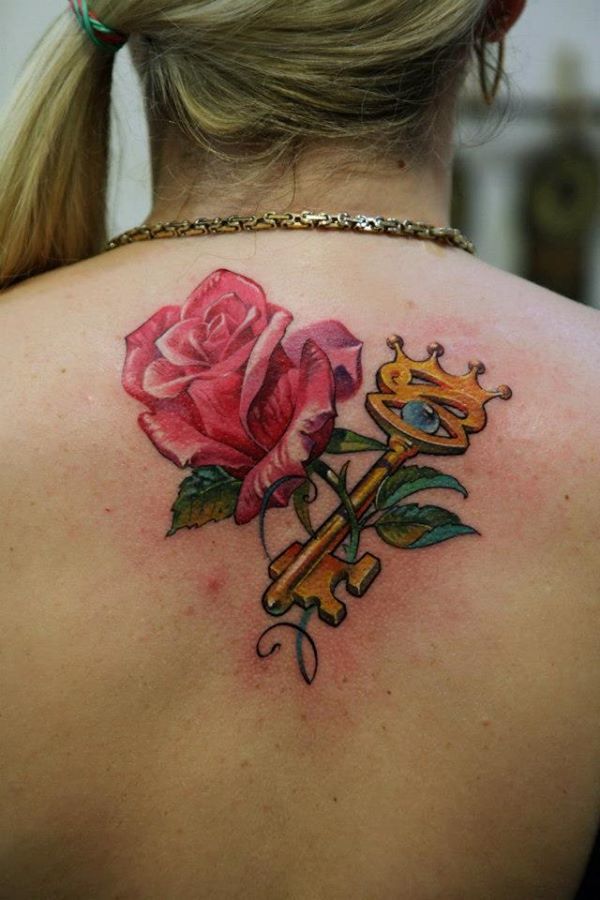 Flowers are great symbols of femininity, delicacy and grace. As such they work well with other objects that also symbolise things. As in this tattoo and a key, symbolising the future, security or the future works great. Entwining them like this tattoo has done is a great way of combining two symbols.
37. Timepiece & Two Roses Flower Tattoo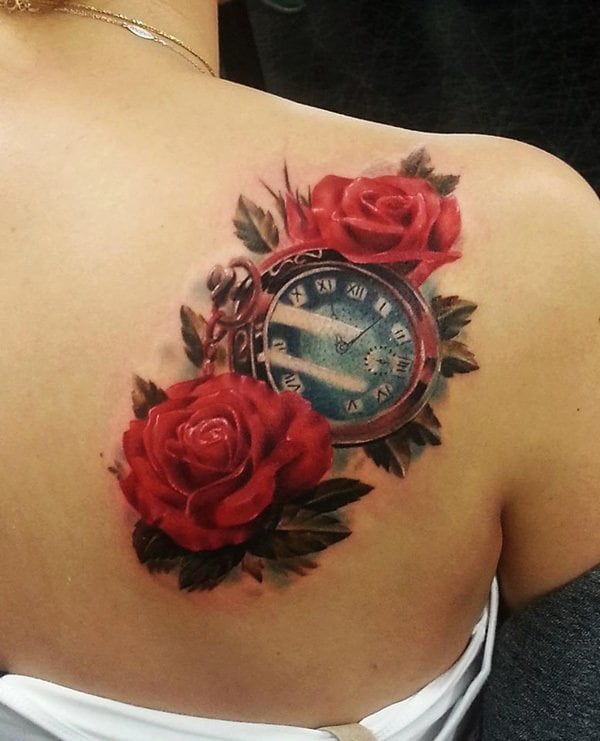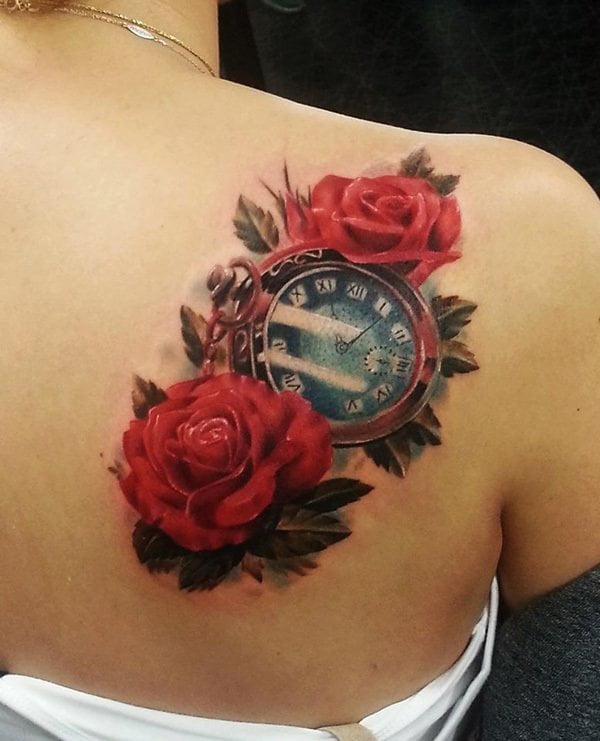 Flowers often serve as a symbol of remembrance, and so linking them with a timepiece can make for an elegant complete image. In this tattoo, with the two flowers either side of a central timepiece that is of a darker colour, the contrast slight symmetry is pleasing to the eye.
38. Rose with Leaves In & Out of Focus Flower Tattoos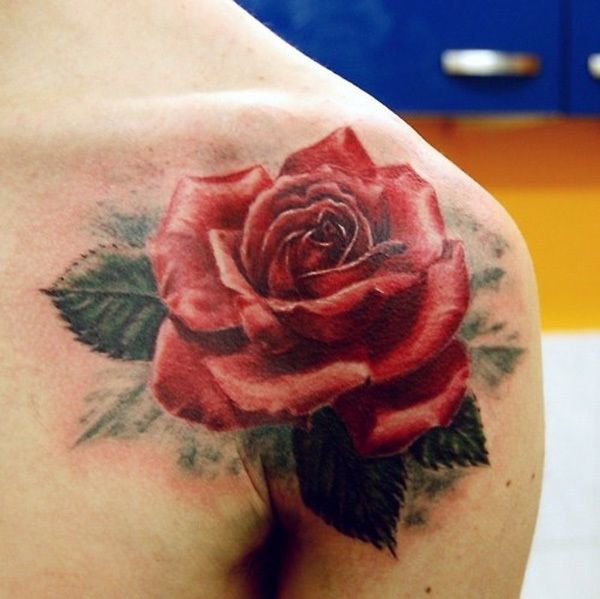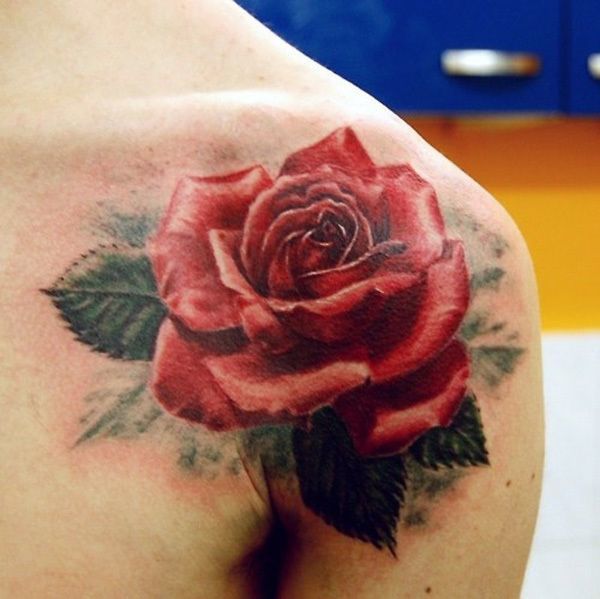 A method used in this tattoo is to replicate how the eye works by focussing on exactly what it needs to and blurring the surrounding area. Hence why some of the leaves remain blurry. It's a tricky effect to get right but if done well – like this – creates a very realistic-looking effect.
39. Bright Pink Shaded Flowers Flower Tattoo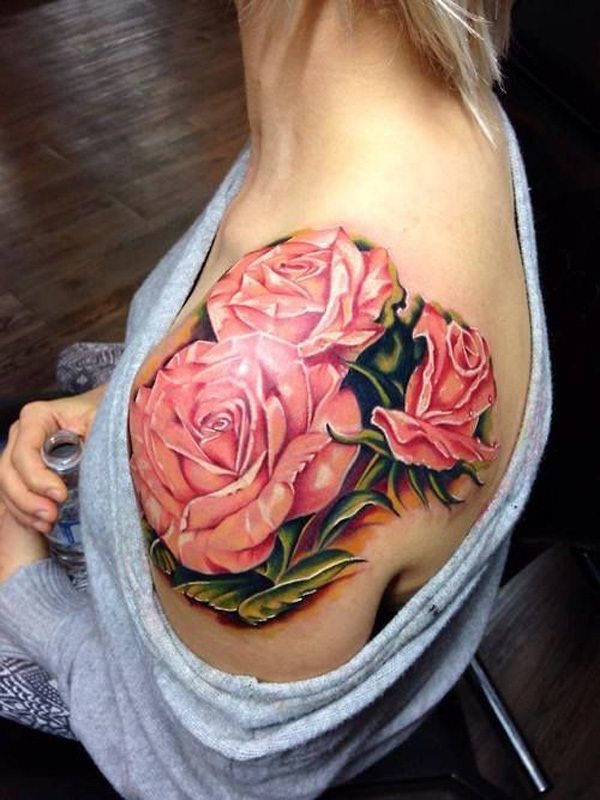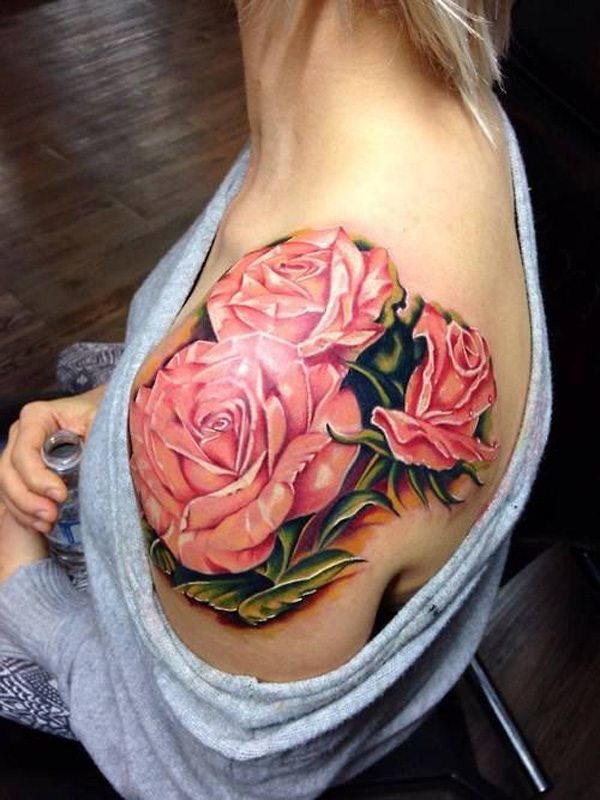 A lot of floral tattoos that are trying to replicate the detail of petals do so with accurate shading. Another method is to use distinctive light and dark colours to over-emphasise these changes in light. What results is almost a cartoon-like effect, but when combined with the detail as shown here, the result is mesmerising.
40. Black & White Lily Flower Tattoo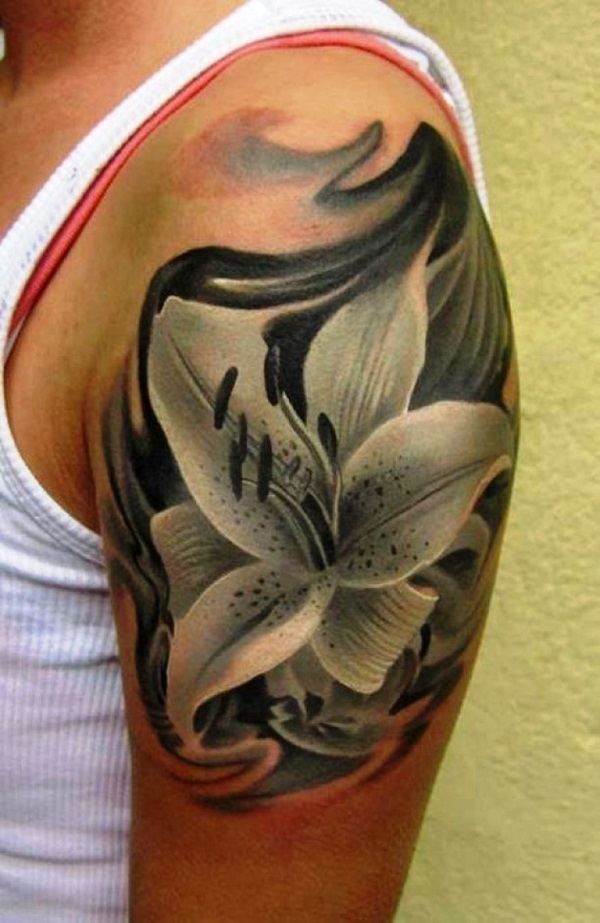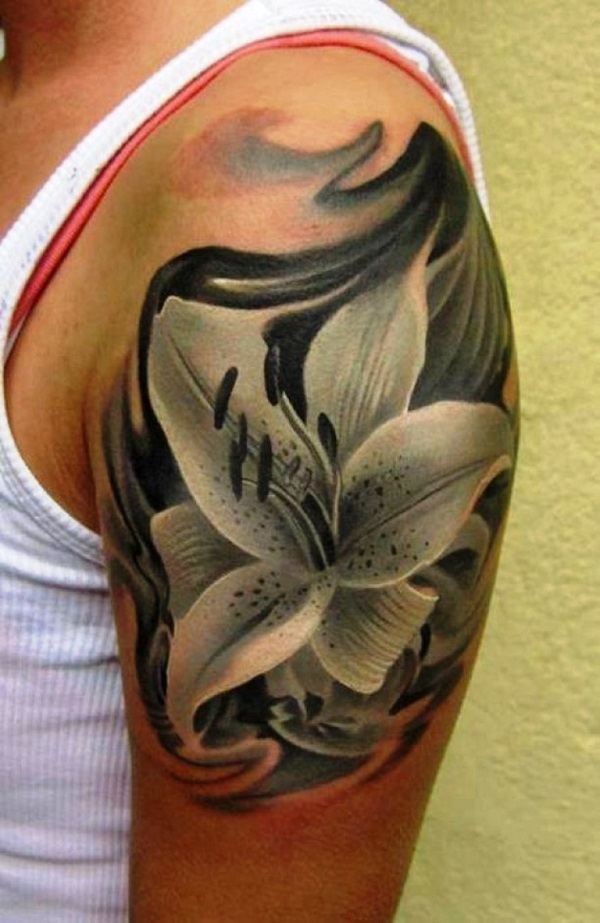 It doesn't always have to be roses or similar style of flower. There are many to choose from, and here is a great example of how to display the delicacy of lilies, right from their petals to their stamen and pollen – all characteristic features – without the need for colour.
41. Frail Flower Flower Tattoo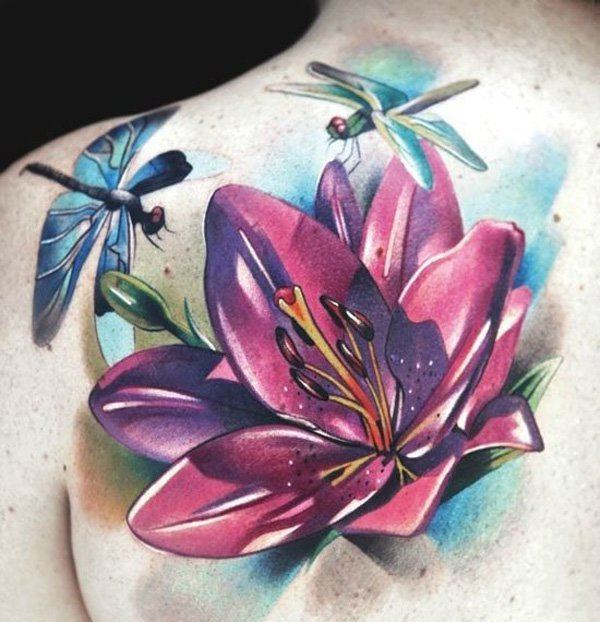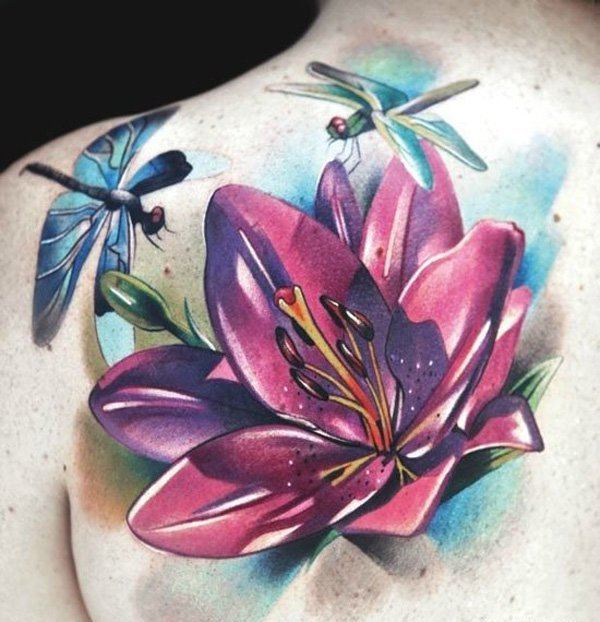 This tattoo might seem to be just a way to beautify your body. But it can have a deep meaning for the owner. It is one that intrigues you and that can be liked regardless whether you particularly like the lily or not.
42. Just One Lily Flower Tattoo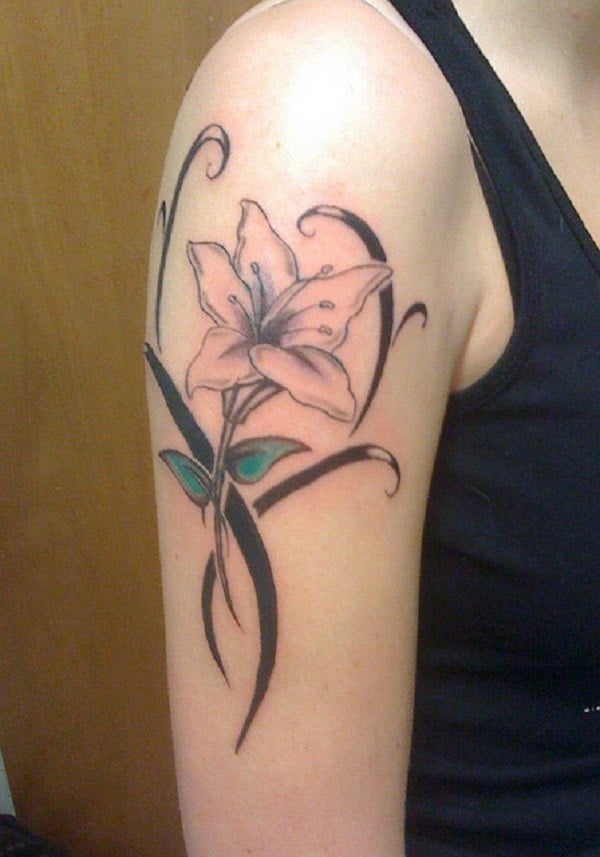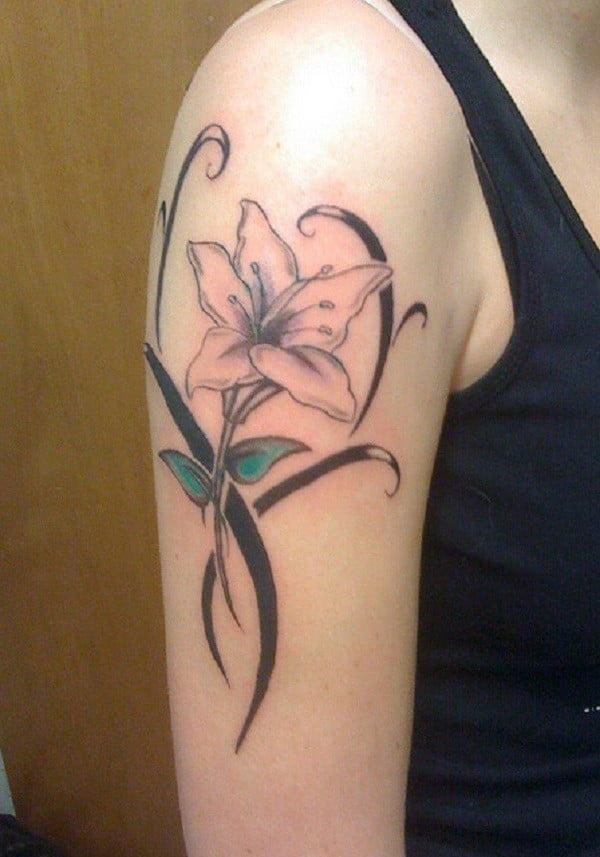 If you want to get a rather big tattoo, it is not necessary to pick a fancy design. You can always go for something that suits your personality and preferences without involving lots of elements. This lily is the best example for this method.
43. Half Sleeve Flowers and Wind Flower Tattoo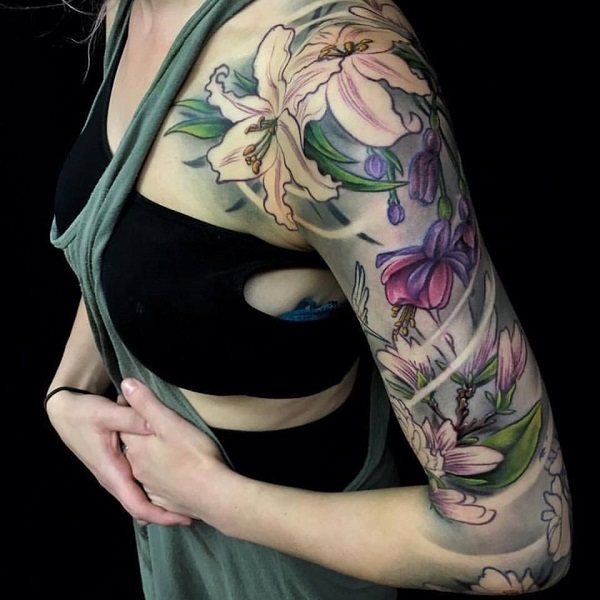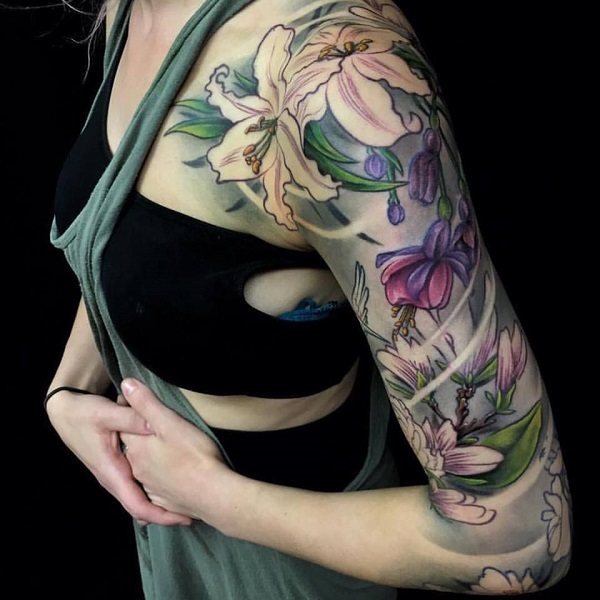 Not every woman dares to get herself a half sleeve tattoo, but the ones who do can opt to remain very feminine. The various kinds of flowers used for such flower tattoo ideas stick to rather pale colors so the sleeve doesn't stand out excessively much.
44. My Broken Fairytale Flower Tattoo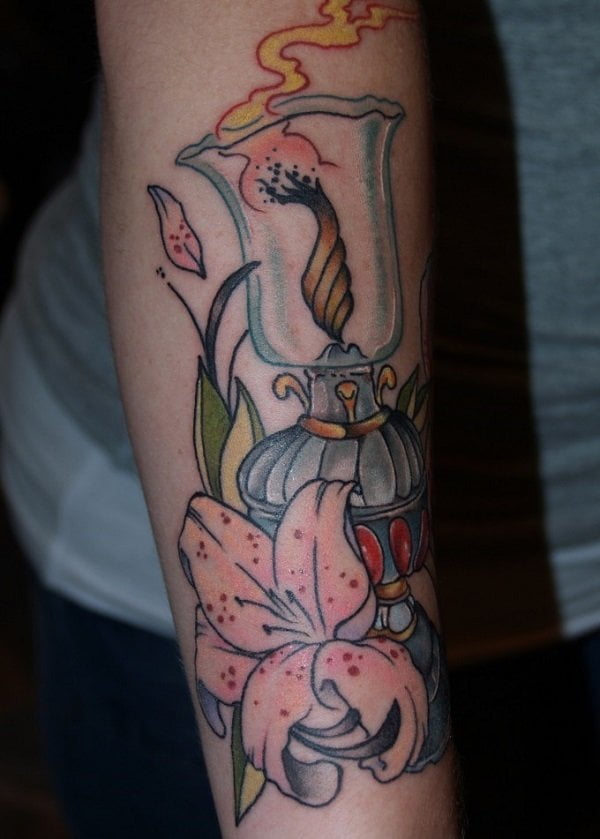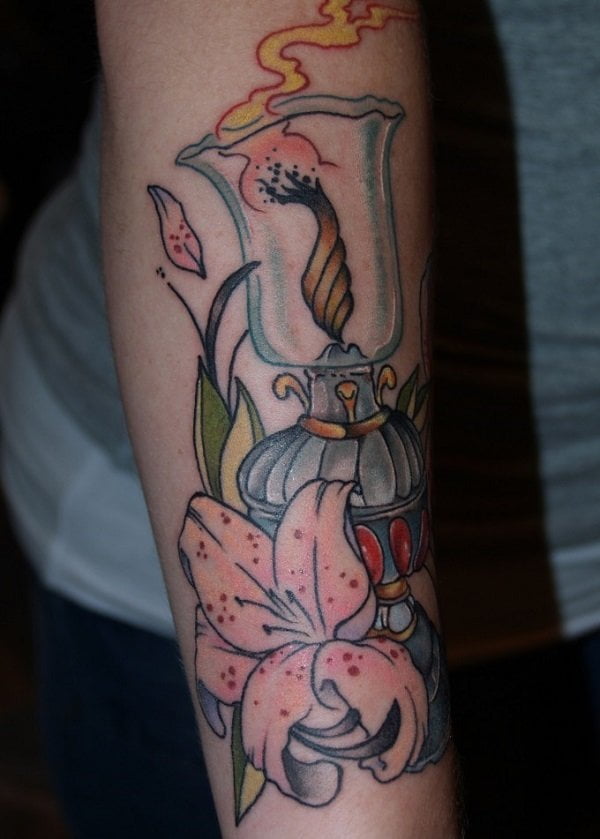 Everything about this tattoo makes you think about a story of old times and weird events. Though it is not revolutionary, nor dark, it has that special something that impresses you right from the beginning. The withering lily gives it a gloomy appearance.
45. My Painted Arm Flower Tattoo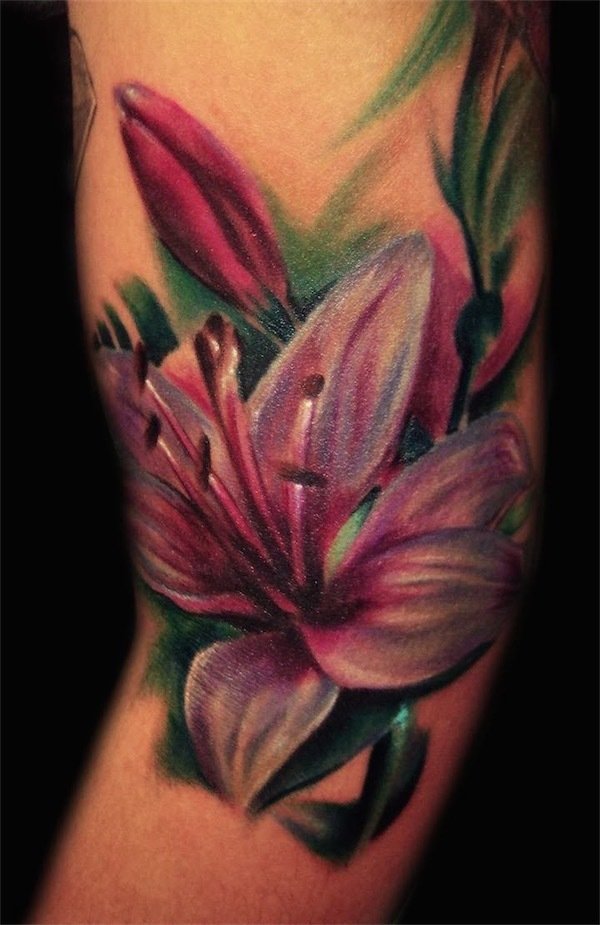 If a talented painter would have worked his magic to illustrate a lily, this would have been the result. It is a floral tattoos idea that has a touch of classic fashion. This arm tattoo is excellent for women who prefer vintage fashion.
46. Touch of Art Flower Tattoo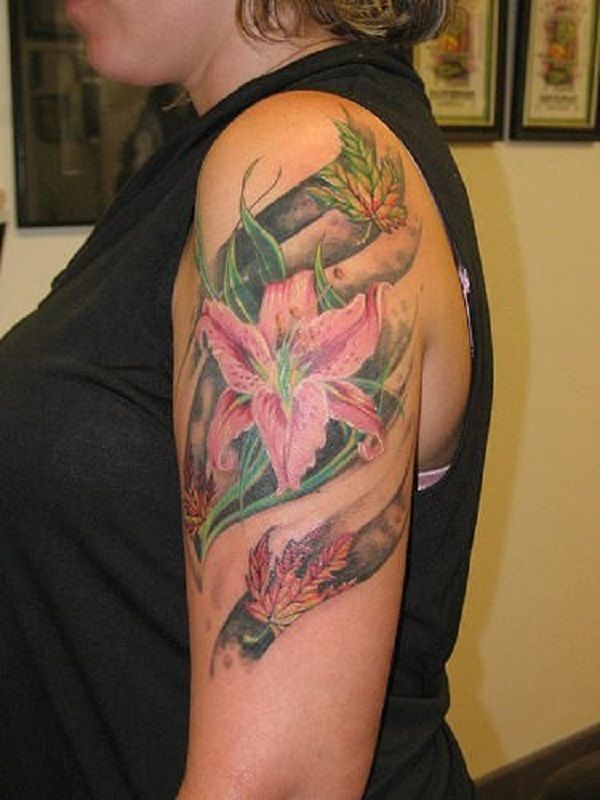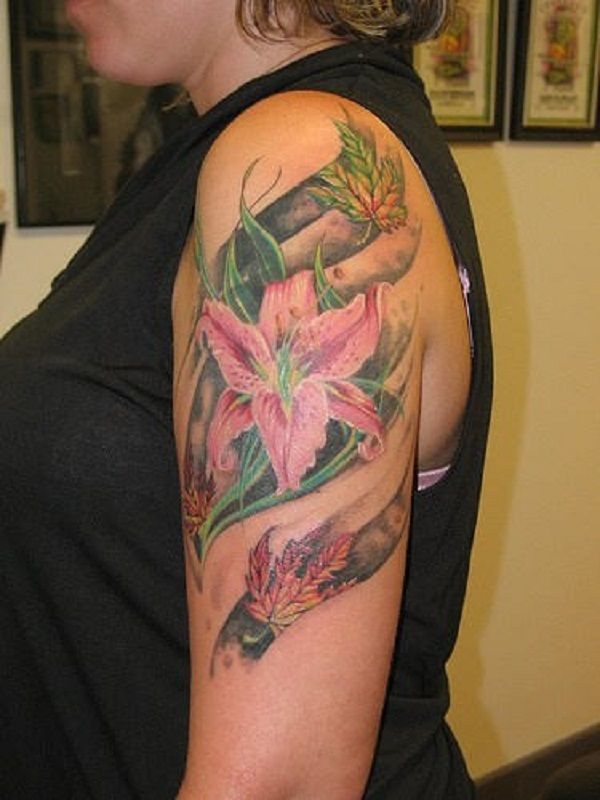 This creation is obviously the work of a good tattoo artist and drawer. It is original, creative and it doesn't lack several additional elements that complete the look. This flower tattoo is still very feminine without going overboard and it is empowering as well.
47. Pink Lilies Flower Tattoo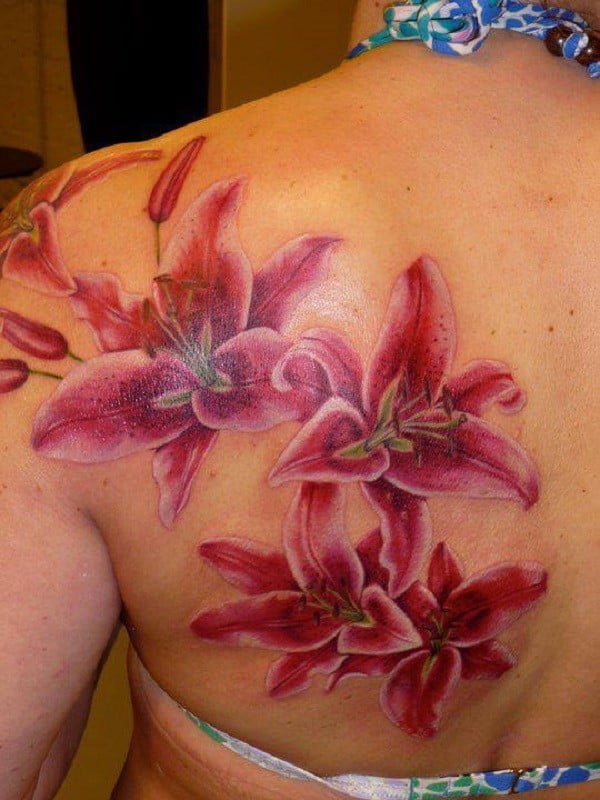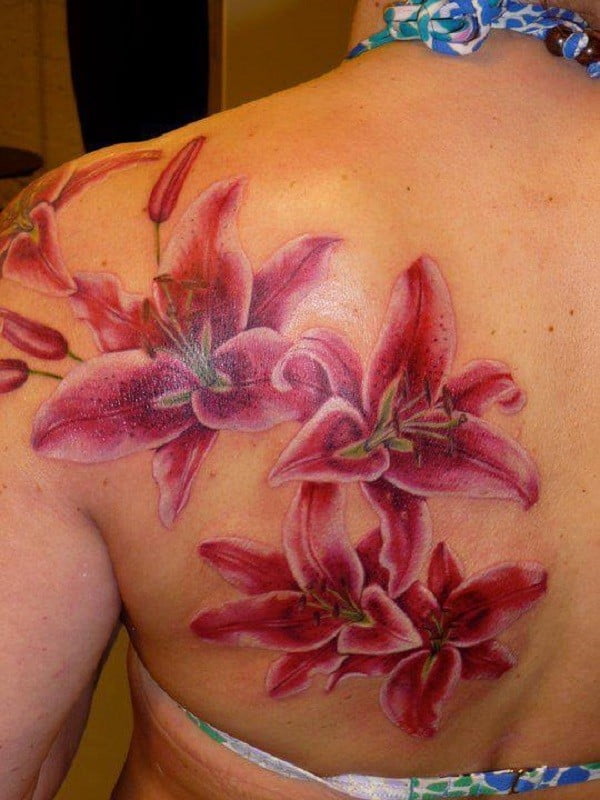 Lilies are graceful and elegant, so these pink lilies are a good way to reveal your inner grace and to reconnect with your inner femininity. The lily is meaningful enough not to need other elements in the design. If you want to make a statement, this is a good choice.
48. My Flower From Out Of Space Flower Tattoo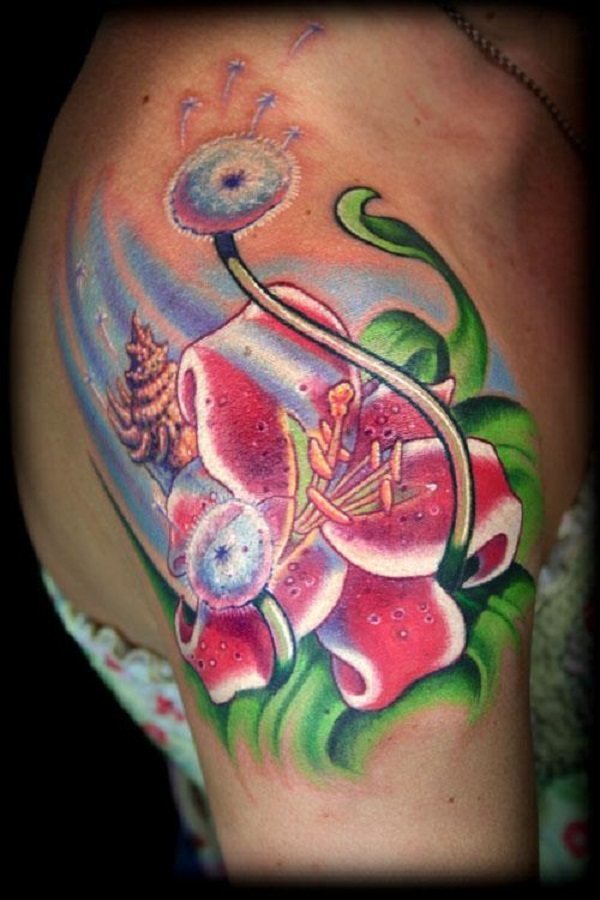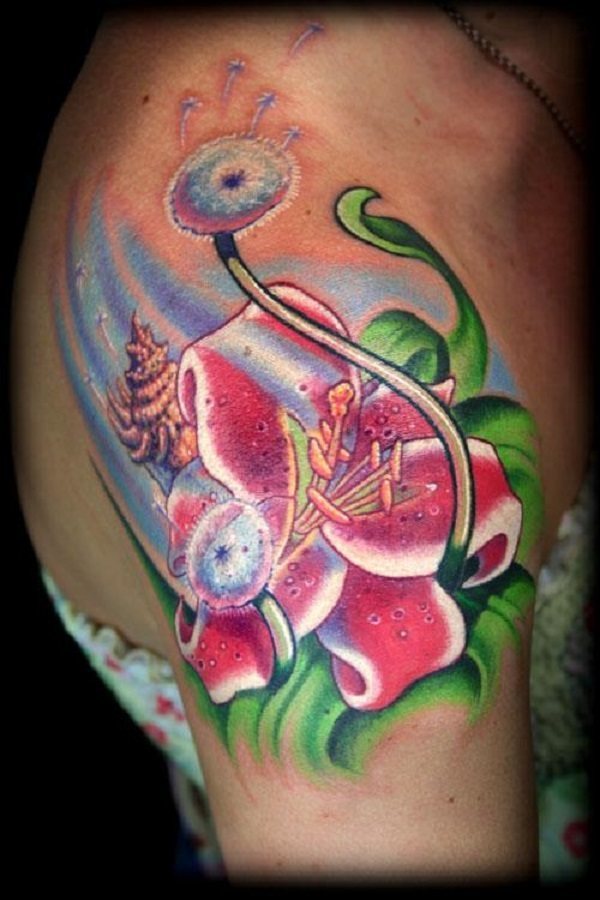 Sci-Fi fans love this unusual interpretation of the good old lily. There are few floral tattoos that come with a totally fresh approach and this is one of them. It is something new without going overboard with anything. Just a touch of creativity and you have an innovative design.
49. Vintage Lilies Flower Tattoo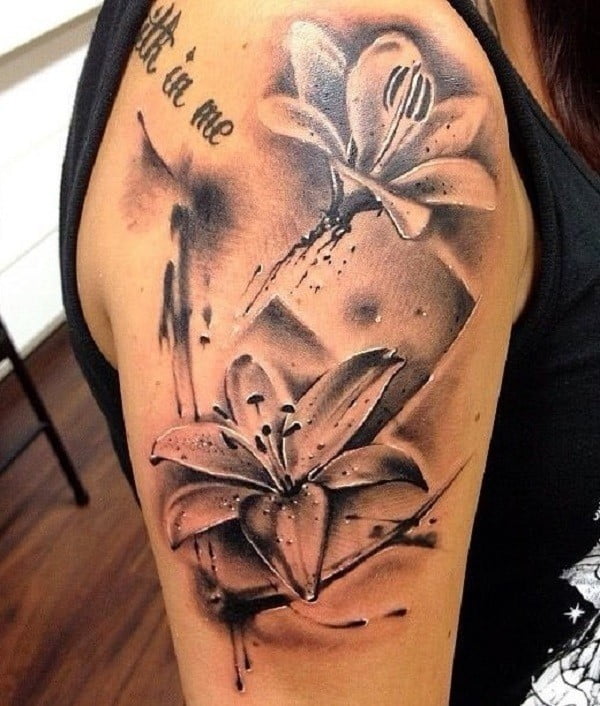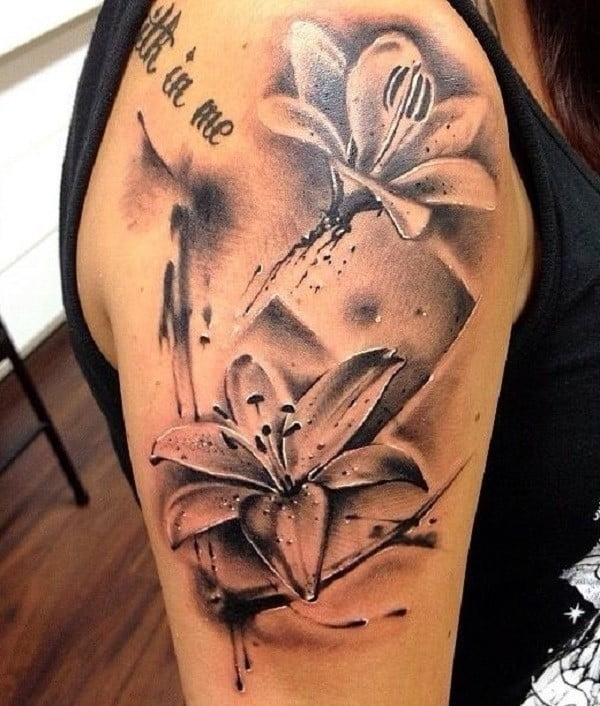 The woman who chooses this flower tattoo design is the one who enjoys breaking the rules without losing her femininity. It is a daring tattoo that shows off her rebellious side and it decorates her arm in a rather rugged way.
50. A Flower in the Mist Flower Tattoo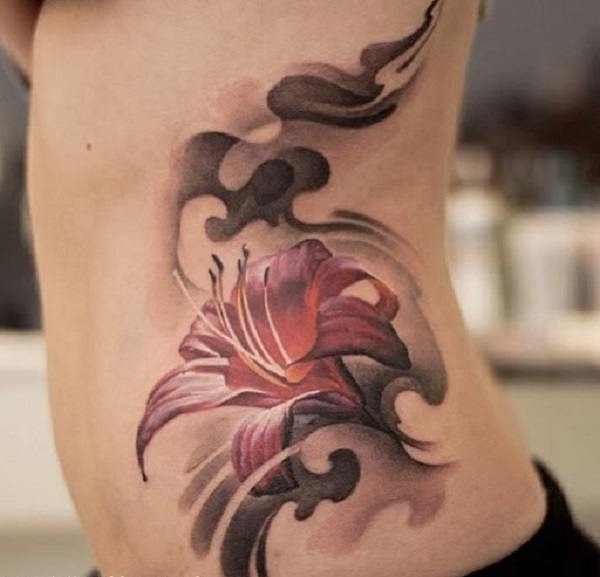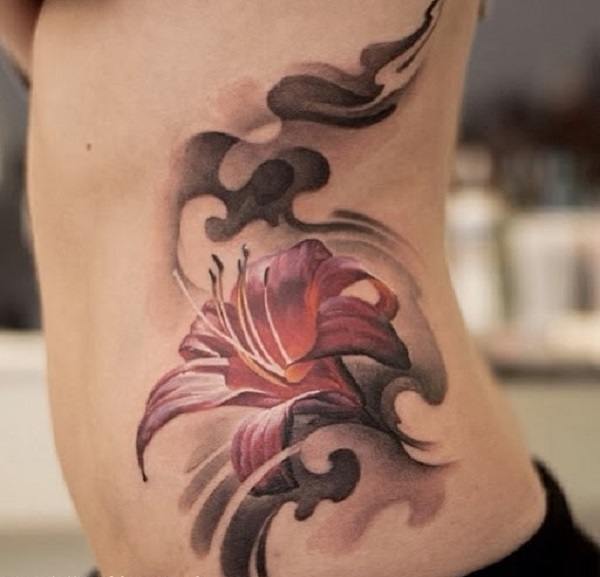 This flower tattoo is designed for the mysterious woman, who likes to intrigue the ones around her and to use her charisma to be a remarkable presence. The tattoo features an interesting approach to the popular lily. Even if it doesn't contain many elements, it is not a simple design.
51. Orange Lilies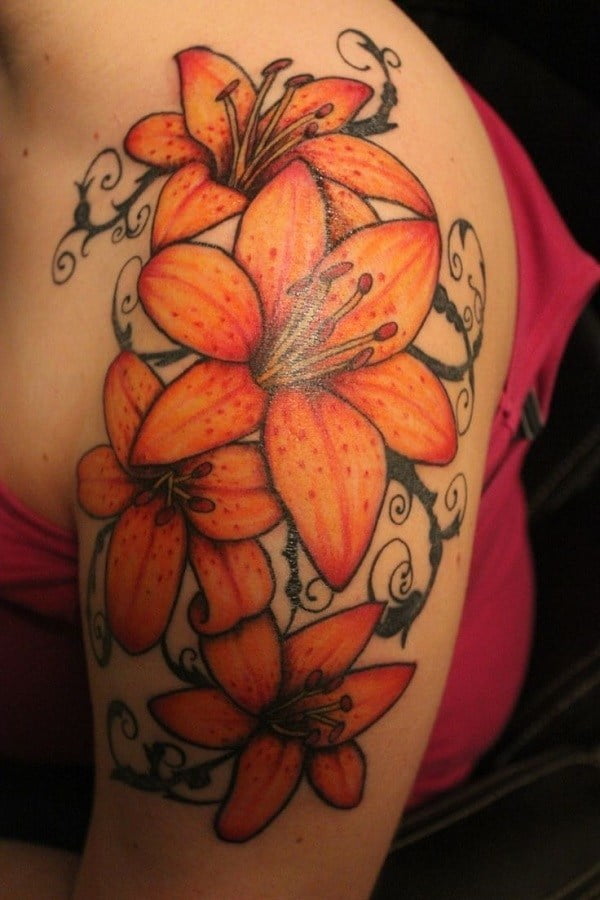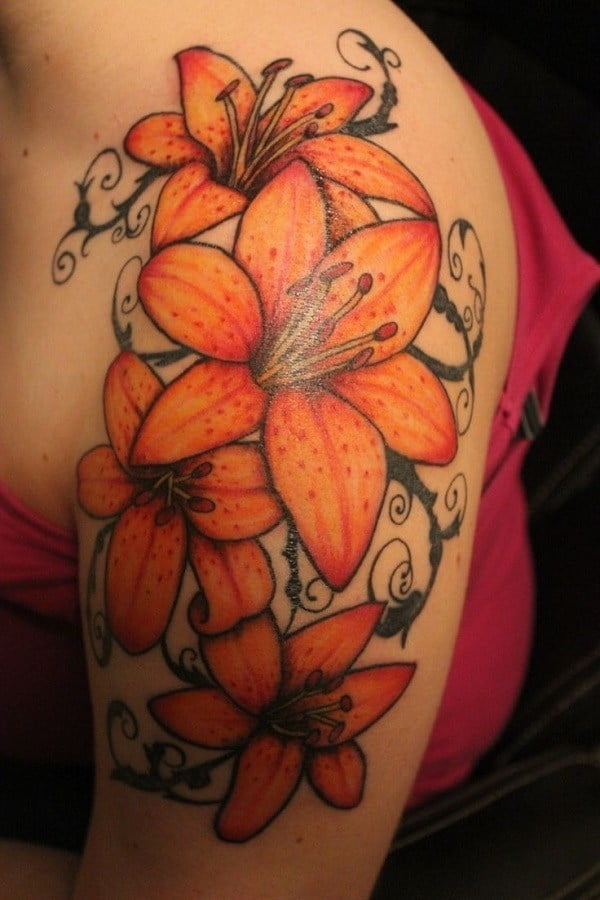 Lilies can have many meanings from passion and motherhood to renewal and purity. That's why tattoo ideas for ladies often include at least one lily. These orange ones represent great choice for the arm as they are neither too bold, nor too pale.
52. Lilies on My Back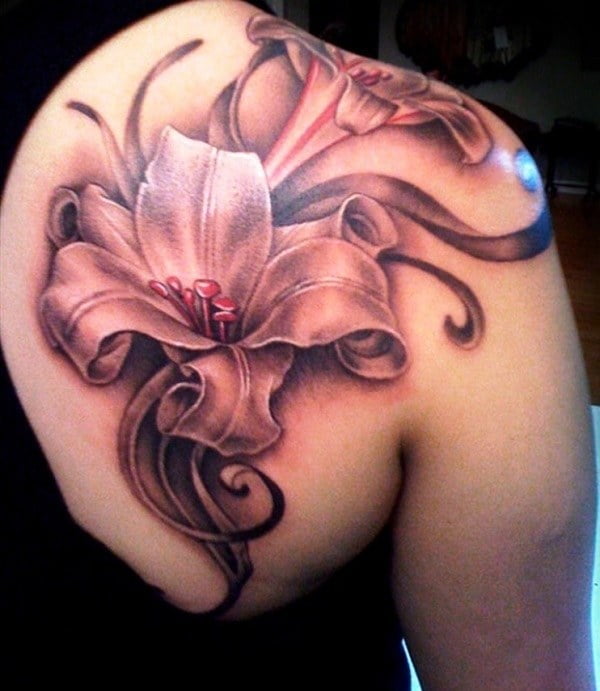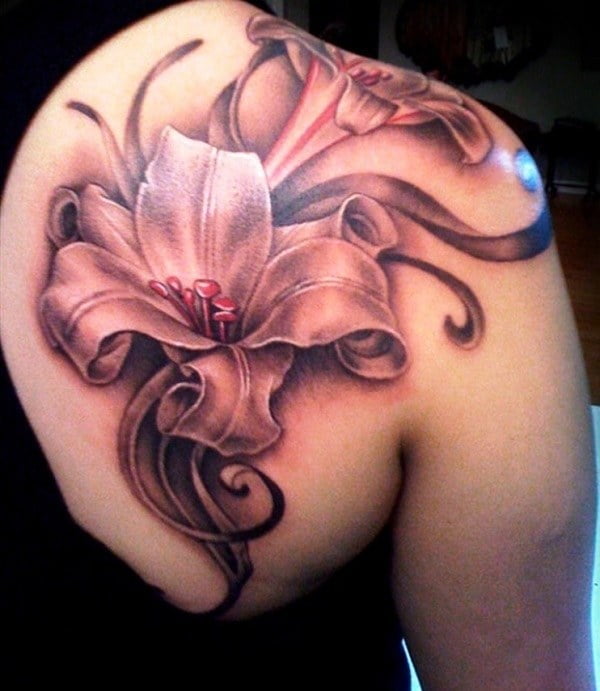 This is an interesting approach to the regular floral tattoos involving lilies. It is much darker and it lacks intense colors, yet the effects created by skillful shading transform it into a tattoo worth having. It preserves the pinkish shade that women like so much.
53. Contours and Highlights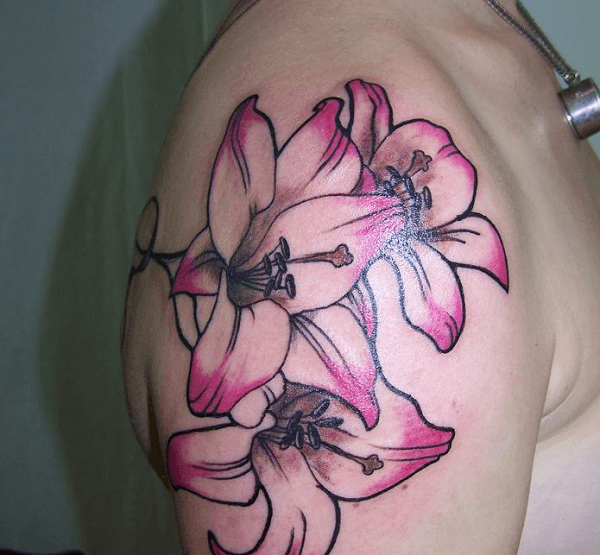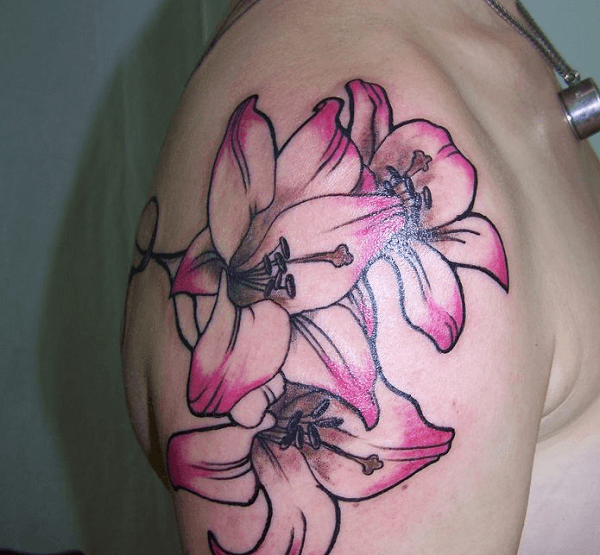 This is a flower tattoo design that relates to two makeup concepts that are very beloved by women: contouring and highlighting. These lilies are all about that. The edges and the middle parts are nicely contoured, while the interior pops out as it emphasized through highlighting.
54. Intense Lily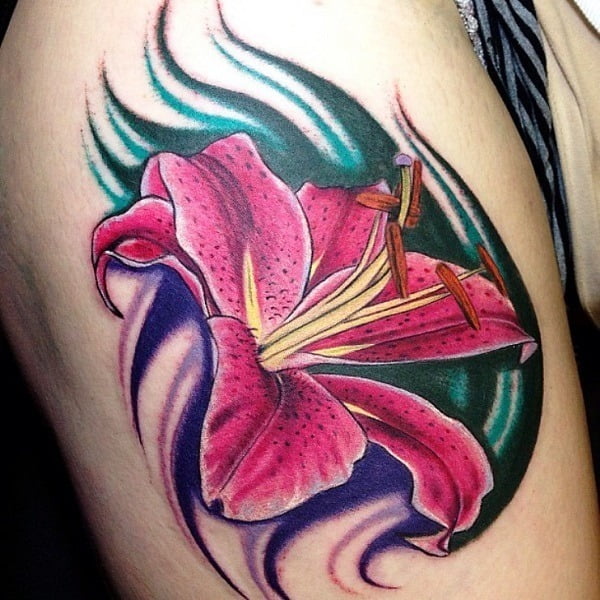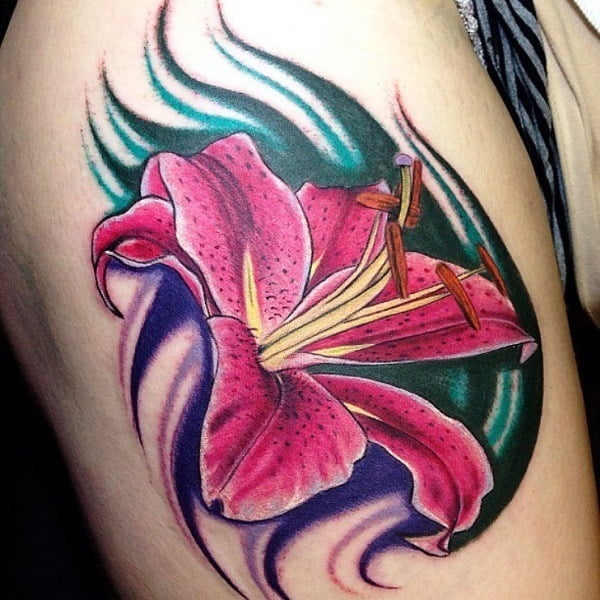 Here we have a lily that doesn't need much in order to complete the design. Though the art of tattooing does its job smoothly, it is a straightforward tattoo that doesn't play too much with shades or highlights. That's why it's ideal for women who don't like to play games.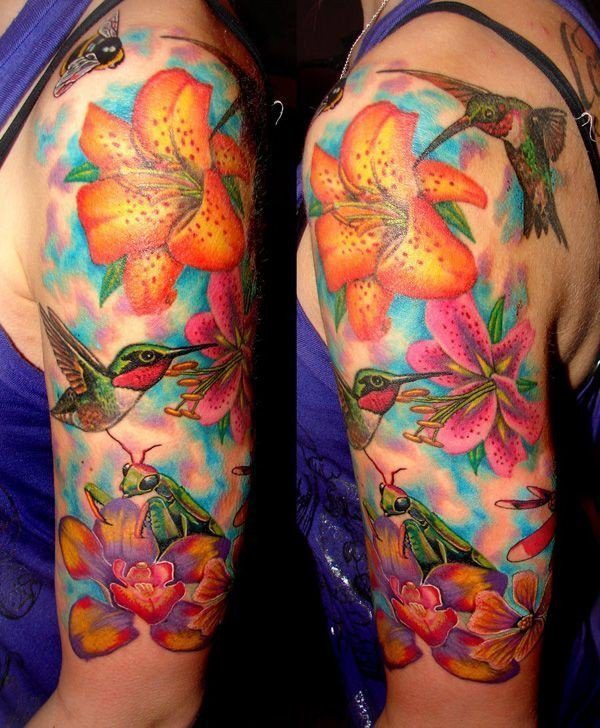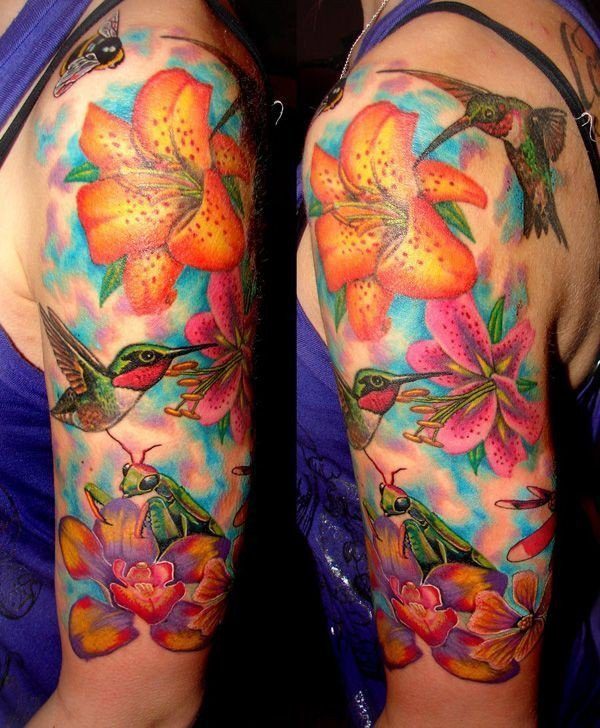 If you want a charming and very brightly colored half sleeve, this one is for you. It depicts nature elements like hummingbirds or lilies using highly intense shades that cheer you up. Ladies who love nature and have a positive attitude will love this.
56. Flower with Shades of Blue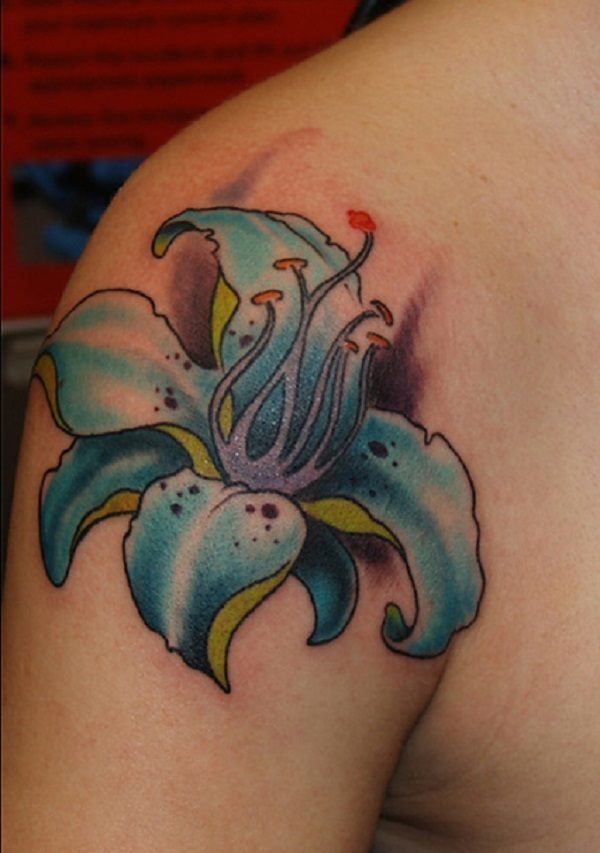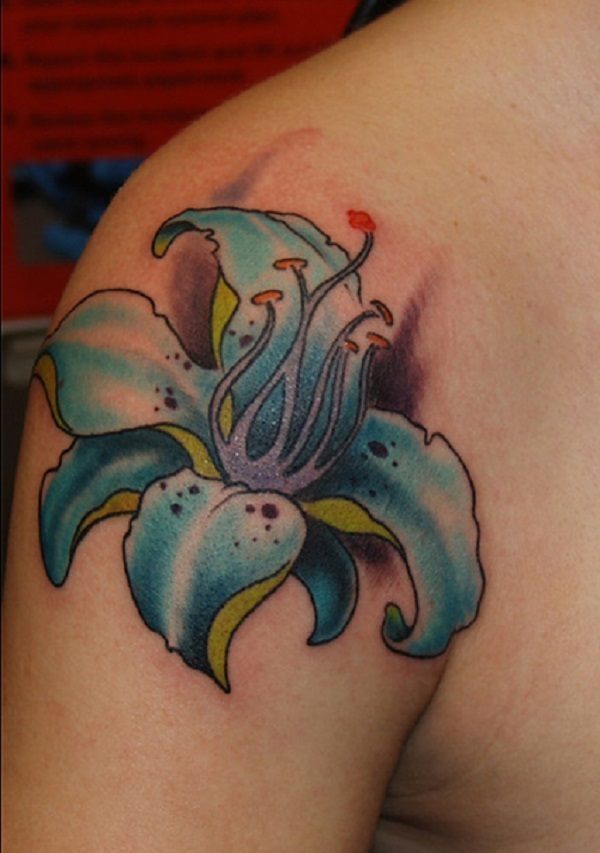 There is no doubt about the fact that intense blue looks stunning as part of tattoos not only because it usually steals the show, but it looks great on nearly any skin color. This tattoo features various shades that beautify the design and make it more appealing.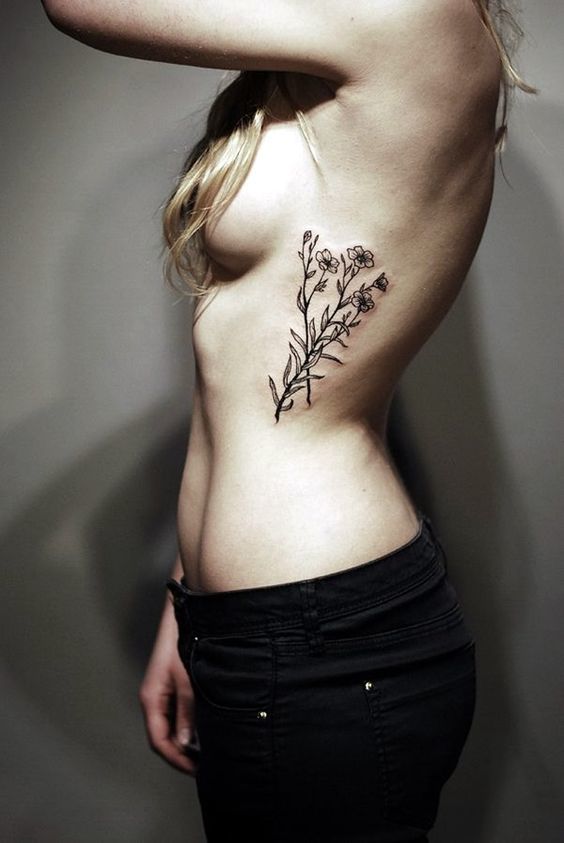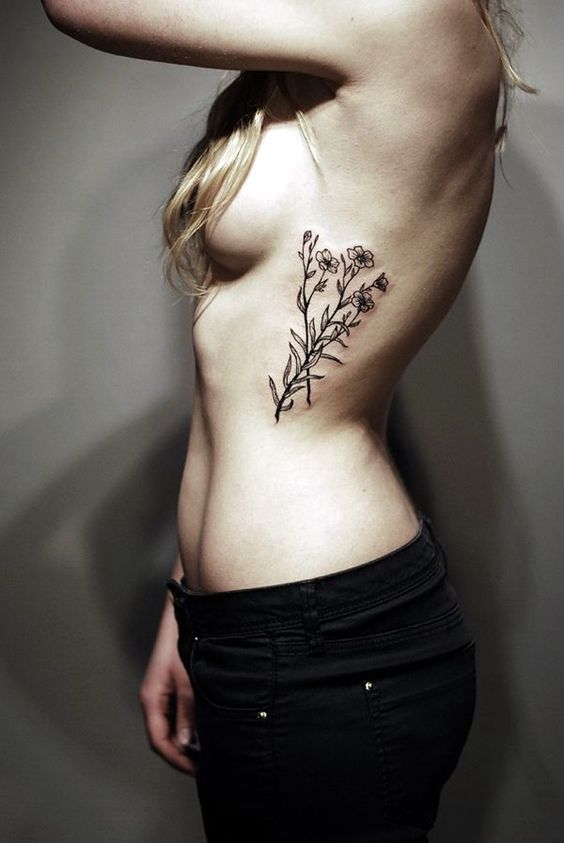 Most women think of flowers as the most vividly colored things that nature has to offer. But some ladies think outside of the box and take out all the colors that define flowers. This black and simple flower tattoos idea is for the rebel in you.
58. Roses on an Anchor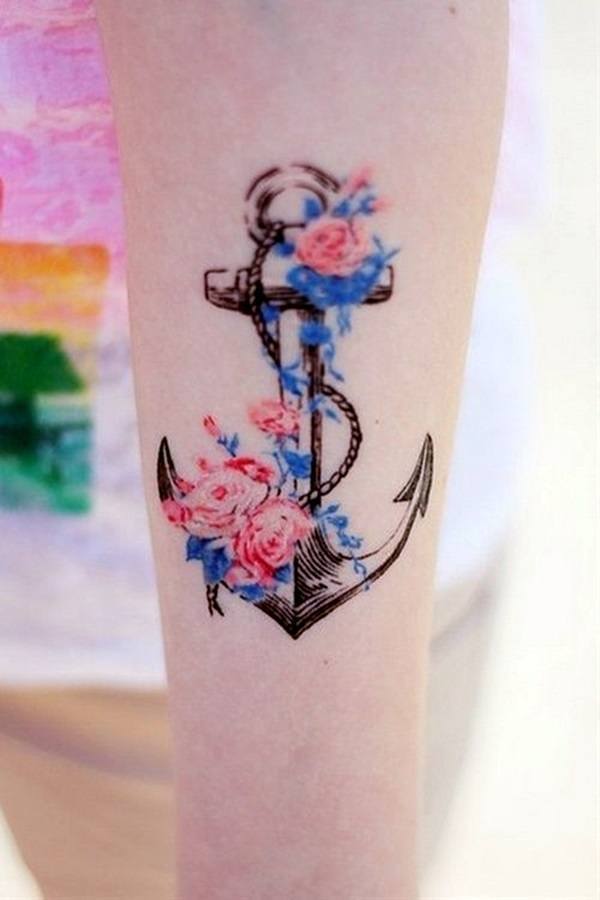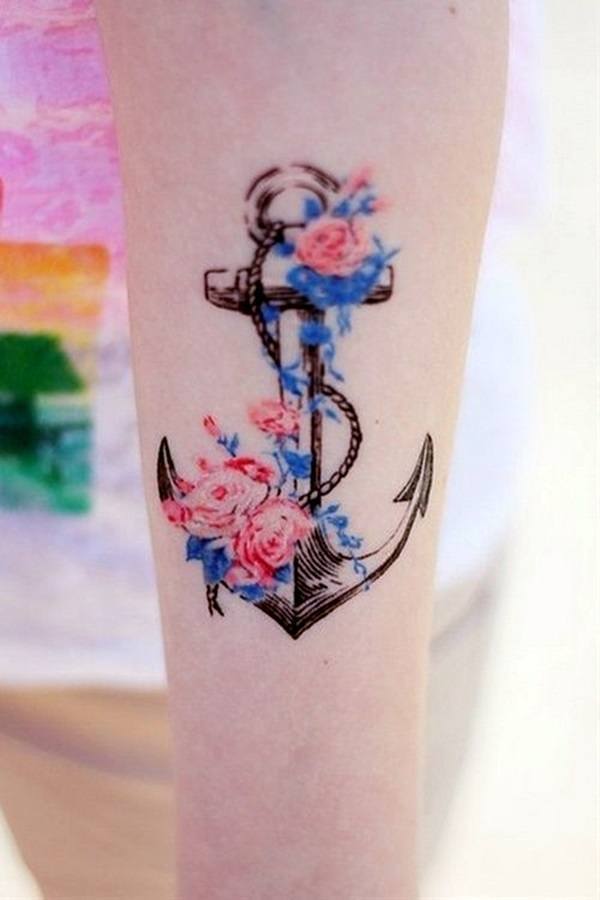 The anchor is usually regarded as being a manly symbol. But not anymore as now you can attach roses and a simple anchor turns into a work of art in no time. This tattoo will do just fine on pretty much any body part.
59. Painting of Old Floral Tattoo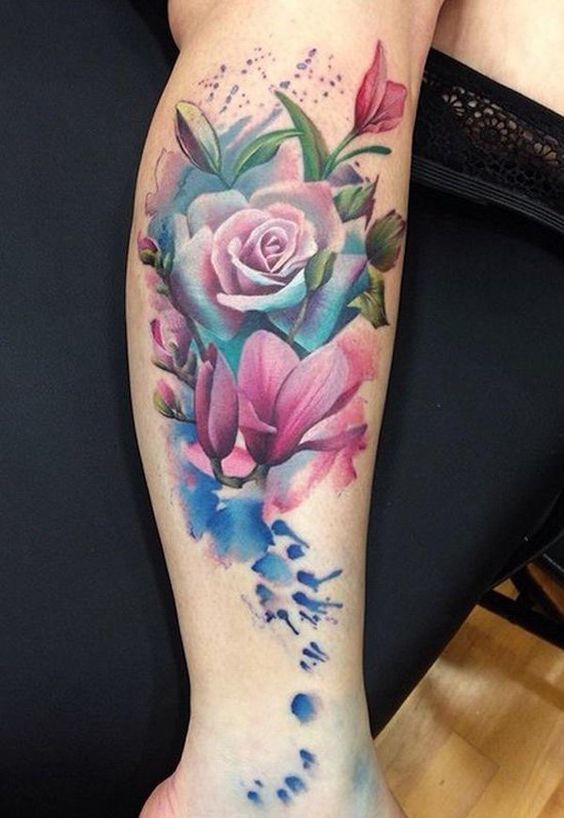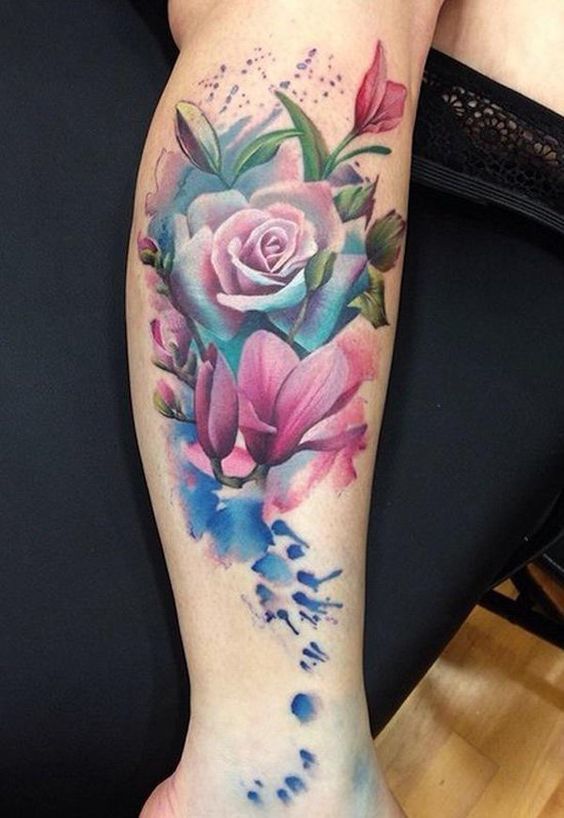 Whether you feel nostalgic or fascinated, you can't help feeling that this tattoo strikes a chord in a way or another. It is one that can be owned by women of all ages, irrespective of their lifestyle.
60. Dark Flower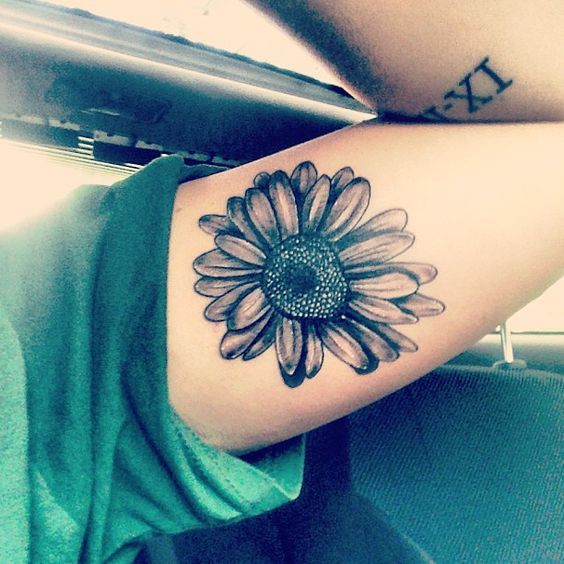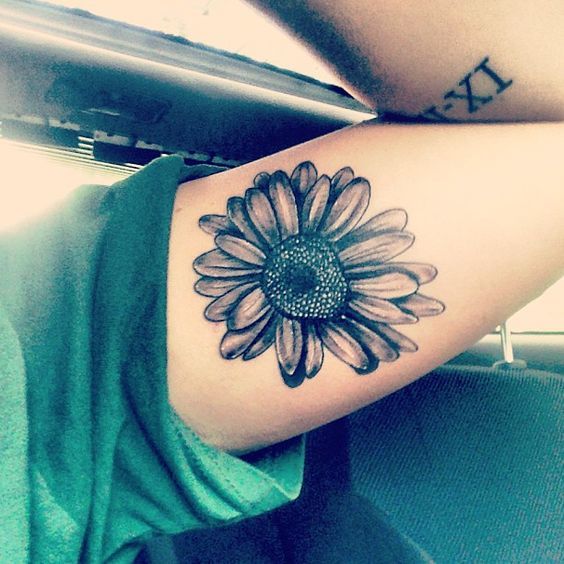 Not all flower tattoo ideas are nice and girly. This is a big exception from the rule. Unlike other designs that aim to reach perfection, it is an asymmetrical flower that doesn't include any color whatsoever. The petals are uneven and overall they look rather withered.