Tattoos are one of the best ways to express yourself, and many people consider the chest to be the best place to get a tattoo (right next to elbow tattoos). Similar to wrist tattoos, this is certainly a popular area and there are many varieties of chest tattoo designs. Both men and women choosing to have chest tattoos has grown in the past few years. Why exactly have they become more popular? There are a few primary reasons why you might want to have this done.
Chest Tattoo Meaning and Symbolism
The chest is actually the most important part of your body because it's close to your heart. When you choose to ink your chest, you're showing your dedication. Additionally, if you've ever had this type of tattoo, you probably know that it's very painful to have the tattoo applied. Going through the process shows your dedication even more. For men, they may also choose chest tattoos since it offers a large area.
Both men and women like to choose tattoos that have deep meaning, such as star tattoos, especially since the tattoo will be placed over their heart. Popular choices for this area are portraits of their children, family member, or close friends. Others may choose to display a symbol of their cultural history. While all tattoos have meaning, choosing to place them on your chest means that you want to carry them close to your heart as a constant reminder.
Hidden Representation
While a tattoo does not have to be hidden away from the public eye (see forearm tattoos), you may also choose this area to keep your artwork private. A tattoo placed on your arm or leg may be seen depending on the clothing you wear. However, having it placed on your chest means that it likely will not be seen unless you choose to show someone. For some, having this hidden representation is an important aspect of their tattoo. You may not want to display your tattoo to everyone you meet, but you still know that it's always present.
Most Common Location and Size for Chest Tattoos
Other important aspects to consider are the exact placement of the tattoo and its size. Depending on your choice of tattoos, you may want it to cover part of your neck, shoulder, or stomach. Portraits of children or spouses are generally placed on the upper chest, near your heart. If you're just starting to think about having a tattoo placed on your chest, you may want to look into different options. Popular choices include tribal chest tattoos, religious chest tattoo, angel, family, and many more. They are used to express love, respect, and other deep meanings. If you're not entirely sure of what you want, a professional tattoo artist can help you learn more about your options.
Today, chest tattoos are becoming more popular than ever. Their strong and intense meaning and symbolism make them a powerful choice. If you're considering a chest tattoo, then be sure to look into your options and make sure you're satisfied with your choice. This area of self-expression is a great option and can be used as a powerful representation throughout your life. Cherry blossom tattoos are super popular in this area because of their various meanings.
Check Out The Best Chest Tattoos Here
1. Tribal Tattoo Chest Tattoos
This massive tribal tattoo is one oft the tribal chest tattoos, chest tattoos for men, and it spans the entire chest and stirs the emotion of a warrior entering in to battle. The lines of this tribal chest tattoo are artfully done and are strong and bold. The solid areas create the stark contrast to the shaded area in the middle of the chest. Bringing the eye in and encouraging the viewer to come along in the story of the warrior.
2. World on Shoulder Chest Tattoos
The wearer of this chest tattoo is literally carrying the world on their shoulder. The absence of ink shows the continents in proportion as the darkness of the ink creates the seas around them. A chest tattoo idea for someone who shoulders a lot of responsibility easily.
3. Owl Chest Tattoos Animal Chest Tattoo
This cool tattoo is one oft the chest tattoos for men, it shows off the artistry of the human canvass. The real life detail of the owl literally brings it to life. The eyes of this owl are so realistic they appear to be peering in to your very soul. Imparting the wisdom that the owl carries. The detailing of the feathers with the full moon behind the image brings you into the scene as you come face to face with wisdom itself.
4. Eagle Chest Tattoos
Flying in on this tattoo is the strong and magnificent eagle. Talons are open poised for battle. The outspread of the wings spans the chest. This tattoo is one oft the chest tattoos for men, it is worn as a symbol of pride, of fighting for one's country and fighting for justice.
5. Tribe of Wolves Chest Tattoos
Calling on Native American roots this wolf tattoo is one oft the chest tattoos for men, it feels as though you are invoking the tribe itself. The strong and ferocious wolf is what connects the past knowledge of the chief and spirit of the warrior. This stunning tattoo brings realism to another level as you can stare into each subject's eyes and know who they are. This depicts a tribe still thriving through the wearer of the tattoo.
6. Rams Interlocked Chest Tattoos
These rams are engaged in battle across the chest. Struggling for the right to be the top, it is left to the viewer to guess which on would win. This scene is made more interesting by the skeletal outline in the ram on the right hand side of the client. Seeing the inner workings of struggle gives you another perspective on life itself.
7. Each Hour Wounds Chest Tattoos
This impressive tattoo is one oft the chest tattoos for men, it is amazing to look at but bears a warning to the viewer as well. The text reads "vulnerant olmnes ultima necat" which translates to "All (hours) wound, the last kills". This saying is found on solar clocks. A reminder to treasure each hour we have and to live life to its fullest. Beautifully illustrated with the raven and fading flowers. This tattoo has a much deeper meaning when inquired about.
8. Anchor with Roses Chest Tattoos
This anchor lays in the assurance of a bed of roses. The roses seem to comfort the anchor while the anchor offers protection to the softness of the flowers. Giving us a gentle reminder to stay calm amidst the trials of life. Strategically placed over the side of the chest with heart muscle one can stay anchored in self no matter what is going on. And to appreciate the beauty that life has to offer no matter the circumstance.
9. Sands of Time Chest Tattoos
This stunning chest tattoo is one oft the chest tattoos for men, it depicts an hour glass clock surrounded by exquisite eagle wings with the faces of women among them. The woman's face fades to decay upon the passage of time. Surrounded by the opulent roses we seem to be witnessing the inevitable, that we all will eventually die. A funeral seems to be playing upon the stage here, although the tattoo is so full of life as well. As the flowers are still full and blooming, we realize that time continues even after we cease to be.
10. Mechanical Heart Chest Tattoos
Here we see the inner workings of the heart and we get the feelings that all may not be well. This graphic design brings realism amidst symbolism. We see the heart as just a machine yet it can still be broken. Given the violence of the scene, we can only assume that the heart has been ripped out of place. We are left wondering if the wound will ever heal.
11. Owl with eye Chest Tattoos
This full chest tattoo is one oft the chest tattoos for men, it shows an Owl carrying an eye in the middle of a triangle. They say that they eyes are windows to the soul and we see that here. Wrapped in wisdom we can glean the truth about all we come across. This may also be a mirror reminding us to look within to find our own answers for our life.
12. Flow of Blood Chest Tattoos
At first this looks like a confusing tattoo or as if the heart itself is confused. Yet it is all part of a dance of our own life blood. This tattoo is one oft the chest tattoos for men, it depicts the ways our heart sends our blood through our bodies. Part of an intricate system that keeps us alive day to day. Our hearts are working even when we forget. This displays the wonder of our heart muscle and though it's not on our thoughts, we are nothing short of a miracle.
13. Mixed Media Chest Tattoos
This graphically stunning tattoo is one oft the chest tattoos for men, it is nothing short of breathtaking. This gives the feeling of a mixed media artist at his finest. The realism of the heart and flowers mixed with the solid dots is a masterpiece.
14. Phoenix Rising Chest Tattoos
The Phoenix has long been known as a symbol of rising back up after a defeat. In fact, it's in the rising up that victory is found. This beautifully colored tattoo is one oft the chest tattoos for men, it adorns the shoulder and reminds us to keep going in the face of adversity.
15. Lord have mercy Chest Tattoos
Lord Have Mercy adorns the top of this stunning chest tattoo, it is a religious chest tattoo. The shading adds realism and depth to an intricate tattoo. The guns pointing over the flowers gives a message of protection to the ones this wearer holds dear.
16. Steampunk Design Chest Tattoo
The incredibly realistic clock sits as a centerpiece of the magnificent wing chest tattoo, it is one oft the chest tattoos for men. Keeping time as items of value are found around the clock itself. The pearls drape the skull as a reminder that all beautiful things must come to an end.
17. Script and Tribal Chest Tattoo
The mixing of the flowing script against the straight lines of the tribal chest tattoo serves as a reminder of the meeting of gentle and strong. The mighty will protect the weak and cover and protect the ones he loves.
18. Skull Covering Chest Tattoo
This fantastic realism chest tattoo is striking to view, it is one oft the chest tattoos for men. Covering the eyes and mouth of the skull reminds us that even though we try to hide from death, we can't hide forever.
19. Who has forever Chest Tattoo
The text on this bird tattoo reads "Who has forever anyway" while a wonderfully colored bird holds the dwindling sands of time. Giving us the feeling that we should take risks and that there is no time like the present.
20. Lion Chest Tattoo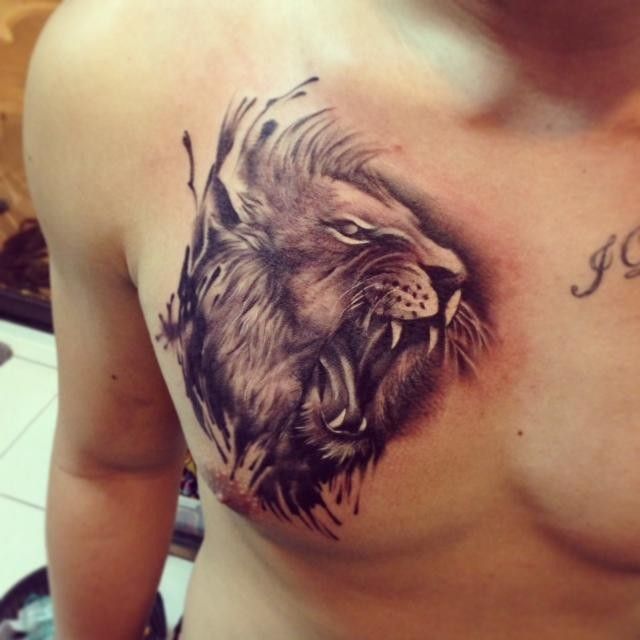 There are few images that depict strength, leadership and fearlessness as the lion tattoo. This ferocious beast is ready to attack and protect the pride. A detailed and realistic tattoo lets us know the wearer means business and he is the master of his domain, it is one oft the chest tattoos for men.
21. Skullhead Death Moth Tattoo Chest Tattoo
Captivating beauty is what this death moth holds with its skull head and widespread wings. The insect's antenna and wings follow the contour of the shoulder blades, while its body rests at the center. Vines with abundant leaves extend at the back and crawl at the sides to enhance the image.
22. Tree on Earth Tattoo Chest Tattoo
Embrace nature with this brilliant black chest tattoo design featuring a tree that's brimming with life. Its roots cling on to the rounded frame that resembles the earth's shape, the strong and sturdy trunk rises high above ground while its branches and leaves arrive in abundance with numerous birds fluttering to the sky on the tree tattoo.
23. Love Tattoos Idea: Lovebirds with Precious Heart Gem Tattoo Chest Tattoo
Fall in love with the loveliest of chest tattoos featuring a sparkling red heart gem at the center that's embellished by a blue bow and arrow tattoos. Two birds rest on each side facing each other amidst vines and flowers that are widespread across the chest from shoulder to shoulder.
24. Three Lovely Roses Tattoo Chest Tattoo
Red roses make up one of the most attractive chest tattoo ideas. The biggest rose rests at the center while two smaller flower tattoos sit on either side to form a chain. They are crafted in the finest detail with one soft red-white petal growing out of the other and the roses cradled by lush, thick green leaves.
25. Black Stag Skull Tattoo Chest Tattoo
This chest tattoo is one oft the chest tattoos for men, it creates a striking impression fit for a hunter and every strong masculine form. The stag's face is found centered on the chest while its horns extend long to either end of the shoulder blades. The effects of the black ink are utterly astounding.
26. Meditating Skeleton Tattoo Chest Tattoo
A cool tattoo presenting a skeleton that fascinatingly sits to meditate under the black moon shining its brilliance from the center of the chest. The skull appears to have smiling teeth and is relaxing as the moonlight strikes its fragile bones while it stays still in an upright sitting position.
27. Sexy Curvy Shoulder-to-Chest Tattoo
One of the simplest chest tattoos idea that produces the most beautiful and sexiest form. Long slender curves trace the neck and shoulders until it reaches the top of the breasts, then the curvatures are endowed with the tiniest details and small dainty patterns.
28. Artistic Winged Hourglass Tattoo Chest Tattoo
An ornate hourglass with bloody red liquid is cradled atop a wreath of laurel leaves centered on a man's muscular chest. Tremendous wings bestowed with black, white and red shades spread majestically at the back while a ribbon with a quote written on it flows at the bottom.
29. Key To My Heart Flowery Tattoo Chest Tattoo
Simple yet elegant, glamorous, and chic. This chest tattoo design is made up of intricately inked petals to form delicate roses, lines that form leaves and vines that crawl from shoulder to shoulder, all connected to the huge fancy heart that dangles a long and thin key right at the center.
30. Growling Wolf-Skull Tattoo Chest Tattoo
This amazing work of art inked at the top left chest displays a humongous wolf with a thick coat and flowy hair. It's mouth is wide open with whiskers, sharp teeth and fangs prominent , apparently swallowing an entire skull with similarly wide open mouth and hollow eyes.
31. Small Tattos Idea: Decorative Hearts and Roses Tattoo Chest Tattoo
Two big vivid red roses rest at the top of each shoulder. Ornate classy beads and embellishments hang low and gracefully in big curves, meeting at the center where a big heart lies. The heart contains 3 small red roses which is enhanced with more beads and decorative designs. With some adjustments, this design could also work for foot tattoos.
32. Vintage Clock with Roses Tattoo Chest Tattoo
This classy chained vintage clock belongs to the most stunning chest tattoo ideas. It is glowing at the center of the chest while it rests on a hollow skull that's surrounded by big roses. Two white doves spread their wings on either side while ribbons wrap loosely around them.
33. Whole Chest Nautical Tattoo
Fit for the marine and strong muscular body and every man who loves the water, this unique chest tattoo features elements of the sea. A large ship sails the vigorous waves amidst the stormy skies and lightning, while a massive-sized star compass serves as a guide in the darkness and challenges.
34. Top Left Chest Bible Verse Tattoo Chest Tattoo
This chest tattoo covers the top left part of the body including the upper arm. A white cross is set upon the arm, with cloudy skies and rays of sunlight glowing through it. The bible verse along with the full length of the quote is scribbled in nice fluid script writing amidst the beautiful backdrop.
35. Neck-Chest Masculine Tattoo Chest Tattoo
Stephen James flaunts one of the most elaborate chest tattoos idea that elicits a beautiful masculine appeal. A flower in bloom is inked on the base of the neck. Curves and lines flow to form complex designs filled with the tiniest details, dots, and various attractive patterns spread on the chest.
36. Full Chest Bat Tattoo Chest Tattoo
A furry bat is explicitly seen at the center of the chest from its head down to its forearm and wrist, to its feet with finely detailed toes and sharp claws, ending with its tail. The wings of this animal is widespread with every membrane exquisitely illustrated in this animal chest tattoo.
37. Shoulder Chest Wing and Word Tattoo Chest Tattoo
One of the simplest chest tattoo ideas that can be placed on the bare chest, yet among the most striking and eye catchy wing chest tattoo designs. Beautifully written words line the leftmost shoulder blade, while a half wing with each feather finely detailed and bolder towards the tip is gracefully curved on the rightmost chest.
38. Winged Tiger Tattoo Chest Tattoo
This wonderful masterpiece appears like a marvelous painting with a striking image of a tiger at the center. Its stripes match the black color of the wings, made brighter with the color yellow. The picture is enhanced with attractive women on either side with roses on their ears.
39. Abstract Realistic Woman Face Tattoo Chest Tattoo
The realistic face of a woman with seemingly long hair exhibits a one-of-a-kind image of the best chest tattoos. A squawking soft-feathered bird in front and the varied splashes of abstract colors and sharp rays with pointy tips enhance the overall tattoo picture.
40. Decorated Skull Black and White Tattoo Chest Tattoo
This skull with hollow eyes and nose with gritted teeth that is centered on the chest creates one of the most glamorous tattoos ideas. The bony face is enveloped in flowy decorative vines that yield an elaborate eye-catchy look.
41. Two Angry Birds Chest Tattoo
A good artist can create a great tattoo without even touching colors. This is a relevant example. The feathers of the two birds make them look animated and energetic. The symbol in the middle deepens the personal meaning of the creation.
42. Flying Owl Chest Tattoo
People think that owls are pretty much inactive. Not this one. It is very active and alive, as if it was ready to right. It is a simple, yet big design that covers both parts of the chest equally. The sharp edges of the feathers include individual details.
43. I See You Chest Tattoo
This is a tattoo where black rules the game. It is very intense and it is based on the contrasts between skin's color and pitch black in order to create quite an aesthetic effect. It is ideal for men who want a bold tattoo with few details.
44. Decaying Stag Chest Tattoo
This is a chest tattoo for a strong man who is not afraid to shock. It portrays a partially decayed stag, along with a trapped raven. The multiple dark shades give it dimension and sharpness. It might look grim for some, but it can have a serious underlying meaning.
45. Colorful Raven At Sunset Chest Tattoo
Ravens are usually pitch black. But this chest tattoos idea brings a new perspective. However, despite the softness of the blue shades and the sunset behind it, the raven preserves the well-known aggressive behavior and looks as if it is ready to attack.
46. Geometrical Heart Chest Tattoo
Though heart tattoos are not uncommon, this geometric chest tattoo shape manages to bring something totally new. The rough geometrical resembles a rock. This could easily mean a heart of stone or a frozen one. The owner couldn't have found a better place for such geometric chest tattoo,
and tattoos ideas.
47. Lines Of Life Chest Tattoo
The three horizontal lines are divided by a vertical one that starts at the neck ends up on the cleavage with a spear-like tip. It resembles tribal tattoos and it impresses not only due to its size and simplicity, but also due to the visual illusion that it inflicts.
48. Colorful Butterfly Chest Tattoo
Tattoos ideas for ladies are always more colorful and vivid. This one is no exception. The chest tattoo design features a colorful butterfly. The butterfly is highly requested in most countries for all body parts. This one focuses on multiple colors.
49. Irregular Chest Design Chest Tattoo
Chest tattoos are some of the most creative ones, thanks to the large amount of space available. This a half chest tattoo is certainly a one of a kind chest tattoo design that involves lots of creativity from the tattoo artist, evne if it used just black and red.
50. Cleavage Peacock Chest Tattoo
Peacocks display so many stunning colors that they are the favorite birds of many ladies. As in reality, there isn't any particular color that stands out the most. All of them form a beautiful bright creation that covers the chest in a feminine way.
51. Tattoos for Women: Yellow Brown and Black Chest Tattoo
When it comes to ladies, designs involving insects usually stick to colorful patterns. Here the artist uses less than usual. Still, though it lacks the multitude of rainbow colors, this is still one of the lively chest tattoos ideas that work for women.
52. Artistic Owl Chest Tattoo
When the tattoo involves taking a real thing and totally transforming it, you know we are talking about pure art. The new perspective is rendered here through a new interpretation of the owl. Even if it is not realistically portrayed, it still manages to preserve the original shape.
53. Abstract Monochromatic Tattoo Chest Tattoo
There are chest tattoo ideas that are simply unlike anything you have ever seen before. This is one of them. This piece is monochromatic and abstract, yet it is somehow able to be interesting and to catch the eye. It covers not only the chest, but a part of the ab too.
54. Colorful Bird For A Lady
Ladies' neck tattoos are sometimes all about the mirage of colors. Here is an example that doesn't prove us wrong. The aesthetic effect of the bird is exquisite and it frames the neck beautifully. It also manages good on the collarbones and this is essential for a chest tattoo for ladies.
55. Insect Drawing Simple Chest Tattoo
Some individuals just like insects and are ready to show their preference. Whether this design has a particular meaning or it just looks cool to you, you can place it between your pectoral muscles without having to fill it in.
56. My Royal Crown With Two Roses Simple Chest Tattoo
This is one tattoo that can make you feel like royalty. The sparkling crown is accompanied by two roses that feature different shading alternatives. The artist succeeded in making all three elements highly realistic and integrating them perfectly on the chest. They are ideally placed and this only enhances the effect. This design also makes for a great couple tattoo design.
57. Ship At Sunset
There are few body art options that can be more stunning than this one. The flawless ship that sails away features amazing details, while the sky is looks as if it was painted by a skillful master. If you want one of the most astonishing chest tattoos idea, you want this.
58. Dark Bat Full Chest Tattoo
Bats fascinate quite many people. If you are one of them you will enjoy this big bat on your chest. Despite the fact that it is a dark one, it doesn't lack details and shades that make it more realistic. Also, the grim effect is kept to a minimum.
59. Dragon's Scream Full Chest Tattoo
This dragon's head is so artistically created that you can almost hear the scream. It is fantastic to see what a tattoo artist can do even without using colors. The sharp teeth and the scales give it a dangerous look. If you are keen on dragons, this will work nicely on your chest.
60. Half A Spiral Half Chest Tattoo
Do chest tattoos hurt? Such chest tattoos ideas have to be connected with an arm tattoo. Here is one that involved a lot of work and it provides a highly extensive coverage of one chest part. It suits an ambitious man who knows exactly what he wants from life. Do you want to a batman tattoo on your chest? Take a look at our batman tattoos!