If you are seeking some of the best cross tattoo ideas, the internet can provide an overwhelming amount of search results. While civilizations throughout history and the world have always celebrated individuality, spirituality, and culture in different ways (like tribal tattoos), one of the most popular methods is through tattoo artistry.
60 of the Most Popular Jesus Cross Tattoos
Although many people today get tattoos, some are merely fashion statements while others symbolize important meanings and beliefs. Some of the most popular spiritual or religious tattoos, especially in the Western culture, are depictions of Jesus on the crucifix. However, the crucifix symbol is depicted in several ways, from Celtic knot crosses to more rugged barbed wire crosses. Keep reading for a list of 60 of the best cross tattoo ideas:
1. Celtic Cross Tattoo with a Portrait of Jesus and the Crosses of Calvary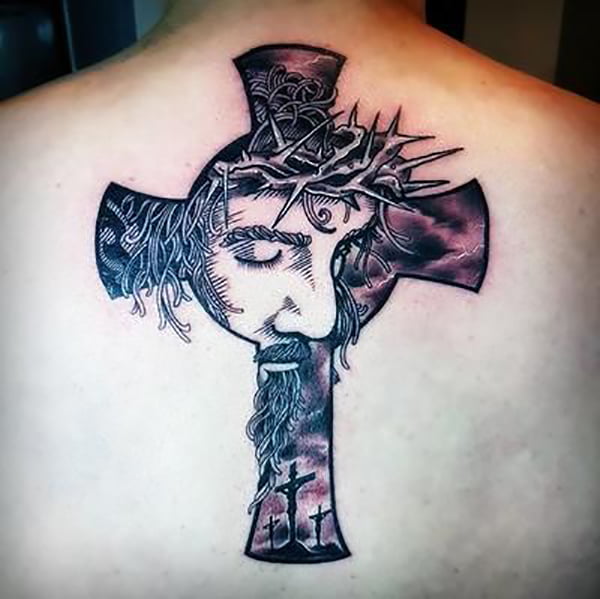 If you are looking for a bold, yet sentimental cross tattoo, this one is a showstopper. The main shape is an outline of a Celtic cross and features a portrait of Jesus in the crown of thorns. Three crosses on Calvary are depicted below. There are emotional shades of clouds in the background while Jesus' hair and beard are somewhat woven into Celtic style knots.
2. Powerful Tattoo of Jesus on the Cross Tattoo in Vintage Brown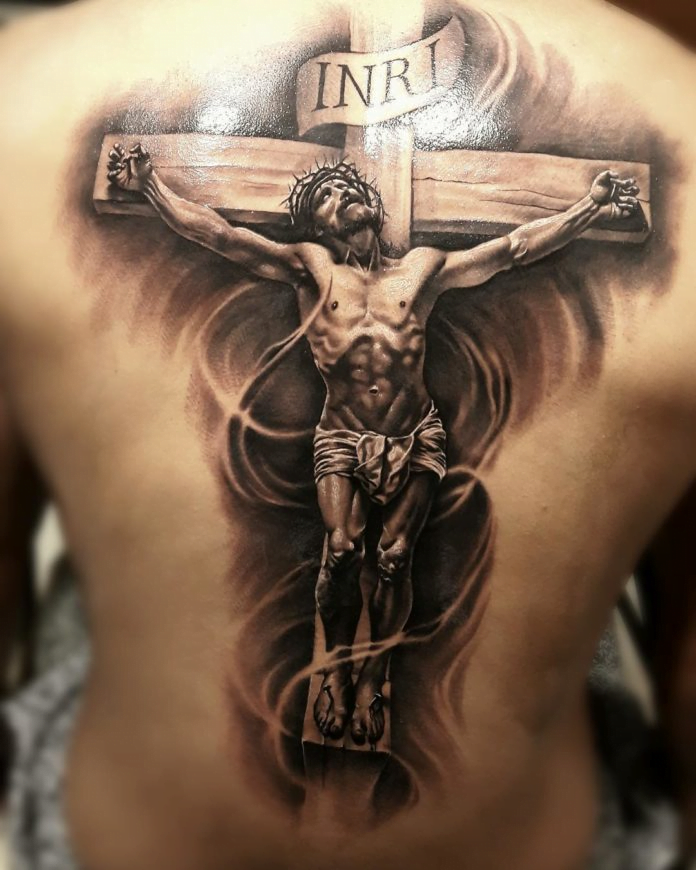 There is no doubt that one of the most powerful images of Jesus that was ever depicted was his final moments on the cross. The crown of thorns atop his head and his feet and hands nailed to the cross are an image never to be forgotten. The vintage brown shade with swirls in the background makes this a perfect piece for your back, thigh, or chest.
3. 3D Rosary and Jesus Portrait Cross Tattoo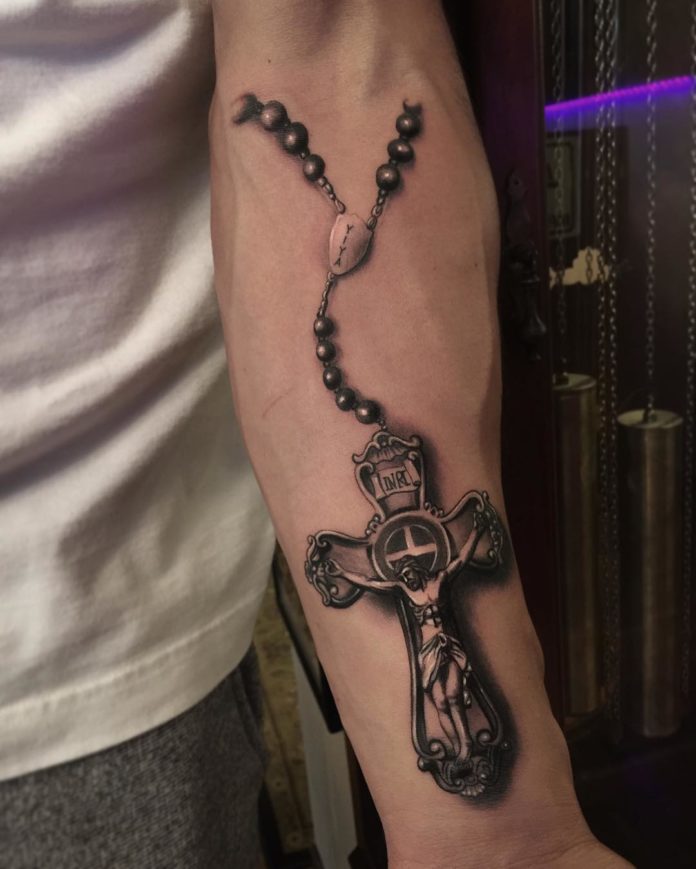 The third-dimensional style of this cool tattoo makes the image appear to pop right out of your skin, quite literally. The shading technique makes the rosary appear realistic enough to wear. This cross is a Spanish-style catholic cross that celebrates both the catholic rosary as well as "yiya," or grandma.
4. Chest Cross Tattoo of the Three Crosses on Calvary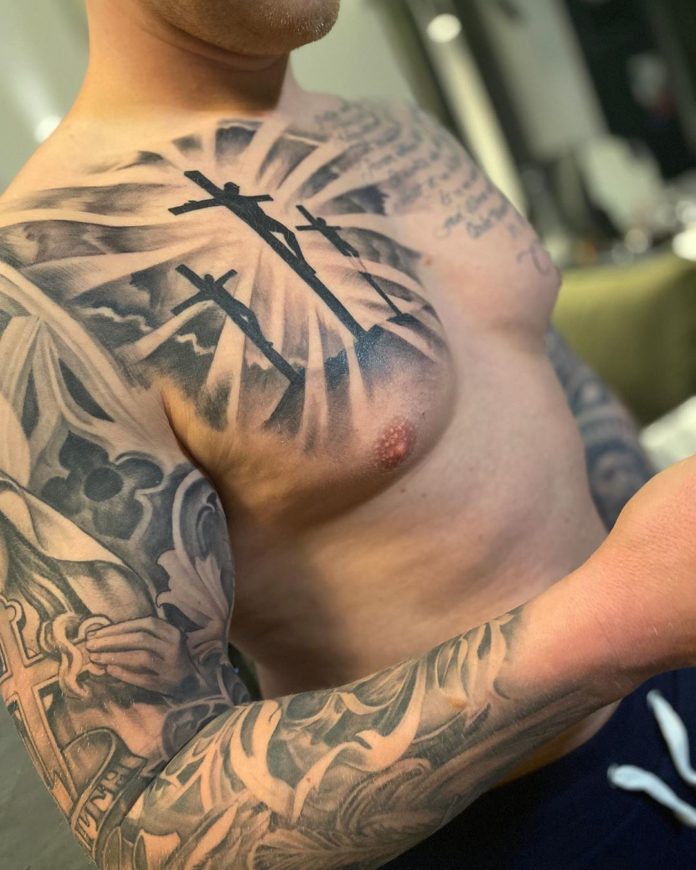 The three crosses on Calvary are a popular image among Christian believers and symbolizes not only the scene of Jesus' crucifixion along with the two thieves, but is also said to symbolize the Father, Son, and the Holy Ghost. The shape and texture of this tattoo are ideal for the pectorals.
5. His and Hers Simple Forearm Cross Tattoos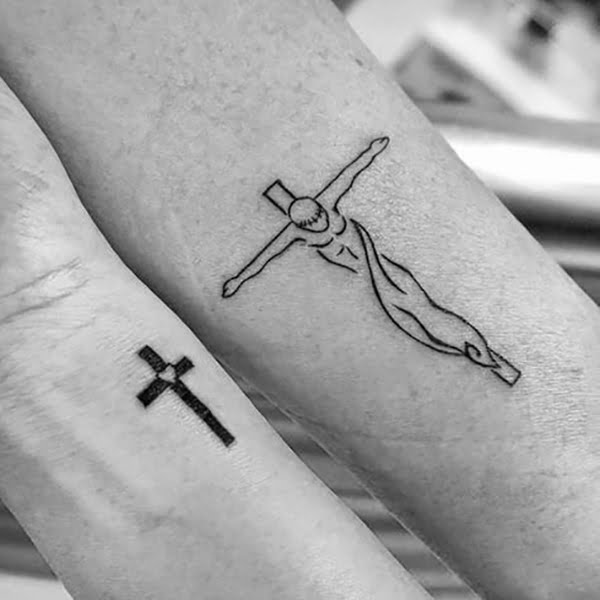 If you are interested in getting matching tattoos with your significant other, consider this simple, yet profound cross duo. The cross on the left is more delicate with a small heart in the middle. The outlined tattoo on the right depicts an abstract cross with Jesus' arms replacing the crucifix wood.
6. Inspirational Quote in the Shape of a Cross Tattoo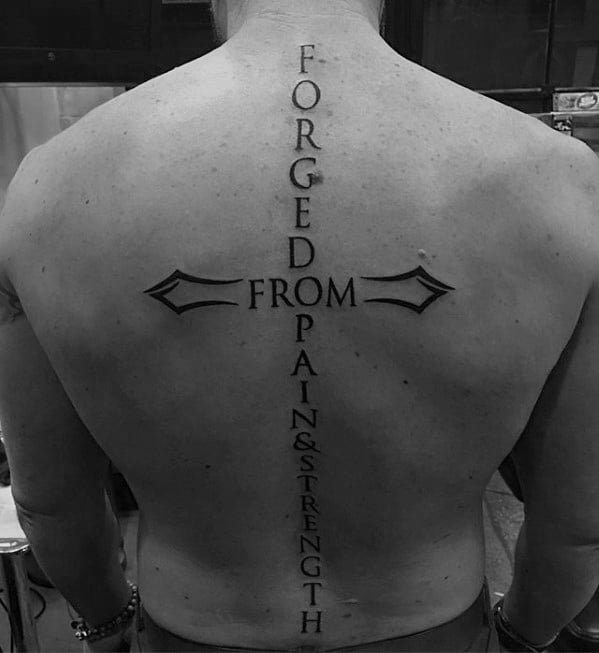 Although this particular tattoo quotes "Forged from Pain & Strength," any symbolic quote will suffice for this bold tattoo design. There is no mistaking the imagery of the cross, as the left and right sides are outlined with dark, thick lines. This tattoo is perfect for the back as well as the lower leg. If you don't want to showcase strength with a lion tattoo, this is a great alternative.
7. Slanted Crosses at Calvary with a Bible Verse Cross Tattoo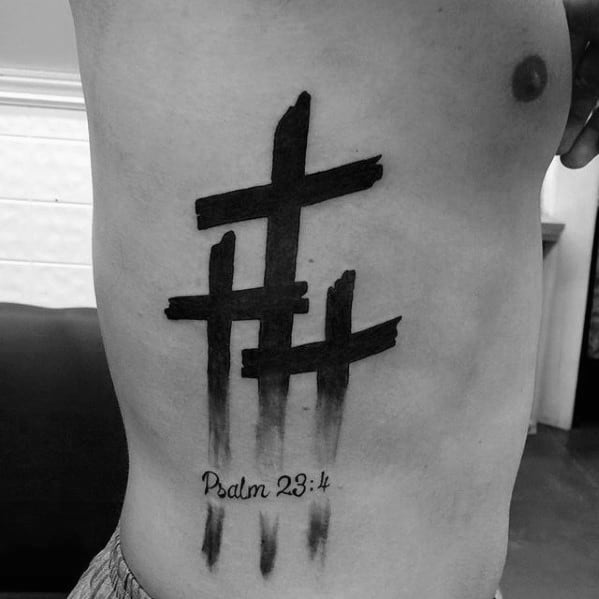 The slanted three crosses at Calvary are a beautiful and meaningful design. The way the crosses fade towards the base allows the ideal spot for a bible verse of your choice. Another adjustment that could be made to this tattoo is replacing the bible verse with a name or a different inspirational quote.
8. Best Friend Tattoo Idea: Simple Faded Cross Tattoo with a Red Circular Background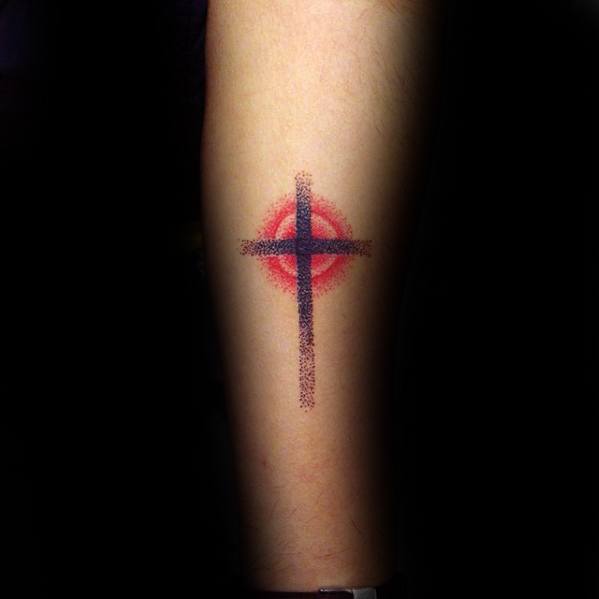 While many tattoo collectors boast intricate and detailed cross tattoo designs, there is a stunning element that is produced with a simple tattoo. This faded, burgundy cross is a beautiful contrast to the bright red circles behind it. This design would also look glorious next to two other crosses, which would symbolize the crosses at Calvary.
9. Blank Cross Tattoo Outline with Floral Background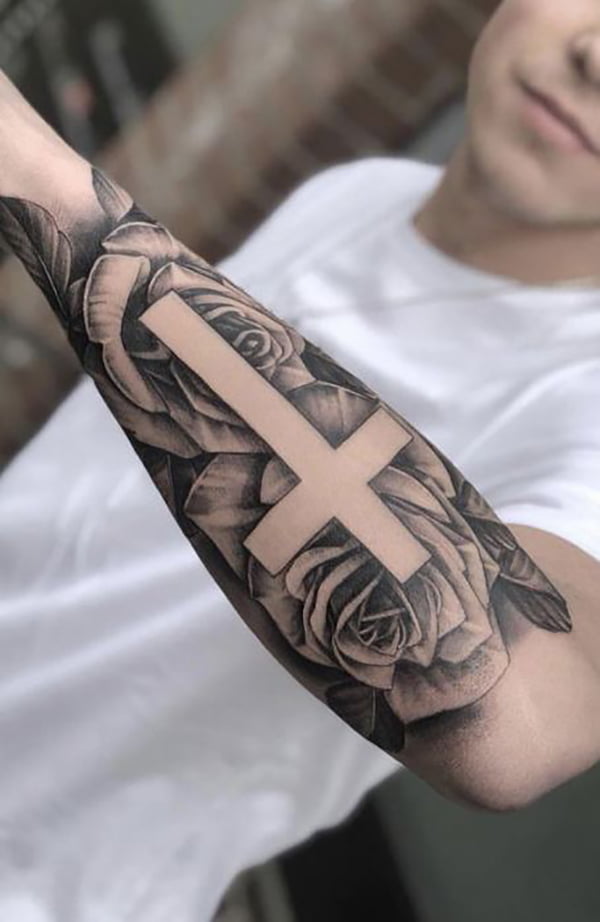 While this design might appear purely aesthetic at first glance, there is actually a profound meaning behind its appearance. When roses are placed next to or onto a cross, it symbolizes a new birth or resurrection. The white cross symbolizes the purity within the Father, Son, and the Holy Spirit.
10. 3D Cross Tattoo in the Sky with Roses and a Dove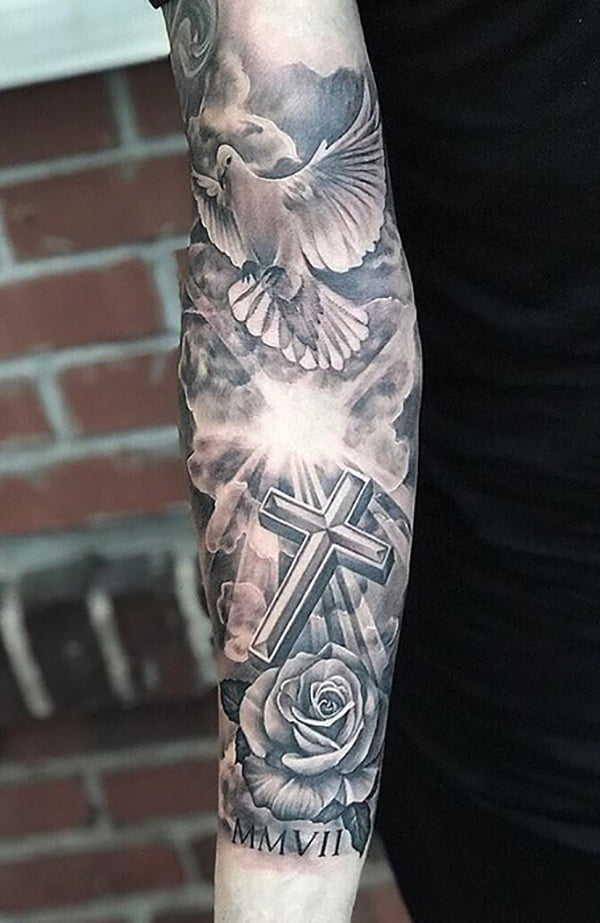 This tattoo will give your spectators something beautiful to look at for hours. The third-dimensional cross and heavenly elements such as the sun rays and cloud tattoos are a remarkable signature of peace, new life, and eternal life hereafter. The roman numerals at the bottom of the tattoo could easily signify a religious or meaningful year in your life.
11. Cross Tattoos Idea: Three Simple Crosses as a Neck Tattoo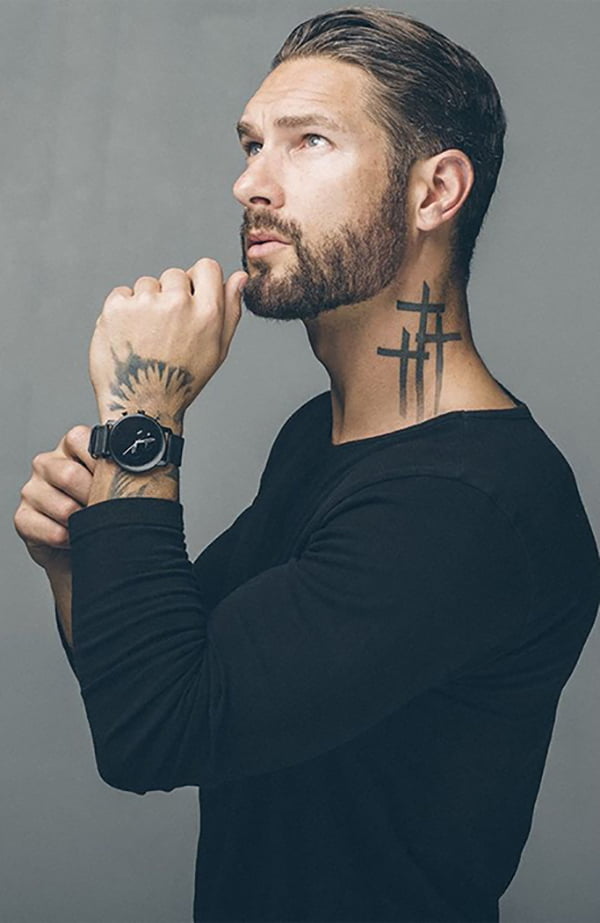 Hiding tattoos for professional or personal reasons has largely become a thing of the past. People are eager more than ever to proudly showcase their finest tattoos. Although the three simple crosses of Calvary are not fancy in design, their bold color and large shape are sure to catch one's attention.
12. Pointed Celtic Cross Tattoo with Baseball Stitching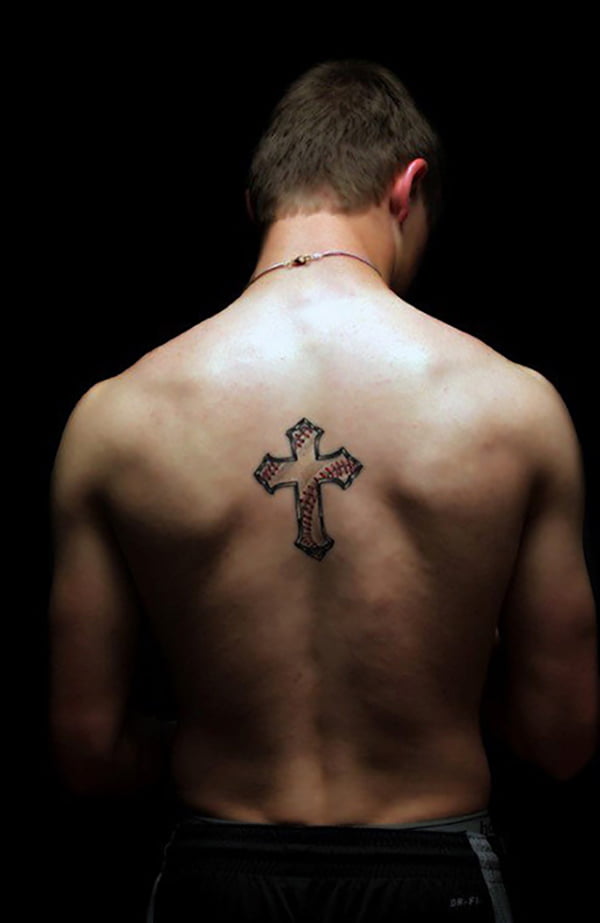 This cross tattoo is reserved for people who love baseball and Jesus. Its design features a cross outline that is slightly filled in but shaded to where it appears third-dimensional. The best part of this tattoo is the white and red ink that depicts the pattern of baseball stitching.
13. Fingerprint pattern on Cross Tattoo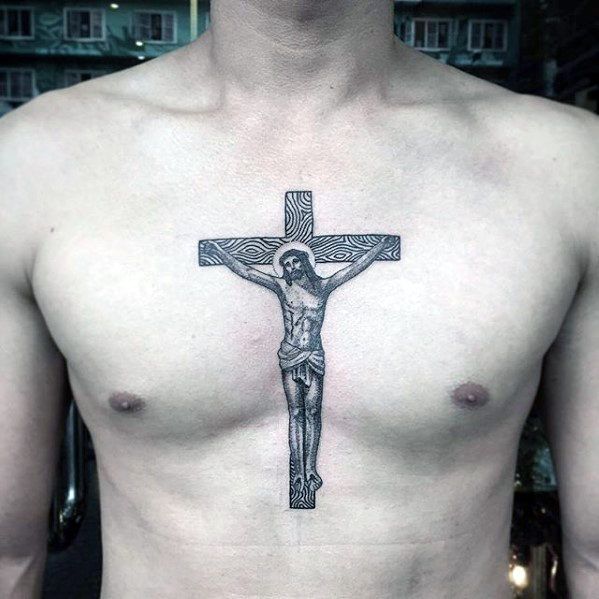 One of the most unique aspects of humankind is none other than our individual fingerprints. While it seems abstract, this element is a meaningful addition to a cross tattoo, as it signifies that not only did the Lord sacrifice His son for you individually, but for all people as well. This could also be seen as a unique take on finger tattoos.
14. Grey Crucifix on a Celtic Cross Tattoo with Wings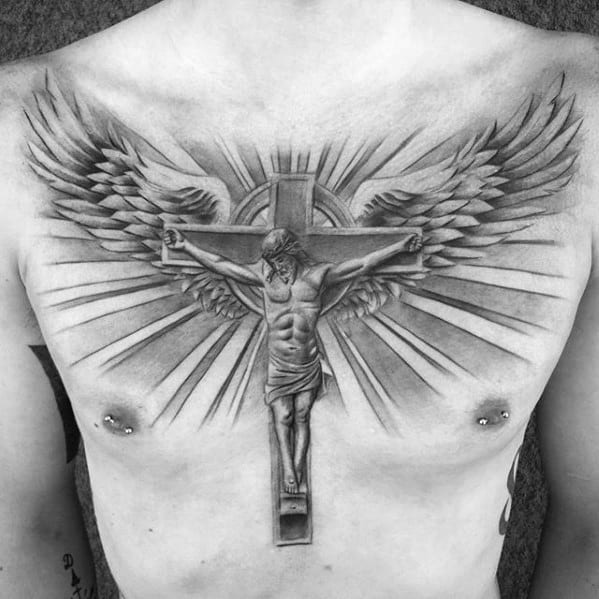 This tattoo is reserved for tenacious spirits. The depiction of Jesus on a 3D wooden Celtic cross which is surrounded by rays of the Holy Spirit is a gallant sight atop angelic wings. One could speculate that the meaning of this tattoo refers to the freedom of being born again into eternal salvation
15. Abstract Crucifix Cross Tattoo with a Hidden Meaning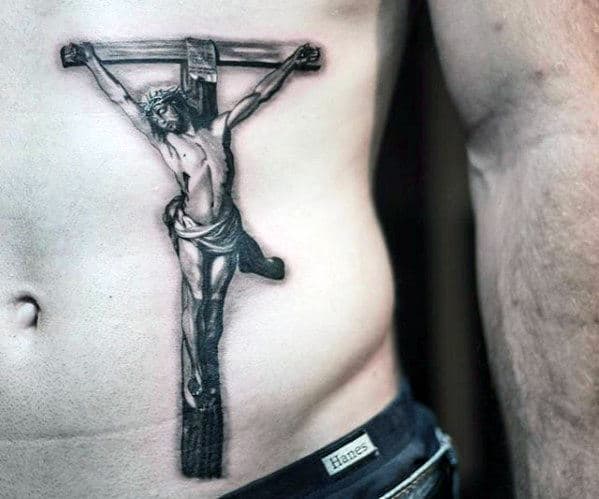 This tattoo is one for the deep thinkers. While many Christians understand the meaning and symbolism behind Jesus on the crucifix, some might not fully understand the meaning of each component of the cross. The section missing in this picture is the part of the cross that represents death. Erasing this element from the tattoo could signify life in Jesus' return to earth.
16. Rugged Cross Tattoo with Cursive "Love" Letters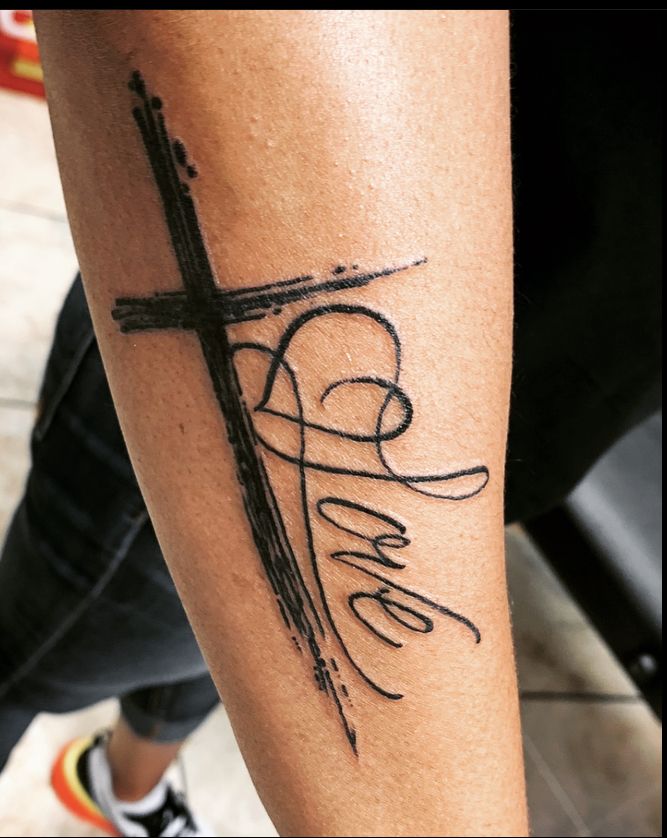 One of the most popular phrases in many American kitchens is the signature "Live, Laugh, Love." Similarly, one of the more popular words to pair with cross tattoos is the word "love." The cursive lettering incorporates an elegant heart to soften up the rough-looking cross.
17. Cross Tattoo Designs: Colorful 3D Cross Tattoo with Flowers and a Crown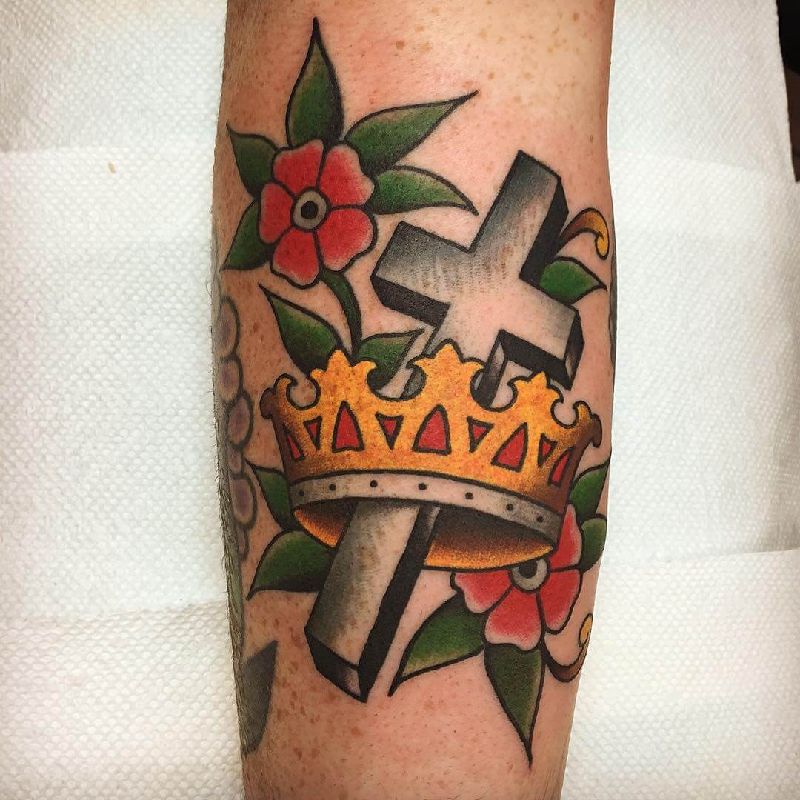 Do you want a tattoo that screams "Jesus is King" and your true love for Christ? Showcase your most beloved flower tattoo designs with this breathtaking combination of metal elements paired with stunning flowers. The most interesting part of this tattoo is the way the cross is subtle behind the bright, golden crown.
18. Bright Hand Tattoo with 3D Spanish Cross Tattoo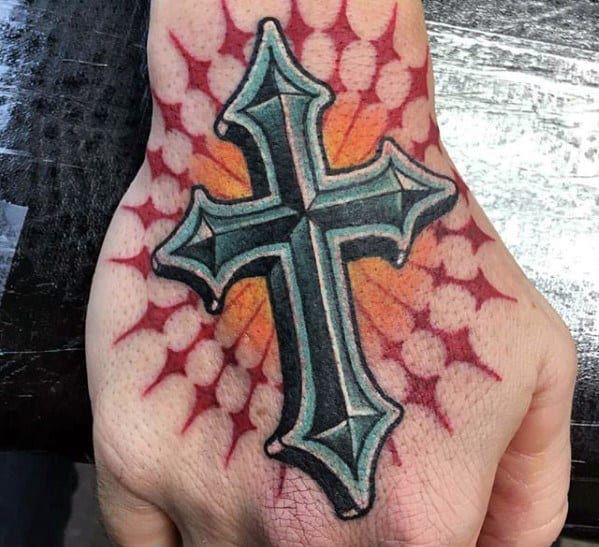 This cross tattoo appears to be inspired by both the ancient Spanish cross as well as the famous "fleur de lis" arrows behind it. The metal shading and texture appear strong while the orange sun shines behind it. Whether you are looking to display a powerful image of the cross or simply want to convey the spirit of the Holy Ghost, this tattoo is a beast.
19. Andelu Cuvaru Cross Tattoo with Broken Rock Background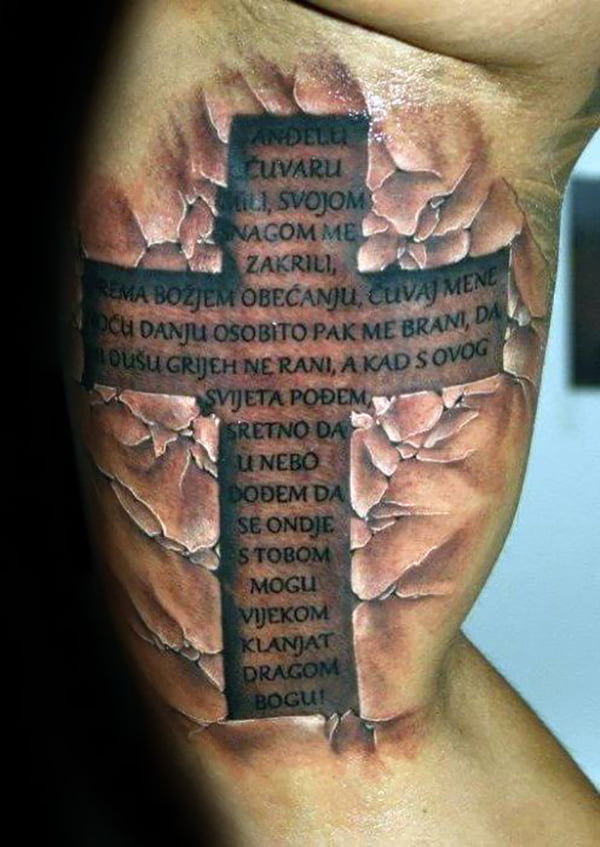 Although this tattoo appears to be written in Croatian, the first words are "andelu cuvaru," which in translation means "to the guardian angel." The cross lays on top of a crumbled rock, which could signify the rock of ages. The term "rock of ages" has been known to signify boundless strength that never dies.
20. Outlined Greek Cross Tattoo with Rocks Inside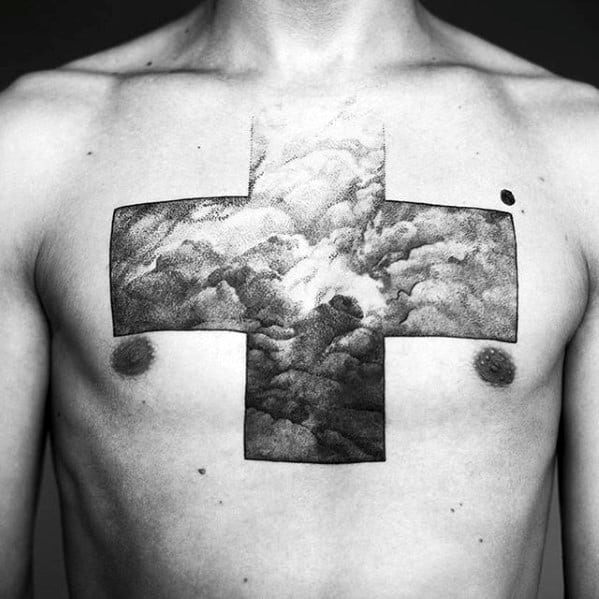 There are hundreds of variations of the crucifix. One of the more abstract, yet common, variants of the cross is the Greek cross. The Greek cross has shorter ends for all four sides. While the meaning is the same, the shape is incredibly different. It also allows more room to showcase a design inside such as rocks or bible passages.
21. Cross Tattoo Designs: Cracked Pointed Cross Tattoo with a Bible Verse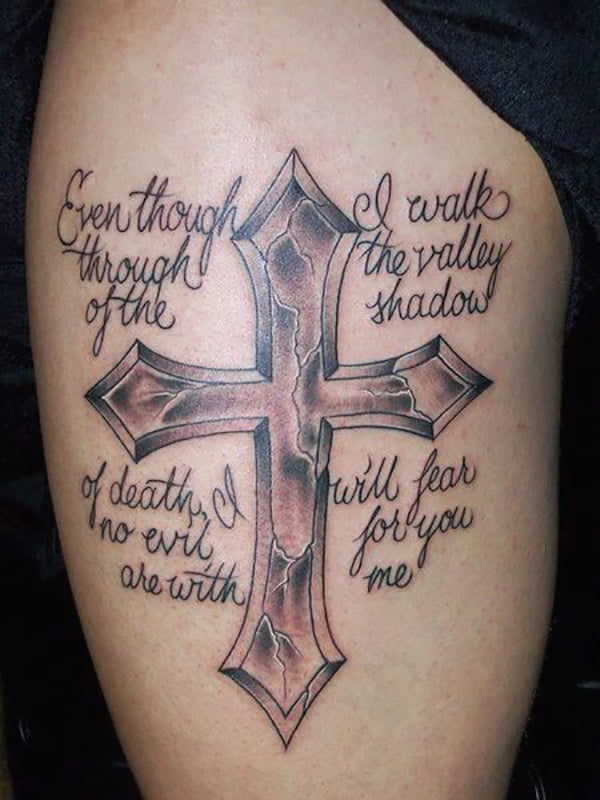 Fear no evil with this powerful cross design. The bible verse in the background is Psalm 23:4 and is a nice addition to the shattered, but not broken, cross. The significance of the cracked cross is that Christ's love and strength are eternal and unharmed by evil. Therefore, you can wear this tattoo with pride and as a reminder that the Lord is always with you.
22. Rugged Cross Tattoo with a Nail Base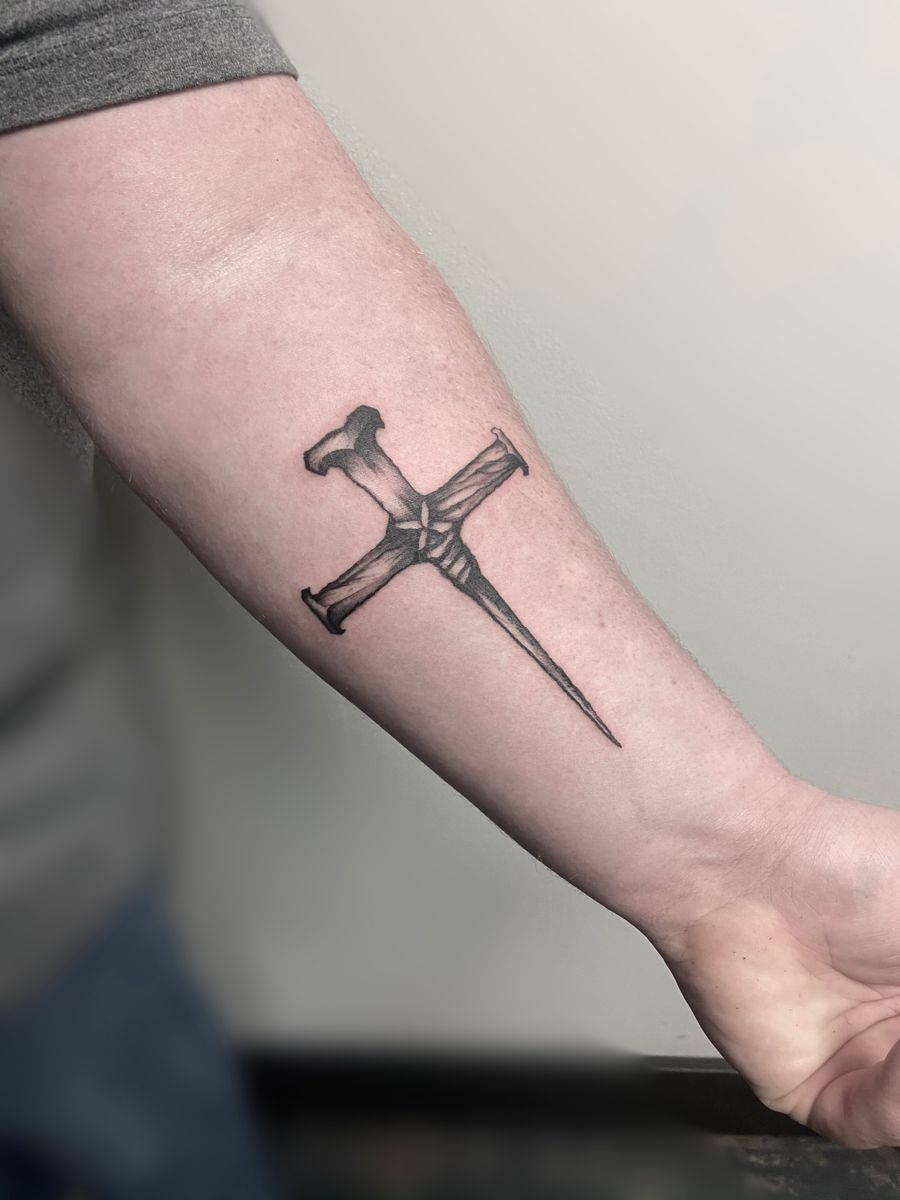 This cross is unique from many others, as the base of the cross is not its typical shape. Instead of the flat and wooden edge, there is a nail or dagger-like shape on the bottom. This could signify the nails which were used to hold Jesus on the cross. While many Christians understand the pain and suffering Jesus went through on the crucifix, this tattoo is a potent reminder of the pain He suffered to forgive our sins.
23. Cross Tattoo Designs: Simple Jesus Word Cross Tattoo Design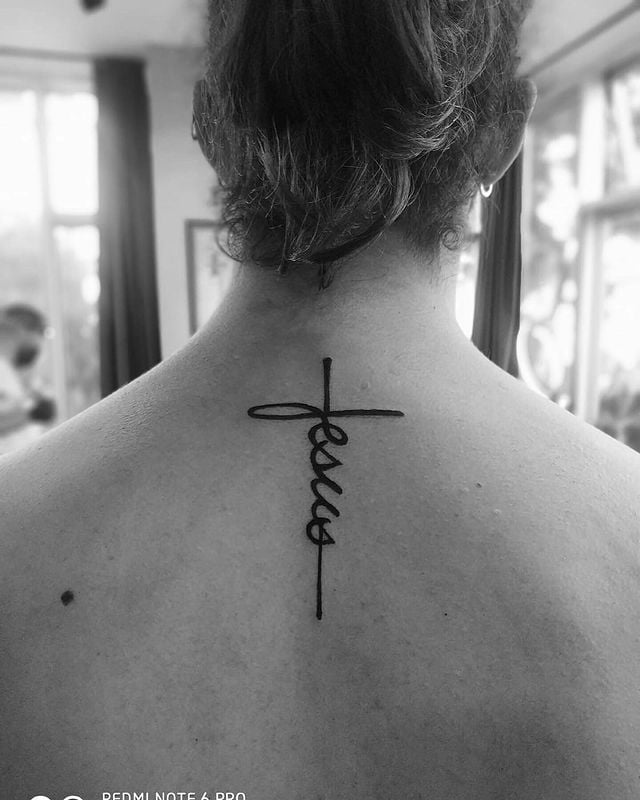 Tattoo lovers are always looking for a way to incorporate style and hidden meaning into their body art. The art of blending words and symbols is a classic technique that looks amazing on this tattoo. The vertical letters spell out "Jesus" and the J is used to create the middle line of the cross.
24. French Cross Tattoo with a Crown of Thorns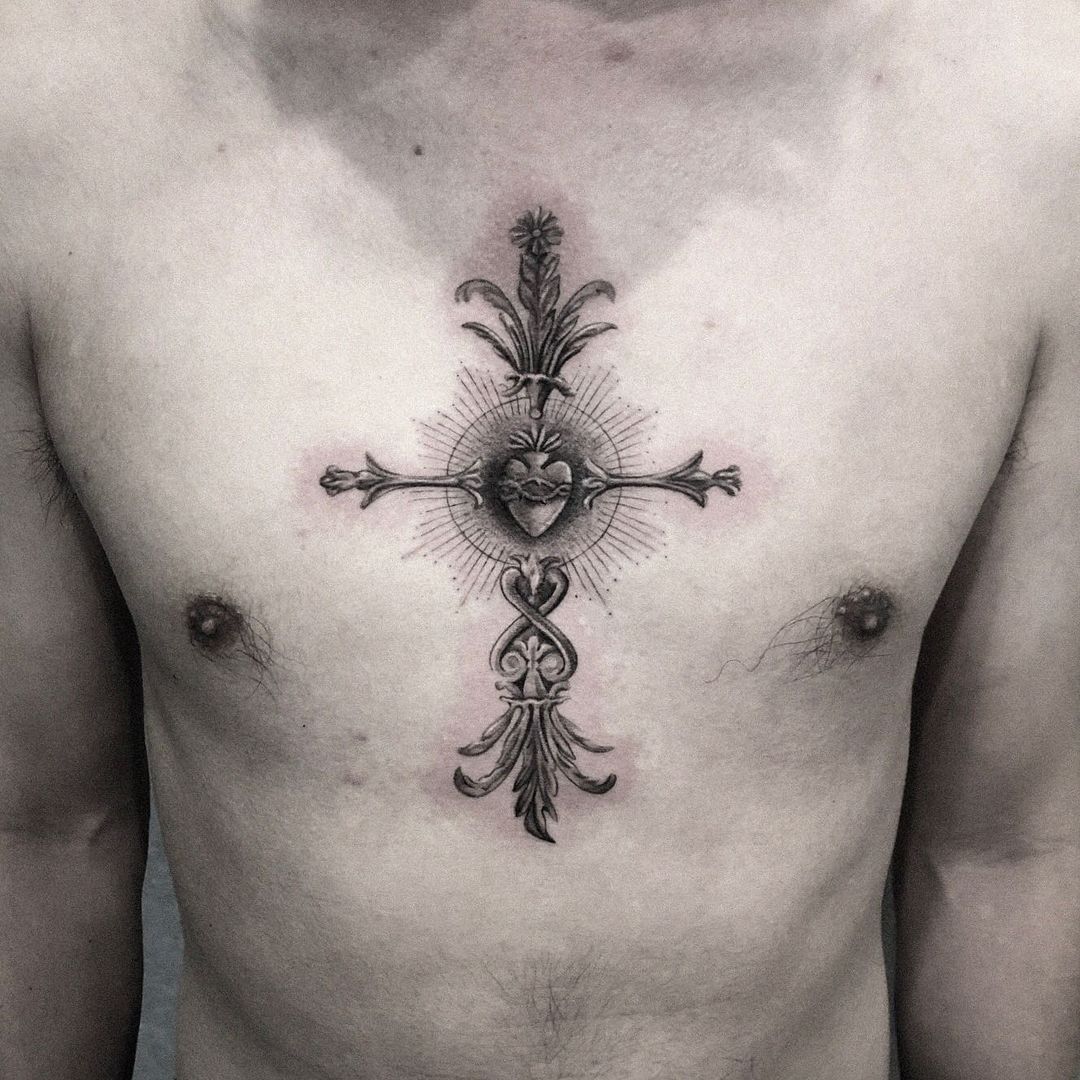 While most crosses showcase Jesus Christ nailed to the cross, it is also common for tattoo lovers to desire a more subtle design that makes them think. This tattoo is in a french design with a crown of thorns in the middle. To add some extra depth, there is a french heart design in the middle which dons a crown of thorns instead of Jesus' head.
25. Silhouette of Jesus on the Cross Tattoo on Calvary Hill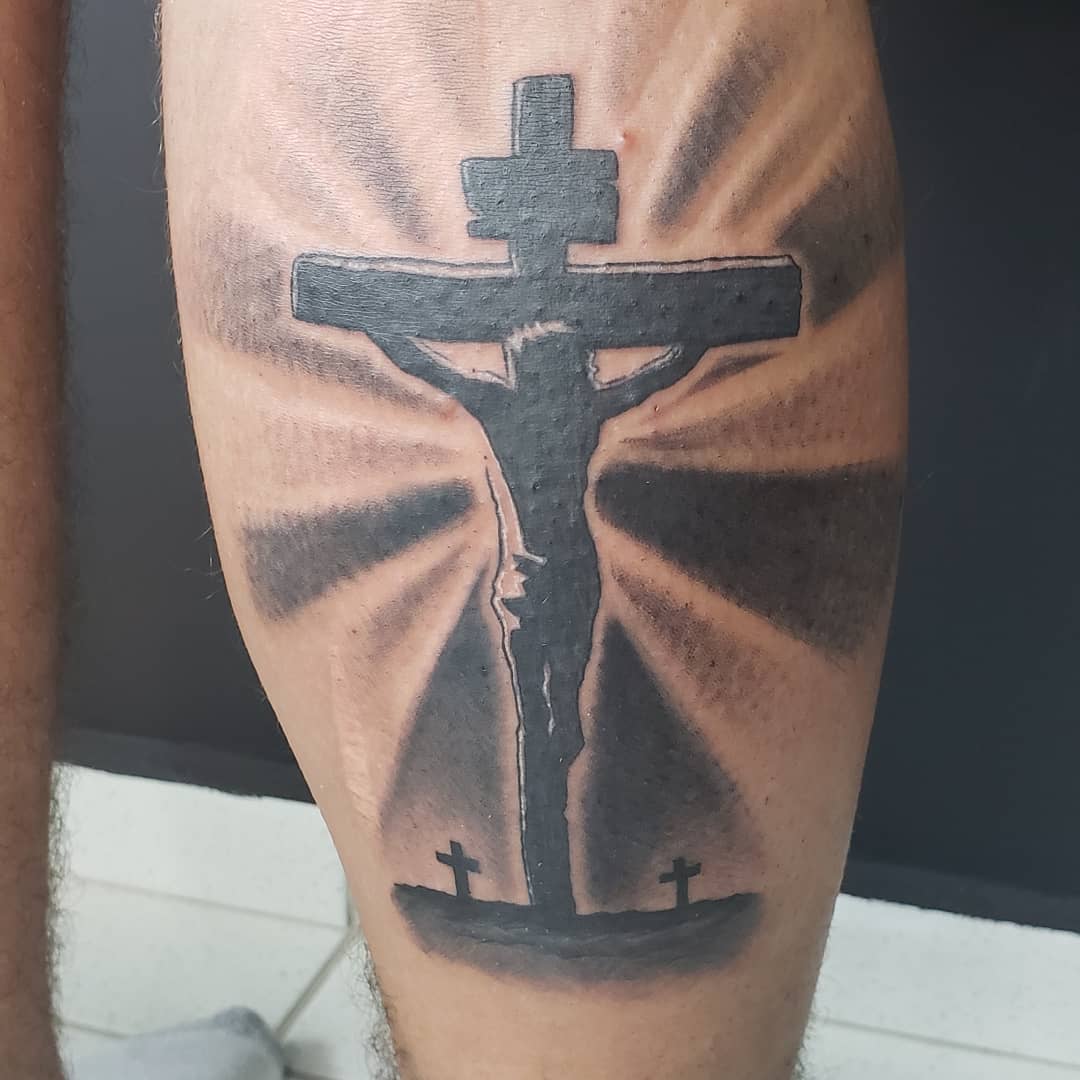 Calvary Hill is a beautiful rendition of what occurred on the day of Jesus' crucifixion. There is no doubt that Jesus' cross was the most important; however, the two remaining crosses were those of thieves who accepted Jesus Christ as their savior in their final moments of death. The shading technique that provides Jesus with a contrasting silhouette brings some attention to the smaller crosses in the background but ultimately illuminates Jesus Christ.
26. Black Cross Tattoo with "Only God can Judge Me"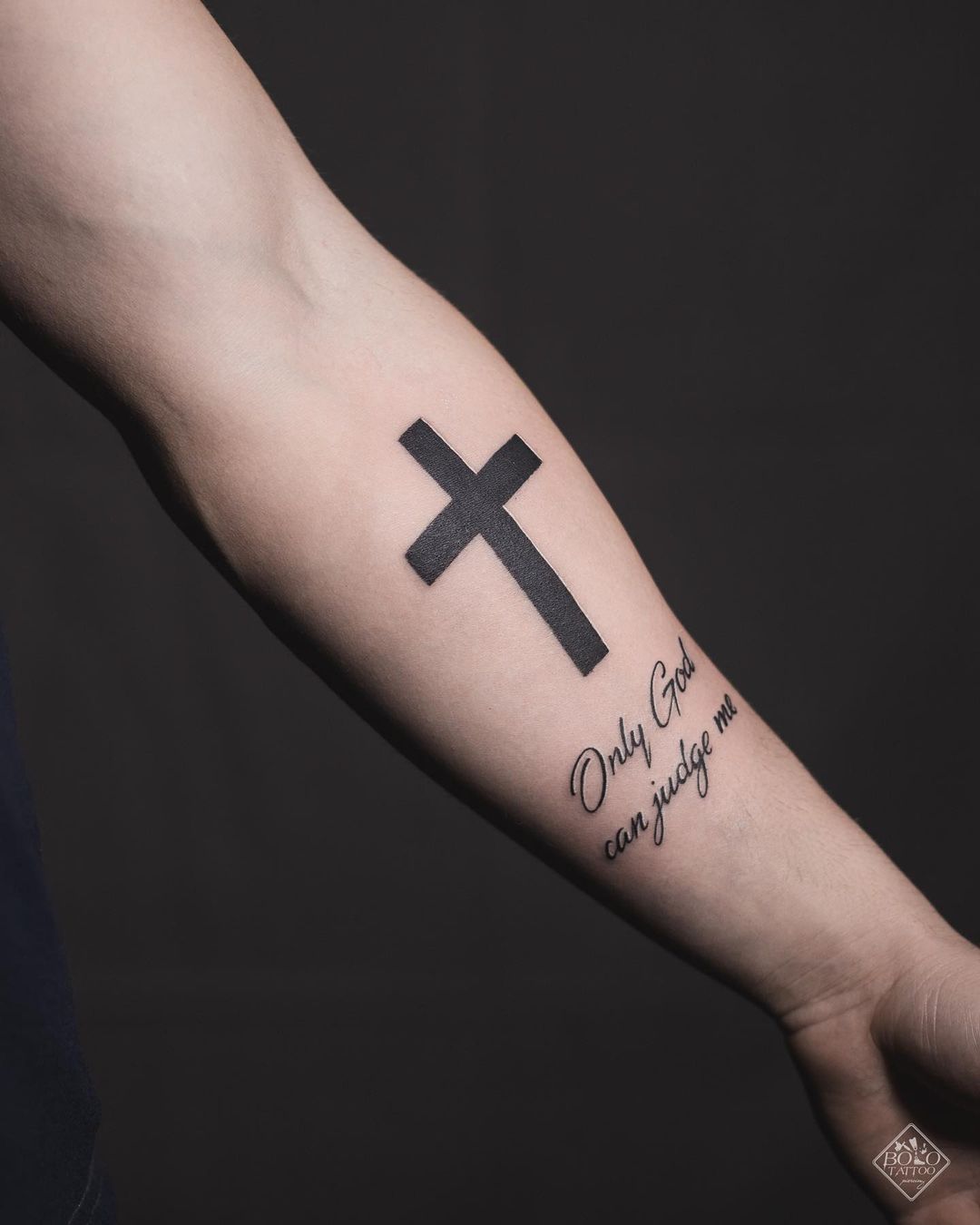 Life is short and can be filled with turbulence and troubles. However, many Christians find solace in the fact that if they do right by God's standards, the rest of their eternity will be granted heavenly salvation. The black cross helps convey a message of our flaws, but the symbol of the cross forgives it.
27. Beautiful Black and Silver Cross Tattoo with Angel Wings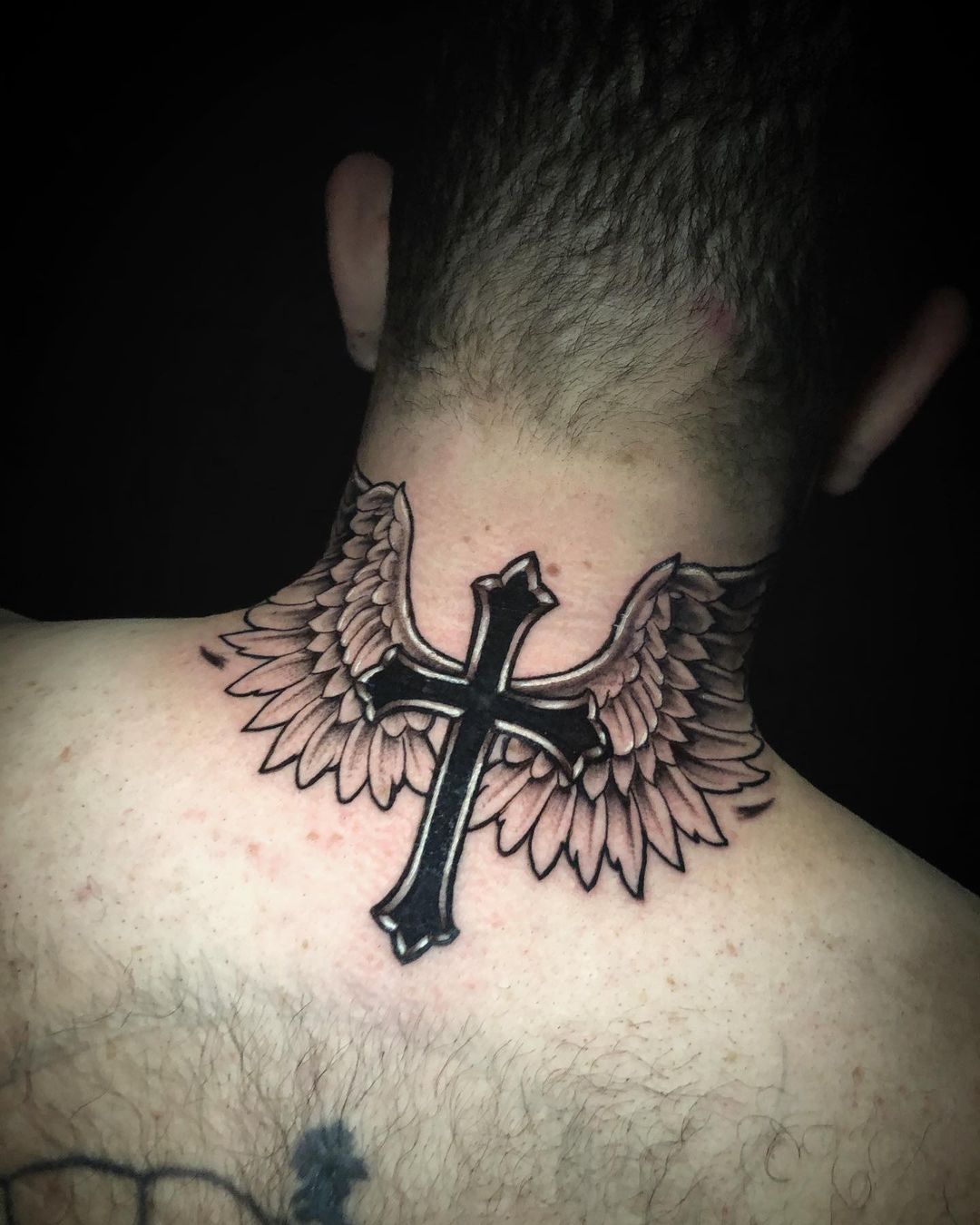 You know you have a great tattoo artist when they get the colors just right. This beautiful cross is outlined in a silver metal shading that appears as though the light is shining directly onto it. Paired with a large set of angel wings, this tattoo is great for the neck, back, and shoulders.
28. Rugged and Simple Faded Cross Tattoo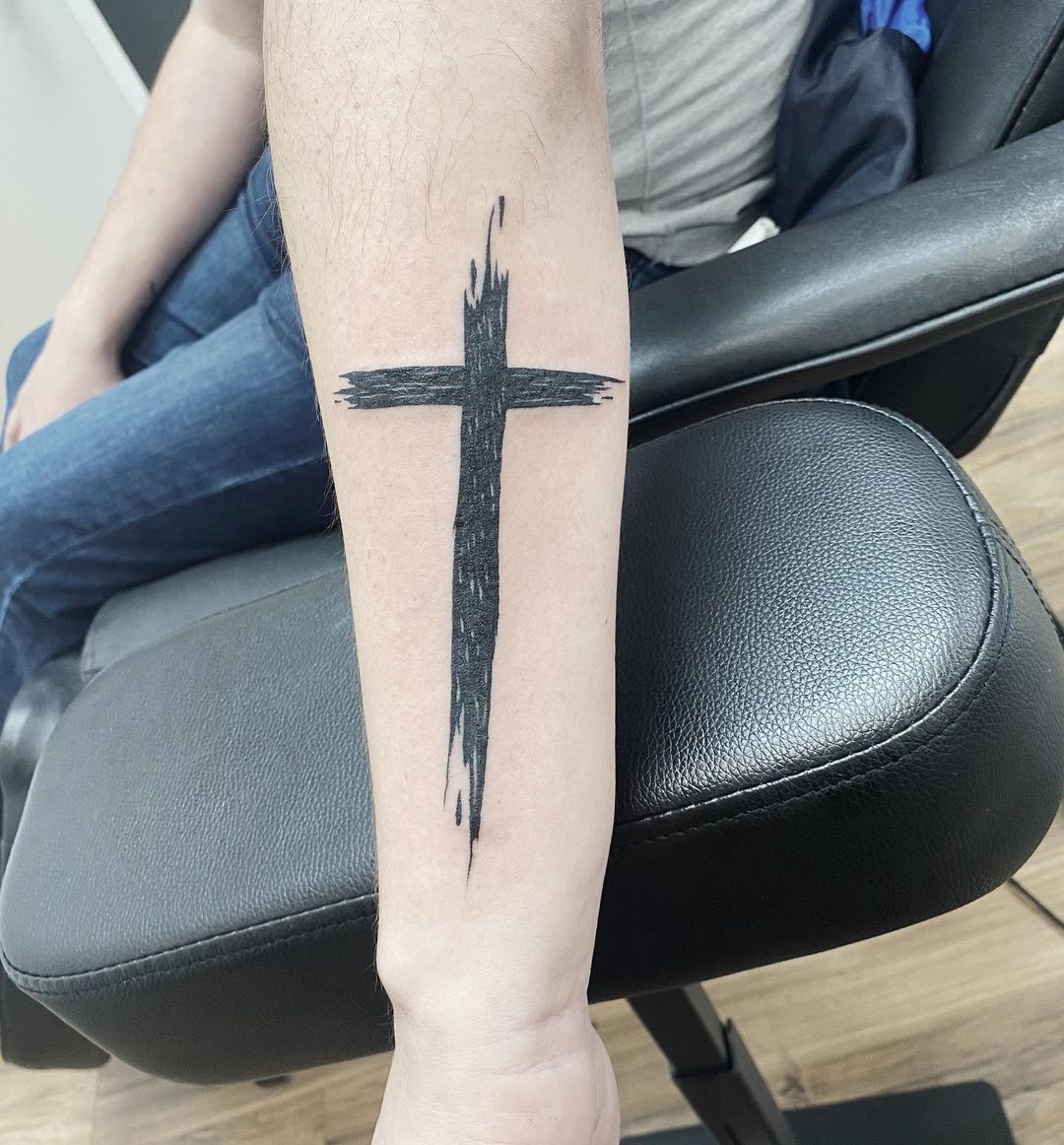 Jesus' original crucifix was likely made from three different types of wood with one of those being cedar. The texture of this black, wooden cross appears to be a cedar texture, which is known to be a rougher texture. The edges of the cross are faded much like aged wood, but the remainder of the cross is strong and unfading.
29. Portrait of Jesus Tattoo with 2D Cross Tattoo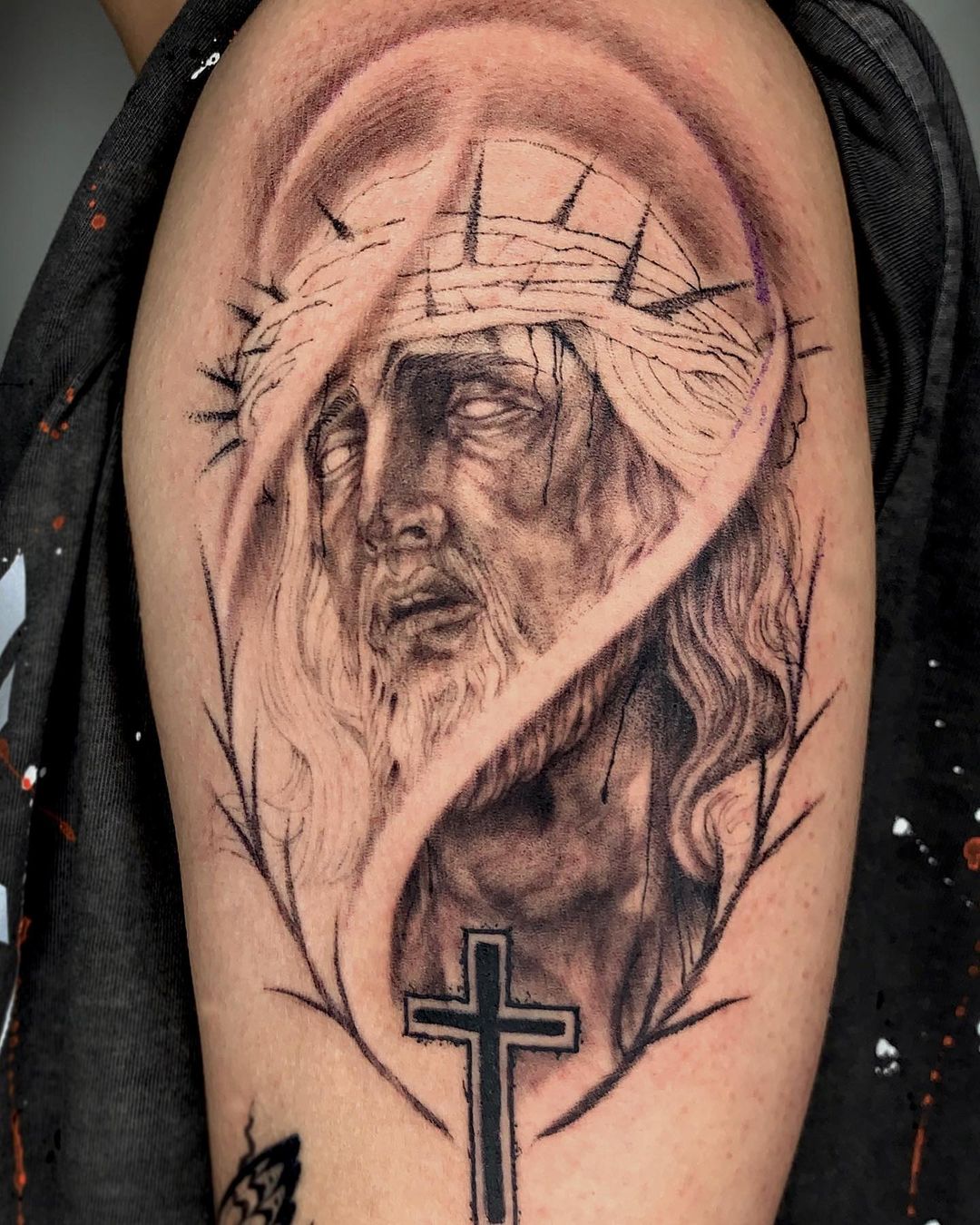 Sometimes the most emotional tattoos are the ones worth collecting. This portrait of Jesus with the crown of thorns is a grim depiction of what He must have felt through his pain and suffering on the cross. It is interesting to note that instead of showing Jesus on his crucifix, it is displayed directly below him in a two-dimensional cross.
30. Walk by Faith to Eternal Salvation Cross Tattoo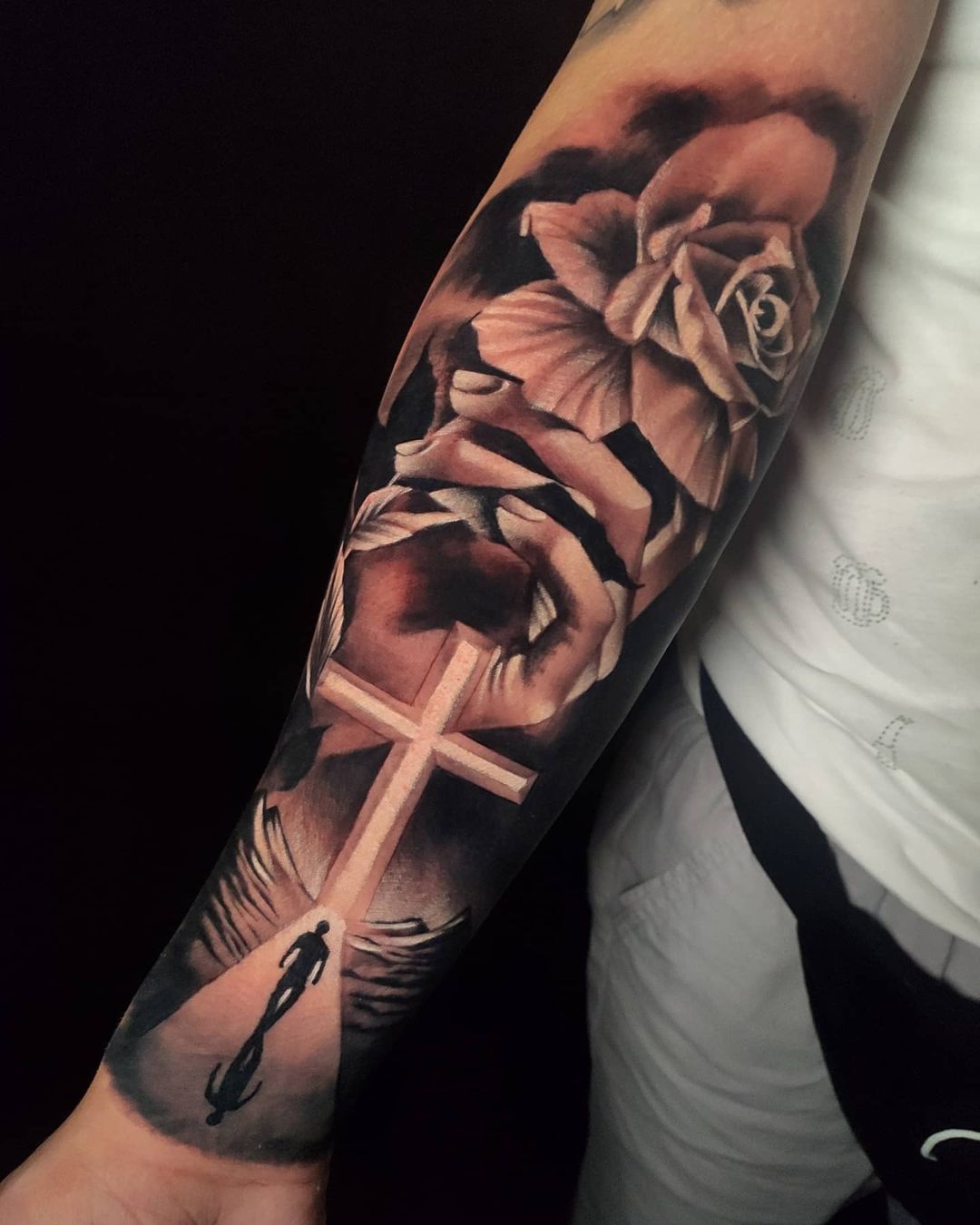 Although this faith tattoo does not feature Jesus himself, there is a silhouette of a person walking down a lighted path towards a white cross. The rose at the top of the picture likely symbolizes eternal life in death, which leads one to conclude the picture signifies the crossing over from life to death.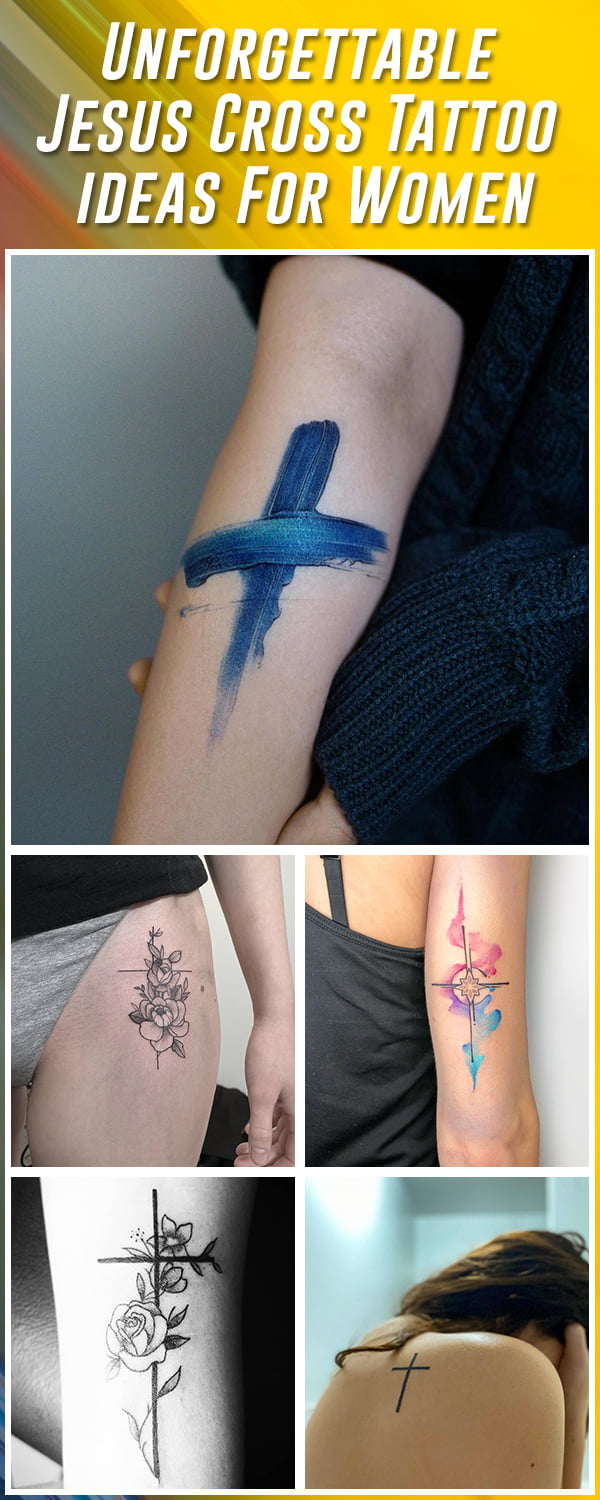 31. Plain Wrist Cross Tattoo Black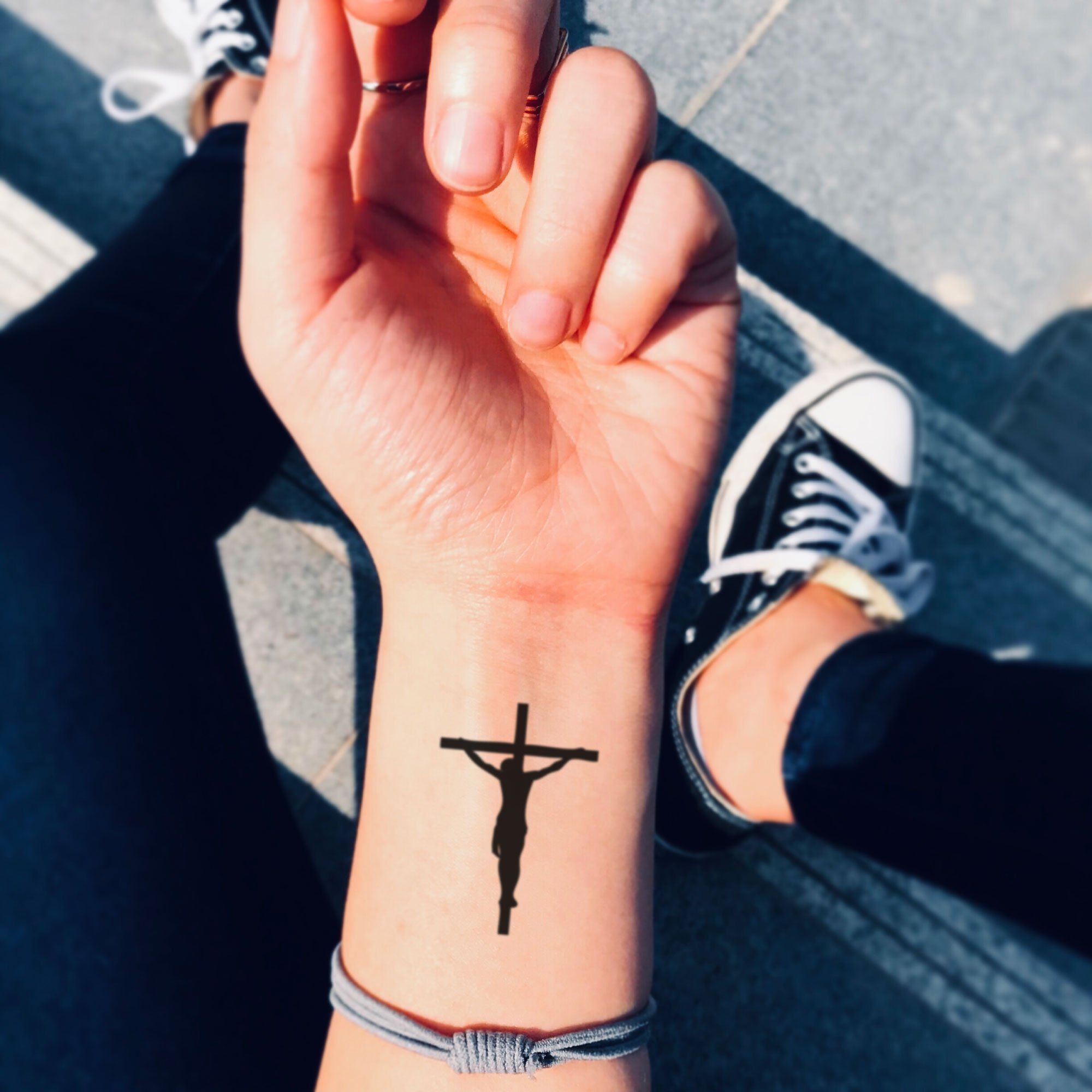 Many people claim to get wrist tattoos in order to help remind them of important life lessons or inspirational quotes. Tattooing a picture of Jesus on your wrist is a sure way to get your daily reminder to trust the Lord and to pray without ceasing during your darkest hours. The solid black design makes it both trendy and simple.
32. Simple and Elegant Branch Cross Wrist Cross Tattoo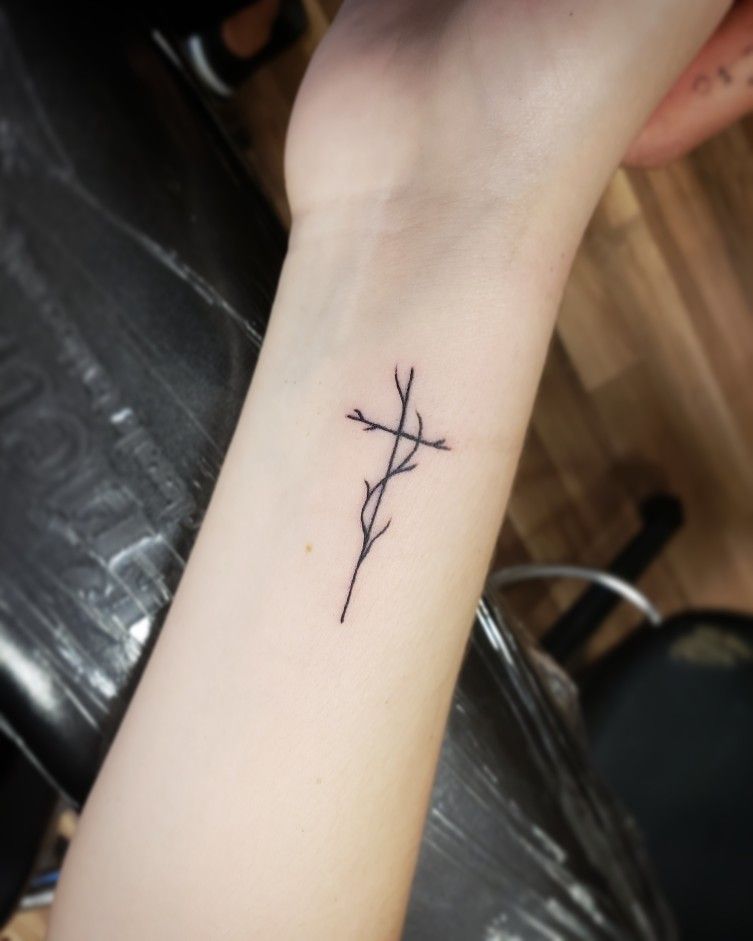 Who knew such a simple and small tattoo could carry such a strong and multi-dimensional meaning? This cross is not just any ordinary cross. It is comprised of olive branches, which signify peace. The simple and sleek design is perfect for thinner and smaller parts of the body like the forearm or wrist.
33. Artsy Paint Stroke Cross Tattoo with Watercolor Background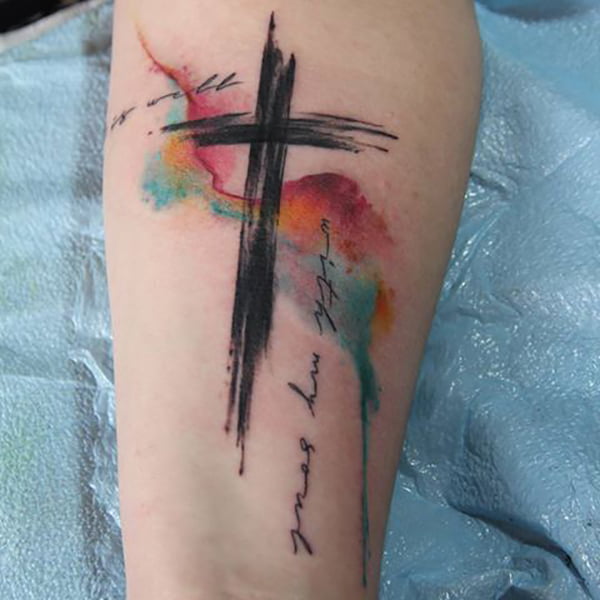 This beautiful watercolor design is the perfect background for an abstract and artsy cross. Although the cross is a textured black design, its meaning is elevated by the watercolor river behind it. Pair these two elements with a quote of your choice, and you are ready to head to the tattoo parlor!
34. Simple Cross Ankle Tattoo with Bible Verse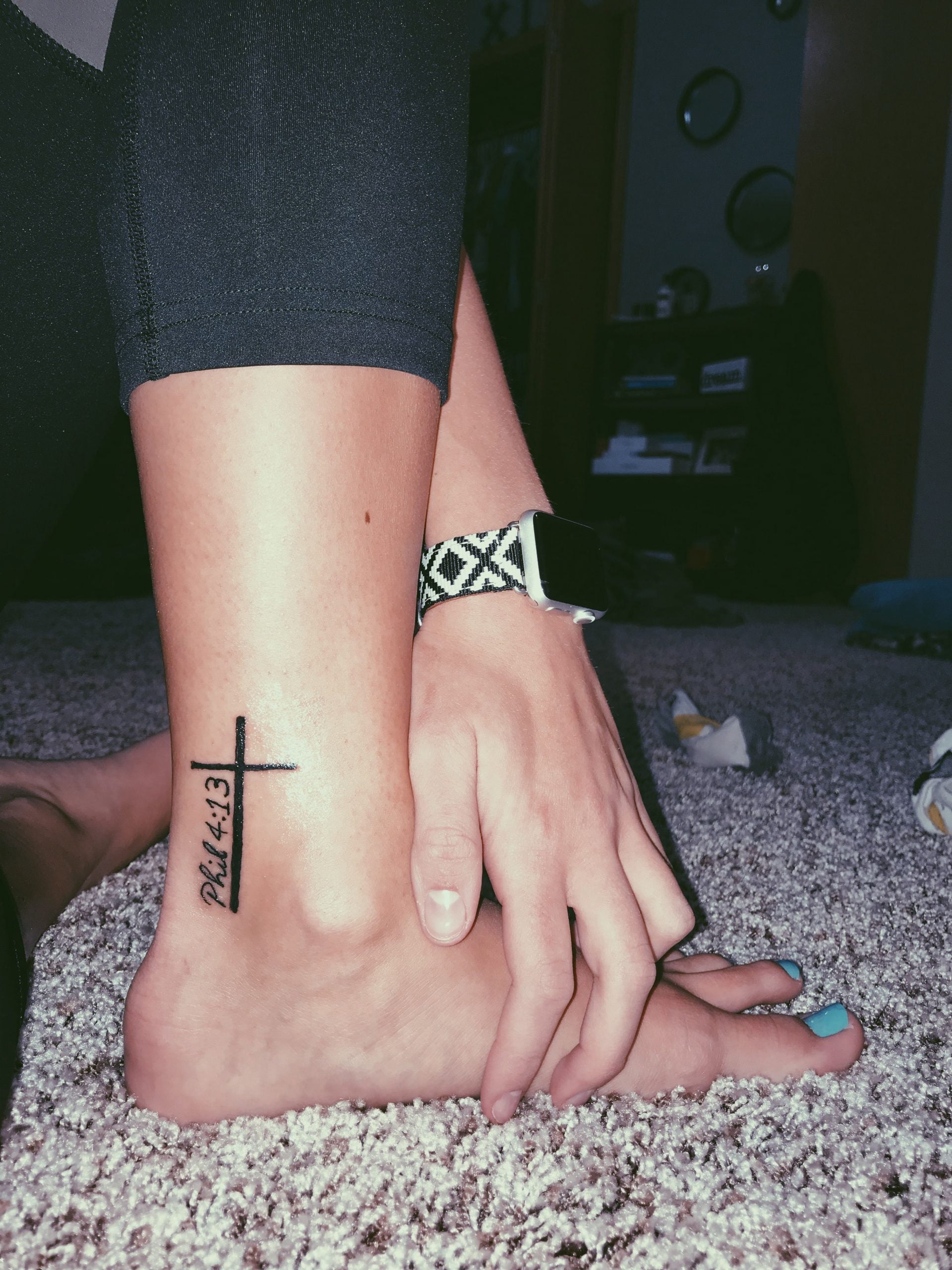 Tattoo collectors who like to decorate commonly exposed parts of their body may not always want a flashy or bright cross ankle tattoo. For occasions where you just want something simple but more meaningful than a smiley face or heart on your ankle, check out this inspirational Phillipians 4:13 tattoo.
35. Feminine Blank Cross Tattoo with Floral Background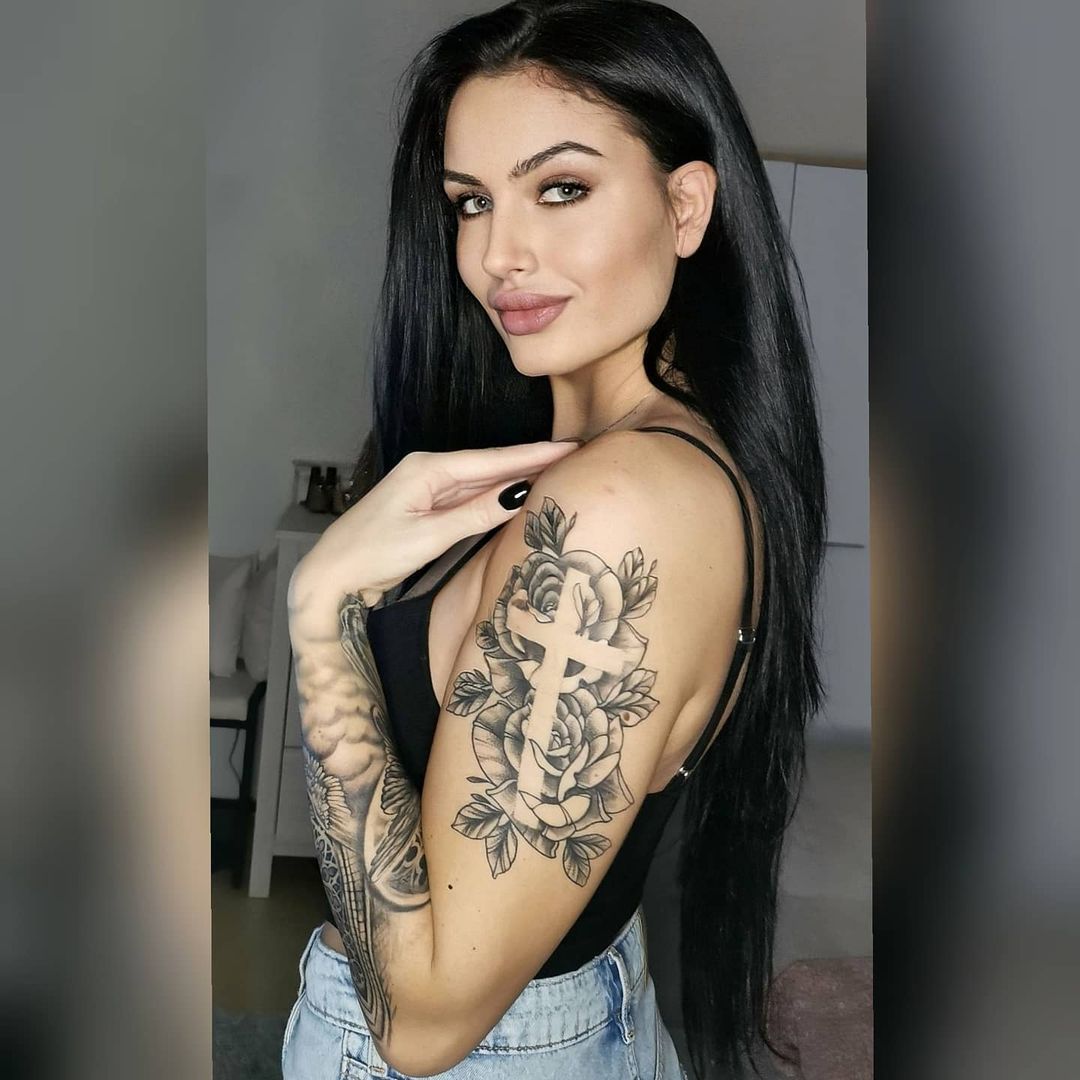 If you love florals and you love Jesus, look no further than this stunning floral cross tattoo! The entire design is a simple black and white, but the detailing is out of this world. Although it is completely blank, the cross is the star of this tattoo. You could even add a pop of color for more pizazz.
36. Nailed to the Cross Tattoo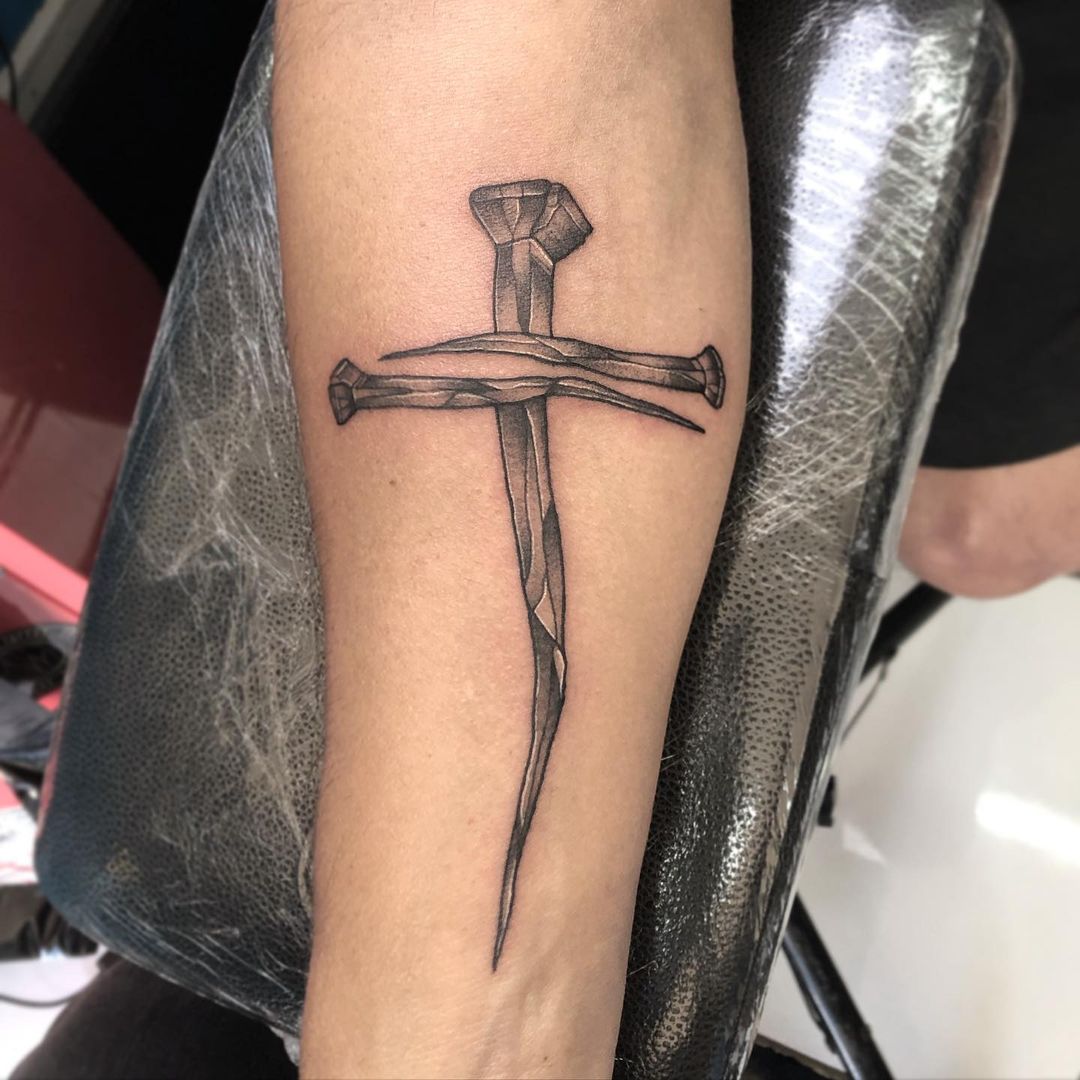 If you are not afraid to depict a gruesome sight on your body, the image of the nails used to pin Jesus to the cross is a piece of art to remember. The longest nail on the cross was likely hammered into both of Jesus' feet while the shorter two nails were forced through his palms. Just the thought of the agony and pain Jesus must have suffered for our forgiveness and salvation is far greater than words can describe.
37. Ultra Simple Cross Tattoo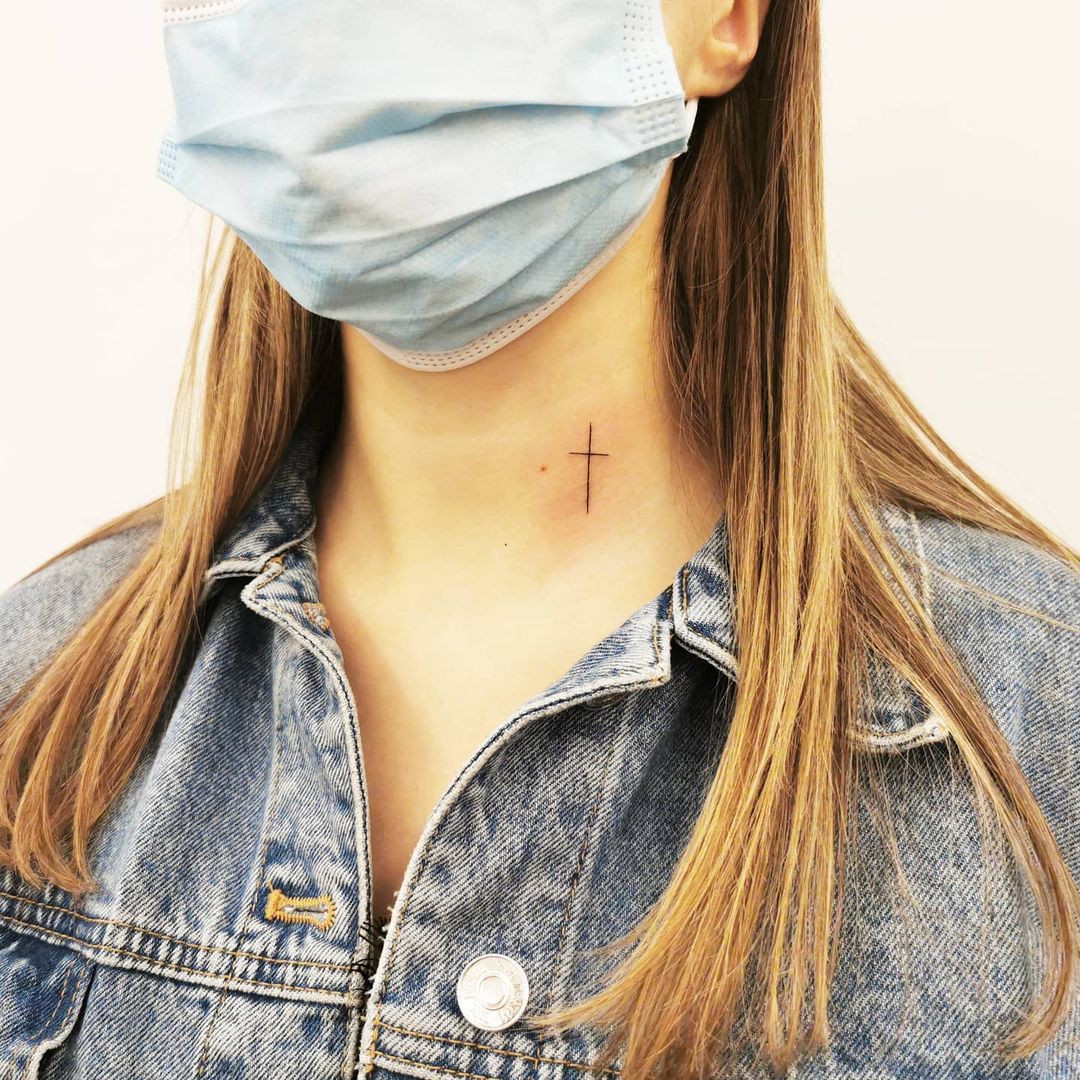 Many people adore neck tattoos but are too afraid to get them for fear of "scaring" away future employers. If you want to get your feet wet when it comes to neck tattoos, a simple and thin cross tattoo design is the perfect place to start! It can be easily concealed with makeup or a high neck shirt if needed.
38. Elegant Fleur de Lis Cross Tattoo with Angel Wings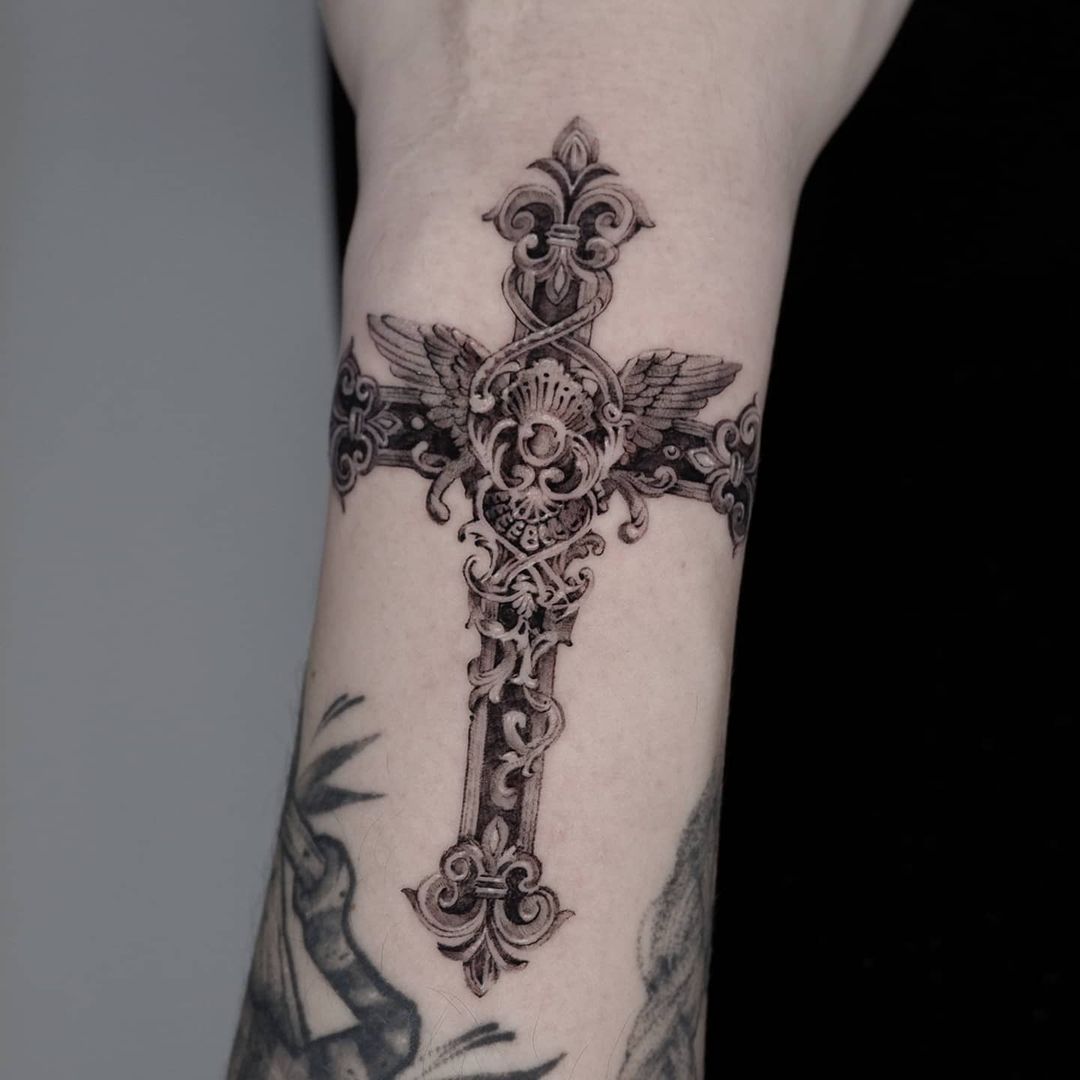 Historically, the Fleur de Lis cross was reserved for the French royals thousands of years ago. In today's society, it has become a symbol of reverence and style. Many people flock to this Fleur de Lis cross because of its elegance and timelessness. The middle of the cross also possesses a holy crown as well as angel wings.
39. Blue Painted Cross Tattoo with a Faded Base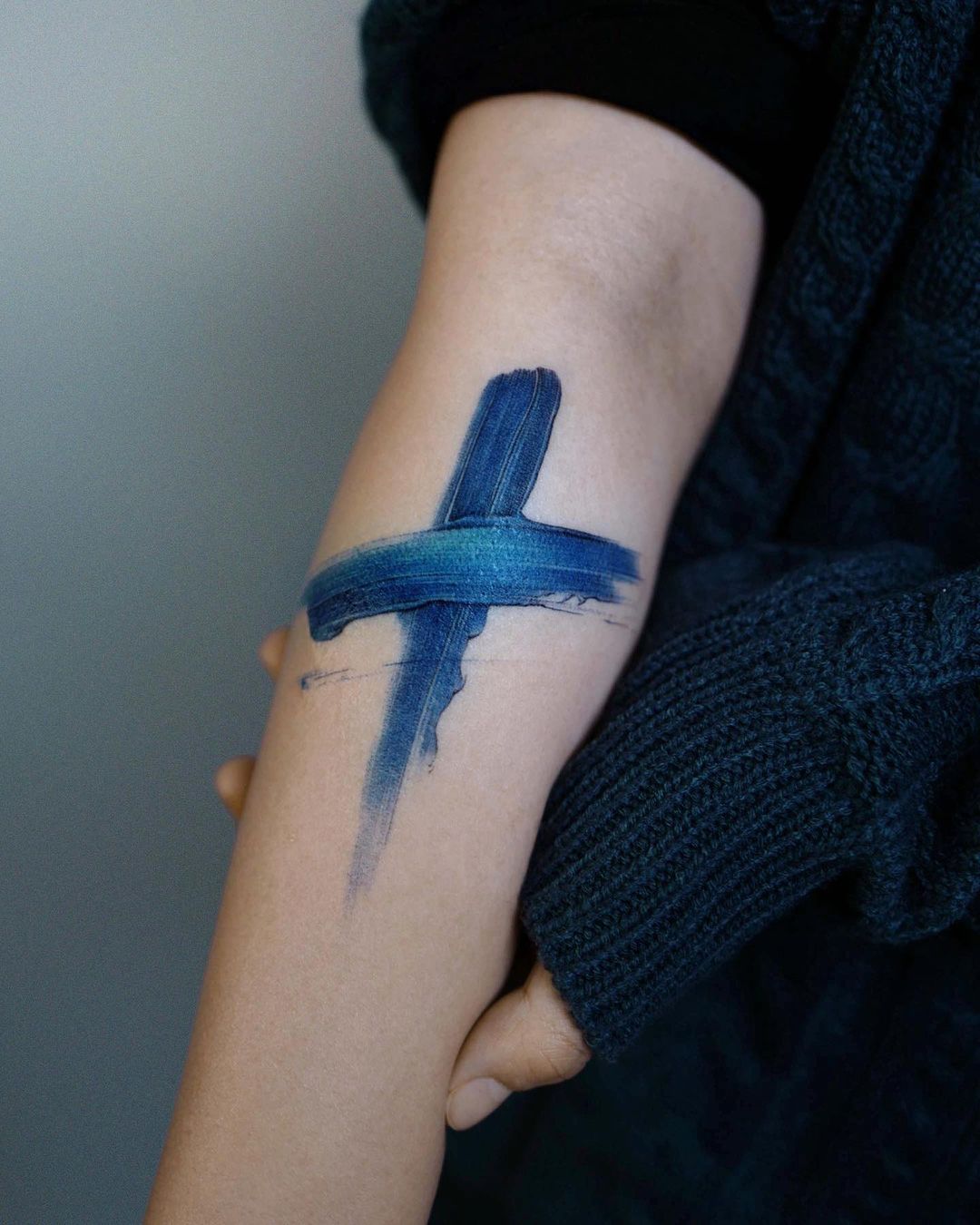 Among the most symbolic colors in Christianity, the color blue often represents the water of baptism. This is a particularly important component of believers, as baptism can provide a secured spot to salvation. This tattoo features a beautiful hue of blue paint strokes that are similar to water, serving as a reminder of your renewal in Christ.
40. Plain Cross Tattoo with Six Slanted Lines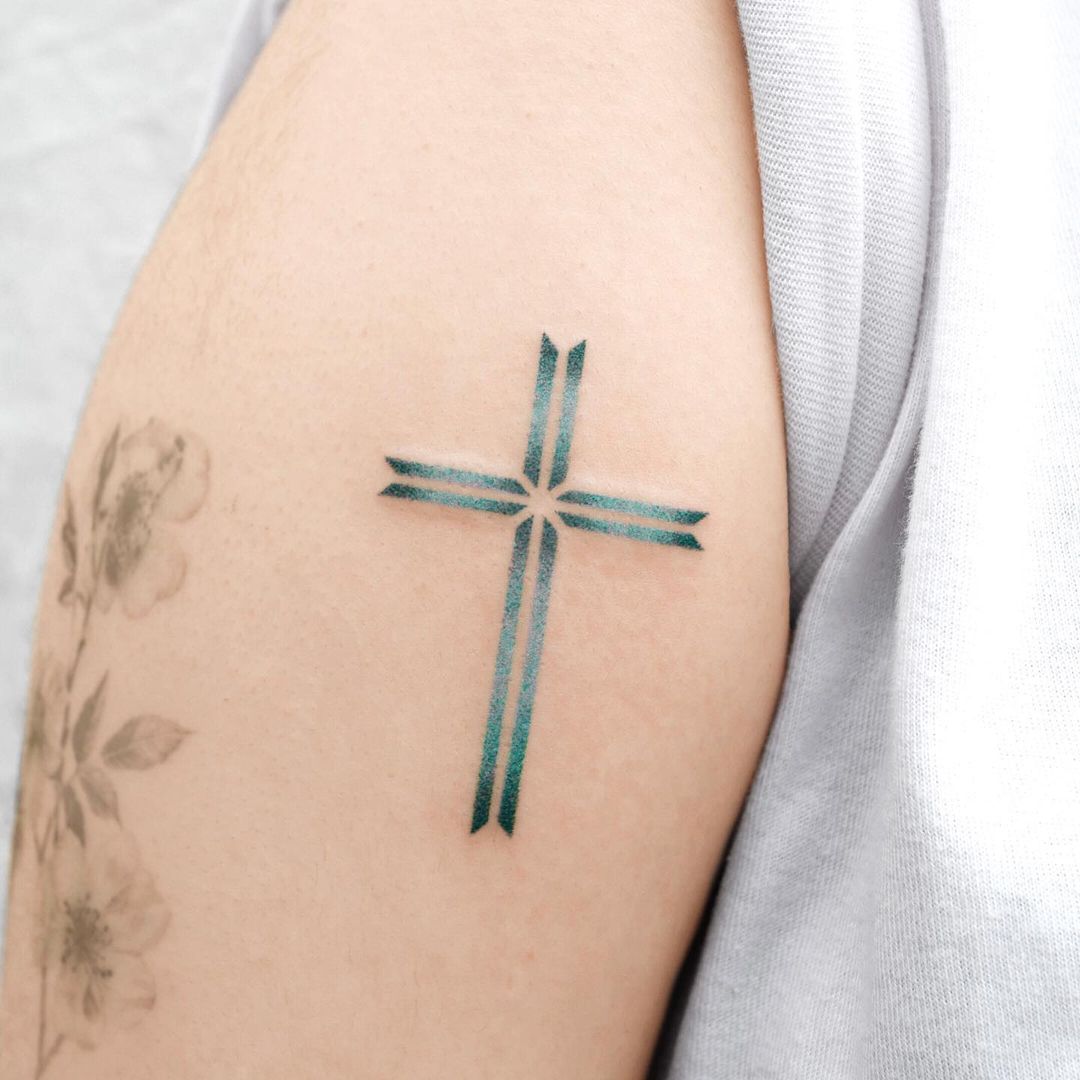 If you are a geometric cross tattoo design lover, you will adore this simple, yet mighty cross tattoo. Although the tattoo pictured is a variation of black, you could experiment with different colors or gradients to give it an extra pop of color. The most charming part of this cross is the middle section, which appears to be a sparkle of eternal light.
41. Thin Line Cross Tattoos with Big and Bold Flowers Tattoos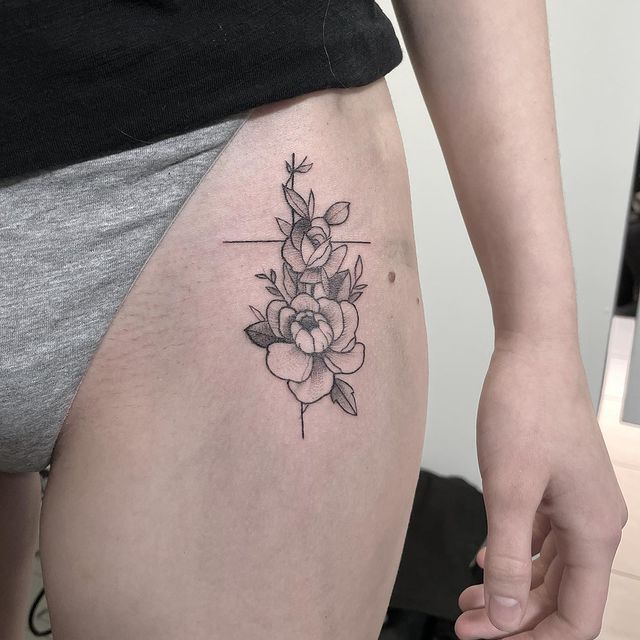 The most sensational element of an underplayed cross tattoo is how many varieties of symbols included in the cross tattoo design. This gorgeous set of large flowers is placed atop a thinly lined cross. While some may fear the flowers dominating the symbol of the cross, the flowers actually accentuate the cross when done correctly.
42. Cross Forearm Tattoo: Black Forearm Cross Tattoos with Colorful Flowers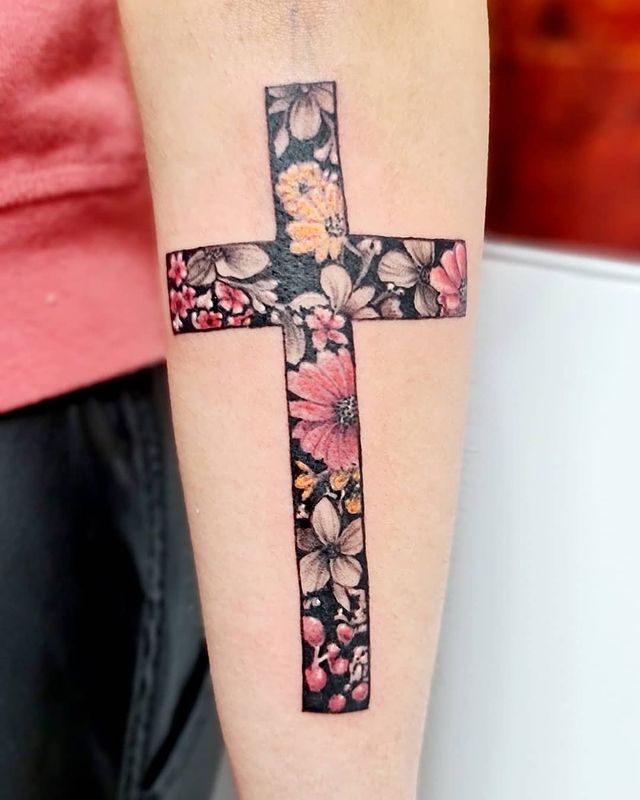 Bring out your feminine and artsy side with this ravishing black cross arm tattoo. While people often include flowers on and around a Jesus cross, this artwork makes it a part of the cross. Although this would look amazing on any part of the body, the forearm is an ideal place to display such a magnificent work of art.
43. Thin Cross Tattoos on the Shoulder with Matching Word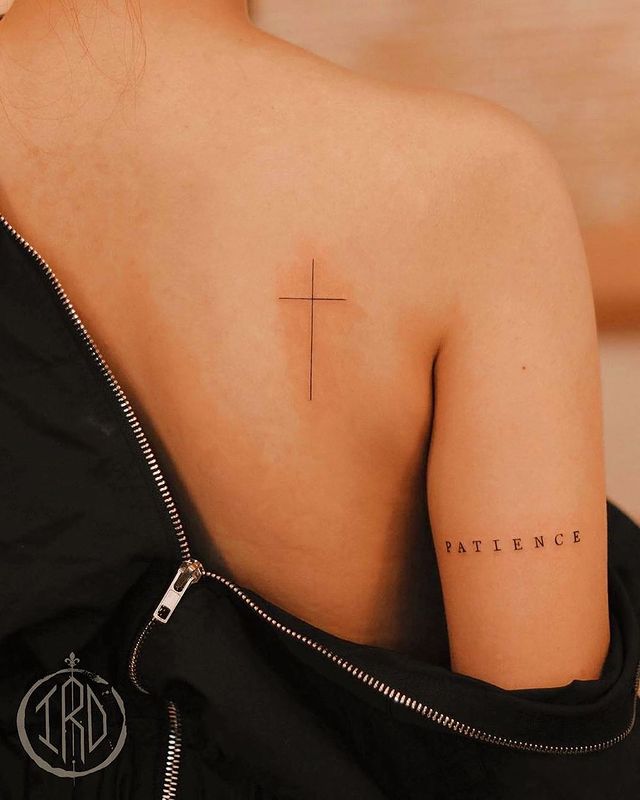 If you are looking to design more than one part of your body but you still want the cross tattoo designs to match, you will love this concept. This spiritual tattoo matches an ultra-thin cross on the shoulder that goes along with a word of your choice in a similarly simple font.
44. Pointed Passion Cross Tattoos with Celtic Cross Tattoo Designs Inside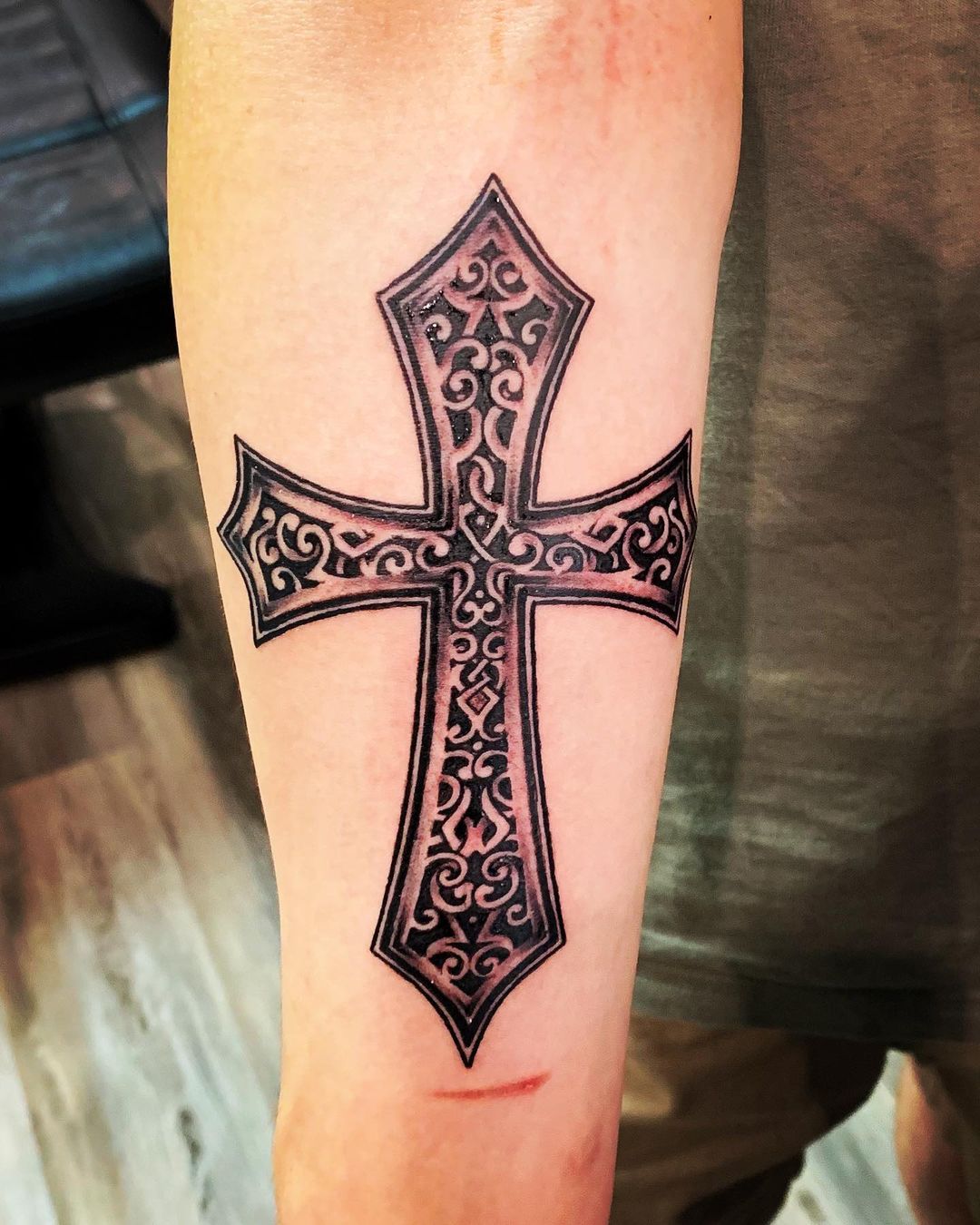 Not only is this cross absolutely gorgeous and perfect for any person, but it is also filled with hidden meaning. Firstly, the pointed edges of the cross are commonly included in what is called a "Passion Cross." The passion cross represents the pointed, sharp nails that were driven into the hands and feet of Jesus Christ. The Celtic swirls inside the cross appear to be that of the trinity Celtic cross tattoo design and signify the Father, the Son, and the Holy Ghost.
45. Black and White Tattoo of Simple Cross with Flowers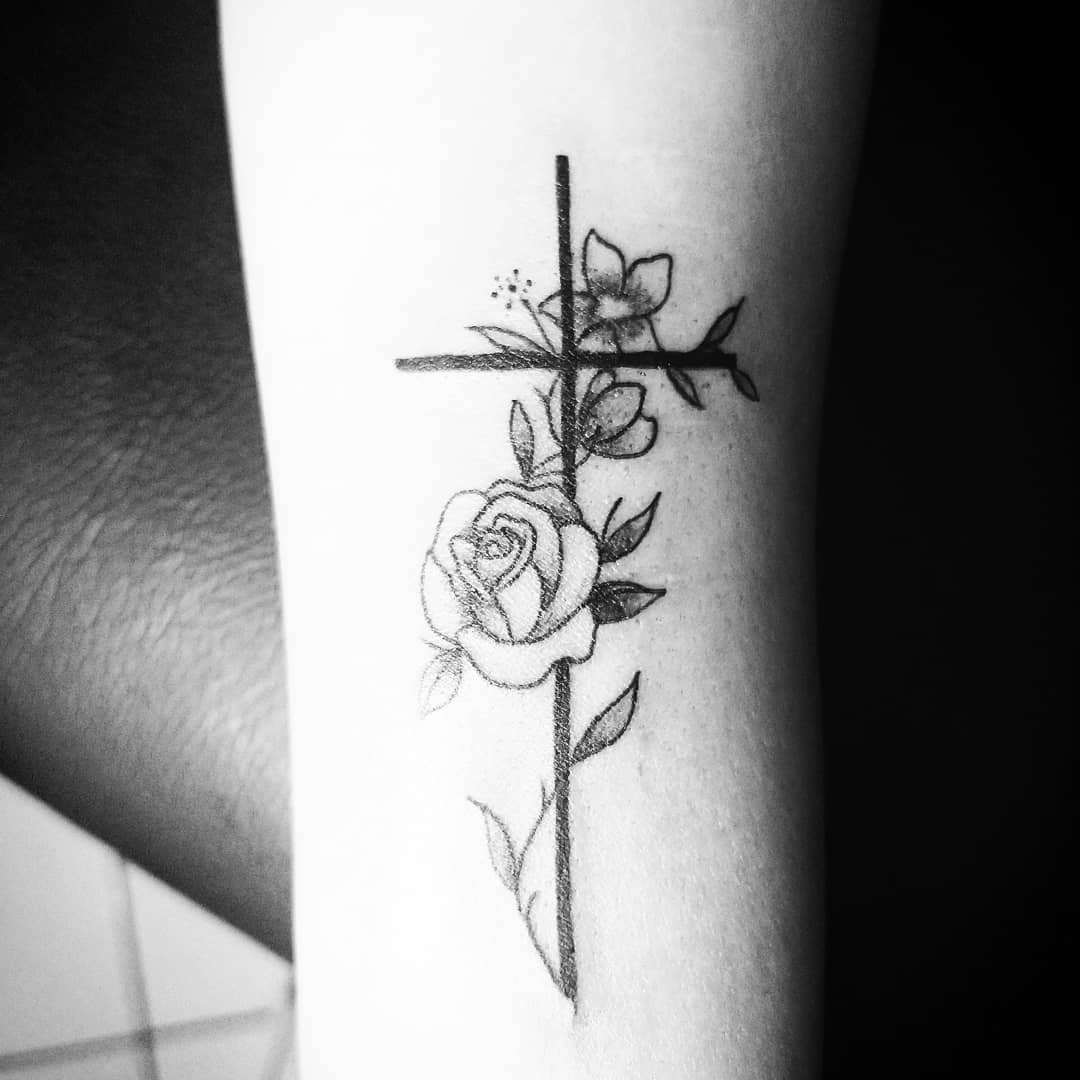 Don't assume that a simple tattoo is void of deeper meaning. While this tattoo appears to be a common design, it is filled with symbolism. Aside from the obvious crucifix, the rose represents eternal life within death and the lilies represent purity. This tattoo is great for those who love simplicity and Jesus!
46. Ring Around the Celtic Cross Tattoos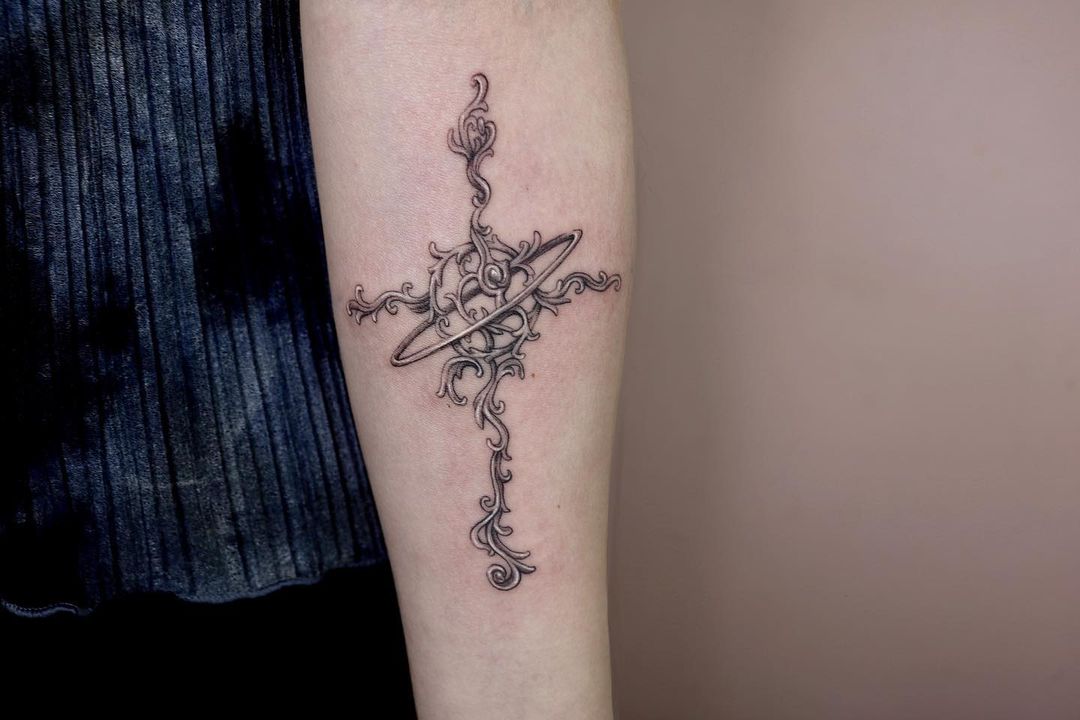 This artwork is a lovely rendition of the ancient celtic crosses which symbolized unity and eternity. While those crosses had a 2D ring in the background, this cross takes it up a notch with a 3D ring slanted around the cross. However, some ancient elements remained unchanged such as the intricate Celtic vines.
47. Jesus Cross Tattoo Made of Entirely Flowers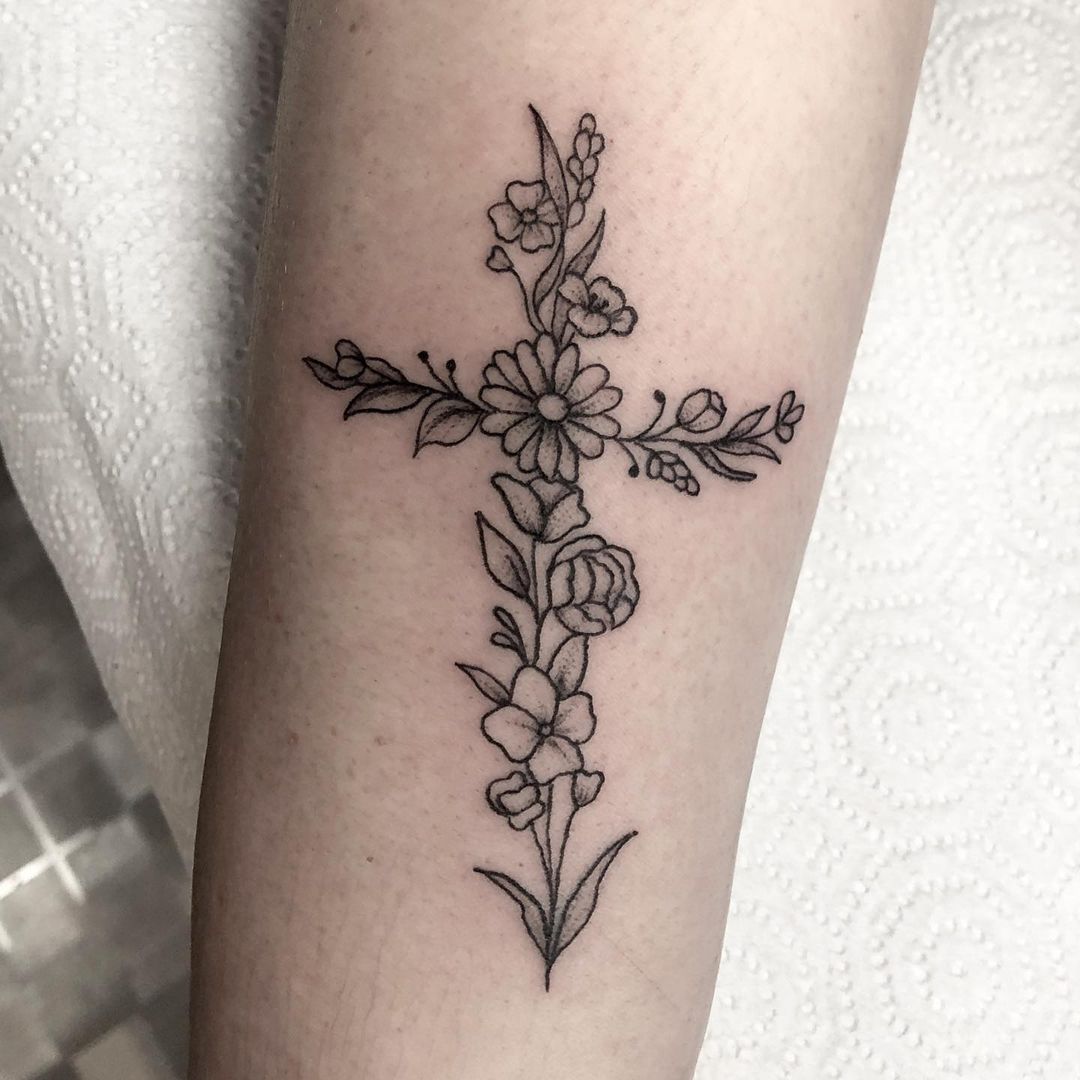 While you may often observe Jesus cross tattoos with flowers on or around the cross, it is not common to see a cross made entirely of flowers. There are two options to go about this floral tattoo: firstly, you can simply create a cross out of your favorite flowers. Secondly, you can choose only flowers with specific religious meanings, like roses or lilies.
48. Celtic Cross Tattoos with Artsy Watercolor Design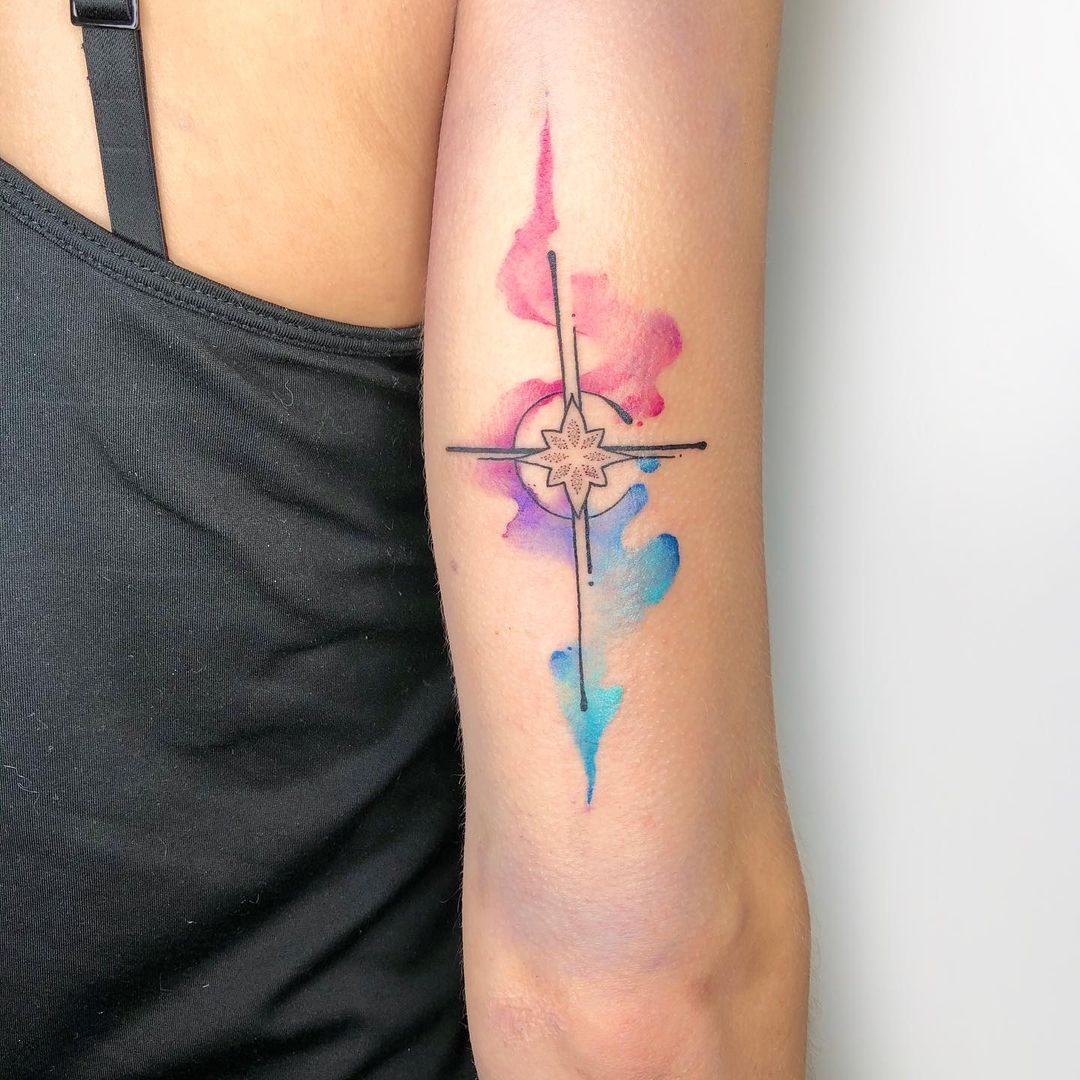 This tattoo is a lovely marriage of Celtic artistry and Christian hip hop. The tie-dye and watercolor gradient behind the abstract cross are a one-of-a-kind blend. If you look a bit closer, you will also note the Celtic northern star in the middle of the cross. Due to the length and the coloring of this tattoo, it would be perfect for the top of your arm.
49. Cross Tattoos Idea: Tree Tattoo with Proverbs Bible Verse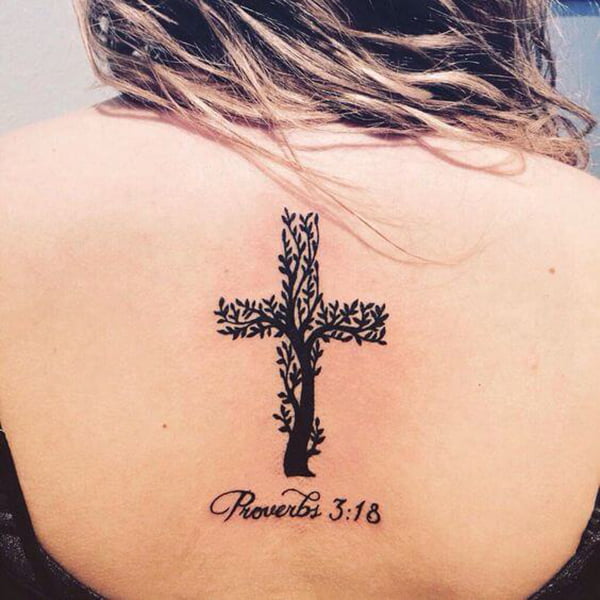 The tree of life is a strong symbol to which many can relate. It signifies the strength of our faith in God and his unending love and faithfulness to his people. The quote at the bottom of this tattoo is the corresponding bible verse regarding the tree of life. With added leaves and branches, this is an artsy and everlasting cross tattoo design.
50. Thinly Lined Cross Tattoos with a Floral Wreath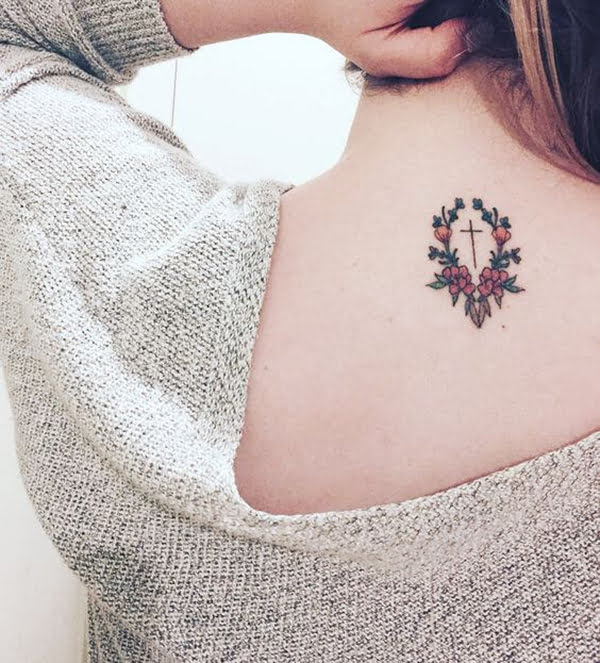 The center of your back is a wonderful place for a tattoo this beautiful. Not only does it incorporate symbolic flowers, but it also showcases the simple beauty of the crucifix. One of the most stunning elements of this tattoo is the contrast of colors used between the cross and floral cross tattoo design.
51. Portuguese Cross Tattoos with Quote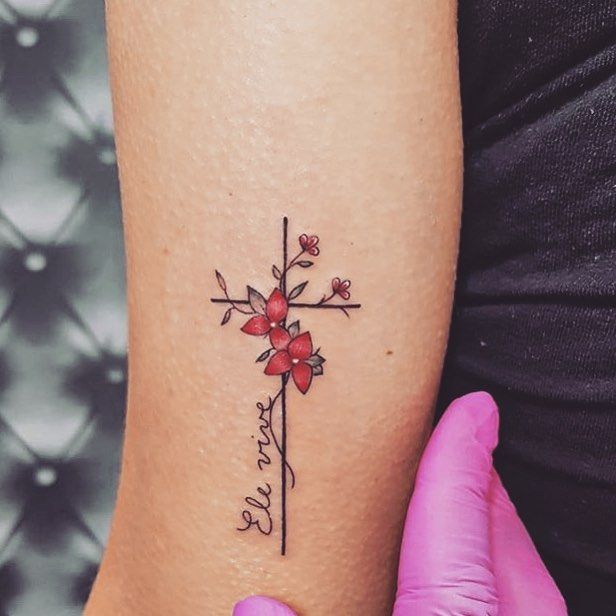 If you are a lover of the Portuguese language, the Portuguese phrase "Ele vive," or, "He Lives," is a profound message. The words are written vertically to align with the bottom of the cross. The red flowers are placed near the heart of the cross and likely symbolize the shedding of Christ's blood.
52. Cross Tattoo Designs: Bold and Plain Black Cross Tattoos on the Shoulder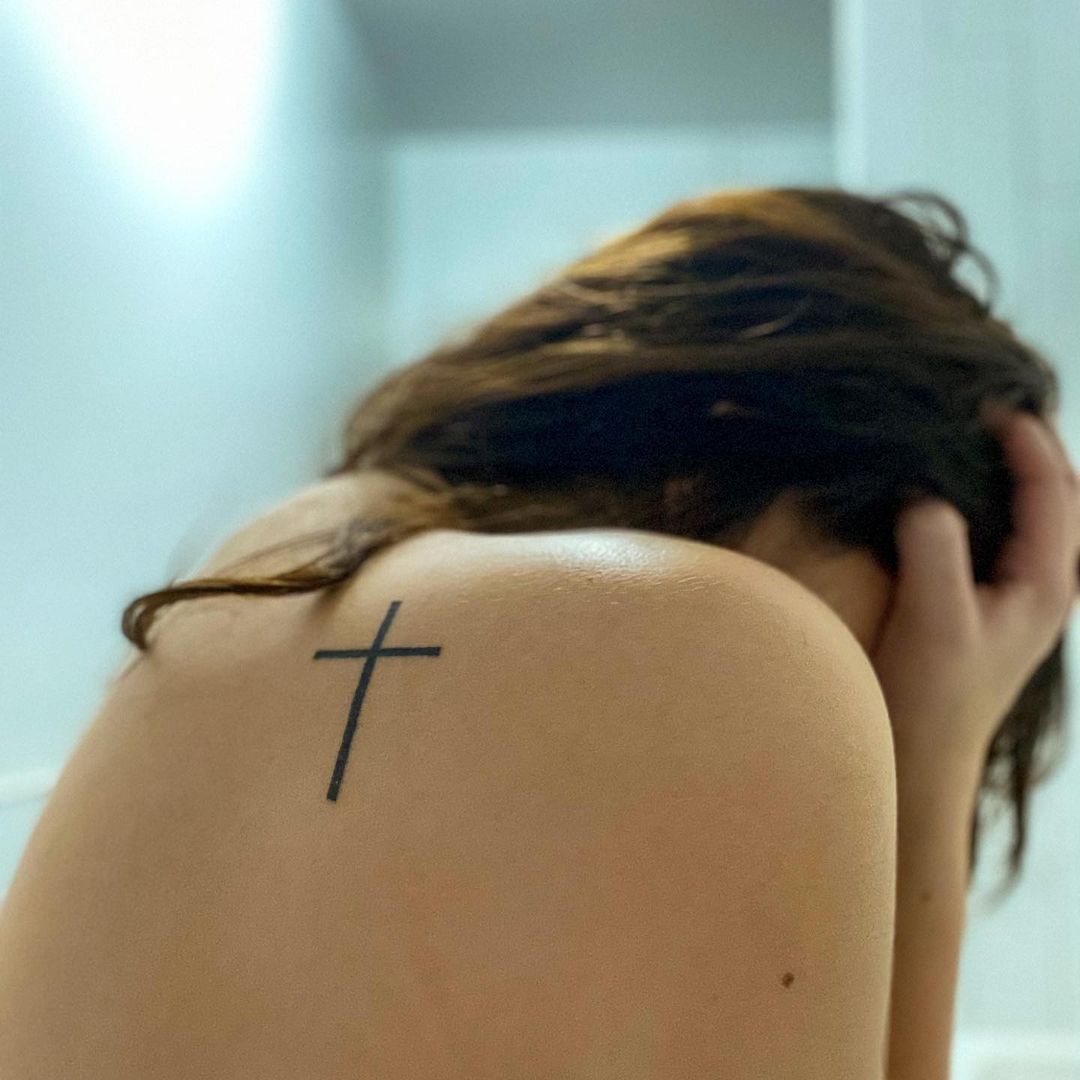 Sometimes the best messages are the more straightforward ones. There is no stronger message someone can send about their faith than displaying a tattoo or jewelry piece with their preferred religious symbol. A bold, black cross on your shoulder is a beautiful reminder of your faith and will most likely inspire your spectators from behind.
53. Cross Tattoo Designs: Black and White Floral Cross Tattoos with Inspirational Quote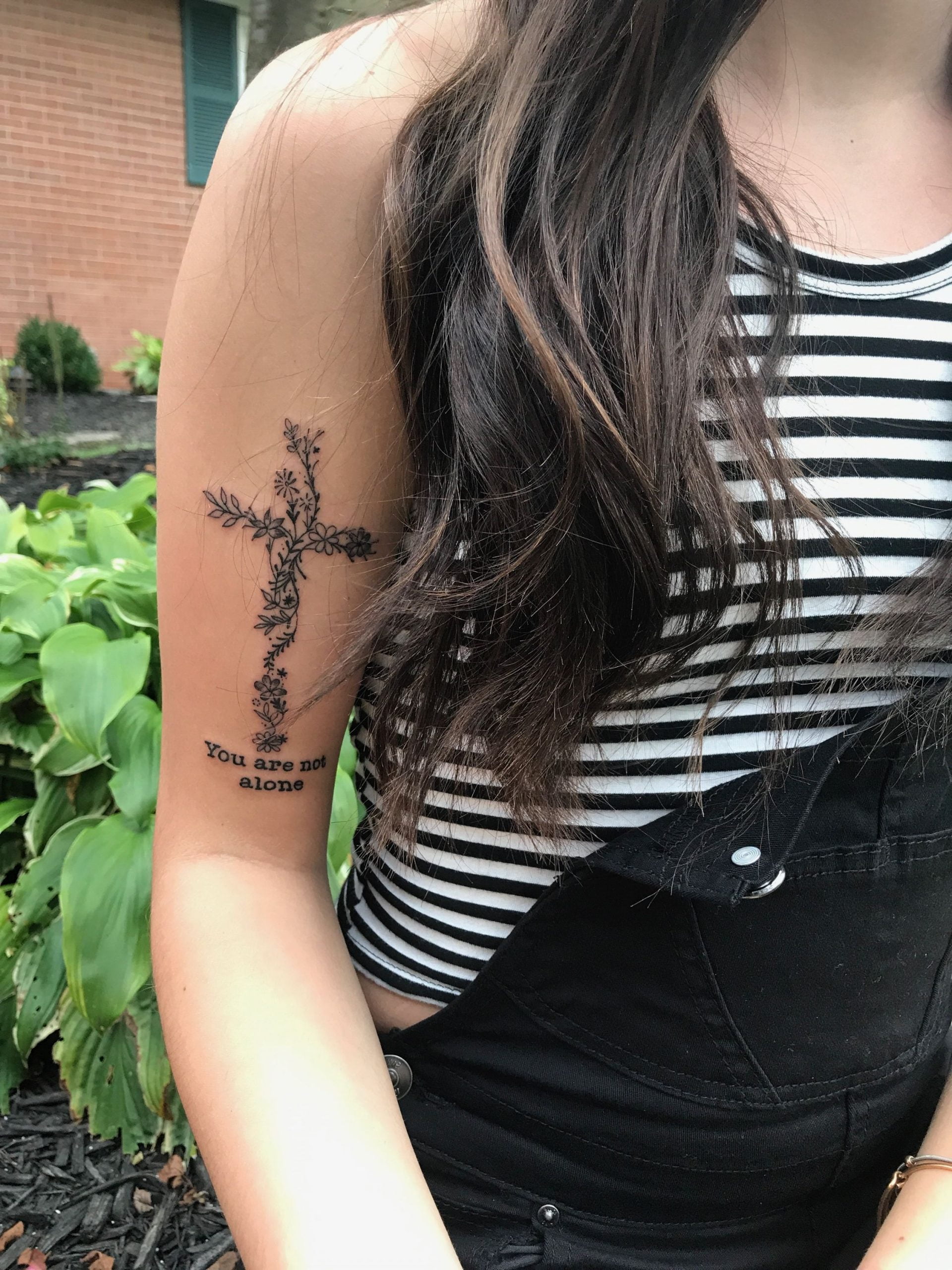 One of the paramount ideals in Christianity is that while you may feel alone in your walk through life, as a believer, you are never truly alone in Christ. The beautiful etchings of flowers are a magnificent pair to an edgy font like Times New Roman on your upper arm.
54. Cross Tattoo Designs: Faith, Hope, Love Tattoo with Cross, Heartbeat, and Heart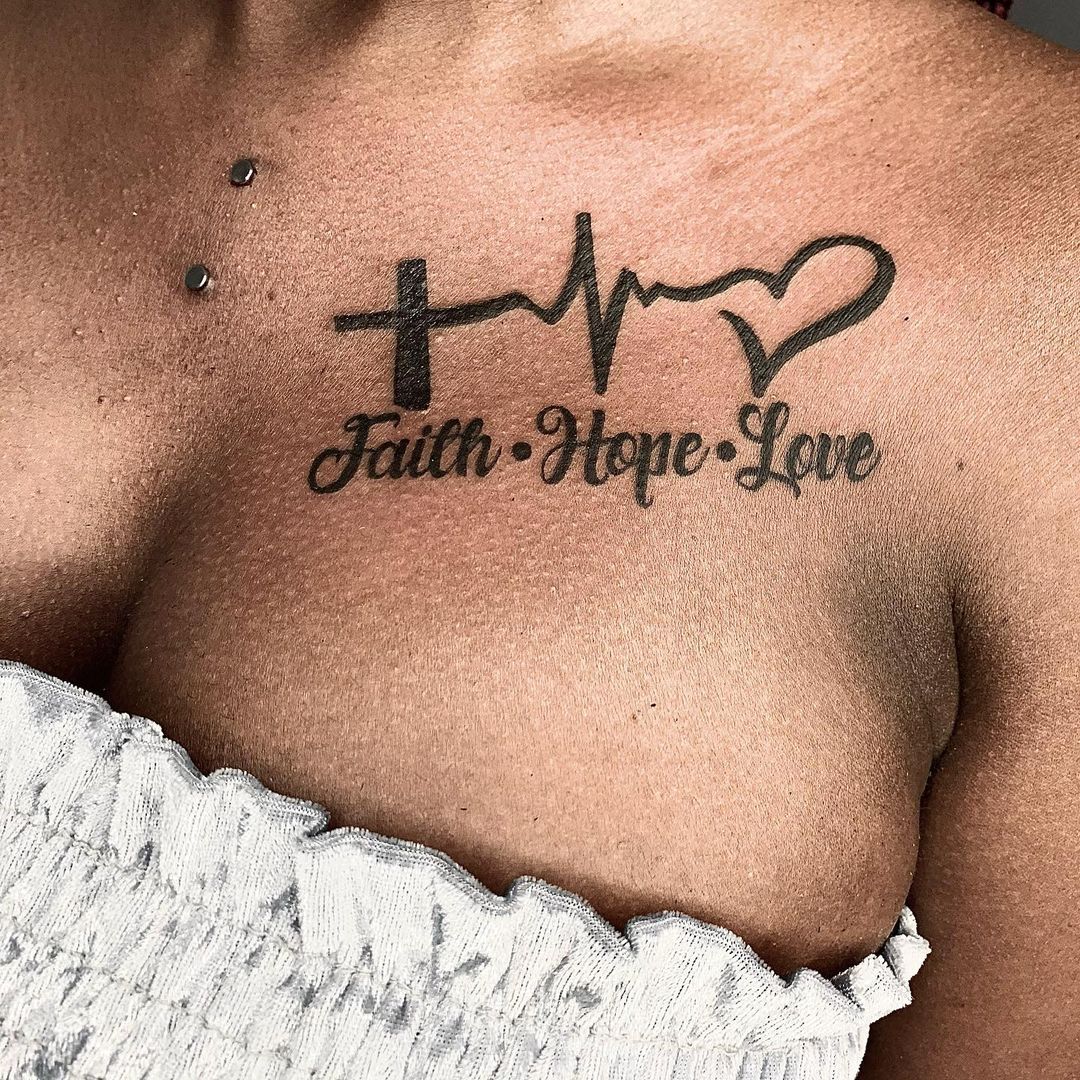 Are you a nurse or first responder? This tattoo would be perfect for someone in the medical or emergency fields who loves Christ. The side of the cross is attached to a pulse line, which then attaches to an outlined heart. The words "Faith, Hope, Love" also correspond below the images.
55. Cross Tattoo Designs: Watercolor Blast with a Streaked Cross Tattoos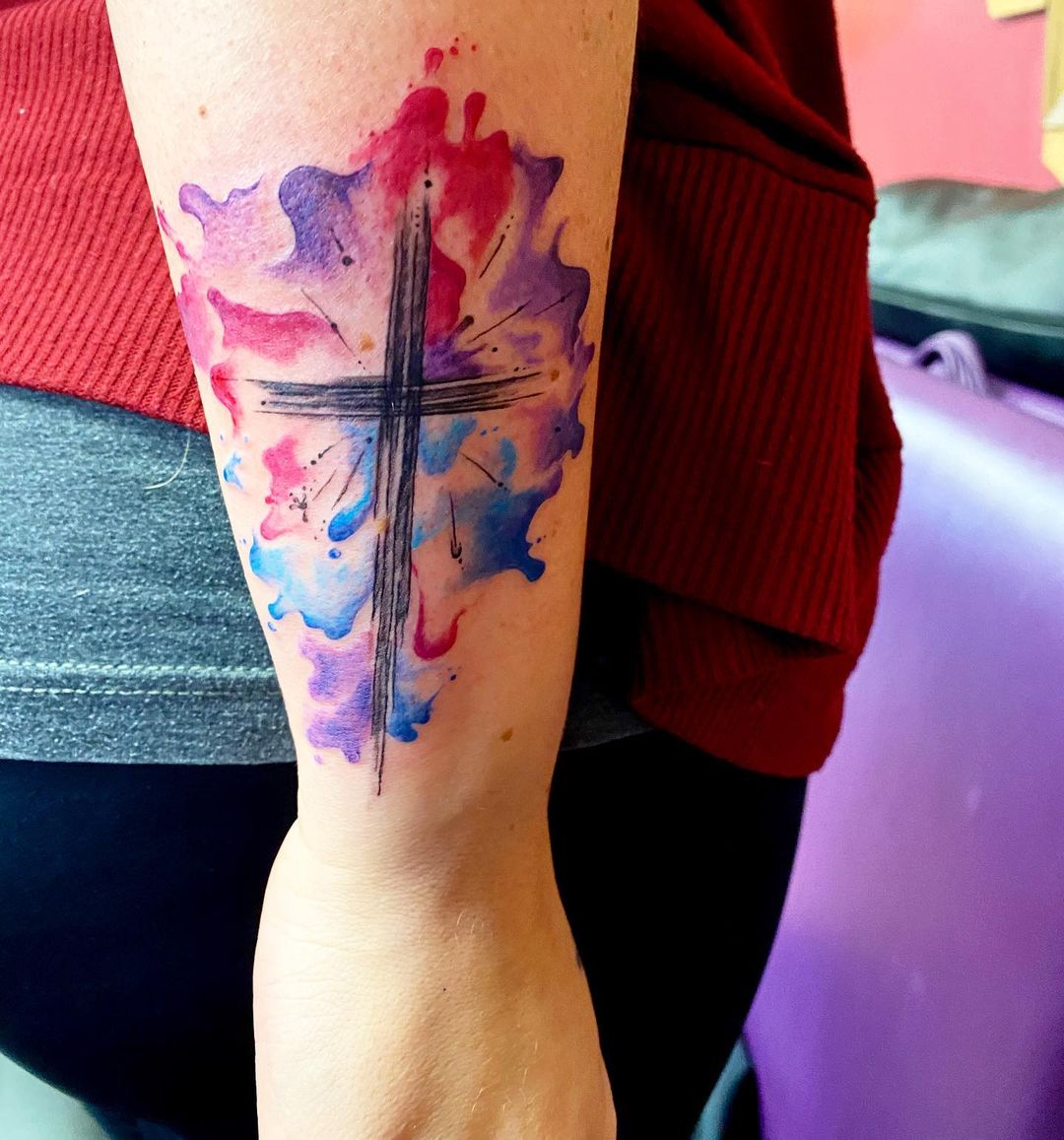 Let your inner artistry shine by decorating your body with this brilliant watercolor cross tattoo design. The watercolor appears to be a blast of water behind the etched cross. This could signify the waters of baptism and eternal happiness which is promised. When paired with an edgy black cross, this tattoo is sure to catch adoring glances.
56. Cross Tattoo Designs: God Created You Different Hand Cross Tattoos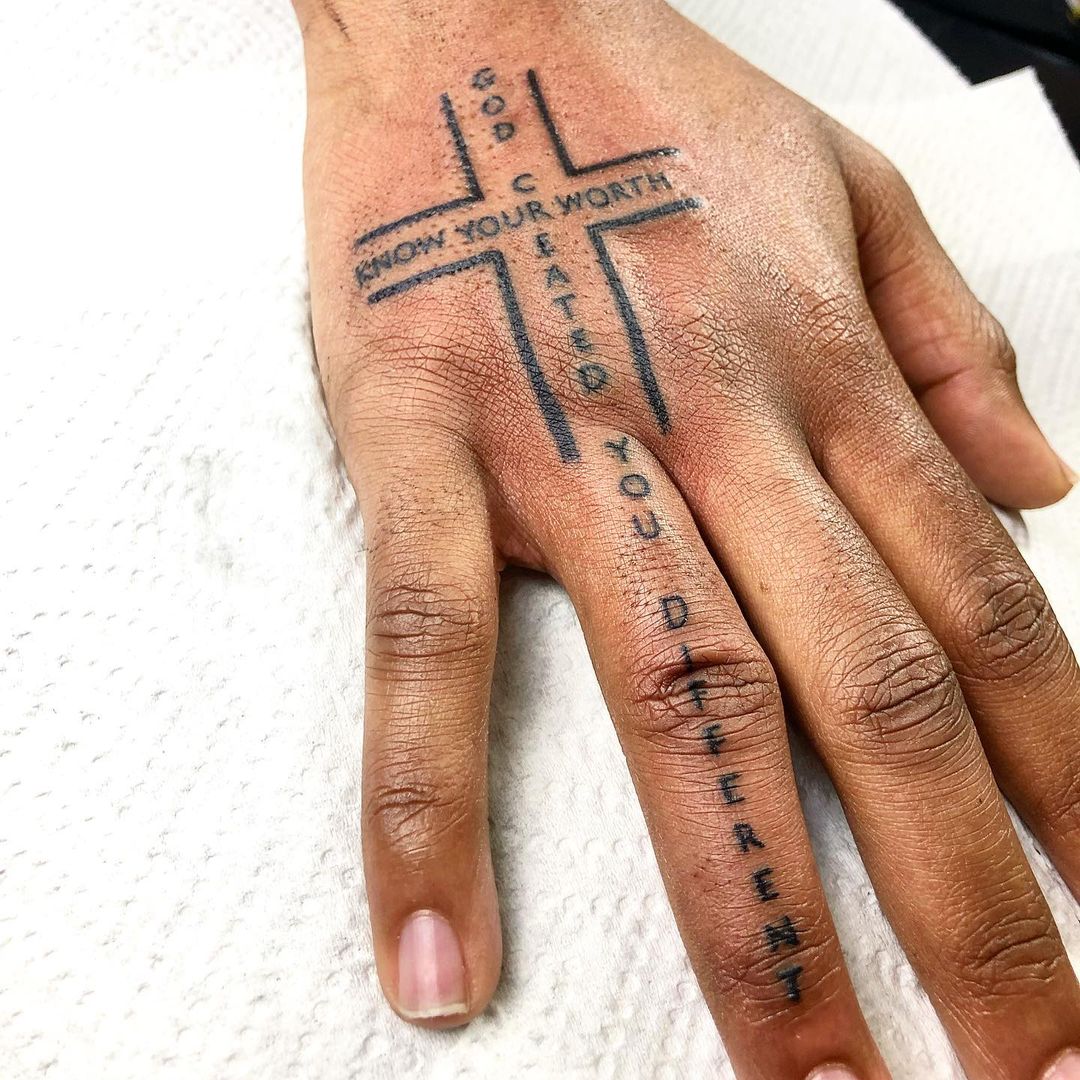 The phrase "God created you different, know your worth" is an appropriate phrase for such a unique hand tattoo. Your hands are one of the first things people see and this is a wonderful way to share the Gospel along with some encouragement to strangers. With simple and legible letters, there is no confusion towards this holy message.
57. Cross Tattoo Designs: Love Birds Perching on Simple Cross Tattoo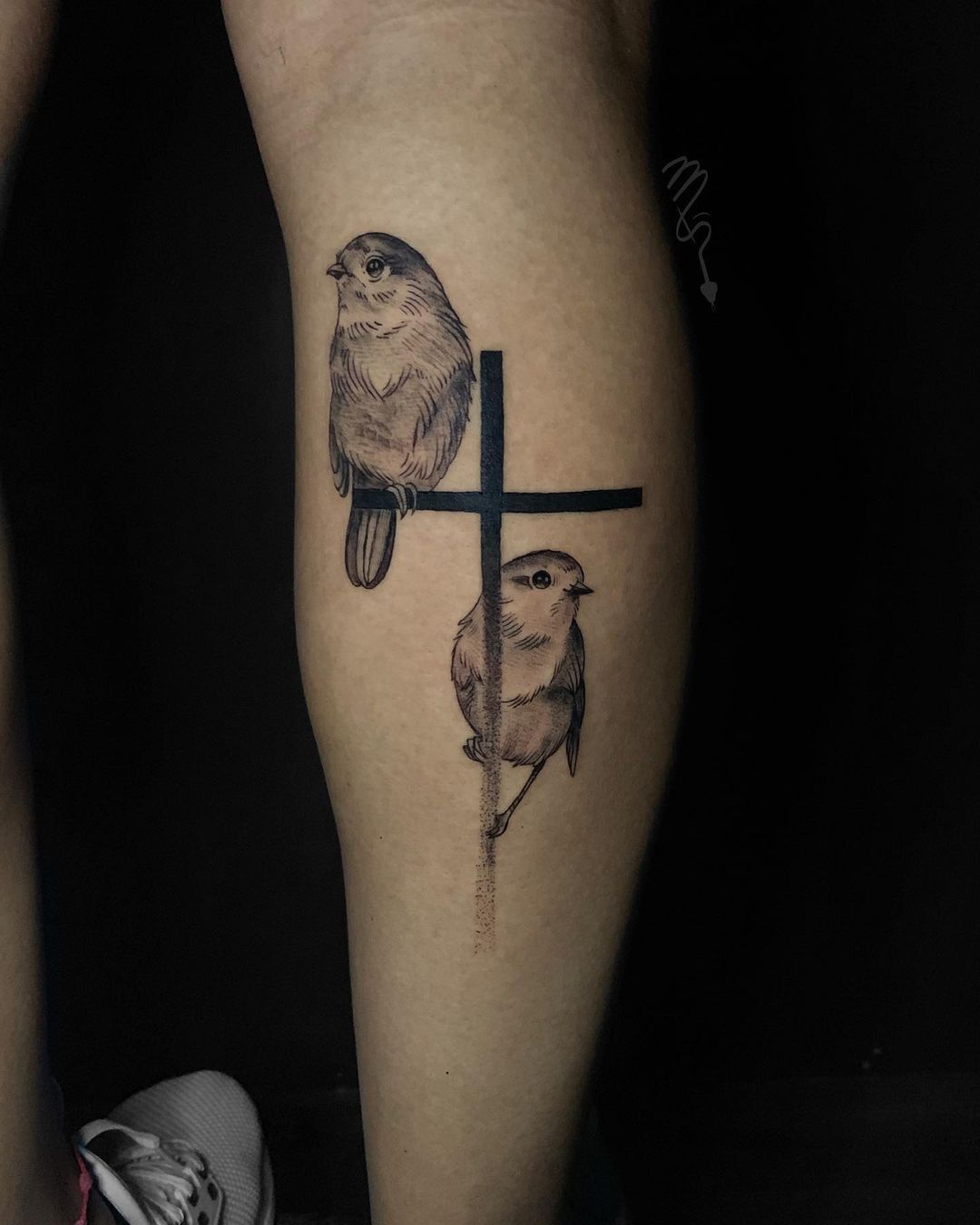 This is a beautiful foot tattoo that uses different shading techniques for the bird's feathers and the bottom of the cross, allowing it to fade out at the bottom. The top of the cross is made to be solid, and although this tattoo is featured on the calf of the leg, it could easily be adjusted to fit on different parts of the body.
58. Cross Tattoo Designs: French Style Cross and Flower Cross Tattoos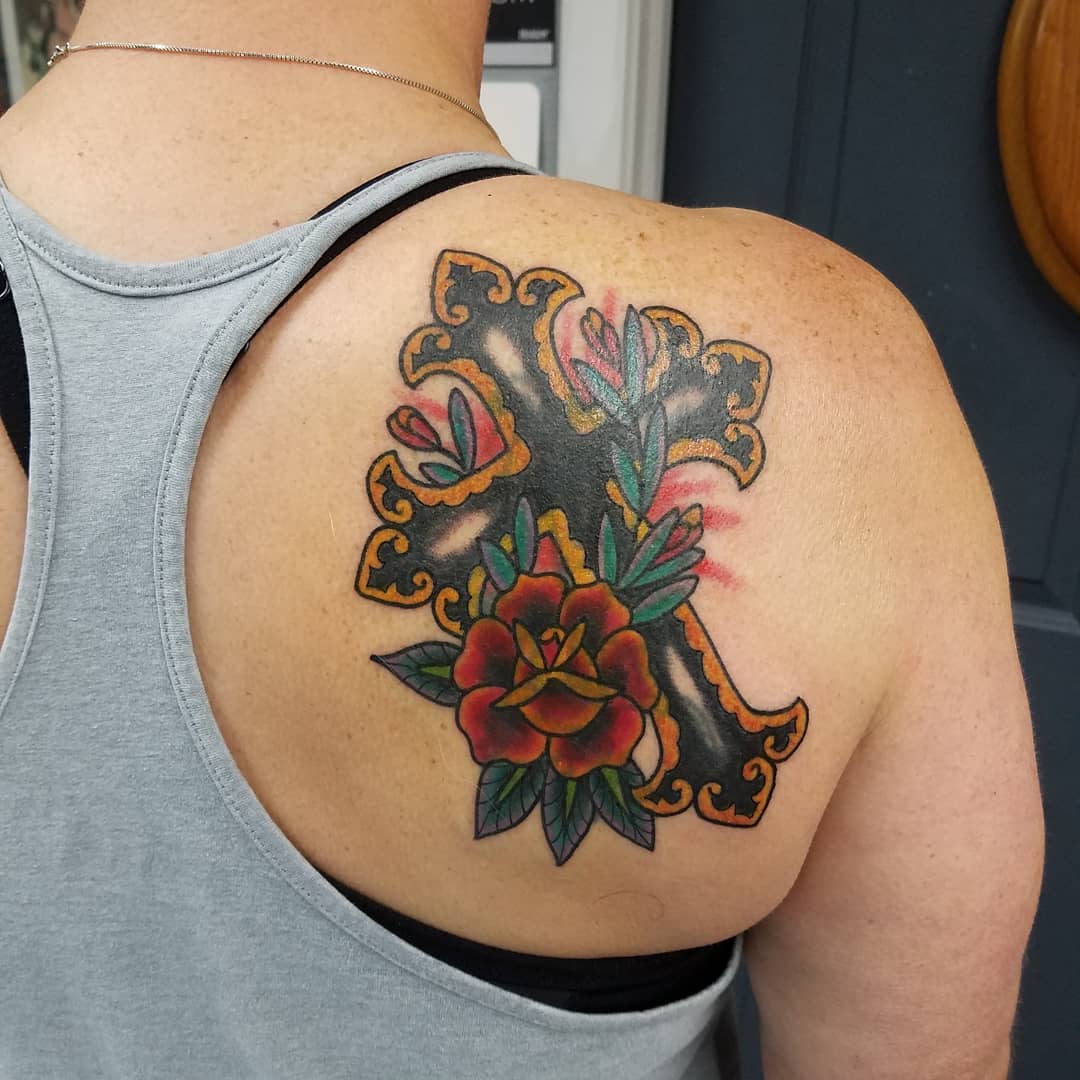 This is a beautiful tattoo that combines different colors and shading techniques that all come together to make this design. It is designed to fit on the shoulder blade, but it could easily be placed on other parts of the body if needed, but you might risk losing the intimate details of the tattoo.
59. Clouded Faith Cracked Cross Tattoo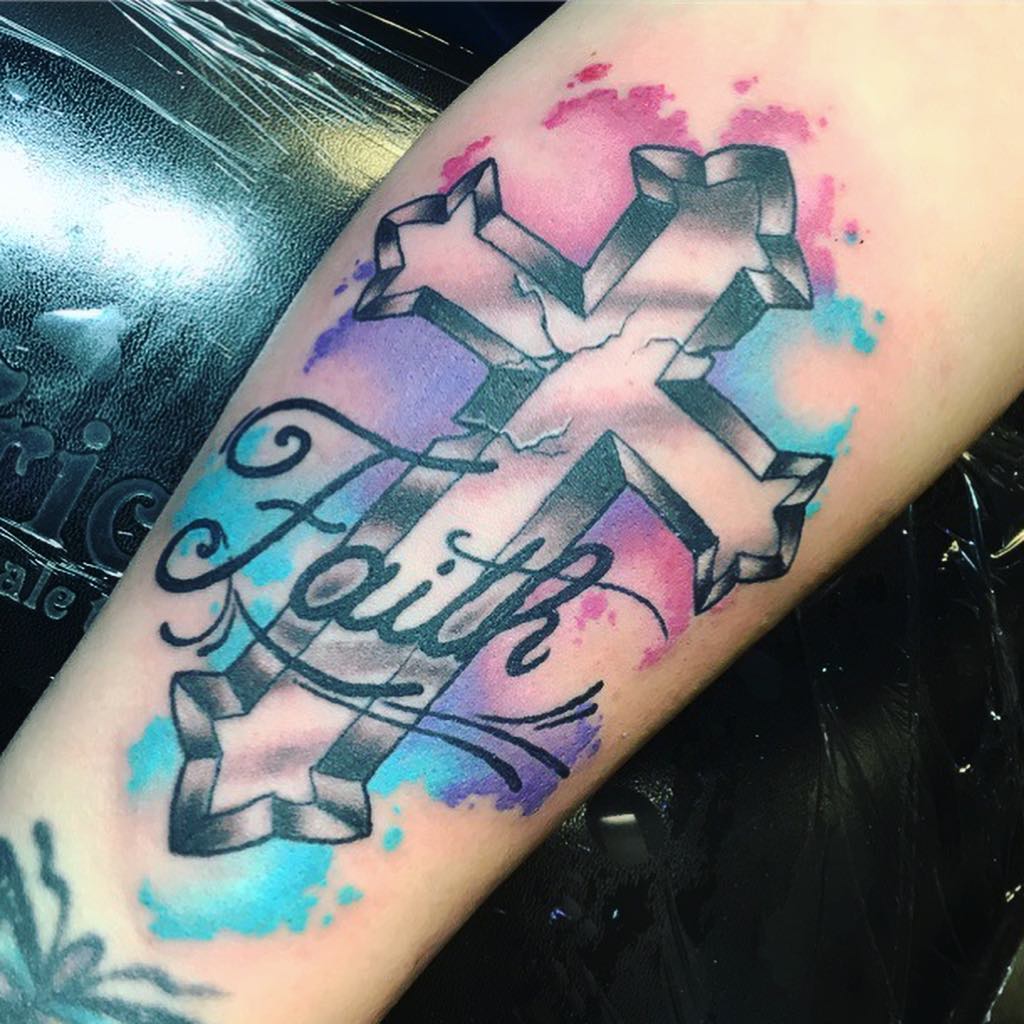 This tattoo has a 3D cross tattoo design that that is chipped and cracked to add a little bit of detail to the tattoo, and the word "Faith" is written across the cross in a beautiful cursive font. As an added bonus, it uses different splashes of colored ink to add contrast to the cross tattoo design, making each one unique.
60. Color Splashed Be Still Cross Tattoo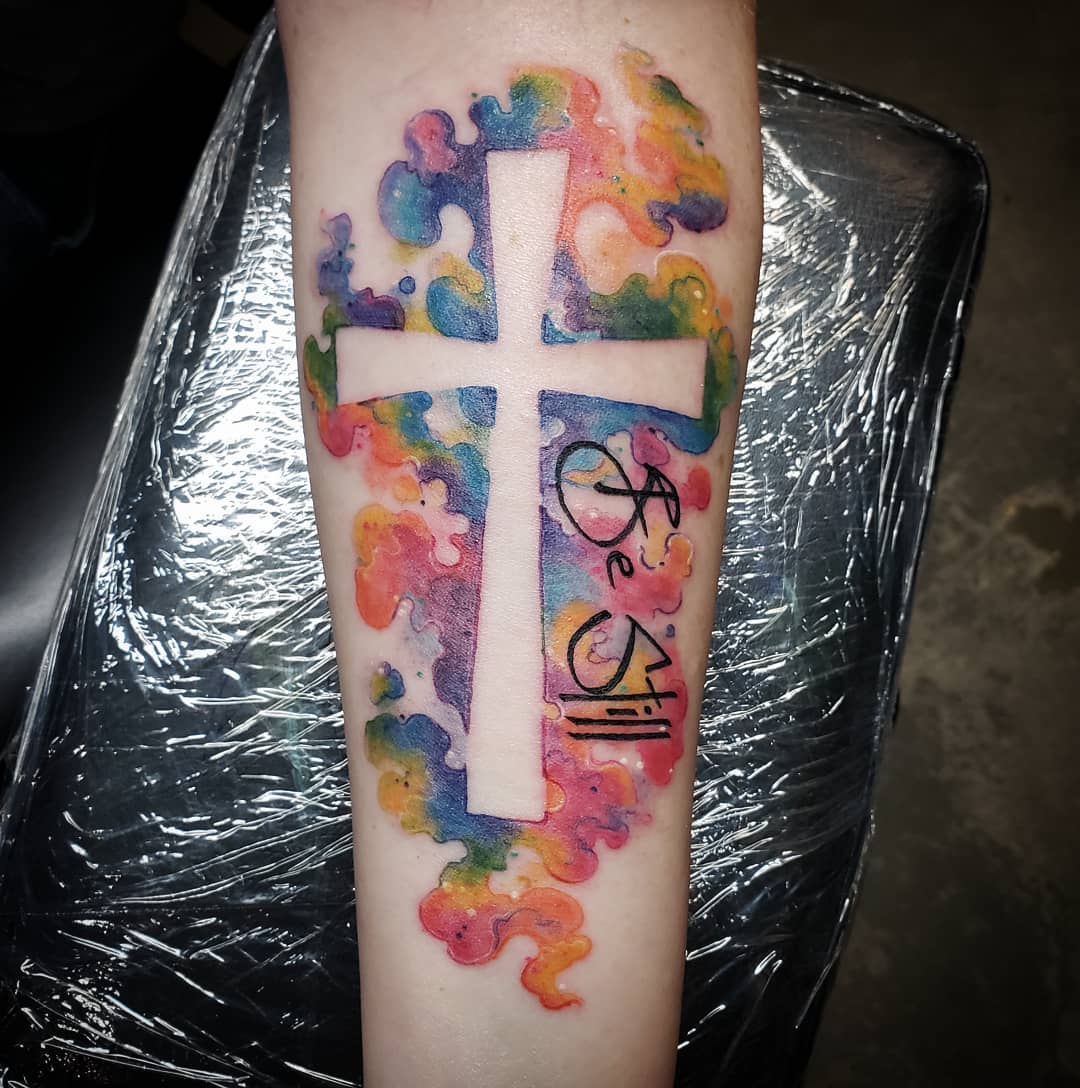 This cross tattoo design was meant for the forearm, but it can be placed on other areas of the body if possible. Unlike most cross tattoos, this forearm tattoo one uses different colors mixed together, but the center of the tattoo is left to be bare skin in the shape of a cross with the words "Be Still" placed inside the color outside of the tattoo.
60 of the Best Christian Jesus Tattoos
From Egypt to Greece, tattoos have symbolized both power and meaning for centuries. The Jesus cross symbol is perhaps one of the most profound and widely recognized symbols across the world.