When you want to show the passion inside of you, finding the best heart tattoo ideas is an excellent way to decide. There are many colors, designs, and meanings that you'd want to get inked on yourself, but the opportunities are endless. Here, we'll break down some of the trendiest and most expressive designs that can make your choice significantly easier.
Gorgeous Heart Tattoos for Men and Women
In today's world, tattoos are much more than just ink and design. Just like star tattoos, they have meanings and people usually want something that they connect to and resonate with, and there's nothing that shows quite the emotions that a heart does. The other pictures and lettering that you add to this tattoo will tell a story about your entire life.
The heart tattoo can be a symbol of pain, love, passion, excitement, dedication, and more. For instance, a singular red heart can show love and they make for good love tattoos. However, a black heart tattoo is symbolic of grief or even death, honoring someone who isn't here anymore. Some people even get a playing card with a heart to show mastery of their own life. Maybe you want to pay tribute to heartbreak with a crying heart tattoo – there are endless options to choose from.
Heart tattoos are especially popular amongst men and women because the heart is a popular symbol of not only love but also everything nice in your life. It represents life itself! There are so many variations with so many meanings from finger tattoos to back tattoos – there's also no reason yours can't be just as unique. If you want some inspiration, check out our curated list of 60 heart tattoos!
1. Monochromatic Shaded Human Heart Tattoo for the Brave Hearts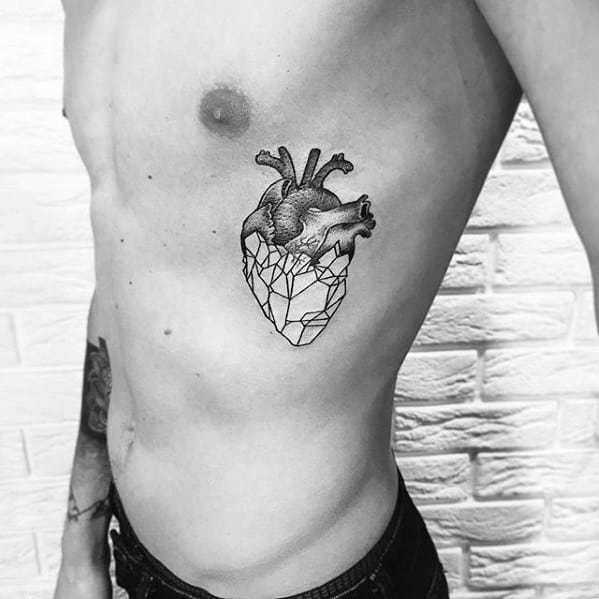 This cool tattoo is for the people who live by the beat of the heart – literally! It is black and white, leaving a blank space on the lower half. The lower half looks like the pieces of a puzzle that have been put together. Having this tattoo right below the chest on one side of your body makes the appearance more glamorous.
2. Black Skulled Heart Tattoo for the Broken but Beautiful Souls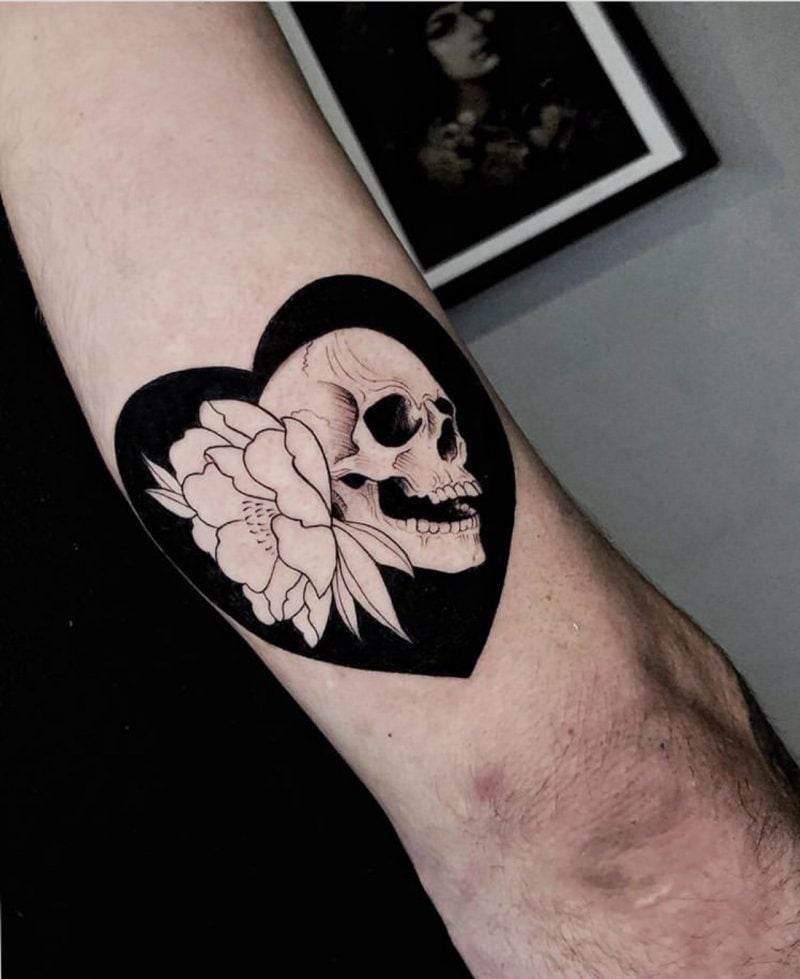 If you are a dark soul that craves love, this tattoo is for you. This is a pitch-black heart, decorated with a flower and a skull. With the high-definition look, this tattoo is an absolute must-have!
3. Real Lies Maze Heart Tattoo for Your Explorer Soul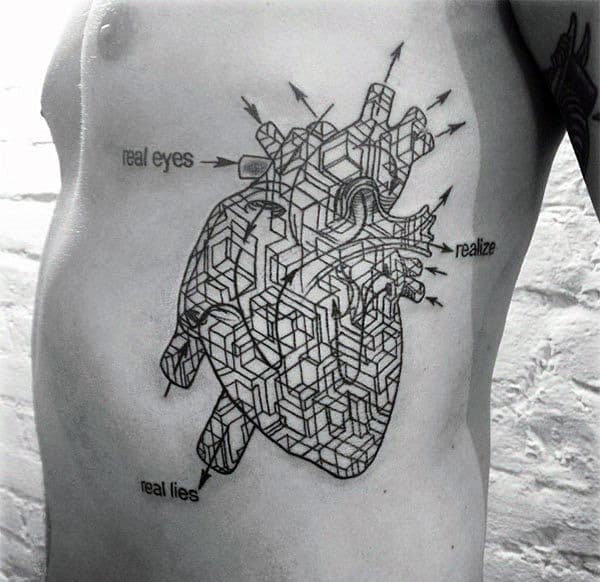 Are you an explorer? This design exposes the shape of a human heart, combined with a maze-like structure with the many paths that you could follow. At three points, you see a play on certain words/phrases, like "real eyes," "real lies," and "realize," challenging you to expose what is truly in your soul.
4. Realistic Blue-Pink Human Heart Tattoo for the Raw Soul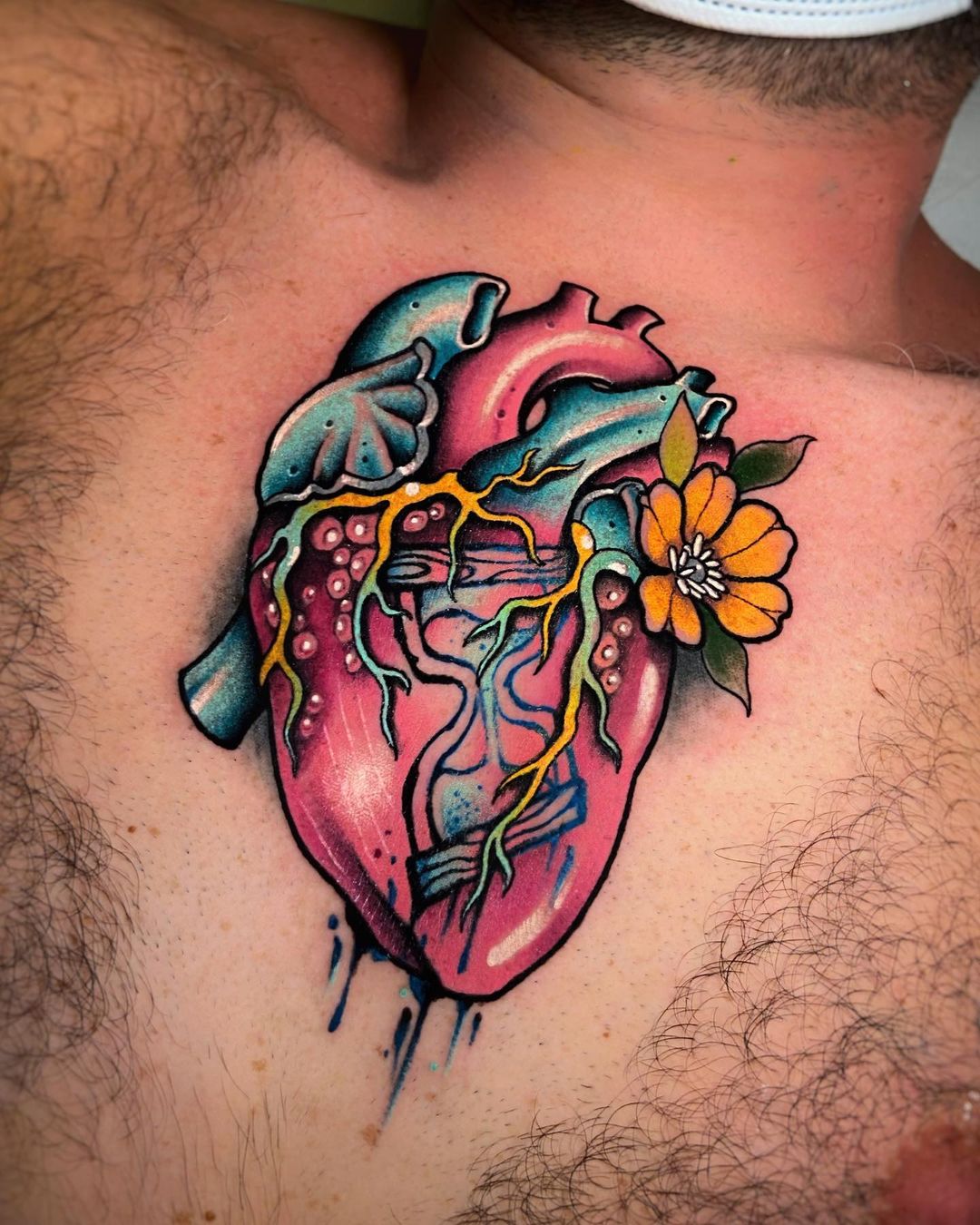 If you are someone who loves color, this tattoo might intrigue you very much. At first glance, this tattoo is a realistic heart with bright blue veins. However, the symbolism of the sand timer inside the chambers and the flower along the left side begs the question – how much time is there for beauty in your heart?
5. Cut Arrow Rib Cage Heart Tattoo for the Dark Souls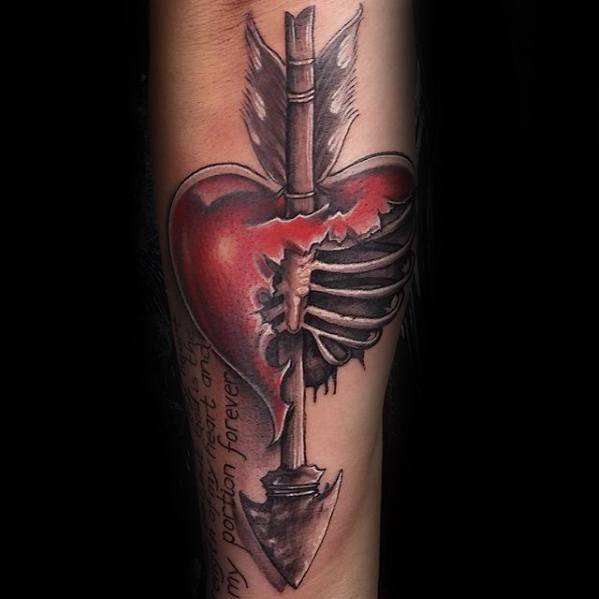 This tattoo is for a dark personality. With strong lines and graphic exposure, you find that the heart encapsulates a large ribcage, broken down by the arrow that strikes down through the bow and arrow tattoos. This symbolism of life versus death shows the agony of having a heart ripped apart, juxtaposed with text beside it to explain what the tattoo means for the wearer.
6. Barbed Wire Heart Tattoo for the Isolated One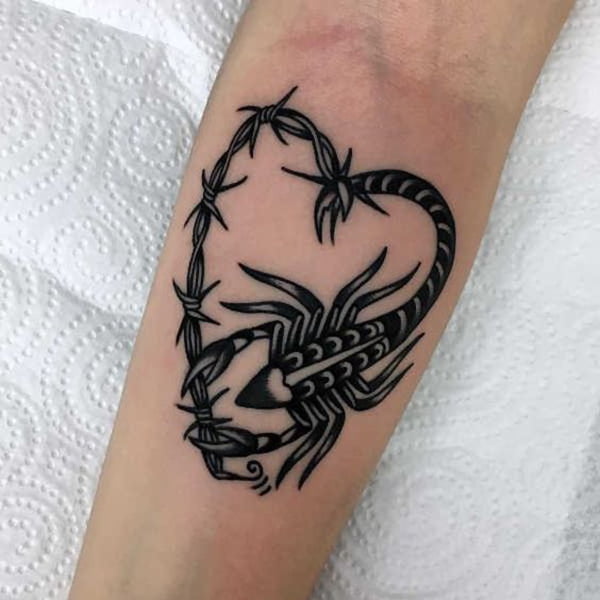 This tattoo is for the one who does not like to socialize much and can be perceived as a boundary that has been created by barbed wire. This barbed-wire ends in an insect-like structure. Perhaps your heart defends itself against others as well, making this design a bold way to keep others at a distance.
7. Geometric Design Human Heart Tattoo for the Elaborate Lovers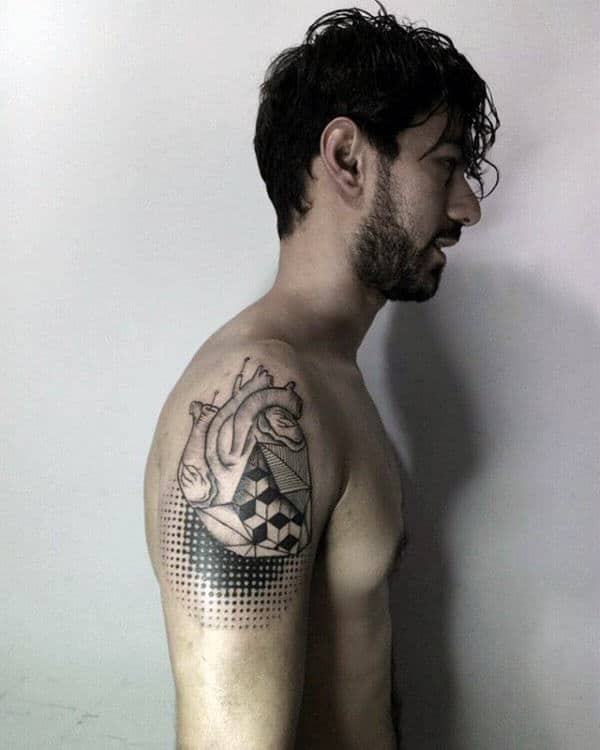 This is an elaborate arm tattoo design that is in a monochromatic black design, featuring a geometric combination of figures. Though the top of this heart tattoo starts as a rough depiction of a realistic organ, it evolves into this pattern with chess-like cube shades. This elaborate look spans over a large area of your arm if you want to make a big impact.
8. Rising Sun Heart Tattoo for the Illuminated Souls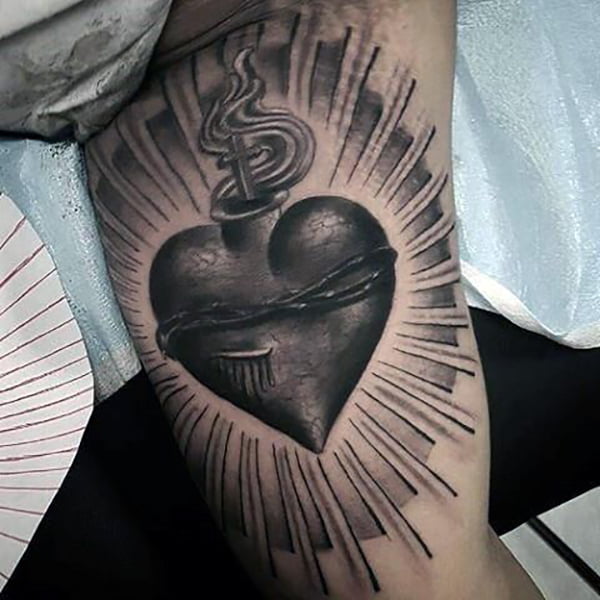 Surrounded by a sun-like structure, this heart is illuminated. Even though it is wrapped in barbed wire, the cross tattoo above it could be a tribute to your faith. This is a great faith tattoos idea.
9. Puzzled Blueish Roman Realistic Heart Tattoo for the Mathematics Lover
If numbers are your thing, this tattoo might appeal to you. This heart-shaped tattoo is made up of puzzle-like pieces that are stacked together to form a beautiful and somewhat realistic shape of a heart. One side of the heart is shaded in blue, while both sides of the heart have been inscribed with several Roman numerals.
10. Trust Issues Knife Stab Heart for the Broken Heart Tattoo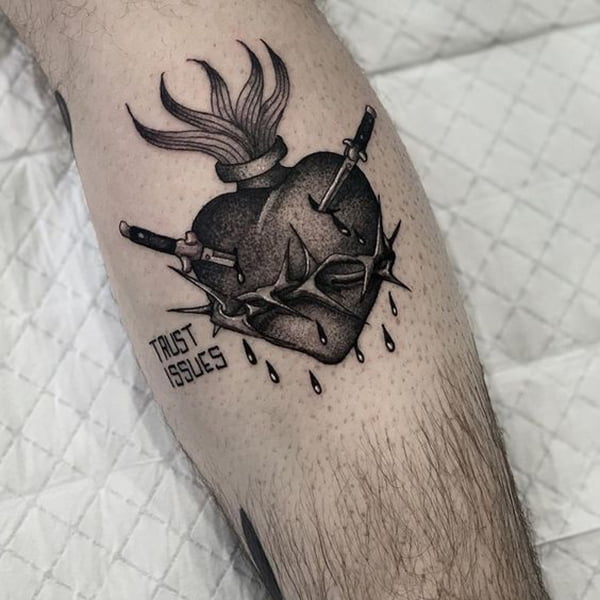 Do you have problems making and keep new relationships? This tattoo might be what you need to let out the pain and express your own "trust issues." With the blood dripping from the heart, you see knives and barbed wire around it, showing intricacy that is only made darker by the black color scheme.
11. Crimson Red Human Heart Tattoo Design for the Bold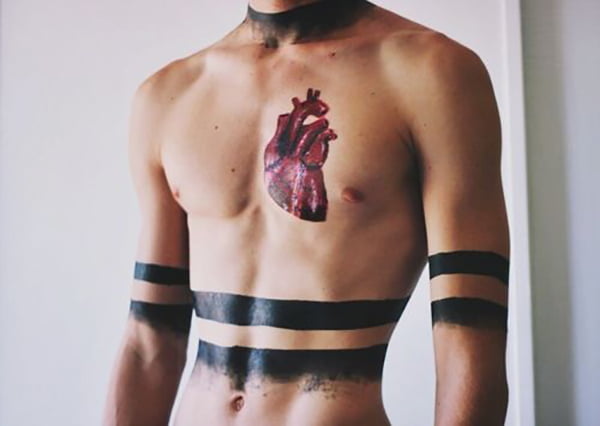 This human heart tattoo is for the ones who want to feel natural with ink. This tattoo is designed beautifully and placed exactly along the chest (above your true heart). The deep reds show a more realistic design to express your rawness.
12. Colorful Heart Tattoo with Assortment of Rose Petals for Regal Ink Lovers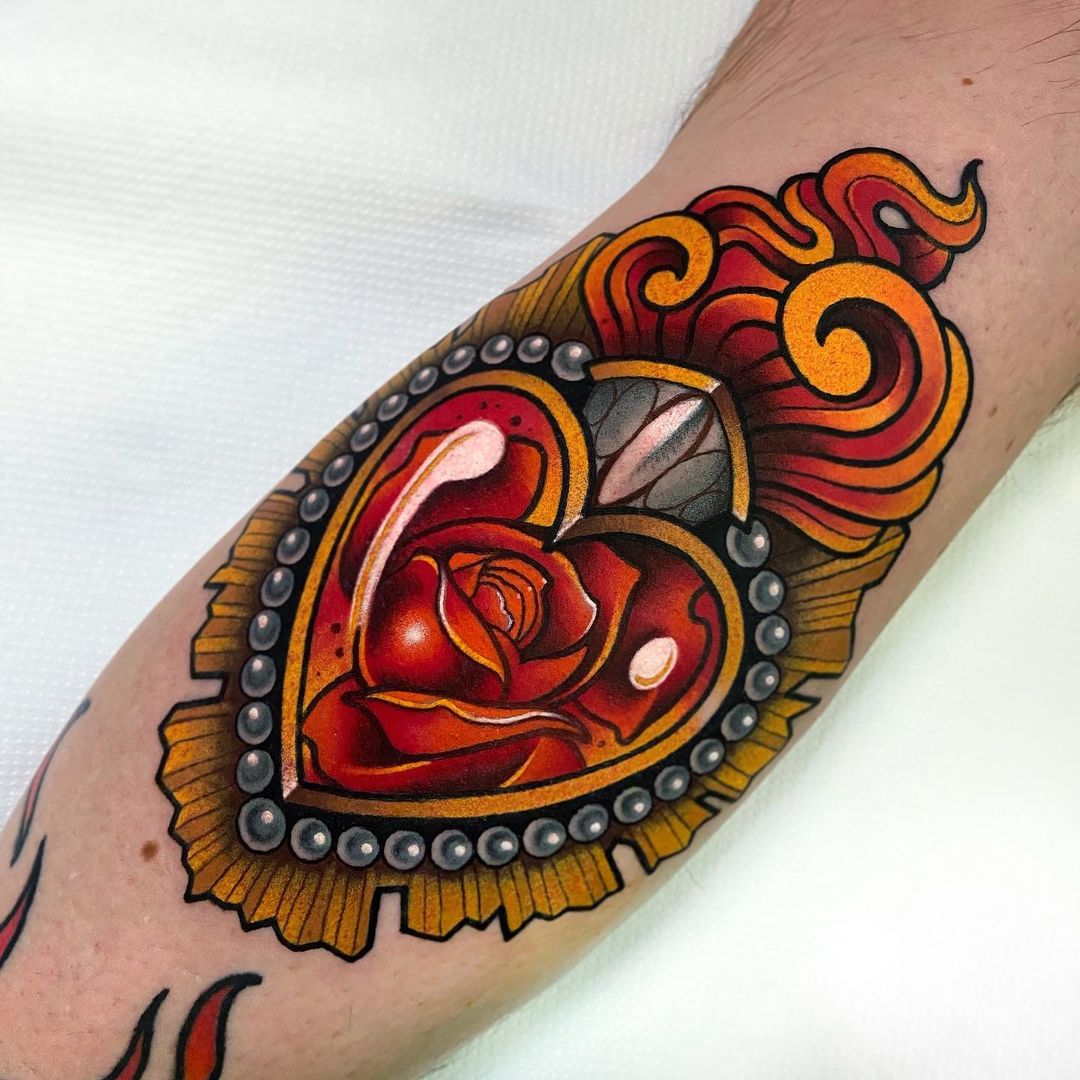 If you want a heart tattoo that has a ferocious fire, this is it. It is an intricate design with flame-like yellow structures around the heart. There is a red rose surrounded by shadows inside the heart, which looks beautiful to anyone who sees it.
13. Queen of the Feminists Heart Tattoo for Rebels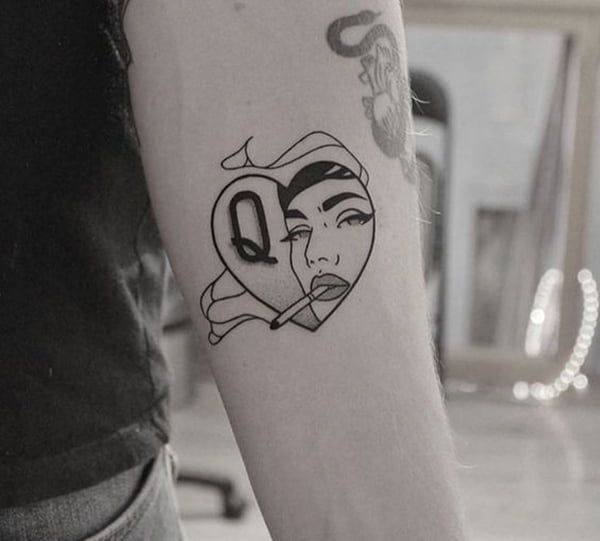 This one is for all the feminists. It is a free-flowing heart design that has a lady in the middle of it, smoking a lit cigarette. The "Q" along the inside of the heart is reminiscent of the letters you'd see in a deck of playing cards, conveying a playful yet rebellious side for men and women alike.
14. Heart-Meets-Nature for the Soulful Mind Heart Tattoo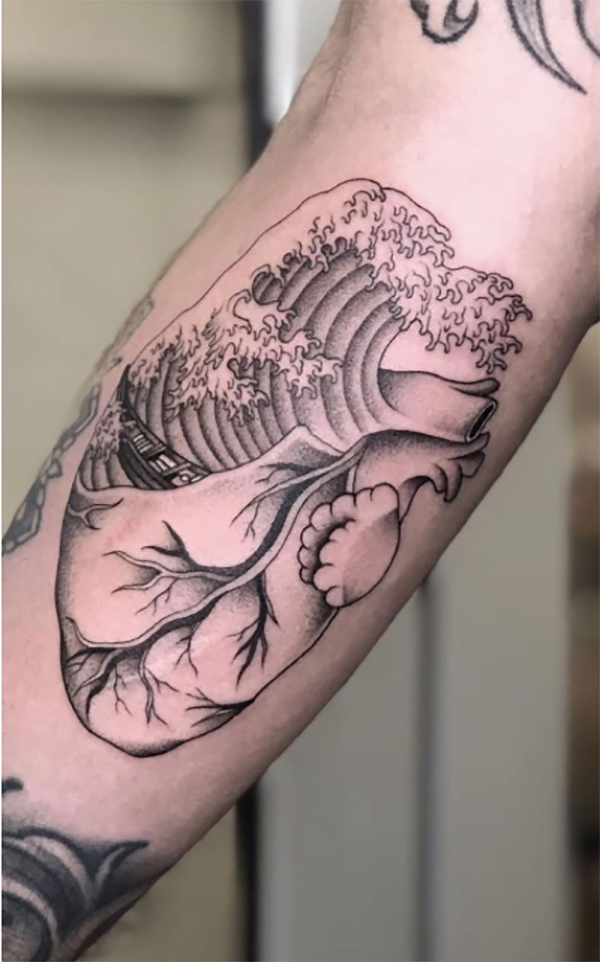 If you are fond of raging nature, this tattoo will give you the perfect depiction of nature's fury. It shows a few raging sea waves that make up one-half of the human heart. With a fascinating and wild wave alongside it, the design makes a complete heart, rooted in the vengeful nature of water versus land. The monochromatic motif makes it even more striking.
15. Rose-Pierced Broken Heart Tattoo for the Crimson Lovers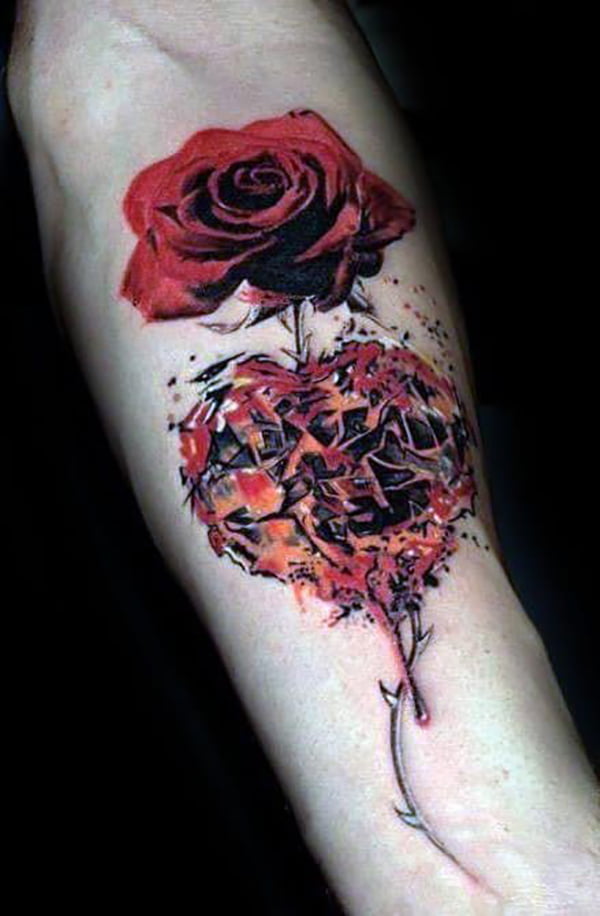 If you love roses, this unique look may work with your disposition. Emerging from the
shattered and broken heart symbol is a lively red rose, showing that even the biggest pain can nourish a beautiful outcome. Both the rose and heart feature crimson and black shades in all the right places.
16. Phoenix Heart Tattoo for the Chest Tattoo Lovers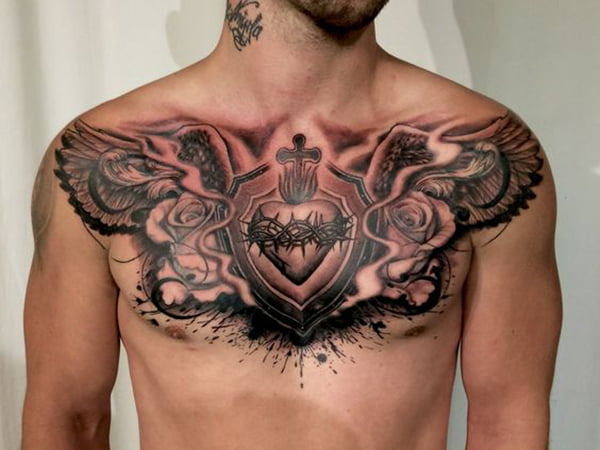 Do you feel like a phoenix that has risen from the ashes? This tattoo conveys exactly that sentiment. The elaborate look involves the entire chest, offering a heart is in the middle of the design. Squeezed with barbed wire, this tattoo is a story of pain and survival, opening the heart to a successful end to the pain.
17. Geometric Criss Cross Tattoo Design for the Symmetry Lovers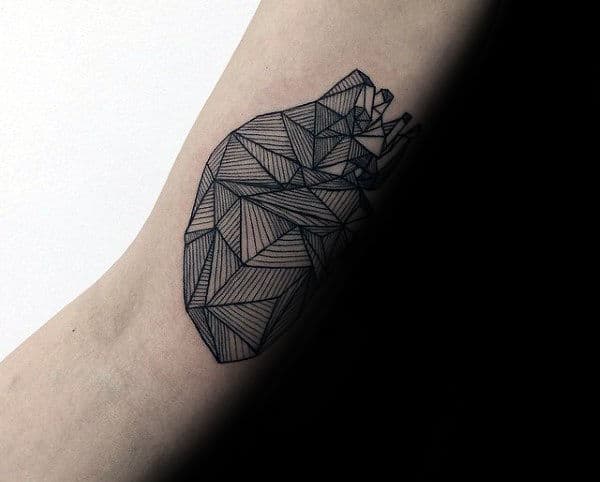 If you love symmetrical things, you will most likely love this design. Featuring a realistic-heart outline, the inside is lined with sections and blocks, highlighting the geometric pattern that remains plain. Though there are no words or vibrant colors, this design stands strong on its own.
18. Black and Red Scorpion with An Exposed Red Heart Tattoo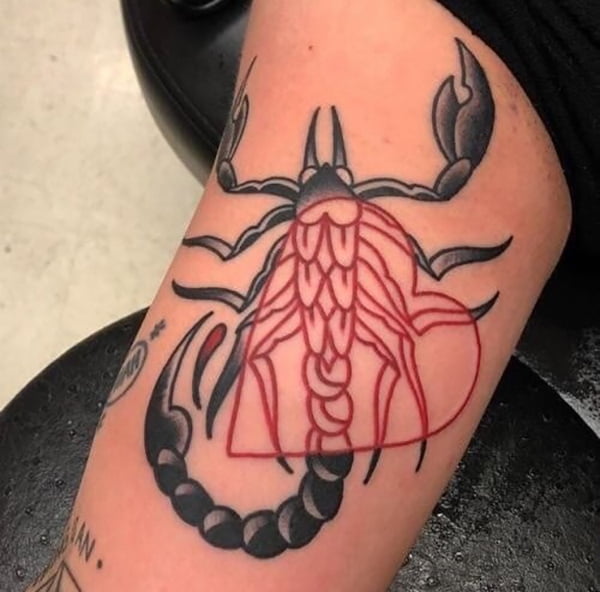 If you would like a rough and potentially frightening design, you might go for this one. While the black scorpion's tale is bold and naturally shadowed, the heart symbol around the body art creates a riveting contrast. Rather than a solid black hue, this scorpion's exoskeleton is reduced to an outline, showing the emptiness inside.
19. Soul-Connecting Kiss Heart Symbol for Loving Personalities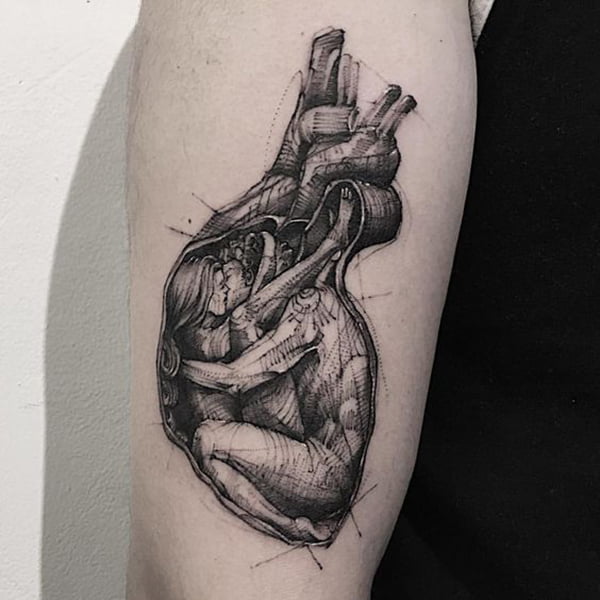 If you are a loving soul, this tattoo wraps two lovers together in a confined yet passionate embrace. Captured within the realistic heart, this meaningful tattoo can bring up some deep emotions. However, it is on the risqué side, as the bodies are tastefully nude. It is an intimate tattoo design that shows a male and a female kissing caged inside a human heart.
20. Connecting Dots Shading Parts Heart Design Tattoo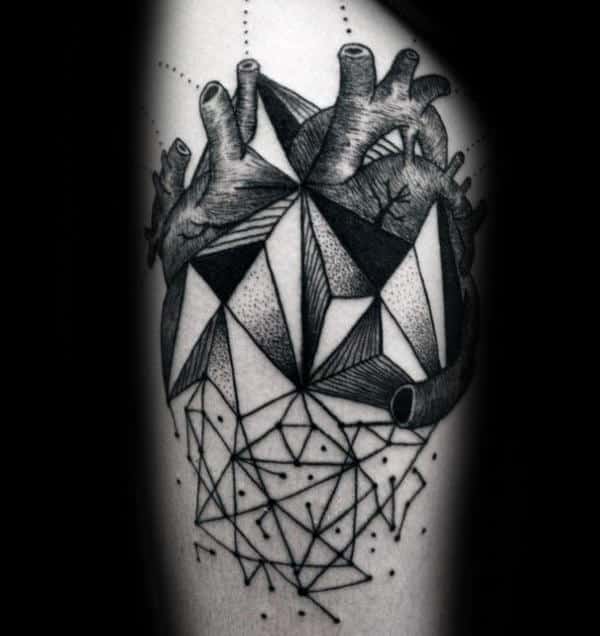 This tattoo offers a beautiful depiction of both geometry and astronomy, offering an open end to an otherwise realistic shape. Though the bottom of the tattoo is simple and open, the eyes draw upwards to more complicated triangles and eventually the ventricles of the heart. Entirely shaded in black, it is a beautiful design to have.
21. Intensely Bold Heart Tattoo with Harlequin Woman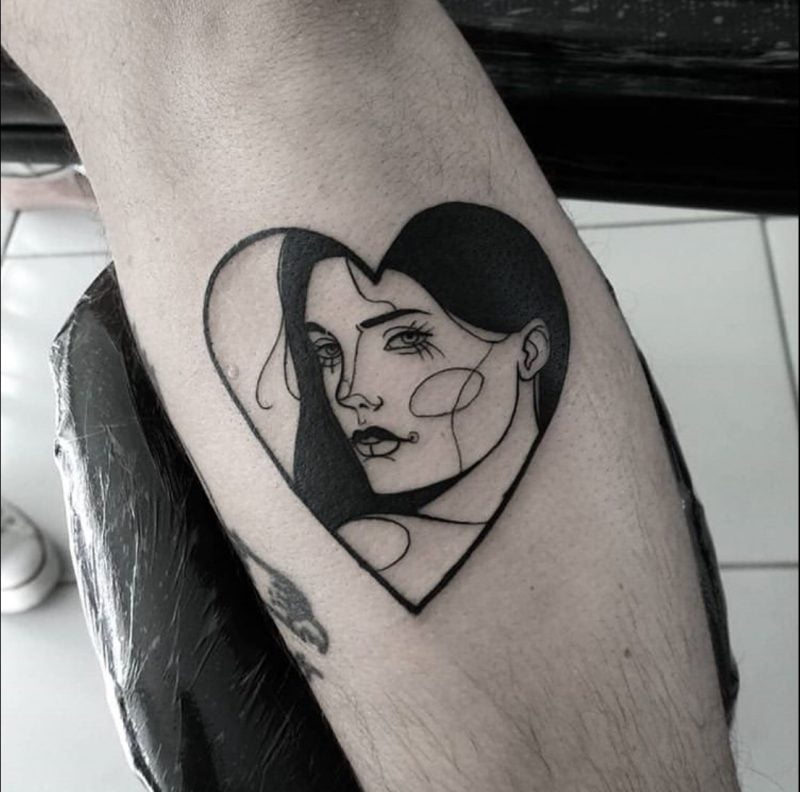 This tattoo shows a simple heart design encasing a bold woman with appealing eyes. The face of the woman is such that it looks like she is talking to you through her eyes, perhaps telling the secrets you never wish would be exposed.
22. Trust No One Heart Tattoo for the Broken-Hearted Souls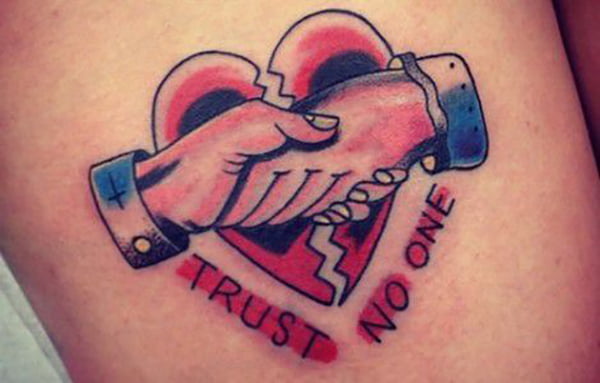 Vibrant in red, this design comes with the accompanying text that says, "TRUST NO ONE." Perhaps you've been hurt by broken promises, or maybe this tattoo reminds you to never trust someone with half of your heart. Clearly, it is a tattoo that gives a clear message – is that what you want to show the world?
23. Heart-Brain Connection Heart Tattoo for the Analytical Mind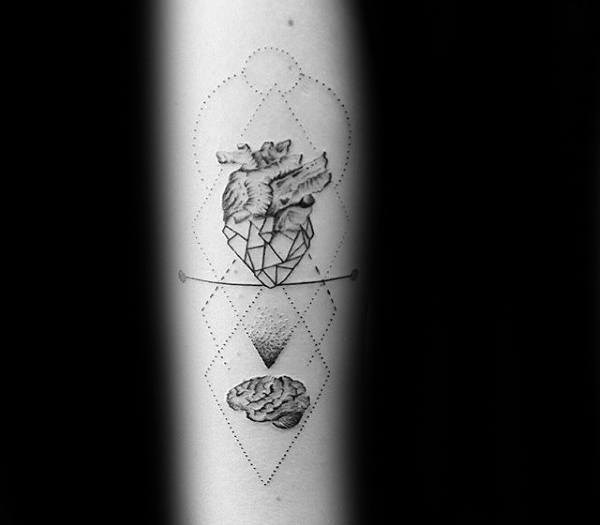 This tattoo stretches down whatever part of the body it is placed on, though it could perfectly show off toned arms without any ink yet. The connection between the heart and the brain is evident, despite the gentle dotted line that separates them.
24. "DON'T TRY" Stabbed Through the Heart Tattoo Design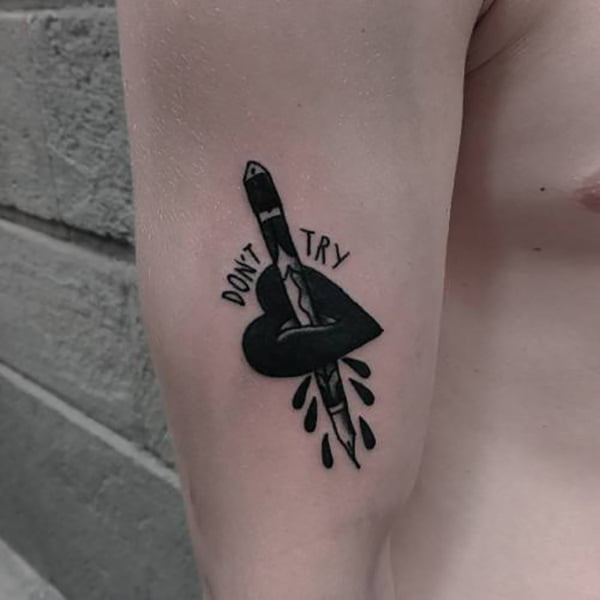 This tattoo design comes with a warning – "DON'T TRY." Considering the pen through the top and bottom of the heart is a sign that you've been hurt with the words written to you before. Maybe you want to show that your words can't possibly contain or express what is found in your heart. One thing is for sure – this monochromatic design expresses exactly what is going on in the heart.
25. Cutting the Heart with a Thank You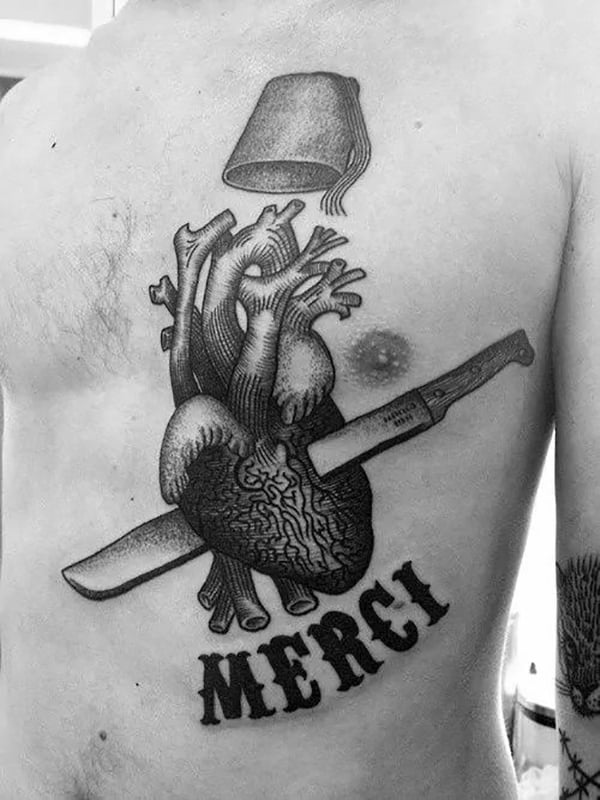 Merci is the French word for "Thank you," which you might not normally pair with a stabbing through the heart. Is this notion a sarcastic appreciation of the damage that the heart has been through, or is "MERCI" meant to be a twist on the word "mercy," hoping that the pain would soon subside?
26. Don't Touch This Grenade Heart Tattoo Design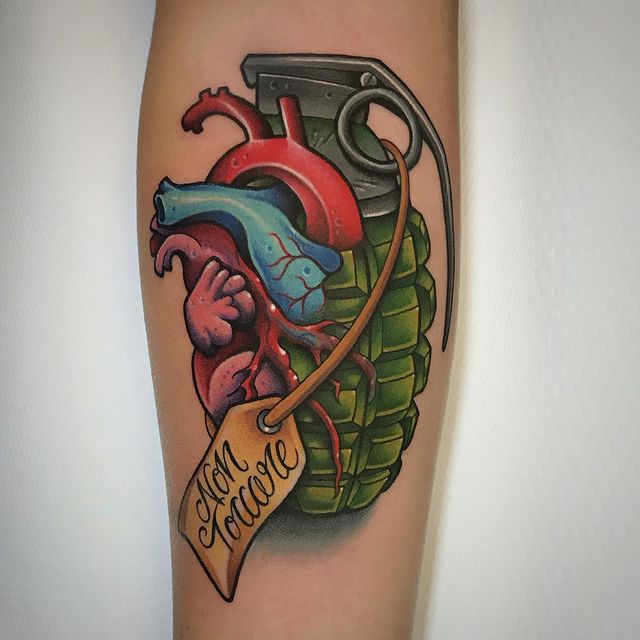 This colorful tattoo design has a bold tagline of its own – "Non Toccare." The Italian phrase simply means "Do Not Touch," suggesting that anyone who touches this person's heart is bound to be damaged. The idea couldn't be made clearer with the color combination of a grenade within the heart. Do you dare?
27. Nut-Bolt Blood Shed Heart Tattoo for the Love of Vibrance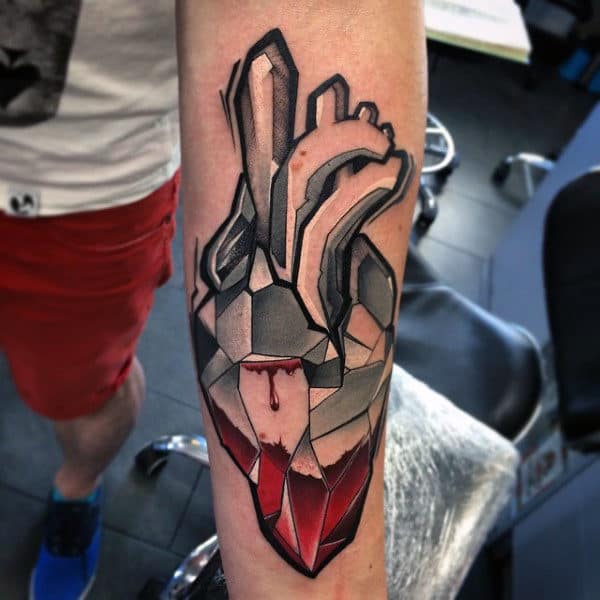 This tattoo design shows good shade strokes, making the tattoo much more realistic than the average design. While the lower part of the design is shaded in crimson, it fades into white to grey to ultimately blackish. The dripping above the red blood looks almost real, giving an edge that other tattoos don't offer.
28. Rainbow Shade Firenze Heart Tattoo Design for the Love of Italy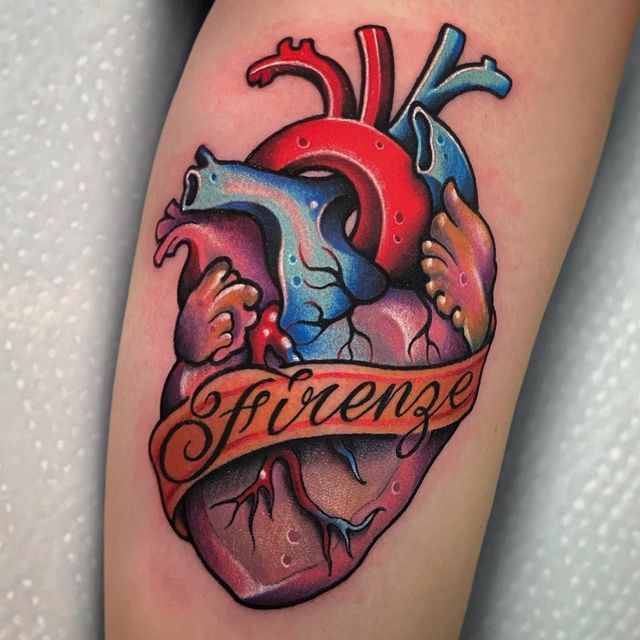 If you love Italy and its cities, this tattoo conveys exactly that notion. Beautiful and colorful, the arteries alternate in red and blue, though they all come together in a mix of rainbow-like shades. A ribbon flows through the heart with the word "Firenze" written over it in beautiful calligraphic design.
29. Winged Heart with Memorable Date to Commemorate a Special Day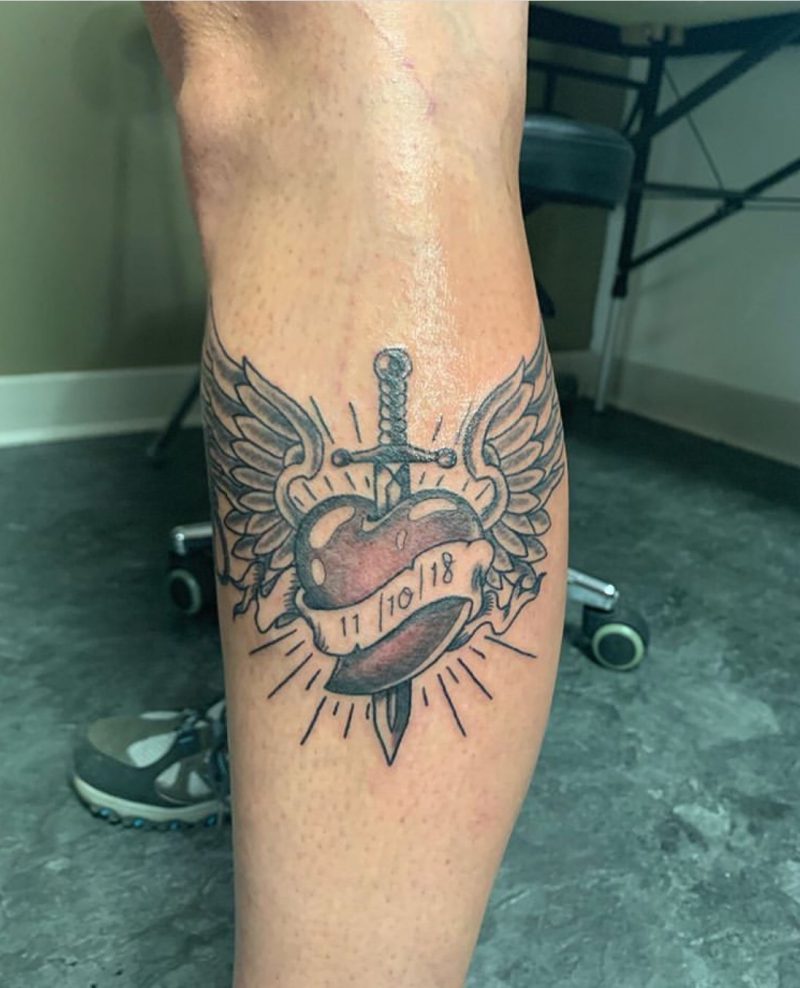 If you are someone who likes important dates to be inked on your skin, this tattoo provides an opportunity to do so. With the wings of a phoenix and a sword of a night, this type of tattoo is often a way to honor the Sacred Heart of Mary among Catholics.
30. Simple Double Black-Red Heart Tattoo for Minimalists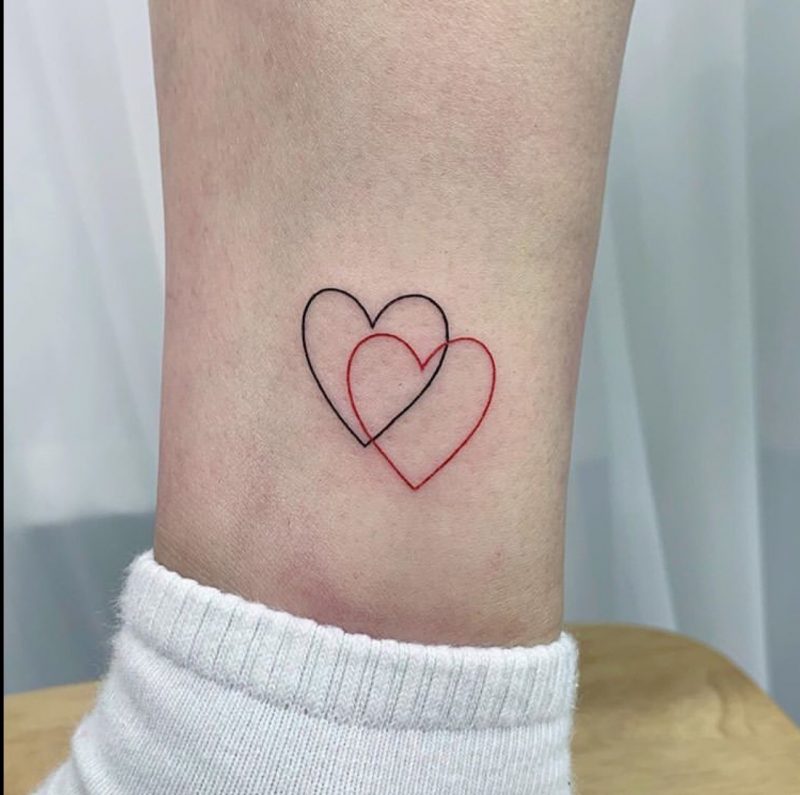 This tattoo is an amazingly simple design, showing only the outlines of a black heart and a red heart that overlap. However, it could mean many things. Are you in love with someone who is your polar opposite, despite being linked together? Do you want a piece that accents a smaller part of the body? Why would this tattoo speak to you?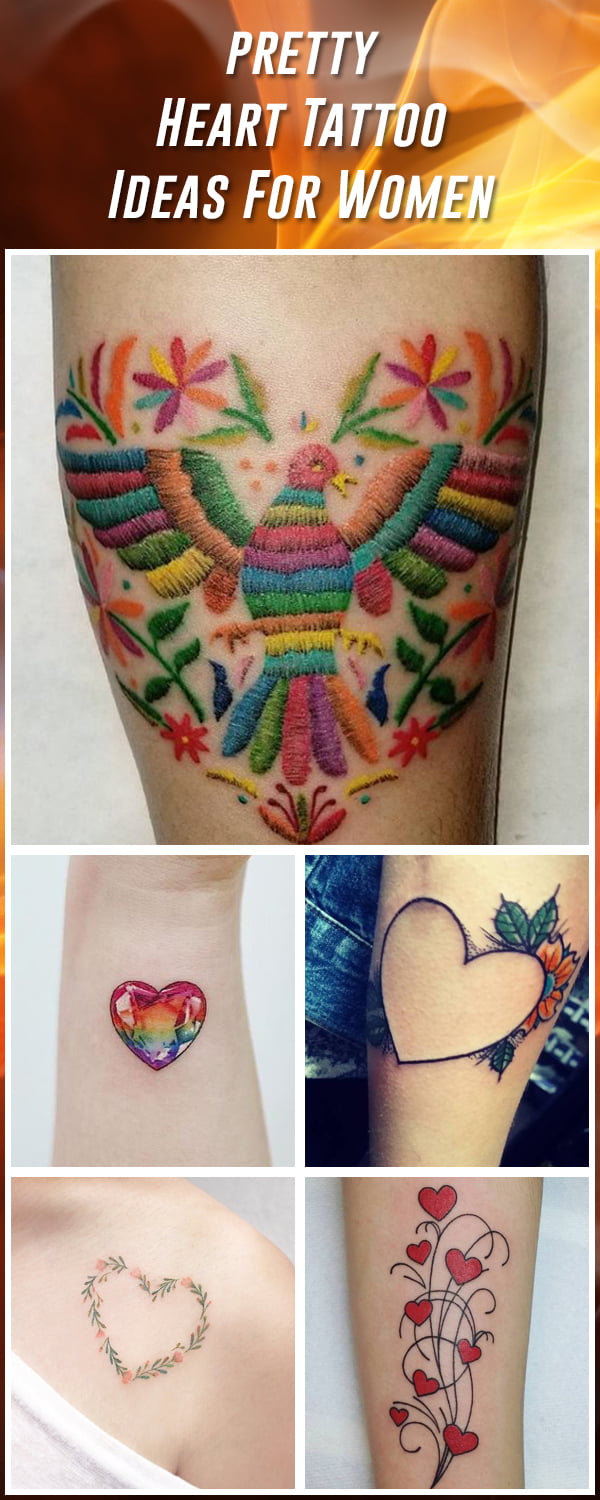 31. Beautiful Floral Heart Tattoo for the Pretty Souls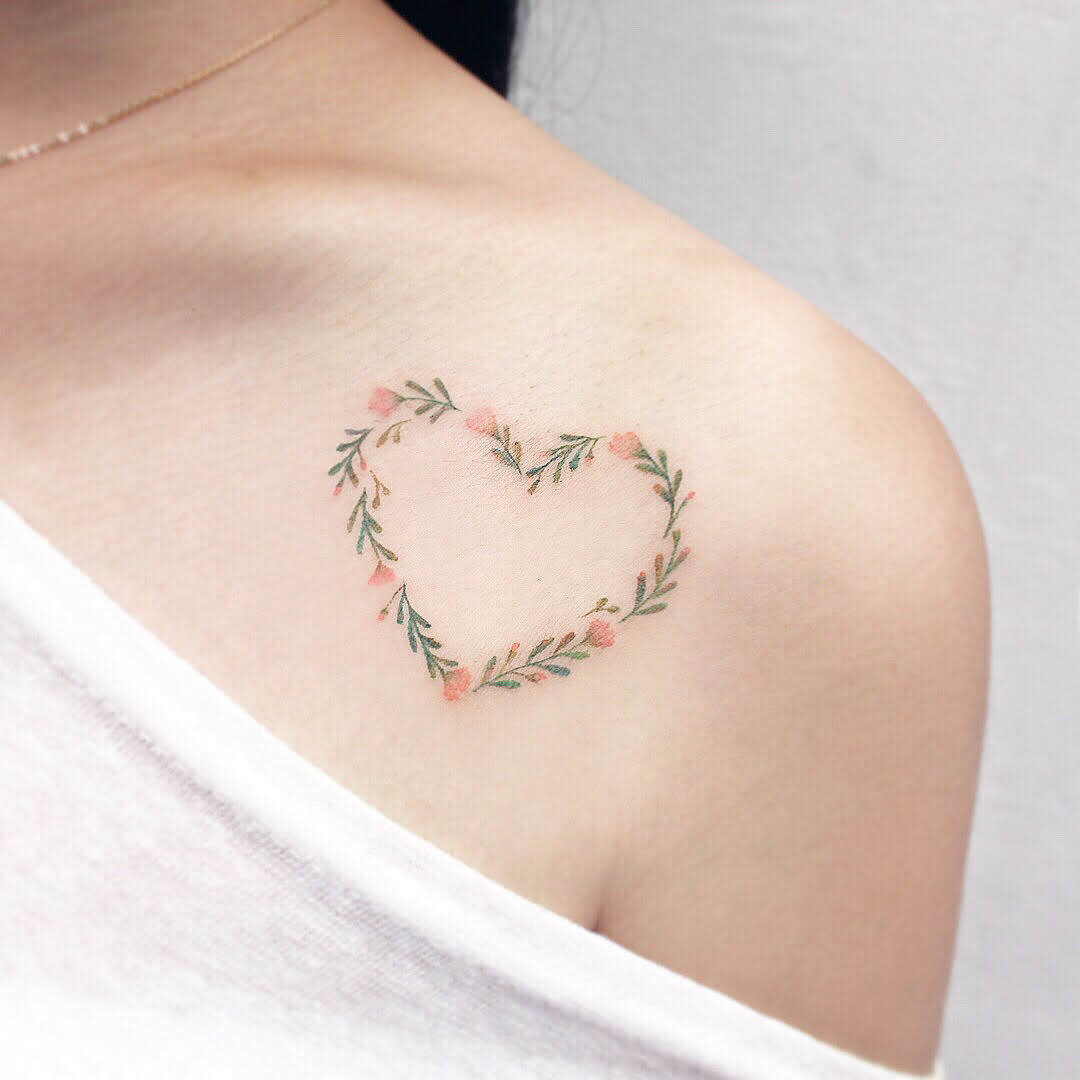 If you want something more demure, this tattoo brings a pretty and delicate look to any part of the body. The outline of the heart tattoo design is made up of small roses and leaves, making it gentle enough to wear on your collarbone near your shoulder, showing off femininity and grace.
32. Miniature Purple Crystal Heart Tattoo for the Glam Lovers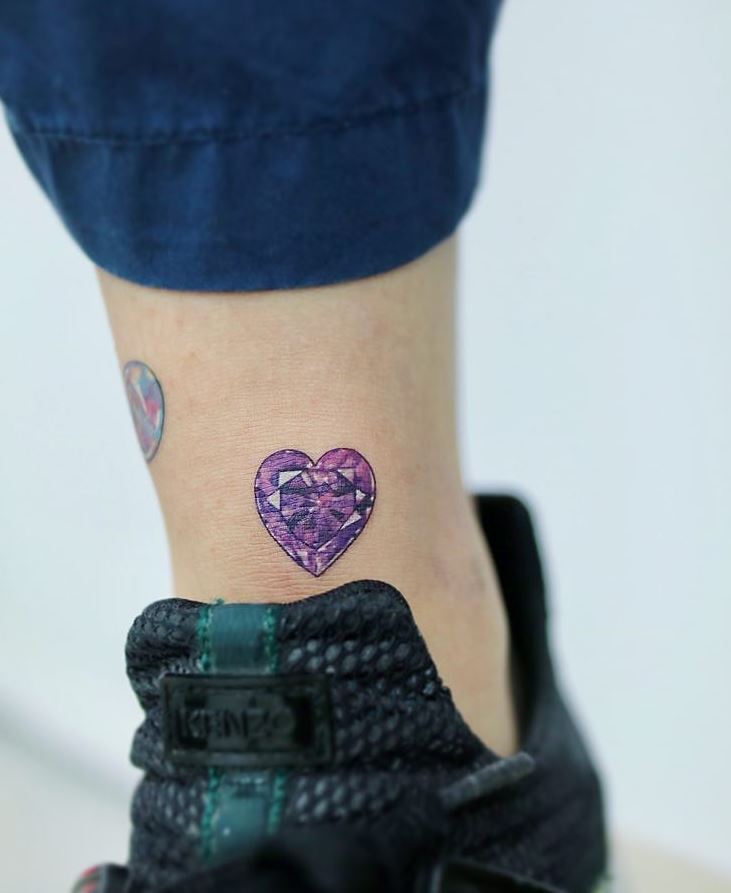 The glamorous crystal design of this heart can go anywhere, but the ankle offers the cutesy look that some women adore. With a purple hue, the color scheme is bold and regal, using white tattoo ink to create a gleam that is typically seen only with the real thing. Ankle tattoos don't get better than this!
33. Simple Vegetation Heart Tattoo for the Nature Lovers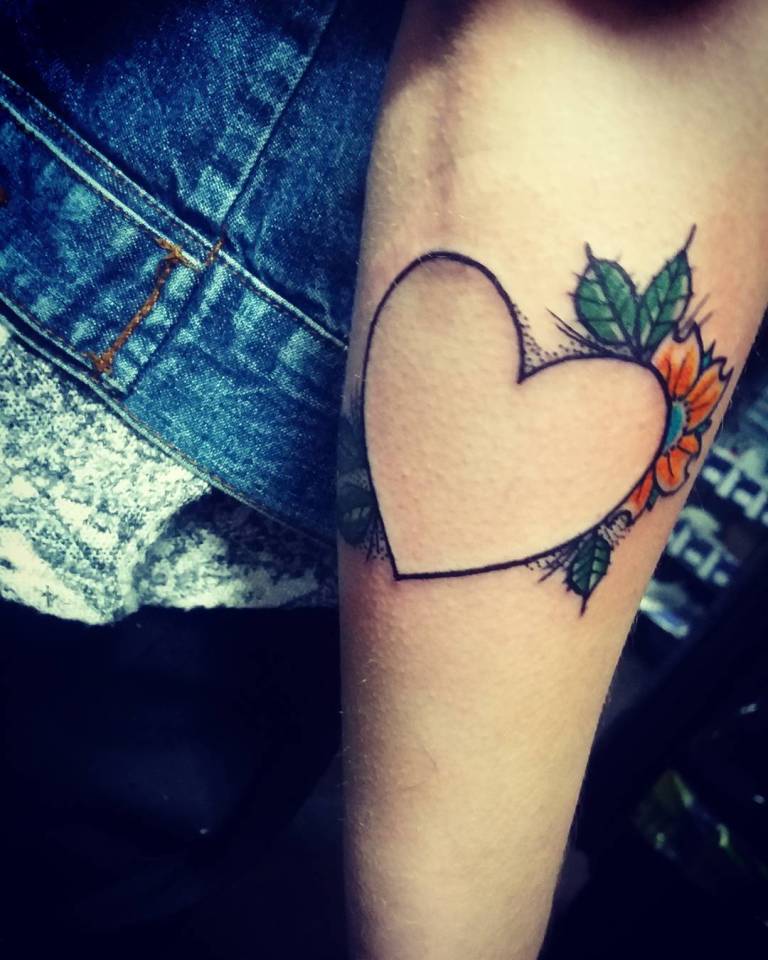 If you don't want simple, but you aren't ready for bold, this tattoo for girls hangs in the balance perfectly. With the bold flowers, the heart remains unchanged from the dark black outline. They have a few leaves as well as flowers popping out from behind the black outlined heart, ensuring that nature lovers are sure to love this heart.
34. Anchor Heart Shaped Balloon Design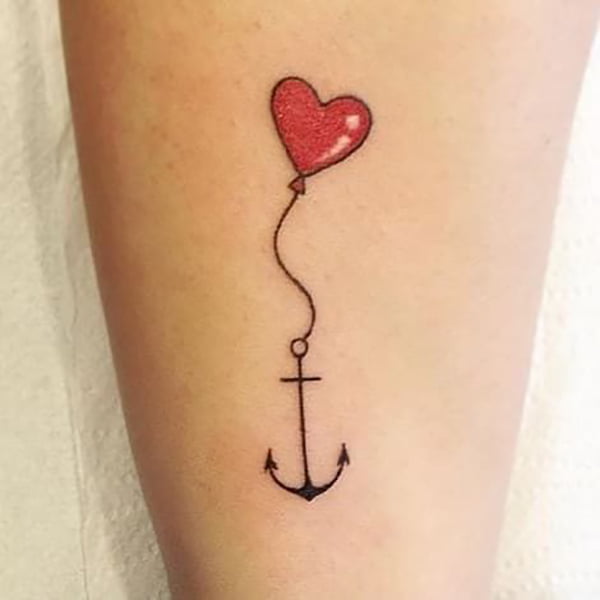 Though your heart is free, the right passion for someone you love can act as a tether. Though it floats freely as a balloon, it is tied to an anchor to keep the balloon from flying away.
35. Geometric Floral Heart Tattoo for Inquisitive Thinkers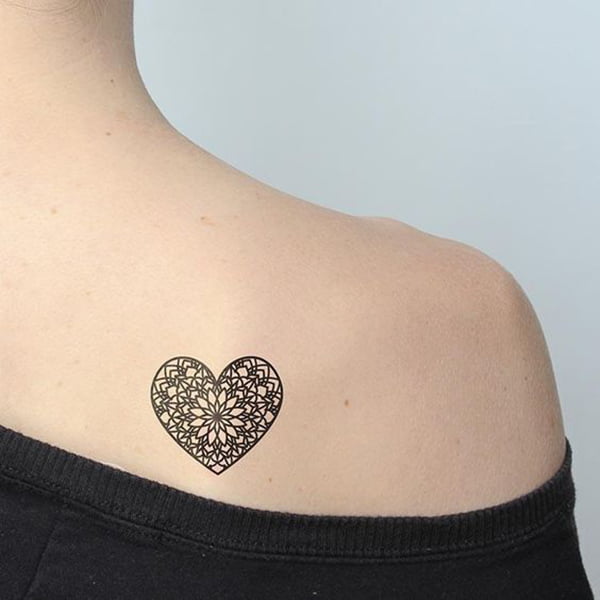 This tattoo design is a very tiny heart design with a floral geometric design. The intricate look is kept minuscule, making it ideal to show off on the shoulder or another small space on the body art. With only black and white to keep it clean, a tattoo like this one is ideal for the perfectionist that can't stop thinking.
36. Cute Elephant Heart Shape Balloons for Hardcore Lovers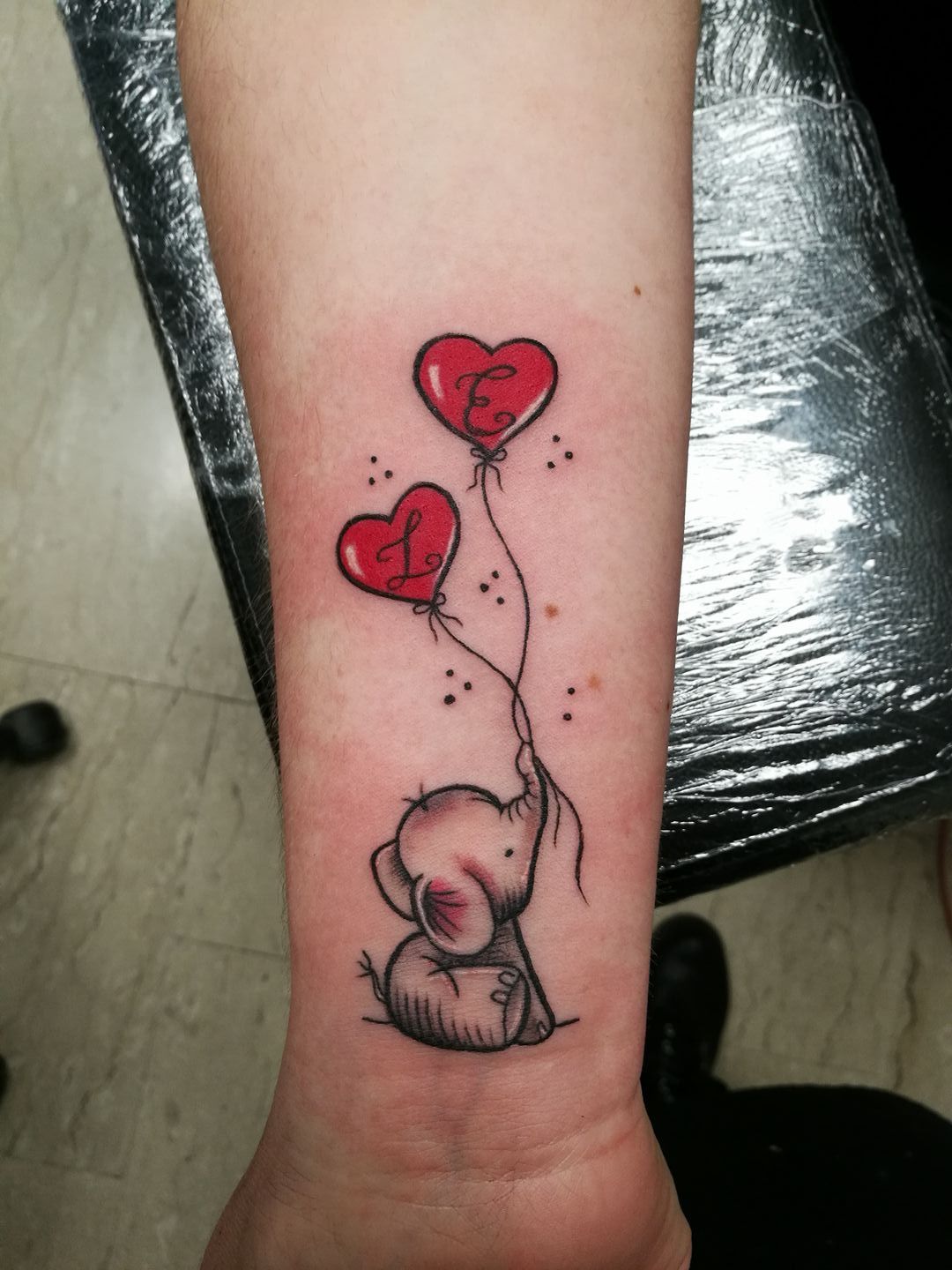 If you want to honor your loved one, this pair of heart-shaped balloons could give you just that. As a baby elephant sits at the bottom, it holds two heart balloons tightly with its trunk, gazing upwards. What initials would you fill it with?
37. Half Heart Shape Paw Tattoo for Dog Lovers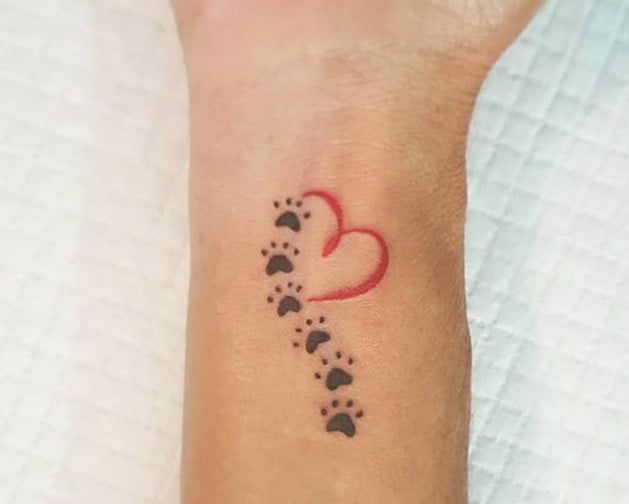 Are you a dog lover and want to show your love for your dog? This tattoo shows a half heart that is drawn in red, leaving the other side open for a trail of paws in black. What better way is there to show the love you have for your dog.
38. Simple Heart Tattoo with a Bow Knot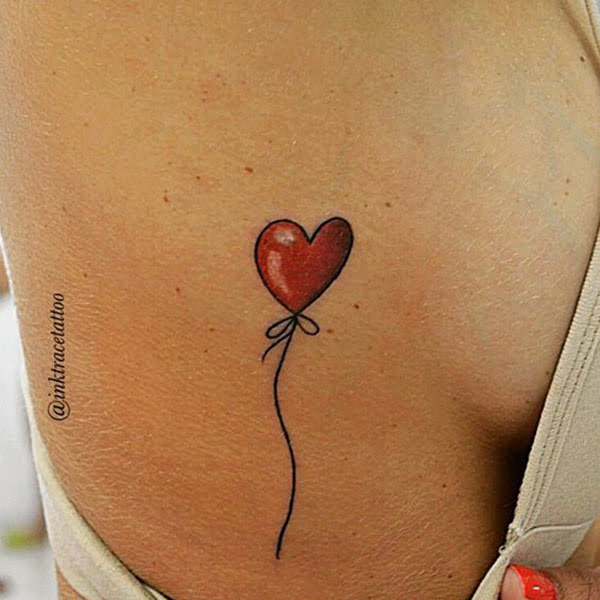 This tattoo design is very simple and involves a red balloon with an open-flowing string. There is a bow-shaped structure on the neck of the balloon, drawing attention to the shine of the heart. Though simple, this singular tattoo leaves plenty of room to interpret – what does it say about you?
39. Cute Bird Tattoo for Bird Lovers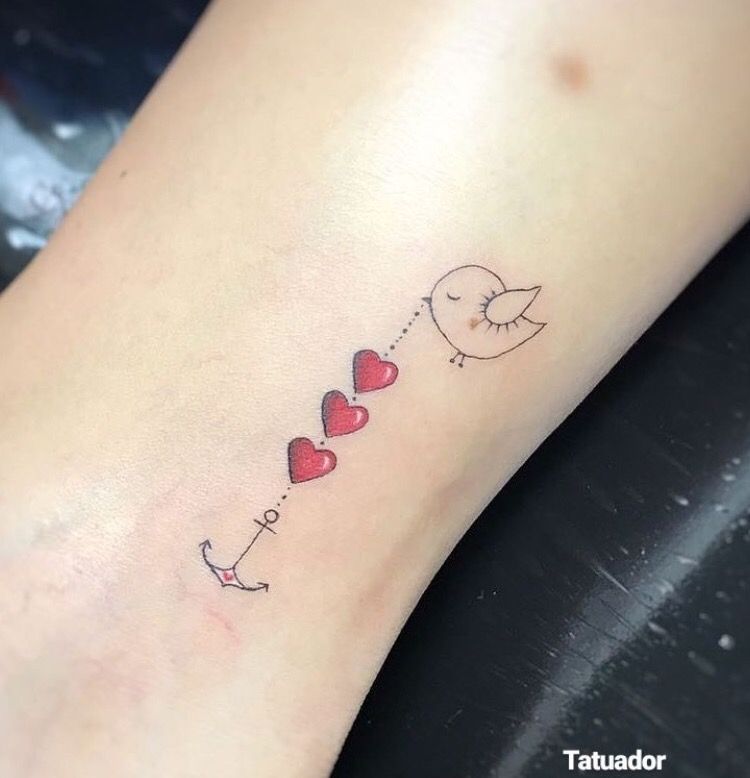 If you love birds and are all in for the little, cute ones, this tattoo will look very appealing to you. As the bird bows, it holds onto a string of hearts that are connected to the anchor below.
40. Name Tag Heart Tattoo for the Eternal Love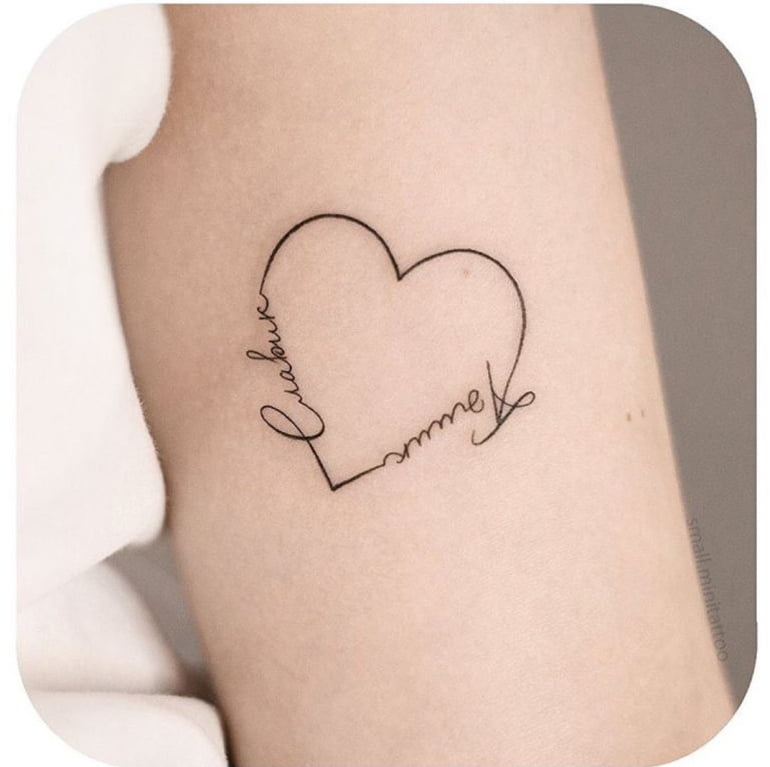 If you are someone who would like to have your and your partner's name tattooed on your body, this tattoo shows them delicately and subtly. Only offering the outline of a heart, names on either side make it special and unique.
41. Small Heart on the Wrist Tattoo for the Simplicity Lovers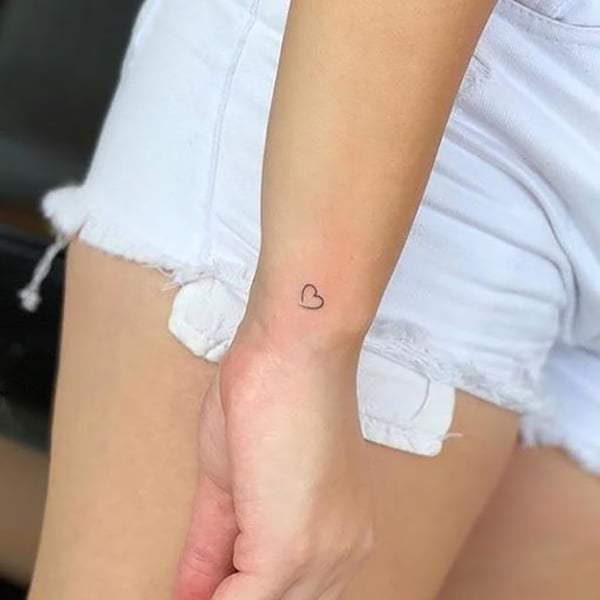 This small tattoo is discreetly showing love and adoration. Though there are many tattoos with elaborate colors and details, this design shows that a tattoo can make just as big of a statement with very little to it. This art could also work really well as a face tattoo.
42. Beautiful Flora and Fauna Heart Tattoo for the Lovers of Nature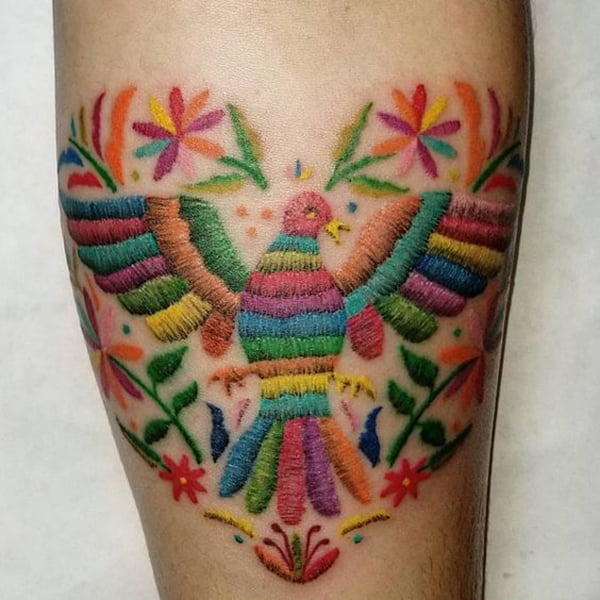 Do you love flowers and birds a lot? Well, this tattoo design might just turn out to be something that you have been looking for all your lives! This is a very bright and colorful design that is consolidated in the form of a heart-shaped design, filled with a lot of flowers and leaves with a bird with open wings in the middle.
43. Heart of a String with the Freedom of Flying Heart Tattoo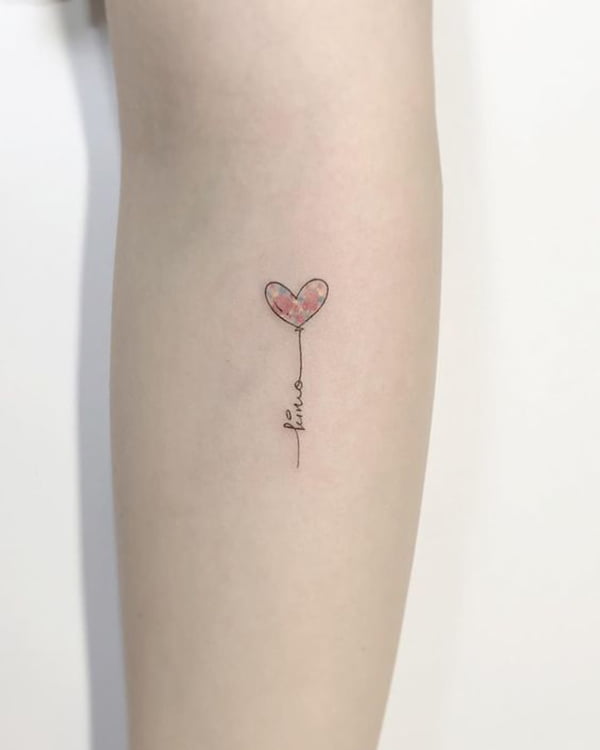 The heart balloon theme is fairly popular, but there are many ways to modify it. This design fills the balloon with pink, blue, and other shades. Though the string is loose, it allows you to put in a name or a word that you want to remember each day. With beauty and elegance, this may take your heart away.
44. Names and Numbers Heart Tattoo for Your Loved Ones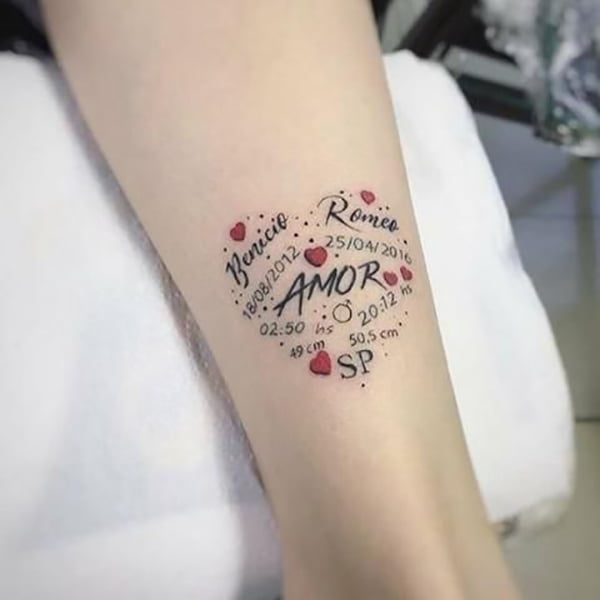 This tattoo design is for all the things and people that are close to your heart. It is curated in the form of a heart with all the names of places people and things that you love. It can also include your lucky numbers and dates that mean a lot to you. It is one of its kind tattoo design.
45. Cross Stitch Heart for Sewing Enthusiasts
Are you someone who loves to sew? This design might make you fall in love with the cross-stitched patter of a heart, emblazoned with the familiar Xs of this type of artwork. It even features a needle and a thread that lay beside it.
46. Double Heart Tattoo for Double Fun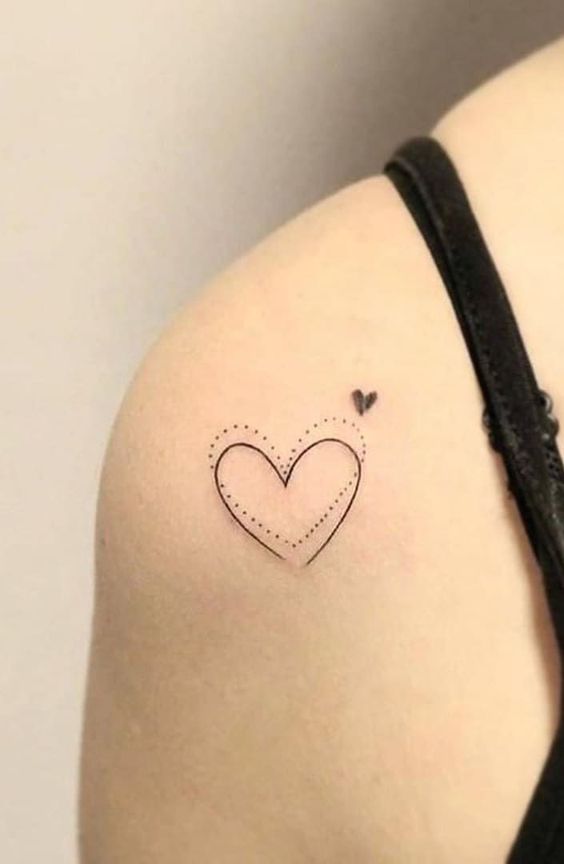 This tattoo design is very elegant as it involves two hearts that overlap one another. While one of them is dotted, the other one has been a black borderline, mimicking the smaller heart in the distance.
47. Chandelier Anchor Heart Tattoo Design for an Elegant Look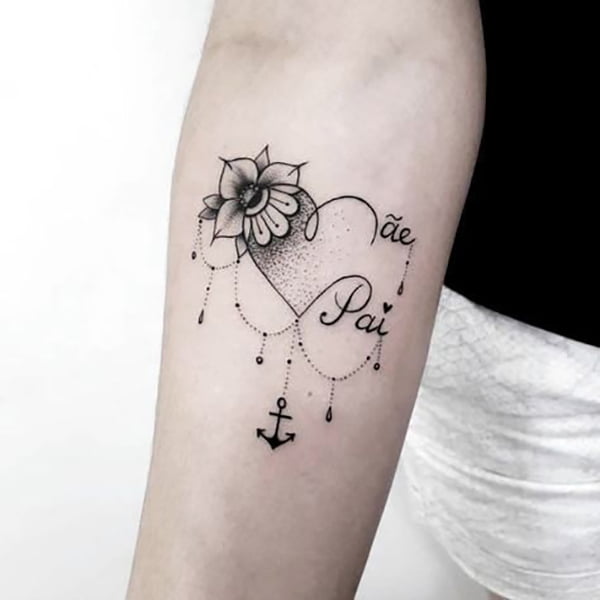 Elegant and romantic, this chandelier-style heart features flowers on the other end of the incomplete heart. Though only created in black ink, add color to make one of the features more striking and intense.
48. United Love Heart Tattoo for True Lovers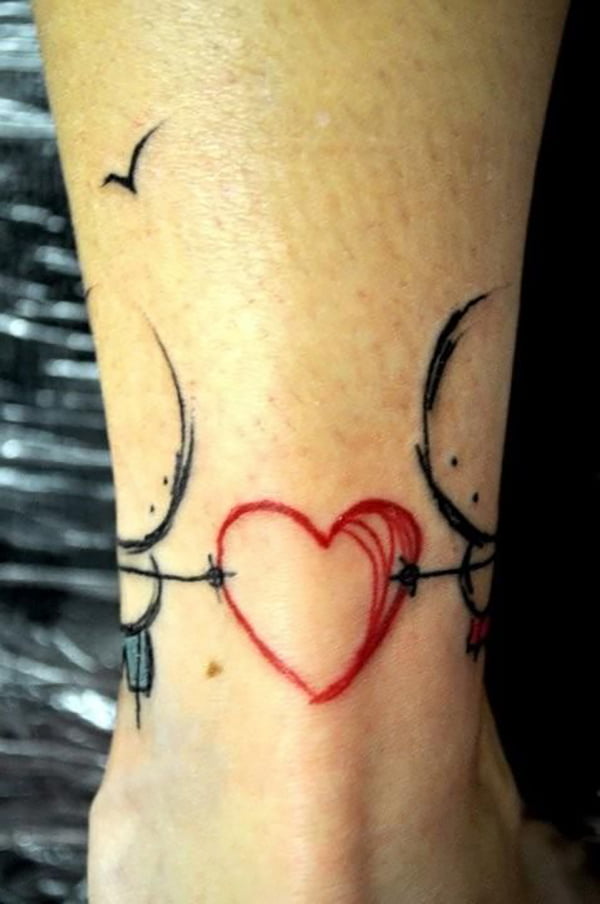 This one is a cute tattoo design that shows two people sharing one heart. While the person figures and is outlined with black ink, the heart is outlined with red ink. This design is a must-have for the childlike wonder of love, especially if you have a message to send across to your special someone.
49. Simple Monochromic Rose Outline Heart Tattoo for Simple Floral Lovers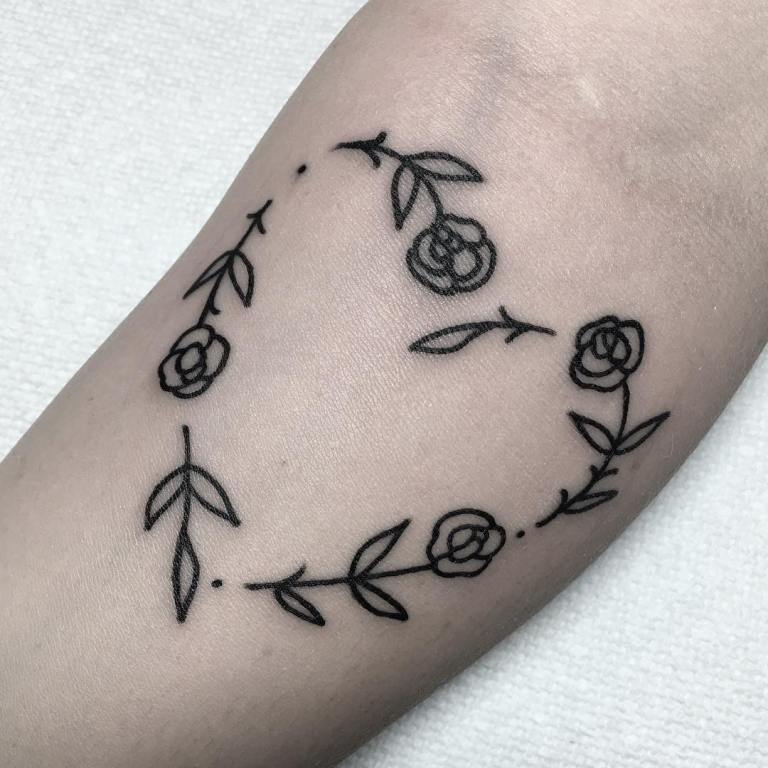 This one is a very simple yet elegant design, using the gentleness of small roses and leaves to outline the heart. Without any color, the message of love stays straightforward and true, and it can be paired with nearly any blooming flower.
50. Queen Heart Tattoo for the Cute Ones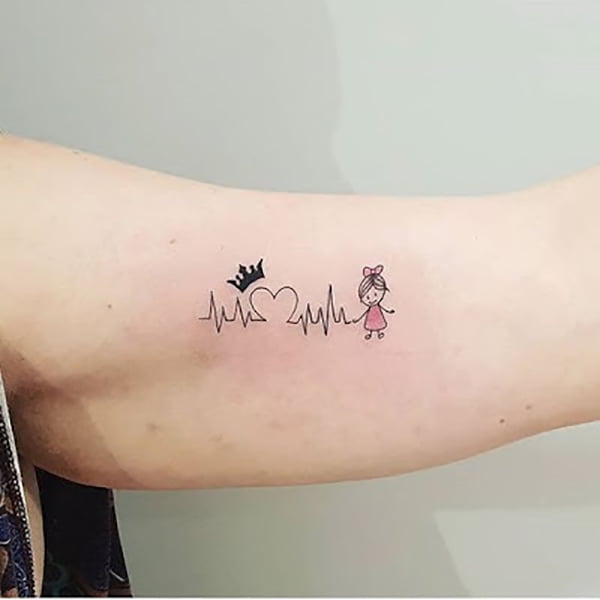 A small girl stands alongside the pattern of a heartbeat. Interrupted by an open heart in the middle, the bold and opaque crown suggests growth from a young woman into a queen. The little pink dress and bow on the little girl convey a gentleness that is only seen in the most sensitive of hearts. This can get a great idea if you would like to get crown tattoos too.
51. Golden-Orange Heart Tattoo Trio for the Clumsy Hearts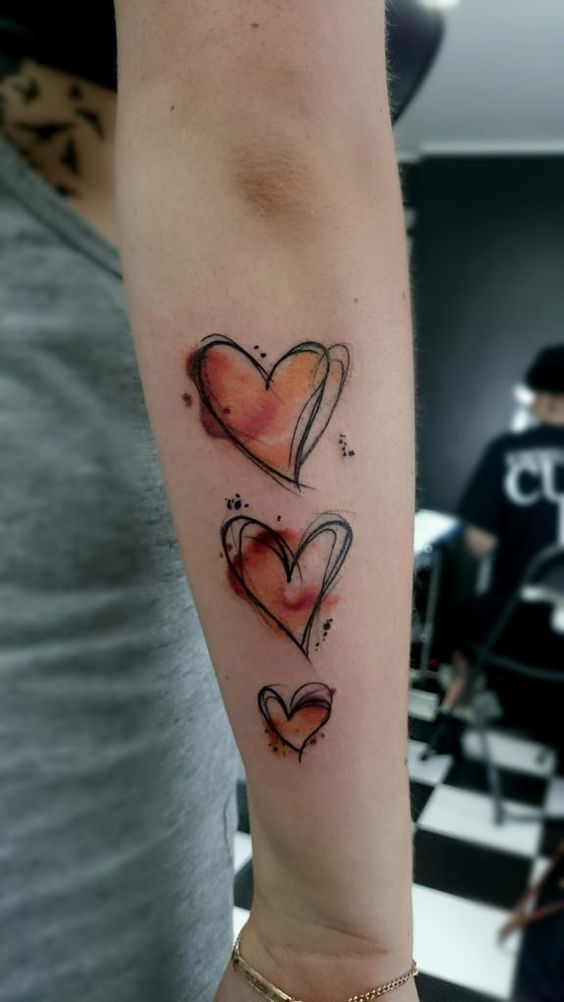 Are you someone who loves to be messy? This tattoo might show your true colors, going outside the lines to show how you march to the beat of your own drummer. With golden orange, deep red, and a black outline for every heart, this decor suits anyone that wants to show that their individuality is boundless.
52. Heart Quotation Tattoo for the Words' Lovers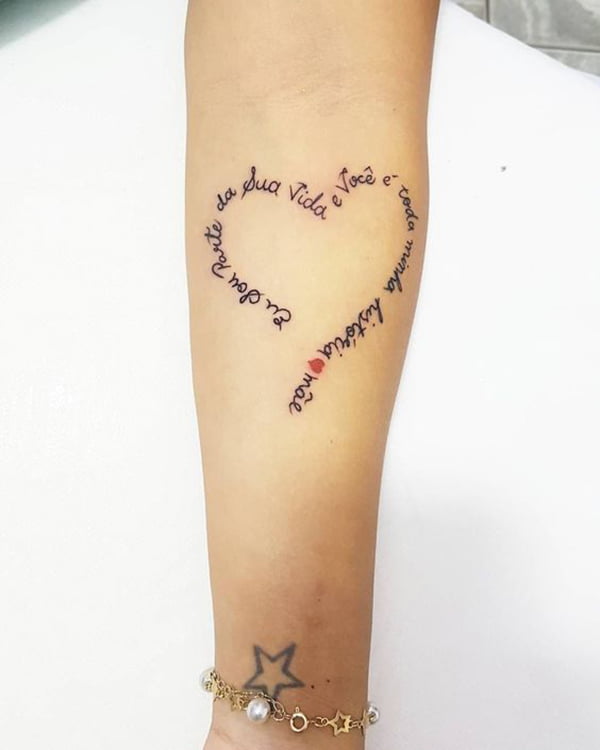 Do you love using words to express yourself and have an absolute favorite quote? You can turn it into the shape of a heart – just like this tattoo! This one has a few words that have been written and molded into a heart shape, describing the life story that flourishes in your heart.
53. Five Simple Hearts in a Row Tattoo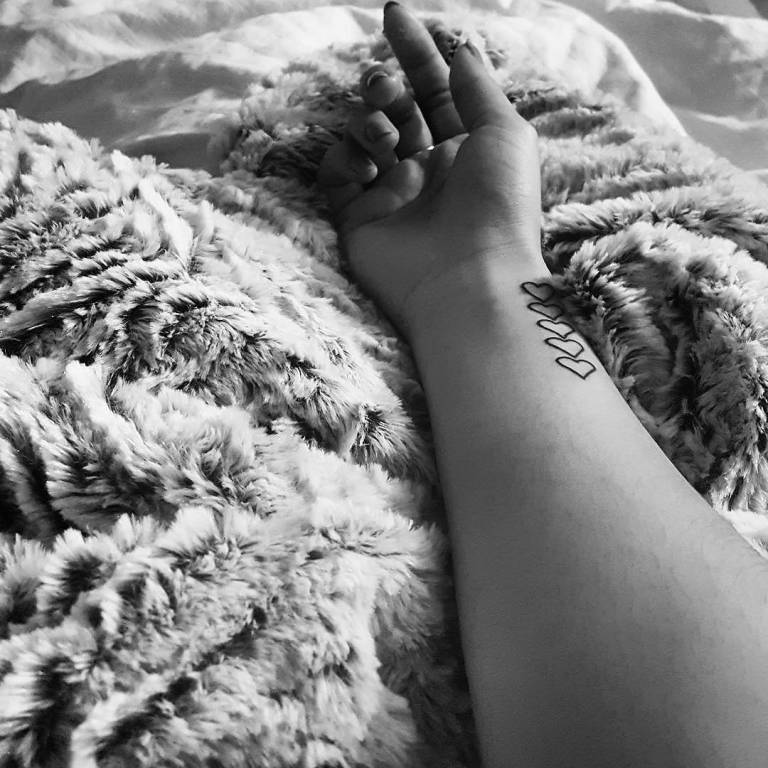 This tattoo design is very simple and involves five monochromic hearts stacked up together. What could it mean? Is it the five members of your family that you love? Is it the five lovers that you've lost? It's entirely up to you!
54. Floral Human Heart Tattoo for the Ones Who Love Flowers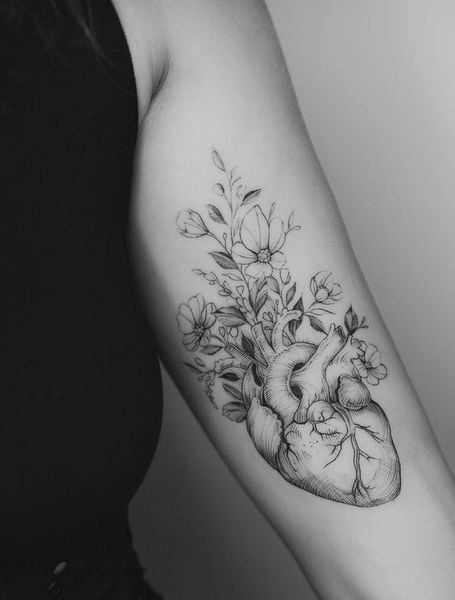 The monochromatic style highlights the growth of new life through a realistic flower tattoo design. This growth might be the hope that you have for your future endeavors that you might be successful from your passions.
55. Twisted String Heart Tattoo Lettering
This heart balloon with a curved string sends a message with the words along the middle. What words would you put here – a name, a wish, a cliche? The red color of the balloon adds to the simplicity and beauty of this tattoo design.
56. Rainbow Crystal Heart Tattoo for the Shining Soul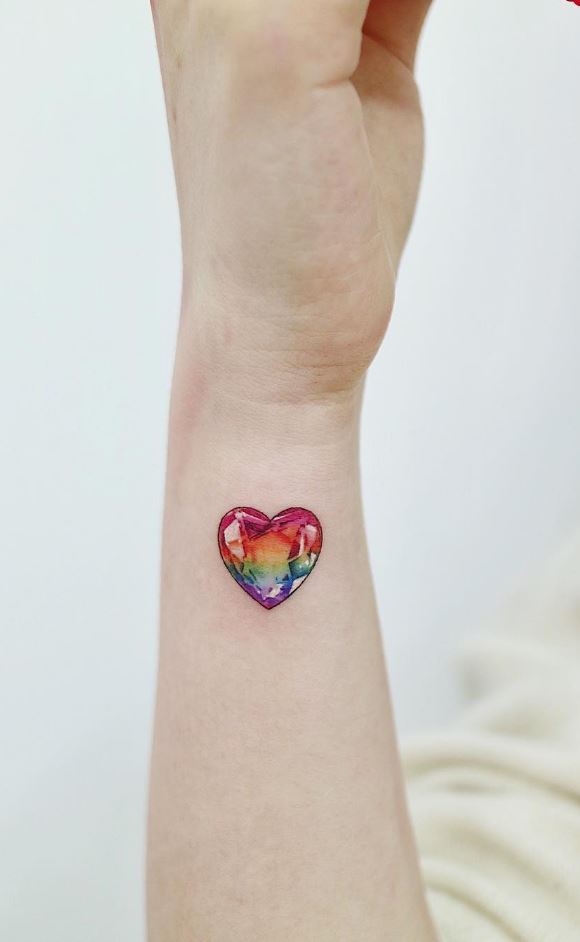 Made to look like a rainbow, this beautiful tattoo is very tiny in size, though the coloring makes it appear shiny. If you are someone who loves a lot of colors and wants everything around you to be just as bright, this might be a good choice.
57. Framed Ribbon Heart Tattoo for the Bright Souls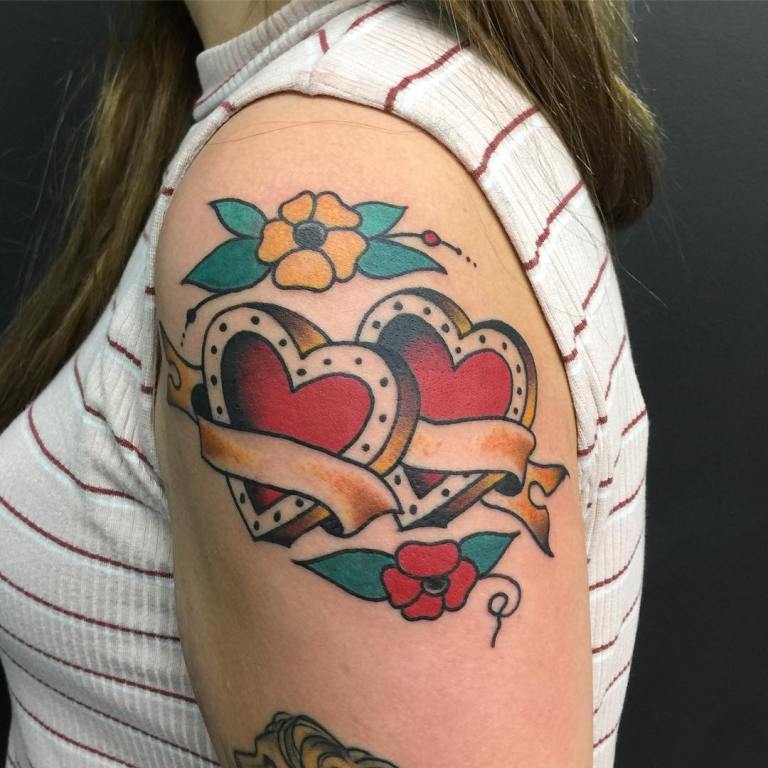 Colorful and thick, you might be in the tattoo shop for a while since this design involves a lot of work. It has two hearts with ribbons atop them, while both above and below are beautiful flowers that add to the beauty of the tattoo.
58. Little Girl Heart Tattoo Balloon for the Innocent Souls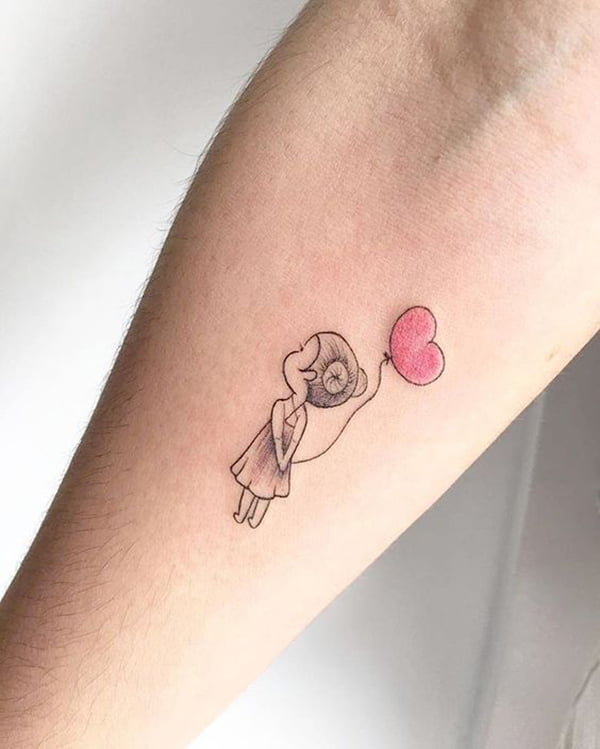 Are you someone who cherishes and nurtures your inner child? This piece shows a small girl hiding away her heart-shaped balloon behind her back. Perhaps she's wondering what the future holds for her precious mind.
59. Heart Tattoo Bouquet for the Flower Lovers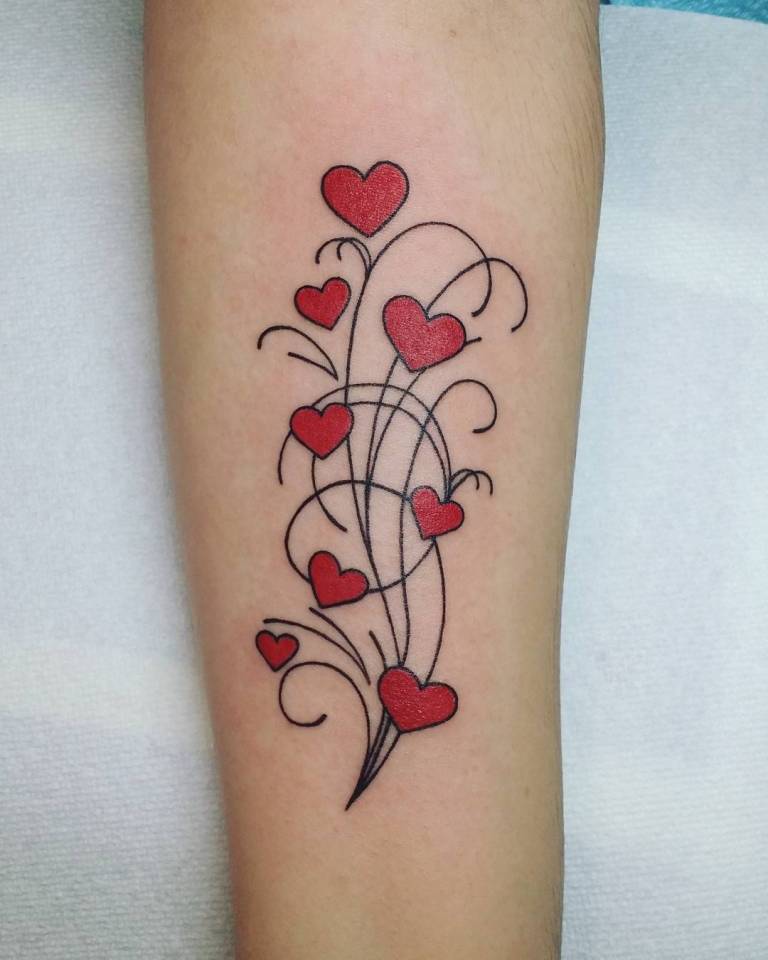 For anyone who loves bouquets, this bunch of hearts dangles from branches along with leaves. The hearts are red while the branches and leaves are shown to be outlined in black.
60. A Heart Tattoo Reminder to the Unsettled Soul to "Love Yourself."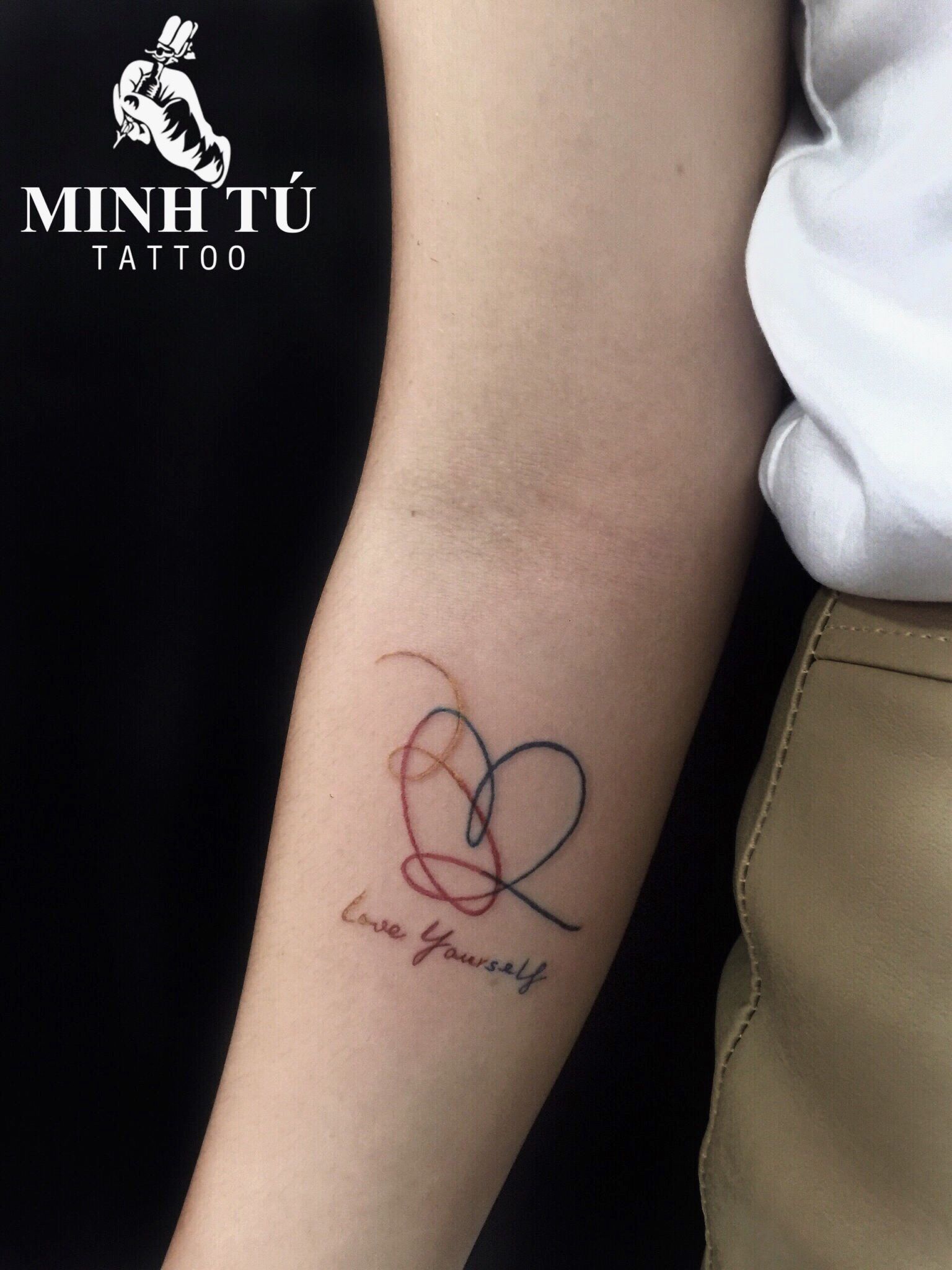 Not everyone wants a heart tattoo that covers their entire chest or features adorable figures. Sometimes, a tattoo is a reminder to take care of the heart and mind. Nothing is clearer in this outline that simply reminds you to "love yourself."
60 Best Beautiful Heart Tattoo Ideas That You Can't Stop Looking At
It is so clear that heart tattoos can have so many variations, right? From the realistic human heart to geometric to ear heart tattoo or even spiked styles, these hearts never let you drive to boredom. It is only natural that you'd want more than one of them because they are all so lovely.
Heart tattoos are close to the emotions, suggesting that anyone with such a design will have to decide what they hold close, like heart cross tattoo designs. Are you going to choose one of these options, or do you have a newer idea?