The best ankle tattoos have a few qualities that make them stand out from your average tattoo. The color, composition, and placement are all essential and can take a basic idea to a whole new level. A good artist is also essential since their skill is what will make your tattoo a piece you will love for the rest of your life. Remember to do your research and take your time. Anything permanent like a tattoo should be carefully considered and researched so that you will be happy with it for the rest of your life. If you already have plenty of arm tattoos, it's time for something new!
60 Stunning Ankle Tattoos to Inspire You
Do ankle tattoos hurt? Ankle tattoos are one of the most popular placements for a tattoo. While the area can be sensitive for some people, it is very easy to hide. This means that in professional settings, you can easily just wear a long sock and pants to keep your tattoo away from unfriendly eyes. Ankle tattoos are also an easy spot for you to see them, unlike a back tattoo. While there is less space, you can still create an amazing tattoo you will love for the rest of your life. Make sure you let your artist know that you are firm on the location and want help to create the best tattoo possible.
1. Ankle Tattoo Idea: Small Gray Wings Sprouting From Ankle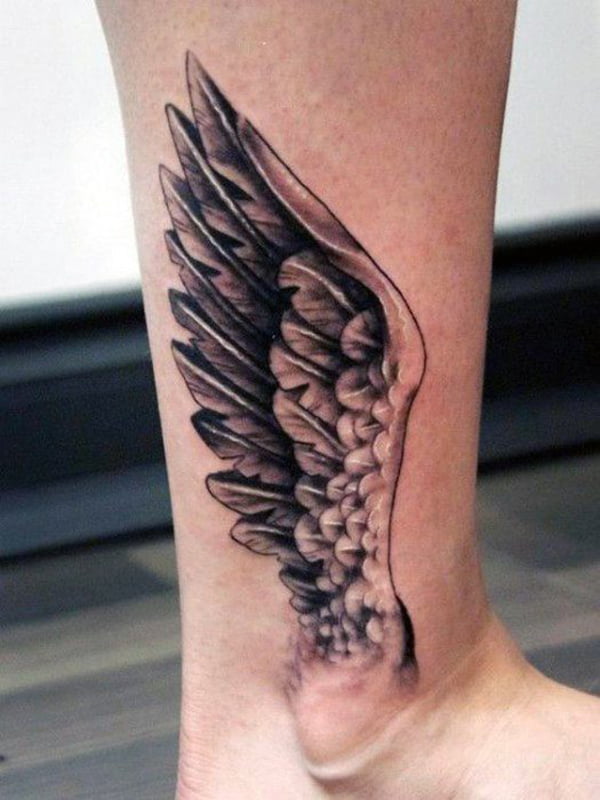 This cool ankle tattoo references Hermes from Greek mythology. In many surviving depictions, he either had winged shoes or had wings growing directly from his ankles. This tattoo can mean you are just as quick on your feet as the ancient messenger of the gods.
2. Two Indented Lines and Dots Ankle Tattoo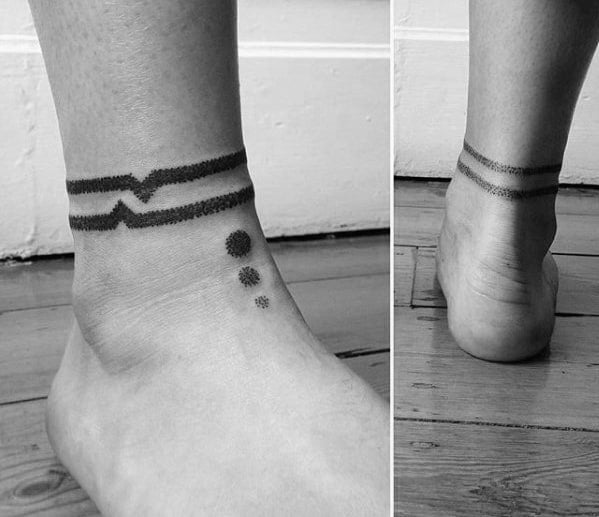 This is a cool minimalist ankle tattoo design sure to appeal to anyone who prefers simpler foot tattoos. The lines circle the ankle, and two triangles point towards each other. A line of dots that decrease in size leads towards the foot. Simple tattoos like these can have a lot of visual impacts.
3. Small Simple Anchor Ankle Tattoo Placed Near Tendon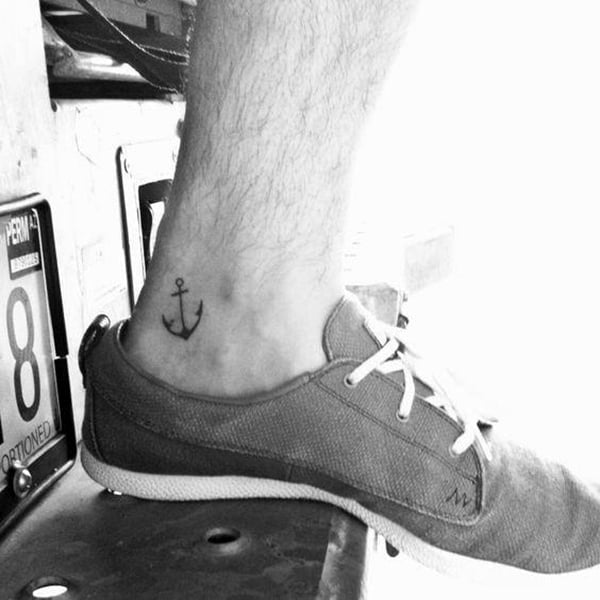 This is a very simple nautical ankle tattoo. An anchor like this can be to show an interest in boating or the sea. It can also be to keep you from drifting off much like a real anchor. Placing it far back like this example allows you to have it hidden easily.
4. Matching Thick and Thin Lines Ankle Tattoo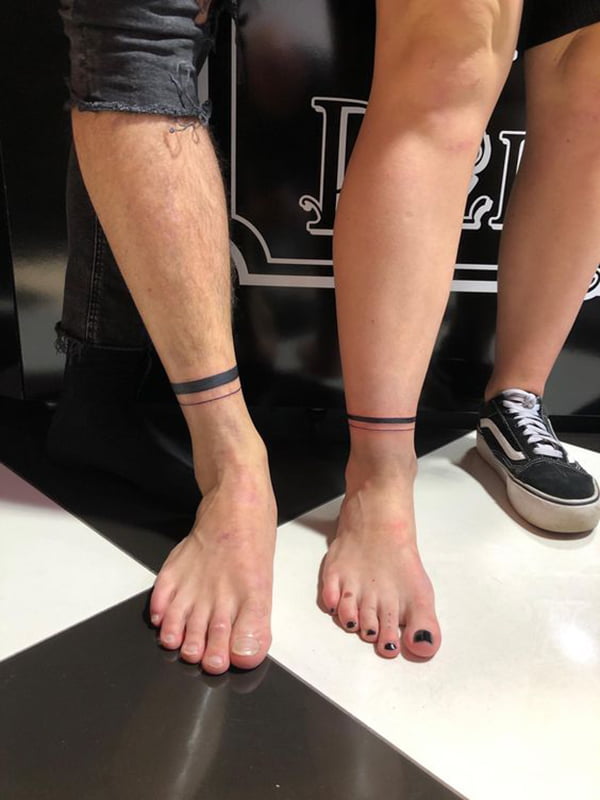 A simple ankle tattoo like this can be a great couple's or friendship tattoo idea. Matching tattoos can be risky if a relationship sours later on, but a simple tattoo is a bit easier to keep since it isn't a matching tattoo design. Pairing a thick and think line gives a bit more visual interest.
5. Ankle Tattoo Idea: Black Palm Tree Growing From Ankle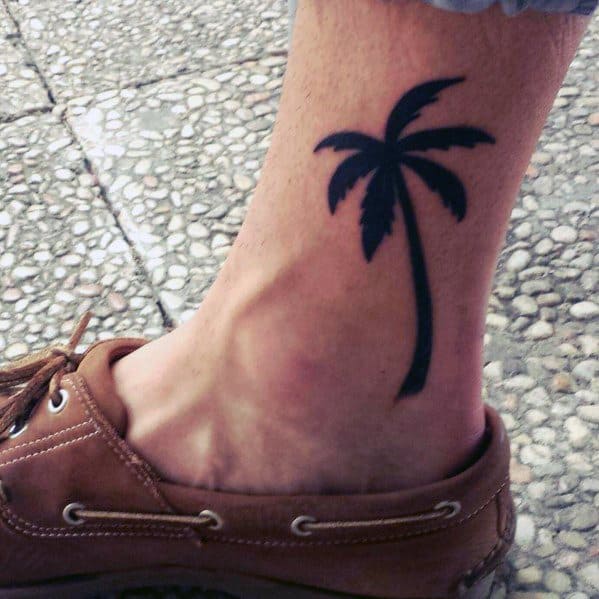 This is a great ankle tattoo if you love the tropics or grew up in an area with plenty of palm trees. It can be a good way to commemorate a favorite vacation or memory. Don't be afraid of even a seemingly common design if it has meaning to you.
6. Matching Black and Red Lines ankle tattoo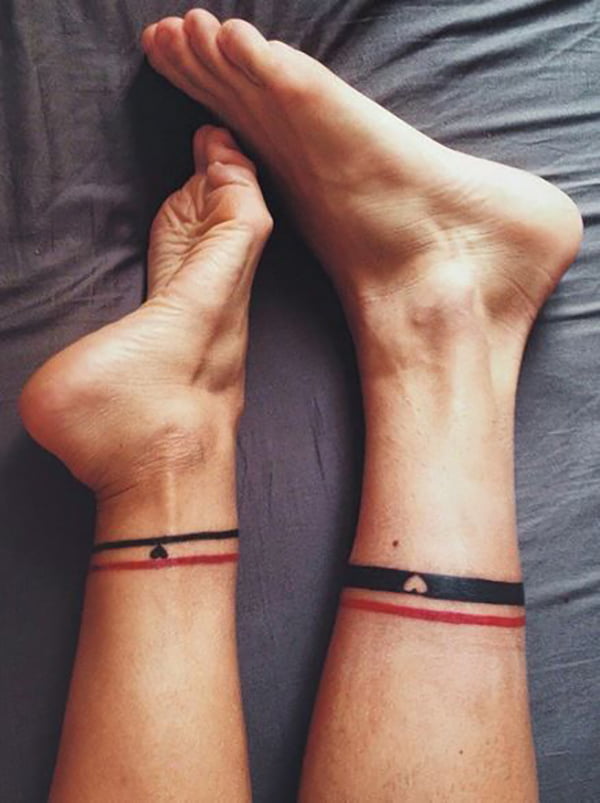 This is a cool ankle tattoos idea that isn't identical but is still similar enough that you know that they are meant to be viewed together. The lines have differing thicknesses, as well as colors. The heart also shows that this is a close, romantic relationship.
7. Detailed Wings Coming from the Ankles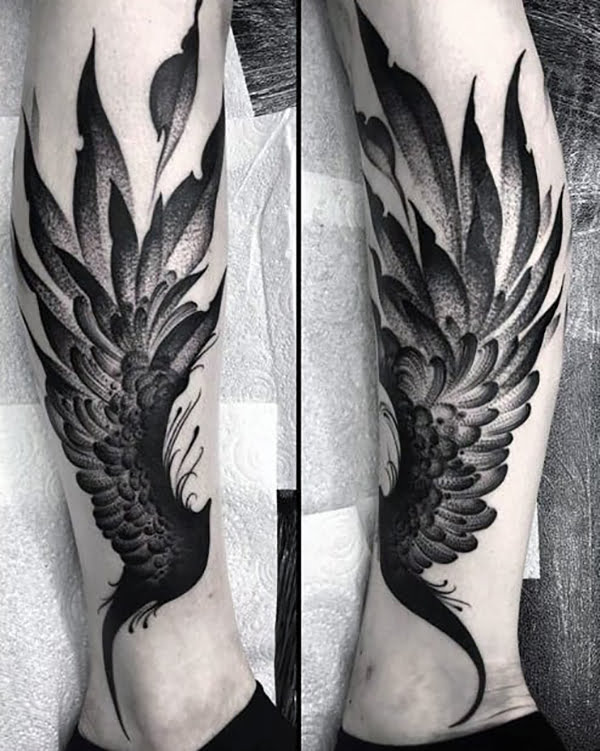 This is similar to the first tattoo on the list, but far more detailed. The feathers rise, reaching for the sky. The swirls coming from the base almost look like a bird, but could still be a reference to the Greek god Hermes.
8. Colorful Flowers and Patterned Bands ankle tattoo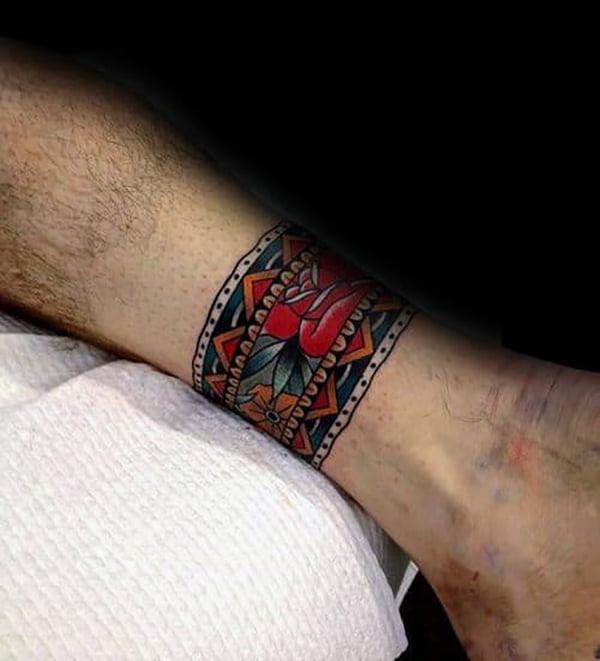 This lovely tattoo looks much like a fancy anklet. It includes flowers as well as patterned bands that help add interest to the tattoo. YOu could easily use your favorite flowers for your tattoo or show the artist patterns you like to use for your unique tattoo.
9. Stylized Wing In Deep Blacks ankle tattoo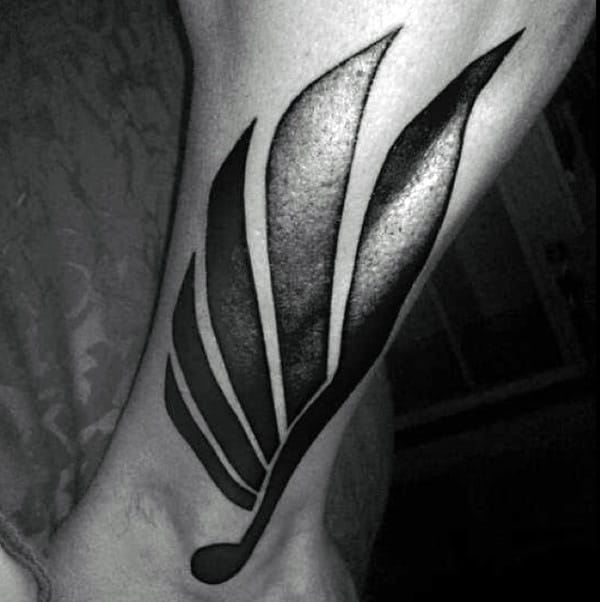 This simple ankle tattoo uses a bold black to complement a strong design. The dot that the wing forms recalls the shape of a musical note as well. You can use a bold, simplistic design to make a basic tattoo idea more unique. Just make sure your artist can put down a solid patch of black.
10. Small Pineapple Outline on Tendon ankle tattoo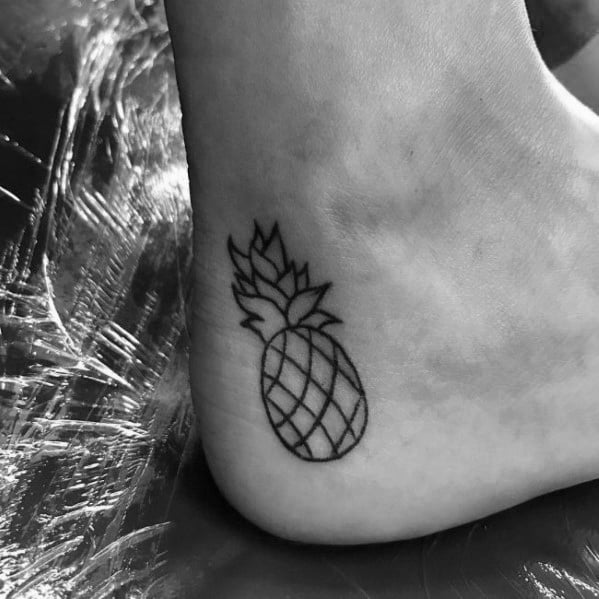 A small pineapple like this is easily recognizable even without color or much detail added. This ankle tattoos idea can carry over to other designs you might enjoy. Look for simple linework in your sample art to show your artist to make sure what you get is easy to recognize. YOu don't want to have to explain what your tattoo is to everyone who sees it.
11. Tiny Oasis Scene in a Circle ankle tattoo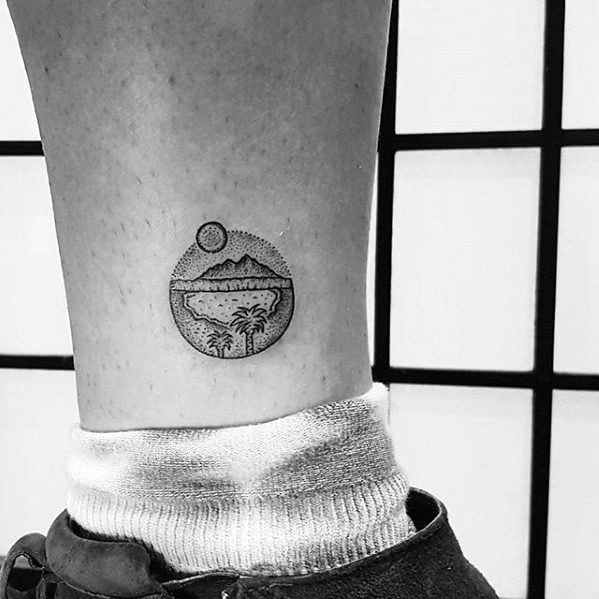 This is a cute way to show a small landscape design in a small area. The oasis is clear from the palm trees and sand around the water. Feel free to use a similar landscape you enjoy or even a scene from a favorite piece of media.
12. Bold Black Bands Circling ankle tattoo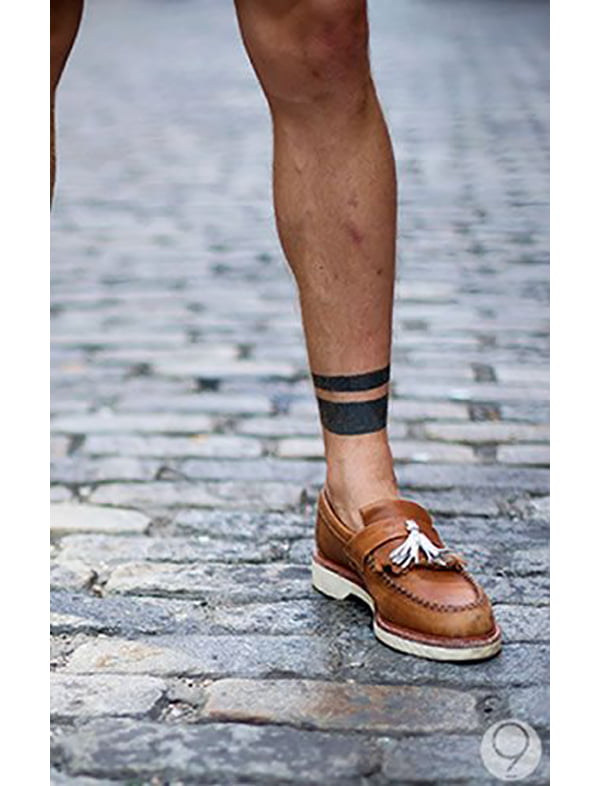 This is a bold ankle tattoo look if you're not too worried about people seeing your tattoo in everyday life. The bold black is distinctive and will draw the eye of anyone who sees it. Feel free to place your tattoo on your ankle and leg to get the effect you want.
13. Delicate Swirls of Black Rising Leg ankle tattoo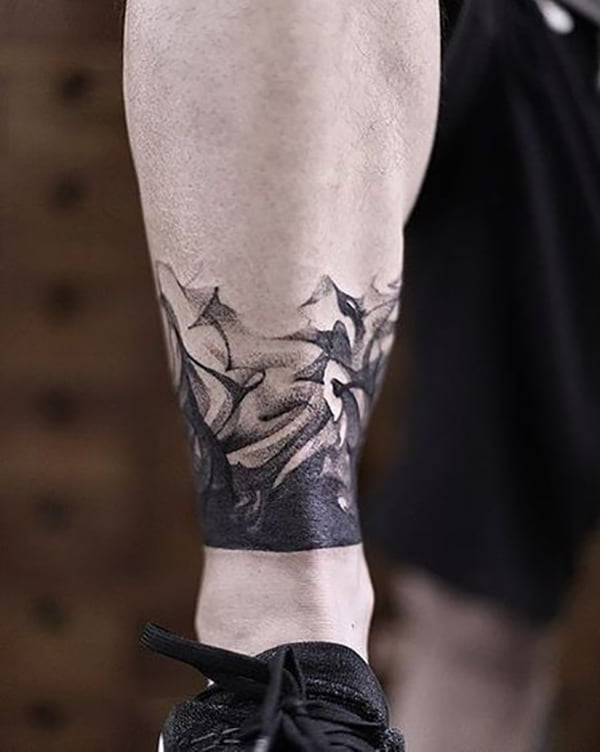 This gorgeous tattoo brings to mind ink dripped into water. The light swirls that darken as you go down make it seem as if the black is rising from your feet. It is a wonderful idea that could be done with color if you prefer.
14. Band of Trees Fading in Fog ankle tattoo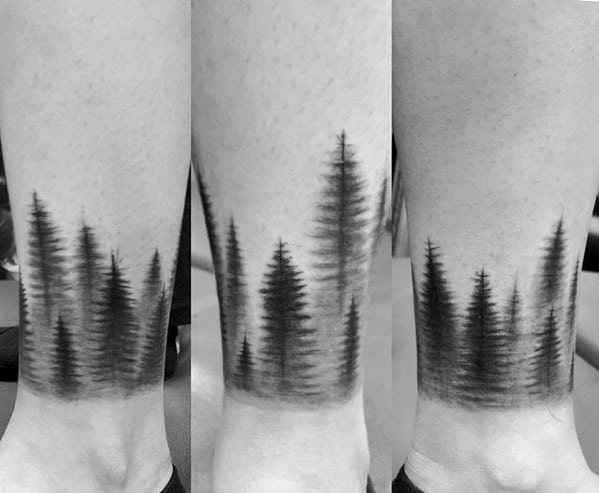 This ankle tattoo looks like a scene from a mist-filled forest. The pine trees fade quickly as they are further away, making you feel like you're looking at a bit of wilderness during the early morning.
15. Band of Diamonds and Crosses ankle tattoo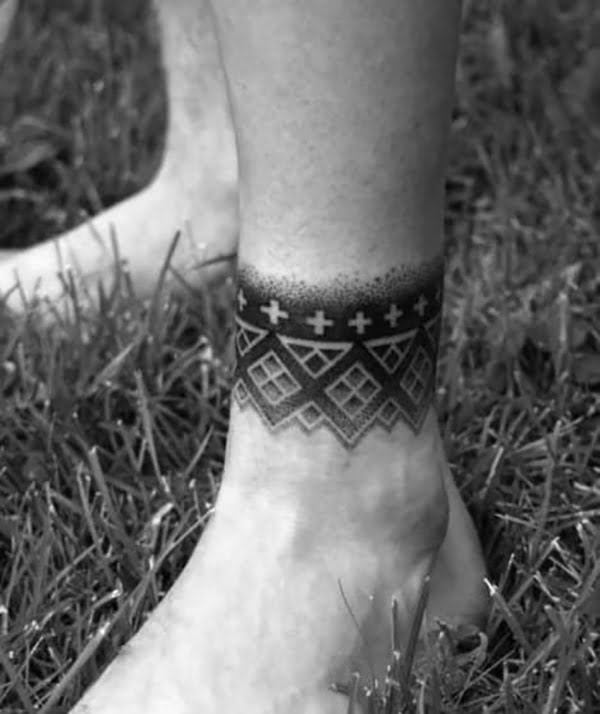 This striking ankle tattoo is created from black patterns and that form diamonds and small crosses or plus symbols in white above it. It looks like a traditional tile pattern with black fading and becoming less dense above it. If you like certain patterns, don't be afraid to use them for your tattoo.
16. Palm Trees and Ocean in a Diamond ankle tattoo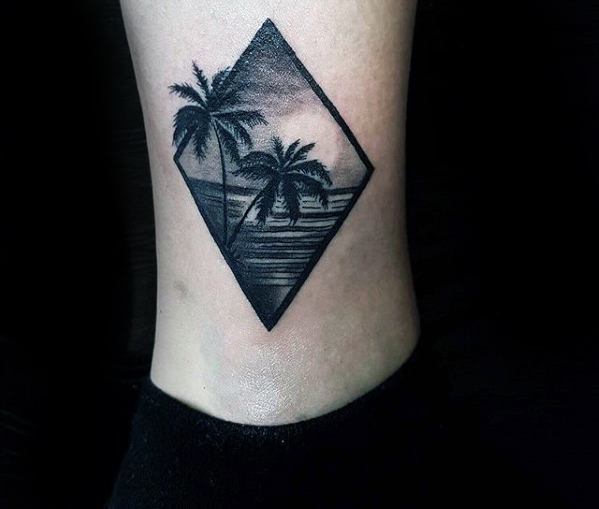 This is a lovely snapshot of the ocean, with palm trees showing a tropical location. The sun is setting over the sea, casting the palm trees into shadow. The palm trees also leave the frame, making the whole tattoo have a better feeling of depth. You could use color if you like, but this ankle tattoo doesn't need it.
17. Bands of Flowers Around Each Ankle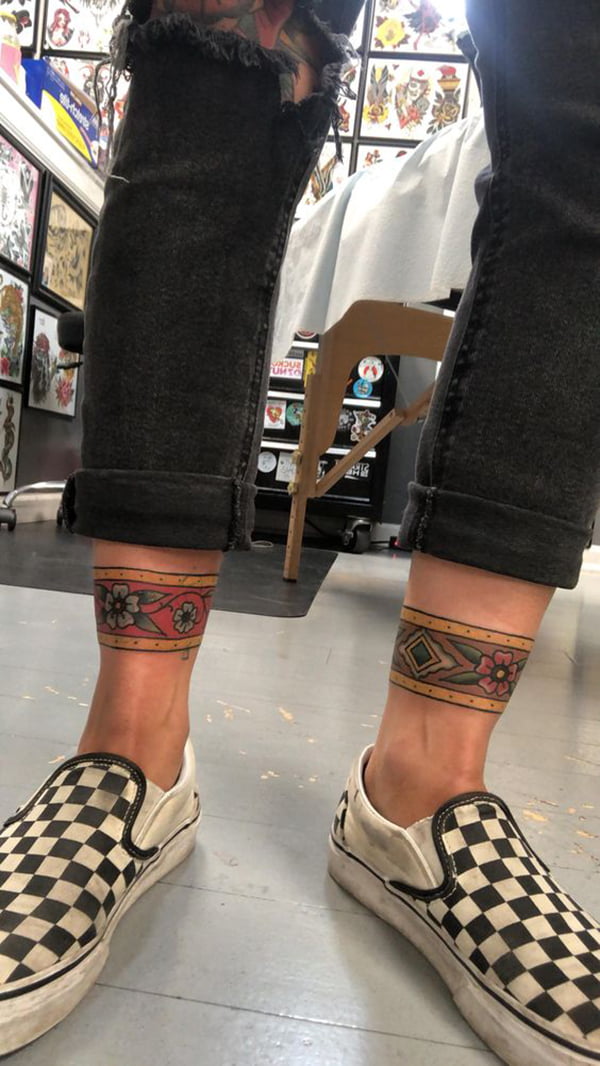 This is a great way to make your legs match without having two identical ankle tattoos. You could use your favorite colors or flowers to make your own tattoo, or use a traditional pattern you like. This is a very flexible idea, so feel free to make it your own.
18. Tiny Hand Holding Up Two Fingers ankle tattoo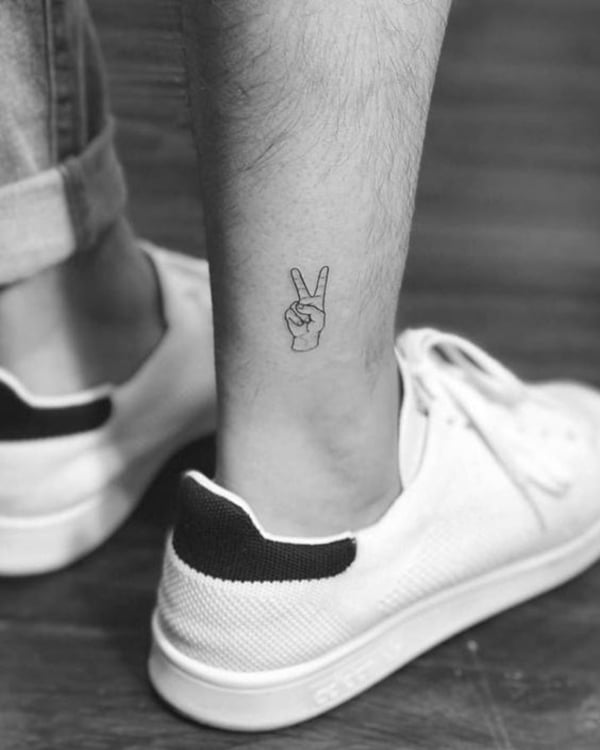 This is a very delicate ankle tattoo of a hand showing the peace sign. A gesture like this makes for a good finger tattoo, just make sure your tattoo artist is good with hands. Hands are very difficult to draw and you don't want a mistake in a tattoo.
19. Black Band That Fades Downward ankle tattoo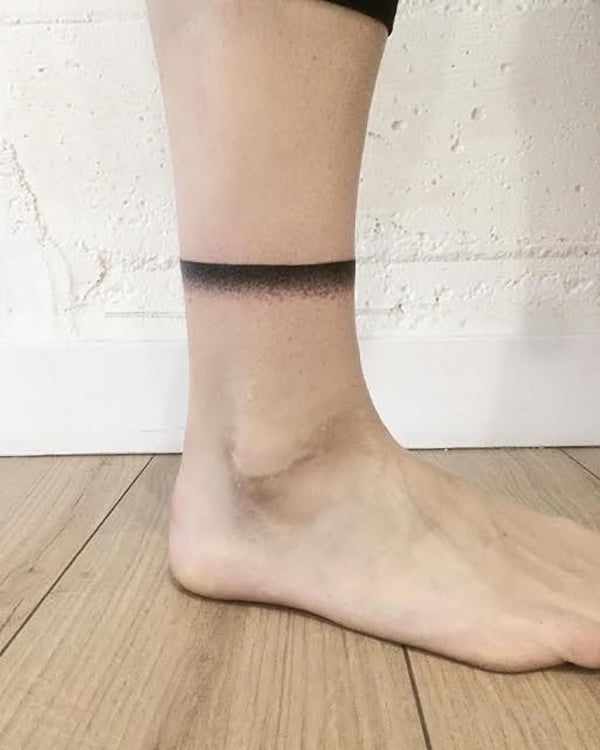 This is a nice minimalist tattoo if you want something very simple. The deepest black is at the top and it fades out as you go down. You need a decently thick band for this idea, but you could make it thicker to make the fade effect more gradual.
20. Tiny Cross on the Back of the Ankle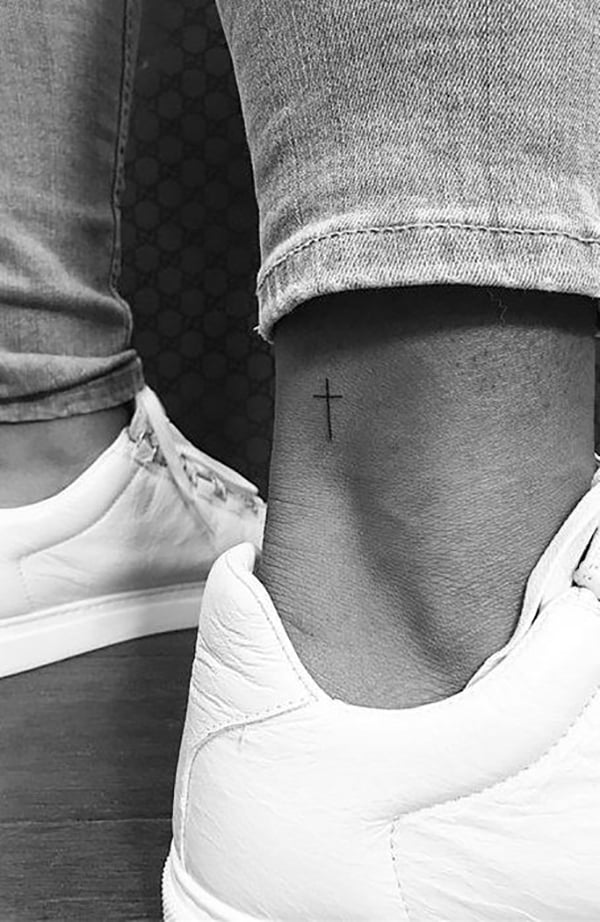 This tiny ankle tattoo is very easy to miss thanks to the size and location. It is a good way to have a declaration of your beliefs on your body without it being very obvious. Just remember that thin tattoos can fade quickly.
21. Solid and Broken Up Black Bands ankle tattoo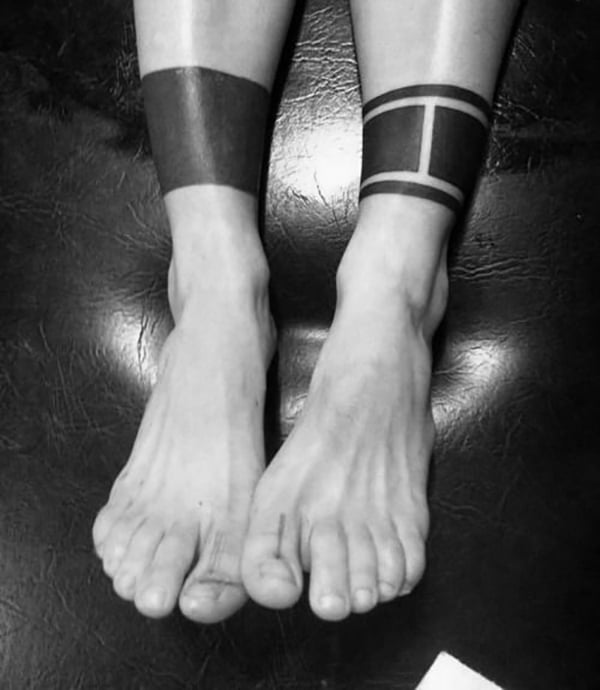 This is an interesting way to do a similar tattoo on each leg. A solid black band is on one ankle, and the other is broken up by blocks inside two lines. You could mix and match this idea to create your unique tattoo by changing up what designs you use.
22. Colorful Intricate Wing on Ankle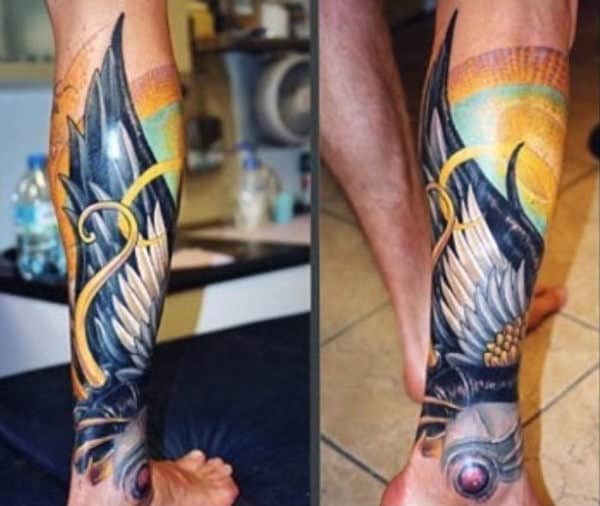 This is a tattoo with plenty of detail and color. The dark outer feathers of the wing are set on a colorful background to leave you with a lot of visual interest. Some of the details make it seem like a blend of metal and organic pieces. This makes it an interesting take on a wing tattoo.
23. Pine Forest and Leafless Tree ankle tattoo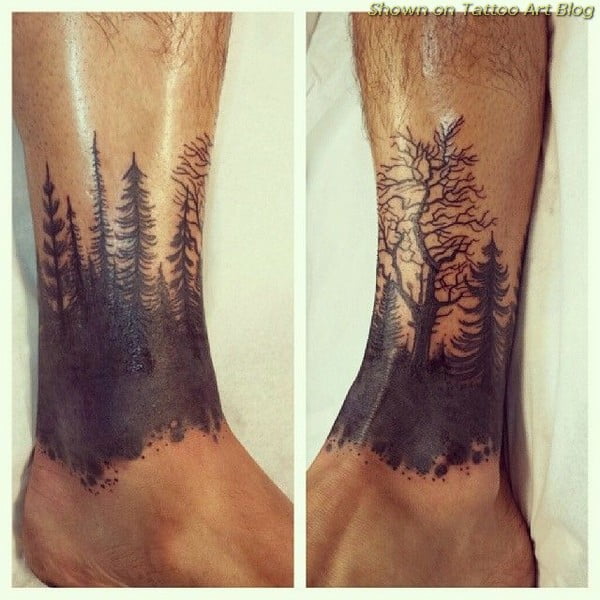 This band tree tattoos design shows a pine forest with a leafless tree at the center. It is a lovely way to show off a scene. You could easily do this with color or other details to make it your own. Just remember that a dark tattoo like this takes more time and might hurt more given the location.
24. Bands of Several Patterns and Draping Beads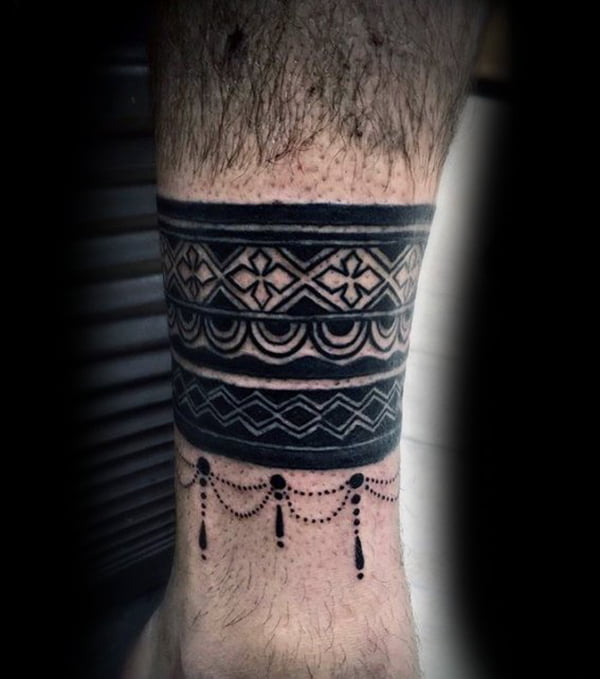 This is a lovely tattoo made of stacked rings of patterns with details of draping strings of beads beneath it. The strand gives it a feminine touch and helps lighten a very dark tattoo. Feel free to use your favorite patterns instead.
25. Arrowhead with Mountains at Sunset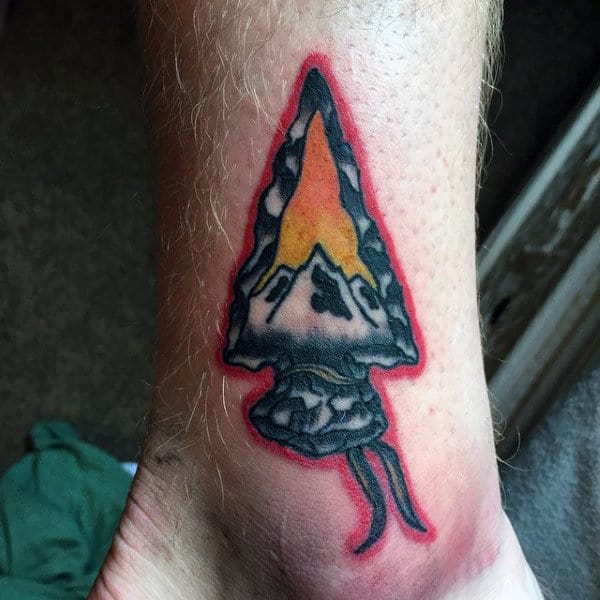 This is a cool tattoo with a scene of mountains at dusk inside an arrowhead. The arrowhead is surrounded by a red outline to help it stand out from the skin. This could be a cool way to show off a favorite location by using something you found there from the past.
26. Band Made of Multiple Patterns in Black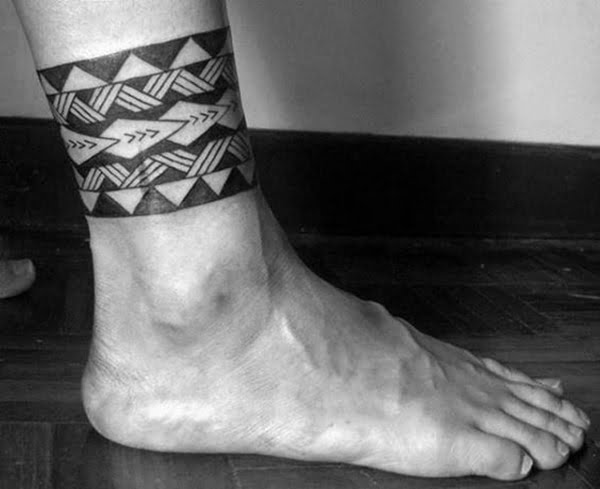 This tattoo continues the examples of tattoos consisting of patterns. You could easily go with any pattern you like that would blend well. Feel free to look at fabric and tiles for ideas of patterns you can use. Just be sure you know the source of the pattern so you don't get a tattoo of something you don't understand.
27. Moon and Mountains in an Arrowhead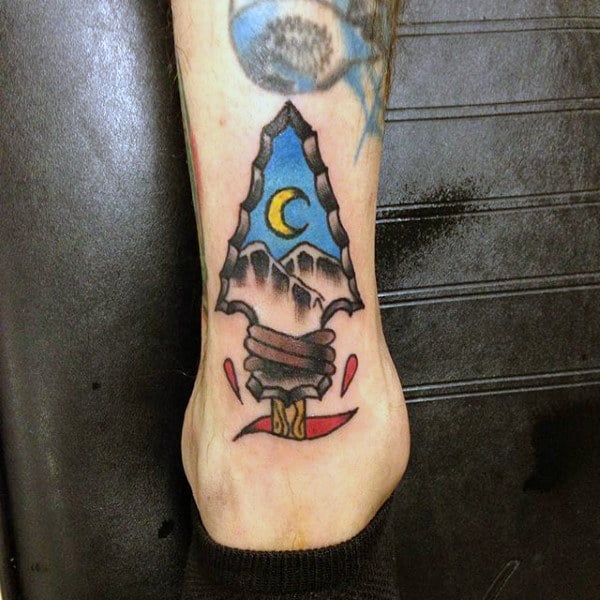 This is similar to the previous tattoo, but the arrowhead is on an arrow and coming out of a red wound. The scene in the arrowhead is mountains at night with a moon hanging in the sky. This is a good way to change up the basic tattoo.
28. Arrowhead Attached to a Feather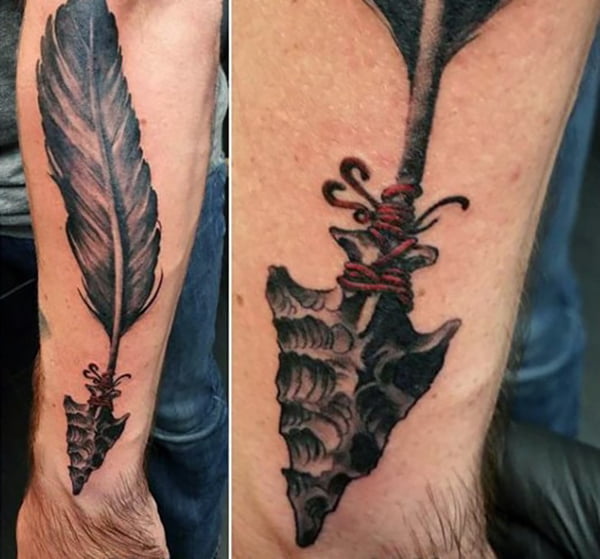 This tattoo looks like a quill tattoo at first, but there is a stone arrowhead attached to the tip. The careful detail in the arrowhead even shows how the projectile point was carefully chipped out of stone. Detail like this can make a tattoo shine.
29. Turtle Made Up of Patterns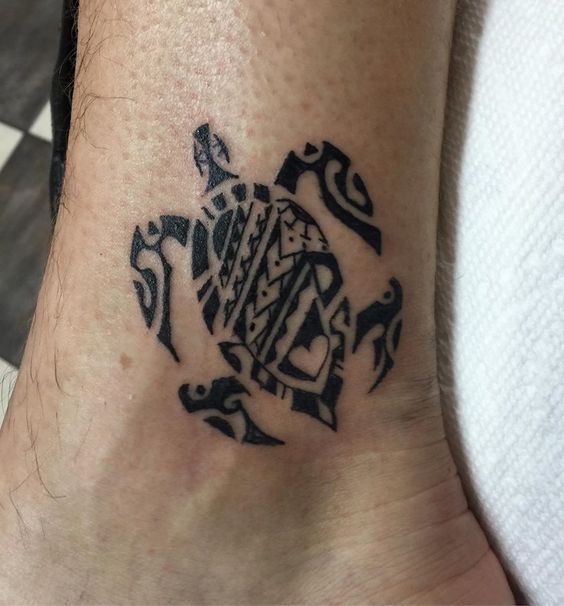 This cool turtle is created out of several patterns. You can easily create a similar tattoo by changing up the pattern or using colors. One cool idea would be to use the colors of the specific turtle you want. An intricate tattoo like this is great to admire because you have so much to appreciate.
30. Simple Wings Attached to a Foot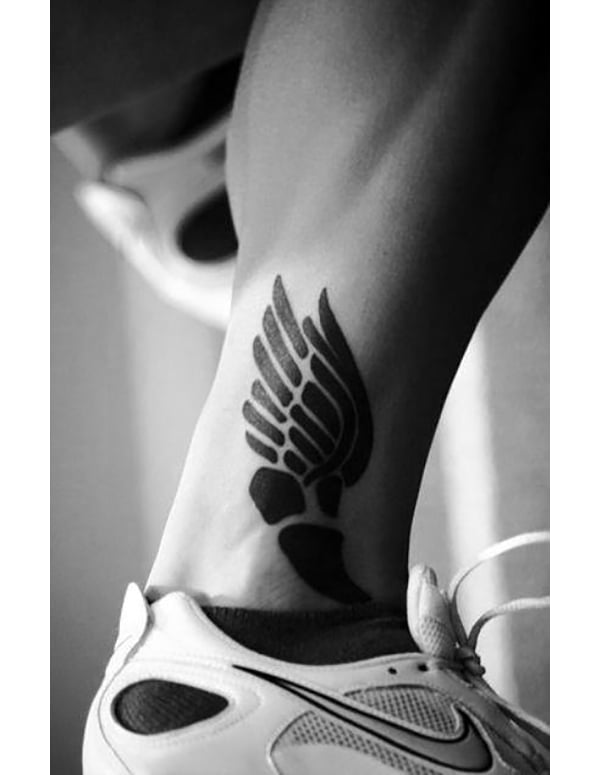 This tattoo is a good example of honoring the myth of Hermes. It implies that you want to move as quickly as the god as you run. If you are an athlete or compete in running, this can be a great tattoo idea for you.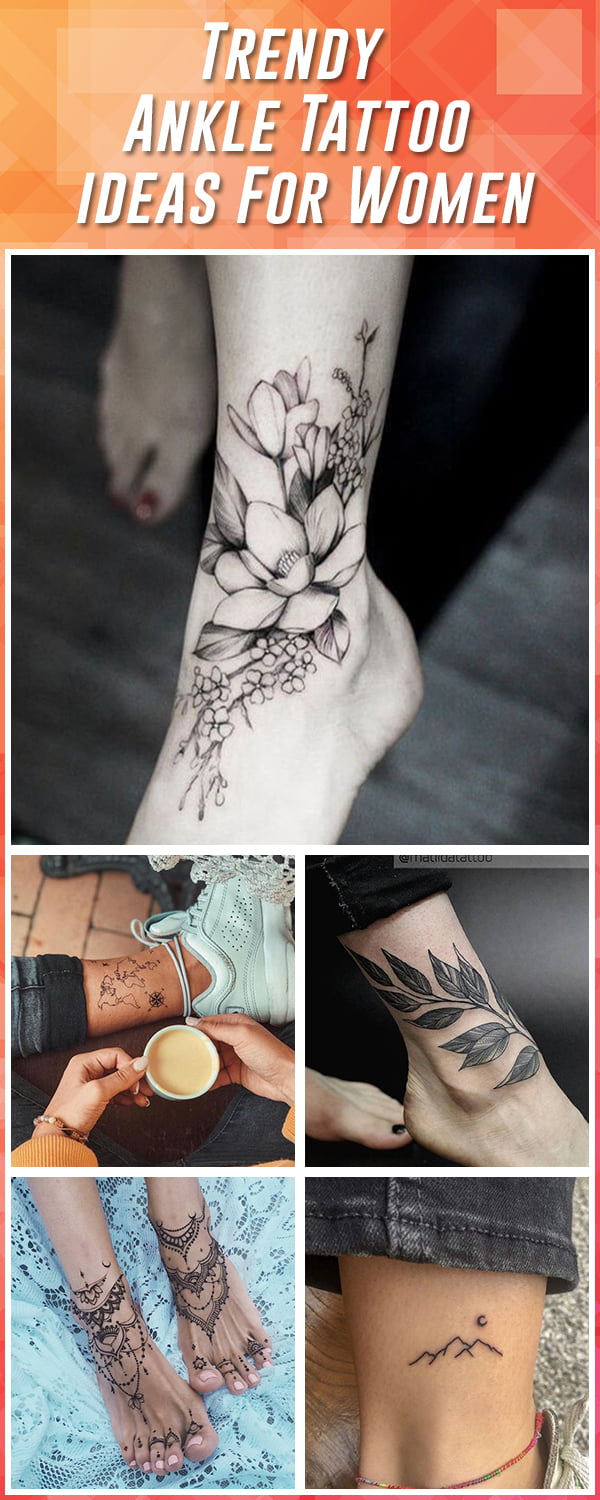 31. Line Work of Mountains and Moon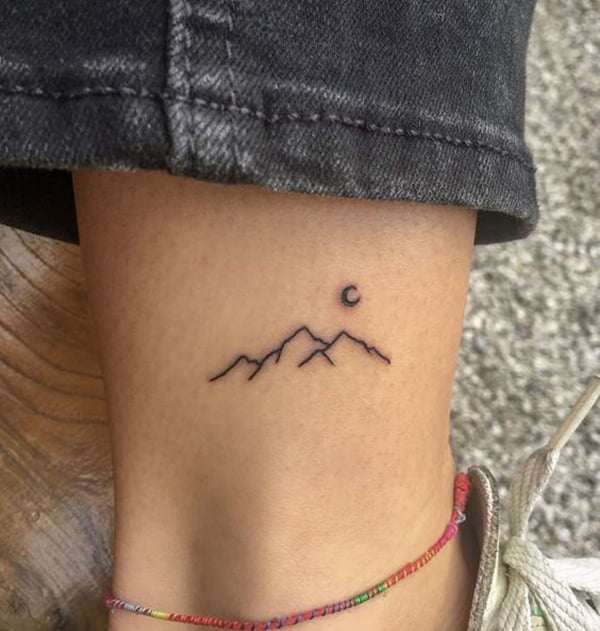 This is a nice minimalistic landscape ankle tattoo. A mountain range is seen, with a small crescent moon hanging above it. You could use soft color to help fill a tattoo like this, or just leave it as black to make it faster and less painful.
32. Tiny Vertical Multicolored Letters and Cross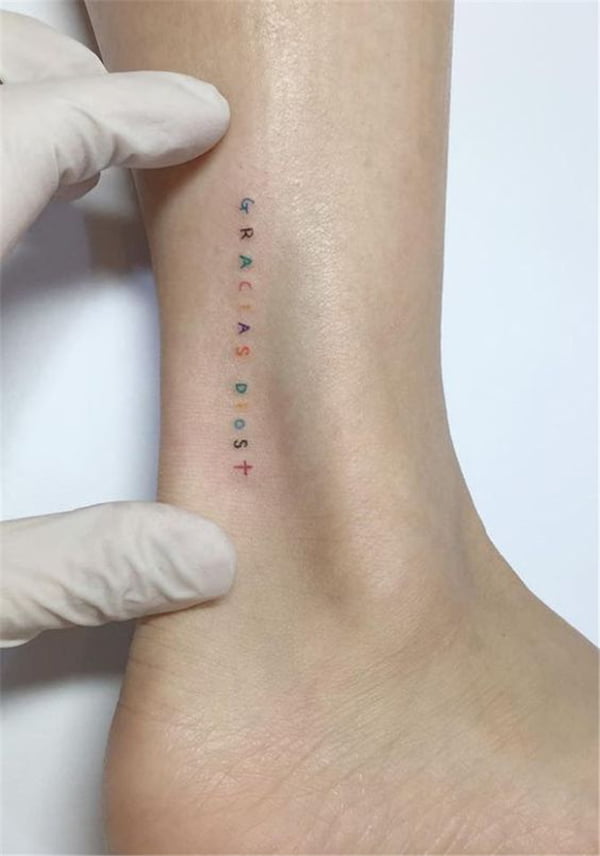 This is a cute ankle tattoo idea to make a basic text tattoo. This particular tattoo is of the phrase thanking god in Spanish. You could do a similar text in a language you speak, or stick with English.
33. Black Band with Patterns Above and Below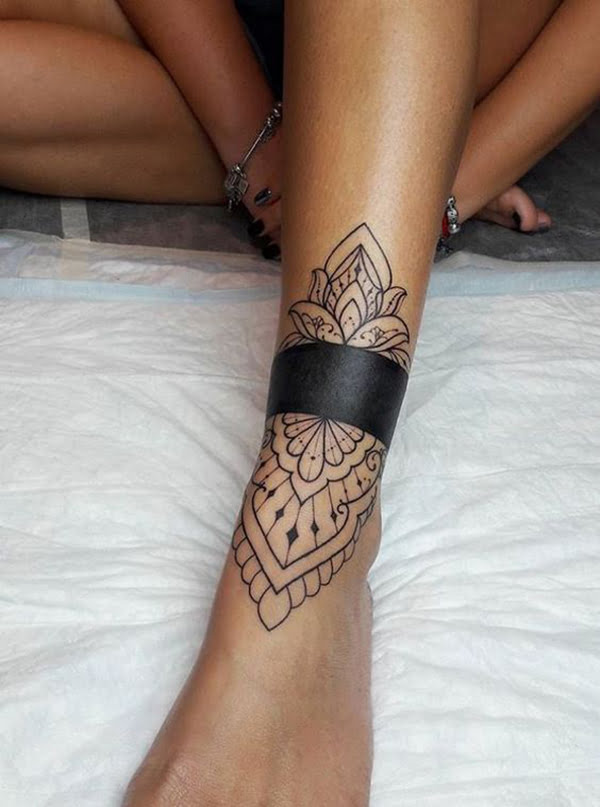 This interesting ankle tattoo features a thick black band with detail added around it. You could use any shape or pattern you like to achieve a similar look. Since it looks like one of the images in an adult coloring book, feel free to use color as well.
34. Single Delicate Rose Stem on Back of Ankle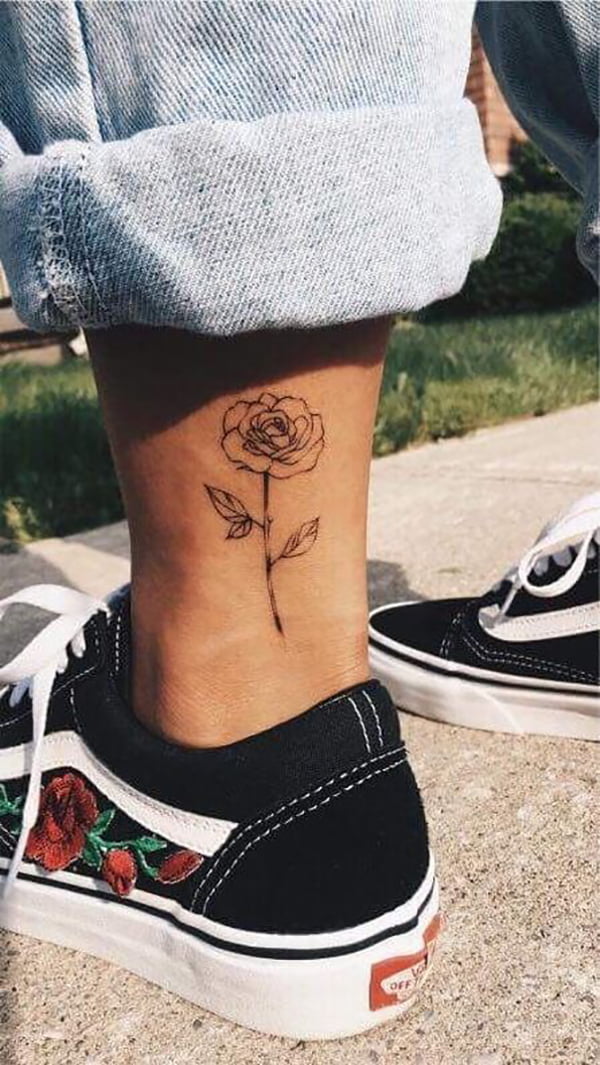 This is a very cute ankle tattoo that is easily hidden. The light and delicate lines both reflect the softness of the petals as well as make the tattoo less obvious to anyone who isn't looking for it. You could use any flower you like for a similar tattoo.
35. Hummingbird with Sprig of Flowers and Leaves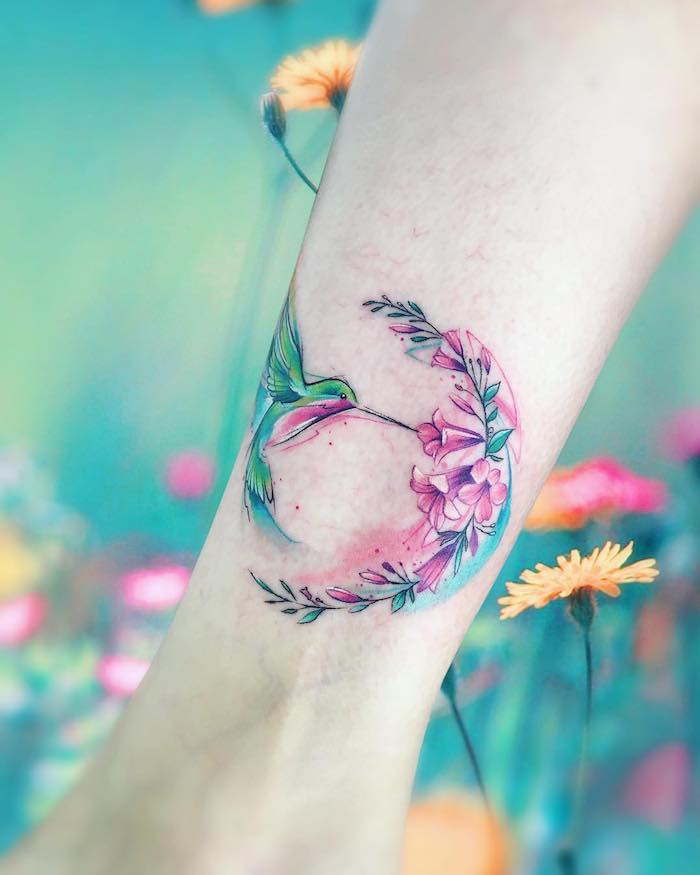 The composition of this ankle tattoo is amazing. The round curve of the sprig of flowers matches with the curve of the hummingbird's body to give a softness to the design. The delicate flowers and linework give it a feeling much like a watercolor painting.
36. Draping Lines of Patterns on Feet and Ankles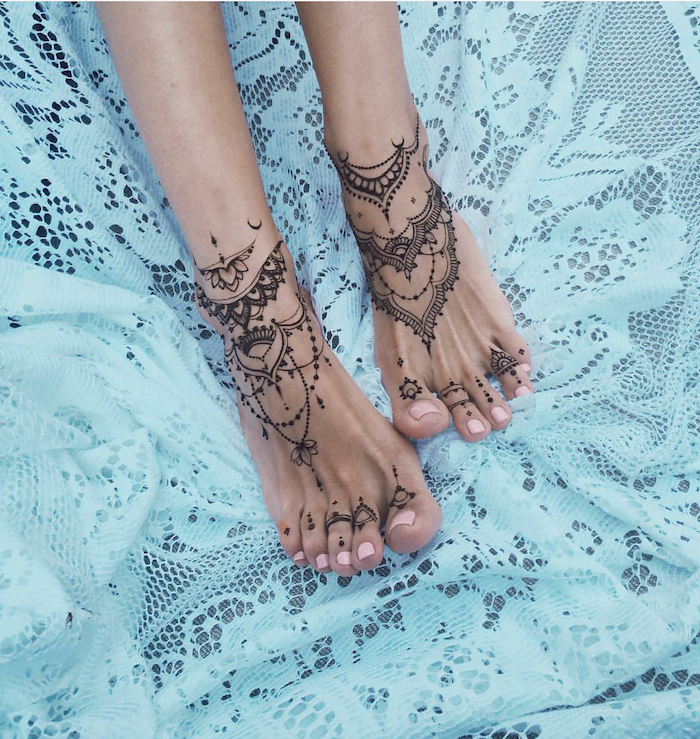 This lovely ankle tattoo looks both like jewelry and traditional decorations such as henna. The different patterns lend visual interest while draping lines of beads help draw the eyes down and along with the art. This is a perfect tattoo if you love wearing sandals.
37. Tiny Map of the World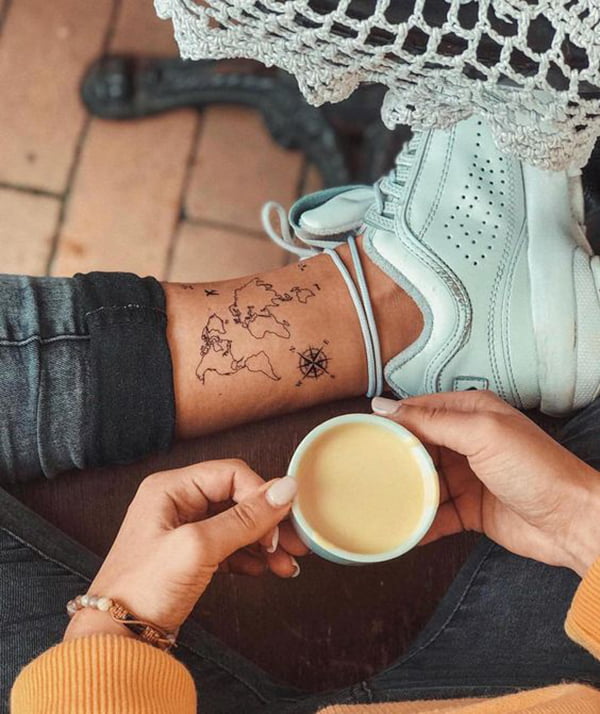 This is a cute map made up of thin lines with a compass rose and a small airplane. If you love to travel, this is the ankle tattoo for you. You could easily add light color to make this feel more like a vintage map or leave it blank. Another fun idea would be to add color or other details to show where you've been.
38. Band Made Up of Flower Petals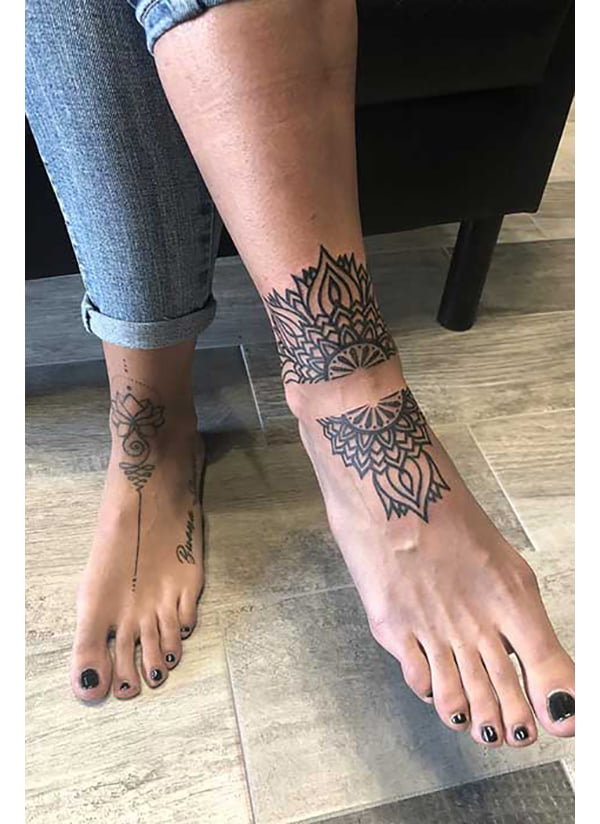 This interesting ankle tattoo uses lines of flower petals to create an image. A band of blank skin separates the halves of the tattoo. This is a cool way to spread out your tattoo and help it cover more space. Feel free to use any pattern you like for a similar tattoo.
39. Thin Chain Made of Leaves and Flowers Small Tattoo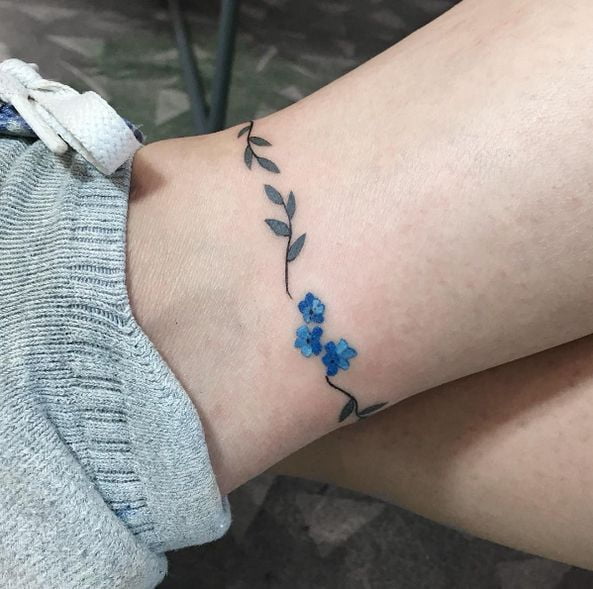 This is a cute ankle tattoo idea if you want something small and simple. Most of the tattoo consists of branches with leaves, and then a small patch of blue flowers. You could easily swap the flowers or greenery for your favorites. You could also use ivy for a similar effect.
40. Tiny Sailboat on the Sea Ankle Tattoo Design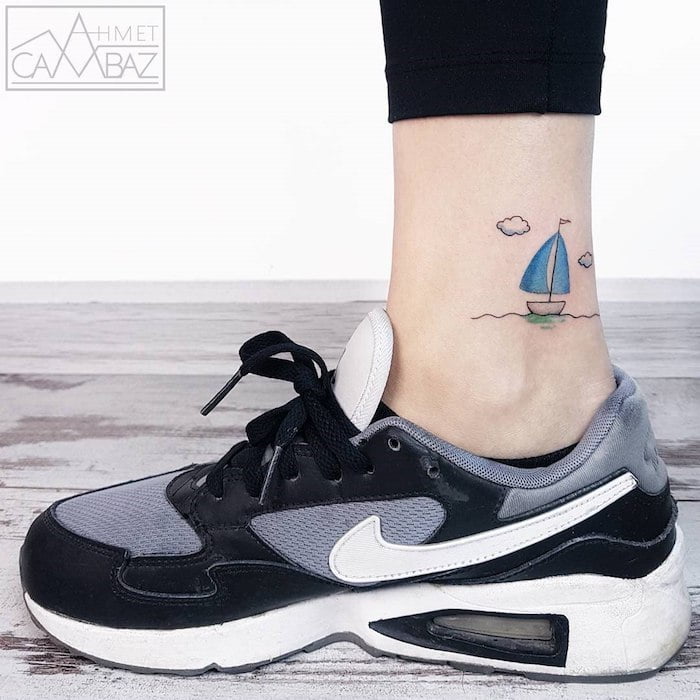 This is a cute take of a nautical ankle tattoo. A tiny sailboat is seen on the ocean while puffy clouds drift by. It feels much like a child's drawing. The soft colors help it feel like it was pulled from a children's book.
41. Branch Full of Detailed Leaves Ankle Tattoo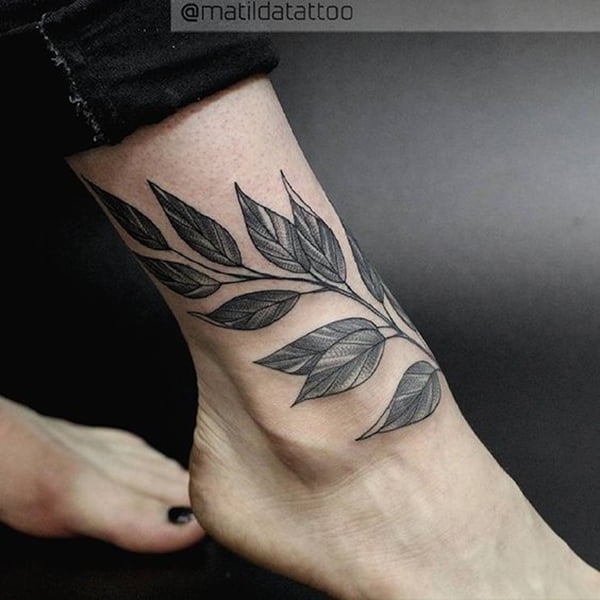 This cool tattoo shows a small branch or twig filled with carefully detailed and shaded leaves. You could use any plant you like as the inspiration for a similar piece. If you want something symbolic, many types of greenery have meanings in flower language.
42. Tiny Branch of a Plant Ankle Tattoo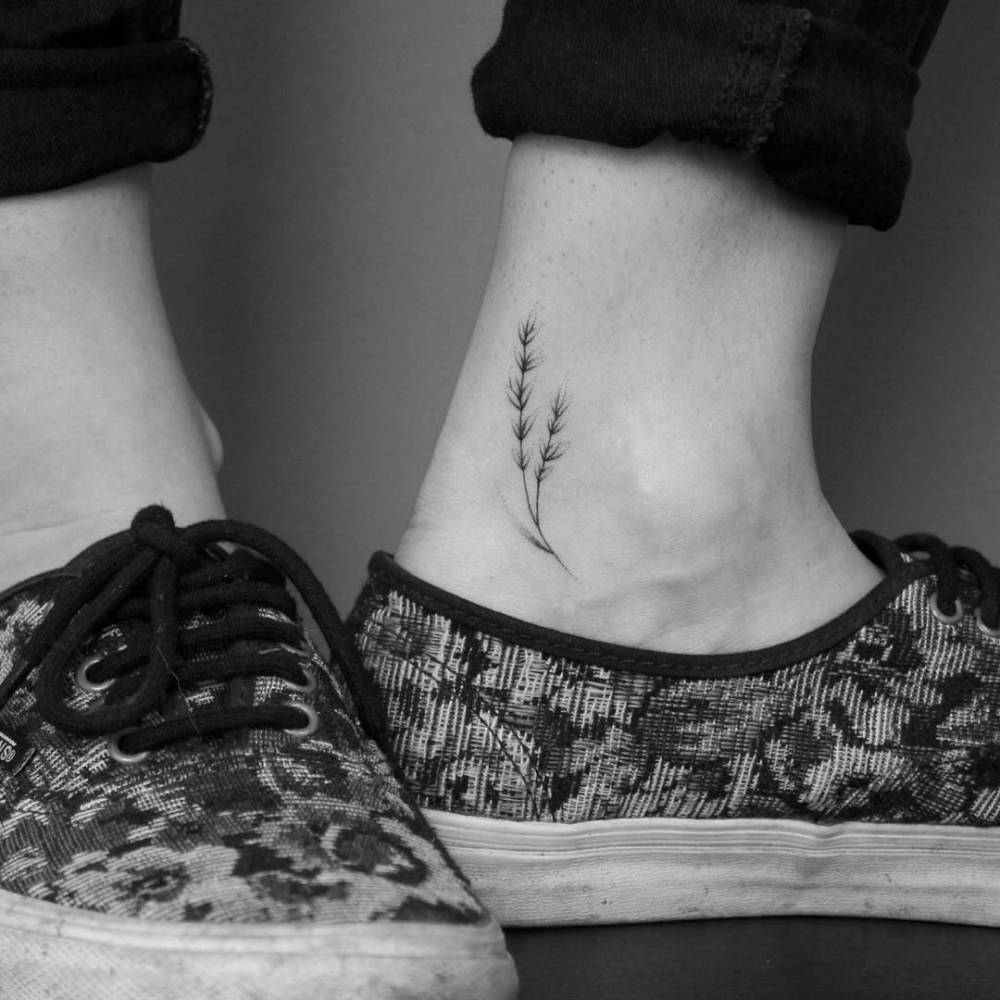 This is a small, minimalistic tattoo depicting a plant. The soft shading gives it a nice feel. You could use any plant you like as a reference. Remember that tiny details will fade out easily and look muddled over time. Always ask how your tattoo will age when you are planning one.
43. Band Showing Sunrise Over Mountains Ankle Tattoo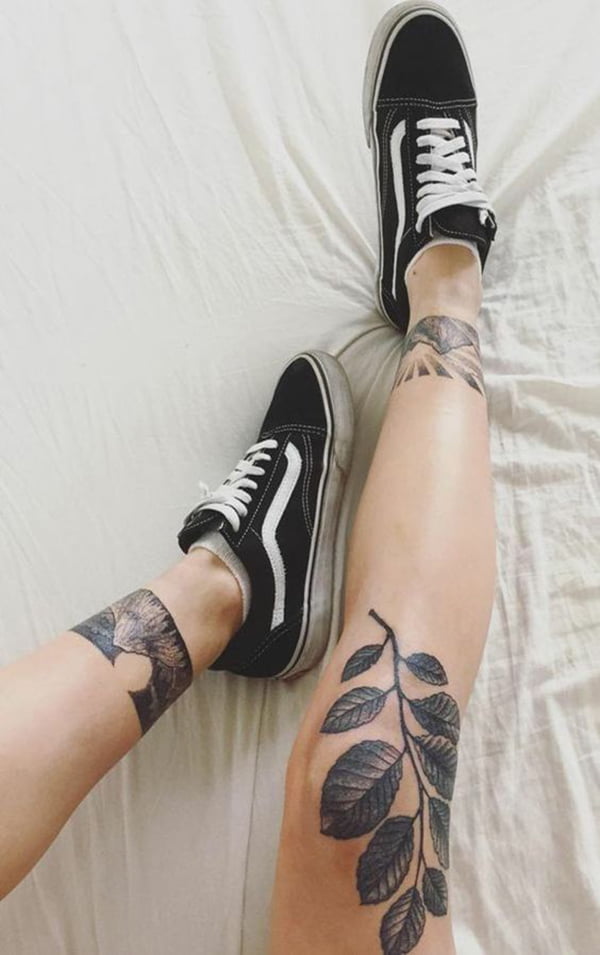 This is a cool way to do a landscape tattoo. A band shows the rays of the sun appearing from behind a mountain range. If you love this type of terrain, this could be a cool tattoo idea for you. Feel free to use whatever type of scenery you like.
44. Bands of Flowers and Edging Ankle Tattoo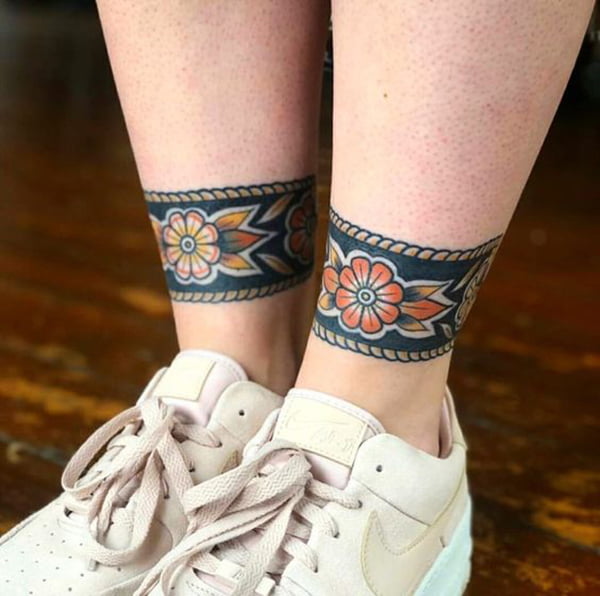 These cool tattoos look like a pair of anklets. The black background highlights the flowers and sets of the gold edging. You could easily turn a piece of jewelry you can't wear easily into a tattoo design. It's a great way to appreciate a family heirloom without risking it getting damaged or lost.
45. Sketchy Trees On Back of Ankle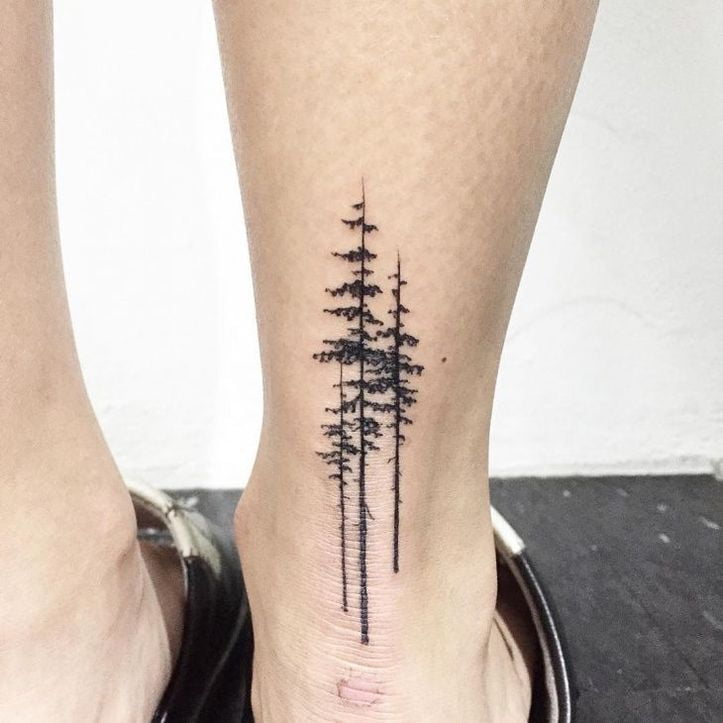 This cool tattoo is set on the Achilles tendon on the back of the ankle. The long lines of the trees follow the shape of this part of the body nicely. The style is reminiscent of Watercolor or ink painting.
46. Multiple Types of Flowers Ankle Tattoo
This cool tattoo blends many types of flowers to make a unique tattoo. You could use whatever flowers you like. This could be your favorite flowers, flowers from a bouquet you received, or even selected for their meaning. Don't be afraid to use these ideas as a springboard for your creativity.
47. Tiny Line with Leaves and Flower Ankle Tattoo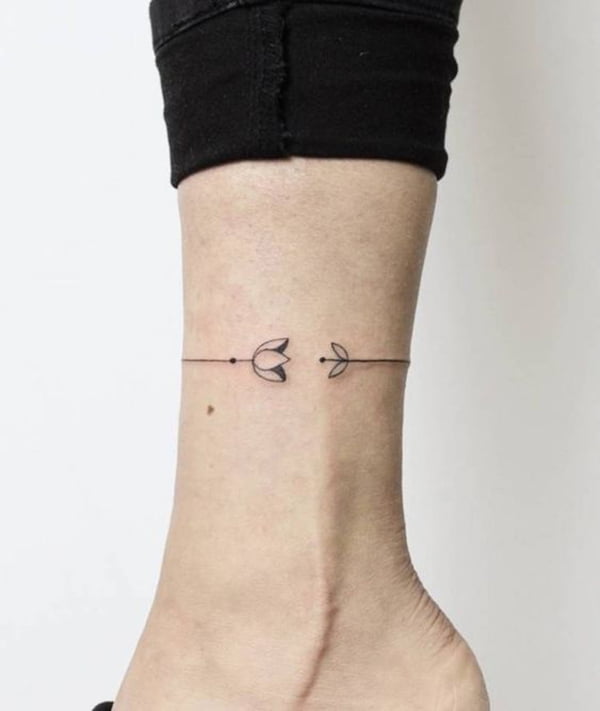 This tattoo consists of a single line with leaves and a flower. This makes it seem like one very long flower stem is wrapped around your ankle. Feel free to switch up the style of the flower or use a different type.
48. Anchor Surrounded by Red and Blue Ankle Tattoo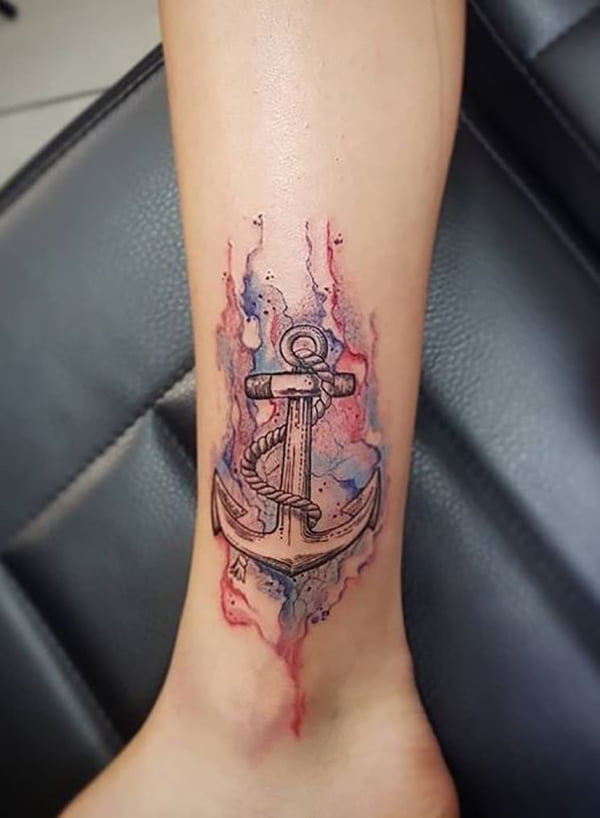 This cool take on a nautical tattoo uses an anchor as its base. The swirls of red and blue make it seem like the anchor is sinking to the seafloor. Anchors are a classic tattoo subject, and using a background can make the tattoo more unique.
49. Intricate Patterns Over Ankle and Foot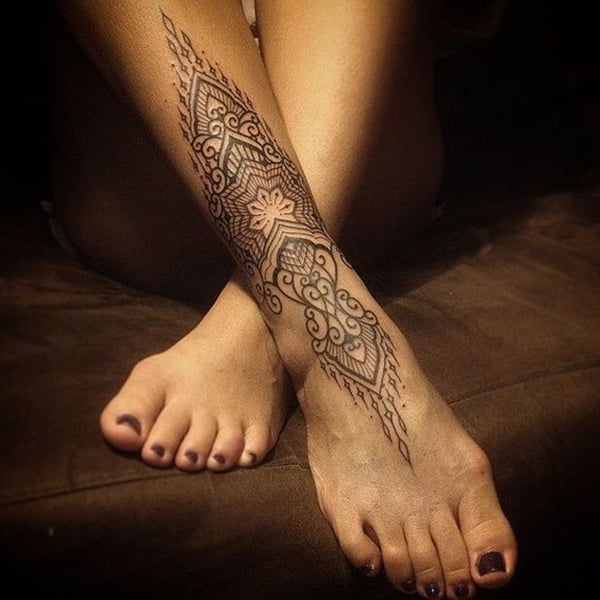 This intricate tattoo goes from the shin all the way down to the foot. The bold lines and numerous details make it a great piece. Using pieces that hang down like crystals makes the tattoo feel like a piece of jewelry.
50. Single Tiny Feather on Ankle Tattoo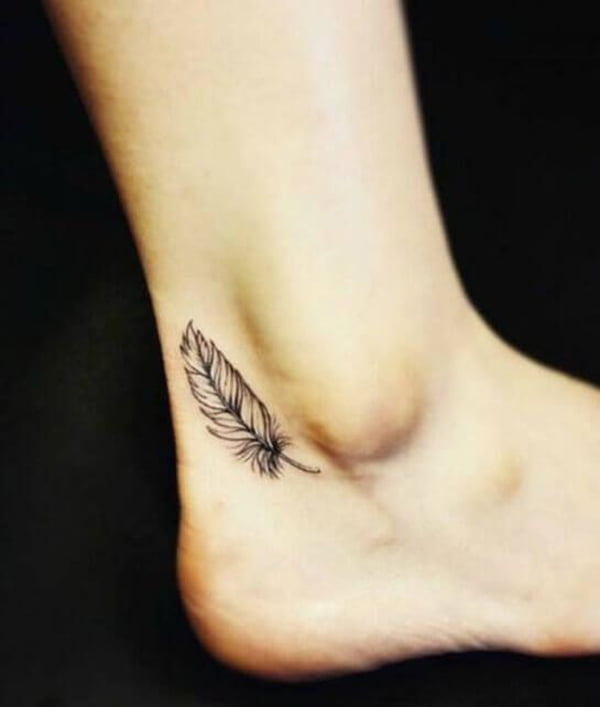 This cool tattoo is a single small feather on the back of the ankle. The location would make it hidden by many shoes and most socks, so it would be easy to hide. A small feather-like this could be made into a quill for a writer or look like the feather of a favorite bird.
51. Blooming Lotus Flower and Lines Ankle Tattoo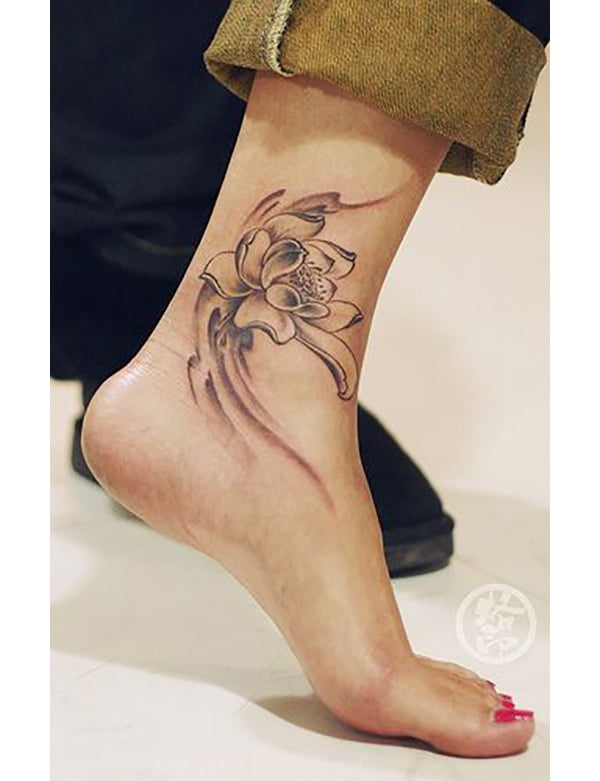 This is a basic tattoo of a lotus flower with some lines. The flower and the lines both follow the curves of the ankle. Matching the direction of lines with the natural curves of the body can help a tattoo blend in more easily.
52. Single Tulip Stem with Leaves Ankle Tattoo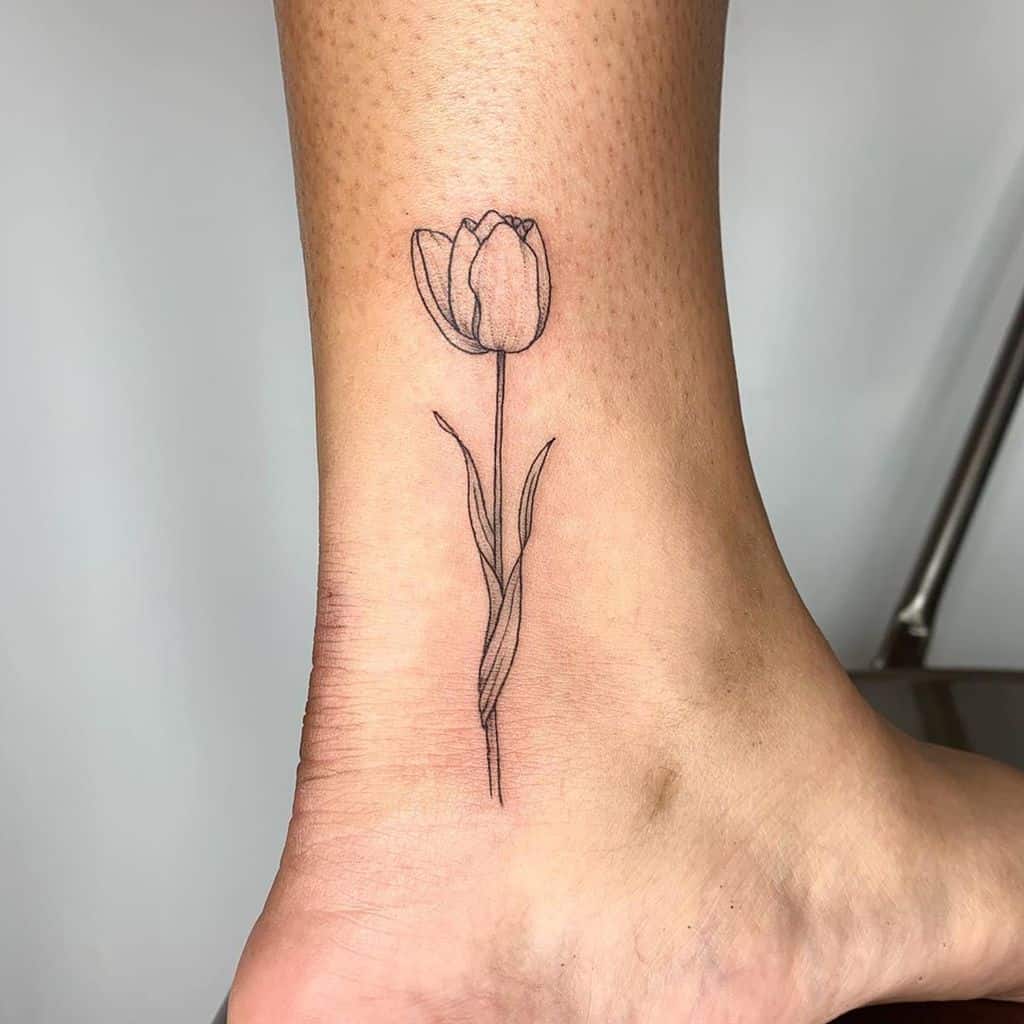 This lovely tattoo is a single tulip cut with the leaves still attached. This is a good idea for a basic tattoo if you want something simple. If you have visited Holland or are from the country, this can be a great idea for you.
53. Roses with a Moon and Stars Ankle Tattoo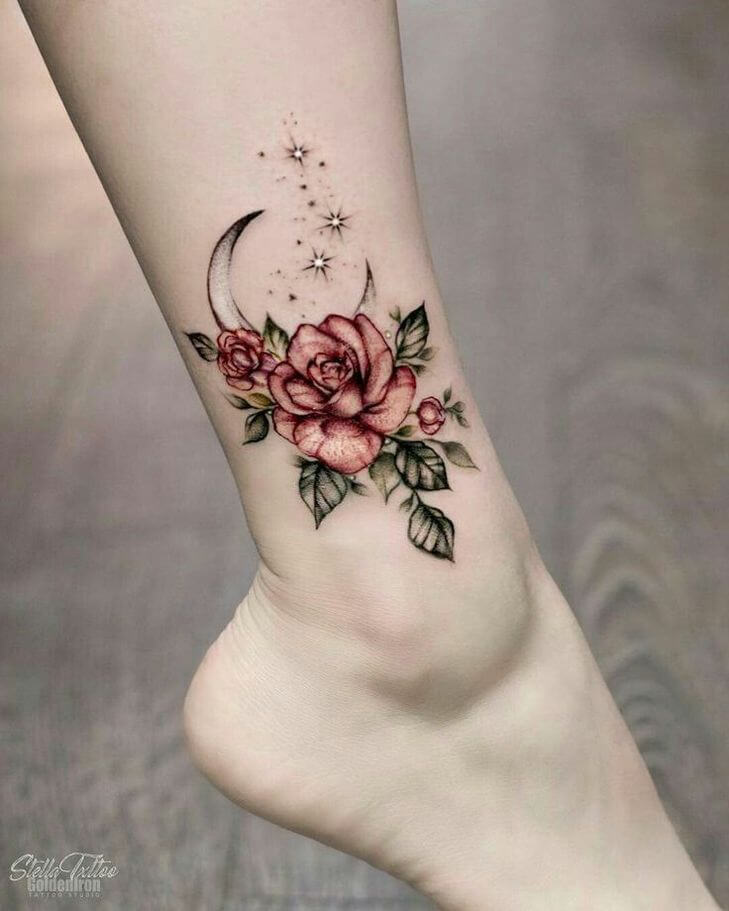 This is definitely a romantic love tattoo. Two blooming roses and greenery are set in front of a crescent moon and sparkling stars. You could easily change the flowers to your favorites, or add color to the moon or sky.
54. Colorful Compass Rose on Ankle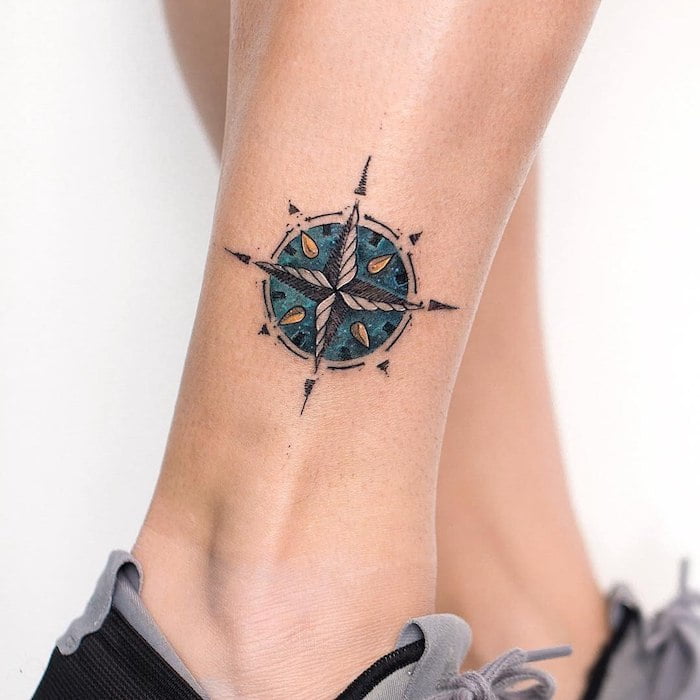 This is a great tattoo for anyone who loves travel or the outdoors. The compass rose has a blue background to give it more visual appeal. Feel free to change up the colors or style to suit your taste.
55. Rose Tattoo in Multiple Styles Ankle Tattoo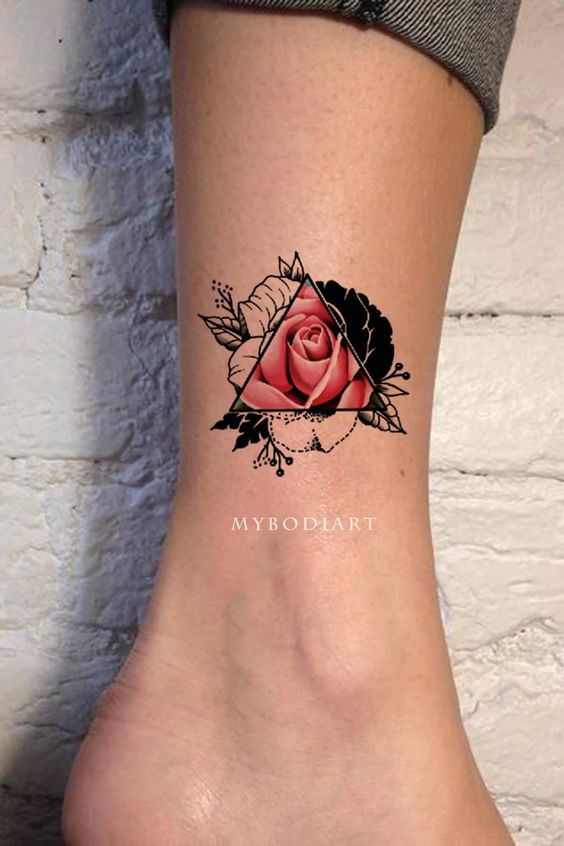 This is a cool idea if you can't decide on a style for your tattoo. An inner triangle shows the rose in color, and outside of it, the rose is rendered in different styles. You can use this concept with nearly any subject you like, so speak with your artist about it and be sure to bring references.
56. Single Line and Branch Ankle Tattoo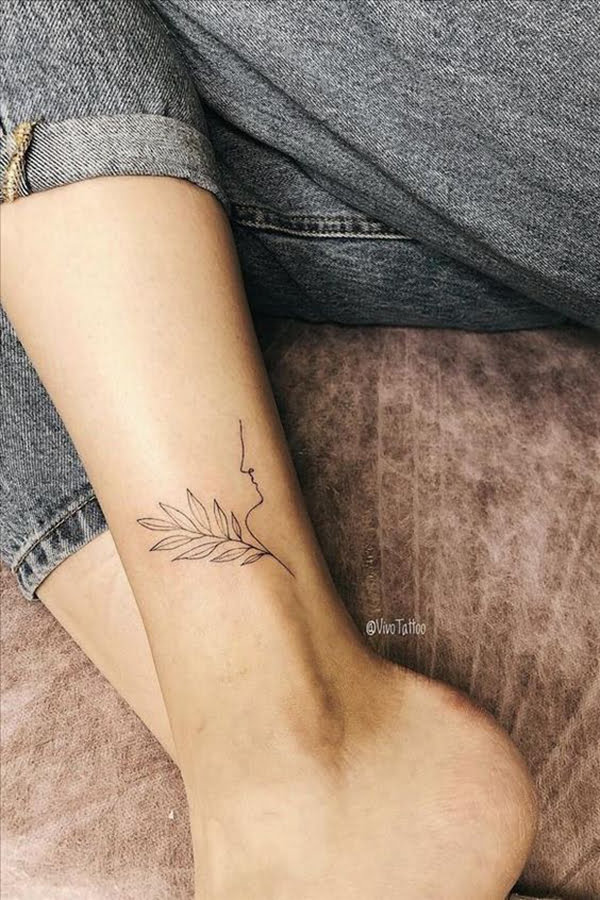 This is a basic tattoo of a branch with one line that looks like a profile of a face rendered in a single line. This is a cool idea if you like minimalism. Be sure to ask your artist if they can do the whole tattoo as a single line.
57. Little Girl Holding a Balloon Ankle Tattoo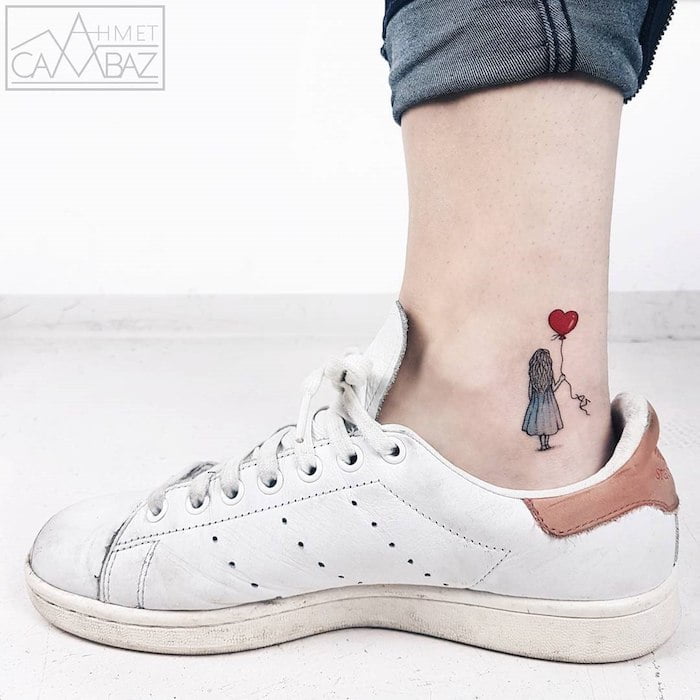 This cute tattoo depicts a girl holding a red heart balloon seen from behind. This looks much like art you see in cards or storybooks. You could use a design from these as a basis for your tattoo, or go with a similar idea to this.
58. Red Maple Leaf with Heart Cut-out Ankle Tattoos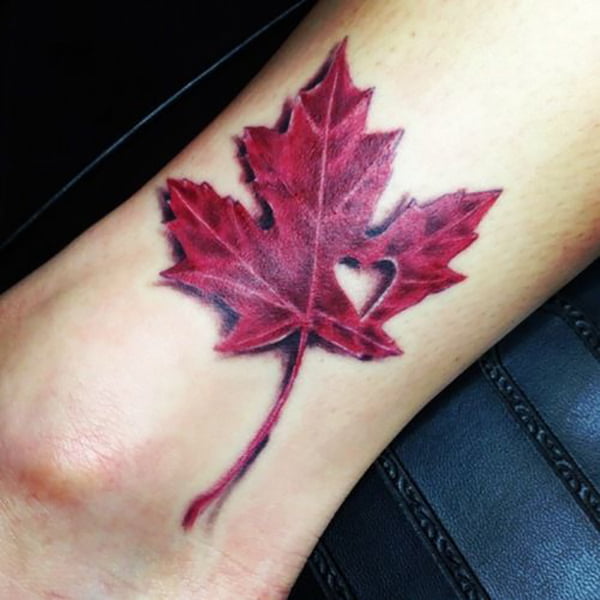 This is a cute tattoo of a red maple leaf with a small heart punched out. Since maple leaves like this are the symbol of Canada, this could be a great tattoo for any Canadians who have moved away to show that they love and miss their country of origin. You could do something similar if you leave your home country.
59. Small Butterfly Ankle Tattoo with Splashes of Color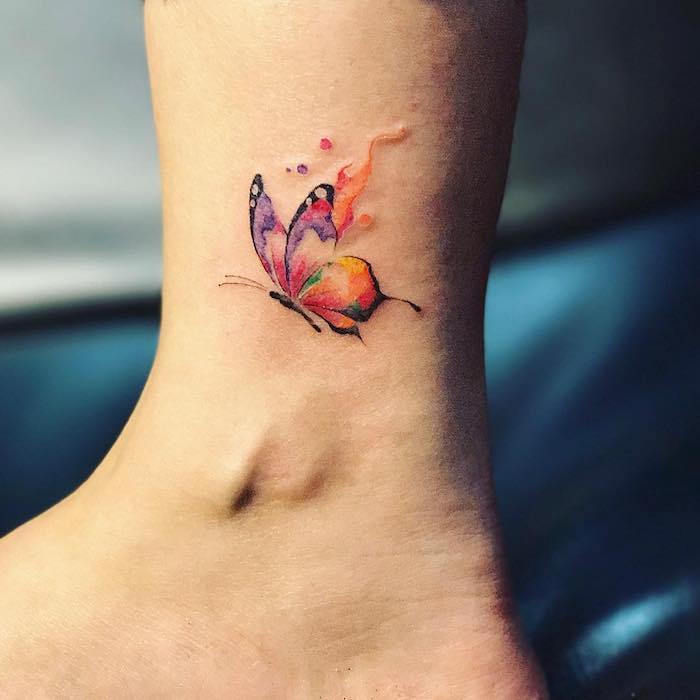 This cute tattoo features a butterfly in flight. The color looks much like watercolor dripped on and floating away from the butterfly. Going with a basic shape filled with similar effects makes for a lovely tattoo.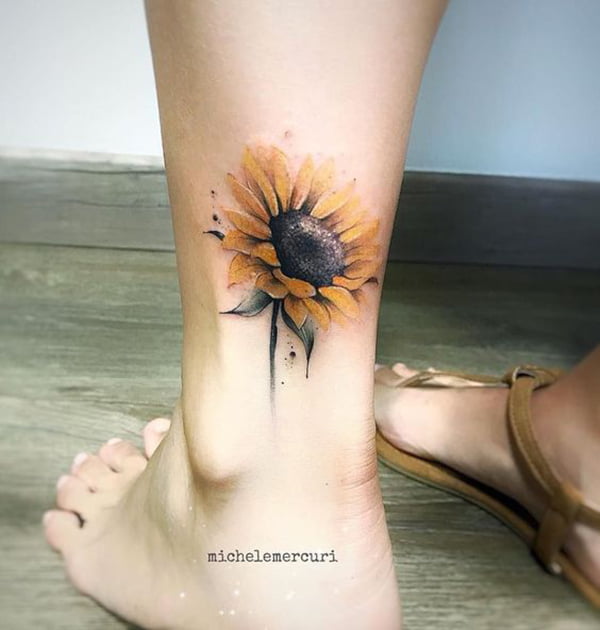 This is a nicely rendered floral tattoo of a sunflower. If this is your favorite flower, this could be a good tattoo for you. Don't be afraid to use a favorite piece of art as the reference for your tattoo.
60 Wonderful Ankle Tattoos Everybody will Admire
As you can see, you can go in many directions with a simple ankle tattoo. Change up the placement and subject to make a unique tattoo you are sure to love. Just remember that the area is sensitive, particularly on the bone. Ask your artist for their expert opinion if you are worried about the pain. Your artist will be happy to help you avoid needing to stop your tattoo because of pain. The ankle is still a good tattoo location, and definitely one of the easiest to reach to keep it clean while it heals. For more ideas check out our mosaic tattoos!