Celebrate strength and history with our best bow and arrow tattoo ideas gallery. These are one of humanity's oldest tools and weapons. Bows and arrows appear in cave art, second only to the spear in the chronology of hunting innovations. This tattoo symbol even appears in the stars, by way of the Orion and Sagittarius constellations. In other words, this tattoo symbol is almost sacred in the depth of arrow tattoo meaning. Thousands of others have already honored strength on their skin by choosing archery-themed tattoos.
60 Best Bow and Arrow Tattoo Designs that are Simply Unforgettable
Taken at face value, both a tool and a weapon. Many people choose the bow and arrow tattoos as elbow tattoos for those reasons alone. For example, a bow is an obvious and appealing design choice for hunters and archers. There are many other possible interpretations of the bow and arrow, though. While some see it as a sign of strength, because of Cupid others see this tattoo and immediately think of love (similarly to hummingbird tattoos). Still, others are drawn to this tattoo because it is a popular symbol for the Sagittarius zodiac sign and it suggests you're always on the right path. All inspirations and incarnations of the noble bow and arrow tattoo are represented in the following gallery. The designs also go really well with finger tattoos. With certain designs, bows can also work as faith tattoos.
1. Art Deco Contortionist Tattoo Pinup Archer Arrow Tattoo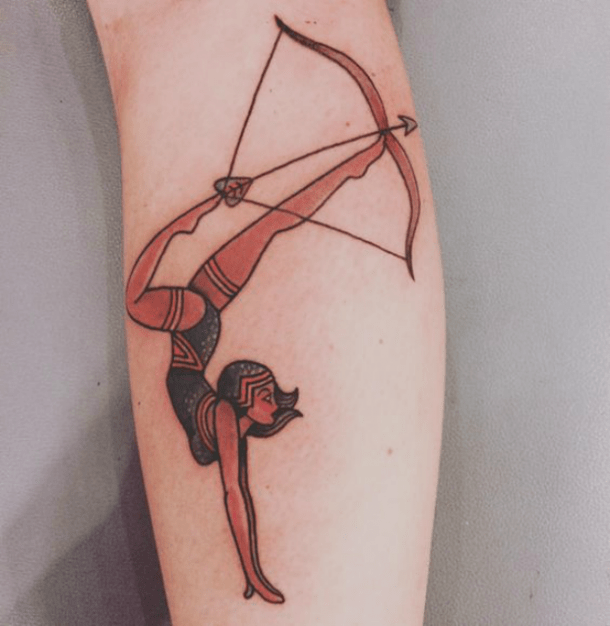 This awesome design as body art is a panoply of classic tattoo motifs like an arrow. The matte, patriotic coloring is old school at its best. The pinup is realized in clean, simple lines. But what really elevates this tattoo Art Deco archer is its unexpected, contortionist posture which is tantalizing but not tacky because of the no-nonsense way this tattoo is stylized.
2. Tribal Fantasy Tattoo Bound Broken Arrow Twig Arrow Tattoo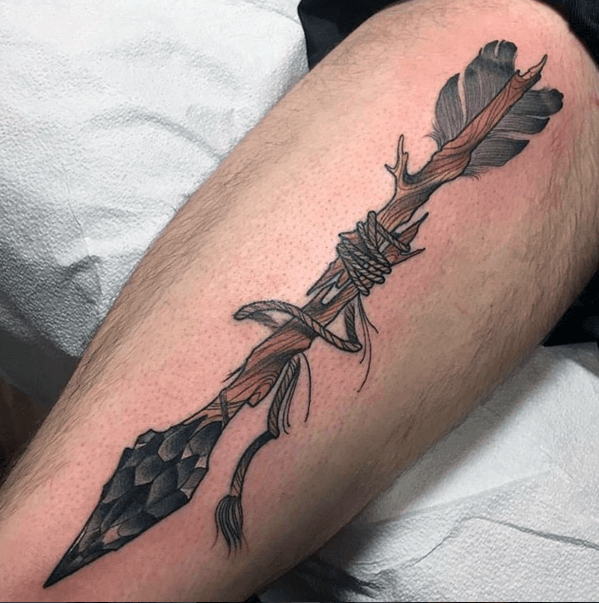 As this cool tattoo implies, a broken arrow can still fly true. The arrow design as body art features abound twig fitted with a found feather and a flint arrowhead. The tribal tattoo of the arrow speaks to a close connection with nature, perseverance, and maybe a bit of Druid or tribal mysticism.
3. The Math of Great Aim Arrow Tattoo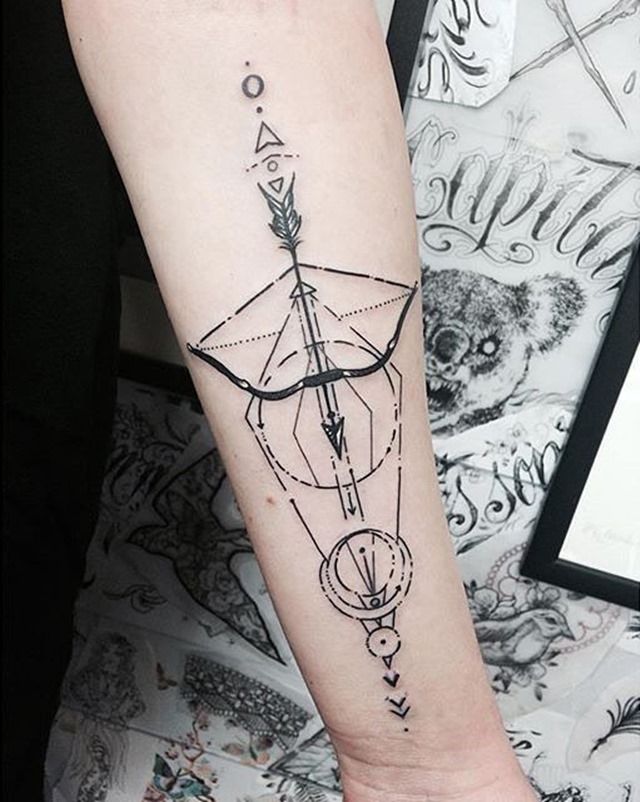 As with any sport, there is an art to archery. This tattoo pays homage to the math and mechanics of archery. The traditional arrow sketch is overlaid with diagrams demonstrating the ideal angles for drawing and aiming the bow and releasing the arrow.
4. The Quintessential Bow and Arrow Tattoo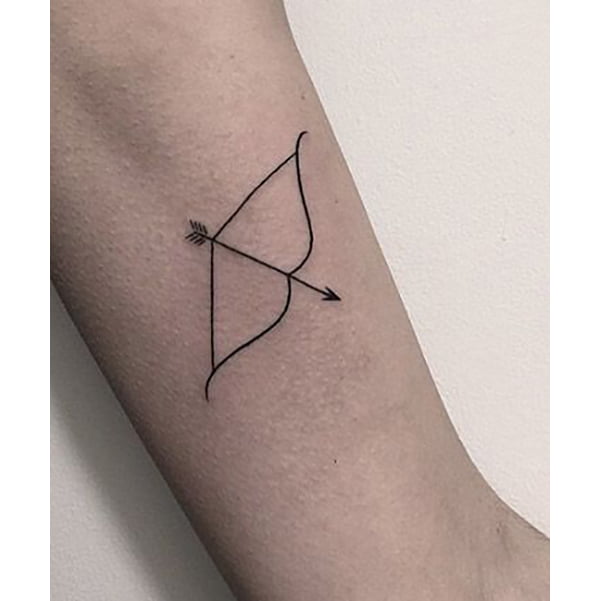 Perfect symmetry is the secret to making simple tattoos great. This tattoo sketch of arrow relies on bold, clean lines to convey a depth of meaning that belies the uncomplicated design. Forearm placement seems like a no-brainer for a weapon that places so much emphasis on the musculature of the arms.
5. Fantasy Lady Centaur Tattoo Tribal Archer Arrow Tattoo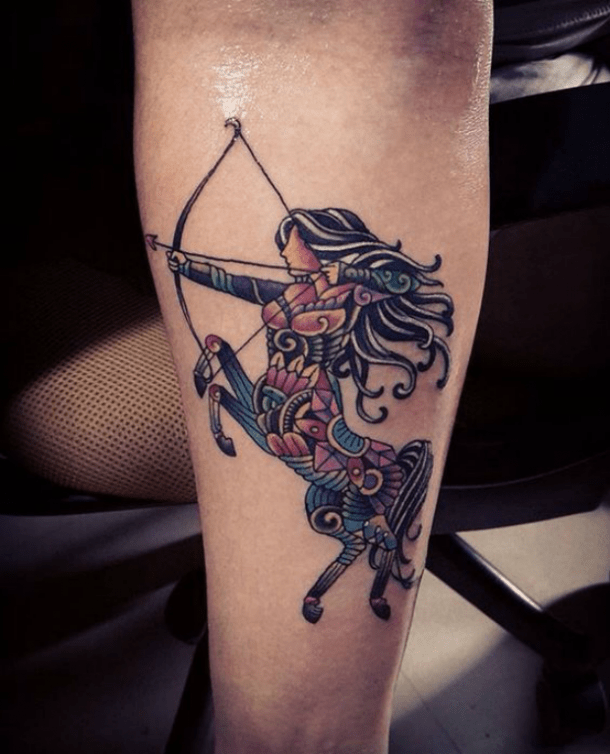 This stunning centaur archer tattoo represents an amalgamation of references. The symbols painting her body are akin to the geometric motifs of the Pacific Northwest. The colors are decidedly Middle Eastern or South Asian. The centaur is Greco-Roman staple.
6. Native Inspired Tattoo Maiden Warrior Tattoo Arrow Tattoo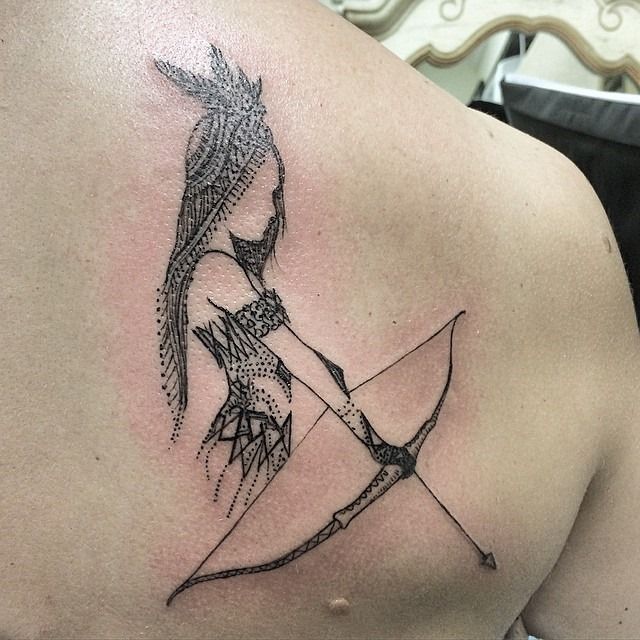 The feather headdress on this bold beauty tattoo of an arrow is one part Native American and one part gypsy with a fantasy fringe following the line of her hair. Her arm is cuffed and extended as she prepares to draw her bow with a hennaed hand. Though her face is expressionless, you can see the tension in its angle.
7. Dark Side of the Moon Arrow Tattoo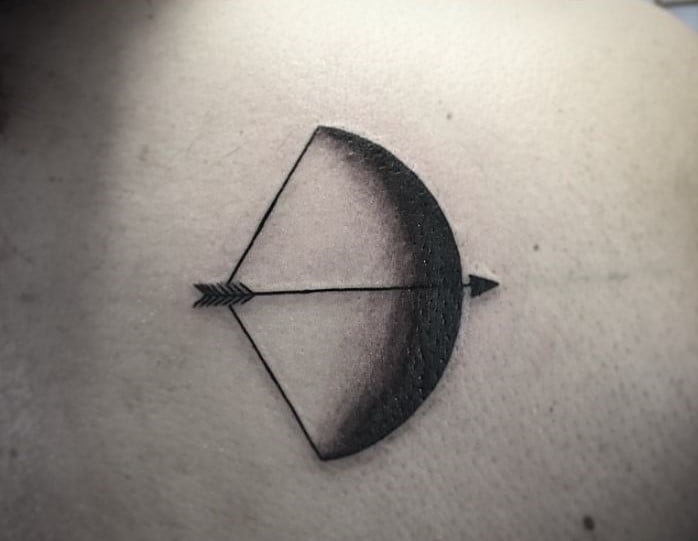 What at first appears to be a simple tattoo of an arrow actually encompasses one of our most recognizable celestial bodies as geometrical shapes. The shading inside the curve of the bow becomes the dark side of the moon. This tattoo of an arrow speaks to the concept of flights of fancy as well as to the fleeting nature of time. Dragonfly tattoos also work well in this style.
8. Bow on Three Arrows Tattoo Ink Arrow Tattoo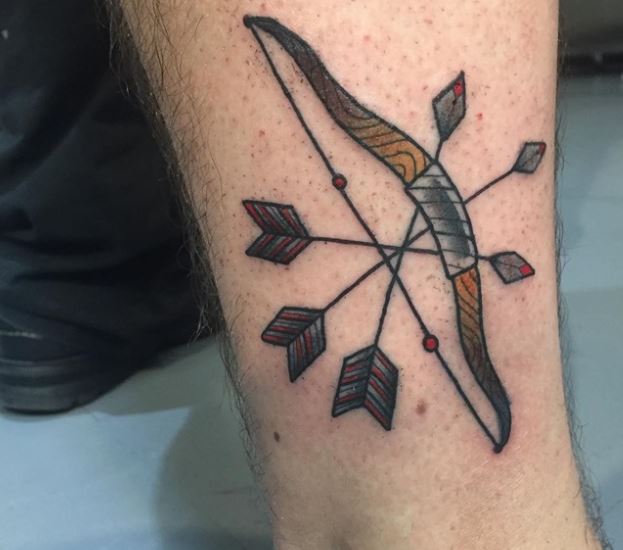 In this tattoo, the arrows are not notched. Rather, the bow is laid across three splayed arrows. The tattoo of an arrow creates a star tattoo design that is both geometric and vaguely directional. The tattoo also takes the threat out of the symbol. The number of arrows can be altered to reflect more or fewer children.
9. Bow to My Arrow Marriage Tattoo Arrow Tattoo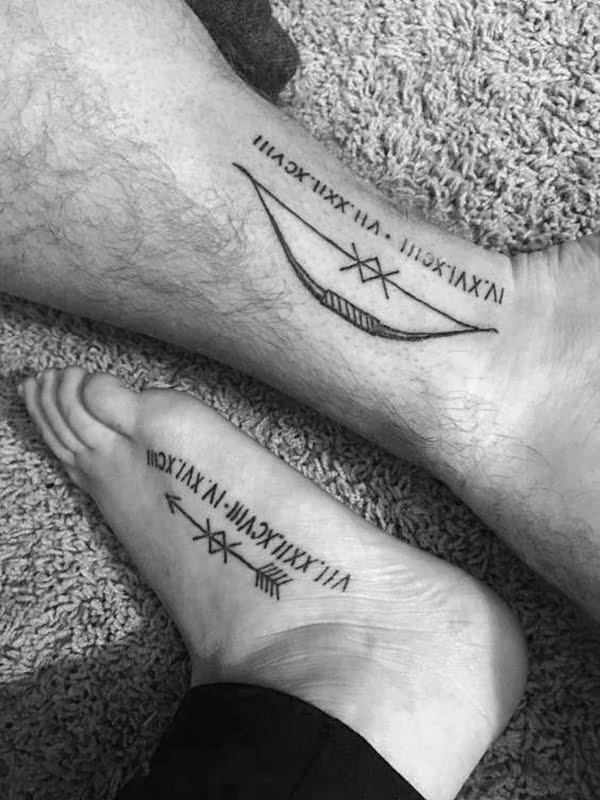 One partner is inked with the bow, the other with a similarly stylized arrow. Beneath each symbol is a significant date in Roman numerals, sized and spaced to fit the line of the design as body art above it. The date is likely a wedding anniversary but could just as easily be a birthday.
10. Tribal Bow Tattoo and Quiver Thigh Design Arrow Tattoo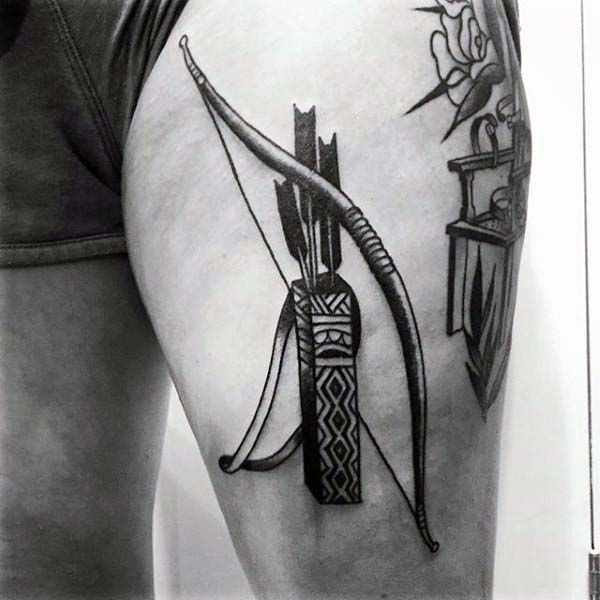 Placing a black and white tattoo of an arrow on the thigh allows for a larger size and more dramatic angle in this tribal-themed leg tattoo. Bold shading makes the most of the geometric patterns on the quiver while the bow cuts a graceful curve across it. The bow at rest implies a reserve of power.
11. Viking Tattoo Archer Taking His Shot Arrow Tattoo
This tattoo of an arrow depicts an archer of Medieval or Viking origins. He is in full armor, clearly in the midst of battle. There is also a sizeable sword at his hip. The design as body art speaks to heritage, history, and a possible military affiliation.
12. Sagittarius Tattoo Archer Concept Arrow Tattoo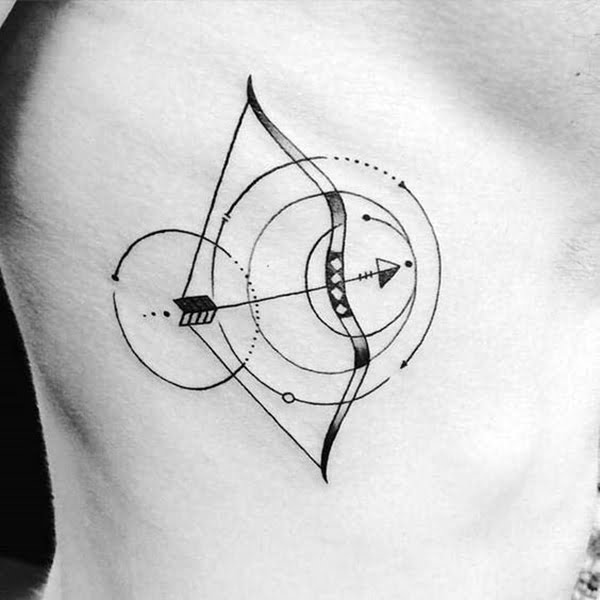 The lines and circles around this tattoo of an arrow indicates equations for the perfect shot. Such lines are also often associated with the placement of stars in a constellation. In this instance, that constellation is most likely the zodiac Sagittarius, we can see as geometrical shapes.
13. An Arrow Tattoo Broken by the Moon Arrow Tattoo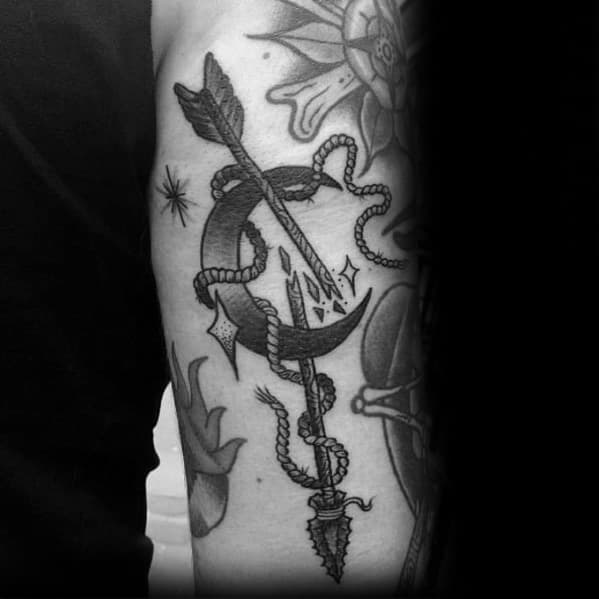 This evocative concept tattoo has all the feeling of a beloved myth. Many speak romantically of trying to capture or shoot down the moon. Here, an arrow runs a rope around the crescent, but it is broken mid-flight. The end result is a design as body art that incorporates both magic and mayhem.
14. Goth Skeleton Tattoo Archer with Rose Arrow Tattoo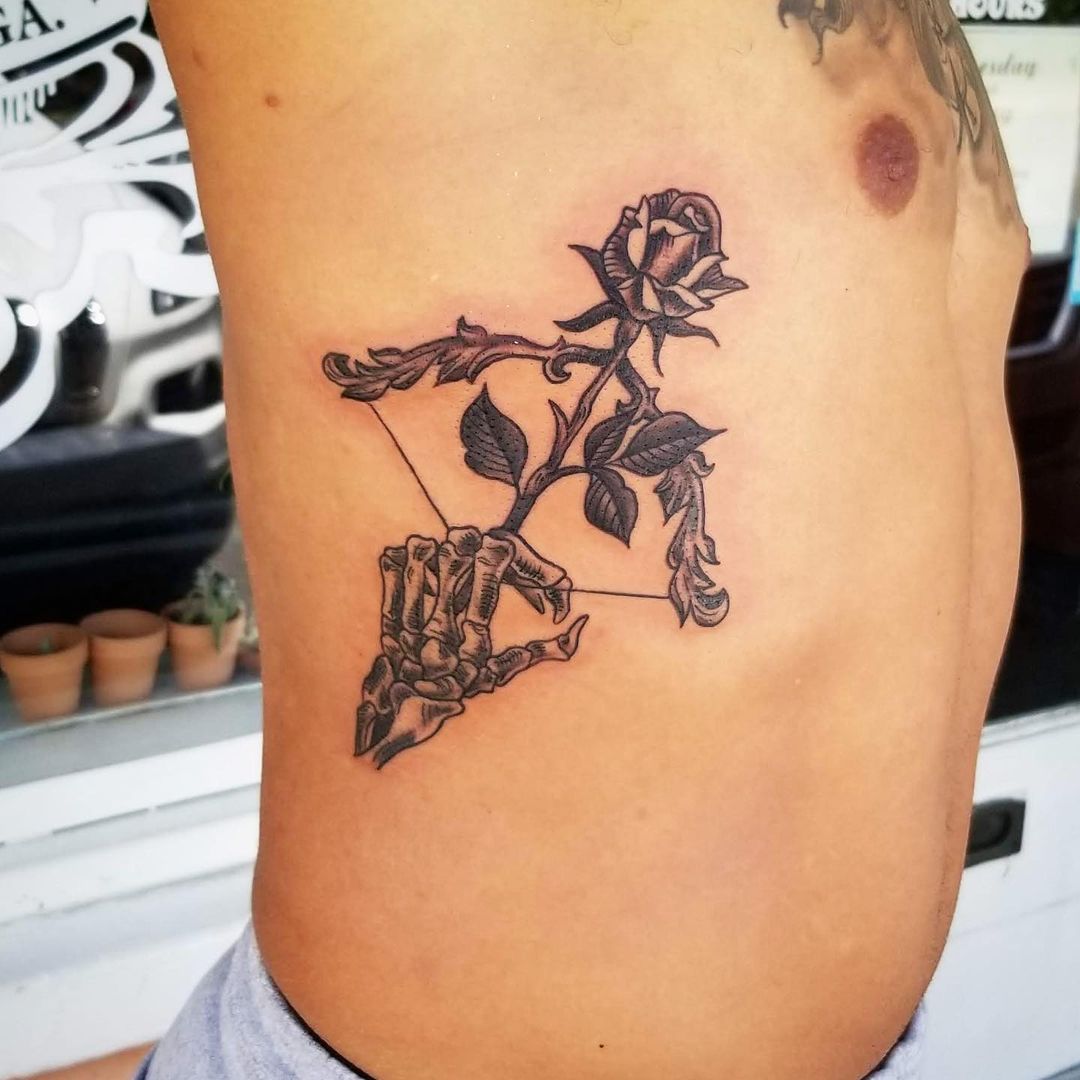 A skeletal hand draws a rose across an elegantly scrolled bow in this love tattoo. It is a romantic and macabre interpretation of the classic motif. Its vulnerable placement adds to the context of mortality as well as heightening the sense that love can be dangerous.
15. Middle Eastern Bow & Arrows Arrow Tattoo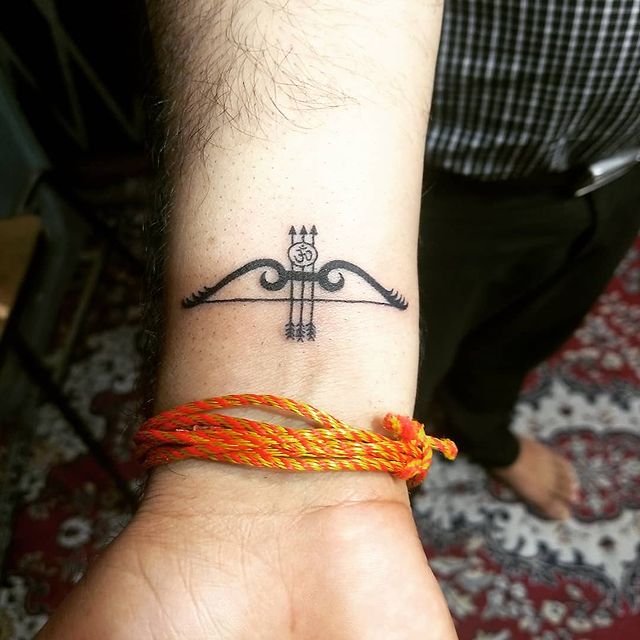 A bold, barbed bow draws three arrows at once. A Middle Eastern symbol in a medallion is inked overtop. The design as body art gives the impression of a storied heritage while the adjacent simple string bracelet suggests a deeper spirituality.
16. Bow with Roman Numeral Date Dedication Arrow Tattoo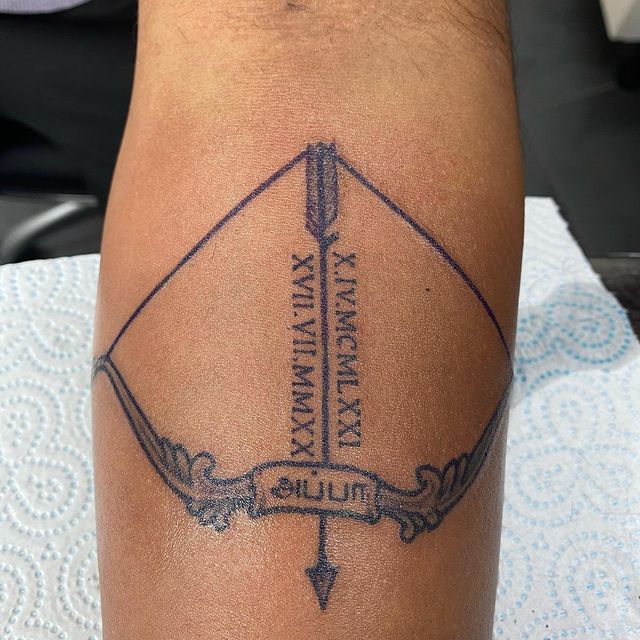 Numbers are an easy way to add significance to a beloved design. The pair of dates suggests either more than one event – like the births of children – or a beginning and an end, as in the life and death of someone significant.
17. Greco Roman Style Tattoo Bow and Laurel Wreath Arrow Tattoo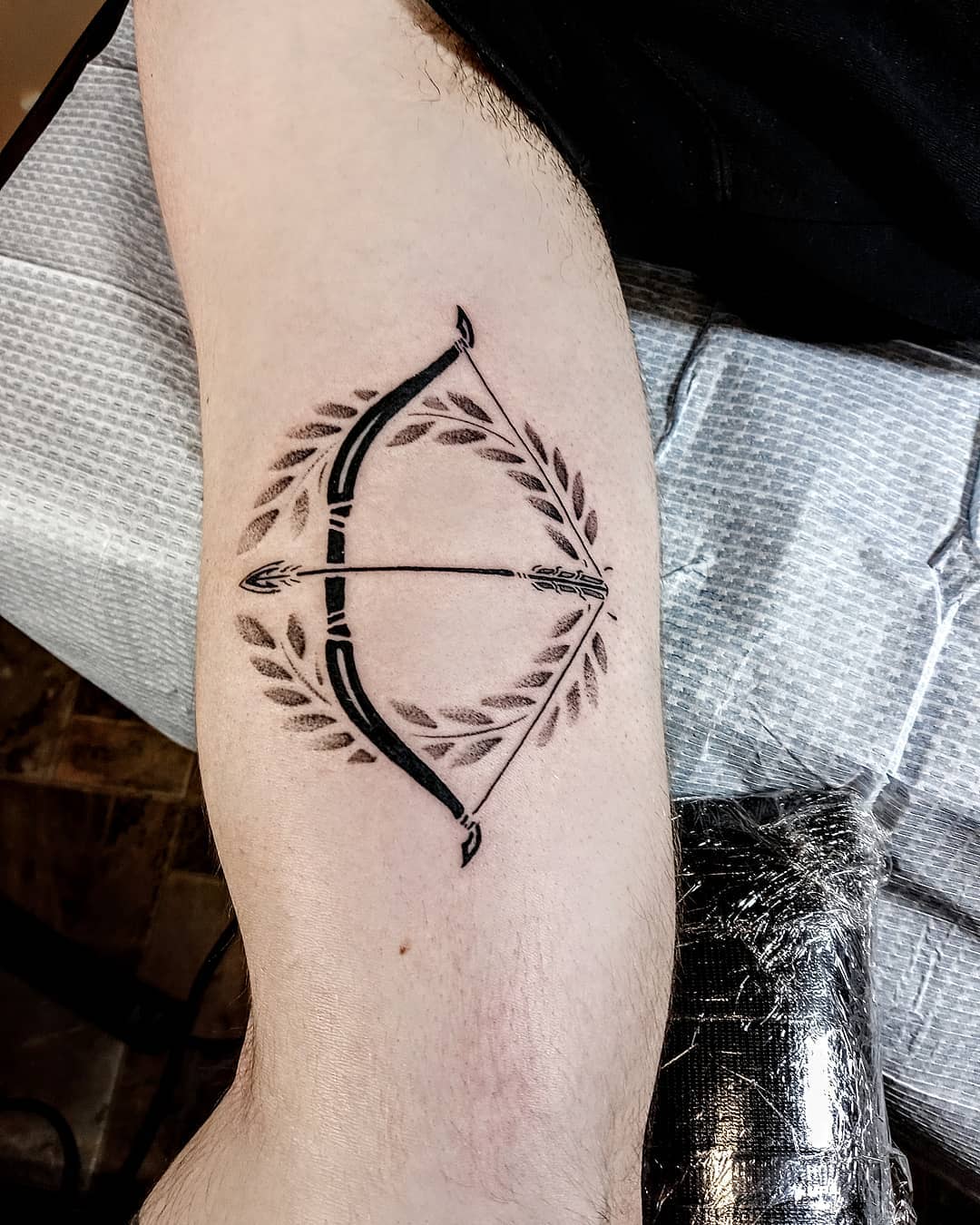 In ancient Greece and Rome, the laurel wreath was an exalted symbol. To this day, it represents victory. The symbol is still most strongly associated with the Olympics, wherein the earliest winners were crowned with them.
18. Naturalistic Art Nouveau Tattoo Bow & Arrow Tattoo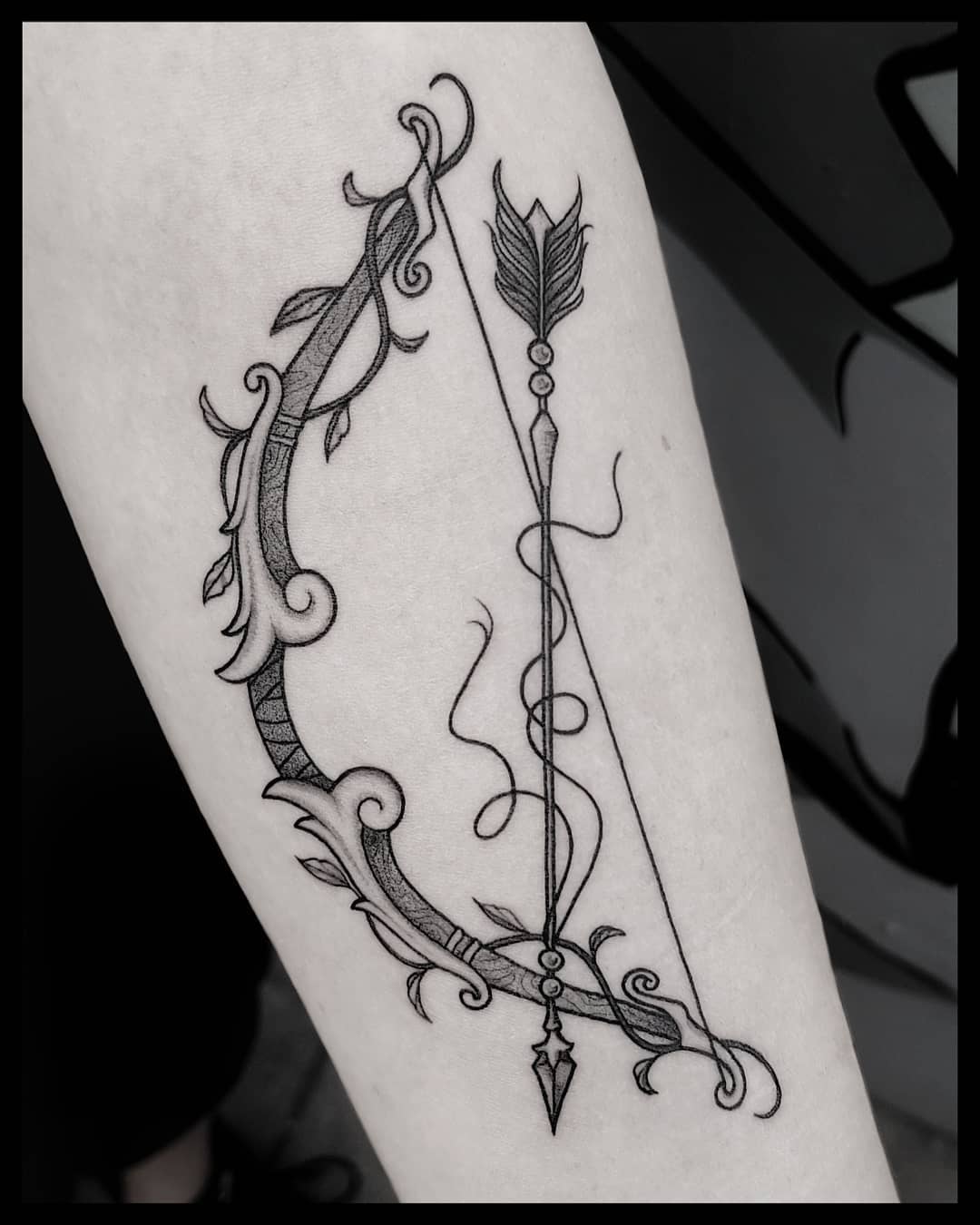 There is no shame in wanting your martial references to be more aesthetically pleasing. This engraved wooden bow is embellished with scrollwork and twined with vines. A delicate metal arrow is set with pearls or gems and trails ribbons.
19. Native American Feather Tattoo Bow & Dreamcatcher Arrow Tattoo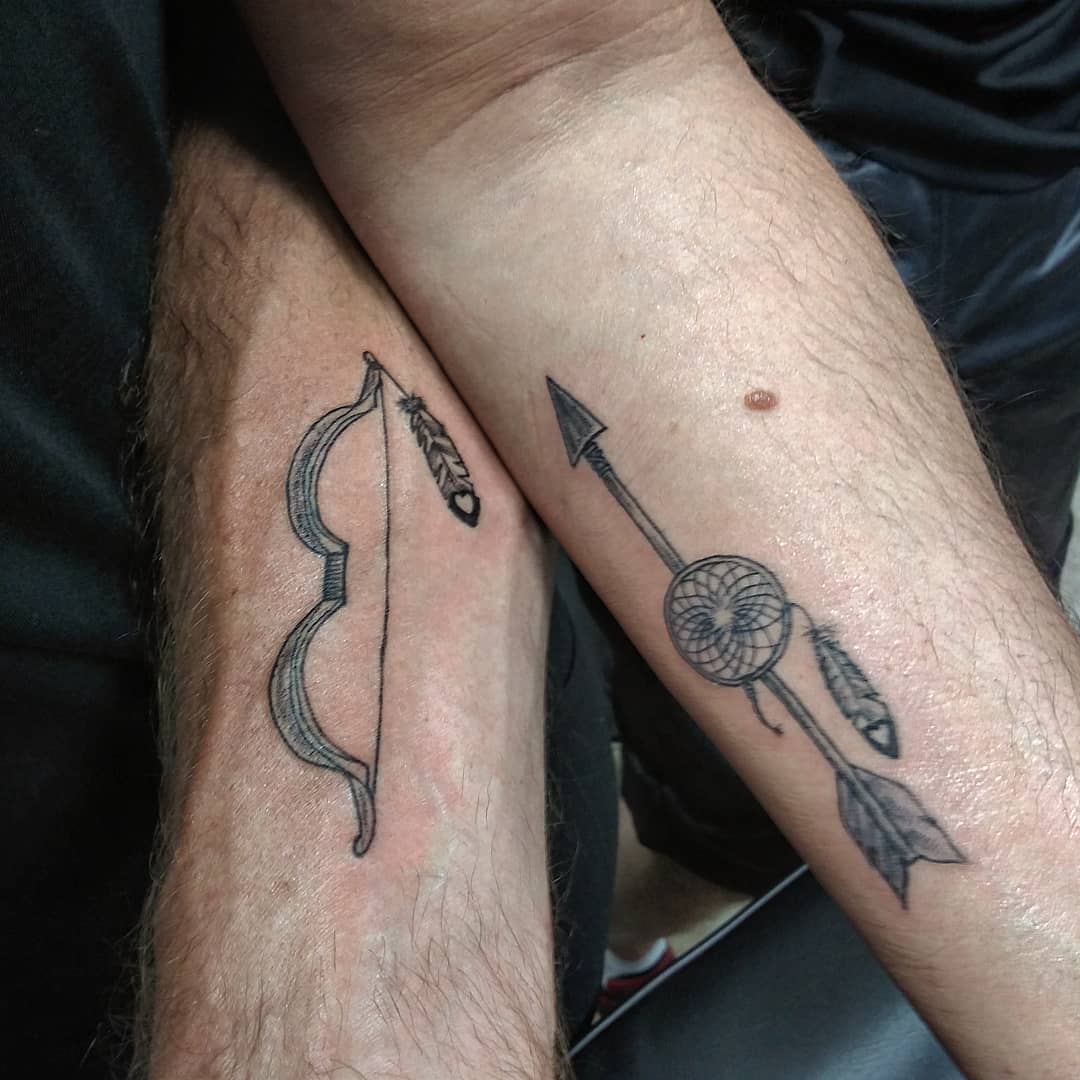 Coordinating arm tattoos of an arrow pay separate homage to the bow and arrow. An eagle feather hints at Native American spiritualism. A dreamcatcher on the arrow suggests the wearer's determination to banish the bad and champion the good.
20. Shoot Down the Sun Tattoo Arrow Tattoo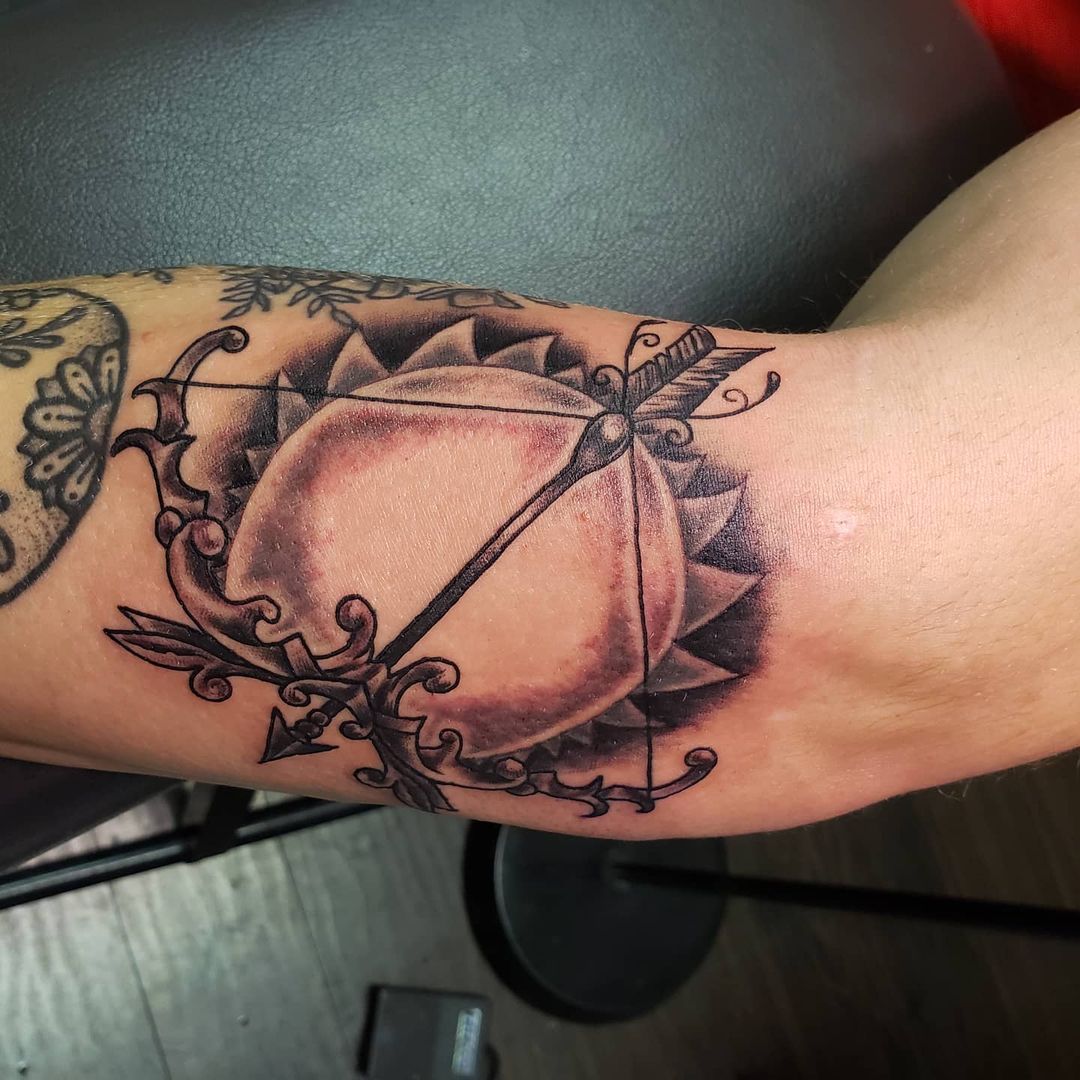 Clever shading and design imply that this bow is from the Bronze Age. Its scrolled metal frame is notched with a narrow metal arrow. The tense string bisects a background sun whose flames expand beyond the curve of the weapon in this body art. This design would also work well with sun and moon tattoos.
21. Renaissance Inspired Tattoo Dimensional Grayscale Cherub Arrow Tattoo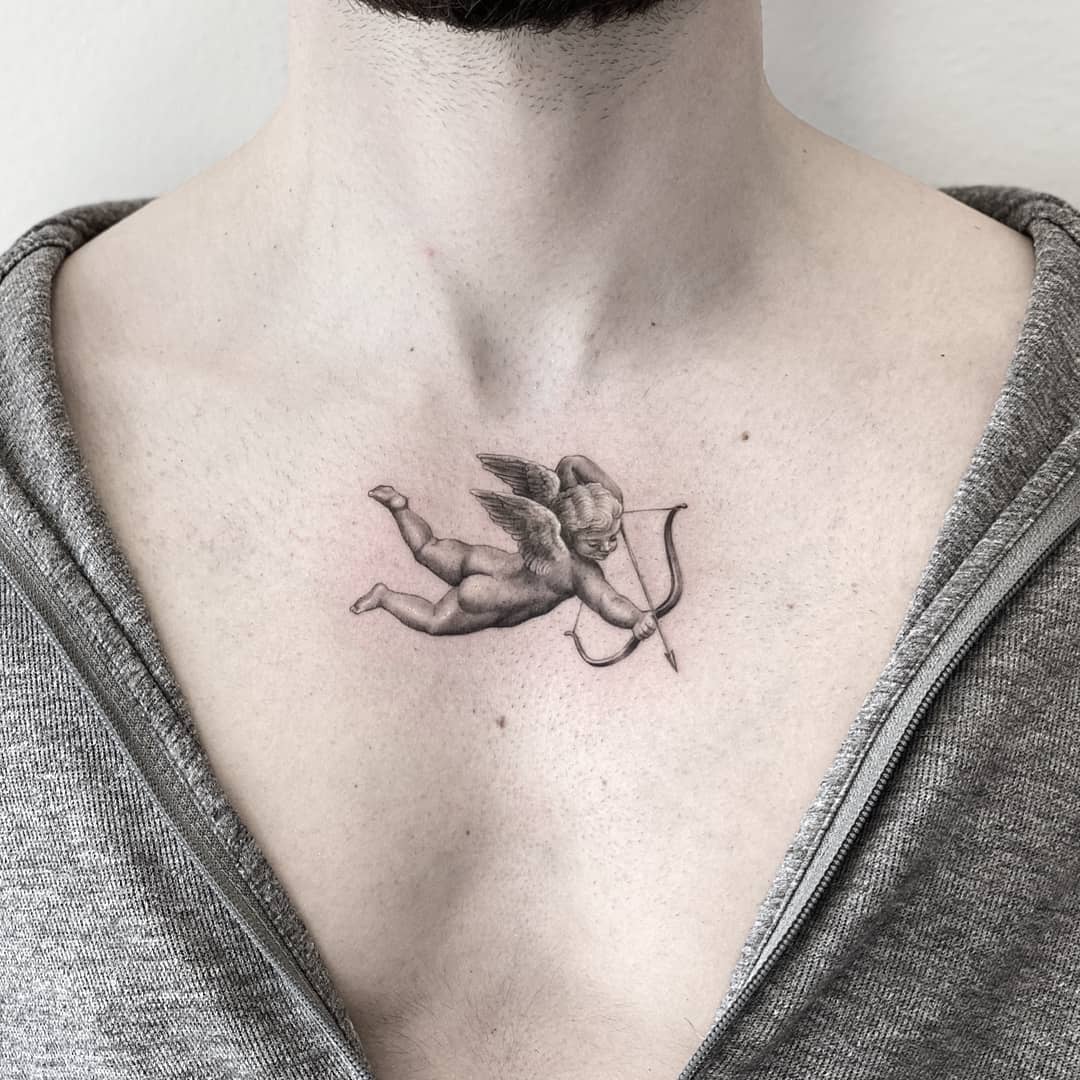 Cherubs (or putti) are a common sight in both ancient Roman and later Renaissance art. This wonderful rendering is well-shaded to create the impression of both dimension and movement. The arrow is cheekily pointed at its bearer's heart.
22. Behold the Huntress Goddess Tattoo Diana Arrow Tattoo
Both Greek and Roman mythology had famous female archers. Perhaps the most famous was the goddess of the hunt. In Greek mythology, she was Artemis, and in Roman she was Diana. This tattoo of an arrow honors that storied legend with a well-muscled beauty partly concealed in mystical swirls of smoke.
23. Ancient Irish Celtic Tattoo Power in Ink Arrow Tattoo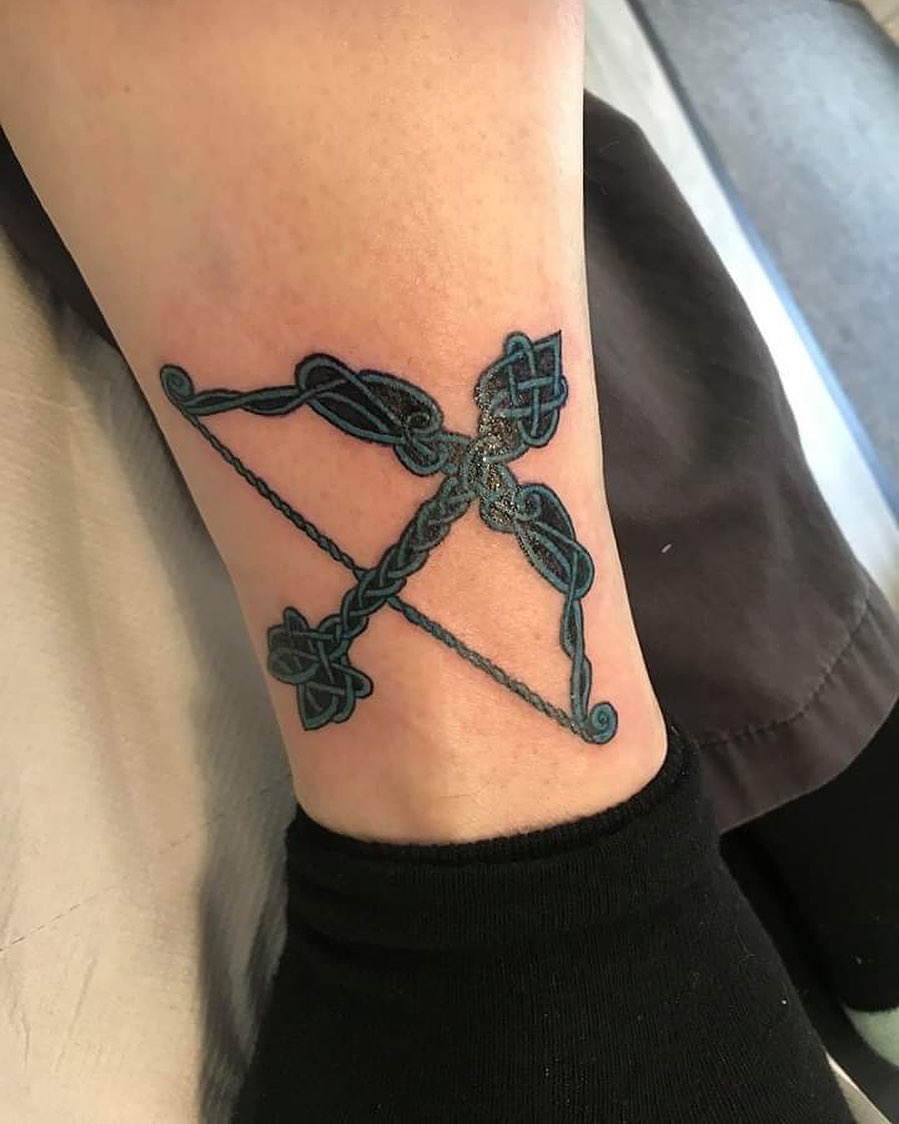 Celtic knots combine eye appeal with historical significance. The green color choice leaves little doubt that the bearer of this tattoo of an arrow is Irish. Black filler makes the design more distinct against pale skin.
24. Rock and Roll Centaur Archer Tattoo, Arrow Tattoo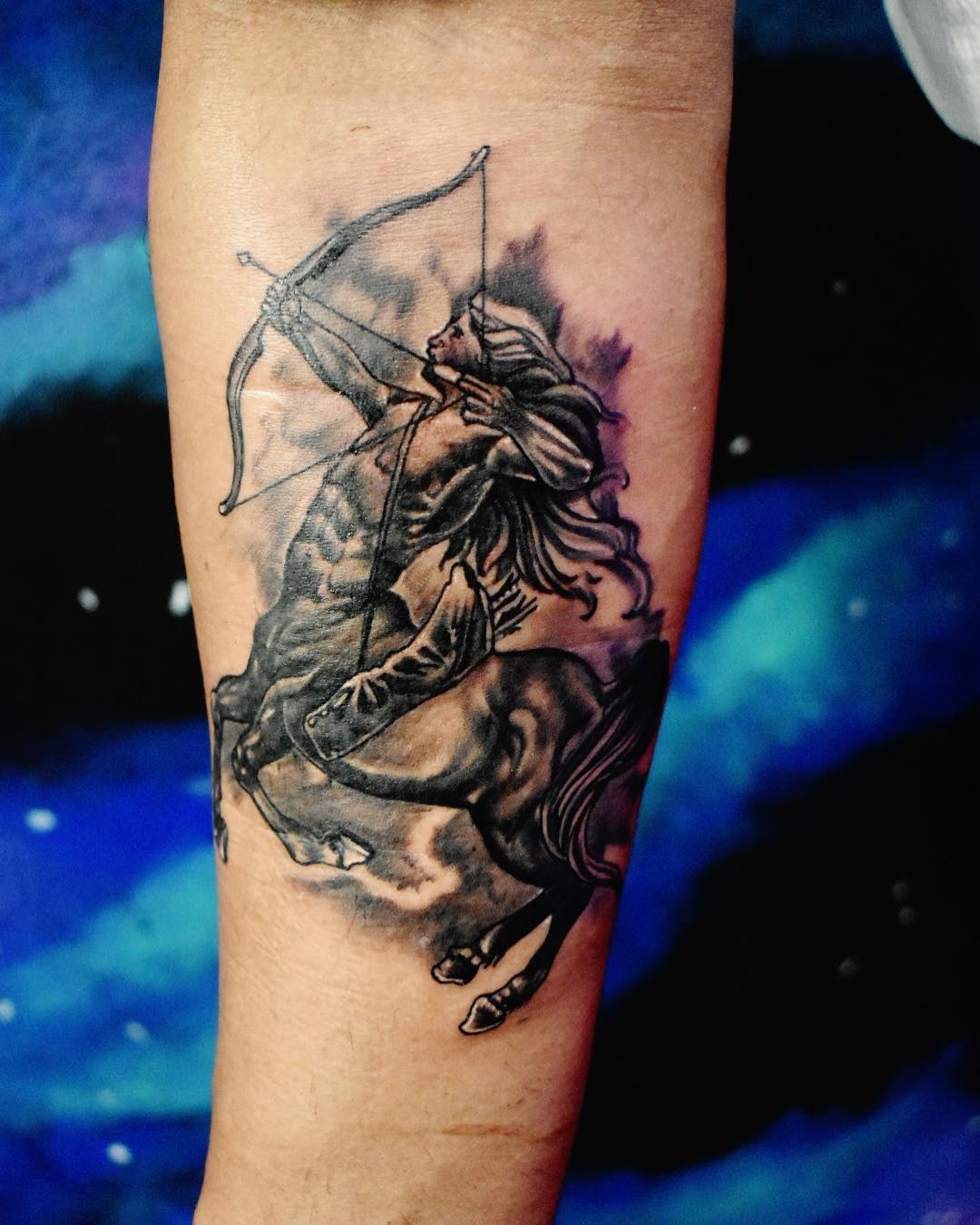 This triumphant centaur archer tattoo of an arrow has a distinctly 1980s glam rock feel. Purple and black smoke silhouette effects heighten the retro rock vibe.
25. Work Friendly Tattoo Behind the Ear Bow Arrow Tattoo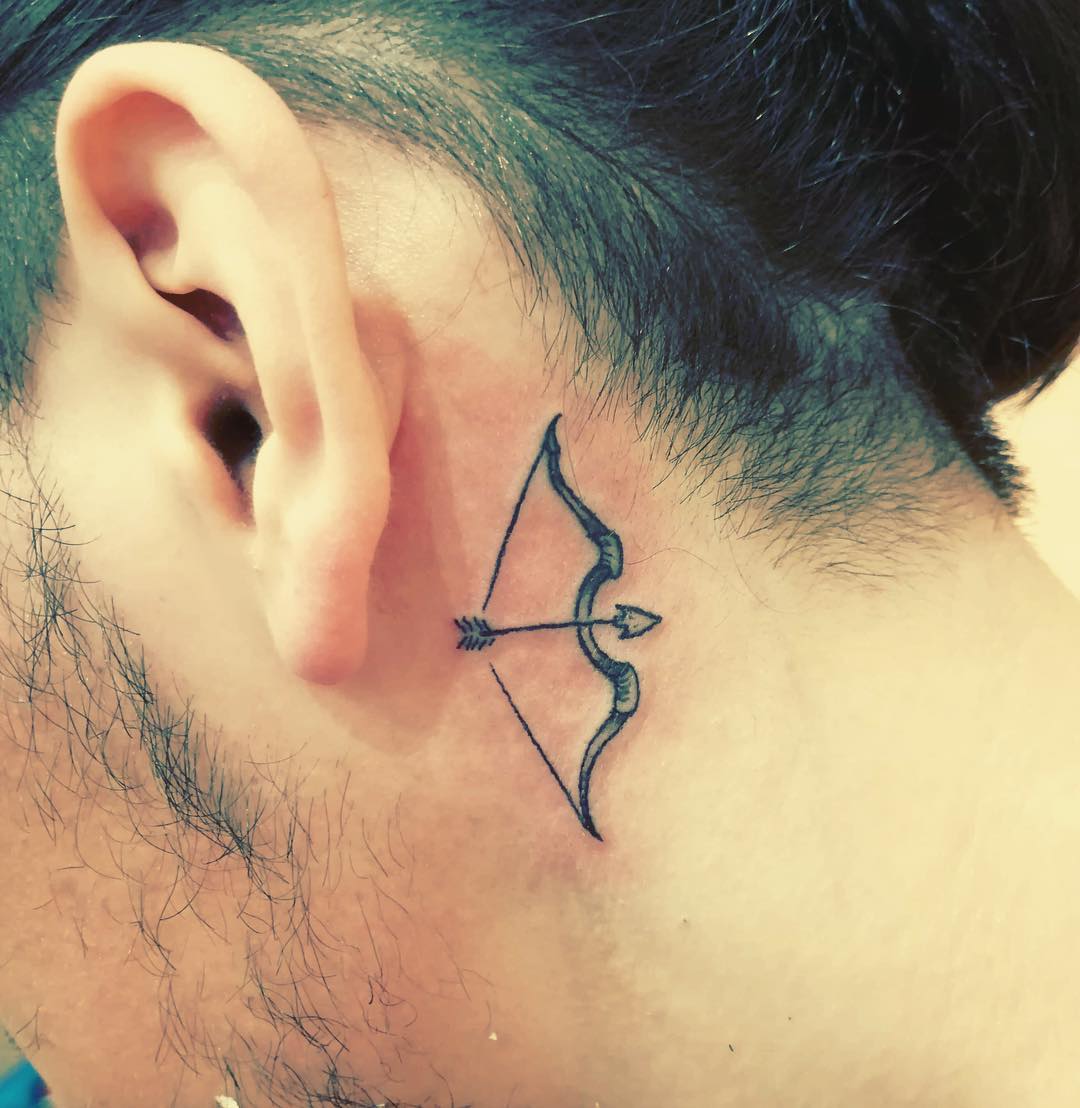 If you yearn for meaningful ink but need something discrete, the behind-the-ear placement is ideal for anyone with long enough hair to hide it. The tattoo of an arrow makes a suitably romantic statement when revealed by this man's upswept man bun.
26. You Raise Me Up Spiritual Tattoo Arrow Tattoo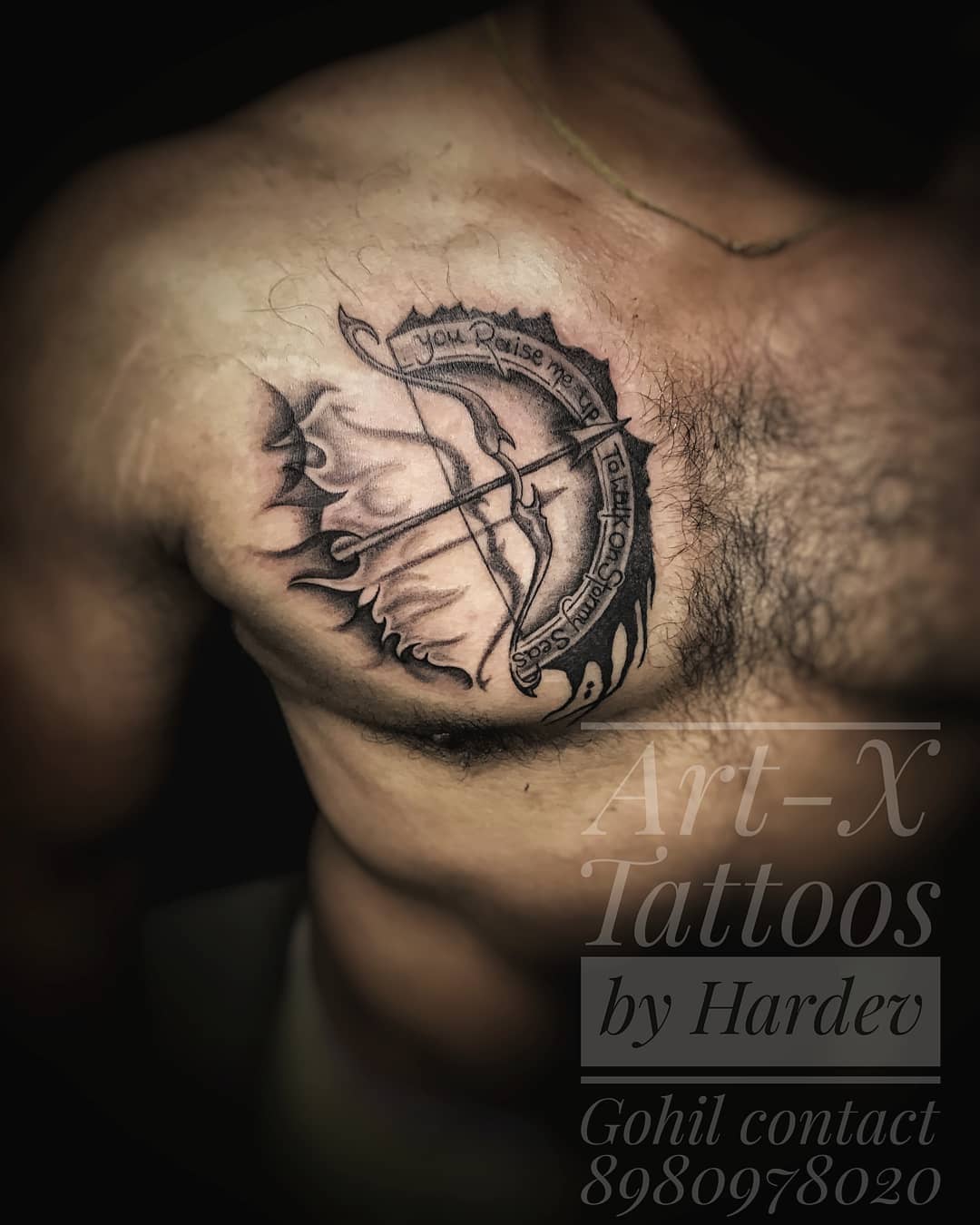 A dramatic grayscale bow and arrow design is set against shadows and flames. In a semi-circle around the bow are the lyrics, "You Raise Me Up to Walk on Stormy Seas." Though dark in color and imagery, it is clear that the meaning of this tattoo of an arrow is both spiritual and inspirational.
27. A Bow to Fit Any Body Arrow Tattoo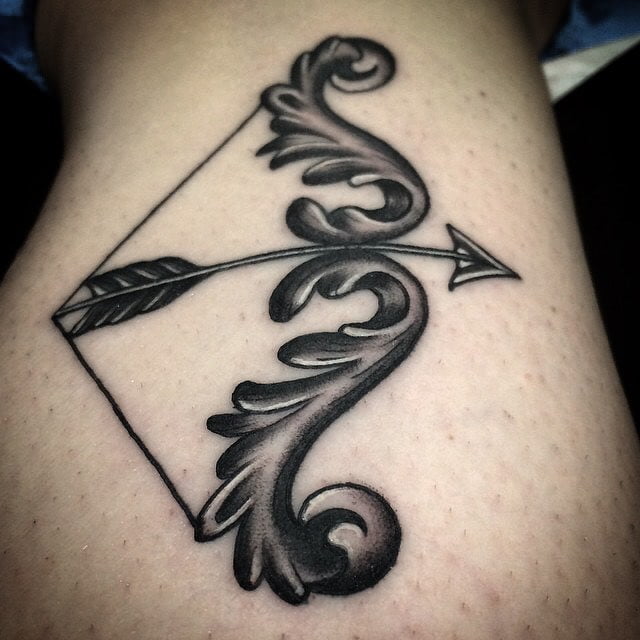 The cool thing about the geometry of bows and arrows is that they are easily resized and reshaped to fit any part of the human body. In this instance, the inner thigh makes an inviting canvas for a beautifully scrolled and tastefully highlighted bow and arrow design.
28. Bow and Arrow Tribute Tattoo Arrow Tattoo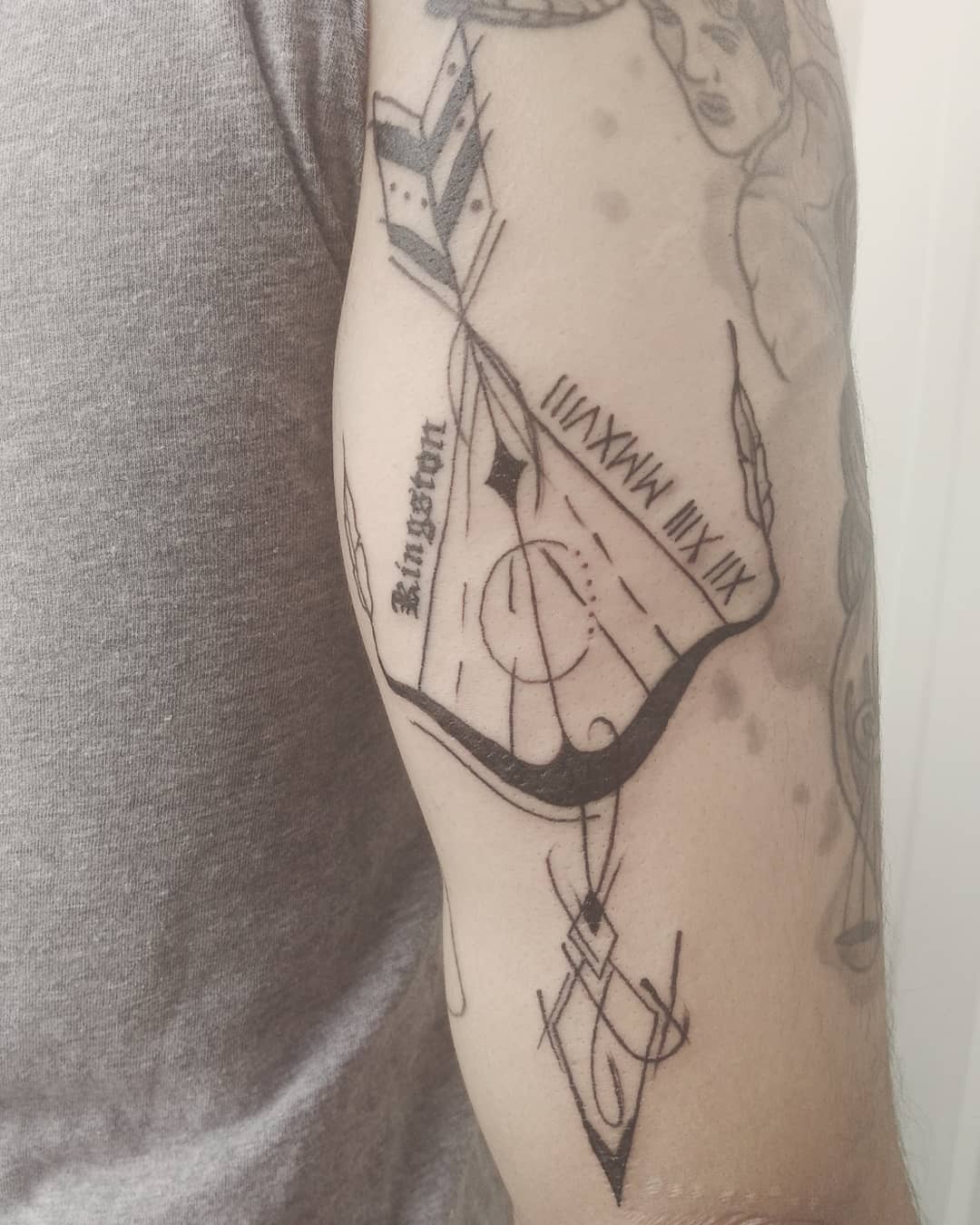 This sizeable sketch-style bow and arrow arm tattoo of an arrow honors the passion of parenthood. On one side of the bow is a child's birthday in Roman numerals. On the other side of the bow is the child's name. They say the arrow is an extension of the archer's soul, and the same is true of our children.
29. My Aim Is True Tattoo Directional Design Arrow Tattoo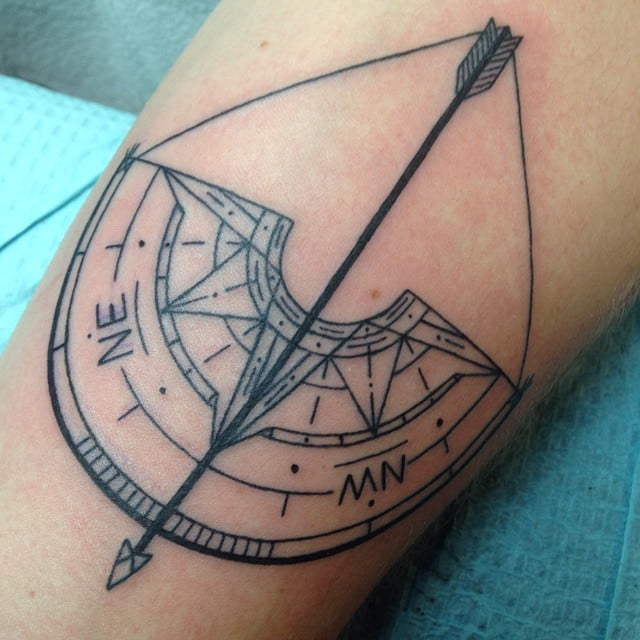 Some of the best new tattoos of an arrow are ones that combine unexpected imagery from similar ideas. The artist for this piece has transformed half of a compass into the curve of a drawn bow with an arrowhead pointing the way. The resulting symbolism suggests a resilient heart that knows its true purpose.
30. Personalizing a Simple Wrist Tattoo Arrow Tattoo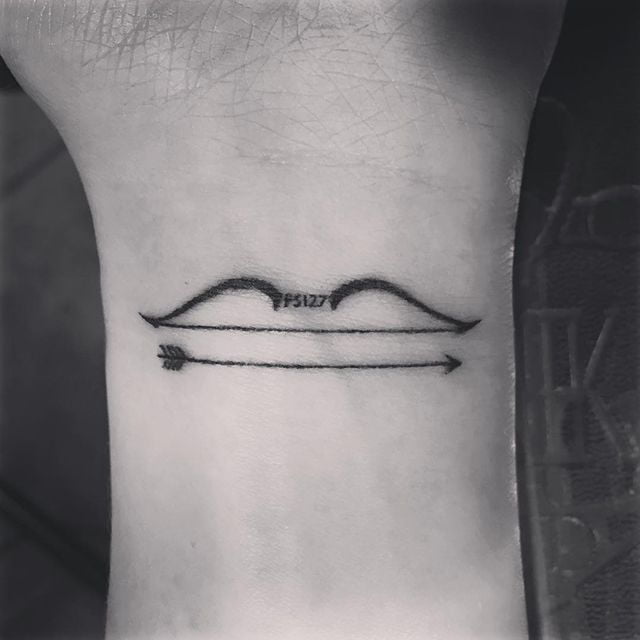 Huge technicolor back or chest-spanning tattoo murals are fantastic, but a small arrow tattoo can be very impactful, too. This straightforward ink fits neatly inside the wrist. Tiny letters and numbers hint at a secret secondary meaning, allowing this small tattoo of an arrow to serve as an important totem for the one that wears it.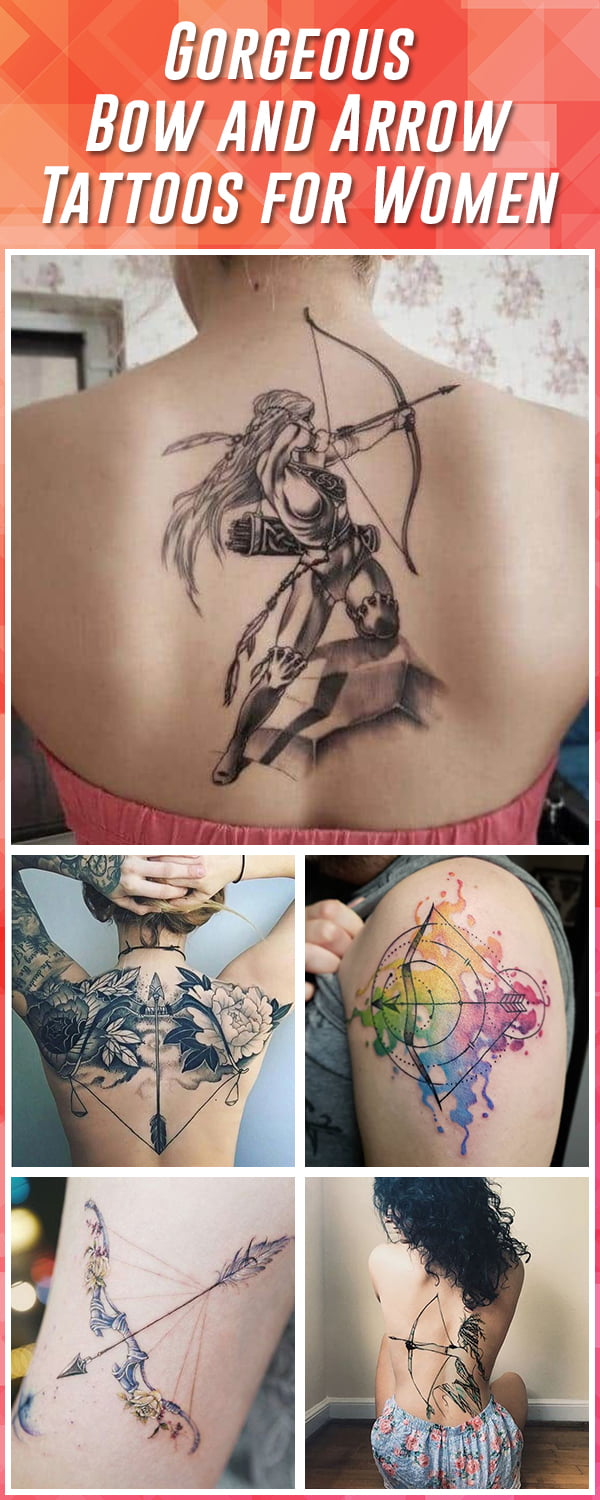 31. Sexy Celtic Woman Archer Tattoo Centerfold Arrow Tattoo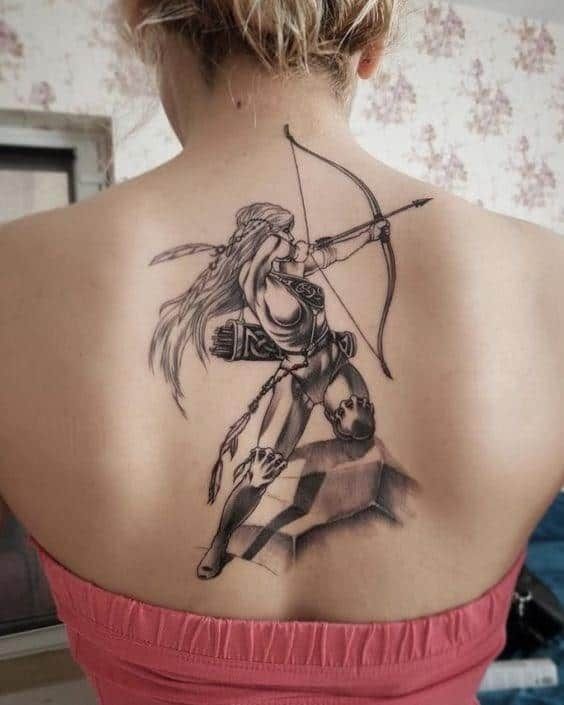 This centerfold-sized lady archer is a prime example of comic book cover-worthy ink art. There are many old Celtic details, including a hint of knotwork on her quiver and feathers on her costume. The flow of her hair and tension in her arms expertly suggest action.
32. Sagittarius Tattoo Bow and Arrow Art Arrow Tattoo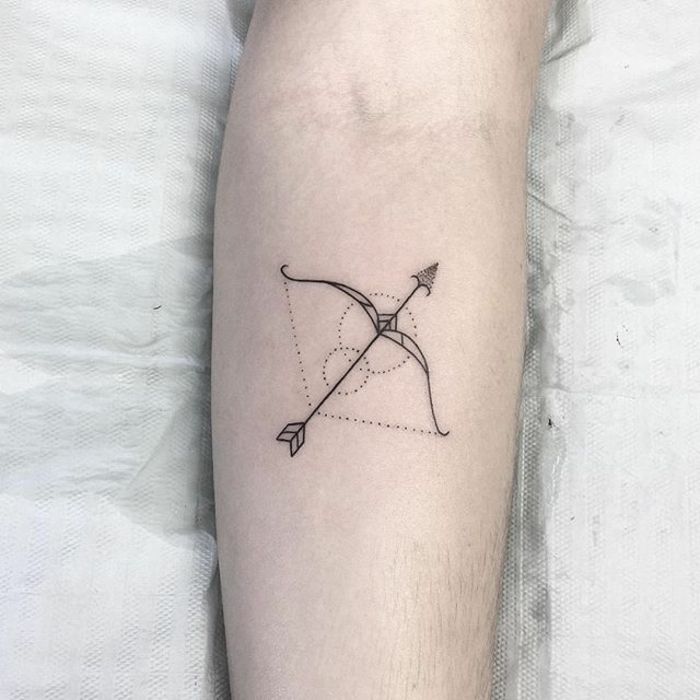 There are many different symbols that can be used to represent the zodiac sign of Sagittarius. Perhaps the most recognizable is demonstrated here with a delicate bow and arrow. Pinpoint circles and lines indicate a form and function that is written in the stars.
33. Feminine Fantasy Tattoo Bow, Arrow, and Roses Arrow Tattoo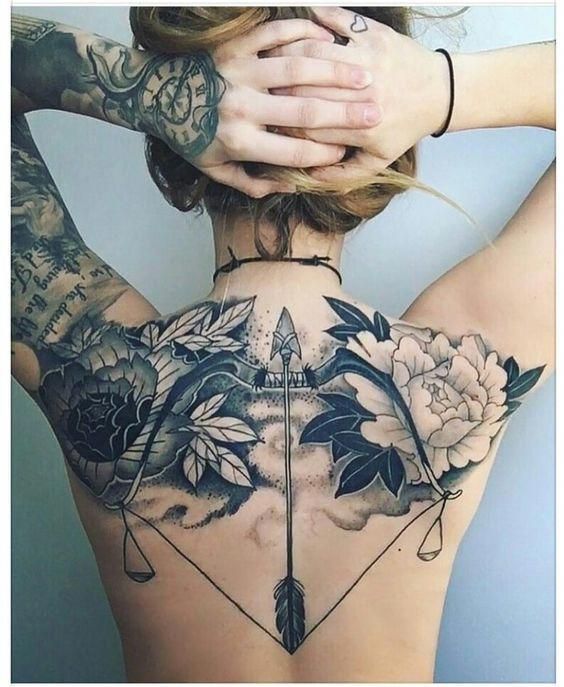 Thousands of tattoos feature bows and arrows. While the level of detail and cultural references of the arrow vary from one to the next, they are overwhelmingly masculine in style. But with blue silk wrappings and yellow roses, this is a stunning example of how the arrow can be both feminine and intimidating.
34. Women's Nude Amazon Archer Tattoo Arrow Tattoo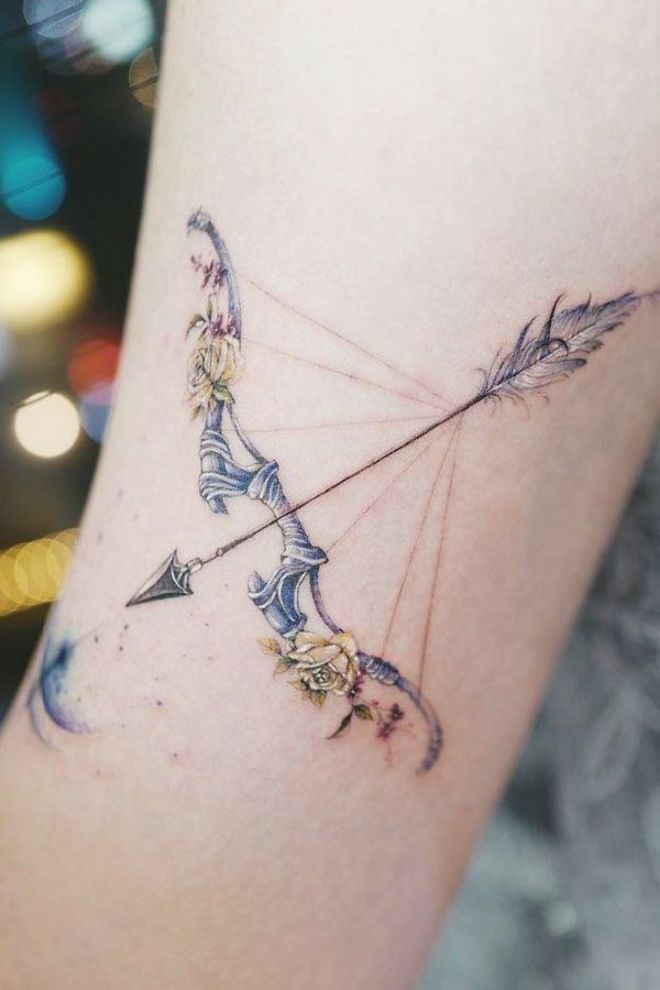 Few historical figures are as female-empowered as the Amazons. Here, a nude Amazon archer celebrates both the strength and the beauty of the mythological society. A single frond of laurel leaves helps to maintain the archer's modesty while reinforcing the idea of valor.
35. Cat of the Universe Bats Tattoo Sagittarius Arrow Tattoo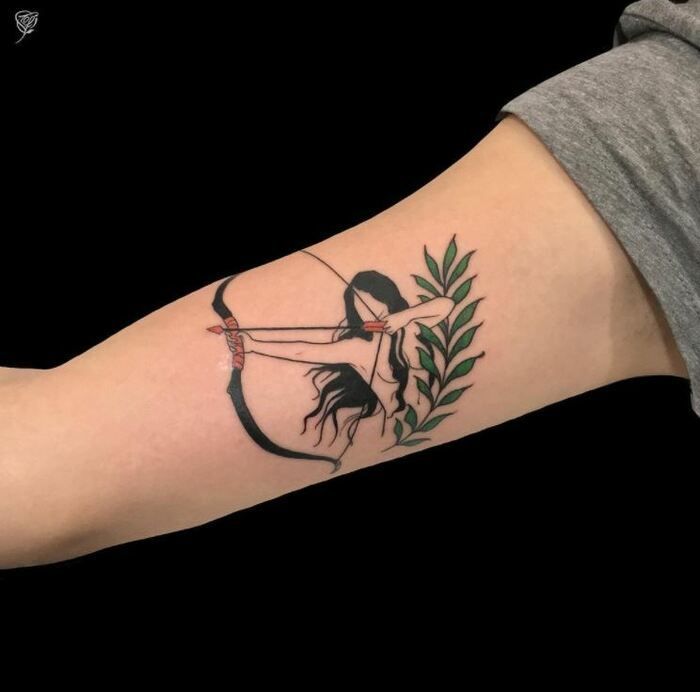 Fans of astrology will delight in this distinctive arrow design. A black cat's body offers a porthole view of the universe. Faintly behind the figure and its toy, we can see the stars of the archer's constellation.
36. Video Game Tattoo Aim Rainbow Arrow Aarchery Tattoos Arrow Tattoo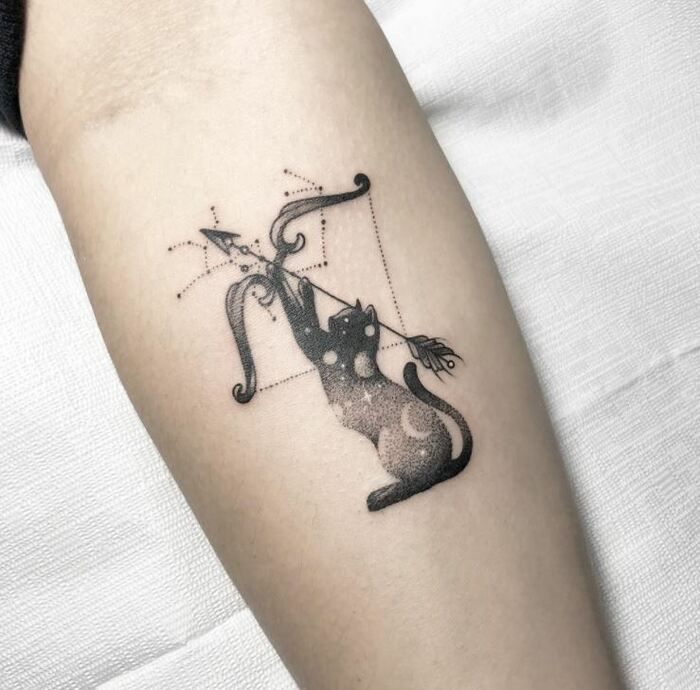 This smartly layered and beautifully colored tattoo is so much more than a plain old archery tattoos. The circles reference the aiming guides used in video game shooting sequences. An unexpected background splatter of rainbow fire breathes dynamic new life into the overall design.
37. Beflowered Moon Tattoo and Bejeweled Arrow, Arrow Tattoo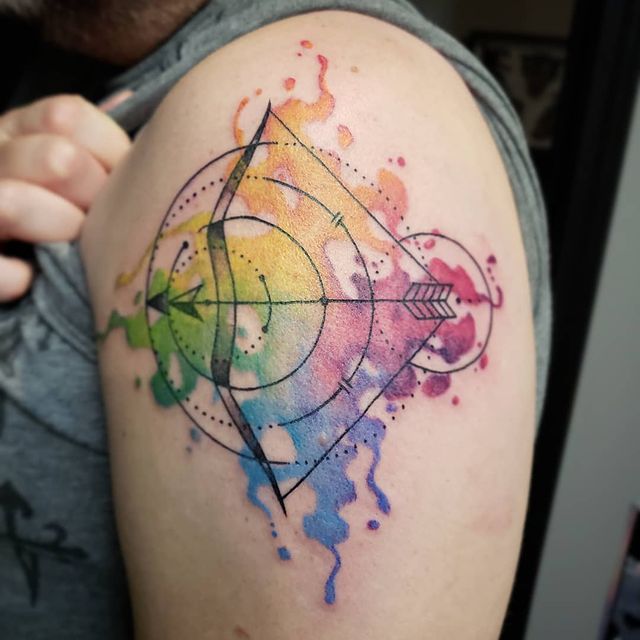 A long, lean arrow and crescent moon are combined to create a tattoo that fits very naturally into the space of a side leg. The moon is beautifully embellished with a flower tattoo in full bloom. Meanwhile, the arrow is fierce but pretty with a narrow stem and jewel accents.
38. Floral Illusion Bow and Arrow Tattoo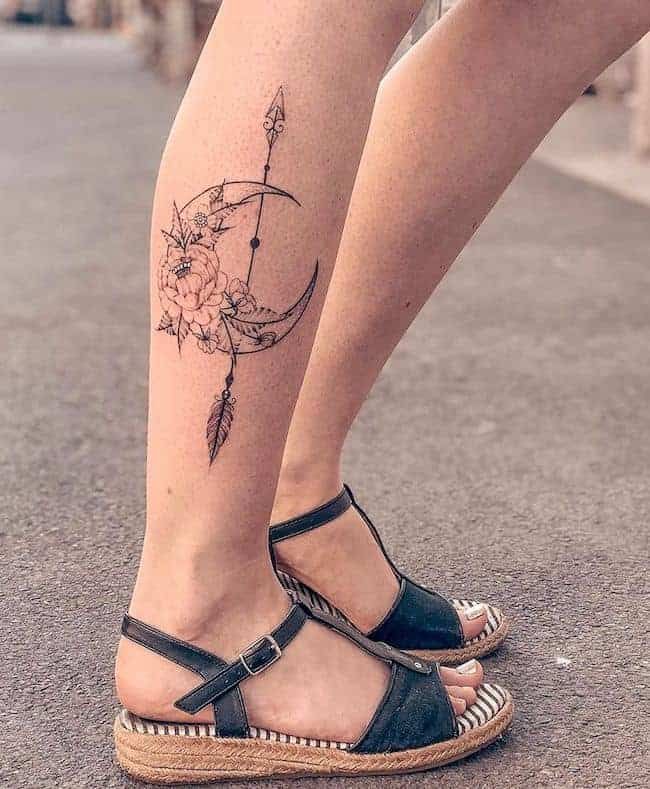 In this design of the arrow, the bow portion of the symbol is entirely concealed by a chain of flowers. In a similar manner, the traditional feather at the end of the arrow is actually a fan of pine needles. The stem of the arrow is a pink thread tied to the floral arrangement, and the arrowhead is a matching fuchsia point.
39. Behold A Well Scrolled Weapon Arrow Tattoo Small Arrow Tattoo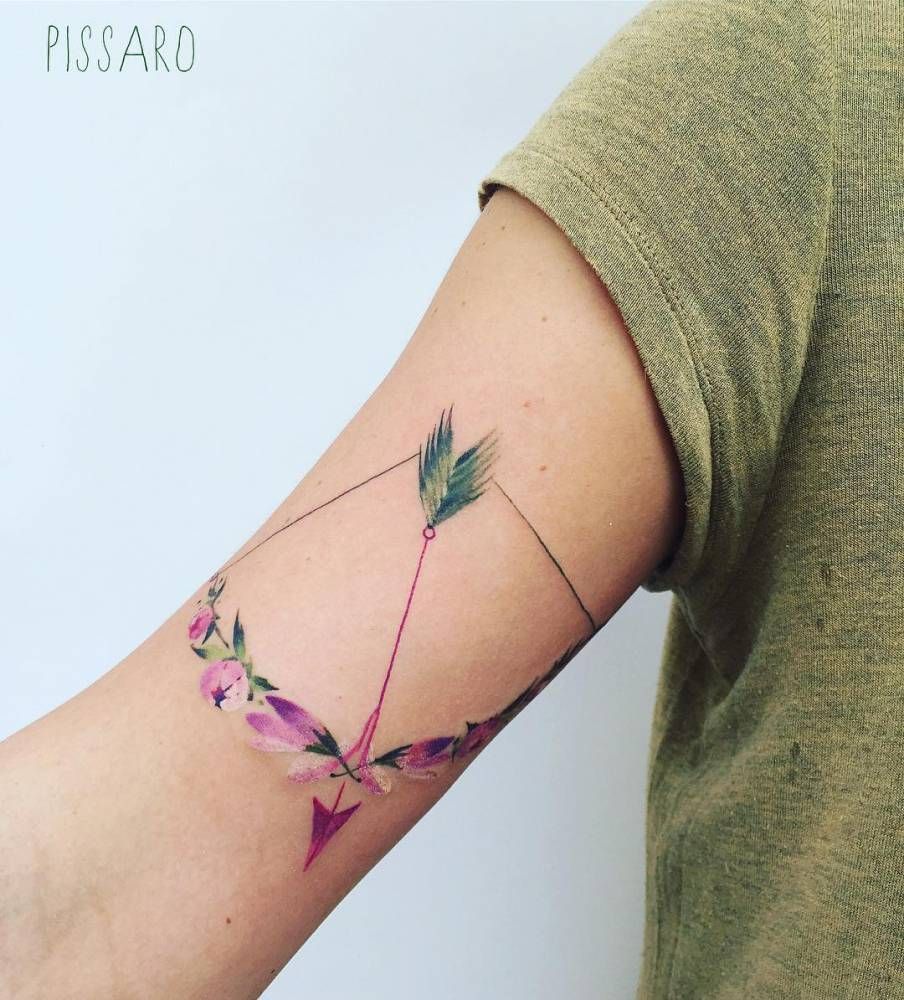 When you're dealing with a popular symbol like the bow and arrow, making the tattoo look and feel personal comes down to a series of small arrow tattoo design choices. Note the scrolled framework. The fine, unembellished strings. The oversized feather. Each small detail creates a more impressive whole in this small arrow tattoo.
40. Getting Abstract Arrow Tattoo with an Arrow and Bow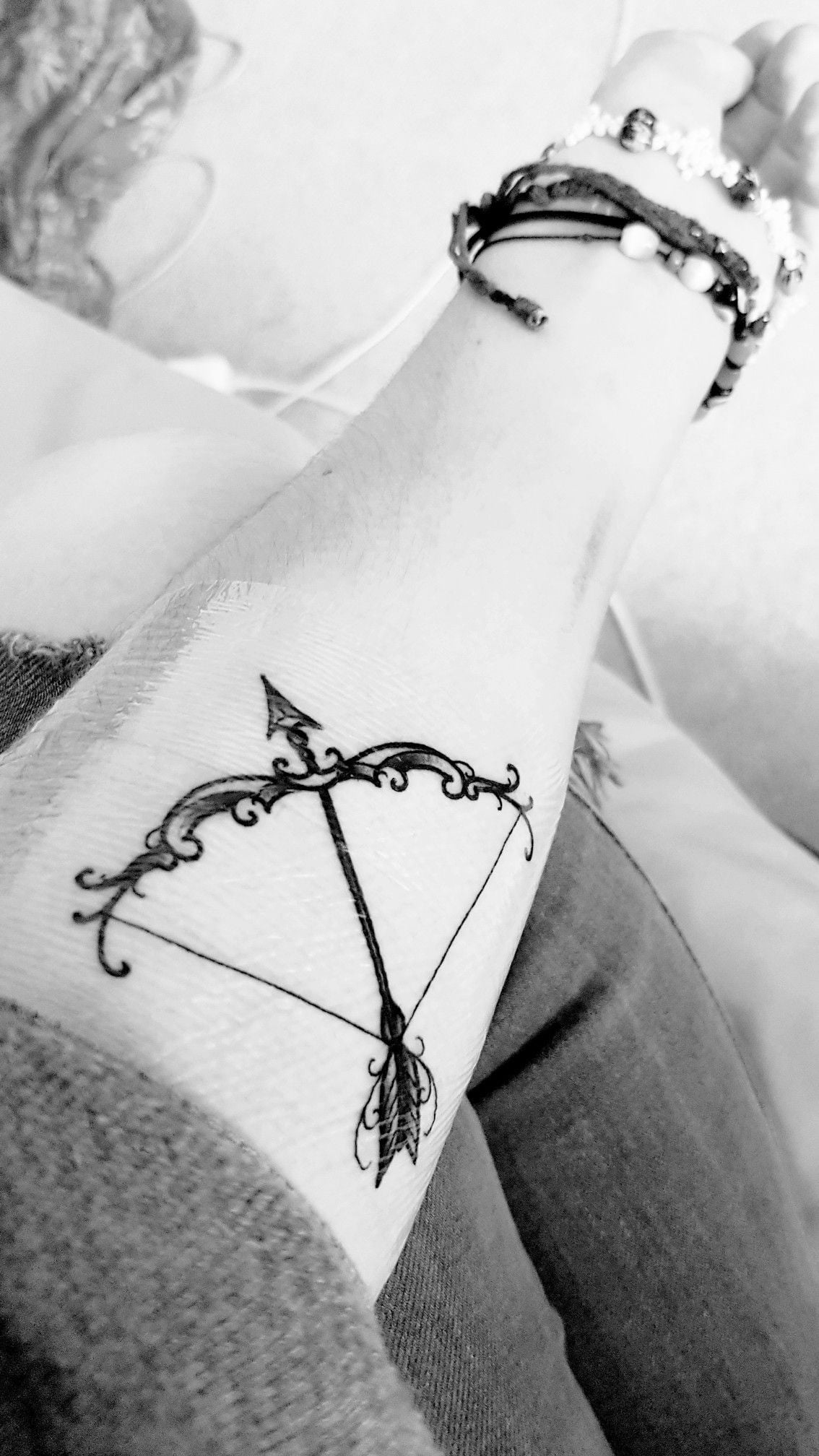 If you find traditional designs start to look the same, then a more abstract interpretation may appeal to you. While the basic components of this are recognizable, further inspection makes the bow look more like wings on the arrow and the wings and frame begin to look like doves.
41. A Warrior Woman Arrow Tattoo for a Woman Warrior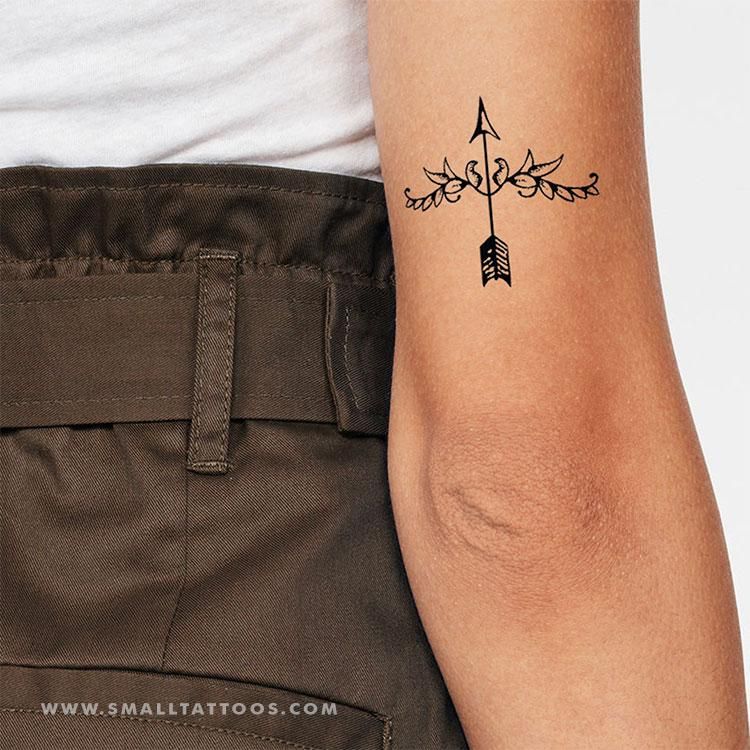 Sometimes we are our own heroes. This brave model has embraced that idea by covering her back in a fearsome female archer. While feathers and a tribal cuff hint at some recognizable cultures, the sketch style of the bow and watercolor lines in the skirt keep the look firmly in the fantasy arena.
42. Hylian Link Meets Robin Hood Tattoo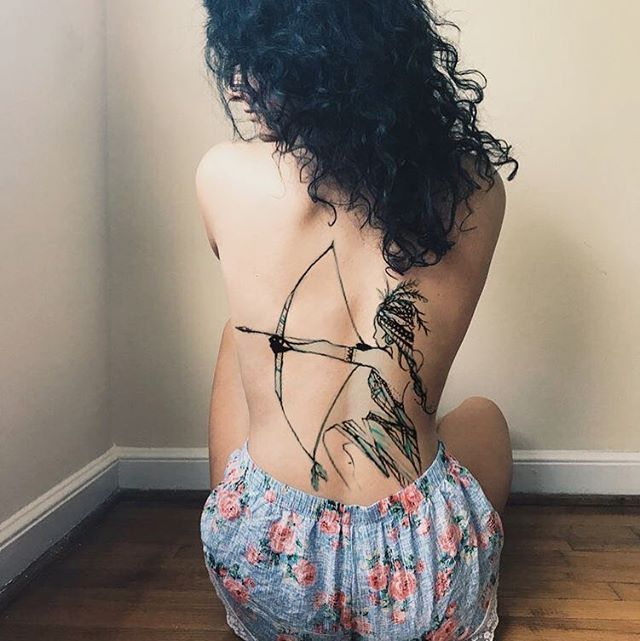 The hooded archer is almost always a heroic character. The famous archer, Robin Hood, frequently traveled disguised. Likewise, the popular Zelda franchise hero Link also favors an occasional hood. The dark archer in this tattoo stands in the rays of a rising sun, prepared to battle and defend.
43. Unexpected Ghost Archery Combination Ink Tattoo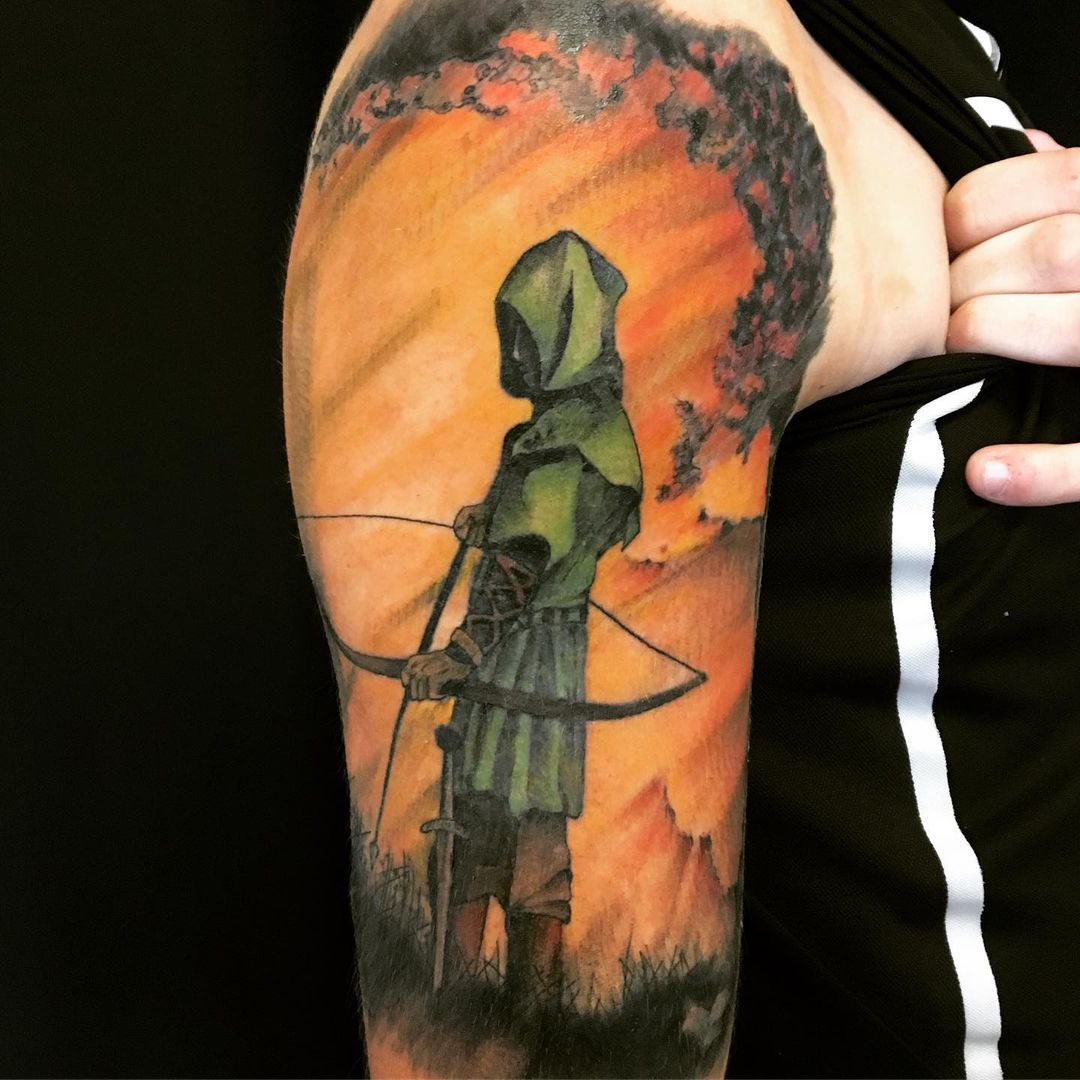 Here's a tattoo you have probably never seen before. At first glance, the eye registers the elegant bow with live flowers on its frame. But as your vision focuses, you see an unexpected companion. A luminescent blue ghost makes an unexpected pairing with this historical piece of weaponry.
44. A Bow Becomes a Necklace Tattoo
This neck tattoo borrows on the same peace-loving concept as the famous daisy in a gun picture. The arrow is laid across the bow but not notched. The frame of the bow is decorated in lush green leaves. In place of taut string, fat, glossy black beads dangle from each side.
45. She's Aiming for the Moon Tattoo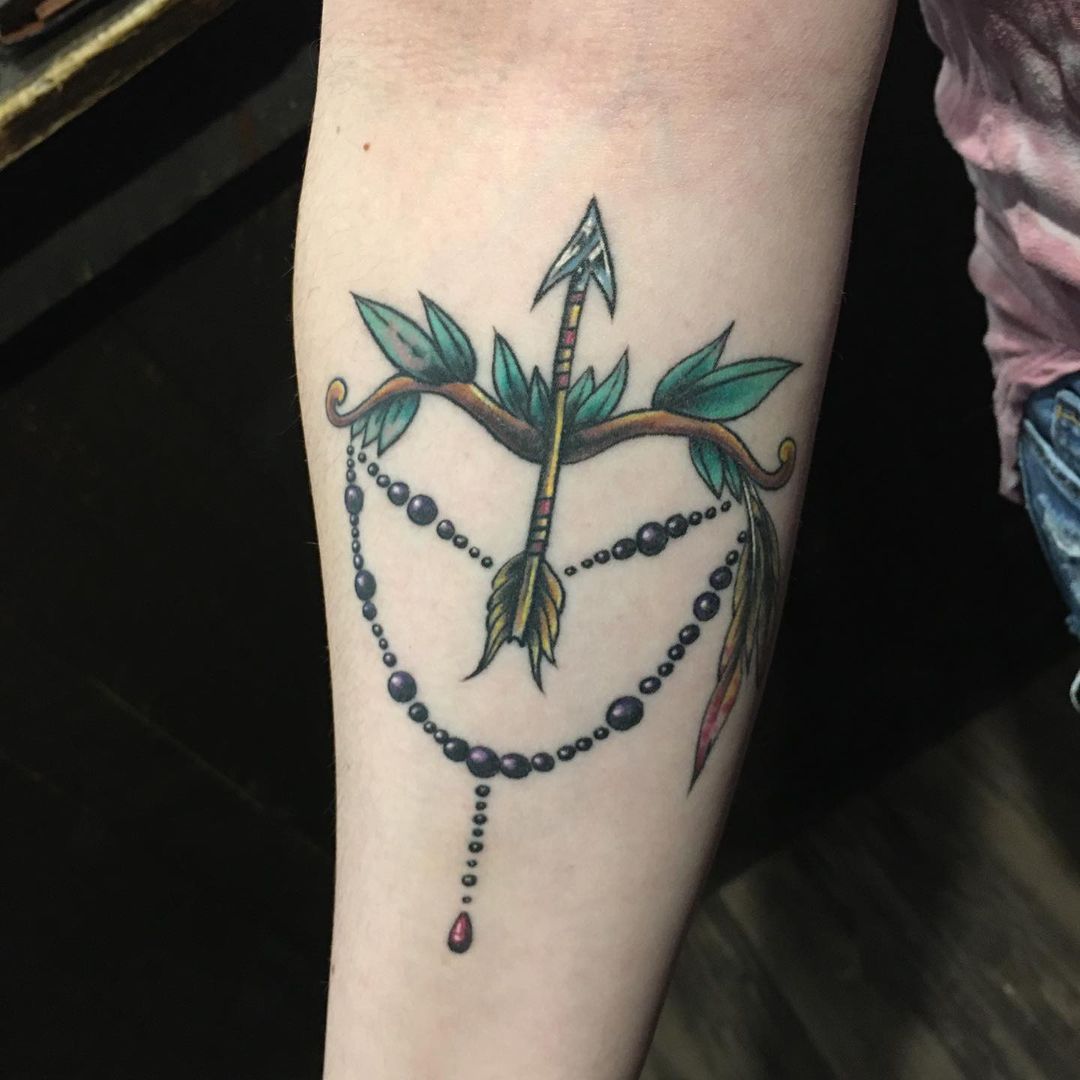 An ethereal color palette sets the tone for this fun fantasy concept. The bow is made of a sinuous branch covered in pale blue blossoms. The arrowhead is sharp, but a trailing purple ribbon and lush feather give the tattoo a feminine touch. The aim of the arrow is clear: a perfect crescent moon.
46. Lovely in Lilies Black Female Archer Tattoo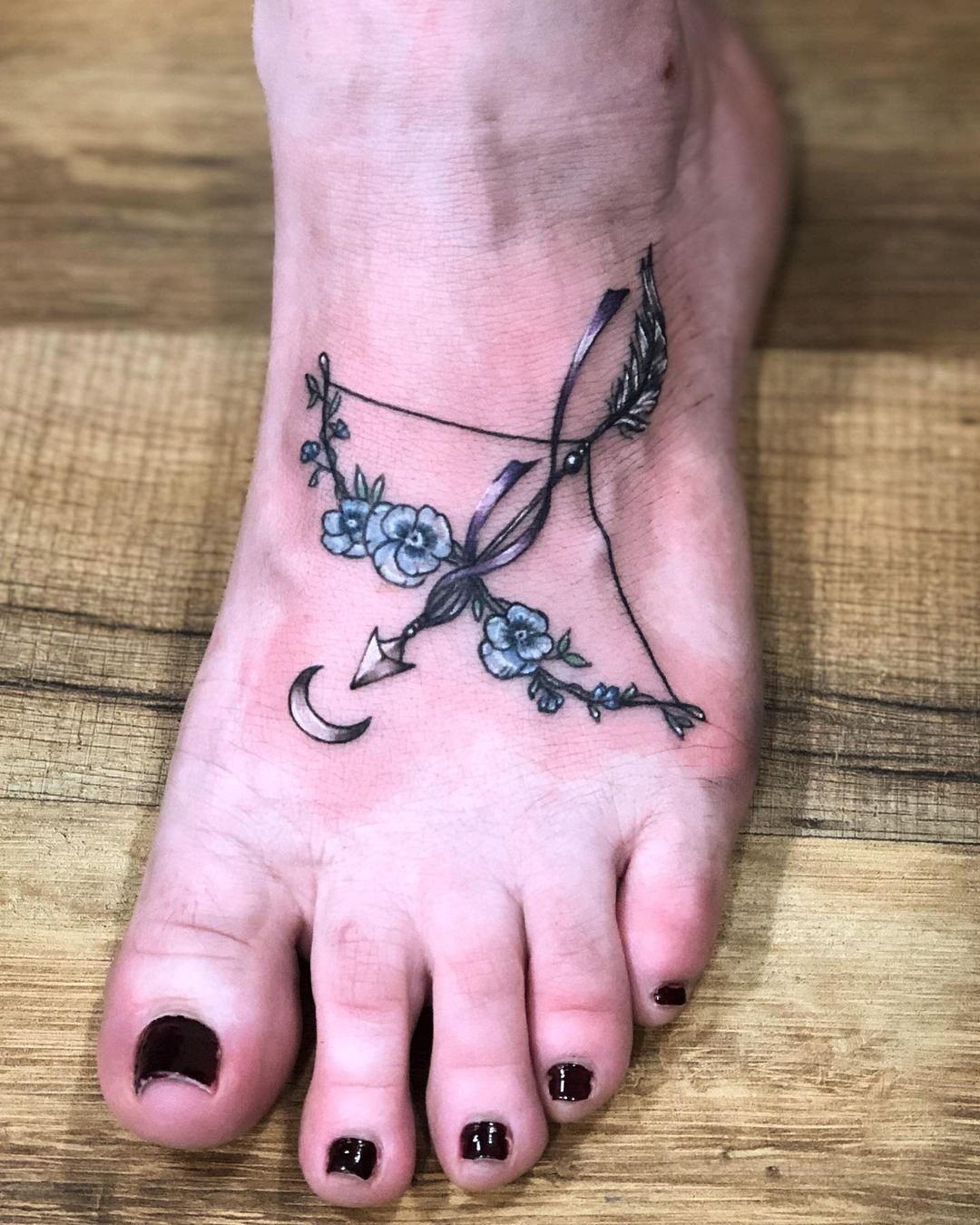 This bold tattoo design has serious Wakanda vibes. A powerful black female archer fixes her gaze on the viewer while drawing back an oversized bow. A pair of lush lilies at the bottom softens the martial implications of the piece.
47. Erotic Earth Mother Tree Tattoo Concept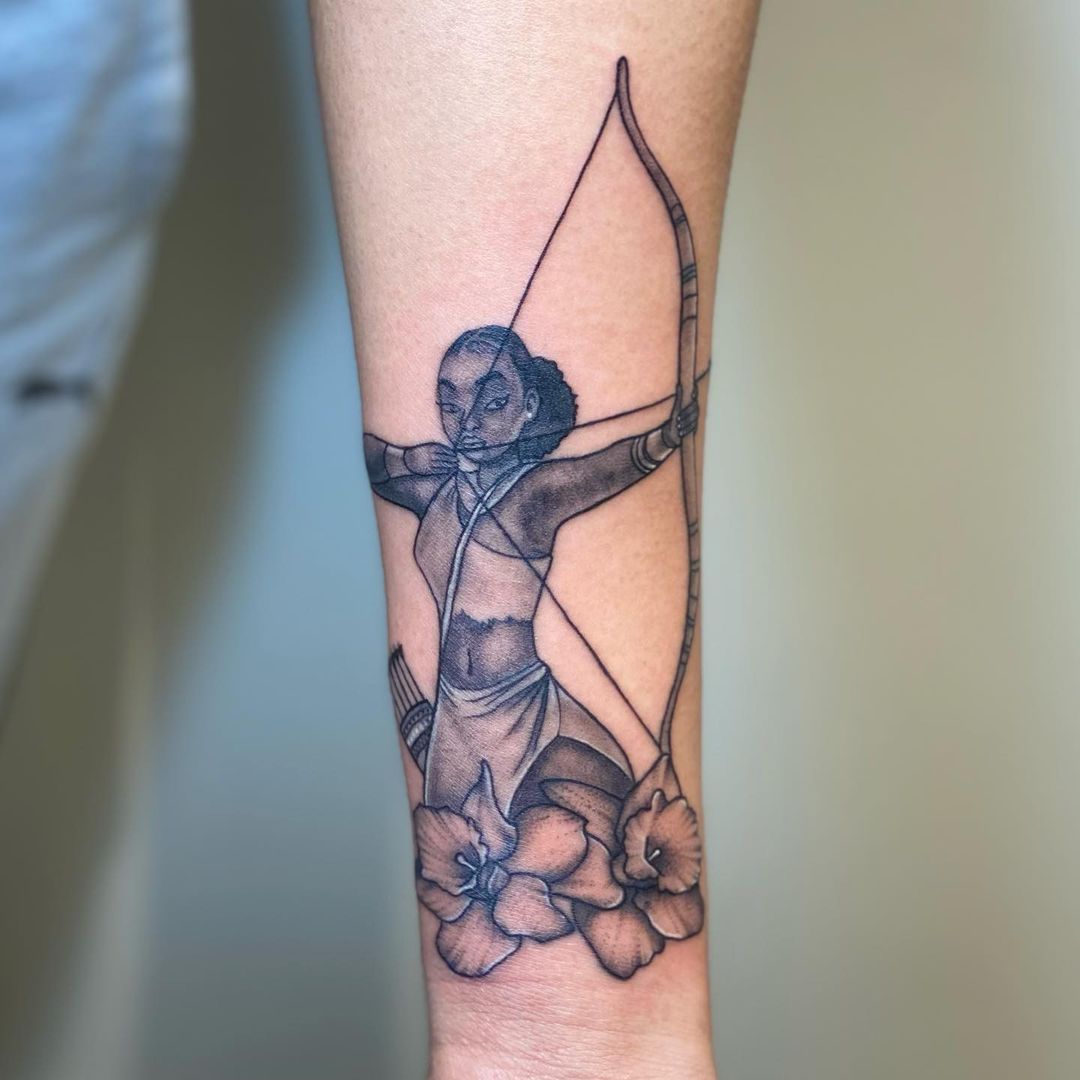 Fans of surrealism will appreciate how the drawing of a bow has been used to create a window. Inside the plain black lines of the bow is a vibrant Mother Earth. Her head is tossed back in pleasure with flowers pouring from her torso and water flowing over her tree root thighs.
48. Uninhibited Nude Tattoo Female Centaur Archer
A female centaur with wild, flowing hair makes a bold statement about confidence. The lower half of her body is a realistic horse while the upper half is a toned female torso. Her pouted lips and narrow eyes warn watchers not to test her as she aims her mighty bow.
49. Ancient Bow and Peacock Feather Tattoo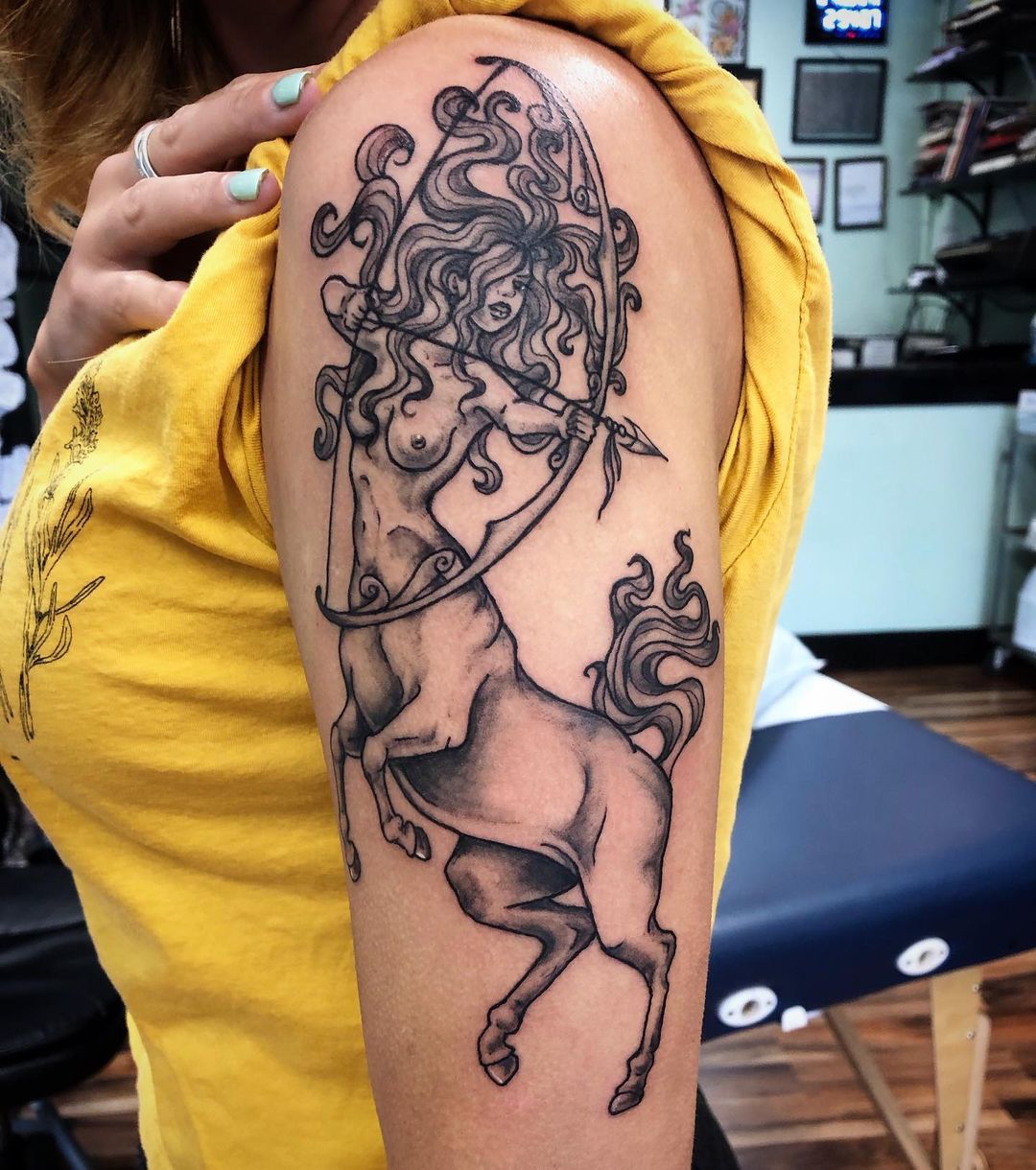 Expect the unexpected in modern tattoo art. That doesn't always mean the finished product is abstract. But unexpected pairings are a great way to make viewers pause and consider the meaning of your ink. For example, why pair a beautifully scrolled ancient bow with a jewel-tone peacock feather?
50. All the Beauty Tattoo Under the Moon Arrow Tattoos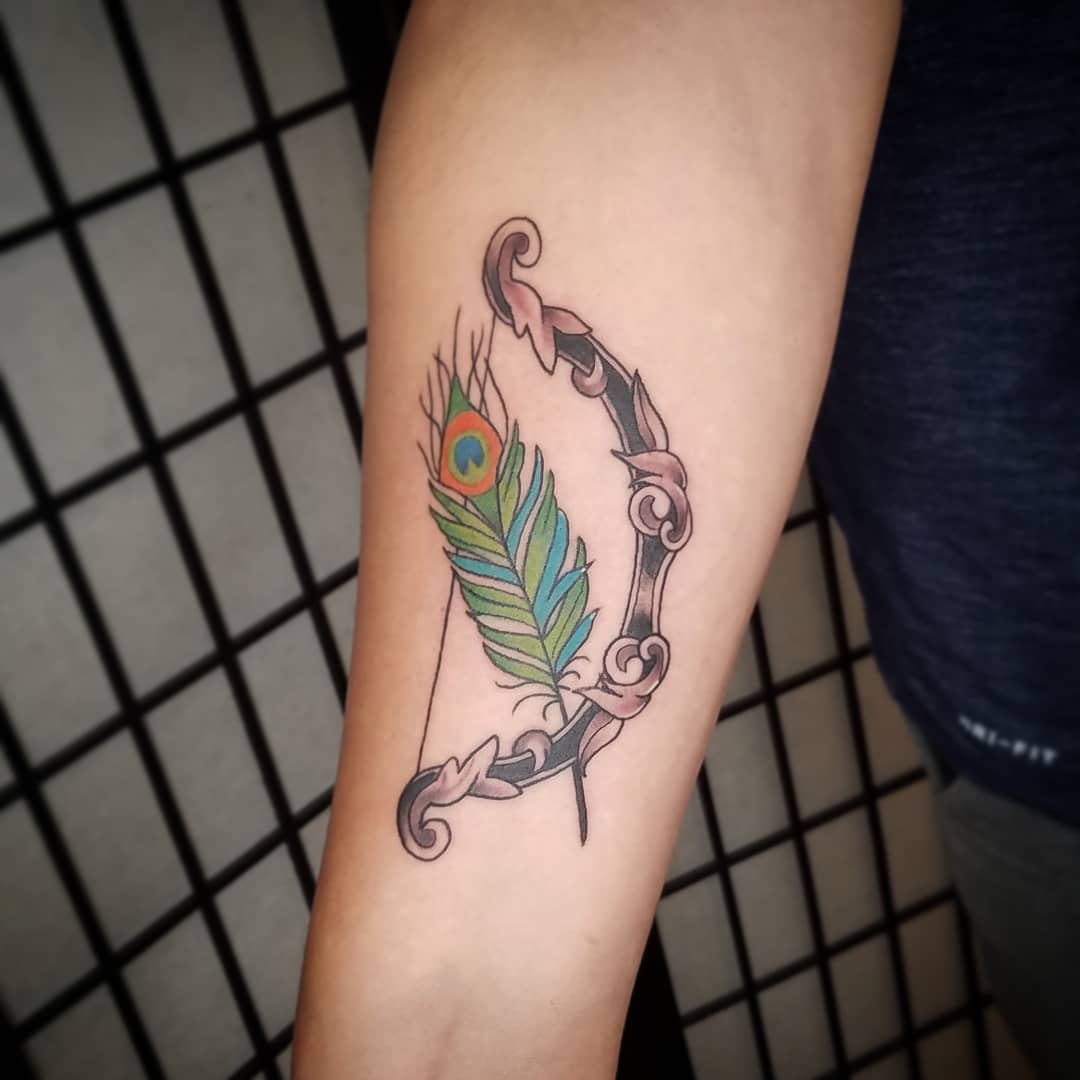 Though this elaborate fantasy tattoo is quite beautiful on its own, the staging with the moon gives us a clear context for interpreting the symbols within the design. They include recognizable fantasy favorites like stag horns, flowers, stars, a bow and arrow, and the crescent moon.
51. This Bow and Arrow Is Coming Up Roses Arrow Tattoos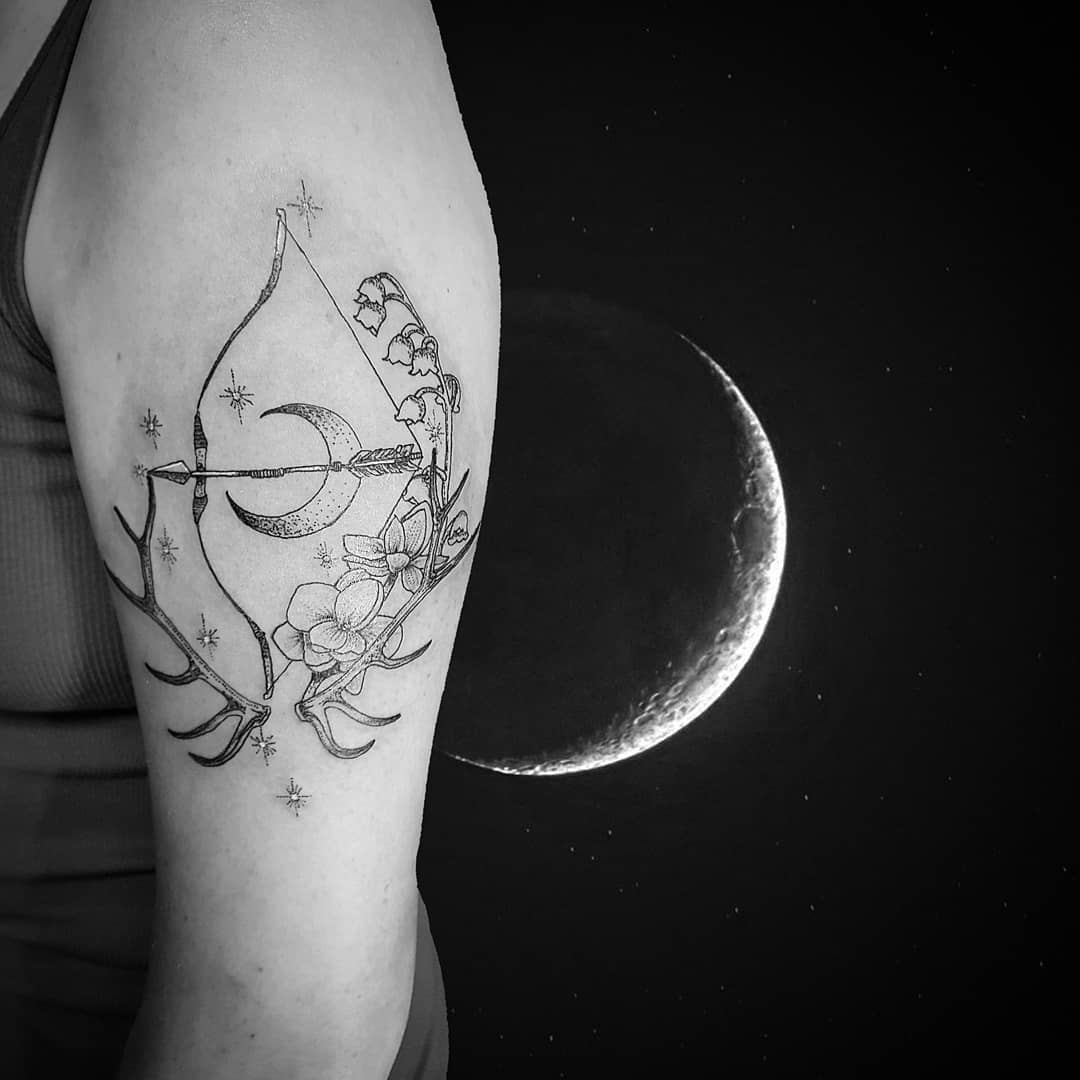 This romantic tattoo rendering speaks to the symbols' association with love. In place of aggressive metal and sharpened stone, we have a bow made of roses and golden string and an arrow made of feathery soft green pine needles, and a single pearl.
52. There Is Power in Beauty Arrow Tattoos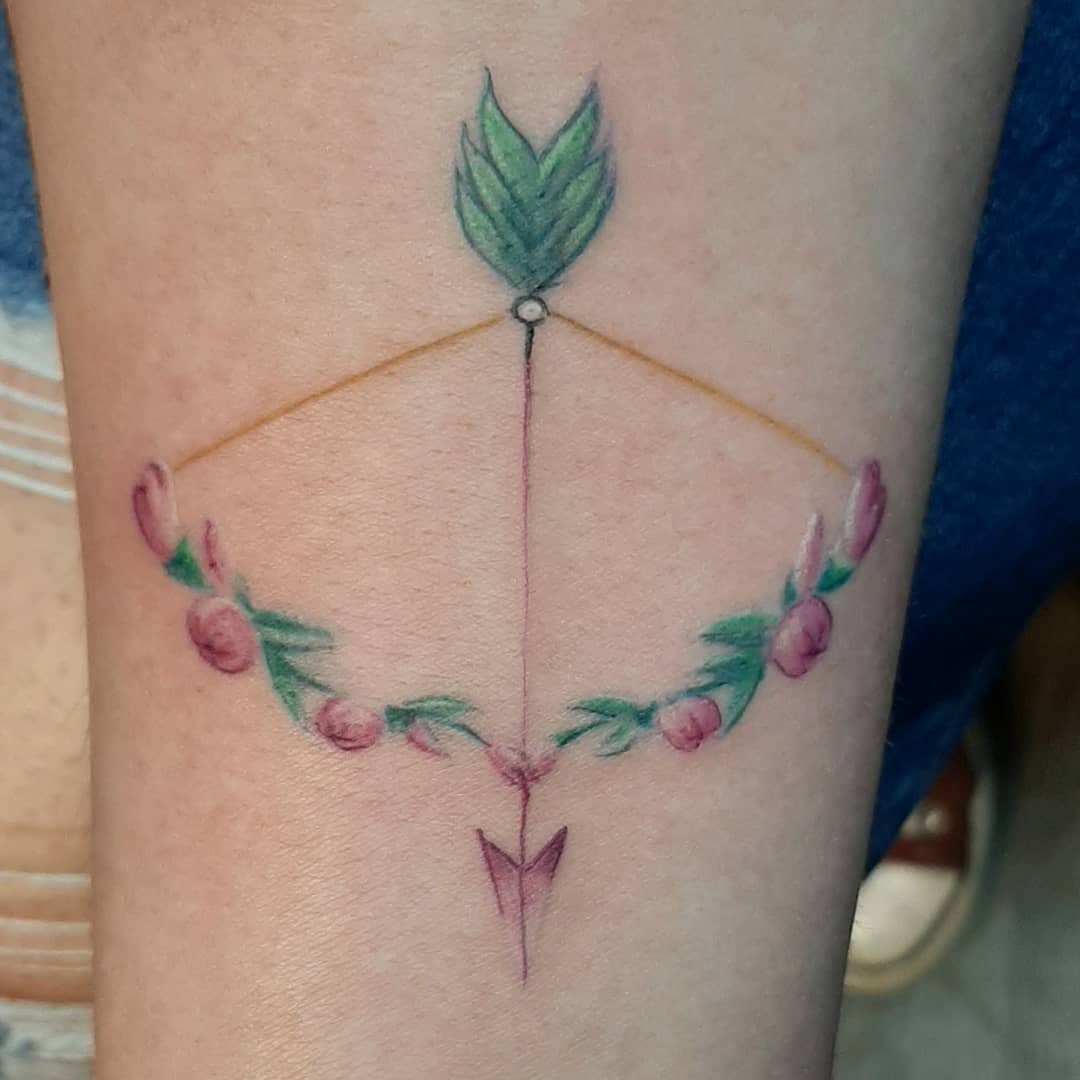 Feminine and masculine energy are artfully combined in this bow and floral design. A metallic bow serves as the easel. Its drawn string and feathered arrow add greater dimension. Luscious pink flowers serve as a bright focal point against the monochromatic background.
53. An LGBTQ Warrior Forearm Tattoo Arrow Tattoos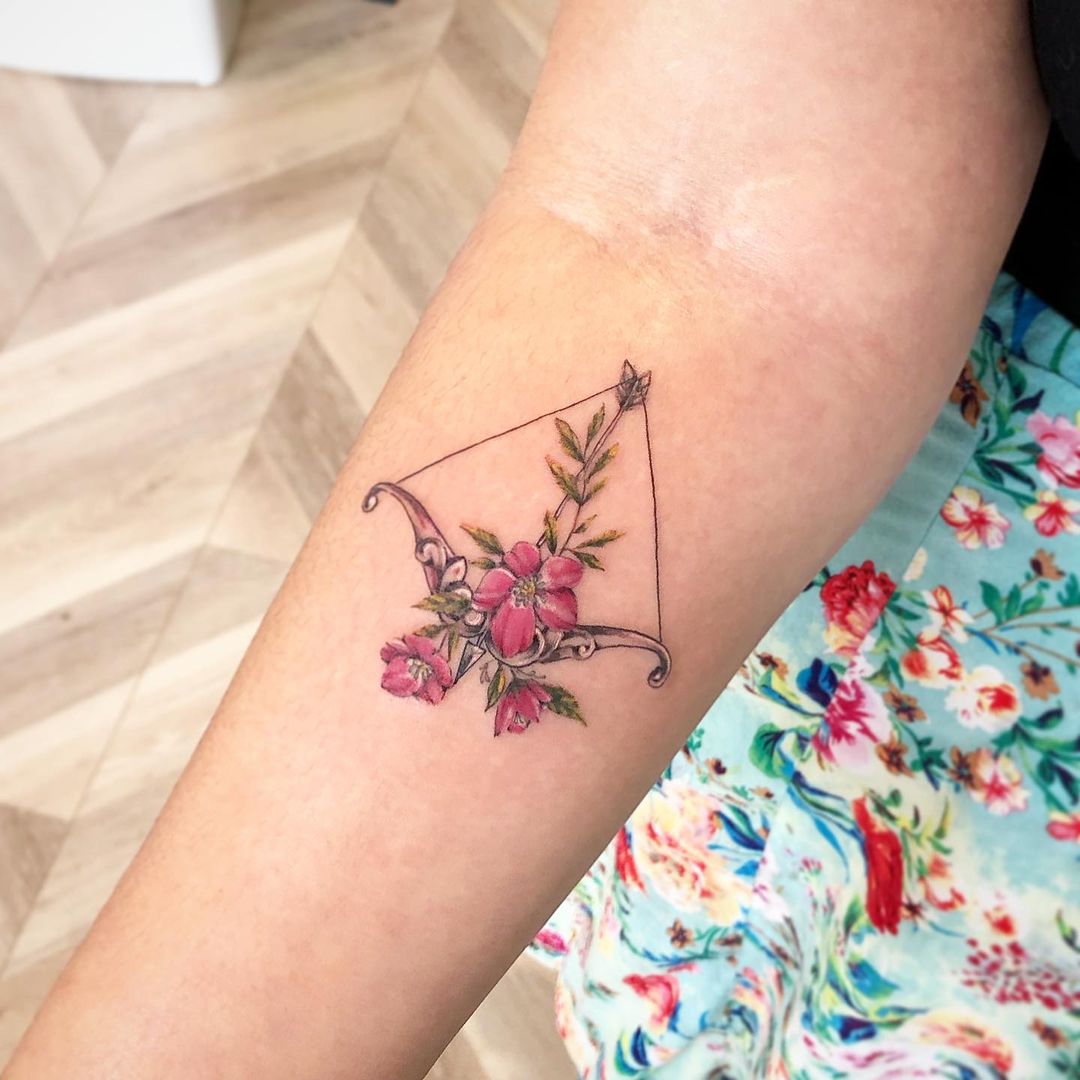 Many find the this symbol to be among humanity's most elegant weapons. They require both skill and patience and rarely hurt anyone but the intended target. This ink enthusiast has embraced the noble power of the bow and arrow. With a rainbow splatter background, they enlist that power in their LGBTQ crusade.
54. Shoot Down the Moon for Me Arrow Tattoos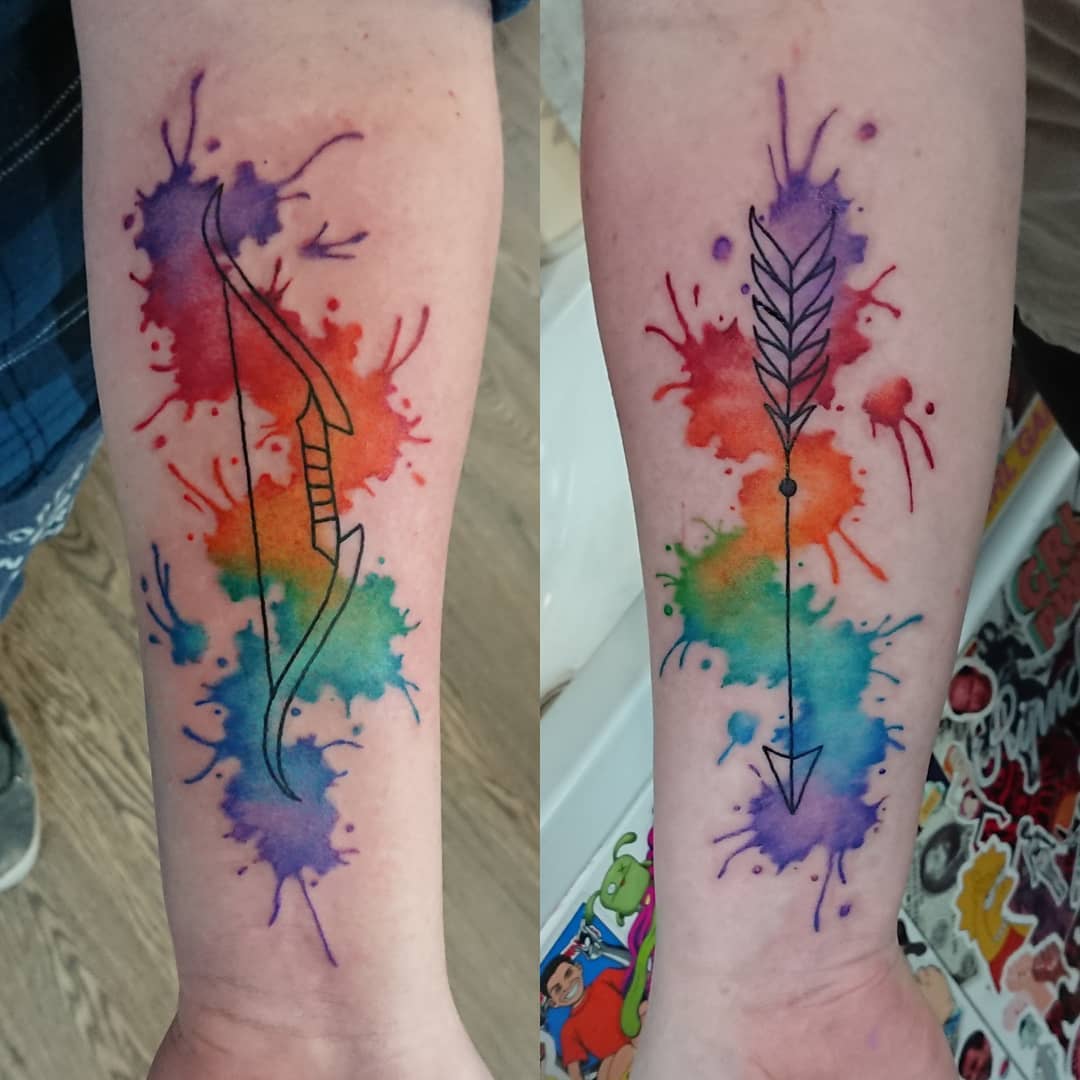 The moon commonly appears alongside bows and arrows. One theory for this is that the shape of a drawn bow resembles the shape of a crescent moon. In this tattoo, the target of the pointed arrow is the moon, but flowers and ribbons suggest the attention is more worshipful than ill-meaning.
55. Rococo Extravagance Bejeweled Bow and Arrow, Arrow Tattoos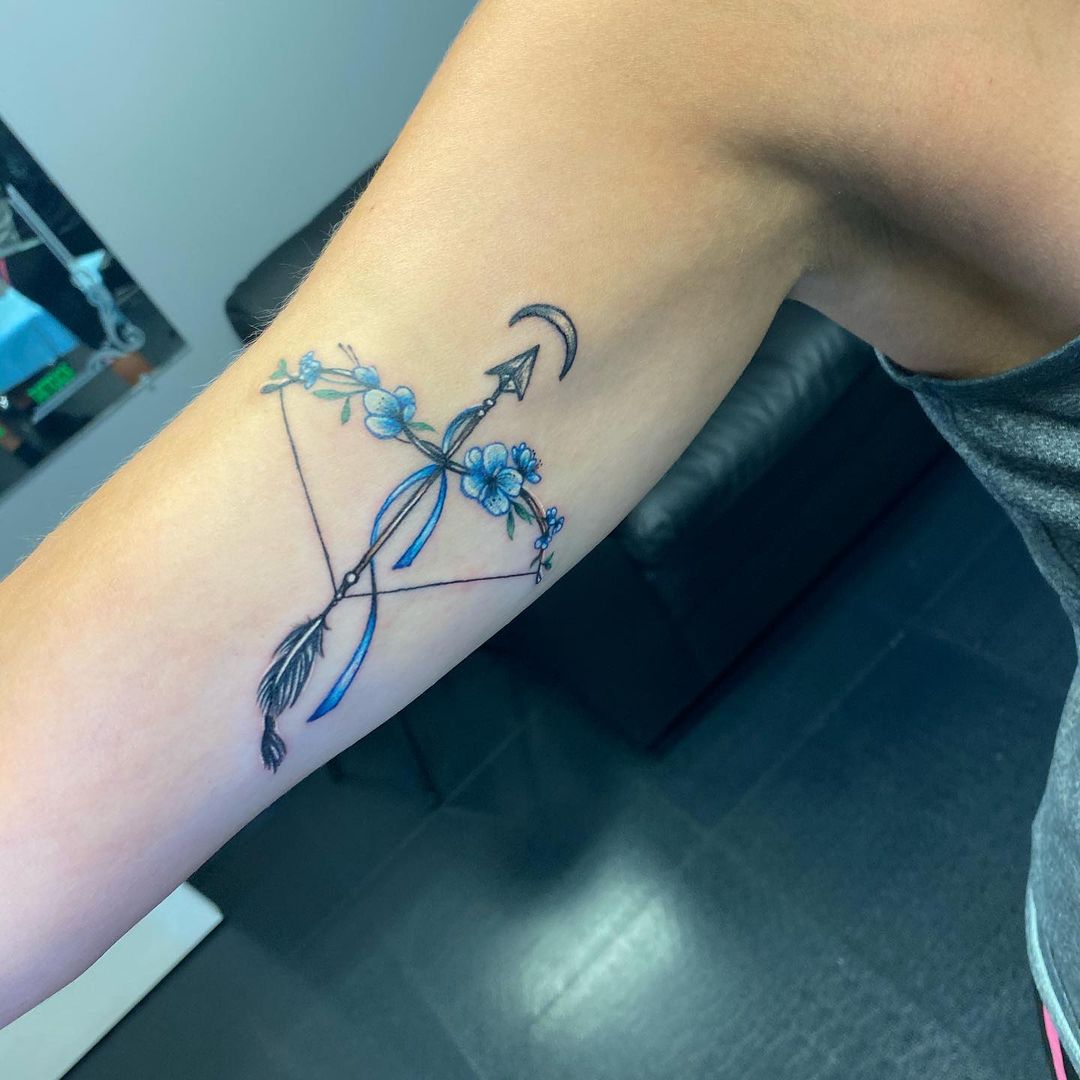 The rococo design was first popularized in the 18th century. A bow makes an unusual canvas for the style's many elaborate scrolls. The sense of excess and luxury is heightened by prisms and pearls. A giant jewel glitters from the center of the arrow.
56. Warrior Beauty Portrait with Thigh Placement Arrow Tattoos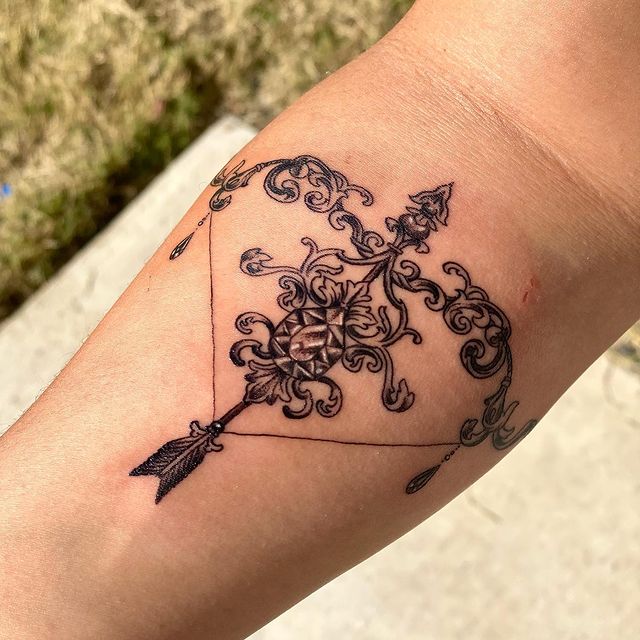 Apart from the back, the thigh is one of the largest expanses of skin that we can dedicate to a tattoo. This stunning portrait was well worth the time and effort. A serene warrior's beauty is framed by her bow. Etched glyphs and dangling feathers speak to a deeper spirituality.
57. Siga Em Frente Means Move On Arrow Tattoo Designs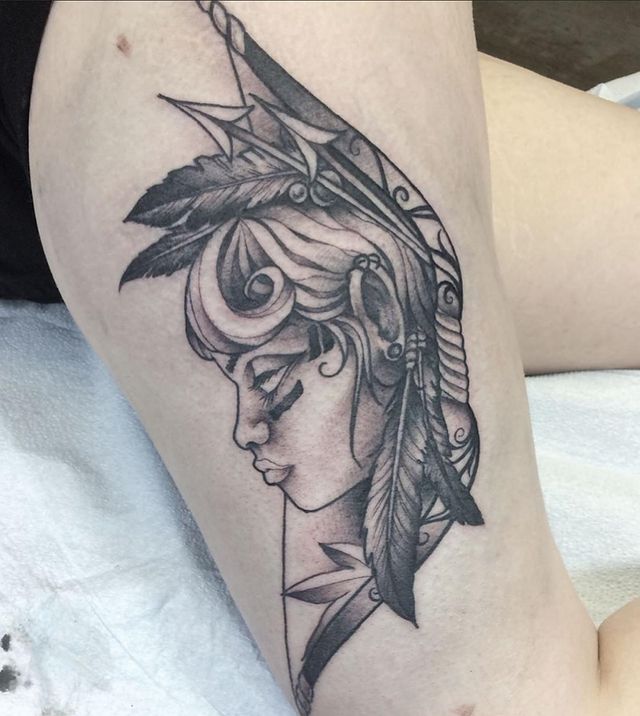 Siga Em Frente has been the title of a couple of popular songs. In English, the meaning depends on the context. It can be a suggestion to move on from a failed relationship. Or it can be an encouragement to go forward with confidence, as this tattoo for girls implies.
58. Abstract Sagittarius Constellation to Bow to Bouquet Arrow Tattoo Designs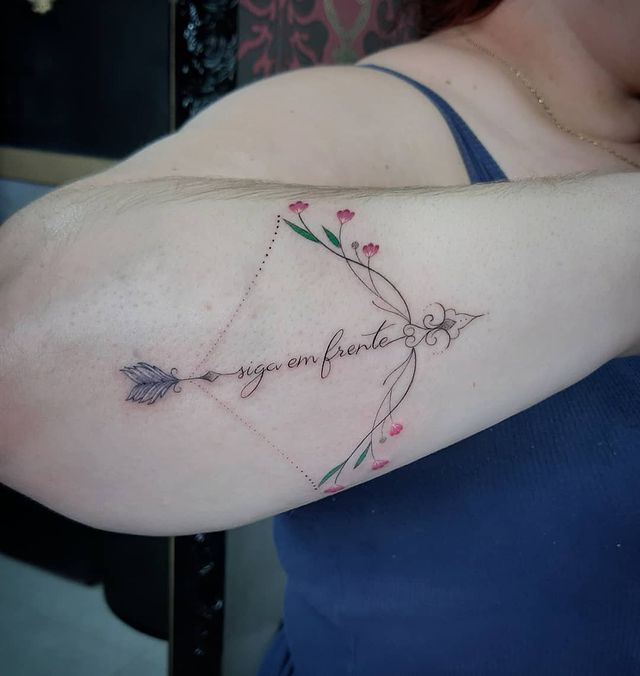 This expansive Sagittarius chest tattoo contains a little bit of everything. At the top is the zodiac star placement for the namesake constellation. Beyond the string of the bow, large petals unfold in a joyous bloom.
59. Skin of a Lady, Heart of Hunter Arrow Tattoo Designs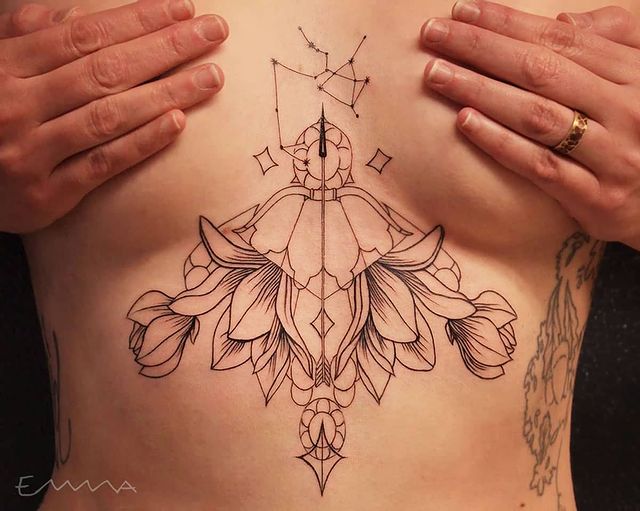 The bold message on this bow and arrow tattoo leaves no room for misinterpretation. The bow is illustrated in bold, biomorphic lines in tattoo form. The arrow's sharp point is bound for its bearer's heart. The words, "Skin of a Lady, Heart of a Hunter" set the triumphant tone.
60 of the Boldest and Best Bow and Arrow Tattoo Ideas with Deep Meanings
As evidenced by this gallery, it mean many things to many people. For some, a bow and arrow tattoo honors past military experience. For others, it speak to personal resilience and fortitude. Astrology lovers use the symbols to represent the Sagittarius zodiac sign. Still, others love the bow and arrow's cherubic association with love in tattoo form. With the right design, these symbols can mean any and all of those things and so much more. If the this type of tattoo speak to you, then find yourself a good artist and shoot for the stars.