Celebrating one of the greatest superhero franchises in history, the best Batman tattoos feature a variety of Batman logos as well as tributes to our favorite characters at their strongest and most vulnerable moments.
Showcasing our love for the hero himself, Batman tattoos take inspiration from all decades of history, capturing everything from the first comic book tales to scenes from the latest Hollywood films. Ranging from literal Batman logos and realistic portraits to creative takes on classic tattoo designs and stylish wrist tattoos, there are immeasurable ways to showcase Batman fandom and highlight your unique personality.
60 Batman Tattoos So Good Even The Joker Will Want One
Although we always root for good, it's hard not to be enthralled by the Batman villains in the dc comics. Our favorite Batman tattoos often include the evildoers we love to hate, whether together in opposition or apart, we can't forget the role they play in Batman lore.
As Batman's main nemesis, the Joker and his sidekick, Harley Quinn, are out of their minds and always deep in a plan to bring Gotham City to its knees. Including this wild couple brings an added dimension into a tattooed scene, their crazy, fun-loving style contrasting with the serious hero.
We also can't forget Batman's villainous love interest, Catwoman. With a chronic burglary habit, Catwoman is at odds with Batman's pursuit of justice. Celebrating their love story in this love tattoo ink is the perfect way to celebrate your romantic side and the one 'ride or die' person you share a deep and crazy relationship with.
From small logos to iconic scenes, Batman lore int the dc comics contains a rich history of stories, quotes, and symbols to choose from. Overwhelmed with options? We're here to help you out! Regardless of your favorite character or style, here are our top picks for the 60 best Batman tattoo designs to inspire your next ink.
1. Batman vs. Joker in Black and White Batman Tattoos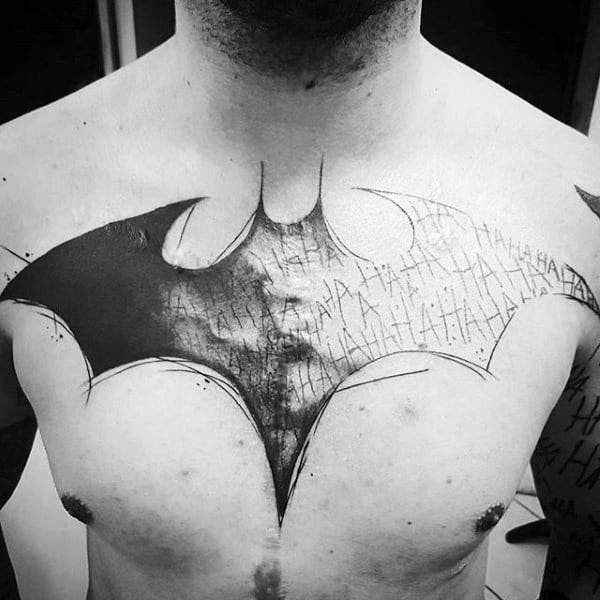 From far away, this batman symbol may look unfinished, but a closer look reveals the everlasting struggle between Batman and the Joker. "HA HA" continues down the one arm and we can only imagine that Batman's armor covers the other in this joker tattoo.
2. A Retro Wrap Around Design Batman Tattoos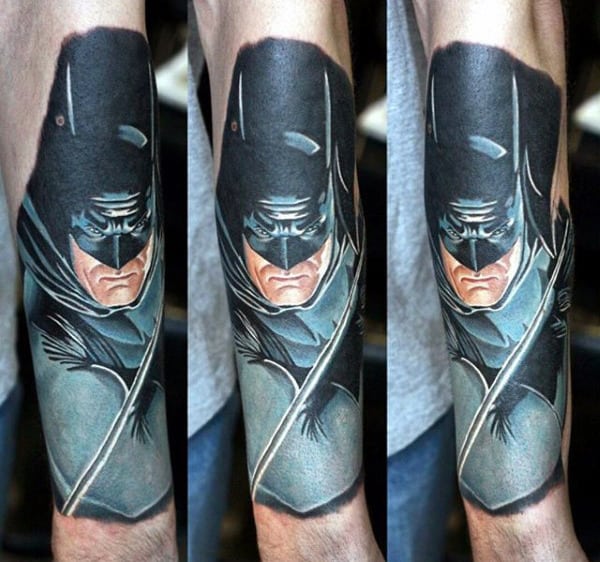 The coloring on this life-like dark knight half sleeve tattoo throws us back to the Adam West era, although we'd swear this was George Clooney's face. Making this Bruce Wayne portrait more intense, Batman's eyes seem to follow you from each angle. This is one masked avenger that truly never sleeps.
3. Hero and Villains Within the Batman Logo Batman Tattoos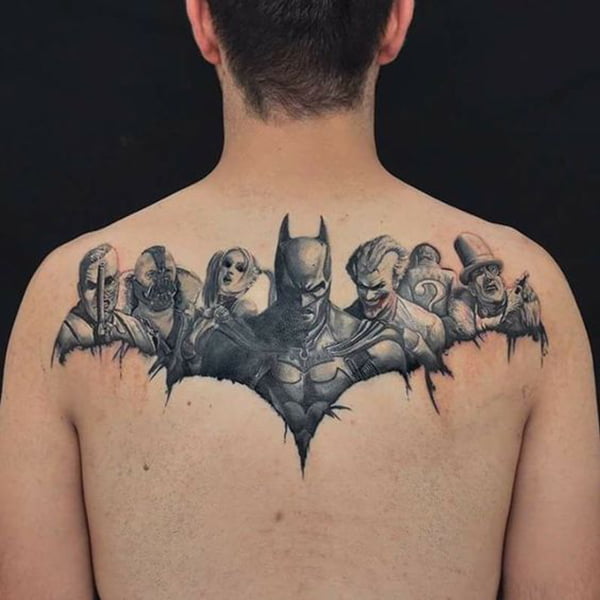 Apparently, Batman hasn't heard the phrase "never turn your back on your enemies"! This bat-inspired batman symbol back tatt' is a classic way to pay homage to all your favorite characters in a visually striking way. Perfect idea for your tattoo artist!
4. The Joker in a Menacing 3-D Logo with Throwing Star Tattoo Batman Tattoos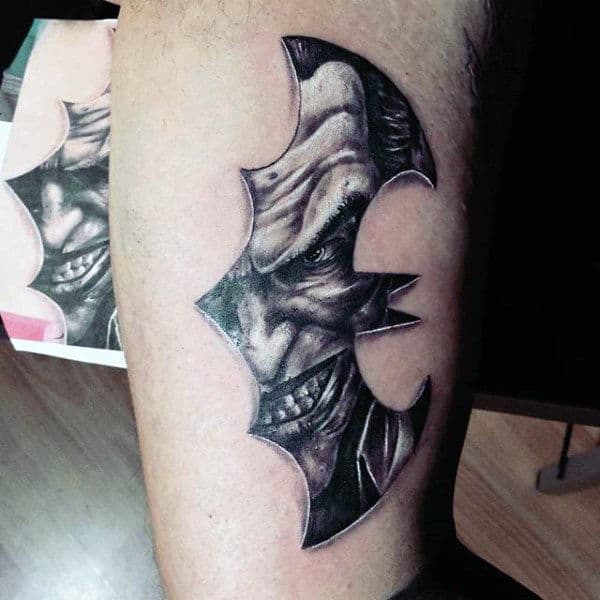 This razor-sharp batman logo tattoo reminds us of a Batman-themed throwing star batman symbol, reflecting the devious face of his arch-nemesis from the dc comics. This joker tattoo is the perfect depiction of the Joker's pride just before his inevitable defeat.
5. Blending Decades of Batman History Batman Tattoos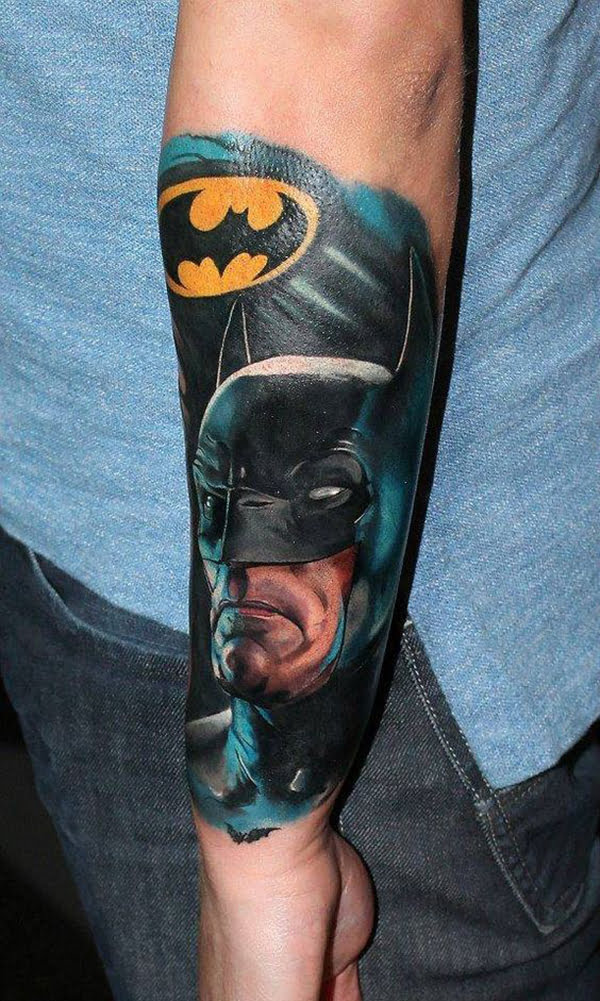 Capturing a blend of the 90's style Batman suit with the 60's batman symbol logo, this tattoo design is a great inspiration for those that want to integrate their favorite aspects of each era in Batman history. Tattoo designs could also work great as an elbow tattoo.
6. Black and White Batman Portrait Batman Tattoos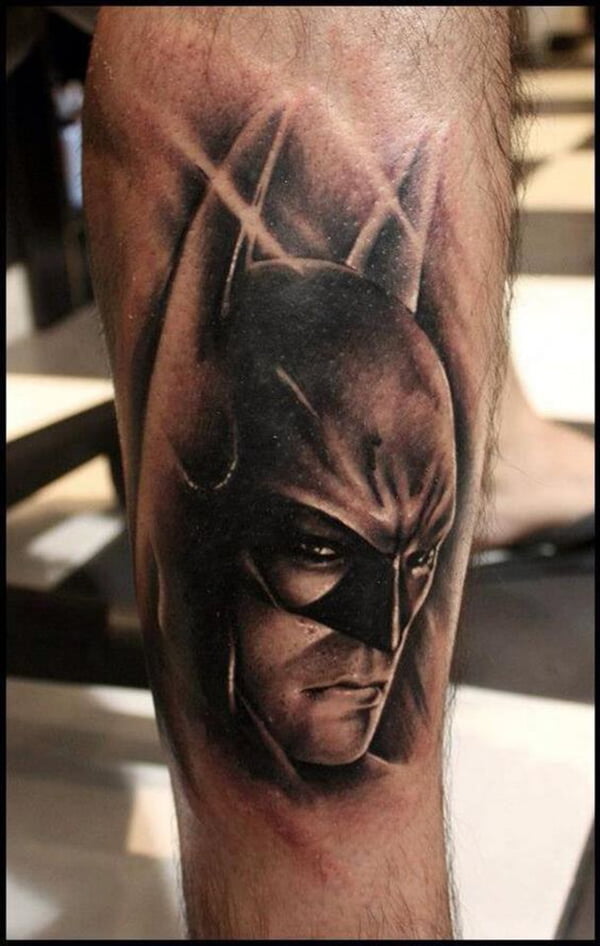 The eyes on this Bruce Wayne portrait give us chills! We love these cool tattoo designs piece for the realistic detail in the center of the tattoo and the gradual fading as it moves outward, blending into the skin. The sharp lines and shadows in the center of this tattoo make it almost impossible to break away from Batman's haunting gaze. Great ideas for your tattoo artist.
7. A Batman Power Shoulder Portrait Batman Tattoos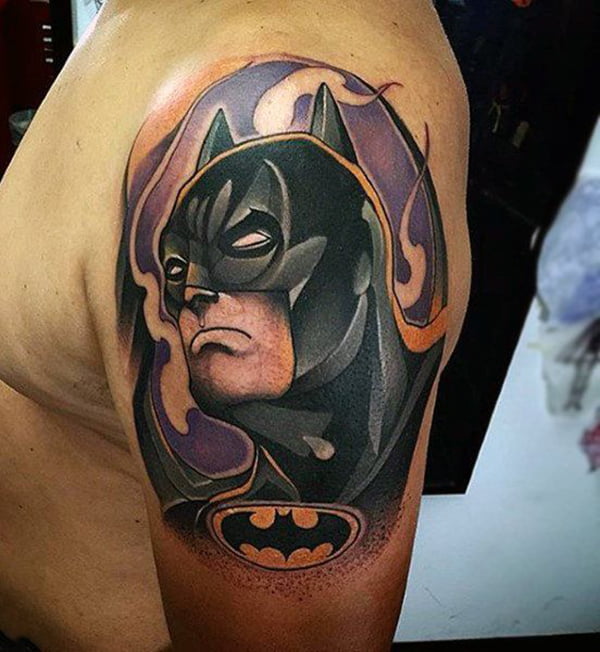 This Batman representation with a batman symbol mirrors his classic comic book look with added realism. If you're a comic book fan, you may take the purple background as a nod to the gloves in the earliest Detective Comics books. Or, you may see it as a representation of the Joker's signature suit in this joker tattoo. Of course, it may also just be an artistic choice that we're reading way too far into… we'll let you be the judge.
8. Street Grunge Style Batman Logo Batman Tattoos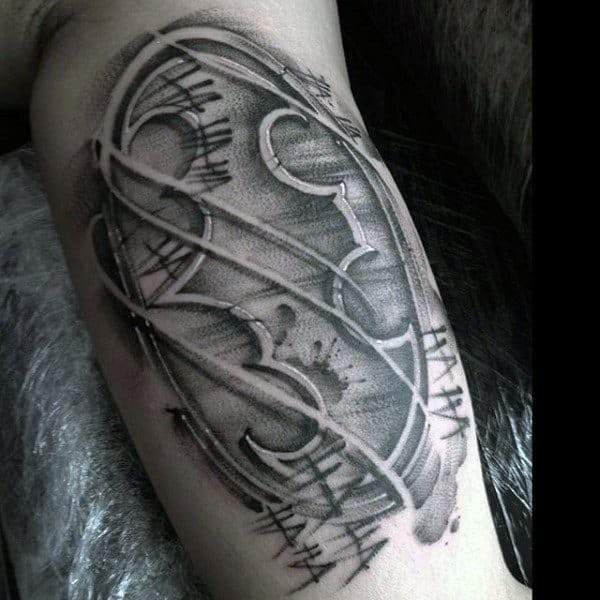 The dark patterning and Joker tribute graffiti on this batman logo tattoo remind us of street art we might see just outside Arkham Asylum. The diagonal slashes create the perfect amount of depth to the design and suggest that Catwoman may have made her mark here too.
9. A Monochrome Arkham City Skyline Batman Tattoos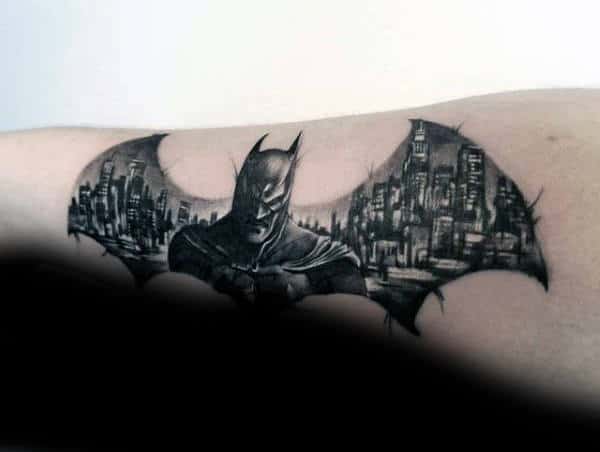 Framing a view of Batman's hometown Gotham city in his batman symbol wings, this piece balances the most aggressive side of the hero with a certain sentimentality. This is a great reminder that "with great power, comes great responsibility" for every superhero, not just Spiderman.
10. The Dark Knight Double Sided Logo Batman Tattoos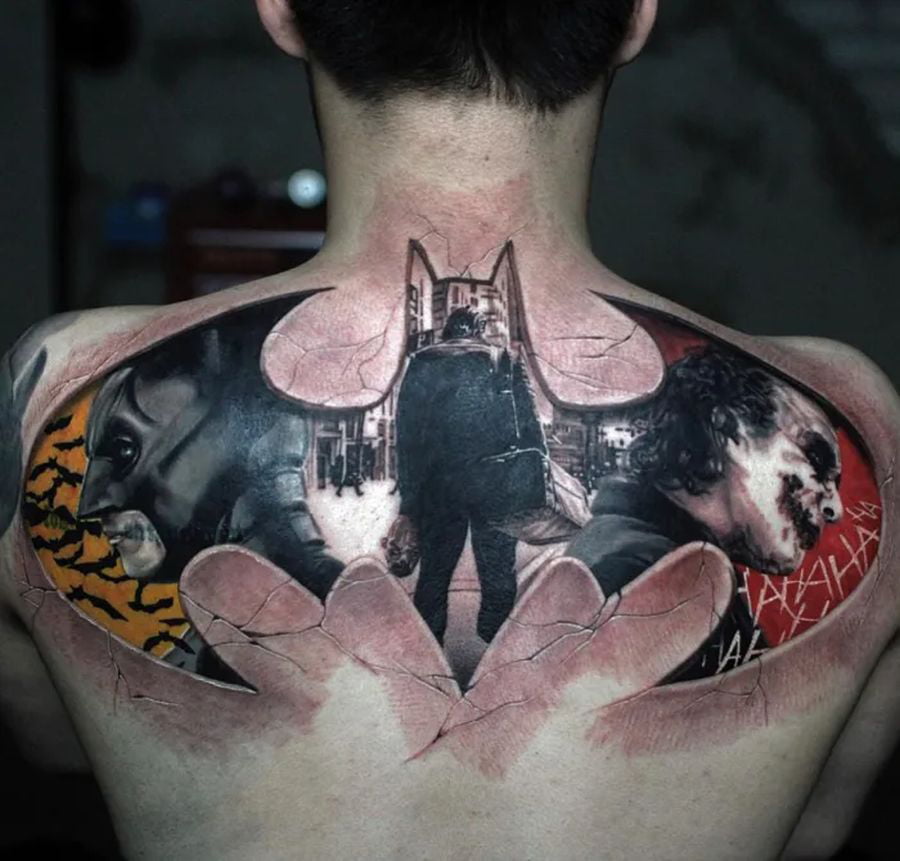 Featuring the Dark Knight bank heist, this back piece batman symbol is a triple threat with the main scene flanked by Batman and the Joker in profile in this joker tattoo. The right amount of color makes this pop, without distracting from the interior details. The cracked concrete lines and shadowing outlining the batman logo tattoo create a great 3-D look that enhances the stunning overall aesthetic.
11. A Customized Comic Strip Sleeve Batman Tattoos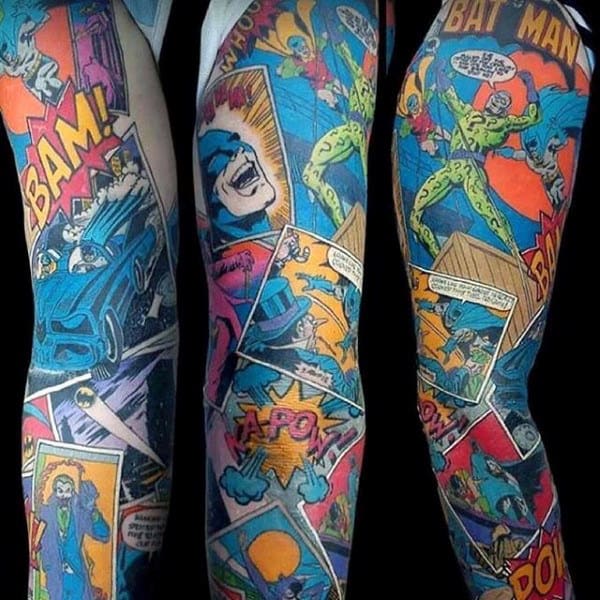 This one is PERFECT for any die-hard comic fan! Not only can you pick your favorite era, but it's so flexible. From individual panels to full sleeves or back/chest pieces, this can be designed to fit any area on your body. The beauty of this style is that your tattoo can also be a piece of living art that you can continue developing over time.
12. Blue-Eyed Batman Realistic Portrait Batman Tattoos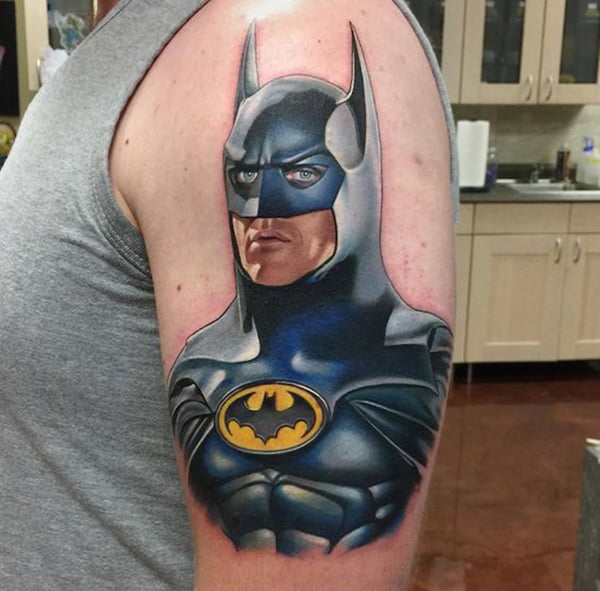 This blue-eyed Michael Keaton as Bruce Wayne pick is a throwback to the movies directed by Tim Burton, arguably among the top five of the franchise. It's a great choice to honor the movies that captured our hearts as children and started us on the path to life-long fandom.
13. Batman vs. Joker Abstract Art Batman Tattoos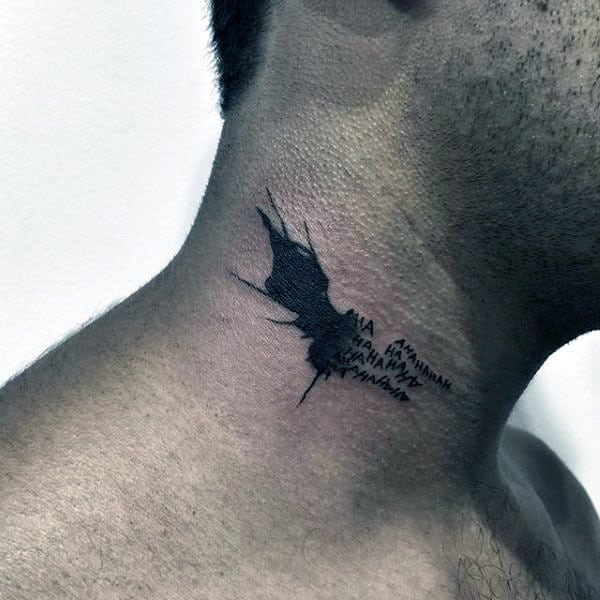 Representing the iconic duo with a modern art twist, this joker tattoo is simple while packing a punch. Although most people on the street won't recognize the symbolism, you'll always be spotted by true Batman fans.
14. Dispersing Bats, Flyaway Batman Logo Batman Tattoos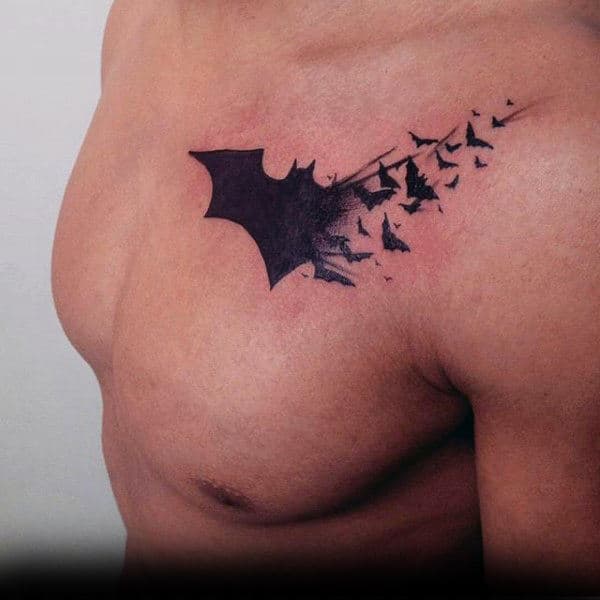 Ironically, bats are one of the few things Batman fears. Not only is this batman symbol is a great design to drape over your shoulder, but it symbolizes Batman's ability to seemingly be in all places at once.
15. A Full Cast of Characters Backpiece Batman Tattoos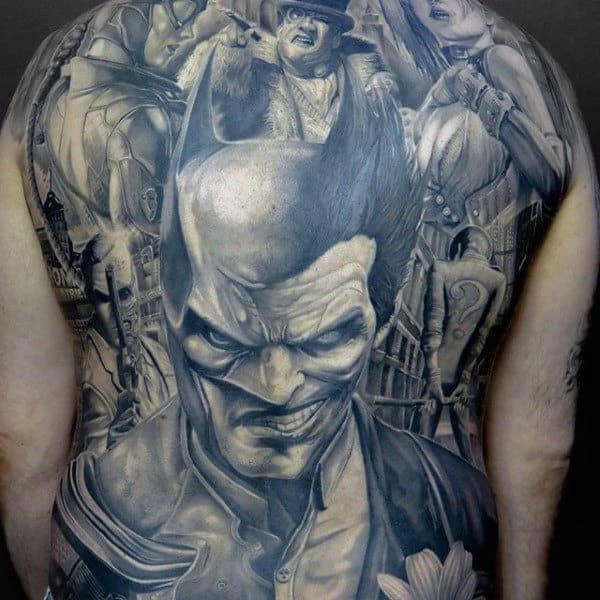 Set up like a classic movie poster, this backpiece features a montage of villains and classic backdrops. The center image, a combination of Batman and the Joker makes a great centerpiece for this collective image, but would also be stunning on its own joker tattoo.
16. A Single Batman Puzzle Piece Batman Tattoos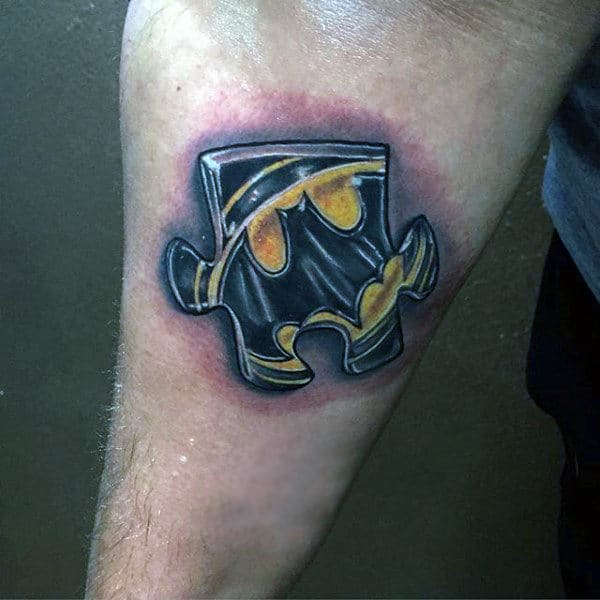 If your Batman loyalty is a big piece of your life, why not show it literally with this jigsaw puzzle batman symbol tattoo? This design is perfect for smaller locations and is also a great design to get with your bestie or significant other, just choose two pieces designed to interlock.
17. Inside Out Batman Armor Chest Piece Batman Tattoos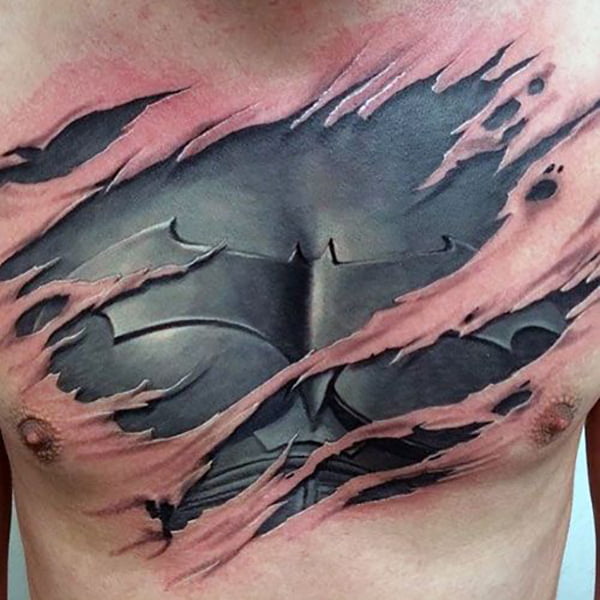 The Batman armor erupting from this chest piece signifies that a hero is lurking just beneath our skin. This inventive design works for any superhero, but the contrast of the jet black armor against this person's skin really makes this one stand out.
18. Joker Up Close Portrait in Batman Logo Batman Tattoos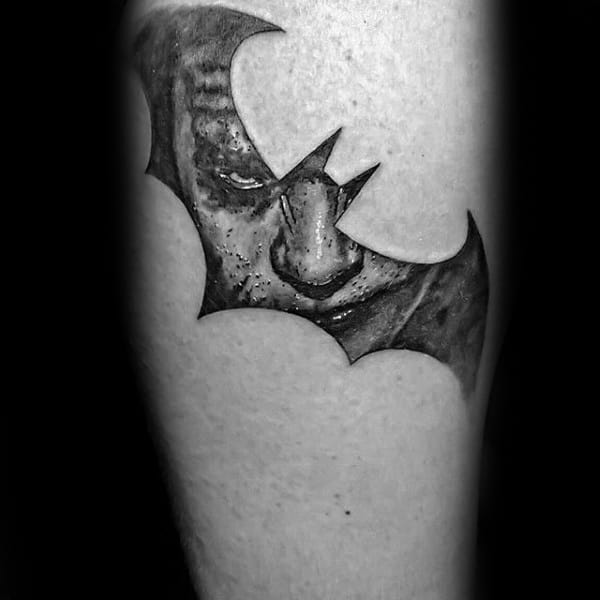 For fans of the Dark Night, this is a great depiction of a battle-worn Joker peering out from the bat logo. Stunning in black and white, with lifelike detail, this would also work just as well in color. We love combination pieces that integrate both Batman and his nemesis but there is just one question we have to ask this Joker… why so serious?
19. A Scene Using Comic Book Inspiration Batman Tattoos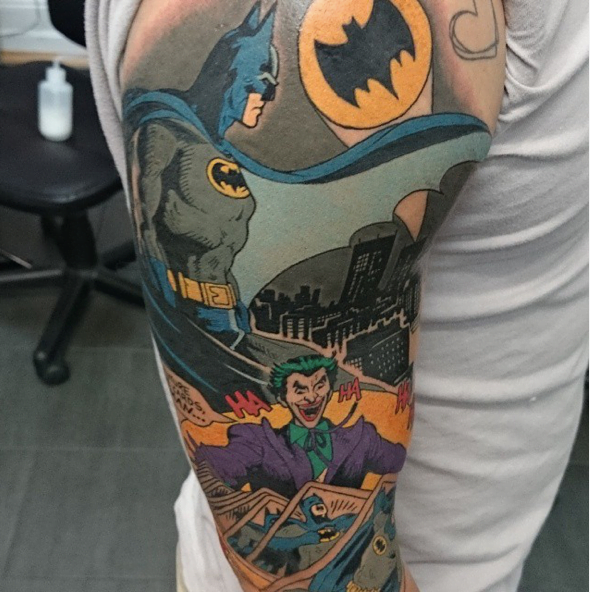 This batman arm tattoo celebrates the Batman comics and the dark knight in a less literal way than the previous example. Pulling together all the classic elements of the Batman storyline and comic book elements, this design plays with color to create a fully developed story. If you want more room to play with the design, this would make a great leg-sleeve too.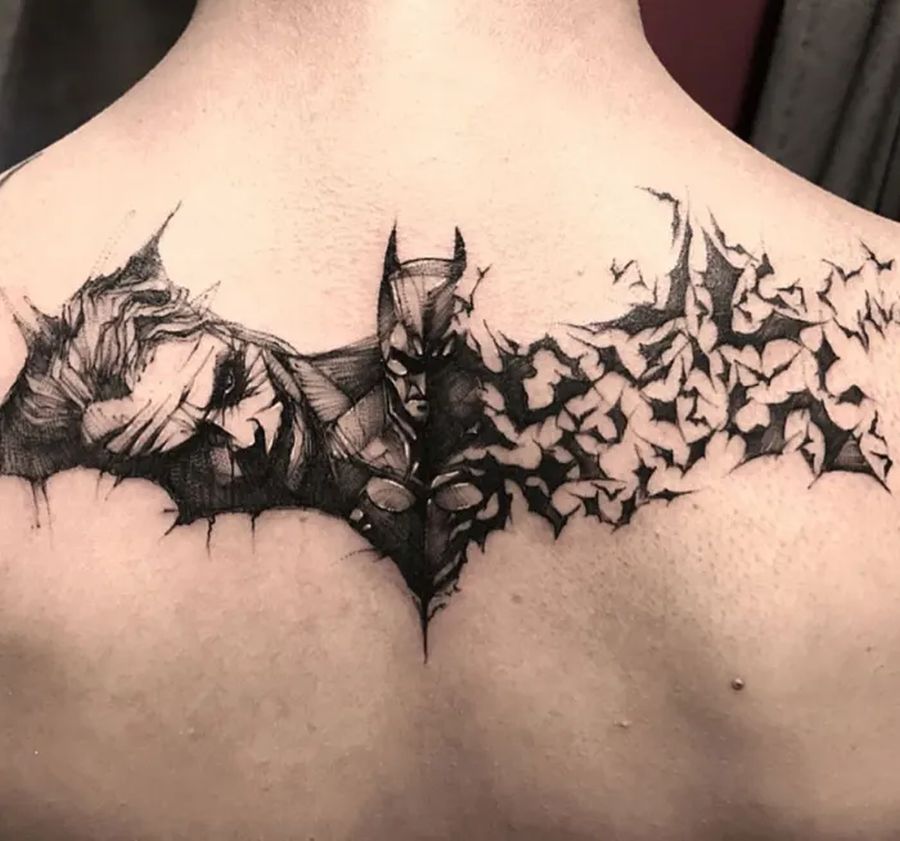 Another spin on the classic bat logo, we love the pen and paper style drawing of this tattoo. This design is also the perfect inspiration for designing your own logo-based piece. Whether capturing multiple villains or bats on both sides, this tattoo combines so many ideas to choose from.
21. Crazed Joker and Batman Combo Batman Tattoos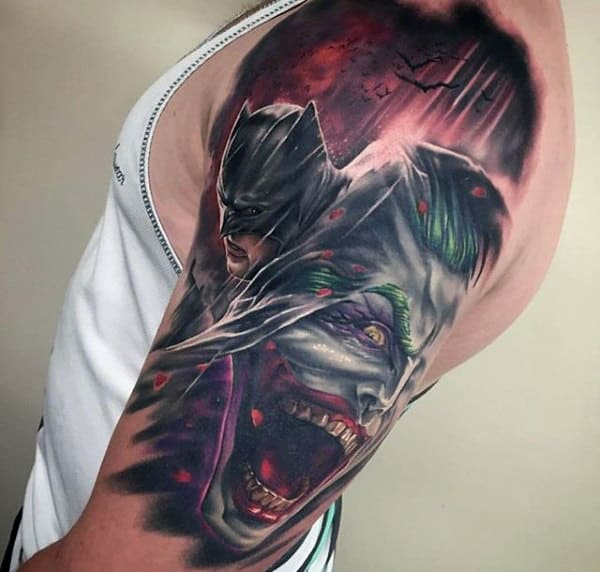 If there was ever a batman arm tattoo that captured the pure insanity of the Joker, this is it. The proportions of the characters make it seem like this frightening Joker is jumping straight out of the piece towards the viewer. Despite the coloring, something about the Joker's face gives us a goth rock, Marilyn Manson vibe and we don't hate it.
22.Rainbow Hued Batman and Joker Logo Batman Tattoos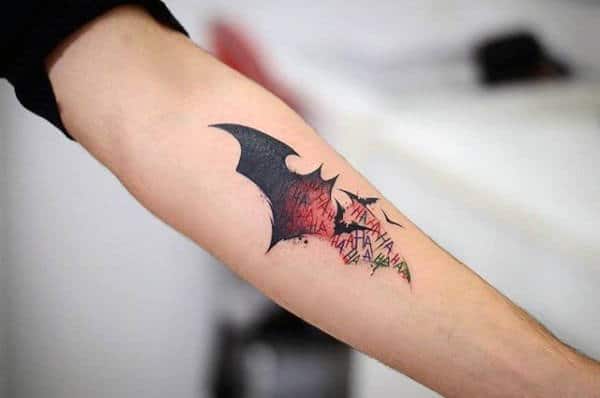 We love the color usage here, softening the overall look and adding playfulness to the Joker side of this Batman logo. Playing around with the colors on this gives you the ability to make it more masculine or feminine, so this design works on just about everyone.
23. Your Favorite Obscure Villain References Batman Tattoo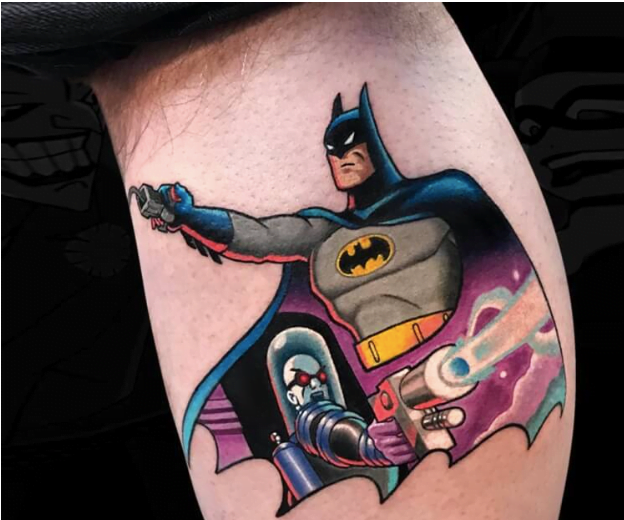 Only a true DC superfan would recognize Mr. Zero aka Mr. Freeze. This is another great way to capture the true essence of the comic book series without being too literal. The fun combination of images and colors within Batman's cape makes this tattoo so enjoyable to look at. If you get this, expect to gain a few superfans yourself!
24. An Incredibly Detailed Batman Torso Batman Tattoo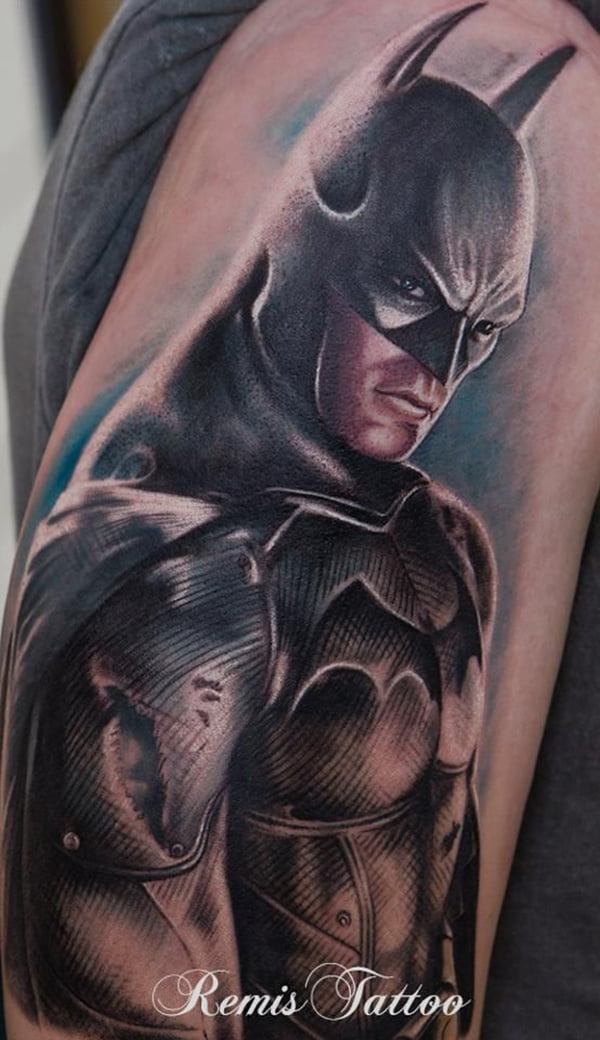 You'll need to get the best artist around for this one. With incredible detail, this dark knight tattoo design is ultra-realistic, down to the battle scars. This powerful batman arm piece perfectly captures Batman's strength and dedication to fighting injustice; it will showcase yours as well.
25. A Red and Black Vintage Batman Portrait Batman Tattoo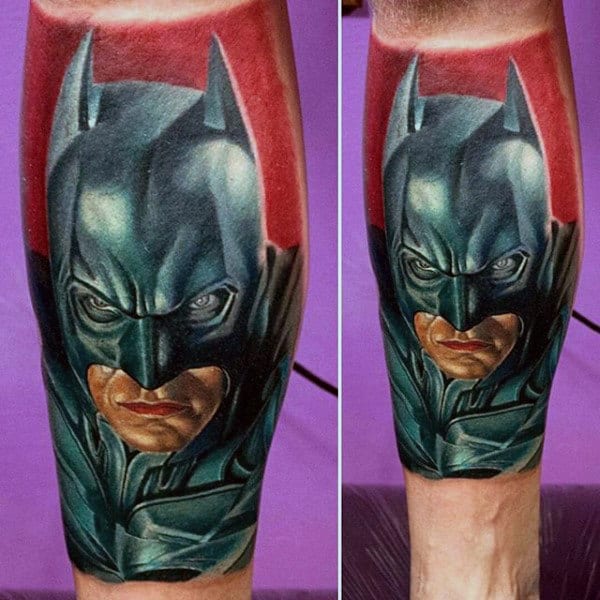 This tattoo captures the essence and coloring of an early Batman. With realistic features and strong definition, this looks like a scene straight out of a movie. Always vigilant, this Batman forever has your back (or your front) .
26. Batman on the Prowl in Arkham Batman Tattoo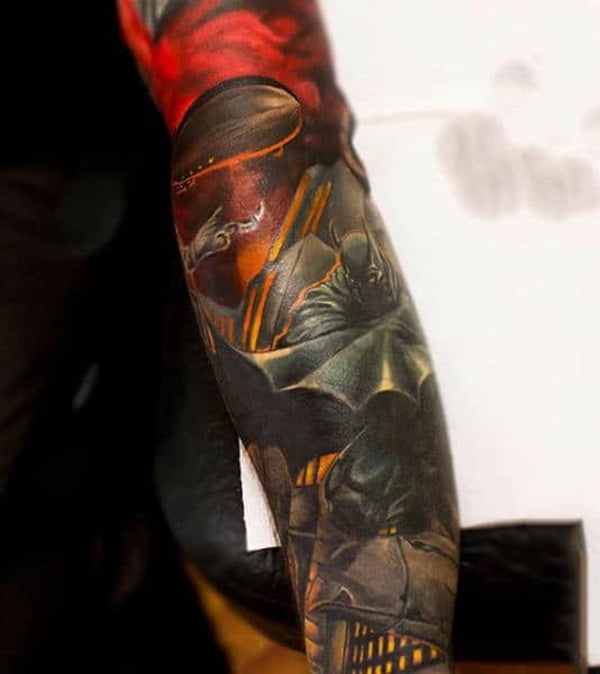 More sinister than others, this batman arm tattoo design is vibrant in its warm color scheme. From Batman's flowing cape to the hazardously red skies, it's clear that evil is afoot. This menacing scene is the perfect background for a wrap-around design with villains lurking just beyond view on the underside of your arm.
27. Batman Written in Fire Across the Logo Batman Tattoo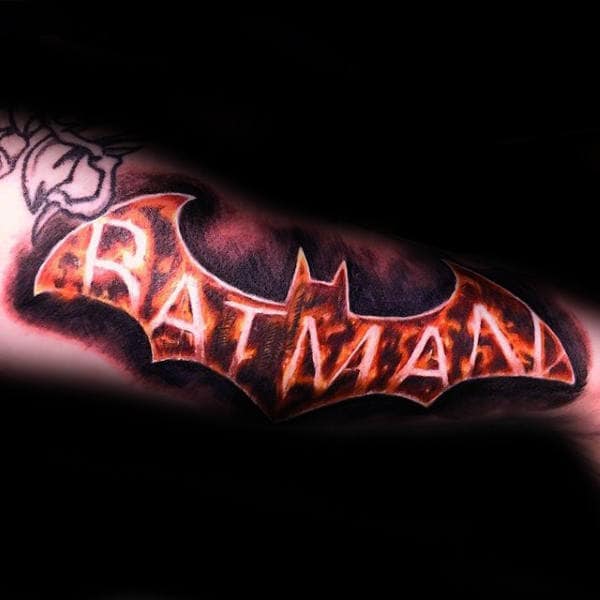 Not only does this logo remind us of Batman's fiery determination to wipe out his enemies, but also makes us think of burning bat symbols in the Arkham Knight video game and posters for the Dark Knight. Regardless of the background, this visual is stunning in its use of color, giving the feeling that the logo really is on fire.
28. Black and Red Battle Scene Batman Tattoo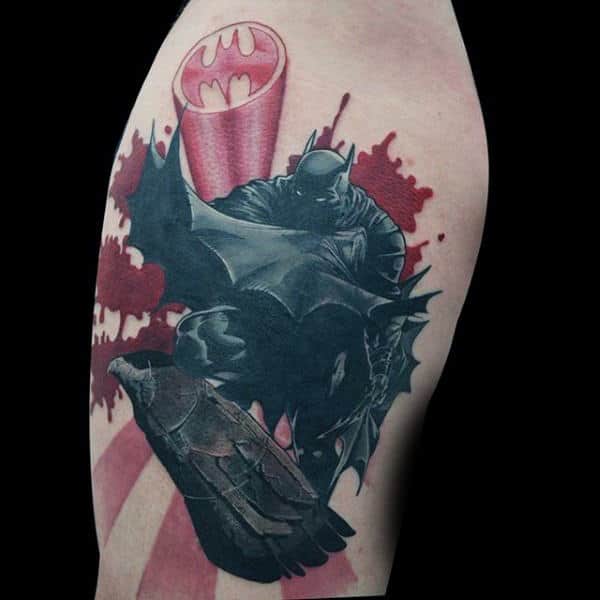 This depiction of Batman in action is flanked by red-hued symbols of battle. From the bat-signal to the blood spatters, this tattoo paints a one-sided view of Batman in the midst of dominating his foes. The shadowy figure, draped in his cape, is monochromatic but dazzling in its details.
29. Batman and Bat-Signal Combination Piece Batman Tattoo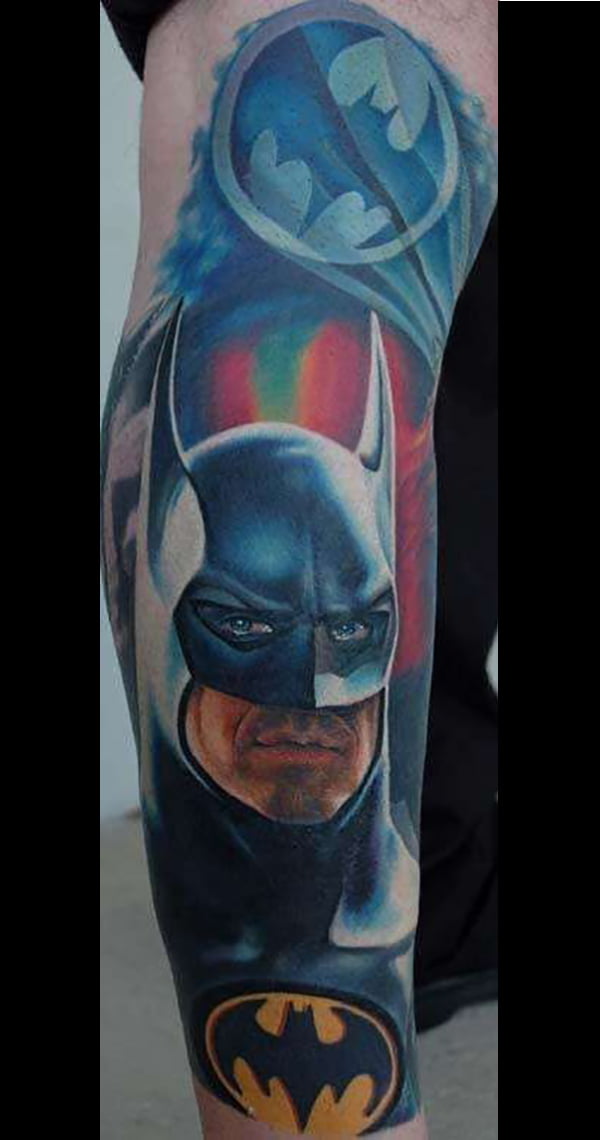 Capturing all the classic elements of Batman the dark knight, this piece breaks up its various shades of blue with a fluorescent backdrop. This artistic design beautifully represents Batman himself while paying close attention to include the early Batman logo and bat-sign.
30. A Modern Comic Book Look Batman Tattoo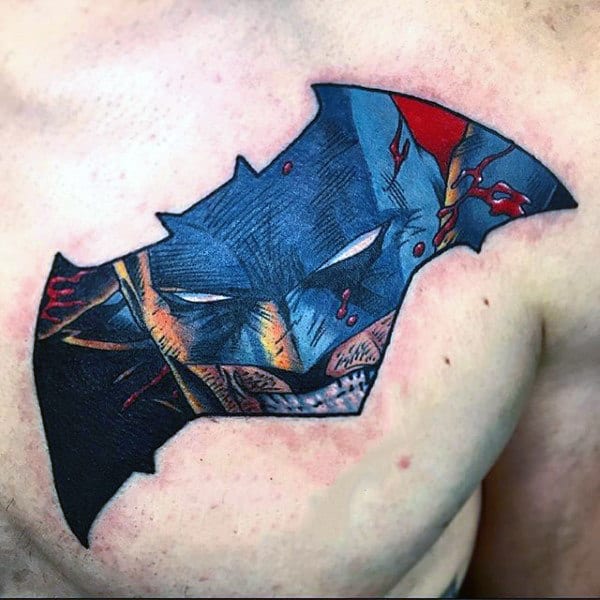 Adopting the chunky emblem used in recent movies, this tattoo represents both Batman's past and present. The amazing detailed drawing inside the bat logo tells the story of Batman's comic book beginnings, splattered with blood and outlined in sharp black lines.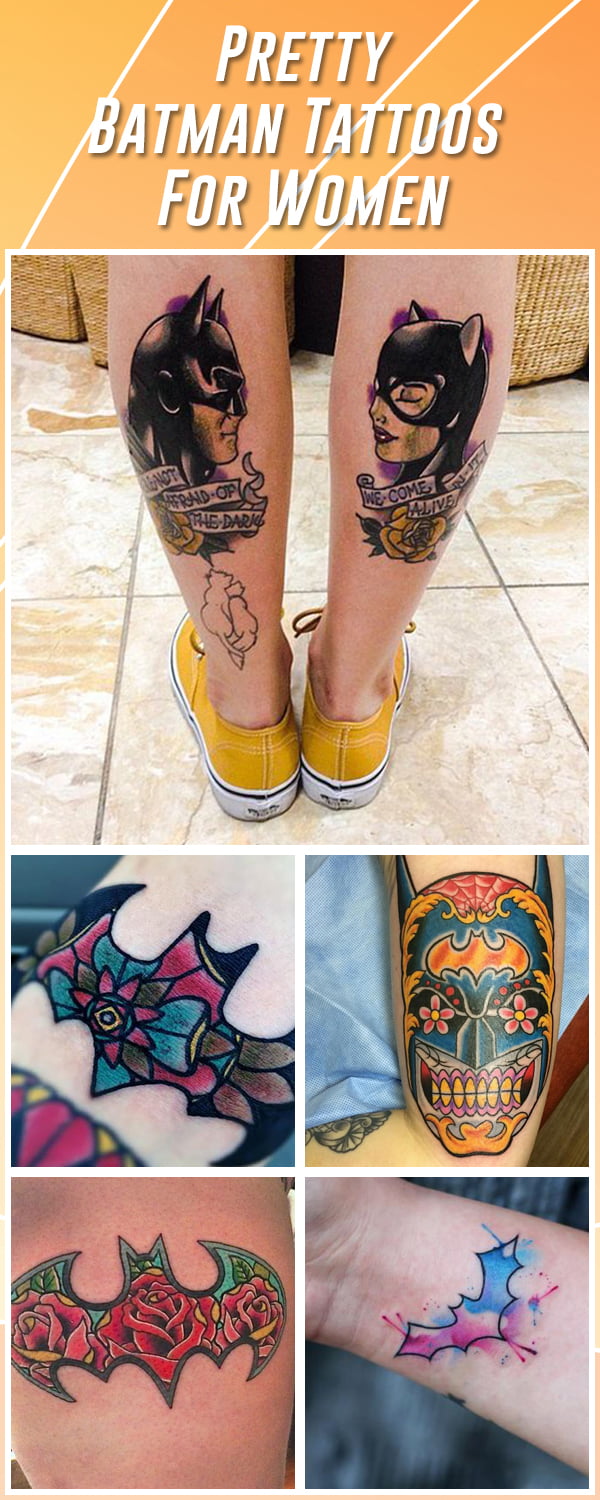 31. Broken Glass Logo, Arm Design Batman Tattoo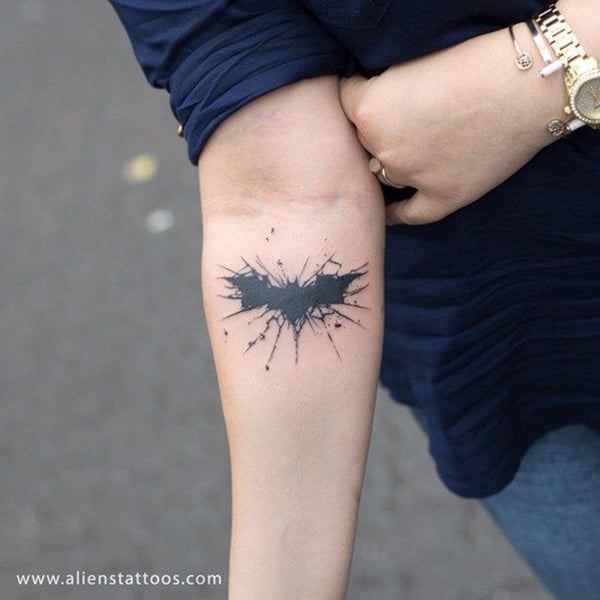 This batman arm design not only features the Batman logo but includes symbolism representing the shattering of restrictions. The broken glass outlines show that the owner of the tattoo, like Batman himself, is not afraid of breaking out of traditional norms to fight for the things they know are true and just.
32. Best Friend Tattoos: A Simple Classic Batman Logo Batman Tattoo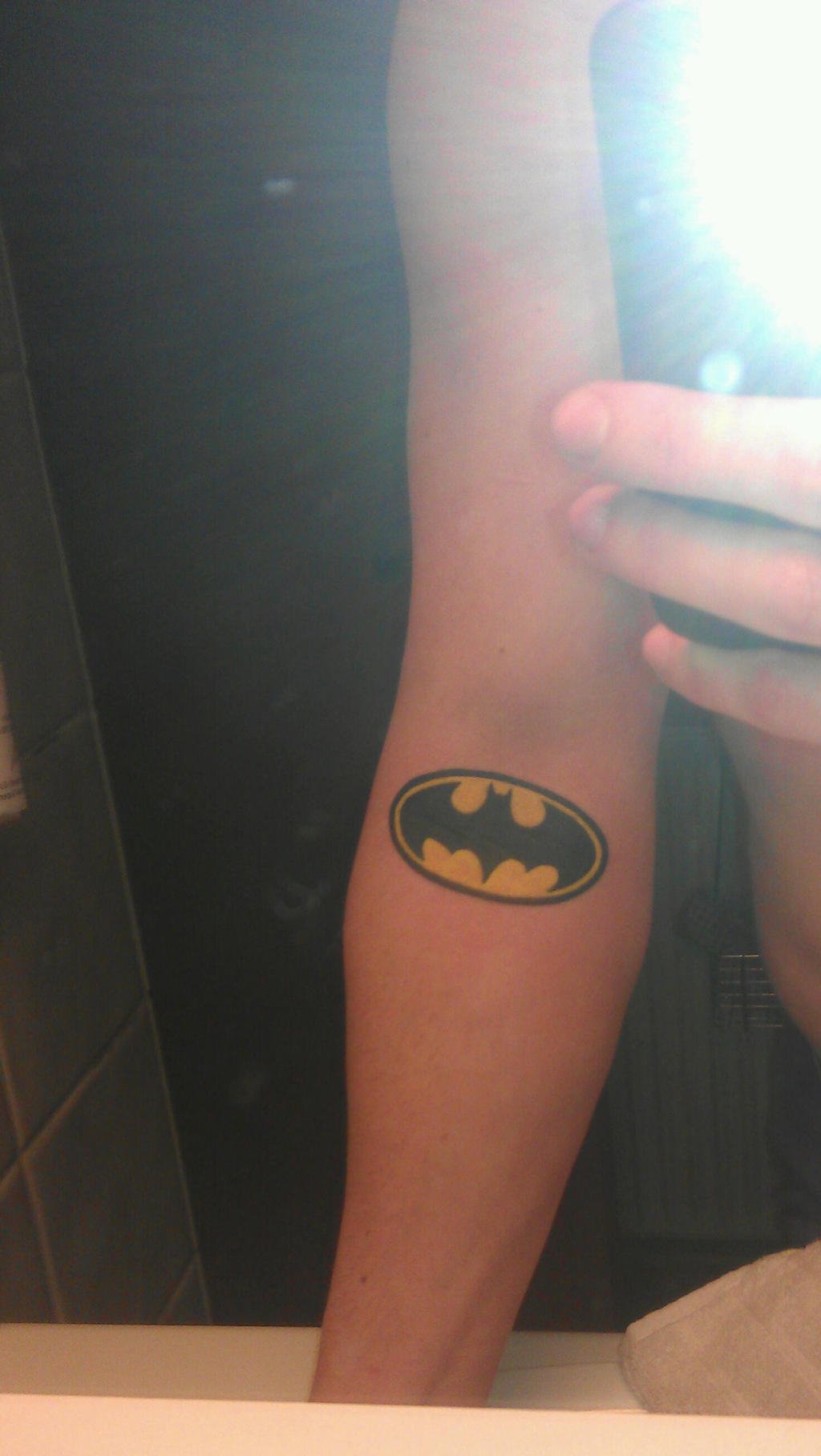 Sometimes less is more which is definitely the case with this batman arm logo tattoo. This yellow and black bat logo dates back to the sixties comic book series, also appearing in the cartoon series and movies we grew up with. Simple logo designs, tattoo designs convey your love for our hero without being overly flashy. If you want a modest, laid back design, this basic batman logo is a great pick.
33. Delicate Flower Tattoo Filled Logo Design Batman Tattoo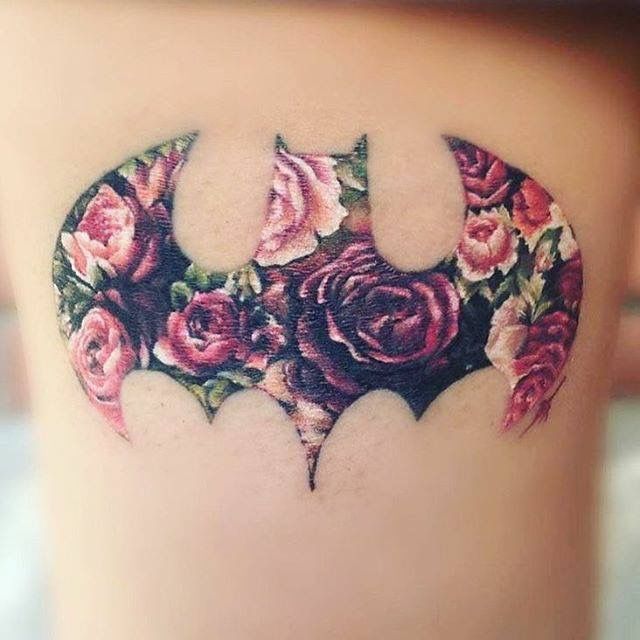 Batman isn't known for being soft and playful, but who says you can't be either! Filling in the Batman logo with a beautiful floral pattern conveys strength balanced with a feminine influence. This design is a stunning way to infuse your personality into a tattoo that shows your love of all things Batman.
34. Batman and Catwoman Cartoon Love Story Batman Tattoo Ideas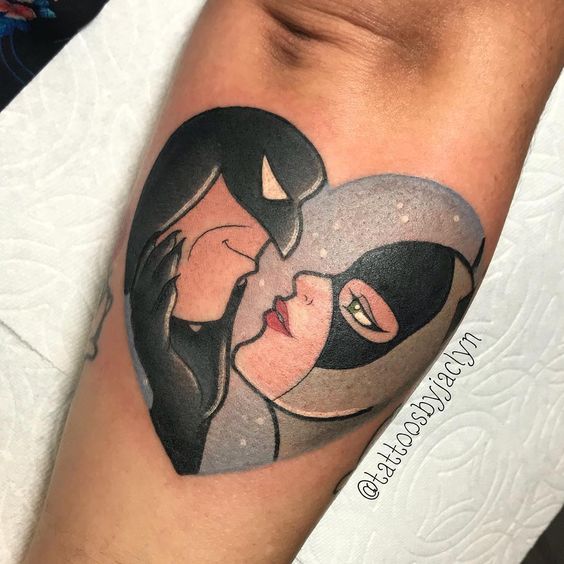 Other than a battle between good and evil, a classic love story is our favorite to watch. The relationship between Catwoman and Batman captures these two age-old tales. Although the two love each other, there is always a struggle between the two as Batman fights against the crime that Catwoman helps perpetuate. This tattoo showcases their story while sending a reminder that not everything we love is good for us.
35. A Long Tailed Logo Neck Tattoo Batman Tattoo Ideas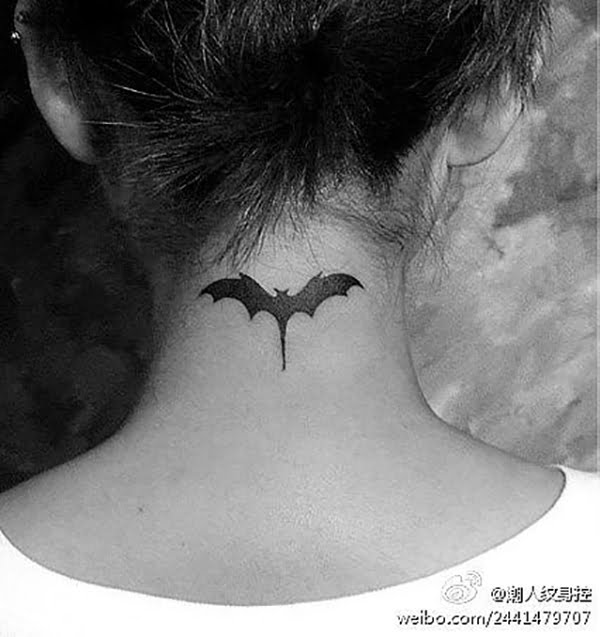 For those with long hair, back of the neck tattoos create the opportunity to either completely hide or publicly flaunt your body art. This sleek take on the bat logo has elongated features that give it an almost dragon-like look. This is an intimidating look but also really elegant.
36. Hidden Shattered Glass Bat Logo Batman Tattoo Ideas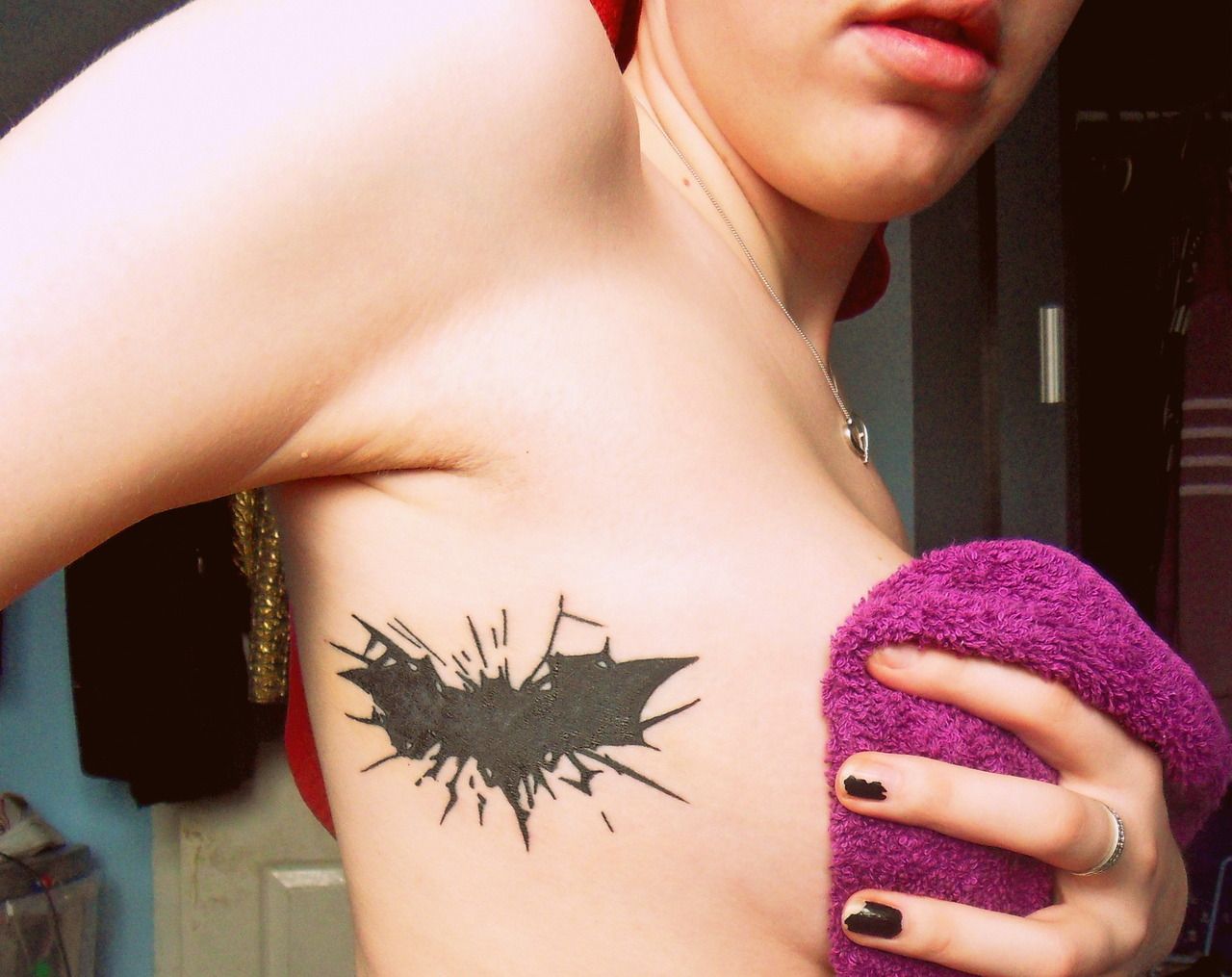 Similar to the inner arm design, this shattered glass logo reflects Batman breaking free. Hidden under clothing, this secret tattoo reflects your inner strength and values, shown only to those closest to you. Like Batman, you don't share your full personality and depth with just anyone, only to those that earn your deepest trust and respect.
37. Full Color Villain Tribute Sleeve Batman Tattoo Ideas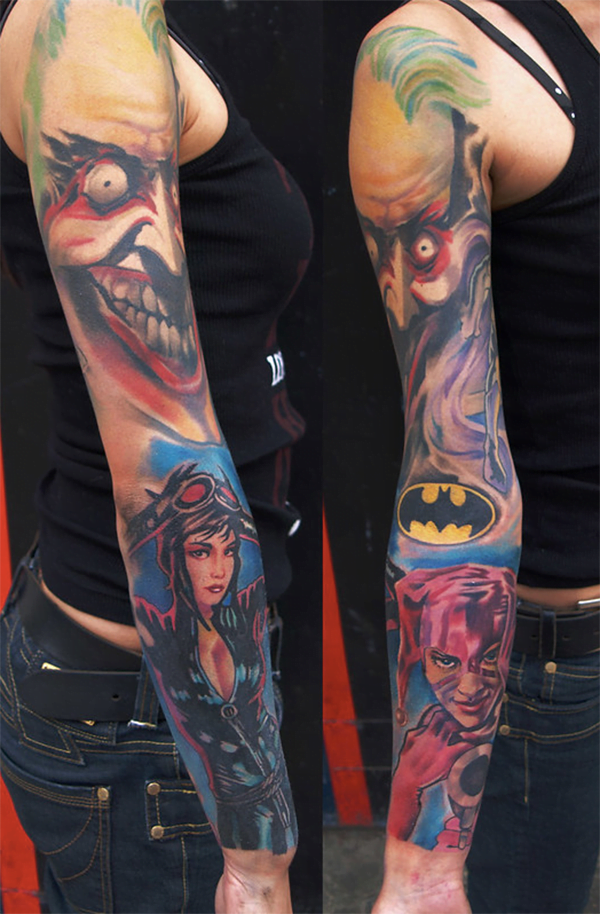 This whimsical forearm tattoos design features a close-up portrait of the Joker on the upper arm, demanding attention like the villain himself. Taking their own rightful places on this sleeve tattoo, Catwoman and Harley Quinn decorate the outer and inner forearm. These supervillainesses also represent the love interests in the Batman series, touching on Batman's relationship with Catwoman and the Joker's romance with Harley Quinn.
38. Elaborate Mandala Inspired Bat Logo Batman Tattoo Ideas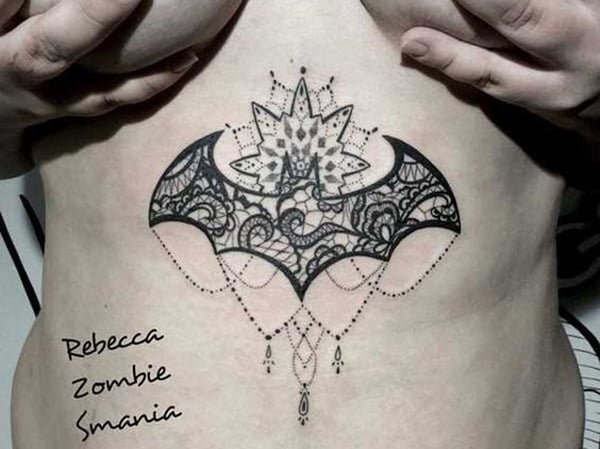 Traditionally, mandalas are circular, detailed tattoo designs that represent the universe and are popular symbols in Hindu and Buddhist cultures. Mandala tattoo designs are also frequently seen within dreamcatchers which are used to capture nightmares and evil spirits. This design captures elements of both, symbolizing the DC universe and Batman's ability to protect us from the evil forces emerging from the darkness while we sleep.
39. Playful Catwoman Cartoon Figure Batman Tattoo Ideas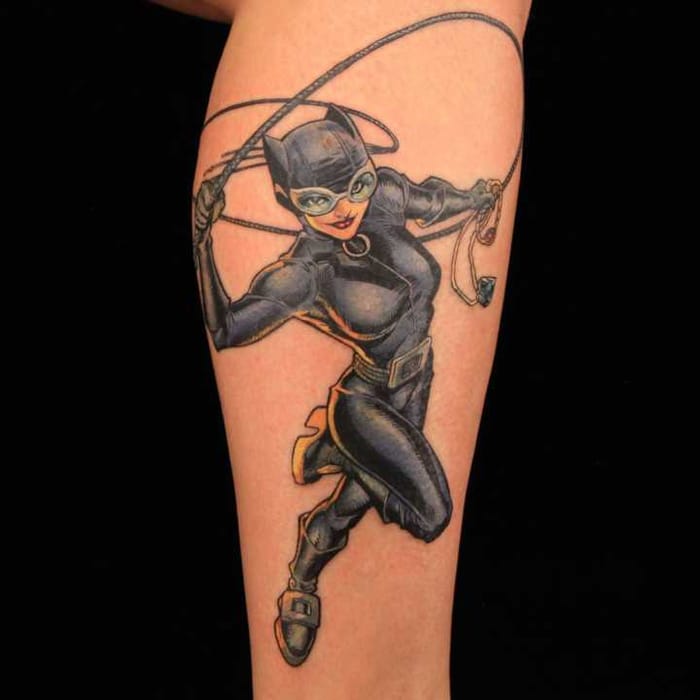 Catwoman is one of the most complex and beloved characters in the Batman series. A cat burglar by trade, she is the only villain in the series that doesn't seem to have it out for Batman's destruction, despite his attempts to thwart her criminal plans. Not only that, she and the hero have an off-and-on romantic relationship. This tattoo is a great representation of her wild and dark side while also highlighting her sweeter side.
40. Dark Knight Joker in Disguise Batman Tattoo Ideas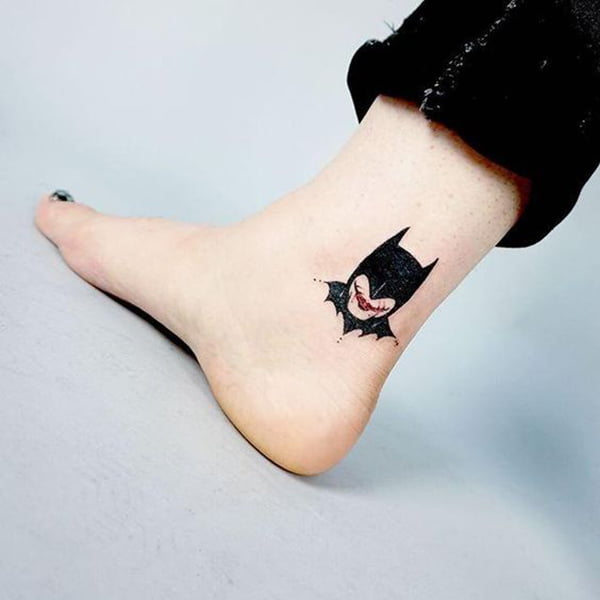 This combination piece includes the signature looks of both Batman and his arch-nemesis the Joker. In addition to being a fun way to combine both characters, this also suggests that they are two sides to the same coin. Though both "super" in their own ways, one uses their powers for good, while the other has dedicated his life to crime.
41. Distressed Vintage Logo Arm Tattoo Batman Tattoo Ideas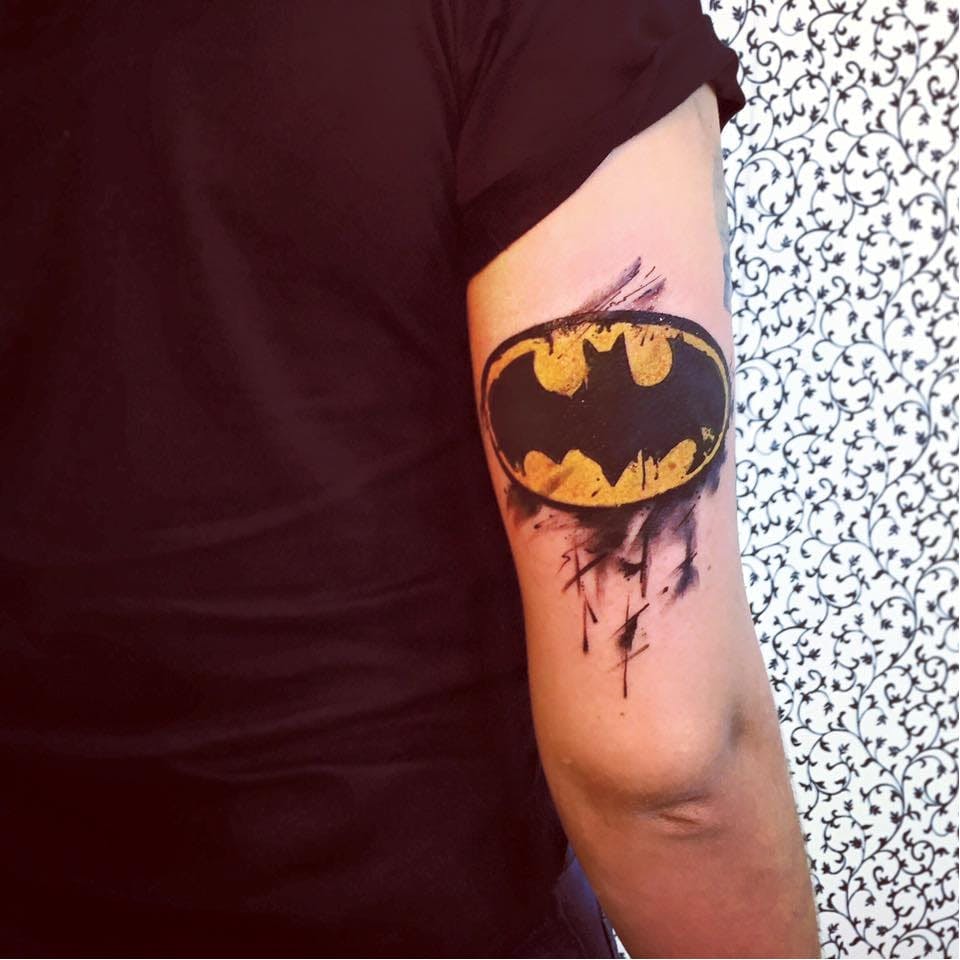 This logo looks like it's seen as many battles as Batman himself! We love how the owner of this piece took a simple design and added character to make it their own. Because this already has intentional smudging, this is the perfect option if you're looking to cover up old work. If it's not a perfect cover, that just makes it look better!
42. Dainty Flock of Bats on Foot Tattoo Batman Tattoo Ideas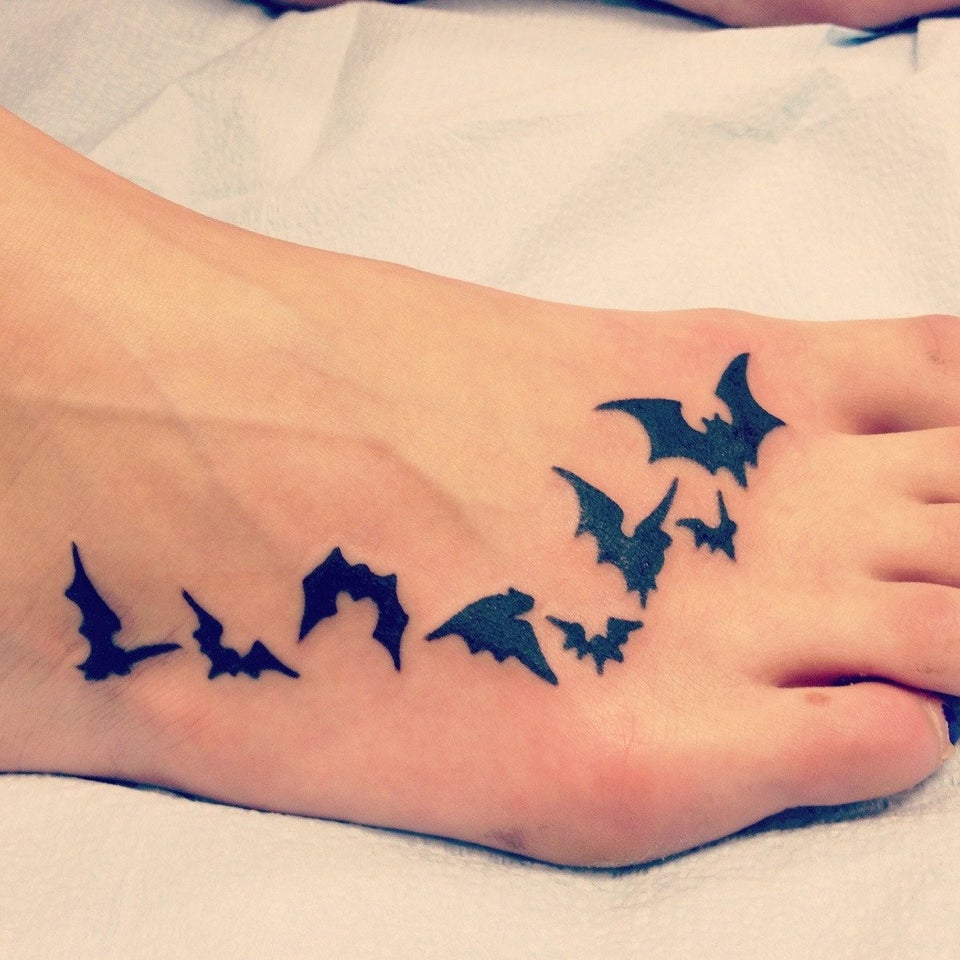 Even if you had never heard of Batman, you would still enjoy this fluttery design. The arrangement of these bats is so elegant and beautiful in its simplicity. The ability to design the flock in any shape makes this the perfect piece to adapt to any part of your body, in any size.
43. A Colorful Stained Glass Window Batman Tattoo Ideas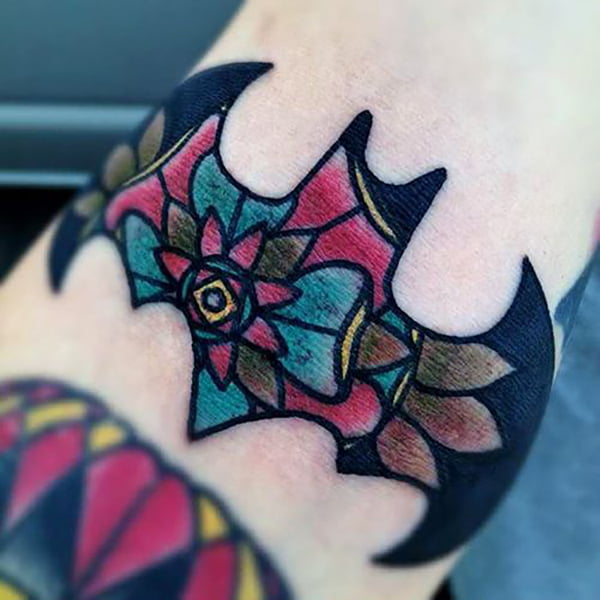 The intense colors of this floral design are a great contrast to the blackout background. This design sits somewhere on the fence between stained glass and tribal tattoo art with crisp lines and perfect symmetry. Interestingly, the design itself is off-center compared to the logo placement so this tattoo contains a thought-provoking mix of strict controlled strokes and carefree artistic freedom.
44. Small and Simple Catwoman Emblem Batman Tattoo Ideas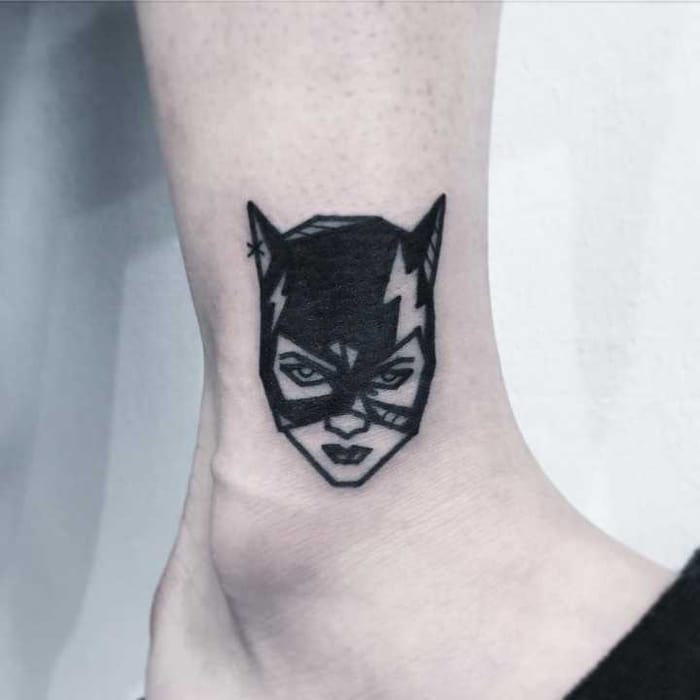 This Catwoman small tattoos design is all business. There is hardly any resemblance to the softer playful portrayal we saw earlier. The hard angles of this tattoo represent grit and determination; the woman is out to get her coin! However, there is still a sexiness about Catwoman in this design. It's not hard to see why Batman can't help falling for her. This design could also work well as an ankle tattoo.
45. Mexican Sugar Scull Inspired Batman Portrait Batman Tattoo Ideas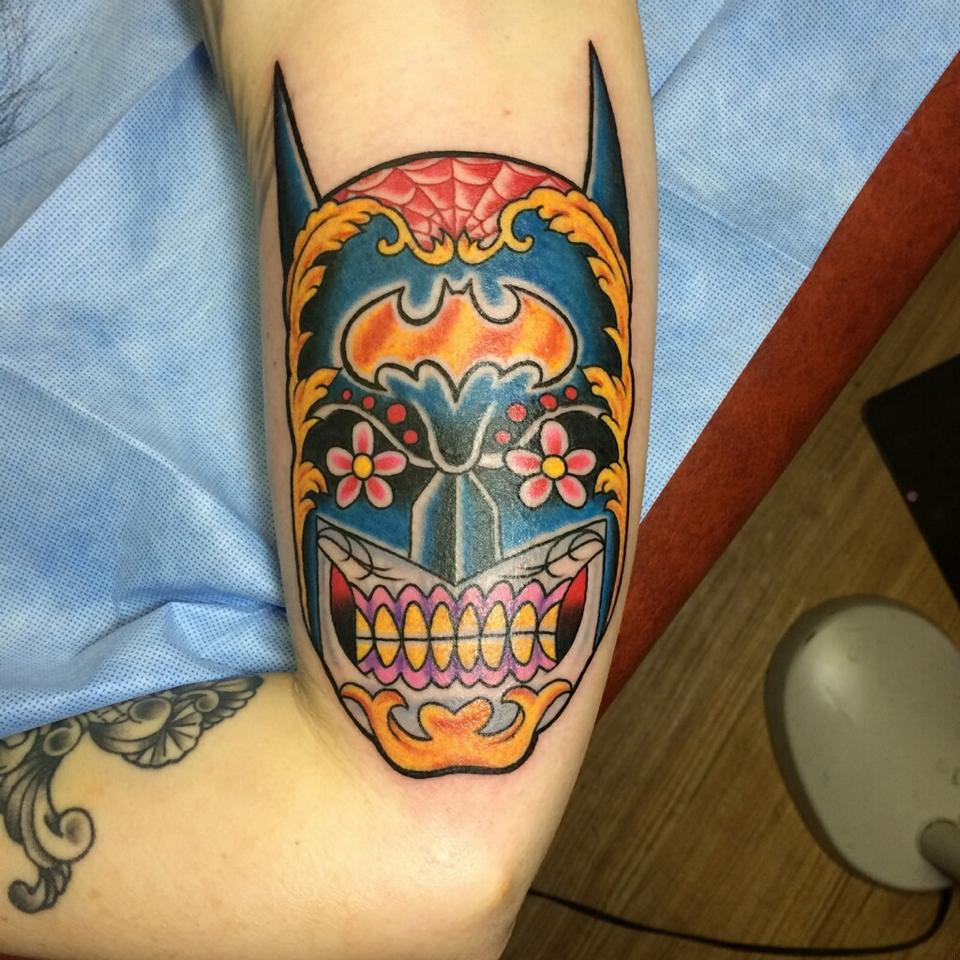 This design pays homage to the popular sugar skulls crafted to commemorate the Day of the Dead (Dia de Los Muertos) in Mexican celebrations. It also incorporates some visual elements from the Luchador masks worn in Mexican wrestling. Whether you choose this to display pride for your Latin heritage or choose it for its beauty, this tattoo is a visual treat for anyone lucky enough to catch a glimpse.
46. Pink and Blue Watercolored Outline Batman Tattoo Design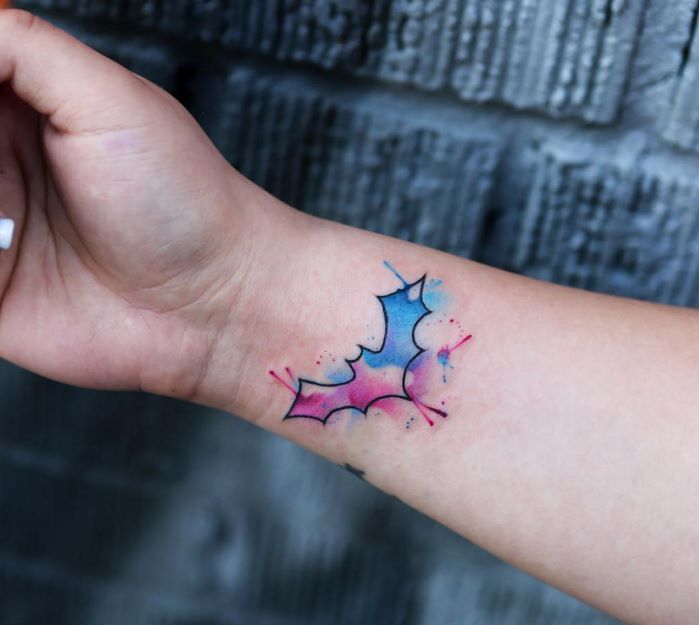 This small design makes a big impression with its sleek black outline and playful pink and blue splatters. Capturing all the beauty of a watercolor painting, this artist did a fantastic job of incorporating gradient hues throughout each splash of color. The blue and pink may signify male and female energies with a certain romantic quality, or it may just be because the colors compliment each other so beautifully. We'll never know for sure but we love it either way.
47. Tribal Batman Lower Back Tattoo Batman Tattoo Design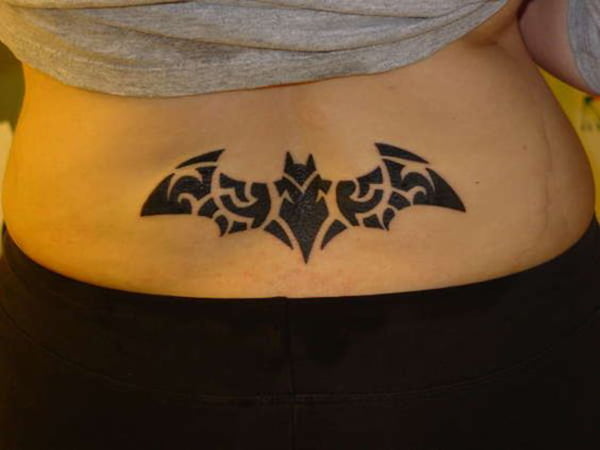 Capturing elements of tribal and Polynesian tattoo art, the foundation of this design is pure black. This is a powerful look that combines earth and air elements. Using negative space (untattooed areas) to create intricate designs, these soft curves contribute to a strong look when combined with the pointed wings of the bat logo.
48. A Galactic Themed Batman Logo Batman Tattoo Design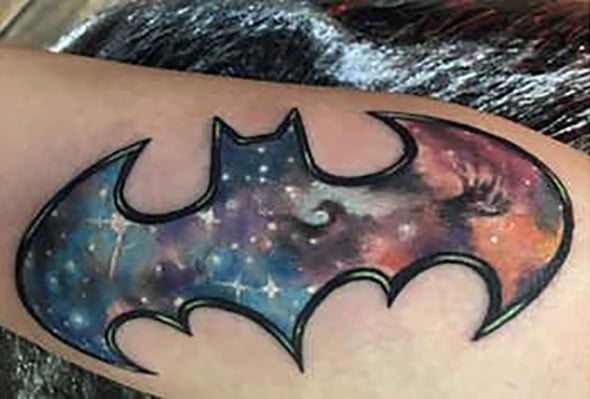 Soaring from his grappling hook, this may be the scene that Batman sees high above the Gotham. Gradually changing from a clear blue night's sky to the orange-hued glow of city lights, this piece swirls with colors and bright twinkling stars. Not to be outdone, the outline of this logo shines with a 3-D effect.
49. Splattered Batman Logo Back Tattoo Batman Tattoo Design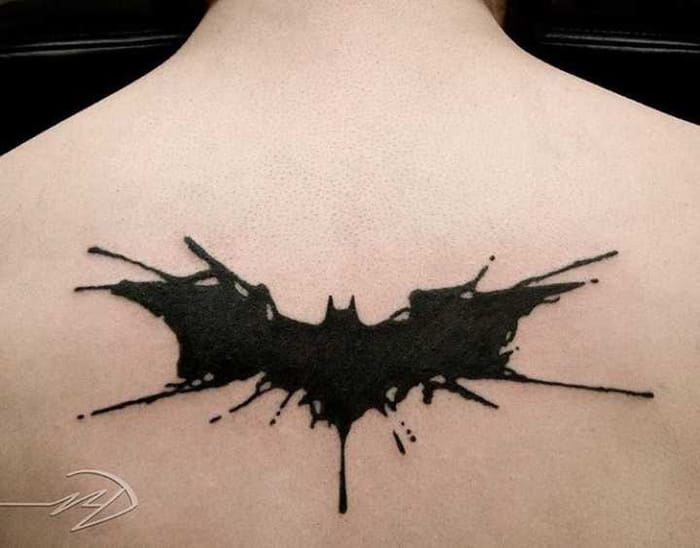 The symmetry of the Batman logo is perfect for a centrally placed back tattoo. This piece breaks away from the clean lines of the logo, with an abstract splatter effect. Fighting crime can be a messy job, but someone's gotta do it!
50. Simple Black Batman Logo on Neck Batman Tattoo Design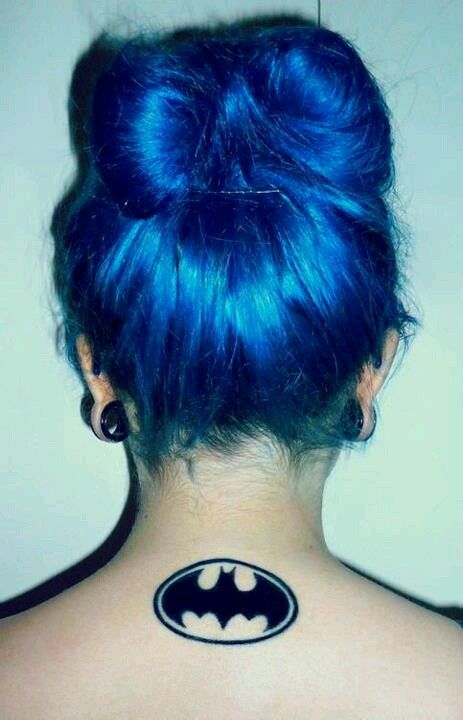 Instead of opting for the yellow background of the retro Batman logo, this design uses negative space to keep the design a neutral black tone. The placement of this logo allows you to show or hide it as you alternate between your own Bruce Wayne and Batman personas.
51. Three Roses Batman Logo Tattoo Batman Tattoo Design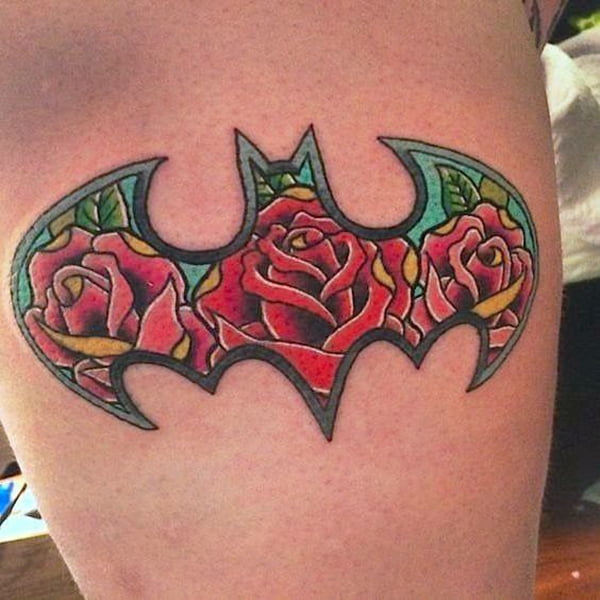 We love this rose design and any others that integrate fun feminine flair into the ultra-masculine Batman logo. This is a fun way to contrast the sharp angles of the bat design and showcase your personality!
52. Wind Swept Monochrome Batman Logo Batman Tattoo Design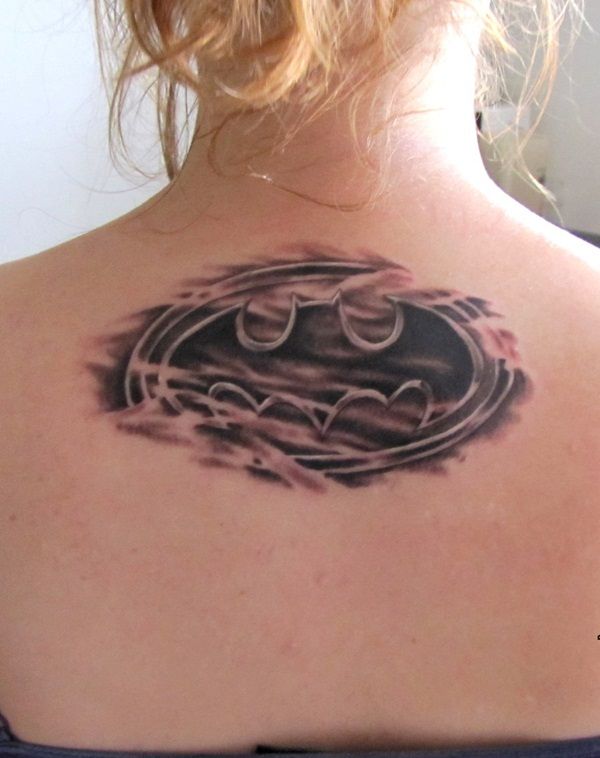 This cloudy black logo looks like it's about to be swept out of sight. It reminds us of the bat-signal on a cloudy night above Gotham City. This tattoo captures the elusiveness of Batman, gliding out of the darkness to fight evil forces before disappearing back into the city.
53. A Sketched Version of Harley Quinn Batman Tattoo Design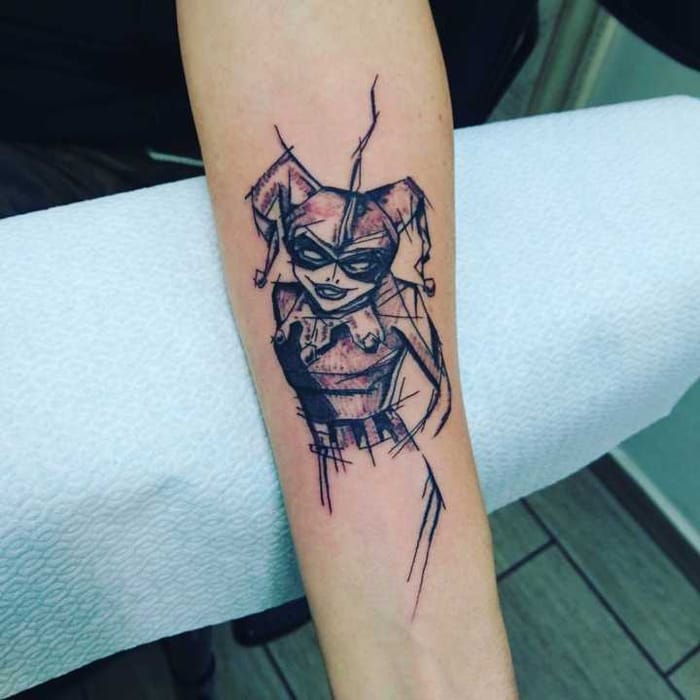 Harley Quinn once worked at Arkham Asylum, treating the Joker before falling in love with him and turning to a life of crime. Harley herself has become a fan favorite and is shown here as she appeared in the Batman animated series.
54. A Flurry of Flying Bats Hip Tattoo Batman Tattoo Design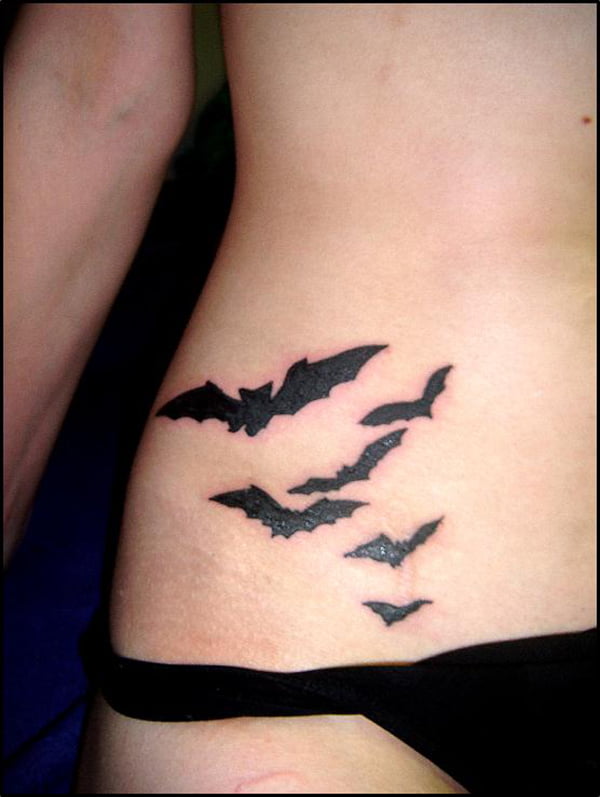 This tattoo of bats, presumably flying from the bat cave, creates a subtle design anywhere on your body. In crisp black, this is the perfect way to show your Batman love without being too literal. This could also be a great alternative to wolf tattoos.
55. Couples Cut-Out Spray Painted Logo Batman Tattoo Design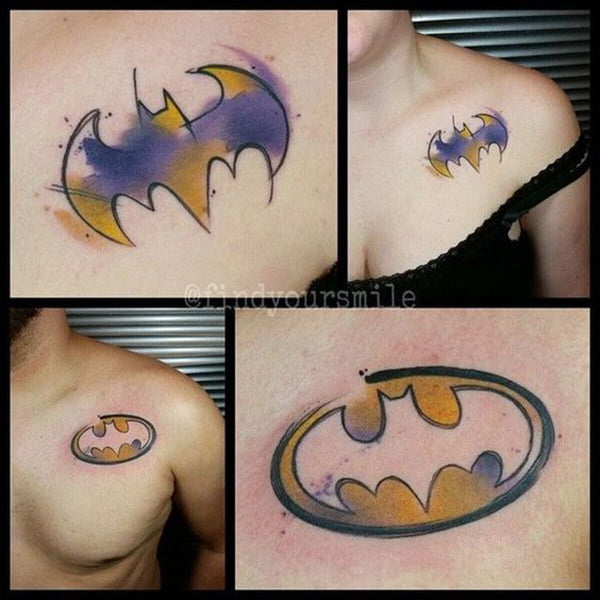 Signifying that you are two halves of one whole, these colorful spraypainted Batman logos fit together but aren't lacking on their own. As a bonus, the messy application of purple and gold reminds us of the smeared red lips of our favorite Joker.
56. Gotham City Skyline at Night Batman Tattoo Design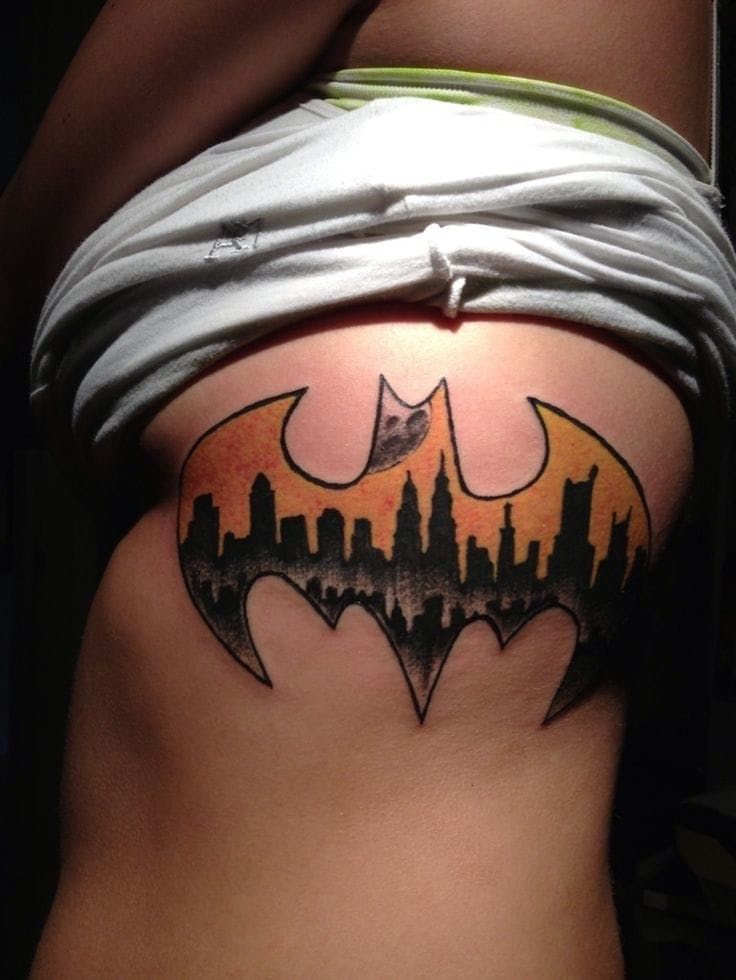 This dramatic skyline in this tattoo designs captures the darkest depths of Gotham and the golden lights of the city at night. Batman's stomping ground looks serene under the protective outline of his bat logo. We know he's in there somewhere, keeping a watchful eye.
57. Interlocking Tattoos of Batman and Catwoman Batman Tattoo Design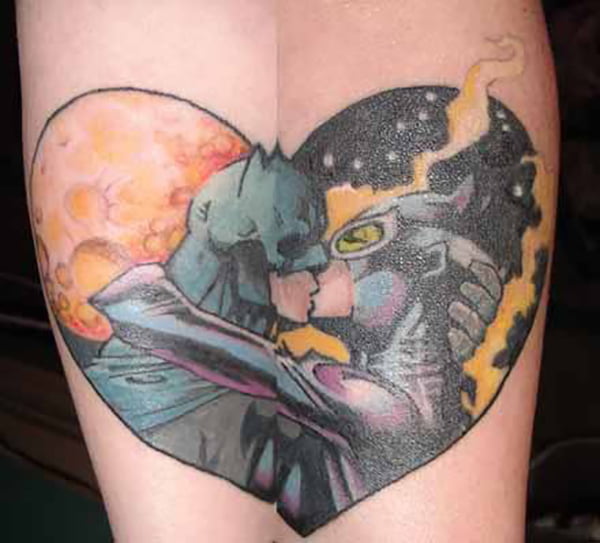 There is no better way to capture your red-hot romance than getting interlocking tattoos of Batman and Catwoman. Despite the obstacles between them (one fighting crime and the other perpetuating it), this couple just can't stay away from each other!
58. Mexican Luchador Style Batman Mask Batman Tattoo Design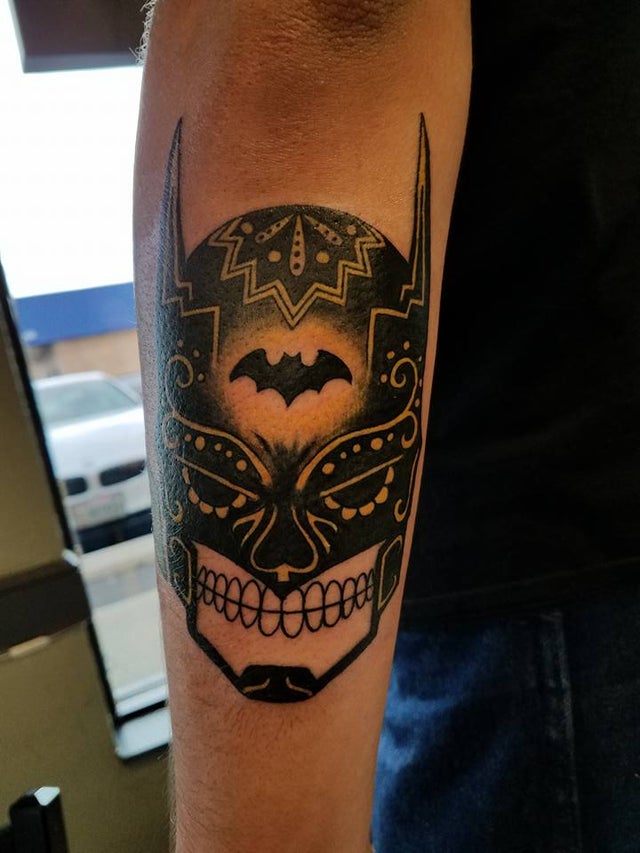 In Mexican wrestling, competitors wear signature masks with bold designs. Taking from that style, this Batman mask is ornately detailed and fearsome. The Mexican term for this style of wrestling is "lucha libre", literally translated as "free fight" which is a perfect descriptor for the freestyling Batman.
59. Batman and Catwoman Complementary Tattoos Batman Tattoo Design Ideas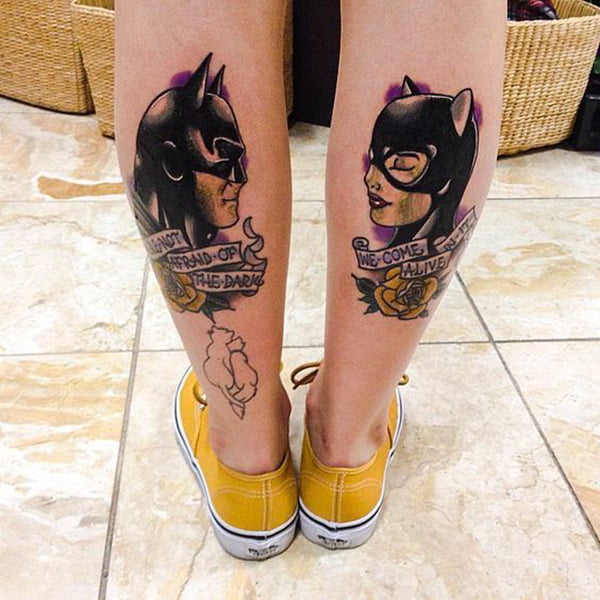 Set apart but eternally drawn together, these Batman and Catwoman tattoos perfectly symbolize their complicated relationship. Written underneath are the famous words of Catwoman herself, calling Batman to embrace the darkness and their similarities.
60. Single Romantic Batman and Catwoman Tattoo Batman Tattoo Design Ideas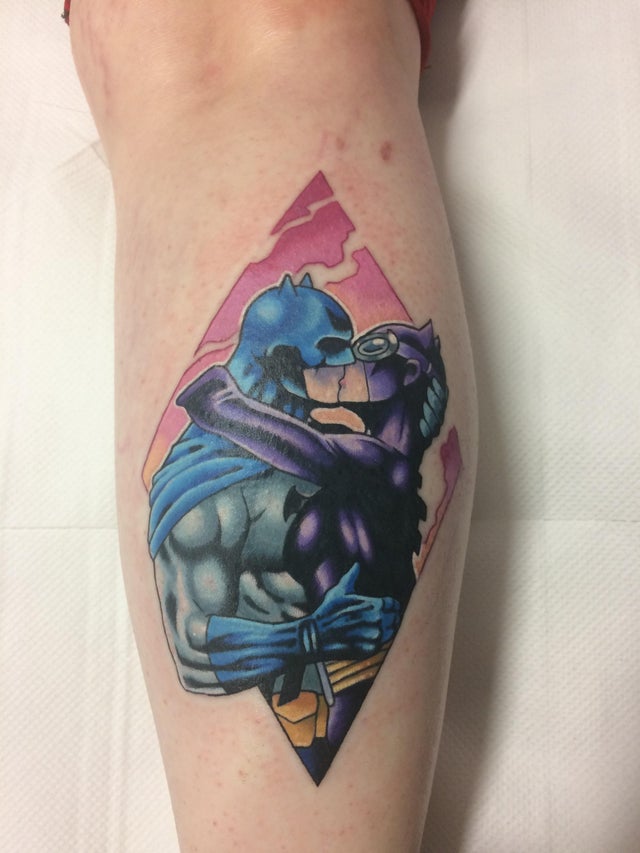 This arm tattoo captures our hearts and our wild side. Capturing one of the most notorious villains in the series and the hero himself, this image proves that love has no bounds. Set against a passionate pink sky, this design pulls at our heartstrings and reminds us of yet another reason to love the Batman story.
60 Best Batman Tattoos To Highlight Your Unique Personality
After almost 70 years, Batman has proved himself to be an enduring icon, shaping our childhoods and sparking our imagination. Whether you're a fan of classic comics, animated shows, or modern movies, we all love to follow his adventures and revel in the destruction of evil plans.
With an array of iconography and captivating characters, the Batman story contains an infinite number of inspirations for tattoo art. By making it your own, you can take your place in the Batman saga and celebrate his everlasting pursuit of justice. So go ahead, flaunt your Batman love and celebrate your own inner hero!