Eagles, owls, phoenixes, and swallows; there are so many options when it comes to selecting the best bird tattoos. Birds represent various ideals for different people and different cultures. Depending on the species, a bird tattoos can symbolize wisdom (like star tattoos), transformation, and happiness. Birds come in a range of beautiful shades making them perfect for bright color tattoos. In black and white bird tattoos, intricate grayscale shading can make the bird's features and feathers appear almost lifelike. As many birds are monomorphic, any species can be worn comfortably by both men or women and they complement cloud tattoos perfectly. Sharp dark lines tend to have a masculine feel while floral elements can be added for a more romantic or feminine touch.
60 Best Bird Tattoos from the Fiery Phoenix to the Wise Owl
If you are interested in getting a bird tattoo, there are a few things to contemplate. Think about the action of the bird, such as perching on a branch, soaring through the sky, or sitting in a cage. A birdcage tattoo represents the idea of someone feeling trapped. The color and number of birds along with the location and placement of the tattoo are all important considerations. Each species of bird has its own mood, meaning, cultural significance, and physical characteristics. A dramatic black raven invokes mystery, a fiery red phoenix exudes energy and a cheerful yellow goldfinch emotes happiness and cheer. Bird tattoos can represent freedom, independence, wisdom, homecoming, and spiritual connection. Throughout these 60 diverse bird tattoos is an array of interesting styles (even biomechanical tattoos) to consider for yourself.
1. Abstract Phoenix Bird Tattoo Ideas in Black and Orange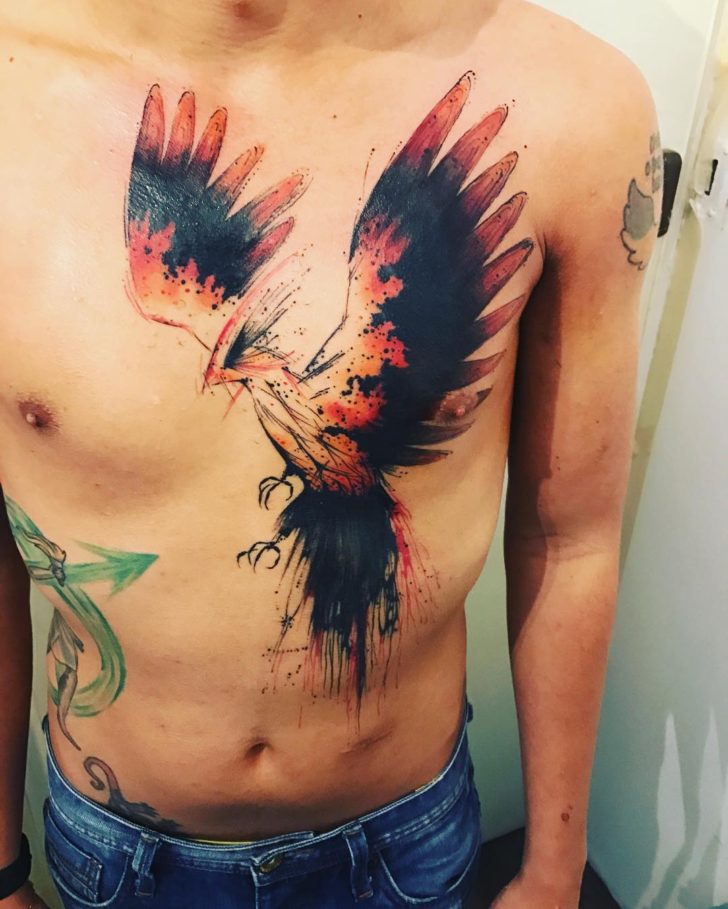 Swooping from above, the symbolic phoenix in this awesome bird tattoos look as though it's painted onto the skin. In an abstract art style, the phoenix is shown with wings wide open and claws outstretched. This energetic tattoo is simplistic in color using black ink and shades of orange, and it is a great idea for your tattoo artist.
2. Flaming Phoenix Rising from the Ashes Tattoo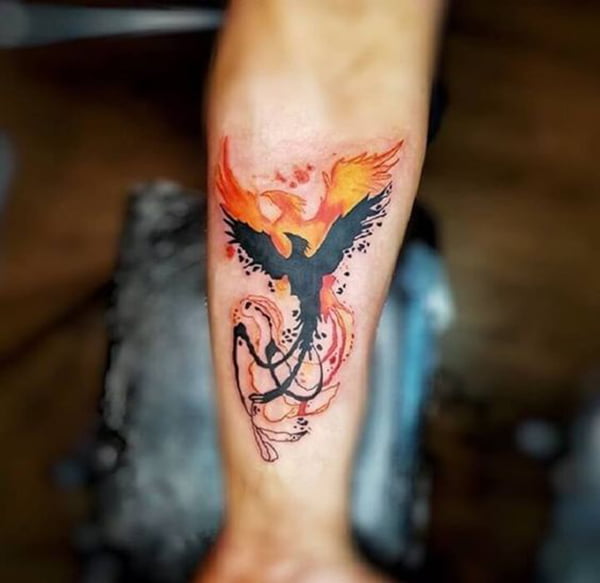 Invoking strength, transformation, and renewal, the magnificent phoenix bird is reborn from the ashes signifying a journey through fire or adversity. This stunning bird tattoo shows a brilliant red and orange phoenix rising up, its shadow below in solid black ink. Full of hope, this tattoo is truly dynamic.
3. Realistic Pheasant in Nature Full-Color Tattoo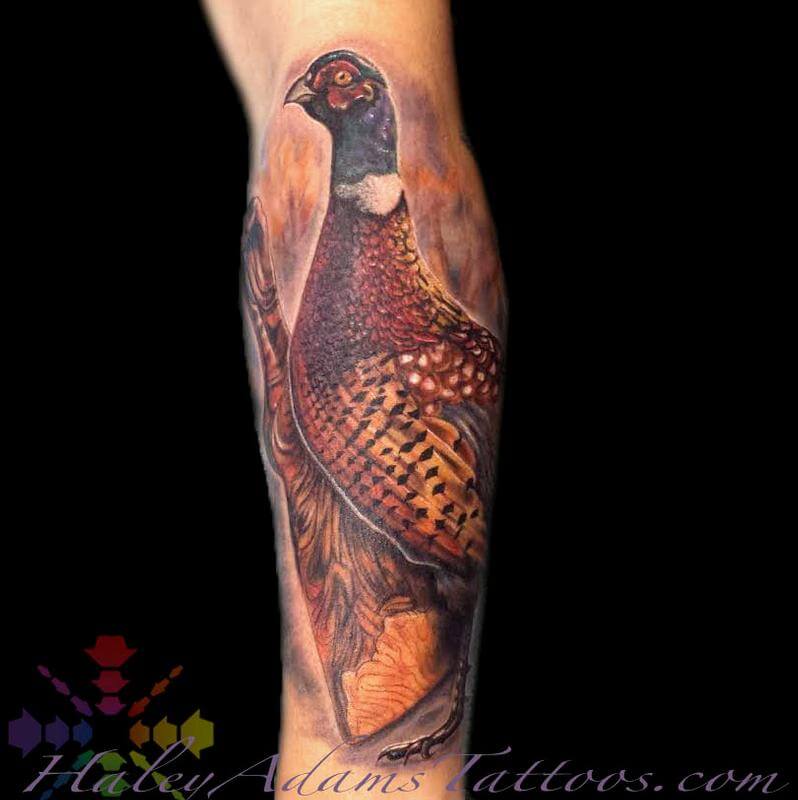 Outdoor enthusiasts and nature lovers agree that the wild ring-necked pheasant is a strikingly handsome bird. Inked in full genuine color, this realistic pheasant tattoo is so lifelike you almost expect the wind to rustle its speckled feathers. These breathtaking bird tattoos should be shown off on your arm.
4. Two Ravens with Clock Grayscale Tattoo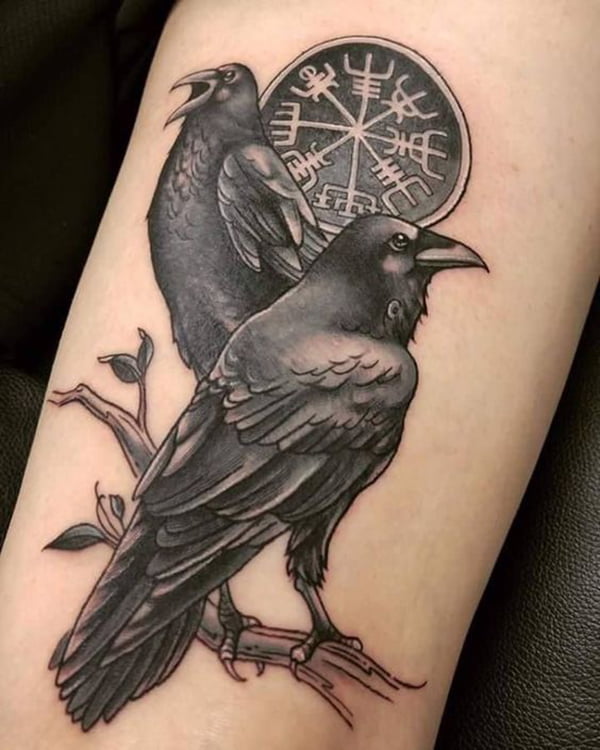 Dark and mysterious, two beautiful black ravens sit perched upon a sturdy branch in this gorgeous grayscale tattoo. Behind the elegant blackbirds is an intriguing Asian inspired time clock. Representing protection and wisdom, prophetic bird tattoos are a wonderful choice for both men and women, and it is a great idea for your tattoo artist.
5. Artistic Eagle in Mountain Scene Tattoo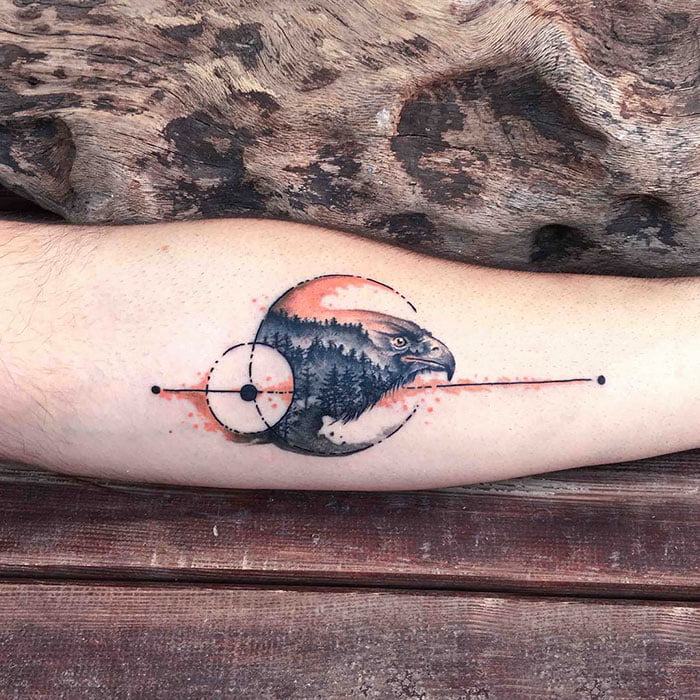 Bird and nature blend as one in this artistically styled tattoo showing an eagle in the mountains scene. Often used in strong, powerful tattoos, the noble eagle is a bird of honor, wisdom and victory. Abstract circular and linear components add to this majestic mountain and eagle head bird tattoo.
6. Black and White Geometric Realism Hawk Tattoo
This incredible black and white tattoo of a hawk's head mixes realism with crisp geometric shapes. The bird of prey's realistic eyes looks off into the distance while its neck feathers become more graphic as they extend lower. Grayscale shading highlights the unique contours of this prodigious hawk tattoo.
7. Watercolor Red Breasted Robin Tattoo on Torso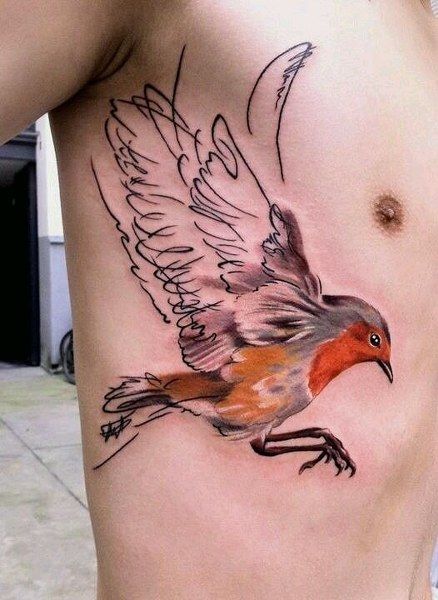 Chirpy and cheery, the red-breasted robin is a great choice for a simple colored bird tattoo. Using an artistic watercolor effect, this carefree robin tattoo looks like it's painted on the skin. The robin's brushstroke wings are left uncolored for an unfinished feel symbolizing the continuation of life.
8. Dramatic Black and White Steampunk Raven Tattoo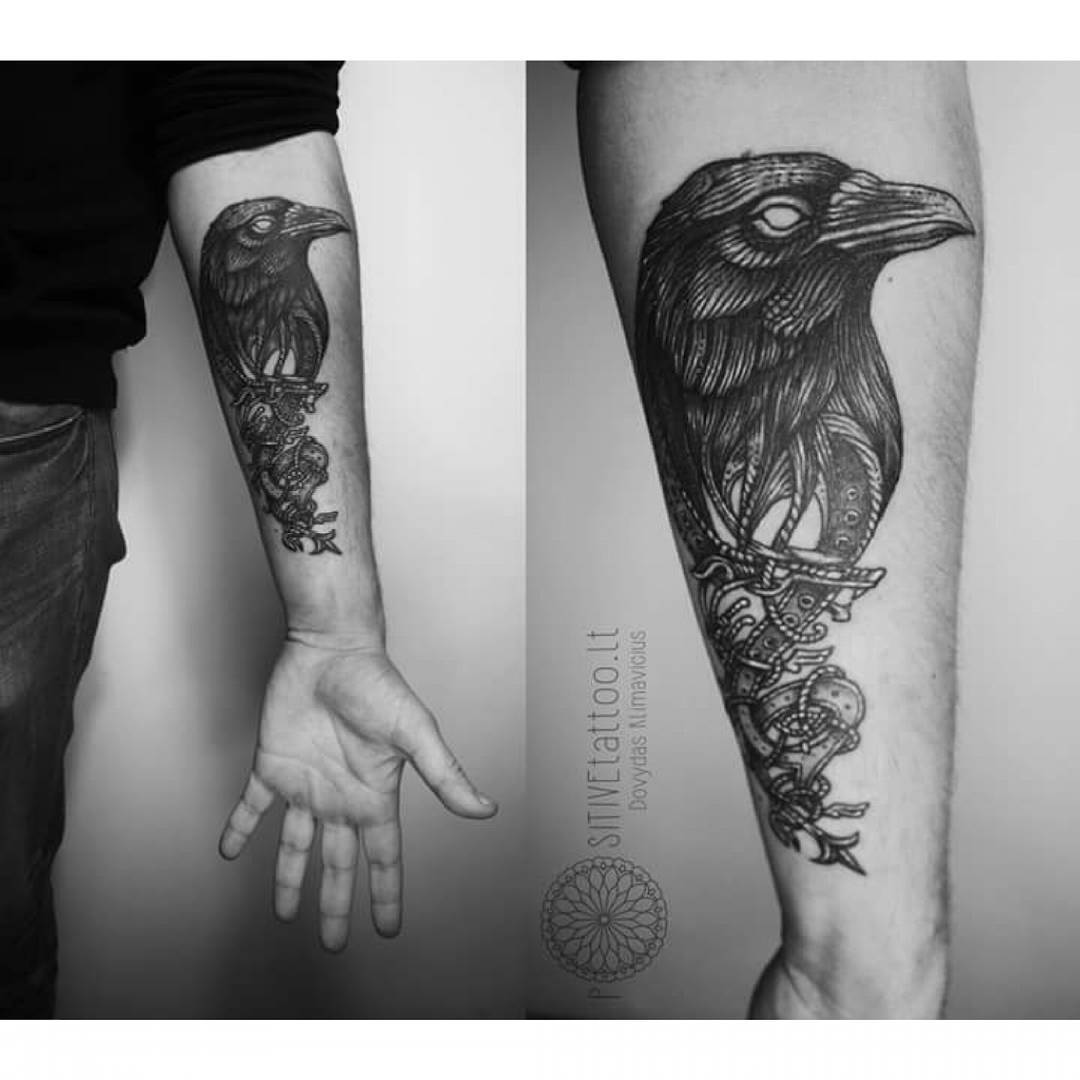 Although the raven sometimes gets associated with darkness, the dramatic blackbird can also signify protection, prophecy, and wisdom. In this arresting black and white bird tattoo, the mysteriously beautiful raven is accompanied by intricate steampunk details. The perspective combination of imagery makes for a remarkably bewitching bird tattoo.
9. Eagle in Sky Tattoo in Watercolor Style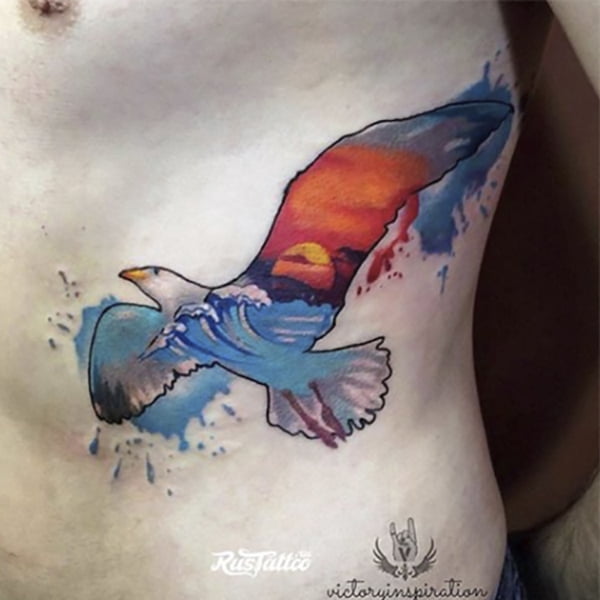 Within the distinct outline of an eagle, a vividly colored sun setting upon the waterfront radiates. Using a watercolor painting effect, this exquisitely artistic eagle tattoo expresses freedom, strength, and independence. Bright blues, oranges, and reds mixed with the classic eagle give this superb tattoo a unique twist.
10. Vibrant Red and Blue Phoenix Shoulder and Elbow Tattoo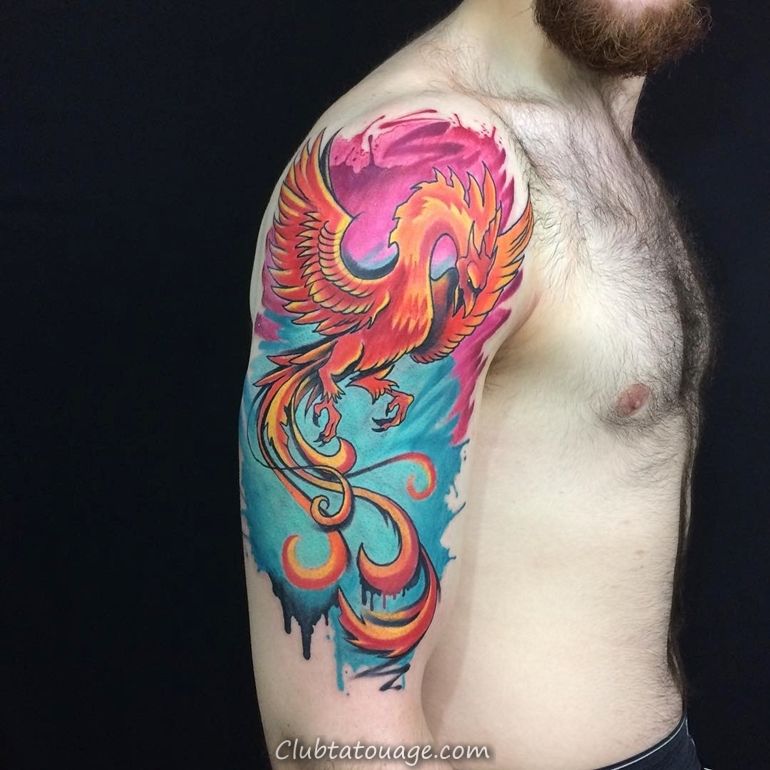 In this bold and brilliant bird tattoo, a hypnotizing fiery phoenix is surrounded by vibrant swirls of red and blue. The eye-catching flaming bird tattooed on most of the upper arm from the shoulder to the elbow. Representing spiritual awakeness, this captivating half sleeve tattoo is full of energy.
11. Black Owl with Yellow Eyes Forearm Tattoo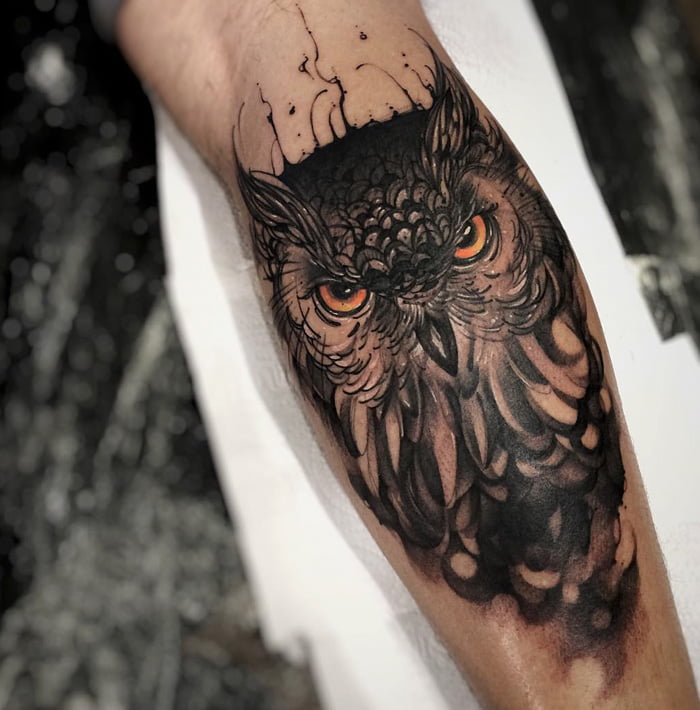 In all black ink except for the owl's intelligent yellow eyes, this alluring tattoo is the quintessential symbol of wisdom and sacred knowledge. Perfectly for the cerebral and spiritual individual, the black owl tattoo blends illustration and realism. Shown on the forearm, this is a deeply striking bird tattoo.
12. Best Friend Tattoo: Small Swallow Tattoo Behind the Ear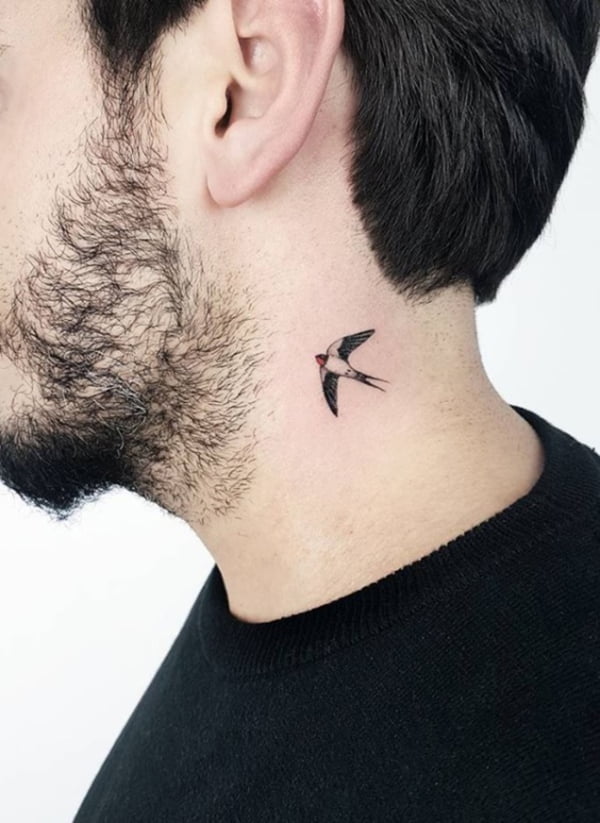 Behind the ear, this small swallow tattoo is a popular choice for both male and female adventurers. Flying towards the sky, the honorable little bird symbolizes safe travels, good luck, and homecoming. The pleasant swallow is inked from its beak to its tail feathers in this attractive unisex bird tattoo.
13. Boldly Colored Phoenix Chest and Shoulder Tattoo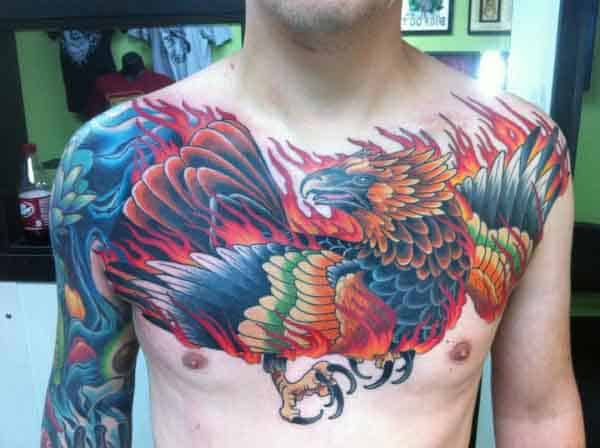 Draped across the chest, from shoulder to shoulder, this boldly colored tattoo is breathtaking. There is an incredible range of colors in this eye-catching bird tattoo, including oranges, blues, yellows, and reds. The details in the phoenix's face, beak, and claws give this magical tattoo a realistic touch.
14. Grayscale Swallow with Rose and Circles Tattoo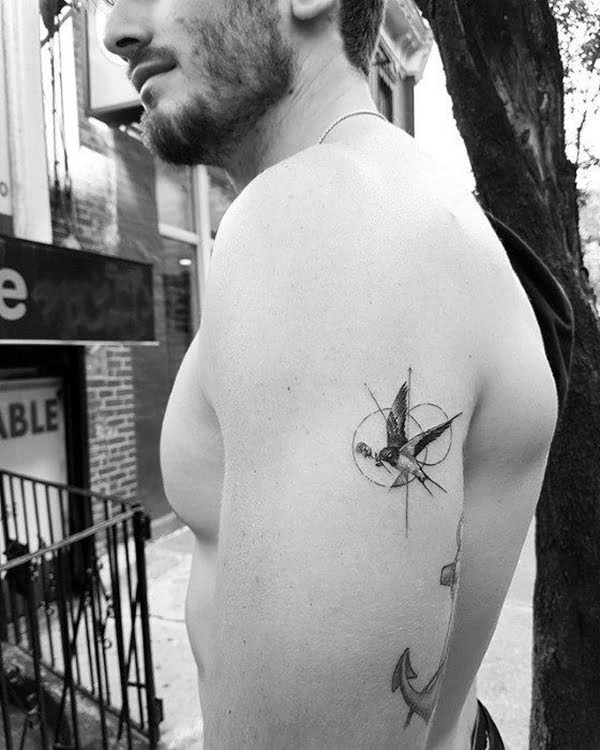 In this charming grayscale bird tattoo, a beautiful swallow is flying around ready to deliver the rose carried in its beak. Swallows often represent a journey or homecoming and are sometimes considered a lucky charm. Simple circle outlines add to the energy of this attractive swallow and rose shoulder tattoo.
15. Black and White Geometric Bird Tattoo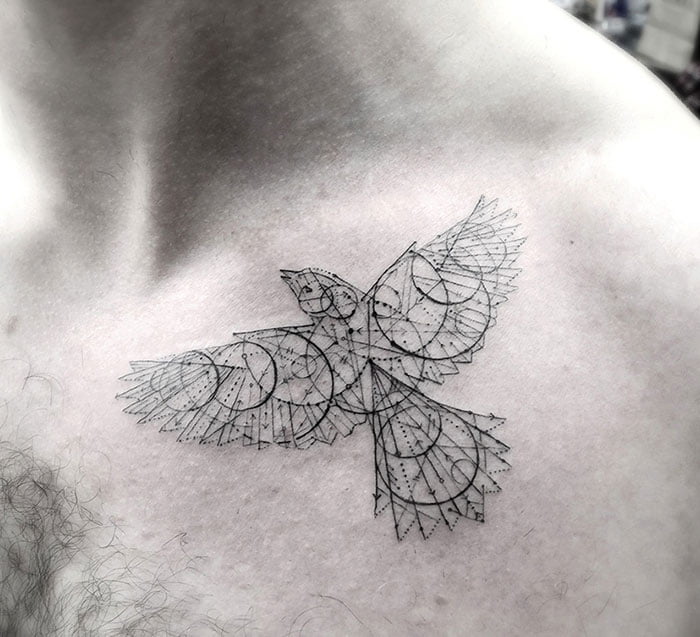 Instead of using bright colors to attract attention, this intriguing black and white geometric bird tattoo features circular and linear architectural details. Within the outline of a bird in flight is intricate linework reminiscent of constellations in a sky. This thought-provoking bird tattoo seamlessly blends art and science.
16. Small Flying Dove Tattoo Swallow Ankle Tattoo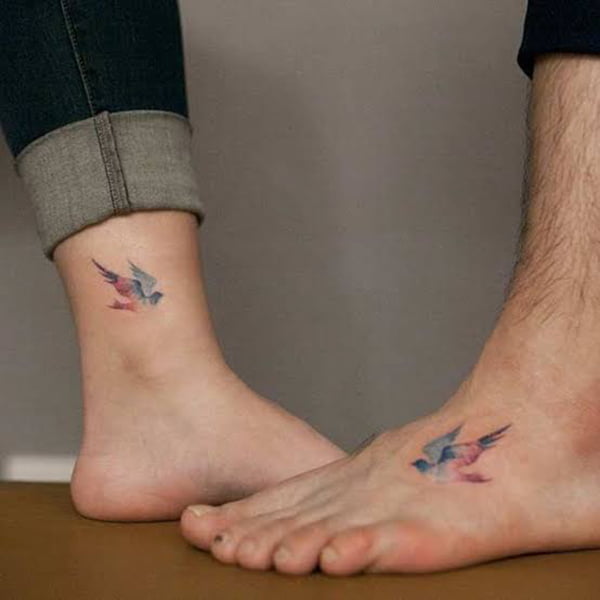 Delicate and cheerful, this charming blue swallow tattoo daintily flitters about on the ankle or top of the foot. Soft hues and subtle shading make these pleasant little bluebird tattoos appear almost lifelike. The small flying blue swallow foot tattoos are great for couples or siblings seeking matching tattoos.
17. Red and Orange Geometric Tattoo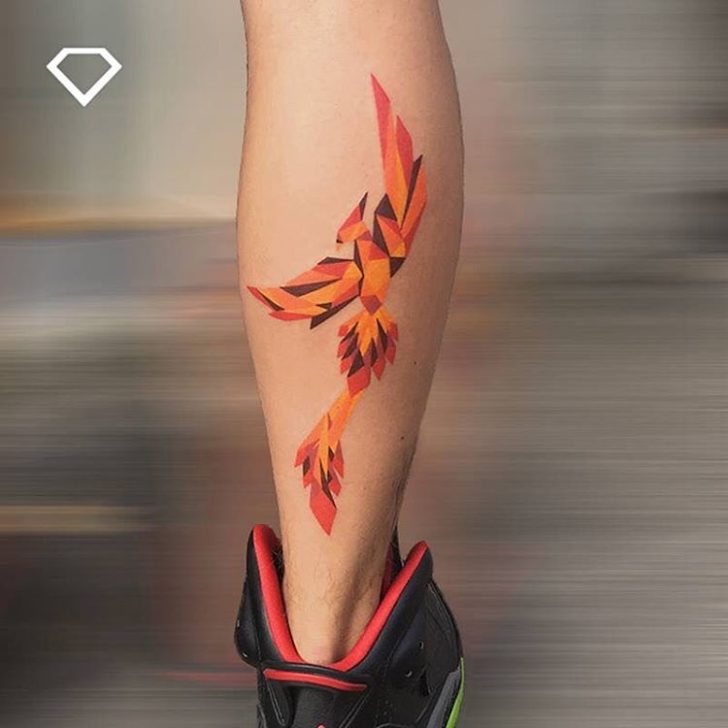 Its wings proudly extended upward and outward, this brilliantly colored geometric phoenix tattoo captivates and mesmerizes. Shapes in varying shades of reds and oranges merge with one another to create the fiery feathers of the great phoenix. This unisex rising phoenix bird tattoo looks best on legs and arms.
18. Multi-Colored Bird's Eye Illustration Tattoo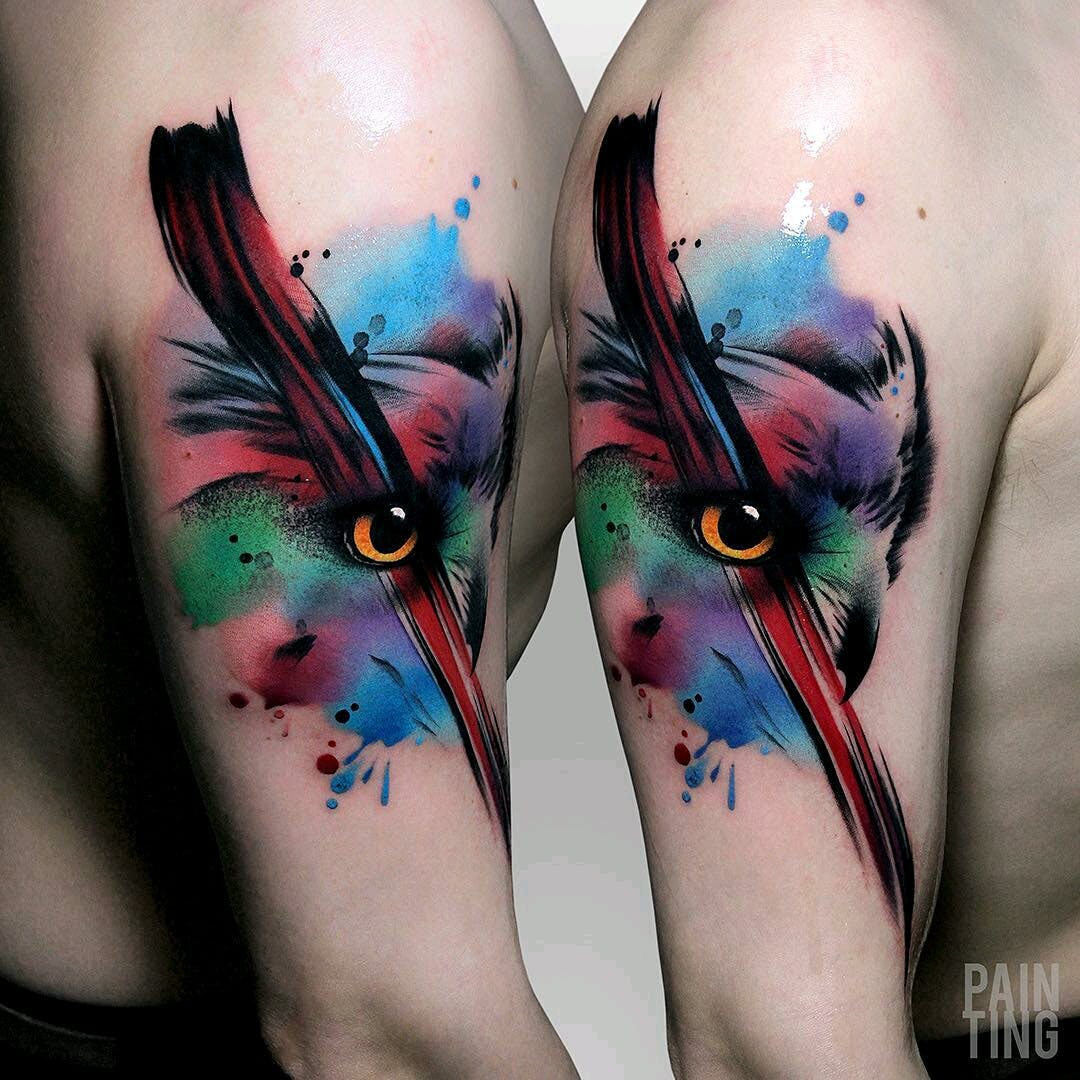 Aesthetic splashes of colors in blue, violet, teal, and magenta surround a lifelike bird's eye in this incredibly imaginative bird tattoo. Artists and other creative individuals are drawn to the charisma of this striking bird's eye tattoo. Adding to the illustration style are drips of color and feather-like paint strokes.
19. Grayscale Phoenix and Feathers Back Tattoo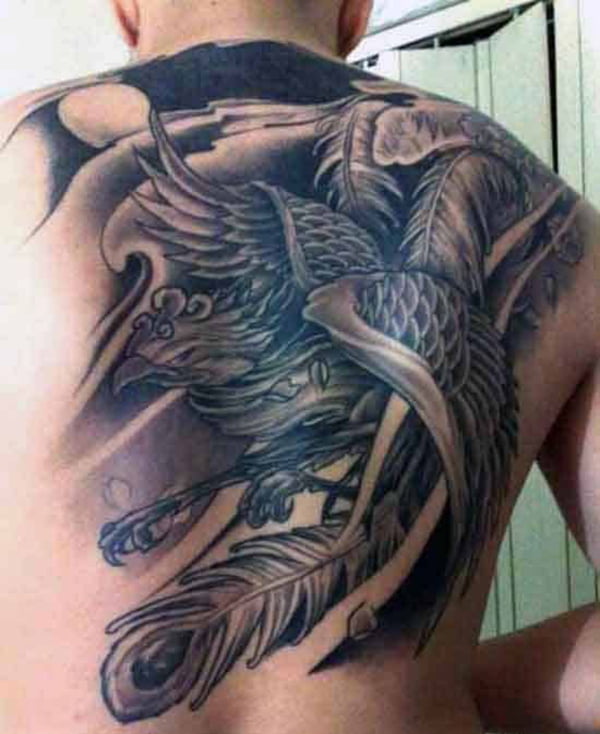 Within the dark shadows and shading of this fantastic bird tattoo, you find the legendary phoenix encompassed by dramatic floating feathers. The various textures of the bird and the background add to the movement of this impressive grayscale back tattoo. This magnificent bird tattoo emotes courage, strength, and power.
20. Rising Red Phoenix with Blue Accents Tattoo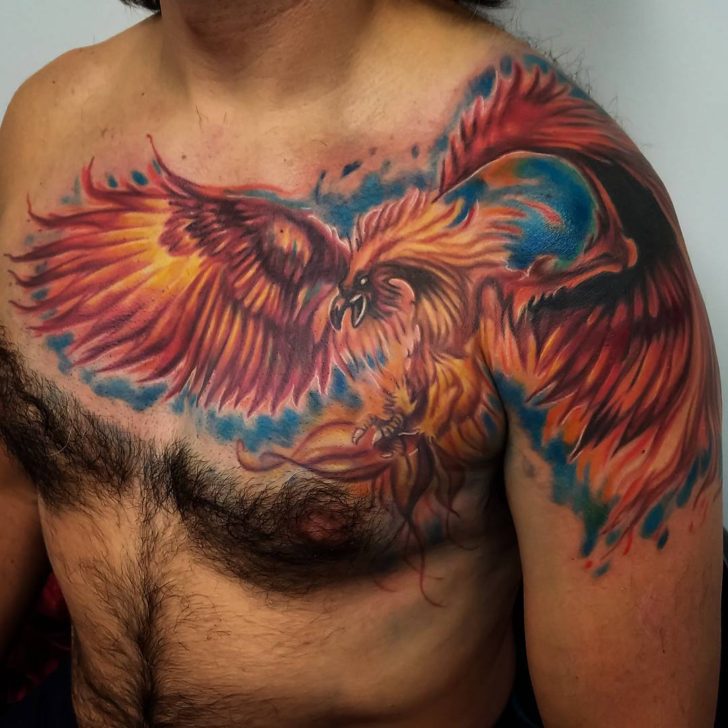 Rising from the chest and shoulder, this brightly colored bird tattoo depicts the great and powerful phoenix. The mythical firebird is significant in many cultures as a symbol of change and new beginnings. A brilliant red phoenix is surrounded by vibrant swirls of blue in this attractive bird tattoo.
21. Black and White Sketch Style Swan Tattoo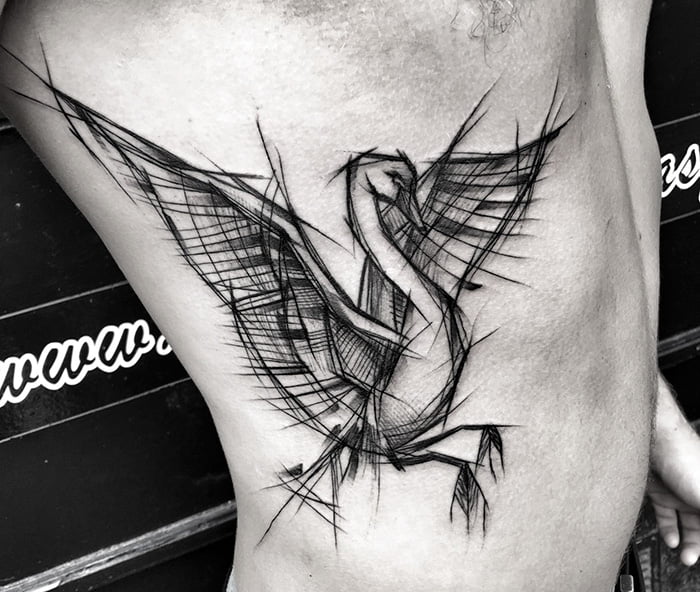 Swans are handsome, graceful birds that symbolize trust, loyalty, and inner beauty. With its contemporary sketch style, this compelling black and white swan tattoo brings an edgy vibe to a sophisticated bird. Break free from the norm and opt for a more intriguing bird ink like this cool swan tattoo.
22. Pair of Ravens in Red Sky Tattoo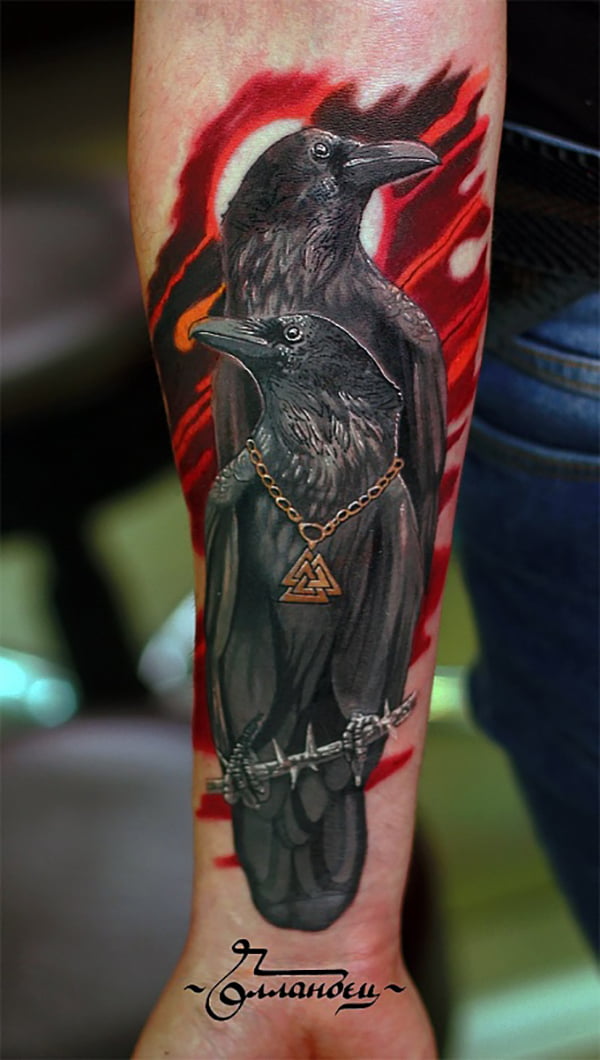 Dark and mysterious, a pair of black ravens perch near one another as they look warily into the distance. A wise and powerful bird, this raven tattoo offers protection as the birds keep a lookout in both directions. A provocative red sky behind the ravens completes this distinguished bird tattoo.
23. Sketch Style Raven Tattoo in Grayscale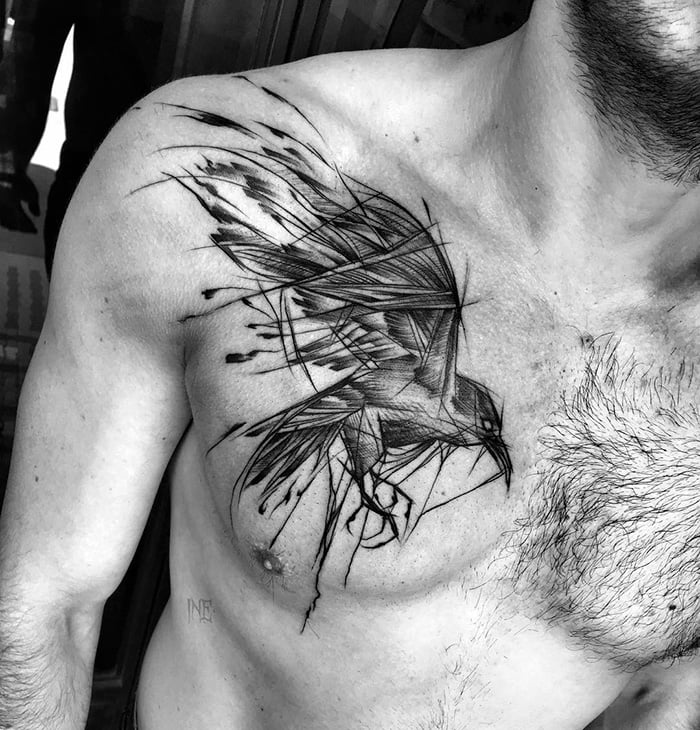 In this captivating bird tattoo, fine details, sharp lines, and dramatic ink strokes create the distinct shape of a raven in flight. Wings extended and claws outstretched, the noble blackbird is prominently placed on the chest. Expressive and artistic individuals appreciate the abstract nature of this arresting raven tattoo.
24. Fiery Red Phoenix Full Chest Tattoo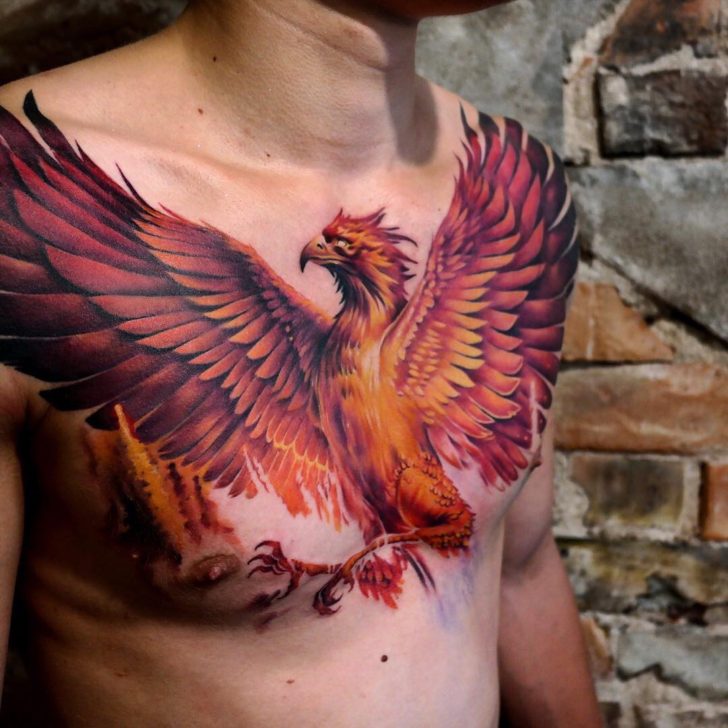 Deep reds, vivid oranges, and dark shadows blend together to create this amazing fiery tattoo. The representative of transformation and new beginnings, the mystical phoenix undergoes a process of change and rebirth, cleansing itself by burning in fire. Proudly displayed on the chest, this is an eye-catching bird tattoo.
25. Black and White Swallow Hand Tattoo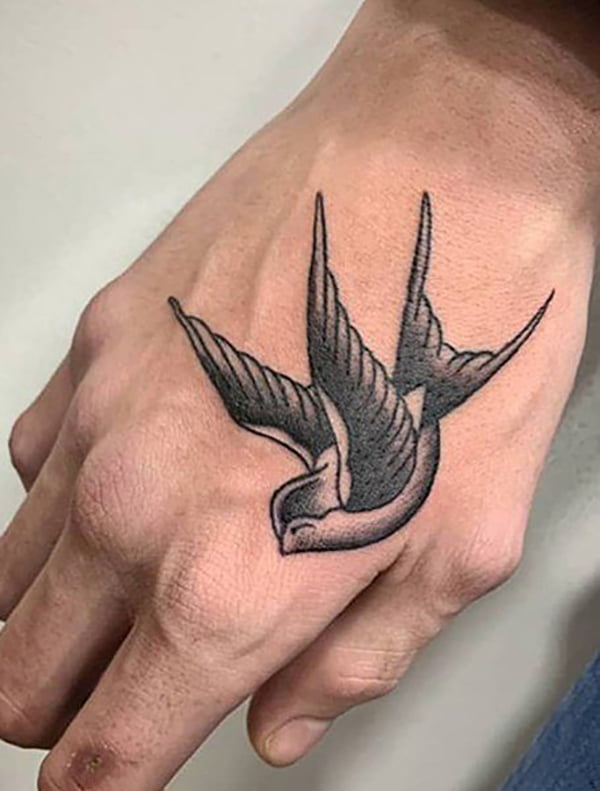 Inked in the popular style of Sailor Jerry, this classic black and white tattoo represents safe travels and homecoming. Placed prominently on the back of the hand, the iconic bird tattoo showcases smooth, elegant lines and an expressive pose. This traditional swallow tattoo is great for men and women.
26. Asian Inspired Phoenix Shoulder Tattoo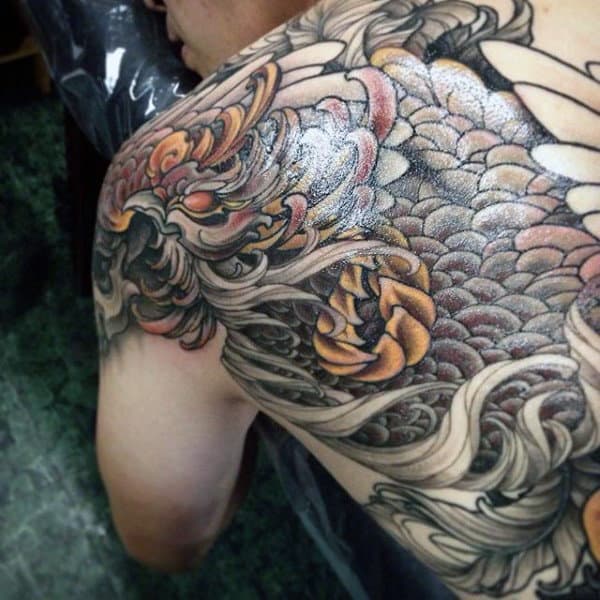 Strong and notable, this Asian-inspired bird tattoo features the evocative phoenix. As tattoo designs are often detailed and complex, they look best tattooed quite large like this remarkable shoulder and back tattoo. Hints of red and gold color reveal from the grayscale phoenix symbolizing fire rising from the ashes.
27. Blue Bird in Flight Tattoo on Forearm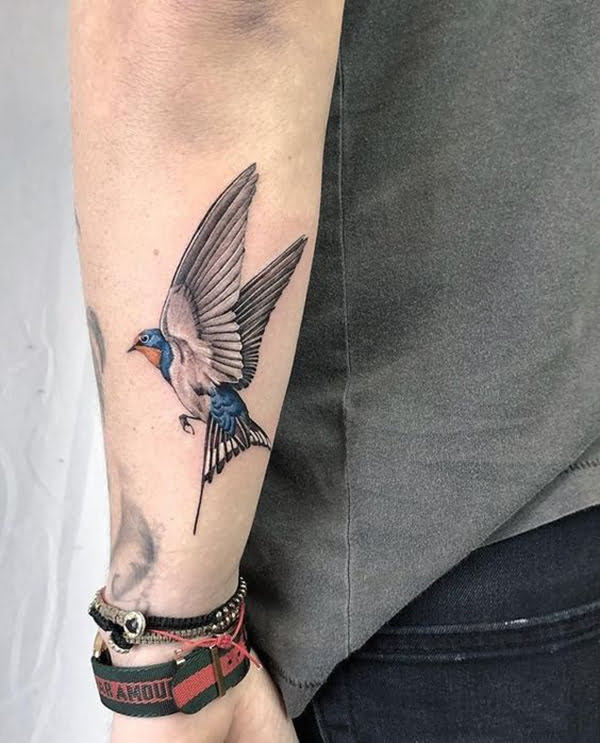 Often associated with happiness and intelligence, the cheerful bluebird is featured in the folklore of countries around the world. In this realistic color tattoo, the graceful bird is shown with wings apart preparing for flight. Suitable for men and women, this bluebird tattoo looks great on arms and legs.
28. Giant Grayscale Hawk Tattoo on Chest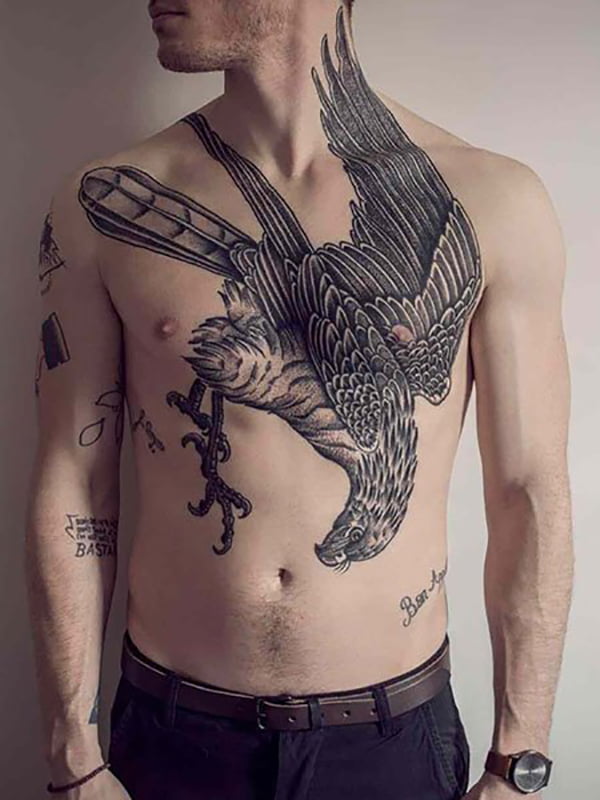 As a respected bird of prey, the honorable hawk is known for its strength, cunning mind, and hunting abilities. There is no denying the majesty of this powerful bird in this giant grayscale chest tattoo. The hawk's awesome wings reach the neck and strong head points towards the belly button.
29. Heavily Feathered Black and White Phoenix Tattoo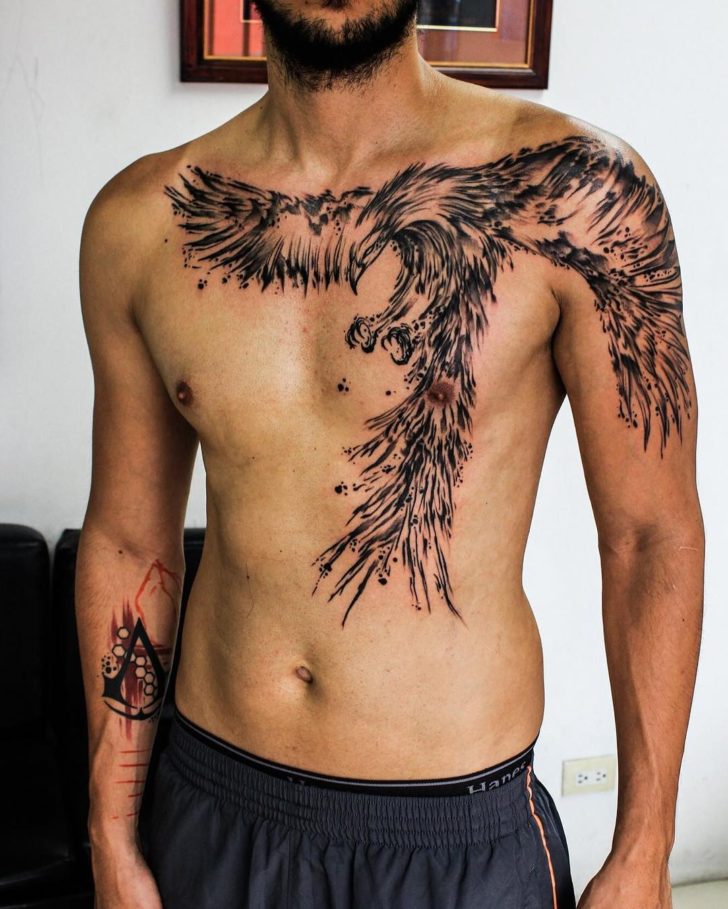 This hypnotic grayscale arm tattoo is heavily feathered for extra texture and motion. As one wing extends to the shoulder and arm, the other wing crosses the chest while the bird's marvelous tail feathers drop towards the stomach. This captivating tattoo is a proclamation of tenacity, bravery, and leadership.
30. Black and White Wrap Around Phoenix Tattoo
This spectacular black and white tattoo borrows from the classical Asian style while maintaining originality. The wrap-around design of this sharp bird tattoo displays the phoenix in a well-deployed creative aspect that generates width. Feathers flowing behind and around the bird complete this fascinating tattoo.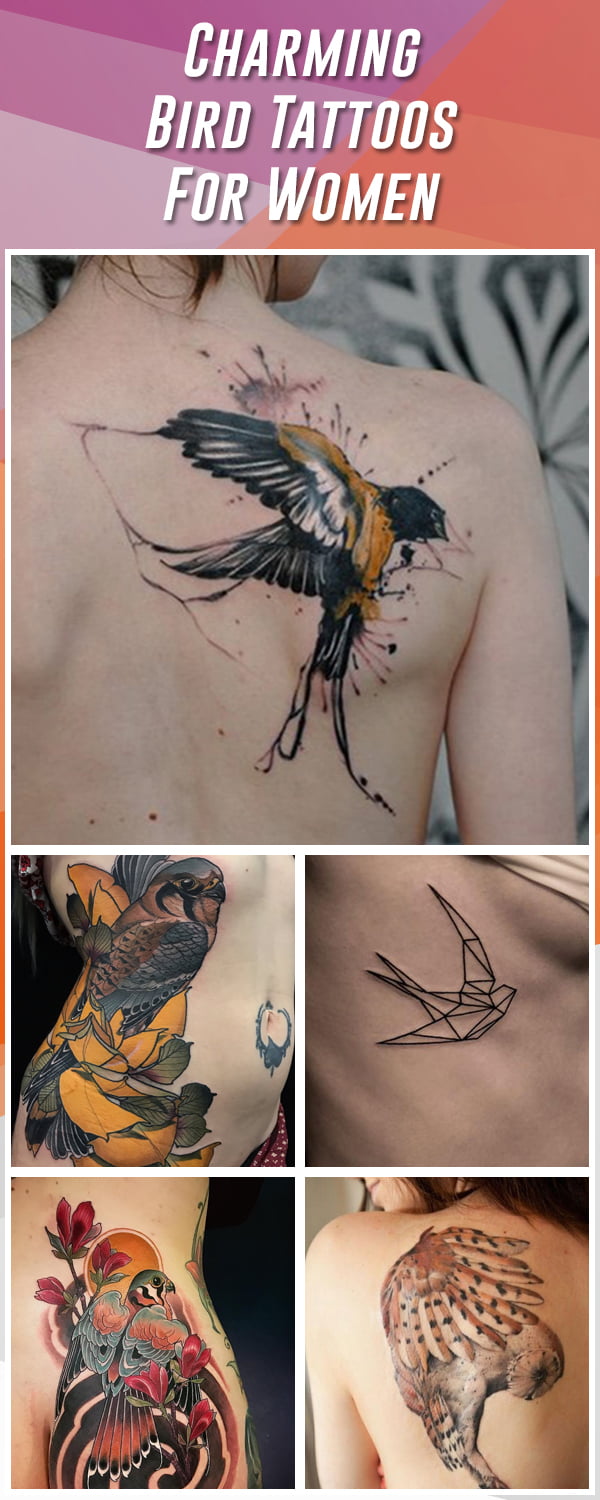 31. Five Black Birds in Flight Neck Tattoo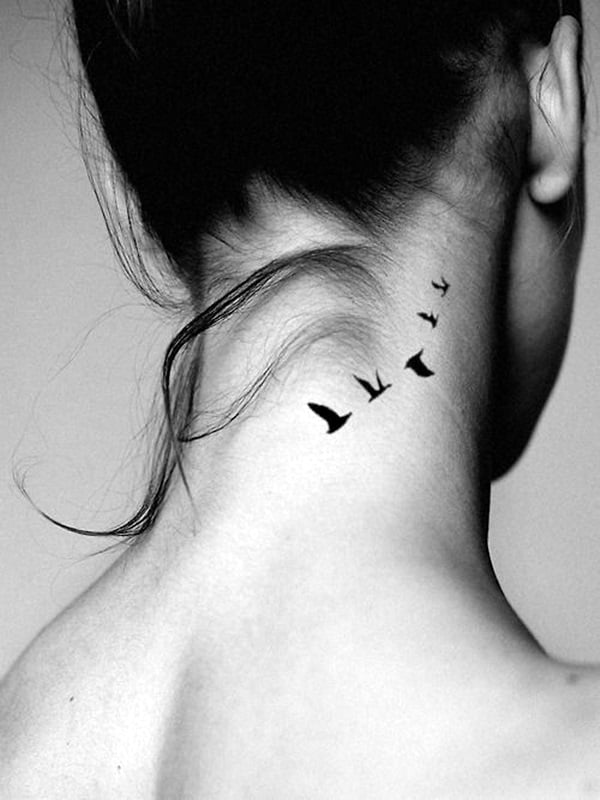 From the back of the neck and up towards the ear, five birds flying in sync. With wings in different spreads, these birds appear to be in flight. Simple, mysterious, and powerful, this compelling bird tattoo is delicate enough for a woman yet strong enough for a man.
32. Elegant Grayscale Swallow Tattoo on Ribs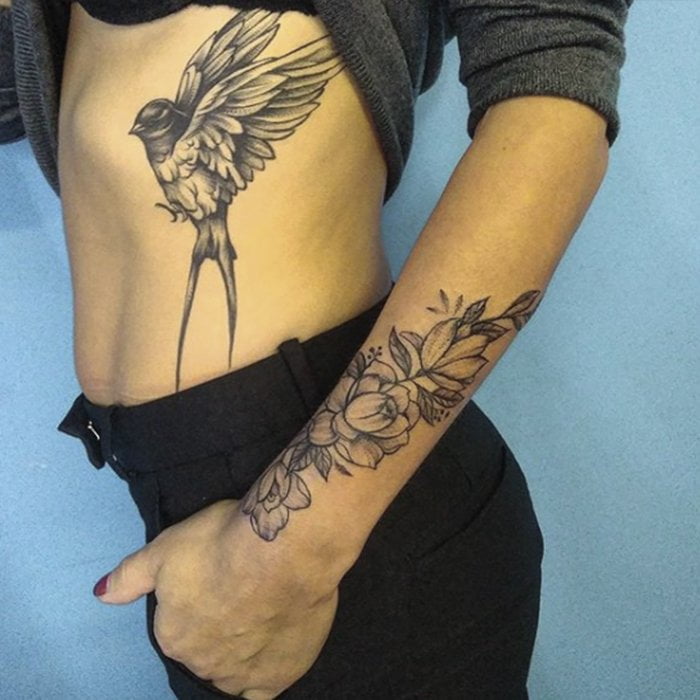 Ready for flight, the swallow's wings spread wide while its forked tail gracefully drops down. The combination of subtle and dark shading keeps this swallow tattoo light enough to allow the bird's natural beauty to shine. Inked on a woman's ribs, the semi-realistic bird tattoo is an intriguing art piece.
33. Small Tattoos Idea: Tiny Black and White Swallow Shoulder Tattoo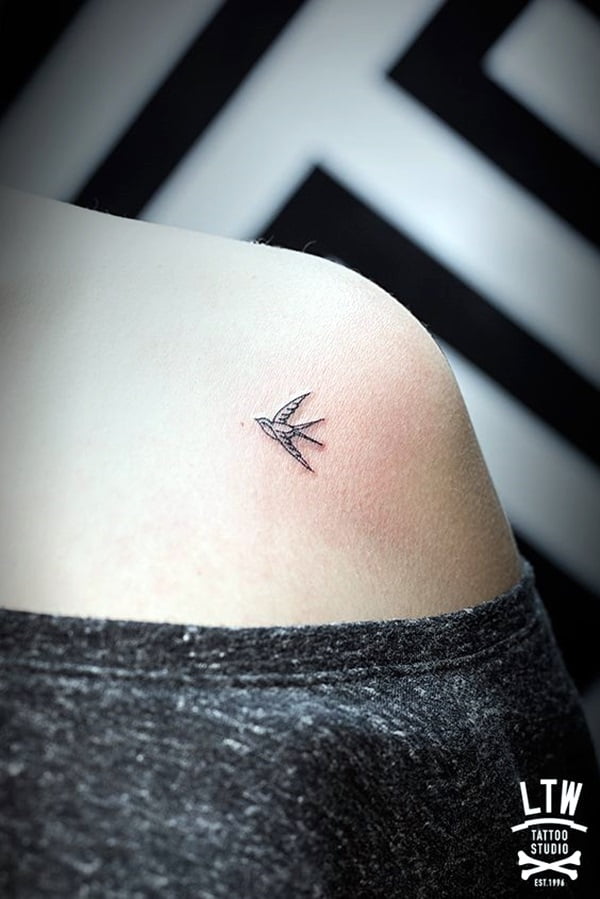 Small in size but big in meaning, the tiny black and white swallow tattoo looks absolutely lovely on a woman's shoulder. Delicately inked in grayscale, this charming bird tattoo is symbolic of humility, freedom and true love. With its timeless simplicity, this attractive swallow love tattoo fits all types of women.
34. No Outline Vibrant Phoenix Tattoo on Side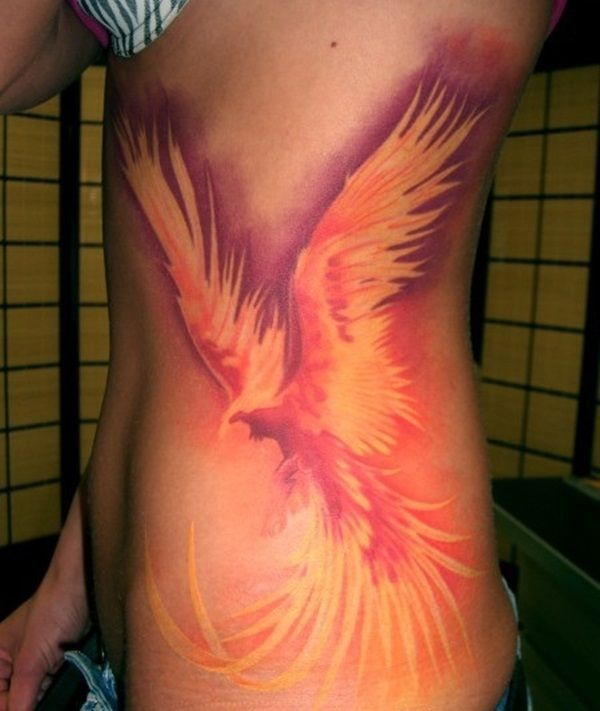 Ancient Greeks honored the mystical phoenix as a symbol of the sun while the Chinese see the phenomenal fire bird as representing powerful femininity. Without the black outline, the crimson, orange and yellow plumage in this tattoo radiates. The dazzling bird tattoo covers the side from armpit to hip.
35. Flying Owl Shoulder Tattoo in Natural Color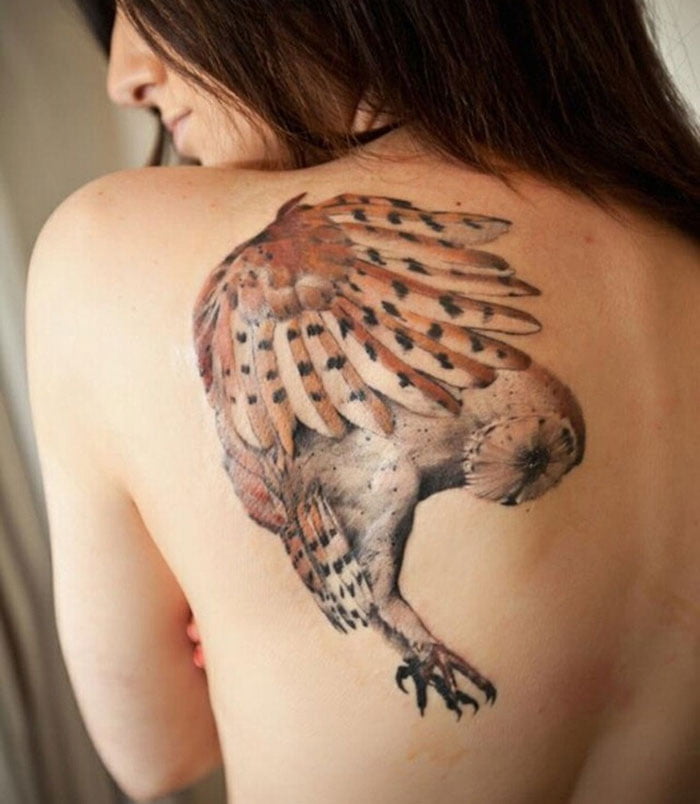 Looking like it's pouncing for prey, this amazing lifelike owl tattoo is inked in a realistic, natural color scheme. The side view of the owl's face shows off the bird's unique fanned out head feathers. Spotted plumage and outstretched talons give this bird tattoo a feeling of strength and resilience.
36. Semi Realistic American Goldfinch Bird Tattoo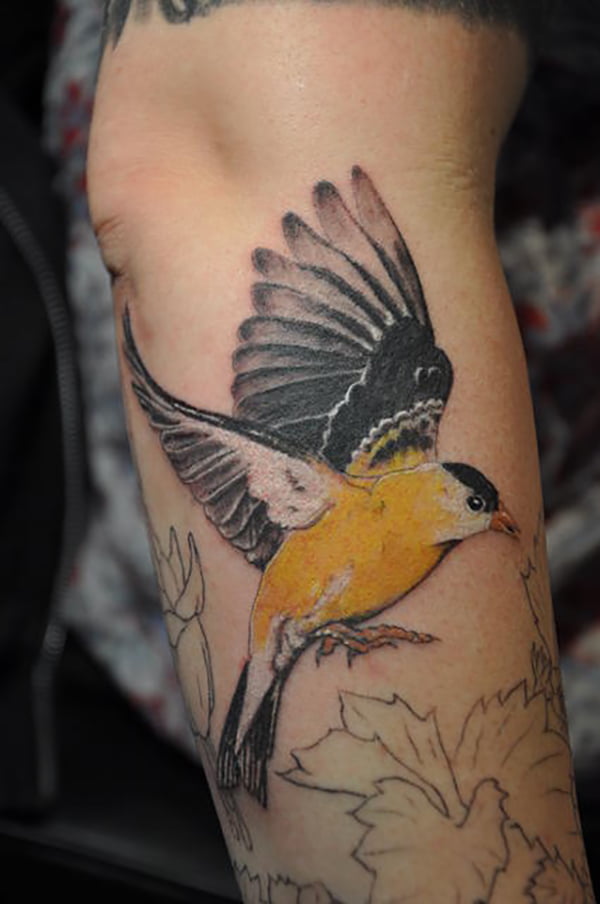 As yellow birds usually represent happiness and prosperity, this semi-realistic American goldfinch tattoo is like a cheerful ray of sunshine. The colorful bird tattoo keeps the natural color of the goldfinch while giving the image a subtle illustrated feel. Let this glorious goldfinch tattoo inspire you to spread your wings.
37. Brightly Colored Hummingbird Tattoo on Shoulder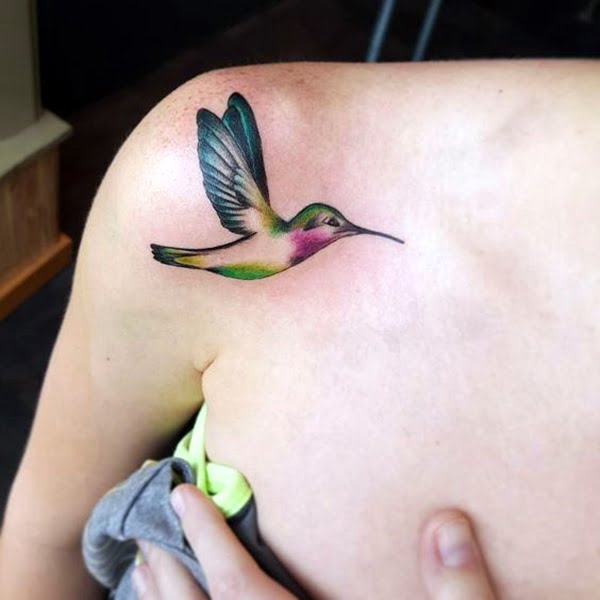 Flitting daintily on a woman's shoulder, this brightly colored hummingbird tattoo exudes cheerfulness and vitality. Although the hummingbird is among the smallest birds in the world, the tiny bird contains an incredible amount of ability and energy. Colorful and cute hummingbird tattoo, this adorable bird tattoo showcases the power of small things.
38. Realistic Swallow Shoulder Tattoo in Grayscale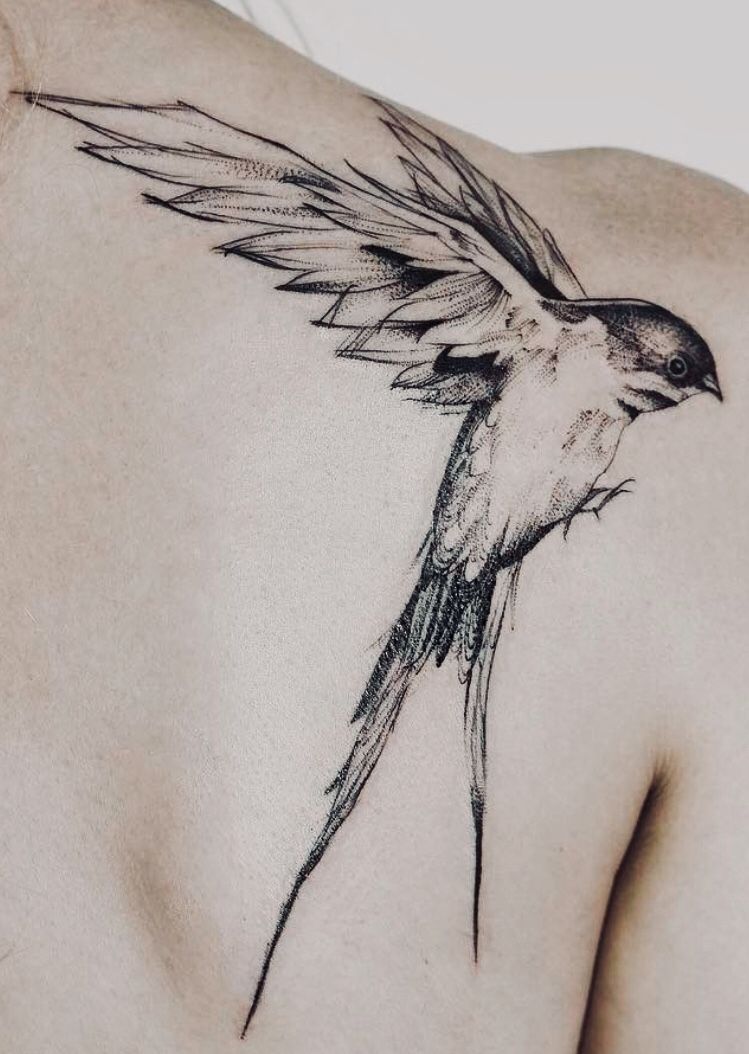 On the back of a woman's shoulder sits this marvelous grayscale swallow tattoo. The flying bird's wings reach for the neck while its distinct forked tail feathers stretch out in flight. Small and mighty, swallows often represent love, loyalty, and travel. This realistic bird tattoo is elegant and timeless.
39. Blue Bird with Gold Flowers Side Tattoo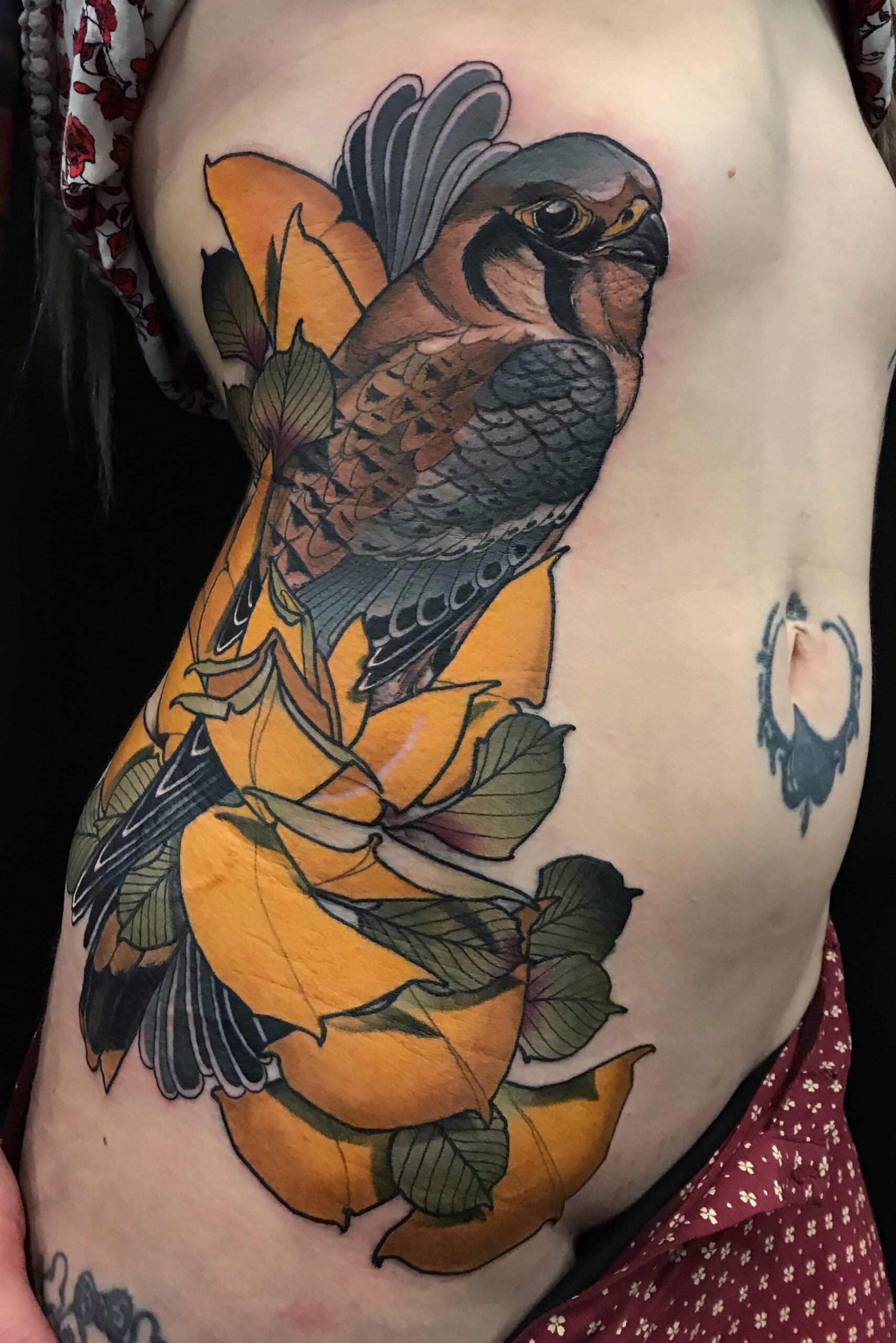 In this boldly colored tattoo, a stately bluebird sits among an arrangement of golden yellow flowers and dark green leaves. Almost animated, the bird appears to be in thought with its head turned looking off into the distance. Strong outlines blend with fine linework in this magnificent bird tattoo.
40. Black and White Bird in Flight Tattoo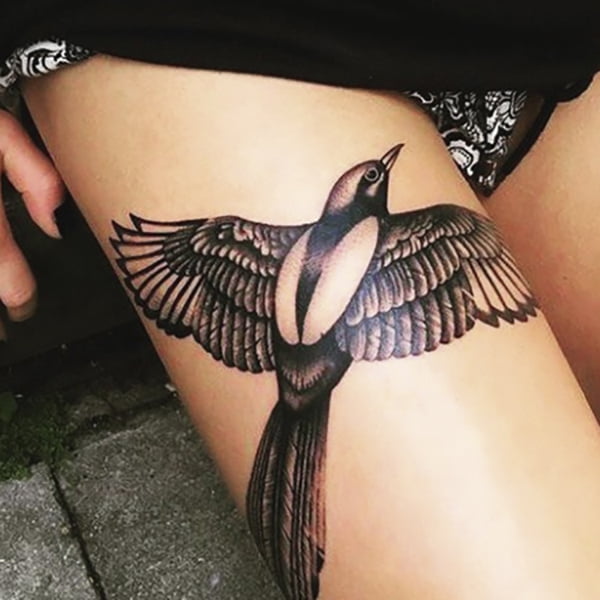 With its distinct black and white coloring, this awesome flying bird tattoo emits a vibe of self-sufficiency and fearlessness. The size and shape of this striking bird tattoo make it an excellent choice for nearly any location on the body. Bold outlines accentuate the feathers in this compelling bird tattoo.
41. Geometric Black and White Bird Ribs Tattoo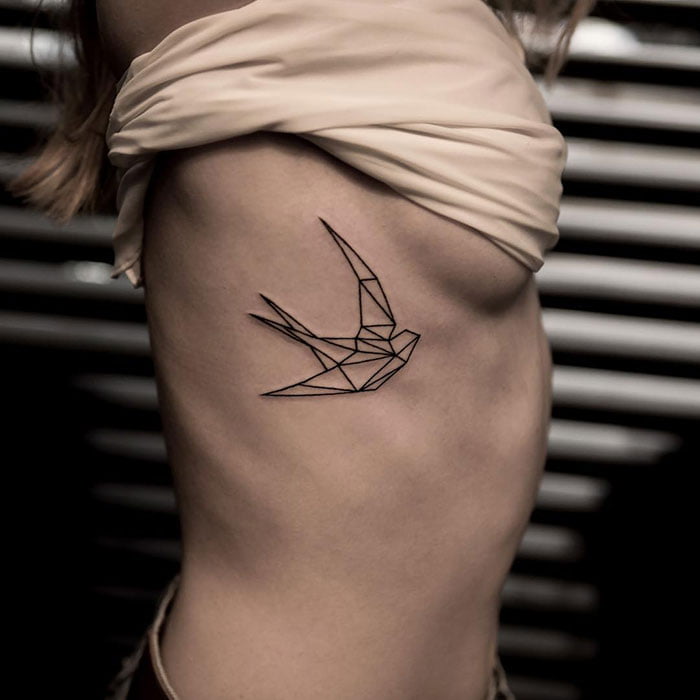 Striking without any color, this geometric bird tattoo is an eye-catching option. Similar in appearance to origami, this tantalizing body art takes a more conceptual and artistic approach than commonly seen bird tattoos. The black and white bird tattoo is placed high on the side of a woman's rib cage.
42. Free Indeed with Colorful Bird Tattoo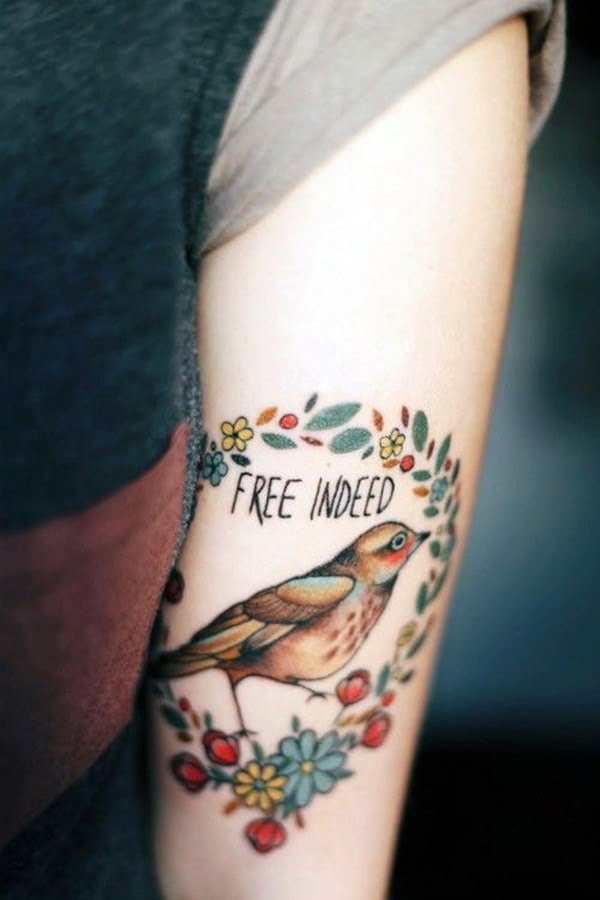 There are so many wonderful colors in this creative and expressive bird tattoo, it's sure to capture attention. Inside a delightful circle of flowers, leaves and berries sit a gorgeous colorful bird. The inspiring words "Free Indeed" are written above the bird's head in this whimsical and spirited bird tattoo.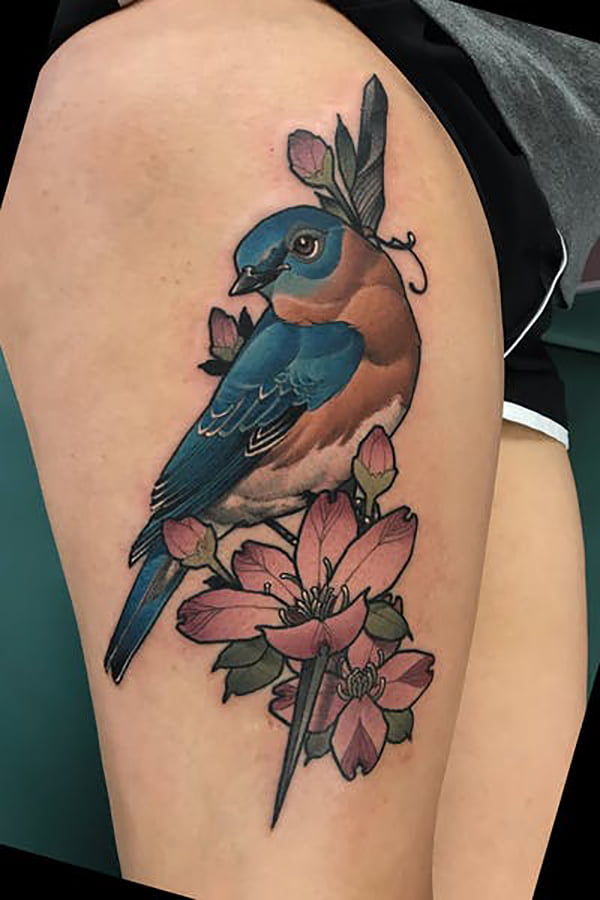 Perched upon a bunch of pretty purple flowers, a vibrant bluebird sits majestically while it gazes thoughtfully into the horizon. Saturated with soft and pleasing hues, this colorful bird tattoo exudes innocence, joy, and contentment. Charming and cheerful, this is a beautifully romantic floral and bluebird tattoo.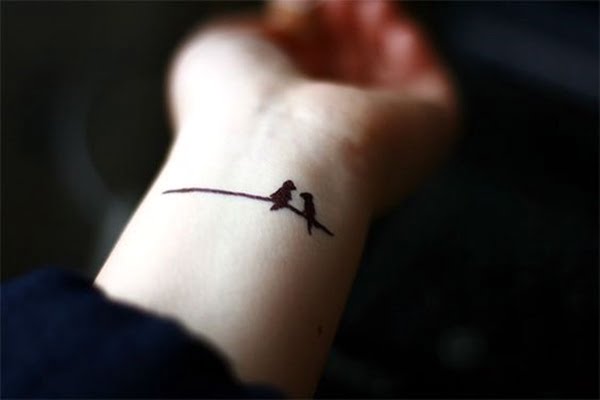 Birds flying on the wrist is a popular tattoo choice as the birds can usually be miniaturized without compromising authenticity. This pronounced bird tattoo distinctly shows the shadow of two birds perched upon a wire. By keeping the design simple with black ink only, the bird tattoo feels pure and hopeful.
45. Minimalistic Black and White Bird Outline Tattoo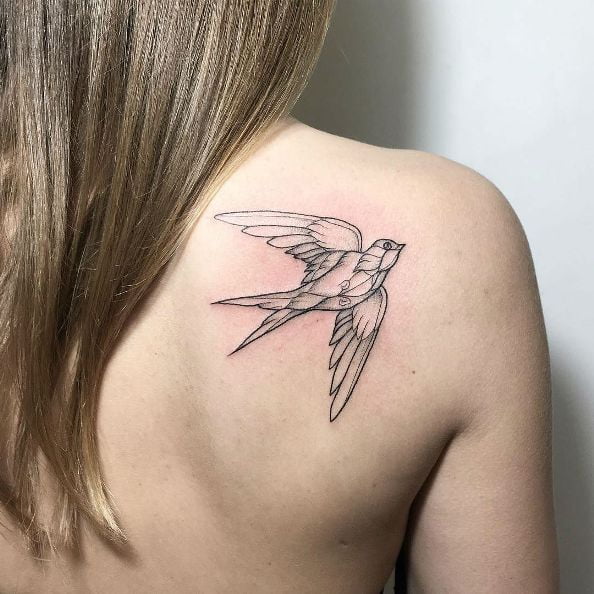 Instead of a realistic or illustrative style, this noteworthy black and white bird outline tattoo is more abstract and architectural. Each of the flying bird's major feather groups is defined without the distraction of individual feathers. Simple and stylish, this attractive bird tattoo expresses creativity, independence, and freedom.
46. Native American Inspired Grayscale Eagle Tattoo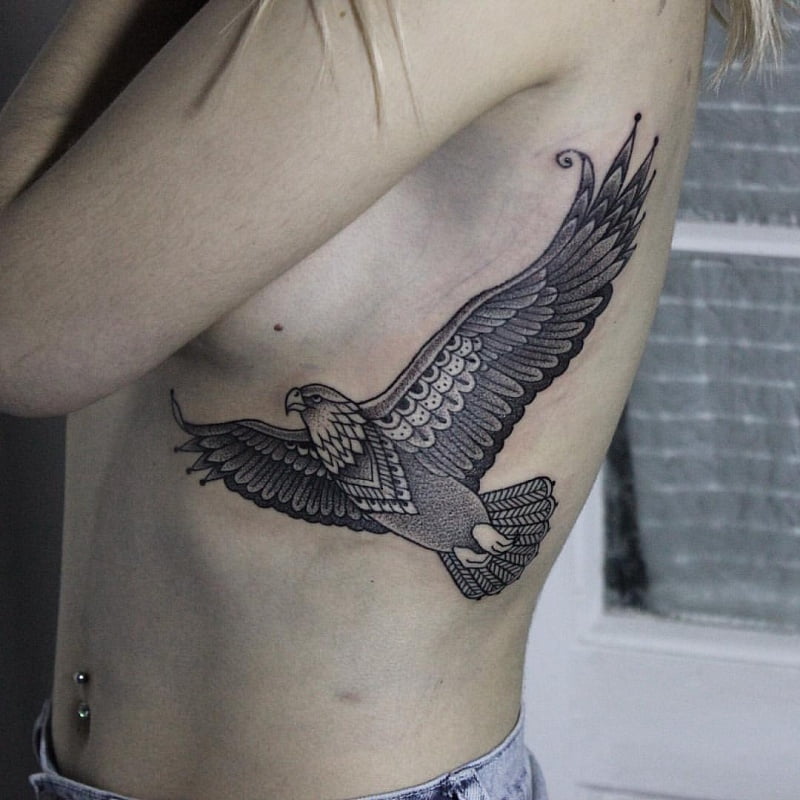 Many Native American tribes revere eagles as sacred animals representing strength, courage, and vision. In this intricate black and white eagle tattoo, the honorable bird is flying with its great wings at full span. The tribal tattoo geometric details in the eagle's wings and breast give spirit to this bird tattoo.
47. Enchanting and Delicate Colorful Flying Phoenix Tattoo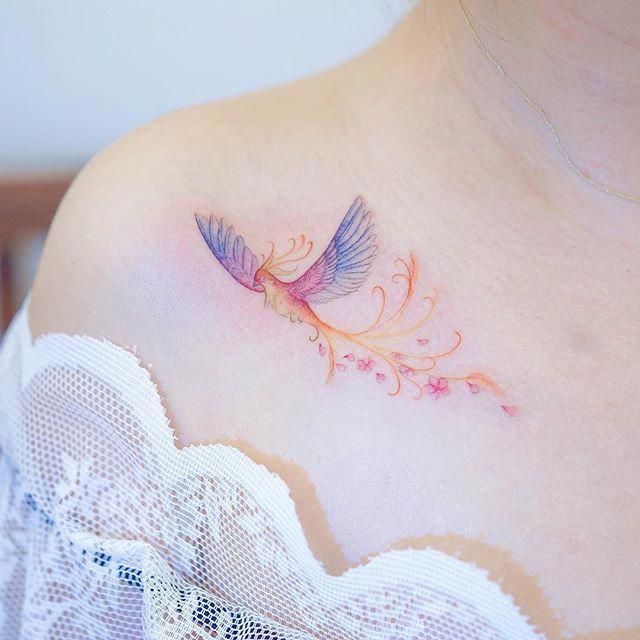 Majestic wings spread and delicate tail feathers flowing, this rainbow phoenix tattoo is breathtaking. The cheerful color scheme of soft blues, purples, oranges, and pinks is associated with vitality, warmth, the sun, and fire. Mystical and enchanting, this bird tattoo is an attractive and powerful emblem of positivity and change.
48. Subtly Colored Cardinal and Floral Side Tattoo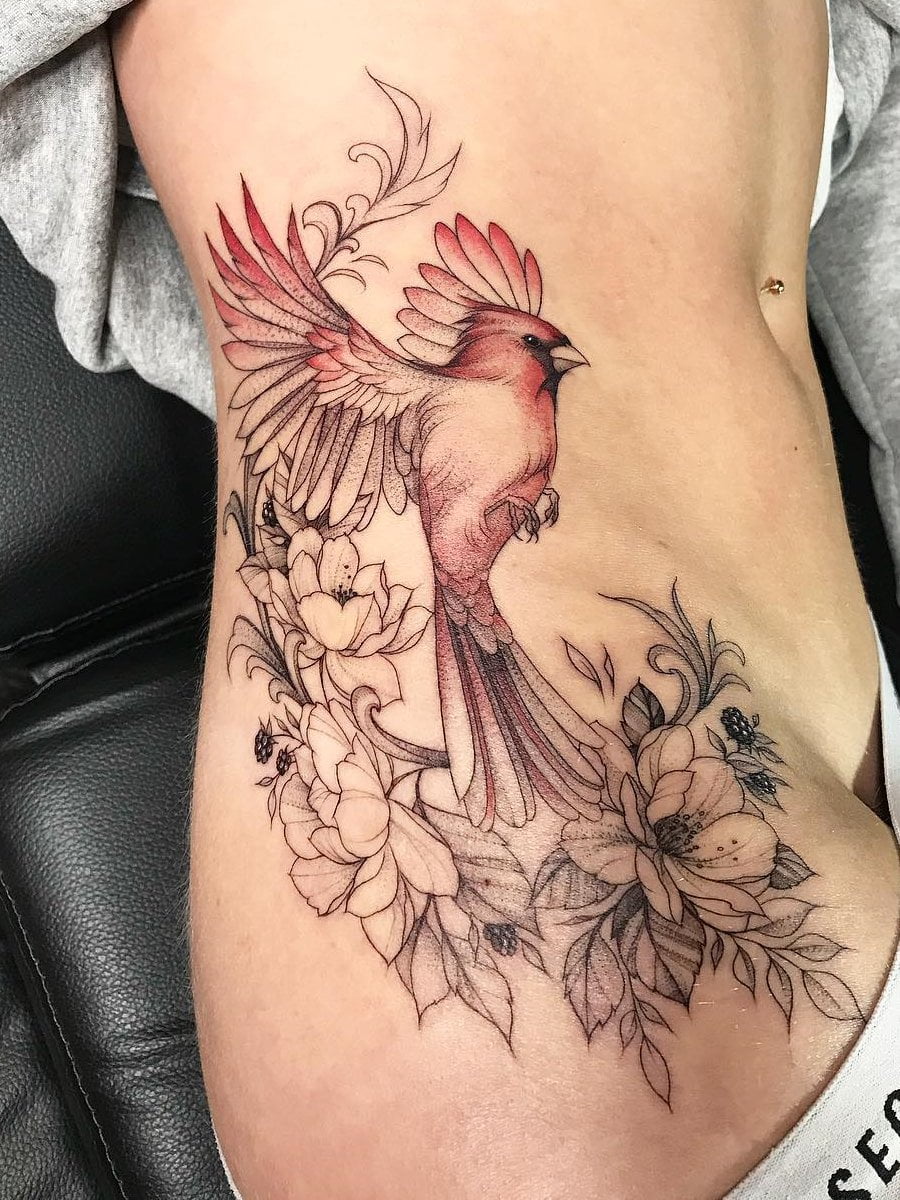 One of the most striking birds in nature, the red cardinal makes great color tattoos in any style and placement. Inked on a woman's side, this subtly hued bird tattoo features the flying cardinal amid a bouquet of beautiful flowers. Full of vitality and energy, this cardinal tattoo is exquisite.
49. Realistic Grayscale Flying Bird Tattoo on Back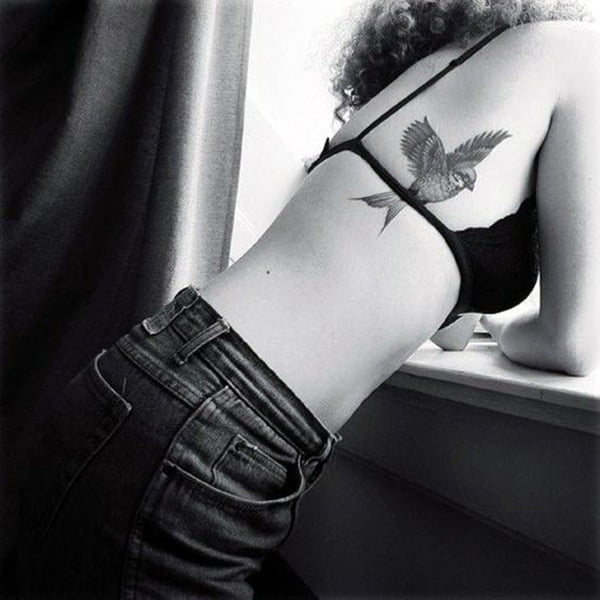 Confident and adventurous women are attracted to this highly detailed realistic flying bird tattoo. Shown on a woman's back, this black and white bird tattoo features fine lines and meticulous shading to create the authentic texture of feathers. Ready to soar, the flying bird tattoo symbolizes freedom and independence.
50. Watercolor Black and Yellow Bird Back Tattoo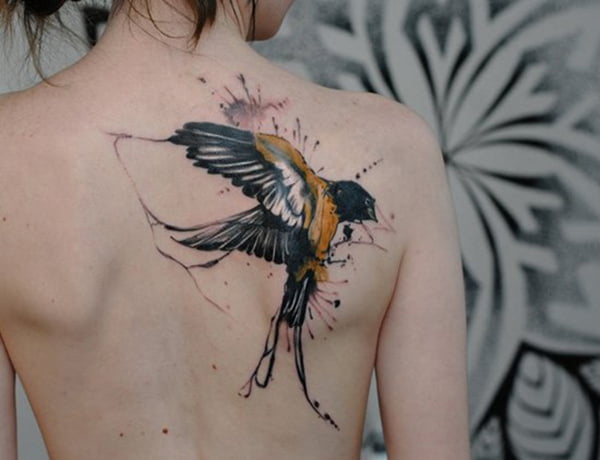 Depicted on a woman's upper back, this entrancing black and yellow bird tattoo is inked in an illustrative watercolor style. Splashes around the picturesque bird make this watercolor tattoo look like it has been painted directly onto the skin. This creative bird tattoo is ideal for artists and free thinkers.
51. Black Eagle with Pink Flowers Side Tattoo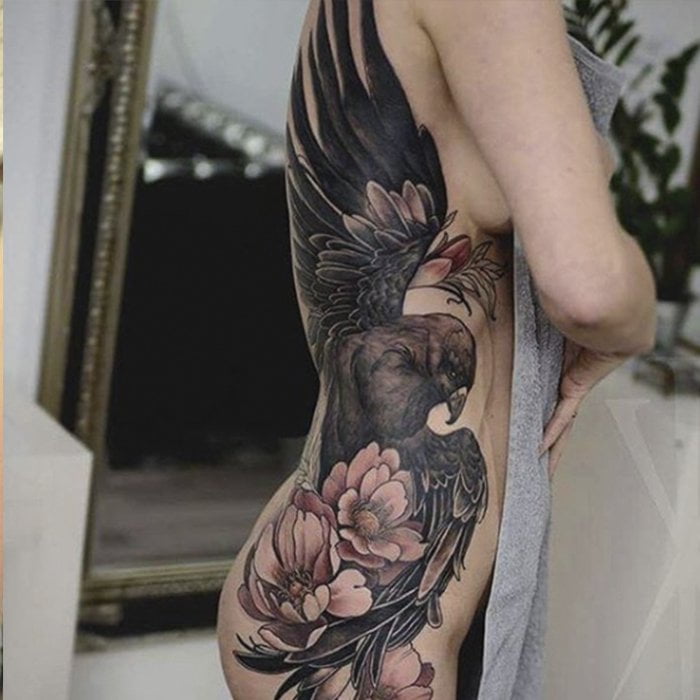 Dark and seductive, this extravagant black eagle tattoo nearly covers a woman's entire side from neck to knee. On a scale, this size, every remarkable detail of the elegant bird tattoo can be clearly seen. Accompanying the gorgeous blackbird in this impressive tattoo are pink flowers in full bloom. A cherry blossom tattoo design could also work well in this style.
52. Naturally Colored Cardinal on Branch Shoulder Tattoo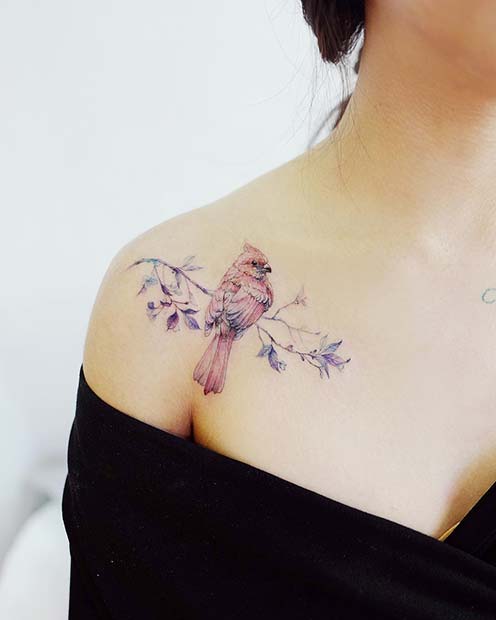 Perched upon the shoulder, this naturally colored cardinal tattoo is elegant and attractive. Charming and elegant, the pretty red bird sets pleasantly upon a branch covered in delicate blue and purple flowers. Underrepresented in bird tattoos, the distinguishable cardinal is a graceful bird of nobility and renewal.
53. Ornate Black and Red Bird Back Tattoo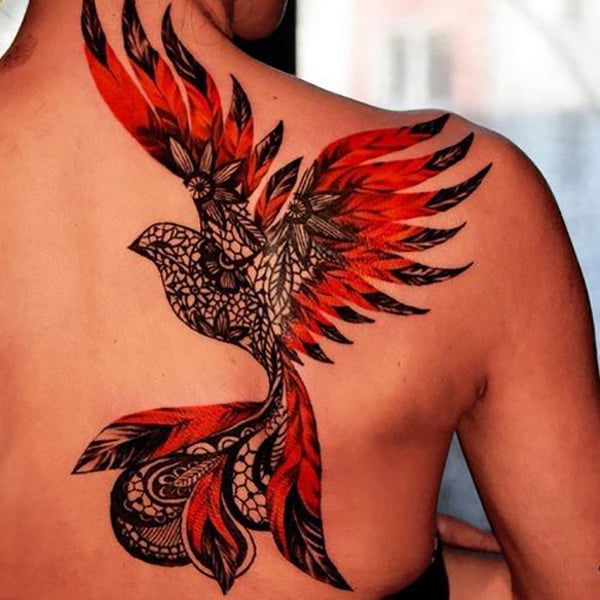 In this amazing back tattoo, a charismatic bird with black, red, and orange feathers is covered in an ornate pattern. Reminiscent of leather and lace, delicate flowers and leaves are hidden throughout the intricate design. Vibrant and complex, this stunning bird tattoo is made for a strong, spirited woman.
54. Pair of Flying Birds Tattoo on Back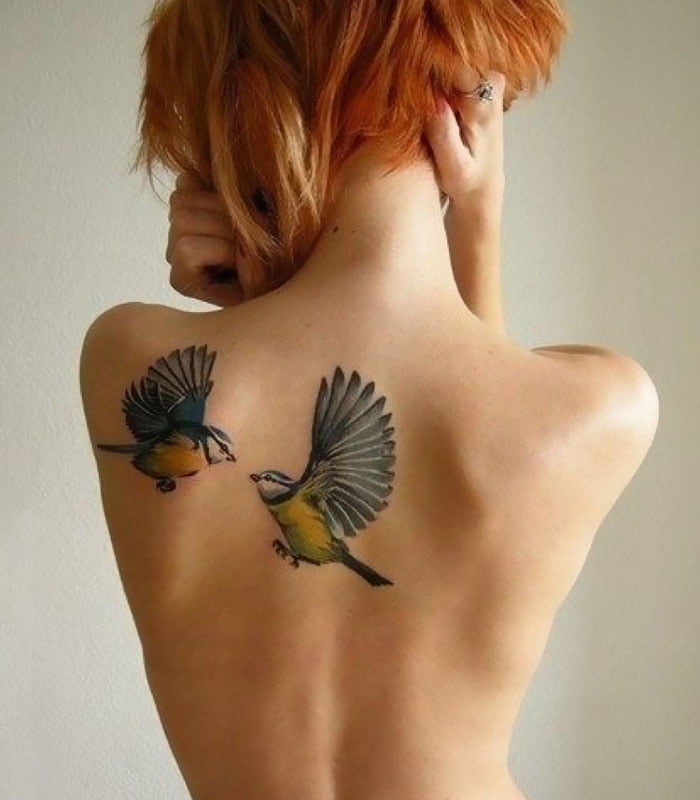 Captivating of the eyes and mind, the pair of birds flying in this realistically colored tattoo gaze lovingly at one another. Both of the delightful birds are shown with their feathered wings spread as if they are ready for an adventure. This cheerful bird tattoo expresses happiness and joy.
55. Unique Tattoos Idea: Brightly Colored Bird Tattoo with Black Swirls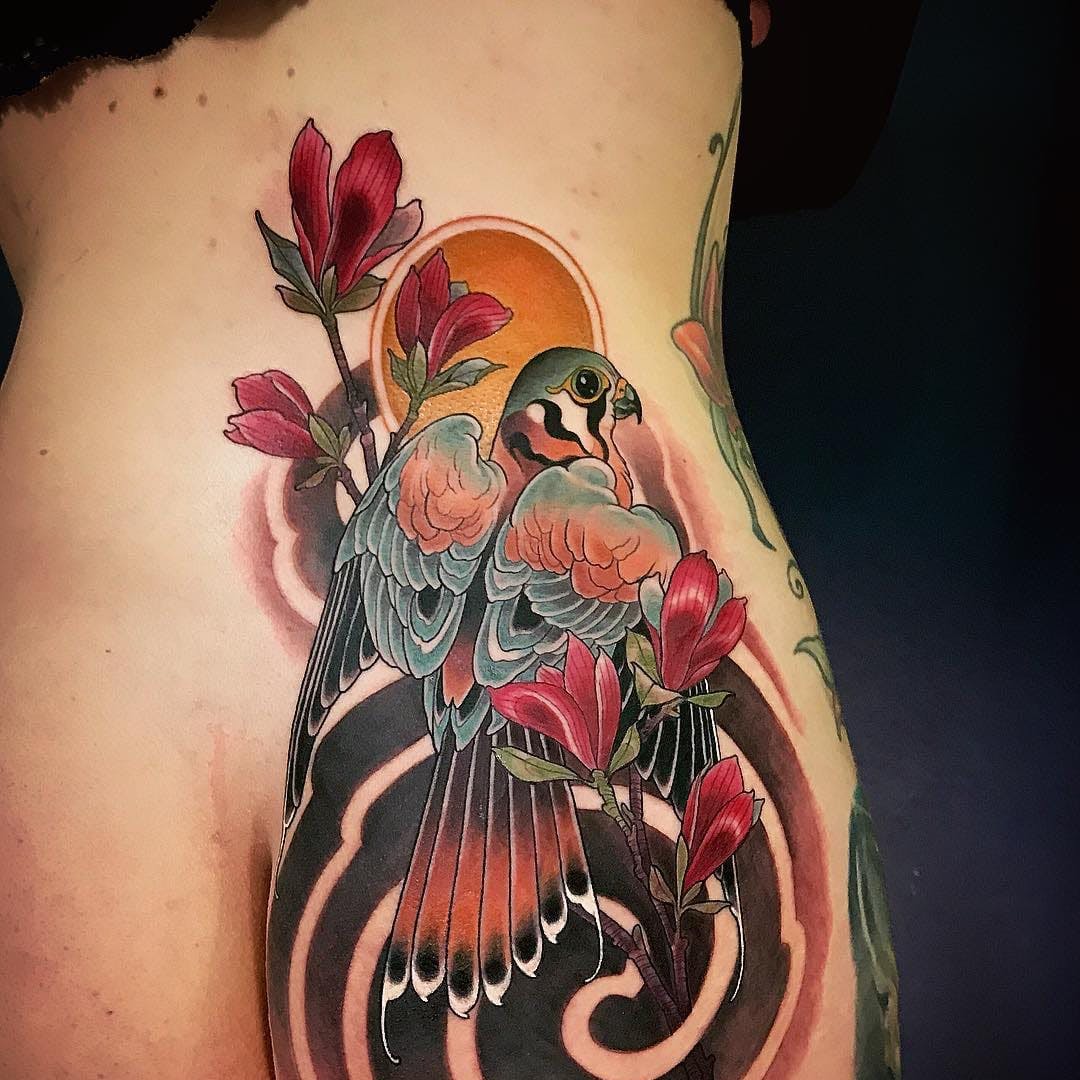 Rich red roses, brilliant orange sun, black swirls, and a colorful exotic bird fuse as one to produce this amazing multi-colored bird tattoo. Ceremonious and courageous, the magnificent bird has blue, orange, and white feathers highlighted by unique black markings. This breathtaking bird tattoo is beautiful and cerebral.
56. Colorful Goldfinch Tattoo with Pink Flowers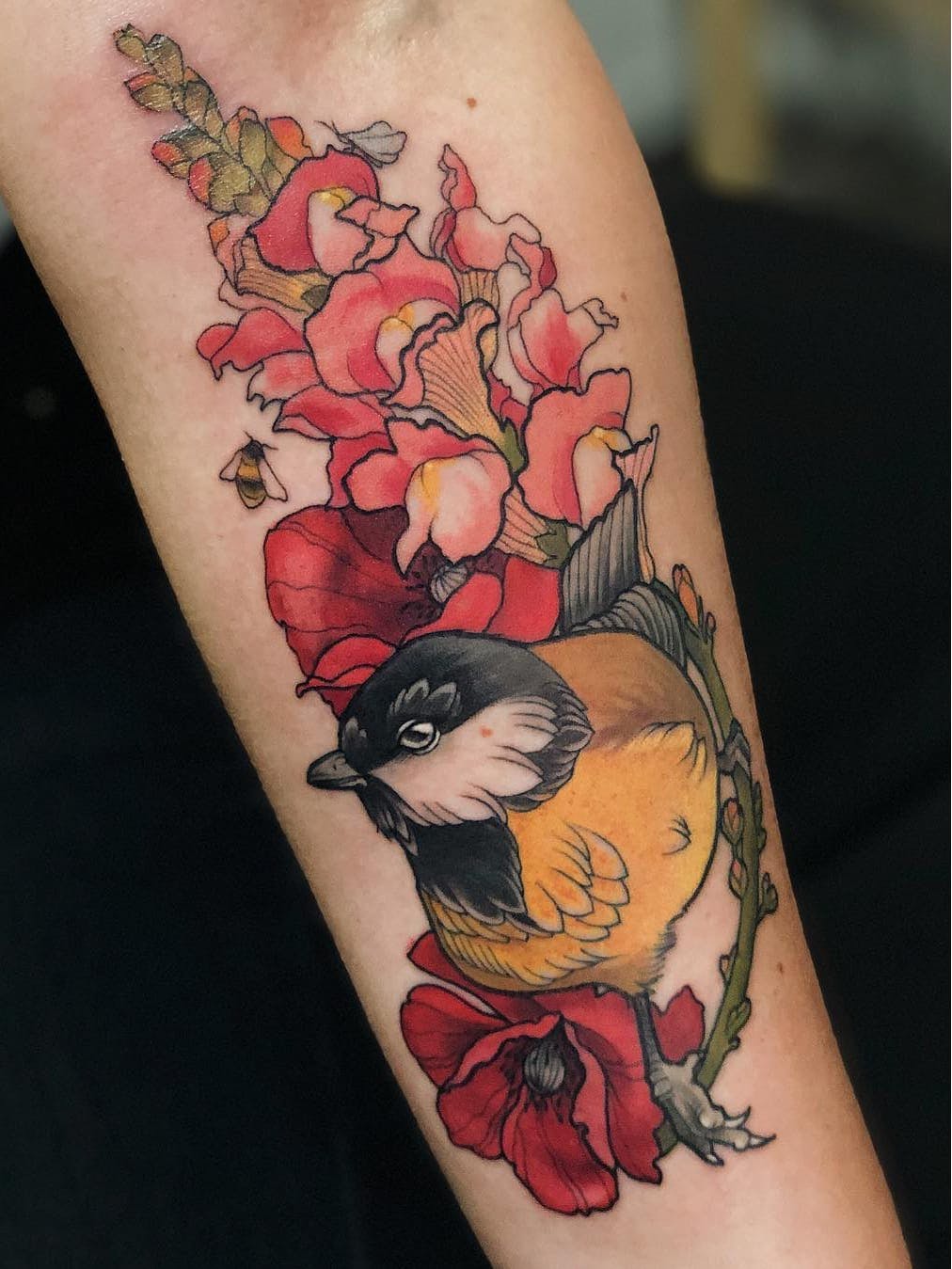 Like a ball of sunshine, the yellow-breasted goldfinch contentedly sits among a beautiful bouquet of pretty pink flowers. A symbol of happiness, love, and fortune, this winsome bird looks great when inked on the skin in full color. Feminine and alluring, this meaningful bird tattoo is sweet and sophisticated.
57. Exquisite Black and White Phoenix Hip Tattoo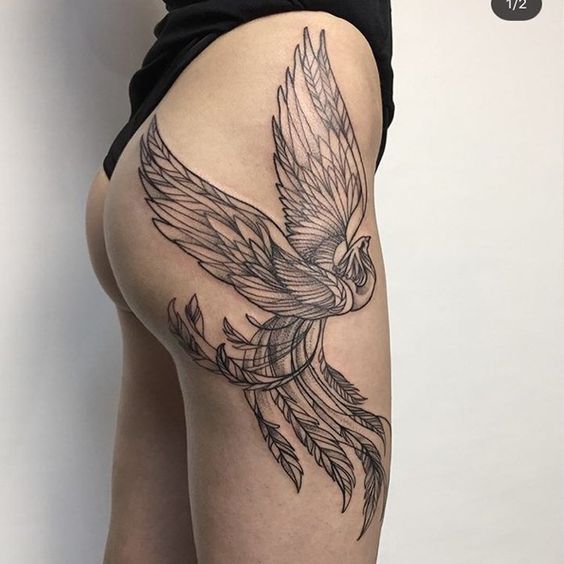 In Chinese art, the phoenix is considered symbolic of powerful femininity and is depicted as the feminine companion of the male dragon. The shape and flow of this bird tattoo make the curvature of a woman's hip the perfect placement. This exquisite phoenix tattoo signifies personal strength gained through adversity.
58. Five Flying Swallows Stomach Tattoo in Grayscale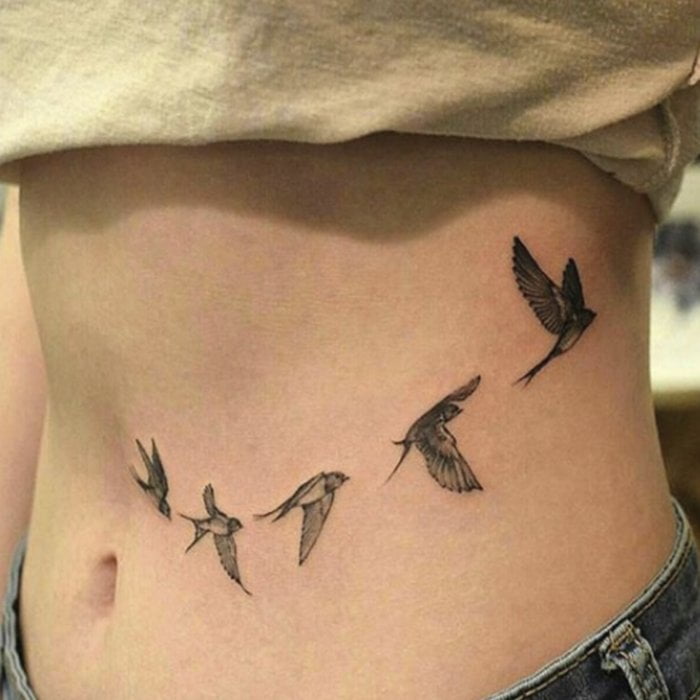 In various stages of flight, this amazingly realistic bird tattoo depicts five swallows flying across a woman's stomach. Dynamic and lifelike, these cinematic swallows almost appear to be in motion. The tiny details and fine feathering in this dramatic bird tattoo make it a memorable piece of body art.
59. Stylized Male and Female Goldfinch Tattoo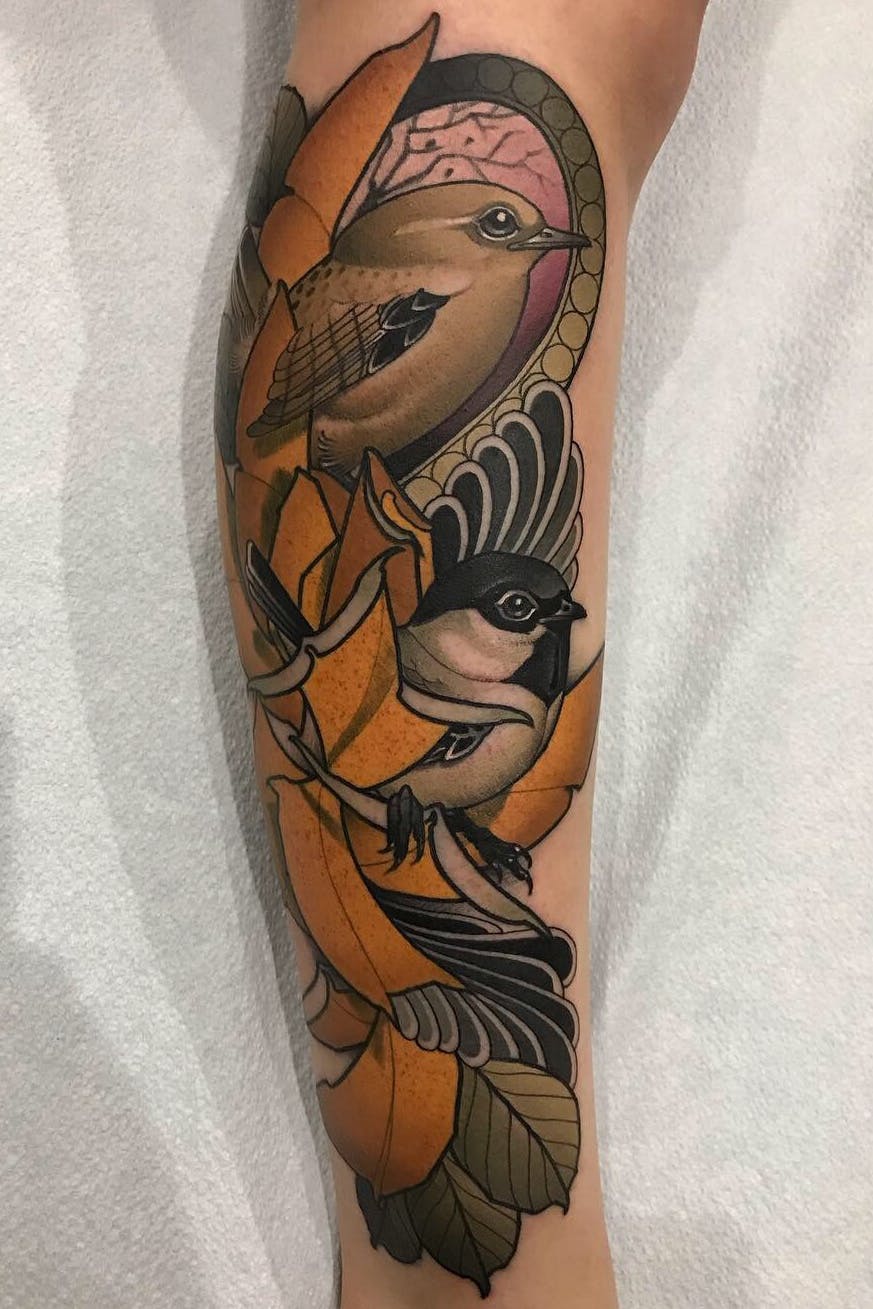 There are a subtle romance and natural earthiness to this elegant stylized bird tattoo. A pair of goldfinches, one male and one female, are perched inside an assortment of refreshing green and yellow foliage. Muted colors, definite outlines, and conceptual details blend exquisitely to form this enthralling bird tattoo.
60. Pair of Origami Birds Flying in Grayscale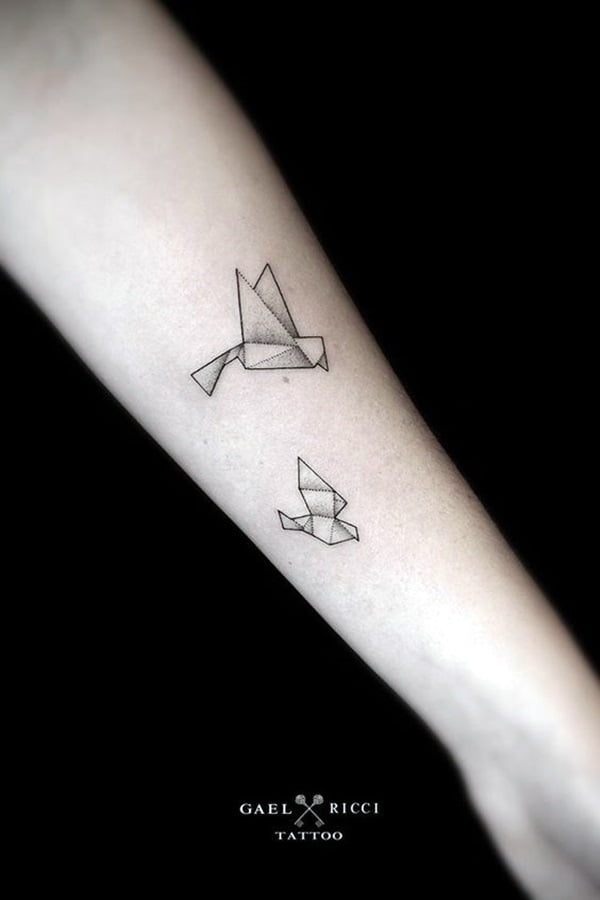 In the Japanese culture, origami bird tattoos are the symbol of peace, happiness, and recovery while the Chinese view the bird as a sign of long life and purity. This grayscale bird tattoo shows two dainty origami birds flying. The unisex origami bird tattoo suits both men and women.
60 Best Bird Tattoos for Creative and Intelligent Men and Women
Meaningful and attractive, these assorted cool tattoos are only 60 of the best bird tattoos out of literally thousands of ideas. Because different bird species each have their own significance, it is understandable why bird tattoos are so popular. Birds represent strength, higher understanding, knowledge, freedom, good luck, and happiness. As a spirit guide, the bird encourages you to do more, to venture beyond your comfort zone, and dare to go higher and further than ever before. Whether you relate more to the wise owl, joyous bluebird, or traveling swallow, it's time to spread your wings and get your dream bird tattoo.