Why settle for less than the best love tattoo ideas? A love that lasts forever deserves art that lasts forever. And you don't just want the design to last. You want its appeal to last. When you're paying homage to the most important people in your life, nothing mediocre will do. The whole point of love tattoos is to encapsulate that deep, breathless feeling. You want to smile every time you see the design, even if its inspiration is bittersweet. You also want everyone that sees your ink to say, "Wow," and ask for the story. Having already shared your tattoo, whether you choose to share its inspiration too is up to you.
60 of the Absolute Best Love Tattoos with Designs That will Endure
Across all the languages in the world, there are hundreds of words for love. If you are lucky, then your life already contains a varied bouquet of loving relationships. There is family love, friend love, the terrifying love a parent has for their child, and the kind of soul-shaking romantic love that has inspired poets for hundreds of years. It's no surprise, then, that many people pay tribute to all the love they feel by getting tattoos.
Some celebrities have famously traded gold rings for ink. Others choose numerical tattoos with deep but hidden meanings. Most people want a love tattoo that falls somewhere between these two extremes. They want classic hearts with a modern spin or modern graphics with a sweet twist. Our gallery covers the whole, broad spectrum of love-inspired tattoo designs from trendy new heartbeat line bracelets to more abstract interpretations. If you are getting ready to make a permanent homage to your true love, then these 60 designs are sure to influence and inspire you.
1. Love That's Written in the Stars Love Tattoo Ideas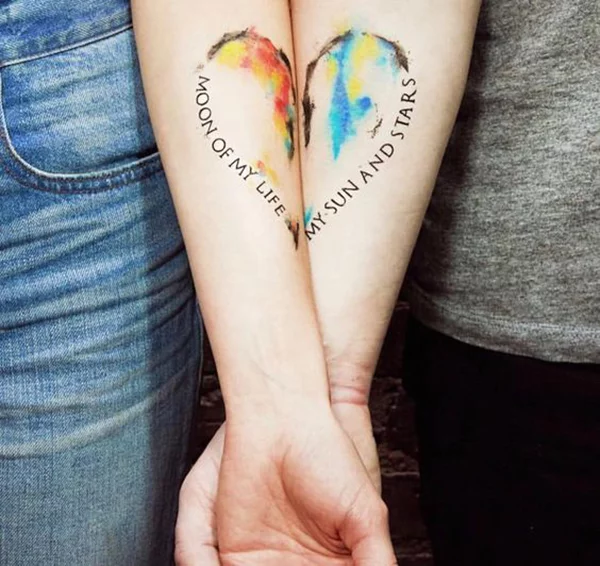 This clever tattoo takes a traditional mirror image heart and makes each half as unique as the lover that wears it. One side says, "Moon of My Life" with a warm color palette. The other side says, "My Sun and Stars" with a cool color palette. Each tattoo is beautiful in its own right. When you put them together, they make a cohesive but non-traditional masterpiece.
2. Sketch Style Hug Heart Love Tattoo Ideas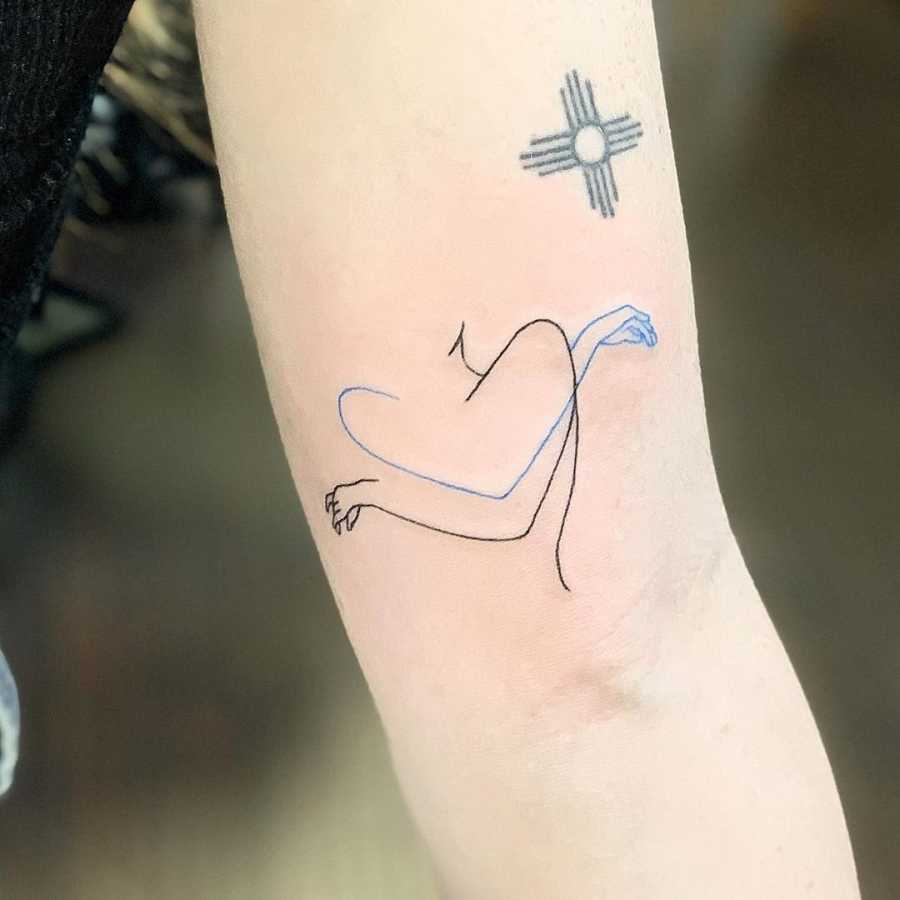 Even seemingly simple arm tattoos can have multiple levels of meaning. The longer you look at this torso tattoo, the more you see. One shoulder and arm are rendered in black. Another shoulder and arm are rendered in blue. The two arms cross each other in a hug that also creates an abstract heart shape. The very bare linework gives the finished product a ghostly effect that may imply a love lost or at a distance. These designs work great as sister tattoos.
3. Matching EKG Heart Line Love Tattoo Design Ideas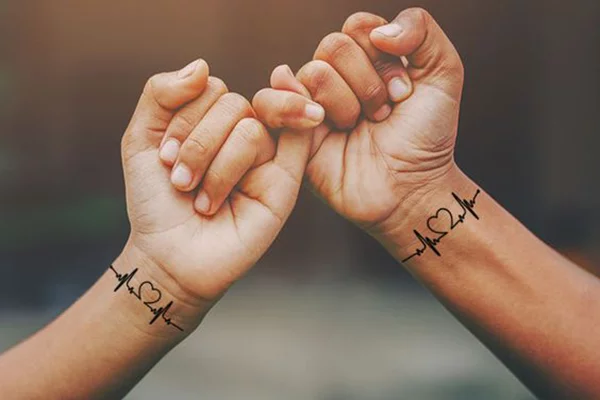 EKG heartbeat lines have become the friendship bracelets of love tattoos, all the more so when they are placed on a wrist. Also called an R-R line or isoelectric line, the design represents a beating heart. Getting the same R-R line design suggests a shared heart or love. Wrist placement keeps them highly visible but still professional and also positions them over another pulse point in your body.
4. Faith, Hope, and Love Connected Love Tattoo Ideas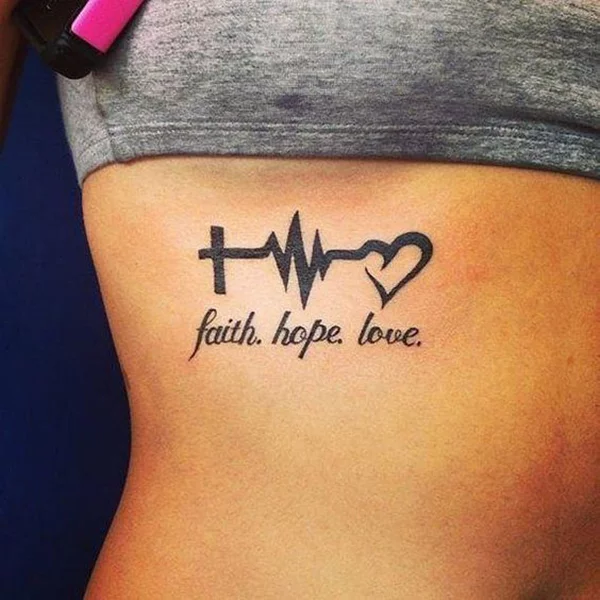 This powerful design combines the concepts of faith, hope, and love. A traditional Christian cross represents faith and a heart represents love. The popular heartbeat line design is the hope that connects faith and love. This tattoo's location under the ribs adds an extra layer of significance by making the message but private and simultaneously keeping it close to the heart.
5. Two Parts of a Whole Love Tattoo Ideas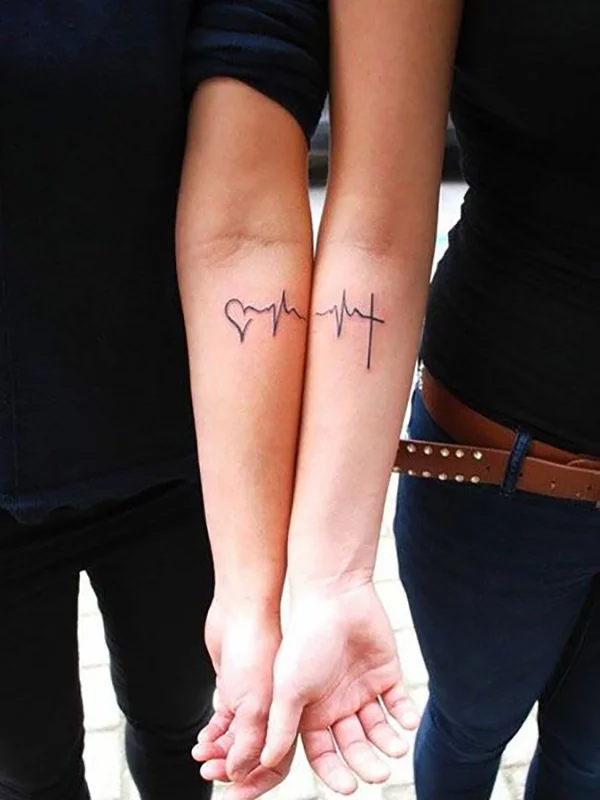 Here is a beautiful faith tattoos idea for partners that share both love and faith. One wears the heart representing love. The other wears the cross representing faith. The heartbeat line that connects the two when their arms are placed together represents not only the love they share but also their shared religion and morals. This unique tattoos design is another great way for married Christians to demonstrate their commitment to each other and their church.
6. Every Beat of My Heart Love Tattoo Ideas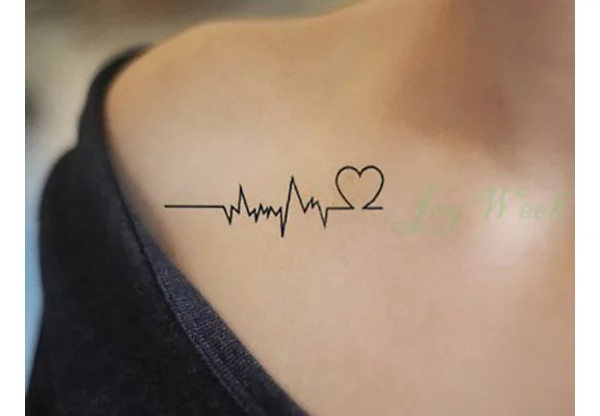 Heartbeat lines are the hottest new trend in tattoos. Making this popular look your own is as simple as choosing a unique placement. Here, the EKG line is perfectly framed by the natural rise of the wearer's clavicle. This placement also allows for multiple meanings. It can represent love for someone else, but it can also represent personal love and perseverance.
7. A Tiny Reminder of My Love Tattoo Ideas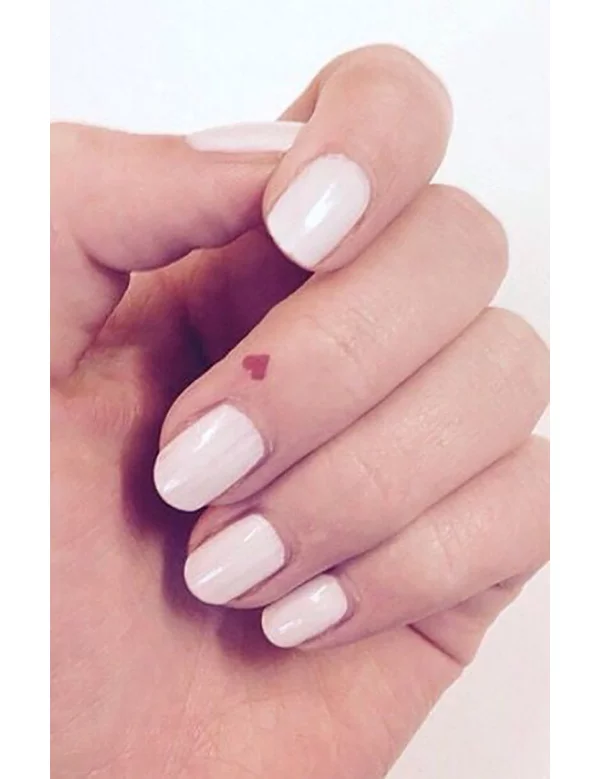 A little mystery makes professions of love all the more fun. A tiny heart tattoo on the finger is sweet without context. But when the wearer sees it, they are reminded of the one that inspired the small tattoo. Even better, it is a small but powerful way to show the one you love that they are with you always.
8. Your Fingerprint on My Heart Love Tattoo Ideas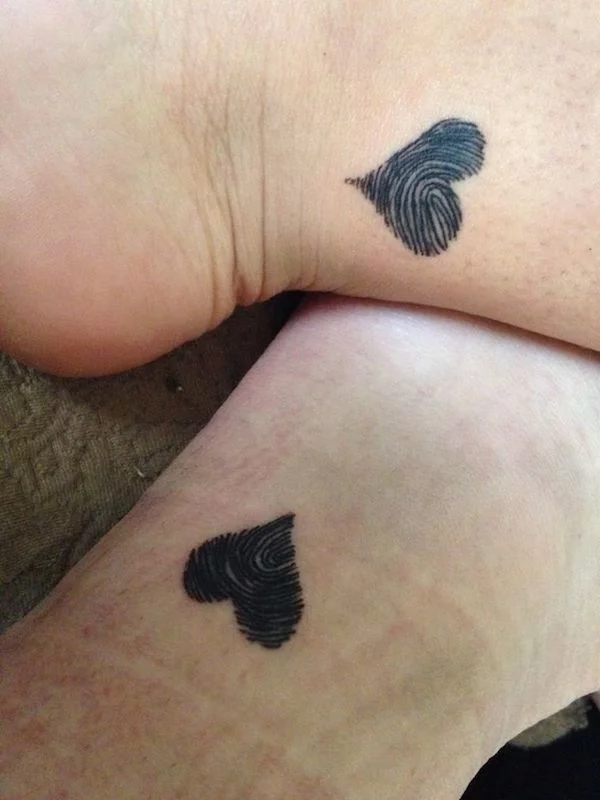 A fingerprint is as unique as the person that makes it. No two in the world are alike. That makes a heart filled with a fingerprint all the more unique. It's a lovely concept that shows that you have been touched and changed by the one you love. It also pays homage to what makes your relationship special.
9. Wearing Your Heart on My Sleeve Love Tattoo Ideas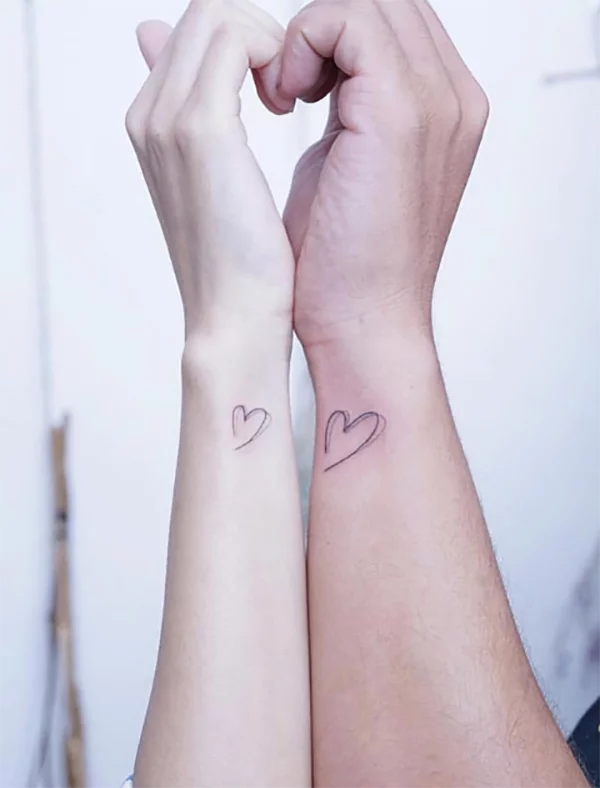 Another big trend in tattoos are the bare lines of the sketch style. Sometimes when you're trying to convey something profound, less is more. That's certainly true with this design where two open hearts speak to timeless love. The simple tattoo design is elevated by the artist's decision to size the hearts to better fit each client's wrist.
10. True Love Tattoo Ideas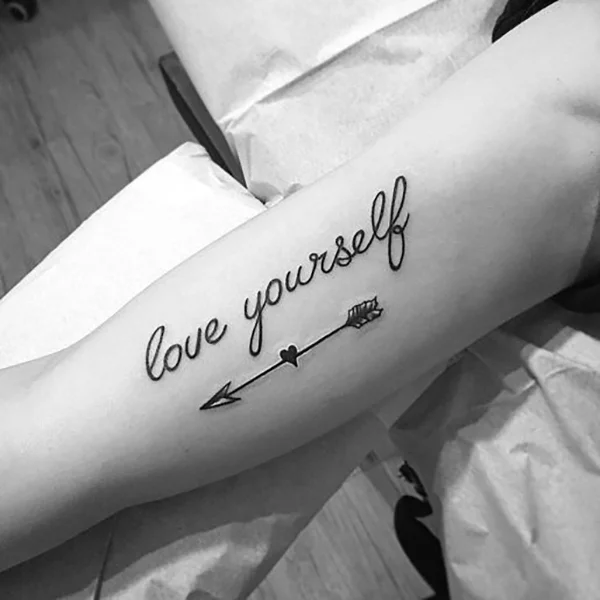 The most important love a person can nurture is self-love. It is often noted that you cannot love others if you cannot love yourself. This romantic design reminds the wearer of that sentiment. Pretty script lettering is reinforced by a sketch-style rendering of Cupid's heart and arrow.
11. Because Per Sempre Means Forever Love Tattoo Ideas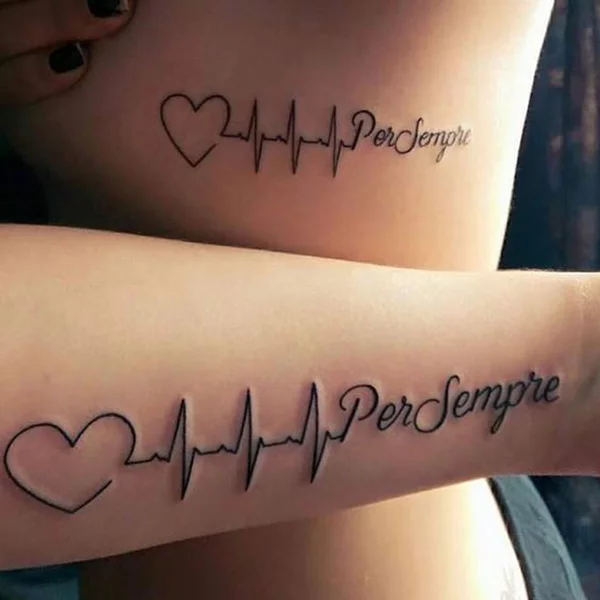 The Latin phrase, "per sempre" translates as "forever." It is a pretty and powerful statement to have tattooed on your body. Combining those words with a heart and EKG line makes it clear that this tattoo is about a true and committed love. One life partner proudly wears the design down the length of their arm while the other keeps it close to their heart.
12. Love Yourself Hug Heart Design Love Tattoo Ideas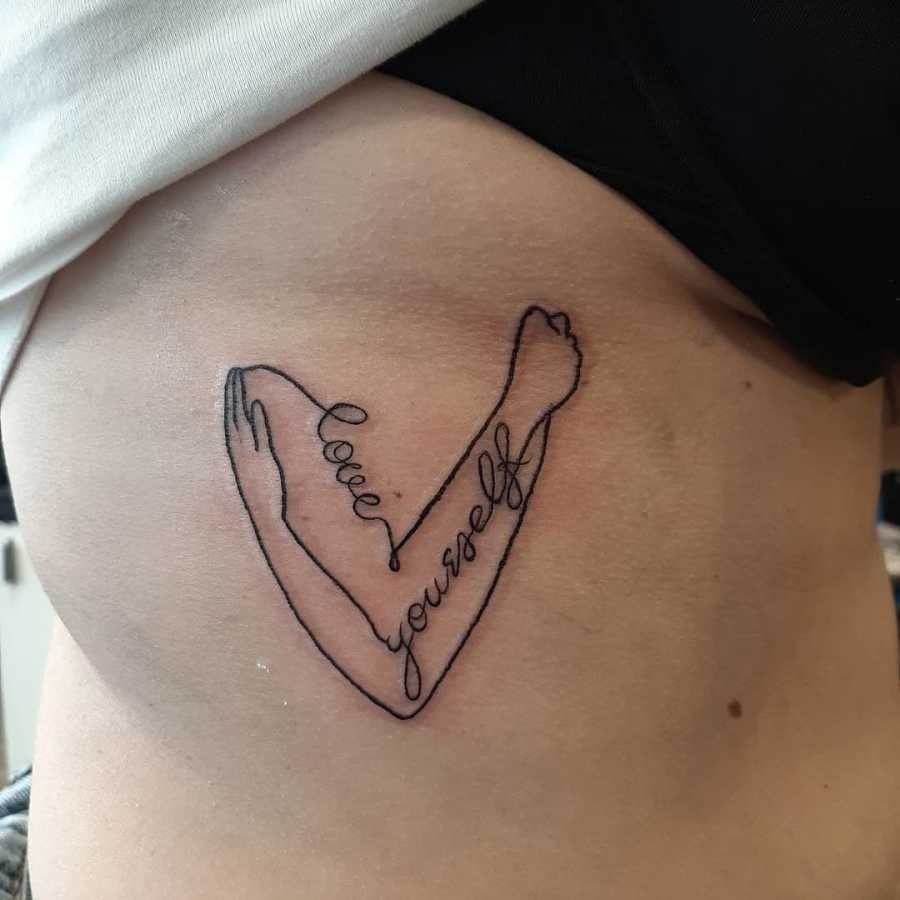 We're lucky to live in a time when self-care is getting it's proper due. This tattoo honors the importance of loving yourself first and most. Two arms are crossed in a self-hug that also creates a loose heart. The words "love yourself" remind the wearer of their own worth.
13. Love and Family Eternity Feather Love Tattoo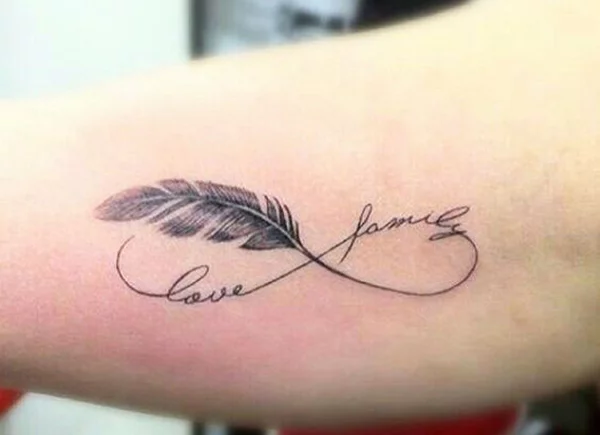 This whimsical design incorporates several significant words and symbols. "Love" and "family" are written in fine cursive. The words are incorporated in an eternity shape that also includes a lush feather. While the themes in this tattoo are universal, the elements chosen make it one-of-a-kind.
14. The Power of Love in Ink Love Tattoo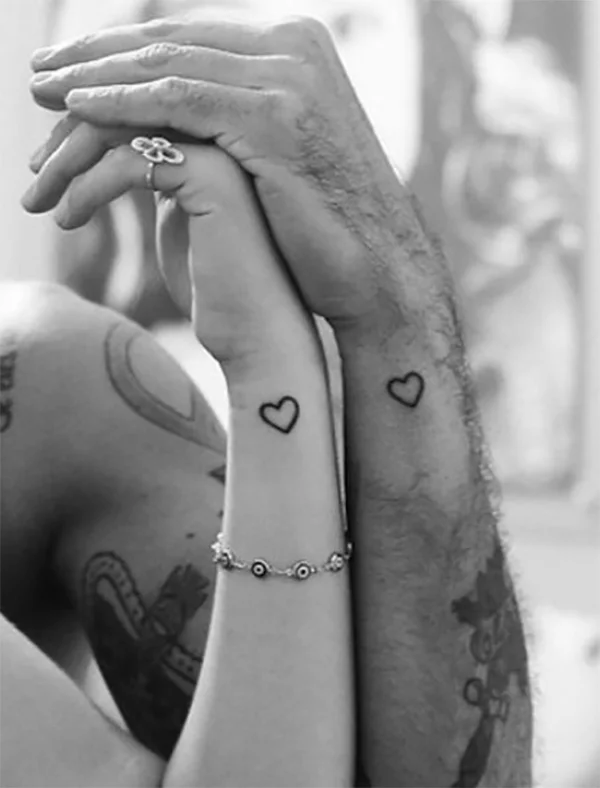 Few symbols are as recognizable as the heart. When it comes to conveying the idea of love, nothing more is necessary. When these bold hearts are placed side by side, their message is all the more clear. Sometimes the simplest love tattoos speak the loudest.
15. Pinky Swear We'll Always Be Together Love Tattoo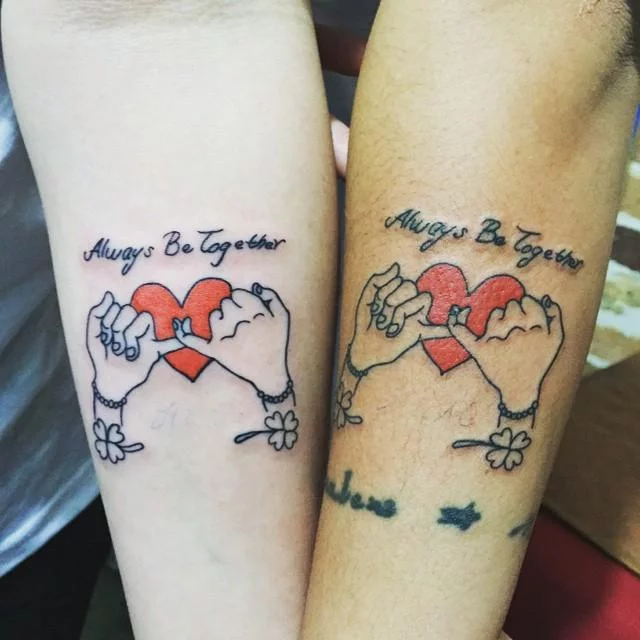 These cute matching tattoos incorporate several recognizable symbols for love and friendship. A pinky swear speaks cement the promise to, "always be together." Meanwhile, friendship bracelets suggest that this is for platonic love. A heart adds color and emotion. And a small four-leaf clover promises luck to both parties. Ankle tattoos are also a great option for this design.
16. Love Yourself First Candy Hearts Love Tattoo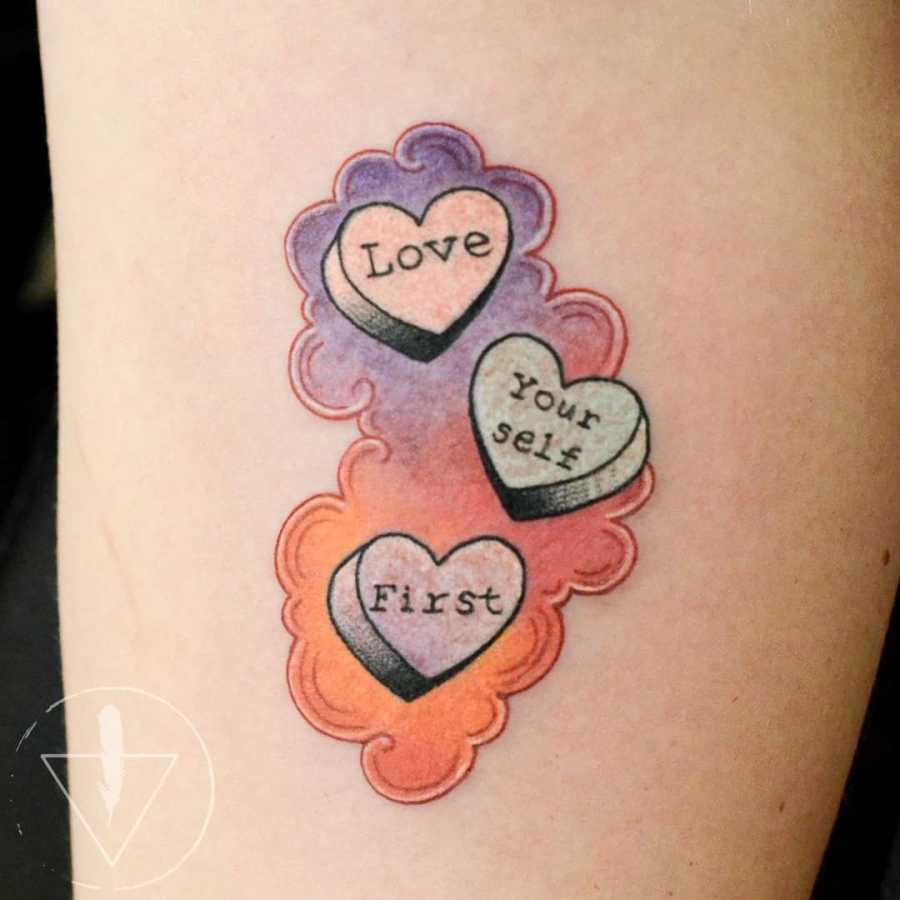 If you're wanting to treat yourself this Valentine's Day – and all days – consider this awesome candy heart design. Three hearts are combined to create the mantra, "Love yourself first." The super sweet message is further set off by a candy-colored cloud with an ombre effect.
17. A Permanent Promise of Love Love Tattoo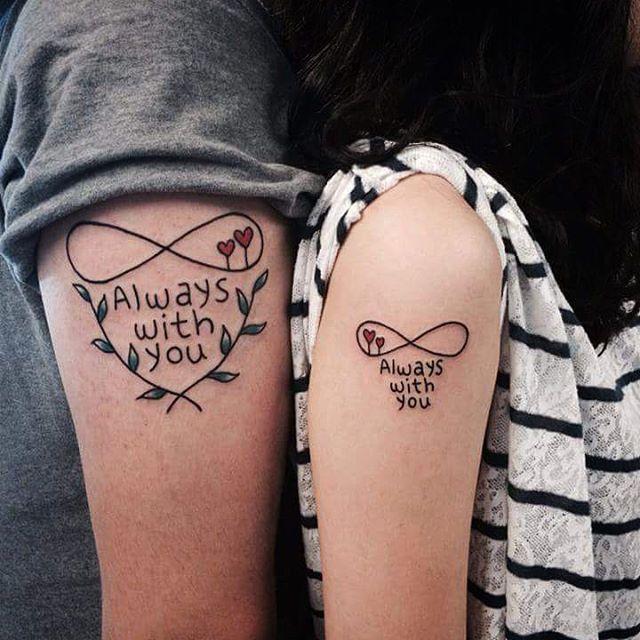 Even font choice can dramatically impact the look and feel of your tattoo. Take this eternity design, for example. The words "always with you" are written in a sweet, childish font. The other symbols echo this sentiment, but all have an innocent vibe that speaks to young (and enduring) love.
18. Charming Love Tattoo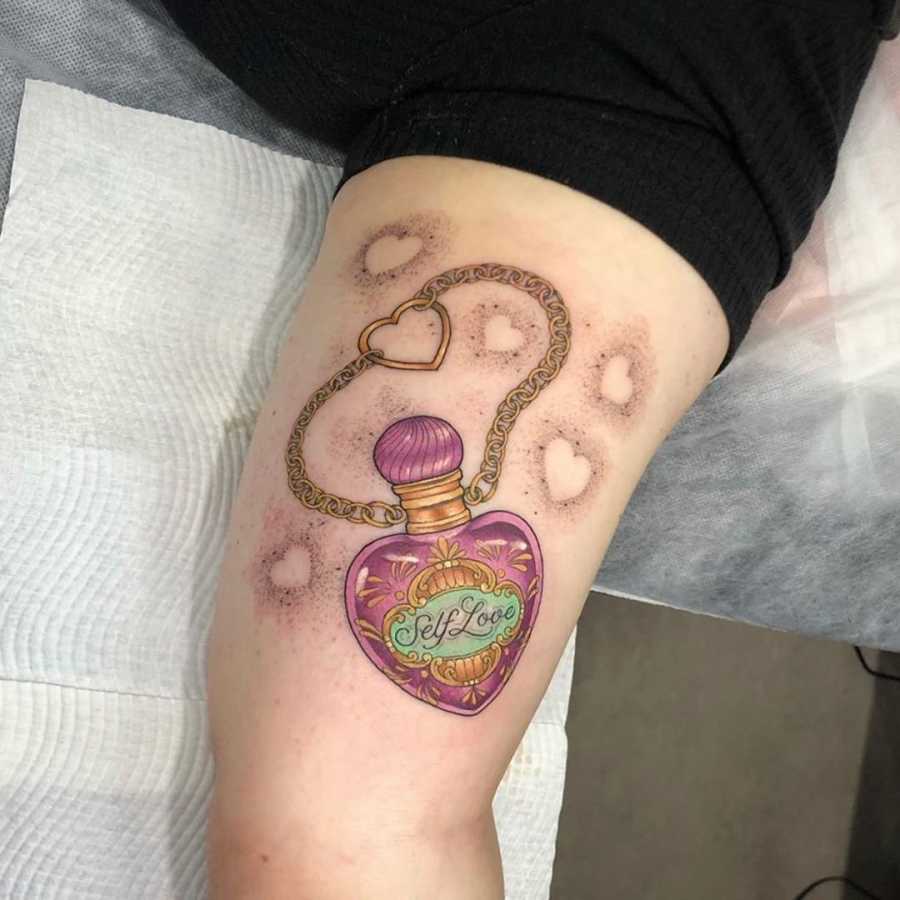 This self-love tattoo design is downright decadent. At its center is an elegant miniature perfume bottle on a gold charm bracelet. The dimension gives it a realistic effect while the colors make it look both expensive and feminine. Splatter paint heart silhouettes add depth and interest.
19. Lost Without You Love Tattoo Love Tattoo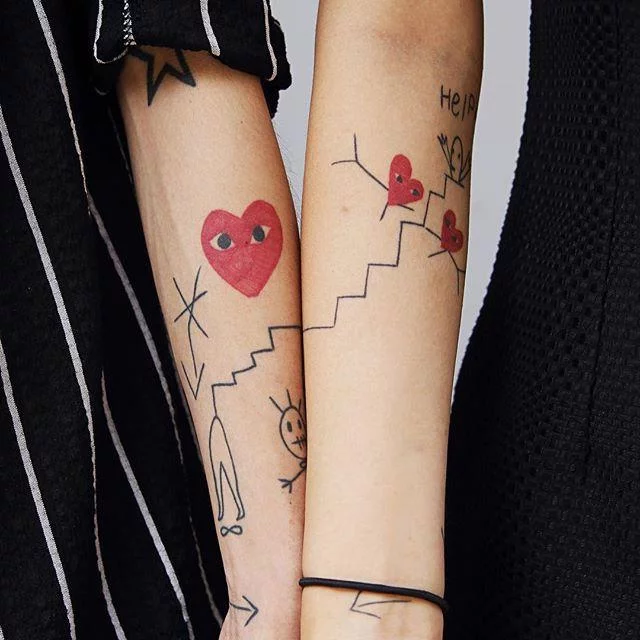 Tattoos last forever, so if you are going to commit, you might as well go out. This delightful pair did just that with an abstract design that speaks to a shared sense of humor that is both dark and quirky. While some of the elements are abstract, red hearts add a clear context of love.
20. Love You Forever Wedding Ring Tattoos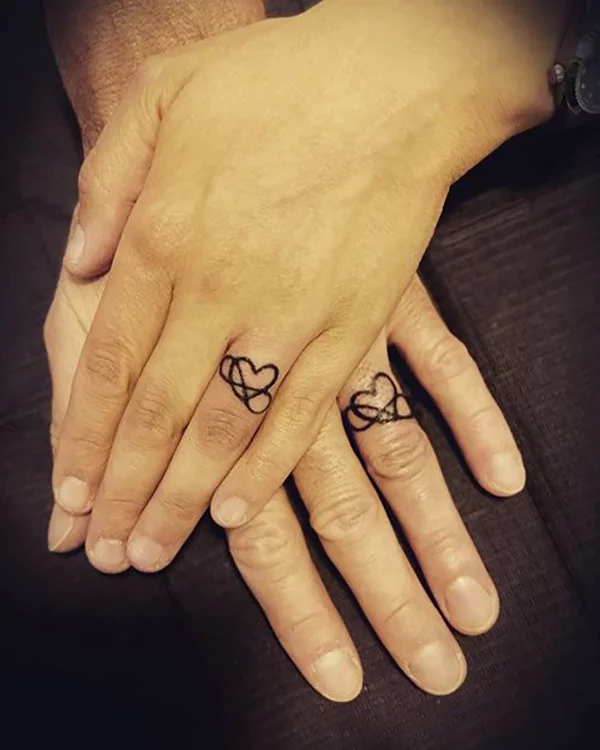 People spend a lot of money on wedding rings that are too easily lost. If you want a ring that is as undying as your love, then you might be a candidate for a wedding tattoo. This savvy couple combined the symbols for love and eternity to create a simple graphic that is still beautiful but also safer and more enduring than metal rings.
21. An Arrow and a Heart Love Tattoo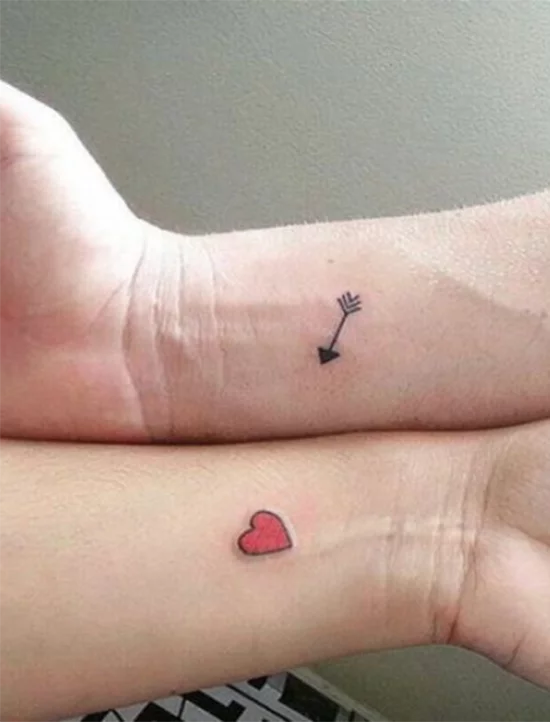 An arrow through the heart is a love symbol that dates all the way back to the ancient Roman god, Cupid. These lovebirds separated the two parts of that symbol. One lover wears the heart. The other lover wears the arrow. Each tattoo stands alone well, but together they create a cute tattoo testament to a shared love.
22. Peace and Love Finger Hearts Love Tattoo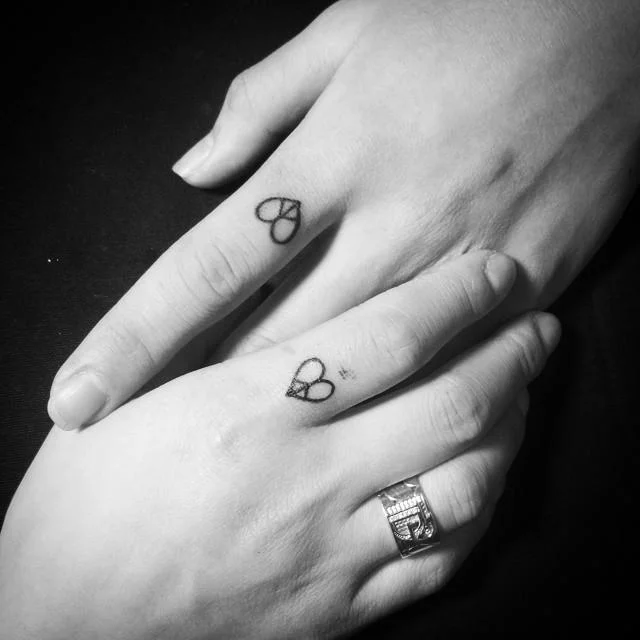 Finger tattoos are a popular way to express your core values without covering a lot of skin. This design combines symbols for peace and love. The index finger suggests that those values are of primary importance while simultaneously avoiding the traditional marriage associations of ring finger placement.
23. Join the Club Love Tattoo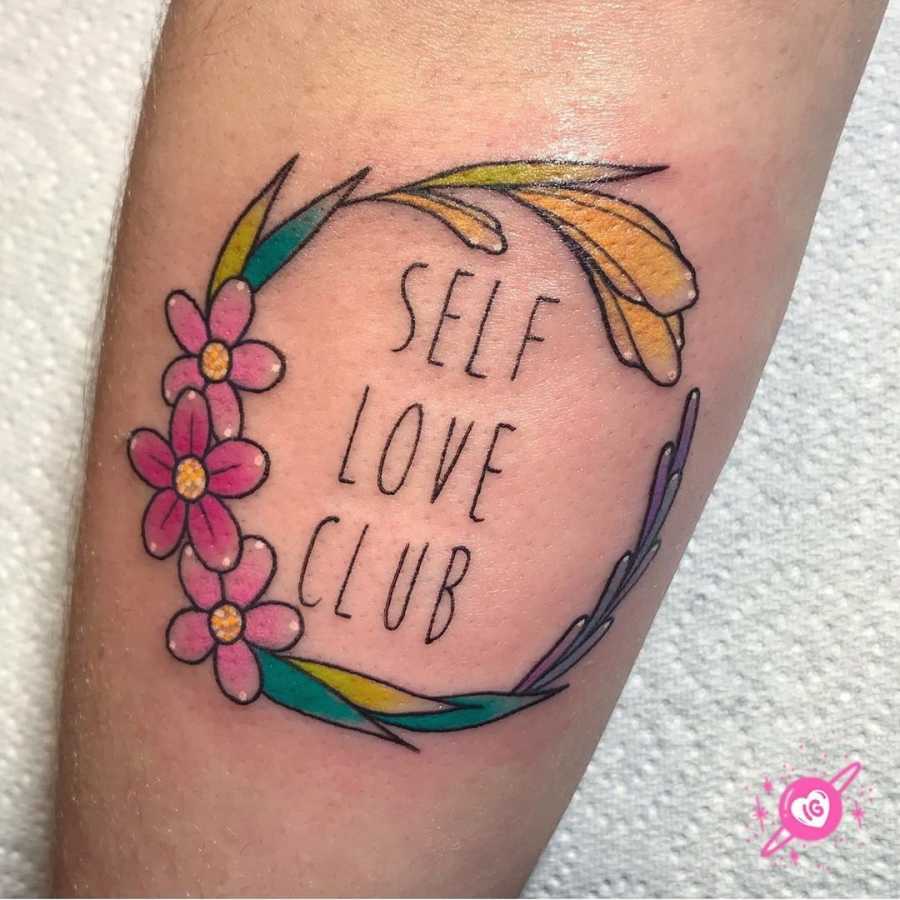 When people hear the word "love," many automatically think of its romantic associations. But more and more women are finding the value in asserting the importance of loving themselves. This vibrant floral tattoo honors that sentiment with a design that is joyful and life-affirming.
24. Bold Faith and Love Graphics Love Tattoo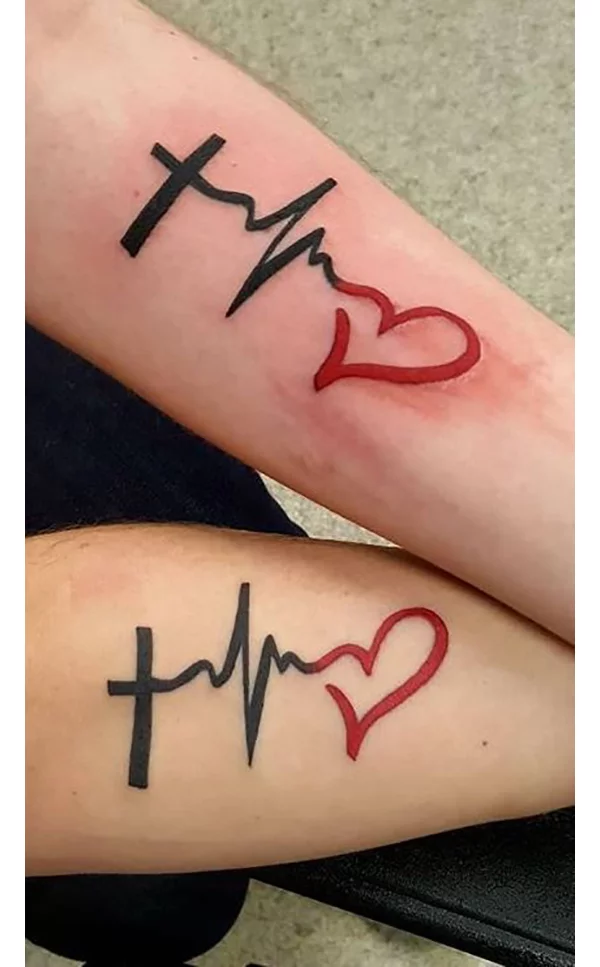 Increasingly, people of faith are finding ways to incorporate Christian symbolism into their ink. This design uses the popular heartbeat line to connect concepts of faith and love. When two people get the same design, it's as bold and clear of a statement as a wedding ring.
25. Elegant Lavalier Style Heart Ink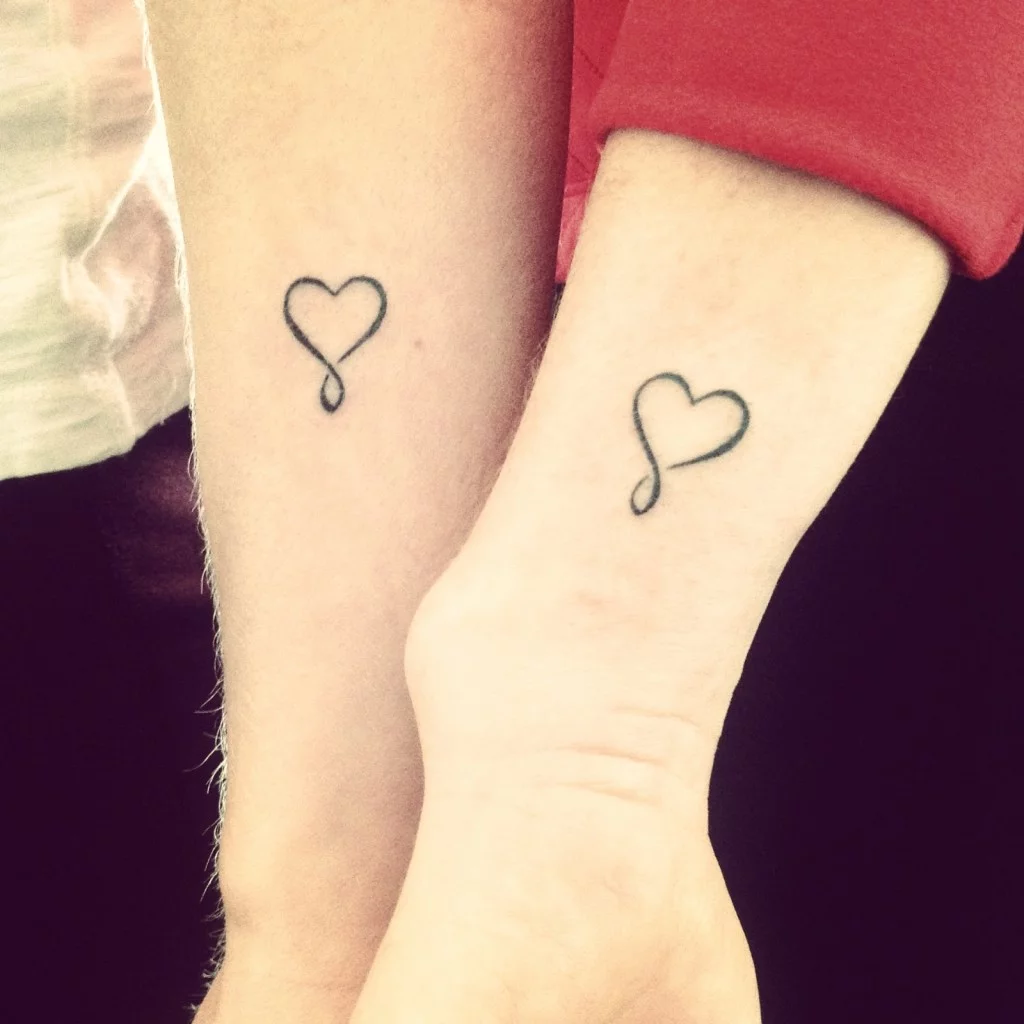 There are a nearly infinite number of ways of illustrating the classic heart symbol. They all mean the same thing: love. This devoted couple chose a simple but elegant design. The little loop at the bottom gives it the look of an Art Nouveau lavalier pendant for a finished look that's as eye-catching as fine jewelry.
26. Two Hearts, One Beat Tattoo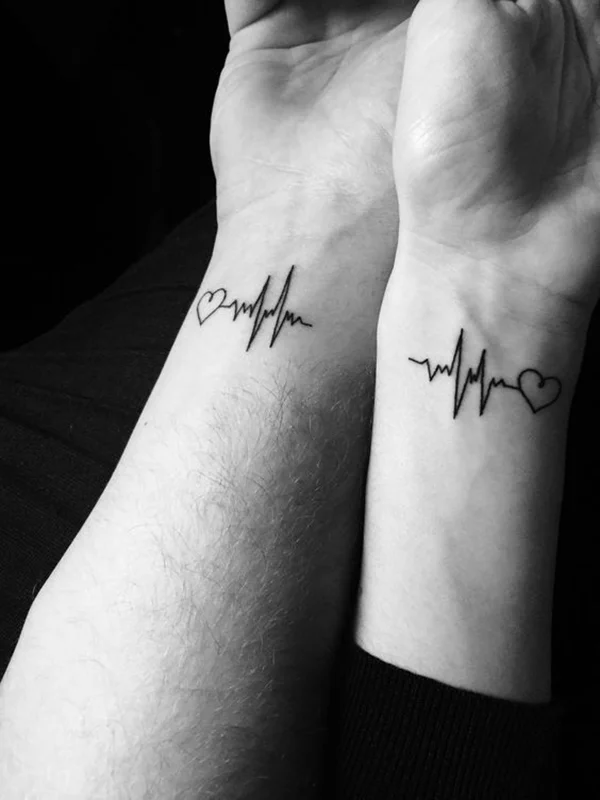 A mirror image is a clever way to emphasize the shared meaning of matching tattoos. Not only do these heart and heartbeat tattoos look identical, but the open EKG lines on each end can be placed side by side to connect the two hearts. The wrist placement also puts them, quite literally, on each person's pulse.
27. Love and Tattoos Last Forever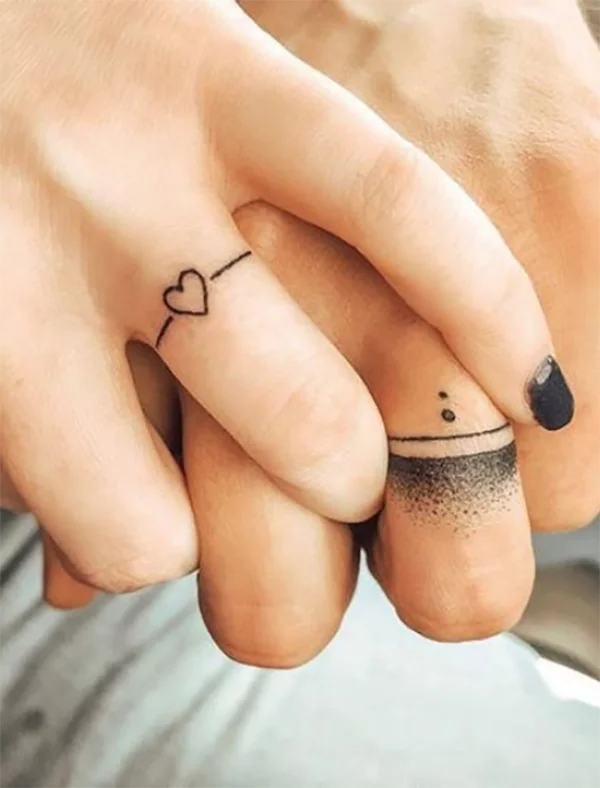 While rings have long been used to represent a commitment, they are exceedingly easy to take off. Couples that want to express their eternal love in a way that is more permanent often elect to get ring tattoos. Even better, ring tattoos allow you to express your love without sacrificing personal style.
28. LGBTQ+ Coordinating Rainbow Heart Designs
This pair of coordinating love tattoos gives each party its own distinctive design. One wears a vibrant rainbow-painted heart accented by realistic beads of color. The other wears the inverse – a rainbow smeared stencil with an open heart at its center. They are beautiful on their own and all the more moving together.
29. Love Tats for Nightmare Before Christmas Fans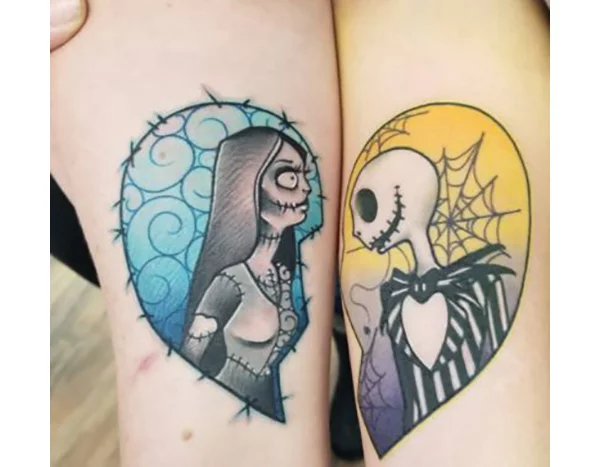 Jack Skellington and Sally are relationship goals for goths. This pair of Nightmare Before Christmas fans shows their love of each other as well as their love of the cult classic Disney movie. One wears Sally on a patchwork half-heart while the other wears Jack in a spiderwebbed yellow frame.
30. Love Is All You Need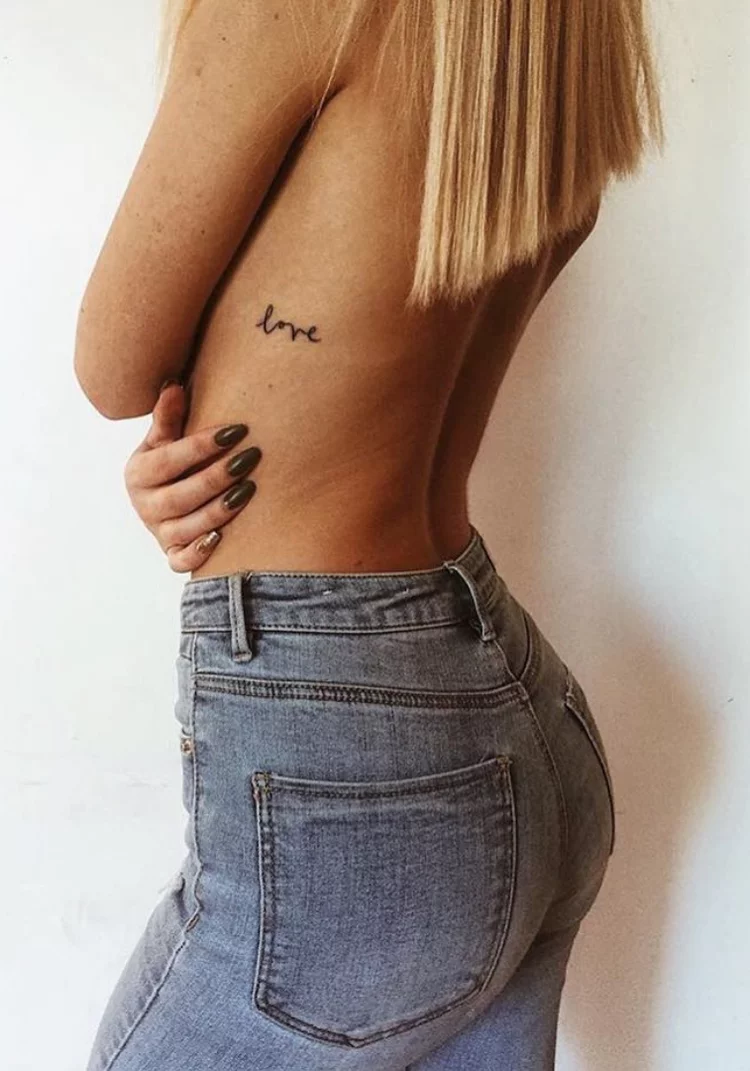 When expressing love, the word itself can be very powerful. This ink fan has embraced the power of love by placing it in a vulnerable place on their body. Maybe it's a secret message for a lover. Or maybe it's a way for the wearer to reclaim their own heart.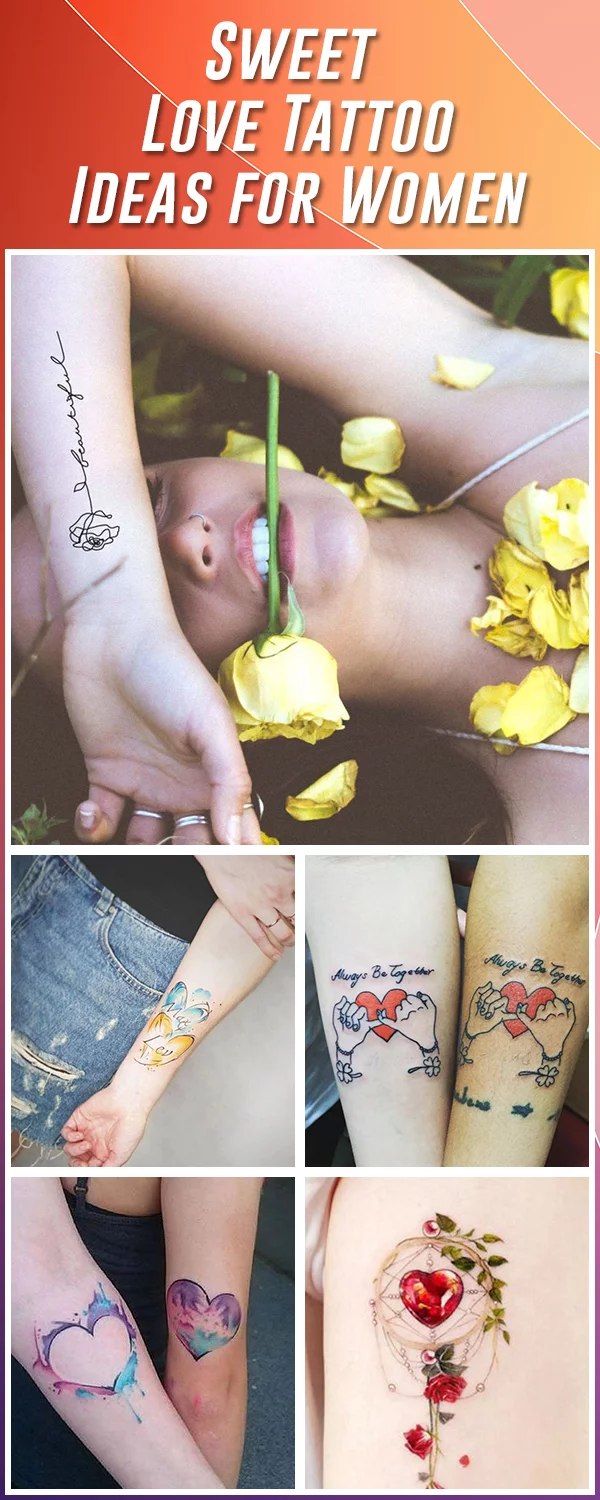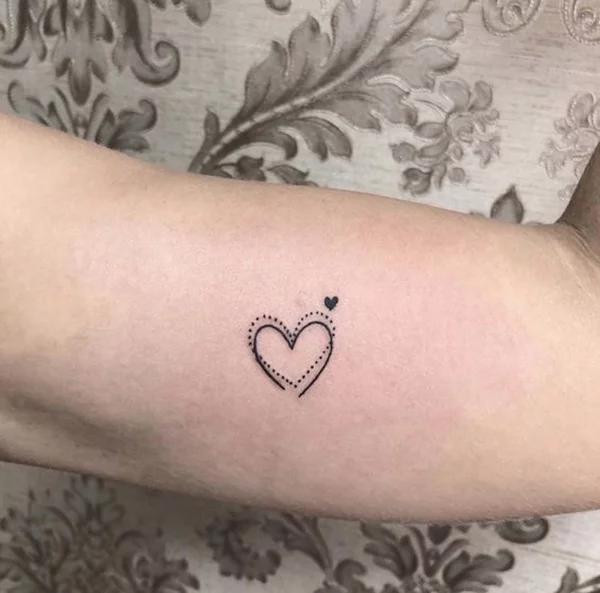 Three simple heart motifs are combined to create this distinctive love tattoo. At the back is a dotted line heart. At the forefront is a bolded line open heart. And top right like a little star is a tiny, solid heart. Each heart can be used to represent a different friend, child, or element.
32. Love Grows Flower Heart Tattoo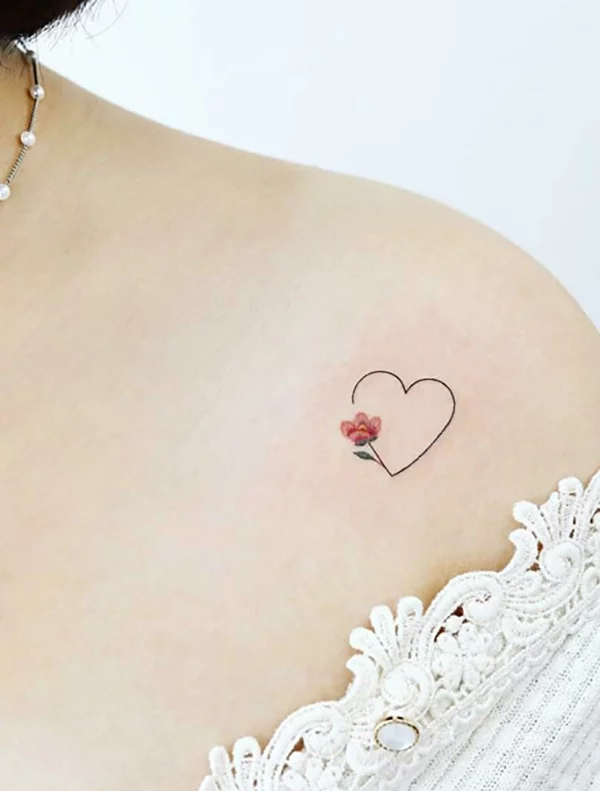 This flower and heart tattoo beautifully illustrates the idea of love as a living, growing thing. A simple line-drawn heart is elevated with a miniature but realistically rendered flower. The end result is an ultra-feminine design wherein love truly blooms.
33. Dimensional Triangle Gem Heart Look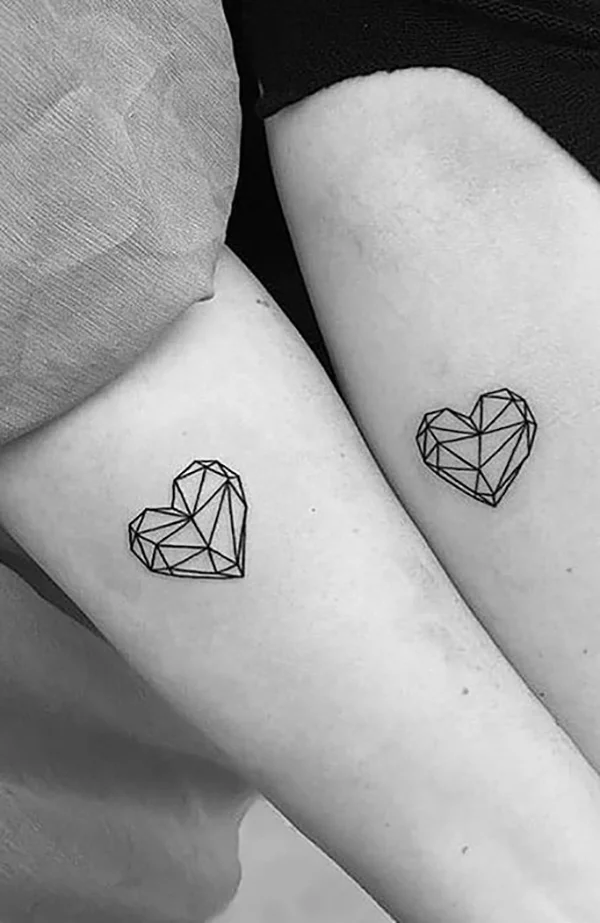 A tattoo artist starts with a simple heart outline and uses carefully placed triangles to create the illusion of dimension. The finished product is a heart tattoo that looks more like a gemstone than a flat, black ink design.
34. Personalized Abstract Watercolor Effect Heart Tattoo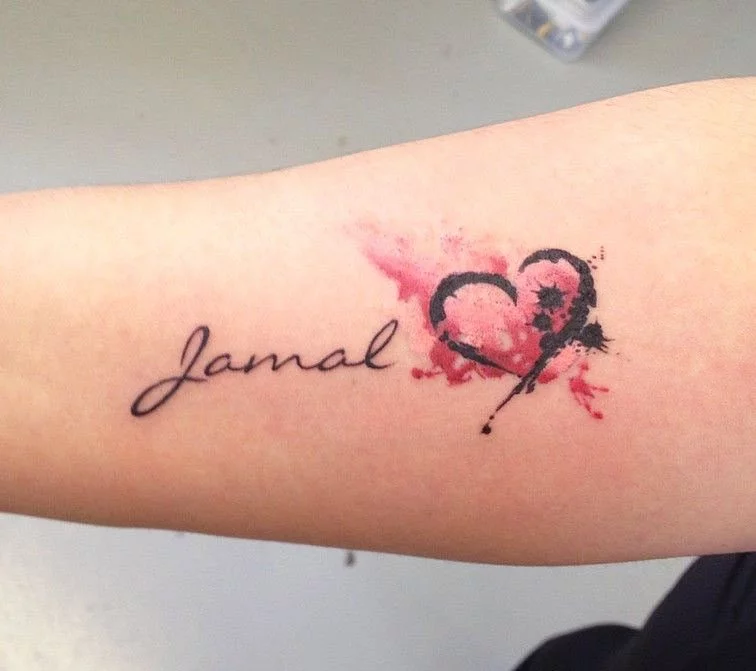 This striking design has a little bit of everything. Placing a name beside clarifies that this is not simply art but a dedication. A freehand ink technique makes the heart bold but not generic. A watercolor effect gives the classic red and black palette a contemporary feel.
35. Fantasy Heart and Flowers Dreamcatcher Design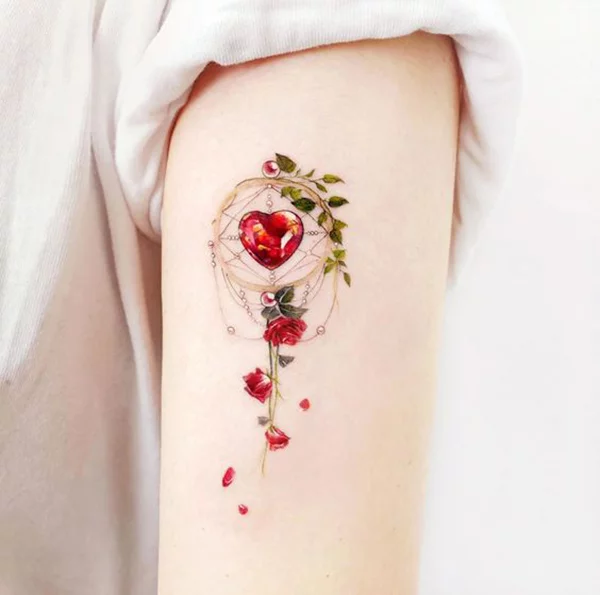 Traditional dreamcatchers are used as protective charms, catching bad dreams and dark spirits in their webs and allowing the good to filter through the gaps. This dreamcatcher design is all above holding onto the good things. The love symbolism is rich with red roses, pearls, and a pulsing heart.
36. A Reminder to Love Yourself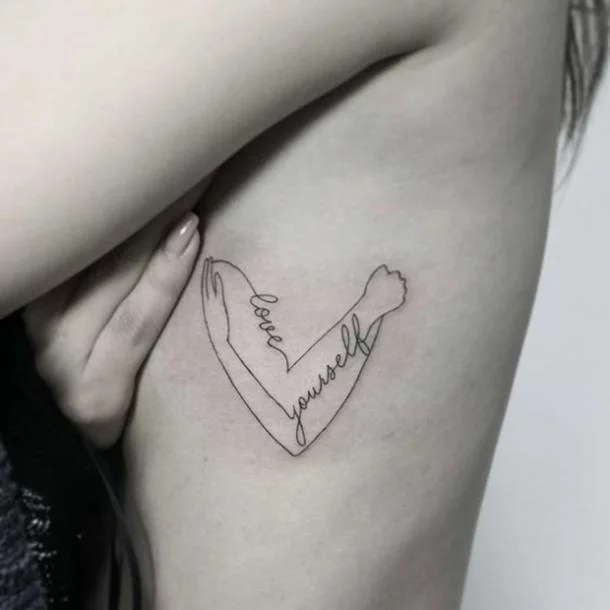 The self-hug "love yourself" tattoo is quickly gaining traction among women. It is an important reminder to put yourself first. Rather than being defensive, the crossed arms create a heart shape in a gesture that implies inner strength and healing.
37. Love is a Badge of Honor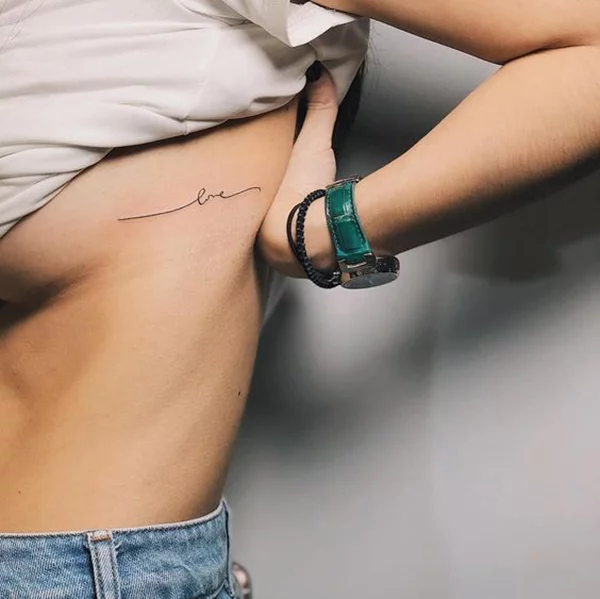 Clean lines are a must for simple tattoos. The cursive font for this "love" that gives it an almost abstract appearance. But the word itself is still instantly recognizable, as it must be for the design to succeed. Longtails trail at the beginning and end to make the overall shape feel more organic.
38. Lover Love Thy Self First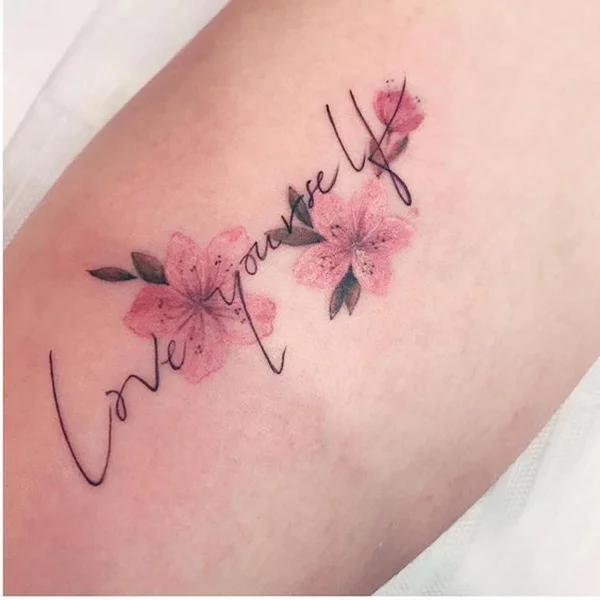 When you travel on a plane, they always advise that you put your own oxygen mask on first in an emergency. The same concept holds true when it comes to love. This stunning floral forearm tattoo is a much-needed reminder that if you want to love someone else truly, fully, and safely, then you must love yourself first.
39. A Heart Is Worth a Thousand Words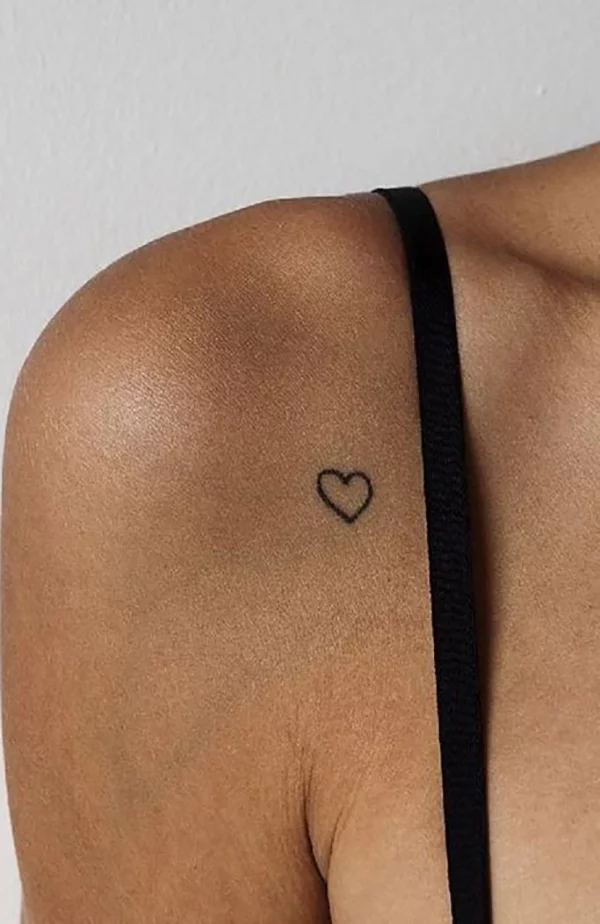 Simple tattoos are fun because they let admirers guess at the meaning. This little heart appears in an unexpected place, adding to its mystique. While its owner certainly knows the true meaning of the tattoo, the rest of us can only smile and wonder.
40. Love in an Unexpected Place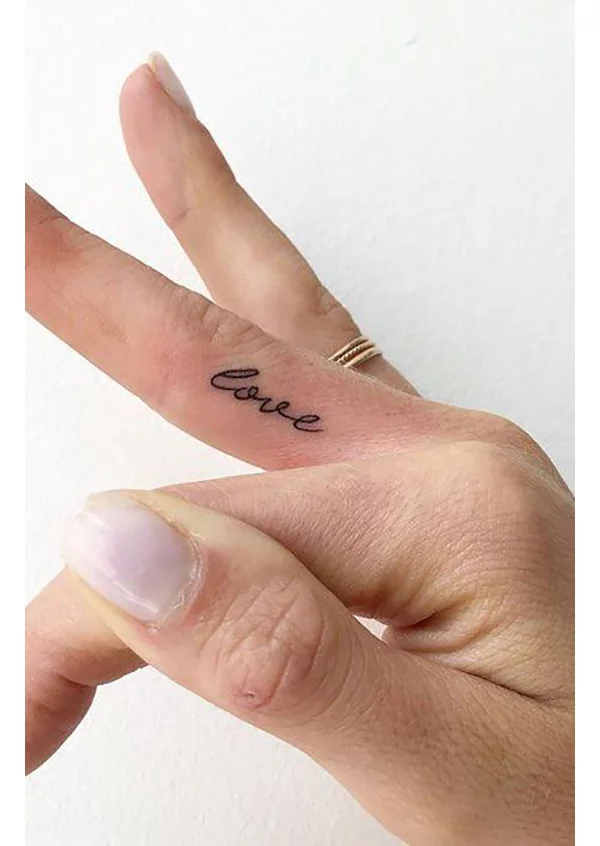 This pretty cursive love tattoo offers a moment of unexpected warmth and humor. Most people use their middle fingers to express something decidedly different. Placing "love" in such a loaded place is a sweet reminder to yourself and the world that we can always use more love.
41. Pastel Tie-Dye Watercolor Friendship Hearts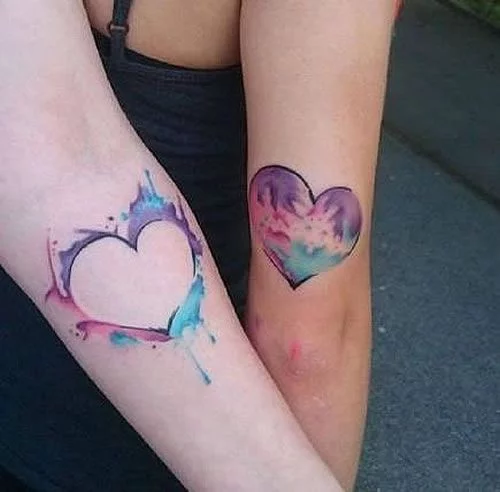 Why settle for a cookie-cutter heart when you can get something as gallery-ready as these gorgeous complimentary tattoos? One friend or lover wears the heart itself. The other wears the tracery of the heart. This allows each wearer to have their own unique design while the coordinating colors signal their connection.
42. Your Love Is Always with Me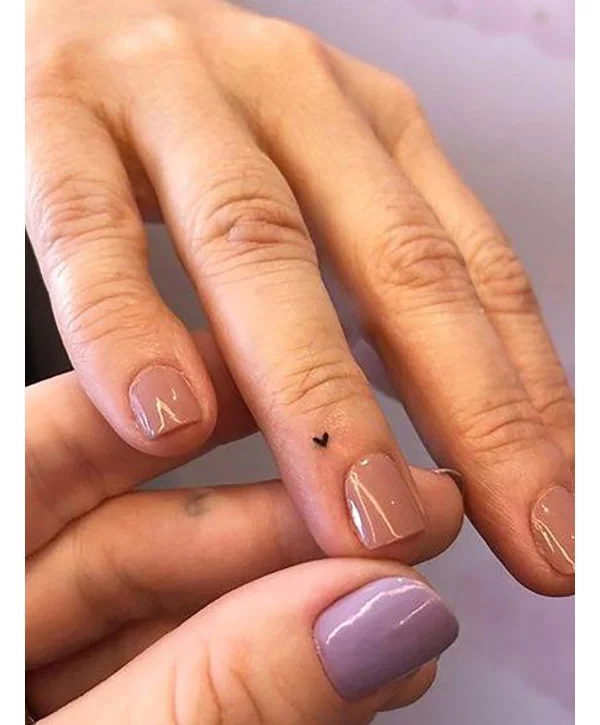 A tiny heart is a wonderful way to honor love every moment of the day. This tiny heart finger tattoos idea is also notably placed on the left ring finger. It can serve as a precursor to a wedding ring. Or it can replace a wedding ring when the wearer works a job that does not safely accommodate one.
43. Tattoo Poetry for Romantic Feminists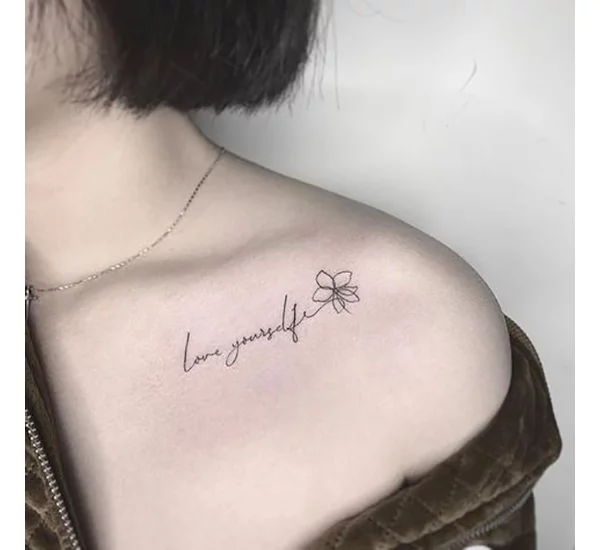 Too many women have been hurt by putting others first. For that reason, "love yourself" tattoos are more popular than ever before. This sentiment makes you the hero of your own story and heart while also sending an empowering message to other friends and lovers.
44. Say That You Love Me Tattoo Designs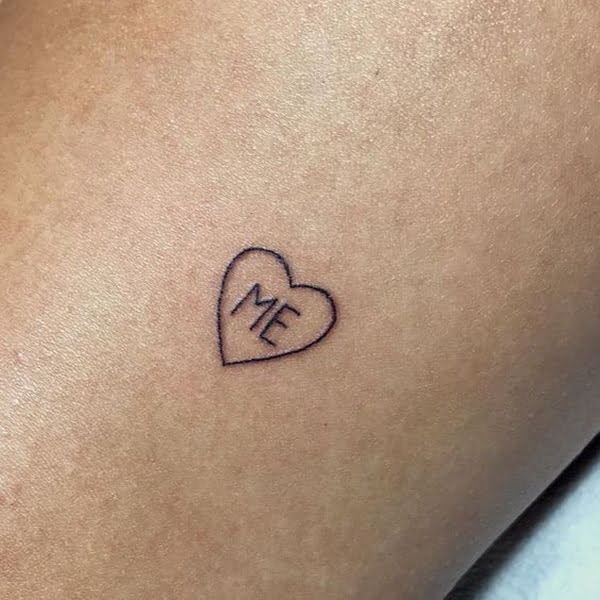 This tattoo offers a fun play on the classic candy heart. Is the "ME" inside this heart saying that its wearer loves themself? Or is the heart hinting at how easy it is for the wearer to be loved by others? Guessing is half the fun!
45. Luce in Altis: Light at the Top Tattoo Designs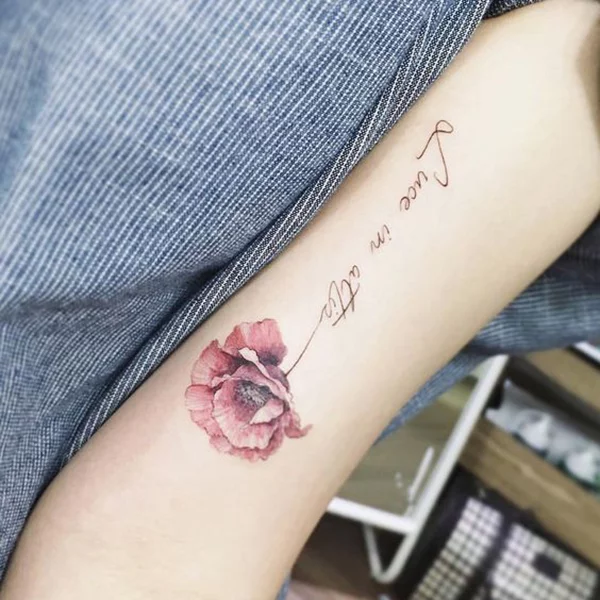 Not all love tattoos have to be obvious or literal. This beautiful illustration pairs a lush poppy with the Latin phrase, "Luce in altis." While context plays a big role in its translation, generally this phrase means, "Light at the top." in the context of love, it means that love brings light and hope, even in dark times.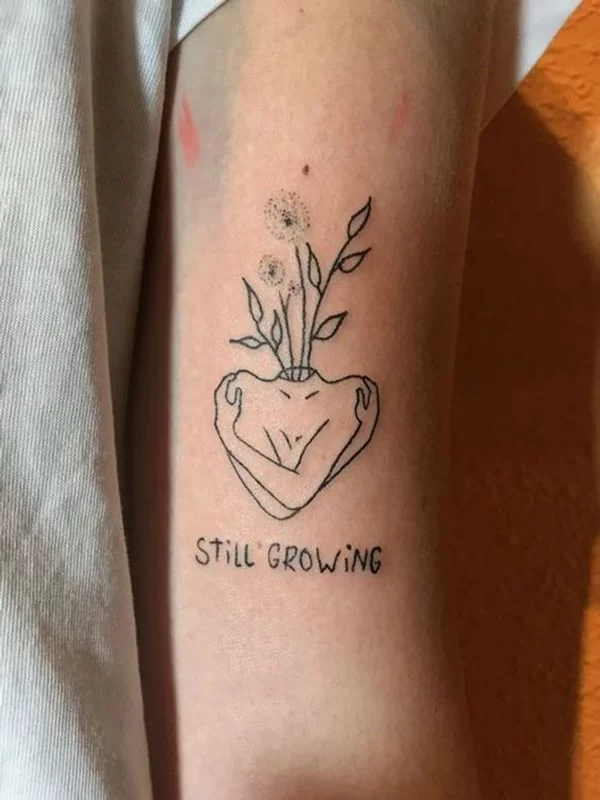 This fantastic adaptation of the popular "love yourself" design is rife with abstract imagery. In addition to the central self-hug, it turns the torso heart into a vase. Wildflowers spring forth at the neck, with the promise that the wearer is "still growing."
47. Every Beat of My Heart Tattoo Designs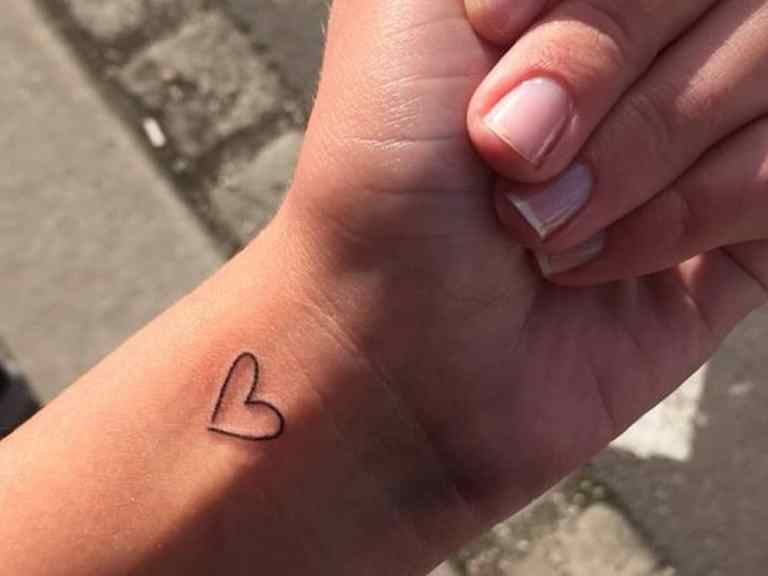 You've heard of wearing your heart on your sleeve. Some people prefer to wear their hearts on their wrists. This ink enthusiast has put a buoyant heart right on their pulse. It's just as much a living ode to the ones they love as it is a flash of warmth to passing strangers.
48. I am Beautiful as a Rose Tattoo Designs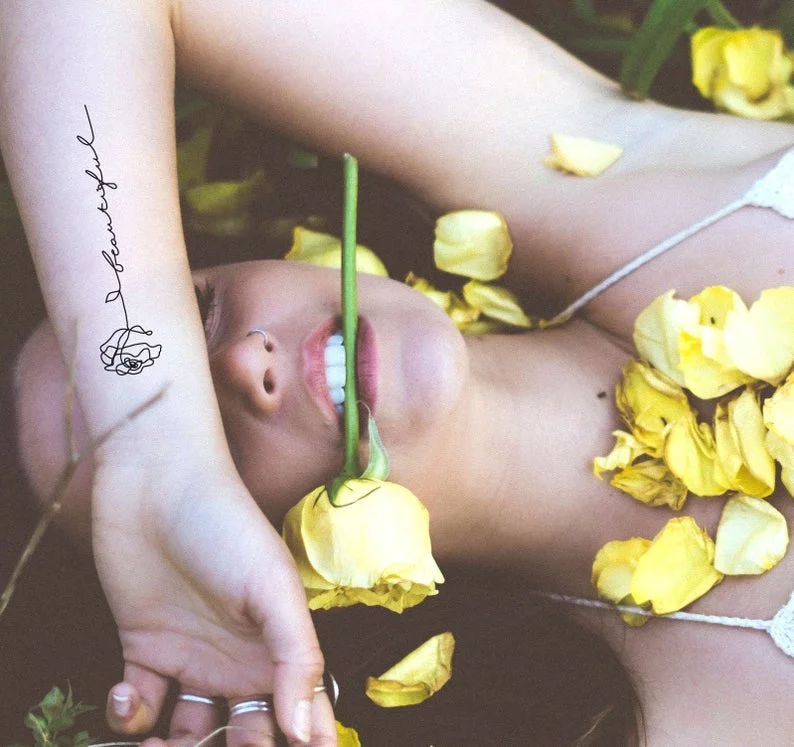 Sometimes all it takes to remind a person of their worth is a kind word. A tattoo is a foolproof way to keep that kind of word handy for yourself. The word "beautiful" serves as the stem of a loosely sketched rose. It's an important reminder for the insecure and a battle cry for the self-conscious.
49. Find Love Where You Least Expect It Tattoo Designs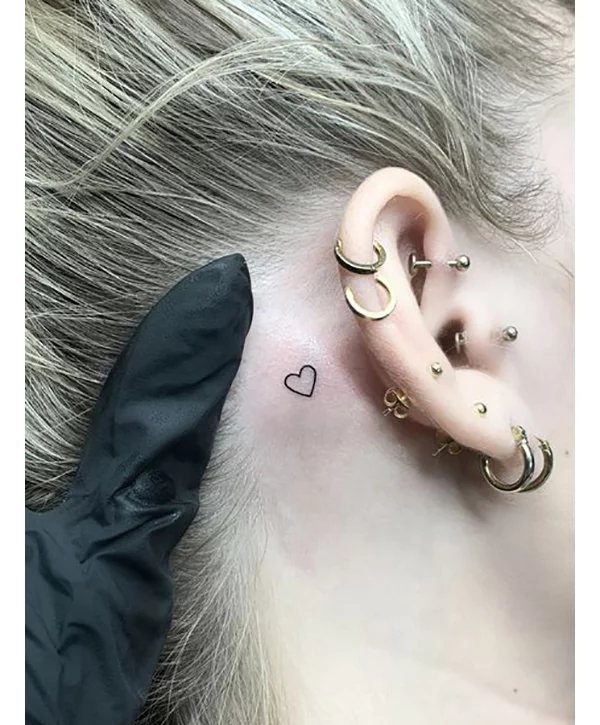 The concept of love isn't always about a specific relationship. For some people, love is its own ideology. If you love love, a hidden heart is a great way to honor it. With your hair down, the tattoo is entirely concealed. With your hair up, your pure heart is on display.
50. From My Heart to Yours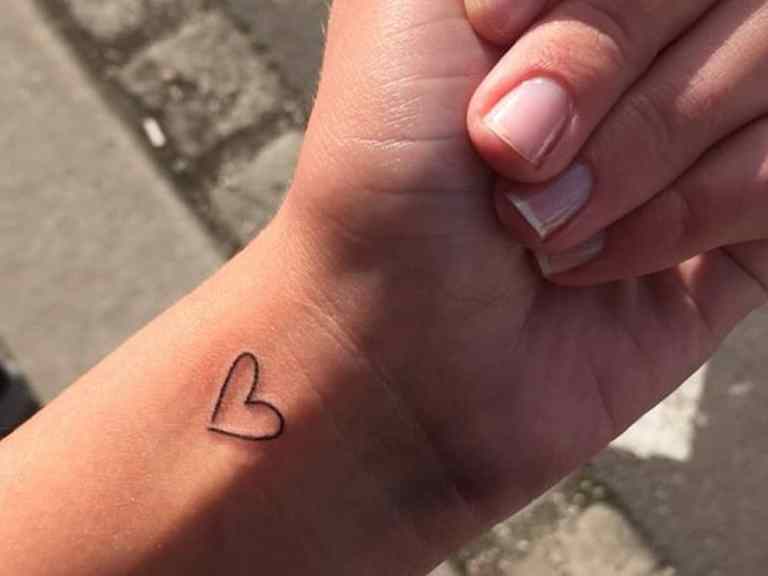 Hearts are as popular a symbol in the tattoo world as butterflies or roses. What makes this basic symbol especially fun is that you can change its significance by changing its location. Putting a small heart on your wrist is an easy way to pass love to everyone you meet, either by handshake or wave.
51. Your Heart in My Arms Tattoo Designs
These vibrant red hearts are proof positive that making a simple tattoo stand out is as simple as color selection. Red is the most traditional choice for conveying love, but you can use pink or yellow to represent the love between friends or get a standalone tattoo of a heart in your own favorite color.
52. A Love Tattoo for Dog Lovers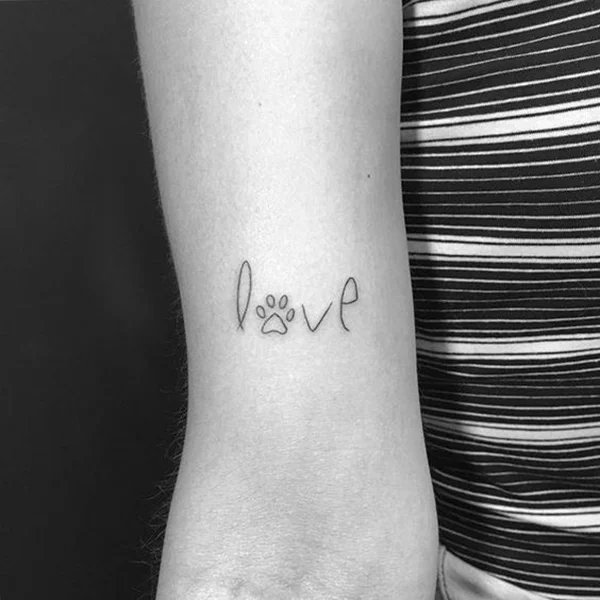 Dog people like to express their love for their furbabies every chance they get. Why not make it official, then? This dog lover did. Replacing the "o" in "Love" with a paw print is an easy way to make an otherwise plain design something special and fun. If you're more of a cat or horse person, you can also replace the "o" with a cat paw or horseshoe.
53. My Heart Belongs to My Kids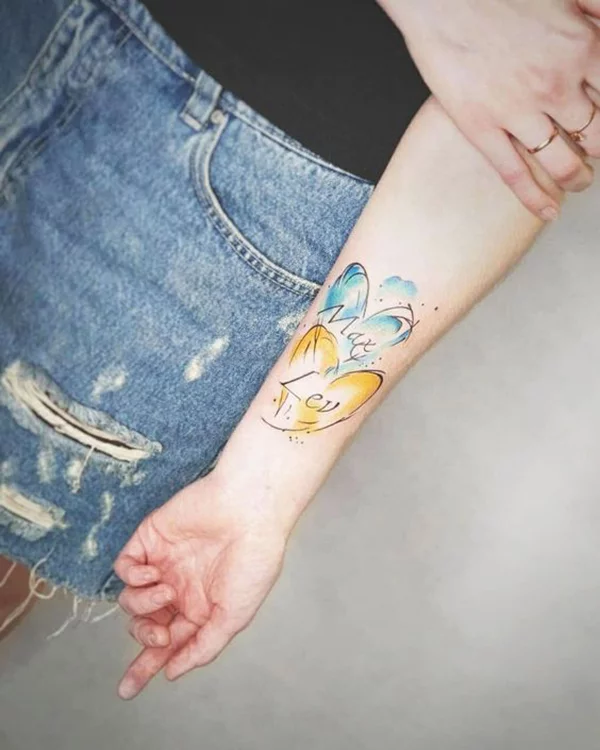 No emotion is as powerful as the love a mother feels for her children. That is why so many women choose to honor their kids with ink. This tattoo is especially brilliant, because it allows you to customize the color of each heart to suit each kid, and honoring a new addition is as simple as adding another heart.
54. Peekaboo I Love You Tattoo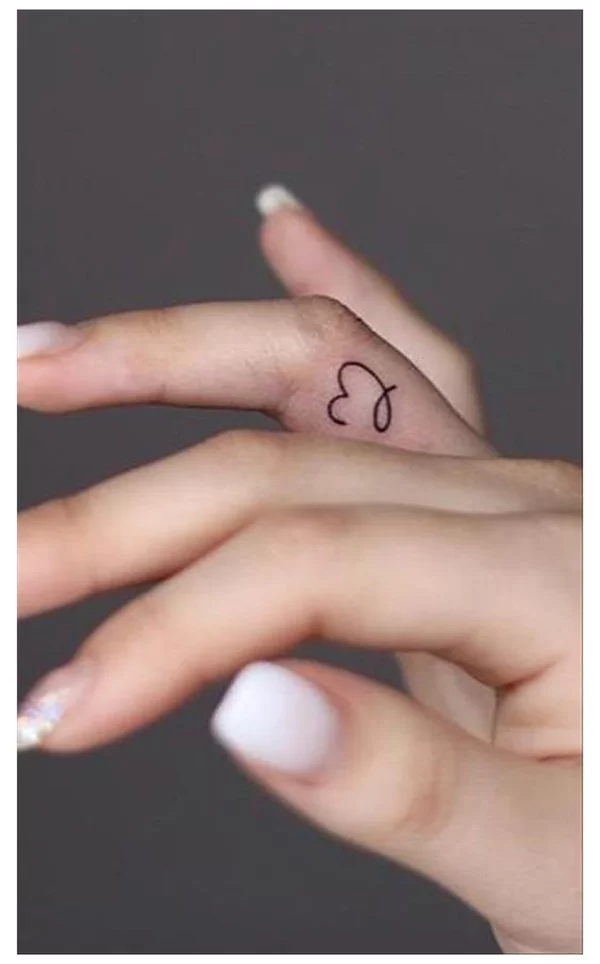 Who needs jewelry with such a cute tattoo? Increasingly, ink enthusiasts are decorating their fingers with small symbols like this open heart. The peekaboo effect makes it suitable for any career while also adding a touch of whimsy to the way in which others encounter it.
55. Do All Things with Love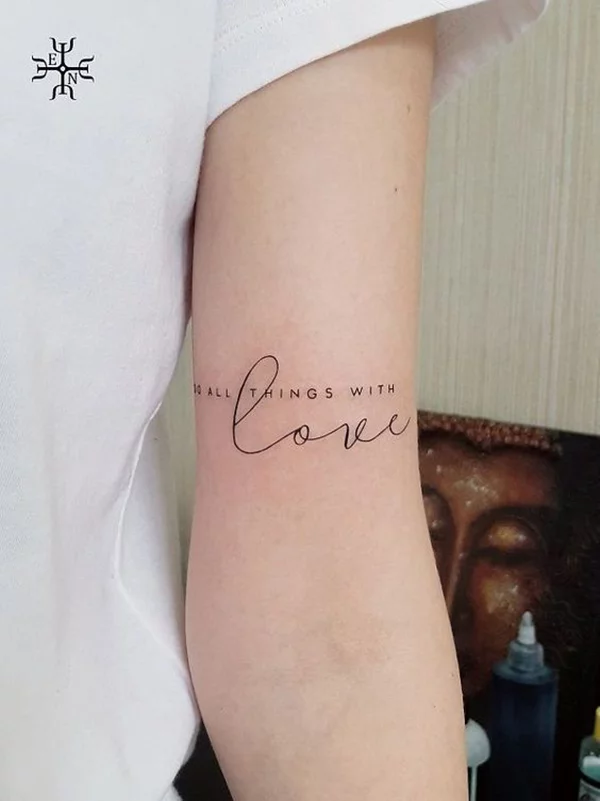 Volunteering is all about love for your fellow man and woman. It's also often about putting your muscles into a difficult task. That's why this "Do all things with love" bicep tattoo is so perfect. It's a reminder of how easy it is to improve the world with an improved attitude and a willingness to help.
56. Kid Print Love Myself LGBTQ Love Tattoo Designs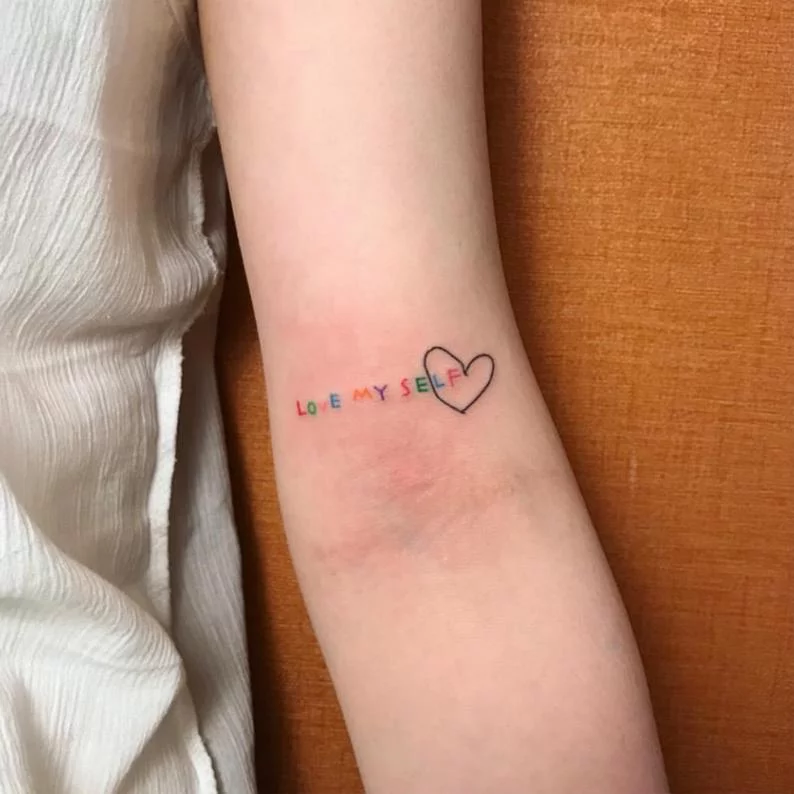 Rainbow colors have become synonymous with the LGBTQ movement. And while acceptance of that community is increasing every day, many of its members felt unsure or unloved as children. This tattoo is a reminder from your past self that you are deserving of love, from yourself and from the world.
57. A Pinky's Worth of Love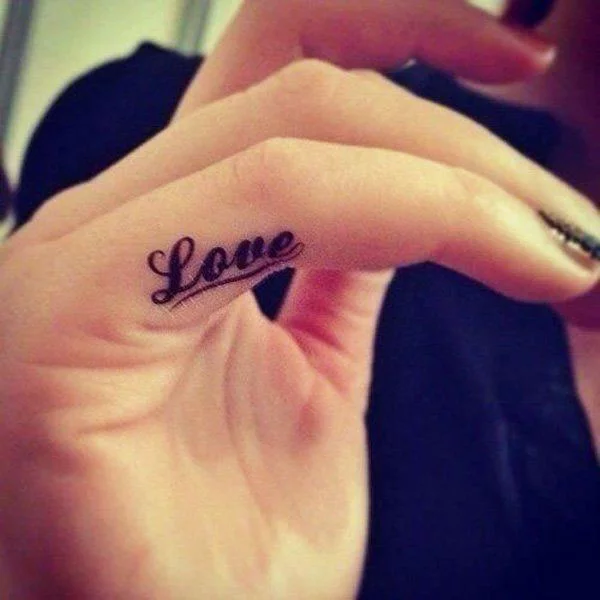 If you have a playful spirit, then consider a tattoo that is easy to hide. Not because you don't want others to see it, but because it allows you to reveal it at your own leisure and pleasure. This "love" pinky tattoo will feel like a gift to whoever spots it.
58. Love Yourself First and Always Love Tattoo Designs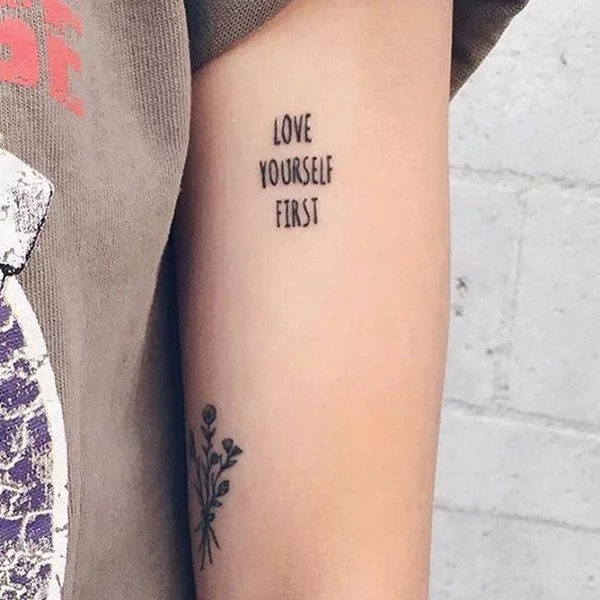 Love isn't always about flowers and hearts. People that have been hurt by misplaced love can only heal by putting themselves first. This tattoo offers simple but powerful advice to the broken-hearted; advice that is invaluable for helping them to heal.
59. Love in Any Other Language Love Tattoo Designs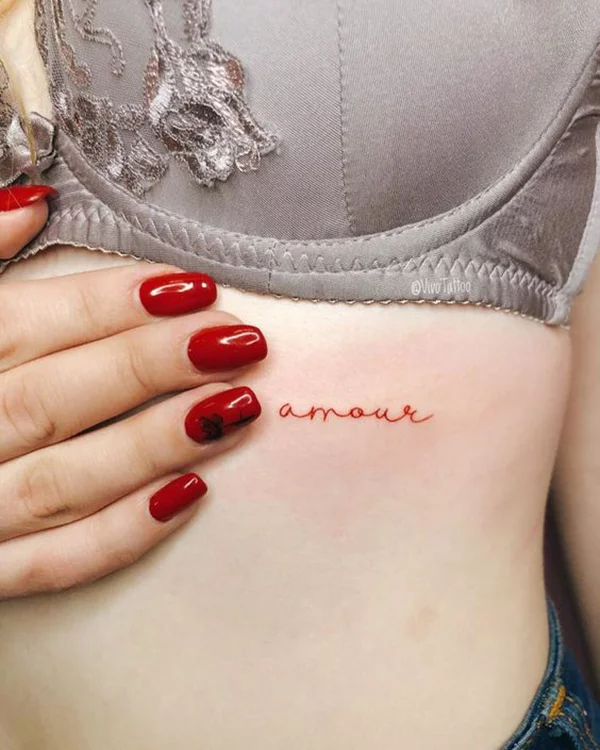 Even if you speak only English, chances are you recognize the other languages' words of love. Amour is a French word for love. More specifically, it can also refer to a secret or scandalous love. This definition is enhanced by the word's placement under both the heart and the breast.
60. Love as Sweet as a Flower Love Tattoo Designs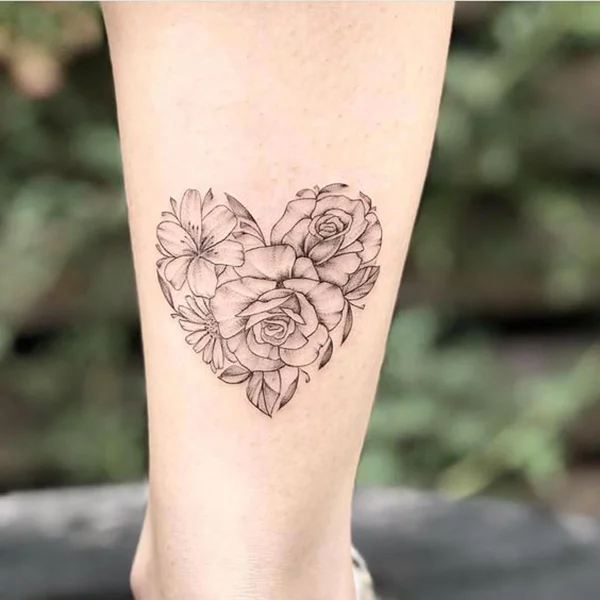 If the love you feel is bursting from your heart like flowers in bloom, then this could be the tattoo for you. A bouquet of roses, daisies, and lilies is arranged in a heart shape. You can change the flowers to reflect your personal preferences or to represent different siblings or children.
60 Unforgettable Love Tattoo Designs that will Melt Your Heart
While most love tattoos are pretty obviously about a deep feeling, there are many ways to make that meaning more personal. Sometimes it's as simple as color selection or tattoo placement. Other times, personalization includes the use of initials or a special number. If you feel drawn to one of these designs but want to make it your own, just consult your chosen tattoo artist. Most tattooists are excited to collaborate with their clients and flex their artistic muscles in new ways.