When in love with a person, you feel like your worlds are inseparable. What other better way to show your love to each other than have a matching tattoo. Matching tattoos are tattoos that one or two people have on their bodies that appear similar or match with each other. Matching tattoos are common especially with couples and act a way of showing their love.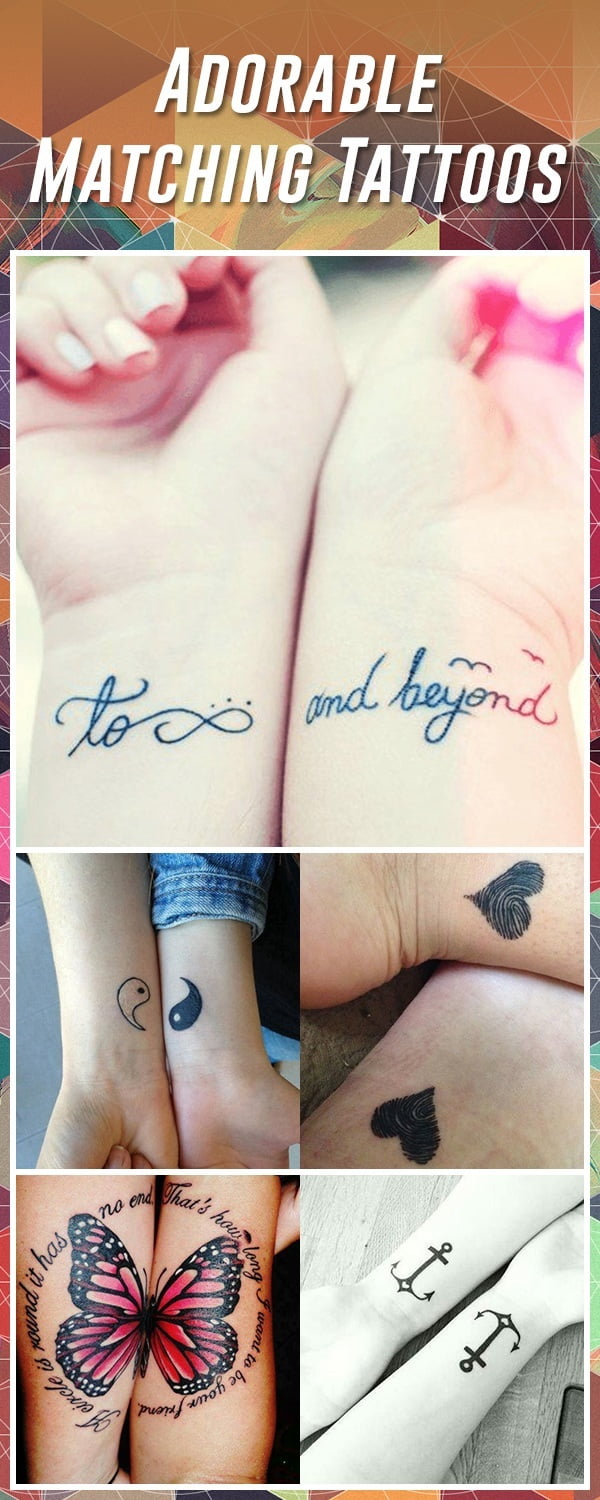 Matching tattoos are very popular as they are a show of unity among families and couples. Family members can decide to have matching tattoos on the same spot of the body. They are a great way of showing unit and royalty. Most group[s also prefer to have matching tattoos as a way of showing sides. Matching tattoos are great as they usually mean something for the people who have them. It is like a way of reminding couples or families what they share.
In most cases, people get matching of the small things they share and love together. For example, if you love to fish, then both of you can have a tattoo of fish in the same sport of your body it is a way of having something that you both love and share on the same part of the body. Matching tattoos is a great way to keep reminding yourself the importance of the relationship you have with your partner.
What do these tattoos represent?
These tattoos are a show of unity and royalty. They represent the one thing the two couples love doing together. We know of all the prominent people who have had these tattoos as a way of showing unity in their families. We have had President Obama say their daughters have these tattoos that match while he and his wife have there too. This further goes the importance of the tattoos to their people that bear them (these mother daughter tattoos are also worth checking out).
The meaning of the tattoo is difficult to tell and the only people who know the meaning are those who have the tattoos. They can decide to share the meaning with the rest of the world or simply keep it to themselves. The tattoos can make couples appear great in public places especially when holding hands and showing off their similar tattoos. Sisters who have similar tattoos tend to get on better with each other as the tattoos remind them of whom they are and what it means to be sisters.
These tattoos are usually simple and very easy to draw. In most cases people do not want huge tattoos that are similar to their bodies. A small tattoos design will do just fine making them a popular choice for people. However, before taking these tattoos, it is important to make a lot of consideration especially if you are not married. Relationships can end, and the tattoo can be a constant reminder of the other person. Do not make them permanent unless they are for family or married couples.
All the same, similar tattoos are a great choice for couples, families and friends. They are a great to show of unity and royalty. The tattoos are a show of the things that you have gone through together.
1. Anklet Tattoos – Best Friends, One Heart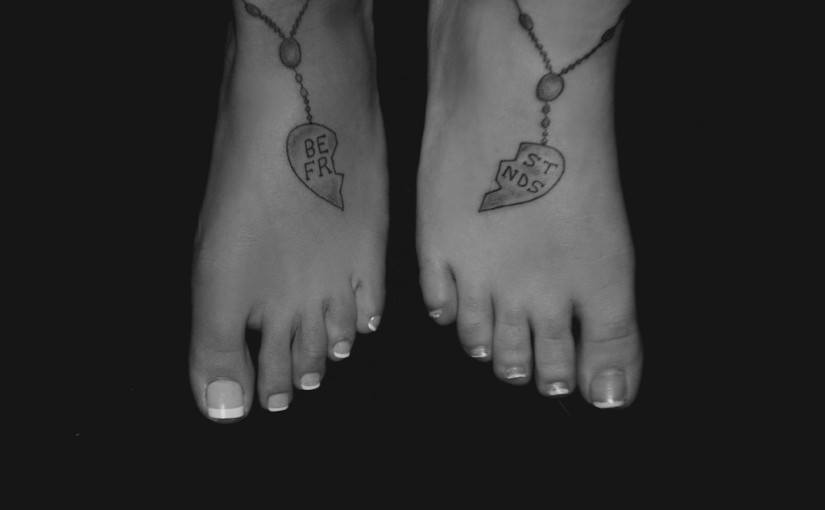 What could be the best way to permanently confirm a lifetime of friendship other than having matching tattoos? Show the world how cool and chic your friendship is by using this idea. Have an anklet tattoo with one part of a heart. If the two parts are put together the word "BESTFR[IE]NDS" is formed.
2. Heart Tattoos – Infinity and Beyond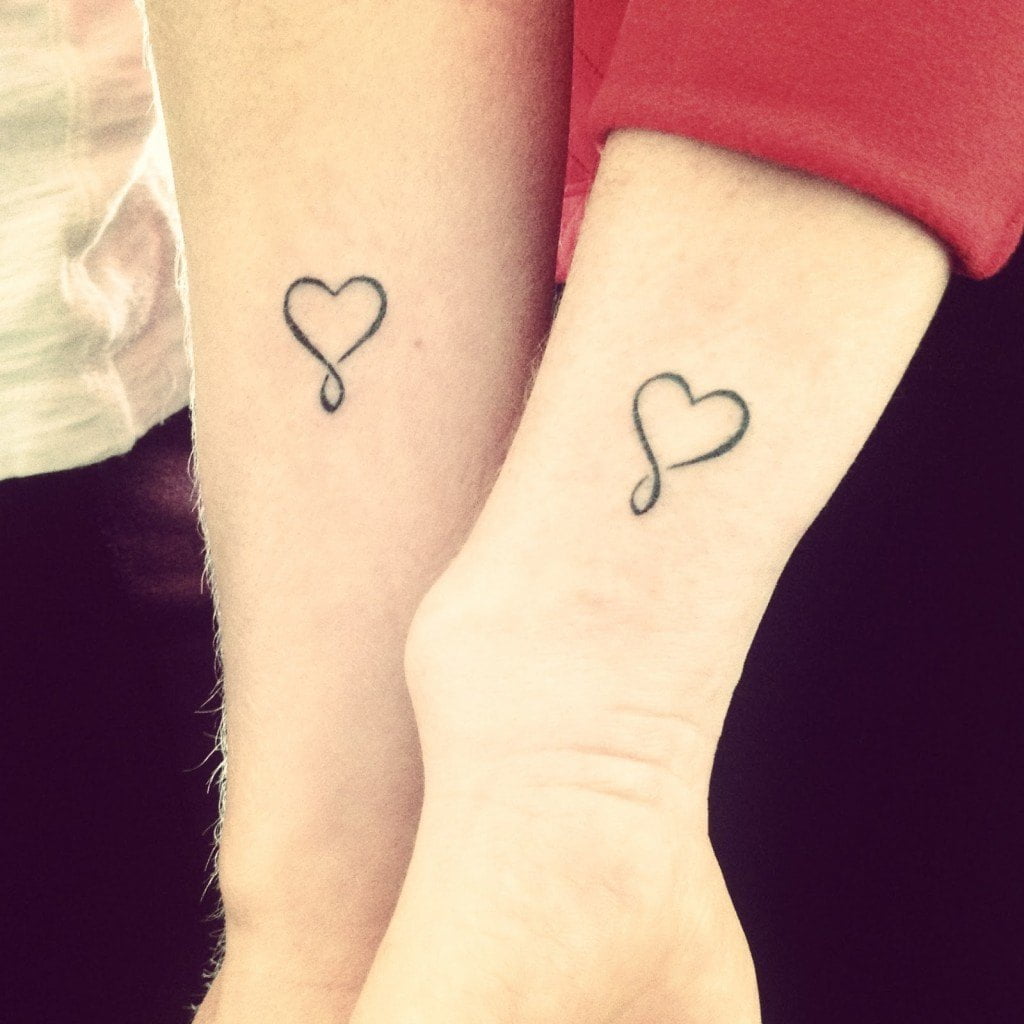 Looking for matching tattoos with your one true love? It may sound cheesy but the simple design of this tattoo image tells two important words: INFINITY and LOVE. Express your undying love to each other by placing this heart with the infinity sign to each of your arms.
3. Butterfly Tattoo – Circle of Friendship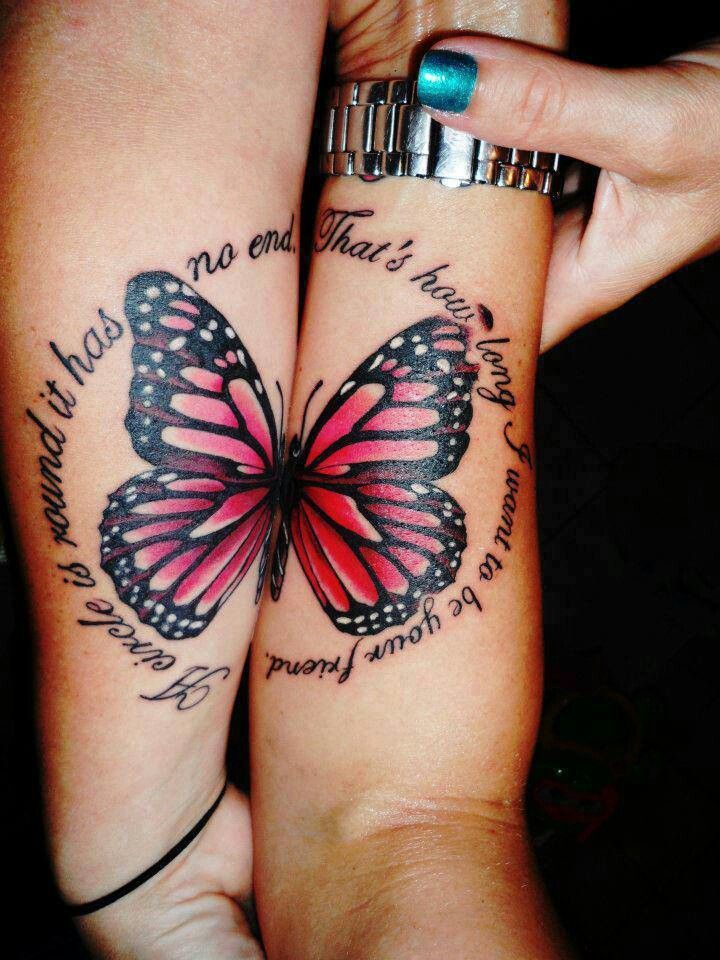 A colorful and meaningful matching tattoos idea. Fascinatingly, butterfly, in many cultures, is linked with the soul. It is also a symbol of celebration while the circle symbolizes timelessness. As the quote says, "A circle is round it has no end. That's how long I want to be your friend."
4. Paper Airplane and Heart Tattoos – Love and Freedom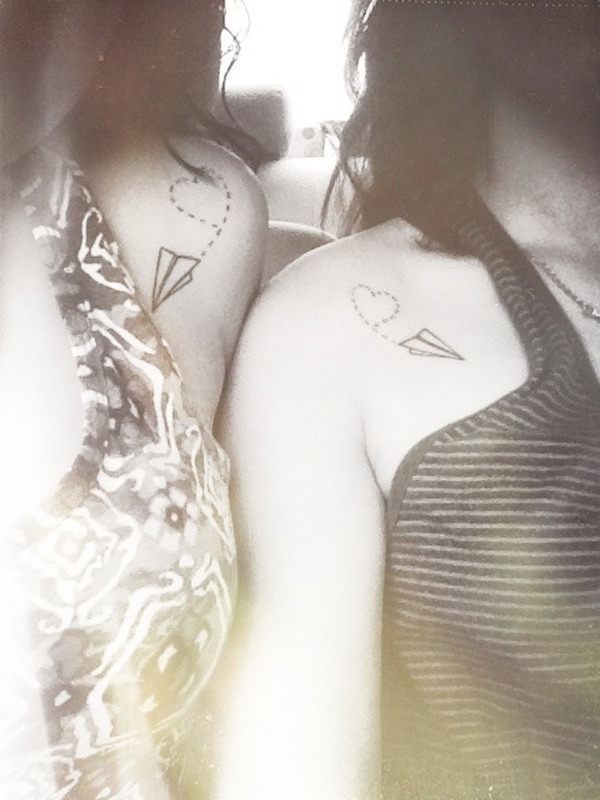 Though there are many tattoos ideas for friendship, best of friends with free spirits can easily associate themselves with a paper airplane and a heart. A cute yet meaningful matching tattoo design, the tattoo shows the owners value their independence and relationship.
5. Dog and Cat Matching Tattoos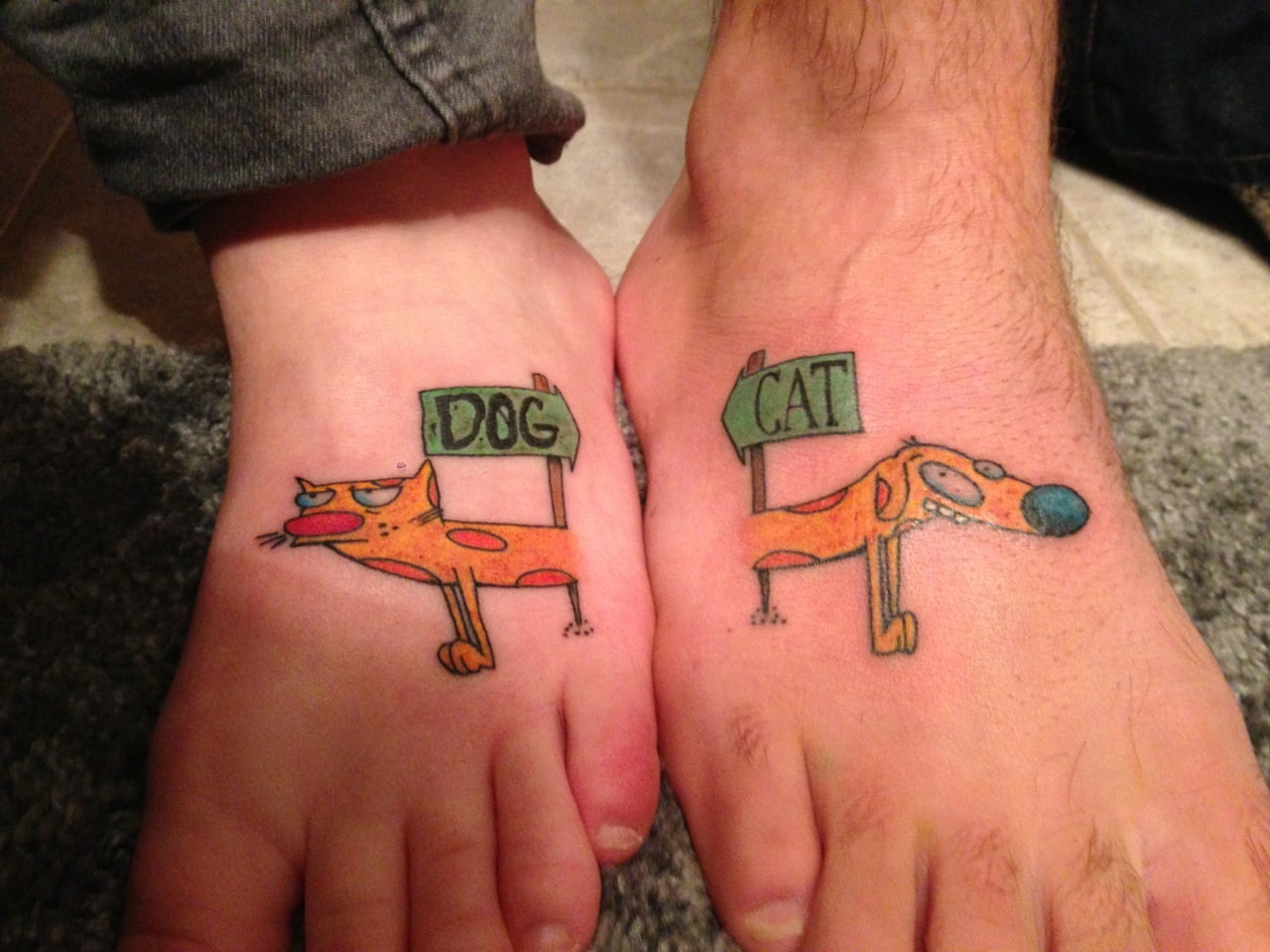 A cartoon-like "dog and cat" matching tattoos are perfect for couples or friends who consider themselves "frienemies." Surely, the two of you fight over petty things like the dog and cat but you care for each other and have each other's back all the time.
6. Matching Couple Tattoos: Couple's Cross Wrist Tattoos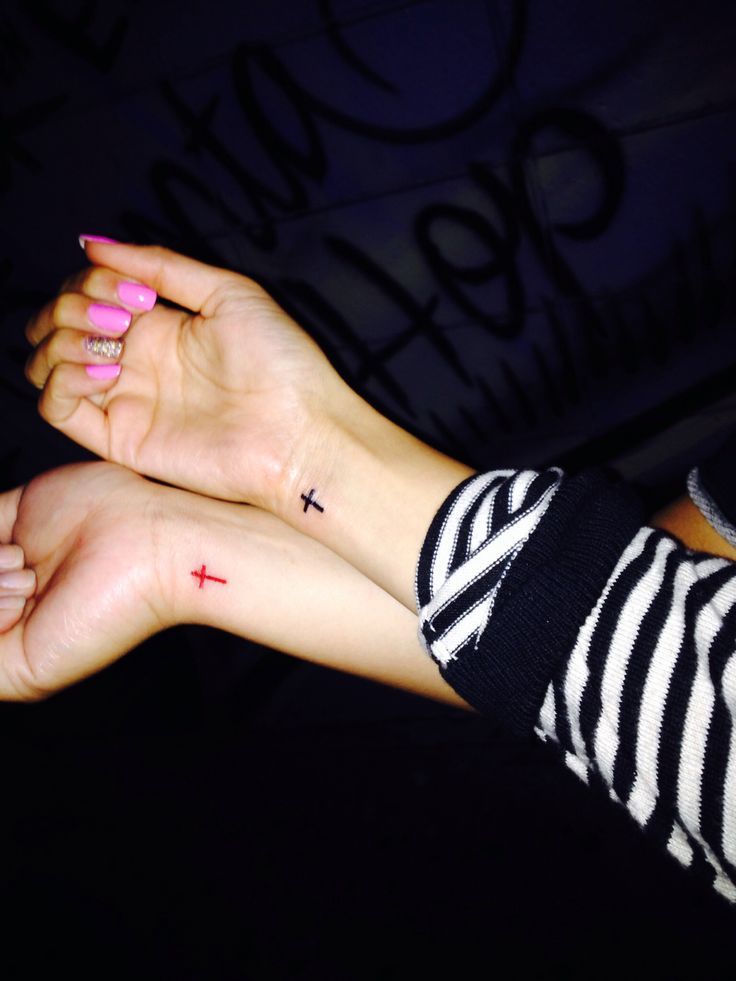 A tattoo concept that is never out of style is the cross. What's special with the small cross tattoos on the wrists are the different colors. It can be a "his" and "her" cross but what matters is it represents your connection and a little bit of yourself.
7. Flower Pattern Tattoo Designs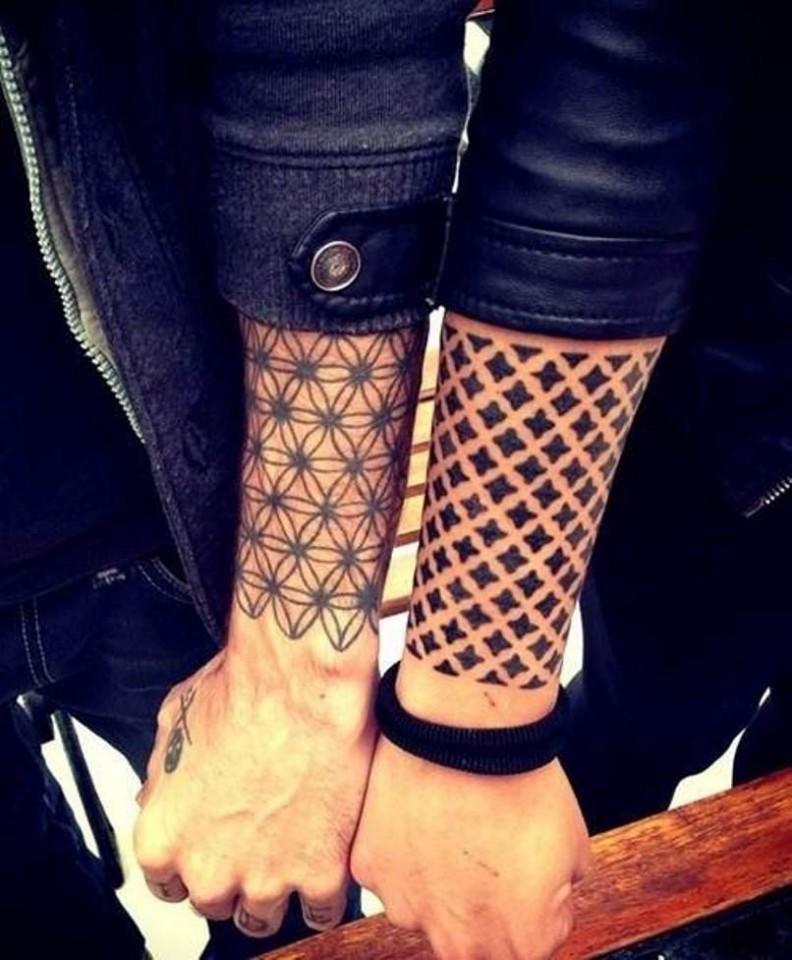 Two different tattoos but are matching? Why not? The left tattoo showed a bigger and clearer pattern while the right one showed a bolder and smaller pattern. Combining the two together completes the whole tattoo ideas the artist have in mind. It's cool, creative and mysterious.
8. Fingerprint Heart Couple Tattoo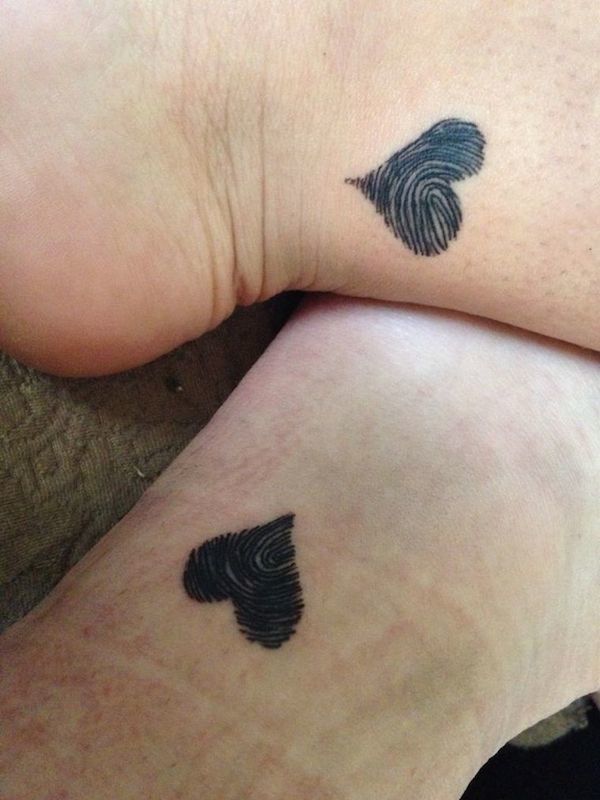 It's nice for a couple who are looking into simple love tattoos ideas to permanently imprint their love to each other. The fingerprint heart tattoos can be put on ankles or wrists or any part of the body that a couple may consider significant.
9. "To Infinity and Beyond" – Phrase Tattoos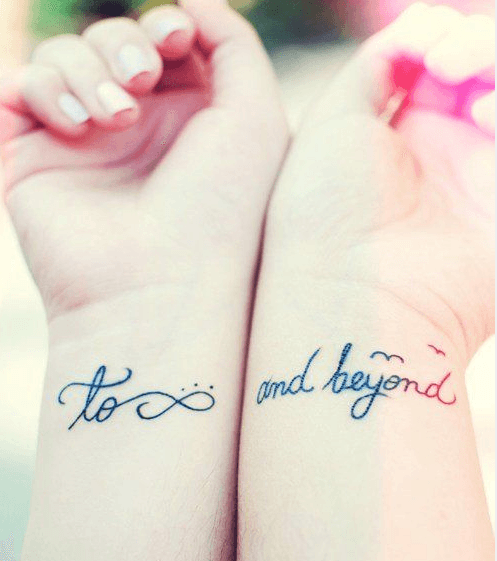 Matching ideas include special phrases like "To infinity and beyond." As we know, infinity refers to endless, forever, limitless and beyond refers to a place unknown. If it struck an important part of your relationship, consider this wrist tattoo design for the two of you.
10. The Ying Yang – A Symbol of Balance and Harmony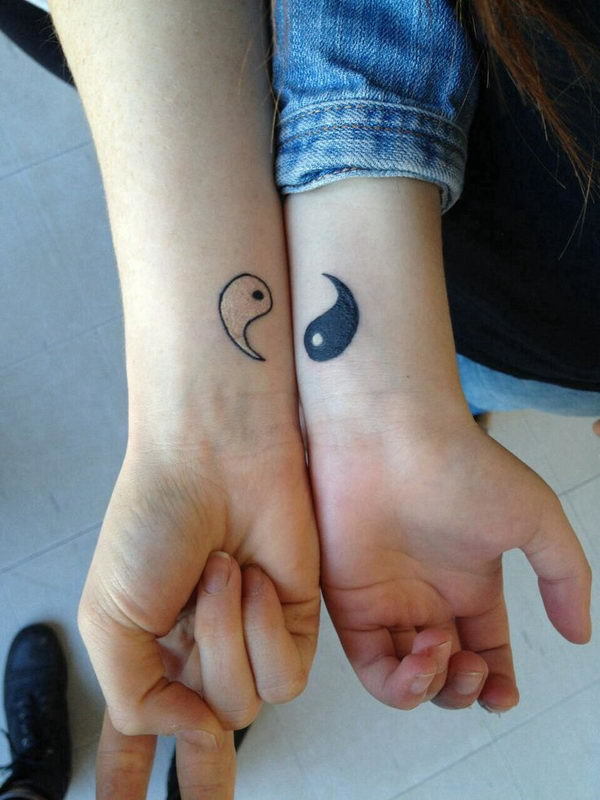 The Yin and The Yang are the Chinese representation of perfect harmony in a union of two opposites. Yin is the female energy referring to dark, earth, passive, moon and cold. Yang is the opposite since it represents, male, light sky, active, sun and heat.
11. Tea Cup and Tea Bag – Tea Party Theme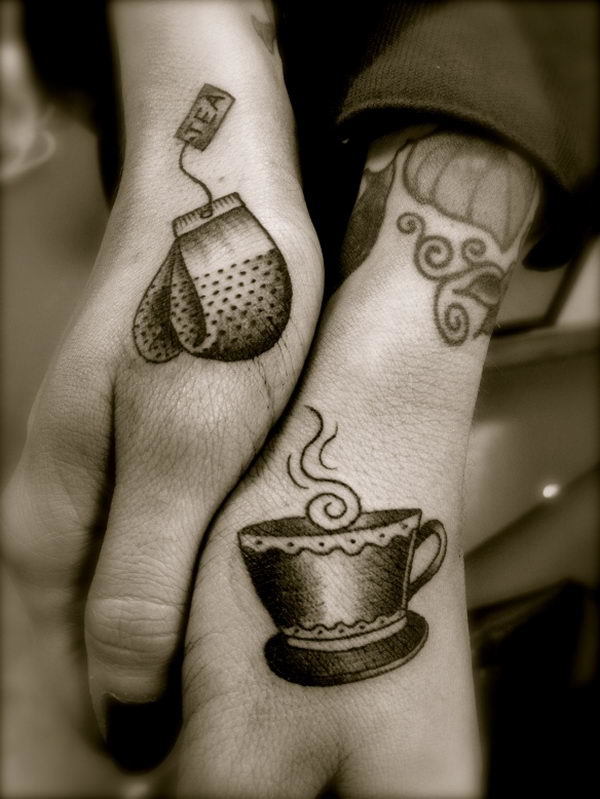 It's cute and classy at the same time. One part of the hand has the cup and the other has the tea bag. It's a matching design that can be worn by two people or by an individual. It can be an art or a representation of one's interest.
12. The Sun and The Moon – Matching Couple Tattoos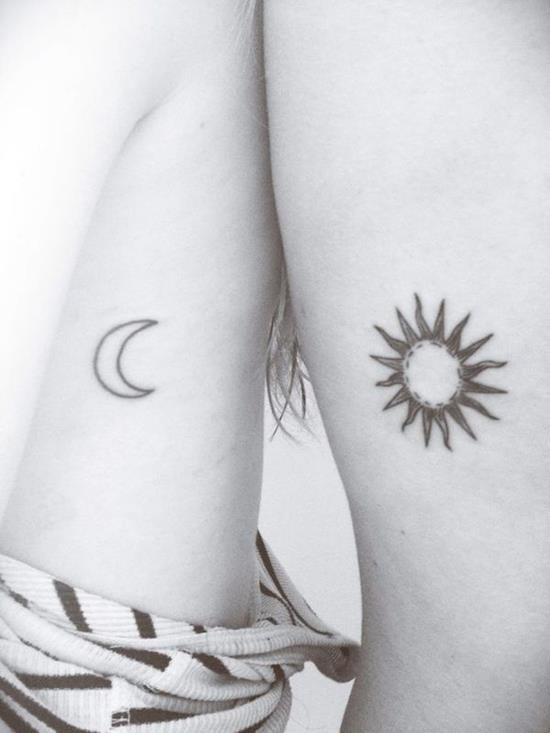 Again, it's a symbolism of a love that can surpass all differences. Though the moon and sun are believed to never meet and be with each other (figuratively), they can still be seen together during daytime on specific days. That's your kind of love, right?
13. Couple Tattoo – Hugs and Kisses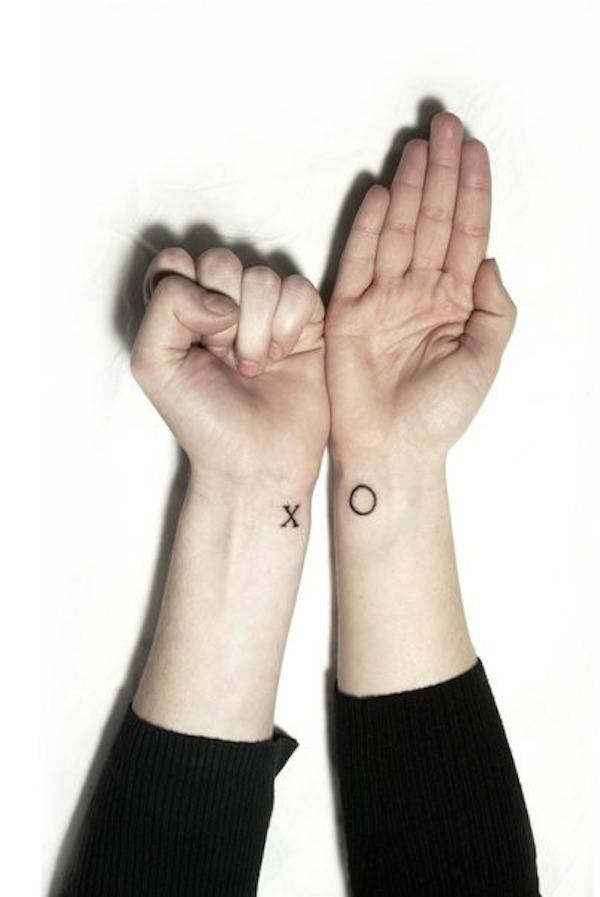 For a couple or best of friends, these are matching tattoos meaning kisses for X and hugs for O. XO is a short and simple message of affection to each other. Of course, for two people, it may mean more than hugs and kisses.
14. Infinity Lifeline Tattoos – Forever and For Life Couple Tattoo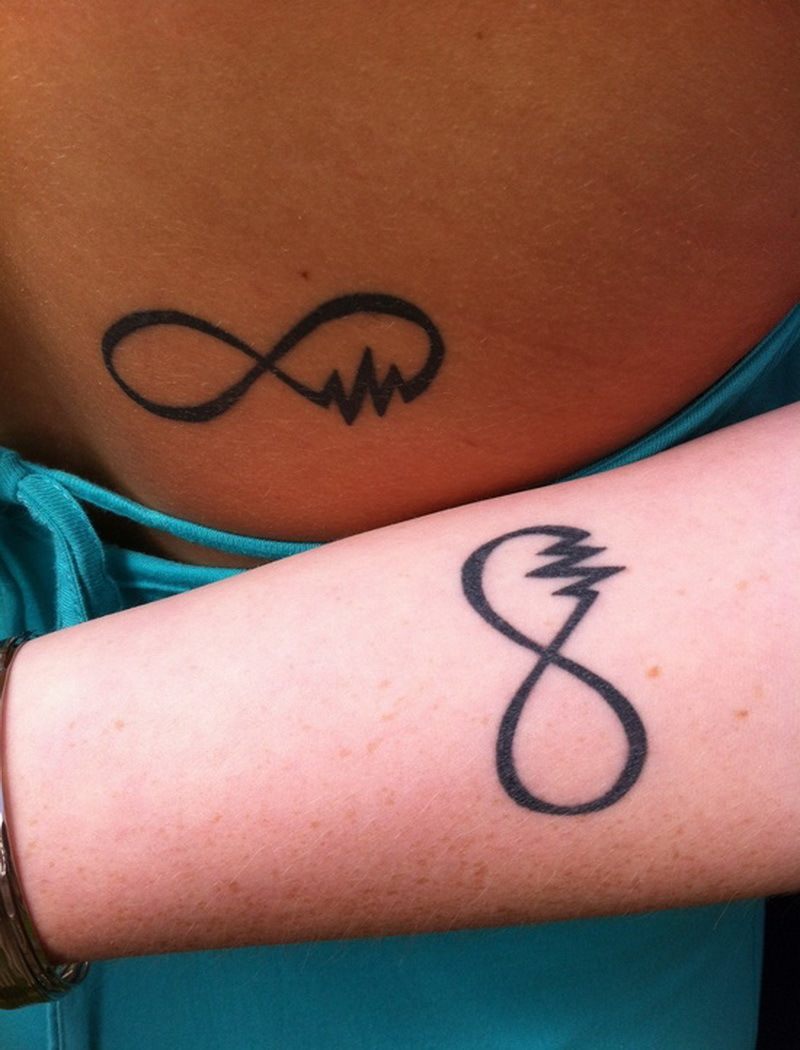 Get this tattoo design to symbolize that your love and friendship will last till your last breath and beyond infinity. It may be a plain symbol but knowing the deeper meaning behind it makes the tattoo design popular for couples and best pals.
15. Waving Bread Loaves – Cute and Bubbly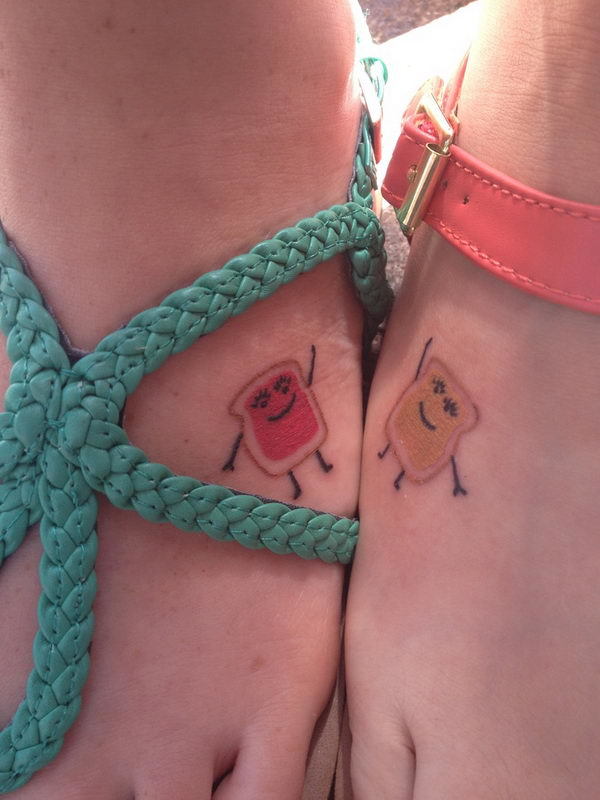 If you are young at heart, having a waving loaf tattoo on your foot waving to another matching loaf on your lover or friend's foot can be a cute choice. It looks nice and refreshing. It also reflects your coolness and free spirits.
16. Anchor's Away! – Tattoo for Loyalty, Hope and Honor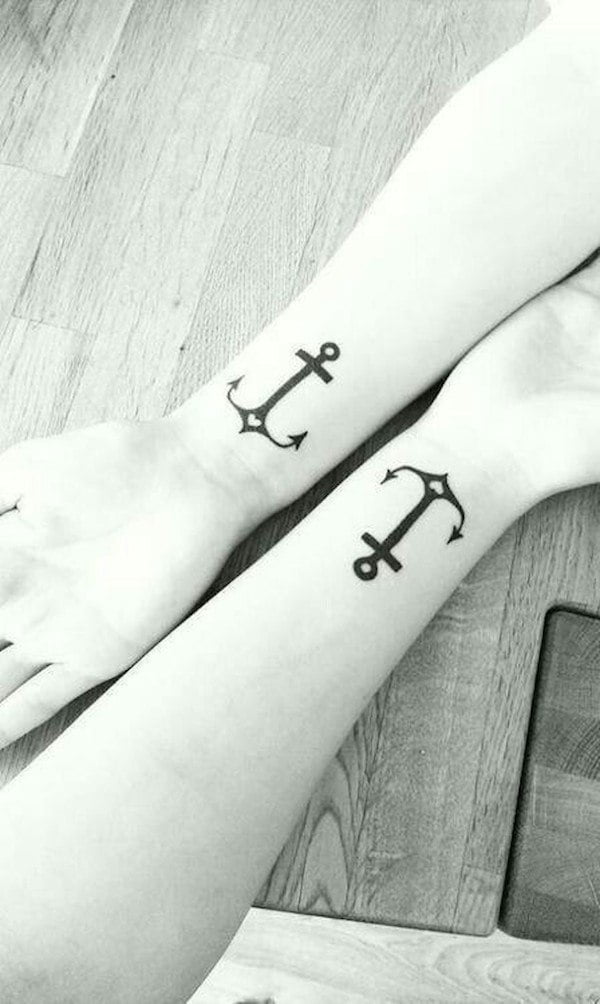 Anchors are one of the ancient symbols used as tattoos. Aside from its popularity to sailors and servicemen, it is worn by some celebrities. An anchor represents the character of a serviceman— loyal, hopeful and honorable— just like your relationship.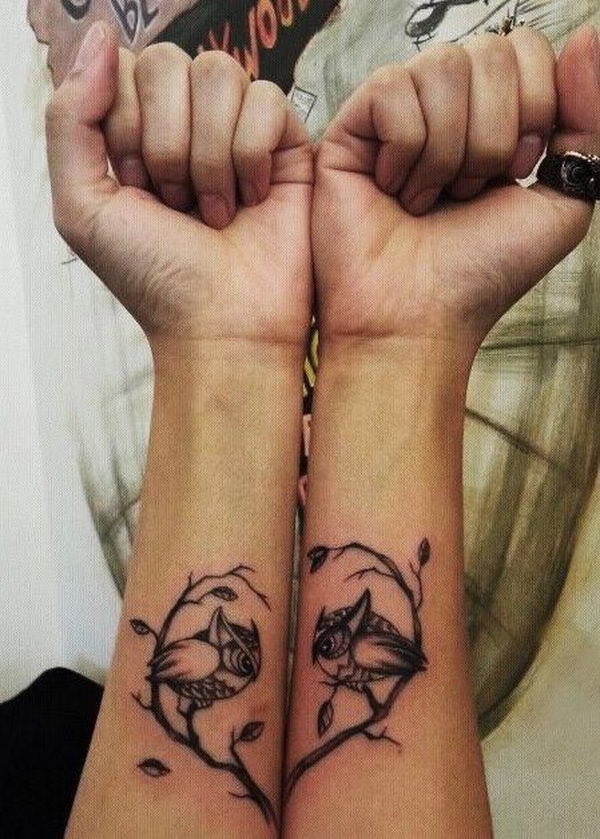 The matching tattoos have to be put together to see that the branches forms a heart and two little owls staring at each other. It is simple yet beautiful because of how it was crafted using just black ink. They said Barn owls are monogamous perhaps that's the reason behind the design.
18. Finger Hug Couple Tattoo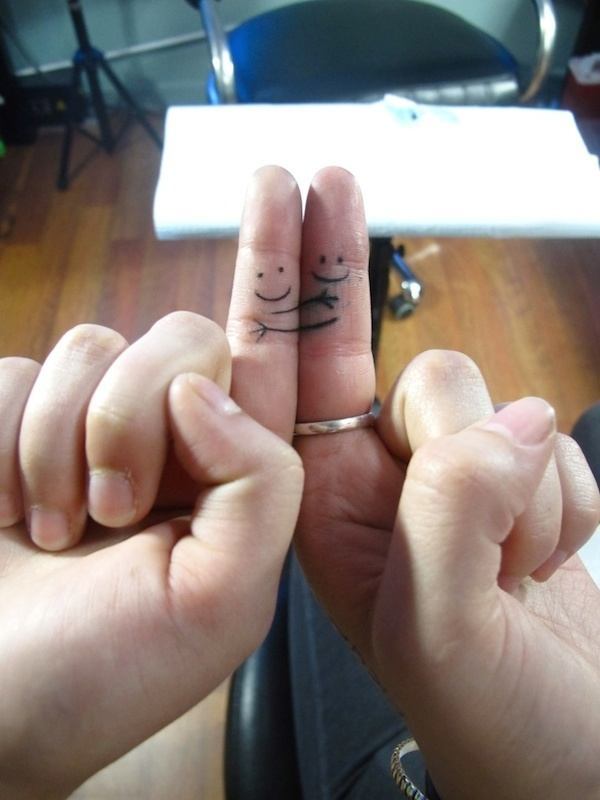 Cuddling and smiling are the two things that make these tattoo design stand out. Though it looks ingenuous, it shows how cute the two point fingers look when they are together hugging and smiling. This is a good design for friendship or couple tattoos.
19. Big Heart Cutout Couple Tattoo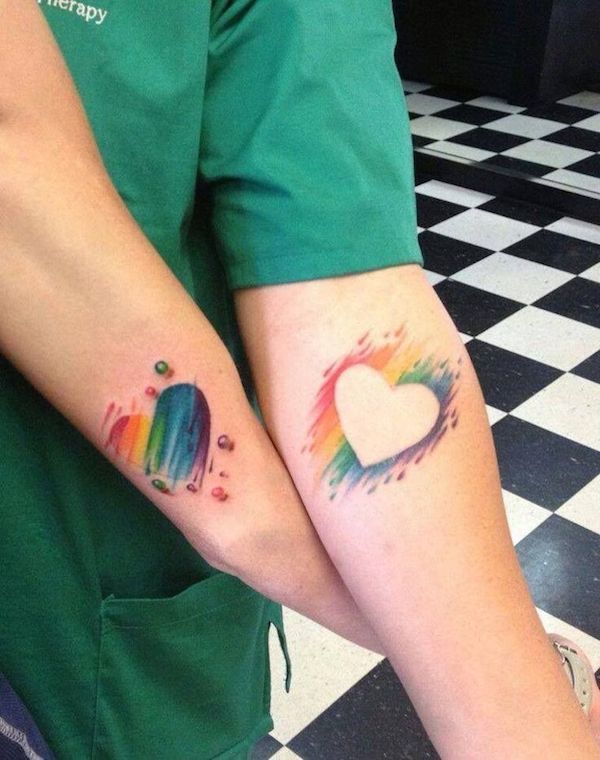 It can be a meaningful and exciting relationship which explains the striking colors. The cutout heart in one arm and the canvas from the heart's cut out are vibrant and colorful. The exciting couple tattoo design can be attributed to a couple's outlook to their relationship.
20. Ram and Fish – Zodiac Sign Tattoos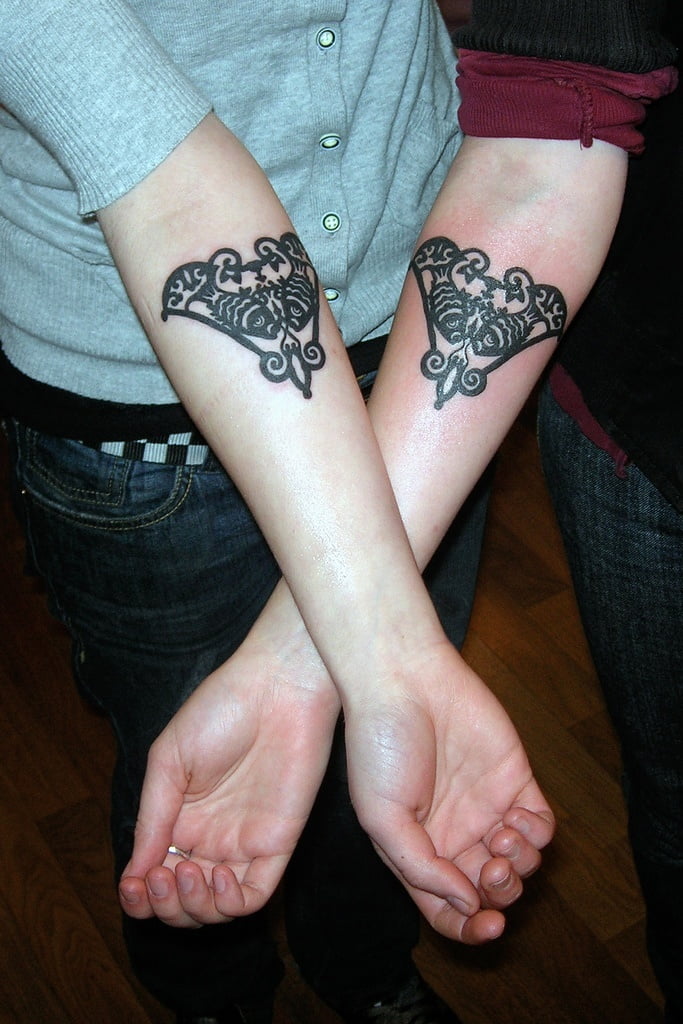 If you are particular with zodiac signs, creating a tattoo out of your signs isn't a surprise at all. The tattoo shown here is a ram at the center and two fishes. In Zodiac signs, a ram represents an Aries while a fish represent a Pisces. It seems here the couple think they are a perfect match.
21. King and Queen Couple Tattoo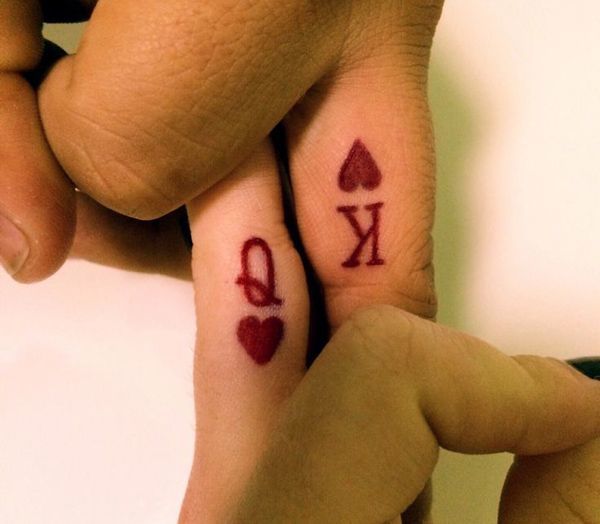 A king and queen tattoo in the style of playing cards on the middle fingers of the couple. These kinds of matching tattoos are a very beautiful and sweet declaration of love between a couple and is a constant reminder of their playful commitment.
22. Salami Pizza matching Couple Tattoo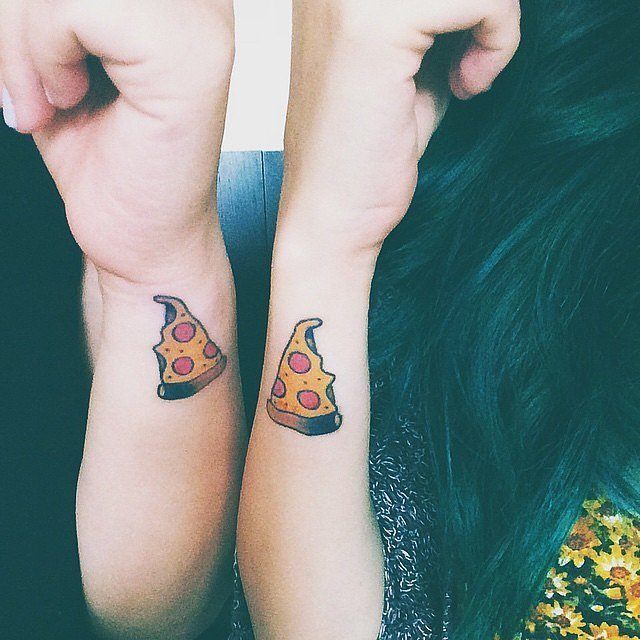 Colourful matching pizza tattoos on a couple's forearms. The beautiful colour of these pizza slices truly capture the true colour combination of a real pizza and the tattoos even include bite marks. This is a matching tattoos idea for any fun loving couple who love pizza together.
23. Beautiful Key Tattoo on two women's Arms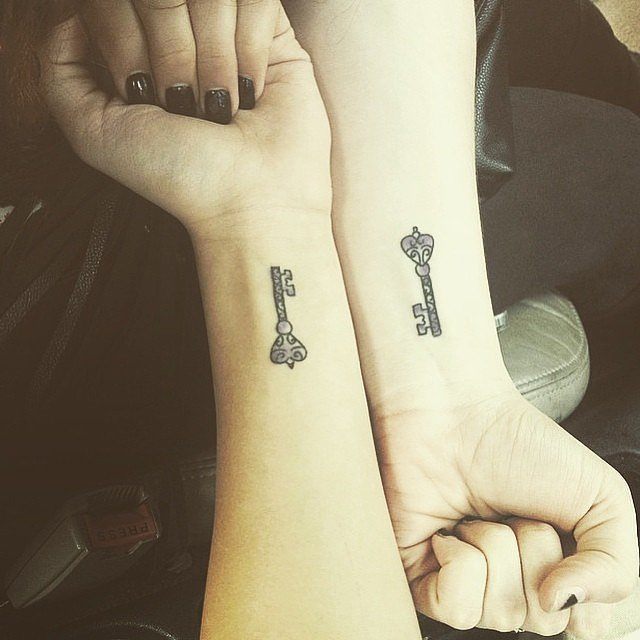 A set of identical key matching tattoos on the fore-arms of two women. These two women are definitely best friends who have chosen to symbolize their friendship forever using a set of identical keys as matching tattoo design. Also, the keys may have a special meaning for them.
24. Rocket and Saturn matching tattoos on a woman's hands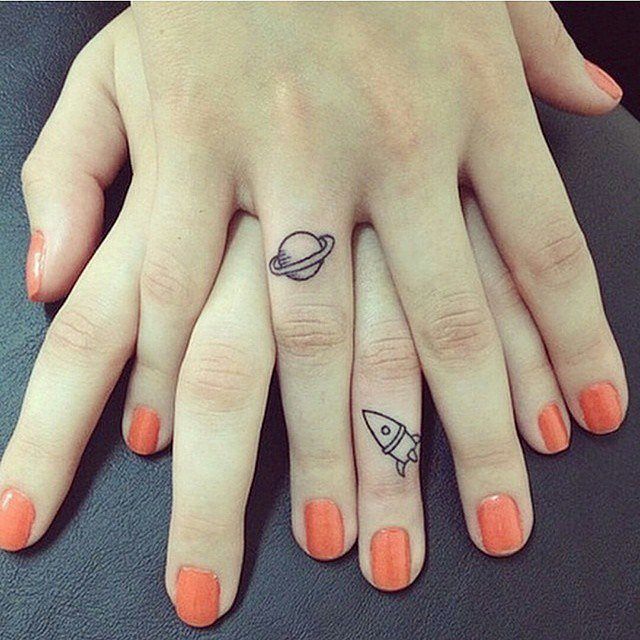 This set of matching tattoos are on the left and right hands of the same person. This woman is definitely a science or space lover. The tattoos are very simple and are lovely tattoo ideas. With Saturn and a rocket on her fingers, this chic is quite geeky.
25. X and O couple Love Tattoo on the Forearms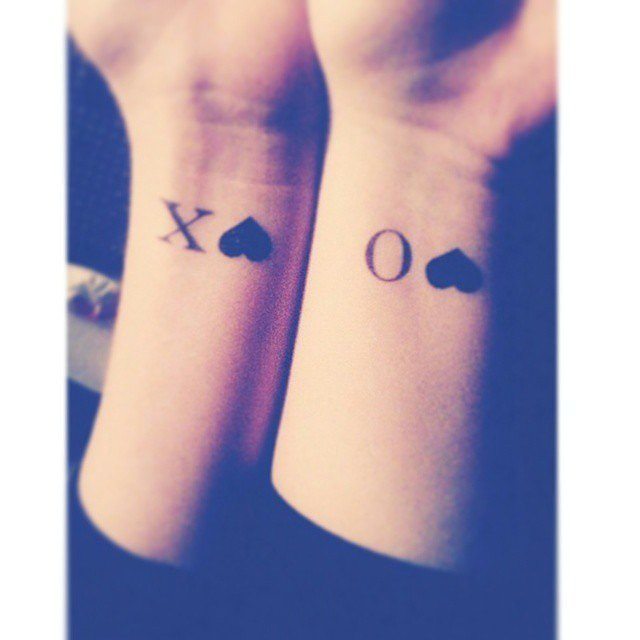 This couple's matching tattoo is simply a heart and an initial of the loved one. While many other couples will choose bright or vibrant colours, this couple has chosen the colour black to use in symbolizing their love. A cool and discreet way to show your love with an initial tattoos design.
26. Matching Yin Yang Tattoos on the Feet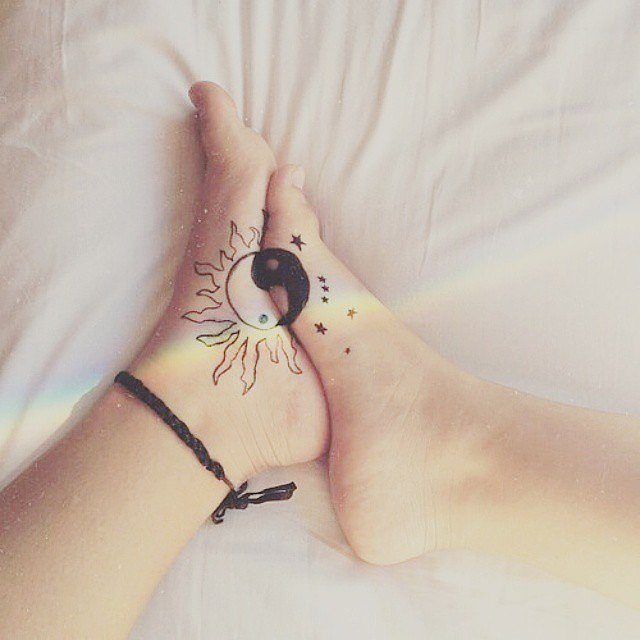 These matching tattoos are on the feet of an esoteric loving person. The right leg is the yin here with its darkness and stars symbolizing femininity and contraction, while on the left leg is yang with it's brightness, expansion and masculinity. Together, the left and right form a whole.
27. Palm tree Matching Tattoos on a couple's Forearms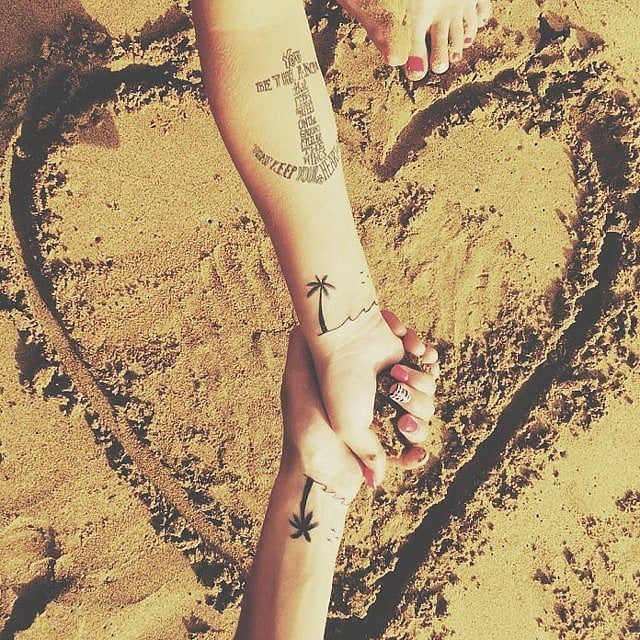 This couple is celebrating their love with matching palm-tree tattoos, which is a wonderful matching tattoos idea. The couple is on the beach and have drawn a heart symbolizing love on the sand, they then held hands while the photos were taken, a quite committed couple.
28. A compass with Feather matching Tattoos on two Women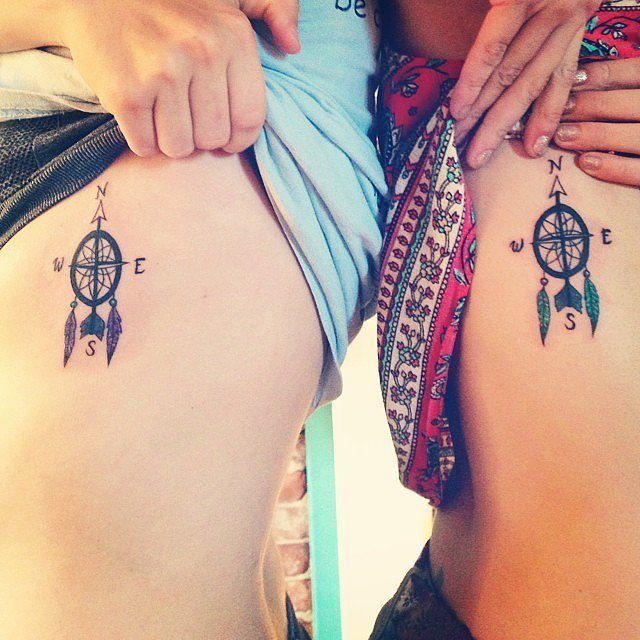 These two women share a tattoo style on their sides. The tattoo is a compass with the four cardinal points and two feathers hanging down from the positions of SW and SE. This particular design of the compass tattoo shared by these two women has a meaning for them.
29. Matching dove Tattoos on the wrists of two Lovers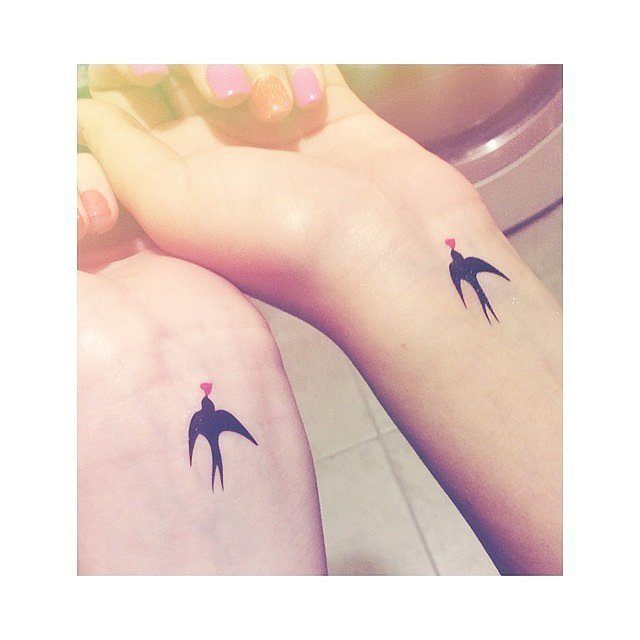 These two matching tattoos are some of the finest tattoo ideas for lovers. The design of the tattoo is quite simple, a black painted dove with a red painted heart in its beak. Simple, yet elegant, this is a way to eternally remember a very good friendship.
30. Origami Swan Matching Tattoos on the Legs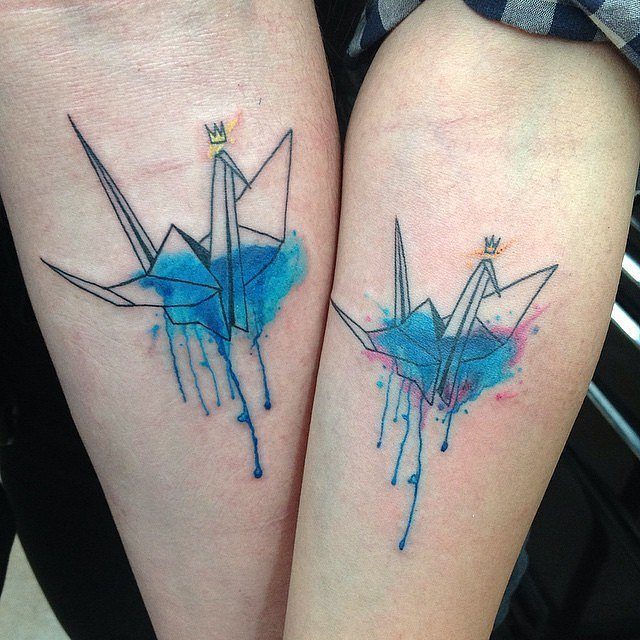 Here the matching tattoos are a depiction of origami swans with a crown on their heads. Obviously, both the origami swans and the crowns on their heads mean something private and special to these two people. The ink dripping design is also quite cool.
31. Two Star wars Fans with Light Saber Matching Tattoos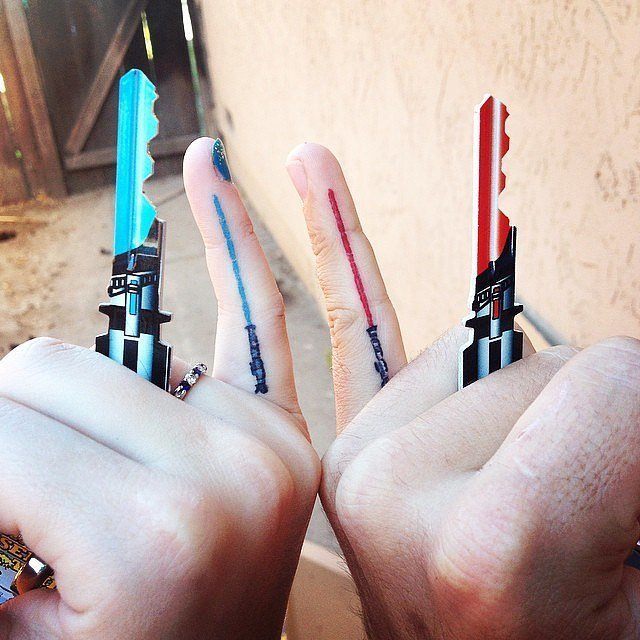 Here, a star wars loving couple have tattooed light sabers on their little fingers. The man has a red coloured light saber tattoo while the woman has a blue coloured one. It is not everyday that you meet a man and a woman that share a love for star wars.
32. Two Women with Matching Anchor Tattoos on their Ankles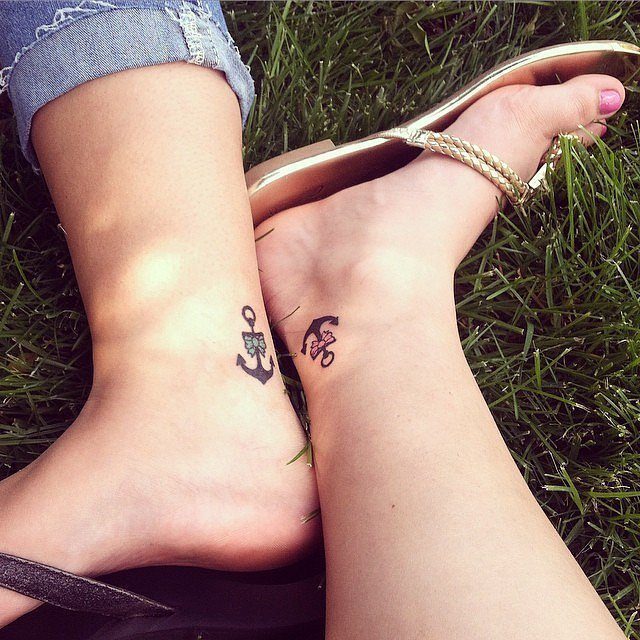 A black and green tattoo on one person and a brown and pink tattoo on the next make these matching anchor tattoos one of the finest matching tattoo ideas. Whether the choice of an anchor and the specific colours mean anything special to them is not obvious.
33. A Sun and Moon Matching tattoos on two Women's sides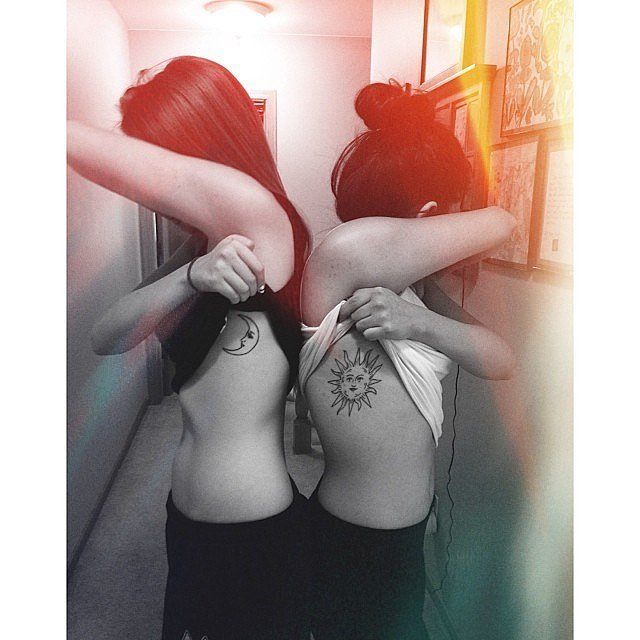 These two women share a sun and moon tattoo which can also be one of the signifying tattoos ideas between two lesbians. In this case, the woman with the sun is the more masculine of the two, while the woman with the moon tattoo is the more feminine.
34. Cool glass of Wine Matching Tattoos on the Forearms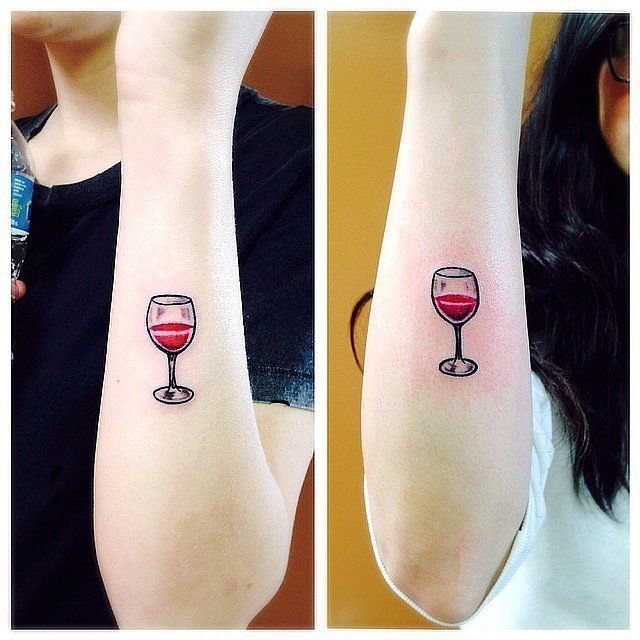 Whatever the glass of wine means for this two people is unclear. What's clear though is the bond of friendship between this two people and the light-heartedness with which they carry on their relationship. Maybe friends forever, maybe not, but the matching tattoo concept is cool.
35. Very sweet Matching Black Heart Tattoos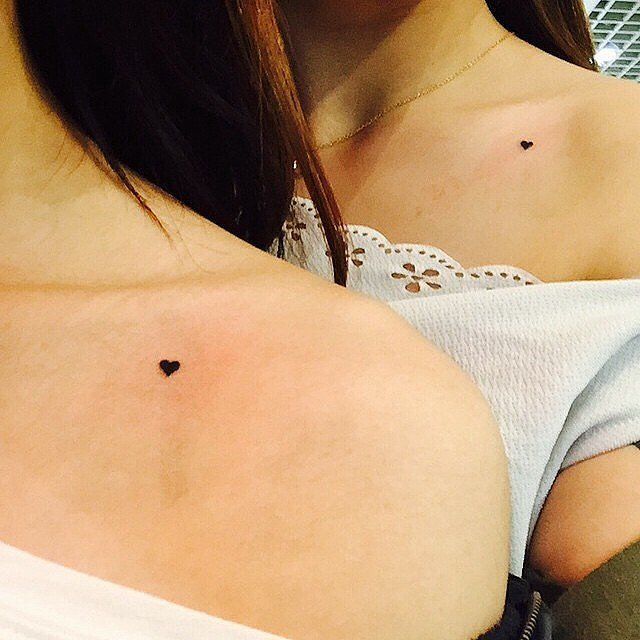 These two women have chosen a simple, yet very lovely matching tattoo design. They both tattooed a small black heart on their left shoulders, and the hearts look very perfect and sweet. The reason for their choice is unclear, whether they have a romantic relationship or just best friends.
36. A pair of Abstract Four Lines Tattoos on the Wrists of two Friends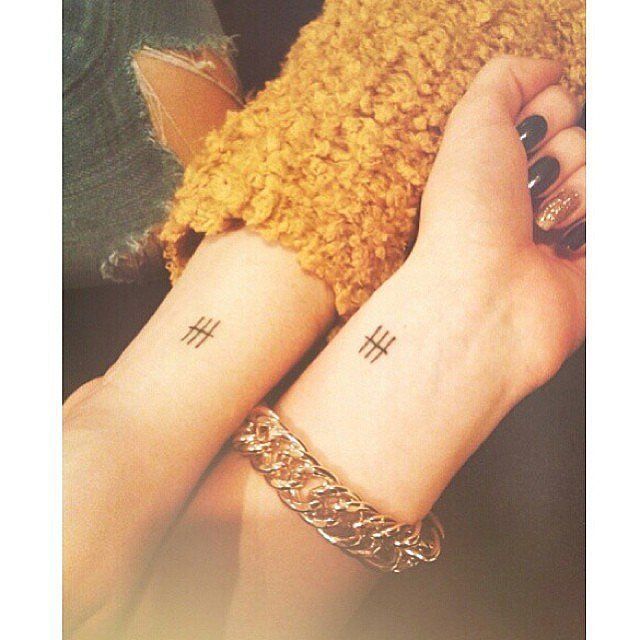 These two friends chose a very abstract tattoo that definitely has its own secret meaning for them. Three simple parallel lines with the fourth line at 90 degrees angle to the other three. All the lines have been tattooed in black and at their wrists.
37. Two colourful Unicorns Matching Tattoos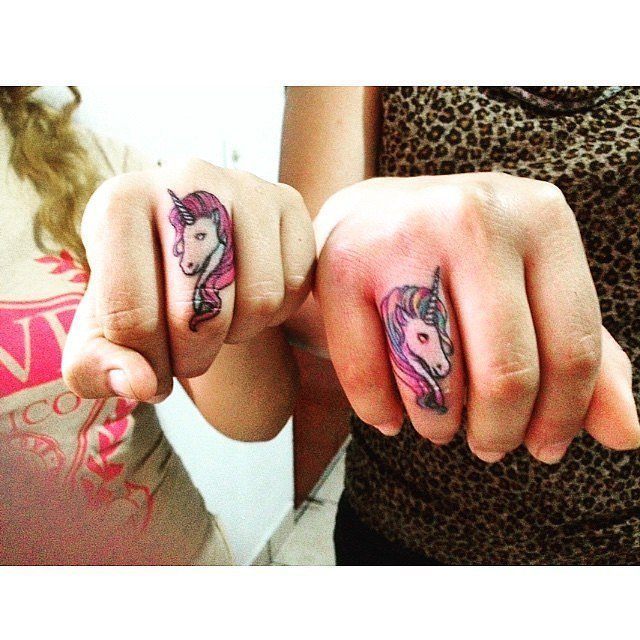 These two women have unicorns tattooed on their fingers. The unicorns are colourful and look really nice as a pair of matching tattoos, but they also remind of the other possible meaning of two women who consider themselves unicorns, maybe it's a sexuality statement.
38. Two Women with matching Reindeer Tattoos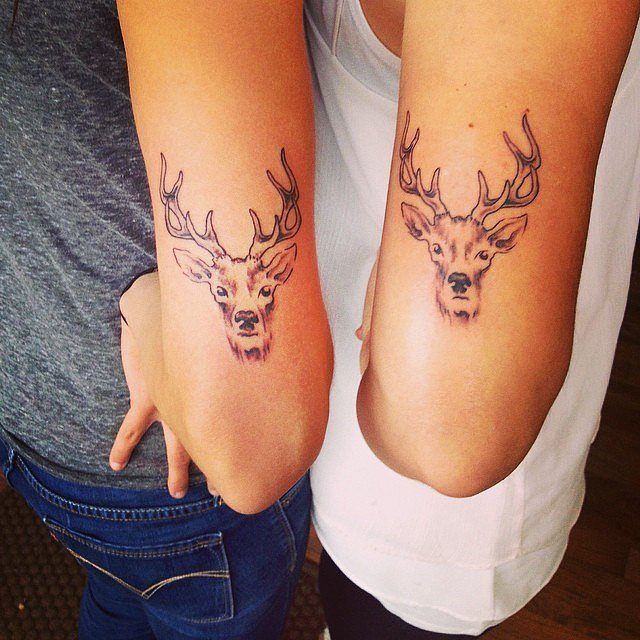 This is a lovely pair of matching tattoos on the arms of these two friends depicting a reindeer. The reindeer may have been chosen out of fun, most probably, or they may have had a special reason for choosing the reindeer, whatever their reasons, it is beautiful.
39. Girl almighty – She's not Afraid – Matching Tattoos on two Arms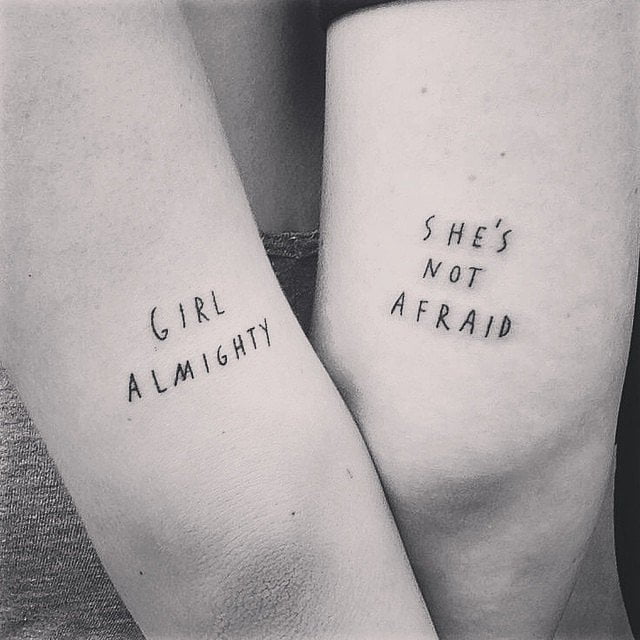 This is a straightforward declaration with this pair of matching tattoos. "Girl Almighty, she's not afraid." The message is clear. Obviously the arm on the left is the arm of a girl, but it's rather not very clear if the arm on the right is that of a male or female.
40. Two Eyes on the back of Neck Matching Tattoos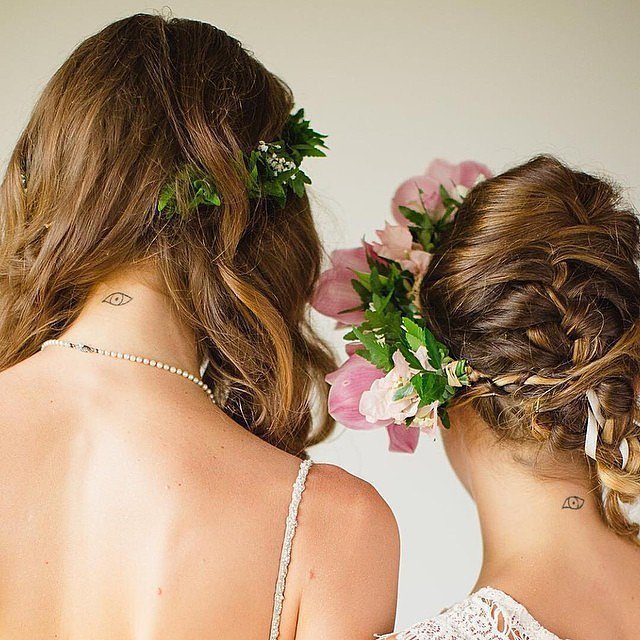 The two girls here are definitely the best friends forever type. They share a lot in common, not just their neck tattoo. The tattoo is simple and straight to the point, no extra touches, just a simple black outline of an eye. Combine the two, and it's a lovely effect.
41. Two small cross tattoos
The two small cross tattoos on the finger are strategically located as the finger is the perfect size for the tattoos. Having the two tattoos on the same finger in different hands makes them match well. They are small enough and are a sign of your faith.
42. Two flower and band matching tattoos on the hand
Both hands have been nicely printed with similar flowers and circular thick lines. The tattoos are great on the hand and match well with the shape of the hand. They are a great hand tattoo idea and can be a perfect match for couples looking for matching tattoo ideas.
43. Excellent matching tattoos on the hand
These unique matching tattoos have been nicely set out on the hand exactly at the same location. The tattoos are very similar to finger touching each other as if making a bet on something. They are a great choice for couples who have made a promise to each other.
44. Two simple matching tattoos on the thumb finger
The tattoos are among the easiest to draw on your finger as they don't entail a lot of details. They appear great on the finger with what looks like leaves of a certain plant. They are very pretty and a good way to have a tattoo without having to much color on your skin.
45. A VIII tattoo on the wrist
The tattoos above are in roman numbers with the number eight probably meaning something special to the couples. The tattoo is a great idea for couples remembering their wedding days, the day the met or simply the birthday of the kids.
46. Matching campus direction tattoos on the wrist
The campus direction tattoos are great for students of geography and are a unique way to show their love for geography. They are located at the wrist where they can easily be seen with ease. They do not cover a lot of space on the wrist, and one can easily hide them whenever they feel like.
47. Two very simple matching heart tattoos
The tattoos are very simple and come in black color which is highly visible with a light skin. The tattoos are unique and ideal for partners as the heart symbol represent love. They are a great tattoo idea to keep reminding you of the love you share with your partner when things go wrong.
48. Full stop and comma Couple Tattoo
Well, if you are out of idea and want a unique tattoo, the full stop and comma tattoos are great on your wrist. The tattoos are not that visible but a good mark to identify yourself with something. They are good for authors to show their love for writing.
49. Simple matching kites Couple Tattoo
We all played with kites at some stage in our lives. These are great for children and a great way to show the world the simple things in life. They are a good reminder of who we were so that we don't get lost in the world of fame.
The sunflower is a unique flower that opens up every morning when the sun appears. They are ideal for twin sisters, brother or just siblings in general. They are simple but a great way to remind yourself of how beautiful you look every time you wake up.
51. Cool matching triangle tattoo on the foot
The tattoos are very similar to two triangles intertwined together. The triangles are face upwards and are a great way to show off your pretty legs without adding too much color. They are also perfectly located on the inner side of the leg where they are not so visible.
52. Matching cross tattoos with triangles at the edges
These cross tattoos are a great way for family members or group of friends as a show of unity and togetherness. The have been perfectly located on the arm where they fit nicely with the various sides of the cross fitting the arm properly.
53. Two butterfly tattoos with skull in the middle
Butterflies are known for their beautiful colors and having one tattoo of butterflies on your leg or hand will enhance your looks. The tattoos have been nicely drawn with different colors and the middle part nicely filled with an image of a skull. They are a great tattoo idea for both men and women.
54. Two matching arrow tattoos
The arrow tattoos are a great pick with the arrow seeming to end like a line that is fading. They are a perfect match on the hand with the words, "R and K" written on the sides of the arrows.
55. Two small matching arrow tattoos on the wrist
These tattoos are ideal for people who love something small without many decorations. If you want to have a tattoo not too big to attract a lot of attention, then this is a pretty awesome idea.
56. A plant in a pot tattoo
We all have various plants in pots in our homes. Well, it is never a bad idea to have one of those images on your body as a tattoo idea. The two matching tattoos have been designed from a cactus plant and fit the arm properly.
57. A cool protection tattoo on the back
These are cool matching tattoos ideal for family members. The tattoos have what looks like a shield with the words of protection to the person with the matching tattoos. They are a great way to show love to your siblings or other family members.
58. Two cool knot Couple Tattoo on the wrist
The knot tattoos are a great way to show your commitment to each other if you are a couple. The knot tattoos complement the words tying a knot together and shows you are meant for each other.
59. Two little-matching snail tattoos
Snails can also form a good idea for a tattoo on the foot. The tattoos are different in colors but look similar in every way possible. They are a great idea where each person gets to choose their preferred colors.
60. A buffalo head and weighing machine tattoo
The tattoos do not look that similar but the shape of the buffalo head looks very similar to the shape of the weight machine. They appear great on the leg and form a great tattoo design.