With matching tattoos getting more and more popular over time, it's no surprise that many sisters are getting one and this article will show you some of the best sister tattoos that you can use for inspiration. The great thing about tattoos is that you can take elements from several designs and come up with your own unique piece. One of the most popular internet searches has to do with the best sister tattoo designs.
60 Unique Ideas for the Best Sister Tattoos
These types of tattoos have become incredibly popular and it seems like that popularity just continues to rise, especially for those that have close relationships or special bonds with their sister or sisters. Some choose to get a design that has meaning to them, while others will just choose a design they like. Remember, you don't have to be blood sisters to get matching sister tattoos, nor do you have to be a certain age. Getting one of these tattoos can bring you and your sister closer and help you remember that you're never alone.
We're going to take a look at 60 of the best sister tattoo designs, which will hopefully give you a decent idea of what designs you'll like. Not only are we going to include designs for 2 people, but also for 3. With that said, though, there's nothing that says you can't get one of the other designs. Keep reading to see some of the best sister tattoo designs to bring you and your sister or sisters closer.
1. Basic Arrow Matching Sister Tattoos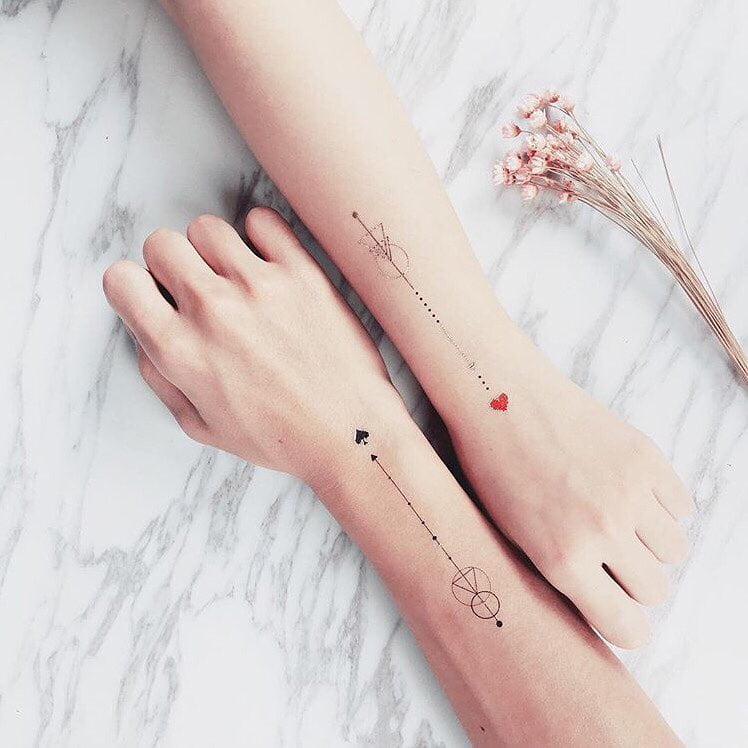 Arrows represent reaching your goals and getting a matching design with your sister can remind you both that they'll always have their sister's support. The black ink makes it look classic and the card suites symbolize love and fighting for each other. You and your sister can change the suits, depending on both of your personal preferences and what you're trying to symbolize. Love tattoos like this never go out of style.
2. Cute Pink Rose Wrist Tattoo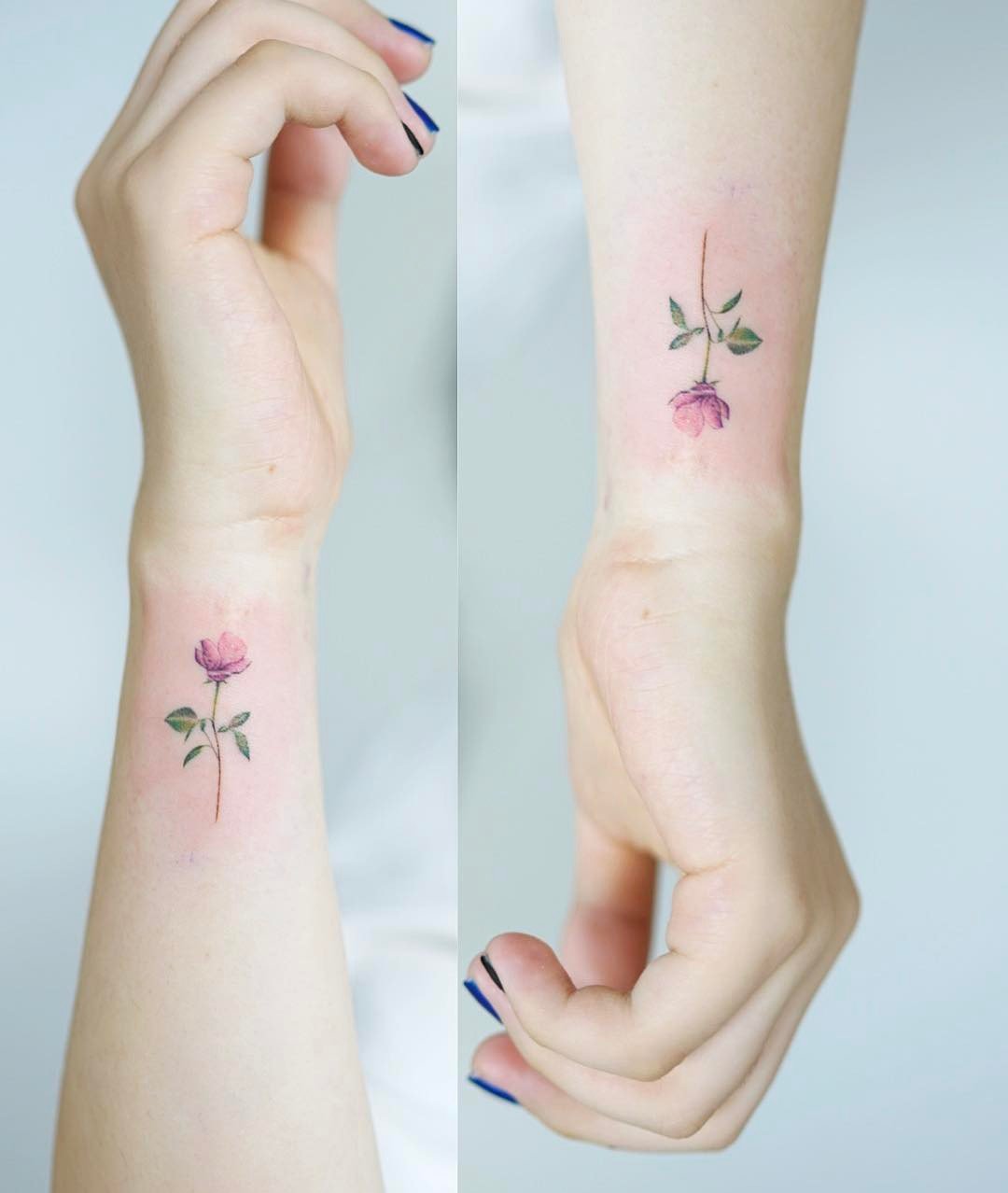 While dainty and simple, this is a beautiful tattoo that can connect you and your sister. The pink color is bright and the rose looks realistic. The side of the wrist is a great spot, but you could also put it on the bottom of your wrist or by your ankle.
3. PowerPuff Girls Triple Sister Tattoos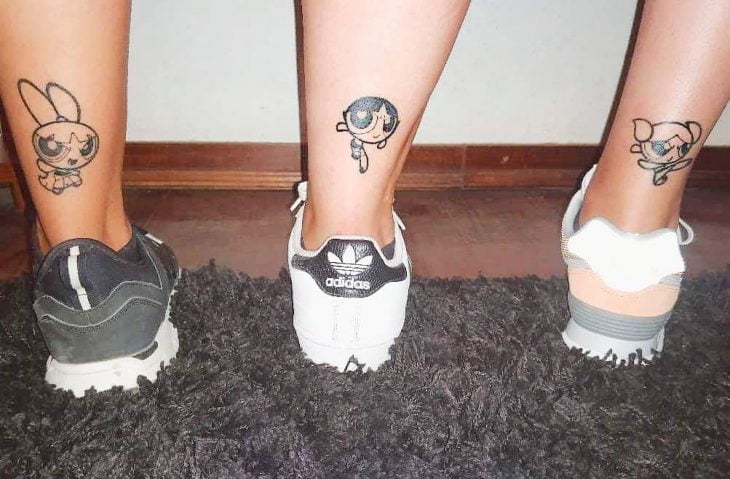 This PowerPuff Girls tattoo design is a great way to showcase the strong bond between sisters. In addition, the design represents the feeling of taking on the world together that many sisters have. While it doesn't show the colors of each girl, the black actually works really well. The poses and facial expressions match the attitudes of the characters well and each sister can get the girl that matches their personalities the closest.
4. Sisters Under the Moon Tattoos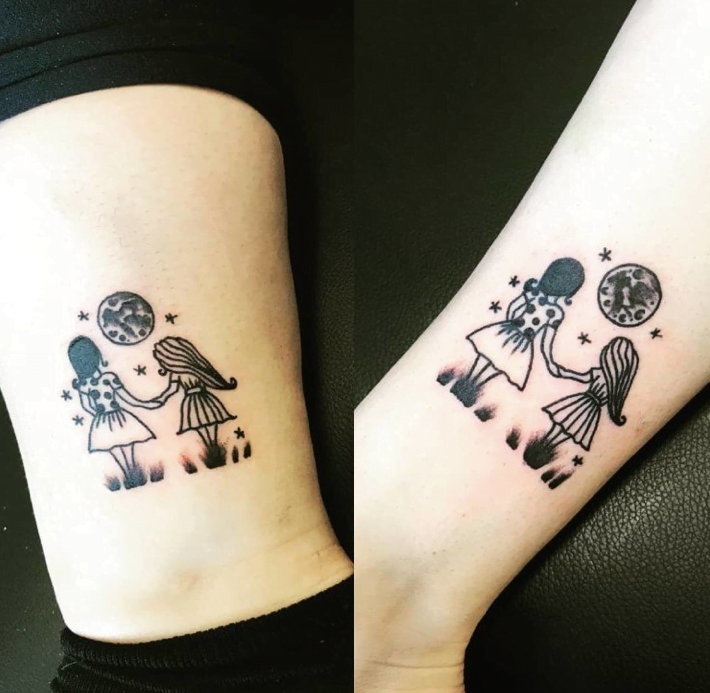 No matter where you or your sister are, this tattoo can remind you that you're both under the same moon. The black and white looks great and the moon looks quite realistic. Adding some color could add a little more meaning for you both.
5. Simple Pinky Promise Tattoo Design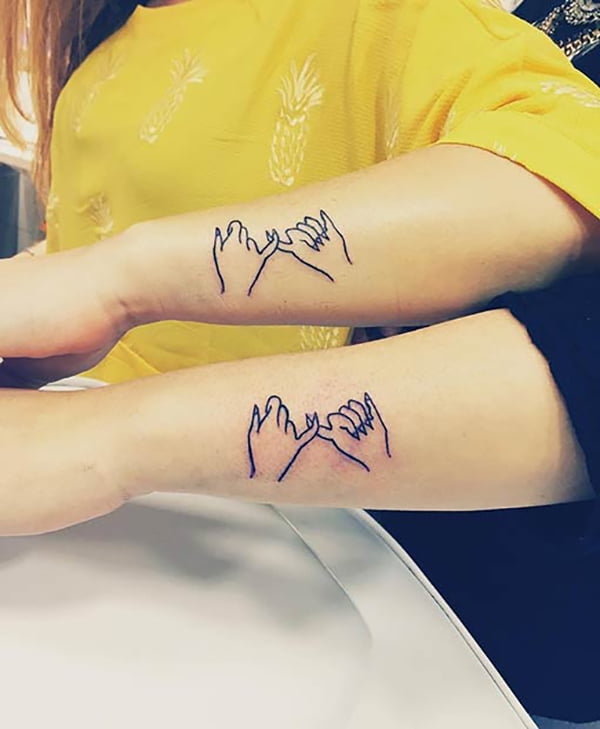 Pinky promises are something that's a huge part of many sister relationships. Not only is this tattoo simple, but it does well to get the point across. If you or your sister wanted to add some personality, you could both add your favorite colors to areas of the tattoo, like the fingernails. Overall, it's a solid design that's well-done.
6. Tiny Quote Matching Sister Tattoos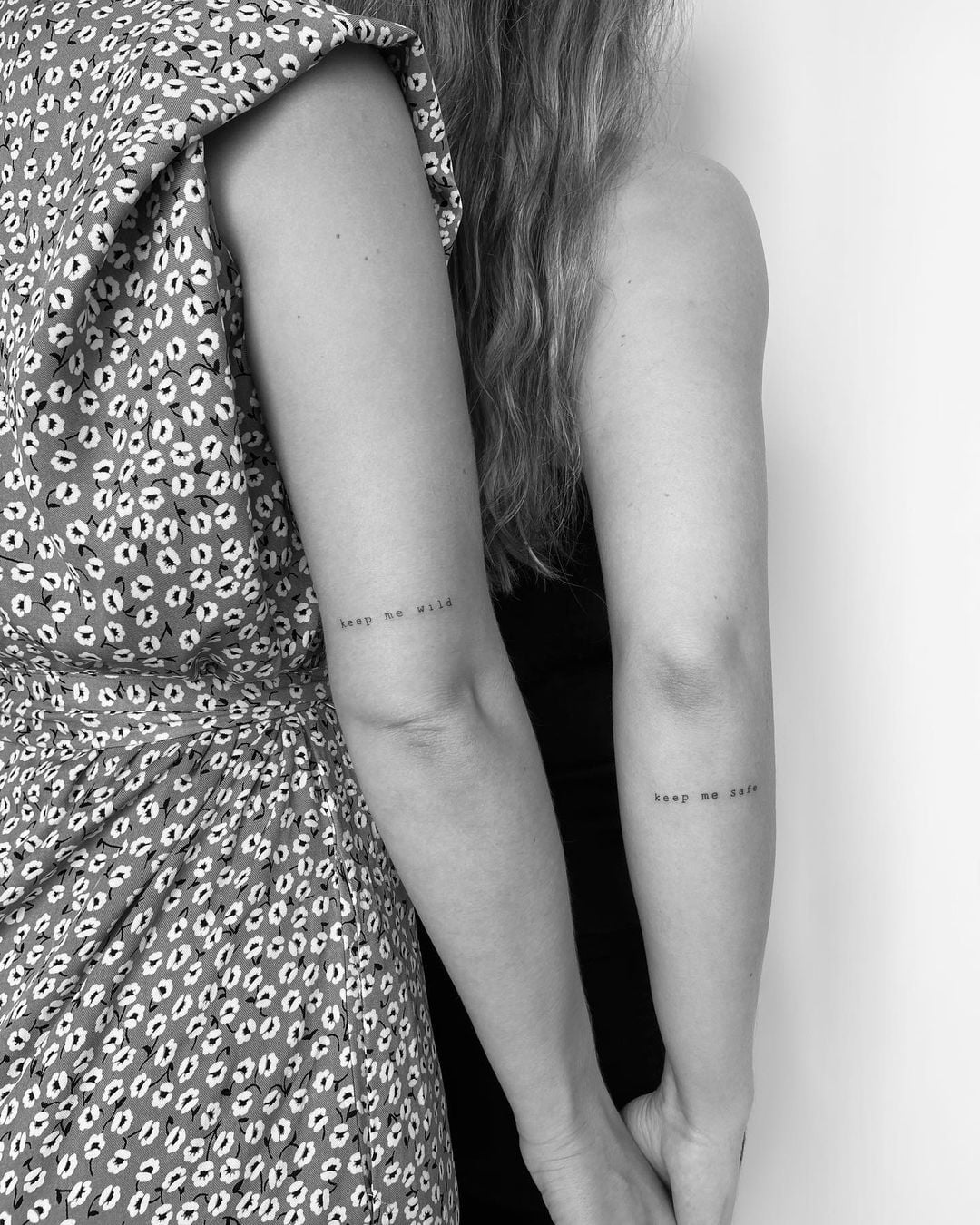 Since this tattoo is tiny, it's great for those that don't want something huge and flashy. The letters work well with the design and the placement is perfect. With that said, the tattoo would work with other fonts and locations as well.
7. You Are Enough Matching Sister Tattoos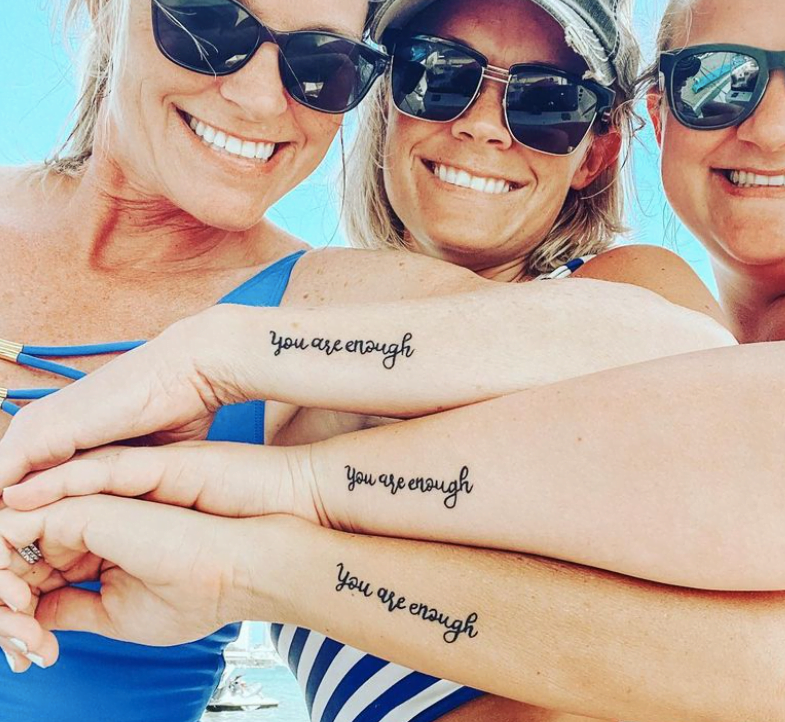 With so many crazy expectations in the world today, it's important to remember that YOU ARE ENOUGH! Most sisters lift each other up with support and love, so this would be a great tattoo choice. Not only will it remind you of the bond you have, but you'll also have a constant reminder that you have a fantastic support system filled with endless amounts of love.
8. Matching Sister Can Phone Tattoo Design
The design of the girls and the idea behind the cans give the piece a young and carefree look. It can represent many things but it can always symbolize the memories from growing up with your sister. Add different colors or aspects to make it more personal to you and your sister.
9. Small Flower Wrist Tattoo Design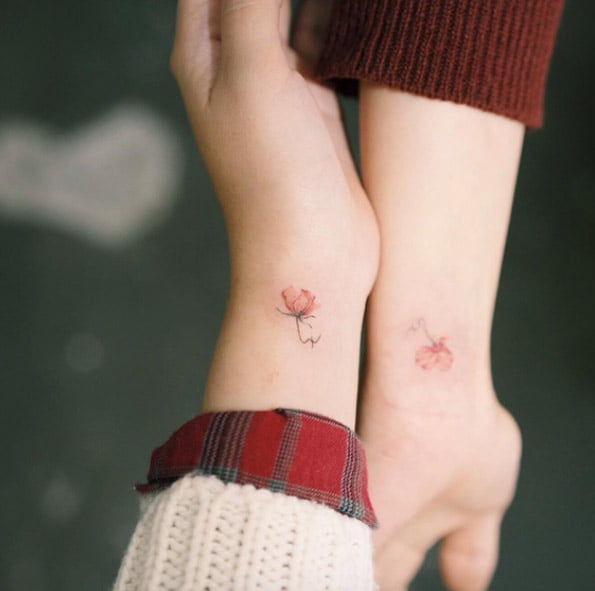 If you want a small tattoo with delicate flowers to match with your sister, then this design is a great option. Not only can you choose the exact flower that you want, but you can also make them your favorite colors. Since they are so small, you can choose to put them in countless different places.
10. Dainty Star Heart Tattoos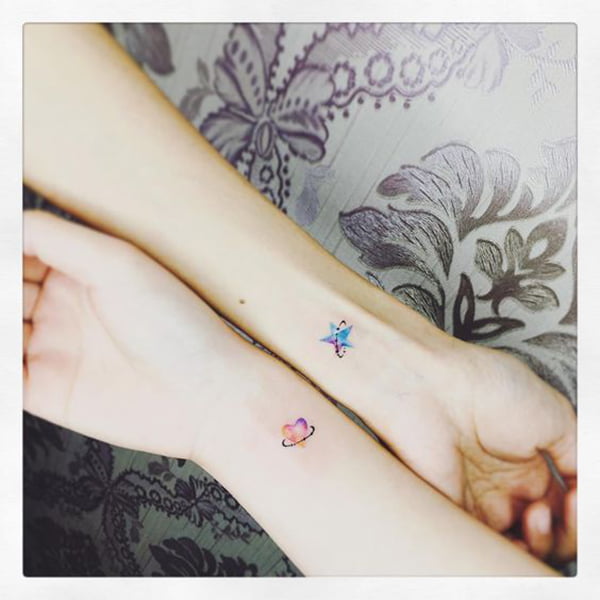 These tattoos might look simple and dainty, but they can have deep meaning. You can add your favorite colors and change up the location to make the design more your style. You can look at the cute piece of art to remember all of the good times you've had with your sister.
11. Simple Birth Year Sister Tattoos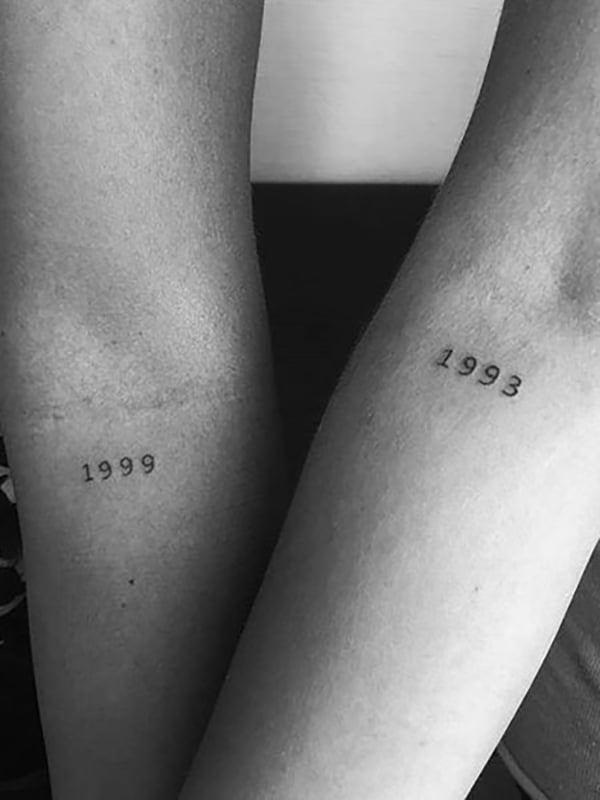 This sister year tattoo is great for those that want a simple tattoo design to represent their bond. The year each sister gets is the birth year of the other sisters and the plain black ink has a certain beauty around it. It's large enough so that the letters aren't blurry, but not so large that it takes up too much space. It looks great by the elbow, but it would work well in other areas too.
12. Colored Flower Matching Sister Tattoos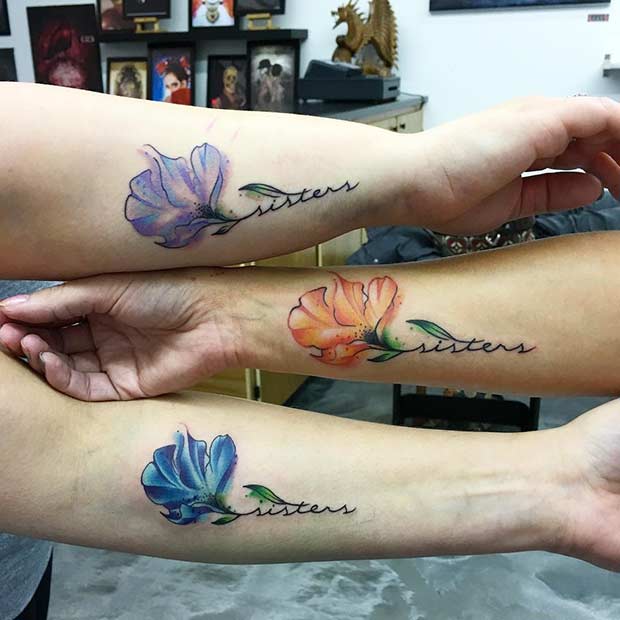 With beautiful colors and elegant fonts, these sister tattoos are a wonderful piece of work. With this design, you can have almost the exact same tattoo as your sisters, while also bringing a little bit of personality to the flower. The colors in the photo are gorgeous, but you can also choose colors that are more representative of you and your sisters.
13. Matching Pink Flower Tattoo Design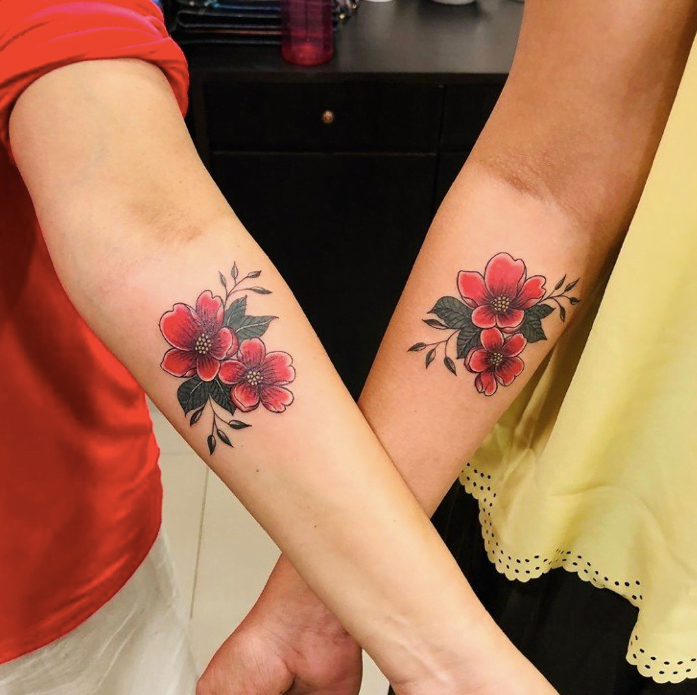 Not only do the flowers look realistic, but they are packed with many wonderful colors. It's a great way to be connected to your sister and the colors can be changed depending on preferences. It looks great by the elbow, but could also work well in almost any other area as well.
14. Cute Matching Cupcake Sister Tattoos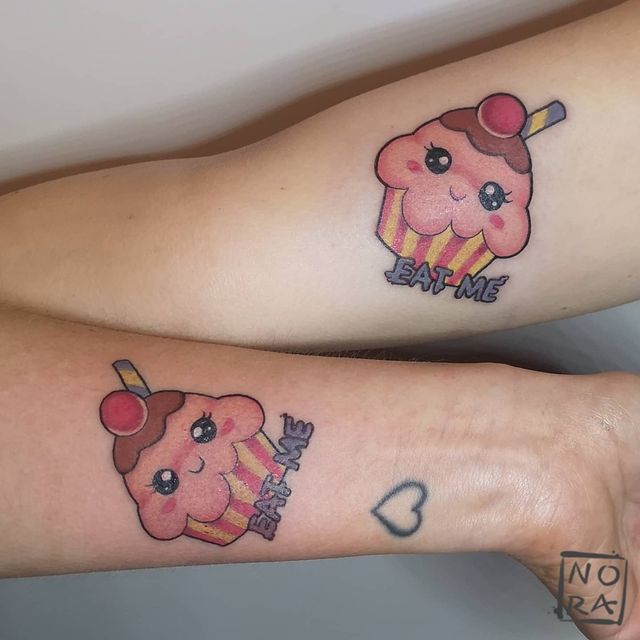 This cute cupcake design is perfect for those sisters that are fun and colorful. The colors really pop out and the facial expression of the cupcake is super cute. In addition, the words underneath have solid lines and the size is perfect for the wrist area. Overall, this design is a well-done and cute piece.
15. Watercolor Butterfly Sister Tattoo Design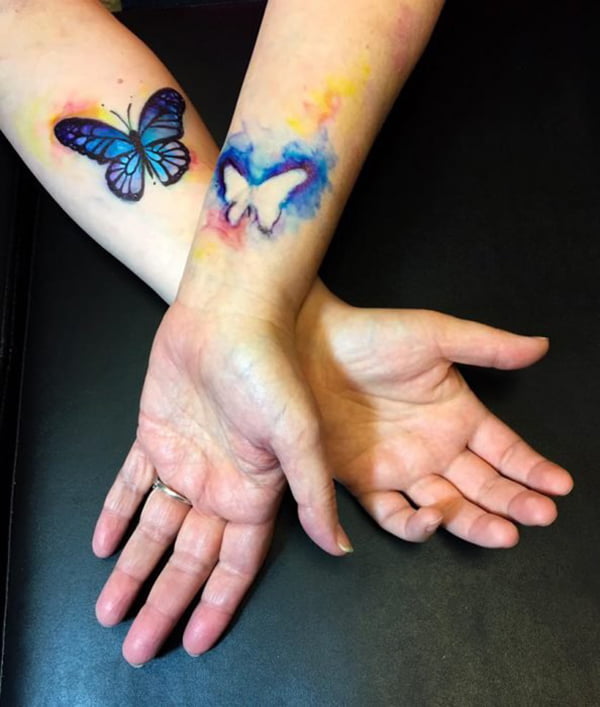 Not only is this butterfly tattoo done with beautiful colors, but the watercolor looks realistic. It's a great design for sisters that feel like they complete each other and want to get that bond inked on them. It fits well on the wrist and you can choose whichever colors you and your sister or sisters want.
16. Black Pinky Promise Outline Tattoo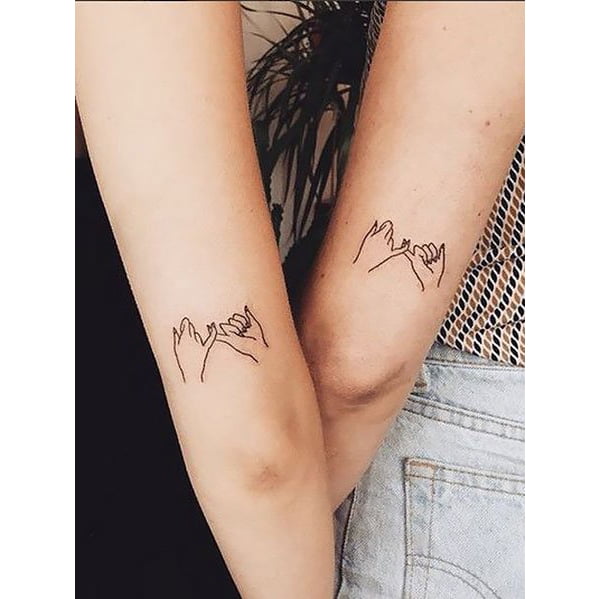 This is another design that centers around pinky promises. Many sisters make pinky promises and it has become a big part of their relationship. Not only can this represent always having each other's backs, but it can also mean the closeness that you and your sister have. The black outline makes the design look simple and very classic.
17. Aries Constellation Matching Sister Tattoos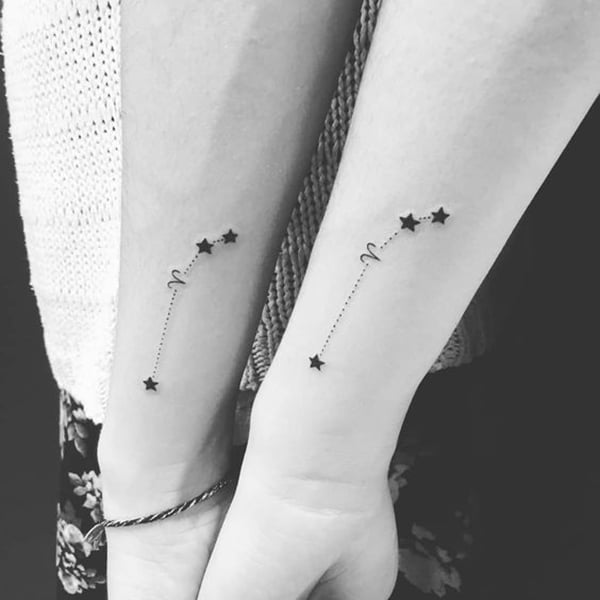 If you and your sister both happen to be Aries, then this is a great arm tattoo option for you. In addition to having the horoscope symbol in the middle, the tattoo also makes up the Aries constellation. Since it's dainty, it fits great on the side of your arm, and the black ink works really well.
18. Watercolor Feather Matching Sister Tattoos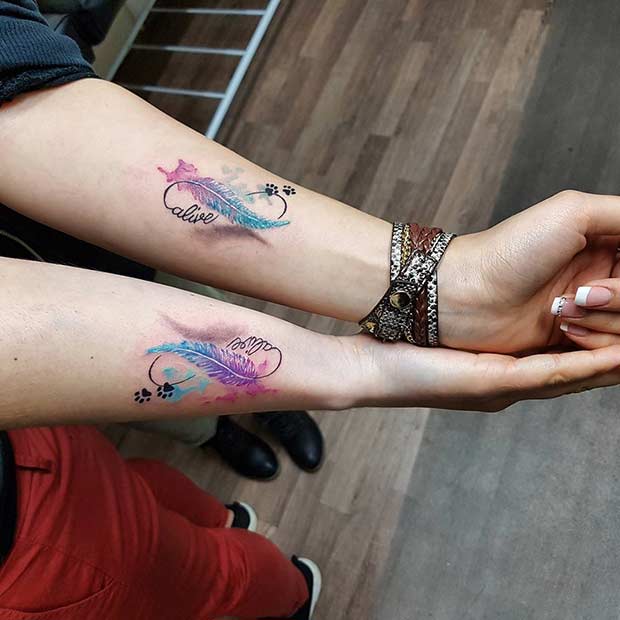 The infinity symbol in this tattoo represents the bond that sisters will have forever and the wording showcases the feeling of being alive that most sisters get when they are together. The paw prints are a great option for those that share a love for dogs and the watercolors can be done in any color you love.
19. Pink Ohana Flower Tattoo Design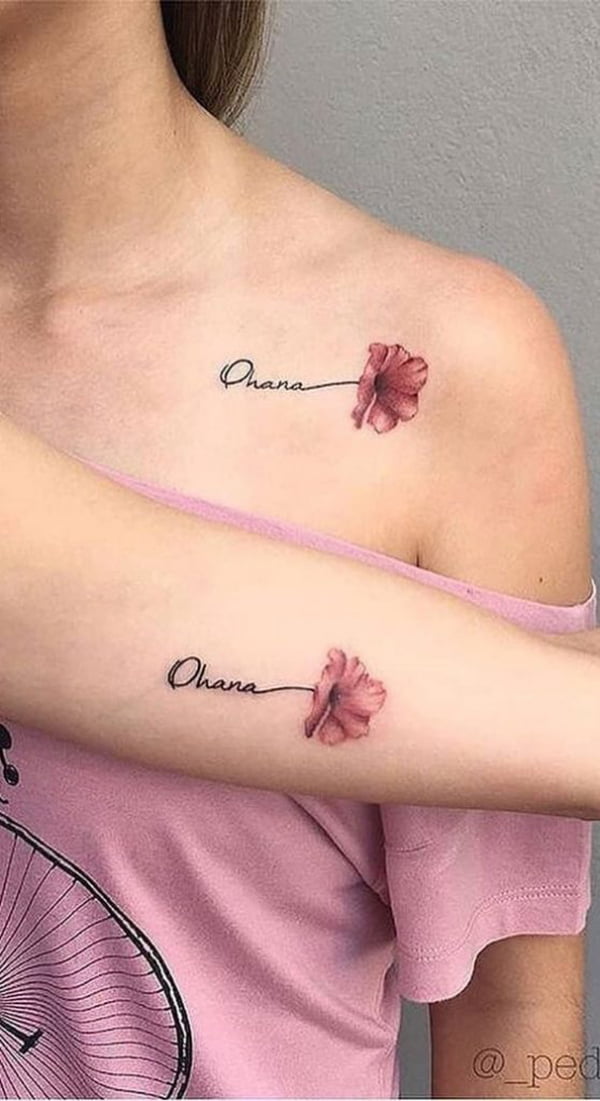 With elegant flowers and a phrase that means family, this tattoo design can be a great representation of the relationship between sisters. Not only is the cursive font gorgeous, but the flower looks like the real thing. It's also unique because the end of the word looks like a flower stem that connects everything together. Pick your favorite colors and you'll have a unique piece.
20. Colorful Hummingbird Matching Sister Tattoos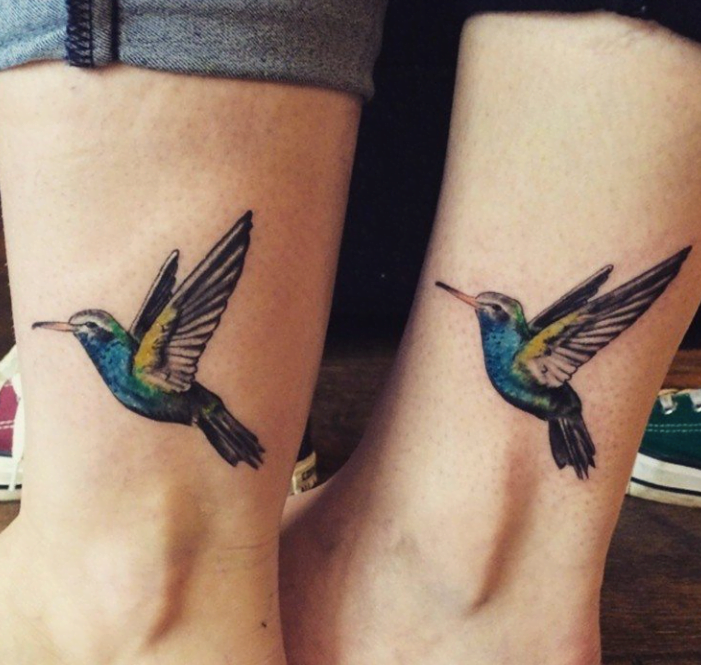 These bird tattoos are almost identical, except for one difference-the position of the bird and its tail. This is a great way to have matching tattoos while still having a unique feel. The bird looks quite realistic and the colors are spot-on. It's a simple design that is great for sisters that share an appreciation for beautiful hummingbirds or want something that represents overcoming difficult times together.
21. Cursive Watercolor Mandala Sister Tattoos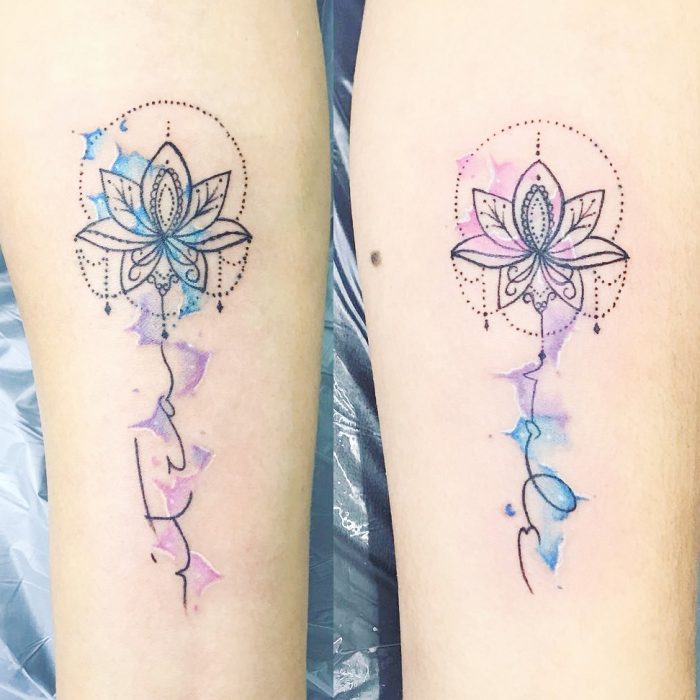 The cursive font in this tattoo makes the piece beautiful and flowing. The design on top is well-made and makes you think of classiness or elegance and the watercolors really pop. You can add your favorite colors for a personal touch.
22. Small Seashell Heart Tattoo Design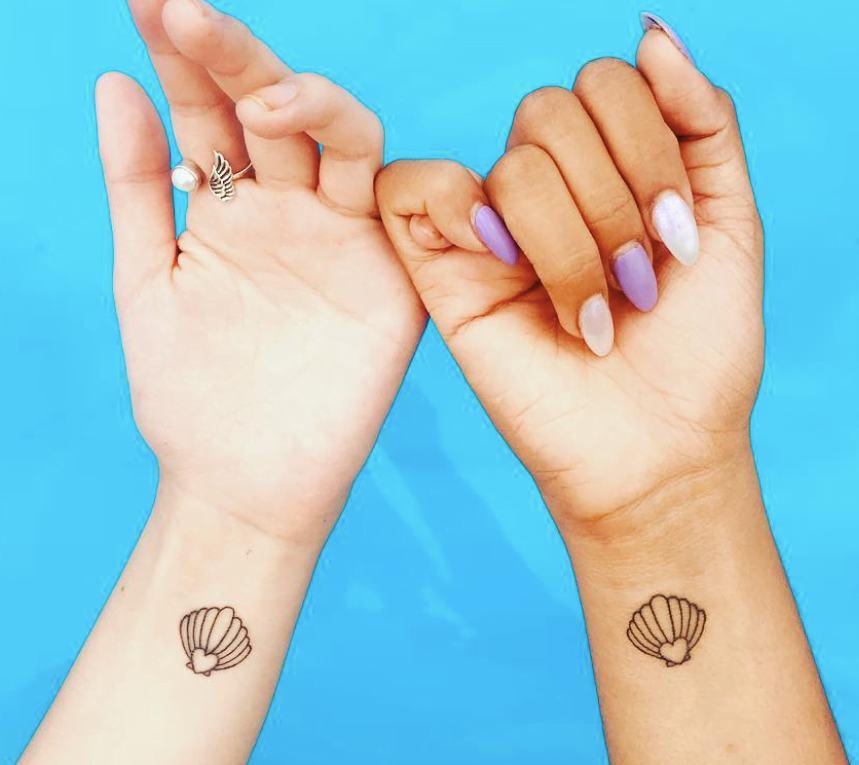 The seashell design is a cute little tattoo and the small heart on the bottom adds even more cuteness. While the tattoos in the picture only use black ink, you could add some color and still have a great tattoo! The wrist is a great spot and the size of the piece works here well.
23. PowerPuff Girls Sister Tattoo Design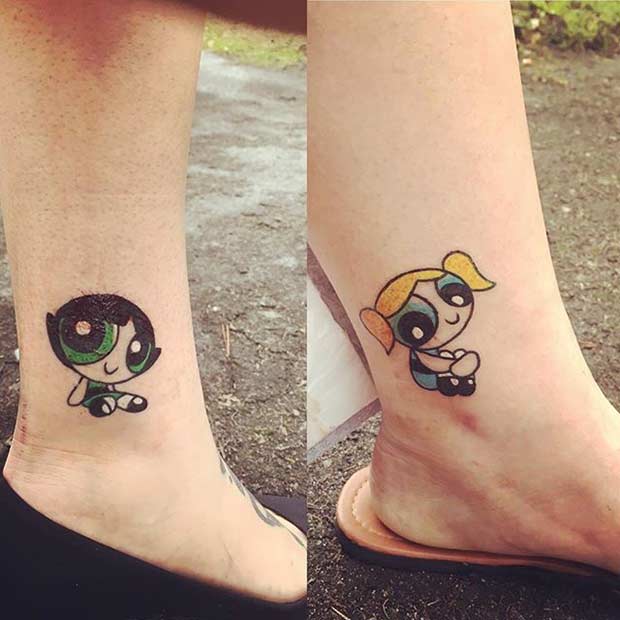 You could also go with this design if you're looking for a PowerPuff Girls tattoo for just 2 people. Not only can you choose the girl you want, but you can choose what kind of pose you want them in. This tattoo has solid lines and the colors really pop out. The size is great for the ankle and the location should help it last for years to come.
24. Black and White Fox Matching Tattoos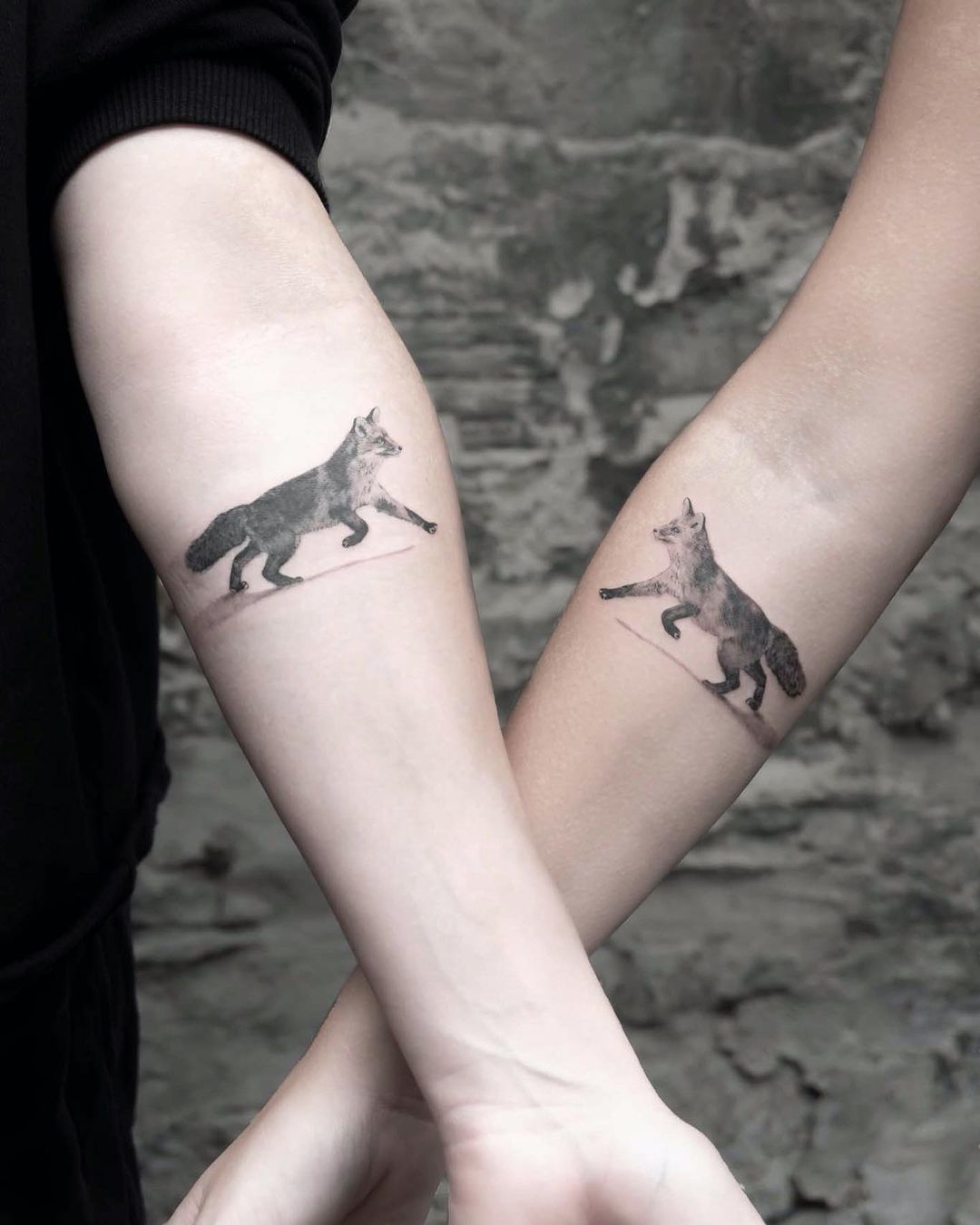 The foxes in this photograph are very well done and look like the actual animal. The black and white looks great, but the foxes would look nice with color as well. You can change up the position the fox is in or add to the background, depending on your style and your sister's.
25. Adorable Infinity Flower Sister Tattoos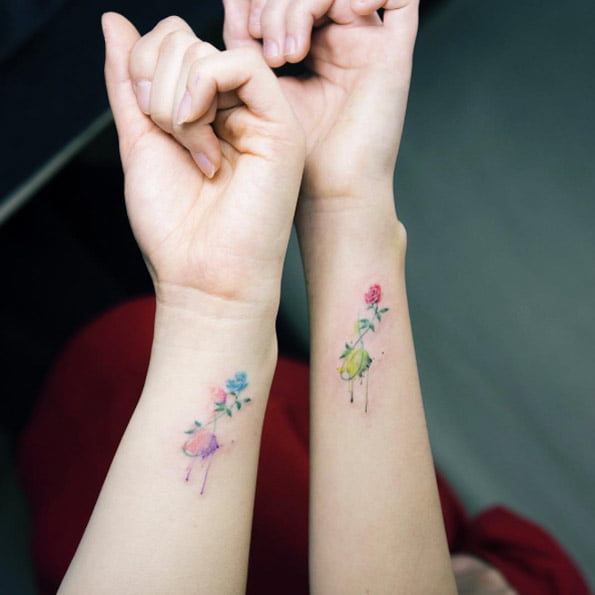 The flowers are beautiful and the infinity symbol represents the connection you'll have with your sister forever. The flowers have bright colors, but you could change them to better suit your style. The location in the photo is great and the design would also work well in other areas.
26. Beautiful Purple Flower Shoulder Sister Tattoos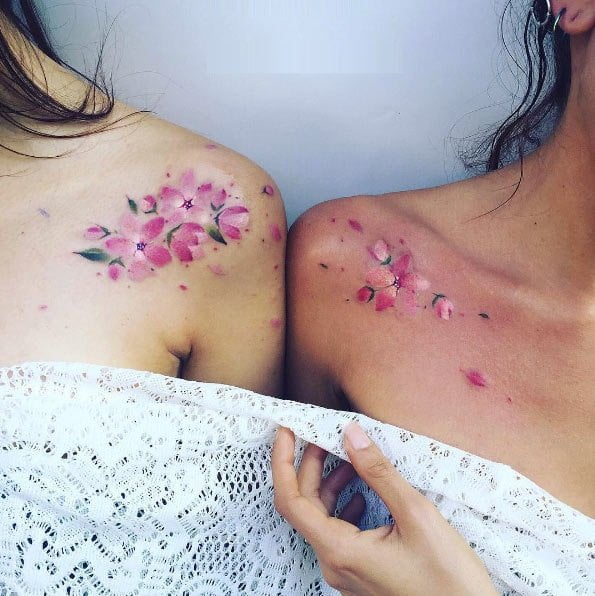 While the pink and white colors are absolutely beautiful, you and your sister can choose other colors that you like better. It can be used with multiple sisters by adding to the number of flowers. It looks great on the shoulder and would work well in other areas as well.
27. Simple Name Sister Tattoo Design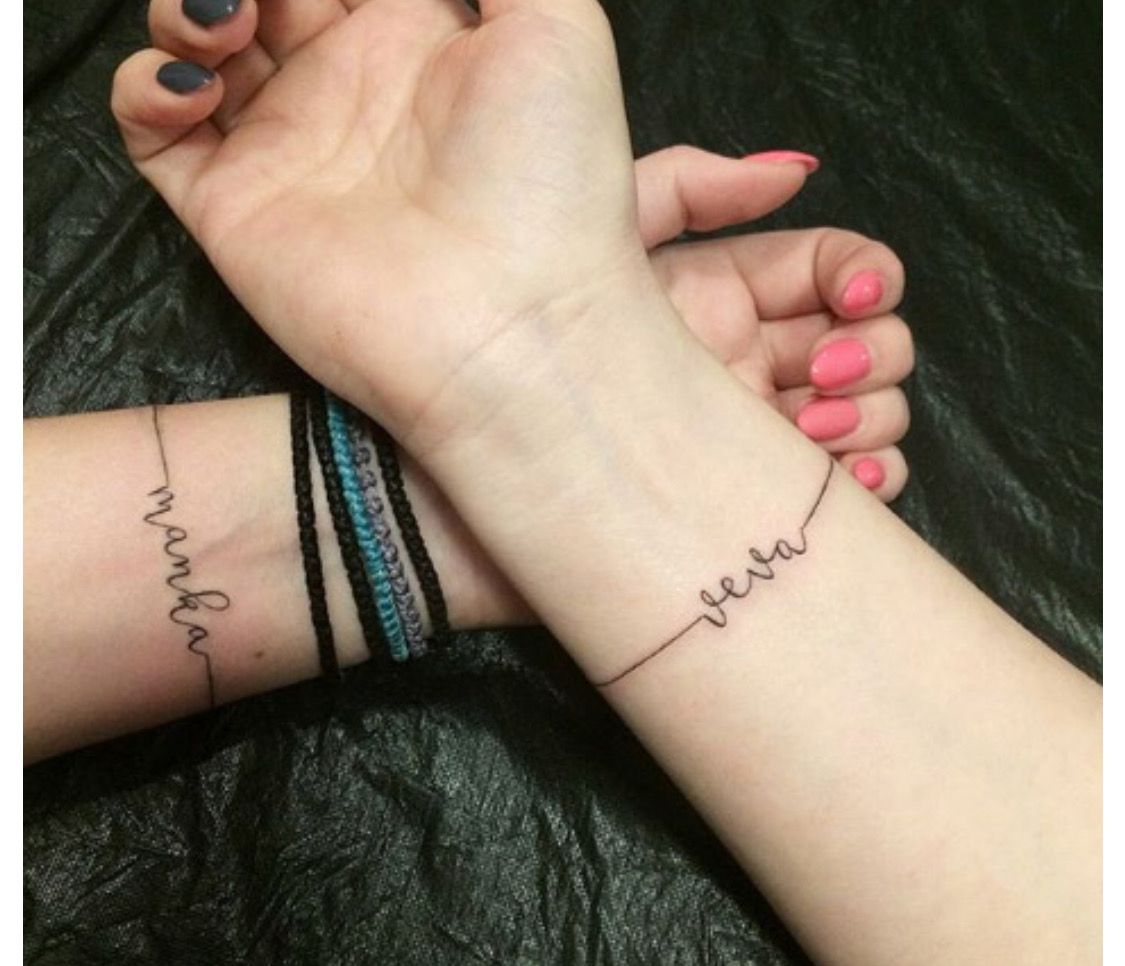 Not only is this design delicate and beautiful, but it's perfect for those that don't want something huge. The black ink makes the piece look classic and the cursive font adds a little bit of elegance. Change up the exact words, depending on your preferences or what's important to you.
28. Cute Purple Flower Sister Tattoos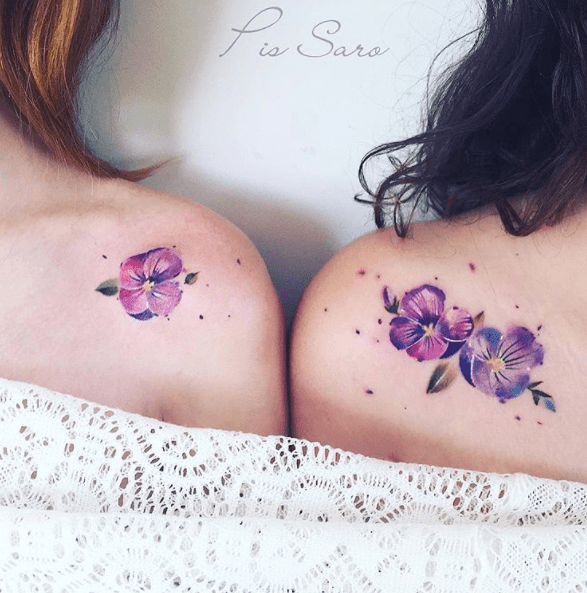 While the photo shows the tattoo on only two people, it could work with more by adding flowers. Each sister has a number of flowers that represent which daughter they are and you could make them unique by adding different colors.
29. Celestial Arrow Sibling Tattoo Design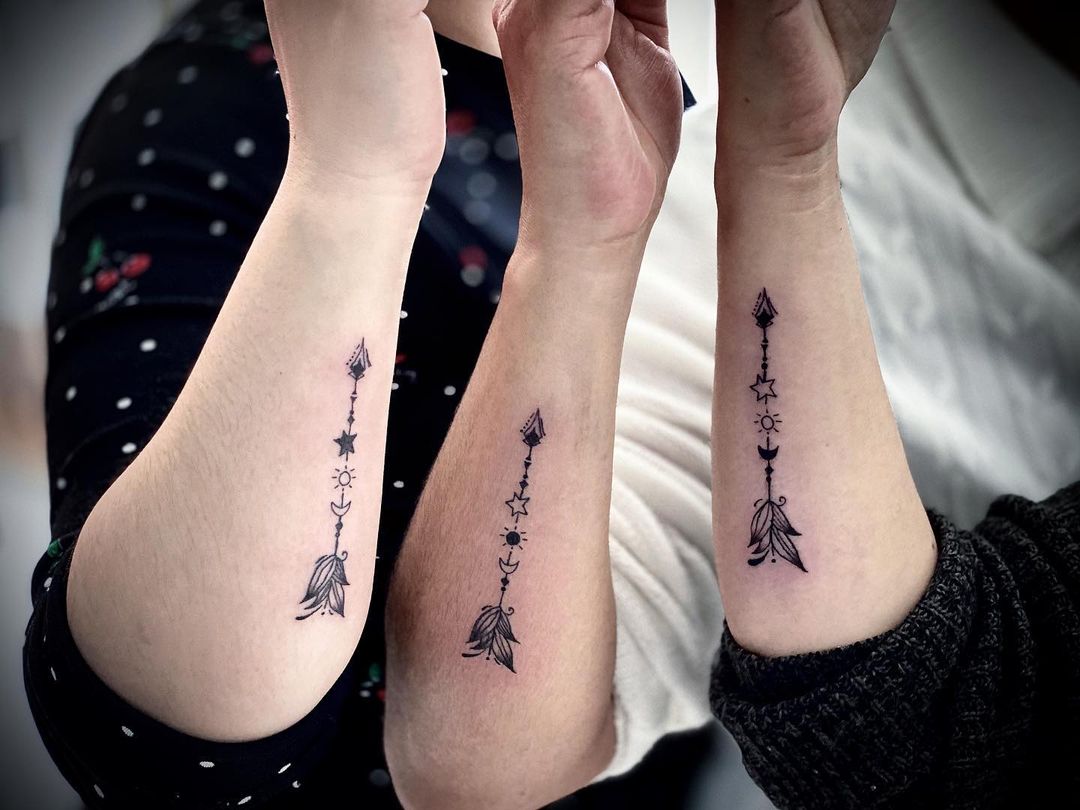 The triple arrow design is simple yet beautiful. The middle is made up of a star, a sun, and a moon. Each sister has only one of these colored in and it represents which sister they are in terms of who was born first. While the black looks great with the design, it would also look beautiful with a little pop of color.
30. Graphic Heart Sister Tattoo Design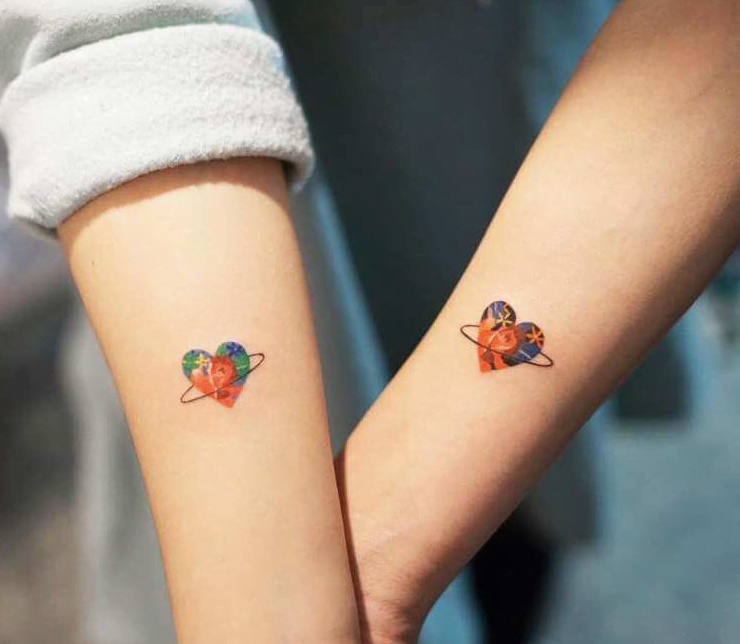 While these graphic heart tattoos have the same design, the different colors really make them stand out from each other. You can get one with your sister to symbolize your relationship while adding colors that show your unique style. Since it's so small, it would also look great in other areas, like on your ankle.
31. Beautiful Chinese Font Matching Sister Tattoos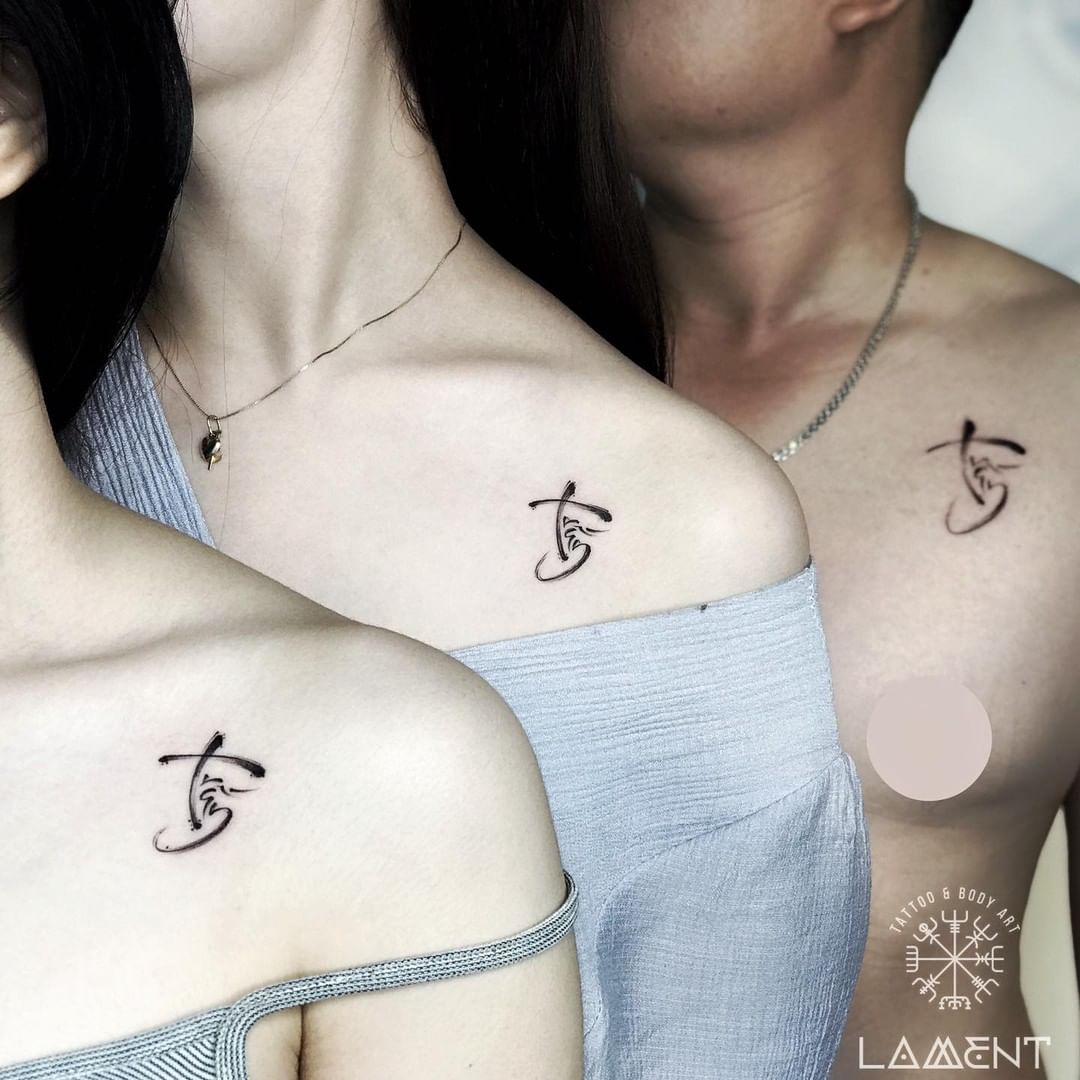 If you're looking for a simple Chinese font tattoo that can have a deep meaning, then you should give this one a look. The brush-like strokes and black ink make it look like it was written on actual paper and the design fits perfectly on the shoulder.
32. Beautiful Flower Heart Tattoo Design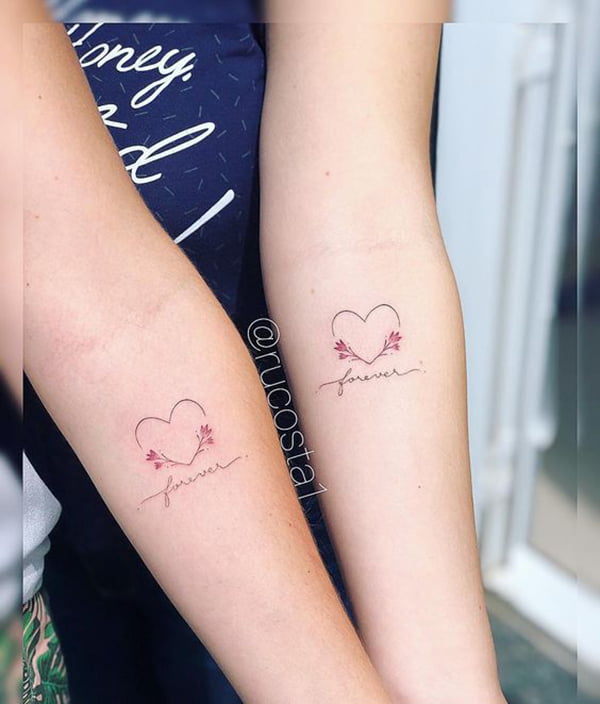 With the design and word in this tattoo, you could get this matching tattoo with your sister to represent that you'll love each other forever. The cursive font is beautiful and the flowers are well done. You could make them any color you wanted to bring some of your personality to the piece.
33. Soul Sister Matching Flower Tattoos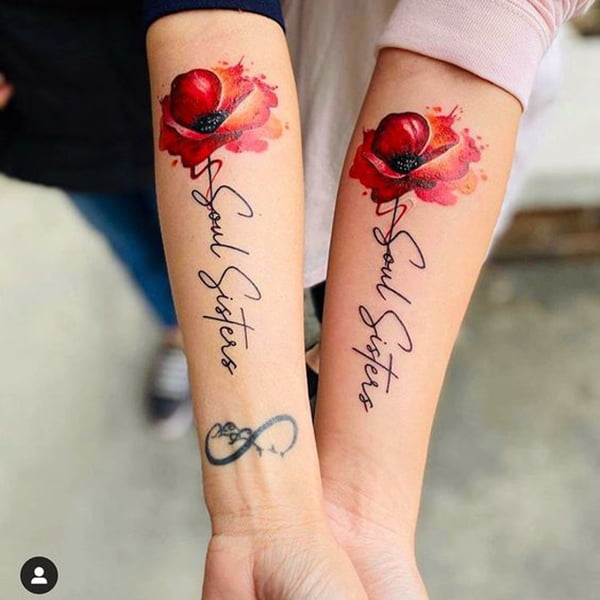 Even if there isn't a blood relation, you can still have a sister and develop the same strong bond. Your soul sister is the friend that you're closest to and consider a sister. Not only does this flower tattoos design have an elegant cursive font, but it also has flowers that are beautifully done.
34. Pinky Promise Date Tattoo Design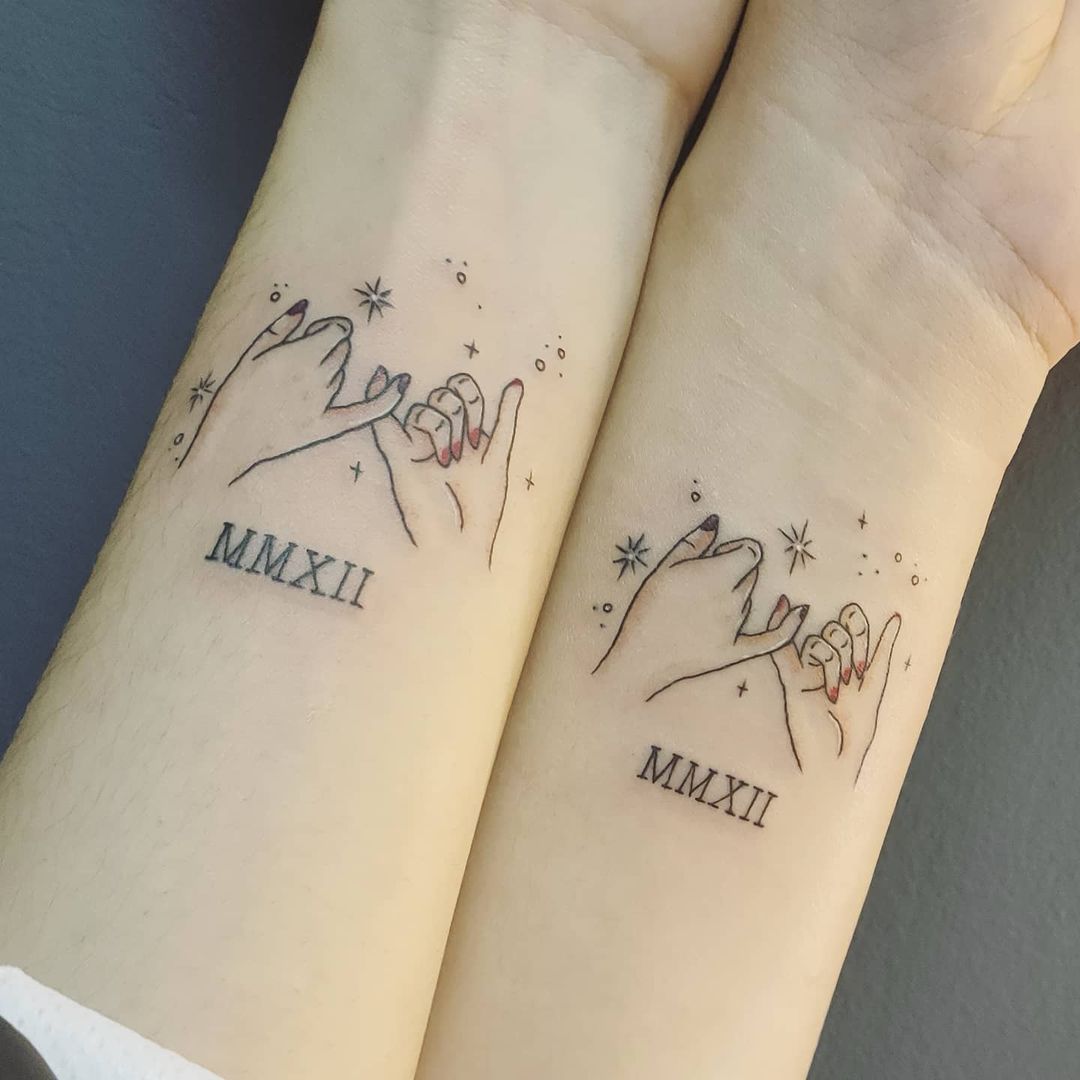 This particular tattoo design is great for twins because they have the exact same birth year. The year is tattooed in roman numerals underneath the hands, which represent a pinky swear. The design is simple and each sister can choose which nail polish color they want on the hand that represents them.
35. Dainty Fingers Crossed Matching Tattoos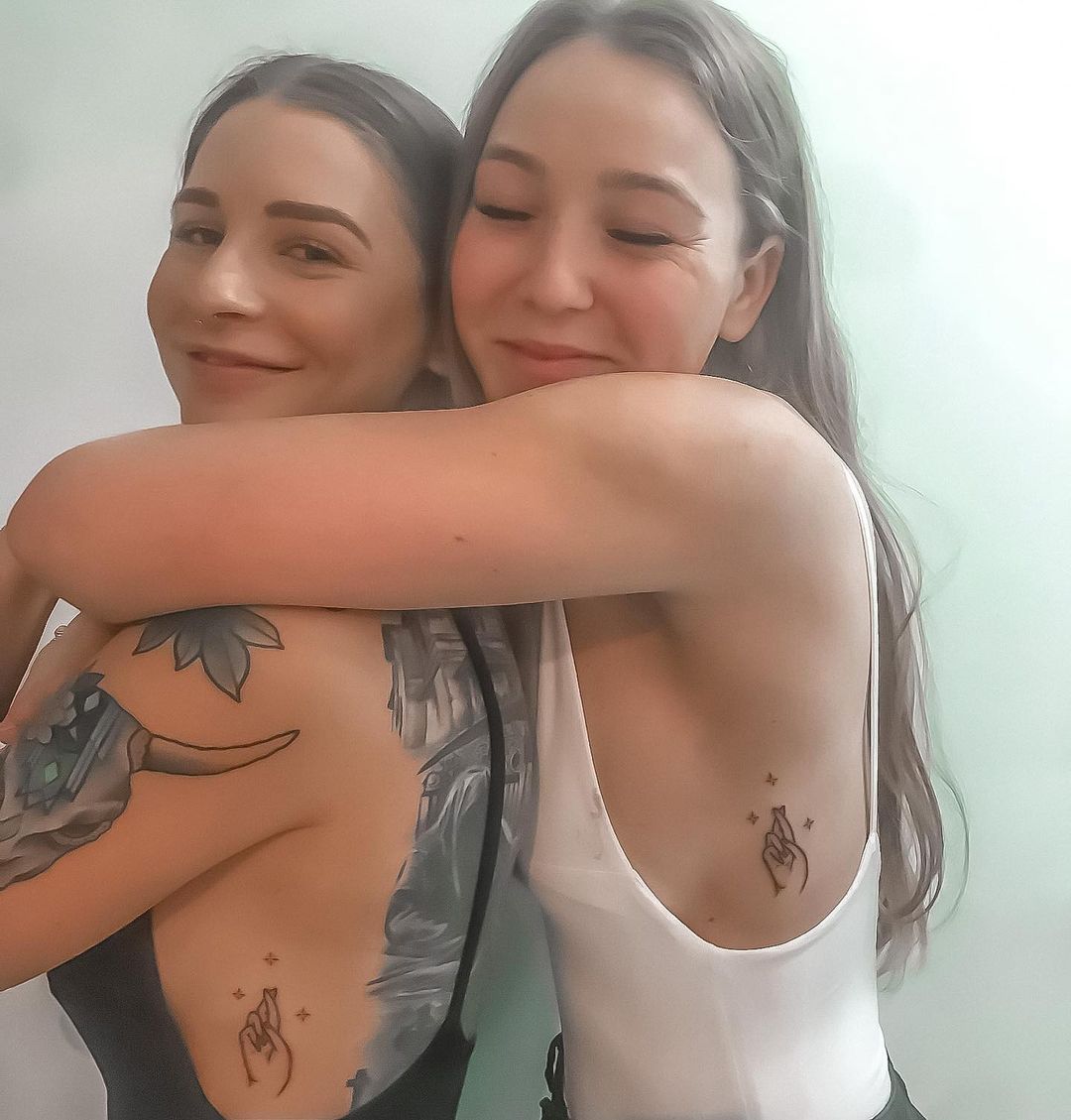 The crossing of fingers represents good luck and having this tattoo could mean you and your sister always wish each other luck. The thin lines make the tattoo have a simplistic look and the stars add a little elegance. You can add some color if you'd like, but this finger tattoo looks great as it is!
36. Matching Heart Quote Sister Tattoos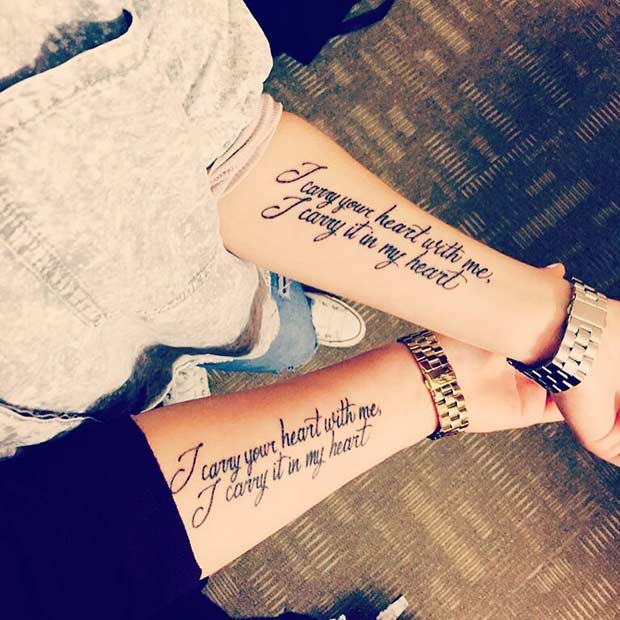 This quote forearm tattoo works great for those that are far from each other but still love each other just as much. The black ink gives the design a timeless look and the cursive writing brings a touch of elegance. It fits perfectly on the forearm and can be a reminder on those days where you're really missing your sister.
37. Cute Matching Ballerina Sister Tattoos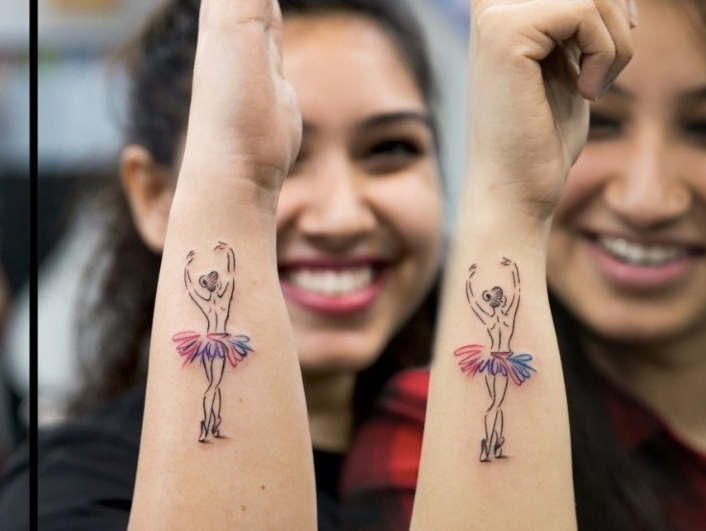 The pair of ballerinas is great for those sisters that share a love for ballet. The tattoos in the photo are exactly the same but you can do various things to customize it, like change the color of the skirt or the position of the ballerina. It's a beautiful piece that can hold a lot of meaning.
38. Matching Triple Compass Tattoo Design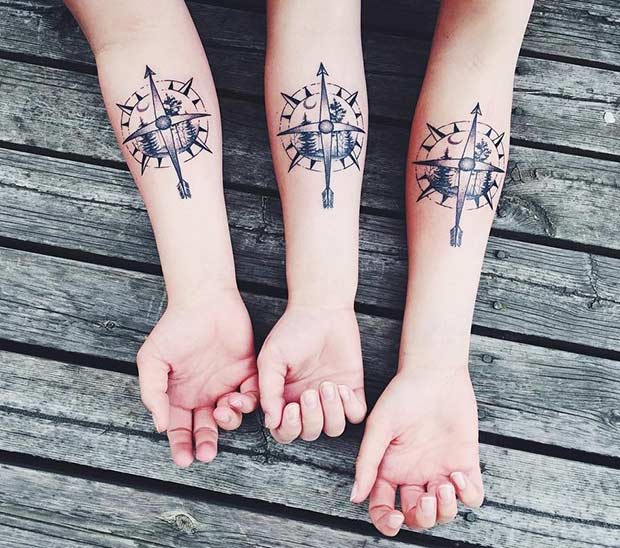 Not only can this matching tattoo remind you of the bond you have with your sister, but it can also remind you to stay true to yourself and who you are. While the compass is black and white, it could also look great with color. Both the compass and the inside background looks realistic and is in a fantastic position.
39. Sibling Birthday Matching Sister Tattoos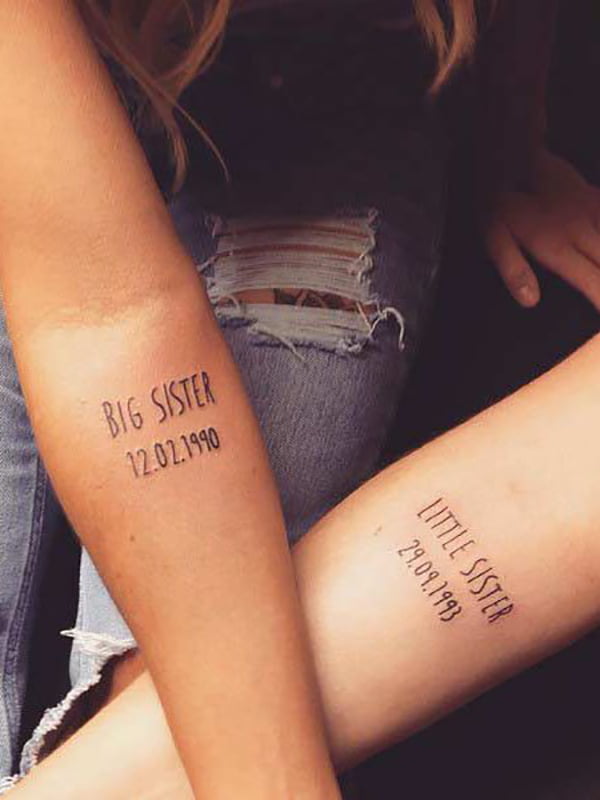 If you're looking for something super simple and meaningful, then you should check out this design. Not only does it indicate who is older or younger, but it also has the birthday underneath. The font isn't too extravagant, but it does tie everything together nicely. The tattoo looks fantastic near the elbow, but it would look nice in other areas too.
40. Matching Constellation Sister Tattoos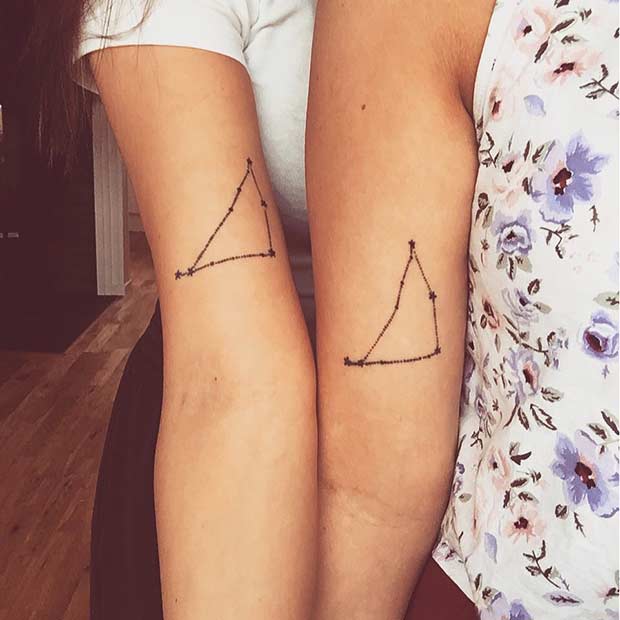 The constellation tattoo in the photo is great for those sisters that don't live close together. You can use pretty much any constellation you want, but it's a reminder that you are under the same stars regardless of where you are. With simple black lines, you'll have an elegant piece that you'll love forever.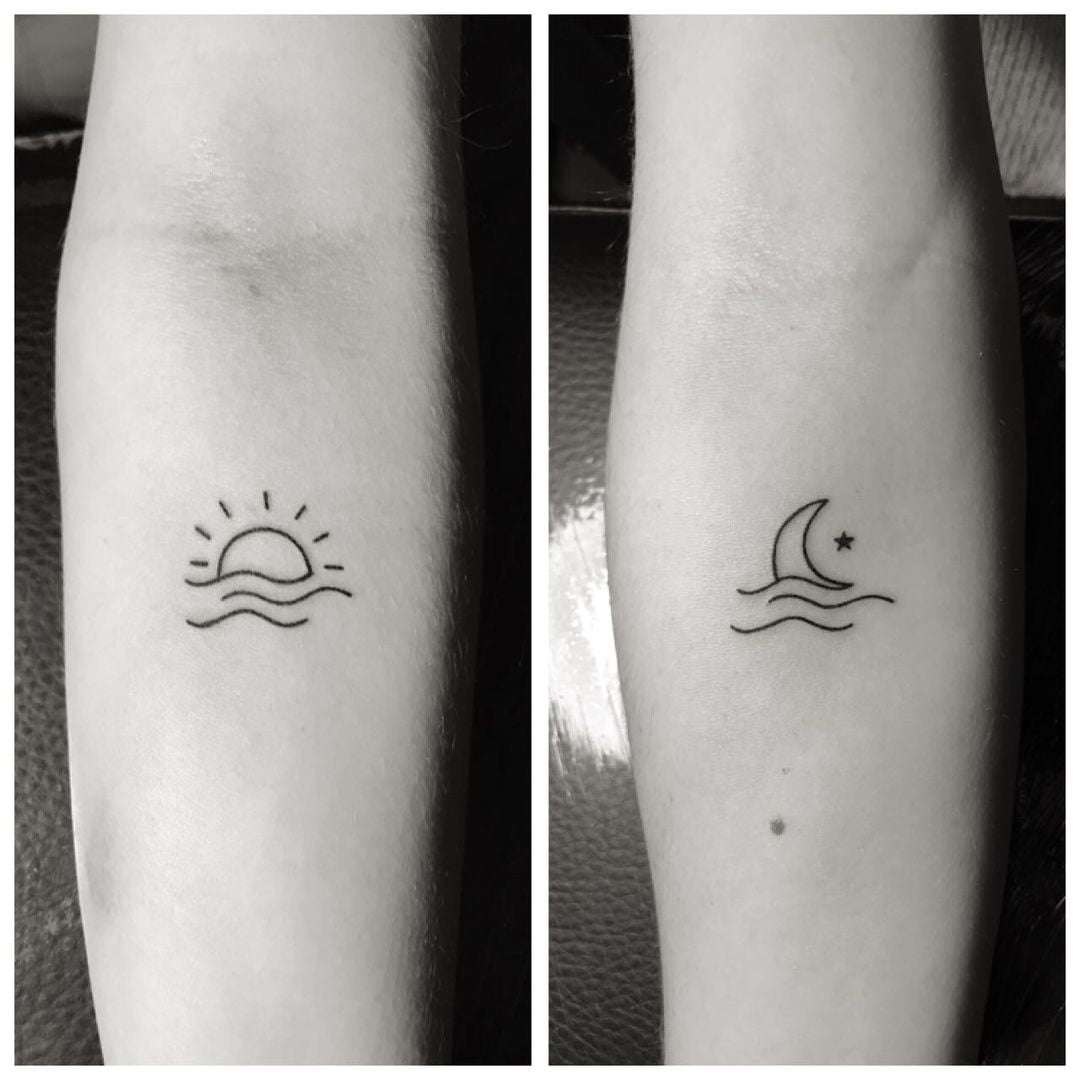 This tattoo design is perfect for sisters or best friends that are living in different areas. It could represent seeing the same sun and moon no matter where you are. The design of the waves is simple but does a good job representing water and the thin black lines have a classic and simple look to them.
42. My Sister's Keeper Watercolor Tattoo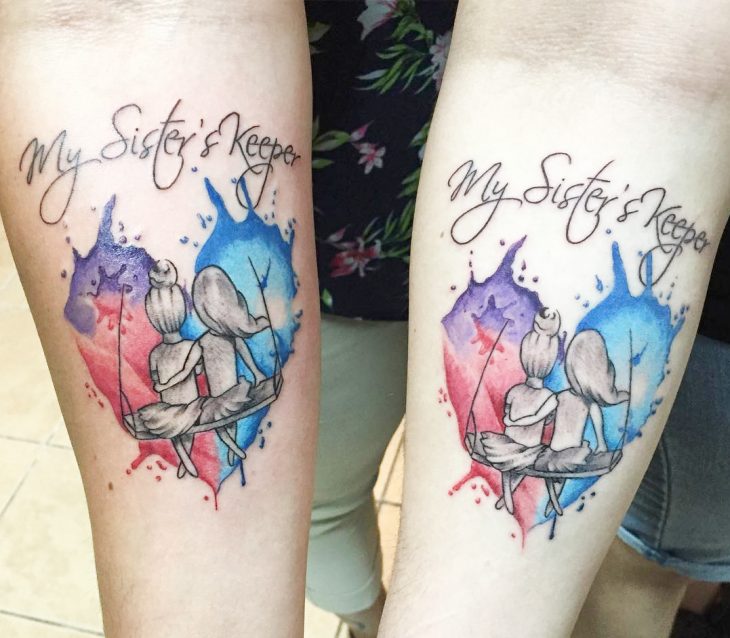 This sister's keeper design has beautiful watercolors that make a heart with a pair of sisters swinging in the middle. It can showcase the feelings of responsibility that each sister has for each other and shows that they'll always be there for one another. Choose your colors and make the sisters more like you and your sister to make the piece more unique.
43. Watercolor Mandala Matching Foot Sister Tattoos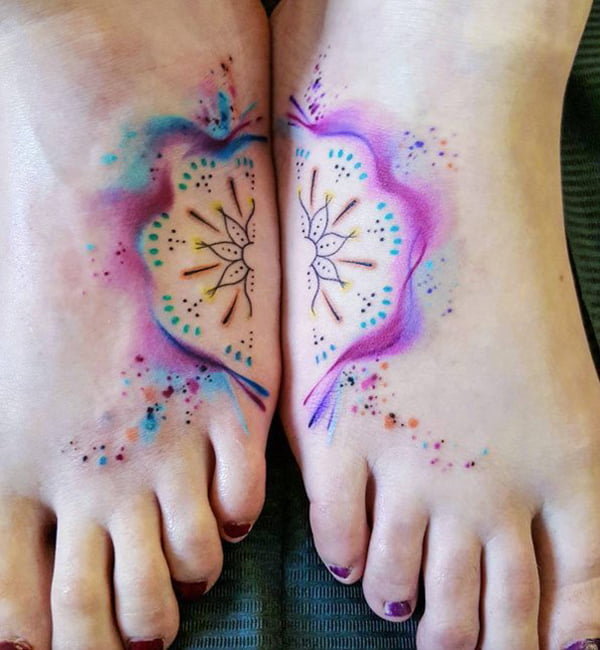 With a simple mandala design and beautiful blue and purple watercolors, you and your sister can be each other's finishing piece. Both foot tattoos are almost identical, with the exception of a few color changes. With that being the case, it would be the perfect option for a set of identical twins that want to also showcase their own unique personalities.
44. Familia Flower Tattoo Design for younger sister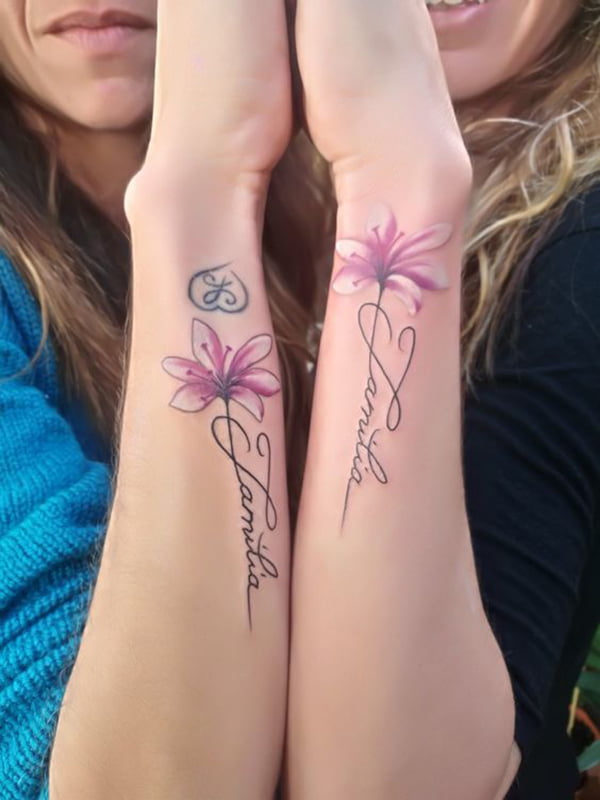 The familia design of this tattoo is the perfect definition of family. While the tattoos match, each flower is a little bit different and the orchids look almost life-like. The flowing cursive font goes well with the flower and the pink and white complement each other well. It fits perfectly in that location and will be a constant reminder of the bond you share with your sister.
45. Cute Black and White Portrait Tattoo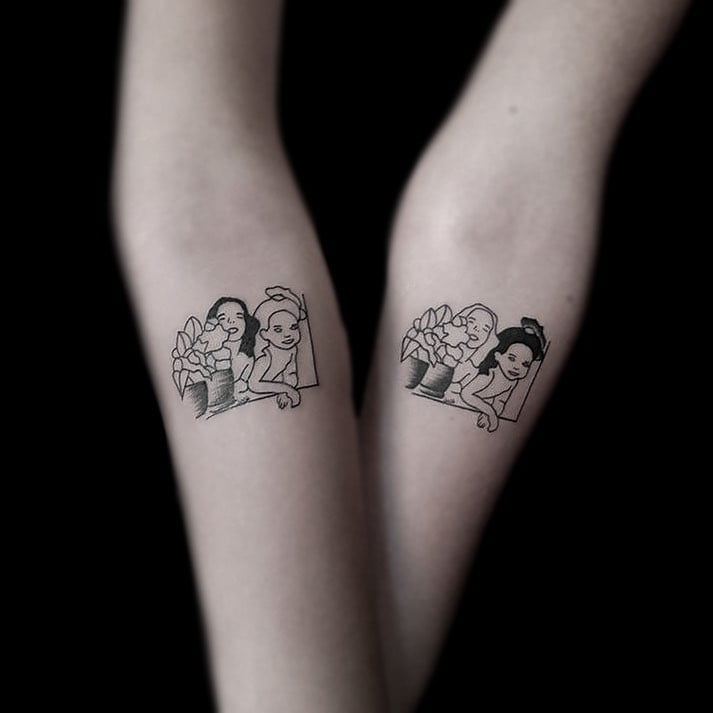 Having an abstract portrait tattoo of you and your sister is one of the more unique options on this list. The matching tattoos are almost the same, with the difference being which sister is colored in. Depending on your preferences, each sister can choose to have either the portrait of their sister or themselves colored in. It's a great design for sisters with a close bond.
46. Sun and Moon Matching Sister Tattoos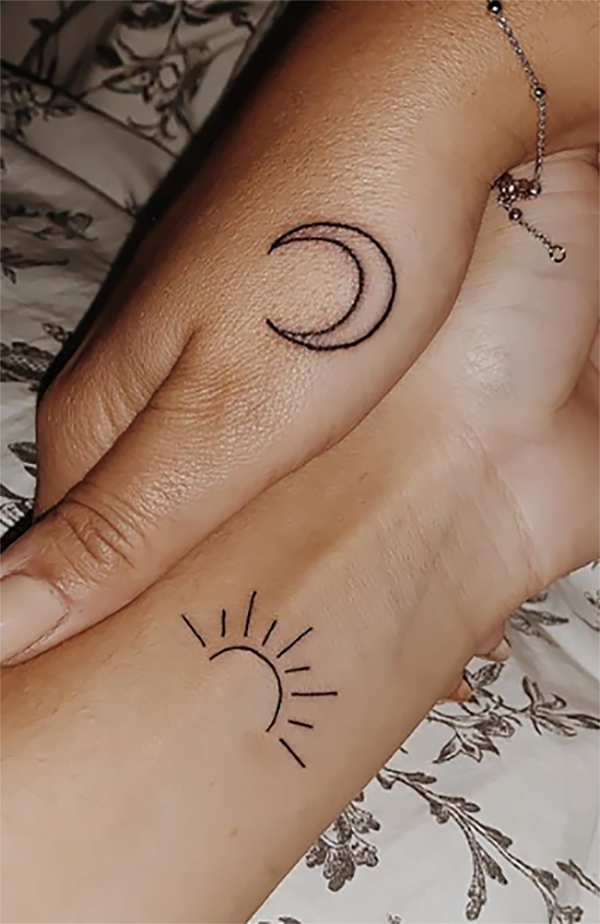 This particular tattoo could have many meanings, but one of the most popular has to do with your sister being your sun and you being her moon. Not only are both tattoos simple and cute, but the locations complement each other well. You could get the tattoos in color, but the black version looks great as it is.
47. Simple Cursive Sister Tattoo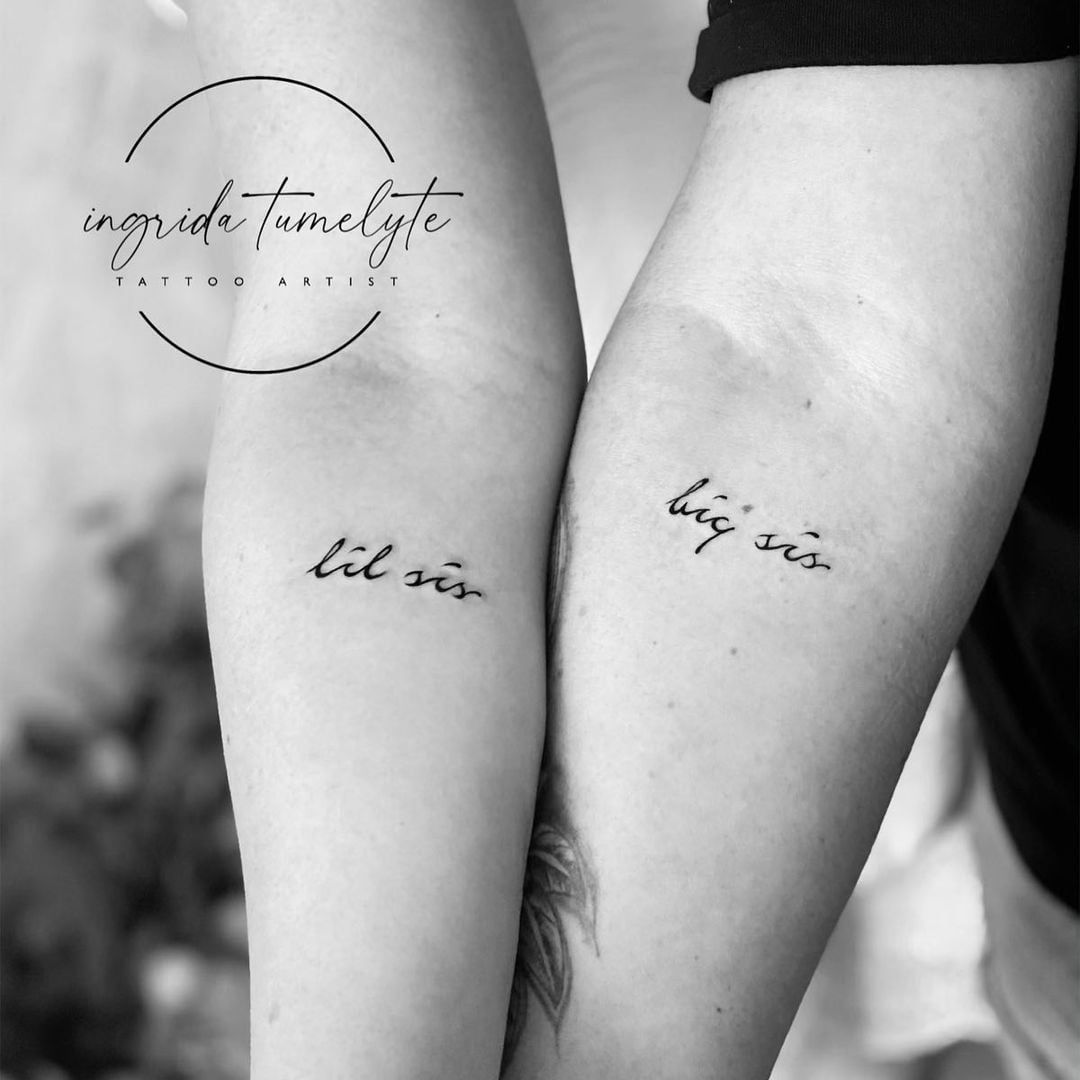 With a smaller size and cursive-like font, this lil sis big sis tattoo is great for those that just want something simply elegant. There isn't too much going on and it's a cute tattoo that could make you remember all of the great memories you've had with your sister. The black ink looks great, but other darker colors could look good too.
48. Fruit and Flower Sister Tattoos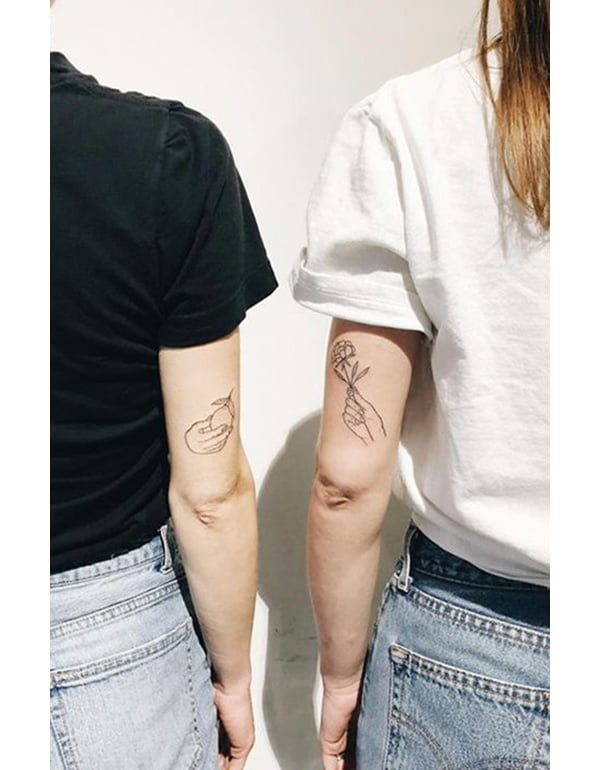 Even though this design is very simple, the tattoo is done well. The thin lines and black color makes the tattoo stand out. This particular design has a flower and fruit to represent each sister, but you could include anything you wanted. It's a great choice for that spot and it isn't overrun with too much color.
49. Matching Koi Fish Sister Tattoos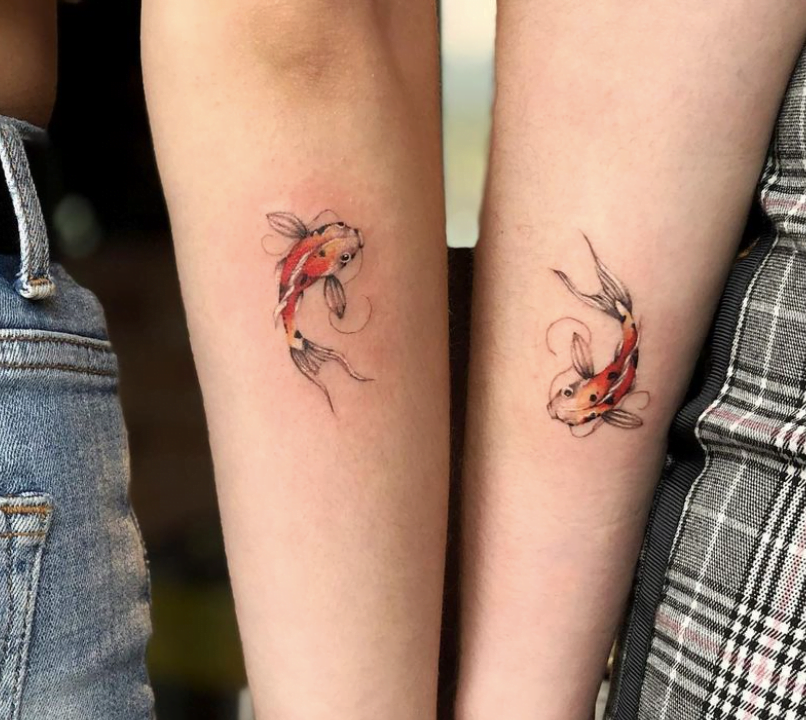 Having two koi fishes could be similar to yin yang and represents the balance in your relationship with your sister. These two fish have the same colors as traditional koi fish and they look very realistic. You could add your own customizations, including a more cartoon-like style or different colors.
50. Pink and Black Matching Flower Tattoos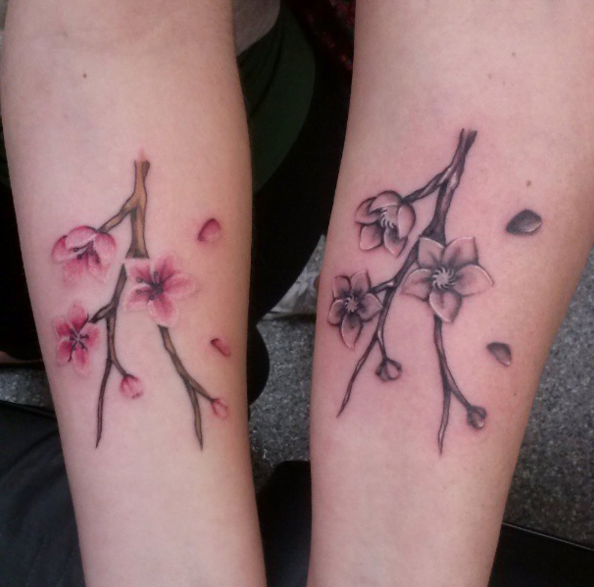 Cherry blossoms represent love and the passing of time and can be a great reminder of all of the memories you've had with your sister. The pink and grey complement each other well, but you could do different colors or choose to have both tattoos the same. It's a great size and shape for the forearm area.
51. Flowing Quote Matching Sister Tattoos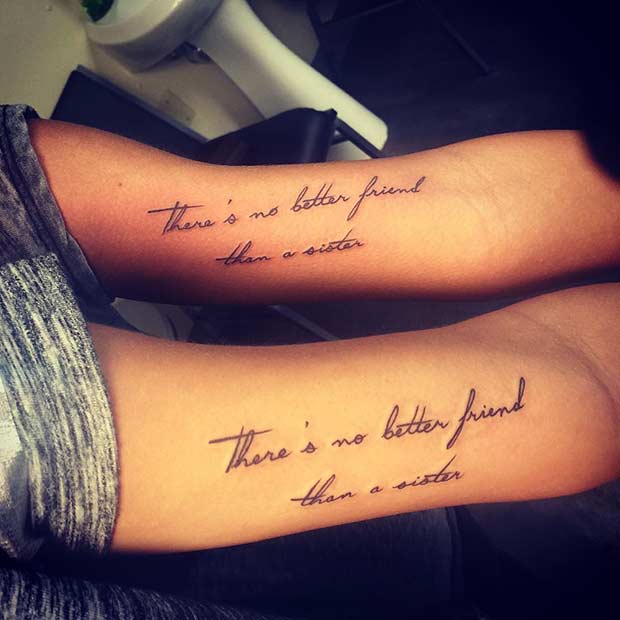 With simple cursive and strong black lines, this tattoo is elegantly beautiful. The design fits well in the forearm area and can be a great reminder of all of the memories you've had with your sister. It's the perfect design for the sisters that are truly each other's best friends.
52. Black and White Matching Heart Tattoos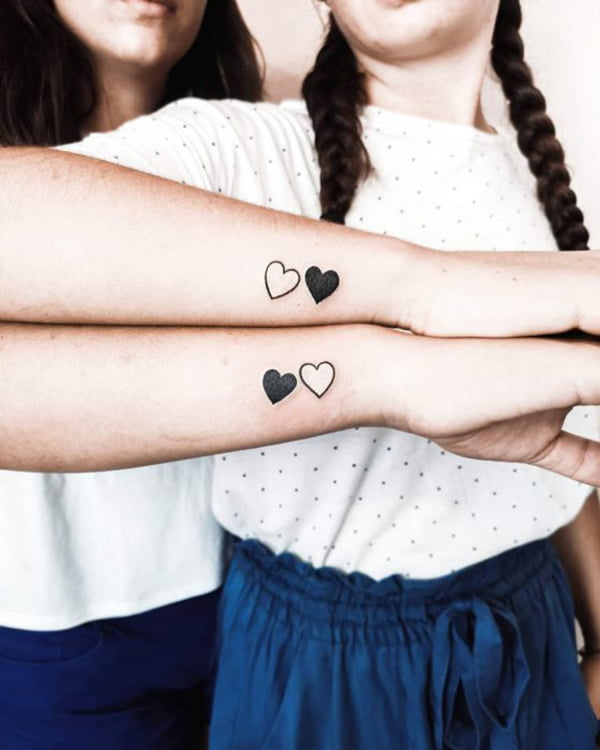 Not only are these black and white hearts simple, but they look quite elegant. The only difference between the two tattoos is that which heart is colored in. You can get the heart that represents you colored in or you can choose to have the one for your sister colored in. It looks great in black and white, but could also work well with other colors.
53. Sweet Sister Flower Tattoo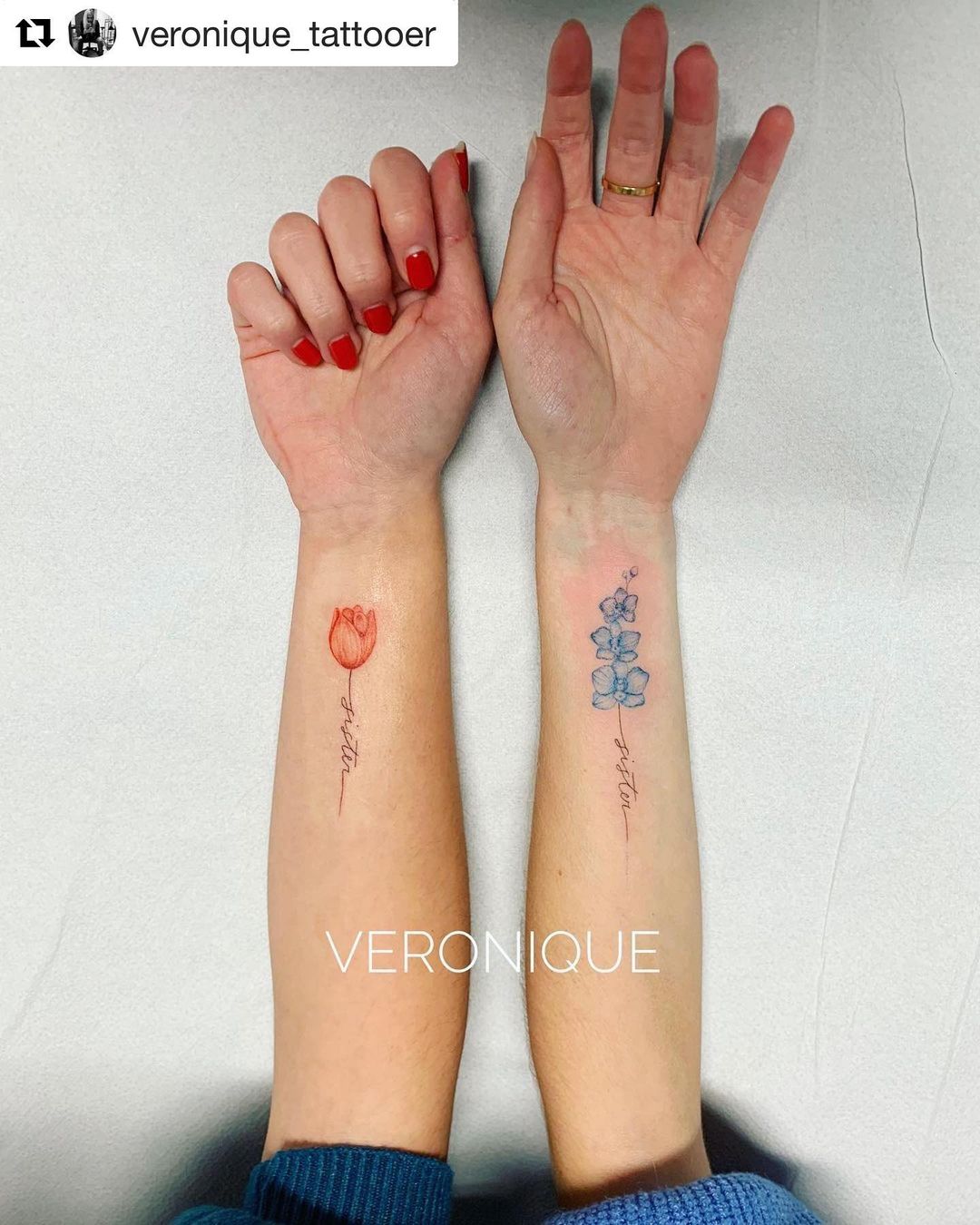 The small-sized flowers are beautiful colors and the cursive writing of sister has an elegant font. While the flowers in the photo are gorgeous, you can choose any type of flower you want. In addition, you can choose the colors that you and your sister love the most. It's a great piece for the forearm area and can be easily shown off.
54. Rose Heart Matching Tattoo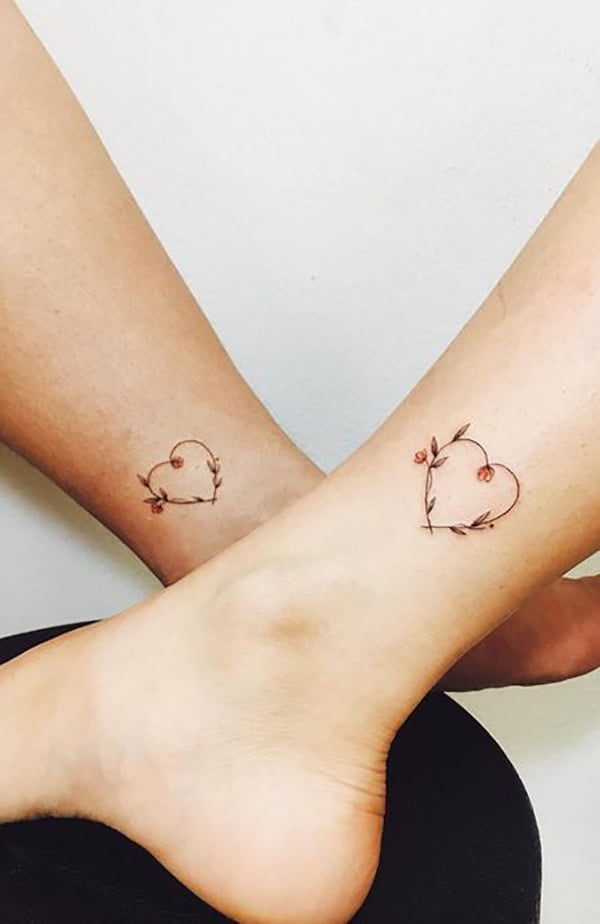 If you're looking for a sister tattoo that's simple and cute, then this is a great ankle tattoos option. The small roses look realistic and they make the perfect heart shape. The roses in the photo or reddish-pink, but you could choose any color you want. Not only would it work well on the ankle like pictured, but it would also be super cute in other areas.
55. Diamond Heart Sister Tattoo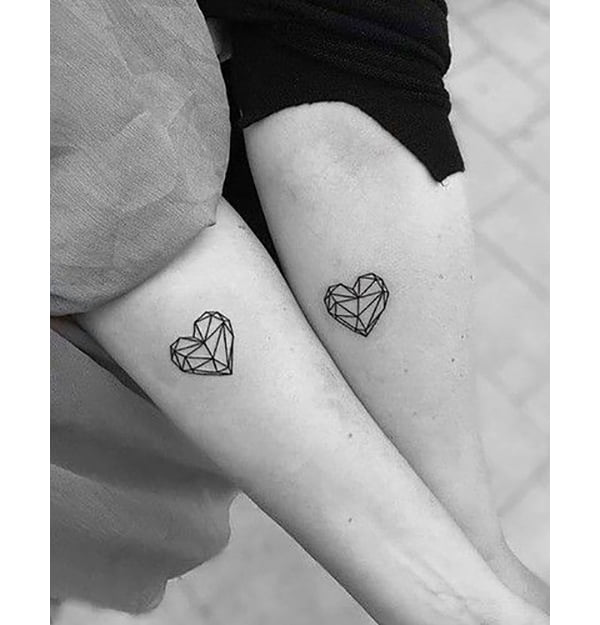 While the hollow diamond heart looks good with black ink, it would also look beautiful with colors. The diamond design makes the heart elegant and the heart itself can represent the love you have towards your sister. It's positioned in the perfect spot but would also work well in several other areas.
56. Simple Matching Rose Sister Tattoos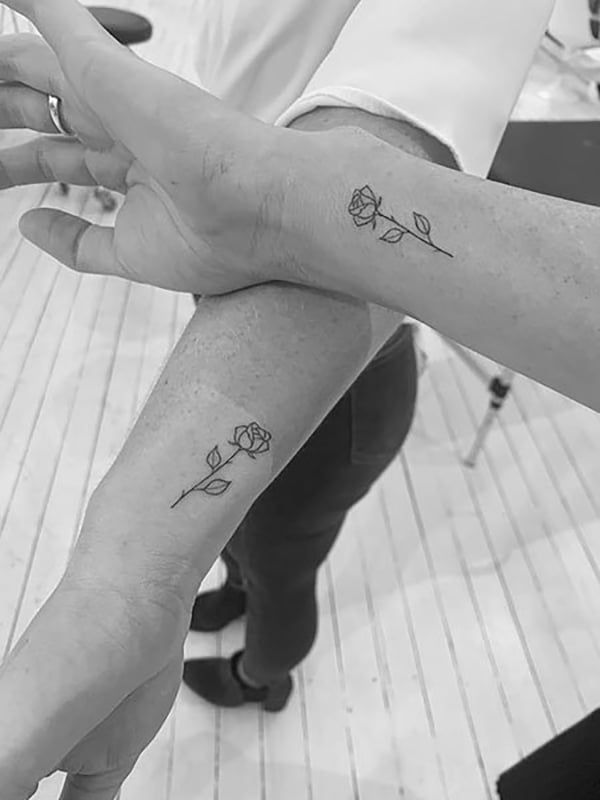 With no color and simple lines, these rose tattoos are great for those that want something super simple. Not only is it in a place that can be hidden if need be, but it can also be a small reminder of the bond you have with your sister. If you wanted to add some personalization, you could color the roses to match each sister's style.
57. Elegant Matching Flower Sister Tattoos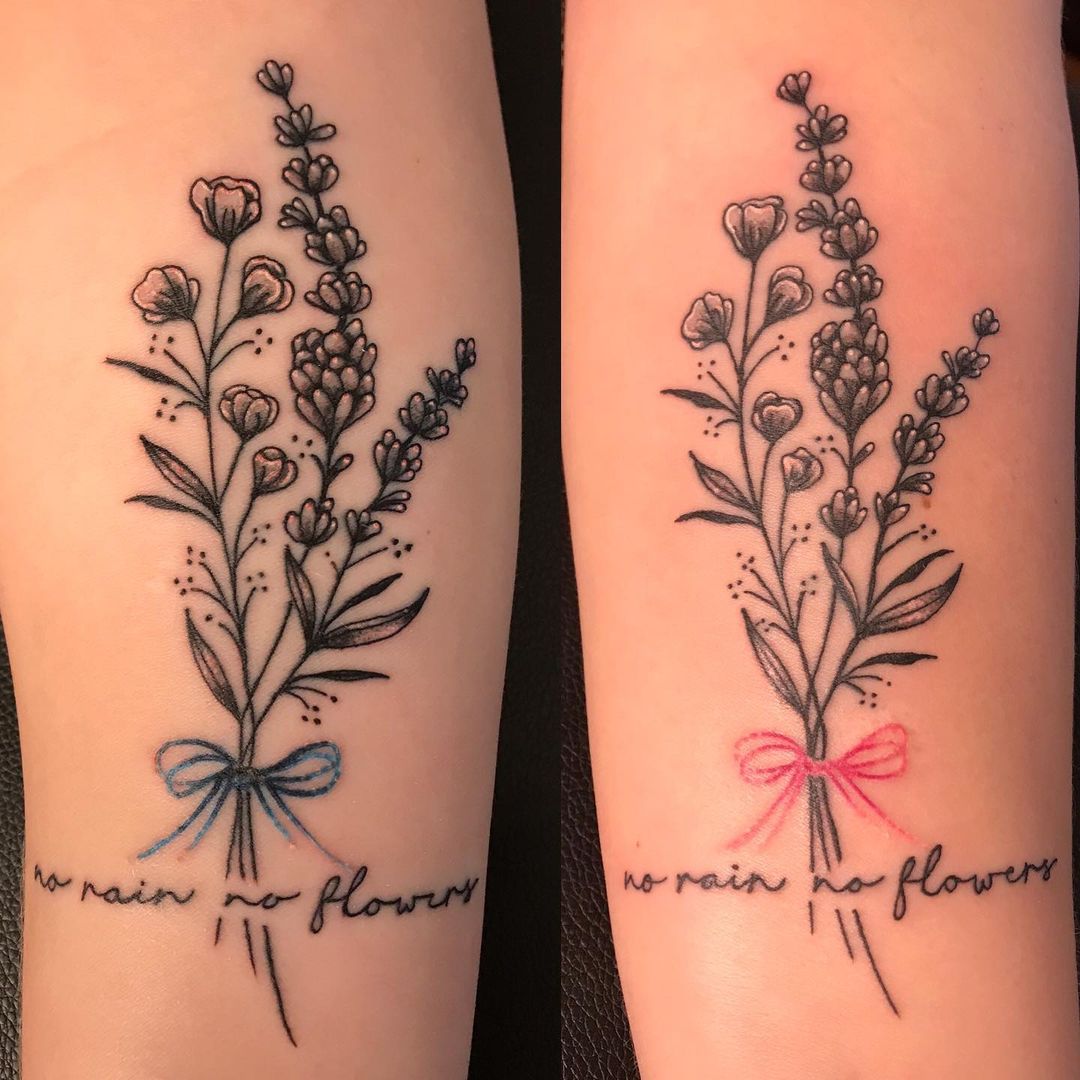 Sometimes, we can get caught up in all of the negative things and completely forget about the positive ones. The black and white of the flowers and words give the tattoo a classic feel and the colored ribbon brings a unique aspect to the design. Every time you see the quote, you'll know your sister has your back and you have to get through the bad stuff to get to the good.
58. Cute Heart Sister Tattoo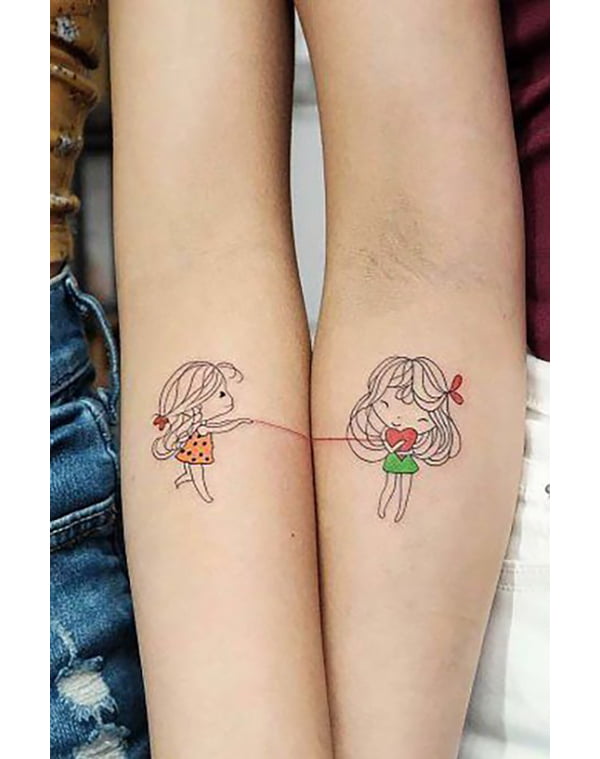 This is another great tattoo for sisters that are far apart. It represents always having your sister's heart, regardless of where you're at. The girls have a young and carefree feel, while the heart is simple and bright. To make the design a little more unique, choose the color and design for the dresses to match your sister's personality and yours.
59. Dainty Wine Matching Sister Toe Tattoos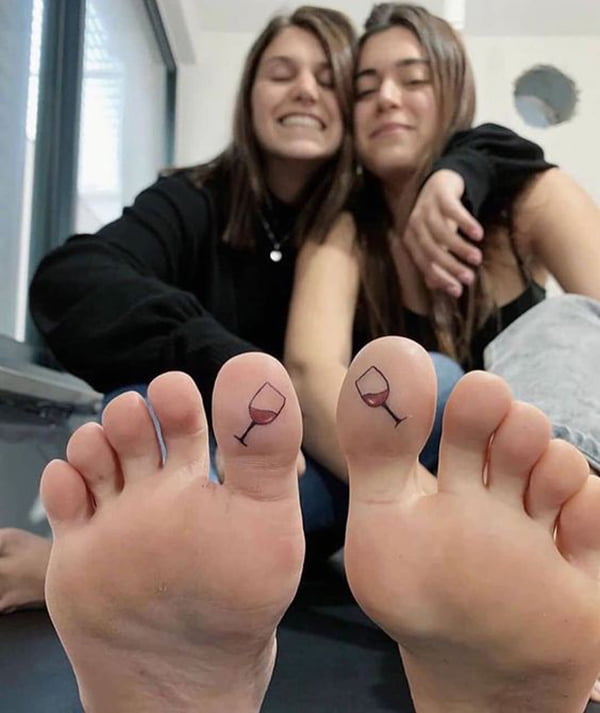 The adorable design of this tattoo is great for those sisters that love wine and being silly. While the tattoo is pretty small, the lines are done well and the color of the win is spot-on. This particular spot might cause your tattoo to fade quicker than other spots, but it's definitely a cute option.
60. Petite Tree Matching Sister Tattoos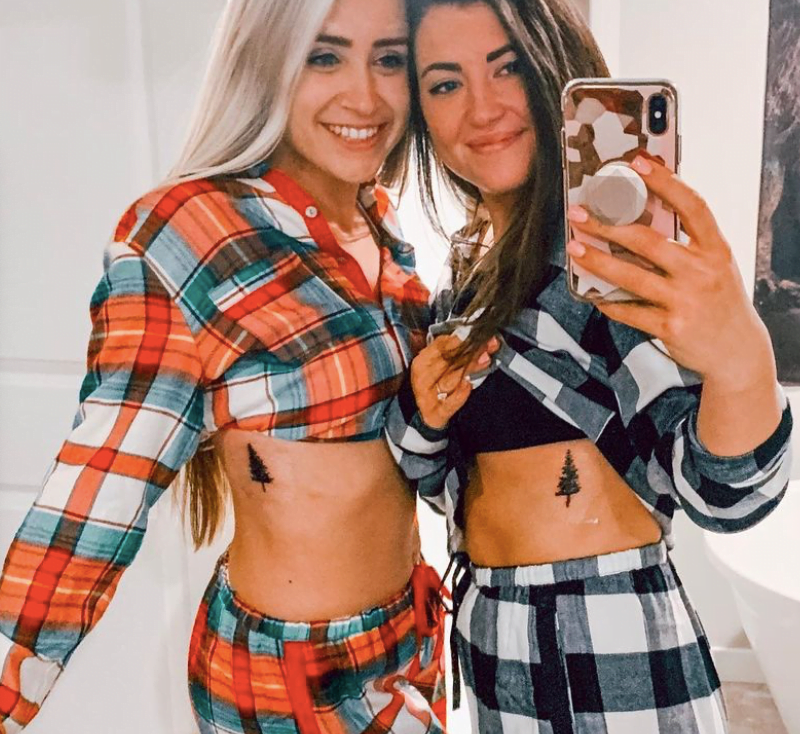 The tree tattoo design in this picture is a great choice for those that want something cute and small. The tree is done well and the dark colors make the tree look realistic. The rib area can be painful, but the smaller size means you can have a great piece of artwork that can be easily hidden without having a large amount of pain.
60 Best Sister Tattoos That You Can Use For Inspiration
Now that you've seen 60 of the best sister tattoo ideas, you're ready to come up with your own design. You'll be able to create a unique and beautiful piece that's meaningful to you and your sister or sisters. It'll be something that will connect you forever and you'll always look at it and remember the good times and memories you've made. If you find that you like multiple of these designs and can't come up with a piece you love, take your ideas to your artist and see what they can come up with!