Anyone that has grown up with animated features will understand why choosing the best Disney tattoo design ideas makes a difference. This brand has been an integral part of our childhoods – having that nostalgia back in our lives is a pure delight for many. Have you ever wondered if you could get your favorite Disney characters tattooed on your body?
From minions to Lion King, Winnie The Pooh to Ariel, and from Hercules to Inside Out – what's your favorite? What would you choose?
60 Best Disney Tattoo Design Ideas to Showcase Your Imagination
What makes Disney tattoos so special is that children have grown up with these films and shows. It is always great to go back to a carefree time of your life. And what better than to look at the colorful, cute characters on your skin and feel good about it. What better way is there to get inked?
Just like tribal tattoos, Disney tattoos are very popular, creating a sense of comradery with people everywhere. Not only will others see their favorite characters within your ink, but the precise artwork will garner a lot of attention due to their magnificent colors and extremely unique identifications, whether you go for a feet tattoo or an elbow tattoo.
1. Fierce Hercules and Hades Design for Underdog Story-Lovers Disney Tattoos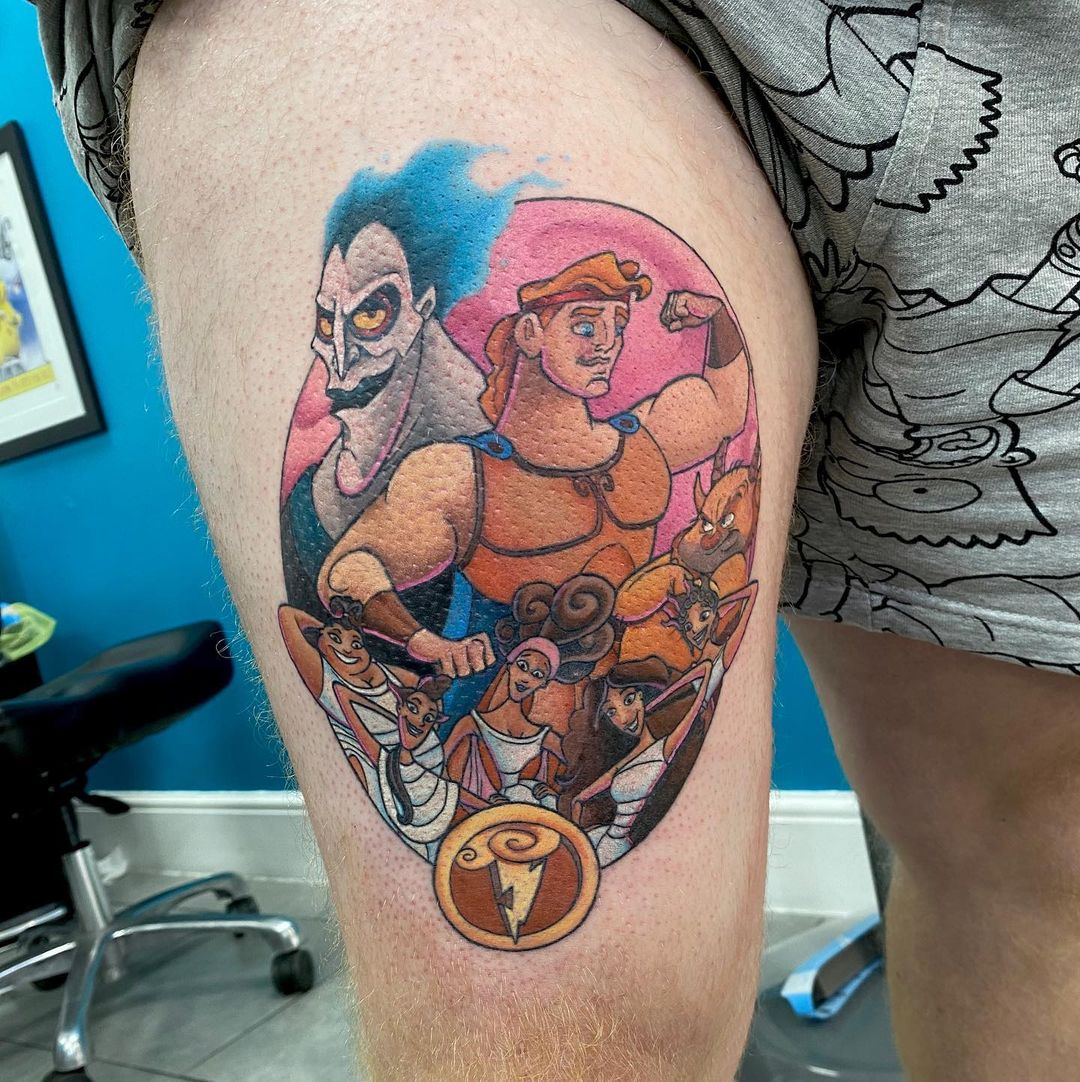 Hades is depicted in a very fierce and bold way with his iconic blue hair. He shares the space with Hercules, his nemesis. The twosome is featured with a pink background inside an oval-shaped structure, giving a structured space for the tattoo. It is one of the best disney tattoos.
2. Wheel Rotating Young Mickey Mouse Disney Tattoo for Mickey Lovers Disney Tattoos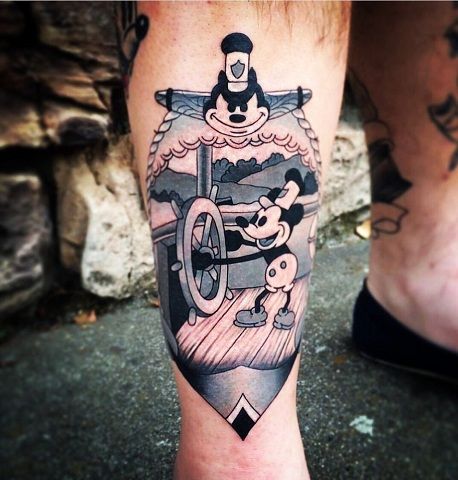 This Mickey mouse tattoo has a classic version of the famous Walt Disney creation Mickey mouse. Though Mickey mouse does not look like this now, this version of the Mickey mouse holds a special place in the hearts of many people for the first time they ever saw him. By choosing a monochromatic color scheme, Mickey mouse looks even more like the old-fashioned style that used to be on every child's television.
3. Baby Hercules with Snakes Design Disney Tattoos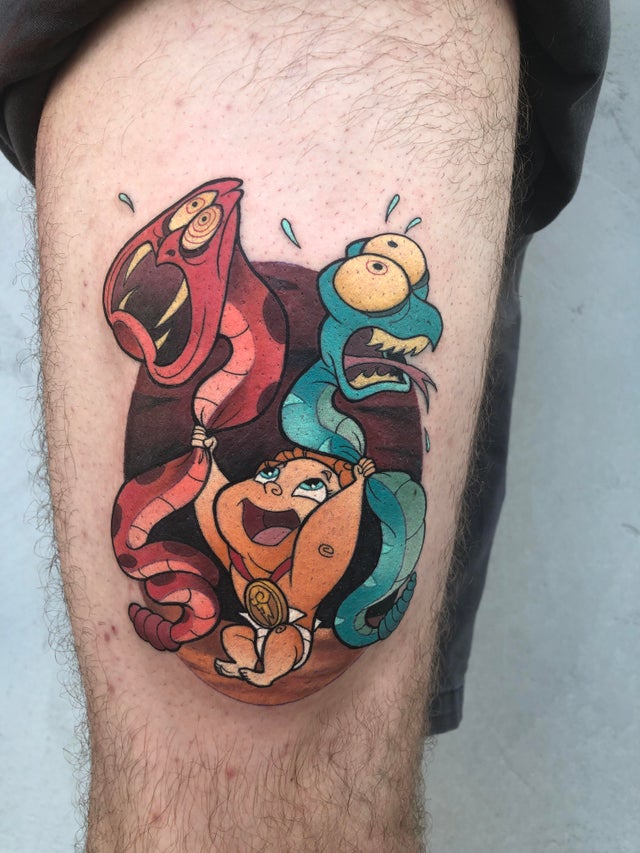 This cool tattoo design shows baby Hercules holding and playing with two animated snakes – one in each hand. The expression on Hercules's face shows immense happiness, reminding everyone of the movie scenes. Maybe the snakes would look more recognizable as their original characters – Pain and Panic!
4. Happy-Sad Minion Combo for Your Feet Disney Tattoos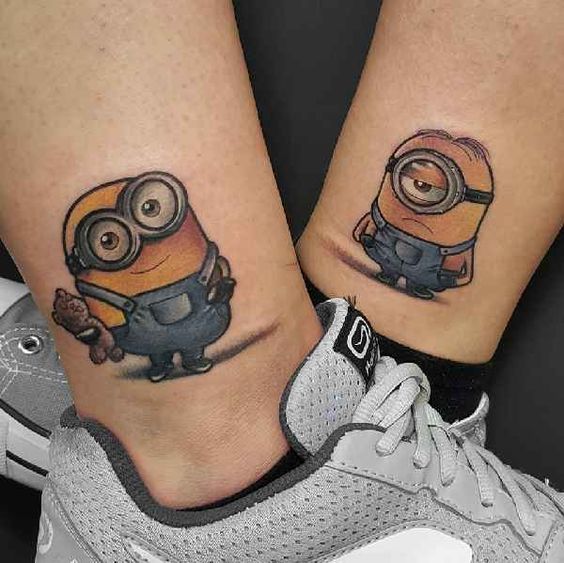 If you love minions, you probably just lit up with delight. This ankle tattoo has one minion above the ankles, though they could just as easily decorate the hands, feet, shoulders, or any other place on the body. While one minion seems gleeful, the other pouts. Maybe he's unhappy about what Gru has planned next, or maybe it is an interesting twist on the tragedy versus comedy symbol from the theater! It is one of the best disney tattoos.
5. Funny Tom and Jerry Tattoo for the Nostalgic Yet Animated Drama Disney Tattoos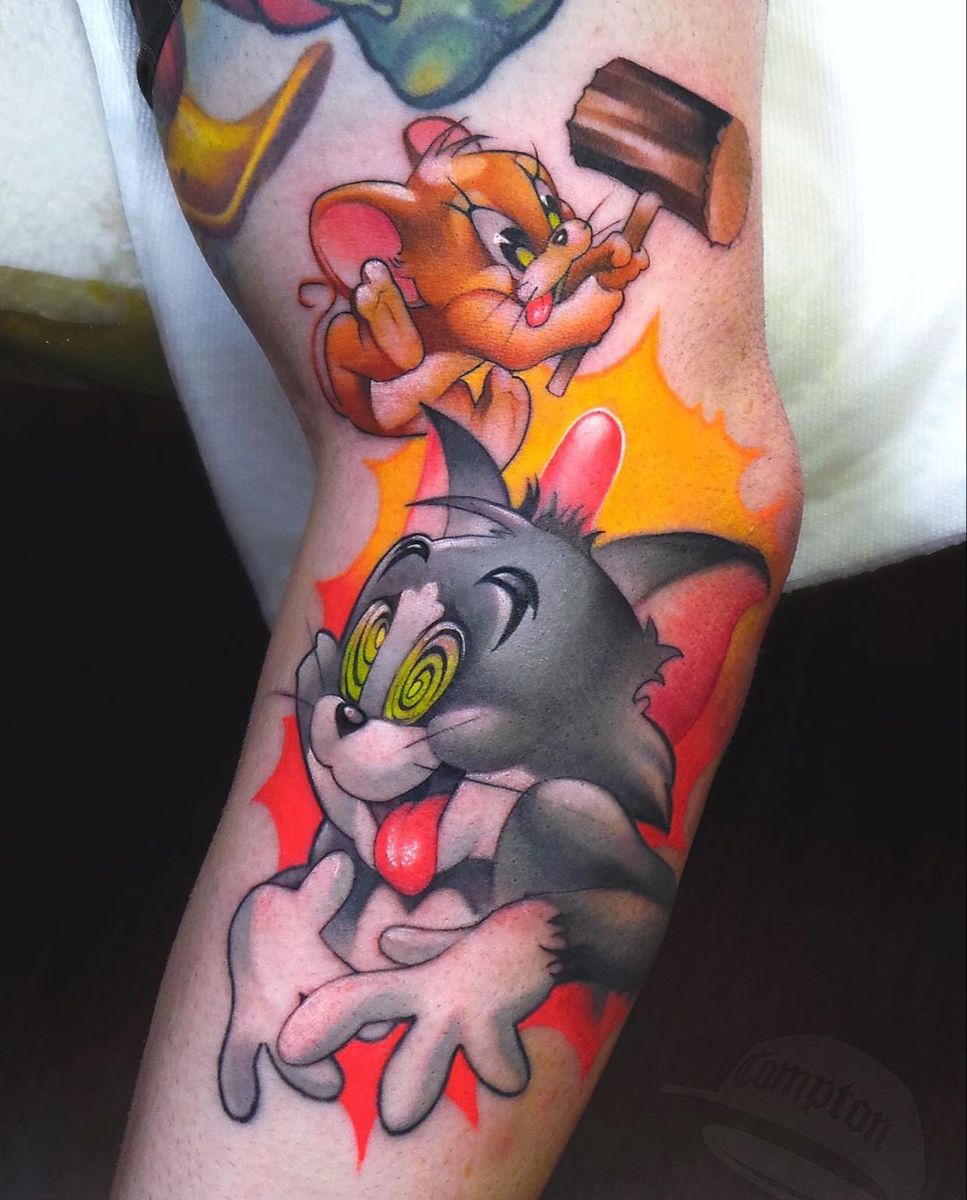 Have you been a die-hard Tom and Jerry fan? This tattoo shows the famous cat and mouse Tom and Jerry characters in their typical state – a chase! The tattoo is colorful and shows Jerry hammering the top of Tom's head – just like the cartoon.
6. Toy Story's Woody and Buzz In Black and White Tattoos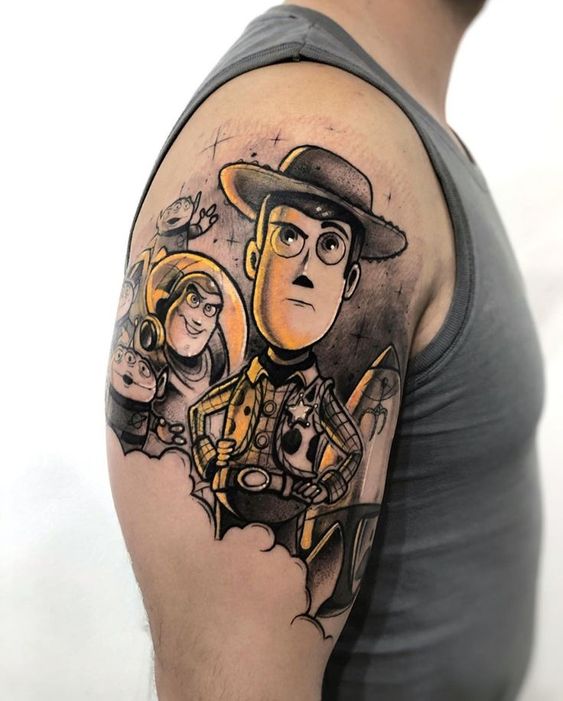 This tattoo is a depiction of the famous characters of the famous Toy Story movie series. The tattoo shows Sheriff Woody and Buzz Lightyear, but it has the classic black-and-white feel of older Disney movies. If your artist can perfect the expression, the underlying comradery between the character is practically palpable.
7. Floating "Up" House Idea for the Emotional Story Lovers Disney Tattoos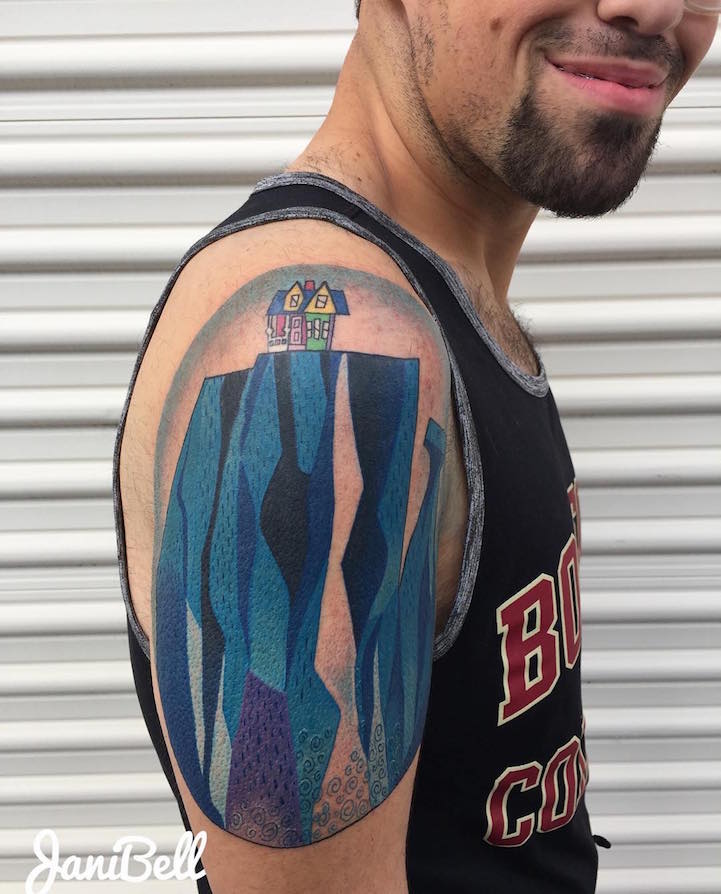 If you are an Up fan, you know how many emotions that movie brings along with itself. It is a 2009 movie that was produced by Disney, and this tattoo brings back one of the most emotional times in the entire movie. With the famous house, how many memories can you imagine of Carl and Ellie?
8. Fierce Scare Tattoo for the Villian in You Disney Tattoos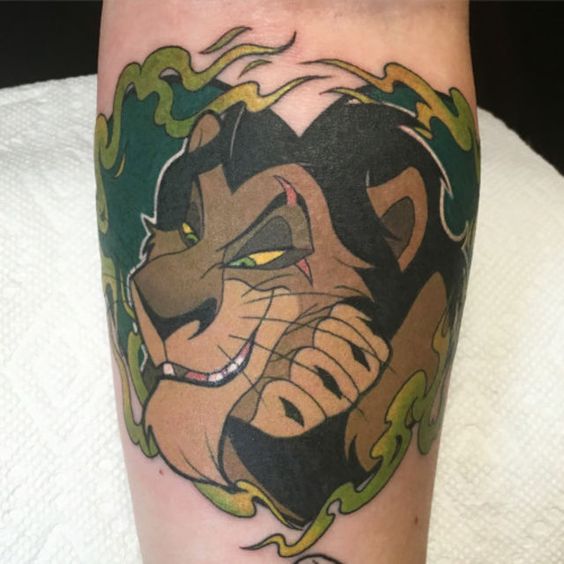 These lion king tattoos showcase the face of the main antagonist from the movie Lion King – Mufasa's brother Scar. It is a very bold tattoo, filled with the eye-catching green that surrounds many villains in Disney movies. Scar's eyes show wild expressions, and the tattoo is generally intricately designed today. A dragonfly tattoo would also look great in this style.
9. Bloody Knife Mickey Mouse Disney Tattoo for the Dark Souls Disney Tattoos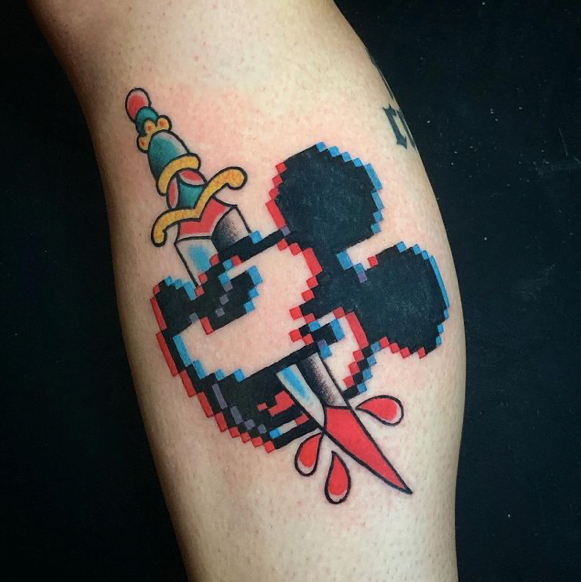 In contrast to cute childhood memories, this Mickey mouse tattoo appeals to people who are fond of the darker side of cartoons. Featuring a knife running through the faces of Disney characters and Mickey mouse, blood drips from the end. What does this Mickey mouse tattoo mean to you?
10. "Up" Balloon House Design for the Mushy Lovers Disney Tattoos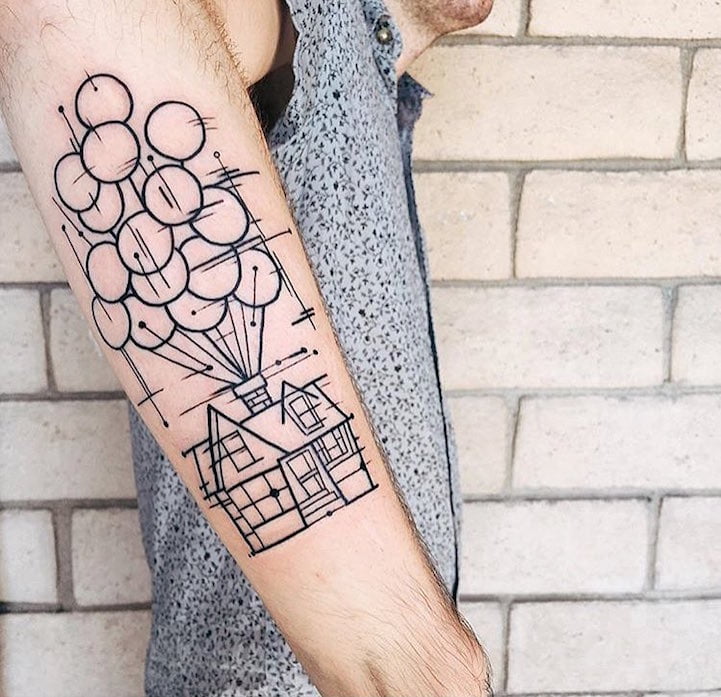 In any case, if you like the movie Up, you will realize the importance of emotions that this movie carries ]. The house shown in the tattoo is a famous house from the movie. The house is tied to the balloons and is being stopped from being flown away by the wind, though the outline creates a stark contrast.
11. Raging Blue-Haired Hades With an Evil Grin Disney Tattoos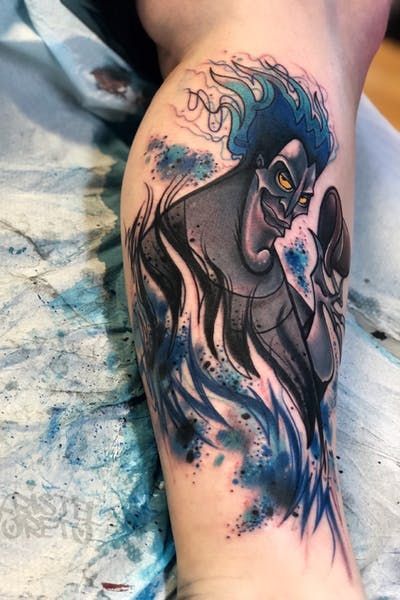 Iconic blue hair and devilish eyes mean one thing – Hades is ready to deal out some sass and evil power. It gives you dark and vibrant colors that bring out the beauty of the tattoo immensely.
12. Evil Maleficent Tattoo Against the Raging Dragon Disney Tattoos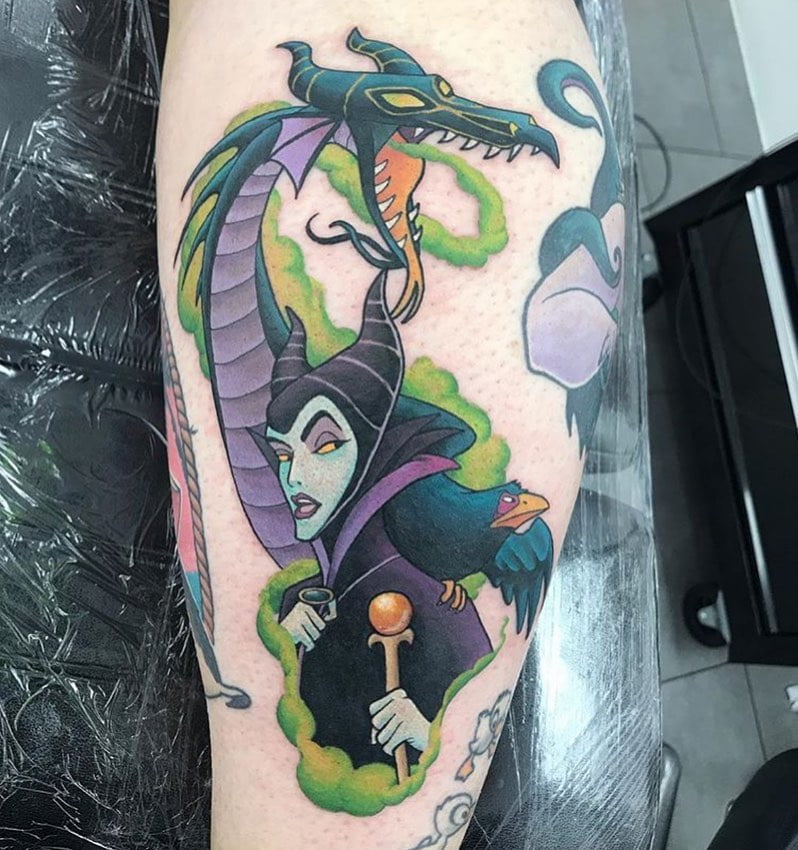 This tattoo is dedicated to Maleficent, the seemingly evil godmother in Sleeping Beauty. The color scheme of this tattoo is dark as the character, featuring the traditional green background that accompanies most of Disney's villains. The intricacies of this tattoo are commendable in every sense.
13. Shaded Bugs Bunny Disney Tattoo Design for the Looney Tunes Lovers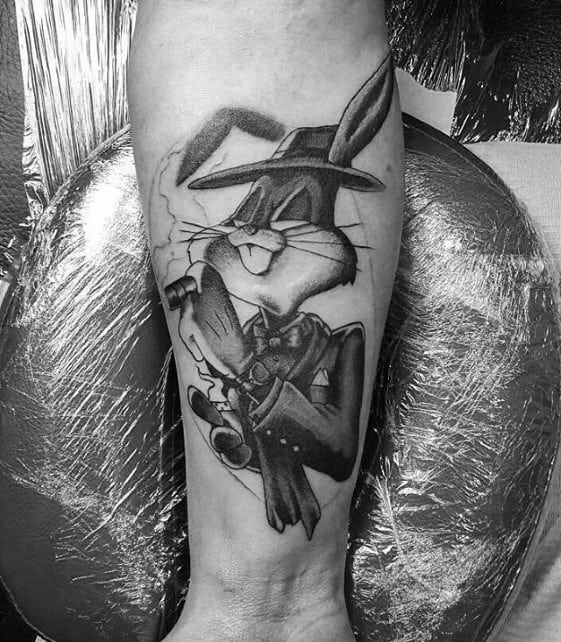 From the famous show Looney Tunes, you can have your monochromatic Bugs. Bugs Bunny is depicted in his gentlemanly detective ensemble – a common character that the cartoon rabbit took on.
14. Lion King's Scar with a Flaming Skull Design Disney Tattoos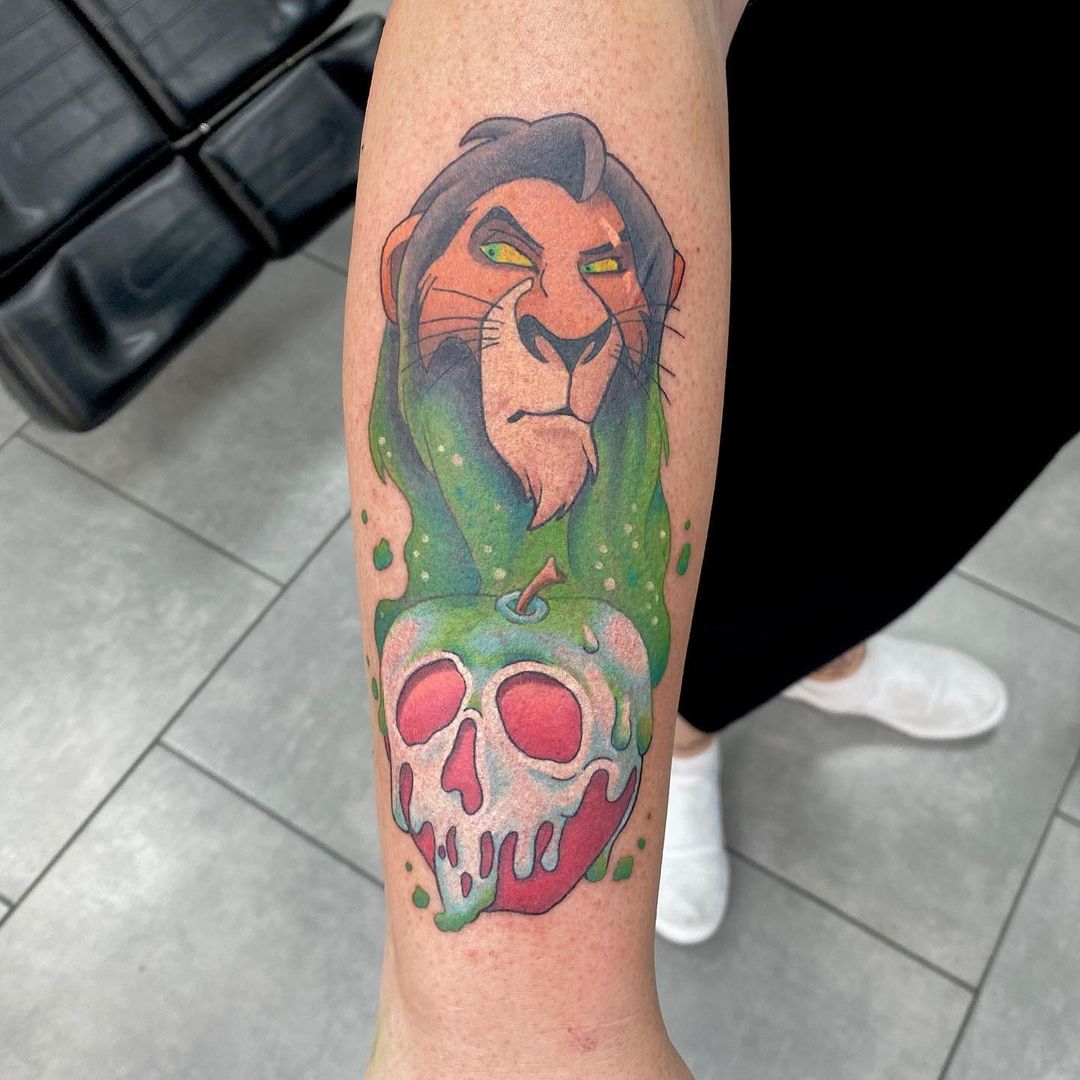 Disney's The Lion King is full of emotional moments, but the dark depths of Scar brought a sense of jealousy and danger to the film. With bright red and green, Scar's mane flows into the evil color, depicting the rawness of his character.
15. Teary-Eyed Simba, Timon, and Pumbaa Design for the Peak Emotion season Disney Tattoos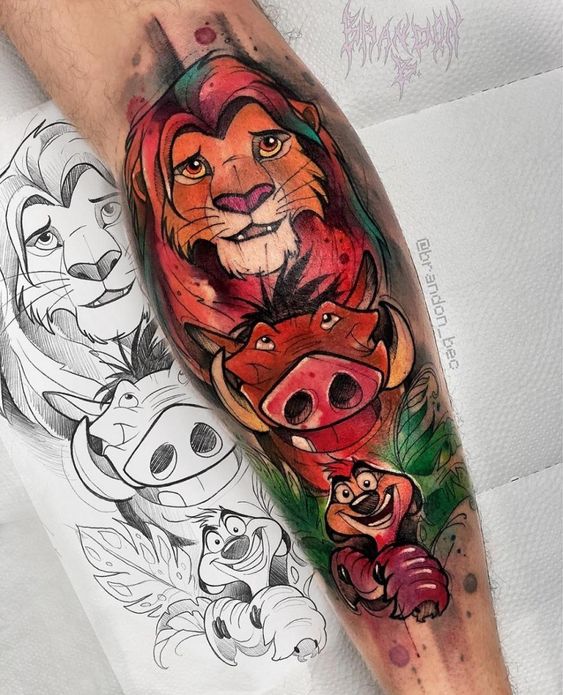 The character progression between Simba and his unlikely friends shows another important lesson – anyone can be a friend. Glassy eyed, these characters seem to be anticipating the path ahead of them with emotion.
16. How to Train Your Dragon with Abstract Art Disney Tattoos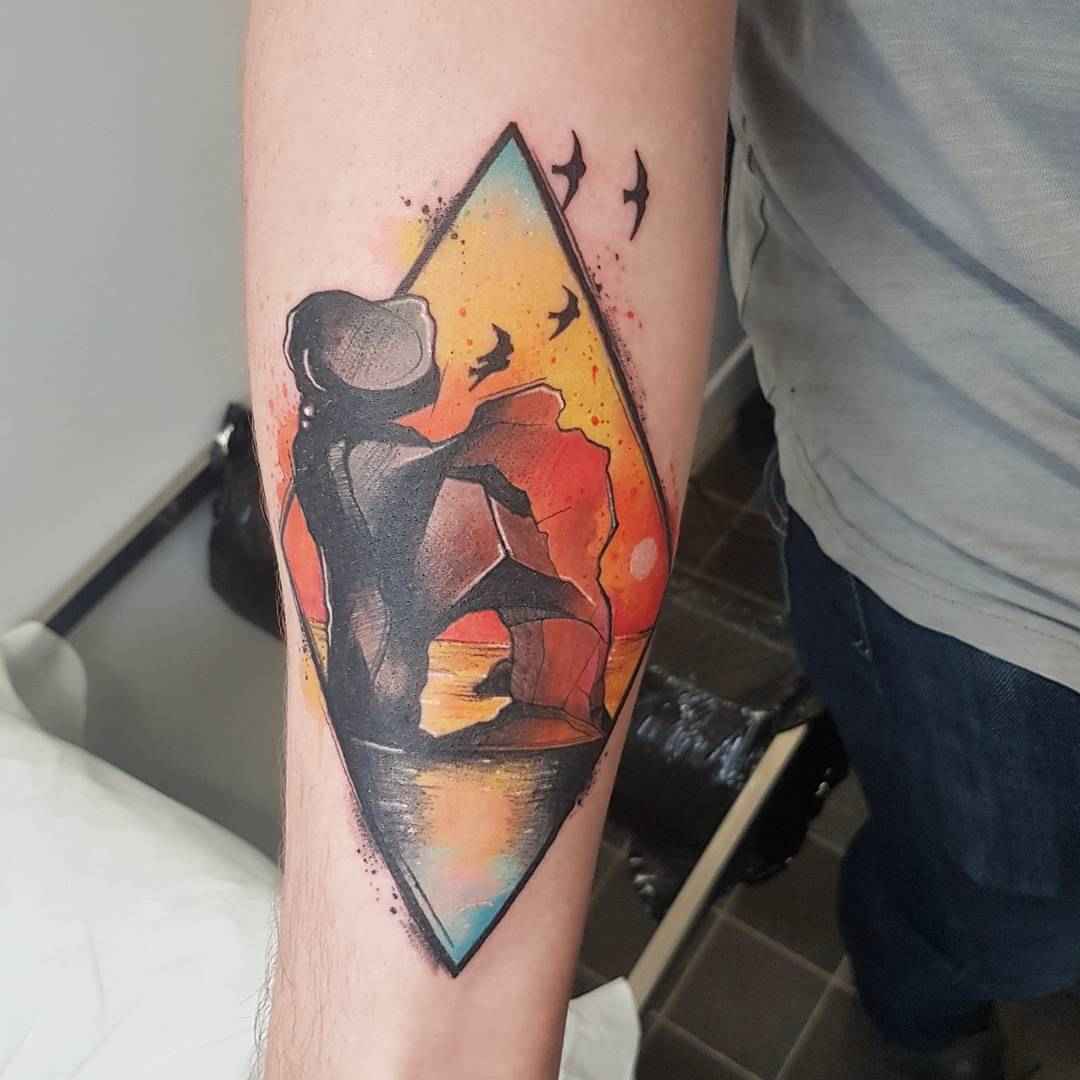 If you have watched the excitement of How to Train Your Dragon, this tattoo might resonate with you. With an angled silhouette of the Night Fury, the small birds in the background of this bird tattoo offer a sense of vastness.
17. Hakuna Matata With Your Favorites – Simba, Timon, and Pumba! Disney Tattoos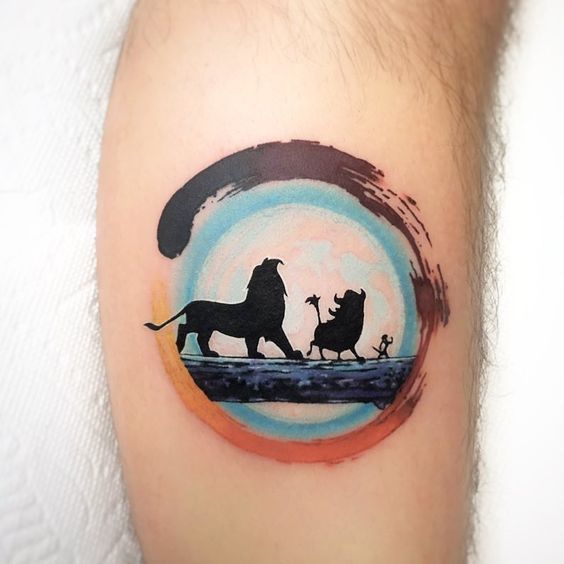 Lion King tattoos are sure in fashion, and it is hard to find a single Disney fanatic that doesn't adore the story of Simba. Imagine the scene of Simba's progression to an adult lion, dancing and singing along the horizon of the desert – that's what you get in these lion tattoos!
18. Simba's Reminder to "Stay Free" In Your Spirit Disney Tattoo Ideas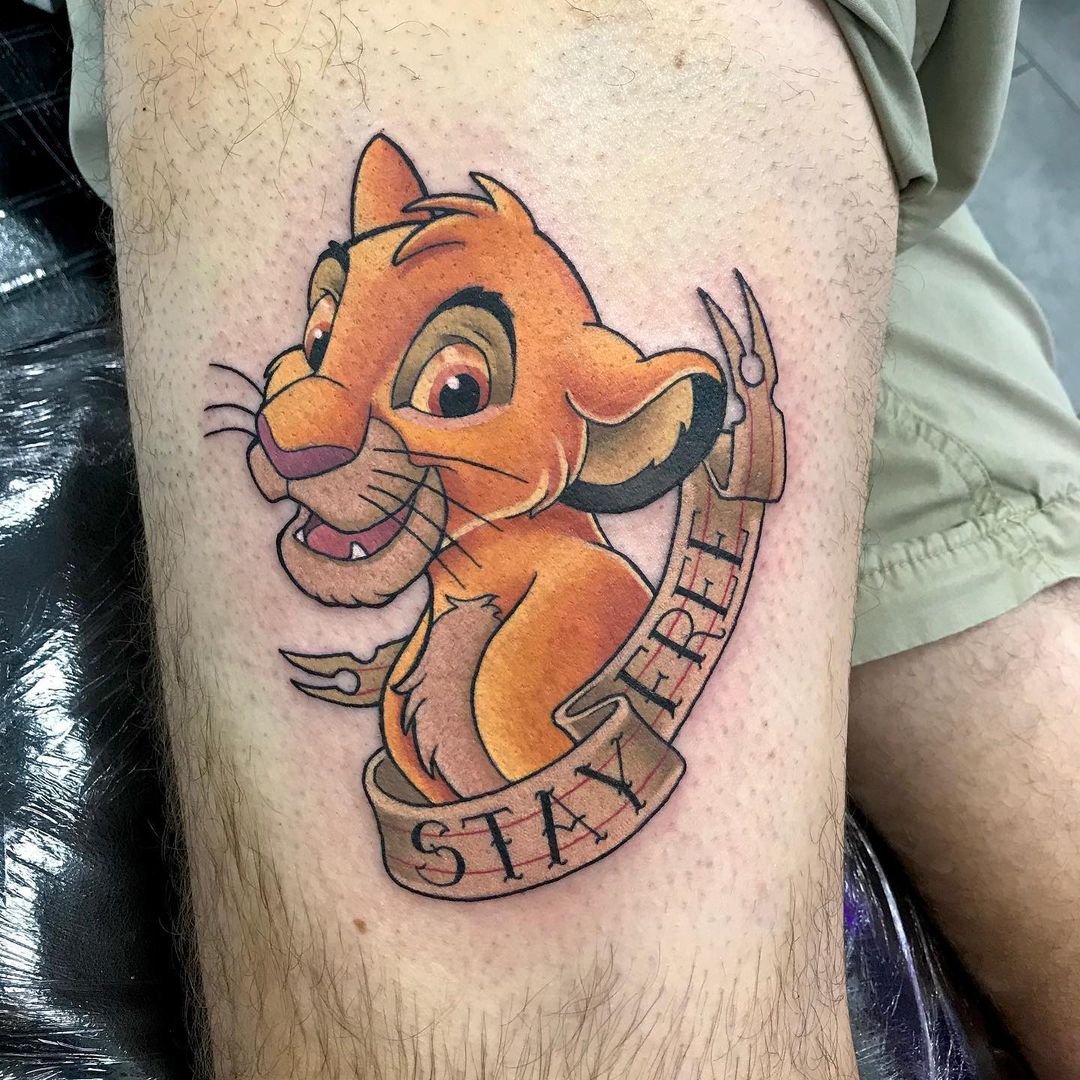 For most of us in our childhoods, Simba was the most popular lion that we knew. With this depiction of his younger years, the tattoo shows Simba with a ribbon label below him that says, "stay free." With this constant reminder, will you take heed of what Simba's message is?
19. Multi Shades of Mufasa Design Tattoo for Multidiscipline Lion King Lovers Disney Tattoo Ideas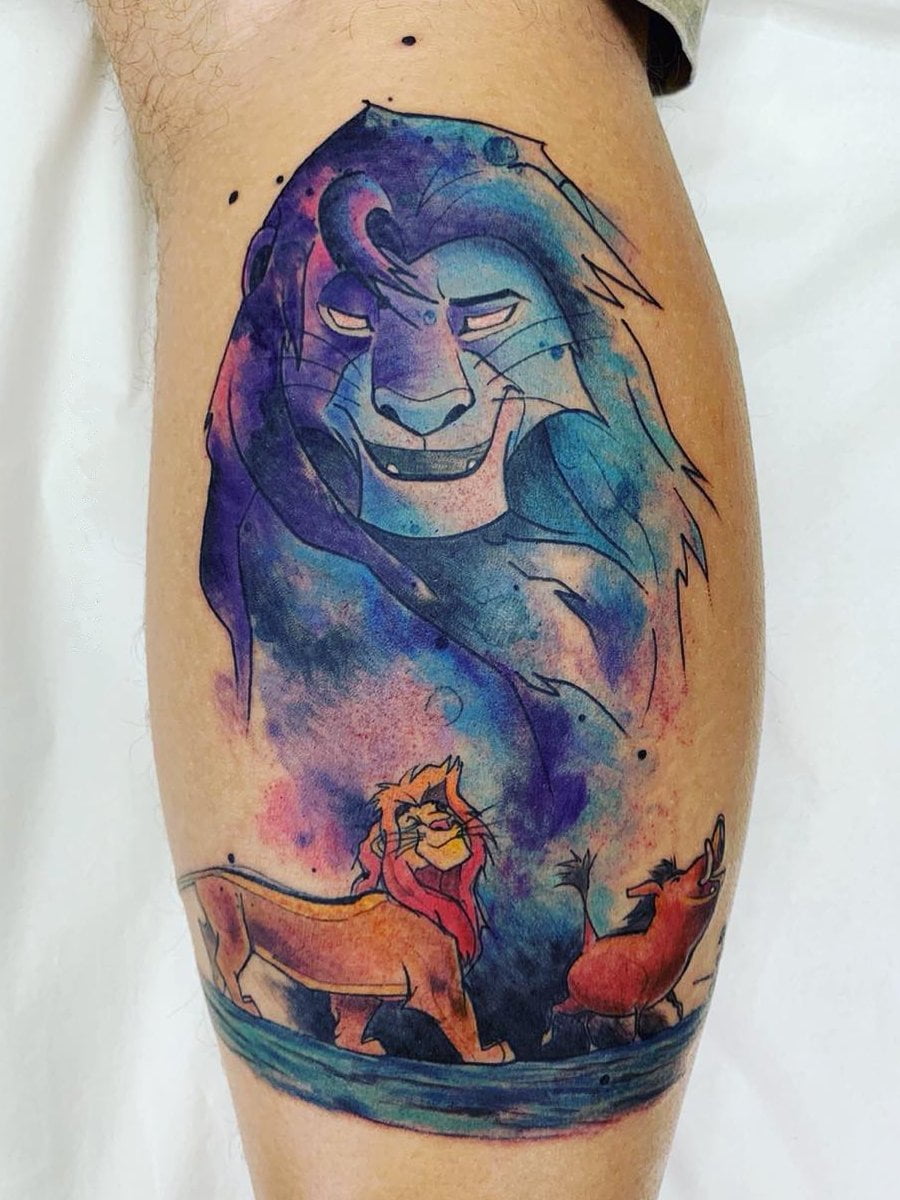 This tattoo is a clear description of how each one of us never lives with just one emotion in our lives. We are made up of multiple emotions. While Mufasa can be seen in an assertive mood in the above picture, while he can be seen all jolly and dancing with Pumba in the lower picture.
20. Proud and Powerful Mufasa and Simba Tattoo for a Great Father-Son Bond Disney Tattoo Ideas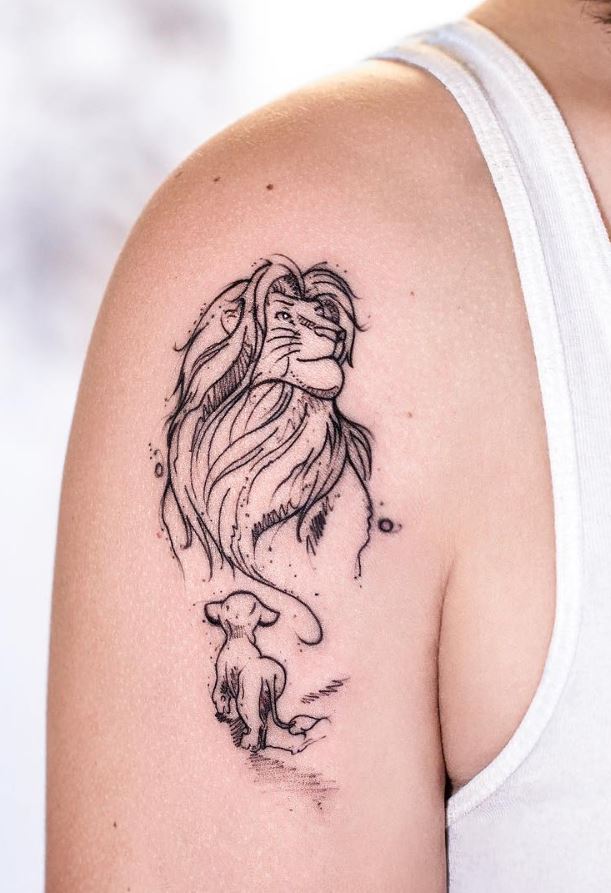 This tattoo effectively shows the emotions behind a father-son relationship. Simba can be seen looking at Mufasa with such pride while Mufasa is shown as a very powerful father figure. Who doesn't wish that the King of Pride Rock was still around?
21. Cute Colorful Stitch Tattoo Design for Mischievous Fans Disney Tattoo Ideas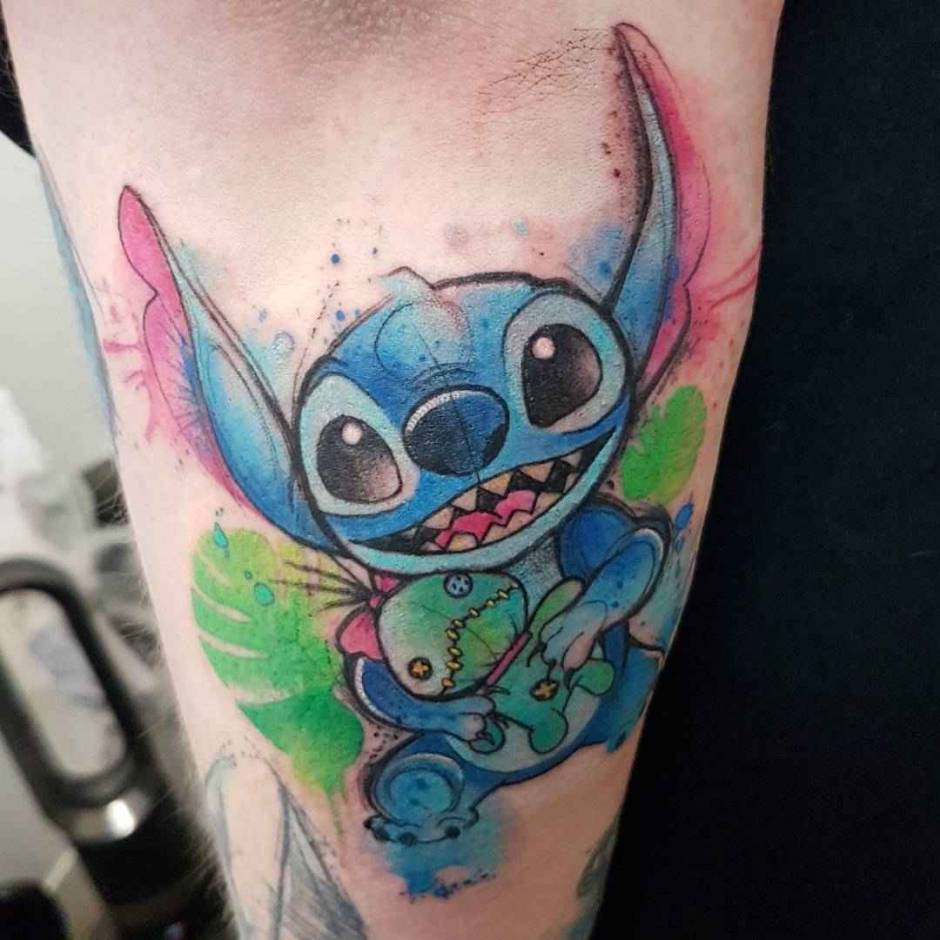 This tattoo is special for all the Lilo and Stitch fans, depicting the latter in his usual blue color with a toy in his hands. The shades of this tattoo are breathtakingly amazing as it perfectly blends into your skin on the corners. The watercolor echos on the edges to work well with existing or new pieces.
22. Half-Circle Mufasa-Pumbaa Shadow Tattoo Disney Tattoo Ideas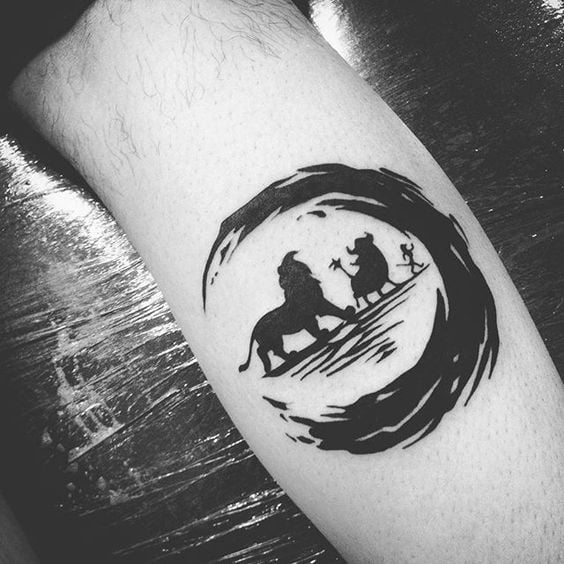 This tattoo also shows Pumbaa and Mufasa walking in front of a lovely landscape, and anyone who has seen this film already knows the song it is from. Using a monochromatic look, this tattoo is meant to incite the memories, using the black ink to simplify the message – No worries!
23. Sheriff Woody Disney Tattoo for the Toy Story and Disney Characters Lovers Tattoo Ideas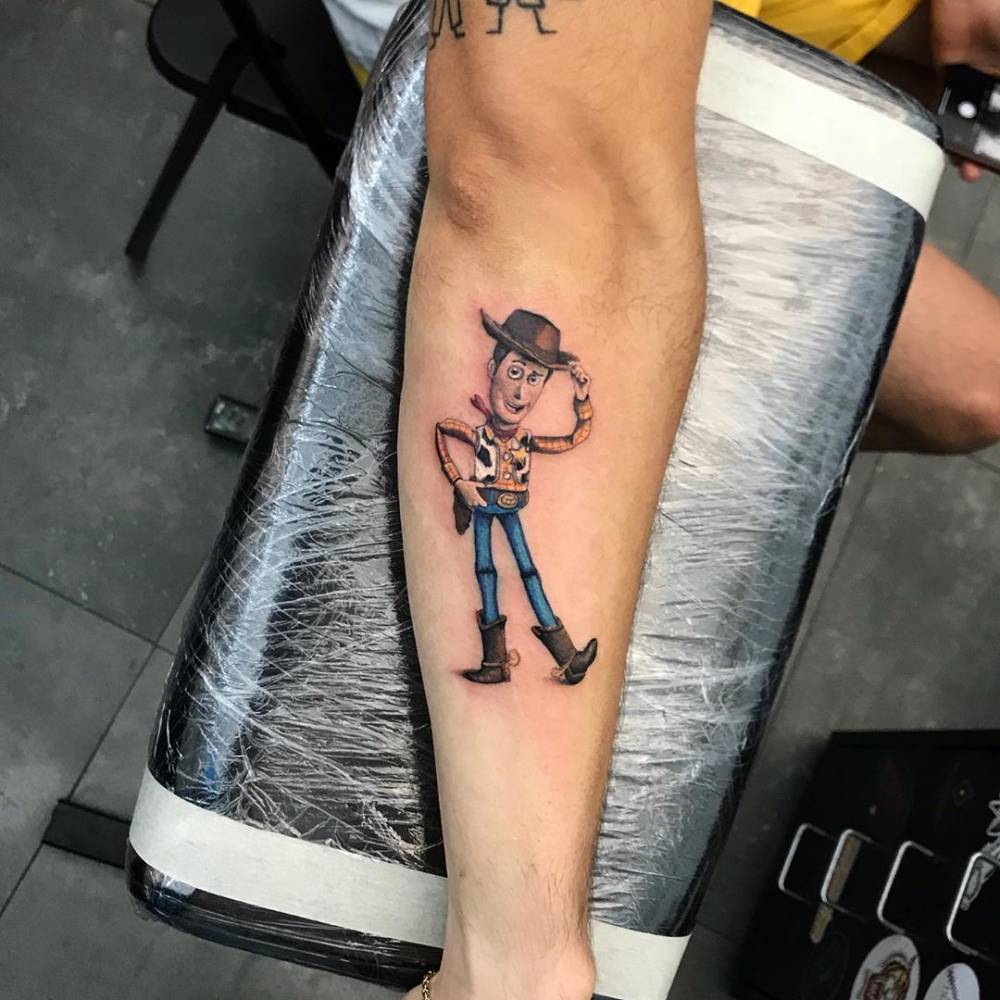 The Toy Story fans can rejoice now that Sheriff Woody is finally here! That's right! This tattoo is a stand-alone of Sheriff Woody and looks prim and proper on your skin. It is colorful, and Woody is seen dressed in his usual Toy Story clothes. It is a treat for the eyes and the heart.
24. Rafiki Mood Lion King Disney Characters Tattoo Design for the Moody Tattoo Ideas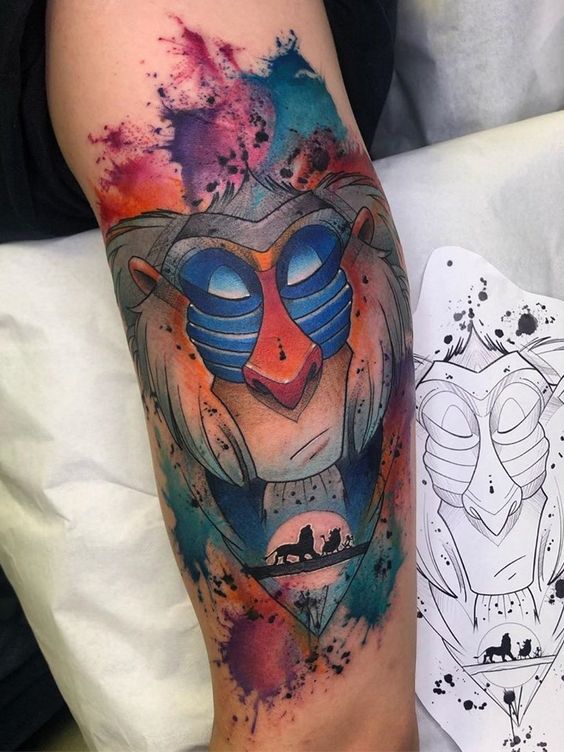 This one is again a perfect depiction of several emotions that Disney's Lion King movie showcases. The watercolor ink decorates Rafiki, the voice of reason and spirit in the movie. With peaceful resignation, he hovers over Simba and his friends, acting as a symbol of protection over their innocence.
25. The Iron Giant Meets the Classic Mickey Mouse As Worlds Collide Tattoo Ideas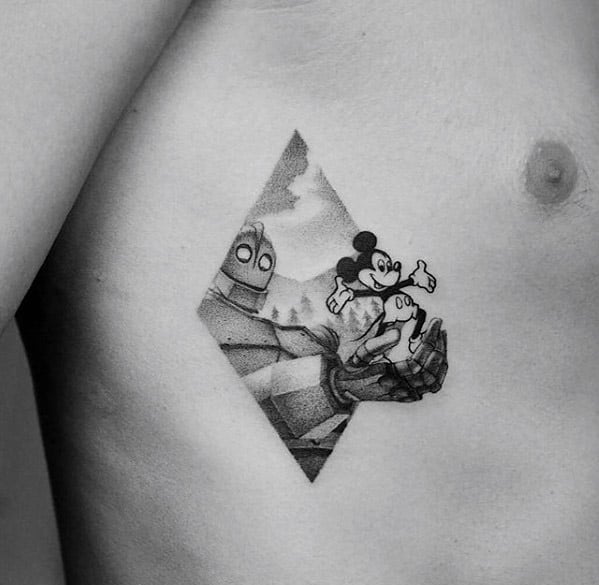 The Iron Giant came out decades ago, but it ushered in the digital age for many Disney movies. As the Giant holds out a classic Mickey mouse, this Mickey mouse tattoo might be right for the individuals that love the newest cartoons but love the old-fashioned style of Mickey mouse still.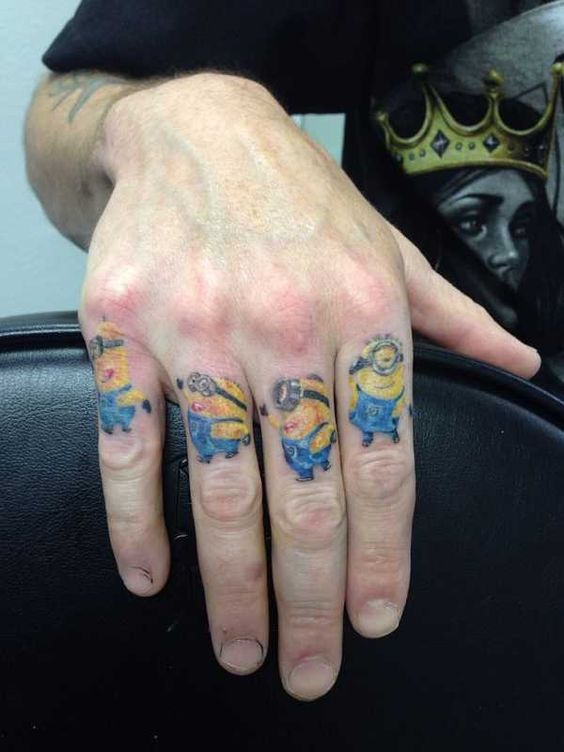 Do you love minions? Small disney tattoos might be the loveliest thing you might have seen in a while then. With four small minions resting on each of your fingers, they all seem to be engaged with a different activity and emotion. What could be more minion-like than marching to the beat of your own drum? This is a great small tattoos idea.
27. Buzz Lightyear with Baby Yoda Toy Design Tattoo Ideas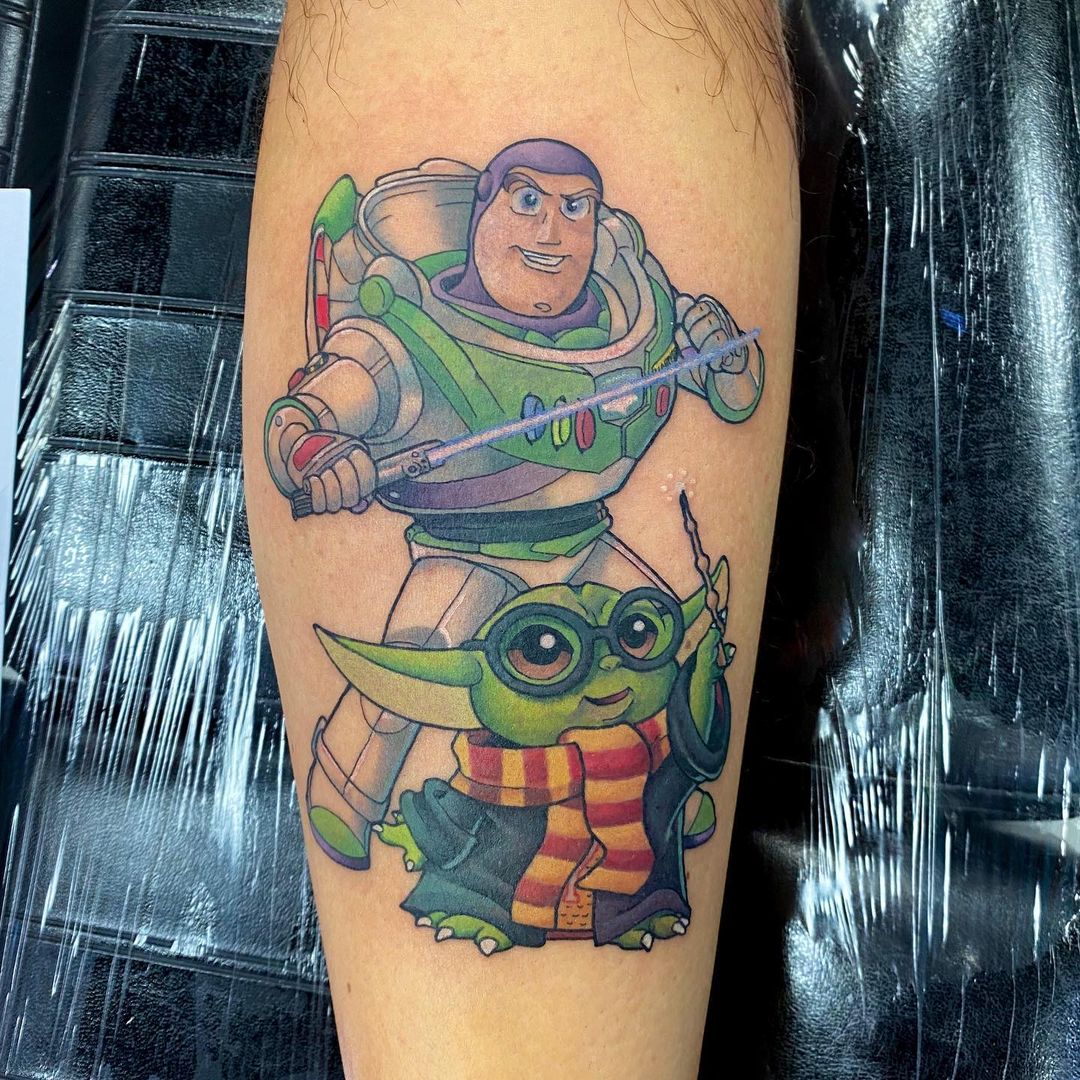 Again combining different films into one piece, Buzz Lightyear joins the force as a defense for the small Yoda. Rather than focusing on the Toy Story theme, could Buzz become a Jedi? If you look closely, you can see that one more fandom is hidden – Harry Potter's scarf and wand!
28. Mickey Mouse Draws His Creator Walt Disney Tattoo Ideas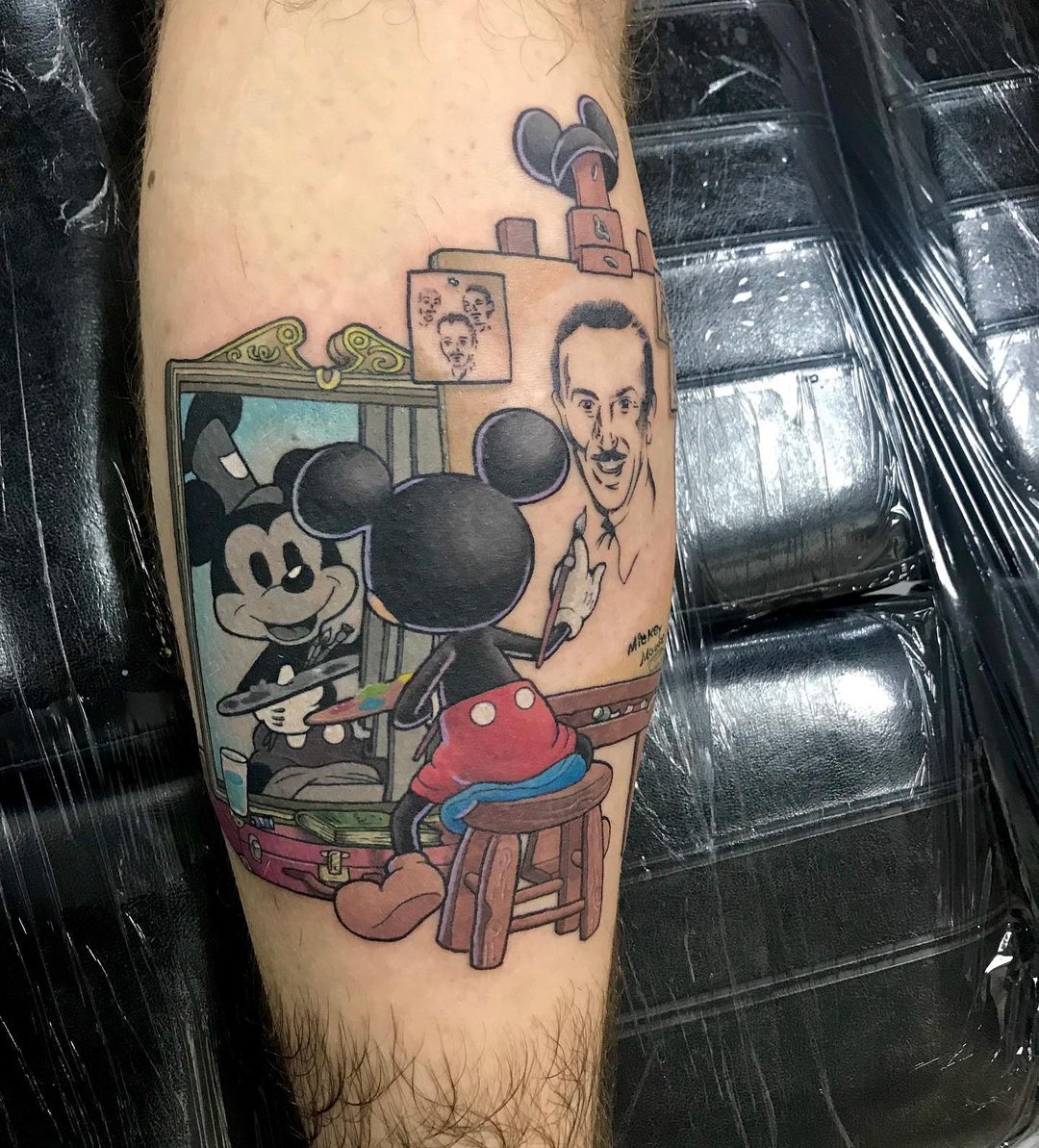 This Mickey mouse tattoo holds a lot of emotions in itself as it shows Mickey Mouse painting the man responsible for bringing every character to life – Walt Disney – on a wall next to him. For anyone that wants to bring out the beautiful origins of one of the biggest influences in animation today, this is the monochromatic Mickey mouse piece to do it.
29. Full Disney Package Arm Tattoo Design Tattoo Ideas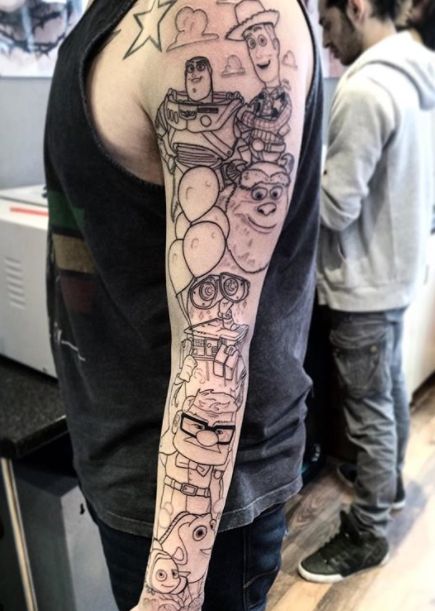 If you are a die-hard Disney fan but cannot decide what to go for and which character to choose, why not add them all? This forearm tattoo features all the Disney characters including those from Toy Story, Up, and Finding Nemo. It is a monochromatic photo collage on your skin!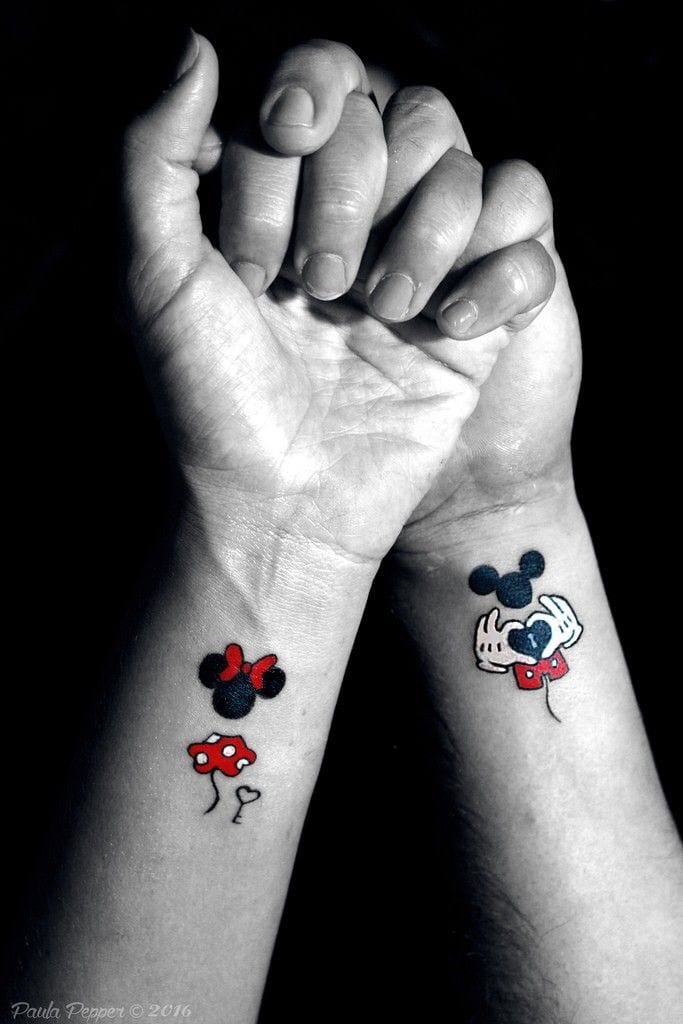 Have you ever felt like you were made for your soul mate? What could be better than a couple's tattoo with the original Mickey mouse? These small disney tattoos of Mickey mouse are super cute and settle comfortably on the tip of your wrists, as one features Minnie and the other features Mickey mouse? There's even a bold red hue to make these characters truly pop.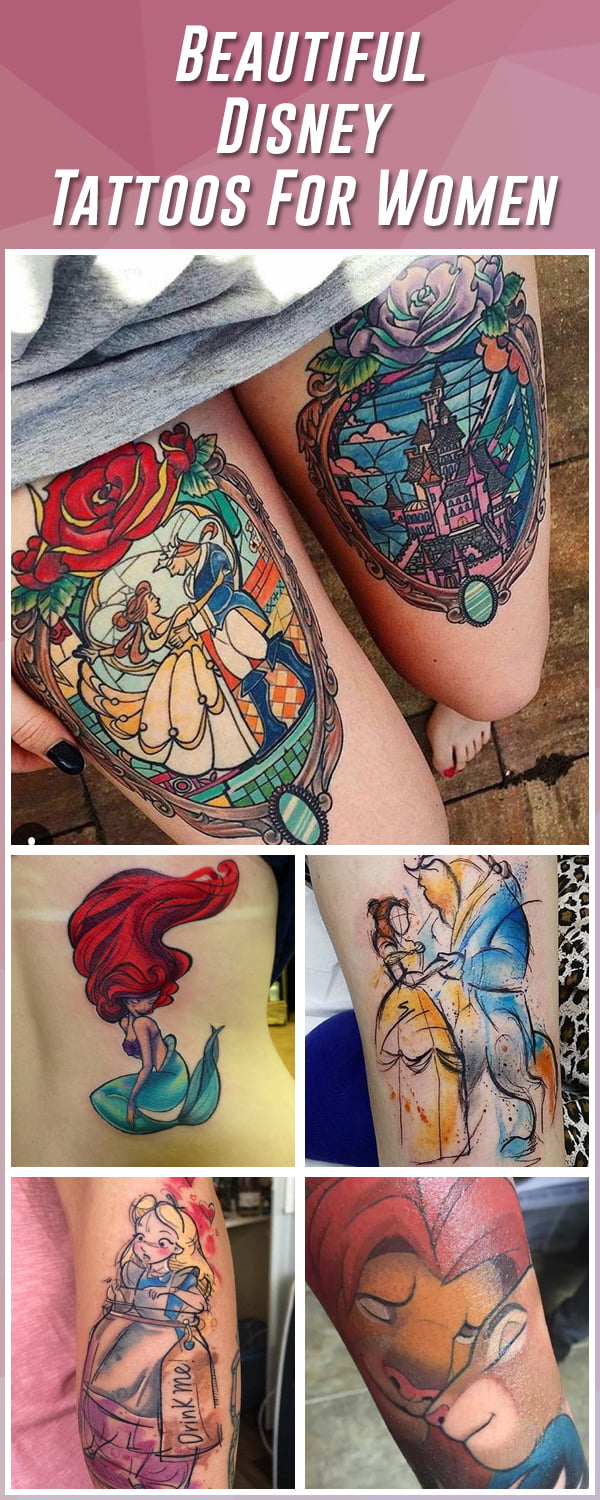 31. Irritated Hades Tattoo With His Biggest Problems Tattoo Ideas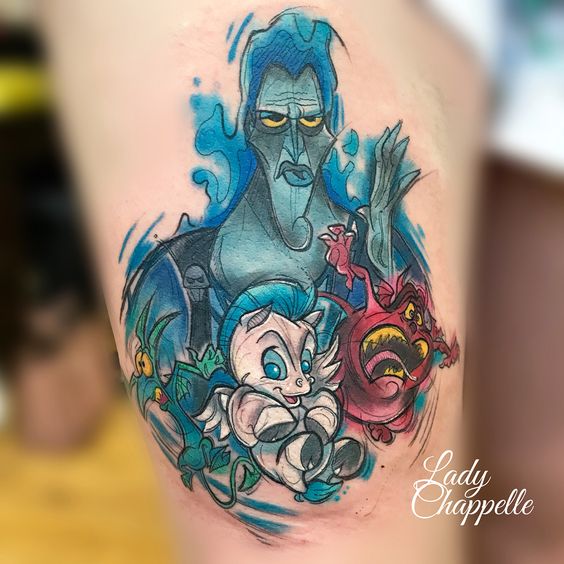 How much do you identify with the annoying demeanor of Hades? No one could forget the bright fire "hair" of this character, but do you remember which characters thwarted his plans? Maybe you feel the same irritation, or maybe you are just a fan, but this tattoo depicts the general ambiance of the antagonist through the entire Hercules film.
32. Simba-Nala Love Tattoo Design for the Die-Hard Romantics Tattoo Ideas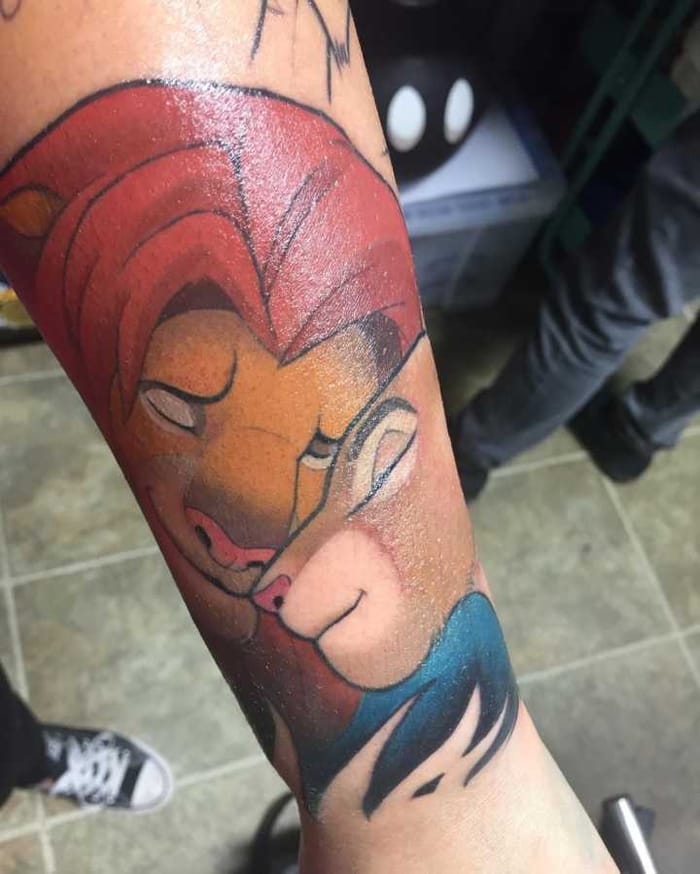 Who didn't fall in love with Mufasa and Nala's incredible love story? This tattoos just brings back all those memories again as it shows the two characters snuggling up to each other with love. The tattoo is pretty elaborated over the arm and is very brightly colored for a bold statement.
33. Flowing Mermaid Hair Design for the Free Souls Tattoo Ideas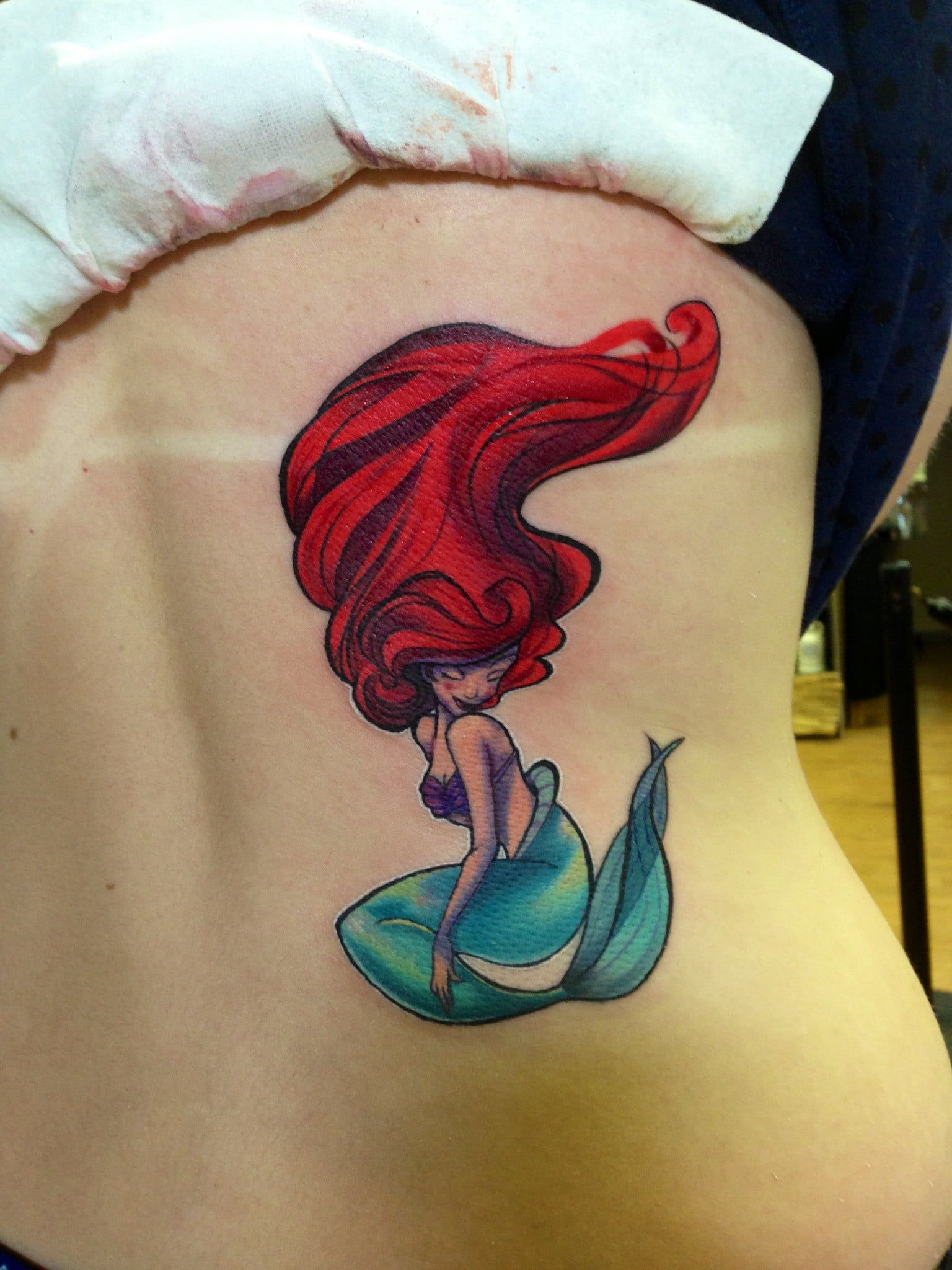 As Ariel's hair flows above her, she sure is a fish out of water in this tattoo. Anyone that loves the story of The Little Mermaid can appreciate the demure happiness that Ariel shows in her subtle grin.
34. Christopher Robin and Winnie the Pooh Fly Their Kites Tattoo Ideas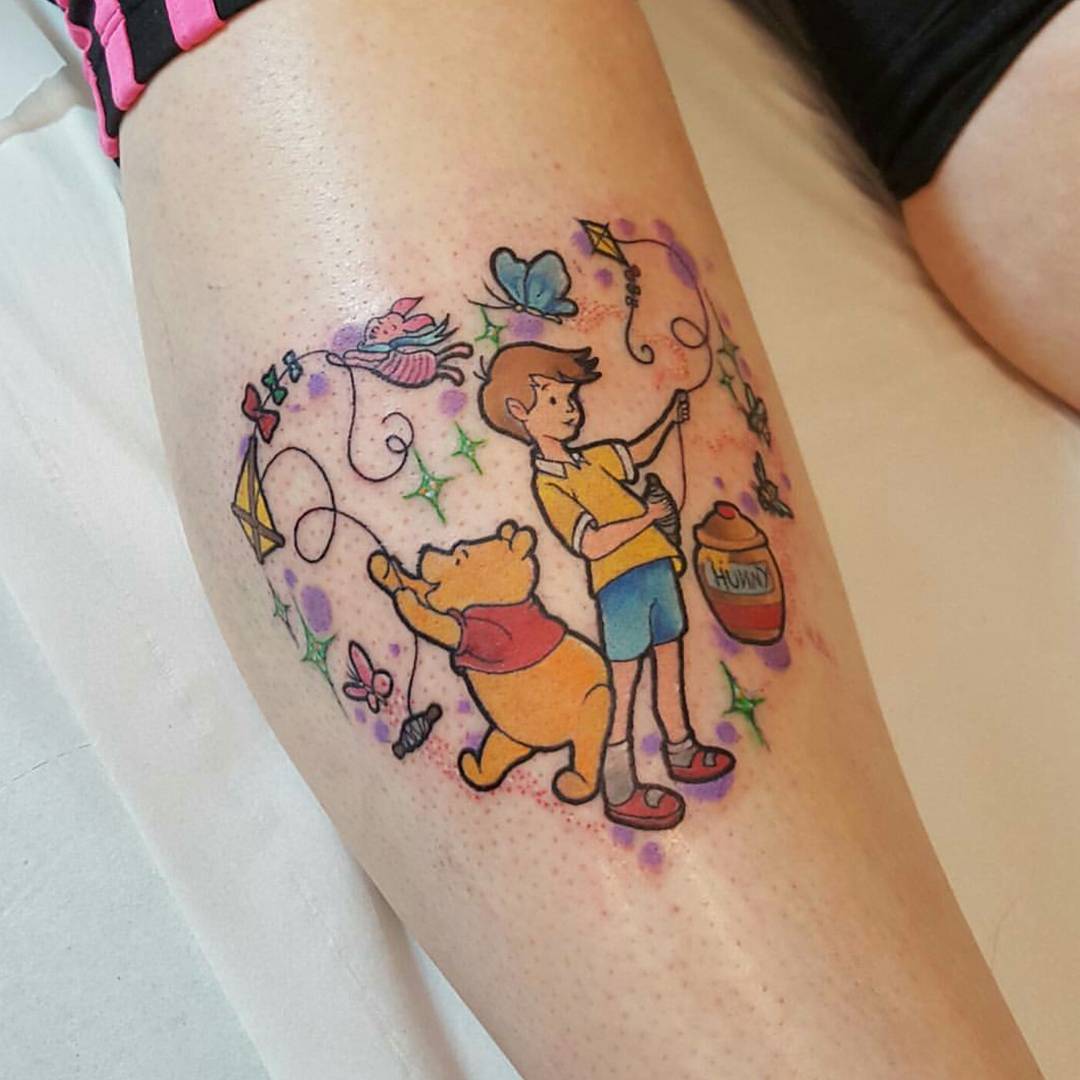 This one is for all the Winnie The Pooh lovers! It shows Pooh and Christopher Robin playing together while a pot of honey sits comfortably on the side. They are enclosed within a heart that has been made out of the flower tattoos, flying their small kites as Piglet dangles in the wind.
35. Fly Away With Up's Balloons for a Happier Soul Tattoo Ideas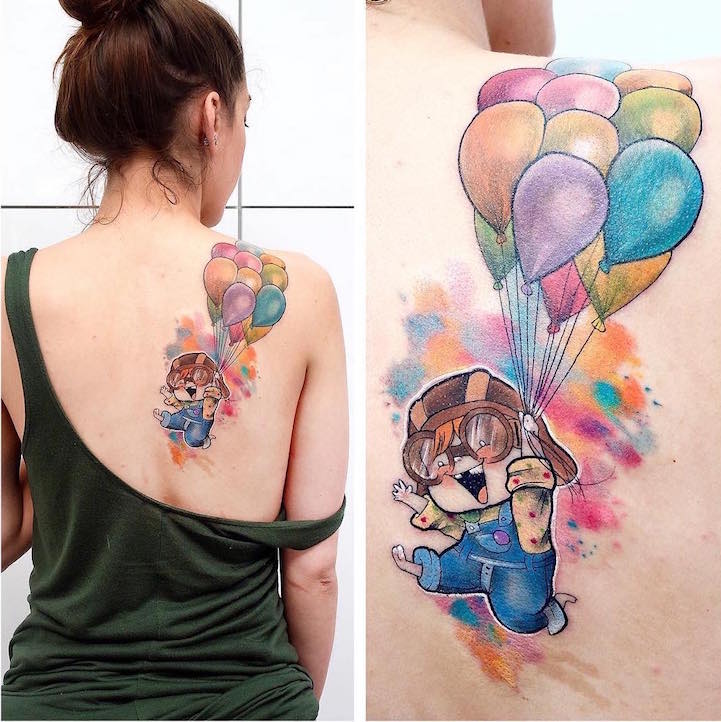 Did Up make you feel a lot of emotions? For some people, the idea of flying away to pursue adventure is exactly what the movie captivated. This tattoo may resonate with people who just want to float away to an adventure.
36. Classic Tinker Bell for the Ones Who Never Cease to Believe in Magic Tattoo Ideas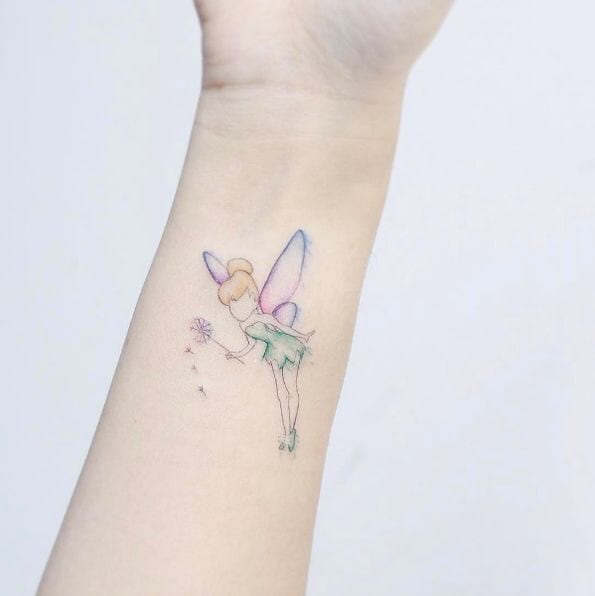 Do you still believe in magic? Clap, if you believe, for it is Tinker Bell! She has been shown as creating magic with her magic wand but without her friend Peter Pan. The minimalistic design has few colors and no outline of her face, making it more symbolic of the whimsical story she is part of.
37. Magical Pascal Tattoo Design for the Rapunzel Fans Tattoo Ideas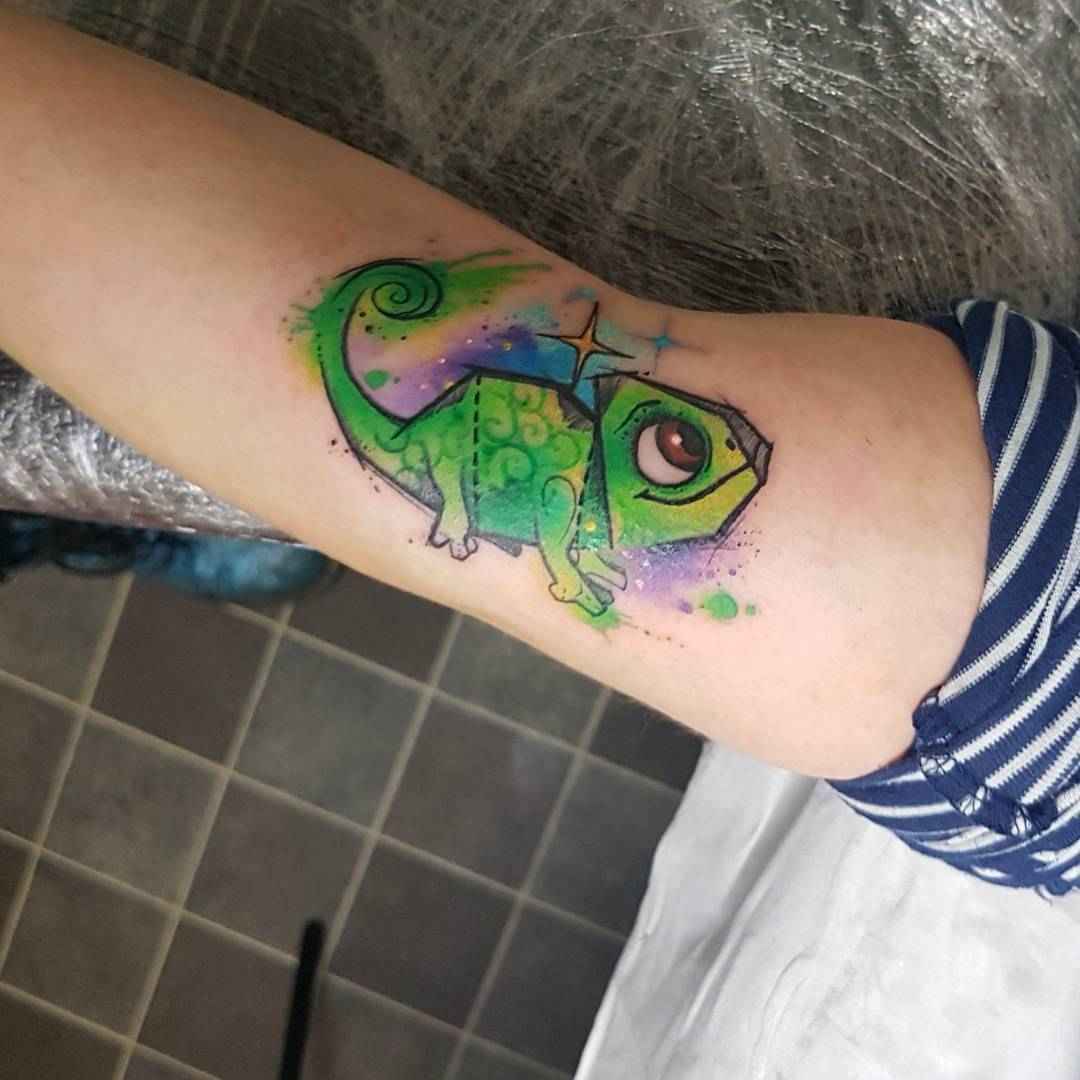 Straight out of Tangled, this tattoo showcases Rapunzel's chameleon – Pascal. With the rich and beautiful green hues and an outline with sparkly purple, the decorations only add to the beauty of the tattoo, making it more appealing to the customers.
38. Belle Makes Her Way to the Library in this Tattoo for Book Lovers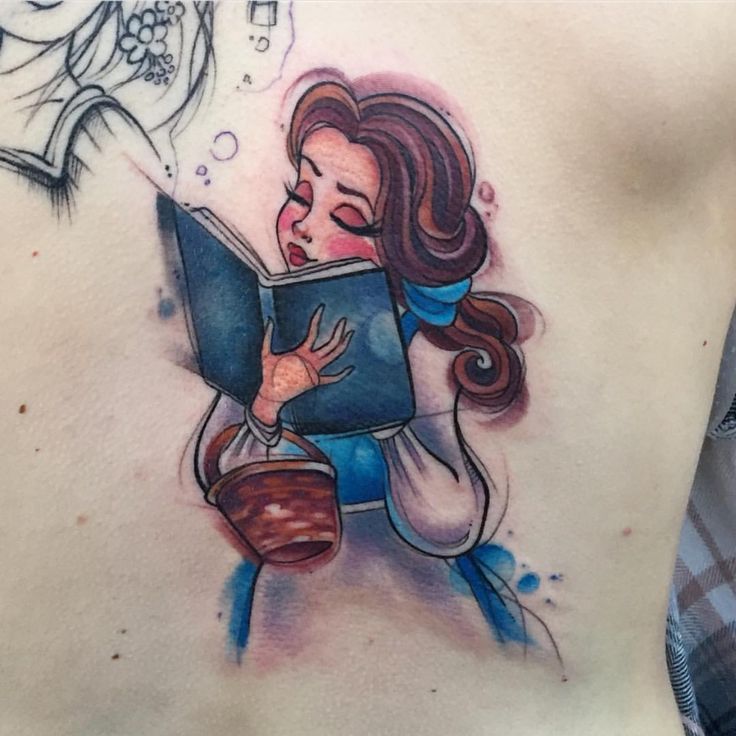 Are you as much of a reader as Belle? This tattoo design shows her in her traditional blue dress, delightfully reading a book with full concentration. How many times did you think she was stopped by Gaston on the way to the library?
39. Hercules-Megara Double Triangle Tattoo Design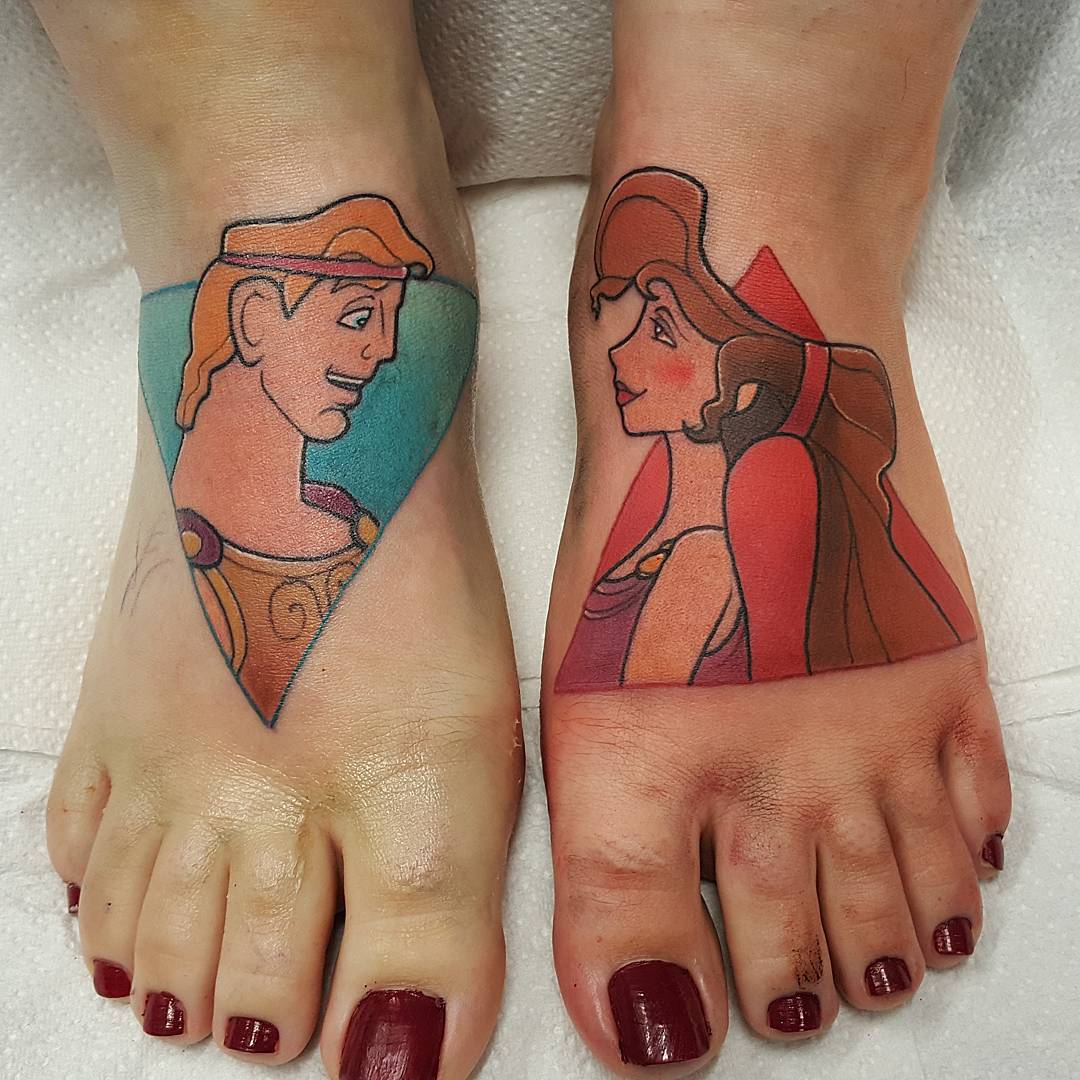 What a way to commemorate the untraditional love story of Megara and Hercules than these triangle tattoos of the characters. Though they are shown on feet, perhaps it could work as a couple tattoo or two sides of the arms and legs. Foot tattoos with this design would definitely get compliments!
40. Friend Tattoos Idea: Sharp-Beaked Flit from Pocahontas Design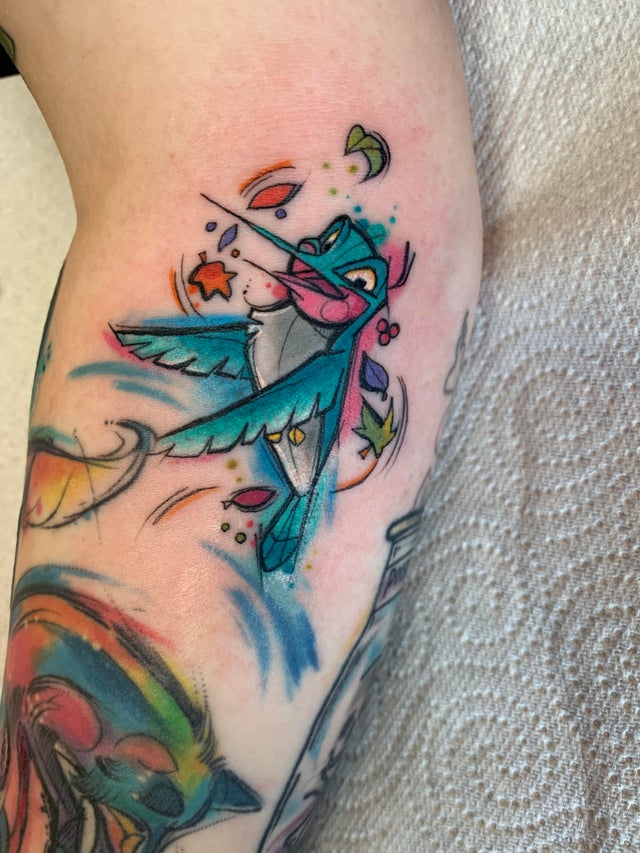 Anyone that has seen Pocahontas knows that the native beauty has her collection of wildlife friends. Though the hummingbird Flit is on his own in this picture, he never fails to be a reminder of this melodic film. With swirls of sketched color, this hummingbird tattoo is a good reminder to follow the colors of the wind.
41. Snow White Versus the Queen in Witch's Clothing Tattoo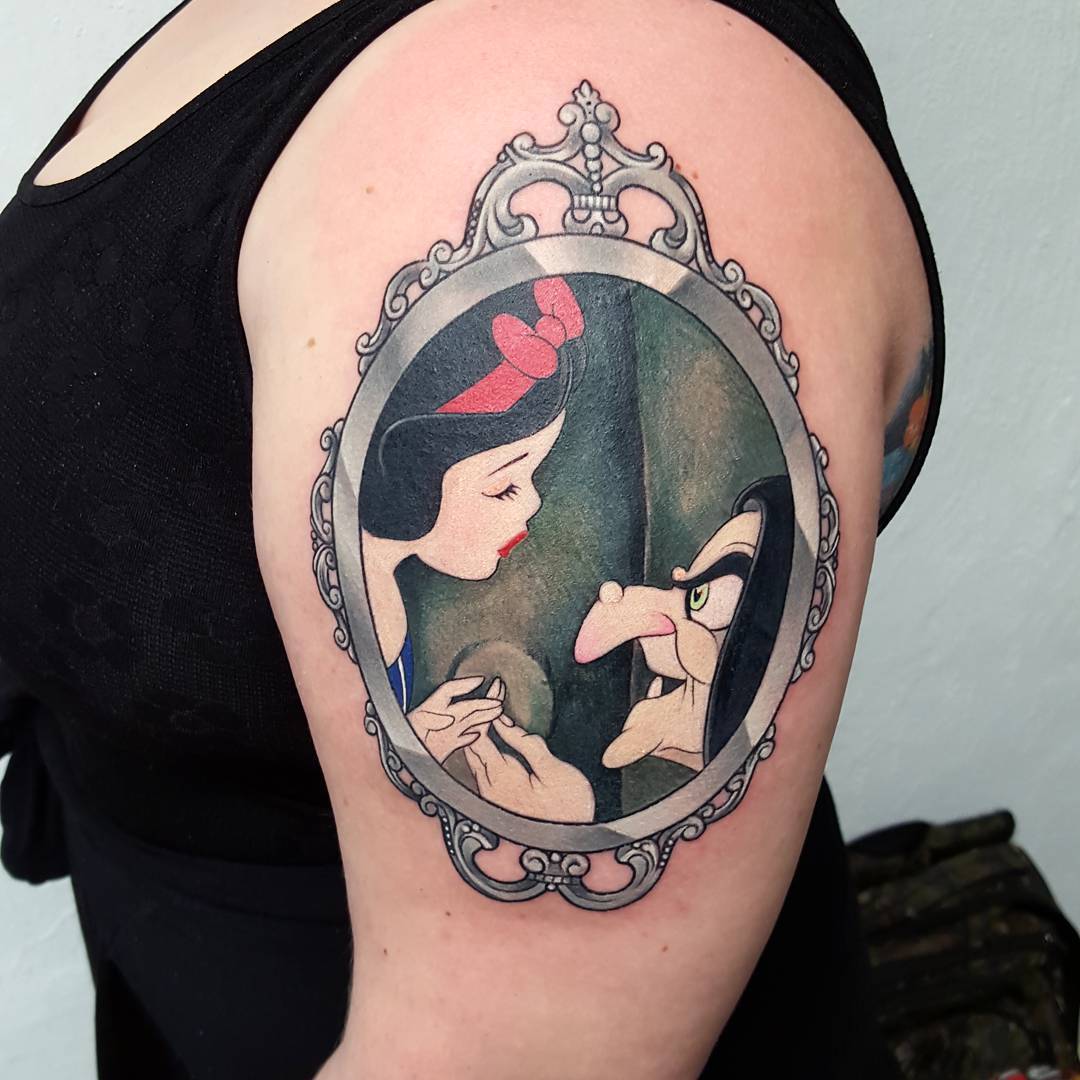 This tattoo design is for those who have always appreciated the thought that went into making Snow White. It shows a mirror with a reflection of Snow White with the witch – possibly capturing the time when the witch offers Snow White the poison apple.
42. Ariel Tattoo of the Magical Moment of Becoming Human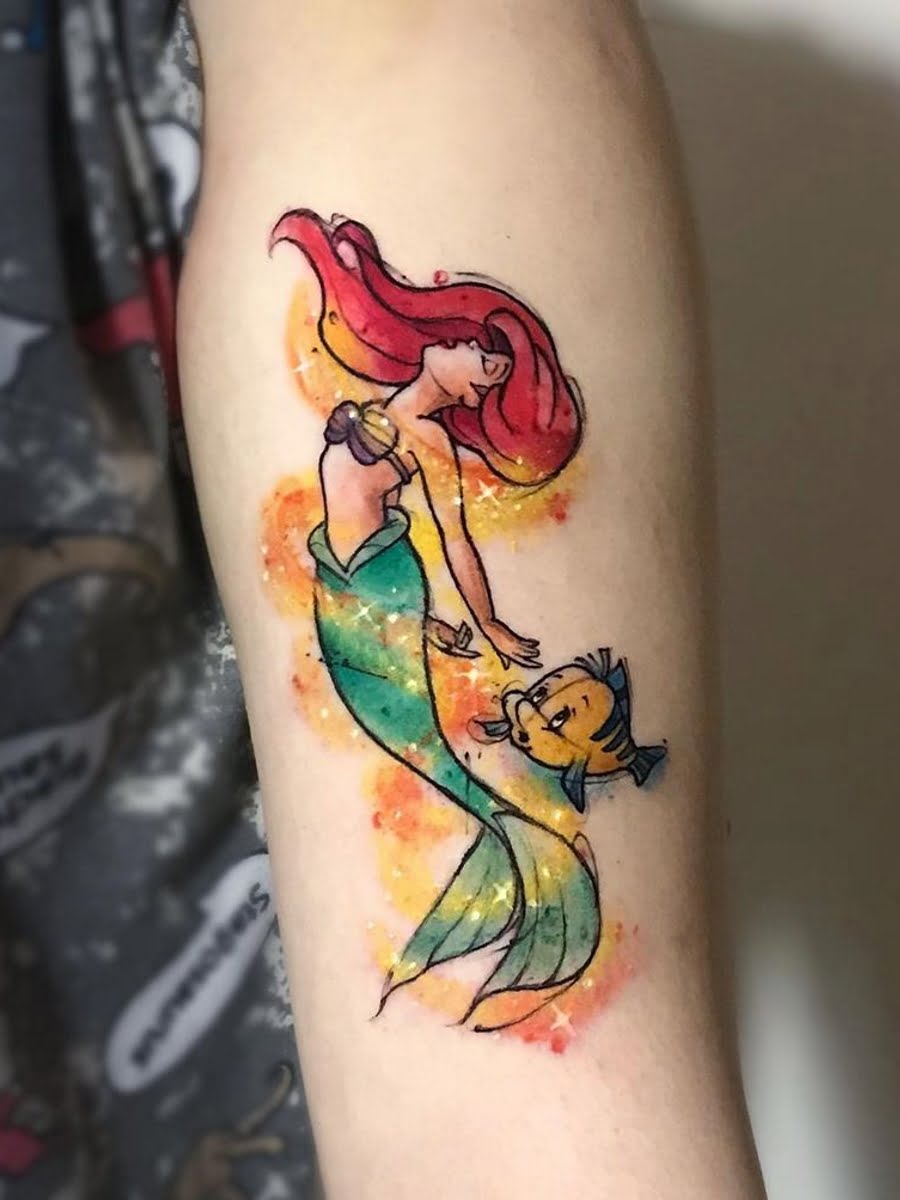 Have you looked up to mermaids and the magic of Ariel all your life? Have you ever wondered what it was like on the other side? This tattoo captures the moment that Ariel moves into her human form, only to later discover what has been taken from her. Perhaps this tattoo is a reminder to be careful what you wish for.
43. Alice Gets Stuck in Wonderland with "Drink Me" Jar Tattoo Wonderland Tattoo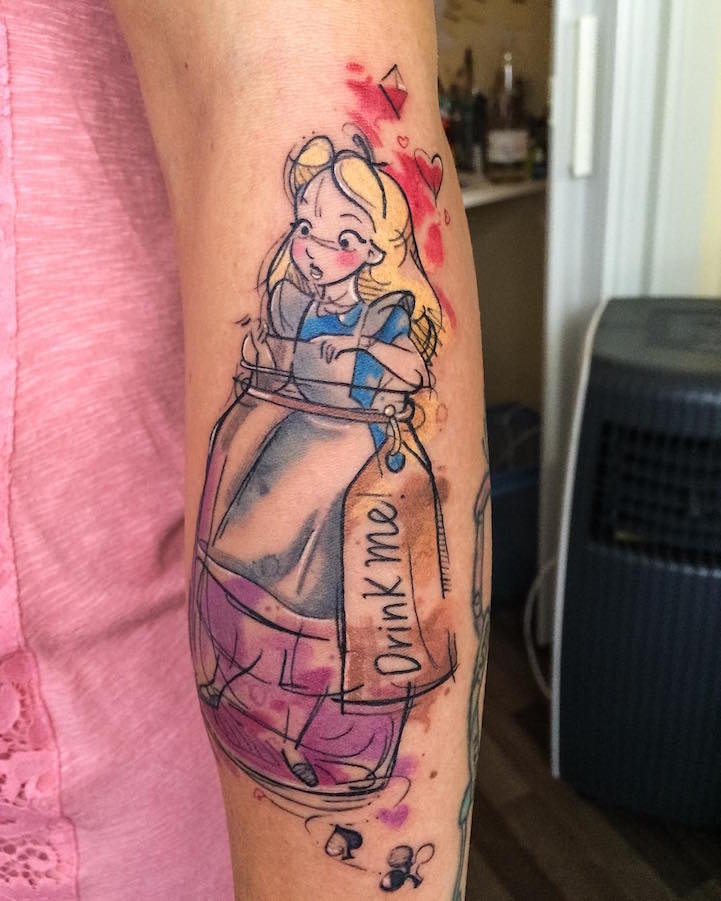 If you resonate with the magic of Alice in Wonderland, this wonderland tattoo might appeal to you. It shows Alice trapped in a jar, standing knee-deep in a liquid that is only labeled as "Drink Me." The intricacies of this wonderland tattoo have been laid out very well and the colors bring the design to life.
44. Aladdin and Jasmine Fall in Love in this Romantic Tattoo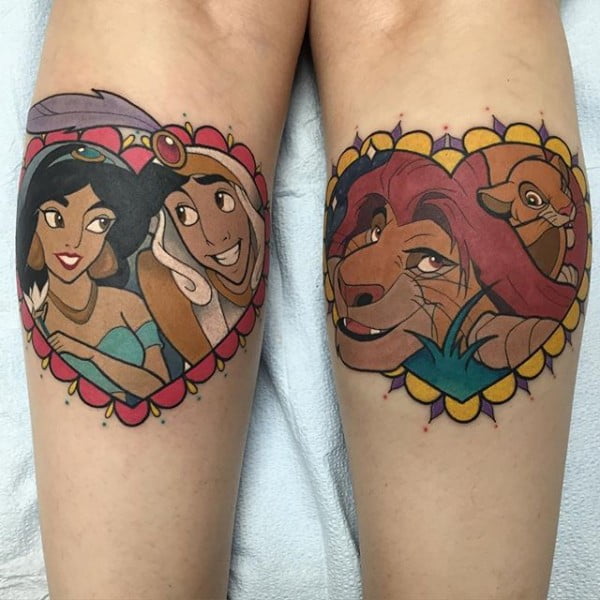 This tattoo is the perfect depiction of love stories from two different Disney movies – one from Aladdin and the second from The Lion King. They complement each other very well and can be drawn on either of the arms or legs. The color game is strong and bold.
45. Keeping It Simple with Mickey Mouse Ears Tattoo Design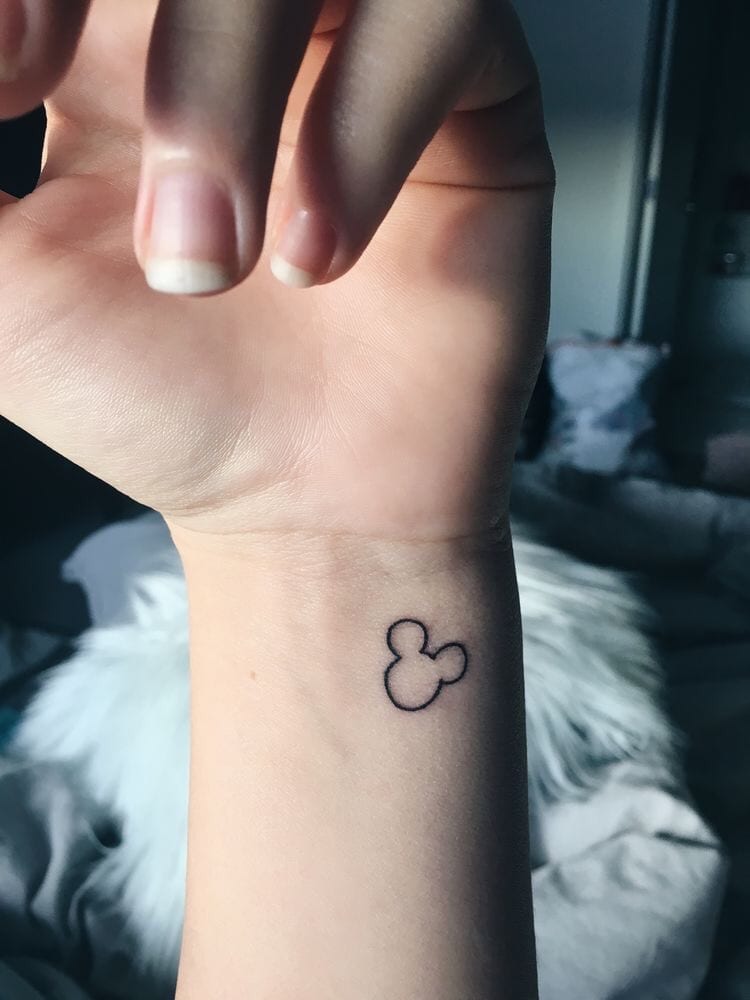 This Mickey mouse one is also a small wrist tattoo with no face and just an outline of the Mickey mouse. It looks like it has been drawn with a single tip pen and is simple and pretty to look at. If you are looking for a simple tattoo design of Mickey mouse that is inspired by the Disney theme and Mickey mouse, there is no way to get more minimalistic than these small disney tattoos.
46. Elaborate Stained Glass Beauty and the Beast Tattoo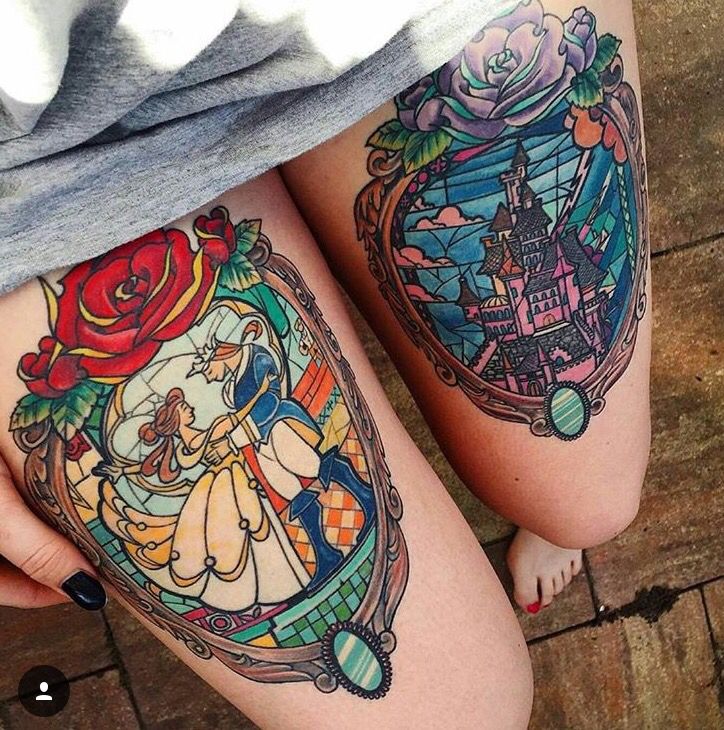 The thighs often provide a broad canvas for an artist, and this one shows two important moments from The Beauty and the Beast in the form of a beast tattoo. On one side, Belle dances with her prince, who has been freed from the curse. With the same stained glass pattern, you capture the essence of the once-dark castle that the Beast has been bound to for all this time.
47. The Corpse Bride Prepares for Her Nuptials in This Dark Disney Tattoo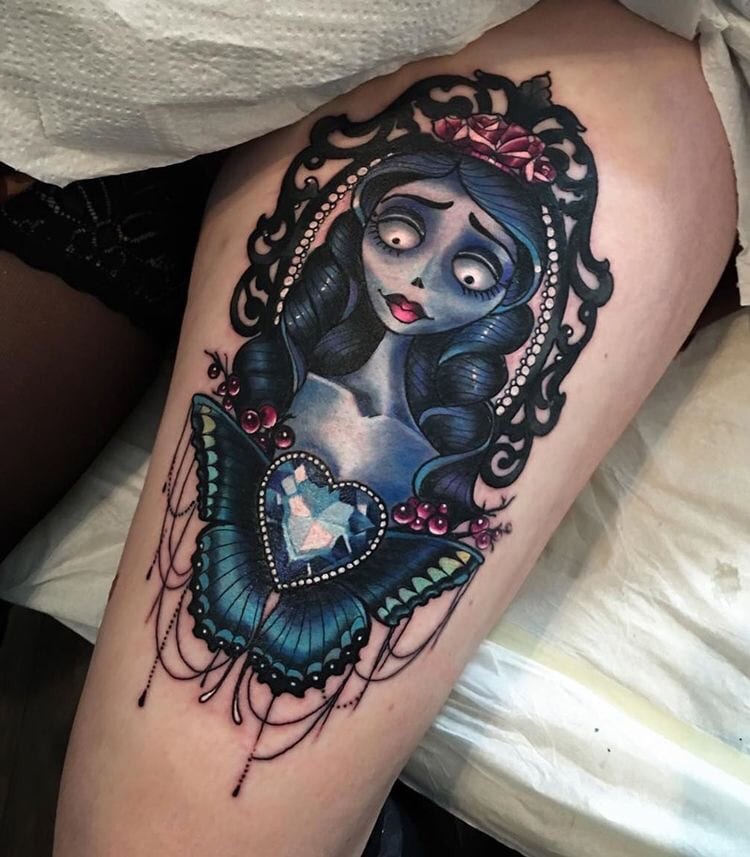 This tattoo is rich in dark colors, perfectly conveying the depth of Tim Burton's Corpse Bride. Her veil and sad eyes glimpse at the heart-shaped jewel below, using a gleaming wide to convey the sparkle.
48. Sadness Design Holds the Memories of Emotional Souls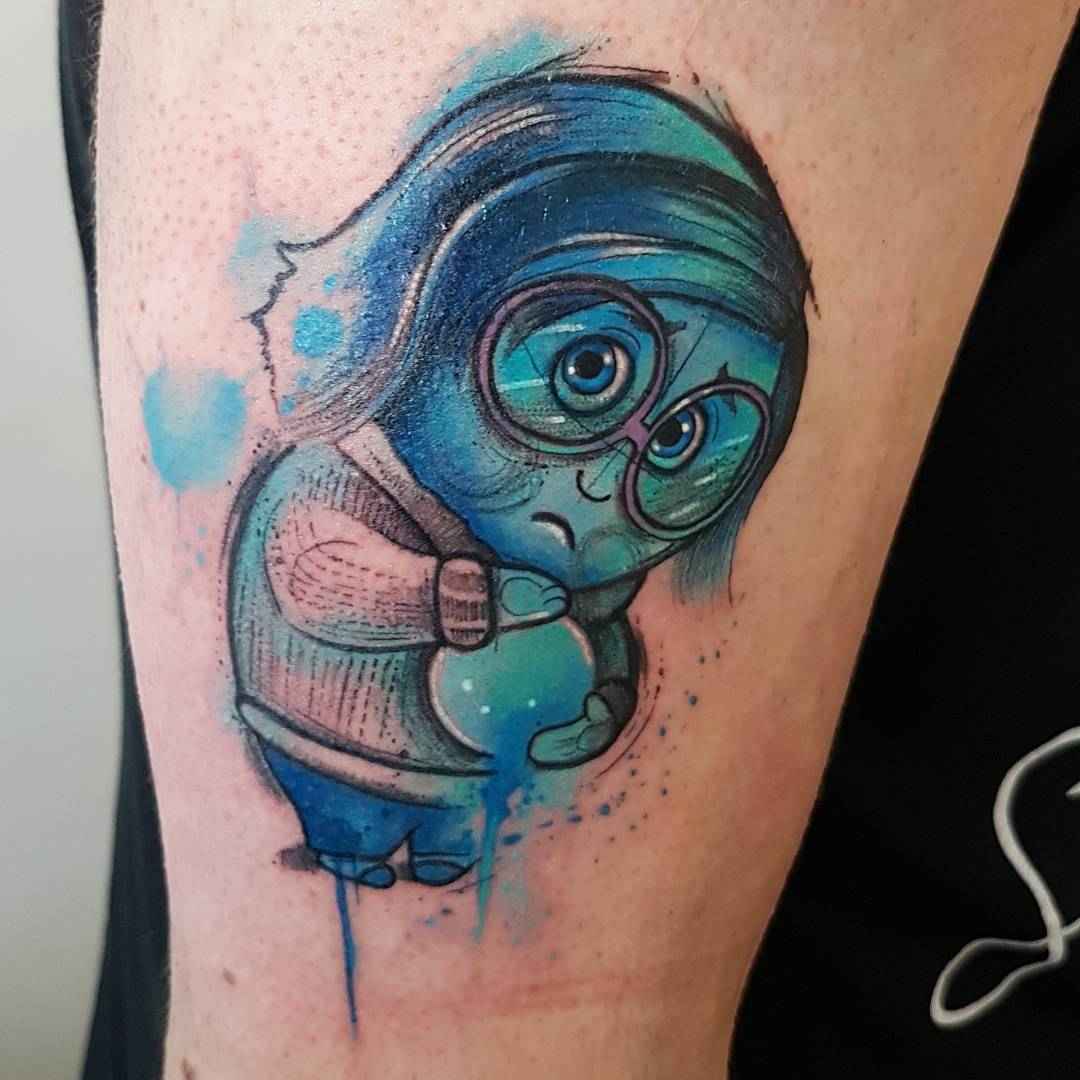 Have you seen Inside Out? With so many diverse emotions, this film helps us to figure out what is going on in the human mind. Sadness plays a major role that is necessary to grow up. Perhaps her reminder can help you heal from your sad moments.
49. Brother Bear Tattoo Design for the Jolly Good Fellows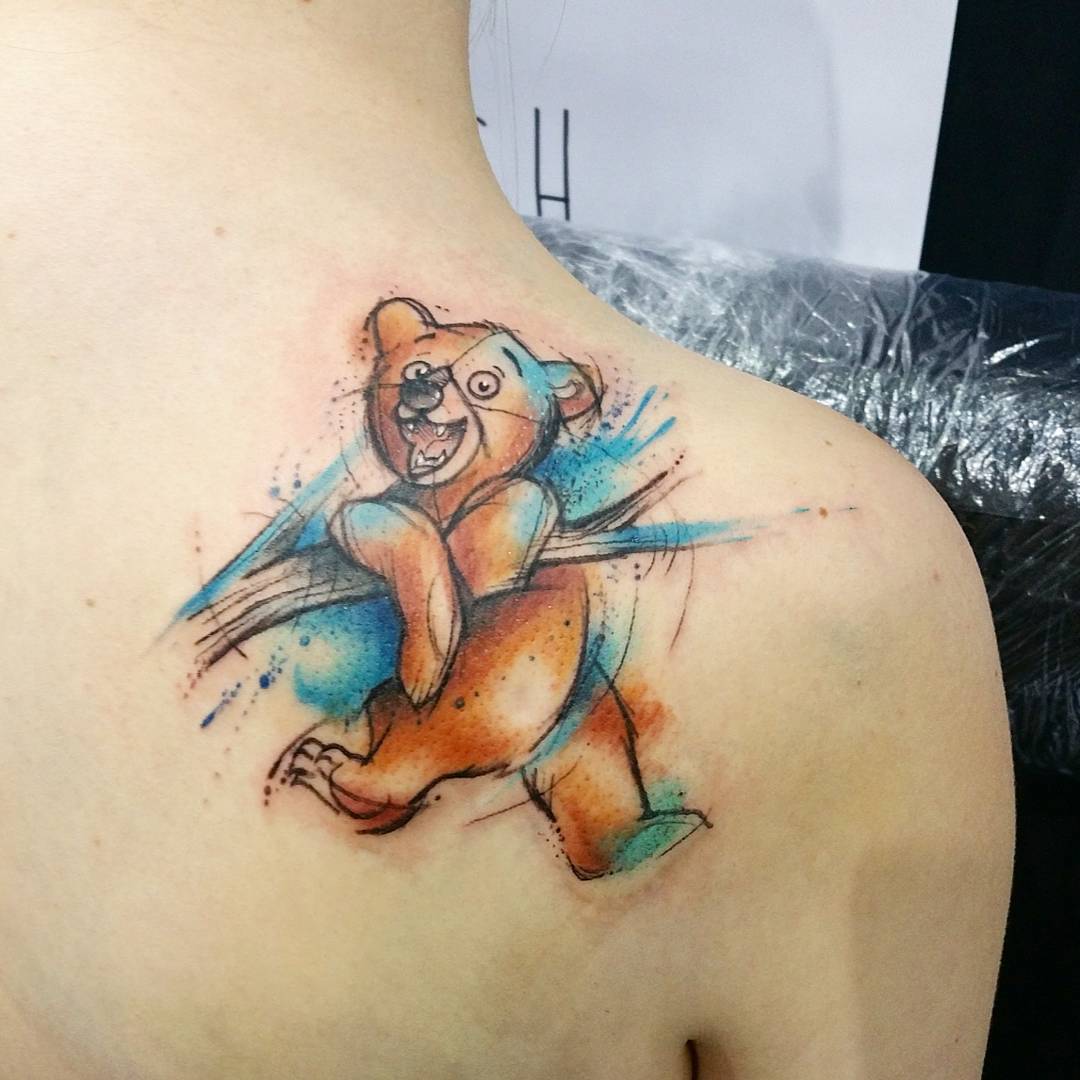 This one has been dedicated to Brother Bear. It shows a bear dancing happily. The colors are somewhat faded but still add a lot of value to the overall tattoo. The bear is plump and fluffy, decorating any complexion beautifully!
50. 'If There Comes a Day…' Pooh-Piglet Friendship Tattoo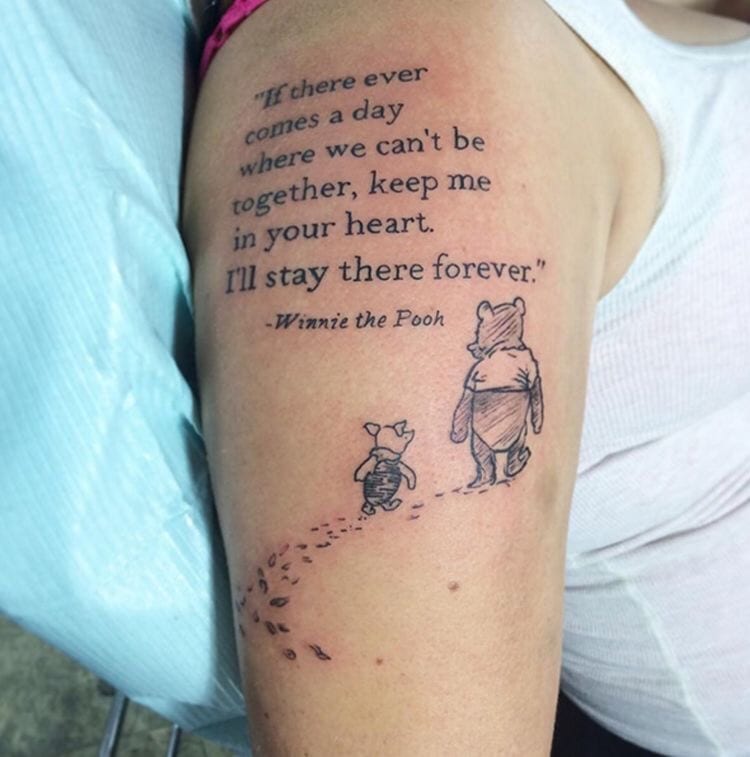 Everyone has a friend or a loved one that they never want to let go of. This memorable quote by Winnie the Pooh has found a place in many hearts. The walk that Pooh takes with Piglet only makes the sentiment sweeter. If you are all in for good, long-lasting friendships, this tattoo would mean a lot.
51. Arm-Kissed Ariel and Eric Romance Story Tattoo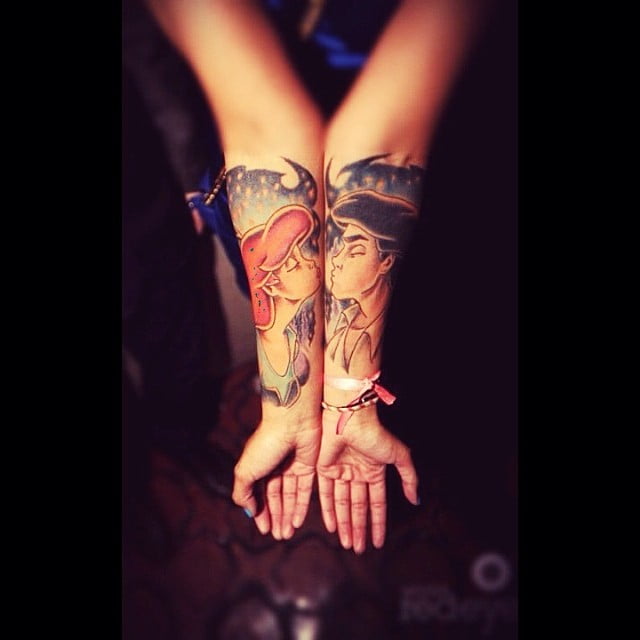 This tattoo is designed to be in two parts – either with your own two arms or paired with someone else's harm. As one side shows a puckering Ariel, the other is her Prince Eric, ready to receive the smooch. Do you and your significant have a love like no other? This colorful tattoo can show exactly that.
53. Tall and Proud Mufasa Lion King Design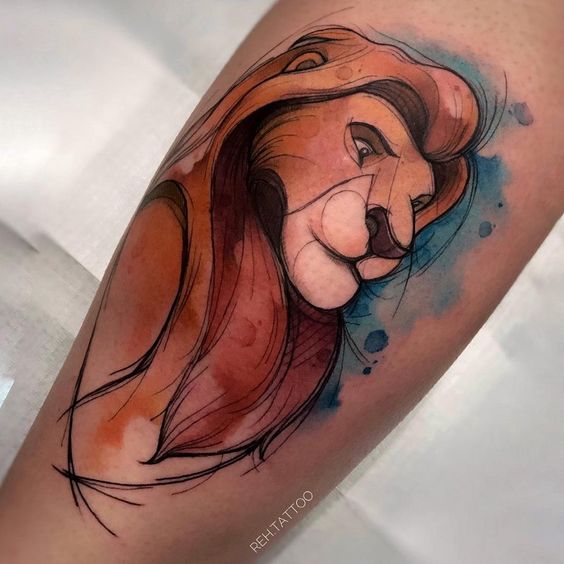 This is another one in the Lion Kind tattoo series. It's a tilted tattoo of Mufasa looking deeply at something, showing an understanding demeanor beneath it all. The tinge of blue background gives it a solid texture, and the colors seem to bring it to life.
54. Sketched Beauty and The Beast Tattoo for Simplistic Lovers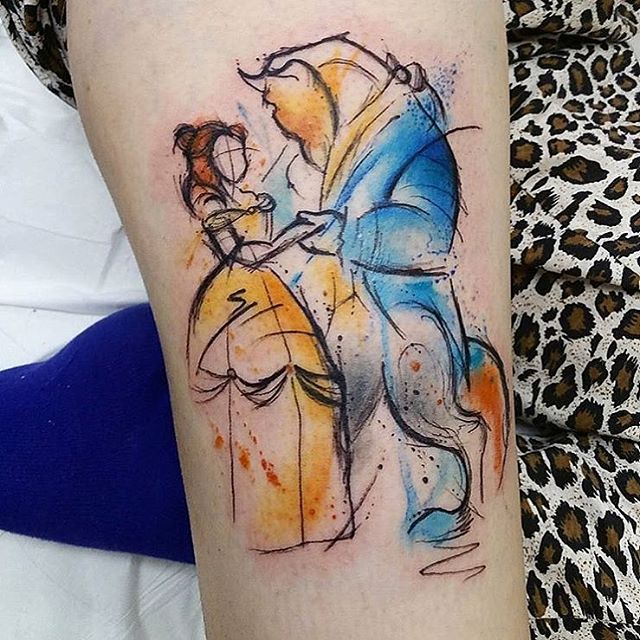 Another emotion-packed Disney movie – Beauty and the Beast – is a lovely love story. This beast tattoo shows the beauty and the beast dance together, which happens to be the moment that when the beauty and the beast truly fall in love. However, no face intricacies have been shown in this beast tattoo, breaking down the moment to a simple memory.
55. Multi-Colored Mufasa Lion King Tattoo Design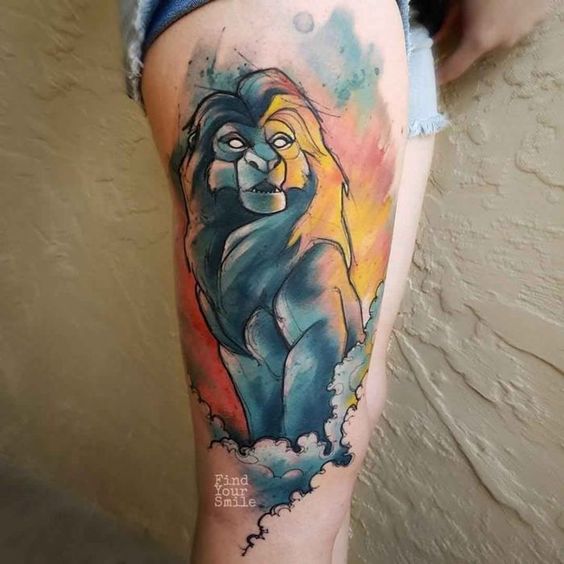 With both darkness and vividness, this tattoo depicts the powerfully layered story of Mufasa. Though he is only seen on-screen during The Lion King for a short part of the story, the many colors tell a story of both hope and tragedy.
56. Multi-Shade Mermaid Tattoo Design for the Colorful Souls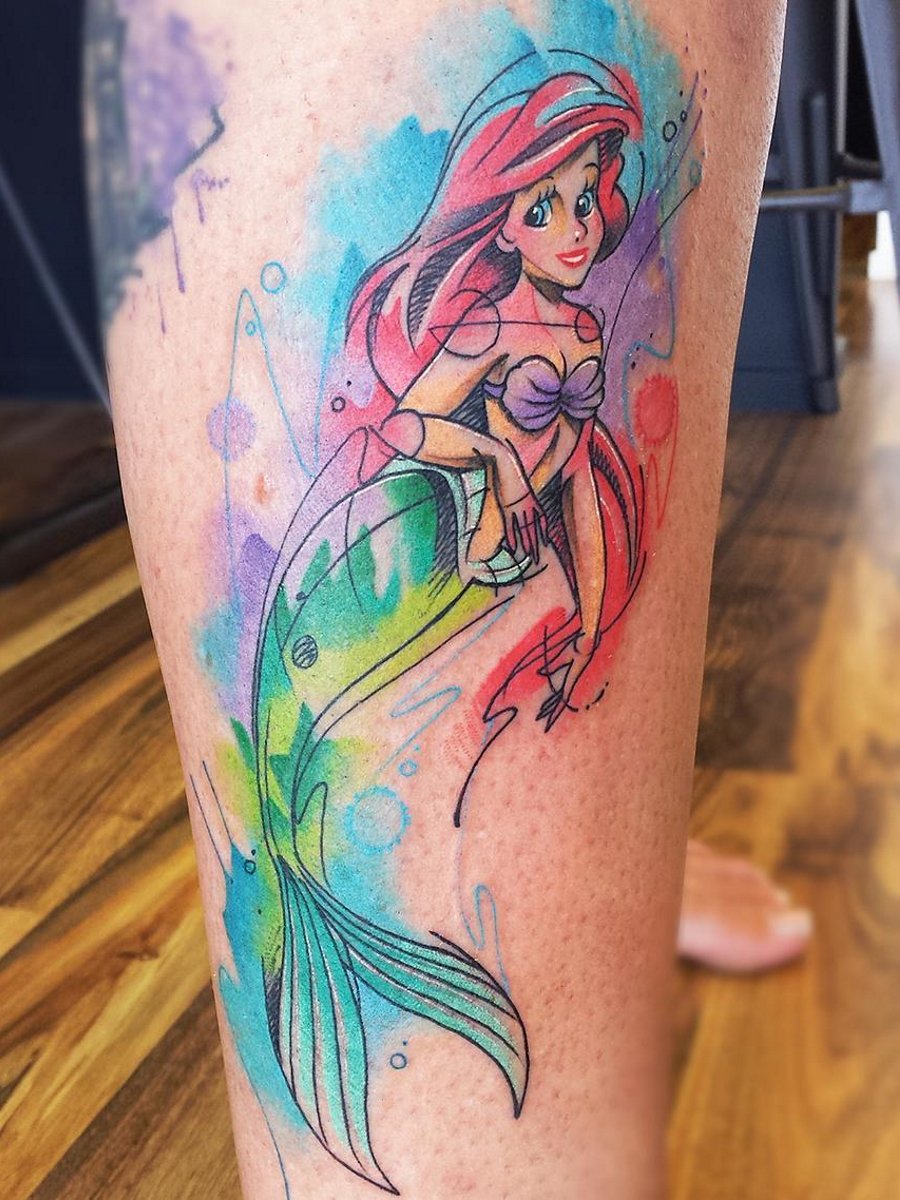 With the watercolor inks and looseness of the Ariel depiction, this unique tattoo is a little more abstract than others. The colors seemingly dripping from the mermaid – without actually coloring it fully. Though the colors aren't exactly blended, this almost messy look makes the tattoo more unique and impressive than without it.
57. Tangled Tattoo Design for the Disney Princess Lovers Design from Disney Movies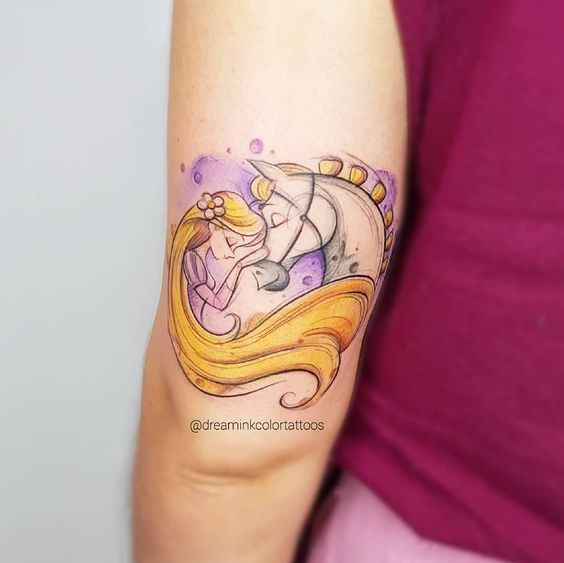 Did you dream to be like a disney princess one day? Well, this could be your closest chance and a pretty one at that! It is beautiful as the disney princess is seen caressing a horse and talking to him. The colors of the disney princess are subtle and add beauty to the overall disney princess tattoo.
58. Colorful Bubble Stitch Graffiti-Style Sleeve Tattoo Design from Disney Movies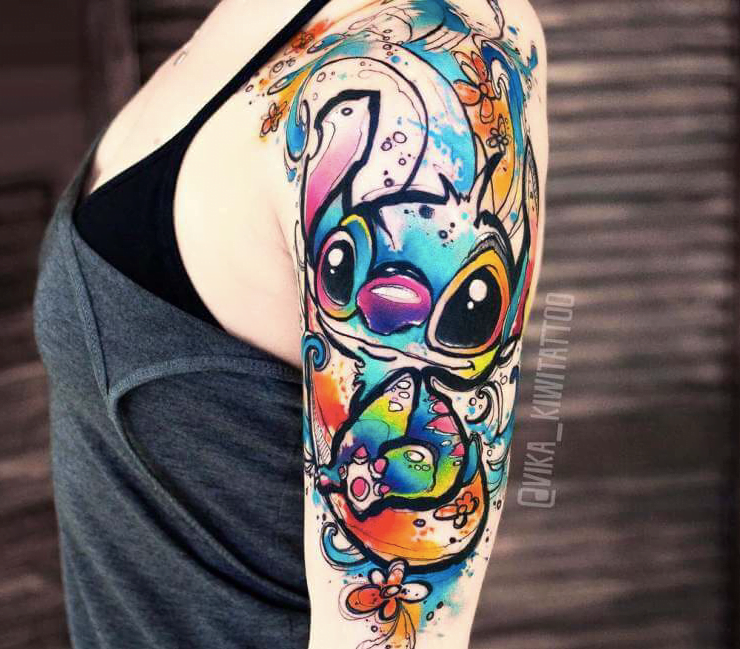 You must have always seen Stitch in blue, but never in multi-shade. Well, this is your chance. This stitch is multicolored in a graffiti color scheme, creating a haphazard rainbow for an edgy and wild design. Leave a bit of room for the design – this tattoo could easily take up most of your upper arm as a full sleeve or half sleeve tattoo.
59. Quotable Walt Disney Moments in a Black Tattoo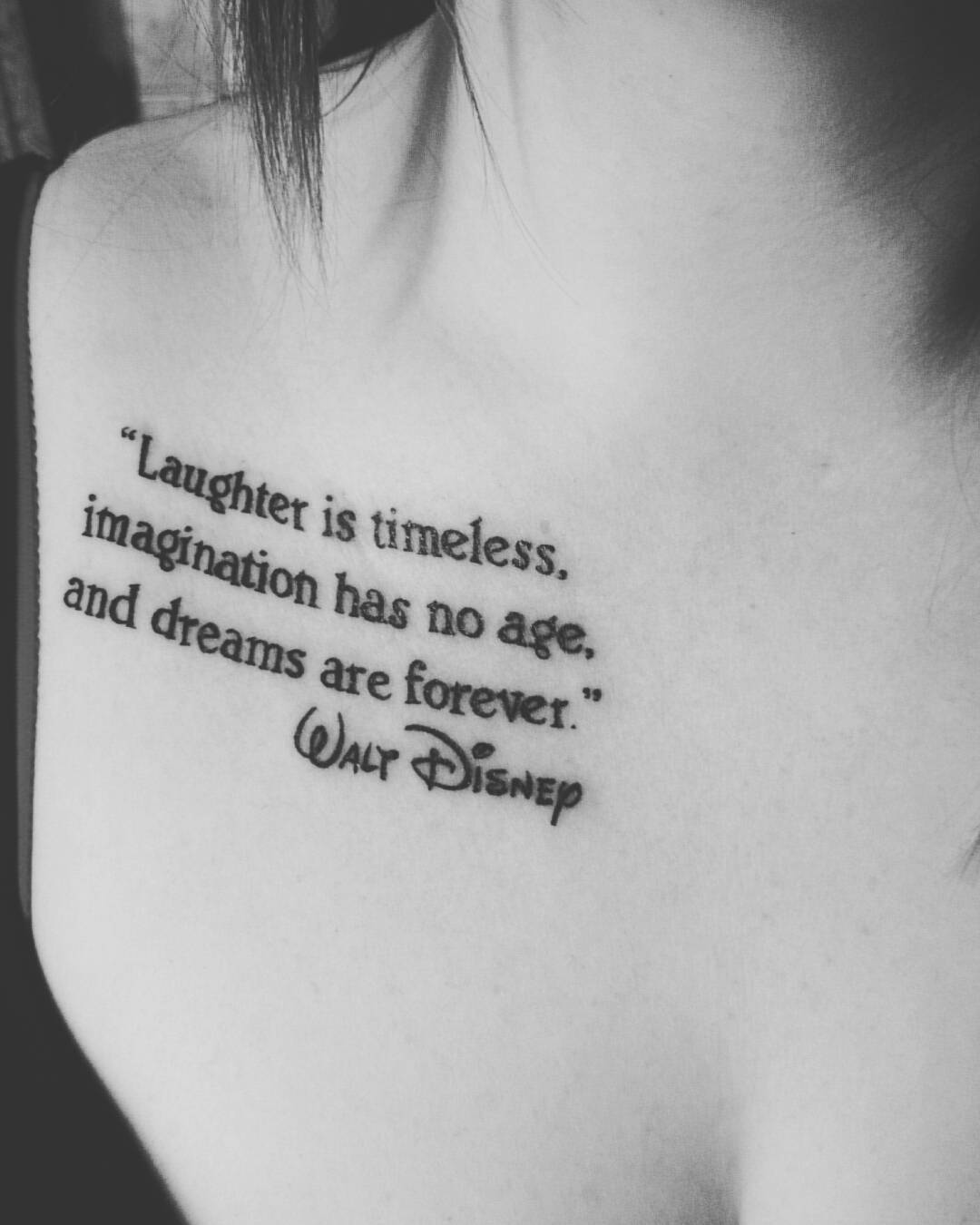 This quote by the famous Walt Disney reminds us why he was the man he was, as well as the way that he managed to be so successful in life. His wisdom reflects right through the quotation itself, offering a reminder to keep dreaming.
60. A Window Into the Magic of Disney Tattoos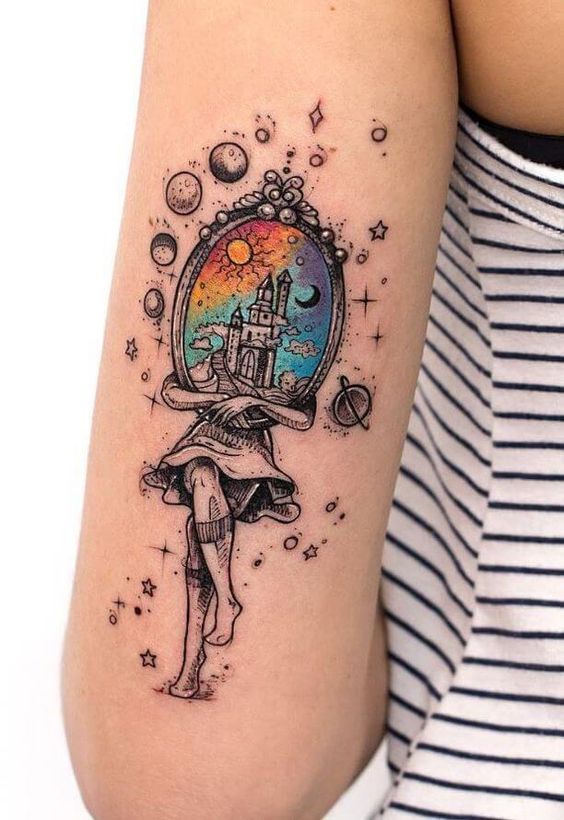 This tattoo looks like the magic mirror that has been attached to the body of a woman. What do you see? The classic castle at each Disney theme park is seen through the glass, offering you a world of adventure. The tattoo is made up of diverse colors and is an absolute delight to look at.
60 Top Character-Themed Disney Tattoo Design Ideas for Lovers of Classic and New Disney Movies
Almost everybody loves Disney. Some of us saw them on our screens with breakfast, while some others loved to end our days with them. Nonetheless, having them reshaped into tattoos would be a wonderful and colorful way to remember those moments once again. Who doesn't want a tattoo that takes them back to the memories of "happily ever after"? If you need more inspiration take a look at our chest tattoos! For more ideas check out our mosaic tattoos!