We've brought you a carefully curated collection of the best crown tattoos. These regal accessories have come to represent power, strength, victory, triumph, honor, and more. Ink enthusiasts have celebrated this rich and meaningful symbol with both simple and elaborate designs. The following list includes a mix of feminine and masculine, colorful and monochromatic, large and small, and intricate and minimalist tattoo concepts that are perfect for royal highnesses.
60 Incredible Crown Tattoos to Bring to the Tattoo Studio
Crowns are traditional pieces of headgear worn by monarchs and deities around the world. They're used to demonstrate power, leadership, and authority, just like tribal tattoos. It's easy to see how such a powerful emblem has found its way into the tattoo world.
While some people may see a crown tattoo as an insignia of their power over others, others find it to signify a power that is greater than themselves (similarly to wolf tattoos). Just like star tattoos, crowns are often used to represent Christian, Catholic, and sometimes even Pagan values. Crowns can also be used to demonstrate love or loyalty. As such, they are sometimes even seen in commemorative or his and her designs.
We hope you find some inspiration in the following body art ideas!
1. Watercolor Eagle with a Crown Tattoo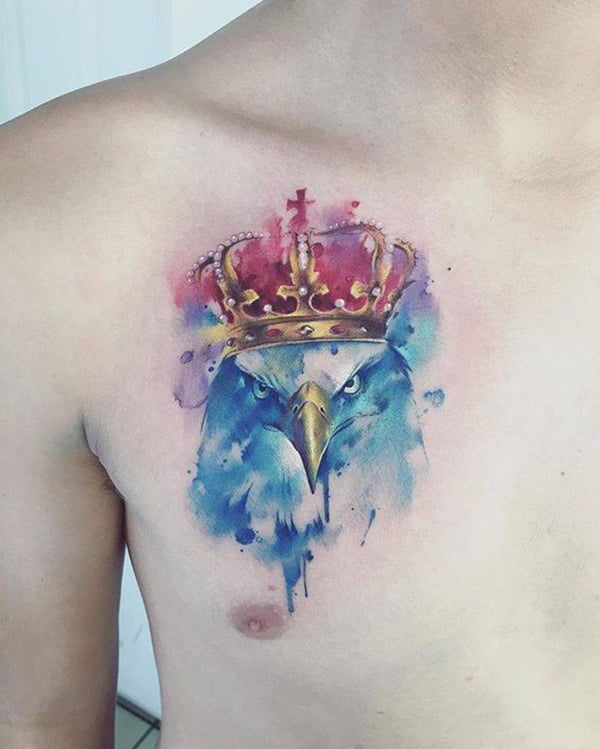 Topping off our list is a crowned eagle chest tattoo. While this imagery may easily be mistaken for American patriotism, it's reminiscent of Polish pride. After all, a crowned eagle with a golden beak has been the centerpiece of the coat of arms of Poland since the year 1295. We've seen many tattoo designs based on the country's imagery, but few put such an emphasis on the crown. We love the watercolor-like coloring presented in this crown chest tattoo. If you're nervous about getting inked, you'll be pleased to know that this technique tends to be less painful than traditional ink application.
2. Eerie Crowned Skeleton Full Back Tattoo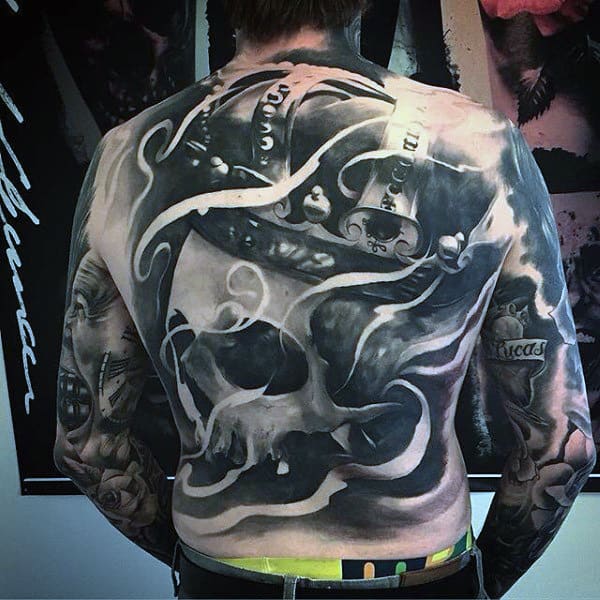 When you combine a skeleton with a crown, the regal symbol suddenly takes on a new meaning. Many consider a crowned skeleton to be a warning to those that may seek power to gain power for misanthropic reasons. Others might see the skeleton as a symbol of death, which is the only event that could ultimately strip a person of their power. No matter how you interpret it, this full back piece is a bold and eerie statement.
3. Crown and Clock Half Sleeve Tattoo for Royal Highnesses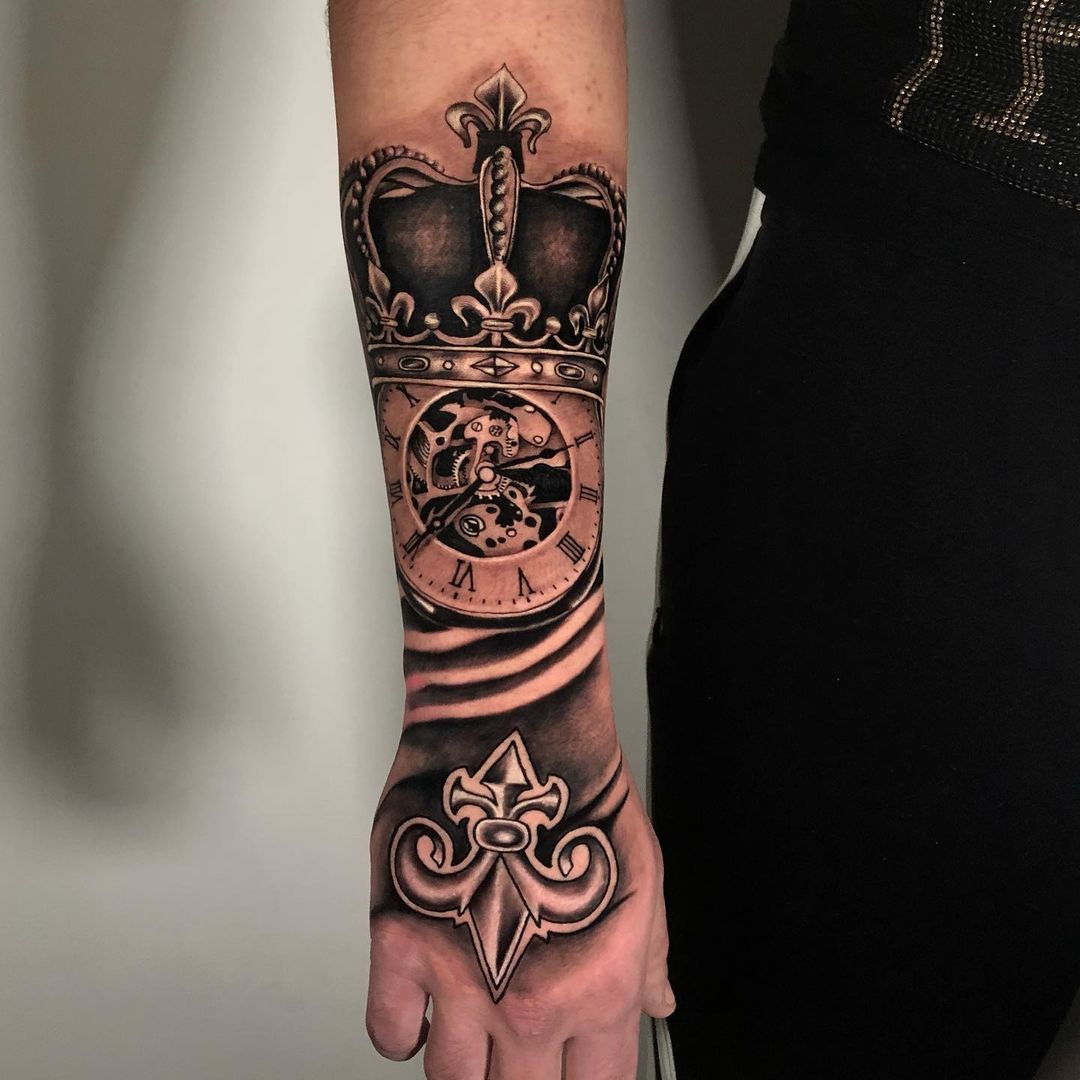 Looking for sister tattoos? This black and gray half sleeve features a steampunk-inspired clock adorned with an imposing crown. The over-the-top image seems to be a metaphor for time ruling all. We love the ornate line and shade work, which includes a window into the inner workings of the timepiece. Where would you place the hour and minute hands if this were your tattoo?
4. Delicate Sword and Crown Arm Tattoo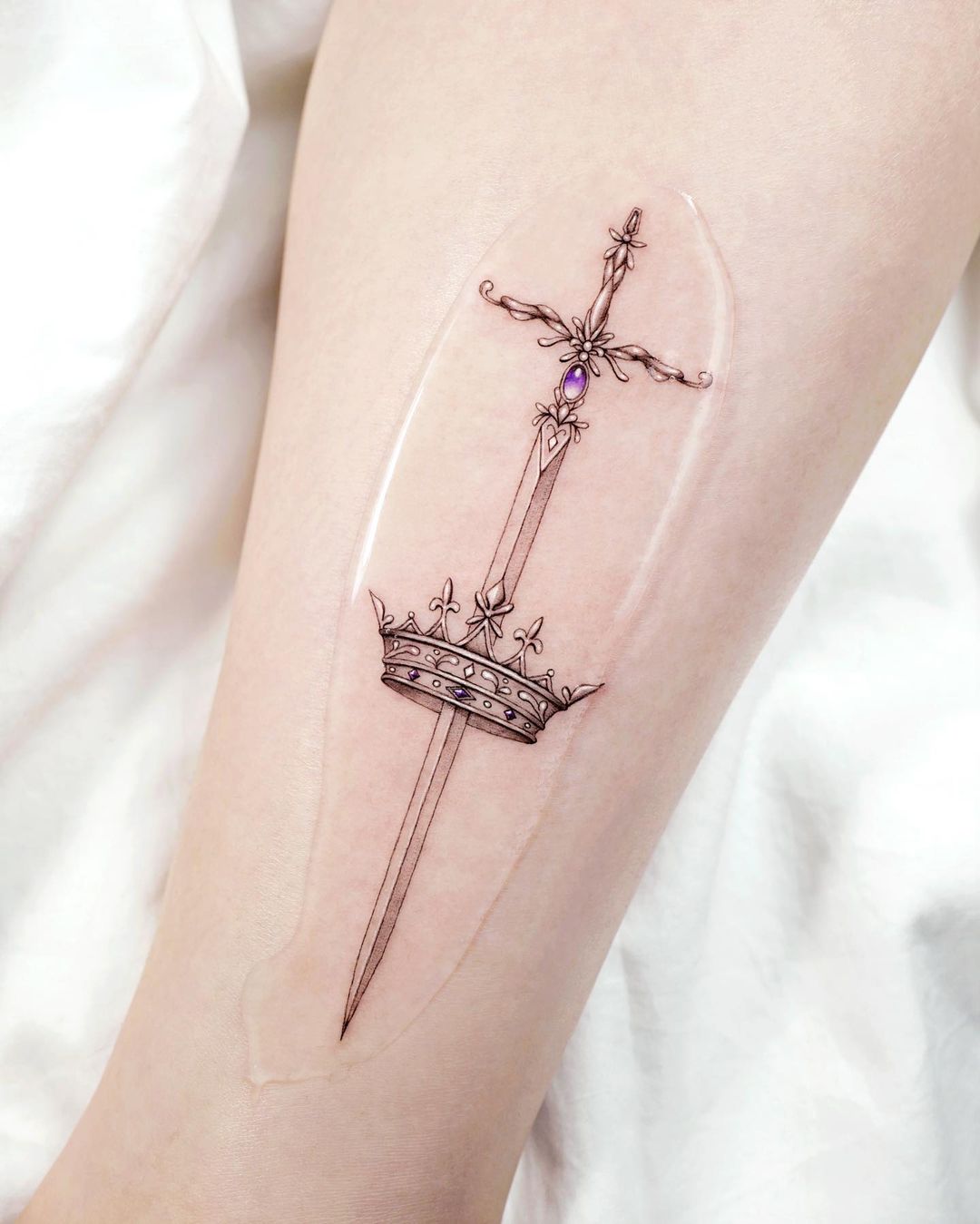 The sword and crown tattoo is a classic representation of power and dominance. The fine lines and purple details make this traditionally male imagery feel exceptionally feminine. This long and narrow tattoo design has no better home than the inner arm or leg of a fierce and fearless queen.
5. Haunting Skeleton and Crown Tattoo Concept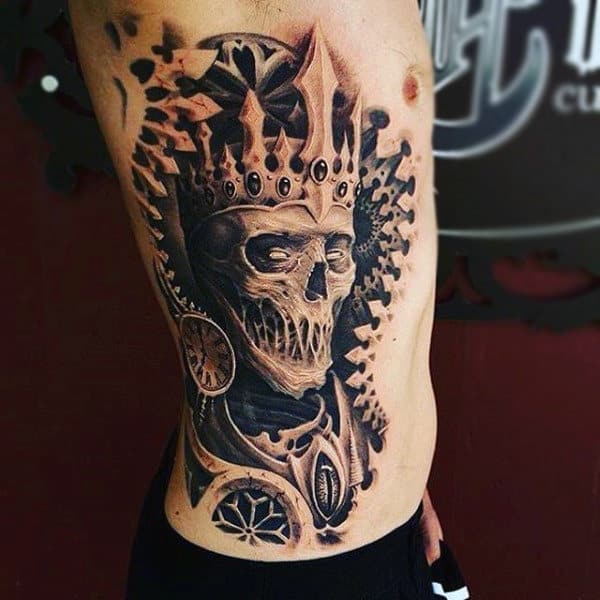 We love the eerie, intricate details seen in this full side tattoo. The skeleton's hollow glare is enough to send shivers down your spine. We love that the skull tattoo is surrounded by Escheresque patterns that close in around a deeply shaded background. There's no doubt that ink that covers this much area along the side of the torso is going to require multiple sittings. Of course, it's worth it to secure such a badass piece of body art.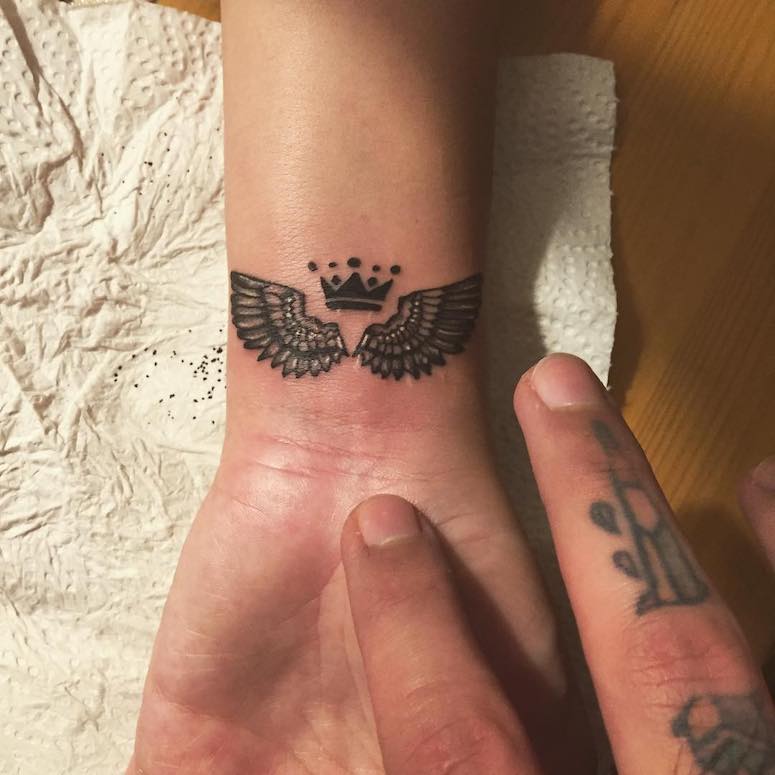 We love everything about this petite crown and wings ink. According to some, a winged crown is representative of infinite or immense power. Of course, you needn't limit yourself to a single interpretation. This ink is gorgeous and discrete. Given its position, it could easily serve as a daily inspiration. Fine lines and minimalist markings like this are super trendy.
7. King of the Sugar Skulls Body Art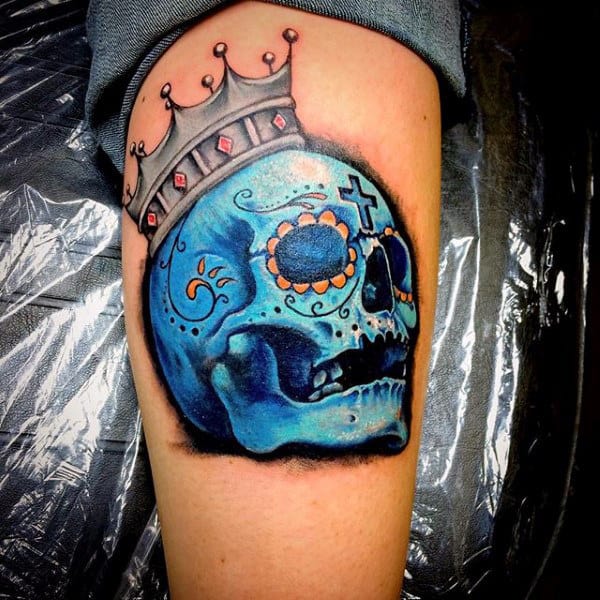 Graphic depictions of skulls have always been a staple of Día de Los Muertos. We love that this Day of the Dead symbol skull tattoo has a regal touch. The symbolism seems to speak to the fact that everything in life, including power, is cyclical. The use of bright, contrasting colors makes this tattoo an even more aesthetically pleasing presentation.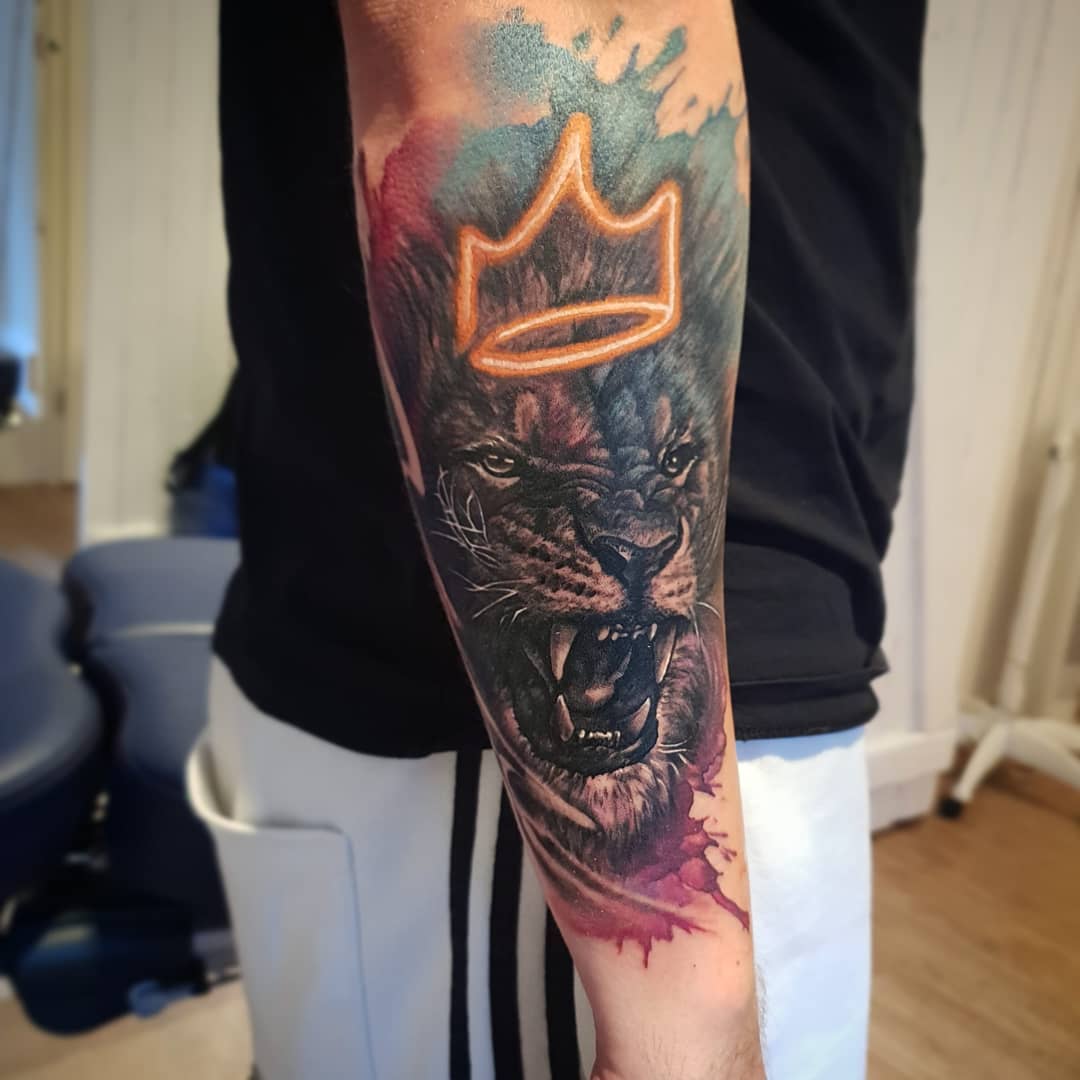 This crown and lion tattoo combines ancient symbolism with modern design elements to create a breathtaking sleeve. The black and gray animal is paired with watercolor splotches an offset neon crown sign. This ink is perfect for any fella who feels like the king of an urban jungle.
9. Skull Ink with Gold and Red Coronet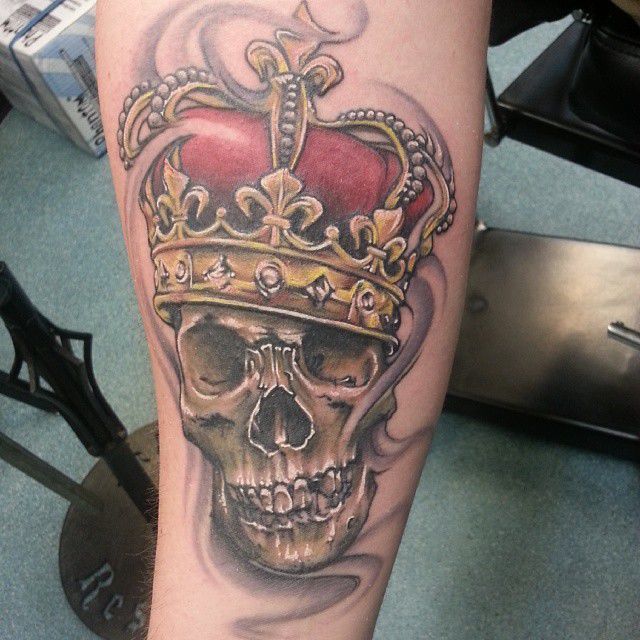 A skull and crown tattoo may serve as a warning that one should never become too hungry for or abusive of power. This badass ink is very whimsical. The ancient crown and weathered skull are surrounded by wisps of smoke or, perhaps, vapor. The unforgettable memento is the perfect addition to an already heavily tattooed body.
10. Her king, His Queen Tattoos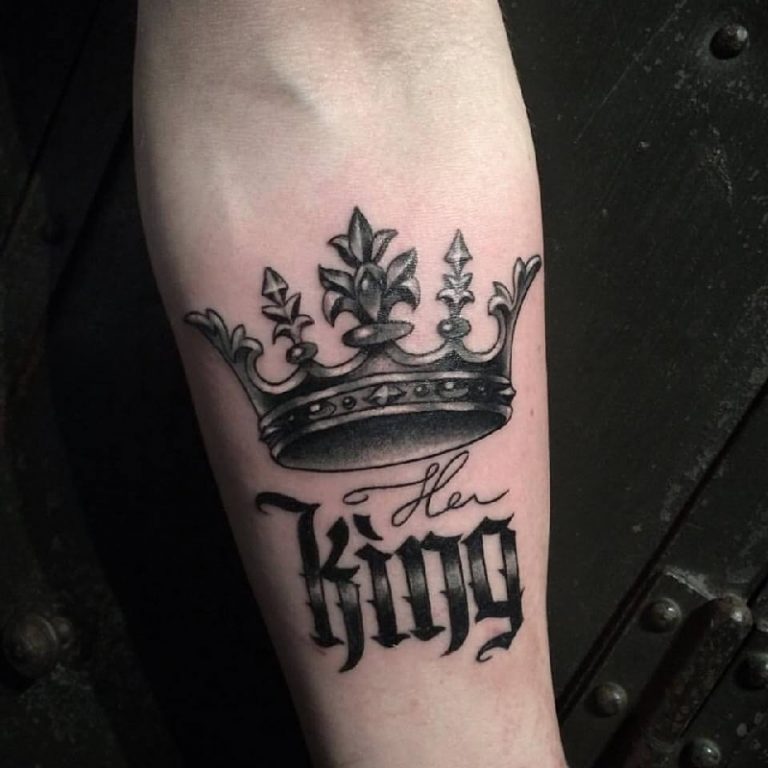 The permanence of love tattoos makes them an excellent way to solidify a long-lasting or meaningful relationship. "Her King" or "His Queen" script alongside a fine-lined crown is just as good as an engagement ring. This gorgeous couple tattoo concept symbolized loyalty, love, and devotion.
11. Purple and Gold Mardi Gras Crown Tattoo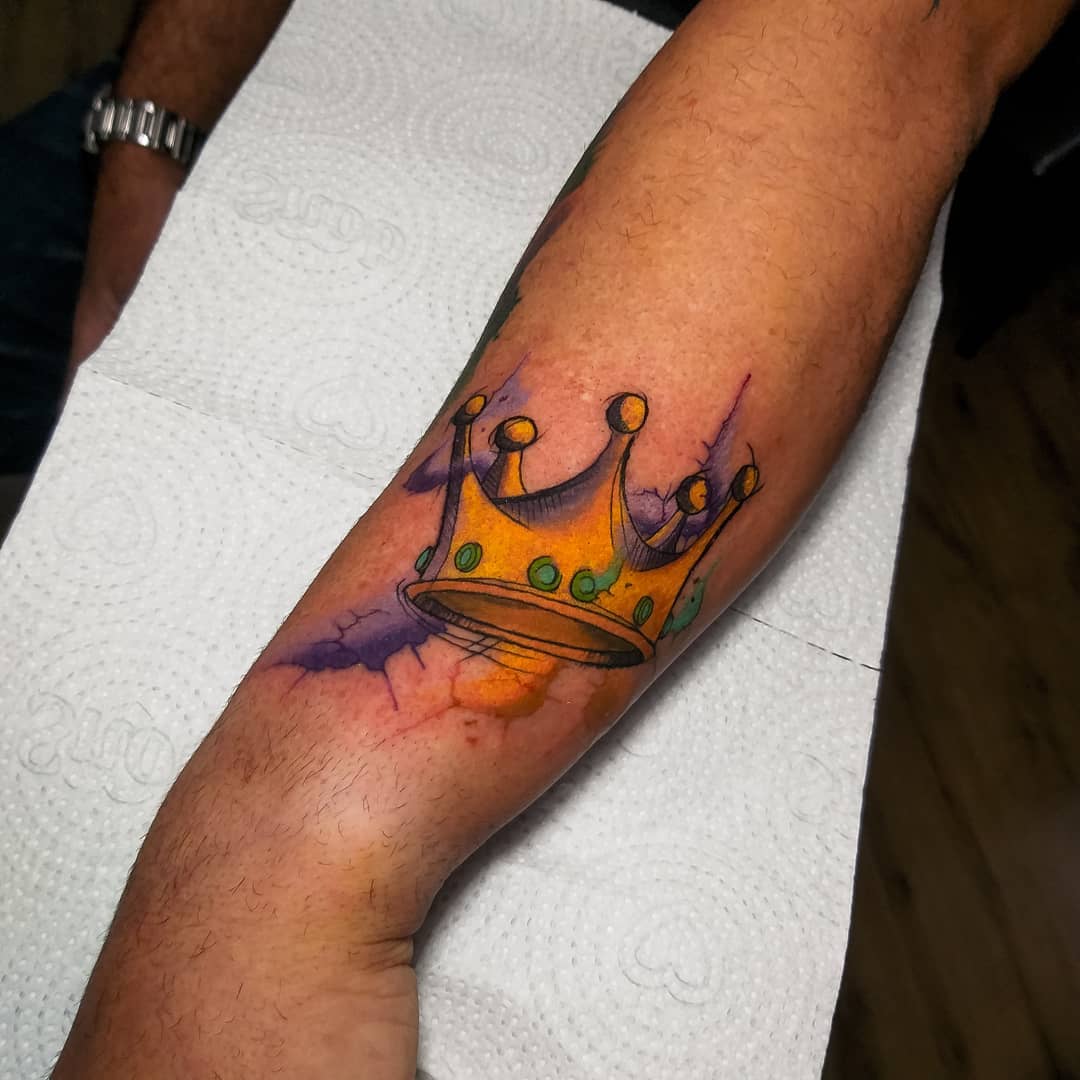 The crown is the ultimate symbol of Fat Tuesday. If you're lucky to have celebrated this festive holiday in person, you might be willing to solidify your memories in the form of green, purple, and yellow body art. We love that the colorful background details are shaded to look like bleeding watercolors. This fluid technique adds artist flair to this already impressive design.
12. Crown with Coat of Arms Ink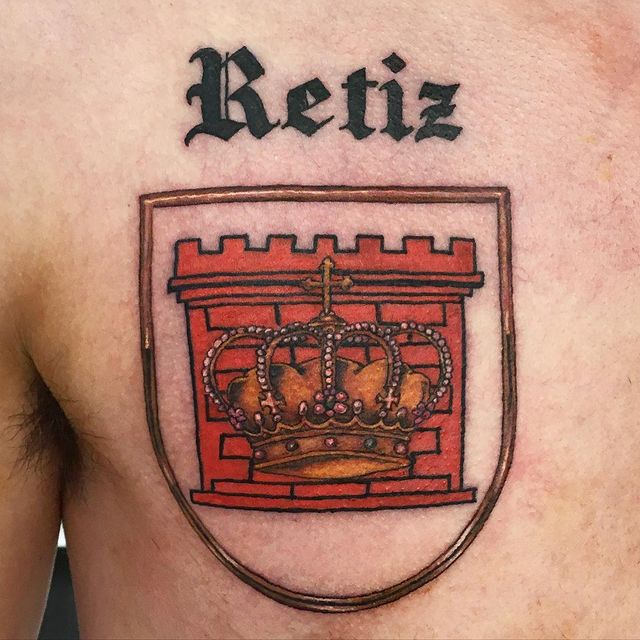 A crown-encrusted coat of arms tattoo will make you the star of your next family reunion. This colorful body party features a boldly inked surname above a brick wall, a hollow shield, and a bejeweled royal appurtenance. What better place is there for a heraldic symbol than the flesh?
13. Regal Ankle Ink in Black and Gray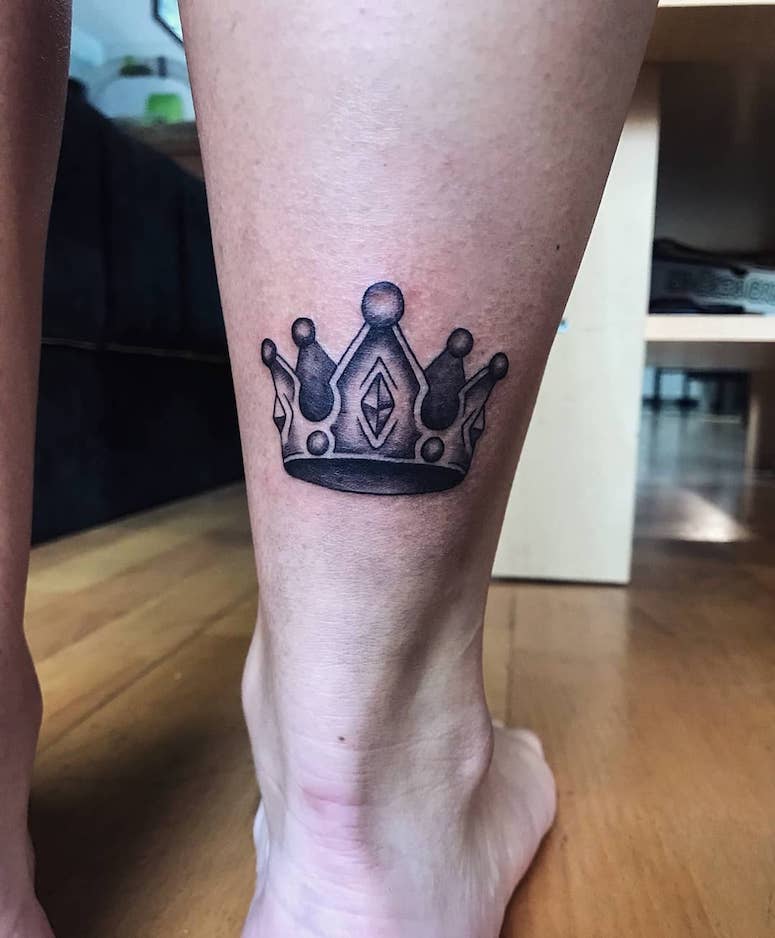 While tradition says crowns are worn atop the head, tattooing makes it possible for these regal statement pieces to also the crown tattooed on the body. Ankle tattoos are easy to conceal during the colder months. However, this majestic ink is sure to turn heads when the mercury rises. Simple black and gray details keep this stately symbol as low-key as it can be.
14. Memento Mori Tattoo with Crowned Skeleton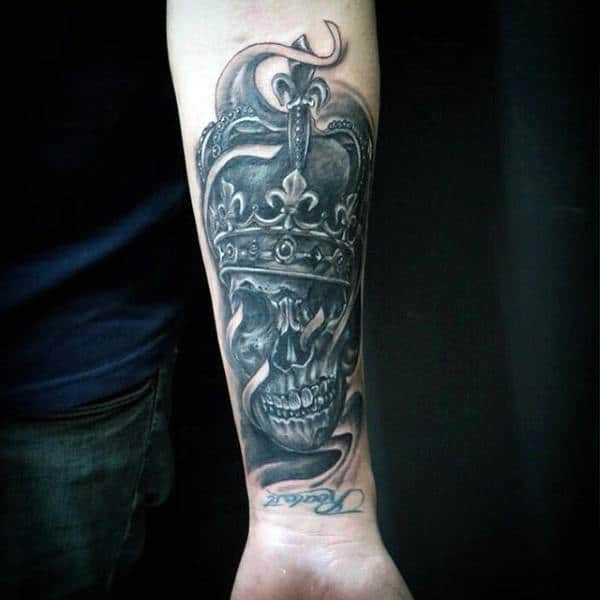 Memento mori is a Latin saying that means, "Remember that you must die." It is believed that slaves during the Roman Empire were ordered to whisper the phrase into the ears of the masters as they accompanied them through war and victory. Let this eerie ink be a reminder of your mortality and virtues. There are few more haunting images than an utterly departed leader.
15. Simple, Sophisticated Crown Body Art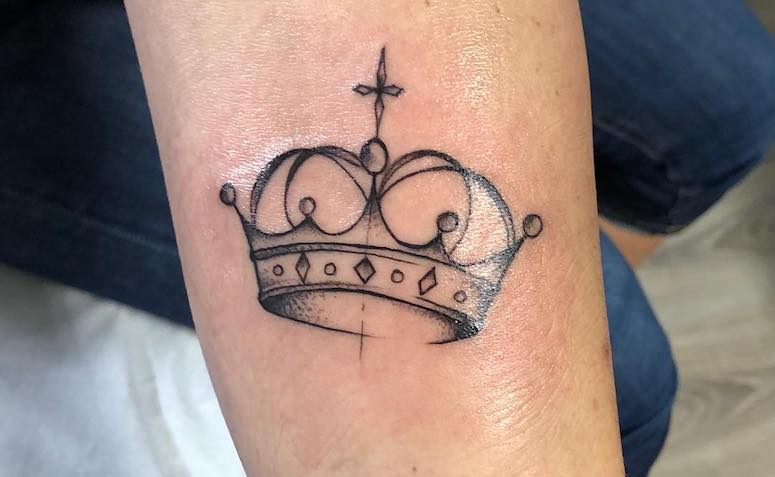 This simple tattoo feels more ornamental than symbolic, and there's nothing wrong with that. Crowns were traditionally worn by only the most elite and powerful people. Ornate metal headdresses may not be acceptable for everyday wear. However, a tattoo crown ensures that you will never again enter the world as a member of the peasant class.
16. Crown and Jewel Sleeve with Old School Accents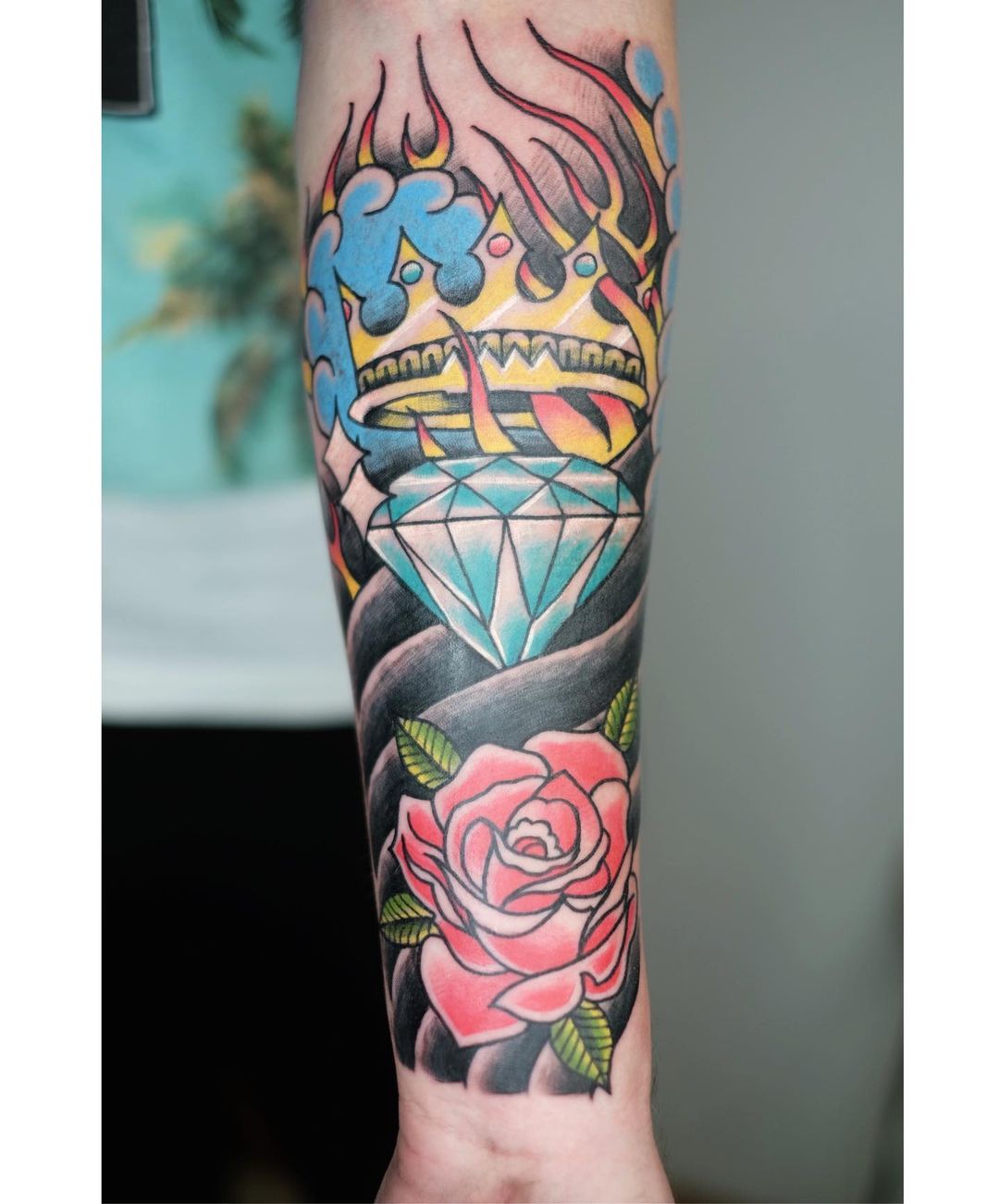 Here we have a full sleeve with a crown, cloud tattoos, roses, and other classic Americana accents. The bold outlines and bright colors make this a strikingly beautiful look that any tattoo artist would be eager to execute.
17. Saints Among Us Body Art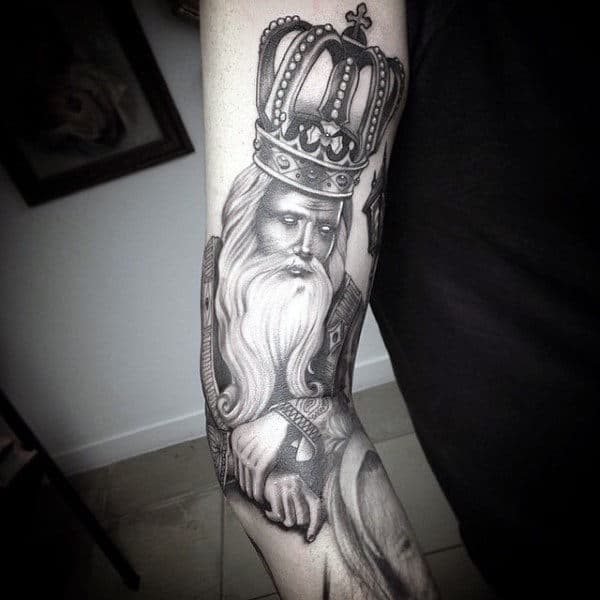 It's hard to say who this tattoo depicts. But the classic clothing and imperial headgear lead us to believe it may be the infamous St. Edward alongside his even more sacred crown. This eleventh-century saint was the original coronation crown of England. That makes this tattoo an excellent representation of the British monarchy.
18. Crown Jewel with Red Roses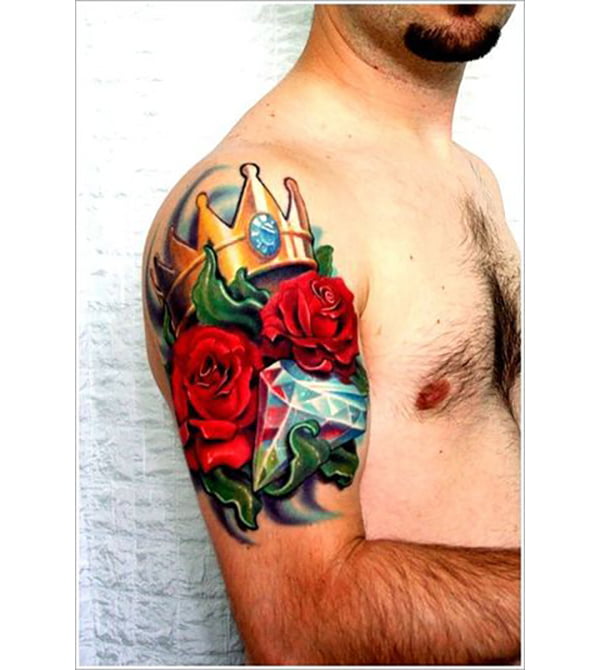 As a stylish bicep tattoo, this ink depicts a crown jewel or a crowned jewel, depending on the way you look at it. The color design is ripe with symbolism. Be sure to choose a tattoo artist that's mastered realism, as this body art crown tattooed on the body requires careful shading and colorwork. We know one thing for sure; this is a look fit for a king.
19. Royal Descendants Remembrance Art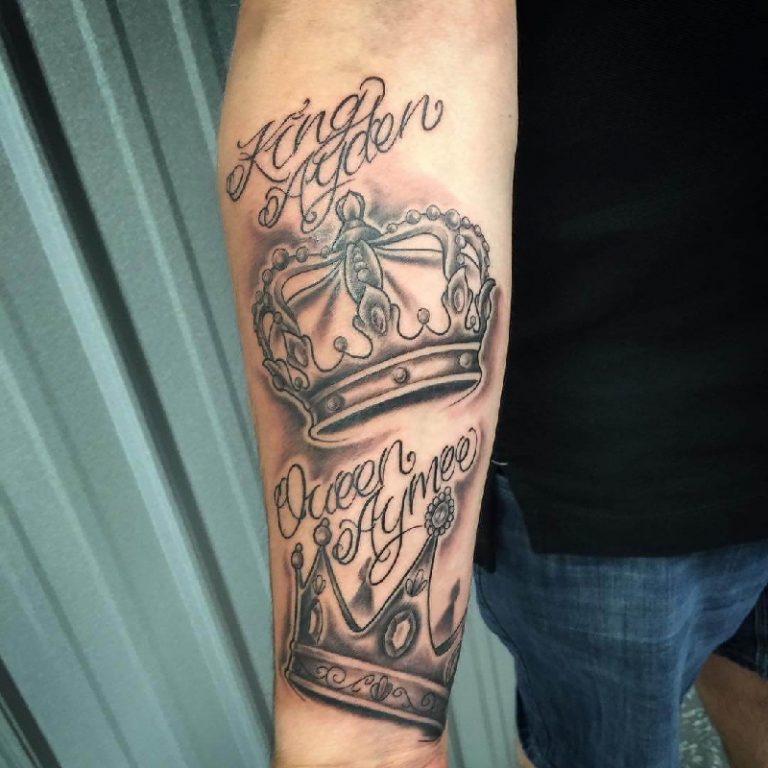 Commemorate the birth of your royal descendants with regal crown tattoos and carefully paired monikers. This body art is a mark distinction. Who's to say that you aren't the patriarch of a royal lineage?
20. Crossed Bolts with Regal Coronet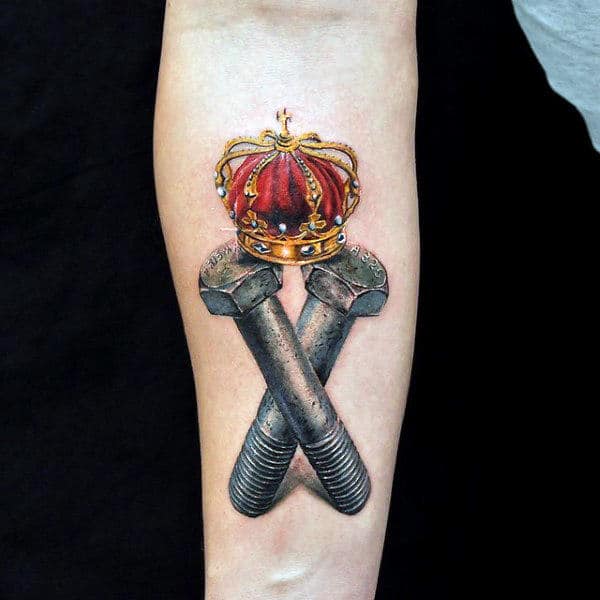 Are you a king carpenter? If so, this vivid crowned bolt tattoo may help you pay homage to your professional skills. This colorful depiction of crisscrossed bolts and a crown is done in a classic realist fashion. The application looks so real we had to do a double-take. The oddball pairing may not make sense to laymen. Then again, it's only you that has to live with the body art.
21. Colorful Crown Tattoo for the Neck Crown Neck Tattoo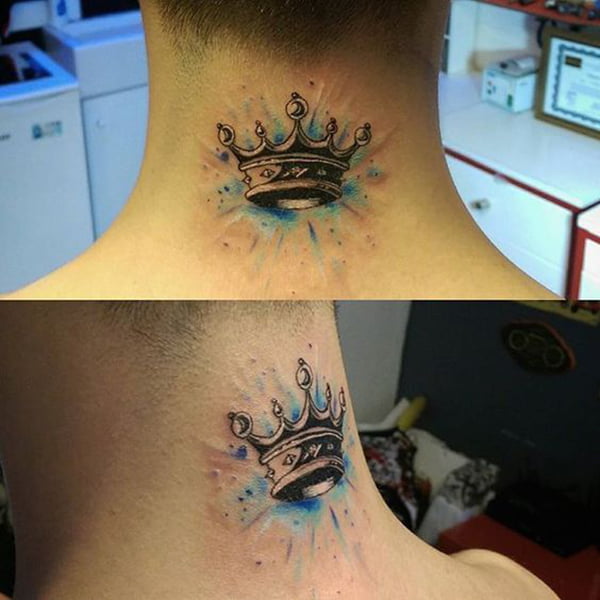 This delicate little crown is worn on the neck rather than the head, it is a crown neck tattoo. The black and white tattoo is buffered with blasts of pastel blue. We love the may the artist shaded the illustration. The careful carving creates the illusion that this regal symbol is popping right off the skin.
22. Balancing the Crown Chakra Tattoo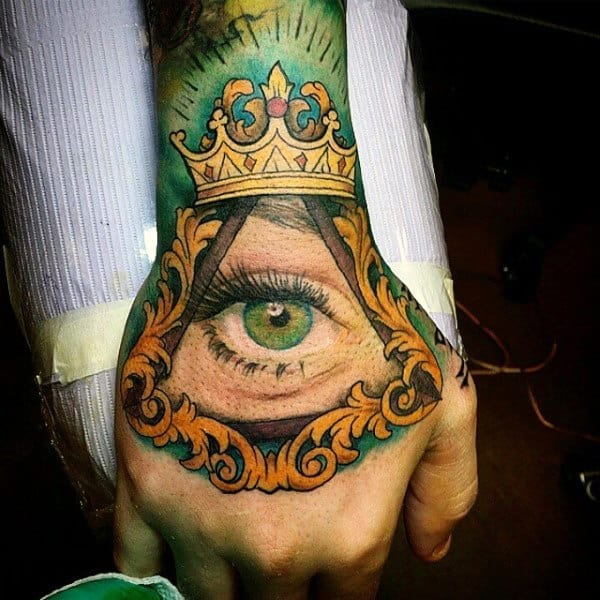 The balancing of the crown chakra symbolizes wisdom and self-awareness. This colorful piece of body art can help you hone your spirit. The emerald green oracle is centered on the wrist and hand. This placement makes it an undeniable daily reminder.
23. Lucky Seven Tattoo with Card Suits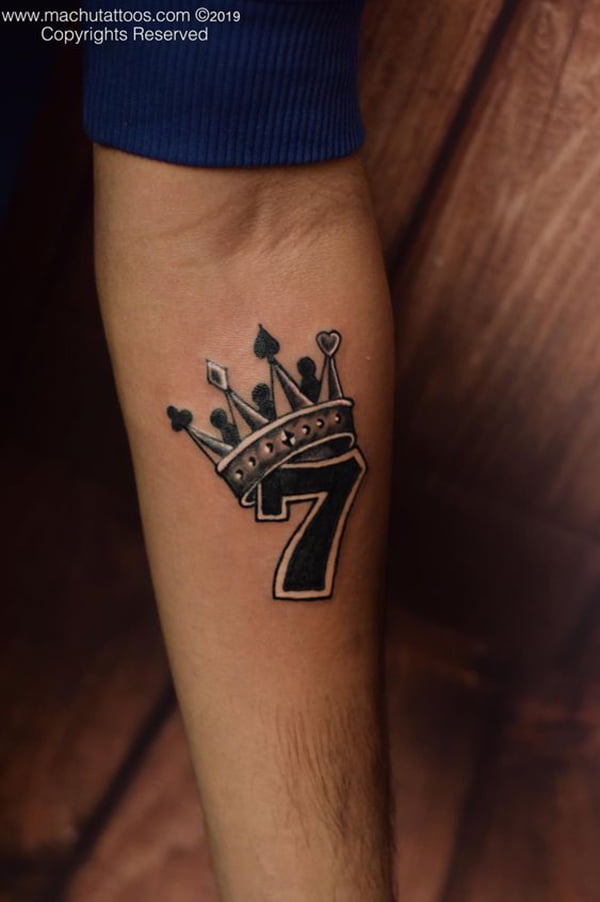 If you're superstitious in the least, you can understand the desire that some people have to brand themselves with a lucky charm. This crowned seven represents luck in its best form. Since the points of the crown are made out to depict all four playing card suits, we think this is the perfect ink for an avid or professional gambler.
24. Tiger King Arm Tattoo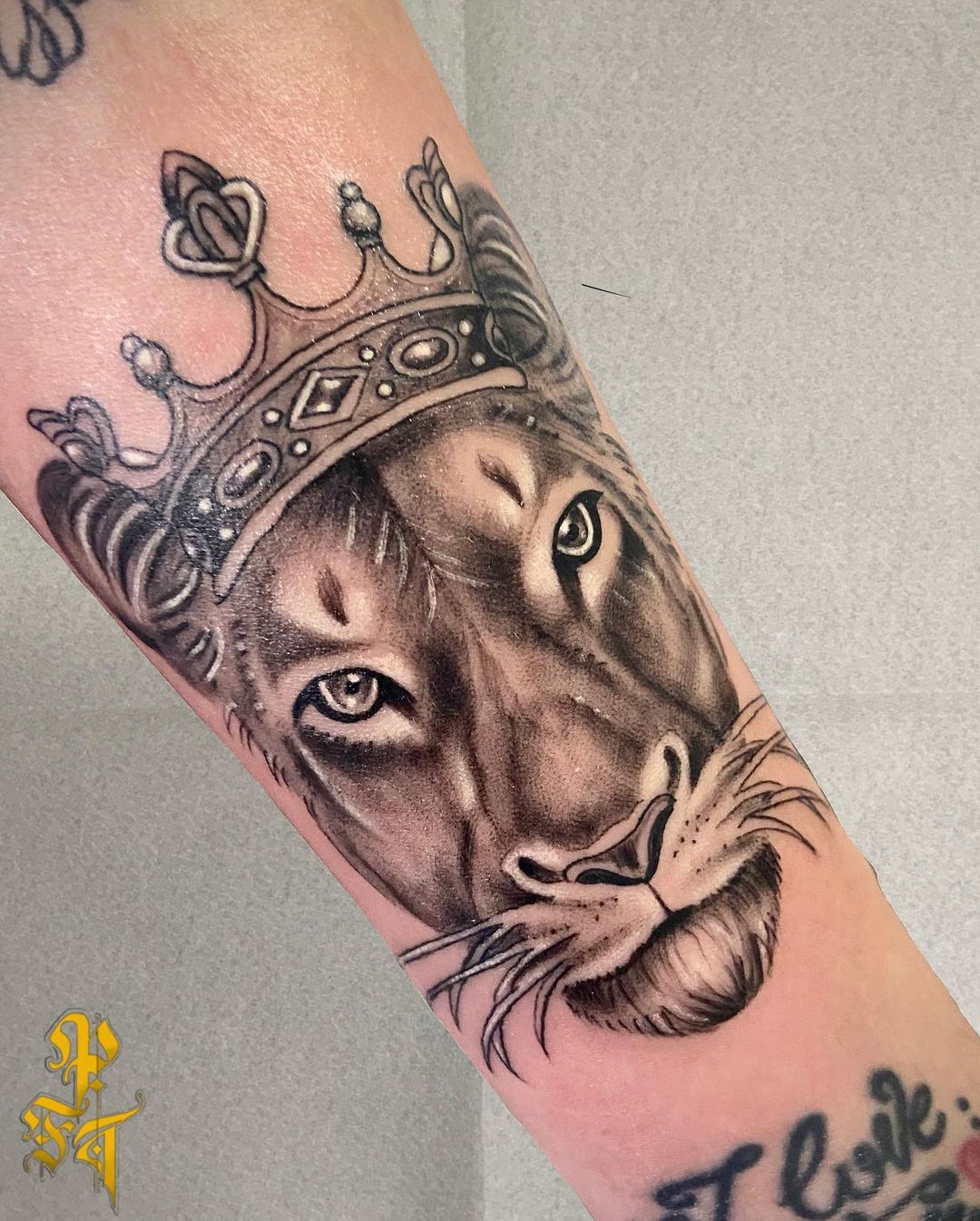 Commemorate the fierce and determined animal within you with this black and gray tiger king tattoo. This tiger king is not to be confused with the famed mini-series. Instead, we see it as a symbol of dignity, courage, and leadership.
25. Live Like a King Ink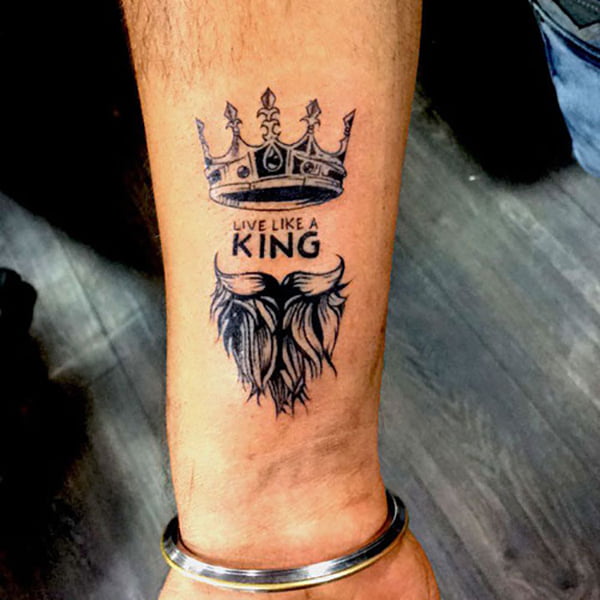 Most of us could use a reminder to live each day to its greatest potential. This bearded "live like a king" ink is just that and more. Perhaps it is just missing the byline, "die like a legend." If you are going to afford yourself a luxury, it may as well be a permanent adornment such as this one.
26. Crown and Compass Tattoo with Blue Roses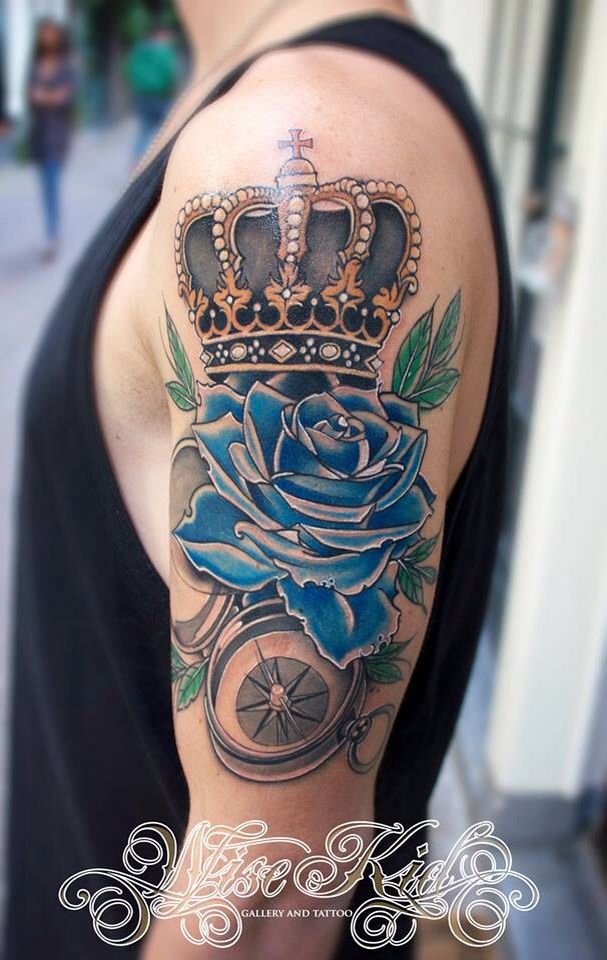 Here we have another crown tattoo that's ripe with symbolism. The vivid blue roses represent the manifestation of what once thought to be unattainable or impossible. The crown represents power and dignity. The compass represents possibility and a path forward. When you put the images together, you get a tattoo that's perfect for dreamers with eyes on the future.
27. Lion King Ink with Botanical Details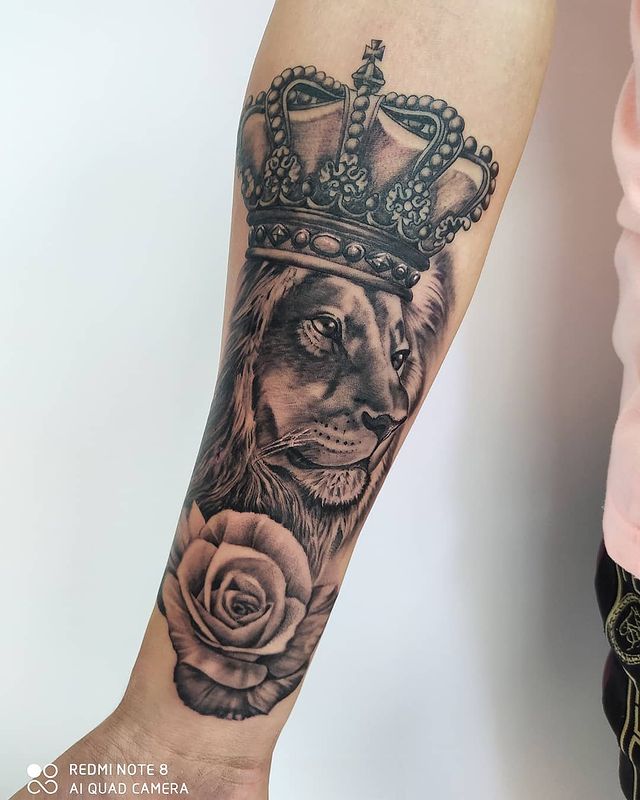 This impeccable crowned lion tattoo is a symbol of courage, justice, wisdom, and power. It's a bold statement that might help its wearer remember their place in the world while finding humility. It's the perfect body art for commemorating a personal hurdle. The fierce imagery works for both men and women.
28. Lion King Ink with Roman Numerals Crown Chest Tattoo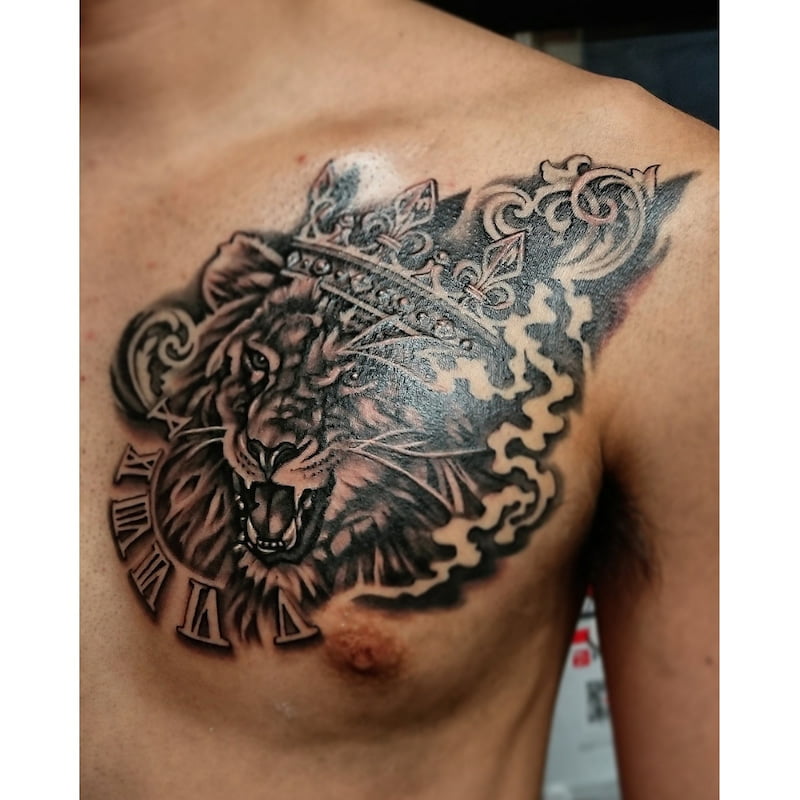 A crowned lion is already a bold image for a chest tattoo. However, you can always add a meaningful sequence of numbers into the mix. Roman numerals are an artful way to display a particularly momentous date or time. This black and gray depiction pops right off the skin.
29. King and Queen Finger Tattoos for Married Couples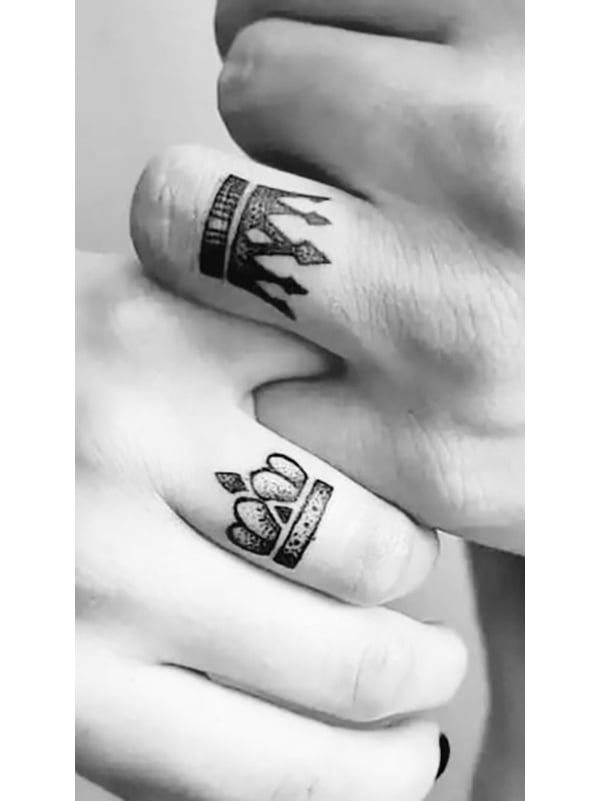 These charming his and her's finger tattoos make excellent wedding ring alternatives. The simple black crowns take just minutes to apply. However, the symbols will solidify your relationship for a lifetime.
30. She's My Queen Promise Ink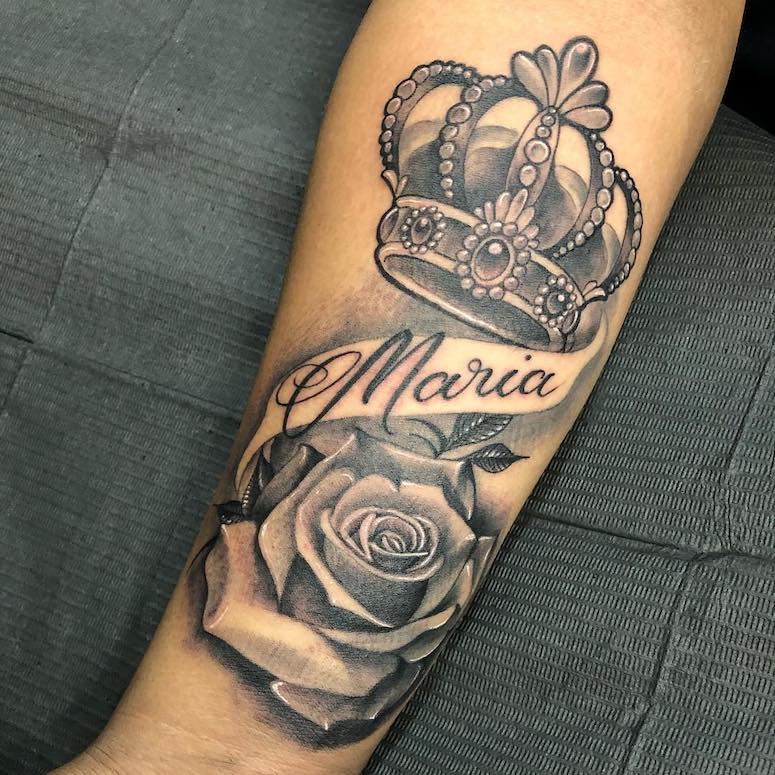 Show your lover that she's your queen with a crown and rose tattoo with her namesake. This black and gray ink isn't for meek lovers. It could serve to commemorate love had and love lost.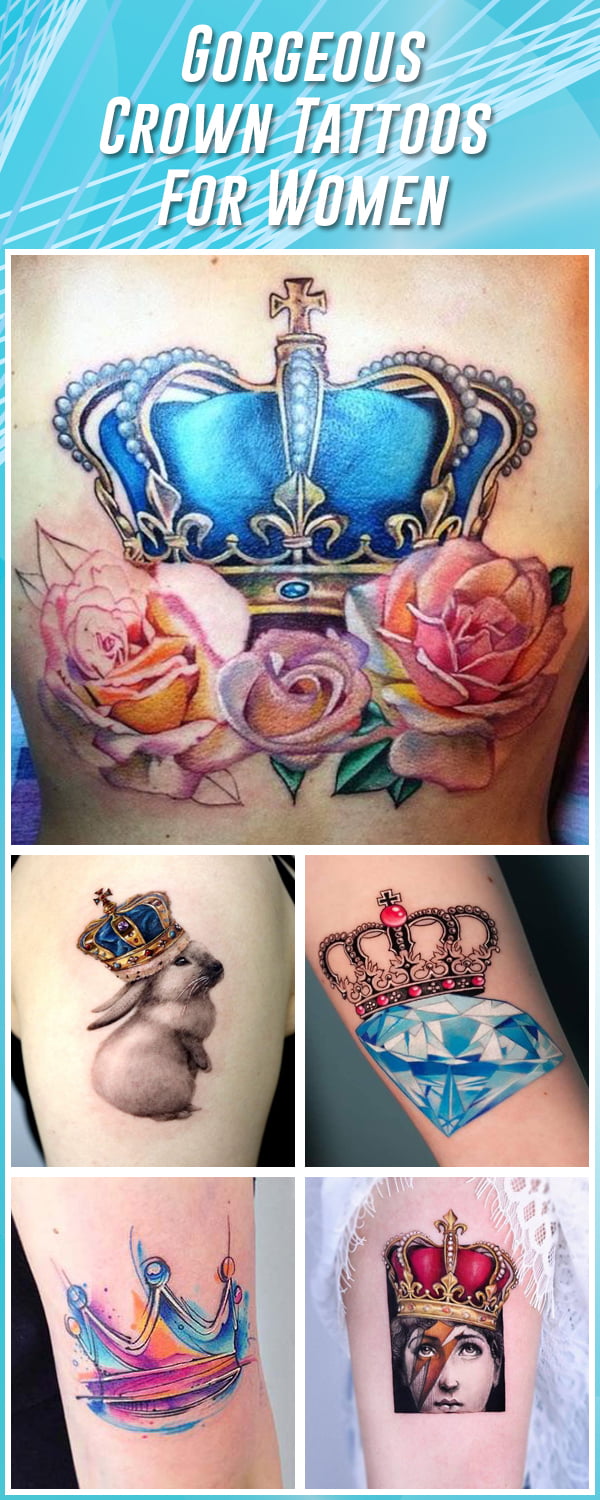 31. Couples Crowns with "One Love" Message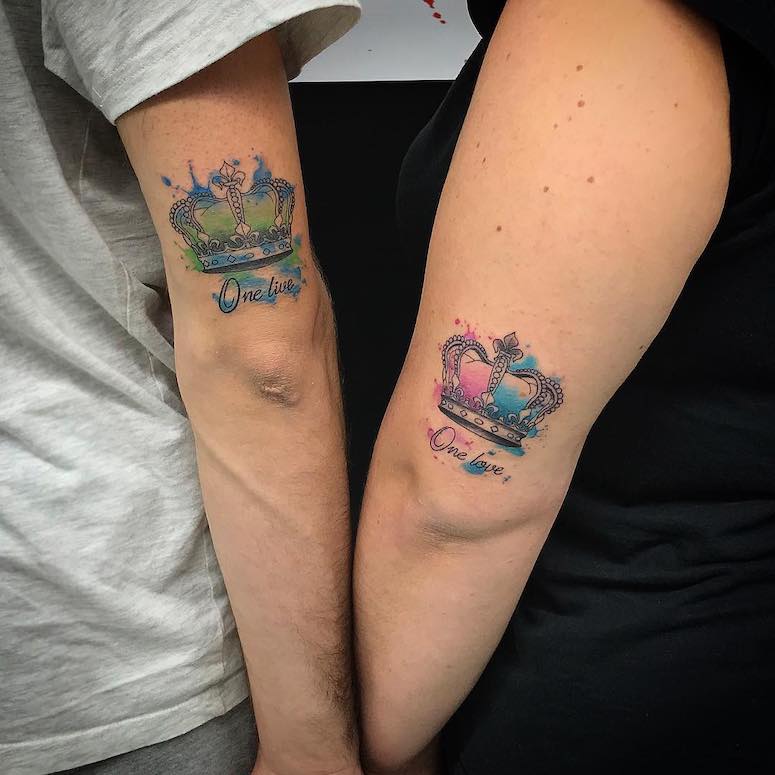 This is yet another fabulous example of his and her crown tattoos. These fine line depictions are splashed in color and adorned with the words "One Love." We cannot think of a better image to symbolize the powerful union between two people.
32. Pink and Blue Upper Elbow Art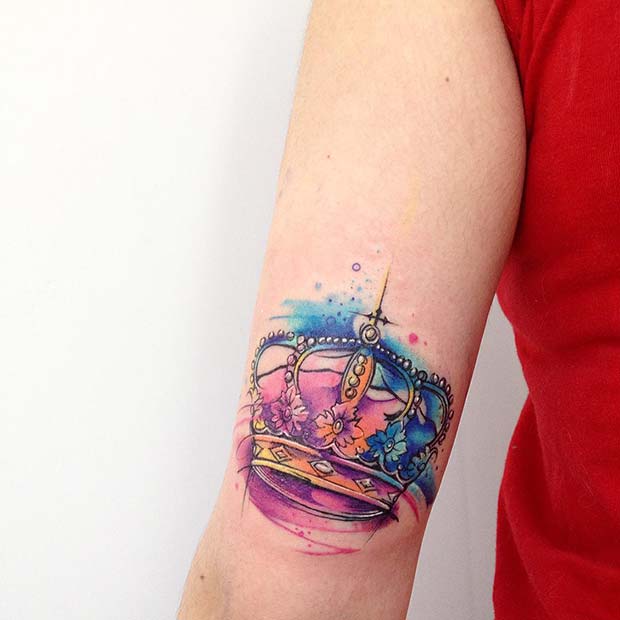 This watercolor tattoo features a gold crown in a sea of pink and blue paint splatter. The colorful imagery pops right off the skin. This body art is perfect for anyone looking for a vivid and symbolic statement piece.
33. Best Friend Tattoos Idea: Irish Claddagh Ink with Vivid Coloring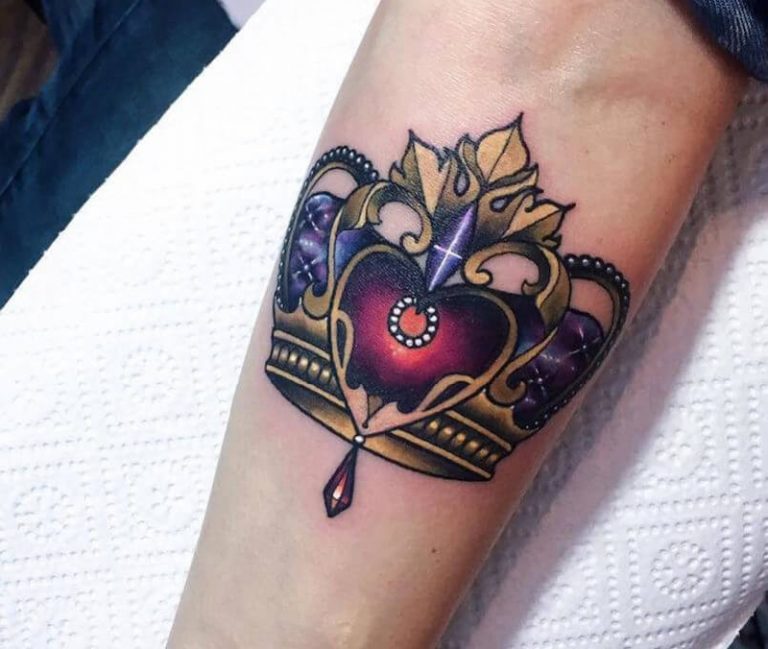 Here's a cool and unique heart tattoo idea: the Irish Claddagh is a heart and crown ring that has come to represent love, loyalty, and friendship. This artful depiction features gold colorwork. The ruby red and deep purple pop against the black and gold elements. This is a great friendship tattoos idea.
34. Green and Red Crown Tattoo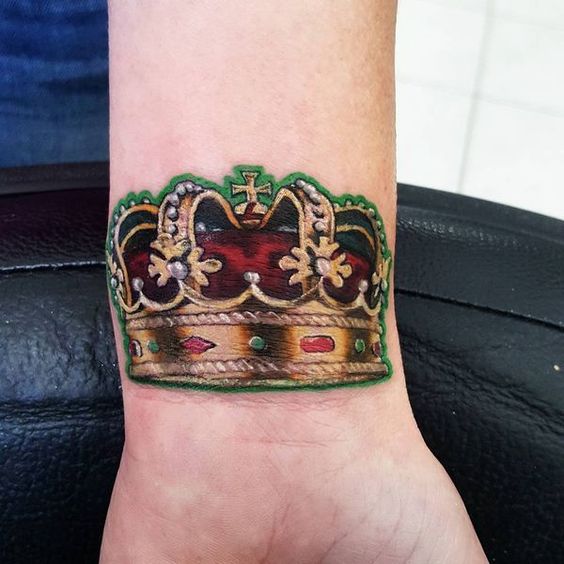 This classic king's crown features bold colors and painterly qualities. It falls in line with most other realist tattoo themes. We love the use of green along the boundaries, as this helps the red fabric shine.
35. Petite Noir Shoulder Crown for a Queen Bee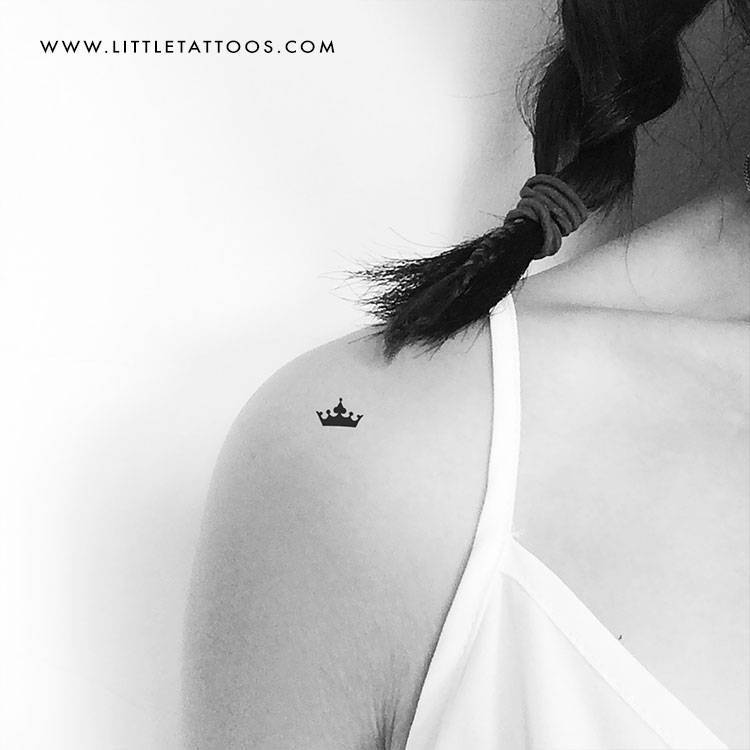 Micro tattoos are quick, inexpensive, and relatively painless. This charming crown tattoo must measure no more than an inch in width. You can easily conceal a tiny tattoo on the upper arm region if you want to. It's up to you to decide if your mini body art is meaningful or decorative.
36. Royal Blue Crown with Pink Roses
This vivid blue crown tattoo is incredibly feminine. The detail work on pastel pink roses and pearl-clad coronet are incredibly painterly. A back piece of this size would take a lot of time and patience. Still, it's perfect for anyone looking to make a bold statement for life.
37. Emerald Crown with Fleshy Flower Tattoos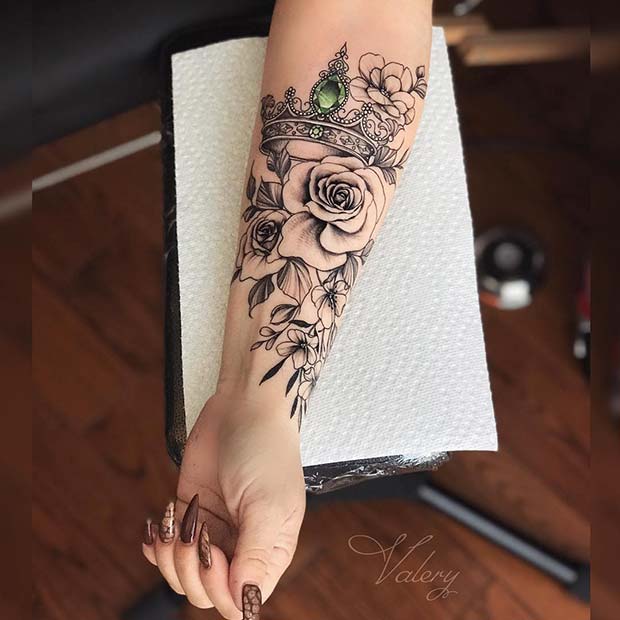 Illustrative tattoos are incredibly popular. This modern line technology enables images to look as if they popped out of a storybook. This fairy tale crown image is draped in flowers. The only color is that of green of a gem on the crown.
38. King and Queen at Arms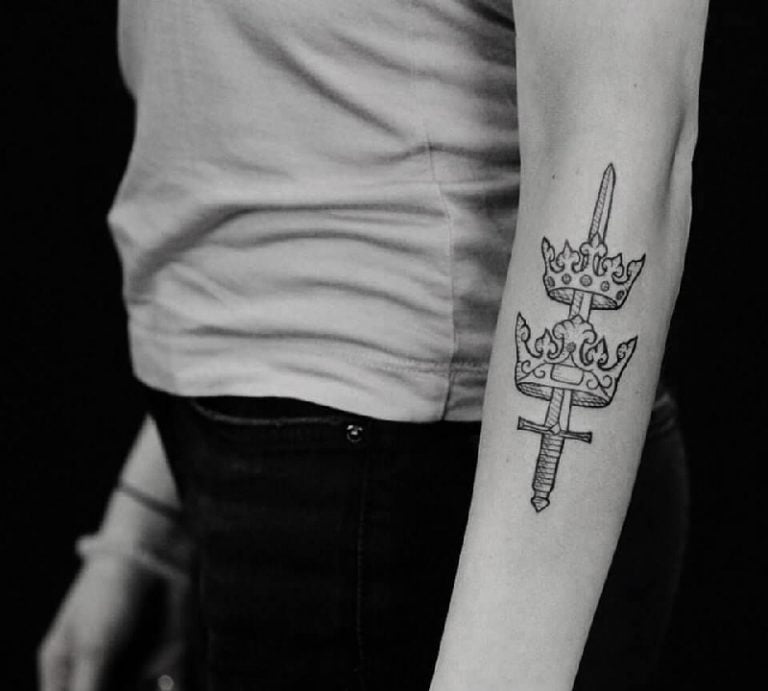 This crown and sword combo seems to represent victory over love. The fine lines and intricate patterns make it a mesmerizing piece. The lower arm is the perfect area for such a long, slender design.
39. Cartoonish Crown with Heartshaped Peaks Tattoo Design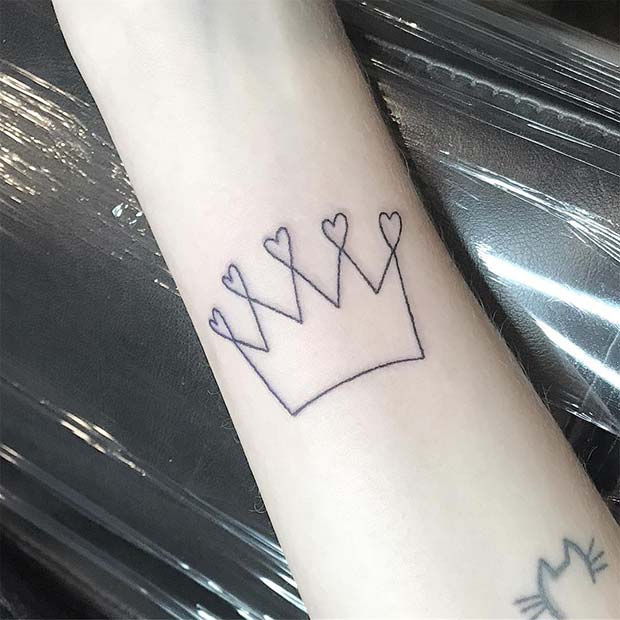 This adorable fine line crown tattoo requires little more than a quick poke. Though, the artist applying it would certainly need a steady hand. There's no filler or shading to hide mistakes. Those heart peaks are incredibly adorable.
40. We Can Be Heroes Body Art Tattoo Design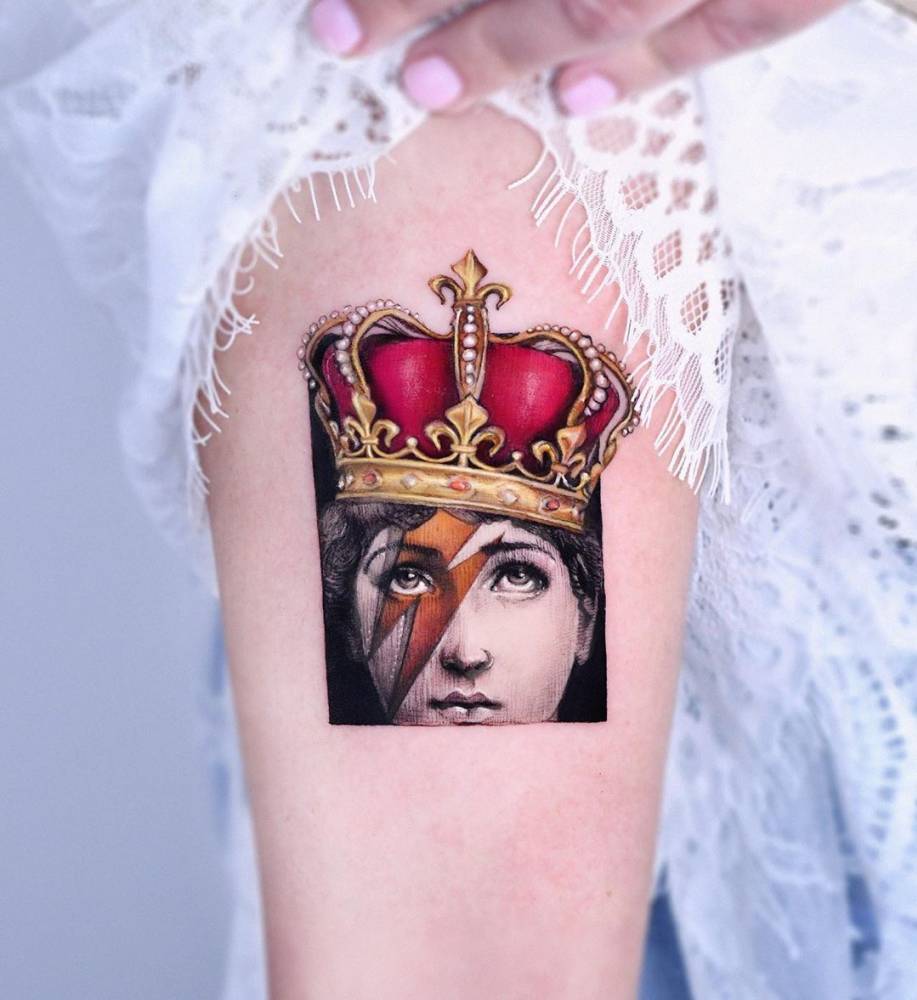 This hodge-podge of allusions seems to be some sort of Bowie fan art. The seemingly sketched black and white portrait is topped with a bright orange lightning bolt and a vivid red. The fanciful combo makes for an artsy upper arm tattoo.
41. Royal Red Hand Ink Tattoo Design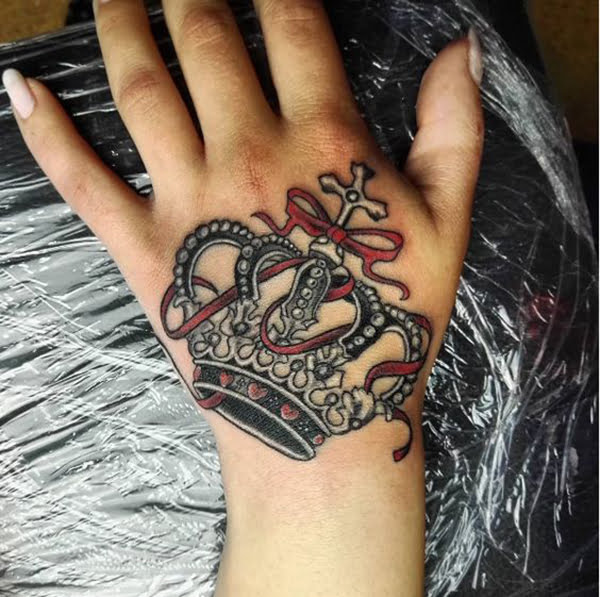 Put your crown where you will always be able to admire it. This black and red hand tattoo is an undeniably bold statement. The black lines and red accents could signify strength, triumph, or victory.
42. Small Pink Crown Body Art Tattoo Design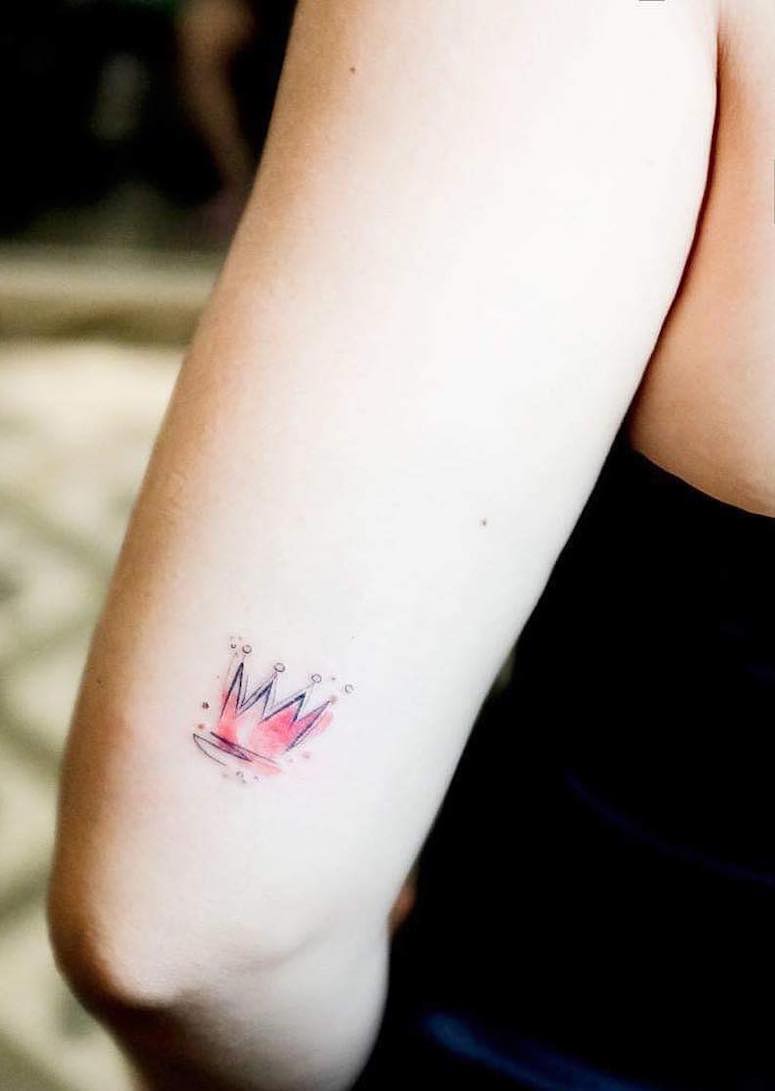 You feel like a princess with this adorable pink and gold crown tattoo. It's a subtle statement, especially when it's applied just above the elbow. The dancy lines and faded coloring makes the small tattoo feel even more gentle and feminine.
43. Regal Red Crown Art Tattoo Design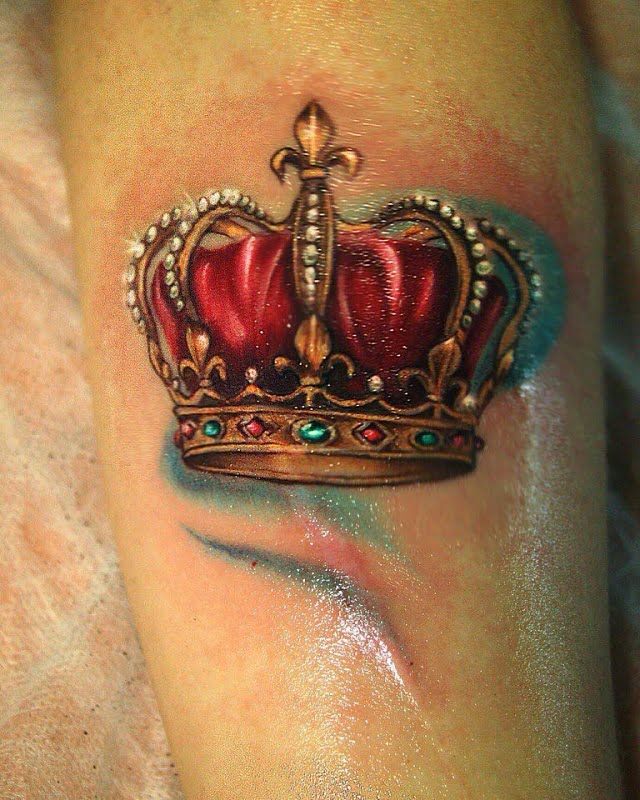 This gold and the red crown design feels incredibly majestic, the crown design is perfect for your next simple crown tattoo. The image is expertly applied so that even the fabric folds look real. Pearls and jewels are demonstrative of your VIP lifestyle. Sometimes it just takes a fancy accessory to make you feel like you are the king of the castle.
44. Upper Arm Crown Tattoo with Major Drip Tattoo Design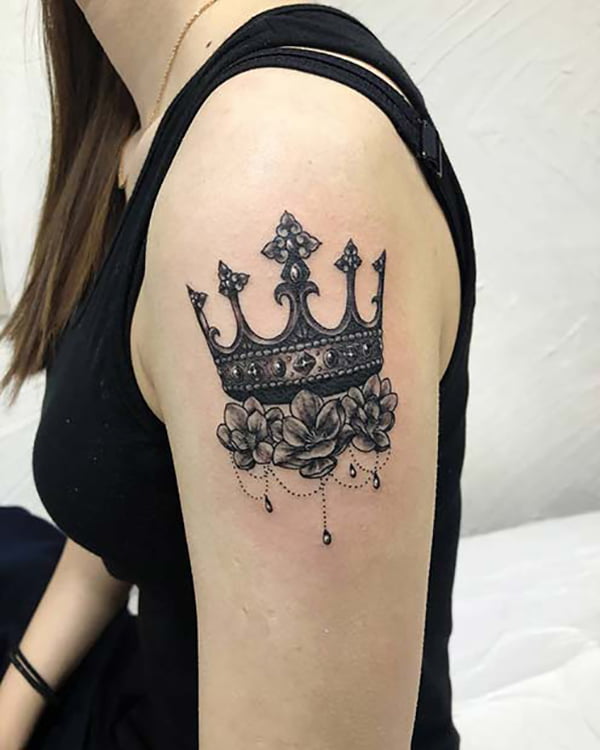 Top that jewel-encrusted crown tattoo with blooming lotuses and jeweled garlands. This drippy black and gray ink is highly stylized. Careful placement on the upper.
45. Adorable Pink and Black Crown Tattoo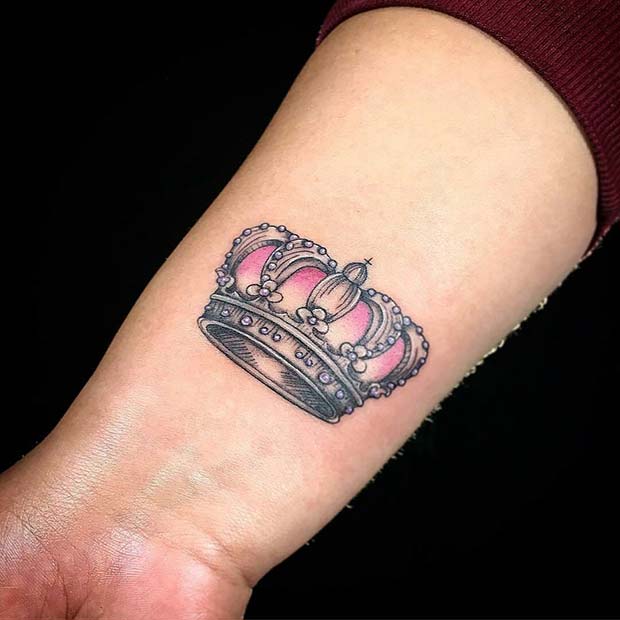 This intricate pink and black crown tattoo is perfect for tender, sweet, and sensitive queens. The petal- and jewel-encrusted depiction helps demonstrate that the wearer exudes confidence and charisma. Even the most spectacular women sometimes need a reminder that they are queens IRL.
46. Abstract Watercolor Crown Tattoo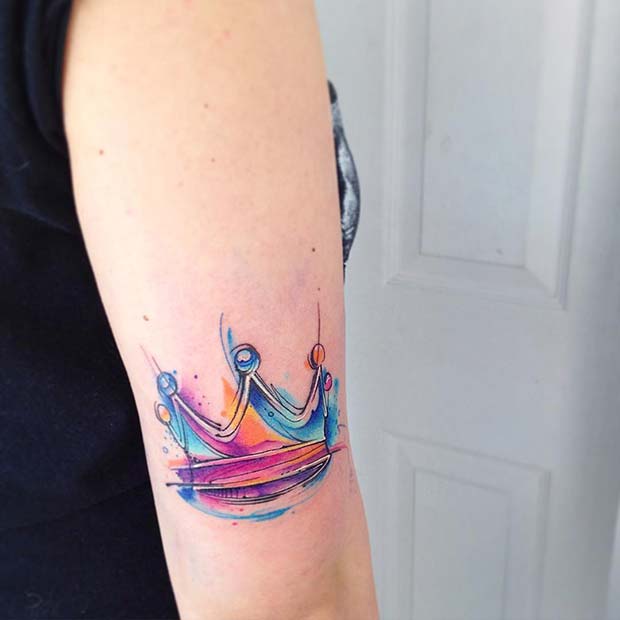 This sketchy, brush-stroked crown tattoo is anything but austere. Still, its gentle colors and unfinished lines have a laidback and playful appearance. A queen with a crown this festive is sure to have fun with her power.
47. Regal Crown and Diamond Ink Forearm Tattoo Design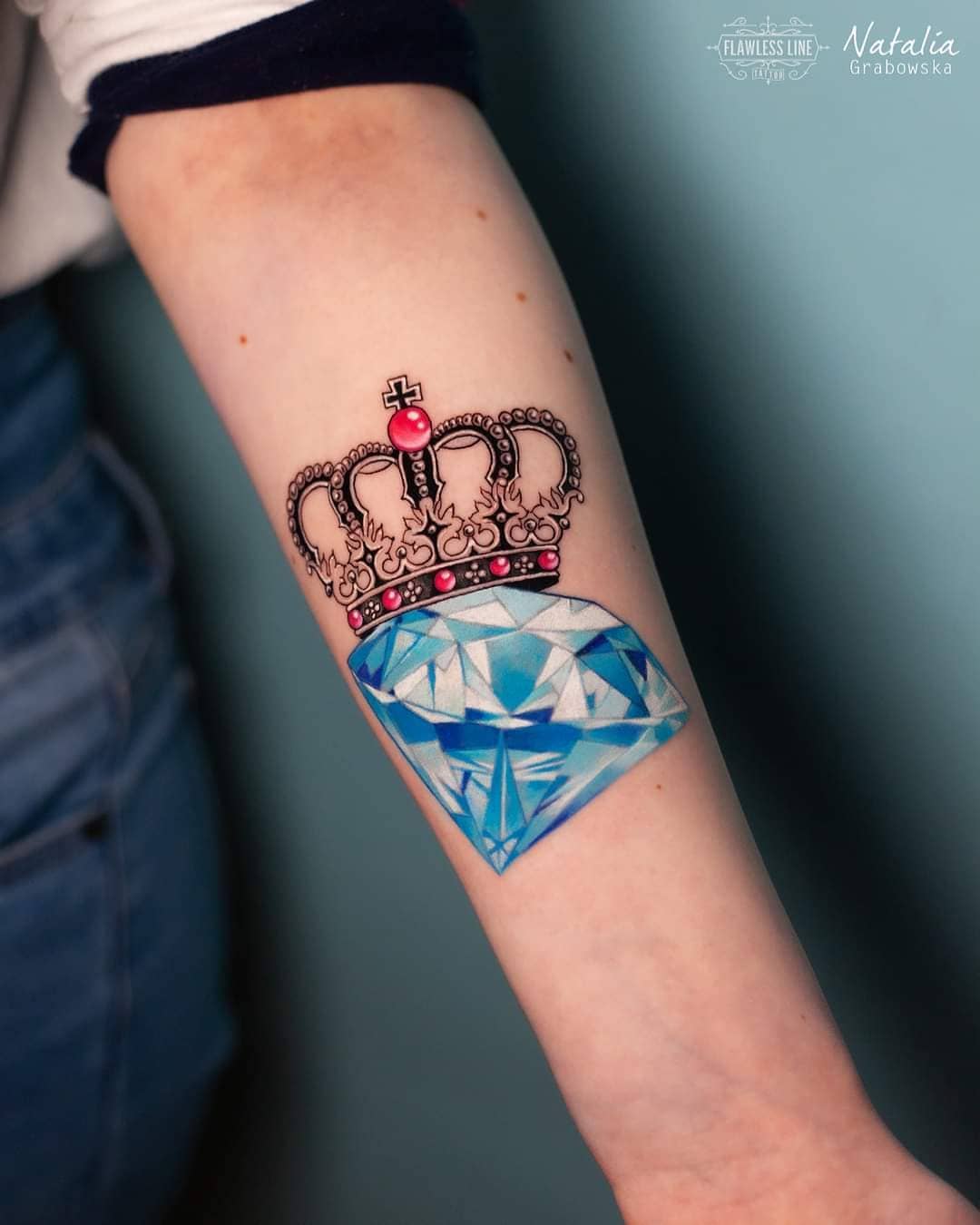 Are you a crowned jewel? Are people lucky to know you? This colorful classic tattoo appears to signify that the wearer is a prized possession. Adorn your favorite forearm with precious objects such as these to better showcase your importance. Queen Elizabeth will have nothing over you and your sumptuous ink.
48. Sweet Crown and Lillies Tattoo Concept Tattoo Design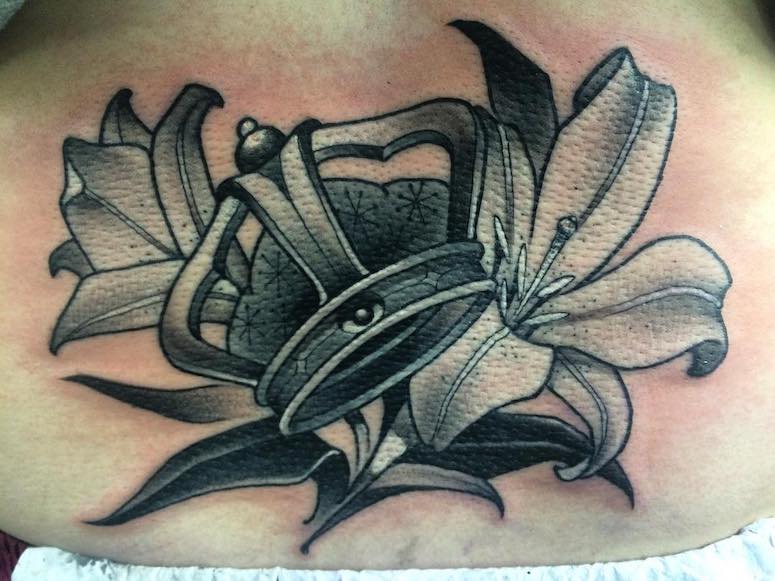 Lilies are known to symbolize devotion, love, purity, rebirth, and even motherhood. When you pair clusters of these slender, delicate flowers with a crown fit for a queen, you get deeply feminine and powerful imagery. This ink is done up in black and gray. However, a splash of color wouldn't hurt.
49. Intricate Initial and Crown Upper Back Tattoo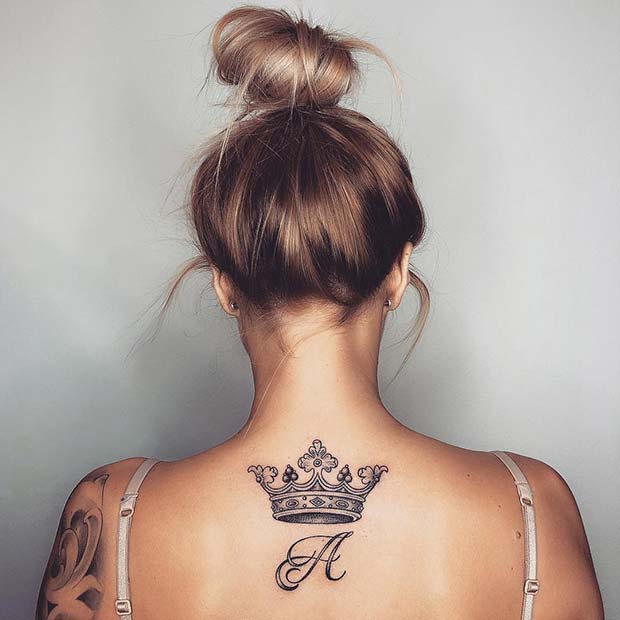 This detailed upper back tattoo is sure to earn the appreciation of even the most particular ink enthusiasts. When the regal accessory is paired with an initial you can only assume that the wearer has no problem embracing in their inner monarch. You can add as much detail to this look as you like. We love this design in black and gray. The elegant cursive letter is also a nice touch.
50. Poppies, Cross, and Crown Ink Tattoo Design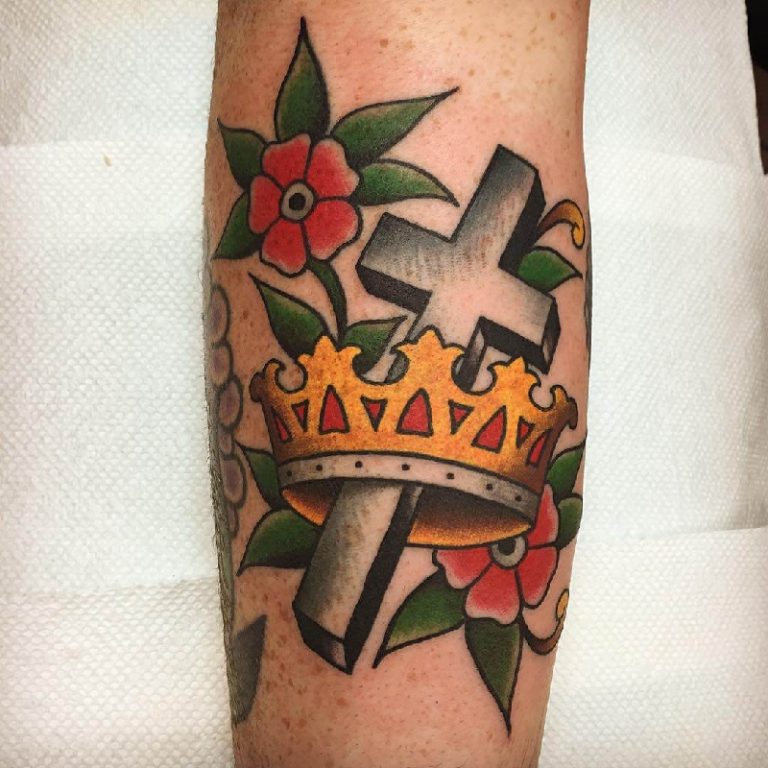 It's clear to see that this crown and cross tattoo concept is deeply rooted in Christian symbolism. The crown represents the heavenly rewards offered to faithful followers. Meanwhile, poppies are often used to commemorate those who died in battle. We are certain that this tattoo concept would work for any practicing Christian who is looking to permanently commemorate a deceased veteran.
51. Bejeweled Crown Tattoo for Colored Ink Enthusiasts Tattoo Design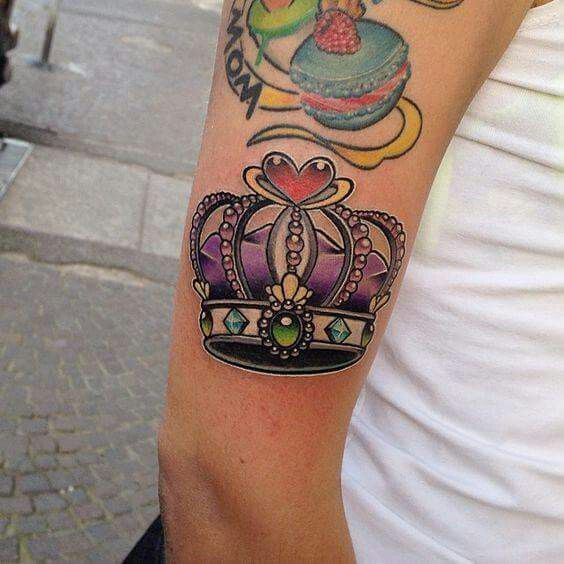 If you're not a fan of black and gray ink, you might want to check out this highly ornamented depiction. The regal design features plenty of fine lines, color splotches, and intricate fading. We love that it's topped with a cherry red heart jewel and countless other gemstones. This is a look that is fit for any queen or king. The small area of skin that's just above the elbow is perfect for a bold statement piece such as this.
52. Colorful Succulents and Crown Tattoo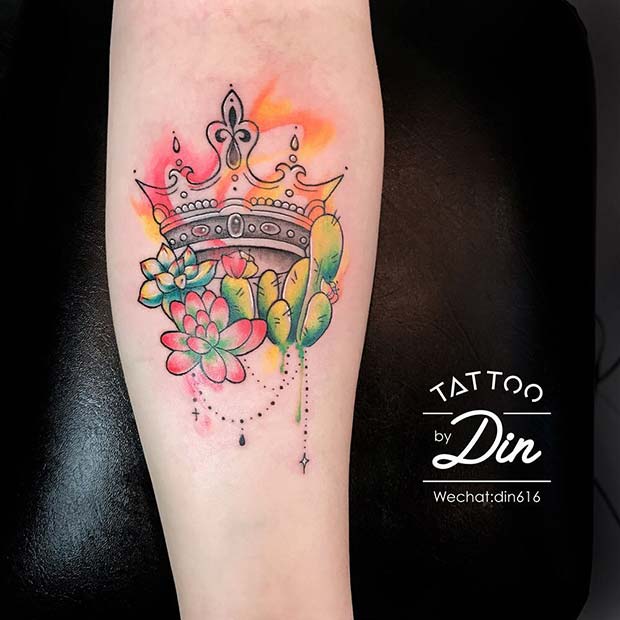 A garland of vibrant succulents and cacti can elevate an otherwise simple crown tattoo idea. These resilient plants require very little care and are not easily damaged. Alongside a golden crown, they could signify power and dignity. Meaning aside, they're gorgeous. This is a colorful and illustrative depiction that would look great on any ink collector's body.
53. Regal Queen Crown Tattoo on Wrist Tattoo Design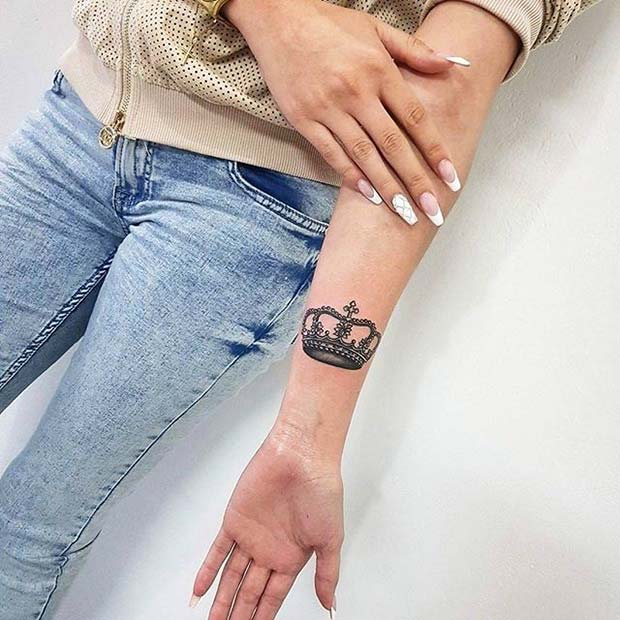 This intricate queen crown tattoo works well on its own, but we'd love to see this crown design paired up with a matching king crown tattoo. Couple crowns are a great way to pay tribute to a special day or lengthy and meaningful relationship. You can keep queen crown tattoos simple with matching crowns or add dates or sayings. Keep in mind that the wrist is a highly visible location for ink. While a tat this size isn't going to take long, the sensitivity of the region can make for a more uncomfortable session.
54. Rabbit with Regal Purple Crown Tattoo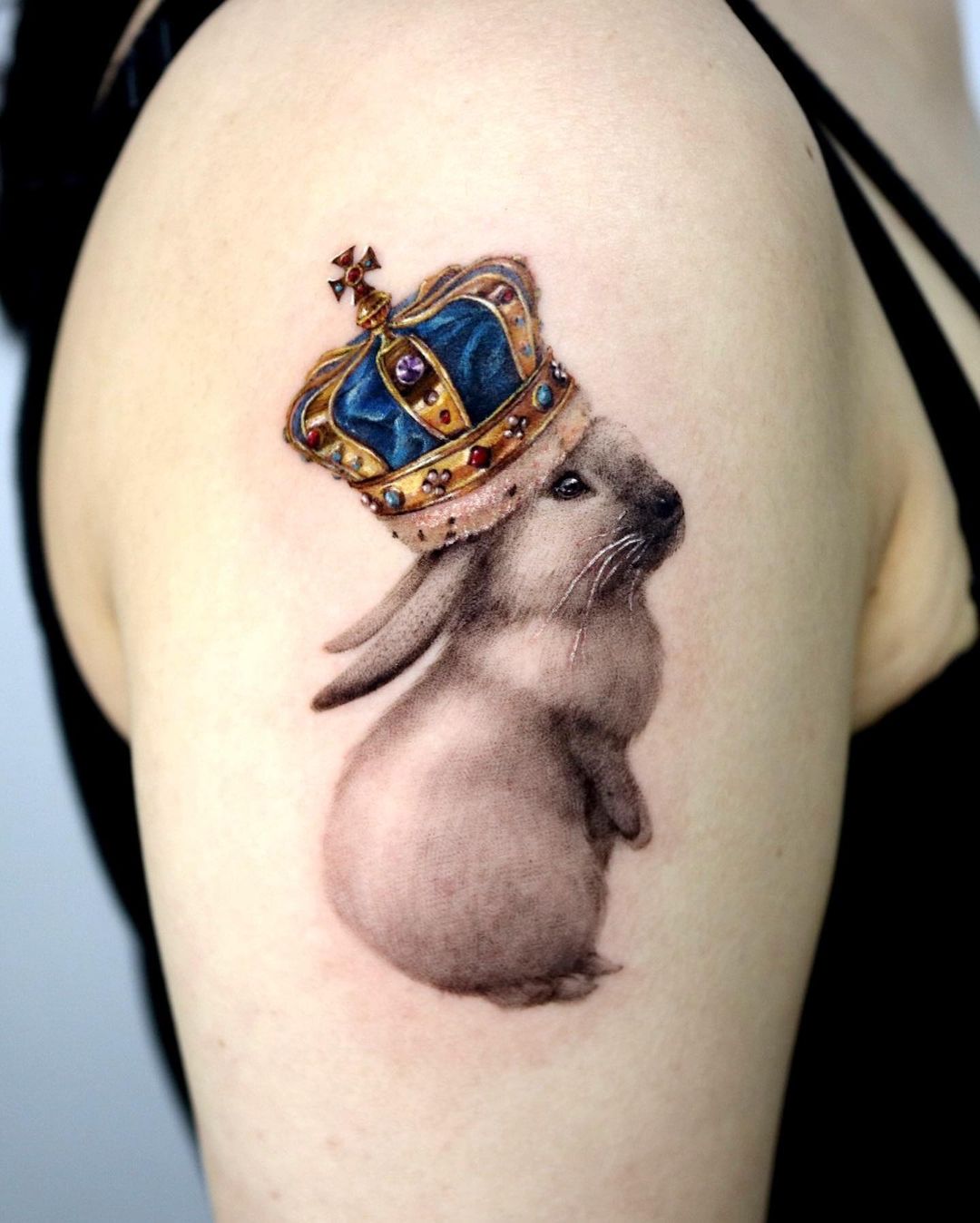 This cool tattoo features a small white rabbit wearing a large and regal blue and gold crown. It's hard to determine the symbolism behind the country bunny and the over-the-top headpiece. Still, we love the storybook qualities of this expertly illustrated ink. The shading and colorwork are exceptional. Overall, it's a fun, conversation-sparking upper arm piece.
55. Fine Line Crown Tattoo for a Queen Tattoo Design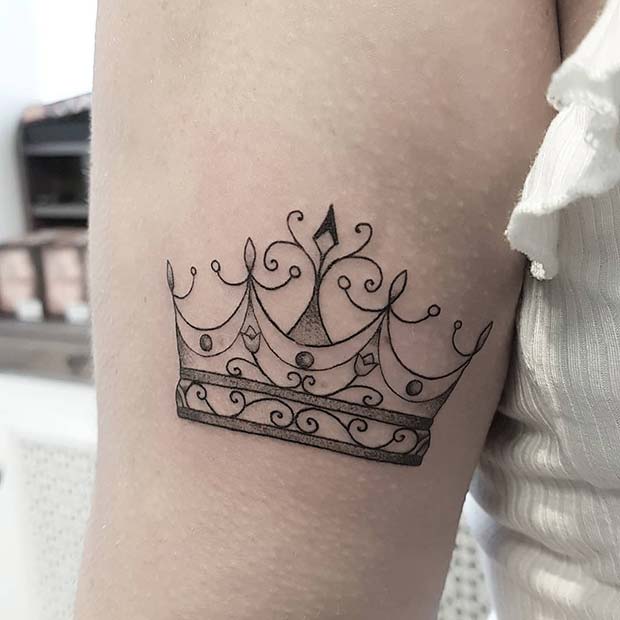 This gorgeous fine line crown tattoo is a look that's truly fit for a queen. We love the simplicity of thin black line tattoos that lack color and shading. Crowns are the perfect types of designs for these kinds of ink, as they tend to feature a mix of gentle swoops and pinhead shapes. If you're looking for a meaningful tattoo that won't require multiple appointments, this inner elbow tattoo might be just what you're craving.
56. Ace of Swords Upper Back Tattoo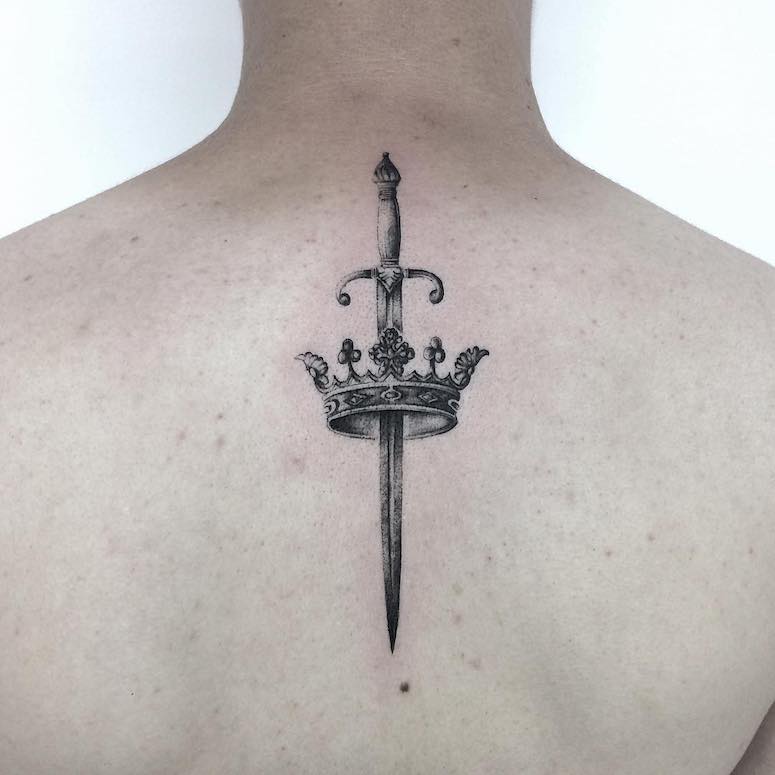 The Ace of Swords Tarot card symbolizes clarity gained after a long period of disillusion. We cannot think of a better way to pay tribute to this sort of momentous life hurdle than with some gorgeous ink. You may not be able to look at this tattoo, but you will be able to appreciate its meaning. You can easily conceal a back tattoo during work and other occasions. The wide, smooth area just below the neck is the perfect place for a tattoo with fine lines and intricate shading.
57. Italian Horn and Crown Tattoo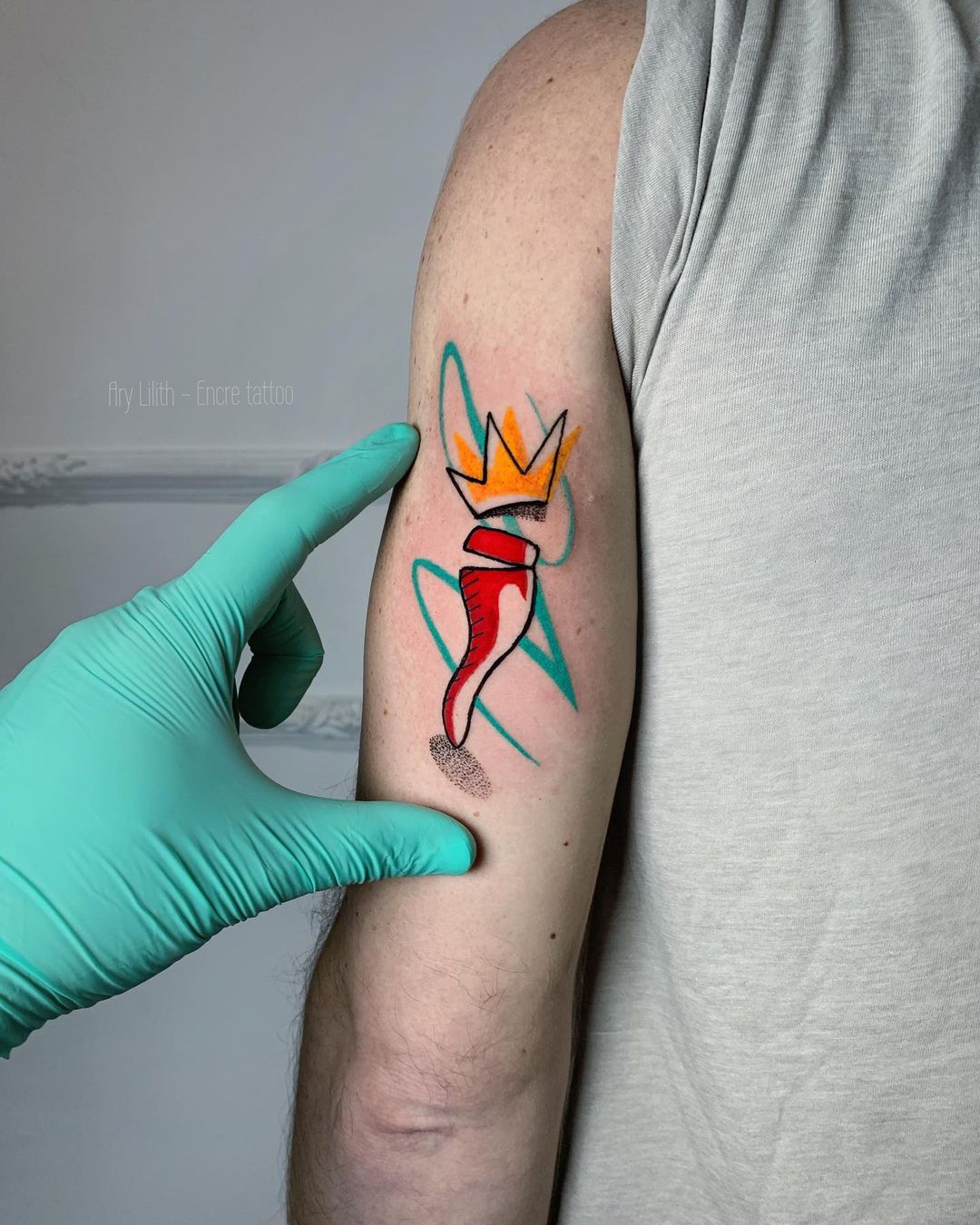 The cornicello, or Italian Horn, is a powerful charm that is said to protect wearers against the evil eye and bad luck. The twisted animal horn often takes on the form of chili pepper with a gold crown. This upper arm tattoo's bold color blocks and forms help to give this classic talisman a uniquely modern aesthetic.
58. Fine Line Crown Tattoo on the Wrist Simple Crown Tattoo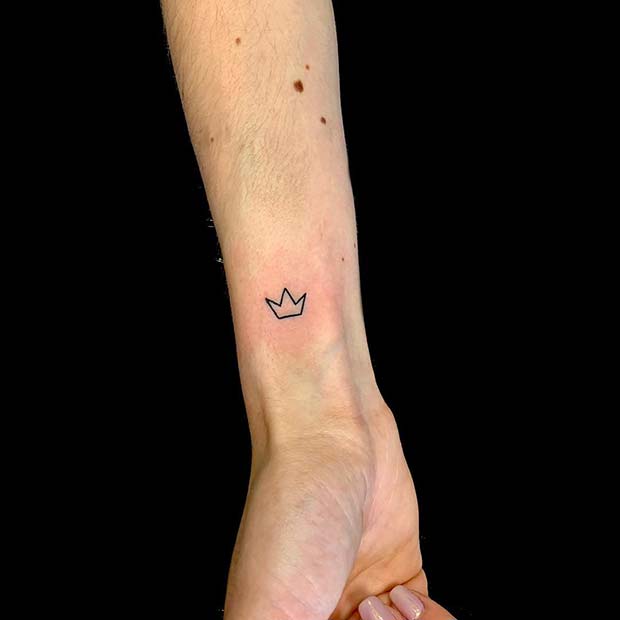 With micro tattoos raging in popularity, now is the perfect time to get a fine line inner wrist tattoo. Whether you're looking for a daily reminder of your power, victory, or triumph, the crown is the perfect symbol. The wrist is one of the most visible parts of the human body. While a general lack of padding around the nerves and tendons in this area can make the process a bit more painful, we doubt you'll have many regrets. The sharp, geometric crown seen above should take no more than 5 minutes.
59. Medieval Crown with Red Ribbon and Cross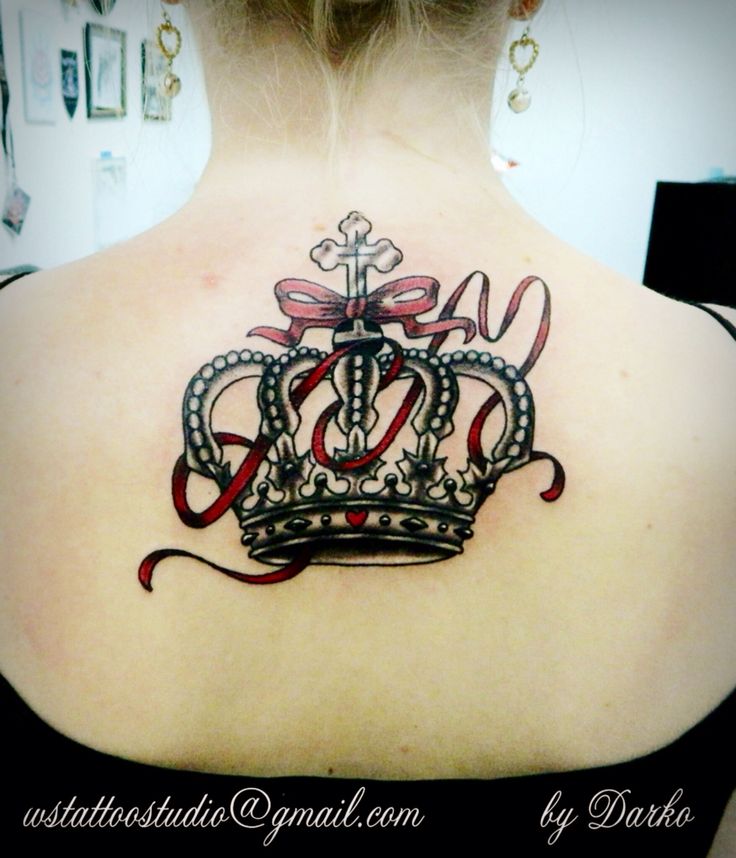 The crown and cross are often interwoven to create powerful Christian symbolism. The bold upper back tattoo demonstrates the heavenly rewards that one receives after weathering the trials of life. Meanwhile, the red ribbon strung around the crown symbolizes the blood of Jesus Christ. Together, the crown and the Jesus cross tattoos symbols create powerful imagery that is perfect for any Christian who is looking to commemorate their religion in ink form.
60. Three Crown Sleeve with Watercolor Backdrop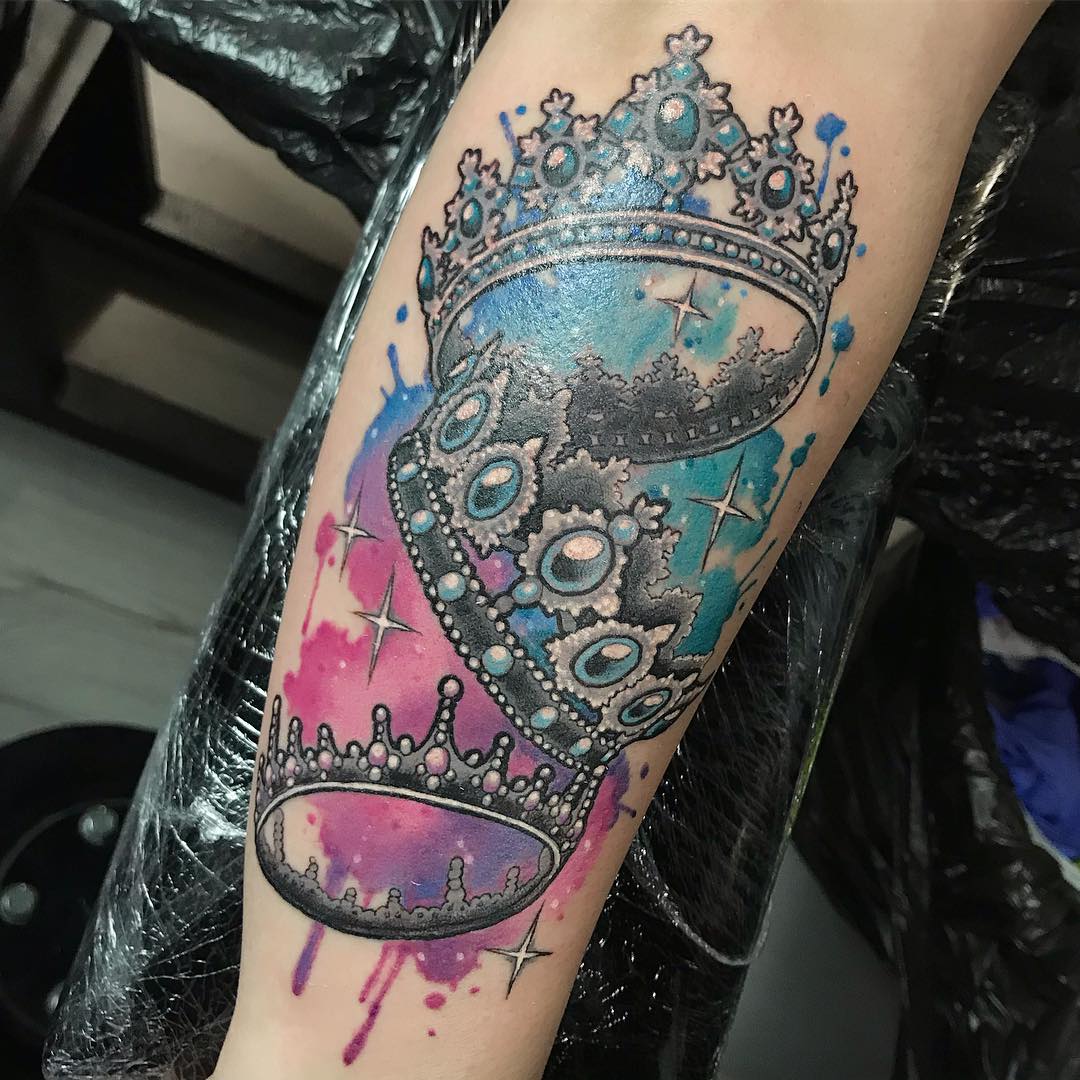 When a single crown tattoo doesn't feel regal enough, you can always opt for a trio of tiaras. Three Crowns happens to be the national emblem of Sweden. While this punk rock sleeve is a far cry from the gilded coronets on the country's coat of arms, both designs are perfect for a royal highness. A blast of drippy watercolor-inspired ink helps the crowns look more three-dimensional. A sprinkling of atomic starbursts adds a bit of vintage flair.
60 Awe-Inspiring Crown Tattoos for Men and Women
We hope you enjoyed our rundown of the best crown tattoos. This powerful image has come to represent many things over time. For some, a crown symbolizes power, valor, courage, righteousness, and even resurrection. We've seen crown symbol represented in everything from simple poke tattoos to full back illustrations. The regal head adornment has different meanings to different people. One thing is for sure. A crown tattoo will have you feeling like the most powerful king or queen in all the kingdom.