If you want a new tattoo that you won't see on 100 other people, a guide to the best unique tattoo ideas can help. Plenty of people want something that stands out, but when it comes to ideas for their next piece of body art, they come up empty.
60 Dazzling, Unique Tattoos You've Never Seen Before
If you want a standout tattoo, consulting a list of unique tattoos can help you. You may even see a design and use it as a jumping-off point, expanding the idea and making it your own. To help you get started, here are 60 unique tattoo ideas to consider.
1. The Full-Body, Black-and-White Face Tattoo Ideas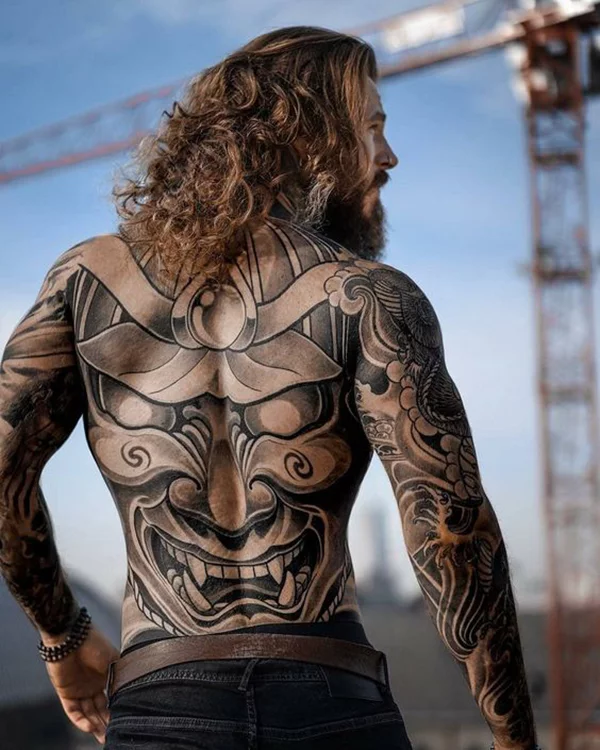 Looking for something dramatic? This one certainly fits the bill. A sinister-looking face covers the wearer's back, and it's framed by two full-sleeves. This probably isn't a great choice for a very first tattoo, but if you're committed to ink and want a beautiful (if a little unnerving) and detailed tattoo, check this one out.
2. The Full-Color, Intricate Dragon Sleeve Tattoo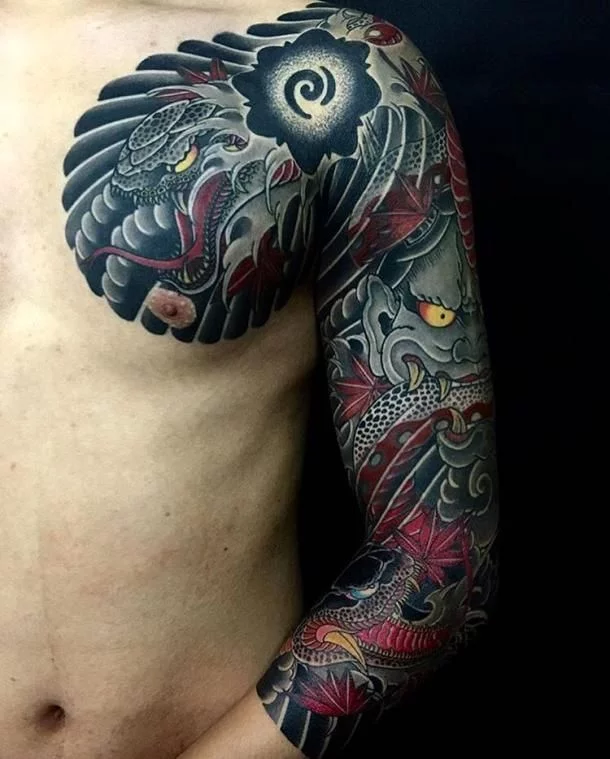 This one differs from most true sleeves in that it extends to the pectoral muscle. It has a lot of depth to it — sinister, devilish faces, dramatic dragons, and bright red leaves come together to make a statement. The muted, earth-tone palette ensures it's not too overwhelming.
3. The Black-and-White Tribal Tattoo Pattern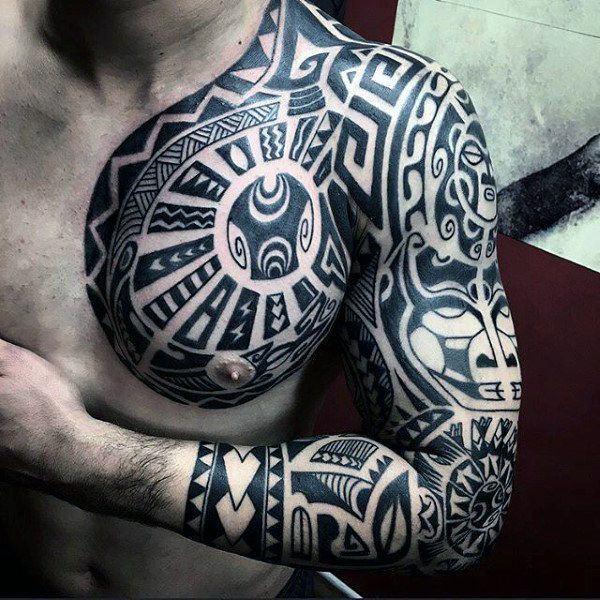 Here's another full sleeve that extends to the chest. And despite its lack of shading, this one has an intricate pattern that's reminiscent of Mayan or Incan art. Each square or band has its own unique pattern, and the occasional outline of a face offers real visual interest.
4. The Full-Color, Realistic Road Map Tattoo Ideas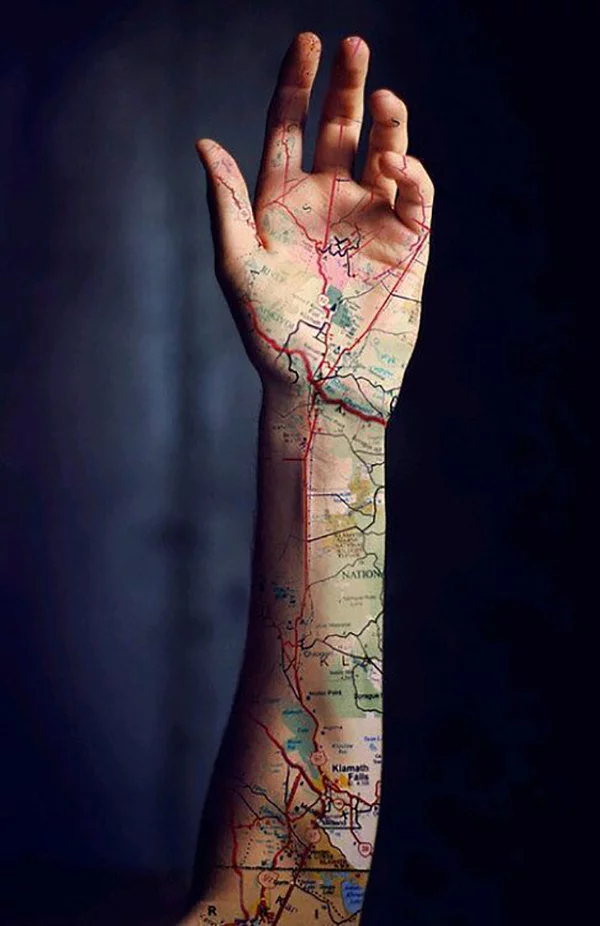 This one is a great conversation starter (and one of our favorites). The precise line work makes it look like you've screened a map onto your arm. If you're a traveler and want to memorialize one of your favorite road trips (or want to capture your hometown), this is a meaningful choice.
5. The Black-and-White Eagle in Flight Body Art Tattoo Ideas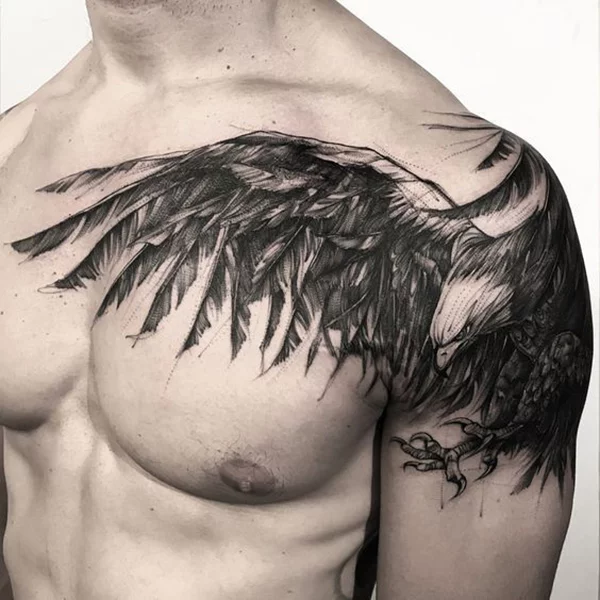 This one isn't your typical eagle tattoo. While it's black and white, there's plenty of detail. The extended wing crossing over half the chest makes it an outstanding statement piece. If you want a tattoo that evokes the spirit of bravery, this one's a great consideration.
6. The Viking Tribute Tattoo Body Art Tattoo Ideas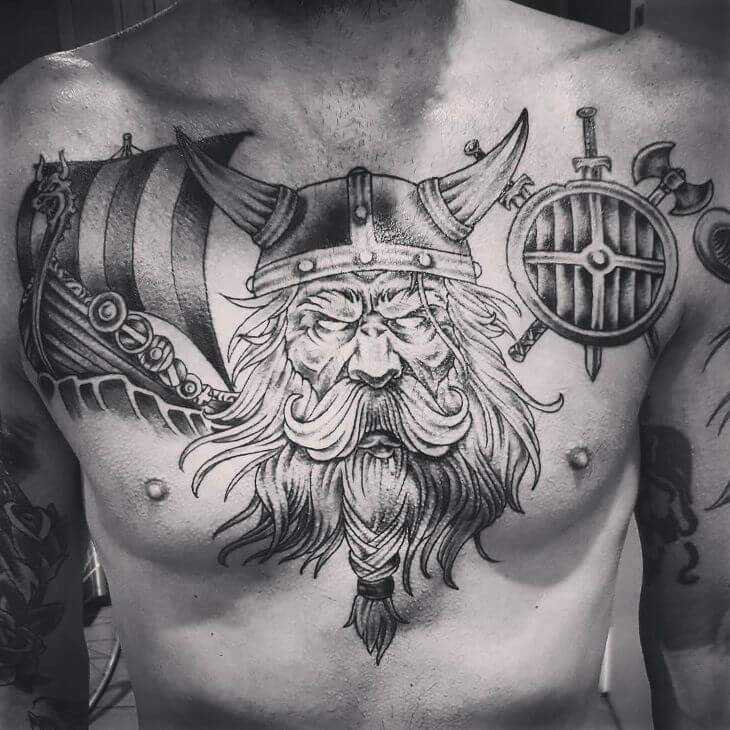 Do you have Viking heritage and want to acknowledge it? This detailed chest piece features a Viking ready for war. His face is flanked by a ship on one side and war tools on the other. The shaded design offers a pleasing black-and-white palette.
7. The Minimalist Dragon in Flight Body Art Tattoo Ideas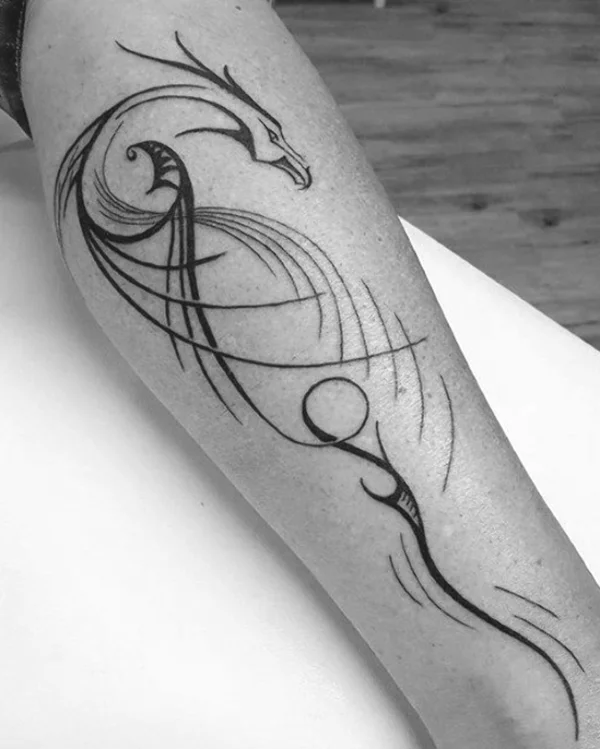 If you want something that captures the spirit of a dragon, this stunning yet minimalist forearm tattoo is the answer. Though it's made entirely of lines, this arm tattoo has plenty of motion. It's a great tattoo to place on an arm, but a larger version would make a great back tattoo. This is also a great style for dragonfly tattoos.
8. The Ancient Tree with Roots Body Art Tattoo Ideas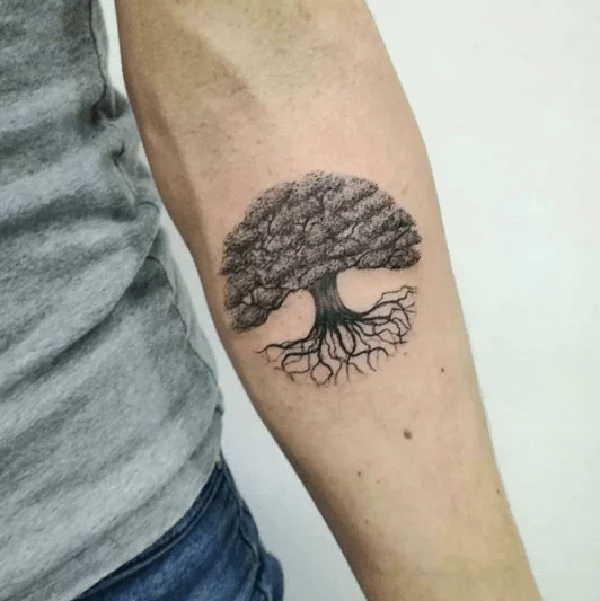 Plenty of tattoos have a dramatic look that verges on the chaotic. But if you want something that symbolizes grounding and stability, this tree tattoo is a great one. The symmetrical branches are mirrored by a set of roots. This design looks great as a smaller tattoo.
9. The Twin Faces Sharing an Eye Tattoo Ideas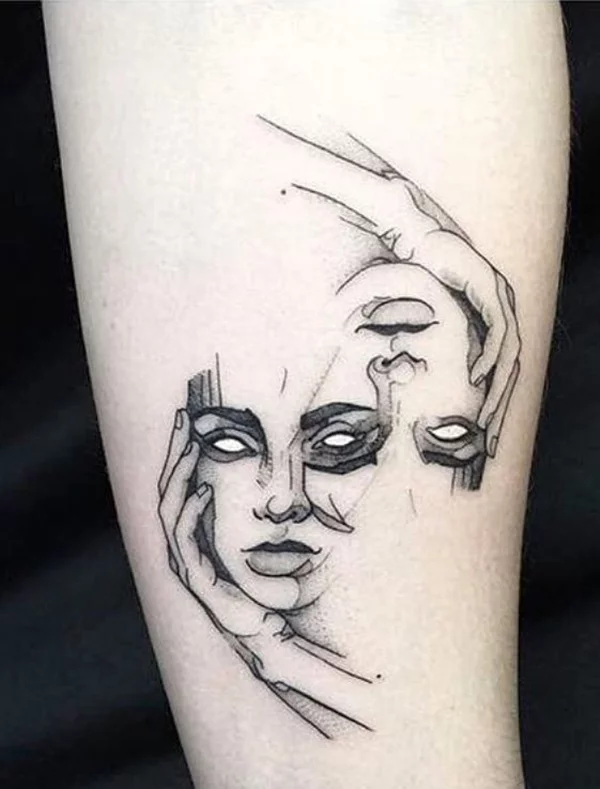 This pleasingly symmetrical tattoo looks like something out of a skilled artist's sketchbook. The right-side-up and upside-down faces might symbolize the presence of both stability and instability. Their shared eye is framed nicely by their hands. This one would look great either as a larger tattoo or as a smaller accent piece.
10. The Road Through the Wilderness Tattoo Ideas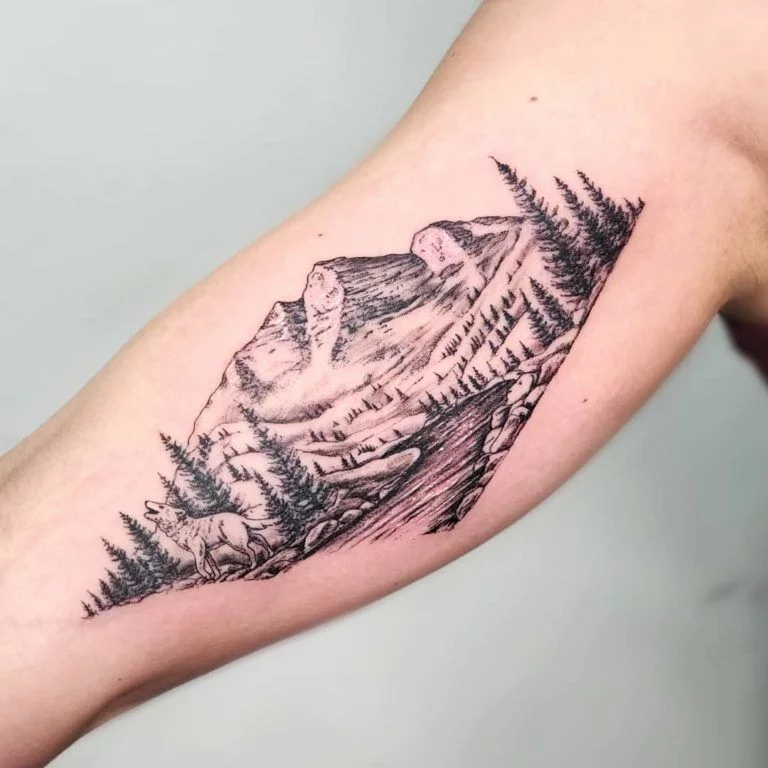 Need a tattoo that stokes your adventurous spirit? This one's diamond shape centers a winding road from the perspective of someone walking it. It features a tall mountain surrounded by sparse winter pines. If you want a reminder of your last hiking trip, this is a good one to get.
11. The Tiger and the Cherry Blossom Tattoo Ideas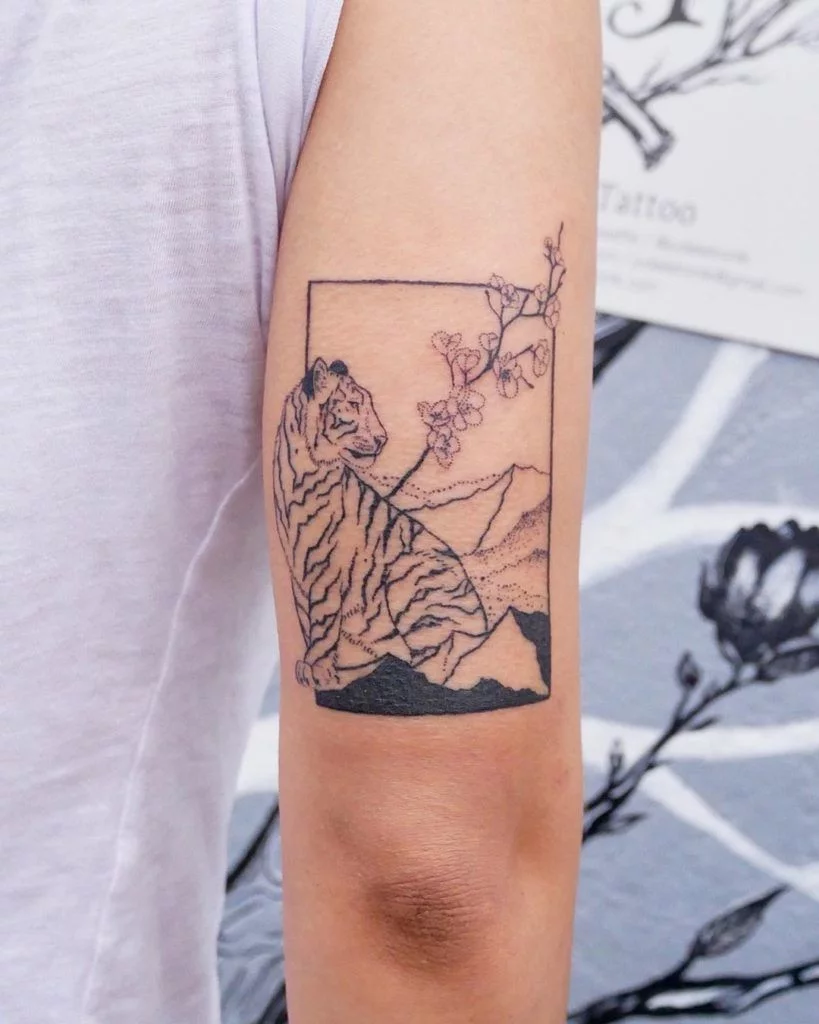 This Asian-inspired piece offers a balance of strength and grace. A noble tiger and a graceful cherry blossom branch are surrounded by mountains and framed by a simple line. The minimalist shading here gives this one a classic, understated look.
12. The Sleeping Fox in Winter Tattoo Ideas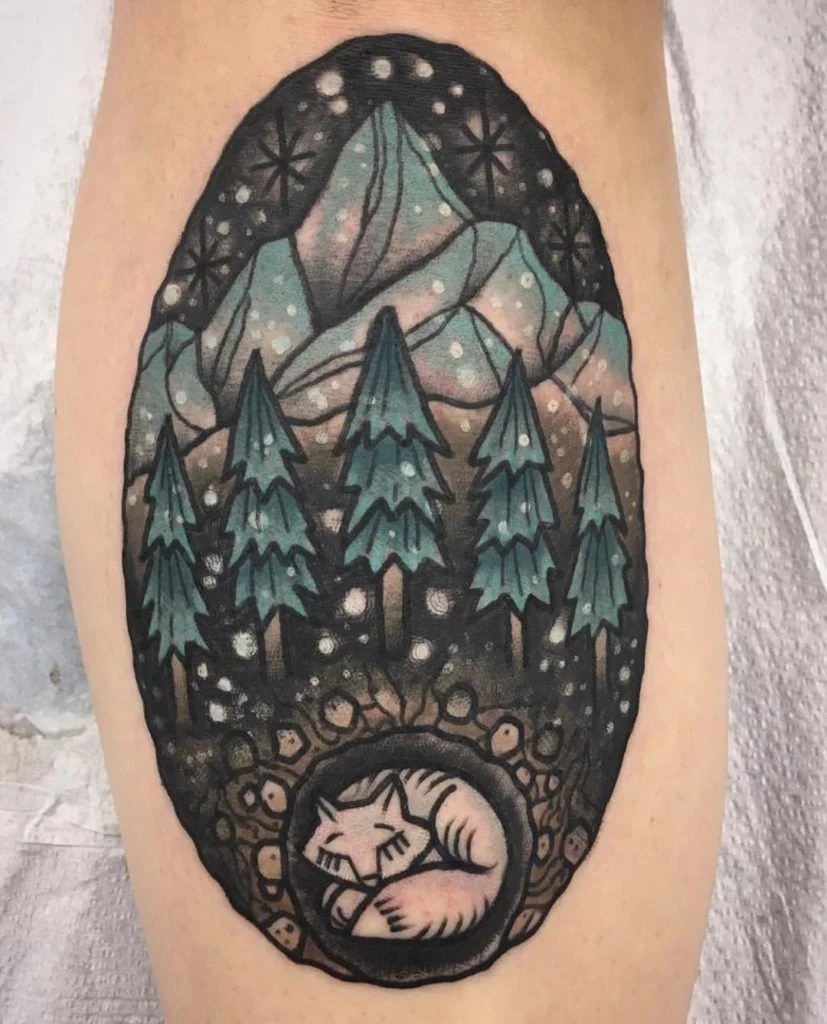 If you need a tattoo that conjures up the spirit of peace, make sure you check this one out. This oval design features a peaceful snowfall covering mountains and pines, and it's underlaid by a curled-up fox sleeping through the night. The muted colors and symmetrical design make this one especially pleasing to look at.
13. The Wild and Geometric Bear Tattoo Ideas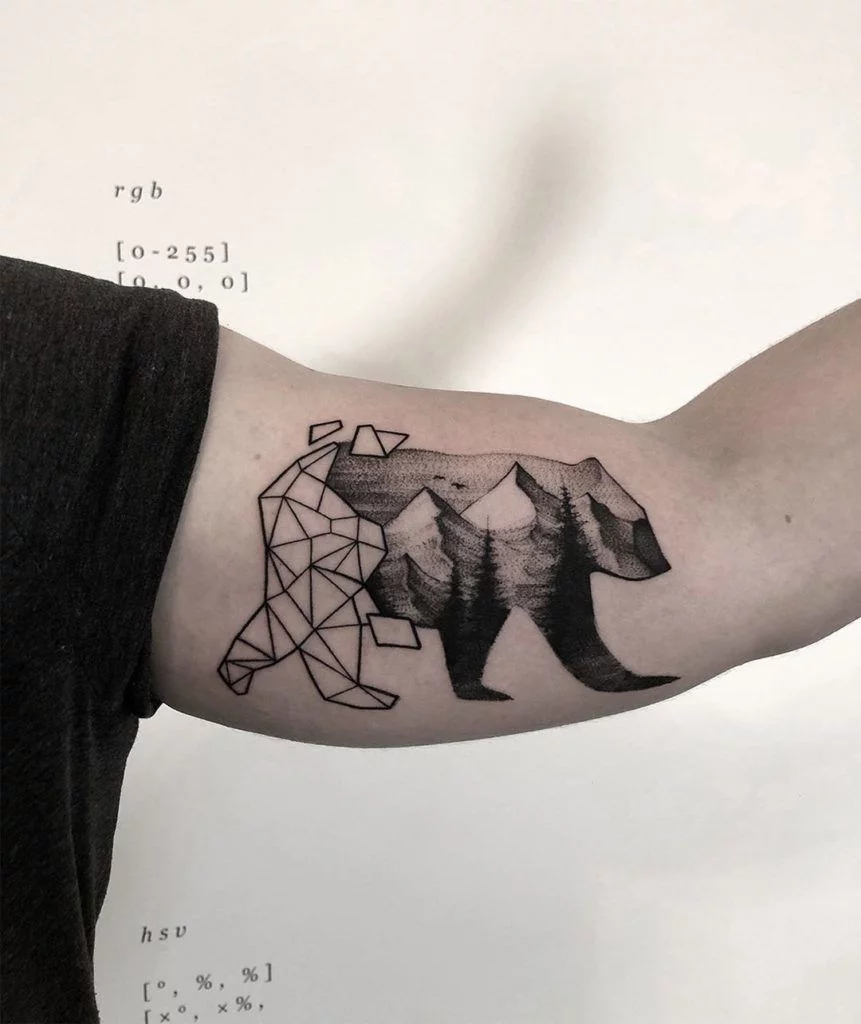 This eye-catching tattoo can symbolize a lot — the creation of something from its very beginnings or the completion of a long journey. This bear starts out with a simple, unshaded geometric design and turns into a stirring tribute to the wilderness. The skillful shading adds motion and interest.
14. The Ancient and Symbolic Circle Tattoo Ideas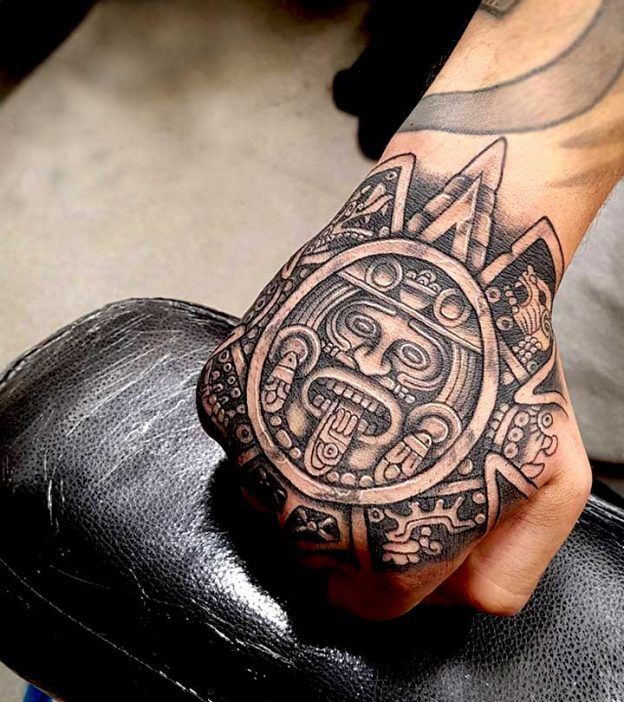 This tattoo is shown on a hand, but it also makes a statement on your shoulder or back. It features an ancient-inspired face in the center, and it's surrounded by dragon-like faces and pyramidal designs. If you want something that inspires a spirit of strength, this is a great one to get.
15. The Otherworldly Geometric Sequence Tattoo Ideas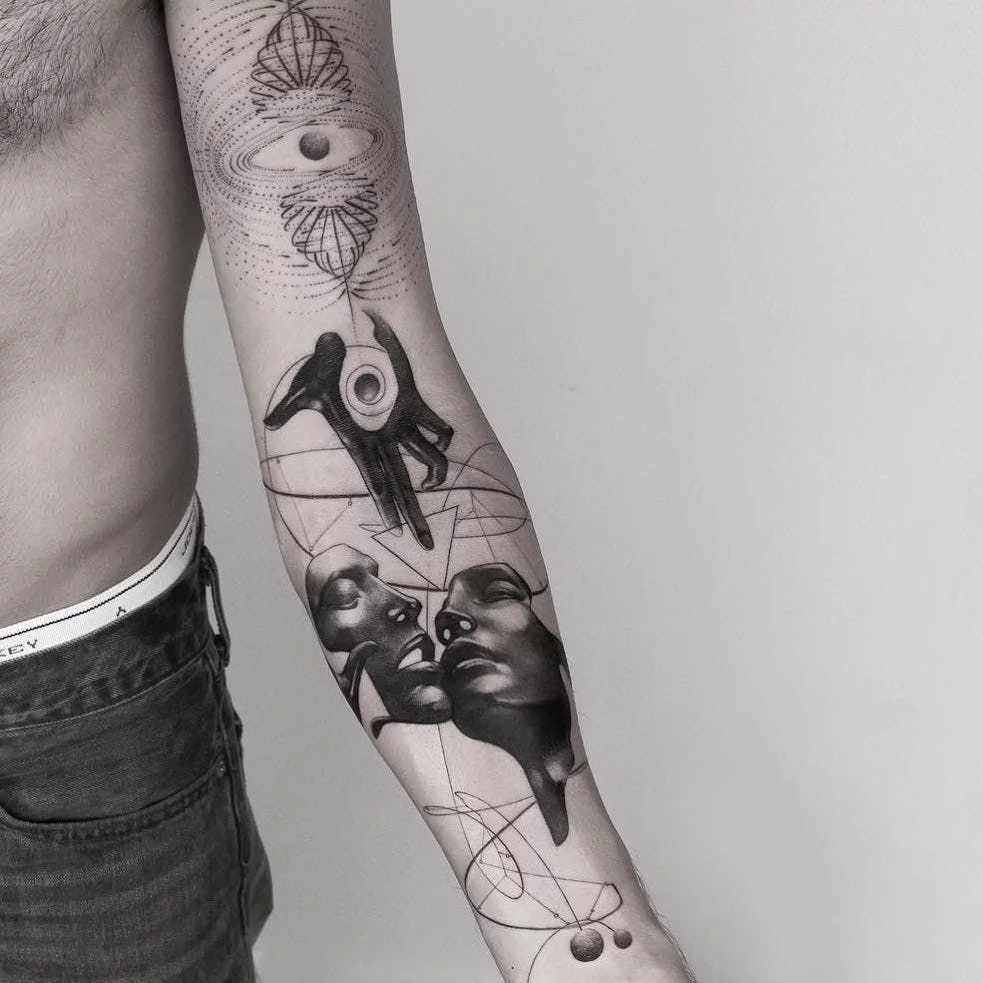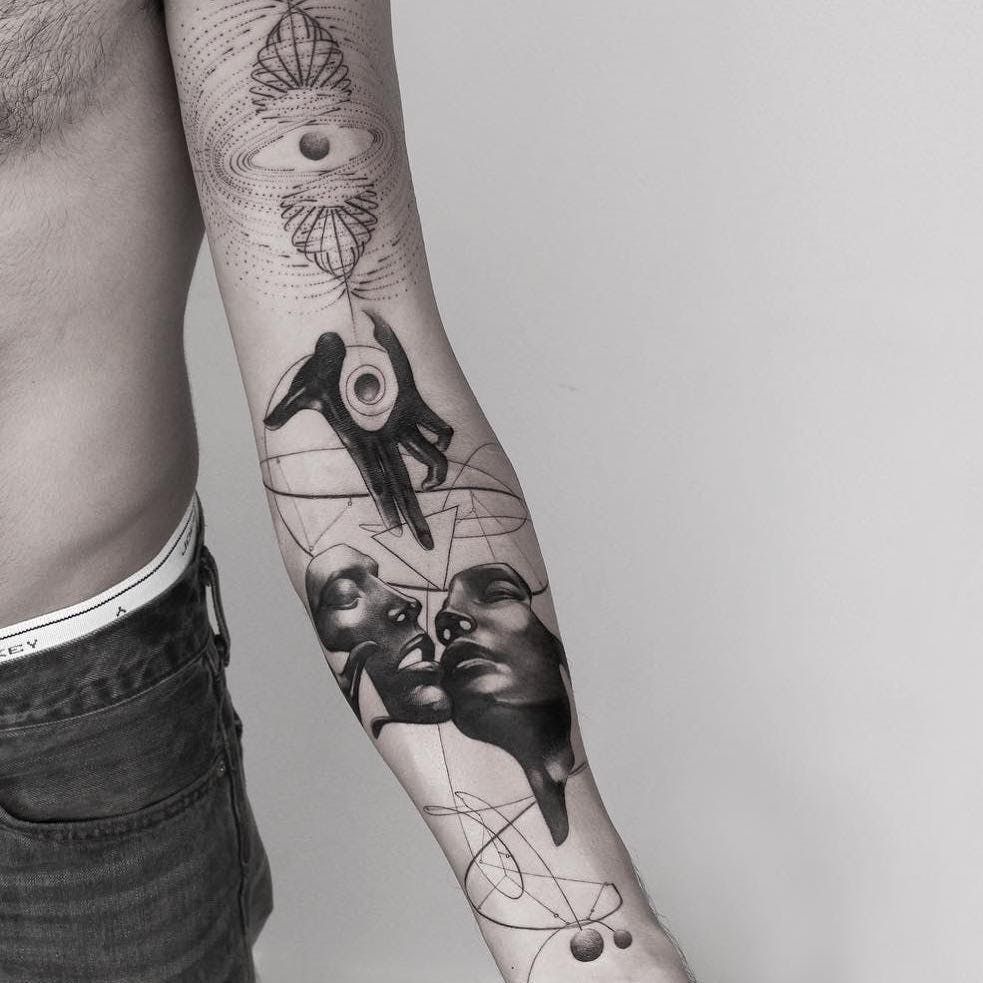 This tattoo defies easy interpretation. It starts with a geometric design reminiscent of an electron or a simplified solar system, moves to a shaded and pointing hand, and then progresses to two mask-like faces sharing an embrace. It ends up in two spheres followed by string-like tails.
16. The Flurry of Black-and-White Targets Tattoo Ideas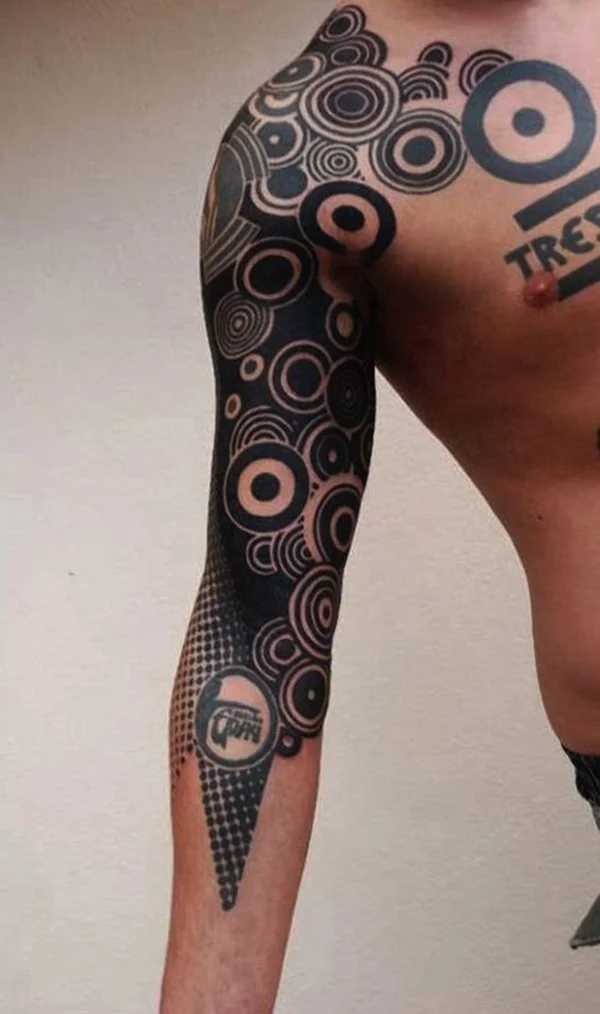 This tattoo has a good bit of solid black, which is always a different look. It features a collection of circular targets layered over one another. Most interesting is the fading out of the black background — it looks pixelated like old-school comic books.
17. The Broken and Geometric Circle Tattoo Ideas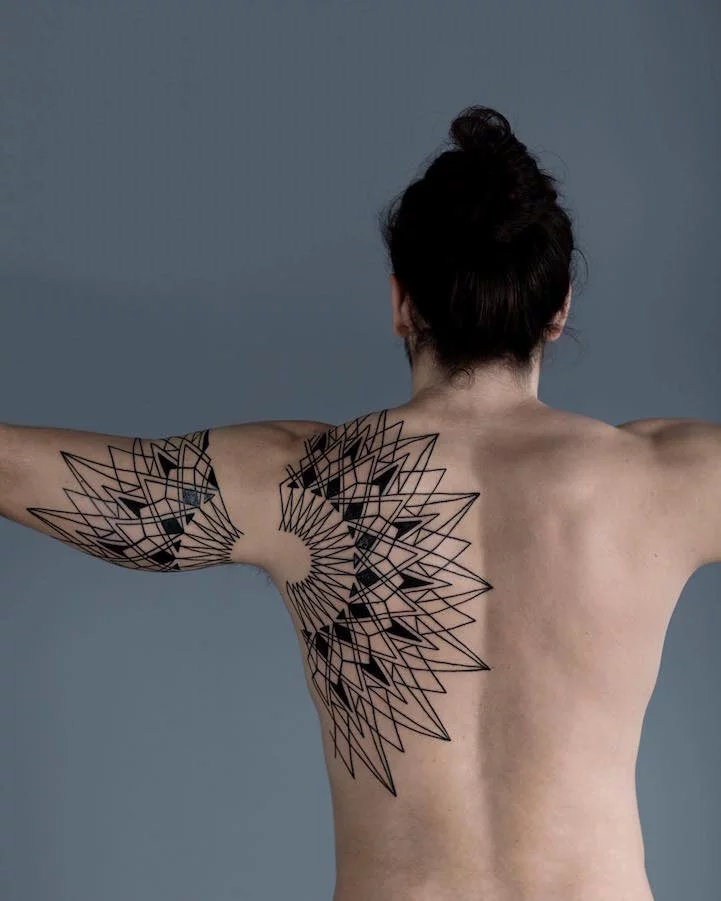 This tattoo's broken circle might represent overcoming a challenging time in your life, or it may simply be something you choose for its unconventional design. This sun-like, hollow circle extends outward in a series of triangles that increase in complexity. Sun and moon tattoos work well with this design.
18. The Bold, Unwavering Christian Lion Tattoo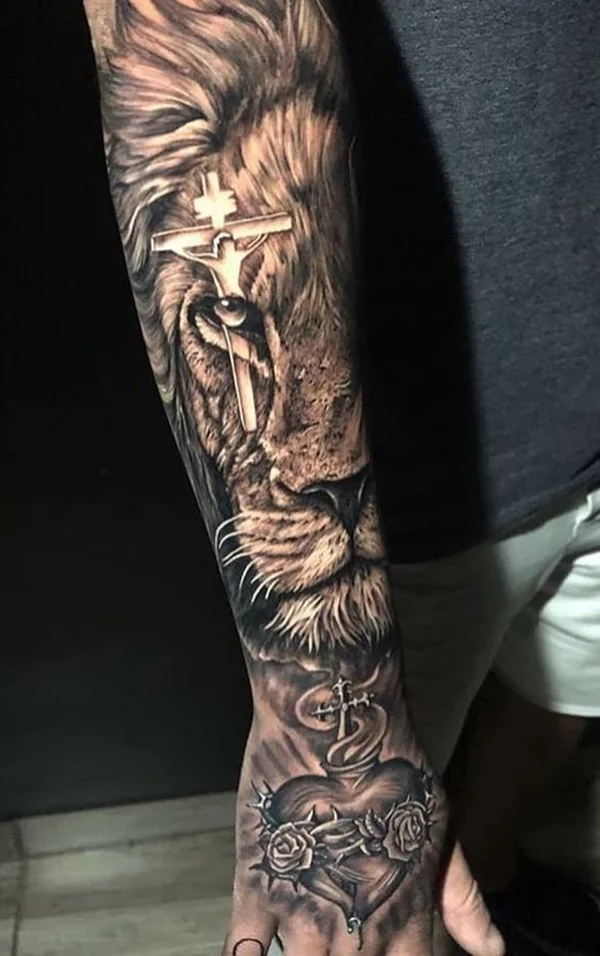 If you want a faith tattoo that pays tribute to your Christian faith, this is a great statement piece. The lion's face (possibly inspired by the work of C.S. Lewis) features a crucifix, and he stands over a heart encircled by a crown of thorns.
19. The Full-Color, Flowe-Flanked Warrior Tattoo Ideas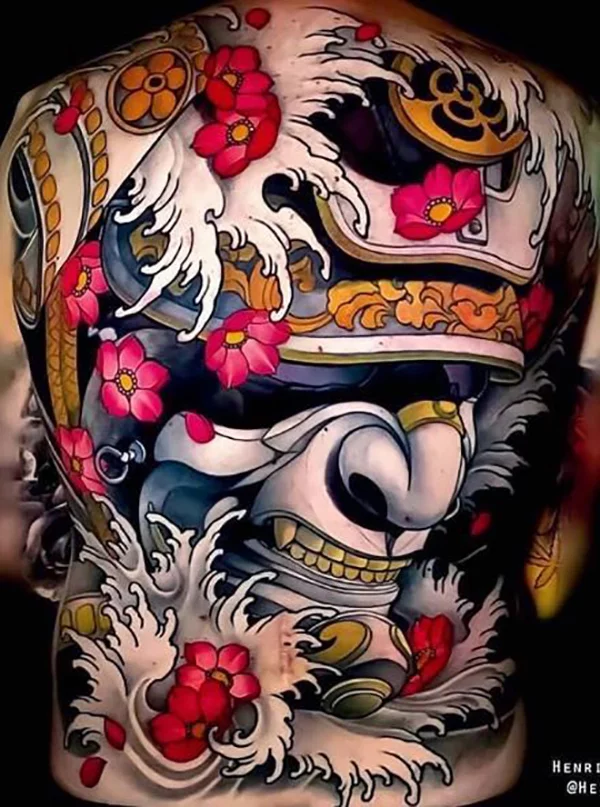 This one makes a clear nod to Hokusai Katsushika's The Great Wave. The wave itself surrounds a warrior in a gold-adorned helmet. and he's surrounded by bright pink flowers. Perhaps this one symbolizes weathering a storm to receive a great reward.
20. The Sleeve of Connected Hexagons Tattoo Ideas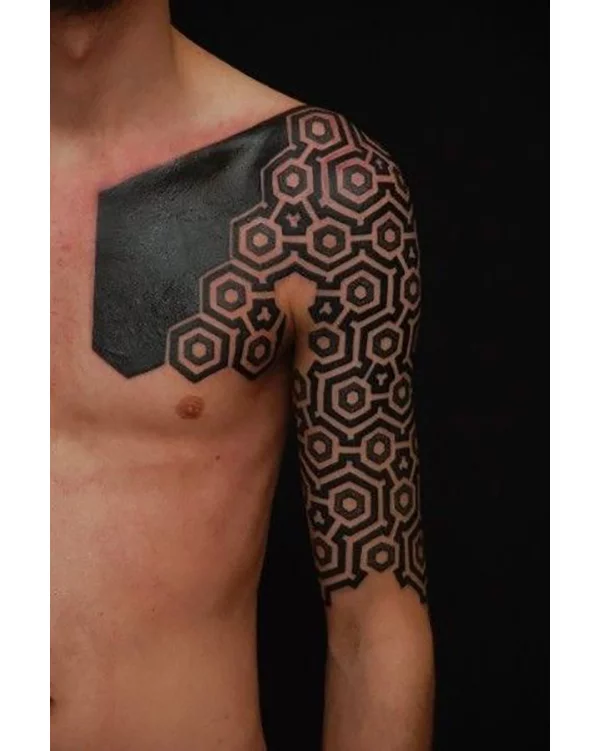 Abstract tattoos are growing in popularity, and this one also makes use of an all-black triangle (another growing trend in the body art world). This intricate design features interconnected, target-like hexagons and looks great as a shoulder piece that extends into a half sleeve tattoo.
21. The Highly-Detailed Honeycomb Map Tattoo Ideas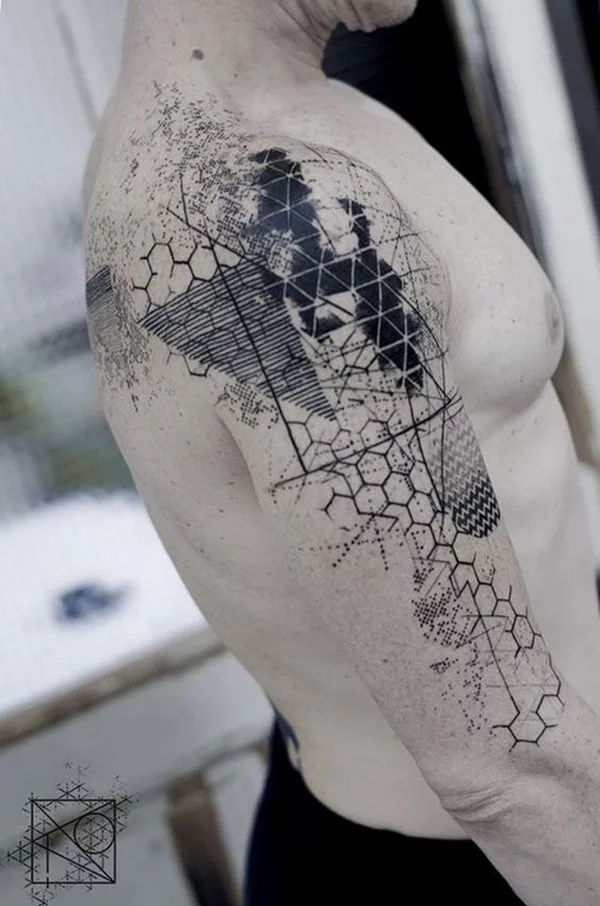 This tattoo could have many meanings ascribed to it, and it's a great choice for those who love abstract art. A wave of geometric patterns covers map-like stretches, and they're surrounded by small dots that look like aerial maps of the world at night.
22. Cross Tattoos Design: The Sun of Ancient Languages Tattoo Ideas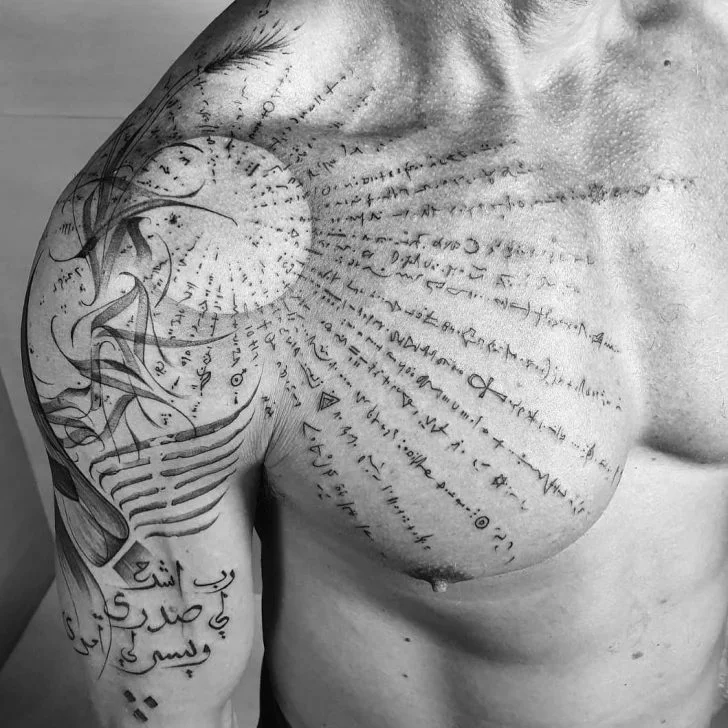 Here's another cross tattoos idea that isn't too easily interpreted. It centers a bright sun whose rays are made of what looks like an ancient language. It then connects to a shoulder piece of fluid, abstract designs centering a few lines in Arabic.
23. The Defiant, Shadow-Faced Lady Tattoo Ideas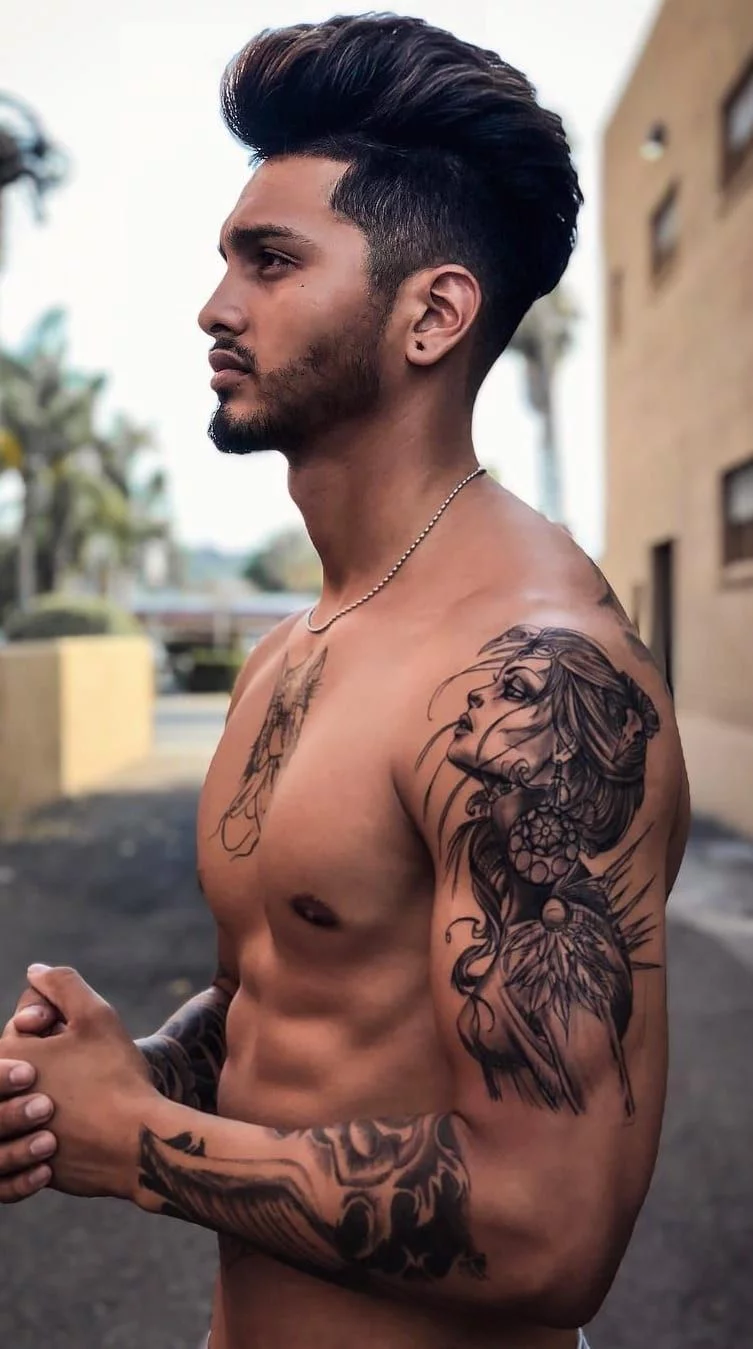 Want a tattoo that inspires strength? This shoulder piece features a woman with a look of determination. Her long, flowing hair blends seamlessly into the feather epaulets across her shoulders. Her circular patterned earrings add some extra visual interest to this stunning and unconventional piece.
24. The Patterned, Commemorative Baby Footprint Tattoo Ideas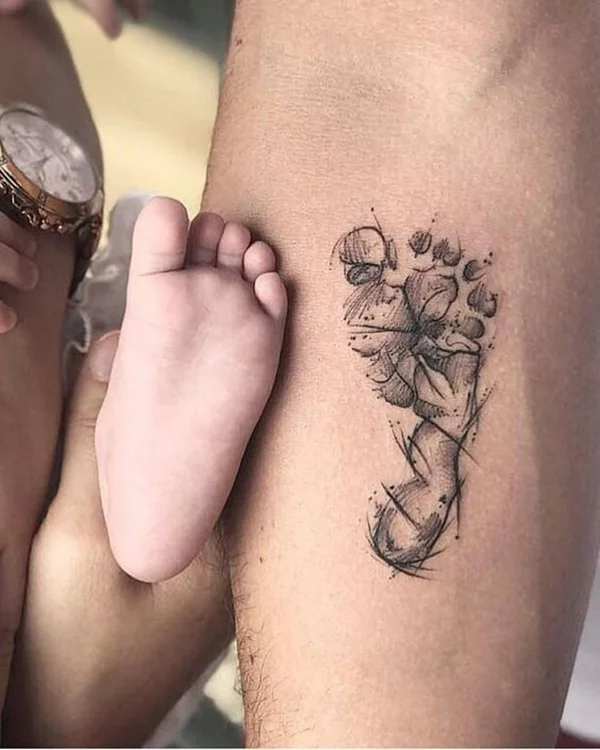 Lots of parents celebrate the birth of a baby by getting a footprint tattoo. This one offers a twist on that tradition. Instead of solid black, it renders the baby footprint in shaded and geometric form. It's a great way to remember your child's birth in an unconventional way.
25. The Tribal Swirl Shoulder Piece Tattoo Ideas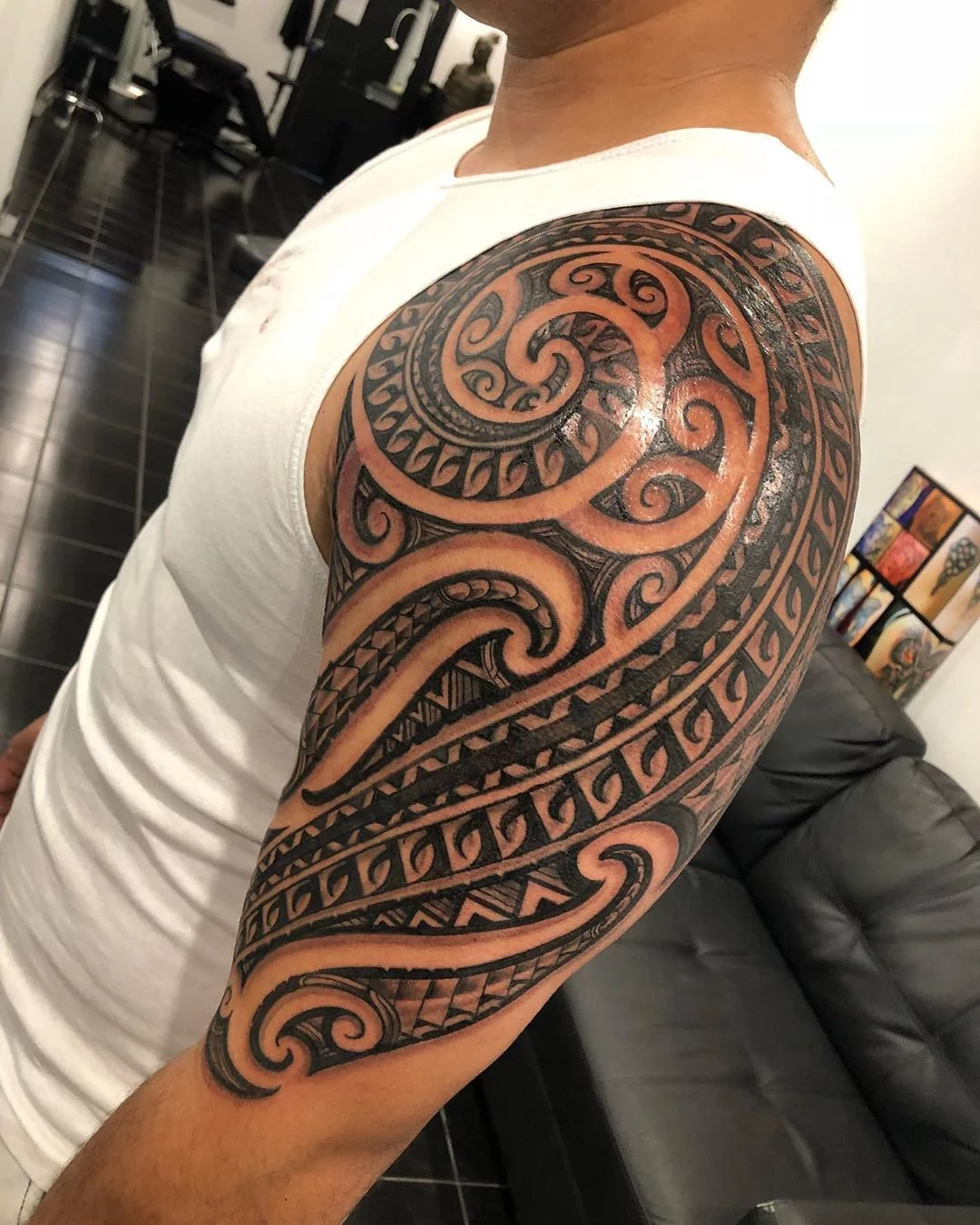 This one looks a little like the tribal tattoos sported by Dwayne "The Rock" Johnson. The spiral swirl adds some motion, and the shaded patterns within the lines give it more depth than most similar tattoos out there. Whether you have Polynesian heritage or not, this is a great tattoo.
26. The Shaded Abstract Calf Tattoo Ideas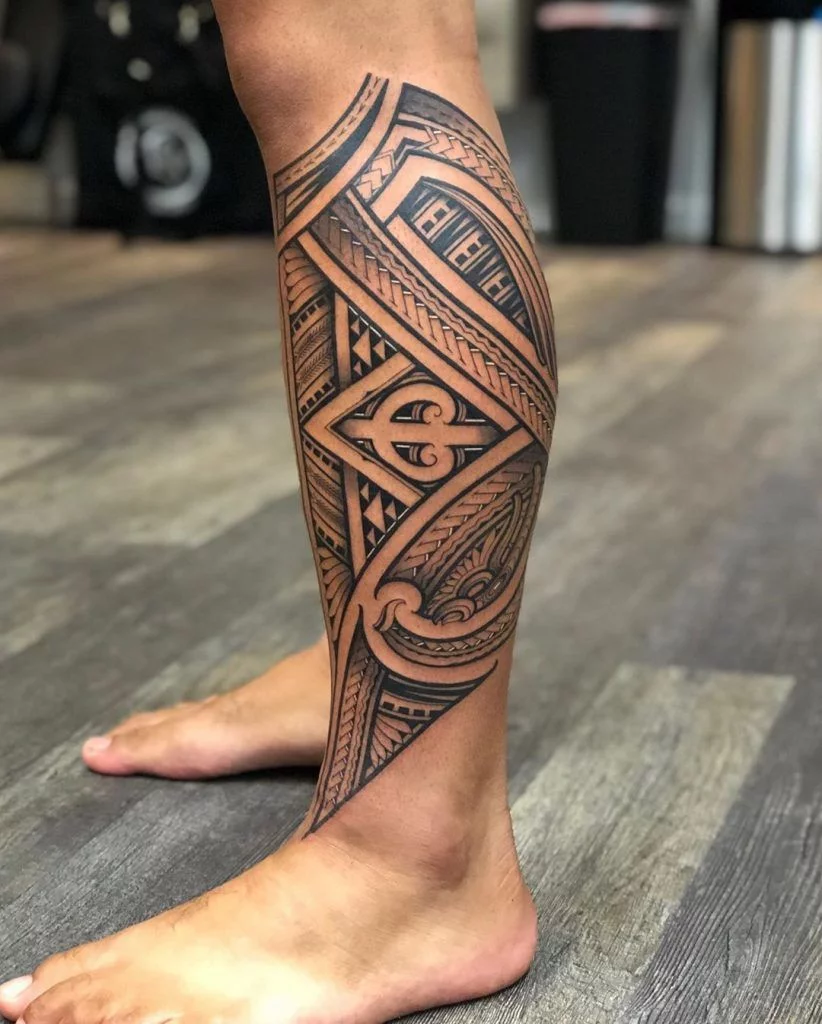 This one isn't really limited to being a calf tattoo — it would also look great as a half-sleeve. Its pointed and symmetrical design looks a lot like ornate architecture. When done by a skilled tattoo artist, the highly shaded line work on this one is sure to spark some conversations.
27. The Navajo Blanket Inspired Tattoo Ideas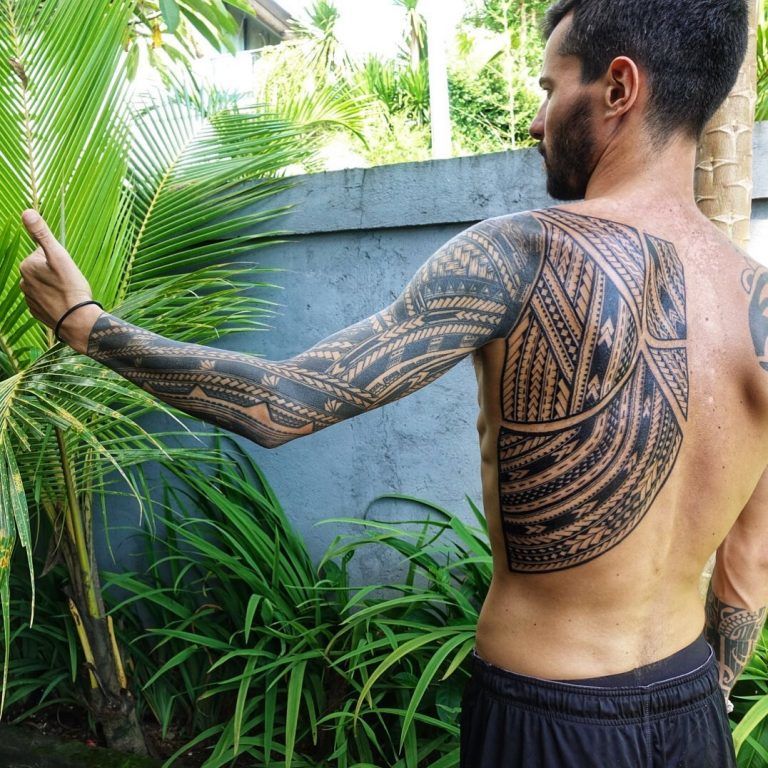 It's not too often that you see tattoos with a woven look, but this out-of-the-box design looks great. The arrows and basket-weave details give it a lot of visual interest. And as you can see on this model, it looks great as a shoulder piece extending into a sleeve.
28. The Watercolor Birds on a Flowered Branch Tattoo Ideas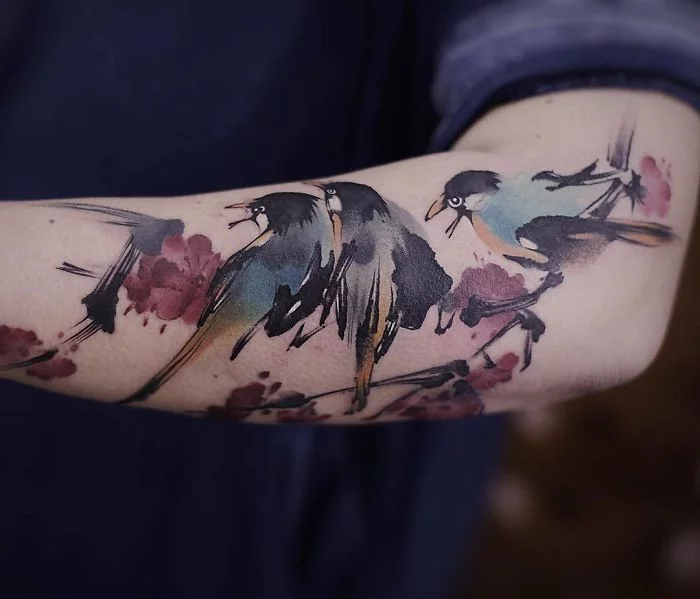 Watercolor tattoos are fairly uncommon regardless of the design, and it takes a skilled tattoo artist to do them effectively. This trio of birds surrounded by flowers inspires feelings of peace, and you get the added bonus of a painting-like tattoo.
29. The Cool-Color Abstract Painting Tattoo Ideas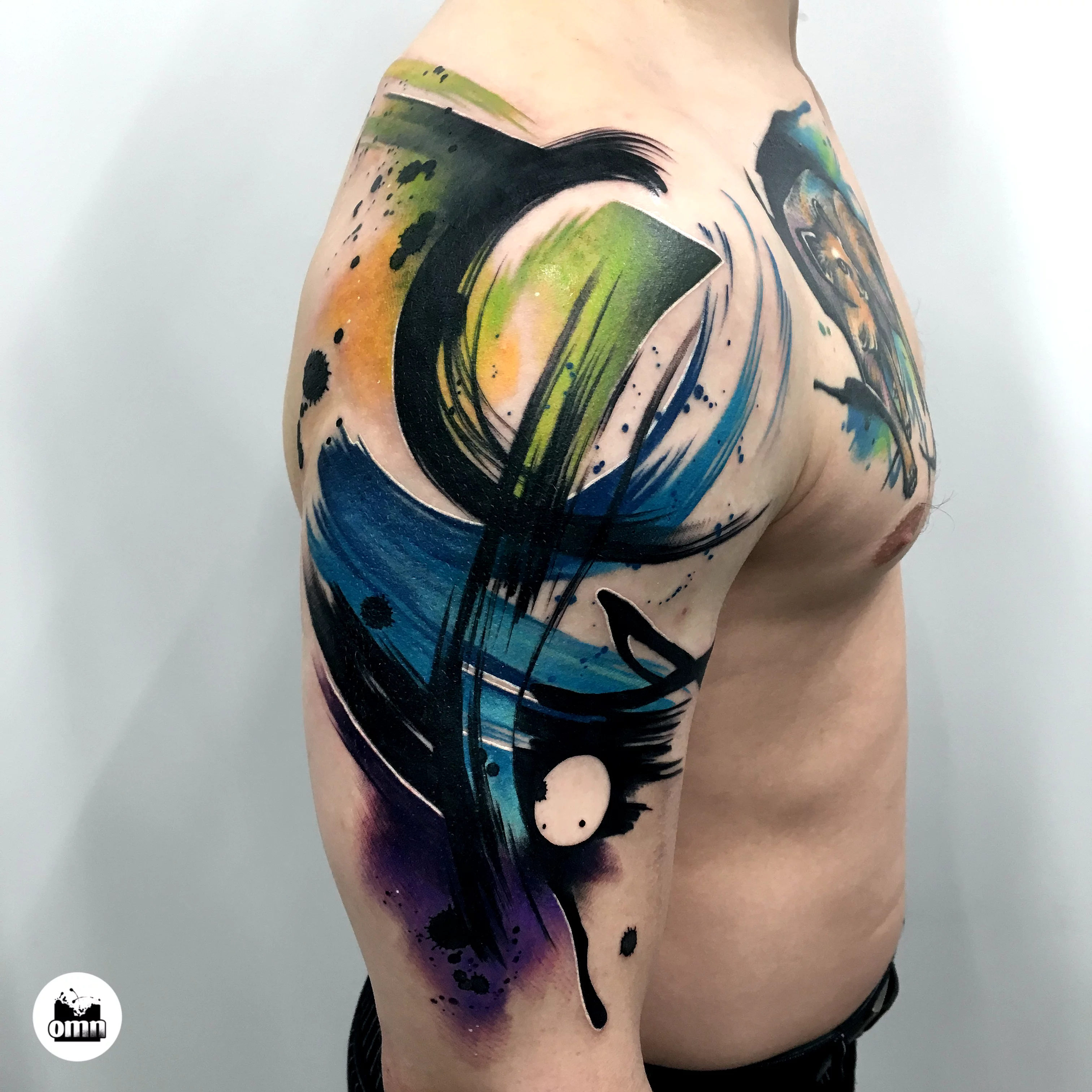 Abstract art isn't for everyone, but this dramatic painting-inspired piece is sure to please. Fine details make it look like there are actual brush strokes across your skin, and the primarily cool-color design makes it look like water, with the small patch of yellow looking a lot like the sun.
30. The Trapped and Fading Person Tattoo Ideas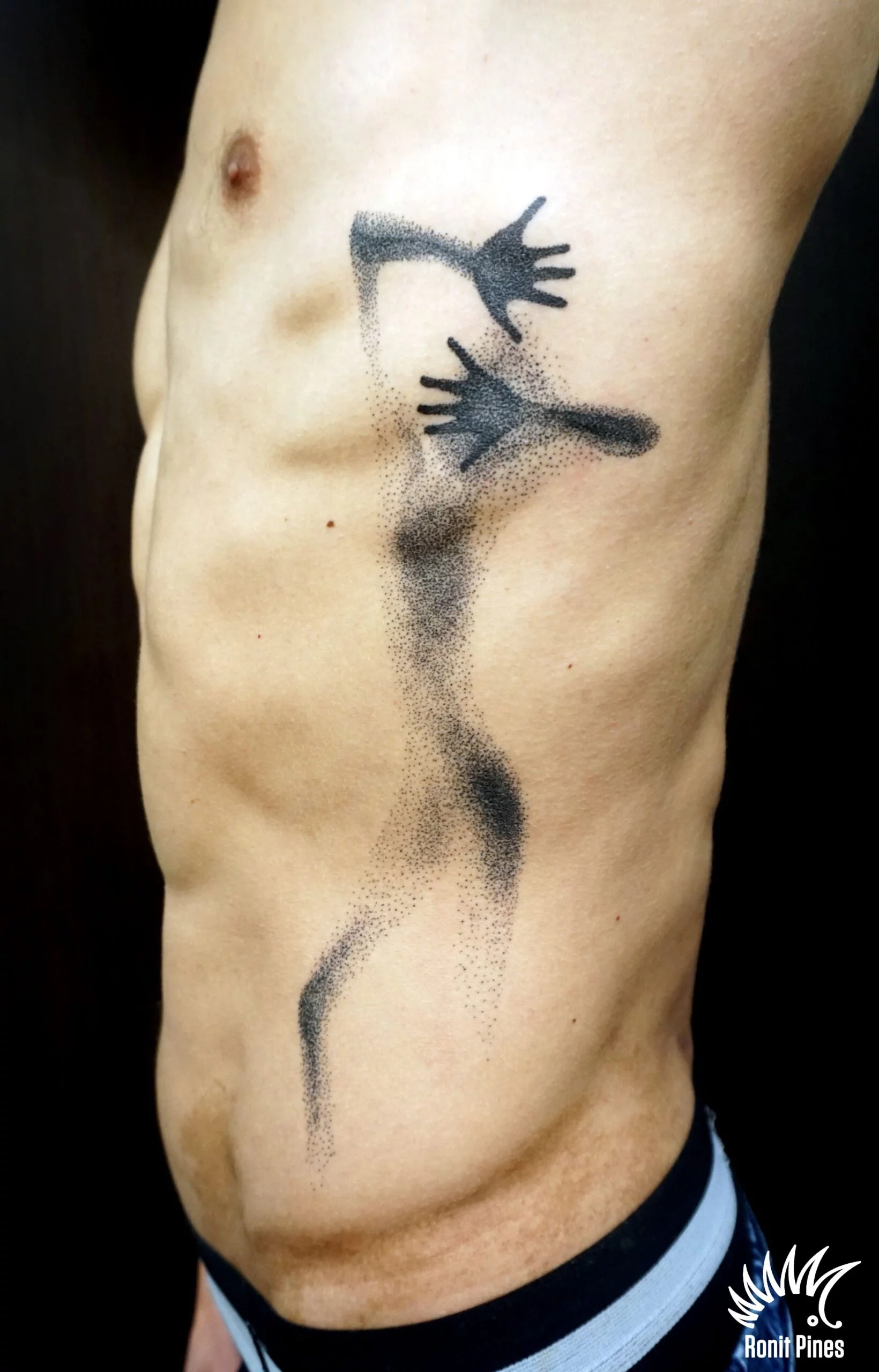 This one isn't as calm as some of the tattoos on the list. The dotted design looks like a slim figure fading away, and the darker hands look as though they're pressing up against the glass. This design looks a lot like a figure who feels somehow trapped.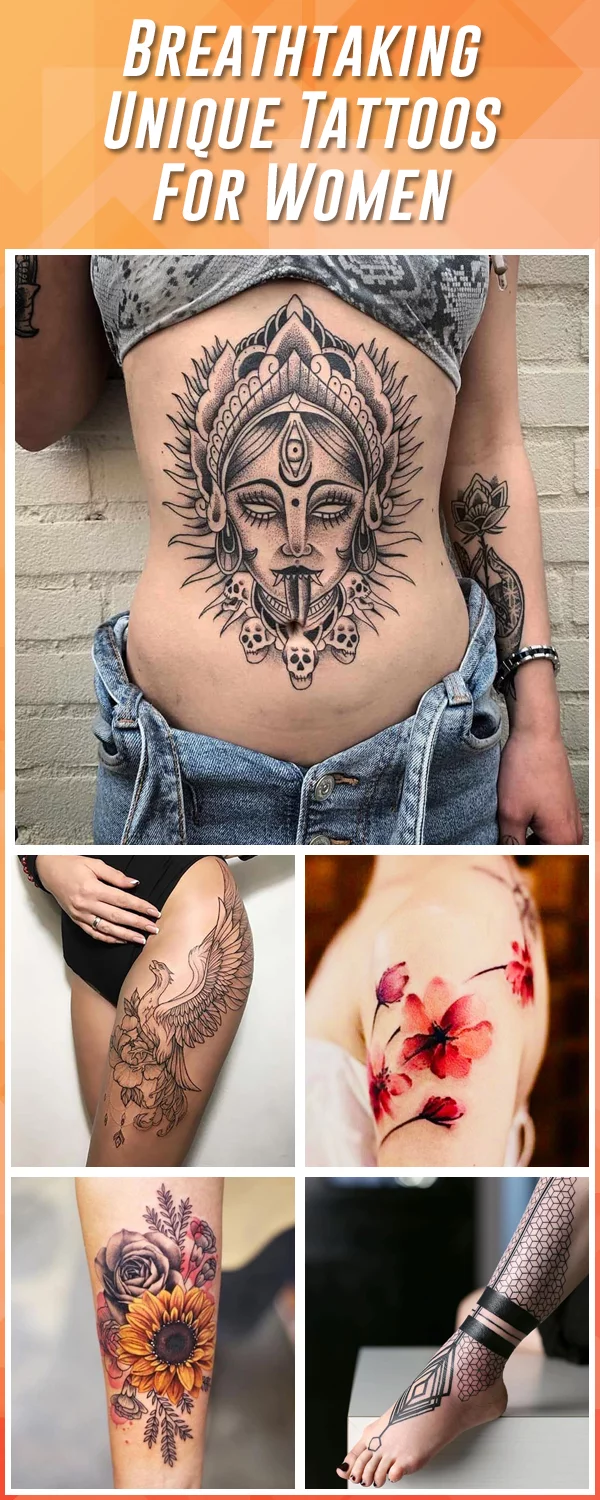 31. The Small and Colorful Flower Cluster Tattoo Ideas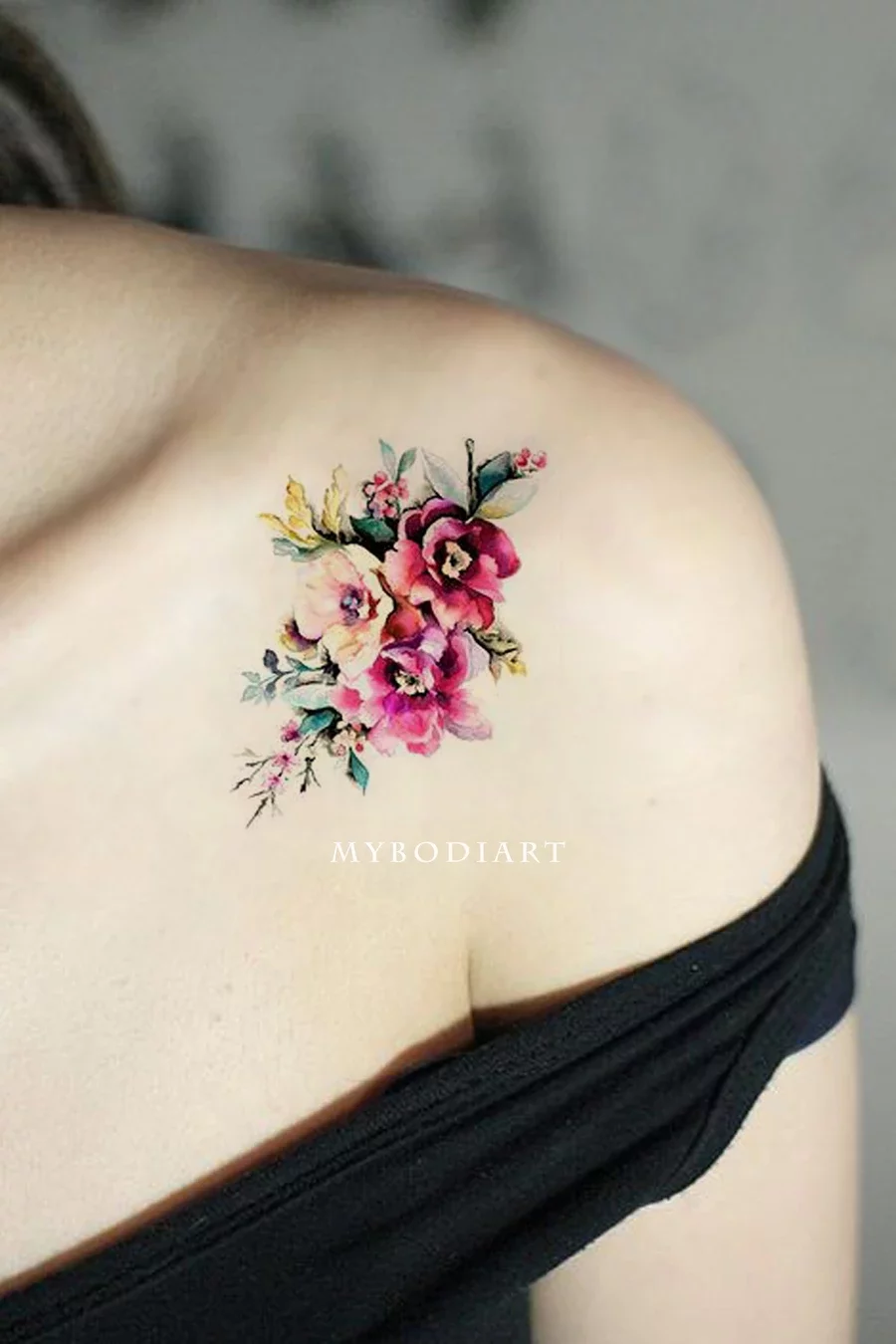 This one has a little too much shading to be considered a watercolor tattoo, but the soft, muted use of color gives it a vintage-inspired look. This looks great as a smaller tattoo, and it's perfect for those who want a little color without it being overwhelming.
32. The Watercolor Trail of Flowers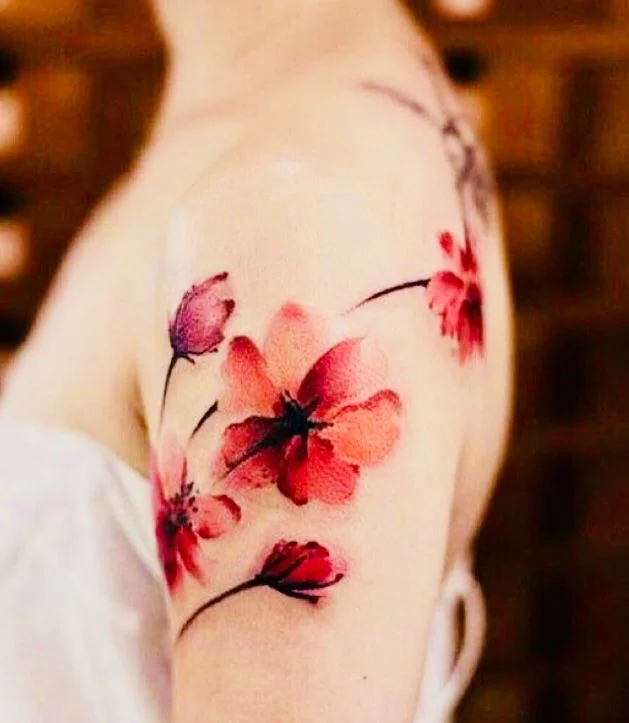 A lot of floral tattoos don't have a lot of motion to them, but this one is an exception. It has the look of flowers being thrown, and the mix of fully-bloomed flowers and buds adds some visual interest. The fading stems and soft petal edges give it the look of an old watercolor painting.
33. The Ancient Face With a Third Eye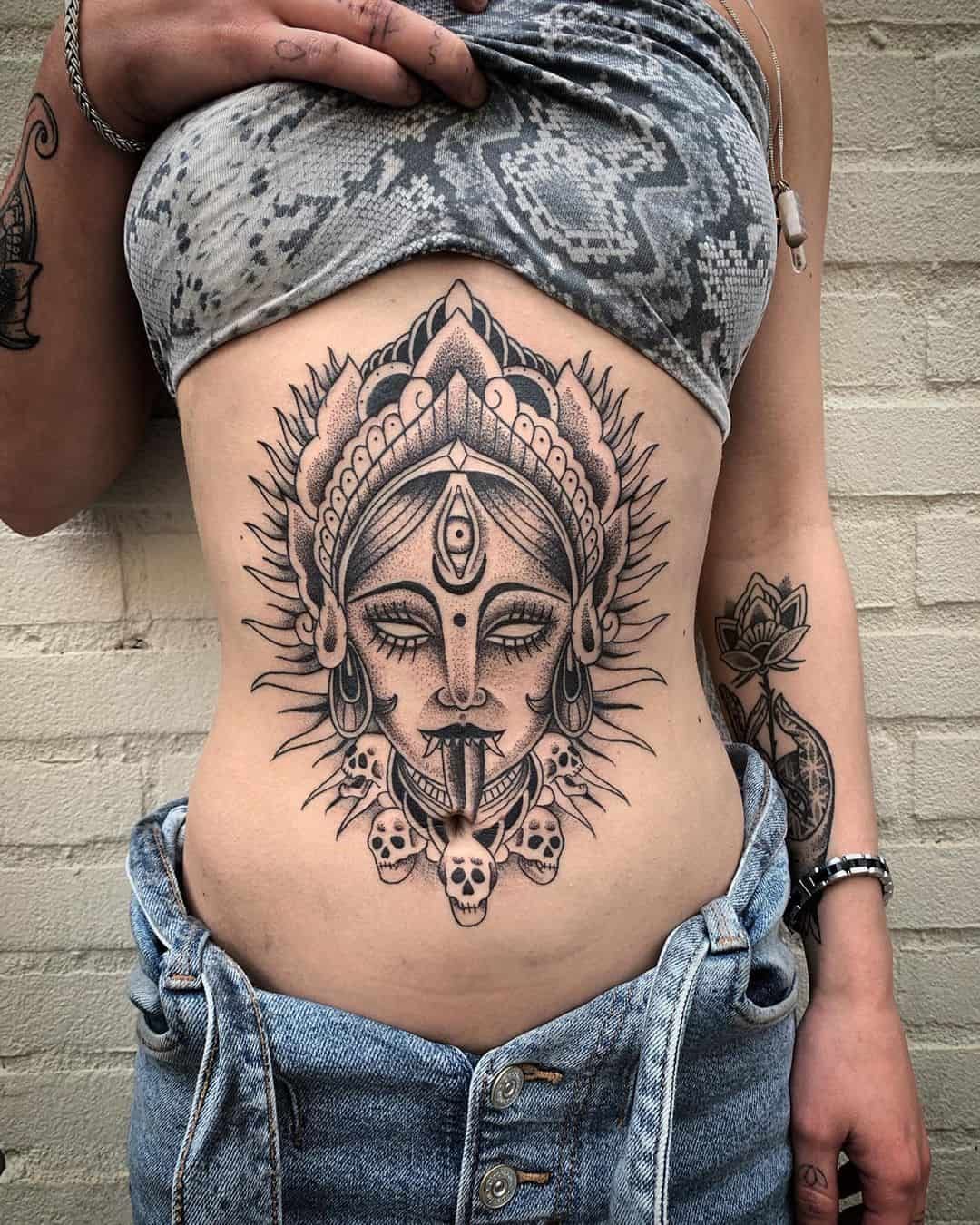 Lots of people want tattoos that symbolize enlightenment. If that's you, this one is a great skull tattoo option. The sideway-rotated third eye symbolizes being fully aware of the world, and the face's necklace of skulls indicates that she's aware of (and comfortable with) death.
34. The Bird About to Be in Flight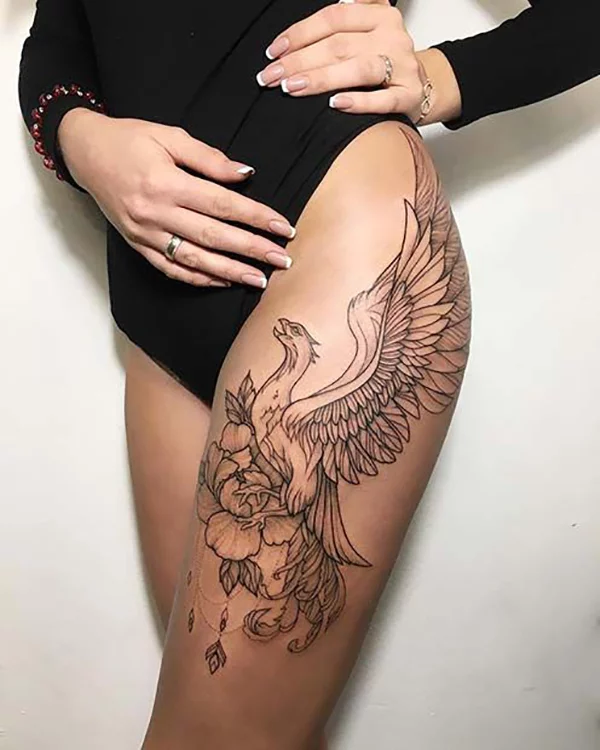 If you're poised to make important changes in your life, this bird tattoo is an excellent way to communicate that. This large bird is perched on an elegant flower, but his wings are lifted and he's about to take off. To make this one more dramatic, you can always add a splash of color, too.
35. The Colorful Branch of Flower Tattoos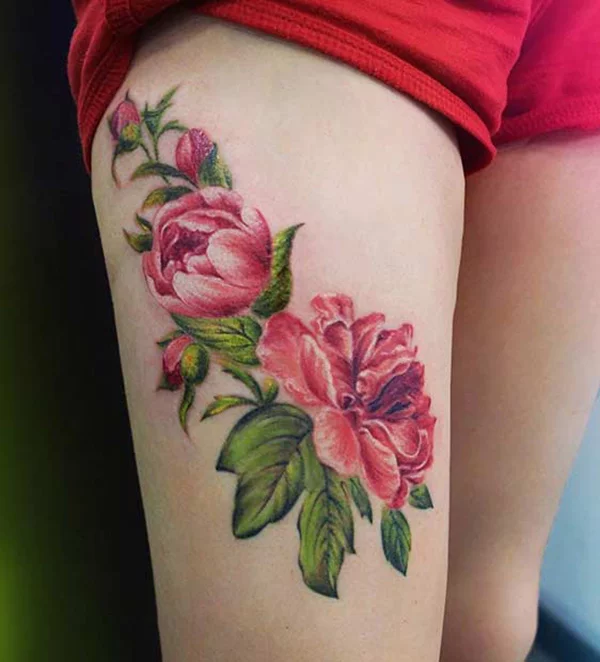 If you like tattoos with a lot of detail, this is a great one to get. Bright green leaves surround delicate pink flowers. This is a pretty realistic tattoo that doesn't have the prominent line work associated with some tattoos, making it a good choice for those who like colorful, painting-like pieces.
36. The Flower Child Kissing the Sun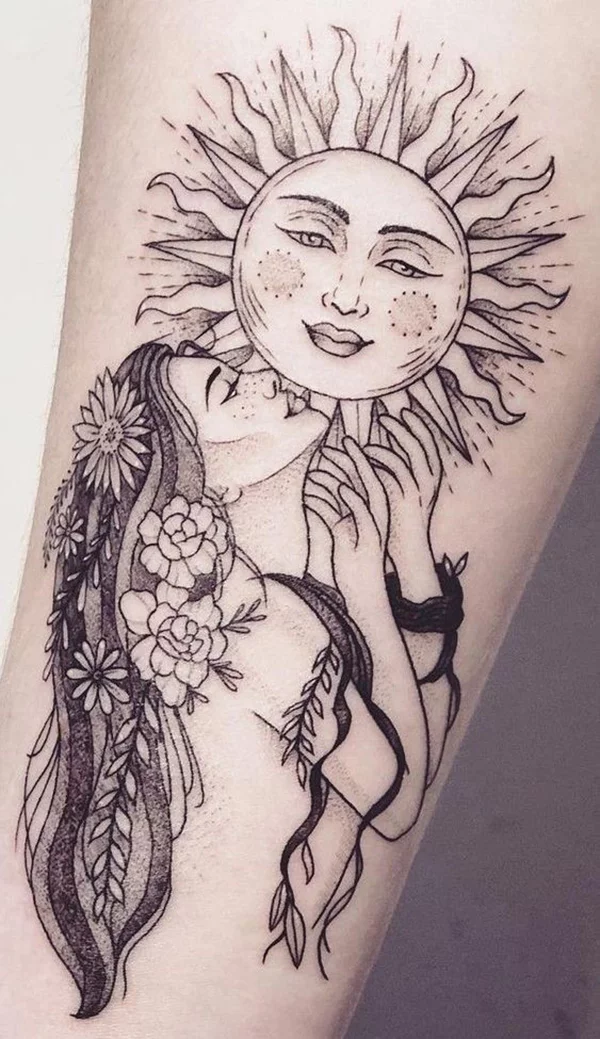 If you're a bit of a hippie or simply love the outdoors, this celestial love tattoo might be a good fit. It features a vintage-inspired, smiling sun being kissed by a woman adorned with flowers. It looks great as a black-and-white tattoo, but it would also be a great statement piece when filled in with color.
37. The Geometric Cubed Ankle Band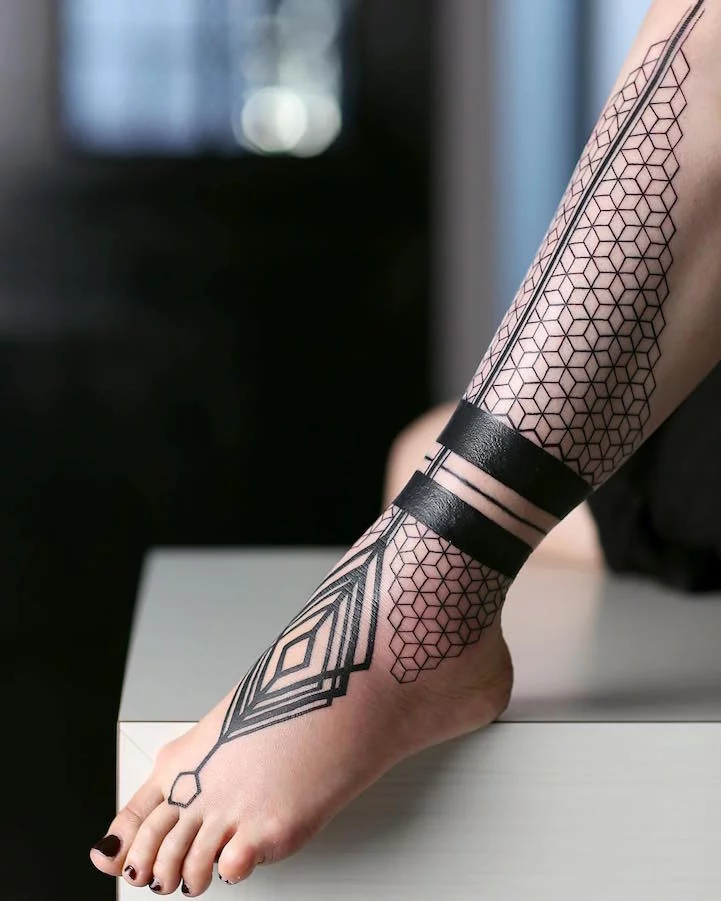 This ankle tattoo looks a lot like an anklet with a lot of embellishments. A swath of lined cubes extends up the leg in a triangle shape, and an intricate diamond made up of lines extends down the foot. It's broken up by an all-black ankle band. If you like symmetry, this foot tattoos design is a good one to get.
38. The Bright Blue Flowers with Butterflies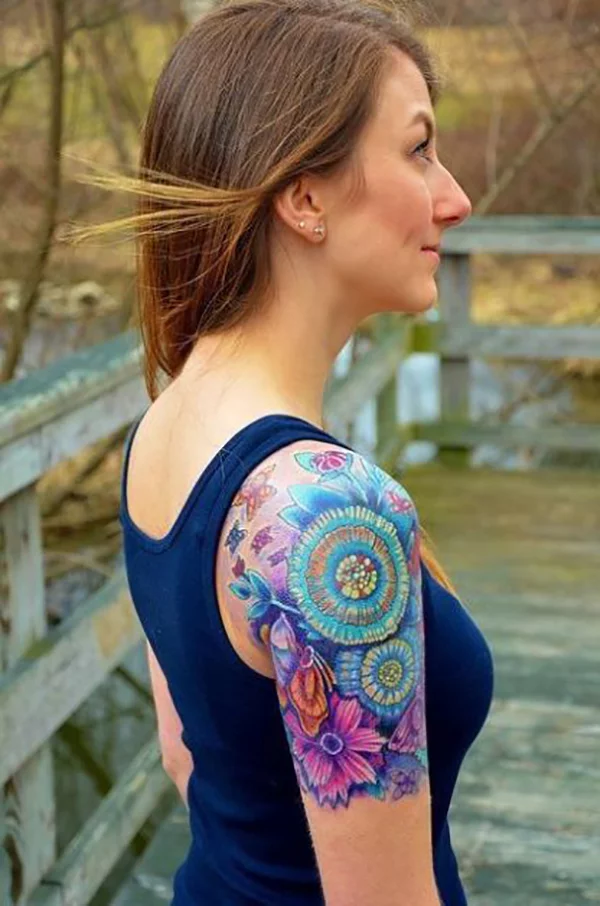 If you prefer tattoos that symbolize hope and new life, this is a good one. It centers two flowers that look a lot like Gerber daisies, and the bright flower bouquet is crowned with a few butterflies. This looks great on the shoulder but would make a great thigh piece as well.
39. The Geometric Triangular Chest Piece Tattoo Designs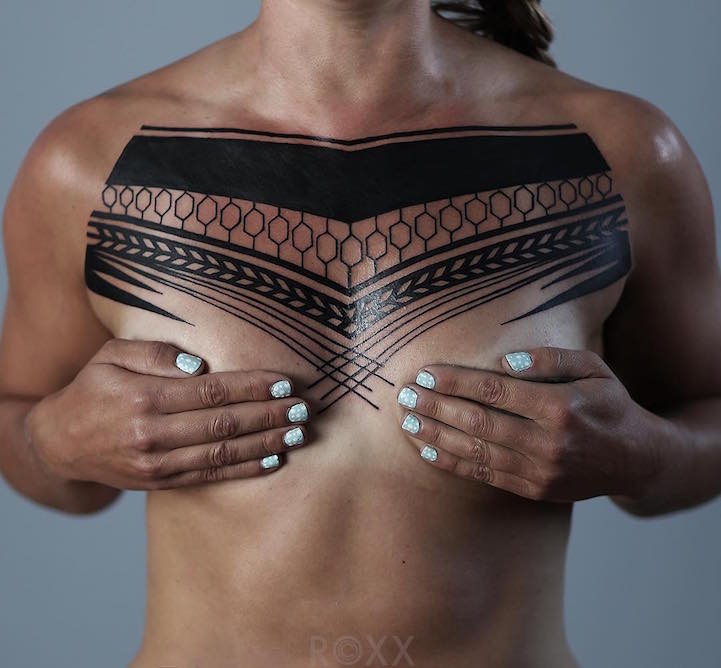 If you like geometric designs and are looking for a distinctive, bold chest tattoo, this one is worth checking out. The downward triangle starts with bold black and ends with delicate lines. In between are honeycombs and wheat-inspired details. It's not conventional, but this is a great way to make a statement.
40. The Floral Buck with a Touch of Magic Tattoo Designs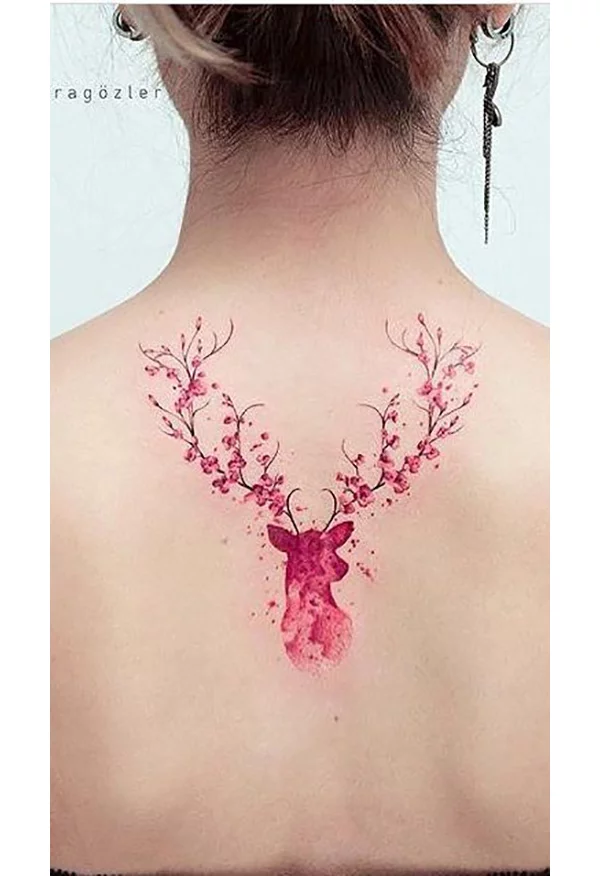 Non-realistic tattoos are a great way to stand out from the crowd. This buck's large antlers are decorated with delicate pink flowers, and his head and chest are made up of watercolor-like pink splotches. A smattering of pink dots around him offers a unique touch.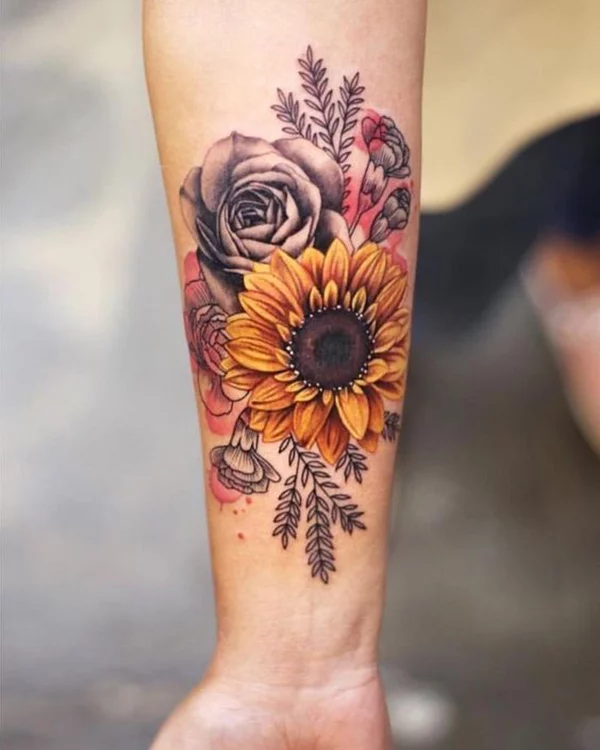 Plenty of people want colorful tattoos symbolizing hope, and this is a particularly unique one. The central sunflower is very realistic-looking, but the flowers in the background are made of old-style lining and shading. The rose behind the sunflower is somewhere between a realistic and non-realistic flower.
42. The Slithering Realistic Snake Anklet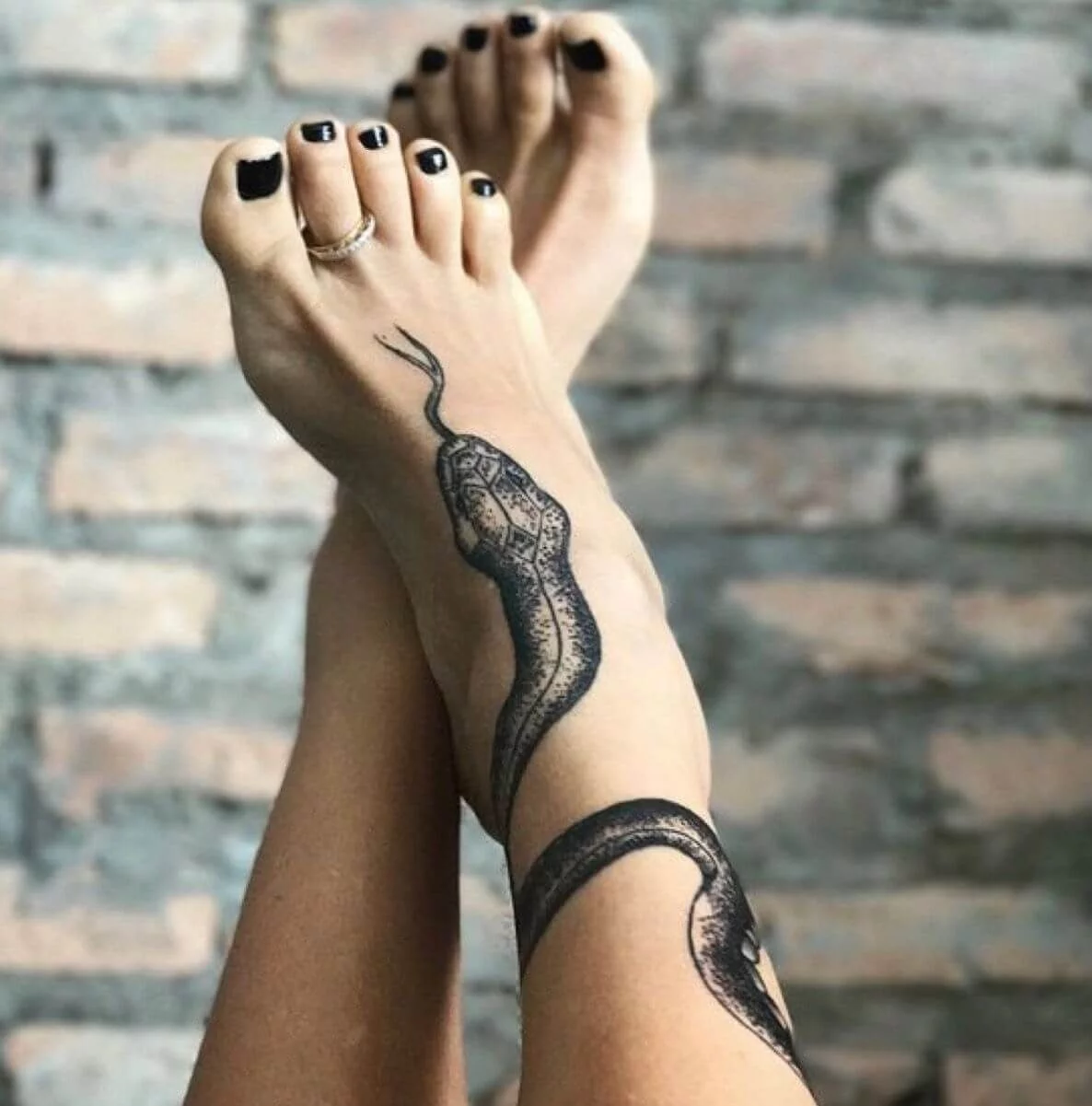 Snakes have long been well-represented in tattoos, and this unconventional take is sure to be eye-catching. A realistic, black-and-white snake is wrapped around an ankle, and his head extends down the foot a bit. Whether you love reptiles or just like this tattoo's smooth aesthetic, it's a great choice.
43. The Bright Butterfly with an Eye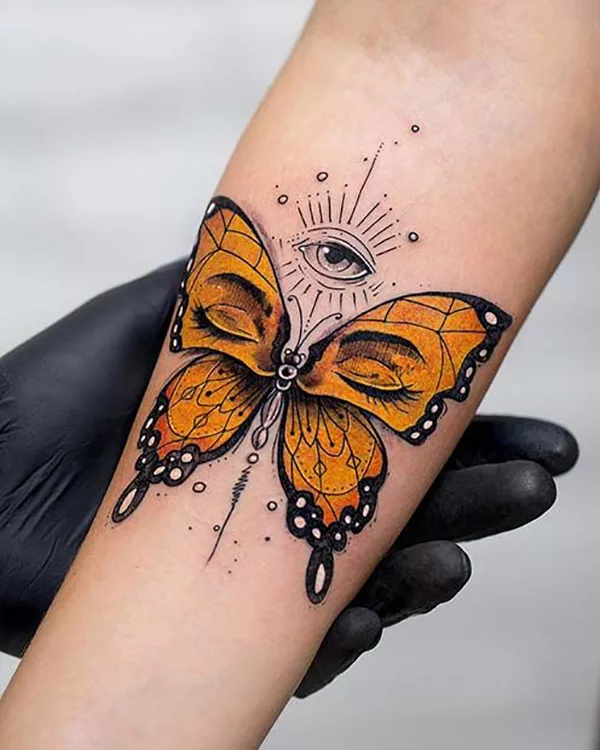 Butterflies area common choice when it comes to tattoos, but this one adds a unique twist. The butterfly's wings feature a pair of closed eyes, and an open eye hovers above it. If you want something that symbolizes enlightenment and peace, this is a good tattoo to pick.
44. The Small Snake Wrapped Around a Rose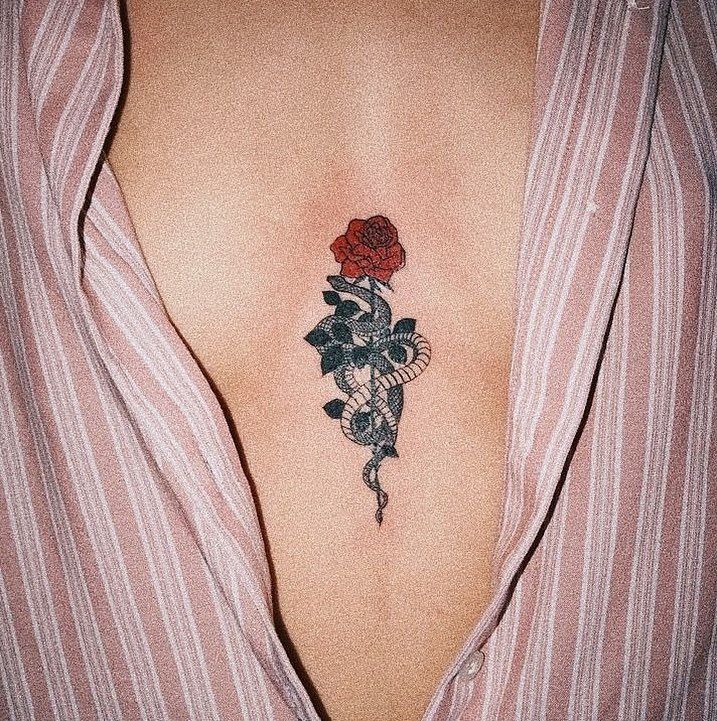 If you work in the health field, this may be an attractive option. The snake wrapped around a rose stem looks a lot like the snake on a staff that's commonly used as a medical symbol. Regardless of that, this tattoo manages to stand out without becoming overpowering.
45. The Black-and-White Floral Leg Piece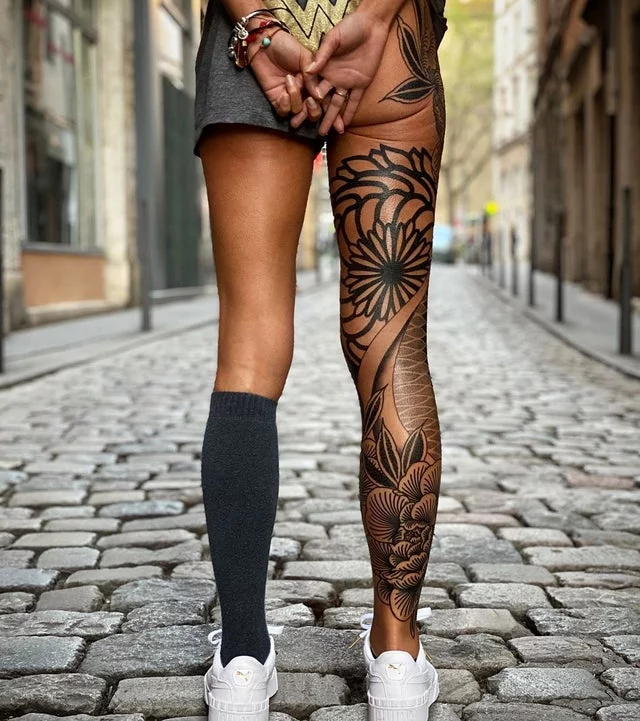 Tattoos that wrap all the way around a limb have always been popular. This one takes the floral motif and does something a little different. Though it's black and white with minimal shading, this one manages to create the feel of a garden.
46. The Small Opening Flower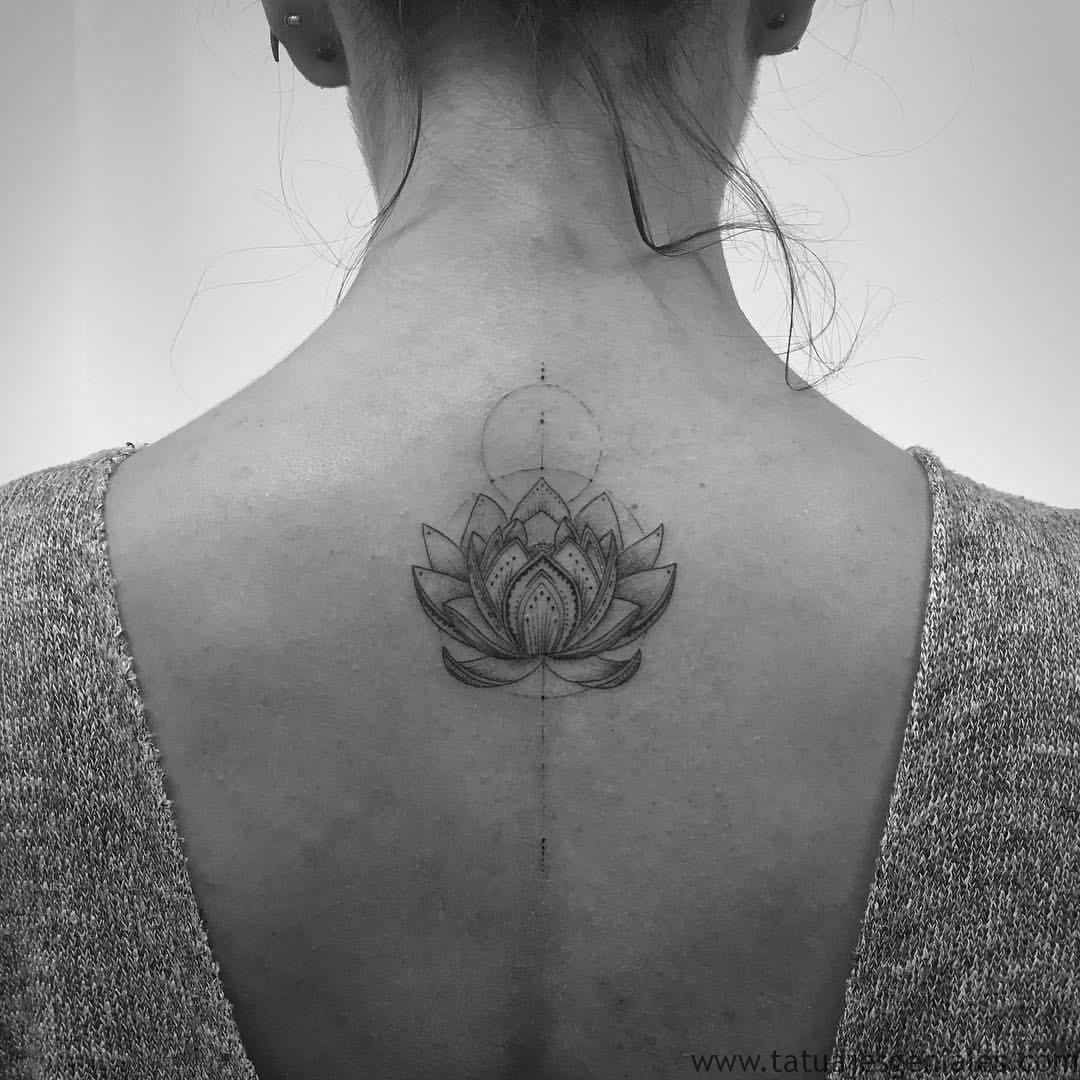 This is another tattoo that can be interpreted as representing hope. A just-opened flower extends toward a sun-like shape. A delicate line beneath it can represent roots or a line of travel. This is another tattoo that would do well in either black and white or colorful forms.
47. The Earth-Tone Abstract Painting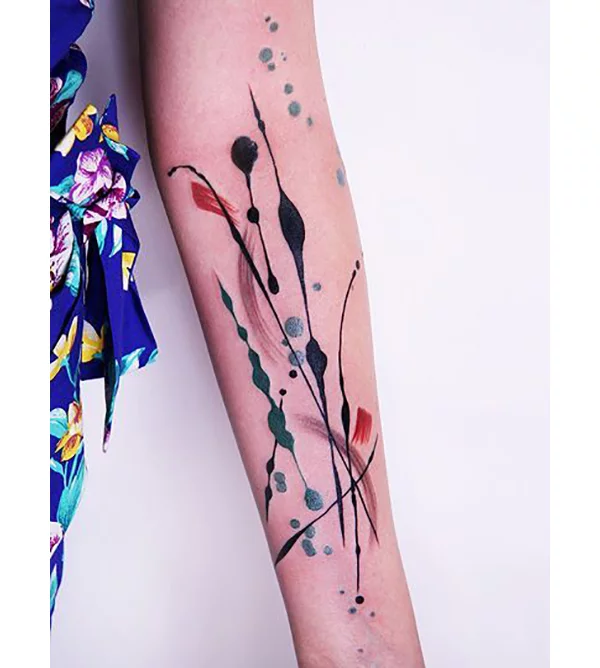 Ever wanted to have a Pollock painting on your body? If so, this tattoo resembling flung paint is a good choice. Its finer details represent a few styles of painting — bold lines are backed with softer brush strokes. This is a tattoo that can be scaled to pretty much any size.
48. The Blue Butterfly in Flight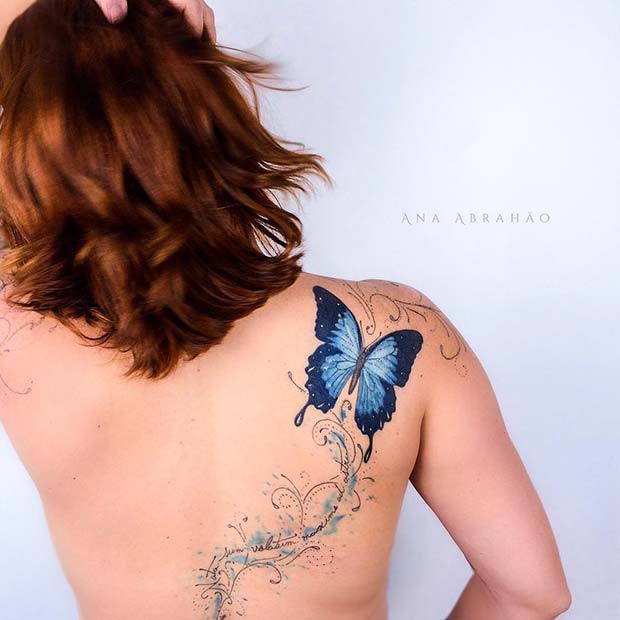 This unique tattoo features a butterfly and also lets you add text of your choice. The butterfly is followed by a trail of blue around the delicately scripted text. It's easy for text-based tattoos to look overwhelming, but this one strikes a great balance.
49. The Bold Collection of Symbols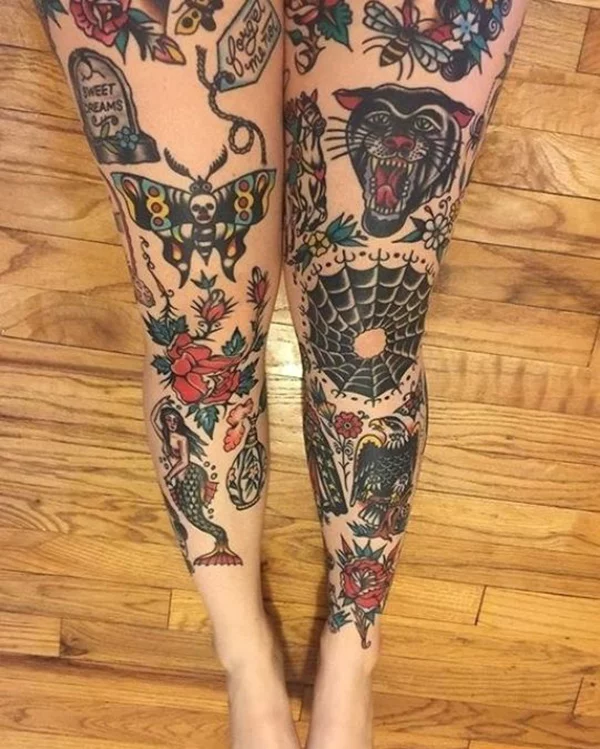 Whether you want to memorialize someone or just like the look of vintage tattoos, this in-your-face collection is a good way to begin. It features grave symbols and a "forget-me-not" tag. There are also other symbols varying in meaning. Eagles, mermaids, panthers, and spider webs appear in this detailed and varied collection.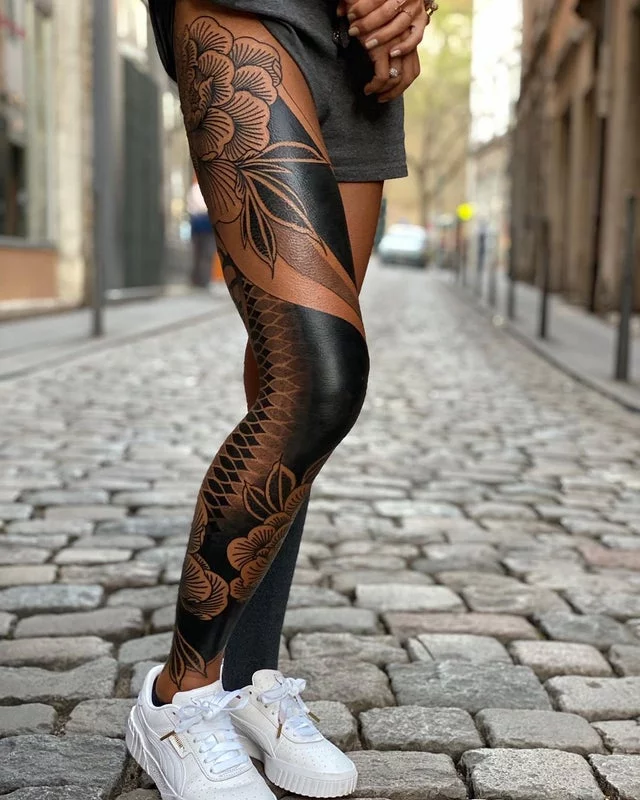 Tattoos with large patches of black are becoming more commonplace, and this one matches that trend with the classic look of flowers. Mostly-white hibiscus flowers are balanced out by patches of black, and the lace-up style design along the leg adds an interesting touch, too.
51. The Skull of an Indian Chief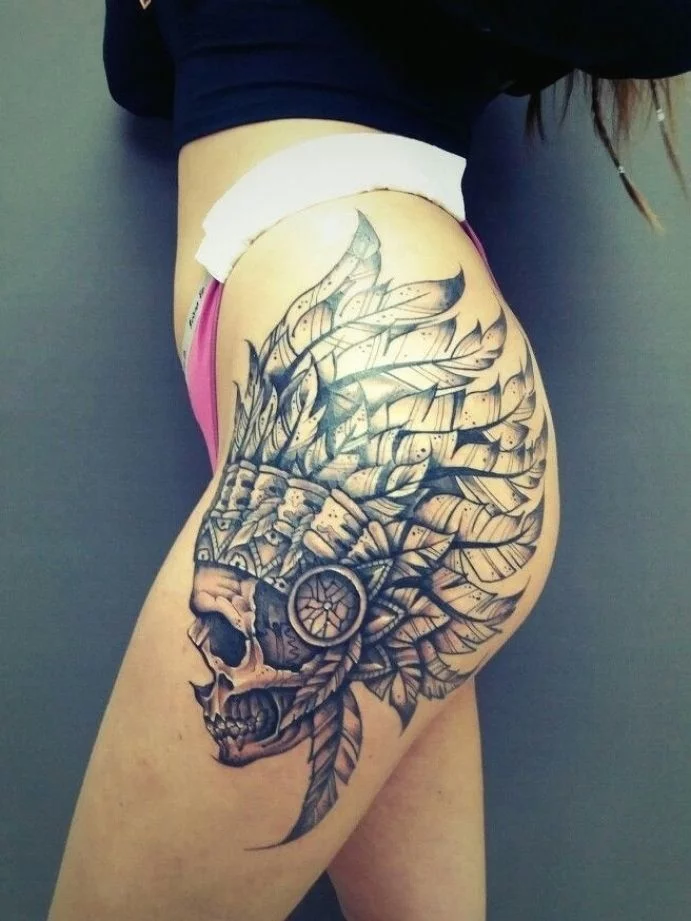 Native American symbolism in tattoos is fairly common, but this take on it is especially unique. It features the skill of an Indian chief wearing an ornate headdress. If you have Native American heritage, this tattoo is an especially good choice.
52. The Phoenix Rising from the Flames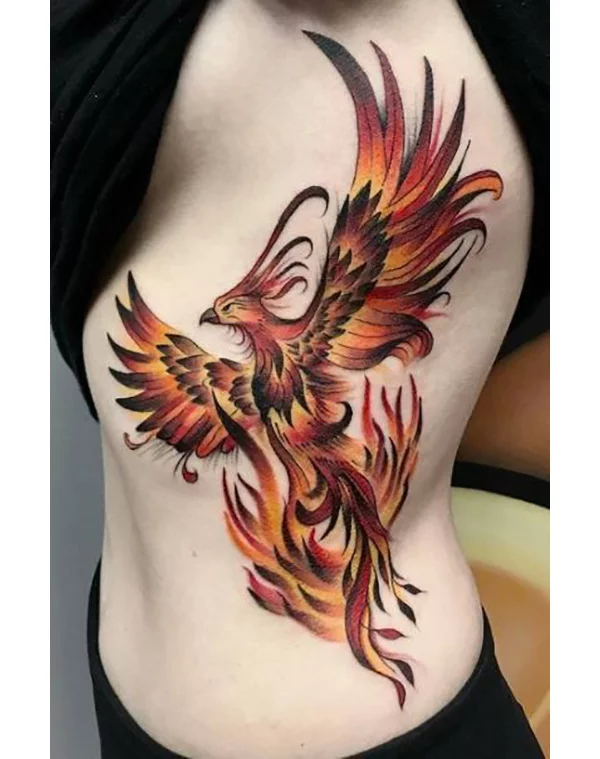 This tattoo is a fiery take on a classic story. And if you've risen above difficult circumstances, a phoenix tattoo is the perfect way to commemorate that. This tattoo features a phoenix rising above flames, with the flames largely blending into the phoenix.
53. The Dragon Flying to the Moon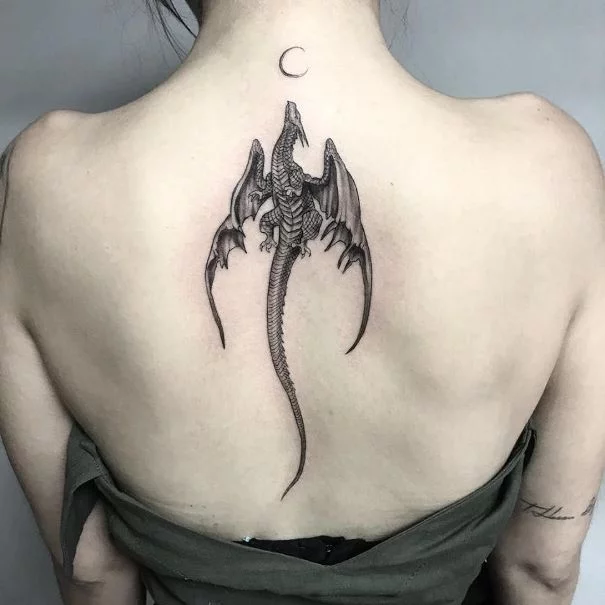 If you want a slightly darker tattoo that's still peaceful, this image of a dragon moving toward the moon is a great choice. The moon is a minimalist crescent, and the dragon doesn't look angry or intimidating, making this a quietly hopeful design.
54. The Toy Panda and the Four-Leaf Clover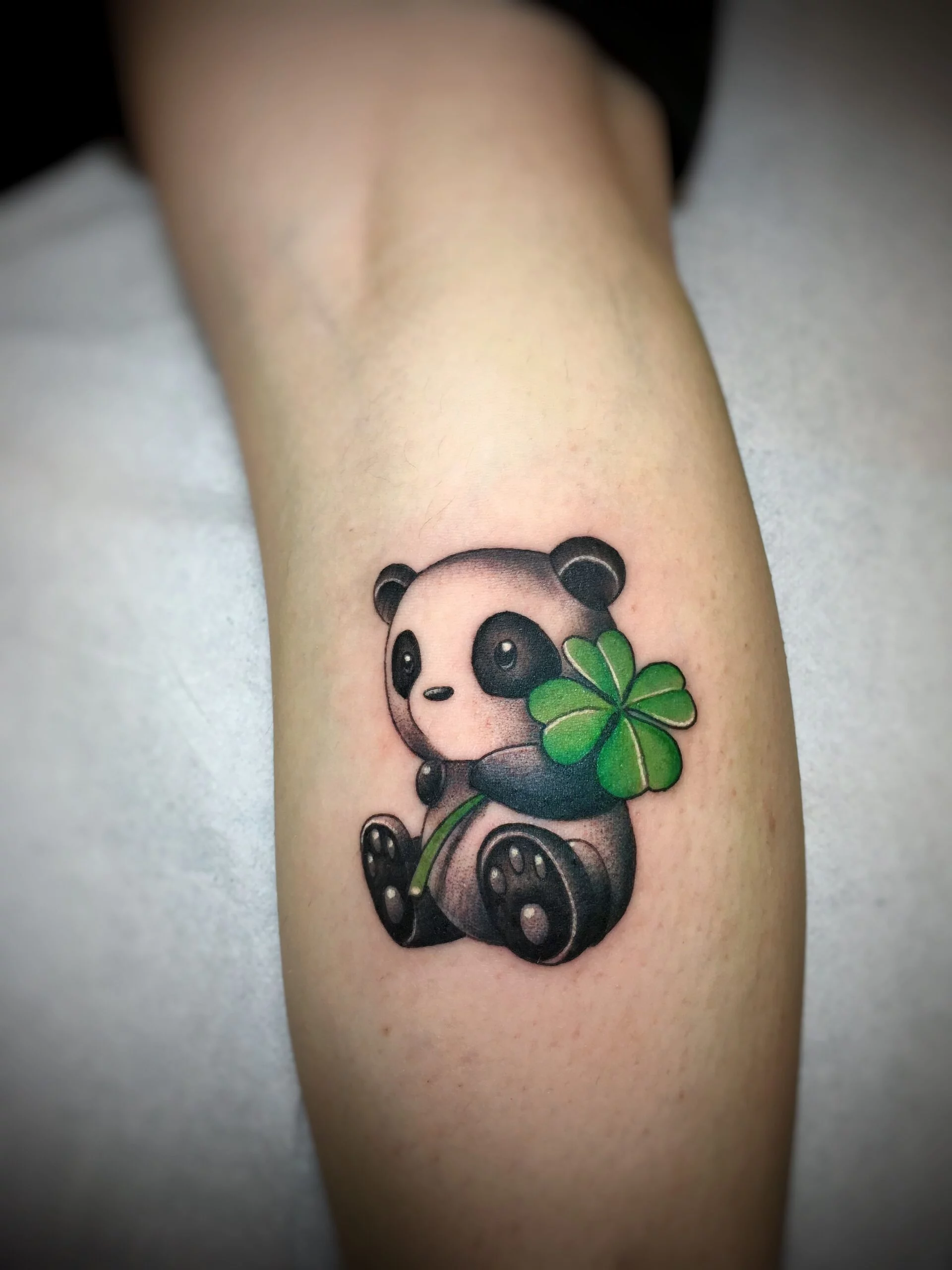 This whimsical design is certainly outside the box. A small panda that looks like a toy is calmly sitting down and holding a lucky four-leaf clover. If you want a good luck tattoo that you've never seen before, this one is a good option.
55. The Small, Colorful Infinity Symbol Tattoo Design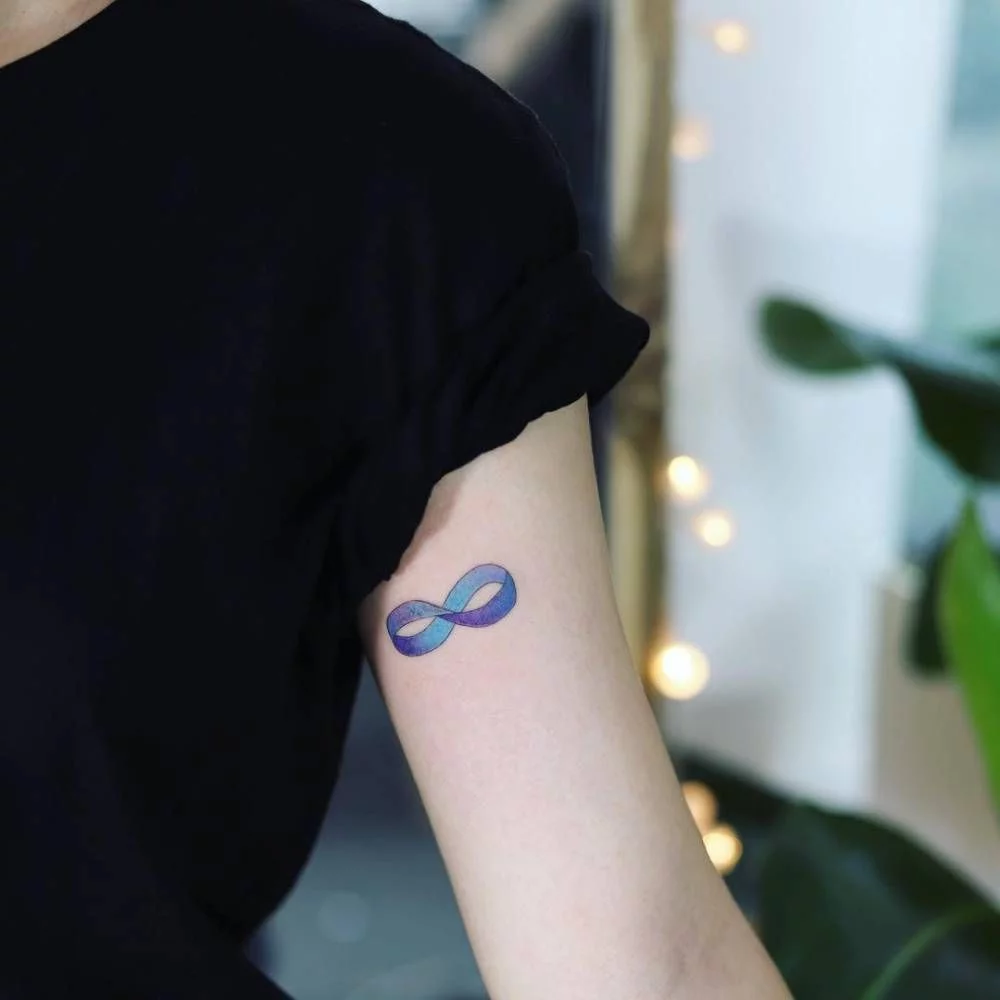 You've probably seen an infinity symbol tattoo once or twice in your life. But this one offers a detailed twist. If you want to symbolize something infinite(like love, hope, etc.) this tattoo is a great way to do so. The carefully-shaded color gradient gives it a 3D effect that makes it pop.
56. The Red, Falling Autumn Leaves Tattoo Design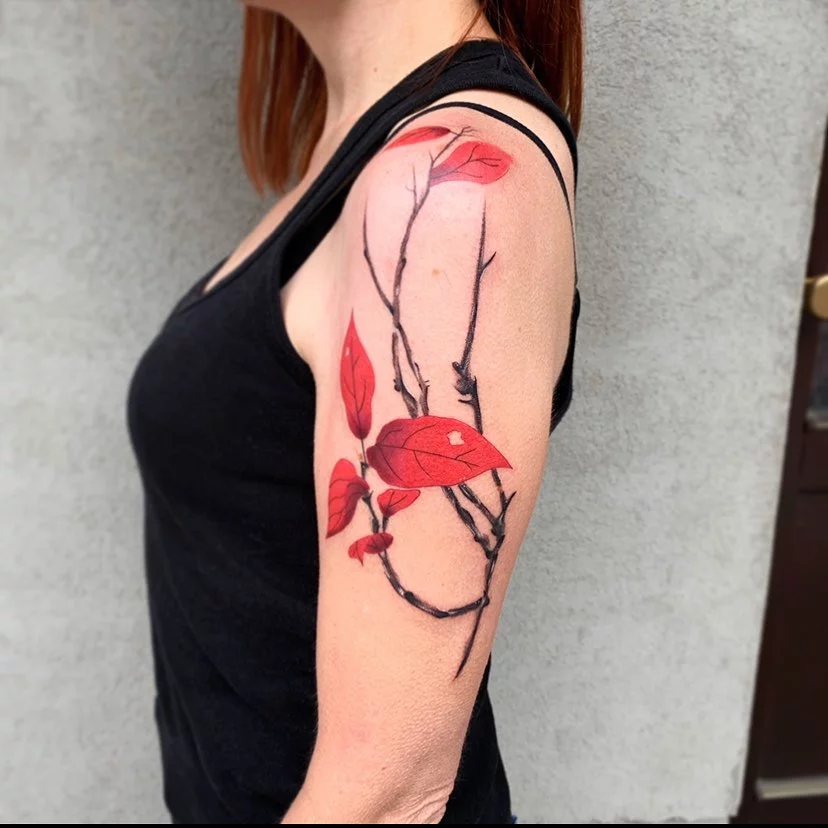 Leaves are a little less common than flowers when it comes to tattoos. But this design is a standout. It features a nearly-bare branch with a few remaining, bright red leaves. If autumn is your favorite season (or if you just want a realistic tattoo), this is an outstanding choice.
57. The Rainbow Hummingbird in Flight Tattoo Design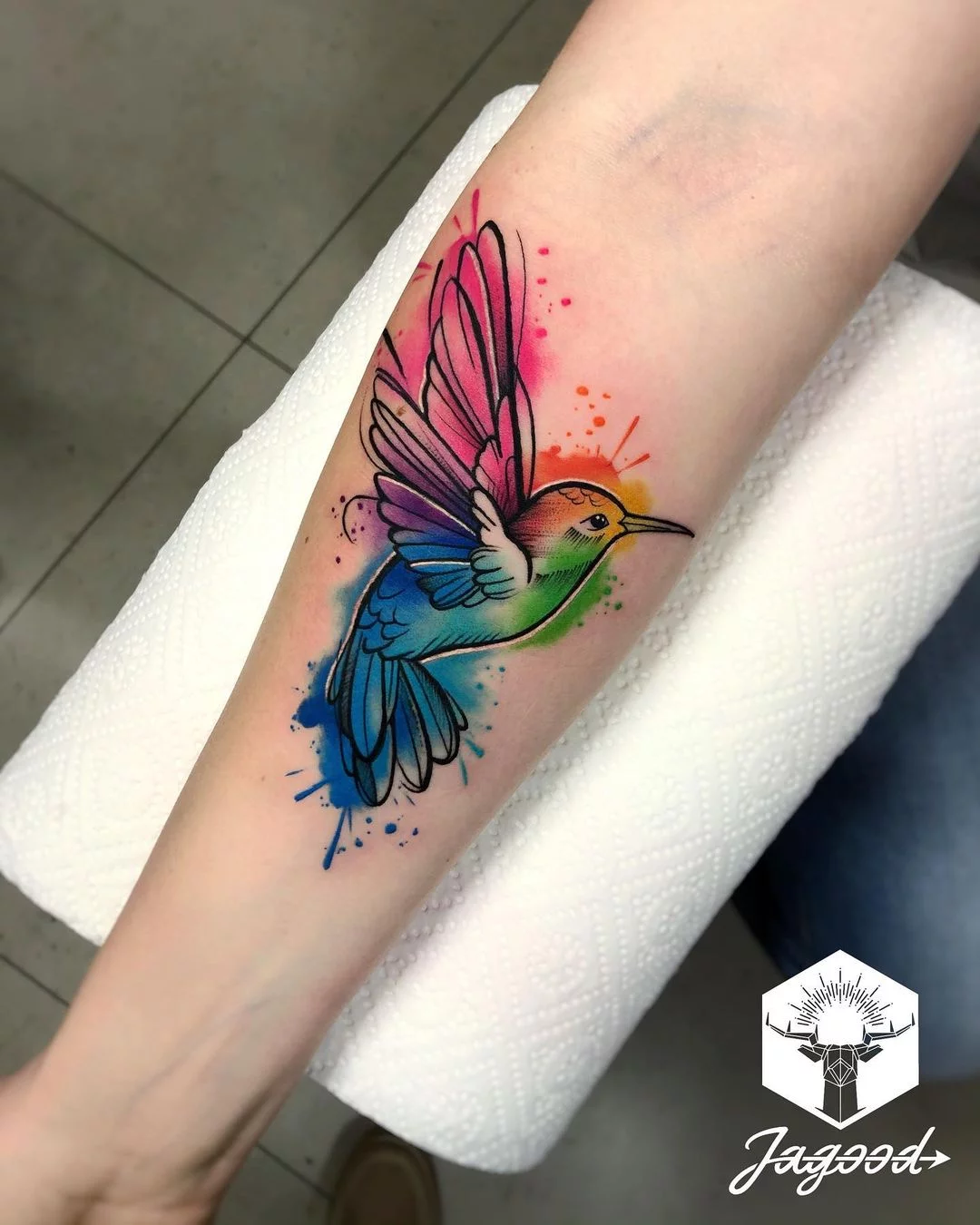 As you've seen, plenty of people choose bird tattoos. But this non-realistic hummingbird is a great choice for people who love the color. The bird's outline is splashed with a rainbow that's not unlike Lisa Frank's artwork. The fact that the color goes outside of the lines is a great symbol for an adventurous spirit.
58. The Small, Wave-Inspired Ring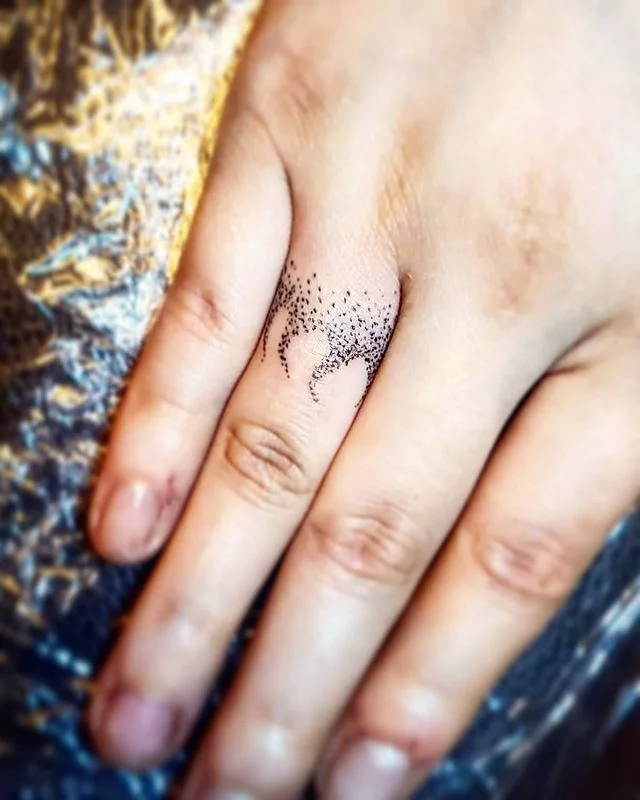 Small tattoos in the shape of rings aren't too common, but some people even choose ring tattoos when they get married. This one is relatively understated — its dot pattern suggests waves or even flames. If you want an interesting piece that doesn't draw attention to itself, this is a great option.
59. The Frida Kahlo, Hope-Inspiring Piece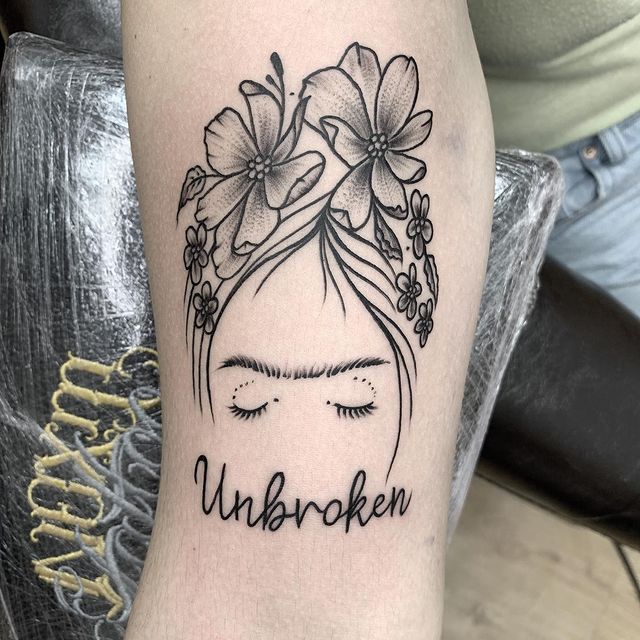 If you're a fan of famous artist Frida Kahlo, this is a great tribute tattoo. But it also holds a message of hope for the wearer — this one includes the word "unbroken," but you also can choose to replace it with a word that's meaningful to you.
60. The Full-Body, Neo-Tribal Tattoo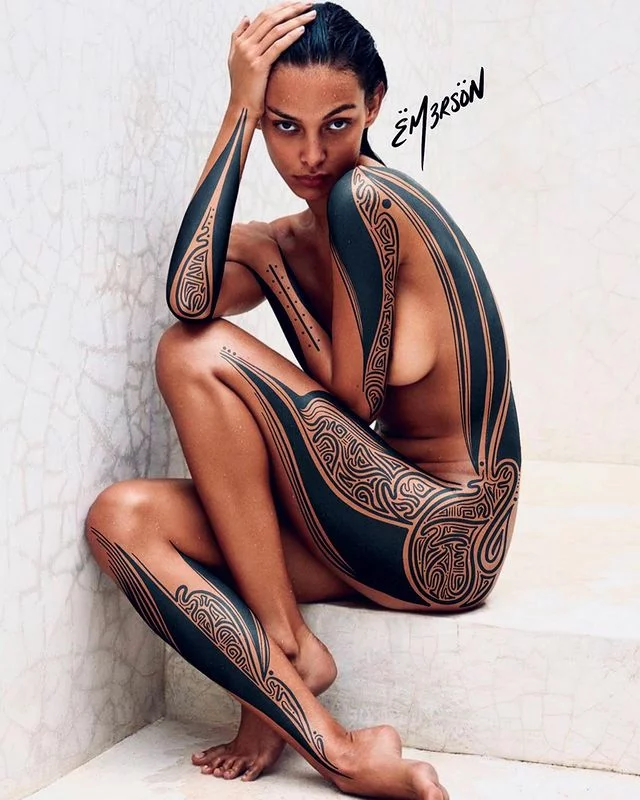 Full-body tattoos aren't for everyone — they're time-consuming to get, and they tend to be expensive. But if you're committed, this full-body piece is an unparalleled way to make a statement. Swatches of deep black contrast with complex geometric designs that look a lot like tribal tattoos.
60 Outside-the-box, Unique Tattoos That Break The Mold
Hopefully, this extensive list of the best unique tattoo ideas has inspired you to choose your next tattoo with confidence. When you want to stand out, choosing something outside the box is always a good move. Whether you want to provoke thought, spark conversation, or just choose something visually beautiful, we think these designs are a great place to start. Remember that you can always customize them — whether you want to change the color, adjust the size, add a name, or add a symbol that's meaningful to you, there are countless ways to make these unique tattoo ideas your own.