While it's one of the more painful spots to get a tattoo, hand tattoos are becoming more and more popular as time goes on. There used to be a time when most tattoo artists wouldn't do hand tattoos because it's such a delicate area that's uneven and hard to work with. These days, though, many skilled tattoo artists have no problems with most hand tattoo designs. It's also important to remember that the healing process might be a little more difficult and you'll probably need to regularly go back in to get the design or colors touched up.
60 Hand Tattoos for Your Internal Rebel
The issue comes when you're trying to come up with a hand tattoo design that will last for years to come. To help you with this process, we've put together a list of 60 different hand tattoo designs. Not only did we include small and simple designs, but we added some intricate ones as well. You don't have to use these exact designs, but you can use pieces of several to make the perfect piece. If that doesn't work out, you can take several designs to your artist and see if they can create a one-of-a-kind piece that was made specifically for you. Hand tattoos hurt less than many other body parts, so it's also a great option for novice tattoo fans.
1. Fierce Black and White Wolf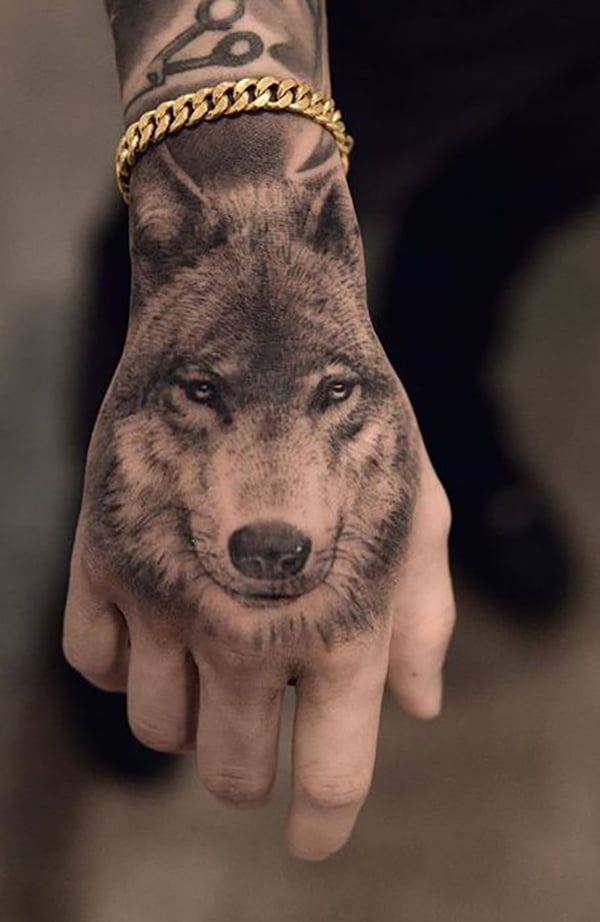 With only black and white ink, this wolf tattoo looks like a real animal. The lines are great and it does a good job representing your inner wolf. While this tattoo doesn't use anything except black and white, you could add a splash of color to the eyes to make the design even more striking.
2. Simple Black and White Tattoo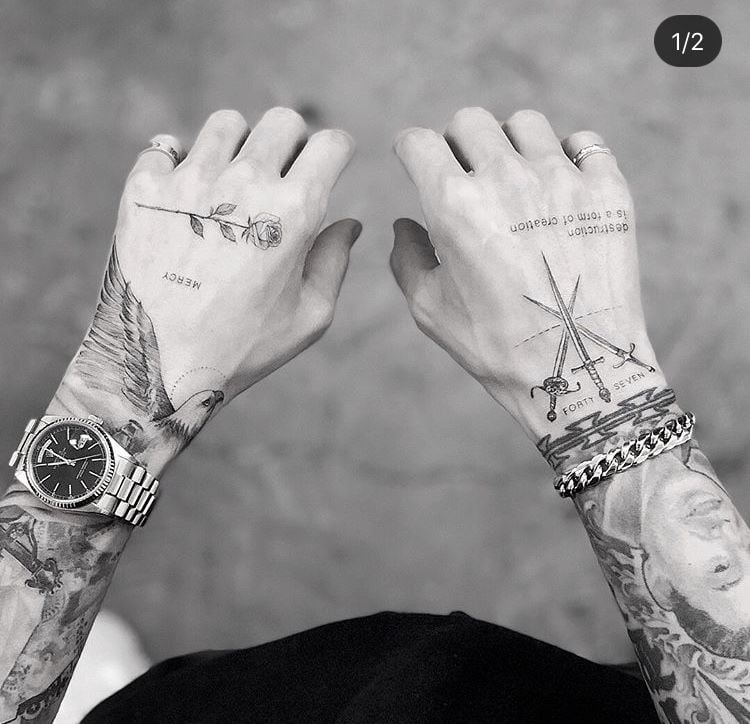 If you're looking for something that's simple yet meaningful, you should check this design out. Not only can you add any colors you want, but you can make it more unique by changing the rose design and adding different hilts to the swords. While the design is simple, it has very strong linework.
3. Realistic Growling Panther Hand Tattoo Ideas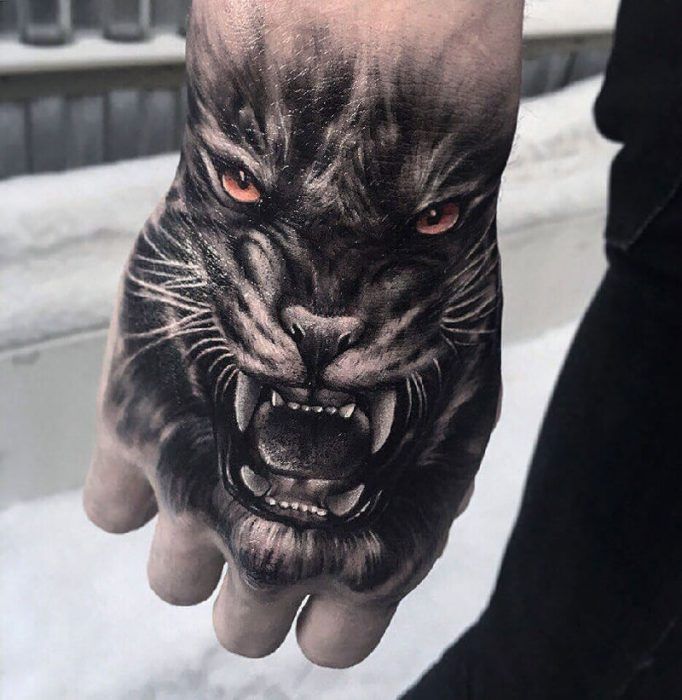 Not only is this hand tattoo super realistic, but it's strikingly beautiful. The linework is amazing and the shading is phenomenal. Even though it's primarily black and white, the added red to the eyes really brings the piece together. The expression is spot-on and it truly looks like the panther is coming right out at you!
4. Personal Name and Rose Tattoo
One of the best things about this tattoo is that it looks very classic and traditional. Not only is the rose in a traditional design that makes it look like it was plucked from the stem, but the letters take you back to an older time. Add a little color to really make it pop.
5. Awesome Hand and Knuckle Tattoos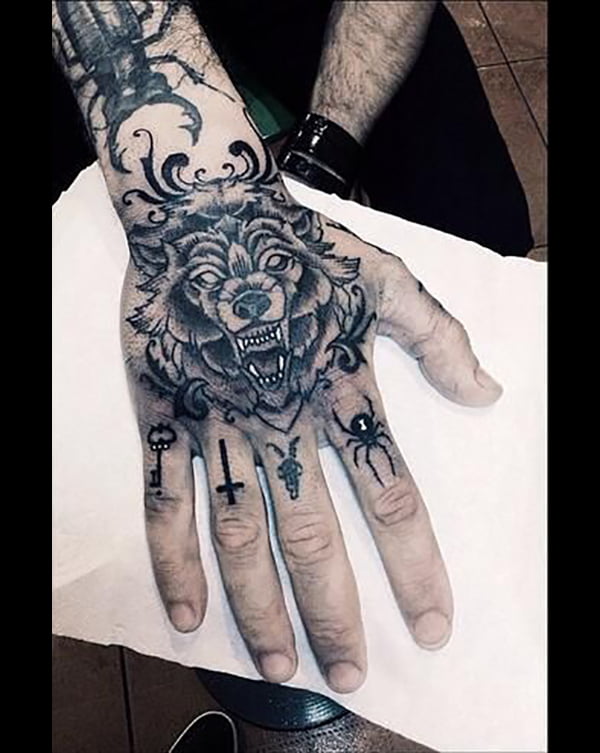 Not only does the finger tattoos design have great linework, but it has an ornamental and elegant style. The symbols on the fingers are very bold and eye-catching. While the tattoo looks fantastic the way it is, you could add some color or use symbols that are meaningful to you.
6. Realistic Black and White Buck Tattoo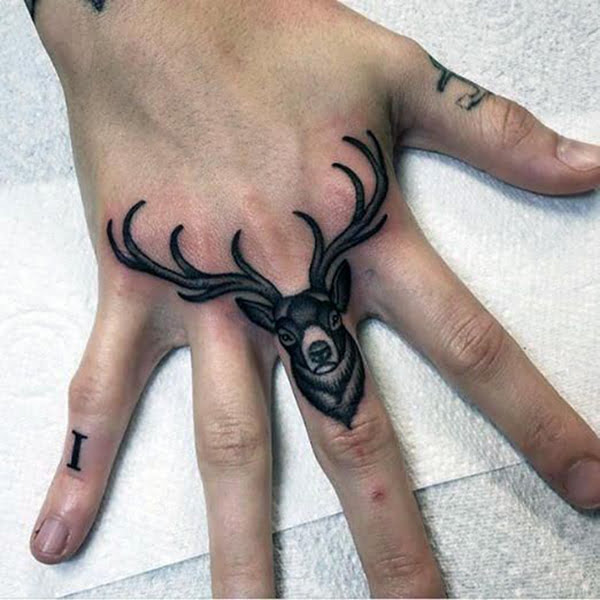 If you're looking for a unique and realistic tattoo, then this is a good design idea. It's large enough to look amazing, without being so large that it's taking up the whole hand. While the area might be painful to get worked on, the tattoo looks great with both an open and closed hand!
7. Cool Abstract Tribal Hand Tattoos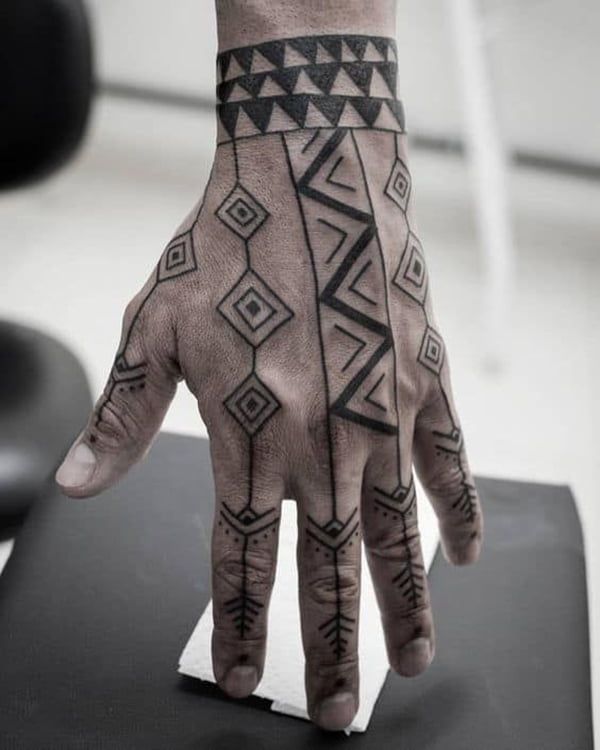 Not only does this design have a tribal feel, but it also gives off an abstract vibe. The asymmetrical shapes give the tattoo a more personal feel and seem like it could have been plucked right from a painting. The black ink looks great, but you could add a pop of color to make the design your own.
8. Simple Black Finger and Hand Tattoos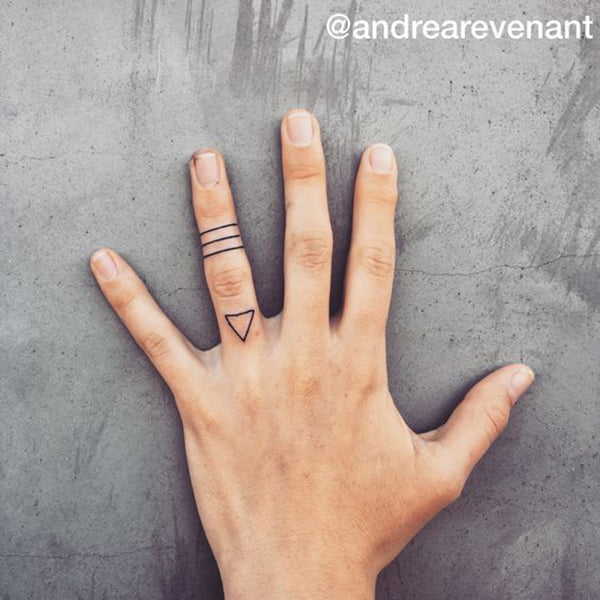 This finger tattoos design is a perfect way to express your relationship with someone like your significant other or best friend. The tattoo is on the ring finger and can represent the love and connection you have with that person. If you wanted to add a personal touch, you could add a pop or two of color.
9. Realistic All-Seeing Eye Hand Tattoos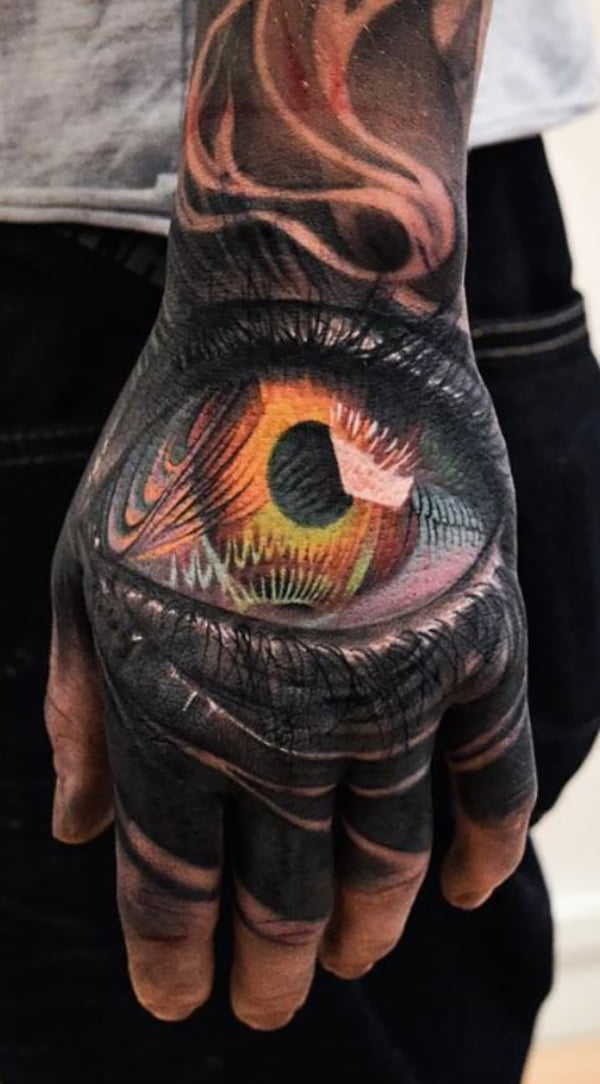 With deep colors and great linework, this eye design looks like it's the real thing. It even has a reflection to make the whole piece look even more realistic. The orange and yellow colors look great, but you can change them to create your own striking design. Regardless of what you chose, the design is sure to be a head-turner.
10. Small Black Anchor Hand Tattoo Ideas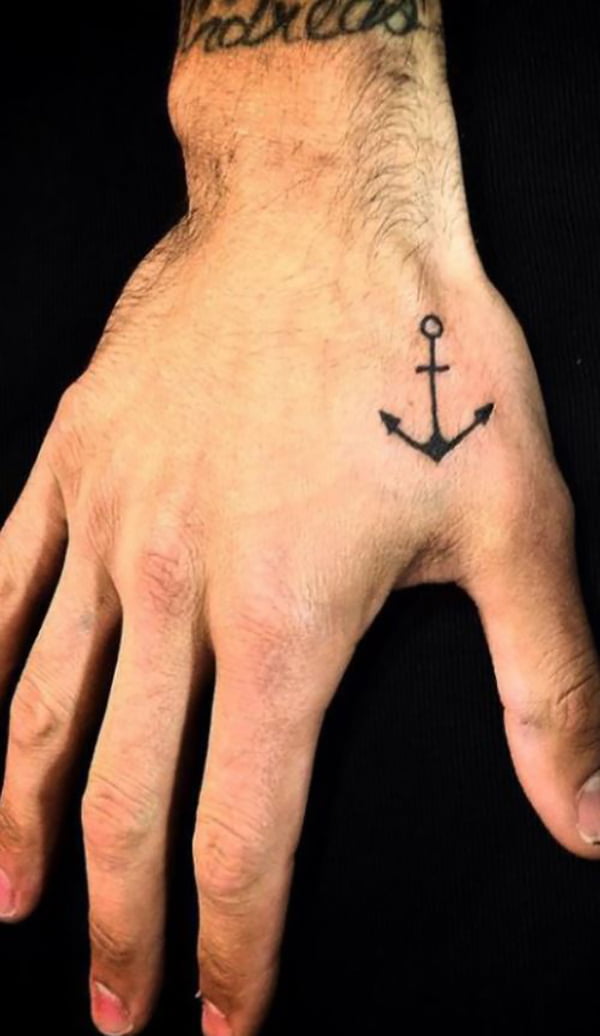 Need a small tattoo reminder to stay grounded or improve your inner peace? If so, you should take a look at this anchor tattoo. The placement is great and can easily be seen by glancing down. You could keep it simple like the picture or add some more elements to make it unique.
11. Black Compass and Map Hand Tattoo Ideas
The great thing about this design is that there are so many elements that can be easily customized, including the actual compass and the map area underneath. The black and white of the design gives it an old-timey feel, but you could easily add color if that suits you better!
12. Word Tattoo Idea: Fancy Inspirational Saying Hand Tattoo Ideas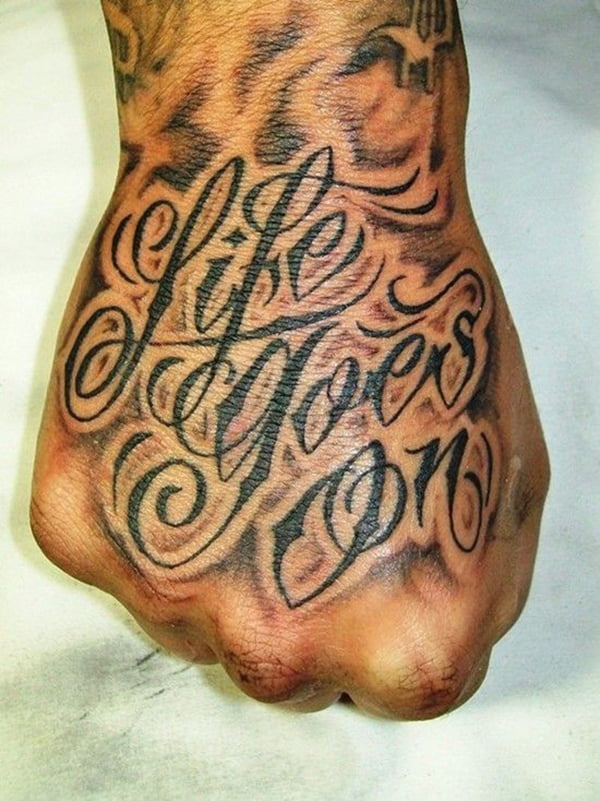 It's so important to remember that regardless of what happens, life will go on. We can easily forget that and this tattoo is a great way to remind yourself every day. The black swirls in the background help bring your attention to the words and the font has a way of making it more meaningful.
13. Haunting Blue Skull Hand Tattoo Ideas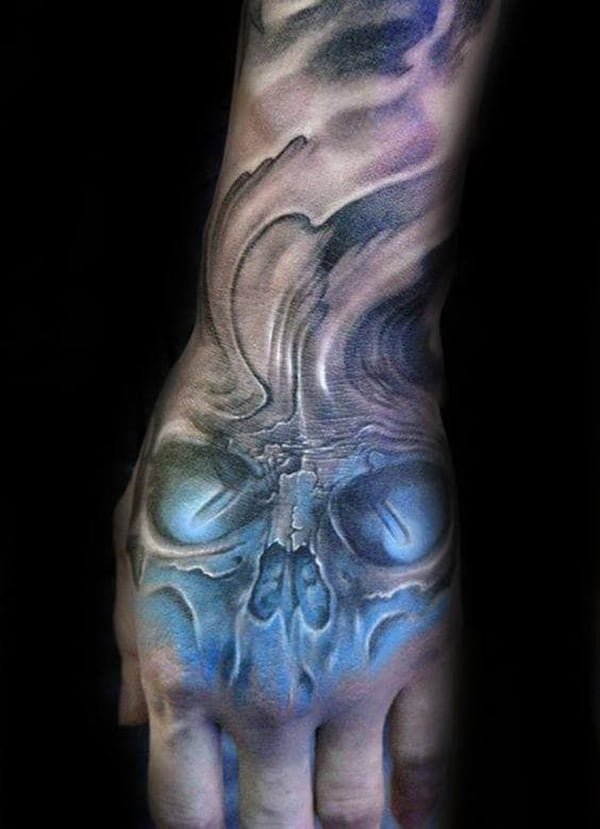 Not only does this skull hand tattoo have several striking shades of blue, but it's beautifully mysterious. The blue looks like flames enveloping the skull and the top looks like a wing are appearing. With this specific design, you could add any color you wanted and still have a high-quality piece of art.
14. Life and Death Hand Tattoo Ideas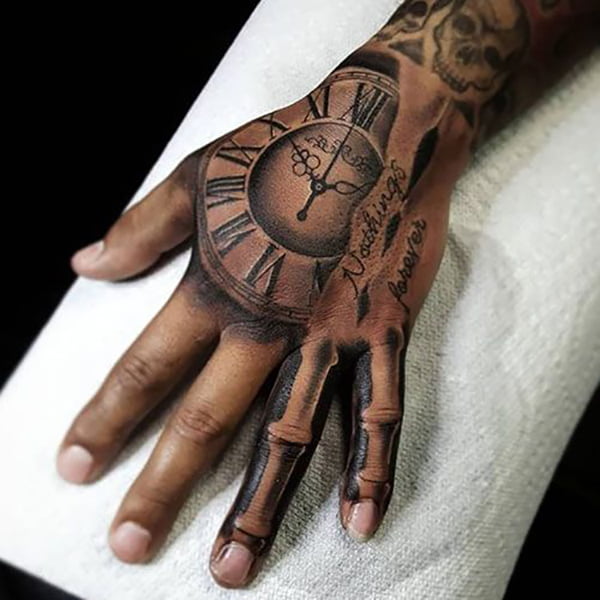 Many of us get caught up in the moment and material things, but the truth is that nothing lasts forever. This word tattoo design does a great job getting that message across and the skeleton fingers are a really awesome touch. In addition to the words "nothing lasts forever," the clock is made very well and looks just a traditional grandfather clock.
15. Ferocious Shark and Flower Tattoo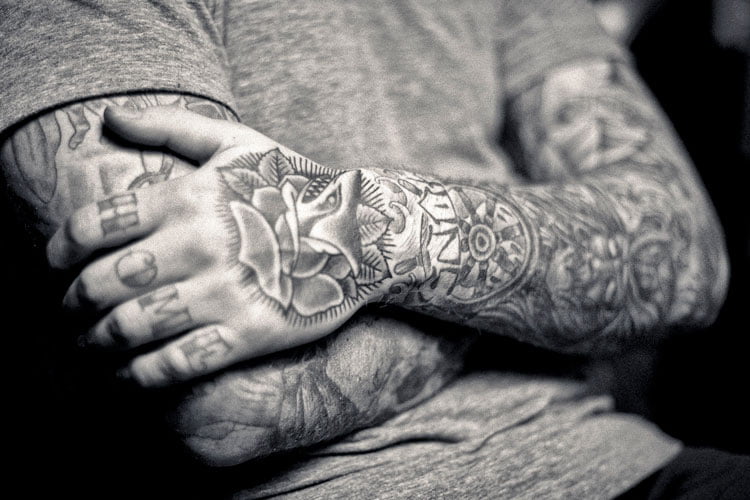 When you look at the design of the tattoo and add in the word "home" that's on the knuckle, it's clear that it represents the sea is home. The great thing about this word tattoo design is that there are many things you can customize and it's done really well. While there's a shark in the middle of the flower, you can add an animal that's meaningful to you.
16. Simple Norse Rune Hand Tattoos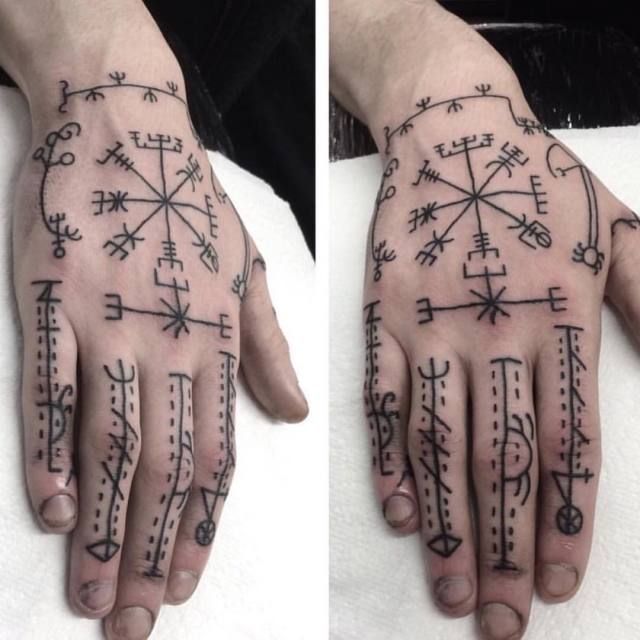 This is a great design for those that want to let their inner Viking out. Not only are there Nordic runes that represent protection, but also things like bravery. You can use the runes in the picture or you can add different ones to represent you better. You could also choose any color, but it looks great with the black ink.
17. Simple and Cute Rose Hand Tattoo Ideas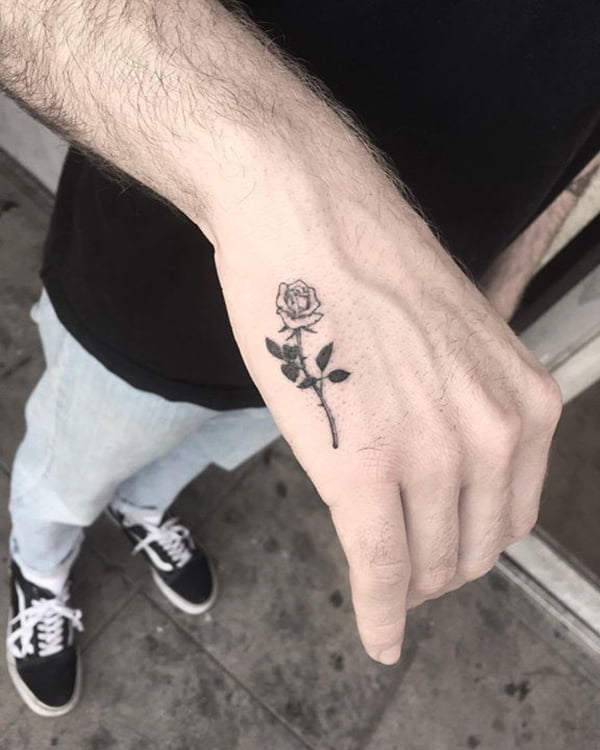 The rose design of this tattoo is small and delicate. It has a timeless feel and looks quite realistic. The black ink makes it look classic, but you could add a bit of color to make it really stand out. It's a great tattoo for anyone and could also work well in matching pieces.
18. Butterfly Skull Hand Tattoo Ideas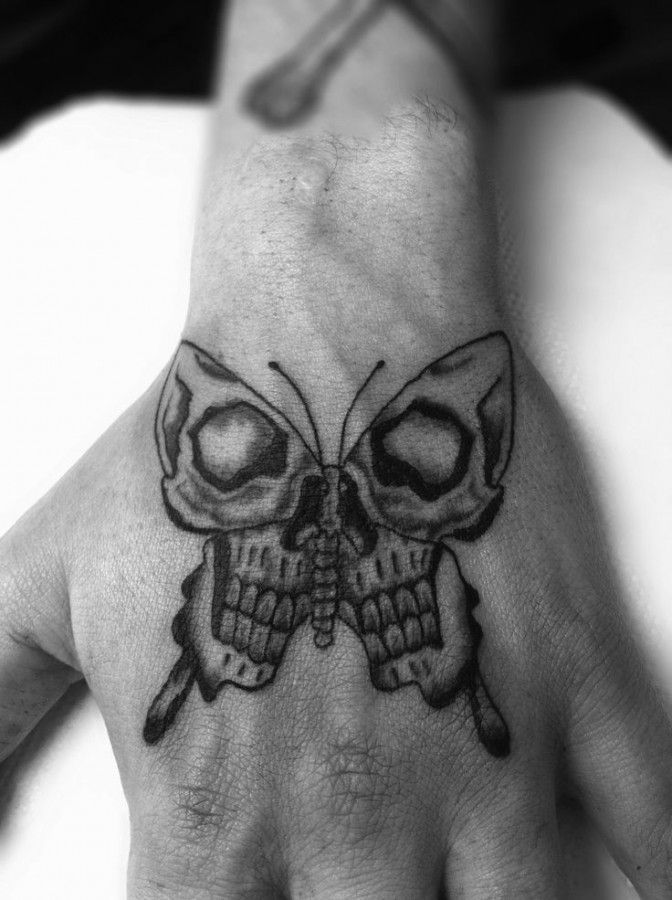 While most tattoos that represent mortality have both skulls and butterflies, you don't see them combined like this often. This design is great for representing the relationship between life and death, as well as the circle of life. You could add color if you wanted, but the black and white ink really brings the point home.
19. Castle and Woman Dot Hand Tattoos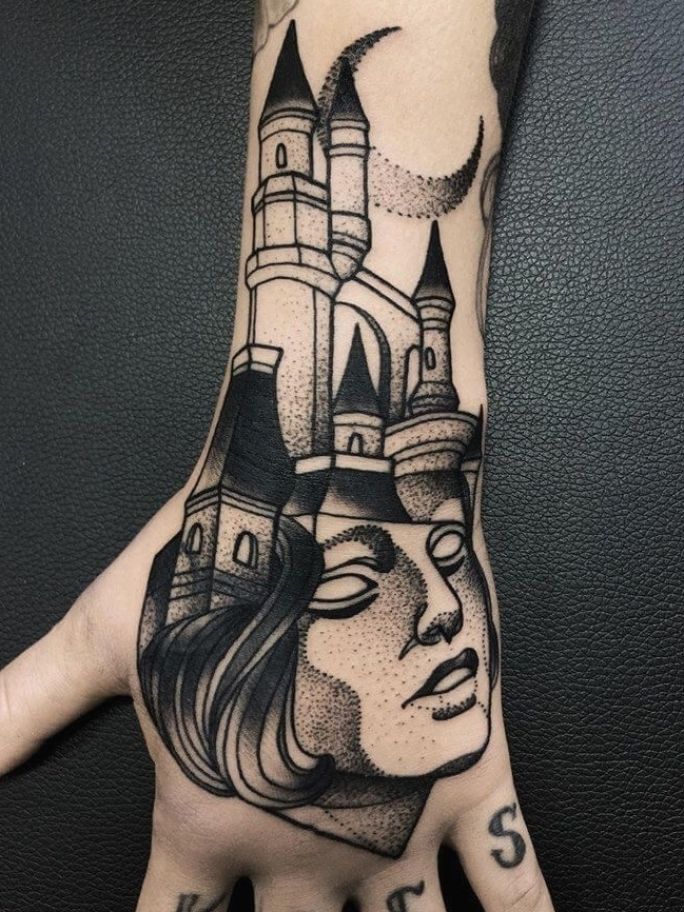 If you've been paying attention to the trends in the tattooing world, then there's a high chance that you've heard about the tattoos that are made with a series of dots. This particular tattoo showcases the style very well. The dots really pack the color in and the woman's expression is haunting and mysterious.
20. Medieval Hand and Finger Tattoos
If you're a medieval buff, then this finger tattoos design is worth a second look. Not only does it have some of the most popular symbols that people associate with this time period, but the artwork is similar to what you'd see from the time period. The black ink makes it fit in even more and you can use your own symbols to make it more unique.
21. Colorful Twin Swallows Hand Tattoos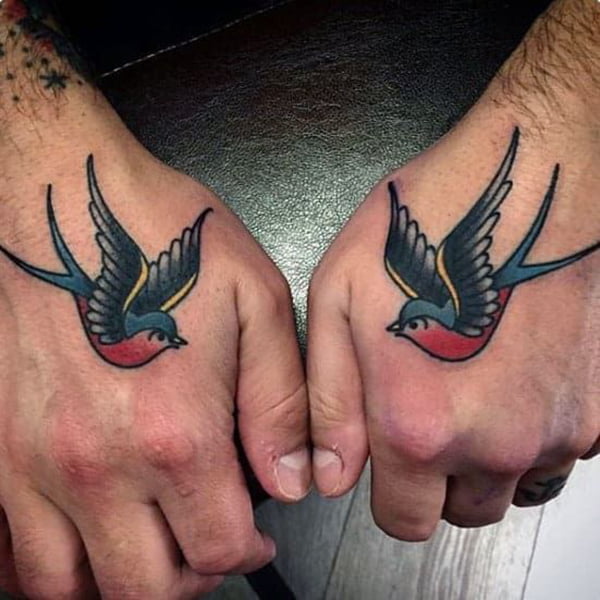 While swallow tattoos were super popular in the 2000s, they've not been as popular in the following years. The colors of this design match with the classic pieces and the linework is spot-on. These tattoos aren't usually on the hands, but the placement is perfect. It would be a great addition to any classic piece.
22. Black and White Realistic Tiger Hand Tattoos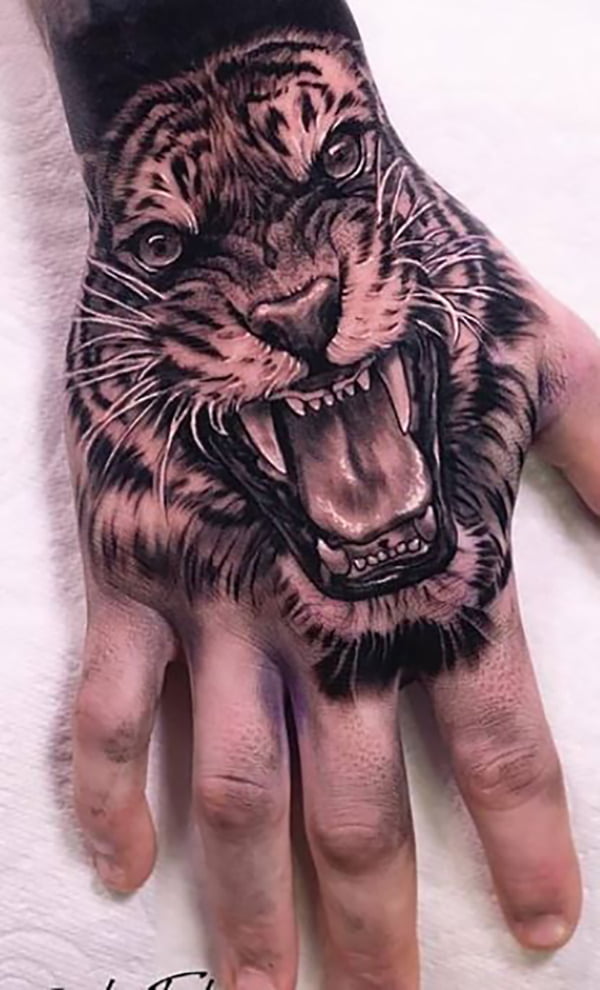 Here's another realistic tattoo that seems like the tiger is lunging at you. The ink choices make the tiger look realistic and the added bits of white make the tattoo pop. You can make a statement with this tattoo by using it to showcase your personal power and strength.
23. Cool Machine Bones Hand Tattoos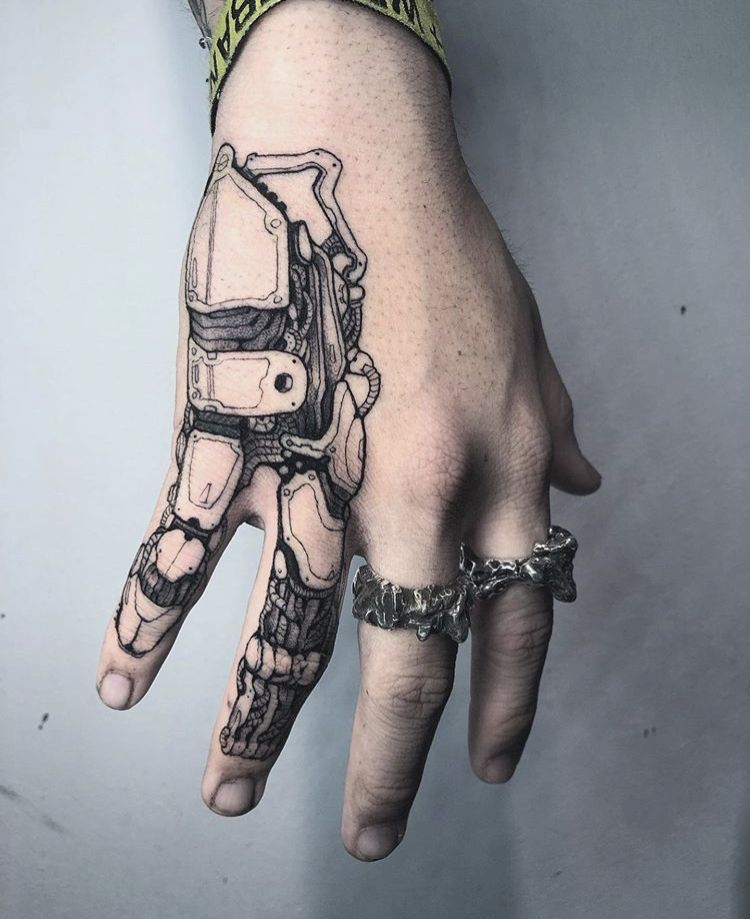 This tattoo is a great piece and there are many meanings behind it, including using it to represent that you've built yourself and life a certain way or to show off your inner nerdiness. The shading is perfect and the missing colors make the design more realistic. You can use any machine design you want, but this piece can give you some great tattoo ideas.
24. Black and White Zeus Hand Tattoo Ideas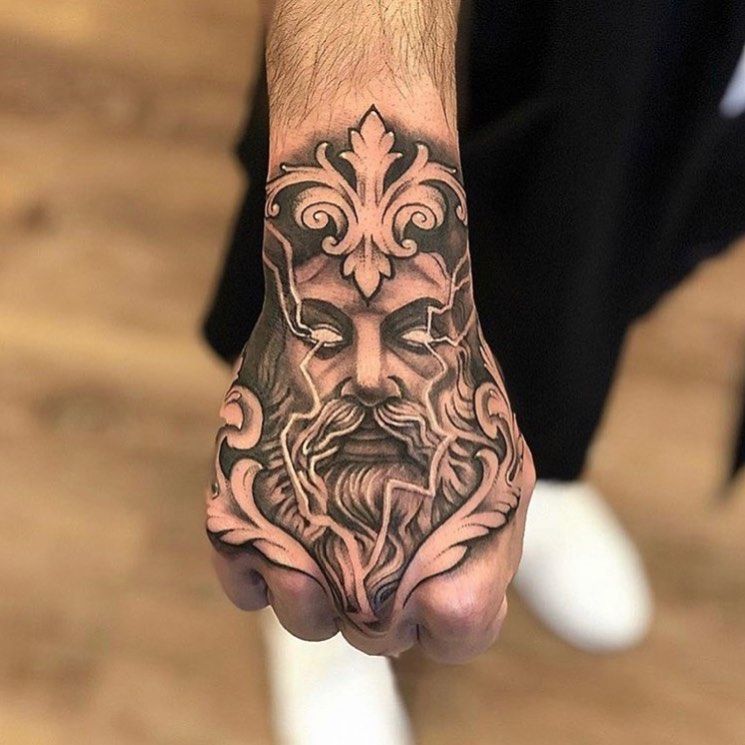 If you're obsessed with Greek mythology and Zeus, then this is a great place to start. The ink makes it look like a real statue right on your hand and it really looks like lightning is coming from his eyes. Add in the fancy flourish and you've got the perfect mythological tattoo.
25. Simple Tree Finger and Hand Tattoo Ideas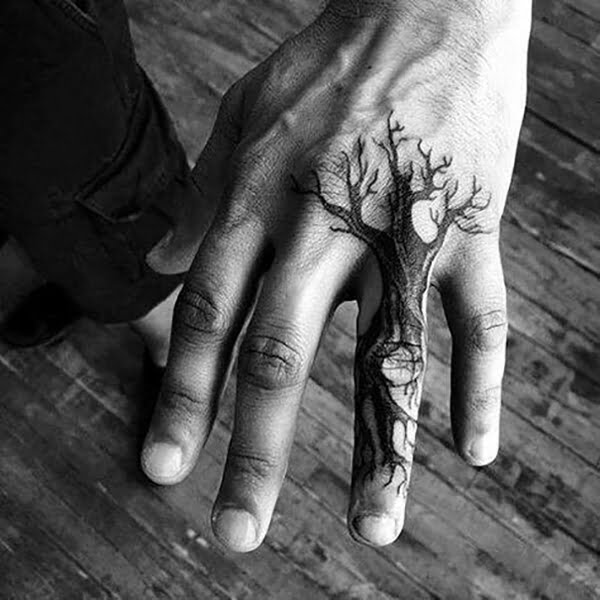 This tree finger tattoos design has very solid lines and could represent many different things. Regardless of what that thing is, you can have a piece that you love. One of the most awesome things about this design is that it looks like a tree with roots and two trees intertwined at the same time.
26. Beautiful Black and White Woman Hand Tattoos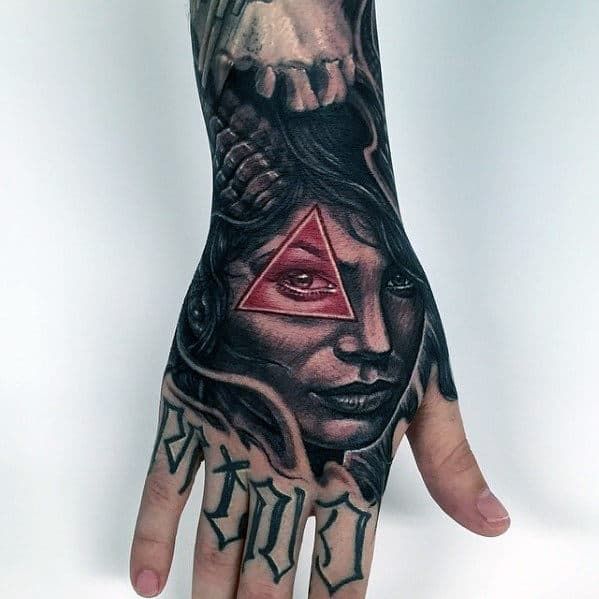 The tattoo artist that inked this tattoo did an amazing job. Not only does it look like a real person but it has so much ink packed in without looking messed up. The red triangle works well to catch your attention and the fact that everything fits well together really brings the overall design together.
27. Realistic Woman with Grid Hand Tattoos
This is another woman tattoo that's very realistic and has strong linework. There's something mysterious with the woman's expression and the way the bars lay across her face. It's a perfect design for those that want a haunting and gorgeous tattoo that gets people to ask questions.
28. Hand Tattoos Idea: Beautiful Woman with Tattoo Gun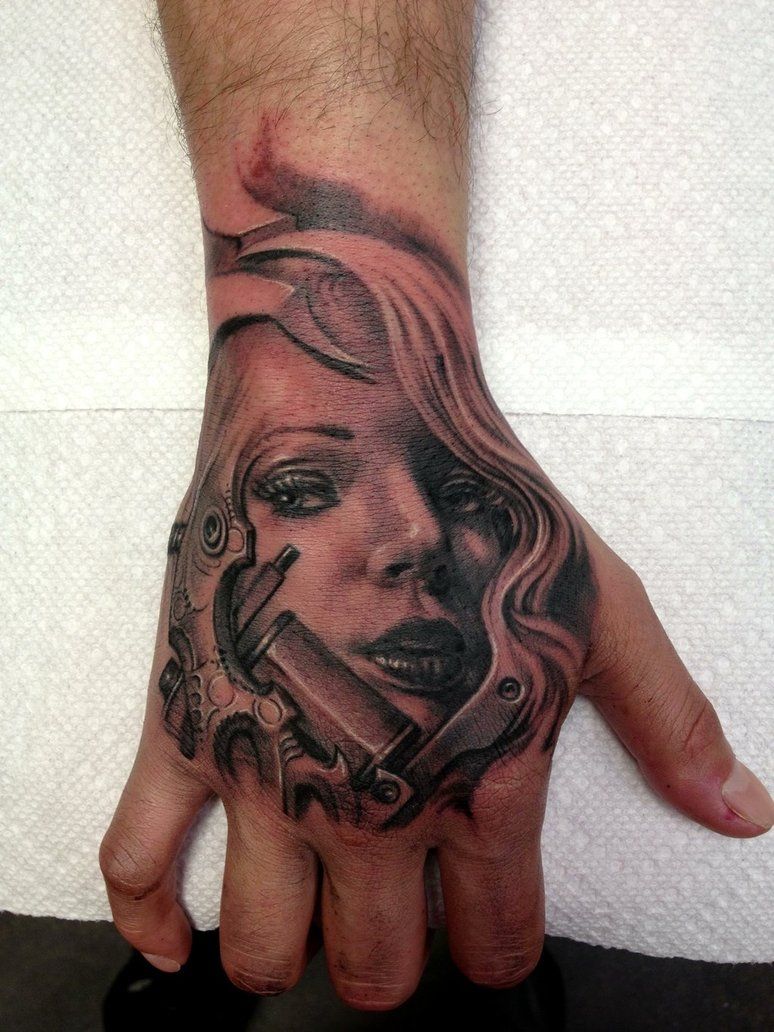 With a beautiful woman and an awesome tattoo machine, what more could this tattoo need? The woman's expression looks so realistic and the tattoo gun looks like you could reach out and grab it. It looks great without any color, but adding a little could make it pop and bring everything together.
29. Abstract Tree Ring Hand Tattoo Ideas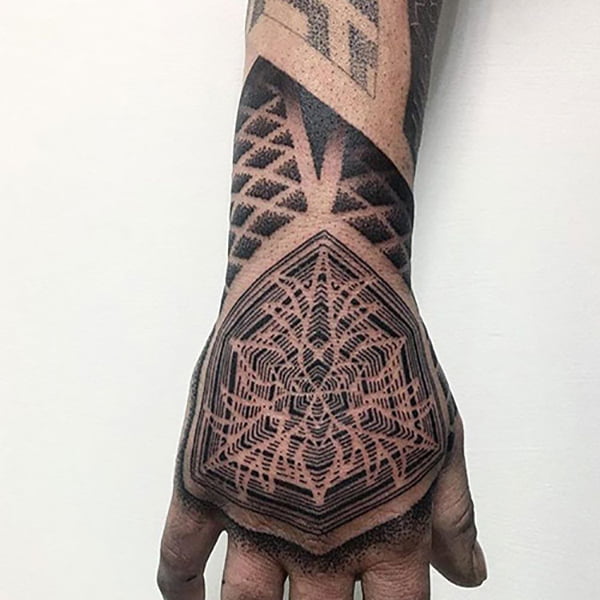 This is one of our favorite tattoos on the list because it's so unique. It uses multiple different art styles and makes you want to take a closer look. The outside has a lot of dots and the inside looks like an ancient tree. Black is the perfect color and it looks great even without any color.
30. Black and White Midnight Deer Hand Tattoos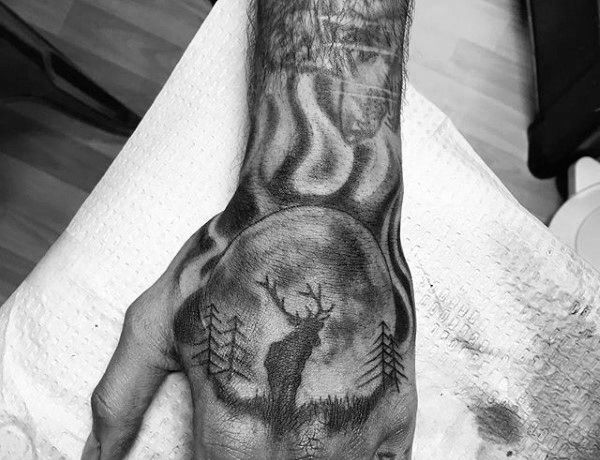 If you're someone that loves the wonders of nature, then this design is a great option. It's very simple while having a mysterious complexity to it. The silhouette of the deer is spot-on and it really looks like a giant moon. The shading is perfect and makes you feel like you in the middle of the woods.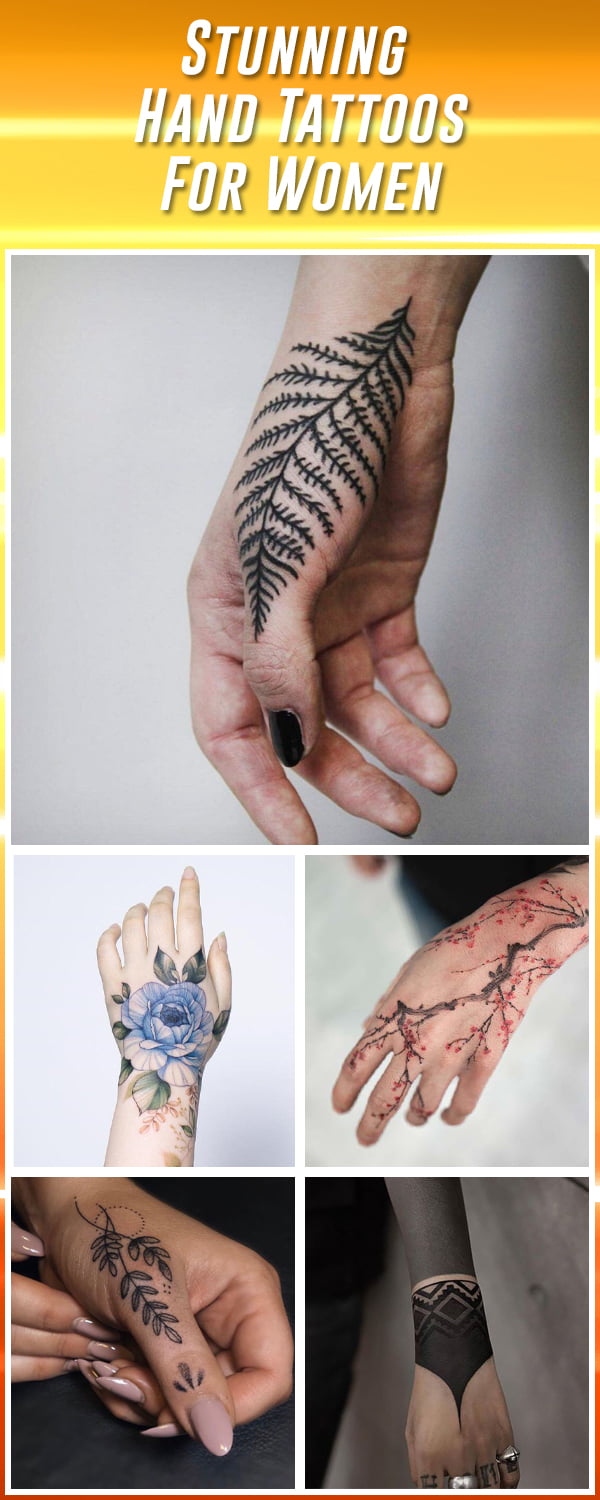 31. Cute Black Vine Hand Tattoo Ideas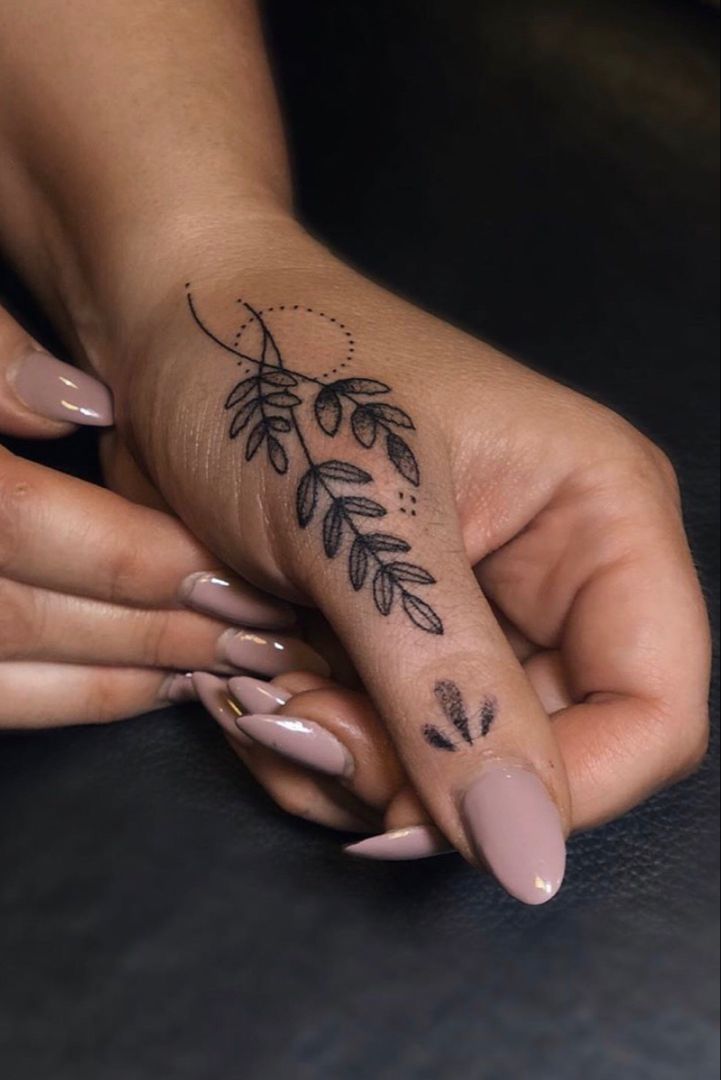 This is the perfect design for those looking for something cute and simple. The way they combined solid lines and dots really brings the whole thing together. The dots and design at the finger give the simple tattoo an elegant look, which is a great style for the placement.
32. Dark Black Vine and Leaf Hand Tattoos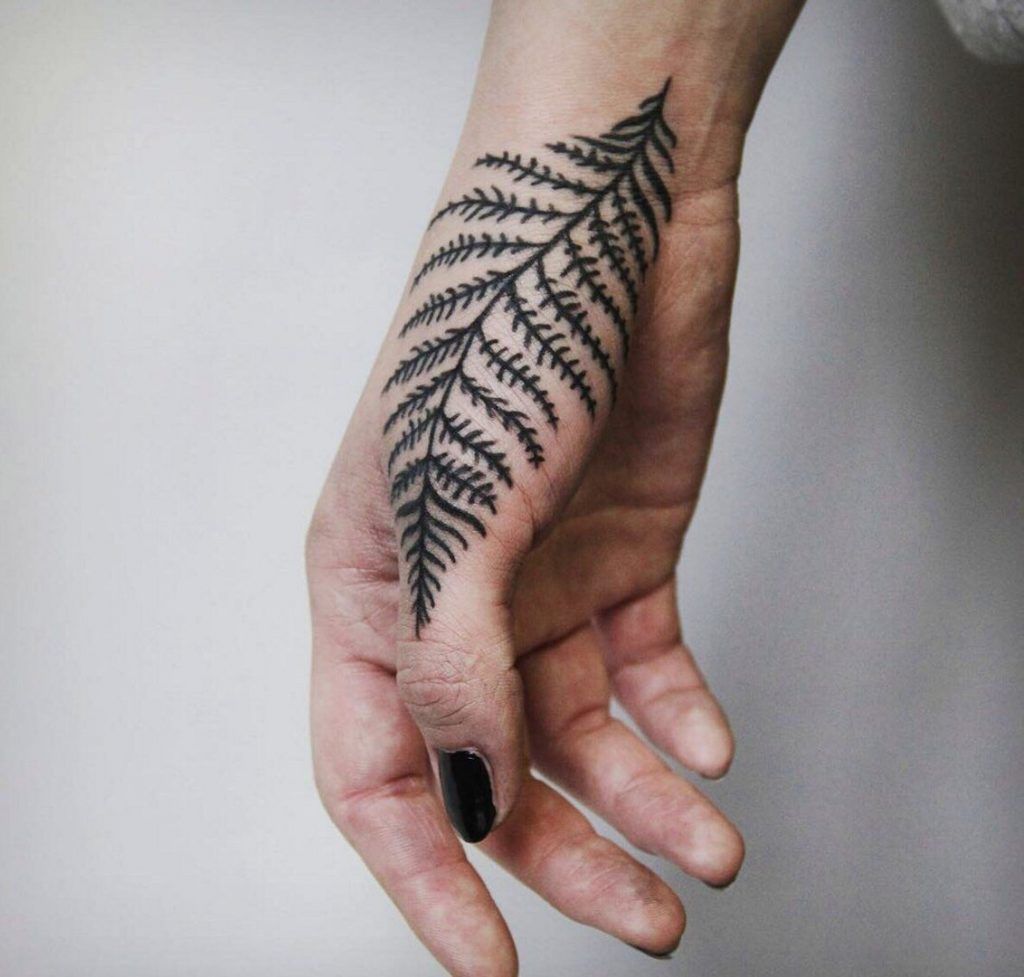 The tattoo in this picture is cool and done well. While the lines are bold and seem harsh, they make the overall piece elegant. It's also cool that it looks like a network of veins at first glance, which will have people taking second looks. The design is perfect for that area and fills the space well.
33. Black and White Butterfly Hand Tattoos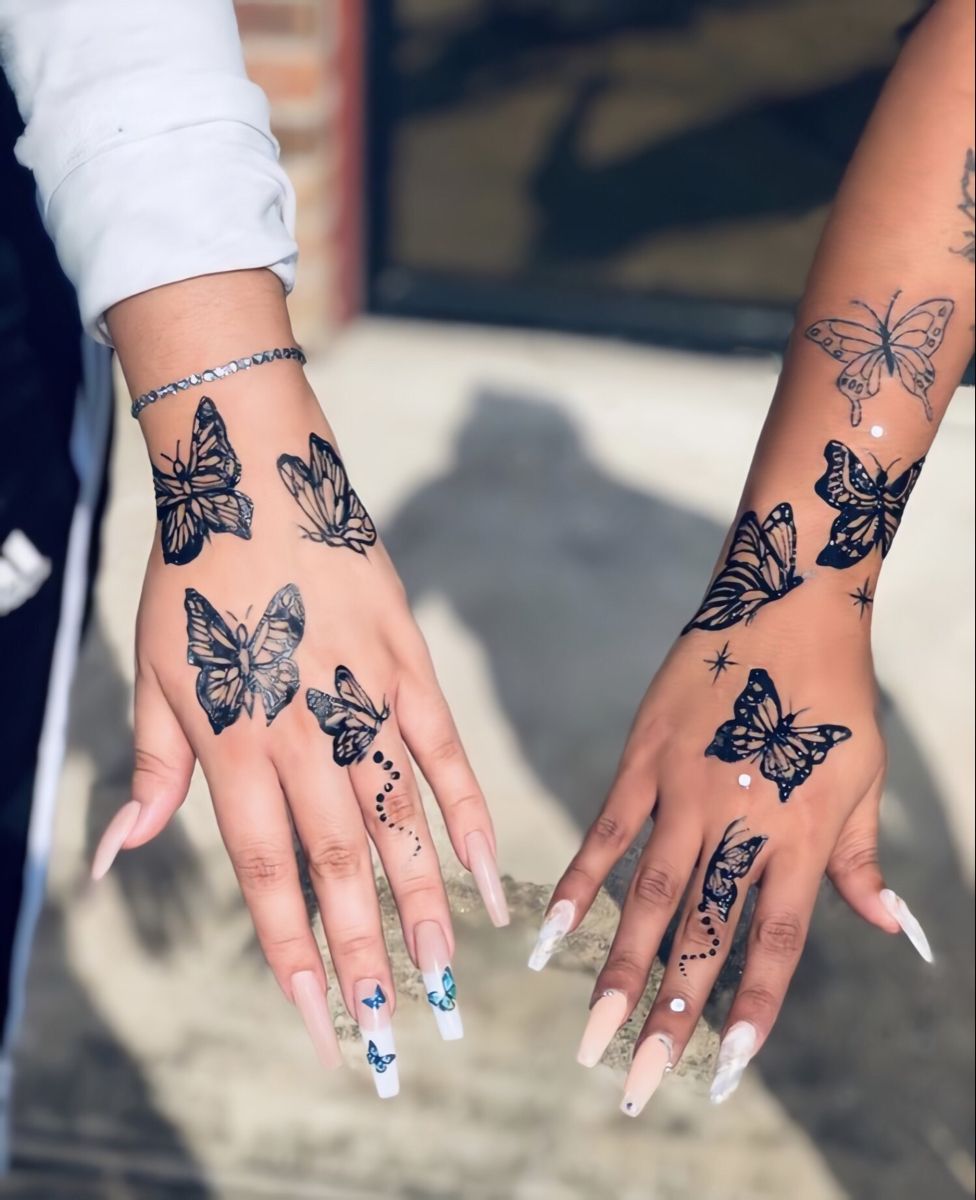 Not only could you get this tattoo by yourself, but it would make a great piece for matching tattoos. It's a beautiful tattoo that looks quite realistic. In fact, it's almost like you could reach out and touch them. The designs in the photo don't have color, but you could make it even more unique by adding your favorites.
34. Matching Rose Finger and Hand Tattoos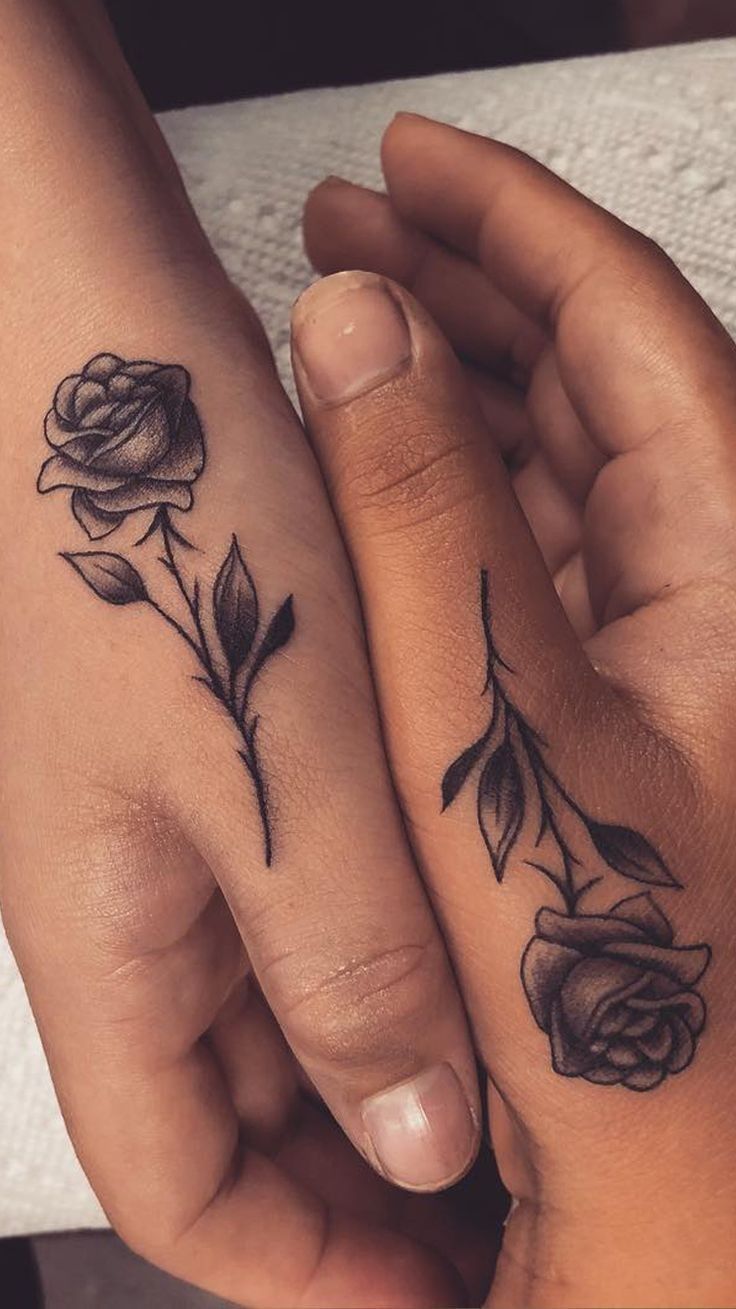 Another great finger tattoos option for a matching tattoo is this rose piece. The great thing is that you can get it with anyone you care about, like a cousin, best friend, or significant other. While they look great the way they are, if you didn't want identical finger tattoo designs, you and the other person could add your own color choice to make them unique from each other.
35. Simple Flower and Leaves Hand Tattoo Ideas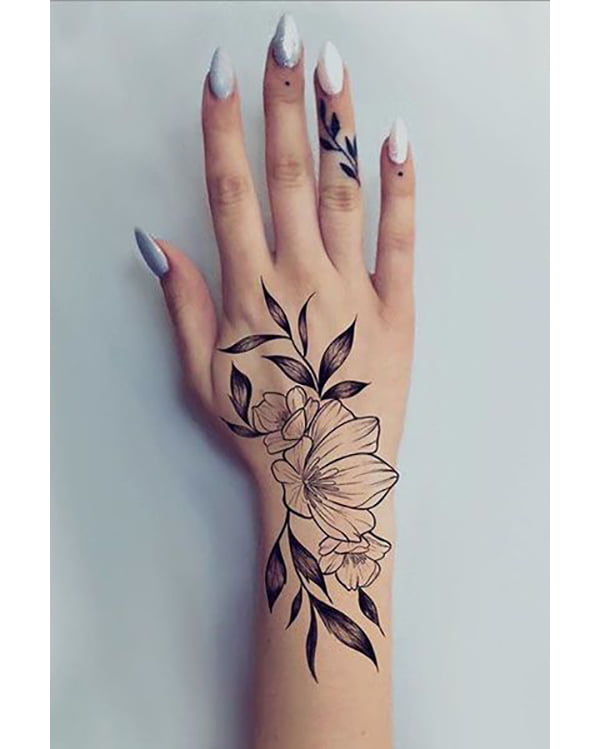 The flowers and leaves in this tattoo are realistic and beautiful. It's also nice that the vine that's wrapped around the finger really brings everything together. As you can see, it looks great using just black ink, but it would also look amazing if you added colors to it!
36. Elegant Henna Inspired Hand Tattoo Ideas
Henna-style tattoos have been around for thousands of years and this one looks amazing. The design is so intricate and everything ties together nicely. Depending on your preferences, you can get it in a traditional color like the photo or add as many colors as you'd like!
37. Elegantly Simple Black Finger and Hand Tattoos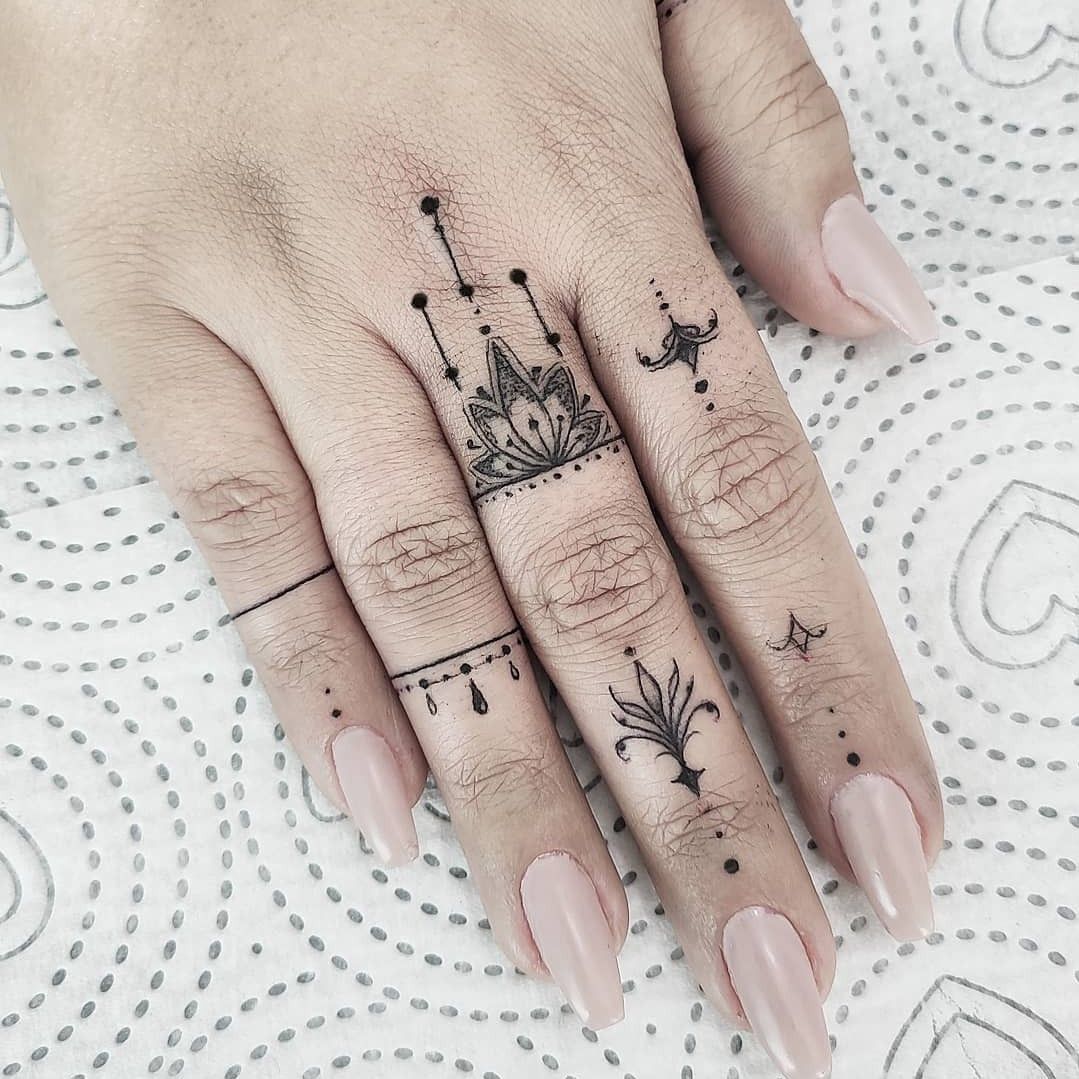 In addition to being small and dainty, this finger tattoos idea is also fancy. The designs on each finger tie the piece together and make each finger tattoo go together well. You can use the symbols in the photo or you can choose different ones to create your own unique tattoo piece.
38. Wrap-Around Black Leaf Finger Hand Tattoos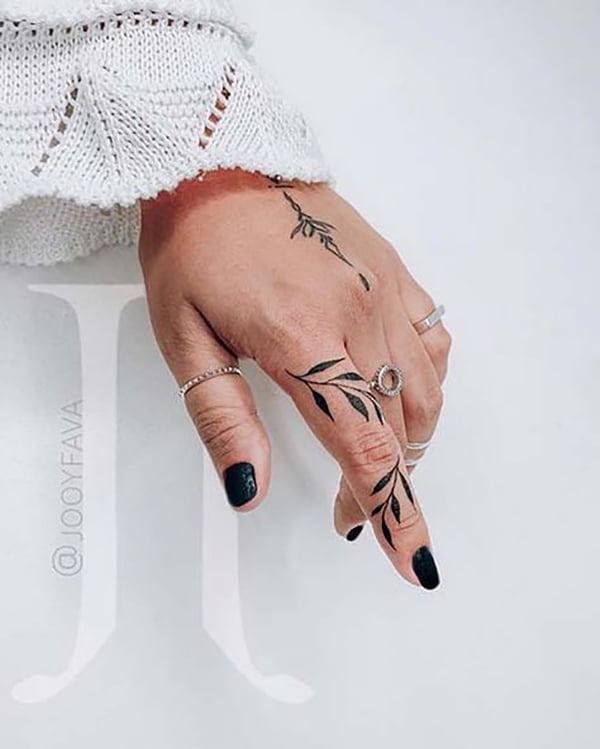 Even though it's a very simple design, this tattoo has a mysterious and regal look. Even though the two tattoos aren't connected to each other, the design makes it seem that way. You can stick with the darker colors or add something bright for an extra pop.
39. Dark Abstract Hand and Wrist Tattoo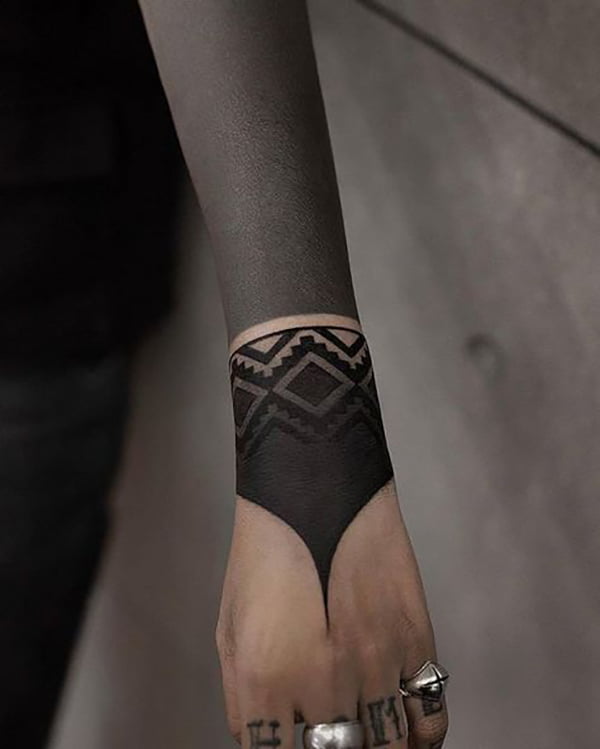 This tattoo is mostly made of black, but it's mesmerizing. It has a cool ombre effect and almost looks like it's a piece of the arm. In addition, it goes well with the rest of the arm tattoo and the small space breaks it up nicely.
40. Simple Line and Dot Hand Tattoo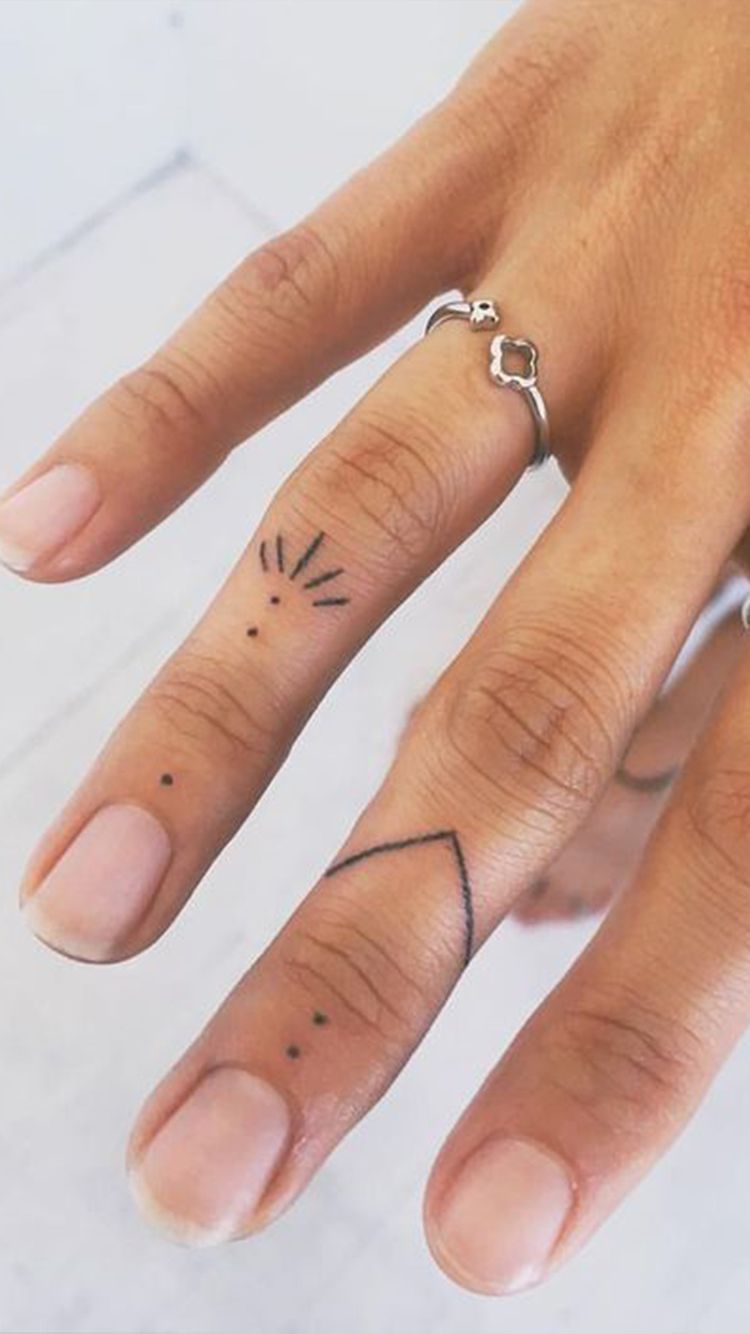 Here's another tattoo that's perfect for those that want something simple. Made with a few dots and lines, this design could be done in several minutes. It might not seem like much, but it becomes more beautiful the longer you stare at it. Black ink is perfect for the design, but it would look cool with color as well.
41. Abstract Moon Thumb and Hand Tattoo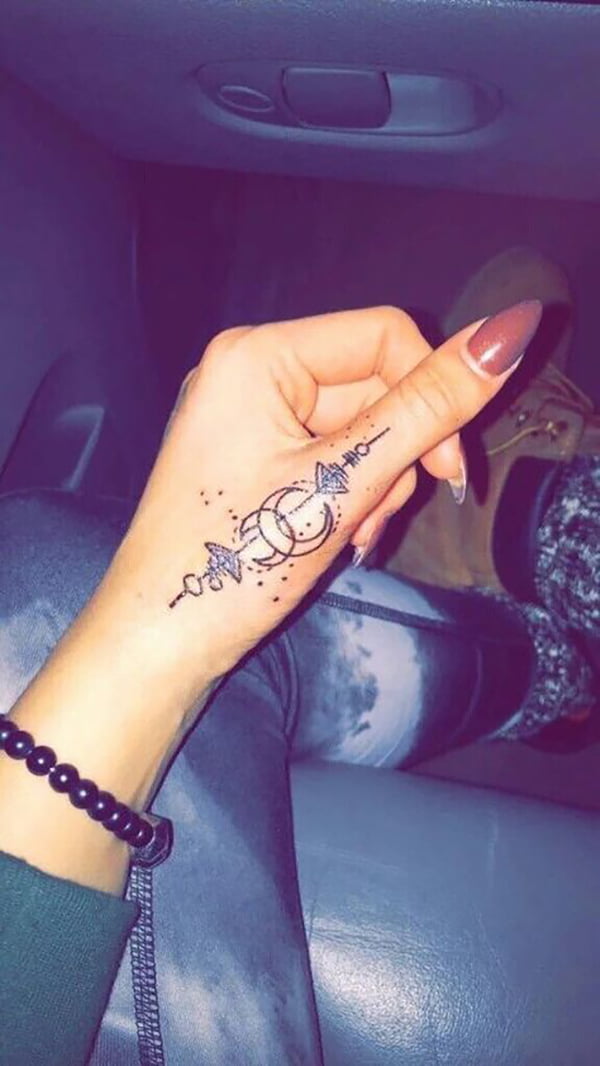 This is another great design for those that want something cute and small. It's not really dainty, but it's also not massive. The style has an abstract feel and all of the elements go well together. The black ink really makes this tattoo, but it would also look cute with color.
42. Small Black Crown Hand Tattoo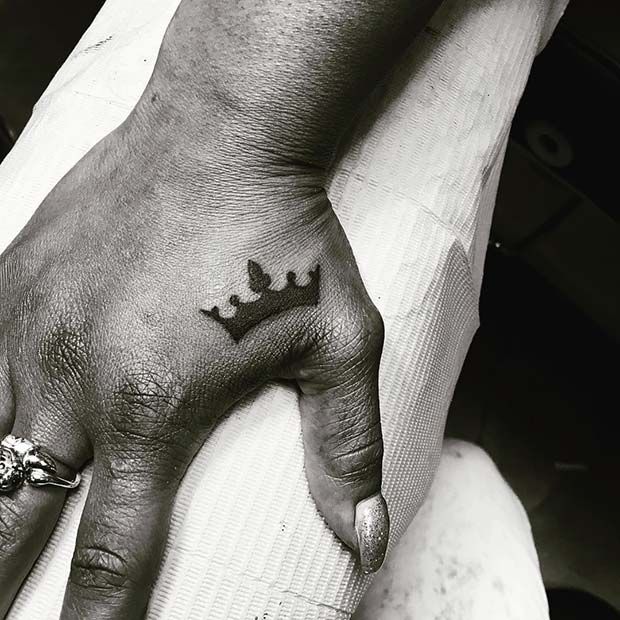 Get this on your own to show your inner queen or get a matching tattoo with your significant other to show your love. You can get the crown all black like in the picture or you can add colors and other fancy elements. Regardless of what you choose, it's a great love tattoo piece for that spot.
43. Beautiful Black and White Rose Hand Tattoo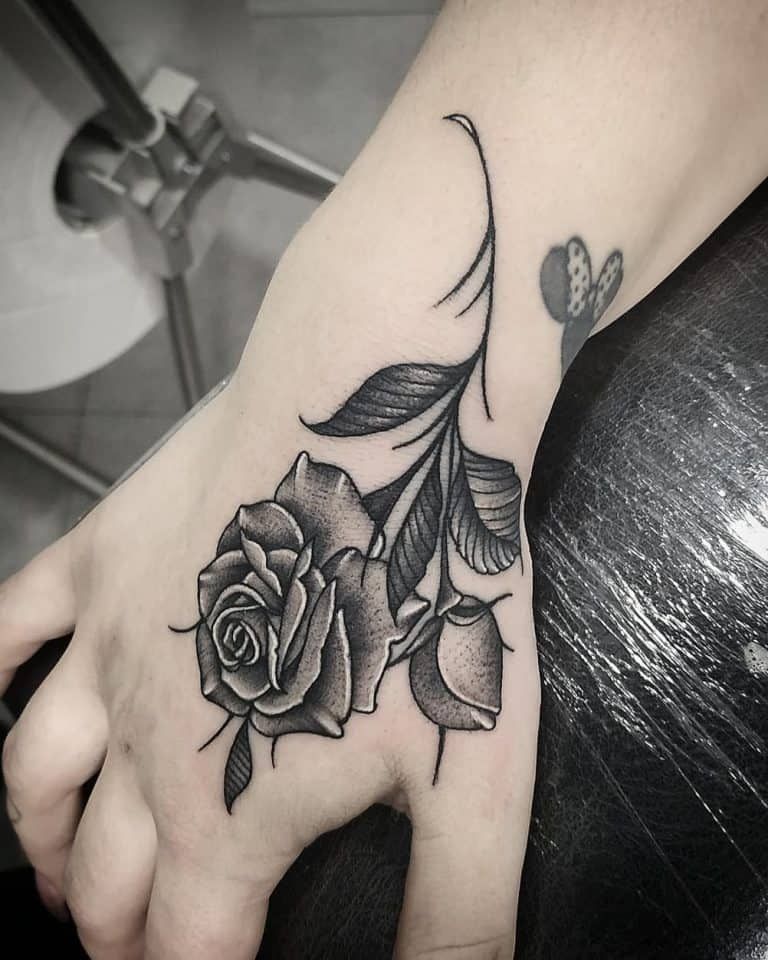 The style of this tattoo is one of the most classic ones and it's done rather nicely. The black ink isn't overpowering and the white ink is placed in the perfect spots to give the feeling of highlights. The leaves look 3-D and it's positioned in a way that makes it look like it's an extension of the hand.
44. Simple Lines and Dots Hand Tattoos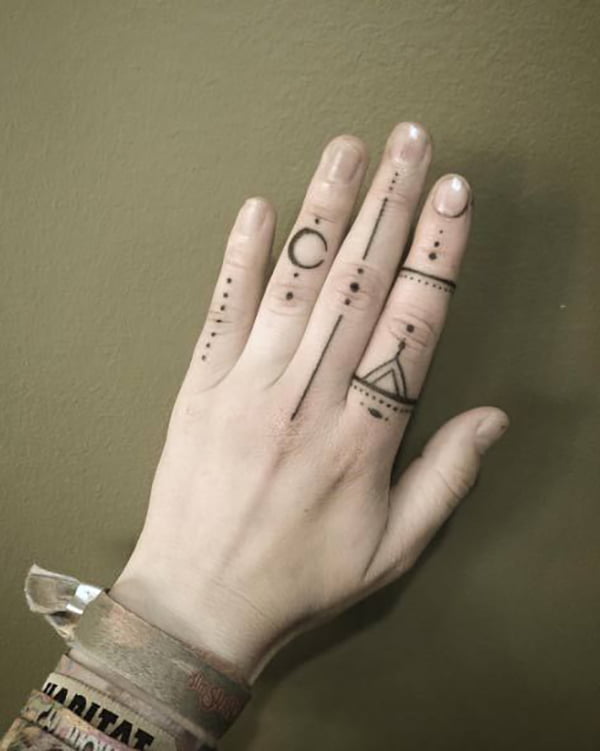 This beautiful tattoo is a great choice for those that want something small yet classic. Even though the lines are bold and dark, they help make the tattoo look even more elegant. It's also great that the designs on every finger mesh together perfectly.
45. Cute Blue Cat Finger Tattoo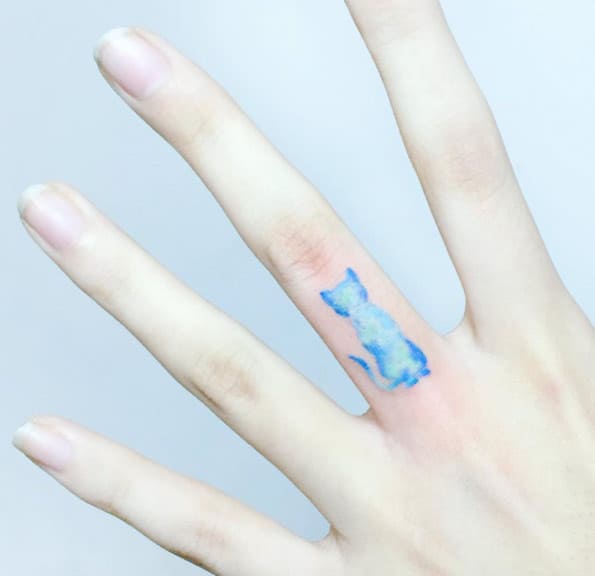 This little cat finger tattoos design is super cute and looks great in that position. It looks exactly like a real cat would if you were looking from the back and the color inside makes it look like it's made of clouds. Regardless of what color you choose, this is a cute tattoo that would be the perfect piece for cat lovers everywhere.
46. Henna Rose Hand Tattoo Design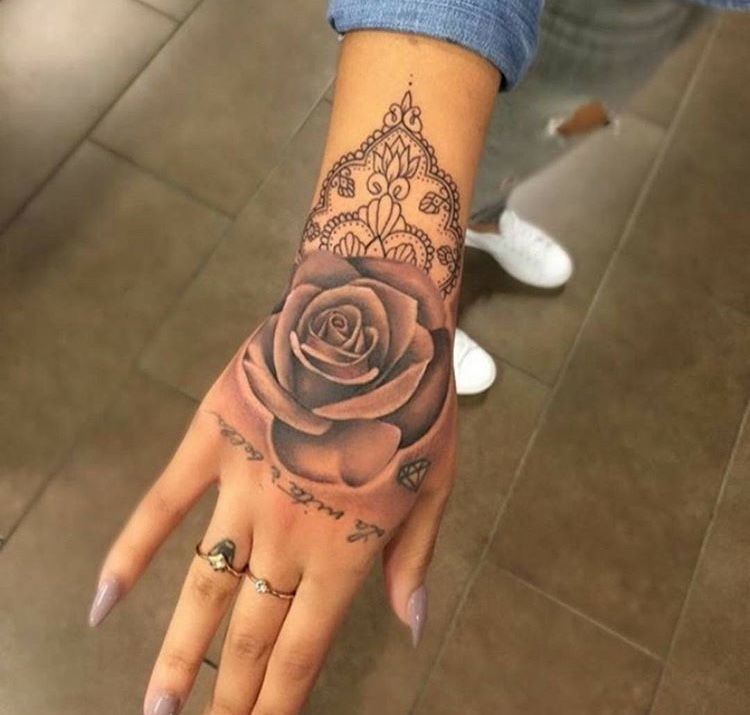 While there's a lot going on with this tattoo, every element looks amazing. It has the saying "la vita e Bella," which means life is beautiful. When you think about that, it makes sense that the tattoo is full of beautiful things. The rose is very nicely done and the henna style design looks perfect!
47. Elegant Black and White Henna Flower Hand Tattoos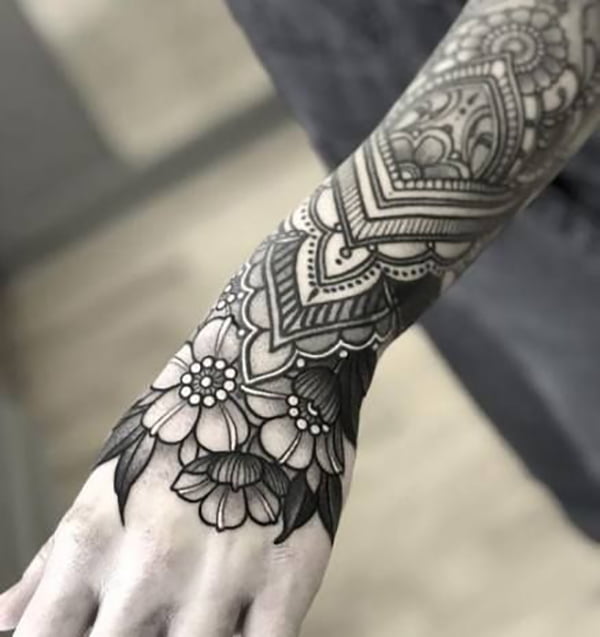 More and more people are getting sleeve tattoos and this design is perfect. Not only does the tattoo have several different pieces, but they all work together to create a beautiful tattoo. The mandala is a great way to express the search for self-unity and the colors on the flower really make it pop.
48. Single Line Lady and Tiger Hand Tattoos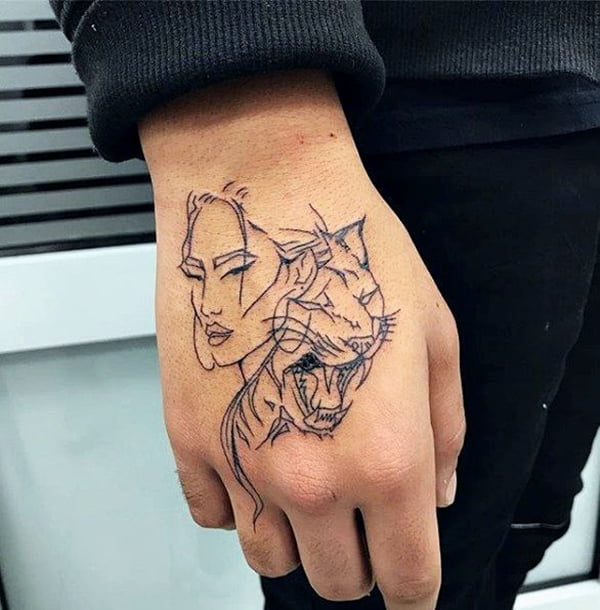 Another trend that's becoming more popular in the tattooing world are designs that are made from one solid line. While the tattoo artist will have to pick up the machine, it's still designed with the same line. This is a great representation of that style and it looks perfect the way it is!
49. Simple and Dark Vine Tattoo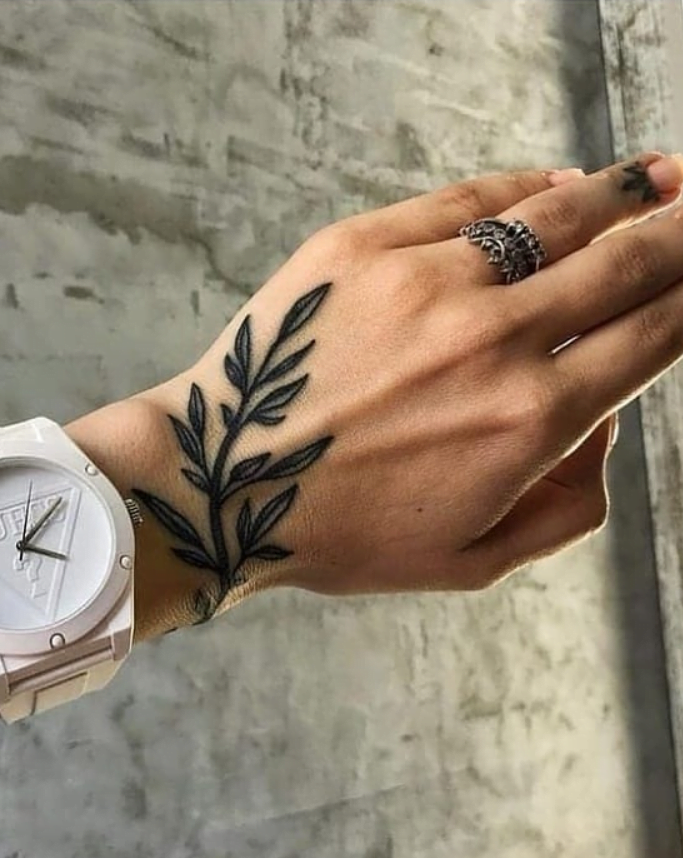 This is another tattoo that has two unconnected pieces that go together great. The vine can represent many things, including progress and survival. Regardless of what it represents, it looks great and fits the spot perfectly. Add color for a more unique piece.
50. Matching Celestial Hand Tattoos Design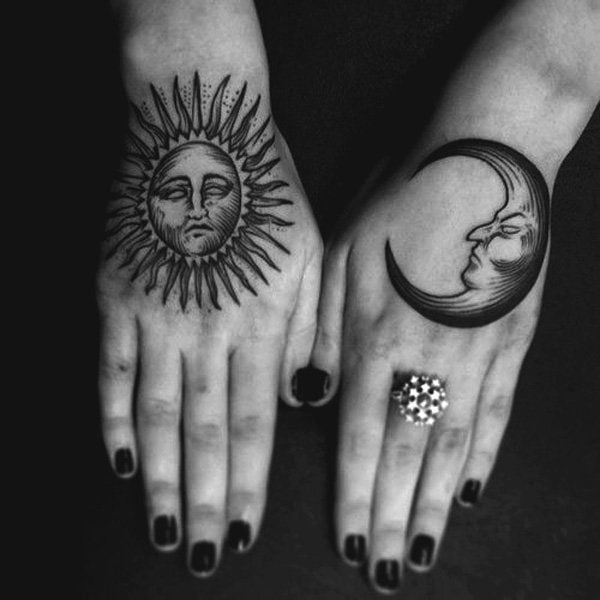 Sun and moon tattoos are some of the most beautiful pieces out there. Having these together usually represents unity or rebirth. The expressions on both are well done and the basic lines make the tattoo look classic. You could keep the black ink or add color if you want things to pop.
51. Powder Blue Flower Hand Tattoos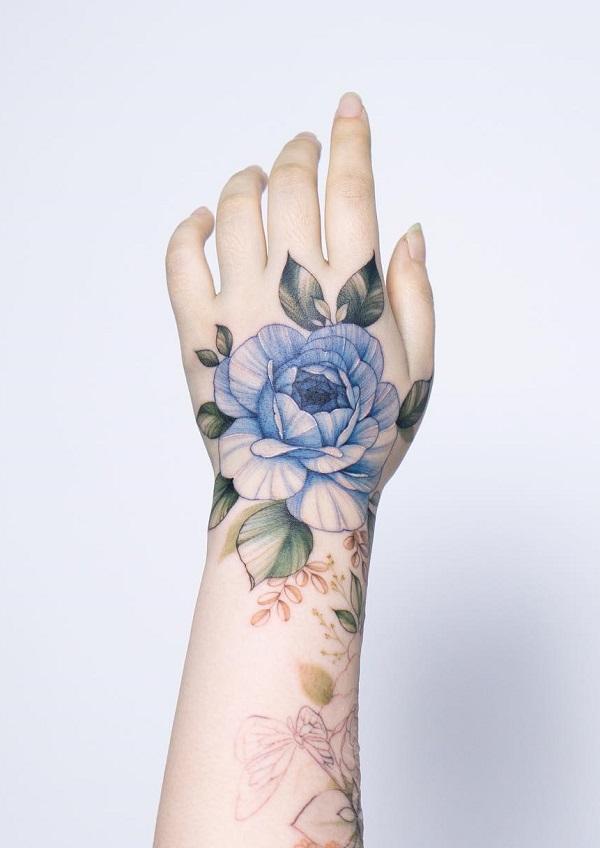 Not only is this tattoo on the hand, but it also goes up the arm. With the style and position, it looks like your arm is being enveloped by a beautiful flower garden. The soft colors help make the piece more realistic, but you could use any color you wanted!
52. Beauty and the Best Hand Tattoos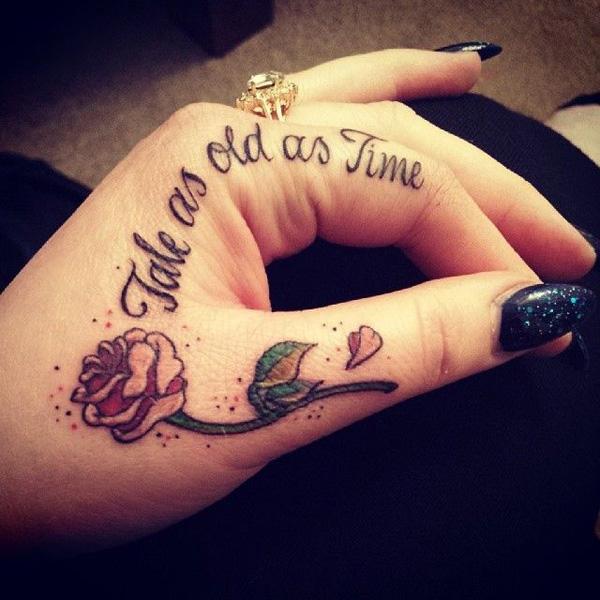 If you're a Beauty and the Beast fanatic, then this is the design for you. Besides having the beautiful flower from the story, it also has the iconic phrase "a tale as old as time." The piece is really brought together by the spot-on colors and fancy font of the lettering.
53. Elegant Henna Hand Tattoos Design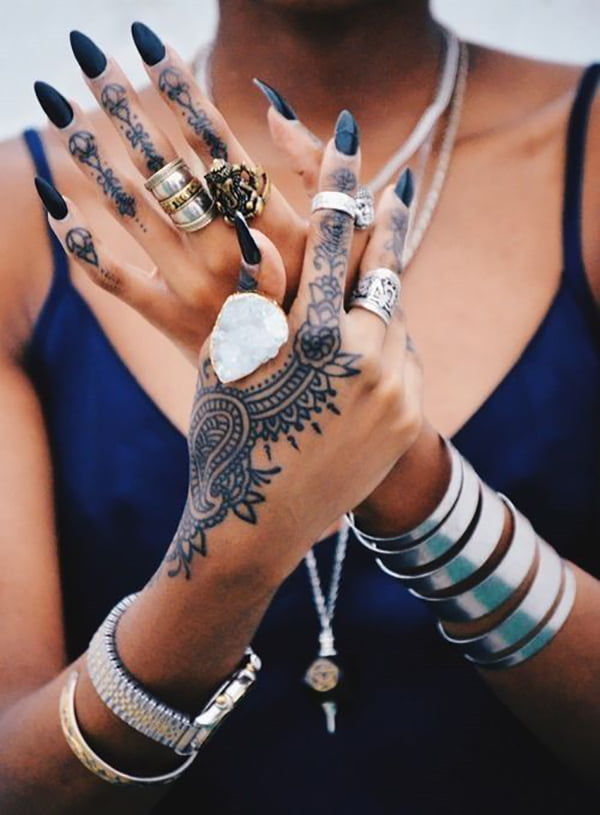 The design of this tattoo is another classic henna-inspired style. It looks spot on to traditional henna pieces and the dark color makes it all the more striking. The dark lines make the design bold and it's sure to turn heads!
54. Simple and Cute Vine Hand Tattoos
We've seen vines that were packed with color and shaded with black, but the outline style of this tattoo sets it apart. In addition to having a classic feel, it's also striking and beautiful. With that said, though, adding a little color could make the whole piece pop.
55. Small Honey Word Hand Tattoos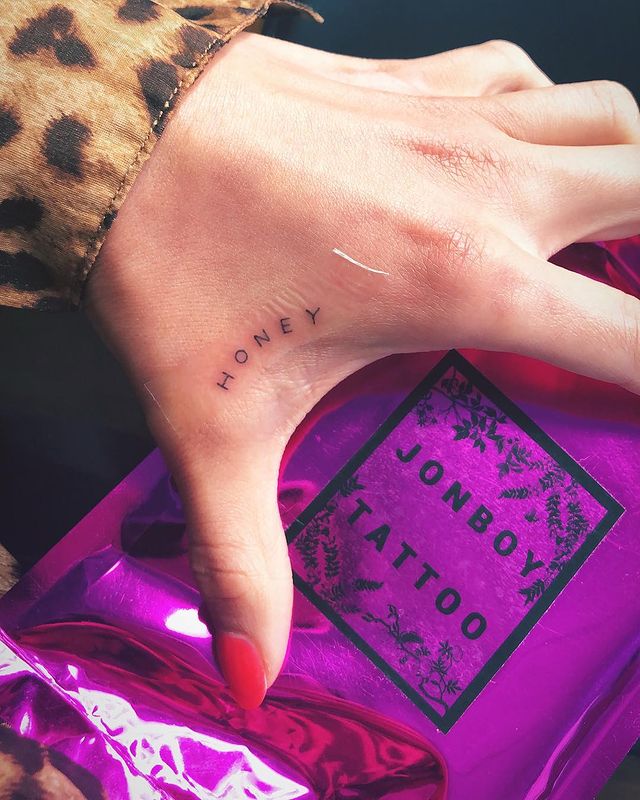 This particular word tattoo design is great for those that want to represent things like love or wisdom without having a huge piece. These things are usually represented by bees, but the word "honey" can do the same thing. It's simple, dainty, and great for a first word tattoo.
56. Snake and Star Hand Tattoo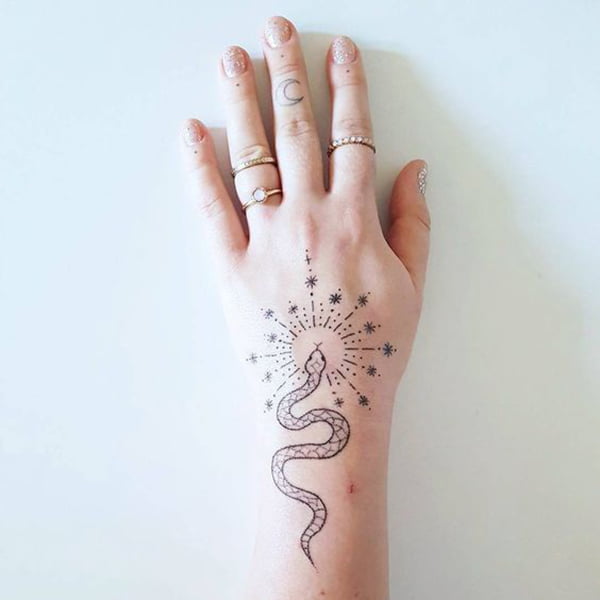 There are many different possible meanings of a snake tattoo, but the most common is associated with rebirth. It looks great with only black ink and the stars are a nice touch. The dots and moon bring everything together and make the star hand tattoo beautifully unique.
57. Elegant and Black Hand Tattoos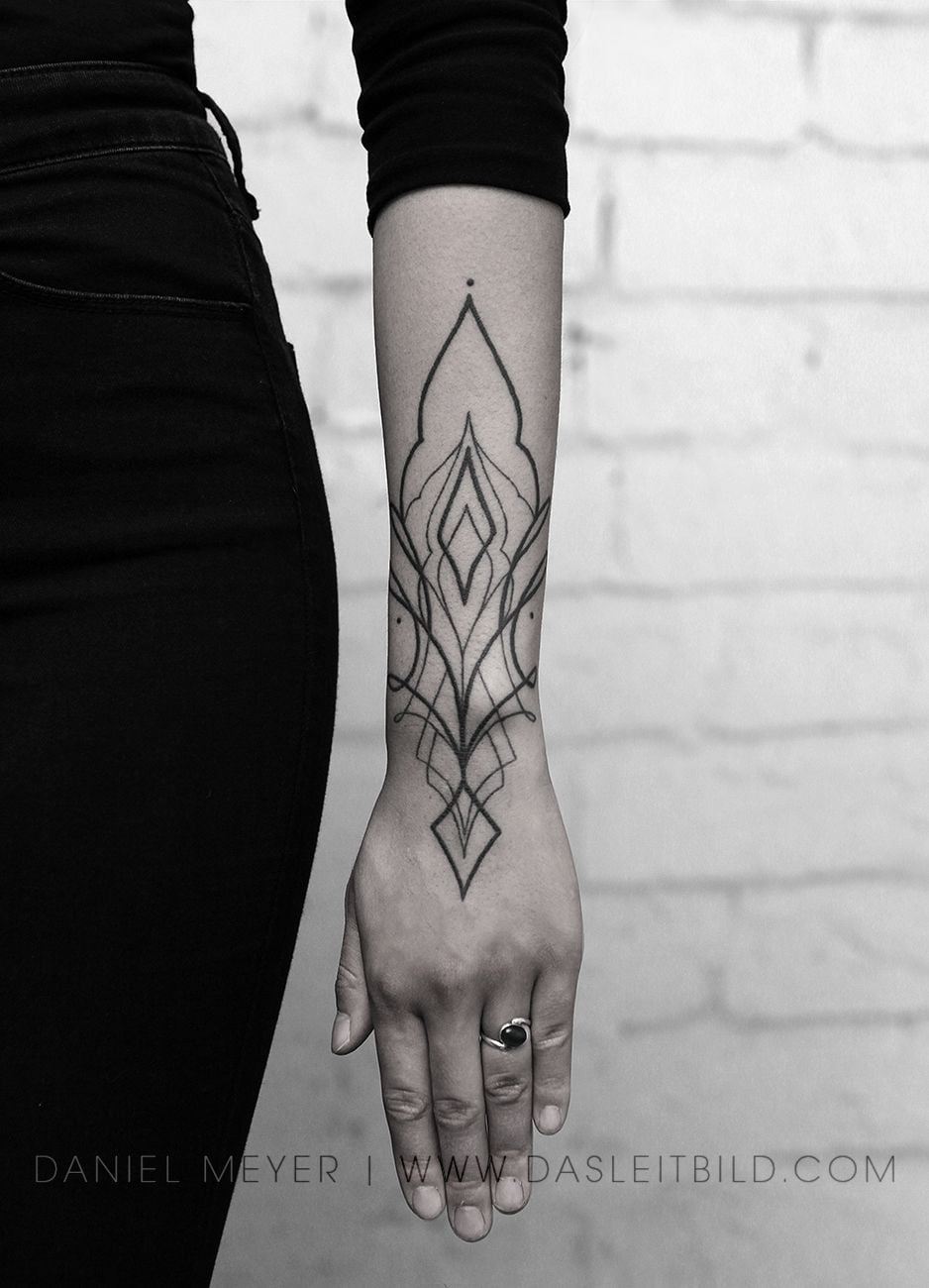 At first glance, this tattoo might seem like a lot or just a bunch of lines. Upon closer look, though, you can see how beautiful and elegant the design really is. The varying boldness levels tie everything together and it's a great piece for those that are looking for something that's simple yet elegant.
58. Beautiful Cherry Blossom Hand Tattoos
If you're someone that loves cherry blossoms or if you're looking for a tattoo that represents the fragility of life, then this design is a good place to start. The colors are beautiful and it looks like a real cherry blossom branch. It's made to look like it's entwined in your fingers and it looks like you could reach out and grab it.
59. Simple Breathe Hand Tattoo Design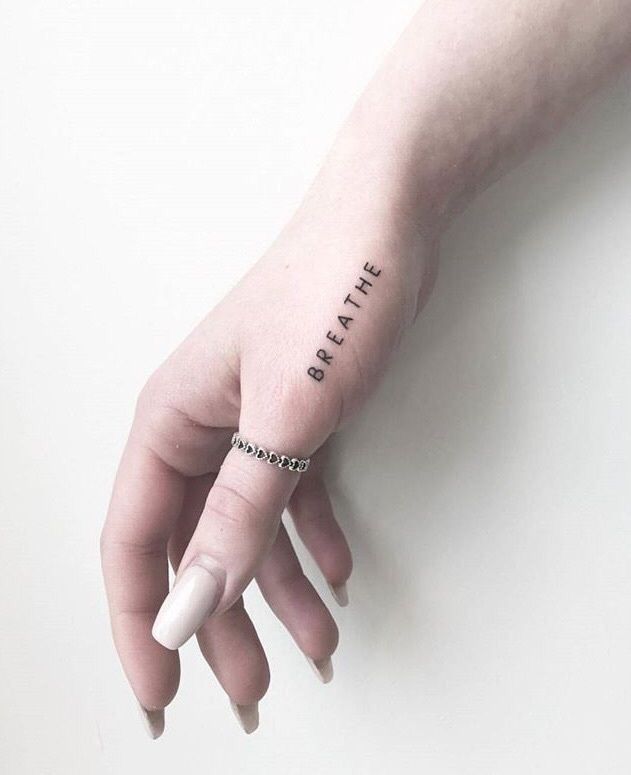 In times of trouble, we sometimes forget to breathe. This tattoo can be a gentle reminder that you need to take a deep breath and push forward. While simple and small, it has a lot of meaning behind it. You could add other elements, but it looks amazing as it is.
60. Black and White Hummingbird Hand Tattoos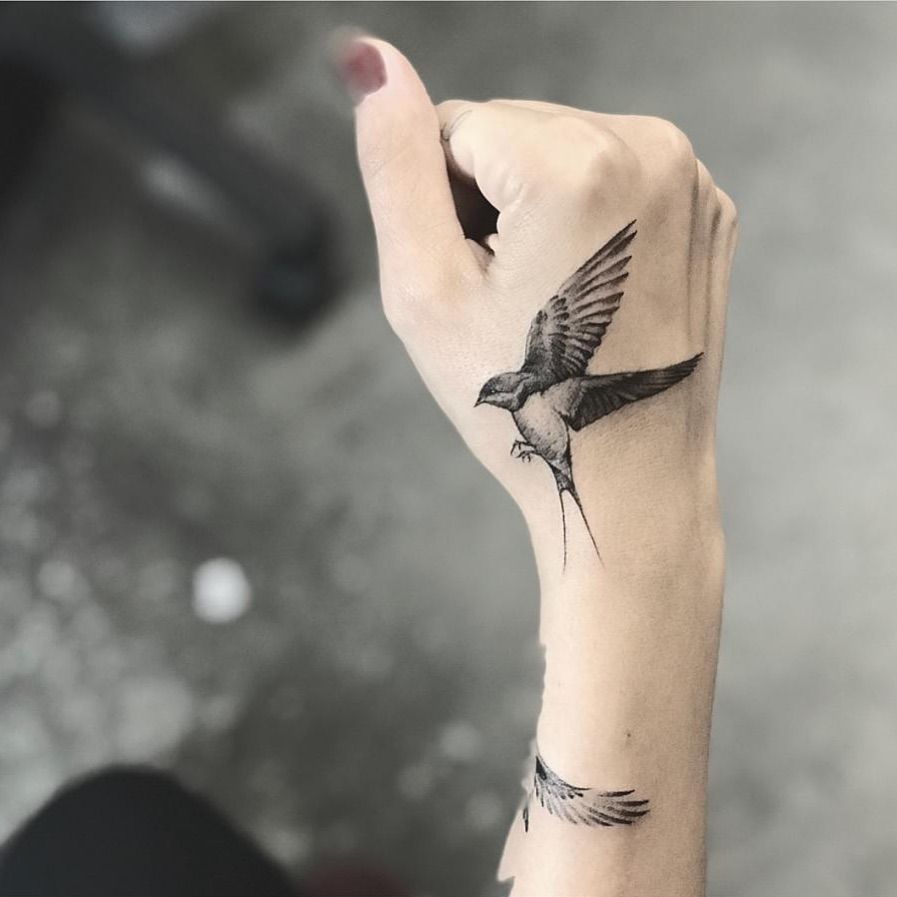 We usually see hummingbird designs that are full of color, but this hand tattoo looks great with black ink. This animal can mean many things, but one of the most popular reasons why people get it is to symbolize overcoming hard times. It's in the perfect spot and looks exactly like it would if it was landing in real life.
60 Best Hand Tattoo Design Ideas
Now that you've seen the 60 hand tattoo designs that we included in this article, you should be able to work towards getting the piece of your dreams. Remember, the hand can be a hard area to tattoo and it's crucial that you find a good artist. There's no rush and you should take your time to create a piece that you fall in love with. As stated before, you don't have to use these exact designs and you might find that you want to use elements from several of them. Your artist should be willing to communicate with you and create something you love.