Whether you are considering your first or your fiftieth tattoo, this gallery of the best tattoos for girls is sure to give you some valuable inspiration. Anti-inkers warn that tattoos are for life, but true tattoo art lovers argue that tattoos ARE life. This gallery is for dreamers and doers alike. It's full of everything from romance to fantasy to modern art. If a simple heart or rose won't do, then read on to see some of the most inspiring modern tattoo designs.
60 Bold Tattoos for Girls with Big Dreams
What makes a great tattoo? Because this art form is so personal, that question can be hard to answer. It's easy to see and say what makes a bad tattoo, but you won't find any of those here. If you're tired of the same old faded sailor tats, nonsense Chinese characters, or blurred black sketches, then get ready to have your mind blown. The following bold, beautiful, and conceptual designs are more than just great tattoos. They are shining examples of the masterpieces that are possible when the model's dream and the artist's vision are perfectly aligned.
1. The Fairest Tat of All Tattoo Design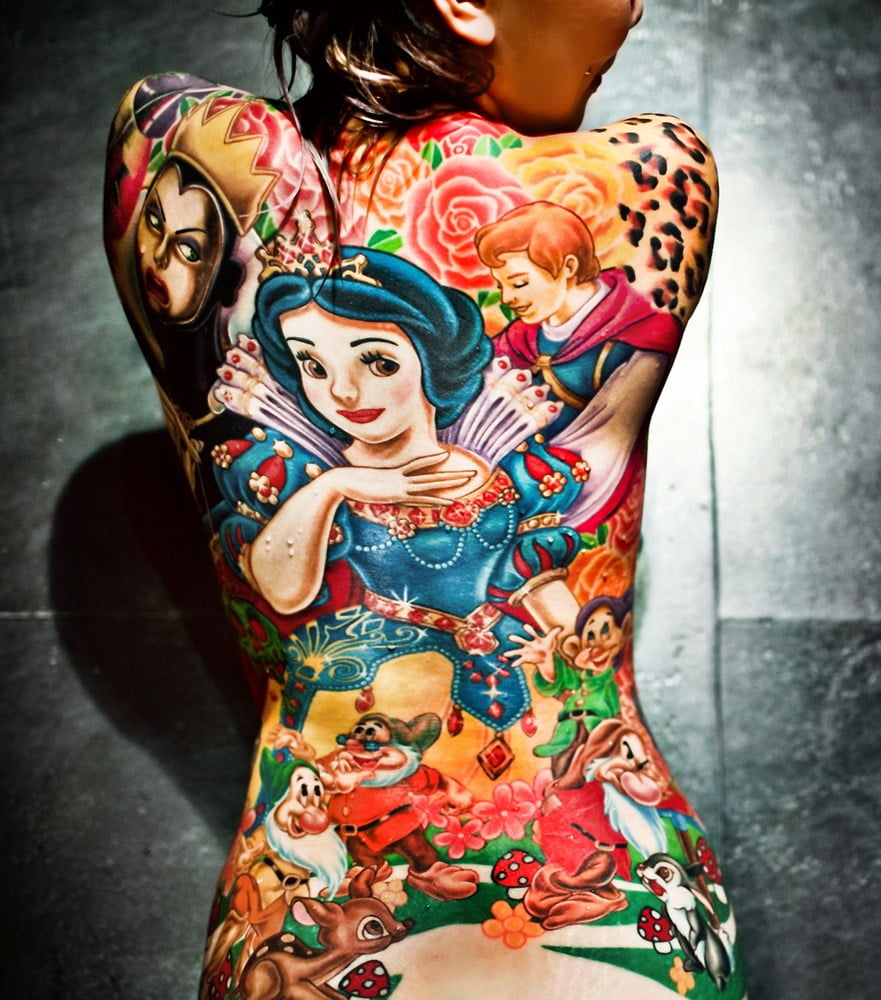 Disney fandom inspires many tattoos, but this gorgeous, back-covering technicolor Snow White tattoo is for hardcore Disnerds only. It takes several hours across multiple sessions to create a tattoo like this, but the vibrant color and beautiful character designs are totally worth it.
2. Don't Mehndi If I Do Tattoo Design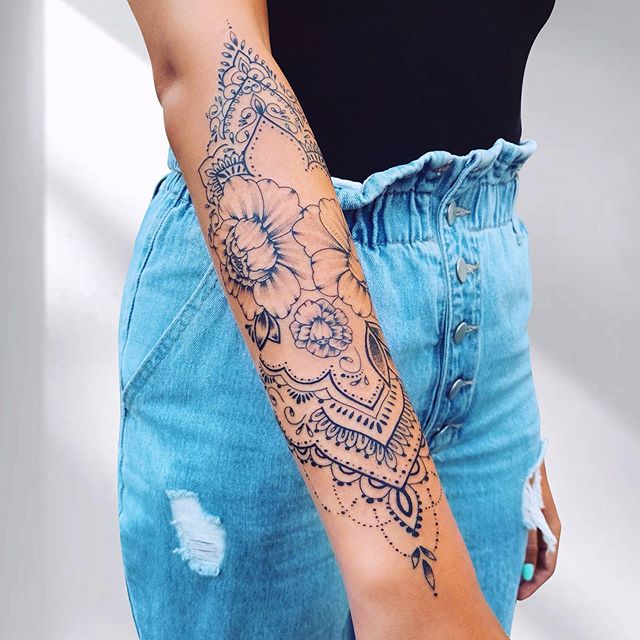 Mehndi is an ancient art form. Americans often call the temporary floral designs henna, but if you are looking for a permanent ode to your love of Middle Eastern florals, then a mehndi-inspired design is an obvious choice. Shades of black create a realistic lace and floral look while also looking sophisticated and distinct against your skin.
3. Turquoise Is The New Black Tattoo Design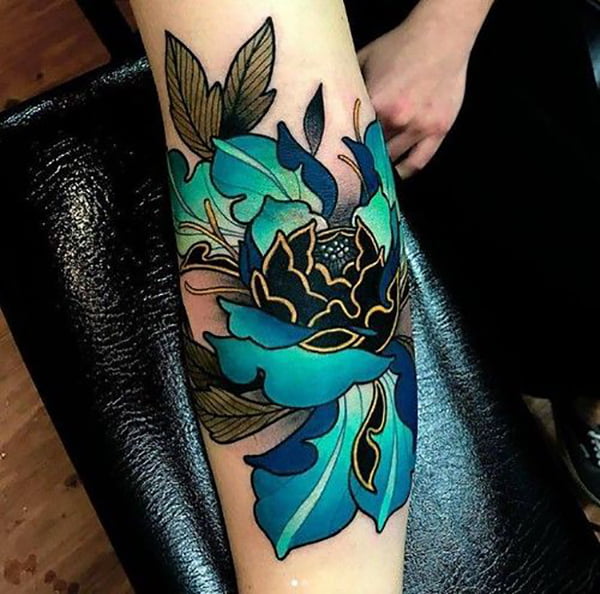 An Asian-inspired floral is a classic tattoo choice. Likewise, flower tattoos in shades of black withstand the test of time. But if a basic black bloom just won't do, then consider this lush design with stunning and soothing shades of turquoise.
4. The Most Magical Leg on Earth Tattoo Design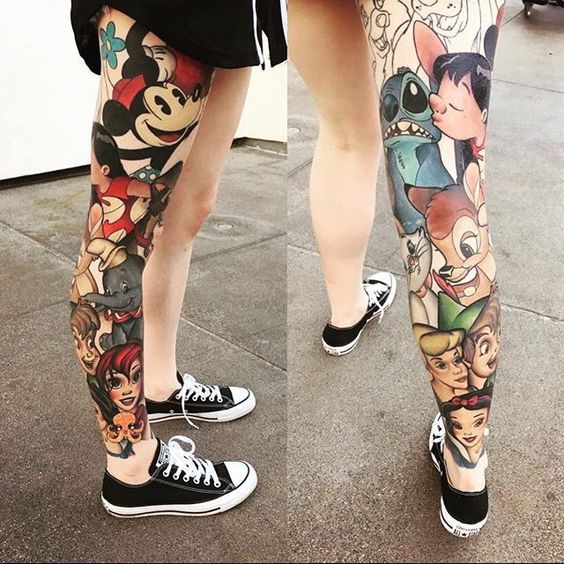 Graphic leggings are for kids. If you truly want to make both a fashion and a fantasy statement, then it's hard to top the impact of this thigh-to-ankle Disney tattoo. Realistic shading makes both classic and contemporary portraits pop and a consistent palette makes the whole design look coherent while giving each character their own space. This ankle tattoos design is absolutely unforgettable
5. Le Chat Noir and Le Chat Gris Tattoo Design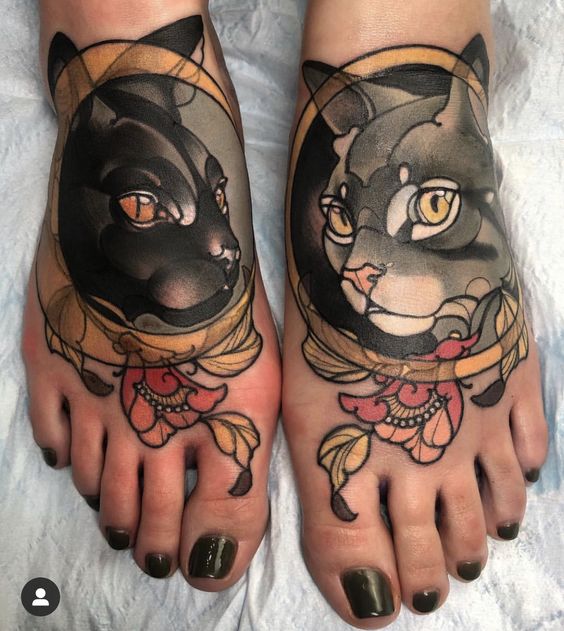 Few animal tattoos are as symbolic as the black cat. This one is mated with a near-mirror image of a gray cat for a truly sophisticated way to pay homage to your favorite familiar. The look is further elevated by transparent crescent moons and Art Nouveau florals.
6. Fun Girls Love Fungi Tattoo Design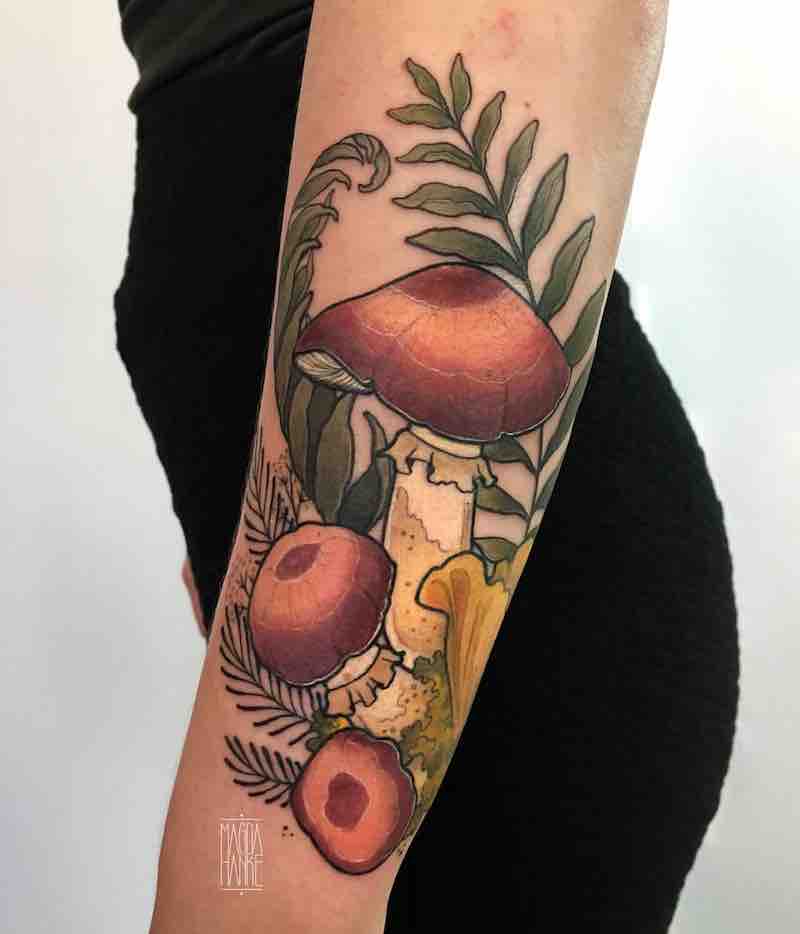 This love tattoo offers a more sophisticated take on the classic mushroom. Gone are the blurry lines and psychedelic colors often associated with shroom designs. Instead, this realistic ink takes its inspiration from the science-inspired tradition of botanical art.
7. Eve's Leaves Reimagined in Grayscale Tattoo Design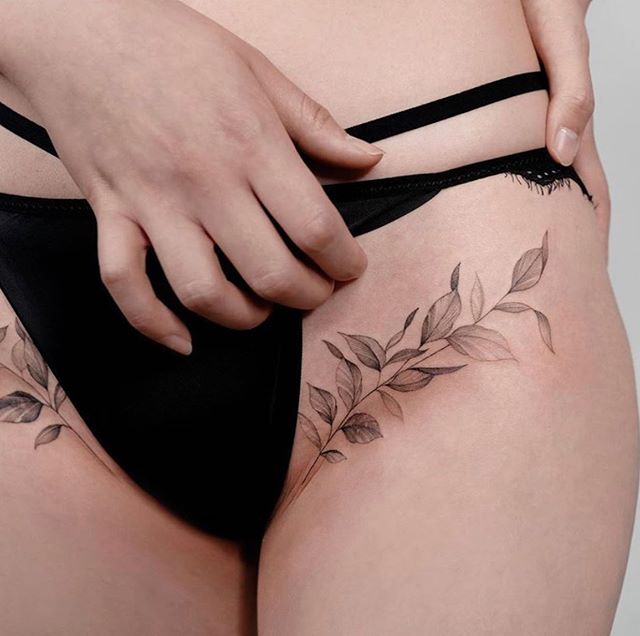 Groin tattoos are finally getting some respect thanks to beautiful and cool tattoo designs like this delicate leaf work. Naysayers need only be reminded that Eve herself chose to cover herself with foliage. The delicate veining and sharp shading make this concept both striking and enduring.
8. A Back Tattoo Fit for a Lion King Tattoo Design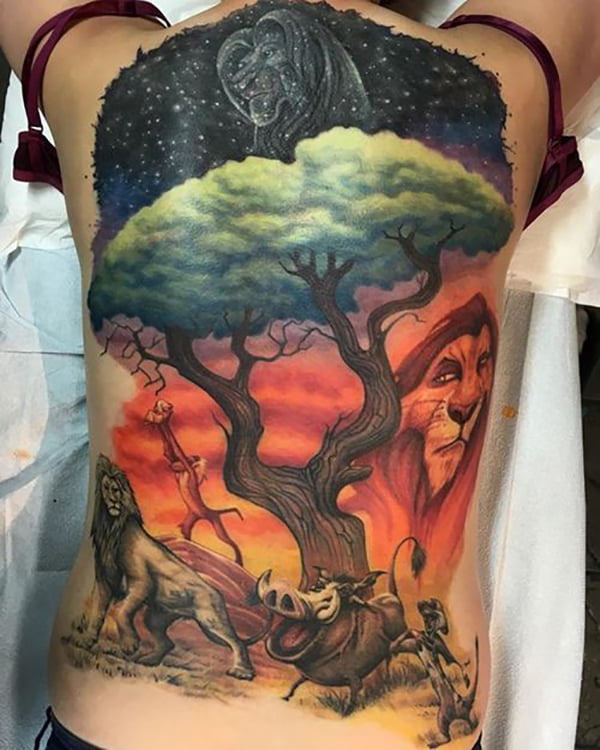 When it was first released in 1994, The Lion King set records for everything from animated films to VHS rentals. With theater and live-action adaptations, the Lion King fandom has only grown. This brilliantly realized back tree tattoos design summarizes the story in a handful of cohesive vignettes while also marking this woman as one of the movie's most committed fans.
9. When You Love Yourself, Get a Lotus Tattoo Design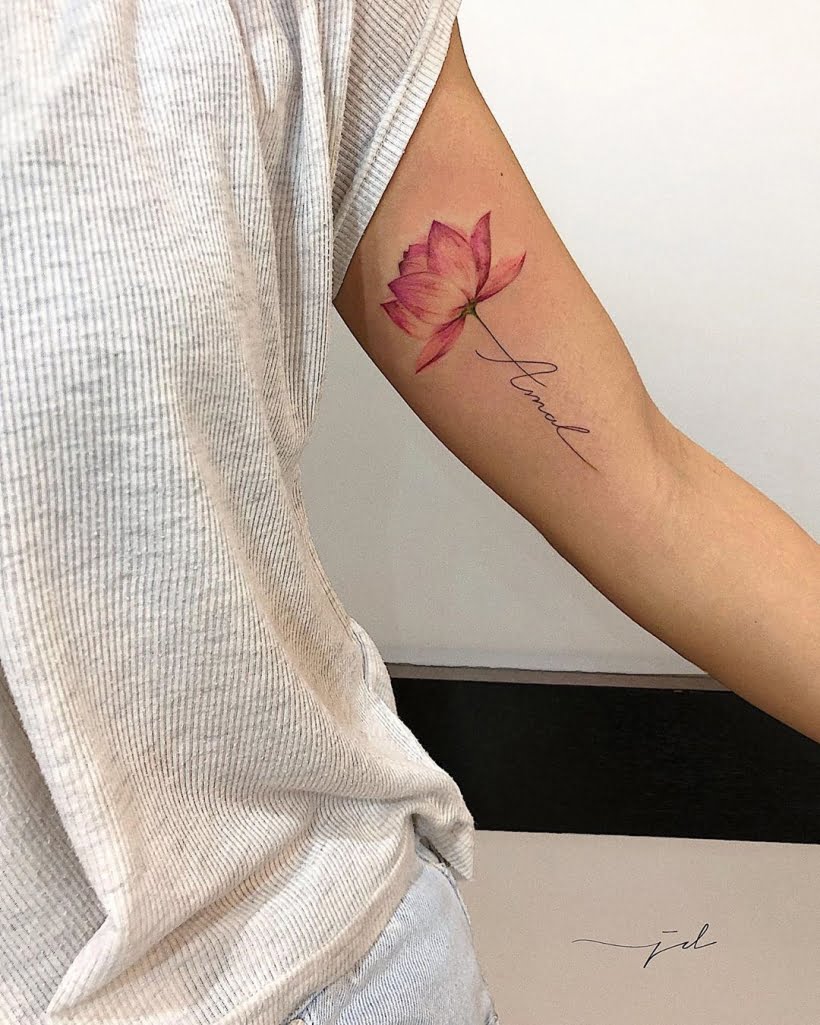 This delicate but distinctive pink lotus offers a welcome change from dime a dozen rose tattoos. The lotus is strongly associated with spiritual enlightenment, making it an ideal choice for everyone from Buddhists to yoga enthusiasts. This design is further personalized by using the flower's stem to spell a name.
10. A Calf Tat for Cat Lovers Tattoo Design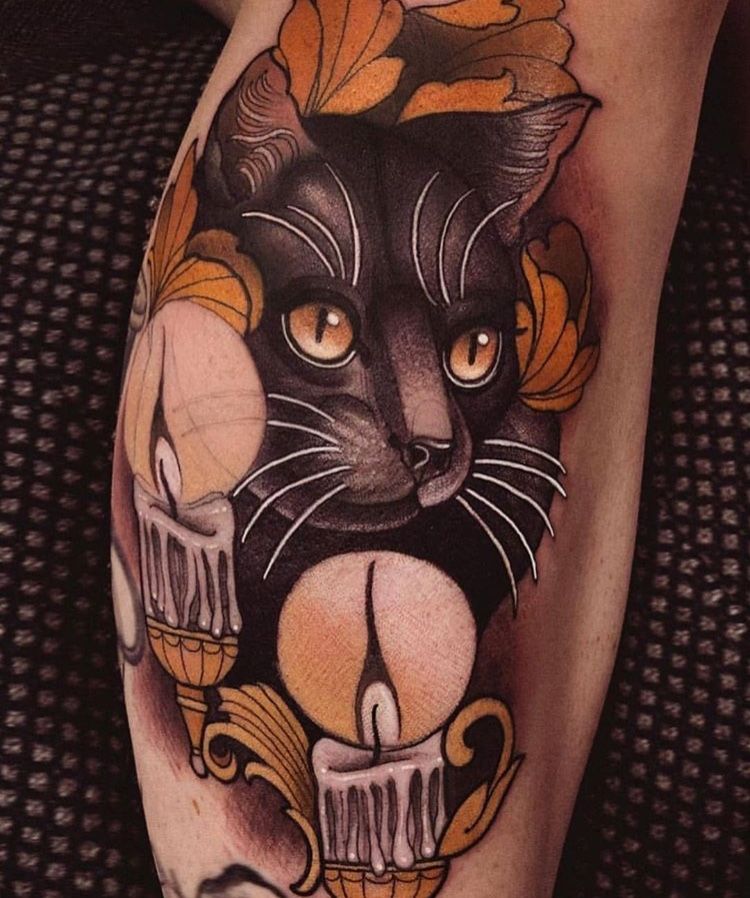 The calf makes an ideal canvas for large and colorful tattoos. This lovely design takes full advantage of the smooth skin and displays some impressive depth in its rendering of the iconic black cat. Dripping candles and fall foliage finish the gothic theme.
11. Thor: Love and Thunder and Ink Tattoo Design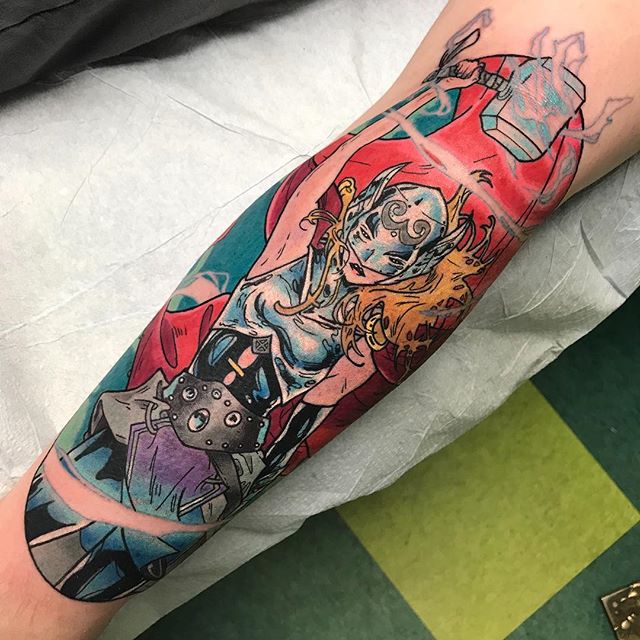 The 2022 film, Thor: Love and Thunder, has set the Marvel Universe aflame with love for a hammer-wielding Jane Foster. But the female version of Mighty Thor inked here first appeared in a 2014 comic. Now that a lady Thor is canon for the popular comic, this animation-inspired tattoo is more relevant than ever before.
12. Mehndi Back and Japanese Chrysanthemum Arms Tattoo Design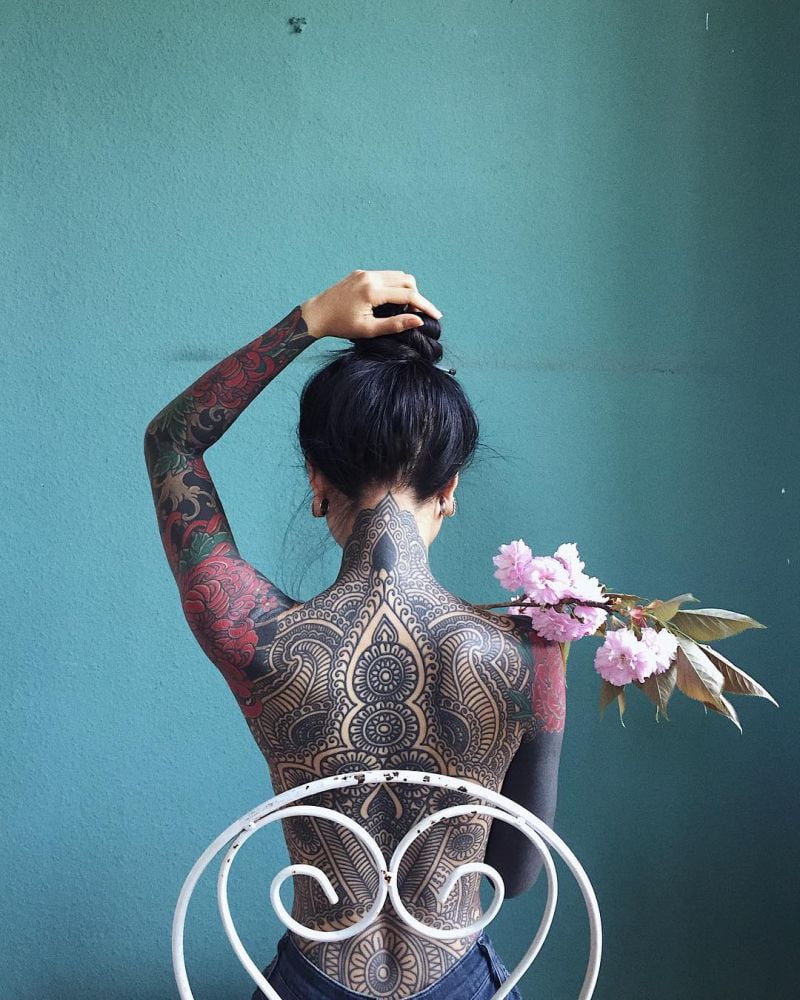 This model effortlessly combines two of the hottest tattoo trends. On her arms are traditional Japanese chrysanthemum sleeves. On her back is a sprawling black Mehndi design. The end result is so feminine and sophisticated it looks like a centerfold for an interior decorating magazine.
13. Zen Forever with a Sternum Tattoo Tattoo Design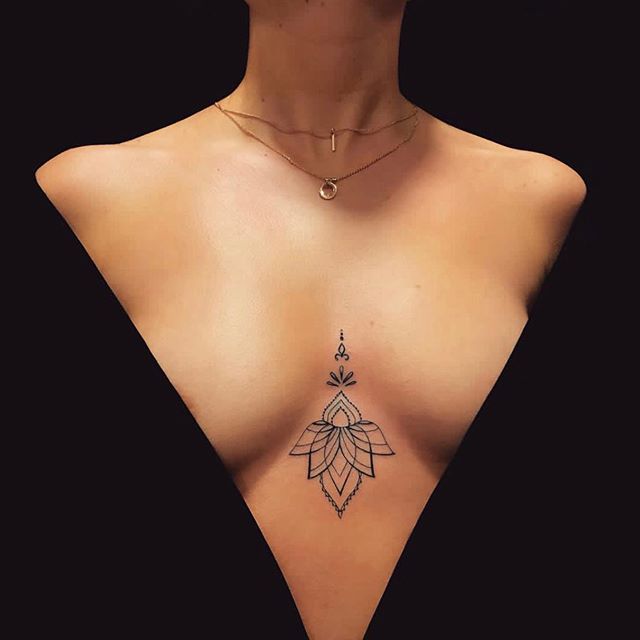 If you want a tattoo that is both personal and discrete, then there is no better option than this lovely lotus sternum tattoo. Though the design seems simple, it has a tremendous amount of eye appeal. The secret is clean lines, restraint, and symmetry.
14. With Brave Wings She Flies Tattoo Design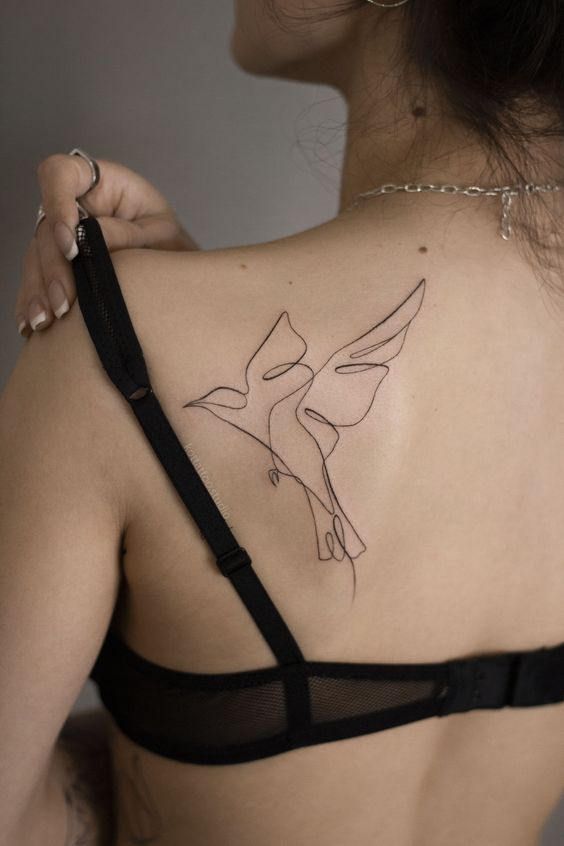 Birds have always been among the best tattoos for girls. This innovative take on the popular hummingbird uses just an outline to modernize the style staple. This bird can easily be scaled up or down for different body parts. Just be sure your artist has a steady hand, as this design is all about clean lines.
15. Personal Growth: From Baby to Beast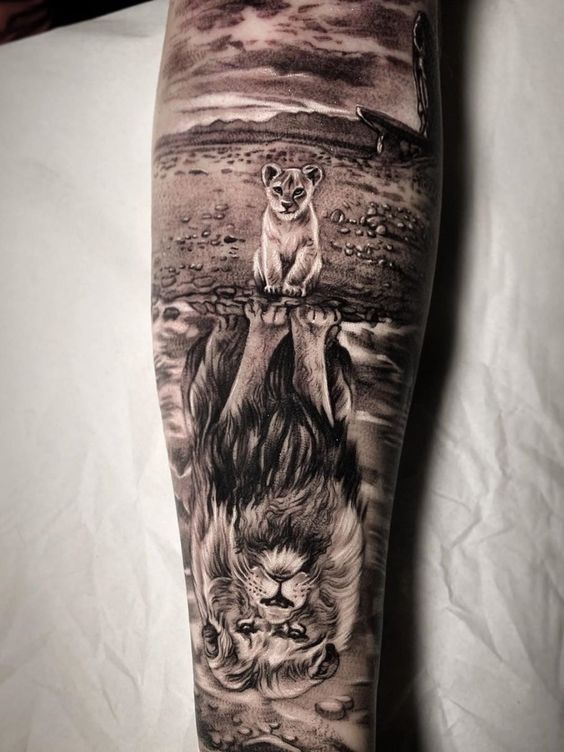 Few animals inspire as much awe as the regal lion. This lion tattoo depicts both a soft and fuzzy lion cub and a full-grown king of the jungle. Not only is this a great choice for ladies that love lions, but it also carries a tremendous amount of symbolism about personal growth.
16. Hyper-Realistic Pop Art Masterpiece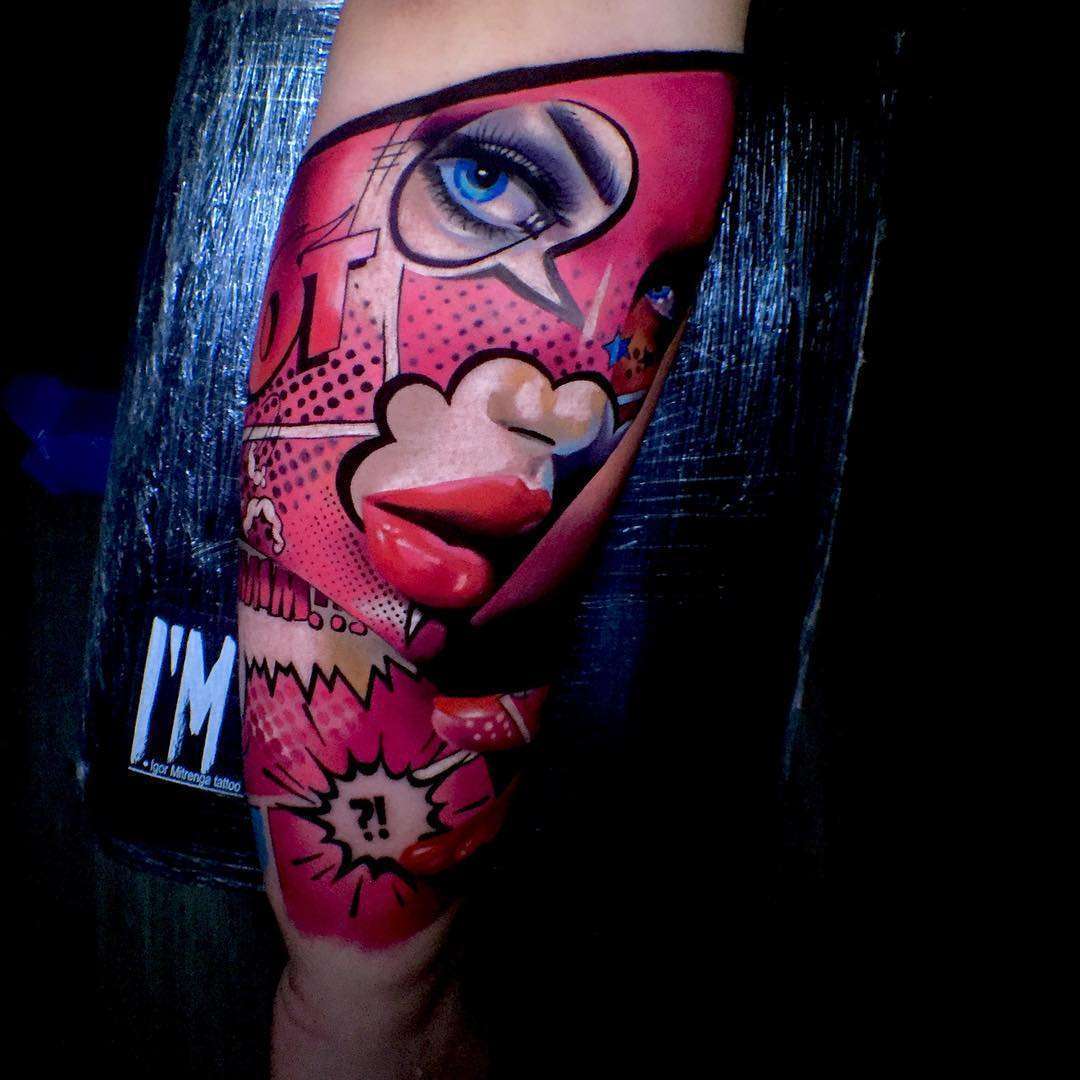 This amazing pop art ink takes the idea of tattoos as art to a whole new level. The mid-century pixelated look was a popular feature of Roy Lichtenstein's famous pieces, and here it is combined with a realistic blue-eyed babe for a finished product that will make anyone look twice.
17. A Cheeky Persian Flower Tattoo Designs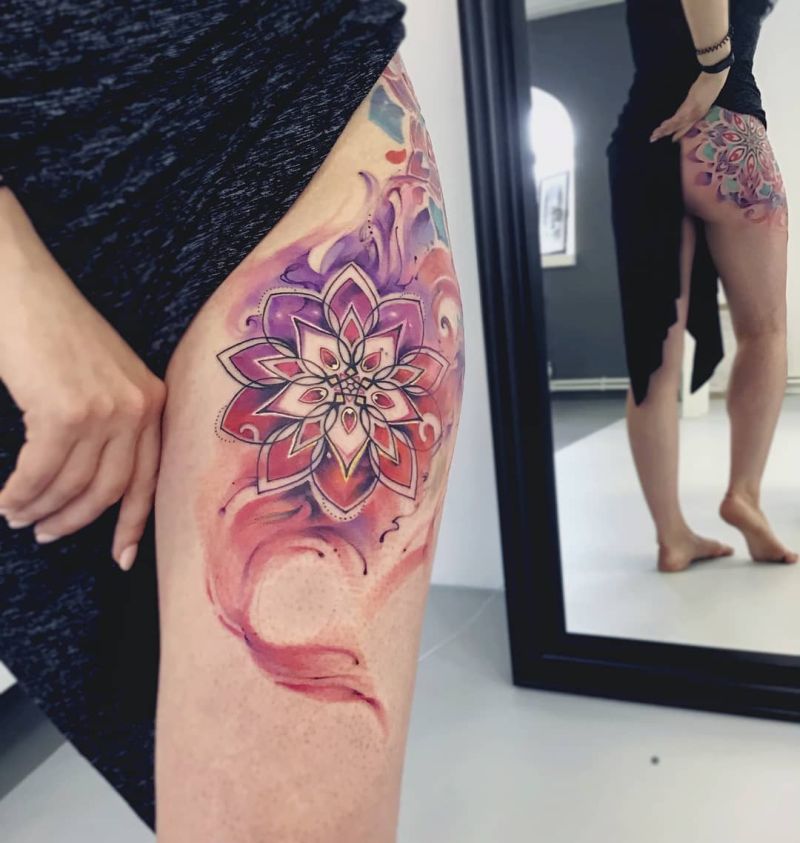 Gone are the days of garish rainbows and cartoonish florals. This pretty Persian flower tattoo is proof positive that the best tattoos for girls are getting better all the time. While the placement of this tat is not for the faint of heart, the end product is so beautiful only a thigh-high split will do.
18. A Wrist Tattoo for Koi Girls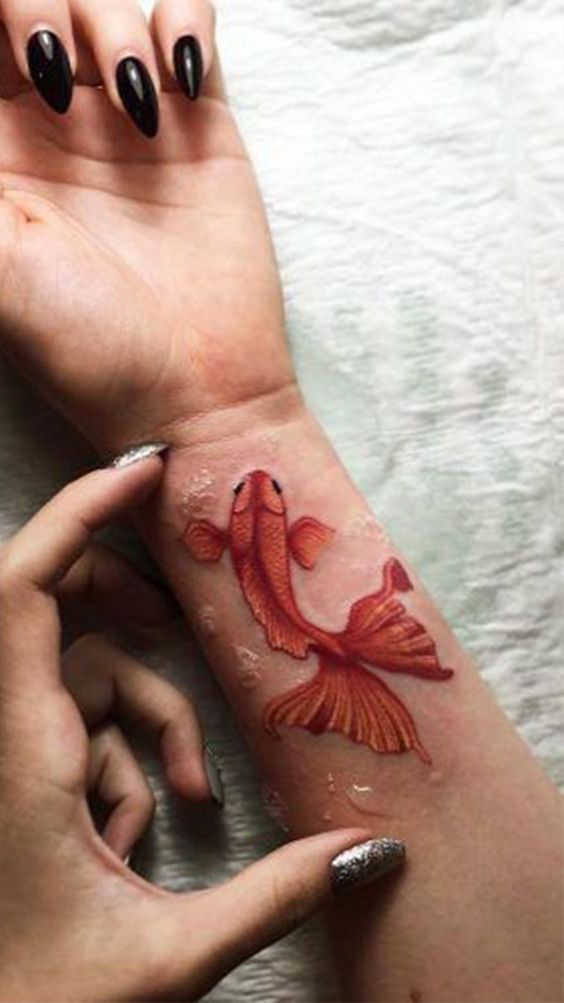 Because of the koi fish's association with good luck, koi or decorative carp tattoos are among one of the most requested designs. This pretty little wrist placement proves, though, that even a fish can be dainty and feminine when it's done right.
19. A Hummingbird with a Tropical Palette Tattoo Designs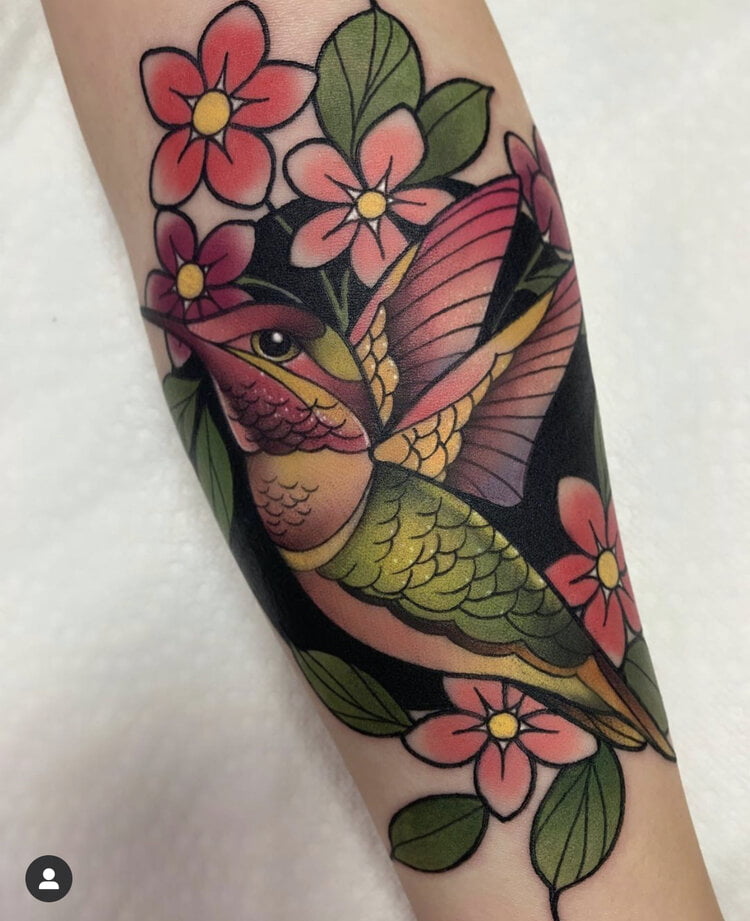 The whimsical spirit of the sprite-like hummingbird is beautifully captured by this colorful tattoo. The form of the hummingbird is unmistakable, but this artist took their composition to the next level by utilizing a pretty but well-planned tropical color palette.
20. The Ocean at Your Back Tattoo Designs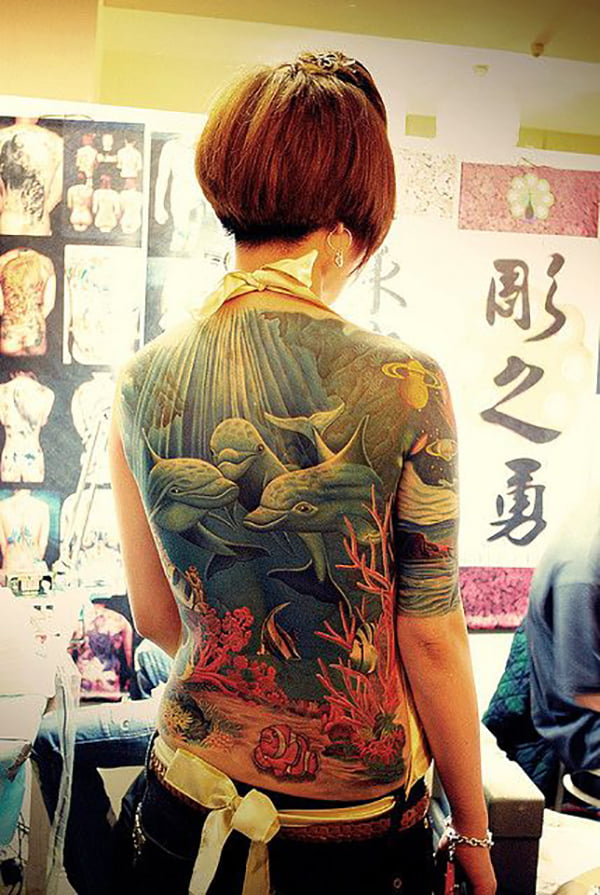 If you love dolphins but scoff at the misshapen dolphin tattoos of yesteryear, then feast your eyes on this amazing ocean ink. Sunlight streams over a trio of dolphins. At the bottom, a coral reef teems with color and life.
21. Leggy Girls Love Permanent Henna Tattoo Designs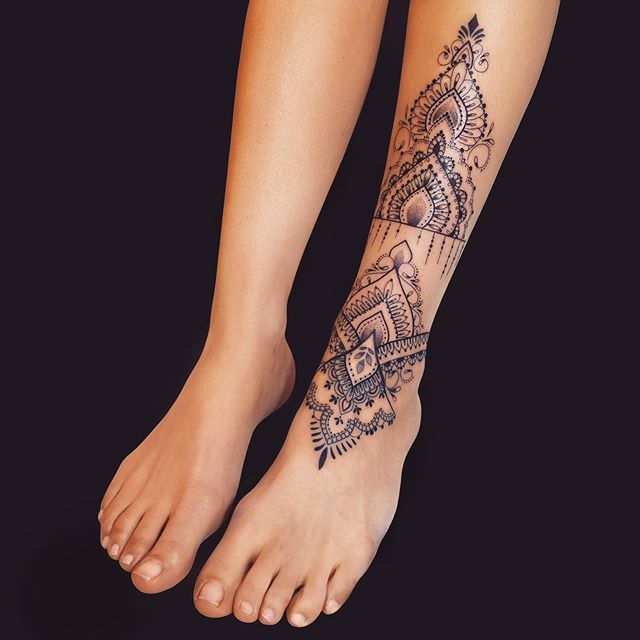 It might be hard to find the perfect jeans, but with the right tattoo artist, there is nothing more flattering than well-placed henna. The ancient Middle Eastern motifs are easily centered and can be manipulated to fit almost any part of the body. As you can see, henna looks especially appealing on toned, tan legs.
22. Clever Floral Scar Cover-up Tattoo Designs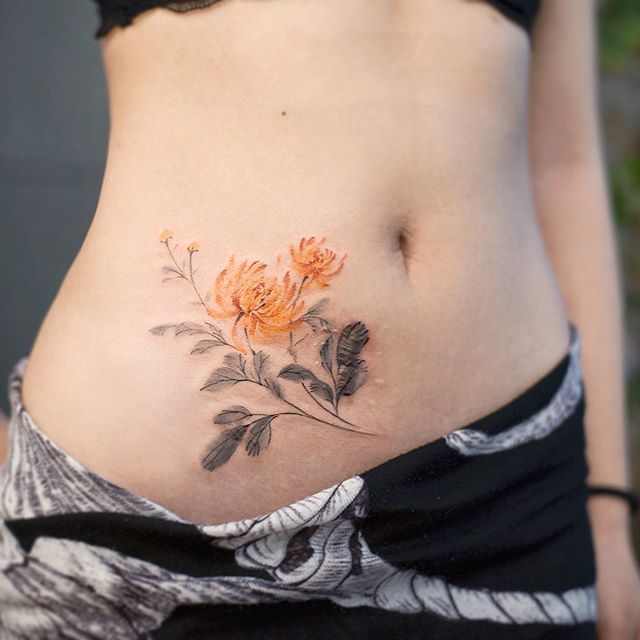 Tattoos can work magic when it comes to covering scars. With this tattoo, the delicate petals of the chrysanthemum are artfully splayed to conceal a C-section scar. When you consider the womanly nature of mums, the imagery used here becomes even more impactful.
23. A Beautiful Beast Back Tattoo Designs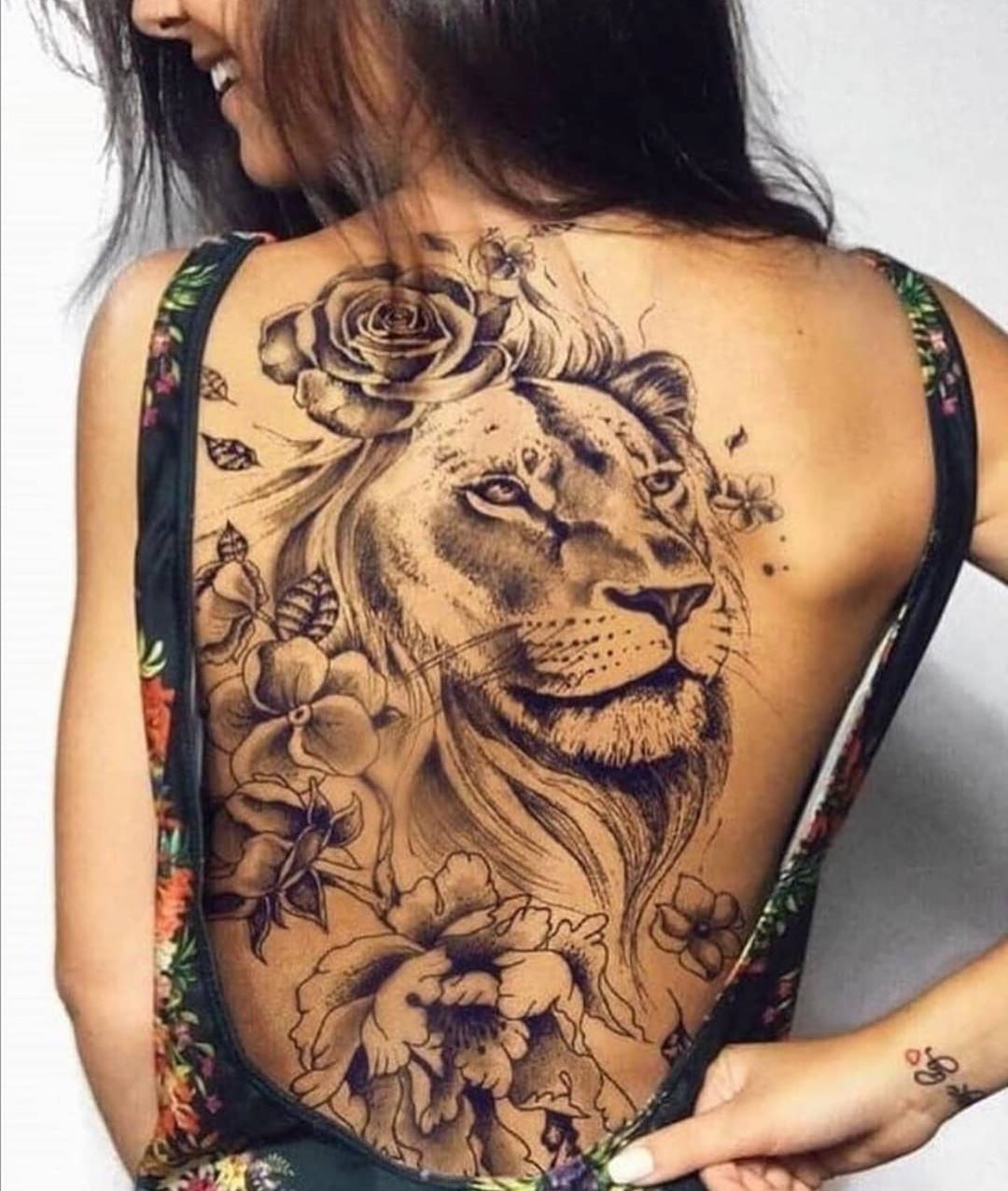 vUnexpected pairings make some of the most exciting tattoos. Take this beautiful back tattoo as an example. A noble lion with a flowing mane gazes into the distance. But to keep the big cat from looking too masculine or dated, a variety of beautifully realized blooms have been worked into the design.
24. Precious Orchids on Upper Arm Tattoo Designs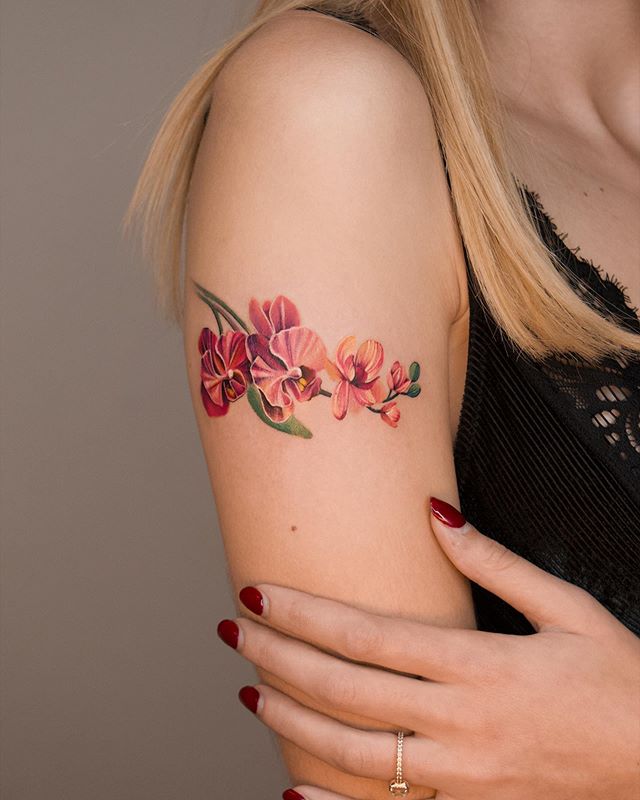 It's hard to believe that barbed wire upper arm tattoos were ever a trend. It's even harder to believe people chose them when they could have something as fantastic as this vibrantly colored orchid design. The unexpected flower choice combined with the rich coloration makes this design something you'll never regret.
25. Back and Neck Tattoos Idea: Persian Princess with a Bejeweled Back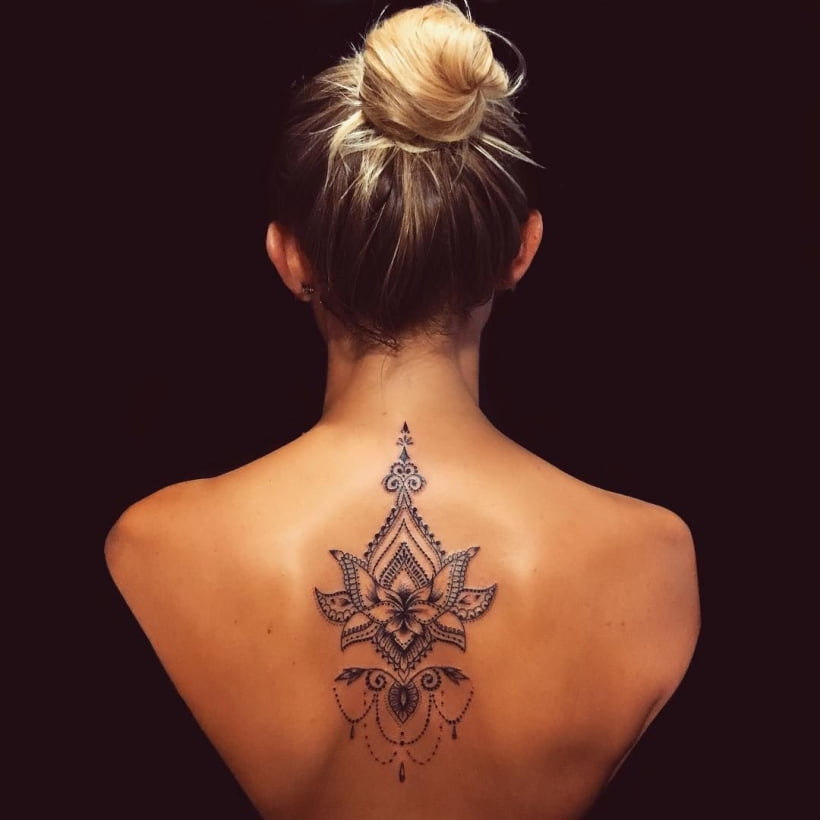 If your tattoo aesthetic leans toward the exotic, then consider this elegant Mehndi design. The sprawling floral and delicate beaded swags rest beautifully between your shoulder blades. The finished mandala tattoo is so pretty, it will look like jewelry every time you go backless.
26. Yin and Yang Coiled Snakes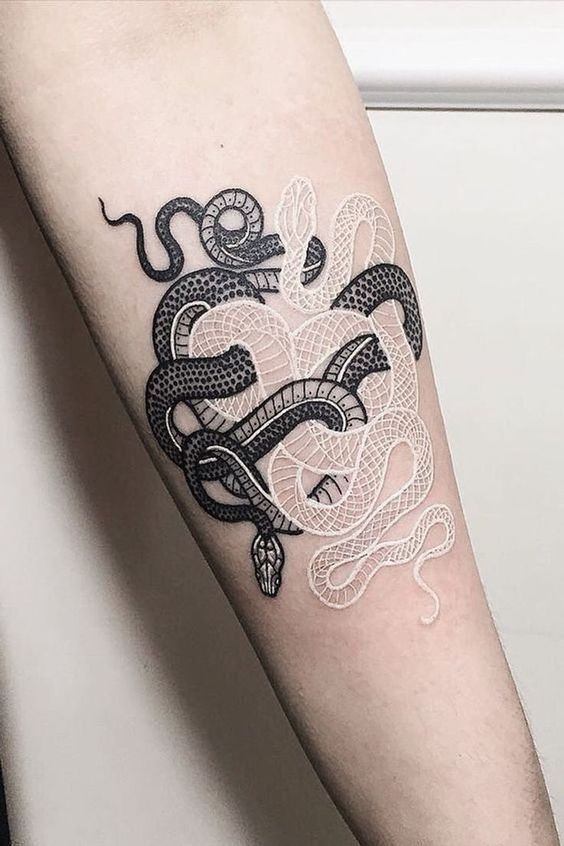 Yin-yang tattoos represent dual nature and balance. Those concepts are considerably more badass when they are illustrated via a pair of coiled snakes. This black vs. white tattoo attracts attention with the contrasting colors and keeps it with the enigma of interwoven serpents.
27. The Perfect Tattoo: A Fox, A Locket, and Foliage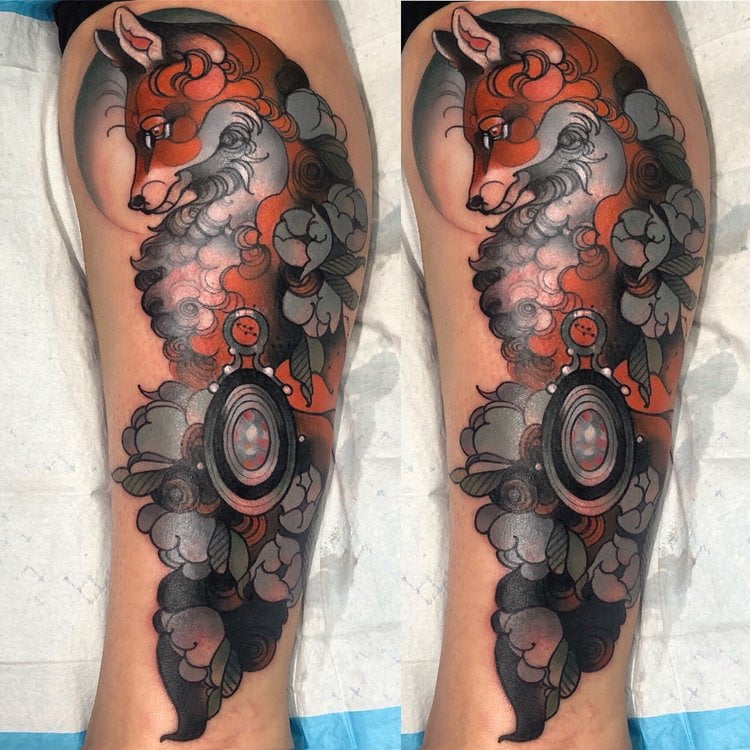 Fantasy tattoos are more popular than ever before. While many people choose to go with branded imagery, others tell their own story with original art. Such is the case with this clever fox whose curling fur blends seamlessly into lush foliage.
28. A Flower that Never Wilts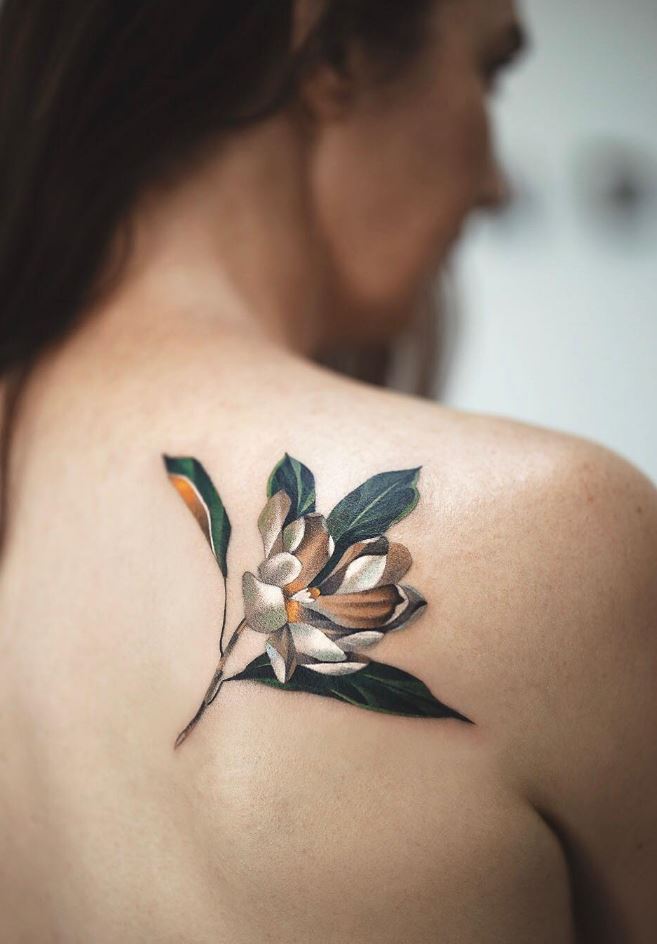 The tragedy of fresh flowers is that they are so short-lived. If you are inspired by beautiful flowers, then this elegant bloom could be your ideal tattoo. The shading and rich coloration are so accurate that it's as good or better as the real thing.
29. Garters Fit for a Queen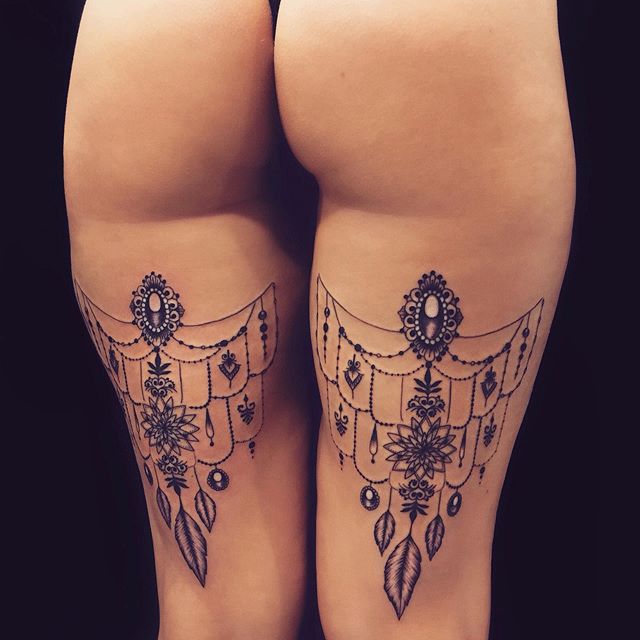 If you love your body, then it's natural to want to adorn it in jewels. A tiered tattoo combines beads, flowers, and feathers for a gorgeous effect. This dramatic and daring thigh design is a gift to yourself and anyone lucky enough to see your black, beaded garters.
30. A Lotus By Any Other Name Tattoo Designs for Women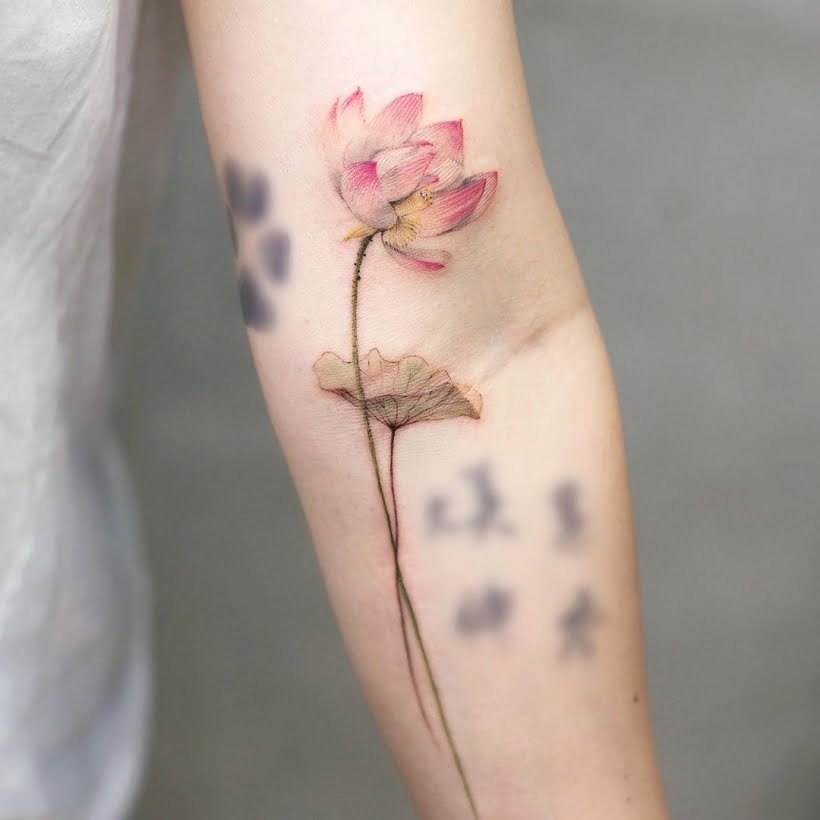 If you want a flower tattoo with nuance, then you want the poetic lotus. This long-stemmed beauty has inspired artists and intellectuals alike since ancient times. It is often depicted alongside or under Hindu and Buddhist deities. So if you want to feel like a Zen goddess, then consider this ethereal pink lotus tat.
31. Peonies, Calla Lilies, and Beads, Oh My
Embrace your femininity with this dramatic thigh tattoo. Calla lilies drip from finely beaded swags while larger blossoms balance out the top of the design. As you can see, this piece has a risque placement, but the professionalism of the execution makes it more fashionable than an exhibition.
32. Orange You Glad to See This Tattoo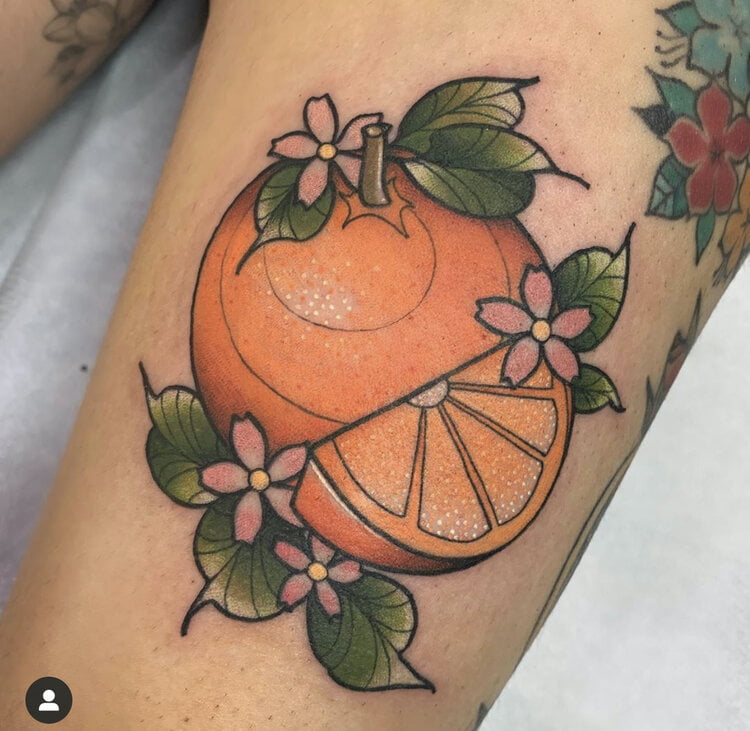 The great thing about tattoos is that you can get anything that has meaning to you. In this example, the model clearly has an affinity for oranges. Instead of looking juvenile, this bright illustration is so well-done that it is reminiscent of vintage fruit advertisements.
33. The Year of the Lotus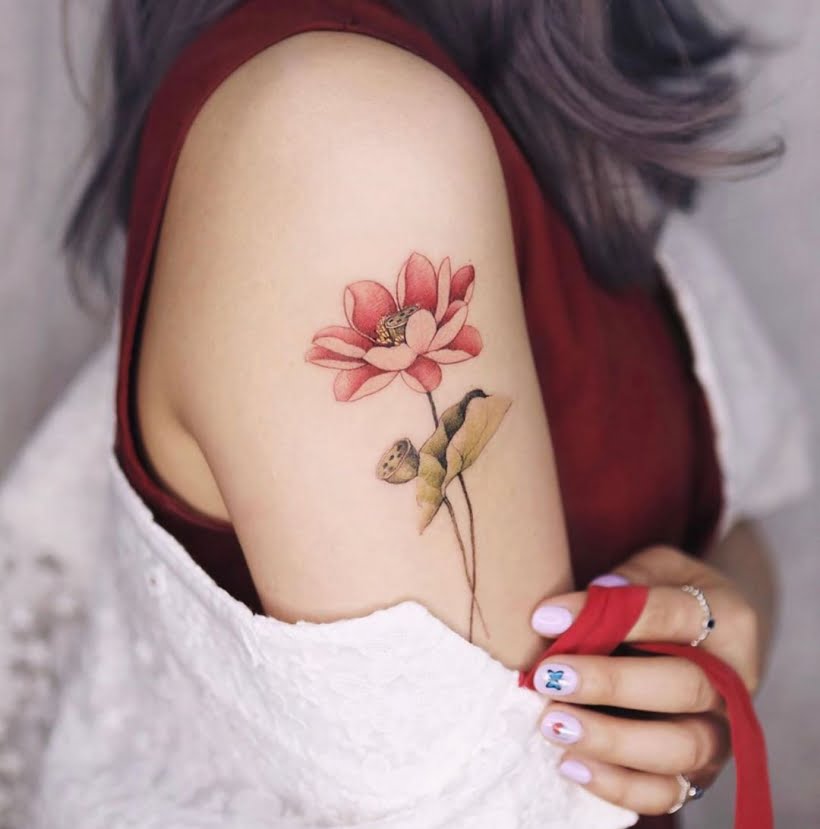 In case you haven't noticed, the new trend in tattoo florals is sophisticated single blooms like this blushing lotus. The long stem makes it ideal for an arm placement, while pink petals are flattering to a wide variety of skin tones.
34. Rose Tattoo Idea: Catch This Rustic Wildflower Bouquet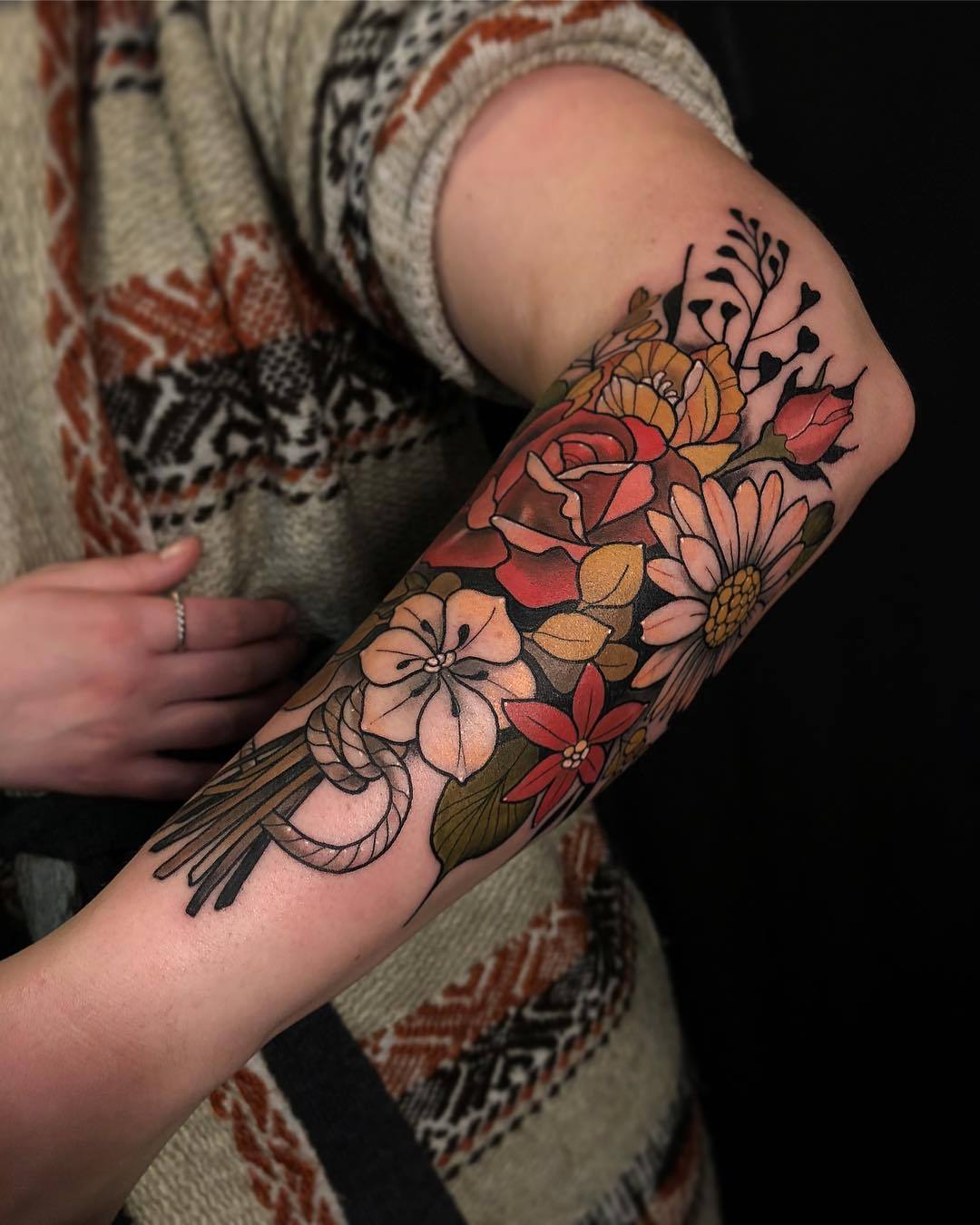 Forget catching the bride's bouquet. Show that you love yourself by investing in a bright and beautiful tattooed floral arrangement. This example is lush with at least four different kinds of flowers including classic red roses and fresh pink daisies.
35. A Hip Tattoo for Henna Lovers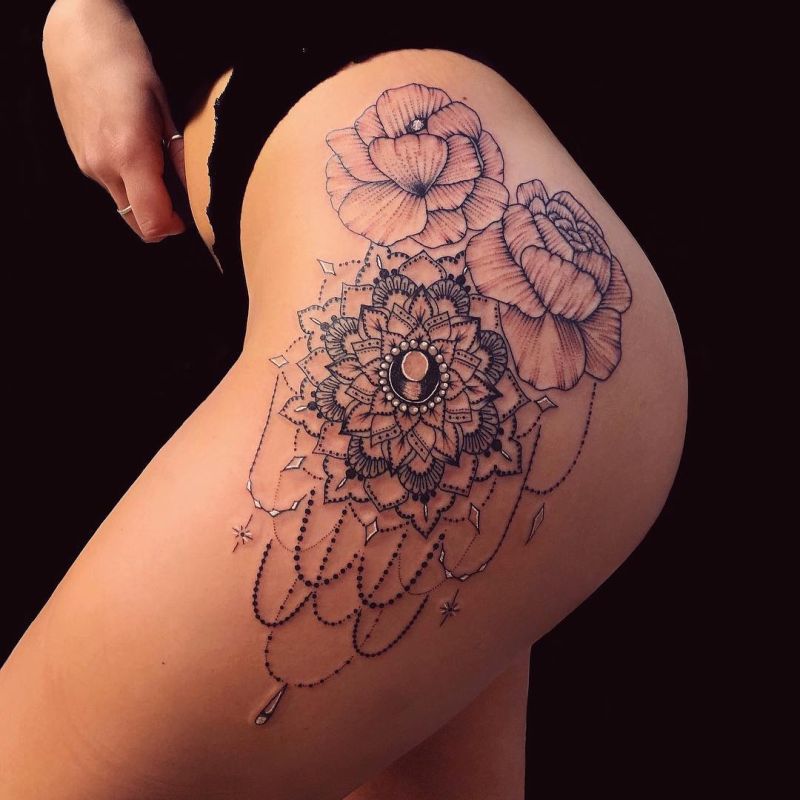 Ready or not, here comes another dazzling mehndi design. This henna-like Middle Eastern art form is all the rage in tattoo parlors this year. And it's easy to see why. The combination of Persian florals and Art Deco beadwork creates an aesthetic that is both sophisticated and hyper-feminine.
36. Wildflowers Sing on Pale Skin Tattoos for Women
If you are a pale-skinned girl looking for the ideal tat, look no further. While darker tattoos can look garish against pale skin, this delicate cluster of wildflowers is the perfect combination of clean outlining and crisp detail. Just like a real bouquet, baby's breath and select foliage add depth to the overall look.
37. This Whale Tattoo Is Killer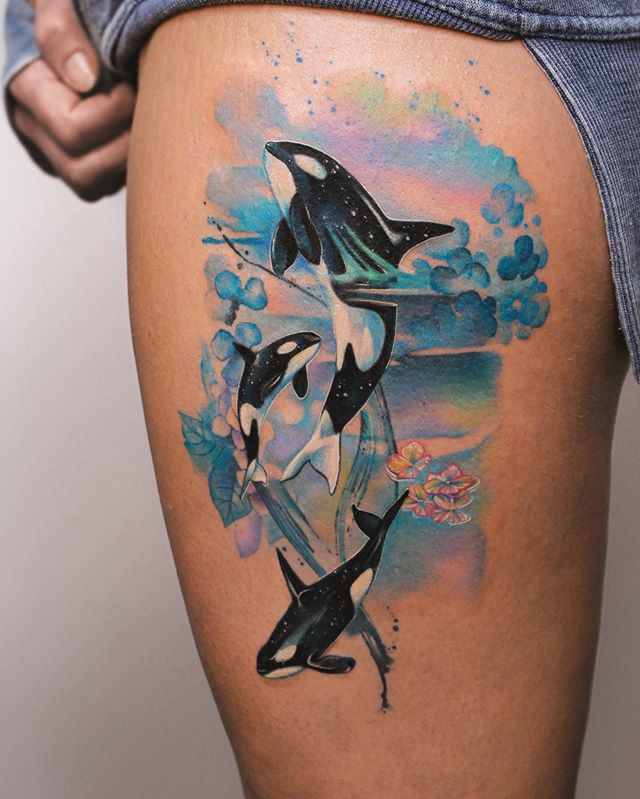 Killer whales have enchanted millions of people around the world. While Americans may associate them with certain Sea World and movie whales, these intelligent hunters have also long featured in the art of Pacific Northwestern tribes. This colorful multi-dimensional scene offers its own unique tattoo interpretation of the inspiring Orcas.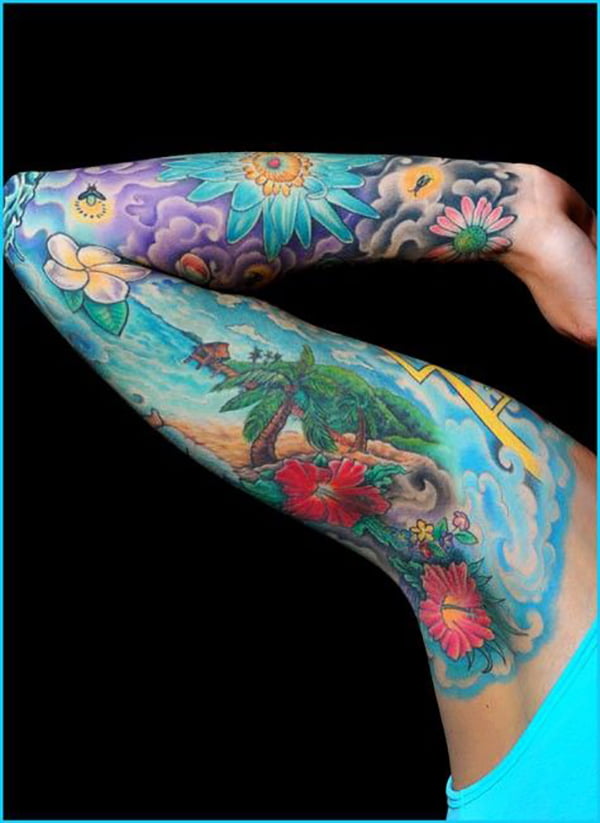 Beach babies and surf bunnies alike can appreciate the turquoise splendor of this tropical arm tat. A serene blue-green ocean takes center stage and flows into brooding black and purple cloud tattoos on the forearm and a hibiscus-adorned beach at the armpit.
39. A Fancy Tailed Lucky Fish Tattoos for Women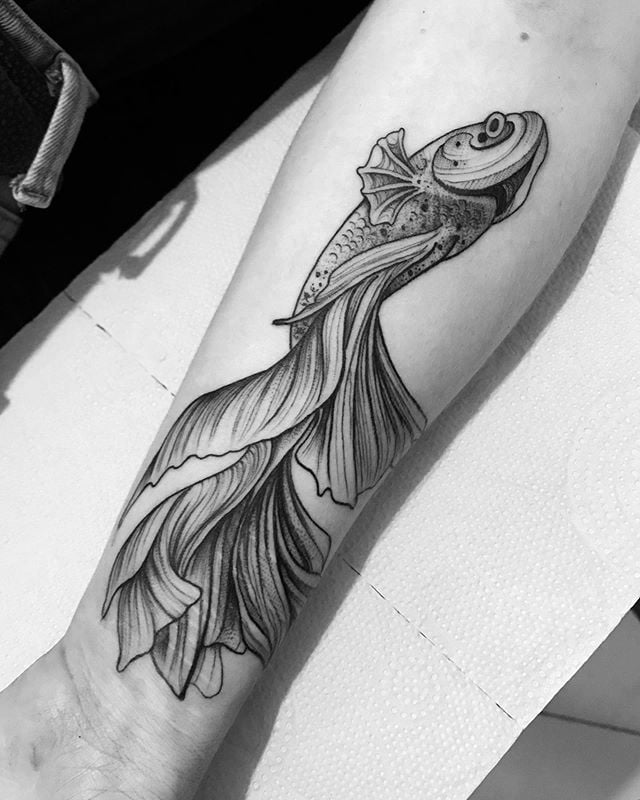 Around the world, koi fish are synonymous with good luck. This is why they are so often depicted in tattoos. This tattoo artist made their ink more distinct by adding a long and dramatic tail. The end result is an arm-covering carp that's as elegant as it is auspicious.
40. Spread Your Ink Wings and Fly Butterfly Tattoos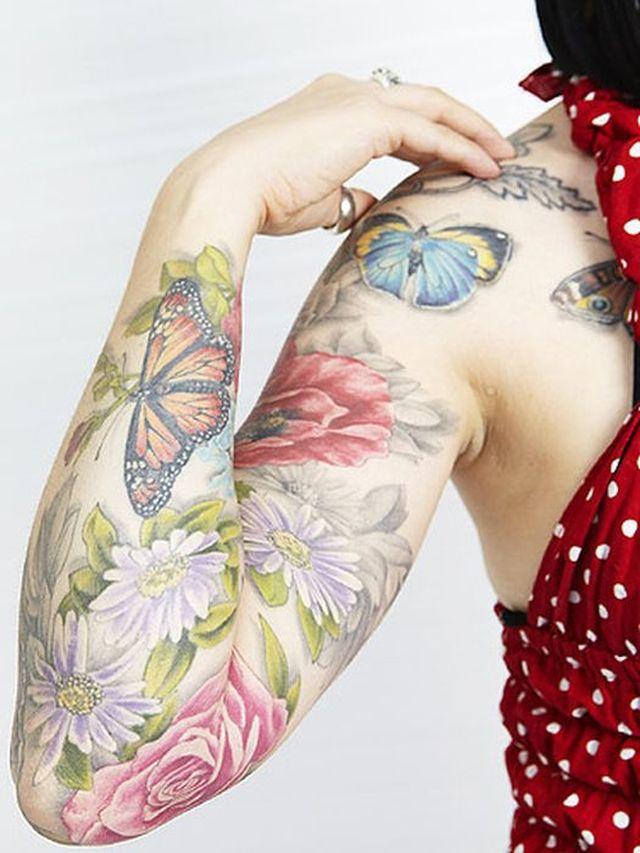 Butterflies have long been one of the most-requested tattoos for women. Their beauty and romance make them an obvious choice. But why stop with one simple butterfly tattoo? This model made a bold statement with her vibrant butterfly garden, complete with daisies, roses, and a poppy.
41. A Moth Is a Mysterious Thing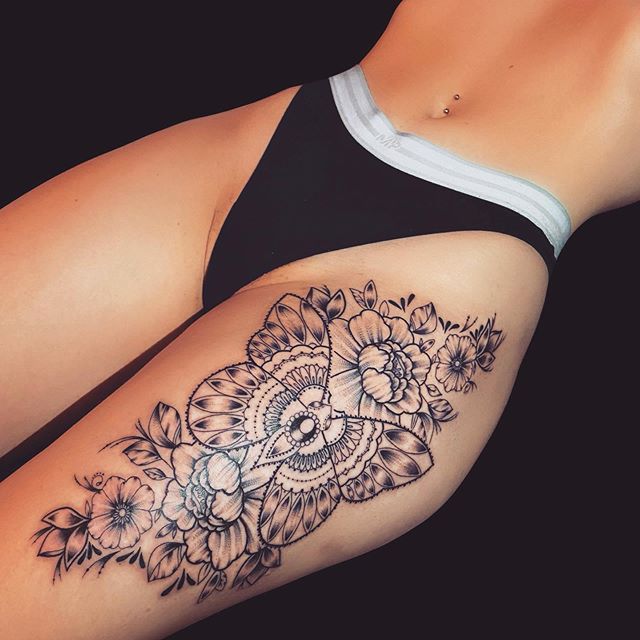 There is no denying the extroverted beauty of a butterfly, but this striking black butterfly tattoo proves that moths have their own unique beauty. The artist has balanced this large piece and made the moth its star by placing near-mirror images of the flowers at the top and bottom.
42. A Picture Tattoo Worth a Thousand Words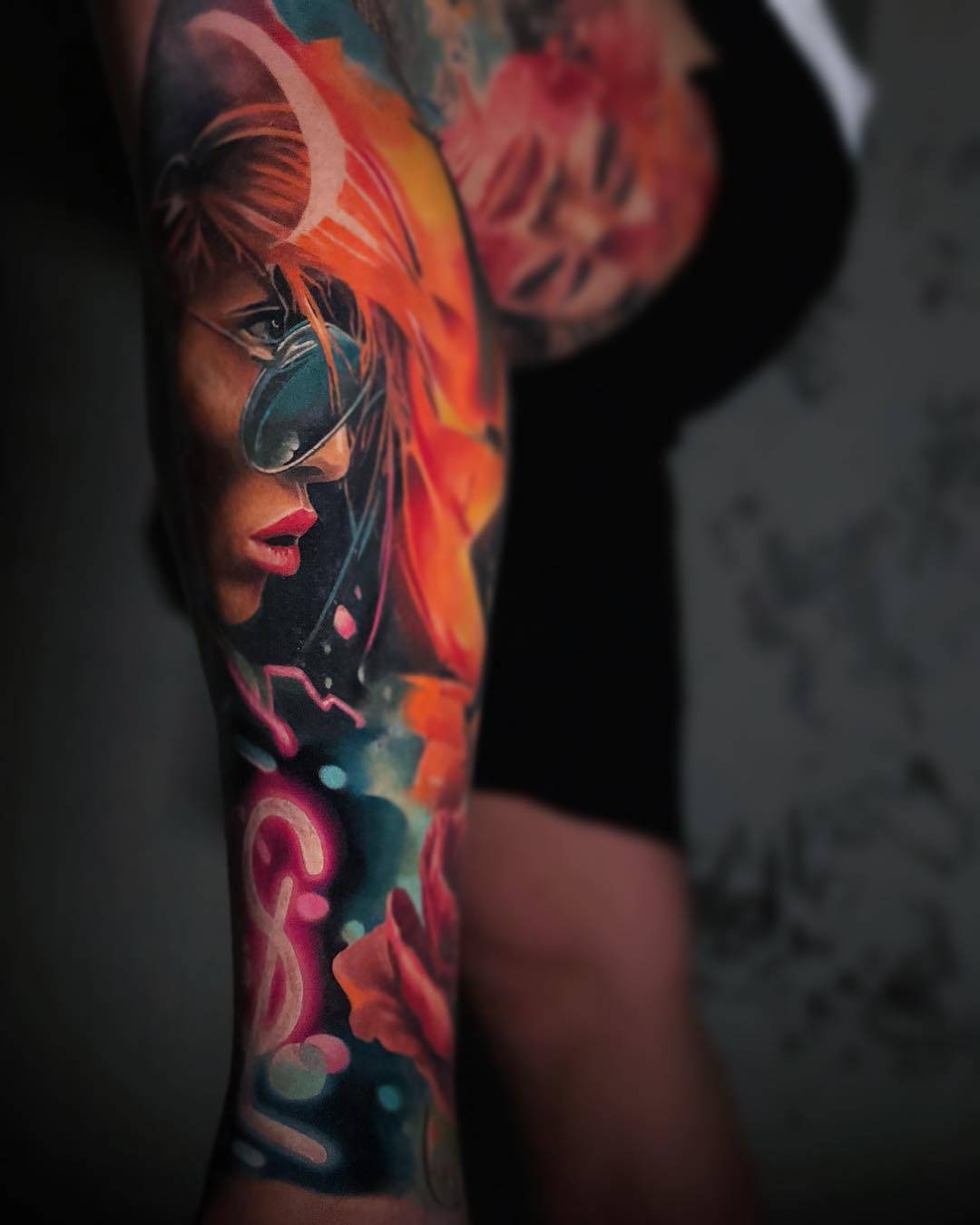 While finding an artist capable of such a high level of realism can be a challenge, if nothing else, this gorgeous photorealistic tattoo is proof of how far this art form has come. Don't settle for grotesque, one-dimensional faces or faded out colors. Let these neon portraits set your standard for great portrait tats.
43. The Poetry of Soft Pink Petals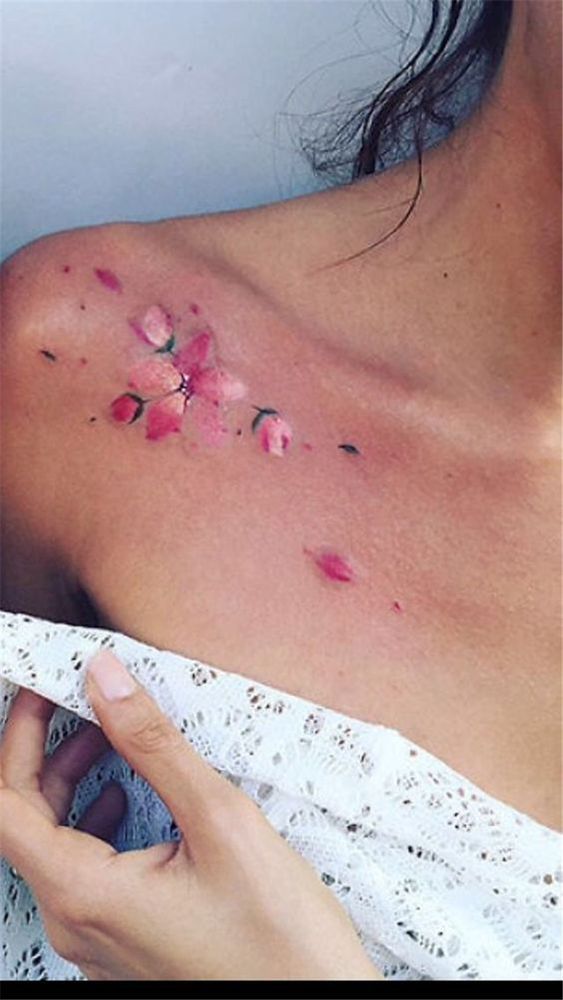 Show your free-spirited nature with this windblown pink blossom. A single demure bloom is accented by three buds. Each of these components as well as their colors could easily be altered to represent yourself and your children, siblings, or friends.
44. New Illustration Inspired Tattoo Trends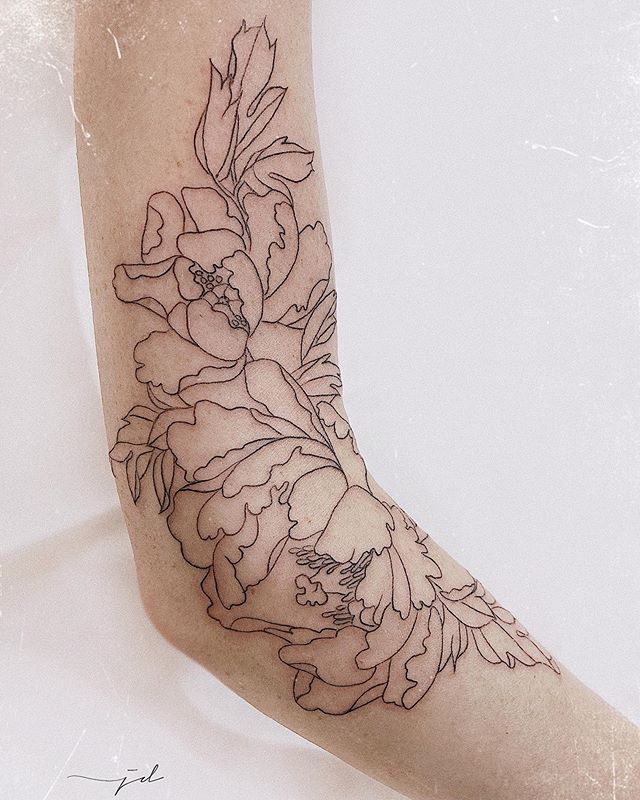 Floral tattoos are rampant, but far less common are stark and striking outline-only renderings like this one. You can always have the tattoo filled with your choice of colors. As it stands, this contrast of sharp lines on soft skin offers its own distinct vision.
45. Pretty Flowers and Powerful Words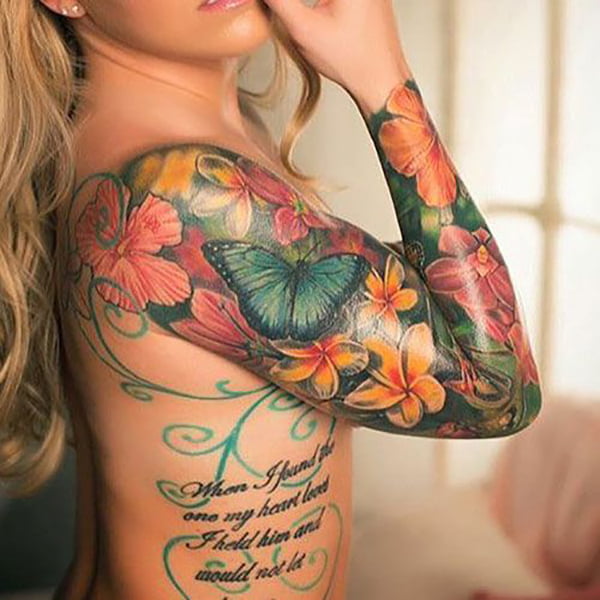 This stunning two-part tattoo design combines a calligraphed poem with a color-saturated figural sleeve tattoo. The poem is placed somewhere intimate, for the enjoyment of the man that inspired it. But the dramatic foliage of the arm sleeve is highly visible, making it a gift to the wearer and the world.
46. Old World Inspired Botanical Ink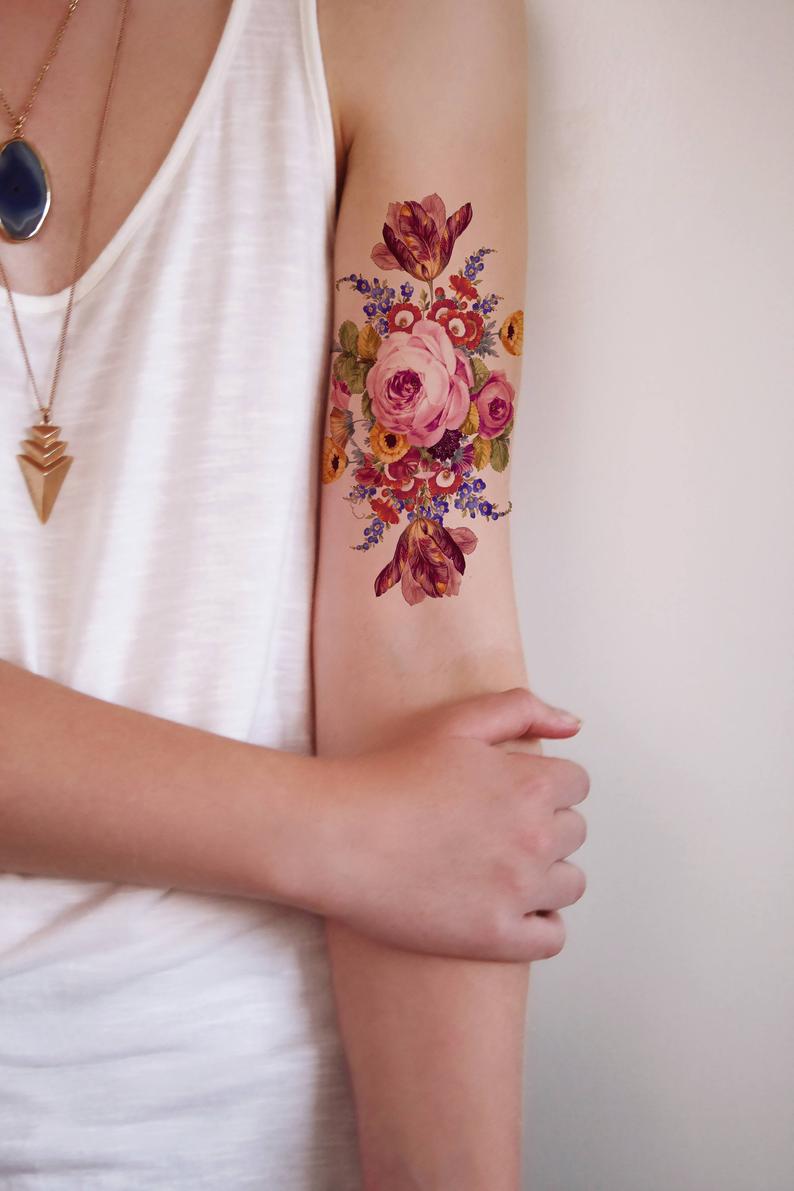 Old World florals are among the most valuable still life paintings in the world. If you can't afford an original piece by one of the Dutch Masters, at least you can afford this gorgeous ink. If anything, it's brighter and more dimensional than the antique botanical art that inspired it.
47. Bird of Paradise Flower Tattoo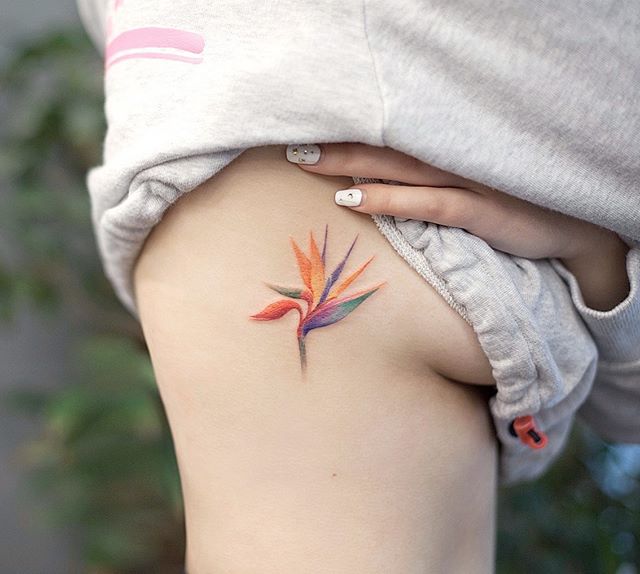 Not everyone seeking a flower tattoo wants something soft and pretty. If you crave floral ink that's as bright and powerful as your own spirit, then you want a bird of paradise. This rainbow-hued tropical flower is a popular symbol of personal freedom.
48. When in Doubt, Wear Red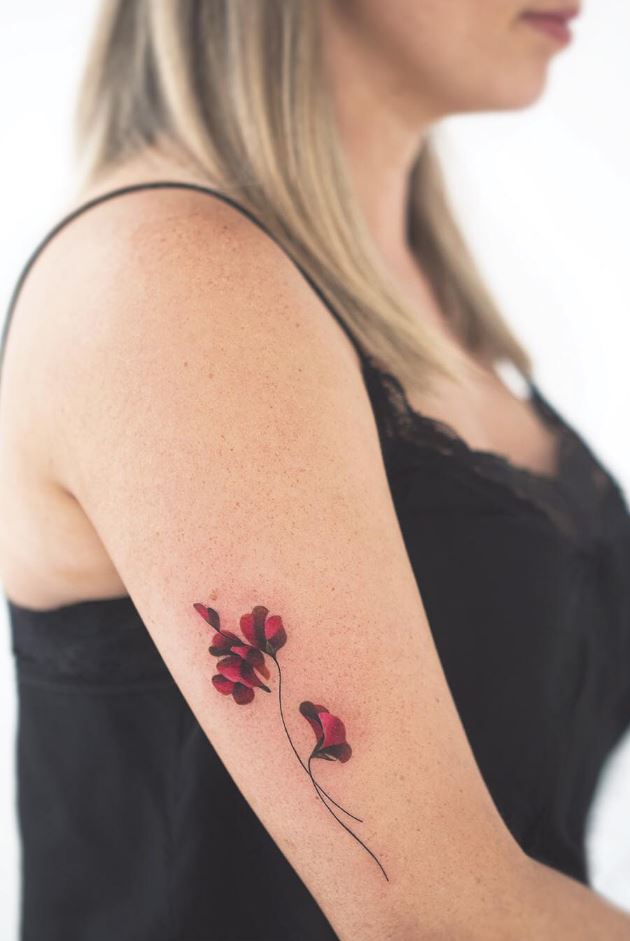 Plenty of women elect to have only one tattoo or to keep their ink very sparse and separate. These women also tend to crave art that's highly original, because they want their small adornments to make big statements. This blood-red, ruffled bouquet of flowers speaks very eloquently of the balance between femininity and strength.
49. Blue Eyes and Blood Red Lips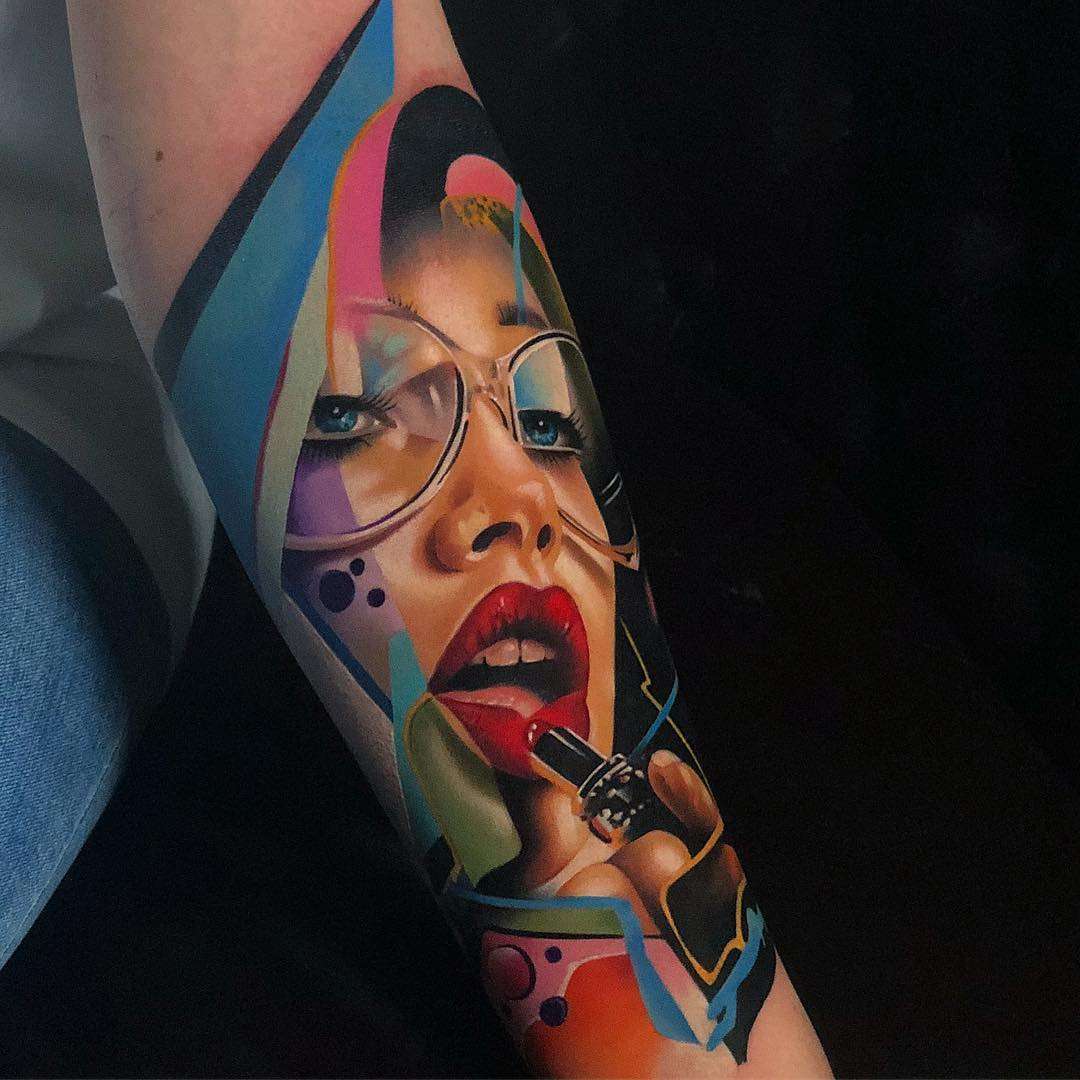 The busty pinup style tattoos of yesteryear are over. They have been replaced with sleek, fashion-conscious pop art-inspired portraits like this gorgeous piece. If it wasn't for the bright, geometric accents, this design is so good it could set off facial recognition software.
50. Japanese Cranes and a Red Sun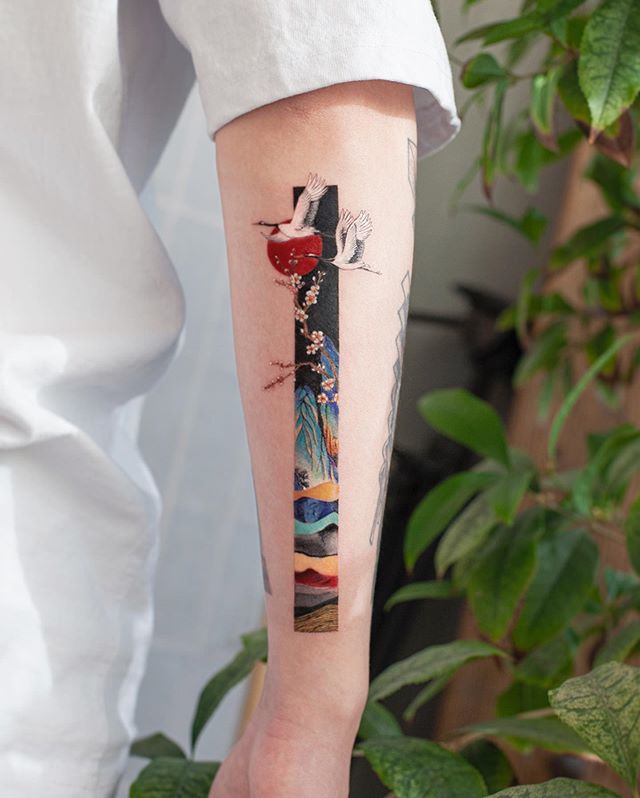 This gorgeous pillar form tattoo combines many traditional Japanese motifs. A pair of cranes fly across a red sun while pink cherry blossoms pop in front of moody blue mountains. The base of the column is filled with alternating layers of water, rocks, and sand for a finished product that's truly elemental.
51. Aqua Blue Jellyfish Fantasy Ink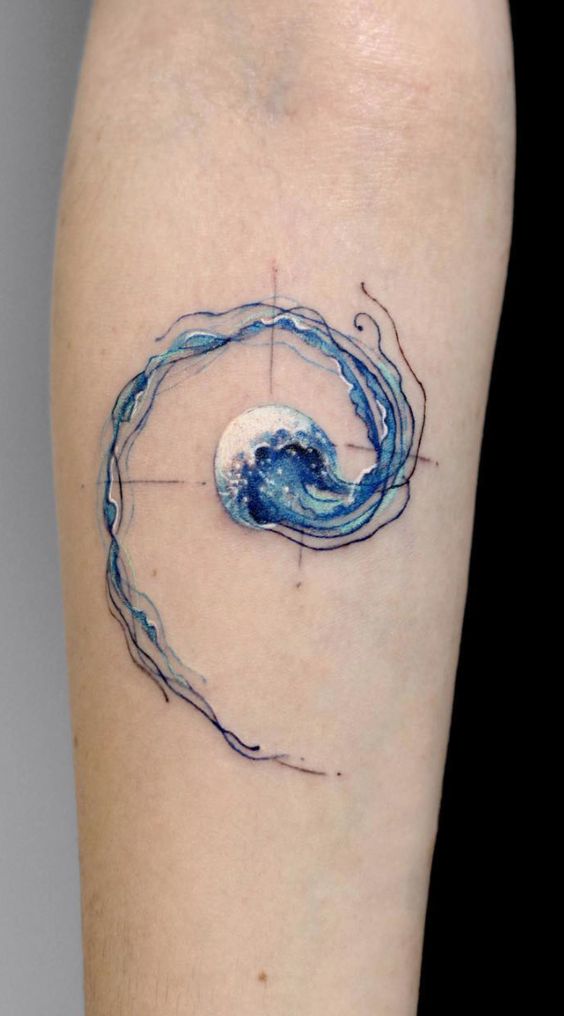 The ethereal nature of jellyfish is hard to capture, but this tattoo does it beautifully with a fantasy-inspired swirl of frothy white and blue. Though the design is surprisingly simple and takes up little real estate, it makes a big impact by creating the impression of movement.
52. For Girls with Thirsty Hearts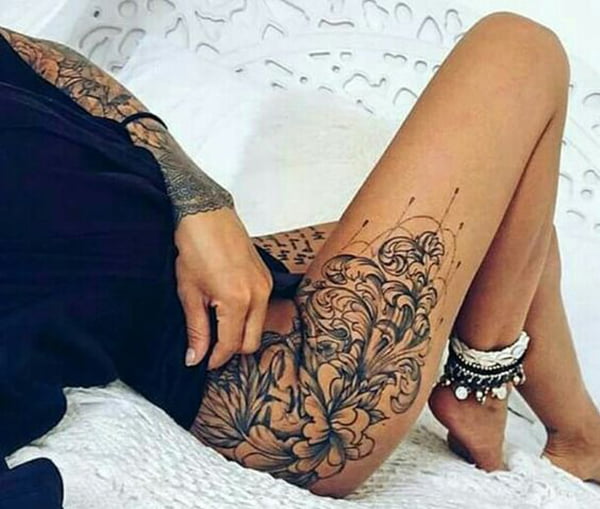 There is something decidedly Bohemian about an expansive black thigh tattoo. If you feel moved by the wind, then this lush, Asian-inspired floral ink could be your skin's soulmate. Nestled in flowers, the goddess Guan Yin will bring you spiritual peace.
53. Pink Fish Are Lucky Too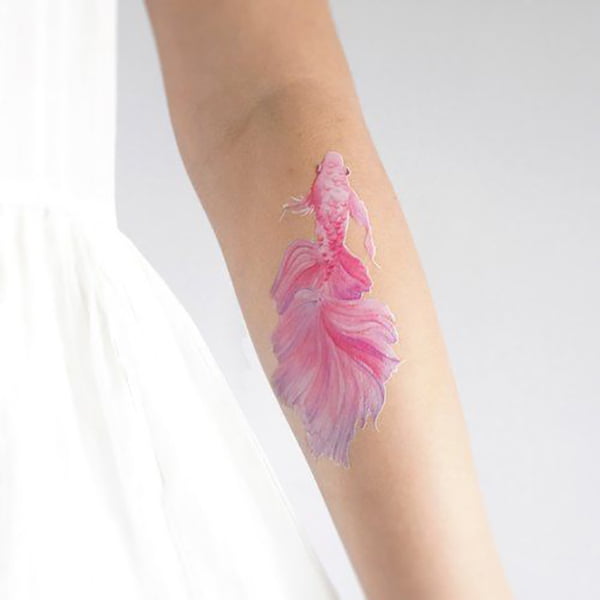 Goldfish and koi are popular symbols of luck, but not everyone wants a wide expanse of red or orange tattooed onto their body. Why limit yourself to traditional colors that you don't love? This flamboyant little fish is sure to make a splash with its unexpected pink hue.
54. Alice Dropping Acid in Wonderland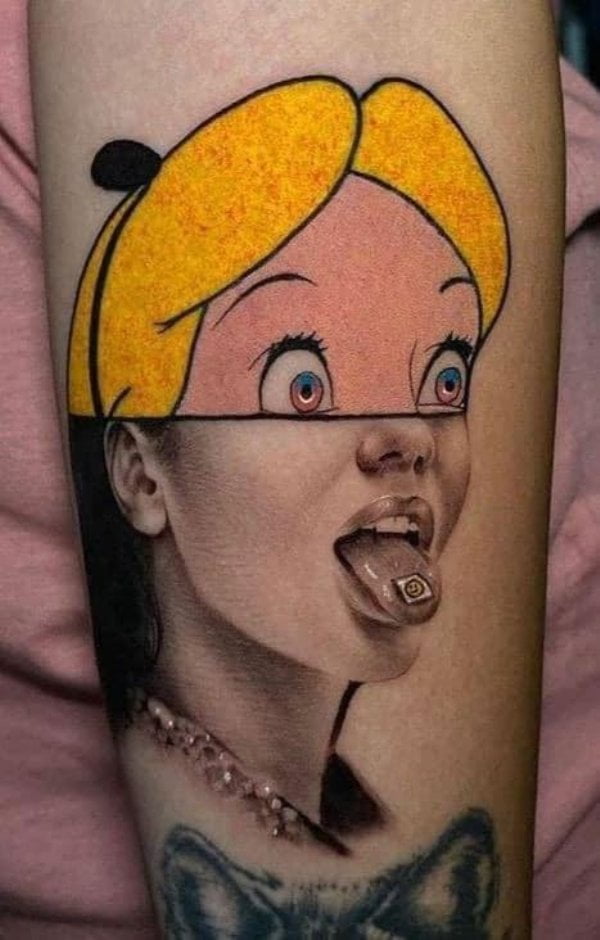 Split-screen tattoos are a great way to reinterpret classic imagery. This one pairs the surprised blue eyes of Disney's beloved Alice with the sex appeal of a modern girl dropping acid. In other words, it's the perfect combination of naughty and nice.
55. Realistic Flower Tattoos You Can Practically Smell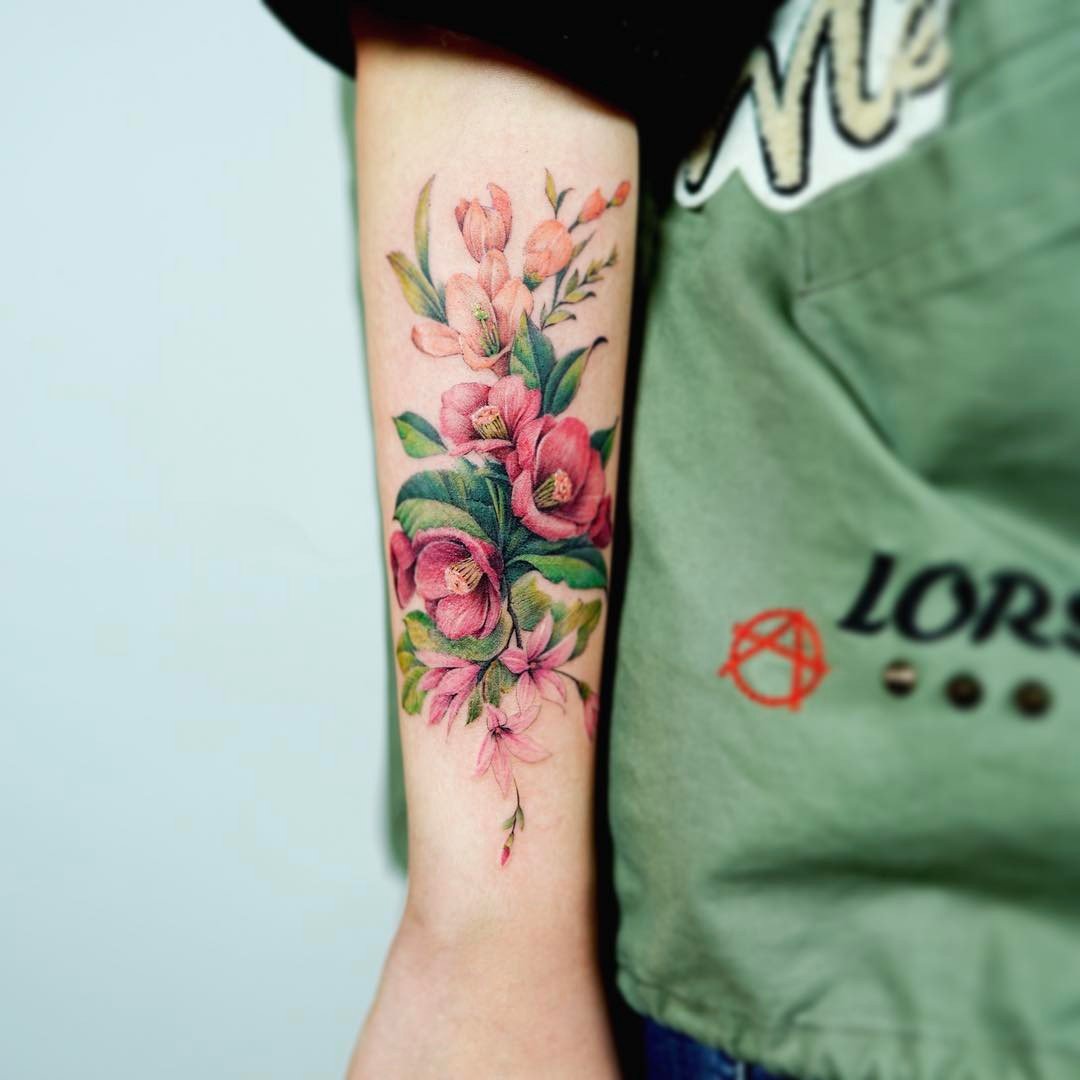 This beautifully vining flower is a wonderful example of the vintage realism that is taking over tattoo parlors. Multiple shades of pink and deepest green keep it appropriate for all seasons while tender buds keep the composition from feeling too heavy.
56. This Tattoo Is Smoking Hot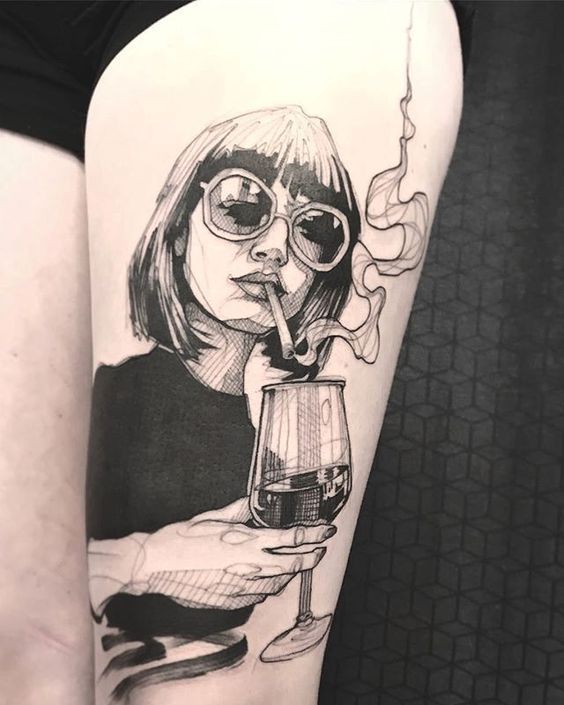 More and more women are looking for tattoos with attitude. Forget about soft florals or fluttering birds. This badass B with her oversized shades, Pulp Fiction bob, and confident smirk urges you to take life by the wine stem and knock it back.
57. Be All You Can Bee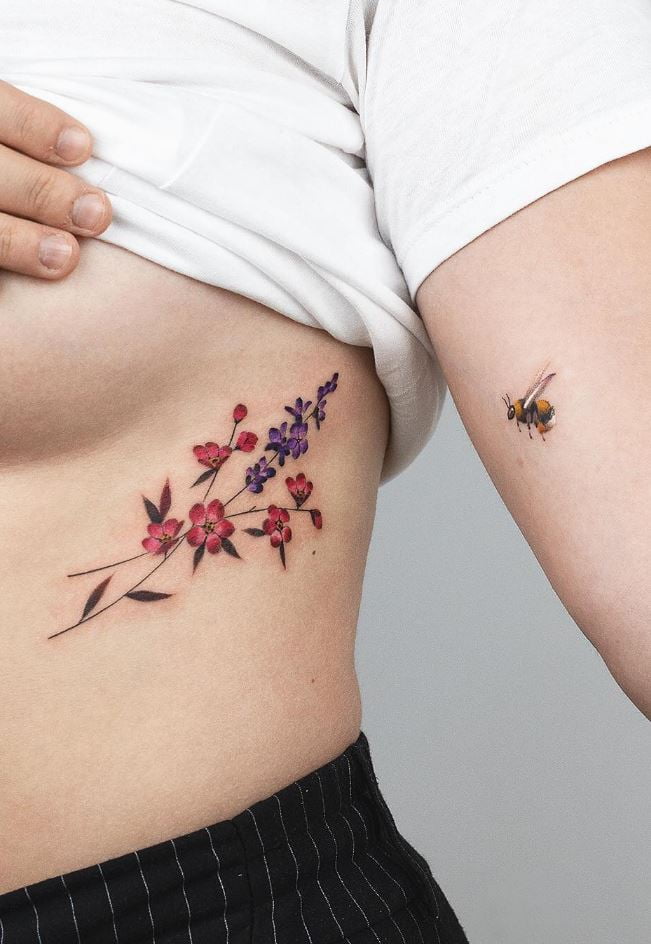 Though this little inked bee is quite small, it makes all the difference in differentiating this pretty but otherwise unremarkable small tattoo from other floral designs. The delicate spray of red and purple flowers is made special by its secret location. To any admiring stranger, the bee on the arm is just whimsical.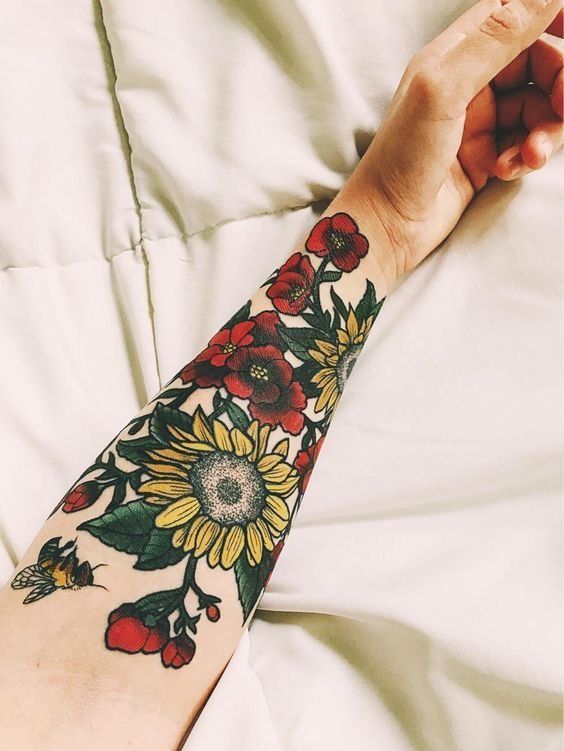 If you're a vintage lover, then you'll appreciate the deep reds and faded yellows of this sprawling forearm tattoo. A hovering honeybee adds a special touch to a bold design that is sure to complement everything from 1940s housedresses to 1970s jumpsuits.
59. Fantasy Lady Solar System Tattoo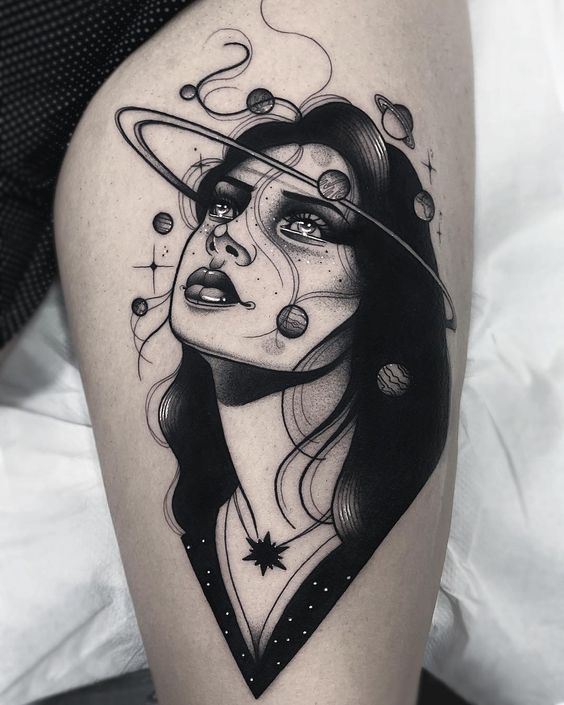 This awesome grayscale tat is a little bit of fantasy and a little bit sci-fi. A pouty-mouthed beauty gazes up at every planet in our solar system as they revolve around her raven hair, creating a diadem (and a tattoo) fit for a goddess.
60. Metallic Gold and Red Jellyfish Ink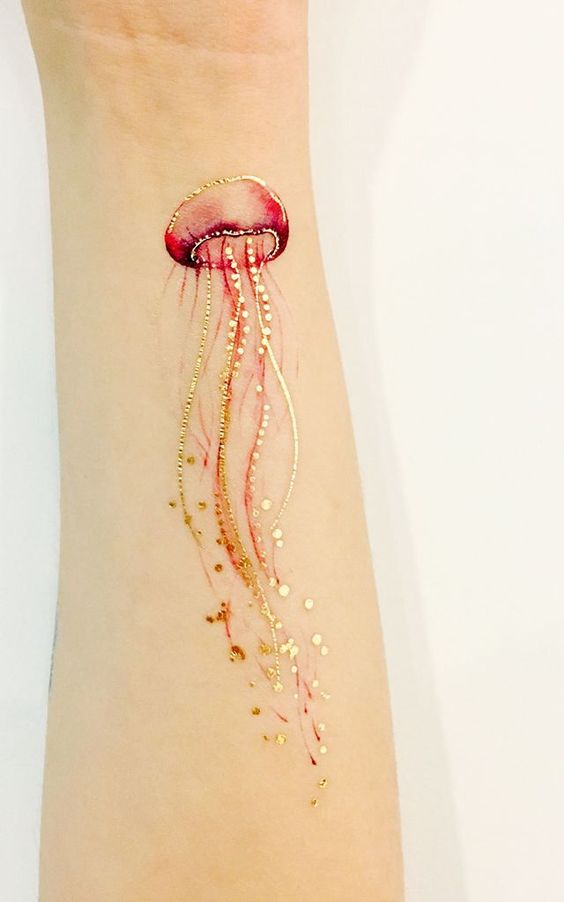 In their natural state, bioluminescent jellyfish hardly look real. But this talented tattoo artist took their rendering to an even more fantastic level. The blood-red body and tentacles of the jellyfish are highlighted with flashes of gold in a new technique that is sure to revolutionize modern tattoos.
60 Best Tattoos for Girls with Taste
There is no hard and fast rule about what makes the best tattoos for girls. Different designs are going to resonate with different women. Some women embrace their femininity with flowers. Others want to emphasize their strength by referencing powerful animals. Still others like art with an intellectual or spiritual slant. Regardless of what works for you, we hope you never settle for less than what you deserve – the best. We hope that this carefully curated collection of exceptional ink will help you to find a design that is worth displaying for a lifetime.