There are many ways in which love birds express their love for each other. In many occasions, words, beautiful gifts, holidays in fantastic places and organization of great dates have been a symbol of love. However, nothing expresses the affection as clearly as does the cute couple tattoos.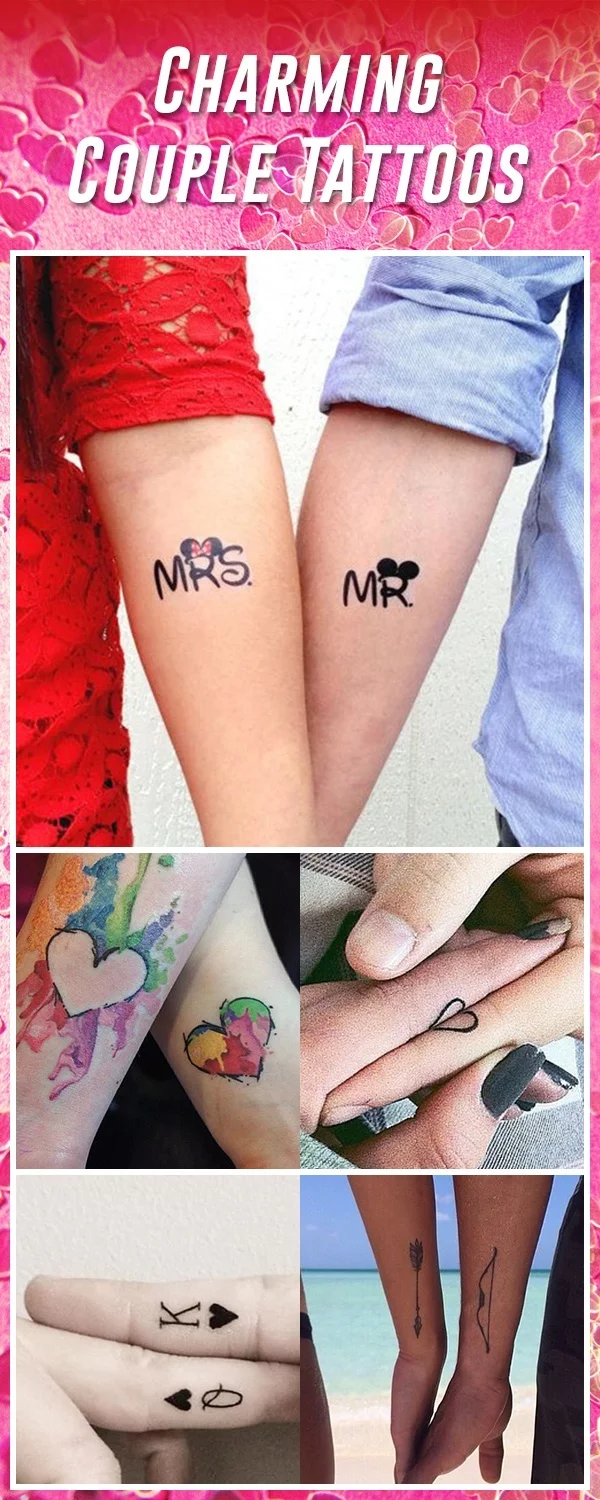 About the tattoos and their meaning
You may be wondering what the tattoos are or even how they look. The solution to your worry is here. These are tattoos that match and a couple may decide to have them on their bodies. They could be the king and queen type, the missing piece type or some artistic interpretation that shows a significant degree of matching, like certain finger tattoos.
There is nothing that improves your bonding experience as those cute couple tattoos. They give you a beautiful decorative design on your body that makes you look even smarter together than when you don't have them. It gives you the best feeling you can ever have.
Showing how you feel for each other through the amazing tattoo design is great. But look at the bigger picture – how the world looks at you two. The symbol will help you display your love publicly. Everyone around will know about the open secret between the two of you.
What do matching couple tattoos represent?
Most lovebirds may be troubled by the possibility of their relationships coming to an end someday. The worry may scare away those willing to have the symbols on their bodies. Look! It doesn't matter whether the relationship is put to an end or not. What remains in your heart and your memories is the great experience that you had together with your other half.
For those whose relationships will keep growing, there is a reason you have to smile. You will find yourself gazing at the best times you've had with your loved one and those to come right on your body – that small matching tattoo design. It is simply a symbol of immense love.
Both of you must agree on the design you want
Desiring to have these kinds of cute couple tattoos is one thing but making the decision requires a different level of wisdom. Both of you must agree on which design to have on your bodies, and you also need a good tattoo artist. Therefore, lengthy discussions must be held by you to determine what you want and how you want the design done. Do not be negligent with this step or else you will wonder.
How about the ideas for couple tattoos? Both of you have to agree on where to get the best design. You can check for some tattoo ideas on Pinterest; you can choose one that a couple that both of you admire have or decide on a unique one, like finger tattoos. Agreement on the design that you want is extremely crucial because this is the mark that will remain on your bodies for a considerable period.
1. Star Wars Couple Tattoo on the Forearm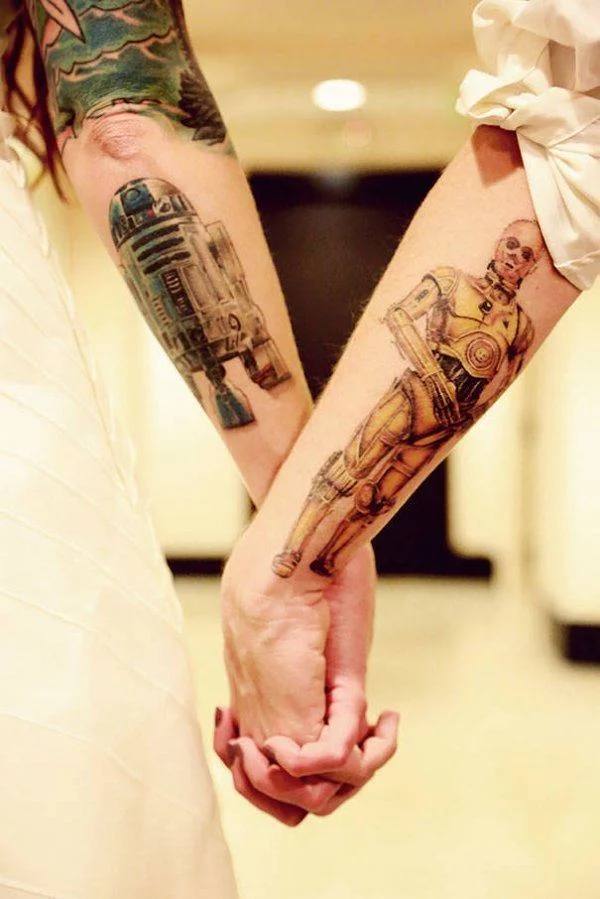 Is the love for Star Wars classics one thing you and your lover has in common? Be the coolest couple in town with the timeless robots gold-plated C3PO and blue-white toned R2D2 tattooed in their full machine-bodies at the back of your forearms.
2. Mario and Peach Timeless Couple Tattoo Designs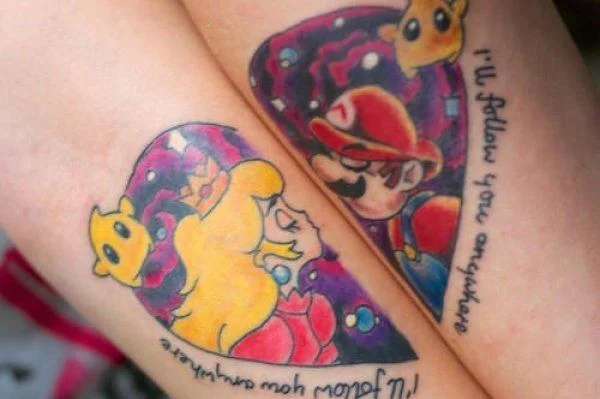 Cute and completely adorable video game couple tattoo featuring everyone's favorite plumber hero Super Mario and his pretty in pink damsel in distress, Princess Peach. Together they are enveloped in the colorful heart of love surrounded by sweet words.
3. Always and Protego Harry Potter Couple Tattoo Designs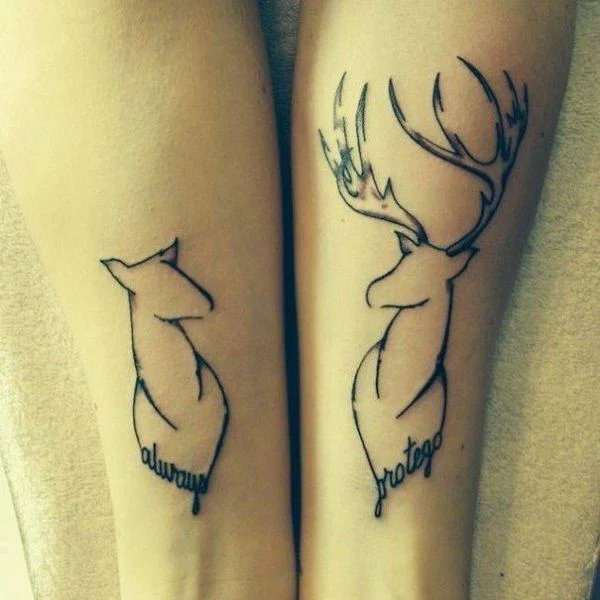 Always, represented by a doe, the same silver beauty Snape has summoned. Protego, represented by a buck, depicts the Harry Potter Spell meant for protection through the Shield Charm. The two symbolic animals undeniably create the perfect match for almost every couple, and is plain awesome for HP fans!
4. Little Girl and Heart Balloon Couple Tattoo
A lovely couple tattoo design featuring a little girl on the guy's leg, inked as if belonging to a classic story book and timeless tale. The winds blow her dainty dress and hair, together with the red heart balloon floating high in the air right on the woman's leg.
5. Stick People with String Phone Funny Couple Tattoos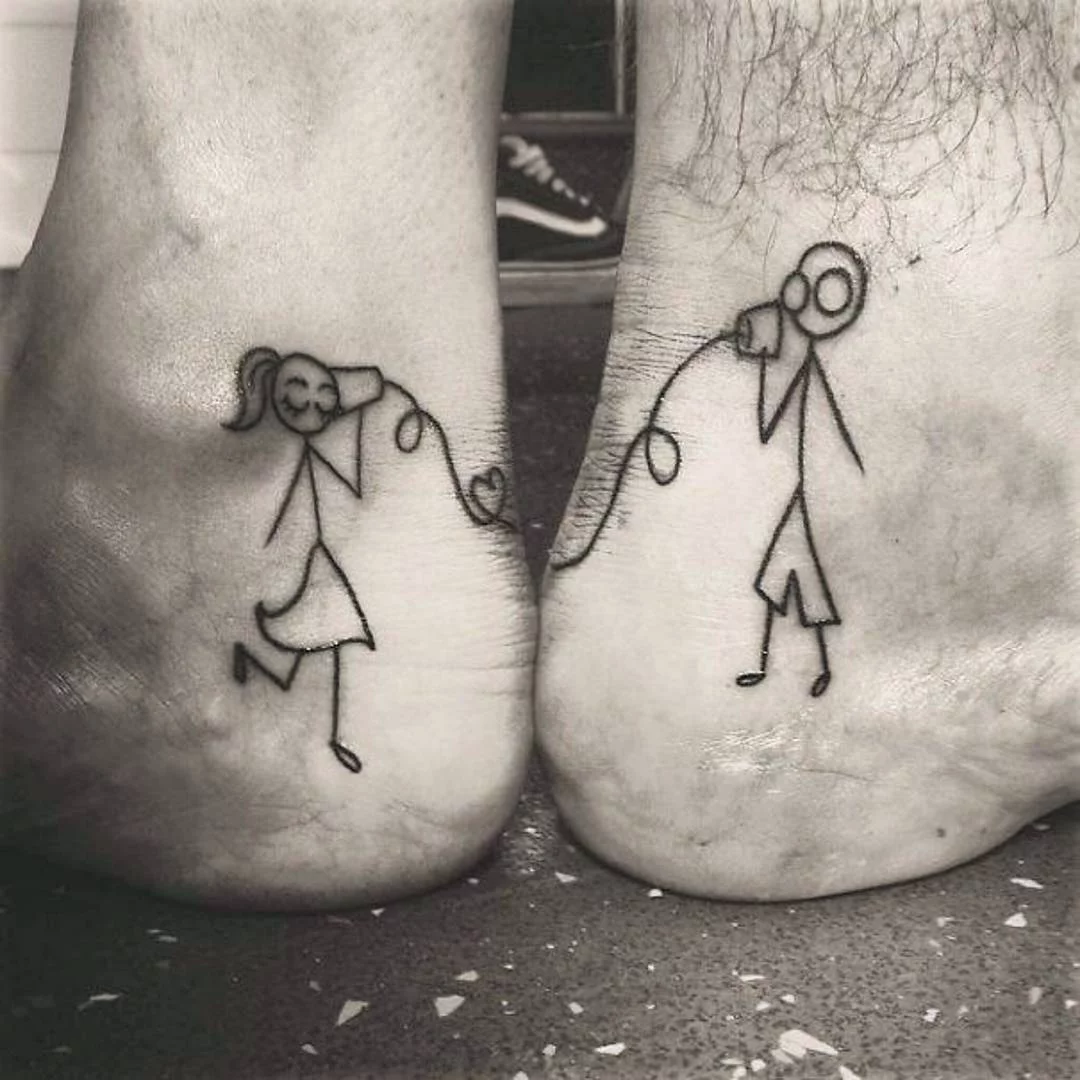 A quirky tattoo crafted from stick people featuring a girl wearing a flowy skirt and a boy sporting a pair of shorts. They communicate through fun phone cups connected by strings that has formed loops and a tiny heart along the way.
6. Perfectly Brewed Cup of Tea Couple Tattoo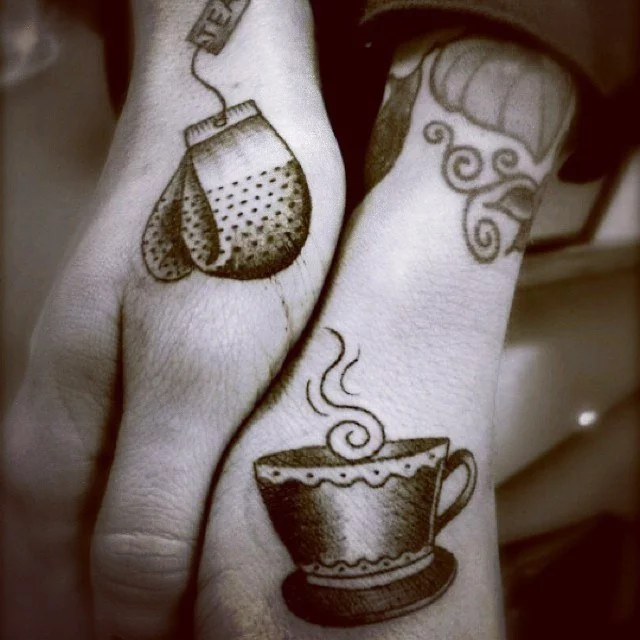 One of the best couple tattoo ideas that will certainly be your cup of tea! A nicely wrapped teabag loosely hangs from its string at the side of the hand near the thumb, while a lovely cup is steaming with the warmth of love at the lover's hand.
7. Zombie Love Couple Tattoo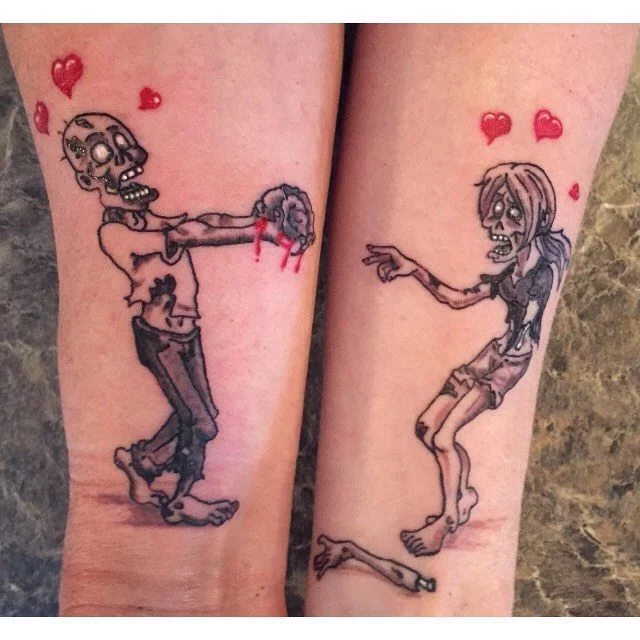 The undead comes to life upon feeling the gush of love. The male zombie offers a delectable meal of brainz dripping with blood to the limbless zombie girl who's arm has fallen off. They will never skip a beat with the cute tiny red hearts atop their heads!
8. Baby Mickey and Minnie Kiss Couple Tattoo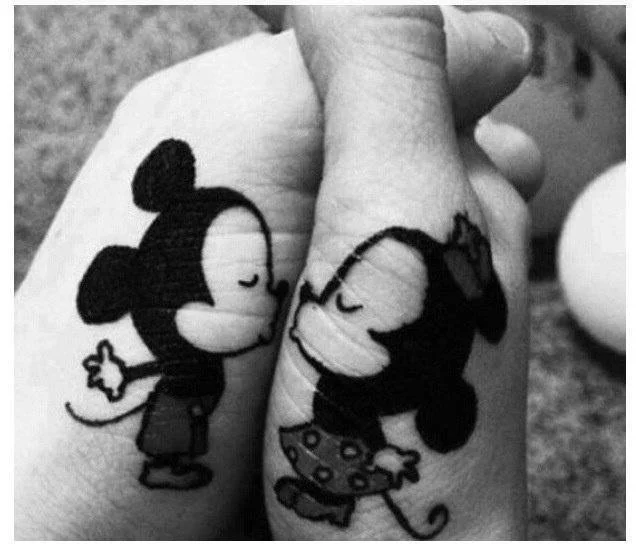 A classical couple tattoo design featuring the unmistakable timeless lovers Mickey and Minnie, in their child-like and chubbier, cuter forms. They attempt their first ever kiss with little noses touching each other as a guy and gal holds hands.
9. Infinity Tiny Couple Finger Tattoo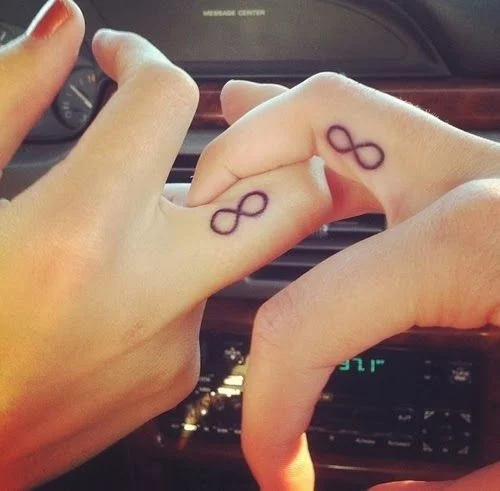 A great couple tattoos idea expressing something that never ends with the infinity symbol inked on the sides of each lover's middle finger. The loops are thinly yet solidly drawn, and made small but has a huge significance with the boundless love that binds the couple!
10. Lovebirds Sitting on a Tree Couple Tattoo Ideas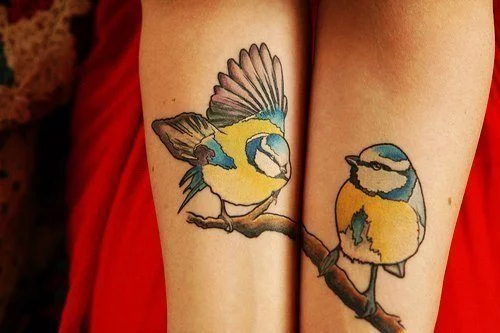 Two attractive lovebirds facing each other make for the loveliest of couple tattoo ideas. One is perched on a branch flaunting its bright yellow, white and blue colors, while the other lovebird is fluttering its beautiful feathers and creating a ravishing first impression.
11. Rock and Roll Wedding Couple Tattoo Ideas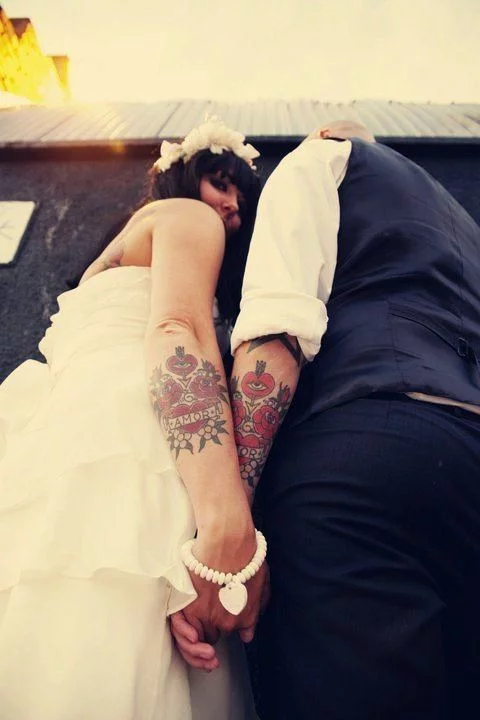 Rock the world with the coolest wedding made fun and exciting with a bride and groom matching tattoo idea! A vivid red heart with an eye, red roses, white flowers, and another heart with a banner wrapped around it that's scribbled with the word AMOR altogether makes up the stunning wedding tattoo. Any tattoo artist would love to take on is project.
12. Artistic Origami Couple Tattoo Designs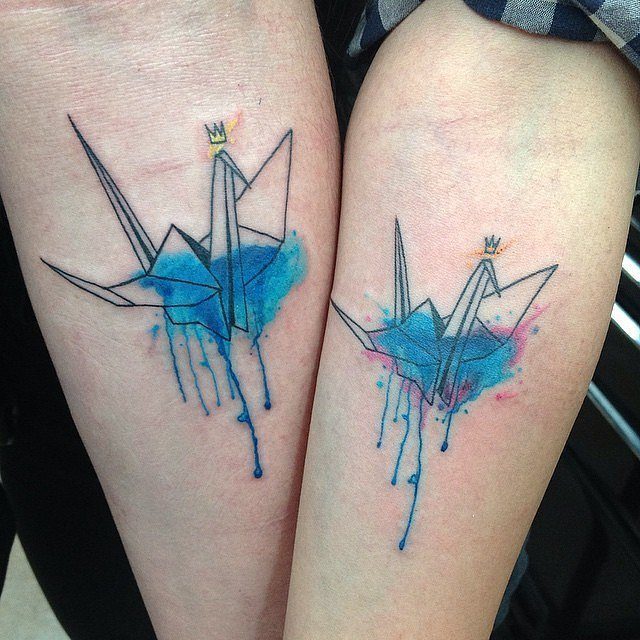 Origami in the form of cranes deliver one-of-a-kind couple tattoos, with one bird made bigger and the other smaller. Both have whimsical tiny crowns laden on the top of their heads, while their bodies have been splashed with dark and light blue watercolor shades.
13. King and Queen Tattoo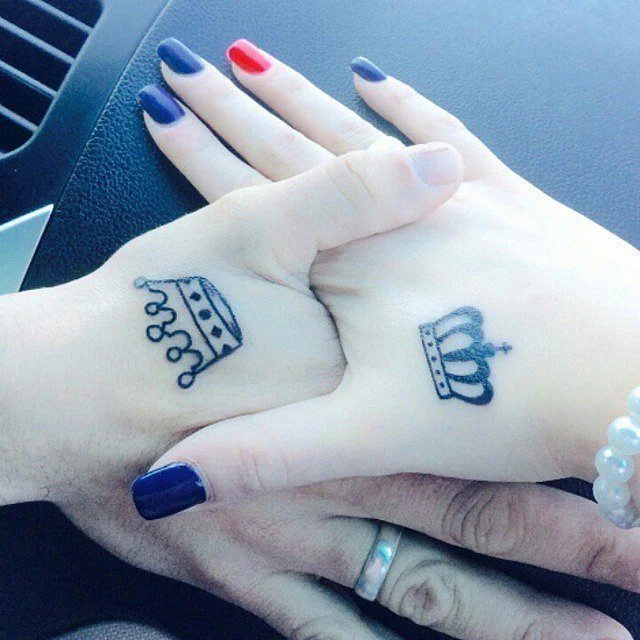 These king and queen crown tattoos will let you rule the world with its astounding elegant beauty, and encourages love to reign in any relationship. Feel like royalty with a rounded crown fit for a queen, and a similarly huge jeweled crown fit for a king.
14. Simple Heart Couple Tattoo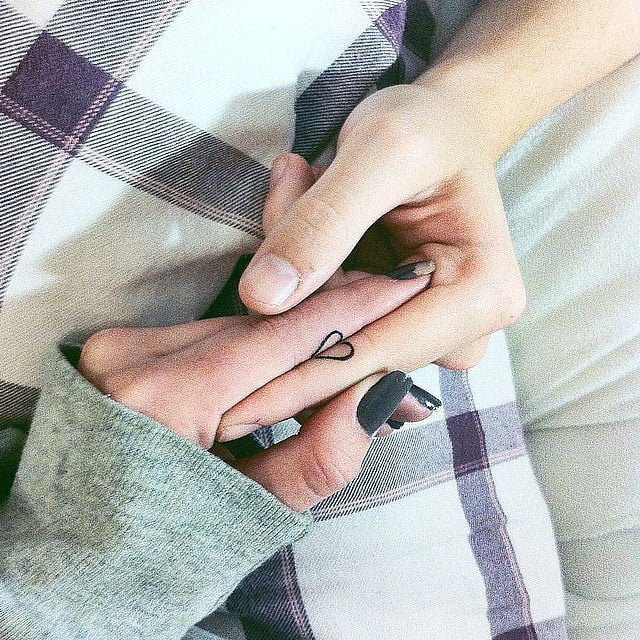 What could be the simplest of tattoos ideas may be the most meaningful and beautiful of all. A half heart outline is inked at the side of each lover's index finger, plain-looking and small, but creates a striking big impression when made to perfectly match.
15. Work of Art Heart Couple Tattoo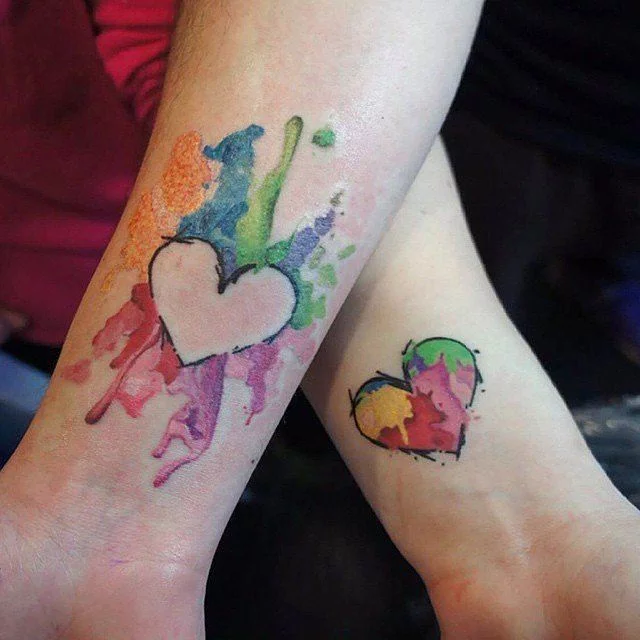 A masterpiece is what this couple tattoo clearly is, with the borders of the hearts almost freely and loosely drawn. A paint palette seems to have been splashed majestically all over them! One is left untouched inside the heart and bursting with the colors of love, while the other contains the wonderful shades within.
16. Couple Anchor Thumb Couple Tattoo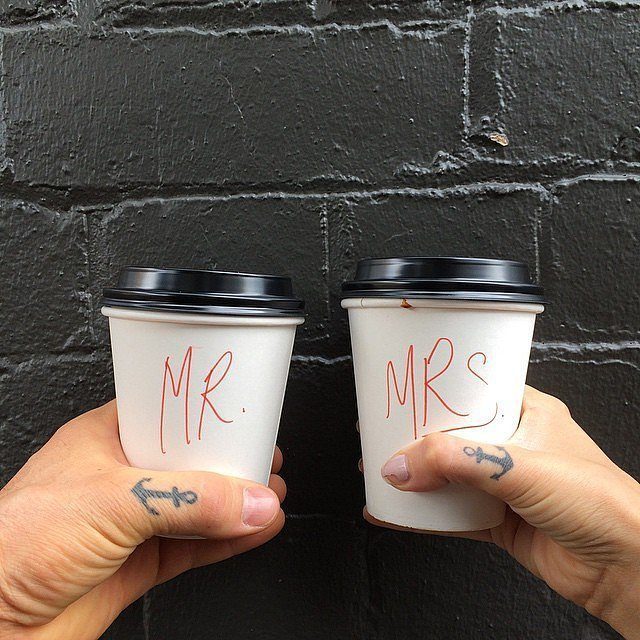 An anchor is inked on each thumb of the couple, with the emblems facing in opposite directions yet are undeniably attracted towards each other. It's perfect for holding coffee cups that anchor your love for the relaxing hot drink, and of course, your interesting love for each other.
17. Sweet Quote Couple Tattoo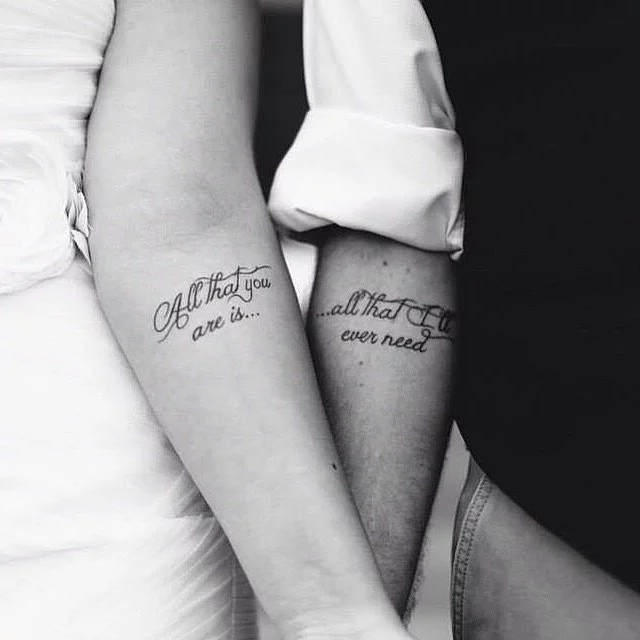 Any couple's hearts will be touched, if not melt away with the sweetest of tattoo ideas displaying matching quotes written on each inner forearm. The words blend together in beautiful script writing and an ellipsis that connects them together.
18. Arrow and Heart Wrist Couple Tattoo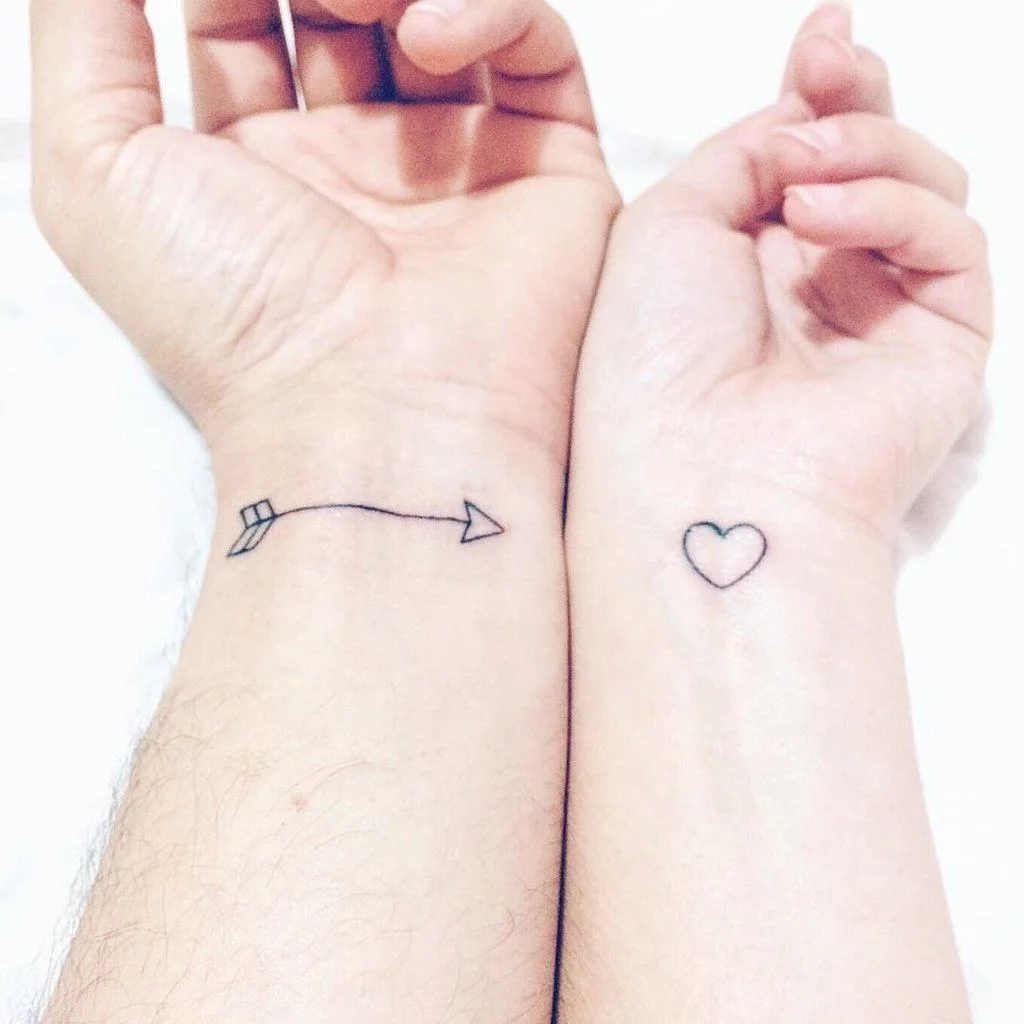 Simple but very beautiful couple tattoos idea. Sleek and thin lines draw the arrow from head to its fletchings on the man's wrist, while a cute rounded heart rests at the center of the woman's wrist. The arrow points straight to the heart waiting for cupid's bow to fire and ignite the spark!
19. Printed Puzzle Pieces Couple Tattoos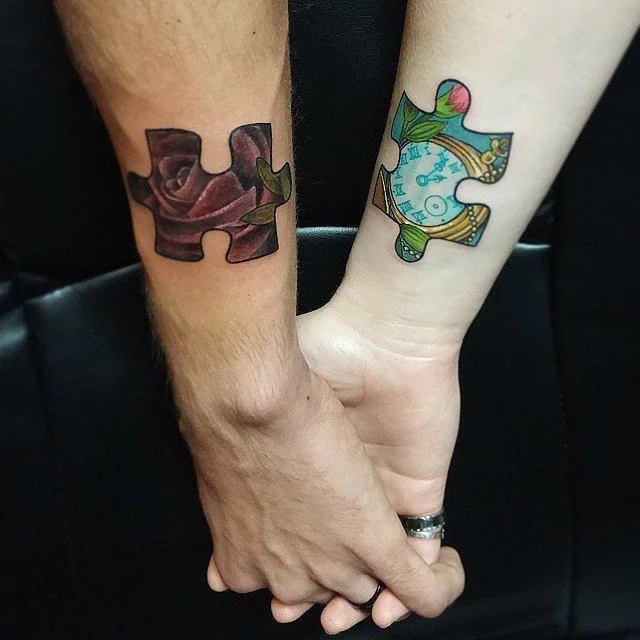 Puzzle pieces with finely inked borders hold the images of beautiful printed couple tattoos. One of the pieces illustrate a vivid red rose with exquisite delicate petals, while the other looks cool in a blue backdrop with a vintage watch attached to a chain at the center and a small stemmed rose at the side.
20. Colorful Pixel Couple Heart Tattoo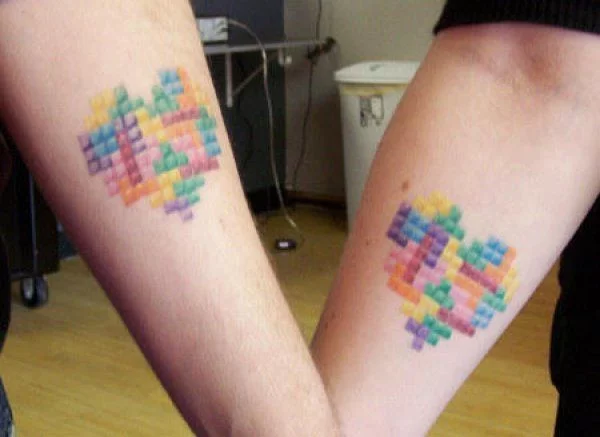 Small, bright and colorful blocks set themselves on top each other and sit side by side to ultimately form a fantastic heart-shaped form. This eye-catchy tattoo looks perfect on the inner forearm, which stands out when couples hold hands.
21. Birds of a Feather Flock Together on this Couple Tattoo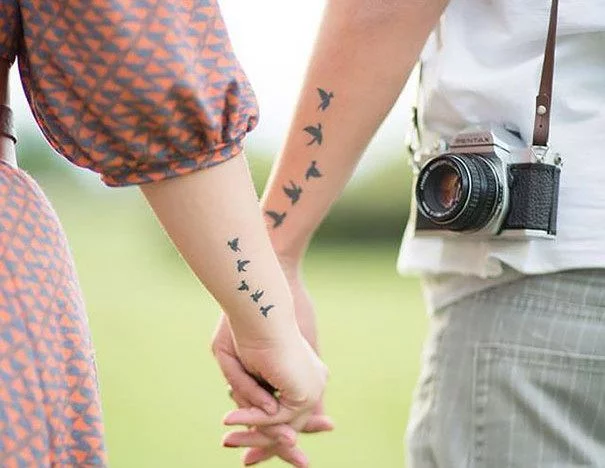 Couple tattoo that represents not only independence and freedom, but also devotion towards one another at any given time. Through this tattoo the partners express their desire to live a free life and to be close to one another throughout the journey of life, irrespective of the times that will come.
22. You Are My Pair Couple Tattoo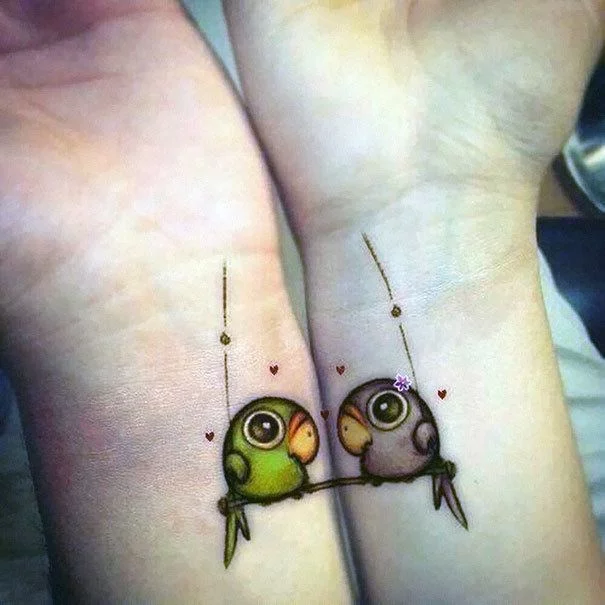 Parrots are very loyal companions. This colorful pair is a fun couple tattoos idea with a deep meaning. Each partner's parrot has half of the swing and heart, which symbolizes the fact that the partners need each other in order to feel complete. The small hearts give the tattoo a playful twist.
23. We Are Different but We Form a Whole Couple Tattoo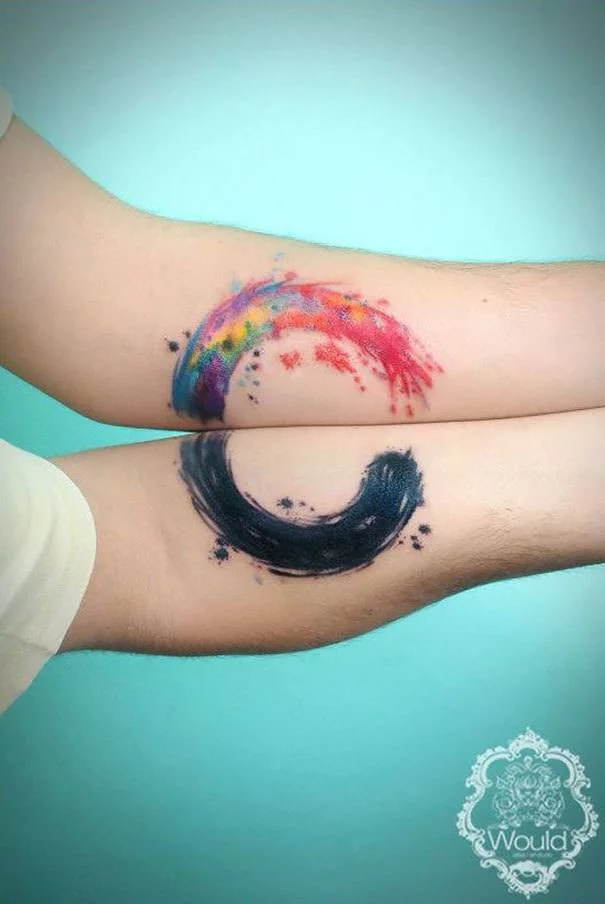 This couple tattoo design features asymmetry, which is a rather unusual characteristic of couple tattoos. One half is plain black, while the other has rainbow shades. Both of them have a similar shape. Despite the differences between the partners, they are most happy together and they are not afraid to show it.
24. My Life Force Couple Tattoo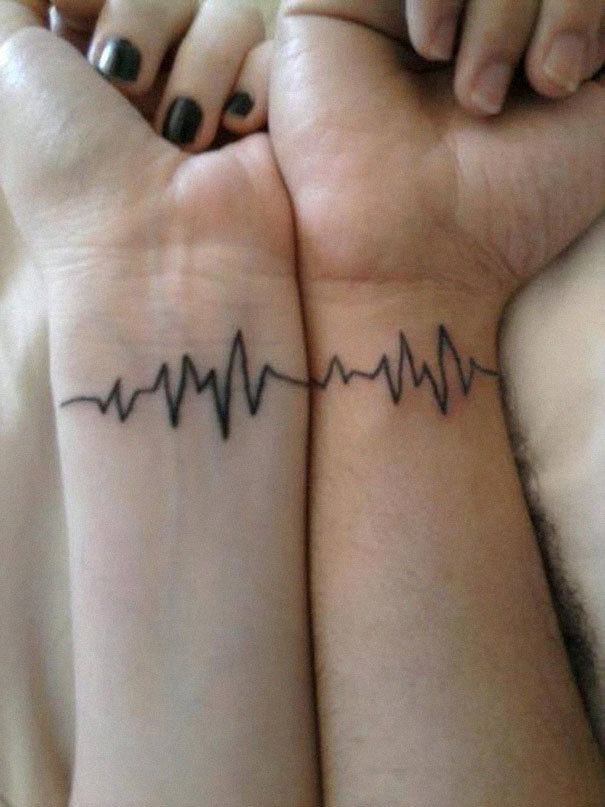 Such a couple tattoo idea is ideal for individuals who feel deeply for their partners. It symbolizes a very powerful connection between the two, which can't be broken. The design works perfectly for people who are absolutely certain that they have found the love of their life.
25. Modern Yin Yang Couple Tattoo Ideas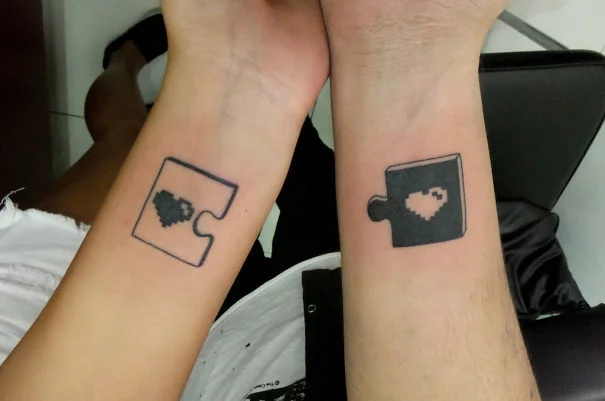 Here we have a modern interpretation of the Yin and Yang symbol. It is by far one of the most creative tattoo ideas for couples. It is fun, yet it doesn't lack emotion as it reveals that the partners totally complete one another and they need each other every day.
26. My Bow, My Arrow Couple Tattoos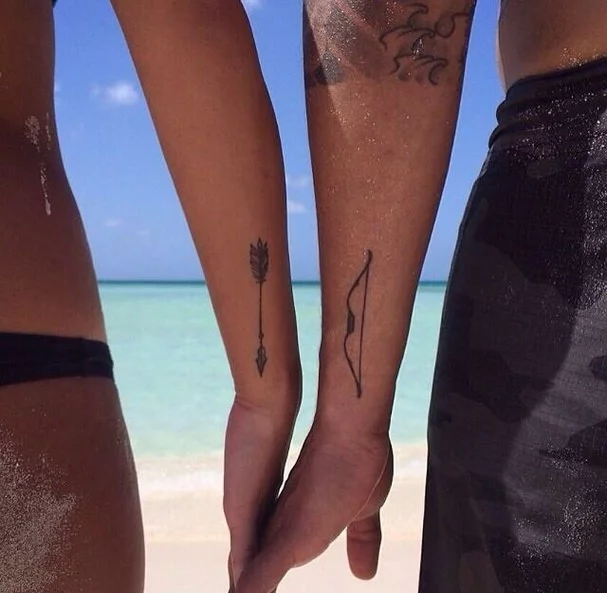 The bow and arrow is a well-known weapon. However, it takes two parts for it to be effective, otherwise it doesn't do much. This couple tattoos idea highlights the fact that the partners are indestructible together and that each of them has a vital role in the couple.
27. Only We Have to Know Couple Tattoos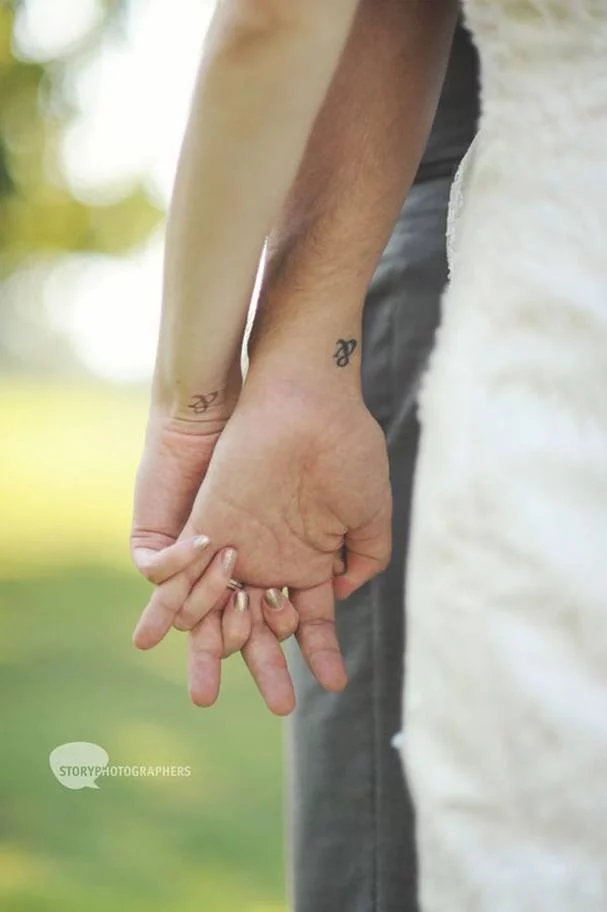 This discreet tattoo is meant for couples who want to express their love without standing out. The individuals want to have a couples tattoo but don't feel like boasting too much about it. This tattoo works like a charm to share the experience in a simple and quick way.
28. Mr. and Mrs. Couple Tattoos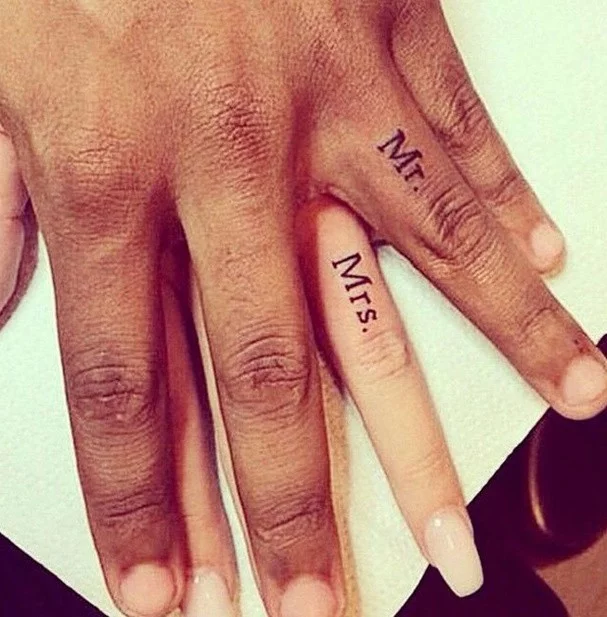 This is a good option for couples who sense that they have taken their relationship to a new level and want everyone to know it. It is one of the simple tattoo ideas that says a lot about a person's relationship status in a snap.
29. Gorgeous King and Queen Couple Tattoo Idea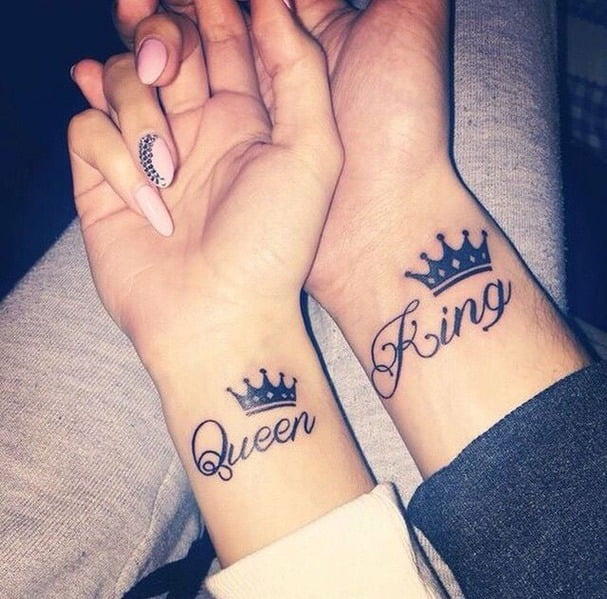 If you want to impress, this king and queen design is definitely a great option to do so. It is one of the bold couple tattoo ideas, which doesn't only express the commitment of the partners, but also the noble feelings that they feel for one another. They improved their lives since they are part of a couple.
30. Infinite Love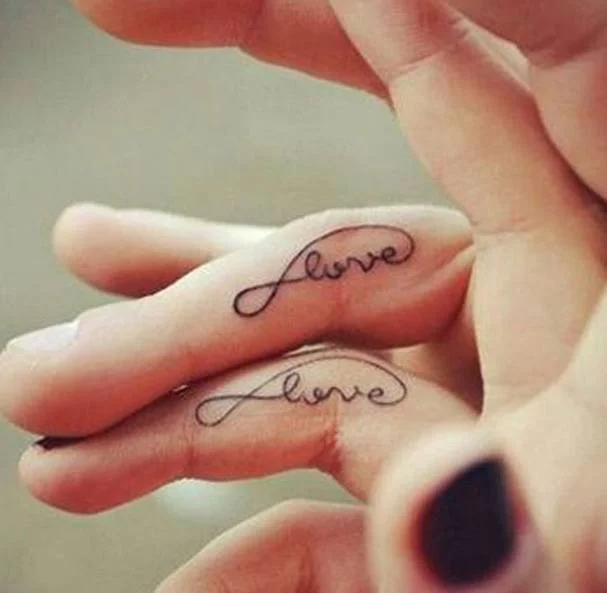 This simple love sign resembles the infinity symbol. The love of the partners for one another is endless and timeless. This graceful way of connecting to one another can only bring them even closer than they currently are. It is elegant yet suggestive enough to show you are in love.
31. Together As One Couple Tattoos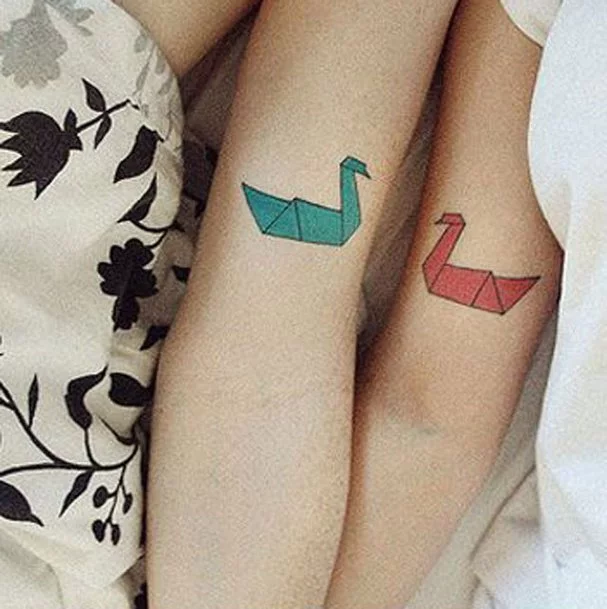 This design represents how two individuals are so close that they feel like One Being. Even if they kept their unique features, they are like a piece in the happiness puzzle. Together is always better and they can't take their eyes off each other.
32. Roman Numerals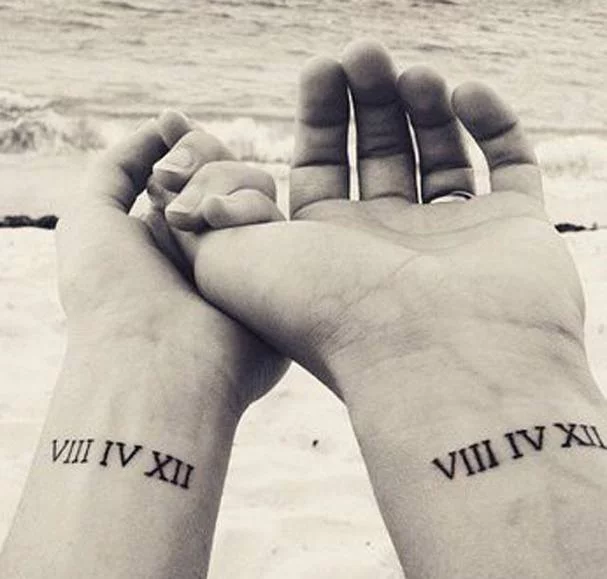 Many couples celebrate important dates in their relationship. If you and your partner share something special as well, don't hesitate to get a tattoo like this yourselves. It can be your special and personal thing that connects you and makes you smile.
33. Reversed Heart Cute Couple Tattoos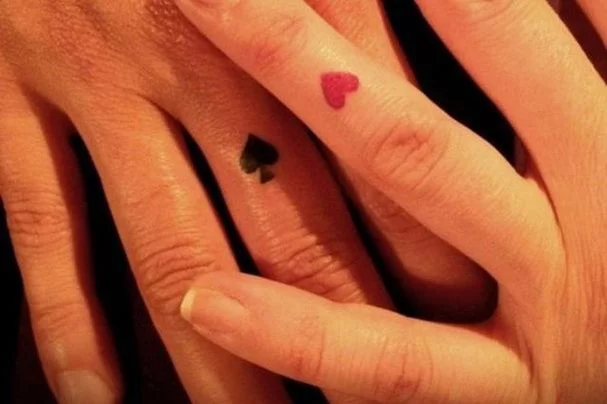 This can be your secret. It is not your regular alternative, but a different one with a twist that only you two might know about. Though the tiny classic reversed heart and spade are discreet, they are very suggestive and meaningful for the partners.
34. Love Is Our Game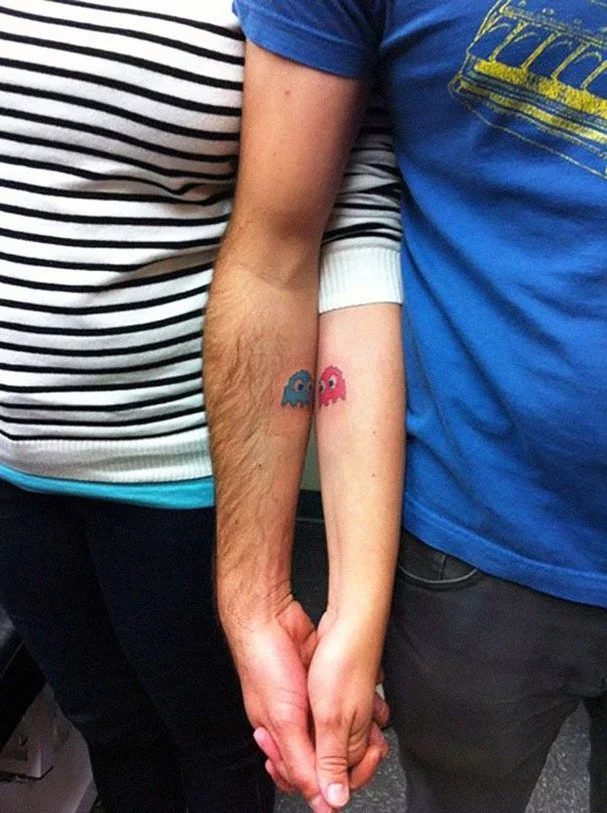 Whether you are both gamers or not, it is hard not to fall for this cure tattoo which reminds us of old fashioned video games. In this case, the two characters express valuable feelings between two individuals. The way they are looking at each other makes the tattoo even cuter.
35. You Are My Star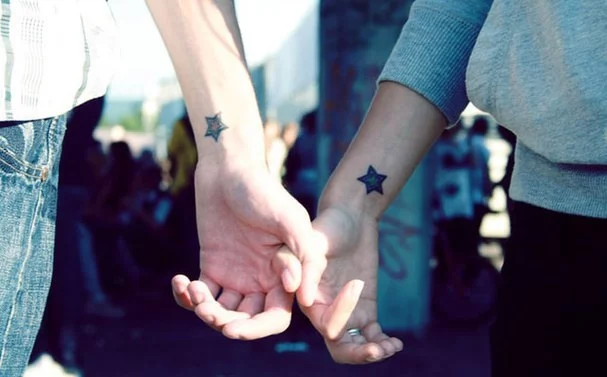 The stars are exactly the same, which proves that each partner significantly contribute to the harmony of the couple. This is great for people who are in a serious relationship but aren't particularly into romantic themes. The stars are cool and each person can attach a special meaning to the tattoo.
36. Every King Has His Queen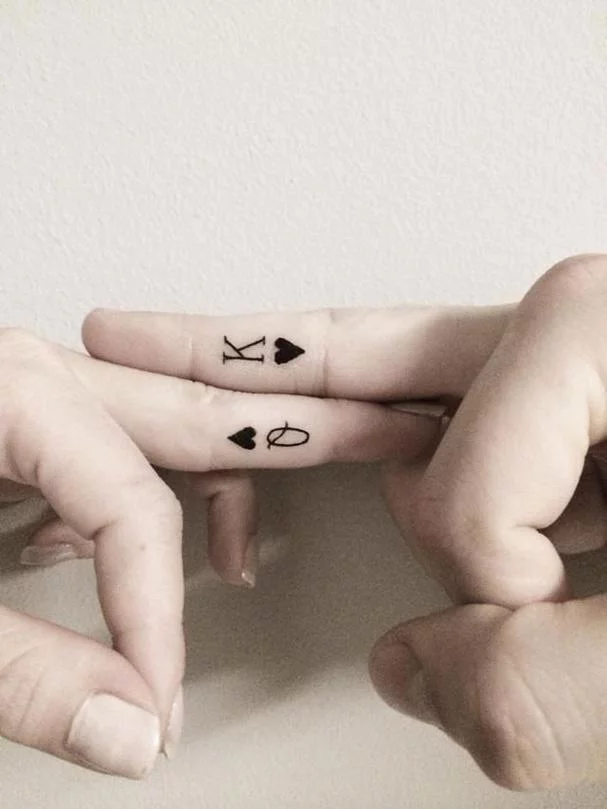 Despite its rather small size and apparent simplicity, this couple tattoo looks artistic and very pleasing to the eye. The aesthetics behind it is important, yet the emotions that it can make you feel knowing that your significant other has a matching tattoo is priceless.
37. Hugs and Kisses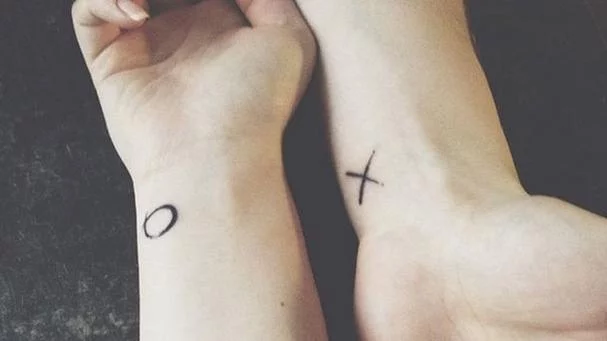 Due to its significance, this simple tattoo can be as romantic as more complex ones. It is a quick way to get matching tattoos for couples that reflect the way you feel for each other. This is definitely a popular choice among young couples.
38. Black and White Triangles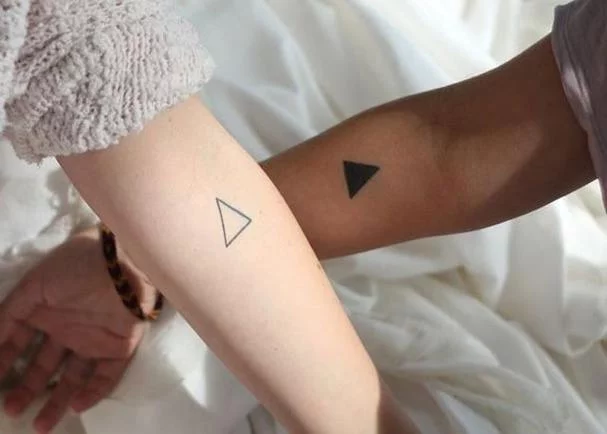 This is a couple tattoo idea that symbolizes the bond between two people who are deeply in love with each other. It reflects harmony between individuals who are ready to go through life together. In many cases, it can also symbolize the commitment to form a real family in the future.
39. Cartoon Inspired Mr. and Mrs.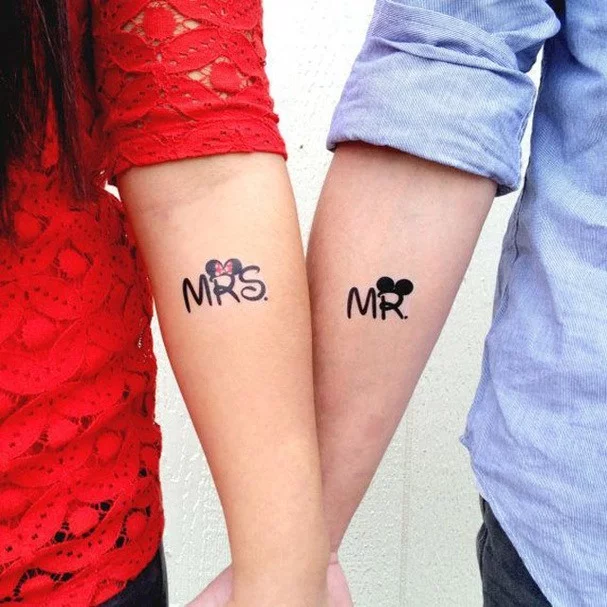 This is definitely for the child in you. Apart from signifying a pure love, this tattoo comes also with a playful touch that makes you think of childhood cartoons. It is a fun couple tattoo design option that will always right your day and remember that you should never grow old inside.
40. Crossed Arrows Pointing Up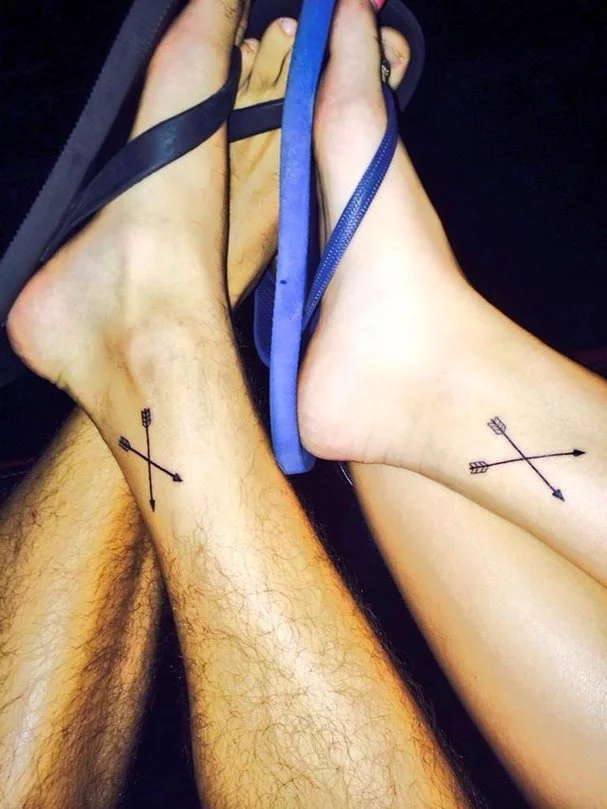 When we are talking about love, Cupid's arrows represent one of the most famous couple tattoo ideas. These two arrows symbolize the beautiful relationship between two individuals who found love and want it to be forever. Their connection is filled not only with romantic feelings, but also with friendship and mutual respect.
41. Her and Him Inner Forearm Couple Tattoos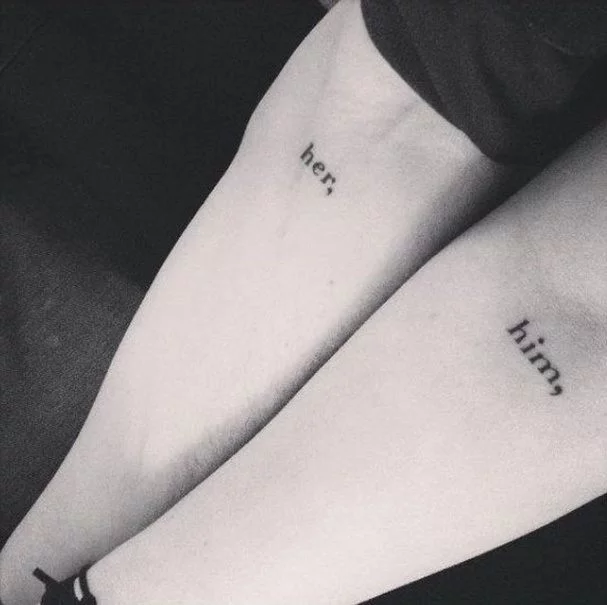 This couples tattoo is perfect for anyone looking for a design that's both discreet and personal. Placed at the top of the inner forearm gives it just enough visibility and the bold font, gives it prominence, but the small size and simplicity suggests a greater sense of intimacy.
42. Heart Lock and Key on Inner Wrists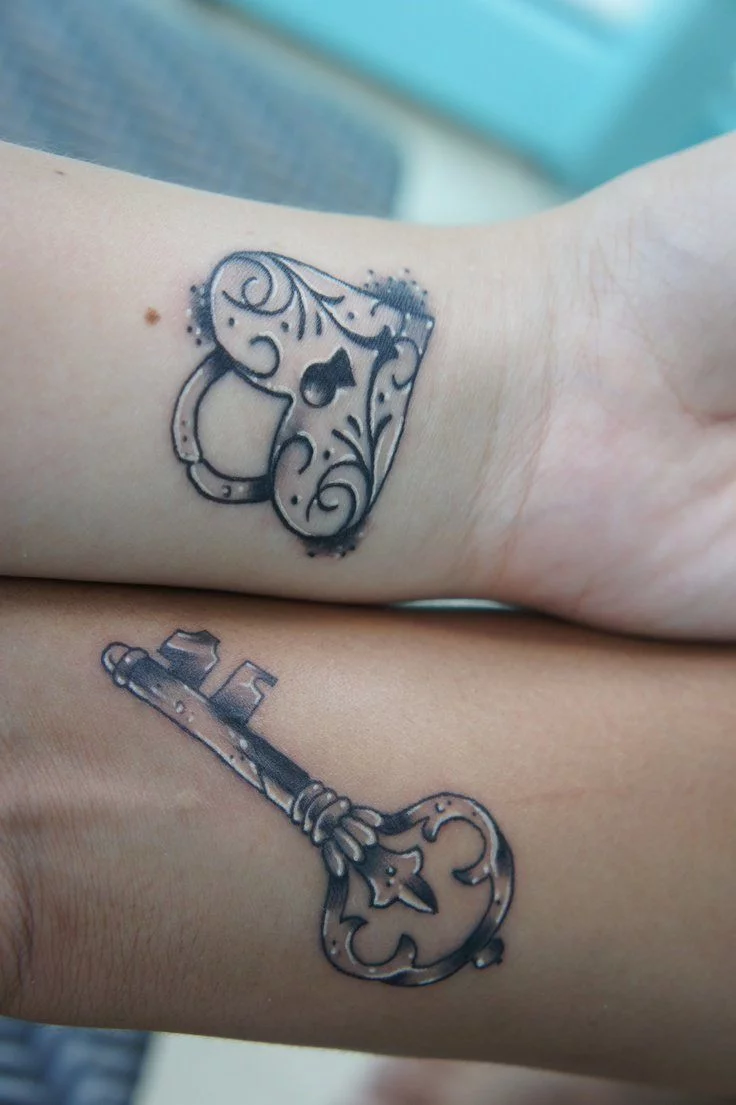 On the inner wrist of one partner is a heart shaped lock with a key hole in the center with shading and curly designs accompanying the image. The partner's inner wrist has a large antique key tattoo with detailed shading and textural designs.
43. Skull Couple Tattoos on Inner Wrists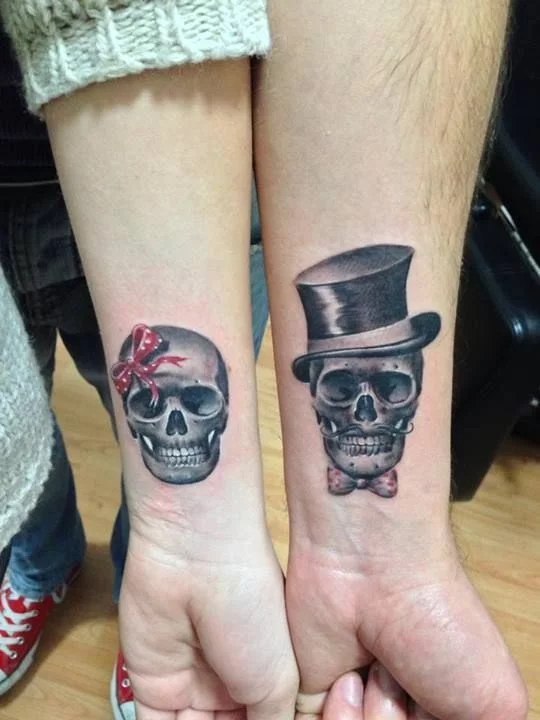 Matching tattoo adorn this couple's inner wrists. The woman's design is feminine, showing a female skull decorated with a vintage looking red polka-dotted bow. The man's skull is bigger, more masculine, and sports a vintage-inspired top hat, mustache and bow tie.
44. Always Matching Tattoo on Inner Forearm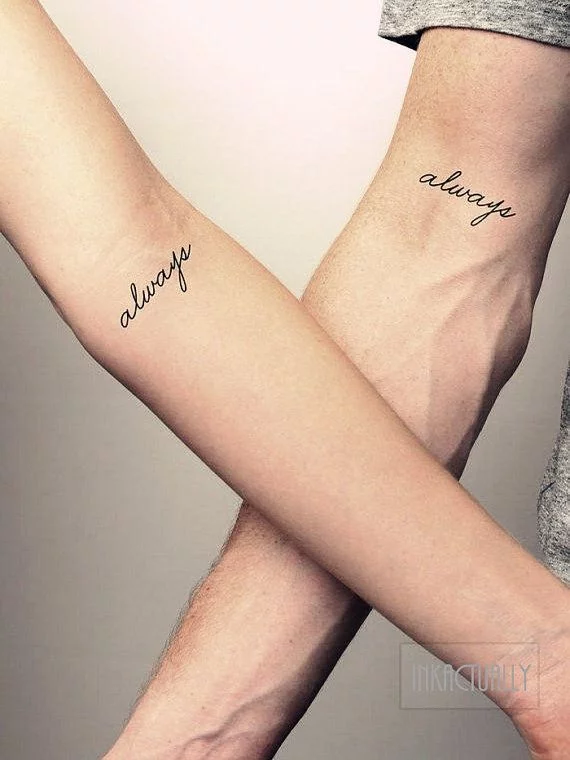 Matching tattoos for couples saying "always" are placed right below the fold in the inner forearm. The font is italicized and cursive, suggesting a romantic meaning. The tattoo is simple and doesn't call a lot of attention. The font is large enough to read but small enough to stay relatively concealed.
45. Filled Hearts At Base of Thumb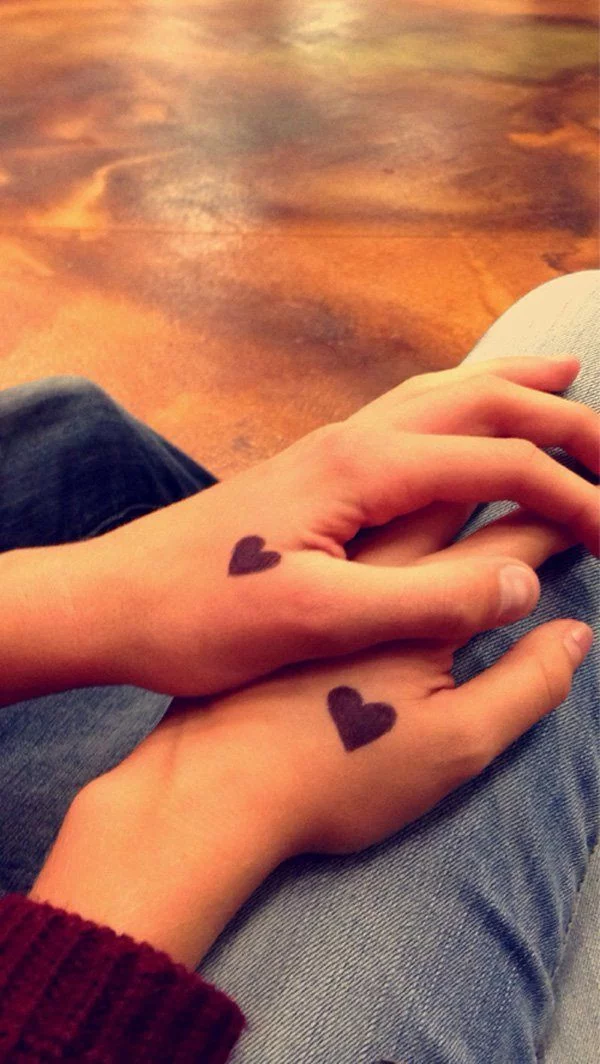 Both partners sport a bold, black filled heart at the base of their thumb on their left hands. When the hands are placed over one another the hearts appear to sync up. The design is crisp and simple, with an image that is very straight forward in its meaning.
46. You and Me Infinity Wrist Matching Tattoo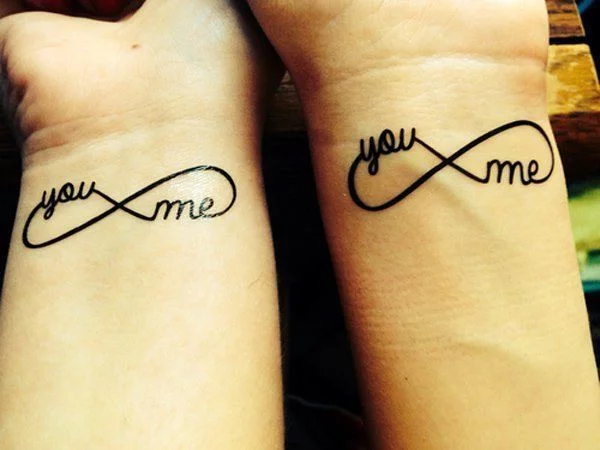 These matching tattoos are on the inner wrist and read "You" and "Me." The words are connected via an infinity symbol suggesting an eternal relationship. This design can signify a romantic relationship or even a very close friendship.
47. Stars at the Top of the Spine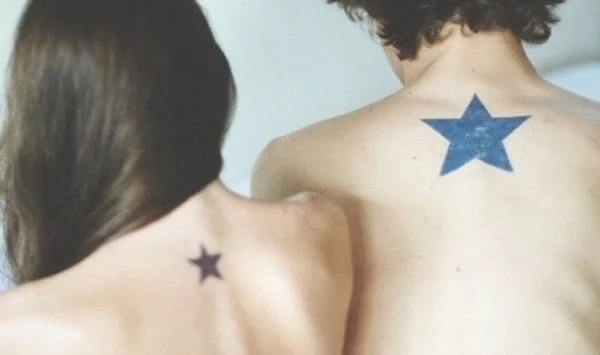 The couple has matching tattoos positioned at the top of their spine, centered between the shoulder blades. The woman's star is smaller, filled like the man's but more feminine. The star on the man's back is quite large and distressed, giving it a more rustic feel.
48. Flora Forearm Designs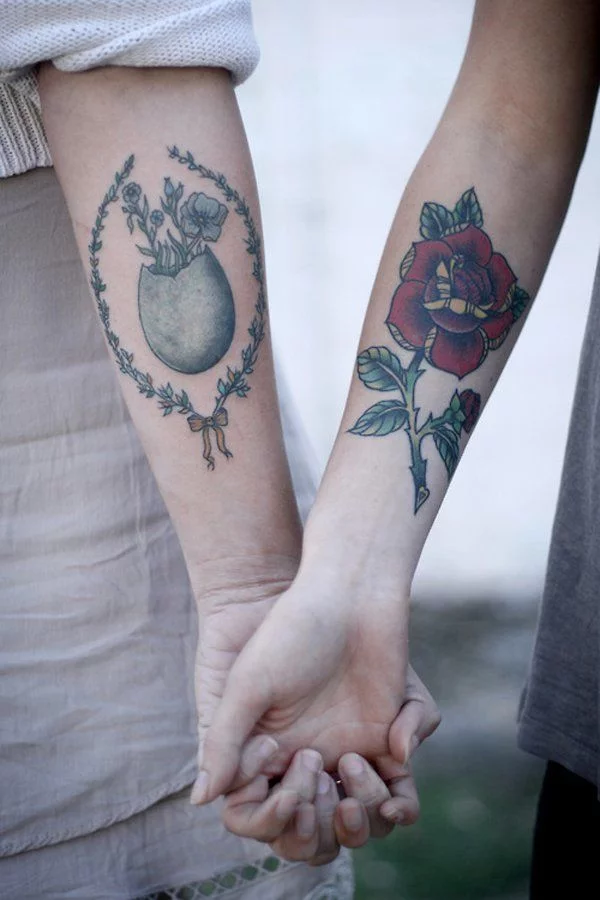 This couples inner forearms depict a very detailed design of flowers. One arm shows a egg shaped vase holding blue flowers, surrounded by a thin, leafy garland and bow. The other forearm shows a large and intricate rose with deep bold hues of red, green and yellow which contrasts with the light pastels in the other design.
49. Overlapping Geometric Circles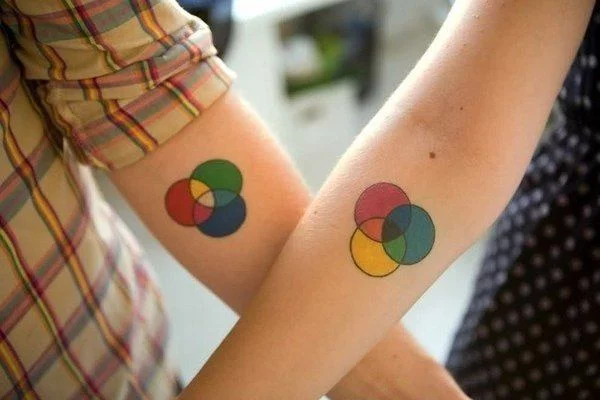 The design this couple is sharing is a trio of different colored circles overlapping one another and changing colors. This type of design is reminiscent of geometry and the science behind mixing primary colors. The matching tattoo images suggests a shared interest and deeper knowledge.
50. I Heart Him/Her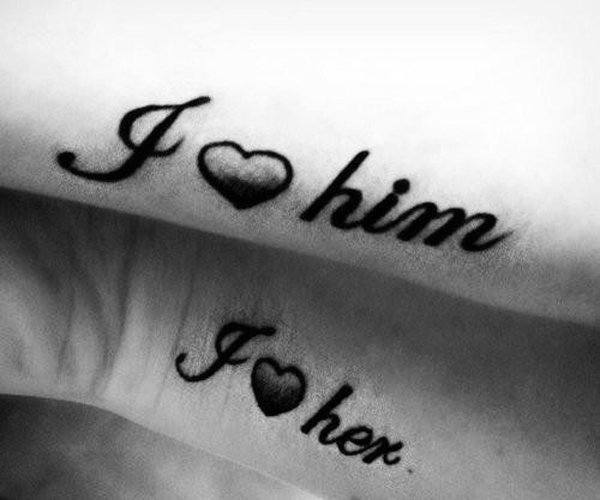 Along the side of the forearms read "I love him" and "I love her" on both persons. The word "love" is replaced with a symbolic heart that has a bold outline and shading on the inside. The font is very thick and in cursive.
51. Birds Heart Design Wrist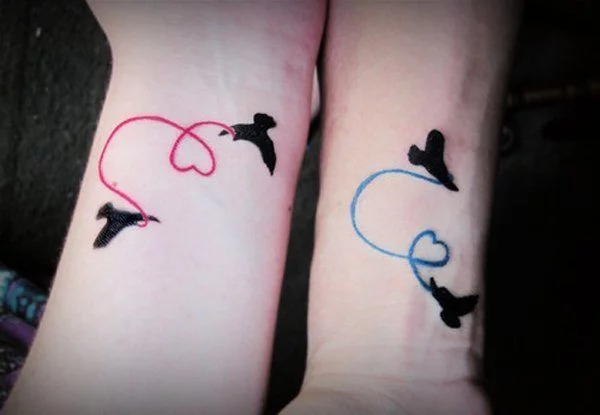 On the inner wrists of the couple is a design of silhouetted birds flying with a piece of colored yarn they are holding the ends to. The woman's yarn color is pink and the man's is blue. The birds appear to fly in a formation that make the yarn curve in the shape of a heart at the very center.
52. Winged Heart on Base of Thumb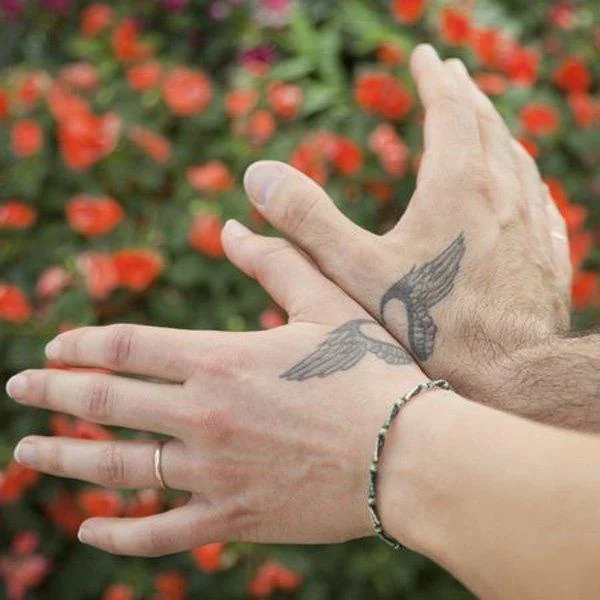 The woman's left hand at the base of the thumb has design in black of a wing and half a heart. The man's right hand has the same design on the base of his thumb. When left and right hand are placed together, their hand seem to form wings and the image is that of a complete heart with wings.
53. Wispy Birds on Branch Inner Arm Couple Tattoos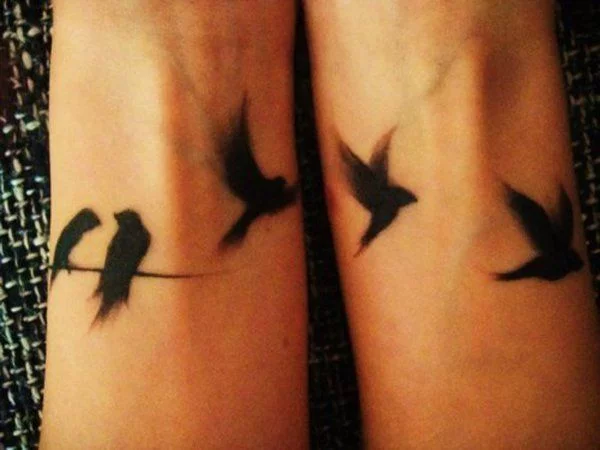 The inner forearm of this couple has a continuous scene of birds. One arm depicts in silhouetted fashion a couple of birds resting on a branch with one flying off. The other arm follows the scene and shows two other birds flying. The tattoo looks like it's been painted onto the skin with brush strokes.
54. Maple Leaves on Inner Arm Couple Tattoos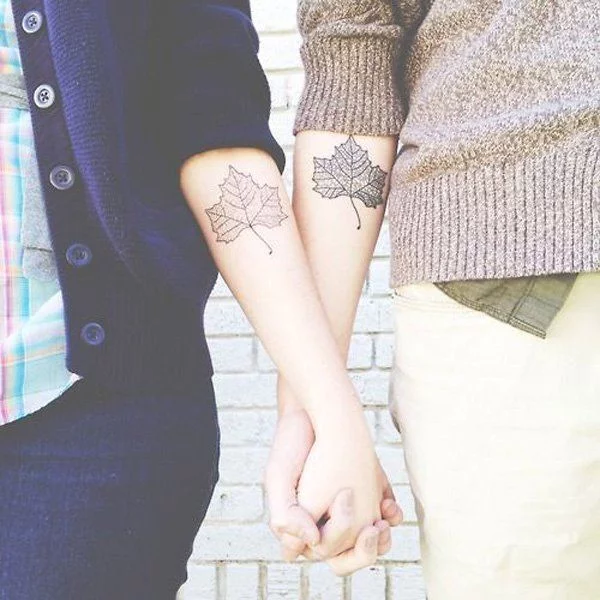 Both inner forearms here have matching tattoo designs in black in the shape of maple leaf. The illustrations are intricate and simple, suggesting maybe a common love of nature or Autumn. The design looks like a sketch drawing, which makes it appear lighthearted.
55. Nautical Couple Tattoos on Inner Arm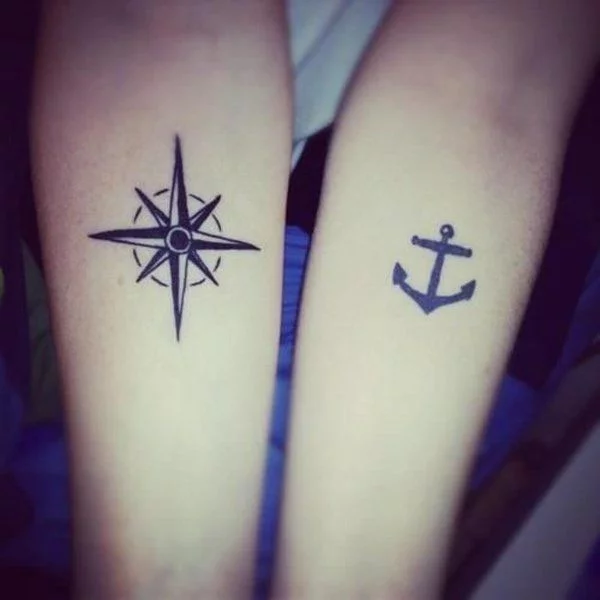 The inner forearms in this picture depict a simple black compass centered in the middle of the arm. The arm beside it shows a bold and black anchor following the same nautical theme as its partner.
56. Butterfly Friendship Couple Tattoos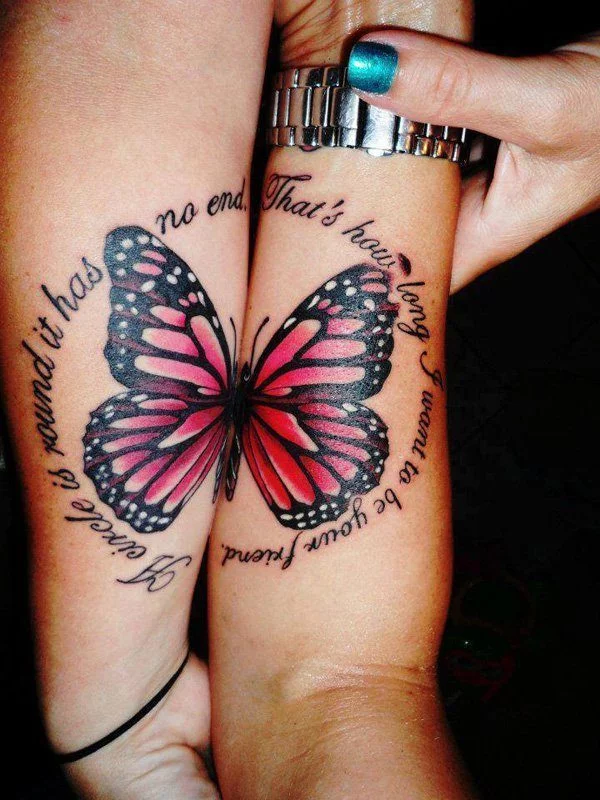 This colorful couple tattoos design depicts a half design on either forearm, that when placed together creates a complete image. The complete image shows a vibrant pink, monarch butterfly surrounded by a sentimental phrase about friendship and partnership.
57. Deer Couple Upper Arms Matching Tattoo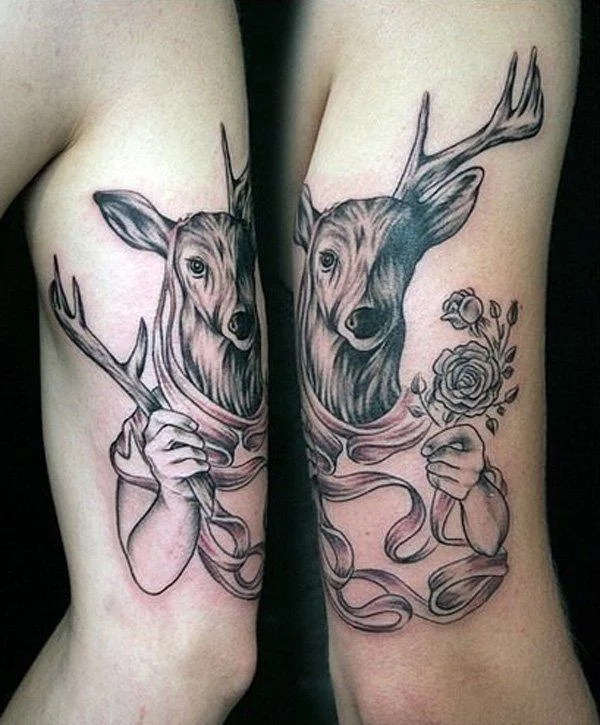 This adjoining couple tattoos design on two people depicts a deer couple. Separately, one deer with a human right arm holds up an antler, and the arm of the other person has their deer holding a bouquet o flowers. Surrounding the deer are billowy ribbons.
58. Tiny Tree and Owl on Knuckle Couple Finger Tattoos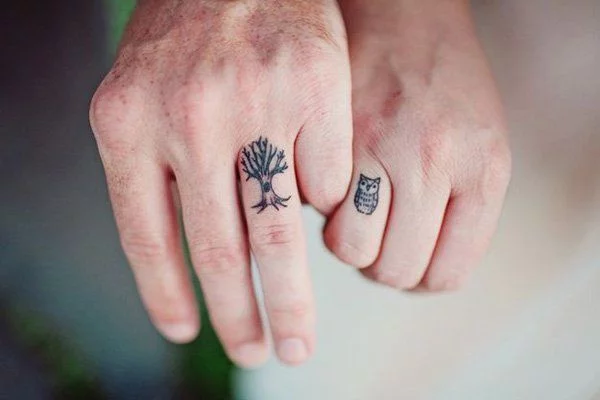 This miniature couple tattoos design is displayed on the ring finger of both figures and is cartoonish in nature. The man's hand has a leafless tree with a hollow in its trunk and the woman's knuckle has the missing piece to this image: an owl.
59. Braided Charm Bracelets Matching Tattoo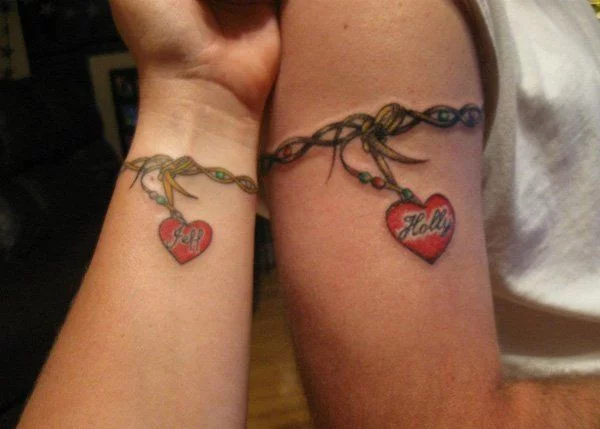 The woman's inner wrist displays a braided leather yellow bracelet with colorful beads. Dangling from it is a red heart shaped charm that reads the name "Jeff." The man's matching tattoo design is placed on his bicep, although his charm reads "Holly."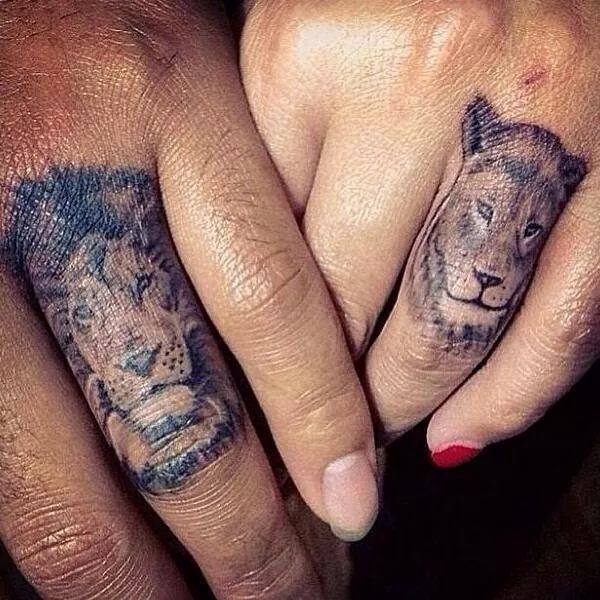 This couple's hands illustrate lions on the knuckles of their ring finger. The man's hand depicts a fairly detailed male lion with full mane in black ink. The woman's hand shows a female lion in the same style.
The most stylish couple tattoos
Demonstrate your love to your significant other in the simplest but most classic way. Let the world know about your love. Get a symbol that will make you remember the great experiences you will have with your other half. The best way to get there is to get couple tattoos, and you will fulfill your romantic happiness.