Tattooing has come a long way, to the point that the best cool tattoos are nothing short of modern art. Gone are the days when people were restricted to an artist's catalog of generic designs. Now, if you can dream it, then a good artist can ink it, even if you want biomechanical tattoos. This explosion of creativity has likewise translated to expanding tattoo culture. People of every gender, race, religion, and class now see value and meaning in getting inked. Whether you are considering your first tattoo or are a longtime fan of the art, this gallery of 60 of the greatest designs is sure to inspire.
60 Unbelievably Cool Tattoos for Bodies that Deserve the Best
There are many ways to make small tattoos feel personal and impactful, even if it's a simple dragonfly tattoo. But this gallery is all about centerfold level ink. That means big concepts and a lot of coverage. Everyone has skin, which means everyone has the potential to be a canvas for something incredible. These designs are not only expertly executed, they demonstrate a deeply felt affinity for everything from abstract art to theater to goth culture. There are epic ink odes for every emotion or obsession. It's just a matter of matching your inspiration to the right artist.
1. Surreal Street Art Side Leg Tattoo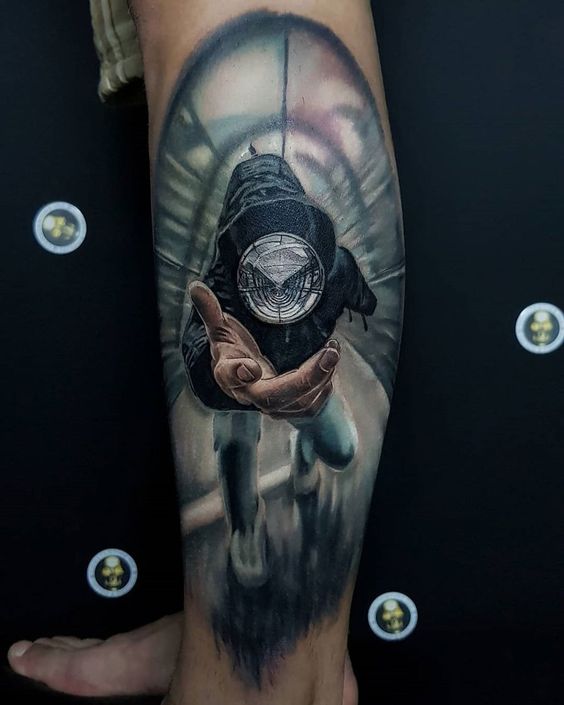 This stunning side leg spanning tattoo pays homage to both street art and the famous surrealist, Escher. A passage is blurred behind the central figure, but a window image to that landscape replaces his face. It's got serious urban Inception vibes.
2. The Skull Behind the Mask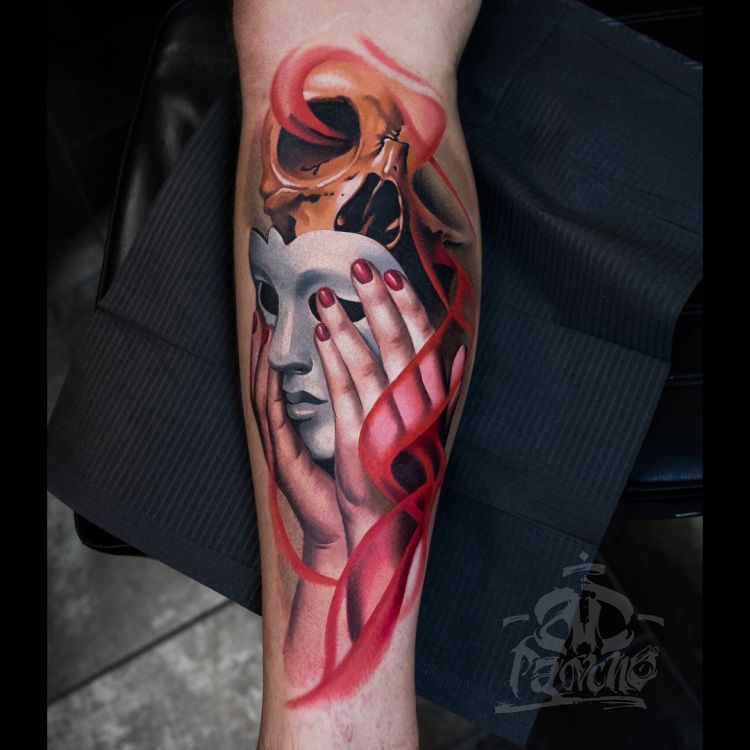 This theatrical calf tattoo is one part Phantom of the Opera and one part Edgar Allan Poe. A classic harlequin mask is lifted away from the face it hides with feminine, red-painted fingers. Behind the mask, we can see the yellowed bones of an ancient skull. If you love the goth aesthetic, then this finger tattoo is the perfect blend of macabre and romance.
3. Japanese Style Phoenix Rising Shoulder Design Feather Tattoo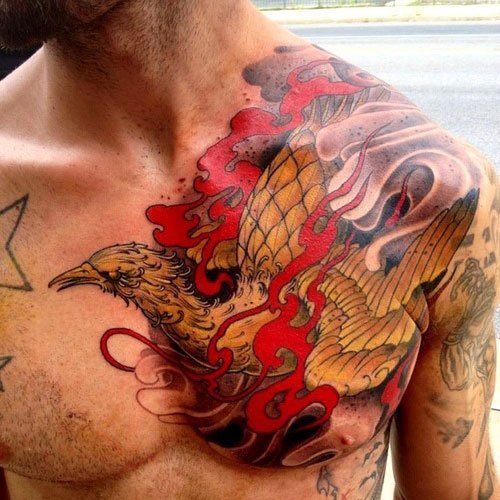 The phoenix is a popular symbol of resilience in rebirth, across many different cultures. This stunning phoenix design is rendered in a traditional Japanese illustration style. The palette is simple – red, gold, black, white – but dynamic. And the overlapping feather technique also gives it the appearance of samurai armor.
4. Life Out There Sci-Fi Concept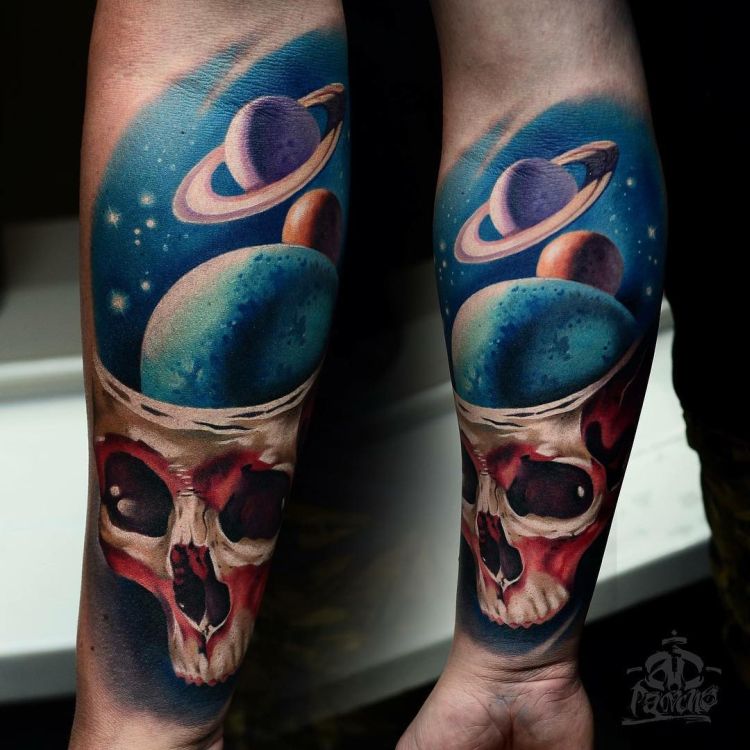 This vibrant sci-fi-inspired arm tat juxtaposes the wide-open possibilities of space with the inevitability of human mortality. It's a popular saying that we are all made of stardust. Perhaps this tattoo is saying that life goes on in spectacular ways, even after death.
5. Sketch Style Lion Tattoo Shoulder Study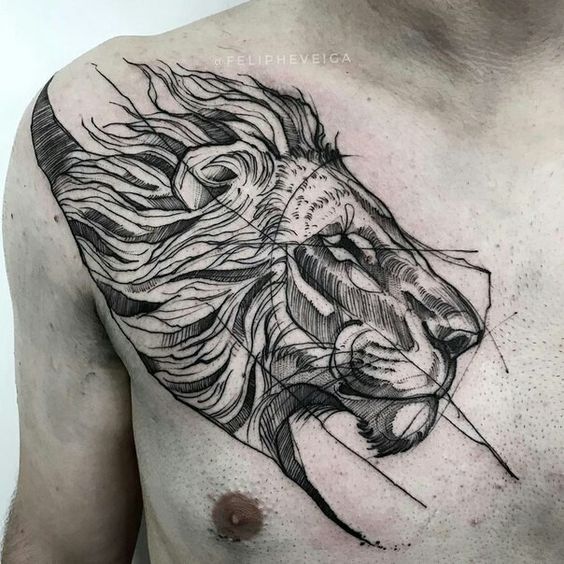 Lions are a popular spirit animal in the tattoo world. This design differentiates itself through the use of the sketch style. The lion itself still speaks to strength. But the rip and outline aspects are intentionally left incomplete to suggest a work in progress.
6. Abstract 3 Dimensional Wingspan Graphic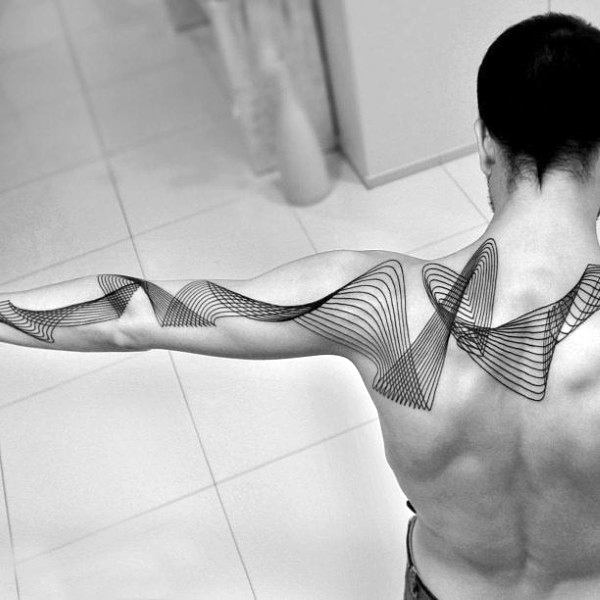 Few other tattoo aesthetics are as powerful in basic black as a dimensional graphic. This Modernist inspired masterpiece spreads across its owner's entire wingspan, giving the impression of constant movement. It's a better accessory than anything made of fabric. Yin-yang tattoos also work well with this style!
7. Who Has Forever Anyway Chest Hourglass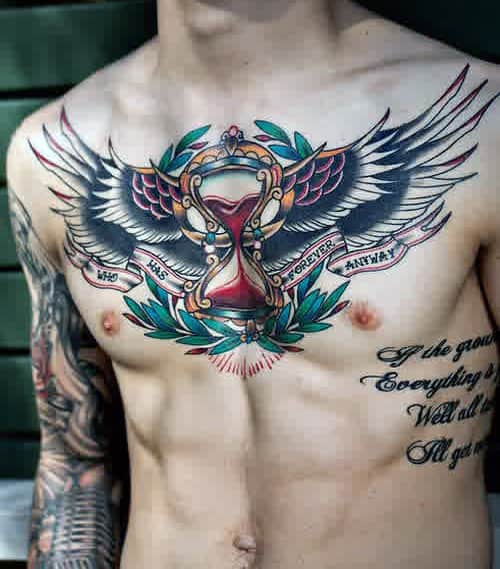 Time is not always on our side. In fact, many creatives are keenly aware of how limited their lives are. A classic sailor style palette and symbolism are combined with the fantasy of a gilded hourglass to create a larger-than-life design that encourages its wearer to make every second count.
8. Scar Coverage Survivor Arm Tattoos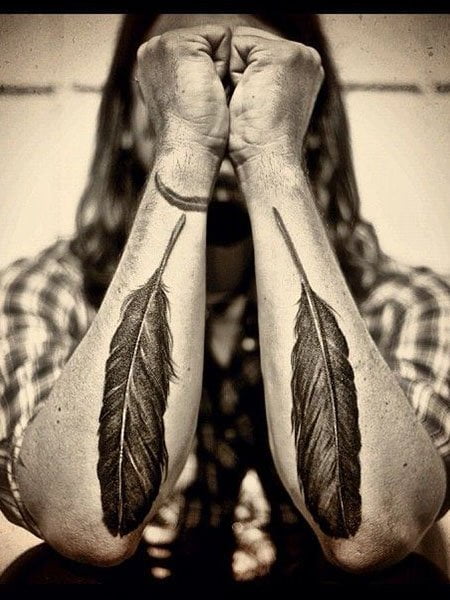 As the mental health conversation opens up, more and more people are embracing their battle scars. As you can see, this trio of arm tattoos tells a story of both survival and hope. A wrist tattoo covers a cutting scar while feathers remind their wearer that they are capable of rising above.
9. The Lightning and the Thunder Tattoo Designs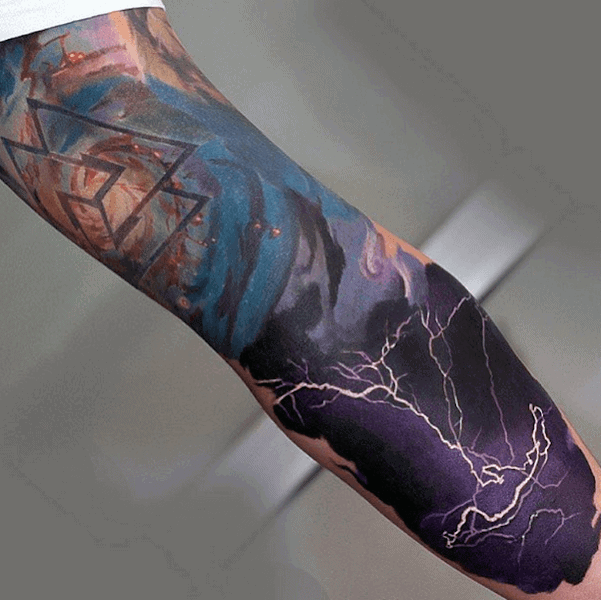 This color-saturated storm tattoo takes up almost half a sleeve's worth of skin. And it is worth every inch. An abstract swirl of color at the top also incorporates a Valknut symbol which literally translates as the "knot of slain warriors."
10. Hyper-Realistic Deadpool Winnie the Pooh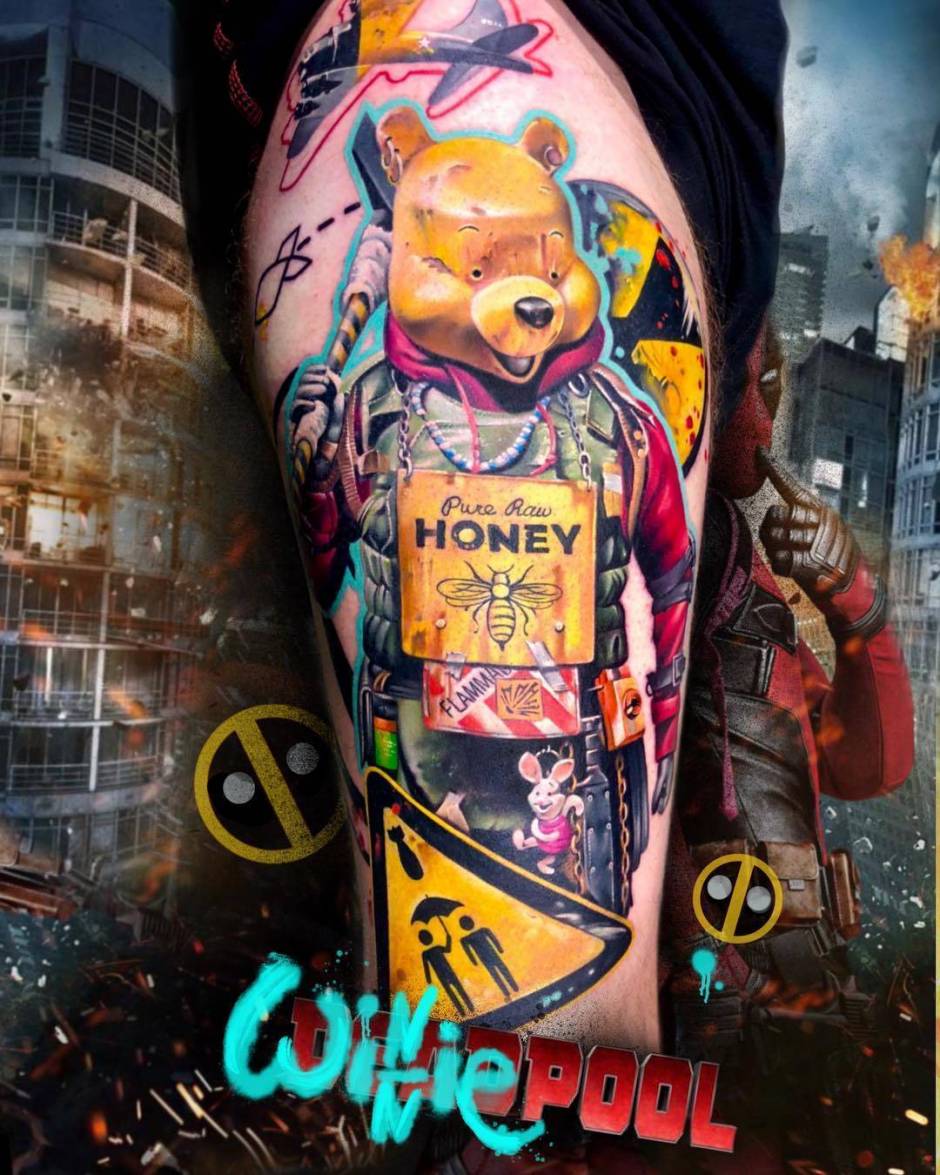 This amazingly dimensional Deadpool and Winnie the Pooh mashup tattoo includes a wealth of references to both comic and gamer culture. It's an incomparable example of how much the right tattoo can say about one person (and their artist) .
11. Beauty and Suffering Arm Ink Tattoo Designs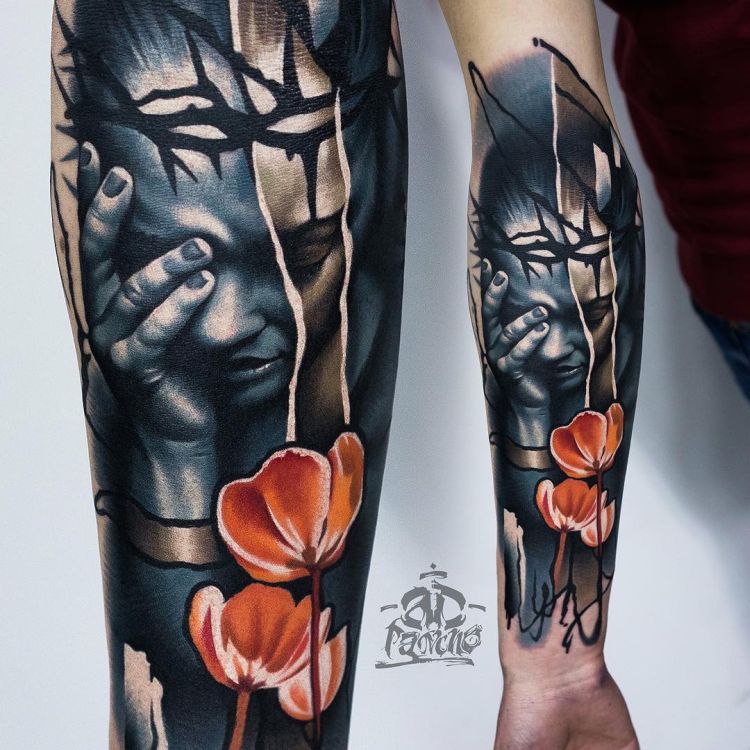 There was a time when tribal tattoos and barbed wire tattoos seemed to be on every arm. Believe it or not, there are still ways to make those elements look fresh and new. In this dramatic piece, a barbed crown tattoo indicates that the beauty in the portrait suffers while flowers speak to hope.
12. Graphic Black and White Tattoo of Gladiator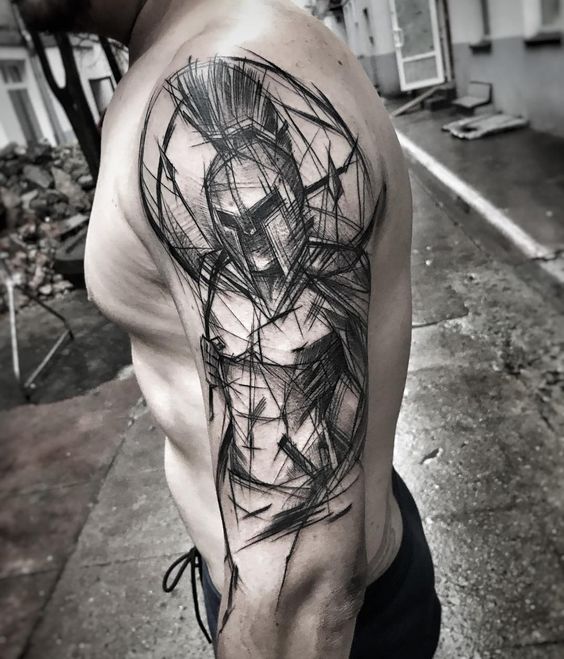 It's clear that the man that wears this tattoo cares about fitness. So it's no surprise that he went big with a gladiator on his ripped bicep. The sketching technique gives it a modern edge while the black-only color palette creates the boldest possible impression.
13. Glow in the Dark Alien Goddess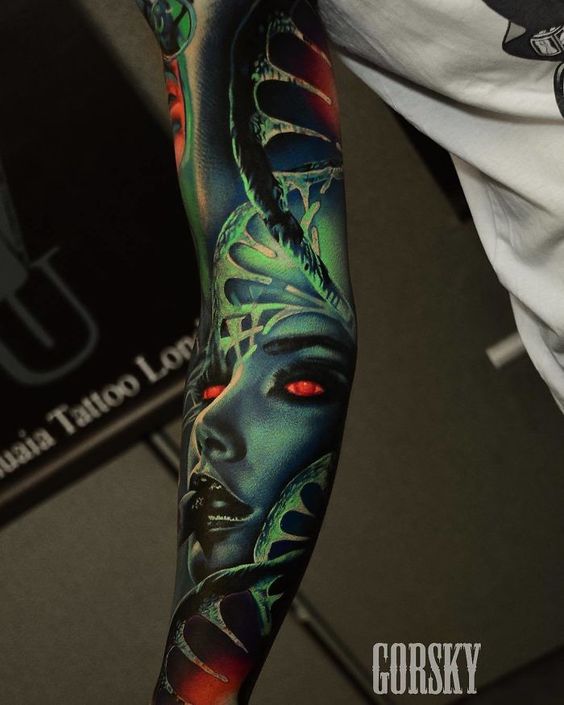 The newest and best tattoo designs are doing amazing things with color. Just look how a blacklight makes the green and red accents on this alien goddess really glow. Contrasting those fantastic colors with a hyper-realistic portrait only heightens the effect, which is sinister, otherworldly, and elegant all in one.
14. My Heart as My Compass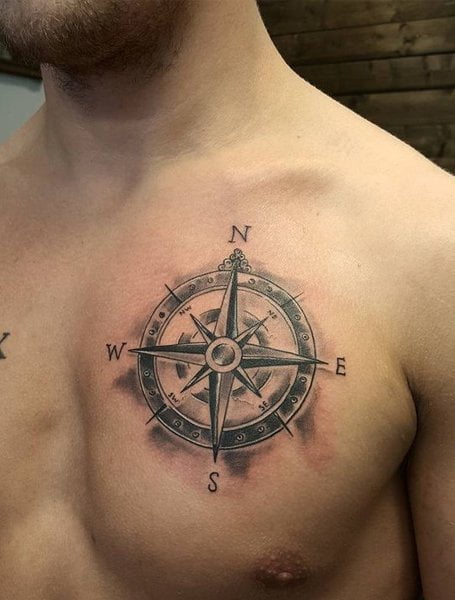 There is a lot of debate over whether you should lead with your head or with your heart. This man clearly has chosen the latter. A classic nautical compass covers the heart, giving a very literal interpretation of the popular figurative sentiment.
15. Hyper-Realistic Asian Pop Art Ink Skull Tattoo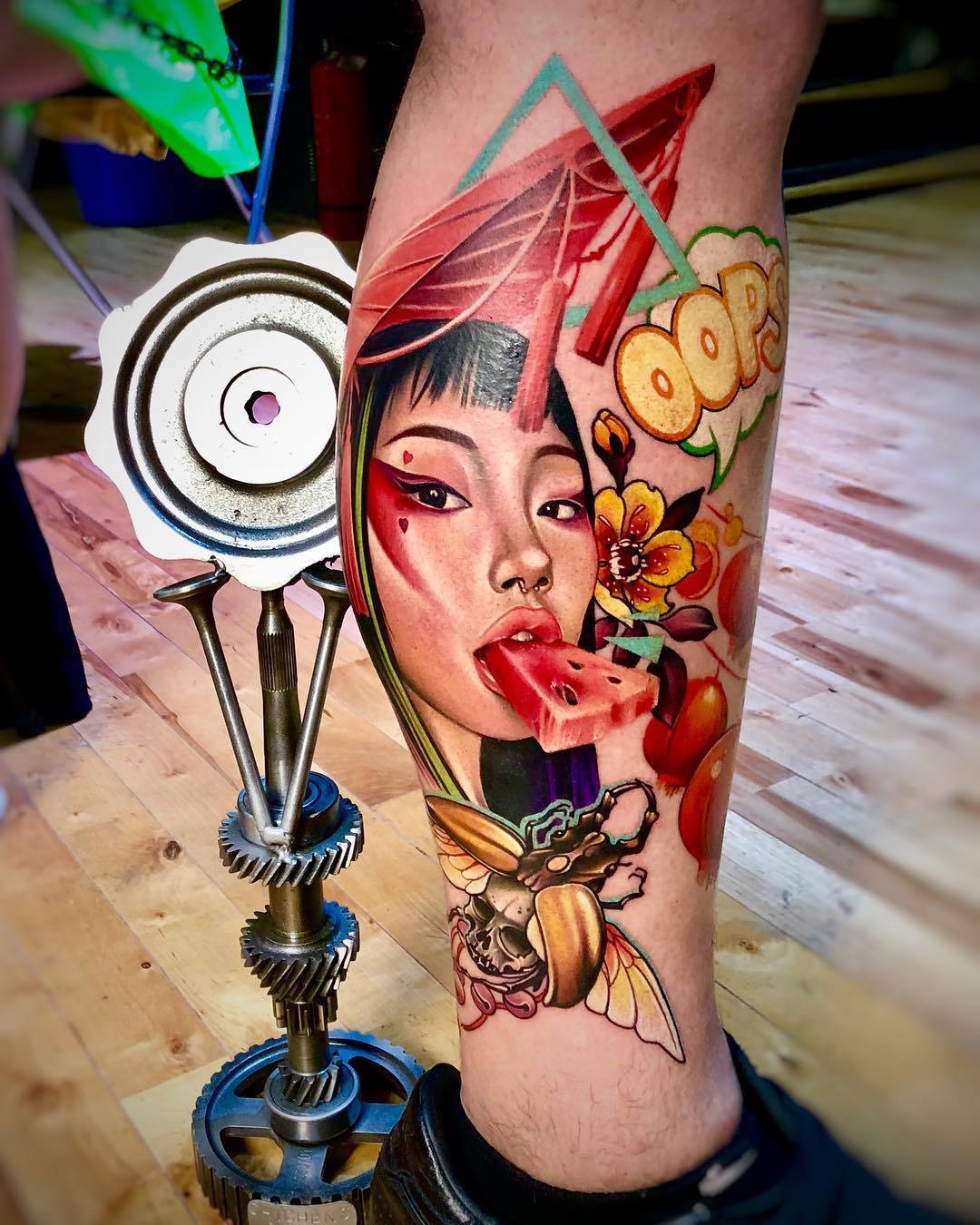 This collage proves that with the right design, you can make almost any combination of images and ideas look and feel cohesive. Front and center is a realistic Asian punk portrait. Underneath are a gothic revival scarab and skull. To the side is a traditional Japanese blossom. The classic pop art dialogue bubble offers contrast and levity.
16. Origami Lightbulb Storm and Splatter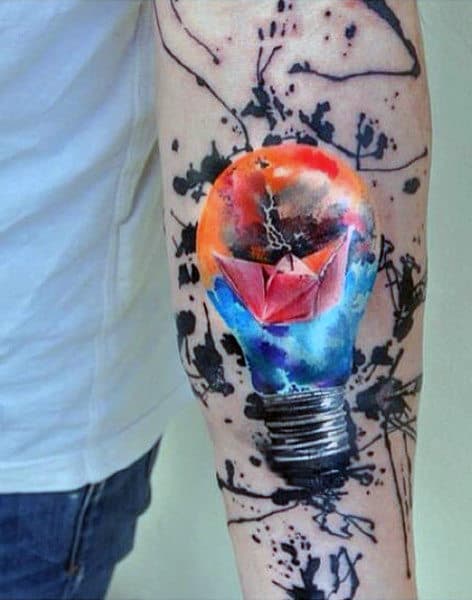 A lightbulb is used to signify a bright idea. Here, that symbol may reference its own tattoo self. While every aspect of the finished product is realistic in its rendering, swirls of color and contrasting concepts create an overall impression that is decidedly abstract.
17. Grayscale Astronaut Photorealistic Arm Tattoo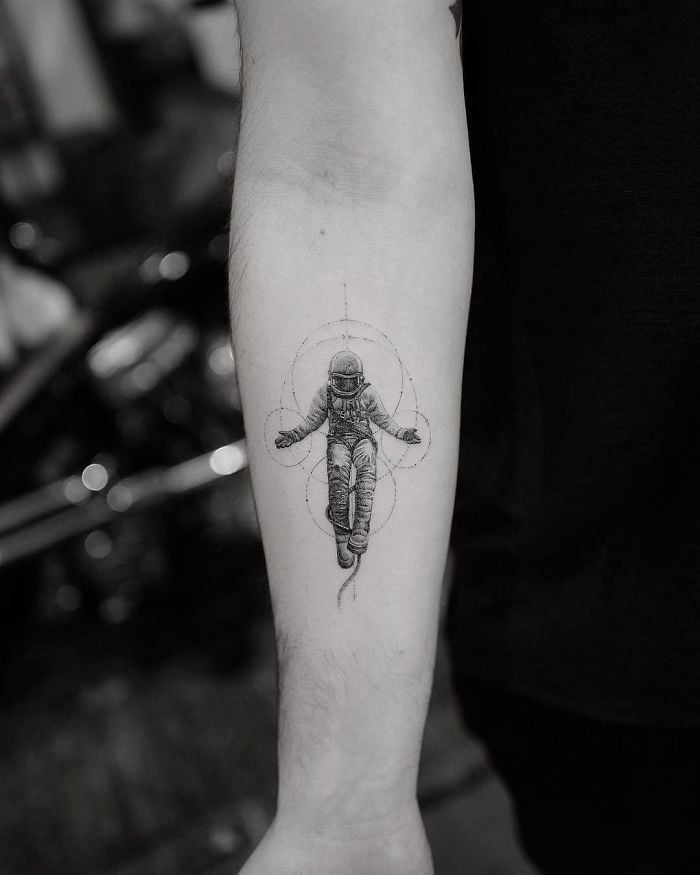 The inner arm provides a smooth, flat canvas that is great for showing off small to mid-sized tattoos of extreme skill. The grayscale astronaut is so well-drawn that he seems almost to float when positioned against the pale skin of its owner.
18. Fly Like an Eagle Shoulder Design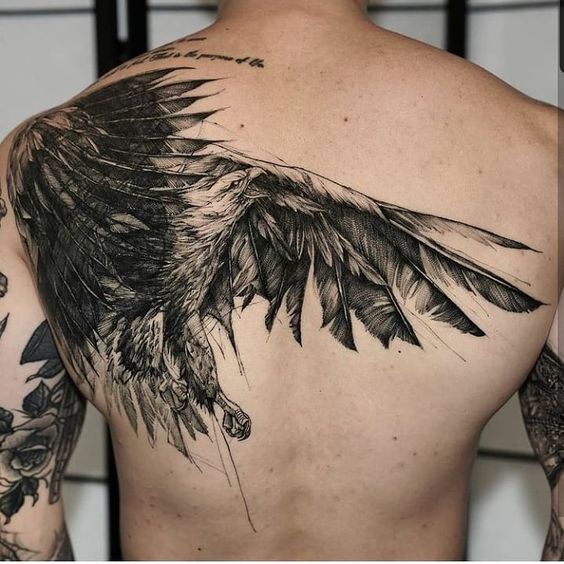 Few animals have the symbolic significance of the bald eagle, particularly if you are American. Native Americans also attributed great spiritual significance to these majestic birds. The eagle spreading across this person's back is a clear indication of strength but also doubles as a guardian.
19. Dark Fantasy Feathered Skeleton Angel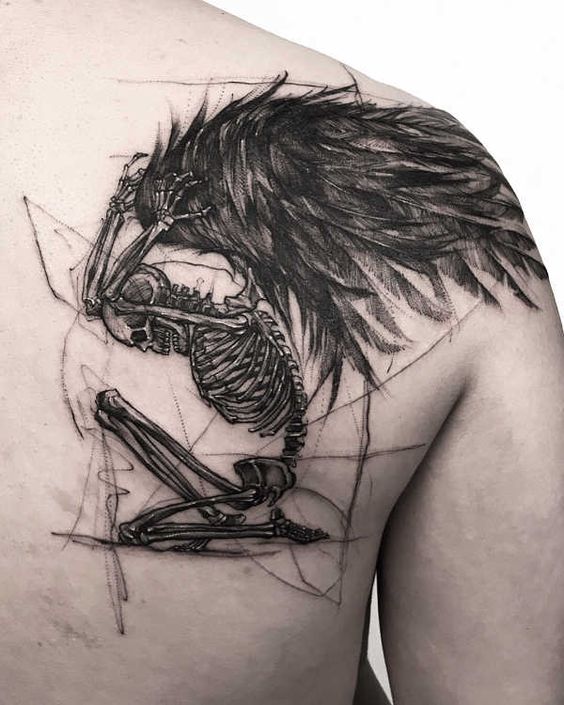 Skeletons and angels are not generally associated. But this design brings both together in a dramatic and unexpected way. Lush wings of dark feathers cover the shoulder. A skeleton kneels under the burden of his angelic nature. Sketch accents add interest and size.
20. Gas Mask Angel Girl Creation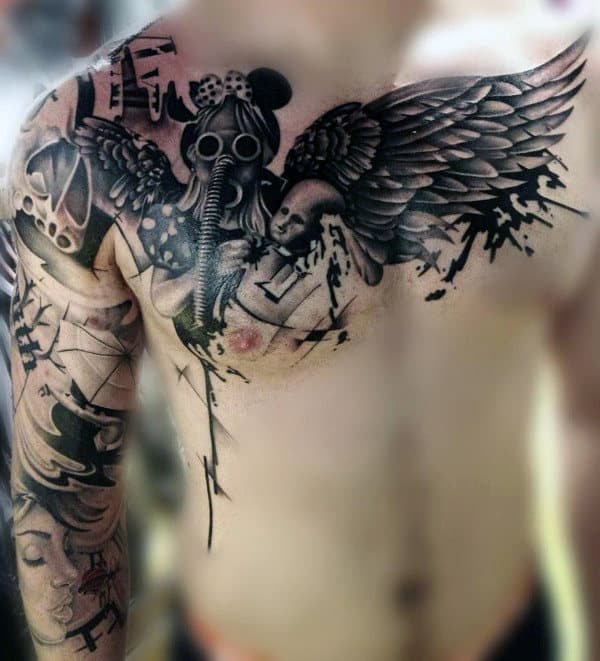 If you love everything creepy, then you can appreciate the dark brilliance of this original design. A little girl in a sweetly dotted dress and bow holds a doll. But a gas mask obscures her face, and dark wings speak to a demon hidden within her innocent visage.
21. A New Take on Neptune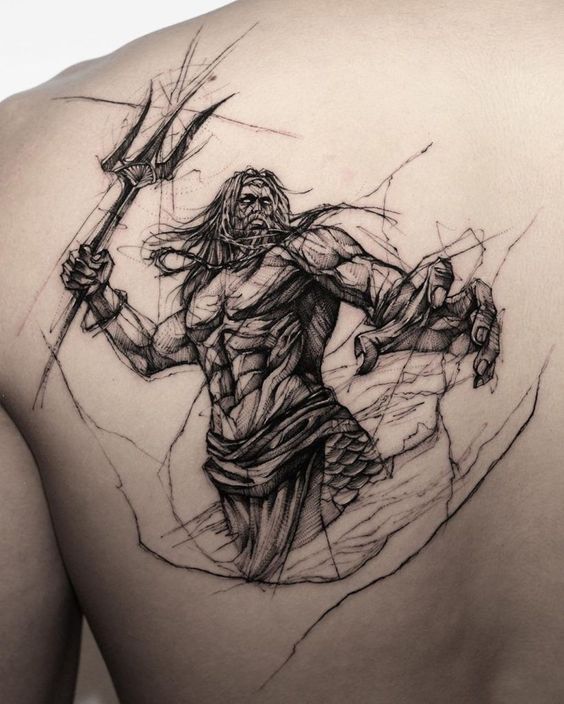 Neptune is the Roman god of the sea. His Greek counterpart is Poseidon. Like Aquaman and King Triton, these aquatic gods are often seen with a trident. While this tattoo depicts the god and his weapon in an illustrative style, the sketch lines are a far cry from the soft Disney palette you're used to.
22. Technicolor Full Chest Firebird Tattoo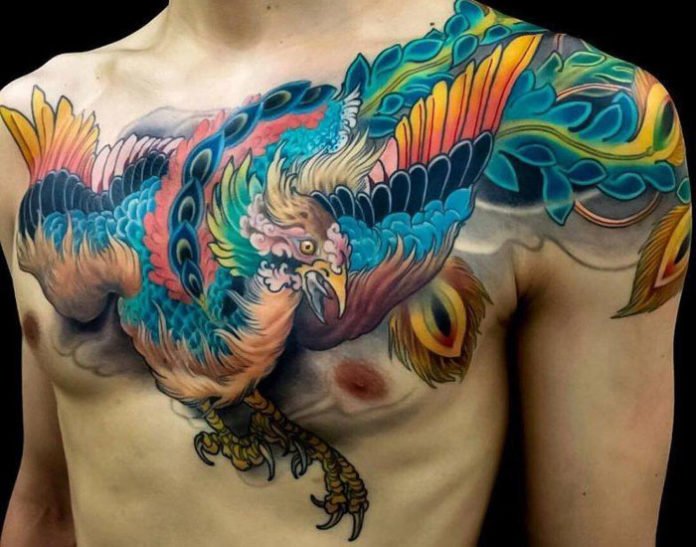 Firebirds are a popular design choice for chest coverage. The spread of their wings nicely fits the natural span of the human arms. That said, the creator of this design departed from the obvious by putting the bird's head off-center and wrapping the vividly colored wings around one shoulder.
23. Flames and Flowers Portrait Art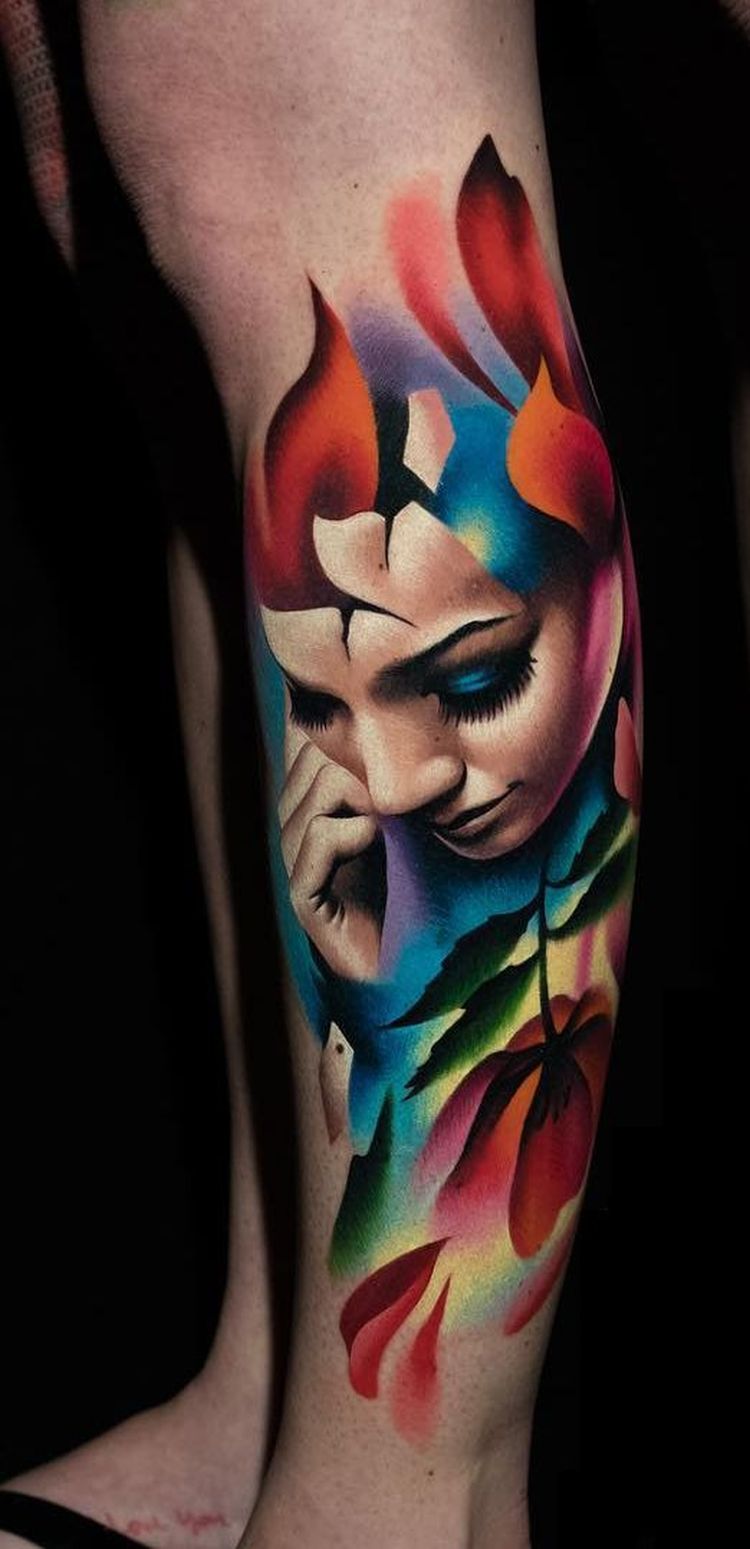 This elegant image juxtaposes blue fire with red flowers. The elements make a slightly unexpected but wholly effective pairing. A beautiful woman with downcast eyes cracks at the head like a vase as she struggles to contain the warring components.
24. Hear Me Roar Bear Art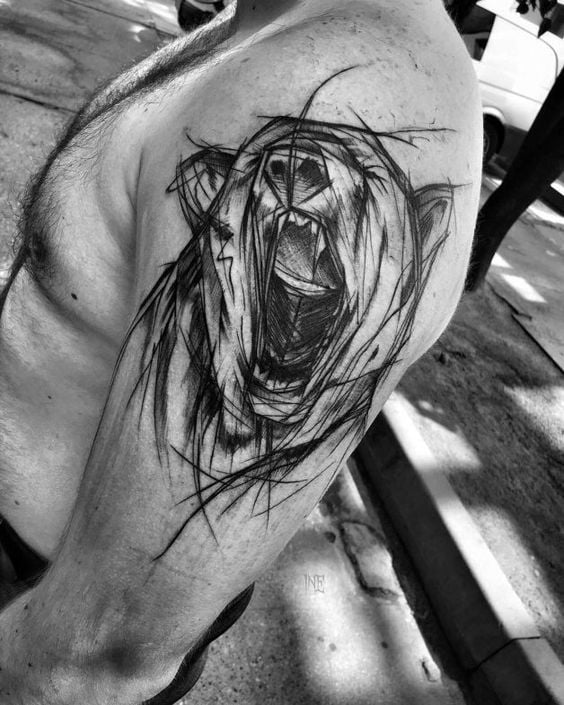 The gay community's definition of bear – a big, rugged man – has gained traction in the world at large. Clearly, the owner of this roaring bear tattoo possesses the size and power and expected of anyone that invokes the spirit of this mighty animal.
25. One Winged Guardian Angel Concept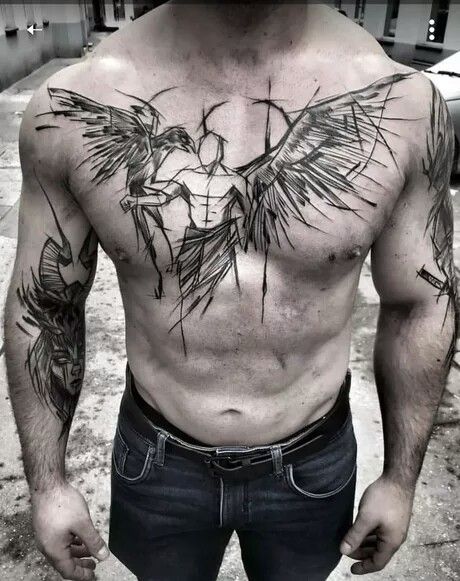 At first glance, your eyes tell you that this tattoo depicts a guardian angel. And your first impression is at least partially correct. But a second look reveals that one wing is actually a falcon perching on the angel's arm and preparing to take flight.
26. Cyberpunk Meets Anime Dream Machine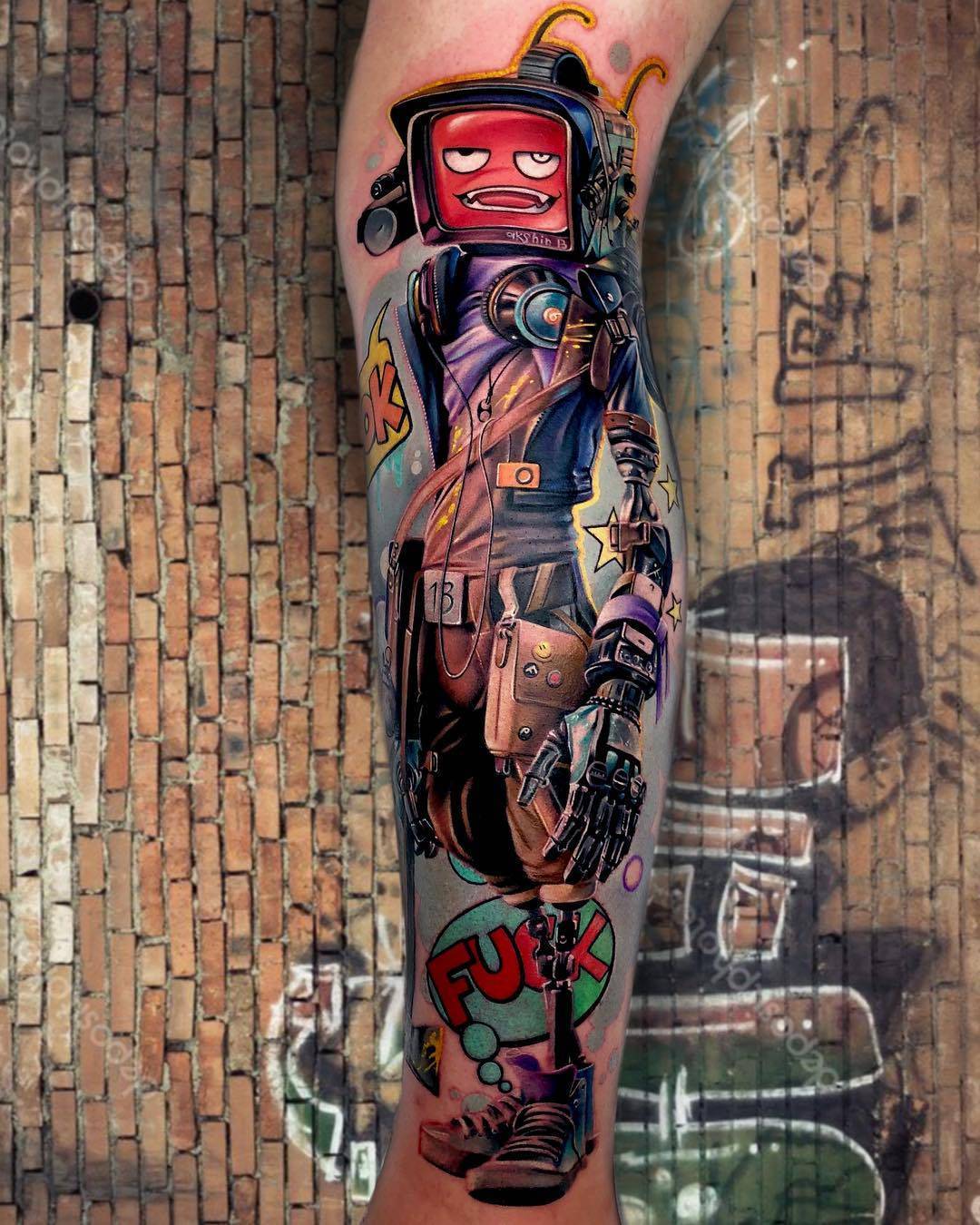 This original character is so magnificently imagined, drawn, and shaded that it looks like it could jump off its owner's arm. Every clever detail tells a story. It's an inspiring marriage of the dystopian cyberpunk genre and classic comic book and anime humor.
27. An Angel to Honor Sobriety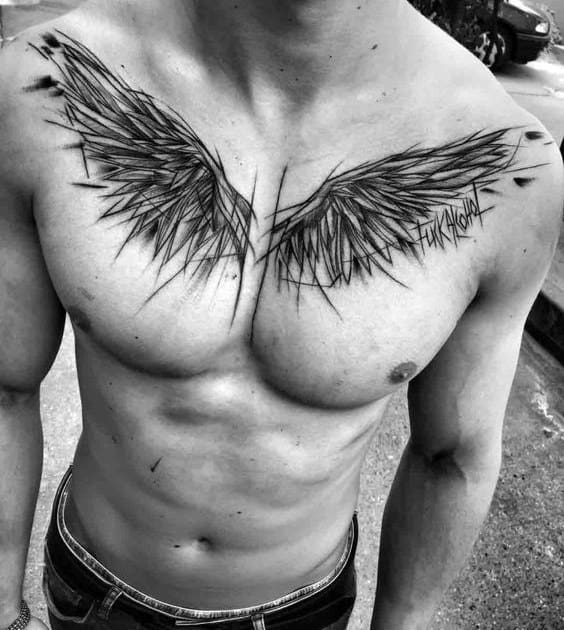 Because human anatomy most closely resembles that of a bird or angel across the chest and back, wings are most often placed on these big skin spreads. What makes this ruffled black pair distinctive is the edgy message hidden in the feathers. At one edge, the wearer honors their sobriety by declaring "F*** Alcohol."
28. Level Up Your Tattoo Game
If you're a video game super fan, then you can see the appeal of this amped-up, animated, game-inspired ink. While the motifs are decidedly vintage, the color scheme is futuristic in its shocking luminescence. The wrist says, "Level Up," while the forearm says, "Game Over." A pretty Player 1 cries cartoon blue tears.
29. Jackson Pollock Inspired Portrait Ink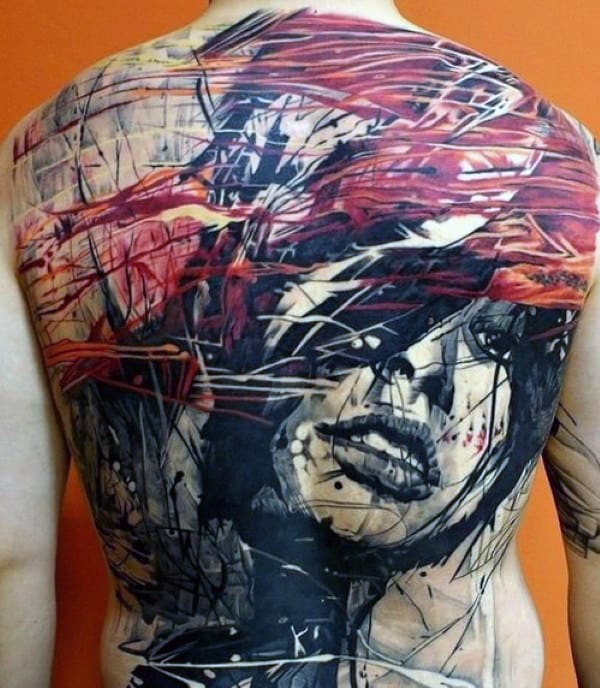 Jackson Pollock is legendary for his pioneering splatter paint technique. This epic back tat draws on that technique. A grayscale emo portrait covers have the back and draw the eye with sheer skill. Meanwhile, long biomorphic strings and slashes breathe fire and life into the finished piece.
30. The Magic and Majesty of a Firebird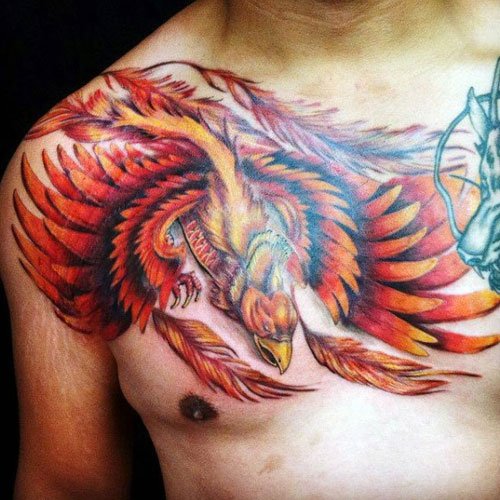 Few know that firebirds exist outside mythology. Just like this illustration, the real-life firebird displays blazing red and orange plumage. This design plays on both the real and perceived qualities of the iconic bird by having it drop a couple of its supposedly life-renewing feathers.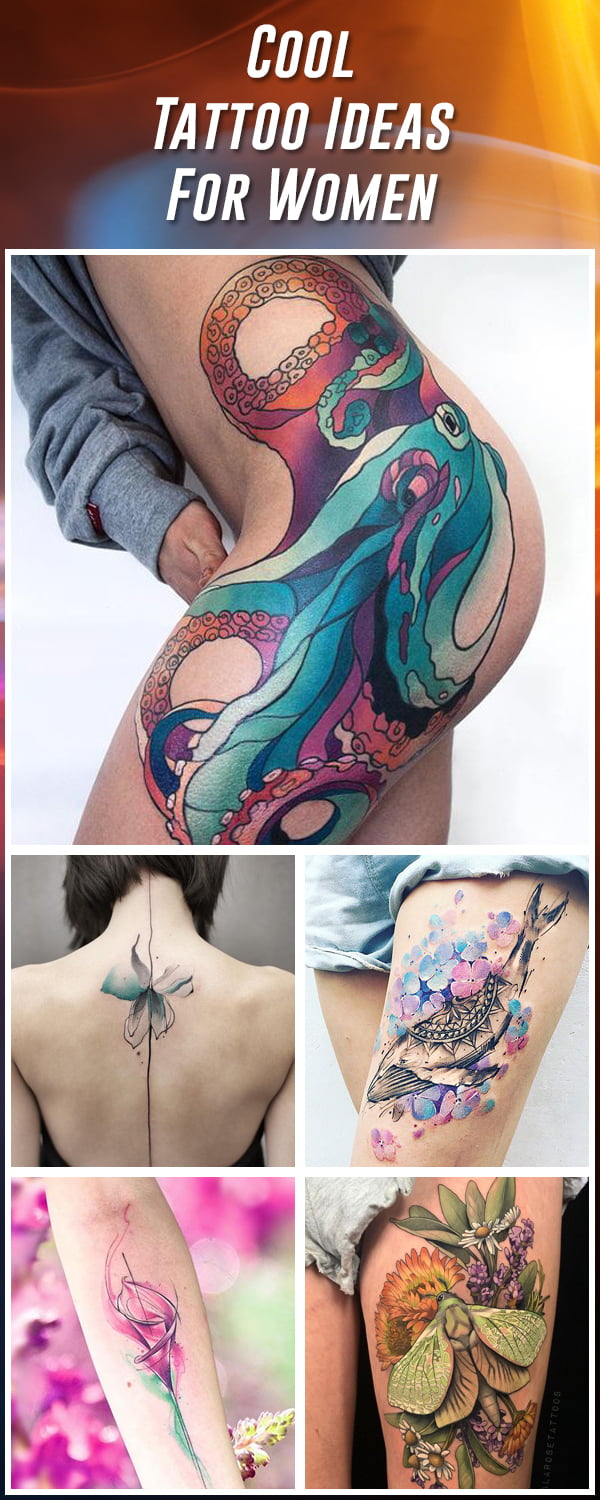 31. Painterly Retro Inspired Astronaut Illustration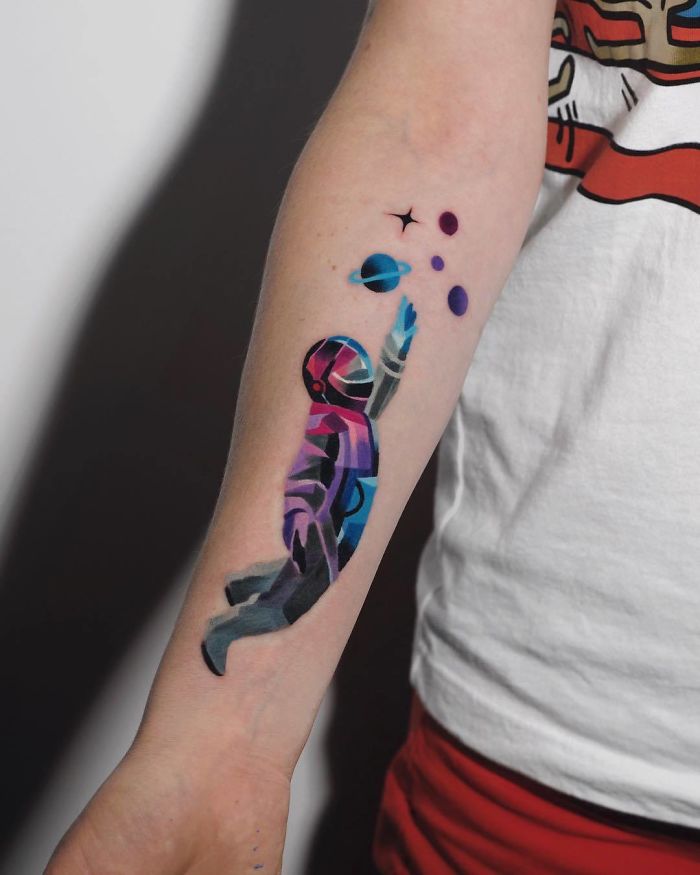 The world has been fascinated with astronauts since they first walked on the moon. This tattoo toes the line between scientific curiosity and pop culture fandom with a callback to the famous MTV astronaut. Rich purple, pink and blue hues and a cheeky play on proportion keep the look fun and fresh.
32. Seasons of Stags Fantasy Tat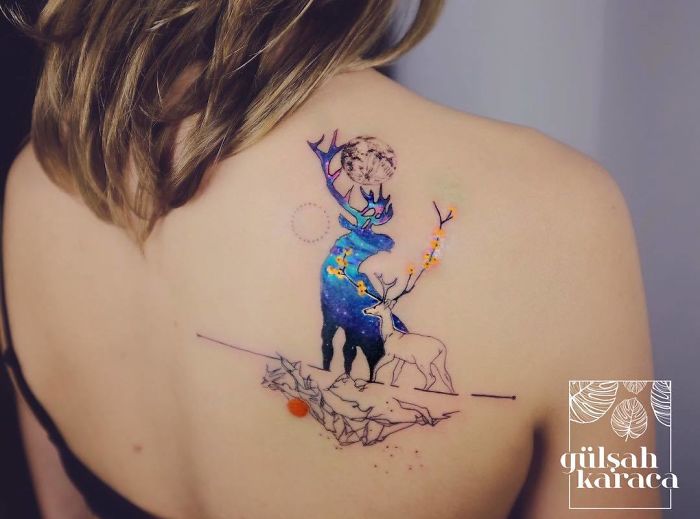 Stags appear in many different world mythologies. They are perhaps even more popular in modern fantasy. Here, the smaller stag's blossoming antlers represent life's seasons. The larger stag supports the very moon and stars. Together they are a whimsical representation of the fine balance of our world.
33. A Stylized Sketch Style Calla Lily Simple Tattoo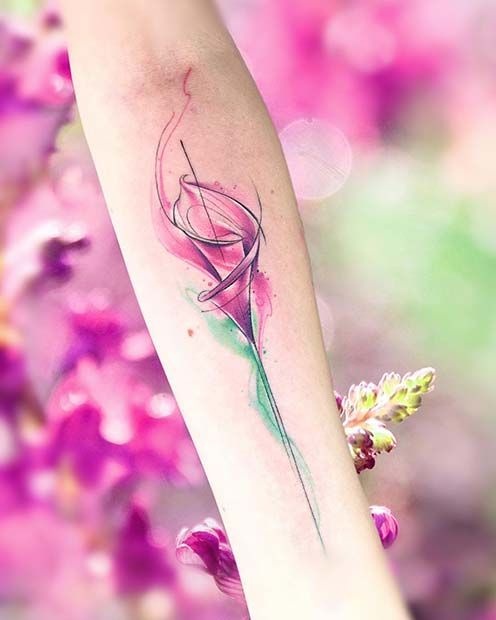 In an effort to keep inked florals looking fresh, women are getting more exotic in their tattoo flower selections. The fluted form of a calla lily is unmistakable. More often seen in yellow and white, this pink bloom conveys an overtly feminine tone. The simple line style of this tattoo for girls prevents the piece from looking too precious.
34. Embrace Your Stretch Marks with Floral Art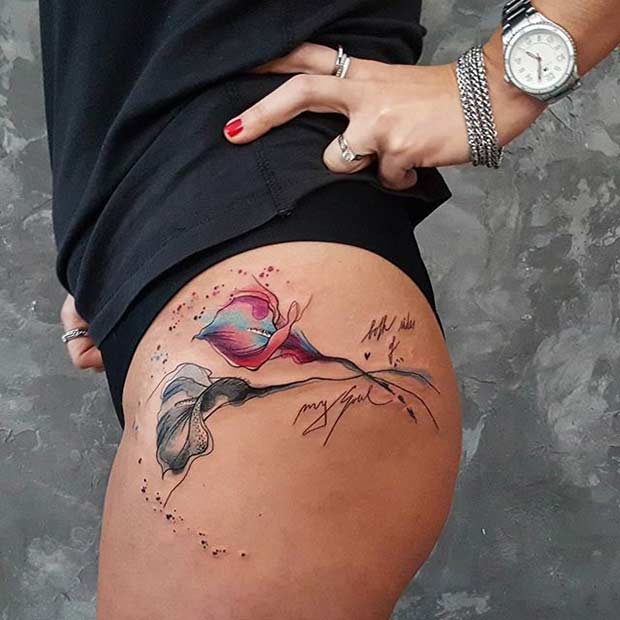 Increasingly, women are embracing their bodies' flaws. That means flaunting all your curves, and even your stretch marks. A voluptuous pair of calla lilies make the perfect complement to vavoom hips. An arc of splatter paint helps to blend the design into scars and stretch marks.
35. Peonies Surreal You Can Practically Smell Them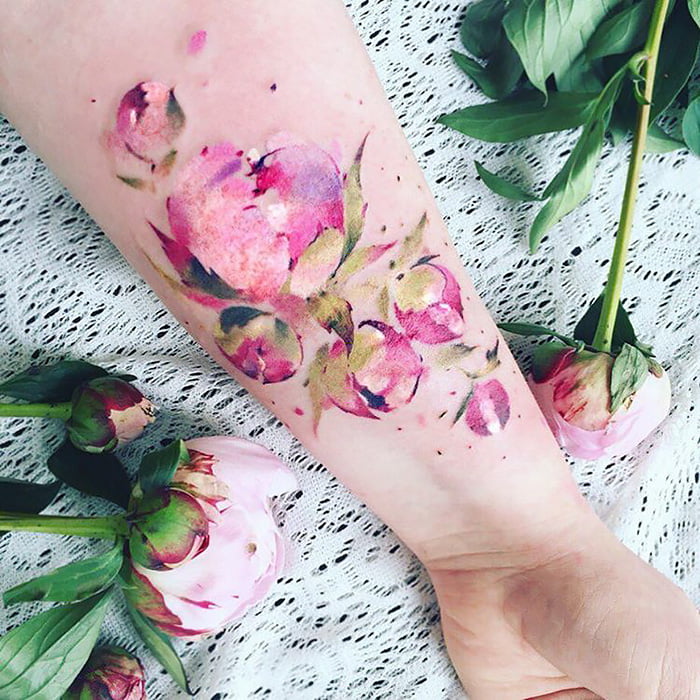 The lusciously layered petals of a peony make it a challenging flower to draw. But when the design is done right, it's pure magic. Take this amazing pink interpretation as proof. The ruffled green leaves and blush to violet petals look almost surreal as a scattered forearm tattoo arrangement.
36. Red Riding Hood and the Wolf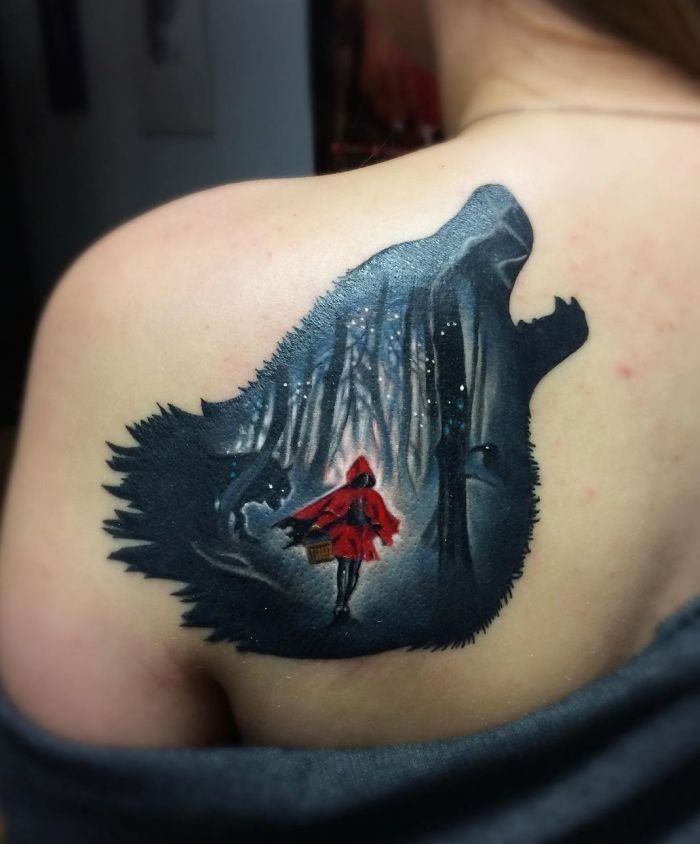 Fairytale retellings have been very popular in the last few years. Many women are drawn to the idea of a Red Riding Hood that is more dangerous than the wolf. Here, a howling wolf silhouette serves as the setting of Red's fabled walk through the dark, star-scattered woods.
37. A Picture Perfect Moth Botanical Tattoos for Men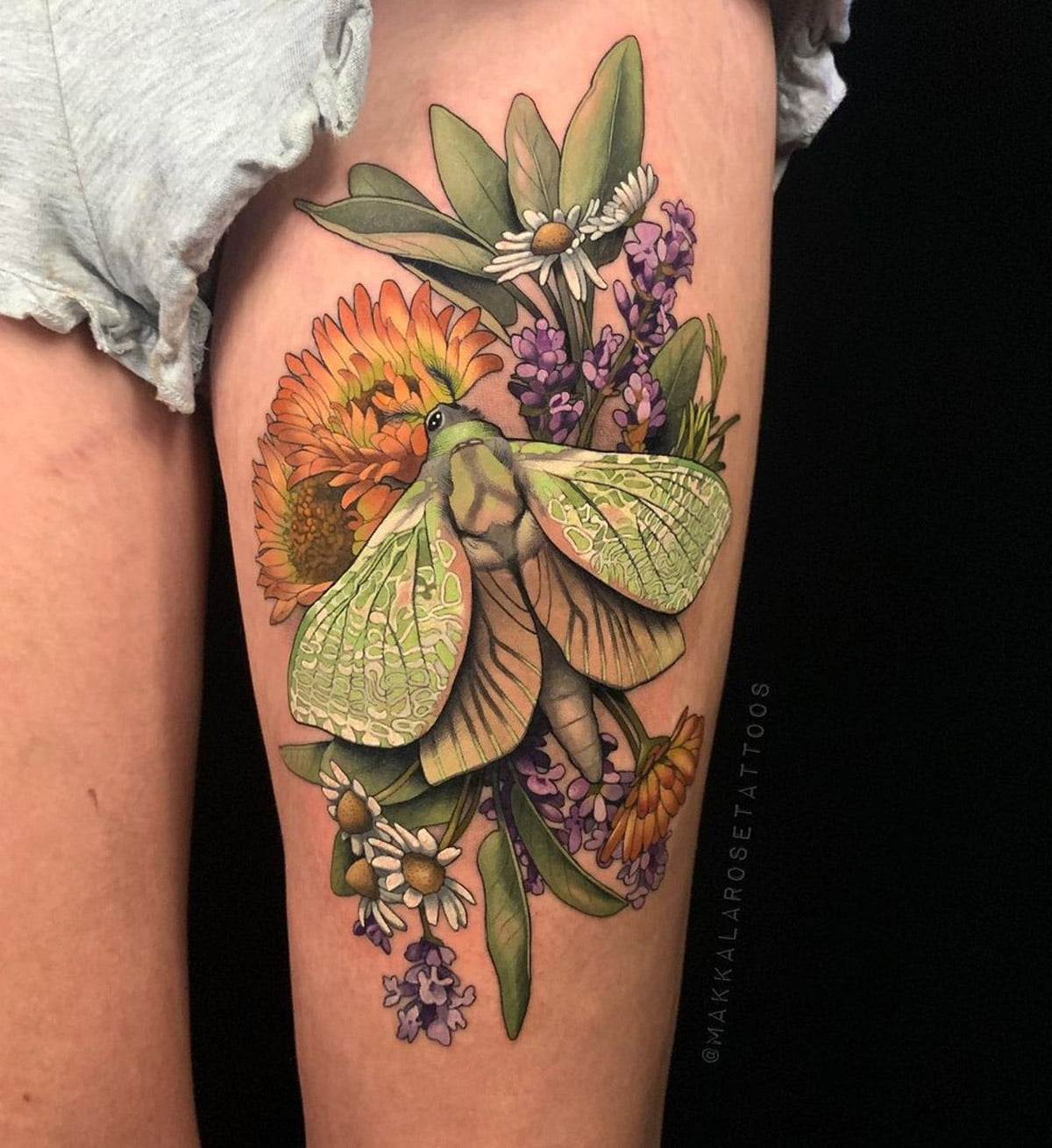 Butterflies are a staple of classic tattoo art. But the understated elegance of moths is quickly gaining traction. This lacy green wonder looks especially lovely perched on a bouquet of wildflowers. The proportions are realistic, but the lines are softened for maximum romance.
38. Transform A Simple Storm with Blacklight Effects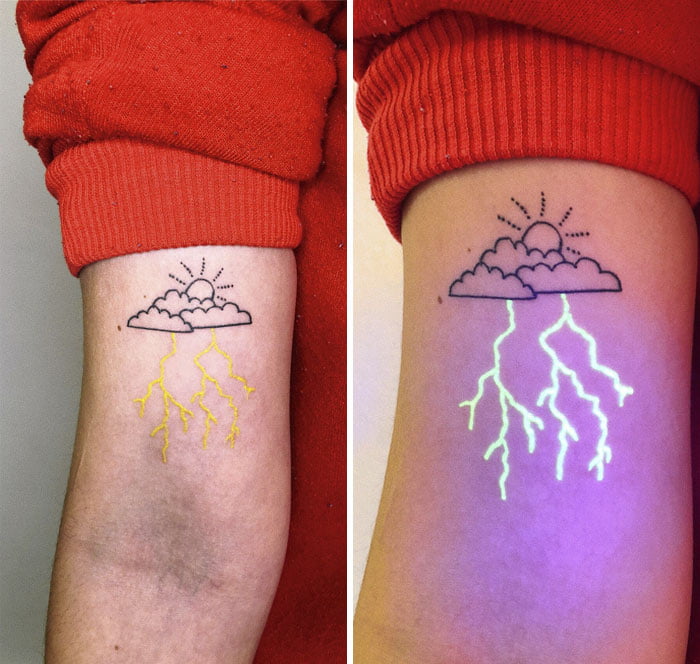 This clever storm tattoo packs an unexpected surprise. In its everyday form, it appears a sun and clouds. The lightning is intentionally faint. Turn on a black light, and the lightning comes alive with neon angles that surprise the eye in their realism. Cloud tattoos have never looked better!
39. Rose Tattoo Idea: A Landscape Framed in Flowers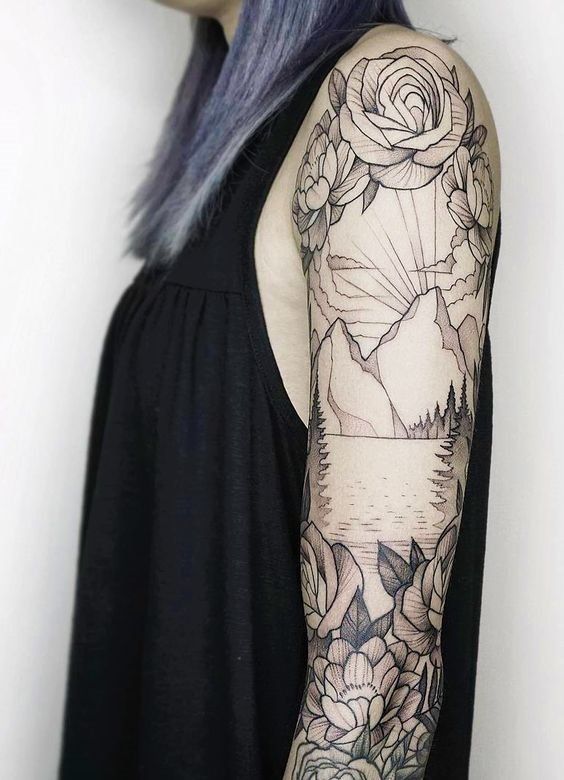 Not all half sleeve tattoos have to be busy in their design or garish in their coloration. This whole arm concept puts a placid mountain lake scene at its center. The grayscale palette mirrors that sense of quiet. Underneath and above, clusters of roses get high contrast on fair skin.
40. Asian Splendor with Firebird and Florals Tattoos for Men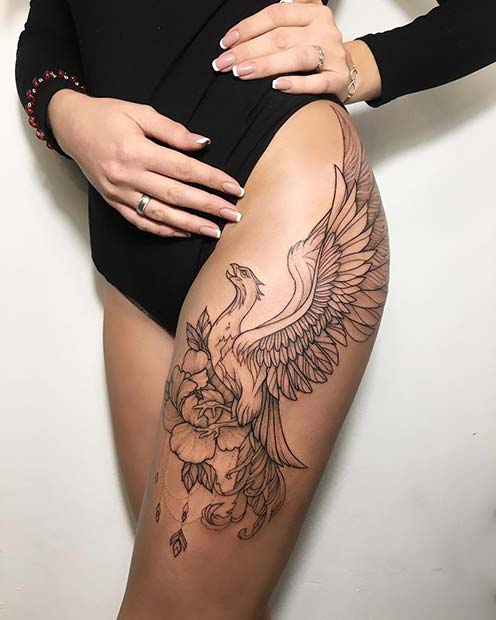 The firebird is a mythical creature of great importance in Eastern religions. This firebird spreads its magnificent wings all the way up to its bearer's thigh. A large mum adds depth to the Asian aesthetic. Draped feathers and beads are the final, extravagant fantasy touch. Jesus cross tattoos work just as well with this style.
41. Blooming Abstract Under Rib Flowers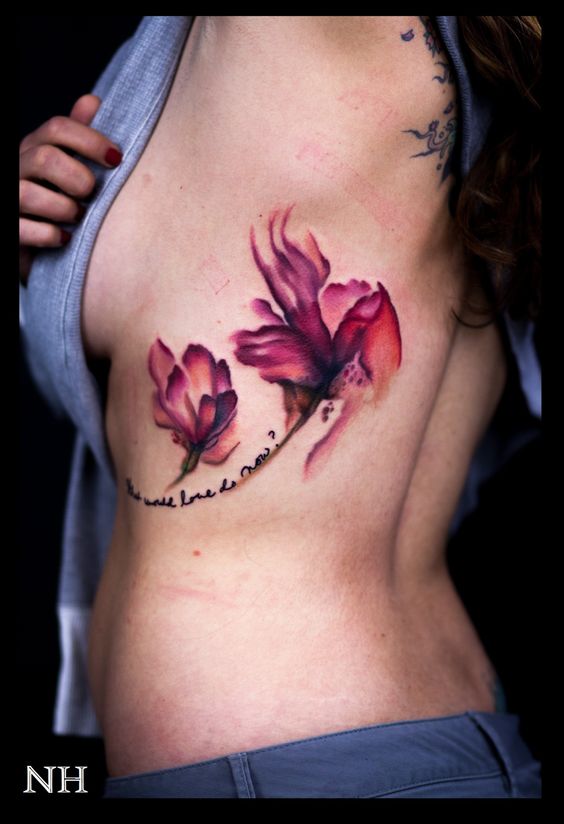 Sometimes the best way to make sure your tattoo is original is to invent something entirely new. These incredible, fiery flowers incorporate traits of several popular blooms but are a species all their own. Deep, dark shades of violet and plum seem to echo the edgy sentiment of the words, "What will love do now?"
42. Mixed Element Magic Back Tattoos for Men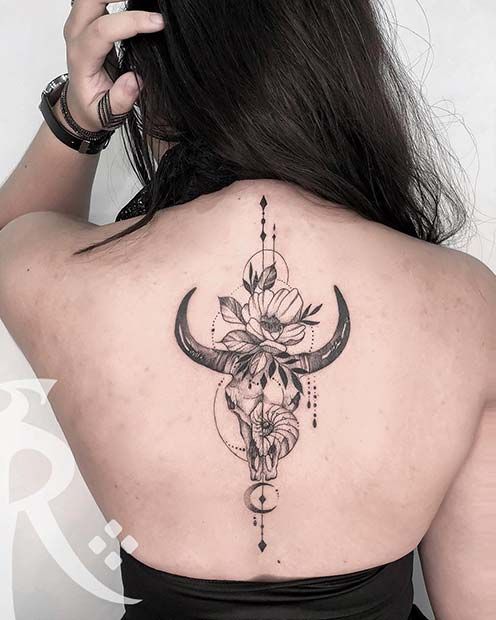 It takes a lot of skill to pull off both symmetry and asymmetry in the same tattoo. Symmetry serves the central cow skull well, while asymmetry adds interest with the odd dangling beads. A blossoming flower juxtaposes life with death. A spiraling nautilus takes this the final step into the fantasy realm.
43. Love Tattoo for Cats that Always Land on Their Feet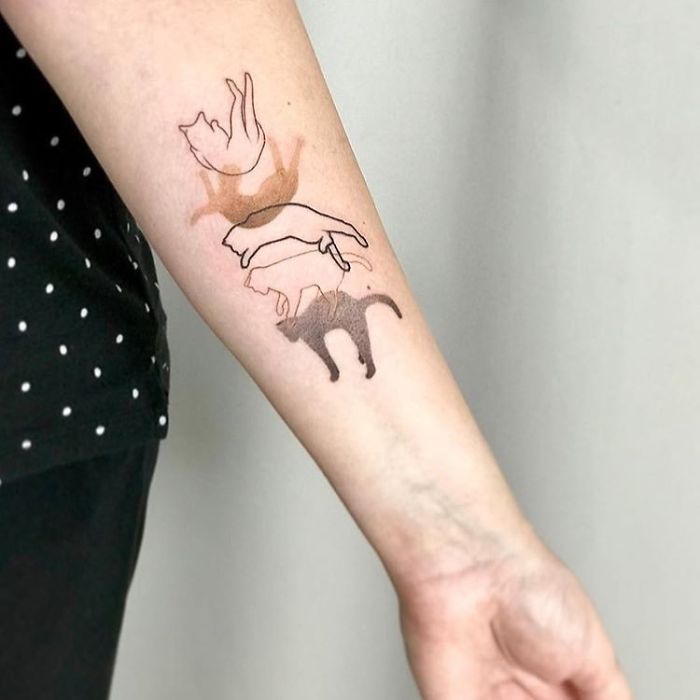 Cat lovers rejoice. Honoring your favorite feline no longer means enduring a bad portrait. This sophisticated foot tattoo design portrays a series of cats in various stages of falling. True to their famous righting reflex, the last cat becomes solid just before landing on its feet.
44. Rocky Mountain High Landscape Sleeve Tattoo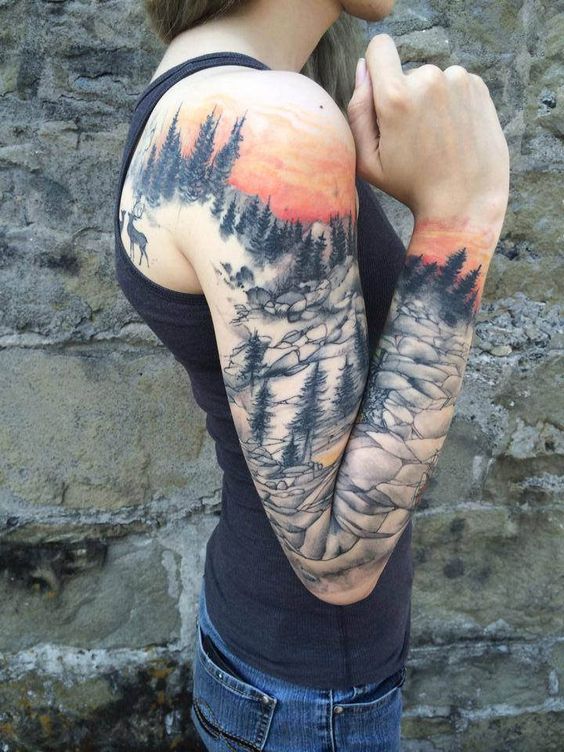 John Denver famously sang about the "Rocky Mountain High." This breathtaking sleeve perfectly captures the wonders of that unforgiving landscape. Realistic rock formations spread across the majority of the arm. A "fire in the sky" orange sunrise peeks between pines on the wrist and shoulder.
45. A Surprisingly Sultry Hip Octopus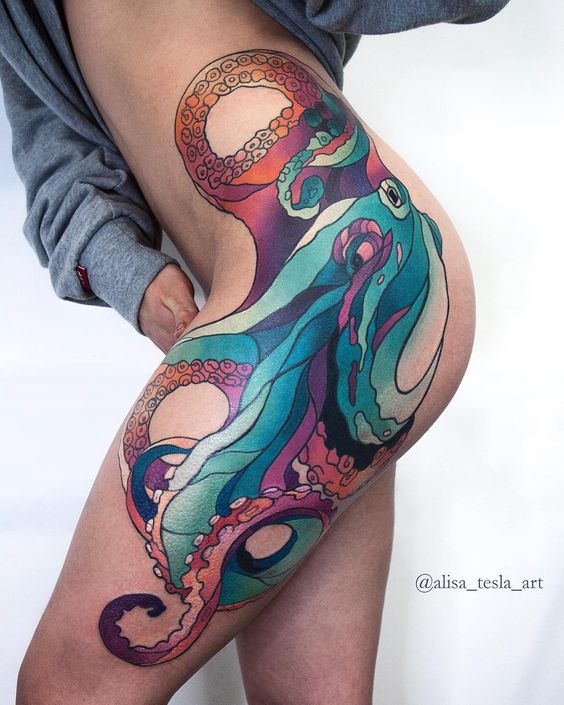 When you think sexy, an octopus probably isn't the first thing that comes to mind. This sultry octopus is here to change that perception. Sinuous tentacles follow the natural line of the leg. Wise eyes peer over a shapely hip. A jewel-tone palette keeps the overall impression sophisticated.
46. A Single Spine Tracing Stem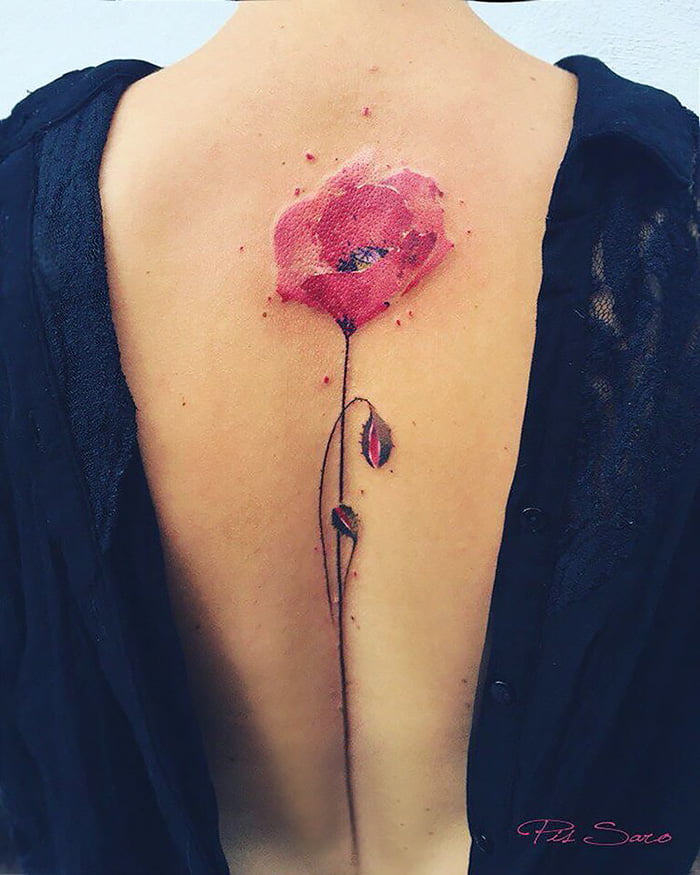 Few things are as elegant as a single, perfect flower. This tattoo takes that concept to the next level by fitting the stem of the said flower into the line of a woman's back. A lush, watercolor explosion of pink draws the eye upward while asymmetrical buds at interest at the center.
47. Epic Tattoo Tale of Good and Evil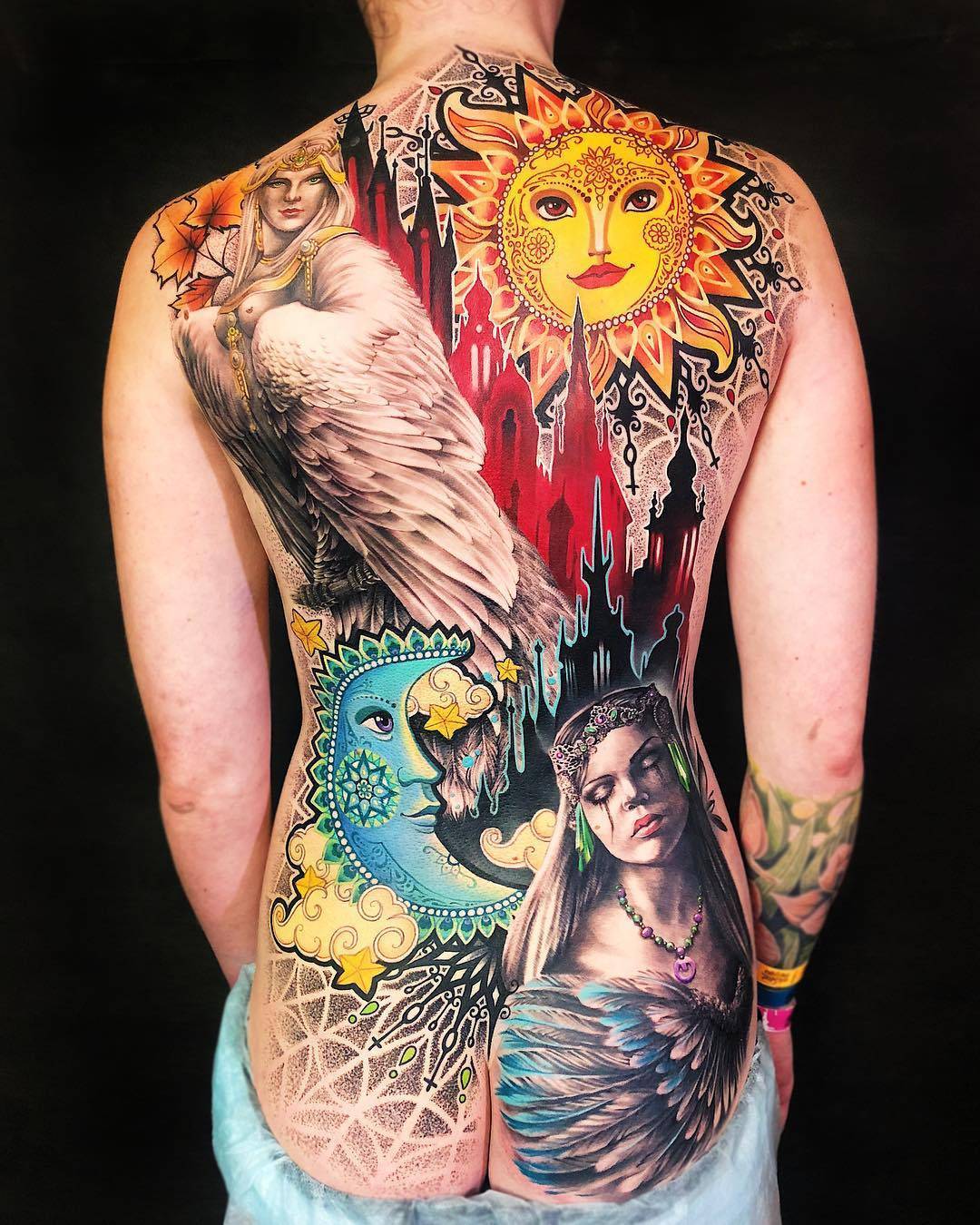 If good tattoos tell a story, then this tattoo is the very best. Its mixed signals represent the struggle between good and evil. A valkyrie guards a shoulder while a dark angel pouts at the hip. The sun rises triumphant on the other shoulder, but a resolute blue moon hints of another battle on the horizon.
48. Follow the Flower All the Way Down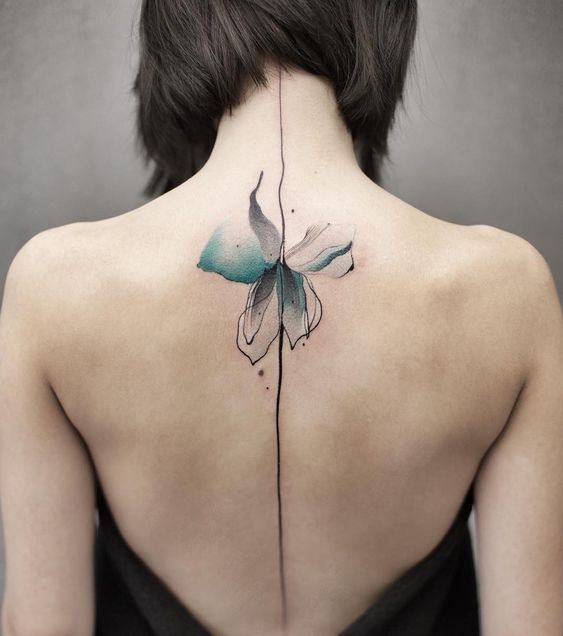 Many shows and movies have played on the sexiness of slowly releasing a zipper. This flower tattoo borrows on that tease by running a line from the woman's neck to her bottom. A floating turquoise and black flower take the neck tattoo design from simple to sublime.
49. It's Such a Perfect Day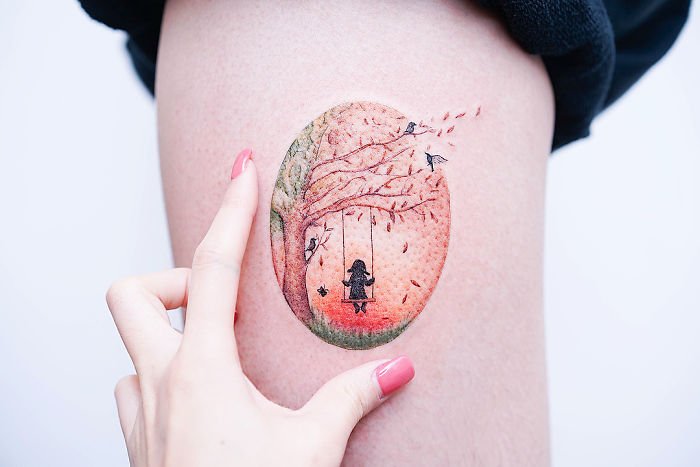 A near-perfect oval frames an idyllic childhood scene. While this design is small in size, it packs a lot of feeling. A child swings toward a sunset. A butterfly floats over the meadow. Birds flutter at the edge of the oval which is broken by a gentle breeze.
50. Vintage Elegance with Sepia Shades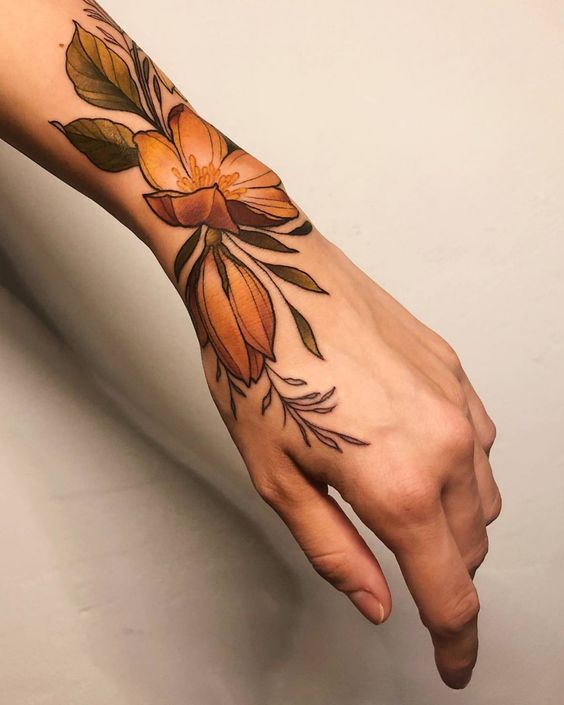 A golden cast gives this sepia-toned floral design a decidedly vintage look. One blossom is closed. The other is not yet fully opened, reflecting the overall restraint of the concept. Leaves and buds spread from the forearm to the line of the thumb, mirroring the placement of a corsage.
51. Abstract Smoke Streamer Shoulder Tattoo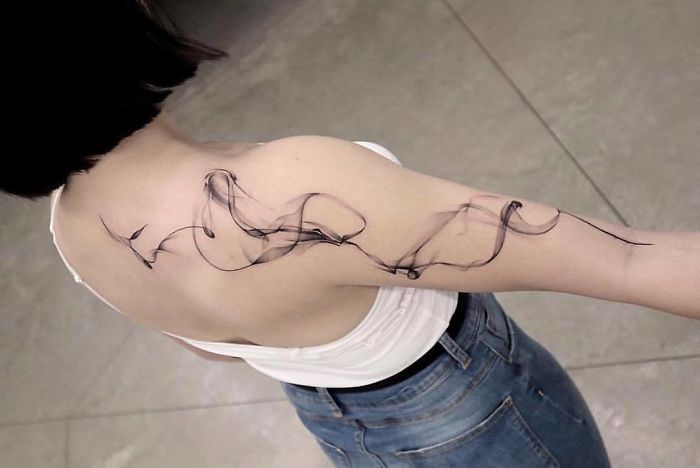 Humans have been fascinated by smoke since the beginning of time. Some of old Hollywood's most elegant personalities are associated with a slow, pouting puff of smoke. This tattoo captures the mystery and magic of smoke by following a mischievous tendril from mid-back to inner arm.
52. Buds and Blooms Inner Arm Art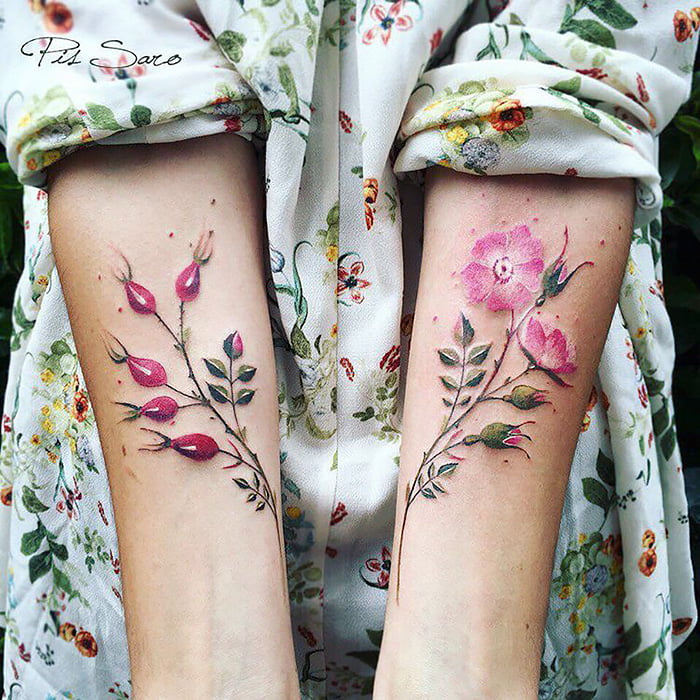 Two similar botanical designs make a beautiful statement on inner arms. Side by side, it is easy to see both their similarities and their distinct differences. One design is entirely spring buds. The other features a full bloom and the promise of summer.
53. Gorgeous Gothic Grayscale Dragon Design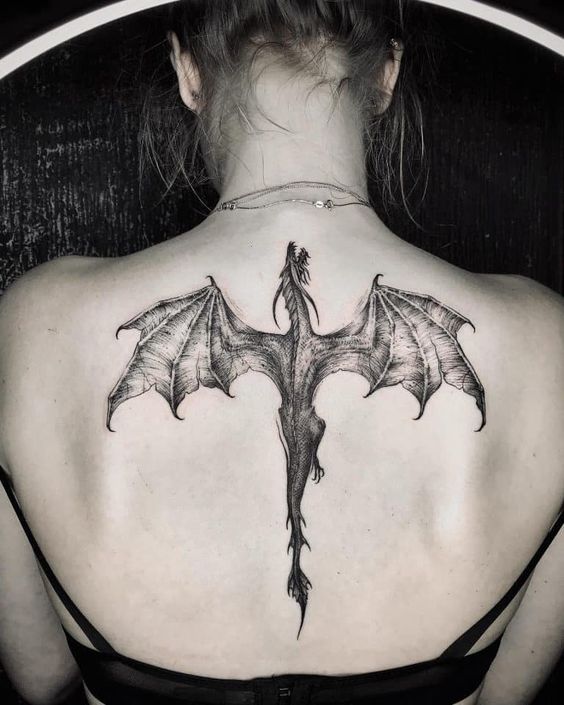 You'll feel like the mother of dragons when you let a dark beast spread its wings across your back. This realistically rendered dragon tattoo looks like something out of an ancient legend. The mouth is open in anticipation of fire. The tail trails seductively down the back.
54. Sun and Stars Fox Fantasy Idea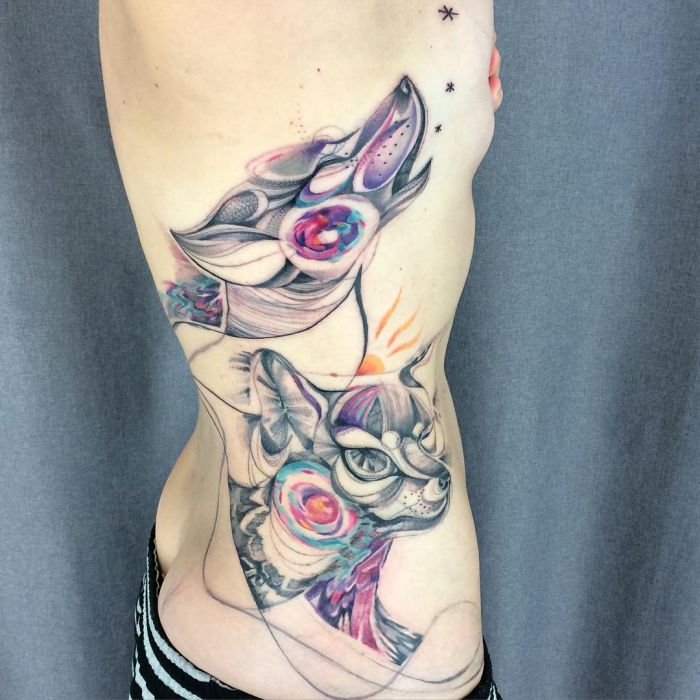 The quick and clever fox has captured the imaginations of many fantasy fans. These enchanted pair feature faceted eyes and jewel-tone cheeks. One howl at an unseen moon. The other blinks with contentment beneath a rising sun.
55. Enchanted Whale in an Ocean of Flowers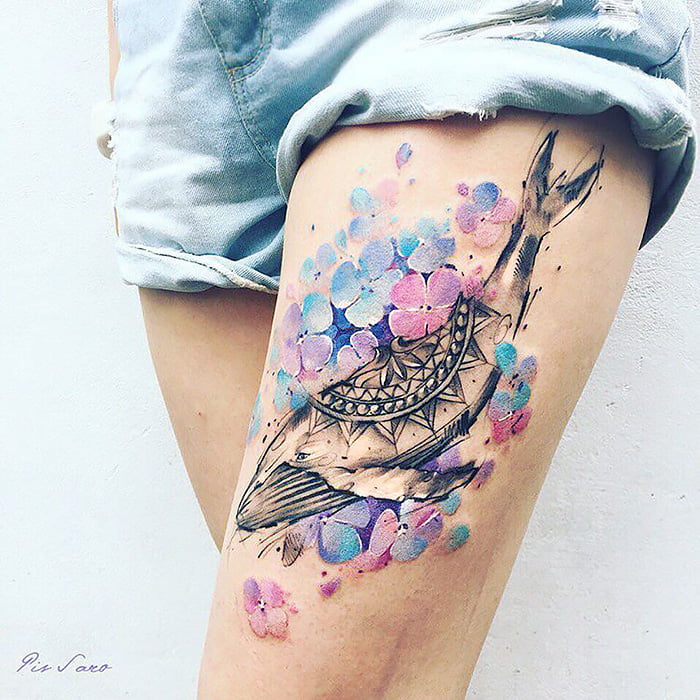 A powerful symbol covers the back of a wise old whale. The largest mammal in the world swims serenely through an ocean of delicate flowers. Bold black lines emphasize the whale's significance. Soft pink, purple and blue hues make the creature's passage feel more wistful.
56. Plant Life as We Know It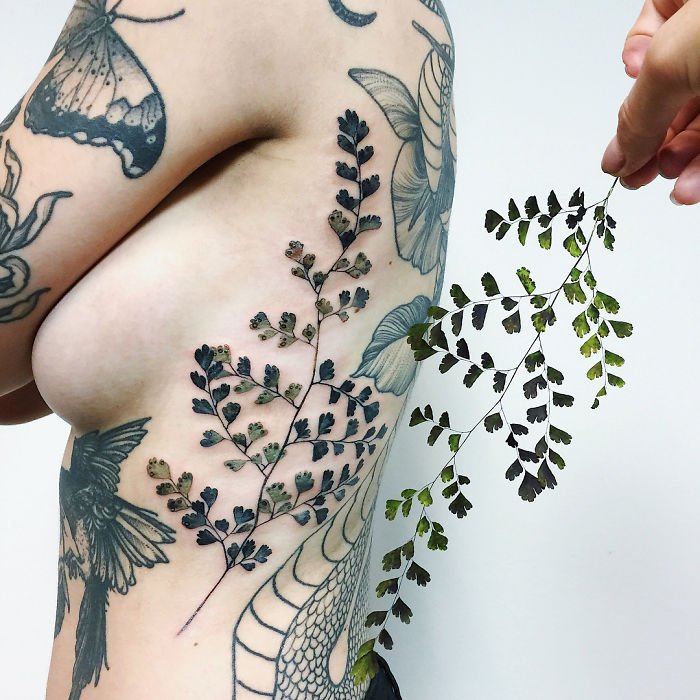 If you love antique botanical prints, then let this amazing fern tattoo be your standard for execution. A real frond is dangled beside the design to demonstrate its accuracy. If anything, the meticulously layered green inks convey more warmth on the skin than the real leaves.
57. A Redheaded Art Nouveau Enchantress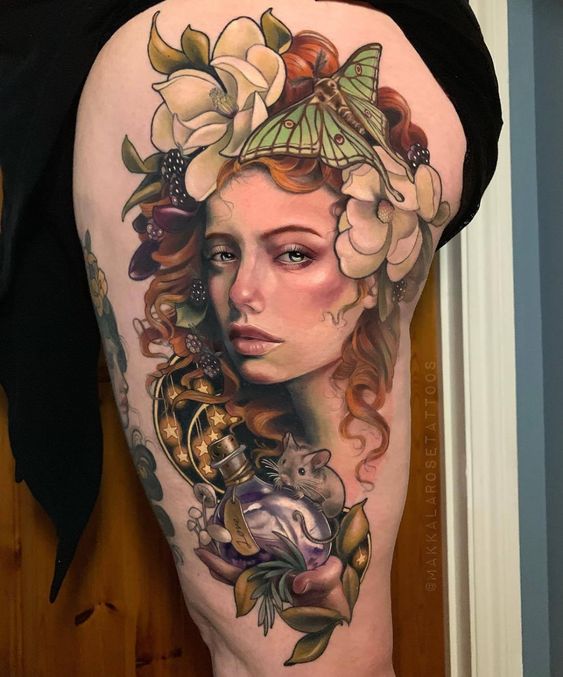 Dramatic portraits like this one were first popularized by artists like Alphonse Mucha during the Art Nouveau era. Inking such designs on real skin gives them more warmth and depth. Glossy blackberries look good enough to eat. A wire-wound bottle and dangling stars give a subtle nod to the occult.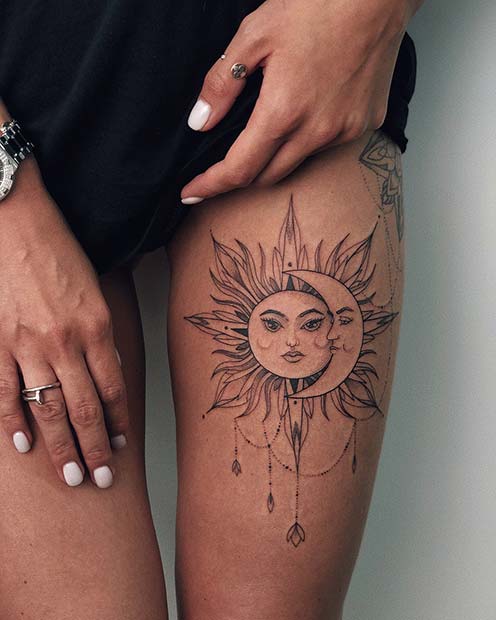 The sun and moon are perennially popular tattoo designs, both alone and together. In this stunning pairing, the sun exudes exotic femininity. It faces the world full-on with a burst of fiery rays. The masculine moon is more discrete, hugging the moon with a sultry smile.
59. A Jellyfish of Pearls and Petals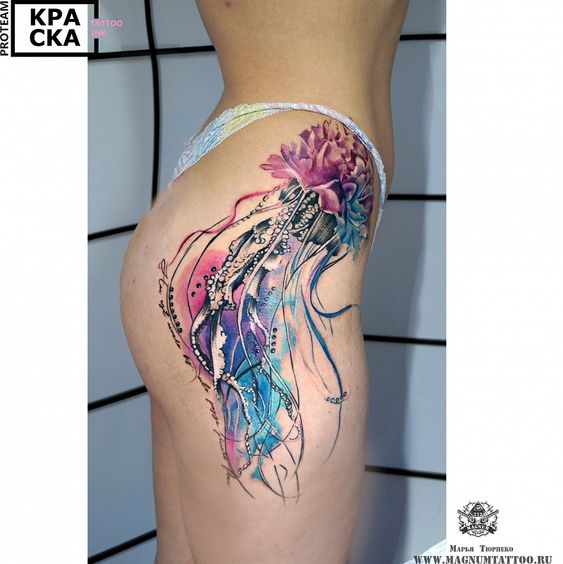 The wispy tentacles and tendrils of jellyfish look something like a bouquet. That idea was the inspiration for this unique tattoo. The head of the jellyfish is a cluster of vibrant flowers. The tentacles are ribbons. The tendrils are strands of pearls. A cursive mantra rides the line of the lady's hip.
60. Master Level Dutch Still Life Tattoos for Men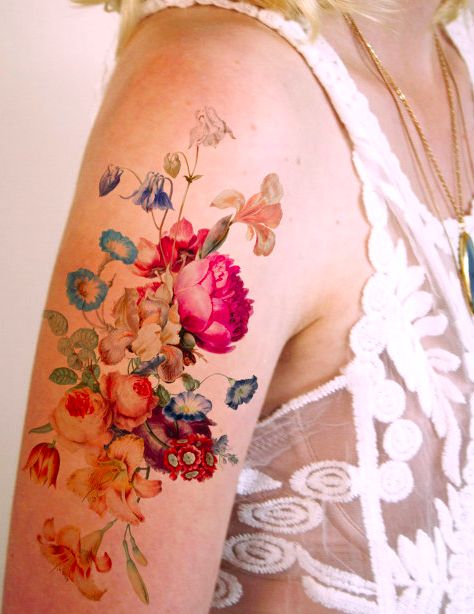 A clutch of richly colored blooms seems to rise off the skin. This bouquet is inspired by the Old World still lives of Dutch or Flemish master painters. Those works often took their creators years to complete. That this beautiful bouquet was accomplished with skin and ink is a testament to the talent of the tattooist.
60 Super Cool Tattoos for Abstract Art Fans
The best cool tattoo ideas are beyond exciting. They demonstrate a level of artistry and imagination that is downright amazing. Forearm bouquets are so realistic you can practically smell them. Mythical creatures prowl shoulders and hips. Abstract masterpieces attract the eye and challenge the mind. Whether you love pop culture or pop art, classic landscapes or classic video games, today's tattoos can express that passion with sophistication and style.