Tattoos have been used to showcase an embodiment of beliefs and likes for centuries, and finding the best faith tattoo can be an excellent way to reveal to the world what you believe in and what is near and dear to your heart. We have compiled 60 of the best faith tattoos for you to look through for ideas on what type of faith tattoo will best suit you and some of the meanings behind those tattoos.
60 Breathtaking Faith Tattoos that will Always Remind You What's Important
Overall, a faith tattoo doesn't have to be religious or specific to what everyone else has. Faith is something that can be personal to you, and this is why your faith tattoo should be something personal to you, wether it's a big chest tattoo or a tiny finger tattoo. It could include symbols from your favorite Bible verse or saying, or it could be something that you have faith in besides religion. Some of the most popular symbols for faith are crosses, doves, hearts, fish, and arrows, and some of them also look cool as biomechanical tattoos if you want something more unique. Each of these can be incorporated into a faith tattoo depending on the meaning that you want the tattoo to have or just because you like the symbol.
1. Three Fade to Black Intertwining Crosses Faith Tattoo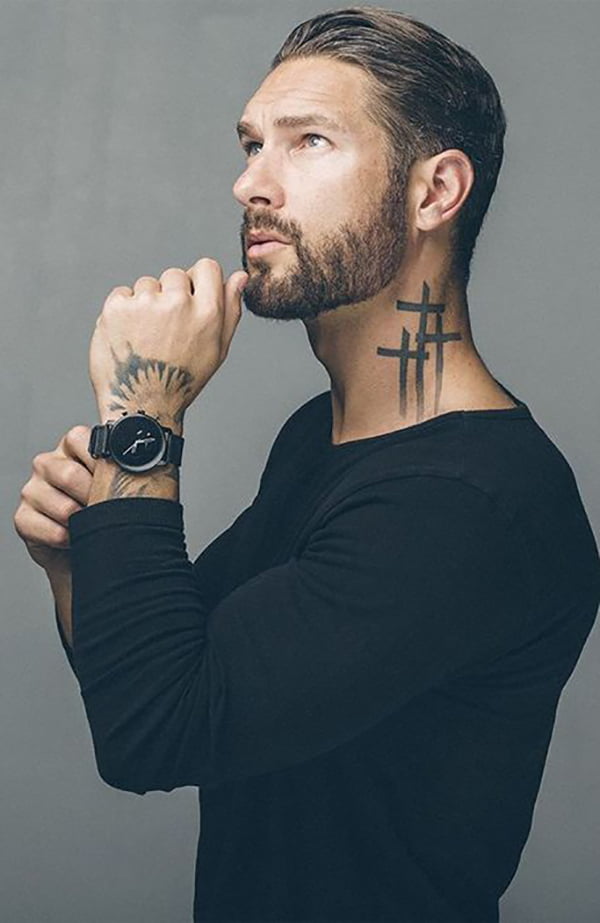 This beautiful tattoo is a classic faith tattoo that can have different meanings for different people, and it is a simplistic design that can be made larger or smaller and can go practically anywhere, which is unique for tattoos because many are specifically designed for one or two areas of the body. This set of crosses includes three black crosses that are solid at the top and fade out at the base, and they can symbolize the crosses that Jesus and the two thieves were hung on or one for each of the three symbols of a person's faith. These could also work great as sister tattoos.
2. Delicate Flowing Faith Tattoo for Forehead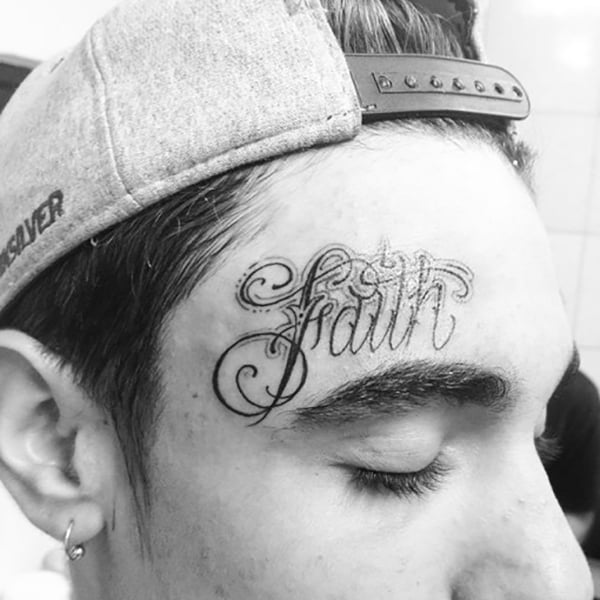 This simple tattoo uses a delicate flowing font to spell out the word "Faith". It uses curly lines and outline shading to make it a unique tattoo, and it was designed to be small enough to fit just between the hairline and eyebrow. This tattoo can be used by people of different regions or those that just have faith in themselves or those around them because it doesn't have any sort of religious origins mixed into the design.
3. Sketched Edges Cross Forearm Faith Tattoo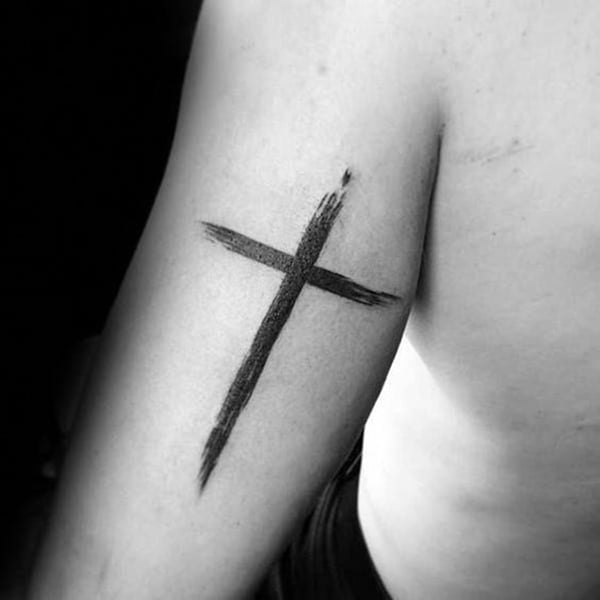 This cross tattoo is an excellent faith tattoo for someone that wants something simple and straightforward. It can easily be adjusted in size to fit on different parts of the body, but with its thin structure and current size, it works extremely well for a forearm tattoo. The main body of the cross is solid and it can be done in just about any color. However, what makes this tattoo unique is the ends on the four points of the cross. They are designed to look like they were sketched with ragged edges.
4. Bursting Prayer Hands with Rosary Beads Faith Tattoo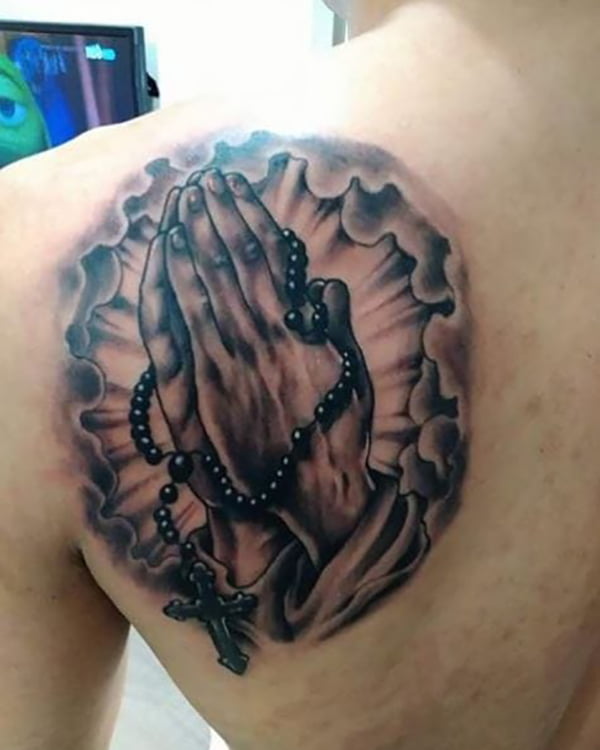 This faith tattoo uses the traditional prayer hands holding a set of rosary beads. It uses exquisite shading details on the hands, sleeves, and border to make it look like the hands are bursting through the darkness into the light. Due to the detail and shading aspects that make this tattoo unique, it should be kept relatively the same size as the picture to get the bursting effect it was meant to have, but it could go nicely on several body parts and sections easy enough.
5. Classic John 3:16 Arm Band Faith Tattoo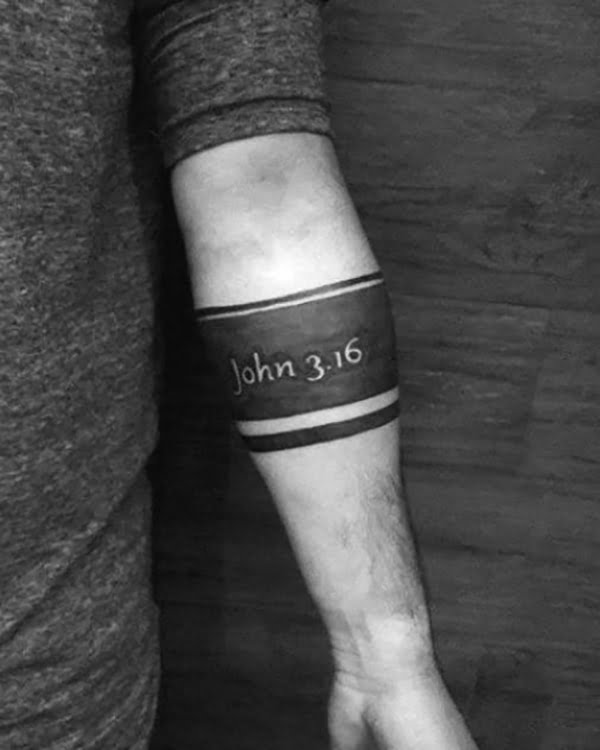 The meaning behind this design is to express favoritism for your favorite Bible verse. In the photo, John 3:16 was used, but you could swap it out with any verse that you prefer. It uses a solid black circular band around the arm, and it is colored in with slight ring variations allowing the Bible verse to stick out. Although they used black ink with this version, you could choose to have it done in different color schemes or other solid colors to suit your preferences.
6. The Face of Jesus Christ Rising Up Faith Tattoo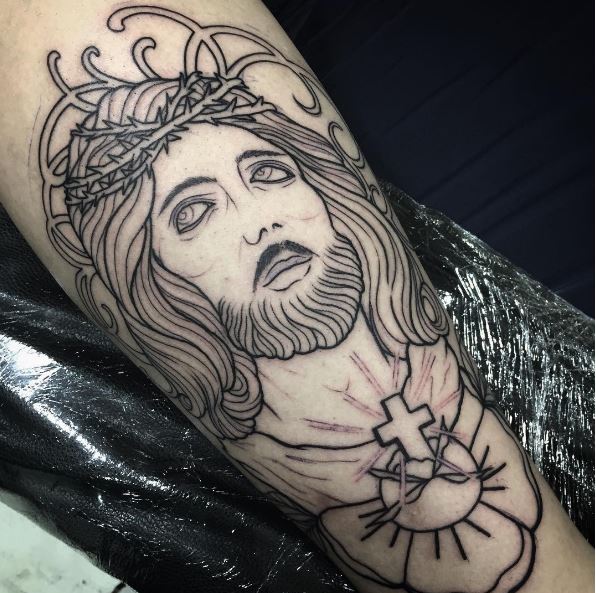 This faith tattoo uses fine lines to depict the face of Jesus as he was being crucified on the cross, including the crown of thorns that was placed on his head. He sits on a basic flower design that holds a cross shooting radiant light out from the cross. Although it uses just black lines, this tattoo could very easily have color added to it to define different outlines, and although it is designed for your forearm, it could easily be placed in the center of your back or up on your shoulder or upper arm.
7. Faith In God Bicept Script Faith Tattoo
This faith tattoo uses a flowing font to express one's faith in God by using the exact words. It has a thick font that is done is solid black, but it also has small accent lines that outline the words to give them a bit of dimension. It is large enough to fit on the bicep, but it could easily be placed on a forearm, leg, or shoulder blade, as well, which can help with options. However, although you could get this tattoo slightly smaller, if you downgrade the size too much it will lose some of the intricate details that make it beautiful.
8. Vesica Piscis Christian Fish and Cross Faith Tattoo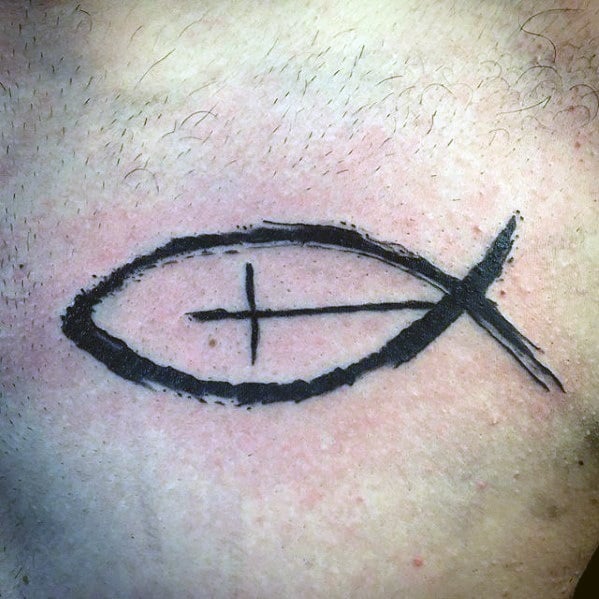 The Vesica Piscis is the common name for the Christian fish symbol, and it is designed to represent the strength and power of women. The cross in the center of the tattoo spings into the symbol, making it a smaller faith tattoo that can easily be placed anywhere one might desire. Although it can be done in solid lines, this faith tattoo was designed with a more sketchy trademark, which will make each one of these designs unique, rather than a traditional "cookie-cutter" tattoo. This design would also work great as an ankle tattoo.
9. Jesus Walking On Water Colored Faith Tattoo
This tattoo is truly a work of colorful art, and it is a true faith tattoo depicting Jesus walking on water and pulling someone out of the water, in turn saving them. It is also a metaphor for Jesus raising people from damnation by washing away all of their sins so that they do not have to atone for them. It uses a variety of soft blues, purples, and browns, to depict the gentle waves of the ocean and the clouds of the sea.
10. Frilly Line Dove Faith Tattoo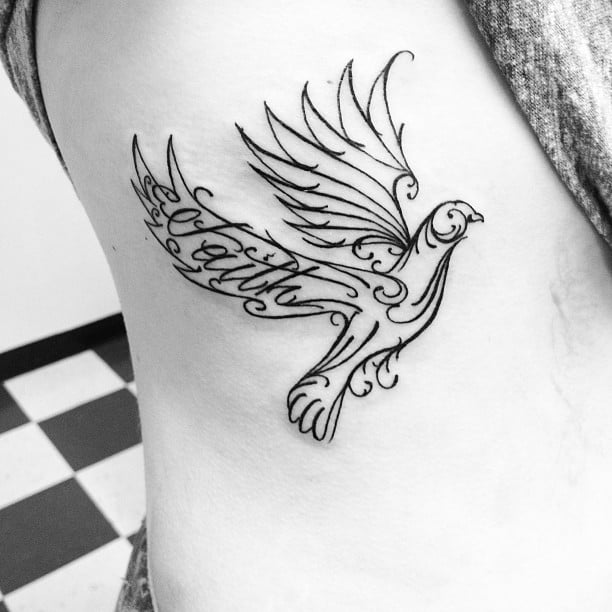 The dove has always been a symbol of peace, and it makes an excellent faith tattoo, due to this. This friend tattoo design uses thin black lines that curve and frill into the outline shape of a beautiful dove and in the wing, the word "Faith" is sketched in the design. It can be used as a faith of religion or in peace, but both can work for someone that is looking for a faith tattoo that can fit almost anywhere.
11. 121 Faith Believers Anchor Faith Tattoo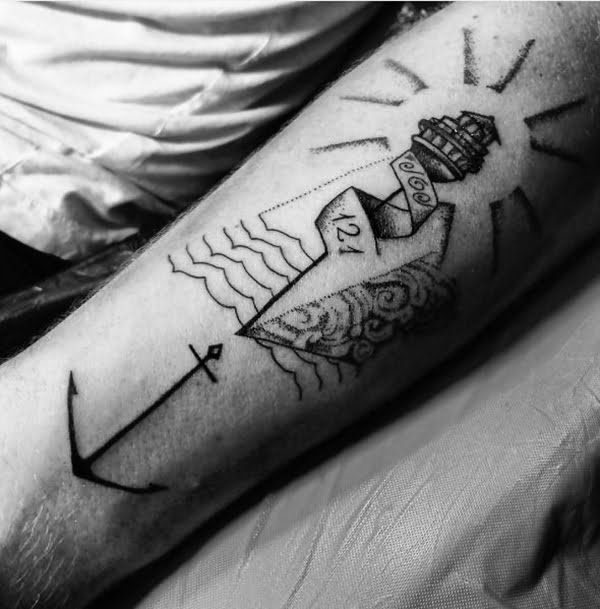 If looking for a different type of faith tattoo, this will make an excellent choice. It is designed to fit on the forearm, and it uses different types of symbols that all coincide together. The 121 comes from Psalms 121 that is a treasure of promise for those who are believed to be suffering believers. The anchor is used as a symbol of being anchored in faith, along with the waves and shining temple all coming together as a faith tattoo.
12. Praying Hands Arm Sleeve Faith Tattoo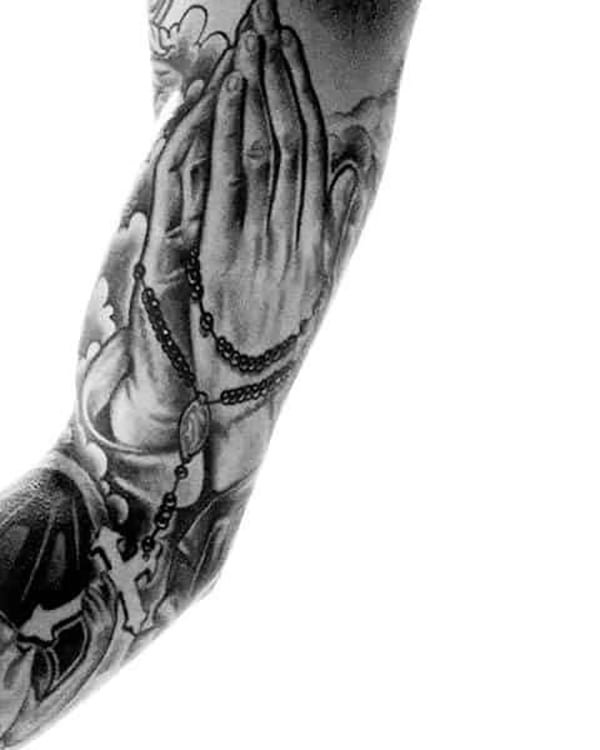 This is a beautiful half sleeve tattoo that starts at the wrists and moves up the entire arm. It has a mixture of different faith pieces all melded together for a full sleeve of art. The center focal point is a pair of intricate praying hands that are holding rosary beads that end in a cross being held by a hand. It uses a mixture of shading and outlines to fill in the gaps of the arm sleeve tattoo.
13. Mother Mary Overlooking Her Beloved Son Faith Tattoo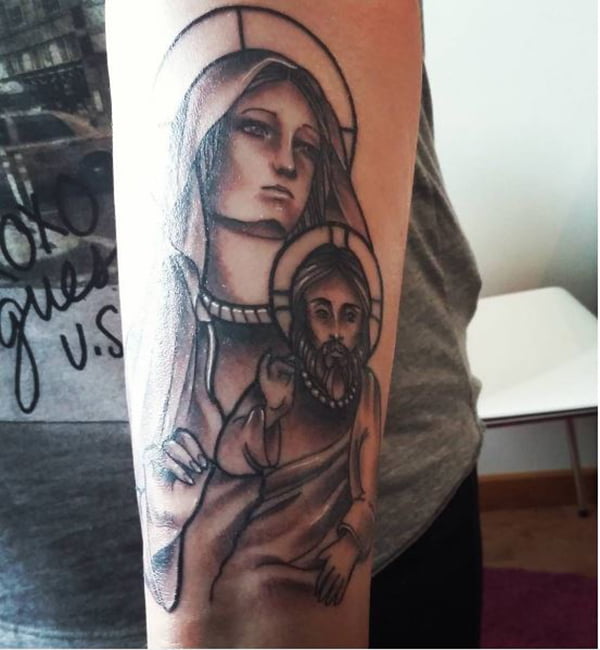 Mother Mary has always been a popular symbol of the Christian faith, and this love tattoo shows her overlooking her beloved son Jesus from above. She is known for being a guiding influence, just like most mothers, which is what makes this an excellent faith tattoo, especially for those that have been guiding by the love of their mother just as Jesus has been looked after and guided by Mary and God.
14. Green Scaled Fish Peace Faith Tattoo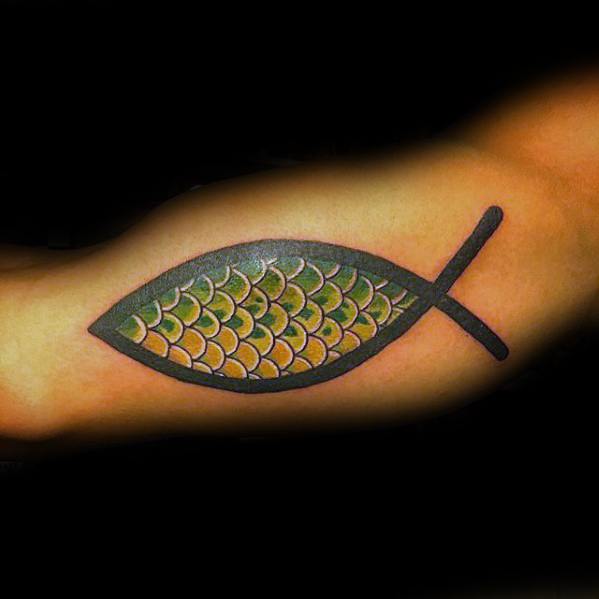 This fish peace tattoo has a solid thick black outline that holds to the traditional symbol, but the inside of the fish is designed with intricate colored green and golden scales. It can be easily placed on a forearm as shown in the picture, or it can be adjusted in size to fit in other areas of the body. However, you shouldn't try to shrink the design too much otherwise it will lose some of the beautiful details of the scales that make it unique.
15. Flying Dove Faith Hand Faith Tattoo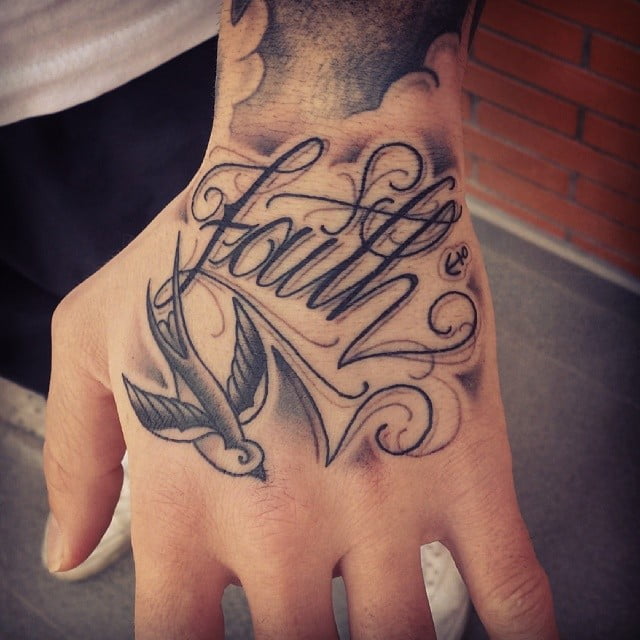 The main focal point of this hand tattoo is the beautiful font that is used for the word "Faith".It is designed to look as though it is floating in the skies as the peaceful dove figure flies below it lifting it on its wings. It uses different techniques of shading on the dove and the other accents of the line design surrounding the word, which leads up to designs of clouds in the sky.
16. Faith Starts In The Heart Faith Tattoo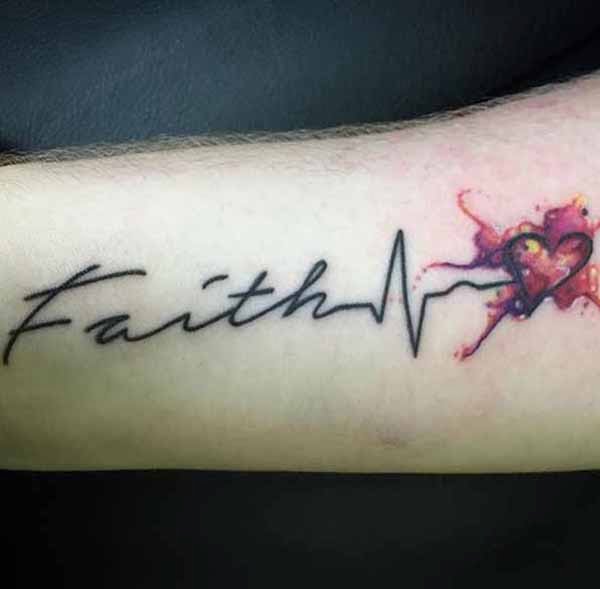 This is a simplistic tattoo design that links faith to the beating of a heart. The word "Faith" is written in a cursive font that leads into the rhythm line of a heartbeat that ends in a beautifully colored heart design. The word, rhythm line, and hear are outlined in black, but the heart is filled with different colors that are meant to represent the beauty, love, and faith that starts in the heart.
17. Small Cubed Style Cross Faith Tattoo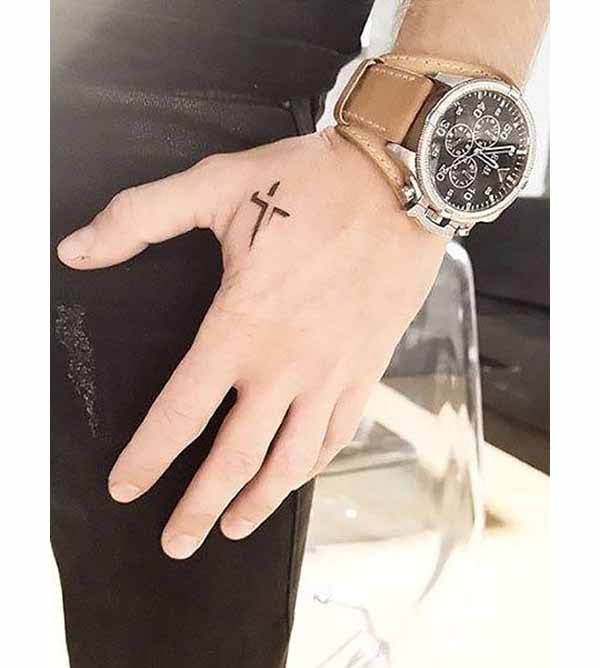 This cross tattoo will make an excellent choice for someone that wants to show their faith but in a small way that can still be covered by gloves for work if needed. It uses cube shading to outline the cross, but the tops and sides are open, which makes it small and unique without a lot of ink.
18. Dainty Line Cursive Cross Tattoo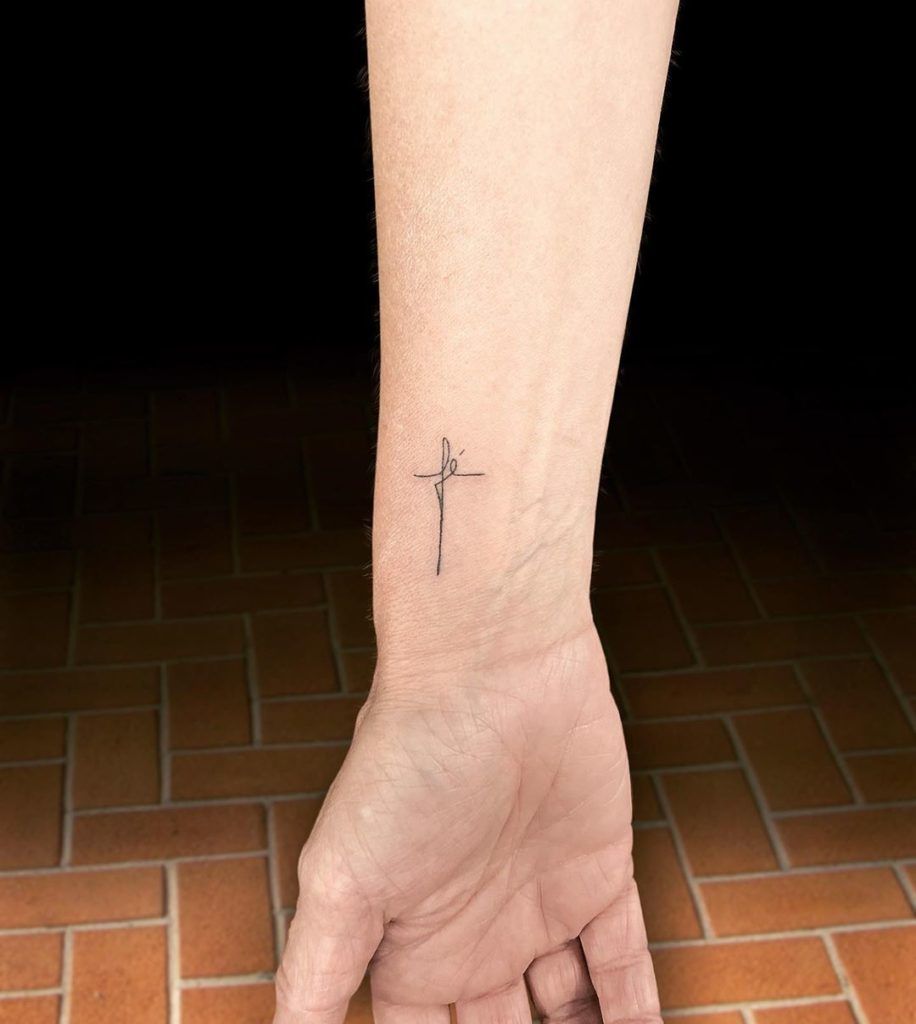 This cross tattoo has a unique design because it starts like a cursive word, but it flows down in a single line to make a beautiful cross to act as a symbol for your faith without taking up a lot of room or being too noticed if you find the need to hide it for any particular reason.
19. Isaiah 40:31 Eagle Strength Faith Tattoo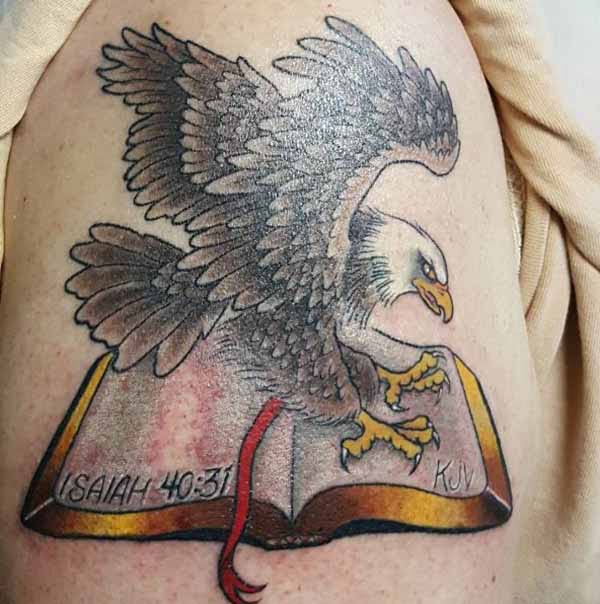 Isaiah 40:31 has a popular saying that involves an Eagle, and this tattoo is designed to provide a beautiful art tattoo piece. The eagle on top of the Bible represents the eagle from the verse, and it and the book are colored in soft browns, black, and gold with a dark black outline to make the different colors pop.
20. A Montage of Faith Tattoo Symbols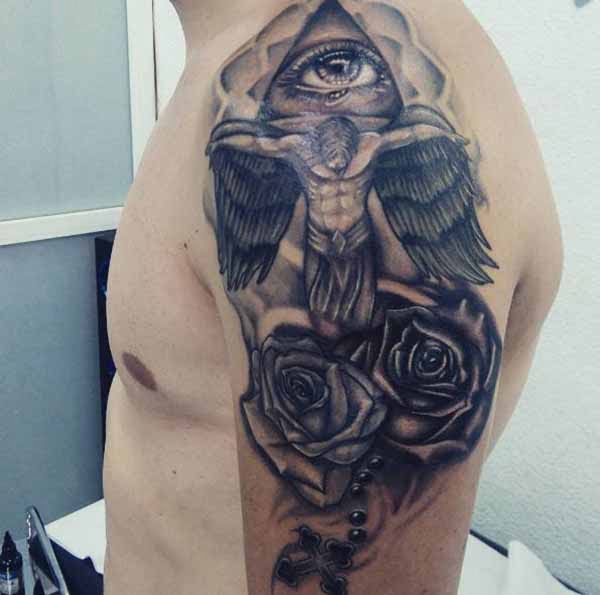 This is a beautiful tattoo that uses different faith symbols that are meshed together to form a single piece. It is all done in black ink, but shading is used to highlight different features in the various symbols to pull all of the pieces together in one cohesive tattoo. It uses a hung-up version of Jesus, angel wings, the all-seeing eye, roses, and rosary beads that can all mean different things to different people.
21. Traditional Jesus Portrait Faith Tattoo Design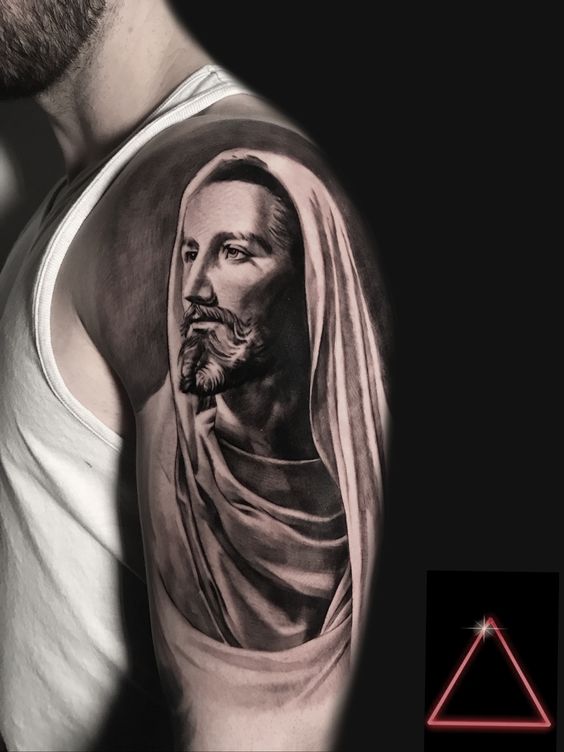 This faith tattoo is designed to fit on the upper arm and work its way down towards the elbow. It is a vision of the classic Jesus portrait that he is known for around the time of the great supper. It uses various shading techniques to give the portrait a realistic feel.
22. Faith is More Than Skin Deep Faith Tattoo Design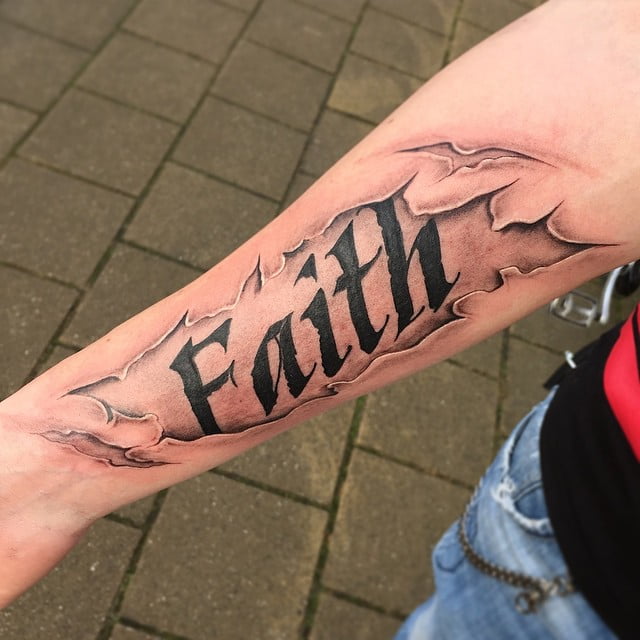 This faith tattoo is designed with the word "Faith" seemingly etched deeper than just skin. The tattoo has ripped flesh details that make it look as though faith is deeper than skin deep, and it uses shadowing to portray the rips in the skin giving the tattoo and 3D look, which is rare for tattoos to provide.
23. Mother Mary and Faithful Symbols Tattoo Design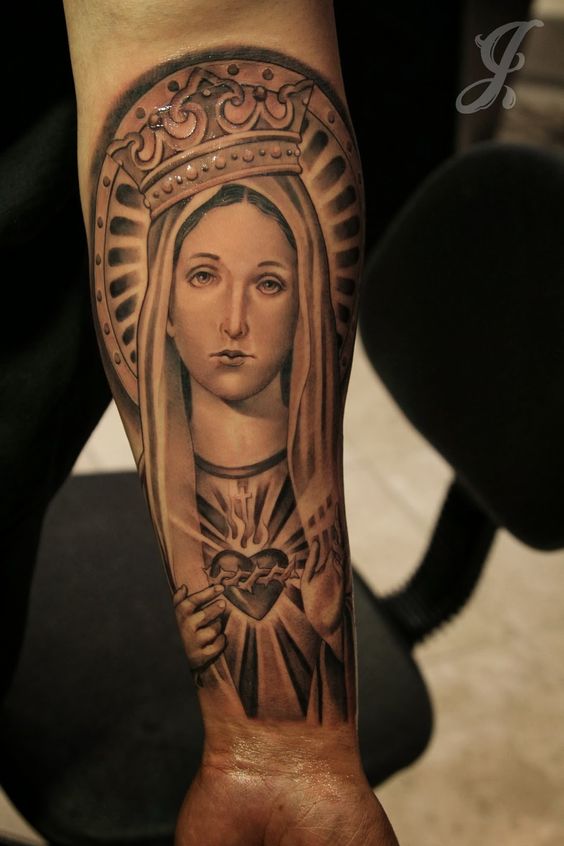 The faith tattoo has a lot of delicate details that pull the entire image together, starting with the traditional face and silhouette of the Mother Mary, and it has other symbols placed in the image for different meanings, like the heart tattoo with the thorn crown around it and a real crown upon Mary's head.
24. IM Possible Faith Hand Tattoo Design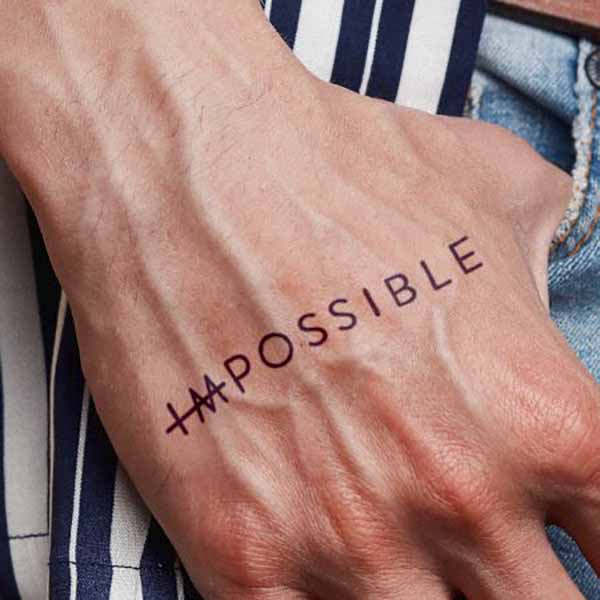 Impossible is not a word that those that have faith believe in, and this faith tattoo is designed to express this by having the entire word there, but having the I and M marked out leaving only the word possible remaining. You can choose the color of ink you want the tattoo done in, but it was designed specifically to be a hand tattoo, which should be kept in mind.
25. Only God Can Judge Me Cross Tattoo Design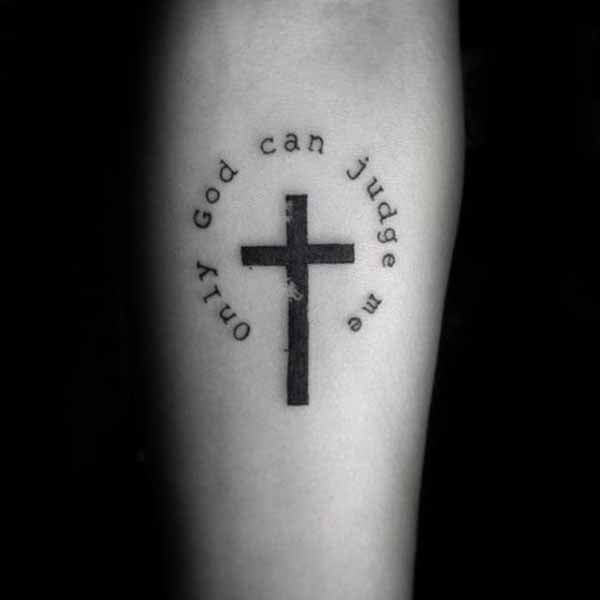 This is a simplistic tattoo design with a standard black-colored cross with the words, "Only God Can Judge Me" circled the top. It has an easy meaning behind it, and it is excellent for people that want to show that their faith only allows them to be judged by God and that is all that matters.
26. Crucified Jesus Face Portrait Tattoo Design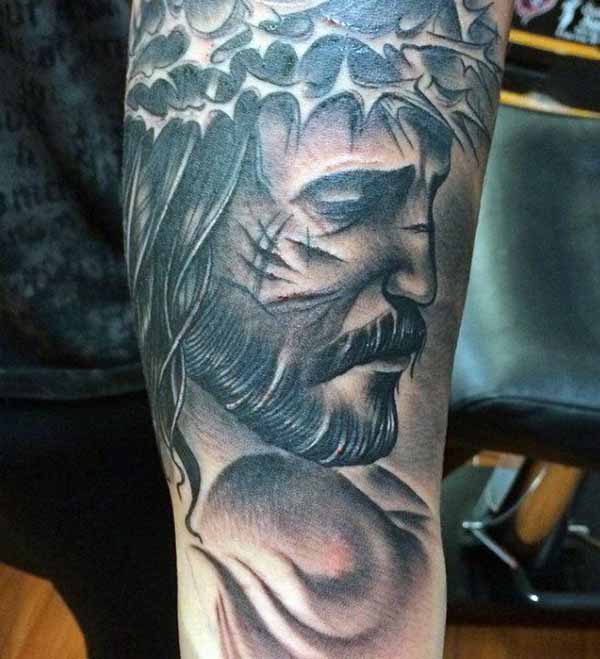 This tattoo is designed to fit on the forearm, and it uses delicate shading techniques to give the face of Jesus a realistic look. It includes the crown of thorns that was placed on his head when he was placed on the cross, and it even has realistic scratches on his face to symbolize the pain and strife he endured for all of our sins.
27. Sketched Out Solid Black Cross Tattoo Design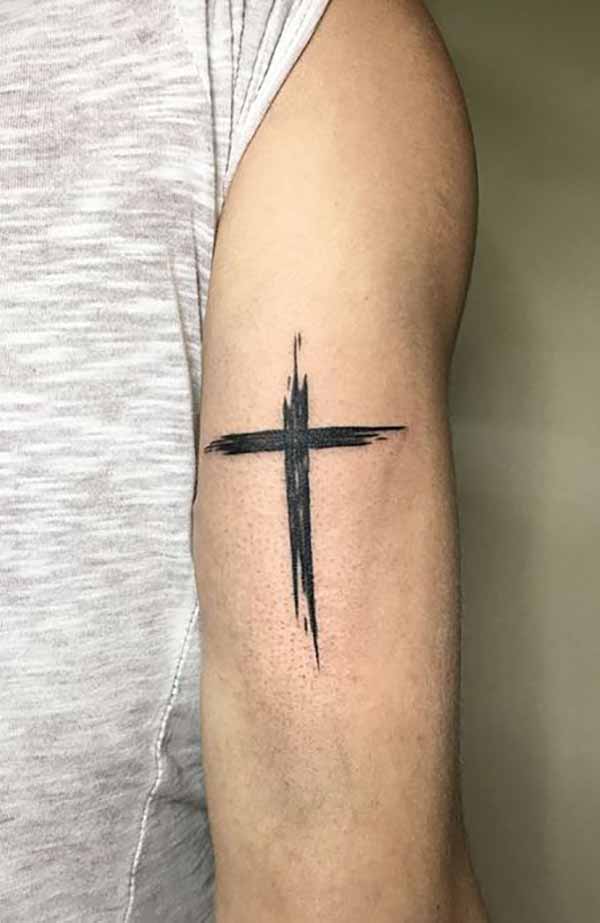 Unlike other regular cross tattoos, this black cross has a sketchy wood-grain type design. On each end of the cross, it is chipped away as though it is old and fading away, but the center is still solid to represent the inner strength of faith.
28. Fish Peace Sign in Rocky Waves Faith Tattoo Design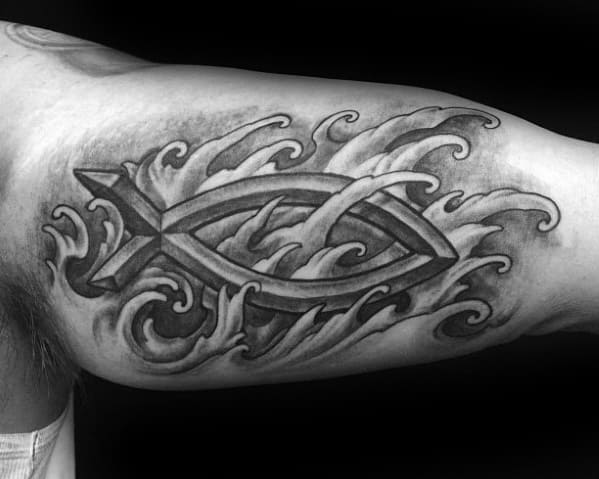 Regardless of how crazy life gets, faith and peace can get you through anything, and that is what this tattoo designs idea is meant to represent. It has a nicely shaded fish peace symbol that is surrounded by the raging waters of the ocean that are meant to represent the chaos of the world, but the fish and peace will always remain constant for those that have faith.
29. Decoding Faith Diamond Shaped Tattoo Design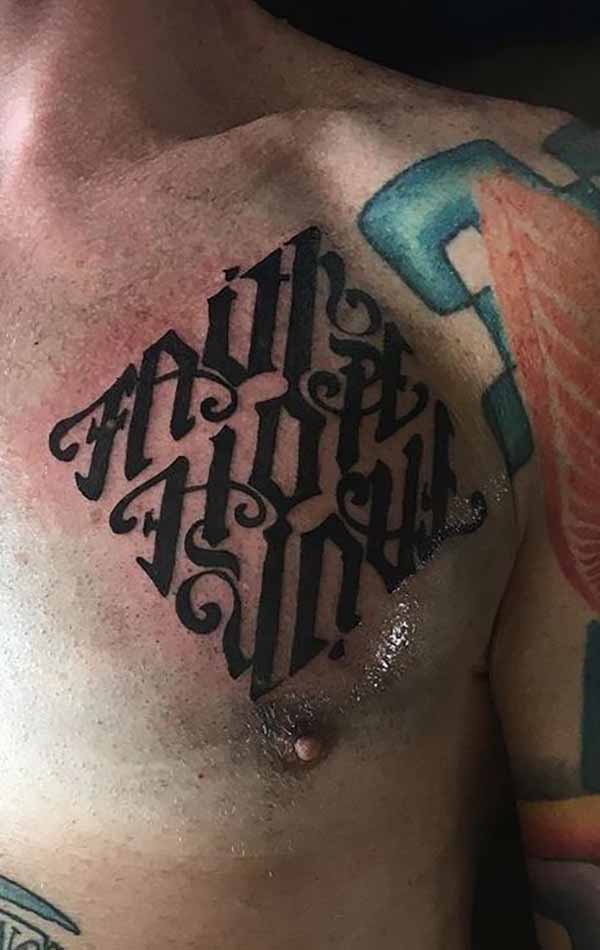 Most of this tattoo is made up of letters, and it is designed to be in the shape of a diamond. However, when you look closer, the top and bottom lines both spell out the word faith in one way or the other. This is the perfect size tattoo for the chest or even back on the shoulder blade. However, if it is shrunk the words might not be as readable.
30. Proverbs 3:5 Praying Hands Dove Tattoo Design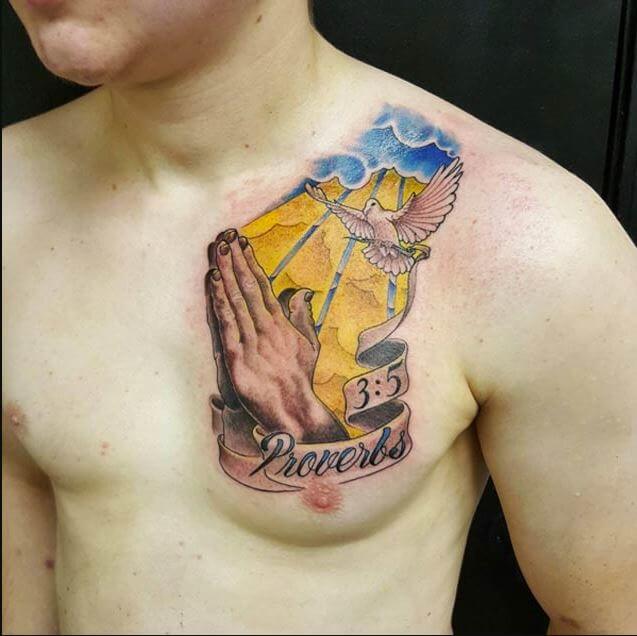 This is a beautiful colored and detailed tattoo that has different faith symbols mixed that all go along with the Bible verse Proverbs 3:5. Unlike other tattoos, this one uses greens, blues, browns, and peach colors to show off the different parts of the tattoo-like the clouds in the sky, the raise of sunlight shining down, the peaceful dove, and the praying hands.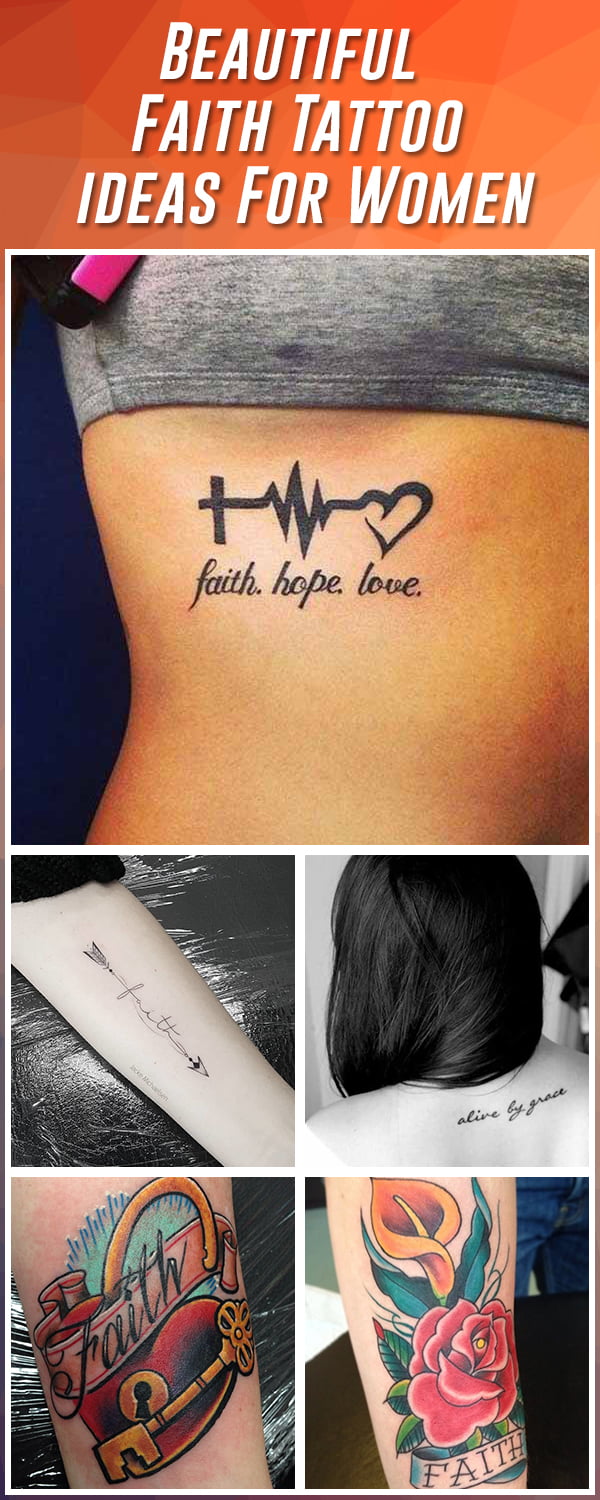 31. "I am who you say I am!" Cross Wrist Faith Tattoo Design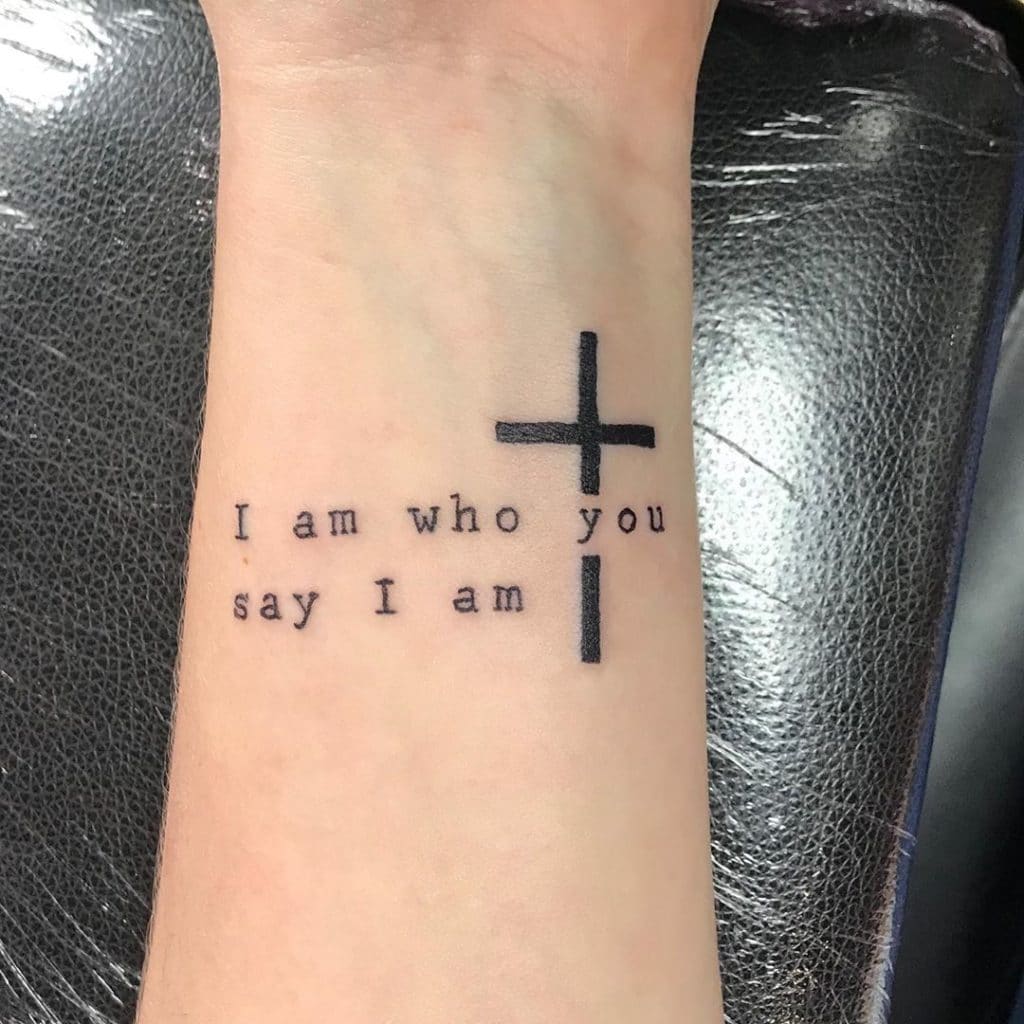 This tattoo is designed to be placed just above your wrist, and it uses a simple black font that is easy to read. The phrase, "I am who you say I am" is placed inside of the simple black cross, which means that they are a Christian, and they are faithful which is who you thought they are.
32. Faith and Hope, Love Black Font Tattoo Design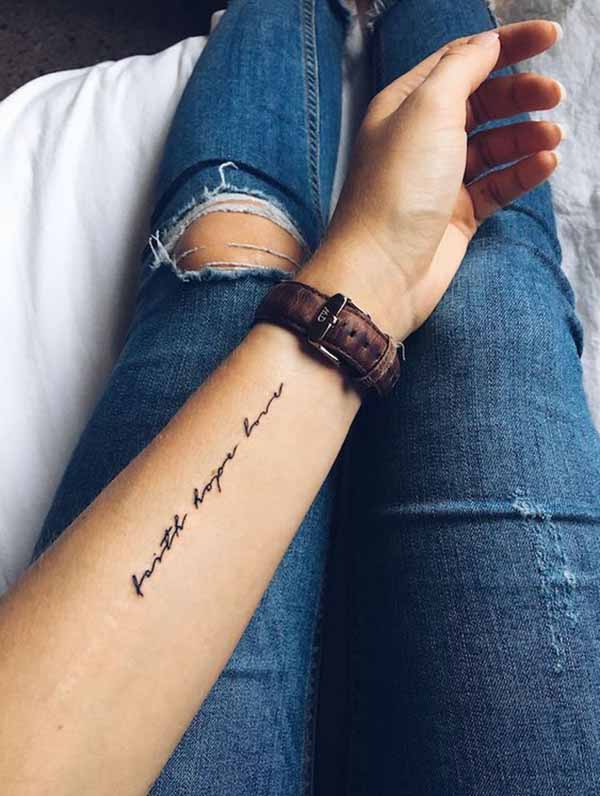 There are three things that a truly faithful person will always have, and that is faith hope, and love, and this is a simple tattoo using a frilly font to spell out all three of those words. It can be done in different ink colors to suit their personality, and although this one is on the forearm, it could be easily placed and rearranged for different placements.
33. Alive by Grace Back Tattoo Design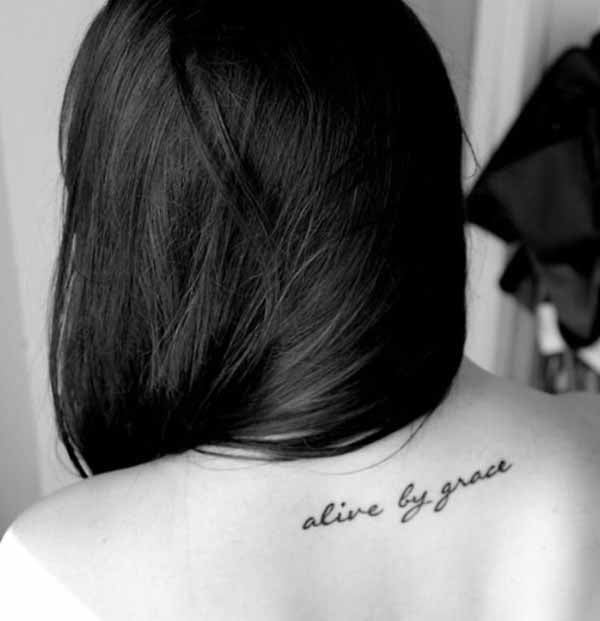 This small tattoo will make a perfect option for someone that lives their life for the grace of God, and they feel that grace has saved them in one way or another. It uses flowing cursive writing to spell out the words Alive by grace, and it is small enough that it can be hidden if needed but large enough to be read clearly and easily.
34. Arrows Cross Line Faith Tattoo Design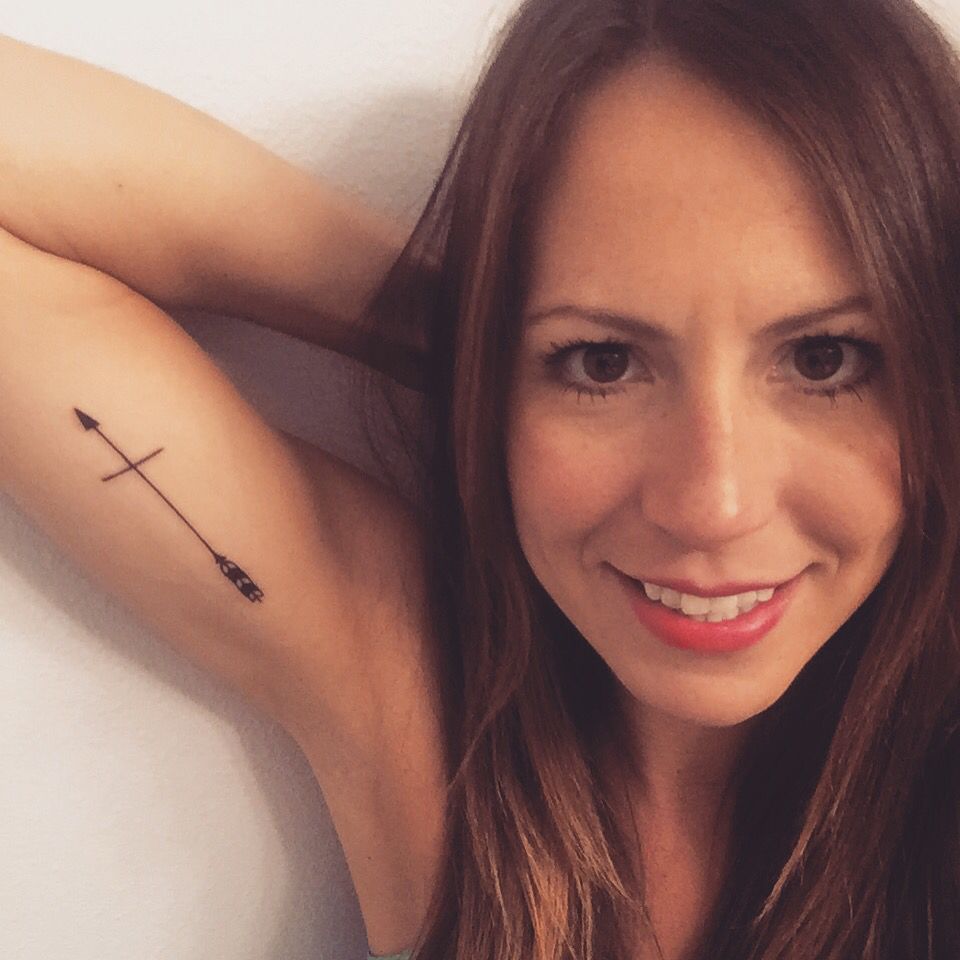 This cross tattoo uses a straight line and the picture of an arrow as the centerpiece of the cross, which can symbolize different things in various faiths. It could even mean that the one wearing the tattoo wears it for having a faith in strength and direction.
35. Heart Faith Love & Hope Collar Bone Tattoo Design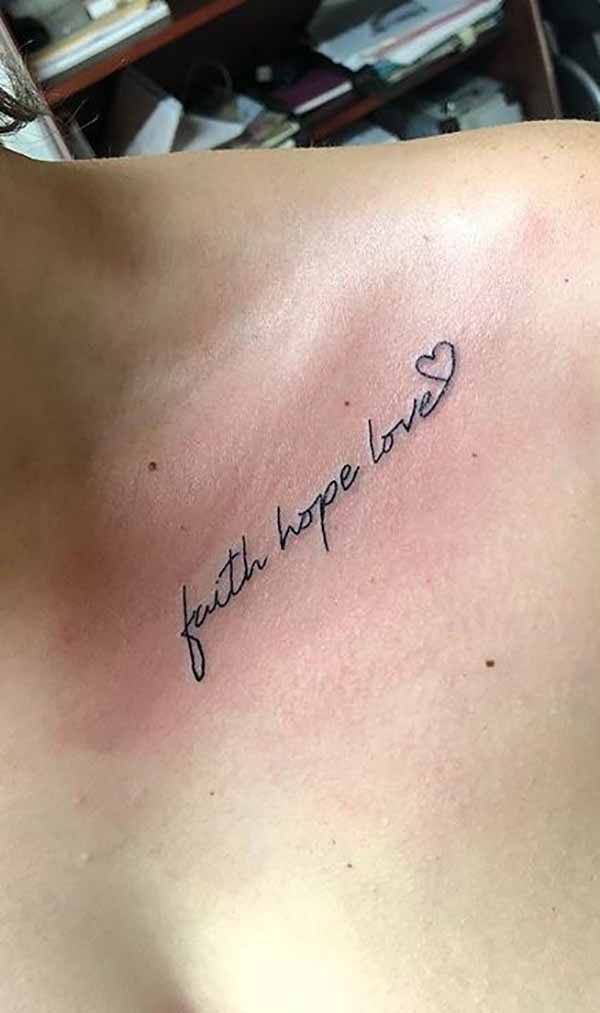 This tattoo spells out the words "Faith and Hope, and Love", which are the basis for anyone with faith and religious or spiritual connections. It uses a cursive font, and the "e" in love flows into making a small heart tattoo.
36. Flying Doves from A Feather Faith Tattoo Design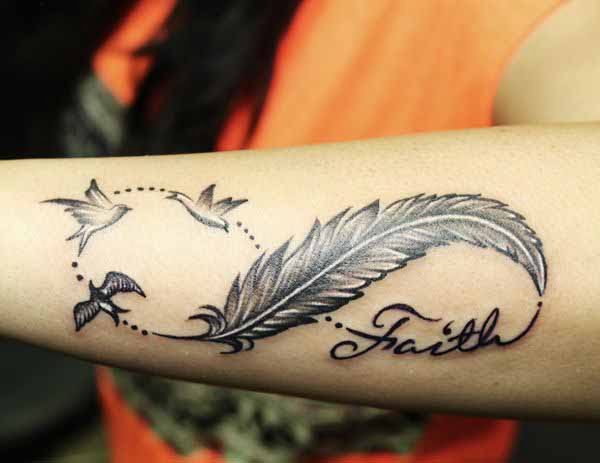 It consists of three doves flying away from a large dove feather that is beautifully detailed with different shading techniques. The whole tattoo flows together to make an infinity symbol with the word "Faith" writing in a cursive fault making the final connection.
37. Faith and Hope Love Priest Tattoo Design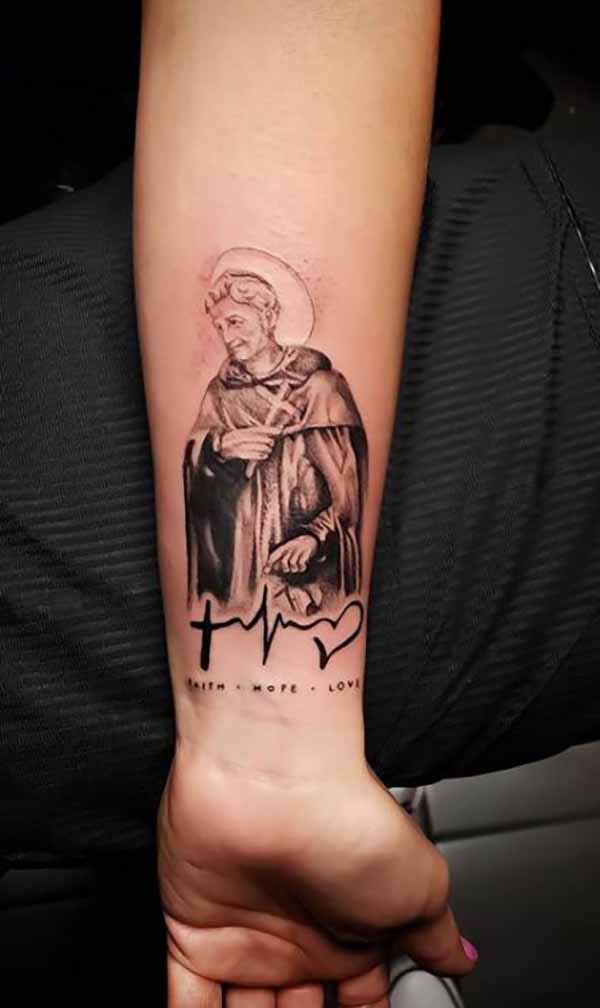 This tattoo represents the faith in the church and religion by depicting a silhouette of a priest holding a cross, and at the bottom of the tattoo, Faith and Hope, and love are written and symbolized to complete the entire effect.
38. Faith Better Than Fears Word Tattoo Design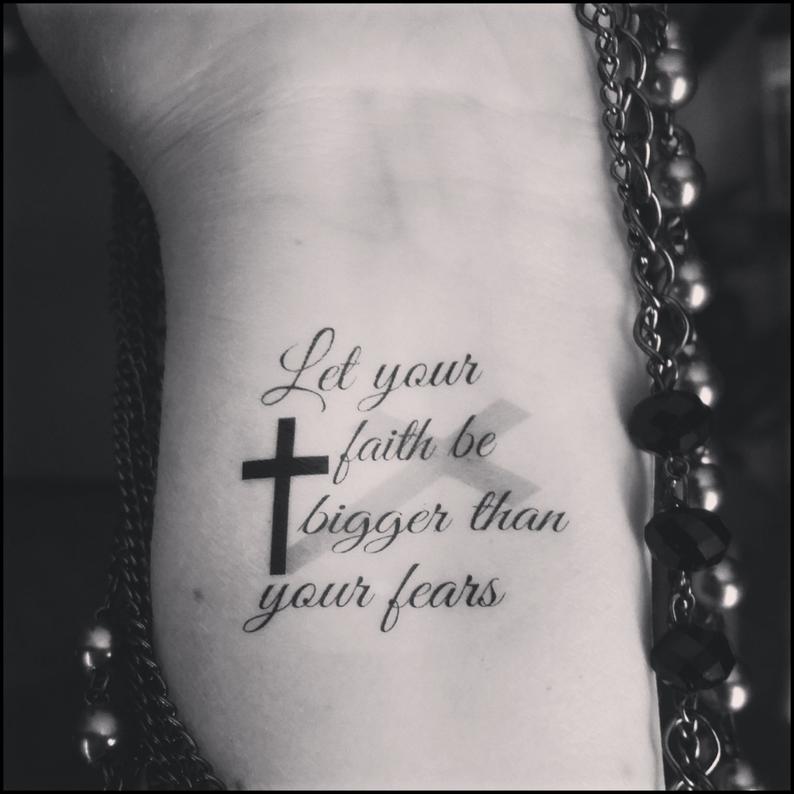 Fears are something that everyone has, but this tattoo is meant to remind the wearer and others that their faith can and is always bigger than their fears, which means that no matter how bad one's fears are their faith can help them to overcome them, and it also has a small cross with a silhouette shaded through the words tying everything together.
39. Faith Word Written Into A Cross Tattoo Design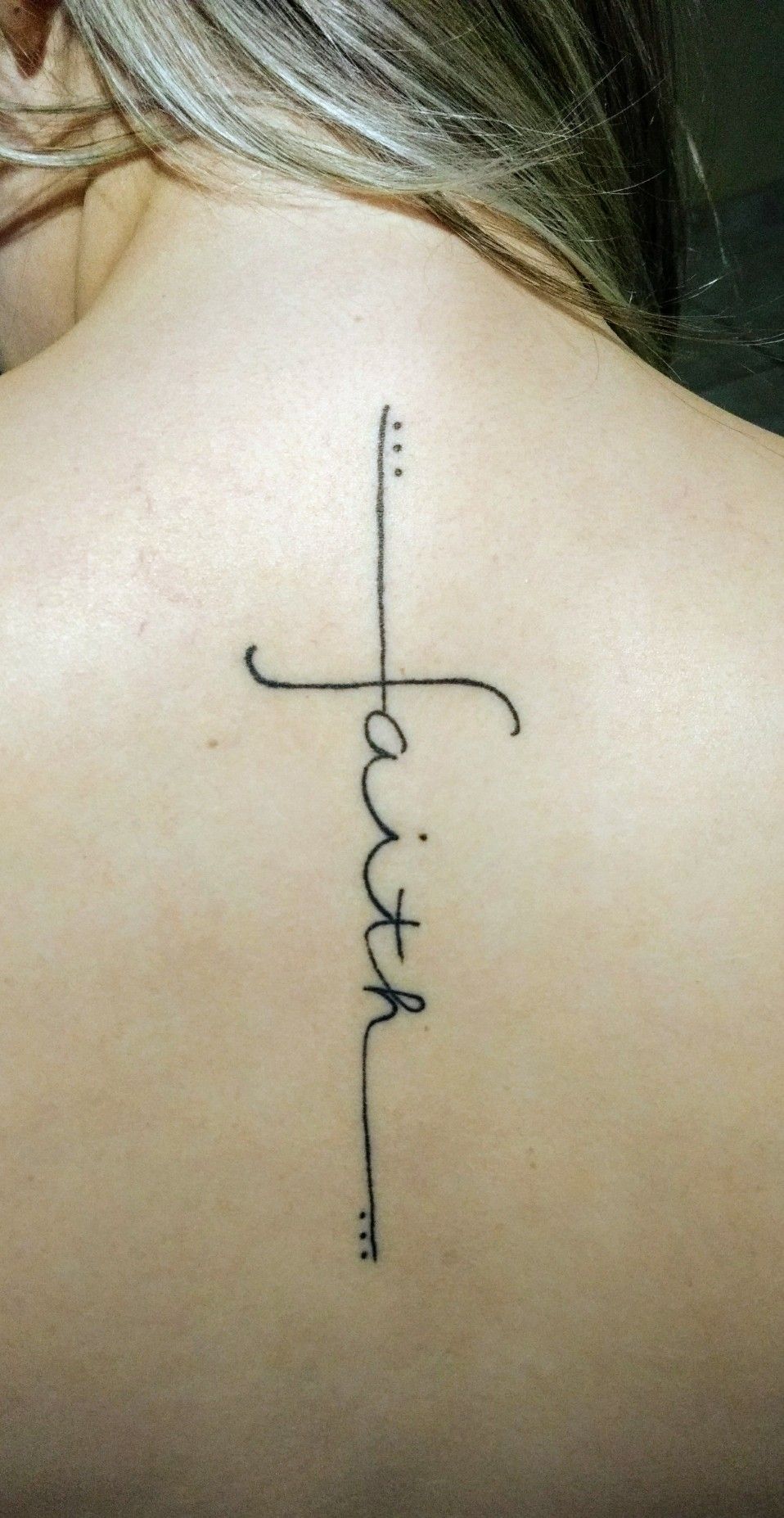 This is a simple design that shows someone has faith in God, and the cross is made from the written word "Faith" that is written in a delicate cursive language. This tattoo can easily be as big or as small as you want it, which means it can be placed practically anywhere on the body.
40. Faith Cross Wrist Faith Tattoo Design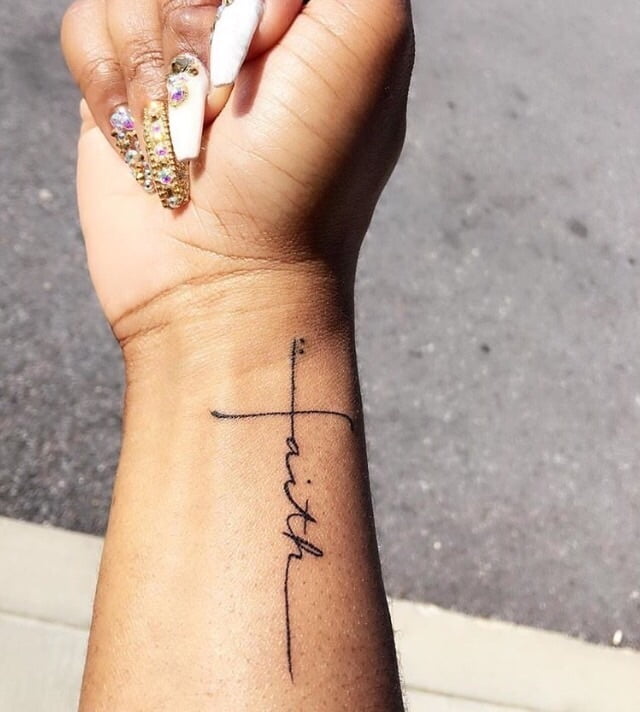 This word tattoo is designed to look like a cross with the use of a cursive font making the word "Faith" the central basis and foundation of the cross, which works for both the meaning and physical aspect of this faith cross design.
41. Faith * Hope * Love Word and Symbol Tattoo Design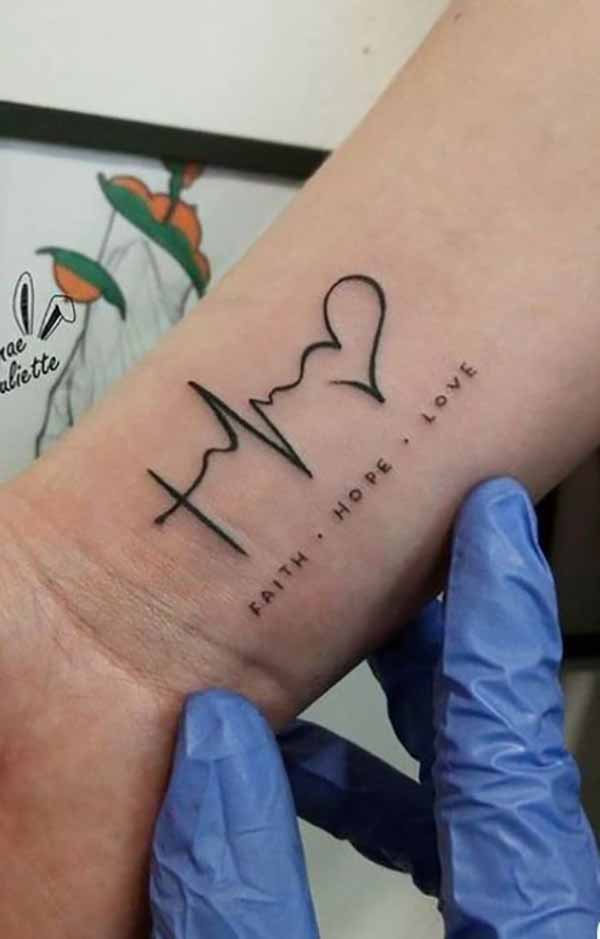 This faith tattoo doesn't simply state the words faith, hope, and love, but it also has the corresponding symbols connected to each other above each word, and they are all connected just like the meaning of the three words are all connected to each other. It was designed to go on the wrist or forearm, but it could be made bigger or smaller for other places if desired.
42. Colored Love, Faith, Hope Wrist Faith Tattoo Design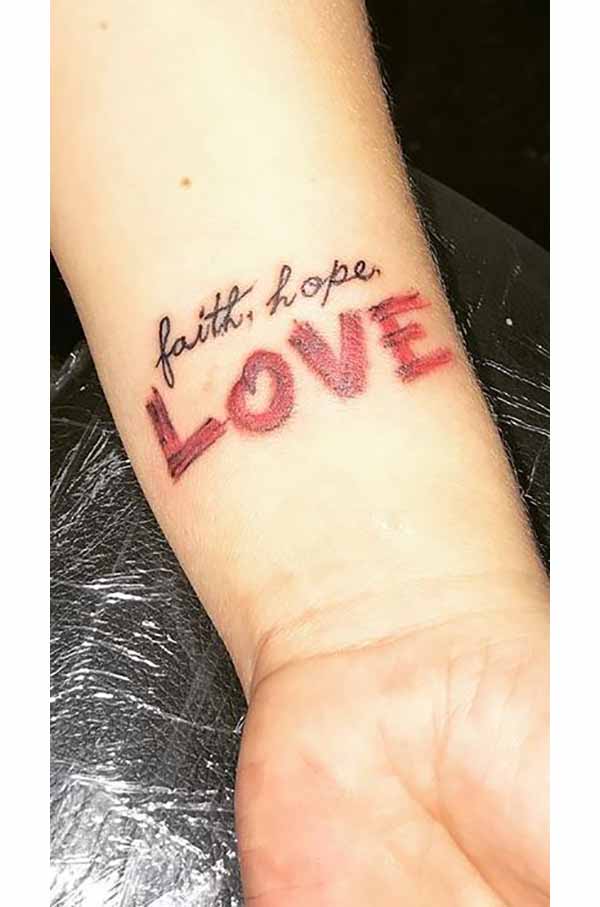 Faith, Hope, and Love all go together, and with this beautiful wrist tattoo, you can show that you follow the harmony of these three as they go together. Faith and Hope are written in a common cursive font, but the word "Love" uses colors and soft black lines and shading to make it different and add context and color to the tattoo design.
43. Colorful Rose Faith Banner Ribbon Faith Tattoos Design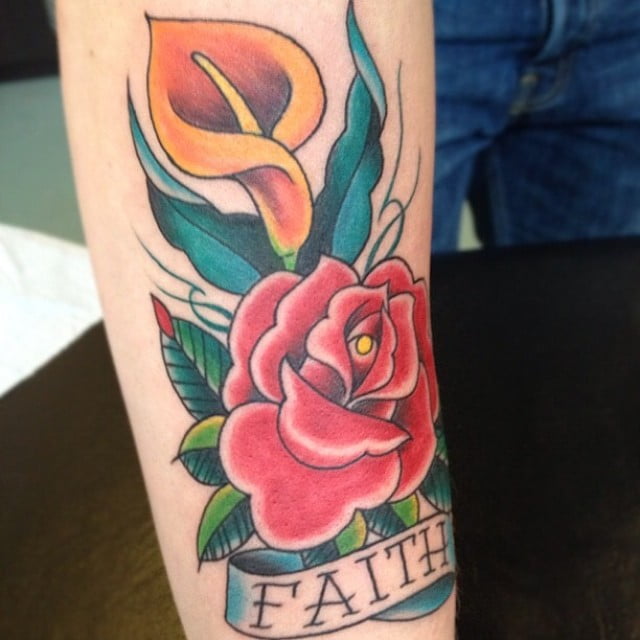 The centerpiece for this faith tattoo are two beautiful flowers that are known for representing love, peace, and faith, and they are outlined in black with different shading techniques to give the flowers and leaves a 3D effect and at the bottom of the rose is a beautiful ribbon with the word "Faith" written inside of it.
44. Love is the Center of Faith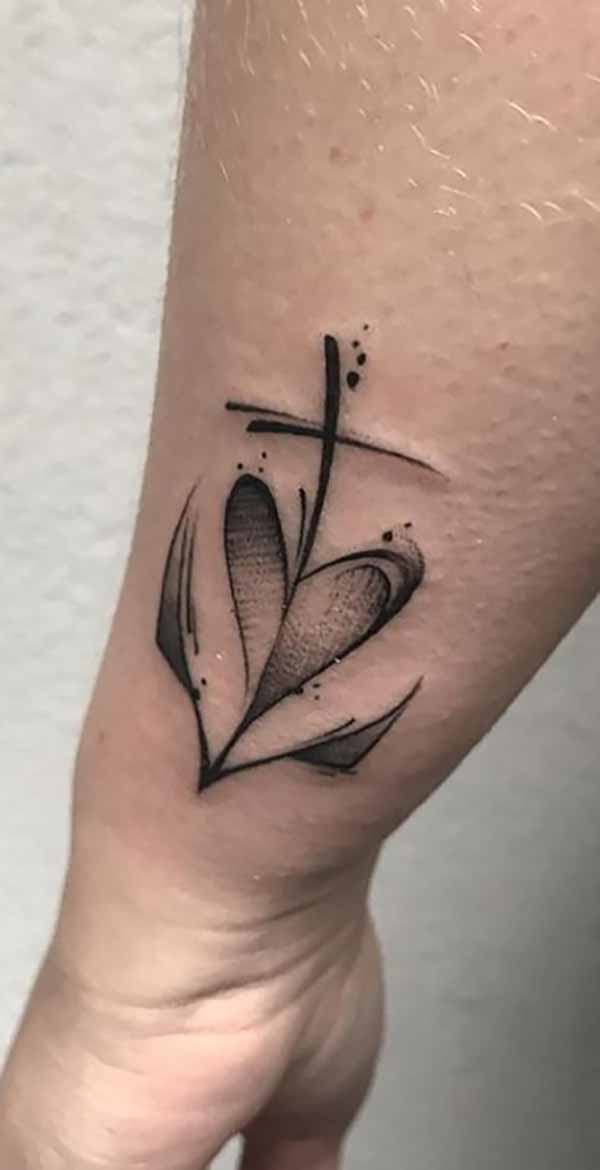 This faith tattoo has a simplistic design that can be altered in size to fit anywhere, but it was designed for the forearm, and it uses common symbols that represent love, faith, and hope all mixed together for a cohesive tattoo design. It uses wings for hope, a heart in the middle for love, and the top becomes a cross to represent faith.
45. Small Solid Black Cross Tattoo Design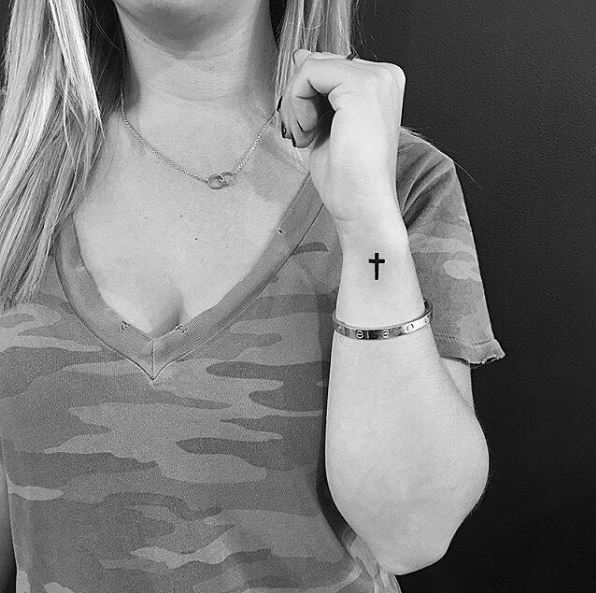 This cross tattoo is simple, and it is designed to be a small and subtle tattoo that will allow the one with the tattoo to show their faith in their religion. It is a solid cross design that is small enough that it can be put practically anywhere based on your preferences.
46. Faith Is the Lock And Key To Heart Tattoo Design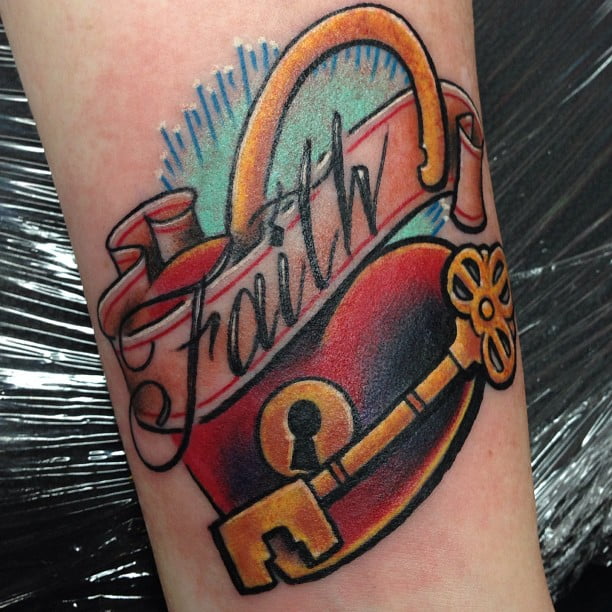 This is a colored tattoo design, and the heart is made to look like a heart that is open due to the word "faith" that holds the key to the lock. It uses bright colors with black ink to accent the important parts of the overall tattoo. Also, the black outline really draws out the other colors and makes them pop.
47. Faith, Hope Love Shoulder Blade Tattoo Design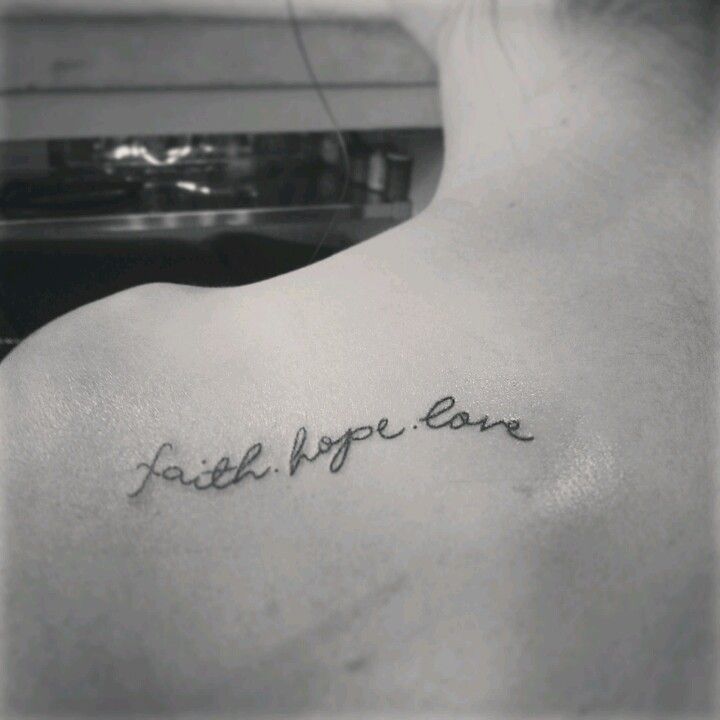 This is an excellent tattoo design choice for someone that wants to express their belief in faith, hope, and love. It uses a dainty font for each word with a period in between to keep them separated. Instead of a straight line, it is written with a slight curve to provide a sense of flowing.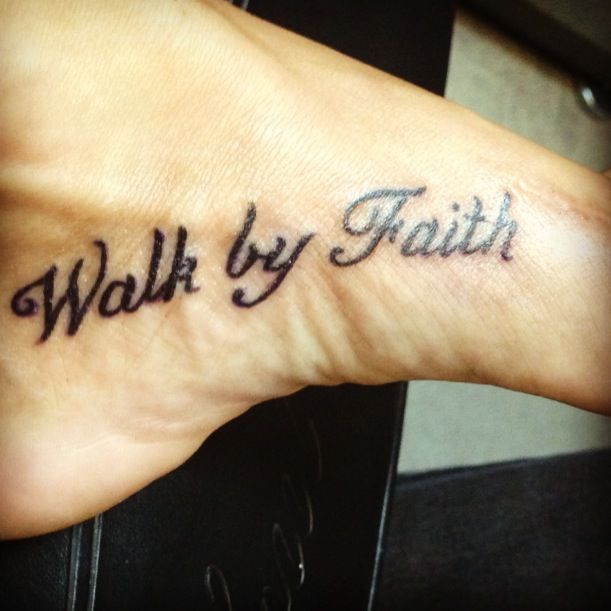 This faith tattoo design is an excellent choice for someone that wants a reminder to always walk in faith to live a fulfilled life. It is written in easy to read cursive font. This faith tattoo was designed to fit along the arch of the foot, and it can be done in any color desired, but it really pops when used in black as shown.
49. Arrow Directional Faith Word Tattoo Design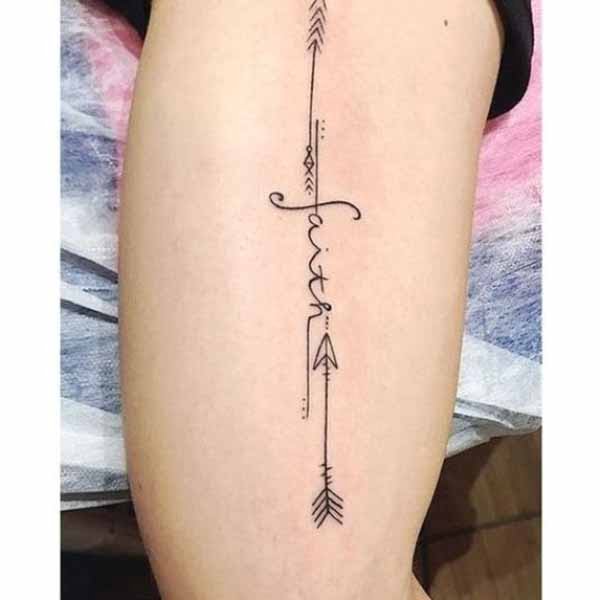 Faith is a surefire way to stay straight as an arrow, and this faith tattoo design is an adorable reflection of that sentiment. The word faith is written in an easy-to-read cursive font, and at the top and bottom of the word, there is an arrow that shoots through the word for an interesting take on the idea.
50. Symbol of Faith, Hope and Love Tattoo Design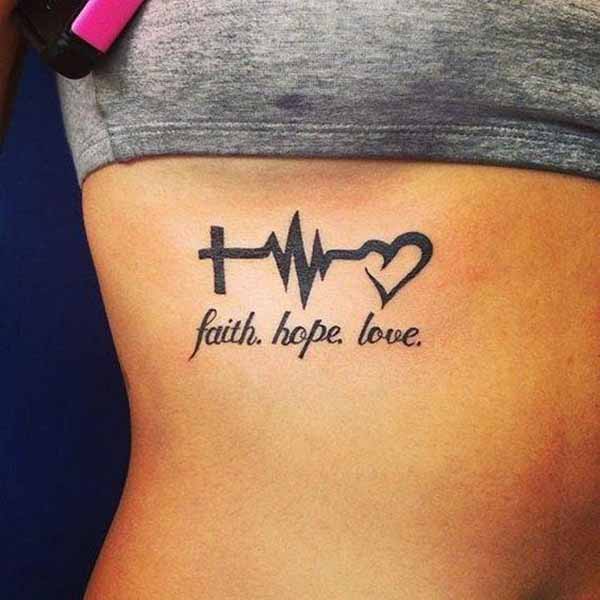 Faith, hope, and love all have their symbols, and with this faith tattoo design, all of their common symbols are melded together to form a unique sign for people to inspire too. Plus, below each symbol, the corresponding word is written in an easy-to-read cursive font.
51. Glow-in-the-Dark Cursive Faith Wrist Tattoo Design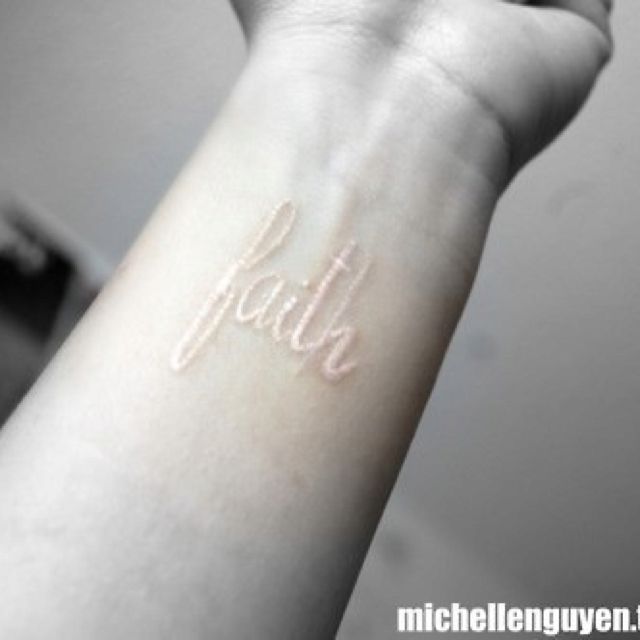 Not everyone wants a tattoo design that is visible all of the time, and this will make the perfect one for those people that also want a faith tattoo. It is written in a cursive font and is small and placed on the wrist. Although the tattoo is there and is lightly seen, the use of this type of ink will make it less apparent from a distance.
52. Love Faith, Hope Intertwined Symbol Tattoo Design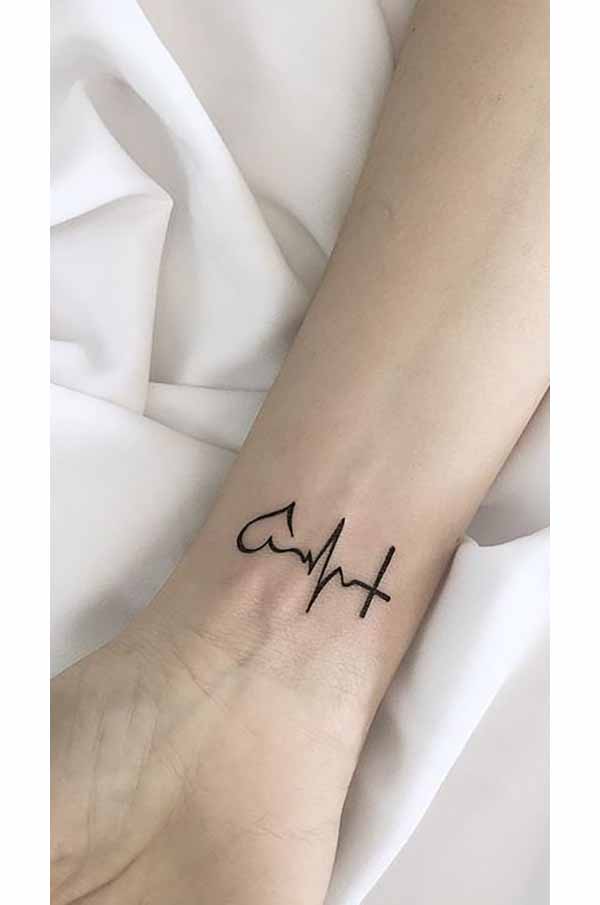 If you want something that can be a conversational faith tattoo, then this faith tattoo design is definitely a go too for something small. Unlike other faith tattoos that the meanings are spelled out for people, this one only incorporates the symbols for faith, hope, and love.
53. Small Faith Through Arrow Forearm Tattoo Design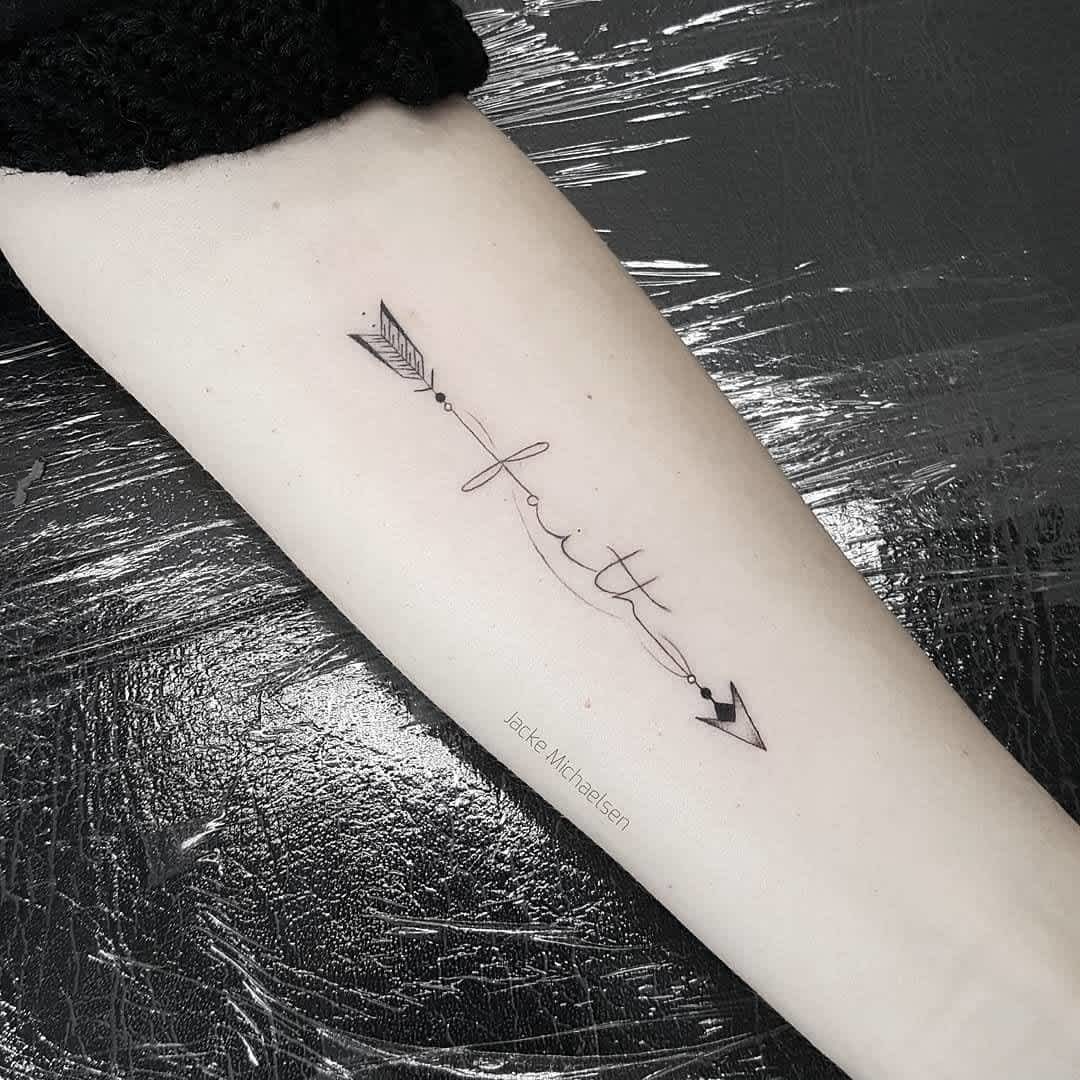 This arm tattoo has faith as the centralized theme, and it is written in a thin cursive font that makes the shaft of the arrow, and it has a detailed fletching and arrow tip that sets it apart from other designs.
54. Faith Hope Love Heart Tattoo Design
This faith tattoo design is simple and can be done in any sort of font that you prefer, but this one is a large all capital font with a small heart symbol at the end of the word love. Due to the way it is done, it could be placed anywhere that you want, and the sizing of the tattoo could vary based on your preference.
55. Colorful Dove Peace Faith Tattoo Design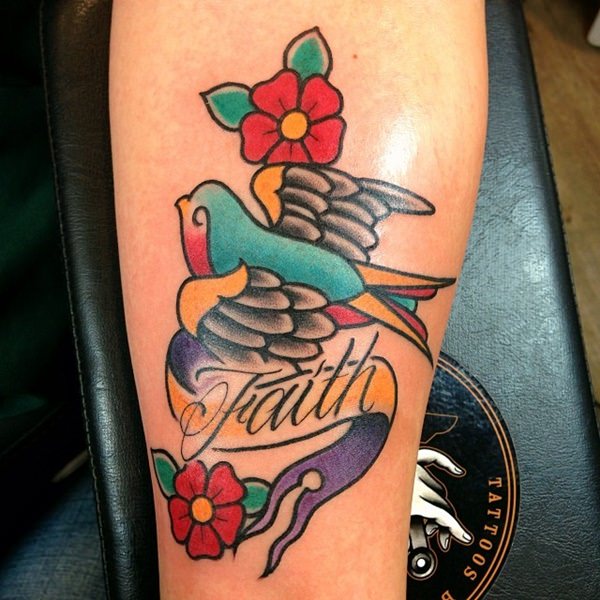 The dove is a symbol of peace, and in this faith tattoo design, it is the main focal point of the tattoo. It is colored using different colors and shading techniques to accent each part of the bird differently, and it has two small flowers and a ribbon with the word Faith written on it.
56. Small Praying Hands Faith Tattoo Design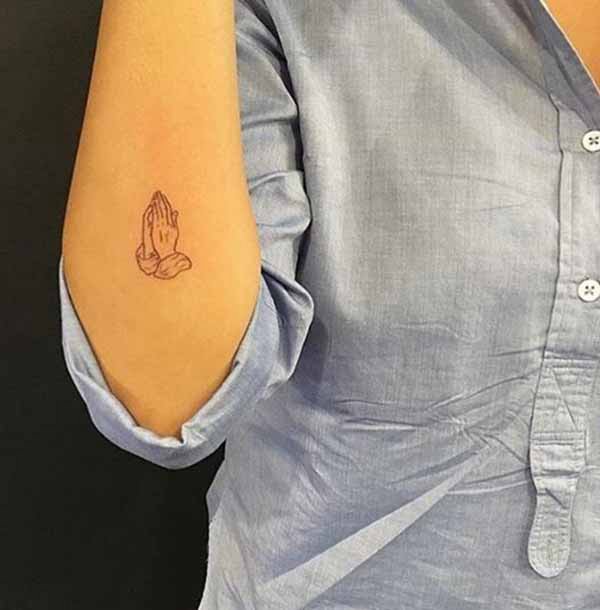 Praying Hands is a classical faith symbol, and this faith tattoo design will allow you to express your faith in a way that many have in the past, but you can make it your own by choosing where to put it and the color outline of the tattoo. It can be sized differently to fit different areas of the body.
57. Written Cursive Font Faith Tattoo Design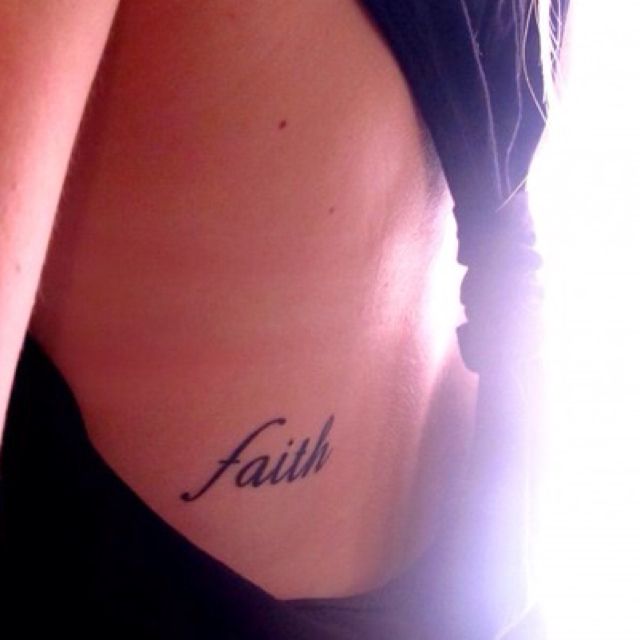 If you are looking for a tattoo design with the word faith in it, this is a simple design of the actual word, "faith" that you can have put anywhere on your body. It uses an easy-to-read cursive font, and it can be placed wherever you want it to go without compromising the integrity of the tattoo.
58. Symbol and 3-Word Tattoo Design with Red Accent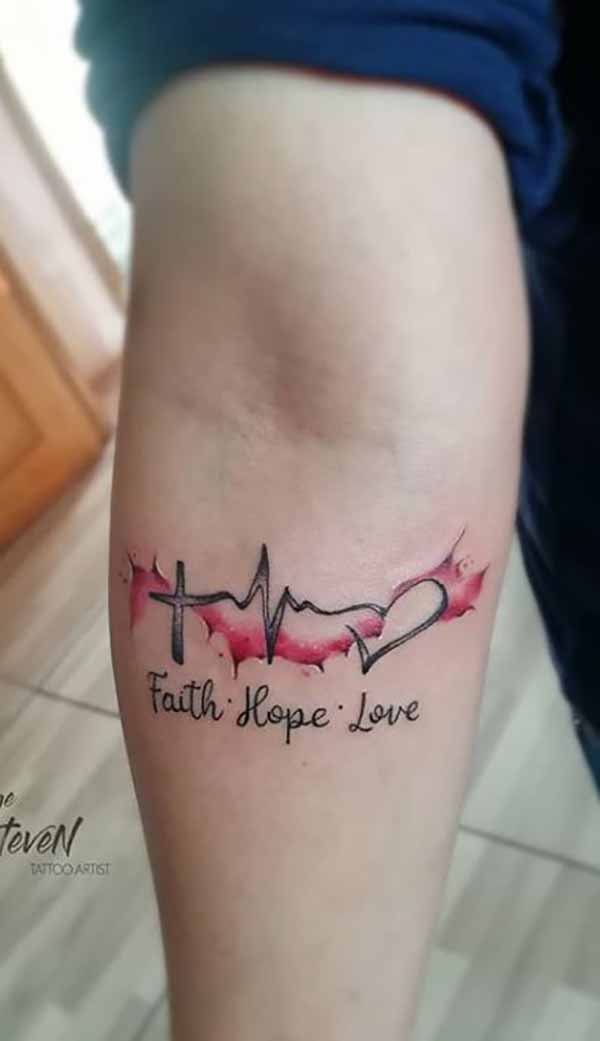 Faith hope, and love are all featured in this tattoo design in both words and symbols that are all connected together, each one leading to the next. The symbols are shaded and outlined in black, but they have a beautiful red accent design that flows through them giving them contrast.
59. Black and Red Symbol/Initial Wrist Tattoo Design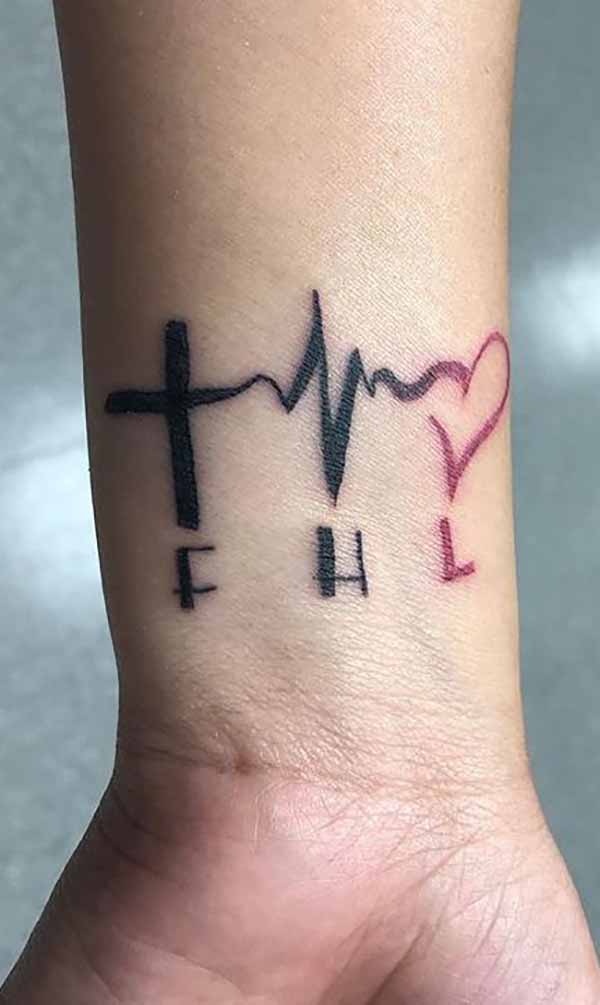 This wrist faith tattoos design is done with black and red ink, and instead of spelling out the meanings of the symbols, it merely places the first leader of the meaning under each symbol. It starts out as black, and then fades to a red ink at the heart and L for "love".
60. Infinity Faith Hope Love Forearm Tattoo Design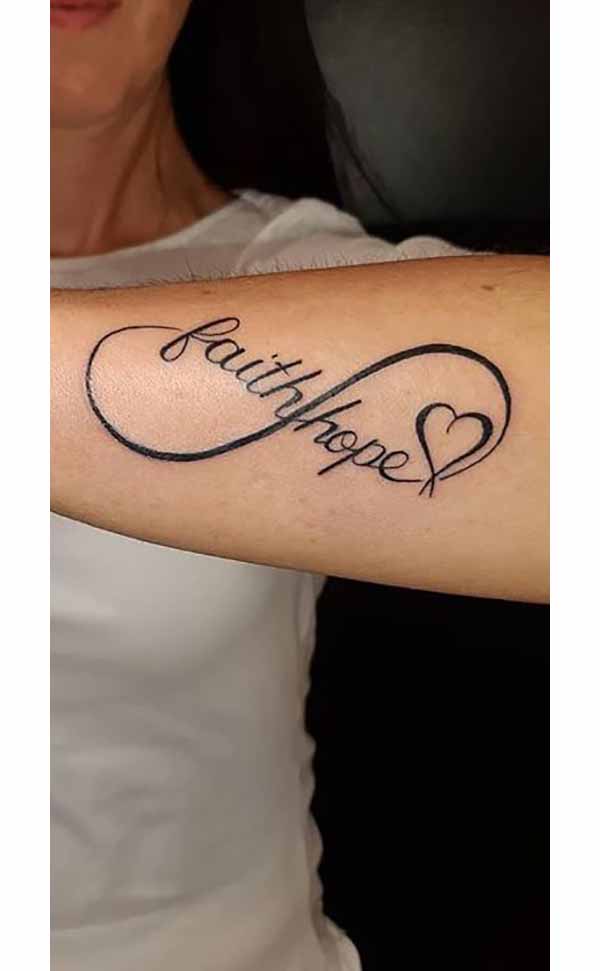 The infinity symbol is often used in faith tattoos, and this one is completed with the two words Faith and Hope mixed into the line of infinity, and they are also connected with a heart shape that stands for love completing the infinity symbol with strength.
60 Top Quality Faith Tattoos that You Must See
That is the best thing about faith tattoos is that it is your body and your tattoo, which means that anything can become a faith tattoo if you have faith in the symbol that you use. All in all, when you are looking for faith tattoos, remember that you can be creative because there isn't a right or wrong way or design for a faith tattoo. It is what matters to you and what you have faith in that will make the tattoo a viable faith tattoo or not.