The indelible bond between mother and daughter is exemplified by matching tattoos, and the best mother-daughter tattoo ideas and designs do a fantastic job illustrating this bond. These tattoos tell anyone who sees your very special relationship. Mother-daughter tattoos can tell the story of a lifelong harmonious connection, a newfound vigor, or a tumultuous relationship. A tattoo speaks of intense love and unending commitment to someone else.
Finding a tattoo that matches two people's styles can be a challenge, so there are a variety of styles in the list below. Some tattoos have no text while others consist solely of text. Figuring out which design components are most important is the first step, and you can work backward from there.
60 of the Most Creative Mother Daughter Tattoo Ideas and Designs that You'll Have to Get Right Away
You could choose to get matching or coordinating tattoos after a big milestone or a life-changing experience. After you have decided to get a matching tattoo with someone, determining where the tattoos will go is almost as important as the tattoo itself. Do you want the world to be able to see the tattoo or is it a story you would like to keep private? Wherever you decide to put it, this tattoo is a lasting reminder of how special your relationship is with your mother, daughter, or sisters.
1. Asymmetrical Lioness & Cub Encircled by Laurels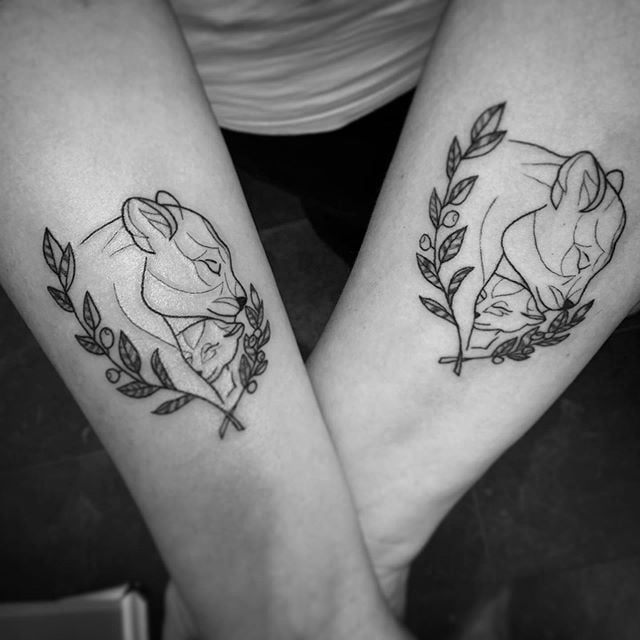 Swooping lines characterize this lioness as gentle, yet powerful. Both lioness and cub wear contented smiles, displaying unconditional love. Variegated laurel leaves offer just enough interest to balance this tattoo. If this lion tattoo is not feminine enough for you, consider switching out the laurel wreaths for your favorite flower.
2. "All You Need is Love" Coordinating Tattoo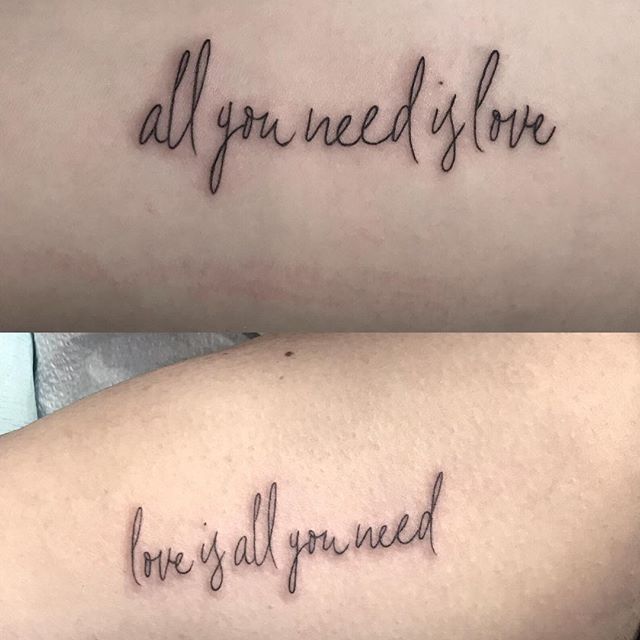 The flowing cursive script reads, "All you need is love" on one person's arm and "love is all you need" on the other person's. This tattoo could be moved anywhere and works when you are not together. To make it mean, even more, consider using this love tattoo design with each person's handwriting.
3. Fluttering Butterflies Coordinating Mother Daughter Tattoo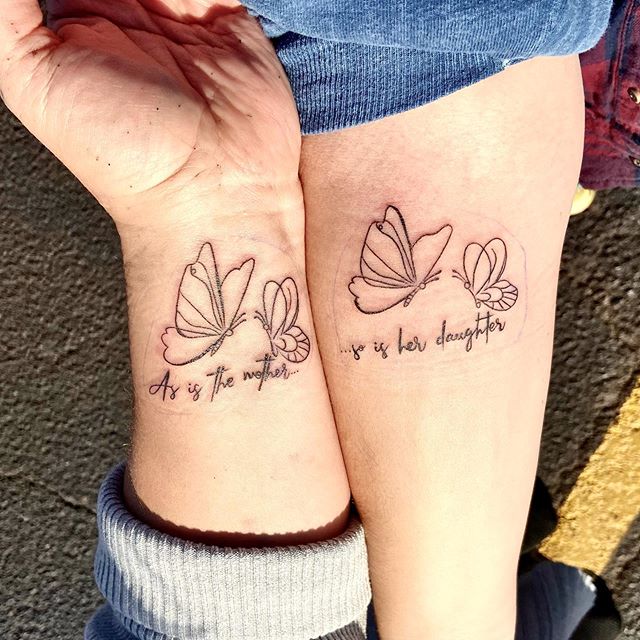 These two fluttering butterflies pair perfectly with the coordinating cursive text "As is the mother…So is her daughter." These tattoos are a matched set — neither is complete without the other. To make this tattoo more personalized to your family's story, consider adding some watercolor-style pops of color.
4. Cute Coordinating Elephants with Water Droplet Words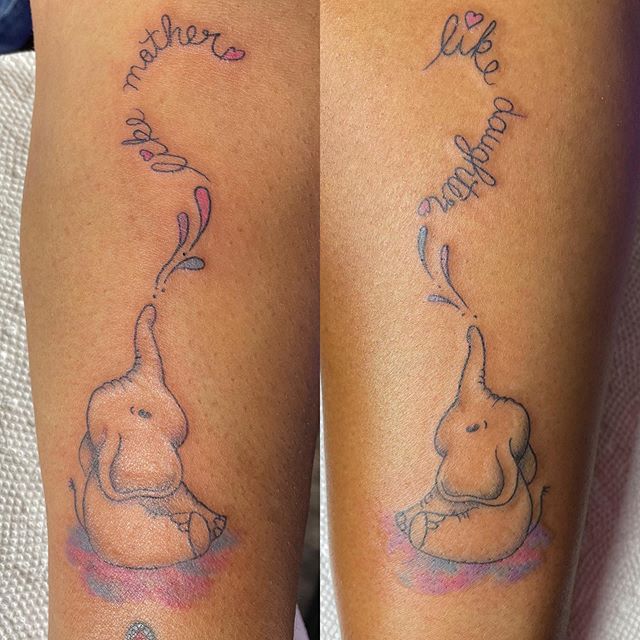 Cartoon elephants spout water droplets as well as script saying "Like mother, like daughter." Small hearts dot the i's, adding some cute glamor. Soft purples, pinks, and blues contribute some color. Slight shading adds some dimension. Consider using each person's real handwriting to make this mother-daughter tattoo mean even more.
5. Three "Love You Too Dear" Mother and Daughter Tattoos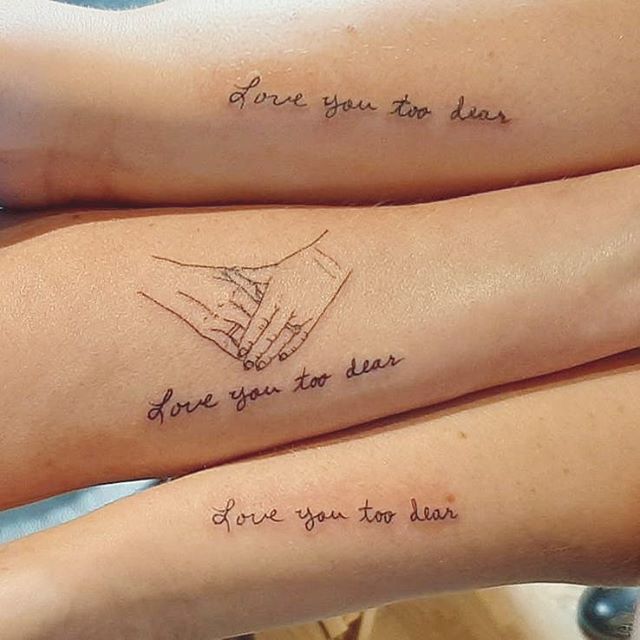 Perfect for mothers with more than one daughter, this set of three coordinating tattoos can offer a few options. The text "Love you too dear" could be written in the mother's or daughter's handwriting. One tattoo shows interlocking hands above the text, giving each tattoo recipient a few options.
6. Minimalist "Love"-stemmed Rose Tattoo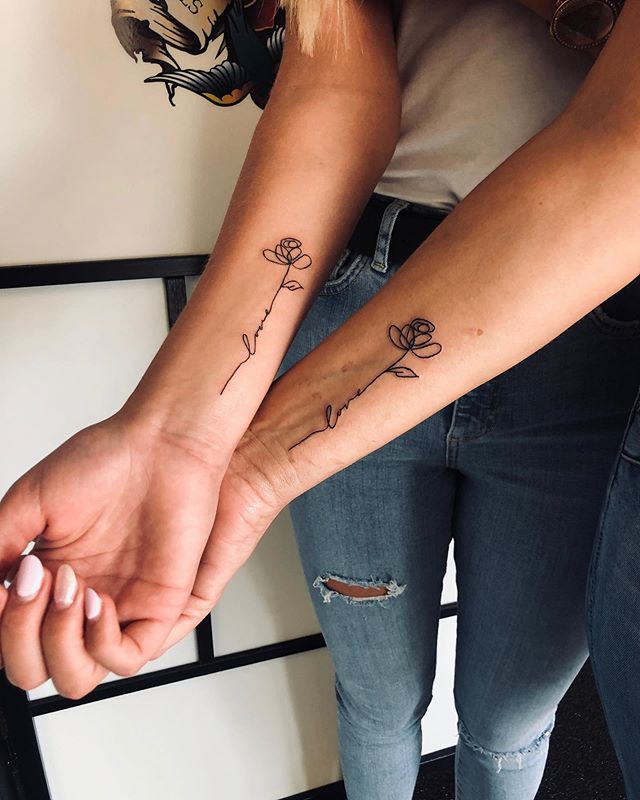 A single line shows a stylized rose with the word "love" flowing into the stem. Because this tattoo looks good both on its own and with its mate, this design is an excellent choice. It could be placed in a different location or made smaller without losing its simple elegance.
7. Five-Pointed Star Outline Wrist Tattoos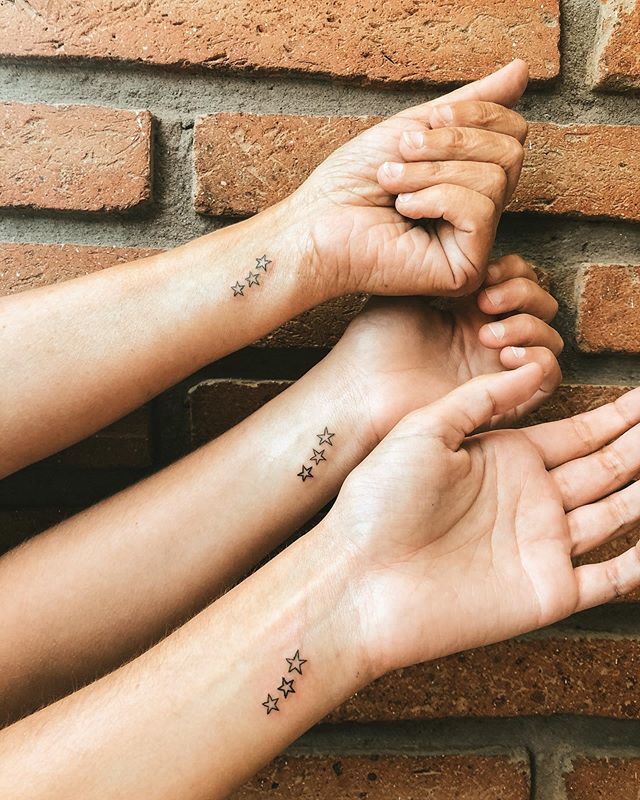 These three-star outlines are simple while serving as a special reminder of mothers, daughters, and sisters. To accommodate for either more daughters or fewer daughters, this design could easily be customized with different amounts of stars. To make this tattoo more meaningful, each person could choose her star's color.
8. Complementing Black & White Flower Arm Tattoos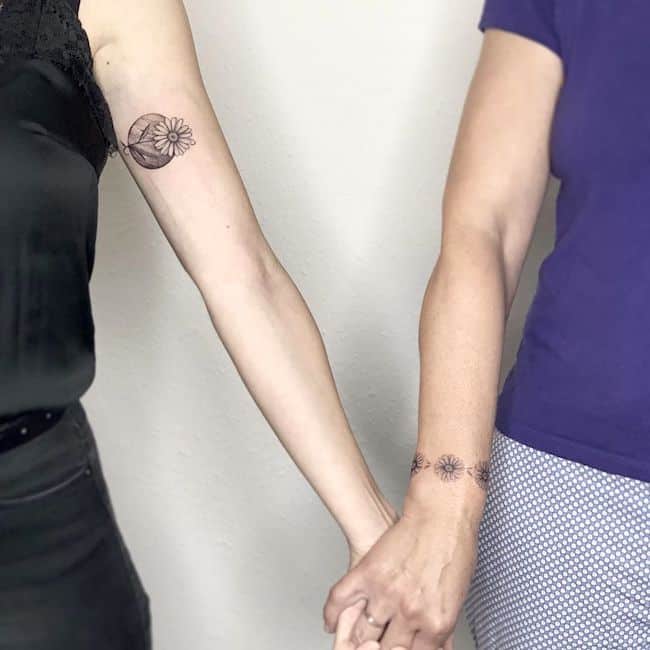 While it does not diminish the love shared, not all mothers and daughters have the same style. This tattoo design takes this into account by using the same design element — a flower — in both variations. To customize this design, you could consider using your favorite flower as an integral design.
9. Simply Small Pink Heart Wrist Tattoo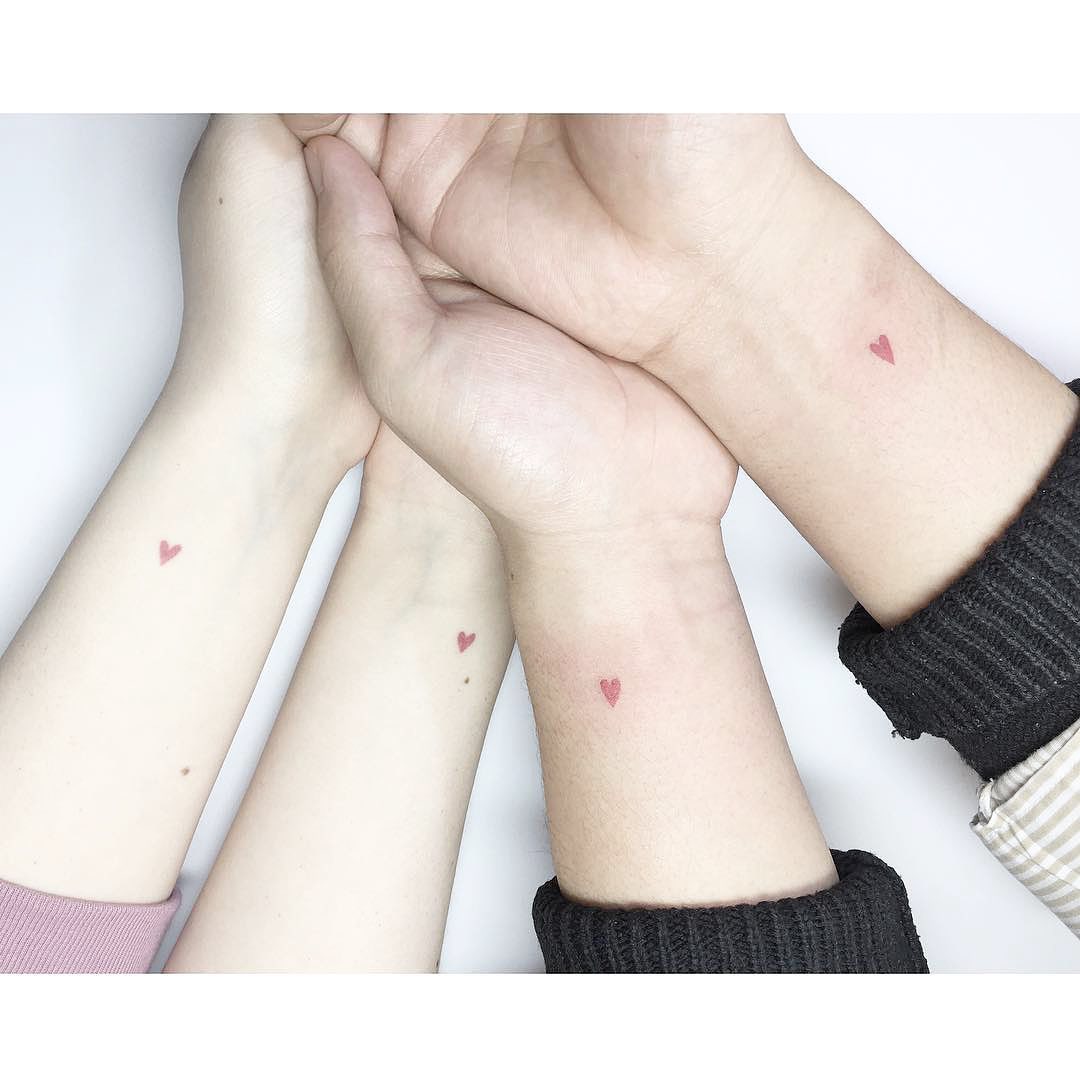 A single, small pink heart is a sincere reminder of how much someone means. It is beautiful in its simplicity. While these mother and daughter tattoos are shown on the wrist, they could be placed anywhere. Choosing a different color would be another way to customize this tattoo to fit you.
10. Floral Sun & Moon Mother-Daughter Tattoo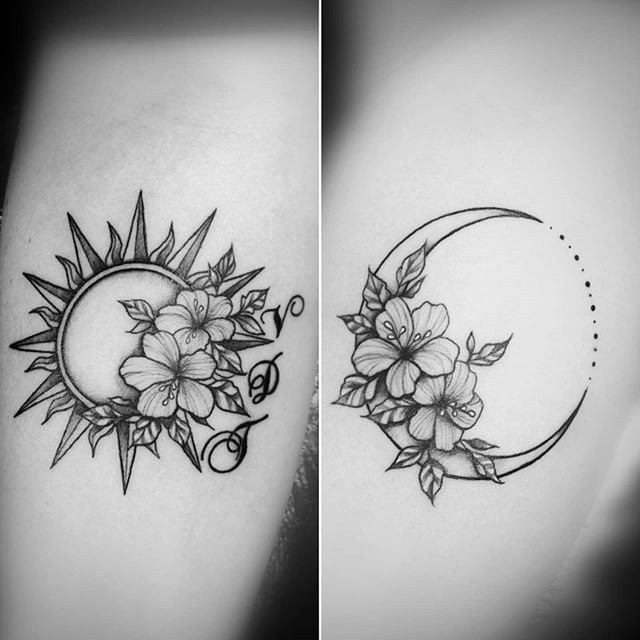 Complementing mother and daughter tattoos are an excellent way to have a meaningful tattoo with your family without being identical. This sun and moon achieve dimension through light shading and attract visual interest with variegated foliage. Because of all the details, it would be difficult to make these tattoos much smaller.
11. Matching Sunflower Collar Bone Tattoos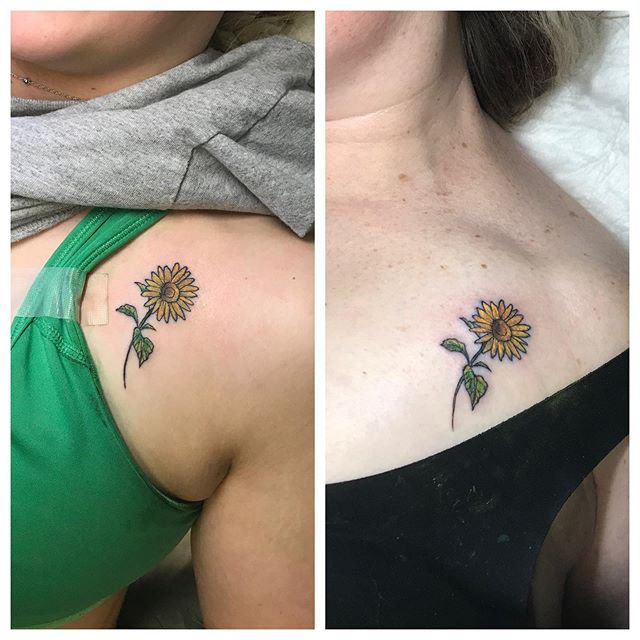 Two people getting the same small tattoo is a way to reflect love and devotion. This colored sunflower is a small and simple reminder of how special that person is. A vivid palette of yellow, green, and brown catches the eyev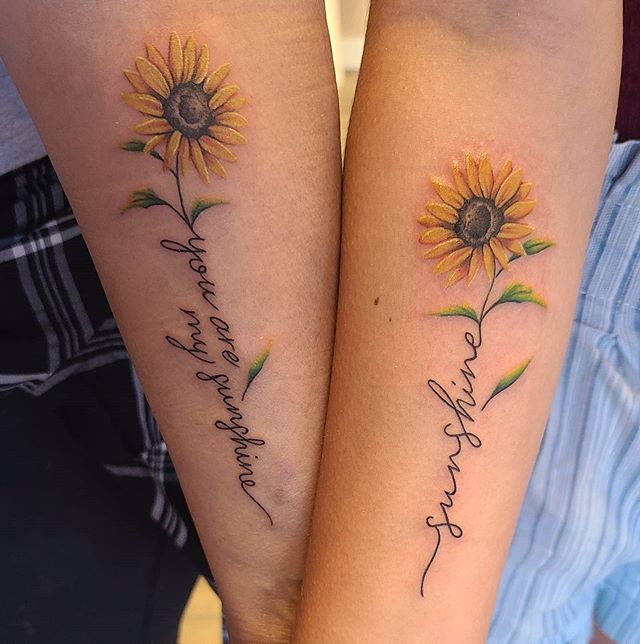 Sunflowers and sunshine go together. Artistic sunflowers pair well with stems defined in the cursive text: "You are my sunshine…sunshine." Yellow highlights on the leaves give a sun-tinged effect. To make this more meaningful, consider getting it with your mother's or daughter's handwriting for the stem.
13. Mother and Daughter Coordinating Flower Tattoos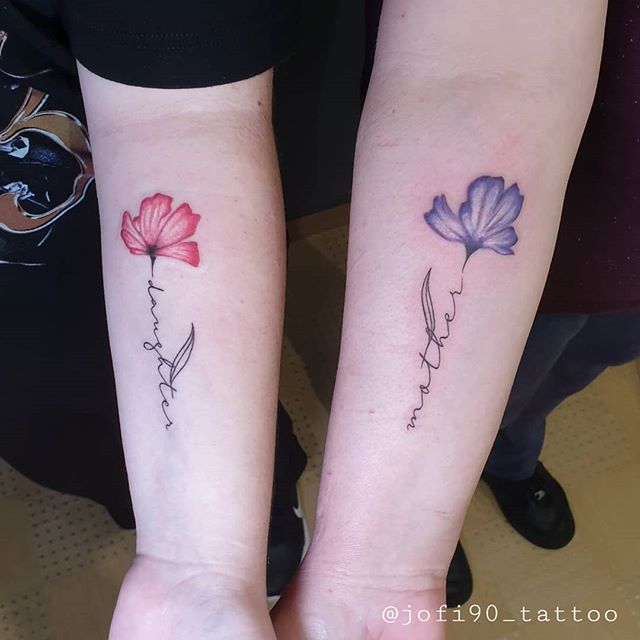 Red and purple flowers complement each other instead of matching in this mother and daughter tattoo. Leaf veins are used in the loose, cursive script to help the flower motif shine. Darker colors along the edge of the petals give these flowers a feeling of depth and dimension.
14. Heart and Rose Mother and Daughter Tattoo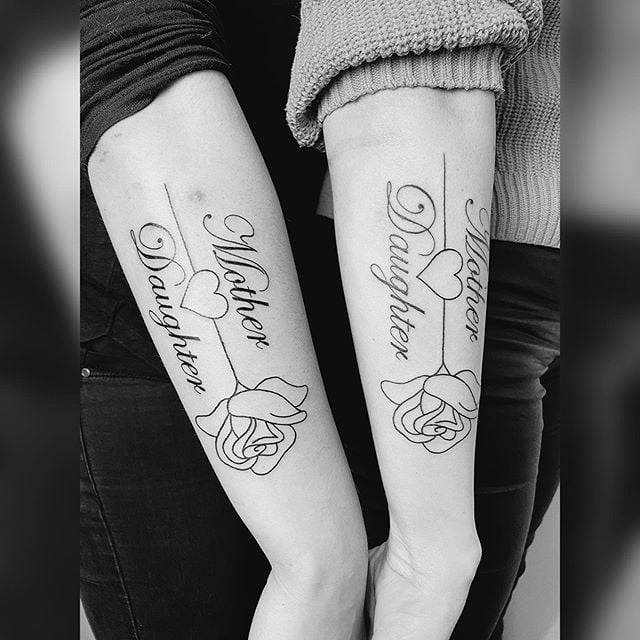 Script font and the line-art design give this mother and daughter tattoo design a formal feel. Decorative capital letters on one end of the stem balance the rose petals on the other end. To personalize this tattoo, you could consider placing a birthdate or name below the "mother" or "daughter" text.
15. "With Brave Wings, She Flies" Matching Tattoos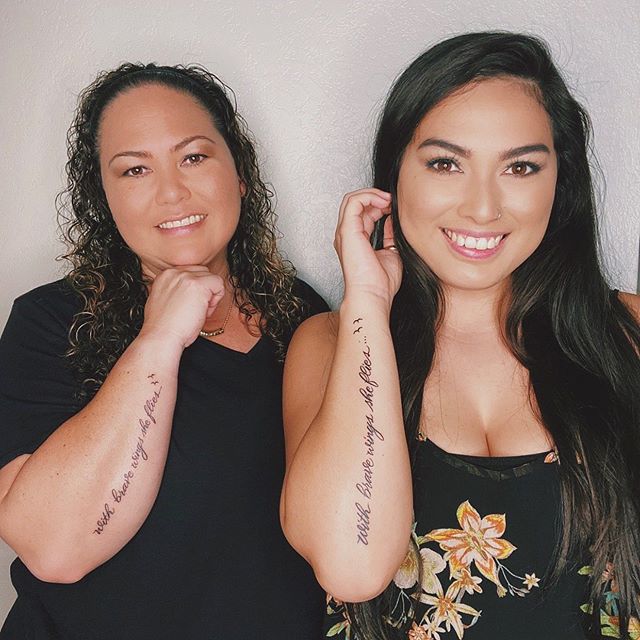 A single line of scrolling text spells out "with brave wings she flies." Illustrating the text are two flying bird outlines. Consider getting this tattoo in your mother or daughter's handwriting to help personalize it. Not obviously part of a matched tattoo set, this design looks good on its own.
16. Folk Art Mother Hen & Chick Mirrored Tattoos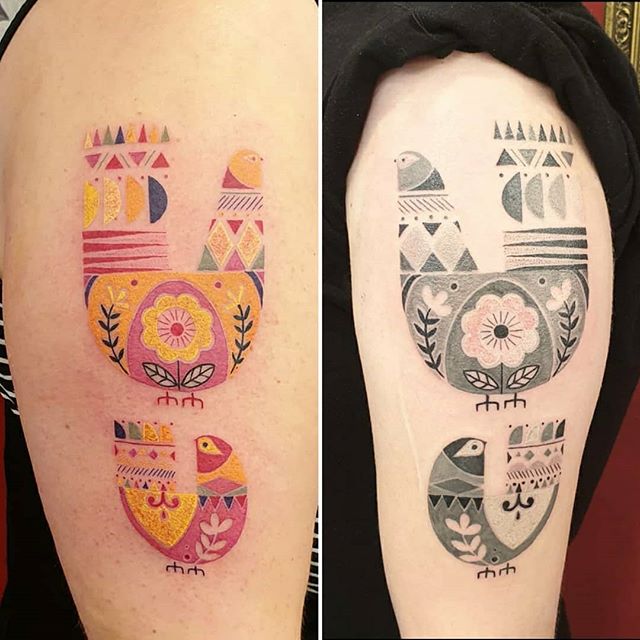 Traditional folk art depicts a mother hen and her chick with simple geometric patterns in this tattoo design. It looks appealing in either full color or grayscale, making it a good choice for mothers and daughters who may not share the same taste.
17. Coordinating Mother and Daughter Peony Tattoos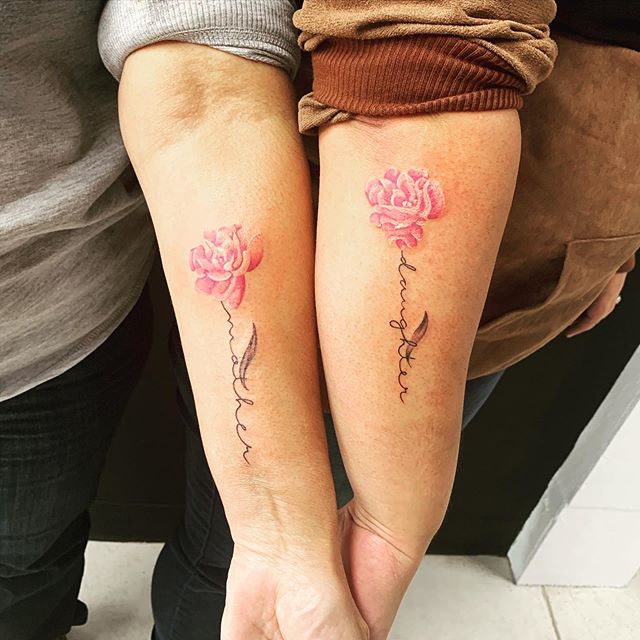 Two lavish peonies coordinate — but do not match — give this tattoo design lots of feminine charm. Loose cursive spells out "mother" and "daughter," as the peonies' stems, and a swooping leaf crosses T's. White highlights provide some depth and give these peonies some luscious texture.
18. Mom and Daughter Flower Stem Tattoos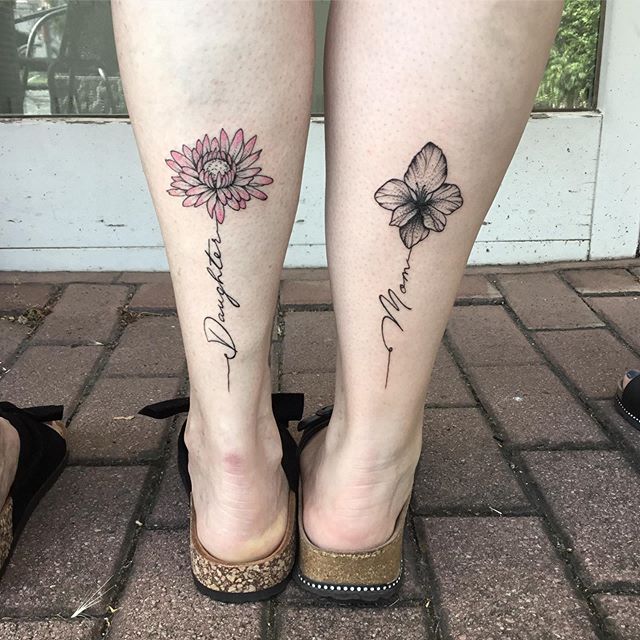 Flourishing capital letters help balance the flower at the end of the stem in this tattoo design. To make it unique to you, consider using your favorite flower and your mother's or daughter's handwriting. This tattoo is placed on the back of the leg, but it could go anywhere.
19. Fingerprint Heart Mother and Daughter Design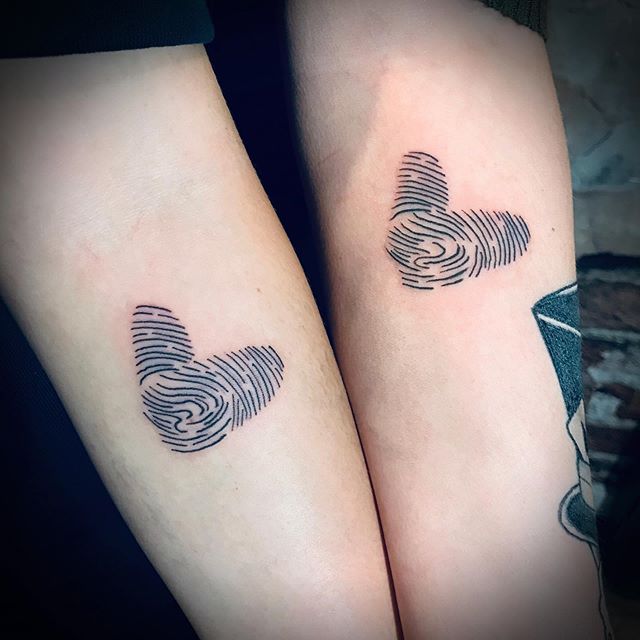 Composed of two fingerprints, no design could be more unique to you than this one. Bold, solid lines give this tattoo the feeling of lasting constancy. While you could get it smaller, it might start losing some detail if you downsize it too much.
20. Coordinating Feather with Birds Tattoos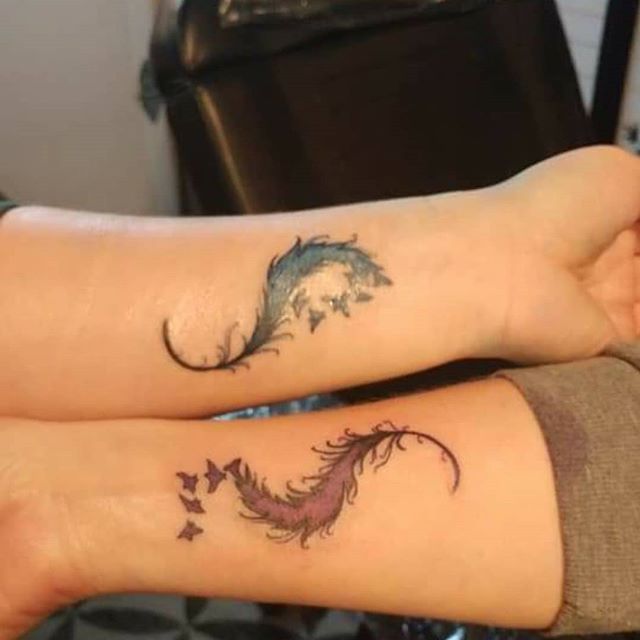 Colored in purple and blue, this design could use whichever shades you choose. Scraggly details on the feather outlines give a wild feel and illustrate that mother-daughter relationships are not always harmonious. Because this design does not include any text, it can stand on its own.
21. The Aristocats Floral Tattoo for Mothers & Daughters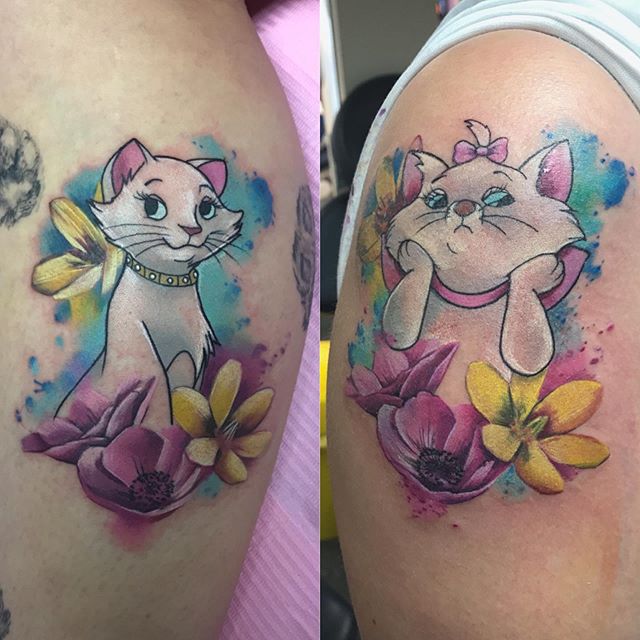 Artistic flowers and a watercolor background give this tattoo a Parisian flair. Skillful shading gives each character depth and plenty of personality. If you and your mother or daughter are fans of the Disney movie The Aristocats, this tattoo design is a great choice.
22. Cute Elephants with Balloons Matching Tattoos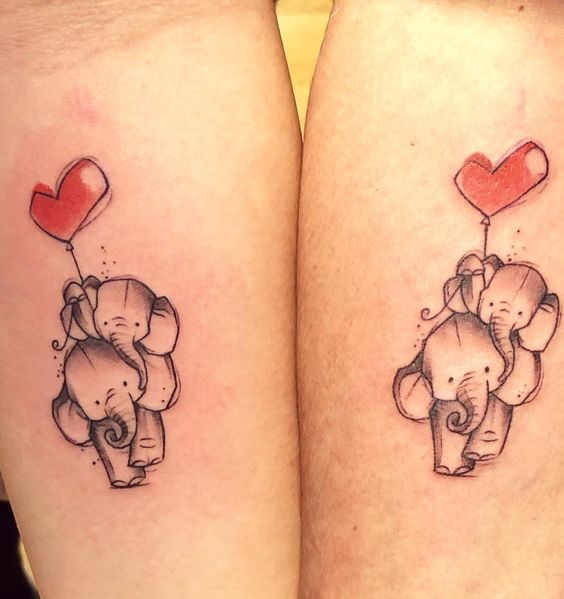 Depicted in an artistic style, these elephants appear quite cute and cuddly. The red heart balloon overflowing the outline gives this design a sense of motion. As a small tattoo, the amount of detail and elephants' personality makes this tattoo a work of art.
23. Multicolor Heart Outline Foot Tattoo Designs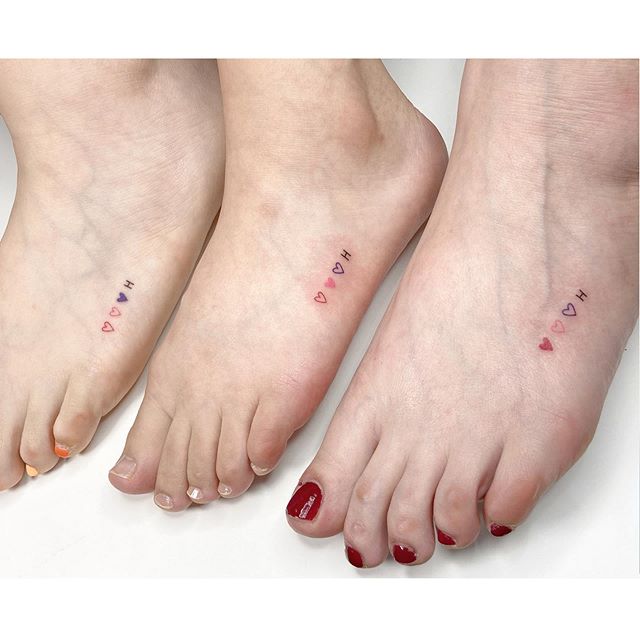 Each heart represents a person in this mother-daughter design. Because you are able to change your heart's color, this tattoo offers some options for customization. If you and your mother, daughters, or sisters are searching for a foot tattoo, this simple multicolor outline is an excellent choice.
24. Matching Sun and Moon Tattoos on Inner Forearm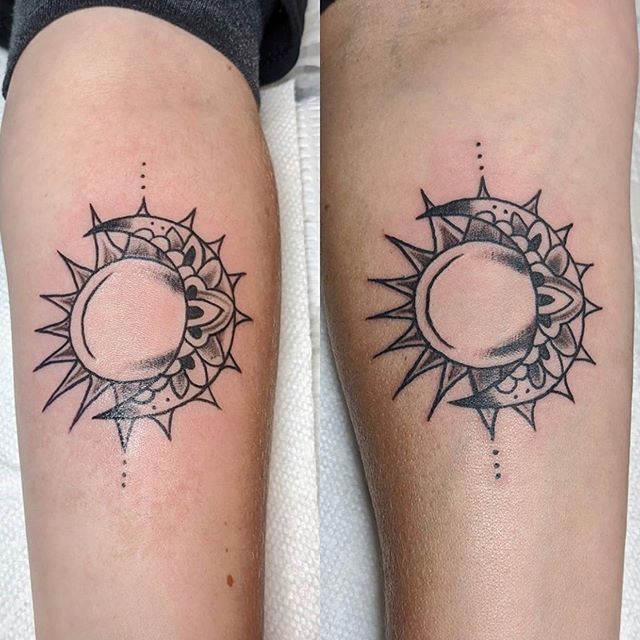 Curvy lines and sharp sun-rays give this moon tattoos idea a cute, cartoon appeal. Gentle shading provides depth, texture, and visual interest. To show that your mother or daughter is the moon to your sun (or the sun to your moon), this design is cute and eye-catching.
25. "You Are My Sunshine" Floral Shoulder Tattoos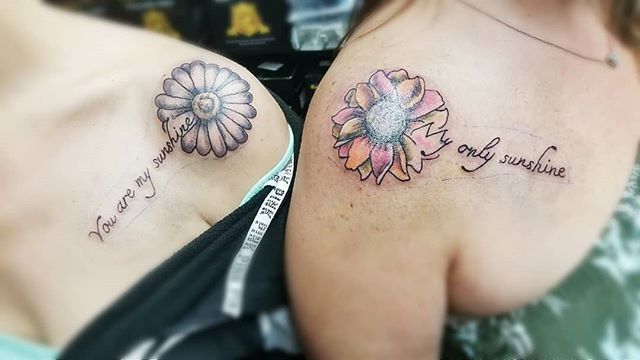 Each of these tattoos is one half of the whole, while each appears as accomplished standalone tattoos. To emphasize the text, the petal colors fade where the flower meets the text. To illustrate different personalities, one flower is tidy and orderly while the other is windswept and adventurous. Which flower are you?
26. Lotus Arrows Mother and Daughter Tattoos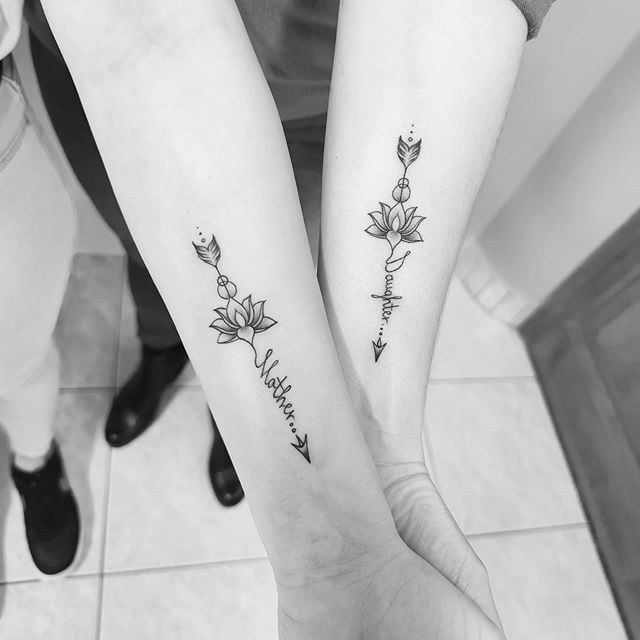 Shaped like an arrow, this tattoo shows that every mother-daughter relationship is a journey. Using your mother's or daughter's handwriting or swapping out the words "mother" and "daughter" for something special in your journey are ways to make this tattoo special.
27. Black & White Patterned Swallow Silhouette Tattoos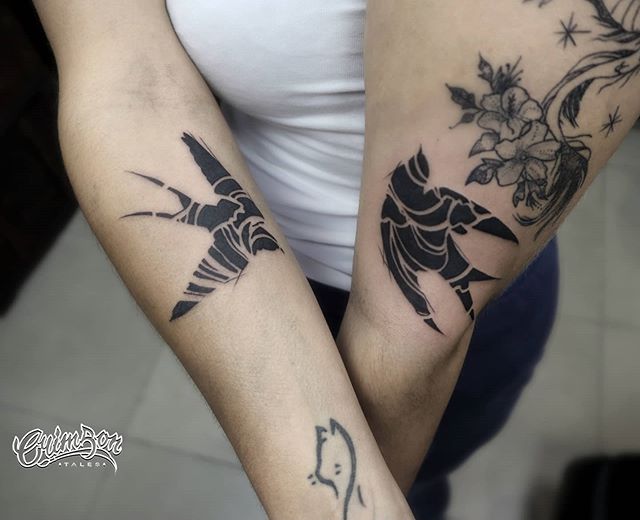 Swallows in flight coordinate in this mother-daughter design. Sketchy artistic marks define the swallows' outline, while a shatter pattern adds visual interest. For mother-daughter relationships that have endured rough times, these coordinating tattoos illustrate that even in brokenness, the flight is possible.
28. Colorful Iris & Poppy Mother-Daughter Stem Tattoo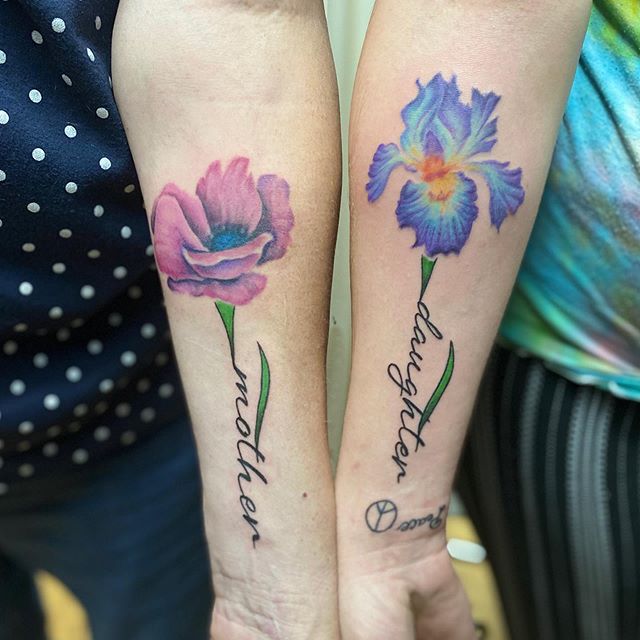 Consider choosing flowers that have meaning for you and your mother or daughter. A realistic flower style paired with a vibrant green stem and leaf draws attention to the scrolling black text. These inner arm mother-daughter tattoos are a beautiful reminder of a flowering relationship.
29. Red Flower with Handwritten Stem Coordinating Tattoos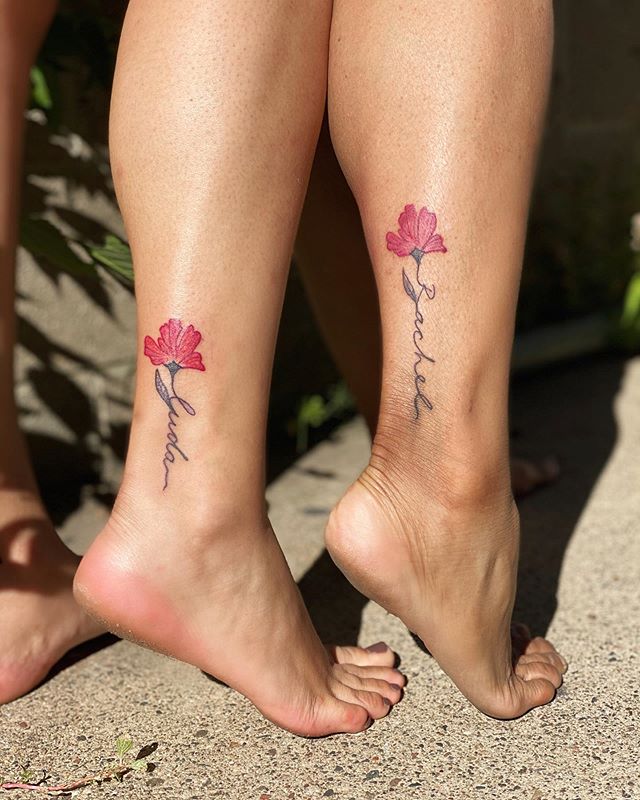 Red petals spread from a green stem that fades to black handwritten names. An elegantly shaped leaf adds understated sophistication and emphasizes the floral motif. These matching flowers are able to stand alone, but look good together as well. This design could be used for families with multiple daughters.
30. Matching Floral "Family" Tattoo Design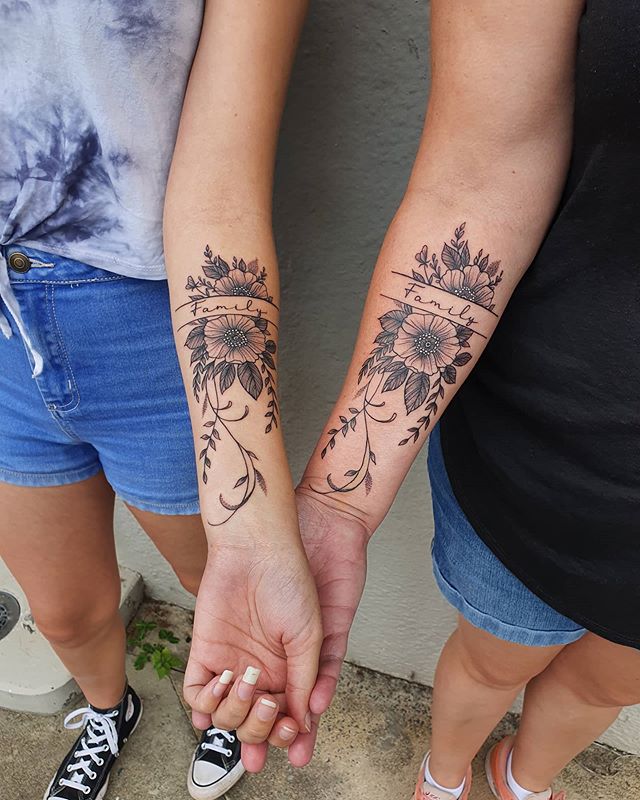 Mothers and daughters are not always related — sometimes they choose to become family. This tattoo is perfect for nontraditional mothers and daughters. Lush foliage accents two beautiful flowers while vines extend from elbow to wrist. The word "Family" scrolls above the bouquet.
31. Heartbeat Wrist Tattoos for Mothers and Daughters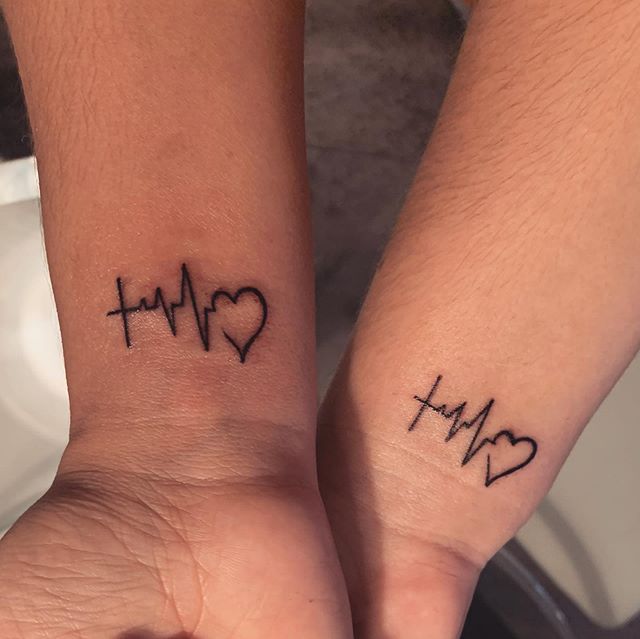 Placed where you check for a pulse, this heartbeat tattoo is the perfect reminder of a mother or daughter's love. This design is simple and says love without using any words. While this design is well located at the wrist, it could be placed anywhere.
32. Piglet & Pooh Coordinating Tattoo Design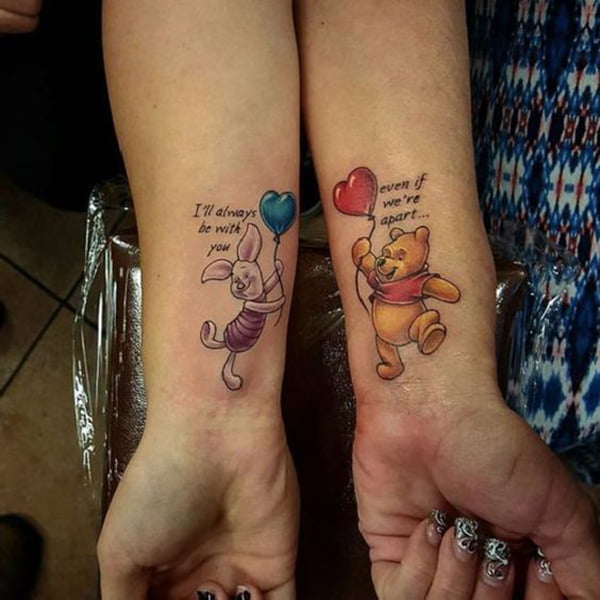 Holding heart-shaped balloons, Piglet and Winnie the Pooh float happily upwards from the wrist. Highlighting and shading give these familiar characters a cute, cuddly charm. Bringing nostalgic memories, this Winnie the Pooh and Piglet tattoo is perfect for mothers and daughters who treasure carefree innocence.
33. Mother Holding Child Above the Elbow Tattoo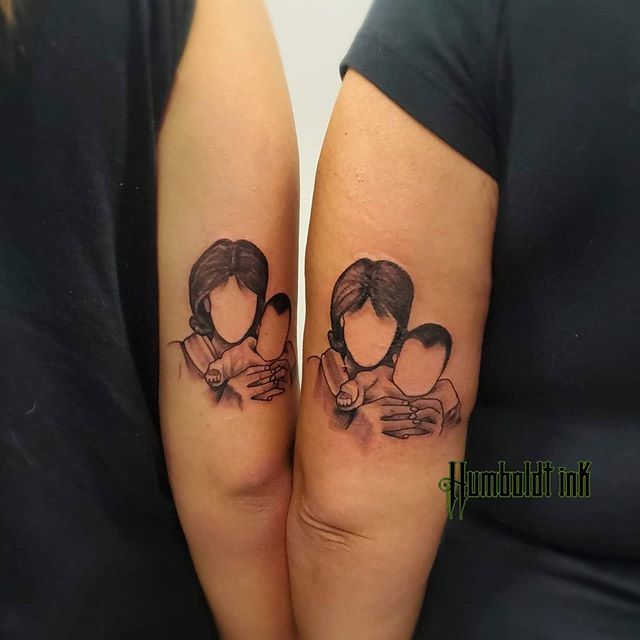 Realistic shading makes this tattoo appear like a picture. Because this image does not provide faces, it lets the viewer imagine the expressions of the mother and child. Of course, you could choose to include faces in your mother-daughter tattoos, depending on your preferences.
34. Wheel of Letters Wrist Tattoo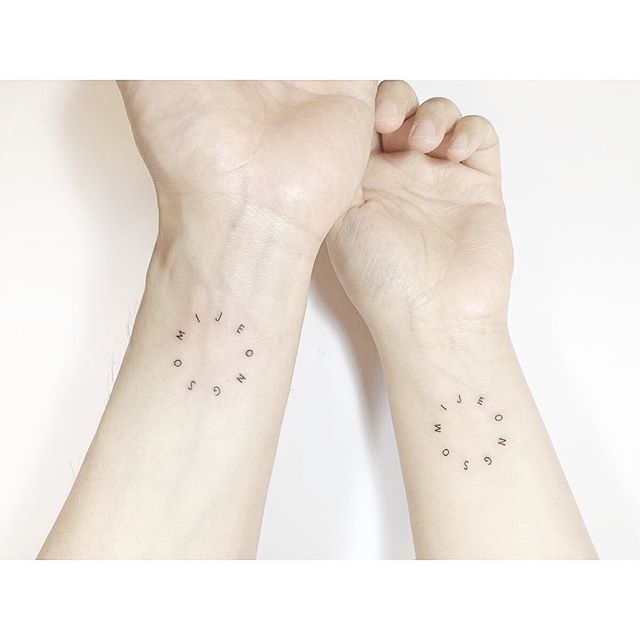 This tattoo is a simple collection of letters in a visually satisfying circle. You could get any short phrase or combination of names for your design. Using a more decorative would add more detail, but would take away some of the simple beauty.
35. Mother and Daughter Heart & Flower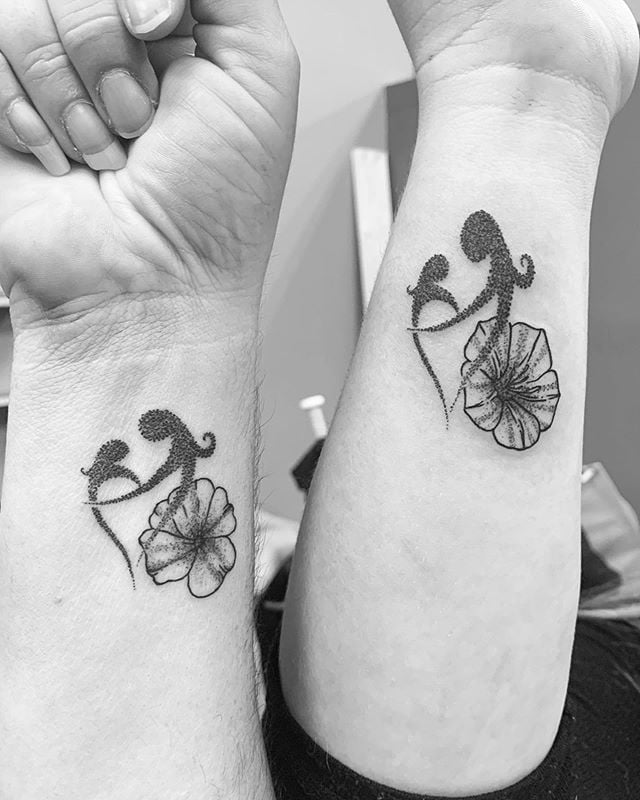 This tattoo design includes three parts that illustrate the many facets of the mother-daughter relationship. Mother and daughter have different flowers that are shaded in the same style to coordinate. To make this design fit your relationship, you could customize the mother-daughter figures or use your favorite flowers.
36. Pinkie Promise with Floral Wreath Tattoo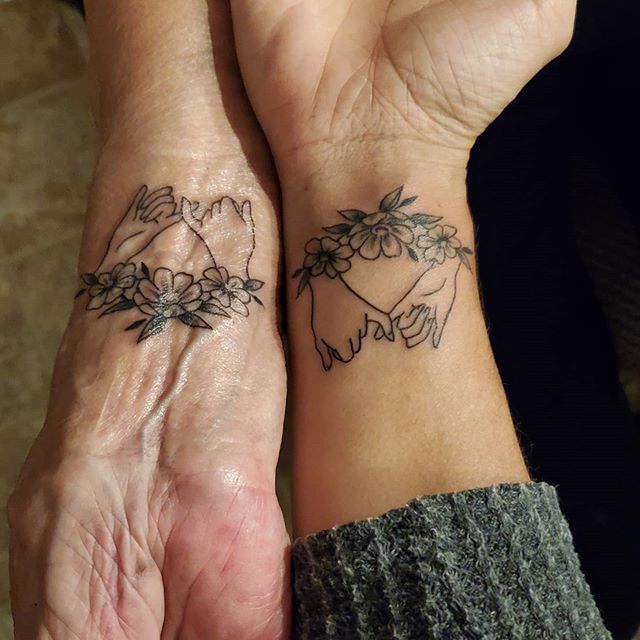 A simple, outline style shows two hands making a pinkie promise to show that mothers and daughters are forever. The floral wreath is shaded, providing contrast to the unpretentious hands. This tattoo shows enduring promise and everlasting love without saying a single word.
37. "She Gave Me…" Matching Half-Sunflower Tattoos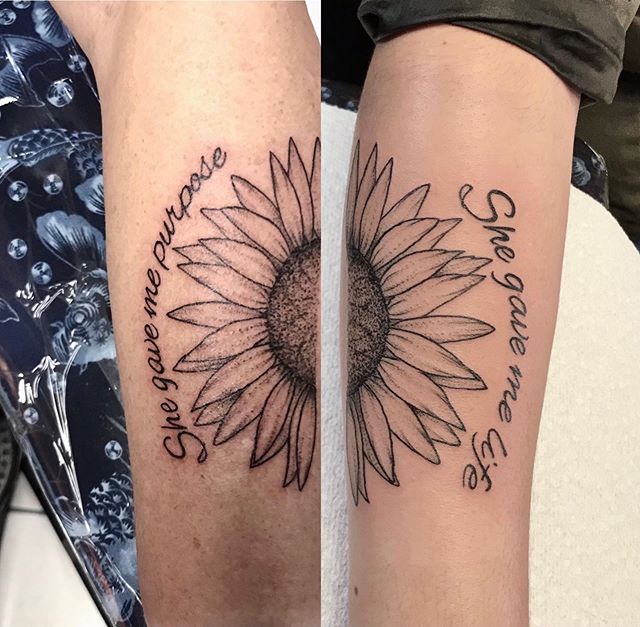 Both mother and daughter wear a sunflower half and a phrase in cursive. While this is a larger arm tattoo, it could be scaled down with most of the detail preserved. This tattoo is beautiful because it includes a unique phrase for both the mother and the daughter.
38. Single Line Heart with a Wave Tattoo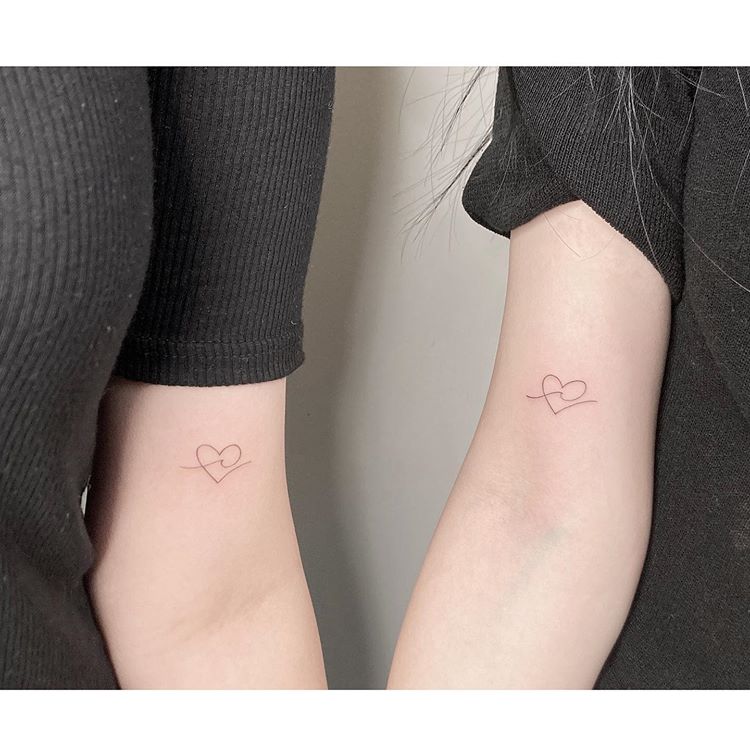 Composed of a single line, this simple tattoo is two images in one. A wave crests inside a heart, making this the perfect choice for mothers and daughters who share a love for the beach. Because this tattoo is so simple, it could be scaled down while retaining its beauty.
39. Butterfly Tattoos with Fingerprint Wings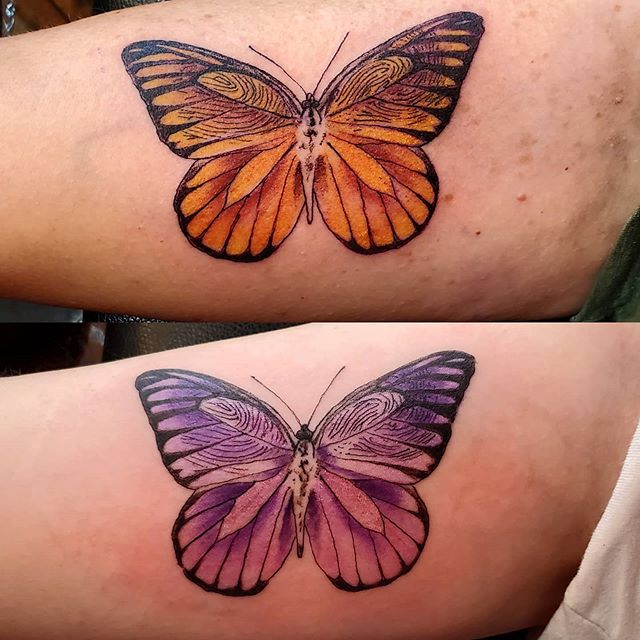 Vivid colors and dynamic shading make these butterflies come to life — consider choosing your favorite color while contemplating this design. The fingerprint in the wings is so subtle it is not immediately noticed. If you have a favorite butterfly, it could easily be incorporated into this design.
40. Mother Daughter Heart Tattoo with Foliage and Flowers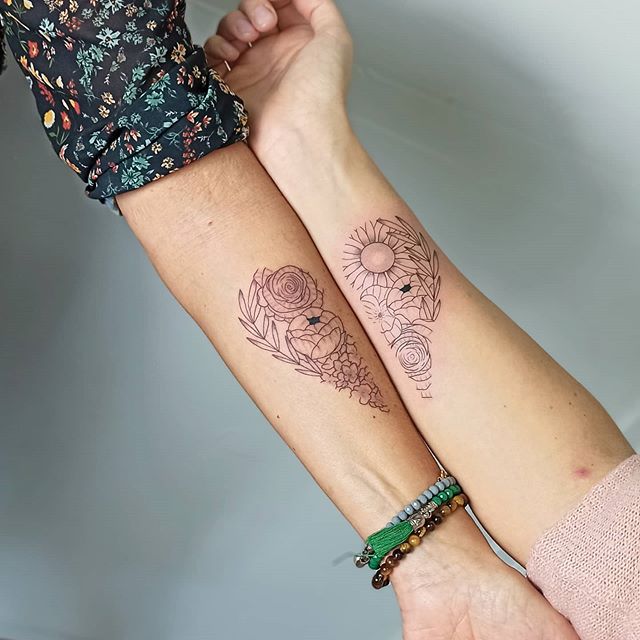 Characterized by a simple outline style, that tattoo does feature some slight shading to give just a hint of dimension. Dark shapes catch the eye. Consider customizing this tattoo with your favorite flowers and foliage to make it just right for you.
41. Zodiac Constellations with Stags Tattoo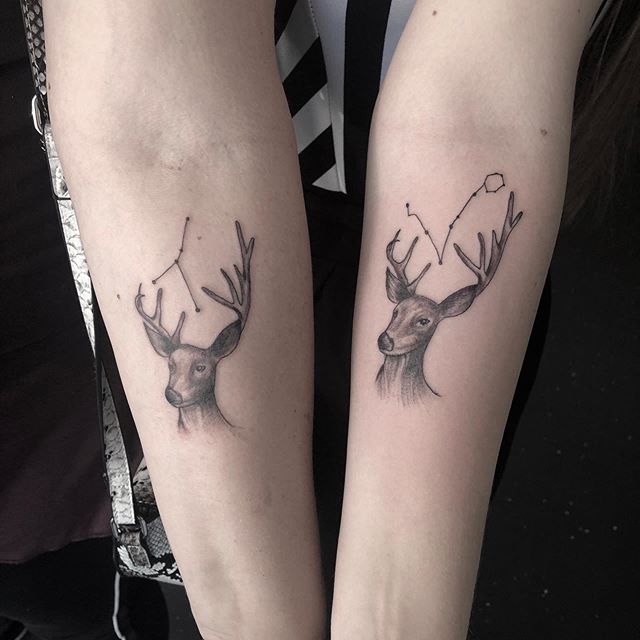 Perfect for mothers and daughters who share a love of the outdoors, this design features stags and the night sky. Of course, you will want to use your zodiac star sign's constellations instead of the ones are shown. The stag's antlers give a fitting frame to the stars.
42. Realistic Butterfly and Hearts with Names Tattoo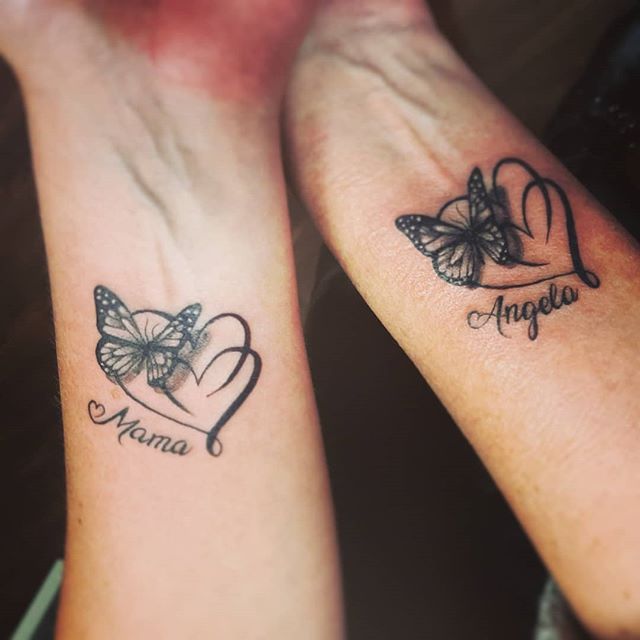 A small shadow and realistic shading offer an optical illusion, making it appear as if the butterfly is actually landing on your wrist. Two interlocking hearts emphasize the names, which also employ small hearts in the script. Thick lines on the heart keep this design feeling balanced.
43. One of Three: Geometric Lotus Tattoo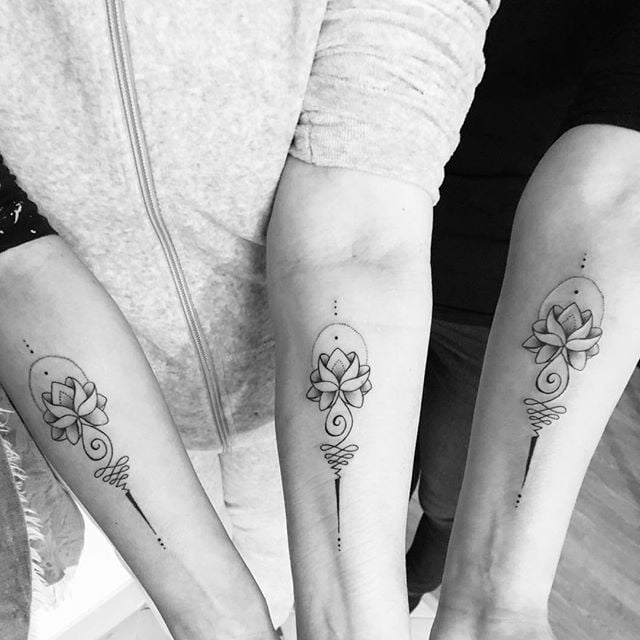 This tattoo begins and ends with three dots, representing three people. A single dot above each lotus represents each person. The lotus fades into an elegant design and is perfectly framed by the inner forearm. To personalize this tattoo, use a flower that has meaning to you and your family.
44. Matching Dragonfly Collar Bone Tattoos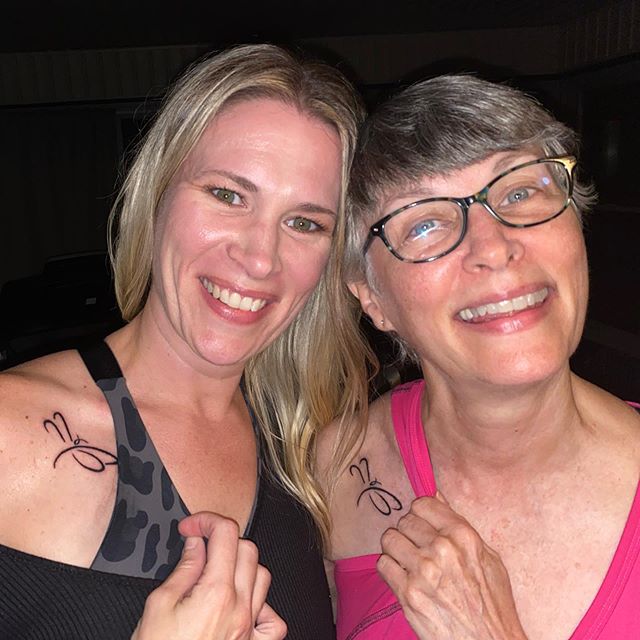 Simple lines illustrate this stylized dragonfly tattoo. Bold swoops give this dragonfly design a sense of sweeping motion. This tattoo would look good just about anywhere and could be made smaller if necessary. If you are willing to add more detail to personalize it, consider adding your fingerprints in the wings.
45. "…Even if We're Apart" Eeyore & Tigger Tattoo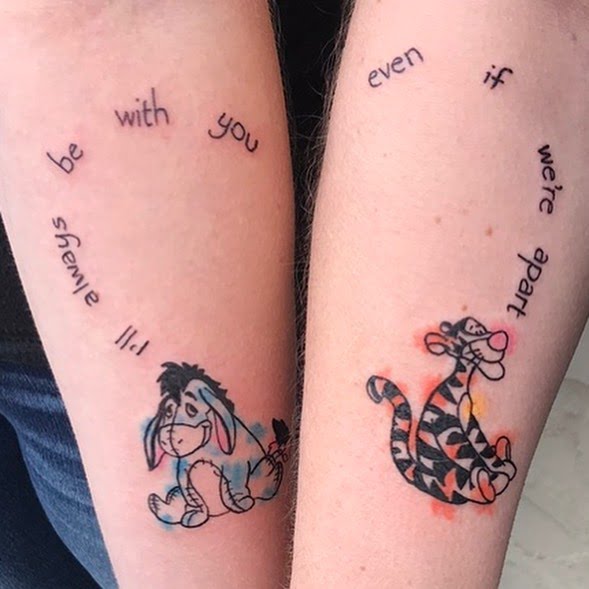 Spots of soft color give an artistic glow. Script shaped in half-hearts makes it clear that these tattoos are complete only when together. This style could be applied to any of your favorite characters from the Hundred Acre Woods, in case Eeyore or Tigger is not your style.
46. Matching Floral Bouquet Wrist Tattoos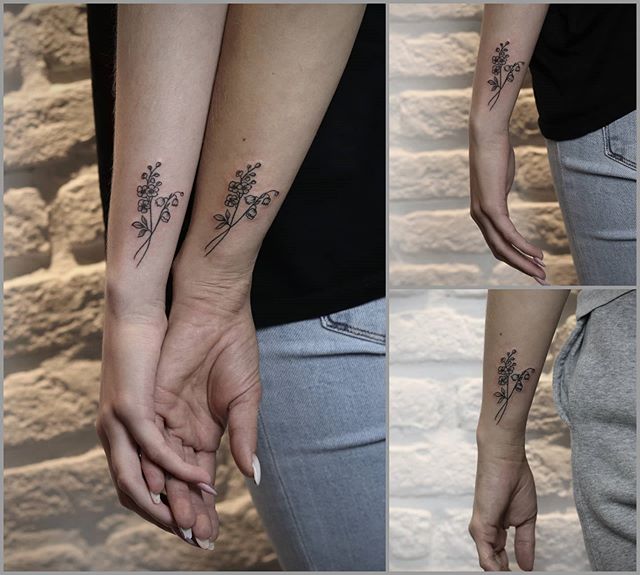 Two sprigs of flowers cross at the stem to show that these two people are connected, yet separate. The uncolored, outline style is eye-catching as is, but could be customized with a burst of watercolor-style color. While this design is fetching on the wrist, it would look good almost anywhere.
47. Matching Mother and Daughter with Purple Petals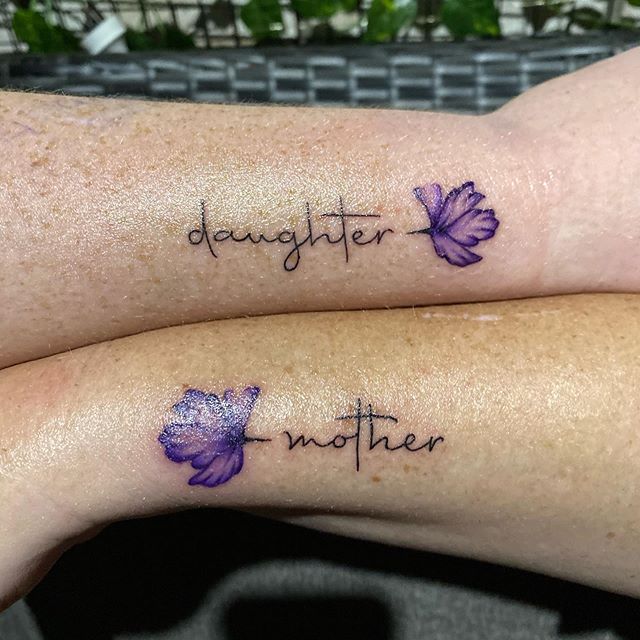 Richly shaded purple petals draw attention to the loose cursive script. Highlights in the petals give this design a three-dimensional effect while the black outline ties into the text. Using your mother's or daughter's handwriting for the script would make this tattoo even more special.
48. Aristocats Mother and Kitten Matching Tattoos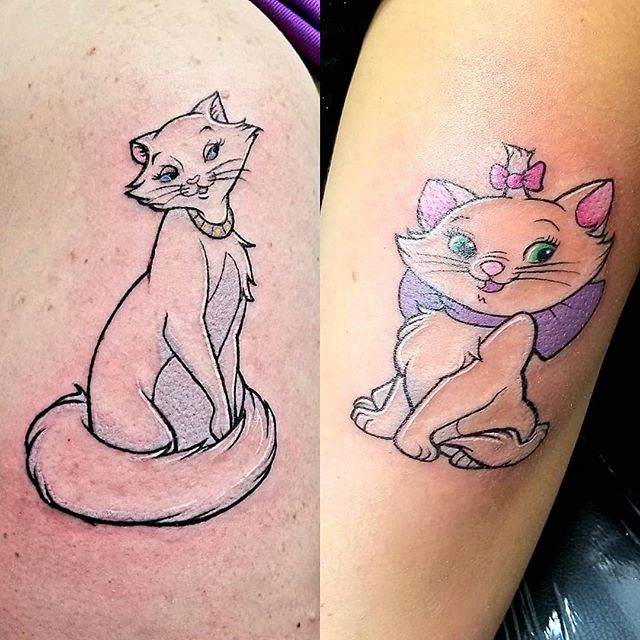 Subtle highlights and small amounts of color emphasize the personality of these two aristocratic cats. Graceful blue eyes and a soft, gold collar characterize one while fiery green eyes characterize the other. This design is perfect for elegant mothers who have feisty daughters.
49. Vibrant Sunflower with Ohana Stems Arm Tattoos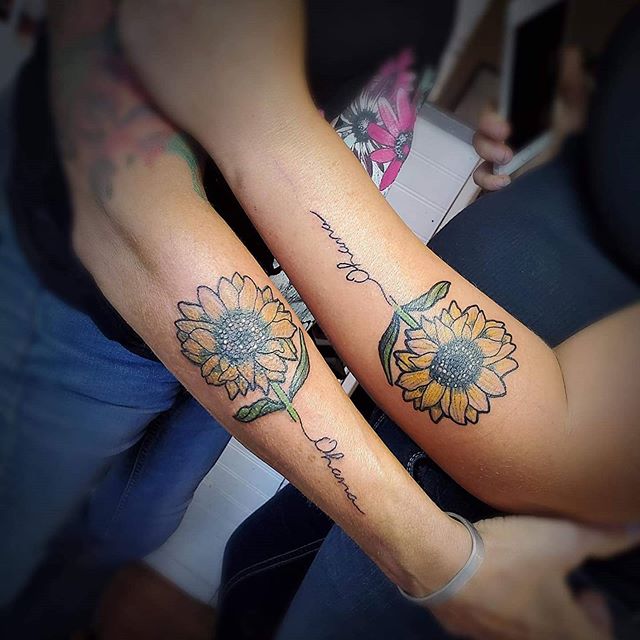 Sunflower seeds are the warm center of this tattoo, drawing the eye. A nice flow is achieved, as the eye then travels to the Hawaiian word for "family" in the stem. If using names in the stems is not your style, this is the design for you.
50. Matching Hummingbird with Flower Tattoos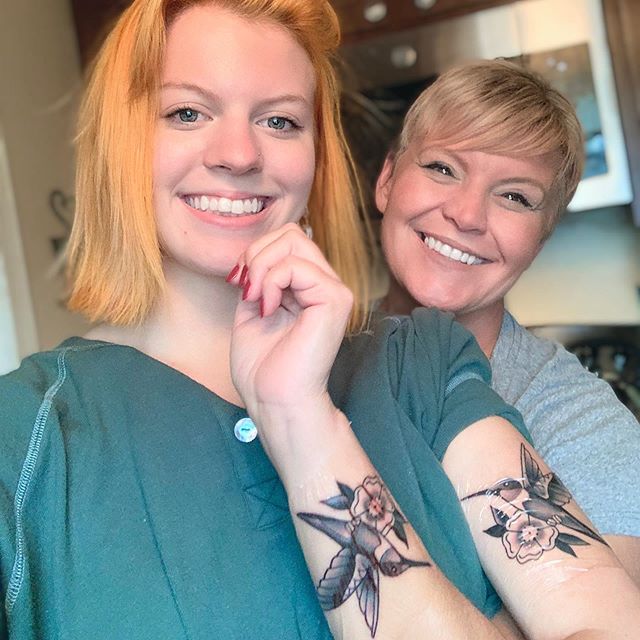 Painted in a blue and gray palette, this tattoo could be customized with your favorite colors. Balance is achieved in this design because the hummingbird's wings counter the flower. In addition to providing balance, the flower with leaves gives a nice frame.
51. Galaxy Humpback Whales Tattoo Design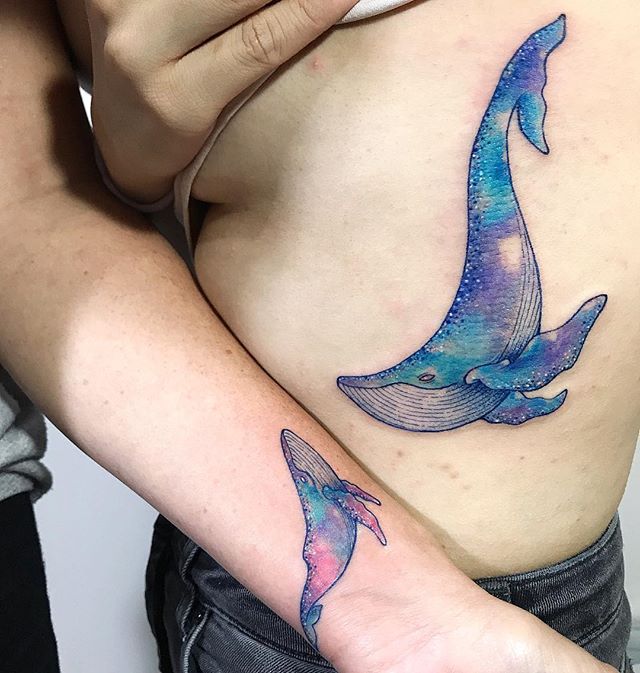 Blues, purples, and pinks give an ethereal, cosmic effect to these matching humpback whales. White dots represent stars while giving some texture to the whales' skin. Although they are in different locations, you could choose where you want them and what shape your humpback whales will take.
52. Unique Purple Butterfly and Roses Matching Tattoos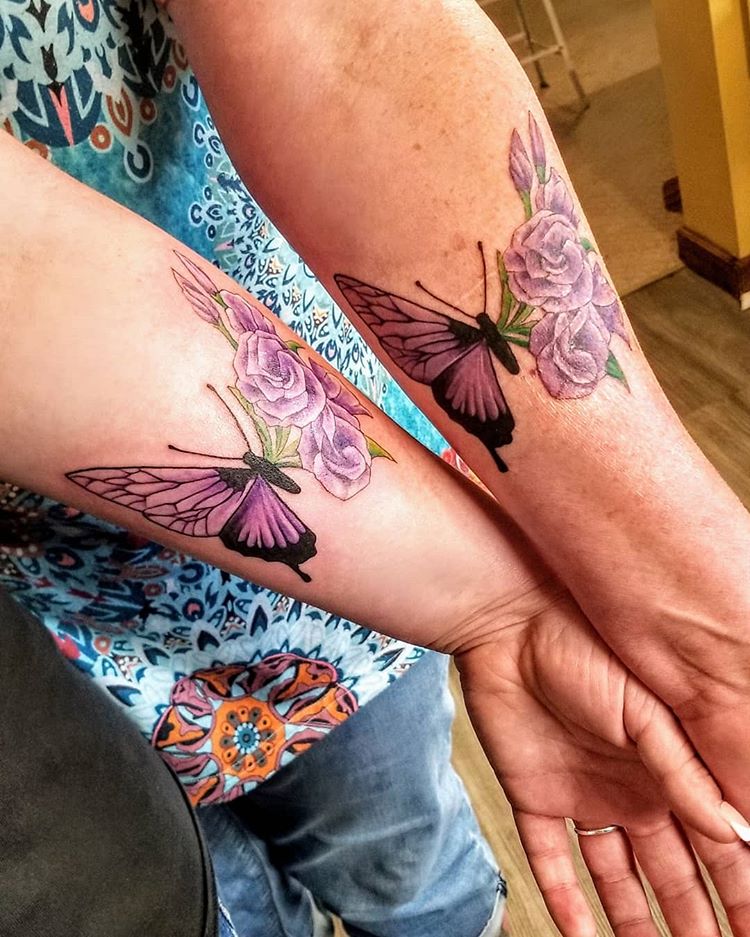 For mothers and daughters who cannot decide between flowers and butterflies, this unique tattoo offers a graceful solution. Half purple butterfly, half roses, this tattoo features soft lavender to bring both halves together. If you fancy a different color, feel free to customize this design.
53. Mirrored Butterfly with Flowers Black and White Tattoo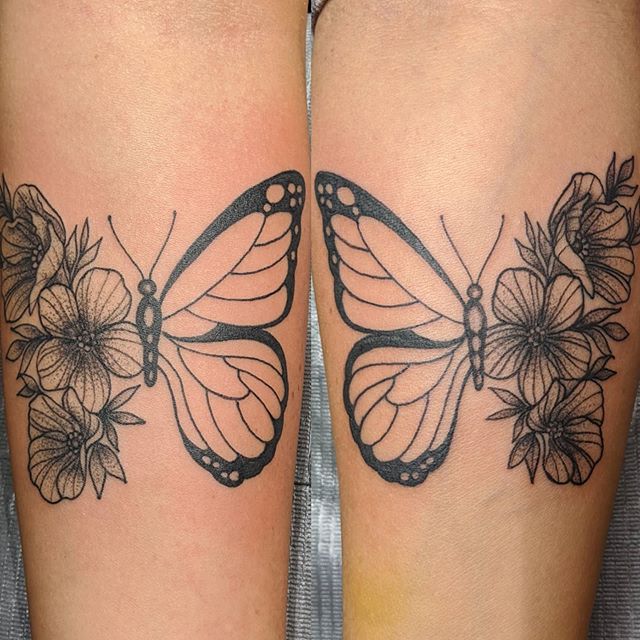 Curvy lines and gentle floral shading give this tattoo a fun, cartoonish feel. If you are willing to simplify some of the details in the flowers, this tattoo could get very small, and you could choose to place it almost anywhere.
54. Simple "You Are My Sunshine…" Sun Outline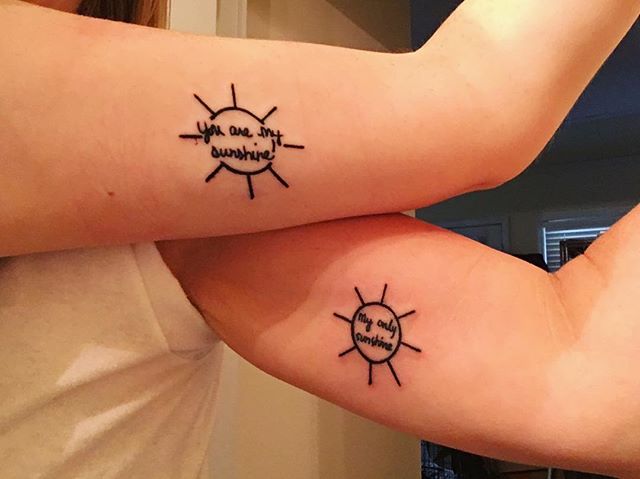 This tattoo uses a simple sunshine icon with cursive text inside. These tattoos coordinate, but also look good on their own. Using your mother's or daughter's handwriting can give this tattoo an extra special touch. To make it smaller, consider using a san serif font to keep the text legible.
55. Heart Arrow with Elegant Script Names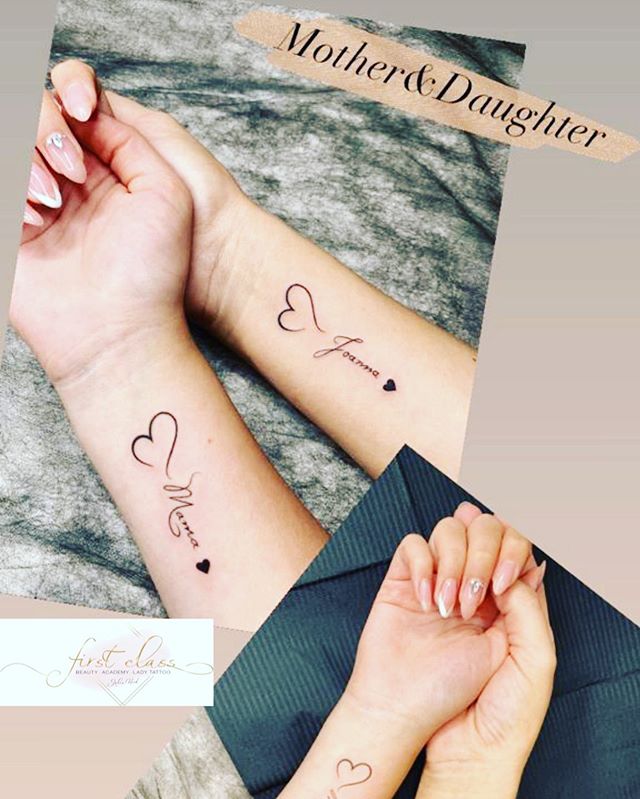 A large, open-ended heart represents the arrow's flight while a small, solid heart acts as an arrowhead. The arrow's shaft is replaced with a refined cursive script. These arrows point towards the person with the tattoo but could be changed to point outwards at the world.
56. Black and White Realistic Rose Tattoos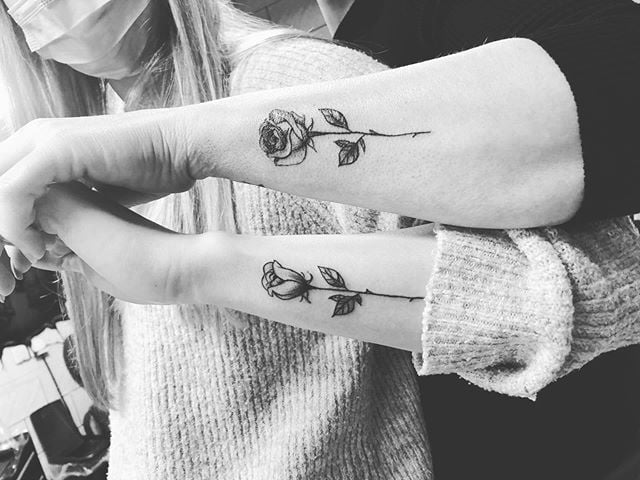 A blooming rose and a budding rose show the unique bond between mother and daughter. Shading gives dimension and a stained-glass effect is achieved on the leaves. This design looks good on the forearm as shown, but would work anywhere on your body.
57. "No Matter Where" Matching Heart Tattoos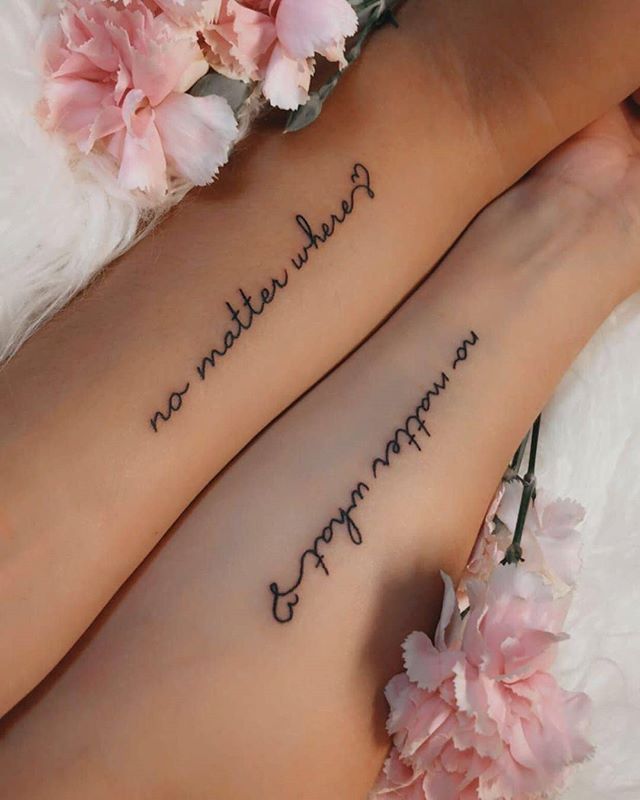 One person received the text "no matter where," while the other person receives the text "no matter what." Both phrases end in a looped heart. Using a loved one's handwriting instead of the script in this design would make this tattoo special. However, using the script shown is legible.
58. "I love you most…" with Floral Sprigs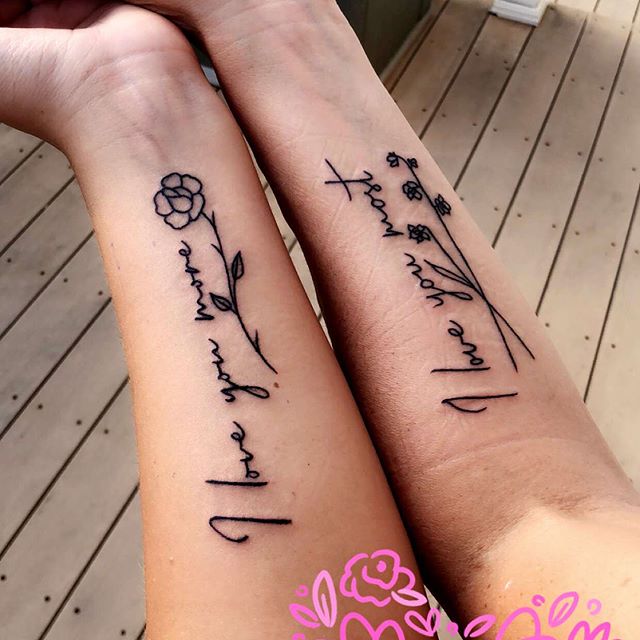 Dramatic lines and cursive text make this tattoo a statement piece. The only thing harder than picking the flower is picking who will have "more" and who will have "most" in her tattoo. This tattoo design is perfect for an inner forearm tattoo but would work in other locations.
59. Matching Artistic Poppy Tattoos with Named Stems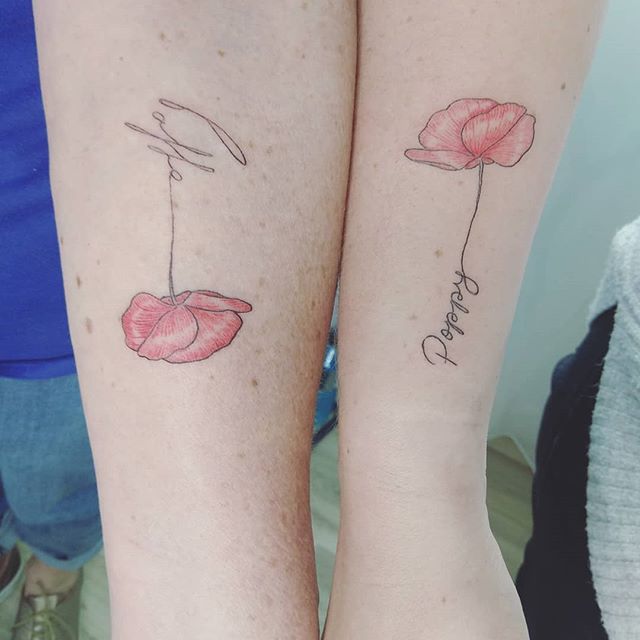 These poppies use highlighting and delicate red coloring to achieve a realistic effect. The stem tapers to a single line, which forms the names of the recipients in different handwriting. Of course, you could change the poppy color or the word spelled in the stem.
60. Ocean Sunset Matching Wrist Tattoos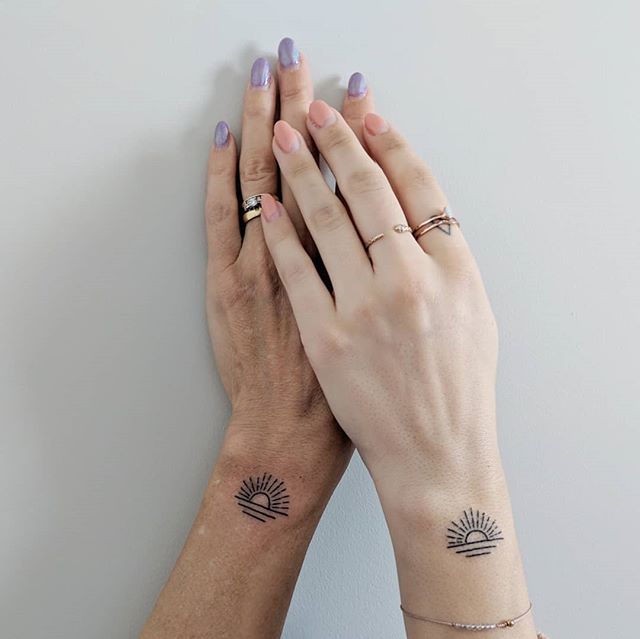 Simple lines and a half-circle illustrate a beautiful sunset over the water. Given the simple nature of this tattoo, it retains all its details even though it is very small. Of course, you could add some color or make it larger, but it looks good as it is.
60 Fresh Mother Daughter Tattoo Ideas and Designs to Show the World How Much You Mean to Each Other
Enjoy the journey of finding tattoos for yourself and either your mother or daughter. The most meaningful part of this journey is figuring out how to customize the tattoo to best tell your stories. One of the easiest ways to do this is to use your mother's or daughter's handwriting instead of a font.
Another idea to find the perfect tattoo is to find a tattoo design that brings back a special memory. Use the 60 ideas in this list as a springboard to design the perfect mother-daughter tattoo. Do not be afraid to combine elements to create the tattoo that best tells your relationship's story.