Since tattoos last forever, if you're itching to ink something majestic into your skin, then only the best tree tattoos will do. Humanity has admired trees from the beginning of our existence. Our very first drawings of trees still survive in ancient caves. There is magic, and mystery, and honesty, and nobility in the image of a tree. When it is done right, that is. This isn't Charlie Brown Christmas; no one wants a sad tree marring their skin. And that's why we have compiled this gallery of 60 incredible tree tattoo designs. You will be amazed by the realism, creativity, and variety on display in modern arboreal ink.
60 Beautiful and Best Tree Tattoos So You Can Wear a Breath of Fresh Air
Who are people so drawn to trees, and for that matter, to tree tattoos? The quickest and easiest answer is that trees are nice to look at. Many would even say they are beautiful or majestic. Tattoo enthusiasts considering new ink often start with, "What do I like to look at?" And everyone gets a sense of wonder and peace when they look at a tree. Of course, trees also represent and inspire many deep, spiritual associations. They work great on any body part, including ankle tattoos.
Trees can represent family, life, endurance, and strength. They appear in many folktales, as homes to spirits and ghosts or as places of solace and refuge. A tree in bloom may represent fertility or motherhood. The roots of a tree speak to hidden depths. Different trees also represent different things. A maple leaf is often associated with Canada. A pine is inextricably linked with Christmas. The bonsai tree represents patience and personal growth. If you want a tattoo that is beautiful to behold but also possesses a deeper meaning, then consider these incredible tree designs.
1. Triangle Line Landscape Tree Silhouette Tattoo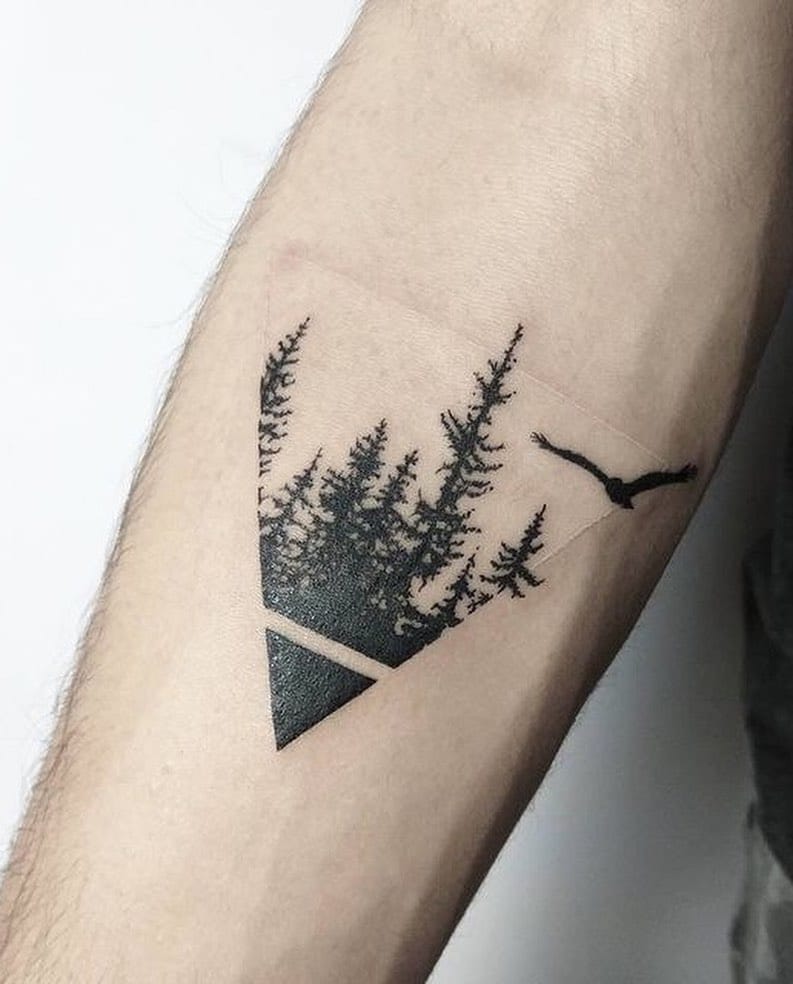 Fitting a landscape into an unlined silhouette is a unique way to modernize the classic tree line tattoo. One fir pushes just beyond that invisible line. A bird of prey also grazes the boundary between reality and fantasy. The triangle adds an air of mysticism to this outdoorsy design.
2. Surreal Tree into Flock of Birds Tree Tattoo Designs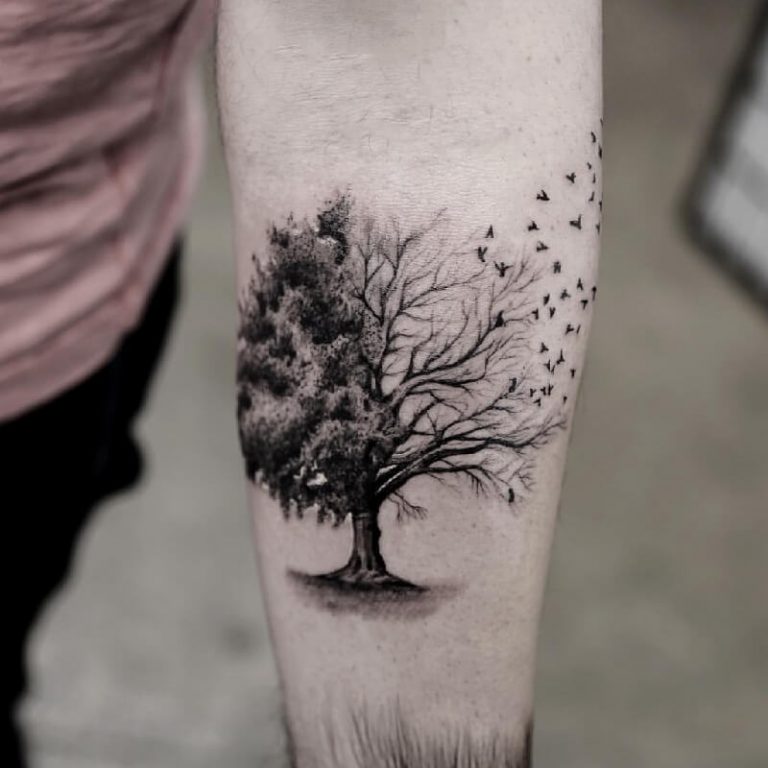 Hyper-realism and surrealism work together to create this tree tattoo masterpiece. One-half of the tree tattoo is a classically lush tree. The other half is bare branches. But the leaves don't fall to the ground. They take flight as a flock of birds. This tree tattoo would also make for great sister tattoos.
3. Bonsai Inspired Ink Mysticism Tree Tattoo Designs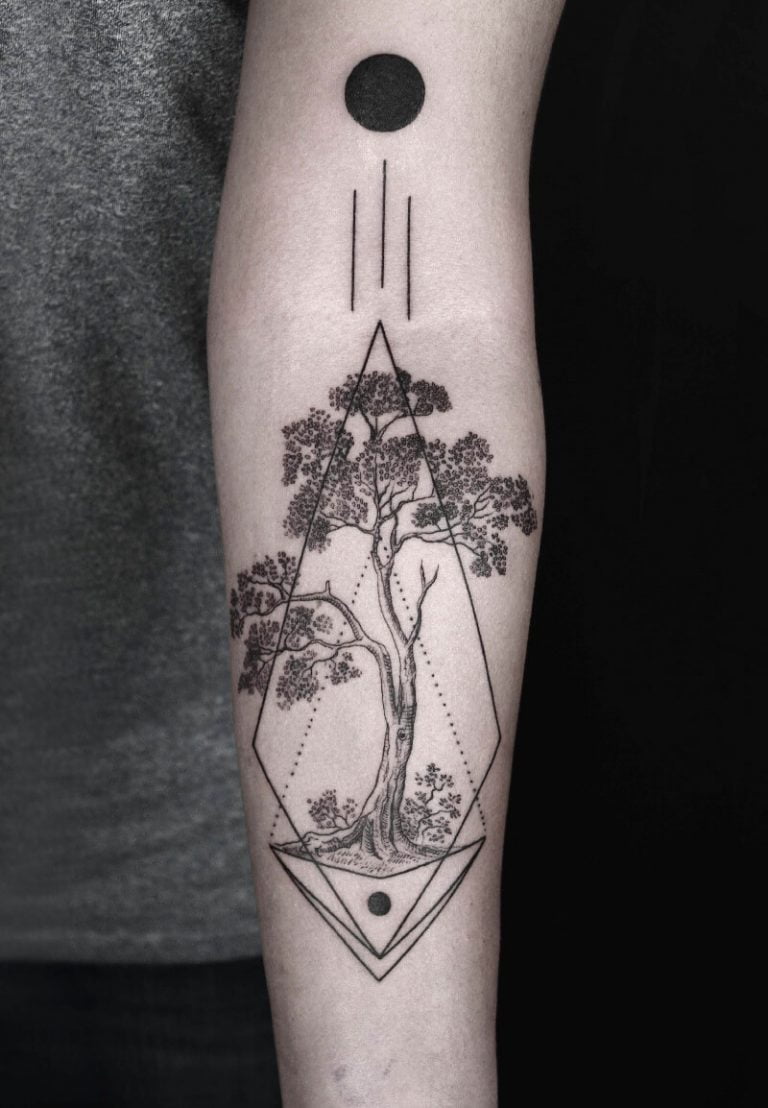 A variety of spiritual and mystical elements are represented in this work. Sparse foliage suggests that the tree is quite old. It also gives the tree a bonsai look. Framing the realistically rendered tree is a series of shapes, both solid and dotted. A black circle and three lines above hint at secret symbolism.
4. You've Got Some Nerves Spine Tree Tattoo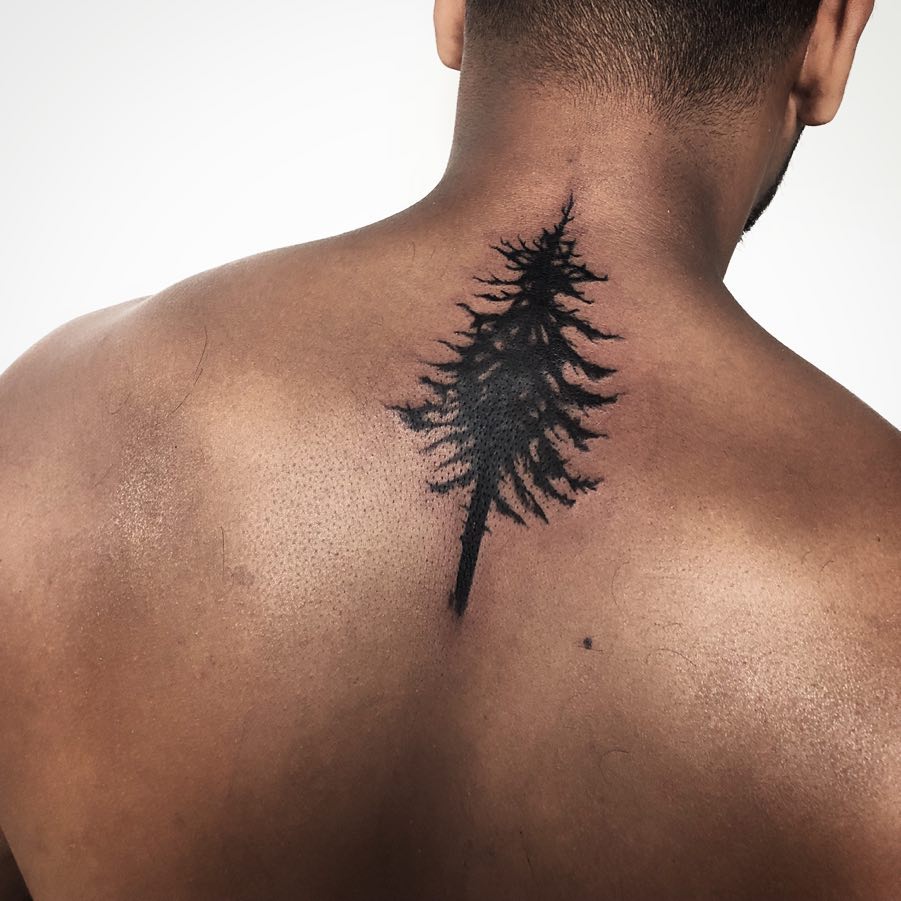 Placement further distinguishes this finely inked fir tree. While the tree alone makes a bold statement, its position directly over the spine encourages our brain to see a second meaning. For example, the line of the trunk closely follows the line of the back. From that perspective, the branches of the tree also closely resemble our branching nervous system.
5. A Deeper Meaning Below the Surface Tree Tattoo Designs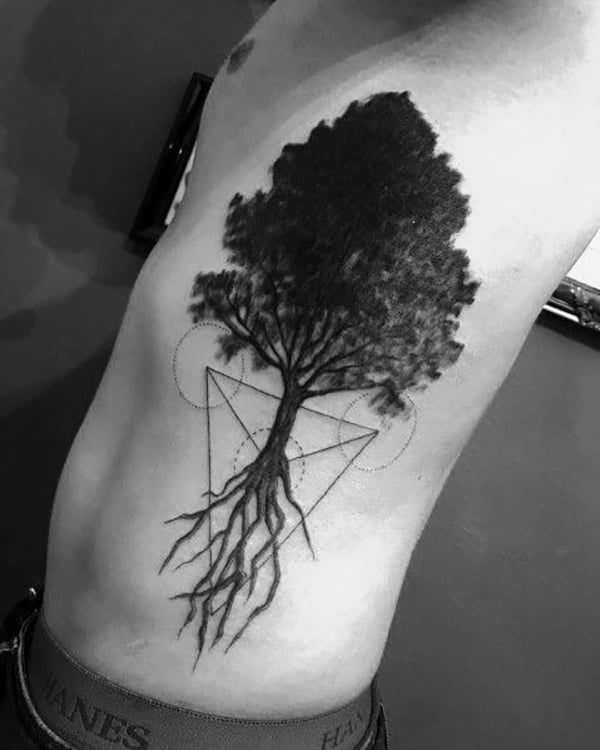 This stunning side-torso tattoo depicts a majestic tree in all its parts and glory. At the top is the dense crown we often admire. At the bottom are long, reaching roots that appear both elegant and strangely macabre. At the center of the tree tattoo are triangles and circles that indicate the tree's significance begins in its trunk and extends underground.
6. Full-Color Campfire Forest Fantasy Tree Tattoo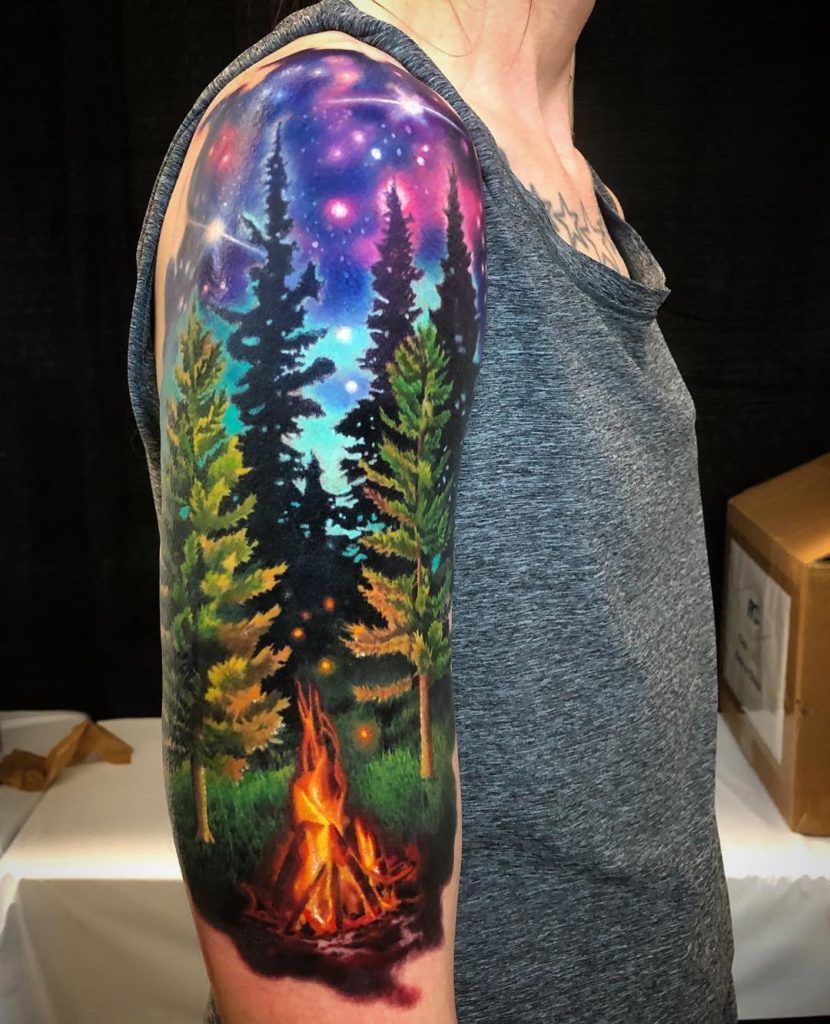 Vivid color and expert shading give this landscape tattoo stunning depth. At the base is a beautifully rendered fire. At the center is forest-spotted firefly-like sparks. At the top is a breathtaking expanse of stars and planets. The saturated palette gives it a decided sci-fi feel.
7. Simple Abstract Forest for the Tree Lines Tree Tattoo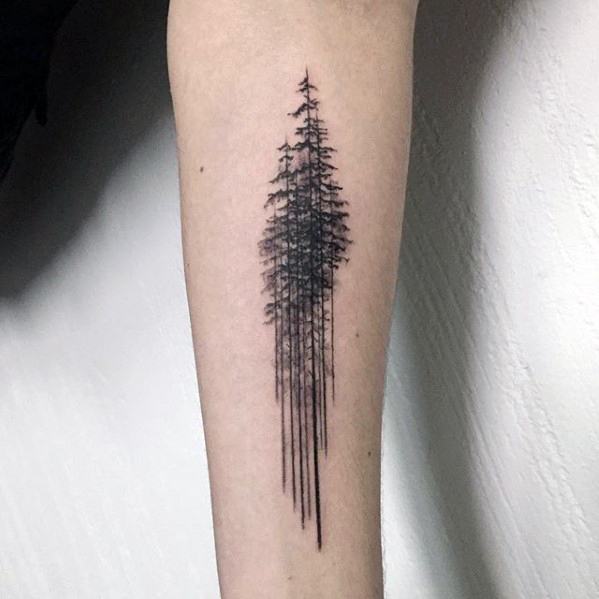 You don't need an extreme concept, color, or size to make your tree tattoo abstract. This tree tattoo proves that making that a bold statement can be as simple as extending lines. A copse of towering black trees is centered on the forearm. Their trunks extend in a series of eye-catching lines.
8. Solid Black Tree with Sketch Echo Tree Tattoo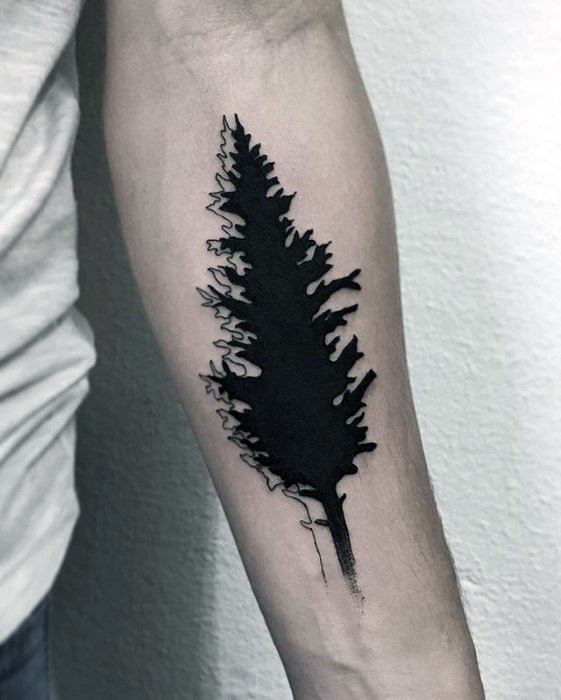 Solid black tats are once again gaining traction. This tree tattoo is an excellent example of how the bold design choice can make even a simple design look modern. Solid black tree tattoo designs are also a great way to hide old ink with something fresh, new, and more meaningful.
9. Full Circle Forearm Forest Tree Tattoo Design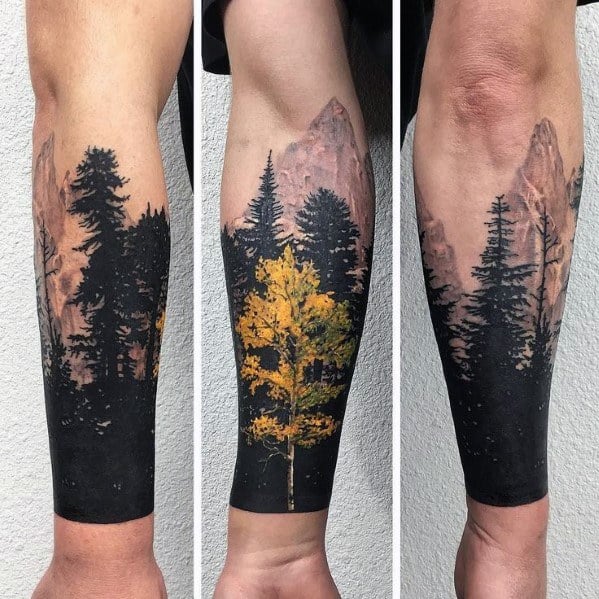 Mountain landscapes hang in museums and galleries around the world. But by circling the arm, this ingenious tree tattoo accomplishes something that no paint can. Depending on how the owner holds their arm, viewers get a different angle on this outdoor scene every time they look at it.
10. This Tree Tattoo Has Got Legs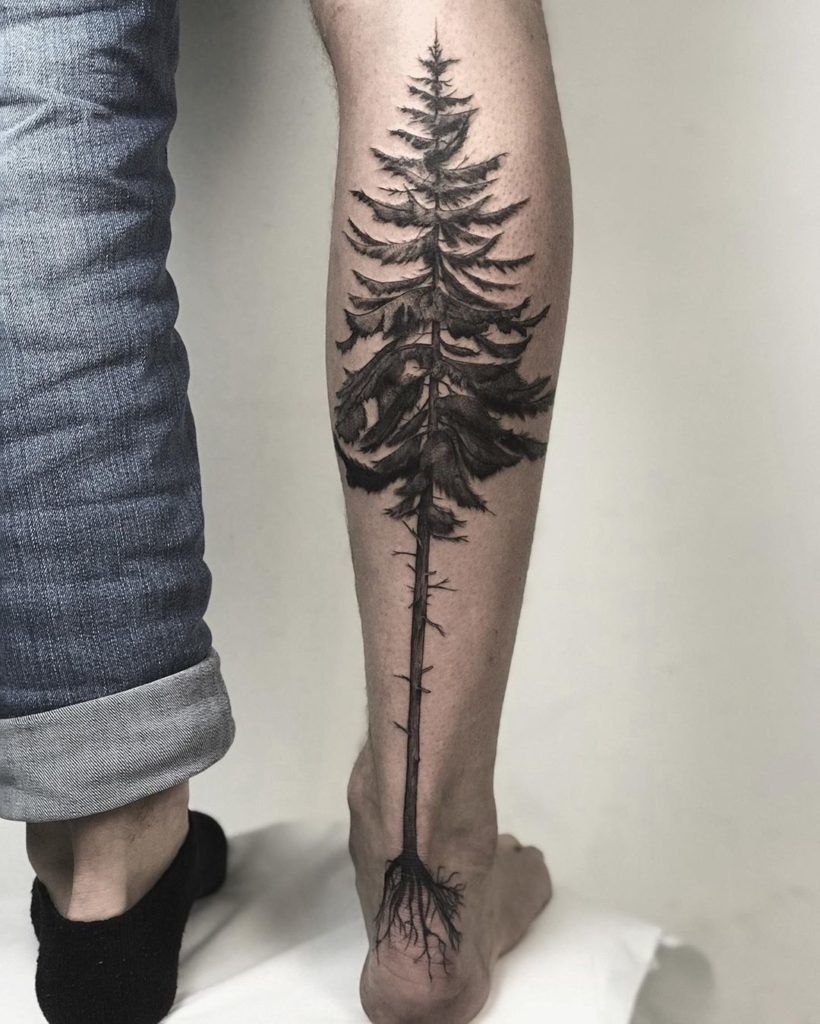 Fir trees are most often associated with Christmas. But this giant example eschews the popular, fuzzy-looking fir tree tattoo design. A long, sparse trunk follows the line of its owner's leg. A cluster of roots is a natural fit on the heel. The not-so-subliminal message is that the man wearing this tree tattoo design possesses great strength.
11. Negative Space Forearm Forest Tree Tattoo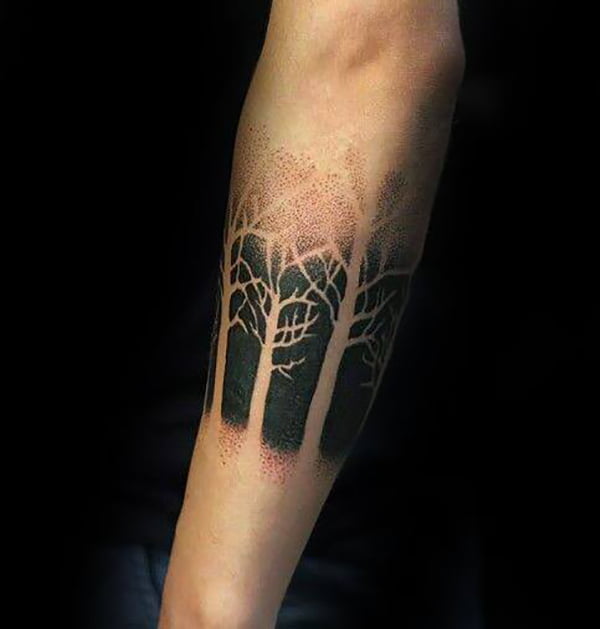 Negative space makes uninked tree forms look especially stylized. The dark center gives way to pixelated edges. The pointillist top and base mimic the overlap of leaves while also blending seamlessly into the skin. The end result is an effect that is surprisingly pretty in spite of its darkness.
12. Steampunk Tree of Life Clock Concept Tree Tattoo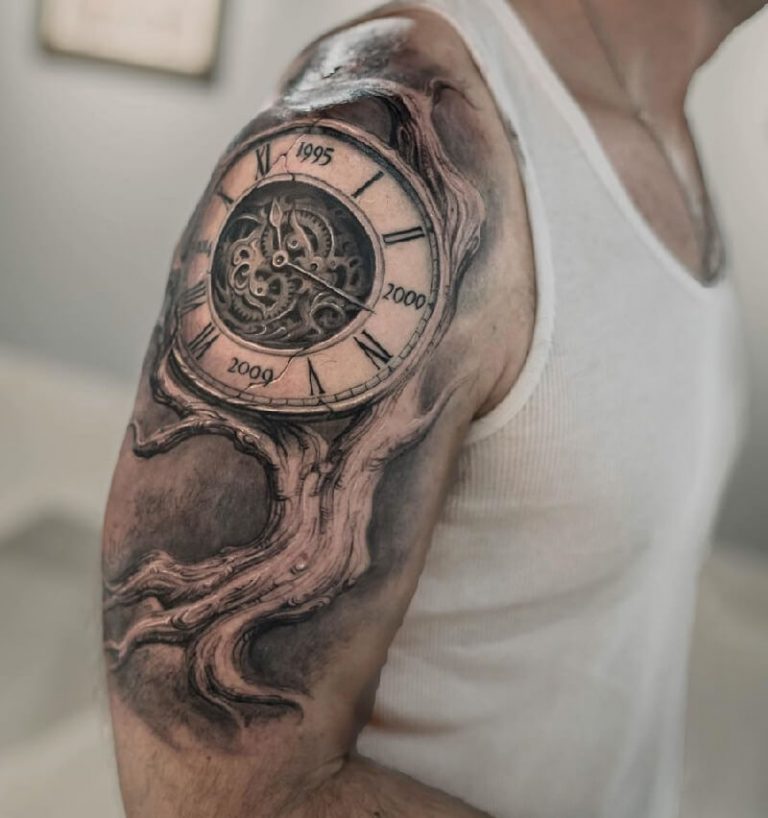 This awesome clock concept proves that even trees can be incorporated into the steampunk aesthetic. The dates on the dial suggest important years in the owner's life. Realistic clockwork gears draw the eye. But it is the gothic-style gnarled tree that conveys both personal strength and history.
13. Optical Illusion Forest with Negative Space Tree Tattoo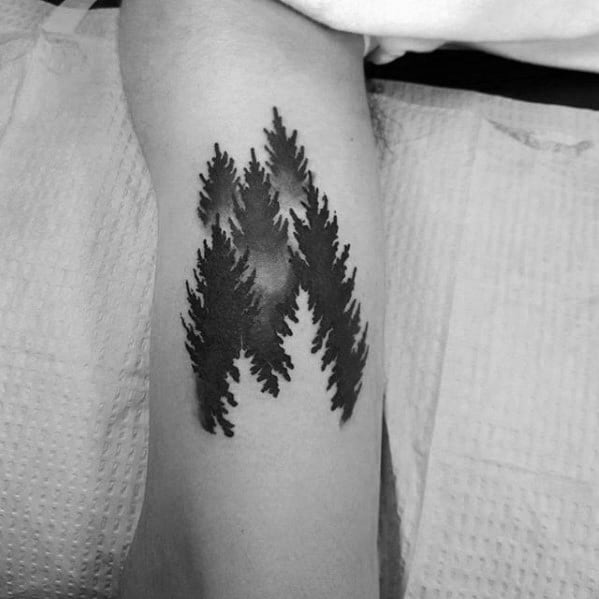 At first glance, all you see of this tree tattoo is its beautifully overlapping trees. When your eye reaches the base of the tree tattoo design, though, you're in for a surprise. Negative space creates the optical illusion of additional trees. It also gives the tree tattoo design a mirror image effect that allows the trees to be seen from both above and below.
14. Follow Your Path Forearm Forest Ink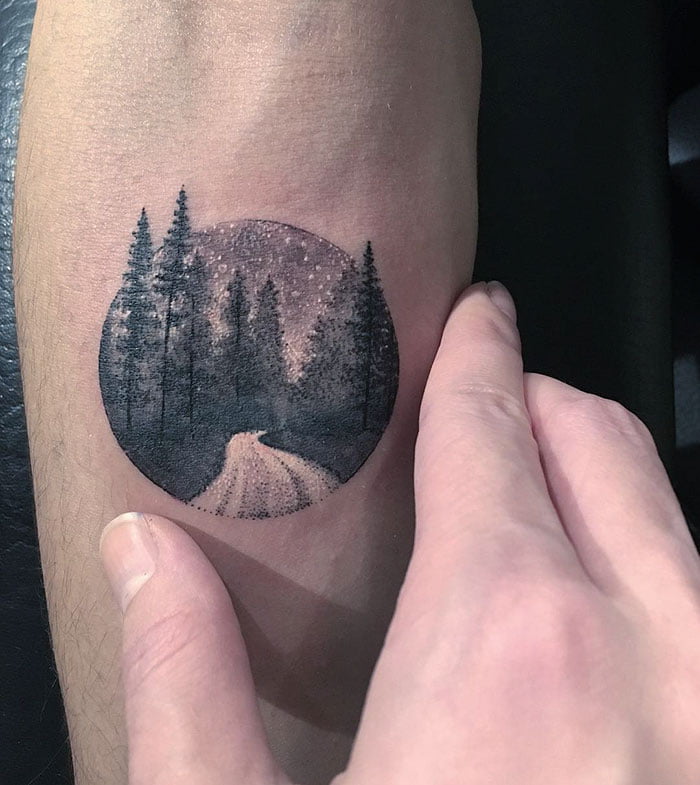 This porthole forearm tattoo design offers a glimpse into its wearer's woodsy soul. A moonlit path weaves through dark trees. Stars sparkle at the top arc of the sky. Ancient treetops push beyond the boundaries and touch bearskin.
15. Celtic Tree of Life Shoulder Tree Tattoo Design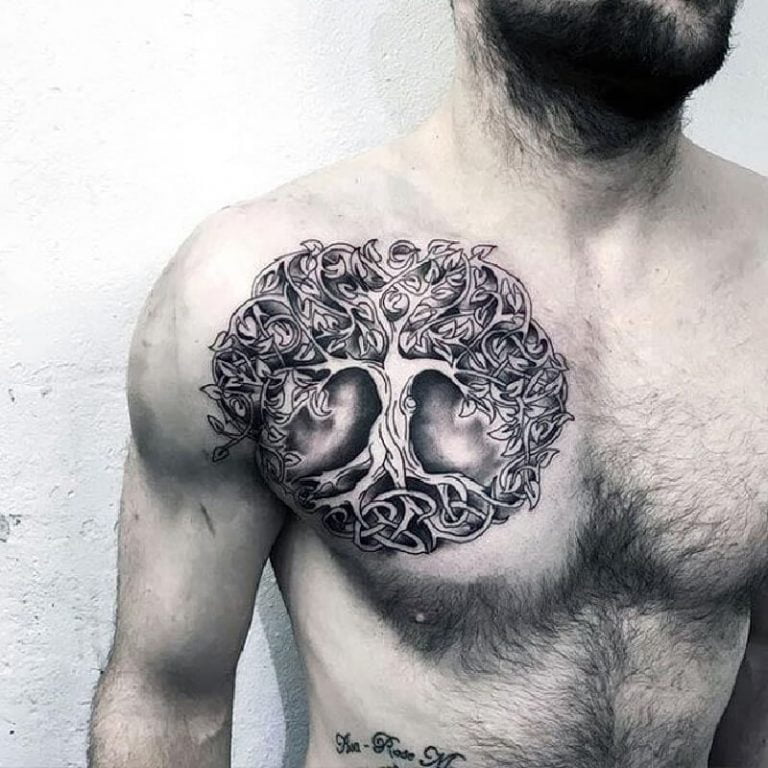 The Tree of Life is an important image in Celtic lore. The Celts believed that their ancestors came from the trees. This tree tattoo design represents balance in life. While the foliage is beautiful, so are the gnarled roots, which incorporate subtle Celtic knotwork. The idea is that there are strength and wisdom, both above and below the surface.
16. Reaching, Leafless Gothic Finger Tree Tattoo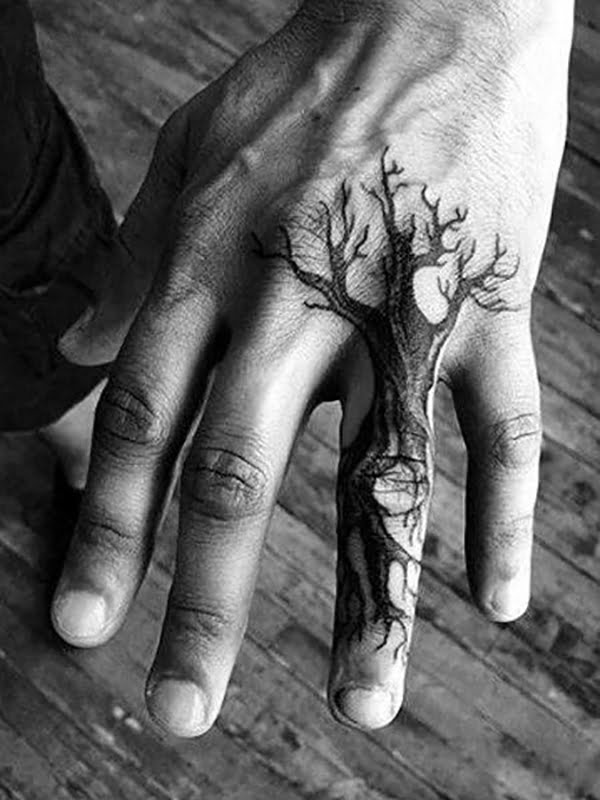 With the roots and reaching tips of the bare branches included, this gothic tree tattoo spans the length of an entire finger, and beyond. Note the placement on the left ring finger. That makes this an unusual but nonetheless powerful love tattoo. A tree as a symbol of devotion makes perfect sense. It embodies important relationship values like growth, harmony, and endurance. Finger tattoos don't get any better than this!
17. As Above, So Below Roots Tree Tattoo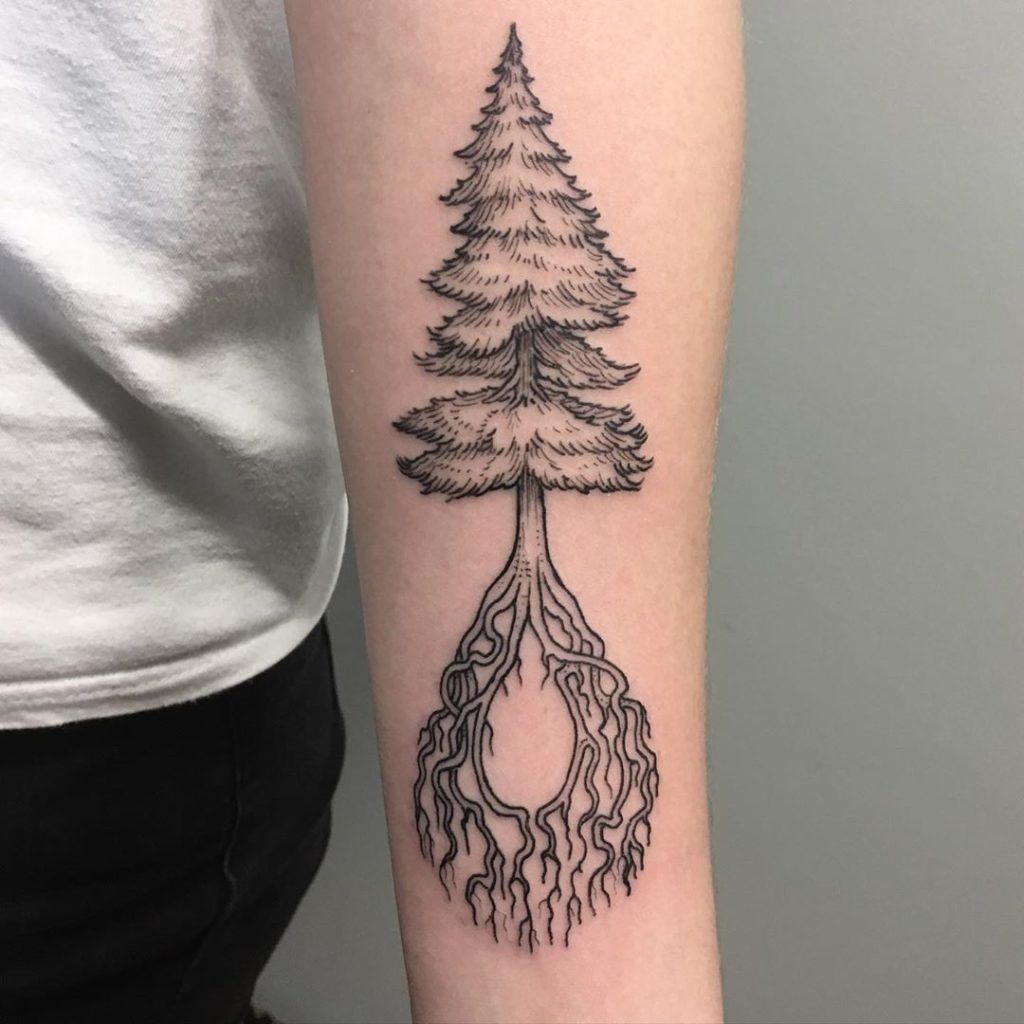 This tree tattoo is dominated by a large and imposing pine with lush boughs. A root system of the same size but a decidedly different structure acts as a counterpoint. The tree tattoo design suggests two worlds, connected. It's a lovely way to represent personal depth and diversity.
18. Forest for the Trees Forearm Cuff Tree Tattoo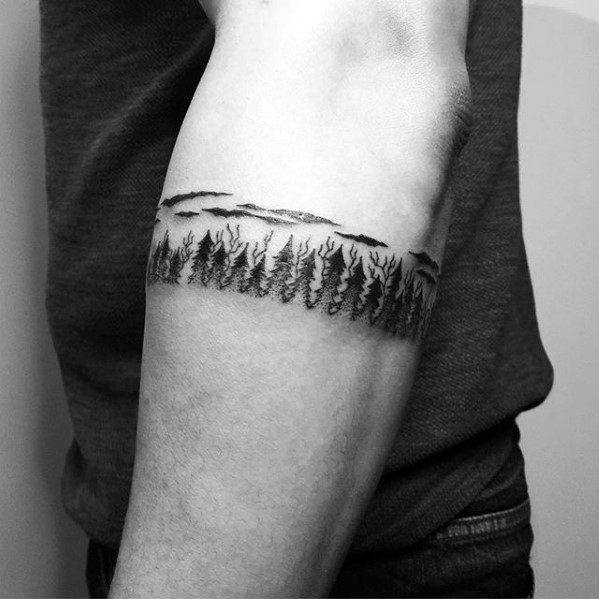 Cuffs were all the rage during the tribal trend. This piece of ink jewelry smartly incorporates the timelessness of trees. From a strictly aesthetic standpoint, few natural features are as pleasing as a circle of pines. The symbolism is there, too, in the evergreen sense of renewal embodied by this type of tree.
19. Giant Sequoia with Triangle Roots tree tattoo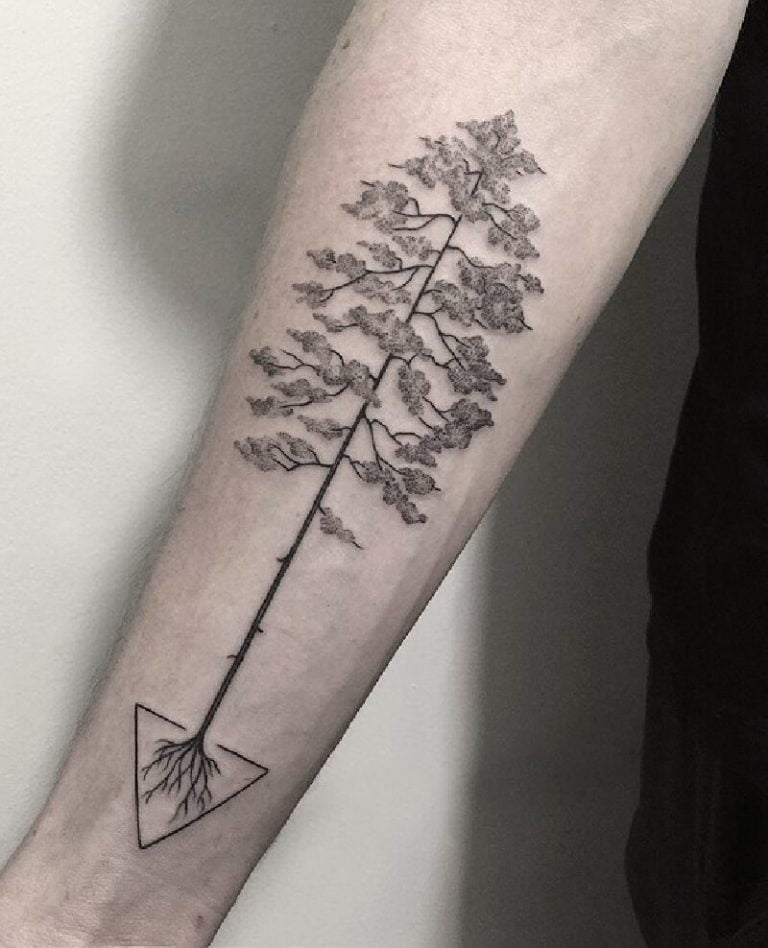 As symbols, the meaning of trees and triangles goes hand-in-hand. Both represent a balance. Triangles reference harmony between the heart and mind. Trees – and particularly this tree with its visible roots – are a symbol of natural balance. The triangle over the roots reinforces the importance of a solid foundation.
20. Find Your Way Forearm Compass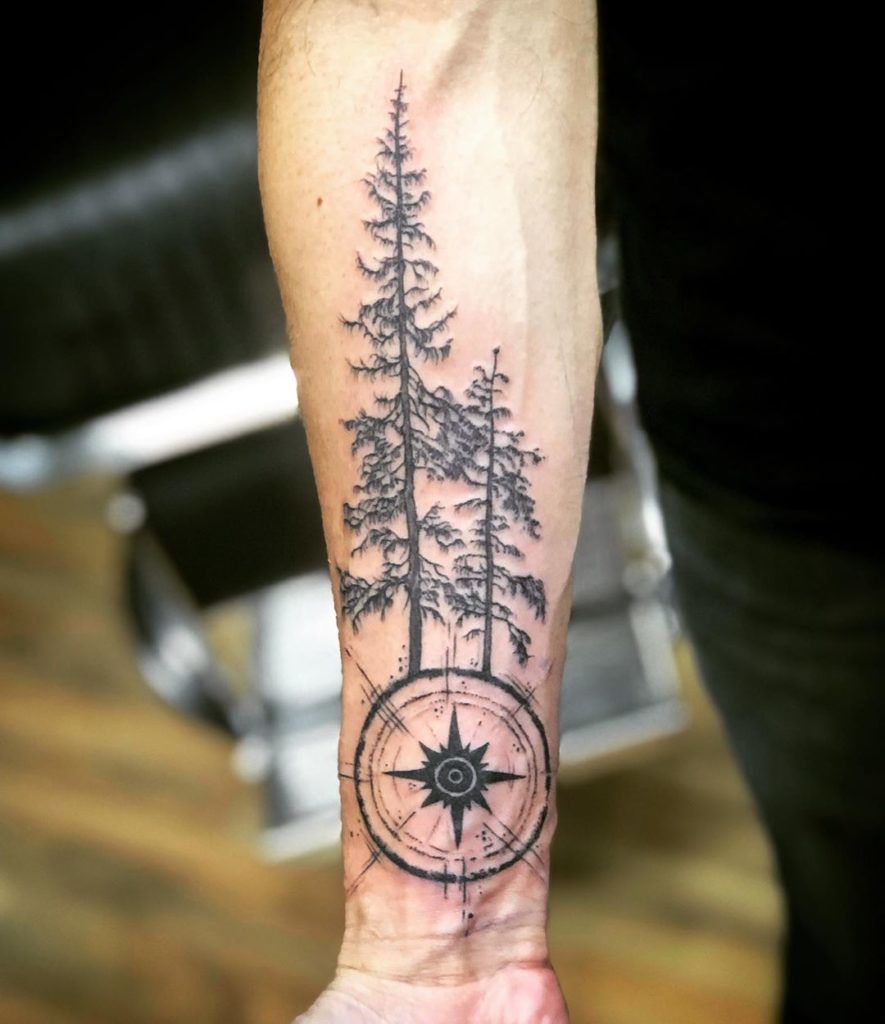 A bold compass is superimposed on towering Douglas Firs. Though the tattoo is monochromatic, the face of the compass fairly glares with light. (It's a testament to the value of good shading techniques.) The tattoo suggests that its owner possesses a strong sense of direction, both in literal life and in the figurative wilderness.
21. Crows Rise from Dark Woods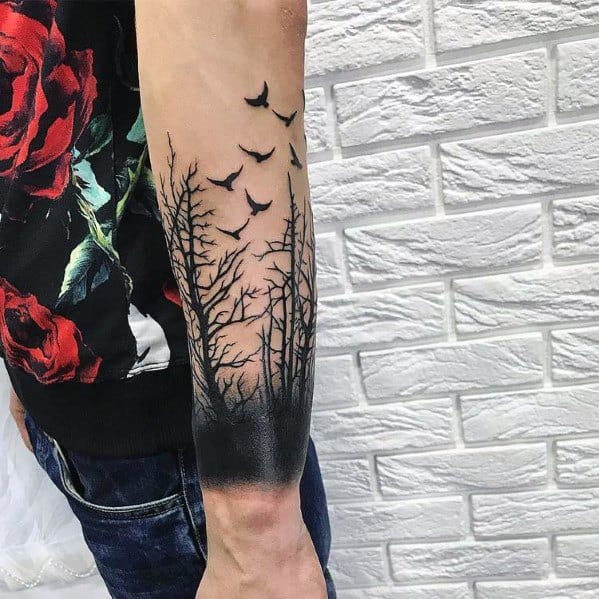 A glossy black cuff circles the narrowest point of the wrist. That black separates and rises to form the reaching branches of barren trees. Crows – harbingers of death – fly in a murder from the strange forest. It is a deeply dark tattoo that speaks to the beauty of life while reminding us of the ever-present inevitability of death.
22. Wisdom and Whimsy in the Forest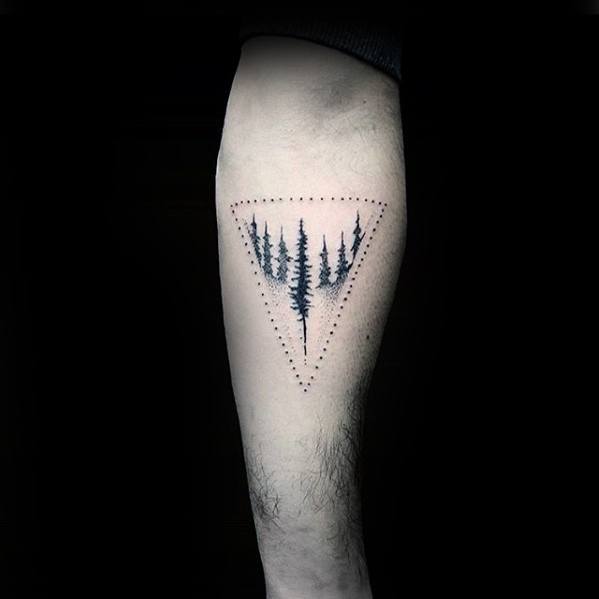 A triangle represents both the logical and emotional mind. These dual internal elements are heightened and harmonized when we spend time in nature. Therein lies the genius of framing a majestic tree line with the symbolism of a triangle. It allows its wearer to carry some of the inspiration of the forest with them, even in a concrete jungle.
23. Matching Tattoos Design: Mystic Forest Forearm Sleeves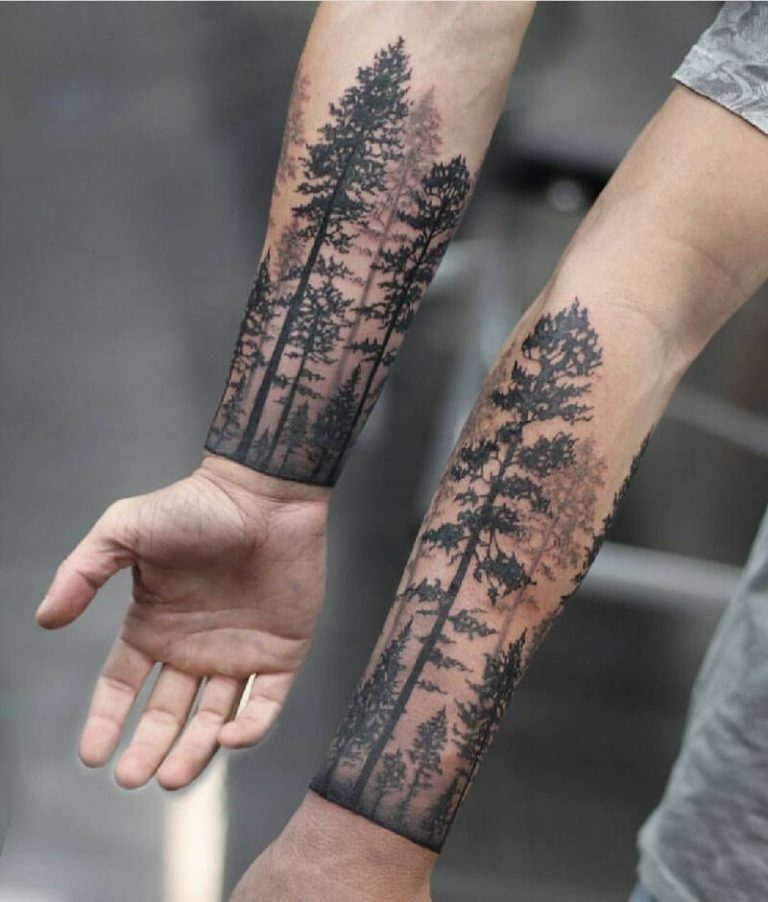 Trees as a lover's half sleeve tattoo speak to growing together and the endurance of true love. Trees as a friendship tattoo show a shared appreciation for life and nature. This tree tattoo design would also work as a forest firefighter tattoo, paying homage to the natural world that they serve and protect.
24. Bold Black Guardian Tree Rib Tattoo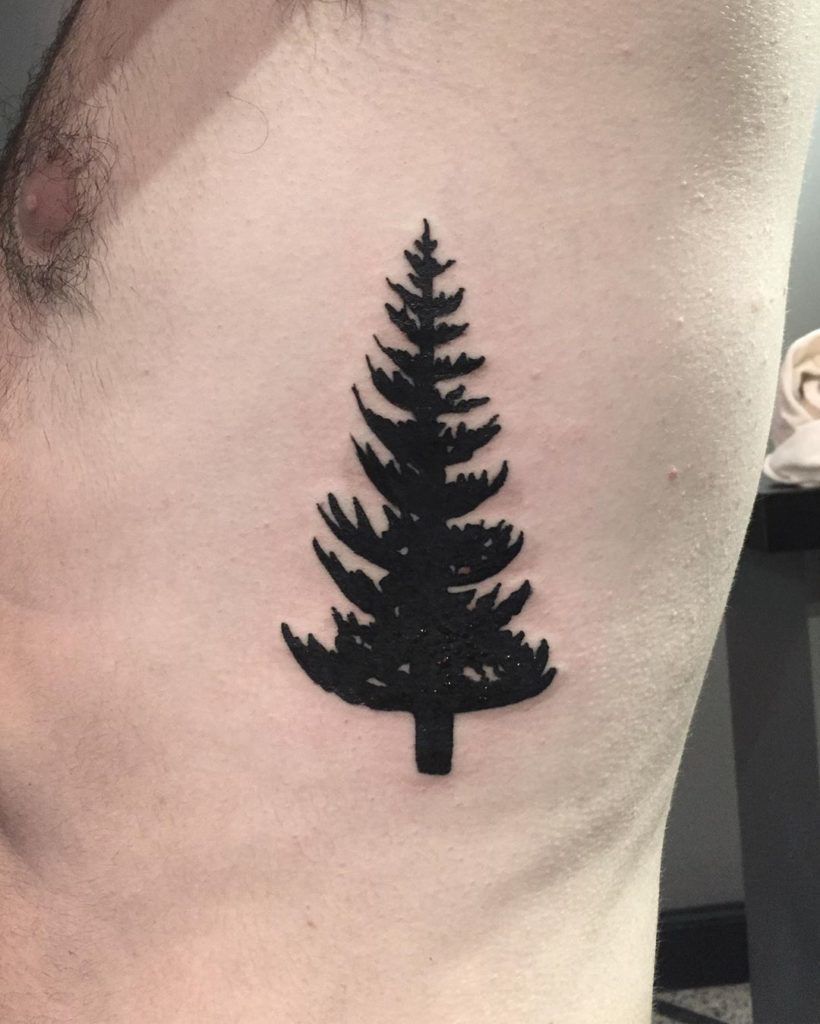 The structure of the pine's boughs somewhat echoes the structure of the ribcage. Close placement to the heart suggests the importance of nature. The immovability of a tree gives strength to its bearer. When all interpretations are combined and considered, we arrive at the conclusion that this bold tree acts as a guardian for an exposed and vulnerable heart.
25. Towering Douglas Fir Forearm Fadeout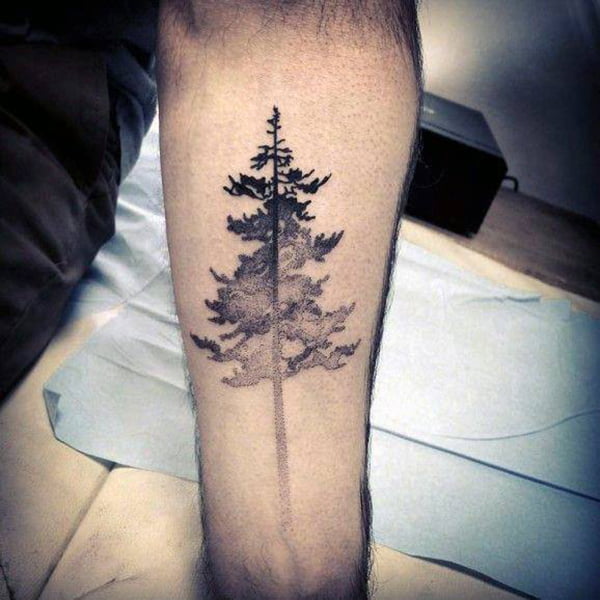 Nothing puts our temporary troubles into perspective like a walk in the woods. Towering old trees like this Douglas Fir remind us that every moment in our life is but a blink in the history of the world. A fadeout effect heightens the sense of the ephemeral and ethereal, merging even the majesty of this art back into the skin of its owner.
26. Japanese Watercolor Effect Negative Space Forest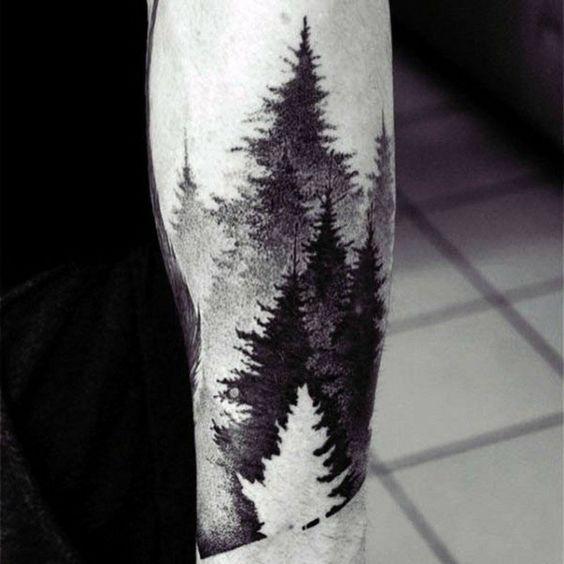 A classic Japanese watercolor technique gives this inked forest a feeling of depth and history. The forest transports the viewer by giving them the impression that these trees could be anywhere in the world. That fantasy is aided by negative space tree tattoo designs that add mysterious silhouettes to the layers.
27. Forearm Totem Bear Negative Space Tat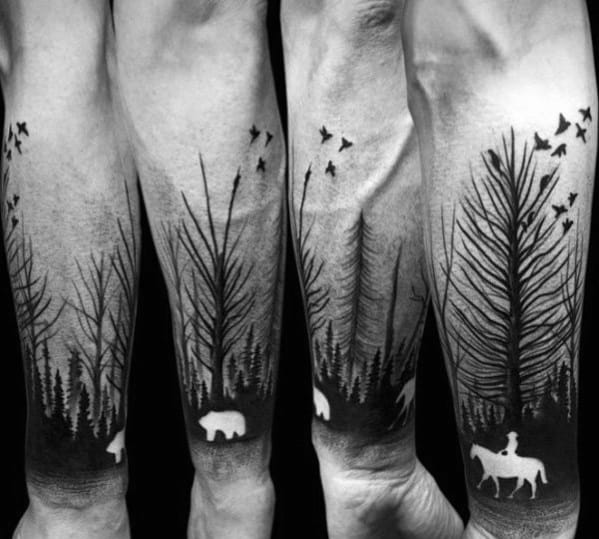 Giant native trees dominate a skin sky. A horse and rider are depicted in glowing white, to highlight them against a darkened forest backdrop. As the living canvas turns, we see the spirit of a bear moving apart from the rider. This tree tattoo design has the viewer wondering which is the predator and which is the prey. Small flocks of birds fly away from bare trees that look like feathers.
28. Full Moon Forest Illusion Tattoo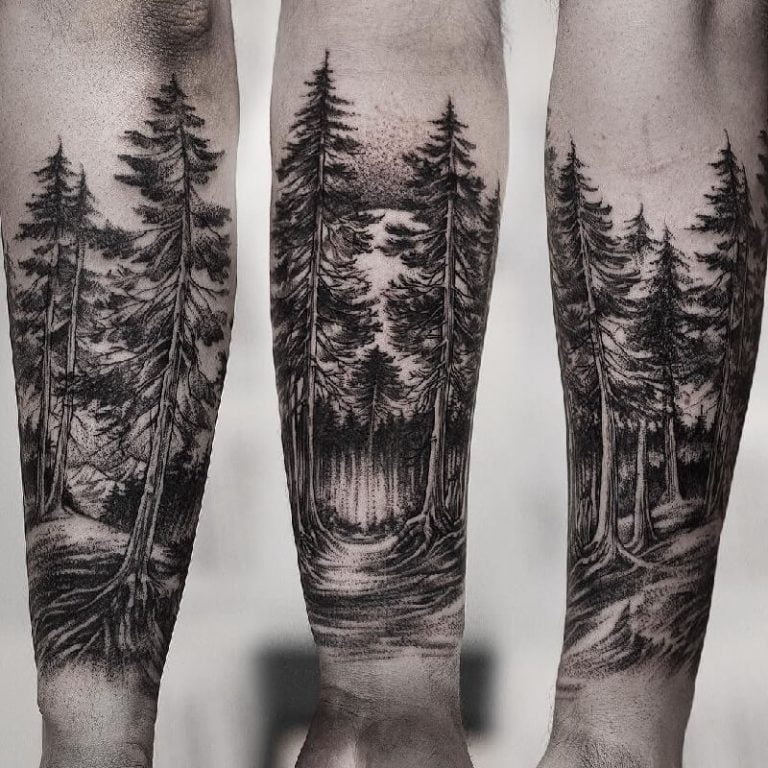 When the owner of this wilderness tattoo has their inner arm exposed, we see a trail winding into the woods. Other angles show other trails, though none as well-traveled as the first. A full moon rises above the main trail. The careful placement of tree branches creates a ghoulish face on the rising moon.
29. Starry Night Triangle with Solitary Tree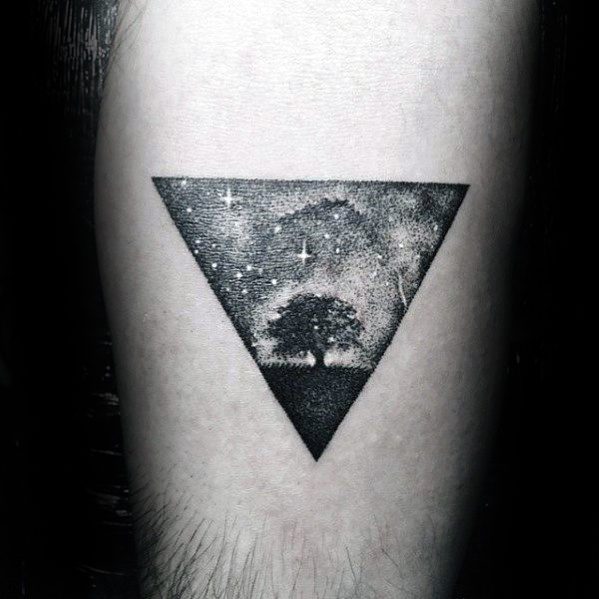 Though nothing in this tiny landscape is overtly amiss, a variety of unique choices give the finished design a fantasy vibe. First is the triangle shape, symbolic of both the known and unknown worlds. Then we have a single, perfectly centered tree. Finally, a blanket of sparkling stars makes the celestial feel just out of reach.
30. Defined Calf with Dramatic Tree Tat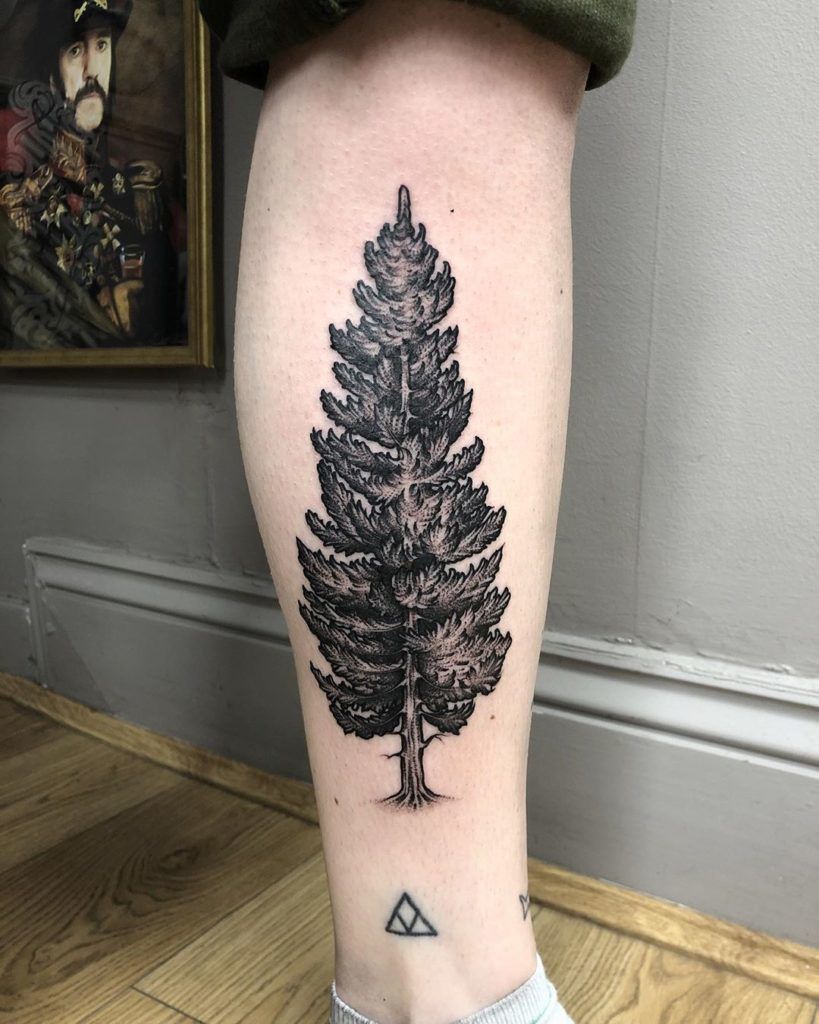 Muscles or a fake tan aren't the only way to draw attention to your favorite body parts. This beautifully shaded tree design makes good use of its smooth canvas. This tree design is especially appropriate for nature lovers. A tree on the leg keeps the forest close, even when they cannot hike through it.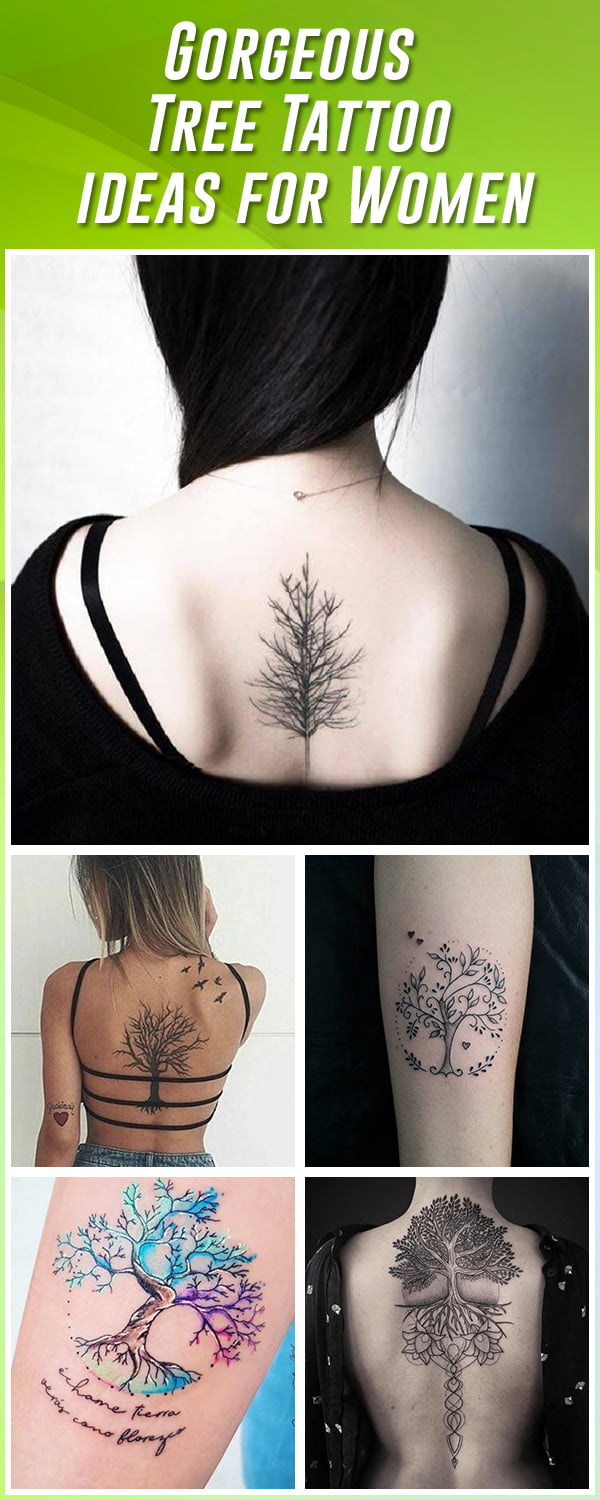 31. The Circle and The Tree of Life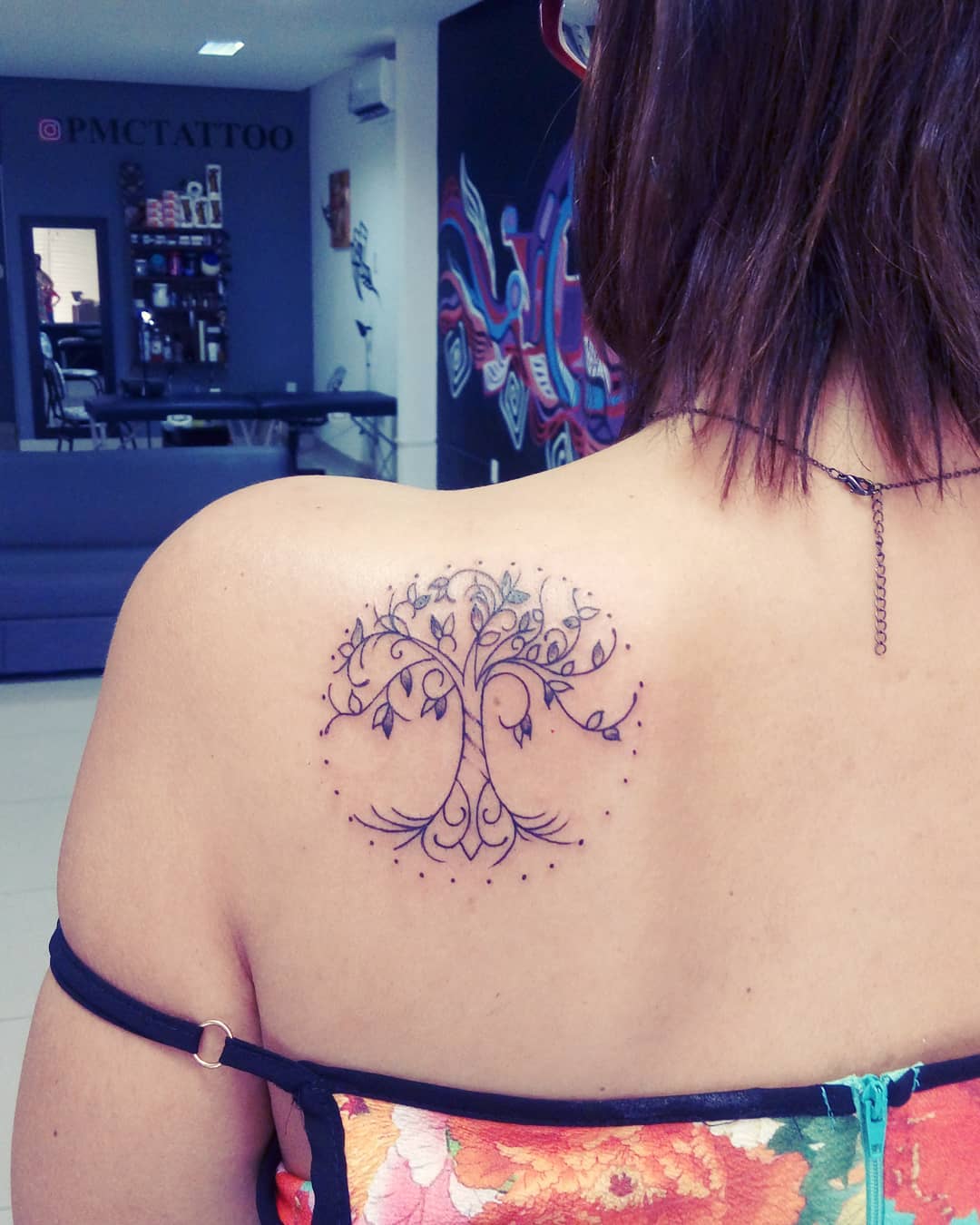 This delicate back tattoo combines two popular metaphors for life. The tree of life represents personal growth as it harmonizes with the larger world. The dotted circle surrounding the tree references the famous circle of life concept which tells us that death feeds back into life.
32. Tiny Tree Inner Arm Tattoo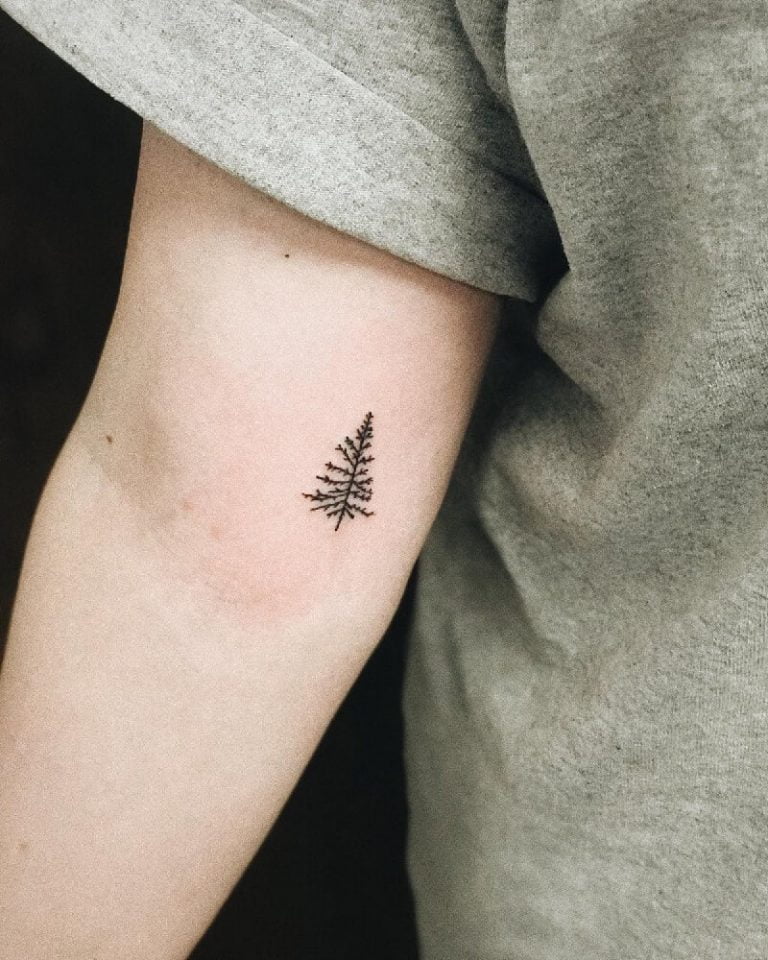 When we think of trees, we typically think of them on a larger – if not monumental – scale. Many tree tattoos are proportioned to give the impression of size. But this sweet inner arm tattoo is so little and discretely placed that seeing it feels like discovering a secret.
33. Tree of Life with Thigh Placement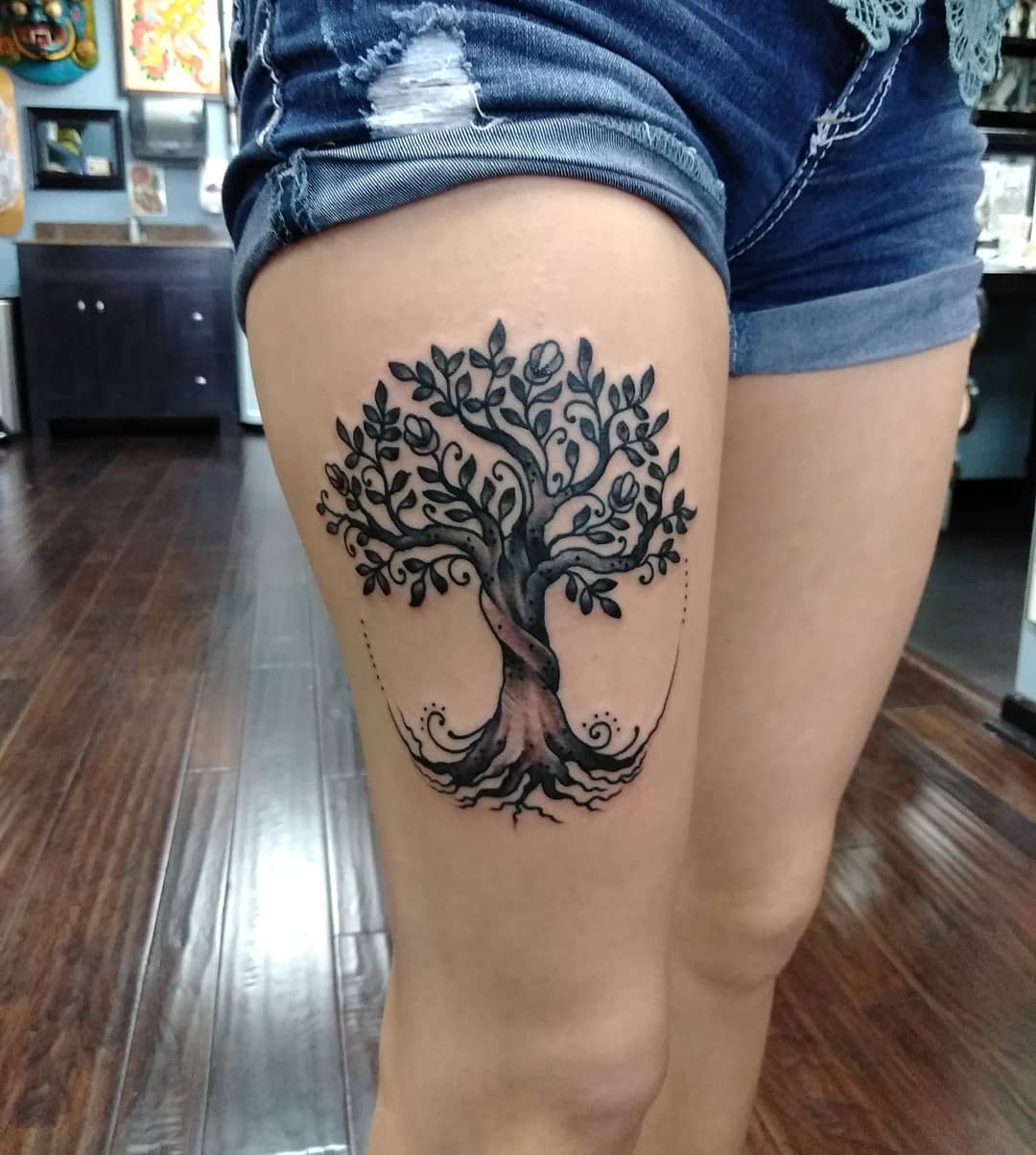 This tree of life thigh tattoo is a good example of how placement can affect meaning. For example, a woman's upper thigh is a decidedly feminine body part. Placing a symbol like the tree of life here suggests undertones of fertility, femininity, and motherhood.
34. A Tree Grows Up Her Back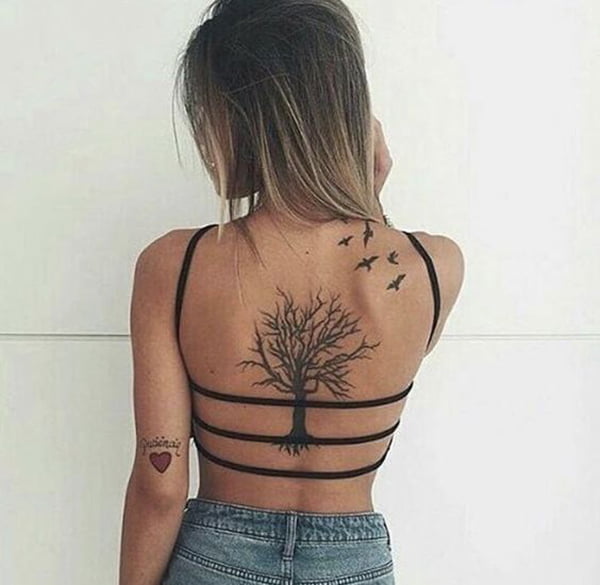 This well-toned back makes an ideal canvas for a sprawling, all-black tree tattoo. The spine serves as a guide for the line of the trunk. Shallow roots reach toward her waist. Bare branches stretch up, concealing shoulder blades. Birds fly across one shoulder as if preparing to land.
35. A Tree on the Moon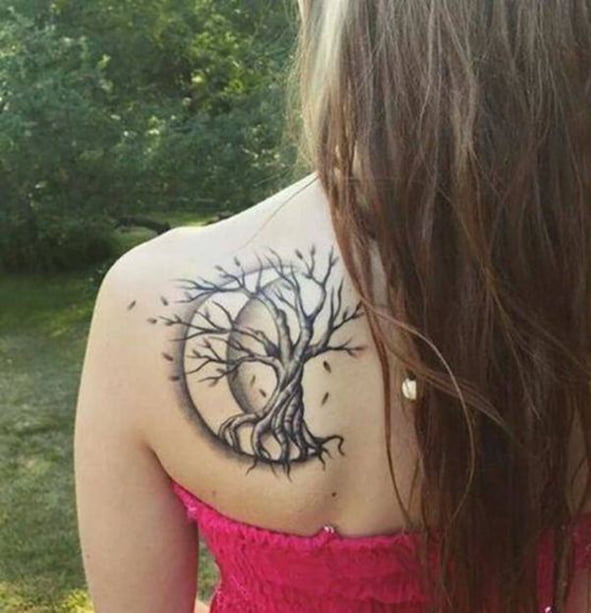 Trees and moons are two very significant symbols for pagans and witches. This tree tattoo combines both for double the power. A crescent moon serves as the setting. A tree clutches the curve of the moon with living roots. Leaves fly in an unseen wind.
36. The Skeletal Remains of Nature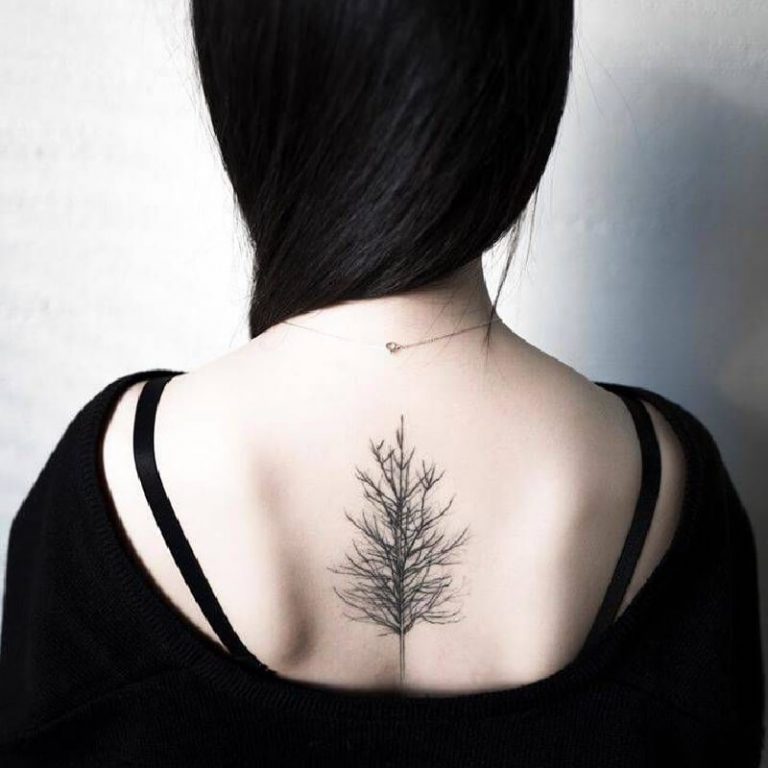 A leafless tree is both elegant and macabre. The fine lines of its barren branches spread across an otherwise unmarked back like veins. A long, pencil-thin trunk disappears under a low collar. The roots are a mystery. The rest is laid bare.
37. Pretty Pointillist Tree Back Tat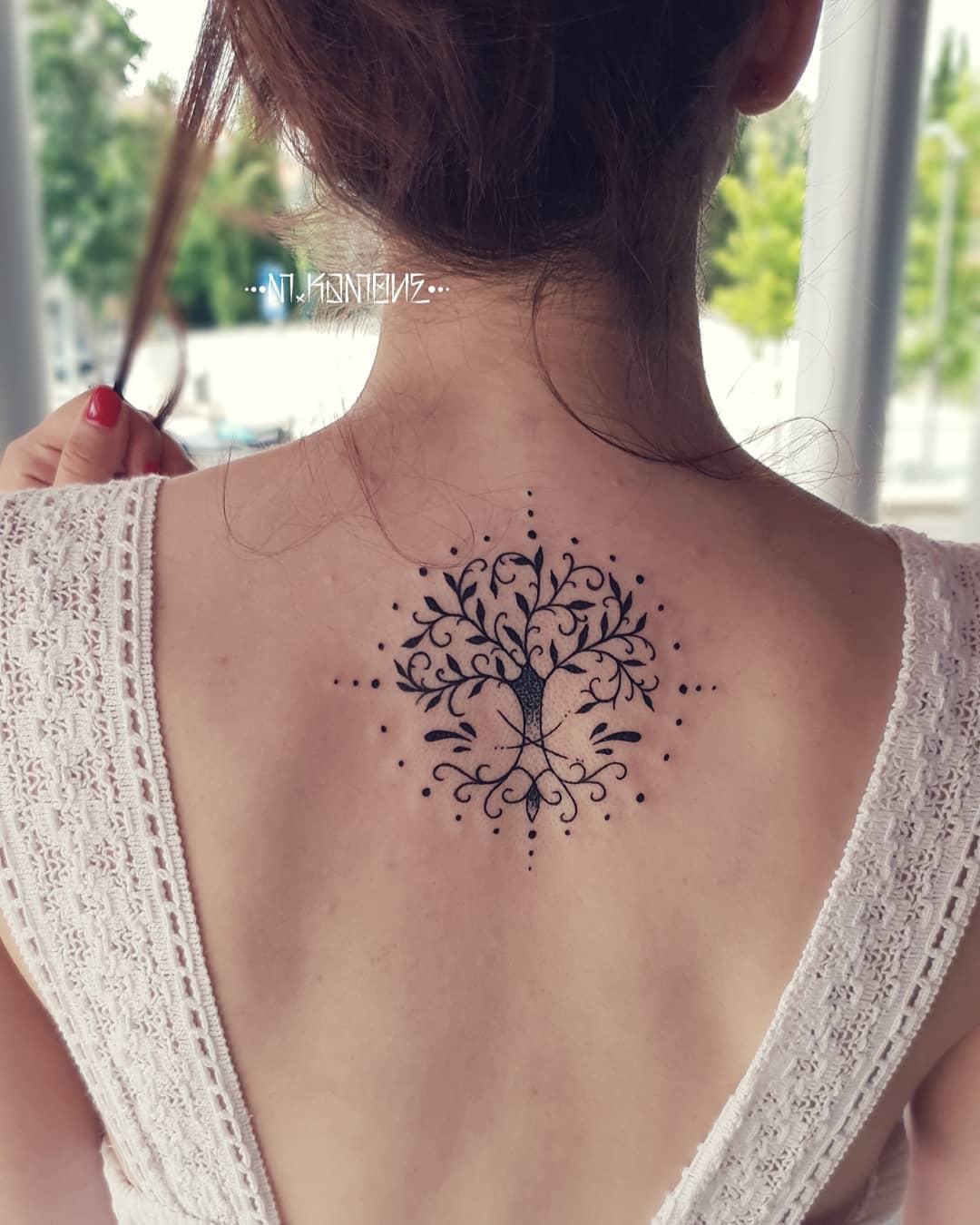 This rendering of the popular tree of life features some Middle Eastern flair. Scrolled roots and leaves are reminiscent of Persian embroidery. A delicately dotted circle design reminds the viewer of the henna tradition. Placement on the center of the back draws and delivers strength to its wearer.
38. A Tree Blossoms in the Moonlight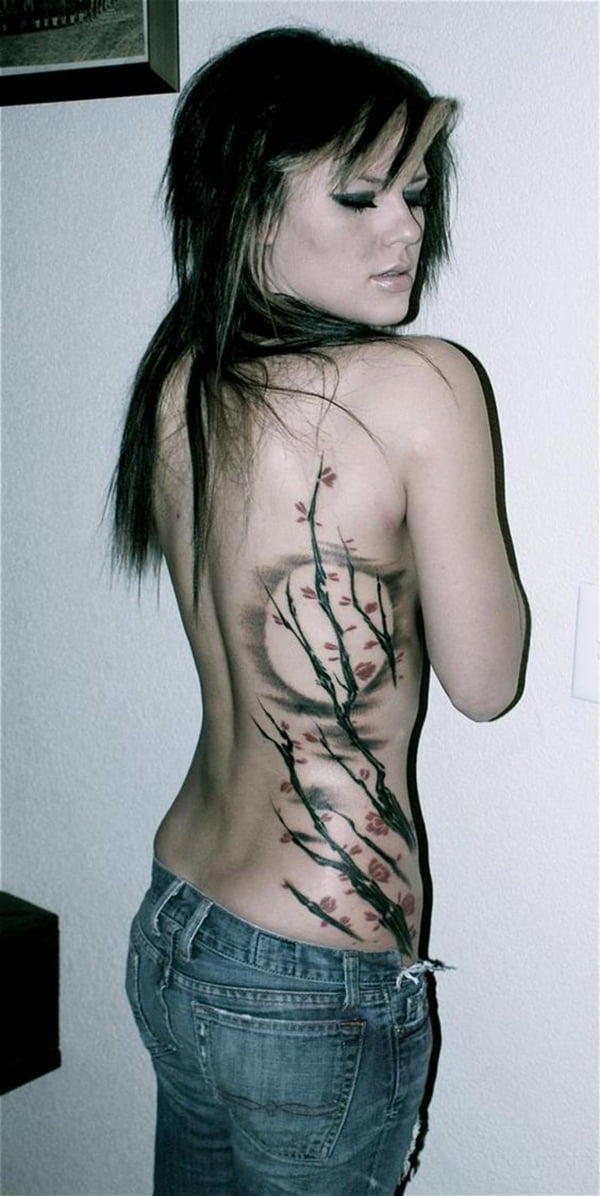 This lovely torso-length arboreal tattoo evokes an unspoken poem. Jagged black branches are softened by red cherry blossoms. A full moon makes a magical backdrop. The design has a decidedly Japanese feel which only adds to its ghostly air of elegance. This could also work as a foot tattoo.
39. Twin Diamonds, a Tree, and an H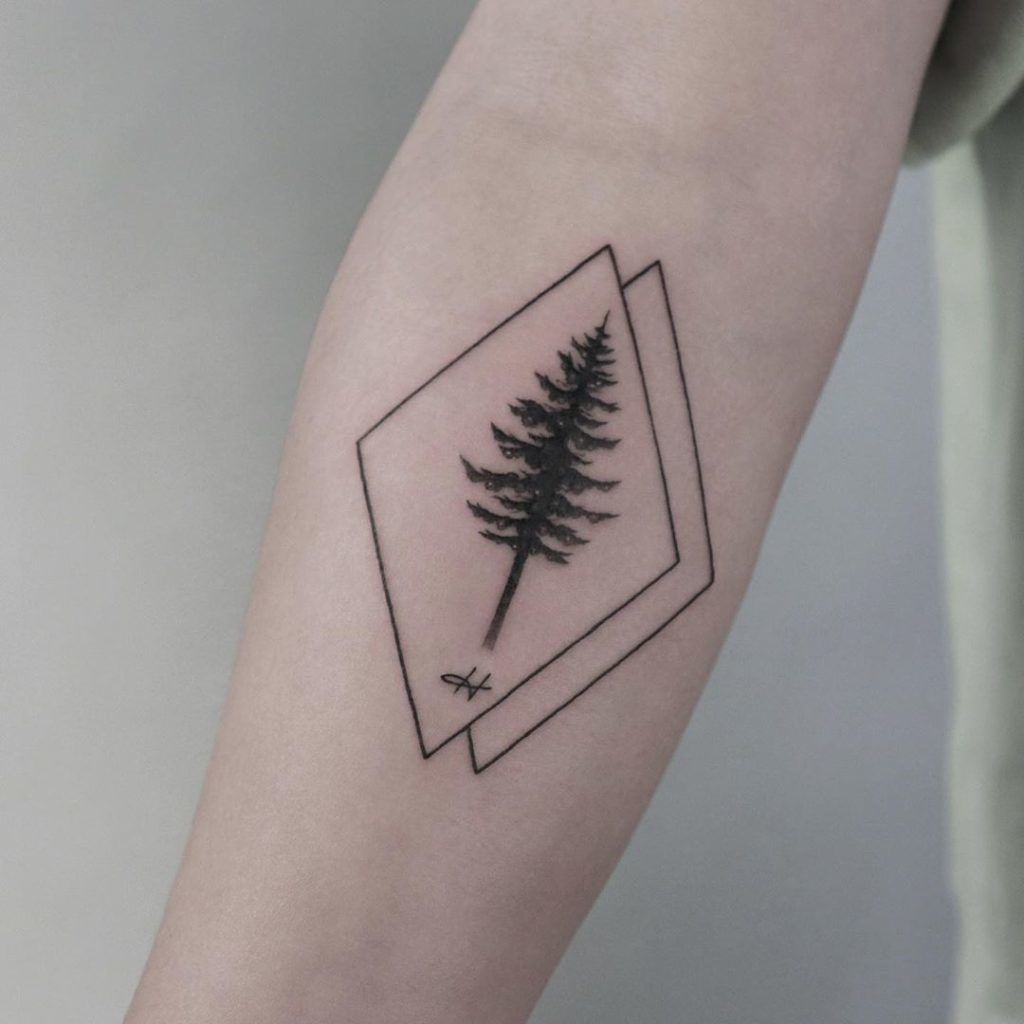 Layering components is an easy way to make simple tree tattoo designs more personal. For example, this beautiful fir tree is framed by not one but two overlapping diamonds. An "H" at the bottom suggests an artist's signature but could also be a quiet dedication to a loved one or muse.
40. Fantasy Tree with Hidden Chameleon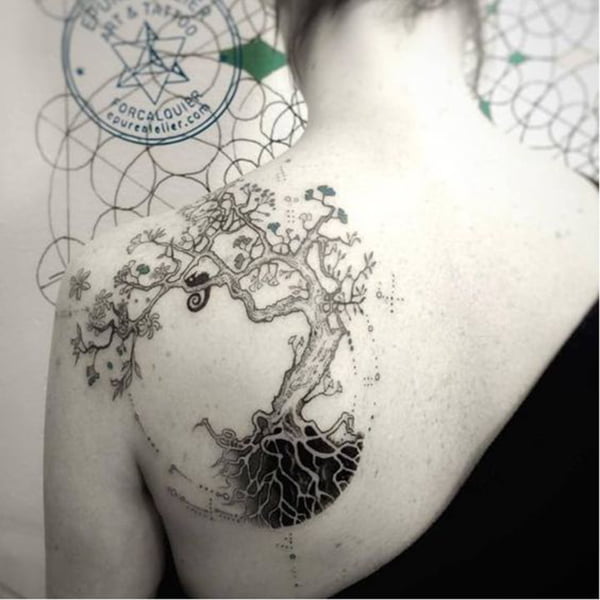 This ink lover dared to break with conventions. The result is this spectacular tree. Though mostly monochromatic, a handful of green leaves draw the eye through the branches. In the center is a sneaky black chameleon, its tail is curled in pleasant repose.
41. A Tree Grown from Love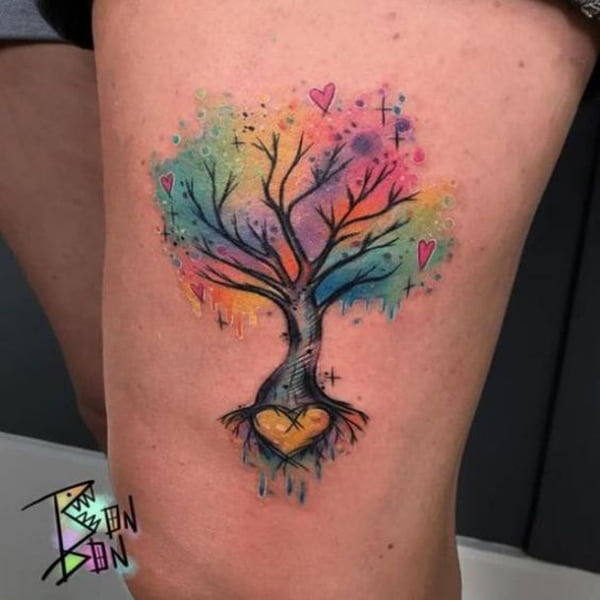 A sinuous tree raises its arms as if dancing. A golden heart glows in the center of its roots. More hearts float around the bare branches as if they are blossoms tossed to the wind. A rainbow of jewel-toned colors creates a warm and wonderful backdrop for a tree that is clearly grown from love.
42. A Perfect Circle Tree Concept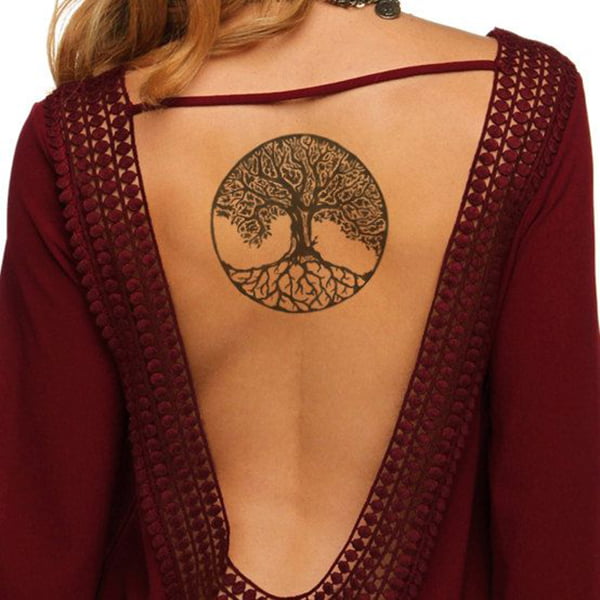 Here again, we have a combination of the tree and circle symbols. When depicted together in one tattoo, they emphasize the infinite nature of life. In the circle, there is no beginning or end. With a tree, the roots pull from what is dead to feed what is alive again.
43. Persian Tree Motif Above Elbow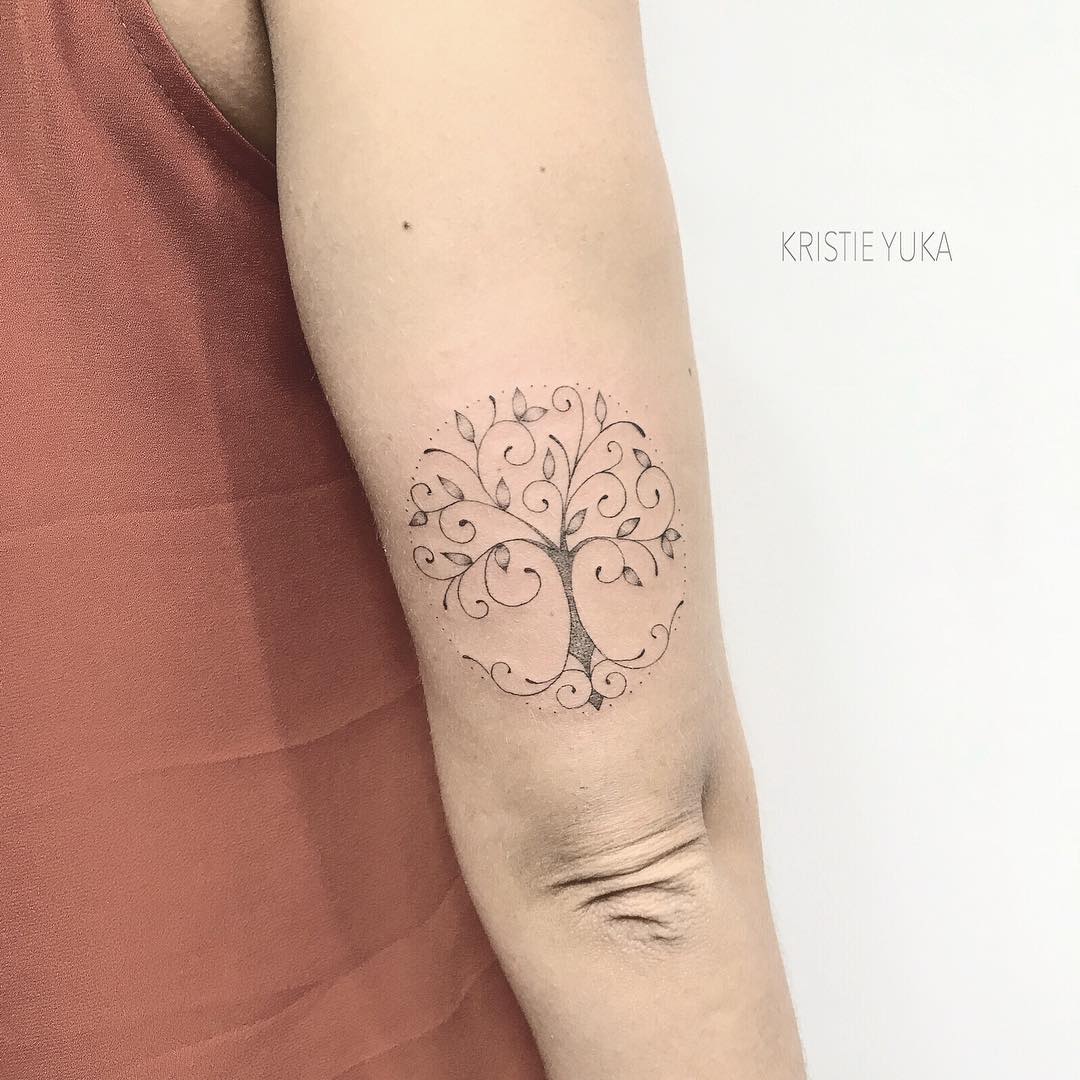 Here is an unusual placement for a common tattoo motif. This tree of life is simply but prettily rendered. Scrollwork throughout suggests a Persian influence. A faintly dotted circle reminds us that endings are just new beginnings. Even the roots grow and reach to join the circle.
44. Echame tierra y veras como florezco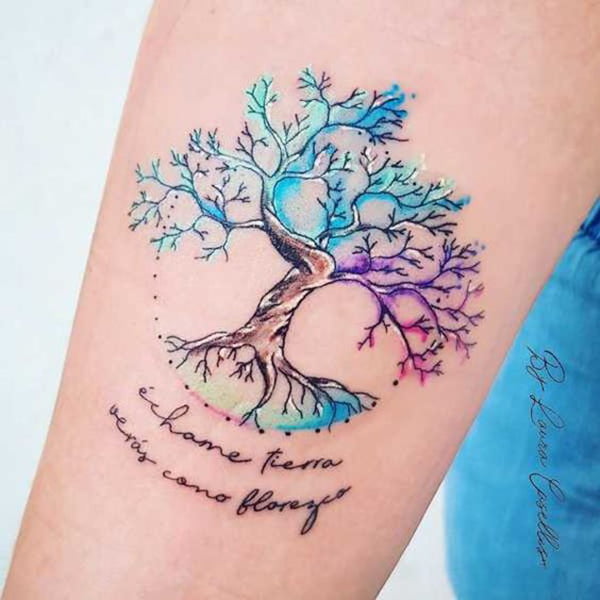 "Echame tierra y veras como florezco," is a quote commonly credited to the amazing female tattoo artist, Frida Kahlo. Loosely translated, it means, "Throw me earth; you will see how I flourish." The quote gains a new meaning when inked under a lovely tree, suggesting that great things can grow from humble beginnings.
45. A Secret Three Tree Forest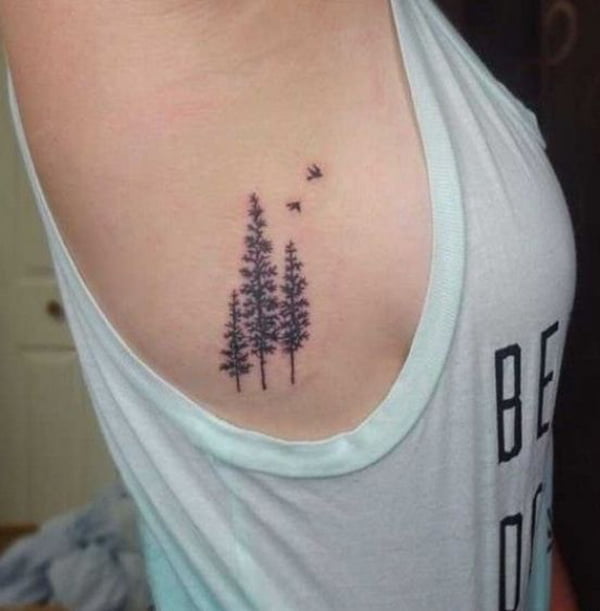 While some ink enthusiasts put their art where the whole world can see it, others prefer more subtle placements. This copse of three tall trees is fully concealed when the bearer's arm is down. But when it is lifted, their skin reveals a haven for two tiny birds (and our own tired minds).
46. Fantasy Candy Coated Tree in Bloom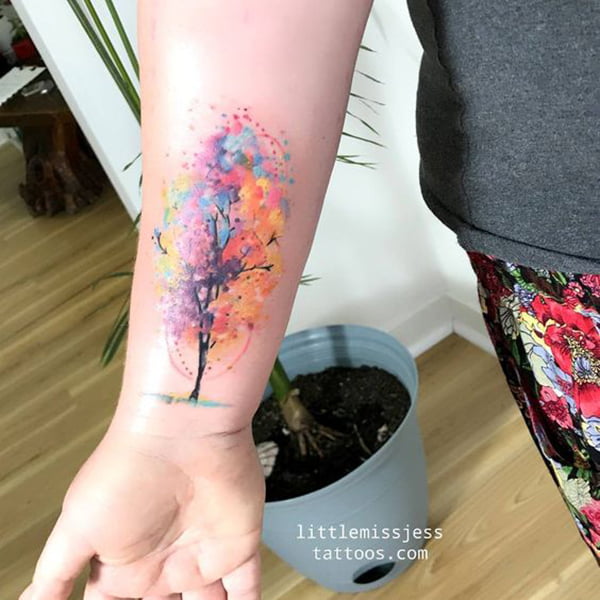 A simple black outline serves as a humble foundation for a burst of fantastic color on this small tattoos design. We can see the trunk of the tree and small glimpses of the branches. The rest is concealed by clouds of candy-coated color. This forearm tree tattoo is clearly an expression of sheer joy.
47. Festively Feathered Middle Eastern Tree Tattoo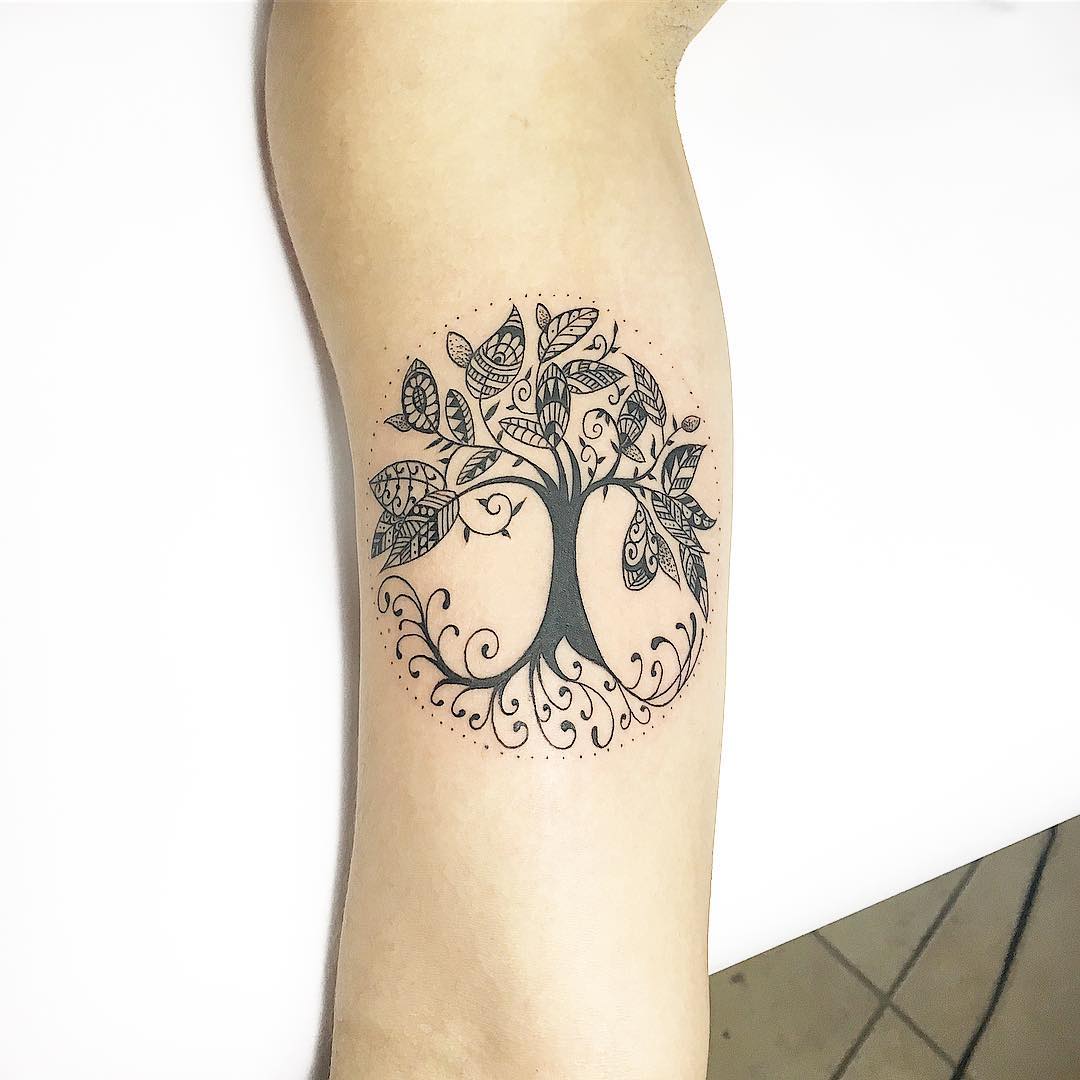 Geometric tribal motifs in the leaves of this tree of life help to differentiate it among other similar tree tattoo designs. The leaves on the tree are a metaphor for people in the world. Just as each leaf has its own pattern, each soul has its own unique personality and purpose on such a tattoo.
48. Black Is Beautiful Dancing Tree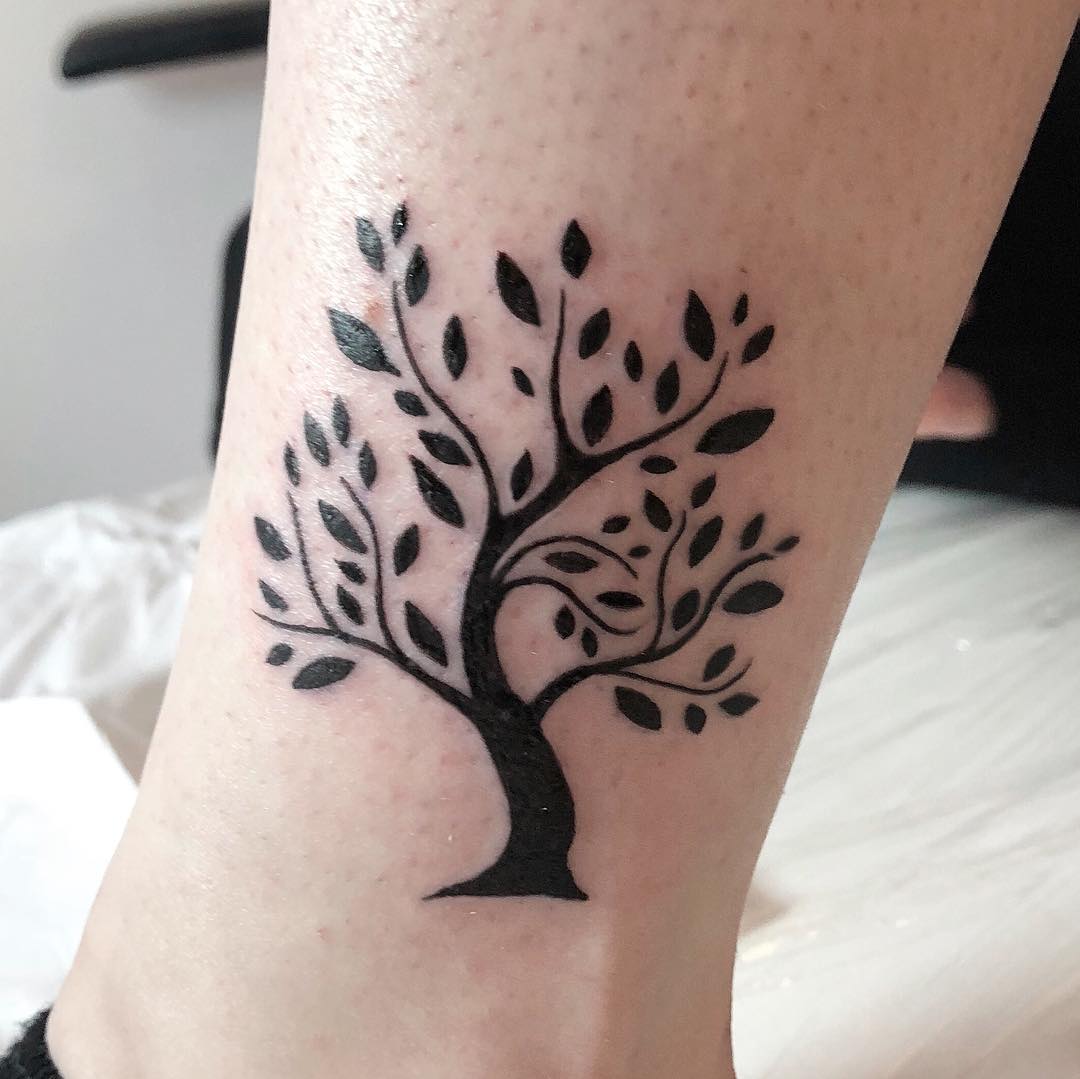 When people picture trees, few picture them without color. And yet many tree tattoos are rendered all in black. This pretty, dancing tree design proves that you don't need color to evoke beauty or joy. A sinuous trunk and branches paired with delicate leaves create the illusion of movement.
49. Branches Above and Roots Below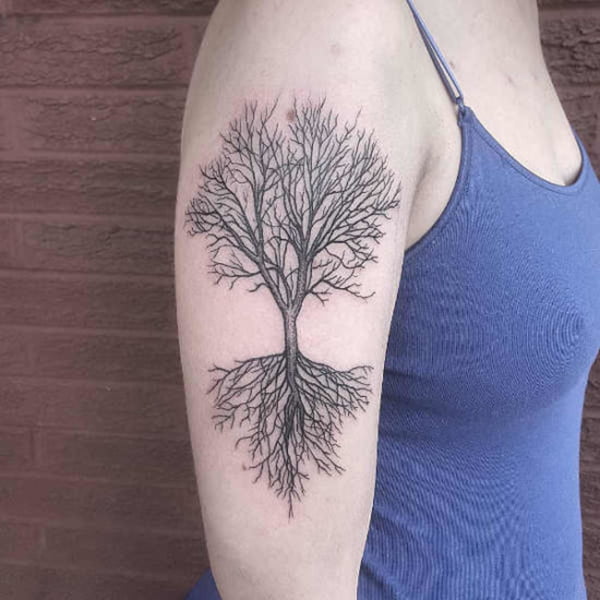 We often think of the branches of a tree and the roots of a tree as being two very separate and distinct parts. This sprawling arm tattoo disproves that theory. Here, a near mirror image reminds us that both help a tree to gather raw elements and exhale life.
50. A Tree Becomes a Spring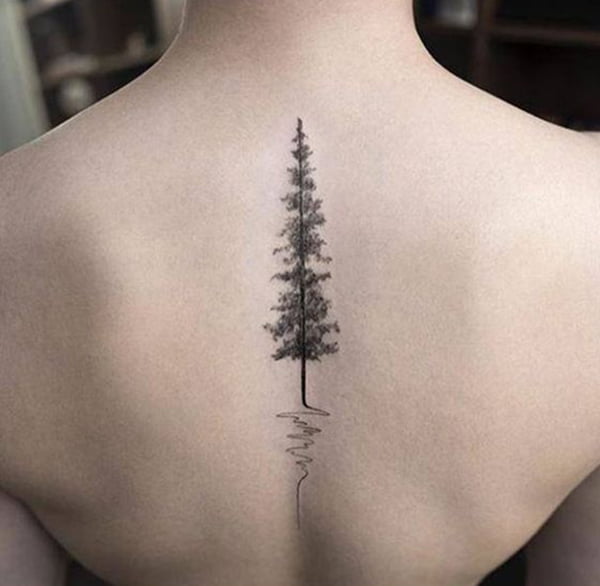 A single squiggle can transform an otherwise very literal tattoo. Consider, for example, this lovely tree. Its trunk is as straight and narrow as its bearer's spine. But at the base of the tree, a meandering line emerges. The design suggests that the wearer is strong, but not at the expense of their sense of wonder.
51. Love Among the Tree Branches Life Tattoo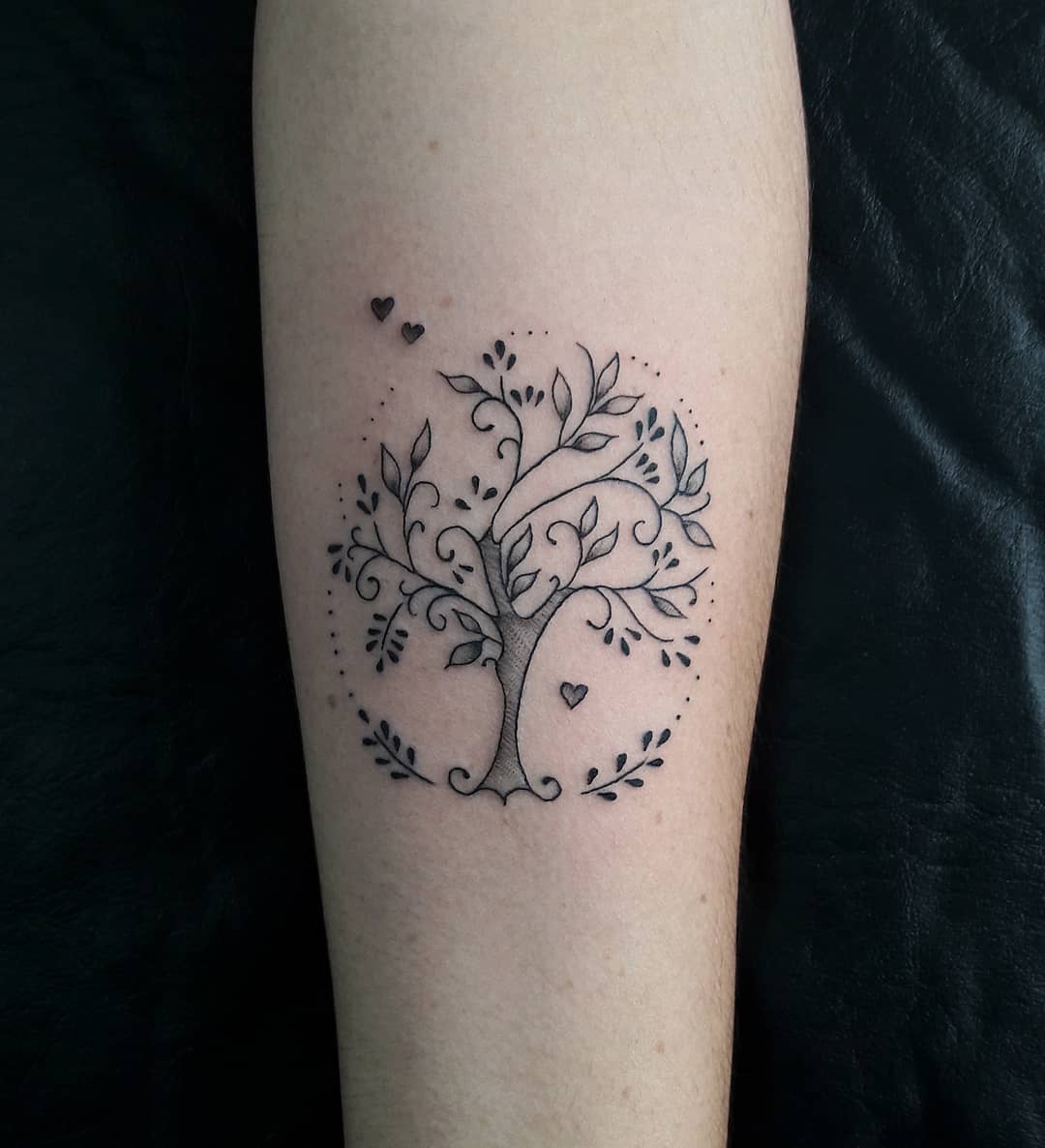 This pretty sketch-style tree tattoo sprouts a handful of curling branches. Fat, round leaves wave in an unseen wind. Disembodied flower petals float in the open spaces. A scattered trio of hearts surrounds the tree-like butterflies, reminding us that love is always near.
52. Better than the Garden of Eden Life Tattoo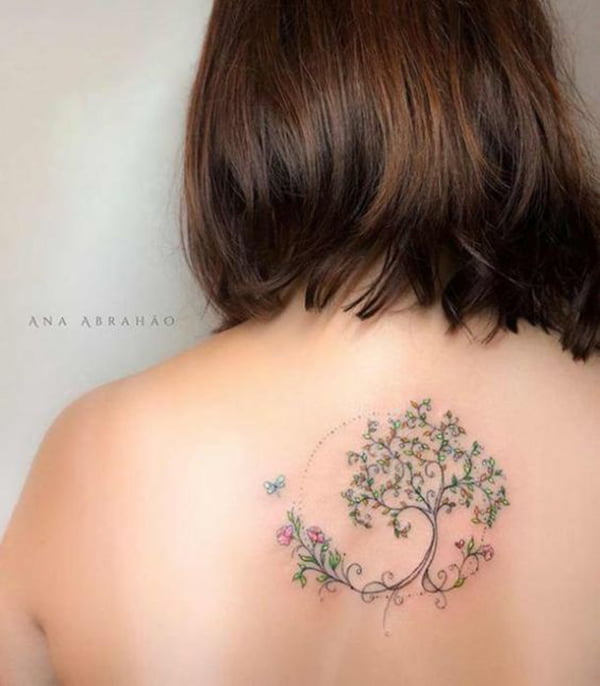 Some of our most enduring legends speak of paradise loss. But this lovely fantasy tree proves that paradise is only as far as your passions. Orange and green leaves glow like jewels on wispy branches. Pink flowers bloom from the circle of life. A single butterfly is a harbinger of joy.
53. An Elemental Tree Back Tree Tattoo Design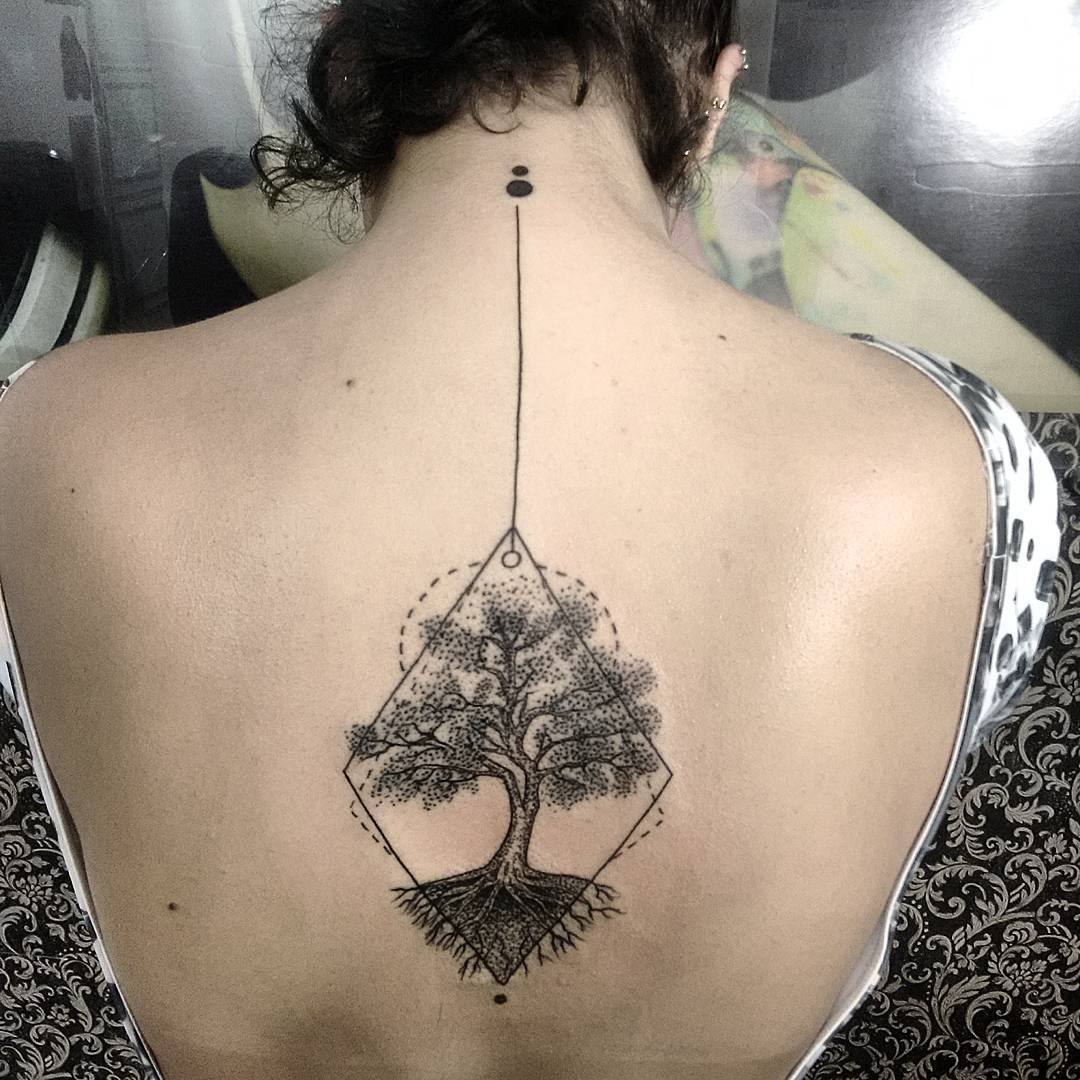 Centered on a woman's back is a classic tree with clusters of pinpoint leaves. Its root system is dense and mysterious. A diamond surrounds the tree, acting as a reference to the four cardinal directions and the primary elements of the mystical world. A line and dot draw the power of this concept up through the spine.
54. Winter and Summer Mirror Image Ink Beautiful Tree Tattoo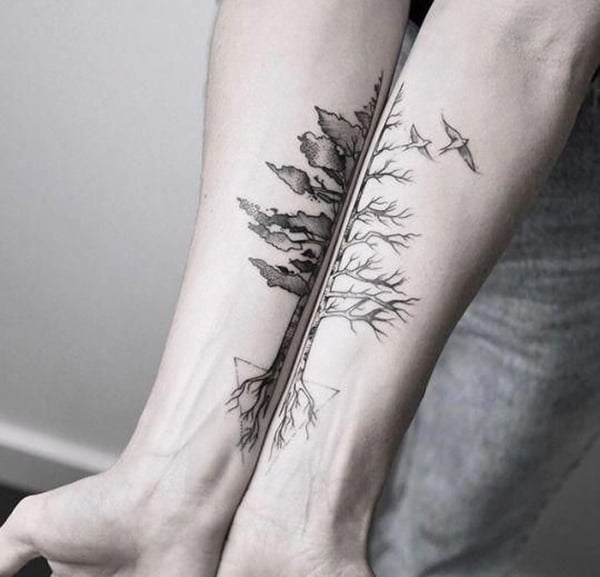 This tree tattoo design is actually two tattoos. Each works as a standalone concept. On the right arm is a tree in summer. On the left arm is a tree in winter, bare and with the birds flying south. When the mirror images are pressed together, we get a more poignant reflection on the passing of seasons.
55. Gratitude for the Family Tree Tattoo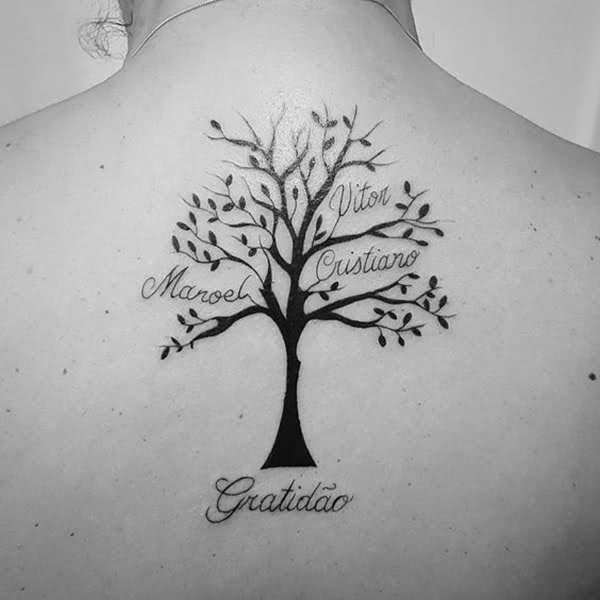 A beautiful black tree sprawls across its owner's back on this family tree tattoo. At the base of the tree is the word, "Gratidao." In the branches of the tree are three names. It's an expression of gratitude that works equally well for children, siblings, or friends. And like any good family tree, there is room to add more branches.
56. The Forest Travels with Me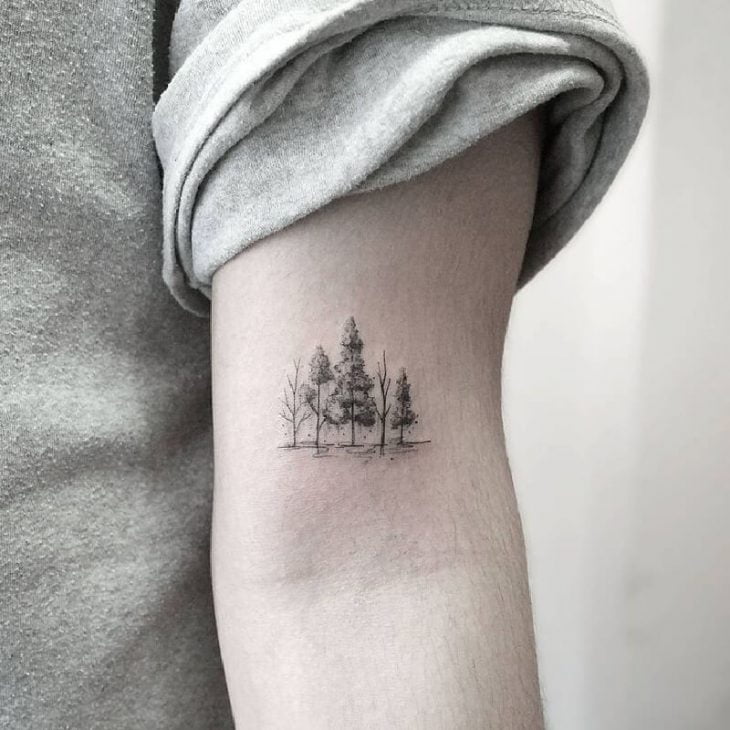 Many of us yearn for the respite of the great outdoors when we are stuck in our homes and offices. This savvy tattoo lover found a way to bring the forest to them. A deft pen has planted a five-tree forest on their inner arm. It is a much-needed reminder that peace is as near as a deep breath.
57. A Tree, an Eye, The Universe Simple Tree Tattoo
A realistically realized tree stands at the center of a much larger, more cosmic tree tattoo. Sketches around, above, and below the tree suggest unseen phenomena. Moon cycles and a peering eye represent mystical intent. The forearm placement invites all that witness this assemblage to ponder the meaning of art and life.
58. Love Grows on the Family Tree Tattoo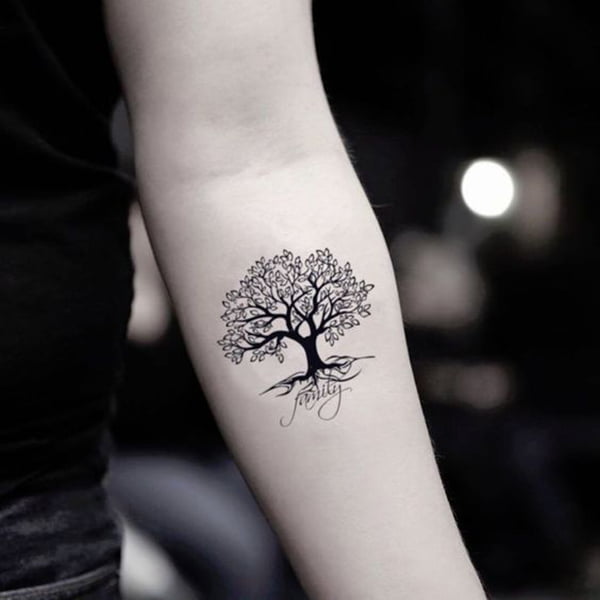 This precious inner arm tattoo pays homage to both a love of family and a love of nature. The cursive "family" beneath the tree leaves no doubts as to its meaning. It's a nice way to keep a family's support and sentiments close even when the members are apart.
59. A Magical Multi-Part Tree Root Tattoo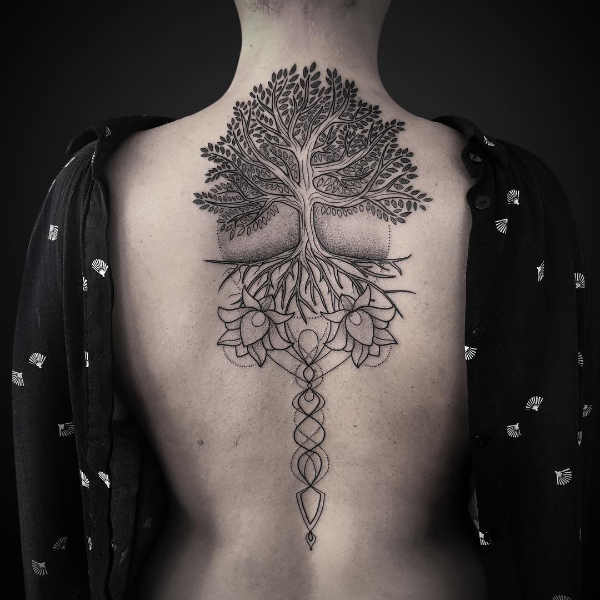 Every aspect of this sprawling back tattoo carries a second meaning. A lovely tree is adorned with green leaves. The twist of its trunk gives the impression of movement. Roots represent literal depth. The roots sprout a pair of lotuses. The flowers anchor a metaphysical chain that dangles to a delicate point over the bearer's core.
60. A Tree with Spiritual Roots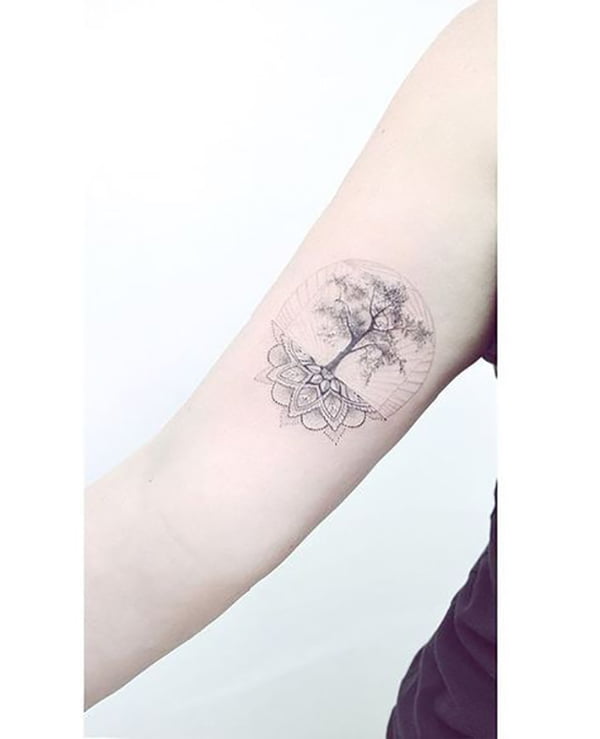 Faint rays anoint a tall but inviting tree. The tree seems to grow from a mandala. The tattoo represents a sacred place. That place might be the body – as represented by the tree. It might be the soul – as represented by the mandala. Or it might be the point where both meet.
60 Tree Tattoo Ideas for Ink-Hearted Nature Lovers
There are more than 60,000 different species of trees on our planet. That means there are countless ways to make a tree tattoo distinct and personal. Some distinguish their trees with words. Others use rich color to bring life to their arboreal ink. Still, others are drawn to the simple virtue of a simple tree, rendered in realistic detail and standing alone on an expanse of skin. If you love nature, revere the fine balance between life or death, or just want to honor your family, trees make ideal tattoos.