The best tattoos are ones that are done well, and the best tattoo sleeve ideas and designs require careful thought and planning. Many people feel that tattoos are a beautiful art form, and a glance at the portfolio of a decent tattoo artist will show that this is a correct assertion.
With the adage of "tattoos are permanent" fresh in our minds from the mouths of our parents and others, it is still obvious to many of us that tattoos, permanent or not, are striking alterations to our skin. Even though sleeve tattoos hurt, with different colors, styles, cultural inspirations, characters both real and fictional, and an infinite palette of ideas, tattoos can be both fun and meaningful.
60 Detailed Sleeve Tattoo Designs
Sleeve tattoos qualify for a significant category on their own. Sleeves can be a menagerie of unconnected images that simply cover the skin, but a "true" sleeve involves precision and planning and often an overall theme. Some people may theme their sleeves to their favorite group of superheroes, and others may stick with flowers, trees, and other naturally occurring objects.
An attractive and successful sleeve must also take into account the natural contours of the individual's arm. A well-muscled arm would require different techniques and planning than an arm of an exceedingly slender person.
Some people get tattoo sleeves that extend down the hands and even the fingers, and this is another consideration to make when executing a smooth, seamless image on the skin. The following are examples of some of the best sleeve ideas and designs.
1. Sunset Owl Above Windowed Lamp Sleeve tattoo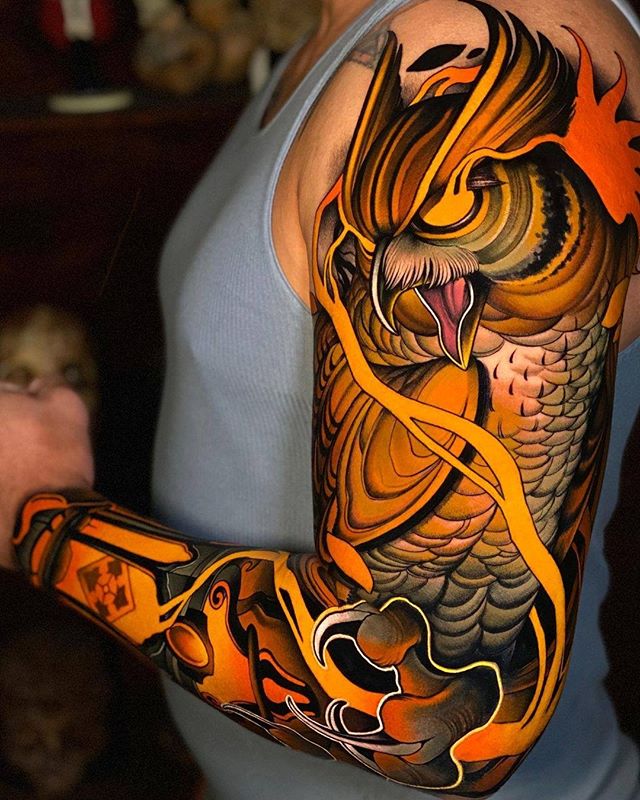 The wrist of the man modeling this sleeve is wrapped in a shadowy backlit lamp. Behind the lamp is a four-pronged symbol emitting a bright vapor. The vapor wraps around an owl precariously perched on the lamp. Orange and brown hues accentuate the bird's body, and the lamp's vapor snakes around to become the eyes of an open-beaked owl.
2. Royal Lion, Compass, and an All-Seeing Eye Sleeve tattoo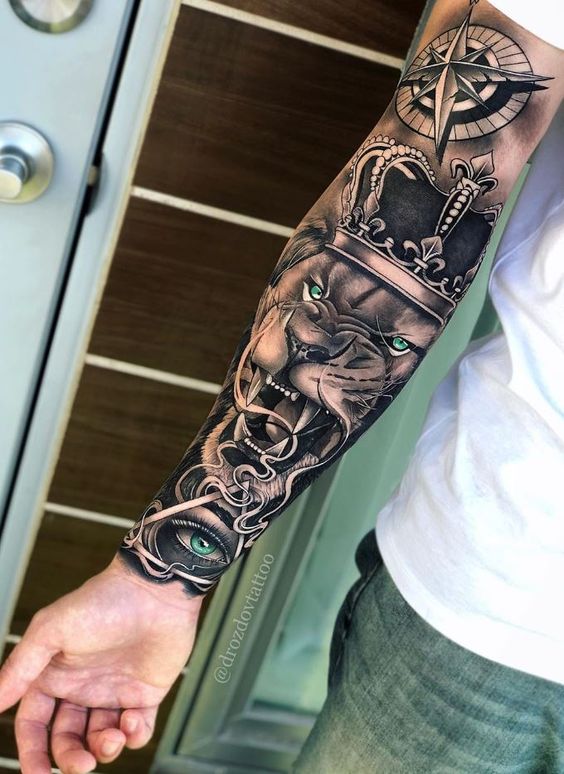 As a good example of a design that is complex yet elegant, this sleeve features a crowned roaring lion above a mystical eye and underneath a compass rose. Most of the design is greyscale, but the eye underneath the lion and the lion's eyes stand out in vibrant green.
3. Japanese Style Fan and Seascape Sleeve tattoo
The distinct ocean waves that make up the wrist of this sleeve tattoos design are easily recognizable as originating in Asian art. Above the waves is a collage of leaves and fan-like images, as well as a distinct folding fan covered in flowers. More waves give way to a cloudy sky, a rabbit curled comfortably in the woven sun.
4. Abstract Eclectic Skull and Horned Lion Tattoo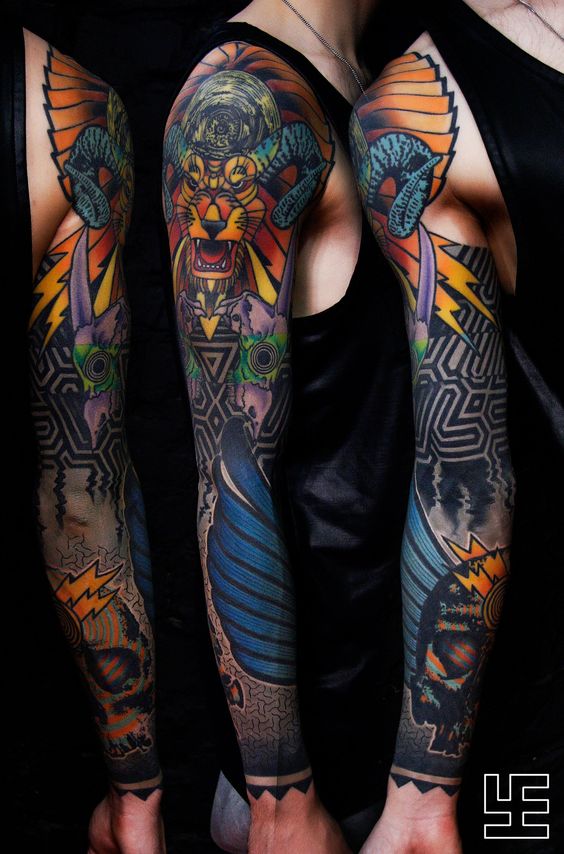 An orange and teal skull with blue wings and central orange lightning bolts is set on a gray and black multi-lined backdrop that dissolves into smoke near the bottom of the sleeve tattoos design. The grey and white coloring splits a green-eyed cow skull underneath an intergalactic lion with curled ram horns and orange wings.
5. Minimalist Black and White Swirls Sleeve Tattoo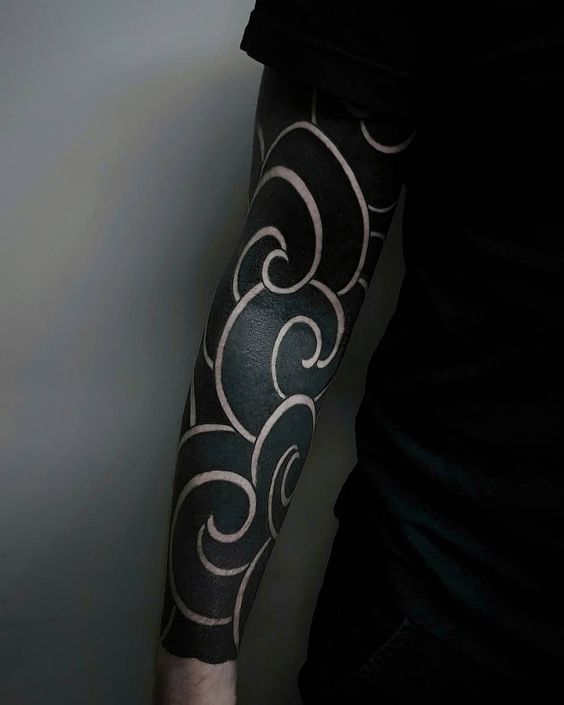 Sometimes simple is best, and this crisp sleeve design incorporates only two colors and one basic shape. Thick black swirls from wrist to elbow are outlined in white, or perhaps the outlines can be left blank if the skin tone contrasts sharply enough with the black ink.
6. Sketched in Ghostly Warrior Sleeve Tattoo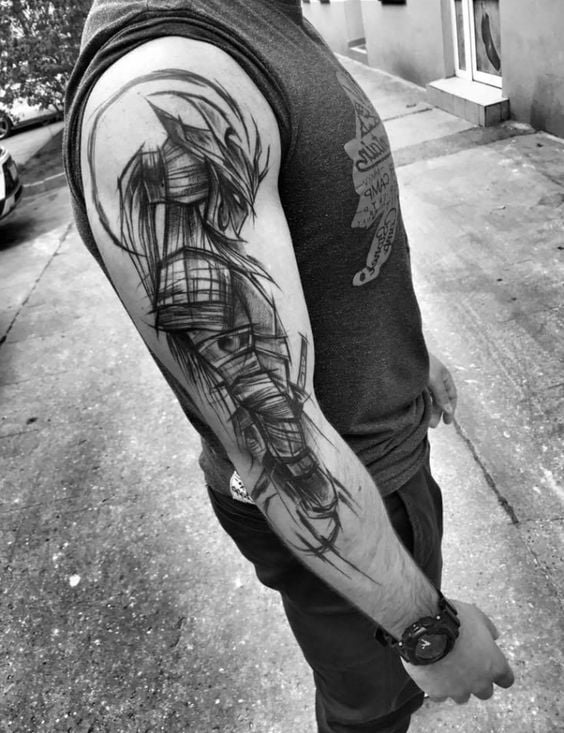 To fully see the warrior on this sleeve, the individual must stand similar to the image. Spiky black lines that start at the wrist weave together to form a hastily sketched but still incredibly polished drawing of a warrior. A sharply angled mask and helmet follow the arc of a circular accent that completes the picture.
7. Circular Reptilian Floral Line Collage Sleeve Tattoo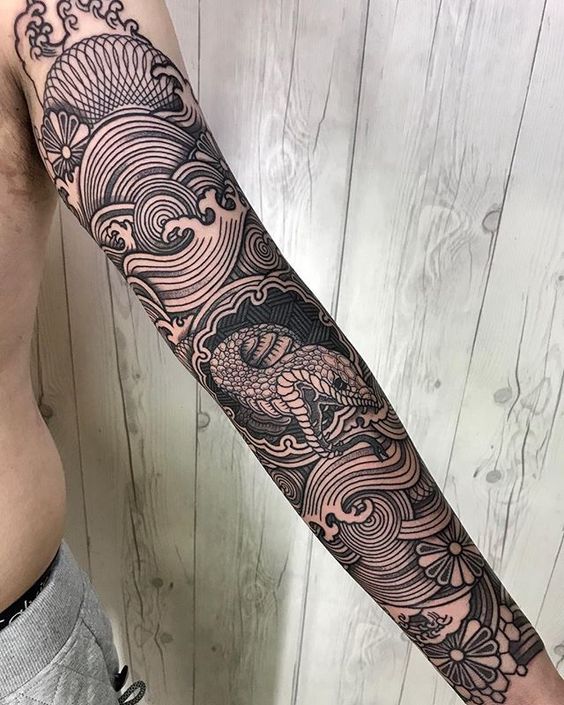 Linework takes focus in this piece. Waves, clouds, circular and angular geometric patterns, and even a serpent create a detailed, otherworldly effect. While the collage of images is very full of individual pieces, the artist has blended them so smoothly it is difficult to tell what section the tattoo artist completed first.
8. Lightning Eyed Man and Snarling Wolf Sleeve Tattoo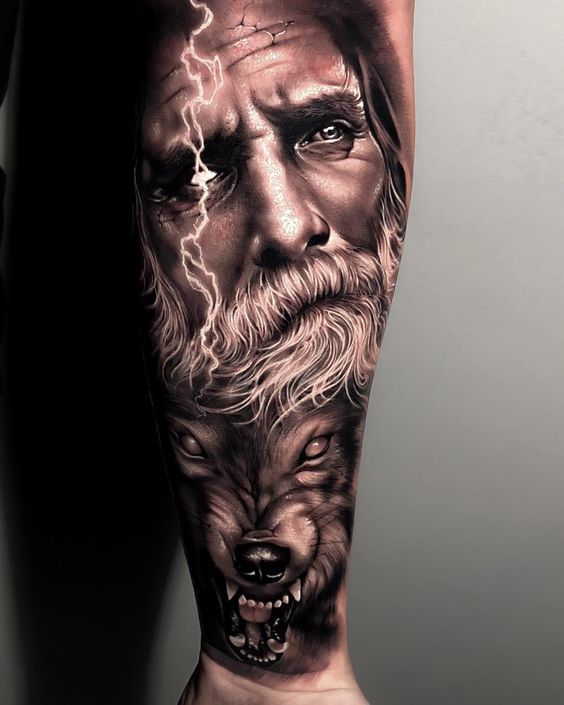 The weathered face, long white beard, and lightning-struck eye of the man in this sleeve tattoos design evoke figures like Thor, Zeus, and Odin. Underneath the soulful, scarred face is that of a wolf, its mouth drew back in a snarl. The light source in this tattoo is clearly defined, giving it a realistic effect.
9. Oriental Flowers, Snake and Skull Sleeve Tattoo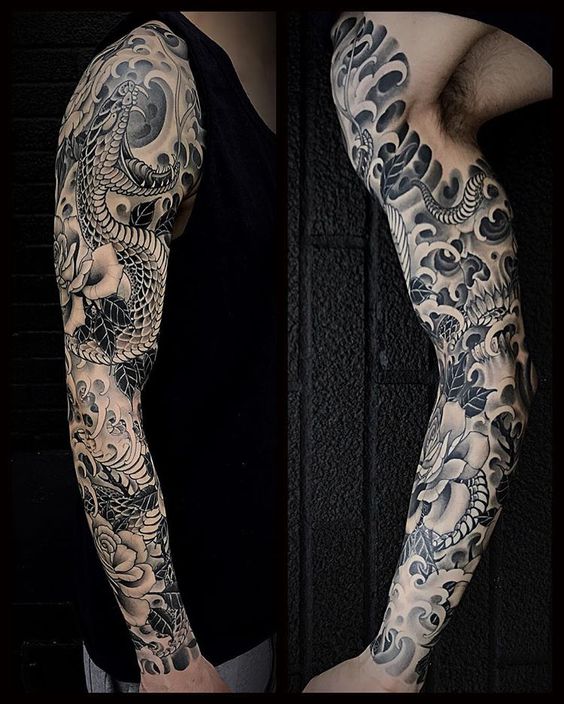 A background of cloudy waves and various botanical elements form the backdrop for this smoothly blended skull sleeve tattoo. A skull is worked into the background while at the same time being a focal point. Another focal point is the snake that weaves through the other images.
10. Jaguar and Scales Under Waves and Flowers Sleeve Tattoo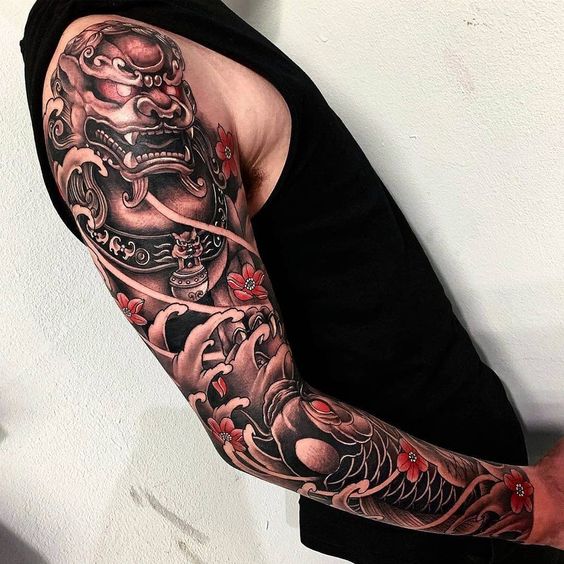 There is a distinctly mystical look to the cat in this tattoo. White waves and lines swirl around the chest and legs while delicate red flowers dot the sleeve tattoos design. Leaves and fishlike scales stand out, the scales being a striking solid black against the sepia tones of the rest of the sleeve tattoos design.
11. Nautical and Nostalgic Ship Sketch Scene Sleeve Tattoo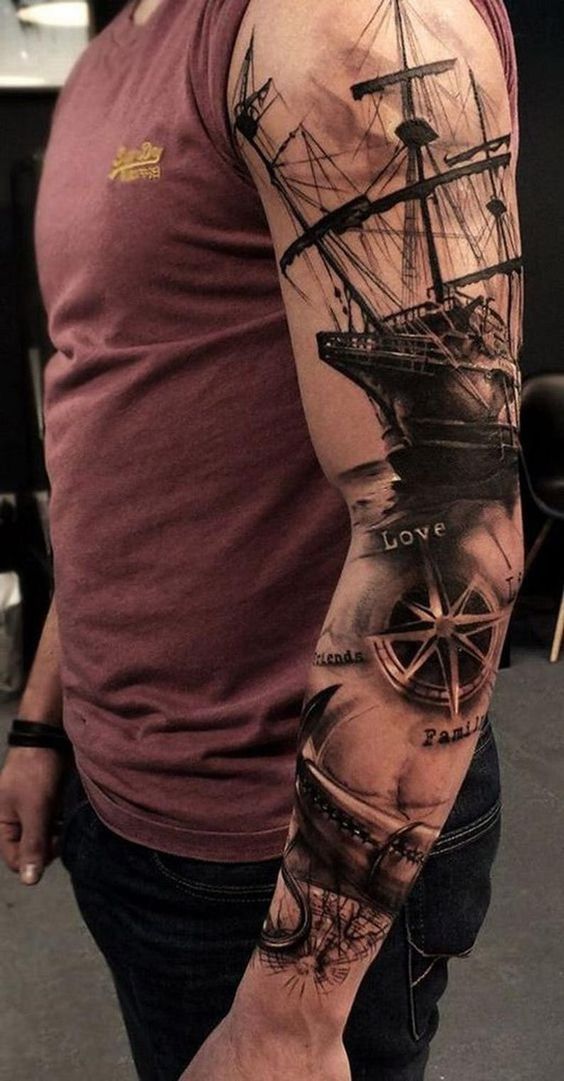 Starting at the shoulder of this sleeve, we see an old-fashioned ship underneath a cloudy sky. Underneath the ship is a heavily shaded compass rose surrounded by the words "love," "life," "friends," and "family." A fishing lure and hook near the wrist complete the picture of this love tattoo.
12. Colorful Botanical Tiger and Snake Scene Sleeve Tattoo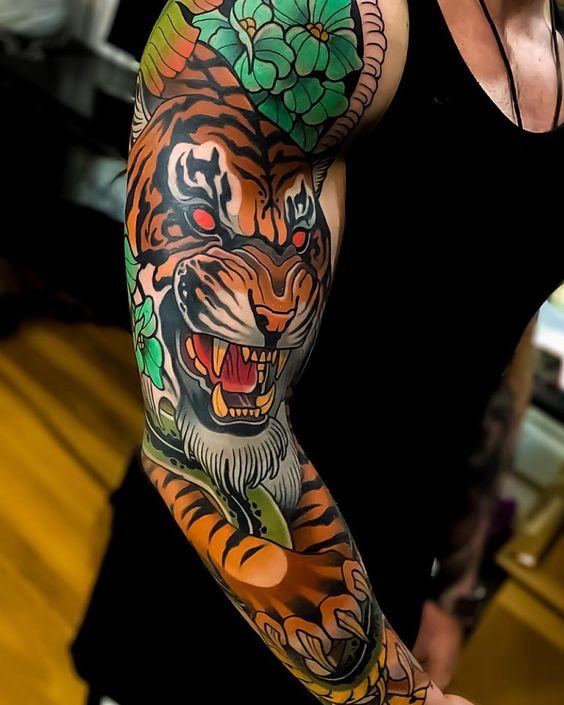 Bold colors make this tattoo pop. A snarling tiger with bright red eyes lurches forward, green and black snake wrapping around its chest. Claws are extended, teeth are bared, and the tiger is vibrant against the leaves on the shoulder.
13. Asian Inspired Windswept Monster Mask Sleeve Tattoo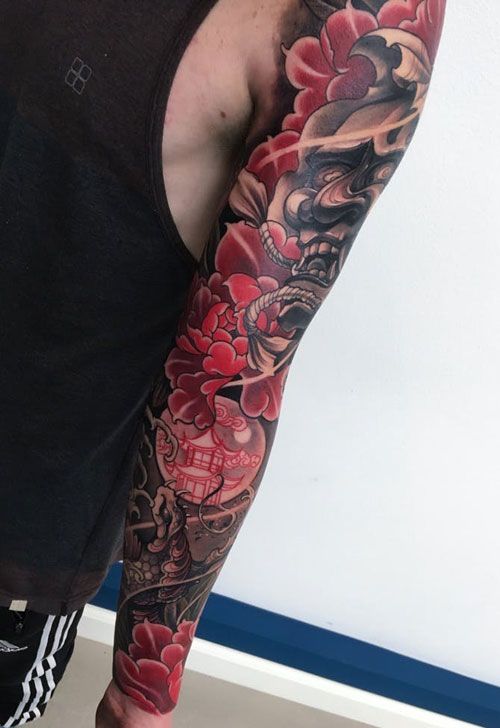 A gently glowing moon and voluminous red flowers form a base for a monster mask twisted into a smile. A delicately sketched red pagoda temple is reflected in the silvery moon while wind swishes through the flowers. From certain angles, the mask's eyes seem to follow the viewer.
14. Chimpanzee Dreams of Space Travel Portrait Sleeve Tattoo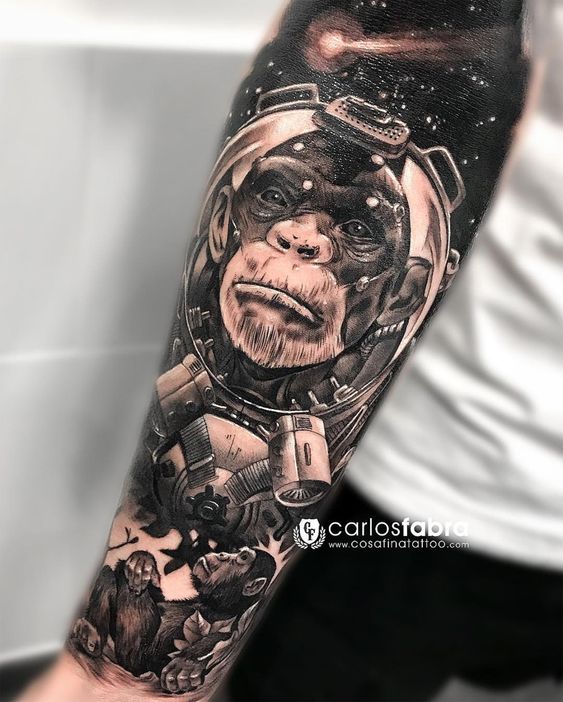 This half sleeve portrait of a daydreaming chimp evokes feelings of wonder and adventure. The chimp's face is upturned slightly as he leans against the tree. His dream self is stoic inside the oxygen suit beneath the endless stars. The black and white color scheme enhances the dreamlike quality.
15. Greco-Roman Shaded Gods and Pegasus Sleeve Tattoo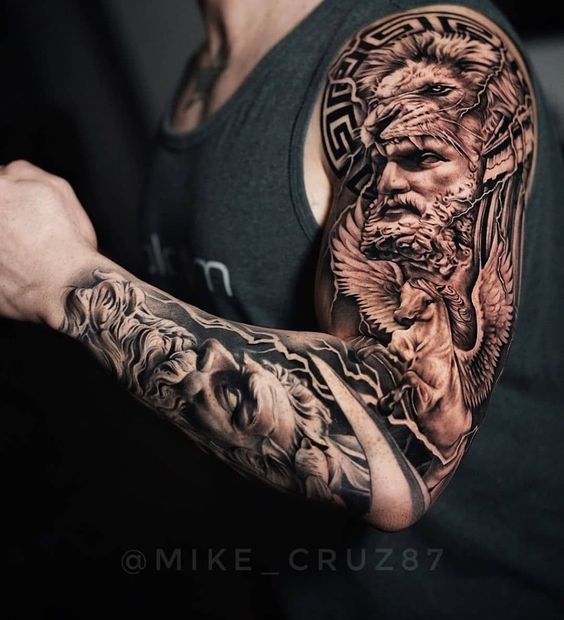 A thick Grecian border snake along the shoulder to frame this realistically rendered sleeve tattoo. A lion's head is work by Hercules, Pegasus flying beneath his face. Under Pegasus is Zeus, his stony face framed by lightning. Black, white, gray, and brown are blended for expert-level shading.
16. Staring Tiger Above a Tropical Landscape Sleeve Tattoo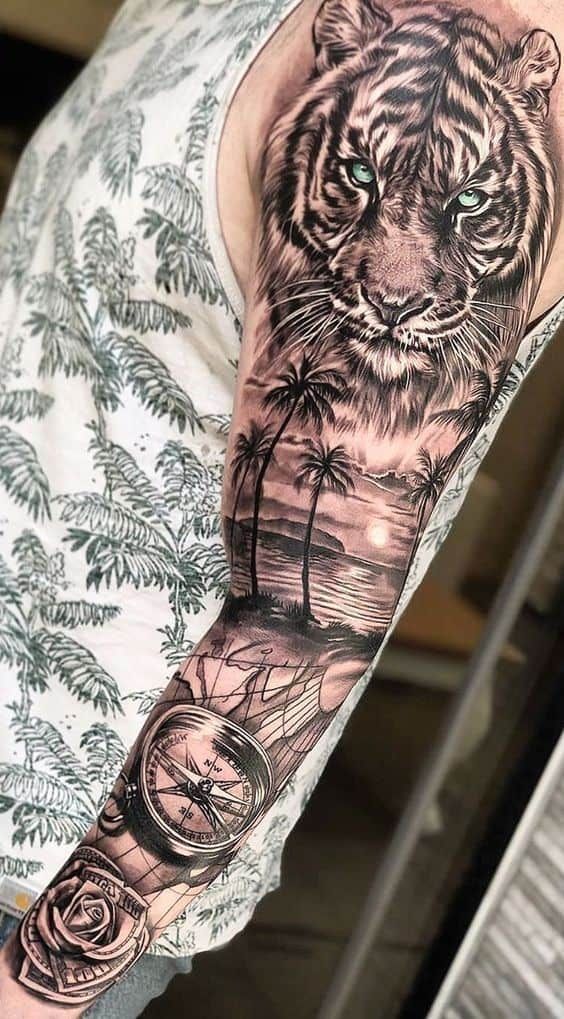 The intensity of the tiger's gaze at the top of this sleeve has an almost hypnotic quality. Under the tiger rests a tropical landscape, the trees and ocean illuminated by a setting sun. Underneath the beach is a map with a compass centered on top. Underneath this is money folded into the shape of a rose.
17. Classic Pieces Sleeve with Eagle and Serpent Sleeve Tattoo Ideas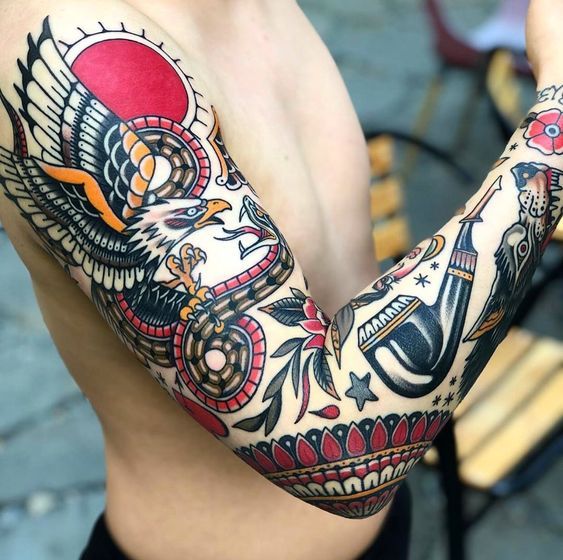 This sleeve contains a variety of images that have been placed in a complementary pattern. A wolf, a woman's face, a smoking pipe, an elbow mandala, red flowers, and an eagle wrestling a serpent in front of a blood-red sun are pieced together like a quilt.
18. Greyscale Flowers and Windswept Waves Sleeve Tattoo Ideas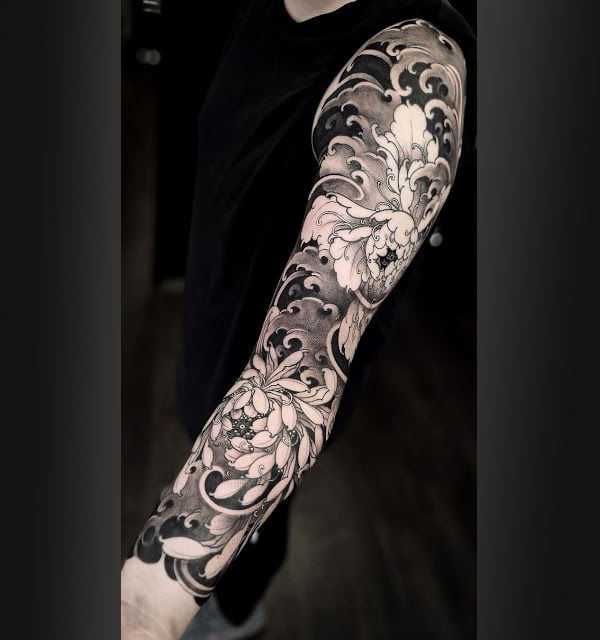 Bearing a strong resemblance to a charcoal sketch, this sleeve tattoo features black, white, and gray waves in the background and white flowers on top. Leaves and blossoms wrap around one another for an image that is both detailed and uncomplicated.
19. Scratch Art Cartoon Fighter Figure Sleeve Tattoo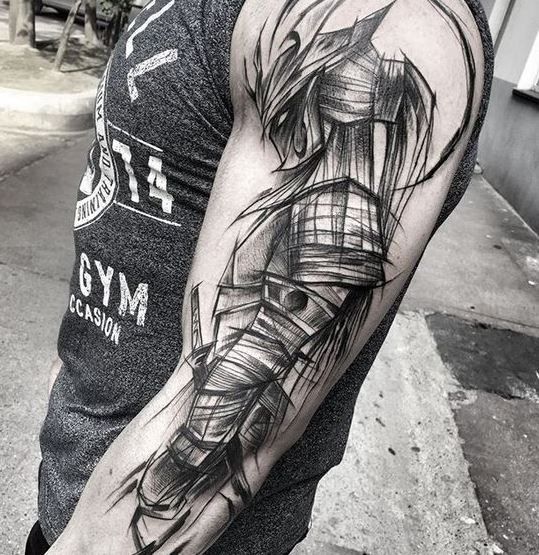 This tattoo features an imposing warrior-like person with a sword tucked into their belt. Drawn in a "scratch art" style, this individual's long hair is gathered in the back to keep it out of their masked face. Above the spiky helped is a rounded horn-like feature that curves around the shoulder muscle of the person sporting the sleeve.
20. An Astronaut Dreams of Space Sleeve Tattoo Ideas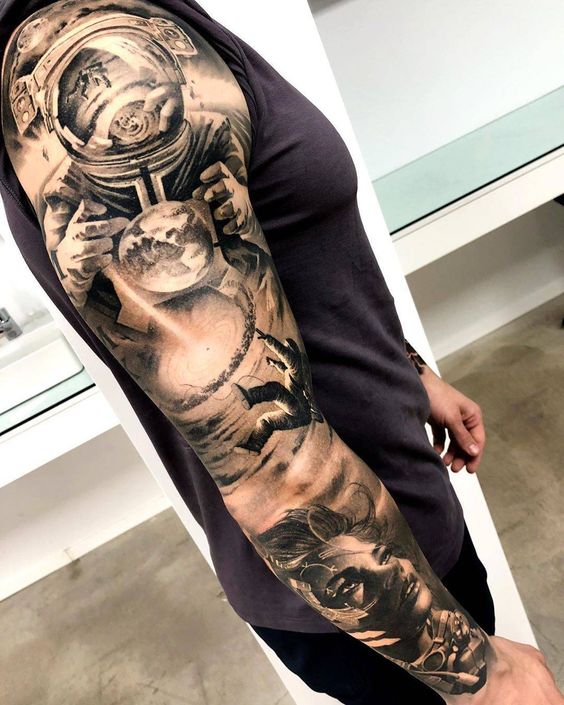 The wrist portion of this tattoo is an astronaut minus her helmet staring dreamily into the sky. Above her, one helmeted astronaut holds the Earth in front of them while another appears to float away towards a large planetary explosion. Photorealism, greyscale, and intense shadowing are used to create an otherworldly image.
21. Snarling Tiger and Green Mask Sleeve Tattoo Ideas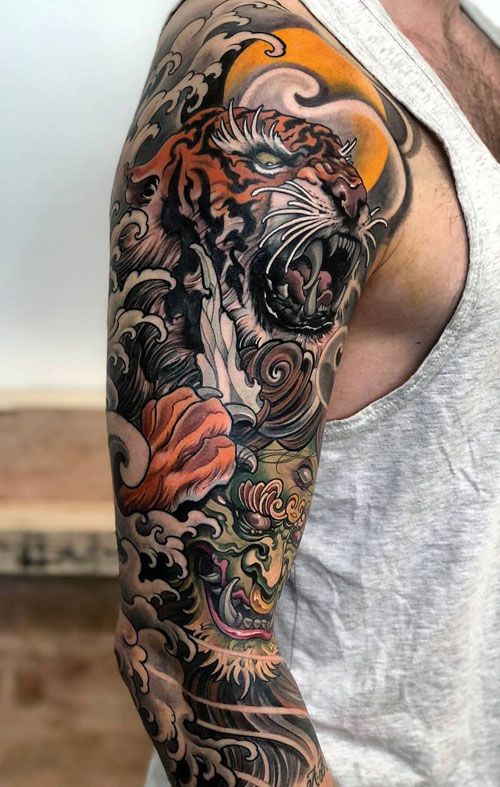 Smoky tendrils of ink surround the twisted green mask at the bottom center of this tattoo. Above the mask and on top of several layers of smoke is a roaring tiger with one paw outstretched. Bushy white eyebrows and long, curved teeth complete the picture.
22. Pointy-Faced Man with Helmet and Thematic Framing Dragon Sleeve Tattoo Ideas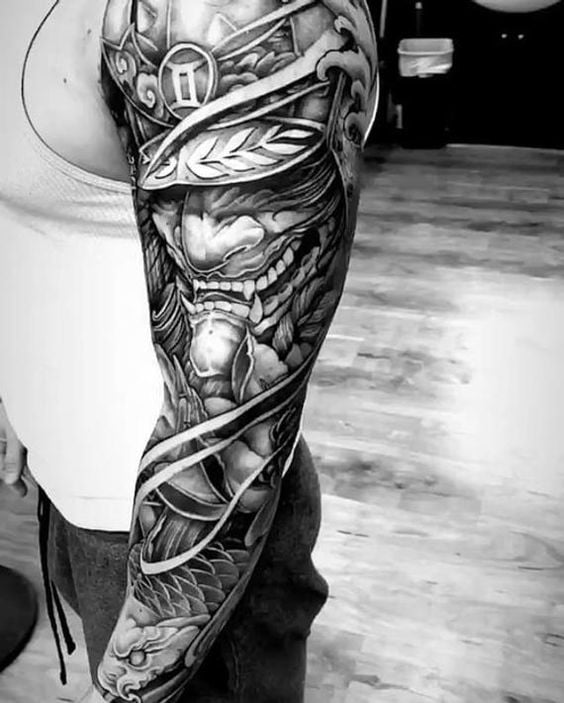 The most striking part of this piece is the helmeted face in the middle of the bicep. Sharp teeth and a harshly pointed chin jut out under eyes hidden in the shadow surrounding the face. A dragon's head erupts near the wrist, wispy tendrils and sharp leaves making up the rest of the sleeve tattoos design.
23. Black and White Floral Hand Sleeve Sleeve Tattoo Ideas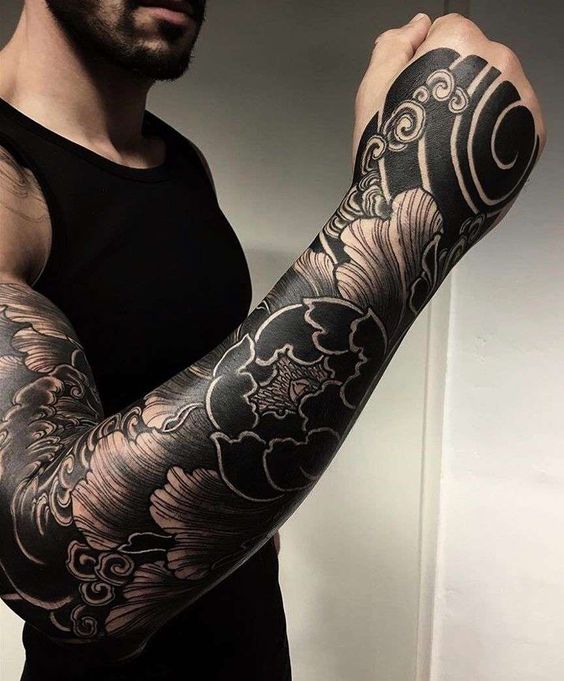 This sleeve tattoo goes all the way from the knuckles to the shoulder. Beginning on the hand, it features a white-accented swirl background with rolling clouds the length of the sleeve. The forearm features a large black and white flower with surrounding leaves, making this sleeve tattoos design bold and beautiful.
24. Intricately Drawn Eagle Flower Sleeve Tattoo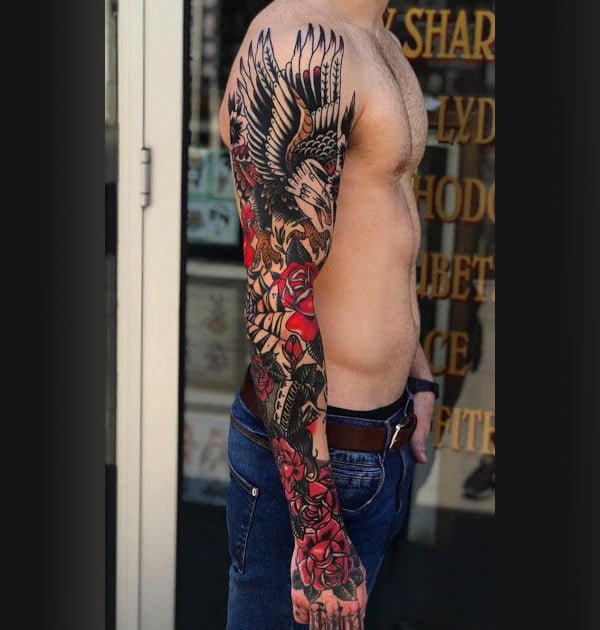 Richly filled and pigmented small tattoo designs like this one can easily take many hours to complete. An eagle with lifted wings begins the image collection on the shoulder, and the mosaic tattoo continues down the arm with a spiderweb, leaves, and a small bouquet of roses wrapping around the wrist.
25. Gray Waves with Red Leaf Accent Sleeve Tattoo Ideas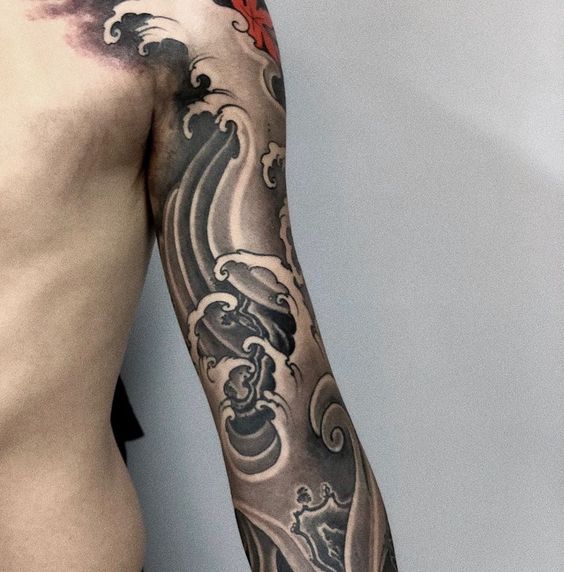 The beauty of this sleeve lies largely in its simplicity. The "light" hits the waves so that they are perfectly highlighted from top to bottom. This lightwork helps the red leaves dotted throughout to stand out with an almost glowing effect.
26. Crashing Wave with Interwoven Sea Serpent Sleeve Tattoo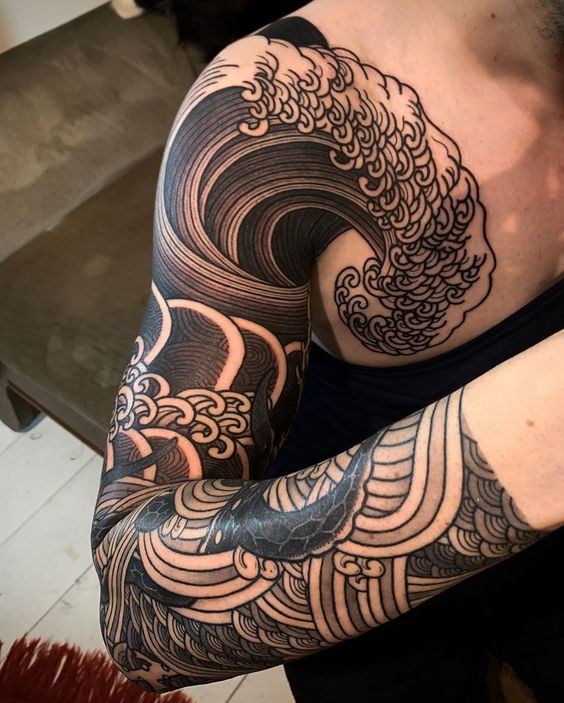 Many tattoo sleeves have a theme, and here we can see a nautical one. The gentle transition of black to white on the waves is striking. Between those waves weaves a sea serpent that wraps neatly around the arm. The waves crash over the shoulder just before the collarbone.
27. Native American Woman with Eye Clock Sleeve Tattoo Ideas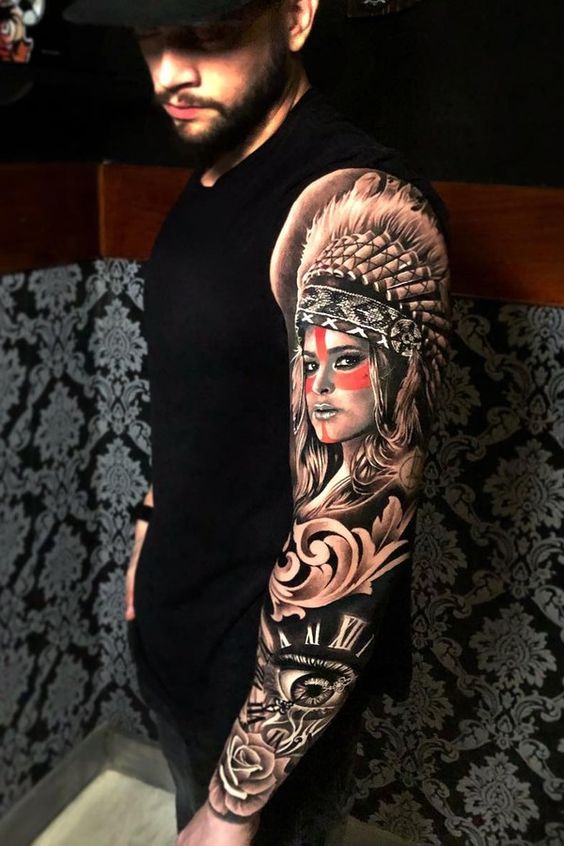 A young Native American woman wearing a ceremonial headdress is etched atop a delicately shaded piece of filigree. Underneath the decoration is a clock with Roman numerals and hands originating from the pupil. A wrist rose finishes the clock sleeve tattoo.
28. Bold Color Floral Surrealist Collage Sleeve Tattoo Ideas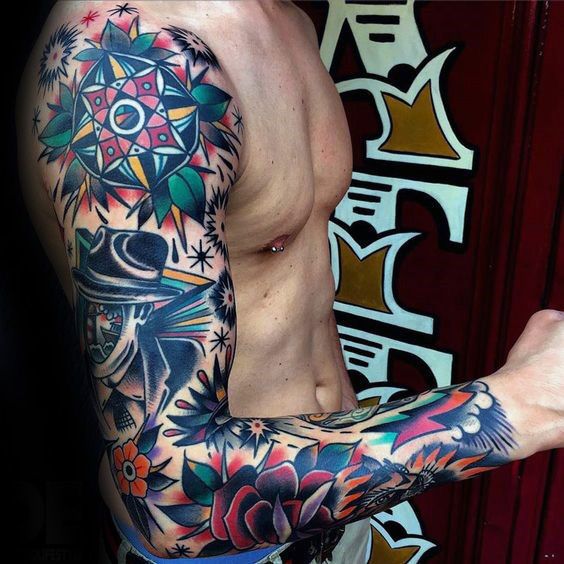 A kaleidoscope image at the top of this sleeve is surrounded by leaves and full of bold colors. A man in a hat with a lighthouse scene where his face should be is staring at the viewer from in front of a multicolored triangle. Star-like symbols dot the upper part of the sleeve and the forearm is a mix of animals and flowers.
29. Sabretooth Mutant and Feline Monster Mask Neck Tattoo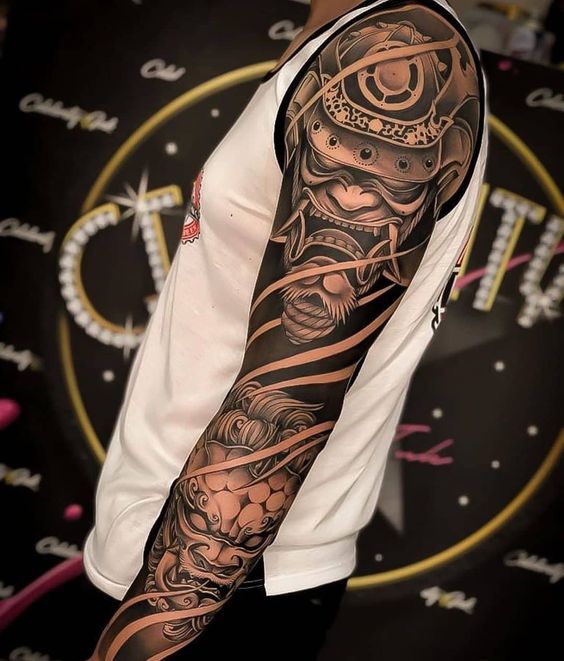 The sabretooth mutant man at the top of this sleeve is wearing a protective helmet with a neck guard. The helmet resembles a hard hat and arm-crossing white lines make their way down to the scaled, catlike monster mask.
30. Jungle Cat and Frog with Floral Backdrop Sleeve Tattoo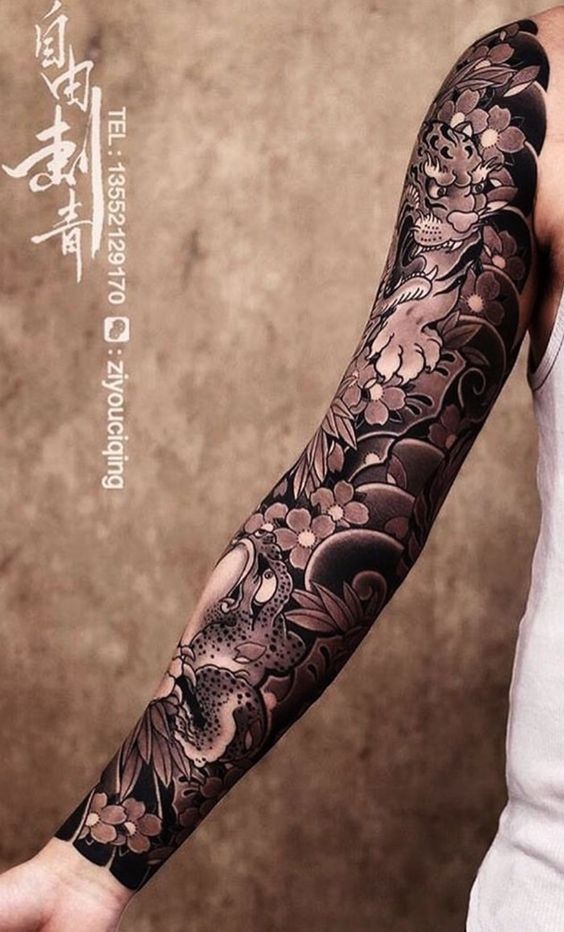 Highly detailed black and white sleeve tattoos designs like this one are always quite striking. Within the floral background of this sleeve lurks a jungle cat ready to strike. Below the cat and past, more flowers is a frog who looks displeased to be in the same tattoo as the jungle cat.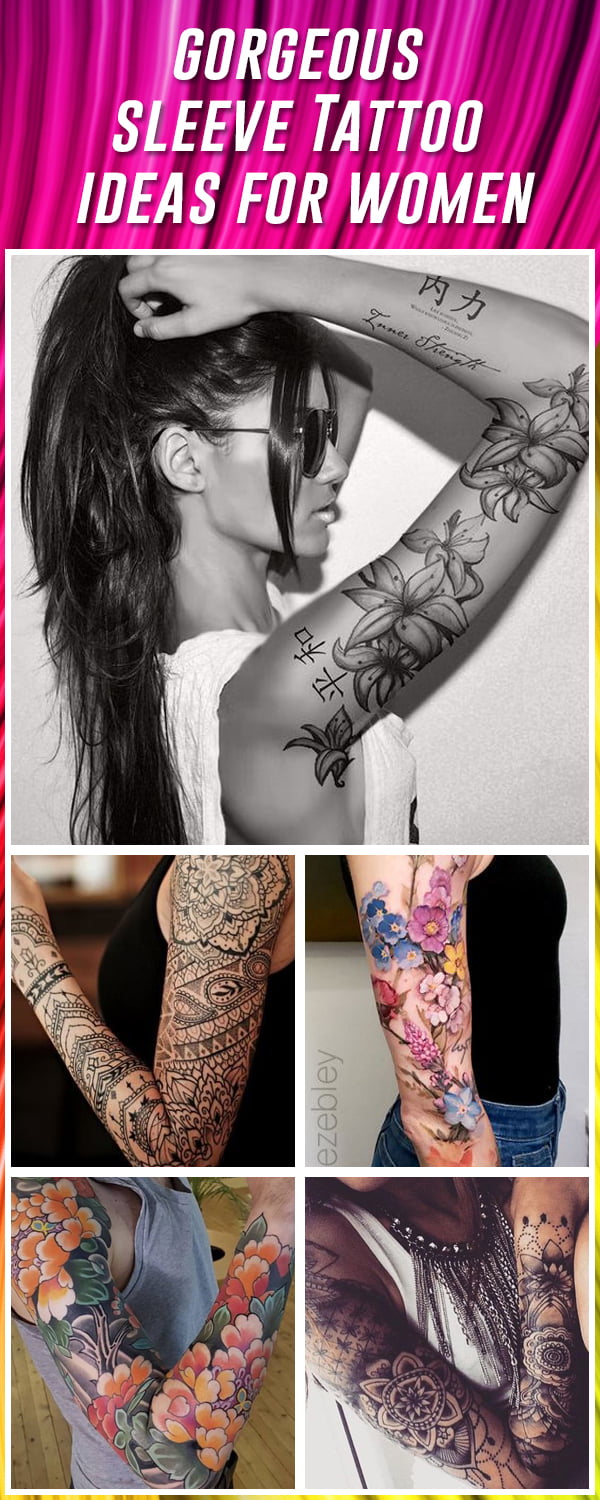 31. Geometric Patterned Three Quarter Sleeve Tattoo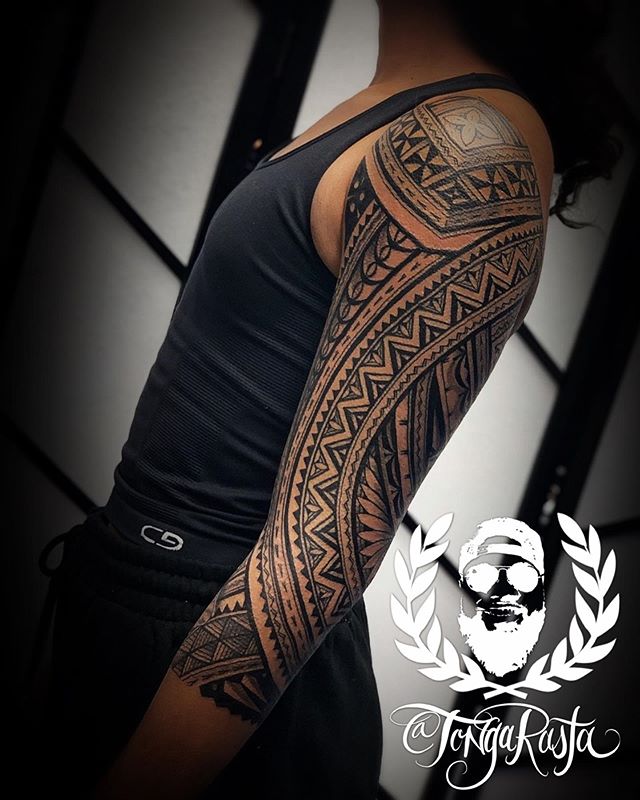 Reminiscent of one of the ever-popular adult coloring books, this partial sleeve boasts clean lines and geometric shapes. A floral emblem begins the sleeve tattoos design on the shoulder. A wedge-filled square border gives way to swirls, arrows, and incredibly intricate interwoven patterns.
32. Shadowed Rose Clock Filigree Sleeve Tattoo Ideas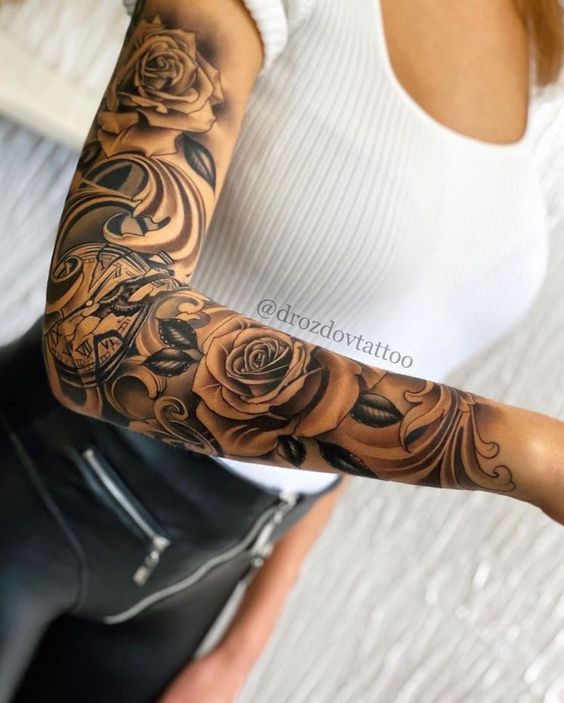 Carefully sketched roses and swirling filigree are used as a framework for a broken clock that is carefully placed in the apex of the elbow. Black thorned leaves and shadows emphasize the tattoo's shapes and curves while the clock in the middle evokes a timeless, dreamlike feeling.
33. Mystical Cosmic Mandala Sleeve Tattoo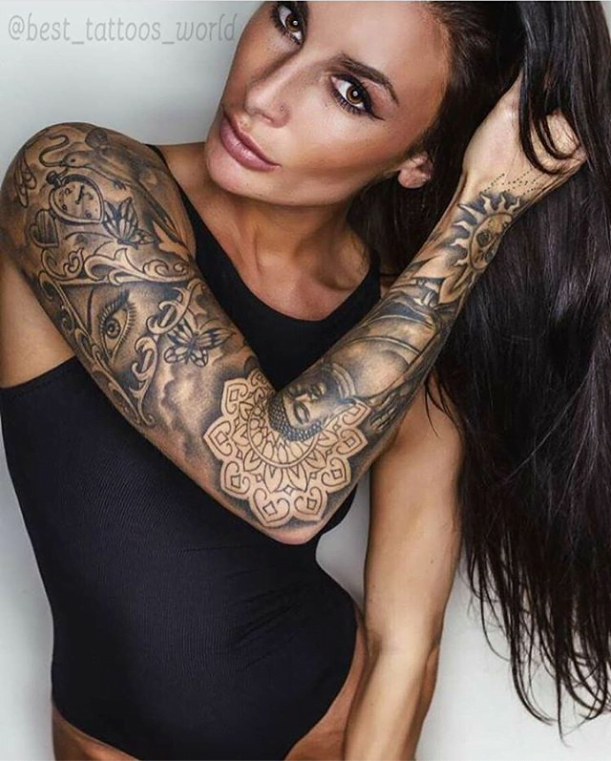 A rounded mandala crown above the head of a Buddha-like figure separates the bottom part of this sleeve tattoo from the top. A carefully etched sun wraps around the wrist. The top half of the tattoo is full of various mystical symbols, such as the all-seeing eye and several hieroglyph-like characters.
34. Dotted Doily Sleeve Wrap Sleeve Tattoo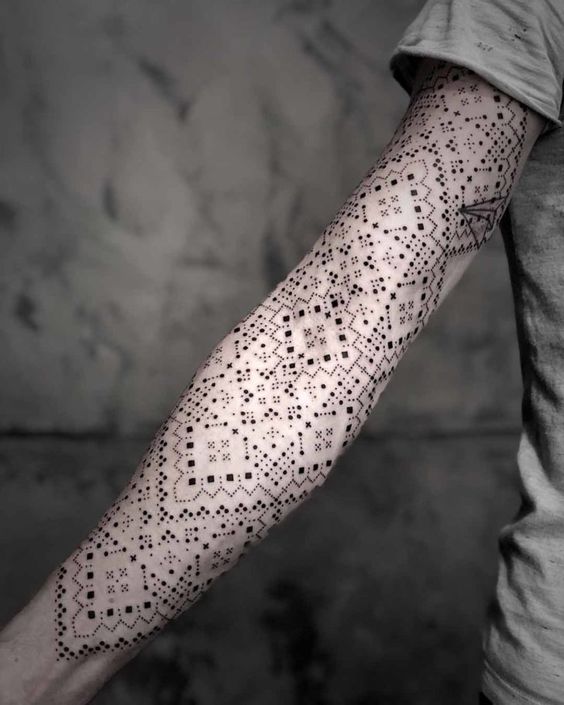 Delicate, lacey tattoos can be difficult to do well but this example is expertly done. Based on a basic pattern of interlocking squares, this sleeve tattoos design uses tiny patches of ink to create an intricate, cleanly detailed design. The sleeve resembles a high-end table runner or doily set.
35. Botanical Jewel Tightlined Butterfly Sleeve Tattoo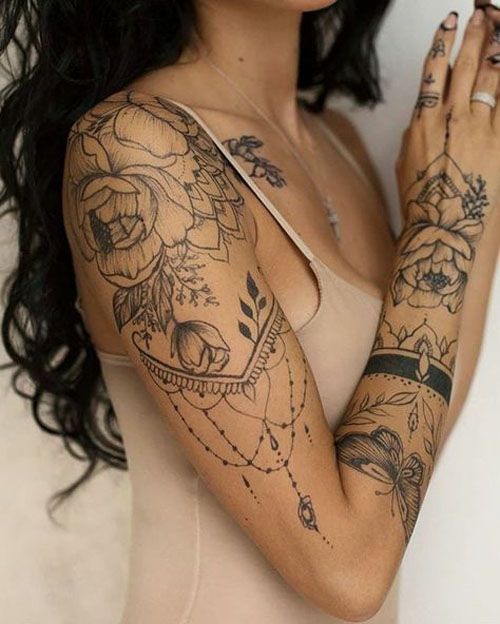 Sometimes tattoos can be both striking and delicate. This sleeve qualifies, with flowers at both the shoulder and wrist and "beaded" style accents underneath the leaves. A thick black band with a large butterfly on top separates the upper and lower parts.
36. Split Floral Black and White Sleeve Tattoo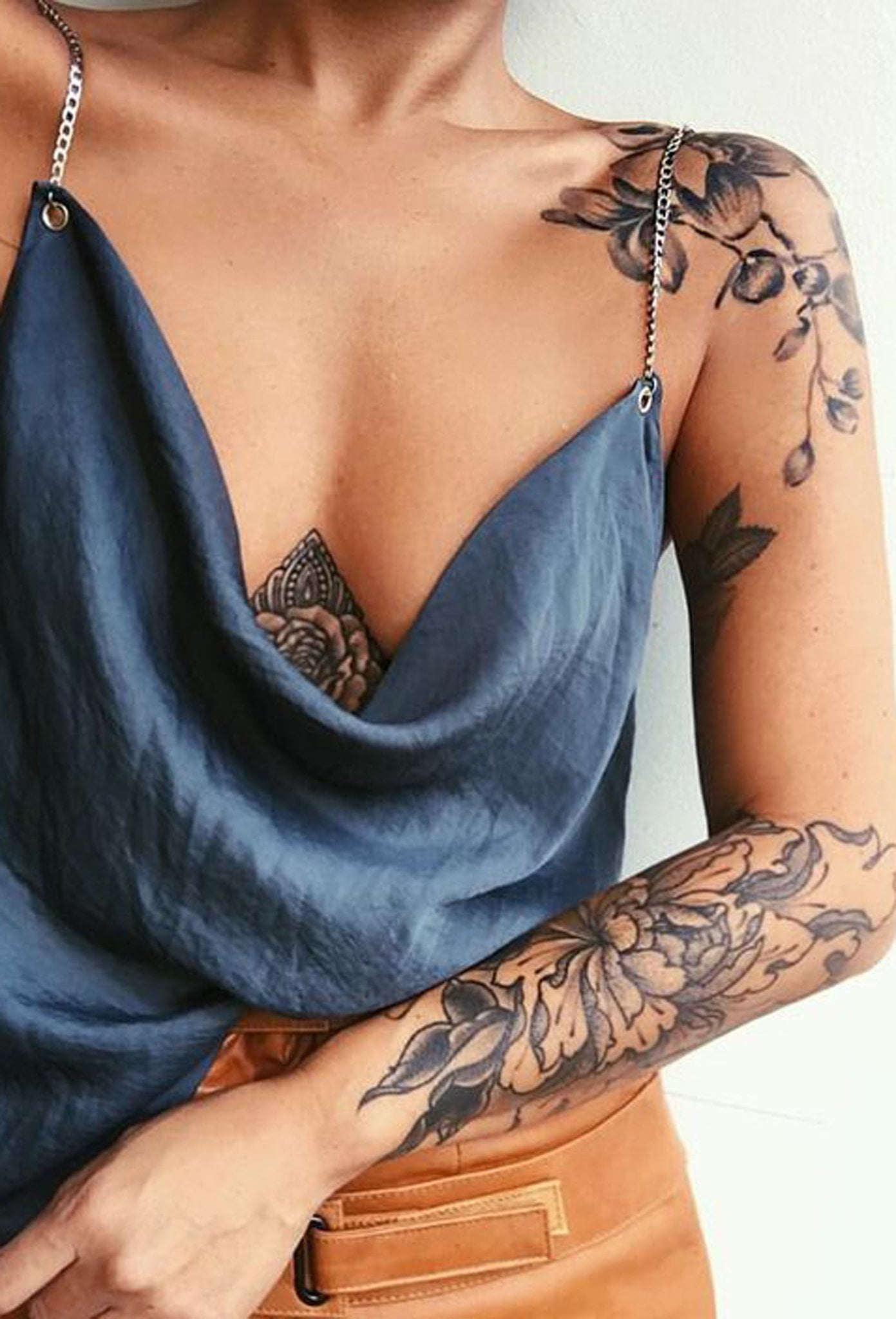 This sleeve leaves a little more blank skin than most, as it is in two parts. Both halves involve leaves and flowers but different kinds. The piece on the shoulder involves long stems and seed pods, while the piece on the forearm is a single blossom on a bed of leaves.
37. Tropical Religious "Family" Logo Jesus Sleeve Tattoo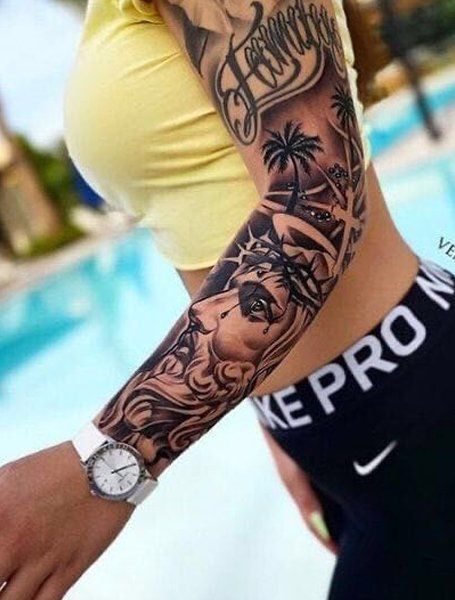 A shadowy stone face, most likely that of Jesus, covers the majority of the forearm. A halo and a cross symbol float above his head. The shadows around these images morph into a tropical scene, above which script lettering spells out the word "family." Wispy gray trails of ink swirl around the shoulder on this Jesus sleeve tattoo.
38. Precise Script with Bicep Flowers Sleeve Tattoo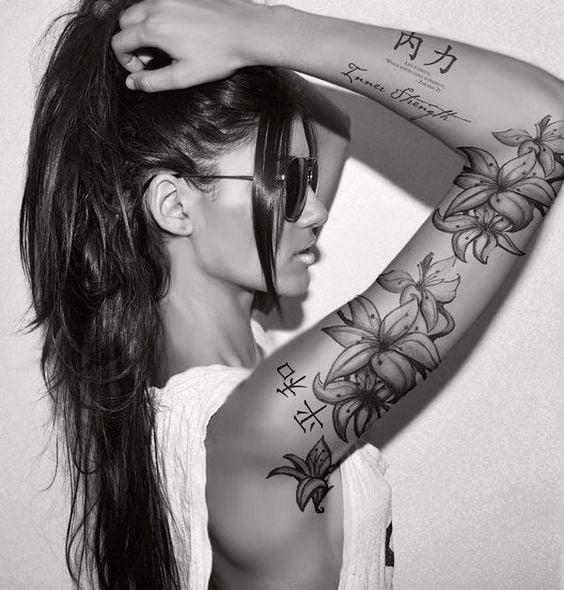 Chinese style script on the mid-forearm and shoulder form a clear but loose frame. A series of flowers go from the backside of the armpit to just beyond the elbow. The petals are shaded and contoured for a slightly three-dimensional effect.
39. Wide Black and White Arrow Pattern Sleeve Tattoo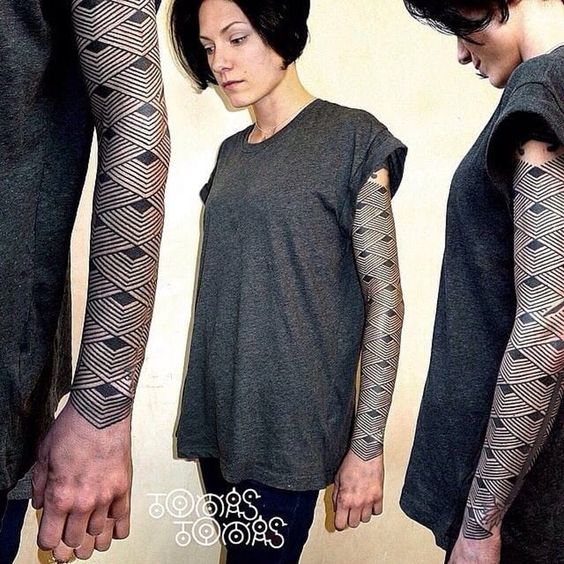 For this sleeve, black and white inks have been carefully applied in an interwoven triangular pattern. The sharp lines evoke a netted stocking and boldly pigmented middle sections draw the eye to the middle and downward towards the hand. The sleeve tattoos design can easily be added if desired.
40. Blue Eyed Lion with Rose Accents Sleeve Tattoo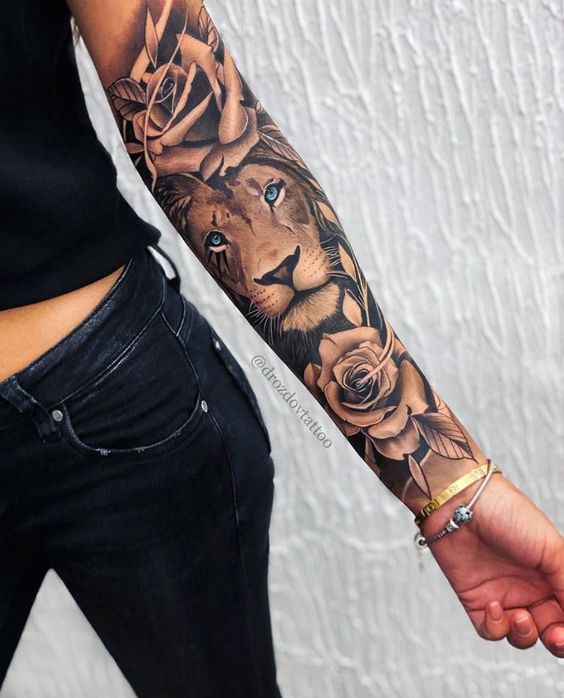 A handsome maned lion stares with bright blue eyes out from behind a leafy vine. Above and below him are bloomed roses with leaves and thorns. The sleeve's majority has been applied to the inner part of the forearm, but it is clear that it wraps around the backside as well. Most of this sleeve tattoo is done in well-shaded black ink.
41. Full Sleeve Tattoo With Roses and Skeleton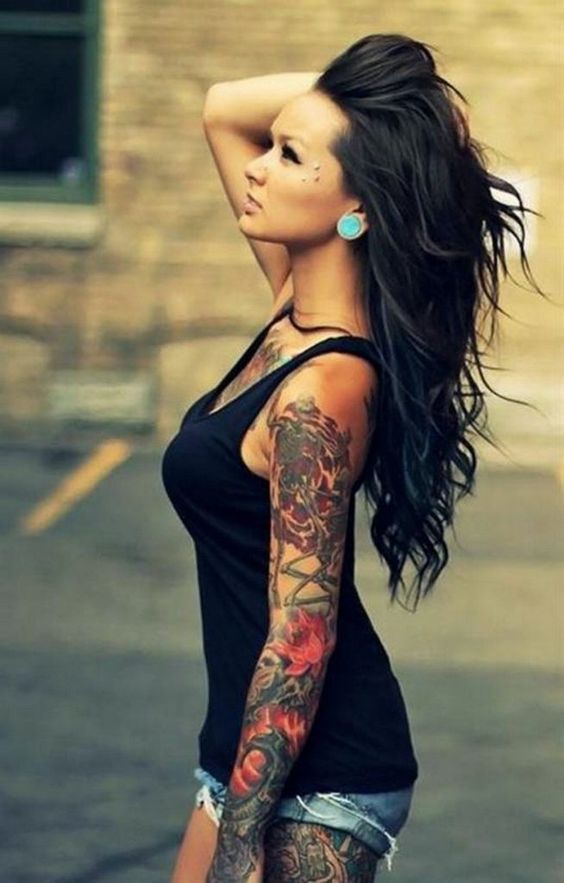 This skull sleeve tattoos design utilizes "goth" imagery such as a skull and skeleton to contrast with the floral images and bright colors elsewhere in the sleeve tattoos design. The images are arranged around one another in a beautiful, artistic sleeve tattoos design.
42. Full Floral Plant Sleeve Tattoo with Branch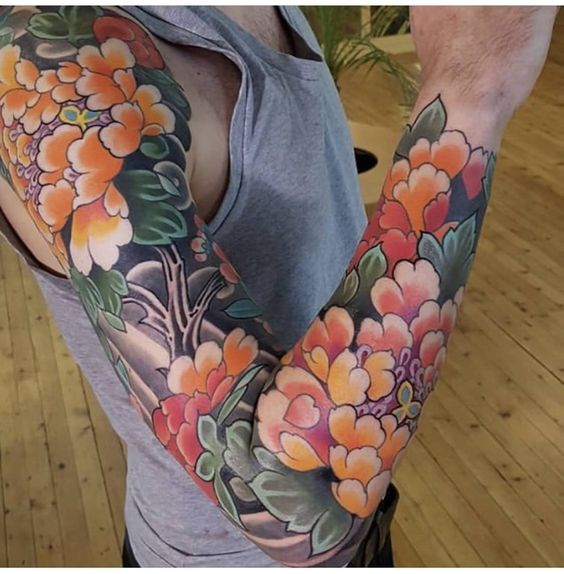 A floral plant in bloom makes IP this sleeve tattoo from wrist to shoulder. Oranges, reds, greens, and a black and white branch form a bright floral image. The tattoo wraps around the entire arm under the shoulder and stops just below the wrist.
43. Science Fiction and Nature Collage Sleeve Tattoo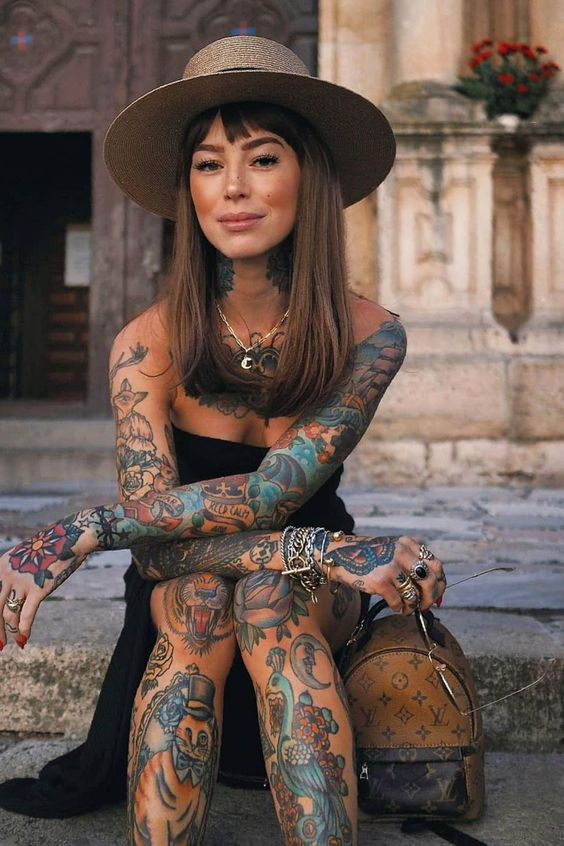 Dual sleeves provide both coordination and contrast. One sleeve features a ship upon an ocean, a planet, a coat of arms, and more. The other is a nature scene with forest creatures, feathers, and a skull near the wrist that helps add an edgy element to the otherwise peaceful image.
44. Flowers Framing Sunny Mountain Lake Sleeve Tattoo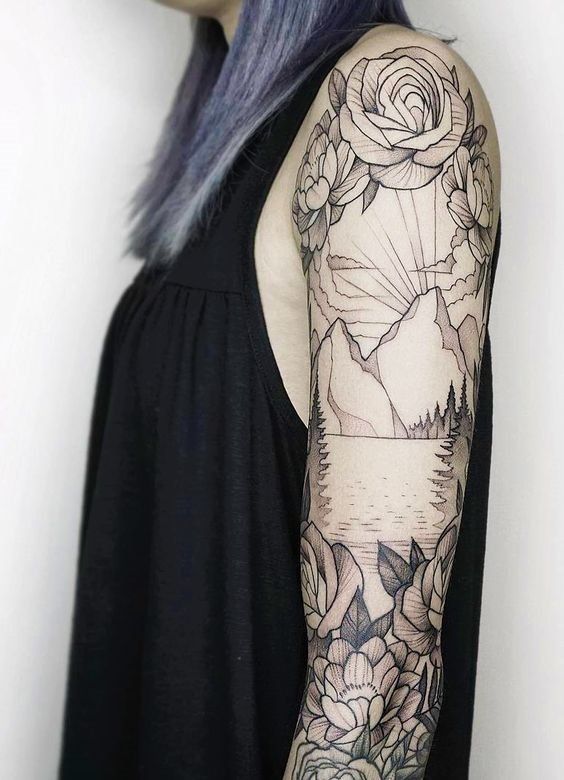 This sleeve is arranged in a way that makes the viewer feel they are looking through an elegant castle window. Water lilies, roses, and leaves are clustered together around an image of a pine-forested mountain lake bathed in sunshine.
45. Skull Sleeve Tattoo with Butterflies, Birds, and Flowers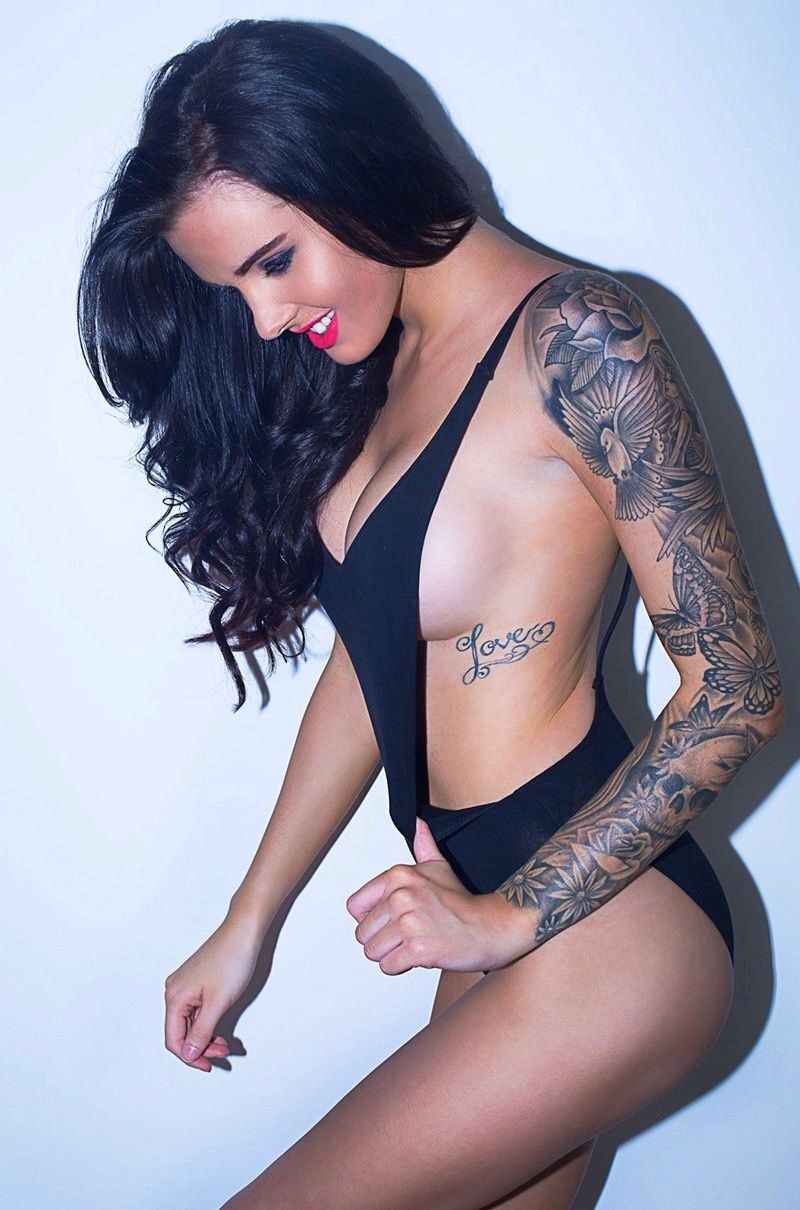 Flowers create a bed from the skull, from which a collection of birds and butterflies emerge. Above the birds is a large rose covering the entire shoulder, and the entire sleeve is done with black and white ink. Most of the art in this sleeve tattoos design is on the outside half of the arm.
46. Snaking Lily Half Sleeve Tattoo with Wrist Brooch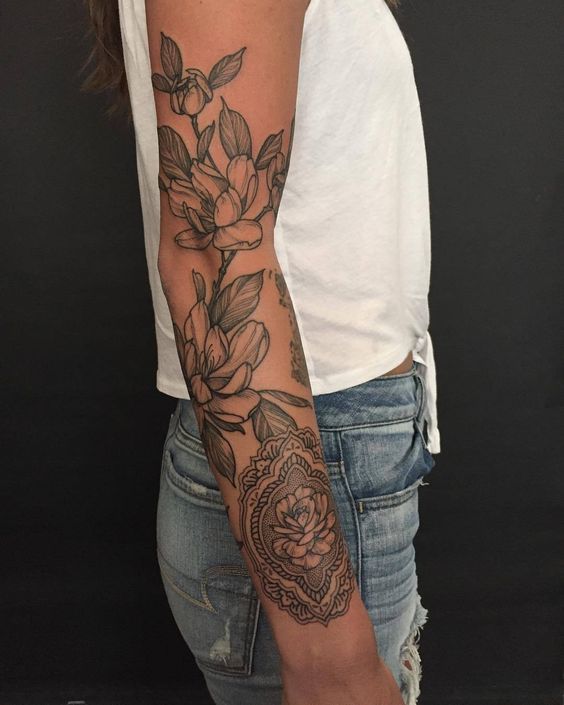 Carefully sketched flowers with full leaves and stems snake around half the arm. The sleeve tattoos design is made using only black ink, as is the bold brooch sleeve tattoos design applied to the skin of the wrist. The brooch is drawn in very intricate lines and features a blooming rose.
47. Multi-Image Double Sleeve Tattoo Design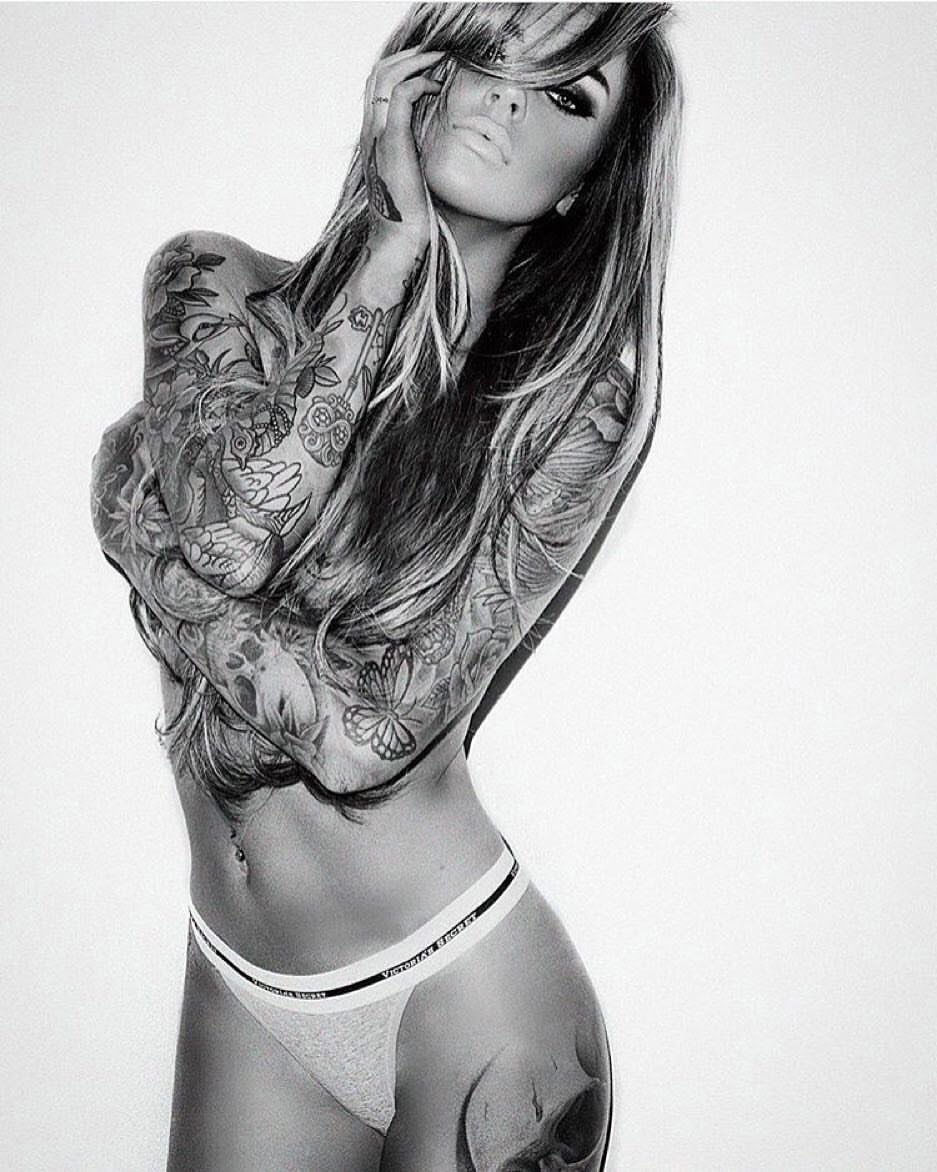 These sleeves contain a multitude of images. Birds, butterflies, mountaintops, angel wings, sea creatures, and a key are only some of the visible pieces. Multiple styles are combined as well, from photorealism to classic pop art.
48. Blooming Cabbage and Geometric Floral Sleeve Tattoo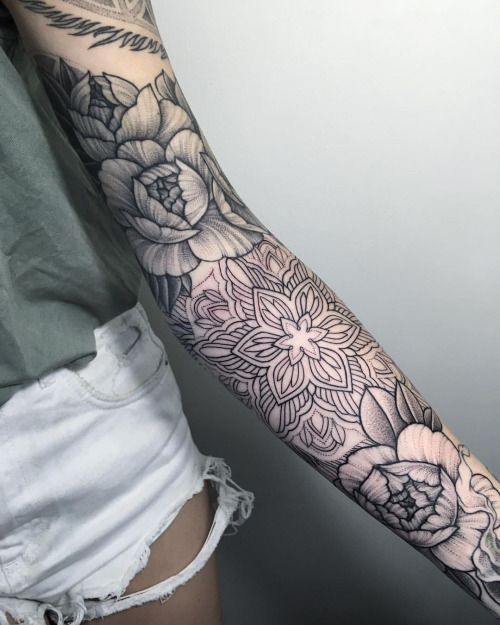 Cabbage is quite beautiful when it blooms, as evidenced by the upper and lower images in this half-sleeve tattoo. In the middle is a linework flower with multiple layers that peek out from behind the cabin like a rising sun.
49. Blackout Geometric Lace Complementary Sleeve Tattoo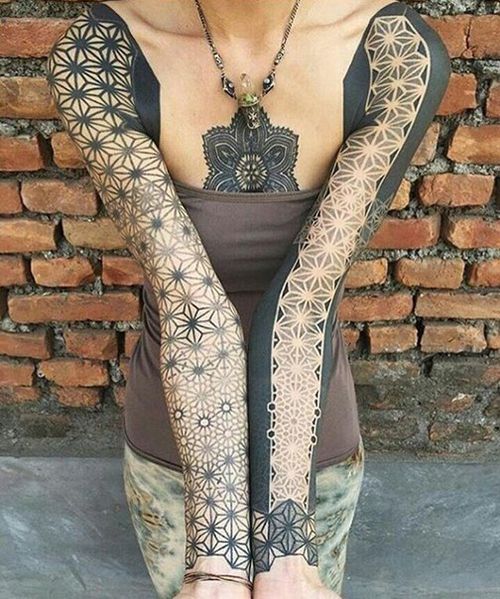 Blackout tattoos are growing in popularity, and this is a more attractive and delicate version. Thick black outlining on the sides brings out a geometric lace pattern covering the wider middle section of the arm. Star and flower-shaped sleeve tattoos designs with alternating greyscale patterns create an optical illusion effect.
50. Hand Tattoos Design: Mandala and Paisley Lace Full Sleeve Tattoo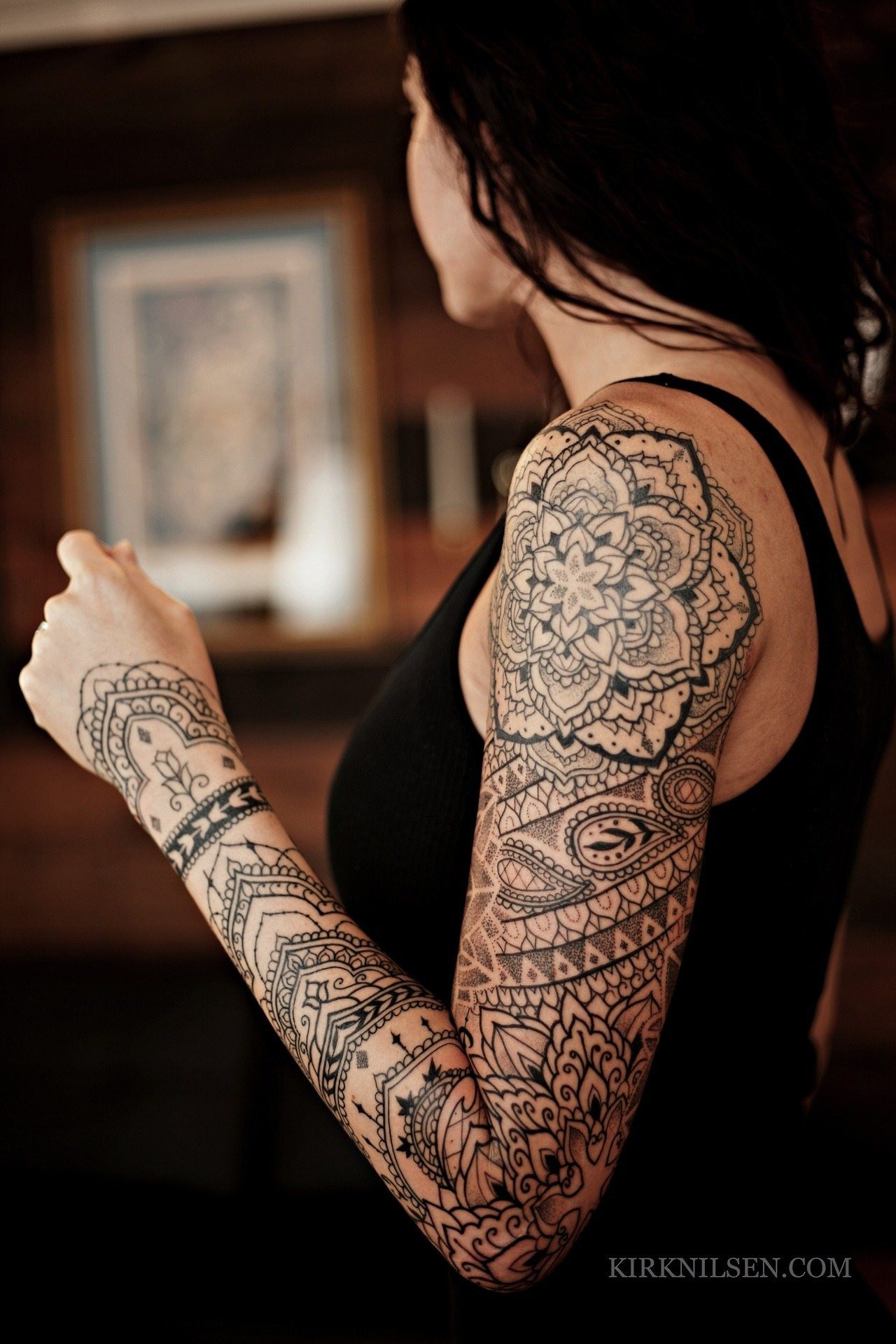 The delicate linework of this sleeve tattoo brings to mind traditional henna sleeves. A large floral mandala sits on the shoulder above geometric stripes with paisley sleeve tattoos designs in the middle. The tattoo ends with a pointed tip in the middle of the hand.
51. Jewelry Style Multisection Linework Sleeve Tattoo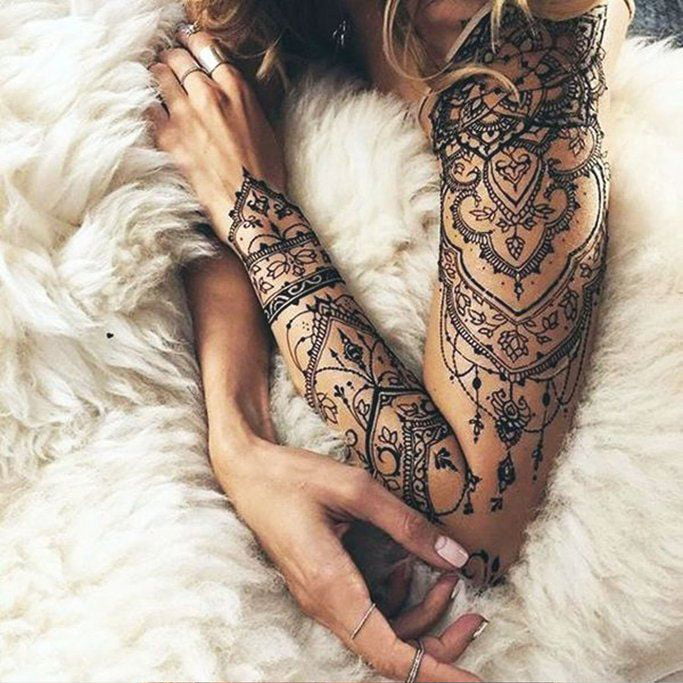 Dark black lines form cutout stripes and chains that follow the natural curve of the arm in this sleeve tattoo. Different sections contain different artistic styles, from a pointed lace sleeve tattoos design of the wrist to hanging beads on the bicep.
52. Portrait Sleeve Tattoo with Birds and Botany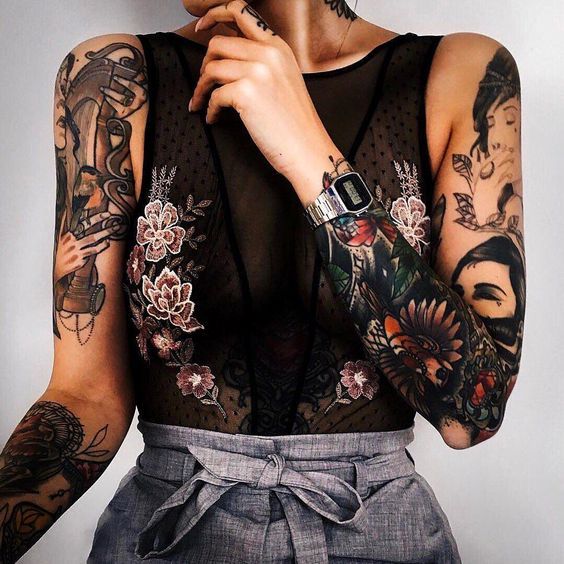 Several faces dot the landscape of these sleeves. One woman cries a single tear with a hand over her face. Under her image is that of a dark-eyed, bearded man. The other arm features a harp player while under the bearded man is a forest scene with birds and butterflies.
53. Mandalas and Beads on X-pattern Background Sleeve Tattoo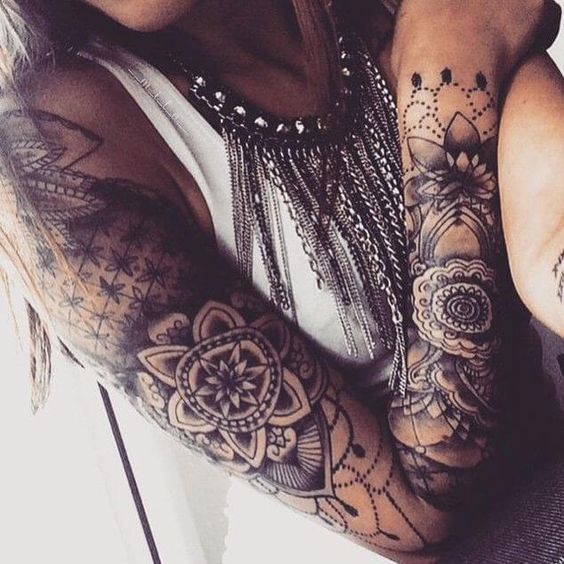 Delicate strings of beadlike dots wrap themselves around the wrist and elbow of this sleeve. Between them, various flowers and abstract sleeve tattoos designs are layered together. At the very top of the sleeve, a large flower is flanked by a lace design.
54. Blackout Sleeve Tattoo with Pink and White Floral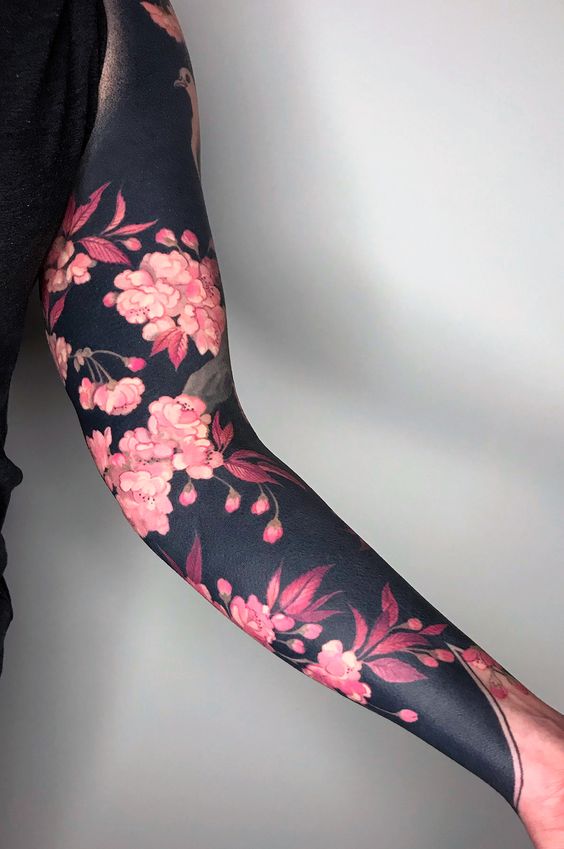 Another version of the ever-popular "blackout" tattoo, this sleeve provides a striking contrast. Delicate pink and white leaved blossoms pop against a plain black background. A dove peeks around from the side of the bicep and the sleeve is accented by a deep "v" at the wrist.
55. Delicate Linework Beaded Lacy Sleeve Tattoo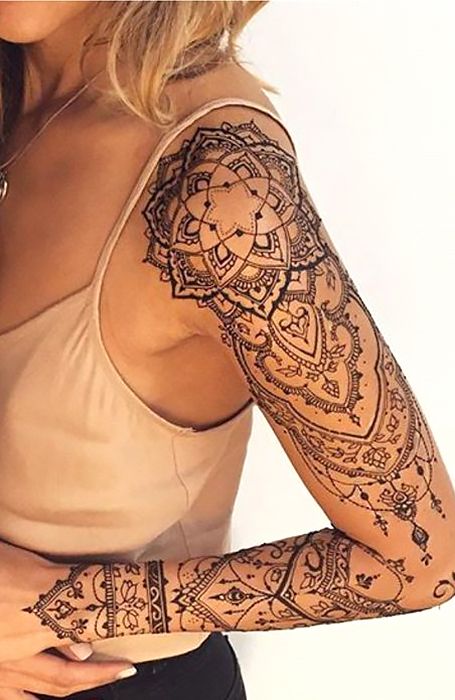 Lacy sleeve tattoos like this one are very popular due to the delicate feminine design. Thin lines and carefully arranged patterns cover the skin without eliminating any bare spots. One section looks like beaded chains hanging off the arm. From the elbow to the wrist, the skin is adorned with ink.
56. Sectioned Line Sleeve Tattoo with Abstract Detail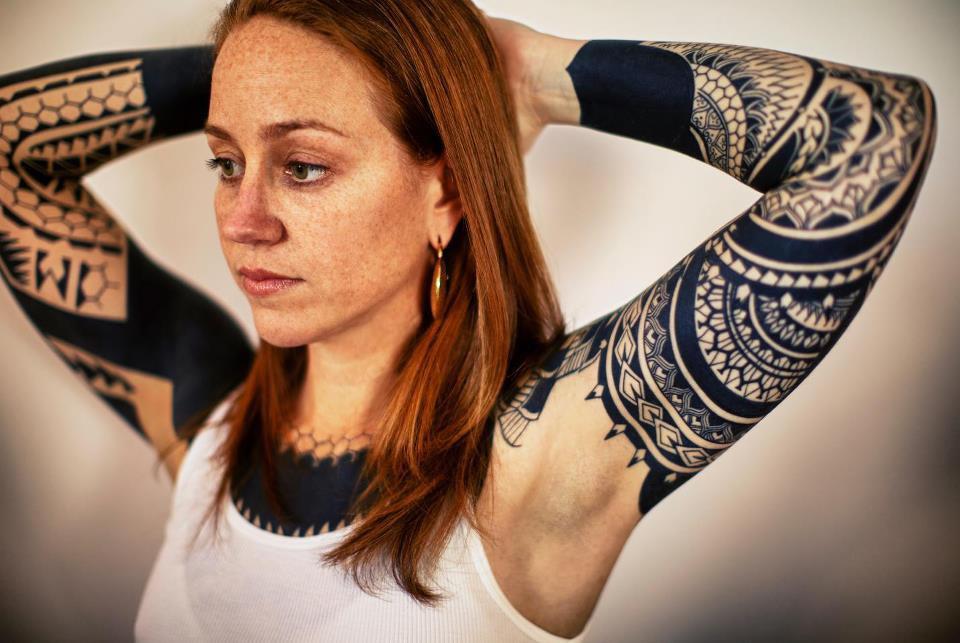 This sleeve tattoo stretches from just above the pectoral muscle to mid-forearm. White lines separate the sleeve tattoos design into sections, which themselves contain sequences of patterned lines. The sleeve is done in black ink only, but the wide variety of internal patterns make it anything but dull.
57. Watercolor Arm Length Bouquet Sleeve Tattoo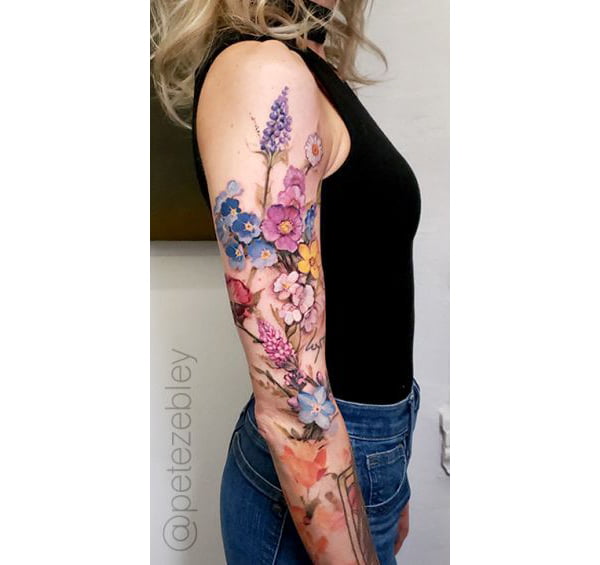 The gentle beauty of watercolor tattoos is showcased in this piece. Poppies, daisies, and more are so expertly done the work looks like actual watercolor brush strokes. The flowers are loosely gathered from mid-shoulder to wrist and shine against the skin.
58. Blackout Floral Sleeve Tattoo with Intricate Border Tattoo Sleeve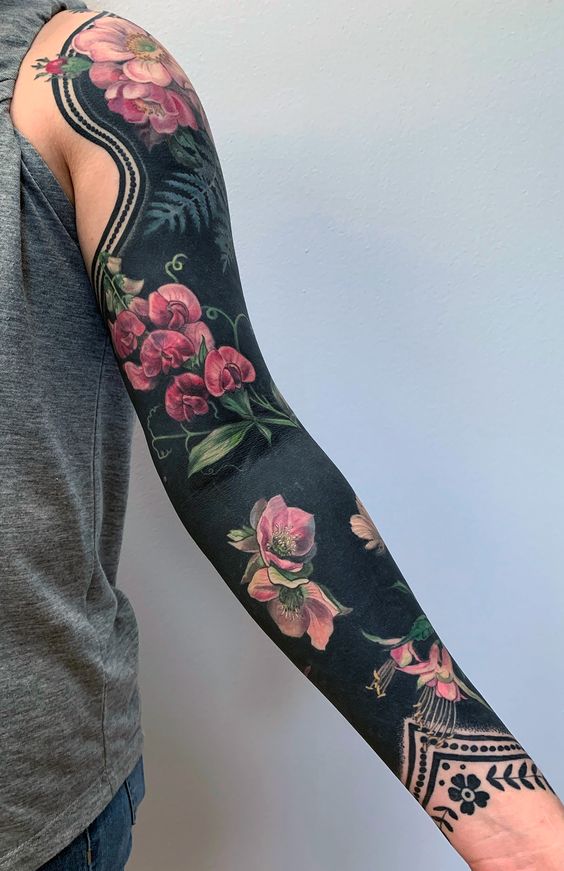 A swirling dotted border on the top and a v-shaped floral border on the bottom elegantly frame this floral tattoo. Pink and red flowers are arranged in small groupings. Both the flowers and the leaves are colored brightly enough to stand out clearly against the dark background.
59. Pencil Sketch Flowers with Skull Sleeve Tattoo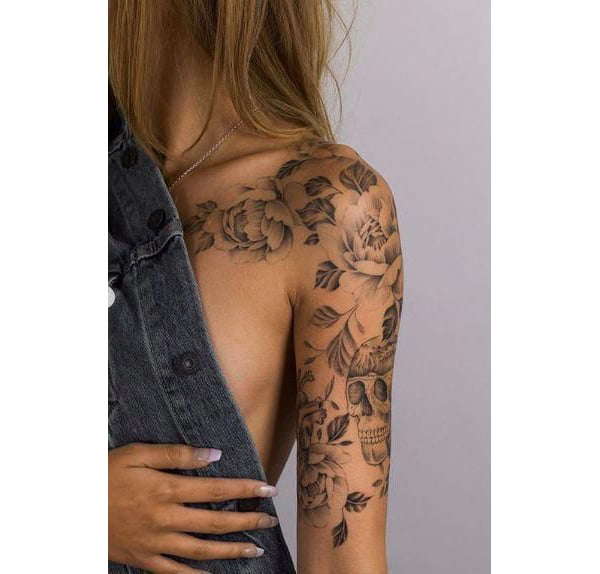 Shading tattoos can be difficult, but this half sleeve is beautifully done. The lines of the leaves and flowers are so subtle it looks like a pencil drawing. Near the elbow, a bare-topped skull peeks from behind the blossoms. At the top, a flower blossoms under the collarbone.
60. Applique Flower and Mandala Sleeve Tattoo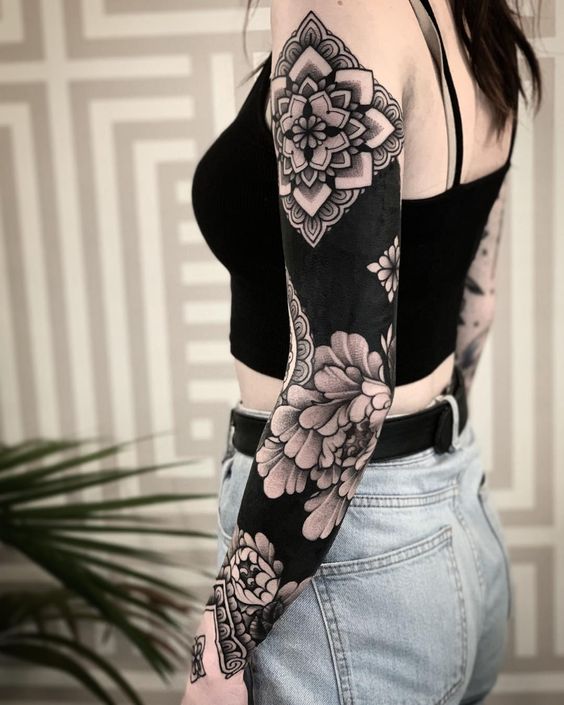 The solid background and bold imagery of this sleeve tattoo look like appliques on a solid fabric. Sharp lines and crisp borders ensure that all sections of this piece are still distinct when placed with the other pieces.
60 Intricate Sleeve Tattoo Designs and Ideas
Sleeve tattoos are enjoyed by many as enjoyable pieces of body art. All sorts of plans and designs are possible, from partial sleeves to full and from abstract designs to photorealism. Some people may get sleeve tattoos to cover up disfigurement, but plenty of people get them because they enjoy getting tattoos and love how they look. Black and white sleeve tattoos designs can look good, as can bright colors and vibrant images. Whichever kind you get, good luck on your tattoo sleeve adventure!