Originally created with pieces of glass, stones, and shells, mosaic art has been around since ancient times and is now the beautiful inspiration for some of the best mosaic tattoos. The formulation of a mosaic begins with small tattoo fragments or shapes that come together to create one complete masterpiece. It signifies how the merging of individual elements can unite for something larger than life, such as single drops of water eventually becoming an ocean. Mosaic tattoos have the unique visual ability to change their looks depending on how closely they are observed.
60 Best Mosaic Tattoos Representing Effort, Purpose, and Transformation
Two of the primary reasons people get mosaic tattoos are for the aesthetic appeal and having an artistic representation of their thoughts and personalities. Mosaic art is often associated with religion or spirituality as it can be found in many churches, cathedrals, temples, and mosques throughout the world. These intricately detailed tattoos are ideal for multi-faceted men and women who work hard and play hard. Because of the amount of patience and endeavor that goes into inking hypnotizing mosaic tattoos, they are known to represent effort, purpose, and transformation. Here are 60 different mosaic tattoo ideas that each have their own charisma and meaning. Even wrist tattoos with this style will definitely turn heads!
1. Black and White Mosaic Tattoo with Eye Mosaic Tattoos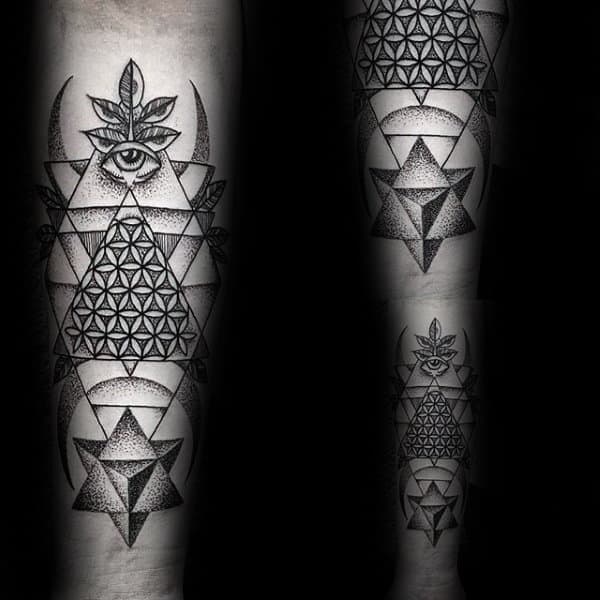 A combination of intricate dot work and divine symbolism, this black and white mosaic tattoo is highly pleasing to look at. In addition to the traditional geometric shapes, the inspirational forearm tattoo features the eye of wisdom and leaves. There is a beautiful spirituality about this stunning mosaic tattoo.
2. Floral Mosaic Under Arm Tattoo in Grayscale Mosaic Tattoos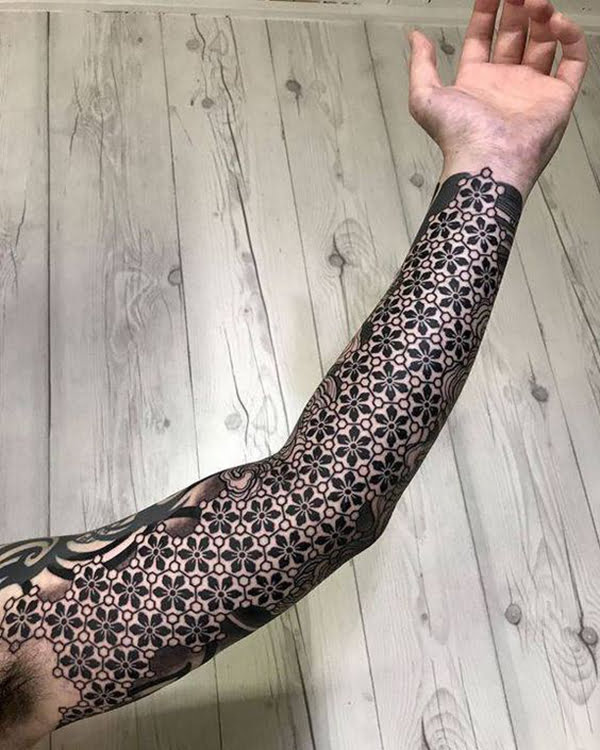 Inked on the underarm from the armpit to the wrist, this amazing floral mosaic tattoo merges effortlessly with other body art. The attractive hexagonal flower pattern is repeated over and over to create a hypnotizing overall image. Men and women both feel amazing wearing this exquisite mosaic tattoo.
3. Tribal Tattoo Inspired Mosaic Tattoo on Foot Mosaic Tattoos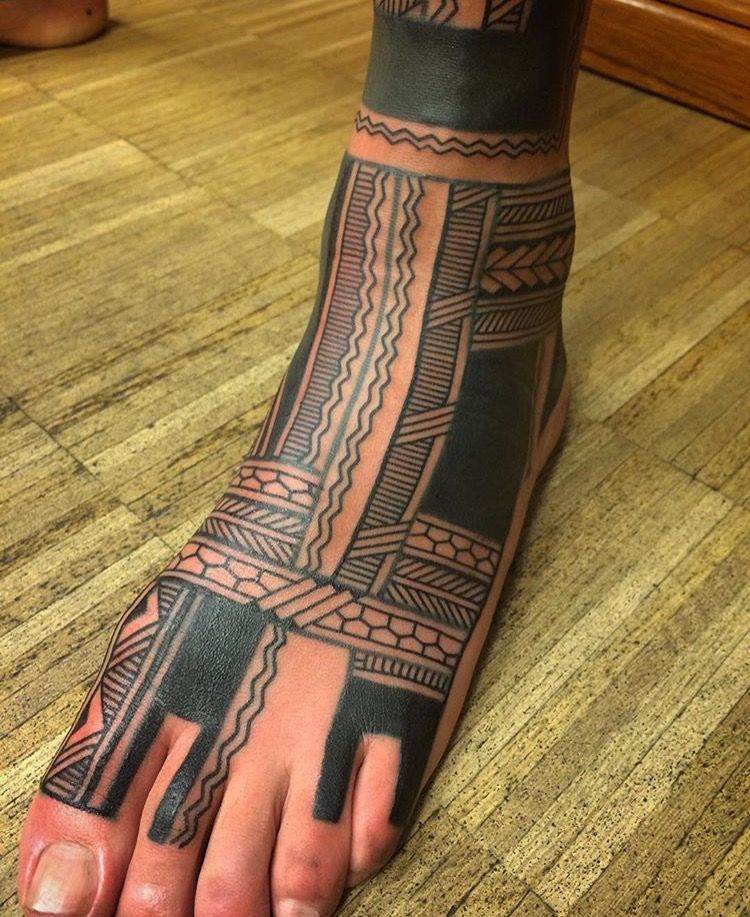 In this geometric mosaic foot tattoo, the ethnic tribal style brings a sophisticated culture to the usually complex design. Mixed in with solid black rectangles are squiggly lines, feather patterns, and many other linear elements. This meaningful tribal-inspired mosaic tattoo covers the top of the foot and ankle. This is a great ankle tattoos idea.
4. Black Hexagon Mosaic Shoulder and Arm Tattoo Mosaic Tattoos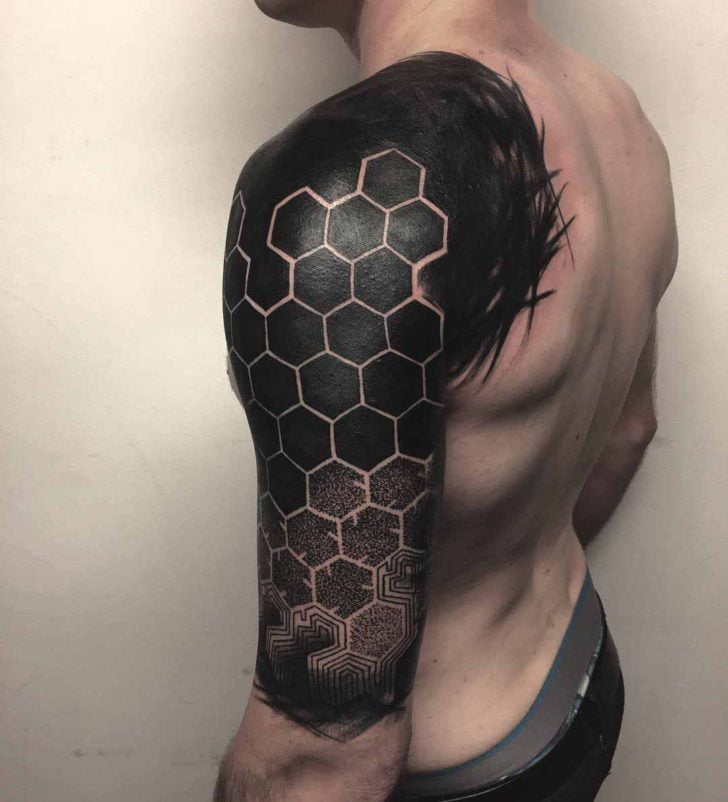 The classic mosaic tattoo is taken into the modern days with the compelling negative space style. Black ink coats the entire shoulder and upper arm leaving bare skin in a repeating honeycomb hexagon pattern. This suave mosaic tattoo conveys the many complex layers of the male mystique. The tattoo artist has portrayed the mosaic beautifully.
5. Double Arm Sleeve and Chest Mosaic Tattoo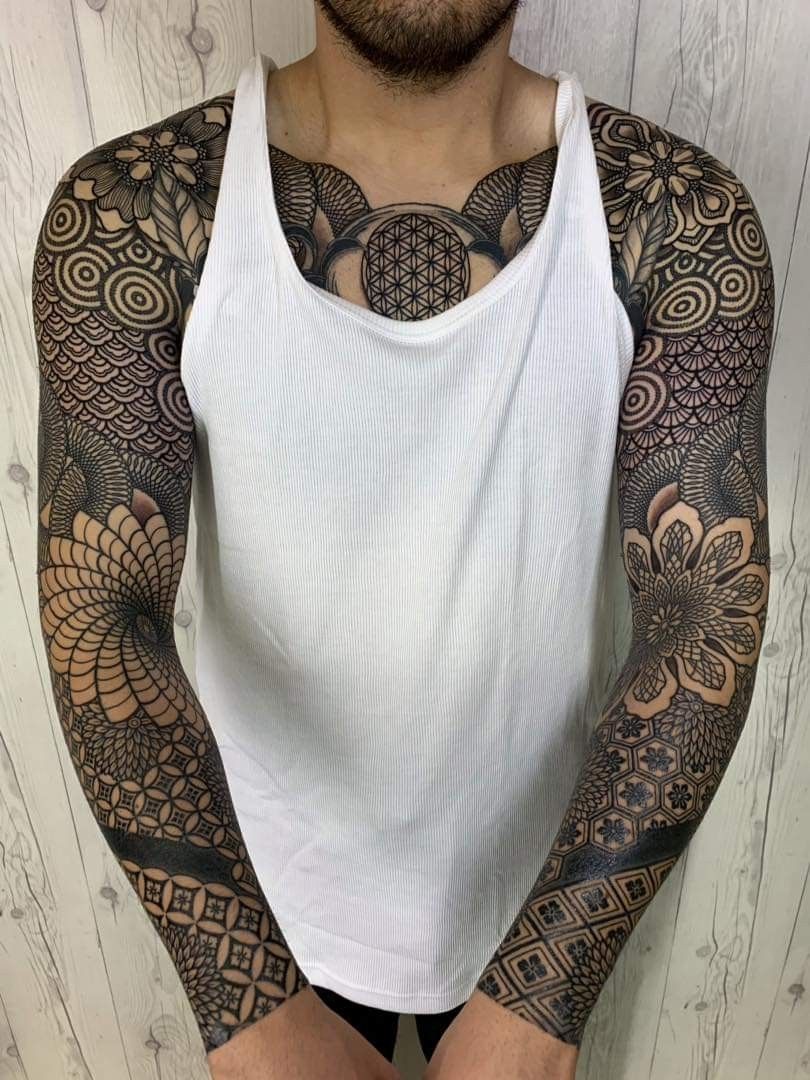 In the style of a patchwork quilt, this incredible chest and double arm half sleeve tattoo incorporate so many different mosaic motifs. Concentric circles and inverted scalloped patterns are at the top of the mosaic tattoo with geometric patches on the bottom. Mesmerizing spirograph art is inked inside each elbow.
6. Floral Inspired Shoulder and Arm Mosaic Tattoo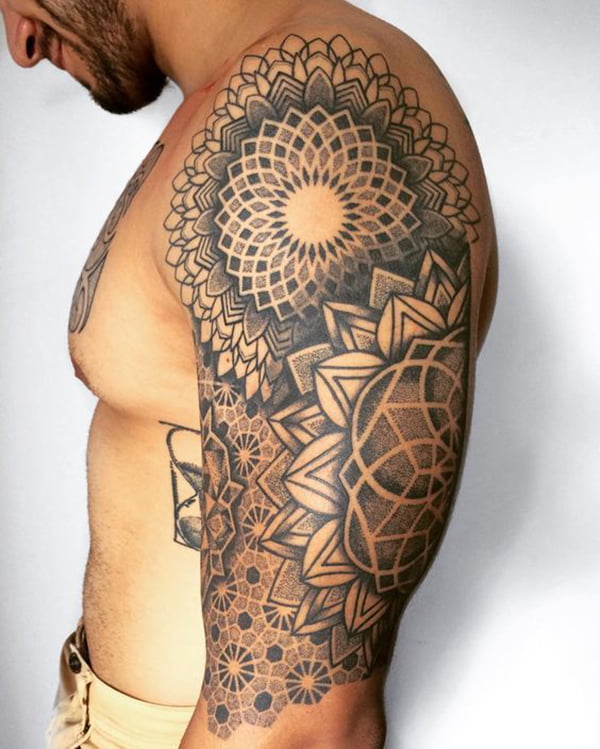 This floral-inspired shoulder and arm mosaic tattoo illustrates a hypnotic kaleidoscope of sunflower tattoo designs. Assorted circles, triangles, diamonds, and other shapes merge with one another for a complete piece of amazing body art. There is a compassionate strength about this captivating black and white mosaic tattoo.
7. Intricately Detailed Mosaic Full Arm Sleeve Tattoo Mosaic Tattoos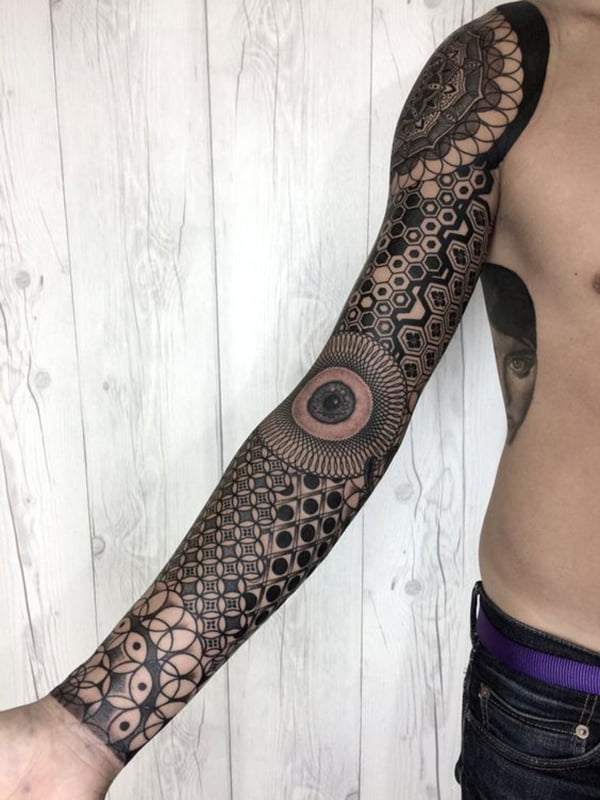 From wrist to shoulder, this ornately detailed mosaic tattoo covers the entire arm for a strangely hypnotic full sleeve. There are circular patterns, solid black shapes, and hexagonal honeycomb arrangements in this elaborate mosaic body art. Men seeking to represent purpose and transformation should select this powerful mosaic tattoo. The tattoo artist has portrayed the mosaic beautifully.
8. Wind and Waves Mosaic Arm Sleeve Tattoo Mosaic Tattoos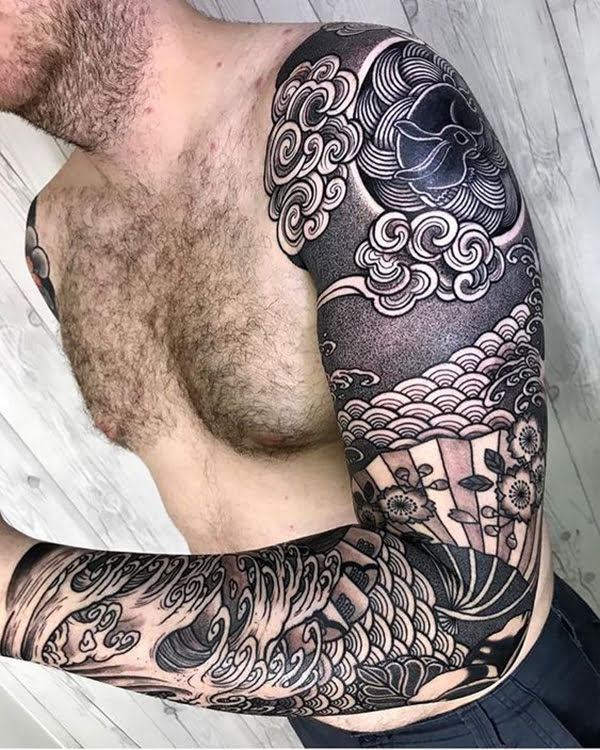 The earthly elements of wind and water are highlighted in this dynamic mosaic full-arm sleeve tattoo. While swirling cloud tattoos float through the sky, scalloped patterns and waves represent the water below in the captivating scene. Flowers, leaves, and sunshine are also incorporated into this attractive mosaic tattoo.
9. Black and White Shoulder and Back Mosaic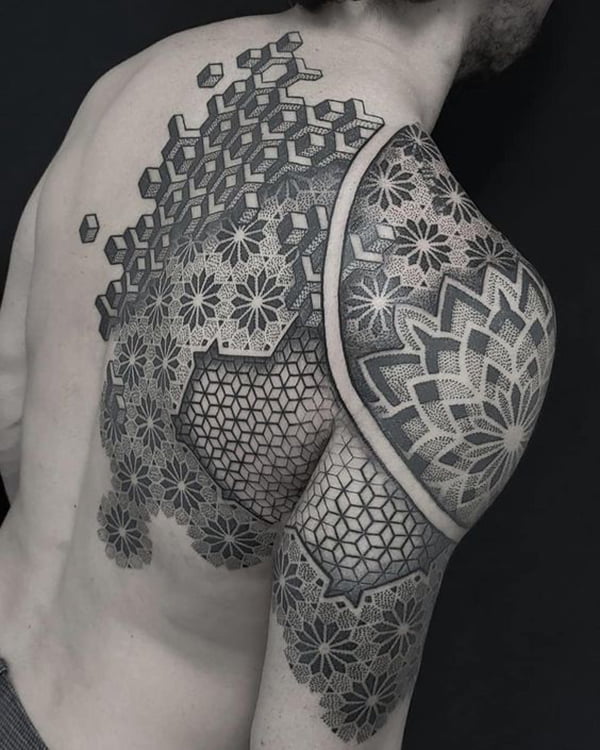 Classic and modern geometric art forms are combined in this stunning black and white shoulder and back mosaic tattoo. Among the distinct art inspirations are M.C. Escher's Cubism, contemporary dotwork, and decorative floral patterns. The overall effect of this intricate mosaic tattoo is a welcoming visual to the eyes. The tattoo artist has portrayed the mosaic beautifully.
10. Black and Red Arm Sleeve Mosaic Tattoo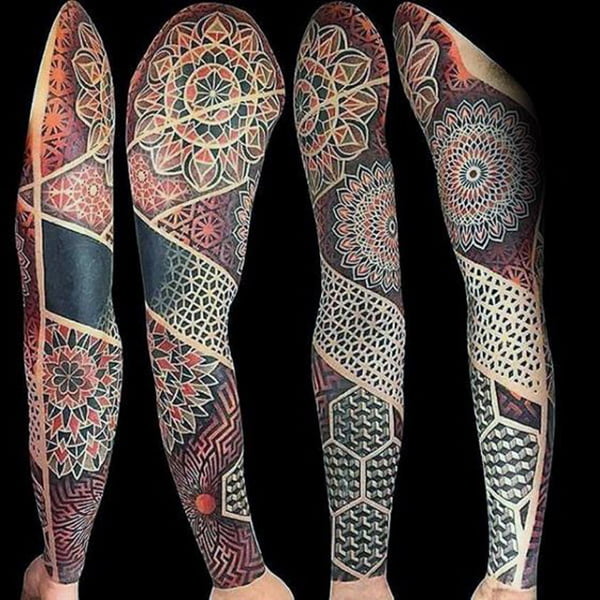 This magnetic full arm sleeve mosaic tattoo has all of the geometric grandeur of honeycomb patterns, spirograph designs, and concentric mandalas. Much of the ornate tattoo is inked in black and shades of gray with powerful red color also incorporated. The complete effect of this mosaic tattoo is hypnotizing.
11. Grayscale Mosaic Shoulder Tattoo with Red Face Mosaic Tattoos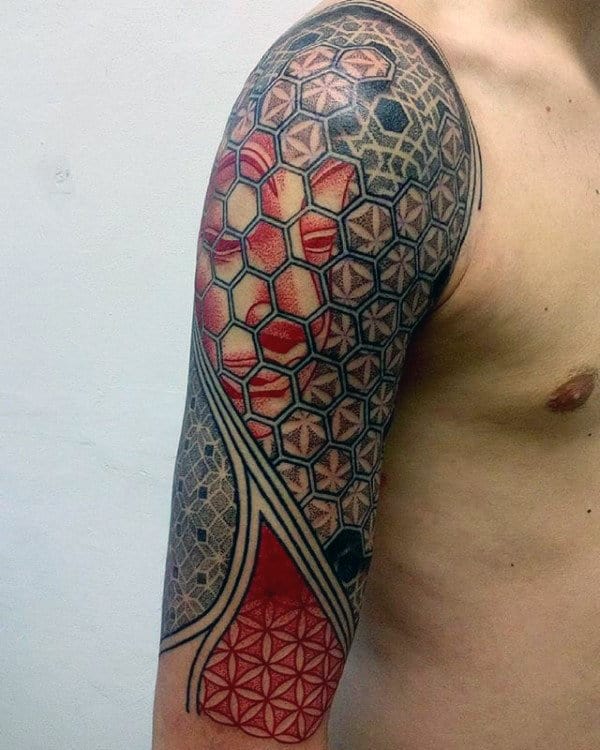 Inspirational and magnetic, this grand mosaic shoulder tattoo features elaborate fractals fused into a concentric hexagonal arrangement. A hidden face is inked using a fiery red color to emerge quietly from the loud kaleidoscope of patterns. There is a captivating and cryptic beauty to this intriguing mosaic tattoo.
12. Powerful Chest, Arm and Shoulders Mosaic Tattoo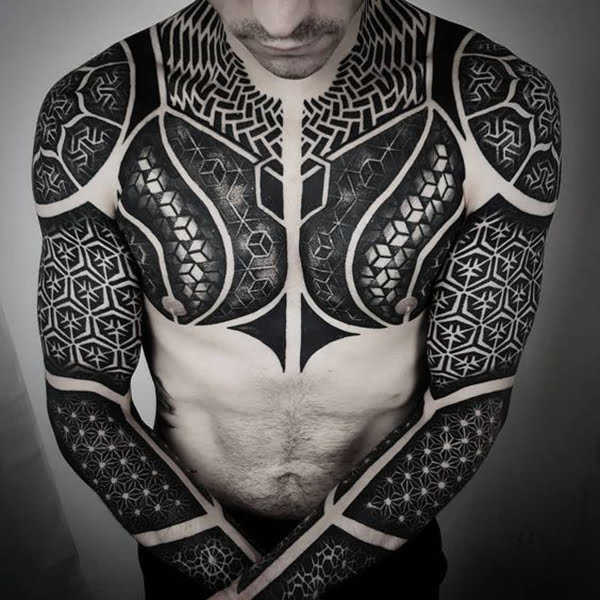 This arresting chest, arm, and shoulders tattoo uses negative space in an innovative way to bring a modern twist to the traditional mosaic pattern. The unique shape and design of this black ink tattoo gives the image of distinguished body armor. A strong, powerful man rocks this incredible mosaic tattoo.
13. Sunburst Shoulder Geometric Mosaic Arm Tattoo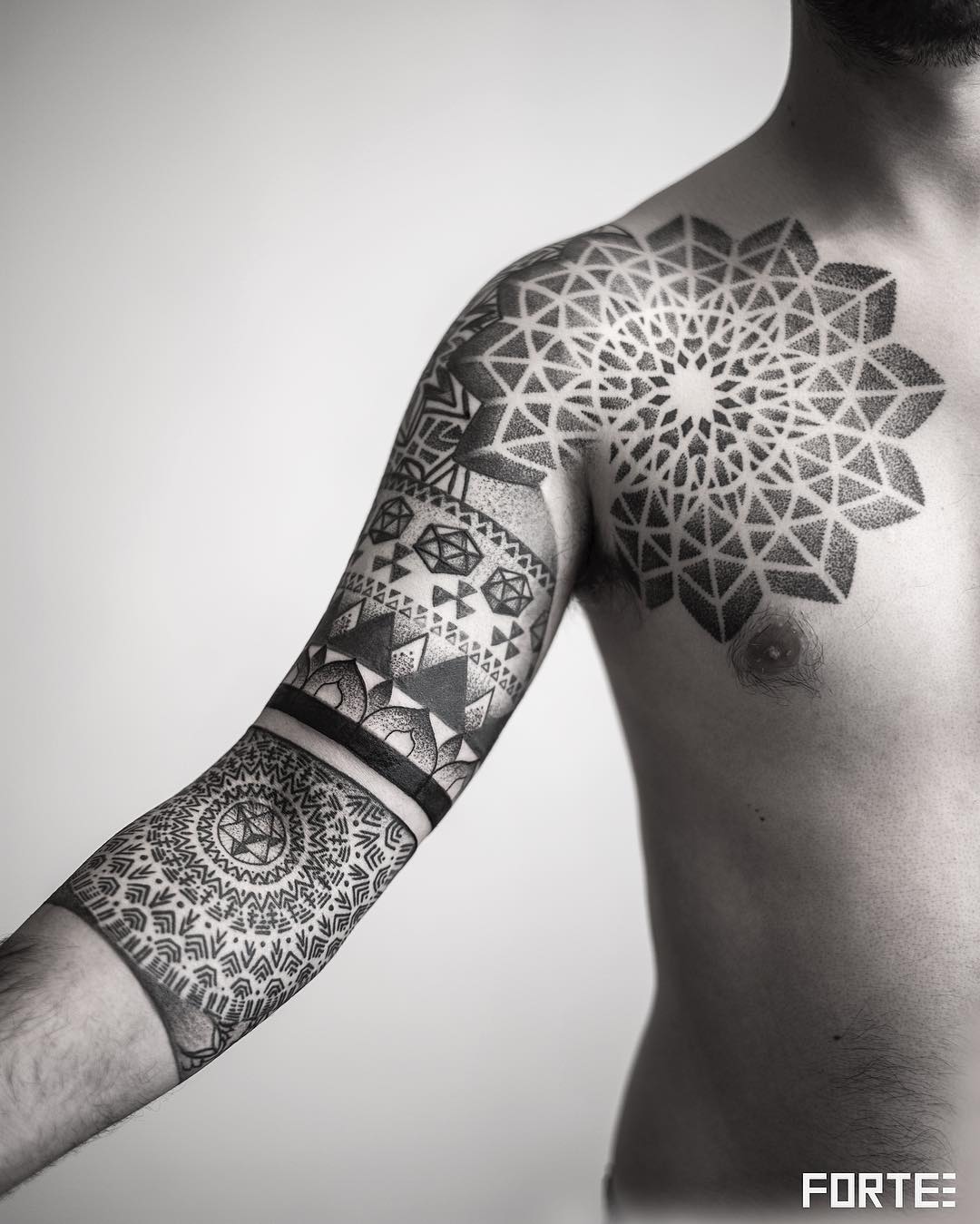 A classic armband tattoo merges with a striking sunburst on the shoulder for a complete design filled with great artistry. The intricate mosaic patterns throughout the spellbinding black and white tattoo show the wearer takes pride in hard work. The dot work and shading in this mosaic tattoo is amazing. The tattoo artist has portrayed the mosaic beautifully.
14. Elbow Tattoo Idea: Star Pattern Mosaic Arm Band Tattoo Mosaic Tattoos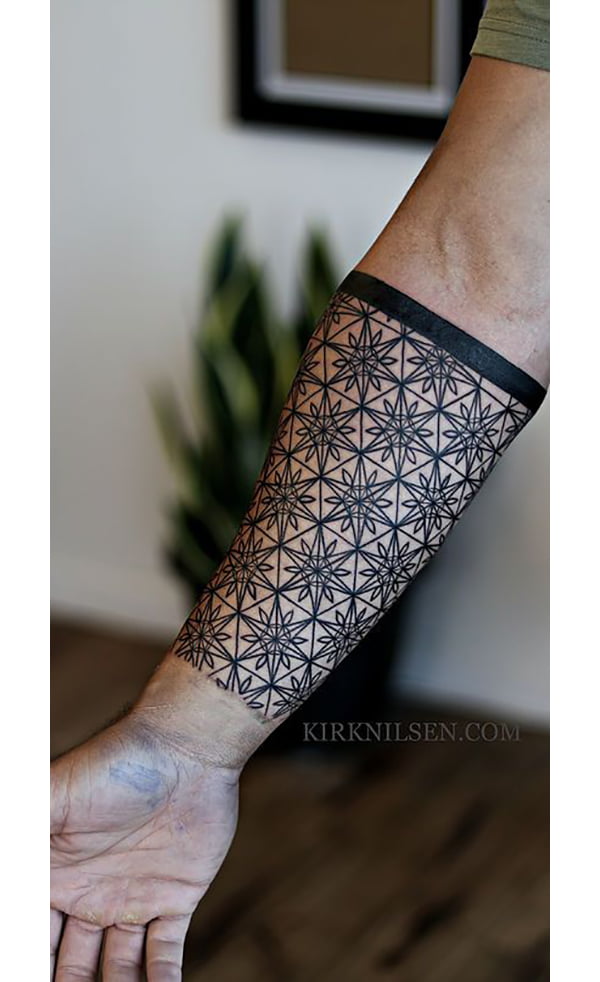 Like a traditional tribal armband, this mosaic star tattoo wraps around the entire arm from wrist to elbow. At the top of the tattoo is a thick, solid black band symbolizing courage and strength in the wearer. The repetitive star mosaic design gives the tattoo a burst of energy.
15. Overlapping Patterns Mosaic Shoulder, Upper Arm Tattoo Mosaic Tattoos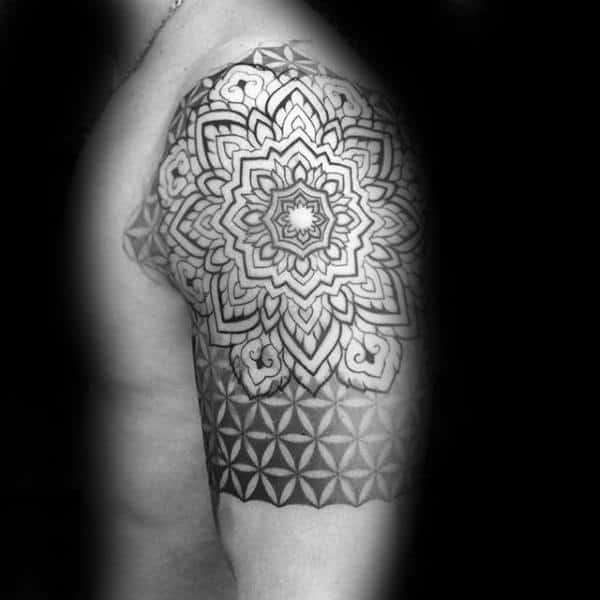 A welcoming visual to the eye, there are two distinct overlapping patterns in this hypnotic black and white mosaic tattoo. Behind a concentric flower-shaped mandala is a unique triangular motif inked in a negative space style. The combination produces an eye-catching tattoo that covers the shoulder and upper arm. The tattoo artist has portrayed the mosaic beautifully.
16. Patchwork Style Mosaic Full Arm Sleeve Tattoo Mosaic Tattoo Design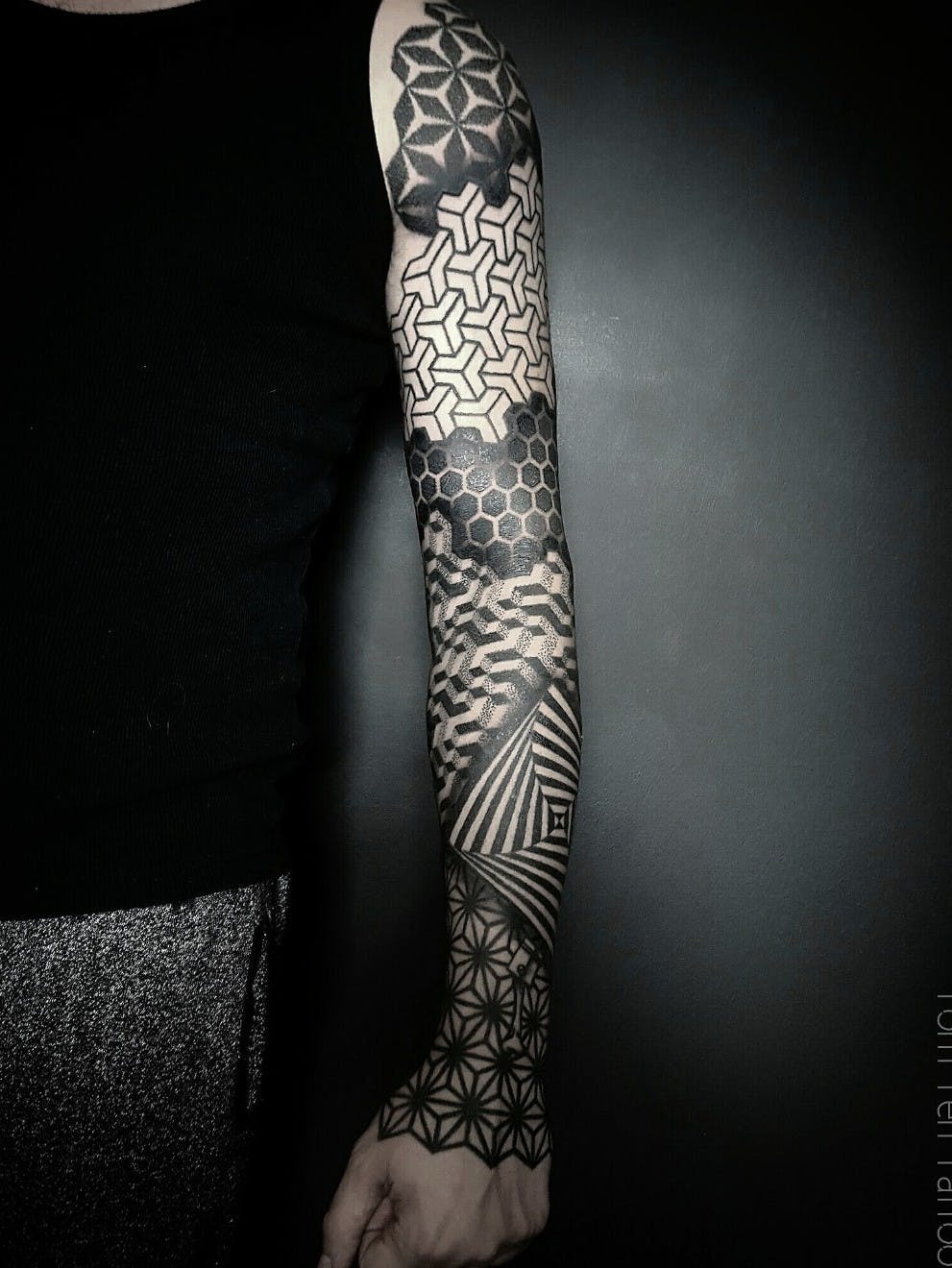 From the recognizable cubism art form to the negative space honeycomb tessellations, this magnificent mosaic tattoo illustrates an array of artistic styles. In a motley patchwork of different patterns, each motif is given its own special place. This inspired black and white mosaic arm tattoo creates a mesmerizing optical illusion. The tattoo artist has portrayed the mosaic beautifully.
17. Mosaic Style Nature Scene Tattoo on Forearm Mosaic Tattoo Design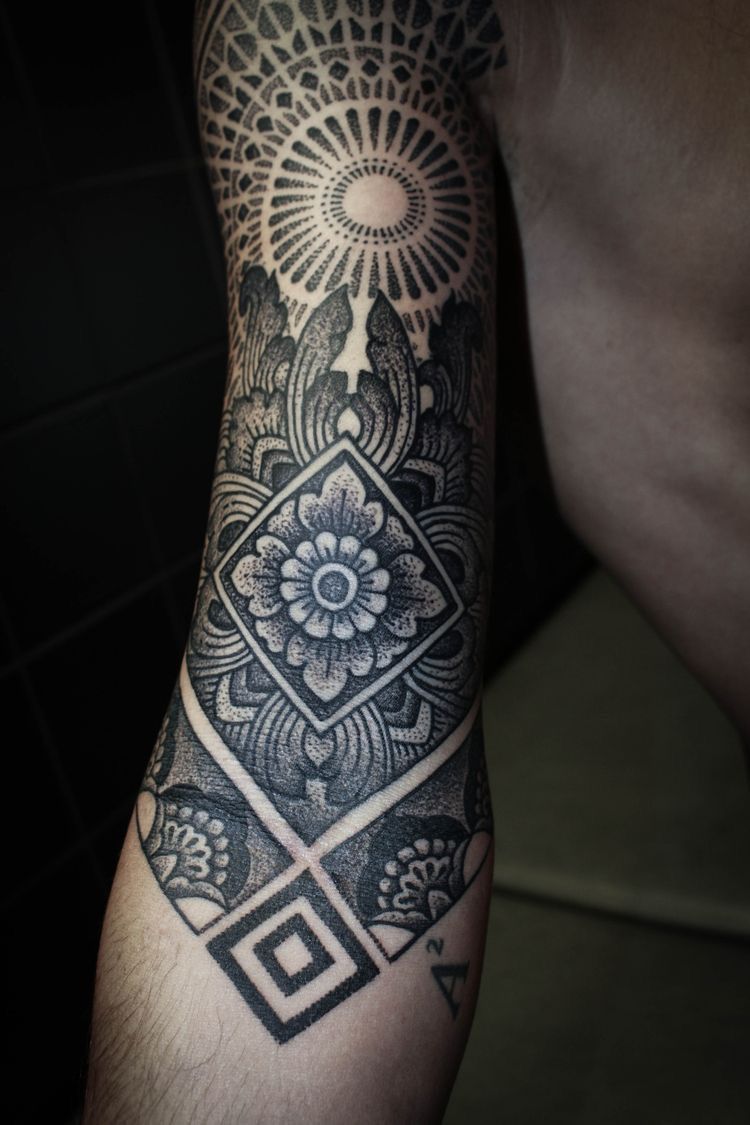 Spiritual nature lovers with a fondness for finer things enjoy the beautiful blending of themes in this elaborate mosaic forearm tattoo. Evocative of a desert scene with cacti, flora, and beaming sunshine, there is much to discover. Pretty shading and meticulous dot work complete this earthly mosaic tattoo. The tattoo artist has portrayed the mosaic beautifully.
18. Multi-Patterned Chest, Shoulders, and Full Arm Tattoo Mosaic Tattoo Design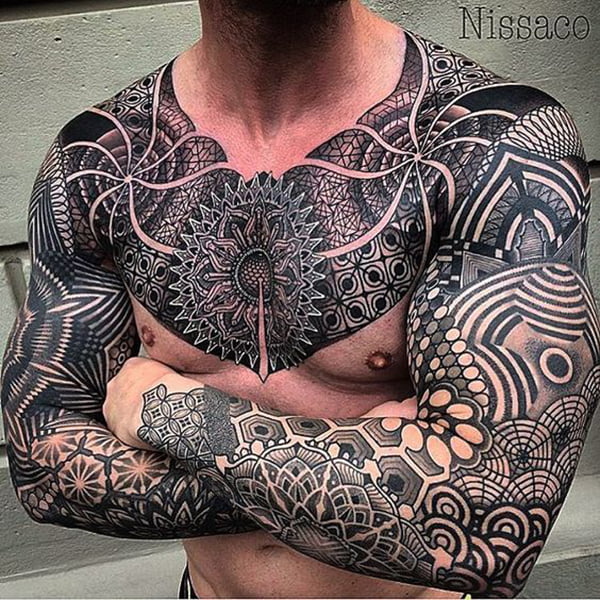 Completely covering both shoulders and upper chest along with double full-arm sleeves, this dramatic mosaic tattoo embraces many different patterns. There are swirls, spirals, stars, circles, and even spider webs. The focal point of this elaborate multi-patterned mosaic tattoo is a mandala sunburst in the center of the chest.
19. Complete Upper Body Spiral Mandala Mosaic Tattoo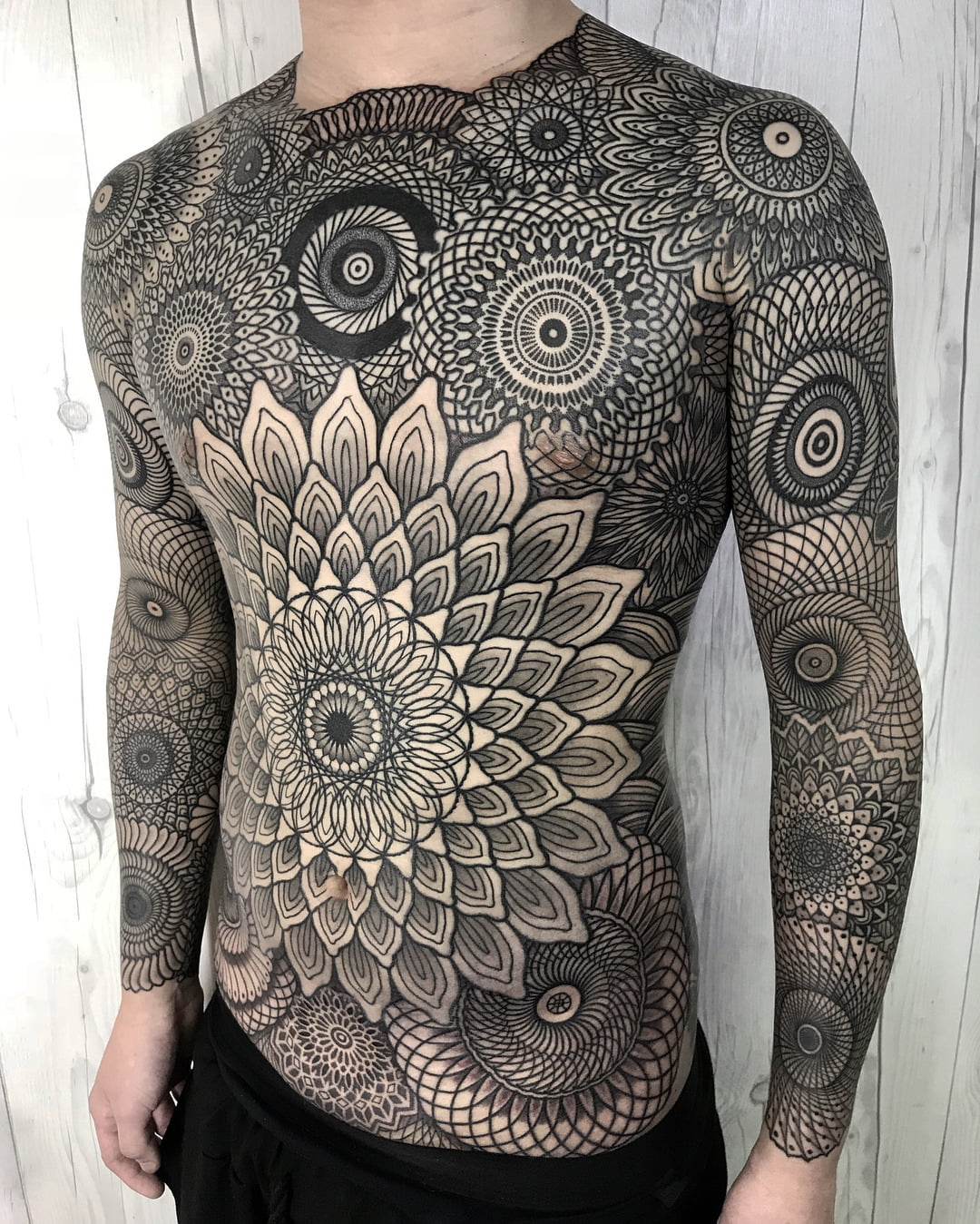 Like a spirograph kaleidoscope, this mind-blowing mosaic tattoo has many styles of concentric sunburst mandalas. The entire upper body, including chest, stomach, shoulders, back, and arms, is covered in highly detailed artwork. True dedication is needed for such a remarkable black and white mosaic tattoo.
20. Mixed Patterns Mosaic Tattoo on Forearm Mosaic Tattoo Design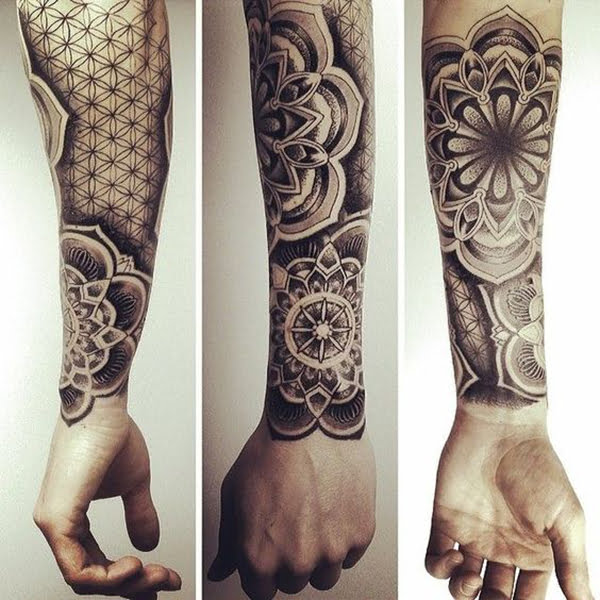 Complex mosaic tattoos are popular with those who are passionate about geometric designs and modern art forms. This incredible mixed patterns mosaic tattoo on the forearm includes some of the most awesome motifs like the trick is a tessellation. Subtle floral and sun elements are also represented in this refined mosaic tattoo.
21. Black and White Sunburst Mandala Shoulder Tattoo Mosaic Tattoo Design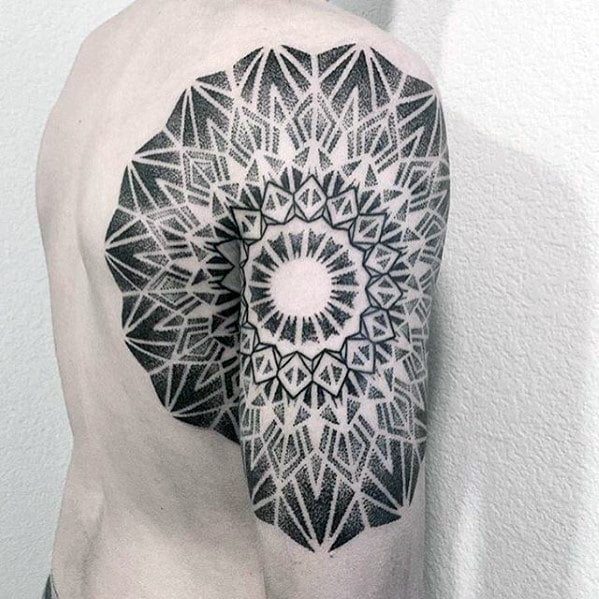 The placement of this black and white sunburst tattoo is what sets it apart from other mosaic body art. The center of the mandala is on the upper arm radiating out towards the elbow, back, chest and shoulder. Intricate dotwork creates shaded areas within the mandala for a three-dimensional effect. The tattoo artist has portrayed the mosaic beautifully.
22. Asian Inspired Multi-Element Mosaic Tattoo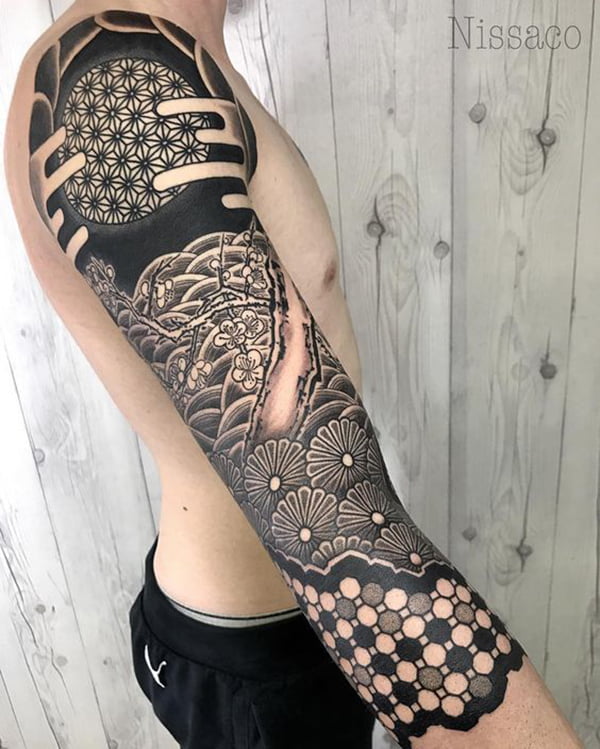 In this Asian-inspired mosaic tattoo, a peaceful nature scene is depicted with each earthly element represented in its own unique pattern. Delicate Japanese cherry blossom tattoo designs flourish among the curvaceous mountains with a river running through. An intricate tessellation enhances the sun in this visually pleasing mosaic tattoo.
23. Grayscale Honeycomb Mosaic Tattoo on Forearm Mosaic Tattoo Design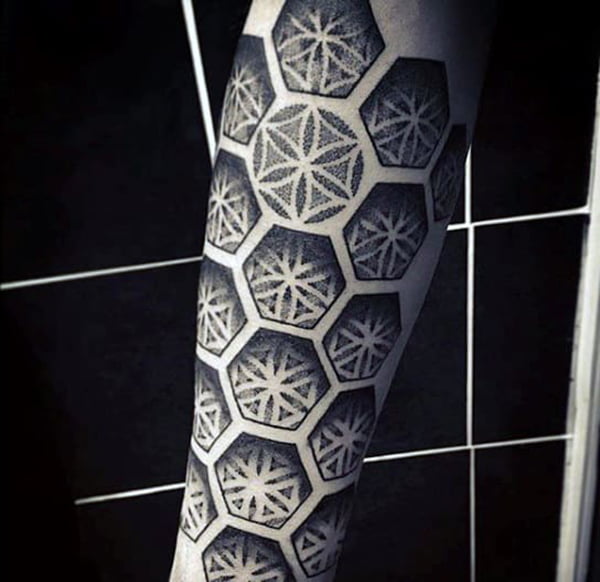 Inked proudly on the forearm, this tantalizing grayscale mosaic tattoo showcases the classic honeycomb motif. Each hexagon contains a sand dollar-inspired mandala complete with dark shading making it appear as though the pattern comes from within. In true mosaic form, the many parts come together in an illustrious image. The tattoo artist has portrayed the mosaic beautifully.
24. Chest, Arms, and Neck Mosaic Medley Tattoo Mosaic Tattoo Design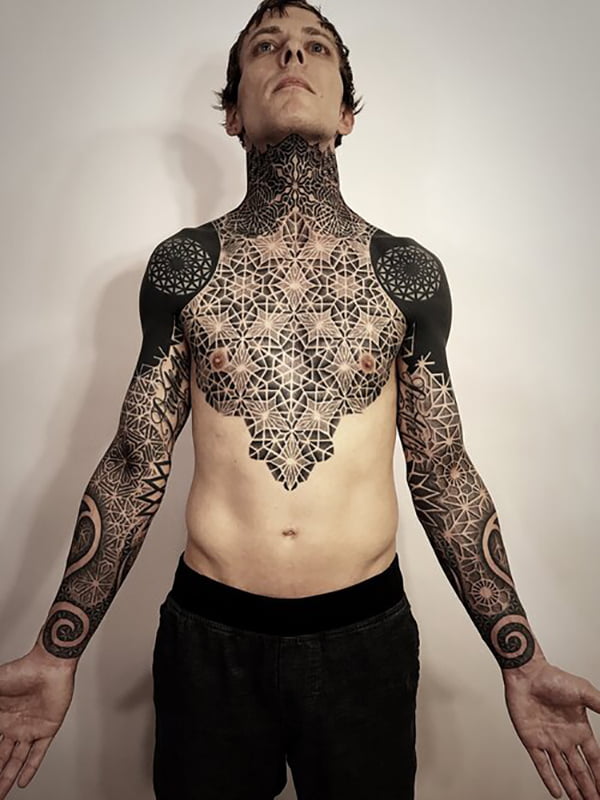 Symbolic of hard work, dedication, and unity, this astounding medley of radiant mandalas and geometric tessellations blend into an impressive upper body tattoo. Inked entirely in black, the spectacular mosaic tattoo coats the neck, chest, shoulders, and arms. This ornately detailed mosaic tattoo invites compliments from everyone who sees it.
25. Black and White Mosaic Upper Body Tattoo Mosaic Tattoo Design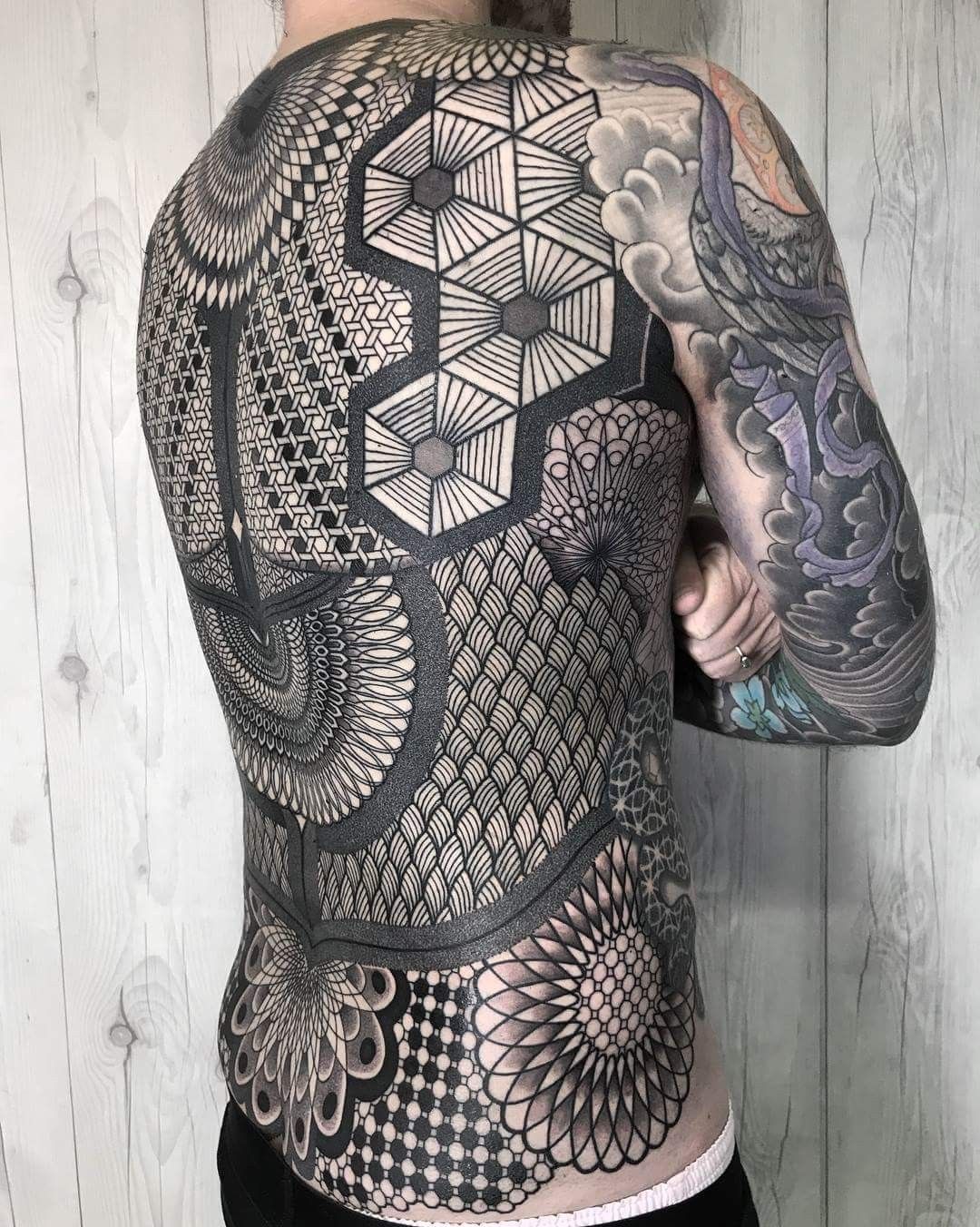 An impressive piece of body art, this visionary black and white mosaic tattoo represents multiple parts in various styles joining together to become one. Inspired by the idiosyncratic zen tangle art form, the entire upper body is completely covered in designs. This intricate mosaic tattoo shows hard work and commitment.
26. Mandala and Skull Mosaic Tattoo on Arm Mosaic Tattoo Design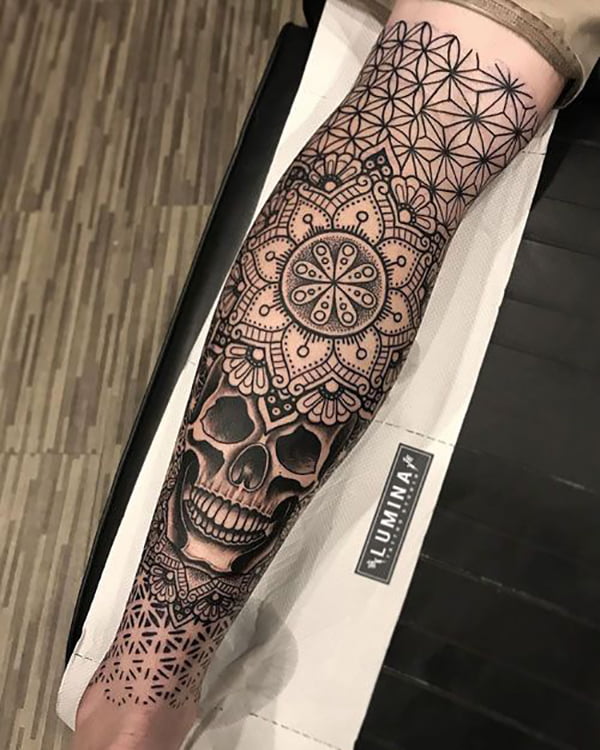 Creative and intricate, this magnetizing mosaic tattoo on the forearm blends geometry with spirituality. An amazing human skull image is surrounded by various art forms such as the magical mandala, baroque lace, and starburst motif. Skulls in tattoos are often a symbol of successfully overcoming a difficult challenge.
27. Grayscale Mosaic Shoulder and Arm Tattoo Mosaic Tattoo Design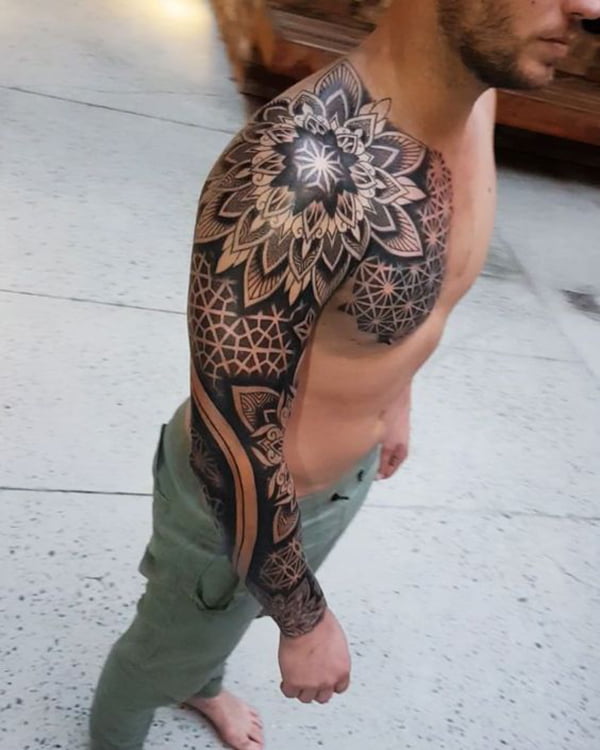 Mandalas and geometric designs are attractive, but adding mosaic patchwork elevates a tattoo to the next level. Innovative shapes create this magnificent mosaic tattoo which starts with a sunburst at the shoulder spreading down to cover the full arm. Modern and creative men are drawn to the intricate mosaic tattoo. The tattoo artist has portrayed the mosaic beautifully.
28. Spectral Mosaic Negative Space Arm Tattoo Mosaic Tattoo Ideas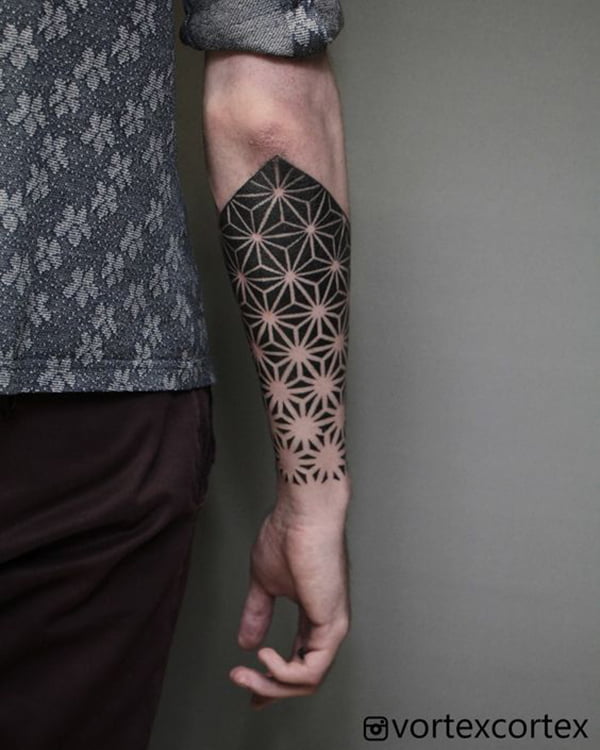 Wrapping around the forearm, this hypnotizing mosaic tattoo uses negative space to showcase a beautiful spectral pattern. The eye-catching design has a spiritual and celestial feeling perfect for a unique individual seeking a cool mosaic tattoo. It is apparent much thought and love has gone into the intricate design. The tattoo artist has portrayed the mosaic beautifully.
29. Half Sunburst Mandala Mosaic Chest Tattoo Mosaic Tattoo Ideas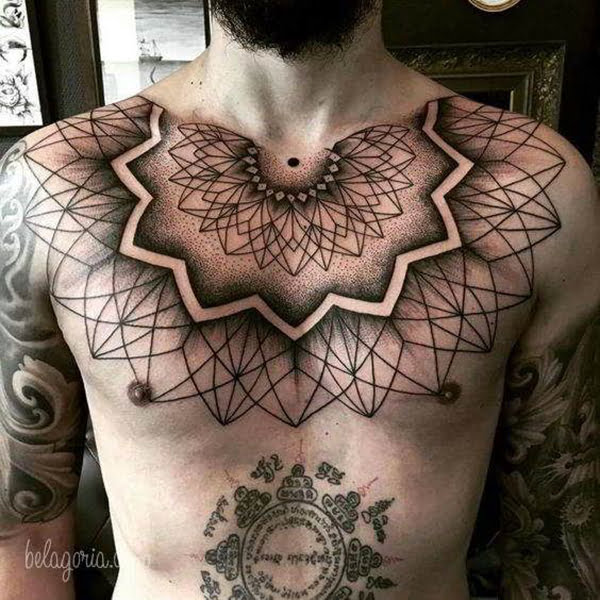 Manly and tribal, yet also delicate, this awesome mosaic upper chest tattoo is a true work of art. The multi-faceted half sunburst mandala design is aesthetically pleasing from a distance and becomes more intricate the closer you get. Rich in detail and meaning, this mosaic tattoo leaves a lasting impression.
30. Black and White Concentric 3D Mosaic Tattoo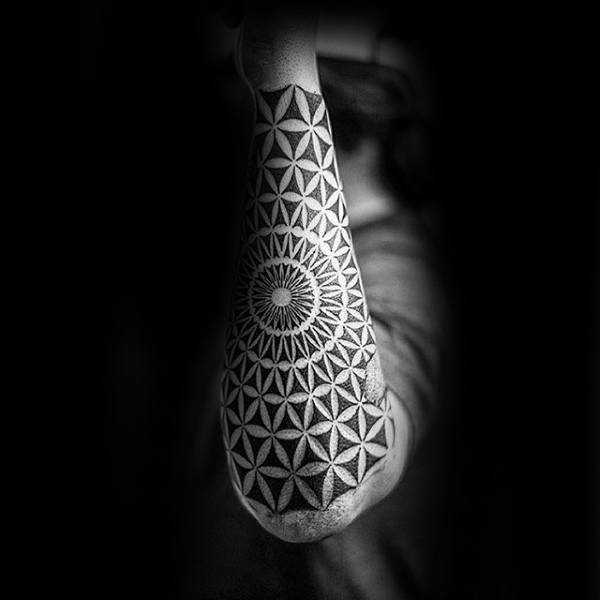 A concentric design starts at the center of the forearm and radiates outward into eternity in this black and white mosaic tattoo. Precise shapes and excellent use of negative space create a three-dimensional optical illusion appearing to come out of the skin. This mosaic tattoo represents transformation, effort, and purpose.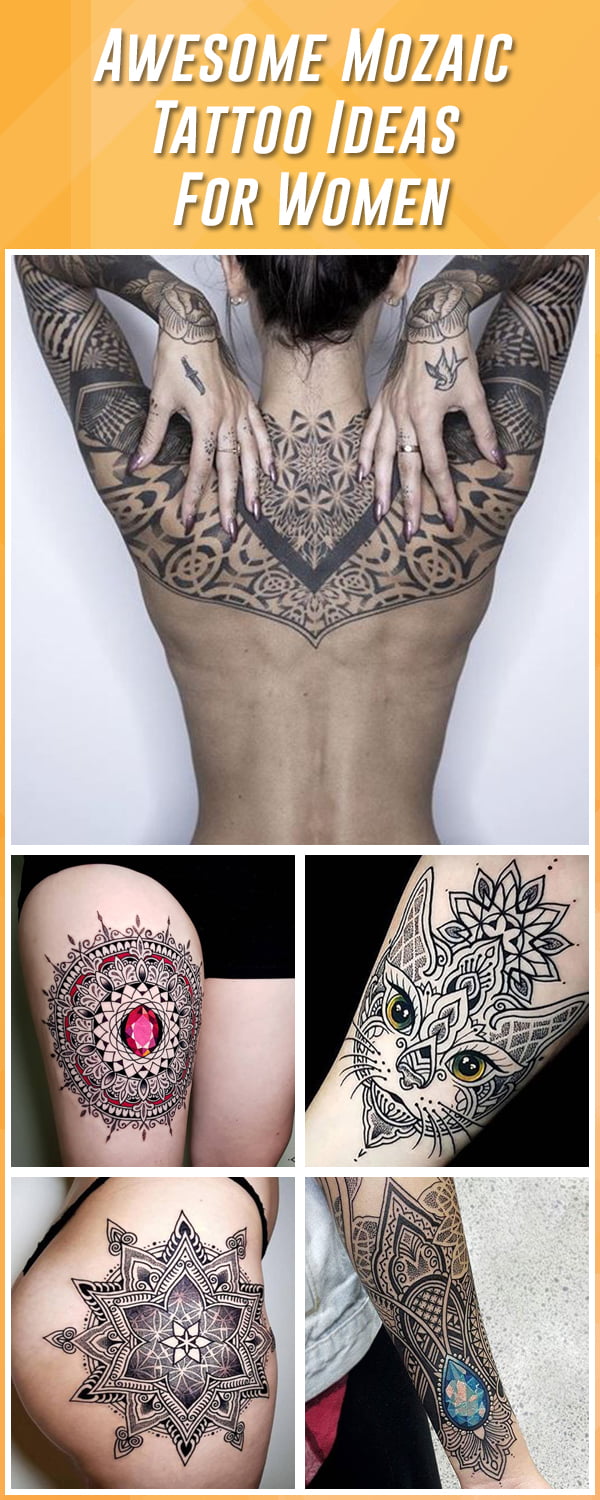 31. Mosaic Tattoo with Gemstone on Woman's Side Mosaic Tattoo Ideas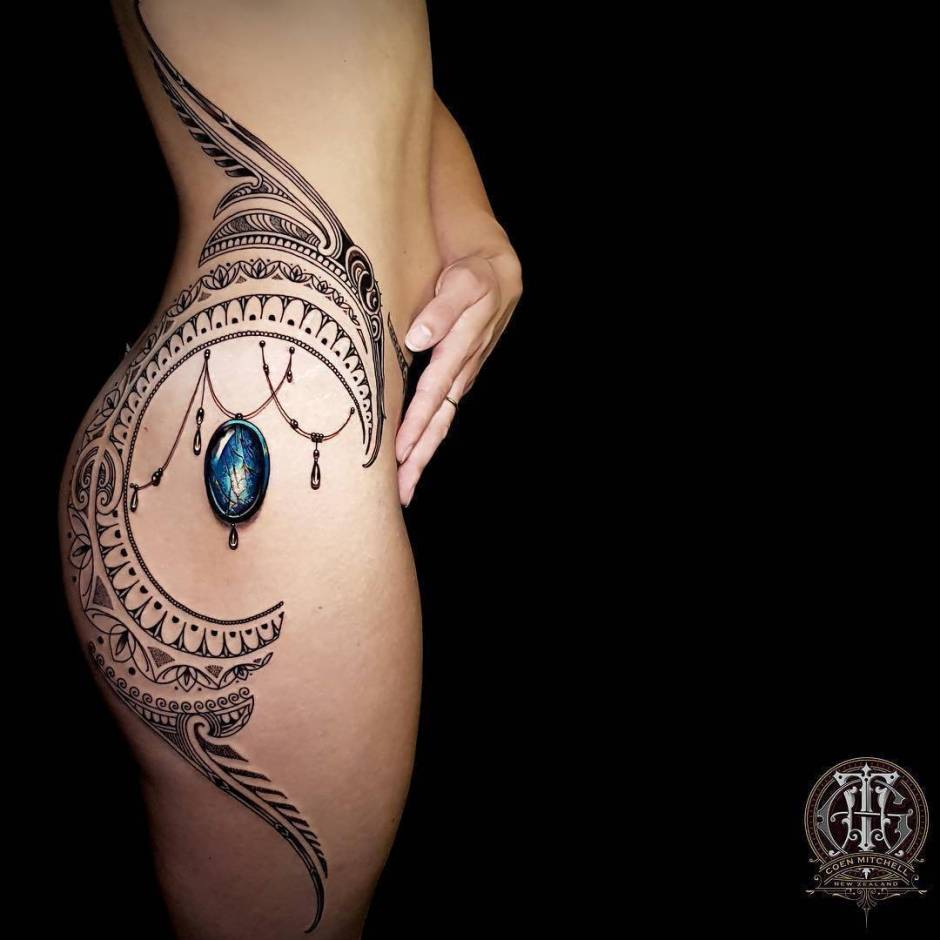 The curves in this gorgeous mosaic tattoo design perfectly coincide with the natural contours of a woman's body. With feathers-like details and a beautiful sapphire gemstone surrounded by dangling crystals, this mosaic tattoo oozes femininity and seduction. A confident woman would be proud to wear this irresistibly captivating tattoo.
32. Grayscale Circle Mosaic and Horizontal Patterns Tattoo Mosaic Tattoo Ideas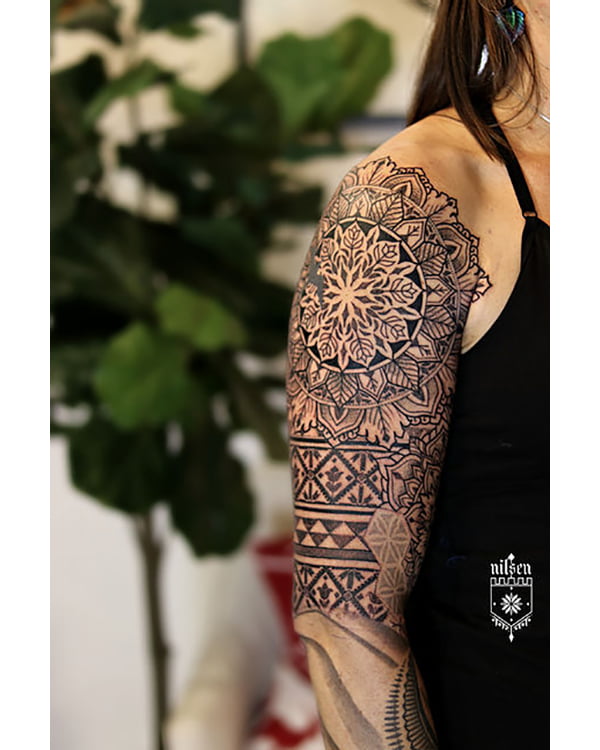 Reminiscent of an ethereal dreamcatcher, this black and white mosaic tattoo sets delicately on a woman's shoulder and upper arm. Under the circular mandala, elements are horizontal rows of varying patterns for an interesting dynamic. Signifying hard work and creativity, this charming mosaic tattoo is great for artistic, intuitive women.
33. Brilliant Blue Mosaic Stitch Character Tattoo Mosaic Art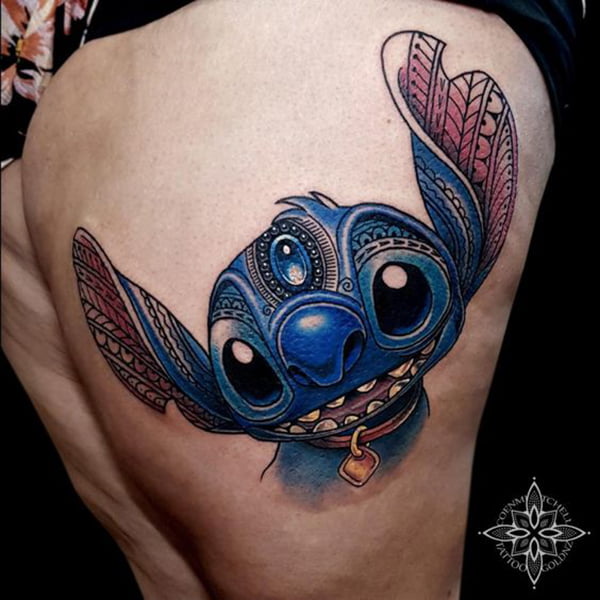 From the Lilo and Stitch animated movie, the character Stitch is known for being lovable, childlike, and absolutely adorable. The elegant patterns and dazzling gemstones in this whimsical mosaic Stitch tattoo make it more modern and mature. Brilliant blue colors give this mosaic tattoo its eye-catching appeal.
34. Feminine Black and White Mosaic Shoulder Tattoo Mosaic Art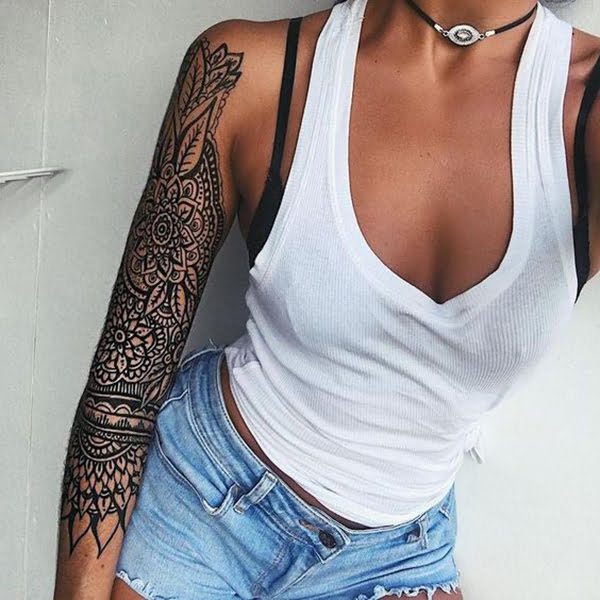 Delicate floral elements are integrated into this elegant black and white feminine mosaic shoulder tattoo. Each leaf and petal is intricately interwoven with the surrounding design to create an amazing tapestry of patterns. Subtle sophistication and an appreciation of nature are expressed in this attractive mosaic tattoo.
35. Mosaic Style Geometric Heart Color Tattoo Mosaic Art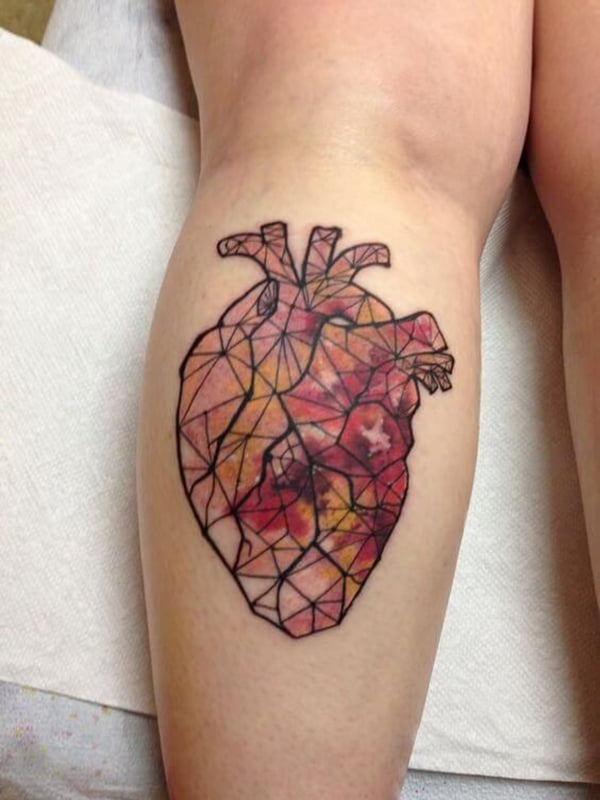 This astonishing mosaic heart tattoo is a mishmash of anatomically correct, watercolor painting and abstract geometric elements. The overall outline of the intriguing ink matches the human heart while the inside is broken down into irregular shapes. Splashes of reds and oranges complete this highly artistic heart mosaic tattoo.
36. Red and Black Mosaic Mandala Thigh Tattoo Mosaic Art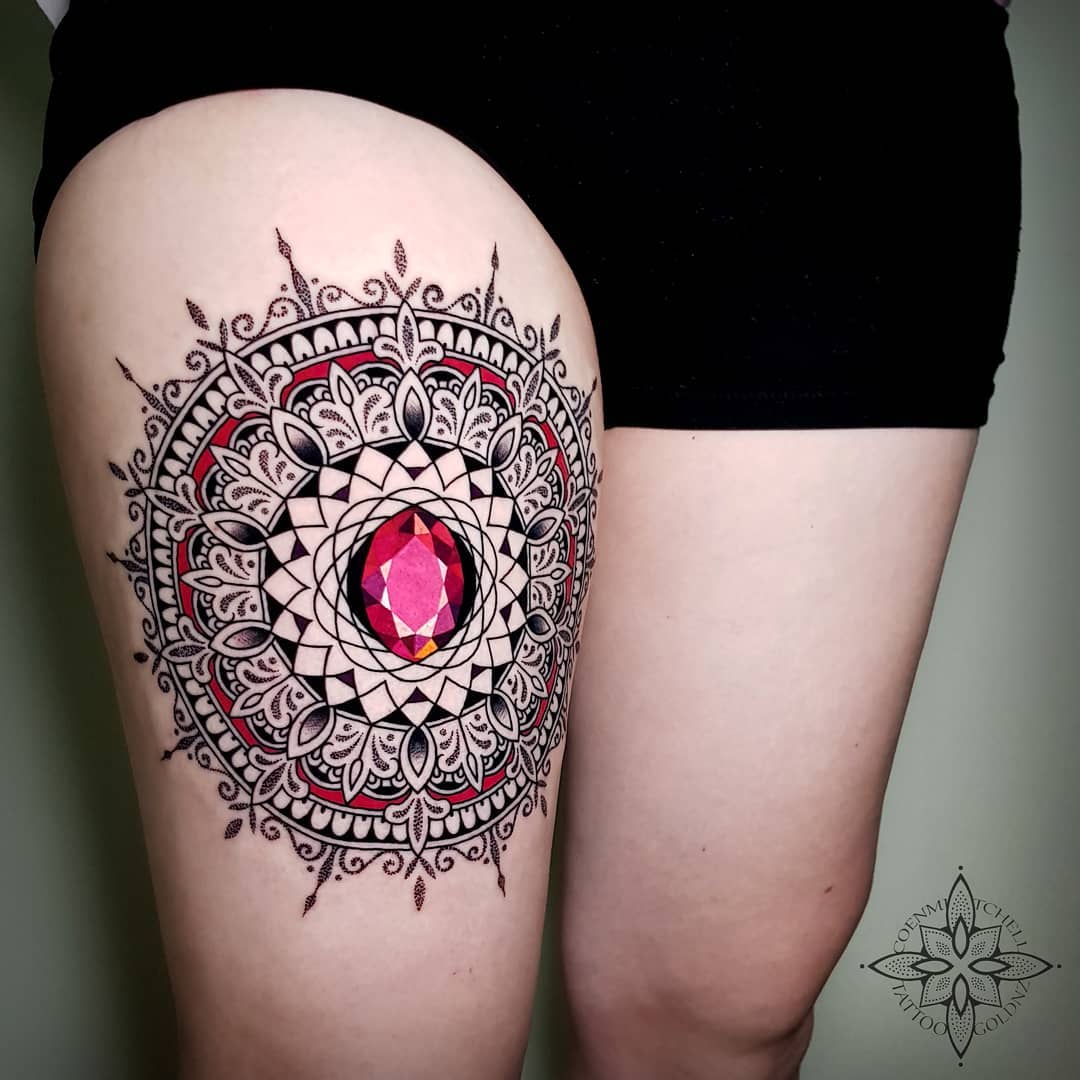 From its dazzling ruby center, oscillating circular patterns radiate to compose an exquisite mandala mosaic tattoo. Bright pops of red add energy to this black and white tattoo inked on a woman's thigh. Similar to a never-ending circle, this mosaic mandala tattoo is meant to represent eternity, balance, and perfection.
37. Mosaic Forearm Tattoo with Blue Gemstone Mosaic Art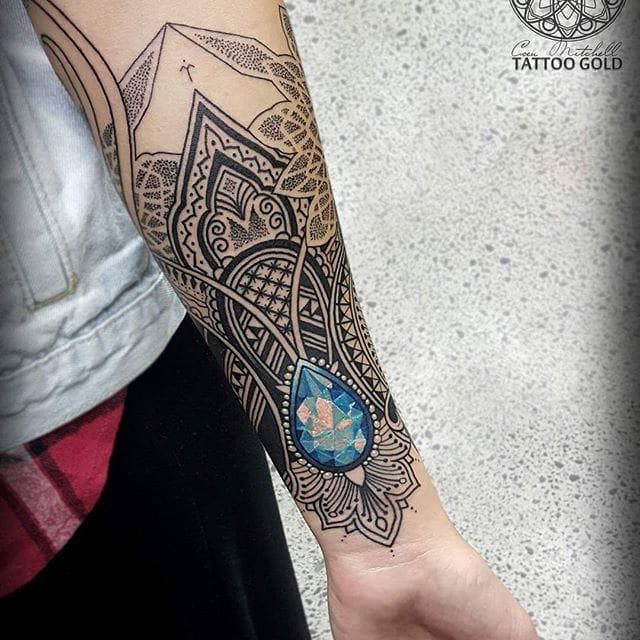 The focal point of this sublime mosaic forearm tattoo is a dazzling blue teardrop-shaped gemstone. Blue crystals represent the throat chakra and help with communication and insight. Meticulous dot work shading and a mix of thick and thin lines are utilized to produce this beautiful mosaic body art.
38. Grayscale Owl Mosaic Tattoo with Blue Heart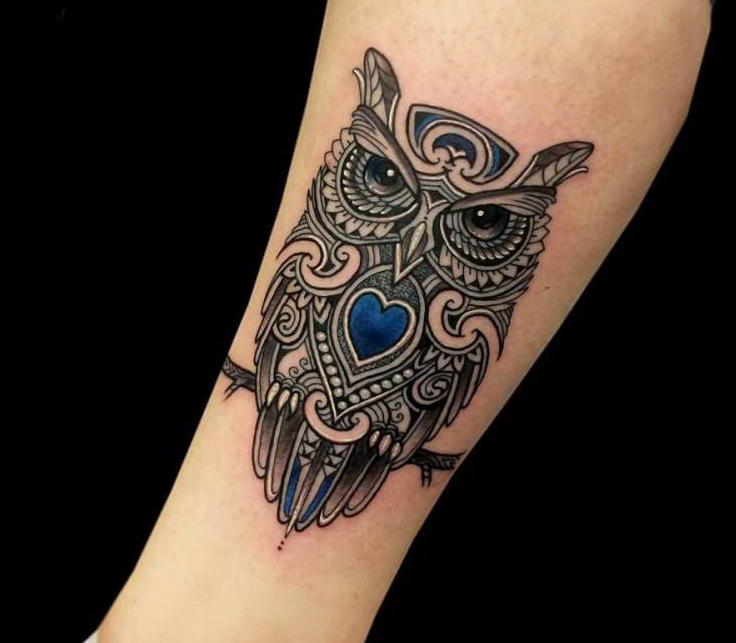 This mosaic tattoo design features an owl. Ancient mythology often associates the majestic owl with wisdom, feminine energy, and regeneration. This ethereal owl mosaic tattoo blends traditional and contemporary art using mostly black and white with pops of blue color in the heart, tail, and head. Any woman would be proud to display this gorgeous mosaic tattoo.
39. Half Realistic Half Geometric Mosaic Fox Tattoo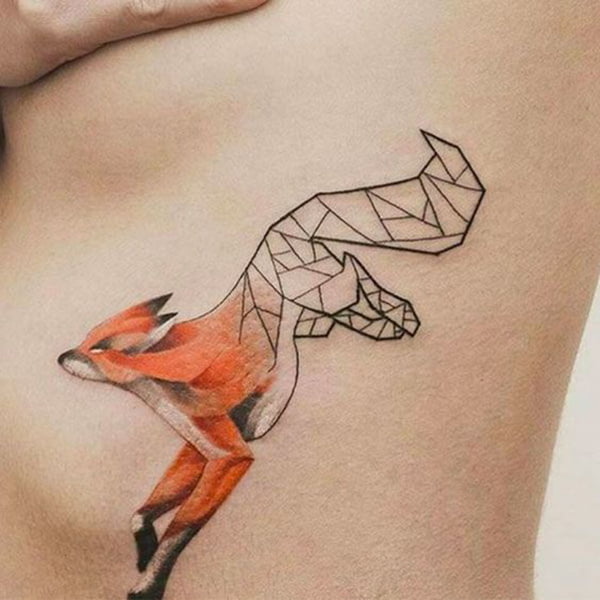 If you can't decide which style you prefer, why not get two techniques in one tattoo? This mosaic tattoo design features a geometric design. In this mosaic fox tattoo, the head, front legs, and upper body of the animal are inked in an impressive realistic style. The graceful fox is finished with a black and white geometric pattern.
40. Matching Tattoos Idea: Mosaic Mandala Inner Thigh Tattoos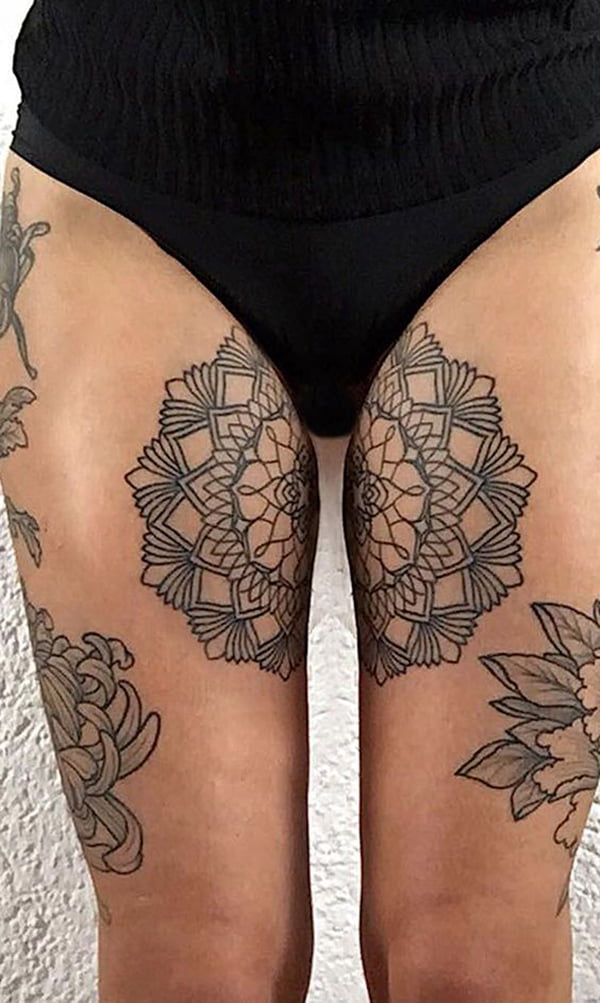 Two separate mandala mosaic tattoos are inked on the inner thighs of both of a woman's legs. The alluring black and white matching mosaic tattoos are designed so that together brilliant mosaic tattoos appear to be one stunning masterpiece. This seductive mosaic tattoo is the epitome of feminine strength and confidence. If you are looking for couple tattoos, this could be a great option.
41. Upper Back, Shoulder, and Arms Mosaic Tattoo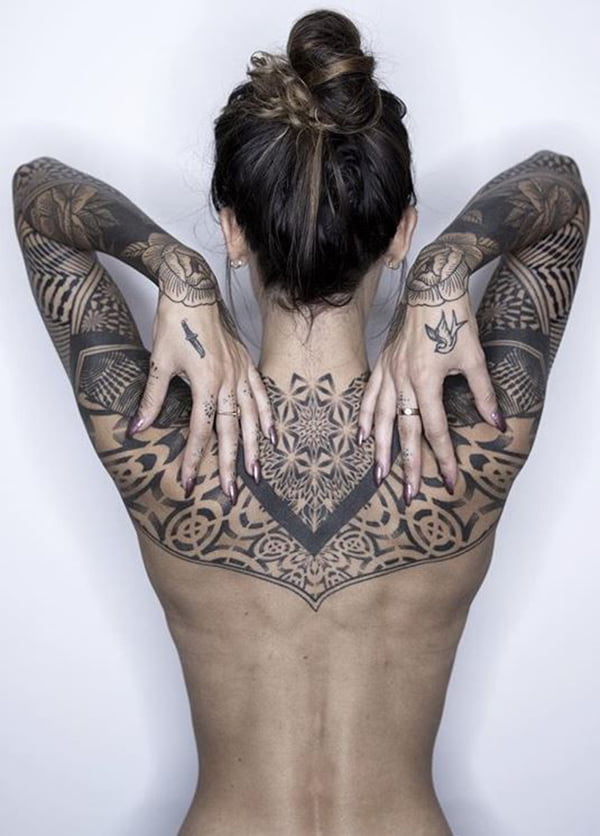 Reminiscent of medieval shoulder armor, this ornate black and white mosaic tattoo covers both arms entirely, both shoulders, and connects across the upper back. The pattern is peculiar compared to the other designs and has infinite applications according to individual perceptions. This spellbinding mosaic tattoo is a show stopper.
42. Colorful Stained Glass Rose Mosaic Tattoo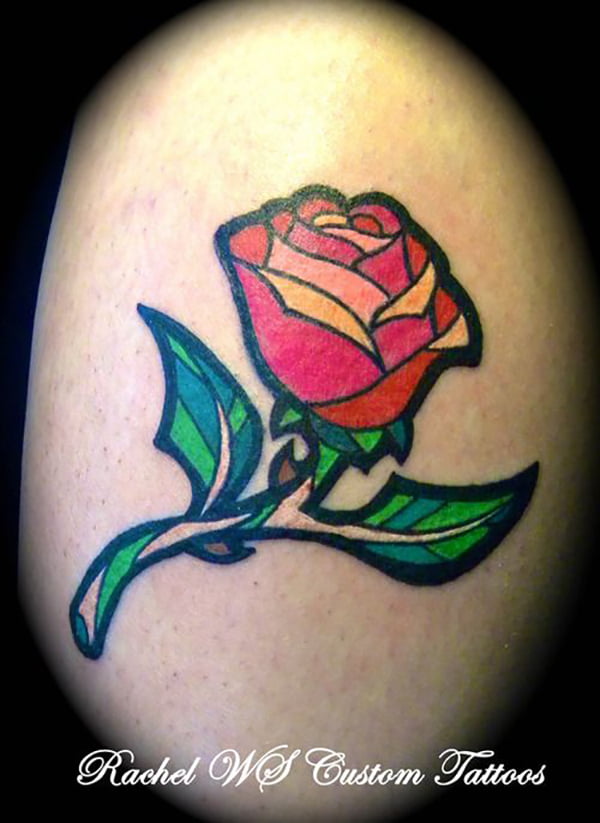 This mosaic tattoo design features a colorful rose. This vibrant and colorful mosaic rose tattoo borrows from the whimsical stained glass style. The pretty rose petals are inked in shades of red, pink, and orange while the leaves are green and thorns brown. Enchanting and lovely, this is a great love tattoo choice for a woman who loves romance.
43. Black and White Lotus Mosaic Arm Tattoo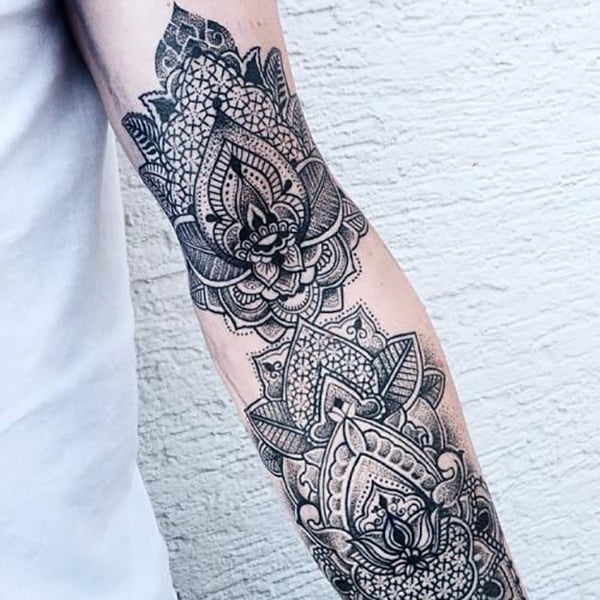 There is an array of patterns, shading, and hidden details in this inspirational black and white lotus mosaic arm tattoo. Each leaf and petal is filled with a unique motif for an overall kaleidoscope effect. The intricacy and spirituality of this mosaic tattoo make it a popular choice for women. The tattoo artist has portrayed the mosaic beautifully.
44. Large Mosaic Mandala Tattoo on Hip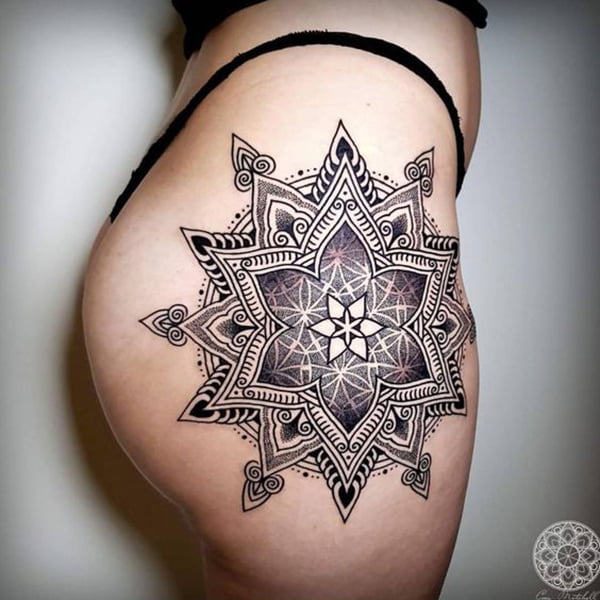 This mosaic tattoo design features a mandala, placed prominently on a woman's hip, this large mandala mosaic tattoo is absolutely stunning. The elaborate design is perfect for those who find beauty in geometric figures and patterns. Mesmerizing and heavenly, this transcendent mosaic tattoo consists of a variety of ink styles including dot work and bold lines.
45. Flowers and Mandala Mosaic Upper Leg Tattoo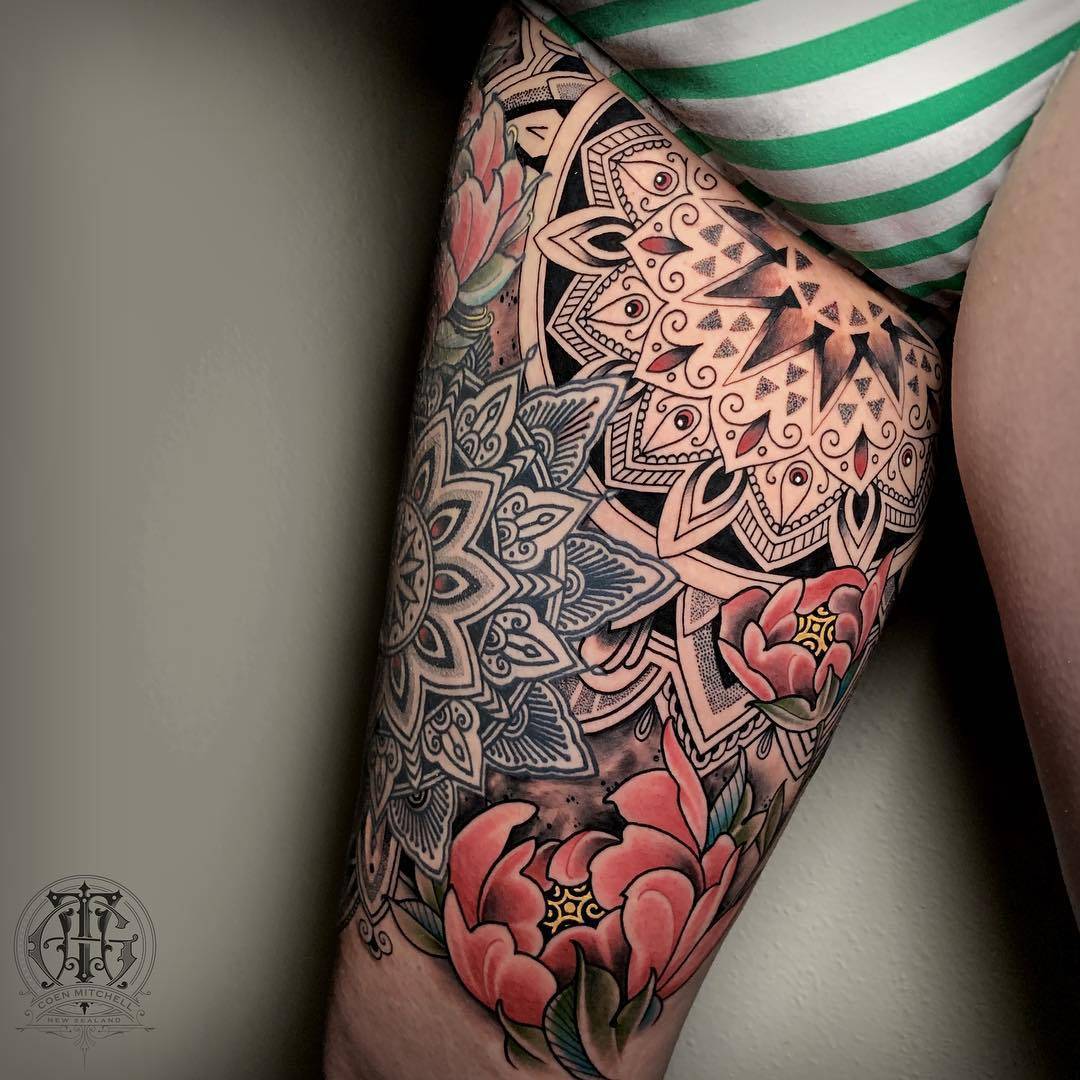 This mosaic tattoo design features a mandala, this provocatively ornate mosaic tattoo covers every inch of a woman's skin from the pelvis to the knee, wrapping around the entire leg. The amazing mandala pattern twists with the body's curves and looks magical with delicate pink flowers embedded throughout. Romantic and captivating, this is a breathtaking mosaic tattoo.
46. Exquisite Mosaic Elephant Tattoo on Thigh Amazing Mosaic Tattoos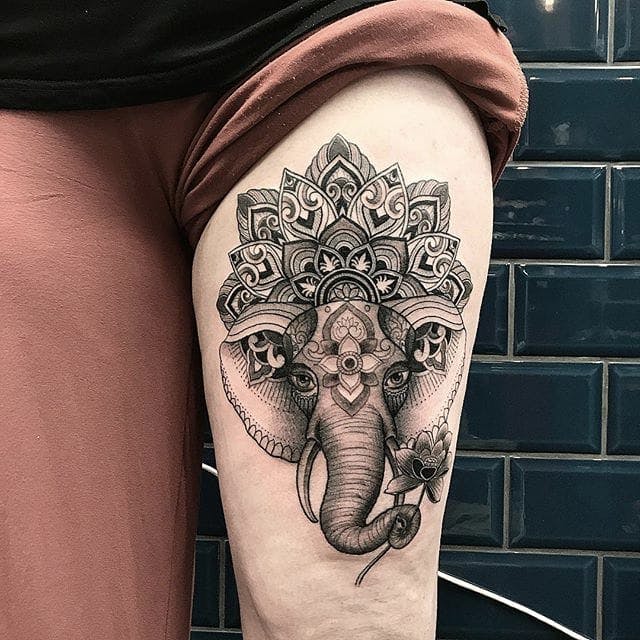 This mosaic tattoo design features an elephant, elegant and patient, the illustrious elephant stands for strength, loyalty, and perseverance. This black and white elephant mosaic thigh tattoo is highly detailed with both ornate minutia and spiritual aspects. To add to the feminine strength of this mosaic tattoo, the elephant's trunk is extending a beautiful flower.
47. Grayscale Mosaic Elephant Tattoo with Color Flower Tattoo Ideas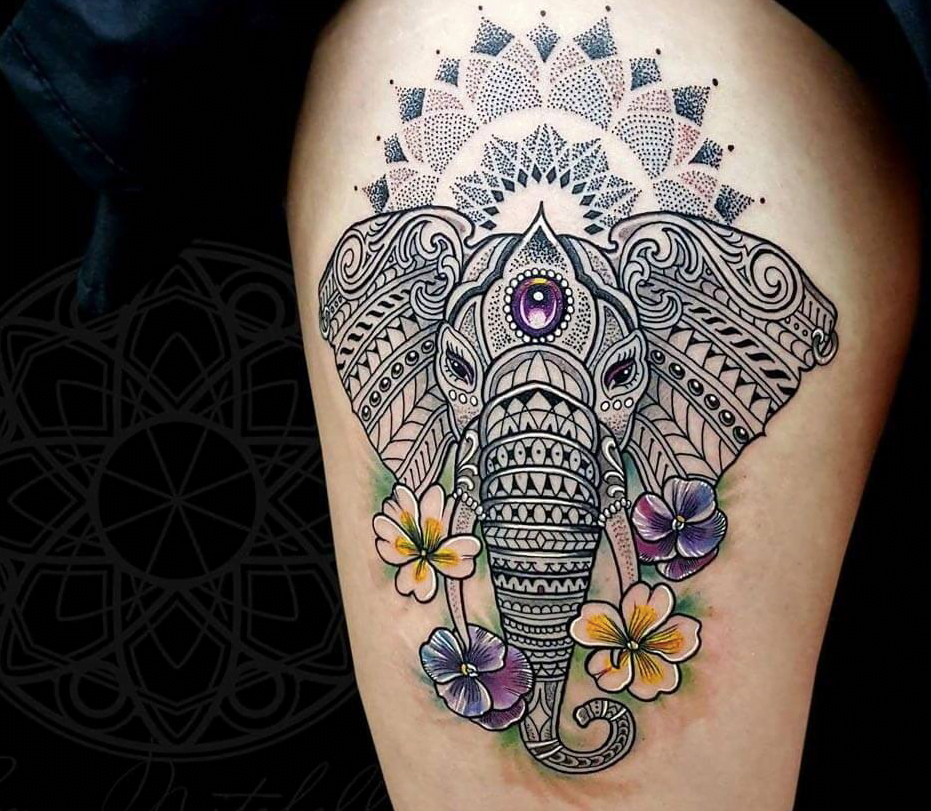 Often perceived as symbols of luck, success, and adventure, elephant tattoos look stunning in a baroque mosaic pattern. The exquisite tattoo is inked mostly in black and gray, making the lilac and yellow flowers and purple gemstone pop. A mandala behind the elephant's head gives this cool tattoo a profound look. The tattoo artist has portrayed the mosaic beautifully.
48. Mixed Patterns Shoulder and Arm Mosaic Tattoo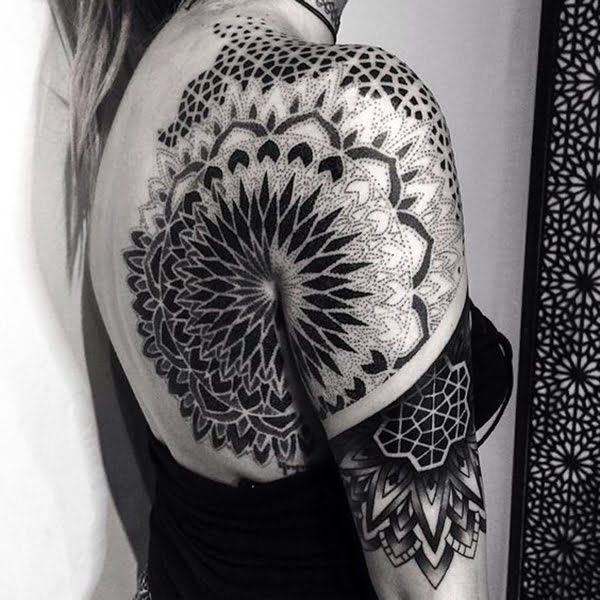 An amalgamation of different designs and patterns come together to produce a remarkable eye-catching mosaic tattoo. Keeping the color black and white ensures there is no distraction from the meticulously crafted mosaic motif. This gorgeous tattoo covers the shoulder, upper back, and upper arm with an interactive composition.
49. Elaborate Mosaic Forearm Tattoo for Women Tattoo Ideas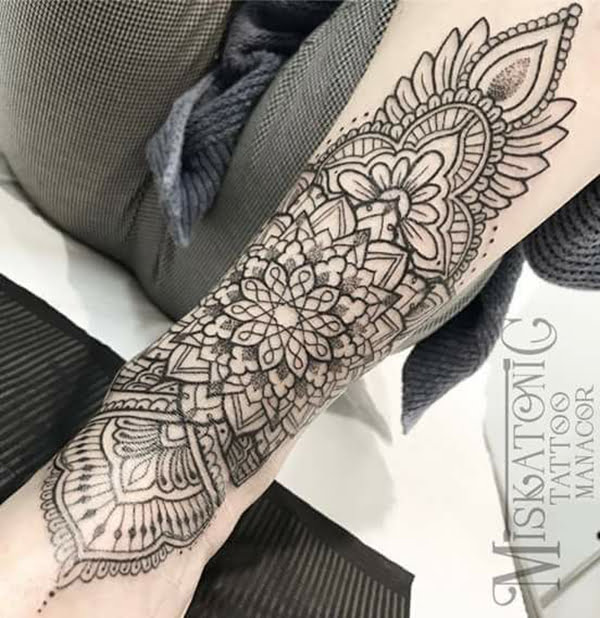 Like a lace doily placed elegantly upon a woman's forearm, this sophisticated mosaic tattoo is a beautiful way to express yourself through a piece of body art. From the center floral pattern extends a series of ornate natural and spiritual elements. This feminine, attractive mosaic tattoo is simply delightful.
50. Mosaic Cheshire Cat Mandala Tattoo on Thigh Tattoo Ideas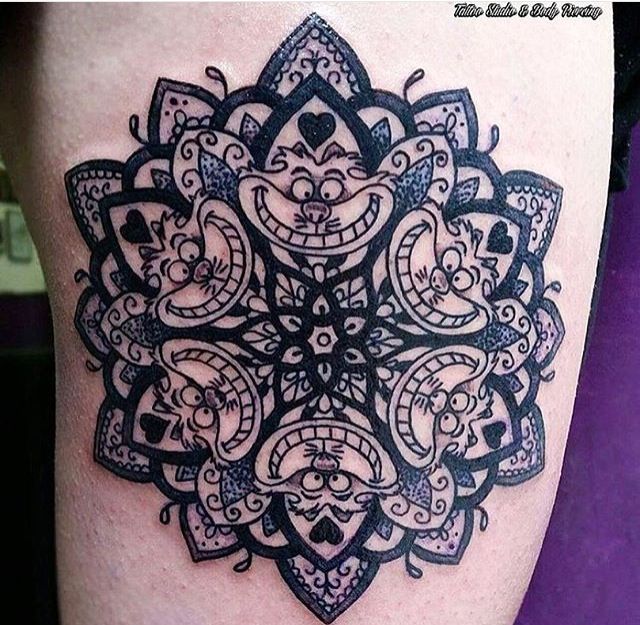 This mosaic tattoo design features a cat design. Whimsical and creative, this Cheshire Cat mandala highlights both the intricacy and personality of mosaic tattoos. Inspired by the surrealistic Alice in Wonderland theme, the repeating patterns create a kaleidoscope of endless visual stimulation. Take your love of enchantment to the next level with this ethereal mosaic tattoo.
51. Ornate Tribal Inspired Mosaic Shoulder Tattoo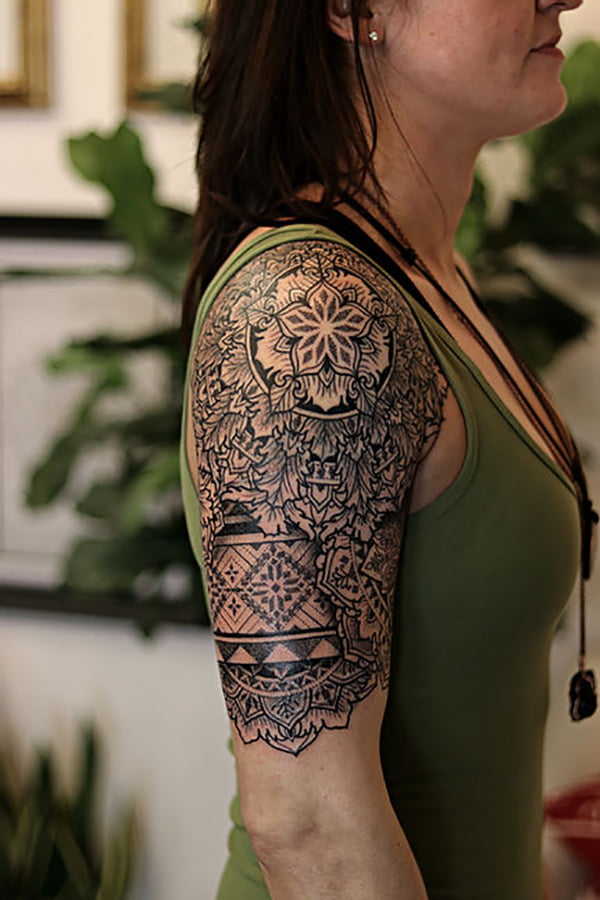 This mosaic tattoo design features a tribal motive. This ornate tribal-inspired black and white mosaic tattoo covers a woman's shoulder and upper arm in a meticulously graceful pattern. Part of the magnetic attraction to the mosaic tattoo is the elaborate fractals majestically incorporated throughout the design. This inspirational tattoo tells a story of insight and commitment.
52. Red and Black Mosaic Forearm, Hand Tattoo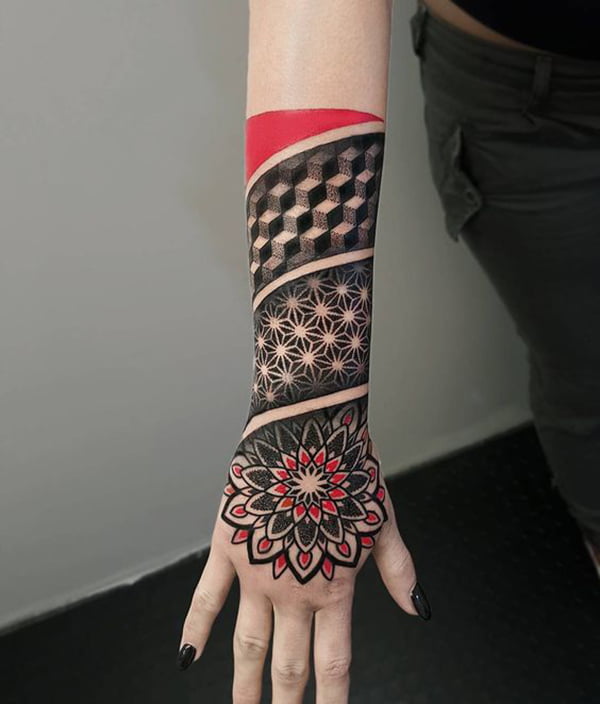 Beginning as a forearm band and ending as a mandala on the hand, this is a mesmerizing mixed media mosaic tattoo. There is a rhombus pattern, star tessellation, and negative space techniques used. The pops of red color in random places bestows a cryptic mystery to this spellbinding mosaic tattoo.
53. Black and White Mosaic Mandala Arm Tattoo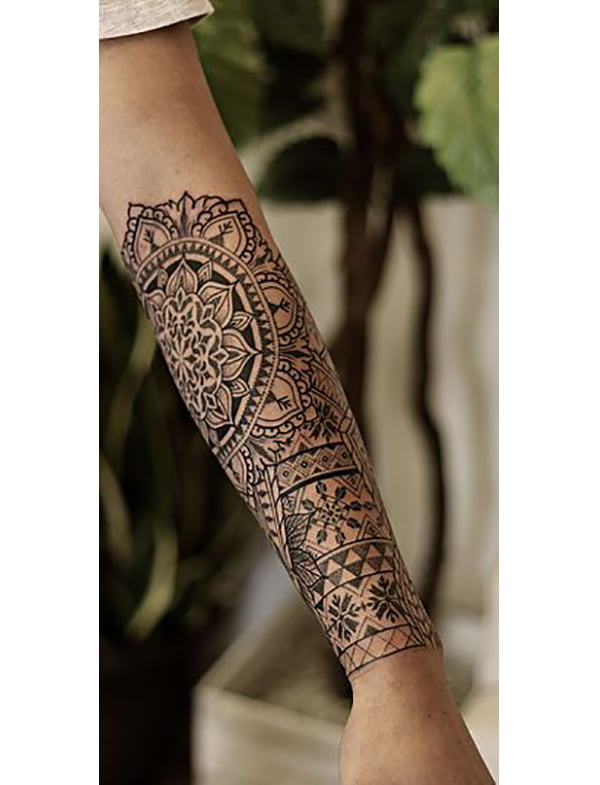 Many individual patterns and parts become a whole in this stunning black and white mosaic arm tattoo. From the triangular bands to the radiant sun mandala, this is a design rich in detail and meaning. Significant of transformation, effort, and purpose, the overall mosaic tattoo is sophisticated and powerful.
54. Center Diamond Mosaic Tattoo on Neck Tattoo Ideas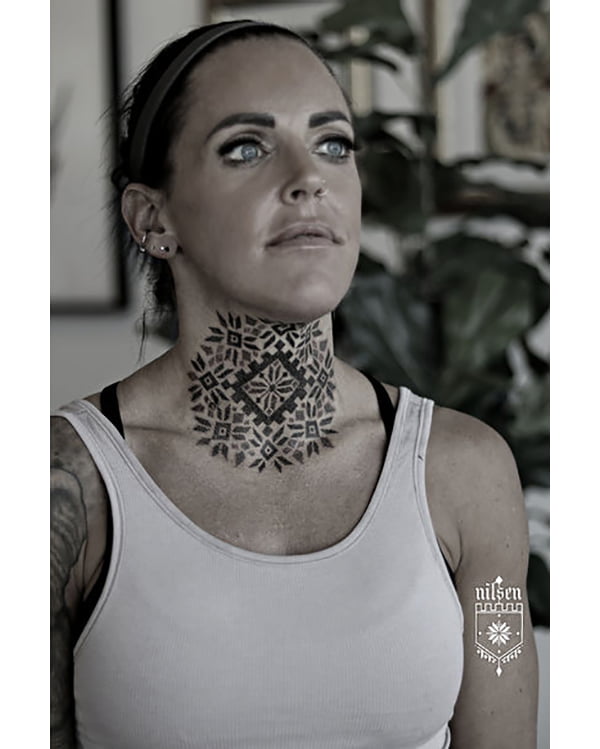 If you really want to stand out from the crowd, consider this arresting mosaic tattoo inked prominently on the center of the neck. It takes a strong, modern woman to rock this patchwork-type center diamond mosaic tattoo. Full of personality, this eye-catching ink is sure to spark conversation.
55. Mosaic Simba Lion Tattoo with Gemstones Tattoo Ideas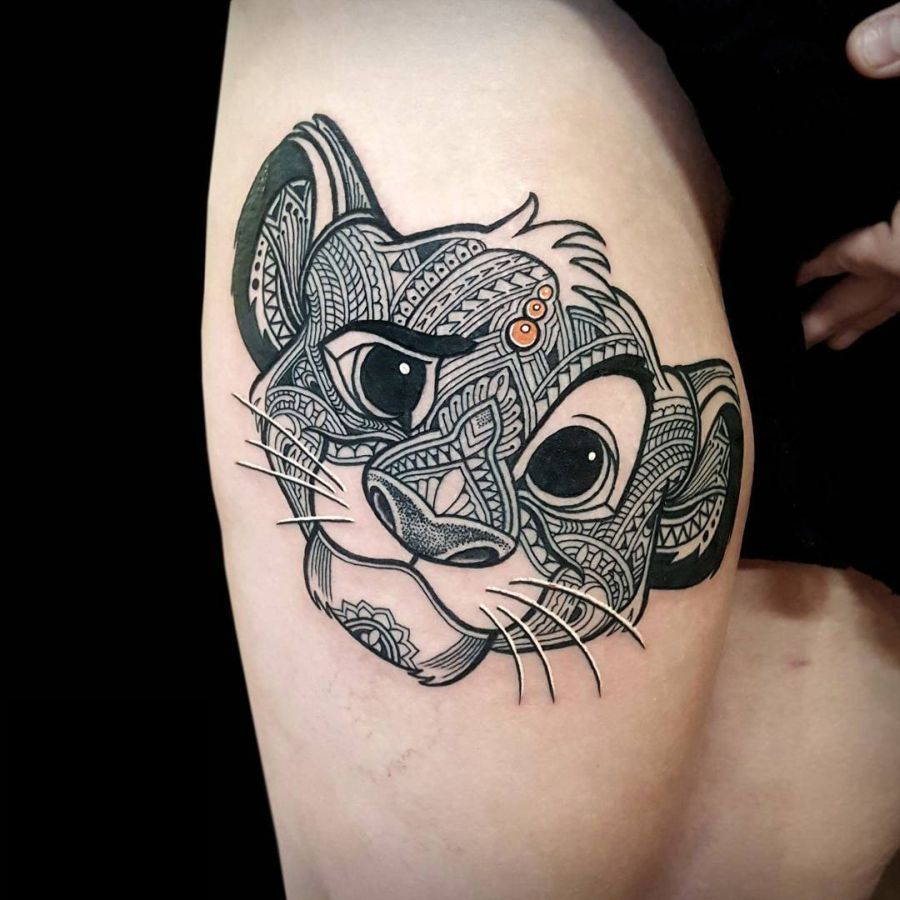 Charming and fanciful, this black and white mosaic tattoo is one of the disney mosaic tattoo, it depicts the character Simba from the Lion King movie. A Simba tattoo can symbolize the physical and emotional growth necessary to becoming the man or woman you were meant to be. Adding mosaic details and orange gemstones elevate the disney mosaic tattoo.
56. Yellow-Eyed Mosaic Cat Tattoo on Arm Tattoo Ideas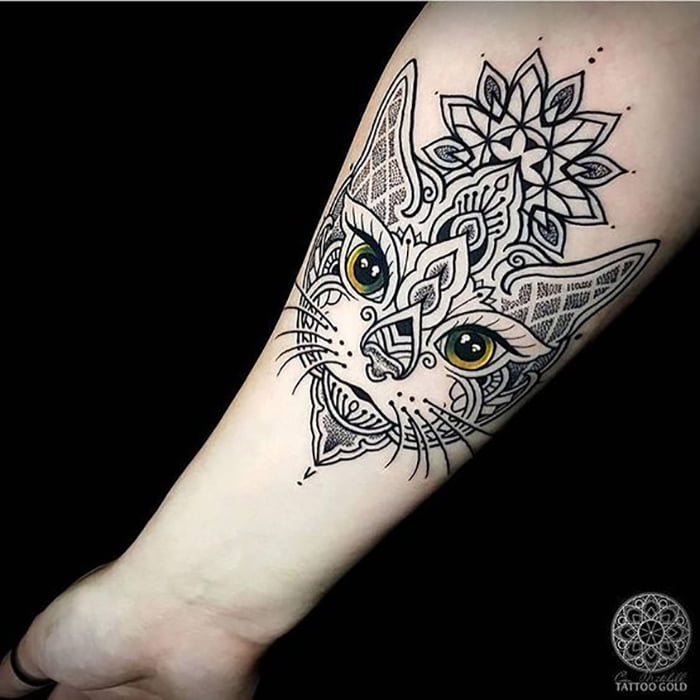 If you are an animal lover with an affinity for the fine arts, this mosaic cat face tattoo might be the perfect ink for you. Cat tattoos often symbolize mystery, quiet intelligence, and good luck. The ornate feline's piercing yellow eyes bring this amazing mosaic tattoo to life.
57. Black and Red Flying Mosaic Bird Tattoo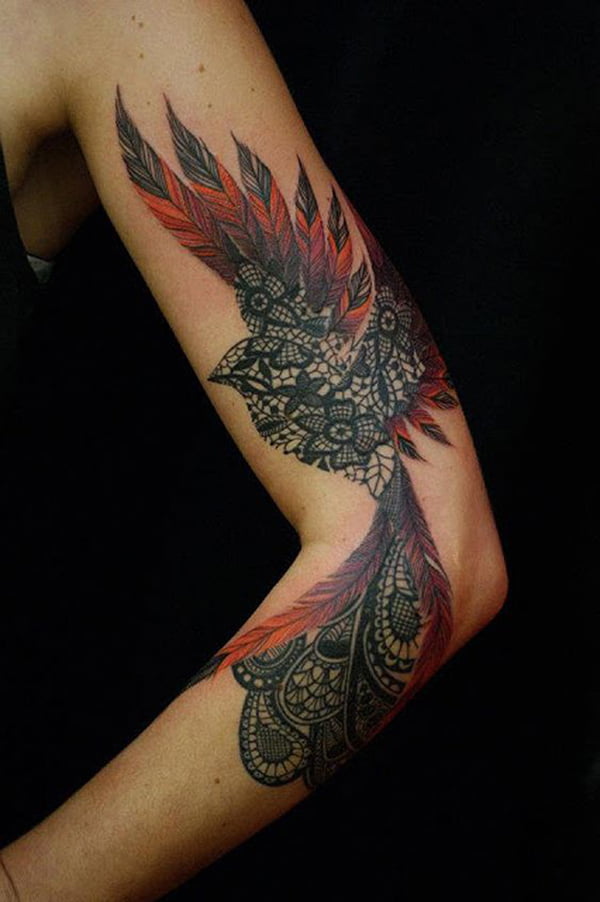 A graceful bird with black, red, and orange feathers is covered in an ornate pattern in this exquisite mosaic arm tattoo. The elegantly embellished bird spreads its beautiful feathers as it prepares to take flight. Representing freedom, transition, and a higher understanding, this is a breathtaking mosaic bird tattoo.
58. Multi-Colored Stained Glass Mosaic Tattoo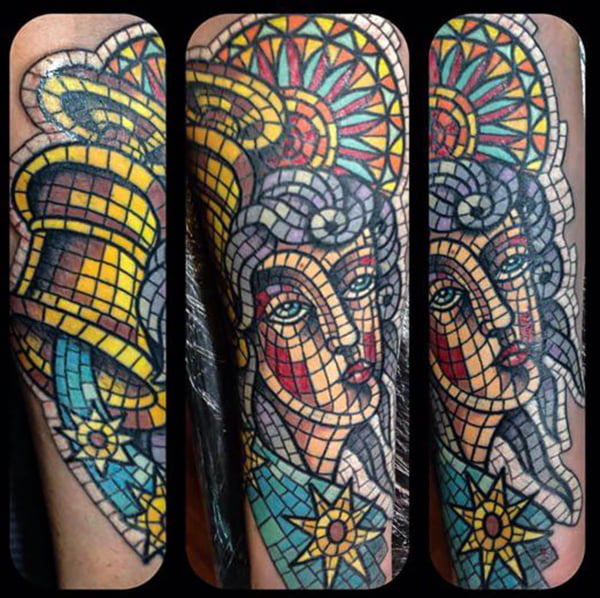 This mosaic tattoo features a stained glass. Inspired by stained glass found in Christian art, this breathtaking mosaic tattoo looks like it has been copied directly from a church window onto the skin. There are so many bright colors that this brilliant mosaic tattoo oozes character. Each vibrant shape merges into a complete portrait-style art piece.
59. Blue and Purple Mosaic Octopus Tattoo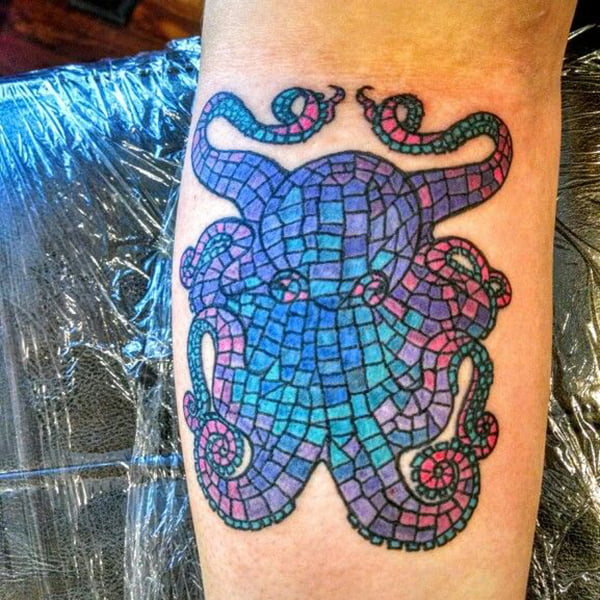 This mosaic tattoo features a mosaic octopus. Some of the most favorite designs to turn into mosaic tattoos are animals such as this flashy octopus. Irregular shapes colored in shades of blue, pink, and purple become part of one another to create the enchanting sea creature. An octopus often symbolizes insight, mystery, intelligence, and illusion.
60. Woman's Full Arm Sleeve Mosaic Tattoo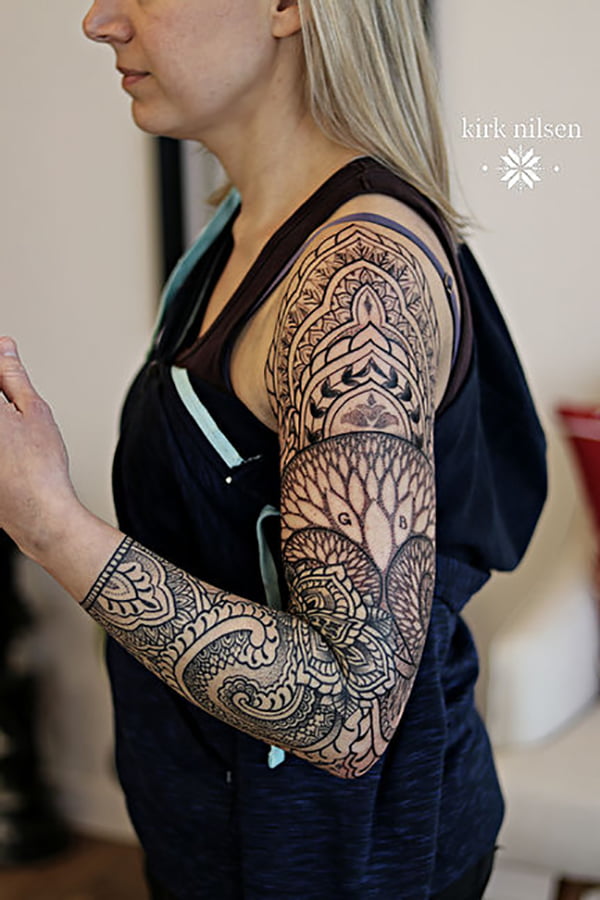 This lovely mosaic full-arm sleeve tattoo blends a mix of compelling spiritual elements with surreal symbols of nature. Embodying purpose, transformation, and growth, the ornate black and white tattoo looks flawless wrapped around a woman's arm. With swirls and lace, this sophisticated mosaic tattoo is feminine and powerful.
60 Best Mosaic Tattoos with for Modern, Spiritual Men and Women
Mosaic tattoos range from meticulously inked spiritual patterns to brightly colored whimsical images. The incredible versatility of mosaic tattoos is what makes them so popular with both men and women. Adding mosaic details to a common image is a fantastic way to bring artistry to an otherwise typical tattoo. Brilliant mosaic tattoos can be customized with important symbolism and unique color palettes to depict your own personality. Since mosaic tattoos are usually complex designs, it is best to work with an artist who has the experience and confidence to handle these types of tattoos. It ensures you will end up with an amazing mosaic tattoo you can enjoy for the rest of your life.