If you know you want to incorporate cherry blossoms into your next tattoo but can't come up with an idea, consulting a list of the best cherry blossom tattoo ideas and designs is a great place to start. Lots of people want their tattoos to have meaning behind them, and the cherry blossom isn't your ordinary flower — it's backed by both historical significance and rich symbolic meaning. Whether you want a tattoo centering on the cherry blossom or just want to incorporate the flower as an accent piece, the cherry blossom is a worthy addition to any person's body art.
60 Head-Turning Cherry Blossom Tattoos to Celebrate the Beauty of Life
But what does the cherry blossom symbolize? These blooms, also called "sakura" in Japan, can only be seen for about two weeks out of the year. The transience of the blossoms led to their being connected to the Samurai, Japan's most noble warriors. And because cherry blossoms appear in spring, they also represent new beginnings and renewal. In fact, both the school year and the fiscal year in Japan start in April, when the cherry blossom tree starts to bloom.
In the United States, the cherry blossom tree has a slightly different meaning. In 1912, the Japanese government was looking to mend the country's relationship with the United States. Japan sent thousands of cherry blossom trees to Washington, D.C., where they were planted by the First Lady and the wife of the Japanese ambassador at the time. For this reason, cherry blossom tree tattoo symbolizes peace and new beginnings in the United States.
Maybe you want a cherry blossom tattoo because you're celebrating a new beginning of your own, or maybe you just love the spirit of tranquility they inspire. Either way, these beautiful flower tattoos make great tattoos for men and women alike. Here are 60 fresh cherry blossom tattoo ideas to help get you started.
1. The Dragon and Warrior Chest Piece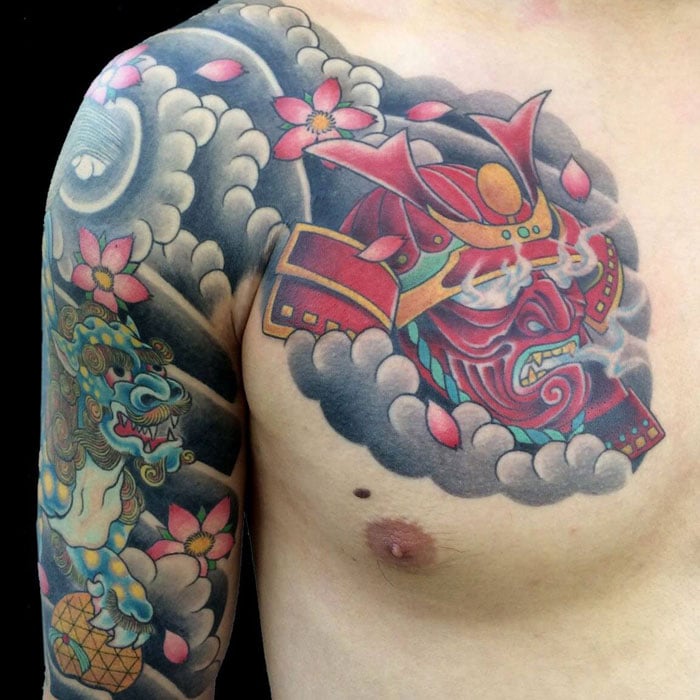 If you need a dramatic tattoo, choosing a partial chest piece that turns into a half sleeve tattoo (or whole cherry blossom sleeve tattoo) is a great option. This one is rife with Asian symbolism — you get a picture of both a dragon and a warrior, and floating cherry blossom trees offer just enough softness.
2. The Traditional Black and White Tattoo Style Dragon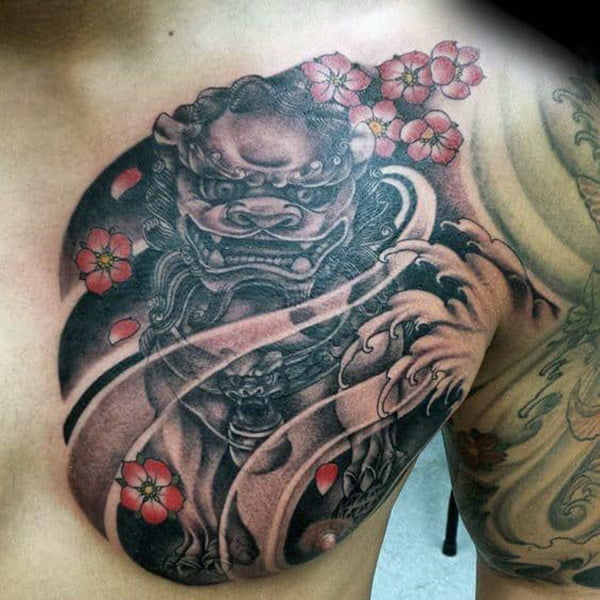 This tattoo uses an unusual method to emphasize the cherry blossom trees — the traditional dragon is in black and white, with the cherry blossom trees in full-color pink. The dragon stares menacingly forward, making this a great choice for people who like in-your-face tattoos.
3. The Lady With the Mask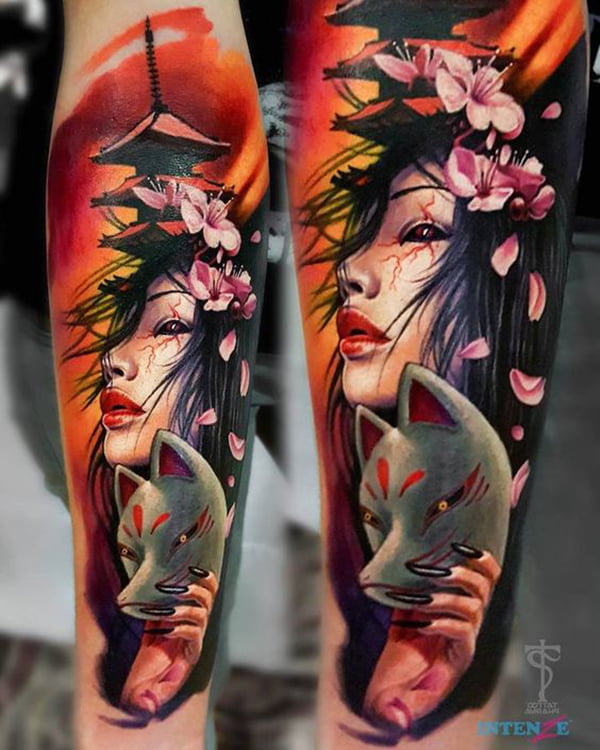 This stunningly realistic tattoo is great if you like bright colors. With a red-tinged sunset as the backdrop, this one features a lady staring forward despite the crack forming around her eye. She's removed a mask and is crowned with cherry blossom, so this one might symbolize moving toward a more authentic life.
4. The Cherry Blossom Close-Up Shot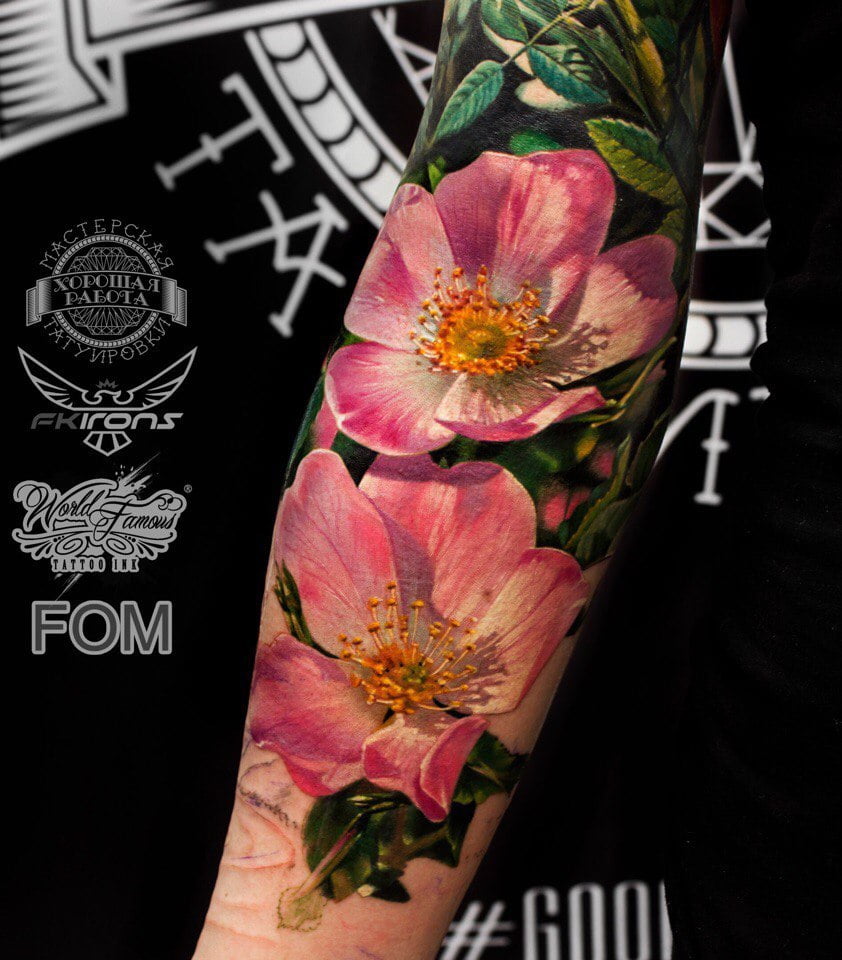 If you want a cherry blossom tattoo that pays tribute to the natural beauty of the cherry blossom, this one is an excellent option. It's so detailed that you even see the shadow of the flowers' centers across their petals! The blossoms rest peacefully on a bed of bright green leaves.
5. The Peaceful Pagoda With Cherry Blossom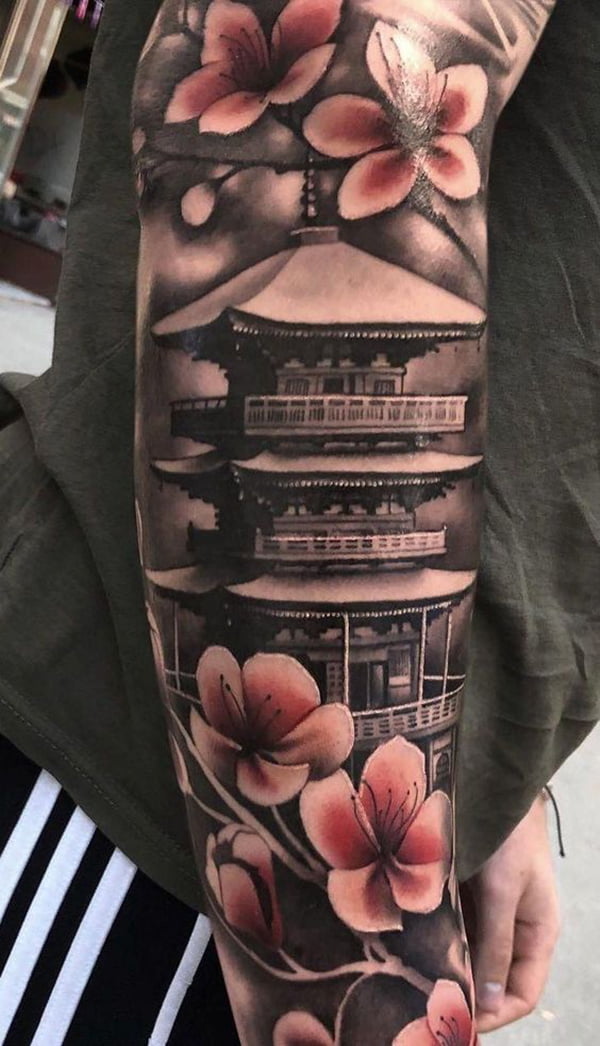 If you love Japanese and Chinese architecture, this black-and-white pagoda tattoo is a great option. The tiered building draws the eye, and the bright surrounding cherry blossoms add visual interest. The muted color palette of this one makes it ideal for people who like quieter tattoos.
6. The Koi Fish with Cherry Blossom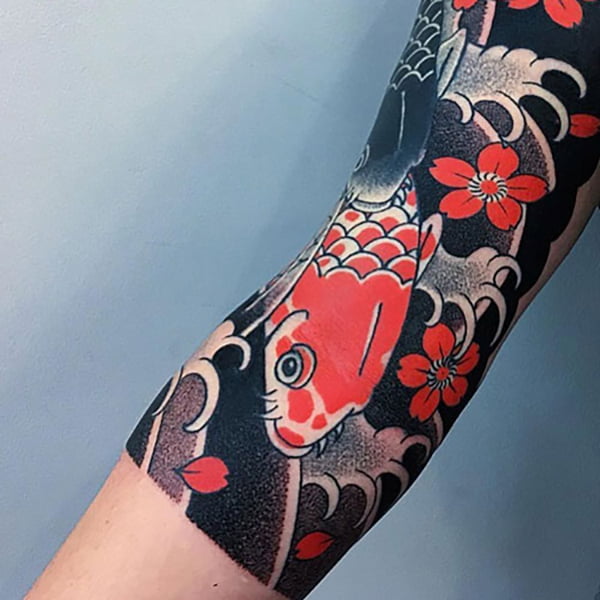 This vintage-looking cherry blossom tattoo is inspired by ancient art, and the two swimming koi add some pleasing motion. The background waves and floating cherry blossom petals make it a someone busy design, but it's a very exciting tattoo choice.
7. Cherry Blossom Tattoos with a Wild Tiger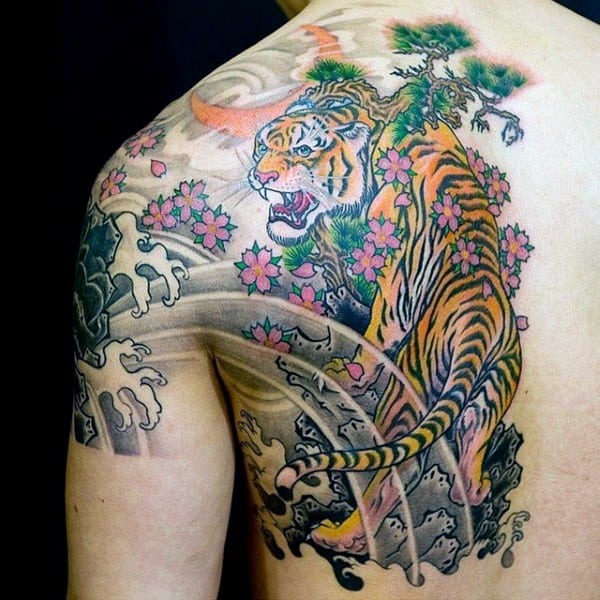 If you like tattoos that juxtapose grace and strength, you'll love this one. A noble, roaring tiger turns to look at the viewer, and his back is traced with bright cherry blossoms. The surrounding waves and crescent moon make it a detailed natural scene.
8. The Noble Samurai with Sword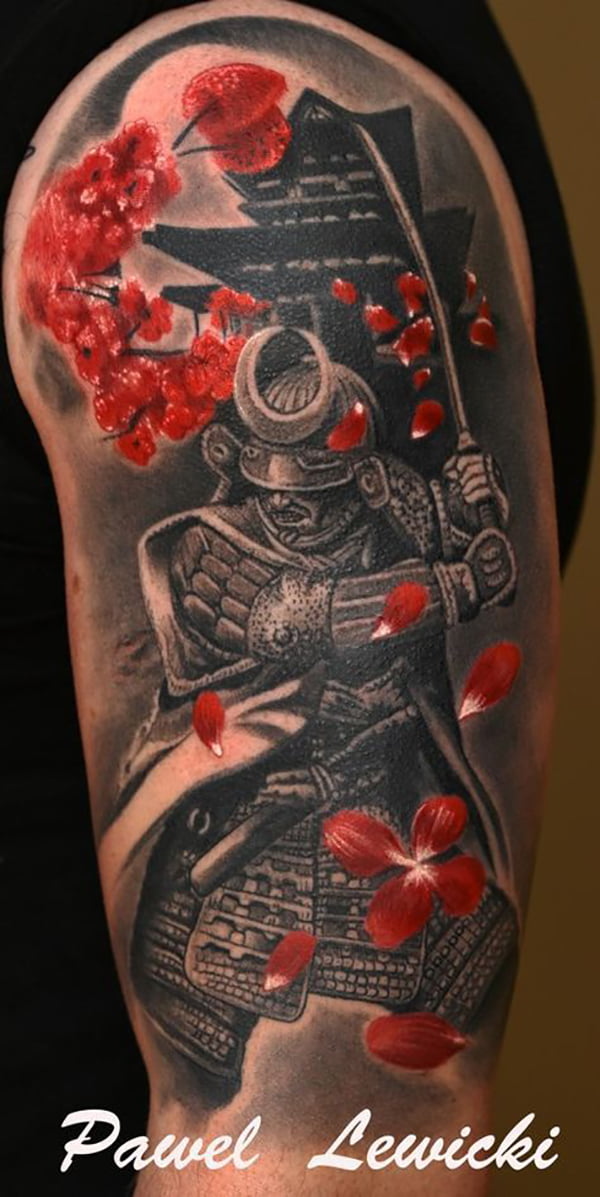 We mentioned earlier that the cherry blossom is tied closely with the Samurai in Japanese culture. If you want a tattoo that stands for courage and honor, this is an excellent choice. Falling petals represent the loss of a Samurai's life, so this tattoo shows that this warrior is willing to die for his cause.
9. The Glowing Skull with Cherry Blossom Crown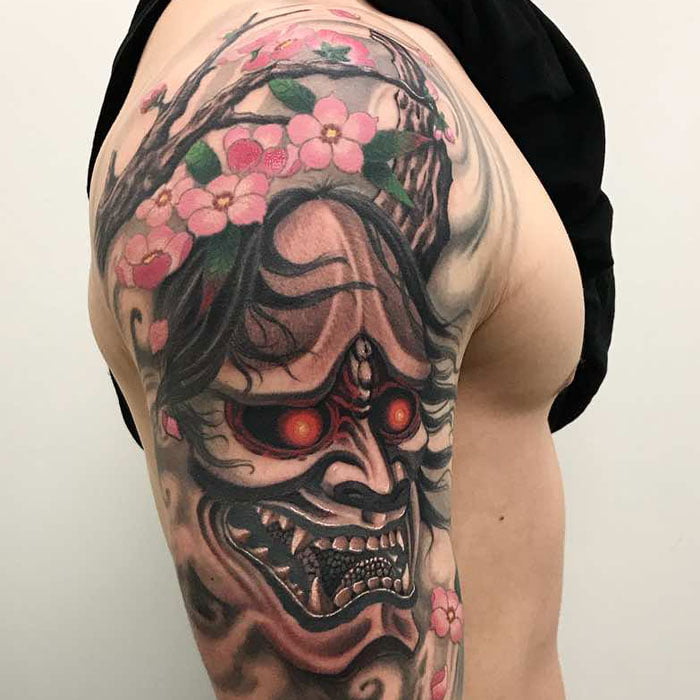 This is a somewhat unsettling design, but it's a good choice if you want to symbolize rebirth. A fearsome skull with glowing eyes is backed by dead trees, but its crown of cherry blossoms hints at a new life to come.
10. The Clear, Detailed Pagoda with Cherry Blossom Tattoos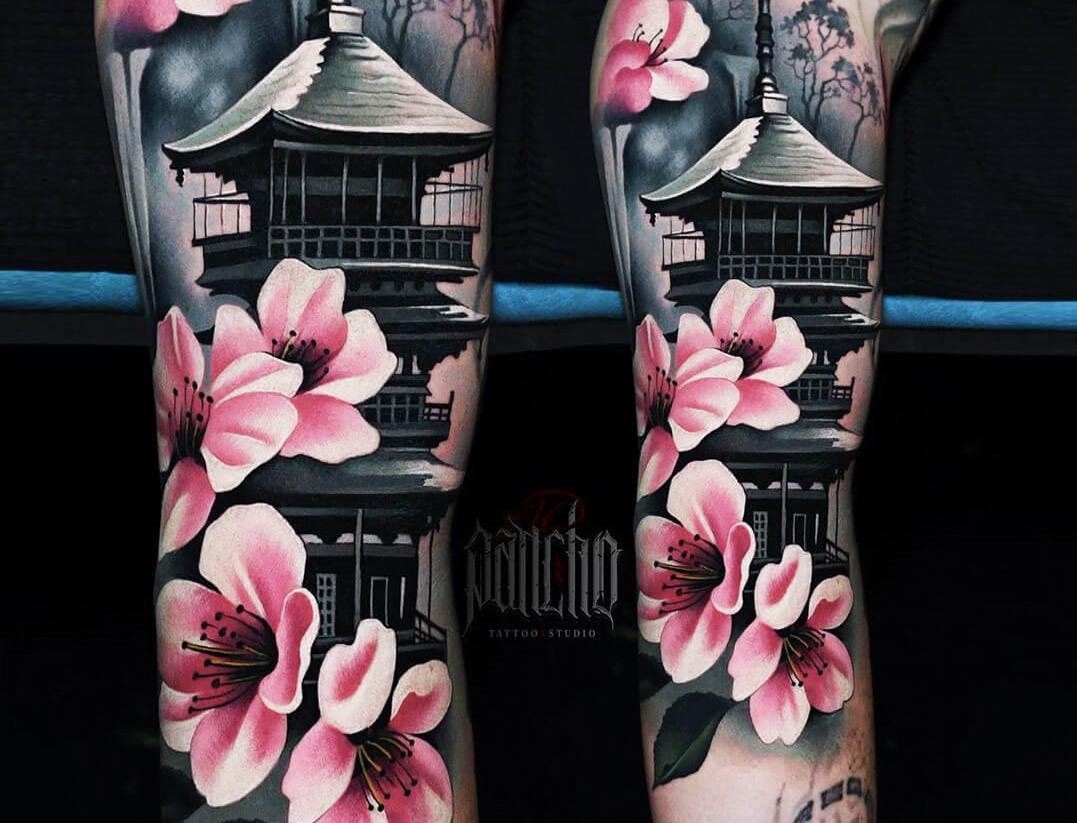 The last pagoda tattoo had softer, more blurred lines. But this one is a clearer rendition, and the cherry blossoms are more detailed. If you prefer more realistic tattoos, this is a good one to get.
11. The Rising Koi Fish with Blossoms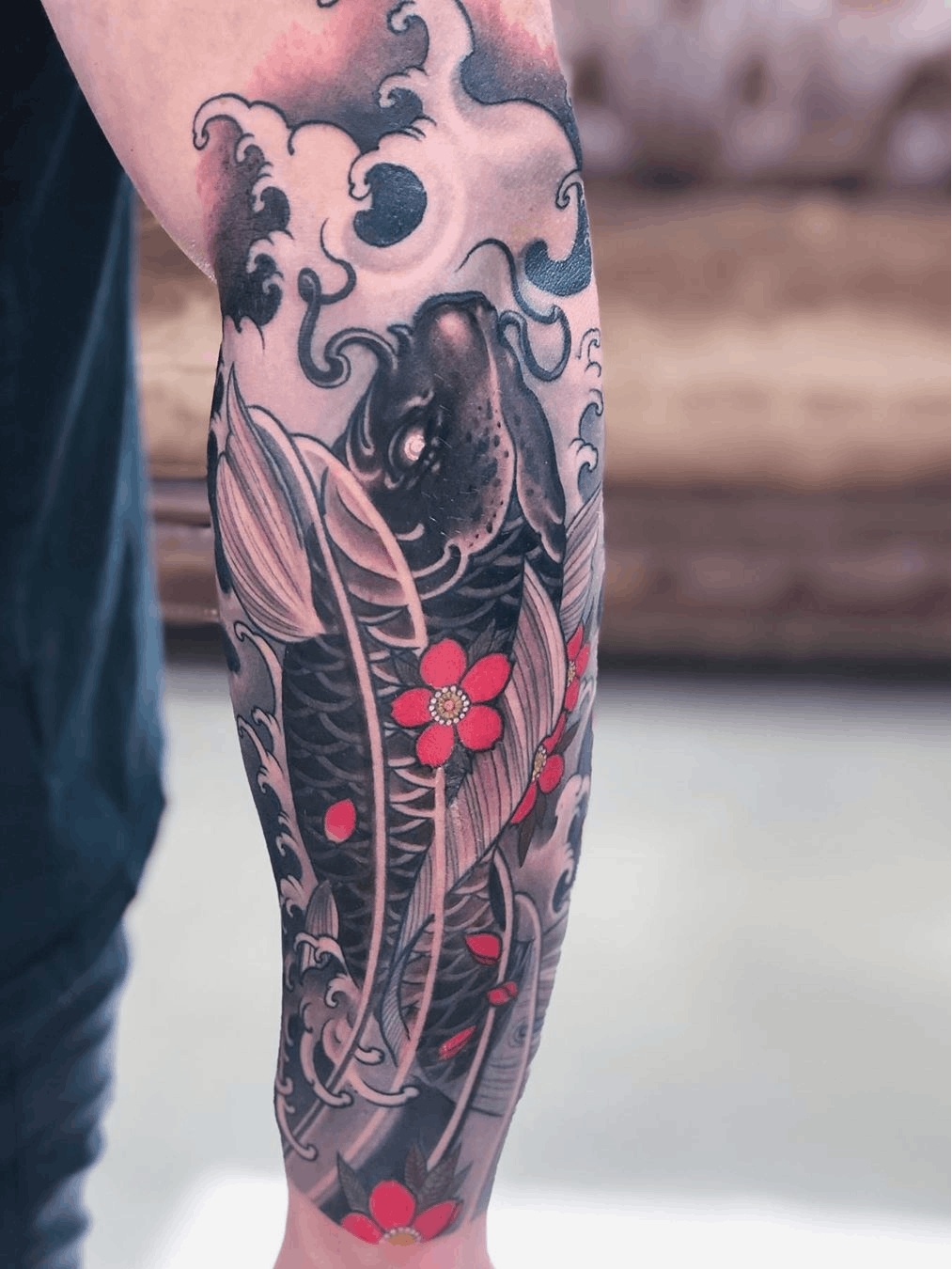 If you want a tattoo to commemorate a new beginning, this is a good one. A determined koi fish swims upward toward the sky, surrounded by cherry blossom. The traditional wave art adds a sense of motion, too.
12. The Geometric-Backed Flower Design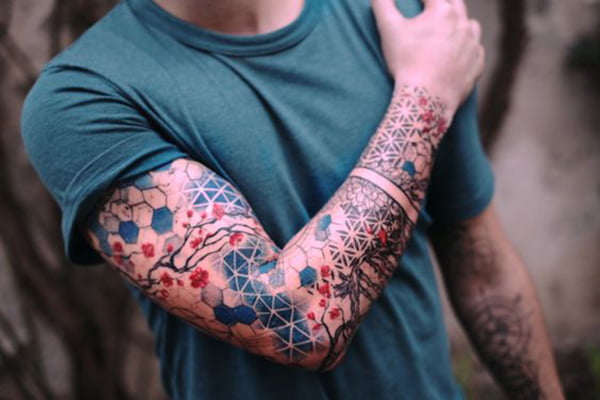 This is a great tattoo for those who like ancient symbolism with a modern touch. A collection of delicate cherry blossom designs is backed by a set of intricate, geometric designs. Black, pink and blue offer a soft yet pleasing color palette.
13. The Wave-Riding, Bold Dragon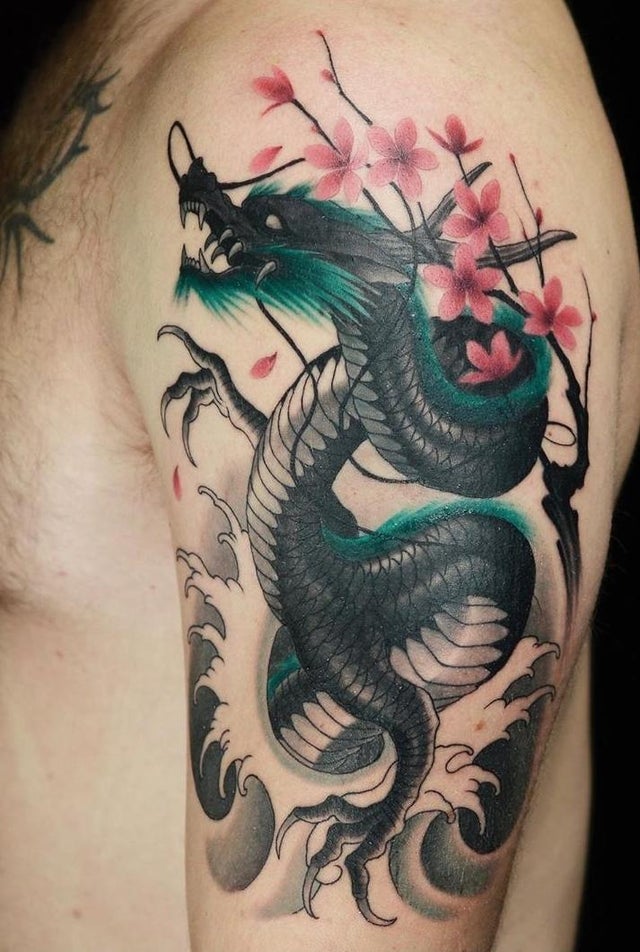 This is another tattoo that symbolizes both boldness and tranquility. An intimidating, dark dragon rises from the crown of a wave, while a cherry blossom branch softens the look and frames the scene.
14. The Sleeve of Waves and Cherry Blossom Tattoo Ideas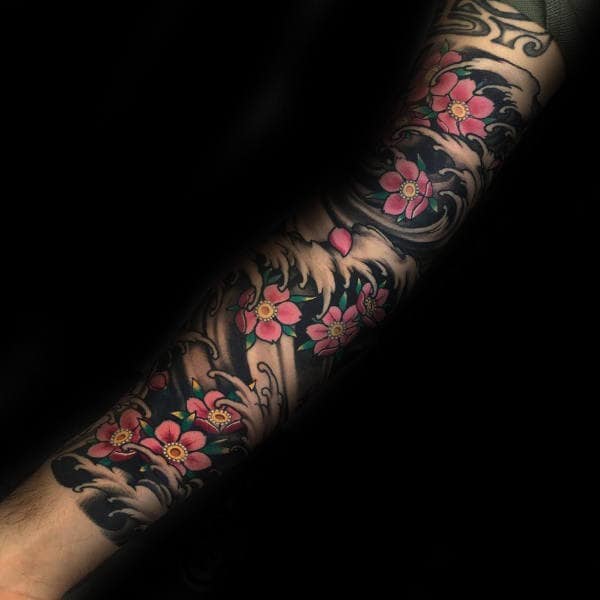 Finding any semblance of serenity in the midst of tumult is hard to do, but this cherry blossom sleeve tattoo symbolizes it beautifully. Despite the swirling and crashing waves, the pink cherry blossoms remain floating gracefully on the surface.
15. The Menacing Dragon and Koi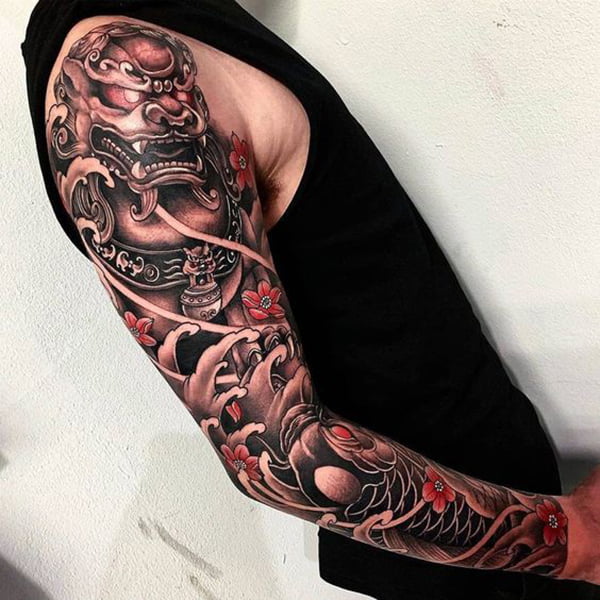 Want a tattoo that symbolizes toughness? This high-energy design is a great fit. A glaring dragon stands at the top, while similarly, glaring koi fish swims up from the deep. Swirling waves and floating pink cherry blossoms add a powerful sense of motion.
16. Watercolor Cherry Blossom Tattoo Idea: The Peaceful Floating Lantern at Night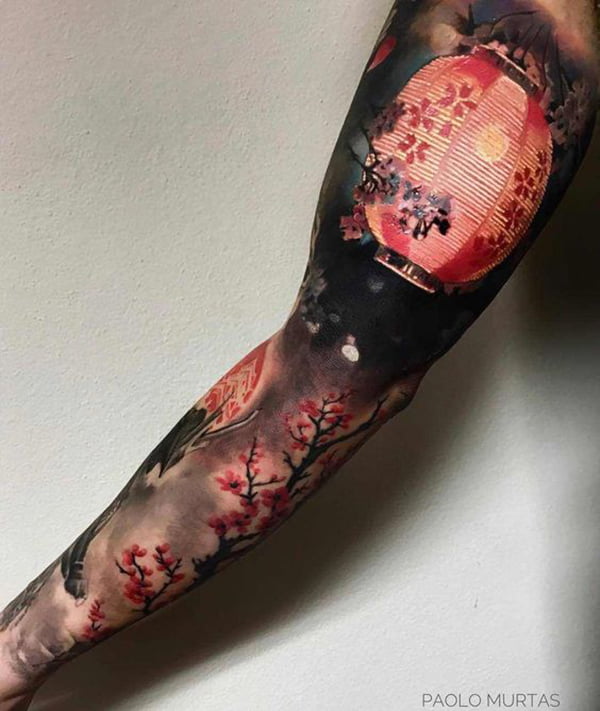 If you want a tattoo symbolizing peace and hope, this is a great answer. The soft glow of the lantern floats up past the moon and quiet cherry blossom branches, and the night sky has a watercolor-like look.
17. The Old-Style Flowers with Dragon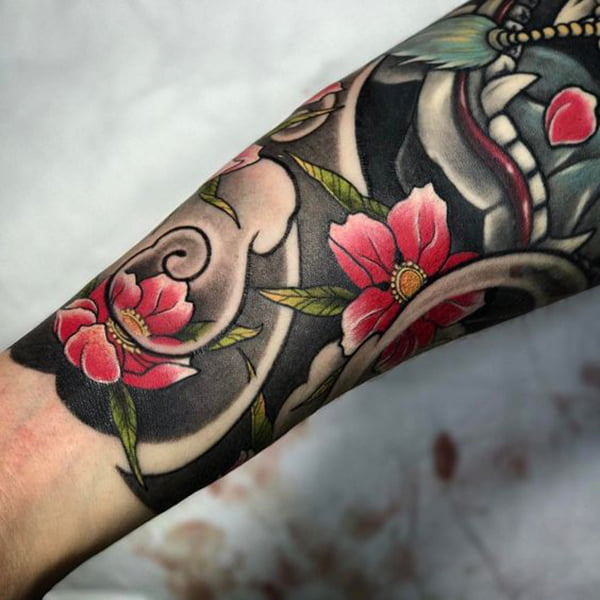 This one would look great as either a whole sleeve or half sleeve. In it, a dragon's jaw with sharp teeth is softened by the bright cherry blossoms and petals floating down in front of it.
18. The Geisha and the Samurai Half-Sleeve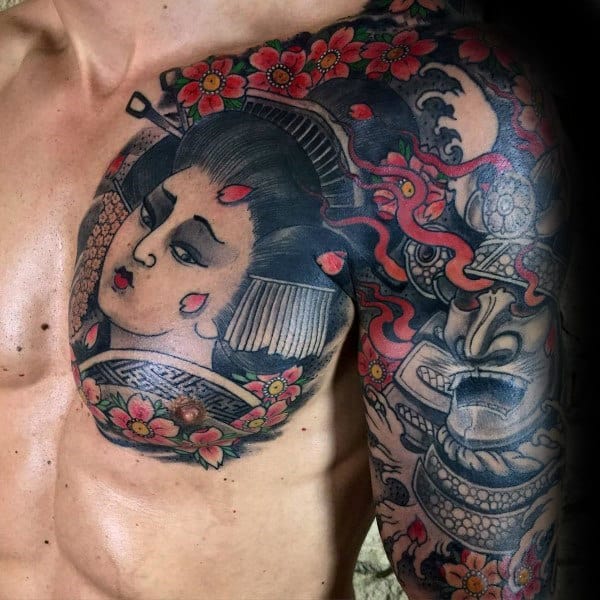 This is another great love tattoo design that combines a chest piece and a half sleeve. It could symbolize love or the balance of bravery and delicate beauty. The geisha looks back at the Samurai, and waves extend from his helmet back towards her.
19. The Angry Face Surrounded by Flowers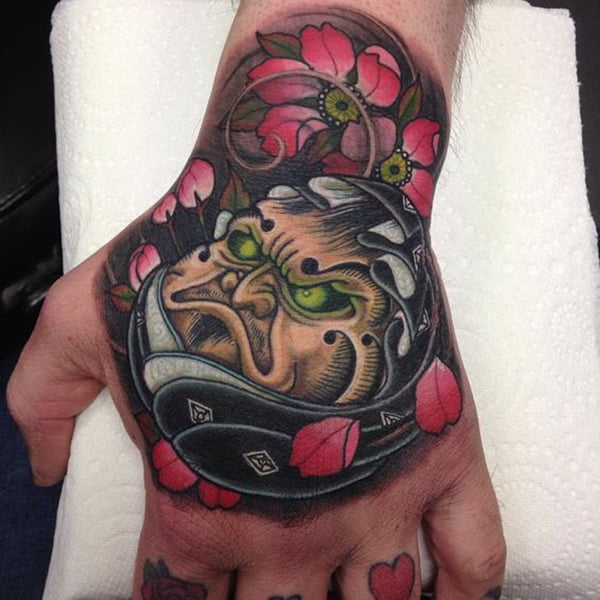 This is another great option centering a menacing face. The glowing green eyes immediately attract attention, and the swirl of cherry blossoms behind it helps draw the eye as well. Based on the helmet, it's likely that this face is that of a Samurai.
20. The Bright, Blossom-Centric Half Sleeve Cherry Blossom Tattoo Designs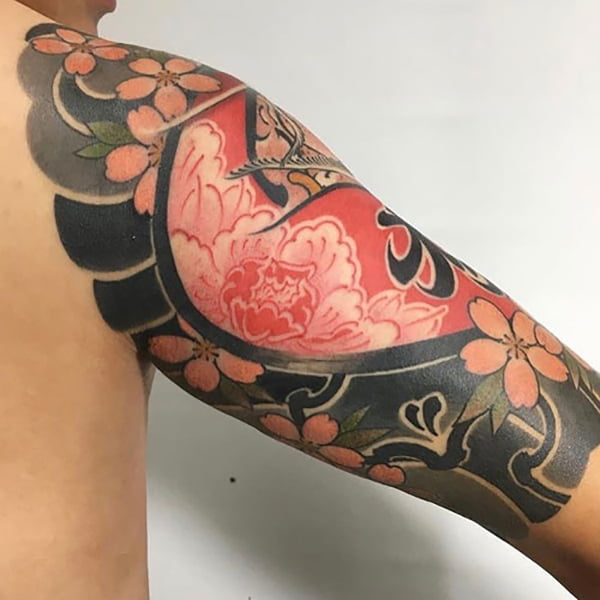 Red tattoos command attention, and this one does exactly that. The bright red center is surrounded by slightly muted cherry blossoms. The sun is depicted as red in Japanese culture, so this one might symbolize the hope that comes with a sunrise.
21. The Grieving Samurai and the Cherry Blossom Tree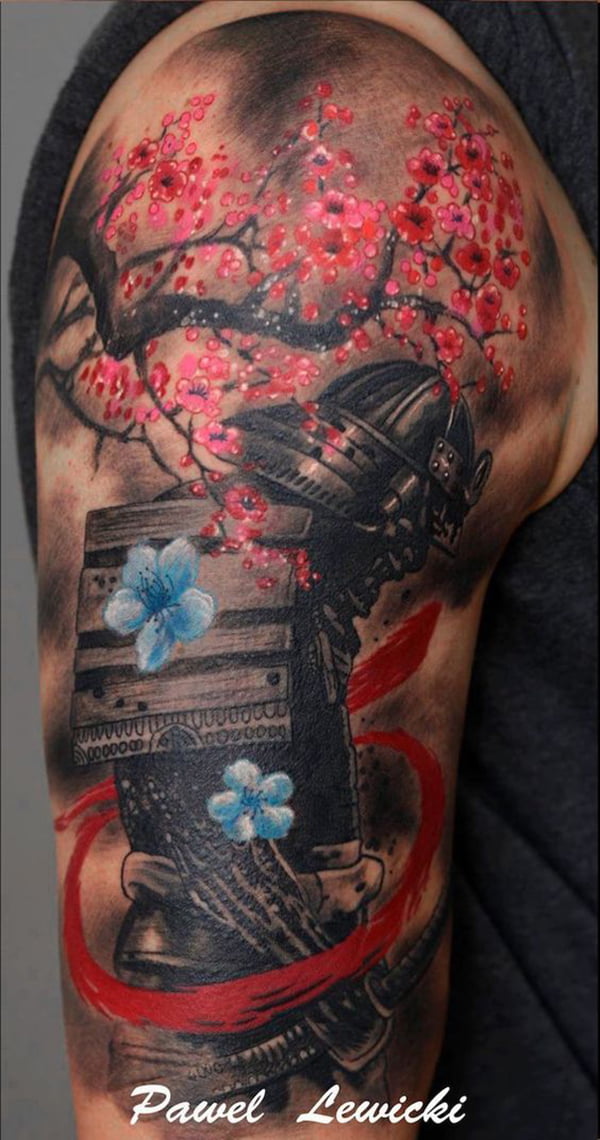 This cool tattoo represents both grief and hope. A Samurai stands with his head bowed beneath a cherry blossom tree. Floating blue blossoms might symbolize grief, but the pink blossoms above represent both the fragility of life and the promise of a new beginning.
22. The Floral, Watery Arm Band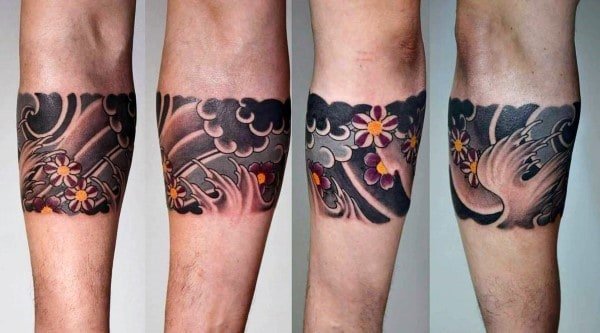 Forearm tattoos are becoming more popular, and they're great smaller alternatives to a sleeve. This one shows off a dramatic, fast-moving ocean with bright purplish blossoms. This arm tattoos design uses slightly different colors, but it's a striking choice nonetheless.
23. The Strange Face Surrounded by Cherry Blossom Flowers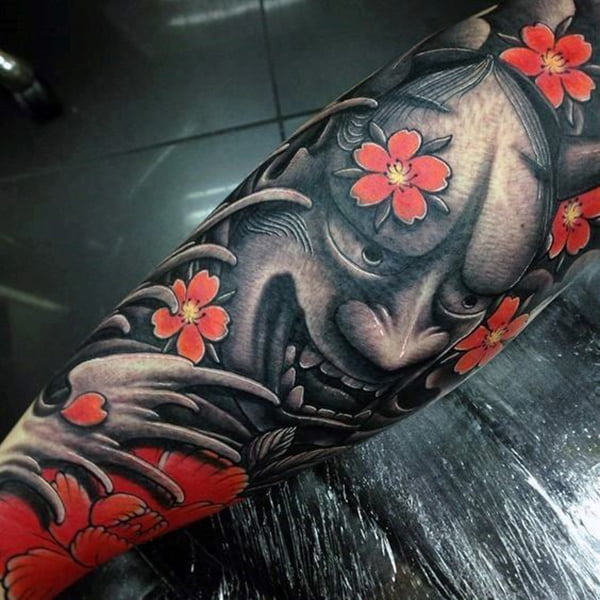 Here's another tattoo showcasing a mysterious face. Its black-and-white features give it an ominous look, but that look is balanced out by the brightness of the surrounding cherry blossoms. This one would look great as a larger piece.
24. A Bright School of Koi Fish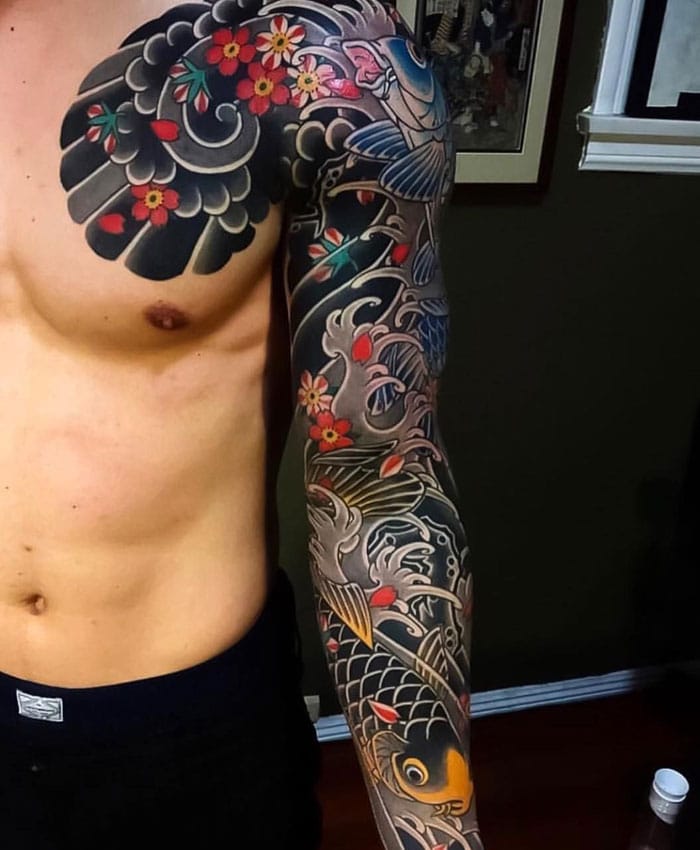 This tattoo strikes a great balance between black and bright colors. A sleeve of koi fish — some blue and some yellow — wrap around the wearer's arm. Between the waves, the fish, and of course the cherry blossoms, there's a lot of motion here.
25. The Downcast Face and Bright Blossoms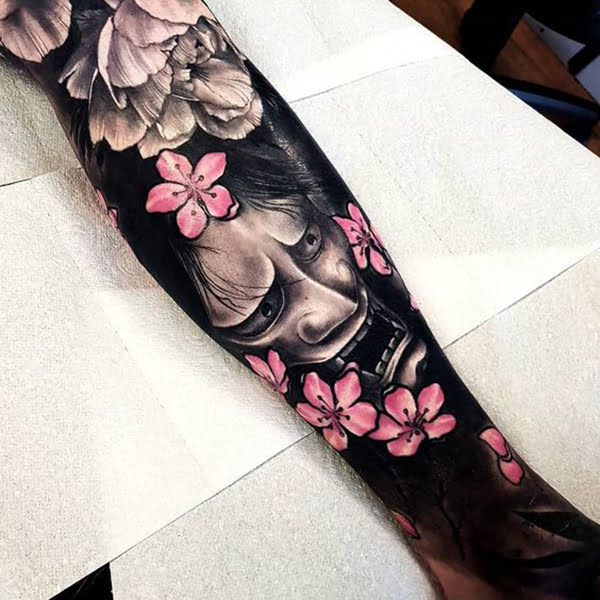 This interesting tattoo features a shaded, discouraged face looking down. Dying black-and-white flowers hang above. But the face is surrounded by new pink blossoms, too. This tattoo is a great tribute to hope in difficult times.
26. The Wave and the New York Yankees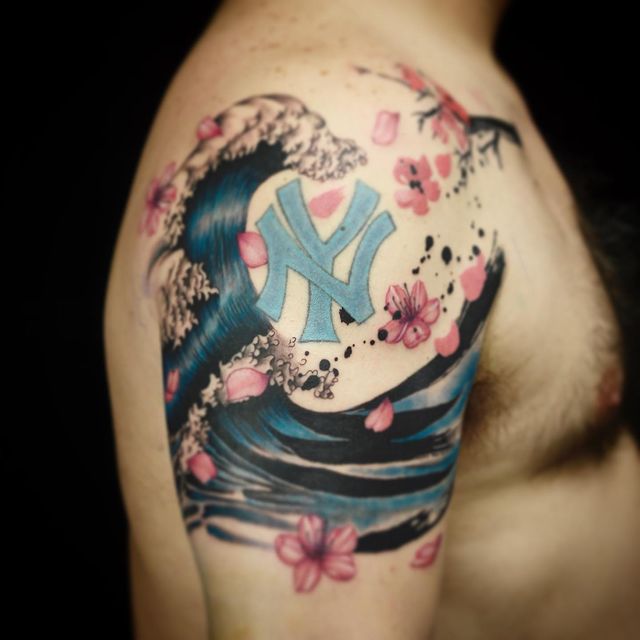 This tattoo certainly involves a strange combination. A painting-like wave rises powerfully, with bright cherry blossoms riding its crest. The wave curls around the Yankees symbol. You could always choose this one and replace the Yankees symbol with a symbol of your choice.
27. The Stunning Sunrise with Butterfly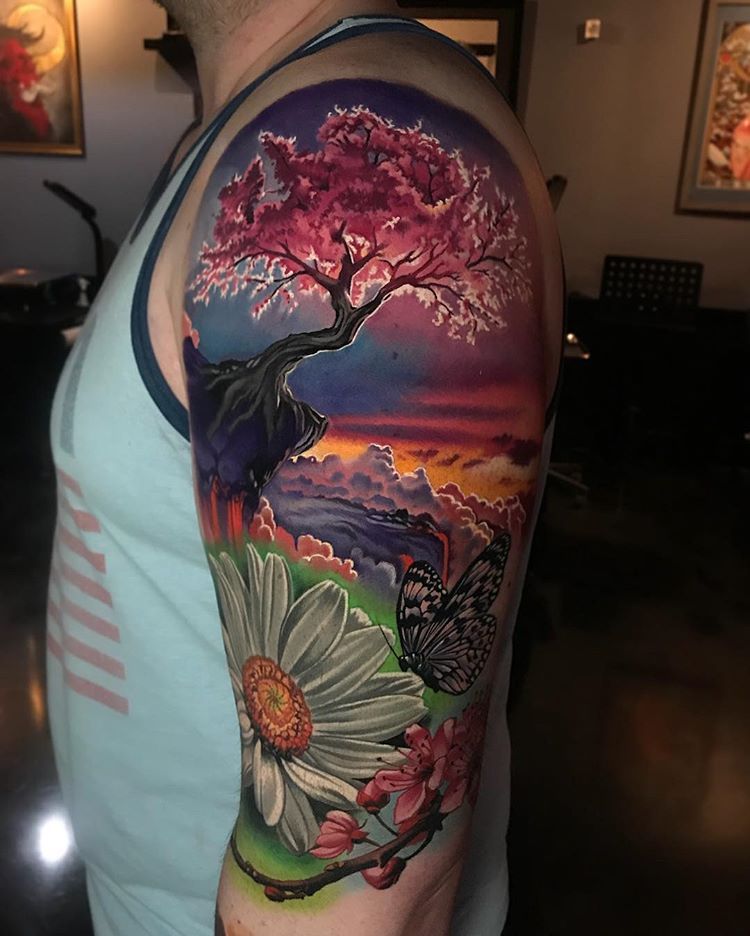 This is a head-turning, full-color piece ideal for those who like realistic tattoos. A sunrise with realistic cloud tattoos sets the tone, while a cherry blossom tree, a daisy, and a butterfly all represent the promise of new life.
28. The Wave, the Fish, and the Flowers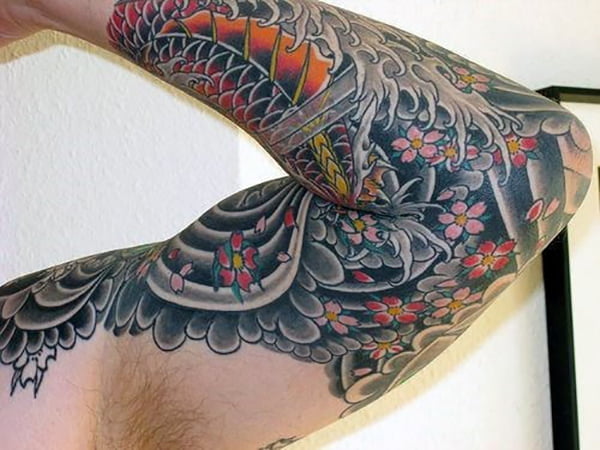 This design looks great as an elbow tattoo piece, as the motion of your arm just adds life to the piece. Like many on the list, it features ocean waves and large swimming fish. As the waves crash, the floating blossoms offer a sense of peace.
29. The Serene Geisha Atop the Waves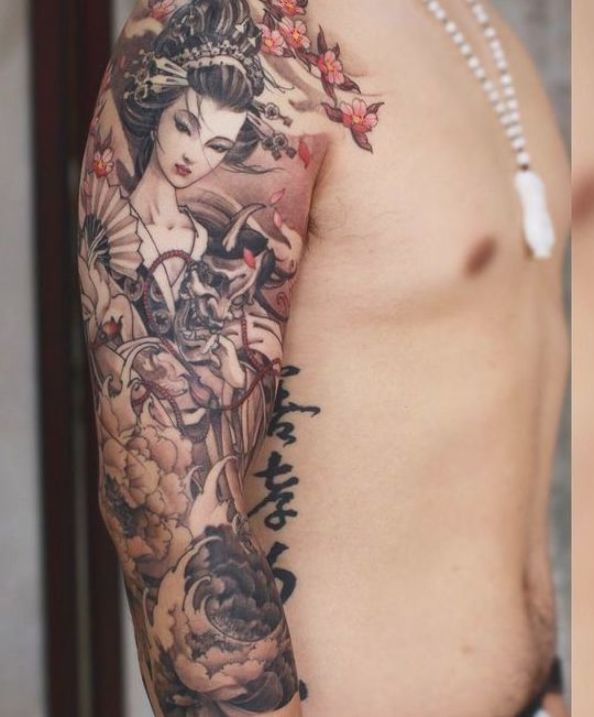 Geishas are a common choice for tattoos, and this peaceful one is a nice realistic choice. While waves crash at her feet, cherry blossoms float gently above her head. This one looks especially nice as a full sleeve. This design would also make for a fantastic foot tattoo.
30. The Determined, Menacing Samurai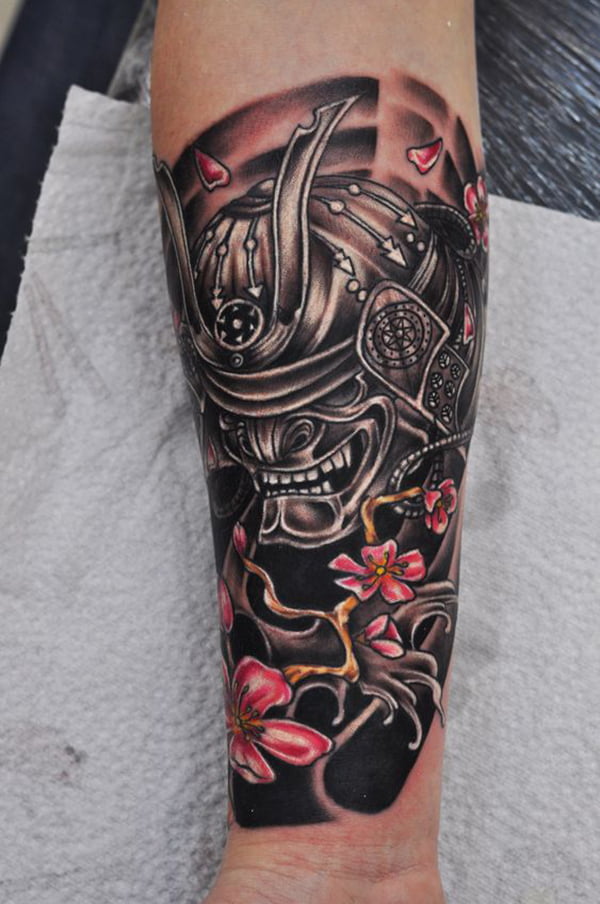 This is another great Samurai tattoo to pick. This one looks especially dramatic, as the focus is drawn to the bright cherry blossoms and their petals. It's a great testament to determination, and it looks nice as a half sleeve.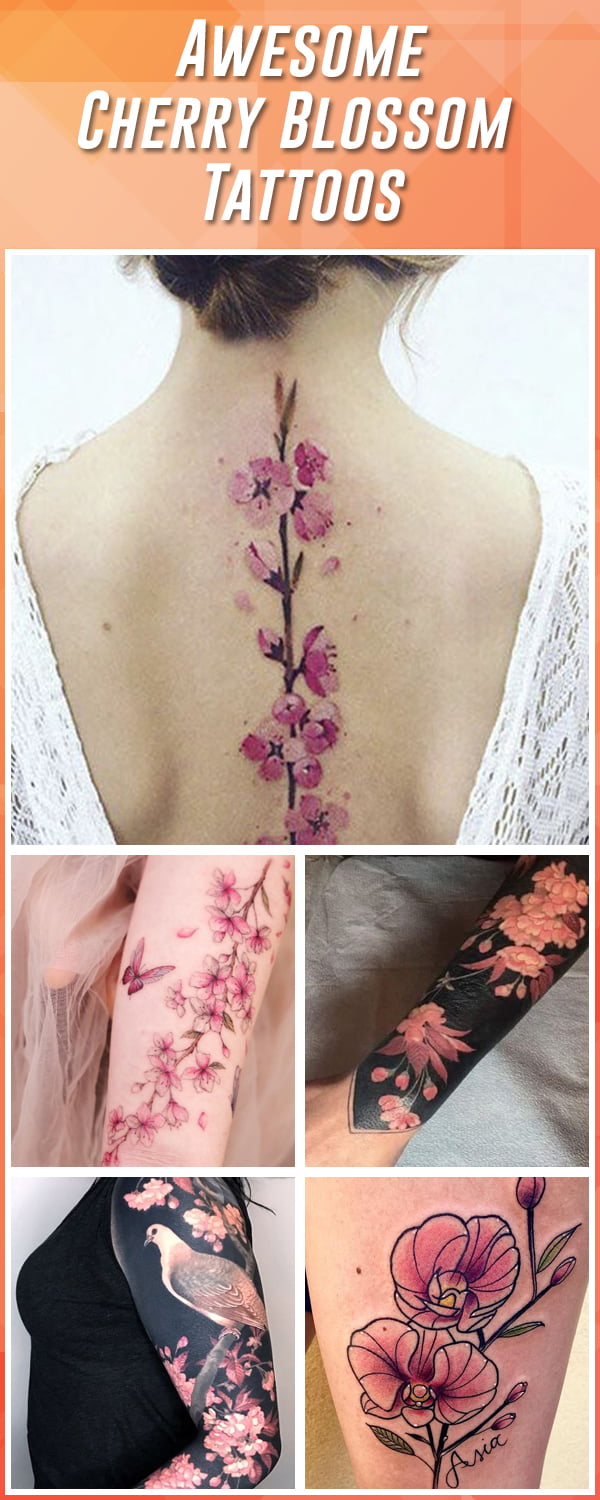 31. The Small and Delicate Flower Branch on Cherry Blossom Shoulder Tattoo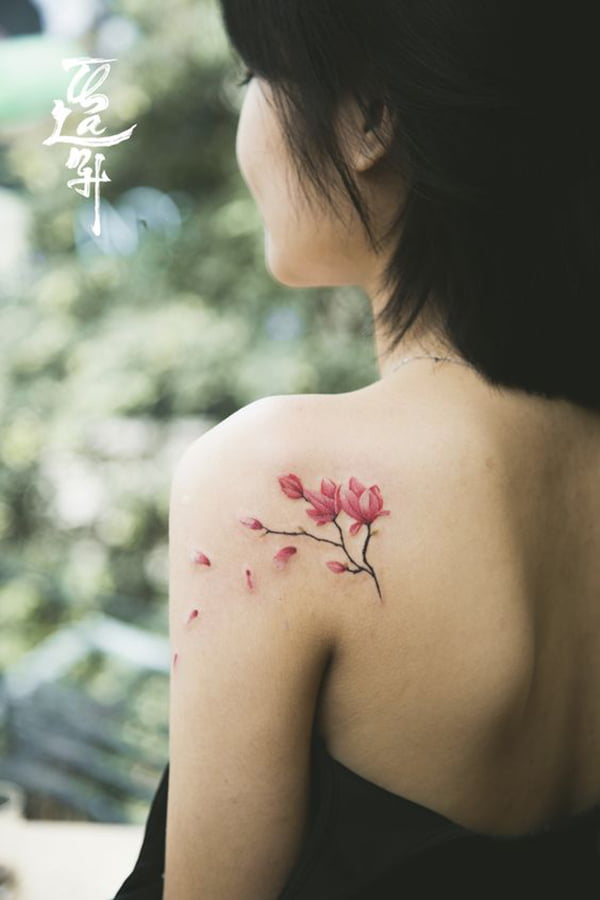 If you want a small cherry blossom tattoo, this one is ideal. Whispy, delicate blossoms sit atop a simple branch as petals flow quietly away. This one looks very nice as a cherry blossom shoulder tattoo.
32. The Flowers in a Constellation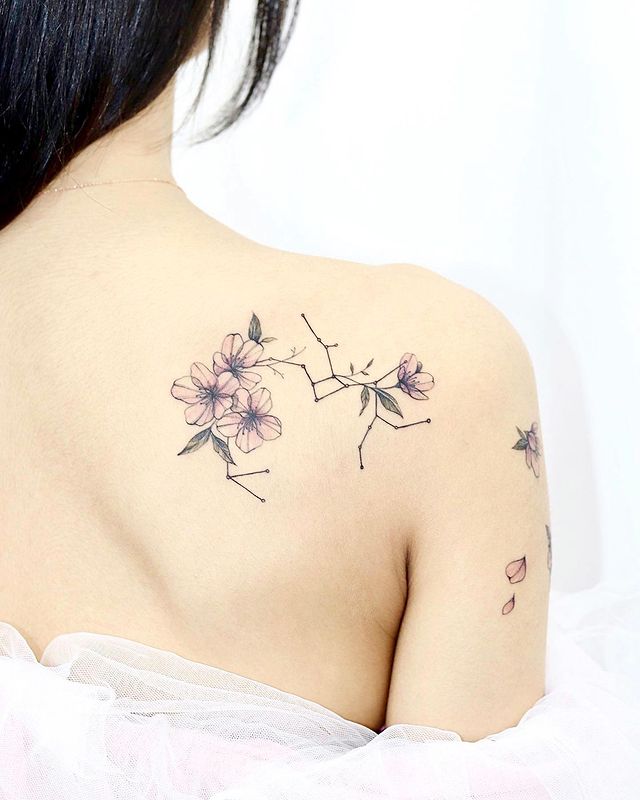 This is a new take on the classic cherry blossom tattoo. Instead of a traditional stem or branch, the flowers are atop what looks like a constellation diagram, while extra falling petals add to the design.
33. The Delicate Cherry Blossom Wrist Tattoo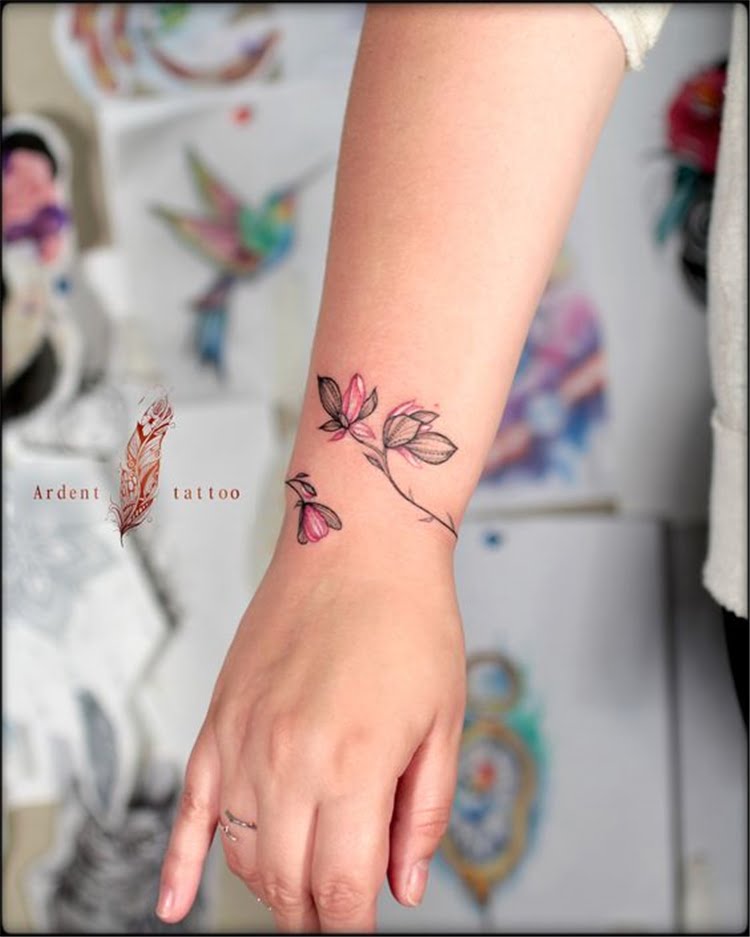 This slender tattoo looks a lot like a bracelet, and it's a nice choice if you want something subtle. The thin branch wraps around the wrist, and it's dotted by cherry blossoms just about to bloom.
34. The Flowers Against a Black Backdrop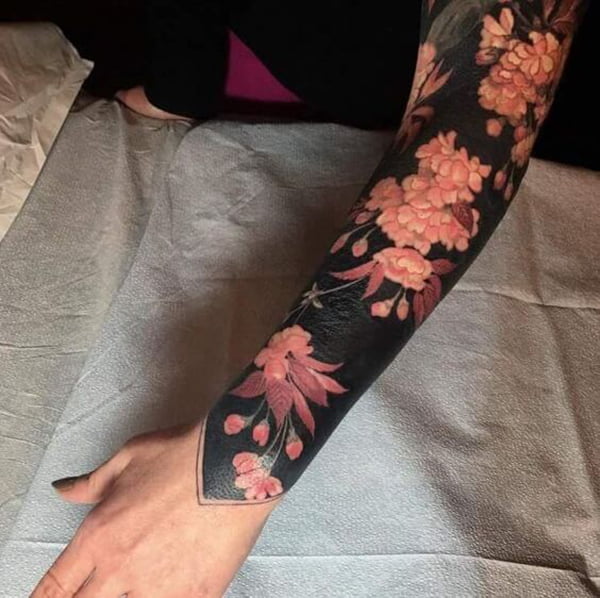 This one is a departure from what we've seen so far. It's striking because the cherry blossoms are bursts of light pink against a deep black background. If you want a good conversation starter, this is a good one to get.
35. The Pale Pink Cherry Blossom Branch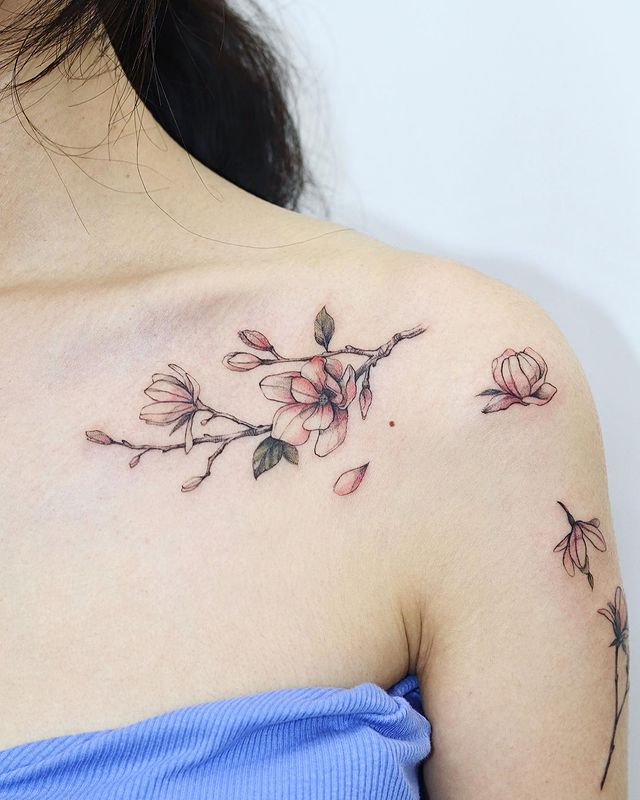 This cherry blossom tattoo shows all the stages of a cherry blossom's brief life. You get small, developing buds, flowers beginning to bloom, full-fledged blossoms, and falling petals. If you want a tattoo that reminds you of the transience of life, this is a great option.
36. The Blossom Branch with Butterfly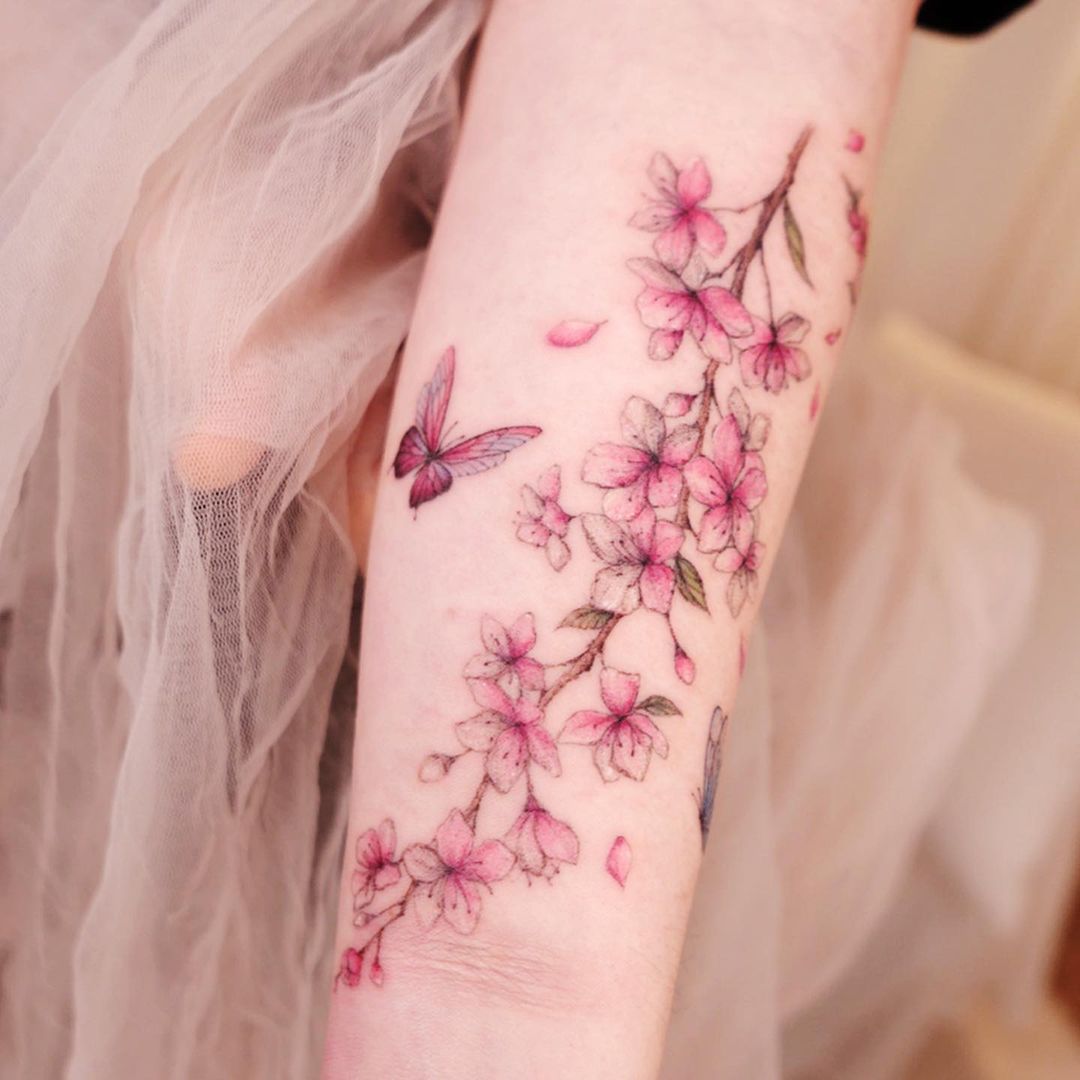 The elongated shape of this tattoo makes ita great arm piece, but it would also look nice down your back. The gently curved branch is adorned with plenty of flowers, and a graceful butterfly is swooping down towards them.
37. Small Spots of Color Focus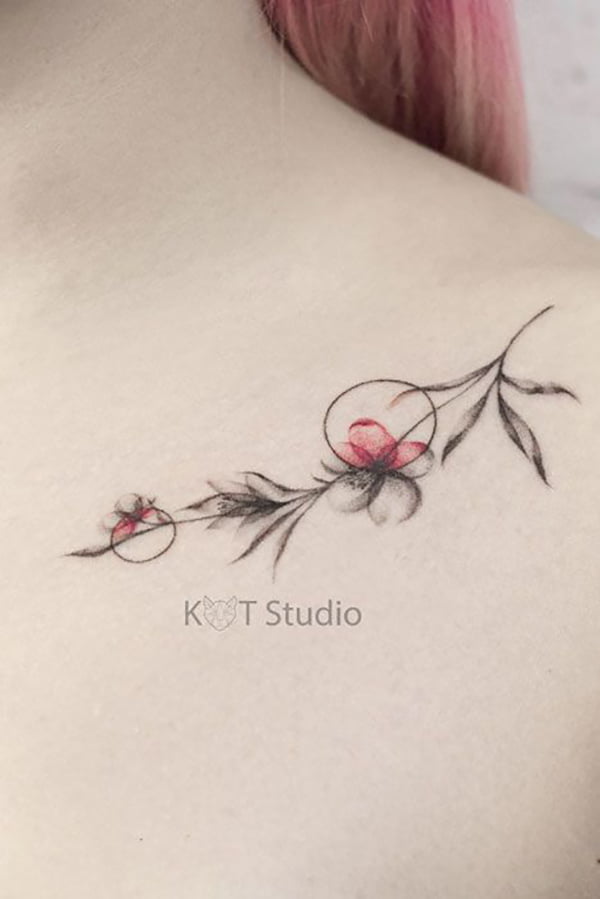 This is one of the more unusual tattoos on the list. Most of the cherry blossom branch is in black and white, but where two rings encircle it, you can see the flowers in their full color.
38. The Skull Across the Shoulder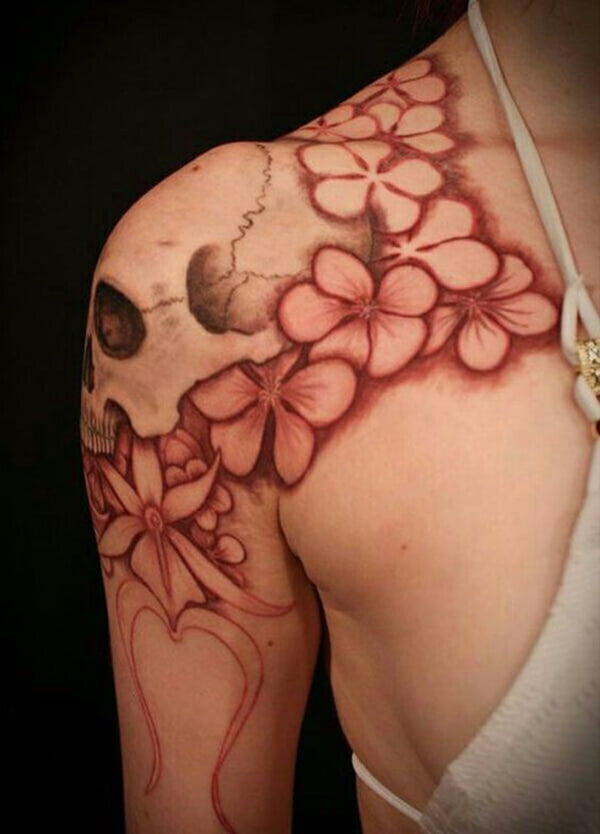 Cherry blossoms are often used as a reminder that life is fleeting, and this tattoo really drives that point home. It's an especially stunning design because the skull is positioned so the curve of your shoulder looks like the curved top of a skull.
39. The Dove on the Blossom Branch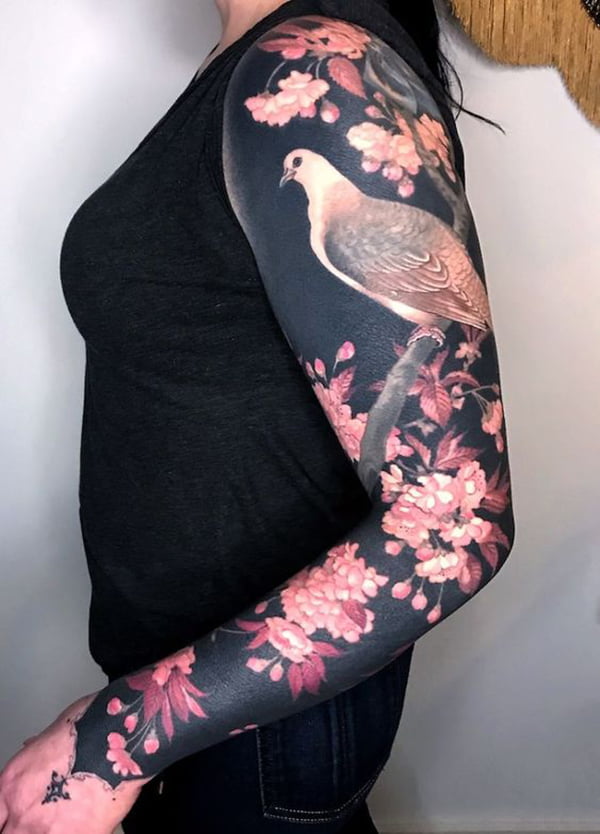 If you want a cherry blossom tattoo symbolizing peace, this is a great one to get. The dove and the cherry blossoms are both symbols of tranquility, and the black background of the tattoo makes them especially noticeable.
40.The Koi Fish Swimming Through Flowers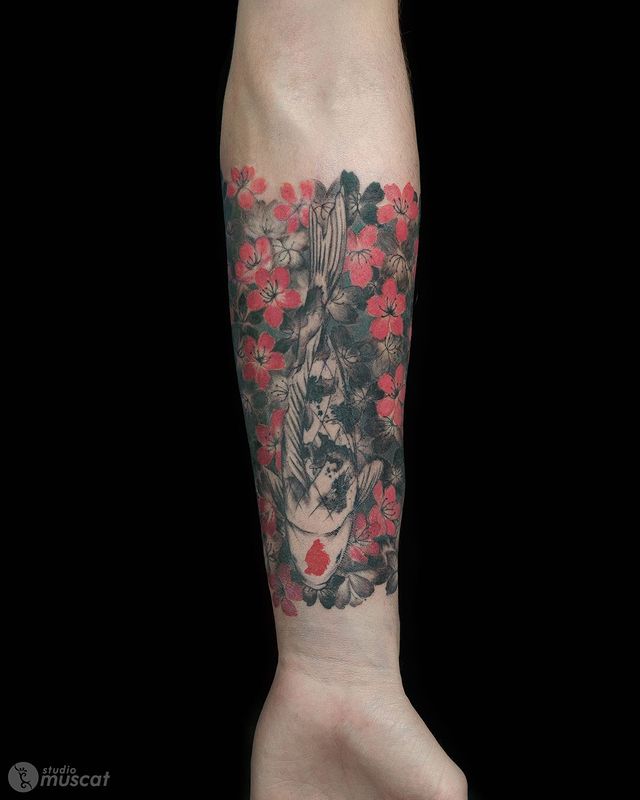 Most of the koi tattoos we've mentioned involve water, but this beautiful piece shows a fish swimming through a sea of cherry blossoms. It's not quite realistic, but that makes it all the more striking.
41. The Blossom Branch in the Hexagon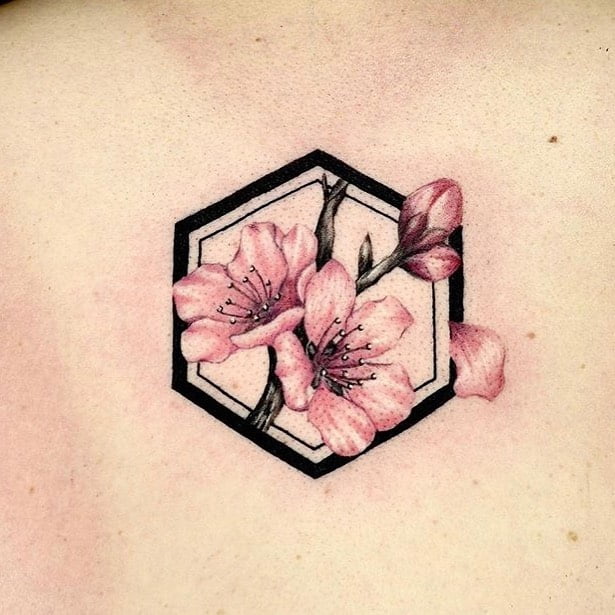 Frames around tattoos often give them a dramatic touch, and this two-lined hexagon certainly draws the eye to the small cherry blossom branch at its center. This is a piece that would look especially good as a small tattoo.
42. Another Branch of Blossoms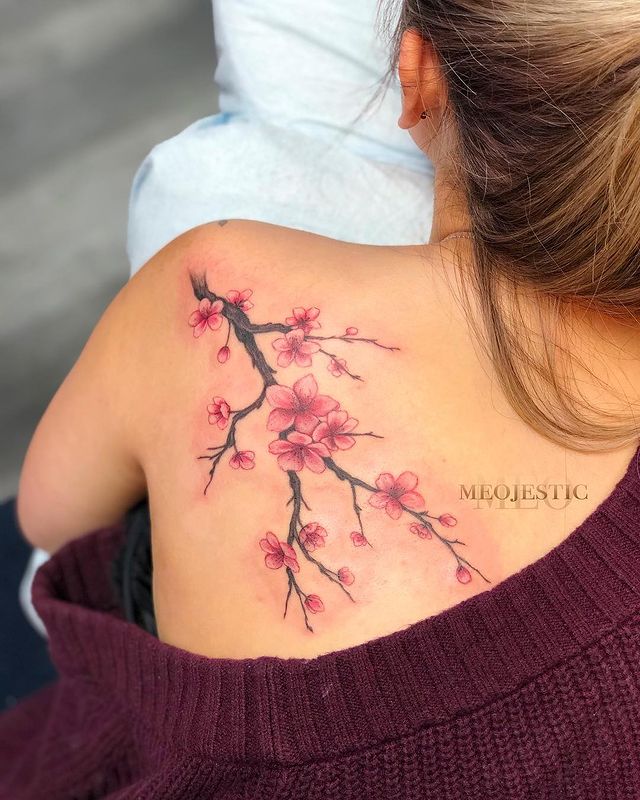 This is a striking cherry blossom branch, and slanting it as it is in this picture makes it all the more beautiful. Since there are no leaves incorporated into it, the flowers are the main focus.
43. The Orca and the Cherry Blossoms Bloom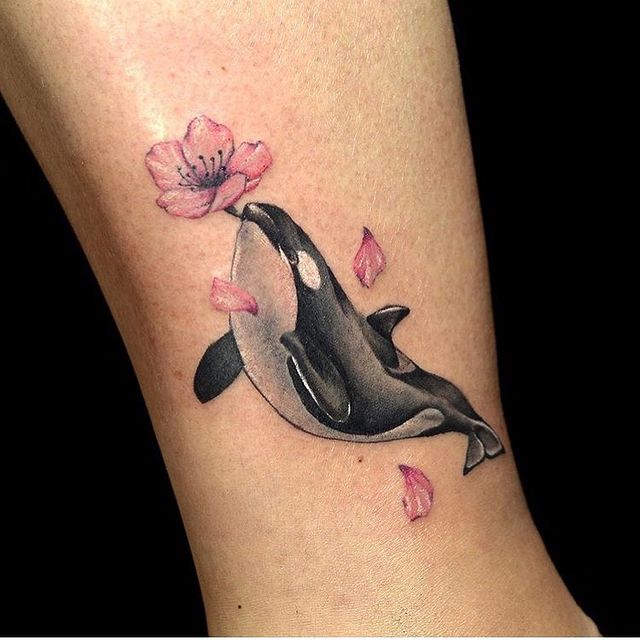 This is a great outside-the-box design for anyone who loves orcas or marine life in general. Surrounded by falling petals, an orca is seen swimming toward a cherry blossom in full bloom. If there's another animal you especially like, you could also include it in this design.
44. The Realistic Geisha with Pagodas Watercolor Cherry Blossom Tattoo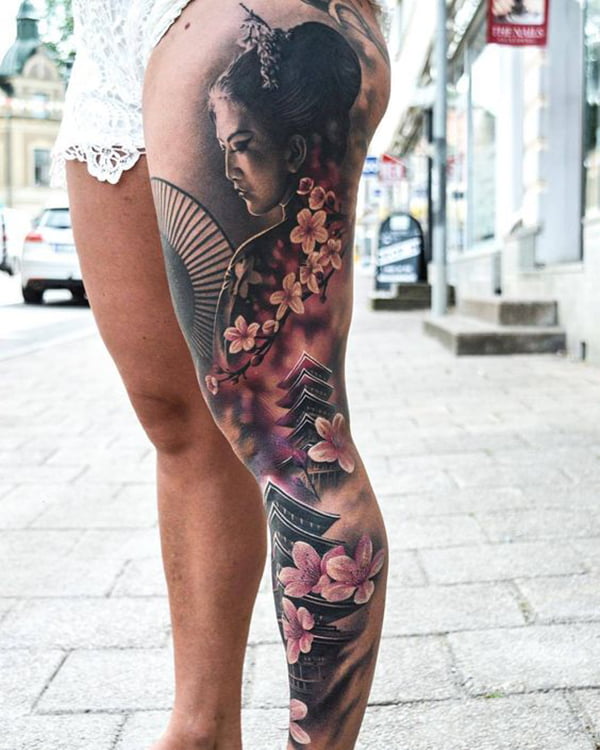 If you want a dramatic, shadowy tattoo that's also realistic, this is a great one to get. A fan-holding geisha is above a lovely branch of blossoms, and two pagodas stand against a watercolor-like background.
45. The Behind-the-Ear Blossom Branch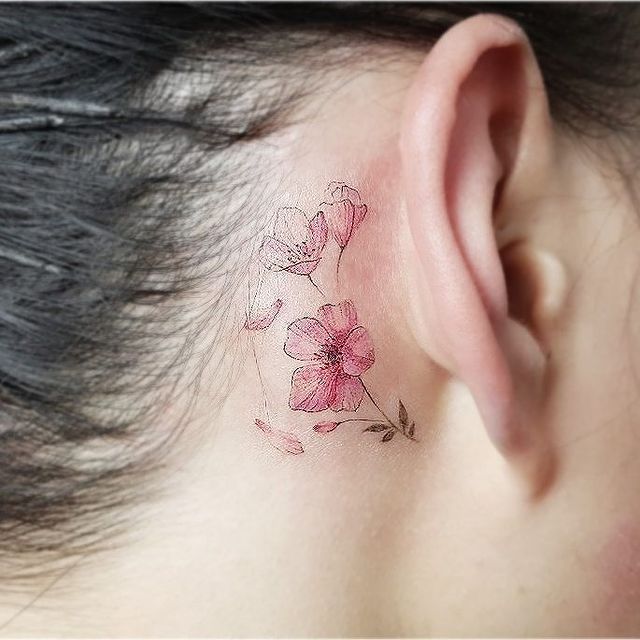 If you want a cherry blossom tattoo that doesn't draw attention to itself, a behind-the-ear tattoo is a great option. This one has some very fine line work that suits the design well. Two falling petals complete the look.
46. The Stylized Blossom Branch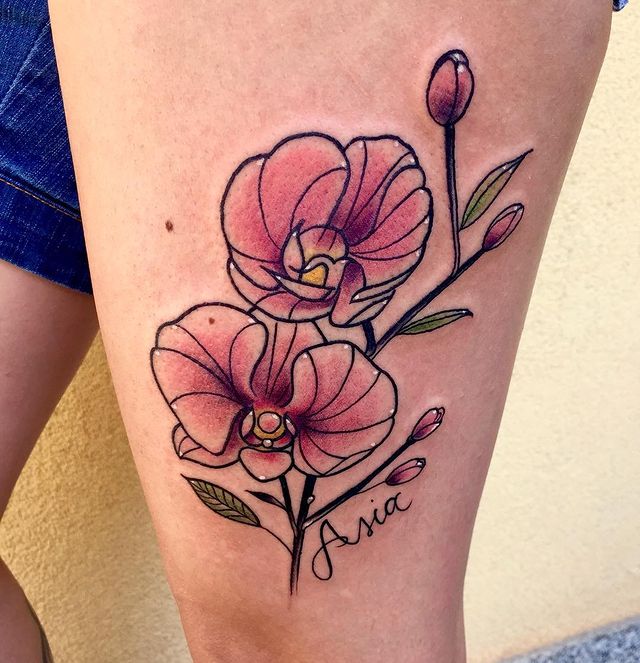 Not everybody wants very realistic tattoos — some prefer art done in an artist's signature style. If that's you, you might like this branch of cartoon-like flowers. The small white dots on each leaf and petal make them especially noticeable.
47. The Small Pastel Cherry Blossom Tattoo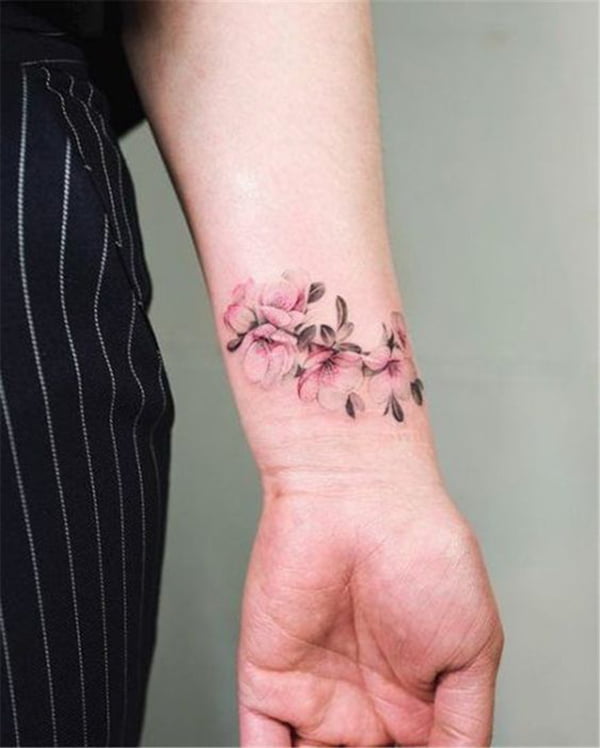 While this one looks great on the wrist, it can be scaled to just about any size. The soft lines and muted colors give it a look that's especially delicate, much like cherry blossoms themselves.
48. The Cherry Blossom Tattoo Branch Wrap-Around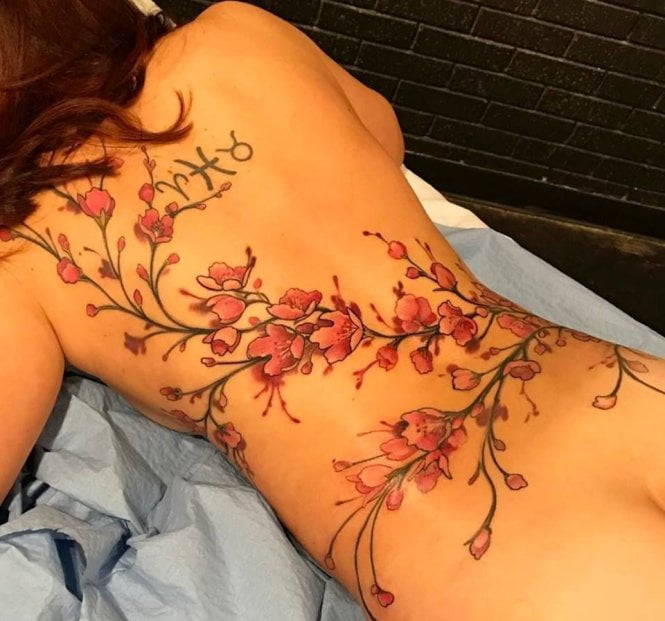 If you're willing to get a very large tattoo, there are some striking designs out there. This is a great example — a branch full of cherry blossoms wraps around your torso. The array of buds and full blooms makes it a very realistic depiction.
49. The Straight and Slender Cherry Blossom Tree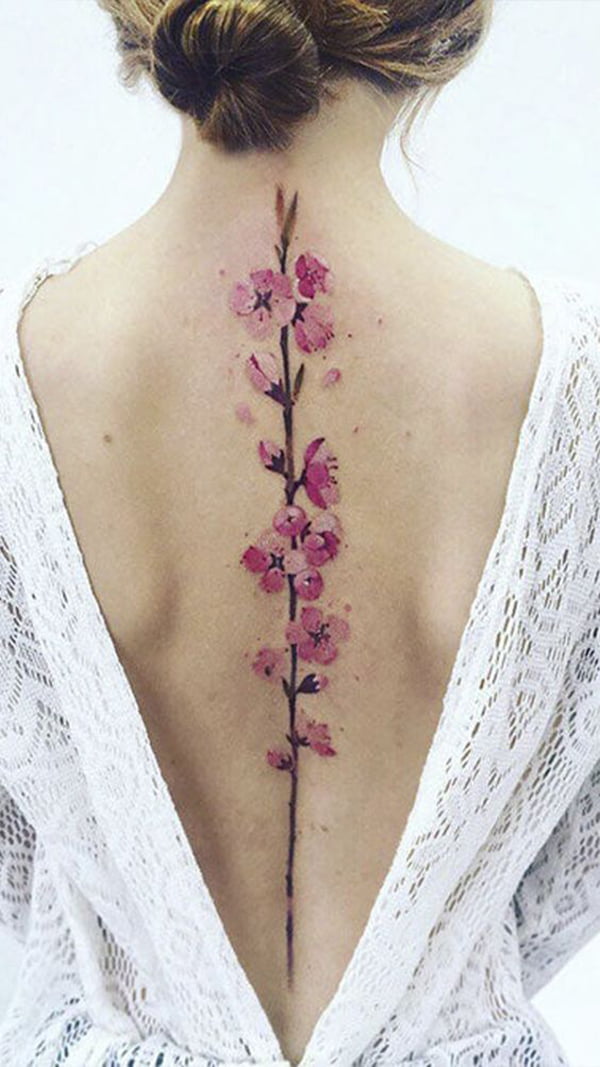 Many cherry blossom tattoos have a somewhat natural curve to their branches, but this one is a straight stem. It's an aesthetically pleasing choice, and it looks great along your back as shown in this picture.
50. That Bat Hanging From the Cherry Blossom Tree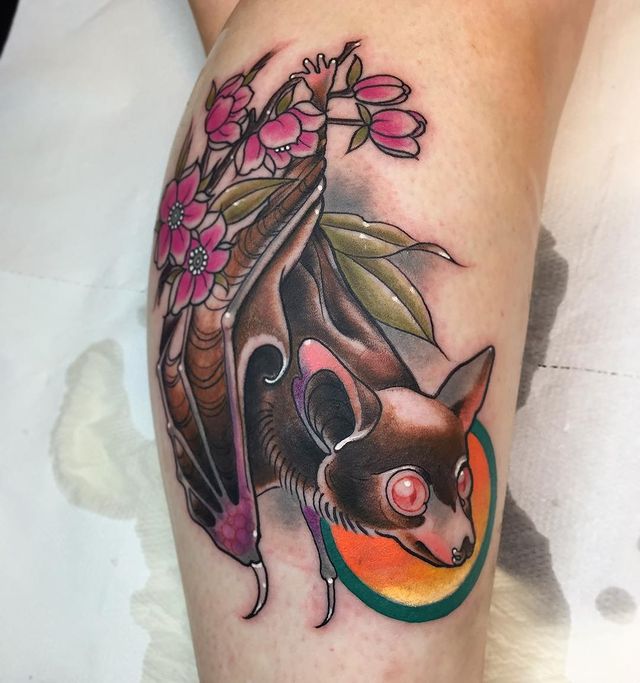 This interesting design features a bright-eyed bat hanging upside down from a cherry blossom breach. His head is ringed in a sun-like circle that goes well alongside the pink flowers. If you like bats or just want a tattoo representing awakening, this is a good one to get. Sun and moon tattoos would also work great with this design.
51. The Blossoms Draped Over the Moon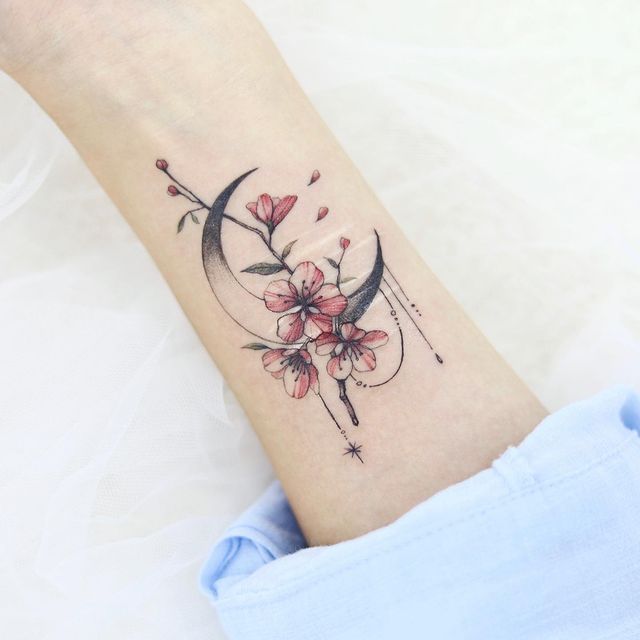 This unique image might remind you of a peaceful night. A branch of cherry blossoms rests on a crescent moon, and the moon is draped in a thin string that ends in a little star tattoo.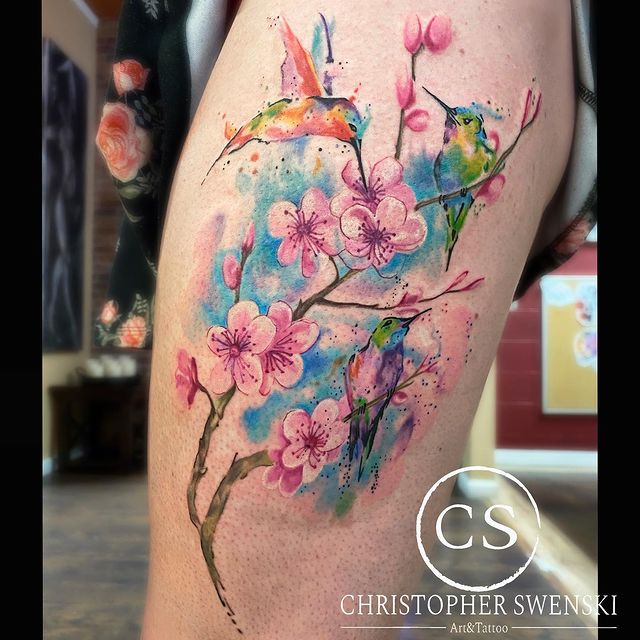 This cheerful cherry blossom tattoo looks a lot like a watercolor painting, and it features three bright hummingbirds resting on and hovering around a cherry blossom. The blue sky behind them makes this a particularly eye-catching bird tattoo.
53. The Tiny Cherry Blossom Flower Tattoo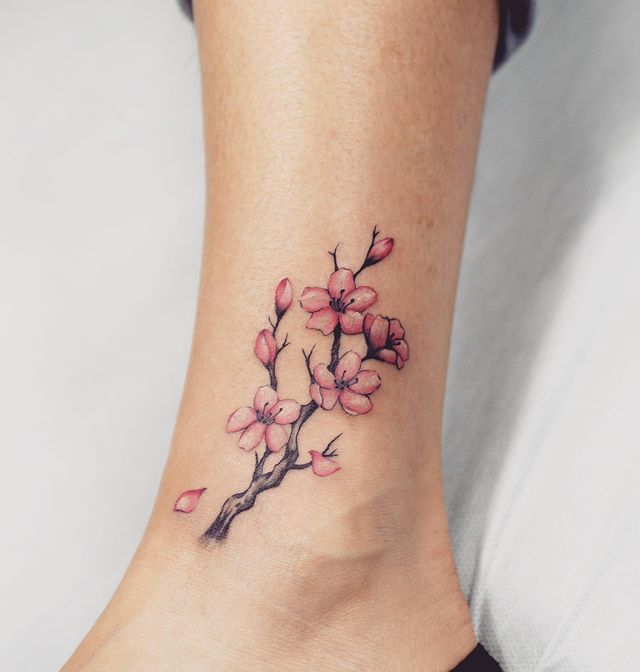 So far, we've seen cherry blossom tattoos running the gamut from very large to very small and subtle. This one is a great choice if you prefer the small and subtle look. The little branch, complete with both blossoms and petals, looks great on an ankle or shoulder. If you are looking for ankle tattoos, this is the design for you.
54. The Geometric Crescent Moon with Flowers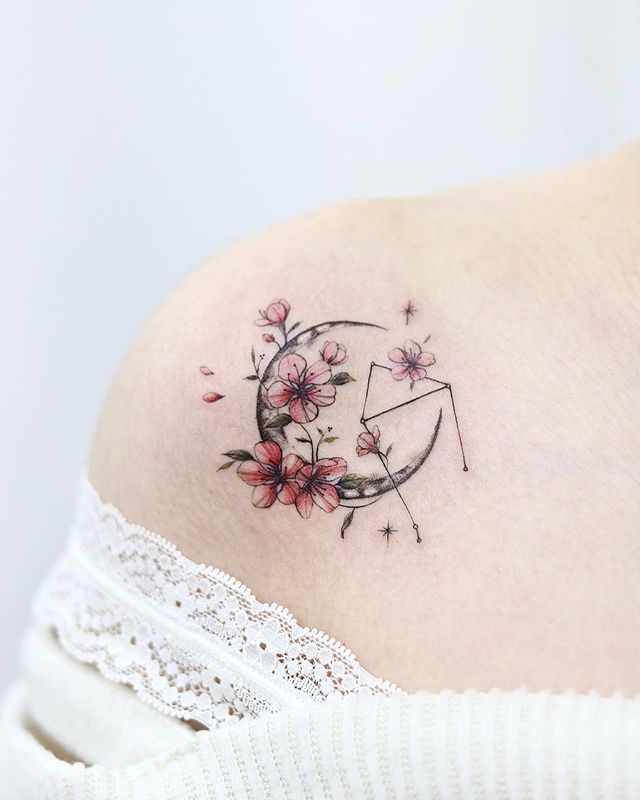 This is similar to the other crescent moon tattoo on the list, but a small, constellation-like triangle floats in the middle of it. Cherry blossoms and petals move along with the curve of themoon, making this a well-balanced tattoo.
55. The Little Bird and the Cherry Blossom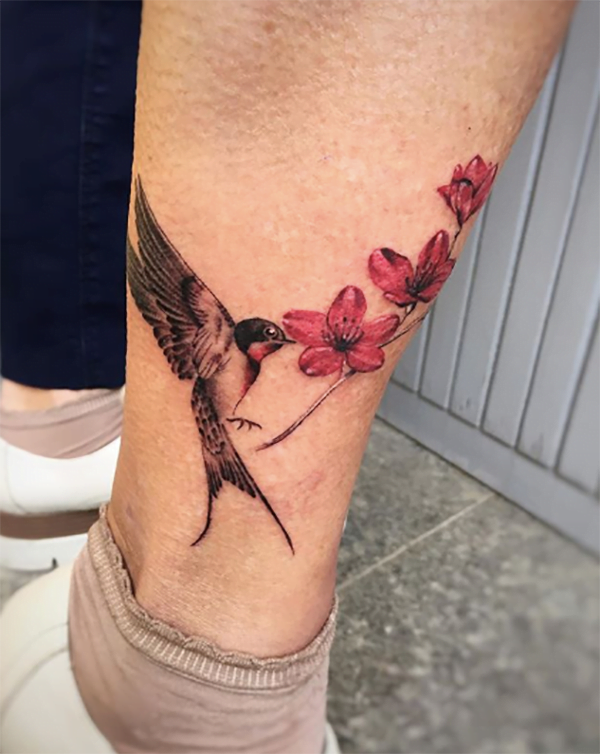 Birds are pretty popular as tattoo subjects, and this realistic one is a great conversation starter. As he's in flights, he swoops down toward a branch with three cherry blossoms. The pink in the flowers matches the bird's throat and the pink pops against the black of the rest of the tattoo.
56. The Artful Floral Arm Band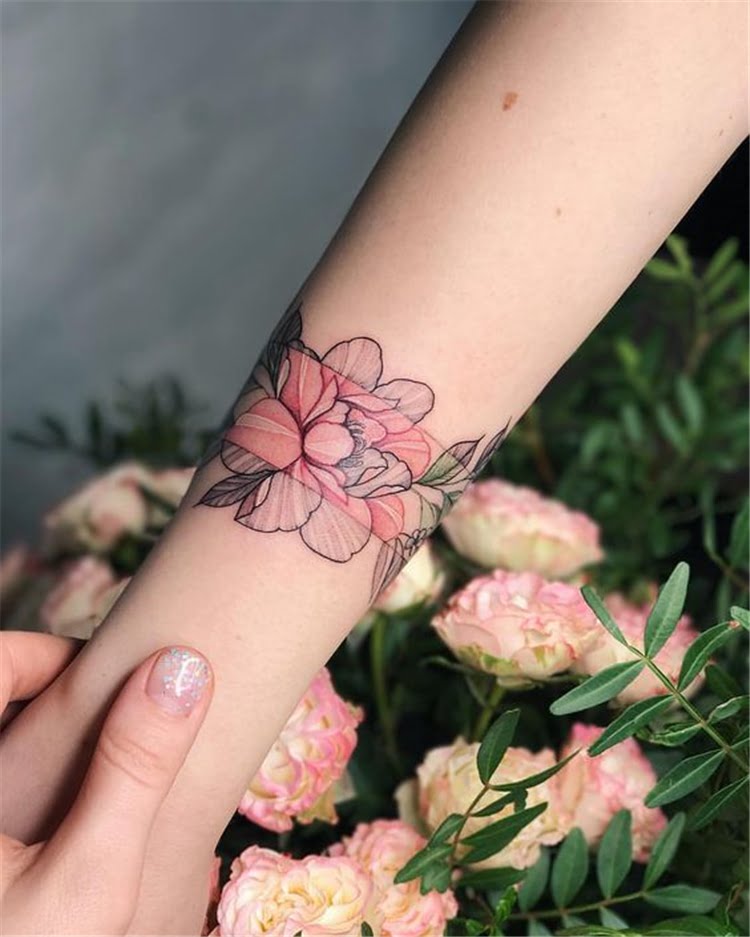 The clean lines of this band-style tattoo give it a great modern aesthetic. Cherry blossoms depicted in washed-out colors, but a band through the middle of the cherry blossom tattoo makes the colors brighter. If you want a tattoo that makes you think of focus or clarity, this is a great one to get.
57. The Free and Unmasked Fox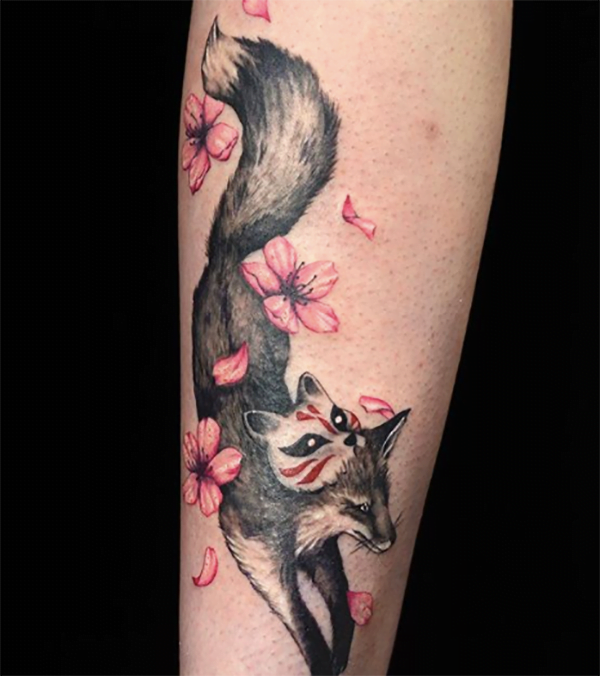 As we mentioned before, cherry blossoms are often used to signify the transience of life. The falling petals surround a fox who has just removed a mask. It's an unusual image, but it's one that celebrates being true to yourself.
58. The Delicate Collarbone Cherry Blossoms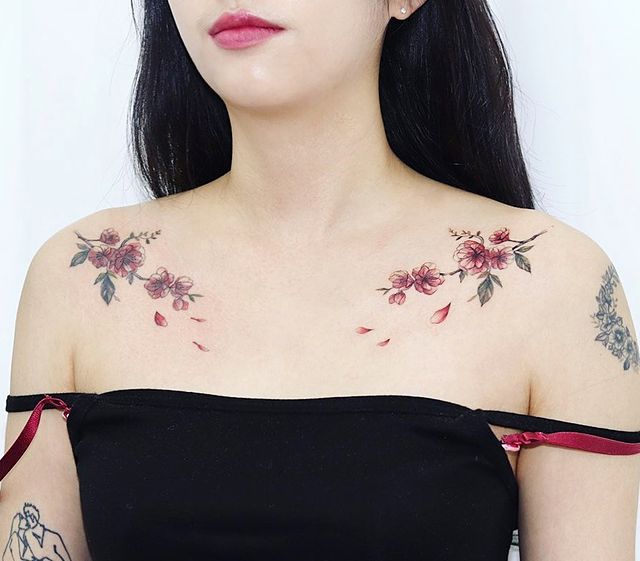 We've seen some cherry blossom tattoos used as chest pieces, but these flowers look great following the line of your collarbone, too. Each side starts with a leafy stem and ends with a small petal, creating a tapered and refined design.
59. The Proud Fox in the Flowers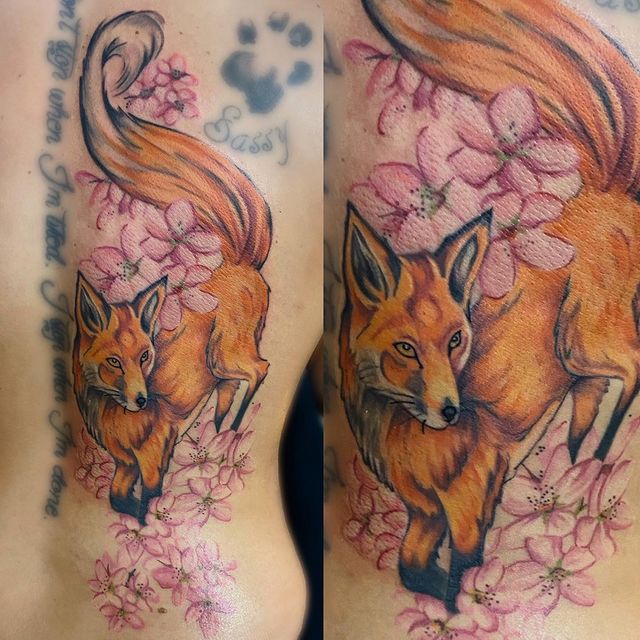 Foxes make lovely cherry blossom tattoo subjects, and this noble one stands with his tail held high. Soft, pastel-like cherry blossoms create a soothing background. As seen with this example, this is a great tattoo to accompany with text.
60. The Upward-Reaching Branch of Blossoms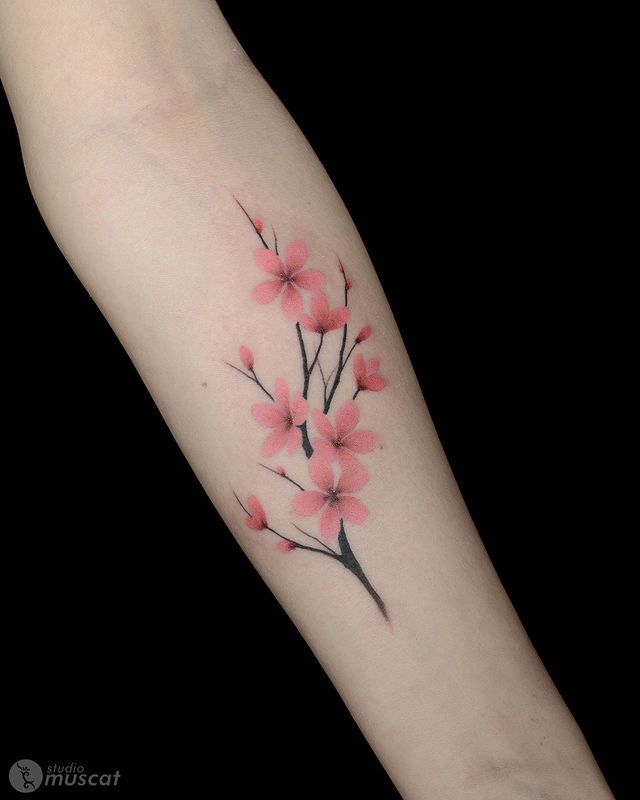 There's something about this last design that stands out. Maybe its the expertly-shaded flowers or the deep brown of the branch. Either way, this calming yet enchanting cherry blossom tattoo makes a stunning addition to anyone's body art.
60 Gorgeous Cherry Blossom Tattoos to Inspire Peace
Whether you need inspiration for your own cherry blossom tattoo design or are just looking for new cherry blossom tattoo ideas, we hope this list has been helpful. One of the best things about these flowers is the fact that they can be the centerpiece of a tattoo designer just add depth and interest. Make sure you consider designs carefully and consult with a skilled tattoo artist, and you should be well on your way to a new tattoo you can be proud of. Need more inspiration? Take a look at our bow and arrow tattoos!