Minimalist tattoos are in style and bring an amazing impact despite their simplicity, so we have put together 60 of the absolute best simple tattoo ideas to enhance your life. They are more accepted than they have ever been in the past, but that doesn't mean you may want very large, spacious ink on you forever. Larger ones mean more upkeep, time, and, of course, money. These 60 ideas can be small but bring a huge impact on your life. They are so simple, but you can add your own meaning to them! Simple tattoos are creative and gorgeous that will bring so much value to your life.
60 Gorgeous Simple Tattoos That Will Transform You
Simple tattoos have so many benefits it is hard for us to believe you haven't looked for inspiration sooner! These small, simple tattoos are discreet, so whether you are in the office or attending Zoom conferences, you can easily hide them for professional reasons. Also due to their size, placement would never be an issue! They can be placed in nearly any spot and look absolutely gorgeous. And possibly the most important benefit to many of us, the time is reduced dramatically to even as low as 45 minutes! With how beautiful these ideas are, you will want to call your nearest tattoo artist to schedule an appointment as soon as possible. So, let's get started, here are our top 60 list of the best simple tattoo ideas!
1. Simple Mountain and Sea Landscape Body Art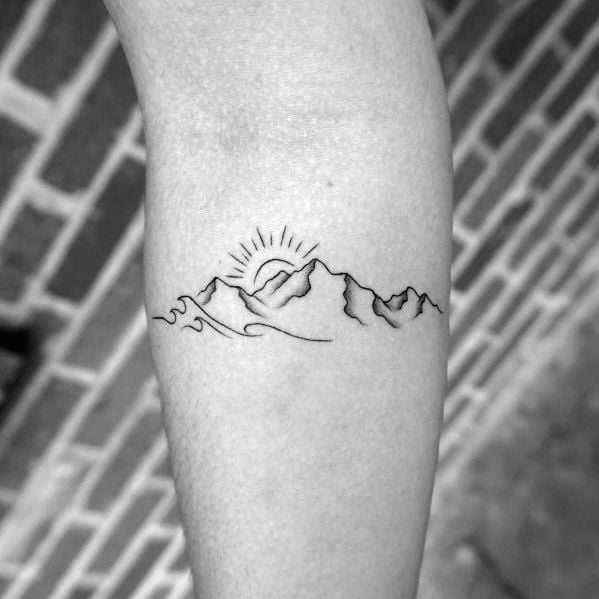 This tattoo is so simple featuring a beautiful mountain, waves, a shining sun. This would look amazing on any part of your arms, legs, or even your waist. It is absolutely perfect for a man or woman who grew up or feels at home near mountains and the sea. Or maybe you just love landscapes!
2. Cute Little Safety Pin Illusion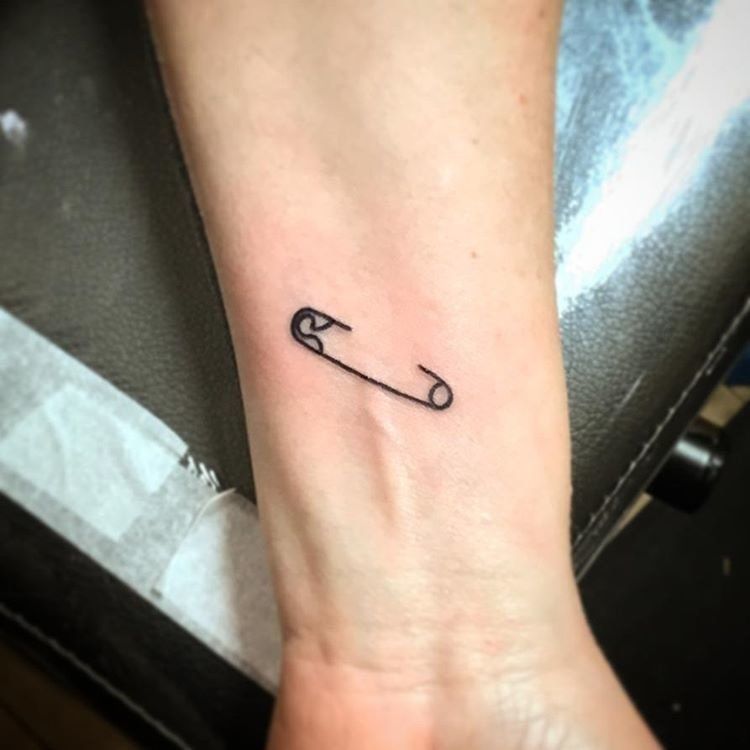 This tattoo is so simple, yet so cute. It's an illusion of a safety pin going into your skin, so it would look good especially on wrists or arms. If your hobbies are anything to do with fabrics and related crafts, this is the perfect one for you. Or maybe you just like safety pins or illusions!
3. Simple Minimalist Lined Lion Tattoo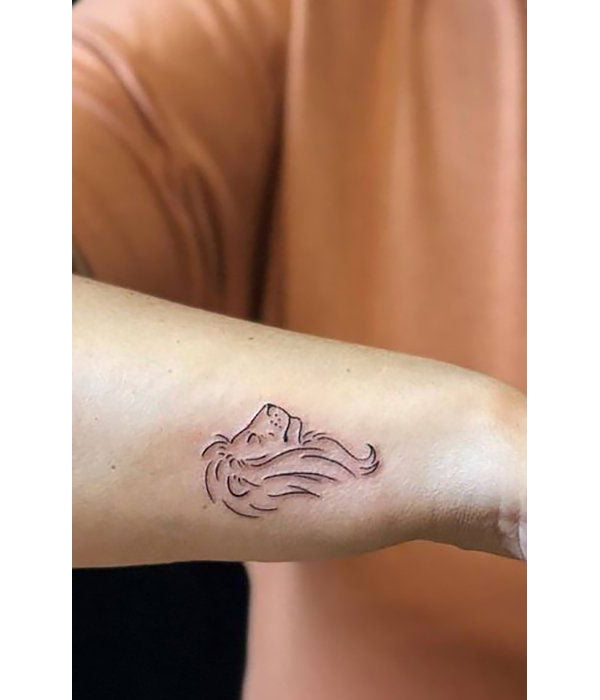 Are you an animal lover? Lions are majestic animals. But they also symbolize a lot more than just themselves. Lions have been used in design industries to represent courage and royalty for years. Whether you love lions, what they symbolize, or your zodiac sign is Leo, this tattoo will look amazing anywhere you put it!
4. Gorgeous, Simple Cross Tattoos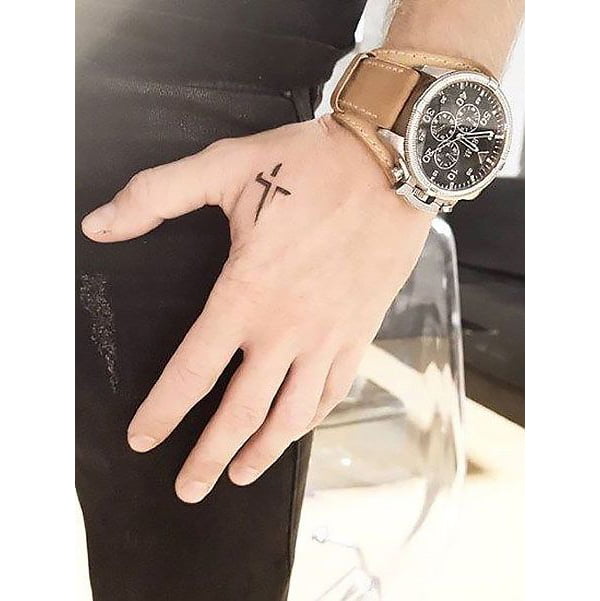 Big or small, this simple cross tattoo one would look good on your hand, chest, or really anywhere. Using shadowing creates a beautiful cross tattoo design that will display your faith in a gorgeous way. It is so simple, yet elegant that it can work anywhere. Finally, a cross tattoo Grandma will love!
5. Detailed, Simple Elephant Head Tattoo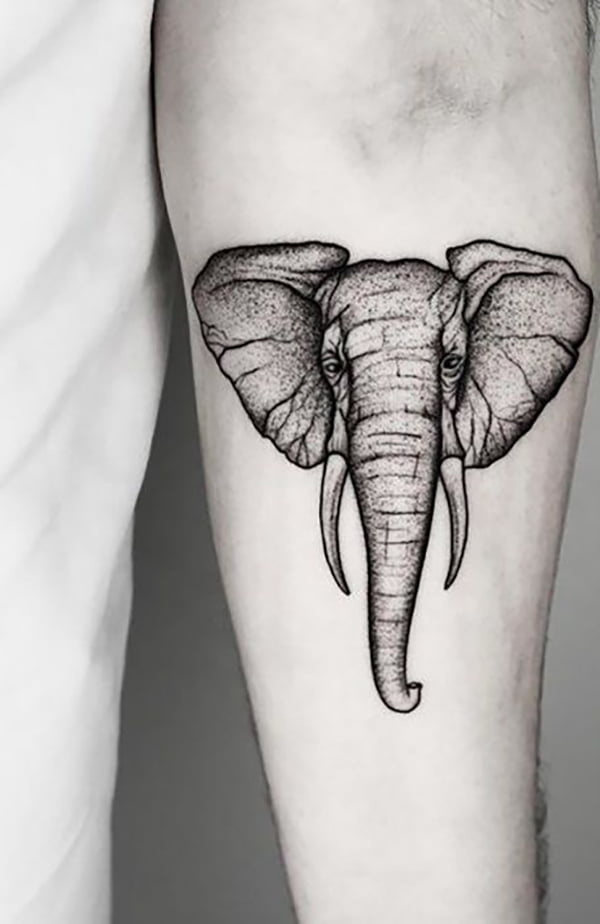 Elephants are by far the most respected animals of the jungle. Like lions, elephants represent many different values. Most commonly, they represent power and wisdom. This tattoo is more detailed but is still so simple and beautiful. Whether you have a passion for animals or love the deeper meaning, this one will add wisdom to your collection.
6. Simple Line Work Creating a Face Tattoo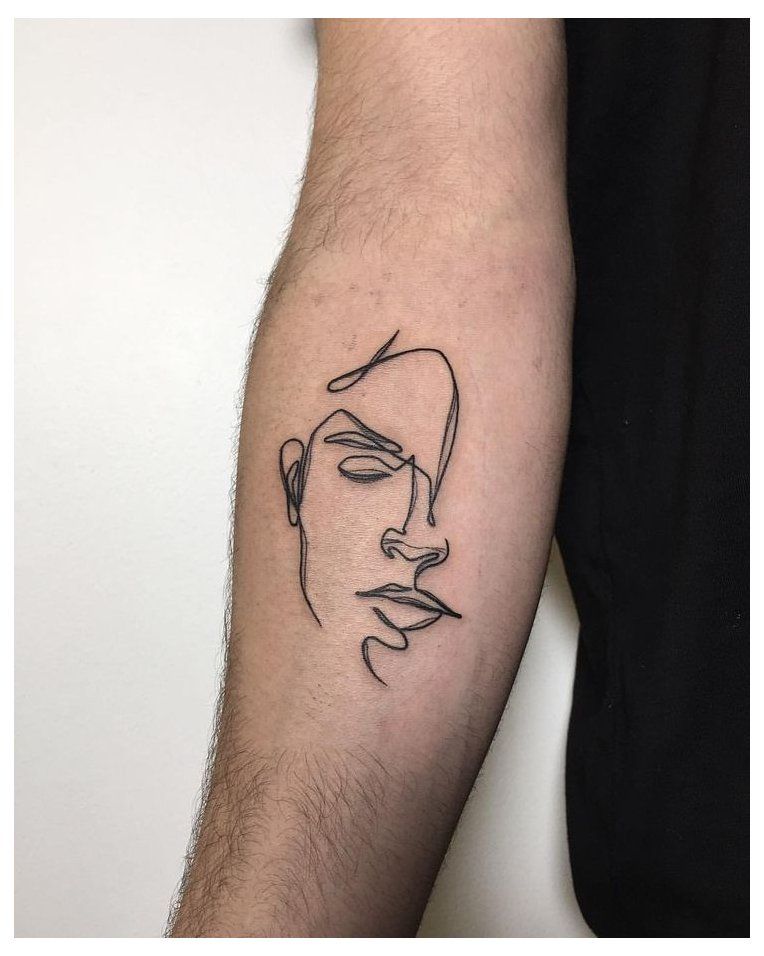 This minimalist, simple portrait is a gorgeous addition to anyone who appreciates line work or fine art. Whether it's random or meant to look like a loved one's face, this would look good especially on an arm or leg. Not to mention, the linework is so creative and beautiful!
7. Simple Compass Directions with Arrows Tattoo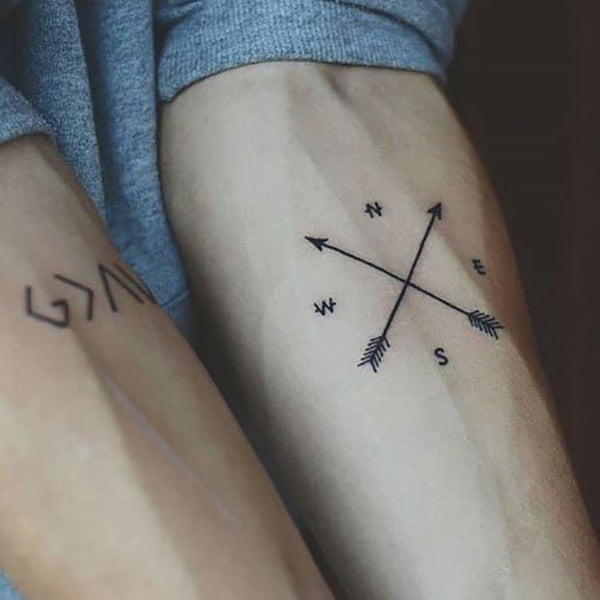 This tattoo is great for anyone who loves traveling or adventure and wants to show off their passion. It would look great on your arms, legs, or maybe even your back. We all love a good adventure; this simple but creative piece of art would show everyone just how adventurous you are!
8. Simple Modern Triangle Illusion Tattoo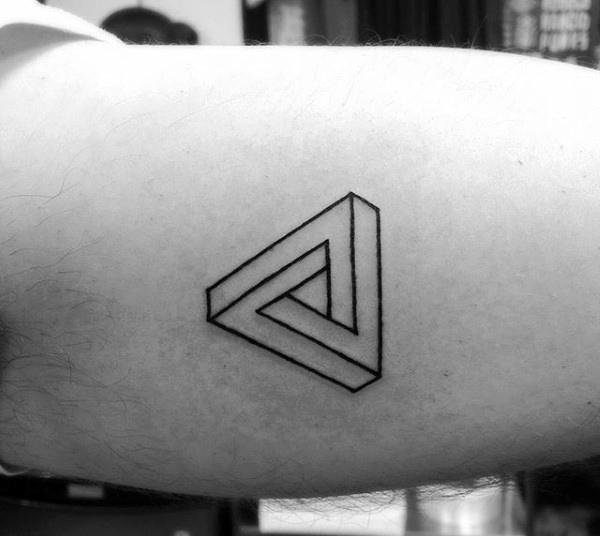 If you're someone who loves illusions, this is a good tattoo for you. It would look almost anywhere you decide you want it, and it's guaranteed to get some interest from your friends and families. The simple line usage would make this tattoo quick and easy; we just hope your artist doesn't get confused!
9. Simple Coffee Mug "Mug Life" Tattoo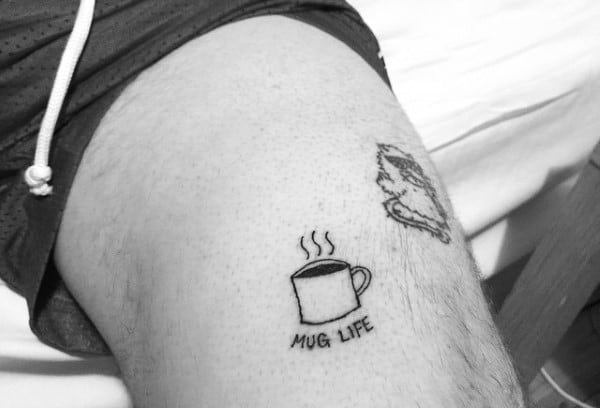 Are you living off coffee right now? Maybe this is your next tattoo. "Mug Life" is relatable to anyone who is as obsessed with coffee as we are! This cute, little one could be placed anywhere, and will still look amazing. We all love to showcase our passions, but some of us just love coffee!
10. Simple, Detailed Ocean and Moon Simple Tattoo Designs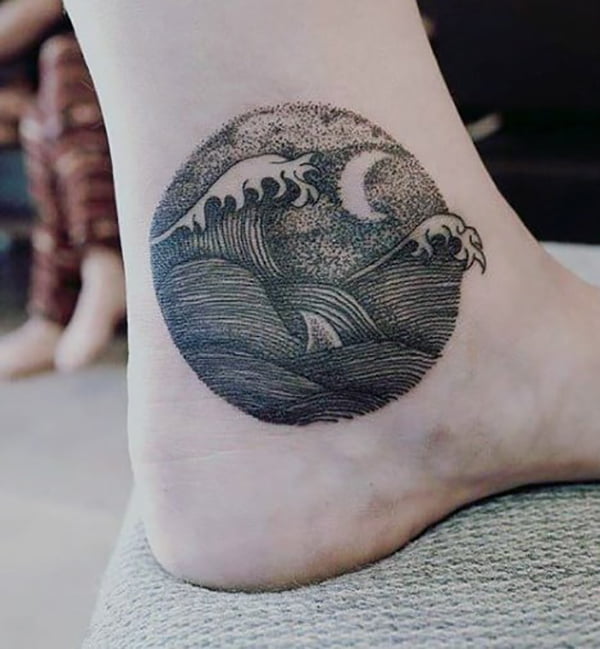 This beautifully detailed artwork has amazing linework that looks like an illustration. It would look good almost anywhere but would have to be a little bit bigger to get the full effect. This one might require you to be at the tattoo shop for a little bit longer, but it definitely looks worth it. Anyone who loves the sea will be absolutely in love with this artistically detailed tattoo.
11. "Enjoy the Journey" Simple Text Tattoo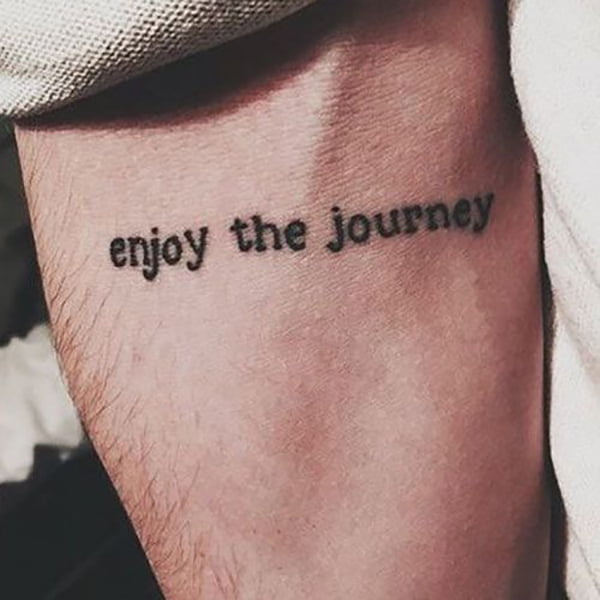 This one that states "enjoy the journey" would be perfect for anyone looking for meaningful text on their bodies. It, also, would look amazing anywhere you decide to put it, including your arms, rib cage, or even your legs. We can all agree life can get rough at times but being able to look at this tattoo would be a wonderful reminder that it is just your journey!
12. "Alive." Simple Typewriter Text Tattoo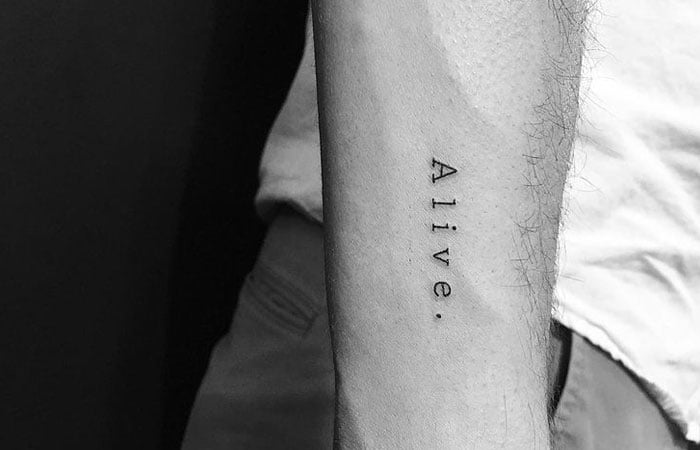 Maybe you did think you were dead, but at least you would have this tattoo to remind you that you are, in fact, alive. All jokes aside, this one is amazingly simple but powerful. You may even find a deeper meaning inside it. Either way, this ink would be a centerpiece of conversation that would look good anywhere on your body.
13. Simple Chest Tattoo with Modern Geometric Heart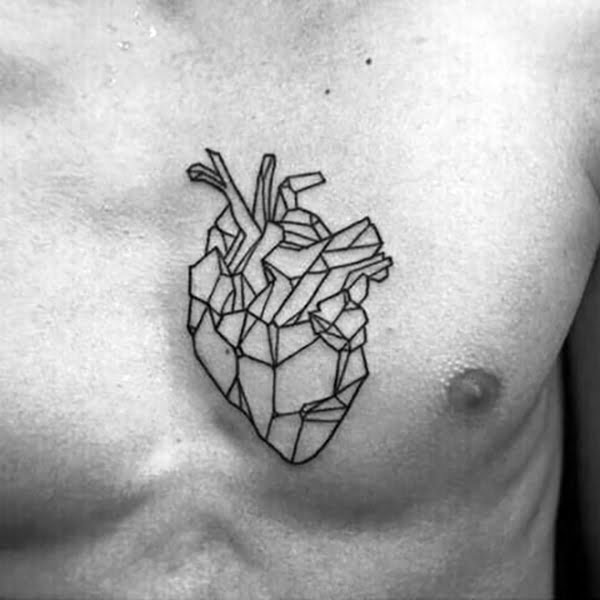 This geometric heart on your chest is bound to make people's hearts stop. The shapes and use of line to create dimension is breathtaking. If you're looking for a beautiful heart tattoo, this is probably the best one you can get. No matter where you place it, it will look simply amazing.
14. Simple Vertical Parallel Lines Tattoo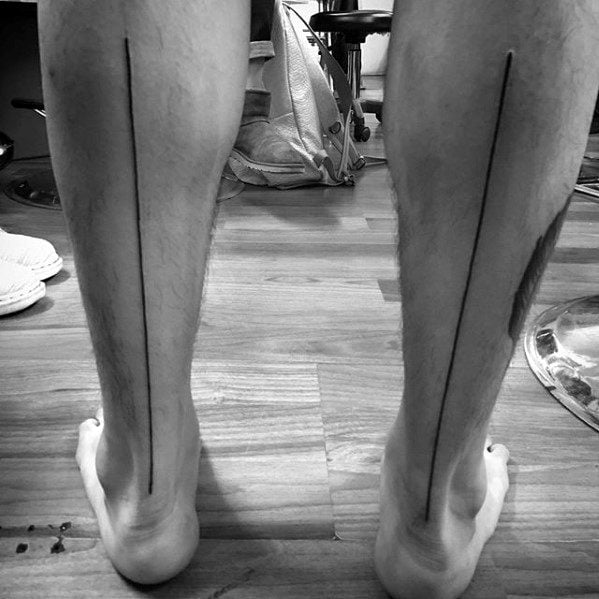 Lines are works of art in themselves. Lines represent minimalism but can also represent a lot of deeper meaning. Parallel lines in particular can represent the infinite journey ahead of them. Whether or not you may have a meaning for these simple tattoos is completely up to you, but you have to appreciate the deeper meanings behind the simplest tattoos.
15. Three Intersecting Lines Simple Tattoo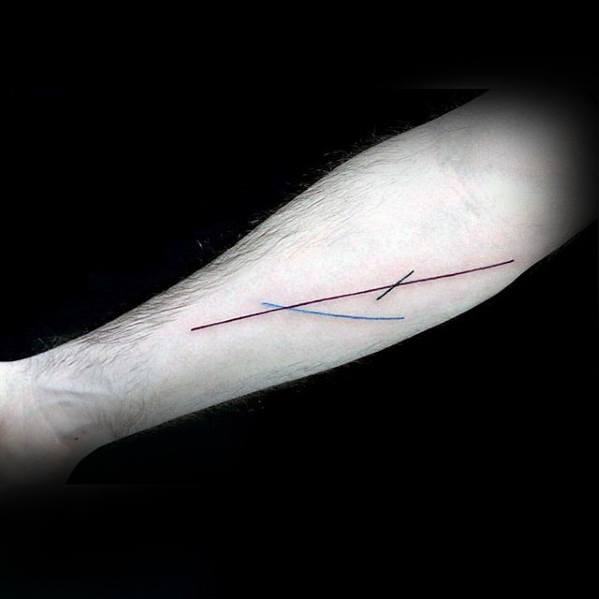 Like the parallel lines, people can find their own deeper meaning for these intersecting lines. One example is how journeys sometimes cross and pass. It is important to look for these deeper meanings when looking for such simple tattoos because that is what makes them so powerful. Whether or not they may work for you is up to you, but you have to appreciate the punch they pack.
16. Three Lines Creating Arrows Tattoo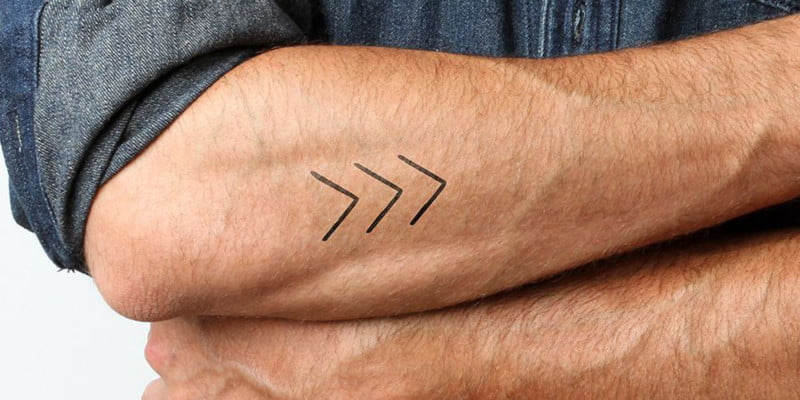 These three lines are almost triangles but missing the last line. The simple shapes almost look like the end of an arrow. Shown on a foreman, it would look good almost anywhere you choose to place this simple tattoo. They are a stylish art piece to represent minimalism and look super cool!
17. Simple Tribal Tattoo: Pattern Arms Tattoos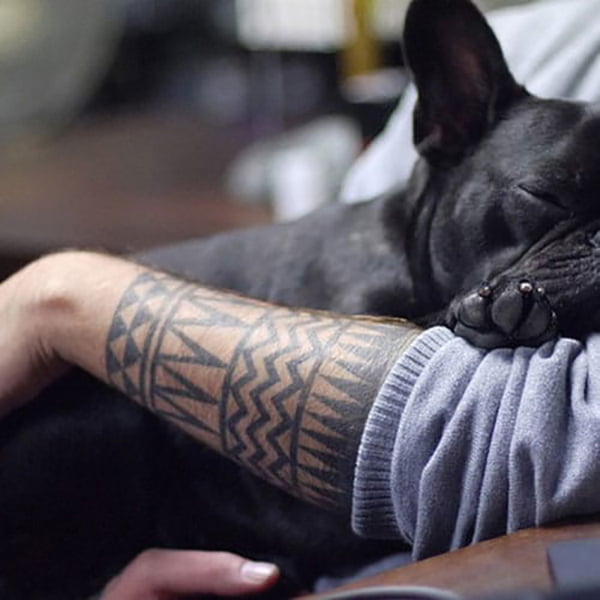 Tribal tattoos have a lot of different meanings attached to them. They could symbolize strength, protection, power, or more. They also just have really cool simple tattoo designs with them. They look best on arms but also can be done on legs and parts of the chest. If you're looking for a design that will symbolize virtues and also look extremely awesome, you should look into tribal tattoos!
18. Simple Earth Map Compass Tattoo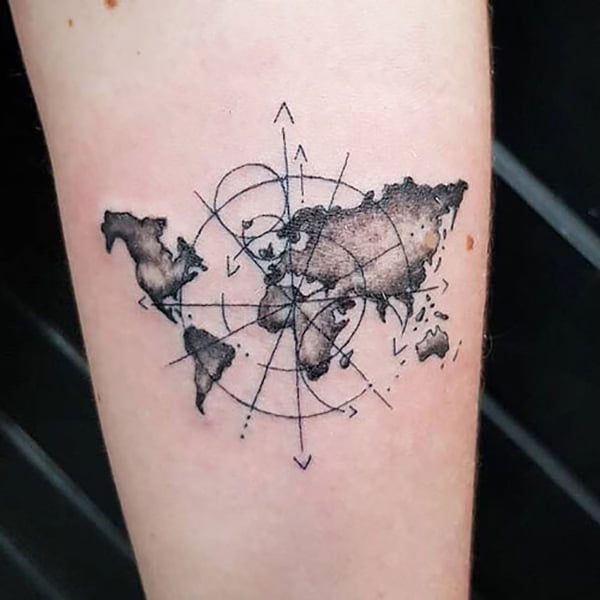 Do you love exploring this great planet? This simple design encompasses all the continents and even includes a geometric grid for more of a compass shape into it. You're bound to be asked where all you have traveled to and it's extremely gorgeous for any man or woman who enjoys different cultures.
19. Simple Cute Outer Space Tattoo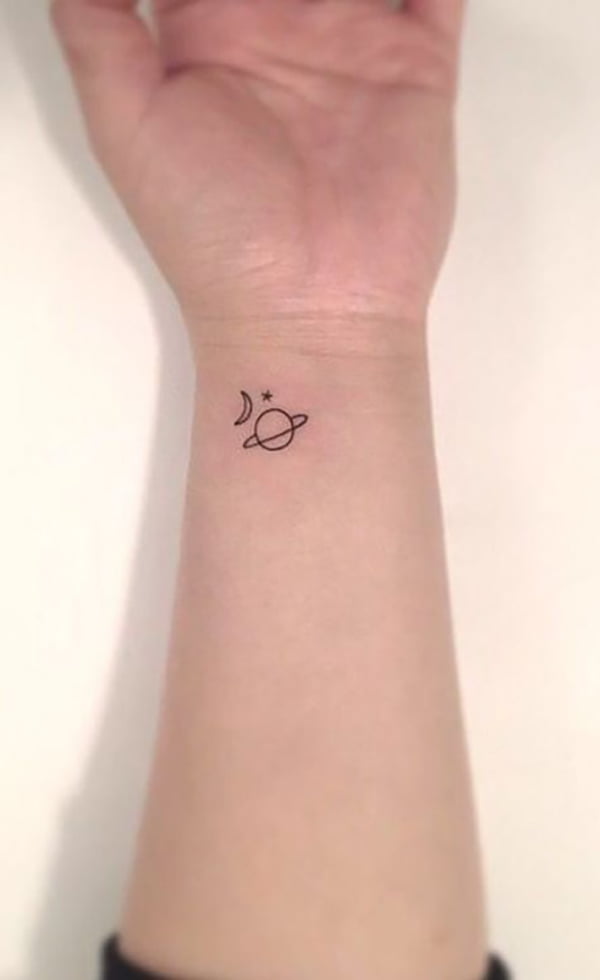 Maybe instead of this planet, you are more interested in the many other planets in this galaxy. What better way to display your fascination with outer space than this little tattoo? This cute tattoo would be adorable on your wrist or ankle. This little one may be the perfect solution for you if you've been looking for an attractive tiny tattoo.
20. Minimalist Coordinates Text Simple Tattoos
You can personalize this one to have a meaning that is special to you. Whether it's where you grew up, where you got married, or anything else where the location is special to you. This tattoo beautifully locates a special place without having to write an address or draw a whole landscape. It's simple, meaningful, and beautiful.
21. Simple Circles Lines with a Point Tattoo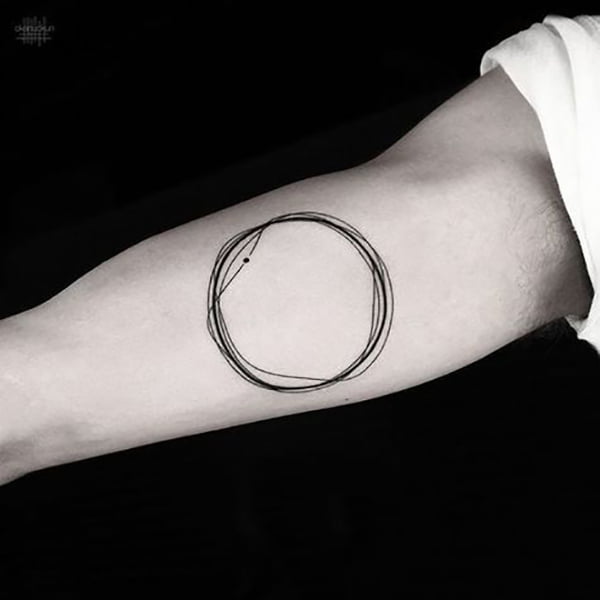 This tattoo could easily represent eternity. It could mean a lot, but it's just an effortless circle. Whether you love the meaning, or you just love circles, this tattoo could fit anywhere you decide to put it. It's minimalist and modern. Who knew geometry is a blessing to simple tattoos!
22. Simple Parallel Arm Band Dripping Tattoo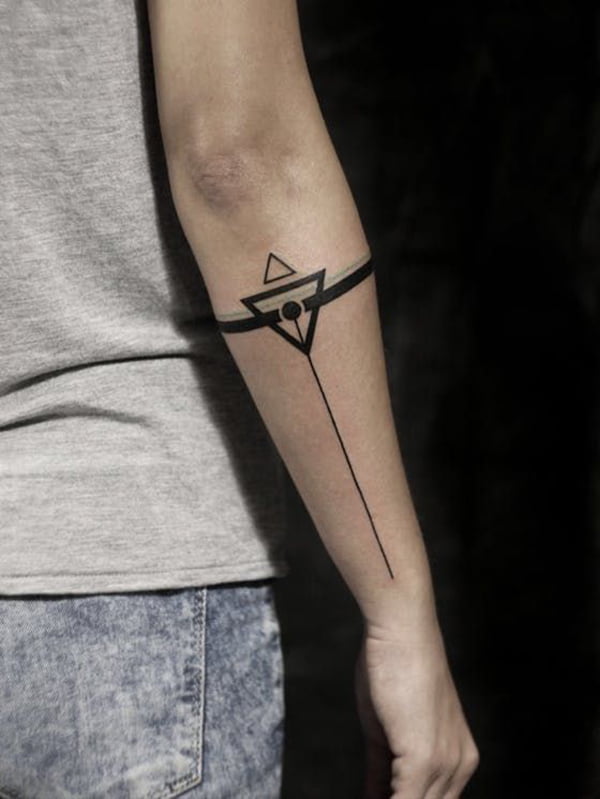 As stated previously, parallel lines are very symbolic. They represent endless journeys. The triangles and circle with the line dripping down could have a deeper meaning, but regardless of that, they create a gorgeous and very manageable design. This would look great on any man or woman's arm who appreciates the power behind simple shapes!
23. Parallel Line Arm Band and Landscape Tattoo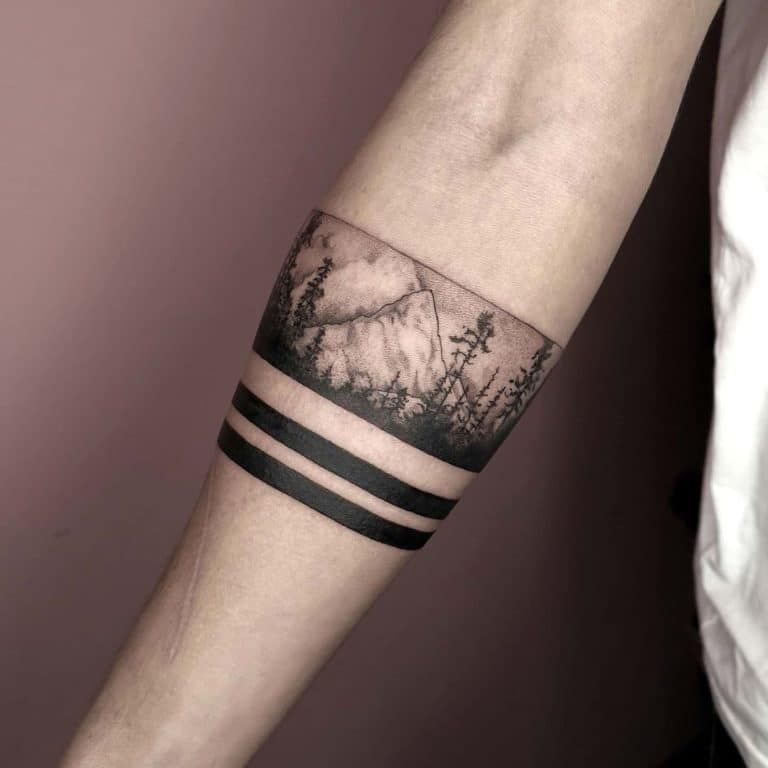 This beautiful, yet simple band resembles the one above, but with some more effort involved. The landscape is a common and beautiful choice for anyone who grew up or finds a home in the mountains. Again, this would look best on the arm, and would definitely look amazing on anyone.
24. Simple Spiritual Geometric Skull Tattoo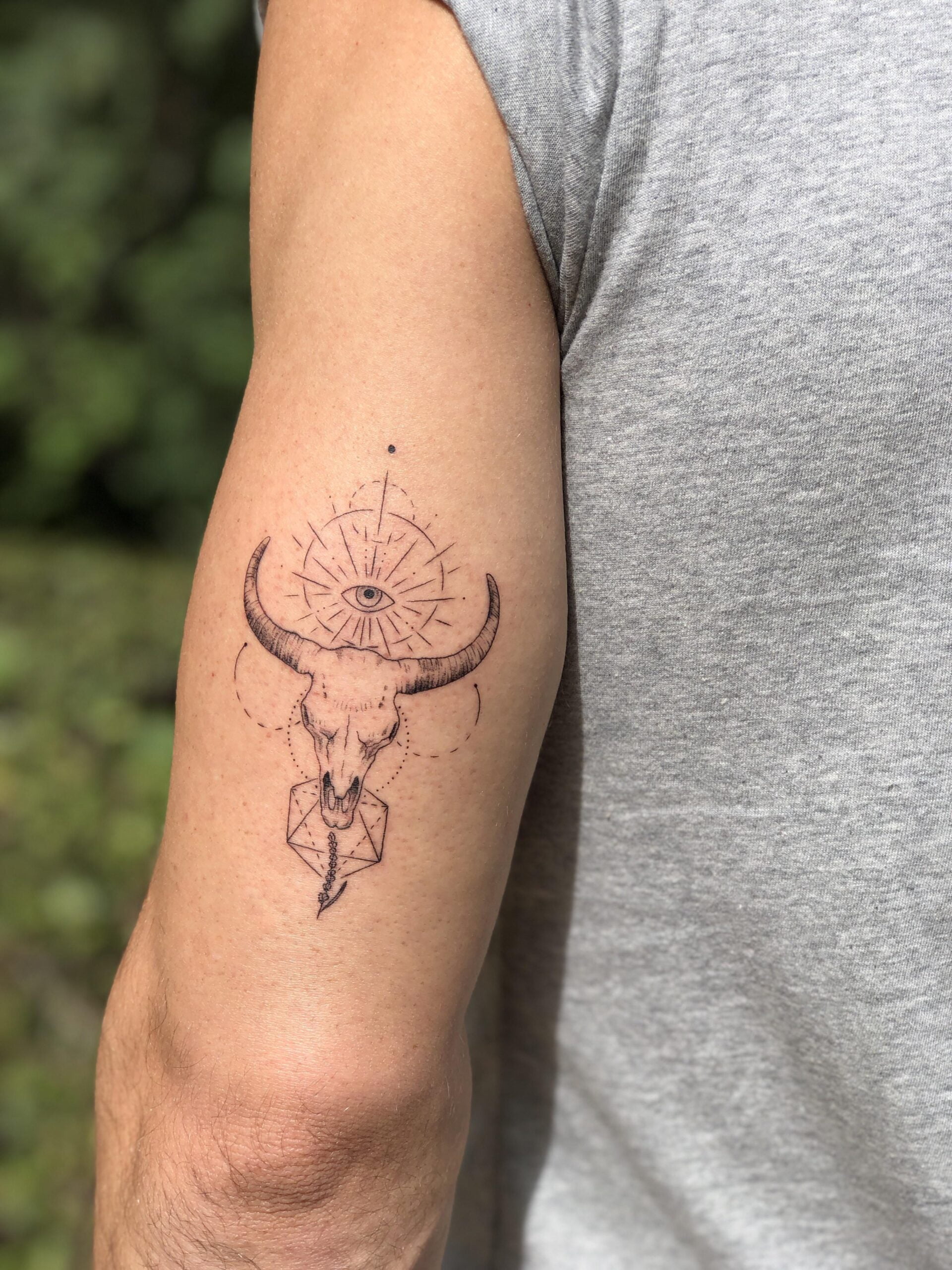 This skull tattoo is simply lines, shapes, and dots with an eye and a bull skull. It all works effortlessly together to create something more meaningful and even spiritual. Even better, it could work virtually anywhere on the body at most any size. If you love skulls, this is probably one of the most beautiful, but simple skull tattoos to get on you.
25. Vertical and Horizontal Lines Tattoo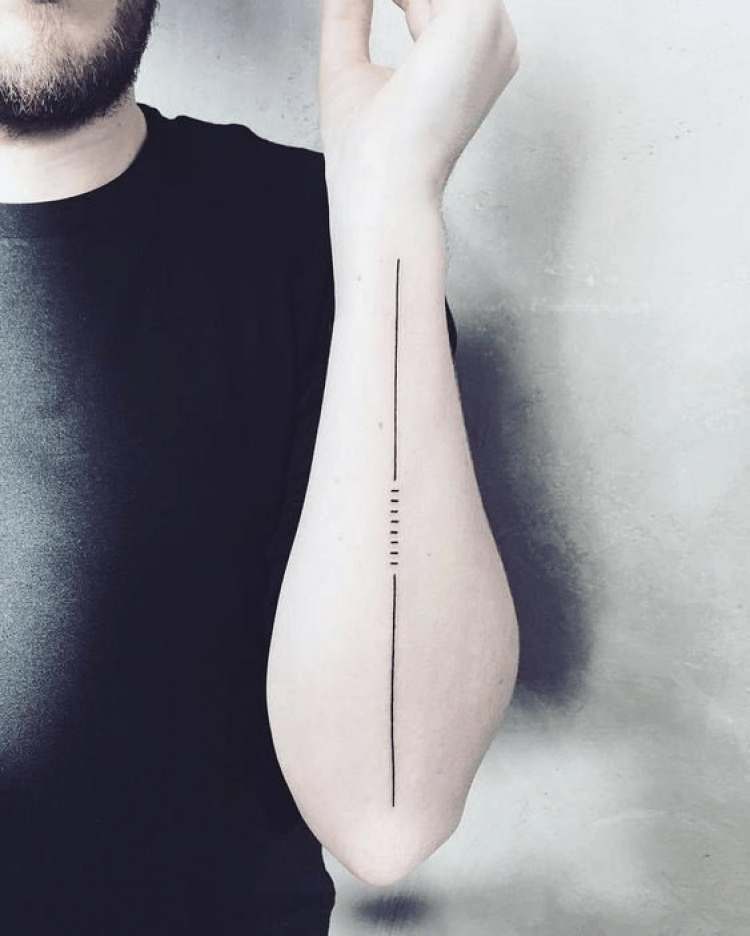 This undemanding artwork is so simple but beautiful. It's not as simple as a straight vertical line but has the simplicity of it. It would make a great addition to anyone wanting something more developed, but still minimalist. It may have a deeper meaning behind it, or it may not, but it will always look cool!
26. Simple Triangle Line with Shaded Triangle Tattoo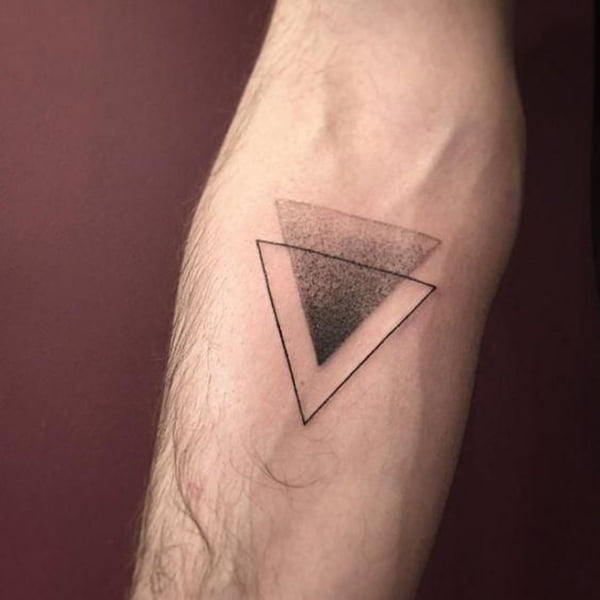 Triangles will never go out of style. They are as modern and minimalist as they come. This one has some more design to it, though. It's definitely a simple, but the sophisticated tattoo that you could put anywhere on your body.
27. Simple Anchor Tattoo Line Minimalist Tattoo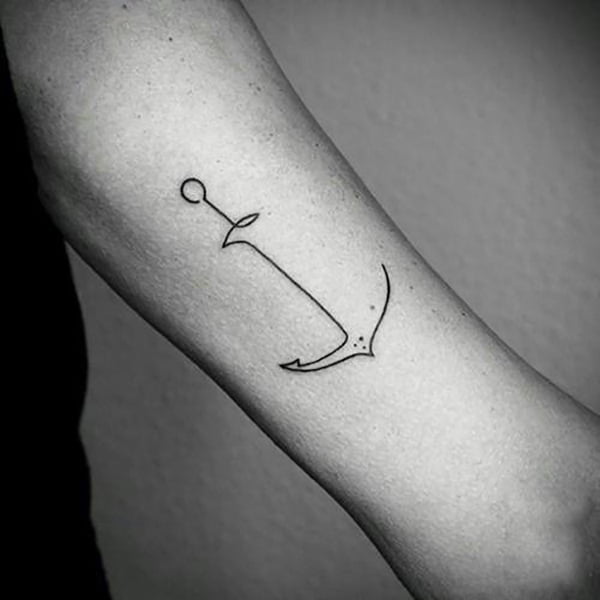 This simple work of anchor tattoo art is absolutely gorgeous. Do you love the sea or anything sea-related? There is truly no better way to symbolize the sea than an anchor tattoo! The simplicity and amazing use of line in this tattoo is a work of art in itself. It would be a beautiful addition for anyone who feels at home near the sea.
28. Simple Cute "Forgive" Text Tattoo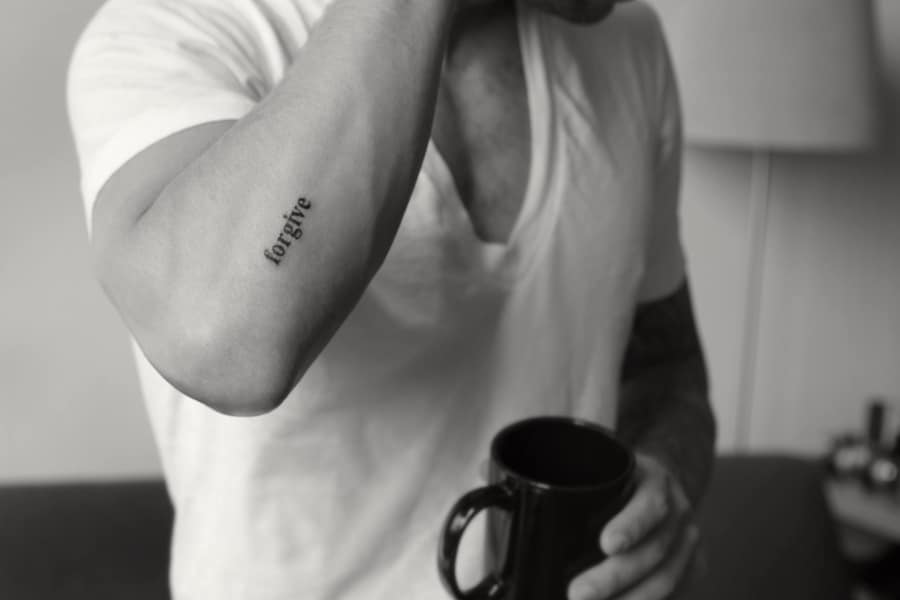 This tattoo simply states "Forgive" and it is absolutely stunning. Forgiveness is a virtue many of us struggle with when life hands us and others hard situations. This tattoo would be a simple, beautiful, and minimalist way of reminding yourself and maybe even those around you that forgiveness is important for your own self-care.
29. Simple "To the Sea" Text Tattoo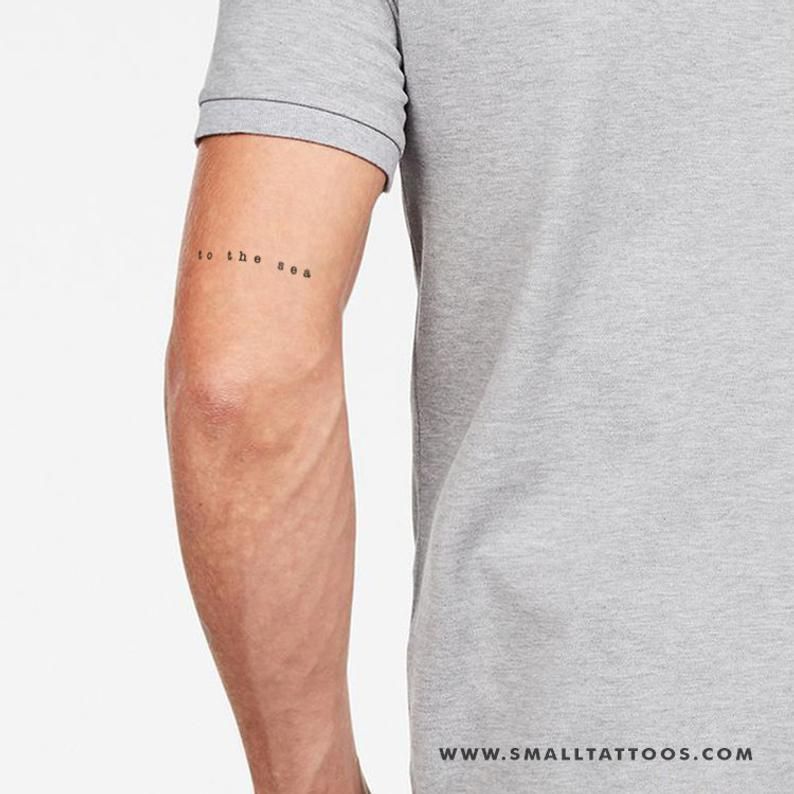 The text simply states, "to the sea," and we are all wild about it. If you love the sea, here is another minimalist tattoo that is perfect for you. Wonderful on any body part and for any gender, it will let others know exactly where to take you for your next trip.
30. Geometric Fox Colorful Tattoo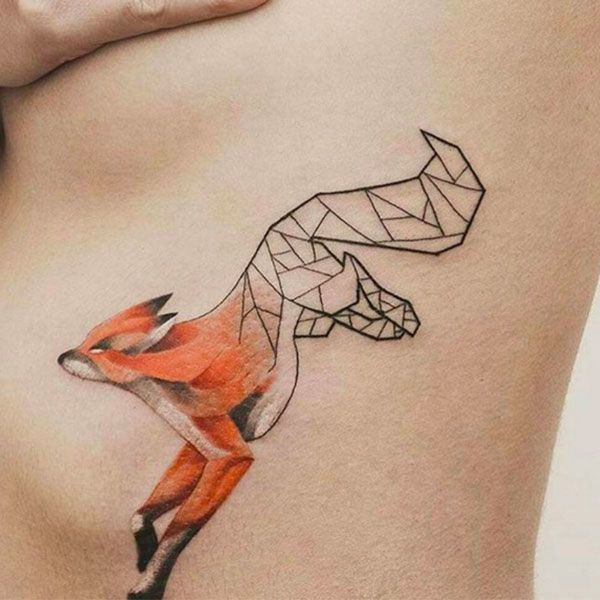 This tattoo featuring a fox jumping into color is perfect for anyone who loves wildlife, the forests, or just foxes in general. This geometric fox is simple, but sophisticated to say the least. This would look amazing on rib cages with how the fox is jumping but would work anywhere you choose.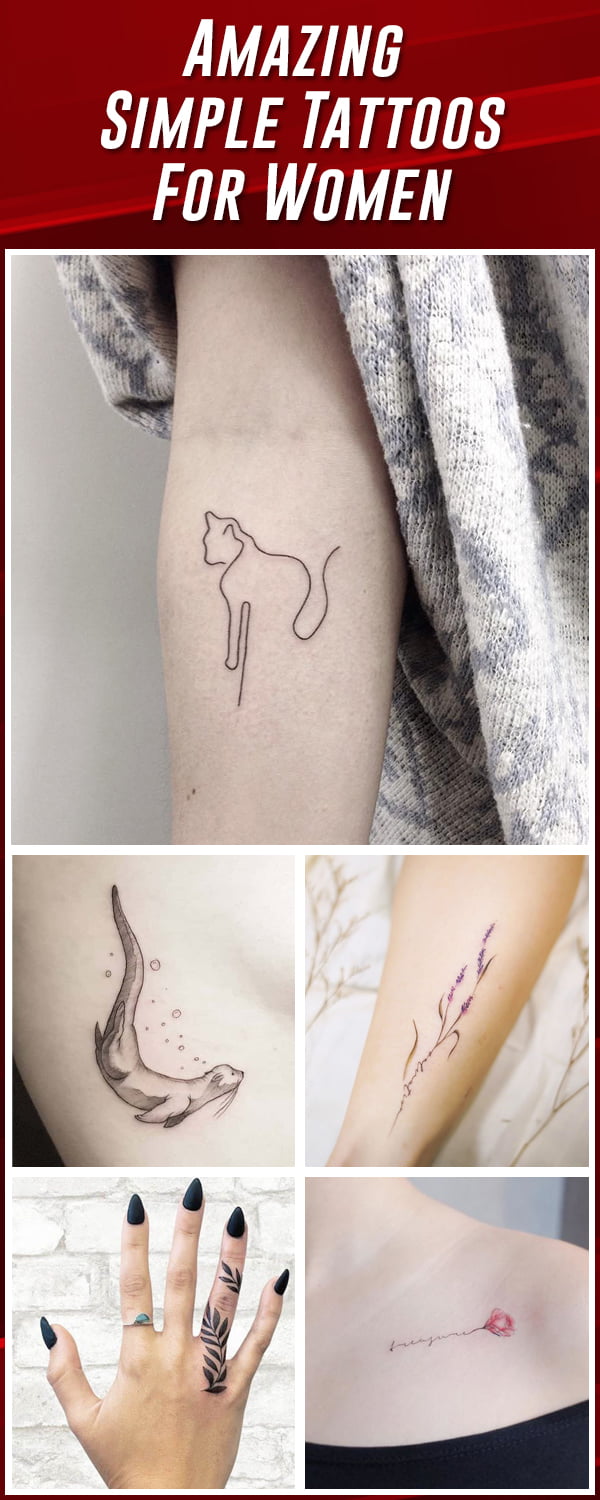 31. Beautiful Simple Flowers Girls Tattoo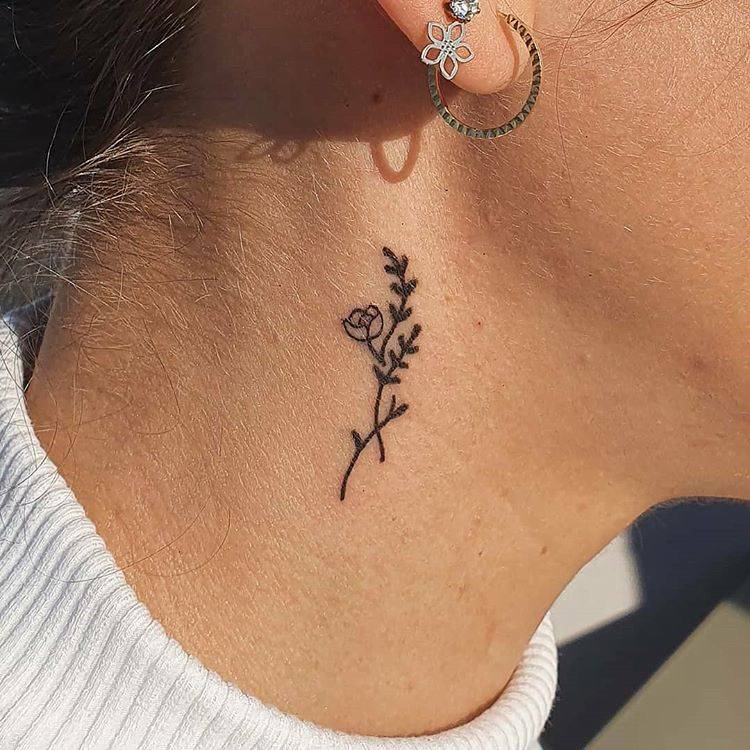 Who doesn't love flowers? This love tattoo is on the neck but would look beautiful on your wrist or ankles as well. It's simple but gorgeous for anyone who finds joy in flowers and plants, which who doesn't? If you're looking for something small and feminine, this neck tattoo is the one for you!
32. Two Tiny Butterflies Tattoo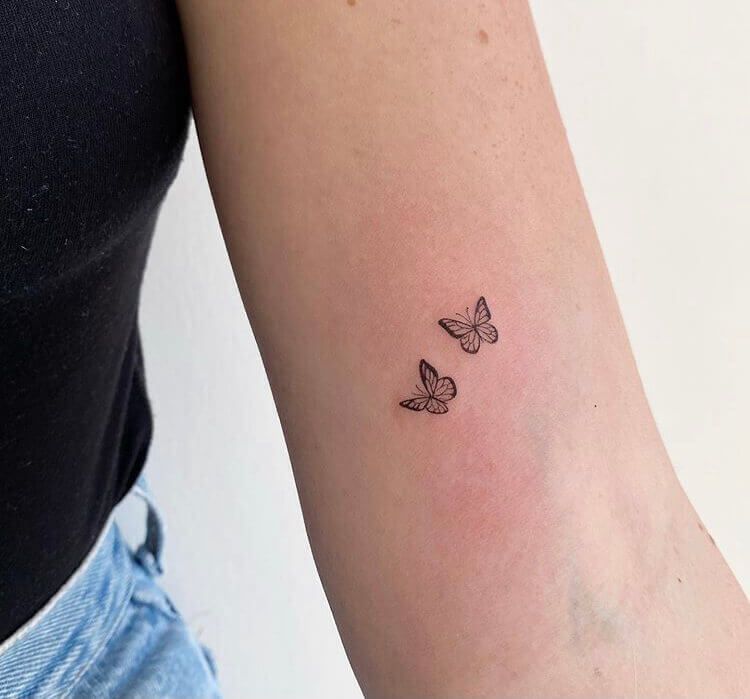 These two little butterflies are absolutely gorgeous. Butterflies represent growth and freedom to a lot of people. There is really no better memory than chasing butterflies as children. Maybe they mean more to you. Regardless of the meaning, this is a cute little tattoo you can get anywhere you choose.
33. Cute Simple Small Bee Tattoo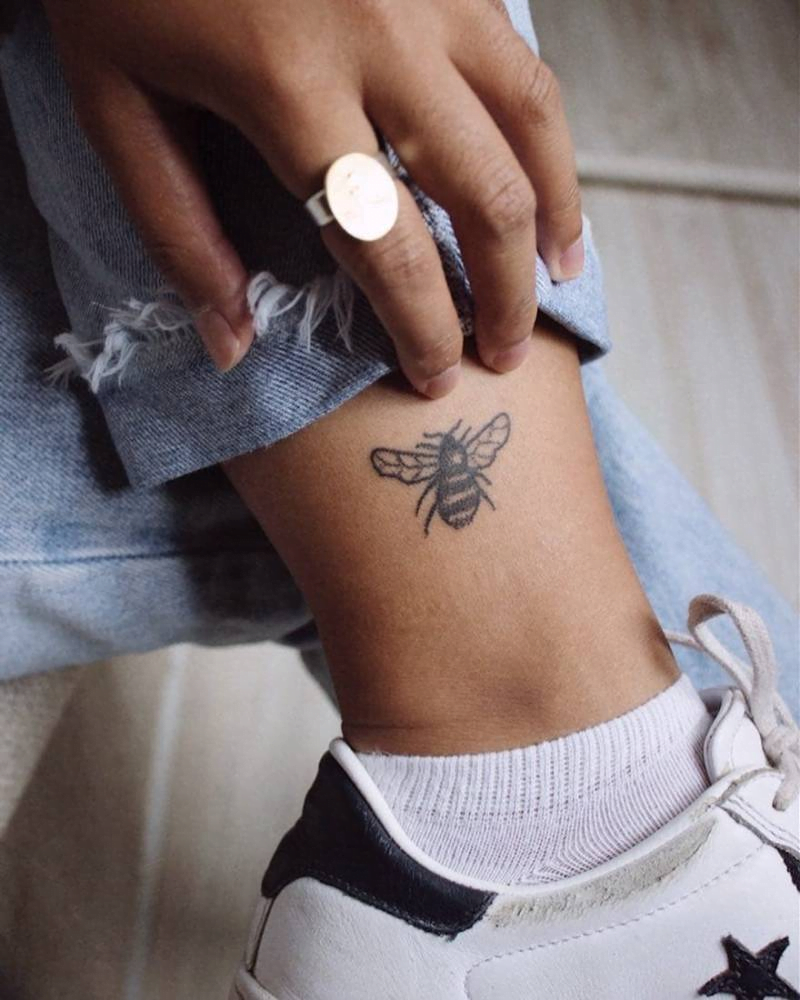 Whether it's to save the bees or because you're the queen bee, why wouldn't you want this precious little bee on you? Bees are adorable and have become a symbol of personal power. It's a simple, small tattoo that you could get, big or small, anywhere on your body.
34. Simple Cute Otter Diving Tattoo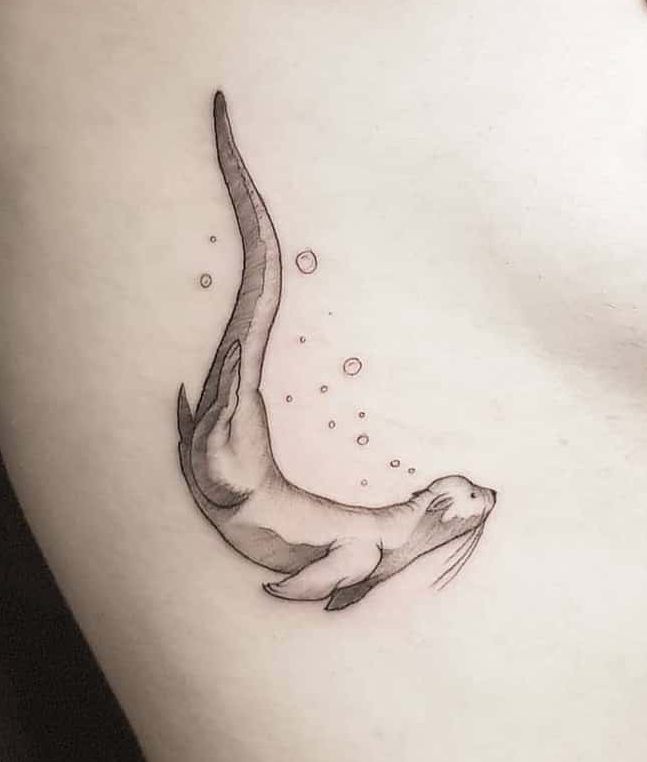 Who doesn't absolutely adore otters? They are so cute and lovable. This simple otter tattoo will make you fall in love. The diving motion makes it perfect as a rib cage tattoo but could work almost anywhere you choose. If you love otters or the water, this tattoo is perfect for you!
35. Simple Spooky Ghost Sheet Tattoo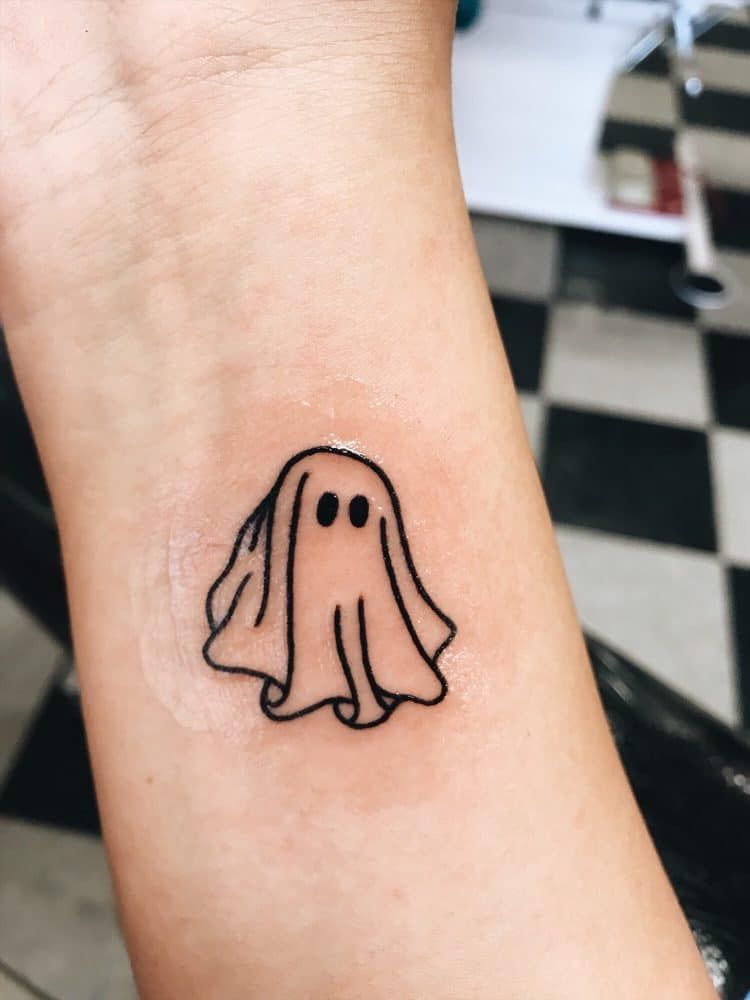 Matching Halloween tattoos, anyone? This adorable little ghost makes for a great matching tattoo for you and your "Boo"! Or maybe you just enjoy all things spooky. Either way, this tattoo is amazingly simple and cute. Plus, if you get it around October, maybe you can get a Halloween discount!
36. Simple Fish Tattoo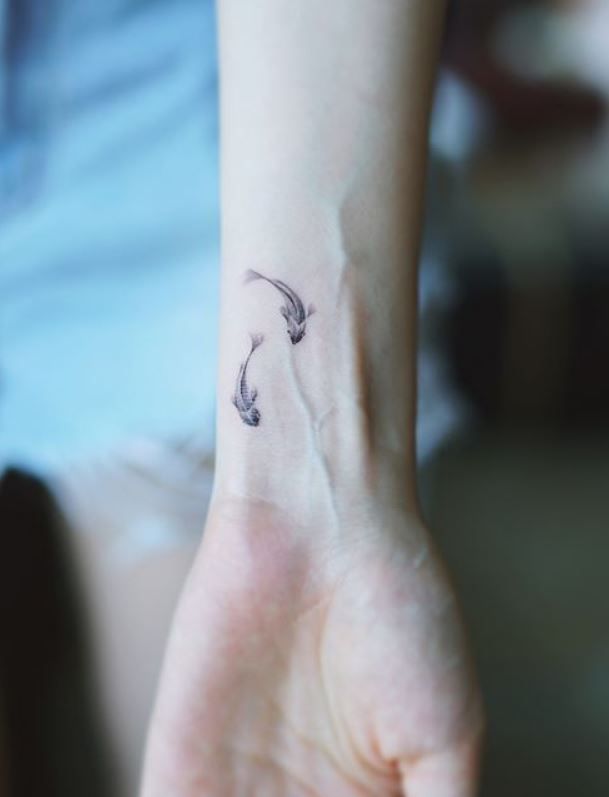 Best known for meaning perseverance, koi fish symbolize one's journey and struggles they've overcome or are in the process of overcoming. Believe it or not, they are also customizable as well! You can add colors or styles to add a deeper meaning if you choose.
37. Simple Modern, Minimalist Tree Tattoo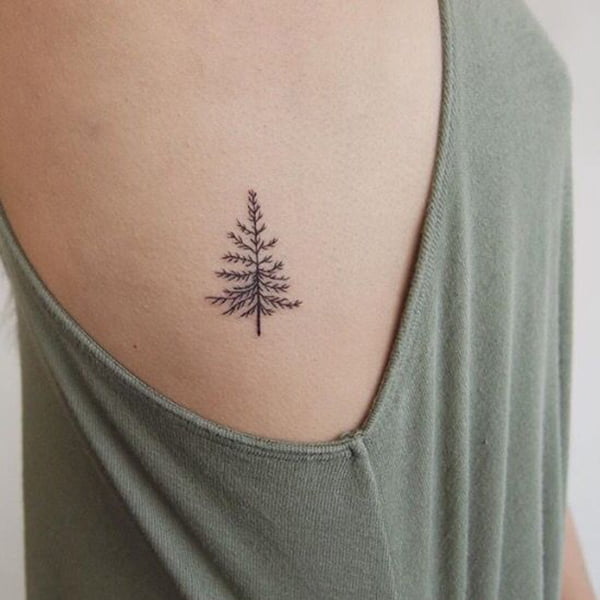 Trees are simple but powerful. Trees symbolize a new life, resistance, and so much more. Or maybe you just love trees, whichever gives you more motivation to go get this simple and beautiful ink. It would look amazing anywhere and any size you choose.
38. Simple Lion Tattoo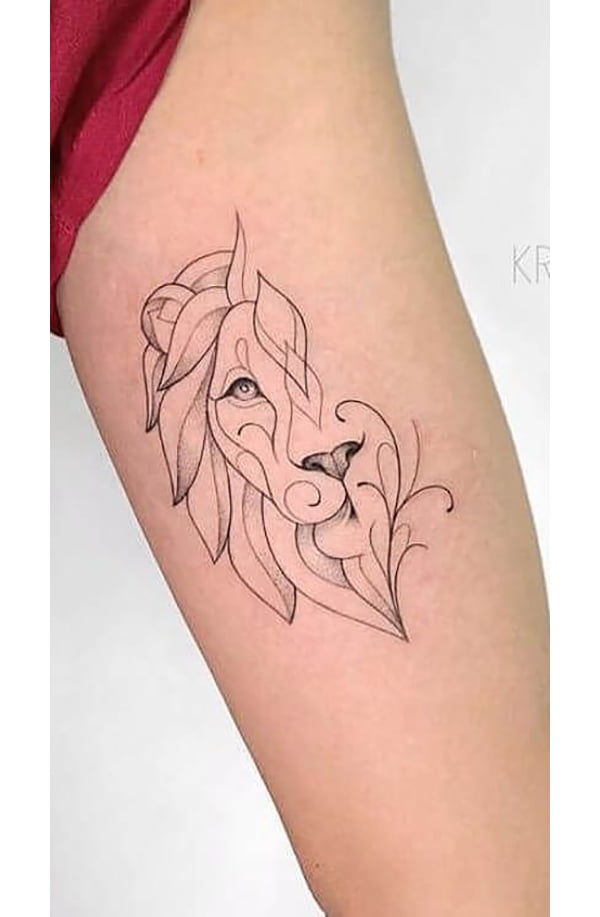 This gorgeous lion one made of beautiful lining is wonderful for anyone looking for a minimalist but fierce tattoo. If you're like us, it was love at first sight! This one would look amazing anywhere, but especially on your arm or leg.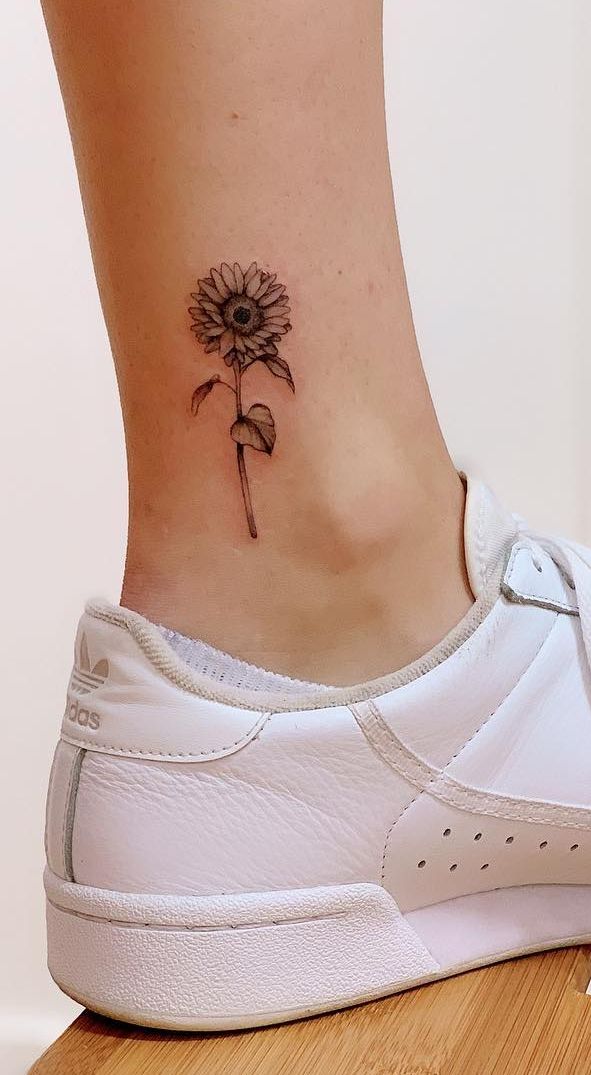 Sunflowers have been in style for years now. I think most women enjoy sunflowers more than roses at this age, and who wouldn't? They represent so many variations of things: loyalty, adoration, good fortune, provision, and more. It's simple, but beautiful especially on your wrist or ankle.
40. Simple Lavender "Salvation" Text Tattoo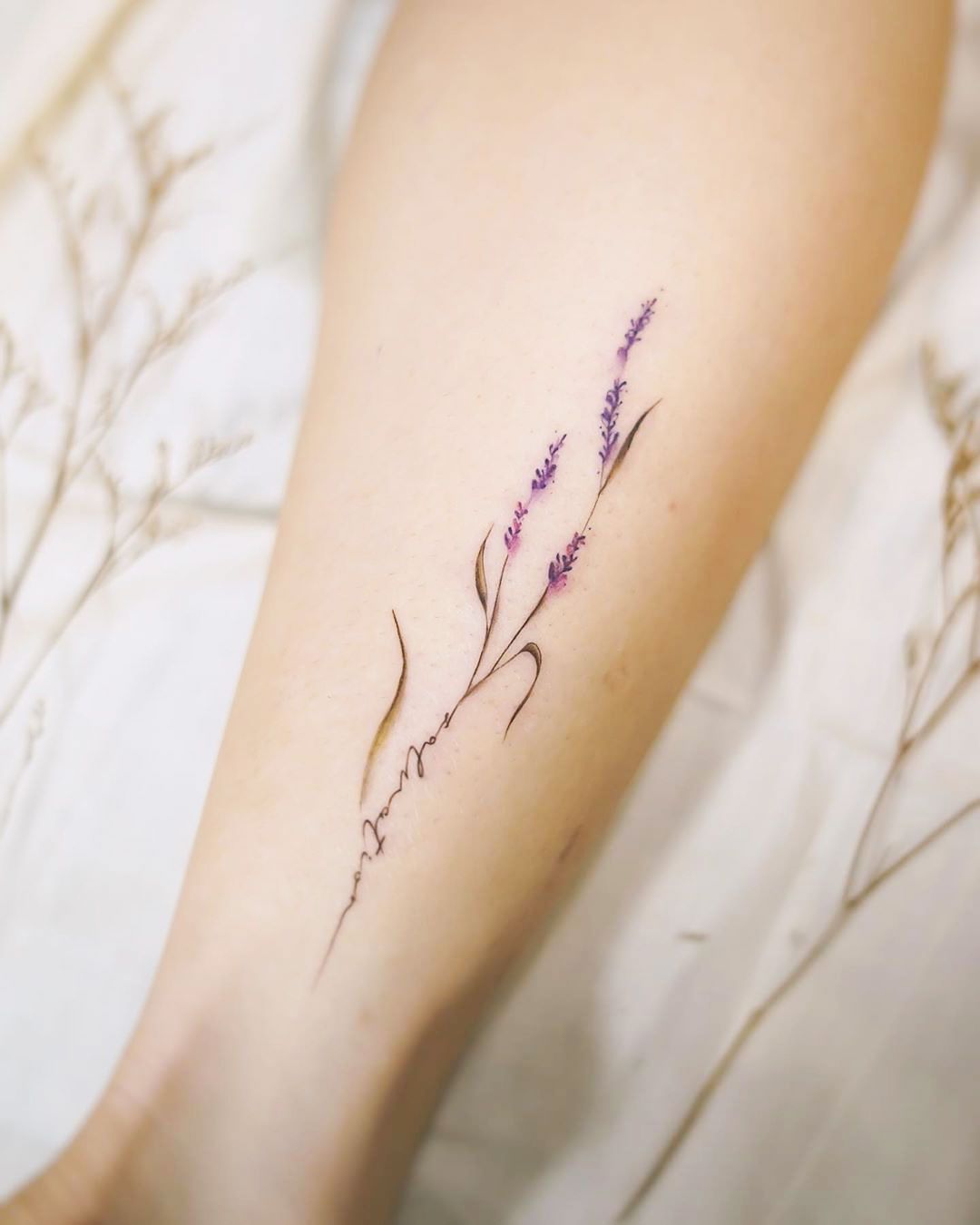 This simple lavender tattoo is so much more meaningful with its text stating "salvation". Lavender is relaxing and peaceful, adding salvation in its stem is meaningful and symbolic. It would look beautiful on your wrist, as well as almost anywhere else you chose.
41. Simple Modern Leaves Finger Tattoo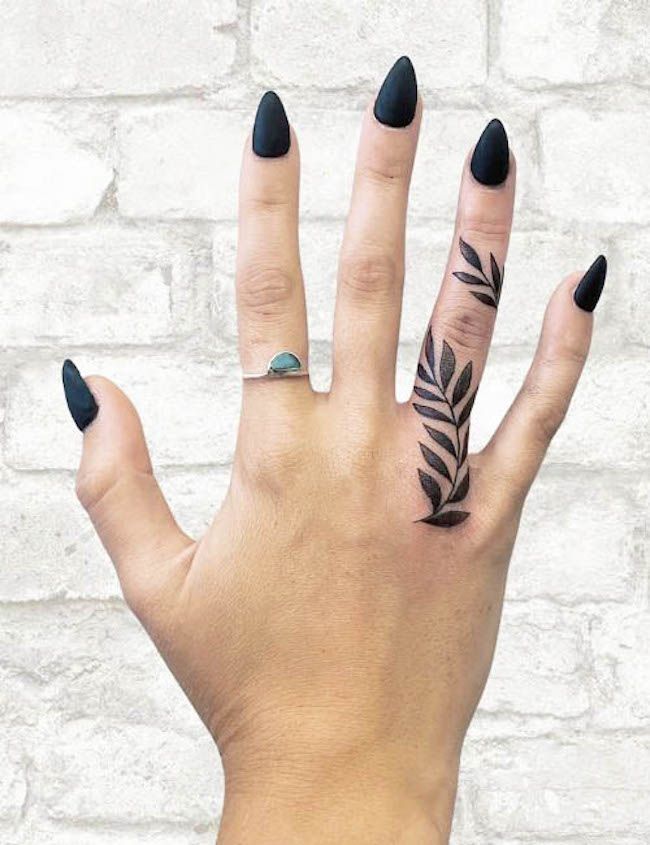 This little one featuring beautiful, dark leaves is perfect for anyone who loves plants. It's simple and elegant. We use our hands for everything, so why not add some personality to them? Leaves look good no matter how you want them, but this is definitely some class.
42. Simple Minimalist Cute Rose Tattoo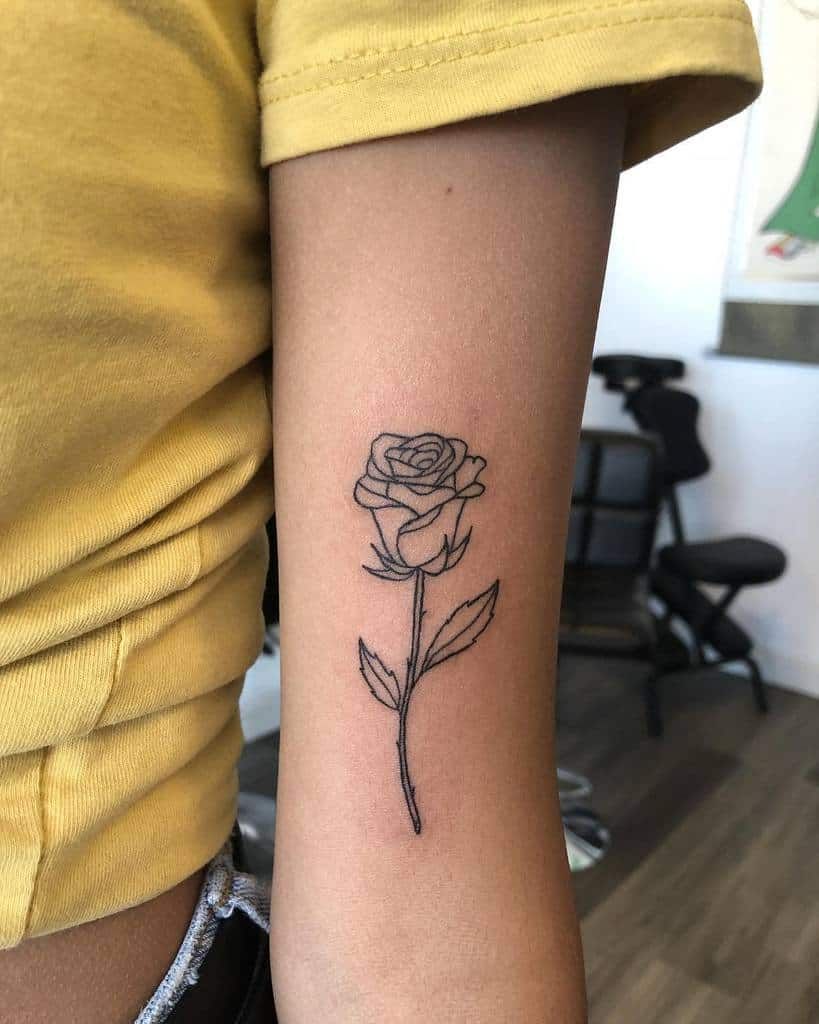 Roses are timeless just like diamonds. A symbol of romance and everlasting love, this tattoo will remind you of true love every time. Princess Belle would have definitely gotten this beautiful tattoo. It is simple but so beautiful, and it will fit anywhere you want it!
43. Simple Sun Tattoo with Roses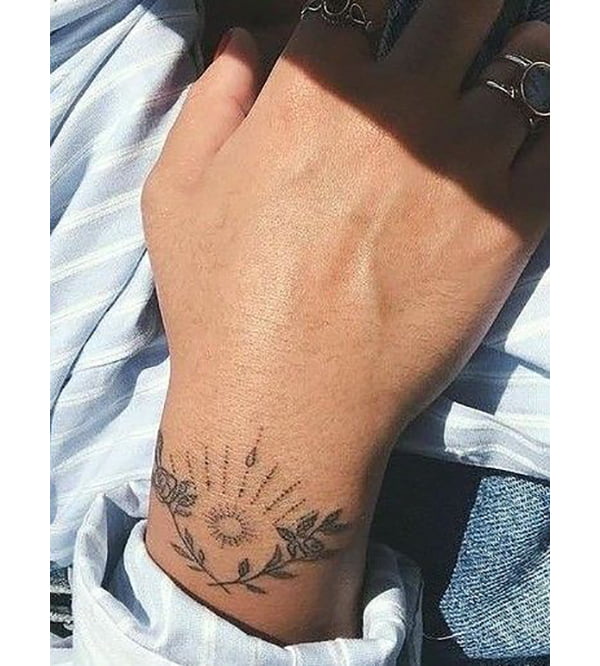 Rise and shine! This tattoo will remind you to get the day started and gives the viewer a refreshing feeling at every glance. It radiates positivity and class. It looks great on the wrist but would even look good on your ankle if you chose.
44. Simple Portrait Lines with Leaves Tattoo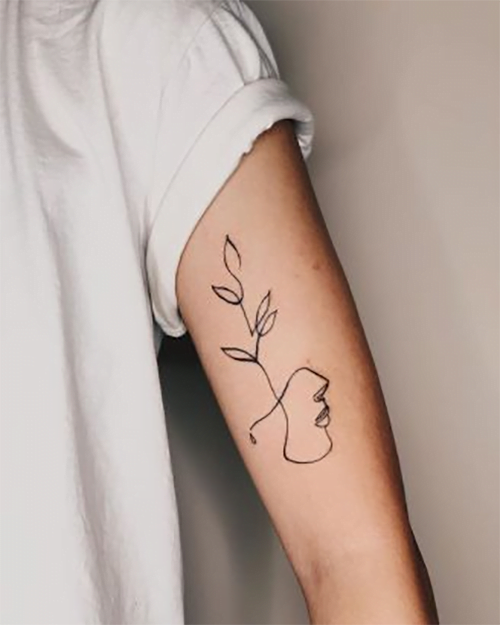 This tattoo is guaranteed to impress anyone who loves fine art. It's minimalist and conceptual. It's artistic and creative. We love it! It could fit anywhere at any size, and it will look absolutely stunning. How could you not obsess over that fabulous line work?
45. Small Tattoos Idea: Simple Sunflower Name Text Tattoo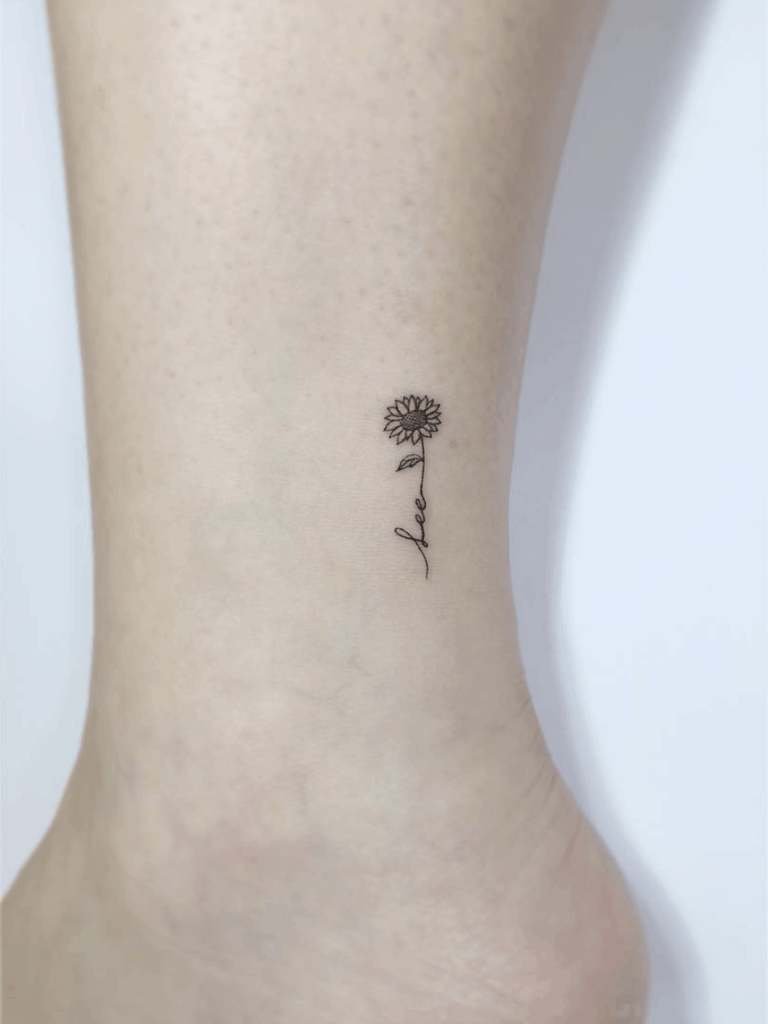 If you have a child, partner, sibling, or any loved one that you want to be tattooed on you, there is truly no better way than to use this tattoo inspiration. There is no better way to tattoo someone's name on you forever. It's simple, elegant, and small enough to go anywhere on your body.
46. Two Sparkling Butterflies Simple Tattoo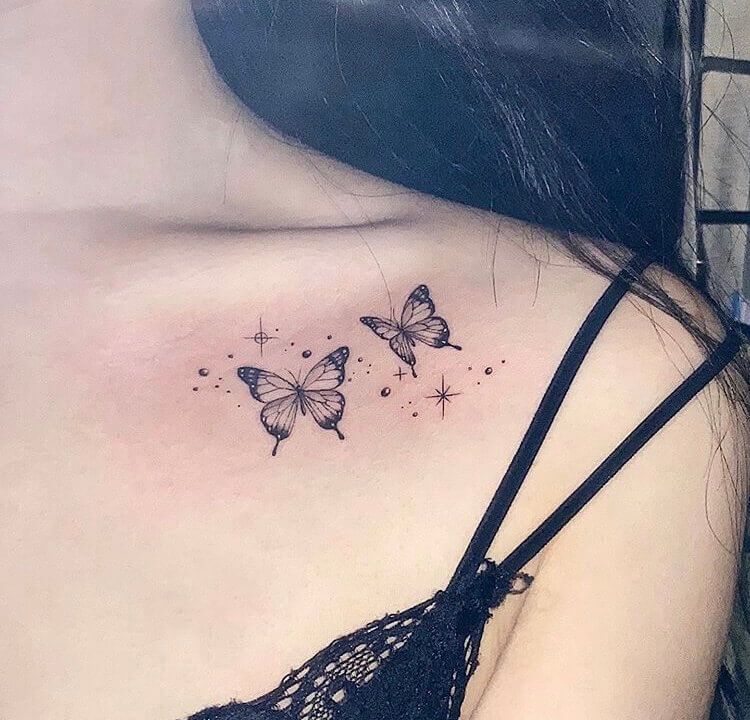 This one is as perfect as the other two butterflies. It's magical and youthful, and butterflies are somehow almost always nostalgic for most people. The chest piece is absolutely stunning, but it would work almost anywhere you want it.
47. Minimalist Date Text Simple Tattoo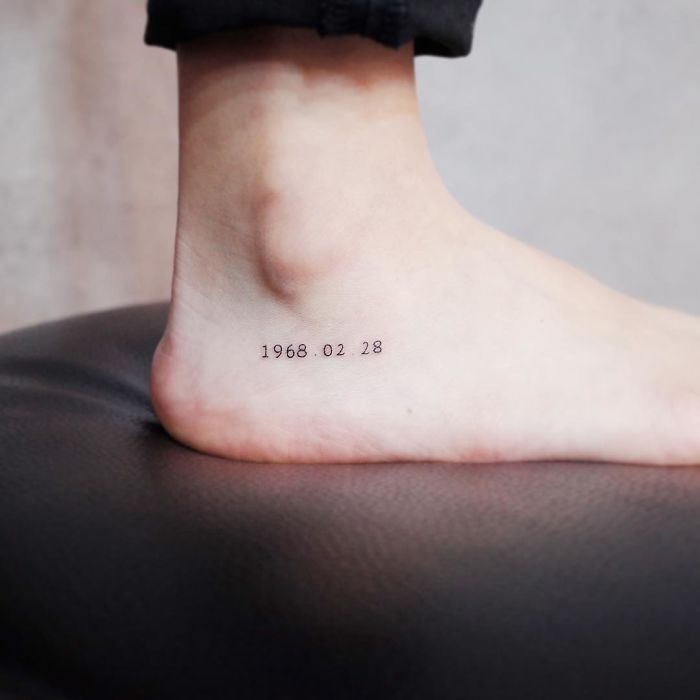 We all have a date we look forward to each year. Whether it's our kid's birthdays, our anniversary, or something else, this one is the perfect way to display that special day. If you have more than one, you could even get them stacked.
48. Simple Lavender Cute Ear Tattoo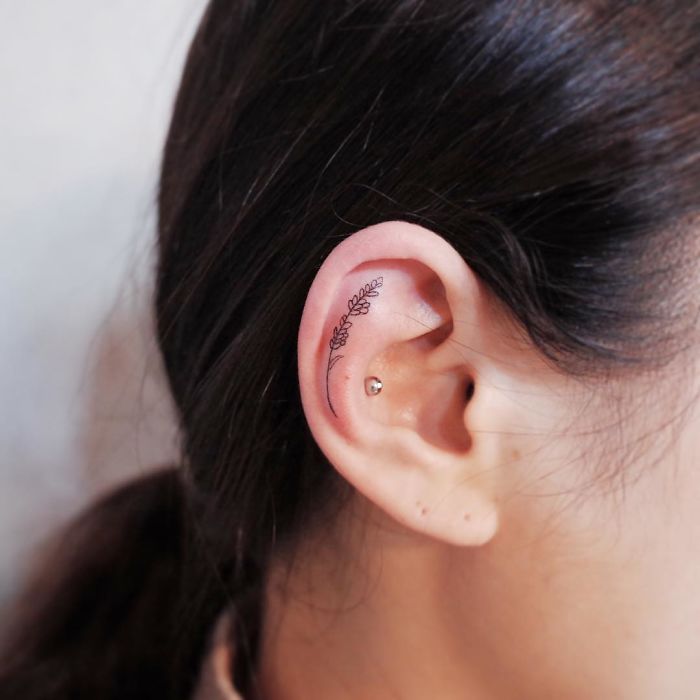 This ear tattoo is creative and so simple. In the ear isn't the most common spot for a tattoo, but it looks amazing. If that's not something you'd prefer, then you could always get it on the wrist, ankle, or even behind your ear.
49. Simple Rose Lettered Stem Tattoo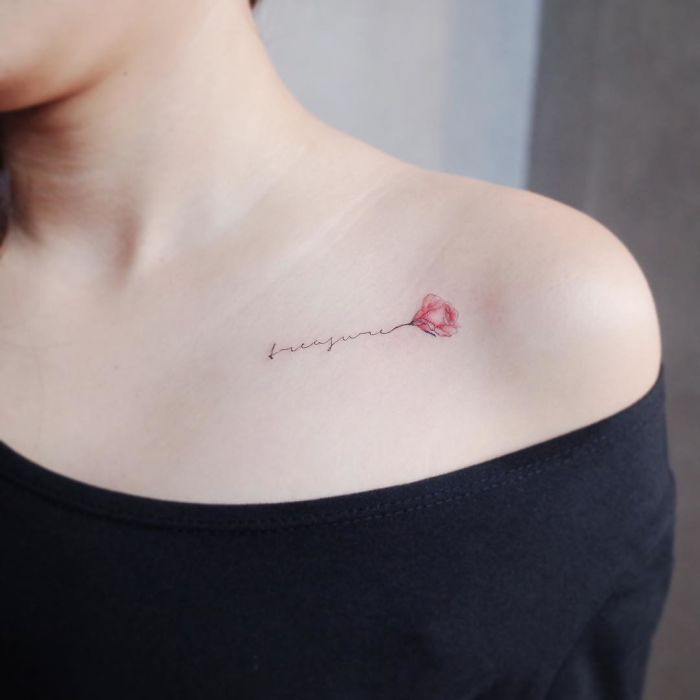 This tattoo would be perfect memorabilia for a loved one that might have passed away. It's beautifully elegant and easily discreet. We all want to remember those who left too soon, and this may be the perfect way to do that. Or you could add a self-love affirmation for yourself.
50. Simple Creative Butterfly Tattoo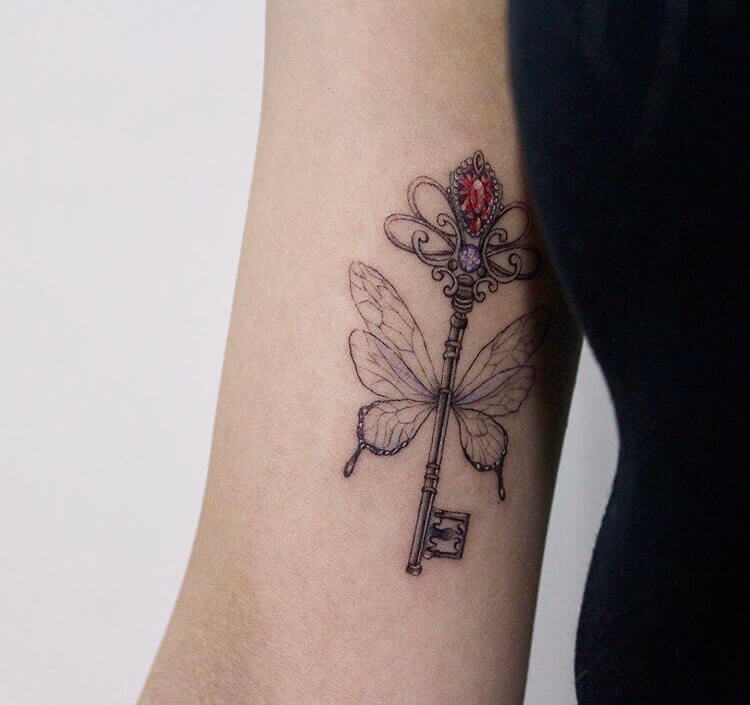 This detailed butterfly tattoo is so simple but so extraordinary. If you like mysterious, old keys this could easily be the best tattoo for you. It has a sense of fantasy and mythology to it that is intriguing for everyone to see.
51. Simple Butterfly Inspirational Text Tattoo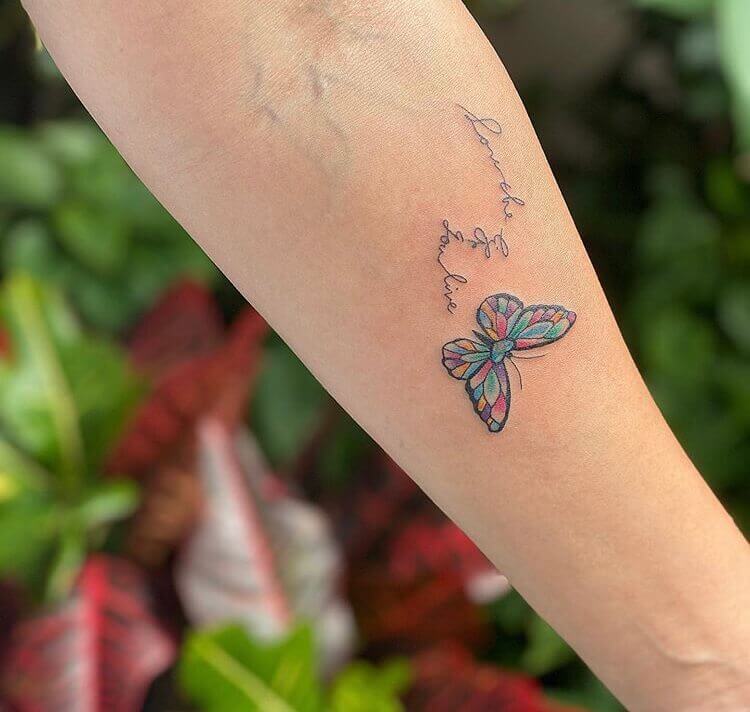 It doesn't get cuter than this. The stained-glass style butterfly is absolutely immaculate. It's positive, followed by a positive affirmation. You can't go wrong getting this on your arm or leg. It would be a beautiful daily reminder to love your life!
52. Simple Minimalistic Cat Line Tattoo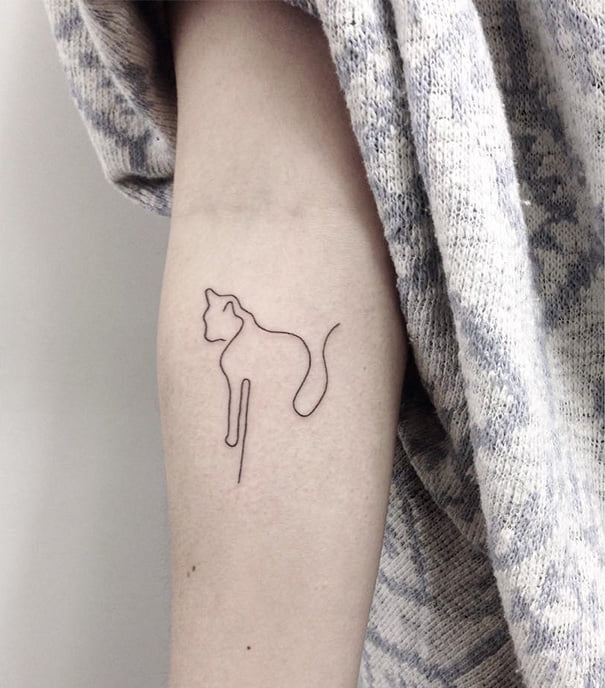 Cat or dog lover, you have to admit this one is adorable. The line usage is simple but intelligent. If you're too much of a dog lover to admit it, we are sure your tattoo artist can make a similar version with a dog.
53. Simple Cut Pineapple Cute Tattoo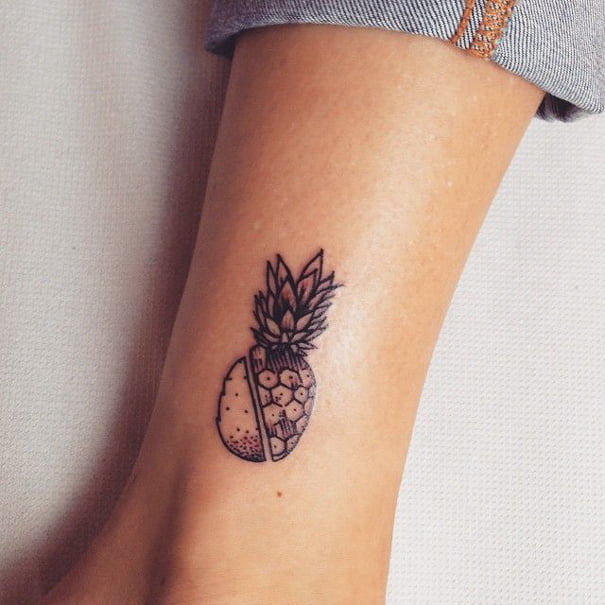 Pineapples are in style, and for good reason. Pineapples represent hospitality, friendship, and warmth. Plus, pineapple upside-down cake! Whatever your reasoning is, this cute tattoo will look good on your ankles or arms. The simplicity of it makes it so much more fun to look at.
54. Simple Trees Bird Moon Tattoo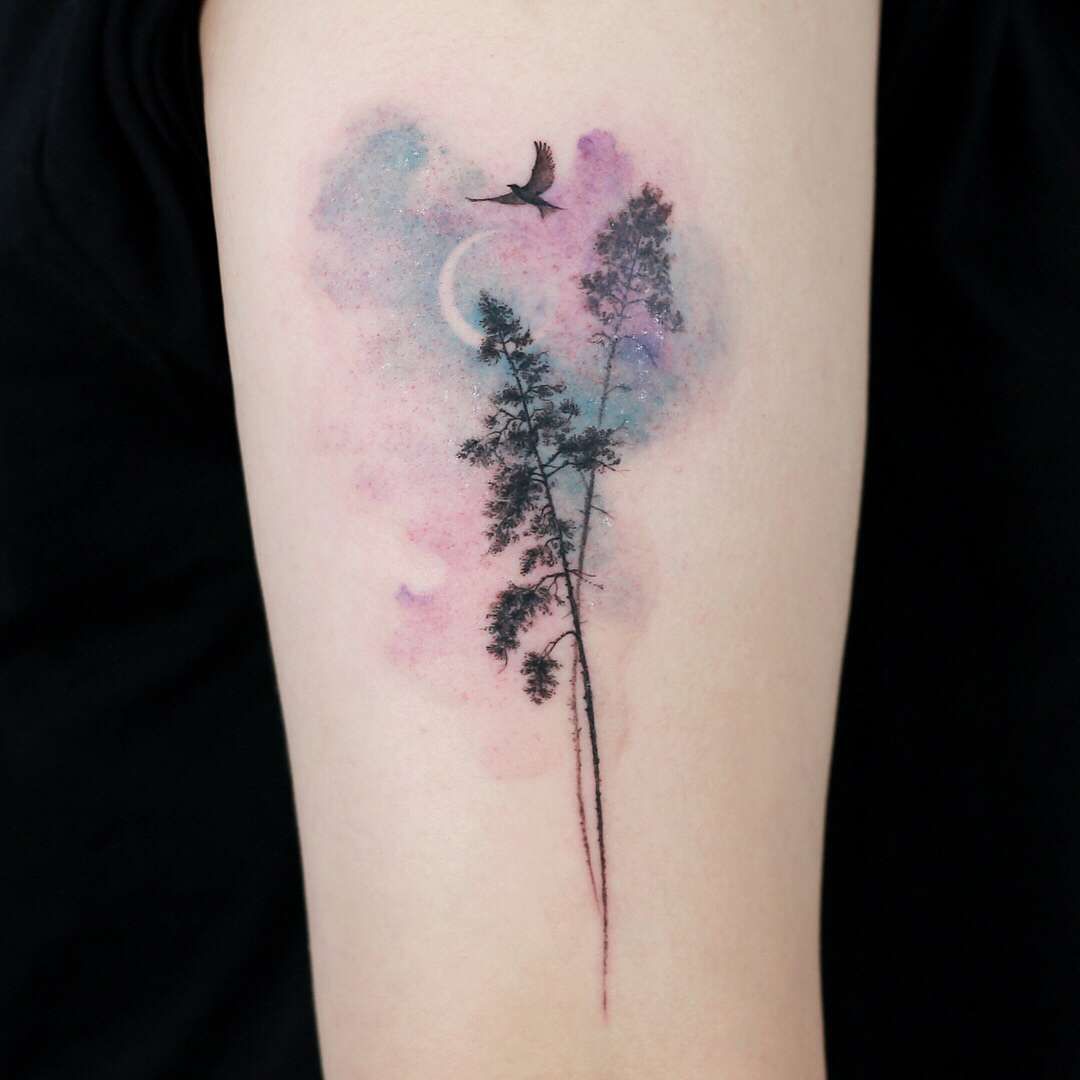 This one is so simple but so elaborate. From the tall gorgeous trees to the bird soaring above to the beautiful night sky. What is not to love about this tattoo? It would look amazing on your leg or arm. People would definitely want to stop and look at this piece of art.
55. Detailed Butterfly with Simple Lines Tattoo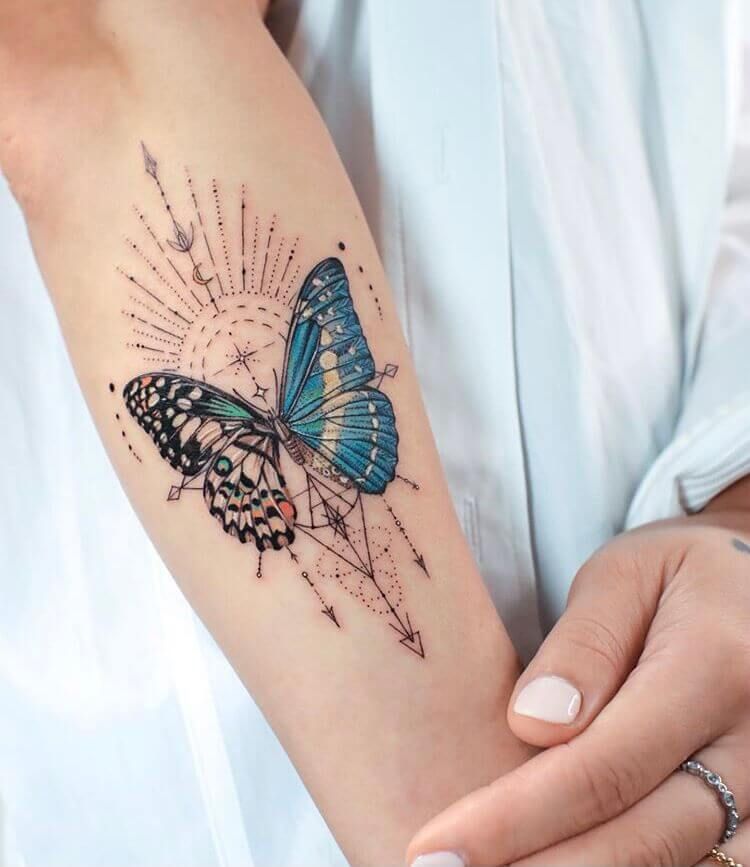 This butterfly ink is a must-have. It's simple but full of impact for the viewer. From the lines to the shapes, to the burst of colors. There's so much to love. It would look the best medium to large in size, to ensure you can see it in all its glory.
56. Book Bursting with Color Simple Tattoo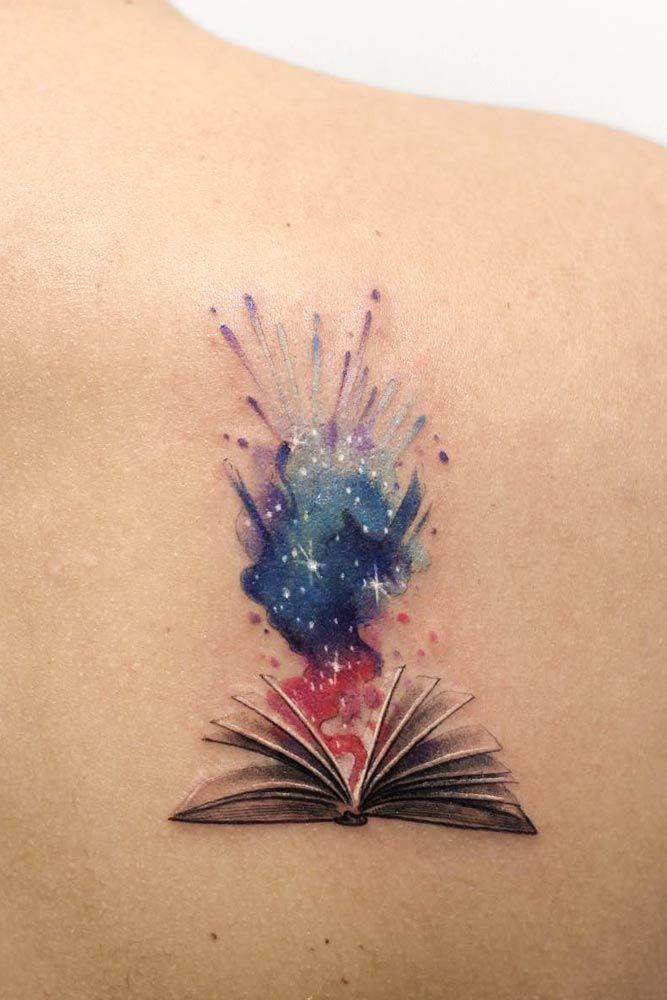 Are you a book lover? It's hard to find someone who reads books without a kindle anymore, but if you appreciate the old book smell, here is a tattoo for you! This tattoo accurately depicts the magic inside a book for booklovers. It's colorful, sparking, and absolutely incredible.
57. Colorful Watercolor Style Tree Simple Tattoo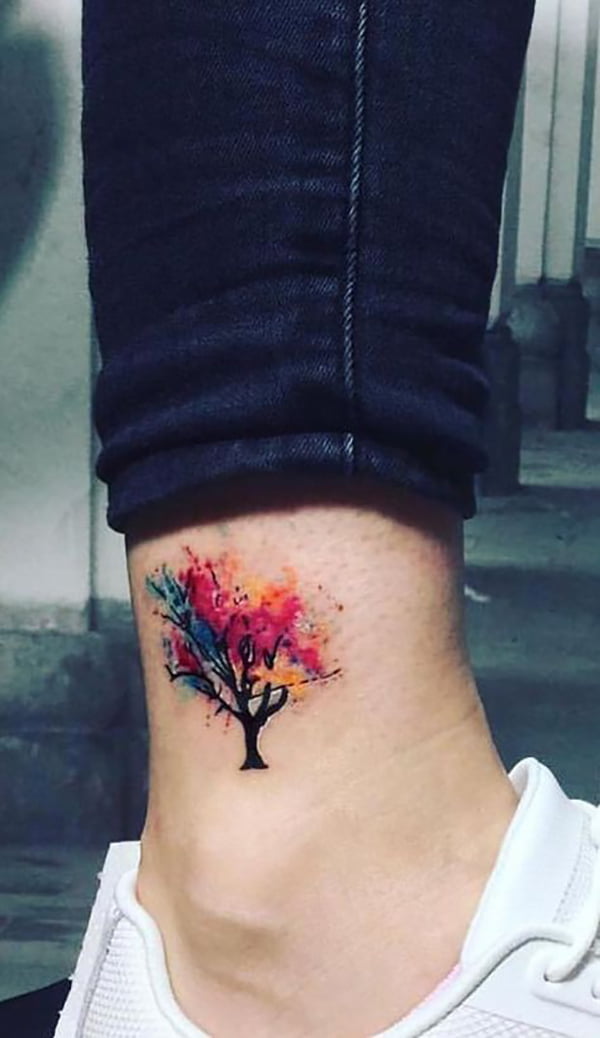 This watercolor-style tree seems to resemble each season of the year with four colors. The pink would be spring, blue would be winter, green would be summer, then orange would befall. Or it can just be pretty colors!
58. Simple Planet Saturn Cute Tattoo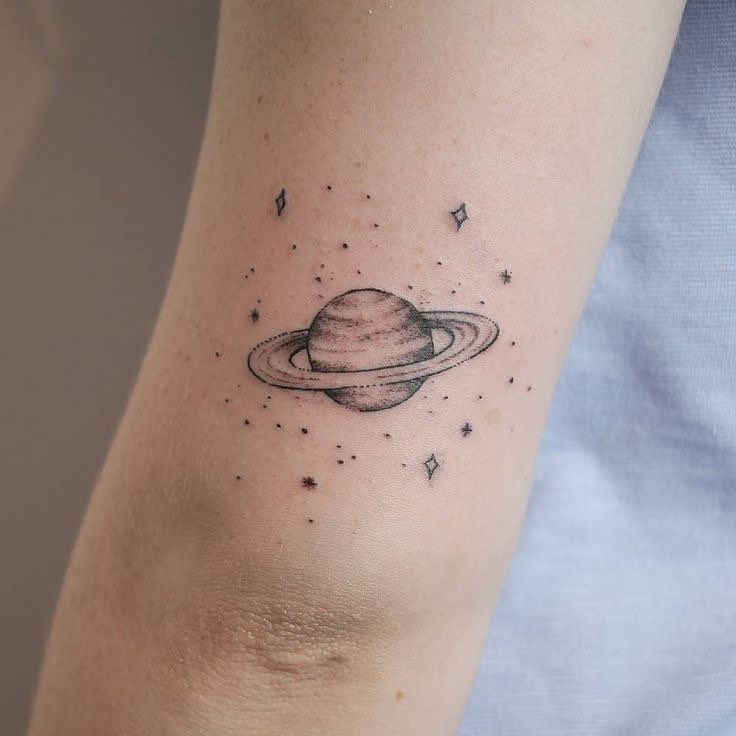 Believe it or not, Saturn represents responsibility and change. This planet holds a lot of the same values we do as human beings. Plus, its ring is really pretty. This one could be meaningful or just a way to symbolize you love outer space. Either way, we love it!
59. Simple Realistic Shaded Heart Tattoo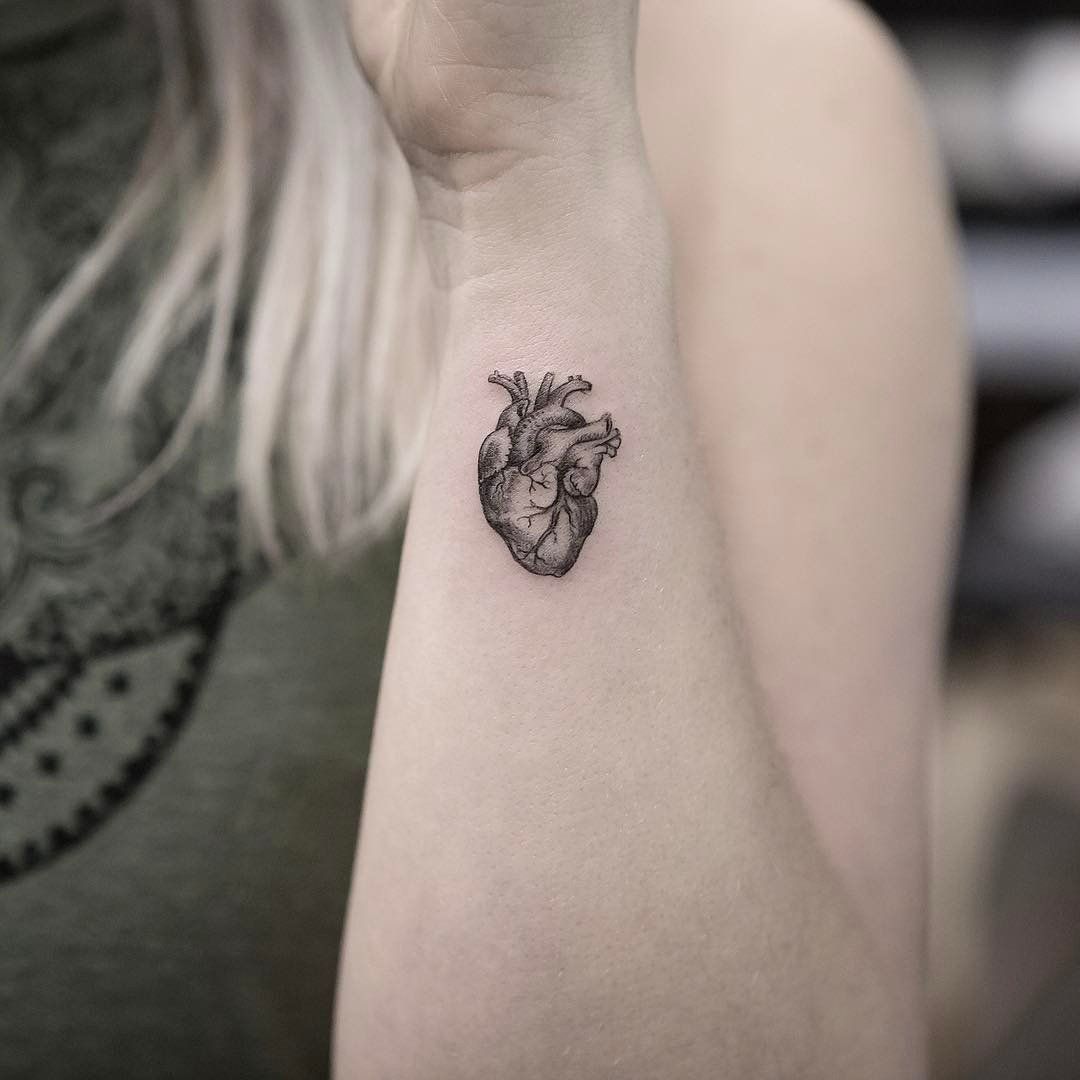 This realistic heart is gorgeous. We all think the hearts represent love, but they actually also represent compassion and understanding. Hearts are powerful symbols and are also beautiful tattoos. It would look beautiful on the wrist or somewhere on the arm.
60. Three Dragons Flying Simple Tattoos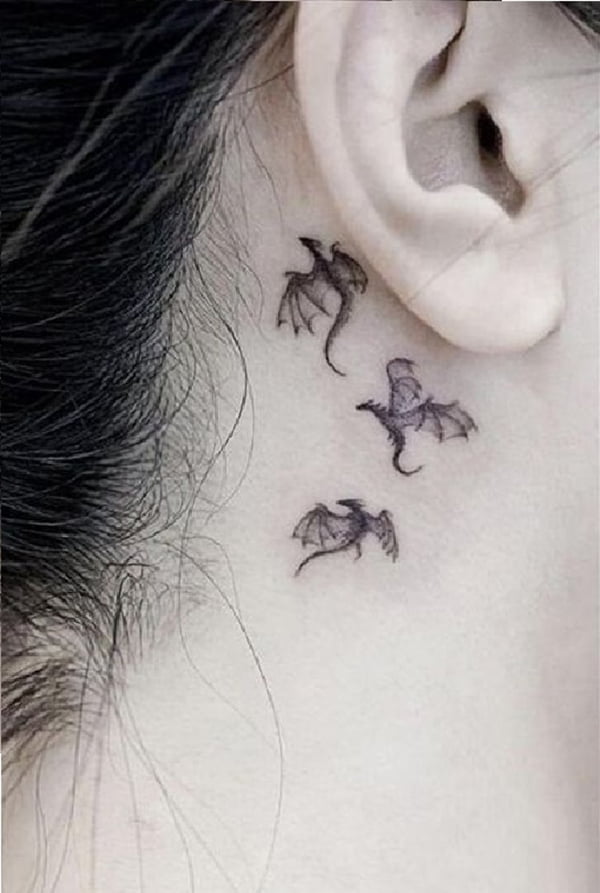 Dragons can represent chaos, or they can represent wisdom. Either way, these three little dragons look absolutely adorable. Whether you love Game of Thrones or just enjoy the mythology behind dragons, this one is beautiful wherever you may want it.
60 Artistically Simple Tattoos That Will Amaze You
There you have it, the 60 best simple tattoos we've found. Some are more comprehensive than others, but they all have the ability to create a simplistic, yet meaningful piece of art that you will definitely cherish. There are always deeper meanings if you choose to look into them, some can represent your favorite hobbies, or maybe you just like how they look. Regardless of meaning, gender, or where you choose to place them, these will get you in and out of the tattoo shop quickly since they are so simple. Minimalist tattoos are in style now, so go get one!