Japanese, Chinese, tribal, Celtic, and classic are just a few of the style options among the best dragon tattoos. These extraordinary mythical creatures can be found engulfed in cultures and folklore all around the world. Prominent in East Asia, the majestic and legendary dragon is also found in the mythology of India, Vietnam, Europe, the Philippines, and Turkey. Depending on the part of the world, the remarkable dragon can symbolize a range of meanings. While many Eastern cultures believe the dragon to be honorable and wise, European civilizations often consider the beast to be more dark and sinister. All parts of the world agree the powerful dragon is an intelligent, protective creature free to roam as it wishes.
60 Best Dragon Tattoos that Symbolize Strength and Power
Popular Asian dragon tattoos generally represent strength, balance, and wisdom. Chinese dragons bring with them good luck and are depicted with five claws and beards of flames. Japanese dragons are usually slender and wingless with just three claws. Dragons can be winged or wingless, of the heavens or the seas, with or without horns, black and gray or fully colored. Just like with skull tattoos, there are endless style possibilities when it comes to incorporating this magical creature into a tattoo. Dragon tattoos look amazing on both men and women and can be manipulated to fit into just about any location on the body. Backs, shoulders, and arms are the most common placements.
1. Colorful Asian Dragon Wrap Around Tattoo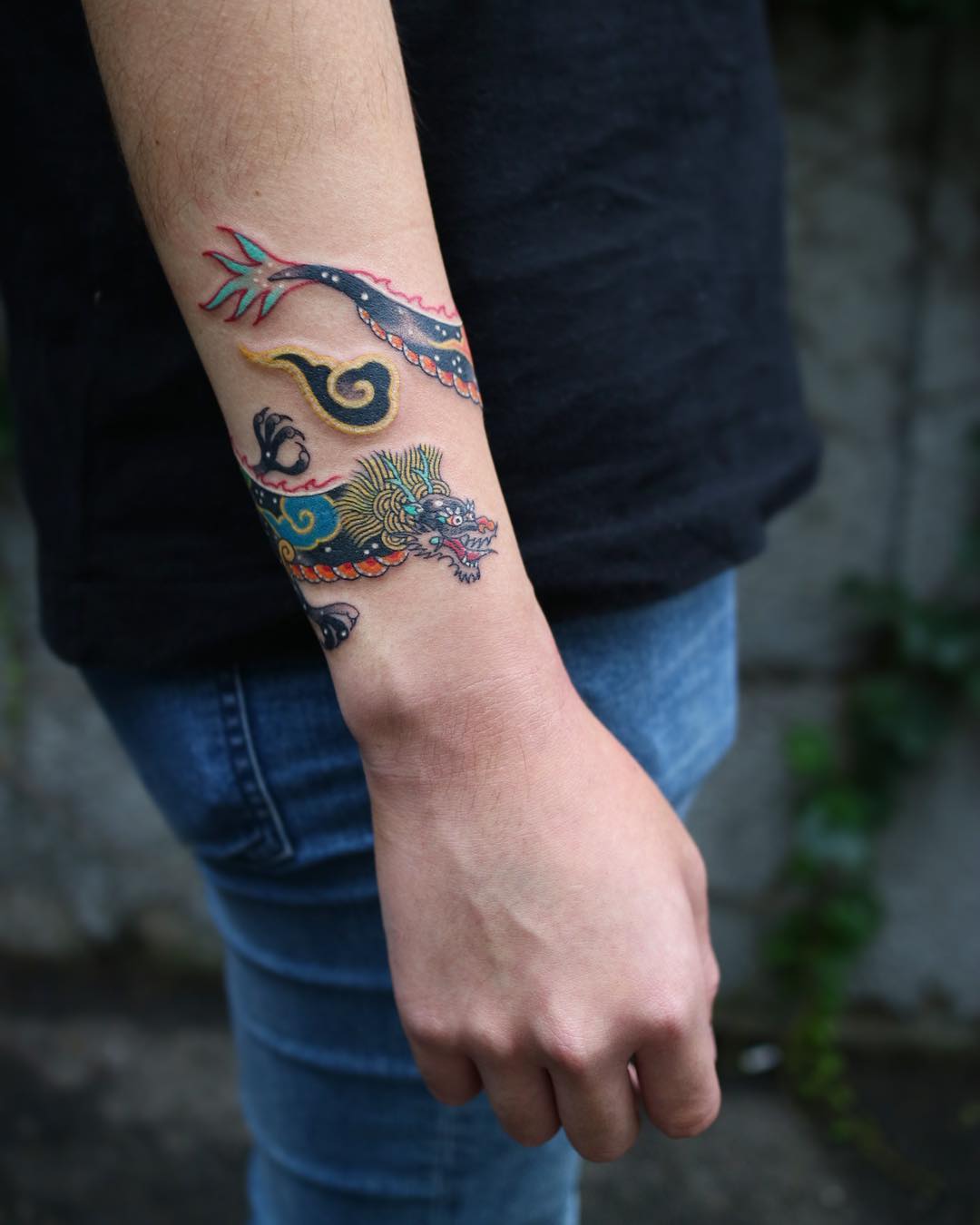 Bold colors and a whimsical design make this colorful Asian-inspired dragon tattoo an instant favorite. Just as attractive on men as women, the lively blue dragon tattoo dances completely around your wrist or arm. Multiple shades of blue, yellow, and orange add a dynamic element to the dragon wrap-around tattoo.
2. Black and Orange Dragon Half Sleeve Tattoo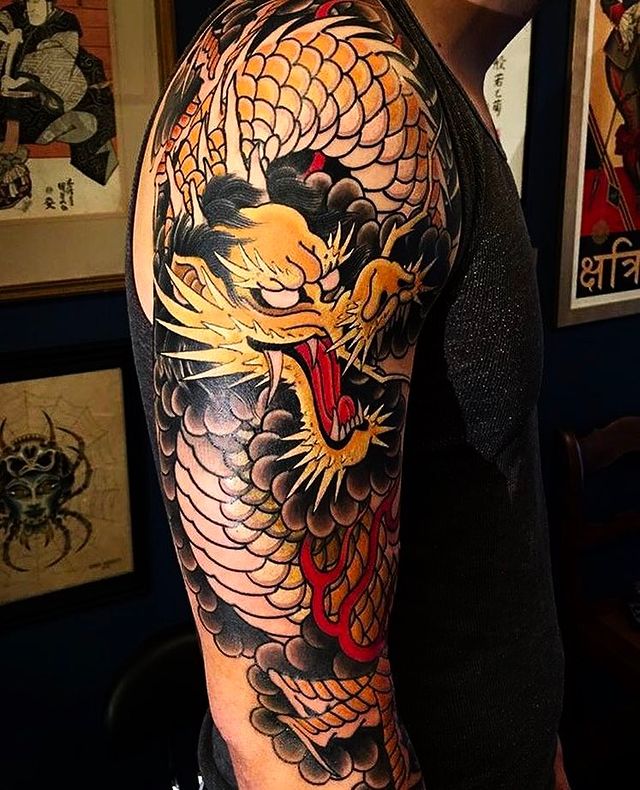 Breathtaking and bold, this awesome black and orange dragon tattoo is an excellent upper half sleeve design. From the shoulder to the elbow, the mighty dragon's imposing head and scaly body fully cover the skin. This traditional Asian inspired dragon tattoo is both notable and timeless.
3. Green Classic Dragon Tattoo with Flames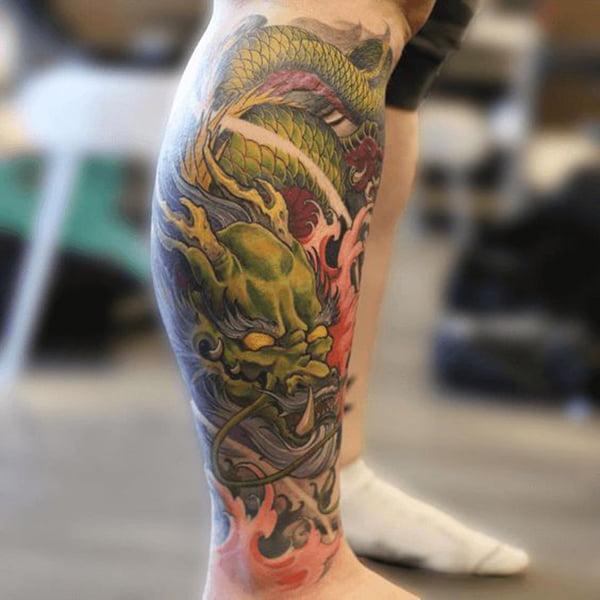 Frighteningly artistic, this classic dragon with flames tattoo symbolizes strength and power. Surrounded by flames, the green dragon's monstrous head appears to be lunging right off of the skin. Depicted on a leg, this fiery dragon tattoo would also look great as a half sleeve on your arm.
4. Dragon and Mythical Creatures Full Back Tattoo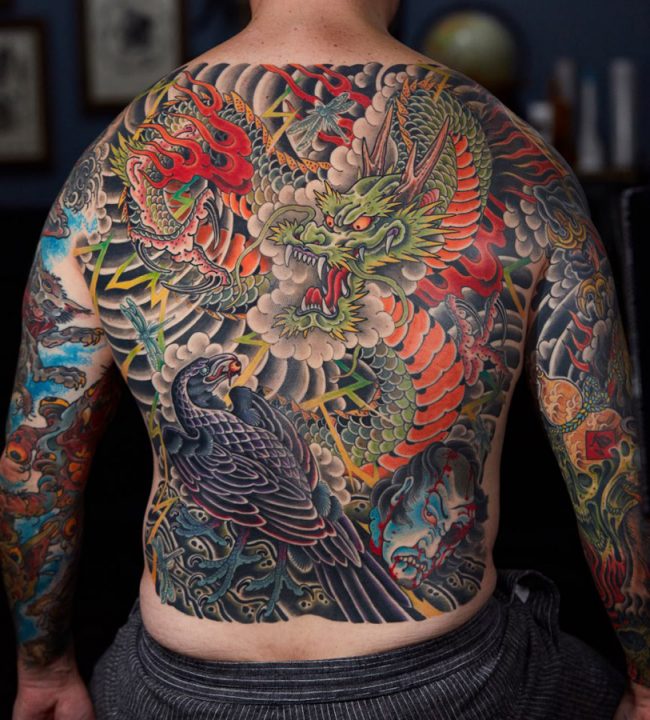 This massive colorful dragon and mythical creatures tattoo covers the entire back, from neck to hips and shoulder to shoulder. A powerful dragon featuring smoke and flames is surrounded by enchanting dragonflies and the regal phoenix. Intensely colored, this incredible dragon full back tattoo makes a strong statement.
5. Bright Green Dragon Arm and Shoulder Tattoo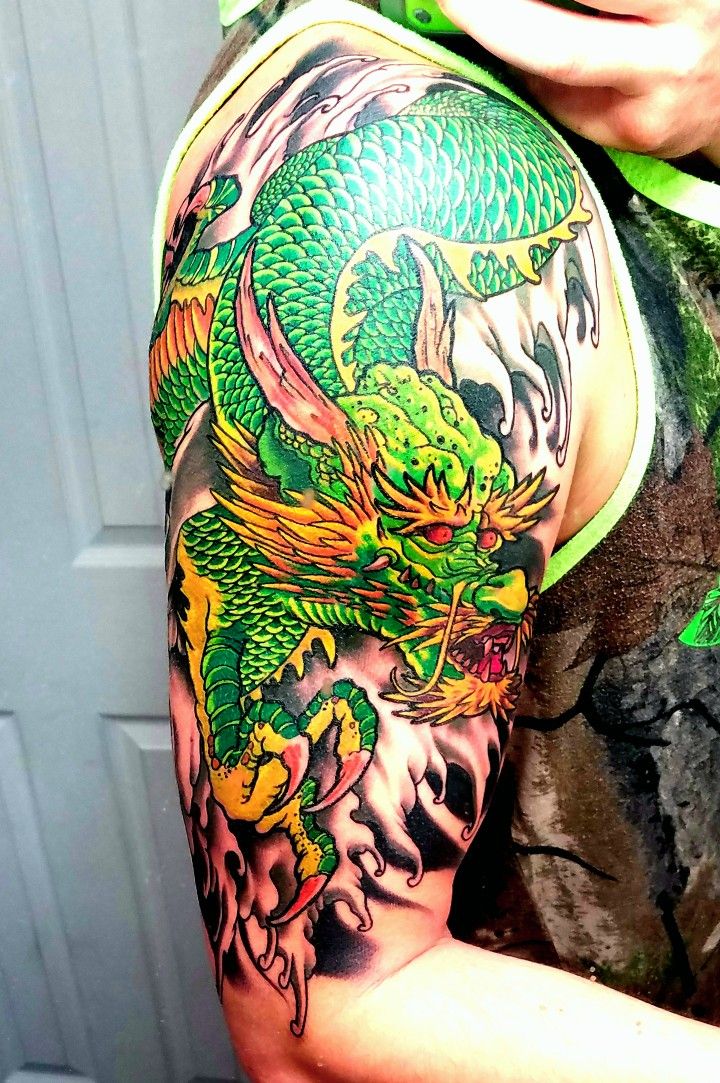 Vibrant and dramatic, this eye-catching green dragon tattoo is practically glowing with bright colors. In addition to the dragon's varying greens, he is ablaze with orange and yellow details. The amazing colorful dragon is set against a backdrop of classic black and white waves.
6. Floral Tattoo with Full Moon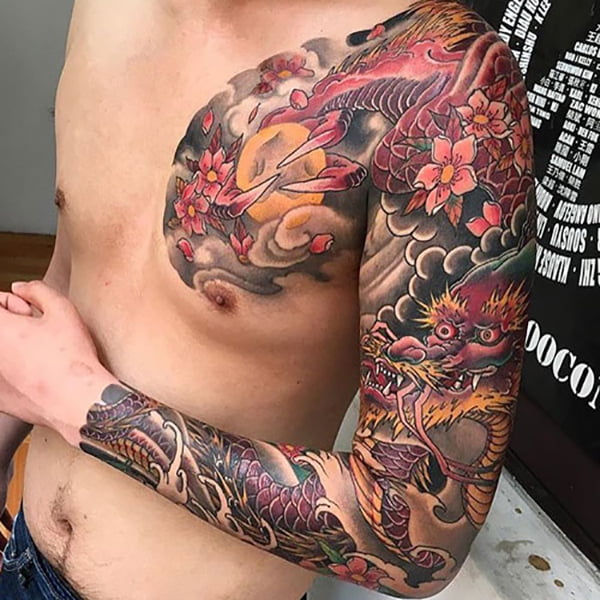 An amazingly fierce red dragon clutches in his claws a full moon illuminated against a dark sky. This awesome dragon tattoo consists of a full arm sleeve, full shoulder, and chest piece. Enhanced with flowers, clouds, and waves, this is a highly detailed and impressive tattoo.
7. Black and White Chinese Dragon Tattoo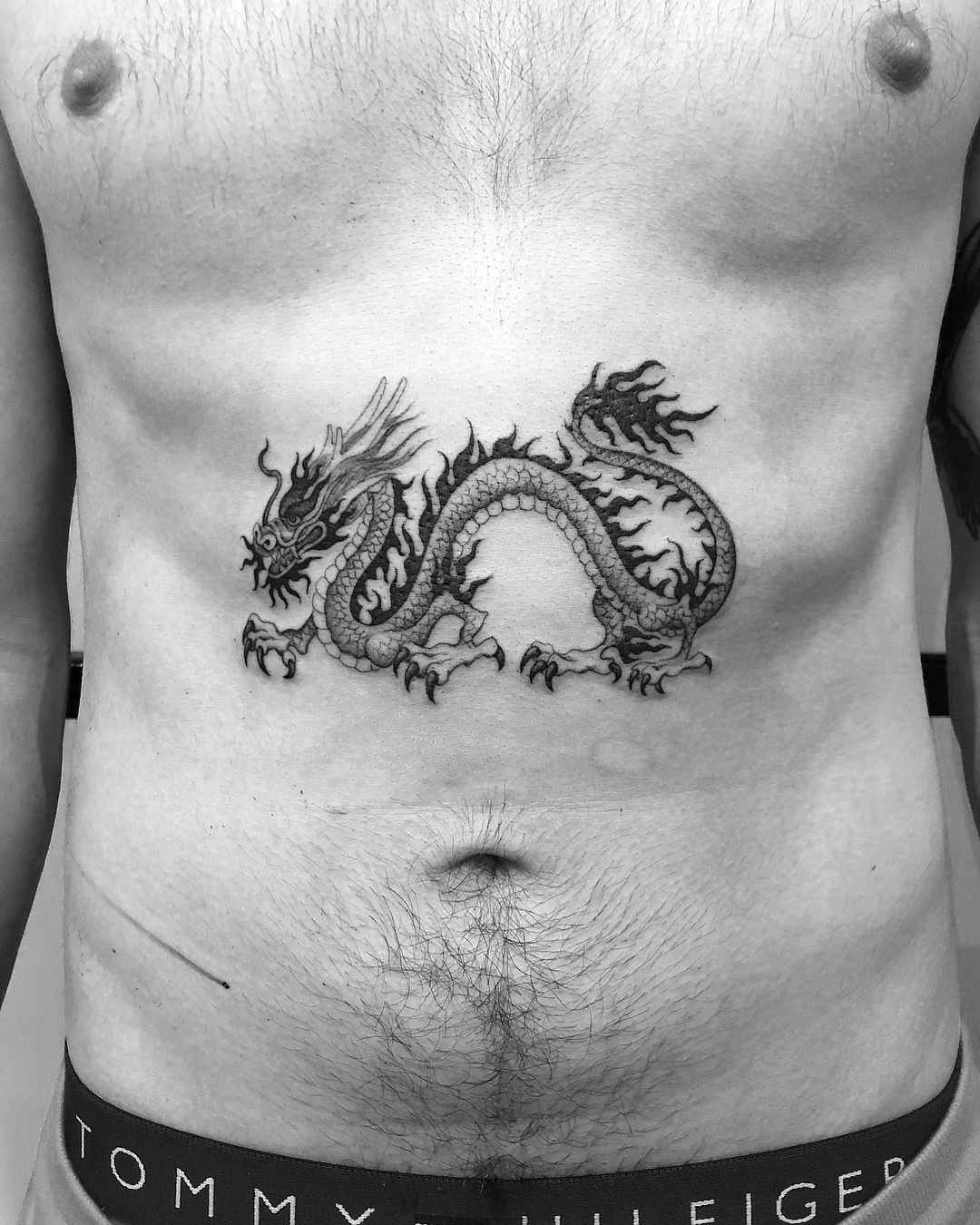 Simple in color and strong in design, this black and white Chinese dragon tattoo is symbolic of power, wisdom, and luck. Flames extend from the dragon's face, back, and tail. The entire dragon body is visible and appears to be moving from one side of the stomach to the other.
8. Artistic Spirited Away Inspired Dragon Tattoo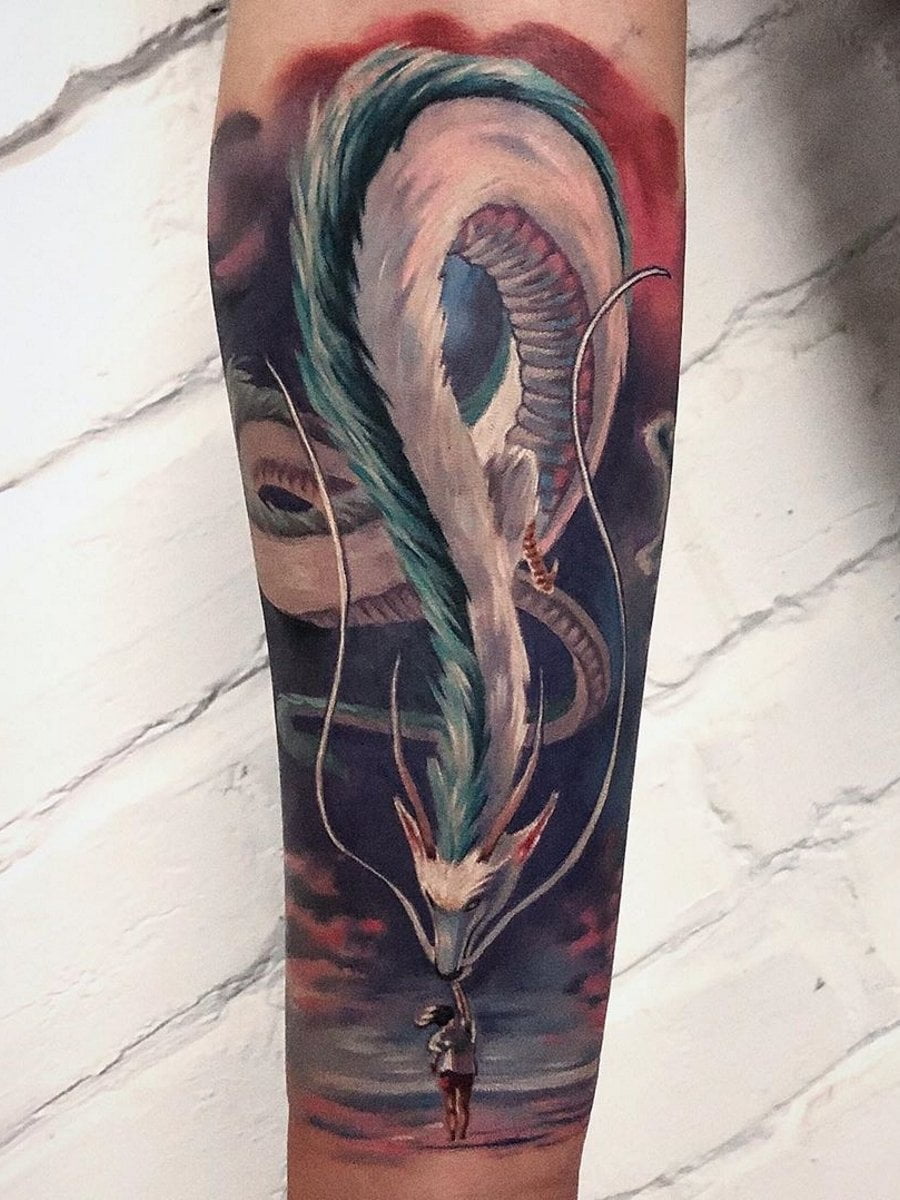 Inspired by the Japanese animated fantasy film titled Spirited Away, this magnificent dragon tattoo is full of enchantment. An extraordinary blue and white dragon leans down from the sky to meet the hand of a young girl reaching up. Saturated with color, this wondrous dragon tattoo is charming and artistic.
9. Horned Blue Dragon Full Back Body Tattoo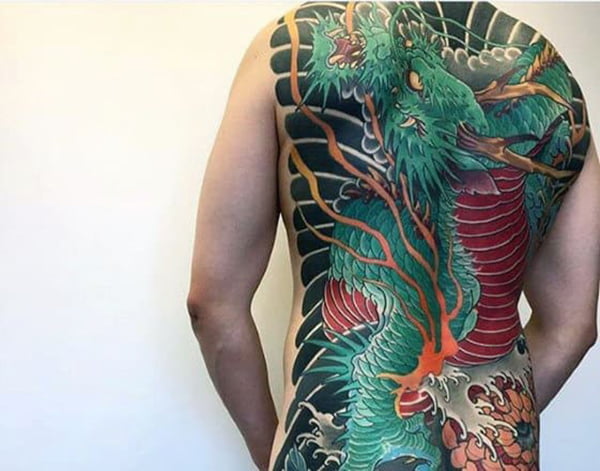 This impressive full-back tattoo features a blue horned dragon, often considered the most powerful kind of dragon. All of the elements – earth, wind, air, and fire – are represented in this boldly colored dragon tattoo. A modern depiction of the mythological blue dragon, this tattoo is for strong, creative people.
10. Dragon and Maple Leaf Chest Tattoo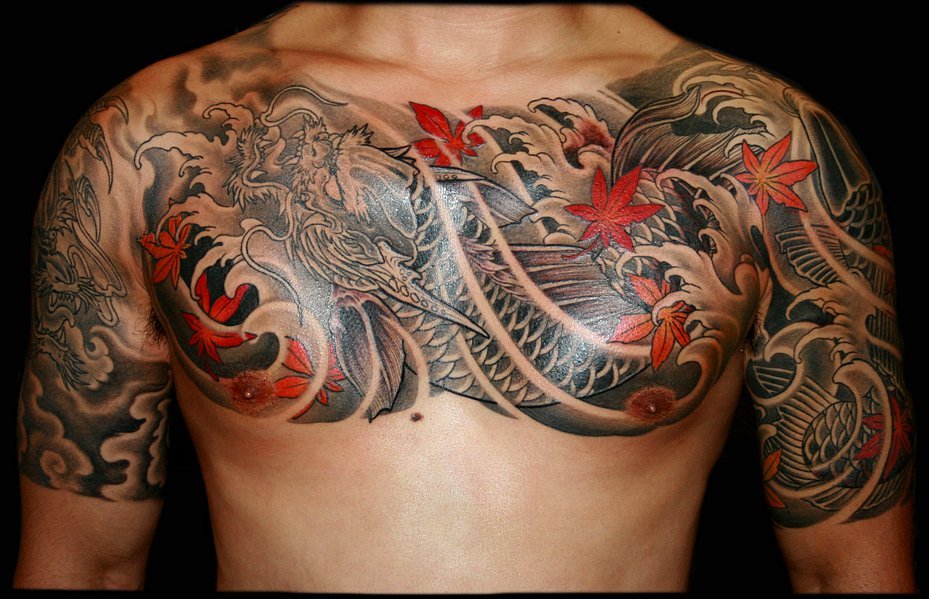 Covering the chest, shoulders, and upper arms, this intricate dragon tattoo is expressive and powerful, it is one of the japanese dragon tattoos. Regal red Japanese maple leaves flutter about this intriguing black dragon tattoo to represent the passing of time. Full of nobility, symbolism, and energy, this beautifully detailed tattoo is truly exquisite.
11. Black and Orange Asian Dragon Shoulder Tattoo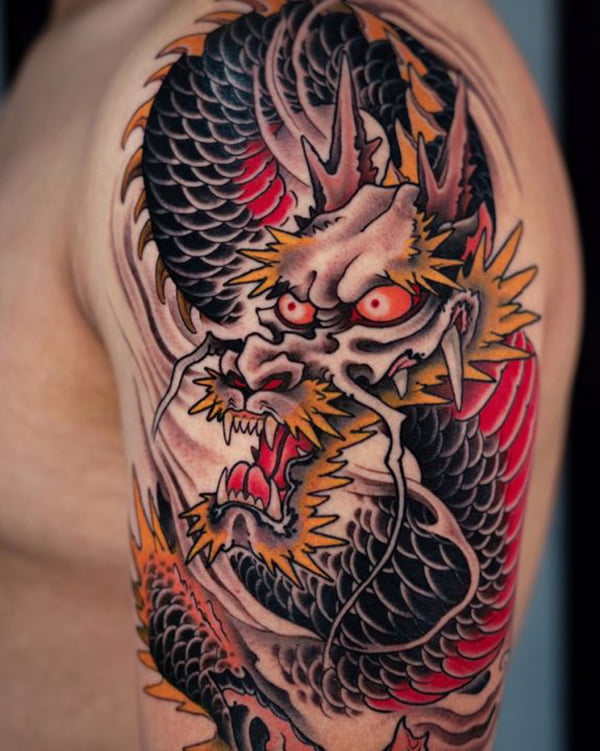 Using solid black, shades of orange and intricate shading, the ferocious dragon in this shoulder tattoo embodies power and strength. The artistic choice to leave open skin to show through makes this incredible dragon tattoo absolutely energetic. With its fiery eyes, this Asian dragon tattoo stares into your soul.
12. Large Floral Dragon Chest and Shoulders Tattoo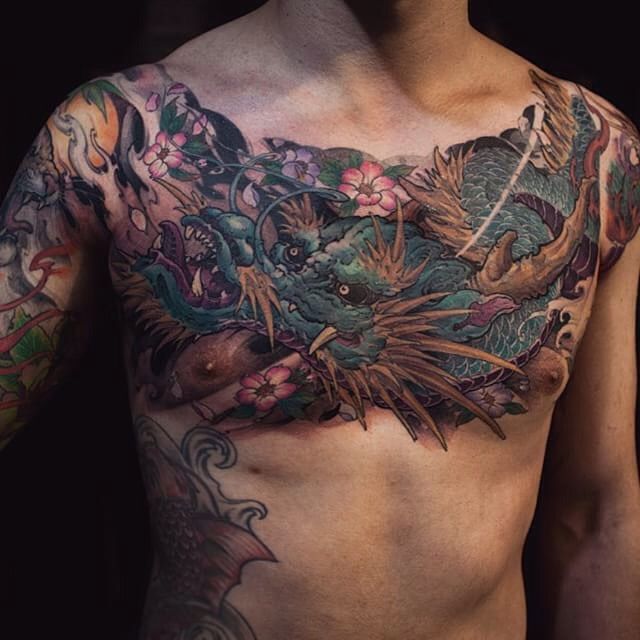 Big, bold, and beautiful, this exquisite floral dragon tattoo covers the entire chest and extends onto both shoulders. A glorious blue dragon is encompassed by gorgeous floral elements to create an extremely detailed and colorful tattoo. Not for the faint of heart, this amazing dragon tattoo is breathtakingly daring.
13. Red Eyed Black Dragon Full Sleeve Tattoo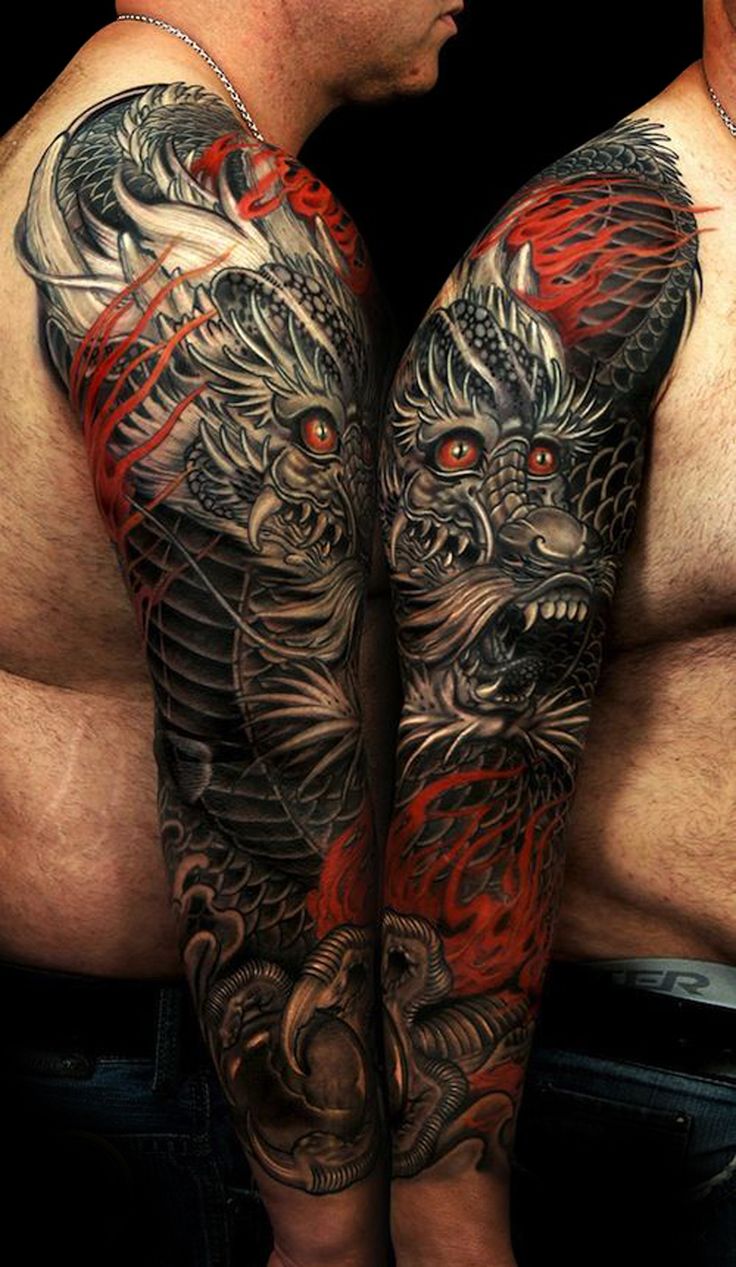 Dark and dramatic, this full sleeve black dragon tattoo is meticulously detailed. Red flames and red eyes add a pop of color to the mostly black and gray Asian inspired tattoo. Every inch of skin from the shoulder to the wrist is covered in intensely saturated ink.
14. Black Dragon Full Back Tattoo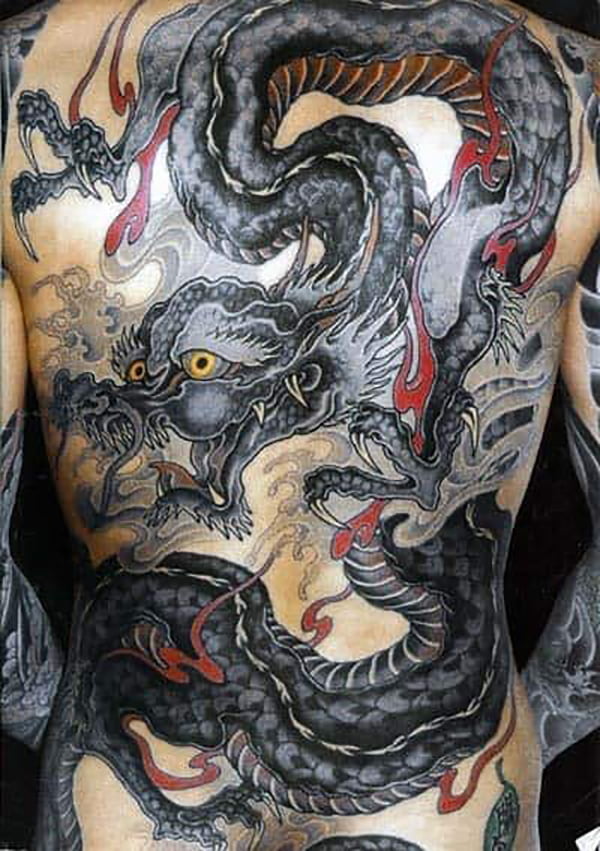 Yellow eyes, red flames, and black skin, this is an excellent depiction of the traditional tattoo. With its head placed in the center of the back, the regal dragon's body twists and curves to cover the whole back, shoulders, and arms. Elemental details complete this awesome dragon tattoo.
15. Giant Red Dragon Head Tattoo on Shoulder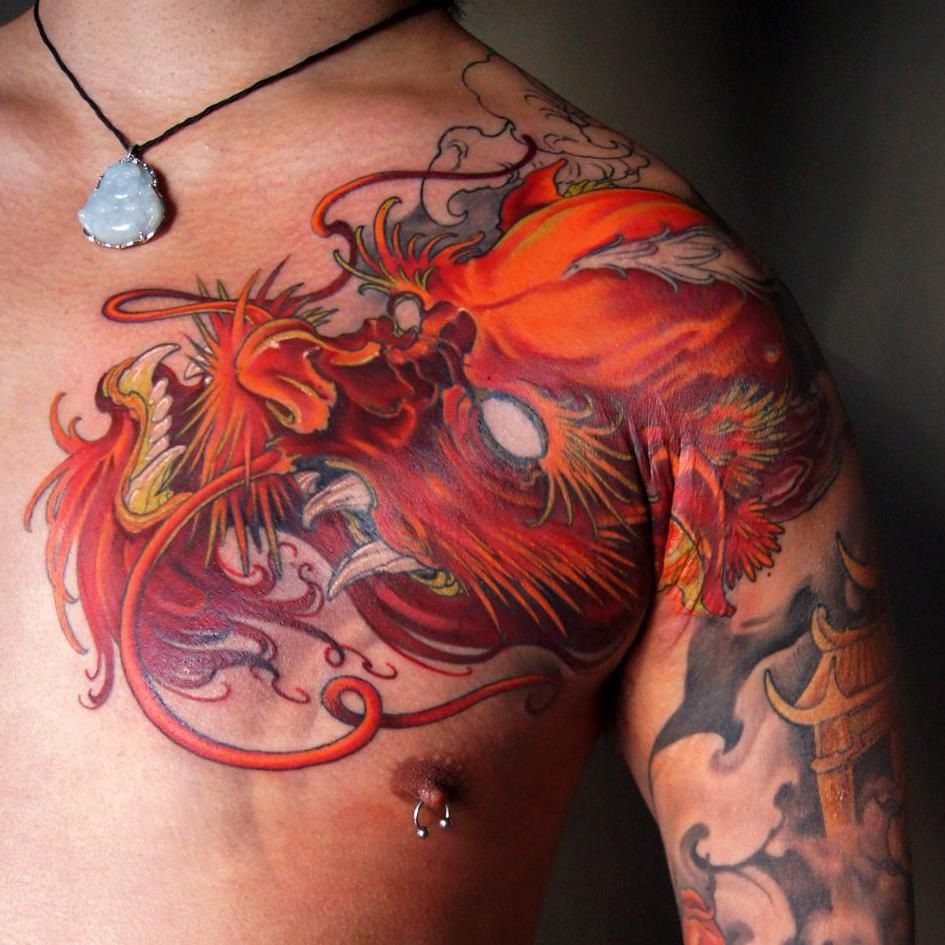 Fiery power and intense strength strongly show through in this arresting red dragon head shoulder tattoo. The color red often represents courage, stamina, and passion. With its mysterious eyes and a beard of fire, the magnificent dragon in this shoulder tattoo is bursting with energy.
16. Blue and Red Dragon Full Back Tattoo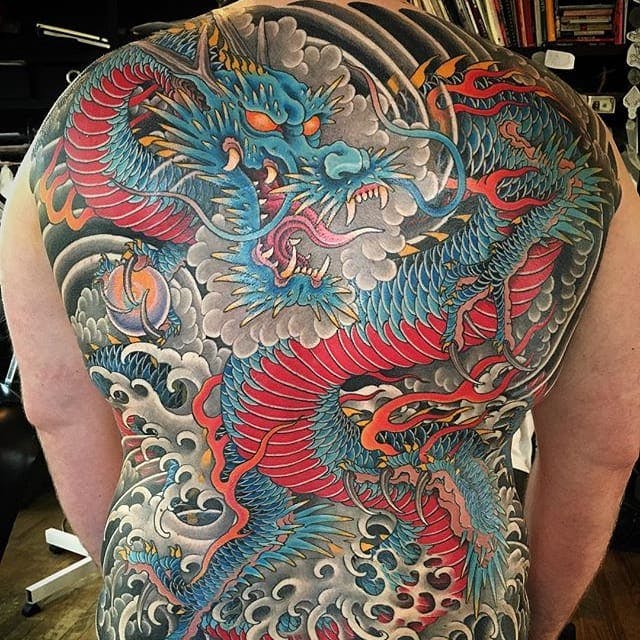 Fire meets water in this brightly colored full-back Asian dragon tattoo. An astounding blue and red dragon grasps an iridescent pearl in its claws as it bursts up from the water. The natural elements surrounding the dragon are seamlessly incorporated into this highly developed full back dragon tattoo.
17. Dragon Head Tattoo on Back of Hand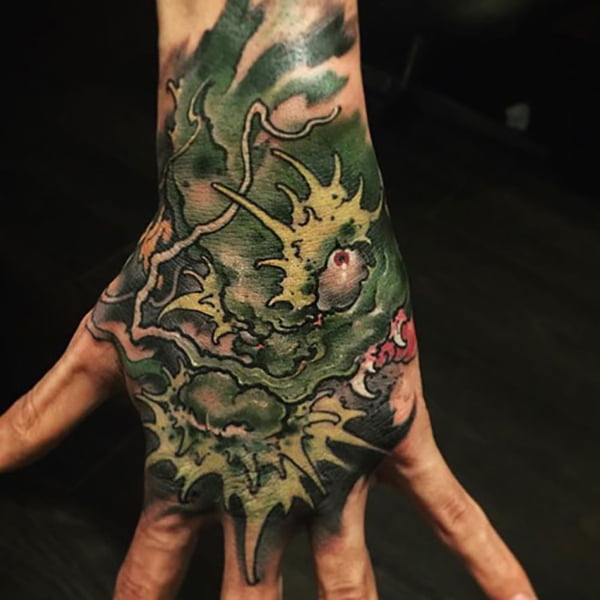 In this wildly creative tattoo, a wide-eyed green dragon fiercely stares up at you from the back of your hand. In varying hues of greens and blues, the dramatic dragon head almost appears to be alive. More artistic than traditional, this cool dragon tattoo is modern and mesmerizing.
18. Enormous Black and Red Dragon Body Tattoo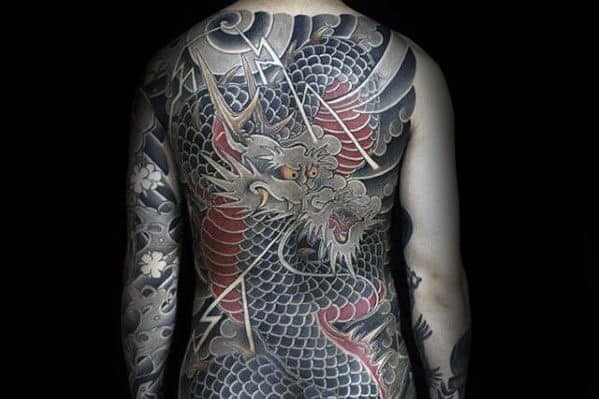 An amazing piece of artwork, this striking dragon tattoo covers nearly the entire back of the body, from the neck to the upper buttocks. The dragon's massive horned head is supported by a large black body with a red underbelly. Around the dragon are wind, water, air, and floral elements.
19. Flaming Red and Orange Dragon Side Tattoo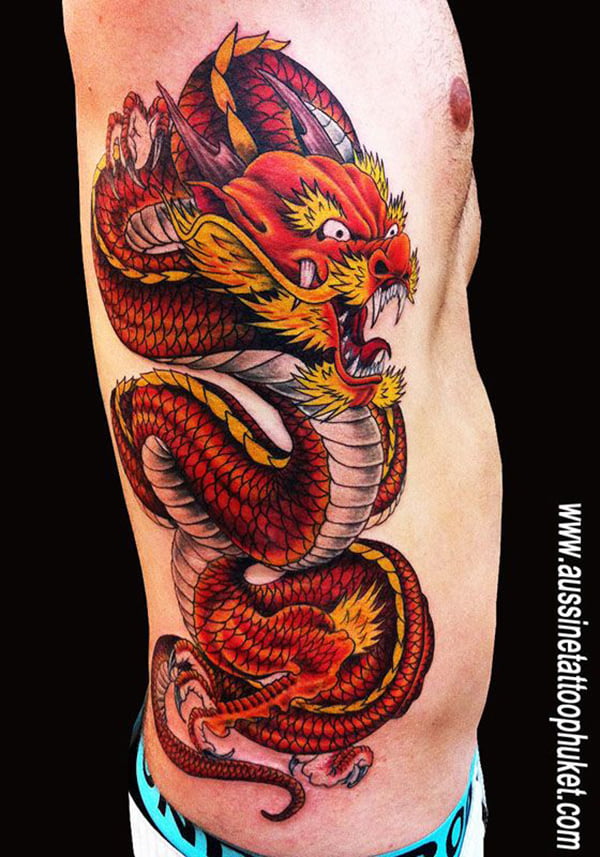 Bold outlines and vibrant colors give this red and orange flaming dragon tattoo its profound appearance. This daring dragon tattoo is on the side of the body from under the armpit to the waistline. Eyes wide and mouth open, the ferocious dragon seems to be roaring with courage and pride.
20. Colorful Mystic Dragon Full Back Tattoo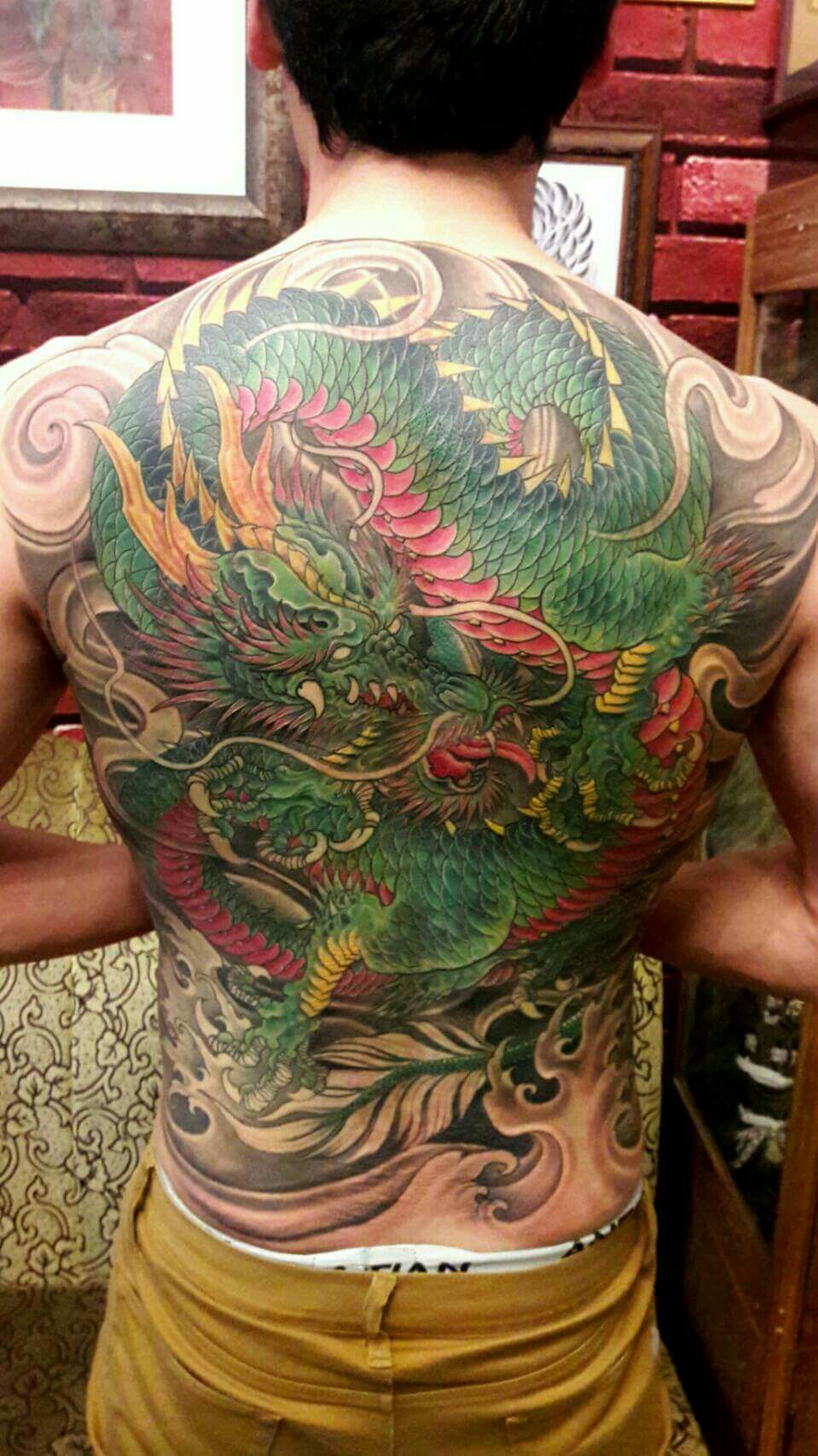 The fantastical mystic dragon tattoo covers the entire back with captivating hues including blue, pink, purple, white, and orange. Intricately detailed with wind, waves, and feathers, this beautiful dragon tattoo incorporates numerous natural components. Unique and attractive, the mystic dragon tattoo is perfect for creative and spiritual people.
21. Flying Black Dragon Tattoo with Orange Moon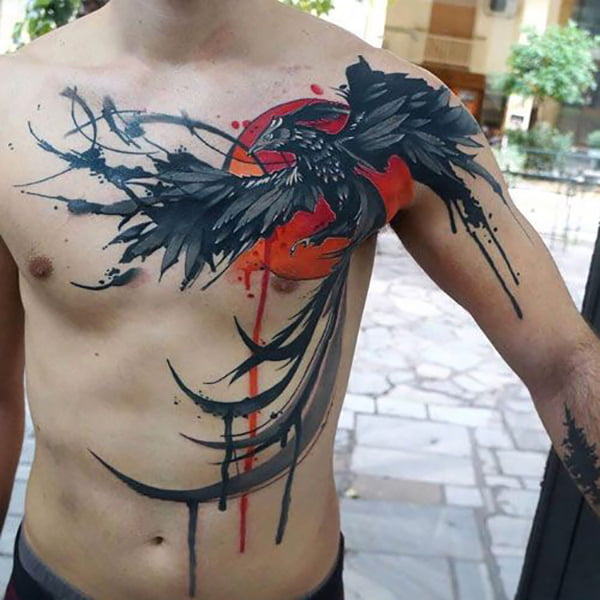 This stunning tattoo features an enigmatic flying black dragon soaring against a blood-red full moon. As the dragon's wings expand across the chest and shoulder, its dramatic feathered tail extends towards the waist and along the stomach. Creative elements like paint splatters and drips make this tattoo extra artistic.
22. Black Dragon Castle Attack Tattoo on Back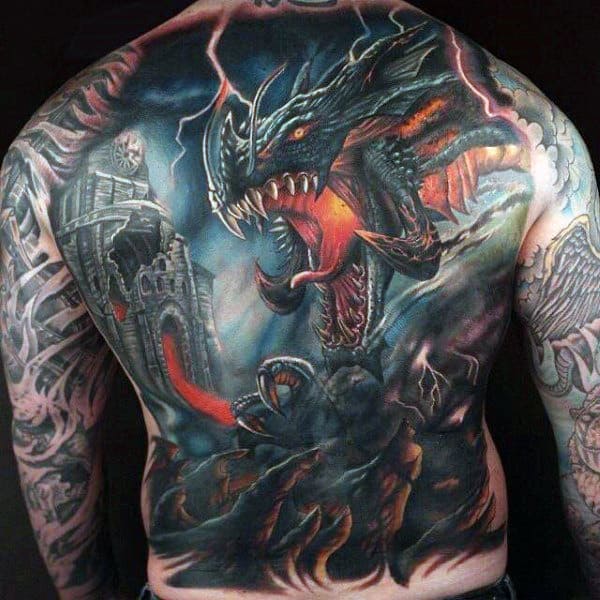 In full attack mode, a savage black dragon opens his mouth, ready to breathe fire upon a mysterious castle. Saturated with color and detail, this incredible back tattoo depicts an entire mythological scene. From the lightning in the sky to the outstretched claws of the dragon, this tattoo is remarkable.
23. Full Back Horned Red Dragon Tattoo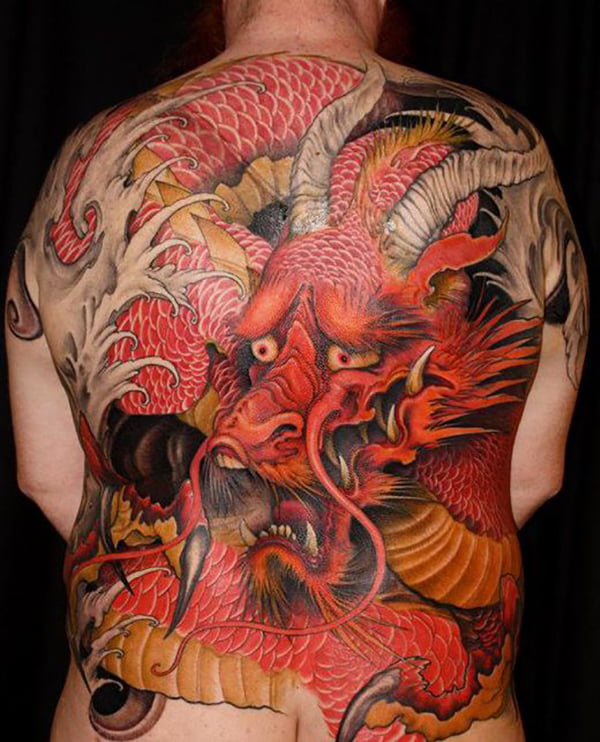 Encompassing the entire back, this powerful tattoo portrays a mighty red dragon with sturdy horns and flame orange fur. Splashing waves along with the dragon's claws, horns, and teeth are inked in grayscale for a unique twist on a classic tattoo. This awesome dragon tattoo invokes strength and determination.
24. Purple and Yellow Mythical Dragon Chest Tattoo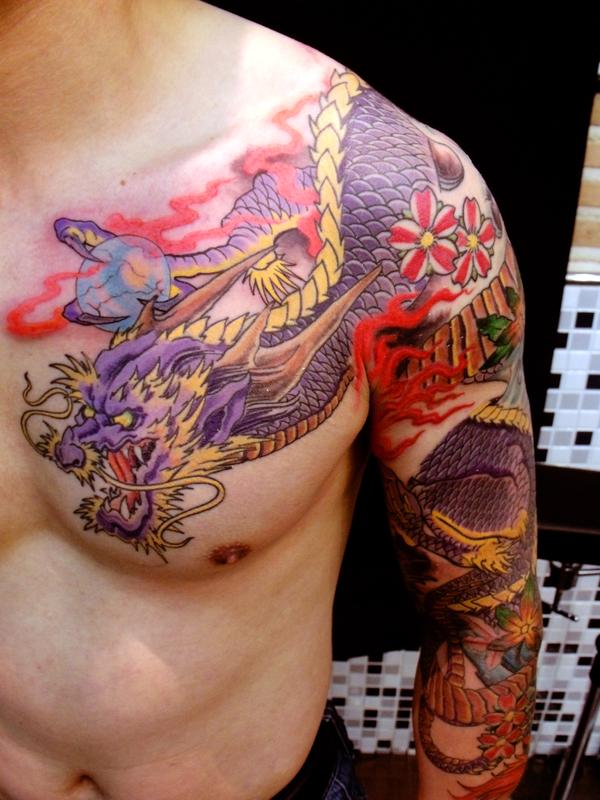 From pinks and purples to yellows and oranges, there are many beautiful colors in this magical mythical dragon tattoo. Its purple scaled body begins behind the shoulder as its head jumps out from the chest. Clutched in the mystic dragon's powerful claws is a lustrous blue and white pearl.
25. Powerful Blue Dragon Tattoo on Upper Arm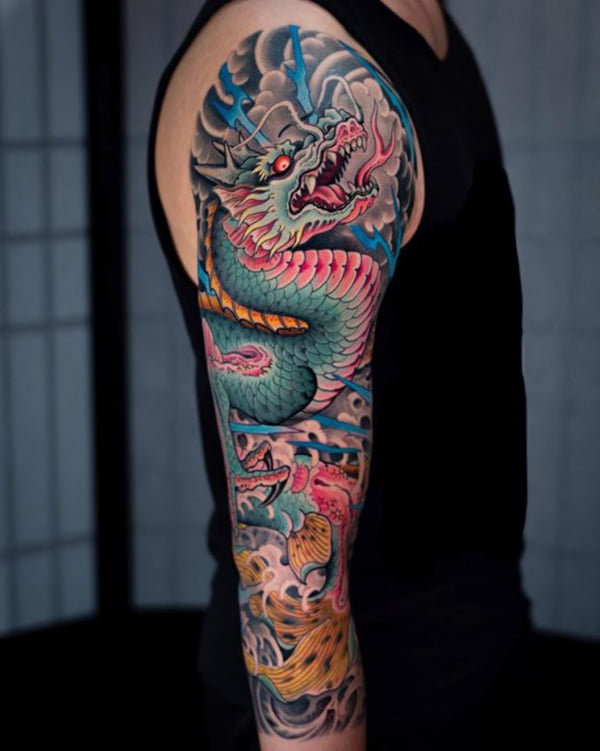 With its head raised towards the sky, the powerful blue dragon looks strong, regal, and dynamic. This Asian inspired koi dragon tattoo is perfectly positioned on the shoulder and upper arm down to the mid-forearm. Surrounding the incredible blue dragon are a variety of other attractive Asian elements.
26. Black and Orange Wise Japanese Dragon Tatto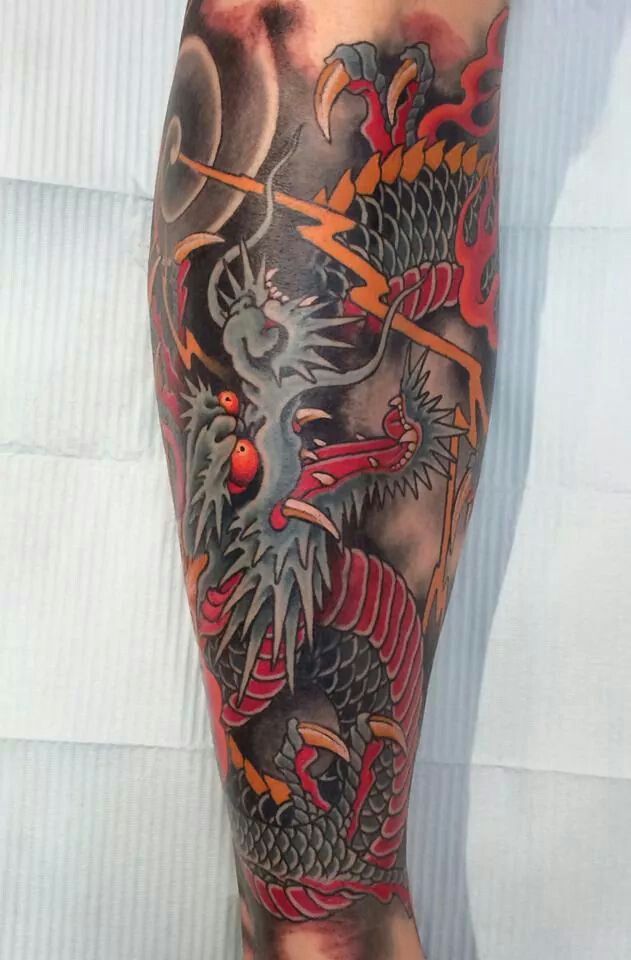 With its great gray face, piercing red eyes, and deep black scales, this fearless Japanese dragon appears to be powerful and wise. Orange lightning strikes and dark shading add an energetic quality to the wrap-around dragon tattoo. This striking tattoo looks excellent inked on arms and legs.
27. Red-Eyed White Dragon Chest and Shoulder Tattoo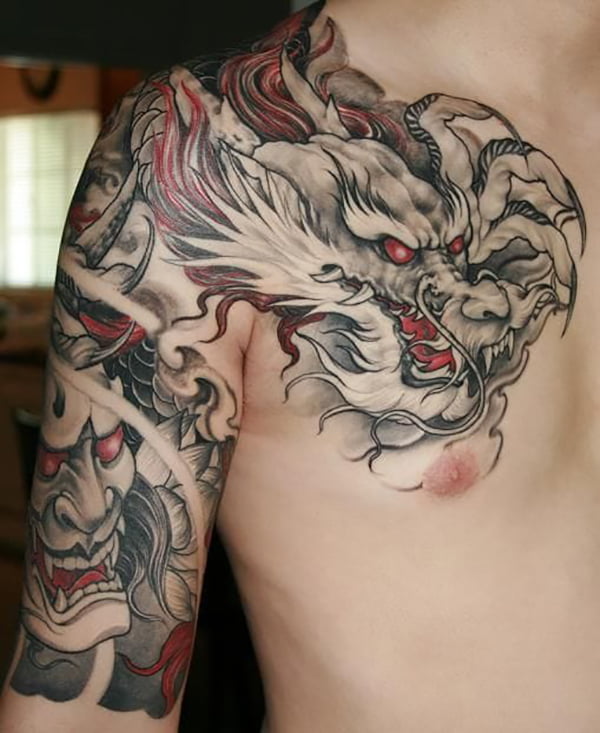 The head of a red-eyed white dragon stares at you in this ferociously fantastic chest and shoulder tattoo. Its claws reaching to grab you, the mystical creature looks almost alive with its intricate shading and red highlights. Other Asian components are added to round out this sophisticated white dragon tattoo.
28. Colorful Dragon and Tiger Full Back Tattoo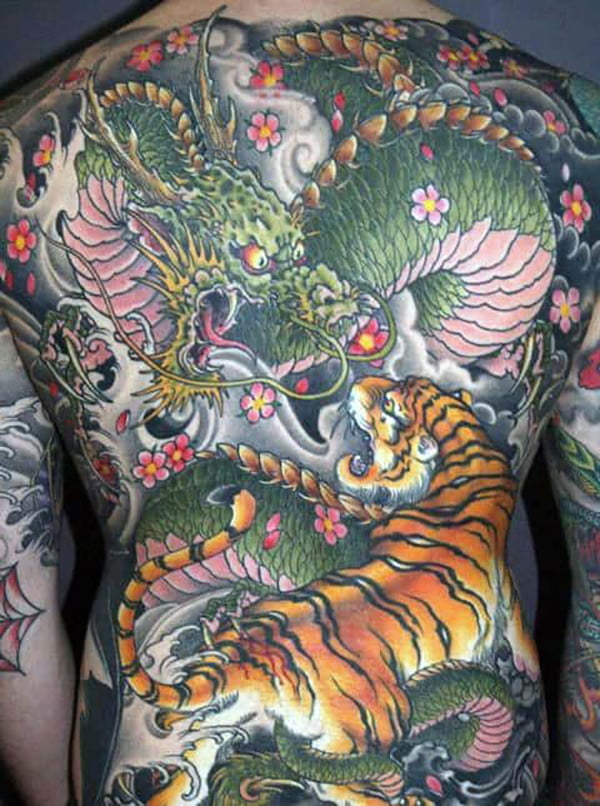 As mortal enemies, dragons and tigers are often shown fighting in traditional Asian-inspired tattoos. This awe-inspiring dragon and tiger tattoo is bursting with color and vitality as flower petals float around the pair of wild beasts. Chinese culture often views the dragon and tiger as symbolizing balance, yin, and yang.
29. Vibrant Azure Dragon Chest and Shoulder Tattoo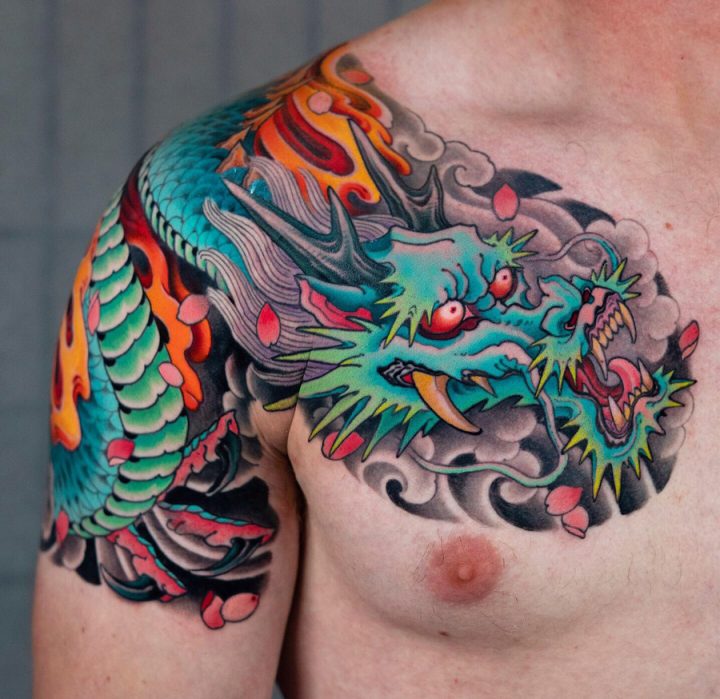 With its bold flashy colors and undeniable Asian influence, this vibrant azure dragon tattoo is extremely eye-catching, one of the blue dragon tattoos. The bearded dragon head lays on the shoulder while its body extends around the shoulder and arm. Black shading makes the blues, oranges, and pinks pop out in this amazing dragon tattoo in this bearded dragon tattoo.
30. Gorgeous Grayscale Full Back Dragon Tattoo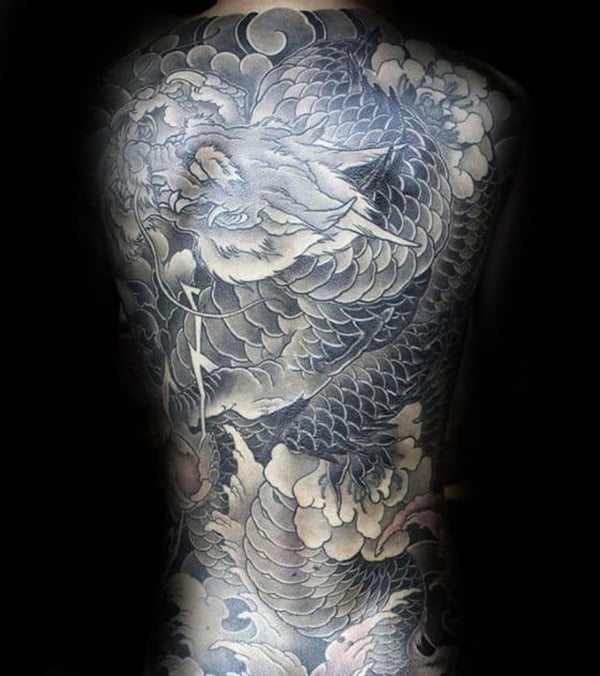 No color is necessary for this phenomenal grayscale dragon tattoo which covers the entire back, buttocks, and shoulders. An incredible amount of detail, shading, and linework go into inking the face and body of this stunning dragon tattoo. Delicate floral and wave design complete this amazing Asian dragon tattoo.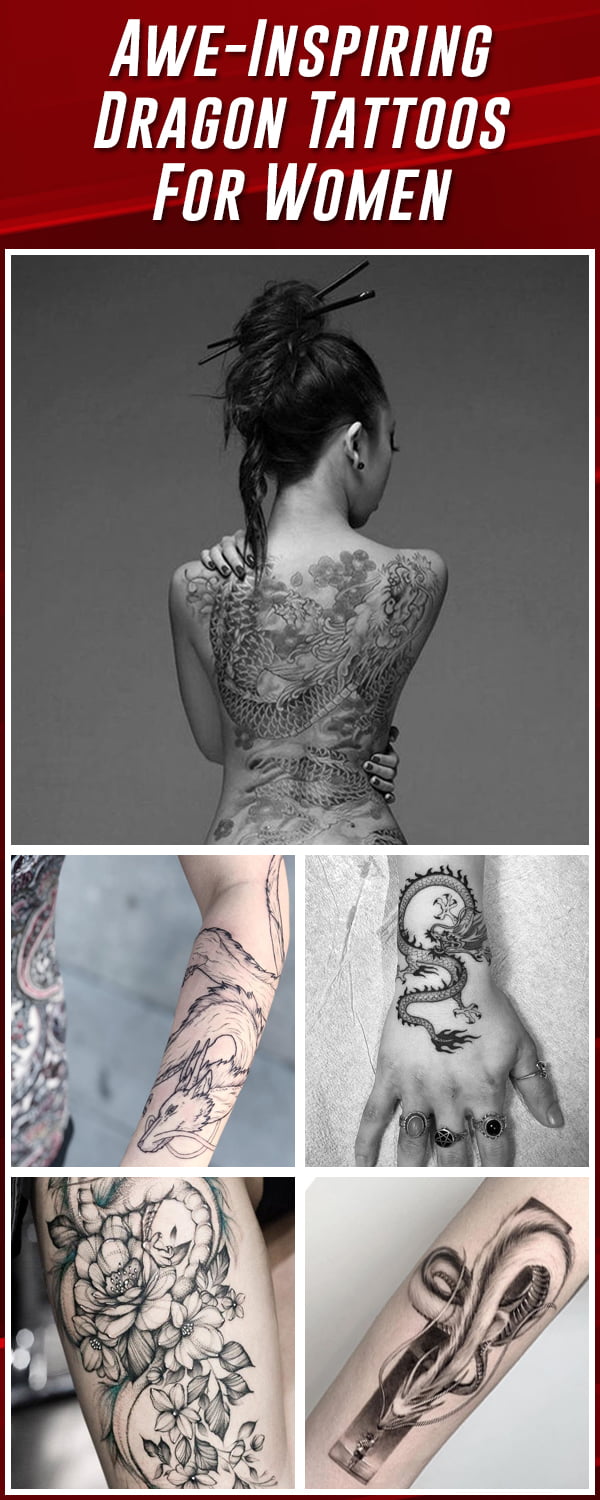 31. Red Dragon Back Tattoo with No Outline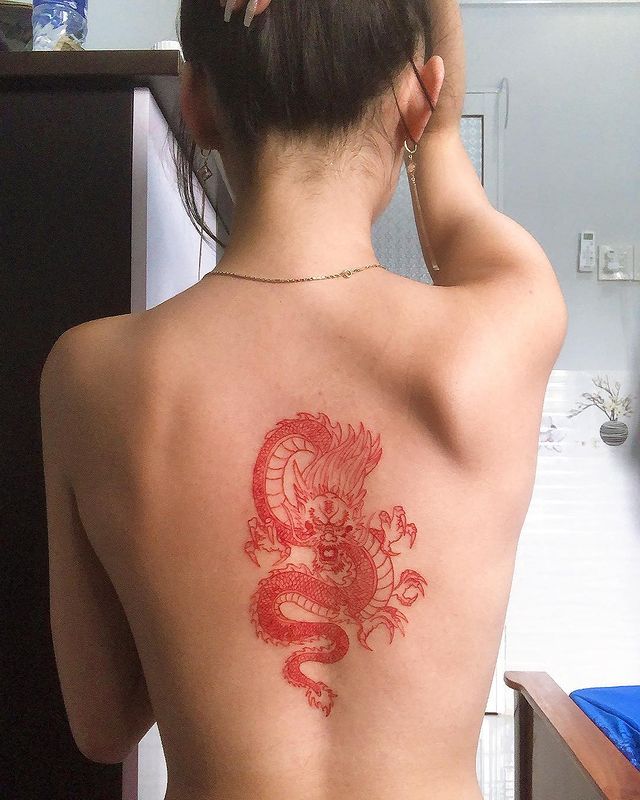 Fiery red with exquisite detail, this fabulous dragon tattoo is ferocious yet somehow feminine. There is no black outline ink, leaving the powerful and courageous color of red to dominate. Signifying strength, protection, and freedom, this incredible red dragon back tattoo is a great selection for both men and women.
32. Japanese Flying Dragon with Girl Tattoo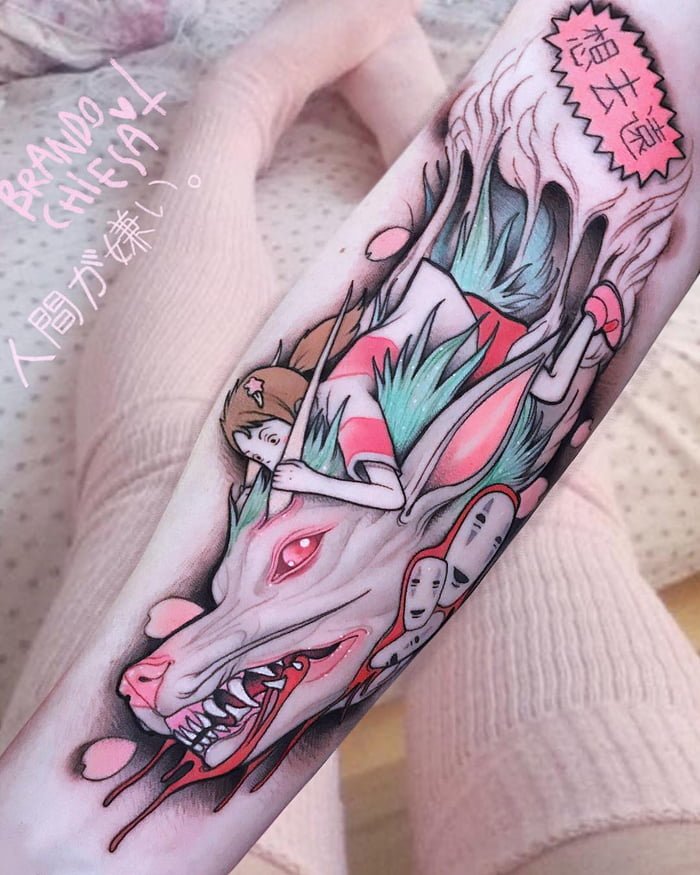 A young girl holds tight to the flying Japanese dragon as it soars through wind and flower petals. The dragon's white face features soft pink eyes and nose and light blue fur. The unique coloring and endearing quality of this charming dragon tattoo give it a mythical yet futuristic feel.
33. Black and White Japanese Dragon Outline Tattoo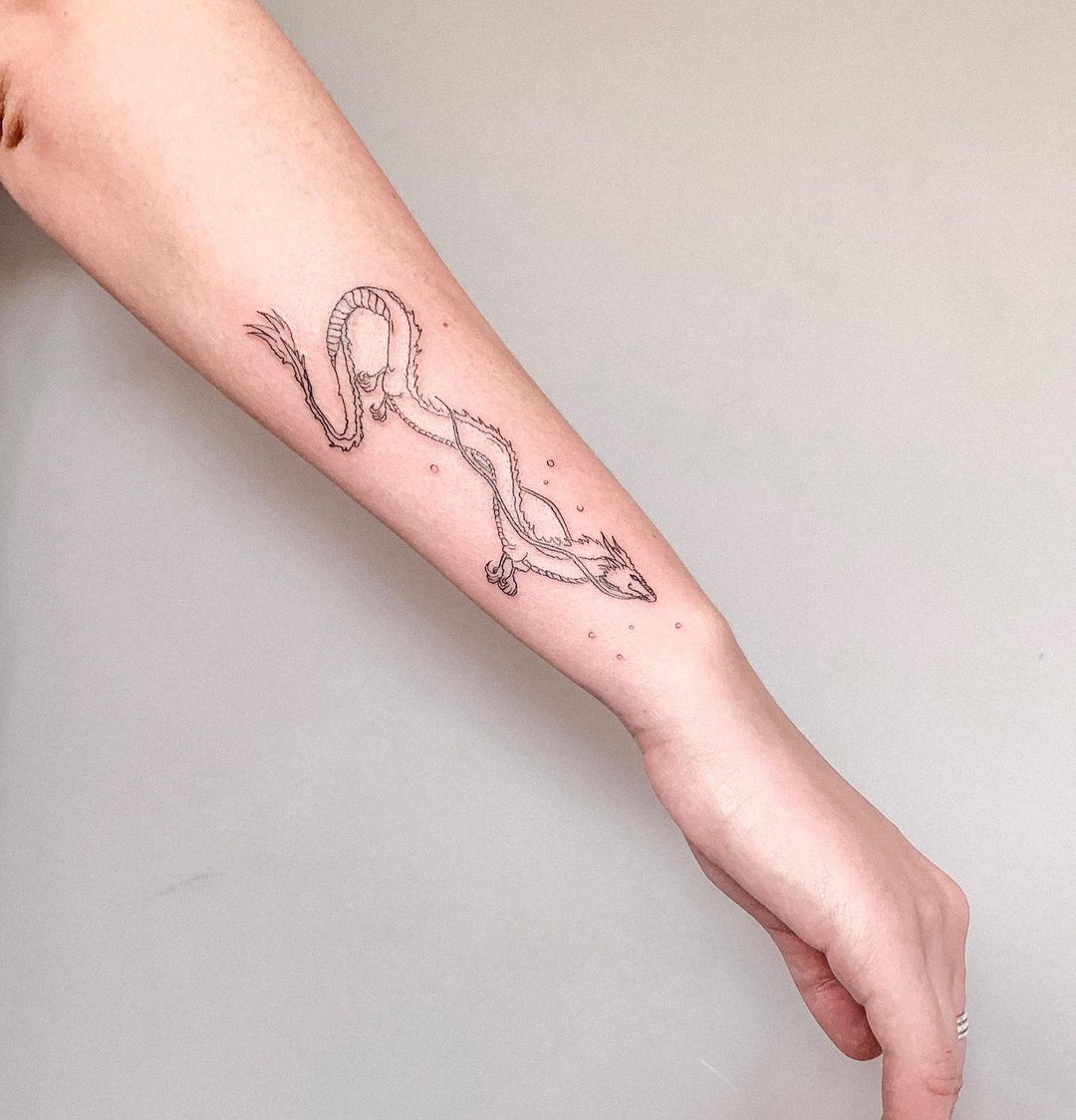 Simple and striking, this black and white Japanese dragon outline tattoo represents strength and independence. Many body locations are suitable for this long and lean dragon tattoo, particularly the chest, arms, and legs. Distinct without dramatics, this attractive tattoo is perfect for classic, soulful individuals who wants a tiny dragon tattoo.
34. Black and White Spirited Away Dragon Tattoo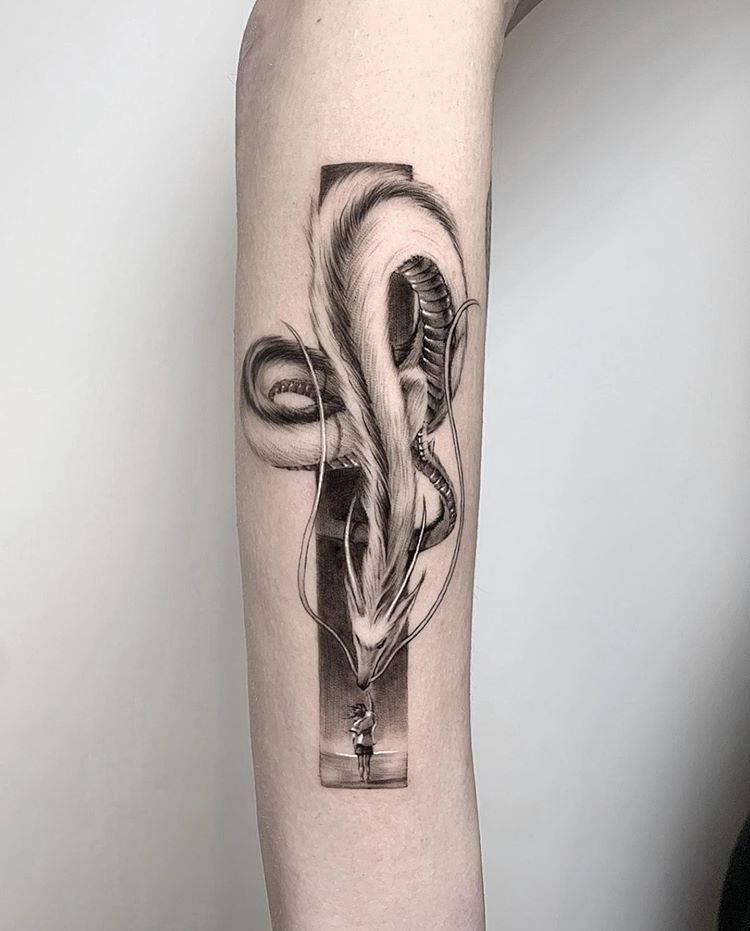 Shades of gray and realistic details bring this black and white Japanese dragon tattoo to life. A girl reaches up the sky while her dragon counterpart leans down towards her in a beautiful image of unity. This mythological dragon tattoo is inspired by the fantastical Japanese film titled Spirited Away.
35. Japanese Dragon Outline Tattoo with Red Flowers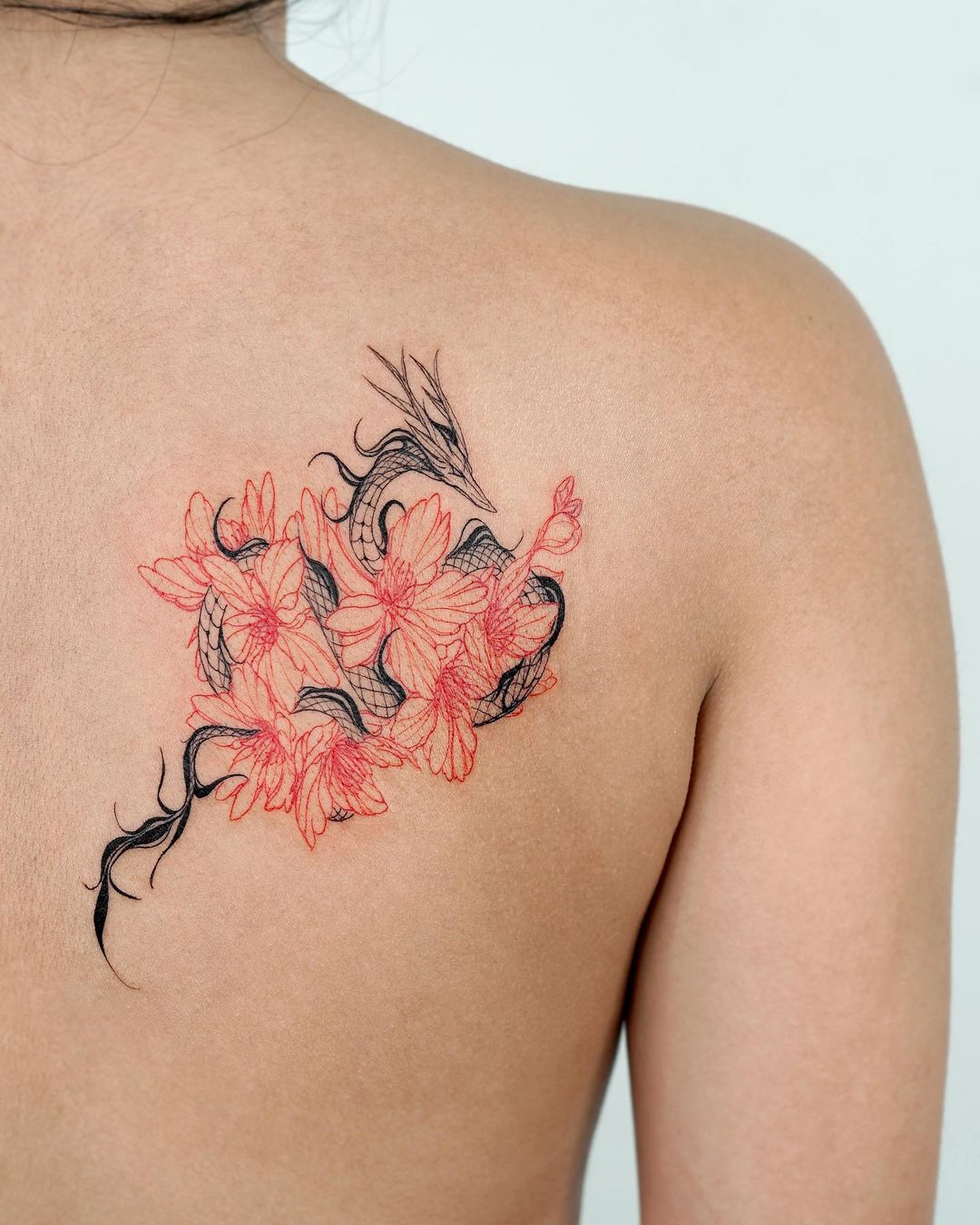 Elegant and enchanting, the strength and pride of the magical dragon shine through in this spiritually powerful back tattoo. A graceful Japanese dragon entirely in black is intertwined with exotic red flowers that have no need for a black outline. This gorgeous Japanese dragon tattoo is fit for a queen.
36. White and Blue Japanese Dragon Back Tattoo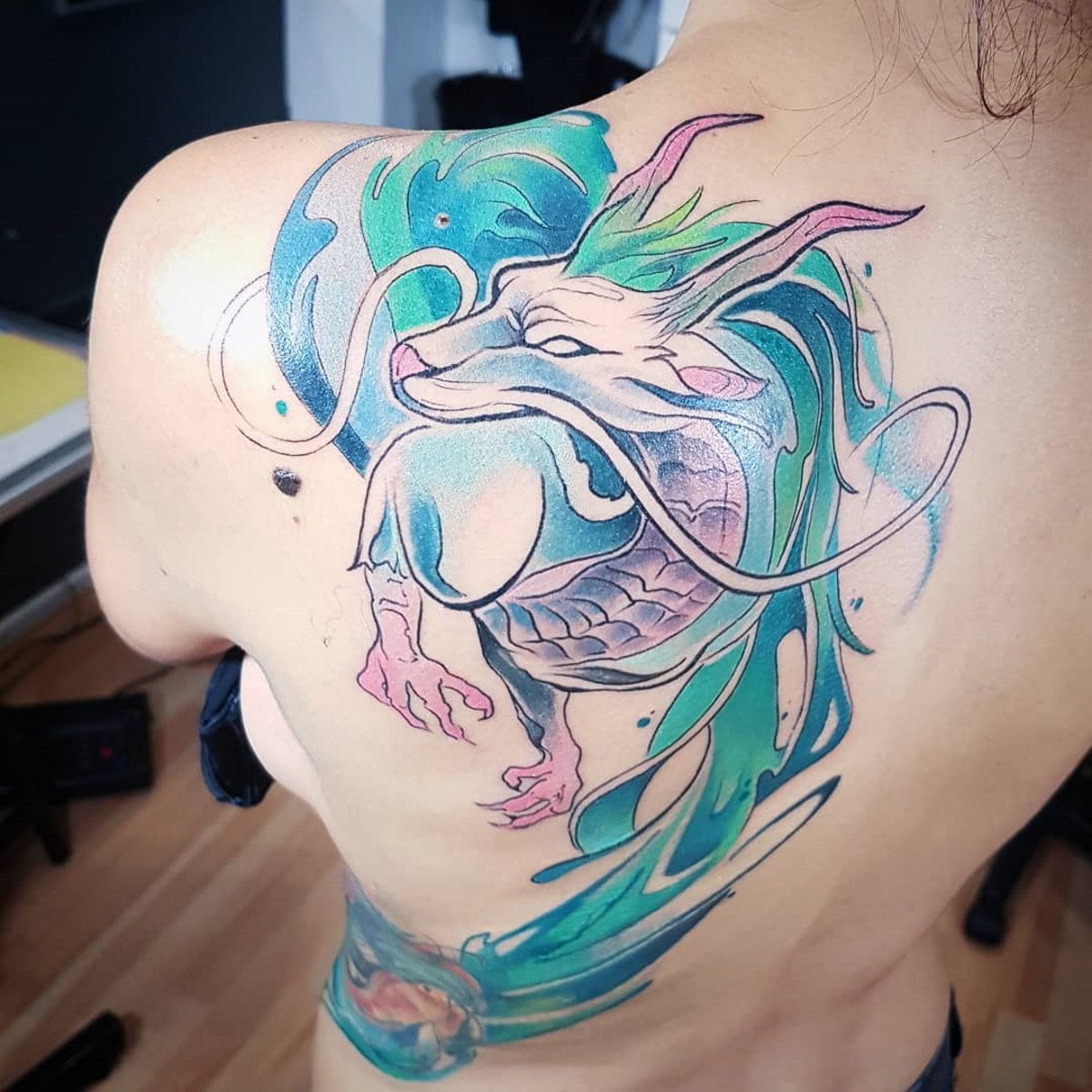 Brilliant blue, soft pink and pure white are all around this magnificent colorful Japanese dragon back tattoo. The stunning dragon in this tattoo is reminiscent of the great mythical beast in the Spirited Away fantasy film. Symbolic of freedom and strength, this alluring Japanese dragon tattoo is truly breathtaking.
37. Black Japanese Dragon Tattoo on Upper Arm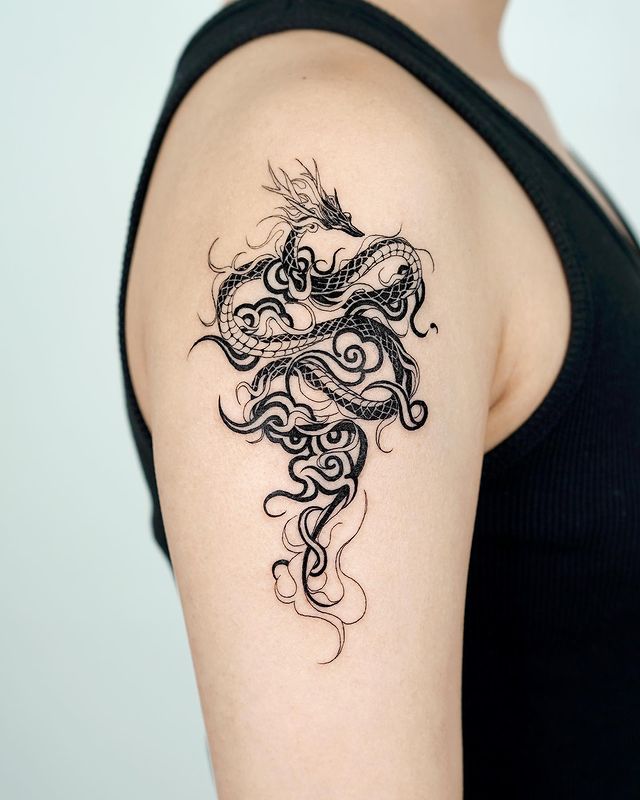 For ink and tribal dragon tattoo lovers seeking a modern dragon tattoo that emotes power and strength, look no further. Using only blank ink, this regal Japanese dragon tattoo is versatile enough to be placed anywhere on the body as your new tribal dragon tattoo. The tribal-like designs which swirl around the serpentine dragon add an attractive uniqueness to your new tribal dragon tattoo.
38. Grayscale Asian Inspired Dragon Scene Back Tattoo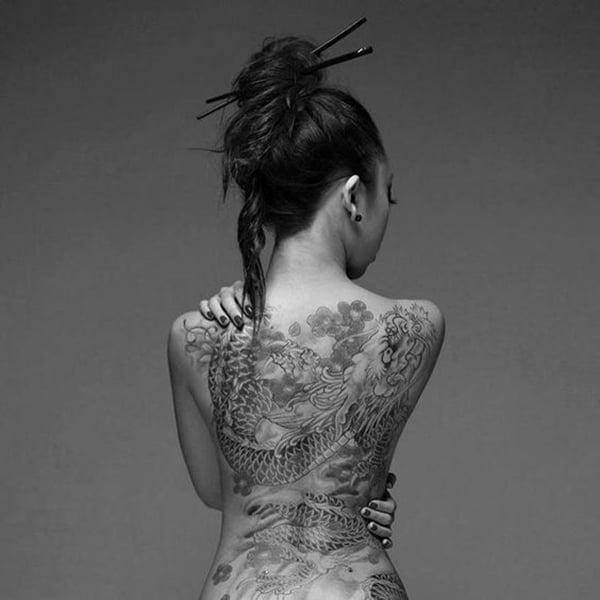 This spiritual Asian inspired full-back grayscale dragon scene tattoo is simply divine. From the dragon's scales to wind and waves in the background, every element is given equal attention. Shoulder to shoulder, neck to hips, this exquisitely intricate dragon scene tattoo is a sight to see.
39. Black and White Chinese Dragon Wrist Tattoo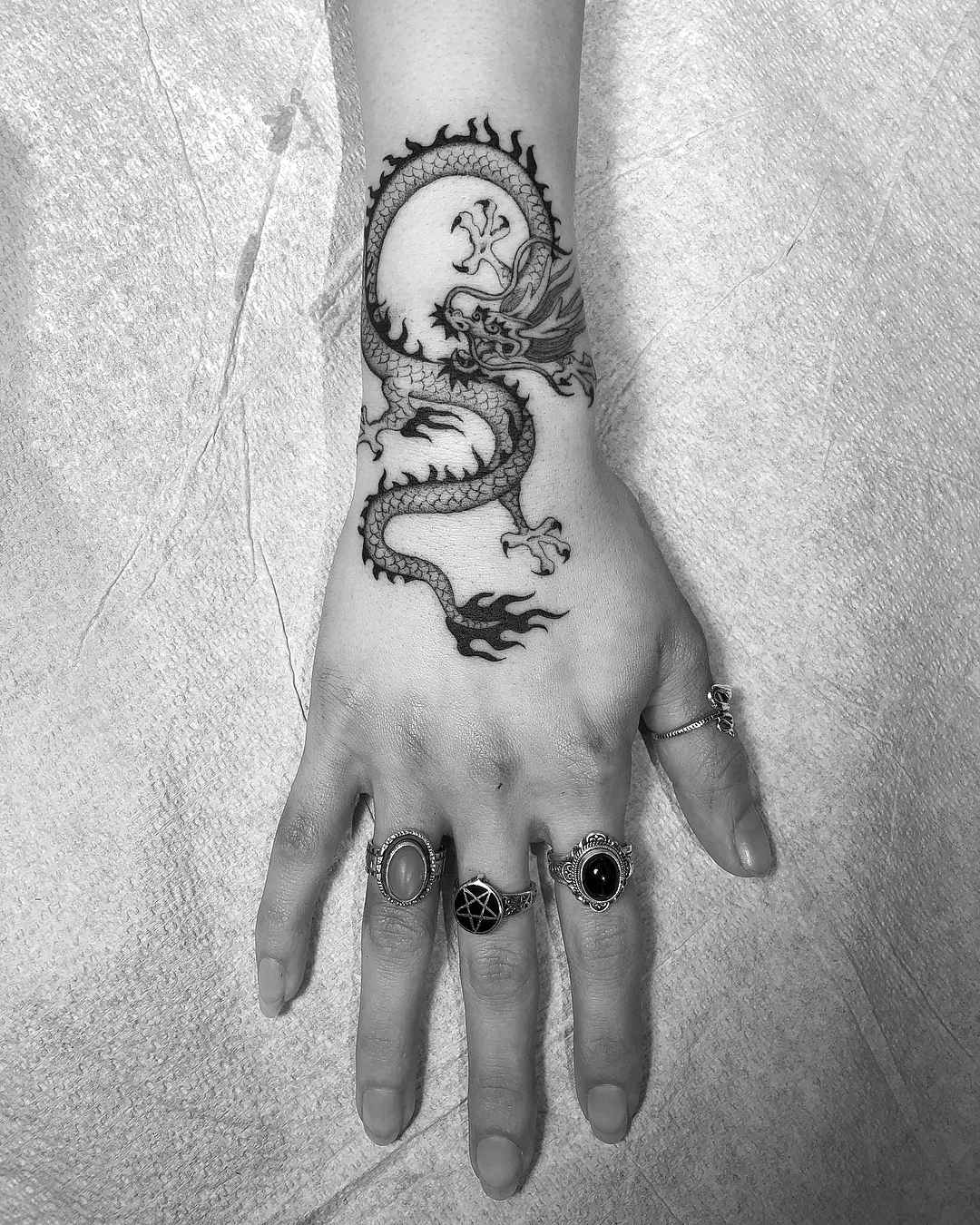 Wear your dragon ink where the world can see and opt for this inspirational black and white Chinese dragon wrist tattoo. The dragon's fierce face, grasping claws and flaming tail are visible when looking at the back of your hand. This amazing dragon tattoo makes a strong statement of freedom.
40. Boldly Colored Azure Dragon Full Back Tattoo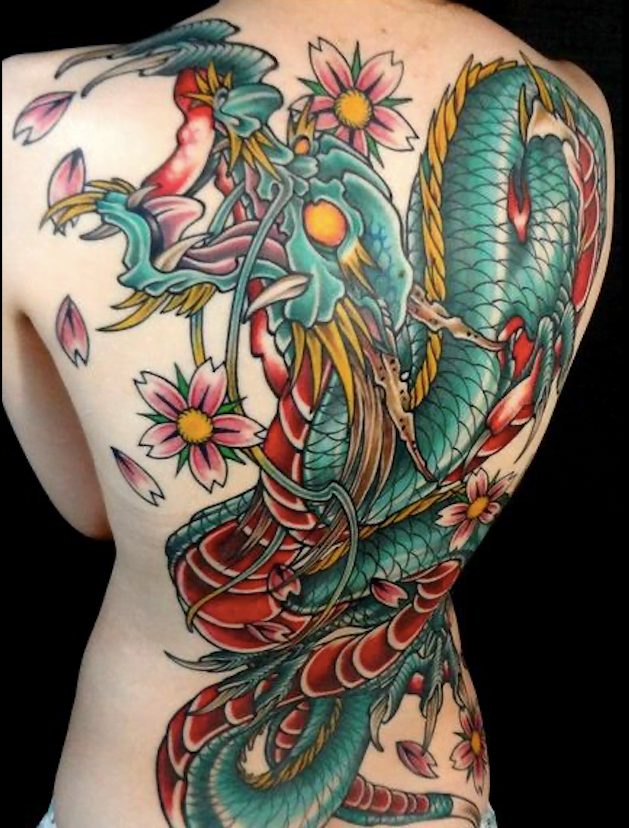 The breathtaking mythical azure dragon winds and weaves its way around your back in this beautiful, boldly colored tattoo. All around the blue, red, and yellow dragon dance pink flowers and floating flower petals. An astounding piece of artwork, this majestic blue dragon tattoo commands attention.
41. Chinese Dragon Crawling Up Spine Tattoo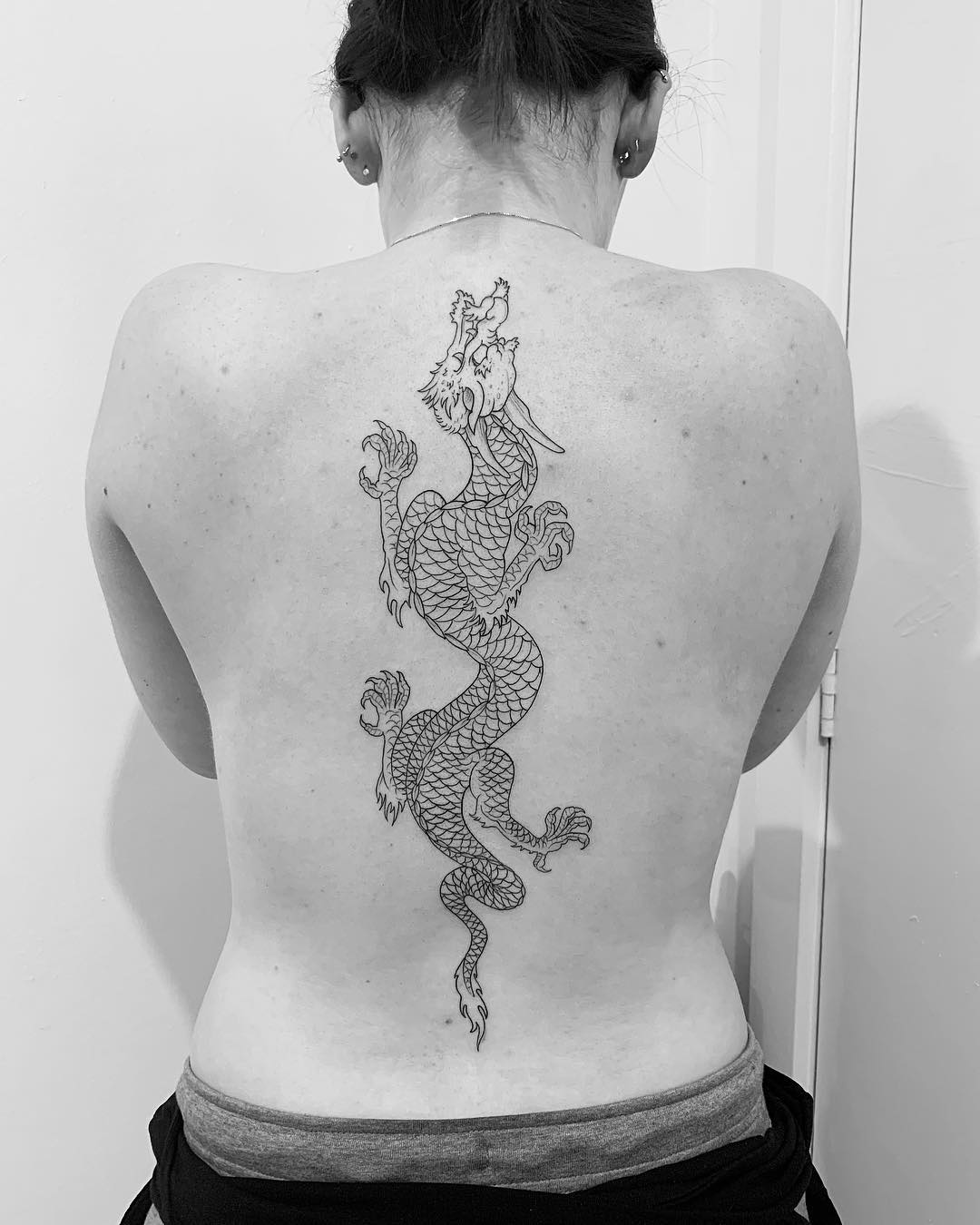 In Chinese culture, the honorable dragon signifies wisdom, prosperity, and good luck. This classic, memorable back tattoo is an authentic depiction of traditional Chinese dragon tattoos representing the nobility of the Imperial family. Meticulous linework ensures that each dragon scale, claw, and feature is striking and easily recognizable.
42. Traditional Japanese Dragon Outline Tattoo on Back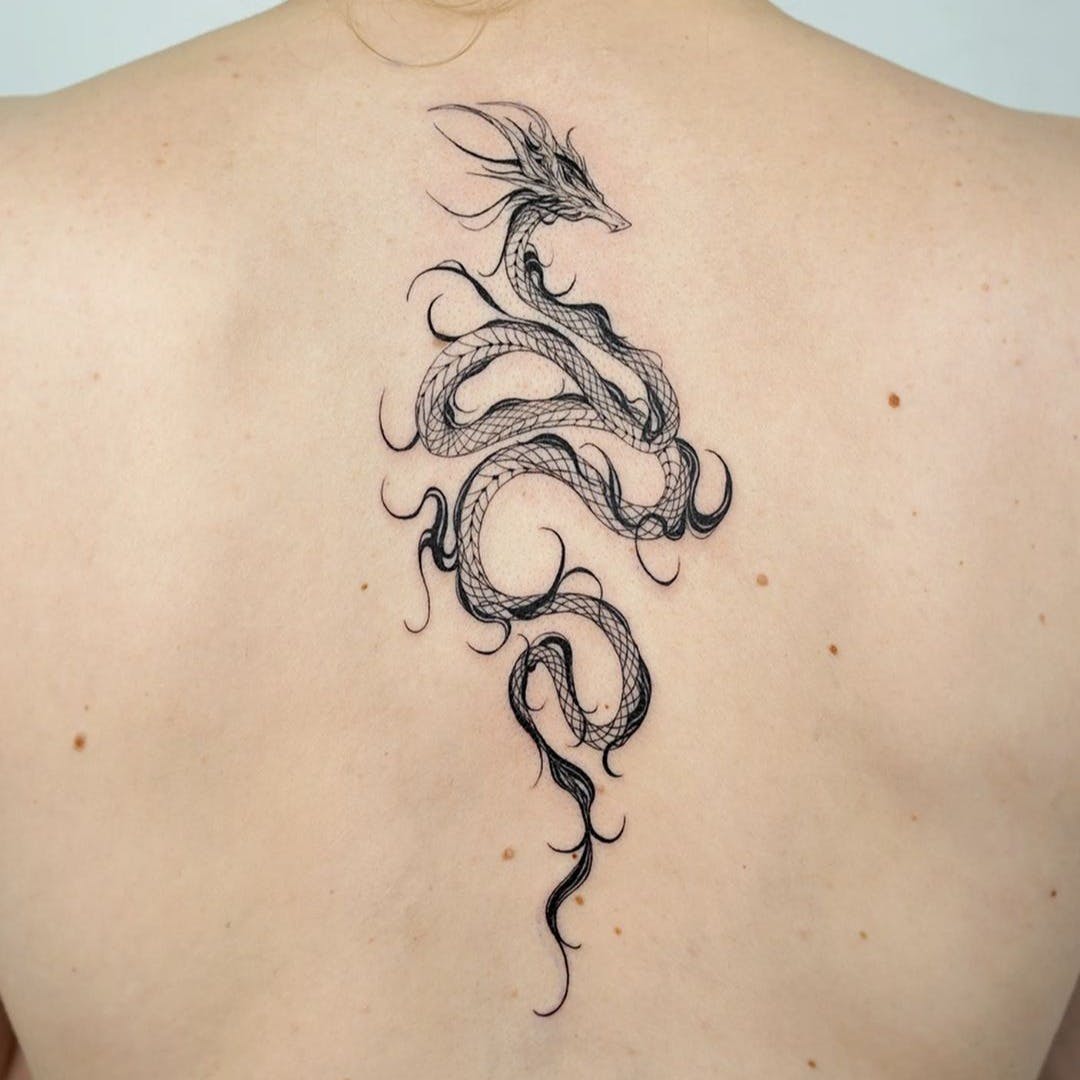 Serpentine and seduction, this traditional Japanese dragon tattoo is a classic choice for ink purists who want to stay true to the mythology. The movement in this black and white dragon tattoo makes the creature appear to be floating. Distinctively Japanese, the snake-like dragon tattoo signifies power and wisdom.
43. Japanese Dragon Wrap Around Outline Tattoo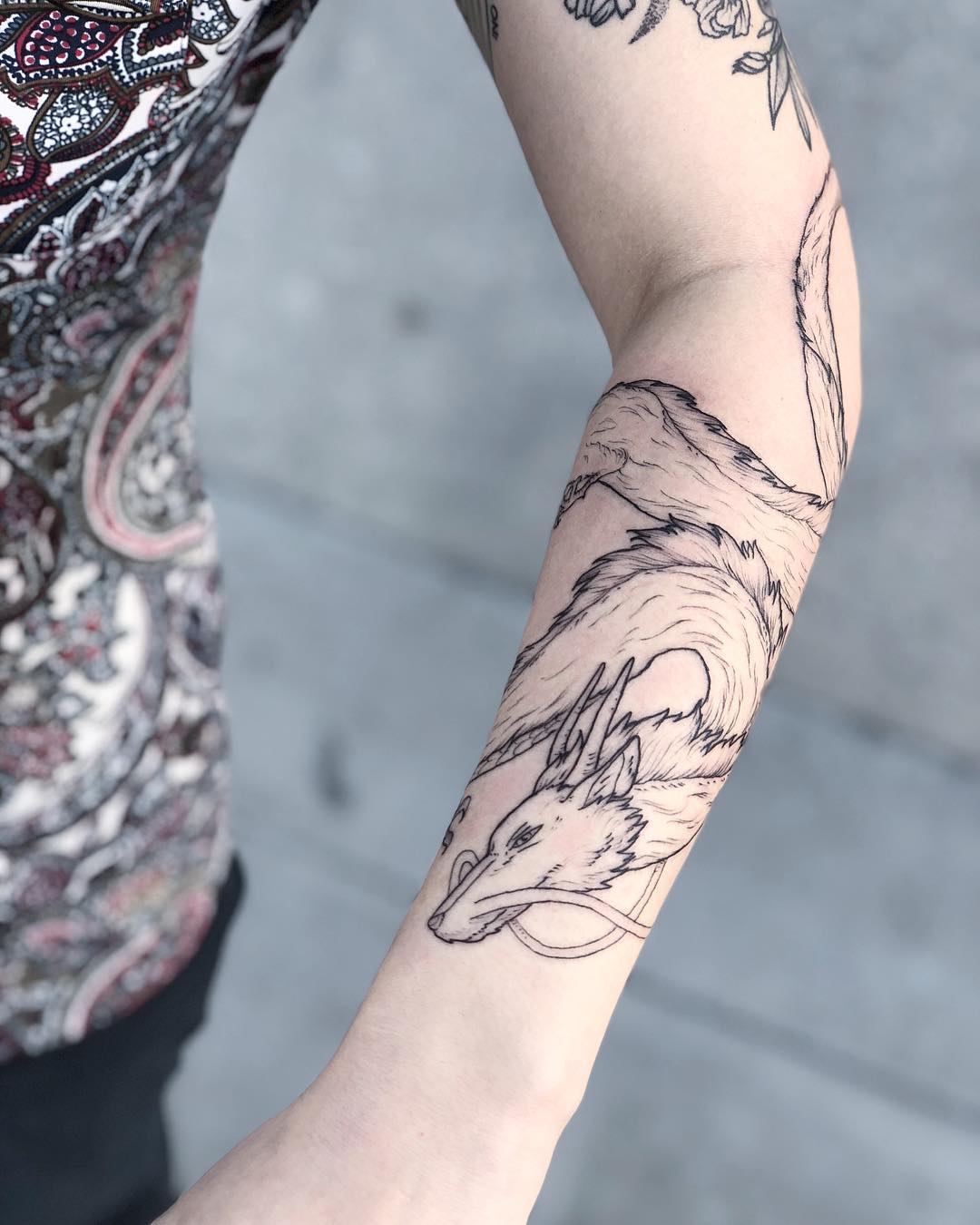 Around and around this slender Japanese dragon weaves about your forearm and elbow. Without any color necessary, this distinct black and white outline tattoo invokes the mystery and folklore of the mythological Japanese dragon. Men and women can both rock this cool unisex dragon tattoo.
44. Illustrated White Dragon with Blue Fur Tattoo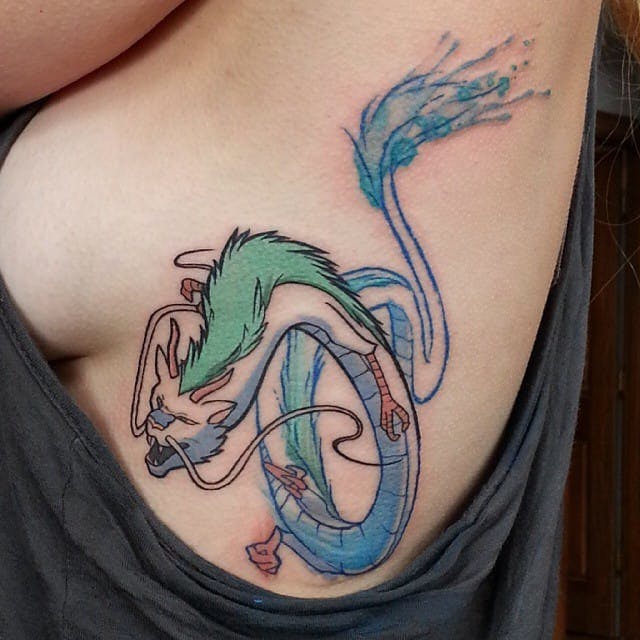 Using a pleasant watercolor style, this illustrated dragon tattoo, as one of the watercolor tattoos, shows a magical white creature with pretty blue fur and tail. This whimsical cartoon dragon is a fun tattoo to keep you young. The circular shape and motion of this artistic dragon tattoo mean it looks great anywhere on the body.
45. Simple Serpentine Dragon Tattoo on Forearm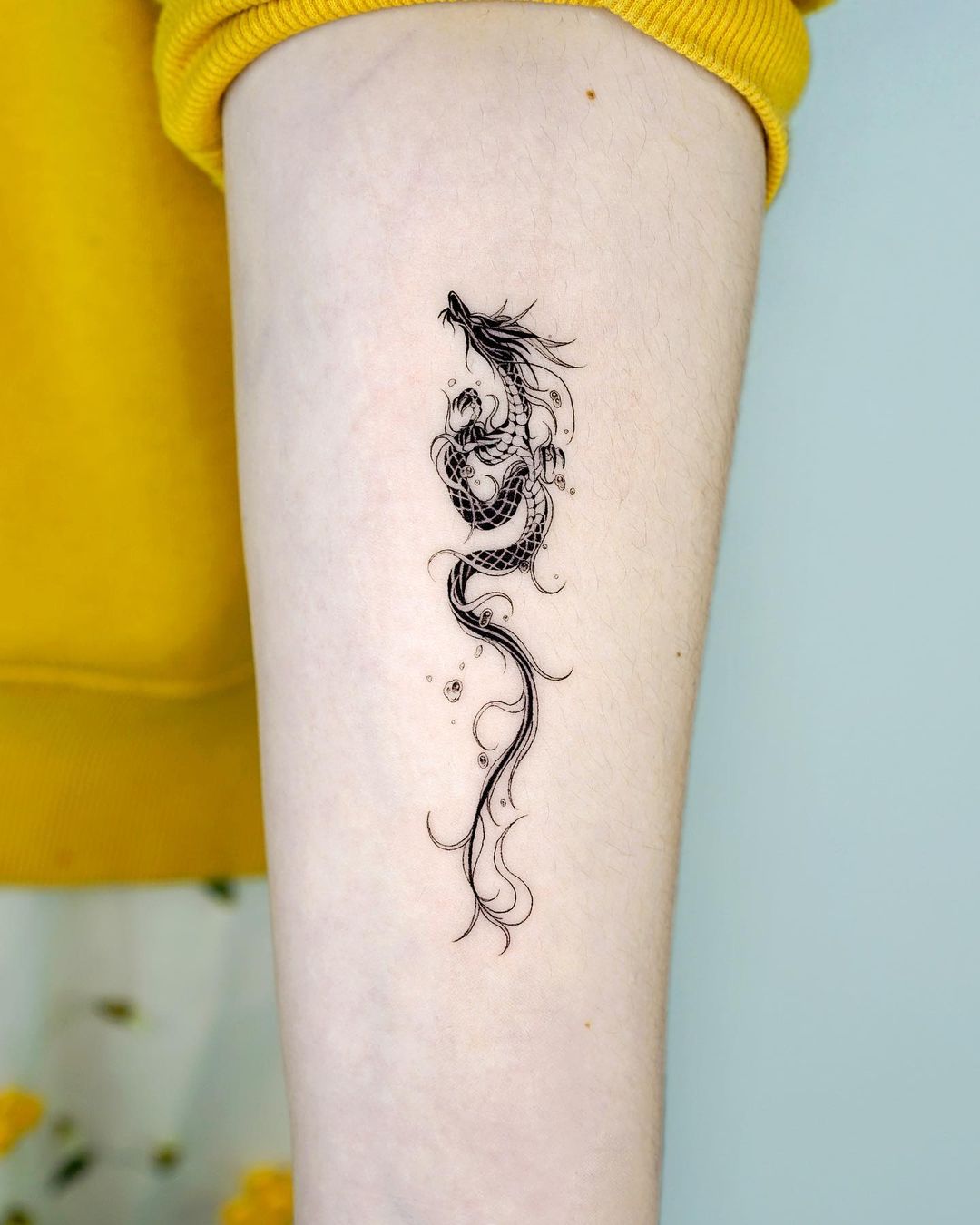 Wispy and slender, this serpentine Japanese dragon tattoo slithers effortlessly up your arm. Its long face and body are covered in the billowing wind giving the dragon the appearance of movement. Inked in black color only, the traditional Japanese dragon tattoo emotes power and prosperity.
46. Full Color Western Baby Dragon Tattoo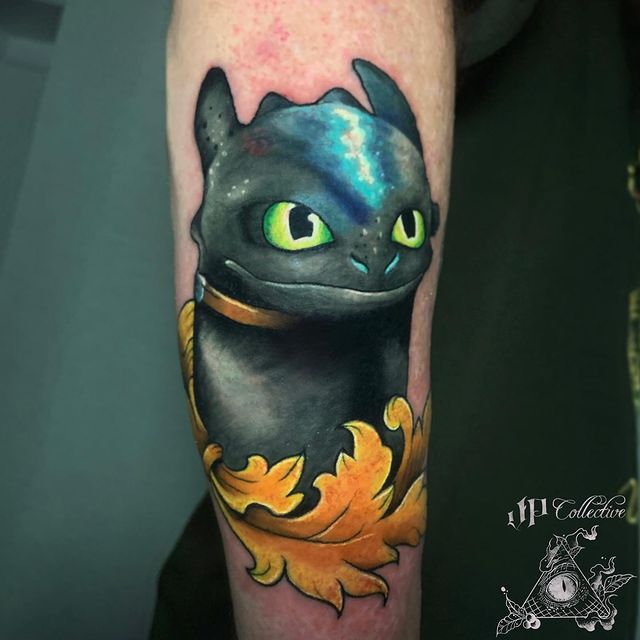 More contemporary and less austere than the Asian dragons, the Western baby dragon in this colorful tattoo is quite playful and charismatic. Its penetrating green eyes stand brightly against its black and deep blue skin. Adding a bit more color are orange and yellow flames beneath the baby dragon.
47. Intricate Flying Dragon Tattoo in Grayscale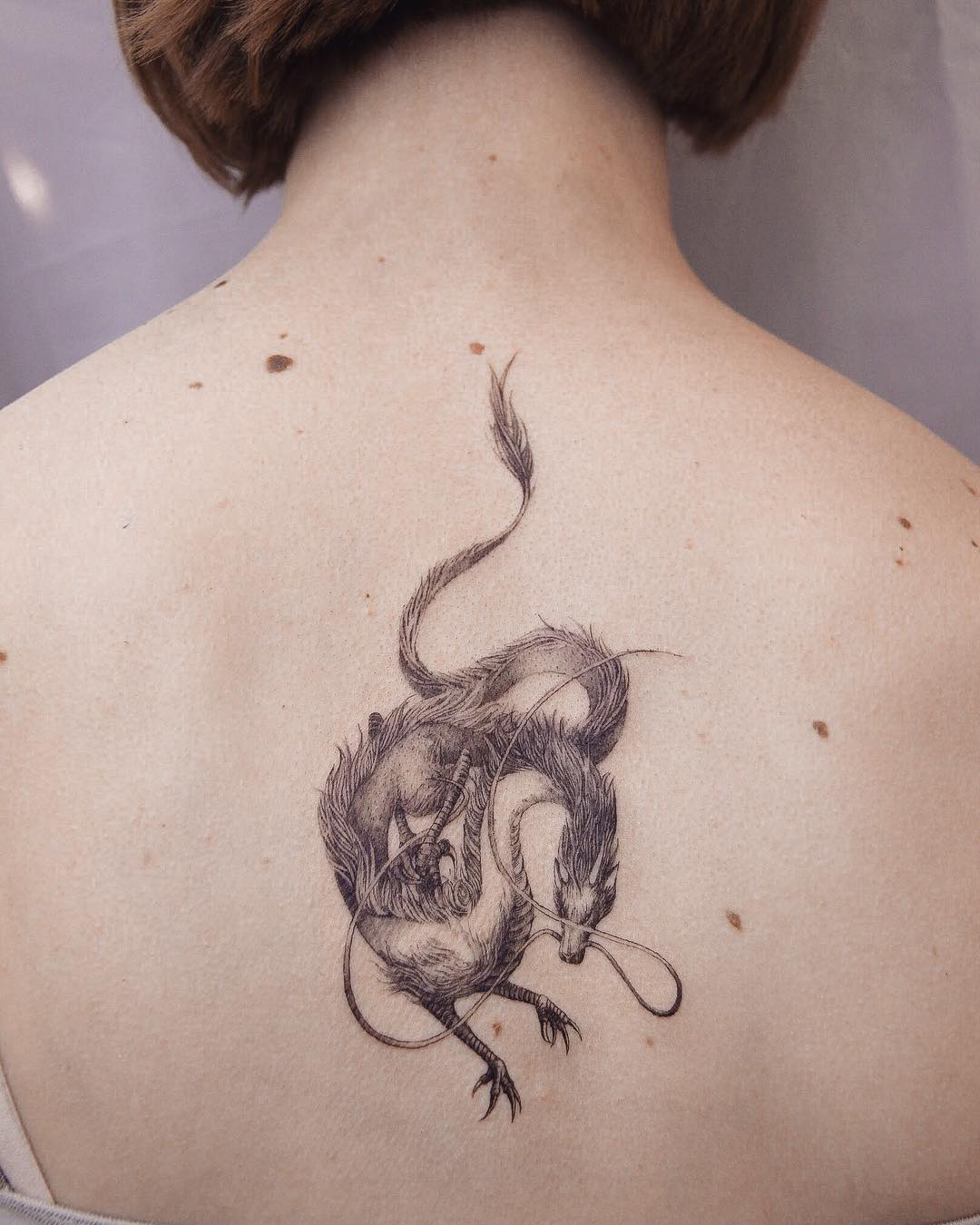 Descending from the sky, this remarkable flying dragon tattoo is extremely and carefully detailed. Each and every hair on the mystical dragon's body stands out to create a nearly 3D grayscale image. With its stunning complexity and artistic mastery, this astonishing flying dragon tattoo is definitely one to show off.
48. Black Chinese Dragon Tattoo with Red Flower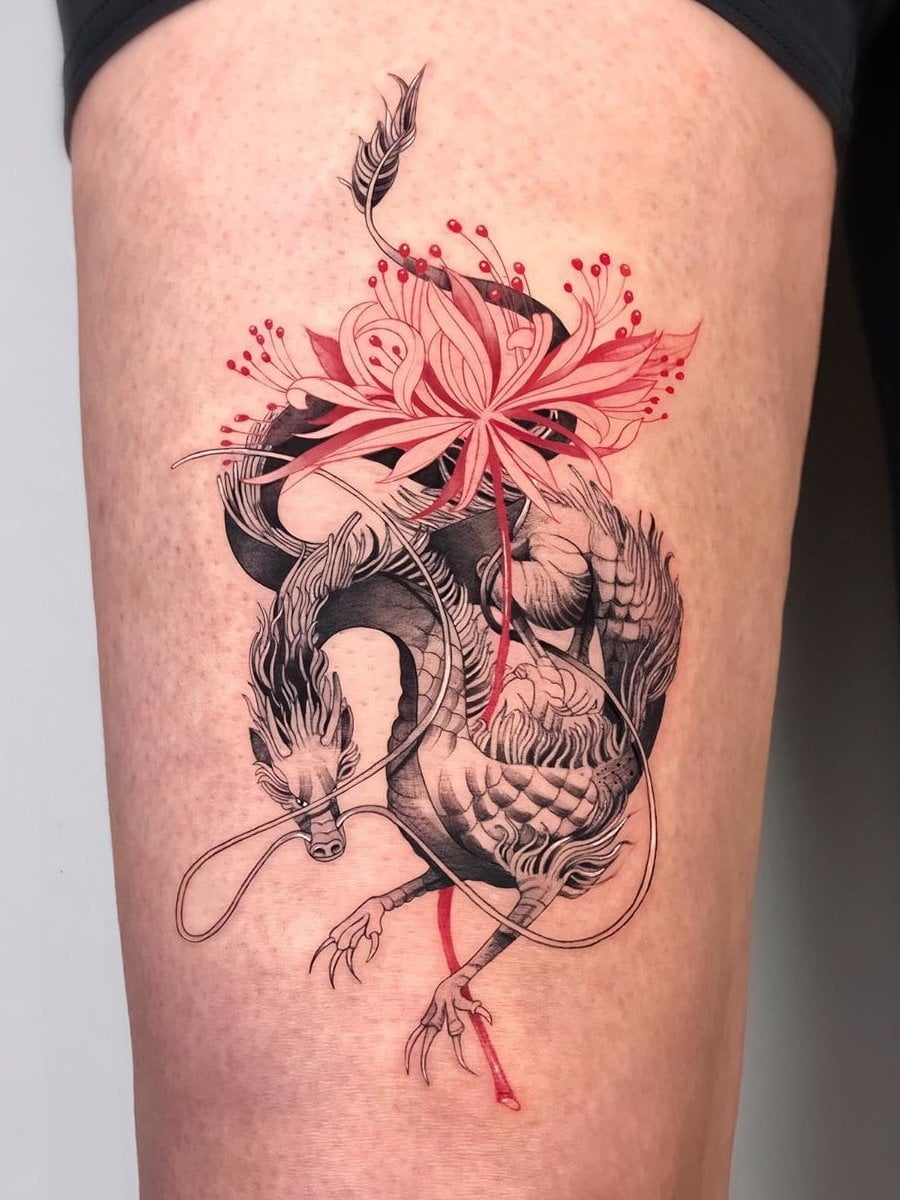 The amazingly detailed line work in this Chinese dragon tattoo is what makes it really remarkable and memorable. Grayscale shading enhances all aspects of the dragon's body while bold red ink makes the floral element stand out. This beautiful dragon tattoo is bold, strong, and feminine.
49. Black Dragon Creeping Up the Back Tattoo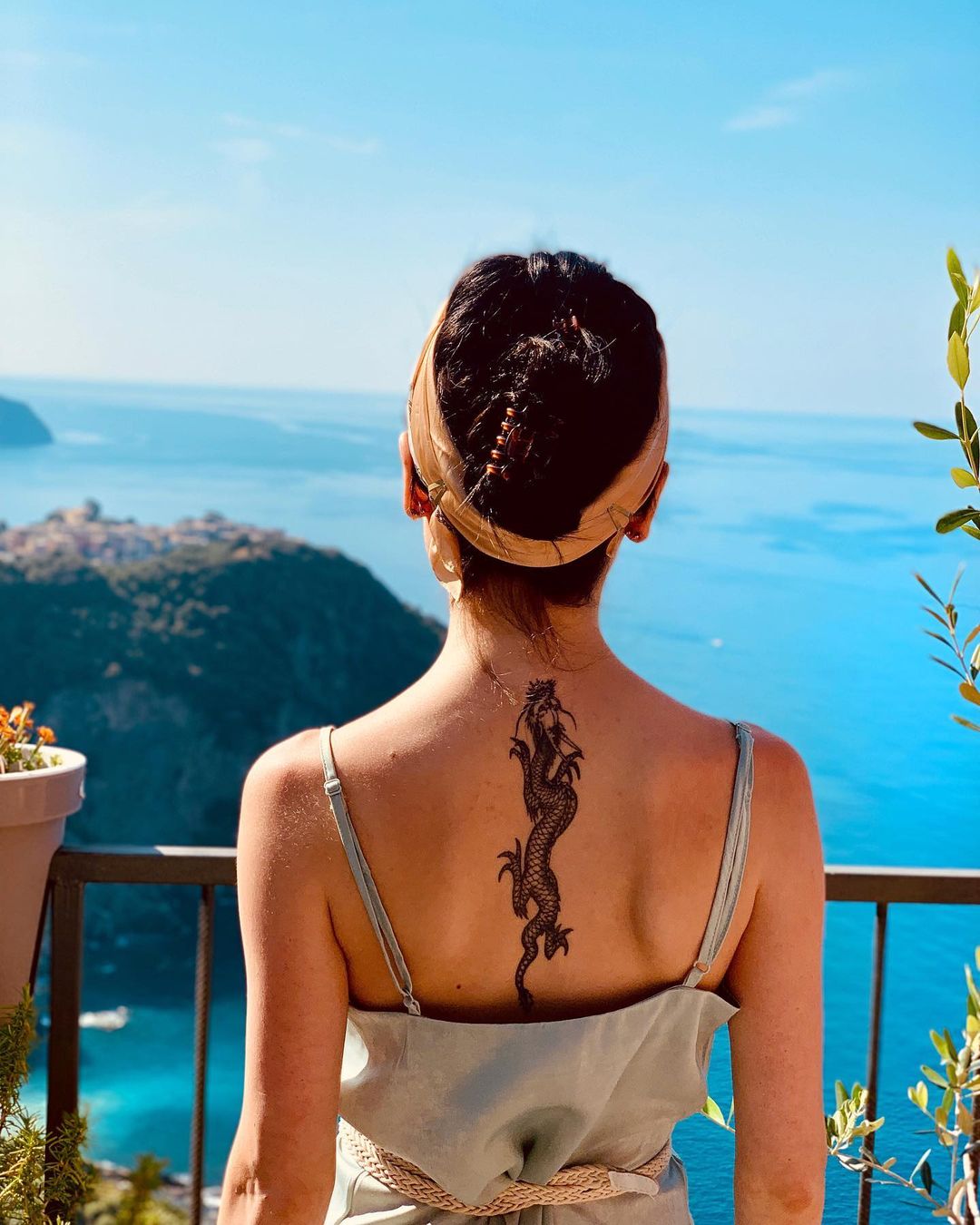 People are sure to stop and look when you go outside wearing this surprisingly realistic dragon tattoo. The mythological black creature appears to be climbing up your back at its own leisurely pace. With only black ink, this impressive Asian inspired dragon tattoo is still very eye-catching.
50. Snake Dragon Tattoo with Wings and Flowers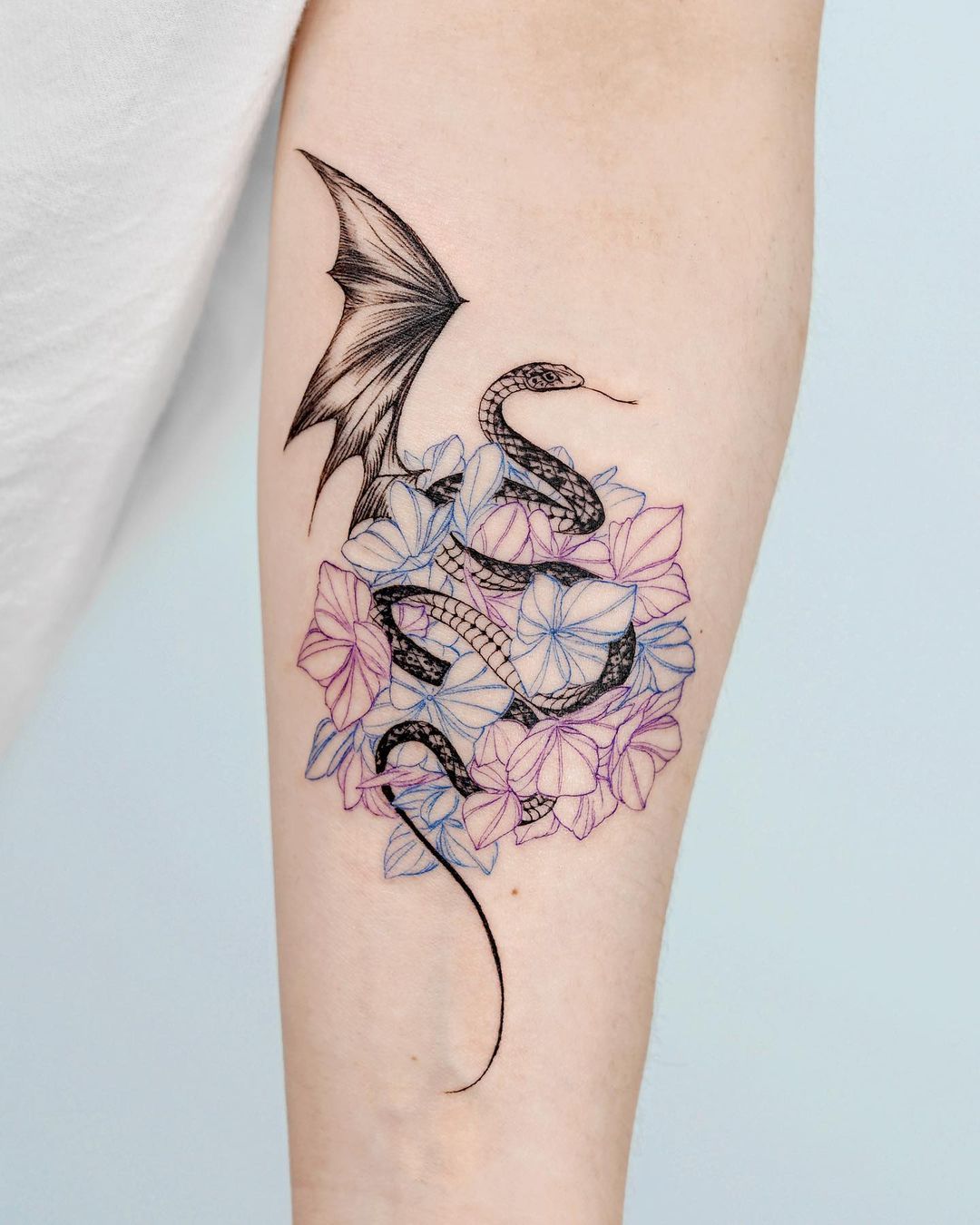 Amongst a bouquet of delicate purple and blue flowers emerges a mythical flying snake dragon colored entirely in black and white. Invoking powerful feelings of strength and genesis, this is a uniquely spiritual tattoo. Designed for the world to appreciate, this imaginative dragon tattoo should set proudly on your forearm.
51. Powerful White Dragon with Blue Mane Tattoo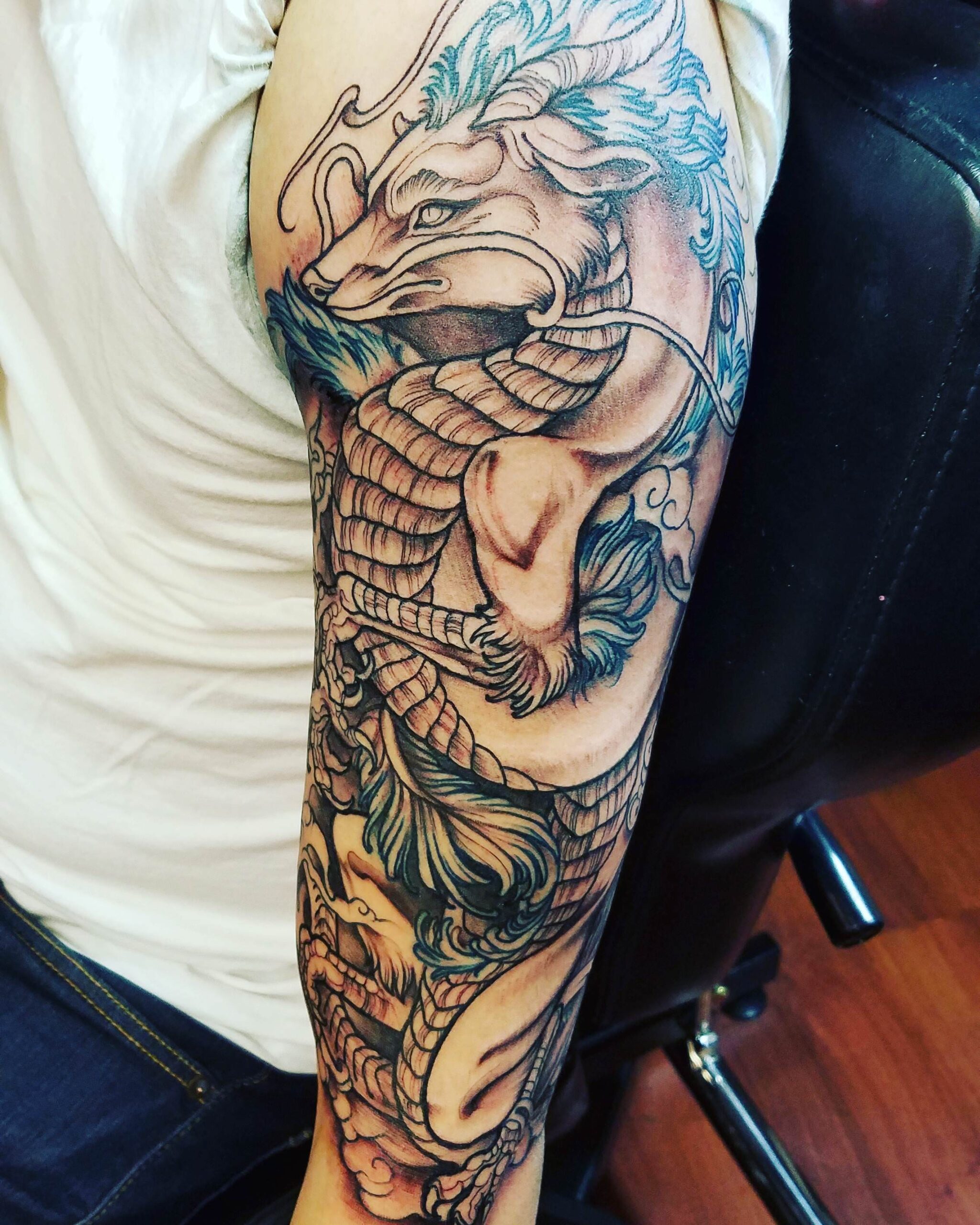 The strength and power in this incredible white dragon tattoo are undeniable. A magical, mythical horned beast stands proudly with its mane of blue billowing behind it. Enchantingly haunting, this detailed white dragon tattoo covers your shoulder, upper arm, and forearm.
52. Noble White Dragon Tattoo on Forearm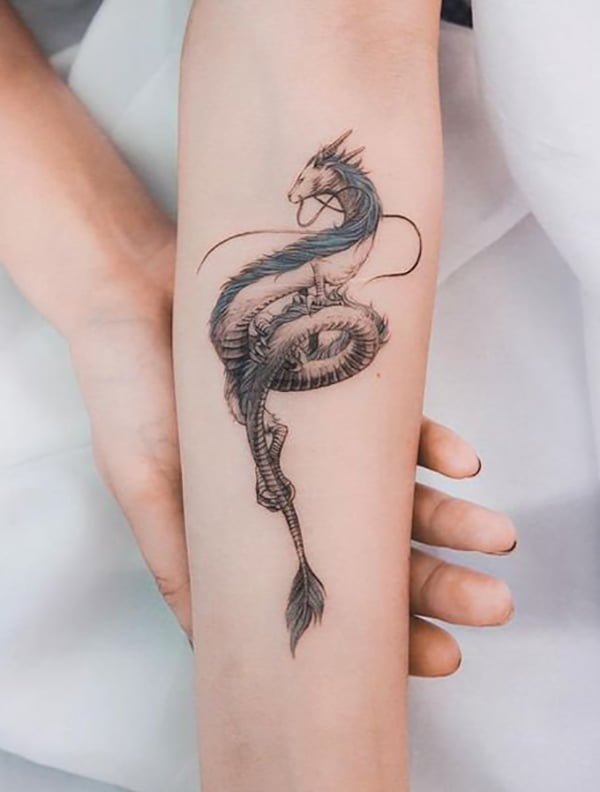 As though it is perched upon its magical castle in the sky, the noble white dragon floats fearlessly. The imperial dragon looks off into the distance while its long feathered tail dangles below. More than just a simple dragon tattoo, this portrays a scene of pride, wisdom, and longevity.
53. Large Japanese Dragon Tattoo on Woman's Hip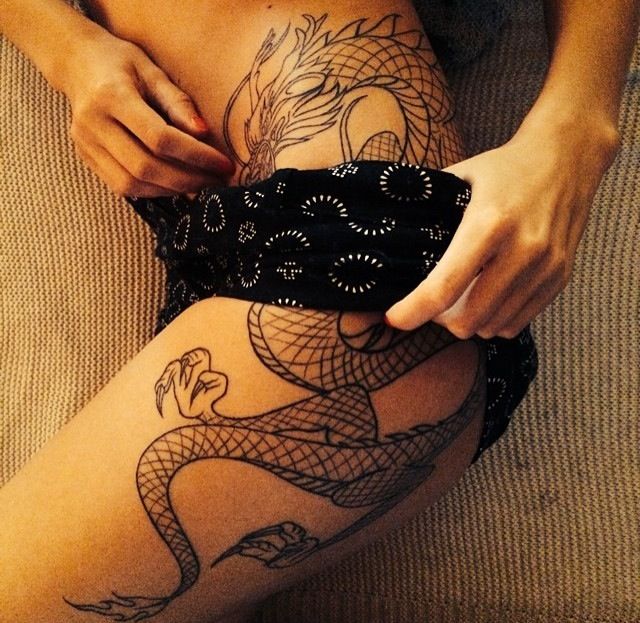 For strong and sexy women, this large grayscale Japanese dragon hip tattoo is the way to go. The power of femininity is real with this highly detailed traditional style dragon tattoo. This bold and beautiful dragon tattoo covers the hip, buttocks, and upper leg.
54. Brightly Colored Illustrated Dragon Tattoo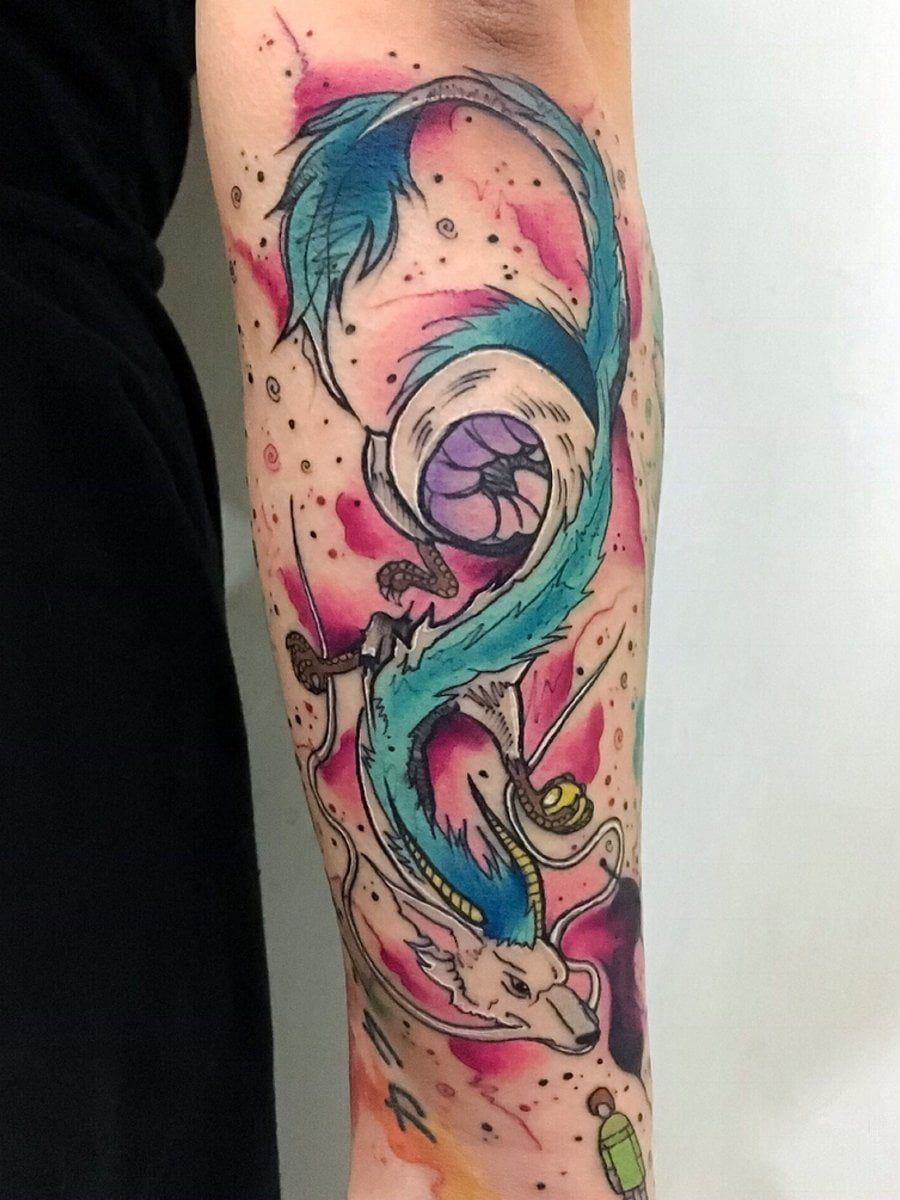 The amount of color and whimsy packed into this enchanting illustrated dragon tattoo is wondrous. A white dragon with a bright blue mane and tailspins its way down through a sky of swirling pink with its purple underbelly peaking through. This artistic dragon tattoo is perfect for creative people.
55. Feminine and Floral Dragon Hip Tattoo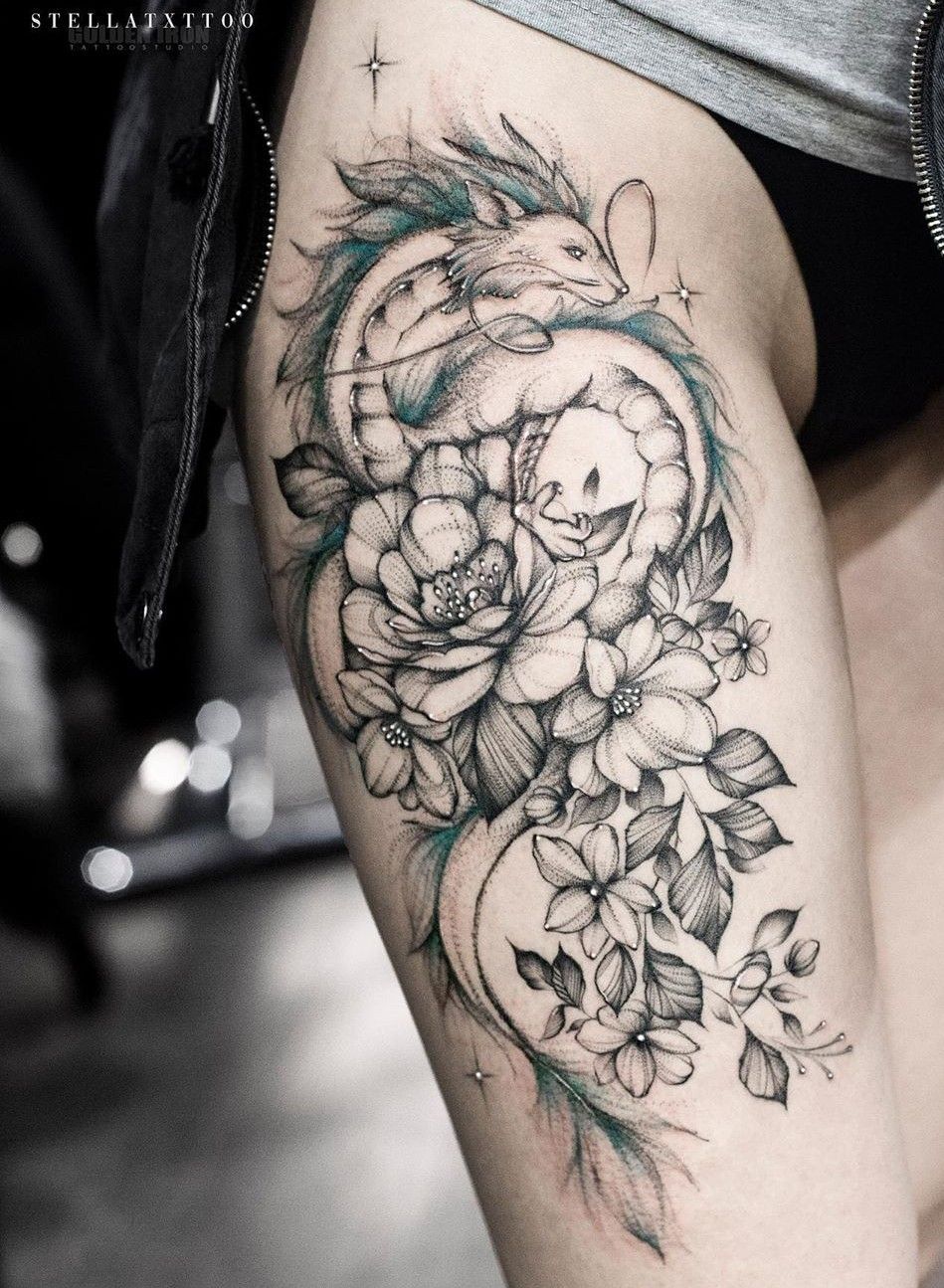 Mostly black and white with a subtle hint of blue, this beguiling dragon tattoo is the epitome of fierce femininity and women's power. The lovely white dragon is interwoven with a luxurious bouquet filled with a variety of different flora. Even without color, this exquisite dragon tattoo seems real.
56. Blue Dragon with Pink Flowers Tattoo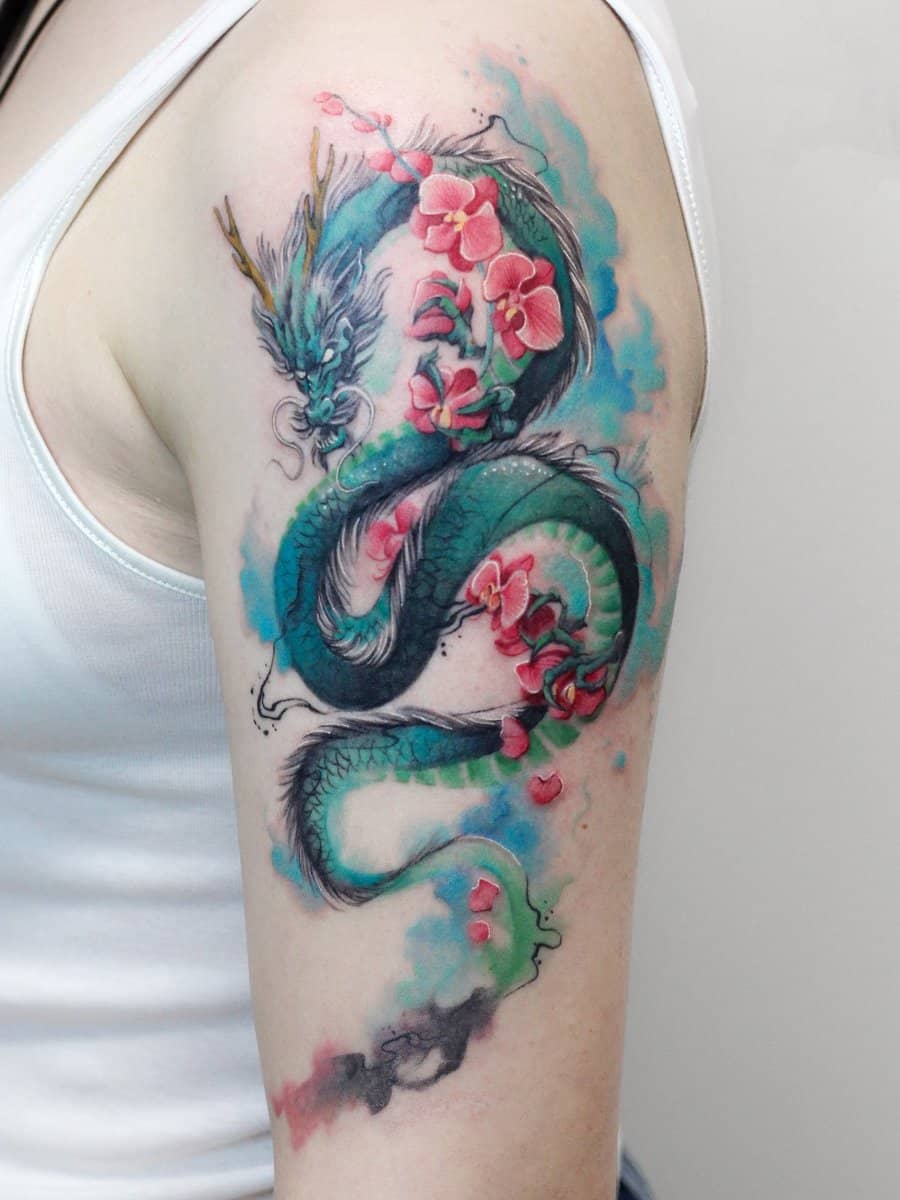 With its bold blues and pops of pink, this sensational dragon tattoo can be seen from a distance. The mystical azure dragon is a gentle, forgiving, and benevolent creature who represents wisdom and strength. Saturated to the maximum, natural and floral elements complete this breathtaking Asian inspired dragon tattoo.
57. Japanese Fantasy Dragon in Clouds Tattoo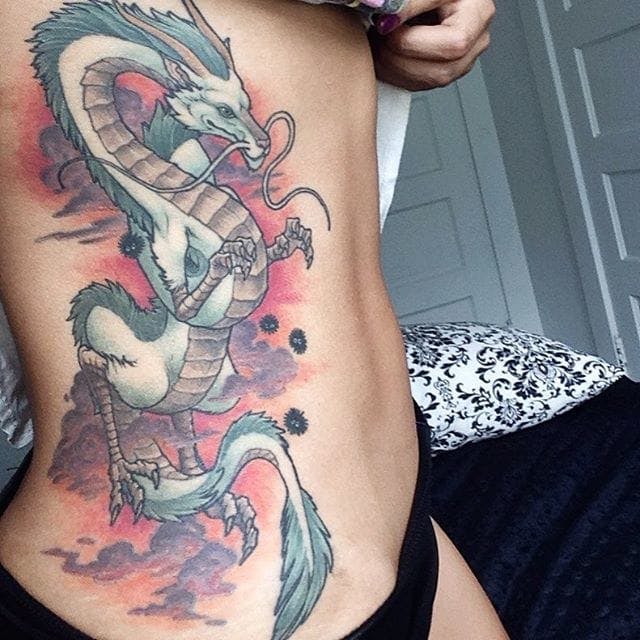 Covering one side of a woman's body from under the breast to the hips, this gorgeous Japanese dragon tattoo exudes fantasy and enchantment. As the magical white creature flies, its blue hair flows freely. A beautiful sky of pink and purple clouds surrounds the majestic dragon to entrance the viewer.
58. Japanese Dragon with Rose Blooms Outline Tattoo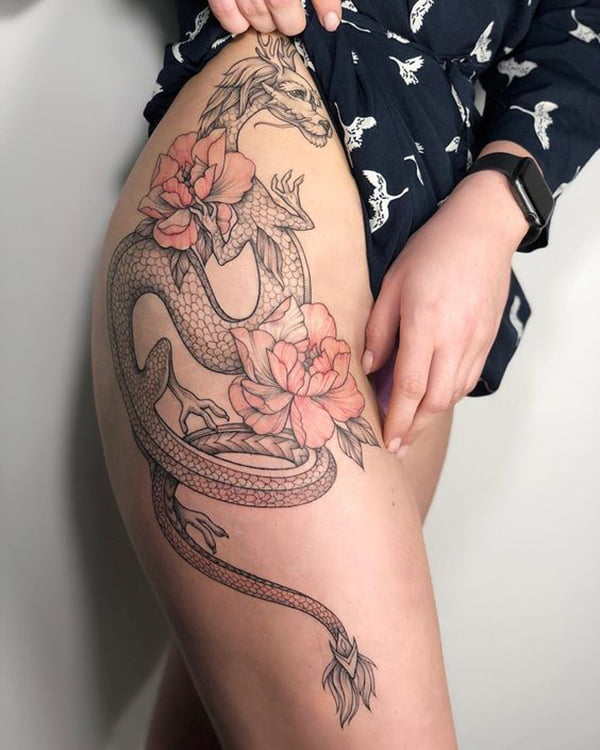 Delicately draped onto a woman's hip, this romantically dangerous dragon tattoo is elegant and seductive. While the actual dragon is inked in grayscale, the traditional Japanese tattoo is complemented by red roses in full bloom. In Japanese culture, the rose often represents passion, eternal love, or a fresh start.
59. Artistic Colorful White Dragon Shoulder Tattoo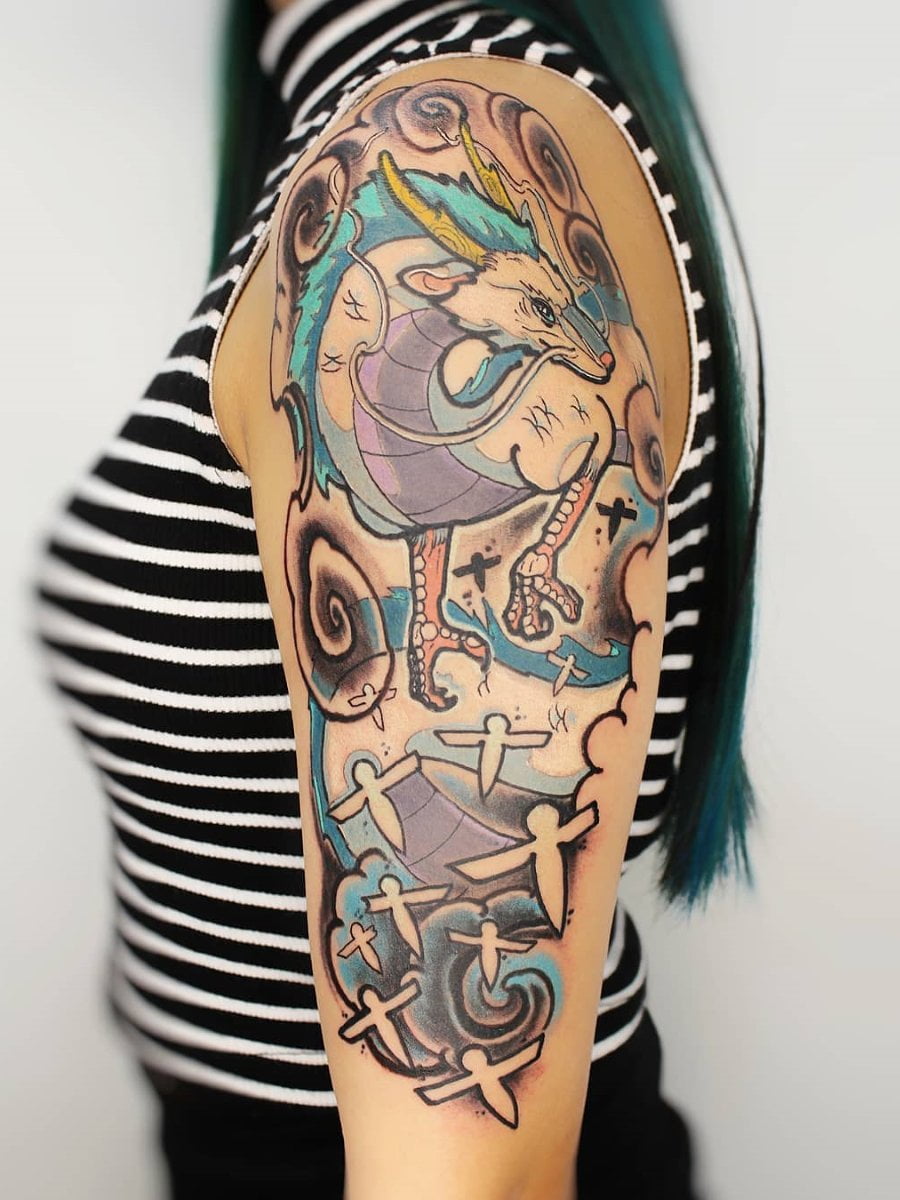 This imaginative depiction of a regal white dragon is a unique piece of fantasy skin art. The alluring blue, white and purple colors of the dragon flow flawlessly into the fantastically wild surrounding design. Organic aspects of the Asian culture are mixed throughout this artistic dragon tattoo.
60. Asian Inspired Dragon Tattoo on Woman's Side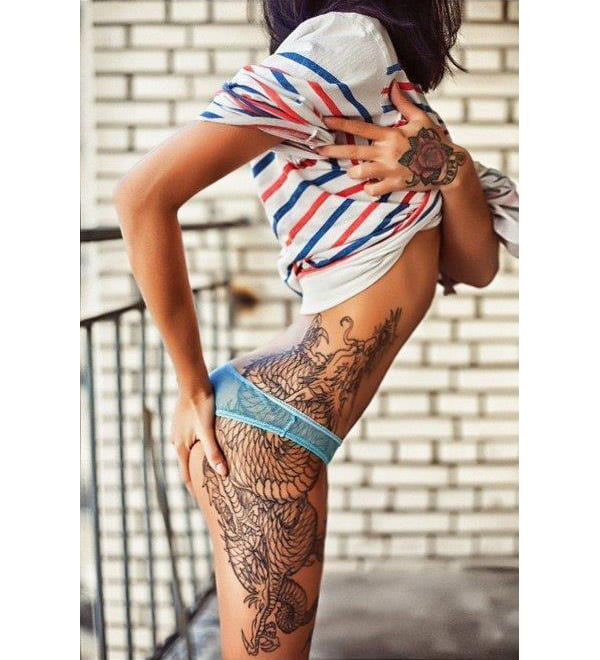 Along the ribs and down the side to the knee, this unbelievably beautiful Asian dragon tattoo is exquisitely inked from head to toe. If you like better the asian style than the celtic dragon tattoo, this is the on for you. The royal dragon's body twists and turns its way to create mesmerizing patterns and shapes. This intricately drawn dragon tattoo represents a woman's strength, power, and courage.
60 Best Dragon Tattoos for Strong, Creative Men and Women
Whether you prefer the realistic or abstract, cartoonish or dramatic, there are so many incredible dragon tattoo designs to choose from. The variety of different styles, colors, meanings, and representations of dragon tattoos is astonishing. Keep it classic with traditional black, red, or azure dragons. Or go a more artistic and freestyling direction with a purple or orange dragon. As a mythical being, the dragon can be depicted in literally any way you can imagine. Dragons can also be designed to embody the feeling or emotion of your choice. Look inside yourself to create your very own personalized dragon tattoo.