From detailed black and white photorealistic lion tattoos to modern and colorful geometric lion tattoos, all types of styles and designs can be found in this diverse collection of the 60 best lion tattoo ideas. As one of the most feared and powerful beasts in the animal kingdom, lion tattoos are often a reference to power and confidence. Lions are featured heavily in astrology, mythology, ancient cultures, legends, and contemporary symbolism. Both the male and female lion tattoo options are attractive, exquisite animals that make for wonderful tattoos. Popular placements for lion tattoos are the shoulder, back, forearm, and hips as these areas allow for more detailed designs.
60 Best Lion Tattoo Ideas for Strong, Confident Men and Women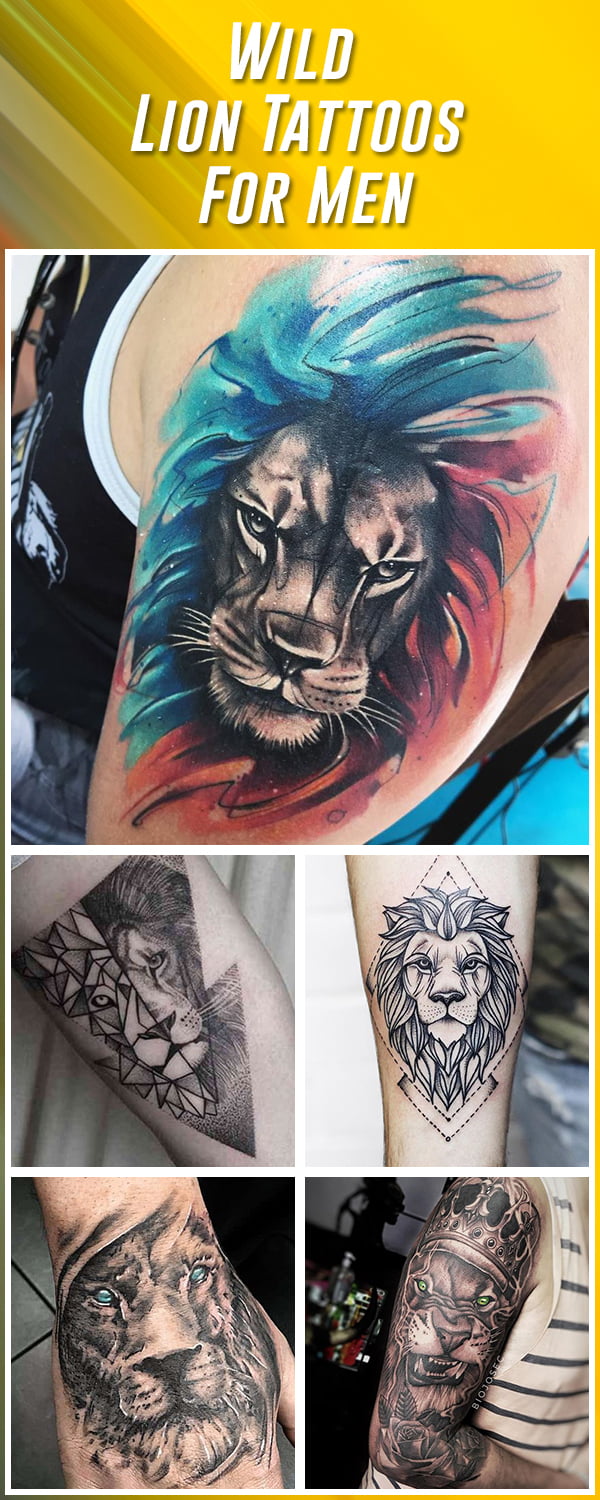 Meaningful lion tattoos are capable of expressing a range of characteristics and ideas with infinite potential for originality. Many lion tattoos take on the attributes and traits of the wild animal being inked. Known as the king of the jungle, the courageous lion represents strength, dominance, wisdom, and confidence. Family is a popular theme among lion tattoos with many portraying a male lion, his lioness, and a baby lion cub. A mother or father may consider this type of affectionate lion tattoo to show how protective and proud they are of their family. Lion tattoos are often combined with various other elements, such as crown tattoo designs, roses, and stars, to enrich the meaning and significance of the piece.

1. Intricate Architectural Lion Design in Grayscale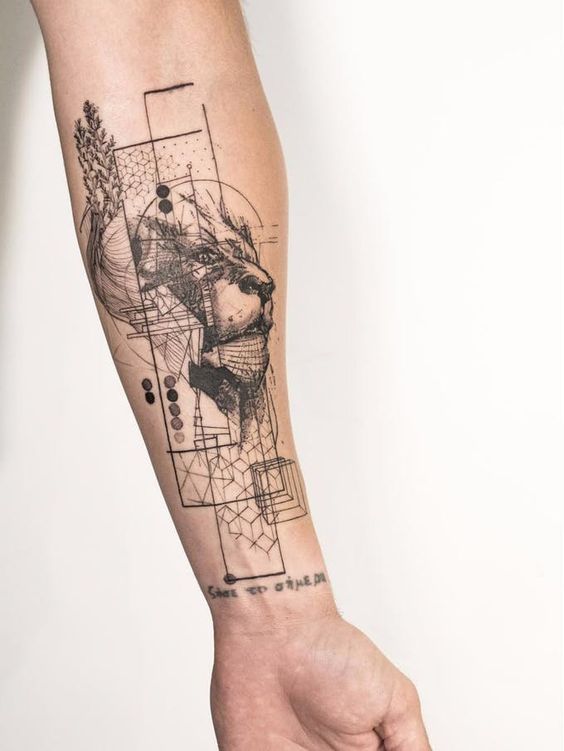 The detailed line work and geometric elements in this intricate architectural lion tattoo are truly breathtaking. Varying shades of black ink give this amazing grayscale lion tattoo so much depth and complexity that it is hard to look away. Creative and intelligent individuals are attracted to this style of lion tattoo.
2. Black, Blue, and Red Lion Design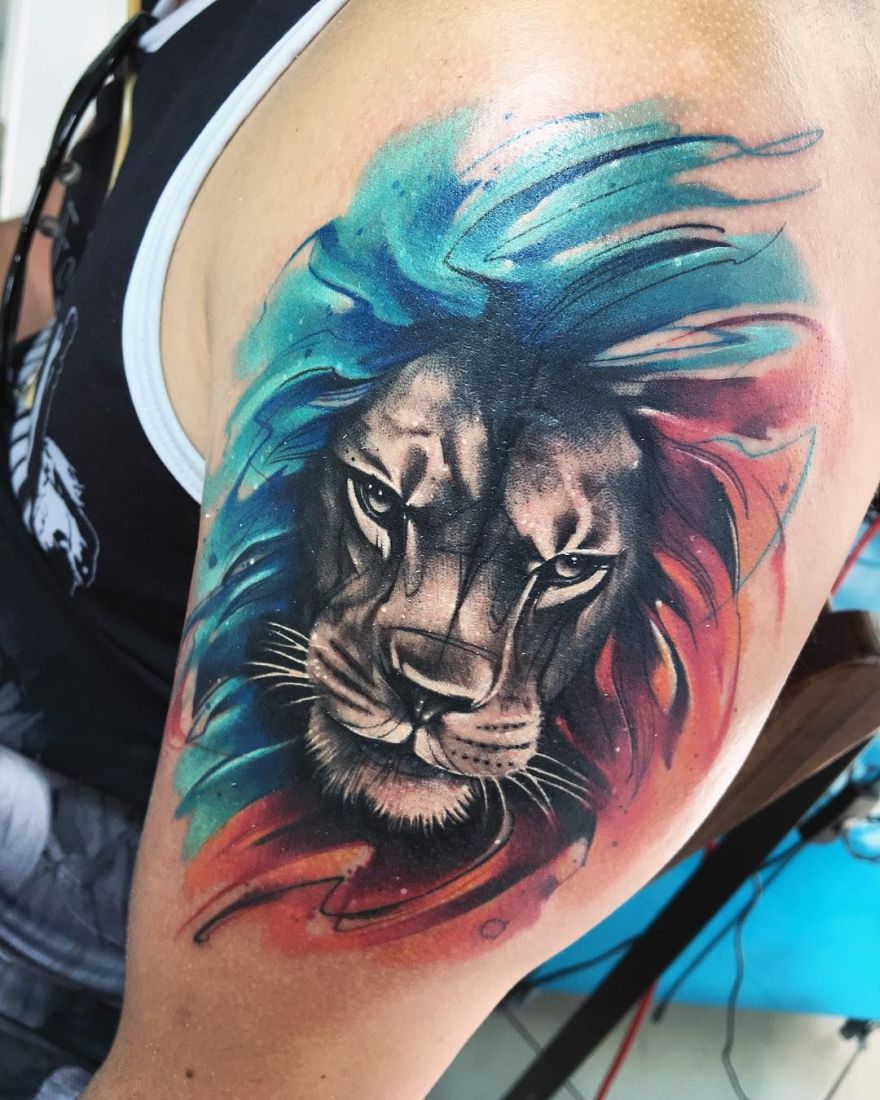 Along with being a symbol of strength and courage, the lion has been synonymous with life and vitality for years. Bold, brilliant blue, and red ink are used in this captivating lion tattoo to represent energy, liveliness, and virility. Looking face on, this is an eye-catching lion tattoo.
3. Grayscale Lion Tattoo with Diamond Outline
Lions are considered impressive, courageous, and mighty creatures – traits that many people wish to connect themselves with. In this striking black and white tattoo, the regal lion head is surrounded by a dashed double diamond frame. This classic face-on lion tattoos design has a simple sophistication that is attractive to many.
4. Lion Eyes Tattoo with Crown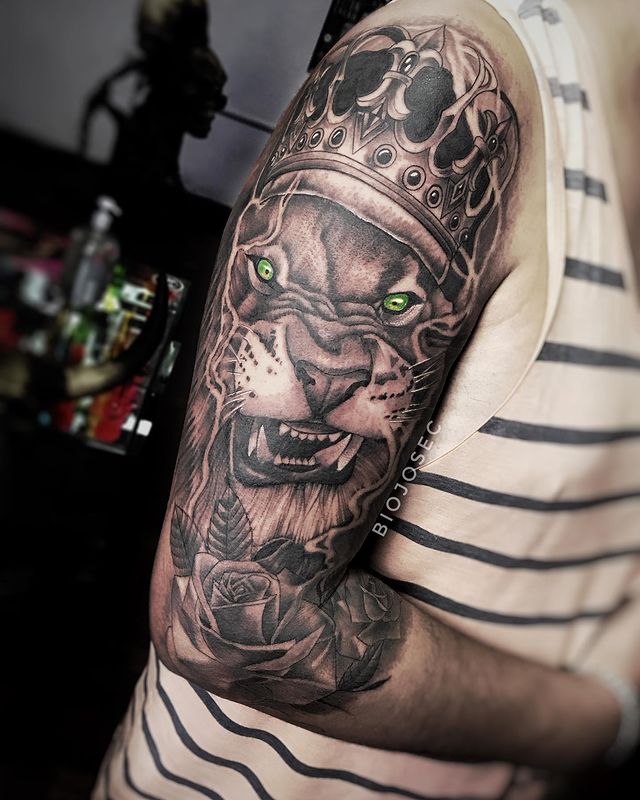 In this incredibly powerful lion tattoo, the majestic creature's piercing green eyes are striking against the shades of black and gray. A lion wearing a crown gives the grayscale tattoo a regal appearance. With its ferocious teeth bared, this courageous king of the jungle is prepared to defend and protect. Dragonfly tattoos look good in this style too.
5. Half Lion Face Half Female Lion Tattoo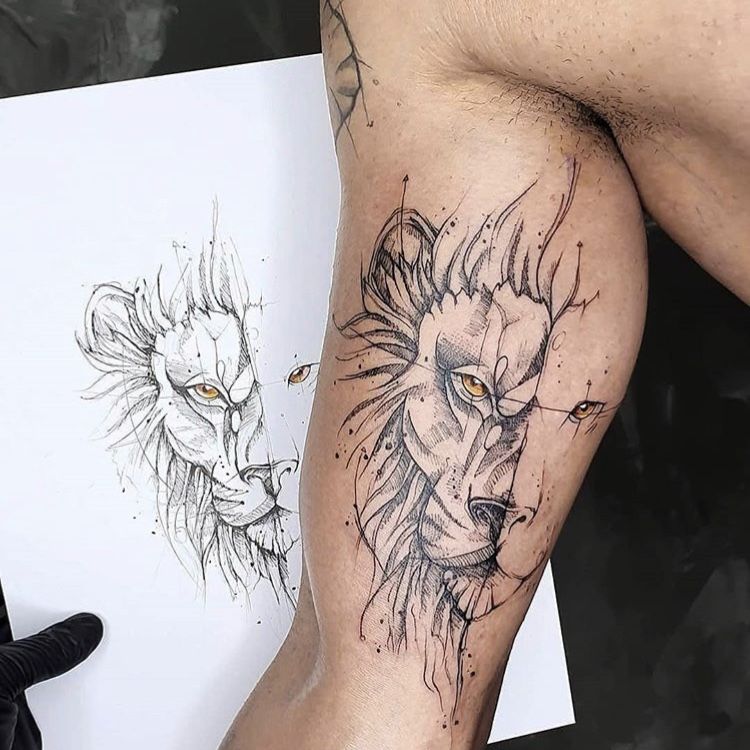 Symbolizing balance and unity, this impressive black and white tattoo uses the natural symmetry of the lion's face. One half of the lion's face represents the powerful male jungle cat while the other half portrays the subtle strength of the lioness. Glowing yellow eyes bring the whole piece together.
6. Warrior with Lion Headdress Tattoo on Leg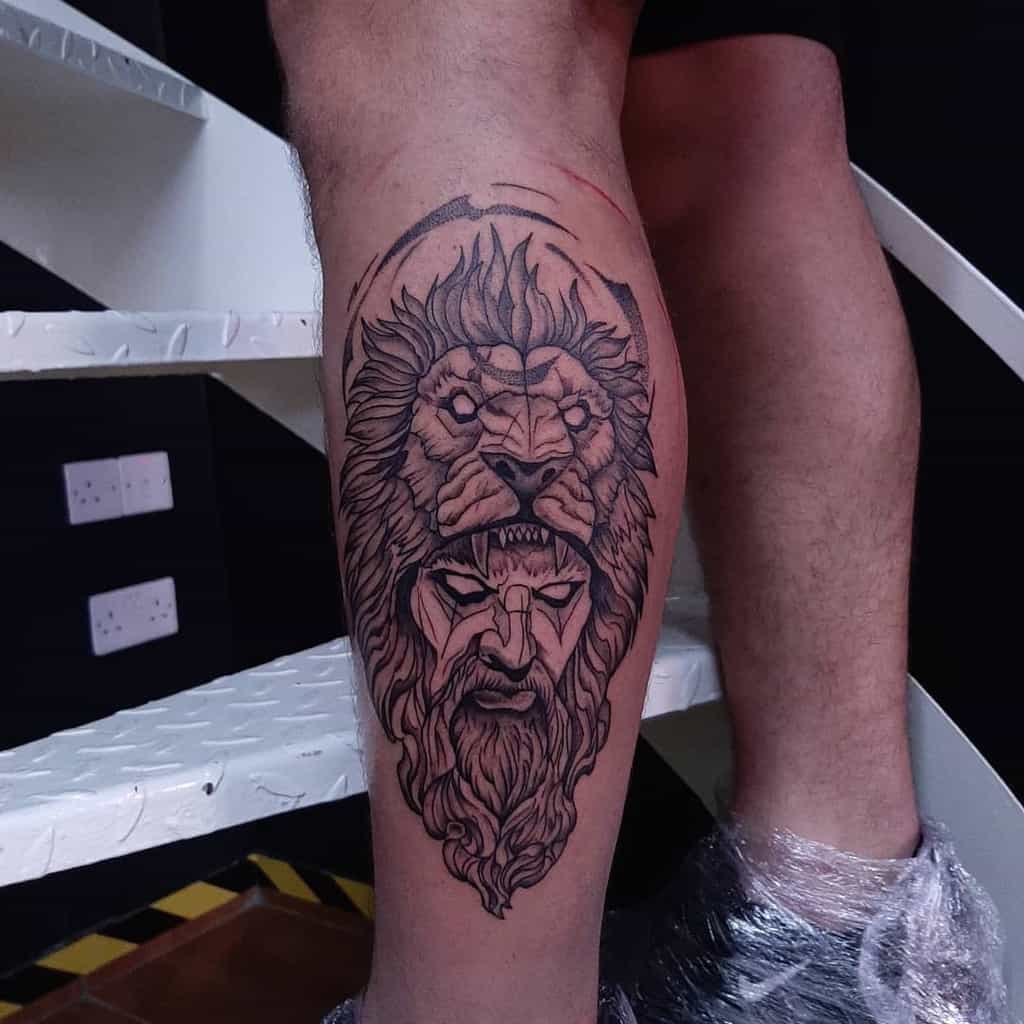 A fierce bearded warrior proudly wears an awe-inspiring lion headdress in this dramatic black and white tattoo. Combining realistic aspects with illustration, the resulting body art is almost magical to look at. Representing wisdom and courage, the brave warrior with a lion headdress is a profoundly powerful tattoo.
7. Golden Eyed Lion Tattoo on Hand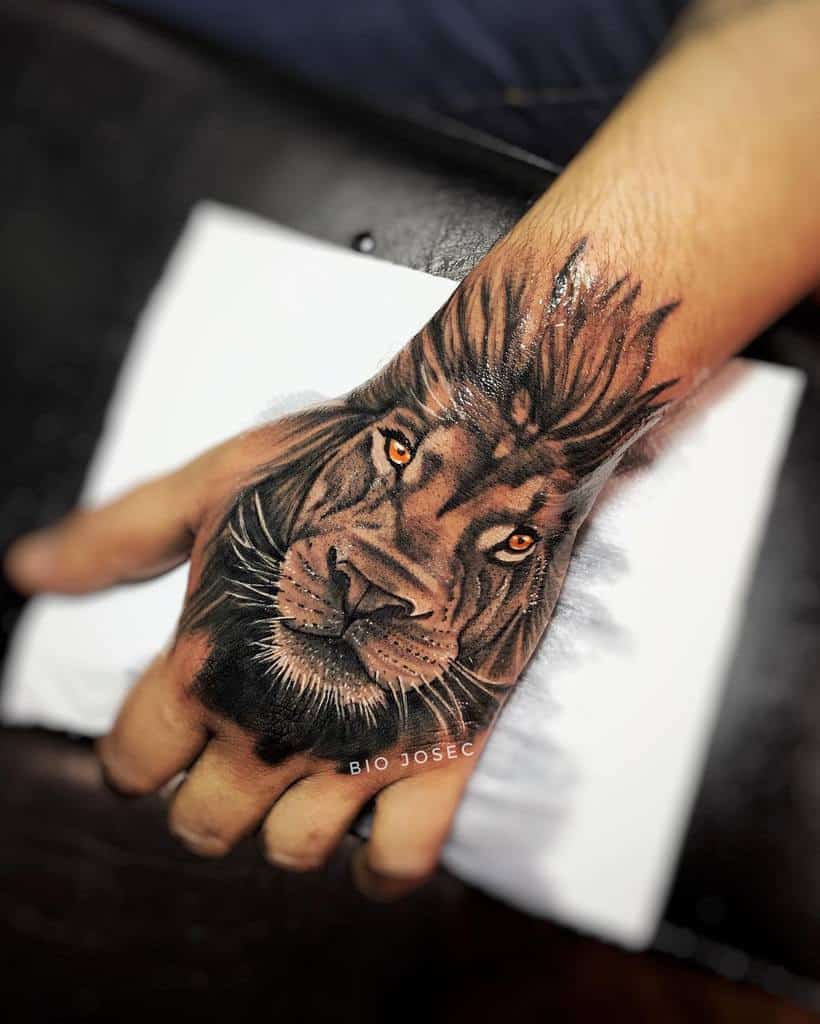 Your hand is an excellent tattoo location for a strong design like the lion as others see it as soon as you shake their hand. This remarkable golden-eyed lion tattoo is perfect for a confident and commanding individual. Getting a lion tattoo on the hand can represent success and power.
8. Half Lion Half Wolf at Night Tattoo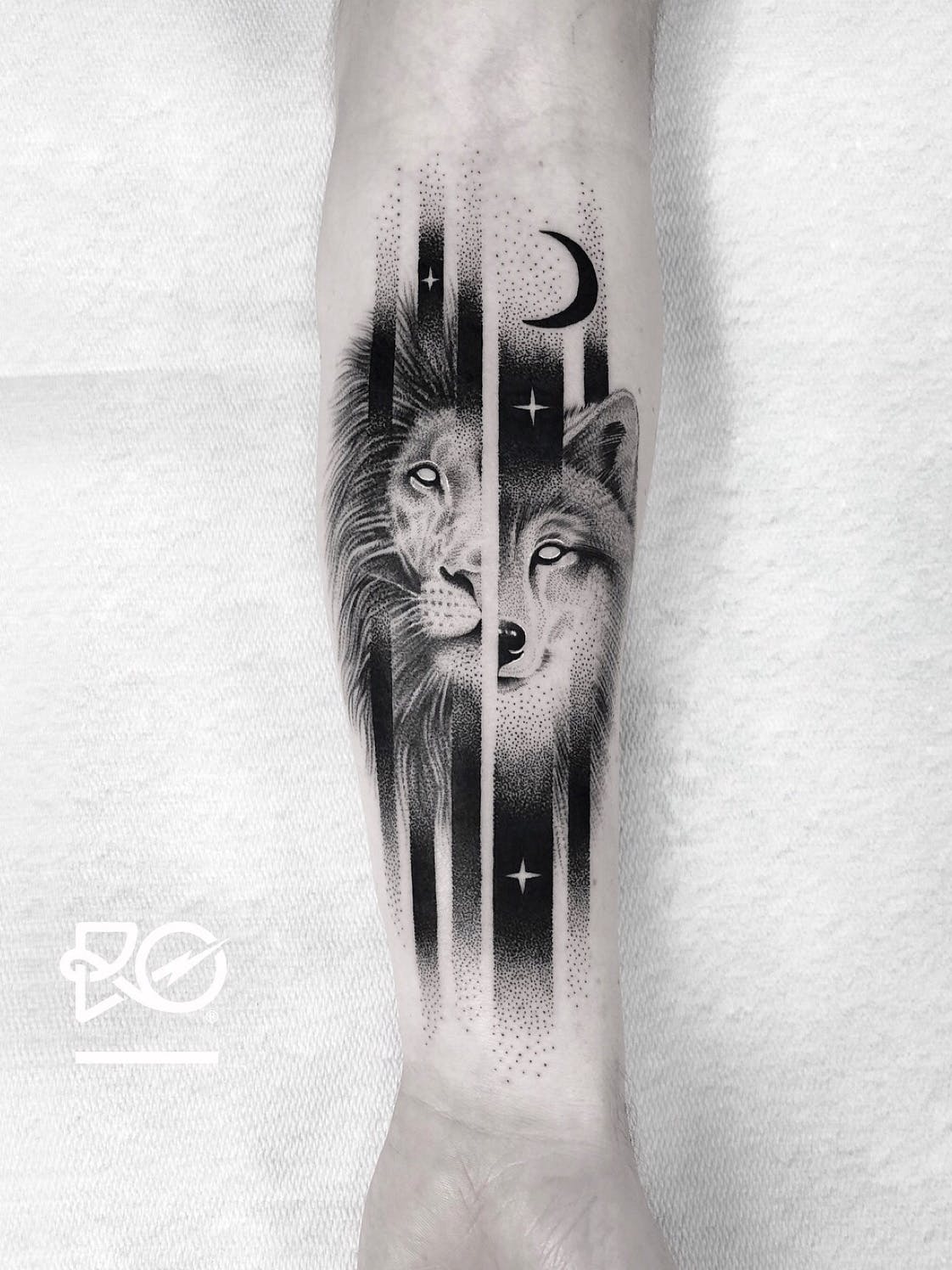 In this mythical black and white lion forearm tattoo, half a lion head merges with half a wolf head to create a spellbinding image. The lion symbolizes power and majesty while the wolf represents loyalty and bravery. Spiritual individuals are particular fans of this deeply compelling black and white animal tattoo. These types of designs also make for great sister tattoos.
9. Geometric Naturally Colored Lion Head Tattoo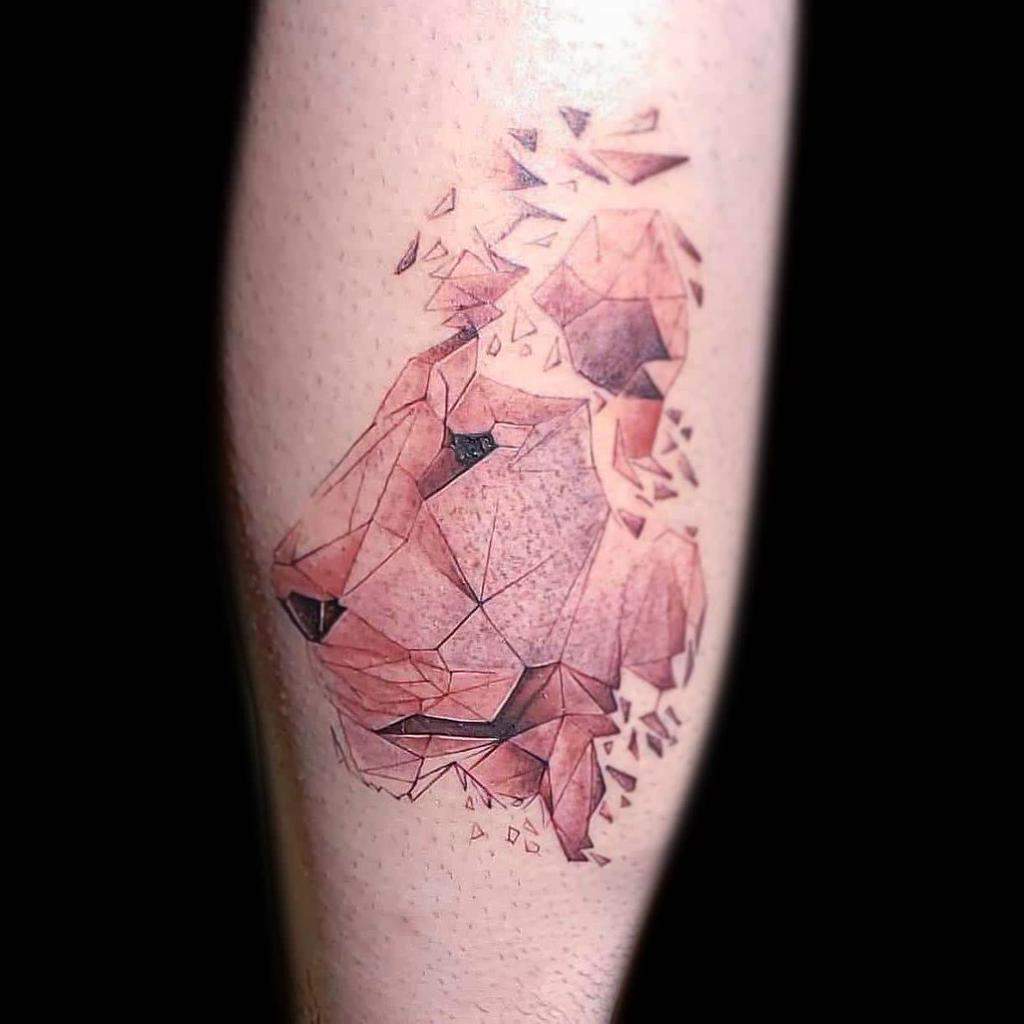 For body art that is more unusual and trendy, consider this amazing geometric lion head tattoo. Combining the natural colors of the royal cat with the angular art style gives the tattoo a modern and futuristic look. Men and women who prefer abstract and non-traditional ink appreciate this lion tattoo.
10. Roaring Lion Tattoo with Artistic Quality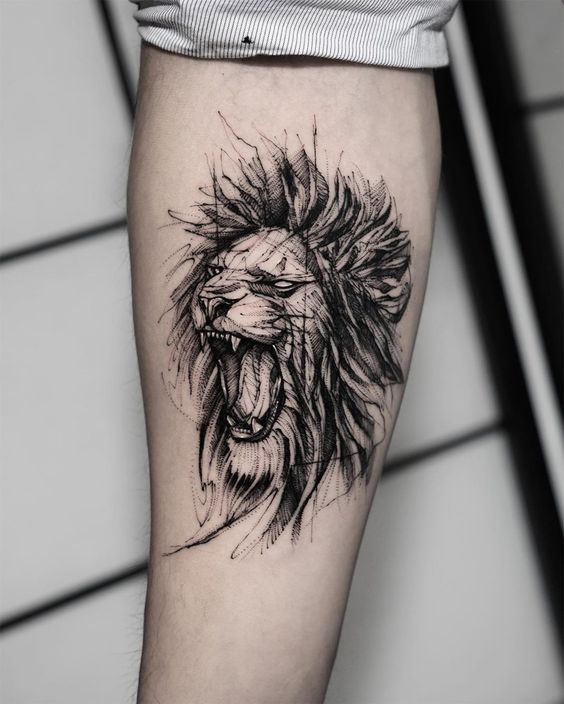 When the powerful lion roars, he is marking his territory and it can be heard up to five miles away. It is a way for the royal jungle cat to show his strength to others. This compelling black and white roaring lion tattoo has linear elements for artistic quality.
11. Side Facing Lion Head Tattoo on Leg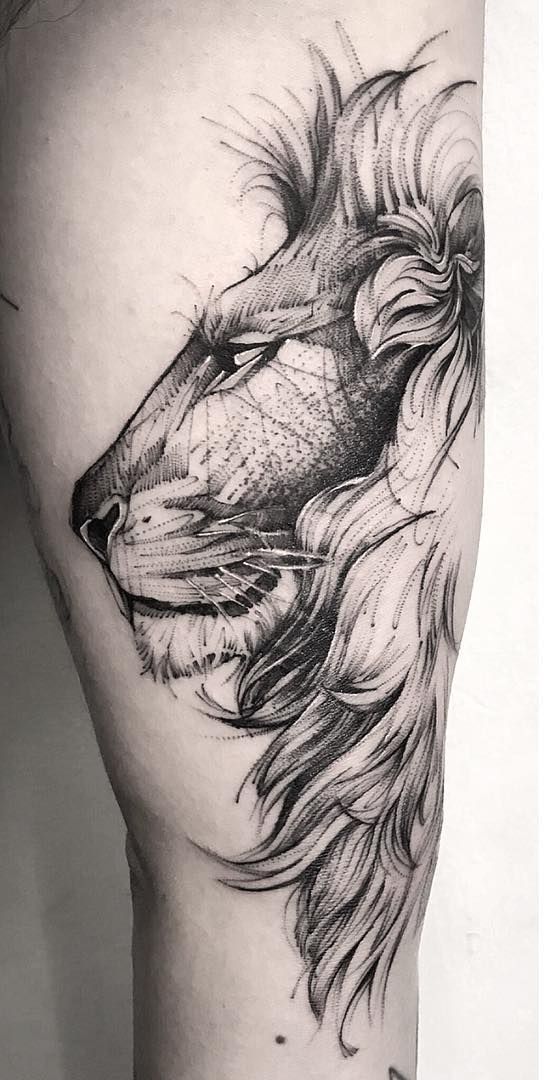 This remarkable lion head tattoo showcases the stunning profile of the regal king of the jungle. Placed on the leg, this breathtaking black and white lion tattoo is large enough to show all the details. The proud lion appears to be deep in thought as it gazes into the distance.
12. Mystical Lion and Rose Tattoo on Forearm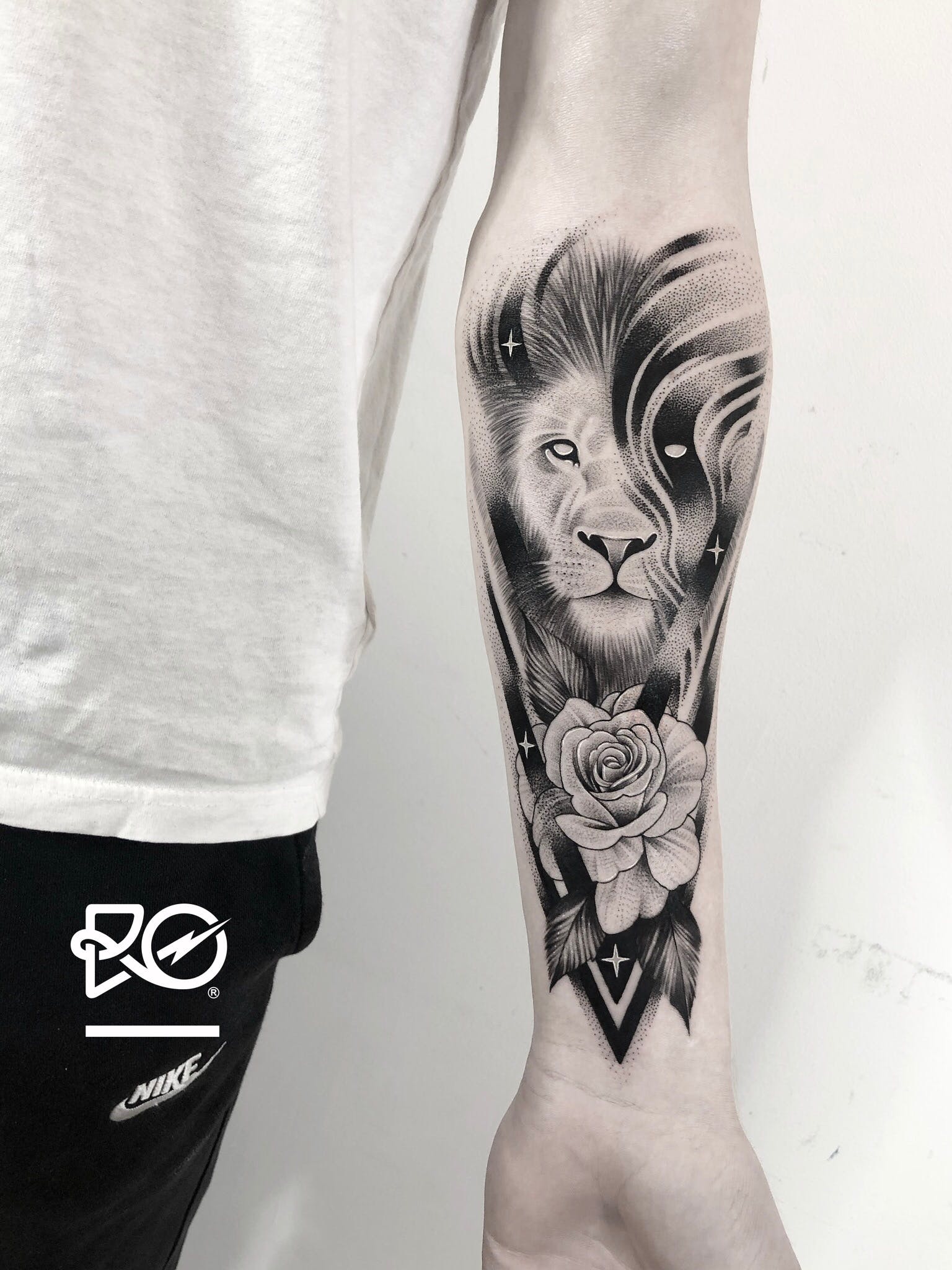 A bit of realism and a bit of whimsy are used in this mystical lion tattoo. Although a male lion's head, the soft shading, and wavy lines give the tattoo a sophisticated tenderness. A blooming rose and sparkling stars add to the allure of this black and white lion tattoo.
13. Head Up, Walking Proud Lion Tattoo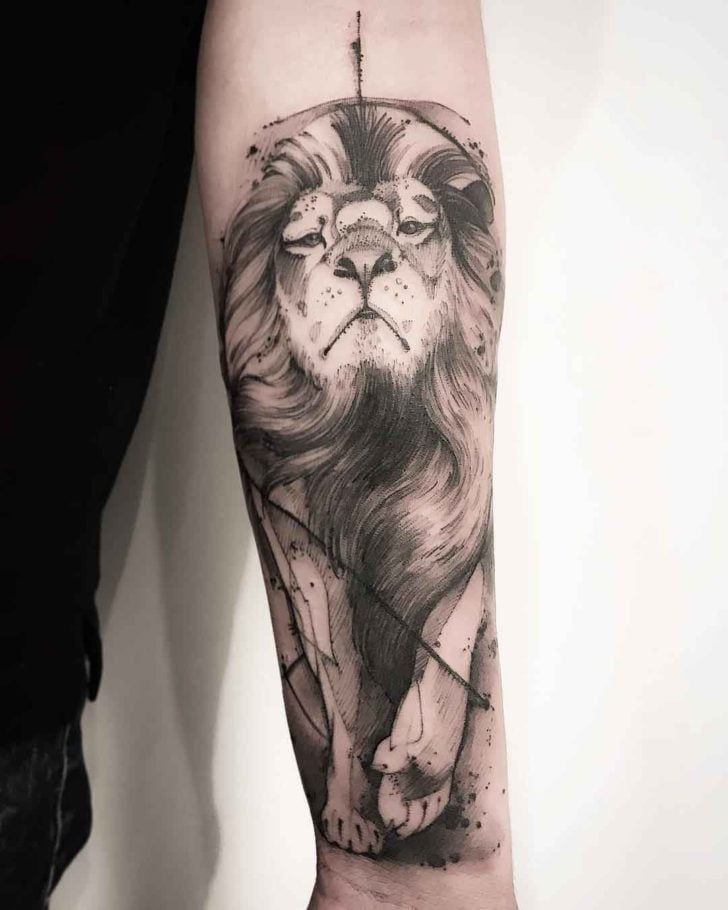 In this phenomenal lion tattoo, the royal beast is shown walking proudly towards the viewer. With one paw in front of the other, this lifelike lion tattoo depicts power and masculinity. The forearm is the perfect placement for this majestic tattoo as the lion moves in harmony with your body.
14. Lion Shoulder Tattoo: Realism Style Lion Head Tattoo in Grayscale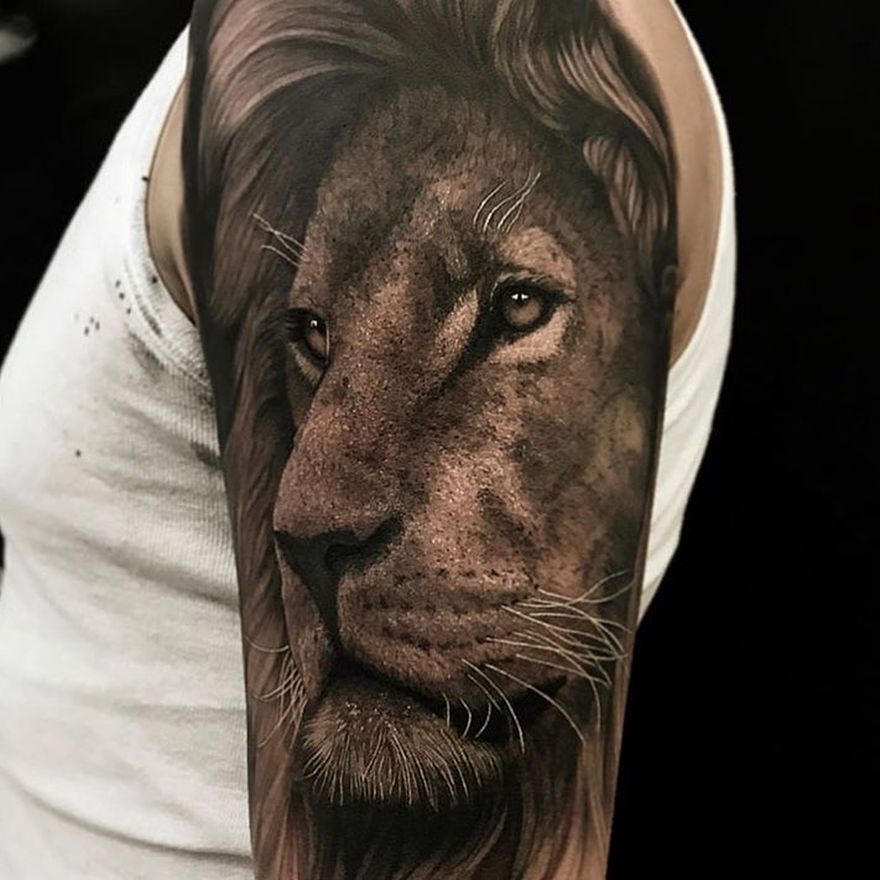 This breathtaking lion tattoo is so lifelike the majestic cat's head appears to be extending out from the man's shoulder. The shoulder is a popular placement for lion tattoos as they are both associated with strength. An incredible amount of detail and shading go into making this lion tattoo realistic.
15. Grayscale Lion Head Tattoo with Zodiac Elements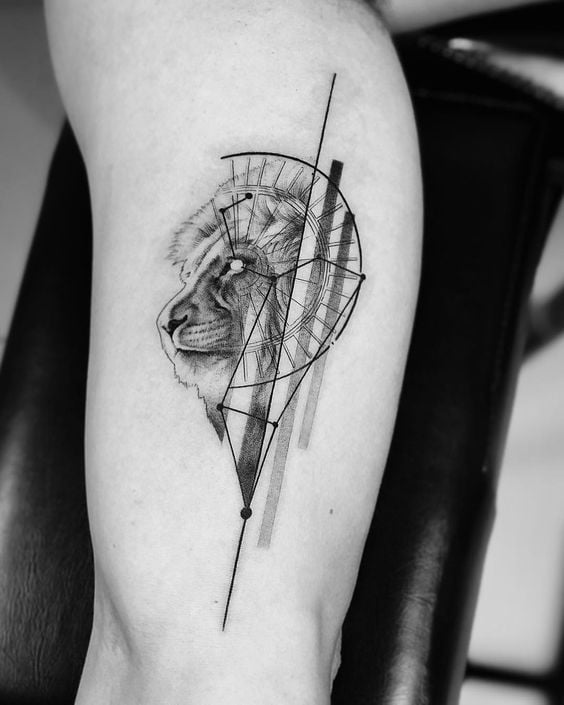 As the astrological sign of Leo, the courageous lion is often connected to the zodiac element of fire and the sun. This attractive grayscale lion head tattoo includes geometric shapes to resemble a sundial and stars. The constellation of Leo is also subtly incorporated into this expertly designed lion tattoo. Sun and moon tattoos are perfect for complementing this design.
16. Lion Tattoo Ideas: Blue Eyed Lion Head Tattoo on Hand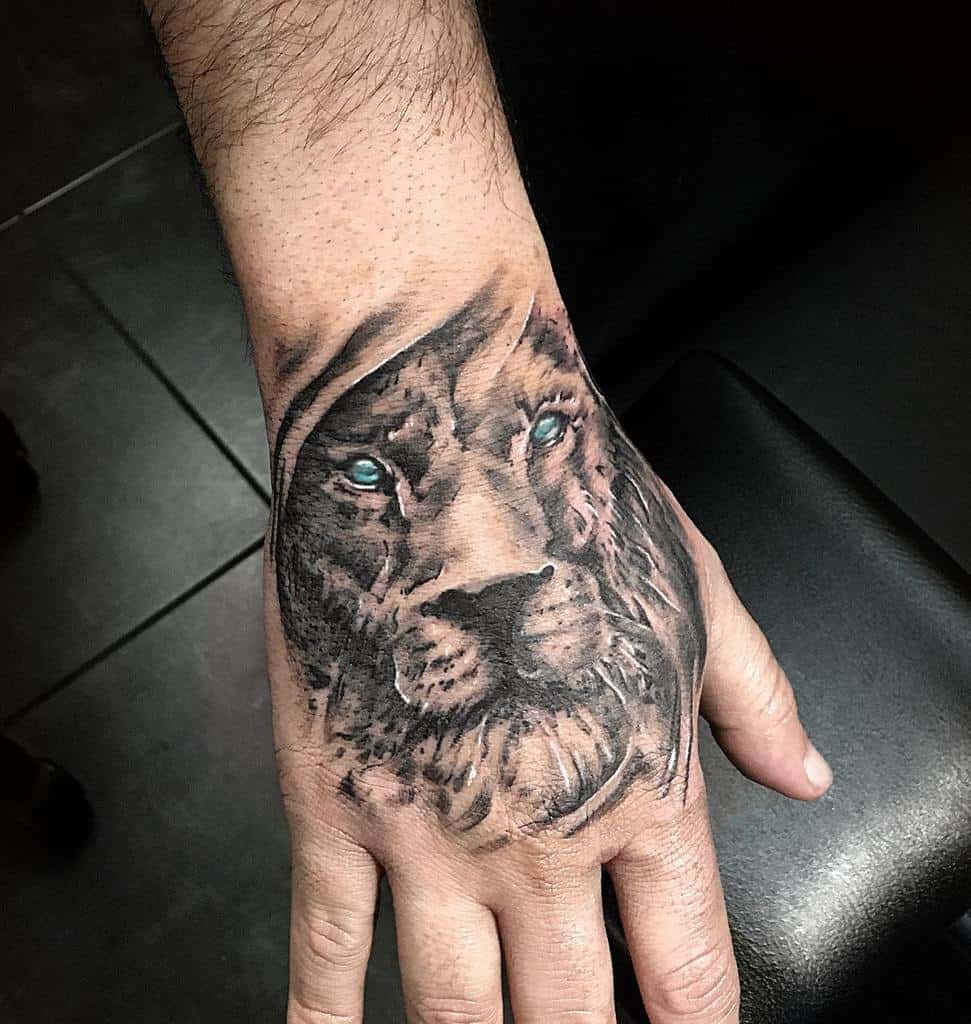 Noticeable and memorable, hand tattoos can represent control and success. Combine those characteristics with the lion's symbolism of courage and pride and you have this eye-catching lion face tattoo. The giant jungle cat's penetrating blue eyes stand out amongst the grayscale lion head tattoo.
17. Half Geometric Half Realistic Lion Tattoo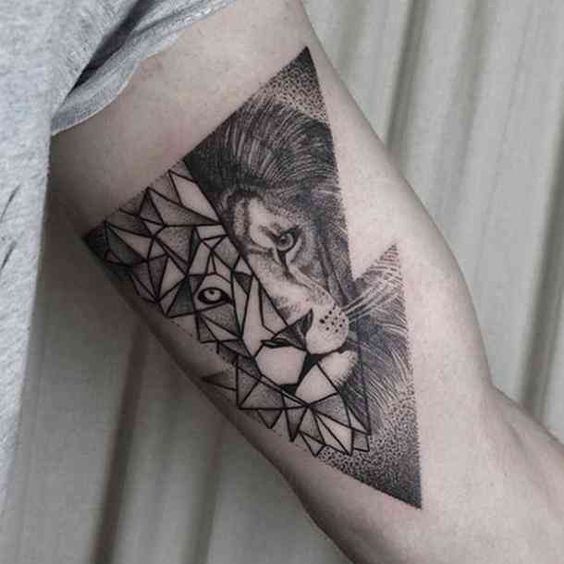 There are so many wonderful styles of lion tattoos to choose from, why not combine two genres into one design. This innovative and creative tattoo shows half the lion's face in geometric architecture and the other in captivating realism. Shaded triangles and intricate lines make this lion tattoo stand out.
18. Lion Tattoo Ideas: Large Lion Head Tattoo with Subtle Coloring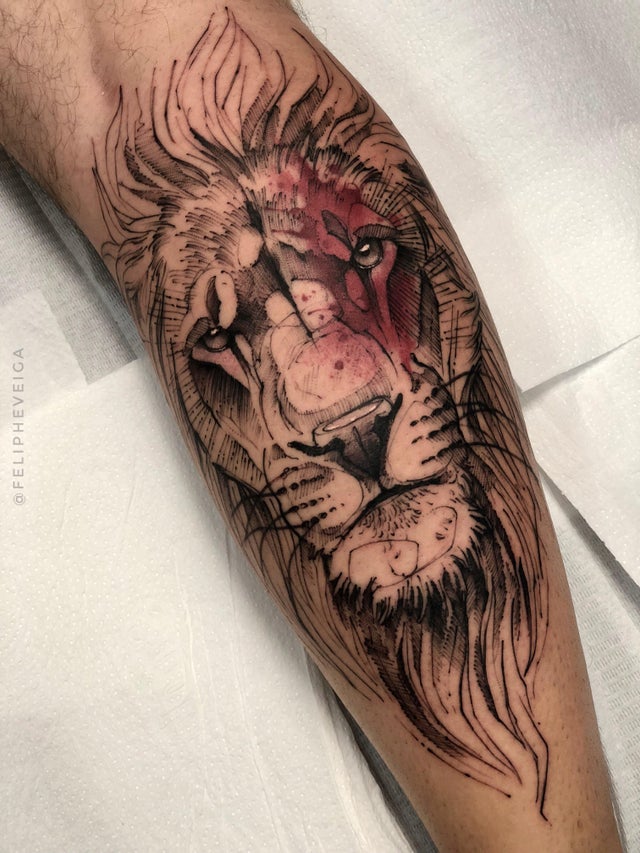 While some lion tattoos seem intimidating, this lion face portrays a more peaceful and mysterious side to the animal. Inking the lion tattoo on the forearm is great as you can easily show it off to the world. This incredible lion face tattoo is mostly grayscale with subtle natural coloring.
19. Lion Tattoo Ideas: Roaring Lion Tattoo with Crown Arm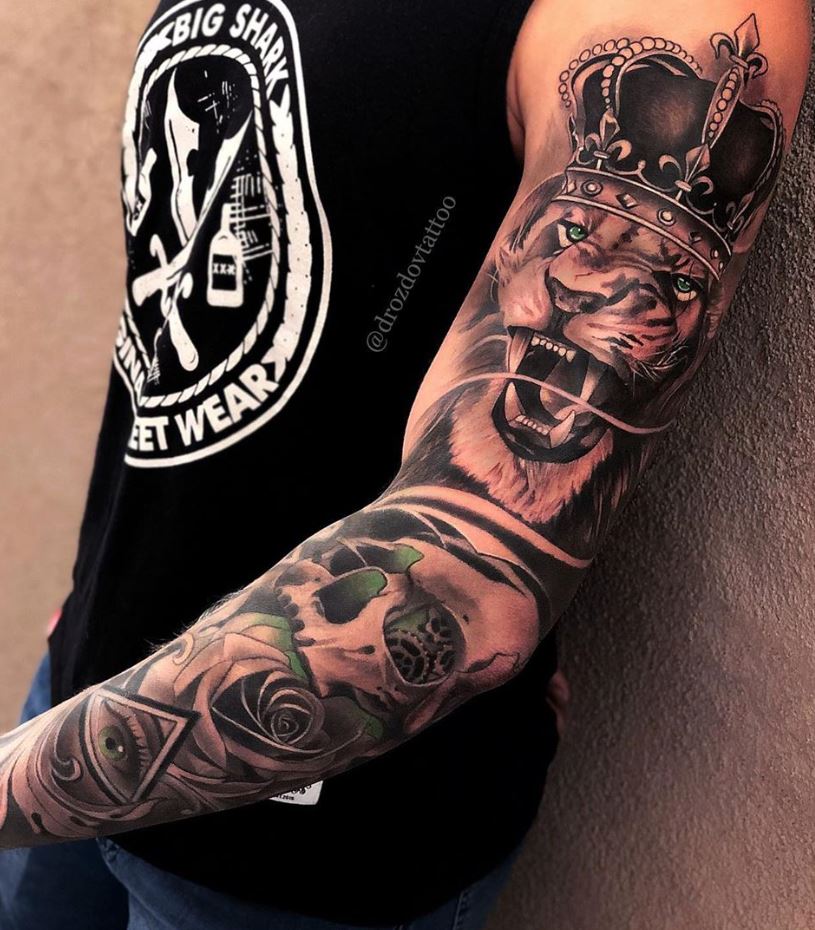 As the king of the jungle, the regal lion is a longstanding symbol of royalty and nobility. Because of their majestic appearance and mannerisms, a group of lions is called pride. Adding a royal crown to your lion tattoo represents one's one connection or aspiration towards greatness.
20. Yellow-Eyed Lion Face Tattoo with Script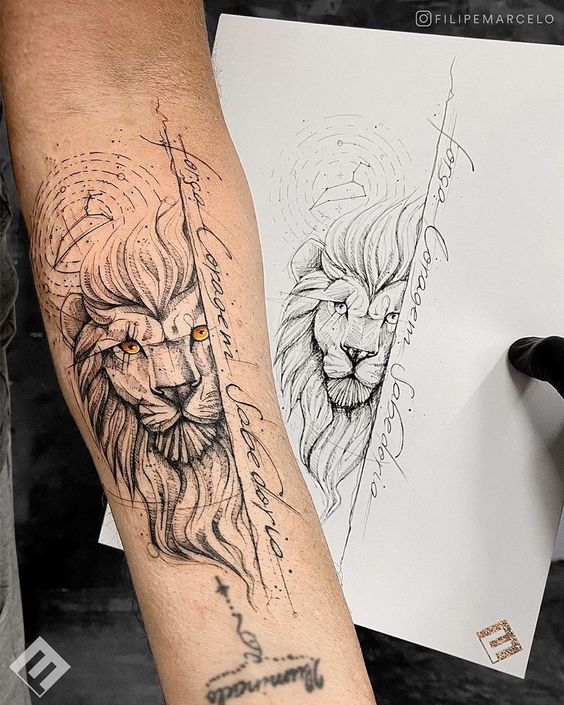 The natural charisma of the jungle cat shines through in this meticulous lion tattoo. In the script are the words "forga", "coragem" and "sabedoria", which are Portuguese for force, courage, and wisdom. The only color used in this amazing grayscale lion tattoo is the beast's striking yellow eyes making them pop.
21. Lion Tattoo Ideas: Lifelike Lion Face in Triangle Tattoo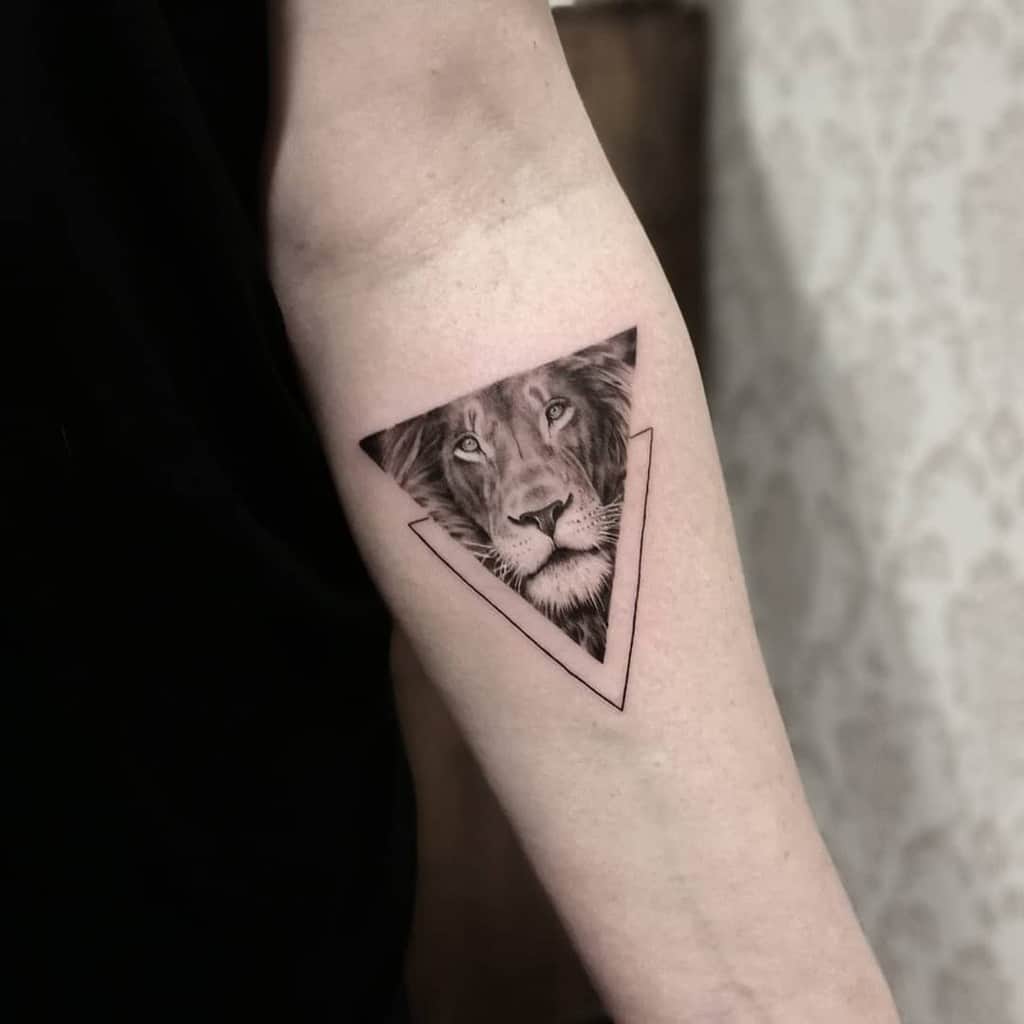 Symbolizing balance, majesty, and unity, this incredible lion tattoo showcases sophisticated shading and remarkable realism. The proud beast's face fills the inside of a triangle and a separate triangle outline hangs below. A lion tattoo doesn't have to be large to make an impact as this striking body art demonstrates.
22. Wise Lion Face Realism Tattoo in Grayscale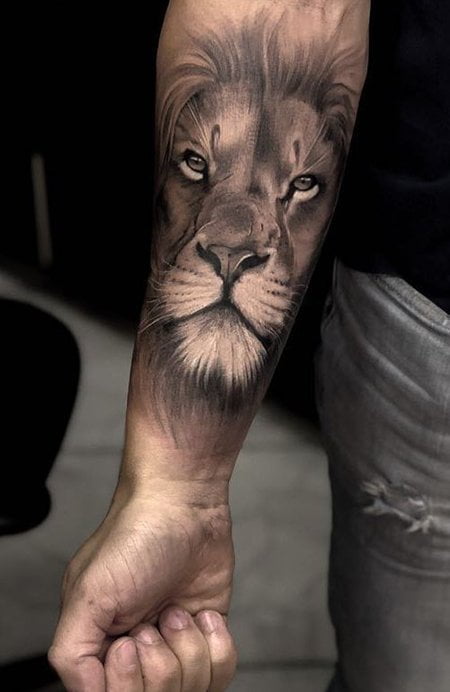 This full-on photorealistic lion face tattoo looks majestic, wise, and peaceful. Dark shadows, white highlights, and a combination of line work give this amazing lion tattoo a real personality that is difficult to deny. The noble king of the jungle's eyes appears to be looking right through you.
23. Lion Tattoo Ideas: Realistic Lioness with Two Cubs Tattoo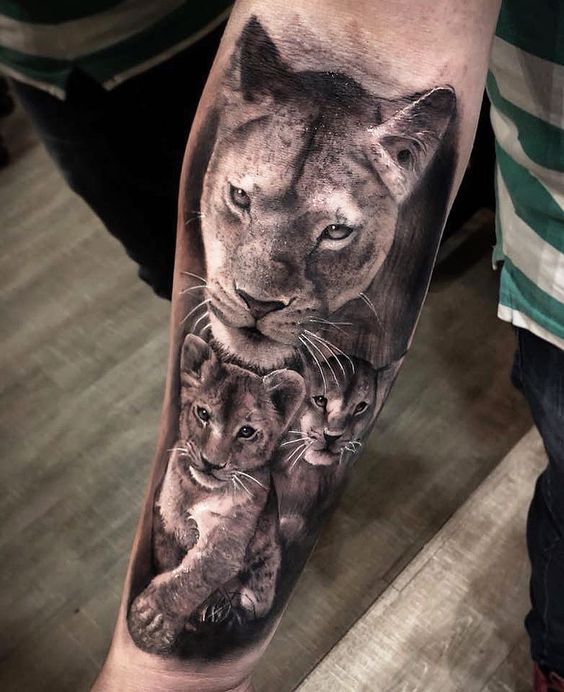 Absolutely breathtaking, this stunning grayscale lioness and cubs tattoo is the quintessential depiction of a mother protecting her children. It is obvious from the look in the lioness's eyes that she will fiercely attack anything that threatens her two cubs. Perfect shading and highlights make this lion tattoo look alive.
24. Lion Face Inside Diamond Geometric Lion Tattoo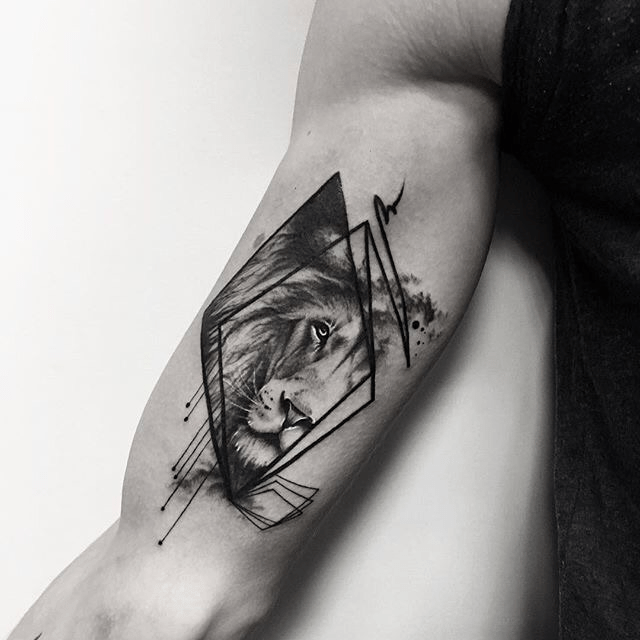 Artistic and modern, this geometric lion tattoo mixes styles to create an eye-catching piece of body art. The lion's beautiful face peers out from a double diamond frame while drips of ink drizzle down. This black and white lion illustration tattoo is ideal for creative and intelligent individuals.
25. Lion Tattoo Ideas: Lion Tattoo with Abstract Shapes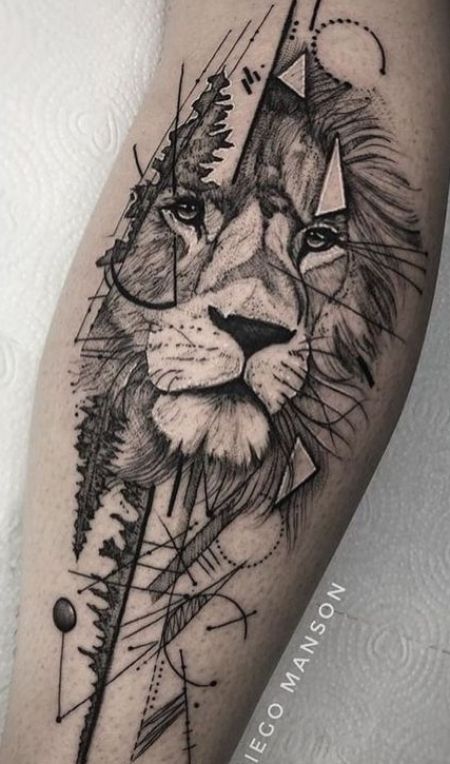 Instead of displaying the powerful lion's fierce side, this visionary lion tattoo focuses on the incredible creature's proud and noble characteristics. Both artistic and natural elements are added to this dynamic lion tattoo design. An individual who thinks outside the box prefers an intricate lion tattoo such as this one.
26. Three Styles in One Lion Tattoo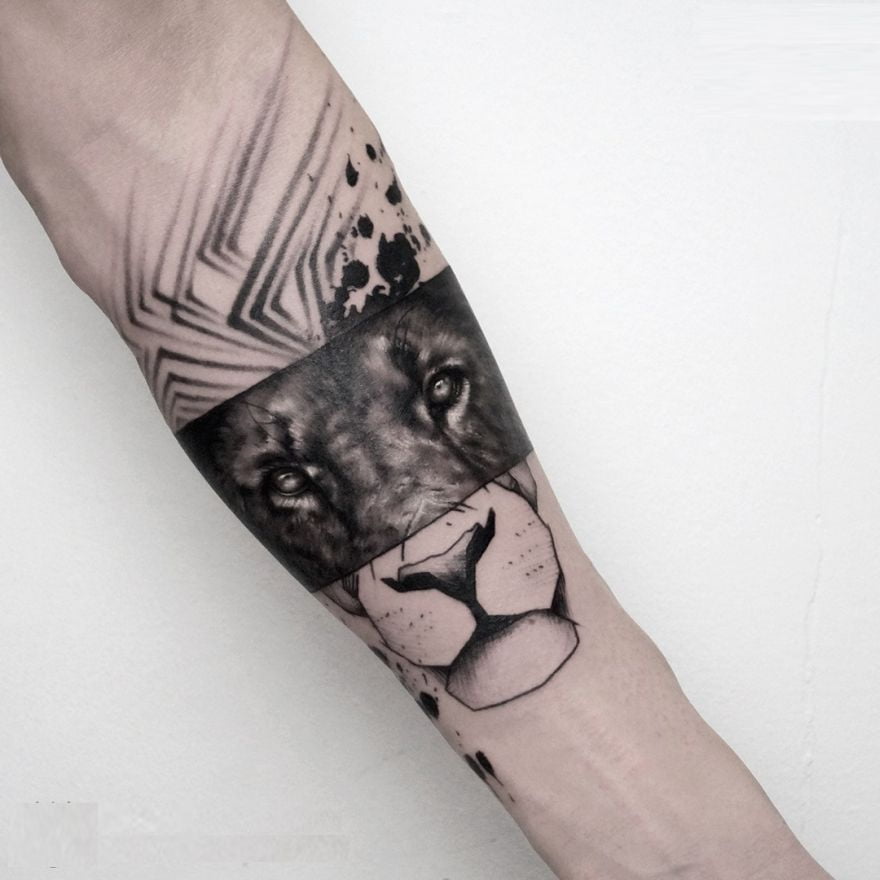 The noble lion's face is portrayed in three unique styles in this unconventional grayscale tattoo. There are three distinct layers with abstract art at the top and black and white illustrations at the bottom. The photorealistic center layer of this tattoo is darker so the lion's wise eyes stand out.
27. Lion Tattoo Ideas: Lion in the Sky with Feathers Tattoo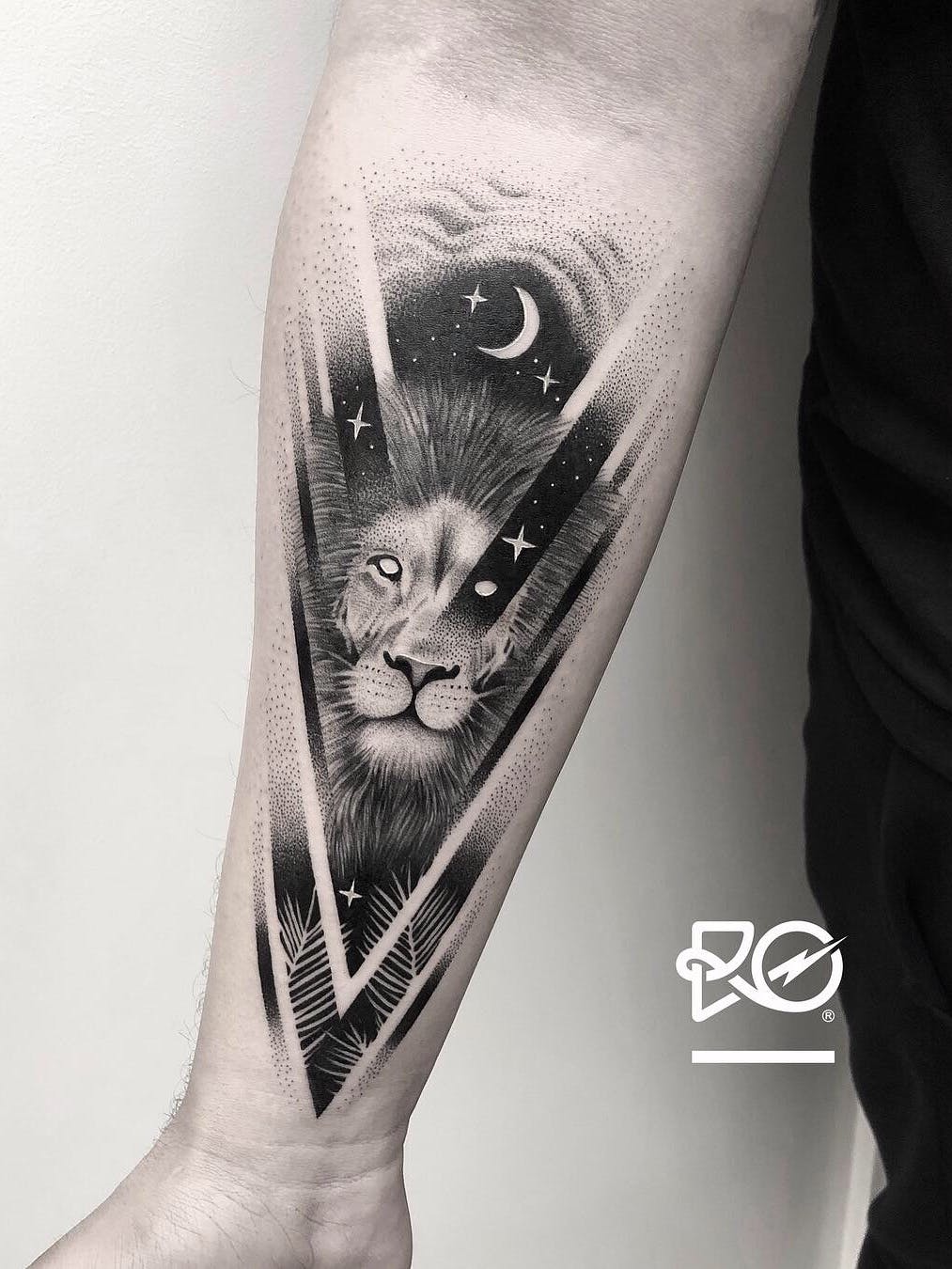 Anyone with the Leo astrological sign appreciates the celestial appeal of this attractive black and white lion tattoo. The tattoo design uses negative space to create sparkling stars and a crescent moon in the night sky behind the regal lion's face. Feathers add a spiritual feel to the magical lion tattoo.
28. Multi Hued Watercolor Lion Head Tattoo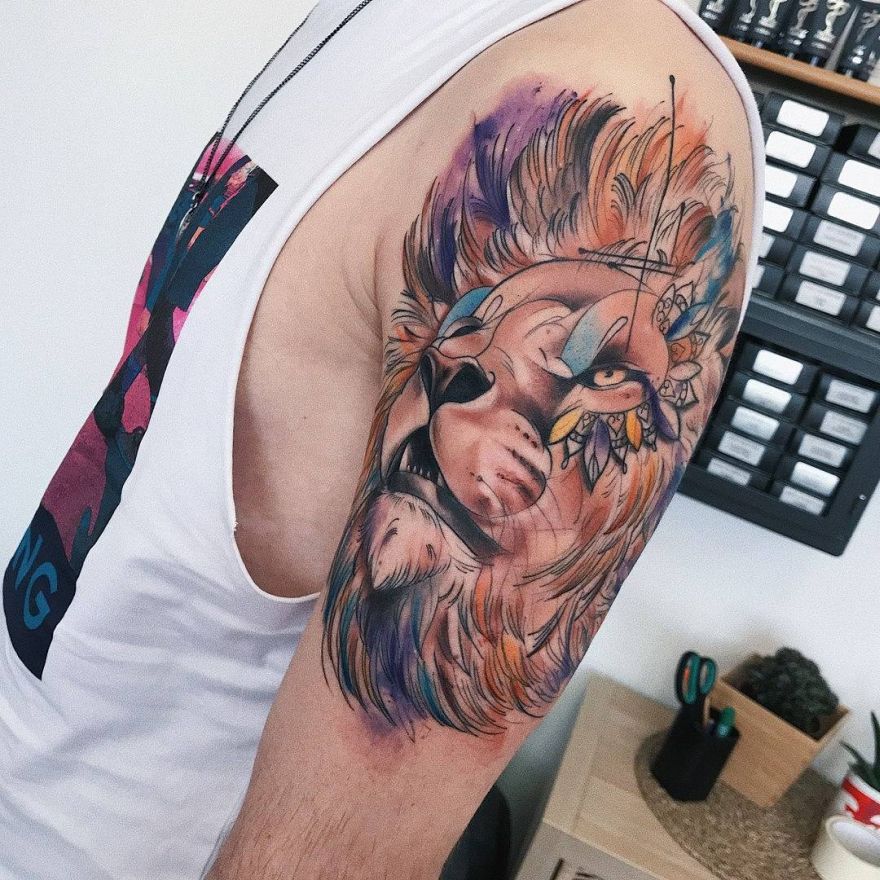 Splashes of blue, orange and purple are showcased in this beautiful multi-hued watercolor lion head tattoo. The native additions such as feathers give the tattoo a magical, spiritual appearance. Placed prominently on the shoulder, the eye-catching lion tattoo spreads positivity and cheer to anyone who views it.
29. Half Lion Face Half Woman Face Tattoo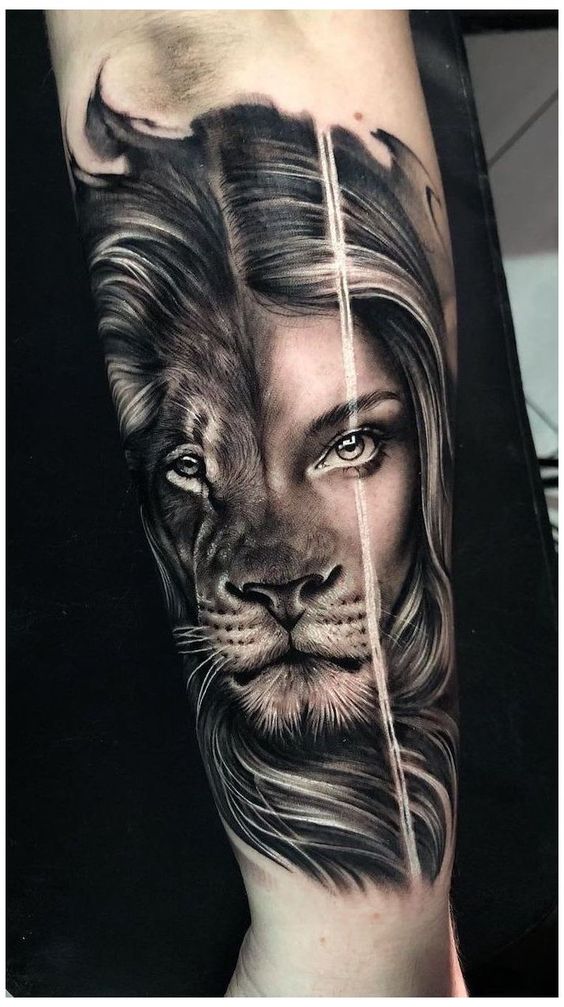 Mysterious and intriguing, this impressive half-lion face half-woman face photorealistic tattoo is all about the eyes. The lion's mane and woman's hair become one as their matching soulful eyes draw you into this captivating grayscale tattoo. White ink highlights and soft shading complete the spiritual lion tattoo design.
30. Lion, Lioness, and Cub Family Tattoo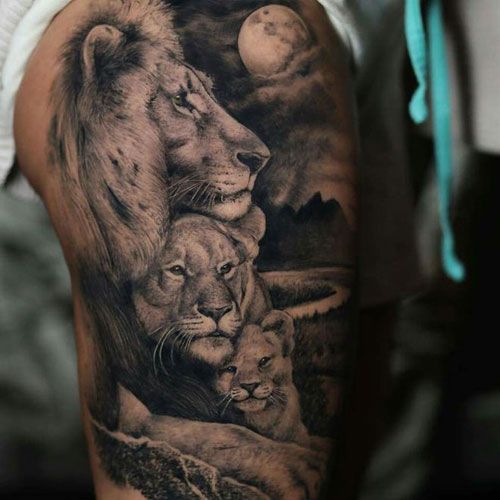 Guardianship, balance, love, and family are the obvious characteristics of this impactful lion, lioness, and cub tattoo. Full of pride and bravery, the father lion holds his lioness and cub close and he protectively keeps watch. New fathers particularly love this emotionally powerful lion family tattoo.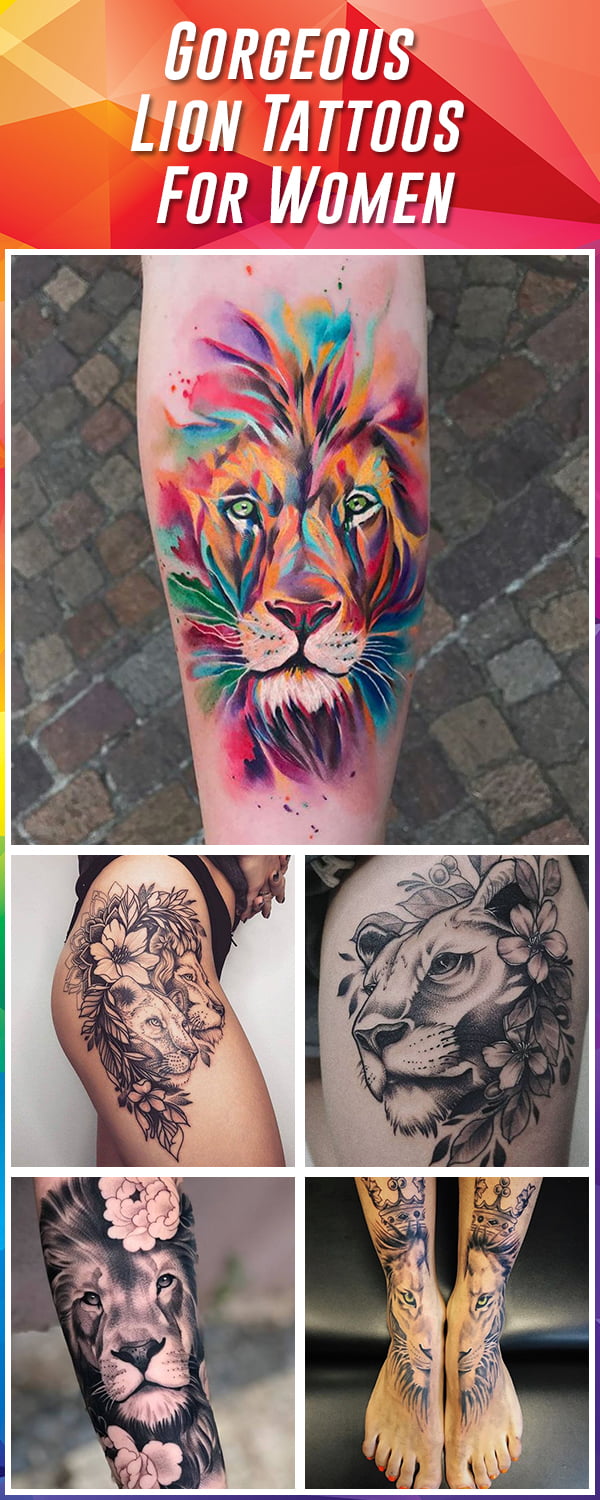 31. Grayscale Lion Head with Flowers Tattoo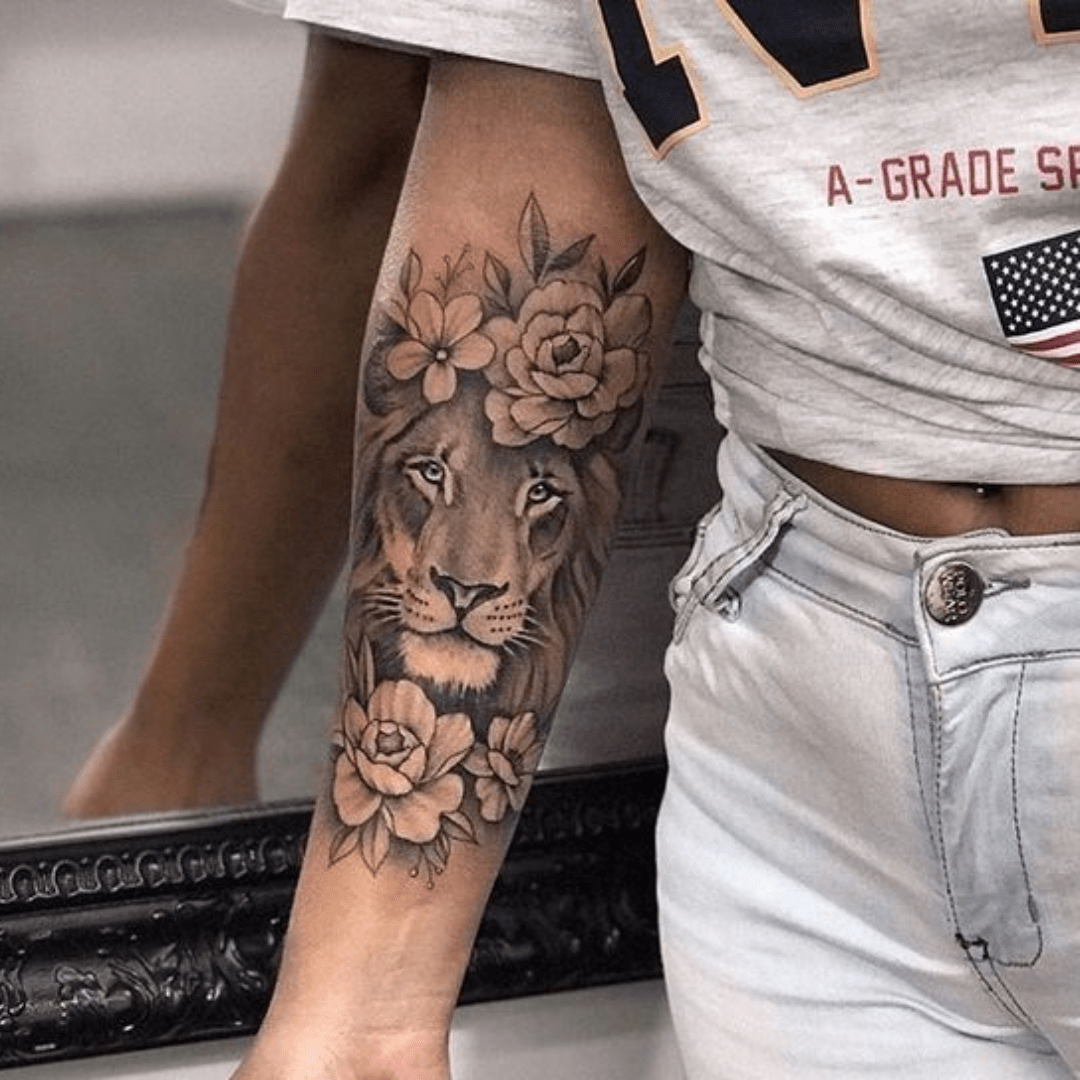 As the fearless king of the jungle, the lion has become a well-known symbol of confidence, courage, and bravery. This magnificent grayscale lion tattoo embodies these traits with pretty flowers included to add elegance and romanticism. Men and women both appreciate the natural beauty of this realistic lion head tattoo.
32. Naturally Colored Lioness with Cubs Tattoo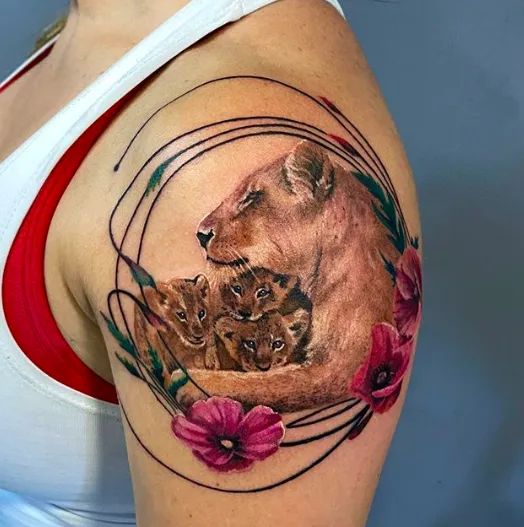 Within the circle of life, a maternal lioness closely holds her three precious lion cubs in this exquisite naturally colored lion tattoo. Many women choose a lioness and cubs tattoo to symbolize how they would fight fiercely to protect their children. This gorgeous lioness tattoo embodies love, peace, and security.
33. Lion and Flowers Tattoo with Familia Script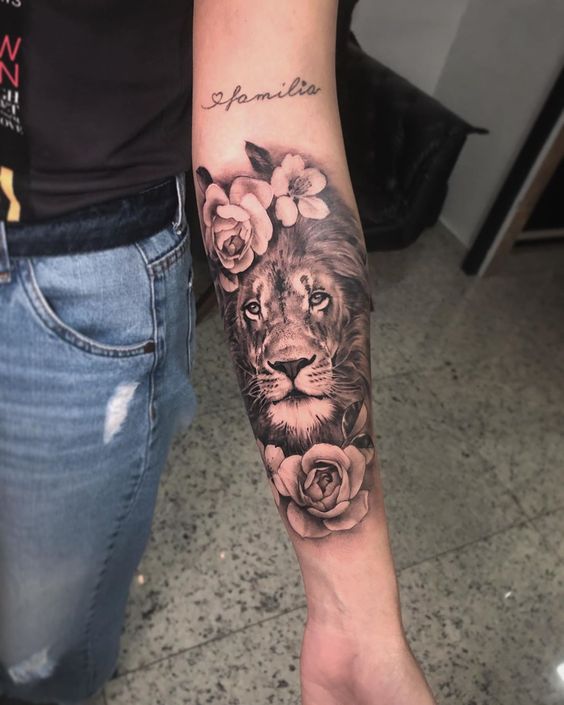 In the wild, lions live and work in unison to protect their territory and the overall well-being of the pride. For this reason, lions are representative of family and loyalty. The word "familia", which is Spanish for family, is written elegantly in the script above the realistic grayscale lion tattoo.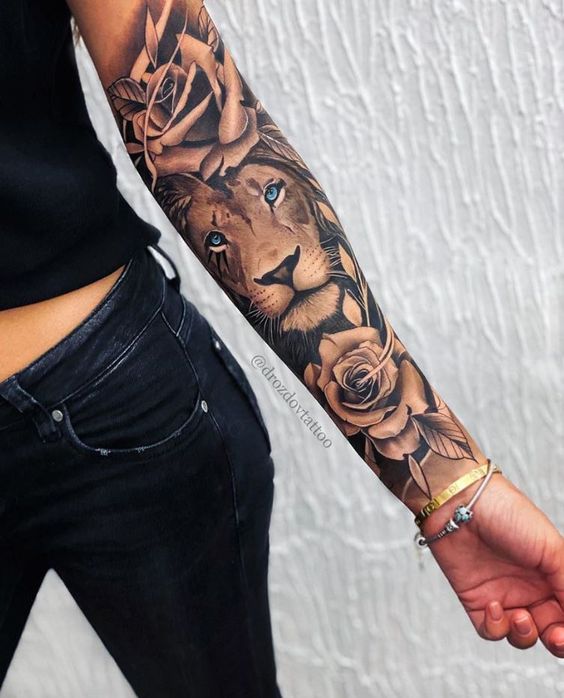 Because the noble lion is so attractive and dramatic, it is an excellent arm tattoo choice for a full arm lion sleeve tattoo. A bright blue-eyed lion face anchors this breathtaking black and white tattoo. Symbolic of courage and pride, the lion pairs well with the elegant floral elements for truly meaningful tattoos.
35. Grayscale Lioness and Flowers Hip Tattoo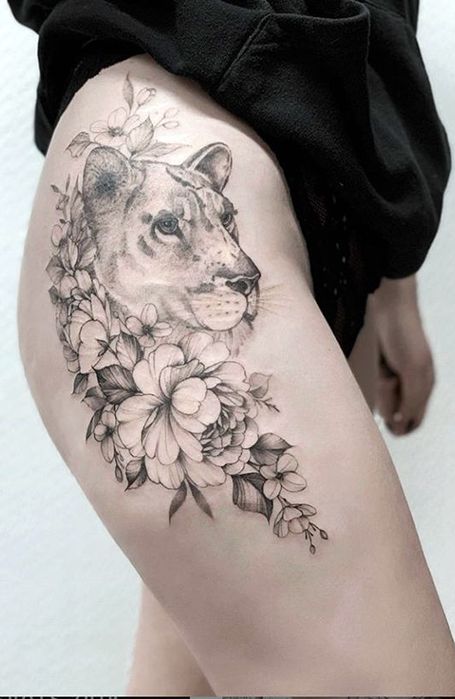 This stunning lifelike lioness tattoo utilizes careful shading in black ink only to create an illusion of realism and depth. The hip is an excellent location as it provides enough surface area to accurately depict the necessary details. Elegant flowers are incorporated into this lioness tattoo for femininity and transience.
36. Abstract Art Lion Tattoo with Flowers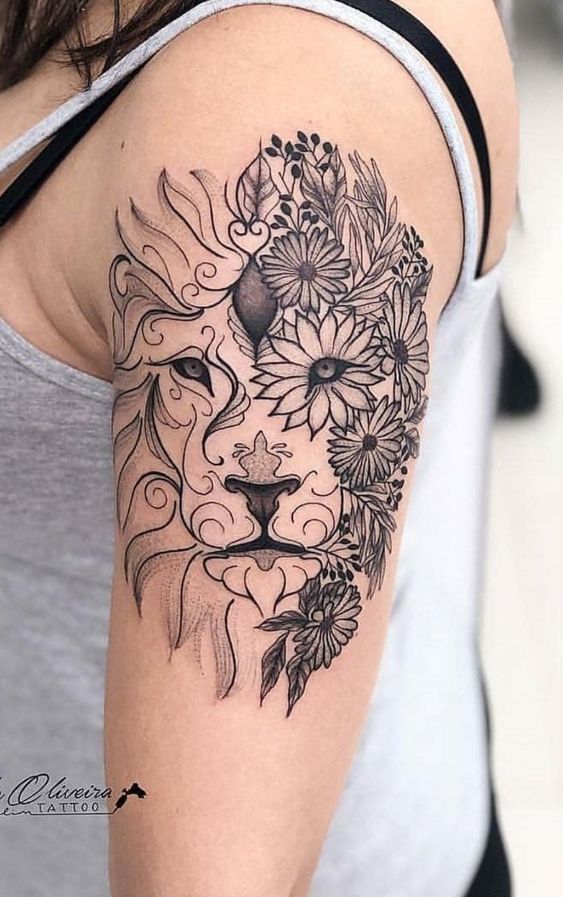 Adding flowers to a lion's head tattoo expands the overall meaning and sentiment of courage, wisdom, and quiet power. In this abstract art lion tattoo, half of the majestic animal's face is inked in minimalistic shading and linework. The other half is fully adorned with an array of blooming flowers.
37. Brightly Colored Watercolor Style Lion Tattoo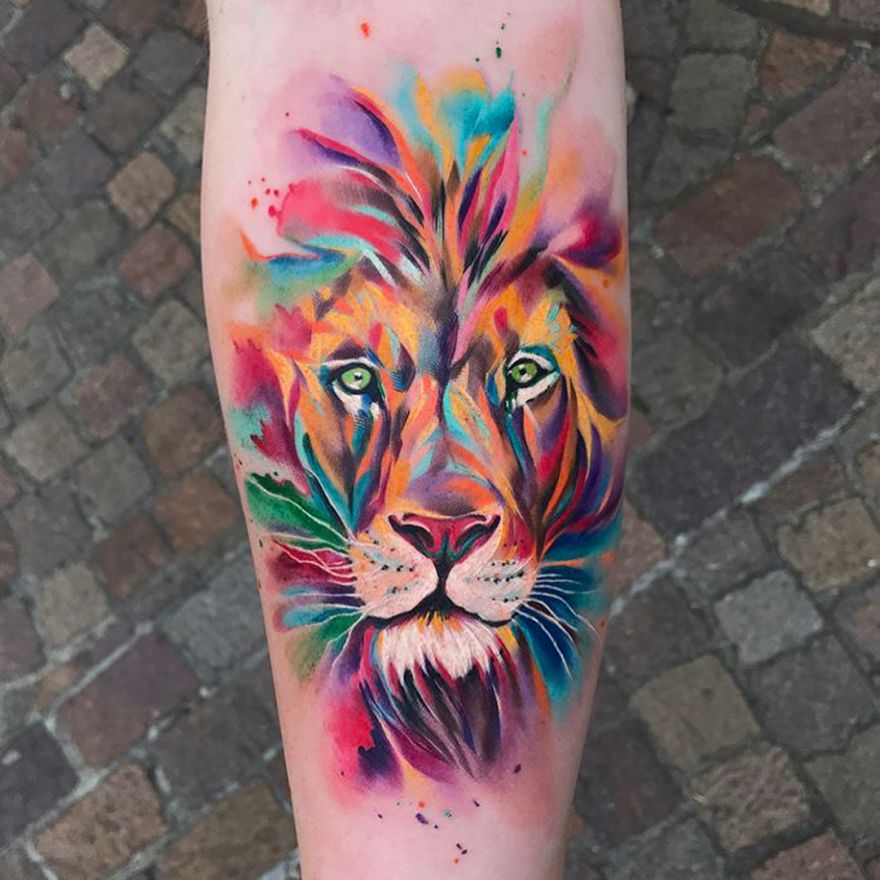 There are so many vibrant colors in this bright and beautiful multi-hued lion tattoo. Reminiscent of a watercolor painting, streaks of various blues, reds, purples, oranges, and yellows compose this illustrative lion body art. Lively green eyes pierce through the rainbow of color with a confident, proud look.
38. Lion and Lioness Tattoo with Floral Accents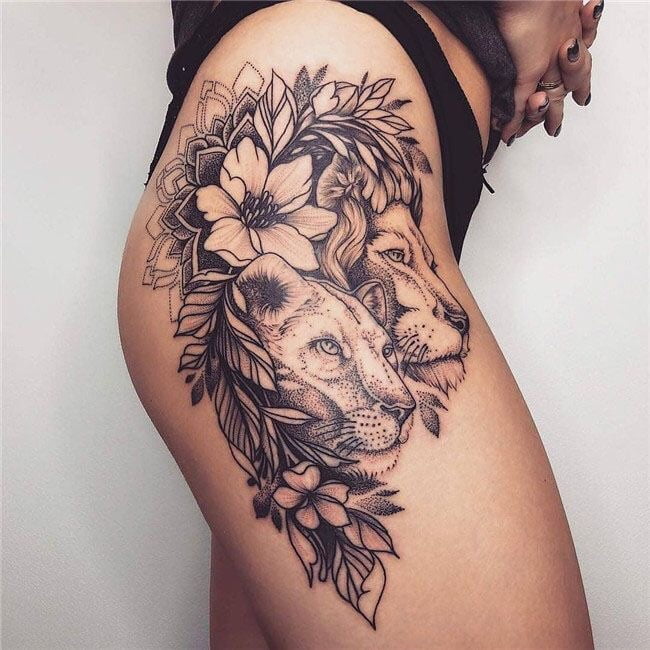 For the royal king and the queen, there's no better love tattoo ink than this emotionally captivating lion couple tattoo. A lion and lioness tattoo is a powerful way to express your love as it signifies loyalty and unity. Placed on the hip, this grayscale lion tattoo is enhanced with floral accents.
39. Lioness Head with Flowers Tattoo in Grayscale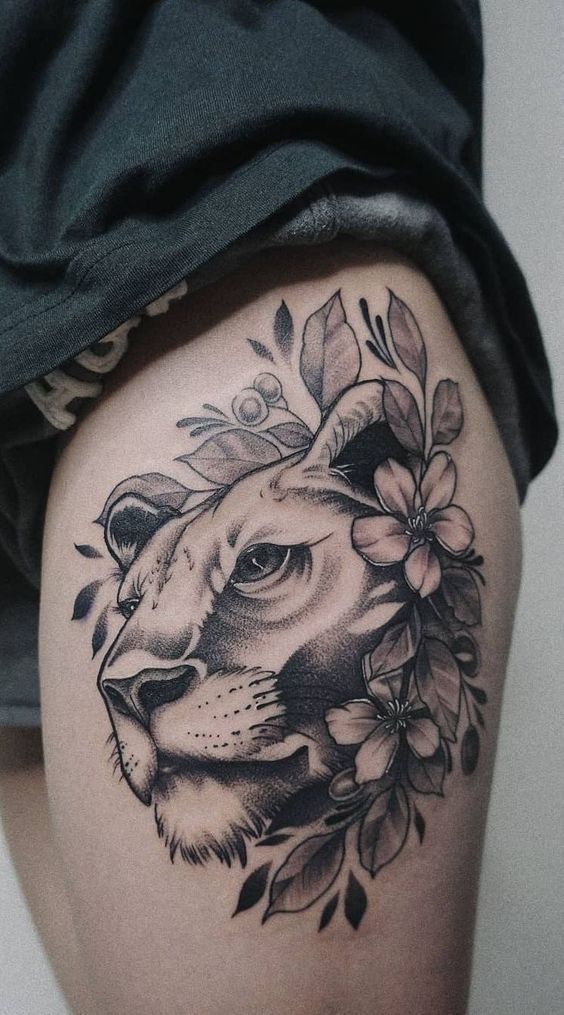 Proud and regal, the graceful lioness gazes off into the distance in this breathtaking grayscale lion tattoo. Around the lovely female lion's face is an exquisite selection of beautiful flowers and leaves. This remarkably elegant lioness tattoo is a powerful symbol of female independence, wisdom, and strength.
40. Black and White Lion Tattoo with Flowers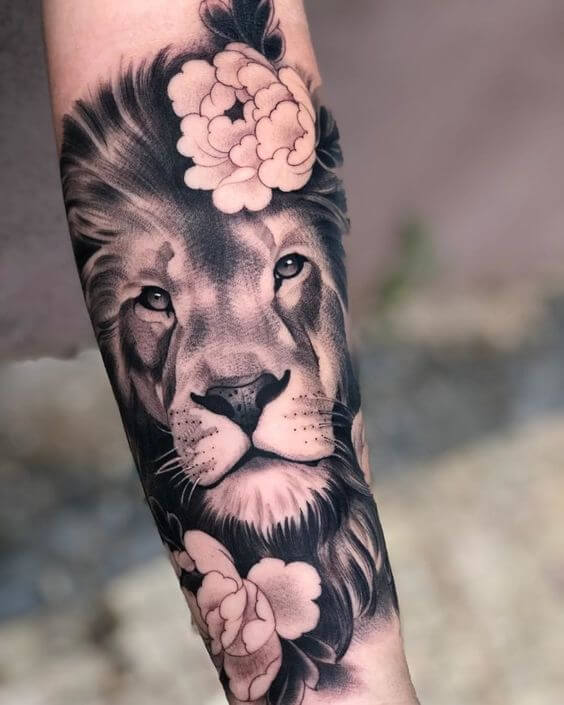 With a face filled with knowledge and serenity, this spellbinding lion head tattoo represents having both inner and outer strength. Despite being known as a ferocious beast, the noble lion is also a symbol of silent confidence and inner peace. Floral shapes add gentleness to this majestic lion tattoo.
41. Winking Lion Cub Tattoo in Double Triangle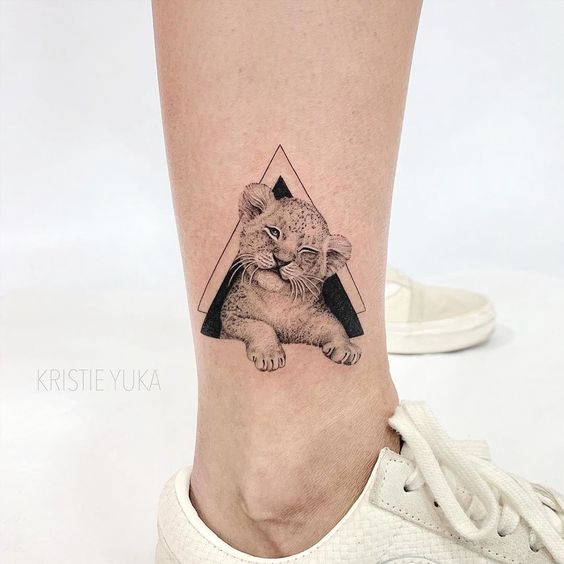 Whimsical and playful, this unconventional lion tattoo shows an adorable baby lion cub tilting his head and giving a wink. He sits inside a double triangle frame with cute paws hanging over for a three-dimensional effect. This small tattoo is for anyone with a positive attitude and genuine joy in life. This is a good design for an ankle tattoo.
42. Dotwork Lion Head Tattoo on Back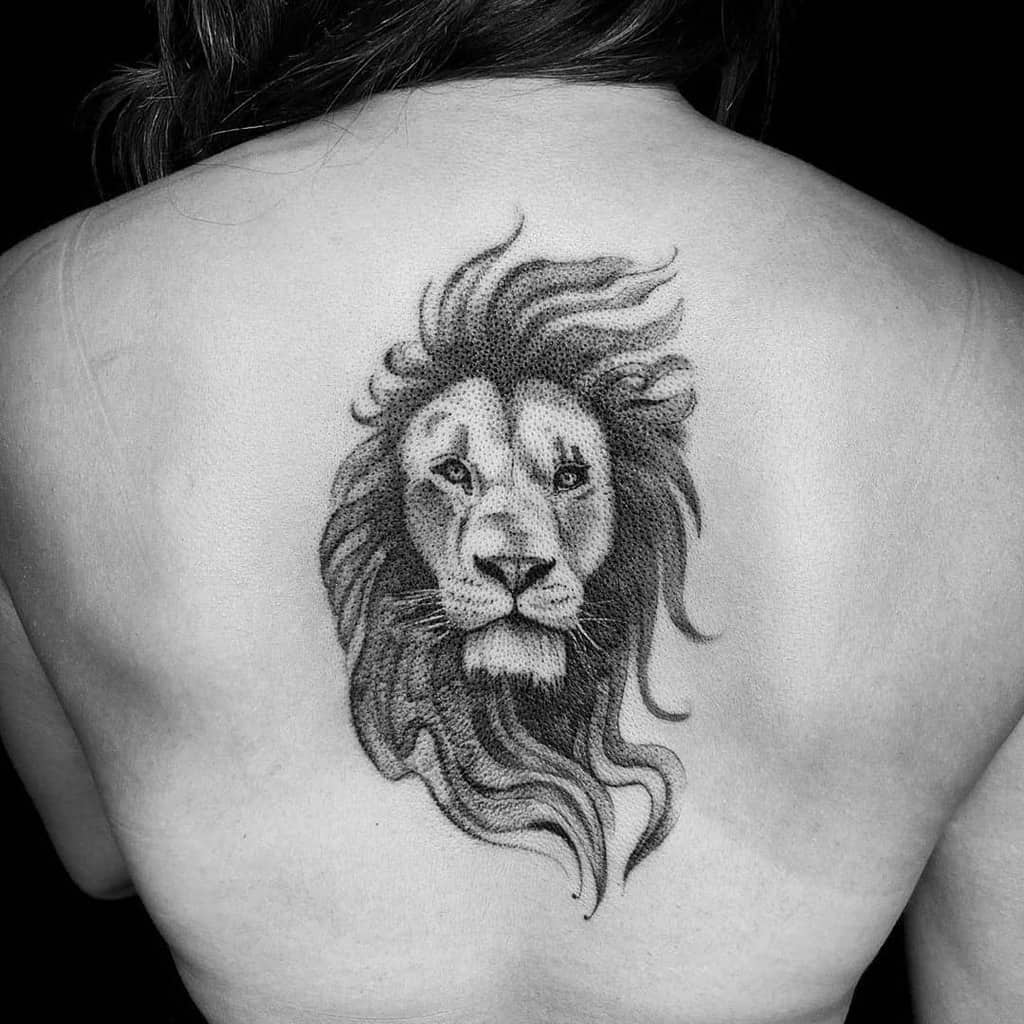 Based on pointillism art, this striking black and white dot work lion tattoo consists of a series of small dots. By inking dots in higher concentration in darker areas of the lion's face, the illusion of shading and depth is created. This incredible lion tattoo is proudly placed on the back.
43. Matching Crowned Lion Tattoos on Feet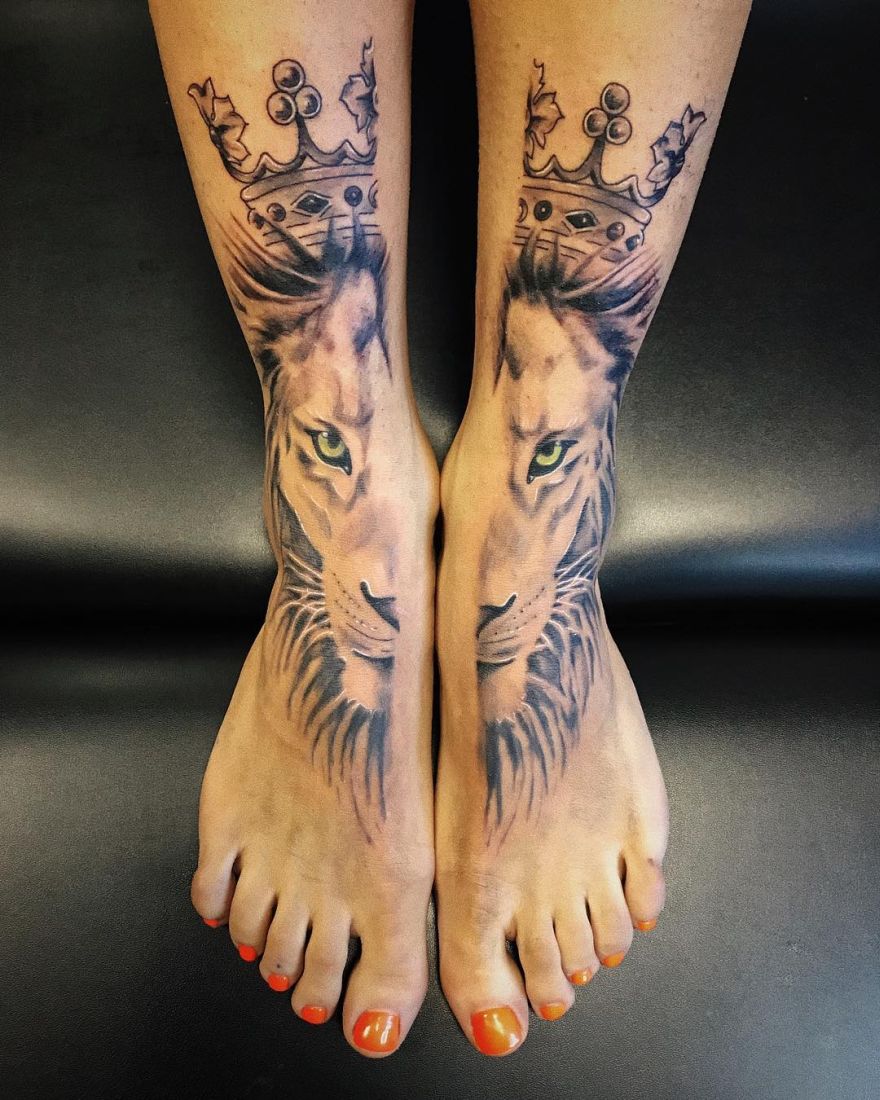 Half of this imperial lion tattoo is on the left foot with the matching half on the right foot. The two halves of the lion's head merge into one when you bring your feet together. Atop the venerable lion's dignified head is a royal crown to represent nobility and leadership. This is a unique foot tattoos idea.
44. Grayscale Lion Tattoo with Blue Eye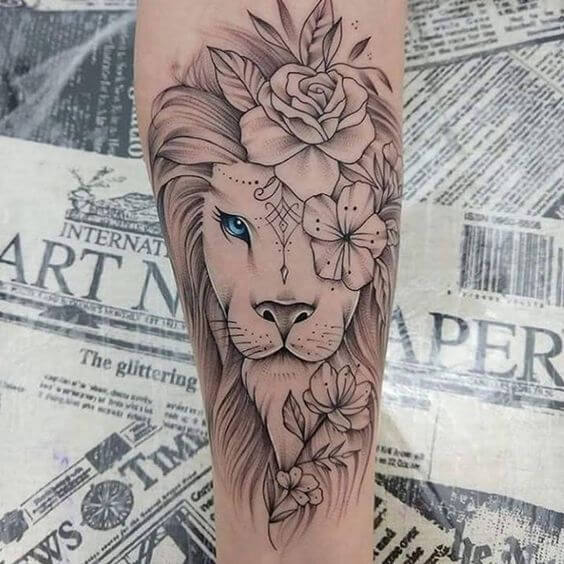 With quiet confidence and obvious beauty, this amazing lion tattoo symbolizes wisdom, power, and bravery. The timelessness of black and gray tattoo work is always a classic option. Among the flowers and fur of the lion's mane, a pop of color appears in his bright blue eye.
45. Forearm Lion Tattoo with Clock and Flowers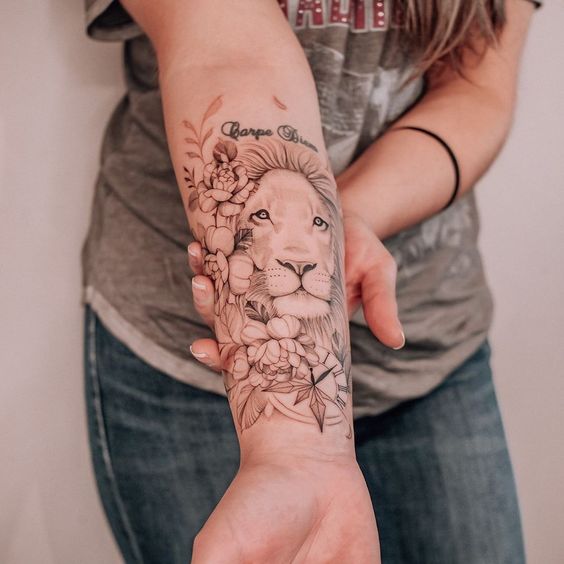 This beautiful forearm lion tattoo serves as a reminder to be strong, confident, and seek the goals you are striving for. Further inspiration is included with the words Carpe Diem, or Seize the Day, inked in the script above the wise lion's head. Floral elements and a timepiece are also incorporated.
46. Lion Tattoo with Crown and Rose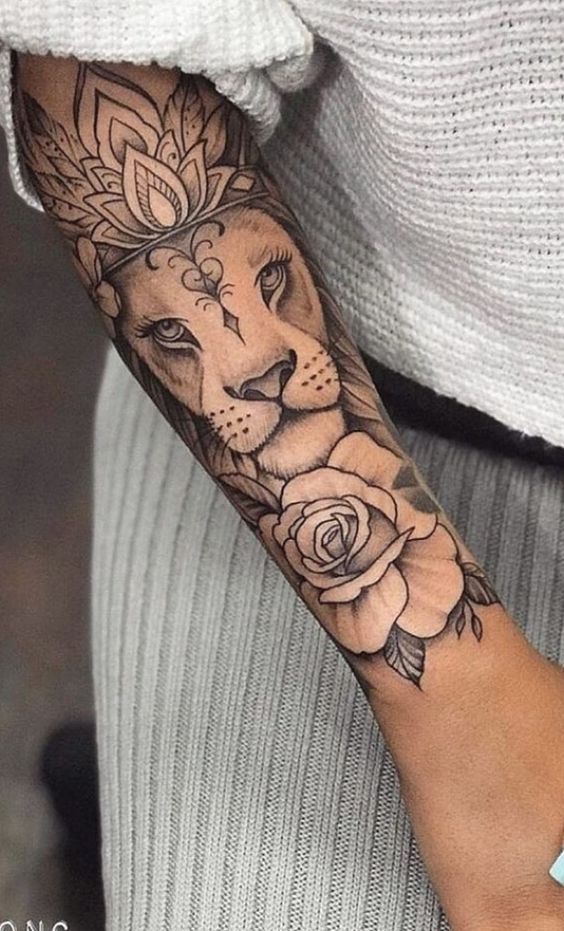 Throughout history and culture, lions have been synonymous with courage and have now become the archetypal symbol of bravery. Showing that the strong male lion is in touch with his feminine side, a rose and ornamental crown are added to this sophisticated lion tattoo.
47. Naturally Colored Lion with Blue Flowers Tattoo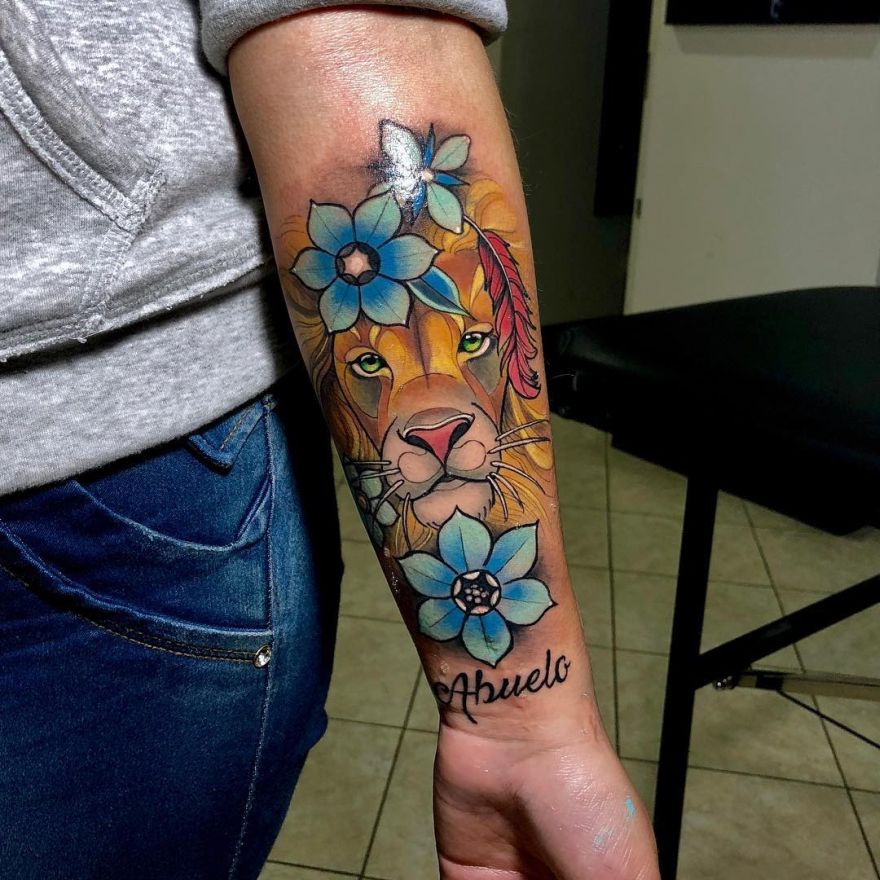 Depicted in its naturally beautiful colors, this charismatic lion tattoo is accompanied by lovely blue flowers and a delicate red feather. Perfect for a memorial tattoo, the word Abuelo, Spanish for Grandpa, is inked in the script below the lion. This inspirational lion tattoo is both intriguing and meaningful.
48. Mother and Baby Lion Tattoo in Grayscale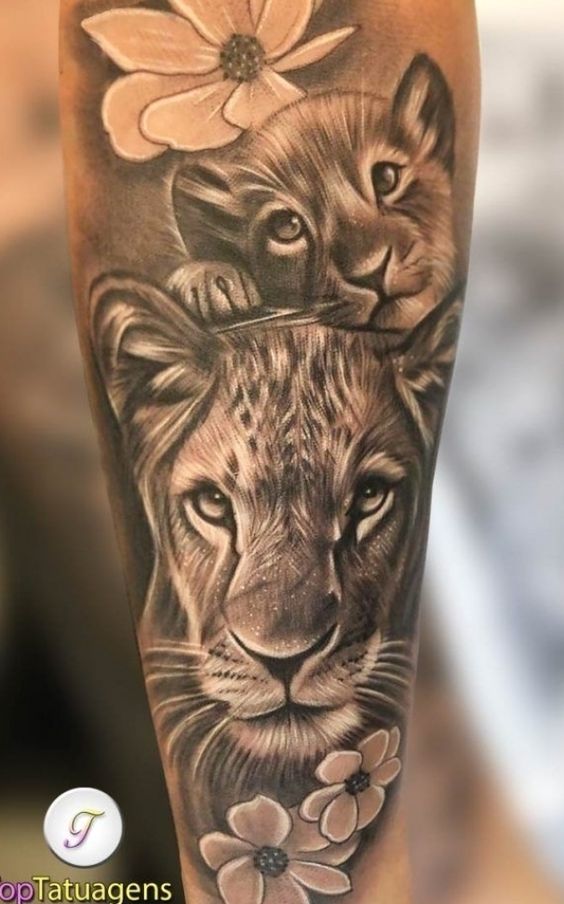 In nature, a mother lioness will fiercely defend and protect her baby lion cubs. These exquisite maternal creatures represent deep aspects of human nature such as perseverance, loyalty, and familial duty. With incredible shading and intricate details, this amazingly lifelike mother daughter tattoo provokes an instant feeling of admiration.
49. Photorealistic Lion and Flowers Tattoo on Forearm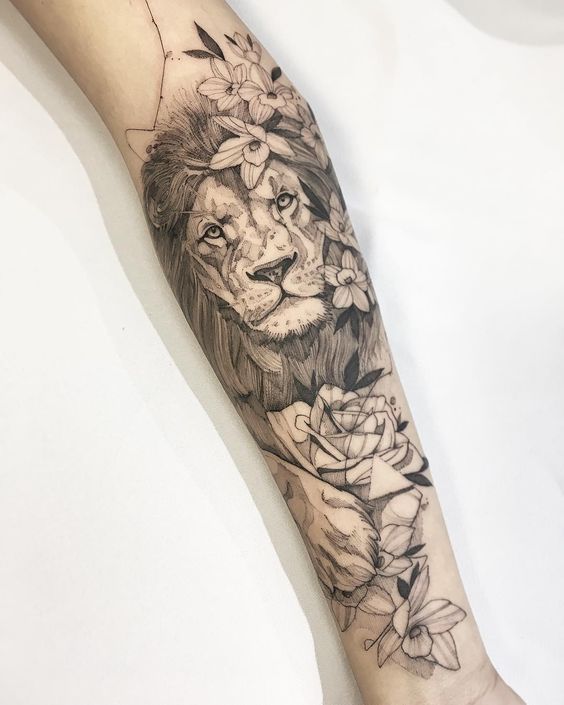 The lion is an intelligent and highly skilled creature representing leadership, courage, and pride. This photorealistic grayscale lion tattoo exudes those characteristics and adds a beautiful sentimentality with an array of flowers. The intricate detailing of the eyes, whiskers, and layers of fur bring life to this stunning lion tattoo.
50. Blue Eyed Lion Face with Rose Tattoo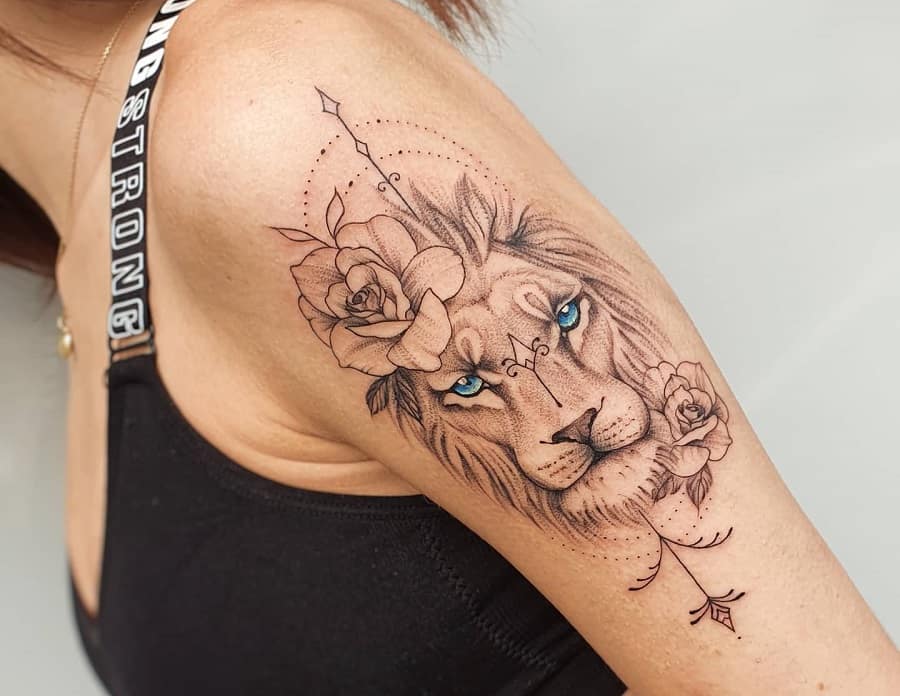 With its intense blue eyes, this fabulous lion tattoo includes roses and tribal tattoo elements. The eyes are the window to the soul and symbolize someone's inner personality. For those who feel an intimate connection to the strength and power of the noble lion, this is the perfect tattoo for you.
51. Geometric Lion Tattoo on Hip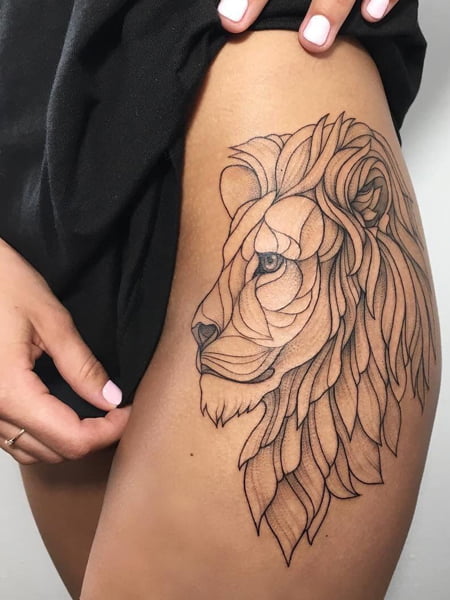 The astrological sign of Leo is represented by the amazing, regal lion. Using a contemporary geometric style, this side-facing lion head tattoo invokes energy, pride, and strength. Men and women with the Zodiac sign of Leo appreciate a dynamic and creative lion tattoo such as this one.
52. Lioness with Crown of Flowers Tattoo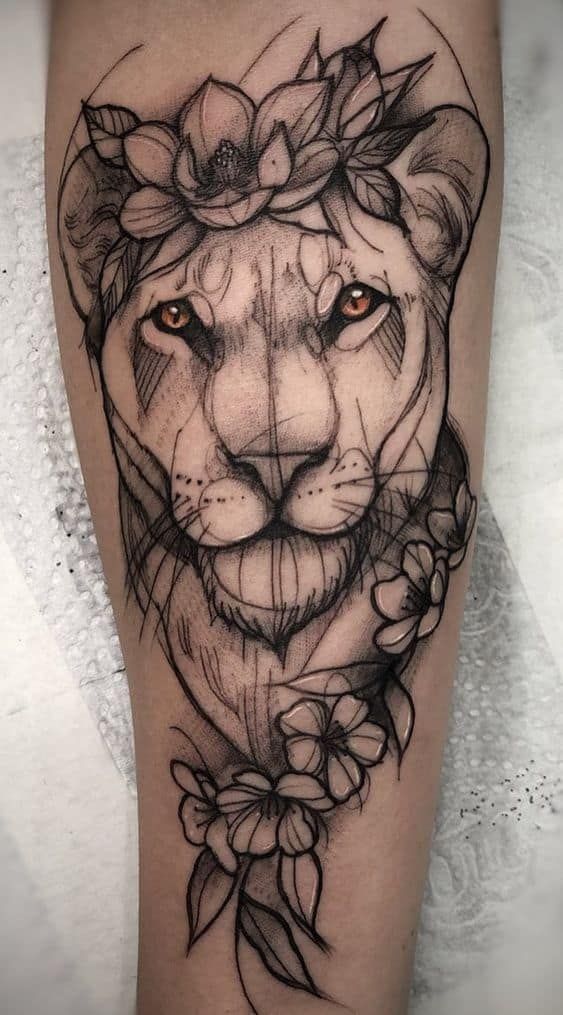 A powerful symbol of female strength and independence, the glorious lioness is perfectly suited for the fearless woman with a compassionate side. This stunning yellow-eyed lioness tattoo also incorporates delicate flowers into the design. The cool sketch style of the black and white lion tattoo gives it a modern edge.
53. Grayscale Lioness Hugging Lion Cub Tattoo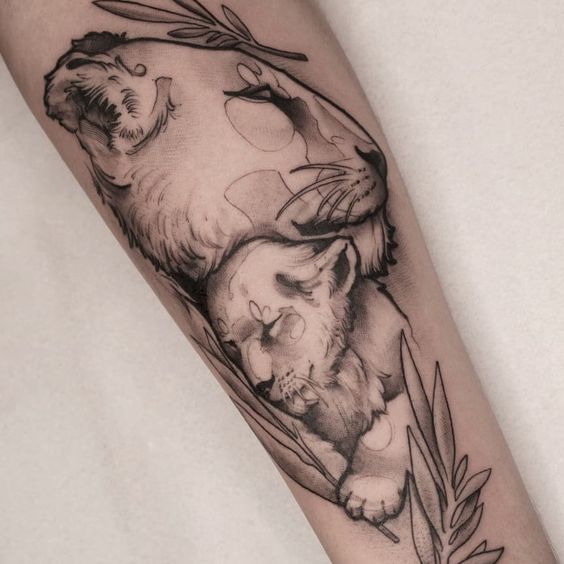 In this endearing grayscale illustration tattoo, a mother lion holds her cub close in the quintessential portrayal of motherhood. The lioness is known as being a fierce protector of her cubs; something any mother can understand. This captivating lioness tattoo signifies love, security, and loyalty between a mother and child.
54. Half Lioness Face with Dandelion Tattoo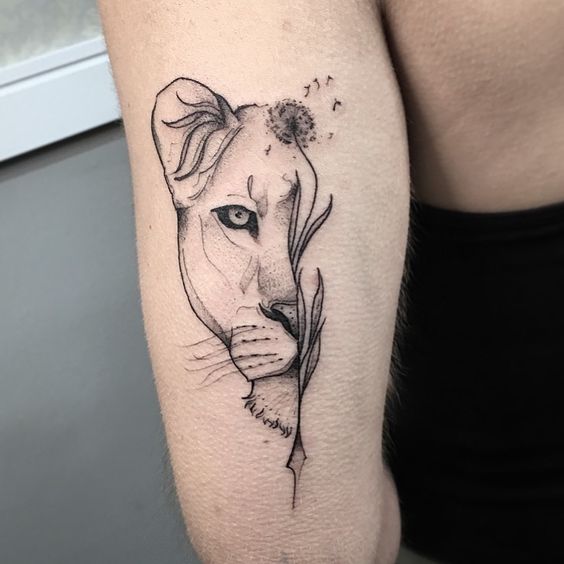 Not all lion tattoos need to be big to create an interesting piece of body art. The delicate style of this compelling lioness tattoo gives it a deep, powerful meaning. In this unique composition, a fierce warrior lioness face is half while a dandelion flower is the other half.
55. Two Lions Heads Forming Heart Tattoo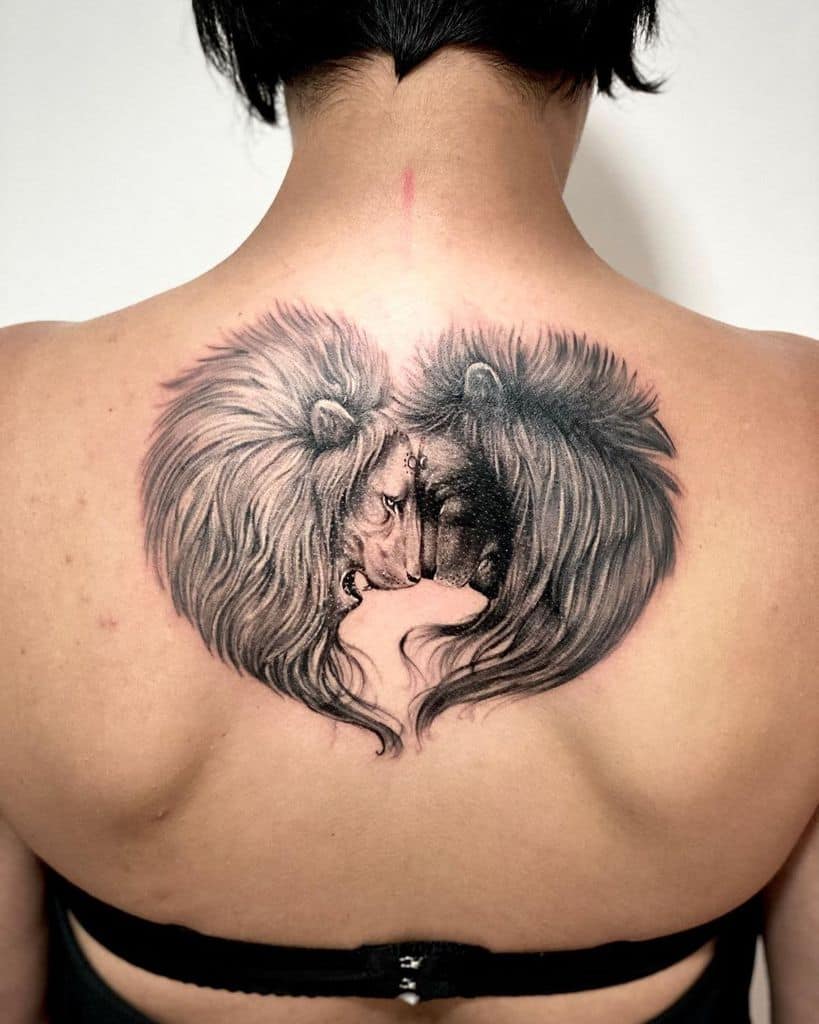 Two impressive lion heads face each other so their manes create an overall heart shape in this remarkably profound lion ink. It is the role of male lions to guard and protect their pride. Along with courage and spirit, this grayscale lion tattoo signifies unyielding strength and unquestionable leadership.
56. Realistic Lion Head Tattoo with Blue Eyes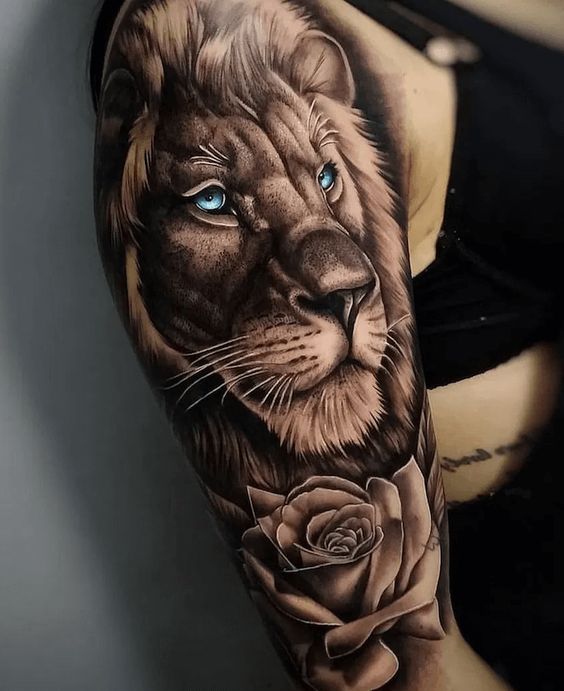 This captivating lion head tattoo uses meticulous linework and strong gray shading to perfectly capture the stunning face of the magnificent animal. Icy blue eyes intensely stare into the distance as the wise, mature lion contemplates life. Any man or woman would be proud to wear this glorious lion tattoo.
57. Half Lion Face Tattoo with Flowers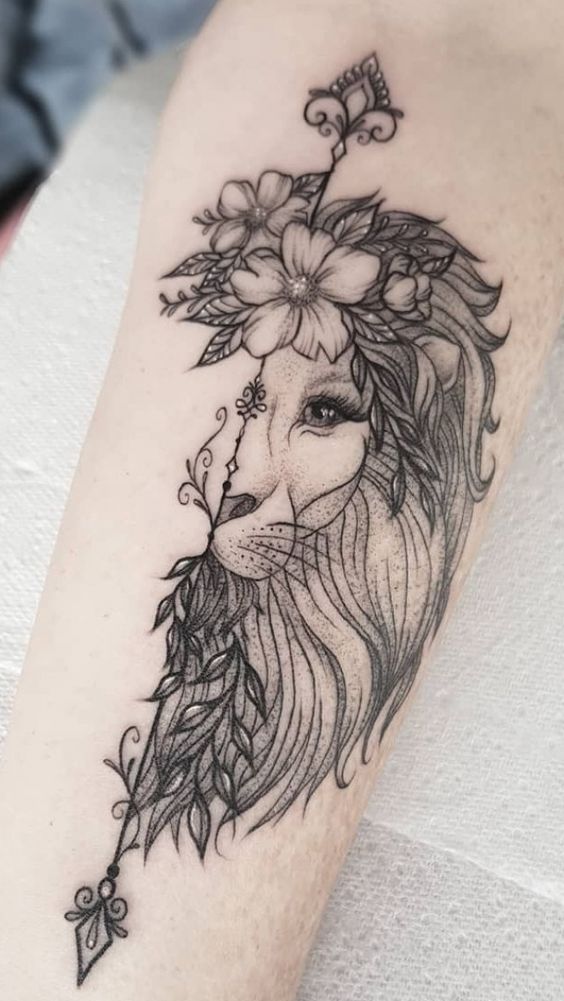 Although the lion is often associated with masculinity, this black and white lion tattoo merges virility with female empowerment. The stunning image represents mastering emotions and bringing order to inner and outer worlds. Don't be afraid to show off your sensitive side and wild side; consider this spectacular lion ink.
58. Realistic Lion Head Tattoo on Back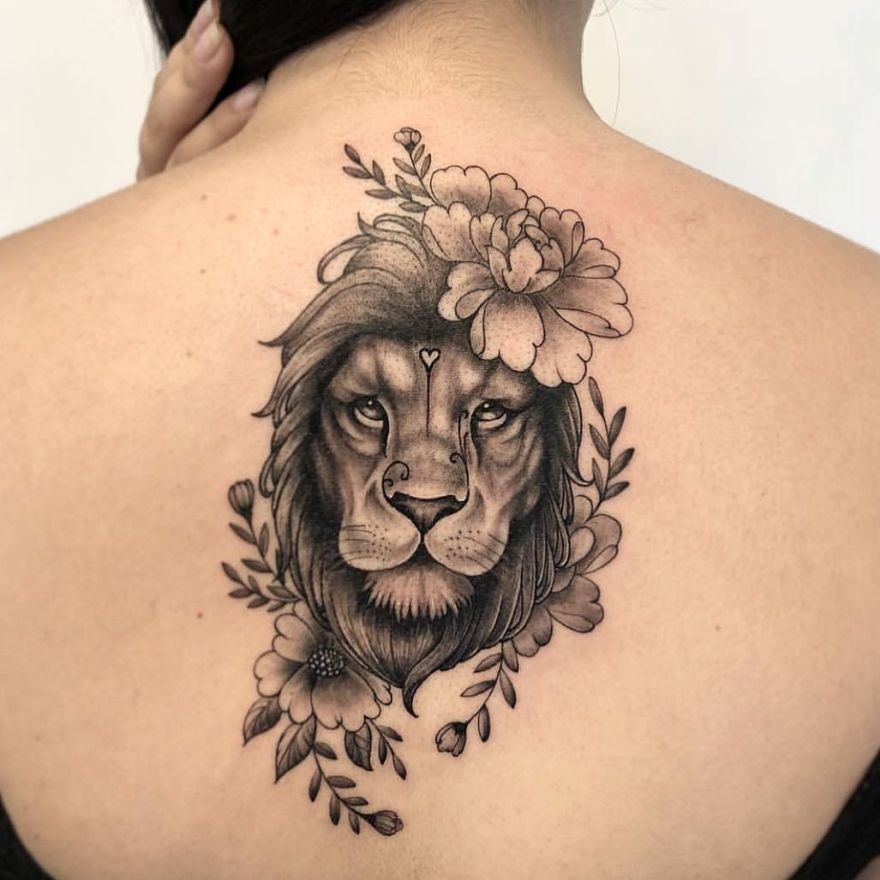 If you are seeking lion ink with maximum impact, opt for a back tattoo like this detailed lion head surrounded by floral elements. The graceful and elegant lion encourages you to have courage in the face of adversity. An extrovert with a soft side embraces this magnificent lion tattoo.
59. Full-Color Lioness, Cub, and Flowers Tattoo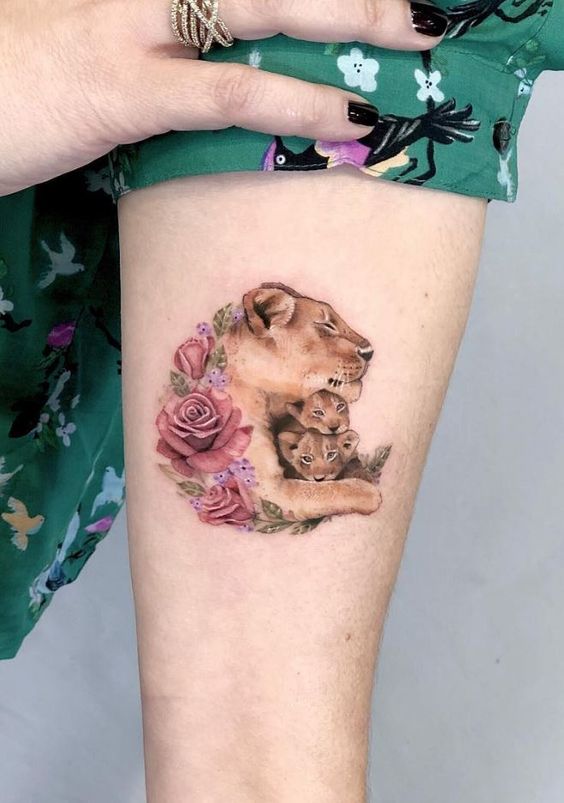 Along with being powerful predators, lionesses are highly maternal and very protective of their cubs. Using natural coloring, this charming tattoo shows a proud lioness holding her two cubs tightly against her. This extraordinary lioness tattoo is symbolic of all women do as mothers, wives, and providers for their families.
60. Lion Face and Roses Lion Forearm Tattoo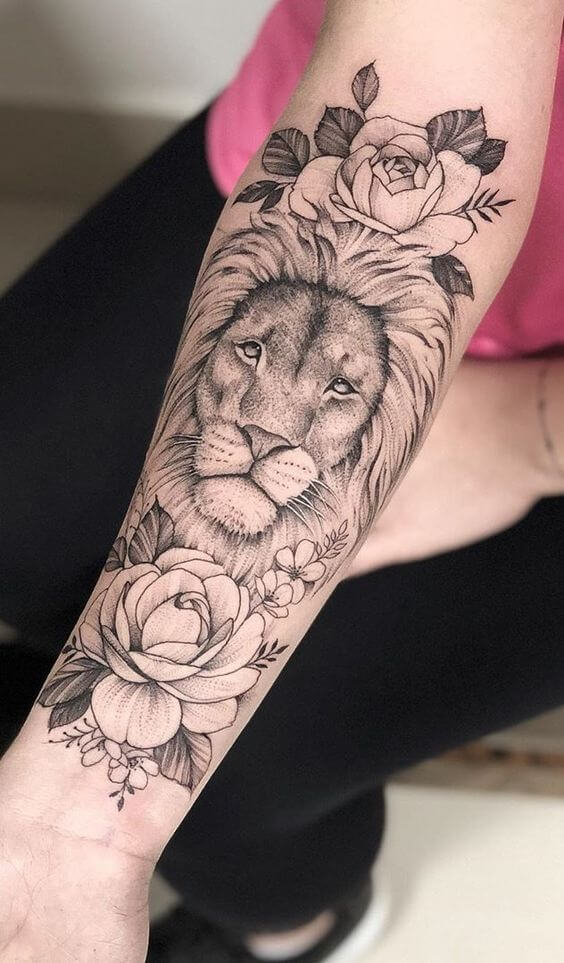 In addition to power and strength, a lion tattoo can also represent healing and hope. After a difficult situation, one may choose a beautiful lion tattoo as a reminder to be courageous in life. Framed by roses and florets, this gorgeous black and white lion tattoo embodies wisdom and faith, just like the best faith tattoos.
60 Best Lion Tattoo Ideas in Various Styles, Colors, and Sizes
As impressive creatures with strength and grace unmatched in the animal kingdom, both the lion and the lioness make for beautiful, meaningful tattoos. Whether you want to draw on the masculine power of the lion or recognize the feminine determination of the lioness, there is attractive lion ink for you. With his recognizable mane, the dynamic male lion is suited for many different styles of tattoos. A lioness has a natural sophistication and pride represented in both grayscale and color tattoos. No matter which variety of ink you are attracted to, there is an amazing lion tattoo to portray your sentiments.